New Age Islam News Bureau
12 Dec 2018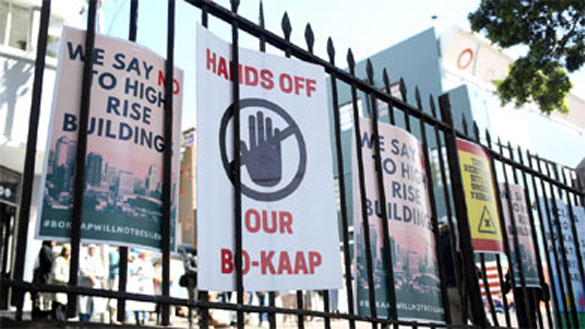 Placards are tied to a railing at a protest in Bo Kaap [Erica Jenkin/Al Jazeera]
------
• Govt Committed To Adopt Fundamentals of State Of Madina: Pak PM
• Can South Africa's 'Cradle Of Islam' Survive Gentrification?
• US Adds Pakistan, China to Its Blacklist for Religious Freedom Violations
• British MP, Rupa Haq, Hired By Jihadist Group Jamaat-e-Islami
• Egyptian Parliament Drafts New Law to Face 'Fatwa Chaos' Amid Division between Azhar, Endowment Ministry
• 'If A Muslim Kills A Cow In Front Of Hindus, Is It An Offence?' IP University Law Exam Asks Question on Religion
Pakistan
• Govt Committed To Adopt Fundamentals of State Of Madina: Pak PM
• Pakistan Rejects Downgrading By US in Religious Freedom
• CJ Stresses Need To Revamp Laws for Quick Dispensation Of Justice
• Twitter warns global users their tweets violate Pakistani law
• Cancellation of alcohol permit bill rejected in NA
--------
Africa
• Can South Africa's 'Cradle Of Islam' Survive Gentrification?
• Boko Haram Gathers Strength as Nigeria Prepares For Elections
• UN says ISIS killed six captives in Libya
--------
North America
• US Adds Pakistan, China to Its Blacklist for Religious Freedom Violations
• Religious Leaders Arrested At U.S. Border As Christians, Muslims And Jews Unite To Protest Migrant Detention
• Trump vows to rid Syria of Daesh in one month
• Trump signs bill to help religious minorities in Iraq and Syria
• Time Magazine Names Khashoggi 'Person of the Year'
--------
South Asia
• British MP, Rupa Haq, Hired By Jihadist Group Jamaat-e-Islami
• Two Islamic Extremists Arrested For Plotting To Kill Bangladeshi Filmmaker
• Another year of unresolved terror in Bangladesh
• Taliban attack on security team near Kabul kills 12
• In Bangladesh polls, Sheikh Hasina pitted against father's lieutenant-cum-friend
• 6 killed, 6 wounded in Kabul explosion
• Taliban's command and control centre eliminated in Helmand province
• Afghan forces repulse ISIS attacks in two districts of Kunar province
--------
Arab World
• Egyptian Parliament Drafts New Law to Face 'Fatwa Chaos' Amid Division between Azhar, Endowment Ministry
• Turkish Army, Allied Militants Continue Plundering Artifacts in Northern Syria
• More Bodies of Civilians Killed in US Raids, ISIL Attacks Unearthed in Northwestern Syria
• Hama: Syrian Army's Heavy Fire Pre-empts Terrorists' Attack from Demilitarized Zone
• US-Backed SDF Releases ISIL Terrorists in Return for Hefty Amount of Money
• US Fighter Jets Target Allied Militia in Eastern Syria
• 250,000 Syrian refugees could return home next year - UNHCR
• Saudi KSRelief contributes more than $700 mln to support Yemen food security
• Iraq seeking exemption from US sanctions to keep importing Iranian gas
--------
India
• 'If A Muslim Kills A Cow In Front Of Hindus, Is It An Offence?' IP University Law Exam Asks Question on Religion
• Teen Militants Killed In J&K: 'My Child Was Very Young To Do This'
• India Hands over First 50 Houses Built For Rohingya Refugees in Myanmar
• Gujarat Waqf Board to Set Up Hostel for Muslim Students
• India's Cooperation Needed for Afghan Peace: Pakistan Foreign Minister
• Four policemen killed in militant attack in Kashmir's Shopian
--------
Europe
• Amendments to State–Religion Separation Law Worry Muslims in France
• 'UK Can Play Crucial Role in Ending Rohingya Genocide'
• Gang torches 100 cars of Pakistani trader in London
• Gunman kills 3 people in French Christmas market, flees
• UN chief Guterres to attend Yemen's peace talks in Sweden
• Iran says it recently tested a ballistic missile
• Council of Europe Criticizes Greece for Violating Turkish Minority's Rights
--------
Southeast Asia
• Perkasa, Muslim Agencies to Attend Interfaith Christmas Dinner
• Demonstrations Can Never Topple a Democratically Elected Government, Says Mahathir
• Kit Siang: Najib's presence at anti-ICERD rally an endorsement of his administration's wrongdoings
• Indonesia's Aceh Whips Men for Sharia-Banned Gambling
• Malaysia's former PM Najib faces new corruption charge
--------
Mideast
• Probe Reveals Turkish Government Behind Forced Disappearances
• Israel Uncovers Third 'Hezbollah Attack Tunnel'
• Rights group disputes Israeli army on West Bank killing
• Gazan kid dies of Israeli gunfire wounds sustained in anti-occupation protests
• Radical Israeli settler groups call for killing Palestinian president
• Israeli forces fatally shoot Palestinian in southern West Bank
• UN proves Houthi missiles found in Yemen were made in Iran
• Yemen govt, Houthis swap names of 15,000 prisoners at UN talks
Compiled by New Age Islam News Bureau
URL: https://www.newageislam.com/islamic-world-news/govt-committed-adopt-fundamentals-state/d/117139
--------
Govt Committed To Adopt Fundamentals of State Of Madina: Pak PM
Dec 12, 2018
ISLAMABAD: Prime Minister Imran Khan on Tuesday reiterated his government's commitment to run the country on the basis of the fundamentals of the State of Madina.
"Students should get education about the life of world's greatest leader and our Holy Prophet (Peace Be upon Him) so as to take guidance from his Seerat-e-Tayyiaba," he said while talking to students of Cadet College Mastung here at the PM Office.
The prime minister said that for research on the Seerat-e-Tayyiaba of Holy Prophet (PBUH), Seerat Chairs were being established in three major universities of the country.
Minister for Defence Production Zubaida Jalal was also present in the meeting during which the students interacted with the Prime Minister on various subjects.
The Prime Minister said that since a person was known by his intentions and approach, the one who had big dreams and took big challenges became a great person.
"Every minor success prepares the man for big achievements. If a person continues to strive, he becomes a successful man. A person loses only after he accepts the failure. As good and bad times are part of life, a person gets a lesson from bad times," he observed.
The PM said a comprehensive planning was required to check the severe water issue in Balochistan, which had become worst due to the growing population and the decreasing underground water level.
He said as three types of class-based education systems, which were not acceptable in any society, were causing problems in Pakistan, the government was trying to introduce a uniform and quality education system in the country.
The prime minister said since Balochistan lagged behind as compared to other provinces due to various reasons, the government would make every effort to provide development opportunities to the province, especially the provision of educational opportunities to students through stipends so as to help them move forward in the field of education.
He said as funds under the new local government system would be devolved to the lower level, the provision of development funds at the village level would help eliminate backwardness from different areas of Balochistan.
The prime minister said the government would introduce a new sports system across the country so that the youth could get opportunities to show their skills.
https://www.pakistantoday.com.pk/2018/12/11/govt-committed-to-adopt-fundamentals-of-state-of-madina-pm/
--------
Can South Africa's 'Cradle Of Islam' Survive Gentrification?
Dec 12, 2018
Cape Town, South Africa - Noor Osman looks out from the Bo Kaap neighbourhood of Cape Town and counts the mosques dotted throughout the nearby city centre.
Wherever you can see a mosque, he says, there were Muslim people living around there.
Over the years, the demographics and boundaries of central Cape Town have changed.
During apartheid, Bo Kaap was declared a Muslim-only area with a number of now-residents uprooted and forced to move there from other parts of the city. Many recall tales of forced evictions and houses being seized with little compensation.
But while the era of racial segregation ended in the 1990s, Osman now fears "another type of apartheid" is beginning to menace the traditionally working-class community - gentrification.
"The issue of economic apartheid is actually being perpetrated right now," Osman says, stressing the urgency of the situation.
Bo Kaap has become the scene of a bitter battle between residents and property developers in recent months.
The area is known for its coloured houses and distinct history.
It is home to the oldest mosque in South Africa and once housed slaves, political exiles and convicts sent from countries including Malaysia, Sri Lanka and Indonesia as far back as the 17th century.
Yet with new developments, including luxury flats, and wealthy outside buyers investing in Bo Kaap homes as Cape Town property prices soared, the neighbourhood's heritage is under threat.
In South Africa, the lingering effects of apartheid add an extra layer of complexity to the gentrification debate.
Much of Cape Town's non-white population was moved out of central areas to the Cape Flats on the extreme outskirts of the city during apartheid.
Bo Kaap managed to avoid that fate due to the vagaries of apartheid planning.
Today, its predominantly Muslim population is unsure about what the future holds.
Residents of Bo Kaap, many of whom refer to their neighbourhood as the "cradle of Islam" in South Africa, increasingly fear being priced out.
Fowzia Achmat, vice chair of the Bo Kaap Civic and Ratepayers Association, says that people whose families have owned properties in the neighbourhood for generations simply cannot afford to live in the area, where house prices are rocketing, and are faced with the dilemma of selling up or struggling on.
Others have been forced to club together to be able to remain in the area. Mishka Samie, a member of the Bo Kaap Collective activist group, says there are some situations where 15 to 20 people are living in a two bedroom flat.
"There's a definite housing problem," she adds.
'Gin bars and coffee shops'
While central Cape Town's natural geography, squeezed between Table Mountain and the Atlantic Sea, creates a spectacular setting, it also means space is limited.
Bo Kaap is centrally located, within walking distance to the city centre and the redeveloped waterfront area. This has seen it become an attractive location for buyers and developers.
Tanja Winkler, associate professor of architecture, planning and geomatics at the University of Cape Town, says Bo Kaap is following a similar trajectory to nearby working-class areas like Woodstock and Salt River, which have become home to gin bars and coffee shops in recent years.
While some external buyers have moved into Bo Kaap and engaged with the community, which locals mostly welcome, others look to buy properties for investment purposes or to rent on sites like Airbnb, she says.
New developments, meanwhile, tower over existing buildings and are aimed at wealthy buyers and those looking for holiday homes, Winkler adds.
Tensions around the situation have come to the fore in recent weeks.
When Al Jazeera visited in late November, residents old and young blocked roads to prevent trucks and building materials coming in.
In the days before, police tried to forcibly remove those blocking the arrival of a crane. Footage posted on social media appeared to show stun grenades being thrown and protesters, including elderly women, being manhandled.
At a packed community meeting soon after, around 600 residents lamented that peaceful protesters had been met with violence and reiterated their resolve to preserve their homes and heritage.
Protecting 'living history'
Al Jazeera spoke to several residents critical of the Democratic Alliance-led (DA) city council for not listening to their concerns.
Others slammed developers for not consulting with the local community.
Yet while sympathising with residents, DA councillor for Bo Kaap, Brandon Golding, says the city is limited in what it can do.
The council cannot prevent the sale of private properties between individuals, he says.
Existing zoning rules also appear to provide developers with a wide remit in terms of how they build on land or redevelop properties legally acquired.
Golding says that he and the council have sought to listen to residents' concerns and are looking for solutions. He adds that some financial assistance is available for pensioners and low-earners who may be struggling.
Residents believe more affordable housing should be a key priority, something Golding says is difficult as the local government doesn't own much land in Bo Kaap.
Many also hold out hope that securing heritage status for Bo Kaap will at least rein in new developments.
As things stand, any property over 60 years old is protected by heritage rules in Cape Town. Bo Kaap residents want their entire area to receive heritage status for its built and "living history".
The community applied for a form of heritage protection with local authorities as far back as 2013 that would have forced developers to convince the city any new buildings would maintain and be sensitive to Bo Kaap's heritage. But the application remained in limbo, unapproved by the council before being halted in 2016.
In early December, the city's mayoral committee said it would again try to secure heritage status.
Yet many residents remain sceptical, given past delays which have allowed developments to progress. They have also begun to look to the national government for help.
Osman says the community is engaging with the South African Heritage Research Association (SAHRA) to look to protect the entirety of Bo Kaap, and is hopeful that process will progress soon.
Until that happens, however, Bo Kaap residents have vowed to continue their protests and challenge existing developments in the courts.
"We have to show resistance," says Osman. "We can't just let these guys come in and do what they want."
https://www.aljazeera.com/indepth/features/south-africa-cradle-islam-survive-gentrification-181210225627734.html
--------
US adds Pakistan, China to its blacklist for religious freedom violations
Dec 11, 2018
WASHINGTON: The Trump Administration on Tuesday designated Pakistan, China, Saudi Arabia and seven others as countries of particular concern for having engaged in or tolerated "systematic, ongoing and egregious violations of religious freedom".
Simultaneously, the Trump Administration also designated al-Nusra Front, al-Qaeda in the Arabian Peninsula, al-Qaeda, alShabab, Boko Haram, the Houthis, Isis, Isis-Khorasan, and the Taliban as Entities of Particular Concern.
"On November 28, 2018, I designated Burma (Myanmar), China, Eritrea, Iran, North Korea, Pakistan, Sudan, Saudi Arabia, Tajikistan, and Turkmenistan, as Countries of Particular Concern under the International Religious Freedom Act of 1998 for having engaged in or tolerated "systematic, ongoing, (and) egregious violations of religious freedom," secretary of state Mike Pompeo said Tuesday.
"I also placed Comoros, Russia, and Uzbekistan on a Special Watch List for governments that have engaged in or tolerated 'severe violations of religious freedom'," Pompeo said in a statement.
Observing that in far too many places across the globe, individuals continue to face harassment, arrests, or even death for simply living their lives in accordance with their beliefs, Pompeo asserted that the US will not stand by as spectators in the face of such oppression.
Protecting and promoting international religious freedom is a top foreign policy priority of the Trump Administration, he said.
"In July, I hosted the first-ever Ministerial to Advance Religious Freedom, which brought together some 85 like-minded governments and more than 400 civil society organisations to harness global attention and motivate forceful action to advance respect for the human right of religious freedom," he added.
Asserting that safeguarding religious freedom is vital to ensuring peace, stability, and prosperity, Pompeo said that these designations are aimed at improving the lives of individuals and the broader success of their societies.
"I recognise that several designated countries are working to improve their respect for religious freedom; I welcome such initiatives and look forward to continuing the dialogue," Pompeo said.
The US remains committed to working with governments, civil society organisations, and religious leaders to advance religious freedom around the world, he added.
https://timesofindia.indiatimes.com/world/pakistan/us-adds-pakistan-china-to-its-blacklist-for-religious-freedom-violations/articleshow/67048366.cms
--------
British MP, Rupa Haq, Hired By Jihadist Group Jamaat-e-Islami
Dec 12, 2018
As the general election in Bangladesh is scheduled to take place on December 30, Britain's Labour Party lawmaker Rupa Haq has openly started working for Jamaat-e-Islami (JI) and actively trying to help JI is coming to power in Bangladesh.
Rupa was hired by Jamaat-e-Islami's leader Barrister Abdur Razzak, who has been living on self-exile in UK. Razzak is hiring lobbyists in UK and the US for JI's and also has been coordinating and financing public relations affairs with the goal of getting extensive media offensives against the ruling Awami League in Bangladesh. Few months back, Barrister Razzak visited the US with the agenda of meeting several key figures in the Capitol.
Jamaat-Rupa romance:
Jamaat-e-Islami hired British Labour Party MP Rupa Haq especially because of her connections with the media. Rupa is a regular columnist with the Guardian. Being hired by Jamaat-e-Islami, Rupa Haq has arranged a conference titled "Freedom of Expression in our time" at Committee room 5, Palace of Westminster, House of Parliament. This seminar is scheduled to be held on December 17 from 18:00-20:00. Other speakers of this seminar are Jim Shannon, MP, Chair of AAPG on International Freedom of Religion or Belief); Rita Payne, President emeritus of Commonwealth Journalists' Association; Akram Khan MBE and Dr. Dilruba Karim, Free Shahidul campaigner and Senior Lecturer Economics, Brunei University. Dilruba also is the niece of Bangladeshi controversial photographer Shahidul Alam.
Reason behind arranging this seminar is to get media coverage against the ruling party in Bangladesh, which would ultimately help jihadist Jamaat-e-Islami (JI) and its political and ideological partner Bangladesh Nationalist Party (BNP) in returning to power. It should be mentioned here that, BNP and Jamaat are defenders of Muslim Brotherhood, Hezbollah, Hamas and Iran. Both are in favour of establishment of Sharia rule in Bangladesh. British MP Rupa Haq clearly has joined hands with these jihadist parties in helping them in ousting Awami League, a secularist party and return to power in Bangladesh.
Who is Shahidul Alam?
The name Shahidul Alam may not be anymore unknown to a large section of people in the Indian subcontinent, Asia and beyond. This British-Bangladeshi photographer was arrested few months back in Bangladesh for inciting a civil coup by using school children as his tools. Though he never been either a journalist or a prominent rights activist, his arrest had already turned Shahidul into a "journalist" and "prominent rights activist" in the eyes of some dubious groups and individuals.
Amnesty International, which always is enthusiastic in defending any anti-Semitic individual with its poster title 'Prisoner of Conscious' had done it again. The first individual from Bangladesh who has got this title was Shahriar Kabir, a firebrand activist defending the rights of Hindus in Bangladesh. Mr. Kabir has always been active in providing regular feedback to the Capitol in the US as well as Western policymakers on the "extreme repression on Hindus" in Bangladesh. He had enjoyed warm hospitality, patronization and even beyond from the Hindus in Bangladesh, India and rest of the world. But his monopoly in this field was first smashed by Richard Benkin, a Chicago-based Hindu rights activist and then Mendi N Safadi, an extremely controversial Israeli Druze.
Interestingly though, Richard Benkin was a paid lobbyist for radical Islamic – Bangladesh Nationalist Party (BNP) - Mendi Safadi has been receiving US$ 25 thousand every month since 2016 for continuing anti-Bangladesh activities around the world. Again this amount is being paid by a leader of BNP, Aslam Chowdhury. It should be mentioned here BNP considers Hamas and Hezbollah as its allies.
Shahidul Alam was hired by Pakistani security agency ISI through a prominent industrialist named Sajid Ispahani in Bangladesh. Ispahani is one of the owners of Ispahani Group and has been working as a handler for Pakistani Inter Service Intelligence for many years.
According to sources, Sajid Ispahani has been propagating claiming ISIS kingpin Abu Bakr al Baghdadi was trained by Israeli security agency Mossad. He also has been propagating claiming the 9/11 attack on the US was a "joint project of Mossad and CIA."
Shahidul Alam was suggested by Al Jazeera English service to use school children and initiate a movement demanding road safety. Shahidul's Al Jazeera contact said, using children would help him (Shahidul Alam) is getting huge exposure in the international media and it would help Shahidul in becoming the "godfather of the Bangladeshi journalists."
On December 6, 2018 the First Post, is an Indian news and media website. The site is a part of the Network 18 media conglomerate owned by Reliance Industries, which also runs CNN-News18 and CNBC-TV18 published an interview of Shahidul Alam. The interview captioned 'Where sycophancy is norm, truth is viewed as a sickness' has projected Mr. Shahidul as a champion defender of freedom of expression.
Before going into the details of the interview, let me say, Shahidul Alam hails from a family that opposed the war of independence of Bangladesh. More precisely, they are Pakistani collaborators.
Dr. Anwara Mansoor, mother of Shahidul Alam was a collaborator of Pakistani forces in Bangladesh during the war of independence in 1971. Prior to that, Shahidul's mother was maintaining "healthy" relations with a number of Pakistani political figures and well as civil-military bureaucrats.
Bangladesh Prime Minister Sheikh Hasina mentioned Shahidul's deceased great unclde Abdus Sabur Khan, a former government minister who opposed Bangladesh's independence and allied with Pakistan. She told the Reuters, "He opposed our liberation war, he joined Pakistan, he didn't accept Bangladesh. In 1971 he was with the Pakistani occupation army," Hasina said. "Sometimes blood speaks, you understand that."
Most interestingly though, while Al Jazeera and many of the pro-Pakistan media are enthusiastically giving coverage to Shahidul Alam, several prominent Indian media as well as internationally known individuals like Noam Chomsky, Arundtati Roy, Naomi Klein, American playwright Eve Ensler and Indian journalist Vijay Prasad and others are extremely vocal in defence of this Bangladeshi photographer. Nobel Laureate Amartya Sen along with 11 other Nobel Prize winners had also spoken in defense of Shahidul.
In a letter to Shahidul Alam through PEN International, Arundhati Roy wrote: "Here in India, our rulers have dropped all pretense of the secularism and socialism that are enshrined in our constitution. In order to distract attention from the catastrophic failures of governance and deepening popular resentment, as institution after institution—our courts, universities, banks, intelligence agencies—is pushed into crisis, the ruling power, (not the Government, but its holding company, the Rashtriya Swayamsevak Sangh,) is alternately cajoling and threatening the Supreme Court to pass an order clearing the decks for the construction of a giant Hindu temple on the site where the Babri Masjid once stood before it was demolished by a rampaging mob. It's amazing how politicians' piety peaks and troughs with election cycles."
She added saying, "This is what we are up against, these neat definitions of the perfect nation, the perfect man, the perfect citizen, the perfect Hindu, the perfect Muslim. The postscript to this is the perfect majority and the satanic minority. The people of Europe and the Soviet Union have lived through the devastation that these sorts of ideas caused. They have suffered the matchless terror of neatness. Only recently Europe marked the 80th anniversary of Kristallnacht—the event that marked the beginning of the Holocaust. There too it all began quite slowly. There too it began with elections. And there too the old murmurs have started up again."
In her letter, Ms. Roy has brought the issue of general election in Bangladesh and India scheduled to be held in 2018 and 2019. This exactly is the reason of massive hue and cry centering Shahidul Alam. Religious bigots and enemies of interfaith harmony are united in a blame war against Bangladesh – more precisely, the secularist ruling party in the country.
Let us first of all take a glimpse on the background of Shahidul Alam. According to the Wikipedia, Shahidul studied and taught chemistry in London where he obtained a Doctor of Philosophy from the University of London. In personal life, he is living together with Rehnuma Ahmed and the couple never got married. During his days in UK, Shahidul Alam drew the attention of both British intelligence agency MI-6 as well as pro-Pakistani society in that country. He was reportedly recruited by the British intelligence while had spent a very colorful time romancing and sleeping with many of his female colleagues and students. During his London days, Shahidul Alam simultaneously dated with Scottish-born Karen and Indian born British national Nandini Mehta. As a result, Nanditi got pregnant. But Shahidul betrayed her and left United Kingdom very abruptly. Later, Nandini Mehta and even her family members contacted Shahidul in Dhaka with the request of marrying the mother of his child. But, he did not pay any heed to it.
This is just the tip of the iceberg on the personal character of the "champion defender of freedom of expression" Shahidul Alam.
British MP Rupa Haq's joining hands with Jamaat-e-Islami now evidently proves – British policymakers are getting sold to the Islamists and possibly this is the beginning of the fall of secular Britain and emergence of it as an Islamic republic or many be Caliphate.
http://www.asiantribune.com/node/92372
--------
Egyptian Parliament Drafts New Law to Face 'Fatwa Chaos' Amid Division between Azhar, Endowment Ministry
Dec 12, 2018
Amid ongoing disputes between the two major Islamic institutions, Al-Azhar and the ministry of religious endowments, over finding an appropriate vision to renew the religious discourse, the Egyptian Parliament drafted a new law to regulate the process.
Discussions about the renewal of religious discourse were immensely tackled in the media in the past years, while also being addressed in different seminars and conferences, to combat terrorism and protect young people from extremist thoughts.
President Abdel Fattah Al-Sisi has been calling for the renewal of religious discourse since he took office in 2013. On several occasions, he asserted that a religious reform is required to harmonise with the latest developments of the current age.
Al-Sisi believes that there is a problem concerning the understanding of religious texts and that it needs to be re-revised, especially after the worldwide distortion of the image of Islam as a result of acts of violence and hate speech conducted by extremists in the name of Islam. Thus, the president stressed the importance of renewing the religious discourse as one of the basic elements to fight extremism and terrorism with.
Egypt's concern about the issue did not come out of the blue, but due to the challenges long suffered in the region as a consequence of political Islam, which is believed to be the main instigator of terrorist operations.
Al-Azhar and the religious endowments ministry have organised several campaigns to fight extremism and terrorism, but nothing was completely satisfactory and up to the standards expected by the ambitions of the Egyptian president.
Draft law to regulate fatwa chaos
MP Omar Hamroush, secretary-general of the religious affairs parliamentary committee, who drafted the new law, said that it would help Al-Azhar and the ministry of religious endowments to reach common grounds.
"The law is of great importance in the renewal of religious discourse and will confront abnormal Fatwas – ruling of Islamic law – which dramatically spread in Egypt," Hamroush said, adding that his draft law will prevent extremist clerics from issuing invalid fatwas by criminalising the issuance of fatwas without obtaining licenses from Al-Azhar or the ministry of religious endowments.
He noted that invalid fatwas harm the stability of the state, as many were issued by extremist Salafi clerics that legitimised extremism by encouraging youth to join terrorist groups to bomb churches and monasteries.
Hamroush pointed out that such invalid fatwas began when the Muslim Brotherhood and extremist Salafists came to power in Egypt in 2012.
Osama El-Abd, head of the committee, said that if the differences between the two institutions were not settled soon, the parliament will intervene to solve the issue.
Another member of the committee, Mohamed Abu Hamed, said that Al-Azhar seemed as if it were rejecting reforming religious discourse; however it is not the sole religious arbiter in accordance to the constitution.
Article 7 of the constitution states that "Al-Azhar is the main reference on religious sciences and Islamic affairs", but does not stipulate it is the sole reference. The parliamentary member noted that this article opens the door to other institutions and intellectuals to give their views on religious issues.
The state attempts to regulate the chaos of fatwa which recently appeared, as many invalid Fatwas have been spreading and were widely debated which caused widespread backlash.
Al-Azhar and Dar Al-Iftaa, Egypt's principal Islamic legal institution for issuing fatwas, are set to prepare a list of only 50 religious scholars and clerics who will be permitted to issue Fatwas via the media.
In 2017, Dar Al-Iftaa launched fatwa kiosks at the Cairo Metro to offer religious advice to commuters and fight extremist ideas. It focused on daily life issues, such as marriage, divorce, and inheritance, as well as correcting misinterpretations of Islam.
The division between religious institutions occurred when the ministry of religious endowments said it has the right to issue fatwas, while Al-Azhar rejected the ministry's interference in this regard, insisting that one of its affiliated committees has been tasked to issue fatwas since the 1980s and it should continue to do so.
A fatwa is normally issued by a recognised religious authority or individual based on the Holy Quran and the Prophet's teachings for guidance (Sunnah) on the routine of daily life subjects, such as marriage and inheritance.
In Egypt, Dar Al-Iftaa, under the ministry of justice, is the official institution devoted to issuing Fatwas, along with Al-Azhar's clerics in nationwide offices. For example, all court sentences of death ought be approved in consideration with Dar Al-Iftaa.
However, the state's top clerics and religious scholars, mainly those affiliated to Al-Azhar and the endowments ministry, are still unable to agree on a fixed vision for the reform, as some believe they have to adhere to the Holy Quran only and minimise the independence on Sunnah.
The difference between Al-Azhar and the ministry of religious endowments reached a crescendo last week when the representative of Al-Azhar announced he would not attend any more meetings on the law.
Stances of Al-Azhar and endowment ministry over Sunnah
The Minister of Endowments, Mohamed Mokhtar Gomaa, and the Grand Imam of Al-Azhar, Ahmed Al-Tayeb, had contradictory visions over the new anticipated discourse which that clearly apparent during the celebration of the Prophet's Birthday (Mawled) in November which was attended by Al-Sisi.
The minister urged that the renewal of religious discourse should consider the requirements of the current age and place as well, saying that the "early scientists succeeded to come up with religious discourse corresponding with the conditions and circumstances of their time, so in terms of changes and developments, now we have to take into account the circumstances of our times and conditions."
Gomaa cited one of the sayings of the Prophet that was applicable in previous eras, explaining that it cannot be followed in the current time due to developments and changes.
Al-Tayeb said that he rejects questioning the validity of the Prophet's sayings and Sunnah in general, while Gomaa suggested coming up with a new legislation that will be suitable with the current conditions of people.
Al-Tayeb also highlighted that the Sunnah is the second source of legislation in Islam preceded by Al-Quran, pointing out that it provided more details that were not mentioned in Islam's holy book, and that there is a need to maintain the Sunnah along with Al-Quran in the legislation and provisions for Muslims.
His statements came in response to calls of excluding some of the Sunnah from the legislation process, stressing that these calls are not new, as they were initially launched in India in early 20th century.
https://dailynewsegypt.com/2018/12/11/parliament-drafts-new-law-to-face-fatwa-chaos-amid-division-between-azhar-endowment-ministry/
--------
'If a Muslim kills a cow in front of Hindus, is it an offence?' IP university law exam asks question on religion
December 11, 2018
The Guru Gobind Singh Indraprastha University (GGSIPU) conducted its end-term law examination for third semester November-December 2018.
During the exam of Law of Crimes-I held on December 7, 2018, IP University has given a shock to its students and to the education system in India.
First question of the paper
Part A of the exam featured a question based on religion which asked the examinee about 'A Muslim slaughtering a cow in the presence of Hindus.'
Here's what was asked:
Ahmed, a Muslim kills a cow in a market in the presence of Rohit, Tushar, Manav and Rahul, who are Hindus. Has Ahmed committed any offence?"
De-humanizing Muslim community in education
This came into light when Bilal Anwar, an Advocate in Supreme Court, India shared the picture of the question on his Twitter handle on December 9, 2018.
After the circulation on the social media, the university has expressed the regret and decided to remove the question. It also said that the students will not be evaluated on their answer, Indian Express reported.
Manish Sisodia on the case
On this situation, Manish Sisodia, Delhi Education Minister had ordered an inquiry about the question based on religion as it seems to be an attempt to disturb the harmony of society.
Lynching in Bulandshahr
This comes after a few days of lynching a police inspector in mob violence over alleged cow slaughter in Bulandshahr, Uttar Pradesh.
According to the inspector's sister statement to India Today, her brother was killed in a conspiracy by the police as he was probing in an Akhlaq lynching case, a cow slaughtering case happened in Dadri a few years back.
https://www.indiatoday.in/education-today/news/story/ggsipu-law-exam-religion-1407036-2018-12-11
--------
Pakistan
Pakistan rejects downgrading by US in religious freedom
December 12, 2018
ISLAMABAD: Pakistan's foreign ministry has rejected Washington's move of placing Islamabad on its annual list of worst offenders for nations that infringe on religious freedom.
In a statement on Wednesday, it termed the decision as "unilateral and politically motivated."
It said "besides the clear biases reflected from these designations, there are serious questions on the credentials and impartiality of the self-proclaimed jury involved in this unwarranted exercise."
Pakistan's reaction came after Secretary of State Mike Pompeo said he added Pakistan to the US list of "countries of particular concern" regarding protection for people to worship according to their beliefs.
Pakistan had previously been on a special watch list for religious freedom.
The downgrade means Pakistan could be hit with US sanctions, although Pompeo waived those penalties in the US national interest.
http://www.arabnews.com/node/1419506/world
--------
CJ stresses need to revamp laws for quick dispensation of justice
December 12, 2018
KARACHI: Chief Justice of Pakistan Mian Saqib Nisar on Tuesday said that no country could progress without rule of law and underlined the need to revamp the laws and system in order to curtail inordinate delay in dispensation of justice.
He stated that unfortunately there were litigation-orientated people in the society and they used to approach courts unnecessarily in rent or other frivolous civil matters, adding that cost must be imposed on such frivolous litigations.
Speaking to lawyers and judges after laying the foundation stone of a proposed new registry building of the apex court at the Pakistan Secretariat, the chief justice said that judges were working hard, but the desired results were not being achieved, hence it had become necessary to introduce reforms and revamp the law and system.
He further said that no country could progress without rule of law and people may lose faith in this system due to delay in disposal of the cases and added that they were trying to introduce reforms in civil laws, but since there was a huge backlog it would be done gradually.
The burden of civil litigation on judiciary could be reduced through mediation and arbitration, he said and added that the judiciary was overburdened as around 160 cases were fixed before a civil judge in Punjab on daily basis.
Lauding the role of Justice Asif Saeed Khosa, the chief justice said that they were making efforts to improve the system by introducing reforms and a draft would be introduced in the first week of January to make major changes and improvements in the outdated police laws of 1886.
The CJP said that the country was facing the main challenges of water shortages and growing population and by 2025 Pakistan might experience extreme shortages of water and it was mandatory to build dams and properly manage and utilise water.
Initially, the idea to build dams came after the apex court was informed about the water issues in Karachi and Quetta, he said and added that there was a mafia behind the water shortages in Karachi, but the apex court-mandated commission, working for past eight months, had worked a lot in Karachi and rest of Sindh on water and sanitation issues.
The bottled water companies were paying not a single rupee in tax in the past, but now they would have to pay Re1 per litre and "we are working for a legal solution in this regard", he added.
The chief justice further stated: "We were living out of our resources since the population has been rapidly growing and it is expected that total population of the country may rise to around 450 million in the next 30 years and that only proper planning could save our coming generations."
Full report at:
https://www.dawn.com/news/1450838/cj-stresses-need-to-revamp-laws-for-quick-dispensation-of-justice
--------
Twitter warns global users their tweets violate Pakistani law
Dec 11, 2018
WASHINGTON: When Canadian columnist Anthony Furey received an email said to be from Twitter's legal team telling him he may have broken a slew of Pakistani laws, his first instinct was to dismiss it as spam.
But after Googling the relevant sections of Pakistan's penal code, the Toronto Sun op-ed editor was startled to learn he stood accused of insulting the Prophet Mohammad -- a crime punishable by death in the Islamic republic -- and Twitter later confirmed the correspondence was genuine.
His perceived offense was to post cartoons of the prophet several years ago.
Furey and two prominent critics of extremism in Islam say they are "shocked" to have received notices by the social media giant this past week over alleged violations of Islamabad's laws, despite having no apparent connection to the South Asian country.
They say the notices amount to an effort to stifle their voices -- a charge Twitter denies, arguing the notices came about as a result of "valid requests from an authorized entity," understood to mean Pakistan, helped users "to take measures to protect their interests," and the process is not unique to any one country.
But Furey is the third prominent user in the space of days to publicly complain about receiving a message linked to Pakistan.
The other two are Saudi-Canadian activist Ensaf Haidar and Imam Mohammad Tawhidi, a progressive Muslim scholar from Australia who was born in Iran.
Both are outspoken critics of religious extremism and have accused the social media giant of helping to silence progressive ideas within Islam.
Furey, who detailed his experience in a column for his newspaper on Saturday, told AFP: "I'm somewhat alarmed that Twitter would even allow a country to make a complaint like this, as it almost validates their absurd blasphemy laws."
The tweet in question was a collage of cartoons of Mohammad that he posted four years ago.
"Looking back, I remember I did it right after there had been an ISIS-inspired attack in retaliation over the cartoons," Furey wrote in his column, adding he had not posted similar material before or since.
Haidar, who is the wife of Saudi writer Raif Badawi who was jailed in his country in 2012 for charges including apostasy, told AFP: "I'm very shocked by Twitter. They want to silence any voice telling the truth."
Twitter wrote to her concerning an August tweet which showed a woman wearing the Islamic full veil, with the caption: "Retweet if you're against niqab."
A notice sent to her and seen by AFP advised her that Twitter had received official correspondence saying she could be violating Pakistani law for the tweet, adding: "You may wish to consult legal counsel about this matter.
Tawhidi meanwhile was sent a similar notice flagging a tweet that called on Australian police to investigate extremism in mosques following a deadly knife attack in Melbourne in November.
The scholar attached the legal notice sent to him by Twitter informing him of possible violations of Pakistani law, and tweeted: "I am not from Pakistan nor am I a Pakistani citizen.
"Pakistan has no authority over what I say. Get out of here."
Reached for comment, a spokesperson for Twitter told AFP: "In our continuing effort to make our services available to people everywhere, if we receive a valid requests from an authorized entity, it may be necessary to withhold access to certain content in a particular country from time to time."
The spokesperson added: "We notify users so that they have the opportunity to review the legal request, and the option to take measures to protect their interests."
Pakistan has previously threatened to block Twitter if the company did not remove content its government found offensive.
It banned Facebook for hosting allegedly blasphemous content for two weeks in 2010 while YouTube was unavailable from 2012 to 2016 over an amateur film about the Prophet Mohammad that led to global riots.
Furey told AFP that although he was taken aback by the notice, "I'm at least glad they brought it to my attention that the Pakistan government has their eye on me."
Full report at:
https://timesofindia.indiatimes.com/world/pakistan/twitter-warns-global-users-their-tweets-violate-pakistani-law/articleshow/67041451.cms
--------
Cancellation of alcohol permit bill rejected in NA
Dec 12, 2018
National Assembly (NA) on Tuesday rejected the cancellation of alcohol permit bill which was presented by the government with the support of Muttahida Majlis-e-Amal (MMA) but was opposed by Pakistan Muslim League-Nawaz (PML-N) and Pakistan People's Party (PPP).
Reportedly, Pakistan Tehreek-e-Insaf (PTI) leader and Member National Assembly (MNA) Ramesh Kumar, while seeking permission for the presentation of the bill to make amendment in Article 37, said that since the alcohol is prohibited in all religions including Islam, Hinduism and Christianity so its permit must be abrogated.
According to details, the NA Deputy Speaker Qasim Khan Sori had rejected the bill as the bill was opposed by the majority of the house, however, MMA members of NA staged protest over the rebuff of the bill.
Full report at:
https://www.pakistantoday.com.pk/2018/12/11/cancellation-of-alcohol-permit-bill-rejected-in-na/
--------
Africa
Boko Haram Gathers Strength as Nigeria Prepares For Elections
Anand Kumar
December 11, 2018
One of the most notorious terrorist organizations in the world, the Boko Haram, has intensified its terror activities in northeastern Nigeria and the Lake Chad region. Since July 2018, there have been at least 17 attacks on military bases in Nigeria, almost all of them in the region around Lake Chad. The Islamic State (IS) claimed its militants had killed 118 people in five operations in Nigeria and Chad between November 15 and 21. On November 18, in a daring attack, the IS-allied Boko Haram jihadists killed at least 43 soldiers when they overran a base in Metele village near the border with Niger. The survivors however put the death toll at more than a hundred. The Boko Haram has reportedly taken over two towns in this area, with the Nigerian military suffering huge damages.
The resurgence of the Boko Haram is especially glaring as Nigerian President Muhammadu Buhari declared the terrorist organization as 'technically defeated', after assuming power in 2015. Even in January 2018, Buhari insisted that Boko Haram has been defeated. With the Boko Haram intensifying its activities by attacking villages and military bases in the Lake Chad region, it has become clear that the terrorist organization has not been weakened. On the contrary, it appears to have only gathered strength. Now questions are being asked as to how a virtually defeated terrorist organization is able to cause so much damage to the Nigerian security forces and its people.
Boko Haram was founded by Mohammed Yusuf in 2002. Yusuf was captured by the Nigerian police following the July 2009 Boko Haram uprising. He was summarily executed in public view outside the police headquarters in Maiduguri. Police officials had initially claimed that Yusuf was shot while trying to escape. The group has been led by Abu bakar Shekau since 2009, and the terrorist organization has been active since then in northeastern Nigeria. The influence of Boko Haram has gradually spread to neighbouring Cameroon, Chad and Niger. In Nigeria alone, more than 27,000 people have been killed over the past nine years, and the violence has forced out some 1.8 million people from their homes. One of the most notorious acts of the Boko Haram was the abduction of Chibok girls in April 2014. The group advocates Sharia law and rejects Western education.
The insurgency led by the Boko Haram is especially strong in the area known as the Lake Chad region. This is a strategic area where the borders of four countries – Nigeria, Cameroon, Chad and Niger, converge. Since 2015, these four countries have been collaborating militarily as part of the Multinational Joint Task Force (MNJTF). After the recent upsurge in Boko Harm violence, leaders of all four countries met in the Chadian capital on 29 November 2018 to devise a joint response.
Boko Haram split in August 2016, when IS supported a group of militants who wanted to part ways with Shekau. They crowned Abu Musab al-Barnawi as the new governor of Islamic State-West Africa (IS-WA). Shekau has not accepted this change and continues to command militants loyal to him under the group's previous name, Jama'atu Ahlis Sunna Lidda'awati wal-Jihad (JAS). The Shekau faction of Boko Haram is notorious for using suicide bombers to attack military and civilian targets.
When President Buhari came to power in 2015, there was lot of hope that he would improve the economy and deal effectively with the extremism. Hope on both these fronts seems to be vanishing as Nigeria prepares for elections in February 2019. The economy of Nigeria largely dependent on export of oil was in turmoil after the international oil prices fell in 2016.
The upsurge in the Boko Haram violence has forced the Nigerian government to improve security forces deployment. There are now about 7000 personnel deployed in the destabilized Borno State. There have also been frequent changes in commanders of the force handling insurgency. In the latest change, the Federal Government of Nigeria ordered Chief of Army staff, Lt. Gen. Tukur Buratai, to return to the northeast to oversee the fight against Boko Haram. He is expected to stay there until Boko Haram insurgents are crushed. The federal government has also instructed Chief of Defence Staff, Gen. Abayomi Olonisakin, and Gen. Buratai, to overhaul the conduct of major operations in the country. These include Operation Lafiya Dole in the northeast, Operation Delta in the Niger Delta, Operation Sharan Daji in Zamfara and Katsina states, and Operation Awatse in the Southwest. President Buhari has also ordered the immediate procurement of critical equipment for the armed forces.
While Buhari has been criticised for having termed Boko Haram as a 'technically defeated' outfit, he is also accused of providing poor training and inappropriate weapons to the army resulting in massive casualties. Some are even accusing the President of purposely doing this so that military could be discredited, to prevent any possible coup d'etat. In the 55 years of Nigeria's post-colonial history, the country has been ruled by army generals for 40 years.
Boko Haram has proved to be much more resilient than Nigerian authorities had anticipated. Its resurgence might affect the holding of credible polls in Borno, Adamawa and Yobe in February 2019. These areas are too volatile and vulnerable to the Boko Haram banditry. Nigeria needs a long term strategy to defeat Boko Haram as the latest round of violence indicates that the terrorist organization is expected to survive beyond the February 2019 elections. In the near term, if the Nigerian state is able to check Boko Haram's present activities by the increased deployment of its security forces and holds credible elections in the troubled areas, that itself would be a big achievement.
https://idsa.in/idsacomments/boko-haram-strength-as-nigeria-elections-akumar-111218
--------
UN says ISIS killed six captives in Libya
11 December 2018
The UN mission to Libya says ISIS militants have killed six people captured during an attack on a small town in October.
The UN statement late Monday condemned the killing as "particularly abhorrent," without providing further details. The six were captured on Oct. 28 during an attack on the town of al-Fuqaha.
The town is south of the coastal city of Sirte, a former ISIS-held bastion.
The attack underscored the volatility of Libya's central region, where ISIS and other armed groups, including some from neighboring Chad, operate as highway robbers or attack patrols of the self-styled Libyan National Army.
Full report at:
https://english.alarabiya.net/en/News/north-africa/2018/12/11/UN-says-ISIS-kills-6-captives-in-Libya.html
--------
North America
Religious Leaders Arrested At U.S. Border As Christians, Muslims And Jews Unite To Protest Migrant Detention
By Ewan Palmer
12/11/18
More than 30 religious leaders were arrested after they staged a pro-migrant demonstration at the U.S. border to show support for the Central American caravan.
Hundreds of people took part in the protest at San Diego's Border Field State Park, which borders Tijuana, Mexico, to call for an end to the practice of placing migrants in detention and to welcome those seeking refuge in the U.S after having traveled across Central America.
Among those taking part in the demonstration, organized by the American Friends Service Committee, were leaders from numerous Christian, Muslim, Jewish and indigenous communities.
The arrests were made after the protesters entered a restricted area in front of the border fence, reported The Guardian.
Border Patrol spokesman Theron Francisco told The Associated Press that 31 people were arrested for trespassing, and one was arrested for assaulting an officer.
The protest was the start of a week of action planned by the pro-migrant Quaker organization. The "Love Knows No Borders" events will take place between Human Rights Day on December 10 and International Migrants' Day on December 18.
"As a Quaker, I believe there is that of the divine in all of us," Laura Boyce, associate general secretary for U.S. Programs at ASFC, said in a statement.
"This belief calls us to stand with those fleeing violence and poverty, and to call on our government to uphold the human rights of migrants and end the militarization of border communities. In the face of unfounded fear, racism and violence, courageous action is necessary."
Bishop Minerva G. Carcaño, from the San Francisco Area United Methodist Church, added: "Showing up to welcome and bless children, mothers and fathers seeking asylum from very difficult and dehumanizing circumstances is the right and humane thing to do. How we act in these moments determines who we will become as a nation."
Other groups and religious organizations, including the Council on American-Islamic Relation, the United Methodist Church and Jewish Voice for Peace, will be joining ASFC for the "Love Knows No Borders" events and protests.
The group is also calling for Congress to end funding for the Immigration and Customs Enforcement and Customs and Border Protection agencies.
Thousands of migrants are camped out in Tijuana, having made the long journey to the border in the hopes of claiming asylum in the U.S.
In November, Tijuana's mayor, Juan Manuel Gastelum, declared an international humanitarian crisis after more than 5,000 Central American migrants arrived in the border town.
"We don't have sufficient and necessary infrastructure to adequately attend to these people, to give them a decent space," he told Grupo Formula radio.
https://www.newsweek.com/border-protest-religious-leaders-arrested-migrant-caravan-us-mexico-border-1253134
--------
Trump vows to rid Syria of Daesh in one month
12.12.2018
By Michael Hernandez
WASHINGTON
U.S. President Donald Trump said Tuesday that Daesh terrorists will be eliminated from the areas they control in Syria within a month.
"We've done a very, very major job on ISIS. There are very few of 'em left in that area of the world," Trump said, referring to Daesh. "Within another 30 days, there won't be any of them left."
Trump made the comments as he signed into law the Iraq and Syria Genocide Accountability Bill, which seeks to hold Daesh accountable for the crimes it committed against religious and ethnic communities in Iraq and Syria and provide assistance to the persecuted groups.
Full report at:
https://www.aa.com.tr/en/americas/trump-vows-to-rid-syria-of-daesh-in-one-month/1336069
--------
Trump signs bill to help religious minorities in Iraq and Syria
December 12, 2018
President Donald Trump signed legislation on Tuesday to help ensure humanitarian relief reaches the members of religious and ethnic minorities in Iraq and Syria who have been targeted for genocide by ISIS militants.
"In recent years, IS has committed horrifying atrocities against religious and ethnic minorities in Syria and Iraq, including Christians, Yazidis, Shia and other groups," Mr Trump said.
He said the bill directs US assistance toward persecuted communities, including through faith-based programmes. It also allows government agencies to help groups that are investigating and prosecuting ISIS' "despicable acts."
Rep. Chris Smith, R-N.J., introduced the Iraq and Syria Genocide Emergency Relief and Accountability Act. He said the measure also urges foreign governments to help apprehend ISIS perpetrators by adding identifying information on suspects to their national security databases.
Full report at:
https://www.thenational.ae/world/the-americas/trump-signs-bill-to-help-religious-minorities-in-iraq-and-syria-1.801752
--------
Time magazine names Khashoggi 'person of the year'
Dec 11, 2018
Time magazine has named Jamal Khashoggi, the Saudi dissident journalist killed in the kingdom's diplomatic mission in Istanbul in October, as its "Person of the Year" for 2018.
The news magazine on Tuesday gave the annual designation, which goes to the person they judge has been the most influential over the past year, to "the Guardians and the War on Truth."
Time said Khashoggi had "dared to disagree with his country's government," adding that, "He told the world the truth about its brutality toward those who would speak out. And he was murdered for it."
Khashoggi, a prominent critic of Saudi Crown Prince Mohammed bin Salman and a Washington Post columnist, disappeared on October 2 after visiting the Saudi consulate in Istanbul to obtain documentation for his forthcoming marriage.
Saudi Arabia initially claimed he had left the consulate alive, but weeks later admitted that he was killed inside the diplomatic mission and blamed his death on a group of Saudi operatives.
Turkish leadership said the order to slay Khashoggi had been issued from "the highest levels" of the Saudi government, suggesting that the crown prince had ordered such a gruesome crime.
The CIA is said to have concluded that bin Salman had "probably ordered" the murder.
US President Donald Trump has drawn criticism for his handling of Khashoggi's death after he failed to condemn the Saudi crown prince or issue harsher punishment toward the kingdom.
Alongside Khashoggi, Time also honored the journalists killed in the mass shooting at the Capital Gazette in Maryland in June, two Reuters reporters jailed in Myanmar after investigating the massacre of Rohingya Muslims and Maria Ressa, who runs an online news site in the Philippines.
"In its highest forms, influence – the measure that has for nine decades been the focus of Time's Person of the Year – derives from courage. Like all human gifts, courage comes to us at varying levels and at varying moments," Time magazine's editor-in-chief, Edward Felsenthal, wrote in an essay about the selection.
"This year we are recognizing four journalists and one news organization who have paid a terrible price to seize the challenge of this moment: Jamal Khashoggi, Maria Ressa, Wa Lone and Kyaw Soe Oo and the Capital Gazette of Annapolis, Md," he added.
Special counsel Robert Mueller has been chosen as Time magazine's third-place runner-up after Donald Trump — a recognition of the significance of his investigation into Russian interference in the 2016 election and possible collusion with the Trump campaign.
Time's Person of the Year recognizes "the person or group of people who most influenced the news and the world — for better or for worse — during the past year." Although Mueller rarely makes any public comments, his presence has loomed over American politics and foreign policy for the year.
Time, which originally launched the award in 1927, has chosen controversial winners, including Adolf Hitler in 1938 and Joseph Stalin in 1939 and 1942.
Full report at:
https://www.presstv.com/Detail/2018/12/11/582666/Time-magazine-Jamal-Khashoggi-Saudi-dissident-journalist
--------
South Asia
Two Islamic extremists arrested for plotting to kill Bangladeshi filmmaker
December 11, 2018
Two members of Islamic extremist group Ansarullah Bangla Team were arrested Tuesday for allegedly plotting to kill prominent Bangladeshi actor and filmmaker Khijir Hayat Khan.
Members of Counter-Terrorism and Transnational Crime unit (CTTC) of Dhaka Metropolitan Police arrested Md Emdadul Islam alias Mehedi Hasan and Abu Bakar from Dhaka's Banani area early Tuesday morning, police said.
Police said the two belonged to homegrown militant outfit Ansarullah Bangla Team (ABT), blamed for a series of murders of secular activists, writers and bloggers since 2013, the Daily Star reported.
The group is believed to be linked with Al-Qaeda in the Indian Sub-continent (AQIS).
The ABT men created a group on Telegram messenger app and contacted with each other to plan the murder of Hayat, one of the script writers Mr Bangladesh', a film about thwarting terrorists that hit cinemas last month.
The two also visited Hayat's village in Cumilla several times to murder him, the CTTC members claimed.
https://www.business-standard.com/article/pti-stories/two-islamic-extremists-arrested-for-plotting-to-kill-bangladeshi-filmmaker-118121101145_1.html
--------
Another year of unresolved terror in Bangladesh
11 December 2018
Threats to Bangladesh's internal security continue to emanate from groups affiliated with al-Qaeda and the so-called Islamic State (IS). The key groups operating in Bangladesh are the Jamma'atul Mujahideen Bangladesh (JMB) and Ansar al-Islam. An IS-centric offshoot of JMB, often referred to as the Neo-JMB, is also active. Despite sustained counter-terrorism operations, these groups continue to adapt to the evolving security environment and form new alliances.
Since the IS-inspired Dhaka cafe attack in 2016, Bangladeshi law enforcement agencies have scaled up their operations across the country — 906 people have been arrested for their alleged involvement in Neo-JMB and around 100 militants were killed during these operations. This has created leadership disarray within Neo-JMB and drastically reduced its capacity to raise funds and carry out attacks.
As the year draws to a close, Neo-JMB appears weakened but not yet contained. The group has a new leader reviving the group. Recruitment continues and the group is allegedly planning terror attacks. There is also the possibility of lone-wolf or single actor attacks, as pro-IS propaganda materials are still available online and circulated through social media.
This year has also seen the re-emergence of JMB, which is gradually rebuilding its networks after the arrest of hundreds of JMB leaders and activists in 2005. According to Bangladeshi authorities, JMB and Ansar al-Islam (the Bangladeshi wing of al-Qaeda) are possibly working together, or at least have similar targets. The July 2018 killing of Shahjahan Bachchu — a writer, publisher and former left-wing politician — is a case in point. Bachchu came under the radar of both terrorist groups thanks to his secular blogs. The groups then worked in tandem to kill him: Ansar al-Islam conducted the reconnaissance while JMB eliminated him.
In mid-2018, JMB opened a new wing in India: Jama'atul Mujahedeen India (JMI). The group believes in using Qital (armed struggle) to 'uproot polytheism and to establish Islam' and claims that the Indian subcontinent is a future battlefield for establishing the caliphate.
The revival of JMB highlights the possibility of a new wave of terrorist activities in Bangladesh, especially as the country prepares for elections at the end of 2018. The group vehemently opposes democracy and may try to target polling centres.
Bangladesh and India have carried out around 100 joint operations to dismantle JMB. But the success of this campaign will be limited unless a long-term strategy is formed to check Islamist militancy.
While the Bangladesh government's response to terrorism in 2018 was largely operational, they have put in place a range of strategic initiatives. Authorities are focussing on the threat of cyber-radicalisation and mobilisation by militant groups. They are also engaging Muslim clerics to create greater awareness of extremism and terrorism and working to regulate Madrassa education.
Bangladeshi authorities continue to organise community engagement programs and inter-faith dialogues. Some agencies are currently working with academics to promote an in-depth understanding of preventing and countering violent extremism. Law enforcement agencies are also using mobile-apps to collect human intelligence and feedback from the community.
Bangladesh's key challenge at this juncture is to build a well-structured counter-terrorism strategy and action plan. This should include cyber platforms for encouraging moderation and a policy for rehabilitating extremists.
Hampering Bangledesh's efforts is the limited coordination between counter-terrorism agencies and the prison system. Quite often, terrorist detainees and inmates bribe prison officers to be transferred to prisons of their choice. This makes monitoring difficult.
One positive development has been the establishment of an Anti-Terrorism Tribunal (ATT) — under the 2009 Anti-Terrorism Act — to more efficiently trial terrorist suspects. The ATT will be in charge of the Dhaka cafe attack trial. The second tribunal will be set up in Chittagong.
Full report at:
http://www.eastasiaforum.org/2018/12/11/another-year-of-unresolved-terror-in-bangladesh/
--------
Taliban attack on security team near Kabul kills 12
December 12, 2018
KABUL: The death toll from a suicide bombing targeting a security forces convoy outside Kabul early on Tuesday jumped to 12, officials said, with eight civilians killed in the latest Taliban-claimed attack near the Afghan capital.
The officials said it was a suicide attack on an operational team from the National Directorate for Security, but he gave no further details.
The car bomb follows a wave of deadly violence against Afghan forces across a year in which insurgents have inflicted record-high casualties on security personnel in the war-torn country.
"Twelve people including four members of the security forces were killed," ministry of interior deputy spokesman Nasrat Rahimi said.
Kabul police confirmed the casualties, adding that women and children were among the dead.
The blast took place in Paghman district west of Kabul as the convoy was returning from an overnight operation, interior ministry spokesman Najib Danish said.
The ministry of interior and a separate security official requesting anonymity confirmed the assailant had used a car bomb to target the convoy.
Afghan security forces, beset by killings and desertions, have been struggling to beat back insurgents from the militant Islamic State group as well as the Taliban since US-led Nato mostly left them on their own three years ago.
In November President Ashraf Ghani said nearly 30,000 Afghan soldiers and police officers have been killed since 2015 — a figure far higher than anything previously acknowledged.
Earlier this month, Lieutenant General Kenneth McKenzie — who has been nominated to lead the US military's Central Command — said the death rate among Afghan forces will no longer be sustainable unless urgent measures are taken to address recruiting and training issues.
The early morning attack in Kabul came just hours after an overnight assault on a checkpoint in Arghistan district of southern Kandahar province by Taliban fighters killed at least eight Afghan police officers according to the provincial media office.
"The fighting lasted several hours, 11 Taliban were also killed," the office added.
Full report at:
https://www.dawn.com/news/1450954/taliban-attack-on-security-team-near-kabul-kills-12
--------
In Bangladesh polls, Sheikh Hasina pitted against father's lieutenant-cum-friend
12 December 2018
Bangladesh Prime Minister Sheikh Hasina was eyeing a cakewalk in the year-end general elections but her pitch has been queered by a venerable 82-year-old Oxford educated jurist - Kamal Hussain - who is today the face of a united opposition in the south Asian nation.
The internationally renowned Hussain's presence in the election fray has clearly enlivened the recurring Begum Vs Begum politics of the predominantly Muslim country of 160 million.
Ironically, Awami League's Hasina grew up calling Hussain "kaku", or uncle, as he is a close lieutenant-cum-friend of her late father, Sheikh Mujibur Rahman, who led Bangladesh's struggle for independence from Pakistani rule.
The two men were jailed together. After independence was achieved with India's assistance in 1971, Hussain helped Rahman draft the free nation's constitution and served as Law and Foreign Minister.
Rahman was brutally killed in 1975. India gave asylum to a frightened Hasina even as General Ziaur-Rahman, founder of Bangladesh Nationalist Party (BNP), decimated the Awami League (AL) and seized power. But Hussain pulled out all stops to bring Hasina's back from exile and personally ensured that she became Prime Minister to complete her father's unfinished task.
But subsequently they fell out and Hussain retired from active politics to focus on human rights and his legal practice, including UN assignments. But today Hussain's goal is to unseat "niece" Hasina who he contemptuously calls "authoritarian" and a "dictator".
Floundering opposition
The Bangladeshi opposition was floundering in the run-up to the general elections with BNP chief and former PM Khaleda Zia in prison and heir-apparent, Tarique Rahman, living in exile in London after his conviction in Bangladesh. The elections seemed to be a walkover for Hasina.
But the scenario dramatically changed when Hussain's Gano Forum, or People's Forum, unexpectedly stitched an alliance with BNP and a few smaller groups to float the Jatiya Oikya Front, or National Unity Front, to take the AL head on in the year-end polls. The December 30 elections has been thrown wide open by Hussain's emergence – or rather re-emergence – from the shadows in October when he decided to throw his hat into the ring.
Hussain is respected by educated Bangladeshis living in cities and towns because of his long and distinguished innings in public life. He is a hero for the country's Western-educated elite with liberal values – especially secularism and the rule of law – which Hussain defiantly stands for.
Hussain's biggest worry is his frail health. When a newspaper report compared him to Mahathir Mohamad, the Malaysian icon who staged a comeback as PM at the ripe old age of 92, he remarked that Mahathir's health is better than his.
Hasina is known to lash at her political rivals, particularly her bete noire Khaleda Zia, now in jail on charges the BNP says are trumped up to stop her from leading her party in the elections. But Hasina has refrained from attacking Hussain despite the challenge he poses. Her hatchet men do prick Hussain but he refuses to react.
Full report at:
https://english.alarabiya.net/en/features/2018/12/12/In-Bangladesh-polls-Sheikh-Hasina-pitted-against-father-s-lieutenant-cum-friend.html
--------
6 killed, 6 wounded in Kabul explosion
Dec 11 2018
An explosion took place in the vicinity of Paghman district of Kabul earlier today, leaving at least 12 dead or wounded.
The security officials confirm that an explosion has taken place in the vicinity of Bala Chinar area of Paghman district.
The Ministry of Interior spokesman Najib Danish says at least four security personnel have lost their lives in the explosion.
Deputy interior ministry spokesman Nusrat Rahimi, had earlier said a convoy of the security forces have been targeted in the blast.
In the meantime, officials in the Ministry of Public Health are saying at least six people have lost their lives in today's attack and at least six others have sustained injuries.
No individual or group has so far claimed responsibility behind the explosion.
https://www.khaama.com/explosion-heard-in-kabul-02907/
--------
Taliban's command and control center eliminated in Helmand province
Dec 12 2018
The local officials in southern Helmand province are saying that the command and control center of the Taliban group has eliminated in this province.
Provincial governor Gen. Mohammad Yasin said Tuesday the command and control center of the group has been eliminated during the night.
He made the remarks during a meeting of the military council and added that the night operations kicked off in this province over two month sago.
According to the officials, the Taliban militants have suffered heavy casualties during the operations but did not elaborate further regarding the estimated number of Taliban deaths.
In the meantime, provincial police Chief Gen. Abdul Raziq Yaqoubi said the casualties of the Afghan armed force have also reduced during the recent months.
Full report at:
https://www.khaama.com/talibans-command-and-control-center-eliminated-in-helmand-province-02912/
--------
Afghan forces repulse ISIS attacks in two districts of Kunar province
Dec 11 2018
The Afghan armed forces separate attacks launched by ISIS Khurasan militants in two districts of eastern Kunar province, the Afghan military said Tuesday.
According to a statement released by 201st Silab Corps of the Afghan Military in the East, the ISIS militants launched attacks on army posts in Marwara and Watapur districts earlier today.
The statement further added that the Afghan forces effectively responded to the attack and forced ISIS militants to retreat.
According to 201st Silab Corps, the ISIS militants have also sustained casualties during the clashes but the exact number has not been ascertained so far.
The anti-government armed militant and terrorist groups including ISIS loyalists have not commented regarding the clashes so far.
Full report at:
https://www.khaama.com/afghan-forces-repulse-isis-attacks-in-two-districts-of-kunar-province-02911/
--------
Arab World
Turkish Army, Allied Militants Continue Plundering Artifacts in Northern Syria
Dec 11, 2018
The Arabic-language website of Hawar news quoted a local source in occupied Afrin as disclosing that the army and its militant allies have looted artifacts from a historical hill between the villages of Kamrouk and Simalka in Mobata region in Afrin.
It further said that the Turkish army troops have cut off a sum of 400 olive trees in local farms to excavate the hill, adding that the trees had been planted over 800 years ago.
Hawar news went on to say that the Ankara forces have also stolen the railway lines in the village of Arab Sheikhou in Mobata, adding that the Turkish troops and their allied militants have been continuously capturing and torturing people to further force their family members to pay money for their release.
Hawar news reported last month that Ahrar al-Sharqiyah terrorists, affiliated to the Turkish Army, have started excavation operation in Af Qayri cemetery in Mobata region in Afrin to find gold and antiques, adding that the Ankara forces destroyed the graveyard and looted historical artifacts.
It further said that Turkish army men broke into residential units in the village of Borj Abadlou in Shirawa, stealing public assets after killing one of the family's members.
Hawar news went on to say that the Ankara forces have arrested over 2,500 civilians since March, adding that the fate of 850 is unknown.
http://en.farsnews.com/newstext.aspx?nn=13970920000734
--------
More Bodies of Civilians Killed in US Raids, ISIL Attacks Unearthed in Northwestern Syria
Dec 11, 2018
The team members found 2 bodies from under the debris of a ruined building in al-Thaknah neighborhood in Raqqa city yesterday.
The victims were killed in the US air attacks.
Eleven more bodies were unearthed from a mass grave in Panorama district South of Raqqa city.
At least 20 bodies of civilians, including of women and children, were discovered from another mass grave in Panorama and several more were taken out from under the debris of the buildings ruined in the US raids in al-Badou and al-Jaramiyah neighborhoods in Raqqa city.
In mid-October, the Arabic-language website of Russia's state news agency, RT, reported that the largest mass grave of civilians was in Panorama in Raqqa city with over 1,500 bodies of victims killed in the US air raids or in the Washington-backed militants' attacks when the city was under ISIL's rule.
In the meantime, the Kurdish-language Hawar news reported that Raqqa Civil Team discovered 11 mass graves, adding that excavations completed in 8 mass graves.
Full report at:
http://en.farsnews.com/newstext.aspx?nn=13970920000792
--------
Hama: Syrian Army's Heavy Fire Pre-empts Terrorists' Attack from Demilitarized Zone
Dec 11, 2018
The artillery and missile units, stationed in the villages of al-Hamamiyat and Bridij North of the small town of Mahradah, pounded the movements of a group of terrorists in Tal al-Sakhar, preempting their attack.
The terrorist groups suffered a large number of casualties and its military hardware sustained major damage.
The remaining pockets of the terrorists retreated from the under-fire region.
The terrorists' refusal to implement the Sochi Agreement to establish a demilitarized zone is pushing the army to initiate its long-waited assault on militants in Idlib that had been put on hold due to the Sochi Agreement.
Colonel Mar'ei Hamdan, a Syrian military expert, was quoted by the Arabic-language website of Sputnik news agency as saying last month that Tahrir al-Sham Hay'at (the Levant Liberation Board or the Al-Nusra Front) is in control of nearly 70% of towns and villages in Idlib province and makes provocative moves against the Syrian army, adding that the army's commitment to decrease tensions is not lasting forever.
He added that the Syrian army has so far repelled all attacks by terrorists against its positions and inflicted heavy damages on them, noting that the army is now necessitated to come out of the defensive mood to retake control of Idlib.
Hamdan said that Tahrir al-Sham will resort to a full-scale military operation against the Syrian and Russian armies soon, after rejecting the Sochi agreement last October, which leaves no room for ceasefire or disarmament anymore, and underlined that the Syrian army's battle against Tahrir al-Sham is inevitable.
Meantime, the Turkey-backed Ahrar al-Sham and National Liberation Front (NLF) terrorist groups has also dismissed the Russian-Turkish Sochi agreement and is preparing for military operations against the army in Northern Syria, calling for a coalition with Tahrir al-Sham.
Tahrir al-Sham and other allied terrorist groups have not left the demilitarized zone two months after the Sochi agreement and have instead reinvigorated their strongholds and targeted the army positions every day.
Full report at:
http://en.farsnews.com/newstext.aspx?nn=13970920000816
--------
US-Backed SDF Releases ISIL Terrorists in Return for Hefty Amount of Money
Dec 11, 2018
The Arabic-language website of Anadolu quoted local sources in Eastern Deir Ezzur as disclosing that the SDF liberated, Oweid, a senior ISIL commander the militia had captured in the town of al-Tayanah several months ago.
It further said that the SDF received $100,000 to let the commander be free from custody.
In a similar move, the SDF had liberated 40 ISIL terrorists from its jail in the town of Tal Abyadh in Northern Raqqa in return for a hefty amount of money.
In a relevant move by the US forces, the Arabic-language website of RT quoted the locals as saying last month that the US helicopters conducted heliborne operations to openly rescue ISIL commander where they come under siege.
It further said that the US warplanes targeted residential unis that were far from ISIL bases in Eastern Deir Ezzur.
The local population further told the Arabic RT that a large volume of the US-made weapons and ammunition were found in the Syrian Army's mop-up operations in ISIL's positions in Deir Ezzur province that was further proof of the close cooperation between the US and the ISIL.
Full report at:
http://en.farsnews.com/newstext.aspx?nn=13970920000693
--------
US Fighter Jets Target Allied Militia in Eastern Syria
Dec 11, 2018
Al-Watan online quoted local sources as reporting that the warplanes targeted SDF positions in Hajin hospital in Southeastern Deir Ezzur.
It further said that the bombardment was allegedly launched to repel an ISIL attack on the hospital, adding that at least 15 SDF gunmen were injured in the air raid.
The coalition aircraft had previously launched such attacks on the SDF near the town of Hajin and had inflicted major losses to the militias.
On Saturday, the warplanes fired several missiles on the town of Hajin in Southeastern Deir Ezzur, leveling a medical center to the ground.
In the meantime, 8 members of a family, including 2 children and 3 women, were killed and several more were sounded in another case of airstrike on residential areas in Hajin.
http://en.farsnews.com/newstext.aspx?nn=13970920000616
--------
250,000 Syrian refugees could return home next year - UNHCR
11 December 2018
Up to 250,000 Syrian refugees could return to their devastated homeland in 2019, while many others face problems with documentation and property that the Damascus government must help resolve, the UN refugee agency UNHCR said on Tuesday.
Some 5.6 million Syrian refugees remain in neighboring countries - Turkey, Lebanon, Jordan, Egypt and Iraq - Amin Awad,
UNHCR director for the Middle East and North Africa, told a news briefing.
Some 37,000 have returned this year, UNHCR figures show.
Full report at:
https://english.alarabiya.net/en/News/middle-east/2018/12/11/250-000-Syrian-refugees-could-return-home-next-year-UNHCR.html
--------
Saudi KSRelief contributes more than $700 mln to support Yemen food security
11 December 2018
Saudi Arabia's King Salman Humanitarian Aid and Relief Centre (KSRelief) has contributed more than $700 mln within 65 projects since 2015 to support Yemen's food security.
According to the center, the projects across Yemen from 2015 to November 2018 totaled a cost of $708,050,013.
In 2017 alone, $455,394 were spent in providing food assistance during the year 2017.
Specifically, 76,250 food baskets were distributed in Taiz, 2,800 food parcels were distributed in Marib, while 3,000 tons of dates were distributed to 15 governorates. Within the Socotra relief project, 120 food baskets were distributed. 40,000 food baskets were distributed according to the emergency needs of the governorates of Sana'a and Hajjah.
According to the center, $17,600,000 was allocated within the immediate response project to prevent famine in the country.
Full report at:
https://english.alarabiya.net/en/News/gulf/2018/12/11/Saudi-KSRelief-contributes-more-than-700-mln-to-support-Yemen-food-security.html
--------
Iraq seeking exemption from US sanctions to keep importing Iranian gas
Dec 12, 2018 1
Iraqi Prime Minister Adel Abdul Mahdi says Baghdad government will send a delegation to the United States to explore avenues for an exemption from sanctions against Iran, which would allow the Arab country to keep importing Iranian gas used to feed its power stations.
"The American side is cooperating with Iraq to find solutions that would remove pressure on Iraq because the (Iranian) gas is linked to a very sensitive issue, which is electricity," Abdul Mahdi told a news conference on Tuesday.
Abdul Mahdi'd remarks came on the same day that US Energy Secretary Rick Perry met Iraqi Oil Minister Thamir Ghadhban and Electricity Minister Qasim Mohammad Abid Hammadi al-Fahadawi in Baghdad.
"Sanctions were mentioned, they're a reality, they're there," Perry told reporters.
Hayan Abdul Ghani, head of state-run South Gas Co. (SGC), told reporters on December 6 that Iraq needs at least two years to boost the country's gas production to stop importing Iranian gas.
"Iraq's current production of gas is not enough to meet our power stations' demand and therefore we are still importing gas from Iran. We need at least 24 months to operate new gas projects and start production," he said.
The United States said last month that Iraq can continue to import natural gas and energy supplies from Iran for a period of 45 days as long as it does not pay Iran in US dollars. Sanctions on Iran's oil sector took effect on November 5.
According to the terms of an agreement struck between Tehran and Baghdad, Iran is to supply 35 million cubic meters of natural gas on a daily basis to the Iraqi capital city of Baghdad [gradually in three phases], while up to 25 million cubic meters of gas per day is supposed to be exported to the southern city of Basra.
However, there are reports that Iran is currently exporting only 25 million cubic meters of gas per day to Bagdad and only 5 million cubic meters to Basra.
Trade between Iran and Iraq stands at $12 billion, but Baghdad is reportedly under pressure from the United States to stop business dealings with Tehran.
Iran is currently Iraq's top trade partner, having sharply increased their trade exchanges in recent months despite US sanctions on the Islamic Republic.
Iranian Ambassador to Baghdad Iraj Masjedi said late last month that the two neighbors plan to raise their trade to $20 billion a year.
Full report at:
https://www.presstv.com/Detail/2018/12/12/582669/Iraq-seeking-exemption-from-US-sanctions-to-keep-importing-Iranian-gas
--------
India
Teen militants killed in J&K: 'My child was very young to do this'
December 11, 2018
Fifteen-year-old Mudasir Rashid left home on August 31 telling his mother that he is going to the local playground. When Mudasir did not return that evening, his worried parents started looking for him. Last week, they saw him for the first time in four months — in a photograph on social media. He was holding a gun. Then, just a couple of days later, on Sunday morning, they lost him again, this time forever. Mudasir was among the three militants killed in an 18-hour gunbattle on Srinagar outskirts.
On Monday, the family of the minor boy had no clear answers what made him join militancy. But they have happily accepted Mudasir's decision to pick up the gun and die as a "martyr".
At their home in Mir Mohalla in Hajin town in North Kashmir's Bandipore district, Mudasir's mother Fareeda is sitting in the corner in a tent put up for mourners. She is surrounded by other women, and can barely speak.
"My child was very young to do this. I don't know what was running in his mind when he decided to take this step. But, now I am happy with his decision. He wanted to be a martyr and he has now succeeded in his mission," Fareeda told The Indian Express on Monday. "That day(On Aug 31) he left home to visit the playground…but he didn't return."
Mudasir is survived by his parents and two siblings. His elder brother is mentally challenged.
On Monday, thousands of people including women and children participated in his funeral- which was held twice in Hajin of North Kashmir. It was one of the biggest funerals in Hajin, and belied the town's past as a hub of the dreaded counter-insurgent Ikhwan force. Hajin was the hometown of Mohammad Yousuf "Kuka" Parray, the founder of Ikhwan.
Another teenaged resident of Hajin, 17-year-old Saqib Bilal, was also killed along with Mudasir in Sunday's encounter at Mujgund on the outskirts of Srinagar. To his family, Saqib's big interest lay in acting and theatre, and he had even snagged a bit role in the Bollywood film Haider that was shot entirely on location in Kashmir. Mudsir and Saqib both went missing together, a day after three militants were killed in their area on August 30 this year.
The family of Mudasir lives in a small tin shed in the village. The father is a daily wage worker, and the family has little money.
A few months before Mudasir went missing, the family says he was detained by local police. "We don't know why he was picked. But, he was released after eight days," says Tariq Ahmad, Mudasir's maternal uncle. After his photo went viral on social media, the family had appealed to him to return home.
The family says that was the first they knew of him becoming a militant.
"For all these months, we visited several places to find him…but didn't find him anywhere. When the encounter started at Mujgund on Saturday evening, his same picture (released earlier) went viral on social media and it was said that he is trapped…" said Tariq. "But we didn't believe that he could be trapped there, because it was far away from here."
He said he visited police station Parimpora in Srinagar on Sunday afternoon. "When we reached the police station, we were told to visit the police control room (PCR) where the bodies were kept…we found that it was Mudasir who was martyred. They(police) later delayed handing over his body to us for no reasons."
On Monday morning after Mudasir was buried, and people were visiting his home, a police party entered the village and began tear-gassing stone throwers.
"We are not allowed to mourn. This is the reason, why our youth are picking up guns," said Mohammed Shafat, uncle of Mudasir. "There are so many elderly people here. See how the tear gas is causing breathing problems. They should allow us to mourn."
On Monday, clashes between the stone throwing youth and security forces continued in Hajin area till evening.
When the village first heard of Mudasir's killing in the encounter, they still had no idea that another local boy, Saqib Bilal, a resident of Parray Mohalla. was also among the militants killed in the Mujgund encounter.
"It was in the afternoon when we came to know that Mudasir has achieved martyrdom. I thought to finish my prayers quickly and then visit their house," says Saqib's mother Mehmooda. "Within no time, I heard that my son was also killed with Mudasir…"
At the two storey house of Saqib, relatives and villagers were visiting in large numbers. Everyone remembers Saqib as an "intelligent", and a "humble" boy. The room of Saqib is locked and the family members say they don't want to open his room again, as it will bring back all his old memories.
"That day I sent him to market to get some something. But he didn't return…later we came to know that he has joined militancy," says the mother Mehmooda, recalling the day when his son went missing.
His mother recalls a conversation with Saqib before he left home. "He once told me innocent boys and scholars are getting killed. I told him to focus on studies and then I stopped the discussion," she said, adding that Saqib was studying in XI class.
The family says they accepted their son's choice. "Initially, I tried to bring him back…but then he sent me a message that he will not come back. But, today I am a proud mother and he has achieved in his mission," she said.
His father Bilal Ahmad says his son was "brilliant" in studies. "He was a distinction holder. He wanted to be an engineer. I really don't know why he joined the militants…but I support his decision for what he chose," says Bilal, who had to identify Saqib's body at Police Control room in Srinagar.
Mehmooda says his son fulfilled a promise he recently made to her. "He sent a message through someone that he would return and spend a full night at home. Yesterday evening he was brought home. I spent a complete night with him. He fulfilled his promise," she says.
https://indianexpress.com/article/india/teen-militants-killed-in-jk-my-child-was-very-young-to-do-this-5488673/
--------
India Hands over First 50 Houses Built For Rohingya Refugees in Myanmar
December 11, 2018
India on Tuesday handed over to Myanmar the first 50 houses built by the country for the displaced minority Rohingya Muslims in the restive Rakhine province. The housing units were handed over after President Ram Nath Kovind and his Myanmar counterpart U Win Myint held delegation-level talks and decided to step up bilateral ties.
India is building 250 houses in Rakhine province as part of a developmental project.
The first batch of 50 houses was formally handed over to the Myanmar authorities on Tuesday, President Kovind's office tweeted.
India signed a development programme for Rakhine State in Myanmar late last year which was designed to assist the Myanmar government in Rakhine State to build housing infrastructure for displaced persons, which senior Indian officials said was appreciated not just by the government of Myanmar but also by the United Nations and other agencies.
More than 700,000 minority Rohingya Muslims fled from Myanmar's Rakhine state to neighbouring Bangladesh since August 2017 after a military crackdown, triggering a massive refugee crisis.
Full report at:
https://indianexpress.com/article/india/india-hands-over-first-50-houses-built-for-rohingya-refugees-in-myanmar-5488786/
--------
Gujarat waqf board to set up hostel for Muslim students
Dec 12, 2018
GANDHINAGAR: Though Muslims make up about 9% of the population of Gujarat, there are no hostel facilities for Muslim students pursuing higher studies in Gujarat.
For the first time, the Gujarat waqf board has approved a new project, to build a new hostel for Muslim girls and boys in Juhapura, the Muslim ghetto in Ahmedabad. The hostel will be able to accomodate several hundred students. The board formally approved the proposal at a recent meeting.
Sajjad Hira, chairman of the Gujarat waqf board said, "We got feedback from the community that there is a need for hostel facilities in Ahmedabad, as several students from across the state come to Ahmedabad and Gandhinagar for higher studies. At the last board meeting, we moved a proposal and the board approved it, to build a new hostel for girls and boys of all Muslim communities."
"The Sunni waqf board of Ahmedabad and the Sarkhej Roza waqf board have agreed to provide land in Juhapura to build the hostel. Chief minister Vijay Rupani has also extended full support to the project. The property will be managed by the board. A detailed project report for the proposed new building will be ready soon. The waqf board will spend money from its own resources. The state government has also promised additional financial support. The hostel will be built according to the religious and social needs of Muslim students. This will be the first place where students of all Muslim communities will live together."
Full report at:
https://timesofindia.indiatimes.com/city/ahmedabad/gujarat-waqf-board-to-set-up-hostel-for-muslim-students/articleshow/67051404.cms
--------
India's cooperation needed for Afghan peace: Pakistan foreign minister
December 12, 2018
by Shubhajit Roy
A MONTH after India attended a dialogue process with Taliban in Moscow, Pakistan has said that India's cooperation would be needed for bringing peace to war-torn Afghanistan.
Pakistan Foreign Minister Shah Mahmood Qureshi said on Monday that although Pakistan was committed to facilitate a negotiated end to the 17-year-old Afghan war, it could not do the task alone and that other regional countries, including India, needed to play their part, Pakistan's leading daily, Dawn reported.
Speaking on a point of order in the National Assembly, he said Pakistan alone could not bring peace in Afghanistan as it was a "shared responsibility" of regional countries including India, Iran, Tajikistan and China.
"Since India is present in Afghanistan, its cooperation in this regard will also be required," said Qureshi, according to Dawn.
"Some meetings have taken place [among key stakeholders] for establishment of peace in Afghanistan. India also has stakes in Afghanistan and its cooperation will also be needed," Qureshi said, Pakistan's daily Express Tribune reported.
He said Prime Minister Imran Khan had said that peace could not be established in Afghanistan through military power. Today the US, Pakistan, Afghanistan and Taliban also wanted a solution through dialogue, he added.
While this is the first time Islamabad, which has always looked at India's role in Afghanistan with suspicion, has said that India's "cooperation" is "needed", South Block is not impressed. Though there was no official comment from the Ministry of External Affairs, government sources in Delhi were sceptical about the sincerity of Pakistan's statement.
Sources in Delhi said that this seems to be another outreach towards India under "international pressure". "They want to engage with India in some manner or another.like Kartarpur, this could be another bait," a source told The Indian Express, and said that he was sure that they would not like to discuss Afghanistan with India.
Another source, requesting anonymity, said, "Frankly, if I am naive, then I would think that better sense has prevailed. But, it could just mean international pressure."
Qureshi's comments belie Pakistan's narrative so far that India is trying to strategically encircle it, by making inroads into Afghanistan.
In September last year, Pakistan had objected to the US plan seeking greater role of India in Afghanistan, accusing New Delhi of playing role of a "spoiler" in the war-torn country.
Full report at:
https://indianexpress.com/article/india/indias-cooperation-needed-for-afghan-peace-pakistan-foreign-minister-5489172/
--------
Four policemen killed in militant attack in Kashmir's Shopian
December 12, 2018
by Adil Akhzer
Four Jammu and Kashmir policemen were killed in a militant attack on a police picket in South Kashmir's Shopian district on Tuesday. The attack was the first one by militants in the Valley after they suffered several blows in multiple encounters over the last one month in South Kashmir.
Police officers said that the policemen who were killed were guarding a minority picket, meant for security of a few Kashmiri pandit families in Zainapora area of Shopian. Four weapons belonging to the policemen were also taken by the militants after the attack, officials said. The four policemen have been identified as Abdul Majeed, Mehraj-ud-din, Anees and Hameed-ul-lah.
Majeed was a selection grade constable and a resident of Gandebal district, Mehraj-ud-din was a resident of Bandipora district in North Kashmir, while as Anees and Hameed-ul-lah were residents of Kulgam and Anantnag districts of South Kashmir respectively, officials said.
"We pay rich tributes to our colleagues Abdul Majeed, Mehraj-ud-din, Anees and Hameed-ul-lah who were #martyred in a #terror attack at #Shopian today. Our thoughts and prayers are with the grieving families at this juncture. RIP," the state police tweeted.
Shopian district has witnessed a spurt in violence in the last one month. Apart from multiple encounters between security forces and militants, over a dozen civilians were abducted from South Kashmir villages by militants and two of them were killed on suspicion of being informers. The state police has recently claimed that they eliminated the top militant leadership in South Kashmir.
About the militant attack on Tuesday, police sources told The Indian Express that a group of militants entered the guard post of the minority picket. The militants fired indiscriminately, killing three policemen on the spot and injuring one. The injured policeman succumbed on way to the hospital, a senior police officer said.
After the attack on Tuesday, militants also posted pictures of the weapons taken by them from the police picket.
Senior state police officers, however, told The Indian Express that they are verifying the pictures that have appeared on social media. A senior police officer in Shopian said that they suspect JeM militants for the attack.
The mainstream political parties in the Valley condemned the killing.
National Conference leader Omar Abdullah said, "State has been at the receiving end with deaths, whether of a civilian, a policeman or a militant, becoming order of the day over the past three decades."
Full report at:
https://indianexpress.com/article/india/jk-three-policemen-killed-in-encounter-with-militants-5488277/
--------
Europe
Amendments to State–Religion Separation Law Worry Muslims in France
Dec 11, 2018
By zakaria wadghiri
Rabat – The French government plans "to fully integrate the Muslim religion to the 1905 law," Minister of the Interior Christophe Castaner told French Council of the Muslim Faith (CFCM) on December 9.
French Prime Minister Aristide Briand introduced the Law on the Separation of Church and State in 1905. The law instituted and defined France's secularity. It guaranteed freedom of worship in the spirit of the French revolution of 1789 that overthrew the monarchy. The law then applied to Catholicism, Lutheranism, Calvinism, and Judaism. It prohibits public funding and holding political meetings in places of worship.
Castaner announced that the government was planning to amend the 1905 law. He said that the amendments are not about "undermining the principles of the separation law" or "calling into question the secular system it defines" but of "strengthening it in the world of 2018." He said, "The Islam of France should be freed from control and power struggles."
Secretary of State Laurent Nunez has been pushing for the 1905 law to apply to Islam.
Leaked government documents detail the main points that the government will amend, reported Liberation. The government later said the leaks were "simply working documents." The planned amendments would increase supervision over financial resources coming from abroad.
Six months before the next elections of the CFCM, in July 2019, Muslim leaders voiced their unity against internal divisions, their independence from the state, and their citizenship, on Sunday at the Arab World Institute (IMA) in Paris, said Le Figaro.
The head of the Grand Mosque of Paris, Dalil Boubakeur, said, "We cannot be forced to change" in his speech at the IMA. "The 1905 law would limit mosque activity to worship. Islam is a religion, a culture, a human reality, and a remarkable civilization," stressed Boubakeur.
Yesterday morning in Albi, France, dozens of people gathered to protest the proposed amendments, in particular bringing all places of worship under the 1905 law. These people responded to the call of La Libre Pensee, an association that campaigns for freedom of thought.
In his speech to the Bishops' Conference of France April 9, French President Emmanuel Macron called for "repairing the link between Church and State," angering the leftist opposition who accused him of attacking secularism. "An unprecedented and dangerous affront to the 1905 law," Generation.s' founder Benoit Hamon responded.
https://www.moroccoworldnews.com/2018/12/260137/amendments-to-state-religion-separation-law-worry-muslims-in-france/
--------
'UK can play crucial role in ending Rohingya genocide'
11.12.2018
By Muhammad Mussa
LONDON
The UK can play an instrumental role in bringing an end to the Rohingya genocide by Burmese authorities, a parliamentary session heard late Monday.
The message was conveyed at an event organized by the Justice for Rohingya Minority group, which hosted a cross-party panel of MPs including Catherine West of the Conservative Party, Rushanara Ali and Helen Goodman of the Labour Party and Baroness Sheehan, the Liberal Democrat Party's spokesperson for international development.
The session also featured Ben Emmerson QC, an international lawyer who sat as a judge at the International Criminal Tribunals for Rwanda and the former Yugoslavia and Sirazul Islam, an 18-year-old genocide survivor who was born in a refugee camp in Bangladesh, where he spent eight years of his life before moving to the UK.
"I would like to thank you all for inviting me to this event and allowing me to share with you my experience of being a Rohingya youth," Islam said.
"I was born in a refugee camp, in a land I couldn't call my own and devoid of the basic comforts that many of you grew up with. Children normally want to have fun, play with their friends and enjoy school. But for me, survival was the most important thing, as we didn't have those enjoyments in the camp.
"And as the camp was not officially registered with the Bengali government, it lacked many basic necessities such as clean water, comfortable bedrooms and bathrooms. Life in the camp was difficult, but it was even more difficult knowing that I couldn't return to the land that my family was born in and had lived for many years and called home".
Islam's testimony of Rohingya life in a refugee camp cast a somber mood over the room and made clear the realities faced by thousands, if not millions, of Rohingya refugees living in limbo in Bangladesh.
"Islam's harrowing account should be a wakeup call to all of us and remind us that this genocide is still going on and that we as a nation of morals and humanity should stand up and fight for the justice of our fellow Rohingyas," said West, who was also moderating the event.
She also cited the fact that the UK, as a global power, was a leading advocate of human rights and as such held a unique position at the UN Security Council (UNSC) in bringing to light the plight of minority peoples such as the Rohingya in Myanmar.
"The UK has been a leading advocate of human rights since the end of the Second World War and has used its position as one of the permanent members of the Security Council to influence and change how we view human rights and what laws and policies we legislate on the issue.
"And as such, the UK has been at the vanguard in distributing aid to Rohingya refugees and attempting to find a solution to end the Rohingya genocide," West added.
The role of the international community in ending the genocide was also discussed and in particular what the International Criminal Court (ICC) could do to bring justice to the Rohingya and hold to account the perpetrators of the genocide.
Emmerson said that due to China's permanent position on the Security Council and its close relationship with the Burmese government, it is difficult to pass a resolution against Myanmar and especially a referral to the ICC.
"It is expected that China would veto any resolution against Burmese authorities in the Security Council, and so essentially this creates an impasse that we have seen occur many times throughout the UNSC's existence," he stated.
Emmerson said that one of the viable options was to impose economic sanctions on the Burmese government and lobby international firms against doing business in Burma as well as lobbying Western governments to boycott Myanmar and isolate it economically.
According to Amnesty International, more than 750,000 Rohingya refugees, mostly women and children, have fled Myanmar and crossed into Bangladesh after Myanmar forces launched a crackdown on the minority Muslim community.
The Rohingya, described by the UN as the world's most persecuted people, have faced heightened fears of attack since dozens were killed in communal violence in 2012.
Full report at:
https://www.aa.com.tr/en/asia-pacific/-uk-can-play-crucial-role-in-ending-rohingya-genocide-/1335346
--------
Gang torches 100 cars of Pakistani trader in London
Dec 12, 2018
A British-Pakistani trader in London suffered a major financial loss after a criminal gang torched around 100 cars parked in his showroom, a local media report said.
According to the report, Mohammad Tariq accused London's Metropolitan Police of failing to take any action after his motor showroom was set on fire by a gang of criminals in Barking, East London.
Around 100 cars parked in Tariq's showroom were torched when, around two weeks ago, a gang entered the premises after midnight, broke windows of cars, sprayed petrol and set the cars on fire.
In an interview, Tariq said: "The arson attack has caused a loss of more than £500,000. I was shocked when I came to know in the morning that my business has been attacked by the gangsters. It's not for the first time that I have been attacked. Just around six months ago, a Turkish gang stole my ten cars. I reported the matter to the police and after a lot of struggle, I was able to get one car worth £50,000 retrieved through the police. The next day my whole showroom was put on fire."
Full report at:
https://www.pakistantoday.com.pk/2018/12/12/gang-torches-100-cars-of-pakistani-trader-in-london/
--------
Gunman kills 3 people in French Christmas market, flees
Dec 12, 2018
STRASBOURG: A gunman on a security watchlist killed three people and wounded a dozen others near the picturesque Christmas market in the historic French city of Strasbourg on Tuesday evening before fleeing.
Interior Minister Christophe Castaner said the shooter had evaded a police dragnet and was on the run, raising concerns of a follow-up attack.
"The government has raised its security threat to the highest level and is bolstering border controls," Castaner told a late-night news conference.
"We will also reinforce security at all Christmas markets to prevent copycat attacks."
With France still on high alert after a wave of attacks commissioned or inspired by Islamic State militants since early 2015, the counter-terrorism prosecutor opened an investigation.
Police identified the suspect as Strasbourg-born Cherif Chekatt, 29, who was known to the intelligence services as a potential security risk.
Castaner said the gunman exchanged shots with security forces twice as he escaped. His whereabouts now were unknown, and elite commandos and helicopters were involved in the manhunt.
The Paris prosecutor said the motive for the attack was not known. No one immediately claimed responsibility, but the USbased Site intelligence group, which monitors jihadist websites, said Islamic State supporters were celebrating.
The attack began at about 8pm (1900 GMT) as stallholders prepared to close down and restaurants filled in the city, which sits across the Rhine River from Germany. Bystanders were swiftly ushered into nearby shops.
"There was confusion initially but they locked the front doors pretty soon after the gunshots," said US citizen Elizabeth Osterwisch, who was sheltering on the top floor of the Galeries Lafayette department store. "They moved us several times, eventually settling on the place with the most protection."
European Parliament lawmaker Emmanuel Maurel said he had heard the shots.
"From my hotel window I saw passersby dragging someone who was injured and onlookers panicking," he tweeted. "Soldiers and police have cordoned off the area. We're being told to stay in the hotel."
CHRISTMAS MARKET SECURITY
The European Parliament, which is sitting in Strasbourg this week, was put into lockdown.
On the opposite side of the Rhine river German police also tightened border controls, officials said.
The Strasbourg prefecture said the gunman was on an intelligence services watchlist.
Sources familiar with the police operation said the suspect's home had been raided earlier in the day in connection with a robbery during the summer, but he was not found there.
A Reuters reporter was among 30 to 40 people being held in the basement of a supermarket for their own safety, waiting for police to clear the area. Lights were switched off and bottles of water handed out.
Security was tight this year for the Christmas market, which is popular with visitors to the city's old quarter, with its Gothic cathedral and half-timbered houses.
Unauthorised vehicles were excluded from surrounding streets during opening hours and checkpoints were set up on bridges and access points to search pedestrians' bags.
President Emmanuel Macron was being updated on events, an Elysee Palace official said. Castaner was on his way to Strasbourg.
ATTACK FEARS
Jean-Claude Juncker, head of the European Commission, the EU executive body, tweeted: "My thoughts are with the victims of the Strasbourg shooting, which I condemn with the utmost firmness. Strasbourg is an excellent symbol of peace and European Democracy. Values that we will always defend."
British Prime Minister Theresa May said she was "shocked and saddened."
Some 26,000 individuals suspected of posing a security risk to France are on the "S File" watchlist, of whom about 10,000 are believed to have been radicalised, sometimes in fundamentalist Salafist Muslim mosques, online or abroad.
European security agencies have feared for some time that Islamist militants who left Europe to fight for Islamic State in Syria and Iraq would return after the jihadist group's defeat, with the skills and motivation to carry out attacks at home.
Secular France has been grappling with how to respond to both homegrown jihadists and foreign militants following attacks in Paris, Nice, Marseille and beyond since 2015.
In 2016, a truck ploughed into a Bastille Day crowd in Nice, killing more than 80 people. In November 2015, coordinated Islamist militant attacks on the Bataclan concert hall and other sites in Paris claimed about 130 lives. There have also been attacks in Paris on a policeman on the Champs-Elysees avenue, the offices of satirical weekly publication Charlie Hebdo and a kosher store.
Full report at:
https://timesofindia.indiatimes.com/world/europe/gunman-kills-3-people-in-french-christmas-market-flees/articleshow/67054016.cms
--------
UN chief Guterres to attend Yemen's peace talks in Sweden
12 December 2018
Sources confirmed that UN Secretary General Antonio Guterres will attend the Yemen peace talks in Sweden on Thursday.
Foreign ministers of a number of countries sponsoring the political process in Yemen are also expected to arrive in Stockholm on Wednesday to press the two sides of the Yemeni conflict to make progress in the ongoing consultations and come up with results that will ensure the resumption of a new round of talks early next year.
The United Nations has in recent days brought Yemen's warring sides together in Sweden for peace talks, the first in two years.
During talks between the two Yemeni delegations on Tuesday, the United Nations proposed the withdrawal of their troops from the coastal city of Hodeidah and placing the status of the city under the control of a temporary entity, with Yemeni Foreign Minister Khalid al-Yamani confirming Monday that his country would not accept a United Nations peacekeeping mission in Hodeidah, unless the city is under the control of the legitimate government.
Full report at:
https://english.alarabiya.net/en/News/middle-east/2018/12/12/UN-chief-Guterres-to-attend-Yemen-s-peace-talks-in-Sweden.html
--------
Iran says it recently tested a ballistic missile
11 December 2018
A senior Revolutionary Guards commander said on Tuesday that Iran had recently carried out a ballistic missile test but he did not specify what kind of missile had been tested, according to Fars News.
The comment appeared to confirm a report by US Secretary of State Mike Pompeo who said early this month that Iran had test-fired "a medium range ballistic missile that is capable of carrying multiple warheads." The missile could hit all of the Middle East and parts of Europe, Pompeo said.
US President Donald Trump pulled out of an international agreement on Iran's nuclear program in May and re-imposed sanctions on Tehran. He said the deal was flawed because it did not include curbs on Iran's development of ballistic missiles or its support for proxies in Syria, Yemen, Lebanon and Iraq.
"We will continue our missile tests and this recent action was an important test," Amirali Hajizadeh, head of the Revolutionary Guards' airspace division, said, as quoted by Fars News. He added: "The reaction of the Americans shows that this test was very important for them and that's why they were shouting."
Iran carries out up to 50 missile tests a year, Hajizadeh said.
The Iranian government has ruled out negotiations with Washington over its military capabilities, particularly its missile program run by the Guards.
It says its missile program is purely defensive and denies its missiles are capable of being tipped with nuclear warheads.
Full report at:
https://english.alarabiya.net/en/News/world/2018/12/11/Iran-says-it-recently-tested-a-ballistic-missile.html
--------
Council of Europe criticizes Greece for violating Turkish minority's rights
Dec 12, 2018
A top European body criticized Greece for not implementing European Court of Human Rights' (ECtHR) verdicts on the country for closing associations of its Turkish minority.
The Committee of Ministers of the Council of Europe's decisions, published yesterday, said 10 years after the ECtHR's judgments, two of the present associations remain unregistered and one dissolved.
The rulings recalled that "these cases concern violations of the right to freedom of association."
Greece had closed several associations in Western Thrace because they had the word "Turkish" in their names. Although the ECtHR convicted Greece regarding this matter, Greece has not heeded the ECtHR verdicts on the issue. Greece refuses to recognize that there is a Turkish minority in Greece and recognizes it only with its religious denomination, as a Muslim minority. The Western Thrace region of Greece is home to a Muslim Turkish minority of around 150,000 people.
Authorities in Greece were invited to "rapidly take all necessary measures so the applicants' cases are examined by the domestic courts," and keeping the committee informed of all relevant developments. The rulings called on the authorities to provide regular information about further developments in all the ongoing proceedings relating to this group of cases. It was also "noted with deep regret that the registration of another association in the Thrace region was rejected in 2017 by a final judgment of the Court of Cassation on the grounds already criticized by the European Court in its 2008 judgments concerning the present cases."
https://www.dailysabah.com/politics/2018/12/12/council-of-europe-criticizes-greece-for-violating-turkish-minoritys-rights
--------
Southeast Asia
Perkasa, Muslim agencies to attend interfaith Christmas dinner
12 Dec 2018
REPRESENTATIVES from Malay rights group Perkasa along with the youth wing of Islamist party PAS will be amongs several Malay-Muslim groups attending a Christmas dinner organised by a Christian group tomorrow.
The Christians for Peace and Harmony in Malaysia Movement (CPHM) said more than 200 people from different ethnic and religious organisations are expected to attend the event, which comes days after Malay-rights groups organised a massive street rally to oppose an anti-racism UN treaty, the International Convention on the Elimination of all forms of Racial Discrimination.
https://www.themalaysianinsight.com/s/117997
--------
Demonstrations can never topple a democratically elected government, says Mahathir
Dec 12, 2018
KUALA LUMPUR (BERNAMA) - Demonstrations can never topple a democratically elected government, Prime Minister Mahathir Mohamad said on Tuesday (Dec 11) in the aftermath of a massive racial rally organised by the opposition in the capital.
He said that although his Pakatan Harapan government allowed street demonstrations, it was only through elections that the government could be changed.
"If elections are set aside, instead we follow what the demonstrators want, democracy will not surface. While we allow demonstrations, small or big, demonstrations by themselves cannot bring down the government," Tun Mahathir said during an interview on TV talk show Bicara Khas Bersama Perdana Menteri.
What can bring down the government is elections, he said, which could be held earlier to gauge the people's support if it was clear the existing government had failed.
More than 50,000 Malay-Muslims gathered at Kuala Lumpur's Dataran Merdeka (Independence Square) last Saturday afternoon in a celebratory gathering-turned-political rally after the government bowed to their demands not to ratify a United Nations anti-racial discrimination pact.
Although organised by Malay-Muslim civil society groups, the rally was spearheaded by the two largest Malay opposition parties, Umno and Parti Islam SeMalaysia (PAS), whose top leaders were the main speakers on a mobile stage set up in front of the historic square.
In the interview on Tuesday, Dr Mahathir said the Pakatan Harapan government would not deny freedom of speech and that the people were free to criticise the new government.
"We need a strong government, but not to a point where such criticisms are ignored, for example, to deny the role of ministers whereby they must agree to whatever is instructed by the leadership," he said.
He said government's strengths were important and necessary, especially when dealing with problems that crop up in society.
He noted that if a government was not strong, it would not be possible to address the problems and conflicts that come up within society, as some would not respect a weak government.
"There may be no respect given to the government. That's why we need a strong government, but not to a point of dismissing criticisms made by any party," he said.
In addition, Dr Mahathir said the experience of a leader was important in the way he managed a problem that arose in his country.
"He should know the type of action he needs to take under the circumstances. In a particular situation, what (action) cannot be taken because if the approach is not wise , there is a great likelihood that the government will fail," he said.
Dr Mahathir said Pakatan Harapan needed more time to show the results of the changes being implemented, as the government now had to repair the damage done by the previous government.
In terms of performance, out of five stars, he placed his Cabinet ministers at between three and four stars so far, as many of them did not have any previous experience as ministers.
"(After) 60 years being in the opposition, to convert from opposition to government is not a simple matter. I... must be tolerant, and trying to correct mistakes when they happen," he said.
On international relations, Dr Mahathir said that Malaysia would continue to stick to the principle of consultations in resolving international misunderstandings and conflicts.
He asserted that war was not the route to a solution.
"In our relationship with others, there may be certain conflicts. For a dispute between us and them, it must be dealt with. Not by war. We reject war. We prefer to negotiate, go to arbitration or go to court for a decision," he said, adding that when a case was brought to court, the parties should also be prepared to accept the findings made by the court.
In this regard, he hoped that Malaysia and Singapore would be able to resolve the latest conflict on the issue of their territorial waters.
"There is an overlap between the neighbours. For us not to fight, we have to admit there is a problem between us. The problem needs to be resolved, that's our way.
Full report at:
https://www.straitstimes.com/asia/se-asia/demonstrations-can-never-topple-a-democratically-elected-govt-says-mahathir
--------
Kit Siang: Najib's presence at anti-ICERD rally an endorsement of his administration's wrongdoings
11 December 2018
KUALA LUMPUR, Dec 11 — DAP veteran Lim Kit Siang today mocked Datuk Seri Najib Razak for attending the anti-ICERD thanksgiving rally last Saturday, alleging that the former prime minister's presence signals an endorsement of the alleged misdeeds of his administration.
The Iskandar Puteri MP said Najib's presence at the rally was also highly questionable, given the fact the Najib will be charged alongside 1Malaysia Development Berhad's (1MDB) former chief executive, Arul Kanda Kandasamy.
"Najib's attendance at the anti-ICERD rally is most questionable, especially as it is confirmed that Najib, accompanied by the former 1MDB Chairman Arul Kanda Kandasamy, will be charged tomorrow over the alleged tampering of the Auditor-General's 1MDB Report — continuing Najib's personal odyssey to overtake Umno president Datuk Ahmad Zahid Hamidi's 45 corruption charges," Lim sarcastically said in a statement.
ICERD refers to the United Nations' (UN) International Convention on the Elimination of All Forms of Racial Discrimination.
He also questioned if Marang MP and PAS leader Datuk Seri Abdul Hadi Awang, and Zahid, who is Bagan Datuk MP, will be ready to speak out against the alleged financial and governance misdeeds under Najib's stewardship.
"Will there be an anti-kleptocracy rally, and will the two major speakers at the anti-ICERD rally, Datuk Seri Zahid Hamidi and Datuk Seri Hadi Awang, be prepared to speak at such a rally to condemn 1MDB scandal and grand corruption in Malaysia, which reached such stratospheric heights as to make Malaysia a global kleptocracy under Najib's premiership?
"Of course not," Lim said.
He said that none of the Umno and PAS members had declared their stand on the alleged financial misappropriation cases linked to Najib, at the opening of the 14the Parliament meeting, or the 2019 Budget debates.
Full report at:
https://www.malaymail.com/s/1702179/kit-siang-najibs-presence-at-anti-icerd-rally-an-endorsement-of-his-adminis
--------
Indonesia's Aceh Whips Men For Sharia-Banned Gambling
December 11, 2018
EAST ACEH, INDONESIA: A group of men caught gambling were publicly whipped in Indonesia's conservative Muslim province of Aceh on Tuesday as a crowd of onlookers cheered.
The half dozen men were arrested this year at an internet cafe for online gambling -- an offence under Islamic law -- earning them between seven and 11 strokes each from a rattan cane.
At least one of the men winced in pain as a masked sharia officer lashed his back outside a mosque in East Aceh district.
Dozens in the crowd jeered and called for the men to be whipped harder.
"They have violated the Qanun Jinayah (Islamic law) by being involved in gambling," Muliana, head of the general crime unit at the local prosecutors' office, told AFP.
Public flogging is a common punishment in Aceh for a range of offences including gambling, drinking alcohol, and having gay sex or relations outside of marriage.
Located at the northern tip of Sumatra island, it is the only province in the world's largest Muslim-majority country that imposes Islamic law.
Aceh adopted sharia after it was granted special autonomy in 2001, an attempt by the central government to quell a long-running separatist insurgency.
Rights groups slam public caning as cruel, and Indonesia's President Joko Widodo has called for it to end.
But the practice has wide support among Aceh's mostly Muslim population -- around 98 percent of its five million residents practise Islam.
Full report at:
https://www.ndtv.com/world-news/indonesias-aceh-whips-men-for-sharia-banned-gambling-1961168
--------
Malaysia's former PM Najib faces new corruption charge
Dec 12, 2018
Prosecutors in Malaysia have filed a new corruption charge against former prime minister Najib Razak, adding to an already long list of corruption allegations against him since he lost power in elections earlier this year.
Najib and the former chief executive of 1Malaysia Development Berhad (1MDB), Arul Kanda Kandasamy, were questioned and charged at the Kuala Lumpur High Court on Wednesday.
The prosecutors' charge-sheet, which was read to Najib in court, said he had "secured protection from disciplinary, civil or criminal action related to 1MDB" by directing for an audit report of the fund to be amended before it was finalized.
The former PM, who is free on bail, pleaded not guilty to the charge. His trial is due to begin next year.
His lawyer, Muhammad Shafee Abdullah, said Najib could not have tampered with the audit, as he was only accused of having directed changes to a draft of the report, rather than the final version.
"In this charge, it's quite clear that it is no longer the allegation... that he had in fact tampered with the audit report," Muhammad Shafee said.
The fund's former chief executive also pleaded not guilty to the charge of having abetted Najib.
1MDB, which was founded by Najib in 2009, is the subject of money-laundering investigations in at least six countries, including the United States, Switzerland, and Singapore.
The former prime minister and his wife, Rosmah Mansor, have come under intense scrutiny since May, when he was ousted from office in elections and when his 93-year-old former mentor, Mahathir Mohamad, was elected prime minister.
Mahathir barred Najib and his wife from leaving the country and reopened an investigation into the 1MDB as soon as he took office. He pledged to bring to justice all of those involved in the alleged multi-billion-dollar fraud.
Civil lawsuits have been filed by the US saying billions of dollars were diverted from 1MDB by high-level officials of the fund and their associates, and that about one billion dollars made its way into Najib's personal bank accounts.
Full report at:
https://www.presstv.com/Detail/2018/12/12/582686/Malaysia-Najib-Razak-new-charge
--------
Mideast
Probe reveals Turkish government behind forced disappearances
11 December 2018
In early 2017, a black van stopped alongside a man walking down the street in Ankara, Turkey's capital. Two men jumped out, grabbed the man, dragged him into the van and sped off. He tried to fight off his kidnappers but they beat him, covered his head with a hood and cuffed his feet.
"I quickly realized that there was no point in trying to defend myself, and that I had to calm down and act in a calculated way," the man, calling himself Tolga, told the joint investigation overseen by the German nonprofit news outlet Correctiv. Other media outlets involved include Israel's Haaretz, France's Le Monde, Spain's El Pais, and Denmark's Monday Morning.
According to a summary published in Ahvalnews, Tolga was taken to a remote facility and put in a cell. He was beaten, interrogated, given electric shocks and threatened with rape. "I thought they were going to kill me," he said.
Since July 2016, Turkish civilians have started to disappear, according to the report. The victim is usually grabbed by a couple unmasked men in broad daylight and pulled into a black commercial vehicle. Videos, documents, and interviews suggest Ankara is behind these forced disappearances, with most of the abducations targeting supposed followers of exiled cleric Fethullah Gülen, Haaretz said .
Turkey's government accuses Gülen of masterminded the 2016 coup attempt, and has dismissed more than 100,000 public-sector workers and detained some 50,000 people suspected of links to his movement.
With help from lawyers and human rights activists, Tolga's relatives searched for him, but got nowhere. They launched a social media campaign and appealed to international media, but no clues or evidence was ever found, the report said.
Tolga and Ali, another man abducted similarly, faced interrogation and torture in difficult-to-describe facilities and had no access to the outside world for several months of detention, Haaretz said. Tolga said his cell looked like it had been designed for torture, with rings on the wall for hands and feet, as well as torture instruments and clubs.
Their captors urged them to report their friends and colleagues. They also recruited them to stand as a witnesses in upcoming trials against Gülen, testifying behind a curtain to hide their identities.
They use anonymous witnesses because there is no other evidence," Eren Keskin, a lawyer and human rights activist, told the joint investigation. "This is an undemocratic method that doesn't exist in law-abiding states."
Tolga pretended to collaborate with his captors and the torture decreased. They urged him to "help the state" and he would be fine. One day he was driven back to the center of Ankara and released. He went into hiding, then fled to Europe.
"Neither myself nor my family have gotten over the trauma," said Tolga, speaking to reporters in a hotel room in a Western European country where he has received asylum based on human rights violations that threatened his life.
Erdoğan and other officials have rejected accusations of torture. In June 2017, the Turkish parliament's human rights committee told BBC Turkey that it had opened an investigation into these disappearances, but little progress has been made.
The Stockholm Center for Freedom, which was established by journalists who fled Turkey after the coup attempt and has been linked to the Gülen movement, says that since 2016, at least 20 cases have been reported of academics, teachers and public servants being mysteriously abducted.
https://english.alarabiya.net/en/News/world/2018/12/11/Probe-reveals-Turkish-government-behind-forced-disappearances-.html
--------
Israel uncovers third 'Hezbollah attack tunnel'
11 December 2018
Israel said on Tuesday it had uncovered another Hezbollah "attack tunnel" infiltrating its territory from Lebanon -- the third since it started a search and destroy operation along the border last week.
The military did not reveal the exact location of the tunnel but said it "does not pose an imminent threat".
"Explosive devices have been placed inside the tunnel by the IDF (Israel Defence Forces)," it said in a statement.
The army announced an operation on December 4 dubbed "Northern Shield" to destroy tunnels it said were dug under the border by the Shiite militant group Hezbollah.
"The Lebanese government is held accountable for the attack tunnels dug from Lebanese territory," the military statement said.
"IDF troops will continue to operate in accordance with the approved plan to locate and expose the Hezbollah terror organization's attack tunnels."
Israel fought a war against Iran-backed Hezbollah in 2006 that was halted by a UN-brokered truce.
Hezbollah is the only group in Lebanon not to have disarmed after the country's 1975-1990 civil war.
Full report at:
https://english.alarabiya.net/en/News/middle-east/2018/12/11/Israel-uncovers-third-Hezbollah-attack-tunnel-.html
--------
Rights group disputes Israeli army on West Bank killing
11 December 2018
An Israeli human rights group disputed on Tuesday the army's account that it killed a Palestinian in the occupied West Bank during a riot on Dec. 4, saying CCTV video footage showed no such disturbances when he was shot.
Palestinian medics said 22-year-old Mohammed Habali suffered a bullet wound to the head in Tulkarm. A military spokeswoman said at the time that soldiers resorted to live fire after first trying less lethal methods against "a violent riot ... in which dozens of Palestinians hurled rocks".
In the video published by rights group B'Tselem, a man is seen collapsing in a street. Footage from different cameras, and which B'Tselem said it synchronized with the first, shows troops crouching behind a car, two of them apparently aiming rifles.
The felled man cradles what appears to be a stick under his right arm and several other men are seen scattering around the time that he falls. The more than minute-long video clip does not show any of them throwing rocks at troops, nor any rocks on the tarmac.
Responding to B'Tselem's findings, the Israeli military repeated its original account of violence by the Palestinians in Tulkarm, adding that the shooting was under investigation.
Israeli troops frequently mount raids in the West Bank, where violence has simmered over long-stalled Palestinian statehood talks.
Rights groups have often accused the Israeli military of excessive force and lax handling of such allegations. Israel says its armed forces are kept to a high ethical standard.
"It stands to reason ... that the killing of Mohammed Habali, just like so many cases in the past, will be followed by an investigation that comes to nothing, that the incident will be whitewashed and criticism silenced," B'Tselem said in a statement.
Full report at:
https://english.alarabiya.net/en/News/middle-east/2018/12/11/Rights-group-disputes-Israeli-army-on-West-Bank-killing.html
--------
Gazan kid dies of Israeli gunfire wounds sustained in anti-occupation protests
Dec 12, 2018
A Palestinian child has died four days after being shot by Israeli military forces during clashes between Israeli troopers and a group of Palestinian protesters participating in an anti-occupation rally along the border between the besieged Gaza Strip and the Israeli-occupied territories.
Ashraf al-Qidra, the spokesman for the Gaza Health Ministry, said in a statement that Ahmed Yasser Sabri Abu Abed, aged four years and eight months, died late on Tuesday.
He had been critically injured in the head near his eye during Friday rallies east of the city of Khan Yunis, located about 25 kilometers south of Gaza City. His father was wounded by shrapnel in the foot.
Tensions have been running high near the fence separating Gaza from the occupied territories ever since anti-occupation protest rallies began in the Gaza Strip on March 30. More than 240 Palestinians have been killed by Israeli forces. Over 23,000 Palestinians have also sustained injuries.
The Gaza clashes reached their peak on May 14, on the eve of the 70th anniversary of Nakba Day (Day of Catastrophe), which coincided this year with the US embassy relocation from Tel Aviv to occupied East Jerusalem al-Quds.
On June 13, the United Nations General Assembly adopted a resolution, sponsored by Turkey and Algeria, condemning Israel for Palestinian civilian deaths in the Gaza Strip.
The resolution, which had been put forward on behalf of Arab and Muslim countries, garnered a strong majority of 120 votes in the 193-member assembly, with 8 votes against and 45 abstentions.
The resolution called on UN Secretary General Antonio Guterres to make proposals within 60 days "on ways and means for ensuring the safety, protection, and well-being of the Palestinian civilian population under Israeli occupation," including "recommendations regarding an international protection mechanism."
Full report at:
https://www.presstv.com/Detail/2018/12/12/582673/Gazan-kid-dies-of-Israeli-gunfire-wounds-sustained-in-antioccupation-protests
--------
Radical Israeli settler groups call for killing Palestinian president
Dec 11, 2018
Extremist Israeli settler groups have launched an incitement campaign against Palestinian President Mahmoud Abbas in the northern part of the occupied West Bank, calling for his assassination.
Palestinian sources, requesting anonymity, said Israeli settlers put up posters near Yitzhar settlement south of the city of Nablus, located approximately 49 kilometers (30 miles) north of Jerusalem al-Quds, on Tuesday, calling for the killing of Abbas.
The posters read "supporter of terrorists" referring to Abbas as the financier of operations against settlers in the West Bank.
PLO slams Israeli settlers' call for Abbas assassination
Meanwhile, Secretary General of the Palestine Liberation Organization (PLO) Saeb Erekat said on Tuesday that Tel Aviv regime should be held accountable for the consequences of the settlers' call for the "assassination" of the Palestinian president.
Erekat said in a press statement that such a call is in line with "a systematic incitement campaign by Israel against our people and their rightful demands."
"The call for the killing of the Palestinian president is an initiative to open assassination of the president and the liquidation of the leadership's peace strategy," he pointed out.
Erekat added that the Palestinian people and their leadership "take this threat seriously and demand the international community to move immediately to halt Israel's unlawful policies and practices before it is too late."
He also stressed the importance of providing the Palestinian people with international protection, saying, "International community's silence paves the way for more killings of civilians and ethnic cleansing."
The development came only two day after the UN Office for the Coordination of Humanitarian Affairs (OCHA) announced in a report that at least 11 attacks had been conducted by Israeli settlers against Palestinians in the West Bank between November 20 and December 3, resulting in Palestinian property damage.
Furthermore, about 85 Palestinian-owned trees, mostly olive ones, had been vandalized by Israeli settlers in Turmusayya village, near Ramallah.
In five other incidents in different localities of the West Bank, Israeli settlers punctured the tires of 52 Palestinian vehicles, and wrote racist and anti-Arab slogans with spray on some of the vehicles and on the walls of schools, mosques and several homes.
On October 12, a 47-year-old Palestinian woman, identified as Aisha Mohammad Aravi, was killed near a checkpoint south of Nablus after being struck by stones thrown by Israeli settlers while driving with her husband.
According to Palestinian media outlets, Aravi was hit in the head by the stones and died shortly after the incident. Her husband was wounded moderately.
Less than a month before US President Donald Trump took office, the United Nations Security Council adopted Resolution 2334, calling on Israel to "immediately and completely cease all settlement activities in the occupied Palestinian territories, including East Jerusalem" al-Quds.
About 600,000 Israelis live in over 230 illegal settlements built since the 1967 Israeli occupation of the Palestinian territories of the West Bank and East Jerusalem al-Quds.
Palestinians want the West Bank as part of a future independent Palestinian state with East Jerusalem al-Quds as its capital.
The last round of Israeli-Palestinian talks collapsed in 2014. Among the major sticking points in those negotiations was Israel's continued settlement expansion on Palestinian territories.
Trump backtracked on Washington's support for a "two-state solution" earlier this year, saying he would support any solution favored by both sides.
Full report at:
https://www.presstv.com/Detail/2018/12/11/582628/Radical-Israeli-settler-groups-call-for-killing-Palestinian-president
--------
Israeli forces fatally shoot Palestinian in southern West Bank
Dec 11, 2018
Israeli forces have shot dead a Palestinian man, alleging that he attempted to ram his car into the regime's policemen in the southern West Bank.
The incident took place in the Palestinian town of Idhna near al-Khalil (Hebron) on Tuesday morning.
The Palestinian Red Crescent identified the victim as Omar Hassan al-Awawdeh, 27.
Witnesses told the Wafa news agency that Awawdeh had been shot by several bullets in the back and left on the ground bleeding until a Palestinian ambulance transported him to hospital, where he was proclaimed dead.
The Israeli army claimed the Palestinian was shot when he did not stop his vehicle for search upon orders by soldiers.
Israeli police also said the Palestinian man was shot after his car allegedly "drove towards border police" at a checkpoint.
The Israeli military regularly opens fatal fire on Palestinians, accusing them of seeking to attack its personnel.
Human rights groups have repeatedly slammed the Tel Aviv regime for its shoot-to-kill policy as a large number of the Palestinians killed at the scene of attacks did not pose any serious threat to Israelis.
Full report at:
https://www.presstv.com/Detail/2018/12/11/582614/Israel-Palestine-West-Bank
--------
UN proves Houthi missiles found in Yemen were made in Iran
December 11, 2018
JEDDAH: Two launch units for anti-tank guided missiles recovered by the Saudi-led coalition in Yemen were manufactured in Iran, according to a confidential report to be discussed by the UN Security Council on Wednesday.
"The Secretariat found that they had characteristics of Iranian manufacture and that their markings indicated production dates in 2016 and 2017," UN Secretary-General Antonio said in his biannual report to the Security Council on the implementation of sanctions on Iran.
"The Secretariat also examined a partly disassembled surface-to-air missile seized by the Saudi-led coalition and observed that its features appeared to be consistent with those of an Iranian missile," Guterres said.
A UN resolution that took effect in January 2016 prevents Iran from importing or exporting arms or related military material without explicit approval from the Security Council.
Guterres also said the UN had examined the debris of three ballistic missiles fired at Saudi Arabia on March 25 and April 11, 2018, and found "specific key design features consistent with those of the Iranian Qiam-1 short-range ballistic missile."
He said the UN was "still working on establishing the production date range of guidance subcomponents with the assistance of the foreign manufacturers."
In his June report, Guterres said debris from five missiles fired at Saudi Arabia by the Houthis since July 2017 "share key design features with a known type of missile" manufactured by Iran and some components were manufactured in Iran.
Saudi Arabia has consistently argued that, despite denials from Tehran, Iran supplies arms and ammunition to the Houthi militias in Yemen, including parts for ballistic missiles that target Saudi cities. The UN report is further evidence to support the Saudi argument.
The US has unsuccessfully tried to persuade the UN to hold Iran accountable for meddling in the wars in Syria and Yemen and elsewhere in the Middle East. In February Russia vetoed a Western attempt to have the Security Council criticize Tehran in a resolution on Yemen.
Iranian weapons are smuggled into Yemen through the port of Hodeidah, a key sticking point in UN-brokered talks on Yemen taking place for the past week in Sweden.
The UN proposed on Tuesday that both sides in the conflict withdraw from Hodeidah and place it under the control of an interim entity.
Full report at:
http://www.arabnews.com/node/1419021/middle-east
--------
Yemen govt, Houthis swap names of 15,000 prisoners at UN talks
December 11, 2018
RIMBO, Sweden: Yemen's government and rival militia announced Tuesday plans for a mass prisoner swap, exchanging some 15,000 names, as UN-brokered talks on ending the country's war entered their seventh day.
Nearly four years into a war that has pushed 14 million Yemenis to the brink of mass starvation, the Saudi-backed government of Abedrabbo Mansour Hadi and Houthi militia, linked to Iran, began talks Thursday in the rural town of Rimbo in Sweden. The talks are expected to last a week.
The Houthi militia announced that the names of a total of 15,000 detainees and prisoners had been exchanged. A source in the government delegation said their side had released the names of 8,200 detainees but declined to comment on the combined total.
The militia and government have agreed to a 45-day deadline for the exchange, sources in both delegations said.
Prisoners will be flown out through two airports: government-held Seyoun, in central Yemen, and the rebel-held capital Sanaa, home to an international airport that has been largely shut down for three years.
The International Committee of the Red Cross has confirmed it will oversee the exchange.
The Sweden talks are the first meeting between the two parties in the Yemen conflict, which pits the Iran-backed Houthis against the Hadi government, allied with a regional military coalition led by Saudi Arabia.
Brokered by UN special envoy Martin Griffiths earlier this month, the prisoner swap was one of the main points -- and the least contentious -- at this week's talks.
Griffiths told reporters on Monday the prisoner swap would be "very, very considerable in terms of the numbers that we hope to get released within a few weeks".
The prisoner exchange was the only issue the rival delegations were confirmed to have met on face-to-face.
Among the other issues under discussion are potential humanitarian corridors, the reopening of the defunct Sanaa international airport, and Hodeidah, the Houthi-held city at the heart of an ongoing government offensive.
The UN said on Monday it was seeking $4 billion to provide humanitarian aid to some 20 million Yemenis next year — or about 70 percent of the war-stricken country's population.
Each year, the world body needs an additional billion dollars, UN Under-Secretary-General and Emergency Relief Coordinator Mark Lowcock said.
A donors' conference backed by Sweden, Switzerland and the UN is set to take place on Feb. 26 in Geneva.
"We didn't have a cessation of hostilities," although the violence appears to have decreased, added Lowcock, who recently traveled to the country, expressing hope for a positive outcome to peace negotiations taking place in Sweden between the parties under UN auspices.
He denounced obstacles to the delivery of humanitarian aid, noting that Yemen also needs help to bring its economy back from the brink.
Full report at:
http://www.arabnews.com/node/1419051/middle-east
--------
URL: https://www.newageislam.com/islamic-world-news/govt-committed-adopt-fundamentals-state/d/117139
New Age Islam, Islam Online, Islamic Website, African Muslim News, Arab World News, South Asia News, Indian Muslim News, World Muslim News, Women in Islam, Islamic Feminism, Arab Women, Women In Arab, Islamophobia in America, Muslim Women in West, Islam Women and Feminism