New Age Islam News Bureau
4 Jan 2019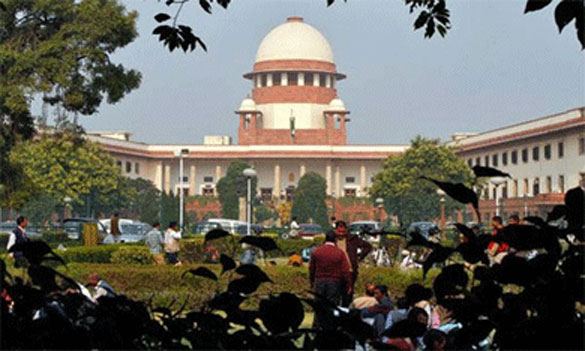 The Supreme Court of India
-----
• Government of Madhya Pradesh Plans To Form a Ministry Of Spirituality To Nurture Inter-Religious Harmony
• Babri Masjid-Ramjanmabhoomi Case: The Matter Will Be Listed Before a Newly Constituted
• Pakistan Declares Panj Tirath Hindu Religious Site as National Heritage
• Buner — Where Sikhs and Muslims Live In Harmony
• Iraq: Muslims and Christians Unite In Appeal to Save Church From Demolition
• Quran Reading Test for Presidential Candidates? Jokowi Says Yes, Prabowo Says No
• No Such Thing As European Islam - Turkey's Top Muslim Official
India
• Government of Madhya Pradesh Plans To Form a Ministry Of Spirituality To Nurture Inter-Religious Harmony
• Babri Masjid-Ramjanmabhoomi Case: The Matter Will Be Listed Before a Newly Constituted
• General Secretary All India Milli Council Slams NIA for Declaring Daily Use Items as Weapons of Terrorism
• 3 Hizbul terrorists killed in J&K encounter
• NIA Raids: Arms Supplier to Key Accused Mufti Sohail Arrested From Western UP
• Donald Trump takes dig at PM Modi over Afghan library, but Delhi not sure which one
• India deports second group of Rohingya Muslims to Myanmar
--------
Pakistan
• Pakistan Declares Panj Tirath Hindu Religious Site as National Heritage
• Buner — Where Sikhs and Muslims Live In Harmony
• Sanjrani Says Parliaments of Muslim Countries Should Be On One Page To Tackle Challenges
• Seminaries facing unannounced ban on bank accounts, transactions
• Pakistan hails Trump's desire for 'great ties'
• PM asks Turkish traders to invest in Pakistan
• PPP asks govt to mend ways or be ready to face the music
• Pakistan hopes post-election B'desh will work towards improving bilateral ties: FO
• Samiul Haq's driver lied during polygraph test: sources
• Next round of Taliban-US talks in Qatar
--------
Arab World
• Iraq: Muslims and Christians Unite In Appeal To Save Church From Demolition
• Human Rights Commission Attends First Trial on Khashoggi Murder
• 7 ISIL Commanders Killed in Iraqi Airstrikes in Syria
• Saudi court holds initial hearing for the 11 accused in Khashoggi murder
• Arab green light to renewed ties with Syria shows defeat of enemy front
• 23,000 Takfiri terrorists killed in Russia strikes in Syria last year: Defense ministry
• Riyadh says seeking death penalty for Khashoggi murder suspects
• Saudi Arabia's Prince Khalid pleads with international community to end child soldier recruitment
--------
Southeast Asia
• Quran Reading Test for Presidential Candidates? Jokowi Says Yes, Prabowo Says No
• Interracial Harmony: Sarawak Church Wedding with Muslim Bridesmaids
• No applications yet from Sabah Muslim NGO and friends, says PPBM
• Don't believe rumours that Malaysian King is abdicating, says Kelantan leader
• Two seats, one vision for UN Security Council
• Christians issue 'yellow alert' on tolerance
--------
Europe
• No Such Thing As European Islam - Turkey's Top Muslim Official
• Muslim convert planned UK terror attack after losing passport
• Pushing a 'German' Islam: The agenda behind the 'mosque tax'
• Oxford Street terror plotter tells court MI5 tried to recruit him
• Navy SEAL to plead not guilty to murder charge of Daesh teen
--------
South Asia
• Thousands displaced as Myanmar army and Rakhine rebels clash
• Bangladesh opposition boycotts swearing-in amid calls to probe vote rigging
• Bangladesh Opposition renews call for fresh vote
• Initial parliamentary poll results announced for Baghlan, Sikhs and Hindus community
• Afghanistan's National Security Advisor leaves for India on an official visit
• Taliban threat looms over oil reservoirs in Afghan province
--------
Mideast
• Yemen, UAE, Saudi Arabia say Houthis fail to abide by ceasefire deal
• US warns Iran on space launches, Tehran rejects concerns
• Saudi asked to open airspace to more Israeli-bound flights
• Turkey, Iraq will deepen cooperation against terrorism in region: Erdogan
• Israeli troops shoot, injure two Palestinians near Joseph's Tomb
• Israel to come down hard on Palestinian prisoners
--------
Africa
• Niger's army 'kills nearly 290 Boko Haram terrorists'
• US airstrike in Somalia kills 10 Al-Shabab extremists
• Sudan's Bashir: Country is targeted, protests are not subversive
• Two militants blow themselves up in clashes with Tunisian security forces
• Algeria shuts southern borders to Syrians over security fears
• Two killed as security forces storm militant hideout in central Tunisia
--------
North America
• Yukon's Muslim Community Grows Into Its New Mosque
• Pompeo: US seeks to ensure 'Turks don't slaughter the Kurds' in Syria
• US troops, veterans tired of Washington's wars in Iraq, Afghanistan: Poll
• Trump endorses Soviet invasion of Afghanistan
• Disappointment in Afghanistan following Trump's flawed lesson
Compiled by New Age Islam News Bureau
URL: https://www.newageislam.com/islamic-world-news/government-madhya-pradesh-plans-form/d/117365
--------
Government of Madhya Pradesh Plans To Form a Ministry Of Spirituality To Nurture Inter-Religious Harmony
January 3, 2019
A newly installed state government in central India plans to form a ministry of spirituality to nurture inter-religious harmony and combat rampant violence by hard-line Hindus against Christians and Muslims.
Religious minority leaders have welcomed the initiative of Congress Party-led government of Madhya Pradesh that took power on Dec.17, after it defeated the pro-Hindu Bharatiya Janata Party (BJP) in an election in November.
The state, governed by the BJP for the past 15 years, reported hundreds of violent incidents against religious minorities such as Christian and Muslims.
A Congress Party government communique Dec. 29 said the state's new chief minister, Kamal Nath, had decided to form a ministry and department to strengthen inter-communal harmony and religious amity.
The communique noted that many countries — including the United States, England, Argentina, Afghanistan, Algeria, Bangladesh, Brunei, Myanmar, Tunisia, Indonesia and Denmark — had done likewise.
Church leaders such as Archbishop Leo Cornelio of Bhopal told ucanews.com on Jan. 2 the special new ministry would be worthwhile as Madhya Pradesh had been fractured by hate.
Religiously, ethnically and culturally diverse countries such as India could not advance unless their various communities collaborated, the prelate said.
He noted that in India there was often false propaganda against Christians and Muslims.
"They are reduced to objects of hate," Archbishop Cornelio said.
"The ministry can help heal such misgivings against religious communities and ensure peace and respect to all."
Church leaders accused the former BJP-led government in the state of tacitly supporting violence orchestrated by Hindu hardliners against Christians and Muslims in a push for Hindu dominance.
The BJP, despite winning the past three consecutive state elections, could manage only 107 seats in the 230-seat legislative house this time.
Congress emerged as the single largest party with 114 seats, only two short of a simple majority, and formed government with the support of smaller parties and independent legislators.
Saji Abraham, state president of the communal harmony division of the Congress Party, said that under the BJP the state became a hotbed of religious violence, especially anti-Christian.
He described the new Madhya Pradesh government initiative as an attempt to apply a balm to wounds inflicted by the BJP.
Abraham added that the BJP tried to create divisions among religious communities for political purposes.
The state reported the highest number of anti-Christian incidents in the past three years, according to a report by Persecution Relief, an Indian ecumenical forum.
Attack against Christians, who constitute less than one percent of the state's 73 million people, almost doubled in 2017.
Madhya Pradesh witnessed 52 reported attacks against Christians in 2017, up from 28 in 2016.
Shibu Thomas, founder of Persecution Relief, said that in 2018, there were at least 24 major incidents against Christians.
https://www.ucanews.com/news/indian-state-to-soothe-wounds-inflicted-by-hardliners/84191
--------
Babri Masjid-Ramjanmabhoomi Case: The Matter Will Be Listed Before a Newly Constituted
Jan 04 2019
New Delhi: The Supreme Court on Friday said that further orders in the Ramjanmabhoomi-Babri Masjid land dispute would be passed by an appropriate bench on 10 January. Accordingly, on that day, the matter will be listed before a newly constituted three-judge bench which will decide the way forward.
Despite attempts for an early hearing in the case, it has been on the back burner for a while. The issue could potentially become central to 2019 Lok Sabha elections, thereby further polarizing voter preferences.
The apex court had on 27 September refused to refer to a larger bench its 1994 judgement holding that a mosque was not integral to the practice of Islam. The issue had arisen from a judgement in the Ismail Faruqui vs Union of Indiacase where the court considered the acquisition of a religious place and held that a mosque was not integral to the practice of Islam.
On 7 February, the court had said that the matter would be heard as a "pure land dispute", directed the registry to complete all procedural requirements and asked the parties to bring on record all documents, exhibits, translations etc. for final arguments.
The court is hearing a total of 13 appeals filed against the 2010 judgment of the Allahabad high court in four civil suits. They challenge the high court verdict that mandated a three-way division of the disputed 2.77-acre site.
The Lucknow bench of Allahabad high court had ruled in favour of partitioning the land equally among three parties—the Sunni Waqf Board, Nirmohi Akhara and 'Ram Lalla' (infant Lord Ram), represented by the Hindu Mahasabha.
A civil suit for deciding the title of the property on which the Babri Masjid stood before it was demolished on 6 December 1992 had been filed before the high court. The apex court stayed this decision in 2011.
The Shia Central Waqf Board of Uttar Pradesh told the Supreme Court in August that it was amenable to building a mosque in a Muslim-dominated area, at a reasonable distance from the disputed Ram Janmabhoomi-Babri Masjid site.
https://www.livemint.com/Politics/teyUeV28m1I6gVACwjaJgI/RamjanmabhoomiBabri-Masjid-case-SC-to-pass-further-orders.html
------
Pakistan declares Panj Tirath Hindu religious site as national heritage
Jan 3, 2019
PESHAWAR: The provincial Khyber Pakhtunkhwa government in northwest Pakistan has declared the ancient Hindu religious site of Panj Tirath in Peshawar as national heritage.
Panj Tirath, which got its name from the five pools of water present there, also contains a temple and a lawn with date palm trees. The five pools of the heritage site now come under the ambit of Chacha Yunus Park and Khyber Pakhtunkhwa Chamber of Commerce and Industry.
The KP Directorate of Arcahaeology and Museums issued a notification under the KP Antiquities Act 2016 declaring the land in the Panj Tirath park as a heritage site.
It is believed that Pandu, a mythical king in the Mahabharata, belonged to this area and Hindus used to come to these pools for bathing during the month of Karteek and worship for two days under the trees.
The site was damaged during the reign of the Afghan Durrani dynasty in 1747, however it was restored by local Hindus during the period of Sikh rule in 1834 and worship started again.
The government also announced a fine of up to Rs 2 million and five years' imprisonment for anyone found guilty of damaging the historic site.
The archaeology directorate asked the Khyber Pakhtunkhwa government to clear the site of encroachment and allow archaeologists to carry out much needed preservation work. It also asked for the construction of a boundary wall around the site.
https://timesofindia.indiatimes.com/world/pakistan/pakistan-declares-panj-tirath-hindu-religious-site-as-national-heritage/articleshow/67369355.cms
--------
Buner — where Sikhs and Muslims live in harmony
Jan 02 2019
The far-flung district of Buner in Khyber Pakhtunkhwa is an oasis of interfaith harmony.
For years, Muslims in the area have been trusting Sikh businessmen and shopkeepers living in the area with their money and valuables.
"We are like mini banks for Muslim brothers with no interest or profit and no service charges", said 50-year-old Santh Singh who has been dealing in fabrics for the last three decades in the middle of a bustling street of Peer Baba Bazaar. "Muslim brothers travel from villages of Buner to deposit cash with us," he continued.
He explained, "We, Muslims and Sikhs trust each other and that is the finest form of interfaith harmony."
Singh's ancestors were also businessmen and spent their entire lives in the area. Reminiscing about the past, Singh shared that when he was younger, Muslims would deposit money and other valuables with his Uncle Tirath Ram. When his uncle passed away and the closets where he kept the valuables were opened, people were surprised to find several rolls of money tied with colorful threads and nameplates.
"When banks first established in the district, people were reluctant to keep their valuables there, worrying about interest and other issues. It was easier to keep cash and other valuables with us," the 50-year-old added.
Syed Wahid, who owns a general store in the same street as Singh shared that when he established his business he would entrust his money to Sikh shopkeepers. "There are two reasons why we would keep our valuables with the Sikhs. One is that they are businessmen and they keep cash handy and the second is that they are honest," Wahid said.
He added that the custom of depositing money with Sikhs in Buner still exists today, with little changes since the practice started. Those who live abroad, send money to their families by transferring them into the bank accounts of Sikh businessmen.
Wahid, who has spent this entire life in Peer Baba, recalled that throughout his life there has only been one incident which shocked the entire district. In the aftermath of the Babri Masjid incident, some unknown people burnt a Gurdwara in Peer Baba. "But during that crucial time, the villagers provided shelter, food and security for their Sikh brothers," he said.
"People designated their Hujras for them. Sikhs are like brothers to us and we share everything from grief to religious events and cultural events," Wahid continued.
Jatinder Singh a pharmacist by profession who also belongs to Buner said that interfaith harmony is vital for a peaceful environment. "The trust created by our forefathers is exemplary. They were very careful about these things and never even changed currency notes and tried to keep the same ones that the owners gave," he said.
"My grandfather Sobha Ram used to keep valuables of Muslim brothers and we still have notebooks where my grandfather had written down the names of those people who had deposited money with him," he added.
According to a survey conducted by minority leaders in 2016, there are more than 3,000 Sikhs living in various villages of Buner. Most of them reside in Peer Baba, Sawari, Ghurghato and Diwana Baba.
https://www.geo.tv/latest/223826-buner-where-sikhs-and-muslims-live-in-harmony
--------
Iraq: Muslims and Christians unite in appeal to save church from demolition
Jan 2nd, 2019
Dozens of Christians and Muslims have been gathering together in Baghdad to protest at the threatened demolition of a Chaldean church.
The Chaldean Catholic Church of Divine Wisdom, in the district of Adhamiya, has been marked for demolition by the authorities, together with some surrounding buildings, as part of a redevelopment programme in the city which suffered a great deal of damage during and after the 2003 war.
But local residents say the project is driven by commercial and political forces, and does not take into account the significance of the church for the community.
Campaigners say the church has been a symbol of the coexistence between the different faiths in Iraq.
The church of the Divine Wisdom was built in 1929 by British architect James Mollison Wilson during the British Mandate on Mesopotamia, and is located on the border of two inhabited urban areas respectively by Shiites and Sunnis.
https://www.indcatholicnews.com/news/36278?fbclid=IwAR34X5PmDlMc3_uwo-uELCmOmoxuxf-g26TSWCaLBnc75vTHksTFkriVgWM
--------
Quran reading test for presidential candidates? Jokowi says yes, Prabowo says no
Nurul Fitri Ramadhani
January 3, 2019
A group of Muslim clerics in Aceh has challenged Indonesian presidential candidates to undergo a Quran reading test as a way to determine the best figure to lead the country with the largest Muslim population.
The campaign teams of the incumbent, Joko "Jokowi" Widodo, and his challenger, Prabowo Subianto, have responded differently to the idea from Indonesia's conservative westernmost province, which implements the sharia.
The team of President Jokowi said the incumbent was ready for the test.
Alo Raban, a campaign official with the Jokowi campaign in Aceh, said the President was willing to go to the province for the test.
"I have contacted the national team, which said he and [running mate cleric Ma'ruf Amin] will take up the invitation for the test," Ali said, as quoted by kompas.com.
The team's deputy chairman, Abdul Kadir Karding, said Jokowi did not mind taking the test should the public demand it.
"The Quranic reading test has been initiated by ulemas and Acehnese people for the presidential candidates. The idea comes from the people," Karding said Thursday.
Aceh, the only Indonesian province to impose the sharia, as mandated by a 1999 law on Aceh's status as a special region, is one of 10 provinces of the country's 34 where Jokowi failed to get a majority in the 2014 presidential election, which saw him run against Prabowo.
Jokowi visited the province in December and met the ulemas, promising them to move ahead with the deliberation of a pesantren (Islamic boarding school) and religious education bill that would allow the government to allocate more funds to pesantren and Quran teachers.
On the other hand, Prabowo's campaign team, which is backed by two Islam-based parties – the Prosperous Justice Party (PKS) and the National Mandate Party (PAN) – said such a test was not needed, or if it did happen, the organizers should show evidence that they were experts in reading the Quran.
"[The organizers] should prove that they're really qualified. They must have certifications showing that they are capable of reading the Quran," team official Hidayat Nur Wahid, also a PKS senior executive, said.
Gerindra Party executive Andre Rosiade claimed that Prabowo, the party's chairman, was not refusing to take the test but was "not the type to show off his religious life".
The group of Muslim clerics, the Aceh Clerics Council, challenged both tickets to read the Quran in a test set to be held at Baiturrahman Grand Mosque in Banda Aceh on Jan. 15. The group said it had sent invitations for the event to both campaign teams.
Separately, the Indonesia Ulema Council (MUI) warned that such a test should be based on agreement between the two camps.
"If both camps agree to the test, we'll support it, but if one of them doesn't, then we should not force it to be held," MUI secretary-general Anwar Abbas said.
https://www.thejakartapost.com/news/2019/01/03/quran-reading-test-for-presidential-candidates-jokowi-says-yes-prabowo-says-no.html
--------
No such thing as European Islam - Turkey's top Muslim official
Jan 03 2019
Turkey's main Islamic body in Germany hosted a meeting in Cologne this week to shape the continuing debate about the future of Muslims in Europe, Turkish pro-government news outlets Diaspora Daily and Yeni Şafak reported.
"There is no such thing as German, French or European Islam," Ali Erbaş, the head of Turkey's state religious authority, the Diyanet, said on Wednesday. "Islam is a religion of peace that defends and tries to keep the same universal values alive all over the world."
The Turkish-Islamic Union for Religious Affairs, or DITIB, organised the two-day event. Germany's largest Muslim body, DITIB runs more than 900 mosques. The former Diyanet branch is still largely run by Ankara, though it insists it is independent. DITIB is based in the Cologne Central Mosque, which Turkish President Recep Tayyip Erdoğan inaugurated during a visit to Germany in September.
Last week the German tabloid Bild ran an image of the mosque with a story on how terrorist money funded Germany's mosques. Critics said the report could spur anti-Muslim attacks.
"Both printed and visual media have been advocating Islamophobia under the pretext of criticism," Erbaş said in Cologne, while also urging the European Muslim community to eliminate internal rifts.
The Cologne gathering appeared to be DITIB's response to the German government's Islam Conference held in Berlin in November. Pork dishes were served and secular-minded Muslims were allowed to speak, as Germany pressed DITIB to cut ties with Turkey as part of a broader effort to end foreign funding for religious groups in Germany. Last week, the German government said it was considering a mosque tax for the country's Muslims, similar to the church tax paid by its Christians.
"Turkish Muslim institutions should be independent," Fared Hafez, a political science professor from Georgetown University, said at the Cologne gathering. "They should not be acting like Turkish embassies. But that does not mean they should cut ties with Turkey. They have the right to maintain ties with homeland as Catholic community for example maintains ties with Vatican."
https://ahvalnews.com/german-turks/no-such-thing-european-islam-turkeys-top-muslim-official
--------
India
General Secretary All India Milli Council Slams NIA for Declaring Daily Use Items as Weapons of Terrorism
by Rasia Hashmi
Jan 03, 2019
New Delhi: NIA and other agencies are responsible for the right investigation of terrorist matters and other cases. It is their duty to investigate on the basis of concrete proofs and logic and save the country from any kind of threat and attack. But recently the way in which NIA is conducting enquiry shows that the officers rather than fulfilling their duties are targeting a particular community. These views were expressed by general secretary All India Milli Council Dr Manzoor Aalam.
Dr Aalam said NIA during the past one week has conducted several raids in Delhi and west UP and arrested Muslim youth on the charges of terrorism. It seized trolley bag thinking it to be a POP rocket. Similarly, a slate for grinding spices and other useful items were seized saying that they could be used for terror attacks. A boy named Israr Siddiqui wrote his initials IS, and NIA began enquiring about him suspecting him to be an ISIS man.
Dr Mohammed Manzoor Aalam claimed that this is planning to defame Muslims and distort their image.
https://www.siasat.com/news/dr-manzoor-aalam-slams-nia-declaring-daily-use-items-weapons-terrorism-1452654/
--------
3 Hizbul terrorists killed in J&K encounter
TNN | Jan 4, 2019
SRINAGAR: hree Hizbul Mujahideen terrorists were killed and as many soldiers were injured in an encounter in the forest area of Gulshanpora in Tral in south Kashmir's Pulwama district on Thursday.
The encounter started after army's 42 RR, SOG and CRPF launched a cordon-and-search operation following specific inputs about the presence of a group of Hizbul militants in a hideout in the forests. When security forces closed in on their hideout, the terrorists opened fire from inside.
The forces retaliated and destroyed the hideout by blasting it, killing the terrorists in the process.
While the three terrorists were killed on the spot, the injured soldiers were taken to an armyhospital in Srinagar.
https://timesofindia.indiatimes.com/india/3-hizbul-terrorists-killed-in-jk-encounter/articleshow/67374642.cms
--------
NIA Raids: Arms Supplier to Key Accused Mufti Sohail Arrested From Western UP
January 4, 2019
Lucknow: The National Investigation Agency (NIA) on Friday arrested Naeem from Western Uttar Pradesh, who supplied arms to mastermind Mufti Sohail, the key accused in the alleged ISIS-inspired module busted by the probe agency last week.
Notably, NIA which is probing the new Islamic State module 'Harkat-ul-Harb-e-Islam,' on Wednesday took the arrested accused to Amroha to identify the people who supplied arms and bomb-making material to them. (NIA Raids: Key Accused Mufti Sohail Was Upset With Discrimination Against Muslims, Was Planning 'Jihadi Activities' Since 2009, Says Report)
A senior NIA official, who requested anonymity, said the arrested accused were taken to several parts of a western Uttar Pradesh city to identify the people who supplied material for making the pipe bombs.
The official also said the agency carried out fresh searches at two places in Amroha to identify more suspects and took two persons for questioning.
The counter-terror probe agency also questioned two general store shopkeepers from Amroha, from whom the alleged mastermind Mufti Mohammad Suhail bought potassium to make bombs. However, they were released after questioning.
About NIA Raids
On December 26, the NIA arrested 10 people, including the group leader, who were allegedly planning to attack some political personalities, security establishments as well as crowded places in Delhi and the National Capital Region.
The arrests were made after the NIA carried out searches at 17 places — six in East Delhi's Jafarabad area, six in Amroha, two each in Lucknow and Hapur and one place in Meerut, leading it to seize a country-made rocket launcher, 12 pistols, 112 alarm clocks, 100 mobile phones, 135 SIM cards, several laptops and various electronic gadgets, besides 150 rounds of ammunition.
Full report at:
https://www.india.com/news/india/nia-raids-arms-supplier-to-key-accused-mufti-sohail-arrested-from-western-uttar-pradesh-3509766/
--------
Donald Trump takes dig at PM Modi over Afghan library, but Delhi not sure which one
by Shubhajit Roy
January 4, 2019
US PRESIDENT Donald Trump on Thursday took a dig at Prime Minister Narendra Modi for funding a "library" in Afghanistan, saying it is of no use in the war-torn country, as he criticised India and others for not doing enough for the nation's security.
Sources in Delhi said no standalone library has been built as a development project, but there is a library in Afghanistan's Parliament building which has been built with Indian support. And there could be some libraries in schools that have been built, sources said.
Chairing his first Cabinet meeting of the year on Wednesday, Trump said: "I could give you an example where I get along very well with India and Prime Minister Modi. But he is constantly telling me, he built a library in Afghanistan. Library! That's like five hours of what we spend (in Afghanistan)."
"And he (Modi) tells me. He is very smart. We are supposed to say, oh thank you for the library. Don't know who's using it (the library) in Afghanistan. But it's one of those things. I don't like being taken advantage of," said Trump. "I say this, India. (I have) great relationship with Prime Minister Modi. He is a great gentleman and a great man and he's done a fantastic job. He has brought the country together," he said.
Sources in Delhi pointed out that India has been actively involved in reconstruction efforts in war-ravaged Afghanistan. It has committed about $3 billion in assistance to Afghanistan since US-led forces toppled the Taliban regime after the September 11, 2001 attacks. India is the largest donor in the region, said sources.
"Security is not just boots on the ground. It also means that through projects, one can give economic security, health security, water security etc. Security needs to be seen through the development lens as well," said a source. India firmly believes in the critical role that developmental assistance can play in transforming human lives, said sources. "India does not send its armed forces abroad except under the specific mandate of UN peacekeeping operations," the source said.
In Afghanistan, India plays a significant role as a development partner. This partnership is built on the "specific needs and requirements worked out with the Government of Afghanistan", sources said.
"It is aimed at the welfare of the people of Afghanistan and for tangible improvement in the lives of its people. India seeks to build capacities and capabilities of Afghan nationals and its institutions for governance and delivery of public service, develop socio-economic infrastructure, secure lives and promote livelihood," they said.
Sources pointed out that the developmental partnership is premised on five pillars — infrastructure projects, capacity building, humanitarian assistance, economic development and connectivity.
Infrastructure projects:
* A 218-km road from Zaranj to Delaram for facilitating movement of goods and services to the Iranian border. The highway will connect Iran with the Garland Highway, which links Kabul, Kandahar, Mazar-e-Sharif Herat and Kunduz.
* A 220 KV DC transmission line from Pul-e-Khumri to Kabul and a 220/110/20 KV sub-station at Chimtala.
* India-Afghanistan Friendship Dam (Salma Dam), which has an installed capacity of 42 MW and supplies water for irrigating 75,000 hectares of land.
* The new Parliament, built with Indian support, is a symbol of the democratic traditions that India and Afghanistan share.
Capacity building:
* More than 3,500 Afghans are undergoing various training programmes in India.
* A special scholarship scheme of 1,000 scholarships per annum to Afghan nationals under ICCR.
* India offers 500 Indian Technical and Economic Cooperation (ITEC) slots to Afghanistan annually. The ITEC training is expected to address Afghanistan's need to strengthen its administration and governance at the national, provincial and district levels. Humanitarian assistance:
* Supply of 1.1 million MT of wheat.
* The 400-bed Indira Gandhi Institute of Child Health is the main children's hospital in Afghanistan. Annually, approximately 3 lakh children (2.5 lakh OPD and 50,000 IPD) are treated at IGICH.
Economic Development:
* India encourages private investments in Afghanistan, like through the India Afghanistan Trade and Investment Show, 2017.
* 116 new 'high impact community development projects' in 31 provinces of Afghanistan, including in education, health, agriculture, irrigation, drinking water, renewable energy, flood control, micro-hydropower, sports infrastructure, administrative infrastructure.
* Small Development Projects scheme in agriculture, rural development, education, health, vocational training, etc.
Connectivity:
* Chabahar Port development.
* Direct air freight corridor between India and Afghanistan established in 2017.
Full report at:
https://indianexpress.com/article/india/donald-trump-takes-dig-at-pm-modi-over-afghan-library-but-delhi-not-sure-which-one-5522530/
--------
India deports second group of Rohingya Muslims to Myanmar
Jan 3, 2019
India on Thursday deported a second small group of Rohingya Muslims to Myanmar after ordering the expulsion of members of the Myanmar minority group and others who entered the country illegally.
Senior police officer Bhaskar Jyoti Mahanta said the five members of a family — three men and two women — were handed over to Myanmar authorities at a border crossing at Moreh in Manipur state.
The five had been in detention since 2014, when they were found in India's northeast without valid travel documents.
In October, India deported a first group of seven Rohingya Muslims for entering the country illegally in 2012.
About 700,000 Rohingya have fled to Bangladesh since August 2017 to escape a brutal campaign of violence by Myanmar's military. An estimated 40,000 other Rohingya have taken refuge in parts of India. Less than 15,000 are registered with the U.N. High Commissioner for Refugees.
Many have settled in areas of India with large Muslim populations, including the southern city of Hyderabad, the northern state of Uttar Pradesh, New Delhi, and the Himalayan region of Jammu-Kashmir. Some have taken refuge in northeast India bordering Bangladesh and Myanmar.
Full report at:
https://abcnews.go.com/International/wireStory/india-deports-group-rohingya-muslims-myanmar-60136337
--------
Pakistan
Sanjrani says parliaments of Muslim countries should be on one page to tackle challenges
JANUARY 4, 2019
ISLAMABAD: Senate Chairman Muhammad Sadiq Sanjrani said on Thursday that historic, cultural, social and parliamentary linkages between Pakistan and Bahrain should be translated into economic ties for mutual benefits of both the countries.
He said this while talking to Bahrain Ambassador Muhammad Ebraheem Muhammad, who called on him at the Parliament House.
He congratulated the Bahrain leadership for holding new elections and especially to the first ever elected woman Speaker of the Council of Representatives Fauzia Abdullah Yousaf Zainal.
He said that was a dire need to put our heads together and overcome the challenges which are posing threats to stability of Muslim Ummah.
He said that this is an era of parliamentary diplomacy as it is the most appropriate and viable option for furthering the ties between the nations and resolving the issues.
He said that Pakistan enjoys cordial relations with Bahrain and other Gulf countries and there is a need to further boost these brotherly relations into extended economic ties to benefit from the huge trade potential among these nations.
The senate chairman said that the cooperation between the parliaments of Muslim countries is direly needed. He said that it is important for Muslim parliaments to interact and find solution to the problems and emerging challenges.
He said that there is a huge potential for improving the economic ties and Pakistan especially its private sector should benefit from these opportunities as Bahrain could serve as a gateway for Pakistani products for trade with the Gulf countries.
Earlier, Jordan Ambassador Major General (r) Ibrahim Yali Moh'd, called on the senate chairman at Parliament House.
While talking to the Jordanian ambassador, the senate chairman said that parliaments of the Muslim countries must come forward and interact to evolve a mechanism for making concrete efforts to resolve the issues being faced by the Muslim Ummah.
The brotherly relations among Muslim states need to be translated into economic opportunities.
Muhammad Sadiq Sanjrani reiterated the need to further strengthen existing bilateral relations between Pakistan and Jordan through enhancing parliamentary ties and cooperation in various areas of mutual interest. The senate chairman also underscored the need for enhanced parliamentary linkages between the parliaments of the two sides.
He said that bilateral relations could be further cemented by increasing parliamentary exchanges.
https://dailytimes.com.pk/340463/sanjrani-says-parliaments-of-muslim-countries-should-be-on-one-page-to-tackle-challenges/
--------
Seminaries facing unannounced ban on bank accounts, transactions
Ikram Junaidi
January 04, 2019
ISLAMABAD: With the government coming under pressure from the Financial Action Task Force (FATF) to streamline its financial systems to avoid being included in the latter's black list, some 20,000 seminaries have had to contend with an unannounced ban on transactions made through banks.
The seminaries cannot even open new bank accounts. The situation is so bad that they have been left with no option but to receive cash donations, and ironically, contribute to grey economy.
Maulana Mansoor Ahmed, the admi­nistrator of Madressah Taleem-ul-Quran Humamorah, in Bagh district, told Dawn that the bank account of his seminary had been seized about six months ago.
"The manager of the bank informed me that the account had been seized on an order from the head office and he was trying to make it operational again. Since then I have visited the bank many times, but have not been allowed to draw the deposited amount, which is over Rs200,000," said Maulana Ahmed.
"I have never received any foreign funding or donation. And the bank is not giving me the reason for seizing the account," he said.
"In the past we preferred to get donations through bank accounts and even if someone gave us cash we used to deposit it in the bank and provide a receipt to him/her. However, we have now started receiving donations in cash. I have tried to open a new account but unfortunately no bank is willing to open an account in the name of a seminary," he said.
Maulana Ahmed is not the only person who has been facing difficulties due to the unannounced ban.
The spokesman for Wifaq-ul-Madaris (WuM), Abdul Quddus, said that almost every seminary was facing a similar situation.
"There are 20,000 seminaries registered with the WuM, and a large number of them have lodged complaints with us that their bank accounts have been closed. A number of seminaries have been trying for the last over one year to open new accounts.
"Though the banks dutifully receive the applications, they never open the accounts. I also faced the same problem and after one and a half years requested the bank to give me in writing that the account could not be opened. But the manger refused to give me anything in writing," he said.
Mr Quddus said the matter was taken up with Nawaz Sharif, when he was prime minister. The interior ministers of the Pakistan Muslim League-Nawaz government, Chaudhary Nisar Ali Khan and Ahsan Iqbal, were also approached but to no avail.
"A few months back Prime Minister Imran Khan called us for a meeting. Though the religious circles were against the meeting, we decided to meet him. During the meeting we took up the matter of banks with the premier, but even then it could not be resolved," he said.
When contacted, the media coordinator for the Ministry of Religious Affairs, Imran Siddiqui, said the interior ministry should be requested to look into the matter because his ministry dealt only with Haj, interfaith harmony and other religion-related issues.
Full report at:
https://www.dawn.com/news/1455413
--------
Pakistan hails Trump's desire for 'great ties'
Anwar Iqbal | Baqir Sajjad Syed
January 04, 2019
ISLAMABAD/WASHING­­TON: The Foreign Office on Thursday welcomed US President Donald Trump's remarks on ties with Pakistan and said the government was keenly waiting for the engagement at the highest level.
"We look forward to positive engagement with the US at the leadership level," FO spokesman Dr Mohammad Faisal said at the weekly media briefing. He was giving his reaction to President Trump's comments about Pakistan during a cabinet meeting.
Mr Trump repeated the allegation of Pakistan being duplicitous in its dealings with America. He, nevertheless, expressed his desire for better ties with Islamabad.
"When we give money to Pakistan, $1.3 billion, I ended that. A lot of people don't know it, because they haven't been fair to us. We want to have a great relationship with Pakistan, but they house the enemy, they take care of the enemy. We just can't do that," President Trump had said.
About engaging with the Pakistani leadership, he said: "So, I look forward to meeting with the folks from — and the new leadership in Pakistan, we'll be doing that in the not-too-distant future. I ended the $1.3 billion we paid, it's like water, we just do it."
Mr Trump's comments show that his view of Pakistan has not changed even though he may have expediently changed his strategy on dealing with it.
One of his closest allies in Congress, Republican Senator Lindsey Graham, even offered a free trade deal to Pakistan if Islamabad persuades the Taliban to participate in the US-backed Afghan peace process. Senator Graham, known in Washington as a Trump ally who often floats ideas that the Trump administration wants debated, made this offer in a CNN interview on Wednesday.
Soon after that, President Trump outlined his new Afghan strategy in the cabinet meeting, seeking greater roles for India, Russia and Pakistan in fighting the Afghan Taliban.
Mr Trump's views reflect those of two prominent think tank experts who also underlined the need to persuade Pakistan, India, China and Russia to fight the Taliban in articles published in The New York Times and The American Conservative magazine on Wednesday.
The US president had last month written a letter to Prime Minister Imran Khan, seeking Pakistan's help for Afghan peace process. Islamabad later facilitated a meeting between the United States and Taliban in Abu Dhabi that was also attended by Saudi Arabia and the United Arab Emirates. Another meeting has been planned in Saudi Arabia, but its dates have not been made public as yet.
"You are aware that on the request of the US and the Afghan government, Pakistan is facilitating peace talks between the United States and the Taliban," the FO spokesman recalled.
Notwithstanding the accusation of housing the enemy, Dr Faisal looked on the bright side and said: "President Trump's remarks are indeed a departure from his tweet of January 1, 2018."
Mr Trump had on the New Year Day in 2018 tweeted: "The United States has foolishly given Pakistan more than 33 billion dollars in aid over the last 15 years, and they have given us nothing but lies & deceit, thinking of our leaders as fools. They give safe haven to the terrorists we hunt in Afghanistan, with little help. No more!"
The FO spokesman underscored that Pakistan wanted peace to return to Afghanistan so that Afghan refugees in Pakistan could return home and there could be "beginning of an era of prosperity and normalcy in the region".
Responding to a question about the death of Baloch separatist Aslam Baloch alias Achhu in a suicide attack in Kandahar, he said the Afghan government had so far not shared any details with Pakistan.
"We expect that the Afghan government undertakes a comprehensive inv­es­tigation to find out and clarify how a terrorist comma­nder from a banned terrorist outfit was residing in an Afghan city and who were providing him refuge in Afghanistan," he said, adding: "It is important that Afghanistan does not let any country, terrorist group or individual to use its territory against Pakistan."
Ties with Bangladesh
Commenting on elections in Bangladesh, Dr Faisal welcomed Awami League's success and expressed the hope that the party would during its tenure in office adopt a forward-looking approach in ties with Pakistan.
"We want Pakistan-Bangladesh relations to move forward in line with the 1974 tripartite agreement. We welcome the newly elected government in Bangladesh and hope and expect that it would help take the bilateral relationship away from the irritants that it has faced in the recent times," the spokesman said.
The Awami League-led coalition won the violence-hit elections held last Sunday to get a consecutive third term in office. Opposition parties in Bangladesh have rejected the polls as "farcical".
Pakistan-Bangladesh ties have remained tense since the Awami League came to power in 2009 and restarted the trial of people accused of 'war crimes' during the 1971 separation. This has been a major irritant in the bilateral relationship. Since the inception of 'War Crimes Tribunal' in 2010, a total of 52 accused have been sentenced to death. Six of them have been executed so far.
Pakistan has consistently called for adherence to the Tripartite Agreement of April 1974 under which Bangladesh's founding father Mujibur Rehman had ended prosecution of the elements his government had accused of 'war crimes' during the 1971 events.
The 1974 agreement signed in Delhi by the then foreign ministers of Bangladesh, India and Pakistan had included a commitment from Dhaka that "the Government of Bangladesh had decided not to proceed with the trials as an act of clemency".
Corruption cases
Full report at:
https://www.dawn.com/news/1455324/pakistan-hails-trumps-desire-for-great-ties
--------
PM asks Turkish traders to invest in Pakistan
January 04, 2019
ISLAMABAD: Prime Minister Imran Khan on Thursday invited Turkish businessmen and investors to invest in various fields and industries in Pakistan, including construction, tourism and exploration of natural resources.
Addressing the Turkish business fraternity at the Türkiye Odalar ve Borsalar Birligi in Ankara, the prime minister said the Belt and Road Initiative of China would bridge communication gap between Pakistan and Turkey and help increase trade between the two countries.
Prime Minister Khan, accompanied by his economic team, is on his first official two-day visit to Turkey.
In his late-night address, the prime minister said that trade between Pakistan and Turkey remained quite low in the past and they could not get benefit of trade due to lack of road and rail routes.
He said that with a population of 210 million people, including 120m below the age of 35 years, Pakistan was a big market for foreign investors.
Prime Minister Khan said that Pakistan had ample tourism attraction due to its fascinating hilly ranges, plains, sea and rivers. "Out of 12 highest peaks in the world, half of them are in Pakistan," he added.
He said that his government had streamlined the governance system and removed red-tapism and hurdles in Pakistan to facilitate foreign investors. "We want to provide ease of doing business to the businessmen and investors for wealth and jobs creation," he said.
The prime minister invited Turkish investors and construction firms to invest in his government's five-year plan of building five million houses.
Earlier, the prime minister and his delegation arrived in Konya.
To pay homage to Maulana Jalaluddin Rumi, the prime minister and his delegation visited the great Sufi saint's mausoleum. He also visited the symbolic grave of Allama Iqbal located in the graveyard where Maulana Rumi's mau­soleum stands.
The prime minister was accompanied by Minister for Foreign Affairs Shah Mehmood Qureshi, Finance Minister Asad Umar, Minister for Plan­ning, Development and Reforms Makhdoom Khusro Bakhtyar, Adviser to the PM on Commerce, Textile, Industry and Production Razak Dawood and Special Assistant to the PM on Overseas Pakistanis Zulfikar Abbas Bukhari.
During the visit, the prime minister will also meet President Recep Tayyip Erdogan.
Full report at:
https://www.dawn.com/news/1455418/pm-asks-turkish-traders-to-invest-in-pakistan
--------
PPP asks govt to mend ways or be ready to face the music
Iftikhar A. Khan
January 04, 2019
ISLAMABAD: Accusing the government of playing havoc with the economy and pursuing a policy of witch-hunt and rejecting what it described as the government's plan to introduce a mini-budget, the Pakistan Peoples Party (PPP) on Thursday asked the government to mend its ways or be ready to face the music.
"We do not want confrontation, but want to see political and economic stability in the country. But if the government continues to push us against the wall, we will definitely bounce back," PPP leader Dr Nafeesa Shah said at a press conference. Former PPP MNA Palwasha Khan was also present on the occasion.
She said the opposition would stage a strong protest at an appropriate time if the government continued to paralyse the economy and the country through its unwise policies. She said the government had no direction, roadmap and solution to the problems the country was faced with.
She accused the government of using accountability as a smokescreen to hide its incompetence and poor governance. She said the Sindh government was being victimised and referred to the Supreme Court proceedings during which the chief justice of Pakistan questioned the reason for placing 172 individuals — including the Sindh chief minister — on the Exit Control List (ECL), noting that the joint investigation team (JIT) report was a tentative document that had yet to undergo judicial scrutiny.
She said the CJP had also wondered how a province could be paralysed and asked the government to review its decision. Ms Shah was of the view that review meant a corrective action, but regretted that the government merely formed a review committee which, according to her, was contempt of the court order.
Rejecting the government's plans to levy massive taxes to add insult to the injury of the people bearing the brunt of price hike and loadshedding of gas and electricity, she said the government had devalued the rupee twice in four months. She claimed that inflation would jump to double digit this year as a result of the government's imprudent policies.
The PPP leader said that the PTI used to criticise previous governments for foreign loans, but it had obtained a commercial loan from China at a high interest rate.
Full report at:
https://www.dawn.com/news/1455414/ppp-asks-govt-to-mend-ways-or-be-ready-to-face-the-music
--------
Pakistan hopes post-election B'desh will work towards improving bilateral ties: FO
JANUARY 4, 2019
The FO spokesman on Thursday strongly condemned recent intrusion of Pakistani territory by Indian spy drones and confirmed that two Indian spy drones have been shot down by Pakistan army.
"Pakistan is ready to give befitting response to any Indian adventure," he said while denying Indian claims that surgical strikes were carried out inside Pakistan.
In his press briefing, the spokesman said Pakistan is sincere in promotion of peace in the region, however, Pakistan's desire for peace should not be construed as its weakness.
Responding to a question on Kashmir, the spokesperson said Kashmir is a disputed territory and its resolution lies in a plebiscite in accordance with the UN Security Council resolutions.
The spokesman took a strong exception to the prevailing situation in Indian held Kashmir, and urged the international community to press India to stop its gross human rights violations in occupied valley.
The spokesman asked India to immediately allow the UN observer mission to visit the areas close to LoC to monitor ceasefire violations committed by Indian security forces.
The spokesman regretted a report carried by times of India about Kulbushan Yadav case under litigation in the International Court of Justice, and said the report is based on a leak and Pakistan would not comment on it as the matter is sub judice before the ICJ. Responding to number of questions about German Ambassador's frequent travelling in various cities in Pakistan, the spokesman said as per diplomatic rules, all foreign ambassadors in Islamabad are free to move around Pakistan.
Responding to a question about elections in Bangladesh, the spokesperson said Pakistan desires to improve its relations with Bangladesh.
"We welcome the newly elected government and hope it will take bilateral relations away from the irritants of the past," he remarked.
When his attention was drawn towards a report carried by New York Times claiming that Pakistani troops are fighting in Yemen, the spokesperson strongly dismissed the report.
Answering questions about financial corruption at various Pakistani diplomatic missions, the spokesman said there was a report of embezzlement in the mission in Bulgaria, and a special fact-finding officer was sent to investigate the issue.
The spokesman said accountant concerned has accepted responsibility for the embezzlement and upon his return to Islamabad, his case has been referred to NAB adding that the Auditor General has just completed the special audit of the Mission.
"Necessary action is being taken based on the observations raised by the Audit", the spokesman remarked. The spokesman said regarding our High Commissioner in South Africa, the case is subjudice and his travel to Pakistan is in line with relevant rules. Regarding the query about the case in Portugal, the spokesman said misinformation was circulated about Ambassador Leena Moazzam however an inquiry was undertaken which exonerated her, after which she was sent to Belarus as Ambassador by the previous government.
Regarding the case of alleged harassment against Pakistani Ambassador in Rome, an enquiry has been undertaken by the Ministry of Commerce and MOFA and its report has been shared with the Ombudsperson.
Full report at:
https://dailytimes.com.pk/340431/pakistan-hopes-post-election-bdesh-will-work-towards-improving-bilateral-ties-fo/
--------
Samiul Haq's driver lied during polygraph test: sources
JANUARY 4, 2019
The driver of Jamiat Ulema Islam-Sami (JUI-S) chief Maulana Samiul Haq, who was brutally murdered at his residence in Rawalpindi last year, lied during a polygraph test conducted to ascertain facts about the high-profile assassination, sources said Thursday.
Haq, an influential religious scholar and former senator, was stabbed to death at his residence in Rawalpindi on November 2, 2018. His son had said that the JUI-S chief's "driver-cum-guard went out for 15 minutes" and returned to find him dead.
The sources said Haq's driver, Ahmed Shah, underwent a polygraph test at Punjab Forensic Science Agency, during which he kept lying.
Shah was asked two questions: Whether he knows the murderers of Maulana Samiul Haq and was he part of the murder plot?
The sources said the driver kept changing his statements during the test.
They further said the agency also conducted DNA and polygraph tests of nine other individuals, of whom, DNA samples of three individuals matched with the samples collected from the Haq's room.
Full report at:
https://dailytimes.com.pk/340401/samiul-haqs-driver-lied-during-polygraph-test-sources/
--------
Next round of Taliban-US talks in Qatar
Tahir Khan
JANUARY 3, 2019
The next round of talks between the US officials and the Taliban will be held in Qatar this month, Taliban sources said on Wednesday.
The United Arab Emirates, which hosted the Taliban and the US officials in Abu Dhabi on Dec 17-18, had stated that a new round of talks would be held in Abu Dhabi 'to complete the Afghanistan reconciliation process'.
However, Taliban sources confided to Daily Times that the talks are planned in Doha, where the Taliban have a political office. They also disputed claim by the Afghan officials that Saudi Arabia will soon host Afghan talks.
Taliban and the US officials have not reached any agreement despite having at least four rounds of talks started in July. A Taliban source, privy to the talks, is hopeful some progress in the next round.
Taliban political negotiators travelled to Iran this week ahead of their new round of talks and discussed "post-invasion and regional peace" with Iranian officials, Taliban spokesman Zabihullah Mujahid says.
Earlier the Iranian foreign ministry said Taliban have held 'intensive talks' with Iranian officials in Tehran that were aimed at 'facilitating dialogues between the Afghan groups and Kabul administration to advance peace process in the country'.
Iranian Foreign Ministry spokesman Bahram Qasemi told his weekly briefing on Monday that Iran is "quite willing to play a pivotal role in establishing peace and tranquility in its neighbouring state especially now, after Shamkhani's meeting with the Afghan government," Iranian state IRNA news agency reported.
A Taliban statement said their delegations pay visits to regional countries to seek countries' political and moral support and cooperation to end the invasion of Afghanistan.
Taliban political negotiators visited Pakistan, Uzbekistan and Indonesia over the past few months. A Taliban official told Daily Times that talks could be held in other countries if they formally make request and the US also agrees with other venues.
The visit to Iran is seen as part of the Afghan insurgents' move to strengthen relations with countries.
Taliban have visited Tehran several times and their chief Mullah Akhtar Mansour was killed in a US drone strike shortly after he returned from Iran on May 21, 2016.
Taliban, who had tense relationship with Iran during their rule since 1996 until they were ousted in late 2001 as the result of the US military operation, later established relations with Iran and some sources have confided to Daily Times that Taliban have their special envoy for Iran like several other countries.
The US sanctions and the emergence of Daesh brought the Taliban and Iran closer. Iran would definitely pay back to the US in Afghanistan for its hostile policies towards the Islamic Republic and Taliban need support to fight the Americans and its Western allies. Iran is among the few regional countries, which demand end to the US invasion of Afghanistan.
In a series of background interviews it was found that Taliban mostly believe Saudi Arabia had almost broken contacts with them for years. A Taliban official insists many countries including permanent members of the UN Security Countries, European Union, neighbours and Asian countries are in contact with the Taliban political representatives but Saudi Arabia did not.
Taliban and Saudi officials met for the first time in UAE in December after a long time and Afghan officials say that the Kingdom has planned peace talks that will be attended by the Taliban and the Afghan government.
Taliban are also trying to create a balanced relationship with countries like Iran and Saudi Arabia and its Arab allies, but a Taliban official says it depends on the Saudi officials if they establish contacts with the Taliban like other countries.
Full report at:
https://dailytimes.com.pk/339975/next-round-of-taliban-us-talks-in-qatar/
--------
Arab World
Human Rights Commission attends first trial on Khashoggi murder
3 January 2019
The Saudi Human Rights Commission attended the first session held by the criminal court to sue the indicted by the general prosecution in the murder of late citizen Jamal Khashoggi.
The first session was held in Riyadh on Thursday, January 3, 2019.
The public prosecution accused eleven persons to have taken part in the crime.
The commission pointed out that arraigning the accused comes as yet a confirmation to the Kingdom of Saudi Arabia's previous announcement that justice will take its course and that whoever has taken part in this crime will receive his the deterrent penalty.
The commission added that the court's procedures went smooth under the assurances of the Kingdom's regulations and systems for all parties of the criminal lawsuit.
https://english.alarabiya.net/en/News/gulf/2019/01/03/Human-Rights-Commission-attends-first-trial-on-Khashoggi-murder.html
--------
7 ISIL Commanders Killed in Iraqi Airstrikes in Syria
Jan 03, 2019
"At least seven ISIL commanders were killed in Iraqi air raids on the terrorists' military positions in Eastern Deir Ezzur," the Arabic-language al-Maloumeh news website quoted a Hashd al-Sha'abi (popular forces) commander as saying on Thursday.
Hashd al-Sha'abi commander Qatari al-Abidi said that a number of ISIL terrorists were also wounded in the Iraqi airstrikes on their positions in al-Souseh region in Eastern Deir Ezzur along Iraq-Syria border.
Al-Abidi, meantime, said that the ISIL's arms cache was also destroyed in Eastern Deir Ezzur.
In a relevant development on Wednesday, the Syrian Army forwarded more troops and military equipment to the Eastern deserts of Deir Ezzur, preparing for a large-scale operation to hunt down the remaining pockets of the ISIL terrorists.
The army dispatched the 4th Division and a part of Presidential Guard Forces to the Eastern desert of Syria from the small town of al-Dowayer up to the town of al-Hari near border with Iraq in Southeastern Deir Ezzur.
The army's growing military buildup in the Eastern desert of Deir Ezzur indicates that the government forces are preparing for a major operation to purge the entire region of the ISIL terrorists and put an end to any movement of the terrorists between Syria's Deir Ezzur desert and Iraq's Anbar.
The army's main objective is restoring sustainable security to the borders with Iraq.
Also on Monday, the army forwarded a large number of troops, including the 5th Division, more tanks and armored vehicles to the small towns of al-Sukariyah and Huweija al-Moshahedah near the town of Albu Kamal near the border with Syria.
In the meantime, tens of army men, a number of Russian forces, several cannons and heavy weapons arrived at Deir Ezzur military airport and were further sent to regions near the small town of al-Dowayer.
Full report at:
http://en.farsnews.com/newstext.aspx?nn=13971013000486
--------
Saudi court holds initial hearing for the 11 accused in Khashoggi murder
3 January 2019
Saudi public prosecutor stated that further to the statements issued on 19/10/2018, 25/10/2018 and on 15/11/2018, the initial hearing for the 11 individuals indicted by the Public Prosecution in the case of the murder of citizen Jamal Khashoggi was held Thursday 3/1/2019 in the Criminal Court of Riyadh. The defendants' attorneys were present under Article (4) of the Law of Criminal Procedures.
The public prosecutor demanded imposing proper punishments against the defendants and is seeking capital punishment for (5) of the defendants for their direct involvement in the murder. (More).
During the initial hearing of the case, the defendants requested a copy of the indictment and additional time to respond. The defendants' request was approved according to Article (136) of the Law of Criminal Procedures. Meanwhile, the Public Prosecutor continues to investigate the case with the rest of the individuals in custody in relation to this crime.
Full report at:
https://english.alarabiya.net/en/News/gulf/2019/01/03/Saudi-prosecution-holds-first-trial-session-for-accused-in-Khashoggi-killing.html
--------
Arab green light to renewed ties with Syria shows defeat of enemy front
Jan 3, 2019
Seven years ago – around 10 months after the outbreak of militancy in Syria – President Bashar al-Assad made a solemn assertion, which is today proving to be true. He said in an address to a group of Syrian youths, "Soon after the crisis, you will see the same Arab countries that are now hatching plots against us return to Damascus to apologize."
The Syrian leader was responding to a question about the hostile stance certain Arab states had taken against his country back then. "This is nothing new to us. We Syrians are noble Arabs and will not back off from our position."
Syria, he added, "is destined to suffer from more unrest due to their conspiracies. No one should expect peace to prevail as long as we say no to the US, not even after we emerge victorious from this war."
In 2011, when the crisis hit, the Arab countries closed down their diplomatic missions in Damascus in protest at what they described as the Assad government's crackdown on protests.
However, now that the national Syrian army has dealt stinging blows to the foreign-backed terrorists operating against the government and liberated almost all of the country's soil from the mercenaries, those Arab countries appear to be in a race to reopen their embassies in Damascus.
'Arab states knocking on Syria's door'
Last month, Sudanese President Omar al-Bashir – who has, over the past years, built good relations with Saudi Arabia and the United Arab Emirates (UAE) -- became the first Arab head of state to pay an official visit to Damascus and sit down for talks with his Syrian opposite number since the start of the conflict. Reports say Mauritania is also mulling over such a trip to the Middle Eastern country.
Commenting on Bashir's surprise visit to the Syrian capital, al-Sudan al-Youm daily wrote: The Sudanese leader paid the visit once he made sure Syria had won the war and was now back on its path forward. He could have come to the conclusion that the resistance front had foiled all anti-Syria plots. The visit may have also been a response to recent reports that Israeli Prime Minister Benjamin Netanyahu was due in Sudan soon. (Khartoum has formally rejected those reports.)
In that regard, Dr. Ing. Muhammad Khair al-Akam, an expert on political and international affairs, told Russia's Sputnik agency that Bashir's visit "has a clear message that the Arabs are knocking on the door of the Syrian Republic."
A week later, the United Arab Emirates officially resumed diplomatic work in Syria. Bahrain was also quick to follow suit.
Anwar Gargash, the Emirati minister of state for foreign affairs – once a staunch advocate of the terrorists fighting to topple President Assad -- took to his twitter page to justify Abu Dhabi's move. "The UAE decision...came after a conviction that the next stage requires the Arab presence and communication in the Syrian file," he said.
The Emirati Foreign Ministry, in turn, said in a statement that "the step confirms that the UAE government is keen to restore relations between the two brotherly countries back to normal," and that the move is "to activate the Arab role in supporting Syria's independence, sovereignty, unity and safety and prevent the dangers of regional intervention in Syria's Arab affairs."
Abu Dhabi's dramatic U-turn comes about seven years after the UAE – along with Saudi Arabia, Qatar, Egypt and Bahrain – suspended Syria's membership in the Arab League.
Eight years of Syrian resistance proved to the Emirates and other regional states that Syria is capable of thwarting all Western-Arab plots against it and keep standing strong. That is why they are speeding past one another to fix their ties with Damascus.
Besides Sudan, the UAE and Bahrain, Jordan is also reported to be considering normalizing with Syria. It seems the first state that came out in support of anti-Damascus militants has now changed course and is seeking to become the first state to send an ambassador to Syria.
"Our relations with Syria will be restored to where they were in the past," said King Abdullah II on 23 December.
Meanwhile, the Saudi regime – a major sponsor of the Takfiri terrorists wreaking havoc on Syria – is apparently determined not to fall behind its allies. Lebanese MP Abdul Rahim Mrad, who acts as a mediator between Damascus and Riyadh, said Saudi Crown Prince Mohammed bin Salman showed no negative reaction to the idea of reviewing ties with Syria.
Mrad further said he would continue efforts to arrange a meeting between Saudi officials and Ali Mamlouk, Assad's security advisor.
It seems 2018 could not have had a better ending for President Assad of Syria.
Germany's Deutsche Welle wrote, "Syria enters 2019 with all signs pointing to it being re-accepted into the Arab fold. The diplomatic shift is a recognition that the war has been won and Arab states need to exert influence in a post-conflict Syria."
The German broadcaster highlighted Tunisia's efforts to get President Assad to attend an Arab League summit it is slated to chair later this year.
Resistance front's triumph
Prominent journalist Abdel Bari Atwan, the editor-in-chief of Rai al-Youm, recently described 2019 as the year of victories for the Syrian nation. The new year, he believes, will see the defeat of American plots in the region and the restoration of dignity to its people.
Atwan highlighted US failures in the region and said US President Donald Trump admitted that his country had vainly spent $7 trillion in the Middle East. He visited a base hosting American troops in Iraq as quietly as a mouse, while trembling with fear, the journalist added.
Syria, he went on to say, "emerged triumphant because it put up resistance. The Arab countries are now rushing back to their embassies in Syria. The interesting point is that they seek to justify the move as an attempt to distance Syria from Iran. Prior to the crisis, these Arab states had offered Syria tens of billions of dollars in return for staying away from Iran. Syria, however, rejected that demand, reaffirming that Iran was a powerful ally."
"We have entered a new phase: the axis of resistance's victory in the region. Israel is currently in a state of fear. The Arab states that are moving towards normalization with Israel will regret their move. Hezbollah is a growing power of the region, possessing over 150,000 high-precision missiles. The Arabs need to admit their mistakes, join the resistance front and stand against the Israeli enemy," the journalist said.
Trump pours cold water on allies
In the meantime, 2019 came to an end with yet another Trumpian surprise. The US president's announcement of a plan to pull American troops out of the Middle East's hotspot shocked the allied players on the Syria scene, including the Arab regimes, Israel and the foreign-backed terrorists, pushing them to the verge of crisis.
Despite some criticism at home, Trump said US military forces are no longer needed in Syria since the Daesh Takfiri terror group has been defeated there.
Observers, however, cast doubt on Trump's statement and said the retreat is more indicative of the defeat of the US and its allies in Syria than that of Daesh. Trump's policy shift affected, more than anything, the Arab regimes and the proxy terrorists, promoting them to make a U-turn and retreat.
With the US military preparing to pull out, the fate of the US-backed terror groups active near Washington's al-Tanf base in southeastern Syria is now hanging in the balance.
Syrian media reports say the withdrawal plan has already created a rift in the ranks of the terrorist outfits operating in the vicinity of the al-Tanf base. Several of those militants are getting ready to surrender to the Syrian army, while others have joined other terror groups.
Slap in Israel's face
However, the American plan has most angered the Zionist regime, Washington's main ally in the region which has been providing all-out support to the anti-Damascus terrorists since the start of the crisis.
Only hours into Trump's announcement, Israel's Channel 10 described the plan as a slap in the face of the Tel Aviv regime. An expert in military affairs told the news channel that Washington's withdrawal would kill the only bargaining chip to secure Iran's exit from Syria and hamper Israel's attempts to confront Hezbollah.
The regime recently carried out airstrikes against targets near the Syrian capital, in what could be a sign of stepped-up support for the terrorists in the absence of the US, but given the latest developments in Syria, Israel's belligerent policies seem to be doomed to fail.
Full report at:
https://www.presstv.com/Detail/2019/01/03/584773/Syria-Assad-Arab-Ties
--------
23,000 Takfiri terrorists killed in Russia strikes in Syria last year: Defense ministry
Jan 3, 2019
Russia's Defense Ministry says tens of thousands of foreign-sponsored Takfiri terrorists were killed during its military's counter-terrorism airstrikes against militant redoubts in Syria last year.
The ministry, in a statement released on Thursday, announced that more than 23,000 militants were eliminated over the course of the offensives.
A total of 159 battle tanks, 57 armored vehicles, more than 900 cannons and nearly 3,000 pickup trucks with machine guns mounted on them were destroyed as well.
The statement further noted that Russian aerial attacks had killed over 87,000 terrorists and militant commanders, including 4,500 extremists from Caucasian countries, ever since Moscow started its operations in Syria more than three years ago.
Furthermore, about 1,000 militant camps, 10 thousand arms and fuel depots besides 650 battle tanks were destroyed during the mentioned period.
Russian jets have been carrying out air raids against targets belonging to the Daesh Takfiri terrorist group and those of other terror outfits inside Syria at the Damascus government's formal request since September 2015.
The airstrikes have helped Syrian forces advance against anti-Damascus militants, who have been wreaking havoc in the Arab country since March 2011.
Back in August 2018, Russia's Defense Ministry stated that Moscow had dispatched 63,012 troops to Syria over the course of its military involvement in the conflict-plagued Arab country.
The ministry said 25,738 ranking officers and 434 generals as well as 4,349 artillery and rocket specialists were among the troops sent to Syria.
It added that the Russian personnel had "received combat experience" in the war-torn country.
Full report at:
https://www.presstv.com/Detail/2019/01/03/584770/23000-Takfiri-terrorists-killed-in-Russian-strikes-in-Syria-last-year-Defense-ministry
--------
Riyadh says seeking death penalty for Khashoggi murder suspects
Jan 3, 2019
Saudi Arabia says it has held an initial hearing into the murder case of dissident journalist Jamal Khashoggi, with the public prosecutor requesting the death penalty for five of the suspects.
The state-run Saudi Press Agency (SPA) reported that at the court session, which was held in Riyadh on Thursday, the prosecutor demanded that "proper punishments" be imposed against the 11 defendants and that "capital punishment" sentences be handed to five of them over their direct involvement in the killing.
"During the initial hearing of the case, the defendants requested a copy of the indictment and additional time to respond. The defendants' request was approved according to the Law of Criminal Procedures. Meanwhile, the Public Prosecutor continues to investigate the case with the rest of the individuals in custody in relation to this crime," the public prosecutor said in a statement.
The suspects' lawyers were also present at the trial, it added.
It also noted that Riyadh had sent two letters to the Turkish public prosecutor demanding further evidence in the case, but had so far received no response.
The Turkish government has earlier said that it shared graphic audio recordings, purporting to indicate that Khashoggi was brutally murdered inside the Saudi consulate, with the US, as well as France, Britain and Germany.
Khashoggi -- an outspoken critic of Saudi Crown Prince Mohammed bin Salman -- was killed by a Saudi hit squad in Istanbul on October 2.
Turkish media have already released gruesome details of the recordings and also published images of 15 Saudi agents whom it says entered Istanbul on the same day to carry out the mission.
Ankara has called on Saudi Arabia to extradite the suspects for them to stand trial in Istanbul, a request rejected by Riyadh. Turkish officials have on several occasions complained about the lack of cooperation on the part of Riyadh in the investigation. Turkey has also said that it may seek a formal United Nations inquiry into Khashoggi's murder case if its dealings with Riyadh come to an impasse.
After weeks of denials of any involvement in Khashoggi's disappearance, the Riyadh regime eventually acknowledged the "premeditated" murder, but has vehemently sought to distance the heir to the throne from the case.
Full report at:
https://www.presstv.com/Detail/2019/01/03/584751/Saudi-Arabia-Jamal-Khashoggi
--------
Saudi Arabia's Prince Khalid pleads with international community to end child soldier recruitment
January 03, 2019
JEDDAH: Saudi Arabia on Thursday called for a global initiative to combat the recruitment of child soldiers.
Ambassador to the US, Prince Khalid bin Salman, said the Arab coalition fighting in Yemen to support the internationally recognised government, regularly encountered children who had been recruited by the Houthi militia.
In a series of heartfelt tweets, Prince Khalid said the international community and media had ignored the Houthis' daily violation of children's rights.
"The recruitment of children by the Iran backed Houthis is a heinous crime that we can no longer tolerate," he said.
"Houthis force recruitment from schools and playgrounds, threaten/terrorize families who refuse, and proceed to use them as cannon fodder."
"KSA calls for a serious sustained global initiative to combat the recruitment of children in battles; especially in Yemen. It must end once and for all."
The Iran backed Houthis, who sparked the Yemen conflict when they seized the capital Sanaa in 2014, have routinely used child soldiers during the war.
The militia have inducted 18,000 children into their ranks since the conflict began, a senior Al Houthi military official told AP recently.
The King Salman Humanitarian Aid and Relief Centre has run a series of initiatives to help rehabilitate the children and return them to school.
Full report at:
http://www.arabnews.com/node/1430046/saudi-arabia
--------
Southeast Asia
Interracial harmony: Sarawak church wedding with Muslim bridesmaids
Jan 04, 2019
PETALING JAYA (THE STAR/ASIA NEWS NETWORK) - Sarawak recently saw the concept of unity in diversity come to life in a church wedding with Muslim bridesmaids.
Pictures of the wedding on Dec 29 showed Sarawakian couple Sylvester Voon and Esther Joseph Kim getting married at St Joseph's Cathedral in Kuching, Sarawak.
Ms Kim had six Muslim bridesmaids who wore dark red baju kurung and pink hijab.
Wedding photographer Ariffin Husain, who took the photos at the cathedral and a nearby courthouse, said on his Facebook page that it is "the most unique wedding in 2018".
"You won't get to see this every day... It's a church wedding, but all the bridesmaids are Muslims.
"Wearing headscarves, it is very rare," he wrote.
Mr Ariffin added that while Ms Kim is from Sarawak, most of the bridesmaids are from the peninsula.
"This is what we call 1Malaysia... even though they are different in race and religion, this did not stop these good friends from celebrating one of the happiest days of their friend," he wrote.
He said it was very rare and sweet to see friends from various races respecting each other, expressing hope to see more multicultural ceremonies in the near future.
Mr Ariffin told The Star that while he has been in this line of work since 2012, this wedding is the most special and beautiful for him.
"I hope that with the racial issues which happened lately, we can learn to put aside our differences, embrace each other with open arms and live together in harmony," he added.
His post received over 800 likes and shared over 250 times at the time of writing.
Many congratulated the couple and liked the photographs taken by Mr Ariffin.
At the end of last year, mStar reported a heart-warming story of an Indian doctor who chose nine of his close Malay friends to be groomsmen for his wedding.
https://www.straitstimes.com/asia/se-asia/interracial-harmony-sarawak-church-wedding-with-muslim-bridesmaids
--------
No applications yet from Sabah Muslim NGO and friends, says PPBM
Tracy Patrick
January 4, 2019
KOTA KINABALU: PPBM has yet to receive the 19,000 membership applications said to be from members of an NGO in Sabah and their friends.
A senior PPBM leader told FMT the party is also undecided on whether to enter Sabah, despite growing support from the grassroots in the state.
Yesterday, Perkida Sabah president Datu Muhammad Akjan Datu Ali Muhammad claimed the NGO had managed to get 19,000 people, including 12,000 of its members, to register as members of PPBM.
He said all 150,000 members of Perkida Sabah were expected to sign up with PPBM in the next six months.
The NGO is one of at least three groups attempting to bring the national-based party into Sabah.
But not everyone wants PPBM in the state, with the ruling Warisan party – an ally of Pakatan Harapan (PH) – saying it had agreed with PH that Sabah would be handled by Warisan.
However, Akjan said he and his group had decided to join PPBM instead of Warisan because they were attracted to the ideology and aims of the party, which were based on the five pillars of the Rukun Negara promoting a just and harmonious society.
"We believe that PPBM, spearheaded by our prime minister, Dr Mahathir Mohamad, and Home Minister Muhyiddin Yassin, will be in a better position to unite and strengthen the position of the Muslim natives in Sabah," he said.
"The party will be better at safeguarding our interests and championing our plight and causes.
"It will also promote greater rapport and co-existence with fellow Malaysians of other races and religions, and help build a harmonious and progressive nation."
Commenting on the criticism by some groups of PPBM's possible expansion into Sabah, Akjan said it was their right to express their views, just as it was the right of citizens to choose the party they felt best suited their ideals and aspirations.
He said these individuals and parties or groups should not feel insecure or threatened by PPBM.
Akjan also urged detractors not to blame the PPBM leadership for accepting their membership applications.
He said they were prepared to sit down with them to explore the possibility of future cooperation for the common good of the state and its people.
He added that despite talk about multiracial political parties, there was still a need for a strong Muslim-based party to take root in Sabah.
According to him, this was because there are certain things a multiracial party cannot do as they go against party principles.
Full report at:
https://www.freemalaysiatoday.com/category/nation/2019/01/04/no-applications-yet-from-sabah-muslim-ngo-and-friends-says-ppbm/
--------
Don't believe rumours that Malaysian King is abdicating, says Kelantan leader
JAN 3, 2019
KOTA BARU - Kelantan's Deputy Menteri Besar Mohd Amar Nik Abdullah on Thursday (Jan 3) asked the public not to believe in speculation that the Malaysian King will be stepping down from the throne.
Datuk Amar told reporters that the state government has not received any information about this, Malaysiakini news site reported.
He was responding to questions from the media in Kota Baru, Kelantan's state capital, about rumours on social media that Sultan Muhammad V will abdicate soon from his role as Yang di-Pertuan Agong, as the country's king is officially called. The 49-year old ruler is from Kelantan.
"The state government has no knowledge. If it's a rumour, don't believe it."
"We shouldn't be surprised because people say many things in rumours, not only about the Yang di-Pertuan Agong, but also the government. So don't believe the rumours," Mr Amar was quoted as saying by the news site.
The Kelantan ruler is currently on leave.
Mr Amar, a vice-president of Parti Islam SeMalaysia (PAS) that controls the Kelantan state legislature, said the Attorney-General should step in to stop the circulation of "fake news", New Straits Times (NST) online quoted him as saying.
"It is the duty of the Attorney-General to ensure that incorrect information does not spread among the people," he said.
"We are talking about an institution, the Yang di-Pertuan Agong is an institution, the Sultan is an institution," he added.
Sultan Muhammad V went on leave from Nov 2 to rest "following treatment", Bernama news agency had reported.
In late November, media reports said he had married a beauty queen from Russia, Ms Oksana Voevodina, in Moscow.
When asked about this at the time, Prime Minister Mahathir Mohamad said he had no official knowledge.
"I don't know. I don't have any official confirmation so I can't say anything," he said.
During the King's absence, his duties as Malaysia's constitutional monarch were taken up by the Sultan of Perak, Sultan Nazrin Shah, 62.
Sultan Nazrin left the national palace Istana Negara on Dec 31 at the end of his tenure as acting King, according to media reports.
Under Malaysia's unique rotational system among the nine Malay royal houses, the sultans take turns to be appointed the Agong every five years.
Sultan Muhammad V was proclaimed Malaysia's 15th King in December 2016.
Speculation about the abdication appeared to have heated up soon after this week's regular meeting of the Conference of Rulers. Conference members are the titular heads of Malaysia's 13 states - the nine sultans and four state governors (Penang, Melaka, Sabah, Sarawak).
Adding to the speculation, Tun Dr Mahathir in a cryptic post on Wednesday in his blog titled "Rule of Law", said that every Malaysian, including the sultans, must follow the law.
"The Rule of Law applies to everyone from the Rulers to the Prime Minister and Ministers, to the civil servants and ordinary citizens," he said.
"There is no provision which exempts anyone from the Rule of Law. For the Rulers, there is a special court but the laws are the same as the laws applicable to ordinary citizens. The Rulers too must respect the laws."
Full report at:
https://www.straitstimes.com/asia/se-asia/dont-believe-rumours-that-malaysian-king-is-abdicating-says-kelantan-leader
--------
Two seats, one vision for UN Security Council
Arif Havas Oegroseno And Norbert Röttgen
January 4, 2019
As both countries join the United Nations Security Council (UNSC) as nonpermanent members, we outline a vision of what practicing multilateralism from an Indo-German perspective should entail.
At first glance one might think what an unusual pair: Indonesia and Germany, located on different continents, each with neighborhood problems of their own.
One country shaped by a Christian-Jewish cultural heritage, the other with a long multicultural and religious tradition as well as the tradition of Islam wasathiyah (moderate Islam).
Full report at:
https://www.thejakartapost.com/academia/2019/01/04/two-seats-one-vision-for-un-security-council.html
--------
Christians issue 'yellow alert' on tolerance
January 4 2019
Grave encounters: The grave of F. Sriyati at the Segadoeng Cemetery had its cross damaged on Sunday in Tidar Krajan village, Magelang, Central Java. (JP/Bambang Muryanto)Tolerance in Indonesia has been put to the test once again with at least 19 cross-shaped grave markers wrecked in three cemeteries in Magelang, Central Java, along with the graves of three Muslims.
Some of the wooden crosses were damaged and partially pulled out of the ground, while some marble gravestones were smashed to pieces.
Mulyono, 42, a guard at the Giriloyo Public Cemetery, one of the three graveyards affected, said this was the first such incident in the area.
Full report at:
https://www.thejakartapost.com/news/2019/01/04/christians-issue-yellow-alert-tolerance.html
--------
Europe
Muslim convert planned UK terror attack after losing passport
Paul Peachey
January 3, 2019
Muslim convert plotted to kill dozens of people in a crowded shopping district in London after his passport was seized thwarting his plans to travel to the Philippines to join an extremist group and get married.
Lewis Ludlow, 27, had turned up at Heathrow Airport in February last year to fly to the Philippines only to be met by police who turned him back. His passport was revoked the following month and an enraged Ludlow later told an acquaintance that he hoped officers and their children would "die of cancer".
Ludlow subsequently made a pledge of allegiance to ISIS saying that he felt only "animosity and hate" towards non-Muslims as he prepared plans to kill around 100 people by using a van to ram shoppers on London's Oxford Street, a London court was told.
"I spit on your citizenship, your passport, you can go to hell with that," he said in his pledge of allegiance in which he signed off as "The Eagle".
Ludlow's attack plan unravelled after police discovered pictures of ISIS executions on seized phones and pieced together his attack strategy from pieces of paper he had ripped up and discarded.
He had also been watched by police as he turned up at an internet café where he printed off the black flag of ISIS - but then forgot it as he left in a hurry, London's Old Bailey court was told.
He had been put under surveillance after it emerged that he had been in contact via an encrypted messaging service with a foreign fighter in Syria and told him he would look into using his job at a mail sorting depot to send "something lethal" through the post.
His discussions with a Philippines-based extremist via an encrypted messaging were infiltrated by an undercover officer who the pair sought to recruit with his terrorist plot.
Ludlow, from Rochester, 25 miles southeast of London, had been on the radar of authorities for a decade after his former college raised concerns about his religious views.
He was arrested in 2015 after he was identified on videos with senior leaders of the UK's most notorious extremist organisation but no action was taken against him at the time, the court heard
He was pictured with Anjem Choudary, the former leader of the proscribed extremist group Al Muhajiroun who was released from prison last year after serving a sentence for supporting ISIS.
The government's deradicalisation programme, Prevent, had been in contact with Ludlow since 2008. He had cancelled appointments or tried to dupe officials that he was engaging with the programme when he was planning a terrorist attack.
One of his meetings was on the same day that he scouted targets around the capital and took photographs on his mobile phone of Oxford Street and waxwork museum Madame Tussauds, another potential target.
Ludlow in August last year admitted plotting an attack in the UK and funding ISIS in the Philippines. He was in court on Thursday for a sentencing hearing that was expected to last up to three days.
https://www.thenational.ae/world/europe/muslim-convert-planned-uk-terror-attack-after-losing-passport-1.809219
--------
Pushing a 'German' Islam: The agenda behind the 'mosque tax'
Jan 04, 2019
Nowadays, Germany is discussing the issue of collecting a "mosque tax" from Muslims in the country to finance Muslim foundations and mosques. This new tax plan is thought to be similar to the German church tax, and the main aim behind the introduction of it is to fund expenses for mosques and the salaries of imams working in the mosques through Muslim citizens.
The church tax is collected in Germany to finance the expenditures of religious and ideological communities. It is collected by the tax offices of the related state. According to the 140th article of the German Constitution, in connection with the 137th article of the Weimar Constitution, public entities of religious and ideological communities can be taxed.
The discussions for the application of the church tax model for mosques in Germany continue to be a significantly important matter. The church tax, which is collected from the members of religious communities that are deemed public entities, is collected by tax offices proportionately to salaries of citizens on an accrual basis. A certain amount of this money is taken by the state as a fee, and the remaining amount is transferred to the related religious community.
However, in Germany, none of the Muslim communities, generally consisting of people of Turkish descent and the Turkish community, are public entities. Public entities possess superior and privileged authorization, have different statutes for properties, income and staff and are established based on the provisions provided by a specific law. Consequently, it is impossible for the existing Muslim communities and foundations to collect a "mosque tax."
So, what is the real reason behind the increasing popularity of this issue among the political elites in Germany?
Imams from the Turkish-Islamic Union for Religious Affairs (DİTİB) who are sent to Germany by Turkey have been deemed a problem, especially following the crisis between the two countries. Most recently, Horst Seehofer, the interior minister of Germany, stated that the financing of the Muslim people in Germany needs to be carried out independently of foreign countries and stressed that he believes the imams working in Germany should be trained in Germany without the intervention of foreign countries. With its 900 mosques, the DİTİB is the biggest Muslim nongovernmental organization in the country and receives financial support from Turkey.
Moreover, Germany is looking to cut the financial support flowing into the Muslim foundations and mosques of foreign countries. Clearly, the German government wants to replace the financing provided by the Gulf countries led by Saudi Arabia with independent financing for ending the foreign-source dependency of mosque communities. Plenty of Muslim foundations and communities are financed either by Turkey or a Gulf state. As a result, these foundations and communities have been accused of transferring politically questionable values to citizens and creating parallel societies in Germany.
The discussion of a "mosque tax" in Germany is not a problem by itself. But the fact that this issue is voiced by politicians is a clear sign that it is not based on the needs of the Muslim community. This is a clear indication that this issue is voiced by the politicians with a political agenda. It is not a request centered on the worries and needs of the Muslim people; yet it is a solely political strategy.
The "German Islam" project that has come up over the past few months is directly linked to the debates about the so-called mosque tax. The concept of "German Islam," a part of the European Islam Project, consists of imams trained parallel to the paradigm determined by Germany and aims to create a "liberal or secular Islamic discipline."
Statements opposing imams coming from Turkey and requesting they be trained in Germany aim to break the cultural and religious bonds between Turkey and Turkish people living in Germany. The plan to train imams in Germany is perceived by the Muslim community as the first step toward the German Islam project, thus leading to concern among Muslims in the country.
Naturally, a religion can be practiced differently in every country, but this should only be rooted in sociocultural differences, not due to boundaries drawn by a state. Intervention of a state in this process is both unlawful and unacceptable. Where imams are trained is not important, but instead whether the imams are trained parallel to the basic principles of Islam.
Full report at:
https://www.dailysabah.com/op-ed/2019/01/04/pushing-a-german-islam-the-agenda-behind-the-mosque-tax
--------
Oxford Street terror plotter tells court MI5 tried to recruit him
Jan 04, 2019
A Muslim convert has told how he rebuffed MI5 advances but played along with authorities trying to deradicalise him as he plotted a terror attack on Oxford Street.
Lewis Ludlow, 27, of Rochester, Kent, a former Royal Mail worker, said he was filled with "animosity and hatred" when he swore allegiance to Islamic State, the Old Bailey heard. All the while, he appeared to engage with the Prevent deradicalisation programme, having had 16 meetings and a phonecall with officers over the six months before his arrest last April.
One of the meetings was on the same day that Ludlow had carried out reconnaissance of targets around the capital, taking photographs of Oxford Street and Madame Tussauds.
Ludlow had planned to kill up to 100 people in a "ram attack" after being stopped by police at Heathrow airport in February 2018 as he attempted to board a flight to the Philippines.
The defendant, who called himself "the Eagle" and "the Ghost", had bought a phone under a false name and wrote down his attack plans, which were later found ripped up in a bin in his home.
He pleaded guilty last year to plotting an attack in the UK and giving money to Isis in the Philippines and appeared at the Old Bailey on Thursday to be sentenced.
The prosecutor Mark Heywood QC set out Ludlow's past association with extremists in Britain and abroad. He said the Prevent programme had attempted to engage with Ludlow since November 2008, when his college had raised concerns about his religious beliefs and his habit of carrying a knife.
Giving evidence, Ludlow, who has autism, said he dropped out of school at 14 because of bullying and converted to Islam at the age of 16. In 2010, Ludlow attended a demonstration led by the radical preacher Anjem Choudary and his banned group al-Muhajiroun. But his relationship with the extremist Islamic group soured after he was suspected of being a spy, he said.
In 2015, he talked to British jihadist Junaid Hussain about "sending something lethal" in the post while doing seasonal work in a Royal Mail warehouse.
But Ludlow told the court he only said it because he was in "awe" of Hussain, who was killed in a drone strike in Syria soon afterwards.
That year, he was arrested and Isis material was recovered from Ludlow's phone but no further action was taken. In March 2017, Ludlow claimed MI5 had approached him to be a "spy" and "entrap" young people online as an "agent provocateur".
But he said: "I didn't want to be involved in that, ruining their lives. I felt it was wrong. They kept saying they wanted to meet me. They would not leave me alone."
Ludlow had cut off contact with Prevent two years before, but resumed meetings with officers in November 2017, while concealing his true feelings. The defendant said he felt he was "picked on" for being a white Islamic convert and felt under pressure from his Prevent mentor.
In January 2018, he bought a ticket to fly to the Philippines on 3 February but was stopped at the airport and had his passport seized. In March, having set up a PayPal account and a Facebook site devoted to antique collection, he sent money to an alleged extremist called Abu Yaqeen in an area of the Philippines with a significant Isis presence.
Police went on to recover torn-up scraps of paper from Ludlow's bin detailing potential attack sites in Britain.
On Oxford Street, he planned to use a van to mount the pavement, noting the lack of safety barriers.
He said: "Wolf should either use a ram attack or use … on the truck to maximise death … It is a busy street it is ideal for an attack. It is expected nearly 100 could be killed in the attack."
Heywood said there was evidence the defendant wanted to recruit a second attacker as he did not have a driving licence and was "scared" of crashing.
In mitigation, Rebecca Trowler QC said Ludlow was directed by the extremist in the Philippines and his plans were "embryonic".
Full report at:
https://www.theguardian.com/uk-news/2019/jan/03/lewis-ludlow-oxford-street-terror-attack-plotter-16-meetings-prevent-officers-court-hears
--------
Navy SEAL to plead not guilty to murder charge of Daesh teen
January 04, 2019
SAN DIEGO: A decorated Navy SEAL is facing charges of premediated murder and other offenses in connection with the fatal stabbing of a teenage Daesh prisoner under his care in Iraq in 2017 and the shooting of unarmed Iraqi civilians.
Special Operations Chief Edward Gallagher is also accused of posing with the teen's corpse at his re-enlistment ceremony. His attorney, Phil Stackhouse, says Gallagher will plead not guilty to all of the charges.
The case stands out because of the seriousness of the allegations against an elite special warfare operator and the fact that the prosecution's case includes the accounts of fellow Navy SEALs, an extremely tight-knit group even by military standards.
Full report at:
http://www.arabnews.com/node/1430226/world
--------
South Asia
Thousands displaced as Myanmar army and Rakhine rebels clash
January 3, 2019
YANGON: Weeks of fighting between ethnic Rakhine rebels and Myanmar's military has driven thousands of civilians from their homes, the UN said, as conflict intensifies in a state already ravaged by violence against the Rohingya Muslim minority.
The army led a crackdown against the Rohingya in western Rakhine state in 2017, justifying the violence as necessary to flush out militants from the stateless minority.
Those operations prompted a mass exodus of Rohingya to Bangladesh.
But that conflict largely overshadowed the army's simmering fight with the Arakan Army (AA), who want greater autonomy for Rakhine's Buddhist population in one of Myanmar's poorest states.
The UN's humanitarian agency on January 1 said it was "concerned" by the recent surge in violence which has displaced around 2,500 people "who are sheltering in monasteries and other communal spaces".
Canada sanctions top Myanmar military over Rohingya abuses
The rebels accuse the military, known in Myanmar as the Tatmadaw, of deploying heavy artillery against villagers.
"People are trapped by the fighting," a spokesperson for the Arakan Army Khine Thukha told AFP, accusing the army of commandeering churches, schools and monasteries.
There have been a flurry of murky, unclaimed attacks and murders in the past two weeks in northern Rakhine, which remains deeply fractured along ethnic and religious lines.
A policeman was murdered in an ambush by unknown assailants near the Bangladesh border, while two ethnic Rakhine were found with their throats slit, prompting the army to launch localised "clearance operations".
This week a remote-controlled mine attack hit a convoy carrying the western territory's chief minister, who escaped unharmed.
US slaps sanctions on Myanmar military commanders over Rohingya abuses
Rakhine state was notably sidelined in an unexpected unilateral ceasefire announced by the military in December that only covered conflicts in the northeast of the country.
The AA said the army was using the truce elsewhere to focus efforts on Rakhine, a theory Min Zaw Oo from the Myanmar Institute for Peace and Security dismissed as "not very plausible".
No troop redeployments had yet taken place, he said, adding that the aim of the military offensive was to prevent the militants gaining a foothold in Rakhine.
"The Tatmadaw's strategy is very similar to other parts of the country," he told AFP.
"When they see militant bases, they put them under siege and bombard them with heavy artillery."
https://tribune.com.pk/story/1880747/3-thousands-displaced-myanmar-army-rakhine-rebels-clash/
--------
Bangladesh opposition boycotts swearing-in amid calls to probe vote rigging
Jan 3, 2019
DHAKA: Opposition members of Bangladesh's parliament boycotted a swearing-in ceremony on Thursday, after rejecting results of a general election that they said was rigged to give Prime Minister Sheikh Hasina her third straight term.
Hasina's ruling alliance won more than 90 per cent of the seats contested in Sunday's (December 30, 2018) election, which was marred by accusations of ballot stuffing, voter intimidation and violence that killed at least 17 people.
Hasina and her ruling Awami League party have dismissed the accusations.
While all 291 newly elected members of parliament, including Hasina, from the ruling bloc were sworn in, the seven opposition members stayed away.
They must take their oath within three months or forfeit their seats.
Leaders of the main opposition Bangladesh Nationalist Party (BNP) could not immediately be reached for comment.
The BNP sent a letter to the government on Wednesday seeking permission to meet their leader, former Prime Minister Khaleda Zia, who has been in jail since February on what they call trumped up charges.
On Thursday, New York-based Human Rights Watch said the run-up to the vote was characterised by "violence and intimidation against the opposition ... and the misuse of laws to limit free speech".
It called for an independent and impartial investigation of the accusations of electoral abuses.
"Reports of ballot stuffing, intimidation of voters, and ruling party control of voting locations on election day mean that an independent and impartial commission should be formed to determine the extent of the violations," Brad Adams, Asia director at the rights group, said in a statement.
Western government, including the United State and the European Union, have condemned the election-day violence and called for investigation of a range of irregularities.
Hasina said after the results came out that the vote was largely peaceful and voters had taken part enthusiastically.
The BNP has said its workers were being attacked across the country by Awami League activists. The ruling party has denied the charges.
Hasina, whose father, state founder Mujibur Rahman, was assassinated in a coup in 1975, has alternated in and out of power for nearly three decades with her main rival, BNP leader Khaleda.
Full report at:
https://timesofindia.indiatimes.com/world/south-asia/bangladesh-opposition-boycotts-swearing-in-amid-calls-to-probe-vote-rigging/articleshow/67362999.cms
--------
Bangladesh Opposition renews call for fresh vote
JANUARY 03, 2019
Opposition members of Bangladesh's Parliament boycotted a swearing-in ceremony on Thursday, after rejecting results of an election that they said was rigged to give Prime Minister Sheikh Hasina her third straight term.
While newly elected Members of Parliament from the ruling bloc, including Ms. Hasina, were sworn in, the seven Opposition members stayed away. "Why should we take the oath when we've rejected this election?" Mirza Fakhrul Islam, secretary general of the main Opposition Bangladesh Nationalist Party , told reporters. Mr. Islam is one of the seven Opposition members who won a seat.
Full report at:
https://www.thehindu.com/news/international/bangladesh-opposition-renews-call-for-fresh-vote/article25902514.ece
--------
Initial parliamentary poll results announced for Baghlan, Sikhs and Hindus community
03 Jan 2019
The Independent Election Commission of Afghanistan (IEC) announced the initial parliamentary poll results in respect of Baghlan province, Sikhs and Hindus community.
According to a statement released by Independent Election Commission, eight individuals including Alhaj Asadullah Shahbaz, Mohammad Azim Mohsin, Atiqullah Ramin, Alhaj Mamor Ahmadzai, Dr. Mohammad Nasim Mudabir, Alhaj Ustad Abdul Razaq Hashim, Shukria Eisa Khel, and Nooria Hamidi have secured seats in the Lower House of the Parliament (Wolesi Jirga).
The statement further added that Narender Singh Khalsa has secured a seat on behalf of Sikhs and Hindus community of the country based on initial election results.
The parliamentary elections were conducted on 20th of October last year but the Independent Election Commission has so far failed to fully announce the poll results.
Full report at:
https://www.khaama.com/initial-parliamentary-poll-results-announced-for-baghlan-sikhs-and-hindus-community-03050/
--------
Afghanistan's National Security Advisor leaves for India on an official visit
03 Jan 2019
Afghanistan's National Security Advisor Dr. Hamdullah on Thursday left for India on an official visit to meet with his Indian counterpart Ajit Doval.
The Office of the National Security Council (ONSC) confirmed that Dr. Mohib has left for India on an official invitation from his Indian counterpart.
According to a statement released by Office of the National Security Council, Dr. Mohib will hold talks with his Indian counterpart regarding bilateral cooperation.
The Indian media outlets had earlier reported that Ajit Doval, the National Security Advisor of India would meet his Afghan counterpart Dr. Hamdullah Mohib to hold talks on bilateral security cooperation.
"The Afghan NSA is likely to hold parleys with his Indian counterpart Ajit Doval along with other senior military and political leadership," sources privy of the development have told local media outlets in India.
India has played a major role in the reconstruction of Afghanistan since the fall of the Taliban regime and has invested over $2 billion in various reconstruction and infrastructure projects.
The government of India pledged a fresh aid package of $1 billion to support the reconstruction projects in Afghanistan during a visit by President Mohammad Ashraf Ghani in late 2016.
Full report at:
https://www.khaama.com/afghanistans-national-security-advisor-leaves-for-india-on-an-official-visit-03047/
--------
Taliban threat looms over oil reservoirs in Afghan province
January 04, 2019
KABUL: Clashes between Taliban militants and government forces have somewhat come to a halt near oil reservoirs in Afghanistan's northern Sar-e-Pul province.
The Taliban still poses a threat in the area, provincial officials said on Thursday. More than 20 government security forces lost their lives when scores of heavily armed Taliban fighters staged a series of attacks on two oil wells in the province.
No government reinforcements have arrived despite promises by Kabul to flush out Taliban combatants entrenched near the area, local officials said.
"Reservoirs, vehicles and equipment worth millions of dollars are under threat," Zabihullah Amani, a spokesman for the province's governor, told Arab News. "The reservoirs remain with us, but the Taliban are able to launch more attacks."
Both Mohammad Noor Rahmani, provincial chief council, and Amani said they did not know the reason for the government's inaction against the Taliban's growing presence in the province.
"While there has been no fighting since the Taliban attack, they can come at any moment and pose a continuous threat to oil facilities and resources in the area," Rahmani told Arab News.
An Afghan and Chinese firm used to exploit oil reserves in the wells until six months ago, but stopped after the government objected.
Security officials in Kabul could not be reached for comment about the security situation and the concerns that have been expressed by provincial officials.
While Sar-e-Pul is a considerable distance away from the Taliban's main bastion of support south and east of the country, the group has managed to make some in-road gains in northern areas in recent years and hundreds of locals have joined the group for different reasons.
Illegal armed groups have also joined Taliban ranks and infiltrate areas rich in minerals, such as lapis lazuli, a semi-precious stone, and gold.
Full report at:
http://www.arabnews.com/node/1430191/world
--------
Mideast
Yemen, UAE, Saudi Arabia say Houthis fail to abide by ceasefire deal
3 January 2019
The Yemeni legitimate government, Saudi Arabia and the United Arab Emirates have sent a letter to the UN Security Council accusing the Houthi militias of failing to abide by the ceasefire agreement in Hodeidah, which is witnessing continuous violations.
The letter accused the Houthi militias of failing to comply with the UN brokered ceasefire agreement reached in Sweden last month.
The letter - which was written on December 31 - was sent to outgoing UN Security Council head Kacou Houajda Leon Adom - accused the pro-Iranian Houthi militias of violating the ceasefire in Hodeidah port city, where they erected barricades and dug trenches.
The letter also accused the Houthis of launching attacks including sniper fire and medium-range ballistic missiles in Hodeida.
This comes even as the UN team oversees the implementation of the truce, led by retired Dutch General Patrick Cammaert continues meeting with all concerned sides.
At its meeting on Wednesday, and for the second consecutive day, the team discussed a ceasefire monitoring mechanism, which has been subjected to daily violations by militias.
https://english.alarabiya.net/en/News/gulf/2019/01/03/Yemen-UAE-Saudi-Arabia-say-Houthis-fail-to-abide-by-ceasefire-deal.html
--------
US warns Iran on space launches, Tehran rejects concerns
3 January 2019
The United States issued a pre-emptive warning to Iran on Thursday against pursuing three planned space rocket launches that it said would violate a UN Security Council resolution because they use ballistic missile technology.
Iran rejected the warning, issued by US Secretary of State Mike Pompeo, saying its space vehicle launches and missile tests were not violations.
Pompeo said Iran planned to launch in the coming months three rockets, called Space Launch Vehicles (SLV), that he said incorporate technology "virtually identical" to what is used in intercontinental ballistic missiles.
"The United States will not stand by and watch the Iranian regime's destructive policies place international stability and security at risk," Pompeo said in a statement.
"We advise the regime to reconsider these provocative launches and cease all activities related to ballistic missiles in order to avoid deeper economic and diplomatic isolation."
Pompeo said the rocket launches would violate UN Security Council Resolution 2231, which endorsed a 2015 nuclear deal between Iran and world powers.
It calls upon Iran not to undertake activities related to ballistic missiles capable of delivering nuclear weapons, but does not explicitly bar such activity.
Iran has repeatedly rejected US accusations about its ballistic missile tests, including the firing of space
launchers.
"Iran's launch of space vehicles - & missile tests - are NOT in violation of (Resolution) 2231. The US is in material breach of same, & as such it is in no position to lecture anyone on it," Iranian Foreign Minister Mohammad Javad Zarif wrote in Twitter post on Thursday.
Tehran denies it has missiles designed to carry nuclear warheads.
Pompeo said Iran has launched ballistic missiles numerous times since the UN resolution was adopted. He said it test-fired a medium-range ballistic missile capable of carrying multiple warheads on Dec. 1.
Full report at:
https://english.alarabiya.net/en/News/middle-east/2019/01/03/Pompeo-Iran-is-the-world-s-biggest-terrorism-sponsor.html
--------
Saudi asked to open airspace to more Israeli-bound flights
Jan 3, 2019
The Philippines' national carrier has requested permission from Saudi Arabia to use the kingdom's airspace for Israeli-bound flights, months after Riyadh approved a similar request from India.
Jaime Bautista, Philippine Airlines' president, told Reuters on Wednesday that the Southeast Asian country's Civil Aeronautics Board sent a formal letter to Riyadh in October, asking Saudi officials for overflight rights.
This allows shorter and cheaper Filipino flights to Israel, Bautista said, adding that the airline can launch a direct line to Tel Aviv's Ben Gurion airport in six months should Riyadh approve its request.
It was not clear whether the talks also concerned airspace access to Israeli flights to the Philippines.
Israel's flag carrier El Al, has already appealed to the International Air Transport Association, a trade association of the world's airlines, to help it gain access to Saudi airspace.
The permission is critical for both the Philippines and Israel as the number of Filipino tourists visiting the occupied Palestinian territories rose by 61 percent in 2017. Tourism in the other direction rose by 42 percent in 2016.
Philippines' Department of Transportation Undersecretary Antonio Tamayo confirmed last month that his country had gained landing rights in Israel as a result of the Philippines president's visit to Tel Aviv in September.
According to him, Israeli-bound flights would be more than an hour longer without the permit from Saudi Arabia.
It was reported in February that Saudi Arabia had allowed Air India's Israeli-bound passenger jets cross its airspace. The first flight flew over Saudi Arabia and into Israel in late March.
The Riyadh regime has banned Israel-bound flights from using its airspace over the past 70 years. However, private jets can still fly from Saudi Arabia and other Persian Gulf countries to Israel provided they make a stop-over in Jordan's capital Amman first.
Observers have linked Riyadh's willingness to let Israeli-bound flights through to the kingdom's gradual normalization of ties with Tel Aviv, a process accelerated by Crown Prince Muhammad bin Salman's ambitions.
In November 2017, months after bin Salman was appointed as the heir to the crown, Israeli Energy Minister Yuval Steinitz revealed for the first time that Tel Aviv had covert contacts with Riyadh.
Full report at:
https://www.presstv.com/Detail/2019/01/03/584794/Saudi-Arabia-airspace-Philippines-airlines-Israel
--------
Turkey, Iraq will deepen cooperation against terrorism in region: Erdogan
Jan 3, 2019
Turkish President Recep Tayyip Erdogan says Turkey and neighboring Iraq will deepen their cooperation against terrorism in the region, after tensions between Ankara and Baghdad over Turkey's airstrikes against purported positions of Kurdish militants in northern Iraq.
The Turkish leader made the comment during a joint press conference with his Iraqi counterpart Barham Saleh in the Turkish capital Ankara on Thursday.
"We know the importance of working together to be successful in our fight against terror. God willing, in the future we will deepen our cooperation in this area," Erdogan said at the presser, adding that an Iraq standing on its "two feet" was of crucial importance to regional security and stability.
He also stressed that there were threats to both countries from "terrorist organizations" such as Daesh, Kurdish militants and a group blamed by Ankara for a failed coup in Turkey in 2016.
Ankara alleges that the US-based opposition cleric Fethullah Gulen has masterminded and orchestrated the mid-2016 short-lived botched putsch against Erdogan and has branded his movement as the Fethullah Terrorist Organization (FETO). Ankara has arrested tens of thousands of people on charges of having links to the group.
The Turkish president also said that Iraq had triumphed against Daesh with a heavy cost as thousands of Iraqi people, civilians and troops lost their lives during over three years of intense fight against terrorists. Furthermore, the terror group inflicted significant damage on the Arab country's infrastructure and cultural heritage, he added.
"Turkey gave firm support to Iraq for that tough fight. We are ready to contribute to infrastructure and development projects in Iraq - reconstruction of places harmed by conflicts being the priority," Erdogan stressed.
The Iraqi president, for his part, said his country "wants real cooperation and strategic partnership with Turkey," adding that this cooperation would "serve not just the two countries but the whole region."
"I am visiting brotherly country Turkey with the aim of cooperation in every field" as Iraq is about to "enter a new phase," Saleh said, adding that Baghdad expected Ankara's help in reconstructing militancy-infested regions of the Arab country.
He also stressed that relations with Turkey would be "shoulder to shoulder, in full solidarity."
Former Iraqi prime minister Haider al-Abadi declared the end of military operations against Daesh on December 9, 2017. On July 10 that year, he had formally declared victory over the terror group in Mosul, Iraq's second largest city and the de facto capital of Daesh for some three years.
Last month, the Iraqi Foreign Ministry summoned Turkey's ambassador to Baghdad after Turkish warplanes launched airstrikes against the purported positions of the outlawed Kurdistan Workers' Party (PKK) in the Zap, Hakurk and Haftanin regions of northern Iraq.
Turkey, along with the European Union and the United States, has declared the PKK a terrorist group and banned it. The militant group has been seeking an autonomous Kurdish region since 1984.
Over the past few months, Turkish ground and air forces have also been carrying out operations against PKK positions in the country as well as in northern Iraq and neighboring Syria.
Full report at:
https://www.presstv.com/Detail/2019/01/03/584781/Turkey-Erdigan-Iraq-Saleh-Daesh-cooperation
--------
Israeli troops shoot, injure two Palestinians near Joseph's Tomb
Jan 3, 2019
Two Palestinians have been injured during clashes with Israeli military forces, who were escorting a group of extremist settlers as they stormed Joseph's Tomb, a site venerated by Jews, Christians and Muslims.
Spokesperson of the Palestinian Red Crescent, Ahmad Jibril, said a Palestinian journalist, identified as Bakr Abed al-Haq, was shot in the leg by Israeli forces during the skirmishes near Joseph's Tomb located on the outskirts of the occupied West Bank city of Nablus, the Ma'an news agency reported Thursday.
A Palestinian paramedic also suffered wounds to his face, according to the report.
In a Facebook post, Haq said he and his cameraman -- both with Palestine TV -- were standing away from the scene and had their press vests on when they came under attack.
The Israeli military, he added, used live fire and rubber-coated steel bullets to disperse the Palestinians protesting the settlers' raid of the holy site.
Joseph's Tomb is situated in the West Bank's Area A, which is controlled by the Palestinian Authority; however, the Israeli military allows the settlers to visit the site without approval, and even escorts them into the place.
This is while the regime prevents Muslims from worshiping there.
Israelis claim the site contains the tomb of a rabbi, but the site is part of an old mosque where Muslim scholar Yousef Dweekat has been buried.
Palestinian locals say the Israel is planning to reoccupy the historical site after the regime's military left the place in 2000.
Israeli forces open live fire on school students in Nablus
In another development on Thursday, Israeli soldier opened live fire on and fired tear gas at Palestinian students, who were leaving school in the northern occupied West Bank village of Tell in Nablus.
Israeli forces reportedly opened live fire at students of the Tell High School, followed by a barrage of tear gas bombs as they left their school. No injuries were reported.
According to a report by Maan news agency quoting Palestinian security sources, Israeli settlers also attacked Palestinian vehicles passing through the main Nablus-Qalqilya road near the illegal Israeli settlement of Yitzhar.
Full report at:
https://www.presstv.com/Detail/2019/01/03/584767/Israel-Josephs-Tomb-Palestinian-Clashes-Nablus
--------
Israel to come down hard on Palestinian prisoners
Jan 3, 2019
Israel announces a plan to impose severe restrictions on members of Palestinian resistance groups held in the regime's prisons.
Israeli Public Security Minister Gilad Erdan announced the plan at a press conference in Tel Aviv on Wednesday, saying it would likely be implemented in the coming weeks once approved by the Israeli cabinet, The Times of Israel reported.
He said the plan involved separating prisoners that belonged to the same resistance movements. "I have decided that the Prisons Service will stop holding the prisoners in wings based on their organizational affiliation," Erdan noted. Jailing Palestinians of same groups together had resulted in strengthening of "their organization identity," he said.
Food and water restrictions
The prisoners would, meanwhile, no longer be able to cook for themselves. The inmates, he alleged, "provided for themselves food that's in some ways better than the food given to criminal prisoners."
"There will be clear limits on the amount of water a prisoner may consume each day, the times in which they can shower will be limited and eventually the showers will be moved out of the wings. Then we'll be able to have better oversight and limit their use," the minister said.
Limiting prisoners' access to television and reducing the number of family visits were also among the limitations.
The official claimed the plan sought to pressure the Palestinian resistance movement of Hamas into releasing two Israeli troops, which Erdan alleged it was holding.
According to official statistics, the number of Palestinian prisoners in Israel's jails has reached 5,500, including 230 children and 54 women.
Full report at:
https://www.presstv.com/Detail/2019/01/03/584711/Palestine-Israel-plan-restrictions-prisoners-Gilad-Erdan-resistance-movements-Hamas
--------
Africa
Niger's army 'kills nearly 290 Boko Haram terrorists'
Jan 3, 2019
Niger's army says it has killed nearly 290 militants from the Boko Haram Takfiri terrorist group during an offensive near the country's southeast border with neighboring Nigeria.
The Nigerien Defense Ministry announced in a statement on Wednesday that more than 200 terrorists had been killed in airstrikes and a further 87 by ground troops since operations began on the Island of Lake Chad and along the Komadougou Yobe River on December 28.
The Lake Chad area is a strategic region where the borders of Chad, Cameroon, Nigeria, and Niger converge. Komadougou Yobe River serves as a natural border between Niger and Nigeria.
Niger's army said it had lost no troops or equipment in its offensive against the Takfiris, and had seized eight canoes and two rocket launchers as well as assault weapons, ammunition, and vehicles.
The Defense Ministry had warned in December last year that Boko Haram would launch fresh attacks on the country's military positions from January 2019, when the Komadougou Yobe River's waters begin to recede, making incursions easier.
Boko Haram, whose name roughly translates as "Western education is forbidden," pledged allegiance to the Takfiri Daesh group in 2015.
Boko Haram's militancy began in northeastern Nigeria in 2009 but has since spread into the neighboring countries of Niger, Chad, and Cameroon, prompting a regional military response.
Apart from targeting soldiers and civilians, the Takfiri terrorists have also been blamed for using kidnapping as a weapon of war, seizing thousands of women and young girls as well as men and young boys.
Boko Haram raids military posts in northeast Nigeria
Meanwhile, Boko Haram militants attacked at least three military posts in the northeastern Nigerian State of Borno on Wednesday.
Military sources said the "troops were outgunned and forced to retreat after heavy fighting with the terrorists," adding that the attacks led to "some losses," without providing further details.
Last week, the Takfiri terrorists ambushed a military convoy in northeastern Nigeria, killing 13 soldiers and a policeman on a highway linking Maiduguri, the capital of Borno State, with Damaturu, in neighboring Yobe State.
Boko Haram's nine-year militancy is estimated to have killed more than 27,000 people and forced 1.8 million others to flee their homes, also triggering a humanitarian crisis in the region.
Nigerian President Muhammadu Buhari's security record has become a campaign issue ahead of a February election in which he is seeking a second term.
Buhari, a former general, came to power in 2015 on a platform of stamping out Boko Haram; but despite retaking swathes of territory from the group, Boko Haram continues to stage attacks targeting both civilians and military personnel.
Buhari's government maintains that the militancy is close to defeat.
https://www.presstv.com/Detail/2019/01/03/584747/Niger-army-Boko-Haram-290-militants
--------
US airstrike in Somalia kills 10 Al-Shabab extremists
January 03, 2019
JOHANNESBURG: The US military says it has carried out an airstrike in southwestern Somalia that killed 10 members of the Al-Shabab extremist group.
The US Africa Command statement says the airstrike occurred Wednesday near Dheerow Sanle to "diminish Al-Shabab's freedom of movement and to increase pressure on the terrorist network."
The statement says no civilians were injured or killed.
This is the first reported US airstrike of the year in Somalia. The US carried out at least 47 such strikes last year in the Horn of Africa nation.
The Al-Qaeda-linked Al-Shabab continues to control large parts of the country's southern and central regions and carry out deadly bombings against high-profile targets in the capital, Mogadishu.
Full report at:
http://www.arabnews.com/node/1429961/middle-east
--------
Sudan's Bashir: Country is targeted, protests are not subversive
3 January 2019
Sudan's President Omar al-Bashir confirmed on Thursday that the country is being targeted by an economic war since 21 years of imposed sanctions, warning that "protests do not mean vandalism, burning and destruction."
He said in a news conference in Khartoum that Sudan refused to "sell its independence and dignity in exchange for dollars," noting that "getting out of the current crisis will not happen in an overnight, but we know the way."
Bashir who took power in 1989, criticized his country's inclusion in the terrorist lists without justification, adding that the country had "lost a lot of its resources" and was still "targeted" by many forces.
He said that many of the service projects had been carried recently.
Bashir stressed that the Sudanese people "deserve a decent life," explaining that the current wages are not satisfactory, and that this month will witness the start of the implementation of a program to raise wages to the minimum required level.
The Sudanese president also announced his government's commitment to raise pensions for Sudanese who sacrificed their lives for their country.
He stressed that plans to "build more housing" for different social classes are underway, saying: "We continue to pay attention to workers' needs and to know their problems in order to resolve them."
The Sudanese president also spoke about his humble starts and struggle when he was a simple worker, saying: "I was a simple worker at the beginning of my life and during school holidays." Adding that he doesn't want anyone to go through the suffering he went through during his life.
Bashir ended his conference with a tribute to the Sudanese working women, praising the accomplishments they achieved.
Full report at:
https://english.alarabiya.net/en/News/middle-east/2019/01/03/Sudan-s-Bashir-Country-is-targeted-protests-are-not-subversive-.html
--------
Two militants blow themselves up in clashes with Tunisian security forces
3 January 2019
Two militants blew themselves up on Thursday following an exchange of fire with Tunisian security forces in the city of Jilma, 250 km (156 miles) south of the capital Tunis, the interior ministry said.
The militants killed themselves after being encircled by security forces who stormed their hideout in the city, the ministry said in a statement.
After an uprising against autocratic leader Zine Abidine Ben Ali in 2011, Tunisia has been battling extremist groups operating in remote areas near the border with Algeria.
Authorities estimate about 3,000 Tunisians have joined ISIS and other extremist groups in Iraq, Syria and neighboring Libya, while high unemployment has stoked unrest in recent years in southern and central areas
The North African country saw three major attacks in 2015, including two against tourists, one at a museum in Tunis and the second on a beach in Sousse. The third targeted presidential guards in the capital, killing 12.
Full report at:
https://english.alarabiya.net/en/News/north-africa/2019/01/03/-Two-militants-blow-themselves-up-in-clashes-with-Tunisian-security-forces.html
--------
Algeria shuts southern borders to Syrians over security fears
3 January 2019
Algeria has barred all Syrians from entering the country via its southern border with Mali and Niger to keep out members of defeated rebel groups from Syria deemed to pose a security risk, a senior official said on Wednesday.
Hassen Kacimi, the official in charge of migrants policy at the interior ministry, told Reuters that Syrians seeking refuge in Algeria in this way were suspected to be extremists and were not welcome.
Algeria went through years of devastating civil war with hardcore extremist groups in the 1990s. While violence is now greatly diminished, sporadic attacks continue in isolated areas.
"We have hosted 50,000 Syrians in the past few years for humanitarian reasons," Kacimi said, alluding to refugees from Syria's civil war, "but we cannot accept members of armed groups fleeing from Syria when it comes to our security."
He said around 100 had reached the southern border with the help of local armed escorts in recent weeks but were intercepted and expelled shortly after they slipped into Algeria.
Kacimi said these Syrians had transited Turkey, Jordan, Egypt, Sudan and Niger or Mali using fake Sudanese passports.
"Definitely this is a criminal network and we must be very vigilant not to allow them get into Algeria," he said.
Algeria has kept diplomatic relations with Syria throughout its own civil war, in which President Bashar al-Assad has largely defeated rebels and extremists trying to topple him.
Syrians do not need visas to enter Algeria.
Algeria's south and southeast are largely empty desert regions but it has beefed up its security presence there after neighboring Libya and northern Mali and Niger fell into the hands of various militant and rebel factions.
Full report at:
https://english.alarabiya.net/en/News/north-africa/2019/01/03/Algeria-shuts-southern-borders-to-Syrians-over-security-fears.html
--------
Two killed as security forces storm militant hideout in central Tunisia
Jan 3, 2019
At least two militants have blown themselves up during a raid by Tunisian security forces on a hideout in the central region of Sidi Bouzid, Interior Ministry says.
The ministry said in a statement on Thursday that the raid took place in the city of Jilma, which is located 250 km (156 miles) south of the capital Tunis. The militants killed themselves after being encircled by security forces who stormed their hideout in the region.
The two suspects were "among the most dangerous terrorists" wanted by police since December 12, the ministry added. They belonged to an offshoot of Jund al-Khilafa, an affiliate of the Daesh terrorist group.
According to the statement, the militants had planned to commit "spectacular terrorist acts targeting patrols and security posts". Five explosive devices, three hunting rifles, mobile phones and a large sum of money were seized in the raid.
National security spokesman Walid Hkima said a police officer was wounded during a heavy exchange of fire between the two sides.
Acting on a tip-off, "police units raided a house in the Jelma area... and two terrorists blew themselves up with explosive belts", he said.
The existence of the cell in the troubled region shows the challenge Tunisia faces from militants, some of whom cross the porous borders from Libya and Algeria. Most members of the cell were arrested on Dec. 5 in an operation during which material for making bombs was seized.
Military officials say they have been hunting down militants in the area for months but have not been able to completely dislodge them from the rugged area.
Tunisia has been hit by a number of deadly attacks by Takfiri terrorists in the past years.
In October, a female bomber blew up her explosives outside a hotel in the center of the Tunisian capital of Tunis, leaving at least nine people injured, including police officers.
Nine members of Tunisia's security forces were killed in July during an attack in the west of the country close to the border with Algeria,
In June 2015, an assailant armed with a rifle killed 38 people, mostly foreign tourists, on a beach in the Tunisian resort town of Sousse.
The attack came more than a month after two militants stormed the Bardo Museum in Tunis and shot dead 21 people, mainly foreign tourists.
On November 24, 2015, a bomb attack by Daesh terrorists on a bus carrying presidential guards killed 12 people in the capital.
Tunisia has been plagued by violence since the 2011 uprising that ousted the country's dictator, Zine el Abidine Ben Ali, who was in power for over two decades.
The relative calm in Tunisia has been punctured by growing instability in neighboring Libya, which has been in chaos since former dictator Muammar Gaddafi was toppled and later killed in 2011.
Full report at:
https://www.presstv.com/Detail/2019/01/03/584776/Tunisia-Sidi-Bouzid-Governorat-Bardo-Museum-Algeria-Libya-Daesh
--------
North America
Yukon's Muslim community grows into its new mosque
Jan 04, 2019
Nearly 20 men pray together in the dying sunlight on a Friday afternoon in late December. They kneel and rise in unison on a thick carpet.
"It's pretty thick and a good looking carpet and it gives the feel of a real mosque," said Muhammed Javed, the president of the Yukon Muslim Society.
It is a real mosque, Yukon's first. It opened in September and it's a big step for the territory's growing Muslim community Javed explained.
"I remember when I moved here 18 years ago when we were only two families," said Javed. "Now we are close to 40-plus families …. we're definitely growing, growing by day."
Right now, the mosque is used for daily prayers and small meetings. Soon, Javed hopes the Muslim community, and Whitehorse at large, will get more use out of it.
Javed points out a section of the room that's partitioned off, with its own entrance. He said it's for women who want privacy when they pray.
Under the thick carpet is a shiny marble floor. There's a sunken trough in the entrance way, with three taps and three stools — Javed said it's for people to wash before praying.
In one corner of the main room is a small, unfinished kitchen. They don't have appliances yet, but Javed said that once they do, early this year, the Muslim society will lay down mats to protect the carpet and set up tables and chairs to host community dinners.
"It will be it will be a different vibe in the community," Javed said, "different communities are welcome to join us and have celebrations."
Javed said once the kitchen is ready the centre will also be available for other community groups to rent out.
That will generate income for the Muslim Society. Right now it makes money by collecting donations from members, and by renting out a suite attached to the mosque.
But Javed said the community needs to continue to grow, so it can eventually support a permanent Imam, a spiritual leader for the community. When they get one, the Imam will live in the suite.
In order to support a permanent Imam, the Muslim society will need to generate between $4,000 and $5,000 a month, Javed said.
Although it's growing, Javed said the Muslim community in Whitehorse is still very small.
"We don't have that kind of funds so far," said Javed. "So hopefully with the growing community and sometime in the near future probably we might be able to support it."
The hope is that as the Muslim community expands, the mosque and the services it provides to the community will, too.
https://www.cbc.ca/news/canada/north/yukon-whitehorse-muslim-mosque-first-year-1.4953059
--------
Pompeo: US seeks to ensure 'Turks don't slaughter the Kurds' in Syria
4 January 2019
The United States is speaking to Turkey to ensure it does not "slaughter" Kurds in Syria as US troops leave, Secretary of State Mike Pompeo said Thursday.
Pompeo referenced the growing fears for US-allied Kurdish fighters in northern Syria as he defended President Donald Trump's abrupt decision to withdraw from the war-battered country.
"The importance of ensuring that the Turks don't slaughter the Kurds, the protection of religious minorities there in Syria. All of those things are still part of the American mission set," Pompeo told Newsmax, a US news and opinion site popular with conservatives.
Defense Secretary Jim Mattis resigned over Trump's withdrawal order, angering the president who nonetheless later indicated he would slow down the planned exit.
Pompeo in the interview said that the withdrawal would go ahead but he would not give a more precise timeline so as not to tip off US adversaries.
Turkish President Recep Tayyip Erdogan has vowed to rid Syria of the Kurdish People's Protection Units (YPG), which he sees as linked to the Kurdish Workers' Party, or PKK, which has waged a bloody insurgency inside Turkey since 1984.
The Kurdish fighters formed the backbone of the Syrian Democratic Forces, who with Washington's backing have battled ISIS and seized about a quarter of Syria.
Syria's government said Wednesday that the YPG fighters have left Manbij, a key city seized from ISIS near the Turkish border, in light of the planned US pullout.
Trump, who declared that US troops were no longer needed as ISIS was defeated, spoke to Erdogan before his troop decision.
But Pompeo said the United States still had "real concerns" with Erdogan, including on detentions of US citizens.
"There are lots of places where we need to work with President Erdogan and the Turkish leadership to get good outcomes for the United States," Pompeo said.
Full report at:
https://english.alarabiya.net/en/News/middle-east/2019/01/04/Pompeo-US-seeks-to-ensure-Turks-don-t-slaughter-the-Kurds-in-Syria.html
--------
US troops, veterans tired of Washington's wars in Iraq, Afghanistan: Poll
Jan 3, 2019
Most American troops and veterans believe that the US wars in Iraq and Afghanistan have been going on for too long, a new poll has revealed.
The survey by Smithsonian, released Wednesday, found that more than 80 percent of current and former US service members were fatigued by the two conflicts, years after former President George W. Bush started them.
This is significant because 83 percent of the participants in the poll said they still supported Washington's so-called war on terror, which began after the September 11, 2001 attacks in New York City.
The United States invaded Iraq in 2003 under the pretext that former Iraqi dictator Saddam Hussein had weapons of mass destruction, an allegation later proven wrong.
Former US President Barack Obama announced in 2013 that he was pulling out all US troops from the Arab country. However, the US troops returned to Iraq a year later under the pretext of fighting the Daesh terrorist group.
It has been a more or less similar story with the US military campaign in Afghanistan, which has turned into the longest ever war in America's history.
The US invaded the country in 2001 to allegedly eradicate the Taliban and other terror groups. After 17 years of deadly clashes, however, the Taliban remain in control of over half of Afghanistan while the Daesh (ISIL) terror group has also gained a foothold in the country.
President Donald Trump pledged during his election campaign to end US military presence in Iraq and Afghanistan. But he has changed his mind since entering office and prolonged the US military presence in both countries.
Two-thirds of US military women sexually harassed
The wide-ranging poll also found that two-thirds of women in the US military had been sexually harassed or assaulted.
Around 66 percent of women partaking in the poll said they had experienced sexual harassment or assault while 68 percent said they had been subjected to gender discrimination in the military.
This is far higher than what had been revealed in previous polls.
For example, a Pentagon study in 2015 found that only around 27 percent of women had experienced sexual assault or harassment while doing military service.
The Pentagon said in a recent report that it had received over 5,000 reports of sexual harassment or assault in fiscal year 2017—around 10 percent more than the year before.
US military officials viewed the increase as a good sign, calling it "an indicator that Service members continue to gain confidence in the department's sexual assault response system."
Full report at:
https://www.presstv.com/Detail/2019/01/03/584741/US-troops-Afghanistan-Iraq-wars-too-long
--------
Trump endorses Soviet invasion of Afghanistan
03.01.2019
By Michael Hernandez
WASHINGTON
U.S. President Donald Trump appeared to justify Wednesday the Soviet Union's invasion of Afghanistan, likely confusing the conflict with that in Chechnya.
"The reason Russia was in Afghanistan was because terrorists were going into Russia. They were right to be there," Trump told reporters at the White House. "The problem is it was a tough fight, and literally they went bankrupt. They went into being called Russia again as opposed to being called the Soviet Union."
Moscow's invasion has been cited as one of the contributing factors to the Soviet Union's collapse.
The Soviets invaded the Central Asian country in 1979 in order to install a friendly government there.
The U.S. and its allies backed anti-Soviet forces known as the Mujahideen in their war against the Soviet Army, arming and funding the group during the Soviet invasion.
The Soviet Union fully withdrew from Afghanistan in 1989, and the pro-Soviet government it had installed there collapsed in 1992 following a civil war with the Mujahideen.
Trump further called on Russia, India and Pakistan to take up the fight against the Taliban in Afghanistan, also slamming his former Secretary of Defense, James Mattis, who he said did not perform well in Afghanistan.
"How has he done in Afghanistan? Not too good. Not too good. I'm not happy with what he's done in Afghanistan," he said. "President Obama fired him, and essentially so did I."
Mattis resigned from his top Pentagon post in December over policy differences with the president.
Full report at:
https://www.aa.com.tr/en/americas/trump-endorses-soviet-invasion-of-afghanistan/1354524
--------
Disappointment in Afghanistan following Trump's flawed lesson
Hikmat Noori
January 3, 2019
I write this piece while passing through a remote region of Afghanistan. The locals here, although extremely poor, share bread, tea, and the stories of their lives, with a generous heart.
As we gathered under the freezing cold, a news segment aired on the radio. Afghans like their news, the way they like their tea -- hot and in constant supply. When the newsreader started to narrate the biggest story of the day—President Donald Trump's press conference on Syria and Afghanistan— the men around me stopped what they were doing to pay close attention.
I watched as expressions of disappointment drew over their faces after hearing Mr Trump applaud the Soviet Union's invasion of Afghanistan. One of the older men sitting near me turned and said: "But the Soviets were the enemy to us and the Americans."
He, and many others from that village who had fought the Soviets in the 1980s, were left confused: Why was the leader of a nation that they had viewed as a close ally now justifying an invasion carried out by a rival?
Afghans have considered Americans not just as supporters in the country's fight against the Soviets, but also the main backers in the war against the Taliban's extremist and oppressive rule that ended when the US intervened in 2001.
I remember the days immediately after the fall of the Taliban regime. I was a young boy and was visiting Kabul with my family. I recall seeing the destruction of roads and buildings along the way. Hardly any structure survived Washington's bombing campaign or the country's civil war. But we rejoiced for the American forces nevertheless.
This might sound like a simplistic view of divisive US intervention in the country, but we cheered for American soldiers because for many of us they brought the hope of a better Afghanistan. We knew we could now expect better things because our friends had come to our rescue.
This is also why hearing what Mr Trump had to say was so upsetting. It was disheartening to hear President Trump refer to Afghans as people who wouldn't be likely to visit a library. That isn't true. Afghanistan has a contributed tremendously to global art and literature. I would like to remind the president that one of the most widely read poets in the world today -- Maulana Jalaluddin Balkhi, more famously known as Rumi – is an Afghan.
It's true that the literacy rate in Afghanistan isn't very high today, owing to decades of war, conflict and poverty. However, that's where our allies play an important role. Countries like India, that are developing nations themselves, have contributed to rebuilding our nation as we attempt to end this war. Their contributions, which include the building of libraries, have helped us develop our human resource. Our relationships with our allies isn't mutually exclusive instead it reflects the diversity of the stakeholders who have invested in the future of Afghanistan. We stand by this diversity with pride and gratitude.
Afghans are a proud people. We are fiercely protective of our history and heritage. And so it is understandable why so many Afghans, especially those with Mujahideen history, would feel as though their struggle against the Soviets has been undermined by Mr Trump's latest comments.
What's more, Afghans and Americans alike are victims of global terrorism. This is reason enough for us to remain allies and strengthen the historical bond we share. Afghan forces have sacrificed their lives, alongside American soldiers in an effort to preserve the freedoms of both our countries. We value those sacrifices and mourn every American life lost on our soil, just as much as we do our own men.
Full report at:
https://www.thenational.ae/world/asia/disappointment-in-afghanistan-following-trump-s-flawed-lesson-1.809200
--------
URL: https://www.newageislam.com/islamic-world-news/government-madhya-pradesh-plans-form/d/117365
New Age Islam, Islam Online, Islamic Website, African Muslim News, Arab World News, South Asia News, Indian Muslim News, World Muslim News, Women in Islam, Islamic Feminism, Arab Women, Women In Arab, Islamophobia in America, Muslim Women in West, Islam Women and Feminism