New Age Islam News Bureau
15 May 2019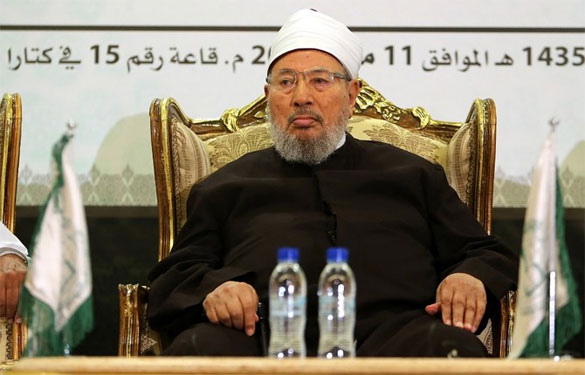 Yusuf Al-Qaradawi regarded as the spiritual head of the Muslim Brotherhood. (AFP)
---------
• Google Bans App That Featured An Introduction Of Islam By Qatar-Based Yusuf Al-Qaradawi, Regarded As The Spiritual Head Of The Muslim Brotherhood
• Egypt Teaches Students about Love and Marriage in Attempt to Curb Divorce
• Saudi Prince Loses $350 Millions and 5 of His Wives in 6 Hours at the Casino
• 'Humanity above All': Muslim Man Breaks Fast To Donate Blood to Hindu Patient
• Pakistan Starts To Distance Itself from Militant Outfits
• Libyan Parliament Designates the Muslim Brotherhood as a Terrorist Organization
• Uproar Follows US Congresswoman Rashida Tlaib's Holocaust Remarks
• Afghan Taliban Chief Negotiator: 'US on Verge of Defeat'
• Iran's Khamenei Says 'There Is Not Going To Be Any War' With The US
Arab World
• Google Bans App That Features Introduction from Muslim Brotherhood's Al-Qaradawi
• Egypt Teaches Students about Love and Marriage in Attempt to Curb Divorce
• Saudi Prince Loses $350 Millions and 5 of His Wives in 6 Hours at the Casino
• Hunting Ayman Al Zawahiri: Where Has The Al Qaeda Leader Been Hiding For 18 Years?
• Saudi Arabia Says Oil Facilities Attacked By Houthis in 'Act Of Terrorism'
• 2 civilians killed, 12 IS militants arrested in Iraq
• Tahrir Al-Sham's Ringleader Al-Jolani Calls on Terrorist Groups for Help to Block Syrian Army Advances in Hama
• Lebanon's president urges 'sacrifice' as budget cuts debated
• Iraqi PM hopes tensions between Washington, Tehran will eventually subside
--------
India
• 'Humanity above All': Muslim Man Breaks Fast To Donate Blood To Hindu Patient
I• ndia draws attention to global convention on terrorism as UNGA prepares to elect new president
• Imran Khan should ensure terror wiped out completely from Pakistan: Rajnath Singh
• Sushma Swaraj holds talks with Iranian Foreign Minister
--------
Pakistan
• Pakistan Starts To Distance Itself from Militant Outfits
• Pakistan Orders Release of Cleric Who Led Asia Bibi Protests
• Steps Underway To Link Seminaries to Education Ministry
• JI chief fears more loans will be taken from int'l lenders by pawing institutions
• At Least Three Police Killed In Taliban Attack in Pakistan's Quetta
• US imposes visa restrictions on three senior Pakistani officials
• Opp requisitions NA session to discuss terrorism, IMF deal
--------
Africa
• Libyan Parliament Designates the Muslim Brotherhood as a Terrorist Organization
• Sudan Army, Protesters Agree On Three-Year Transition: General
• Libyan National Army Accuses Turkey of Supporting Terrorism
• Nigerian army says 54 people rescued from Boko Haram
• Roadside bomb blast kills 3 Nigeria soldiers near Damboa
• Gunmen kill four at Catholic parade in Burkina Faso: Church
• One officer, five protesters killed following clashes in Sudan capital Khartoum
• 5 killed, 15 injured in anti-regime protests in Sudan
--------
North America
• Uproar Follows US Congresswoman Rashida Tlaib's Holocaust Remarks
• White House Reviews Military Plans Against Iran, in Echoes of Iraq War
• Trump says NYT story on 120,000 troops 'fake news' but can send 'hell lot more'
• 'We fundamentally do not seek a war with Iran,' says US state secy
• Trump denies US plan to send 120,000 troops to counter Iran
• Iran envoy to UN: Reports about US Mideast deployment plan mere 'psychological warfare'
--------
South Asia
• Afghan Taliban Chief Negotiator: 'US on Verge of Defeat'
• Sri Lanka Urged To Stem Post-Terror Revenge
• Sri Lanka police arrest 23 for targeting Muslims after Easter bombings
• 'People are dying': UN official urges aid access for Myanmar's Rakhine state
• Blasts rock Afghanistan's Jalalabad, killing 3, wounding 20
• Anxiety and hope in Colombo over church schools reopening after attacks
--------
Mideast
• Iran's Khamenei Says 'There Is Not Going To Be Any War' With The US
• Iran Too 'Great' To Be Intimidated, Says President Rouhani
• Palestinians Set To Mark Nakba Day with Mass Rallies against Israel, US
• New Report Shows How a Pro-Iran Group Spread Fake News Online
• Yemen warring parties hold fresh talks as Houthis withdraw from Hodeidah
• Turkish mosque in US suffers serious damage after anti-Muslim arson attack in Ramadan
• Yemenis must have found gap in Saudi defenses: Analyst
• Saudi halts pumping on major oil pipeline after Yemeni drone strike
• Turkey detains 2 militants trying to enter parliament
--------
Southeast Asia
• Malaysia's Islamist Party PAS Issues Gag Order as Embarrassing 'Bribery' Scandal Hits Home
• Jokowi Launches Master Plan for Sharia Economy
• Terror Plot in Malaysia against Temples and Churches Thwarted, Two Rohingyas among the Suspects
• Surabaya Church Serves Iftar To Mark Bombing Anniversary
• Indonesians Linked To Terrorist Plots Arrested In Malaysia
• Malaysia police arrest 4 linked to ISIS bomb plot
• LGBT culture against Islamic principles but Malaysia doesn't kill gays, deputy minister tells George Clooney
--------
Europe
• Ardern and Macron To Host World Leaders In Paris For Summit On Online Extremism
• UK: Islamophobic Far-Right Figure To Face Fresh Charges
• Macron wants to meet Libya's Haftar to push ceasefire: French foreign minister
• EU calls for Libya ceasefire, warns of threat to security
• French FM: Paris Considers Mechanism to Try Foreign ISIS Militants
• German intelligence agency warns of 'Islamic State' attacks
• Germany pledges action against PKK terror group
Compiled by New Age Islam News Bureau
URL: https://www.newageislam.com/islamic-world-news/google-bans-app-that-featured/d/118606
Google Bans App That Featured An Introduction Of Islam By Qatar-Based Yusuf Al-Qaradawi, Regarded As The Spiritual Head Of The Muslim Brotherhood
May 14, 2019
DUBAI: Google has banned from its online store a free-to-download app that featured an introduction written by Qatar-based Yusuf Al-Qaradawi, regarded as the spiritual head of the Muslim Brotherhood.
Euro Fatwa App, developed by the European Council for Fatwa and Research (ECFR), offers users a simple and concise guide "to enable the European Muslims to adhere to the regulations and manners of Islam and to fulfill their duties as Muslim citizens, while taking care of the legal, customary and cultural specificities of European societies."
The ECFR, based in Dublin, launched the app last month ahead of Ramadan. The app is, however, still available on Apple's App Store when Arab News accessed the site.
In the introduction to the app, the Egyptian-born cleric makes anti-Semitic references while discussing previous fatwas, or rulings regarding Islamic law. Al-Qaradawi, who has been residing in Qatar since 1961, was banned from the UK and France for extolling extremist views.
"While we can't comment on individual apps, we'll take swift action against any apps that break our policies once we've been made aware of them, including those that contain hate speech," a Google spokesperson told Arab News.
Saudi Arabia, UAE, Bahrain and Egypt have placed Al-Qaradawi in the terror list for his support of the Muslim Brotherhood and espousal of violence across the Middle East. The US is considering the designation of the Muslim Brotherhood as a terrorist organization, a move that would impose economic and travel sanctions against the Islamist political group.
Al-Qaradawi has justified suicide bombings, especially in Palestine – even describing martyrdom as a higher form of jihad in his website; was openly hostile against Jews as a community and has issued religious edicts that demean women.
In one of his declarations against the Jews, Al-Qaradawi said on Al-Jazeera Arabic in January 2009: "Oh God, take Your enemies, the enemies of Islam … Oh God, take the treacherous Jewish aggressors … Oh God, count their numbers, slay them one by one and spare none."
http://www.arabnews.com/node/1496871/media
--------
Egypt Teaches Students About Love And Marriage In Attempt To Curb Divorce
14 May 2019
During a recent class at Cairo University, students laughed as they watched a skit acted out by their peers about a married couple. The husband came home from work and asked his wife, who was sweeping the floor, why dinner wasn't ready.
"I pick up the kids and I go to work ... Am I neglecting something because the food is still on the stove?" the wife asked, to which the husband responded: "The apartment looks like a rubbish dump."
The skit was part of a new government project called Mawadda, which offers lessons to university students about how to pick the right partner and how to handle conflicts in marriage.
The goal is to prevent divorce after the number of divorces reached more than 198,000 in 2017, a 3.2% increase from the year before.
Mawadda, meaning affection, is still in a trial phase, but the goal is to target 800,000 young people yearly starting 2020 and to eventually make it mandatory for university students to take a class before graduating.
After watching the skit, some students and the teacher pointed out that the husband should carry out more household tasks.
"It's not her obligation to do all that," said Salah Ahmed, the teacher, adding that the Prophet Mohammad helped his wife with all tasks and his example should be followed.
But he also said the wife should have been more understanding and tried to look good for her husband instead of welcoming him while sweeping the floor.
Julia Gosef, a 23-year-old student who attended the class with her fiancé, said she worries that Egypt's economic hardships could harm her marriage. The couple will not be able to rely on one income so she would be forced to work, which could lead to arguments similar to the one in the skit, she said.
"I think I won't be able to take care of our home well enough," she said.
Mawadda's lessons will be accompanied by YouTube videos, a radio program and educational plays. The church and Egypt's top Sunni Muslim authority, Al-Azhar, are partners.
"If we want to solve the problem from the root we need to target people before they get married," said Amr Othman, manager of Mawadda at the Social Solidarity Ministry. He added that there's a correlation in Egypt between divorce and problems such as child homelessness and drug addiction.
At a youth conference in July, President Abdel Fattah al-Sisi said divorce and separation meant that millions of Egyptian children were living without one of their parents.
Islam allows men to end their marriages verbally, only by telling their wives they are divorcing them. Sisi has said he wants to see an end to this practice in Egypt because the divorce rate is too high. The Mawadda project was launched in response to Sisi's concerns, officials said.
It typifies some of Sisi's efforts to drive social change.
"He is patriarchal and speaks to Egyptians as if he was their father," Barak Barfi, research fellow at New America, a think tank based in Washington, said of Sisi. "It (Mawadda) reflects his belief that transformation can be instituted from the top rather than from below at the grass roots level."
Adhab al-Hosseiny, 26, who played the role of the husband in the skit, said he hoped to get married in the near future.
He also worries financial difficulties might lead to arguments between him and his future wife.
"What might cause problems after I marry is external pressure," he said.
He added: "If there are money issues in terms of affording school fees and food… all that affects my mental state."
https://english.alarabiya.net/en/features/2019/05/14/-Mawadda-teaches-Egyptian-students-about-marriage-in-attempt-to-curb-divorce.html
--------
Saudi Prince Loses $350 Millions And 5 Of His Wives In 6 Hours At The Casino
May 15, 2019
SHARM EL SHEIKH, EGYPT | A Saudi prince lost 1.350 Billion Riyals ($359 Million) in six hours as well as five of his nine wives while playing poker at the casino.
Prince Majed bin Abdullah bin Abdulaziz Al Saud is well-known around the world for both his drug and gambling habits, but his latest betting frenzy is quite exceptional even for him.
Spending the week at the renowned Sinai Grand Casino, the Prince spent six hours at the "unlimited stakes" poker table and had an incredible losing streak.
In one evening, he lost hundreds of millions of dollars and was even forced to give up five of his spouses to cover part of his debt.
According to the director of the casino, Ali Shamoon, the prince pawned his wives in exchange for $25M in credit and left them there after he lost.
Pawning or selling women is rather rare practice but it is still legal in several Middle Eastern countries.
The high profile of these particular women appears to embarrass both the Sinai Grand Casino and the Egyptian government, however, and a diplomatic solution remains quite probable.
It is still unclear what will happen to the Prince's wives and if they will be able to return to Saudi Arabia, and most experts believe that other members of the Saudi Royal family could buy them back discretely over the next few weeks.
If not, they will likely be sold at auction in a few months, probably in Yemen or Qatar.
This isn't the first time that Prince Majed bin Abdullah bin Abdulaziz Al Saud attracts attention for bad reasons.
In 2015, the Saudi Arabian prince was accused of a having sexual relationship with a male aide, taking cocaine and threatening to kill women who refused his advances – as well as sexually assaulting a maid.
A few days after the facts were revealed by the media, Los Angeles County prosecutors announced that they would not be filing charges against the prince and he was allowed to leave the country.
This time, however, the prince is believed to have lost the vast majority of his fortune, so he may finally calm down and adopt a more conservative lifestyle.
https://worldnewsdailyreport.com/saudi-prince-loses-350-millions-and-5-of-his-wives-in-6-hours-at-the-casino/
--------
'Humanity above All': Muslim Man Breaks Fast To Donate Blood To Hindu Patient
May 14, 2019
As Muslims around the world observe the holy month of Ramzan, a man in Assam broke his fast to donate blood to a Hindu man. Twenty-six-year-old Panaulla Ahmad from Mangaldoi district decided to break his fast to help a patient in dire need of blood.
Resting after his 'sehri' (pre-dawn meal) recently, Ahmad noticed his roommate Tapash Bhagawati was worried about something. Bhagawati, who is part of the Team Humanity — an all-India organisation that links blood donors to patients, had received a call the previous night about a patient who needed two units of O-positive blood. The Assam chapter is headquartered in Jorhat and has a network of 200 active workers, 90000 members and 25,000 regular donors. However, despite a rigorous search and online appeals, Dhemaji district's resident Rajan Gogoi's family failed to procure donors.
"On 5th, I got a call requesting blood. Next morning, I couldn't find any donors — as I was making numerous calls, my roommate Panaullah walked in. Since he was observing Roza, I naturally did not ask him," Bhagawati told indianexpress.com.
A few minutes later, Panaullah offered to donate the blood himself seeing there were no donors available. Both Ahmad and Bhagwati work at Guwahati's Swagat Super Speciality Surgical Hospital and immediately rushed to another hospital where Gogoi was admitted.
"He made a few calls to his hometown in Sipajhar to ask village elders if it was okay break the fast. He got varied responses but finally, he decided to go ahead and donate," Bhagawati added.
"Roza is a religious belief we choose to follow. My decision came with the realisation that I could always do Roza the next day, but today was the only chance I had to save a person. So I chose to save him," Panaullah told indianexpress.com
Proud of his friend's selfless act, 22-year-old Bhagwati said, "I am very proud to have a friend like Panaullah. He chose humanity over religion."
The photo of the two friends was shared on Facebook by a page and it quickly went viral. The page urged others to donate blood regularly just like the duo.
https://indianexpress.com/article/trending/trending-in-india/muslim-man-breaks-roza-to-donateblood-to-hindu-patient-5726914/
--------
Pakistan starts to distance itself from militant outfits
May 14, 2019
ISLAMABAD: Madrassas, or religious seminaries, have long been considered as institutions responsible for the spread of religious extremism in Pakistan. Several attempts were made by successive governments since the country was ruled by military dictator Pervez Musharraf to bring these Islamic schools under the ambit of the government, but all such efforts were in vain.
The mushrooming of madrassas and their radicalisation in Pakistan started in the 1980s. It was the brainchild of former military dictator General Zia-ul-Haq. With the financial backing of Saudi Arabia and the US, Haq and his spy network, Inter-Services Intelligence (ISI), established training and arming centres for thousands of mujahideen fighting Soviet forces in Afghanistan.
After the Soviet withdrawal from Afghanistan and its formal disintegration, the seminaries that were formed to run jihadist training camps were tolerated by the Pakistani state for strategic reasons — to use jihad as an instrument of influence in Afghanistan and Kashmir.
The idea to reform seminaries and reverse the policy of his predecessor was first conceived by Musharraf after the US invasion of Afghanistan in the wake of a series of massive terrorist attacks by Al Qaeda on US soil on September 11, 2001.
While Musharraf had banned scores of militant outfits operating from Pakistan, he had failed to take any drastic step to restructure the madrassas.
In January 2015, after a terrorist attack on an army-run school in Peshawar that left more than 140 people dead, mostly students, the military and all political parties had finalised a 20-point action plan, known as the National Action Plan (NAP), a policy aimed at elimination of terrorism and extremism. Some proposals related to the military, like military offensives, the establishment of military courts and capital punishment for those convicted in cases of terrorism, were implemented. But madrassa reform, one of the most important parts of the NAP, remained ignored.
Movement on the NAP proposal related to action against extremist elements was witnessed earlier this year when Pakistan, confronted with a deepened economic crisis and pressure from global powers, had banned the Jamaat-ud-Dawah (JuD) and its welfare wing, Falah-e-Insaniat Foundation (FIF), the two organisations headed by Hafiz Saeed, the alleged mastermind of the 2008 Mumbai terror attacks. Since the designation of JuD and FIF as proscribed groups, the government had clamped down on its facilities and sealed its seminaries, besides taking administrative control of its pharmacies, health units, schools and ambulances across the country.
"The government has arrested dozens of our workers to please India and the US. Thousands of our workers have become jobless since we can't pay them salaries. The government has choked all means of our earnings, we are barred from raising funds to continue our welfare activities," a senior JuD leader told TOI on condition of anonymity.
The acceptance of responsibility for the February 2019 suicide attack on Indian troops in Pulwama, Kashmir, by the Jaish-eMuhammed (JeM), a Pakistan-based outfit, had further intensified pressure on Pakistan.
Observers believe the announcement by Islamabad that it will introduce "madrassa reforms" and disassociate itself from banned organisations could be the way forward to convincing the international community that the country was serious about tackling terrorism and religious extremism.
"It seems Pakistan is now serious about cutting back its connections with hardliners and their outfits due to compulsions. It may not be in accordance with the wishes of Islamabad but it has no other option. Even friends of Pakistan, like China and the Gulf countries, aren't supporting Islamabad's design of harbouring militants," said Nazr ul Islam, a Pakistani journalist working on militancy in the region.
According to official figures, Pakistan currently has 30,000 registered madrassas attended by approximately 2.5 million students. There are also believed to be thousands more that are unregistered, including single-room schools with a handful of students studying the Quran. All members of militant groups were groomed, trained and indoctrinated in some of these schools which are responsible for promoting violent extremism and maintaining ties to transnational terrorist networks.
This year, Pakistan has taken some action indicating that the country is gradually distancing itself from the ideology of extremists and hatemongers. Just last week Islamabad had banned at least 11 groups for having links to the JuD and JeM.
Previously, Islamabad would only reluctantly go against some small outfits or individuals when pressured but now it is acting against the "untouchables" — JeM, JuD, FIF and groups linked to them.
This transformation can be seen in other areas as well. Pakistan had witnessed extreme violence last year after the Supreme Court had ordered the release of Aasia Bibi, a Christian woman who had spent nearly a decade on death row for a false blasphemy accusation. There was not a single protest anywhere in Pakistan when she left the country for Canada last week.
https://timesofindia.indiatimes.com/world/pakistan/pakistan-starts-to-distance-itself-from-militant-outfits/articleshow/69332229.cms
--------
Libyan parliament designates the Muslim Brotherhood as a terrorist organization
15 May 2019
The formerly- Tobruk- based Libyan parliament on Tuesday classified the Muslim Brotherhood as a terrorist organization.
The decision came after the measure was passed with a majority vote.
National Defense and Security Committee member in parliament, Tarek al-Jaroushi, said that the Libyan National Army (LNA) has evidence of Muslim Brotherhood leaders residing between Turkey and Qatar.
A statement on the Libyan parliament's website revealed that legal action would be taken against a Muslim Brotherhood member Mohamed Margham who, in a recording which was handed to the National Defense and Security Committee, demanded Turkish military intervention in Libya.
https://english.alarabiya.net/en/News/middle-east/2019/05/15/Libyan-parliament-designates-the-Muslim-Brotherhood-as-a-terrorist-organization.html
--------
Uproar follows US Congresswoman Rashida Tlaib's Holocaust remarks
14 May 2019
US President Donald Trump on Monday entered the swirling debate over a US Congresswoman's comments regarding the Holocaust that Republicans have condemned as anti-Semitic.
The uproar began last week when Rashida Tlaib, a freshman congresswoman in the House of Representatives whose parents are Palestinian immigrants, said in an interview that she finds "a kind of calming feeling," in the fact that Palestinians were involved in creating "a safe haven for Jews."
"There's a kind of a calming feeling, I always tell folks, when I think of the Holocaust and the tragedy of the Holocaust, and the fact that it was my ancestors - Palestinians - who lost their land and some lost their lives," she told Yahoo's "Skullduggery" podcast on Friday.
"All of it was in the name of trying to create a safe haven for Jews, post-the Holocaust, post-the tragedy and the horrific persecution of Jews across the world at that time," she said, adding, "I love the fact that it was my ancestors that provided that."
Trump laid in to Tlaib, saying the congresswoman "obviously has tremendous hatred of Israel and the Jewish people. Can you imagine what would happen if I ever said what she said, and says?"
Donald J. Trump
✔
@realDonaldTrump
Democrat Rep. Tlaib is being slammed for her horrible and highly insensitive statement on the Holocaust. She obviously has tremendous hatred of Israel and the Jewish people. Can you imagine what would happen if I ever said what she said, and says?
107K
7:39 PM - May 13, 2019
Twitter Ads info and privacy
55.2K people are talking about this
Top House Republican Liz Cheney also seized on the remarks, saying they represented "vile anti-Semitism" and called on the House's Democratic leadership to take action.
"This must cross the line, even for them," she tweeted.
Tlaib said on Twitter her remarks were taken out of context and that "All of you who are trying to silence me will fail miserably."
She was backed up by Speaker of the House Nancy Pelosi, who said "Republicans' desperate attempts to smear (Tlaib) & misrepresent her comments are outrageous," adding that Trump and Republicans needed to apologize.
Yair Rosenberg, a writer for the online Jewish magazine Tablet, said Tlaib's comments were historically inaccurate but not anti-Semitic.
"Tlaib said she got a 'calming feeling' NOT about the Holocaust, but about how Palestinians gave refuge to Jews from it. This is ahistorical," he wrote on Twitter, "but it isn't anti-Semitic."
Bend The Arc, a progressive Jewish association, also defended the congresswoman.
"The attacks on Rashida Tlaib are vile & baseless. She did not minimize the tragedy of the Holocaust," the group tweeted.
Bend The Arc added: "Shame on GOP leadership for weaponizing antisemitism & Jewish trauma to attack progressive leaders of color and push Islamophobia."
Similar accusations of anti-Semitism were leveled against Ilhan Omar, who after Tlaib is the only other Muslim in Congress, after she said earlier this year that American support for Israel was driven by money from a pro-Israel lobbying group.
https://english.alarabiya.net/en/News/world/2019/05/14/Uproar-follows-US-Congresswoman-Rashida-Tlaib-s-Holocaust-remarks.html
--------
Afghan Taliban Chief Negotiator: 'US on Verge of Defeat'
May 13, 2019
Ayaz Gul
ISLAMABAD —
The Taliban's chief negotiator says in newly released remarks that the United States is on the verge of defeat and will quit Afghanistan soon "either of their own accord, or they will be forced out."
Sher Mohammad Abbas Stanekzai made the assertions in an April 28 speech to an "internal gathering" in Doha, Qatar, just two days before he led his team of insurgent negotiators into fresh talks with U.S. interlocutors. Pro-Taliban social media outlets Friday released video of Stanekzai's speech, one day after the U.S. special reconciliation envoy, Zalmay Khalilzad, and his team wrapped up the week-long negotiations with Taliban representatives in the Qatari capital.
In the speech, Stanekzai praised what he called the bravery of the Afghan nation for defeating past British and Soviet invasions of their country and resisting the current foreign military presence, referring to the U.S.-led coalition, which is training and advising pro-government forces in battles against the Taliban.
"God has helped us defeat three super powers in the last century. The third super power that we are currently confronted with is also on the verge of defeat, inshallah (God willing). You will soon hear they also will withdraw (from Afghanistan) either of their own accord or they will be forced out," Stanekzai told the gathering.
Former US defense chief warning
On Saturday, former U.S. Defense Chief Robert Gates said there is a "real risk" that if American troops withdraw from Afghanistan before the Afghan government is stable, the Taliban might retake control of the country.
Gates told CBS News that the Afghan insurgent group still wants to rule over the country. "The question is, can you negotiate an arrangement whereby the Taliban agrees to operate under the Afghan Constitution, becomes a part of the political process?" Gates, who served as the secretary of defense under President Barack Obama from 2006 to 2011, spoke after the U.S. announced it was transferring $1.5 billion designated for the war in Afghanistan to build a border wall.
U.S. Special Representative for Afghan Reconciliation Zalmay Khalilzad last week tweeted that the sides are making "steady but slow progress on aspects of the framework for ending the Afghan war." He said, however, that the current pace of talks isn't sufficient "when so much conflict rages and innocent people die."
"We need more and faster progress. Our proposal for all sides to reduce violence also remains on the table," he said.
The Taliban's Stanekzai said, "We pray to God they (U.S.) withdraw in a manner that results in peace and stability in Afghanistan, and an Islamic system or Sharia is established in Afghanistan, and there is no further bloodshed among Afghans."
Mocking Ghani
Taliban spokesman Zabihullah Mujahid told VOA the internal gathering was organized to commemorate the day in April 1992 when Afghan Mujahideen (holy warriors) overthrew the Communist regime in Kabul.
Stanekzai criticized Afghan President Ashraf Ghani and compared him as well as other pro-government leaders with those who had supported Moscow during the Soviet occupation of Afghanistan in the 1980s.
"The ill-fated Ghani did not participate in the jihad (holy resistance) against Russians but he still takes credit and says, 'I am an Afghan and we defeated Russians,'" Stanekzai said, taking note that Ghani lived outside Afghanistan throughout the Russian occupation of the country. Ghani returned to Kabul after the U.S.-led military coalition ousted the Taliban from power in 2001 for sheltering the al-Qaida network.
"You will see that tomorrow when, God willing, Americans are defeated the same Ashraf Ghani and the same [former president Hamid] Karzai, who are their [US] stooges and were brought to power, they will again take pride in claiming we are Afghans and we defeated the Americans," said the Taliban chief negotiator.
No mention of past CIA support
Stanekzai did not mention Washington's support for the anti-Soviet Afghan resistance in his nearly hour-long speech.
The Central Intelligence Agency funded training camps that were set up in neighboring Pakistan for Afghan Mujahideen who were waging resistance against Soviet forces. The CIA also supplied modern weapons, including heat-seeking U.S. stinger missiles, assistance that observers believe played a crucial role in forcing Moscow to withdraw from Afghanistan.
The ongoing peace dialogue between Washington and the Taliban started nearly one year ago and both sides say they have prepared a preliminary draft agreement. The proposed document exclusively focuses on how and when U.S. troops will withdraw from Afghanistan in return for assurances the Taliban will not allow transnational terrorists to use Afghan soil for attacks against other countries.
Ambassador Khalilzad, however, has linked a final agreement to a comprehensive cease-fire by the Taliban and the insurgent group's participation in an intra-Afghan dialogue to permanently end decades of hostilities. The Afghan government has been excluded from the talks, a move that has angered Ghani.
The Taliban want Washington to agree to and announce a withdrawal plan. The insurgent group says it will reject cease-fire calls and formal intra-Afghan peace talks until all foreign troops leave the country. The insurgents have dismissed the Afghan government as a product of an "American occupation" and say that the administration has no decision-making authority.
https://www.voanews.com/a/afghan-taliban-chief-negotiator-says-us-on-verge-of-defeat/4915191.html
--------
Iran's Khamenei says 'there is not going to be any war' with the US
14 May 2019
Iran's Supreme Leader Ayatollah Ali Khamenei said on Tuesday that "there is not going to be any war" with the United States, his official website reported.
In a speech to state officials, Khamenei said the showdown between Iran and the United States was a test of resolve rather than a military encounter.
"This face-off is not military because there is not going to be any war. Neither we nor them (the US) seek war. They know it will not be in their interest," he said, quoted on the Khamenei.ir website.
Khamenei also tweeted on Tuesday saying that Iran's definite option was resistance.
"Iranian nation's definite option is resistance against US and in this confrontation, US will have to withdraw. This is not a military confrontation because no war is to happen. We don't seek a war nor do they. They know a war wouldn't be beneficial for them," he said.
The United States has strengthened its military presence in the region, including deploying a number of strategic B-52 bombers in response to alleged Iranian threats.
https://english.alarabiya.net/en/News/middle-east/2019/05/14/Iran-s-Khamenei-says-there-is-not-going-to-be-any-war-with-the-US.html
--------
Arab World
Hunting Ayman Al Zawahiri: Where has the Al Qaeda leader been hiding for 18 years?
May 15, 2019
Nestled alongside ISIS leader Abu Bakr Al Baghdadi in the deepest ranks of the depraved, Al Qaeda's chief Ayman Al Zawahiri is one of the two most wanted men in the world – both have a $25 million U.S. bounty on their heads.
But while much has been speculated about when it comes to the barbaric Iraqi man Al Baghdadi, little is known about the Al Qaeda commander who has evaded his big bounty since it was installed immediately following the September 11 attacks.
"Zawahiri was a conspirator of the 9/11 attacks, and like other conspirators, will always be wanted by the United States," said Rita Katz, Executive Director of the SITE Intelligence Group. "Zawahiri has framed himself more as the wiser alternative to Baghdadi and ISIS, who he characterizes as naïve and irresponsible."
So who exactly is the elusive Zawahiri?
Egyptian-born Zawahiri, 67, took the reins as Al Qaeda's ruler after the Navy SEAL raid that killed the group's long-running mastermind, Usama bin Laden eight years ago. He also comes with a long list of pseudonyms ranging from Abu Mohammed, The Doctor, The Teacher and Abdul Qader Abdul Aziz Abdul Moez Al Doctor to Abu Fatma, Abdel Muaz, Nur, Ustaz and Dhawahri Ayman.
The greying, white-turban wearing eye surgeon got his start as a teenage member of Cairo's Muslim Brotherhood, where he formed his own underground cell devoted to establishing an "Islamist State" called Egyptian Islamic Jihad before going on to medical school.
Zawahiri went on to climb the terrorist ranks in his early 30s after a religious visit to Saudi Arabia in 1985, in which he soon merged his outfit with Usama bin Laden's fighting fleet and became his personal physician and adviser around 1986. In 1993, he is reported to have even traveled to California to raise money for Afghan children wounded in the war with the Soviets.
In the ensuing years, Zawahiri ordered such attacks as the 1995 bombing of the Egyptian embassy in Islamabad, Pakistan and played a prominent part in the coordinated series of 1998 U.S. embassy explosions in East Africa.
Zawahiri's first wife and two of his six children were reported to have died in a U.S airstrike in Afghanistan in late 2001.
After the stunning ISIS rise some five years ago following a split from Al Qaeda, Zawahiri came out to denounce the rival organization's savagery – a strategic bid not to alienate vast segments of the population opposed to the ISIS mentality.
While Baghdadi is seemingly camera shy, having surfaced in a video recording last month for just the second time since declaring himself the "caliph" in 2014, Zawahiri is frequently featured on the propaganda small screen – flouting the many forces trying unsuccessfully to track him down.
On Friday, Al Qaeda – through its media branch Al-Sahab – released a video with audio footage of Al-Zawahiri paying tribute to prominent jihadist Jalaluddin Haqqani, who died of "poor health" last September. Five days earlier, on May 5, Al-Sahab's Telegram channel released a rambling 44-minute long Zawahiri message stressing unity among Muslims and reminiscing about the bin Laden era.
A month earlier on April 5, Al Qaeda unveiled its new Arabic-language magazine One Ummah on Telegram and cautioned the "mujahedeen" to ward off internal bickering, vowing that Al Qaeda would "correct" some mistakes made in the past and was entering a "new phase" to regain trust. In February, Zawahiri's video starred him delivering a long-winded spiel about the failure of the 2011 Arab uprisings to achieve their goals and depicting the U.S., Israel, Russia, France, China, and the Hindus as their direst of enemies.
In 2014, he called for the bounce back of Al Qaeda in India.
So where the heck is he hiding out?
The intelligence on his present location remains varied. In early 2017, according to U.S. sources, attention was put on Pakistan as the likely sanctuary.
Most recently, intelligence operatives both based in the United States and the Middle East have pinpointed his locale to the ungoverned tribal areas of Afghanistan, neighboring Pakistan. However, one high-ranking source also told Fox News that Syria is also being combed as a high possibility.
"By most accounts he is in the Waziristan region," said Steven Stalinsky, Executive Director of the Middle East Media Research Institute (MEMRI) and author of "American Traitor," documenting the life of an American close to the elusive Zawahiri, referring to the unruly mountainous terrain on the Pakistan side of the Afghan border. "There have been numerous reports of sightings, and even of his capture, but these are generally considered to be false alarms."
In recent times, Stalinsky observed, there has been next to no "jihadi chatter" concerning his coordinates or the $25 million reward.
"He is number one on the Tier one hit list," noted the insider. "As you know, it has been proven that you can lay low in war zones. But he is definitely being hunted."
In early 2016, the U.S. conducted a drone strike on Zawahiri's confirmed location in North Waziristan's Shawal Valley in Pakistan, Newsweek reported, but he managed to escape. A decade earlier, the U.S was reported to have launched an airstrike on the Pakistani border village of Damadola, near Afghanistan – acting on intelligence Zawahiri was bunkered down there, but he was not among those killed. A year earlier, the NSA intercepted Al Qaeda communications bound for him from a location in Baghdad to his dwellings traced to Pakistan.
In 2008, Pakistani officials said they raided an area in the country's northwest, but the capture attempt came up empty-handed.
Even though the world's eyes have been fixed on the rise and fall of ISIS as the world's most dangerous terrorist outfit, experts and analysts caution that Al Qaeda has been quietly curating a revived global game plan that will likely prove far more resilient and lethal.
"Al Qaeda is better known for the long game, waiting out time and seemingly just looking on as ISIS rises and ultimately falls. So for the intelligence community, silence isn't a sign of terror receding. It is almost as if it is Al Qaeda's game plan," said Raphael Gluck, founding partner of monitoring site Jihadoscope.
Its branches now range from the Islamic Maghreb (AQIM), the Arabian Peninsula (AQAP), Indian Subcontinent (AQIS) and Egypt to Al-Shabaab in Somalia, Jama'at Nusrat al-Islam wal-Muslimin (JNIM) in Mali and West Africa, and Hayat Tahir al-Sham (HTS) in Syria. While the latter claimed in August 2016 to have cut ties with the extremist outfit, the U.S. State Department deems it all much of the same.
The number of fighters loyal to Al Qaeda is believed to stand at at least 40,000. Last year, Al Qaeda executed more than 315 attacks worldwide, according to The Armed Conflict Location & Data Project (ACLED).
But over the past few years, the aging Zawahiri has been slowly passing the baton to the younger and likely savvier recruiter Hamza bin Laden, the about 30-year-old son of the dead terror honcho. Last week, the FBI's Justice for Rewards listed him as a wanted man with a $1 million premium of his own attached.
"Zawahiri's role is being eclipsed by the rise of Osama bin Laden's son Hamza, who is expected to take over the position of his late father," added Lina Khatib, head of the Middle East and North Africa Program at Chatham House. "Al Qaeda is getting a new lifeline with the decline of ISIS and will use the military defeat of ISIS to present itself to supporters as the more successful model of Salafi jihadism. It is likely to expand its operations against Western targets to prove that it is influential, but without resorting to the same opportunistic tactics of ISIS."
https://www.foxnews.com/world/hunting-ayman-al-zawahiri-where-has-the-al-qaeda-leader-been-hiding-for-eighteen-years
--------
Saudi Arabia Says Oil Facilities Attacked By Houthis In 'Act Of Terrorism'
By Seth J. Frantzman
MAY 14, 2019
Saudi Arabia claimed on Tuesday that Iran-backed Houthi rebel drones targeted their oil pumping stations in what it called a "cowardly" attack two days after Saudi oil tankers were sabotaged off the coast of the United Arab Emirates.
Saudi Energy Minister Khalid al-Falih confirmed on Tuesday that two oil pumping stations for the East-West pipeline had been hit by explosive-laden drones, calling the attack "an act of terrorism" that targeted global oil supplies.
Falih said that Saudi oil output and exports for crude and refined products were continuing without disruption, but that the state oil giant Aramco had halted oil pumping in the pipeline while the damage was evaluated and the stations were repaired, according to a statement carried by the state news agency SPA.
Riyadh has been leading a coalition alongside the Yemen government against the Iranian-backed Houthis. In many cases the Houthis have used Iranian technology and support to create a ballistic missile and drone program to fight Saudi Arabia.
Also on Tuesday morning, Al-Masirah TV claimed that the Houthis had carried out a "major operation" against Saudi Arabia. The report was picked up by Iran's Tasnim news and also by Press TV.
The sources told the TV station that drones were used in the attack. Reports said that the drones sought to attack the area of Al-Assir which is about 100 km. north of the Yemenite border. Missiles and UAVs were both used.
This is not the first time the Houthis have used drones. Since 2017 reports have indicated that Houthi drones are Iranian-made or based on Iranian designed. In recent years Iran has sought to expand its drone arm, either copying captured western drones or creating its own armed and unarmed models.
The Houthis have been selected by Iran as a good place to test out the drone capabilities against a western-backed army like the Saudis who use US and other western equipment. An Iranian drone penetrated Israeli airspace in February of 2018 and was shot down. It is part of the wider regional contest between Iran, its allies and Iran's adversaries. Drones are a key component of this conflict.
Full report at:
https://www.jpost.com/Middle-East/Iranian-backed-Houthi-drones-target-Saudi-Arabia-report-589645
--------
2 civilians killed, 12 IS militants arrested in Iraq
2019-05-13
BAGHDAD, May 13 (Xinhua) -- At least two civilians were killed in an attack by Islamic State (IS) militants in Iraq's eastern province of Diyala, while Iraqi forces arrested 12 IS militants in Iraq's northern province of Kirkuk, an official and Iraqi military said on Monday.
In the early morning, IS militants attacked a car near the city of Khanaqin, some 165 km northeast the Iraqi capital Baghdad, killing the driver and his son and set fire to their car, Sameer Mohammed Nour, head of Khanaqin city council, told Xinhua.
Afterwards, a force from the paramilitary Hashd Shaabi units rushed to the scene and clashed with the attackers, leaving two Hashd Shaabi members wounded, Nour said, adding that the security forces launched after the incident a search operation looking for the extremist militants.
Despite repeated military operations in Diyala, some IS militants are still hiding in some rugged areas near the border with Iran, and in the sprawling areas extending from the western part of the province to the Himreen mountain range in the northern part of the province.
Separately, in Kirkuk province, an intelligence force dismantled an IS cell and arrested 12 militants who believed to be responsible for preparing hideouts and other logistic services, according to a statement by the Iraqi Defense Ministry.
The security situation in Iraq was dramatically improved after Iraqi security forces fully defeated the extremist IS militants across the country late in 2017.
Full report at:
http://www.xinhuanet.com/english/2019-05/13/c_138055473.htm
--------
Tahrir Al-Sham's Ringleader Al-Jolani Calls on Terrorist Groups for Help to Block Syrian Army Advances in Hama
May 14, 2019
The Syrian Army troopers backed by artillery and air force units engaged in heavy clashes with Tahrir al-Sham terrorists in Northwestern Hana, taking control of the villages of al-Tobeh, Sheikh Idriss, Jab Suleiman and Rasm al-Ahmar Farms, Wadi Tal Havash to West of Kafar Naboudeh town.
The Arabic-language Al-Watan newspaper, meantime, reported that as the Syrian Army continues advances in Northern Hama, Al-Jolani has called on all terrorists to go to contact lines with the Syrian Army in Northern Hama to defend Tahrir al-Sham's remaining bases there.
Meantime, the Ankara-backed National Liberation Front (NFL) has dispatched a number of its terrorists together with heavy military equipment from Northern Aleppo to the battlefronts with the Syrian Army in Northern Hama.
Meanwhile, Jeish al-Izza and Tahrir al-Sham terrorists launched their attacks on al-Hamamiat and Tal al-Malh in Northern Hama from their military positions in the towns of Kafar Zita, al-Arabaeen and al-Zuka.
The Syrian Army's ground and air forces conducted consecutive attacks on contact lines and movements of the terrorists in the towns of al-Latameneh and Kafar Zita, al-Arbaeen and Hasraya, killing tens of terrorists and destroying at least nine of their military vehicles.
In a relevant development last week, Al-Jolani admitted that his terrorist group has lost its bases in Hama after people refrained from cooperating with them as civilians and tribal leaders in Idlib are trying to hand over their regions to the Syrian Army.
Al-Jolani held a meeting with 50 representatives of different terrorist groups and some media activists in Idlib on Friday, pro-militant sources said, adding that during the meeting al-Jolani admitted to Syrian Army's control over two key towns of Kafar Naboudeh and Qala al-Maziq and said that the two towns fell due to weak backup and resistance of the residents of the towns against a reinforcement of militants' positions there.
Meantime, the sources underlined that the tribal leaders of the cities of Khan Sheikhoun, Ma'arat al-Numan and several other towns are trying to hand over these regions to the Syrian Army concurrent with the Syrian Army's advances in Northern Syria.
In a relevant development in late April, Al-Jolani threatened other terrorist groups to avoid handing over Syria's occupied territories to the Damascus Army.
Al-Jolani held a meeting with eight senior commanders of other terrorist groups, including Islamic Turkistani Party, Harasuddin and Jeish al-Izza, in Atmaeh town near the border with Turkey, the Arabic-language service of the Russian Sputnik News Agency quoted local sources in Idlib province as saying.
Tahrir al-Sham's ringleader who attended the meeting under tight security measures strongly warned commanders of other terrorist groups that they would be regarded as traitors if they hand over any region under any agreement to the Syrian Army, warning of Tahrir al-Sham's revenge and lethal blow.
Meantime, al-Jolani also asked other terrorist commanders to put their militants on a state of full alert and keep their bomb-laden suicide vehicles prepared for operation.
Al-Jolani, who was attending his first meeting after two months, was accompanied by three Turkish-speaking militants in the meeting with other notorious terrorist commanders.
Al-Jolani was critically wounded in twin explosions in the Center of Idlib city in late February and went into a state of coma.
"One of those injured in Idlib blasts was severely suffering from brain injury and he was transferred to a government hospital in Antakia City in Hatay region," Sputnik quoted a medical source in Turkey as saying.
Full report at:
http://en.farsnews.com/newstext.aspx?nn=13980224000557
--------
Lebanon's president urges 'sacrifice' as budget cuts debated
15 May 2019
President Michel Aoun urged the Lebanese on Tuesday to end protests and make sacrifices to rescue the country from financial crisis as ministers debate a draft state budget expected to include spending cuts.
Fears that the budget would include wage or pension cuts have sparked protests by public sector workers, pointing to the minefield that Lebanon's main parties face.
The coalition government is seeking to finalize a budget that Prime Minister Saad al-Hariri says may be the most austere in Lebanon's history, trying to get spending under control and rein in public debt.
"Today, Lebanon is going through a difficult economic, financial and social crisis ... but it is transient," Aoun told guests at a Ramadan iftar at the presidential palace.
"If we do not all make sacrifices today and waive some of our privileges that we do not have the luxury to preserve, we will lose them all," he added.
Aoun pledged that suffering would be balanced between the rich and poor, and called on the government to restore the people's confidence.
"Let us save ourselves, accept the sacrifices that are temporarily required, and stop the sit-ins, strikes, demonstrations and paralysis of public and private work sectors," Aoun said.
Lebanon has one of the heaviest public debt burdens in the world, equivalent to about 150% of GDP.
Long-stalled reforms are seen as more pressing than ever after years of low economic growth.
Full report at:
https://english.alarabiya.net/en/News/middle-east/2019/05/15/Lebanon-s-president-urges-sacrifice-as-budget-cuts-debated.html
--------
Iraqi PM hopes tensions between Washington, Tehran will eventually subside
May 14, 2019
Iraqi Prime Minister Adel Abdul Mahdi says he believes "things would end well" between the United States and Iran despite growing tensions between the two arch-enemies over Tehran's nuclear program and its missile capabilities.
Speaking at a news conference in the Iraqi capital, Abdul Mahdi said Baghdad was communicating regularly with Tehran and Washington.
"We hope that things will end well and there are indications from both parties that things will end well and there is a real desire to find out outlets for this crisis," he pointed out.
Earlier on Tuesday, Leader of the Islamic Revolution Ayatollah Seyyed Ali Khamenei ruled out the possibility of war between the United States and Iran despite heightened tensions between the two sides, saying Washington knows engaging in such a conflict would not be in its interest.
The Leader further said any confrontation between the US and Iran would not be "a military one," and that "there was not going to be any war."
The Leader ruled out any negotiation with the US as long as Washington sticks with its hostile approach against the Islamic Republic, saying Washington would be attempting to undermine Iran's "points of strength," such as its defensive power or its strategic regional influence, in any such interaction.
Meanwhile, US President Donald Trump has rejected a New York Times report that American officials are preparing a military plan to deploy up to 120,000 troops to the Middle East to counter any threat by Iran.
Full report at:
https://www.presstv.com/Detail/2019/05/14/595959/Iraqi-PM-hopes-tensions-between-Washington-Tehran-will-eventually-subside
--------
India
India draws attention to global convention on terrorism as UNGA prepares to elect new president
May 14, 2019
India has expressed support to Nigeria's Ambassador to the UN Tijjani Muhammad-Bande as the next president of the General Assembly and called him to make the body more "action-oriented" to deal with the global scourge of terrorism.
The current President of the General Assembly Maria Fernanda Espinosa presided Monday over an informal interactive dialogue with Muhammad-Bande, nominated by Nigeria, where the Member States got an opportunity to discuss his vision statement and question him on his priorities and plans if elected as President of the 74th session of the 193-member General Assembly.
The dialogue aims to contribute to the transparency and inclusivity of the selection process. India expressed support for the Nigerian Ambassador, describing him a "great friend" and a "well-known son of Africa", with Permanent Representative to the UN Ambassador Syed Akbaruddin tweeting that India is looking forward to Muhammad-Bande's election by acclamation on June 4. "India joins in support of this effort," he said.
During the interactive dialogue, Akbaruddin highlighted that in his vision statement, Muhammad-Bande spoke about the issue of terrorism.
Akbaruddin drew Muhammad-Bande's attention to the long-pending global convention on international terrorism and called for action in the UN body to adopt it, emphasising that terrorism is "antithetical" to everything that the UN stands for.
"Terrorism is antithetical to everything that we here at the UN stand for. It is antithetical to peace and security, to development and to human rights. Yet all of us seem contented only to condemn terrorism and not do anything more," Akbaruddin said, underlining the need for the General Assembly to be more "action-oriented rather than talk-oriented."
The Indian Ambassador asked his Nigerian counterpart what plans he has to make the General Assembly more "action-oriented" to deal with the global scourge of terrorism.
"I'd like to draw his attention to the Comprehensive Convention on International Terrorism (CCIT). This is being lying with the General Assembly for years, in fact for decades. Would we see any initiative by him on this important issue," Akbaruddin said.
India proposed a draft document on the Comprehensive Convention on International Terrorism (CCIT) at the UN in 1986 but it has not been implemented as there is no unanimity on the definition of terrorism among the member states.
The Nigerian diplomat replied that "there is nothing as urgent as dealing with terrorism because what it has done, like my friend Syed stated, it goes completely contrary, counter to all that this organization stands for." He stressed the necessity for the international community to really work as one, not only as UN but as Member States to see "why we have to really continue to collaborate very deeply with others in dealing with this matter."
Muhammad-Bande said the UN has many mechanisms and has created a whole office – the United Nations Office of Counter-Terrorism – to focus efforts on countering terrorism. He added that sometimes nations are not able to find "means of communicating" on the issue because often the traditions of different countries stand in the way "in a matter that is so urgent and everyday affects countries regardless of region, size or economic circumstance."
He stressed that the office of the PGA will support the Secretary-General by getting Heads of State and Government to really appreciate deeper the need and importance of sharing information and the issue of efforts to deal with education relating to countering extremism.
With little headway in any action to adopt the CCIT, India is reviving discussion on the Convention at the world organisation amidst increasing terror attacks on places of worship across the globe. Earlier this month, India had given a clarion call at the UN for strengthening efforts to adopt the long-pending global convention on international terrorism.
India's call to adopt the CCIT came just a day after it won a massive victory in the fight against terrorism with the designation of Jaish-e-Mohammad chief Masood Azhar as a global terrorist under the 1267 Al Qaeda Sanctions Committee of the UN Security Council. The blacklisting of the JeM chief came 10 years after India first moved a proposal in the UN body to sanction him.
Speaking at a solemn commemorative event for victims of the Easter Sunday attacks in Sri Lanka, Akbaruddin had said that as a tribute to the victims in Sri Lanka, "we can all try and strengthen efforts to achieve that objective of a putting in place a global legal framework to counter a global scourge."
https://indianexpress.com/article/india/india-draws-attention-to-global-convention-on-terrorism-as-unga-prepares-to-elect-new-president-5726904/
--------
Imran Khan should ensure terror wiped out completely from Pakistan: Rajnath Singh
May 14, 2019
NEW DELHI: Union home minister Rajnath Singh took a dim view of Pakistan Prime Minister Imran Khan's remark that a win for Narendra Modi in the Lok Sabha elections will revive hopes for Indo-Pak peace, saying he should instead ensure that terrorism is wiped out completely from his country.
Singh also said that India would extend all help to Pakistan in fighting terrorism if it shows sincerity in eradicating the menace emanating from its soil.
Asked during an interview to PTI on Sunday whether the recent statement by Khan that it would be good for peace between India and Pakistan if BJP and Narendra Modi returned to power showed he was a fan of the Indian Prime Minister, Singh said, "Only he (Khan) can reply to that".
After a brief pause, Singh smilingly said if Khan was so serious of wanting Modi to return to power and normalize relations with India then he should first announce that terrorism would neither be nurtured nor allowed to thrive in Pakistan and take effective steps to stamp put terrorism.
"Pakistan should announce that terrorism will be wiped out completely from their country and if need be, help of India can be taken. If such a statement comes from Pakistan, we will believe that Imran Khan is really a Modi fan and wishes to normalise relations with India," he said.
To a question whether India would be willing to help Pakistan, Singh said, "India will whole heartedly support such a step".
A day before the first phase of polling for Lok Sabha elections on April 10, Khan met with a group of foreign journalists for an interaction in Islamabad during which he expressed the hope that India-Pakistan peace had a "better chance under Modi"
The BJP veteran also accused Congress of diluting India's stand on terrorism emanating from Pakistan.
"In 2004, (General Pervez) Musharraf had agreed for a statement that Pakistan's soil will not be used for terrorism. A year later, during Congress rule a statement was made by New Delhi that Pakistan is a victim of terrorism as India...this was a blunder."
He also defended PM Modi's decision to invite the then Pakistan Prime Minister Nawaz Sharif for his swearing-in ceremony in May 2014 and also for making an unscheduled visit to his home in Lahore Pakistan.
"We wanted to experiment but things did not work the way we wanted."
Asked whether an invitation will again be extended to the Pakistani premier if the NDA retains power, Singh said, "It's too early to say who will be called and who will be kept away."
On Balakot air strikes in February this year, Singh said the Congress should have refrained from repeatedly questioning the government about the number of terrorists killed in the attack.
However, Singh side-stepped a reply to a pointed question that the figure of 300 terrorists being killed was first stated by BJP chief Amit Shah.
But he hastened to add, "Now see even a foreign journalist has said that nearly 170 were killed."
Singh was apparently referring to a claim by an Italian journalist earlier this month that the Balakot air strike killed 130-170 Jaishe-Mohammed terrorists.
Full report at:
https://timesofindia.indiatimes.com/india/imran-khan-should-ensure-terror-wiped-out-completely-from-pakistan-rajnath-singh/articleshow/69320937.cms
--------
Sushma Swaraj holds talks with Iranian Foreign Minister
May 14, 2019
External Affairs Minister Sushma Swaraj Tuesday held "constructive" discussions with her Iranian counterpart Javad Zarif on all bilateral issues of mutual interests. The talks by the two foreign ministers came 12 days after the US ended six-month-long exemptions from sanctions to India and seven other countries to buy oil from Iran.
It is learnt that the issue figured in the talks.
"EAM @SushmaSwaraj and Iranian Foreign Minister @JZarif held constructive discussions on all bilateral issues of mutual interest. Good exchange of views on the evolving regional situation, including Afghanistan," External Affairs Ministry Spokesperson Raveesh Kumar tweeted.
After the exemptions expired on May 2, India said it will deal with the issue based on three factors -- the country's energy security, commercial consideration and economic interests.
In May last year, the US had brought back sanctions on Iran after withdrawing from the Iran nuclear deal which was struck in 2015.
The US had told India and other countries to cut oil imports from the Gulf nation to "zero" by November 4 or face sanctions. However, Washington had granted a six-month waiver from sanctions to eight countries, including India.
India, the world's third biggest oil consumer, meets more than 80 per cent of its oil needs through imports. Iran is its third largest supplier after Iraq and Saudi Arabia and meets about 10 per cent of its total needs.
Indo-Iran ties have been on a upswing in the last few years. Prime Minister Narendra Modi visited Tehran in May 2016 with an aim to craft a strategic relationship with Iran and expand India's ties with West Asia.
During the visit, India and Iran signed nearly a dozen agreements, centrepiece of which was a deal on development of Chabahar port.
Full report at:
https://www.hindustantimes.com/india-news/sushma-swaraj-holds-talks-with-iranian-foreign-minister/story-zMAT3yXGHcNcBZkqkltH9I.html
--------
Pakistan
Pakistan orders release of cleric who led Asia Bibi protests
14 May 2019
LAHORE: A Pakistani court has ordered the release on bail of a hardline cleric who last year paralysed the country by orchestrating violent protests against the acquittal of Asia Bibi, a Christian accused of blasphemy, his organisation said on Tuesday (May 14).
The decision to free the firebrand cleric, Khadim Hussain Rizvi, came days after Bibi left Pakistan after spending eight years on death row in a case which spotlighted religious extremism in the conservative Muslim country.
She is believed to have been reunited with her family in Canada.
Rizvi was detained in November last year after police launched a crackdown on hundreds of his supporters in Punjab province and the port city of Karachi.
He had been charged with terrorism and sedition offences by the Pakistani government, after he led violent protests to oppose the Supreme Court's decision on Oct 31 to finally overturn Bibi's conviction and death sentence.
"Today the Lahore High Court granted bail to Allama Khadim Hussain Rizvi," Pir Ijaz Ashrafi, a spokesman for Rizvi's group Tehreek-Labaik Pakistan (TLP), said in a video message posted on Twitter.
A Lahore High Court official confirmed to AFP that the court had granted Rizvi bail, and said he was expected to be released late Tuesday.
Rizvi and the TLP held furious protests after the Supreme Court's decision to acquit Bibi last year.
Demonstrators blocked major roads in protest, burning cars and buses, and leaving large swathes of the country paralysed as they called for her execution.
The group also called for mutiny in the armed forces and assassination of the country's top judges for acquitting her.
The government managed to defuse tensions by striking a deal that allowed another review of Bibi's case, but when the TLP threatened to launch another protest some weeks later Rizvi and other leaders were taken into custody as part of a crackdown.
They have been in detention since.
Bibi has technically been a free woman since the review of her case - also conducted by the Supreme Court - was dismissed in January.
It is believed that she was held in protective custody while awaiting an asylum deal before she finally fled Pakistan less than a week ago. The US has said she has been reunited with her family.
Blasphemy is a hugely inflammatory issue in Muslim-majority Pakistan, where even unproven allegations of insulting Islam and Prophet Mohammed can lead to lynchings and murders.
Bibi's conviction stemmed from an incident in 2009 when she argued with Muslim co-labourer.
She consistently denied the charges, and her case rallied international rights groups, politicians and religious figures.
She spent eight years on death row before the Supreme Court decision to free her.
https://www.channelnewsasia.com/news/asia/pakistan-orders-release-of-cleric-who-led-asia-bibi-protests-11533082
--------
Steps underway to link seminaries to education ministry
May 15, 2019
ISLAMABAD: As a part of government's campaign to register seminaries across the country, the Ministry for Federal Education and Professional Training has started taking measures to link them with the ministry.
Sources on Tuesday said the ministry had decided to set up 10 directorates across the country for the registration of the madressahs. One directorate as an overseeing authority would be established in the federal capital. A grade 21 officer would be hired as the director general to run the office of the federal directorate of seminaries.
The sources said at least four directors would be appointed for the department of madressahs, including finance, registration and examinations.
Full report at:
https://www.dawn.com/news/1482280/steps-underway-to-link-seminaries-to-education-ministry
--------
JI chief fears more loans will be taken from int'l lenders by pawing institutions
14 May,2019
LAHORE (Dunya News) – Jamaat-e-Islami (JI) chief and Senator Sirajul Haq on Tuesday expressed fear saying that more loans would be taken from international lenders by pawing Pakistan s institutions, Dunya News reported.
According to details, Senator Sirajul Haq said that all three major political parties – Pakistan Tehreek-e-Insaf (PTI), Pakistan Muslim League-Nawaz (PML-N) and Pakistan Peoples' Party (PPP) – are part of same system.
Panning recently inked bailout package with International Monetary Fund (IMF), JI chief went on saying that there would be dangerous consequences of bailout package signed with global lender as unelected persons were negotiating and signing these accords. "Masses are right who are considering the deal with global lender as snare and iron collar of slavery," said Sirajul Haq. "Nothing is being done to bring the $375billion placed abroad."
https://dunyanews.tv/en/Pakistan/491540-JI-chief-fears-more-loans-will-be-taken-lenders-pawning-institutions
--------
At Least Three Police Killed In Taliban Attack In Pakistan's Quetta
May 13, 2019
At least three police officers have been killed in a blast that apparently targeted a police vehicle near a mosque in Quetta, the capital of Pakistan's southwestern Balochistan Province, officials said.
Liaqat Shahwani, a spokesman for the provincial government, told RFE/RL that at least six people, including three more police officers, were wounded in the blast on May 13.
The banned Tehrik-e Taliban Pakistan (TTP), also known as the Pakistani Taliban, claimed responsibility for the explosion that police say was caused by an improvised bomb rigged to a motorcycle.
The attack comes amid high security during the Muslim holy month of Ramadan. The police officers were deployed outside the Masjid al-Huda mosque to secure the area during the special Ramadan evening prayers.
Full report at:
https://www.rferl.org/a/at-least-three-police-killed-in-taliban-attack-in-pakistan-quetta/29938264.html
--------
US imposes visa restrictions on three senior Pakistani officials
May 15, 2019
ISLAMABAD: The US has imposed visa sanctions on three senior Pakistani interior ministry officials following a row between the two countries over deportation of dozens of Pakistanis in America for their visa overstay and other allegations.
Foreign Minister Shah Mehmood Qureshi on Tuesday informed the National Assembly's Standing Committee on Foreign Affairs about that visa curbs by the US.
The officials who are facing the visa restrictions are an additional secretary and a joint secretary of the interior ministry as well as the director general passports, the Dawn newspaper reported.
The sanctions on the officials have been put in place after a row between Pakistan and America over deportation of dozens of Pakistanis, currently in the US, because of visa overstay and other allegations, it said.
Qureshi said the US authorities intended to deport more than 70 Pakistanis, but the government had asked them to fulfil the legal requirements.
The US put the restrictions on three officials that are said to be overseeing the country's policy on accepting back nationals deported from other countries.
The US has over the past 18 months deported over 100 Pakistanis, all of whom were accepted back.
It is the first time that Pakistani authorities have insisted on a verification of the credentials of the deportees.
The foreign minister, however, clarified that there were no visa restrictions by the US government on Pakistani citizens in general.
Full report at:
https://timesofindia.indiatimes.com/world/pakistan/us-imposes-visa-restrictions-on-three-senior-pakistani-officials/articleshow/69336130.cms
--------
Opp requisitions NA session to discuss terrorism, IMF deal
ISLAMABAD: The opposition parties on Tuesday submitted a request to Speaker Asad Qasier to requisition a National Assembly session as early as possible.
The request signed by 96 lawmakers was submitted by Pakistan Muslim League-Nawaz leaders Khurram Dastagir and Murtaza Javed Abbasi.
The opposition in its request states that the NA session should discuss the rising wave of terrorist activities, the IMF-Pakistan loan agreement and the alarming rate of inflation.
TERRORISM:
Four policemen were martyred and 11 injured in a blast near a police van in Quetta on May 15.
On May 11, terrorists stormed a five-star hotel in Gwadar. Five people were martyred including a Pakistan Navy soldier.
In Lahore on May 8, 12 people including five policemen lost their lives when a suicide bomber targeting an Elite Force police van outside Data Darbar.
IMF-PAKISTAN DEAL:
The International Monetary Fund (IMF) and Pakistan on May 12 reached an agreement on a package worth $6 billion for a period of three years.
Opposition members criticised the deal and called on the government to present it in parliament.
RATE OF INFLATION:
Pakistan's consumer price inflation eased in April to 8.82 per cent on annual basis from 9.41 per cent in March, which was the highest level since November 2013, the Bureau of Statistics said on May 2.
On a month-on-month basis, prices increased by 1.26 per cent in April.
Full report at:
https://www.pakistantoday.com.pk/2019/05/14/opp-requisitions-na-session-to-discuss-terrorism-imf-deal/
--------
Africa
Sudan army, protesters agree on three-year transition: General
15 May 2019
Sudanese army rulers and protest leaders Wednesday agreed on a three-year transition period for transferring power to a full civilian administration, a general announced.
"We agreed on a transitional period of three years," Lieutenant General Yasser al-Atta, a member of the military council that took power after the ouster of longtime leader Omar al-Bashir told reporters.
Atta said a final agreement on the sharing of power, including the forming of the next ruling body, the sovereign council, will be signed with the protest movement, the Alliance for Freedom and Change, within 24 hours.
"We vow to our people that the agreement will be completed fully within 24 hours in a way that it meets the people's aspirations," Atta said.
He said of the three-year transitional period, the first six months will be allocated to signing peace accords with rebels in the country's war zones.
The army generals had initially insisted on a two-year transition period, while the protest leaders wanted four years.
Atta also said that during the transitional period, the parliament will be composed of 300 members, of which 67 percent will be from the Alliance for Freedom and Change and the rest will be from other political groups.
https://english.alarabiya.net/en/News/middle-east/2019/05/15/Sudan-army-protesters-agree-on-three-year-transition-General-.html
--------
Libyan National Army Accuses Turkey of Supporting Terrorism
14 May, 2019
The Libyan National Army (LNA), commanded by Khalifa Haftar, accused Turkey of supporting terrorism in Libya.
LNA spokesman Ahmed al-Mismari said Sunday that Turkish President Recep Tayyip Erdogan openly makes statements against the army, adding that Ankara is actively supporting the militias, chaos and terrorist groups in Libya.
Moreover, he stated that the militias of Government of National Accord chief Fayez al-Sarraj have now resorted to using drones to attack LNA forces after they lost several of their jets.
"We realize fully that cleansing Tripoli of militias means that Turkey will lose a golden base that is compensating it for its losses in the international arena," he told a press conference in the eastern city of Benghazi.
He also accused Turkey of supporting the militias in Misrata city, east of the capital Tripoli.
Mismari said that the Libyan Airlines planes were delivering weapons from Turkey to Misrata.
On the ground, he revealed that the LNA had reached the outskirts of Tripoli and the militias were starting to collapse after their commanders were targeted in the capital.
Addressing the threat of ISIS, he explained that the terrorist group's movement in the southwest was aimed at distracting the LNA from its Tripoli operations.
Full report at:
https://aawsat.com/english/home/article/1721511/libyan-national-army-accuses-turkey-supporting-terrorism
--------
Nigerian army says 54 people rescued from Boko Haram
May 15, 2019
LAGOS, Nigeria – The Nigerian army says it has rescued 54 women and children held captive by the extremist group Boko Haram.
A statement issued Monday by military spokesman Sagir Musa says troops rescued the captives during a clearance operation over the weekend in Borno State.
The military spokesman said the rescued persons consist of 29 women and 25 children.
Sagir said Boko Haram fighters had fled the villages before troops arrived.
Boko Haram frequently abducts women and children. The jihadist group began its insurgency in northeastern Nigeria and now has expanded its reach to the neighboring countries of Chad, Cameroon and Niger.
Full report at:
https://www.foxnews.com/world/nigerian-army-says-54-people-rescued-from-boko-haram
--------
Roadside bomb blast kills 3 Nigeria soldiers near Damboa
MAY 14, 2019
At least three Nigerian soldiers, including an army commander, were killed on Monday when their truck was struck by an improvised explosive device planted by Boko Haram militants, military sources told AFP.
The military vehicle hit the mine while patrolling in a three-vehicle convoy in Damboa area of Borno state, two military sources said.
Damboa town, the headquarters of the Local Government Area, is around 85 km (53 miles) southwest of Borno state capital Maiduguri.
"The 145 Task Force Battalion lost its commanding officer, a lieutenant colonel, and two soldiers after their vehicles stepped on an IED buried by Boko Haram terrorists," one military officer said.
"Four soldiers sustained serious injuries," said a second officer, adding that they were evacuated by air to Maiduguri for medical care, he said.
Both officers did not want to be named as they had not been authorized to speak to the media.
"Two gun trucks and a Tata truck" were damaged in the explosion which occurred at around 9:30 a.m. north of Damboa, between Mauli and Borgozo, Premium Times reported. Reinforcements were sent to the area from Beni Sheikh.
The Nigerian military has been operating in the wider area in recent days. Colonel Sagir Musa on Sunday said that 117 Task Force Battalion and the Civilian Joint Task Force militia cleared Mboa, Mboa-Kura, Yarchida, Bombula, Tshata and Bamzir villages, near Chibok, around 30 km south of Damboa town.
It is unclear which faction of Boko Haram was responsible for the attack, although the one led by Abubakar Shekau more-frequently uses roadside bombs.
However, fighters from the Islamic State West Africa Province faction of Boko Haram attacked a Nigeria military base in Sabon Gari near Biu, around 50 km southwest of Damboa on April 26. ISIS claimed 10 soldiers were killed and another captured. Three days later, security sources told AFP at least five soldiers were killed and around 30 were missing.
The jihadist group known as Boko Haram began its decade-long bloody insurgency in northeastern Nigeria in 2009 but it has since spread into neighboring Niger, Chad and Cameroon, prompting a regional military response.
Boko Haram split into two factions in mid-2016. One, led by long-time leader Abubakar Shekau, is notorious for suicide bombings and indiscriminate killings of civilians. Shekau pledged allegiance to ISIS leader Abu Bakr Al-Baghdadi in March 2015, but ISIS central only gives formal backing to the other faction, which it calls Islamic State West Africa Province.
The ISWAP faction, which largely focuses on attacking military and government targets, was led by Abu Mus'ab Al-Barnawi, but in March, audio recordings revealed that ISIS appointed Abu Abdullah Idris bin Umar, also known as Ibn Umar al-Barnawi, as leader. ISIS has not yet made a public statement confirming the change.
Full report at:
https://thedefensepost.com/2019/05/14/nigeria-soldiers-killed-roadside-bomb-damboa-borno/
--------
Gunmen kill four at Catholic parade in Burkina Faso: Church
May 15, 2019
Gunmen killed four Catholics in a religious procession in northern Burkina Faso a day after a priest and five parishioners were murdered at mass, church officials said Tuesday.
The parade with a statue of the Virgin Mary was moving through the town of Ouahigouya on Monday when "a group of terrorists intercepted the procession, killing four worshippers and burning the statue," said a spokesman for the Ouagadougou Cathedral.
According to the Burkina Faso news agency AIB, the assailants stopped the procession. "They let the minors go, executed four adults, and destroyed the statue," it quoted a local person as saying.
Paul Ouedraogo, president of the Episcopal Conference of Burkina Faso and Niger, told a meeting of bishops in the capital Ouagadougou the attack had claimed four lives.
The killings came a day after a group of 20-30 armed men, according to witnesses, burst into the Catholic church in Dablo, also in the Nord Region of Burkina Faso, shooting dead five parishioners and their priest.
The attackers set fire to the church, several shops and a small cafe before heading to the health centre, which they looted, burning the chief nurse's vehicle.
Two days earlier, French special forces had freed four foreign hostages in Burkina Faso during an overnight raid that cost the lives of two soldiers.
"This concerns all of us whatever our religion or ethnicity," said President Roch Marc Christian Kabore.
"Stick together"
Kabore urged his compatriots to "stick together," warning such attacks threatened to undermine religious coexistence in a country where some two thirds of the population are Muslim to one third Christian.
"Burkina Faso is confronted by a difficult situation," said Kabore. "These terrorists have remodelled their modus operandi. First, by creating inter-communcal conflicts and today inter-religious conflicts as Christians have been killed for their faith, for merely practising their religion.
"Burkina has always been reputed as being a tolerant country. We must work to safeguard this richness passed down to us by our ancestors," said Kabore, a Catholic.
Two weeks ago, there was a similar attack against a Protestant church in Silgadji, also in the north, when gunmen on motorbikes killed a pastor and five worshippers.
Burkina has suffered from increasingly frequent and deadly attacks attributed to a number of jihadist groups, including the Ansarul Islam group, the Group to Support Islam and Muslims (GSIM) and Islamic State in the Greater Sahara.
The raids began in 2015 in the north before targeting the capital Ouagadougou and other regions, notably in the east.
Nearly 400 people have been killed since 2015 -- mainly in hit-and-run raids -- according to an AFP tally.
Jihadist groups target Christian clerics as well as Muslim ones they do not consider sufficiently radical in a country where traditionally both religions have co-existed peaceably.
Last month, jihadists attacked a village school in Maitaougou, in the eastern province of Koulpelogo, killing five teachers and a municipal worker.
Full report at:
https://www.thejakartapost.com/news/2019/05/15/gunmen-kill-four-at-catholic-parade-in-burkina-faso-church.html
--------
One officer, five protesters killed following clashes in Sudan capital Khartoum
14 May 2019
One officer and five protesters were killed and many protesters wounded in the Sudanese capital late on Monday, Sudan's state TV said, as crowds of demonstrators remain camped at a sit-in outside the army complex.
Earlier, heavy gunfire was heard in Khartoum late into the evening, and the transitional military council said a military police officer had been killed and many protesters wounded.
Violence flared after the military council and opposition groups said they had agreed to a power structure for the country's transition following the ouster of President Omar al-Bashir last month.
The council accused armed groups unhappy with progress towards a political deal of opening fire at protest sites. Protesters said counter-revolutionaries linked to the former regime were inciting violence.
Earlier, paramilitary forces patrolled the streets, using tear gas and gunshots to disrupt protests blocking roads.
The Transitional Military Council (TMC) and the Declaration of Freedom and Change Forces opposition alliance were due to meet on Tuesday to discuss two key sticking points: the military-civilian balance of power in transitional bodies, and the length of the transition before elections.
Full report at:
https://english.alarabiya.net/en/News/middle-east/2019/05/14/One-officer-three-protesters-killed-following-clashes-in-Sudan-capital-Khartoum.html
--------
5 killed, 15 injured in anti-regime protests in Sudan
Omer Erdem
14.05.2019
Armed groups attacked anti-regime protesters and government troops Monday outside army headquarters in Sudan's capital, leaving five dead and 15 injured
Protesters were attacked by unidentified men armed with guns and sticks, said the Central Committee of Sudanese Doctors in a statement.
The opposition Freedom and Change Alliance claimed intelligence units and militia groups of the former regime were behind the attack.
Calling on people to peacefully gather in front of army headquarters in Khartoum and across the country to support the protesters, the alliance urged the army to carry out its duty and protect the demonstrators.
Some demonstrators claimed the attackers were from the Rapid Support Forces (RSF) militia backing the Sudanese Army.
According to a statement by the Military Transitional Council (MTC), four soldiers, including an officer, were killed in the attack.
It said the attack was carried out by groups who are "disturbed by the results" achieved with the Freedom and Change Alliance and were trying to prevent an agreement from being reached.
Protests outside army headquarters are ongoing.
On April 11, the Sudanese army announced the "removal" of President Omar al-Bashir following months of popular protests against his 30-year rule.
The MTC is now overseeing a two-year "transitional period" during which it has pledged to hold presidential elections.
Full report at:
https://www.aa.com.tr/en/africa/5-killed-15-injured-in-anti-regime-protests-in-sudan/1477531
--------
North America
White House Reviews Military Plans Against Iran, in Echoes of Iraq War
By Eric Schmitt and Julian E. Barnes
May 13, 2019
WASHINGTON — At a meeting of President Trump's top national security aides last Thursday, Acting Defense Secretary Patrick Shanahan presented an updated military plan that envisions sending as many as 120,000 troops to the Middle East should Iran attack American forces or accelerate work on nuclear weapons, administration officials said.
The revisions were ordered by hard-liners led by John R. Bolton, Mr. Trump's national security adviser. They do not call for a land invasion of Iran, which would require vastly more troops, officials said.
The development reflects the influence of Mr. Bolton, one of the administration's most virulent Iran hawks, whose push for confrontation with Tehran was ignored more than a decade ago by President George W. Bush.
It is highly uncertain whether Mr. Trump, who has sought to disentangle the United States from Afghanistan and Syria, ultimately would send so many American forces back to the Middle East.
It is also unclear whether the president has been briefed on the number of troops or other details in the plans. On Monday, asked about if he was seeking regime change in Iran, Mr. Trump said: "We'll see what happens with Iran. If they do anything, it would be a very bad mistake."
There are sharp divisions in the administration over how to respond to Iran at a time when tensions are rising about Iran's nuclear policy and its intentions in the Middle East.
Some senior American officials said the plans, even at a very preliminary stage, show how dangerous the threat from Iran has become. Others, who are urging a diplomatic resolution to the current tensions, said it amounts to a scare tactic to warn Iran against new aggressions.
European allies who met with Secretary of State Mike Pompeo on Monday said that they worry that tensions between Washington and Tehran could boil over, possibly inadvertently.
More than a half-dozen American national security officials who have been briefed on details of the updated plans agreed to discuss them with The New York Times on the condition of anonymity. Spokesmen for Mr. Shanahan and Gen. Joseph F. Dunford Jr., the chairman of the Joint Chiefs of Staff, declined to comment.
The size of the force involved has shocked some who have been briefed on them. The 120,000 troops would approach the size of the American force that invaded Iraq in 2003.
Deploying such a robust air, land and naval force would give Tehran more targets to strike, and potentially more reason to do so, risking entangling the United States in a drawn out conflict. It also would reverse years of retrenching by the American military in the Middle East that began with President Barack Obama's withdrawal of troops from Iraq in 2011.
But two of the American national security officials said Mr. Trump's announced drawdown in December of American forces in Syria, and the diminished naval presence in the region, appear to have emboldened some leaders in Tehran and convinced the Islamic Revolutionary Guards Corps that the United States has no appetite for a fight with Iran.
Since John R. Bolton became the national security adviser in April 2018, he has intensified the Trump administration's policy of isolating and pressuring Iran.
Several oil tankers were reportedly attacked or sabotaged off the coast of the United Arab Emirates over the weekend, raising fears that shipping lanes in the Persian Gulf could become flash points. "It's going to be a bad problem for Iran if something happens," Mr. Trump said on Monday, asked about the episode.
Emirati officials are investigating the apparent sabotage, and American officials suspect that Iran was involved. Several officials cautioned, however, that there is not yet any definitive evidence linking Iran or its proxies to the reported attacks. An Iranian Foreign Ministry spokesman called it a "regretful incident," according to a state news agency.
In Brussels, Mr. Pompeo met with the foreign ministers of Britain, France and Germany, cosignatories of the 2015 Iran nuclear deal, as well as with the European Union's foreign policy chief, Federica Mogherini. He did not speak to the media, but the European officials said they had urged restraint upon Washington, fearing accidental escalation that could lead to conflict with Iran.
"We are very worried about the risk of a conflict happening by accident, with an escalation that is unintended really on either side," said Jeremy Hunt, the British foreign secretary.
The Iranian government has not threatened violence recently, but last week, President Hassan Rouhani said Iran would walk away from parts of the 2015 nuclear deal it reached with world powers. Mr. Trump withdrew the United States from the agreement a year ago, but European nations have urged Iran to stick with the deal and ignore Mr. Trump's provocations.
The high-level review of the Pentagon's plans was presented during a meeting about broader Iran policy. It was held days after what the Trump administration described, without evidence, as new intelligence indicating that Iran was mobilizing proxy groups in Iraq and Syria to attack American forces.
As a precaution, the Pentagon has moved an aircraft carrier, B-52 bombers, a Patriot missile interceptor battery and more naval firepower to the gulf region.
At last week's meeting, Mr. Shanahan gave an overview of the Pentagon's planning, then turned to General Dunford to detail various force options, officials said. The uppermost option called for deploying 120,000 troops, which would take weeks or months to complete.
Among those attending Thursday's meeting were Mr. Shanahan; Mr. Bolton; General Dunford; Gina Haspel, the C.I.A. director; and Dan Coats, the director of national intelligence.
"The president has been clear, the United States does not seek military conflict with Iran, and he is open to talks with Iranian leadership," Garrett Marquis, a National Security Council spokesman, said Monday in an email. "However, Iran's default option for 40 years has been violence, and we are ready to defend U.S. personnel and interests in the region."
The reduction of forces in the Middle East in recent years has been propelled by a new focus on China, Russia and a so-called Great Powers competition. The most recent National Defense Strategy — released before Mr. Bolton joined the Trump administration — concluded that while the Middle East remains important, and Iran is a threat to American allies, the United States must do more to ensure a rising China does not upend the world order.
As recently as late April, an American intelligence analysis indicated that Iran had no short-term desire to provoke a conflict. But new intelligence reports, including intercepts, imagery and other information, have since indicated that Iran was building up its proxy forces' readiness to fight and was preparing them to attack American forces in the region.
The new intelligence reports surfaced on the afternoon of May 3, Mr. Shanahan told Congress last week. On May 5, Mr. Bolton announced the first of new deployments to the Persian Gulf, including bombers and an aircraft carrier.
Members of Iran's Islamic Revolutionary Guards Corps, which was designated a terrorist group by the Trump administration last month.
It is not clear to American intelligence officials what changed Iran's posture. But intelligence and Defense Department officials said American sanctions have been working better than originally expected, proving far more crippling to the Iranian economy — especially after a clampdown on all oil exports that was announced last month.
Also in April, the State Department designated the Revolutionary Guards a foreign terrorist organization over objections from Pentagon and intelligence officials who feared reprisals from the Iranian military.
While much of the new intelligence appears to have focused on Iran readying its proxy forces, officials said they believed the most likely cause of a conflict will follow a provocative act, or outright attack, by the Revolutionary Guards' navy. The Guards' fleet of small boats has a history of approaching American Navy ships at high speed. Revolutionary Guards commanders have precarious control over their ill-disciplined naval forces.
Part of the updated planning appears to focus on what military action the United States might take if Iran resumes its nuclear fuel production, which has been frozen under the 2015 agreement. It would be difficult for the Trump administration to make a case that the United States was under imminent nuclear peril; Iran shipped 97 percent of its fuel out of the country in 2016, and currently does not have enough to make a bomb.
That could change if Iran resumes enriching uranium. But it would take a year or more to build up a significant quantity of material, and longer to fashion it into a weapon. That would allow, at least in theory, plenty of time for the United States to develop a response — like a further cutoff of oil revenues, covert action or military strikes.
The previous version of the Pentagon's war plan included a classified subset code-named Nitro Zeus, a cyberoperation that called for unplugging Iran's major cities, its power grid and its military.
The idea was to use cyberweapons to paralyze Iran in the opening hours of any conflict, in hopes that it would obviate the need to drop any bombs or conduct a traditional attack. That plan required extensive presence inside Iran's networks — called "implants" or "beacons" — that would pave the way for injecting destabilizing malware into Iranian systems.
Two officials said those plans have been constantly updated in recent years.
But even a cyberattack, without dropping bombs, carries significant risk. Iran has built up a major corps of its own, one that successfully attacked financial markets in 2012, a casino in Las Vegas and a range of military targets. American intelligence officials told Congress in January that Iranian hackers are now considered sophisticated operators who are increasingly capable of striking United States targets.
Since Mr. Bolton became national security adviser in April 2018, he has intensified the Trump administration's policy of isolating and pressuring Iran. The animus against Iran's leaders dates back at least to his days as an official in the George W. Bush administration. Later, as a private citizen, Mr. Bolton called for military strikes on Iran, as well as regime change.
The newly updated plans were not the first time during the Trump administration that Mr. Bolton has sought military options to strike Iran.
This year, Defense Department and senior American officials said Mr. Bolton sought similar guidance from the Pentagon last year, after Iranian-backed militants fired three mortar rounds or rockets into an empty lot on the grounds of the United States Embassy in Baghdad in September.
In response to Mr. Bolton's request, which alarmed Jim Mattis, then the defense secretary, the Pentagon offered some general options, including a cross-border airstrike on an Iranian military facility that would have been mostly symbolic.
But Mr. Mattis and other military leaders adamantly opposed retaliation for the Baghdad attack, successfully arguing that it was insignificant.
Edward Wong and David E. Sanger contributed reporting from Washington, and Steven Erlanger from Brussels.
https://www.nytimes.com/2019/05/13/world/middleeast/us-military-plans-iran.html
--------
Trump says NYT story on 120,000 troops 'fake news' but can send 'hell lot more'
14 May 2019
United States President Donald Trump on Tuesday called as "fake news" the New York Times story on the administration's reported plan that envisions sending as many as 120,000 troops to the Middle East, should Iran attack American forces or accelerate work on nuclear weapons.
Trump, however, said if the situation requires he would send "a hell lot more troops than that.".
Talking to reporters on Tuesday, Trump said: "I think its fake news. Now, would I do that, absolutely. But we have not planned for that. Hopefully, we are not going to have to plan for that. And if we did that we would send a hell of a lot more troops than that."
"But I think its just, where was that story, in the New York Times? Well the New York Times it is fake news," Trump said.
Full report at:
https://english.alarabiya.net/en/News/middle-east/2019/05/14/Trump-says-NYT-story-on-120-000-troops-fake-news-but-can-send-hell-lot-more-.html
--------
'We fundamentally do not seek a war with Iran,' says US state secy
May 14, 2019
US Secretary of State Michael Pompeo says the country is not after military confrontation with Iran, a statement running counter to Washington's military buildup in the Persian Gulf.
"We fundamentally do not seek a war with Iran," Pompeo said in Sochi during his visit to Russia on Tuesday.
The former CIA chief further repeated Washington's threats against Tehran, claiming that, "We have also made clear to the Iranians that if American interests are attacked, we will most certainly respond in an appropriate fashion... We are looking for Iran to behave like a normal country."
This is while the Iranian envoy to the United Nations has dismissed the US military buildup near Iran as mere "psychological warfare."
"We are not in the business of trying to create a conflict in our neighborhood because nobody is going to have benefit from such a conflict in our region, except for a few, as I explained earlier, some people in Washington and some countries in our neighborhood," Majid Takht-e Ravanchi told CNN on Tuesday.
He was pointing at war mongering by the Israeli regime and its Arab allies such as Saudi Arabia in the Middle East.
Israeli Prime Minister Benjamin Netanyahu has appreciated his alliance with some Arab countries against what he claimed to be "Iranian aggression."
"There is a new efflorescence, a new renaissance of relations between us and many of our Arab neighbors, and many non-Arab Muslim countries. Many more than you can count. And it's true that we are united in our desire to stop Iranian aggression, and I believe that Israel and all the countries of the region and all the countries who seek peace in the world should stand together with the United States against Iranian aggression," Netanyahu claimed at a ceremony marking the one-year anniversary of the illegal US embassy move to Jerusalem al-Quds.
Washington has been trying to reduce Iran's oil exports to "zero," and sent an aircraft carrier strike group, a bomber squad, an amphibious assault ship, and a Patriot missile battery to the Middle East to try to stack up pressure on Tehran.
The US has also been trying to reduce Iran's oil exports to "zero," and sent an aircraft carrier strike group, a bomber squad, an amphibious assault ship, and a Patriot missile battery to the Middle East to try to stack up pressure on Tehran.
Full report at:
https://www.presstv.com/Detail/2019/05/14/595960/We-do-not-seek-a-war-with-Iran-Pompeo
--------
Trump denies US plan to send 120,000 troops to counter Iran
May 14, 2019
US President Donald Trump has rejected a New York Times report that American officials are preparing a military plan to deploy up to 120,000 troops to the Middle East to counter any threat by Iran.
"I think it's fake news, OK? Now, would I do that? Absolutely. But we have not planned for that. Hopefully we're not going to have to plan for that. And if we did that, we'd send a hell of a lot more troops than that," Trump told reporters at the White House on Tuesday.
The New York Times reported on Monday that Acting Defense Secretary Patrick Shanahan put forward -- a plan— which he had updated on National Security Advisor John Bolton's orders — last week in a meeting of top national security officials that envisions deploying some 120,000 American troops to the Middle East region "should Iran attack American forces or accelerate work on nuclear weapons."
The officials said that during the meeting, Shanahan gave an overview of the Pentagon's planning and then turned to US Chairman of the Joint Chiefs of Staff General Dunford to detail various force options.
"The uppermost option called for deploying 120,000 troops, which would take weeks or months to complete," the report said.
The number of the US troops planned for the deployment "would approach the size of the American force that invaded Iraq in 2003," the report added.
Among those attending the meeting were Bolton, CIA Director Gina Haspel and Director of National Intelligence Dan Coats in addition to Dunford and Shanahan, the report noted.
On Tuesday, Iran's Ambassador to the United Nations Majid Takht-e Ravanchi on Tuesday dismissed as "psychological warfare" a reported US military plan aimed at Iran, under which Washington could deploy tens of thousands of troops to the Middle East.
Commenting on this, American writer and political analyst Daniel Patrick Welch said he agrees with the Iranians who believe that the US is just attempting to scare Iran back to the table.
He stated that the Pentagon hates Bolton and Secretary of State Mike Pompeo's cowboy approach.
"No way they would allow a huge influx of troops in the Middle East," he told Press TV on Tuesday.
The analyst added, however, "they have no shortage of evil motives... and they have all played a part at some point in history."
Full report at:
https://www.presstv.com/Detail/2019/05/14/595950/Trump-denies-US-plan-to-send-120000-troops-to-counter-Iran
--------
Iran envoy to UN: Reports about US Mideast deployment plan mere 'psychological warfare'
May 14, 2019
'Tehran's envoy to the United Nations dismisses as mere "psychological warfare" a reported US military plan aimed at Iran, under which Washington could deploy tens of thousands of troops to the Middle East.
Majid Takht-e Ravanchi made the remarks to CNN on Tuesday in reaction to a report by The New York Times, which said the plan for the deployment of 120,000 troops to the Middle East had been recently discussed at a meeting of hawkish US administration officials.
The report said the plan, which had been prepared by Acting US Defense Secretary Patrick Shanahan upon the orders of National Security Advisor John Bolton, envisions sending as many as 120,000 troops to the Middle East "should Iran attack American forces or accelerate work on nuclear weapons."
Iran's UN ambassador said, "These are all psychological warfare in our opinion."
ran is not inclined either towards triggering a regional conflict or pursuing nuclear weapons, he asserted.
"We are not in the business of trying to create a conflict in our neighborhood because nobody is going to have benefit from such a conflict in our region, except for a few, as I explained earlier, some people in Washington and some countries in our neighborhood," he added.
Who's endangering who?
He added that questions about posing security threats to others' interests had to be instead "directed to those people, who have come to our neighborhood from thousands of miles [away]."
"Iran is in the Persian Gulf area. We are not in Gulf of Mexico," the official said.
Takht-e Ravanchi further stipulated that seeking nuclear arms "is against our religion."
He cited a religious decree issued by Leader of the Islamic Revolution Ayatollah Seyyed Ali Khamenei that prohibits such pursuit, adding, "Besides, nuclear weapons are not within the defense structure of Iran."
Under US President Donald Trump, Washington has been eagerly leading a policy of "maximum pressure" against Tehran. The policy has Bolton as the person trying most to escalate it into military conflict.
Employing the approach, the US left a multi-lateral nuclear deal with Iran, which has the UK, France, Russia, China, and Germany as its other signatories, last year.
It then reinstated the sanctions that had been lifted under the accord. The moves came while the deal had been ratified in the form of a United Nations Security Council resolution, making Washington culpable for violating international law.
Washington has also been trying to reduce Iran's oil exports to "zero," and sent an aircraft carrier strike group, a bomber squad, an amphibious assault ship, and a Patriot missile battery to the Middle East to try to stack up pressure on Tehran.
US on war footing based on fake intel.
Pointing to what is claimed to be Iran's intention to target American interests in the region, Takht-e Ravanchi said the US had used no more than just "fake intelligence" to try to justify the recent military build-up.
"These are all fake intelligence based on certain narrow-minded agenda, as I said, pursued by certain people in Washington as well as in our region," he stated.
The official, meanwhile, addressed Trump's recent proposal of "talks" with Iran.
Full report at:
https://www.presstv.com/Detail/2019/05/14/595930/Iran-United-States-mass-deployment-Middle-East-Bolton-Pentagon
--------
South Asia
Sri Lanka urged to stem post-terror revenge
May 14, 2019
International human rights' groups have urged the Sri Lankan government to protect Muslim as well as other foreign refugees and asylum seekers following the Easter Sunday bombings in which Christians were targeted.
More than 250 people were killed in attacks by Sri Lankan Muslim militants on April 21.
There has since been pockets of communal strife, including cases of Christians attacking Muslim shop owners among about 1,100 refugees and asylum seekers who mostly reside in Negombo near the capital, Colombo.
Among those seen as being at risk are Muslims from Pakistan and Afghanistan as well as people from Iran and Yemen who variously fled religious, ethnic and political persecution in their home countries.
They include members of the Ahmadi community discriminated against by some mainstream Muslims.
International rights' groups say some Christian refugees and asylum seekers are also endangered amid the current volatility.
A joint statement was issued by international organizations including Amnesty International, FORUM-ASIA, Franciscans International, Freedom from Torture, Human Rights Watch and the International Commission of Jurists.
They said authorities in Sri Lanka should take steps to maintain order and prevent retaliatory vigilante action.
"Unfortunately, refugees and asylum seekers have been unfairly targeted and displaced after the (terrorist) attacks, with landlords under local pressure to evict them from their homes," the statement read in part.
The international groups called for those who are unfairly vulnerable to acts of retribution to be relocated to appropriate locations with adequate sanitation, sleeping space and security.
Sri Lanka provides refuge to foreigners while their claims for protection are processed by the office of the United Nations High Commissioner for Refugees (UNHCR).
In particular, the foreign rights' bodies called for the protection of at-risk children and for Sri Lankan officials not to deport people who fear mistreatment if sent back to their homelands or any other place where their lives or freedoms would be threatened.
To do so would would violate the international legal principle of non-refoulement, which means sending refugees or asylum seekers into danger.
The international rights' groups said the Sri Lankan government should state clearly that any domestic communal attacks on these people would not be tolerated.
Further, it was important for authorities to stress that all attacks on refugees and asylum seekers in Sri Lanka would be investigated with a view to prosecuting alleged offenders.
Sri Lanka was also asked by the foreign rights' organisations to help expedite resettlement of some of the refugees to third countries.
Mob attacked shops
Amid heightened communal tensions, several Muslim shops were allegedly attacked May 5, sparked by a dispute involving the driver of a three-wheeled tuk tuk taxi and a group of villagers near Negombo.
St. Sebastian's Church in the town, 40 kilometers north of Colombo, was one of three churches and three hotels hit by jihadist suicide bombers on Easter Sunday.
On May 12, a mob attacked shops owned by Muslims in the western coastal town of Chilaw.
A curfew was imposed till 4 a.m. the following day and a Muslim man accused of posting racially charged content on social media was arrested.
Some refugees fearing for their safety took refuge in police stations or mosques.
While government schools from grade 6 and up were re-opened on May 6, church run schools remained closed.
Many churches conducted Sunday Masses, with tight security precautions in place, but most Sunday schools for children were cancelled.
Cardinal Malcolm Ranjith, who declined a government offer for him to use a bullet-proof vehicle, assured ordinary Muslims that the Church stood against any revenge attacks on them.
"We are not against you and we will not allow any harassment to be caused to you from our faithful," Cardinal Ranjith assured Muslims.
https://www.ucanews.com/news/sri-lanka-urged-to-stem-post-terror-revenge/85175
--------
Sri Lanka police arrest 23 for targeting Muslims after Easter bombings
May 14, 2019
KOTTAMPITIYA: Sri Lankan police arrested 23 people on Tuesday in connection with a spate of attacks on Muslim-owned homes and shops in apparent reprisal for the Easter bombings by Islamist militants that killed more than 250 people.
Soldiers in armoured vehicles patrolled the towns hit by sectarian violence this week as residents recalled how Muslims had hid in paddy fields to escape mobs carrying rods and swords, incensed over the militant attacks.
The April 21 attacks, claimed by Islamic State, targeted churches and hotels, mostly in Colombo, killing more than 250 people and fuelling fears of a backlash against the island nation's minority Muslims.
Mobs moved through towns in Sri Lanka's northwest on motorbikes and in buses, ransacking mosques, burning Korans and attacking shops with petrol bombs in rioting that began on Sunday, Muslim residents said.
Police said they arrested 23 people from across the island for inciting violence against Muslims, who make up less than 10 percent of Sri Lanka's 22 million people who are predominantly Sinhalese Buddhists.
Police spokesman Ruwan Gunasekera said the situation is under control and no new incidents had been reported on Tuesday.
But a nationwide curfew from 9 p.m. (1530 GMT) to 4 a.m. would be in effect for a second night.
The lone fatality was a man killed while trying to protect his home from attack.
When mobs arrived in the Kottramulla area on Monday evening, Mohamed Salim Fowzul Ameer, 49, went outside while his wife, Fatima Jiffriya, stayed with their four children.
Jiffriya, 37, then heard shouts and sounds of fighting.
"I opened the door to see my husband on the ground in a pool of blood, the police right in front and the mob running," she said.
"His heart was still beating hard, I took him into my lap and started to scream for help," she added, her voice breaking, as women consoled her children at an uncle's house ahead of Ameer's burial.
DEEP DIVISIONS
Sri Lanka has had a history of ethnic and religious violence and was torn for decades by a civil war between separatists from the mostly Hindu Tamil minority and the Sinhala Buddhist-dominated government.
In recent years, Buddhist hardliners, led by the Bodu Bala Sena (BBS) or "Buddhist Power Force", have stoked hostility against Muslims, saying influences from the Middle East had made Sri Lanka's Muslims more conservative and isolated.
Last year, scores of Muslim mosques, homes and businesses were destroyed as Buddhist mobs ran amok for three days in Kandy, the central highlands district previously known for its diversity and tolerance.
Muslims said this week's violence was more widespread.
Residents in the town of Kottampitiya recalled how a group of about a dozen people had arrived in taxis and attacked Muslimowned stores with stones just after midday on Monday, with the mob soon swelling to 200, and then 1,000.
The mob attacked the main mosque, 17 Muslim-owned businesses and 50 homes, witnesses said.
"The Muslim community huddled in nearby paddy fields, that's how no one died," said one of a group of men gathered outside the white-and-green mosque with smashed windows and doors.
Abdul Bari, 48, told Reuters his small brick shop had been burned down with a petrol bomb. "The attackers were on motorbikes, armed with rods and swords," he added.
Others blamed the police for failing to disperse the crowd.
"The police were watching. They were in the street, they didn't stop anything. They told us to go inside," said Mohamed Faleel, 47, who runs a car paint business.
"We asked police, we said stop them. They didn't fire. They had to stop this, but they didn't," he added.
Police spokesman Gunasekera rejected allegations that police had stood by while the violence unfolded. He said the perpetrators would be punished.
"All police officers have been instructed to take stern action against the violators, even to use the maximum force. Perpetrators could face up to a 10-year jail term," he said.
A police source said seven of those arrested for the violence in Kottampitiya were young Sinhalese men from nearby Buddhist villages.
"They were leading the charge yesterday. They were instructing people on which stores to attack," said the police source.
The men said they were seeking revenge for the militant attack in the city of Negombo, where over 100 people were killed at the St. Sebastian's Church during Easter prayers, the police source said.
Full report at:
https://timesofindia.indiatimes.com/world/south-asia/sri-lanka-police-arrest-23-for-targeting-muslims-after-easter-bombings/articleshow/69328098.cms
--------
'People are dying': UN official urges aid access for Myanmar's Rakhine state
May 15, 2019
YANGON: A UN official has urged Myanmar to grant aid workers "predictable, sustained access" to Rakhine state, where fighting between government troops and rebels has displaced nearly 33,000 people since late last year, saying lack of aid has cost lives.
Ursula Mueller, a UN assistant secretary-general for humanitarian affairs, said authorities had turned down her requests to meet those displaced by the conflict in a region barred to most aid groups since the fighting broke out.
"We need access – predictable, sustained access – to reach the people in need," Muller told Reuters late on Tuesday, at the end of a six-day visit to the southeast Asian nation.
"If the assistance, including mobile clinics, cannot get to the people, they just don't have the services and their needs are not being met and some people are dying."
Reuters could not immediately reach a government spokesman to seek comment.
Rakhine has been in the global spotlight since 2017, after roughly 730,000 Rohingya Muslims fleeing a military crackdown in response to militant attacks crossed into neighboring Bangladesh.
UN investigators have called for senior military officers to be prosecuted over allegations of mass killings, gang rapes and arson. The military denies widespread wrongdoing.
More recently, civilians have been caught up in clashes between the military and the Arakan Army, an insurgent group that recruits from the mainly Buddhist ethnic Rakhine population and is fighting for greater autonomy for the state.
During her visit, Mueller met senior officials in the capital, Naypyitaw, including state counselor Aung San Suu Kyi who said she was working toward "development and social cohesion" in Rakhine.
"I was pointing out the humanitarian needs that are existing that need to be urgently met," she added.
Mueller also visited camps outside Sittwe, the state's capital, where thousands of Rohingya have been confined since a previous bout of violence in 2012. Most lack citizenship and face curbs on movement and access to basic services.
Myanmar has been working with the UN on a strategy to close the camps, but it amounts to building new, more permanent homes in the same place rather than letting people return to areas from which they fled, Reuters reported last year.
Mueller, who is also a deputy coordinator for emergency relief, said she had discussed the strategy with officials.
Full report at:
http://www.arabnews.com/node/1497196/world
--------
Blasts rock Afghanistan's Jalalabad, killing 3, wounding 20
By Rahim Faiez 
May 13, 2019
KABUL, Afghanistan — Three explosions ripped through an Afghan provincial capital, Jalalabad, killing three people and wounding another 20 on Monday. All of the casualties were believed to be civilians, said Attaullah Khogyani, a spokesman for eastern Nangarhar's governor.
No one claimed responsibility for the attack which came as the United Nations expressed grave concerns about the increase in violence around the country during the first week Ramadan, the ongoing Muslim month of fasting from sunrise to sunset.
Both the Taliban and an Islamic State affiliate operate in Nangarhar province. Over the past year, the U.S. has stepped up its air strikes in the area to try to dislodge IS fighters.
The explosions took place in Jalalabad's city center, but the target was not immediately clear.
In a statement earlier Monday, the U.N. Mission in Afghanistan pointed out two major Taliban attacks in the past week — an assault in the capital, Kabul, on a non-governmental agency that killed five and an attack in northern Baghlan province that struck a police headquarters, killing 13 officers.
"There can be absolutely no justification for deliberate or indiscriminate attacks against civilians," Tadamichi Yamamoto, the U.N. secretary-general's special representative, was quoted as saying.
Late Sunday, Taliban targeted security checkpoints in Afghanistan's northern Sari Pul province, killing at least seven members of the country's security forces, provincial officials said Monday.
The insurgents also abducted two members of the force and left five wounded in the attacks near the provincial capital, said Mohammad Noor Rahmani, head of the provincial council.
The troops were in charge of providing security for fuel wells in the area. Zabi Amani, the provincial governor's spokesman, said four Taliban fighters were killed in what he said was a gunbattle that lasted several hours.
No one immediately claimed responsibility for the attack, but provincial officials blamed the Taliban insurgents who repeatedly target Afghan security forces in the province.
In recent months, the Taliban have stepped up their attacks, inflicting staggering casualties on Afghan forces, and now hold sway over half the country. The U.S., meanwhile, has accelerated efforts to find a peaceful resolution to the 17-year war — America's longest conflict — and has pressed for direct talks between the Taliban and Kabul.
Full report at:
https://www.washingtonpost.com/world/asia_pacific/afghan-officials-taliban-target-security-forces-killing-7/2019/05/13/156cebe0-7551-11e9-a7bf-c8a43b84ee31_story.html?noredirect=on&utm_term=.f5ffd36179f7
--------
Anxiety and hope in Colombo over church schools reopening after attacks
May 15, 2019
COLOMBO (SRI LANKA): Catholic officials and parents in Sri Lanka are hopeful that church-run schools will begin to reopen soon for the first time since last month's devastating Easter Sunday attacks on churches and hotels.
All of the island nation's schools were set to reopen the day after the bombings following a two-week break, but they remained closed after the attacks, which killed more than 250 people and injured hundreds more.
Government schools reopened last week, but many children stayed home, fearing another attack.
Catholic schools, however, have stayed shut out worried that other Catholic properties could be targeted in further attacks.
In a memo to Catholic institutions earlier this month, Cardinal Malcolm Ranjith, the archbishop of Colombo, said he had information from a trusted foreign source that a famous church and a lay institution were to be attacked. The church confirmed that the memo, which first appeared on social media, was authentic.
On Sunday, the Catholic Church held the first regular Sunday Mass since the April 21 coordinated suicide bombings, amid tight security. Sunday services had been canceled the two previous weekends apprehensive of more attacks, leaving the faithful to hear Mass via live TV transmission from Ranjith's residence.
Later Sunday, Ranjith gave Sri Lanka's Catholic school administrators permission to reopen on an individual basis in coordination with local security officials.
Rangika Perera, a teacher in a Catholic school where her daughter also studies, said reopening the schools and churches was the best way to demonstrate that Sri Lanka's Catholics hadn't been defeated by terrorism.
"They want to deprive us in every way and we should not help them succeed by our fear," she said.
The Rev. Ivan Perera, the priest in charge of Sri Lanka's Catholic schools, said that Catholic school administrators have sent study packs to children by email with exercises on a variety of subjects, but that the toll has been more than academic.
Priests and nuns working as counselors said Catholic school students "are very traumatized and are very disturbed, a lot of fear in them," according to the Rev. Perera.
"It will take quite a bit of time for them to get back to normal attitudes. It's very unfortunate that at this age children should be so traumatized and be full of fear," he said, adding that when schools reopen, administrators will offer students psychological and spiritual help.
The Easter attacks — which were carried out by radicalized local Muslims and claimed by the Islamic State group — targeted three churches: Sri Lanka's famous St. Anthony's Shrine in Colombo, the capital; St. Sebastian's Church in the seaside, majorityCatholic town of Negombo, outside Colombo; and the protestant Zion Church on Sri Lanka's east coast. Three luxury hotels in Colombo — the Shangri-La, Cinnamon Grand and Kingsbury — were also attacked.
There are currently about 40 schools run by Sri Lanka's Catholic Church, which owned hundreds of schools by the time the Buddhist-majority island gained independence from Britain in 1948. In the 1960s, the state nationalized hundreds of Catholic schools amid a post-independence wave of Sinhala Buddhist revivalism.
According to the Rev. Perera, an estimated 10 to 15 Catholic school students died in the blasts, including eight girls from the same convent school in Negombo. The United Nations children's fund said 45 children were killed in the six near-simultaneous suicide attacks, including tourists.
Though Sri Lankan adults lived through at least part of the brutal, decades-long civil war that ended in 2009, in which rebels from Sri Lanka's ethnic Tamil minority violently clashed with government forces, younger generations had never experienced bomb attacks or armed soldiers standing guard on street corners.
"For the past 10 years, there weren't any of these things," said Anushka Wijeyeratne, a mother whose two children, ages 5 and 9, attend Catholic school. "Everything is new to them — the checkpoints and other things are absolutely new to them. As parents we have to go back to basics and rethink, we will have to worry about security."
According to conservative UN estimates, some 100,000 people were killed in Sri Lanka's civil war. Minority Catholics were not spared from the violence, but they were not targeted for their religious beliefs. Since the war ended, Sri Lanka experienced only a handful of small-scale incidents of communal violence before the Easter attacks.
Cardinal Ranjith has been an outspoken critic of the government for failing to act upon near-specific intelligence from Sri Lanka's neighbor India that provided details of the plot and the militants who were to be involved.
Parents say they trust the church's leadership more than the government's when it comes to the safety of their children.
"The government has failed and we don't have confidence in the government in that aspect," said Wijeyeratne.
Full report at:
https://timesofindia.indiatimes.com/world/south-asia/anxiety-and-hope-in-colombo-over-church-schools-reopening-after-attacks/articleshow/69335745.cms
--------
Mideast
Iran too 'great' to be intimidated, says President Rouhani
14 May 2019
Iran's President Hassan Rouhani has declared the Islamic Republic is "too great to be intimidated by anyone" in a late night meeting with clerics.
"God willing we will pass this difficult period with glory and our heads held high, and defeat the enemy," Rouhani said late Monday as he met Sunni clerics to mark the holy Muslim month of Ramadan, the official government website dolat.ir said.
He was speaking after four ships, including two Saudi oil tankers, were reportedly attacked off the UAE coast on Sunday, in a sign of mounting regional tensions.
Iran has called for an investigation into what it called an "alarming" incident.
Iran and the United States have engaged in a war of words in recent weeks since Tehran began to roll back commitments set out in a landmark 2015 nuclear deal with world powers.
US President Donald Trump withdraw the United States from the deal last year and has unilaterally re-imposed stringent sanctions on Iran.
Last month, Washington designated Iran's revolutionary guards as a "foreign terrorist organization," the first time that part of a foreign government has been branded as such.
The dispatch of the USS Abraham Lincoln carrier group plus an amphibious assault ship, a Patriot missile battery and B-52 bombers by the US to the region has triggered fears of possible military clashes.
https://english.alarabiya.net/en/News/middle-east/2019/05/14/Iran-too-great-to-be-intimidated-says-President-Rouhani.html
--------
Palestinians set to mark Nakba Day with mass rallies against Israel, US
May 15, 2019
Palestinians are set to commemorate the 71th anniversary of the Nakba Day (the Day of Catastrophe) in the occupied West Bank and the blockaded Gaza Strip with mass protests against Israel and the US, the regime's staunch supporter.
In a recent communiqué, the National and Islamic Forces, the supreme coordinating body of major Palestinian factions, called for widespread participation in Wednesday's demonstrations to mark the forcible eviction of Palestinians from their motherland by the Tel Aviv regime in 1948.
Similarly, the organizing committee of the weekly anti-occupation Great March of Return protests in Gaza urged Palestinians to join the Nakba Day rallies in the coastal sliver and stage a general strike at schools, universities and colleges.
Speaking in Ramallah on the eve of Nakba Day, Palestinian Prime Minister Mohammad Shtayyeh said Israel has targeted Palestine's geography and demography, while the US has imposed a financial war on the Palestinian nation in support of the occupying regime.
"Israel is waging a war of geography on us by confiscating our land on a daily basis," he said. "We are also facing a war of demography to expel our people from Jerusalem [al-Quds]."
This US administration and its ally, Israel, believe that it would be possible "to defeat us with a financial siege and other measures, including the closure of the PLO (Palestine Liberation Organization) diplomatic mission in Washington, and cutting aid to UNRWA, in order to force us to accept 'the deal of shame,'" he noted, referring to US President Donald Trump's controversial yet-to-be-unveiled proposal on the Israeli-Palestinian conflict.
The Nakba Day is marked annually on May 15. It refers to the forcible expulsion of some 700,000 Palestinians from their lands in 1948 and their scattering across refugee camps in the West Bank, Gaza, and neighboring countries.
Hanan Ashrawi, a member of the PLO Executive Committee, said in a statement marking the Nakba Day that the Trump administration's unilateral measures against the Palestinians are a new "Nakba."
She also called for a "multilateral international gathering to confront the US-Israeli alliance and schemes," including the so-called "deal of the century."
"We count on peace lovers all over the world to support our just cause and human rights in the face of the fascist forces led by the Trump administration and [Israeli Prime Minister Benjamin] Netanyahu," she added.
The Palestinian Authority's ruling Fatah party said that as they commemorate Nakba Day, the Palestinians are more determined to "uphold their principles and legitimate rights, including the right of return, self-determination and the establishment of an independent Palestinian state with east Jerusalem as its capital."
On Tuesday, thousands of Palestinians took part in a rally marking the Nakba Day in front of the offices of the UN Relief and Works Agency for Palestinian Refugees (UNRWA) in Gaza.
The protest was held under the banner "From the ashes of the 'Nakba' to the embodiment of the right of return, down with all the conspiracies."
Addressing the crowd, Ahmed Abu Holi, a member of the PLO Executive Committee and head of the National Committee for Commemorating the Nakba, stressed that the Palestinians would not accept the "deal of the century."
"The issues of Jerusalem [al-Quds] and the refugees are not for sale or bargaining," he said. "The Palestinian people will not sell their rights and principles in return for dollars, and will not compromise on the payments to the families of martyrs and prisoners. We will not surrender to blackmail."
The US president recognized Jerusalem al-Quds as the "capital" of Israel in December 2017.
He also moved the American embassy from Tel Aviv to Jerusalem al-Quds in May 2018, on the eve of the Nakba Day, sparking angry reactions by the Palestinians and drew the criticism of the international community.
Full report at:
https://www.presstv.com/Detail/2019/05/15/595980/Israel-Palestine-Nakba-Day
--------
New Report Shows How a Pro-Iran Group Spread Fake News Online
By Scott Shane and Ronen Bergman
May 14, 2019
LOS ANGELES — Ali Al-Ahmed is a veteran critic of the Saudi government, so late last year he was not surprised to receive a Twitter message purporting to be from an Egyptian woman living in London who said that she, too, was a Saudi opponent.
But Mr. Al-Ahmed, who is based in Washington, was wary of the woman, who identified herself as Mona A. Rahman. "Her picture was too made up, like the picture of a model," he recalled. Her Arabic was imperfect. And her messages in Arabic included a character that indicated that she was typing on a Farsi-language keyboard.
Then she sent him an article that appeared to be from the website of the Belfer Center for Science and International Affairs at Harvard about an unexpected development in Israeli politics.
The article was on a site that had the exact logo, coloring and layout of the Harvard site. But the address was "belfercenter.net" — not the real one, "belfercenter.org." And the article, claiming the Israeli defense minister had been fired for being a Russian agent, was a total fabrication.
Mr. Al-Ahmed had encountered what a new report from Citizen Lab, a research group at the University of Toronto, says is a pro-Iranian influence operation that used elaborate look-alike websites and social media to spread bogus articles online and to attack Iran's adversaries. The operation had another innovative maneuver: When the invented reports were picked up by mainstream news organizations, the operators quickly took down the fabrications to make it harder to track the fraud.
"They deleted their fake stories once they achieved some buzz," said Gabrielle Lim, a fellow at Citizen Lab and a lead author of the report. "This made it hard for regular users to figure out what was happening, and hid the original source of the disinformation."
Ms. Lim called the pro-Iran operation "a sprawling disinformation assembly line" that has operated since at least 2016.
An article that appeared to be from the Belfer Center for Science and International Affairs at Harvard was fabricated, a new report found.
"They published false stories on cloned news websites, then amplified them with well-worn, negative tropes about Israel, Saudi Arabia and the U.S.," she said. They also created false personas like "Mona A. Rahman," who targeted Mr. Al-Ahmed, and tried to trick legitimate news outlets into publishing their articles and even to give them bylines, Ms. Lim said.
In recognition of the group's prolific production and its transient nature, Citizen Lab labeled it "Endless Mayfly," after the gangly, short-lived insects that hatch and swarm every summer. Citizen Lab said it cannot say for certain that the operation was sponsored by the Iranian government. But it noted that Facebook and Twitter removed hundreds of accounts last August linked to the same operation, and Facebook said those accounts had ties to Iranian state media.
Etienne Maynier, another author of the Citizen Lab report, said Endless Mayfly's articles "frequently echoed official comments and positions of the Iranian government."
The Iranian government denied any connection to the group.
"These claims are nothing but part of the propaganda campaign against Iran," said Alireza Miryousefi, a spokesman for the Iranian mission to the United Nations. "The suggestion that the Iranian government is — with all the diplomatic efforts it is engaged in on a daily basis — involved in a silly online 'fake news' effort is on its face ridiculous. Linking anybody who does not agree with Israeli or Saudi policies to the Iranian government is simply absurd."
Raz Zimmt, an expert on Iran at Israel's Institute for National Security Studies, a think tank affiliated with Tel Aviv University, and a former Israeli military intelligence officer, said Iran has turned to cyberattacks and online influence campaigns in part because of military weakness. In addition, he said, such hard-to-trace operations allow Iran "to maintain the ambiguity needed to reduce the risk of open confrontation with opponents who maintain a military superiority over it."
In setting up its ephemeral websites, the Endless Mayfly group used one tactic familiar from phishing operations: "typosquatting," in which a website is created under a name a letter or two off from a well-known institution. Endless Mayfly used "theguaradian.com" to mimic "theguardian.com" and "theatlatnic.com" in place of "theatlantic.com."
Researchers at Citizen Lab got their first clue in April 2017, after users on Reddit noticed an article on Brexit that appeared to be from the British newspaper The Independent actually came from a site spelled differently: "http://www.indepnedent.co/." But when readers later tried to return to the article, they were sent to the actual newspaper's official site. The article's authors had deleted the fake one but changed the link to reinforce the impression that it had originated on the real newspaper's site.
In all, Citizen Lab said it had identified 73 web domains created by the group, 135 ersatz articles it had posted and 11 fake identities like Mona A. Rahman, often used as bylines on the fake articles. Some of the articles had been previously flagged as false by reporters and researchers, who sometimes pointed at Russia as the likely culprit. But the overall operation has not previously been described and linked to Iranian interests.
The group appears to still be active, according to Citizen Lab, though most of its operation has been shut down. "On the surface, they look like a not-very-successful viral advertising campaign," said John Scott-Railton, a senior researcher at Citizen Lab.
But the fabricated article on Israeli politics impressed a former senior Israeli intelligence official, who spoke on the condition of anonymity. The fake article concocted by the group quoted Tamir Pardo, a former director of Mossad, the Israeli intelligence agency, as saying in a talk at Harvard that Avigdor Lieberman, Israel's defense minister, had been dismissed by Prime Minister Benjamin Netanyahu after it was discovered that he was a Russian mole.
The fabricated article was spread on Nov. 14, 2018, through a Twitter account for "Bina Melamed," a common Israeli name.
In fact, Mr. Lieberman had just resigned in protest of a cease-fire ending fighting in Gaza, and Mr. Pardo had just spoken at the Belfer Center. The rest of the article was an invention. But the former Israel official said he was struck by the overnight creation of the fake Harvard website and the "superfast reaction to events."
"It shows an admirable understanding of the online world," the official said. Months later, a search on the web for the bogus headline still turns up a few hits.
For Mr. Al-Ahmed, the Saudi critic in Washington, the Citizen Lab research simply underscored the hazards for activists online. In what appears to have been a separate operation last year, he was contacted by a woman posing as a BBC journalist who asked to interview him; she, too, turned out to be a fraud.
Based on past experience, Mr. Al-Ahmed thought at first that Mona A. Rahman might be a Saudi operator meant to entrap him. But when he learned it appeared to be Iranian trickery, he was not particularly surprised.
Full report at:
https://www.nytimes.com/2019/05/14/world/middleeast/iran-fake-news-report.html
--------
Yemen warring parties hold fresh talks as Houthis withdraw from Hodeidah
MAY 13, 2019
ADEN (Reuters) - Yemen's warring parties started fresh U.N.-sponsored talks in Jordan on Monday, Yemeni officials said, two days after Houthi forces began withdrawing from the ports of Hodeidah, breaking a six month stalemate.
The talks will focus on sharing out revenues from Hodeidah's three Red Sea ports to help relieve an urgent humanitarian crisis, they said.
The Iran-aligned Houthi group began on Saturday a unilateral pullout from the ports of Saleef, Ras Isa and Hodeidah, handing them over to U.N.-supervised local forces as agreed under a pact with the Saudi-backed government last December that had stalled for months.
"The U.N. and its special envoy are sponsoring talks in Amman ... to discuss the issue of salaries and to make the economic situation neutral," Mohammed Ali al-Houthi, head of the Houthis' Supreme Revolutionary Committee, said in a tweet.
A Yemeni government official confirmed the talks to Reuters. A U.N. official said the office of U.N. envoy Martin Griffiths was facilitating the meeting.
Hodeidah, the main entry point for Yemen's commercial and aid imports, became the focus of the four-year conflict last year when the Saudi-led coalition tried twice to seize the port to cut off the Houthis' main supply line.
Under the Stockholm agreement for a truce and troop withdrawal by both sides from Hodeidah, the ports' revenues would be gathered in the Hodeidah branch of the central bank to help pay public wages.
HUMANITARIAN CRISIS
The war has devastated Yemen's economy, exacerbating an urgent humanitarian crisis with millions of Yemenis on the brink of starvation.
Soaring prices have put basic commodities out of reach for many Yemenis and the central bank has struggled to pay public-sector salaries as foreign exchange reserves evaporated.
The United Nations will help in the management of the Hodeidah ports, which will be under control of Yemen's Red Sea Port Corporation and local coast guards, and assist in inspection of ships.
The Sunni Muslim military alliance led by Saudi Arabia and the United Arab Emirates intervened in Yemen in 2015 to try to restore the internationally recognized government of Abd-Rabbu Mansour Hadi, which was ousted from power in Sanaa in late 2014 by the Houthi movement.
Full report at:
https://www.reuters.com/article/us-yemen-security/yemen-warring-parties-hold-fresh-talks-as-houthis-withdraw-from-hodeidah-idUSKCN1SJ190
--------
Turkish mosque in US suffers serious damage after anti-Muslim arson attack in Ramadan
14.05.2019
The Muslim world was shaken by yet another anti-Muslim attack that took place during the holy month of Ramadan and this time a Turkish mosque in the U.S. state of Connecticut was the target.
In a statement, the Religious Services Attache of the Turkish Consulate General in New York said an investigation is underway into the fire at Diyanet Mosque in the city of New Haven and efforts are continuing to catch the perpetrators.
The fire occurred around 4 p.m. Sunday, the seventh day of Ramadan, a holy month during which Muslims fast and pray. Fasting is one of the five pillars of the religion of Islam.
A reward of up to $2,500 has been offered for any information that leads to the arrest or conviction of the perpetrators, according to officials.
The statement said the fire started at the mosque's entrance and reached the third floor through the exterior side of the building.
"There was no loss of life or injury in the fire, but it is determined that the mosque has suffered large-scale damage. Tons of water used to put out the fire [also] caused damage to the building's unburnt part," it said.
The incident saddened the Turkish community in the United States, primarily in New Haven, the statement added.
Ankara: Perpetrators of attack should be sentenced swiftly
Turkish Foreign Minister Mevlüt Çavuşoğlu called the arson "heinous" and said the perpetrators should be identified and "sentenced swiftly."
"Arson in Diyanet Mosque in #NewHaven during Ramadan is another example of increasing #Islamophobia in the world. No loss of life is our only consolation," said Çavuşoğlu.
The minister also called for a united stance against Islamophobia and racism.
Presidential advisor Ibrahim Kalın also said Tuesday that the attack was the latest manifestation of "growing Islamophobia and anti-Muslim hatred."
"The discriminatory and racist climate that feeds it is a major threat to global peace and likely to lead to new attacks. Serious action is needed now," Kalın said on Twitter.
Turkey's ruling Justice and Development Party (AK Party) spokesman Ömer Çelik also reacted to the attack in a tweet Tuesday saying hate does not have borders.
Çelik said the ideology of hatred is currently targeting mosques but will gradually spread to all sanctuaries.
"Those who treat Islam as an enemy poison all values of humanity," he stressed.
This anti-Muslim act in the country is not the first one as Muslims in the U.S. were the target of nearly 19 percent of religiously motivated hate crimes, according to FBI data released in 2018.
A criminal investigation is underway, and officials believe the fire was intentionally set. Besides local police, the FBI and Bureau of Alcohol, Tobacco, Firearms and Explosives (ATF) are also involved.
Growing anti-Muslim sentiment a serious threat in Western societies
The mosque attack in Connecticut has become the latest example of growing numbers of anti-Muslim attacks in the Western countries.
Anti-Muslim hatred has been on the rise for years. Far-right extremism and xenophobia have fueled anti-Muslim hatred in Western countries, where terror attacks by Daesh and al-Qaida are used as an excuse to legitimize those views.
Although, the enmity toward Muslims is not a new phenomenon, it became more intensified after 2001 when airplanes crashed into the twin towers in New York City. Since then, for almost two decades, Islam has been unjustly tarnished with labels that have negative connotations, and portrayed as a religion of hate, violence, anti-Western sentiment and women's oppression. This trend of intolerance has triggered deadly attacks against Muslims and immigrants since then.
On March 15, 50 people were killed and about as many wounded when a terrorist opened fire on worshipers during Friday prayers at the Al Noor and Linwood mosques in Christchurch, New Zealand's third-largest city.
The massacre was livestreamed on social media and was accompanied by the release of a racist, anti-Muslim manifesto that also attacked Turkey.
Anders Breivik, the Norwegian far-right political terrorist who killed eight people with a van bomb in Oslo before shooting dead 69 participants of a Labour Party Youth League summer camp on Utoya Island in 2011, became an inspiration for many future attacks including the New Zealand terrorist attacks since then. During the following terrorist attacks, hundreds of people lost their lives in Western countries.
In Sweden, a masked swordsman killed two and wounded another at the Kronan School in Trollhattan, on Oct. 22, 2015. The perpetrator chose the school as his target due to its high immigrant population. It was the deadliest attack on a school in Swedish history. A teacher who was stabbed during the incident succumbed to his wounds on Dec. 3, 2015, raising the death toll to three.
On July 22, 2016, 10 people, including the perpetrator, were killed and 36 others injured during a mass shooting in the vicinity of the Olympia shopping mall in the Moosach district of Munich, Germany. The perpetrator expressed his admiration for Germany's right-wing Alternative for Germany (AfD) party, and that he was "very nationalistic," repeatedly uttering anti-Turkish abuse.
In Switzerland, a man yelling "get out of our country," opened fire on people at an Islamic center in Central Zürich on Dec. 19, 2016. The Islamic Central Council of Switzerland issued a statement suggesting it should serve as an "alarm" regarding the threat posed by increasing Islamophobia in Swiss society.
On Jan. 29, 2017, a mass shooter killed six people and injured 19 at the Islamic Cultural Centre of Quebec City, Canada. Prime Minister Justin Trudeau and Premier Philippe Couillard called the shooting a terrorist attack, but the perpetrator was not charged with terrorism. The incident was classified as a hate crime and an anti-Muslim attack.
A man fatally stabbed two people and injured a third on a MAX Light Rail train in Portland in the United States on May 26, 2017. He was confronted for reportedly "yelling a gamut of anti-Muslim and anti-everything slurs." The Portland Police Bureau's report said the man was shouting "hate speech toward a variety of ethnicities and religions," and directed his inflammatory remarks at two young Muslim women, one of whom was wearing a hijab.
In the U.K., a man drove into a crowd of Muslim worshipers leaving a mosque in London after prayer on June 19, 2017. The incident, in which a person was killed and 11 others were injured, was deemed terrorism. Several civil rights groups and politicians claimed the perpetrator was motivated by anti-Muslim ideologies.
Donation campaign launched for restoration of mosque
It was also reported that a donation campaign was launched for the Diyanet Mosque.
As the Diyanet Center of America (DCA) announced on its website, a charity campaign for the restoration of the attacked mosque has been launched under the name "Support the New Haven Mosque."
The DCA is the operating name of the Turkish American Community Center (TACC), a nonprofit organization located in Lanham, Maryland. The community center was established in 1993 by a group of Turkish-Americans to provide religious, social and educational services to Turkish immigrants and Muslims living in the United States. As an umbrella organization, the DCA has 22 local chapters with affiliations across the U.S. and works in full coordination with the Religious Affairs of the Republic of Turkey.
Fatih Kanca, chairman of the DCA, called on everyone who has a conscience to support the restoration of the Diyanet Mosque.
While the damage to the mosque totaled more than $500,000, the priority is to collect $100,000 during the first phase of the donation campaign until the official investigation is completed.
Commenting on the attack, Connecticut Gov. Ned Lamont described the attack on the religious institution as "disgusting" and "appalling."
Full report at:
https://www.dailysabah.com/americas/2019/05/14/turkish-mosque-in-us-suffers-serious-damage-after-anti-muslim-arson-attack-in-ramadan
--------
Yemenis must have found gap in Saudi defenses: Analyst
May 14, 2019
The Yemeni forces fighting back a Saudi-led war must have made a real breakthrough by reportedly infiltrating deep into Saudi territory and hitting critical infrastructure there, says an investigative journalist, as Riyadh has been provided with sophisticated military capabilities, including satellite detection, by its Western backers.
Speaking to Press TV on Tuesday, Tony Gosling referred to reports earlier in the day indicating that Yemen had struck pumping stations in Saudi Arabia's sprawling central Najd region, prompting Riyadh to stop pumping crude on a major pipeline.
That incident was announced by Saudi Energy Minister Khalid A. al-Falih, who nevertheless refused to assign blame for the attacks. Earlier though, Yemeni forces had said they had been able to hit key Saudi structures, although they did not specify the targets.
Gosling said that the reported strike had come despite "all the Western backing that there is, all the satellite help that there is from the [US] National Security Agency, from the United States, from the Pentagon that the Saudis have."
Such security support, Gosling said, would have enabled Riyadh to detect and stop drone attacks.
He spoke of two possibilities. "Either there's a deliberate bringing down of the defenses by the West to allow this kind of thing to happen to Saudi Arabia or Yemenis have found some kind of gap in the defenses to use."
Global oil prices rose in the aftermath of the reported strikes on the two pumping stations, which belong to state oil company Saudi Aramco. Furthermore, Saudi Arabia's main stock index, the Tadawul, was down 1.5% at midday London time.
Full report at:
https://www.presstv.com/Detail/2019/05/14/595951/Yemen-Saudi-Arabia-pumping-stations-real-breakthrough-gap-in-defenses
--------
Saudi halts pumping on major oil pipeline after Yemeni drone strike
May 14, 2019
The Saudi energy minister says the kingdom has stopped pumping crude oil on a major pipeline across the country after retaliatory drone strikes carried out by Yemeni army forces and their allies.
Khalid A. Al-Falih said the national petroleum and natural gas company, Saudi Aramco, on Tuesday halted oil pumping on the pipeline from the oil-rich Eastern Province to the Red Sea, while the damage was being evaluated and its two targeted pumping stations were being repaired.
"Saudi Aramco took precautionary measures and temporarily stopped operation of the pipeline, as it is evaluating the situation and working on restoring the operations of the affected pump station and the pipeline," he said in a statement published by state news agency SPA.
He described the attack "an act of terrorism," asserting that Saudi oil output and exports for crude and refined products were continuing without disruption.
The 1,200-kilometer (750-mile) pipeline, which reportedly has a capacity of at least five million barrels per day, carries crude oil from Saudi Arabia's main eastern fields to the Red Sea port city of Yanbu in the west.
The targeted pumping stations are located in the towns of Dawadmi and Afif, which lie in the Najd region west of the capital, Riyadh.
Earlier in the day, an unnamed Yemeni military source told Arabic-language al-Masirah television network that Yemeni soldiers, backed by allied fighters from Popular Committees, launched a major operation against the strategic economic target in Saudi Arabia in retaliation for the Riyadh regime's devastating military aggression and siege of the impoverished country.
The source added that seven unmanned aerial vehicles were involved in the attacks.
Meanwhile, global oil prices rose in the aftermath of Yemeni drone strikes on the two pumping stations belonging to state oil company Saudi Aramco.
Brent crude futures were at $70.79 a barrel at 1035 GMT, up 56 cents or 0.80%.
US West Texas Intermediate (WTI) crude futures were at $61.35 per barrel, up 31 cents or 0.51%.
Furthermore, Saudi Arabia's main stock index, the Tadawul, was down 1.5% at midday London time.
The development came only two days after Saudi Arabia said two of its oil tankers were among those attacked in an unspecified "sabotage operation" off the coast of Fujairah in the United Arab Emirates.
An Emirati official told Reuters that the UAE was working with local and international partners from the United States, France, Norway, and Saudi Arabia to "fully investigate the incident and to identify the people or entities responsible."
The ships -- including two Saudi oil tankers, an Emirati ship and the Norwegian tanker Andrea Victory -- were docked in the sea off the coast of Fujairah. Fujairah port is the only terminal in the UAE located on the Arabian Sea coast. The small emirate has an oil terminal and a pipeline that delivers crude oil from Abu Dhabi which sits on the majority of UAE oil reserves.
'Yemeni drone strikes in line with right to self defense'
Separately, a member of the Political Council of the Houthi Ansarullah movement described Yemeni drone strikes against strategic targets inside Saudi Arabia and the UAE as in line with the right of self defense, stating that Yemeni forces will cease such aerial assaults once the Riyadh and Abu Dhabi regime change course and put an end to their military aggression.
"Following Saudi Arabia and the UAE's flagrant disregard for our demand to stop the onslaught and persistence on the blockade of Yemen, Yemeni forces launch attacks against targets in the heart of these countries high on their agenda," said Mohammad al-Bukhaiti.
Moreover, Deputy Yemeni Minister of Information, Fahmi al-Yusufi, said the drone strikes carry a clear message to Saudis.
"They are within the range of our attacks, and US battle ships cannot rescue them. The Yemeni army, which previously did not even have Kalashnikov rifles in inventory, can now produce drones that infiltrate into Saudi Arabia and the UAE. We are fully prepared to defend our soil. These attacks attest to our military progress despite the ongoing sea, land and air blockade on Yemen," he said.
Meanwhile, spokesman for the Ansarullah movement, Mohammed Abdul-Salam, also commented on the issue, saying, "The attacks on Saudi oil installations were in response to the massacre of Yemeni people. The Yemeni nation has no option but to defend itself in the face of the Saudi-led coalition's impudence and its systematic terrorist acts, which are being supported by the United States and other Western states."
Additionally, the spokesman for Yemeni Armed Forces, Brigadier General Yahya Saree, said Yemeni forces are ready to carry out further and more delicate operations deep inside Saudi Arabia.
Colonel Aziz Rashid, a Yemeni military expert, also said the air raids were in response to Saudi attacks during the holy Muslim fasting month of Ramadan, and proved the failure of US-built Patriot missile system to protect Saudi Arabia against Yemeni assaults.
Rashid added the drone strikes will seriously down Saudi and UAE stocks and will eventually result in capital flight from the two Persian Gulf countries.
"This operation will fairly undermine the morale of Saudi and Emirati troops, who are heavily depending on arsenals filled with munitions bought from the United States, Britain, France and other Western countries," he pointed out.
Saudi Arabia and a number of its regional allies launched a devastating campaign against Yemen in March 2015, with the goal of bringing the government of former president, Abd Rabbuh Mansur Hadi, back to power and crushing the Houthi Ansarullah movement.
According to a December 2018 report by the Armed Conflict Location and Event Data Project (ACLED), a nonprofit conflict-research organization, the Saudi-led war has claimed the lives of over 60,000 Yemenis since January 2016.
Full report at:
https://www.presstv.com/Detail/2019/05/14/595921/Saudi-halts-pumping-on-major-oil-pipeline-after-Yemeni-drone-strike
--------
Turkey detains 2 militants trying to enter parliament
May 15, 2019
ANKARA, Turkey: Turkish officials say police have detained two suspected left-wing militants who tried to enter the country's parliament with sharp objects and a hoax explosive device.
Fahrettin Altun, the presidential communications director, said in a tweet early Wednesday that the suspects were members of the banned Revolutionary People's Liberation Party-Front, also known as DHKP-C.
He called their attempt a "terrorist act against the will and the peace of the nation."
The state-run Anadolu Agency said the suspects — a woman and a man — arrived at the parliament building on Tuesday and tried to take a security official hostage before they were subdued.
Full report at:
http://www.arabnews.com/node/1497206/middle-east
--------
Southeast Asia
Malaysia's Islamist party PAS issues gag order as embarrassing 'bribery' scandal hits home
MAY 14, 2019
KUALA LUMPUR - The son-in-law of PAS president Abdul Hadi Awang claimed that five party leaders had received "bribes" and other financial benefits, including an Audi vehicle, from former rival Umno in the past.
Instead of pats on the back for bringing the issue to light, Mr Zaharudin Muhammad will have to face a disciplinary committee set up by Parti Islam SeMalaysia (PAS).
https://www.straitstimes.com/asia/se-asia/malaysias-islamist-party-pas-issues-gag-order-as-embarrassing-bribery-scandal-hits-home
--------
Jokowi launches master plan for sharia economy
May 15, 2019
President Joko "Jokowi" Widodo launched on Tuesday the country's first master plan for a sharia economy for implementation from 2019 to 2024.
The master plan sets out four main strategies aimed at transforming the country into a net producer instead of simply a market for halal goods and services.
The strategies are to empower Indonesia's halal value chain by focusing on the country's most competitive sectors, such as food and beverages and fashion, and strengthen the presence of the sharia financial sector as a capital provider to halal businesses.
The strategies are: enhance the role of micro, small and medium enterprises (MSMEs) as the prime mover of the value chain and cooperate with e-commerce platforms to promote Indonesia's halal goods and services.
"One of the main keys to achieving our goal lies in our identity as [the country with] the world's largest Muslim population, in this sharia economy," Jokowi said during the launch at the National Development Planning Agency (Bappenas).
Despite being a Muslim-majority country, Indonesia is only the 10th largest exporter to Organization of Islamic Cooperation (OIC) countries at US$7.6 billion in 2017, lagging behind non-Muslim majority countries like Brazil, the United States and India.
On the other hand, 36 percent of domestic consumption in 2017 was halal goods, Bappenas head Bambang Brodjonegoro said, pointing out that a large proportion of those goods were imported.
Full report at:
https://www.thejakartapost.com/news/2019/05/15/jokowi-launches-master-plan-for-sharia-economy.html
--------
Terror Plot in Malaysia against Temples and Churches Thwarted, Two Rohingyas among the Suspects
05/14/2019
Kuala Lumpur (AsiaNews/Agencies) – Malaysian authorities foiled a plot by the Islamic State (IS) group to attack Buddhist and Hindu temples as well as Christian churches.
Malaysian security forces carried out two operations in Kuala Lumpur and Terengganu, between 5 and 7 May, seizing an automatic pistol, 15 bullets and six improvised explosive devices (IEDs).
The would-be terrorists include a Malaysian, an Indonesian and two Rohingya, said Abdul Hamid Bador, Malaysia's new chief of police, at a news conference held yesterday.
Abdul Hamid told reporters that the group received orders from a Malaysian militant based in Syria, but his identity has not yet been determined.
The man in Syria "instructed the cell members to launch the attack," and the suspects had "been planning it since January," noted the police chief. "They communicate via WhatsApp," he added.
The four terrorists wanted to avenge the death of a Muslim firefighter, an ethnic Malay, who died last November during sectarian clashes at a Hindu temple in Subang Jaya (Selangor).
The cell was ready to go into action during the first week of Ramadan, which began on 6 May.
One of the Rohingya suspects in custody is a 20-year-old with a UN refugee card. He admitted to supporting the Arakan Rohingya Salvation Army (ARSA), an Islamist insurgent group operating in Myanmar's Rakhine state.
ARSA has been blamed for the initial violence that led to the exodus of 700,000 Myanmar Rohingya to neighbouring Bangladesh.
The 20-year-old "was also planning to launch an attack at the Myanmar Embassy in Kuala Lumpur," Abdul Hamid said, adding that the second Rohingya suspect was a 25-year-old labourer who had admitted to being part of a local IS cell.
A predominantly Muslim nation, Malaysia is seen as a safe haven in Southeast Asia for Rohingya fleeing Myanmar.
According to the United Nations High Commissioner for Refugees (UNHCR), the country has taken in at least 90,200 Rohingya, but some NGOs estimate the real number could be as high as 200,000.
Last year, Malaysian Defence Minister Mohamad Sabu expressed worry about the possibility of Rohingya expatriates turning to extremism.
"We are concerned that the Rohingyas could be manipulated to become suicide bombers or recruited into terrorist cells in this region," he explained.
The radicalisation of the Rohingya began in the late 1970s after a first wave of refugees created a permanent problem.
Full report at:
http://www.asianews.it/news-en/Terror-plot-against-temples-and-churches-thwarted,-two-Rohingyas-among-the-suspects-47009.html
--------
Surabaya church serves iftar to mark bombing anniversary
May 15 2019
Solidarity: Muslims break the fast at the Saint Mary Immaculate Catholic Church in Surabaya, East Java, on Monday. The interfaith gathering was held to remember the victims of the suicide bombings carried out by an Islamic State-inspired family a year ago.(JP/Wahyoe Boediwardhana)Hundreds of meal boxes and beverages were prepared for iftar (breaking-of-the-fast) at the Saint Mary Immaculate Catholic Church in Surabaya, East Java, on Monday evening.Crowds of Muslims could be seen swarming the church, with churchgoers offering them a popular treat for breaking the fast, kolak — a type of sweet condiment with coconut milk and palm sugar.Joining them were hundreds of guests from varying religious backgrounds, who were there to participate in a reflection of the deadly church bombings that took place exactly one year ago in Surabaya."We prepared the meals and beverages...
Full report at:
https://www.thejakartapost.com/news/2019/05/15/surabaya-church-serves-iftar-mark-bombing-anniversary.html
--------
Indonesians Linked to Terrorist Plots Arrested in Malaysia
MAY 14, 2019
Jakarta. Two Indonesian citizens alleged to be linked to terrorist plots were arrested in Malaysia recently, the National Police announced in Jakarta on Tuesday.
"Indonesian and Malaysian police worked together to capture two Indonesian citizens suspected of involvement in terrorist plots in Malaysia," police spokesman Brig. Gen. Dedi Prasetyo told reporters.
He did not say when and where the two were arrested. They were captured along with two Malaysian nationals.
Malaysian Police announced on Monday that its counter-terrorism unit has arrested four people – a Malaysian, an Indonesian and two Rohingyas – in a series of raids in Kuala Lumpur, Subang Jaya and Trengganu on May 5-7.
"Our counter terrorism unit found a 'wolf pack' allied with IS [Islamic State] that was planning to assassinate high-profile targets and launch simultaneous terror attacks on entertainment sites, churches and Hindu and Buddhist temples," Malaysian National Police Chief Insp. Gen. Abdul Hamid Bador as qouted by malaymail.com.
In the raids, the police also found a pistol, bullets and improvised explosive devices (IED).
Malaysian Police believe the IED came from Syria.
The four suspected terrorists have been charged under Malaysia's Penal Code Act. The police there have also been searching for three mores suspects, Malaysians Syazani Mahzan (35) and Muhammad Nuurul Amin Azizan (27), who were last seen in Kedah, and Indonesian Fatir Tir who was last spotted in Selangor.
The Indonesian police said one of the Indonesian nationals who were captured in Malaysia is a man from North Sumatra.
"Both of them are now being detained by the E8 team, Malaysia's equivalent of our [anti-terror unit] Densus 88," Dedi said.
"Densus 88 are investigating if these individuals have links to JAD [Indonesian terror group Jamaah Ansharut Daulah)," he said.
Full report at:
https://jakartaglobe.id/context/indonesians-linked-to-terrorist-plots-arrested-in-malaysia
--------
Malaysia police arrest 4 linked to ISIS bomb plot
MAY 13, 2019
Malaysian police said Monday, May 13 that they have arrested four militants linked to Islamic State who were in possession of explosives and planned to attack non-Muslim places of worship.
The suspects – a Malaysian who led the group, two Rohingya from Myanmar and one Indonesian – were detained last week in raids around Kuala Lumpur and in eastern Terengganu state.
Malaysia's national police chief Abdul Hamid Bador described them as an "Islamic State cell" and said they planned to "assassinate high-profile individuals and attack Hindu, Christian and Buddhist places of worship in Malaysia."
He did not give any details about who the high-profile individuals were. Police also seized six improvised explosive devices, a pistol and 15 bullets, he said.
The planned attacks were to avenge the high-profile death of a Muslim fireman during riots at an Indian temple outside Kuala Lumpur last year, police said.
One of the Rohingya admitted supporting the Arakan Rohingya Salvation Army, a militant group blamed for attacks in Myanmar that sparked an army crackdown, and had also planned to target the Myanmar embassy in Kuala Lumpur, police said.
The second Rohingya was a 25-year-old laborer who admitted to being militant with ties to ISIS, police said.
The Rohingya are a Muslim minority that have long faced persecution in their Buddhist homeland.
Police are hunting for three more members of the suspected terror cell who allegedly planned to attack entertainment outlets.
Authorities in Muslim-majority Malaysia regularly announce ISIS-related arrests but it is rare for police to seize explosives or weapons.
Malaysia practices a moderate brand of Islam and has not seen any notable terror attacks in recent years.
But security forces are on alert for militants from Malaysia and other parts of the region heading to the country after ISIS lost the last of its territory in the Middle East.
Full report at:
https://thedefensepost.com/2019/05/13/malaysia-arrests-4-isis-bomb-plot/
--------
LGBT culture against Islamic principles but Malaysia doesn't kill gays, deputy minister tells George Clooney
4 May 2019
By Yiswaree Palansamy
PUTRAJAYA, May 14 — Deputy Foreign Minister Datuk Marzuki Yahya today sought to correct the viewpoints of popular Hollywood actor George Clooney, pointing out that Malaysia does not kill, and will not resort to killing sexual minorities.
He said that though such lifestyles deviate from Islam, the government would not impose such a punishment on the group.
"No, I feel we have to hold on to our principles as a sovereign nation. An Islamic nation. But we do not at all support such a thing.
"So I think, in this matter, we will take a stand as Malaysia, a country that holds on to the principles of constitutional monarchy, with Islam being the official religion.
"Therefore, things which oppose the norms of religion, we will definitely oppose," Marzuki said when met at Parti Pribumi Bersatu Malaysia's (PPBM) breaking of fast event at the Putrajaya International Convention Centre (PICC) here.
"Yes, better for him to be aware of what he says," Marzuki said, when asked if he is correcting Clooney's remark.
Earlier, the US actor and producer had in an interview on the Ellen DeGeneres Show, where he said that the hotels boycott that forced the Sultan of Brunei to back down from imposing the death penalty for homosexuality will serve as warning to other countries considering the same legislation.
The Hollywood A-lister celebrity singled out Malaysia and Indonesia as among countries purportedly considering such laws.
Clooney earlier said that while shaming was ineffective from deterring countries from pushing such laws, going after their finances and business ties have now been shown to work in forcing them to reconsider.
"[...] And more important is the reason for this is this is something that is manageable, because it sends a warning shot over to countries like Indonesia and Malaysia who also are considering these laws, that the business people, the big banks , those guys are going to say 'don't even get into that business, so that's the reason you do it," Clooney said.
Brunei controversially announced on April 3 that it was imposing death by stoning for homosexuals as part of the country's Shariah laws.
This triggered an international outcry and boycott of hotels owned by Sultan Hassanal Bolkiah around the world, leading to the Brunei ruler to announce a moratorium on the penalty this month.
Full report at:
https://www.malaymail.com/news/malaysia/2019/05/14/lgbt-against-islam-but-we-dont-kill-gay-people-deputy-minister-tells-george/1752892
--------
Europe
Ardern and Macron to host world leaders in Paris for summit on online extremism
Jack Dutton
May 15, 2019
New Zealand Prime Minster Jacinda Ardern and French President Emmanuel Macron will host world leaders and internet companies in Paris at a summit on Wednesday to discuss how to tackle online extremist content.
The summit will be held in response to the Christchurch mosque attacks in March, which killed 50 people and was streamed live on Facebook.
Original footage of the live stream was viewed about 4,000 times and 1.5 million copies of the video were taken down within the first 24 hours before being removed from the social media network.
The summit will focus on international efforts to stop social media being used to organise and promote terrorism.
Those attending are expected to sign a joint pledge, called the Christchurch Call to Action, to eliminate violent extremist content online.
Writing in The New York Times on Saturday, Ms Ardern said the "Christchurch Call" would be a voluntary framework that committed signatories to stop the uploading of extremist content.
Several nations are expected to sign the non-binding pledge, including Britain, Canada, Jordan, Senegal, Indonesia, Australia, Norway and Ireland.
But the US is not expected to sign because it has been reticent to regulate the internet for fears that it would harm free speech.
Facebook, Google and Microsoft are among the technology companies expected to sign the pledge.
The event, which will take place two days after an inquiry into the Christchurch massacre began hearing evidence, will be co-chaired by Ms Ardern and Mr Macron.
Also expected to attend are Canadian Prime Minister Justin Trudeau, European Commission President Jean-Claude Juncker, British Prime Minister Theresa May, King Abdullah II of Jordan, Twitter chief executive Jack Dorsey and Facebook head of global affairs Nick Clegg.
Representatives from other internet companies including Twitter, Microsoft and Google will also be present.
Notable absentees are expected to include Facebook chief executive Mark Zuckerberg and US President Donald Trump.
Mrs May is expected to raise concerns about the threat posed by the Far Right and call for greater progress to develop solutions and collaboration between online platforms.
"The sickening attacks on Muslim worshippers in Christchurch shocked the world," she said.
"That 1.5 million copies of the video had to be removed by Facebook, and could still be found on YouTube for as long as eight hours after it was first posted, is a stark reminder that we need to do more to remove this content and stop it going online in the first place.
"While we have seen significant progress on this issue since the terror attacks on the UK in 2017, live-streaming of these attacks exposed gaps in our response and the need to keep pace with rapidly changing technological developments."
Mrs May will call on governments and internet companies to collaborate in preventing hateful comment from being shared.
She wants countries to take a shared, international approach to regulation, and follow the lead set by the UK's Online Harms White Paper, which would impose a legal duty of care on internet companies.
In September 2017, Mrs May joined Mr Macron and then Italian prime minister Paolo Gentiloni in convening the first UN summit of government and industry to move further and faster in reducing the time it takes to remove terrorist content online and stop it being uploaded in the first place.
Last month the British government published its Online Harms White Paper, which stated that social media and tech companies would be legally required to protect their users or face tough punishment.
https://www.thenational.ae/world/europe/ardern-and-macron-to-host-world-leaders-in-paris-for-summit-on-online-extremism-1.861605
--------
UK: Islamophobic far-right figure to face fresh charges
Ahmet Gürhan Kartal
14.05.2019
LONDON
Former leader of the racist group English Defence League (EDL) Tommy Robinson is to face fresh charges of contempt of court offense, Britain's High Court said on Tuesday.
Robinson, whose real name is Stephen Yaxley-Lennon, was jailed for 13 months last year over charges of contempt of court when he filmed defendants in a criminal court and published the footage online. But after serving part of this sentence, he was released from prison based on a decision of the Court of Appeal.
The case was later referred back to Attorney General Geoffrey Cox who said it was in the public interest to bring fresh proceedings against him.
The 36-year-old Islamophobic far-right Robinson will now reappear in court again on the same offenses in July and if found guilty he will face a prison term up to two years.
A group of far-right supporters of Robinson rallied outside the court building, shouted anti-Muslim slogans and targeted journalists following the event.
A group of anti-Robinson activists also rallied.
Full report at:
https://www.aa.com.tr/en/europe/uk-islamophobic-far-right-figure-to-face-fresh-charges/1478280
--------
Macron wants to meet Libya's Haftar to push ceasefire: French foreign minister
14 May 2019
President Emmanuel Macron wants to meet Libyan eastern commander Khalifa Haftar to push for a ceasefire and resume peace talks, France's foreign minister said on Tuesday.
Macron last week called for a ceasefire in the month-long battle for Libya's capital Tripoli after meeting UN-recognized Libyan Prime Minister Fayez al-Serraj.
Tripoli is home to the recognized administration but some European countries such as France have also supported eastern military commander Haftar as a way to fight militants in a country in chaos since the toppling of Muammar Qaddafi in 2011.
A day after meeting Macron, the Tripoli-based government asked 40 foreign firms including French oil major Total to renew their licenses or have their operations suspended.
"The situation in Libya is extremely worrying because the proposed UN roadmap to both parties – and which almost reached a positive conclusion – ... has today failed on the one hand because of Field Marshal Haftar's initiative and Serraj's non-initiative," Jean-Yves Le Drian told lawmakers.
"It's for this reason that the president wanted to meet one and the other to support the UN initiative."
Full report at:
https://english.alarabiya.net/en/News/north-africa/2019/05/14/Macron-wants-to-meet-Libya-s-Haftar-to-push-ceasefire-French-foreign-minister.html
--------
EU calls for Libya ceasefire, warns of threat to security
14 May 2019
The European Union called on Monday for a ceasefire in Libya, saying the conflict around the capital of Tripoli is a threat to international peace and security.
The Libyan National Army, led by Field Marshal Khalifa Haftar, launched an offensive on Tripoli last month.
His force, based in eastern Libya, is battling rival militias loosely allied with the UN-recognized government in the capital, Tripoli.
In a statement, EU foreign ministers called "on all parties to immediately implement a cease-fire and to engage with the United Nations to ensure a full and comprehensive cessation of hostilities."
They said that "indiscriminate attacks on densely populated residential areas may amount to war crimes" and that those responsible should be held to account.
The head of the Tripoli-based government, Fayez al-Serraj, met with the ministers Monday.
Ghassan Salame, the United Nation's special envoy for Libya, briefed the EU Foreign Affairs Council on Monday about the situation in Libya and also met with the NATO secretary-general and Germany's foreign minister, UN spokesman Farhan Haq said in New York.
"Salame stressed that more than a month after the outbreak of fighting, it is becoming clear to everyone that a military solution cannot replace a political solution, and that it is high time now to return to the negotiating table," Haq said.
He said the UN remains "extremely concerned about the mounting impact of the fighting on civilians in and around Tripoli," citing reports of casualties over the weekend and the deepening humanitarian impact of clashes.
Full report at:
https://english.alarabiya.net/en/News/north-africa/2019/05/14/EU-calls-for-Libya-ceasefire-warns-of-threat-to-security.html
--------
French FM: Paris Considers Mechanism to Try Foreign ISIS Militants
13 May, 2019
French Foreign Minister Jean-Yves Le Drian announced that an international "legal mechanism" is being studied to prosecute foreign ISIS terrorists detained in Kurdish areas in Syria.
"The possibility of establishing a specific legal mechanism" that may be inspired by other examples of the international judicial system, as happened for Kosovo or the African continent, is being considered, Laudrian told Le Parisien newspaper.
In 2015, a special tribunal based in The Hague was established to investigate allegations of war crimes committed against Kosovo Albanian separatist rebels and Kosovo political opponents in 1998 and 1999.
In Africa, the International Criminal Tribunal for Rwanda (ICTR), established according to the United Nations Resolution in 1994, issued dozens of convictions until its closure in 2015.
In 2015, the Special Criminal Court was established to look into crimes against humanity and war crimes in Central Africa since 2003.
The French Minister rejected any comparison with the Nuremberg tribunal that prosecuted Nazi officials after 1945. "It's a historically heavy comparison," he said.
The Syrian Democratic Forces (SDF) called for the establishment of an international tribunal in northeastern Syria for ISIS war criminals.
But the situation is legally complicated because the Kurdish region, where militants are being held, is not internationally recognized.
The French government is "ready" to repatriate French ISIS children after five "orphans" were returned to France in March.
France opposes the return of men and women who will be tried "wherever they commit their crimes," according to the minister, who said he was only willing to study the files of children jailed with their mothers in camps on a case-by-case basis.
Paris's position is controversial, as families and their lawyers demand that children be given medical, social, and psychological treatment in France, the country of origin of their mothers.
Full report at:
https://aawsat.com/english/home/article/1720311/french-fm-paris-considers-mechanism-try-foreign-isis-militants
--------
German intelligence agency warns of 'Islamic State' attacks
13.05.2019
It was the first time that Thomas Haldenwang, president of the Federal Office for the Protection of the Constitution, or BfV, had hosted his agency's traditional symposium. The event on Monday in Berlin was titled "Mobilization Capability in Political Extremism" — referring to issues beyond Islamic extremists, the group that was almost the exclusive the focus under his predecessor, Hans-Georg Maassen. Haldenwang also put right-wing and left-wing extremists on the agenda.
Despite this shift in focus, Haldenwang neither ignored nor trivialized religiously motivated extremism. People should not be deceived by the fact that the "Islamic State" has suffered a military defeat in Syria and Iraq, he said. Referring to the Easter attacks in Sri Lanka that left several hundred people dead, Haldenwang added that IS has gone underground as a terrorist organization and said he feared the group's attacks could inspire potential imitators in other regions of the world.
Read more: Yazidi women seek acceptance for children born of IS rape
IS followers in Western Europe have been spreading propaganda — including in Germany. "This propaganda continues to call for attacks on Western targets," Haldenwang told DW. "Unfortunately, we know of enough Islamic terrorists who are pursuing these plans." The last — and most serious — such attack in Germany occurred in December 2016, when Anis Amri, a Tunisian national, killed 12 people after driving a truck into a Berlin Christmas market.
The BfV also noted a "new dynamic" among right-wing extremists: They address certain issues to get close to ordinary citizens and poison the atmosphere with propaganda and disinformation. The escalating xenophobic protests after the violent death of a German in the summer of 2018 in the city of Chemnitz is a perfect example, Haldenwang said — the suspects were from Syria and Iraq. Protests went on for days. Boundaries were flouted, Haldenwang said.
Justification for AfD observation
Without naming names, Haldenwang reminded the symposium that "certain parties" in Germany's parliament, the Bundestag, are taken with xenophobia and hatred of immigrants. Noisy protest "fuels extremist groups," he said, adding that is why the far-right Alternative for Germany (AfD) party's youth organization, as well as a wing of the party linked to Thuringian AfD boss Björn Höcke, are under suspicion. In both cases, Haldenwang said the agency knows there have been extremist activities.
The BfV plans to monitor an AfD gathering planned for early July. Observing participation, behavior and speeches is bound to be a "very interesting source of knowledge" for the agency, Haldenwang said.
What about the NPD?
Full report at:
https://www.dw.com/en/german-intelligence-agency-warns-of-islamic-state-attacks/a-48724666
--------
Germany pledges action against PKK terror group
Ayhan Şimşek
14.05.2019
BERLIN
Germany on Tuesday pledged to take stronger action against the activities of the PKK terrorist organization as its members ramp up violence in the country.
Speaking at a news conference in Berlin, Interior Minister Horst Seehofer said criminal offenses by foreign extremist and terrorist groups in Germany have increased more than 50% last year, largely due to the PKK.
"State authorities will continue to do everything to ensure that foreign terrorist and extremist organizations don't use Germany as a sphere of action. This also and specifically applies to the PKK," he stressed.
PKK followers committed 1,873 criminal offenses in Germany last year, according to annual statistics announced by the Interior Minister -- an increase of more than 80% over the previous year -- while violent offenses rose from 152 to 305.
Despite being banned in Germany since 1993, the PKK remains active with nearly 14,000 followers among the Kurdish immigrant population in the country.
Supporters of the PKK and its Syrian branch the PYD/YPG claimed responsibility last year for dozens of attacks against mosques, associations and other Turkish institutions in Germany to protest Turkey's counterterrorism operations in northwestern Syria.
Ankara has long criticized Berlin for not taking serious measures against the PKK and its affiliates in Germany, which use the country as a platform for fund-raising, recruitment, and propaganda.
Interior Minister Horst Seehofer, an influential conservative politician, had promised a hard stance against foreign extremist and terrorist groups after assuming his new post in 2018.
In February, two major propaganda outlets of the PKK in Germany were banned and dissolved, following legal action by the Interior Ministry.
Full report at:
https://www.aa.com.tr/en/europe/germany-pledges-action-against-pkk-terror-group/1477993
--------
URL:https://www.newageislam.com/islamic-world-news/google-bans-app-that-featured/d/118606
New Age Islam, Islam Online, Islamic Website, African Muslim News, Arab World News, South Asia News, Indian Muslim News, World Muslim News, Women in Islam, Islamic Feminism, Arab Women, Women In Arab, Islamophobia in America, Muslim Women in West, Islam Women and Feminism