New Age Islam News Bureau
19 Aug 2017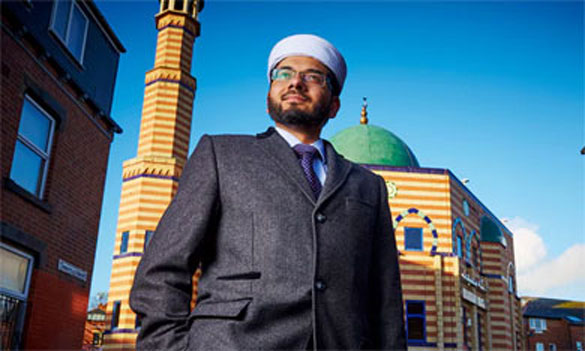 Qari Asim: 'It's about providing a credible, authoritative voice for Muslims.' Photograph: Christopher Thomond for the Guardian
-----
• Get Muftis with Degrees In Non-Islamic Subjects Too, Says Malay Academic
• 7 Muslim Men Thrashed Over Beef Rumours, Then Arrested in Bihar
• Essays on Islam, Pakistan, Army 'Omitted From Syllabus' in Punjab
• Emirati Islamist Exposes Qatar's Plans to Destabilize the UAE
• Erdogan Urges Turks in Germany to Vote against Merkel
• New National Council to Issue Progressive Rulings for Britain's Muslims
Southeast Asia
• Get Muftis With Degrees In Non-Islamic Subjects Too, Says Malay Academic
• Philippines: Daesh-Linked Militants Kill 5 Muslims
• Wanita Amanah Cautions against Child Marriages
• Greater Jakarta: Police question Rizieq in Saudi Arabia
• Islamist Cleric Arrested for 2016 Sarinah Attack Days before Prison Release
• Nur Jazlan dismisses report on Zakir Naik hiding in Malaysia
--------
India
• 7 Muslim Men Thrashed Over Beef Rumours, Then Arrested in Bihar
• India Runs On Constitution, Not On Shariat; Triple Talaq Should Be Outlawed: Minister
• Beware Of Communals Preaching Secularism: Karnataka C.M
• Portal Launched For Online Registration Of Madrasas In UP
• Kerala love-jihad case: NIA begins investigation after Supreme Court order
• Will rather die in India than return to Myanmar: Rohingya refugees on deportation reports
--------
Pakistan
• Essays on Islam, Pakistan, Army 'Omitted From Syllabus' in Punjab
• Pakistan's Khan Calls for 'Open Borders' With Afghanistan
• JUI-F chief says don't trust dictator-created NAB
• Hardline Islamic party leader shot dead in northwest Pakistan
• Pakistan reaffirms support for US, Afghan forces
• 22 suspected militants surrender in Balochistan
• Pakistan asks US to acknowledge its sacrifices in war on terror
• Pakistan Ulema Council praises King Salman's hosting of pilgrims
--------
Arab World
• Emirati Islamist Exposes Qatar's Plans to Destabilize the UAE
• 23 More Syrians Dead As US-Led Coalition Bombs Daesh-Held Raqqah
• Syrian Army's Palestinian Popular Allies Play Key Role in Defeating ISIL
• Lebanese army launches operation against ISIS
• Iraqi forces prepare to retake Tal Afar from Islamic State militants
• Terrorist Centers Hit Hard in Syrian Armed Forces' Attacks in Damascus Province
• Syrian Army Completes Siege on ISIL in Key Town in Eastern Hama
• Dozens of ISIL Terrorists Killed in Clashes with Syrian Army at Homs' Border with Deir Ezzur
• Syrian Army, Hezbollah Preparing to Kick off Last Lebanese Border Offensive
• Syrian Army Makes Fresh Gains in War on Terrorists in Eastern Hama
• Homs: Syrian Soldiers Push ISIL back from More Lands near Al-Sukhnah
• Lebanon army discovers US-made weapons cache left by Nusra terrorists
• 20,000 Hashd Sha'abi fighters to take part in Tal Afar operation: Spokesman
--------
Mideast
• Erdogan Urges Turks in Germany to Vote against Merkel
• US Provocations Aimed At Demonizing Iran: UN Ambassador
• Israel freezes controversial settlement law
• Iran reform leader Karroubi ends hunger strike
• UN: $2.3 bln needed to meet Yemen's humanitarian efforts
• Thousands of Yemenis protest against Saudi war
• Iran condemns deadly Daesh attack in Barcelona
• The case for realism in Turkey-Europe relations
--------
Europe
• New National Council to Issue Progressive Rulings for Britain's Muslims
• 'Meet a Muslim' Events Hope To Dispel Misconceptions
• Far-right protesters, anti-fascist rivals scuffle in Barcelona
• Attacks on German Muslims 'becoming more violent'
• Biggest Christian festival in the UK decides to showcase some Islam too
• Barcelona attacks cell planned to use gas - judicial source
• The Moroccan who stole his brother's identity to terrorize Spain
• Germany slams Erdogan's 'interference' in vote
--------
North America
• An Ominous How-To for a Terrorist Attack in America
• CIA Warned Spanish Police Of Terror Attack Months Ago: Report
• Trump makes no decision on Afghanistan strategy
• Trump again cites dubious Muslim execution story after Spain attack
• US has no intention to stay in Syria: State Dept
--------
South Asia
• Jamiat-e-Islami Warns Afghan Govt Not to Further Challenge the Party's Resilience
• Afghan forces conducted 41 airstrikes, 33 ground operations, killing 86 insurgents: MoD
• Tillerson Hails Afghans' Spirit of Resilience, Courage on Eve of Independence Day
• Asif Momand warns govt fails regarding his torture case involving Balkh governor
--------
Africa
• Boko Haram Pushing Refugees from One Hell into Another: NRC
• 3 killed, 27 injured in grenade attacks in Burundi capital
• Roadside bomb kills three soldiers in northern Burkina Faso
• Jordan, Palestine create crisis committee to avoid a third intifada
• Somalia-based al-Shabab terror group beheads 3 people in Kenya
Compiled by New Age Islam News Bureau
URL: https://www.newageislam.com/islamic-world-news/get-muftis-with-degrees-non/d/112258
--------
Get Muftis With Degrees In Non-Islamic Subjects Too, Says Malay Academic
Minderjeet Kaur
August 19, 2017
BANGI: An academician has proposed that religious departments hire muftis with a degree or a PhD in a different subject other than only Islamic studies, in order for them to keep up with the times.
Prof Tajuddin Rasdi from UCSI said though religious authorities are doing a good job they have to keep up with the times as unlike 30 to 40 years ago, there are more people now who have attained higher education.
"These muftis must be multi-displinary with a degree OT PhD in other fields, such as architecture or social studies, for example.
"Islamic leaders must be able to see the bigger picture in terms of environment, psychology, architecture and others," he said.
Tajuddin said this during a talk on Rethinking Islam at universities within the "human civilisation" construct, here yesterday.
A mufti is an Islamic scholar who interprets and expounds Islamic law. Muftis are also jurists qualified to give authoritative legal opinions known as fatwas or edicts.
Tajuddin said that institutions founded on teachings after the time of Prophet Muhammad, had weaknesses as they are run by people.
"These institutions are part of the process of the evolution from the prophet to the teachers and people should have the right to question the different schools of thought," he said.
Tajuddin suggested that there is nothing wrong with the way things are, except for the fact that the authorities now want to punish people over such teachings.
"The religious departments produce their edicts. If it is without enforcement, that is okay.
However, nowadays, they want to punish you, and that is the problem," he said.
He gave an example of social activist Dr Kassim Ahmad who was acquitted and discharged by the Syariah Court over charges of insulting Islam and defying Muslim authorities.
Tajuddin said Kassim was entitled to his views but "here, it was considered deviant".
He said as the country produces more graduates, it was also natural for people to question these institutions and it was not right to pass the same judgements that were carried out some 30 to 40 years ago.
http://www.freemalaysiatoday.com/category/nation/2017/08/19/get-muftis-with-degrees-in-non-islamic-subjects-too-says-academic/
--------
7 Muslim Men Thrashed Over Beef Rumours, Then Arrested in Bihar
August 18, 2017
PATNA: Seven Muslim men were beaten by a mob of self-appointed cow protectors in Bihar on Thursday over rumours that they were eating beef.
Those arrested for the incident, which took place in a village in the West Champaran district, are the men who were targeted, not their attackers.
The mob barged into the home of Mohammad Sahabuddin and Kudoos Qureshi, accusing the family of stealing a calf and killing it for meat the night before.
The two men and some of their neighbours were allegedly locked in a room and thrashed with sticks.
When the police arrived, they were attacked with stones.
The police have arrested the victims and charged them with animal cruelty and "hurting religious sentiment".
Police officer Sanjay Kumar Jha said the attackers were not arrested because there was no complaint against them.
"Initially our main task was to defuse the situation and it was due to large deployment of police force that no untoward incident took place as mobs were descending from other villages also," Mr Jha said.
http://www.ndtv.com/india-news/7-muslim-men-thrashed-over-beef-rumours-then-arrested-in-bihar-1739258
--------
Essays on Islam, Pakistan, Army 'Omitted From Syllabus' in Punjab
August 19, 2017
LAHORE - Essays on Islam, Pakistan and army are reported to have been omitted by Punjab Curriculum and Text Board (PCTB) from primary class syllabus. According to media reports, pictures of father of nation Quaid-i-Azam Muhammad Ali Jinnah, Minar-i-Pakistan, and Pakistan's map have also not been included in the syllabus.
The syllabus no more contains a five-page chapter on Major Raja Abdul-Aziz Bhatti (Aziz Bhatti), who received highest award for valour - Nishan-e-Haider.
http://nation.com.pk/lahore/19-Aug-2017/essays-on-islam-pakistan-army-omitted-from-syllabus
--------
Emirati Islamist exposes Qatar's plans to destabilize the UAE
19 August 2017
A former member of the Muslim Brotherhood's chapter in the United Arab Emirates has revealed both the moral and financial support Qatar has given the outlawed group that sought to undermine the security and stability of the country.
Isa Khalifa Al Suwaidi confessed of Qatar's involvement in the organization's secret meetings and the numerous donations Doha has made to support the banned Islamist members in the UAE.
His confessions were broadcasted on local UAE television channels on Friday during a 30-minute episode of the hit documentary, "Qatar's terrorism support files".
Al Suwaidi is a former member of the Muslim Brotherhood who was a senior member of the organization's "Majlis Shura Al Jama'a," or the advisory board.
He spoke in great detail about Qatar's support for questionable organizations with direct and indirect links to international groups that are active in training youths, including Emiratis, to destabilize security in their respective countries.
The documentary also showed a video of a fugitive Emirati member of the secret organization while addressing a training course to incite the trainees to act against the UAE and its symbols, and who called for "changing the regime in the UAE, or toppling it."
Al Suwaidi also referred to a Qatari national, Mahmoud Al Jaidah, who acted as the Qatari government's liaison in providing financial and moral support to the fugitives in Doha. He dismissed Al Jaidah's claims that he was tortured while serving his sentence in the UAE, adding that he received excellent treatment, and was allowed to call his family and meet with the Qatari Ambassador to the UAE.
Al Jaidah was found guilty in the secret organization case and was sentenced to seven years' imprisonment and deportation after serving his term. He was later pardoned and released, but after arriving in Doha, he alleged that he was ill-treated and was denied visits by his relatives.
https://english.alarabiya.net/en/News/gulf/2017/08/19/Emirati-Islamist-exposes-Qatar-s-plans-to-destabilize-the-UAE.html
--------
Erdogan urges Turks in Germany to vote against Merkel
Aug 18, 2017
Turkish President Recep Tayyip Erdogan has urged the large Turkish diaspora in Germany to vote against Chancellor Angela Merkel in the upcoming German elections, calling the party led by the chancellor "enemies" of Turkey.
"I am calling on all my countrymen in Germany: the Christian Democrats, SDP [the Social Democrats], the Green Party are all enemies of Turkey. Support those political parties who are not enemies of Turkey," Erdogan told reporters after Friday prayers in Istanbul.
He accused those parties of being involved in "aggressive, disrespectful attitudes against Turkey."
The Turkish president said, "I invite them to teach a lesson to those political parties at the ballot box."
Germany is set to hold parliamentary elections on September 24, with Chancellor Merkel running for a fourth term.
Berlin has slammed Erdogan for "interference" in Germany's elections, condemning his statements as an attempt to incite Germans against each other.
"That is an unprecedented act of interference in the sovereignty of our country," German Foreign Minister Sigmar Gabriel told the RedaktionsNetzwerk media group on Friday.
"Erdogan's interference in Germany's electoral campaign shows that he wants to incite people in Germany against each other," he added.
Merkel has said there would be no expansion of the European Union's customs union with Turkey or a deepening in the EU-Turkish relations, remarks which have angered Ankara.
Erdogan said on Friday that Merkel's comments showed Germany had become a country that violates the European Union's body of law.
Relations between Turkey and Germany began to deteriorate after a failed coup in Turkey in 2016. Germany has repeatedly criticized Ankara's crackdown on the suspects of involvement in the coup, saying the Turkish government has acted beyond the rule of law.
Turkey defends the crackdown and insists that the government in Berlin has failed to properly condemn the coup.
Ankara also accuses Berlin of giving sanctuary to outlawed Kurdish militants and allowing their sympathizers to stage anti-Turkey rallies across Germany.
http://www.presstv.ir/Detail/2017/08/18/532142/Erdogan-Turks-Germany-Merkel-election
--------
New national council to issue progressive rulings for Britain's Muslims
18 August 2017
Josh Halliday
Britain's most senior Muslim clerics are to set up their first national council to issue progressive religious rulings that "embed Islam in a 21st-century British context".
Qari Asim, one of Britain's most prominent imams, said the central religious authority would promote an interpretation of Islam that was in line with British values.
Asim, the chief imam of Makkah mosque in Leeds, said the British Muslim community was crying out for an authoritative and credible voice that could speak out on issues as diverse as terrorism, obesity, organ donation and Islamophobia.
"People are proud and confident of their religious identity as well as their national identity, but at times they're not getting enough theological or doctrinal guidance on some of their daily issues," he said.
The national body, to consist of senior imams who will consult experts on issues, would be the first central religious authority for British Muslims. It would deliver religious rulings on topics that attract diverse views across the Muslim community, with the aim of providing clarity to young British Muslims, Asim said.
"This is about providing clarity on some of the sociopolitical issues, whether it be forced marriages, [female genital mutilation], honour killing," he said. "These practices are not sanctioned by the faith Islam but they are cultural practices that have penetrated the Muslim community of particular backgrounds.
"The attempt is to embed Islam in a 21st-century British context. It's about contextualising Islam in Britain."
Asim, 39, was recognised in the Queen's birthday honours list in 2012 for working to build bridges between communities in Leeds since the 7 July 2005 terror attack. He is an adviser to a commons inquiry into sharia councils and has campaigned against forced marriages and domestic violence. The imam is seen as a leading progressive figure in the British Muslim community.
Unlike the Church of England, there is no hierarchical structure to Islam in Britain, with most mosques operating independently. Asim said the new body would make rulings in a similar way to national religious bodies in many Sunni Muslim countries, although here it would be independent of government.
"It would lose credibility if it was state-backed or state-influenced," Asim said. "The intention isn't to have a mouthpiece for the government: it's about providing a credible, authoritative voice for Muslims."
He said the body would "supplement and complement" existing bodies, such as the Muslim Council of Britain, which represents hundreds of mosques across the country but does not rule on religious doctrine.
Asim said: "We see the need for this as Muslims are continually being asked to speak on behalf of other Muslims. It's a council that will be able to speak on behalf of other Muslims and also challenge the establishment where needed.
"We want to protect our young people from the extremist narrative [of those] who are brainwashing and recruiting them, but at the same time we want them to feel comfortable and confident in their national heritage and uphold the values of democracy, rule of law, justice and compassion."
Asim, who described Thursday's terror attack in Spain as depraved, said there would be diverse views on issues including abortion, organ donation or climate change, but that organisation would seek to come to a formal position by a unanimous or majority vote and after hearing expert opinion on those topics.
"There are going to inevitably be diverse views on different issues, but the point is that we have a dialogue and debate about them and reach some form of consensus, whether it be unanimous or a majority, where there is clarity for young British Muslims," he said.
https://www.theguardian.com/world/2017/aug/18/muslim-islam-qari-asim-uk-british-values
--------
Southeast Asia
Philippines: Daesh-linked militants kill 5 Muslims
Aug 19, 2017
Militants linked to the Daesh Takfiri terrorist group in the Philippines have killed several Muslim fighters from a former rebel group that signed a peace agreement and is now helping the government fight extremists.
Police Senior Superintendent Agustin Tello said five fighters from the Moro Islamic Liberation Front (MILF) died in their latest clash with the militants on Friday.
The Daesh-linked militants belonged to the Bangsamoro extremist group, which had tried to launch a bomb attack in Datu Salibo town in the southern province of Maguindanao, according to reports.
The MILF, which signed a 2014 Muslim autonomy accord with the government and has been touted as a government ally in its fight against extremism, has been battling a pro-Daesh group faction of the militant group since early this month.
Security officials say terrorist groups in the region have pledged allegiance to Daesh in order to increase their military influence in Muslim-populated areas in Southeast Asia.
Governments across Southeast Asia have been on high alert since terrorists from local militant groups, which have pledged allegiance to Daesh, overran the southern Philippine city of Marawi about three months ago.
Security forces in Indonesia and Malaysia have been on the watch for extremist militant cells.
The Daesh Takfiri terrorist group, which is financed by certain Persian Gulf Arab states led by Saudi Arabia and is mainly concentrated in Iraq and Syria, has been taking heavy blows from government forces and is on its last legs, searching for safe havens to flee.
http://www.presstv.ir/Detail/2017/08/18/532138/Philippines-Muslim-Rebels-Daesh-Extremists-MILF
--------
Wanita Amanah cautions against child marriages
BY YISWAREE PALANSAMY
August 19, 2017
SERI KEMBANGAN, Aug 19 — Wanita Amanah today warned of the perils of child marriage and urged that the legal age for marriage be raised to 18 for Muslim girls.
The movement's leader, Dr Siti Mariah Mahmud, said girls made to marry before they are prepared often become dependent on family and the government for aid, but acknowledged the practice was not common.
"Don't be too quick to get into marriage before having enough preparations. We are no more in an era where most men are responsible and trustworthy in their role as the family head.
"In short, the leadership of AWAN agree that the marriageable age for Muslim women also be raised to 18 years-old and not 16, which is the same age limit set for women from other races and religion in the country," she said during the wing's annual meeting today.
Dr Siti Mariah clarified that she was not calling for a ban of child marriages, but was instead advocating that the Shariah courts be more vigilant when approving child marriage applications.
Full report at:
http://www.themalaymailonline.com/malaysia/article/wanita-amanah-cautions-against-child-marriages#BLAV4GxYlq5pPYg3.97
--------
Greater Jakarta: Police question Rizieq in Saudi Arabia
August 19 2017
Islam Defenders Front (FPI) leader Rizieq Shihab has been questioned in Saudi Arabia regarding his alleged role in a pornography case, said National Police chief Gen. Tito Karnavian.
Rizieq has been in the Middle Eastern kingdom since late April on what he claims is an umrah (minor haj) pilgrimage.
He has refused to return to Indonesia, despite having been summoned twice by the polic...
http://www.thejakartapost.com/news/2017/08/19/greater-jakarta-police-question-rizieq-saudi-arabia.html
--------
Islamist Cleric Arrested for 2016 Sarinah Attack Days Before Prison Release
Aug 19, 2017
Jakarta. Police announced on Friday (18/08) the arrest of an influential Islamist cleric for his alleged involvement in last year's terrorist attack in Central Jakarta.
Aman Abdurrahman was arrested at Nusakambangan Prison in Cilacap district, Central Java, four days before his early release after having received a sentence remission on the occasion of the 72nd anniversary of Indonesia's independence. He already served seven years of his original nine-year prison term for his involvement in a militant training camp in the jungles of Aceh.
Police said counterterrorism officers took Aman to the headquarters of the National Police's Mobile Brigade (Brimob) in Depok, West Java, for interrogation.
"We'll see later if he has indeed been directly involved or had provided any support," National Police spokesman Insp. Gen. Setyo Wasisto said, referring to the coordinated attacks near the Sarinah shopping mall on Jalan M. H. Thamrin in downtown Jakarta in January 2016.
Eight people, including the four perpetrators, died and 23 others were injured in the attack – the biggest in the more than 18 preceding months, which were marked by a string of mostly low-level Islamic State-inspired attacks in several parts of Indonesia.
Police have linked some of those attacks to Jemaah Ansharut Daulah, believed to be led by Aman. The organization consists of hundreds of Islamic State sympathizers across the archipelago, operating in small terrorist cells.
Full report at:
http://jakartaglobe.id/news/islamist-cleric-arrested-for-2016-sarinah-attack-days-before-prison-release/
--------
Nur Jazlan dismisses report on Zakir Naik hiding in Malaysia
Nawar Firdaws
August 19, 2017
PETALING JAYA: Deputy Home Minister Nur Jazlan Mohamed said a report published by Times of India yesterday, regarding controversial Islamic preacher Zakir Naik, was based merely on speculation.
This is especially on the part claiming that Naik is currently hiding in Malaysia.
"They had in the past, also reported wrongly when claiming that the Malaysian government had given Naik citizenship," he said in a text message to FMT last night, adding that Naik only holds permanent resident status.
The Times of India in its report, stated that Naik had told Interpol, in a letter, that he did not support Islamic jihad and that he was being persecuted simply because he was a Muslim.
According to the report, Naik, who is on the run, is currently hiding in Malaysia.
Deputy Prime Minister Ahmad Zahid Hamidi had previously been reported as saying that Naik was given permanent resident status by the Malaysian government about five years ago.
India's National Investigations Agency (NIA) had, in May, written to Interpol asking that a red notice be issued against Naik. This would mean that he would be officially declared an international fugitive and police in any country would be authorised to arrest him.
Naik is wanted for questioning in India over money-laundering and terrorism-related crimes. Naik fled India in 2016, after a suspect in a terror attack on a Dhaka cafe, in Bangladesh was reported to have been influenced by his speeches.
The Times of India, quoting sources, said Naik had argued, in his letter to Interpol, that the Indian agencies were unfairly targeting him because he was a Muslim.
He claimed that Indian prisons were in poor condition and that he would be subjected to torture if he were to be sent to an Indian jail.
The report said he claimed that all his speeches had only promoted peace and that he had never advocated terrorism or jihad.
He added that he had been delivering speeches on Islam for the past 25 years across several countries and that he was respected and welcomed in these countries.
Full report at:
http://www.freemalaysiatoday.com/category/nation/2017/08/19/nur-jazlan-dismisses-report-on-zakir-naik-hiding-in-malaysia/
--------
India
India Runs On Constitution, Not On Shariat; Triple Talaq Should Be Outlawed: Minister
Siddhartha Rai
August 19, 2017
Union Minority Affairs Minister Mukhtar Abbas Naqvi said on Friday he wants the controversial practice of triple talaq to be abolished as it infringes upon the right to equality of women and puts them at a severe disadvantage. Naqvi was speaking at the first edition Mail Today's Femail Summit, a conclave dedicated to the women of the nation.
The triple talaq is a Sharia law practice which allows men to end a marriage, simply by saying "talaq" to their wives three times in succession.
While many Muslim-majority countries such as Pakistan and Indonesia have outlawed the custom for years, India- home to the world's third-largest Muslim population- continues to allow it. The Supreme Court is hearing a batch of petitions opposing triple talaq, after women complained that they had been divorced via Facebook and WhatsApp. "I am not a talaq specialist. I have never done talaq and I don't intend to do it ever," Naqvi said in a light-hearted way to begin with, coming to the more serious aspects of the instant divorce custom that the Narendra Modi government has promised to do away with, an attitude that has caused consternation among the more conservative sections of Muslim society and the clerics in particular.
Several political observers have pointed out that the BJP garnered a massive chunk of votes from Muslim women that, among other things, accounted for its sweeping majority in the UP Assembly polls this year. "Our Constitution guarantees gender equality and a sweeping equality for all: high and low, man and woman. This right to equality must be held sacrosanct for all and all must respect it. This nation runs on a Constitution, not on shariat or any other religious textbook. This practice is inhuman, unconstitutional and is a social evil," Naqvi said.
'TRIPLE TALAQ, A SOCIAL EVIL'
The senior minister of the Modi council, who has held several party positions too in the past, put forth before the audience a kind of "secular" argument in favour of the abolition of this "social evil" as he called it. "This country has not seen socio-religious reforms for the first time. Child marriage was abolished. Even then naysayers had cried 'religion in danger' and that it was tinkering with the religious sentiments of the people. They said it must not be abolished as it was part of established tradition dating back to hundreds of years, but it happened. Similarly, when sati was abolished, a section said it was an attack on religious sentiments of people. A big campaign too was launched against the move, but it was made illegal. In the same way, triple talaq too must be abolished and a positive step should be taken towards social reform."
The national Law Commission last year sought public views on whether to abolish the custom, triggering a debate between politicians and religious leaders. The All India Muslim Personal Law Board (AIMPLB), a non-governmental body which oversees the application of Muslim personal law, has resisted any ban on triple talaq while arguing that this is a religious matter and not for the courts. Naqvi also made a strong pitch for reservation for women in educational institutions.
"We are in the process of opening nearly 100 schools on the lines of 'Navodaya Vidyalayas' across the nation for minorities where 50 per cent of the seats would be reserved for girls. Of all the scholarships given by my ministry, we have reserved 40 per cent for the girl child. We have ensured that all skilling programmes that we run, through NGOs or as government enterprise, have at least 40 per cent of participation from women. There are schemes in which minorities have 75 per cent job reservation and we have ensured that 50 per cent of these go to women." Talking about the skilling initiatives of the ministry, Naqvi said the motto was Madad Hamari, Manzil Aapki (our help, your ambition).
"In the past three years we have tried for bringing about empowerment without appeasement as the Narendra Modi government is committed to bring happiness and prosperity for everyone who is poor. The next motto is Education, Employment and Empowerment. This is what we are doing and intend to further do for mainstreaming the minorities in India."
http://indiatoday.intoday.in/story/triple-talaq-supreme-court-modi-government-mukhtar-abbas-naqvi/1/1029186.html
--------
Beware Of Communals Preaching Secularism: Karnataka C.M
B V Shiva Shankar
Aug 18, 2017
BENGALURU: Chief Minister Siddaramaiah on Friday said his government is committed to give protection to the Muslim community in the state and he called upon the Muslims that they should beware of those pretending to be secularist even while supporting communalism.
"Ours is a society comprising multiple cultures and we must ensure that all get equal respect. My government is committed to give protection to Muslims. And when I say I will protect you, it is not a favour we are doing to you. It is our Constitutional duty to give protection to all," said Siddaramaiah.
He was addressing a gathering, at Town Hall, after felicitating 35 Haj pilgrims who were leaving in the early hours of Saturday.
In a veiled attack on the BJP's rightist ideology, the chief minister said the Centre had recently issued a notification prohibiting sale of cattle for slaughter but his government defied the notification.
"I chose not to abide by the notification since it was not in accordance with law. Fortunately, the Supreme Court stayed the notification," the chief minister said.
He said the prime minister cannot belong to one particular community as he represents everyone.
"The prime minister cannot say I represent one particular community. He represents all 125 crore people of India. Similarly, I cannot say I am the chief minister for those only who voted for me. I represent all 6.5 crore people of Karnataka," he said.
On the controversy over beef eating, he said he had never tasted beef but no one could stop him if he wanted to eat it.
He said it was a wrong perception that the beef ban would affect only Mulims. On the other hand it would hit badly agriculture economy and inconvenience farmers, he added.
"Many Hindus eat beef. Dalits would be affected by beef ban," he added.
Referring to Tipu Jayanthi, he said his government did not deter when the BJP opposed the state celebration of Tipu's birth anniversary since he had fought against the British rule and he had pledged his children in the fight against the foreign rule.
He ridiculed the BJP leaders including former chief ministers BS Yedyuarappa and Jagadish Shettar, who donned Tipu's robes when they were in power on the occasions they attended events and opposed the Congress government organising Tipu Jayanthi.
Full report at:
http://timesofindia.indiatimes.com/city/bengaluru/beware-of-communals-preaching-secularism-siddaramaiah/articleshow/60125378.cms
--------
Portal launched for online registration of madrasas in UP
Aug 18, 2017
In a bid to check "irregularities in madrasas", the Uttar Pradesh government on Friday launched a portal of UP madrasa board for online registration of all such Islamic institutions.
"There were a number of complaints of irregularities in madrasas and it was decided to make the registration online so that details of all madrasas, their management, teachers, etc are available online," UP Waqf Minister Mohsin Raza told reporters in Lucknow.
This is a step towards digitisation which is on the priority of the Yogi Adityanath government, he said.
The move will bring transparency as all the details of the madrasa will be available online, the minister said.
"The madrasa education should also be modern like in other educational institutions. With modernisation, students of madrasas will be able to get technical education and they will get better job opportunities," Minority Welfare cabinet minister Lakshmi Narain Chowdhury said at the programme where the portal was launched.
There are over 19,000 recognised and 560 aided madrasas in the state, he said, adding that the new portal will help in improving the quality of madrasa education.
Attacking the previous non-BJP governments, Chowdhury alleged that they used madrasa for "appeasement" and as vote banks and there was no record of teachers, students, payments, registrations and other schemes maintained by them.
"Our government's priority is to give better and job- oriented education to all youths so that doctors and engineers are produced from these madrasas," he said.
Asked later by mediapersons about action likely to be taken against madrasas where national anthem was not sung on Independence Day, he said such madrasas "lack patriotism" and action against them is justified.
"Reports are coming from madrasas... We are looking into the matter," he said but did not elaborate on action likely to be taken against such madrasas.
MoS minority welfare Baldev Aulakh had earlier warned action against madrasas if they did not follow the order to them to unfurl the national flag and recite the national anthem as part of Independence Day celebrations.
Full report at:
http://www.hindustantimes.com/india-news/portal-launched-for-online-registration-of-madrasas-in-up/story-CmsLd2BpI0Sa3HD5u6B6wM.html
--------
Kerala love-jihad case: NIA begins investigation after Supreme Court order
August 18, 2017
The National Investigative Agency (NIA) began its investigation in the Kerala love jihad case on Friday, days after the Supreme Court directed it to probe into the case. The case pertains to the annulment of marriage between a Muslim man and a Hindu woman (who had converted to Islam) by the Kerala High Court who described the case as 'love jihad.'
The bench's order came after Kerala-based 27-year-old Muslim man Shafin Jahan challenged the annulment of his marriage to Akhila alias Hadiya by the high court on May 24.
Hadiya (24) married Jahan on December 19, 2016 after meeting each other through a Muslim matrimonial website in August 2016. Two days after their wedding, Hadiya was asked to appear before the court in a habeas corpus petition filed by her parents. Her parents approached the High Court alleging forceful conversion. Hadiya, however, while appearing in the court said she had converted to Islam on her own. The marriage happened while the petition was pending in the court.
Following this, Kerala High Court then sent her to a hostel in Kochi. The court proceedings continued normally but Hadiya was not allowed to meet anyone. Jahan, who had been working in Muscat had to quit his job to take part in the proceedings. "My company told me to return to the Gulf only after settling the matter," he said.
Meanwhile, the high court had directed the police to probe the matter. During the investigation, the police found no evidence that could link Jahan with any criminal activity.
Full report at:
http://indianexpress.com/article/india/kerala-love-jihad-case-nia-begins-investigation-after-supreme-court-order-4802909/
--------
Will rather die in India than return to Myanmar: Rohingya refugees on deportation reports
Aug 18, 2017
Minister of State for Home Affair Kiren Rijiju in a statement to Parliament mentioned deportation of illegal foreign nationals including Rohingyas highlighting that around 40,000 Rohingyas are living illegally in India. Amid reports that they might get deported, Rohginya Muslims say they prefer to die in India rather than return to Myanmar.
"We thank India for allowing us to stay. If the government wants to deport us, it can do it but it will be better if they kill us here instead of sending us back," Abdul Raheem, a refugee, told IANS.
Thousands of Rohingya people, an ethnic minority, fled from Myanmar to escape getting persecuted by the Myanmar military. The ethnic minority has claimed that the security forces have raped, murdered and arsoned many. On the other hand, Myanmar government has refused to recognise Rohingya as one of the country's ethnic minorities and described them as Bengalis or illegal immigrants from neighbouring country- Bangladesh.
They are considered 'stateless entities' and in 2015 mass migration of thousands of Rohingya people from Myanmar started.
While the Rohingya refugees do not want to return to their native country, according to intelligence sources they have emerged as a serious security threat for India. Authorities are on a sweeping drive to identify the refugees who could be relocated or deported.
But the Rohingya refugees continue to appeal the Indian government to cancel the plans to deport them on humanitarian grounds. Adding to that, a global human rights group has said that India should abide by its international legal obligations and should not forcibly return the refugees to Myanmar.
Also read: India to deport all Rohingya Muslims regardless of UN registration
"India has a long record of helping vulnerable populations fleeing from neighboring countries, including Sri Lankans, Afghans, and Tibetans," Human Rights Watch's South Asia director Meenakshi Ganguly said.
India has been condemned for its plan to deport the Rohingya Muslims refugees by other human rights organisations as well.
Indian authorities are well aware of the human rights violations Rohingya Muslims have had to face in Myanmar and it would be outrageous to abandon them to their fates," said Raghu Menon, advocacy manager at Amnesty International India.
Full report at:
http://indiatoday.intoday.in/story/rohingya-muslim-refugee-crisis-myanman-prosecuting-india-deporting-rohingyas-living-illegally/1/1028678.html
--------
Pakistan
Pakistan's Khan Calls for 'Open Borders' With Afghanistan
August 18, 2017
ISLAMABAD —
Pakistan's populist opposition leader, Imran Khan, says the future of long-term relations with landlocked Afghanistan lies in the two countries having "open borders" and "free trade."
Pakistan is unilaterally fencing the nearly 2,600-kilometer, largely porous Afghan border. Authorities defend the recently initiated project, saying it will help stop criminal and terrorist infiltration, as well as boost counterterrorism efforts on both sides.
The Afghan government opposes the border fortification plan because Kabul traditionally has disputed the demarcation drawn during the former British rule of the Indian subcontinent.
Islamabad dismisses the objections and maintains it inherited the boundary as an international frontier.
"The long term relationship between Pakistan and Afghanistan is open borders. Rather than building fences, I think it should have open, free trade, it should be like a European Union type of relationship. That's our long term future and this would be of enormous benefit to Afghanistan and Pakistan," Khan told VOA in a recent interview at Khan's residence and party office in Bani Gala on the outskirts of Islamabad.
Afghanistan relies on Pakistani seaports and land routes for its international trade. Rising diplomatic and political tensions, however, have led to a reduction in the trade and transit activity through Pakistan, according to businessmen on both sides.
Bilateral ties have deteriorated, particularly over the past few years because of a spike in Taliban attacks and territorial advances in Afghanistan.
Afghan officials allege that insurgents use sanctuaries on Pakistani soil to plot deadly attacks in Afghanistan, and the neighboring country's spy agency is helping them expand their influence in the war-ravaged country.
Islamabad denies the charges and accuses the Afghan intelligence agency of sheltering and helping anti-Pakistan militants to orchestrate terrorist attacks in the country.
'The worst of times'
Cricket-star-turned-politician Khan, who also is popular among cricket-playing Afghan youth, acknowledges it is "the worst of times" in terms of relations between Pakistan and Afghanistan.
"The problem is right now there is a lot of suspicion in Afghanistan about Pakistan, the way our foreign policy has gone up and down. And in Pakistan right now there is a lot of suspicion about Afghanistan, that the attacks in Pakistan, the terrorist attacks, are coming from Afghanistan, instigated by India," said Khan.
He echoed Pakistan's official stance that archival India is using its growing influence, particularly among Afghan security institutions, to allegedly destabilize Pakistan. Kabul and New Delhi both deny the charges.
Khan urged that the United States should desist from intensifying military actions in Afghanistan, underscoring the need to find a political settlement to the protracted Afghan conflict.
"I think the best decision Donald Trump could make is to finally decide to take American troops out of Afghanistan, and then that will pave the way for some sort of consensus government in Afghanistan," Khan said.
President Donald Trump's administration has said it is close to finalizing its Afghan policy, which could see an additional several thousand U.S. troops being deployed to Afghanistan to help local security forces break the military stalemate with the Taliban.
"As long as the troops are there, they are not going to be able to enforce peace there. If 150,000 NATO troops could not change Afghanistan, then 5,000 or 10,000 troops are only going to prolong the agony," he added.
Khan's party rules Pakistan's northwestern Khyber Pakhtunkhwa province, which shares a border with Afghanistan. The province has borne the brunt of terrorist attacks since Islamabad joined hands 16 years ago with Washington's anti-terrorism operations in Afghanistan.
The violence has significantly declined, however, due to counterterrorism operations in adjoining border areas and major police reforms the provincial government has introduced over the past four years.
The opposition politician and his party, Pakistan Terheek-e-Insaf, are being credited with leading a consistent anti-corruption campaign that ultimately prompted the country's Supreme Court to investigate and oust former prime minister Nawaz Sharif from office last month for concealing overseas assets.
Observers say Khan's successful legal battle has boosted his party's political standing, and it could pose a serious challenge to Sharif's ruling Pakistan Muslim League-Nawaz party in 2018 parliamentary elections.
https://www.voanews.com/a/pakistan-khan-afghanistan-open-borders/3991010.html
--------
JUI-F chief says don't trust dictator-created NAB
Aug 18, 2017
MULTAN: Jamiat Ulema-e Islam (F) chief Fazl-ur-Rehman has said that he does not trust the National Accountability Bureau (NAB) as it was formed during the tenure of a military dictator.
"The bureau was formed to avenge politicians," he said while talking to the media. "NAB should instead be left to work independently." About Articles 62 and 63 of the Constitution, he said that laws are not wrong but it was their use that had created a controversy.
The JUI-F chief spoke about his party's terms with Pakistan Muslim League-Nawaz (PML-N), saying that the two parties were allies and JUI-F would support Nawaz Sharif's wife Kalsoom Nawaz in NA-120 by-elections.
About Pakistan Tehreek-e-Insaf (PTI), he said that the party had no future. "They tried to bring western ways in Khyber Pakhtunkhwa, but were rejected," he maintained.
Full report at:
https://www.pakistantoday.com.pk/2017/08/18/jui-f-chief-says-dont-trust-dictator-created-nab/
--------
Hardline Islamic party leader shot dead in northwest Pakistan
August 19, 2017
Peshawar: A local leader of hardline Islamic party Jamiat Ulema-i-Islam (JUI-F) was on Saturday shot dead by unidentified gunmen near a mosque in Pakistan's restive Khyber-Pakhtunkhwa province.
The assailants on a motorcycle fired at Maulana Syed Attaullah Shah as he came out from the mosque after early morning prayer in Dera Ismail Khan city, police said.
The gunmen managed to flee from the scene.
No one has yet claimed the responsibility for the attack.
A contingent of police reached the scene and started investigation after collecting evidences from the spot.
http://zeenews.india.com/asia/hardline-islamic-party-leader-shot-dead-in-northwest-pakistan-2034209.html
--------
Pakistan reaffirms support for US, Afghan forces
Anwar Iqbal | Baqir Sajjad Syed
August 19, 2017
• Bajwa says action taken against terrorists of all hue and colour • Trump at Camp David for talks on Afghan strategy
ISLAMABAD/WASHI­NGTON: The Pakistan Army on Friday reaffirmed its commitment to cooperating with the US-led coalition forces in Afghanistan and the Afghan security forces for peace in the region.
This resolve was expressed by Chief of the Army Staff (COAS) Gen Qamar Bajwa during a meeting with a visiting United States military delegation led by Gen Joseph Votel, Commander of the Central Command (Centcom).
The COAS was assisted by Inter-Services Intelligence chief Lt Gen Naveed Mukhtar, Director General of Military Operations Maj Gen Sahir Shamshad Mirza and some other generals.
According to an Inter-Services Public Relations statement issued after the meeting, the army chief "reiterated his commitment to work in close coordination with Afghan security forces and US-led Resolute Support Mission [RSM] for improved security environment in Pakistan-Afghanistan border region".
The meeting at the General Headquarters in Rawalpindi took place on the day when US President Donald Trump was meeting his senior aides at the Camp David presidential resort to finalise his strategy for Afghanistan.
US Defence Secretary Jim Mattis said on Thursday that the Trump administration had almost reached a decision on a new approach for fighting the 16-year-old war in Afghanistan. He gave no hint of what the strategy would look like, but told reporters that the Camp David talks "will move this [review process] toward a decision" after months of heated debates.
The Trump administration has said its Afghanistan strategy will be informed by a review of its approach to the broader region, including Pakistan and India. There is a perception in the US that not enough had been done to uproot the Afghan Haqqani network and Taliban sanctuaries from Pakistani soil because of which the militants were sustaining the insurgency in Afghanistan.
Gen Bajwa dispelled the impression and noted that "Pakistan has undertaken operations against terrorists of all hue and colour".
He emphasised that no other country had greater interest in peace in Afghanistan than Pakistan.
Gen Bajwa recalled that Pakistan attached a lot of importance to its relations with the US, particularly their security cooperation aspect.
Notwithstanding the misgivings, Pakistan has always emphasised the strength and resilience of ties with the US.
Foreign Office spokesman Nafees Zakaria had said in his weekly media briefing a day earlier that relations with the US were "longstanding, multidimensional and diverse".
The army chief said Pakistan only expected the US to be more respectful towards and acknowledge its sacrifices in the fight against terrorism.
"More than financial or material assistance, we seek acknowledgement of our decades-long contributions towards regional peace and stability, understanding of our challenges and most importantly the sacrifices Pakistani nation and its security forces have rendered in fight against terrorism and militancy," he maintained.
Tillerson's assurance Meanwhile, US Secretary of State Rex Tillerson assured the people of Afghanistan in his message on the Afghan Independence Day that the United States would continue to work for a safe and prosperous future for the war-torn country.
"The Afghan spirit of resilience and courage in the face of adversity continues to guide the people of Afghanistan toward a better future," he said.
"Afghanistan has made significant economic, political and social progress in the last 16 years, and we bear witness every day to the Afghan people's dedication to building a more democratic and peaceful country," he said.
Full report at:
https://www.dawn.com/news/1352478/pakistan-reaffirms-support-for-us-afghan-forces
--------
22 suspected militants surrender in Balochistan
August 18, 2017
As part of the ongoing political reconciliation in Balochistan, 22 more suspected militants including a commander of the banned organisation Baloch Liberation Army (BLA) surrendered before the security forces on Friday in a ceremony held at Frontier Corps (FC) Madadgar Headquarters in Quetta, the military's media wing reported.
According to the statement issued by the Inter-Services Public Relations, the surrender was a part of the larger political reconciliation process in Balochistan which has led to many militants surrendering recently.
Balochistan Home Minister Sarfaraz Bugti and other civilian and military officials were present on the occasion.
The largest province of the country by area is home to a low-level insurgency by ethnic Baloch separatists. Al Qaeda-linked militants also operate in the region.
Full report at:
https://www.dawn.com/news/1352356/22-suspected-militants-surrender-in-balochistan
--------
Pakistan asks US to acknowledge its sacrifices in war on terror
19-Aug-17
ISLAMABAD: Chief of Army Staff (COAS) General Qamar Javed Bajwa on Friday urged the US to acknowledge the sacrifices made by Pakistan in the war against terrorism.
He was talking to United States Central Command (US CENTCOM) Commander General Joseph L Votel, who called on him along with an official delegation.
Matters of professional interest with special focus on security situation in Afghanistan were discussed.
The COAS highlighted the importance Pakistan accorded to its relations with US, particularly security cooperation and efforts towards regional stability. "Pakistan has undertaken operations against terrorists of all hue and colour," he said.
He reiterated his commitment to work in close coordination with Afghan security forces and US-led Resolute Support Mission (RSM) for improved security environment in Pakistan-Afghanistan border region.
While referring to Afghanistan and Pak-US relations, COAS said that no other country had more interest for peace in Afghanistan than Pakistan. "More than financial or material assistance, we seek acknowledgement of our decades' long contributions towards regional peace and stability, understanding of our challenges and most importantly the sacrifices Pakistani nation and its security forces have rendered in fight against terrorism and militancy," he said.
US Ambassador to Pakistan David Hale was also present.
6th Army PACES Championship: Separately on Friday, Chief of Army Staff (COAS) General Qamar Javed Bajwa visited Okara Cantonment on the conclusion of 6th Army Physical Agility and Combat Efficiency System (PACES) Championship and distributed awards to the winners.
A total no of 250 contestants from 10 best teams participated in different events of championship which was held from 9 - 18 Aug 2017.
While speaking on occasion, the COAS appreciated the physical fitness standards displayed by the participants of the competition and efforts of both trainers and trainees in achieving those standards. He said that regardless of the advances in warfare technology, the basic traits of soldiering were linked to physical fitness.
Full report at:
http://dailytimes.com.pk/islamabad/19-Aug-17/pakistan-asks-us-to-acknowledge-its-sacrifices-in-war-on-terror
--------
Pakistan Ulema Council praises King Salman's hosting of pilgrims
18 August 2017
The Chairman of Pakistan Ulema Council, Taher Mahmoud Al-Ashrafi, praised Saudi King Salman's order to host 1,300 pilgrims from 78 countries from all over the world to perform Hajj this year, and allowing Qatari citizens passage through Salwa port to perform the rituals.
He also lauded the opening of King Fahad International Airport in Dammam and Al-Ahsa International Airport to welcome pilgrims as guests of King Salman's program for Hajj and Umrah.
He stated this during a press conference held after Friday prayers by Sheikh Dr. Taher al-Ashrafi at the headquarters of the council in Lahore, eastern Pakistan. He stressed that the Islamic community and the people of Pakistan stand with Saudi Arabia and its wise leadership in the support of the two holy mosques against the evil forces that seek to politicize Hajj.
He condemned all the sectarian strife that the enemies of Islam seek to provoke during Hajj season and their continuous attempts to distort the image of Islam and Muslims. He explained that preventing pilgrims from performing their duties is a deliberate scheme developed by the forces of evil in cooperation with some terrorist groups and their supporters in regional countries.
Sheikh Dr. Taher Al-Ashrafi praised the services provided by King Salman to the pilgrims to meet all the needs necessary to facilitate Hajj and create a peaceful environment for them, providing all services to pilgrims from Qatar, Yemen and from all countries without discrimination or exception.
Full report at:
https://english.alarabiya.net/en/News/gulf/2017/08/18/Pakistan-Ulema-Council-praises-King-Salman-s-hosting-of-pilgrims.html
--------
Arab World
23 more Syrians dead as US-led coalition bombs Daesh-held Raqqah
Aug 18, 2017
Nearly two dozen civilians have lost their lives when the US-led coalition purportedly fighting the Daesh Takfiri terrorist group conducted a series of aerial assaults in Syria's militant-held northern city of Raqqah.
Local sources told Arabic-language Sky News Arabia television news network that airstrikes targeted a building in the Tosiyah neighborhood of the city, located about 455 kilometers (283 miles) northeast of the capital Damascus, on Friday, leaving 23 civilians dead.
The sources added that the victims were members of the same family, noting that thirteen children were among the deceased. The attacks left a number of people injured as well.
The Syrian Ministry of Foreign Affairs and Expatriates, in two separate letters sent to UN Secretary General António Guterres and rotating President of the UN Security Council Amr Abdellatif Aboulatta on Thursday, called on the United Nations to take on its responsibilities concerning the establishment of international peace and security to put an end to the US-led coalition's crimes against innocent Syrians.
The Syrian Foreign Ministry also accused the US-led coalition of using guided bombs and internationally-banned white phosphorus munitions in flagrant violation of international law and human rights principles.
Earlier on Thursday, Syria's official news agency, SANA, reported that the US-led military aircraft had bombarded residential buildings in the city of al-Jala, located along the Euphrates River and south of the eastern city of Dayr al-Zawr, as well as the towns of At-Tayana, al-Zabari, Boqruss and Subaikhan.
The report added that six people, including three children, were killed in the attacks, noting that the airstrikes also destroyed a number of houses, public properties and civilian infrastructure in the targeted areas.
The US-led coalition has been conducting airstrikes against what are said to be Daesh targets inside Syria since September 2014 without any authorization from the Damascus government or a UN mandate.
The military alliance has repeatedly been accused of targeting and killing civilians. It has also been largely incapable of fulfilling its declared aim of destroying Daesh.
http://www.presstv.ir/Detail/2017/08/18/532169/USled-airstrikes-Syria-Raqqah-civilians-killed-injured
--------
Syrian Army's Palestinian Popular Allies Play Key Role in Defeating ISIL
Aug 18, 2017
The source said that most of the Palestinian units fight side-by-side with the Syrian Army, but groups like the Al-Quds Brigade, Galilee Forces, Arab Nationalist Guard (pan-Arab paramilitary), and Palestine Liberation Army (PLA) have been known to lead their own operations in the Syrian Desert, often coordinating with the Syrian Air Force to attack ISIL.
The Palestinian pro-Damascus fighters are now turning their attention to the Deir Ezzur, where they hope to help lift long-term siege imposed by the ISIL on the provincial capital, the source added.
The source went on to say that with their fighting experience in rural Damascus (PLA and Arab Nationalist Guard) and Aleppo (Galilee Forces and Al-Quds Brigade), these Palestinian combatants will prove even more vital as the battle reaches the doorsteps of Deir Ezzur.
The National Defense Forces (NDF), Liwa Fatemiyoun forces, Hezbollah, and several Palestinian popular units were the allies that supported the army during the offensive.
Media reports said in late 2016 that hundreds of Liwa al-Quds forces were deployed in Western Aleppo to participate in operations to establish security in al-Menyan, Jam'iyat al-Zahra, Dhahiyeh al-Assad and Assad Military-Engineering Academy regions.
The precise number of Liwa al-Quds forces stationed in Western Aleppo was not declared but certain media activists estimated the number to stand between 1,500 to 5,500.
Full report at:
http://en.farsnews.com/newstext.aspx?nn=13960527000423
--------
Lebanese army launches operation against ISIS
Aug 19, 2017
BEIRUT: The Lebanese army declared on Saturday that it had launched an offensive against an Islamic State enclave straddling the northeast border with Syria, a Lebanese security source said.
The army was targeting Islamic State positions near the town of Ras Baalbek with rockets, artillery and helicopters, the source said. It is the last part of the Lebanese-Syrian frontier under insurgent control.
http://nation.com.pk/international/19-Aug-2017/lebanese-army-launches-operation-against-isis
--------
Iraqi forces prepare to retake Tal Afar from Islamic State militants
Aug 19, 2017
Five weeks after securing victory in Mosul, Iraqi forces have moved into positions around the city of Tal Afar, their next objective in the U.S.-backed campaign to defeat Islamic State militants, Iraqi military commanders say.
A longtime stronghold of hardline Sunni insurgents, Tal Afar, 50 miles (80 km) west of Mosul, was cut off from the rest of the Islamic State-held territory in June.
The city is surrounded by Iraqi government troops and Shi'ite volunteers in the south, and Kurdish Peshmerga fighters in the north.
About 2,000 battle-hardened militants remain in the city, according to U.S. and Iraqi military commanders. They are expected to put up a tough fight, even though intelligence from inside the city indicates they have been exhausted by months of combat, aerial bombardments, and by the lack of fresh supplies.
Islamic State's self-proclaimed caliphate all but collapsed last month when U.S.-backed Iraqi forces recaptured Mosul after a brutal nine-month campaign. But parts of Iraq and Syria remain under its control, including Tal Afar, a city with a pre-war population of about 200,000.
Waves of civilians have fled the city and surrounding villages under cover of darkness for weeks now, although several thousand are estimated to remain, threatened with death by the militants who have held a tight grip there since 2014.
Thousands of troops stand ready at the frontline, awaiting orders from Prime Minister Haider al-Abadi to start the offensive, Iraqi army Major-General Uthman al-Ghanimi said this week.
TURKEY WORRIES
The main forces deployed around Tal Afar are the Iraqi army, Federal Police and the elite US-trained Counter-Terrorism Service (CTS), Iraqi commanders told Reuters.
Units from the Shi'ite Popular Mobilization Forces (PMF), some of which are trained and armed by Iran, are also likely to take part in the battle, as well as volunteers from Tal Afar fighting alongside government troops, they said.
The involvement of the PMF is likely to worry Turkey, which claims an affinity with the area's predominantly ethnic Turkmen population.
Tal Afar experienced cycles of sectarian violence between Sunnis and Shi'ites after the US-led invasion of Iraq in 2003, and has produced some of Islamic State's most senior commanders.
Iraqi forces have already begun conducting air strikes aimed at "wearing them down and keeping them busy," Iraqi military spokesman Brigadier General Yahya Rasool said.
The coalition's targets on Friday included weapons depots and command centers, in preparation for the ground assault.
The war plan provides for the Iraqi forces to gradually close in on the city from three sides -- east, west and south -- under the cover of air and artillery strikes.
Major General Najm al-Jabouri told Reuters last month he expected an easy fight in Tal Afar. He estimated fewer than 2,000 militants and their families were left there and they were "demoralized and worn down".
"I don't expect it will be a fierce battle even though the enemy is surrounded," al-Jabouri said.
Residents who left Tal Afar last week told Reuters the militants looked exhausted.
"[Fighters] have been using tunnels to move from place to place to avoid air strikes," said 60-year-old Haj Mahmoud, a retired teacher. "Their faces looked desperate and broken."
But Colonel Ryan Dillon, a spokesman for the U.S.-led coalition, said he "fully expects this to be a difficult fight".
"Intelligence gathered shows clearly that the remaining fighters are mainly foreign and Arab nationals with their families and that means they will fight until the last breath," said Colonel Kareem al-Lami from the Iraqi army's 9th Division.
But Lami said Tal Afar's open terrain and wide streets will allow tanks and armored vehicles easy passage. Only one part of Tal Afar, Sarai, is comparable to Mosul's Old City, where Iraqi troops were forced to advance on foot through narrow streets, moving house-to-house in a battle that resulted in the near total destruction of the historic district.
Lieutenant Colonel Salah Abdul Abbas of the 16th Infantry Division, said they were bracing for guerrilla street-fighting fight, based on the lessons learned in West Mosul.
CIVILIANS HAVE FLED
The United Nation's International Organization for Migration (IOM), estimates that about 10,000 to 40,000 people are left in Tal Afar and surrounding villages. Iraqi commanders say the number of people left inside the city itself, including militants and their families, is closer to 5,000.
However, aid groups say they are not expecting a huge civilian exodus as most the city's former residents have already left.
On Sunday, 2,760 people fleeing Tal Afar and the surrounding area were processed by the IOM before being sent on to displaced persons' camps.
"We were living in horror and thinking of death at every moment," Haj Mahmoud, the retired teacher, said. He decided to make a run for it with his wife and four sons and has been living with them at the Hammam al-Alil camp ever since.
Residents spoke of fleeing in the middle of the night to avoid the militants, who shot anyone caught trying to escape.
"We escaped at night, during evening prayers," said 20-year-old Khalaf. "All the IS fighters were praying at the mosque, so they didn't catch us. If they had, they would've sprayed bullets into our heads", like they did his neighbors.
Khalaf said he fled five weeks ago with his two children and 40 other people from his village of Kisik. They walked for a full day to reach safety at a Peshmerga checkpoint.
"People in Kisik are completely trapped," he said. "Those left tell us there's no water, no food, no bread, no medicines – nothing." Up until he left, 1kg bag of rice cost roughly $40.
Sultan Abdallah and his family escaped Kisik with Khalaf. They are now all living at the al-Salamiya refugee camp.
"We had spent three months with no food," said Abdallah. He still has a brother, a cousin and an uncle left in Kisik, but he has not been able to speak to them since he left.
"You were forced to work for the militants to feed your family," Abdallah said.
Saad al-Bayati fled Tal Afar five days ago with his family, fearing aerial bombardments. He is now living in the Hammam al-Alil camp with his wife and sick baby.
Full report at:
http://nation.com.pk/international/18-Aug-2017/iraqi-forces-prepare-to-retake-tal-afar-from-islamic-state-militants
--------
Terrorist Centers Hit Hard in Syrian Armed Forces' Attacks in Damascus Province
Aug 18, 2017
The army's missile units shelled heavily terrorists' positions along the road connecting the region of Jobar and Ein Terma, killing and wounding a number of militants.
In the meantime, the army aircraft bombed badly ISIL's strongholds in Qara'a and al-Jarajeer heights at border with Lebanon, inflicting major damage on them.
Relevant reports said on Wednesday that the army soldiers heavily pounded the terrorists' positions and bases in Jobar district, specially in the Southern regions between Jobar and Zmelka, with artillery and missile fire.
The army troops could regain control of several new buildings in Tayebeh region in Jobar district after killing a number of Faylaq al-Rahman and Al-Nusra Front (Tahrir al-Sham Hay'at or the Levant Liberation Board).
They also retook control of a number of buildings in the Northern parts of Sonbol gas station in the Western parts of Ein Terma region.
Full report at:
http://en.farsnews.com/newstext.aspx?nn=13960527000456
--------
Syrian Army Completes Siege on ISIL in Key Town in Eastern Hama
Aug 18, 2017
The sources said that the army men have laid siege on a large number of ISIL terrorists in the town of Aqayrabat in Eastern Hama.
The sources added that the fighter jets pounded ISIL's movements in the villages of al-Hardaneh, Abu Habilat and Abu Hanaya in Eastern Hama.
In the meantime, the Russian Defense Ministry announced in a statement that the Syrian soldiers, backed up by the Russian fighter jets, laid siege on a large number of ISIL terrorists in Aqayrabat, adding that the trapped ISIL militants were trying to escape from Aqayrabat towards Deir Ezzur.
Relevant reports said on Wednesday that the army men continued their advances against ISIL in Eastern Hama and imposed control over Jubb al-Mazare'a hill overlooking the village of Salba.
A military source said that the army's siege on ISIL in Salba was tightened and terrorists' supply line from the Western direction to the village was cut off after the pro-government forces took control over Jubb al-Mazare'a.
ISIL suffered heavy casualties and its military hardware sustained major damage in the attack.
Full report at:
http://en.farsnews.com/newstext.aspx?nn=13960527000319
--------
Dozens of ISIL Terrorists Killed in Clashes with Syrian Army at Homs' Border with Deir Ezzur
Aug 18, 2017
The ISIL launched a large-scale offensive along the Homs-Deir Ezzur border, targeting the Syrian Army's positions in Humeimeh region near the T-2 Pumping Station.
ISIL began the assault by firing several mortar shells at the army's positions Northwest of Humeimeh.
The ISIL followed up the attack with a ground assault that targeted a hilltop used by the army to launch missile attacks on ISIL's centers in the T-2 Station.
However, ISIL's ground assault would take a disastrous turn after Syrian Army units rained anti-tank guided missiles on their pressing forces in Humeimeh.
The ISIL assault in the Humeimeh area would end within two hours, as the battlefield was littered with the terrorist group's corpses and destroyed vehicles.
According to a military source in Palmyra, the Syrian Army killed more than 35 ISIL terrorists, while also destroying four armored vehicles and a tank.
Recently, the ISIL has been trying to recover territory in the Humeimeh area after losing a lot of ground to the Syrian Army over the last three weeks – all offensives have ultimately failed.
Relevant reports said on Wednesday that the military convoy of ISIL terrorists with at least six large military vehicles was en route from Northeast of the town of Humeimeh in Eastern Homs to the depth of Badiyeh in Deir Ezzur.
The artillery and aircraft pounded the convoy and destroyed most of the vehicles, killing a number of their crew.
Full report at:
http://en.farsnews.com/newstext.aspx?nn=13960527000228
--------
Syrian Army, Hezbollah Preparing to Kick off Last Lebanese Border Offensive
Aug 18, 2017
The source said that a large military column of the Syrian Army soldiers and the National Defense Forces (NDF) personnel arrived in the Western part of the Qalamoun Mountains in the border region with Lebanon.
The pro-government reinforcements were sent to this front to aid in the upcoming offensive on the Lebanese border.
The source further said that the Syrian army men and Hezbollah are gearing up for one last showdown with the ISIL in the Jarajeer and Qarah barrens, which have long been under the control of the terrorist group.
The Syrian Army and Hezbollah have moved in position to launch their last Western Qalamoun offensive in order to take full control of the Lebanese border once and for all.
Another source in Damascus said that the Syrian Army and NDF have sent a large convoy of reinforcements to the Western slopes of the Qalamoun Mountains to beef up their numbers in the region.
The primary objective of this offensive will be to expel the ISIL militants from the Jarajeer and Qarah barrens, which they have had control of since 2015, the source pointed out.
Once the ISIL is expelled from the Jarajeer and Qarah barrens, the Syrian government will have full control of the Lebanese border for the first time since 2011.
Relevant reports said on Thursday that the Syrian fighter jets launched repeated attacks against al-Hashishat, Abu Hadij, al-Jarajir and Jaroud Qareh heights in Western Qalamoun, destroying all ISIL positions in al-Hashishat, including the terrorists' Central Operations Room, and killing a number of terrorists.
Meantime, the Syrian soldiers launched artillery and missile attacks against the ISIL positions in Abu Hadij in Western Qalamoun, smashing one of the ISIL bases.
Full report at:
http://en.farsnews.com/newstext.aspx?nn=13960527000203
--------
Syrian Army Makes Fresh Gains in War on Terrorists in Eastern Hama
Aug 18, 2017
The army men engaged in fierce clashes with ISIL South of the town of Ithriya in Northeastern Hama and managed to take control over Ba'ar al-Seyed, Ba'ar al-A'awar, Rajm al-Hajaneh and Jabal al-Fasada regions.
The army men also imposed full control over mount al-Bal'as and the village of al-Sawaneh.
The army units killed a number of terrorists and destroyed three military vehicles in the operation.
Relevant reports said on Wednesday that the army men continued their advances against ISIL in Eastern Hama and imposed control over Jubb al-Mazare'a hill overlooking the village of Salba.
A military source said that the army's siege on ISIL in Salba was tightened and terrorists' supply line from the Western direction to the village was cut off after the pro-government forces took control over Jubb al-Mazare'a.
ISIL suffered heavy casualties and its military hardware sustained major damage in the attack.
Full report at:
http://en.farsnews.com/newstext.aspx?nn=13960527000166
--------
Homs: Syrian Soldiers Push ISIL back from More Lands near Al-Sukhnah
Aug 18, 2017
The army troops, led by the elite 800th Regiment of the Republican Guards, pushed North of al-Sukhnah, attacking al-Saroukh region almost 15km away from ISIL's former stronghold.
The army men further liberated al-Saroukh checkpoint and several other sites after overrunning the terrorist group's defenses.
The source added that at least five ISIL terrorists were killed and two technical vehicles equipped with 23mm anti-aircraft machineguns were destroyed.
As a result of the fresh advance, the Syrian Army has now fully secured al-Sukhnah, as ISIL is no longer able to launch missiles into the city.
Furthermore, the Syrian Army is inching close to sealing the area between the towns of al-Tayebeh and al-Rasafeh, leaving only a small opening for ISIL to retreat.
Relevant reports said on Tuesday that the army troops took control of the villages and towns of al-Koum, Vaha al-Koum, Jourah al-Jamal, Najiran, Ein Sabkha and Um Qabibeh after hours of non-stop battle with terrorists.
The army men also advanced against ISIL in T2 station in Eastern Homs and captured the strategic hill of Abu Fares Northwest of the town of Humeimeh.
Full report at:
http://en.farsnews.com/newstext.aspx?nn=13960527000252
--------
Lebanon army discovers US-made weapons cache left by Nusra terrorists
Aug 19, 2017
The Lebanese army has discovered a weapons cache left behind by defeated militants from the Jabhat Fateh al-Sham terror group, formerly known as al-Nusra Front, in the northeast of the country.
The Lebanese National News Agency (NNA), citing an unnamed official from Lebanon's General Directorate of General Security, reported on Friday that a patrol of the intelligence agency had found an ammunition and missile cache in Wadi Hamid Valley east of the border town of Arsal, without providing further details.
However, Reuters quoted an unnamed security source as saying on Friday that the cache contained at least a surface-to air missile (SAM) and a number of US-made TOW anti-tank missiles as well as plenty of other types of shells and rockets.
The following photos of the cache were provided by the security source.
On July 29, commanders of Lebanon's Hezbollah resistance movement said the group had successfully concluded a week-long military offensive against al-Nusra on the outskirts of Arsal and the adjacent town of Flita in Syria, seizing land in the rugged, mountainous area and killing about 150 terrorists.
n August 2014, the al-Nusra and Daesh Takfiri terrorist groups overran Lebanon's northeastern border town of Arsal, killing a number of Lebanese forces. They took 30 soldiers hostage, most of whom have been released.
Since then, Hezbollah and the Lebanese military have been defending Lebanon on the country's northeastern border.
Full report at:
http://www.presstv.ir/Detail/2017/08/19/532182/Lebanon-weapons-cache-US-missiles-Arsal-Hezbollah-Nusra-Syria
--------
20,000 Hashd Sha'abi fighters to take part in Tal Afar operation: Spokesman
Aug 18, 2017
Spokesman for the Iraqi Popular Mobilization Units (PMU) says thousands of pro-government fighters are going to participate in the upcoming operation to retake the northern city of Tal Afar from the Daesh Takfiri terrorists.
Speaking in an exclusive interview with Lebanon-based Arabic-language al-Mayadeen television news network on Friday, Ahmed al-Asadi said 20,000 volunteer forces, commonly known by the Arabic name Hashd al-Sha'abi, will take part in the forthcoming battle for Tal Afar, located 63 kilometers west of Mosul.
He added that Commander-in-Chief of the armed forces, Prime Minister Haider al-Abadi, is going to set the zero hour to start the operation.
"We have information about the presence of foreigners within Daesh ranks in Tal Afar, but we do not know their identity," Asadi pointed out.
He noted that the operation to liberate Tal Afar will not take long, but rather several weeks.
Asadi went on to say that Hashd al-Sha'abi is formed on a national basis, and includes people from all walks of the Iraqi society.
Two thirds of Iraqi legislators have recognized Hashd al-Sha'abi as an official force, he stressed.
On August 14, Lieutenant Faraj Hamed of Hashd al-Sha'abi said Abbas Brigade, Ali Akbar Brigade, Badr Organization, Imam Ali Brigade, Imam Hussein Brigade, and Hezbollah Battalions would participate in the fight to dislodge the Daesh terrorist group from Tal Afar.
Speaking at a youth meeting on July 29, Abadi said Hashd al-Sha'abi fighters would take part in the offensive to win back Tal Afar.
Full report at:
http://www.presstv.ir/Detail/2017/08/18/532156/Iraq-20000-Hashd-alShaabi-fighters-participate-Tal-Afar-operation-liberation-Daesh
--------
Mideast
US provocations aimed at demonizing Iran: UN ambassador
Aug 19, 2017
Iran's Ambassador to the United Nations Gholamali Khoshroo has condemned Washington's latest accusations against Tehran regarding its nuclear deal as provocative measures aimed at creating Iranophobia.
In a Friday statement, Khoshroo stressed that the August 15 statement by US Ambassador to the UN Nikki Haley on Iran "is devoid of any shred of truth."
"The rhetoric and baseless accusations against Iran contained therein represent the latest examples of a series of provocative words, outright threats and irresponsible actions from some senior officials of the US administration in demonizing Iran and undermining the Joint Comprehensive Plan of Action (JCPOA) inconsistent with the US commitments under paragraph 28 of the nuclear deal," Khoshroo said.
Haley claimed Tuesday that Iran should not be allowed "to use the nuclear deal to hold the world hostage," adding that the nuclear agreement with the P5+1 group of countries must not become "too big to fail."
The US envoy said Iran must be held responsible for its missile launches and repeated Washington's accusations that Tehran supports terrorism and acts in breach of the UN resolutions.
Haley's remarks followed a warning from Iranian President Hassan Rouhani against new US sanctions targeting the Islamic Republic. He said Tehran was capable of snapping back to pre-nuclear deal status if Washington persisted with its policy of sanctions and threats.
"The new US administration officials should know that the failed experience of threats and sanctions forced their predecessors to come to the negotiating table. If they prefer to return to those times, Iran will definitely return to a situation much more advanced than the start of the [nuclear] negotiations, not within months and weeks, but in a matter of hours and days," the Iranian president said in a televised speech.
Rouhani underlined Iran's commitment to the nuclear deal, adding that Tehran will follow up and respond to any breach of the agreement by other parties.
"Instead of distorting the recent remarks of President Rouhani, the US ambassador should heed the lessons of history and counsel some of the US administration officials to avoid repeating past mistakes," Khoshroo said.
The nuclear deal, which was reached between Iran and world powers in 2015, puts limits on Iran's nuclear activities in exchange for, among other things, the removal of all nuclear-related bans against the Islamic Republic.
The Iranian diplomat also denounced the US military interventions in the Middle East as a key destabilizing factor that fuels extremism and terrorism in the region, noting, "The hard-line and parochial positions adopted by certain senior US officials against Iran could further exacerbate instability in the region."
Khoshroo referred to Iran's assistance to Iraq and Syria in eradicating Daesh Takfiri terrorists and Tehran's "stabilizing" role in the region, and underlined the country's determination "to seek a peaceful, stable, and prosperous Middle East free from extremism, terrorism, extra-regional interventions and weapons of mass destruction."
"Iran stands ready to continue cooperation with regional states to achieve the shared goals and to address the existing regional challenges," The Iranian envoy pointed out.
ttp://presstv.ir/Detail/2017/08/19/532185/Iran-US-UN-sanctions-
--------
Israel freezes controversial settlement law
18 August 2017
Israel's Supreme Court has frozen implementation of a law legalizing dozens of Jewish settlements built on private Palestinian land, which the UN labelled a "thick red line".
Court documents seen by AFP Friday show that Judge Neal Hendel issued Thursday an open-ended restraining order suspending a bill passed by parliament that would retroactively legalize a number of outposts across the occupied West Bank.
The decision was in response to a petition brought by 17 Palestinian local councils on whose land the settlements are built.
Israeli and Palestinian rights groups were also parties to the petition.
Hendel wrote in his decision that Attorney General Avichai Mandelblit had asked him to grant the order.
It did not specify a time limit but demanded that Israel's parliament, the Knesset, deliver its response by September 10 and that Mandelblit submit an opinion by October 16.
The act, known as the "legalization law", was passed in February and brought immediate condemnation from around the world.
International law considers all settlements to be illegal, but Israel distinguishes between those it sanctions and those it does not -- so-called outposts.
Mandelblit himself warned the government the law could be unconstitutional and risked exposing Israel to international prosecution for war crimes.
UN envoy for the Middle East peace process Nickolay Mladenov said following the February Knesset vote the bill set a "very dangerous precedent."
"This is the first time the Israeli Knesset legislates in the occupied Palestinian lands and particularly on property issues," he told AFP at the time.
"That crosses a very thick red line."
The act allows Israel to appropriate Palestinian private land on which settlers built without knowing it was private property or because the state allowed them to do so.
Palestinian landowners whose property was taken for settlers would be compensated with cash or given alternative plots.
Palestinians said the law was a means to "legalize theft" and France called it a "new attack on the two-state solution."
Some members of Prime Minister Benjamin Netanyahu's right-wing government advocate the annexation of much of the West Bank, a move that would end any hope of an independent Palestinian state.
Mladenov said that the "legalization law" could be a prelude to that.
Full report at:
https://english.alarabiya.net/en/News/middle-east/2017/08/18/Israel-freezes-controversial-settlement-law.html
--------
Iran reform leader Karroubi ends hunger strike
18 August 2017
Iranian opposition leader Mehdi Karroubi, under house arrest for six years, ended his hunger strike late Thursday after the government agreed to remove intelligence agents from his home.
However, his demand to face trial -- he has never been charged since being placed under house arrest in 2011 -- appears no closer to being granted.
Karroubi, 79, stopped eating and drinking on Wednesday morning and was hospitalized a day later with high blood pressure.
Mohammad Hossein, Karroubi's son, told reformist website Jamaran that the opposition leader rhad met with Health Minister Ghazizadeh Hashemi on Thursday, and was secured promises that convinced him to end the hunger strike.
Saham news, a website linked to the Karroubi family, said the minister had promised to remove the agents from his home.
Karroubi and fellow reformist leader Mir Hossein Mousavi were candidates in Iran's disputed 2009 presidential election which sparked months of mass protests over claims that the polls were rigged in favor of hardline incumbent Mahmoud Ahmadinejad.
Both were placed under house arrest in 2011 for their role in the protests, which were brutally put down by the regime.
Karroubi's wife Fatemeh told Saham news earlier this week that his first demand was the removal of intelligence ministry agents and security cameras that had been recently installed inside their home, which she said "has no precedent before or after the (1979 Islamic) revolution in any house arrest".
"Second... in case of continuation of the house arrest, they should arrange a public trial," she said.
Karroubi "does not expect a fair trial" but wants it to be public and would respect the verdict, she added.
In March, Iran sentenced Karroubi's eldest son Hossein to six months in prison for "propaganda against the regime" after he published a letter that his father had written to Iran's current president, Hassan Rouhani, considered a political moderate, calling for a trial.
Karroubi's failing health -- he underwent a heart operation earlier this month -- poses a potential problem for the Iranian regime, with fears that it could provide a lightning rod for renewed protests.
Rouhani won a resounding re-election victory in May, in part by rallying reformists and vowing to win the release of Mousavi and Karroubi.
Full report at:
https://english.alarabiya.net/en/News/middle-east/2017/08/18/Iran-reform-leader-Karroubi-ends-hunger-strike-.html
--------
UN: $2.3 bln needed to meet Yemen's humanitarian efforts
18 August 2017
United Nations Special Envoy for Yemen Ismaïl Ould Cheikh Ahmed spoke at a special UN session to discuss the situation in Yemen.
He said that forces loyal to Saleh had bombed civilian neighborhoods in Taiz and left casualties and that they also fired ballistic missiles into Saudi territory.
He added that there is no regional consensus on the need to reach a political solution to the crisis in Yemen.
He urged that the humanitarian effort in Yemen should be shielded from the political conflict.
Cheikh Ahmed also called for the port of Hodeidah to be handed over to a Yemeni committee that functions under his supervision.
The responsible parties must work to alleviate the suffering in Taiz, he said.
Full report at:
https://english.alarabiya.net/en/News/gulf/2017/08/18/UN-2-3-bln-a-necessity-to-meet-Yemen-s-humanitarian-needs.html
--------
Thousands of Yemenis protest against Saudi war
Aug 18, 2017
Thousands of Yemenis have taken to the streets of Sa'ada to protest escalation in the Saudi campaign against the impoverished Arab country.
The demonstrators were holding flags and banners reading, "Death to America and Death to Israel."
The Saudi-led coalition is preparing to enter the port city of Hudaydah, which is now controlled by the Houthi Ansarullah movement. There is concern among Yemenis that the coalition may take over the western coast of Yemen.
Hudaydah is part of a broad battlefront where the Yemeni army and its Houthi allies are fighting Saudi-backed forces.
Since the beginning of the Saudi war on Yemen in March 2015, which was carried out in an attempt to crush the popular Houthi movement and reinstall the former president, Abd Rabbuh Mansur Hadi, a staunch ally of Riyadh, Saudi warplanes have pounded the nation day and night, killing over 12,000 people, including many women and children, and displacing over three million others.
Full report at:
http://www.presstv.ir/Detail/2017/08/18/532165/Yemenis-protest-Saudi-war
--------
Iran condemns deadly Daesh attack in Barcelona
Aug 18, 2017
Iran has condemned a Daesh terror attack that left over a dozen people dead in the northern Spanish city of Barcelona, saying it is time for the world to build a united front against terrorism.
In a Friday statement, Iranian Foreign Ministry spokesman Bahram Qassemi voiced sympathy with the Spanish government and nation as well as the bereaved families of the victims and those injured in the car ramming attack.
At least 13 people were killed and some 100 others wounded when an assailant rammed a van into a crowd in central Barcelona. The Takfiri Daesh terrorist group has claimed responsibility.
"After suffering successive defeats on the battlefield in the [Middle East] region, extremists have now placed indiscriminate terror attacks around the world on their agenda," which targets innocent civilians, said Qassemi.
"Now, no country, not even the overt and covert supporters of terrorists, could feel immune to this international scourge and wretched plight," the official added.
The official further called on all peaceable countries, which seek a sincere fight against terrorism, to form a "united global alliance against violence, instability and terror."
In doing so, the countries need to set differences aside and prioritize the fight against and the annihilation of "these merchants of death and hatred," he added.
Iran, as a victim of terrorism which has invariably fought on the frontline against this phenomenon, is prepared to offer a helping hand to the international community in this regard, Qassemi added.
Meanwhile, Lebanon's resistance movement of Hezbollah also condemned the attack, calling for pressure on regional and international players to stop their support for terrorism, Lebanon's al-Mayadeen television channel reported.
"The crime in the city of Barcelona serves as another testament to the group's criminal temperament," the group said. "Killing of civilians is part of the evil plans, which Takfiris' implement [in an attempt] to tarnish the image of pure Islam."
Full report at:
http://www.presstv.ir/Detail/2017/08/18/532108/Iran-Foreign-Ministry-Barcelona-Qassemi-Daesh
--------
The case for realism in Turkey-Europe relations
Aug 19, 2017
"Not a day has passed in Turkey without a domestic security operation against an active ISIL cell," a security expert noted the other day. "Just follow the news." We had been talking about the Barcelona terror attack, but the conversation was coming back to Turkey very quickly.
The problem is that Syrians are now stuck in Turkey. Many have come here to move on to Europe, but since that passage is closed, they are stuck in transit. Some are planning to go back to Syria, but that passage has its own complications. Current conditions in Syria are far from suitable to return to, and the way forward to Europe is barred. This means that there are people in our country who have seen war, know how to kill, and don't have anywhere else to go. Try to look at the Barcelona attack from this angle.
So what do we need to do? The security dimension is relatively straight-forward – you control as many variables as you can. Refugees are a different matter. You cannot look after them as if they are natural disaster victims. These are people whose framework for life has been destroyed, so they need a new framework to live in. They need the means to look after themselves. That's why labor market integration is key. Refugees either need to become citizens of your country or at least be given work permits.
According to research company Metropoll's July survey, 87 percent of Turkish nationals are against the idea of granting Turkish citizenship to Syrian refugees. Some 75 percent also oppose the idea of Syrians getting work permits. It is no wonder that we currently have only 15,000 Syrians with work permits out of the 3 million refugees in Turkey. The vast majority of Syrians work in the informal sector, while the government keeps both eyes closed. In Jordan, the figure with work permits is 37,000 out of 670,000 refugees. In Lebanon, there are one million Syrians and only 1,233 have work permits.
Why? As of May 2017, there were 3.25 million unemployed people looking for jobs in Turkey. That's an increase of 330,000 from May 2016, and amounts to a non-agriculture unemployment rate of 12 percent.
This marks an increase of around 50 percent between 2012 and 2017. Turkey's unemployment rate is thus three times greater than Germany's unemployment rate. As a result, with a youth unemployment rate of more than 20 percent and elections approaching in 2019, distributing work permits to Syrian refugees would be political suicide for the Turkish government.
German politicians are now actively preventing the European Union from engaging more with Turkey. That is unwise. In Turkey, we have learned through the Syria example - at a very dear cost, and very late - that a stable neighbor is a good neighbor. Even the most adamant hawks and most zealous sectarians in Turkey are talking about coming to terms with Bashar al-Assad for the sake of stability. So Europe has a thing or two to learn.
Stability in Turkey means stability in Europe. Stability in Europe means stability in Turkey. But there are obstacles to realizing this reality on both sides. Bashing Erdogan is certainly an effective voter mobilization tactic in Europe these days. And that is understandable to a degree, considering the content of Turkey's prisons at the moment and the way the state of emergency has been conducted. But policymakers should always remain conscious of what it takes to maintain the current geopolitical order. Similarly, Ankara should be aware that Turks in Europe are under a lot of pressure, and should refrain from statements that could play into the notion that they are a fifth column in Europe. A little bit of sensitivity shouldn't be too much to ask here.
Full report at:
http://www.hurriyetdailynews.com/the-case-for-realism-in--turkey-europe-relations.aspx?PageID=238&NID=116927&NewsCatID=403
--------
Europe
'Meet a Muslim' events hope to dispel misconceptions
By KRISTIN J. BENDER
Aug. 18, 2017
FREMONT, Calif. — When Moina Shaiq realized even her friends were scared to ask her about her religion for fear of offending her or sounding uneducated, she put an advertisement in a California newspaper: "Questions and answers about being Muslim."
The ad offered ideas for questions: Are women oppressed in Islam? What is the Islamic view of terrorism? How does Islam view other religions?
She set up shop at a coffee house in the San Francisco Bay Area city of Fremont, hoping for good attendance, but brought her laptop to do some work in case no one showed. To her surprise, about 100 people turned out that day last year, and her "Meet a Muslim" program was born.
"It was over overwhelming," said Shaiq, a mother of four and grandmother. "Fremont is so diverse, you will see women in hijab on the streets all the time. I didn't think people here would be interested or even need to know about Muslims."
Shaiq has since spoken about being Muslim and answered questions at dozens of libraries, pizza parlors and coffee shops in the San Francisco Bay Area. She recently expanded Meet a Muslim to churches, service clubs and private homes, and traveled to Arizona and Atlanta with the program.
She gives the talks once or twice a week on her own time and her own dime to break down stereotypes.
Similar programs emerged after 9/11, when many Muslims felt the need to engage with their fellow Americans to dispel negative perceptions of their faith. They've seen a resurgence with a recent uptick in anti-Muslim crimes.
Earlier this year, for instance, Muslim and former U.S. Marine Mansoor Shams traveled the country with a sign that read "I'm a Muslim and a U.S. Marine, Ask Me Anything." In Cambridge, Massachusetts, Mona Haydar and her husband set up a booth outside a library in 2015 with coffee, doughnuts and a sign that stated "Ask a Muslim." Other such events have taken place on U.S. college campuses.
Shaiq said she started her program to educate people about her faith and culture while addressing people's misconceptions and stereotypes.
She explains the importance of the hijab (head scarf) or niqab (face covering), the differences between Sunnis and Shias (the two main sects of Islam), the rights of women in Islam, and what it's like to be an American Muslim today.
At a recent Rotary club meeting in Fremont, a man asked how she thinks people can combat Muslim extremism.
"This is where you start," Shaiq said. "You understand what the faith is."
Recent anti-Muslim incidents across the U.S. include arson attacks, vandalism, harassment and school bullying. In May, authorities in Portland, Oregon, say a man killed two men and wounded a third after they tried to stop his anti-Muslim tirade.
Shaiq herself has faced threats at her events. One man in Atlanta warned he would "slit her throat" if she said something he didn't like. He listened to the discussion, never asked a question and then left.
"That was scary," Shaiq said.
Muslim leaders consider the incidents part of a deeply alarming trend that came to the forefront in last year's presidential election with far-right activists portraying Islam — and all Muslims — as a threat.
They see echoes of these far-right views in President Donald Trump's efforts to ban entry into the U.S. from six Muslim-majority countries and in his claims of dangers posed by immigrants and Muslim refugees. Trump has said his policies are critical for protecting national security.
Initiatives like Meet a Muslim are important at "this time of heightened fear and xenophobia," said Zainab Arain, who works to monitor and combat Islamophobia with the Council on American-Islamic Relations, a Washington, D.C.-based Muslim advocacy group.
https://www.news-journal.com/news/2017/aug/18/meet-a-muslim-events-hope-to-dispel-misconceptions/
--------
Far-right protesters, anti-fascist rivals scuffle in Barcelona
Aug 19, 2017
Scuffles have broken out between far-right anti-Islam protesters and anti-fascist activists during counter demonstrations held in the Spanish city of Barcelona, a deadly Daesh terror attack.
Simultaneous protests organized by the extreme Falange group and a huge crowed of counter-demonstrators in Barcelona degenerated into a brawl on Friday, prompting police to intervene.
The demonstrators gathered outside Las Ramblas, the pedestrian mall which had been the scene of the Daesh terrorist attack a day earlier.
The far-right group chanted slogans such as "Terrorists are not welcome" and "Stop the Islamization of Europe," but they were met with counter-chants of "Nazis out" and "Barcelona anti-fascista."
Pictures of the rival rallies showed people shouting at each other and fighting in the streets.
Outnumbered by the counter-protesters, Falange supporters were later forced to abandon the demonstration and escorted away from the scene by police.
On Thursday, a van rammed into a multitude of people on Rambla Avenue in the center of Barcelona, killing at least 14 and injuring some 100 others. The driver fled the scene after the attack.
The vehicle traveled several hundred meters, running over pedestrians and cyclists on its way, before stopping at a decorative mosaic near a subway station.
The Daesh Takfiri group has claimed responsibility for the attack.
The incident was the deadliest attack in Spain since March 2004, when militants bombed commuter trains in Madrid, killing over 190 people and wounding more than 1,800.
Full report at:
http://www.presstv.ir/Detail/2017/08/19/532196/antiIslam-protesters-Barcelona-antifascist
--------
Attacks on German Muslims 'becoming more violent'
Ben Knight
18.08.2017
Some 16 German Muslims were injured in Islamophobic attacks between April and June this year - a steep increase on the two people injured in the first quarter of the year.
The startling statistic emerged from new figures released by the German government this week in response to an information request submitted by Left party Bundestag member Ulla Jelpke. The official government answer, sent to DW by Jelpke's office, said that of the 13 registered crimes that resulted in the 16 injuries, all but one had a far-right motivation, while the other was put down to "religious ideology."
That chimes in with overall government figures on such crimes, which showed that the vast majority of the 192 Islamophobic offenses registered in the second quarter of the year were ascribed to far-right motivations. The other crimes included on the list included property damage, incitement to racial hatred, incitement to commit crimes, assault, and abuse.
Attack on democracy
The Left party pointed out that this figure was in contrast to the fall in the number of crimes specifically targeting refugees. "Unlike the racist attacks on refugees, there has been no decline in explicitly anti-Muslim attacks," Jelpke told DW in a statement.
"That suggests that Muslims in Germany have become a particular object of hatred for violent far-right extremists, or so-called concerned citizens," she added, referring to the euphemism that German anti-immigration campaigners often use to describe themselves.
"Terror and hate crime should always be condemned, regardless of who commits them and under what guise," Jelpke said. "The state and society have a duty to counter such hate crime. That's why we need a clear statement - Muslims in Germany belong to our society. People who attack Muslims attack our democracy."
The German Muslim community organization Millî Görüs (IGMG) called the figures "frighteningly high," and a "clear alarm signal" to German leaders. "Lawmakers are urgently called on to take appropriate measures," IGMG General Secretary Bekir Altas said in a statement. "Islamophobia must be fought decisively."
IGMG was also shocked that only one of the 192 crimes resulted in an arrest - a case of incitement to racial hatred in Berlin registered on May 1. "It's unacceptable that most perpetrators get away unpunished," Altas said. "The legal deterrent effect is virtually zero."
Altas also said that the real number of crimes was likely to be far greater, as most of them went unreported. "Muslims often get the feeling from the police that their concerns are not taken seriously," he said. "In many cases, an Islamophobic motivation is not even ascertained - even when there is clear evidence. Here too, the lawmakers need to set investigative standards."
PEGIDA dying
The government also answered questions relating to Islamophobic marches and protests, though it refused to classify the weekly Dresden-based PEGIDA marches and their outliers around the country as specifically anti-Muslim. In its report, the government only recognized a single neo-Nazi march, which involved 50 people demonstrating against a new mosque in the eastern town of Eisenach in May, as explicitly Islamophobic.
The PEGIDA marches, which once attracted significant media attention and claim to be aimed at what they call the "Islamization of the West," are still going on every Monday throughout the country. Nevertheless, the number of these marches has declined steeply since their zenith in early 2015, and the new government figures show the fall is continuing.
While in the first quarter of the year some 1,853 people took part in a total of 32 anti-Muslim demonstrations, only 805 people took part in 22 such protests between April and June. In the same period last year, there were around 4,300 such demonstrators in 50 PEGIDA marches. But in 22 of the PEGIDA marches that happened in the last quarter, the government noted "far-right extremist influence or organization."
"The fall in PEGIDA marches mustn't reassure us," Jelpke said. "Because the fear is that a section of the activists aren't to be found on the streets anymore, but are driving no less dangerous politics in more institutionalized form in the ranks of the AfD."
Full report at:
http://www.dw.com/en/attacks-on-german-muslims-becoming-more-violent/a-40152226
--------
Biggest Christian festival in the UK decides to showcase some Islam too
By Catherine Pepinster
Aug 19, 2017
LONDON (RNS) — Greenbelt, the biggest Christian festival in the United Kingdom, will feature Muslim worship for the first time this year.
The decision by organizers of the annual festival — which began more than 40 years ago as a gathering that drew about 1,500 young people — has stirred some controversy, according to organizers.
Now Greenbelt draws a much larger crowd of about 20,000 over the August Bank Holiday weekend, Aug. 25-28, and offers not only music but also theological discussion and opportunities to work on social justice issues. While it sprung from evangelical Christians, in recent years Greenbelt has expanded to include a much wider range of participants, including an occasional Muslim speaker.
But this is the first year it is has made a concerted effort to feature Islamic culture and spirituality as a significant part of the festival, which will include instruction on Sufi chants — described on the Greenbelt website as "a unique form of mystical worship."
The chanting will be taught under an oversized tent at Greenbelt devoted to Islamic art, culture and spirituality.
Including Muslim worship at a Christian festival surprised and upset some people, said Greenbelt's creative director Paul Northup. "There has been some negative and quizzical reaction from die-hard supporters of the festival," he said.
But there was also healthy curiosity about the new Muslim component of this primarily Christian gathering, which takes place on land surrounding the stately Boughton House in Northamptonshire, in the English midlands.
Programming related to Islam this year is funded by Amal — an organization that promotes Islamic culture and arts. The events at Greenbelt will be curated by Chicago-based producer Asad Ali Jafri.
Amal is in turn backed by the Said Foundation, founded by businessman and philanthropist Wafic Saïd. Saïd made his fortune as a banker, and first came to prominence in the U.K. after helping facilitate the Al-Yamamah arms deal between Britain and Saudi Arabia — the biggest export deal in British history.
"The Amal funding was a game-changer," said Northup.
"Since 9/11, the Greenbelt trustees have wanted the festival to engage with Islam more deeply," he said. "We wanted to play our part in dismantling, as far as we could, the extremist stereotyping and narrative the Muslim faith and community labored under and to introduce Greenbelters to Muslim thinkers, artists, activists and spirituality."
Attendees will get to know Muslims who may not share their faith, he continued, but still share their values, and with whom they can make "common cause."
"The Common Good" is the theme of this year's festival, which will give attendees opportunities to get involved with anti-poverty, LGBT, environmental, and other progressive causes.
"It is because we are Christian that we do this. Not because we want to dilute or deny our faith. It's because we want to be true to our faith and to continue to live and express it dynamically, creatively and generously," Northup added.
Full report at:
http://religionnews.com/2017/08/18/biggest-christian-festival-in-the-uk-decides-to-showcase-some-islam-too/
--------
Barcelona attacks cell planned to use gas - judicial source
18 August 2017
Spanish authorities believe there may have been eight people involved in a cell which carried out an attack in Barcelona on Thursday, and that the group had planned to use butane gas canisters, a judicial source with knowledge of the investigation said on Friday.
Catalan government official Joaquim Forn also told local radio earlier on Friday that it was possible that attackers had meant to use canisters in the attack on Thursday in which a suspect drove a van at speed along a busy pedestrian street.
Security forces are hunting for the van's driver, who was seen escaping on foot, and police said they had killed five attackers on Friday night in Cambrils, a town south of Barcelona, to thwart a separate attack.
Full report at:
https://english.alarabiya.net/en/News/world/2017/08/18/Barcelona-attacks-cell-planned-to-use-gas-judicial-source.html
--------
The Moroccan who stole his brother's identity to terrorize Spain
18 August 2017
Barcelona terror attack investigators have been scampering to identify the Las Ramblas attacker until dawn today and have ended up finding near certain information about an 18-year-old Moroccan named Moussa Oukabir.
According to information received by AlArabiya.net, Moussa Oukabir stole the identity of his brother, Driss, aged 28, and used it to rent the van that ploughed through pedestrians at Las Ramblas yesterday afternoon.
The terrorist attack in Barcelona's City Center claimed the lives of 13 pedestrians, maiming and injuring 100. Another two armed men entered a restaurant.
One of the van attackers died in a shootout, while two were arrested but the driver, believed to be Moussa Oukabir, has not been apprehended. ISIS claimed responsibility for the attack, the group's news agency said.
The two suspects in custody from the van attack are a Spanish national and a Moroccan.
In a second attack seven people were hurt when another car drove into pedestrians in the Spanish seaside resort of Cambrils early Friday before being shot dead by security forces, just hours after Barcelona attack.
An Audi A3 car rammed into people on the seaside promenade of the tourist city 120 kilometers south of Barcelona. The five attackers in the car were shot dead, police said. Some of them wore what looked like explosive belts.
A 'claimed' case of mistaken identity
Barcelona's police, Mossos d'Esquadra, announced yesterday the arrest of a Moroccan and distributed images of the suspected terrorist. The pictures were carried around the world by press and social media.
About one hour after the release of the images Spanish media revealed that the suspected killer Driss Oukabir claimed not to be a terrorist, but 'a victim' of his brother Moussa's extremist credo.
Driss' identity was established from the van used in the attack that appears to have been rented by the younger brother Moussa. Media reported that the van is believed to have been rented from the town of Santa Perpatua de Mogoda, 20 kilometers from where Moussa lives.
When media released pictures of Driss, the Moroccan reportedly presented himself voluntarily to police in the remote town of Ripoll Girona near the French border and 95 km north of Barcelona.
Driss claimed to officers that someone had stolen his personal identification card a few days ago, and believes that his brother, Moussa, may have been the thief, because he was out of reach after the theft.
Police kept Driss in custody for further investigation according to Spanish newspaper El Pais, despite presenting evidence that he was in Ripoll at the time of the attack.
Full report at:
https://english.alarabiya.net/en/News/world/2017/08/18/The-Moroccan-who-stole-his-brother-s-identity-to-terrorize-Spain-.html
--------
Germany slams Erdogan's 'interference' in vote
Aug 19, 2017
BERLIN : German Foreign Minister Sigmar Gabriel hit out Friday against "interference" by Turkey's President Recep Tayyip Erdogan in Germany's elections, after the Turkish leader urged Turks living abroad not to vote for parties of the ruling coalition.
"That is an unprecedented act of interference in the sovereignty of our country," Gabriel told the RedaktionsNetzwerk media group. "Erdogan's interference in Germany's electoral campaign shows that he wants to incite people in Germany against each other," he said.
Gabriel urged Germans to push back by turning up in strength at the polls and voting for parties that champion democracy. "Let's show those who want to play us against each other that we will not participate in this evil game," he said.
Erdogan's move also did not go down well with the Turkish community. Atila Karaborklu, the co-chairman of Germany's Turkish Community association, accused Erdogan of "seeking to divide German society". His aim is "to hurt German democracy," charged Karaborklu.
Erdogan on Friday called on Turks living in Germany not to vote for the two parties in Chancellor Angela Merkel's ruling grand coalition or the Greens in next month's legislative elections, calling them "enemies of Turkey".
Upping the stakes in a intensifying row with Berlin, Erdogan said ethnic Turks in Germany should not cast their ballots either for Merkel's Christian Democratic Union (CDU), Gabriel's Social Democratic Party (SPD), or the Greens.
Full report at:
http://nation.com.pk/international/19-Aug-2017/germany-slams-erdogan-s-interference-in-vote
--------
North America
An Ominous How-To for a Terrorist Attack in America
By Marc A. Thiessen
August 18, 2017
The terrorist attack in Barcelona follows a pattern that has left more than 100 people dead and hundreds more injured in Nice, Berlin, London, Stockholm and Ohio State University — a terrorist takes a van or truck and plows through innocent pedestrians on a crowded thoroughfare, turning the vehicle into "a mowing machine, not to mow grass but mow down the enemies of Allah."
Those words come from an article called "The Ultimate Mowing Machine" in the 2010 edition of the glossy online al-Qaeda magazine Inspire, which provided detailed instructions for how to carry out vehicular attacks, urging would-be terrorists to "pick up as much speed as you can while still retaining good control . . . to strike as many people as possible in your first run."
A Tunisian terrorist followed these instructions when he drove a tractor trailer into a Christmas market in Berlin in December; as did the British terrorists who mowed down pedestrians on Westminster Bridge in London in March and London Bridge in June; as did an Uzbek terrorist who drove a truck into pedestrians and shoppers in Stockholm in April. And now we have seen this technique used by terrorists in Barcelona, killing at least 13 people and injuring more than 100. And it is not just Islamist terrorists who are inspired by these tactics. Last weekend, an allegedly neo-Nazi domestic terrorist, James Alex Fields Jr., used a car to mow down a crowd in Charlottesville.
This history is worth remembering, because just this month al-Qaeda came out with a new edition of Inspire, this time with detailed instructions for how to carry out "Train Derail Operations." The magazine includes an article by Hamza bin Laden — the son of Osama bin Laden and an emerging al-Qaeda leader — who addresses "the valiant heroes of Islam in America" and offers "advice for anyone who intends to carry out a martyrdom operation."
Inspire urges its readers to target trains in the United States as the best means of terrorizing Americans and disrupting our economy. An article by the self-described "Lone Jihad Guidance Team" quotes testimony from the Government Accountability Office before the Senate Committee on Commerce, Science and Transportation, in which the agency explains that our rail infrastructure "extends through every major city as well as thousands of small communities" and "creates an infinite number of targets for terrorists." Al-Qaeda notes that "it is a daunting and almost impossible task to protect the long railroad length, and yet one of the easiest to target."
The magazine then provides an 18-page, step-by-step illustrated guide to building a train derailment tool. It includes a list of "passenger train routes in America," and it urges terrorists to target high-speed trains because "a train at a very high speed is hard to control or manage using brakes." It specifically cites "America's high-speed train 'Acela' " because it "requires a whole mile so that it can come to a halt." It urges terrorists to place the derailment tool "on a bend and specifically a sharp corner" or "when the train reaches residential or large populated areas" to force a "collision with man-made structures, such as buildings, bridges or tunnels" or make the train "fall from a very high place."
The advantages of train derailment weapons, al-Qaeda says, is that they are "easy to design" and "easy to hide your tracks from forensics after the operation." The terrorists note that "because the operation is not a martyrdom op.. . . it can be repeated" and will cause "great impact on the economy," while "security agencies will be puzzled and confused to finding a solution for this problem."
We have seen how these guides to "open source Jihad" have led to attacks in the past, so we need to take these new threats seriously. Terrorist networks use online tools such as Inspire and encrypted messaging apps to recruit and vet terrorist operatives, indoctrinate and train them, and then direct them to carry out "remote-controlled" attacks across the world. They no longer need to bring recruits to run through obstacle courses in terrorist sanctuaries; the dark Web is now their training camp.
The new issue of Inspire includes a map of the United States and the words emblazoned across it: "Ideas do not need visas." They are right. While we are all mourning the victims of Barcelona, the terrorists are already preparing for their next wave of attacks. It is only a matter of time before they bring the violence we are seeing in Spain to our shores. Something for policymakers in Washington to think about while they travel along the Acela corridor.
https://www.washingtonpost.com/opinions/an-ominous-how-to-for-a-terrorist-attack-in-america/2017/08/18/001c0f8a-844b-11e7-ab27-1a21a8e006ab_story.html?utm_term=.2b518409d181
--------
CIA warned Spanish police of terror attack months ago: Report
Aug 18, 2017
The US Central Intelligence Agency (CIA) warned Spanish police months ago of a possible terror attack in Barcelona, a Spanish newspaper has reported.
The CIA informed local Spanish police about the terrorist threat about two months ago, and particularly named the Las Ramblas tourist area of Barcelona, the El Perodico newspaper reported on Friday.
At least 13 people were killed and about 100 were injured on Thursday after a van plowed into a crowd in Las Ramblas in Barcelona.
"The CIA warned the Mossos [local police] two months ago that Barcelona, and in particular the Rambla, could be the scene of a terrorist attack like the one that occurred this afternoon," El Perodico's report said.
Supporters of the Daesh Takfiri group have claimed responsibility for the attack, which was the first successful terrorist attack in the European country since 2004, when suspected members of al-Qaeda attacked Madrid's commuter train system, killing 192 people and wounding more than 1,000 others.
The US Central Intelligence Agency (CIA) warned Spanish police months ago of a possible terror attack in Barcelona, a Spanish newspaper has reported.
The CIA informed local Spanish police about the terrorist threat about two months ago, and particularly named the Las Ramblas tourist area of Barcelona, the El Perodico newspaper reported on Friday.
At least 13 people were killed and about 100 were injured on Thursday after a van plowed into a crowd in Las Ramblas in Barcelona.
"The CIA warned the Mossos [local police] two months ago that Barcelona, and in particular the Rambla, could be the scene of a terrorist attack like the one that occurred this afternoon," El Perodico's report said.
Full report at:
http://www.presstv.ir/Detail/2017/08/18/532149/CIA-warned-Spanish-police-of-terror-attack-months-ago
--------
Trump makes no decision on Afghanistan strategy
Aug 19, 2017
HAGERSTOWN, Md./WASHINGTON (Reuters) - U.S. President Donald Trump reviewed an array of options for a strategy on Afghanistan with his top national security aides, but made no decision on whether he would commit more troops to America's longest war.
Friday's meeting was the latest in a series of high-level discussions on Afghanistan and a broader security strategy for the South Asia region that has been bogged down by internal differences.
Trump was briefed extensively "on a new strategy to protect America's interests in South Asia", White House Press Secretary Sarah Sanders told reporters, after the meeting at the Camp David Maryland retreat.
"The president is studying and considering his options and will make an announcement to the American people, to our allies and partners, and to the world at the appropriate time," Sanders said.
National security adviser H.R. McMaster and other top national security officials went into the meeting backing a modest increase in troops. At a mid-July meeting, they had thrown their weight behind 3,000 to 5,000 additional U.S. and coalition soldiers.
"Anti-globalists," who were led by Steve Bannon before he was fired on Friday as Trump's chief strategist, backed withdrawing U.S. forces, U.S. officials said.
Other options which were to be discussed included keeping the status quo of some 8,400 U.S. troops, a modest hike, or a small reduction that would focus on counter-terrorism operations enhanced by drone strikes and intelligence-gathering, they said.
A U.S. official said that during a trip to Afghanistan earlier this year, Defense Secretary Jim Mattis told Afghan President Ashraf Ghani that the United States would have a sustained commitment to Afghanistan.
More than 15 years since the United States invaded Afghanistan and toppled the Islamist Taliban government for giving al Qaeda a sanctuary where it plotted the Sept. 11, 2001, attacks, there is no sign to an end in fighting.
U.S. intelligence agencies assessed in May that the conditions in Afghanistan will almost certainly deteriorate through next year, even with a modest increase in military assistance from America and its allies.
Senator Lindsey Graham, a senior Republican and advocate of a stronger U.S. role in Afghanistan, urged Trump in a statement to "listen to his generals. At the end of the day, Afghanistan is about American homeland security - not building empires."
PAKISTAN FACTOR
The Camp David discussions have also been complicated by differences over taking a harder line on Pakistan for failing to close Afghan Taliban sanctuaries and arrest Afghan extremist leaders. U.S. officials say the Afghan Taliban are supported by elements of Pakistan's military and top intelligence agency, a charge Islamabad denies.
Under one proposal, the United States would begin a review of whether to designate Pakistan a state sponsor of terrorism unless it pursues senior leaders of the Afghan Taliban and the allied Haqqani network, considered the most lethal Afghan extremist group, U.S. officials said.
Such a designation would trigger harsh U.S. sanctions, including a ban on arms sales and an end to U.S. economic assistance.
Finalizing a regional security strategy has been held up by Trump's frustration with a lack of options for defeating the Taliban and ending the longest foreign conflict in U.S. history.
At the meeting in mid-July, Trump said Mattis and Marine General Joseph Dunford, the chairman of the joint chiefs of staff, should consider firing Army General John Nicholson, commander of U.S. forces in Afghanistan, for not winning the war.
The delay for a decision left an opening for Erik Prince, the founder of the former Blackwater military contracting firm and the brother of Trump's education secretary, Betsy DeVos, to propose replacing U.S. forces in Afghanistan with mercenaries.
The plan made its way into the White House, according to a senior administration official.
There is no indication, however, that the proposal – promoted by Prince in media interviews – garnered serious attention and it was not among the options prepared for consideration at Camp David, said the official, speaking on condition of anonymity.
McMaster, Mattis, Dunford and retired Marine General John Kelly, the president's chief of staff, are opposed to this plan, according to U.S. officials.
It was not known whether Prince's proposal was brought up at the meeting.
With Afghan security forces struggling to prevent Taliban advances and the country's political leadership all but paralyzed by infighting, Nicholson in February requested thousands of additional U.S. troops to bolster U.S. military trainers, advisers and special forces.
Full report at:
http://nation.com.pk/international/19-Aug-2017/trump-makes-no-decision-on-afghanistan-strategy
--------
Trump again cites dubious Muslim execution story after Spain attack
18 August 2017
President Donald Trump appeared Thursday to endorse the idea of mass executions for Islamist extremists, as he alluded to a widely debunked account of summary punishment by a US general in the Philippines in the early 1900s.
It was another provocative tweet from a leader who uses Twitter to take shots at perceived opponents -- and even announce big policy changes. Thursday's tweet also suggested Trump actually believes a story that many historians say is apocryphal.
Trump first sent out a tweet offering aid to Spain after Thursday's van attack in Barcelona that left at least 13 dead and more than 50 wounded.
About an hour later, Trump tweeted: "Study what General Pershing of the United States did to terrorists when caught. There was no more Radical Islamic Terror for 35 years!"
He was referring to General John "Black Jack" Pershing who was the US governor of largely Muslim Moro province from 1909 to 1913. At the time, the Philippines was a US colony. And Pershing's forces had to fight Muslim counterinsurgencies.
The debunked account – which Trump has referred to in the past – is as follows: Pershing's forces rounded up 50 Muslim insurgents and executed 49 of them with bullets dipped in pig's blood.
"You heard that, right?" Trump said as a candidate during a rally in February 2016 in South Carolina, alluding to the pig blood part. "They were having terrorism problems, just like we do," Trump said.
The 50th prisoner
As the story goes, the 50th prisoner was released to tell his fellow fighters about what the Americans had done. "And for 25 years, there wasn't a problem. Okay? Twenty-five years, there wasn't a problem," Trump said.
Historians have expressed skepticism or outright denial that this event took place. According to the fact checking website Politifact, the late military historian Frank Vandiver said in 2003, referring to Pershing: "I never found any indication that it was true in extensive research on his Moro experiences. This kind of thing would have run completely against his character."
Politifact quoted four historians who denied the account. Trump endorsed waterboarding – widely held now to be a torture technique, used during the George W. Bush administration in its war on terror and halted by Barack Obama – during the presidential campaign.
Full report at:
https://english.alarabiya.net/en/perspective/features/2017/08/18/Trump-again-cites-dubious-Muslim-execution-story-after-Spain-attack.html
--------
US has no intention to stay in Syria: State Dept
19 August 2017
The United States has no intention of staying in Syria after defeating the ISIL terrorist organization, U.S. State Department spokeswoman Heather Nauert said Friday, denying a report that U.S. forces will remain there for decades.
"Our overall mission is to defeat ISIS, whether it's in Iraq or in Syria. That is our intent -- to defeat ISIS and not do anything more than that," Nauert said, referring to the ISIL of Iraq and Syria.
Nauert was responding to a question at a press briefing about a Syrian Democratic Force (SDF) spokesman's claim that the U.S. will remain in Syria long after ISIL is defeated.
"We want Syria governed by Syrians, not by the United States, not by any other forces, but by Syrians," she added.
The U.S. has supported the PKK/PYD -- considered by Turkey as the Syrian offshoot of the PKK terror organization -- along with several other Arab militia groups under the umbrella of the SDF, long vexing Ankara.
Full report at:
http://www.worldbulletin.net/america-canada/193096/us-has-no-intention-to-stay-in-syria-state-dept
--------
South Asia
Jamiat-e-Islami warns Afghan govt not to further challenge the party's resilience
Aug 18 2017
The Jamiat-e-Islami party has issued a strong warning to the Afghan government amid rising tensions after the controversial incident in Balkh airport involving the party's chief executive Ata Mohammad Noor and provincial council member of Balkh Asif Momand.
The party in a statement said Friday that certain circles are attempting to destabilize the relatively calm provinces and those areas under the control of the officials belonging to Jamiat-e-Islami where considerable achievements have been made, apparently pointing towards the Balkh which has been under the leadership of Noor since a long time.
The party harshly criticized the government for remaining reckless to respond the concerns of Jamiat-e-Islami regarding the conspiracies being hatched.
The statement further added that the government has not only responded to their concerns but has also failed to tackle the conspiracies besides the government has failed to consider the growing instability and crisis in the volatile regions.
Jamiat-e-Islami called on the government to refrain from further challenging of the party's patience and resilience and control those hatching plots to destabilize the peaceful areas of the country.
The incident in Mawlana Jalaluddin Balkhi international airport took place late on Mondaynight during the arrest of Asif Momand, a member of the provincial council of Balkh province.
Momand was arrested late on Monday night in Balkh international airport days after he had accused Ata Mohammad Noor of being involved in massive corruption and there are reports that he was held into the custody by forces belonging to Balkh governor.
Noor had earlier harshly criticized the national security adviser Mohammad Hanif Atmar and the national directorate of security chief Mohammad Stanikzai after the clashes and accused the two top security officials of hatching conspiracies to destabilize the northern Balkh province.
Noor said Balkh has been among the relatively calm and peaceful provinces and conspiracies involving plans and projects to destabilize the province should be refrained from.
http://www.khaama.com/jamiat-e-islami-warns-afghan-govt-not-to-further-challenge-the-partys-resilience-03387
--------
Afghan forces conducted 41 airstrikes, 33 ground operations, killing 86 insurgents: MoD
Aug 18 2017
The Afghan National Defense and Security Forces conducted at least 41 airstrikes and 33 ground operations against the insurgents leaving at least 86 of them dead, including militants affiliated with the Islamic State of Iraq and Syria.
The Ministry of Defense (MoD) in its latest operational update said the operations were conducted in the past 24 hours in various parts of the country.
MoD further added that the 41 sorties by the Afghan Air Force were conducted in support of the ground forces who conducted 13 special operations involving Afghan commandos and 3 night raids.
According to the Ministry of Defense, the militants suffered the most casualties in southeastern Paktika province where 56 militants belonging to Haqqani terrorist network were killed in Gomal district during the air and ground operations.
The ministry further added that five ISIS militants were killed in Achin district of Nangarhar and 3 militants including one of their commanders were killed in Kunar district.
MoD also added that 21 militants were killed in various operations conducted in Jani Khel and Zazai Aryoub districts while the remaining militants were killed in other provinces including Logar, Kandahar, Zabul, Uruzgan, Badghis, Faryab, Baghlan, Sar-e-Pul and Helmand provinces.
Full report at:
http://www.khaama.com/afghan-forces-conducted-41-airstrikes-33-ground-operations-killing-86-insurgents-mod-03386
--------
Tillerson hails Afghans' spirit of resilience, courage on eve of Independence Day
Aug 19 2017
The US Secretary of State Rex W. Tillerson greeted the Afghan nation on the eve of the 98th Independence Day of Afghanistan, hailing the resilience and courage of the Afghan people as he expressed optimisms regarding the better future of Afghanistan.
"On behalf of the Government of the United States of America, I would like to congratulate the Afghan people as they celebrate their 98th anniversary of independence on August 19th," Tillerson said in a statement.
He said the Afghan spirit of resilience and courage in the face of adversity continues to guide the people of Afghanistan toward a better future.
Tillerson further added that Afghanistan has made significant economic, political, and social progress in the last 16 years, and we bear witness every day to the Afghan people's dedication to building a more democratic and peaceful country.
Full report at:
http://www.khaama.com/tillerson-hails-afghans-spirit-of-resilience-courage-on-eve-of-independence-day-03390
--------
Asif Momand warns govt fails regarding his torture case involving Balkh governor
Aug 19 2017
The Balkh provincial council member Asif Momand has warned of repercussions if the government failed to properly pursue his torture case involving the governor of Balkh province Ata Mohammad Noor.
Speaking during a press conference late on Thursday evening, Momand said he will start large civil movements with the help of his supporters if the government failed to pursue the case and share the information of the findings with the people.
With the gesture towards civil movement, Momand was apparently pointing towards the demonstrations and rallies.
He said the reason behind his visit to Kabul was treatment and not fear from the Balkh governor and emphasized that he will soon return to Balkh province.
Momand also emphasized that the Balkh governor did not have the authority to punish him even if he was found guilty of any crime, alleging that Noor has personally tortured him while he was in his custody.
In the meantime, the Jamiat-e-Islami also issued warnings to the government on Friday, harshly criticizing the government for remaining reckless to respond the concerns of Jamiat-e-Islami regarding the conspiracies being hatched.
The party in a statement further added that the government has not only responded to their concerns but has also failed to tackle the conspiracies besides the government has failed to consider the growing instability and crisis in the volatile regions.
Full report at:
http://www.khaama.com/asif-momand-warns-govt-fails-regarding-his-torture-case-involving-balkh-governor-03389
--------
Africa
Boko Haram pushing refugees from one hell into another: NRC
Aug 18, 2017
Boko Haram terrorists have stepped up attacks on vulnerable people including those living in camps in northeastern Nigeria pushing the displaced from "one hell into another," a leading international aid agency says.
The Norwegian Refugee Council (NRC) said on Friday that the terrorists were looking for softer targets, including camps hosting the displaced, following the intensification of offensive by the Nigerian military against the militants.
Latest data from the NRC showed that civilians were affected by violence on about 200 occasions last month – three times more than the total for June.
It also indicated that at least 32 attacks were carried out on camps and sites for those uprooted by the conflict since July.
"Camps sheltering innocent families fleeing war should be places of refuge but instead they are turning into death traps," the head of programs for NRC in Nigeria, Ernest Mutanga, said in a statement.
"Armed groups in this conflict are pushing people from one hell into another," he added.
Terrorists have killed and injured dozens of civilians in recent months in a spate of attacks on camps and areas sheltering the displaced that bore the hallmarks of Boko Haram.
Eight years of militancy by Boko Haram has so far killed more than 20,000 people and forced more than 2.7 million to flee their homes.
Last year, the Nigerian army seized large swathes of territory from the terrorists; however, the militants have struck back with renewed zeal since June and killed at least 170 people and weakened the army's control in the northeast.
Many aid agencies, including the NRC, have been forced to temporarily suspend their aid work in Maidiguri, the capital of Borno state, due to threats from Boko Haram.
"We are worried that if these attacks continue, a very bad situation will grow even worse when it comes to aid access and delivery," Jackie Okao, protection and advocacy adviser at the NRC in Nigeria, told the Thomson Reuters Foundation by phone.
The United Nations' World Food Program (WFP) says about 5.2 million people are expected to need food aid by the end of this month - an increase of 500,000 from the start of 2017 - in a region threatened with famine.
According to aid agencies, the situation could be far worse with many areas cut off from help due to the threat of Boko Haram and the arrival of the rainy season restricting access.
http://www.presstv.ir/Detail/2017/08/18/532151/Nigeria-Boko-Haram-Norwegian-Refugee-Council-Ernest-Mutanga-Maidiguri-Jackie-Okao-camps
--------
3 killed, 27 injured in grenade attacks in Burundi capital
Aug 18, 2017
Grenade attacks on two cafes killed at least three people and wounded 27 others in the Burundian capital of Bujumbura, police and hospital sources said on Friday.
Police spokesman Pierre Nkurikiye told reporters that one person died at the scene and 29 others were rushed to hospital after grenades were thrown into two bars in the Buyenzi district on Thursday night. Hospital sources said two people died of their injuries later.
One survivor, who asked not to be named, said the attackers had not attempted to rob the bars or the patrons.
Burundi has suffered from periodic low-level violence since 2015, when President Pierre Nkurunziza decided to seek a third term in office.
Opponents said his candidacy violated the constitution and a peace agreement that ended a civil war in 2005. The opposition mostly boycotted the polls and Nkurunziza won a third term.
A wave of unrest followed. The International Criminal Court said it left about 450 people dead and forced hundreds of thousands to flee.
Since then, political violence has continued to simmer.
Full report at:
http://www.presstv.ir/Detail/2017/08/18/532143/Burundi-Bujumbura-violence-police-hospitals-Pierre-Nkurunziza-opposition
--------
Roadside bomb kills three soldiers in northern Burkina Faso
Aug 19, 2017
A roadside bomb in northern Burkina Faso on Thursday killed three soldiers and wounded two, the military said.
They did not say who was behind it, but Islamist militants are waging a sporadic campaign to destabilize the region and the attack followed a shooting spree by suspected jihadists in a popular restaurant in the capital Ouagadougou on Sunday.
That killed 18 people, most of them foreign nationals.
Colonel Fofana Lamoussa, an officer of the national order, said Thursday's attack involved a vehicle on patrol with a military detachment in Djibo that was hit by an improvised explosive device.
"This explosion caused the deaths of three soldiers and injuries of two," he said in a statement on Friday.
Burkina Faso has increasingly been targeted by jihadists and a dozen soldiers were killed in December last year when unidentified gunmen attacked a military post, also near the border with Mali.
Thursday's attack was reminiscent of a similar incident at a restaurant and hotel in Ouagadougou in January 2016 in which 30 people were killed for which Al Qaeda in the Islamic Maghreb (AQIM) claimed responsibility.
Islamists are more active in Burkina Faso's northern neighbor Mali and Burkinabe authorities have been concerned for some time that the long desert border could become a transit point for militants.
Djibo is the epicenter of Burkina Faso's homegrown Islamist movement Ansarul Islam, led by radical preacher Hamadoun Dicko.
Dicko fought alongside Malian Islamists when they attempted to take over Mali in 2012, until French forces intervened to push them back the following year. He was captured by Malian troops and later released.
Full report at:
http://nation.com.pk/international/18-Aug-2017/roadside-bomb-kills-three-soldiers-in-northern-burkina-faso
--------
Jordan, Palestine create crisis committee to avoid a third intifada
18 August 2017
A meeting on August 7 between King Abdullah of Jordan and Palestinian President Mahmoud Abbas established a joint crisis committee to follow up the Israeli violations at al-Aqsa Mosque and evaluate the past and expected Israeli violations in Jerusalem.
This committee's significance is to avoid the eruption of a third Palestinian Intifada that would be a result of excessive power by enforced by Israeli forces against Palestinians.
The royal visit to Ramallah was marked as "a sign of rejection of Israeli recent movements because Jordan is the sole custodian of the Muslim and Christian sites in Jerusalem," stated King Abdullah.
"If a third intifada is coming, no one this time can stop it and it will spillover, not only affecting Israelis and Palestinians but rather affecting the whole region", said a senior Jordanian officials who preferred to be anonymous.
The official said that "the Joint Jordanian Palestinian Crisis Committee's major objective is to monitor any Israeli measures to change the identity of the holy city including installing metal detectors as this would be a pretext to ignite a third upheaval in the west bank that would have its repercussions on other countries in the Middle East".
Members of the joint committee are security officials from both Jordan and the Palestinian National Authority, the official added.
They will be tasked to follow up on any further violations by the Israelis against Al Aqsa Mosque and to avoid any bids to change the identity of the holy shrines in Jerusalem.
"This committee will be in charge, as its members, are mainly of security and intelligence background, will help coordinate between the three parties in order to avert such violations that would negatively affect the peace agreements with Israel".
The actions taken by Israel at the holy site in Jerusalem has led to demonstrations in Jordan, which resulted in the killing of two Jordanians at the Israeli embassy in Amman.
The perpetrator was received as a hero by Israeli Prime Minister Benyamin Netanyahu. His office, furthermore, distributed a video showing him welcoming the guard as a hero and has fueled Jordanian anger.
King Abdullah's outrage was clear with him castigating Netanyahu, blaming the prime minister for exploiting the incident for "personal political gains".
King Abdullah further stated that bilateral ties between Amman and Tel Aviv now rely on how Netanyahu would react regarding this issue, given the fact that Israel's relations with Jordan were further strained with the recent expropriation of Palestinian lands in Jerusalem.
Jordanian officials have warned in meetings with Israelis and Palestinians that any acts that threaten the situation in the holy city would have grave consequences for the region as a whole.
Full report at:
https://english.alarabiya.net/en/features/2017/08/18/A-joint-Jordanian-Palestinian-crisis-committee-to-avoid-a-third-intifada.html
--------
Somalia-based al-Shabab terror group beheads 3 people in Kenya
Aug 18, 2017
Kenyan officials say suspected Takfiri al-Shabab militants from Somalia have beheaded three people and burnt houses in an attack in Kenya.
Lamu County Commissioner Gilbert Kitiyo said gunmen believed to be al-Qaida-linked al-Shabab militants attacked Maleli Village near the town of Witu, media reported on Friday.
Last month, the Somalia-based terror group was accused of beheading nine people in another village in Lamu County and has stepped up attacks in the East African country in recent weeks.
The Takfiri al-Shabab militant group has vowed retribution against Kenya for sending troops across the border to Somalia in 2011 to fight the group.
Al-Shabab has seen its power diminished since the beginning of the Kenyan army operations; however, the militant group continues to carry out terrorist attacks.
The terror group has escalated its attacks in the past months, using homemade explosive devices.
Al-Shabab, which has been an al-Qaeda affiliate since 2012, has been designated as a terrorist organization by many countries.
Full report at:
http://www.presstv.ir/Detail/2017/08/18/532116/Somalia-Kenya-Maleli-Village-Shabab-attack
--------
URL: https://www.newageislam.com/islamic-world-news/get-muftis-with-degrees-non/d/112258
New Age Islam, Islam Online, Islamic Website, African Muslim News, Arab World News, South Asia News, Indian Muslim News, World Muslim News, Women in Islam, Islamic Feminism, Arab Women, Women In Arab, Islamophobia in America, Muslim Women in West, Islam Women and Feminism