New Age Islam News Bureau
8 March 2015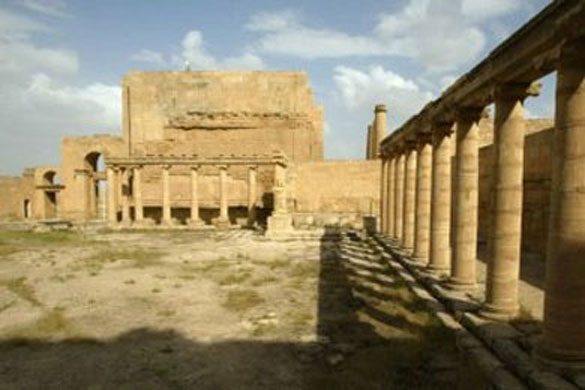 PHOTO: The court of the royal palace in the ancient city of Hatra, where Hellenistic and Roman architecture blend with eastern decorative features. (AFP: Philippe Desmazes, file)
---------
Europe
• German Official Says Saudi Arabia Top 'Terror Exporter' In Mideast
• Britain to Send More Troops To Iraq On Training Mission
------------
Arab World
• IS Militants Have Destroyed Ancient Remains of the 2,000-Year-Old City Of Hatra, Iraq
• UAE warplanes hit IS-controlled sites
• Grand mufti calls on Border Guards to be tough on terrorists, drug smugglers
• Penalties set for Umrah firms flouting regulations
• Iraq forces face rebel resistance in Tikrit
• Egypt carries out first execution of Mursi supporter
• One dead in bombing near French supermarket in Egypt
• Egypt to temporarily reopen Rafah crossing with Gaza
------------
Africa
• Three Bombings Blamed On Boko Haram Kill 58 in Nigeria
• Militants Attack Libyan Oilfield, 11 Dead
• 2 Europeans shot dead in Mali attack
• Libyan Islamic leader backs UN talks
• As civil war rages, clan violence also worsening in S Sudan
• Foreigners targeted in Mali restaurant attack
• ISIL tightens grip on Libya's Derna
• Czech, Austrian, others missing after Libya attack
-----------
India
• J&K: Muslim League Leader Masarat Alam Freed From Prison after 4 Years
• 'Muslim Representation in All India Services Remains Poor'
• Changing govt doesn't change ground reality in J&K: Masarat Alam after release
-----------
Pakistan
• Operations to Continue Until Militancy Is Eliminated: Gen Raheel
• Muslim World Itself Should Decide Its Future and Destiny: Senator
• Pakistan, Afghanistan Will Not Allow Use of Its Soil against Each Other: Aziz
• Holi celebrated to show solidarity with Hindus
• PML-N, PPP offer Senate post to allies
• Govt finally finds lawyer to prosecute Lakhvi
• Mama Qadeer urges human rights watchdogs to probe authorities' actions
• Musharraf favours creation of more provinces
• PML-N seeks Q's support for top Senate posts
• Law on GB governor's appointment challenged
• Security forces foil plot to subvert Pakistan Day functions
• World urged to declare rape, molestation in Held Kashmir a war crime
-----------
North America
• Ohio Man Accused of Plotting Capitol Attack Says Would Have Shot Obama
• Canadian soldier killed by friendly fire in Iraq
-------------
South Asia
• Gunmen Kill Six in Kabul's Sufi Mosque Attack
• Won't Compromise Social Freedoms in Peace Negotiations: Afghanistan
• Islamists to rise if crisis continues in Bangladesh
• Punishment must Says PM about Khaleda at March 7 rally
--------------
Mideast
• Iran to Unveil Long-Range S-200-Tied Missile Defence System
• Israel Set To Expand Settlement Activities in Jordan Valley
• Iran open to cooperation against extremism
• Hadi says Aden is Yemen 'capital'
• Yemen defence minister escapes house arrest
• China FM 'hopeful' about final Iran nuclear deal
-----------
Southeast Asia
• Now Malaysian Minister Wants Islamic Teams at Varsities
• Death Penalty Doesn't Violate Human Rights: Religious Affairs Minister
• Police Arrest Four Men over Alleged Link to Terrorist Santoso
• Muslim fighters sign up to vote as Philippines moves to save peace pact
• Malaysia named as number 1 destination for Muslim Travel
• China says search for missing Malaysian plane will not stop
Compiled by New Age Islam News Bureau
URL: https://www.newageislam.com/islamic-world-news/new-age-islam-news-bureau/german-official-says-saudi-arabia-top-'terror-exporter'-in-mideast/d/101859
-----------
Europe
German Official Says Saudi Arabia Top 'Terror Exporter' In Mideast
Mar 8, 2015
A senior German official has called for the reconsideration of Germany's arms exports to Saudi Arabia, describing the monarchy as the leading exporter of terrorism in the Middle East.
Vice President of the German Parliament (Bundestag) Claudia Roth put forward the demand in an interview with German newspaper Welt am Sonntag printed on Sunday.
Roth (shown below) called Riyadh "the top terror exporter in the Middle East," adding that "a large portion" of extremist militants in Syria, Afghanistan and Iraq hail from Saudi Arabia.
Germany's guidelines on weapons exports make it "crystal clear that deliveries cannot be made to such countries," she stressed.
The Green party's politician also called for the release of Saudi activist Raif Badawi who is sentenced to 10 years in prison and 1,000 lashes.
"Besides the weapons deals, Germany is also discussing other trade ties with Saudi Arabia," she said. "Pressure could certainly be brought to bear using these."
The comments came as German Vice Chancellor, Social Democrat leader and Economy and Energy Minister Sigmar Gabriel kicked off his tour of the Middle East in Riyadh on Saturday.
The oil-rich country is reported to be "one of the most important clients of Germany's arms industry."
Riyadh world's biggest arms importer
A new report shows that Saudi Arabia has overtaken India to become the largest arms importer in the world over the last year.
The kingdom's military spending jumped 54 percent to USD 6.5 billion in 2014, while New Delhi imported USD 5.8 billion worth of weapons, said a Sunday report by IHS Inc, a leading analyst of the global arms trade.
"Growth in Saudi Arabia has been dramatic and, based on previous orders, these numbers are not going to slow down," said Ben Moores, the report's author.
Saudi Imports will rise 52 percent to reach USD 9.8 billion in the current year, which means one out of every seven dollars spent on arms imports worldwide will be spent by Saudi Arabia.
Riyadh is said to be one of the major supporters of Takfiri militants wreaking havoc in Iraq and Syria. Saudi Arabia also backs the Bahraini regime in its crackdown on pro-democracy protesters.
The results of a recent survey conducted for German daily Bild have shown that 78 percent of Germans believe Berlin should stop selling arms to Saudi Arabia, while a further 60 percent favor breaking off trade relations all together with the Persian Gulf monarchy due to its human rights violations.
http://www.presstv.in/Detail/2015/03/08/400834/Riyadh-biggest-terror-exporter
------------
Britain to send more troops to Iraq on training mission
8 March 2015
The UK is due to send more troops to Iraq to help in the fight against the Islamic State of Iraq and Syria (ISIS), the BBC reported Sunday.
Prime Minister David Cameron authorized the deployment of nearly 60 extra army personnel who will train Kursdish forces.
More than 1,000 Kurdish troops have already been trained by UK personnel, according to the BBC.
Speaking about the training, Defence Secretary Michael Fallon said: "[The] training will give Iraqi forces a vital capability in taking the fight to ISIS and is another example of our commitment to the campaign against ISIS."
"Along with our airstrikes, Britain is making a major contribution to training Iraqi forces to help them defend their country."
"It will take time but the coalition airstrikes are having a direct impact in supporting Iraqi ground operations to retake areas and push back ISIS."
http://english.alarabiya.net/en/News/middle-east/2015/03/08/UK-to-send-more-troops-to-Iraq-in-fight-against-ISIS.html
-----------
Arab World
IS Militants Have Destroyed Ancient Remains of the 2,000-Year-Old City Of Hatra, Iraq
IS razes Iraq's ancient Hatra city
March 08, 2015
BAGHDAD - Islamic State militants have destroyed ancient remains of the 2,000-year-old city of Hatra in northern Iraq, the tourism and antiquities ministry said on Saturday.
An official told Reuters that the ministry had received reports from its employees in the northern city of Mosul, which is under the control of the radical Islamist group, that the site at Hatra had been demolished on Saturday. The official said it was difficult to confirm the reports and the ministry had not received any pictures showing the extent of the damage at Hatra, which was named a world heritage site in 1987.
But a resident in the area told Reuters he heard a powerful explosion early on Saturday and said that other people nearby had reported that Islamic State militants had destroyed some of the larger buildings in Hatra and were bulldozing other parts. Hatra lies about 110 km (70 miles) south of Mosul, the largest city under Islamic State control. A week ago the militants released a video showing them smashing statues and carvings in the city's museum, home to priceless Assyrian and Hellenistic artefacts dating back 3,000 years.
On Thursday they attacked the remains of the Assyrian city of Nimrud, south of Mosul, with bulldozers. The United Nations cultural agency Unesco condemned the actions as 'cultural cleansing' and said they amounted to war crimes. Hatra dates back 2,000 years to the Seleucid empire which controlled a large part of the ancient world conquered by Alexander the Great. It is famous for its striking pillared temple at the centre of a sprawling archaeological site.
Saeed Mamuzini, spokesman for the Mosul branch of the Kurdish Democratic Party, said the militants had used explosives to blow up buildings at Hatra and were also bulldozing it. The antiquities ministry said the lack of tough international response to earlier Islamic State attacks on Iraq's historic sites had encouraged the group to continue its campaign. 'The delay in international support for Iraq has encouraged terrorists to commit another crime of stealing and demolishing the remains of the city of Hatra,' it said in a statement. Archaeologists have compared the assault on Iraq's cultural history to the Taliban's destruction of the Bamyan Buddhas in 2001.
But the damage wrecked by Islamic State, not just on ancient monuments but also on rival Muslim places of worship, has been swift, relentless and more wide-ranging. Last week's video showed them toppling statues and carvings from plinths in the Mosul museum and smashing them with sledge hammers and drills. It also showed damage to a huge statue of a bull at the Nergal Gate into the city of Nineveh.
Islamic State, which rules a self-declared caliphate in parts of Iraq and Syria, promotes a fiercely purist interpretation of Sunni Islam which draws its inspiration from early Islamic history. It rejects religious shrines of any sort and condemns Iraq's majority Shi'ite Muslims as heretics. Last July it destroyed the tomb of the prophet Jonah in Mosul. It has also attacked Shi'ite places of worship and last year gave Mosul's Christians an ultimatum to convert to Islam, pay a religious levy or face death by the sword. It has also targeted the Yazidi minority in the Sinjar Mountains west of Mosul.
http://nation.com.pk/international/08-Mar-2015/is-razes-iraq-s-ancient-hatra-city
-----------
UAE warplanes hit IS-controlled sites
8 March 2015
ABU DHABI: The United Arab Emirates said Saturday its warplanes had carried out raids against oil installations held by the Islamic State group, which controls large swathes of Iraq and Syria.
The state news agency WAM did not say where the raids struck, only that UAE fighter jets took off overnight Friday from their base in Jordan, another partner in the US-led coalition against the militants.
"UAE Air Force F-16 squadron deployed to an airbase in Jordan conducted fresh air strikes last night against the terrorist organization (IS)," WAM said.
The planes hit several IS "operation and extraction points along crude oil pipelines in order to dry up the terror group's sources of funding," it said, adding they all returned safely.
It was the second reported air strikes by UAE aircraft since Feb. 16 when warplanes from the Gulf federation also took off from Jordan and hit oil refineries held by IS.
The location of last month's strikes was not specified either.
The UAE suspended participation in the US-led coalition against IS in December amid reported differences with Washington on ways and means of rescuing downed coalition pilots. But it resumed air strikes in February and deployed a squadron the F-16s to Jordan after militants murdered a Jordanian pilot captured in December when his place went down over Syria.
IS released a video in early February showing the burning to death of Maaz Al-Kassasbeh.
Coalition strikes have frequently targeted oil facilities run by IS which has made huge profits from illegal oil sales. A UN report in November estimated that IS was earning between $850,000 and $1.6 million daily from oil sales.
http://www.arabnews.com/middle-east/news/715166
-----------
Grand mufti calls on Border Guards to be tough on terrorists, drug smugglers
8 March 2015
Grand Mufti Sheikh Abdul Aziz Al-Asheikh warned officials and employees at all the borders outposts against betraying their country, reminding them of their great responsibility and the trust put in them to guard the Kingdom.
Addressing these officials, Al-Asheikh pointed out they must help their fellow citizens. "All of you officials guarding your posts, you should know that God has burdened you with this responsibility and the Almighty will hold you accountable if you betray this responsibility," he said.
"You should never allow drugs to pass through the borders inside the Kingdom and you should guard the borders and extend a helping hand to your fellow Muslim citizens," Al-Asheikh said, adding that suicide bombers are only a bunch of drugs addicts.
The Grand Mufti was speaking during the Friday sermon he delivered at the Imam Turki bin Abdullah Mosque in Riyadh, where he stated that anybody using drugs cannot be entrusted with the secrets of the nation.
He explained to worshipers that the enemies of Islam are making all efforts to corrupt the nation and its people, and to promote for the dubious drugs to destroy and damage the ethics of the citizens and their morale.
"King Salman bin Abdulaziz paid much attention and care to fight against drugs and arrest drug dealers to prevent them from inflicting harm and damage to citizens. That is why all special bodies are deployed in airports and borders," the Grand Mufti stressed.
Regarding suicide bombers he further stated that they are not in their right mind and do not grasp what they are actually doing.
"No person with sound mind and thought would commit such acts. Those addicts have no understanding and their minds were stolen from them," he added.
http://www.arabnews.com/saudi-arabia/news/715261
-----------
Penalties set for Umrah firms flouting regulations
8 March 2015
The Ministry of Haj recently confirmed that Umrah companies that do not follow rules will be closed temporarily, as the government wants to regulate religious tourism to the Kingdom. Authorities will close these establishments for a period of 12, 24 or 48 hours until the owners comply with regulations.
Undersecretary for the Ministry of Haj for Umrah affairs, and director of the ministry's branch in Jeddah, Abdullah Mirghalani, said any such closures are temporary, to make sure the companies are committed to offering quality services for Umrah pilgrims, and implement the articles of the service contract.
Full report at:
http://www.arabnews.com/saudi-arabia/news/715306
-----------
Iraq forces face rebel resistance in Tikrit
8 March 2015
SAMARRA: Iraqi forces faced tough resistance from rebels around Tikrit Saturday, but the top US military officer said ahead of a Baghdad visit that victory was only a matter of time.
Gen. Martin Dempsey insisted US air strikes north of Tikrit had been key.
"The Tikrit operation is only possible because of the air campaign we've been running around Baiji," a town further north, he said.
Full report at:
http://www.arabnews.com/middle-east/news/715176
-----------
Egypt carries out first execution of Mursi supporter
7 March 2015
CAIRO: Egypt executed an Islamist on Saturday for a murder committed during riots in mid-2013, the first death sentence carried out against a supporter of the banned Muslim Brotherhood under President Abdel Fattah El-Sissi.
The interior ministry said in a statement on its Facebook page that Mahmoud Hassan Ramadan had been hanged for an incident where children were thrown from a building during protests in 2013 against the ouster of Islamist President Mohamed Mursi.
Security sources have described Ramadan as a radical Islamist who is not officially a Brotherhood member.
Former army chief Sissi oversaw the army's removal of the Brotherhood's Mursi, elected president following the 2011 uprising, in July 2013 following mass protests against his rule. He has since implemented a harsh crackdown on Islamists as well as secular political opponents.
Egyptian courts have sentenced hundreds of alleged Brotherhood supporters to death in recent months, many in mass trials condemned by foreign governments and rights groups as violating international law.
Full report at:
http://www.arabnews.com/featured/news/714921
-----------
One dead in bombing near French supermarket in Egypt
8 March 2015
A bomb blast outside a branch of French supermarket giant Carrefour killed one person and wound six on Sunday in the Egyptian city of Alexandria, police said.
Since the military ousted Islamist president Mohammad Mursi in 2013, militants have repeatedly set off explosives in Cairo and Alexandria, but the deadliest attacks have been in the Sinai Peninsula.
In Sunday's attack, a bomb went off only meters (yards) away from the Carrefour supermarket in the northern city, killing one person and damaging the facade of the building, the police said.
Full report at:
http://english.alarabiya.net/en/News/middle-east/2015/03/08/One-dead-in-bombing-near-French-supermarket-in-Egypt.html
-----------
Egypt to temporarily reopen Rafah crossing with Gaza
7 March 2015
Egypt will reopen its Rafah border crossing with Gaza for two days from Monday, for the fourth time since it was closed after a suicide bombing, security officials said.
The terminal was shut after the bombing in the Sinai Peninsula in October killed 30 soldiers, and has since been reopened three times.
The only access point to the Gaza Strip not controlled by Israel will reopen on Monday and Tuesday to allow Palestinians stranded on both sides to cross.
Palestinians who travel through Rafah are mostly students heading to universities in Egypt or beyond, and those seeking medical treatment.
October's attack also led to a state of emergency and curfew being imposed in some parts of North Sinai where security forces are battling an Islamist insurgency.
The army has also created a wide buffer zone along the border with Gaza aimed at preventing infiltration by militants.
Full report at:
http://english.alarabiya.net/en/News/middle-east/2015/03/07/Egypt-to-temporarily-reopen-Rafah-crossing-with-Gaza-.html
-----------
Africa
Three Bombings Blamed On Boko Haram Kill 58 in Nigeria
Mar 8, 2015
MAIDUGURI: Three bombings, including one by a woman suicide attacker, killed at least 58 people and wounded 139 others in northeast Nigeria on Saturday, in the latest violence blamed on Boko Haram.
Many children were among the dead in the explosions that hit two crowded markets and a busy bus station in Maiduguri, the region's largest city and capital of the embattled Borno state.
The Nigerian Islamist militants have relentlessly attacked Maiduguri throughout their six-year uprising, which has cost more than 13,000 lives and security forces in the city have struggled to contain the bloodshed.
Nigeria has since last month claimed key victories over Boko Haram in an offensive being waged in cooperation with forces from neighbouring Cameroon, Chad and Niger.
Several towns and villages in the northeast previously captured by the insurgents have reportedly been taken back by government troops and experts have said that in response Boko Haram was likely to increase attacks on civilian targets in major cities.
A woman with explosives strapped to her body blew herself up at about 11:20am when she got out of a motorised rickshaw at Maiduguri's Baga fish market, said the head of the fisherman's union, Abubakar Gamandi, who was at the scene.
"The bomb was devastating because it occurred at a crowded area," said Jamuna Jarmi, a grocery seller.
Boko Haram has deployed women and even girls as young as seven as human bombs in attacks across northern Nigeria in recent months, prompting global condemnation, including from other militant groups.
About an hour later another blast rocked a popular market, causing chaos as locals voiced anger at security forces who struggled to control the scene.
Just after 1pm a third blast hit a used car lot which is attached to the busy Borno Express bus terminal.
There were indications that the second and third blasts were also carried out by suicide bombers but details were not immediately clear.
Borno's police commissioner Clement Adoda gave a toll of 58 dead "for the three locations" and 139 wounded.
Full report at:
http://www.dawn.com/news/1168111/three-bombings-blamed-on-boko-haram-kill-58-in-nigeria
-----------
Militants attack Libyan oilfield, 11 dead
March 08, 2015
BENGHAZI - Militant gunmen attacked Libya's al-Ghani oilfield on Friday, killing 11 guards, beheading some of them, before local forces fought back to retake control, an oil security official said.
The al-Ghani attack illustrated Libya's growing instability where two rival governments battle for control while extremist militants profit from chaos to secure a foothold four years after civil war ousted Muammar Gaddafi. Libya's internationally-recognized government of Prime Minister Abdullah al-Thinni has operated out of the east since a rival armed faction called Libya Dawn took over Tripoli in fighting last summer and set up its own administration.
With the rival governments both claiming legitimate control over oil operations, details about attacks, oil shipments and even production are difficult to verify. The state-run National Oil Corporation in Tripoli said unidentified gunmen attacked al-Ghani from the north on Friday, causing 'massive damage' without further details.
Full report at:
http://nation.com.pk/international/08-Mar-2015/militants-attack-libyan-oilfield-11-dead
-----------
2 Europeans shot dead in Mali attack
March 08, 2015
BAMAKO - Five people including two Europeans and a Malian police officer were killed in an assault on a Bamako nightclub Saturday, in the first suspected attack targeting Westerners in a city braced for jihadist violence since 2012.
At least one masked gunman entered the club in an area of the Malian capital popular with expatriates around 1:00 am (0100 GMT) and sprayed the venue with automatic gunfire and threw grenades, witnesses said.
No group claimed responsibility for the attack, although suspicion is likely to focus on Islamist rebels operating in Mali's vast desert north, which has struggled for stability since a coup three years ago.
Customers of La Terrasse, in Bamako's lively Hippodrome district, described how the masked assailant arrived in a black four-wheel drive and headed to the upstairs restaurant and bar area to begin shooting.
As he left he lobbed two grenades at a security patrol and one went off, killing a policeman, witnesses said.
"The killer came here because there were foreigners.
He wanted to kill foreigners, that's for sure," a waiter at the venue told AFP.
"This is a terrorist attack, although we're waiting for clarification.
Provisionally, there are four dead - one French national, a Belgian and two Malians," a policeman told AFP.
The United Nations MINUSMA peacekeeping force later clarified that a third Malian had died.
Hospital sources said eight people were wounded, including three Swiss nationals, one of them a woman.
Full report at:
http://nation.com.pk/national/08-Mar-2015/2-europeans-shot-dead-in-mali-attack
-----------
Libyan Islamic leader backs UN talks
8 March 2015
TRIPOLI: An influential Islamic supporter of Libya's self-declared government said United Nations talks were the only way to end the country's conflict, but signalled a deal would be hard while a rival government works with a former ally of Muammar Qaddafi.
The remarks from Abdul Hakeem Belhadj illustrate how support for UN sponsored negotiations may be complicated by divisions within the two loose alliances of Libyan forces now competing for power.
Four years after the civil war that ousted Qaddafi, the North African country is caught up in conflict between two rival governments and their armed forces fighting to secure control over the OPEC member's oil wealth.
"Unfortunately the current crisis, the division between the two parliaments, governments and also two groups of army, could be only ended through consensus and serious dialogue," Belhadj told Reuters in an interview.
Full report at:
http://www.arabnews.com/middle-east/news/715171
-----------
As civil war rages, clan violence also worsening in S Sudan
March 08, 2015
Sebastian Mabor was out last month looking for his cows - and almost ended up another casualty in South Sudan's seemingly unstoppable descent into a cycle of violence.
Even though the central Lakes State region his been largely spared by the 15-month-old civil war, the conflict has nevertheless left the country awash with even more weapons, so that what used to be petty disputes are now often deadly. 'They took me at gunpoint to the bush, made me sit down,' Mabor said of his experience, just a short walk away from his village and from which he barely escaped. 'One of them said 'he's one to be killed', but another said 'no, he has to tell us which sub-clan he's from''.
'Before you could go to another village. But now if your cow is lost, you're not looking for it or you might be killed,' said the 37-year-old. South Sudan's civil war broke out in December 2013, when President Salva Kiir, from the majority Dinka tribe, accused his sacked deputy, Riek Machar of the Nuer tribe, of plotting a coup.
The world's youngest nation, which only gained independence from Khartoum in 2011, has since been carved up along ethnic lines - with the war marked by ethnic massacres, gang rapes, child soldier recruitment and a state of near-famine in many areas. Mabor's ordeal may be common in the wider context, but what makes it all the more alarming is that his attackers were from the same ethnic group, the Dinka, and only targeted him because they were hunting members of a different Dinka sub-clan.
Full report at:
http://nation.com.pk/international/08-Mar-2015/as-civil-war-rages-clan-violence-also-worsening-in-s-sudan
-----------
Foreigners targeted in Mali restaurant attack
8 Mar 2015
A Sahara-based group has reportedly claimed responsibility for a rare attack in Mali's capital that killed five people.
The attack early on Saturday morning on La Terrasse, a popular restaurant with expatriates in Bamako, left a French citizen, a Belgian security officer and three Malians dead and nine others wounded, a senior Malian security official told the Reuters news agency.
"There were two individuals who were armed and hooded. One burst into the La Terrasse restaurant and opened fire on people. Then he got into a vehicle in which the other was waiting," senior police officer Falaye Kanté said.
"As they fled down a neighbouring street, they shot a Belgian man who was in front of his house. He's dead. Not far away they came across a police vehicle and threw a grenade, killing the driver," he said.
Mali's desert north, where French forces took territory from rebels, is plagued by frequent attacks. But this is the first such attack for years in Bamako, located in the south, raising fears the capital will become targeted more often.
Malian President Ibrahim Boubacar Keïta visited the restaurant after the attack, and his government pledged to bring the attackers to justice.
In Paris, French President Francois Hollande's office said the French leader had spoken with Keita and that they had agreed on new "common measures" to reinforce security in Mali.
EU foreign policy chief Federica Mogherini said the Belgian victim was a security officer at the European Union's delegation in Bamako.
Full report at:
http://www.aljazeera.com/news/africa/2015/03/foreigners-targeted-mali-restaurant-attack-150308015450972.html
-----------
ISIL tightens grip on Libya's Derna
07 Mar 2015
Tripoli, Libya - The Libyan Army, headed by General Khalifa Haftar, has edged closer to the small coastal town of Derna, 250km east of Benghazi. It is believed to be preparing for an attack to rid the area of fighters with the Islamic State of Iraq and the Levant (ISIL).
The army's move comes on the back of violent tit-for-tat attacks. The beheadings on a Libyan beach last month of 21 Coptic Christians by a group calling itself the Tripoli Province of the Islamic State was followed one day later by joint Egyptian and Libyan air strikes on Derna, killing seven civilians. Another group calling itself the Barqa Province for the Islamic State retaliated days later in al-Gubba, claiming responsibility for twin suicide blasts that killed 44 people and injured scores more.
Derna is home to the Islamic Youth Shura Council, which was among the first groups in Libya to declare allegiance to ISIL last fall. To mark the occasion, fighters paraded their vehicles through the town's centre in a show of strength. Judges and prosecutors have since been targeted and courts abolished, while the fighters serve up their own interpretation of Islamic law.
RELATED: ISIL claims responsibility for deadly Libya blasts
"Armed militias that control the eastern city of Derna are terrorising residents through summary executions, public floggings, and other violent abuse," Human Rights Watch reported at the time. "The abuses are taking place in the absence of state authorities and the rule of law."
Full report at:
http://www.aljazeera.com/news/2015/03/isil-tightens-grip-libya-derna-150307090237967.html
-----------
Czech, Austrian, others missing after Libya attack
March 08, 2015
PRAGUE - Around 10 foreigners are missing after an attack on a Libyan oil field and there is a possibility they have been taken hostage, Czech Foreign Minister Lubomir Zaoralek said on Saturday.
Zaoralek said the workers missing from the Al-Ghani field included a Czech and an Austrian and others from Bangladesh and the Philippines. 'We are examining the possibility that a kidnapping has taken place,' Zaoralek told Reuters.
Libya's oil security forces said on Friday they had retaken control of the oilfield after militants attacked the facility, killing seven guards. The Czech minister said there had been no contact from any group claiming responsibility. He added the ministry was convinced the Czech citizen had not been killed in the attack.
Libya's state oil company meanwhile said at least seven foreigners including an Austrian, a Czech, Filipinos and a national of an African country were missing.
'Foreigners from an Austrian oil services company, operating in the field, are still missing since the time of the attack, we do not know their fate,' National Oil Corporation spokesman Mohamed El-Hariri said. The Czech ministry said a crisis committee including Prime Minister Bohuslav Sobotka and secret services had met to discuss the situation, and a foreign ministry representative would be dispatched to the region as soon as possible.
Full report at:
http://nation.com.pk/international/08-Mar-2015/czech-austrian-others-missing-after-libya-attack
-----------
India
J&K: Muslim League leader Masarat Alam freed from prison after 4 years
Mar 8, 2015
Jammu: Masarat Alam, leader of the hardline-faction of Hurriyat, who had spearheaded the stone-pelting agitations in the valley in 2008 and 2010, was on Saturday released from prison following the new government's policy of freeing political prisoners who do not face criminal charges.
The orders for the release of 42-year-old Alam, chief of the Jammu Kashmir Muslim League, has been issued by the Home Department and he is technically free, a top police official in Baramulla had said. DGP K Rajendra confirmed that Alam was released.
Earlier in the day, Rajendra said that police will comply with the directions of Chief Minister Mufti Mohammad Sayeed, who has sought release of all political prisoners who do not face any criminal charge.
"Yes, all the directions issued by the government (on release of political prisoners from jails in the state) will be complied with. Let us be assured about it," Director General of Police (DGP), J&K, K Rajendra Kumar told reporters on Saturday.
He was asked whether the process of release of political prisoners has begun at the level of the police.
"Any direction coming from the the government would be looked into and would be worked out," the DGP said.
In a meeting with the police chief on Wednesday, Sayeed had asked the police to initiate a process of releasing all political prisoners in the State against whom no criminal charges have been registered.
Full report at:
http://www.firstpost.com/india/jk-muslim-league-leader-masarat-alam-freed-from-prison-after-4-years-2141671.html
-----------
'Muslim Representation in All India Services Remains Poor'
Mar 8, 2015
HYDERABAD: The Islamic Development Bank (IDB) in the past 30 years has extended financial assistance to the tune of $ 60 million to uplift the Muslim community across India and will continue to do so, said IDB social projects in-charge Zafar Javed.
Speaking to STOI on Saturday, Javed said that the bank, headquartered in Jeddah, Saudi Arabia has provided assistance to many a minority service institutions, including schools, colleges and hospitals, in the country and both states of Telangana and Andhra Pradesh. "The Indian panel of IDB intends to further help Muslim students by means of providing scholarships and infrastructure development to various institutions. The meagre representation of Muslims in the All India Services remains a problem which is why a training centre will be set up in Bangalore where students from Telangana can also be coached. The programme will cover state services (group 1) as well. Another centre will be established in north India," he said.
The Indian panel has concluded Muslims in the West Bengal and restive regions of the North-Eastern states find themselves in a similar situation as seen in Hyderabad in the early 80's - a time when education and employment in the community was low. Muslims in these states are struggling to become employable. "We have observed that Muslims in the region, and some other parts of north India, are 30 years behind their counterparts of the north. This is in terms of infrastructure and facilities for education, apart from other components of the human development index. Immediate intervention is required in these places," Javed said. Full report at:
http://timesofindia.indiatimes.com/city/hyderabad/Muslim-representation-in-AIS-remains-poor/articleshow/46488992.cms
-----------
Changing govt doesn't change ground reality in J&K: Masarat Alam after release
Mar 8, 2015
SRINAGAR: A day after being released from jail, Hurriyat Conference leader Masarat Alam has taken a dig at the newly formed PDP-BJP coalition government in Jammu and Kashmir.
The leader of the hardline-faction on Sunday said that changing governments did not change the ground reality in the state.
"Changing governments does not change the ground reality. Either we will change it or the people," Alam was quoted as saying by ANI. Furthermore, the separatist leader said that his release from Baramulla prison was not a big deal as he had been out on bail thrice earlier. Alam was lodged in the Baramulla jail since 2010 after being arrested for organising anti-India rallies across the Kashmir valley.
"We have to look at this procedure in a legal way. I have been arrested many times and have been granted bail thrice and therefore it is not a big deal if I have been released. I have spent most of the time in jails since my childhood therefore it would not be a big deal if I get arrested again," he said.
Full report at:
http://timesofindia.indiatimes.com/india/Changing-govt-doesnt-change-ground-reality-in-JK-Masarat-Alam-after-release/articleshow/46492032.cms
--------------
Pakistan
Operations to continue until militancy is eliminated: Gen Raheel
Mar 8, 2015
PESHAWAR: Chief of Army Staff General Raheel Sharif visited the Corps Headquarters in Peshawar on Saturday, where he was briefed on progress made in the ongoing Zarb-i-Azb and Khyber-1 operations, Director-General Inter-Services Public Relations (ISPR) Major General Asim Bajwa said on his Twitter account.
The army chief was also briefed on the security situation in Khyber Pakhtunkhwa and Fata. General Raheel said the operations would continue until militancy in the country is brought to an end. He also appreciated the progress made through intelligence-based operations.
He added that the process of returning Temporarily Displaced Persons (TDPs) to their homes would begin by the middle of March.
Full report at:
http://www.dawn.com/news/1168008/operations-to-continue-until-militancy-is-eliminated-gen-raheel
-----------
Muslim world itself should decide its future and destiny: Senator
March 08, 2015
ISLAMABAD: Senator Mushahid Hussain Sayed has said that the destiny and future of the Muslim world should be decided by Muslims themselves through vision and will, and not by those sitting in Washington, Paris, London or Brussels.
He was addressing the opening session of the 6th Think Tanks Forum of Islamic Countries on 'Addressing Multi-dimensional Security Challenges' that began here in Islamabad on Saturday.
Hussain is Chairman of the organising committee hosting the Forum which brings together 60 top scholars, intellectuals and opinion leaders from 25 countries. This unique conference is the first of its kind to be held in Pakistan.
The Forum has been jointly organised by the Pakistan Senate Defence Committee, Pakistan-China Institute, the top Turkish think tank, TASAM, and the Konrad Adenauer Stiftung (KAS).
He further added that "we have been unable to create a narrative for the Muslim world" and this Forum, comprising the 'best and brightest minds in the Muslim World', intends to create a platform so that "we provide leadership with ideas, issues and initiatives". He rejected conspiracy theories and said Muslims have an inward looking approach, frankly accepting the fact that 'their affluence has not translated into influence' citing the UN system where Muslims should also hold a permanent seat in the Security Council with countries rotating their membership. If Israel's prime minister can address the US Congress, why not Muslim statesmen, he asked, so that our narrative is presented with logic, wisdom and facts? He announced that the Forum will henceforth be called the 'World Islamic Forum' and the next forum, the 7th, will be held in Tehran.
Full report at:
http://www.dailytimes.com.pk/national/08-Mar-2015/muslim-world-itself-should-decide-its-future-and-destiny-mushahid
-----------
Pakistan, Afghanistan will not allow use of its soil against each other: Aziz
March 08, 2015
Islamabad- Prime Minister's Advisor on National Security and Foreign Affairs Sartaj Aziz today said that Afghan Taliban and the government in Kabul have formed committees for talks.
He was replying to media queries after delivering his keynote address at a conference organized in a hotel by Think Tanks Forum of the Islamic Countries with theme "Addressing Multi-Dimensional Security Challenges".
He however avoided explanation to the questions regarding initial contacts between the Afghan Taliban and the government. "Let us see what happen next and commenting over the issue on this stage is too earlier," he said.
Aziz said that Pakistan would continue its support for Afghan reconciliation process. "Pakistan and Afghanistan are brotherly country and they would not allow anyone to use its soil against each other," he said.
Over Pak-India talks, he said that Pakistan wishes for talks on all issues and disputes, adding that talks between the Foreign Secretaries of the two countries were positive.
To a question he said that Pakistan want peaceful neighborhood and reducing of tension with India. "First of all confidence which is lacking between the two countries should be built and then moving forward would be possible." The advisor said that Pakistan would continue positive and purposeful engagement with India over the issue of Kashmir.
Full report at:
http://nation.com.pk/national/08-Mar-2015/pakistan-afghanistan-will-not-allow-use-of-its-soil-against-each-other-aziz
-----------
Holi celebrated to show solidarity with Hindus
March 08, 2015
Islamabad - The Progressive Youth Forum (PYF) Pakistan — a youth-led political foundation striving for social democracy in the country — organised Holi celebrations in the federal capital to show solidarity with Hindus across the country on the launch of the series of "Political Movie Screenings.
"
This celebration was an effort to promote interfaith, inter-cultural, coexistence and pluralism among different religious and ethnic groups in Pakistan.
The PYF has launched a social media campaign to counter the radicalisation in the country which is going to lay down the foundations of religious tolerance in the terror hit country.
"No country can progress until and unless the peace is not prevailed in any country," said Abdullah Dayo, the general secretary of PYF.
"Radicalisation is not the killing of people on the basis of sectarianism but it is a mindset.
If we don't start promoting interfaith harmony today, tomorrow our children will be facing worst problems," he explained.
The launch of "Progressive Movie Screenings" was launched in Islamabad for the political education of youth.
Talking to the participants, Sidra Saeed, chairperson of PYF, said that youth constitute the 62% of the total population who are deliberately kept apolitical and this is the reason that our country has always been the fragile state with a weak democracy.
In order to strengthen the democracy, it is necessary to bring the youth into mainstream politics.
Full report at:
http://nation.com.pk/islamabad/08-Mar-2015/holi-celebrated-to-show-solidarity-with-hindus
-----------
PML-N, PPP offer Senate post to allies
Mar 8, 2015
ISLAMABAD: After the nail-biting Senate elections, both major political parties — PML-N and PPP — on Saturday formally launched their campaigns to gain the support of smaller parties for the coveted offices of Senate chairman and deputy chairman.
Background interviews with leaders in the two parties, who have got almost equal representation in the Senate, revealed that both were ready to offer the office of deputy chairman to their allies in return for support for their candidate for the chairman's slot.
Sources said that the ruling PML-N was considering offering the deputy chairman's office to its nationalist allies from Balochistan, whereas PPP also seemed ready to offer the post to its partners on the opposition benches.
A senior PPP office-bearer, who is privy to internal party meetings taking place at the Zardari House, told Dawn that there was no harm in offering the office of the deputy chairman to smaller parties such as the MQM or the ANP for the sake of consensus on the chairman's slot.
The PPP leader also said that the party had almost agreed that both Senate chairman and the deputy chairman should be from the smaller provinces and not from Punjab.
PPP Co-Chairperson Asif Ali Zardari, who has been in Islamabad over the past week, sent a two-member party delegation to meet JUI-F chief Maulana Fazlur Rehman on Saturday to discuss the possibility of cooperation between the two parties in the elections. JUI-F spokesman Jan Achakzai said that PPP leaders Raza Rabbani and Senator Abdul Qayyum Soomro had met the maulana and sought the JUI-F's support.
Mr Achakzai said that no specific names for the two Senate offices had come under discussion during the meeting.
Full report at:
http://www.dawn.com/news/1168175/pml-n-ppp-offer-senate-post-to-allies
-----------
Govt finally finds lawyer to prosecute Lakhvi
MALIK ASAD
Mar 8, 2015
ISLAMABAD: As the mastermind of the Mumbai attacks case steps up efforts to secure his acquittal, the federal government has decided to hand over the case to another prosecutor, in the hopes he may be able to jumpstart the long-dragging trial of Zakiur Rehman Lakhvi.
An official close to the investigation of the Mumbai attacks case told Dawn that Lahore-based lawyer Misbahul Hassan Qazi has been nominated to prosecute Lakhvi in the case.
"The interior secretary had given approval for the appointment of Advocate Misbahul Hassan Qazi as special prosecutor in the Mumbai attacks case and has forwarded a summary to the law ministry to issue a notification," he said.
The official said that if appointed, Mr Qazi would be the third special prosecutor in the Mumbai attacks case.
An advocate of the Supreme Court, he has earlier served the National Accountability Bureau (NAB) as a senior prosecutor.
Also read: Mumbai attack 'mastermind' Lakhvi detained under MPO
Advocate Qazi confirmed to Dawn that being a professional lawyer, he was on good terms with the attorney general, but did not comment on his appointment in the Mumbai attacks case, saying instead that he had dealt with criminal proceedings and had earlier been engaged in trials before Anti Terrorism Courts.
Also read: Legal loopholes led to Lakhvi's bailing out
Currently, there are two special prosecutors namely Mohammad Azhar Chaudhry and Syed Abuzar Husnain Pirzada, dealing with the Mumbai attacks case.
Misbahul Hassan Qazi said to be proficient in international law
Advocate Abuzar Pirzada was appointed to the case after the murder of special prosecutor Chaudhry Zulfiqar Ali. Ali was gunned down near his residence in Sector G-9 of Islamabad. The slain prosecutor was dealing with two high profile cases – Mumbai attacks and the Benazir Bhutto murder case.
Full report at:
http://www.dawn.com/news/1168171/govt-finally-finds-lawyer-to-prosecute-lakhvi
-----------
Mama Qadeer urges human rights watchdogs to probe authorities' actions
HASAN MANSOOR
Mar 8, 2015
KARACHI: Mama Qadeer Baloch, a sexagenarian activist known for highlighting the alleged cases of enforced disappearance of Baloch activists, called upon international watchdogs on Saturday to look into actions of the authorities in Pakistan "bent upon throttling all the voices being raised against violation of human rights".
Speaking at a press conference at the Karachi Press Club, Mr Baloch said: "It is ridiculous and unacceptable to stop someone from going abroad to raise his voice against injustices in our country."
Read: Stopped from going to US, Mama Qadeer thinks of going to SC
He was accompanied by Farzana Majeed Baloch, the general secretary of the Voice of Baloch Missing Persons.
Mr Baloch said he, Farzana Baloch and a relative had been invited to a conference in New York on enforced disappearance of Baloch and Sindhi people.
"We duly got visa from the US consulate, arranged the required funds and booked our tickets for a flight to New York on March 4," he said.
On the day of the flight, he said, initially everything was going smoothly at the airport.
Full report at:
http://www.dawn.com/news/1168168/mama-qadeer-urges-human-rights-watchdogs-to-probe-authorities-actions
-----------
Musharraf favours creation of more provinces
Mar 8, 2015
KARACHI: Pakistan needs more provinces and a third political force to break the current nexus of two prominent political parties sharing power since the late 1980s, former president retired General Pervez Musharraf said at a meeting arranged by Maulana Ehteramul Haq Thanvi at Creek Club on Saturday.
Taking almost an hour before letting the general speak, Maulana Thanvi said that his acquaintances still thought that he "sold out to a general" after facing military courts during Gen Zia's regime. But he remarked that "by supporting an inadequate democracy I realised my mistake and thought it better to support a good general".
The meeting was attended by senior lawyers, religious leaders of all sects, journalists and a few politicians. The maulana said that he deliberately did not invite members of an "ill-mannered political party who while criticising Ziaul Haq are still dependent on his ideology".
The former president touched upon many issues, including the treason case against him in the Supreme Court bearing five charges, including imposing an emergency rule after suspending the constitution. He remained defensive throughout the meeting while bringing the treason charges against him repeatedly, adding: "What's more important, the constitution or the country? If as the head of the state I feel something is against the interest of my country, I'll take action and it should not be seen with suspicion."
He said the current leadership must be charged with treason as "they are busy plundering the state left, right and centre".
Also read: More provinces?
He suggested that what the country needed at the moment were more provinces for the state to function properly. He said the biggest problems facing the country were religious militancy and sect-based targeted killings.
Full report at:
http://www.dawn.com/news/1168167/musharraf-favours-creation-of-more-provinces
-----------
PML-N seeks Q's support for top Senate posts
ZULQERNAIN TAHIR
Mar 8, 2015
LAHORE: For the first time after coming to power following the May 2013 elections, PML-N has contacted the Q-League to seek its support for the election of chairman and deputy chairman of the Senate.
Federal ministers Pervaiz Rashid and Saad Rafique telephoned PML-Q Senator Mushahid Hussain Sayed on Saturday and sought his party's support for the PML-N's candidates for the two offices or the ones backed by it.
According to sources in PML-N, Mr Sayed told the ministers that he would come with a response after talking to PML-Q leaders Chaudhry Shujaat Husain and Pervaiz Elahi.
Q-League has four seats in the Senate, PML-N 26 and PPP is leading in the upper house of 104 with 27 members.
Full report at:
http://www.dawn.com/news/1168166/pml-n-seeks-qs-support-for-top-senate-posts
-----------
Law on GB governor's appointment challenged
NASIR IQBAL
Mar 8, 2015
ISLAMABAD: The Gilgit-Baltistan Empowermaent and Self Governance Order, 2009 — under which Kashmir Affairs Minister and PML-N leader Mohammad Birjees Tahir was recently appointed governor of GB – was challenged before the Supreme Court on Saturday.
The challenge was made by Supreme Appellate Court Gilgit Bar Association General Secretary Mohammad Iqbal, through his counsel Rai Mohammad Nawaz Kharral, by filing the petition in the Supreme Court under its original jurisdiction of enforcement of fundamental rights.
The petitioner requested the Supreme Court to declare the Statutory Regulatory Order (SRO) No 786 (1) of Sept 9, 2009, Gilgit-Baltistan Empowerment and Self Governance Order 2009 – which was amended on Feb 2015, empowering minister for Kashmir Affairs and Northern Areas (Kana) Mohammad Birjees Tahir to act as the governor Gilgit-Baltistan – as illegal, unlawful and contrary to the May 1999 Supreme Court judgment in the Al Jihad Trust case.
Recalling the 1999 verdict which had held the two million people of the Northern Areas as the citizens of Pakistan, the petitioner highlighted that the judgment had ordered the federal government to make proper administrative and legislative measures ensuring the people of Northern Areas to enjoy their rights as guaranteed in the 1973 Constitution.
On the plea raised by the petitioner regarding the right to access to justice through an independent judiciary, the SC judgment had also asked the federal government to equate the chief court of the Northern Areas with that of the high court as well as asking that the jurisdiction exercised by the courts of Gilgit-Baltistan be enlarged in such a way as to include the powers of entertaining constitutional petitions for the enforcement of fundamental rights of the people in addition to providing them the right to approach a higher forum for leave to appeal against the orders of the chief court.
Full report at:
http://www.dawn.com/news/1168080/law-on-gb-governors-appointment-challenged
-----------
Security forces foil plot to subvert Pakistan Day functions
SALEEM SHAHID
Mar 8, 2015
QUETTA: Security forces foiled an attempt of terrorist act on or before Pakistan Day by seizing a huge quantity of arms and ammunition from Quetta, border town of Chaman and Qila Abdullah areas of Balochistan.
This was disclosed by the Provincial Home Minister Mir Sarfaraz Ahmed Bugti at a Press Conference here on Friday. DIG Frontier Corps Brigadier Tahir Mehmood was also present on the occasion.
He said that Security for­ces launched a search operation in New Kahan area of Hazar Ganji, Qila Abdullah and Chaman, on a tip from intelligence agencies about the movement of huge quantity of illegal arms and ammunition in these areas.
Know more: After 7 year gap, Pakistan Day to see military parade in full glory
"The involvement of Indian secret agency RAW could not be ruled out in providing funds and weapons to banned organisations for carrying out terrorist activities in Quetta and other areas of Balochistan on March 23", said Mr Bugti, adding that search operations were being conducted in different areas.
However, he denied that military operation was being carried out in any area of the province and said that claims by outlawed organisations were not true.
He, however, said that the search operation was continuing in some area on information provided by the intelligence agencies.
Full report at:
http://www.dawn.com/news/1167920/security-forces-foil-plot-to-subvert-pakistan-day-functions
-----------
World urged to declare rape, molestation in Held Kashmir a war crime
Mar 8, 2015
Islamabad- Hurriyat Conference Jammu Kashmir (HCJK) has called for speedy justice to the victims of rape and molestation committed by the armed forces in different parts of Jammu and Kashmir since 1990, urging the international community to declare sexual and physical harassment of women in Kashmir as a war crime under international law.
Full report at:
http://nation.com.pk/national/08-Mar-2015/world-urged-to-declare-rape-molestation-in-held-kashmir-a-war-crime
-----------
North America
Ohio man accused of plotting Capitol attack says would have shot Obama
Mar 8, 2015
WASHINGTON: An Ohio man claiming sympathy with Islamic State militants and charged with plotting to attack the US Capitol said in a television interview that he would have shot President Barack Obama in the head.
Christopher Cornell, 20, told Cincinnati's FOX 19 WXIX TV that if he had not been arrested by FBI agents in January, he would have carried out an alleged plot to plant pipe bombs on the Capitol and at the Israeli Embassy.
"What would I have done? I would have took my gun, I would have put it to Obama's head and I would have pulled the trigger," Cornell, of Cincinnati, said in a telephone interview from the Boone County, Kentucky, jail aired on Friday.
"Then I would have released more bullets on the Senate and the House of Representative members, and I would have attacked the Israeli Embassy and various other buildings full of kafir (a Muslim term for infidel) who want to wage war against us Muslims and shed our blood. That's what would happen," he said.
Cornell was arrested after he researched how to make pipe bombs, purchased a rifle and ammunition and made plans to travel to Washington to carry out the plot, according to court testimony from an FBI informant.
Full report at:
http://www.dawn.com/news/1167995/ohio-man-accused-of-plotting-capitol-attack-says-would-have-shot-obama
-----------
Canadian soldier killed by friendly fire in Iraq
Mar 8, 2015
TORONTO: A Canadian soldier was killed on Friday in a friendly fire incident in Iraq, Canada's defence department said on Saturday, in the first fatality for the country during its current military mission there.
Three other Canadian soldiers were injured.
The soldiers were with Canada's special operations forces and were mistakenly engaged by Iraqi Kurdish forces following their return to an observation post behind the front lines, the defence department said in a statement.
Full report at:
http://www.dawn.com/news/1168109/canadian-soldier-killed-by-friendly-fire-in-iraq
-----------
South Asia
Gunmen kill six in Kabul's Sufi mosque attack
Mar 8, 2015
KABUL: Gunmen attacked a Sufi mosque in Kabul on Saturday evening, killing at least six people and leaving five others wounded, police officials said, shattering a recent calm in the Afghan capital.
The rare attack on the Sufi minority struck around the time of evening prayer at about 7pm, and though no group claimed the unrest, security officials swiftly announced the arrest of five suspects in connection with the killings.
"A group of armed men entered (a Sufi mosque)... and opened fire," Kabul police spokesman Hashmat Stanikzai said.
Deputy interior ministry spokesman Najib Danish confirmed the details of the attack, with the ministry issuing a statement putting the toll at six dead and five wounded.
The ministry said five suspects had been arrested, while Stanikzai said an investigation had been launched to "identify the attackers and the motive behind the attack".
Full report at:
http://www.dawn.com/news/1168110/gunmen-kill-six-in-kabuls-sufi-mosque-attack
-----------
Won't compromise social freedoms in peace negotiations: Afghanistan
March 08, 2015
KABUL: Afghan President Ashraf Ghani said on Saturday he would not compromise on the social freedoms introduced since the Taliban's 2001 ouster as his government works towards opening peace talks with the insurgents to end Afghanistan's long war. "We will not let the price of peace be greater than the price
of war," Ghani said in a speech before Parliament after the body's winter recess.
"We will firmly safeguard the achievements of the past 13 years under former President Karzai," he said. Ghani did not refer to specific achievements, but these might include more rights for women and greater freedom of speech.
His assurances came two weeks after officials in Pakistan and Afghanistan said the Afghan Taliban had signaled they were willing to open peace talks with Kabul, a push that appeared to be driven by Afghanistan, Pakistan and China, which recently offered to help broker the talks. The possibility of the Afghan government opening negotiations with the Taliban raised hopes for peace efforts, which failed to get off the ground under Afghanistan's previous government. But the reports have also been met with some ambivalence, due in part to concerns that not all elements of the Taliban, now a fractured group, may be on board.
Taliban representatives have publicly cast doubt on the possibility of talks. Ghani has not commented directly on the reports the Taliban are finally ready to open negotiations.
Full report at:
http://www.dailytimes.com.pk/national/08-Mar-2015/won-t-compromise-social-freedoms-in-peace-negotiations-afghanistan
-----------
Islamists to rise if crisis continues in Bangladesh
Mar 8, 2015
The breakdown of the political process in Bangladesh creates space for Islamist groups to carry out violence, fears a leading global risk analysis, research and strategic forecasting company.
"If the political crisis continues well into 2015, Islamist groups are likely to exploit the population's loss of faith in democratic institutions with increasing success," says Verisk Maplecroft in its report released yesterday.
The report says political crisis is set to escalate in the coming months, which will hurt the country's business.
"Bangladesh's dysfunctional politics will weigh heavily on the country's business environment in 2015," it says.
There is little scope for a peaceful resolution of the crisis in the coming months unless the government stops or delays legal proceedings against BNP chief Khaleda Zia whose putative arrest will almost certainly trigger another intense round of violent unrest by BNP supporters across the country, the report observes.
Prime Minister Sheikh Hasina will not accept the BNP's key demand to step down as "the AL maintains that the BNP forfeited its chance to participate in the political process by boycotting the elections."
"The only conceivable trigger for reducing political tensions and levels of unrest is for the government to curb its zeal to prosecute Zia."
Full report at:
http://www.thedailystar.net/backpage/islamists-to-rise-if-crisis-continues-68277
-----------
Punishment must Says PM about Khaleda at March 7 rally
Mar 8, 2015
Prime Minister Sheikh Hasina yesterday said BNP Chairperson Khaleda Zia must face punishment on charges of corruption as well as killing people.
"Khaleda Zia and her forces are killing people through arson attacks… We can't accept it," she said addressing an Awami League rally at Suhrawardy Udyan, marking the anniversary of historic March 7 speech of Bangabandhu Sheikh Mujibur Rahman.
Condemning petrol and crude bomb attacks on people and public transports, the PM alleged that all of the attackers were members of the Chhatra Dal, Jubo Dal, Jamaat-e-Islami or Chhatra Shibir.
Terming those attacks acts of terror, Hasina said cases have been filed against Khaleda as the mastermind.
Branding her archrival as the leader of militants, the PM alleged Khaleda has let loose terrorists on the common people.
Also the ruling AL president, Hasina said patrons of terrorism have to get punishment just like the attackers and "in line with international standards."
Full report at:
http://www.thedailystar.net/frontpage/punishment-must-68308
-----------
Mideast
Iran to Unveil Long-Range S-200-Tied Missile Defence System
Mar 8, 2015
A senior Iranian commander says the country is to unveil a long-range missile defense system, connected to the S-200 missile system.
The commander of Iran's Khatam al-Anbiya Air Defense Base, Brigadier General Farzad Esmaili, said on Saturday that the Talaash-3 (Endeavor-3) system is to be unveiled on April 18, when the country marks National Army Day.
He pointed to the successful testing of the missile system's short- and medium-range capability in the past and said, "The powerful missile system's long-range [capability] will constitute great restlessness for the enemies of Islamic Iran."
Esmaili said in August last year that the indigenously designed and manufactured missile defense system, which has a range of more than 200 kilometers, had successfully been put to test.
Full report at:
http://www.presstv.in/Detail/2015/03/08/400777/Iran-to-unveil-S-200-tied-defense-system
------------
Israel set to expand settlement activities in Jordan Valley
Mar 8, 2015
The Israeli military has reportedly cancelled the status of a training zone in the Jordan Valley in yet another attempt to further expand the regime's illegal settlement activities in the area.
Israeli media reported on Sunday that in mid January, the military ordered to reduce the size of the Firing Zone 912 to allow the expansion of the nearby Ma'aleh Adumim settlement.
The area, which was declared a firing zone more than 40 years ago, covers approximately 150 dunams (about 37 acres).
It extends from Ma'aleh Adumim, located east of al-Quds (Jerusalem) to the Dead Sea in the east and Umm Daraj in the south.
Israeli officials have already unveiled plans for the construction of 88 settler units in the area, called Nofei Adumim.
Full report at:
http://www.presstv.in/Detail/2015/03/08/400813/Israel-eyes-more-settlement-expansion
-----------
Iran open to cooperation against extremism
March 08, 2015
TEHRAN - Iran is ready to cooperate with other regional powers in the battle against extremism and terrorism, its foreign minister said Saturday during a meeting with his visiting Jordanian counterpart.
There is a 'need to pursue dialogue and cooperation with the countries of the region to fight extremism and terrorism,' Mohammad Javad Zarif was quoted by the official IRNA news agency as saying in remarks that focused on the Islamic State (IS) group. For his part, Jordan's Nasser Judeh called for dialogue between Iran and the 22-member Arab League.
'Instability, violence and extremism have taken root in the region in recent years, and we consider unity and cohesion among Islamic countries and dialogue with our Iranian brothers on regional matters to be necessary,' he said.
Full report at:
http://nation.com.pk/international/08-Mar-2015/iran-open-to-cooperation-against-extremism
-----------
Hadi says Aden is Yemen 'capital'
7 March 2015
ADEN: Beleaguered Yemeni President Abedrabbo Mansour Hadi, who fled to Aden after escaping from Shiite militia controlling Sanaa, considers the southern port city the country's capital, an aide said on Saturday.
Meanwhile, tensions were high in the city as special forces suspected of links to the Houthi militia readied defenses against an anticipated assault by Hadi loyalists.
"Aden became the capital of Yemen as soon as the Houthis occupied Sanaa," the aide quoted Hadi as saying in reference to their takeover of the city several months ago.
Hadi's claim is purely symbolic, as moving the capital would require a change to the constitution, but it reflects the president's determination to hold out against Houthi efforts to extend their sway.
Several Gulf states, led by Saudi Arabia, have already moved their embassies to Aden after an exodus of foreign diplomats from Sanaa in February over security concerns.
But the United States, the first to close its mission in Sanaa, has said it will not do so.
The southern city, the country's second largest, was capital of a once independent south Yemen.
Full report at:
http://www.arabnews.com/featured/news/715011
-----------
Yemen defence minister escapes house arrest
8 March 2015
Yemen's defense minister has successfully escaped from a Shiite militia controlling Sanaa despite being under house arrest, Al Arabiya News Channel reported Sunday.
General Mahmoud al-Subaihi, who had been placed under house arrest by Houthis when they seized Sanaa on Feb. 6, fled to Aden on Saturday.
Sources told Al Arabiya that Houthi rebels raided Subaihi's house and were looking for him in the streets of Sanaa.
Last month, Yemeni President Abdrabbo Mansour Hadi also fled house arrest in Sanaa and resurfaced in Aden, where he retracted his resignation.
Subaihi was a member of Hadi's government which had resigned in January after mounting pressure from the Houthis.
Full report at:
http://english.alarabiya.net/en/News/middle-east/2015/03/08/Yemen-s-defense-minister-escapes-house-arrest-.html
-----------
China FM 'hopeful' about final Iran nuclear deal
Mar 8, 2015
China has expressed hope about the prospects for the ongoing nuclear talks between Iran and the P5+1, calling on both parties to work together and accelerate the conclusion of a comprehensive accord.
Addressing a Sunday press conference, Chinese Foreign Minister Wang Yi said a "light at the end of the tunnel" is beginning to appear despite some uncertainty in the negotiations between Iran and the six states – Russia, China, France, Britain, the US and Germany.
"At present, there is some uncertainty about the prospects of negotiations going into the future, but we are already seeing a light at the end of the tunnel. Negotiations have entered a critical stage," Wang said.
Wang further pledged that his country would continue to play a positive role in the discussions aimed at facilitating the conclusion of a final agreement on Tehran's nuclear program.
"We are prepared to work with other relevant parties to finish the marathon talks on Iran nuclear issue at an early date," said the top Chinese diplomat.
China is an important party to the negotiations, he said, adding that Beijing has made positive contribution to resolving difficult issues and sticking points in the talks.
On Saturday, Iran's Foreign Minister Mohammad Javad Zarif (pictured above) said that Tehran and the six world powers are likely to clinch a final accord.
"I believe there are more chances of success than failure," Zarif said, adding, "The odds of [reaching] a [final] deal is more than 50 percent."
Full report at:
http://www.presstv.in/Detail/2015/03/08/400831/China-hopeful-about-Iran-nuclear-deal
-----------
Southeast Asia
Now Malaysian Minister Wants Islamic Teams at Varsities
March 7, 2015
IPOH: Education Minister II Idris Jusoh, who recently courted controversy by claiming world-class status for Malaysian universities, is now stepping into another possible quagmire.
In the midst of a raging public debate about Islamic prosleytisation and the distribution of free copies of the Quran, Idris has now proposed that Islamic understanding teams be set up at colleges and universities "to monitor and provide a thorough understanding of the religion to students".
He said the team was also aimed at preventing the spread of extremist ideology, especially those of the Islamic State militant group, among university students.
"The ministry will ensure the spread of Tasawwur Islam and wassatiyah as promoted by the prime minister," he said, according to Bernama. "Actually, the prime minister has implemented the wassatiyah concept by using a shariah index so that we fully understand Islam," he said at a Chinese New Year event here.
Full report at:
http://www.freemalaysiatoday.com/category/nation/2015/03/07/now-minister-wants-islamic-teams-at-varsities/
-----------
Death penalty doesn't violate human rights: Religious affairs minister
March 08 2015
Religious Affairs Minister Lukman Hakin Saifuddin has said that capital punishment does not violate human rights.
"Indonesia adopts a human rights policy that can be restricted by law and is aimed at protecting and respecting the rights of others," Lukman said in Kendari, southeast Sulawesi, on Saturday.
Full report at:
http://www.thejakartapost.com/news/2015/03/08/death-penalty-doesnt-violate-human-rights-religious-affairs-minister.html
-----------
Police Arrest Four Men Over Alleged Link to Terrorist Santoso
Mar 06, 2015
Jakarta. Four men were arrested by the National Police's anti-terrorism squad in Poso, Central Sulawesi, on Wednesday over their alleged support for one of Indonesia's most wanted men.
The group were arrested in the extremist stronghold for allegedly providing logistical support and food to Santoso, a notorious fugitive who leads the East Indonesia Mujahideen (MIT).
The four are currently undergoing intensive questioning, according to Adj. Sr. Cmr. Ronny Suseno, chief of Poso Police.
Full report at:
http://thejakartaglobe.beritasatu.com/news/police-arrest-four-men-alleged-link-terrorist-santoso/
-----------
Muslim fighters sign up to vote as Philippines moves to save peace pact
March 2015
SULTAN KUDARAT, Philippines: Hundreds of Muslim fighters lined up in the Philippines on Saturday to register as voters, keeping faith with a 2014 peace pact that was thrown into doubt after 44 policemen were killed in a botched terror raid.
The Moro Islamic Liberation Front (MILF) fighters, unarmed and wearing civilian clothes, had their photographs and fingerprints taken at a government building in the southern town of Sultan Kudarat to qualify for voter identification cards.
"They are all very eager to take part," Von al Haq, spokesman for the 10,000-member MILF's military wing told AFP.
Some would be voting for the first time, he added.
"This is part of our preparations to lead our own government," he said, referring to a March 2014 agreement in which the MILF committed to end an armed rebellion that has claimed 120,000 lives.
As part of the deal, the MILF is to disarm and President Benigno Aquino is set to legislate an area of Muslim self-rule.
Rey Sumalipao, regional head of the government's Commission on Elections, told AFP he expects about 1,500 members to register within the day to allow them to vote in national and local elections.
Other MILF members are expected to apply later, he added.
Muslim rebels have been battling for independence or autonomy in the southern islands of the mainly Catholic Philippines since the 1970s.
Full report at:
http://www.arabnews.com/world/news/714946
-----------
Malaysia named as number 1 destination for Muslim Travel
March 7, 2015
Malaysia has been named as the number one destination across the globe in the Muslim travel market, according to the MasterCard – Crescent Rating Global Muslim Travel Index (GMTI) 2015. The results of the research saw Malaysia take the top spot on the list, for the Organisation of Islamic Cooperation (OIC) destinations, followed by, Turkey, UAE, Saudi Arabia and Qatar. Singapore came first for the non-OIC destinations, which also saw Thailand, UK, South Africa and France make the top five.
Fazal Bahardeen, CEO, Crescent Rating and Halal Trip said, "The MasterCard – Crescent Rating Global Muslim Travel Index has today set a real precedent for the tourism industry. Not only is it the most in-depth research that we have undertaken so far on the fast-growing Muslim travel market, but has provided all stakeholders with some invaluable insight into how the halal-friendly tourism sector is growing and developing from a global perspective. Crescent Rating has seen a recent huge shift towards more destinations targeting this sector like Japan and Taiwan, and it is a trend we expect to continue."
The GMTI looks at in-depth data covering 100 destinations, creating an overall index, based on a number of criteria. This is one of the first times such thorough insights have been provided into one of the fastest-growing tourism sectors in the world today, and will provide travellers, governments, travel services and investors comprehensive benchmarks across a number of important criteria enabling them to track the health and growth of this travel segment.
Full report at:
http://www.financialexpress.com/article/lifestyle/travel-tourism/malaysia-named-as-number-1-destination-for-muslim-travel-2/51092/
-----------
China says search for missing Malaysian plane will not stop
8 March 2015
China's foreign minister said on Sunday the search for a Malaysian Airlines flight which vanished one year ago will not stop, adding that the government will keep providing whatever help it can to relatives of those on board.
"The search for MH370 will continue," Chinese Foreign Minister Wang Yi said on the sidelines of an annual meeting of China's parliament.
"Today must be a tough day for the family members of those onboard," Wang added. "Our hearts are with you."
No trace has been found of the Malaysia Airlines Boeing 777 aircraft, which disappeared a year ago on Sunday carrying 239 passengers and crew, in what has become one of the greatest mysteries in aviation history.
Most of those on board were from China.
Full report at:
http://english.alarabiya.net/en/News/asia/2015/03/08/China-says-search-for-missing-Malaysian-plane-will-not-stop.html
-----------
URL: https://www.newageislam.com/islamic-world-news/new-age-islam-news-bureau/german-official-says-saudi-arabia-top-'terror-exporter'-in-mideast/d/101859