New Age Islam News Bureau
6 Apr 2019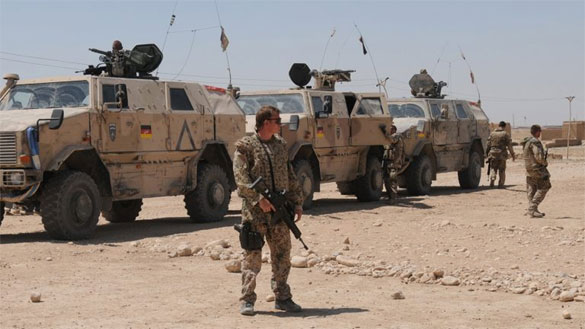 German Army soldiers, based out of Camp Marmal, conduct a surveillance of a nearby village in Afghanistan on July 22, 2009. Photo by POFC Ryan Tabios/ISAF HQ/Creative Commons
-------
•
German Military to Appoint Jewish Chaplains and Open Forces to Muslim Imams, Too
• Qatar 'Spent Huge Sums on Muslim Brotherhood Groups in Europe'
• IAEA's Amano Asks Saudi Arabia to Provide Safeguards for 1st Nuclear Reactor
• Tahrir Al-Sham, White Helmets Mount Chemical Warheads on over 100 Missiles in Demilitarized Zone
• Islamic Banking in Ethiopia Offers Muslims Financial Inclusion
• New York Man Threatened To Kill Minnesota Congresswoman: FBI
• Muslim American Centre In Lexington Will Emphasize Service
• Malaysia Won't Join ICC Over Pressure from Muslim Opposition
• US To Designate Iran's Revolutionary Guards as Terrorist Organization
• Pakistan Could Appoint a Moderate Sikh As PSGPC President
Europe
• German Military to Appoint Jewish Chaplains and Open Forces to Muslim Imams, Too
• Qatar 'Spent Huge Sums on Muslim Brotherhood Groups in Europe'
• G7 foreign ministers' meeting to discuss Libya
• France won't take back Daesh terrorists, their families captured in Syria: Interior minister
• 3 jailed for attack on German mosque
• Libya: Germany calls on Haftar to end military operations
• Germany repatriates ISIS children from Iraq
• France 'will not take back Daesh fighters and their families'
• Germany repatriates Daesh children from Iraq
--------
Arab World
• IAEA's Amano Asks Saudi Arabia to Provide Safeguards for 1st Nuclear Reactor
• Tahrir Al-Sham, White Helmets Mount Chemical Warheads on over 100 Missiles in Demilitarized Zone
• US-Backed SDF Cracks Down on Uprising in Raqqa
• Syrian Army Pounds Tahrir Al-Sham's Positions, Movements in Idlib, Hama
• Saudi authorities arrest more activists in crackdown on dissent
• Study: US-Saudi arms deals 'dramatically understated'
• Saudi Arabia Urges UN To Address Houthi Weapon Stockpiles
• Saudi Arabia detains dual US-Saudi citizens: report
--------
Africa
• Islamic Banking in Ethiopia Offers Muslims Financial Inclusion
• Libya: Pro-Haftar forces 'capture' 3 areas near Tripoli
• OIC, Arab League call for political settlement in Libya
• UN chief holds talks with Haftar in Libyan capital
• Tunisia tightens border controls following Libyan escalation
• Russia 'not backing Haftar's Tripoli offensive'
• IOM fret about migrants in Libya amid military action
--------
North America
• New York Man Threatened To Kill Minnesota Congresswoman: FBI
• Muslim American Centre In Lexington Will Emphasize Service
• Turkey says US distorted meeting, but Pompeo stands by account
• Pompeo calls for NATO unity to confront Iran, Russia, China
• Groups demand West issue Khashoggi trial reports
• Congress stares down Trump on Yemen war
--------
Southeast Asia
• Malaysia Won't Join ICC Over Pressure from Muslim Opposition
• Shia Group Blames Shiaphobia for Amri's Enforced Disappearance
• Politics and Policy: Was Mujahid right to meet Zakir Naik?
• 1 hostage escapes, another drowns and 3rd shot
• Bersatu enters Sabah, mixed feelings all round
• Legislative candidates look to supernatural to win races
--------
Mideast
• US To Designate Iran's Revolutionary Guards as Terrorist Organization
• Israel's Arab Minority Urged to Boycott Election over Divisive Law
• Israeli forces injure 80 Gazans
• Dozens of Palestinians wounded in Israel border clashes
• Yemen schoolchildren killed by unexploded ordnance: UN
--------
Pakistan
• Pakistan Could Appoint a Moderate Sikh As PSGPC President
• Pakistani Opposition Questions Need for Military Tribunals
• Anti-aircraft shells found near Imran's Banigala house
• US envoy for Afghanistan visits Pakistan
• India's demand for consular access to Jadhav not appropriate as case is in ICJ: Pakistan
--------
India
• 'Not Aware': Pentagon on Pak F-16 Count after Feb Aerial Dogfight with IAF
• On Afghan Peace Tour, US Envoy Again Skips India Tour
• NIA files charge sheet against four Kashmiri students
• NIA summons Hurriyat leader Mirwaiz on April 8 to Delhi, says will take care of his security
--------
South Asia
• Bangladesh Stops 115 Rohingya Seeking To Reach Malaysia
• Afghan Special Forces kill 53 ISIS-K militants during a multi-day operation in Nangarhar
• Two soldiers wounded in an explosion in Jalalabad city
• Khalilzad shares new plans with Pakistani officials for intra-Afghan talks: report
• 9 Taliban fighters killed in Afghan army operations in Zabul and Paktiya provinces
• Taliban storms west Afghanistan district, kills dozens
Compiled by New Age Islam News Bureau
URL: https://www.newageislam.com/islamic-world-news/german-military-appoint-jewish-chaplains/d/118249
--------
German Military to Appoint Jewish Chaplains and Open Forces to Muslim Imams, Too
April 5, 2019
(RNS) — Germany's armed forces will soon appoint Jewish chaplains, almost 100 years after rabbis last served with the country's military. The forces will also welcome imams into their ranks to minister to Muslim troops.
After the Nazi era and the Holocaust, the few Jewish males born in postwar Germany were exempted from military service. Since the military draft was effectively abolished in 2011, however, some have volunteered and about 300 are now in uniform.
Josef Schuster, president of the Central Council of Jews in Germany (ZJD), said in February that Germany had changed so much that it was time "to revive an old tradition."
"Seventy years after the end of the Second World War, it's time to have Jewish chaplains again in the German armed forces," he wrote in an op-ed piece in the daily Frankfurter Allgemeine Zeitung.
German politicians seemed relieved to have the proposal come from the Jewish community, which has grown since Germany's 1990 reunification from about 30,000 to almost 120,000.
"As defense minister, it fills me with gratitude and joy that women and men of the Jewish faith serve in our armed forces," Ursula von der Leyen, a close ally of Chancellor Angela Merkel, told a three-day conference on the issue in Berlin on Wednesday (April 3).
She added, "Military rabbis used to be an integral part of a soldier's everyday life in the German armed forces. I'm glad that they will be again soon!"
Schuster told the conference organized by his ZJD, the main umbrella group for Jewish organizations in Germany, that the appointment of rabbis to the chaplain corps "is a sign of the growing trust of the Jewish community in the Bundeswehr (armed forces) as part of our democratic society."
At present, only Protestant and Roman Catholic chaplains are available in the Bundeswehr, the name for the armed forces that includes the army, navy and air force. About half of all soldiers have identified as believers, with 53,000 Protestants and 41,000 Catholics.
About 3,000 Muslims have also enlisted but until now had no Islamic chaplains for legal reasons. Christian chaplains serve under contracts between their churches and the Bundeswehr, but Islam is decentralized and had no single nationwide body for Berlin to sign a contract with.
As it would have been politically difficult to appoint Jewish chaplains but not Muslims, however, the Defense Ministry is opting to use so-called service contracts to bring imams into the chaplain corps on an individual basis.
The ministry would soon name small groups of Jewish and Muslim chaplains and expand after assessing their initial experience, von der Leyen added.
Michael Wolffsohn, a German Jewish historian, told DLF radio that about 100,000 Jewish soldiers fought for Germany in the First World War. "Many of them who survived the First World War were later murdered by the Nazis," he added.
Wolffsohn, who was born in Tel Aviv in 1947 to refugees who later returned to Germany, said it was only natural that young Jews growing up in a democratic Germany should serve in its armed forces.
Exempting them indefinitely would amount to a kind of "positive Nuremberg Laws," he said, referring to the anti-Semitic race laws the Nazis passed in 1935.
Beyond leading religious services and providing spiritual guidance, Jewish and Muslim chaplains' duties will include certifying whether meals are kosher or halal.
Rabbis could add specifically Jewish ethical considerations into their discussions with soldiers, said Wolffsohn, citing as an example a debate among scholars who say Christians mistranslated the biblical commandment "Thou shalt not murder" as "Thou shalt not kill."
Von der Leyen also saw the new chaplains as a sign the armed forces wanted to stand up to growing intolerance in society. "Especially in times when anti-Semitism, religious polarization and bigotry are on the march, this is an important signal," she said. "We want to oppose that together decisively."
Schuster said the military was investigating about 450 far right-wing Germans in its ranks, some of whom have been expelled. A Jew faced with anti-Semitism from fellow soldiers might prefer to signal this to a rabbi who is familiar with the armed forces but outside the chain of command.
Like their Christian counterparts, the new chaplains will be proposed by their religious communities, with the Bundeswehr making final decisions on who is appointed.
For the Jews, ordination as a rabbi is a requirement. Since Islam does not have the same structure, Muslim candidates will need to have a diploma in Islamic theology from a German university and undergo a security check.
Schuster said two Jewish chaplains, one liberal and one Orthodox, would be enough for the small number of Jews in the forces.
Agreeing on Muslim chaplains will probably be more complicated, especially since the largest Muslim organization in Germany — the Turkish-financed DITIB — has come under increasing criticism as an apologist for the conservative policies of Turkey's president, Recep Tayyip Erdogan.
Bishop Sigurd Rink, the chief Protestant chaplain, has already said Muslim chaplains must not have any links to DITIB or "be dependent on money from Arab states or preach the maxims of the Muslim Brotherhood."
https://religionnews.com/2019/04/05/german-military-to-appoint-jewish-chaplains-and-open-forces-to-muslim-imams-too/
--------
Qatar 'spent huge sums on Muslim Brotherhood groups in Europe'
Damien McElroy
April 5, 2019
Details of the lavish payments made by Qatar to Muslim Brotherhood organisations in Europe, including furnishing funds the academic Tariq Ramadan has used for legal fees to fight rape allegations, have emerged in a new book.
Qatar Papers - How the emirate finances Islam in France and Europe, written by two French journalists, publishes evidence that cheques and money transfers from Qatar have been used to underwrite more than 140 projects around Europe, where the Muslim Brotherhood has sought to expand its influence.
Georges Malbrunot
✔
@Malbrunot
Sortie ce jeudi de notre livre "Qatar Papers - Comment l'émirat finance l'islam de France et d'Europe" avec C. Chesnot. Ce livre révèle un vaste réseau de financement de 140 mosquées en Europe (22 en France) par Qatar Charity.#QatarPapers
Retrouvez-le >> http://www.michel-lafon.fr/livre/2233-QATAR_PAPERS.html …
180
4:13 PM - Apr 4, 2019
212 people are talking about this
Twitter Ads info and privacy
The book also documents payments of €72 million (Dh296m) to groups in seven European countries. In just one region of France, the payments have totalled €4.6m, including €3m for the Averroes de Lille high school. Several staff at the school were linked to Muslim community bodies that also attracted Qatari support.
According to the book, Mr Ramadan was paid €35,000 a month as a consultant to the Qatar Foundation, a body set up by Sheikha Moza bint Nasser, the wife of the last emir, Sheikh Hamad bin Khalifa Al Thani. Just before his arrest early last year that saw Mr Ramadan under criminal investigation, bank documents show that he withdrew €590,000 from Qatari bank accounts.
The authors point out that Mr Ramadan and his wife bought two apartments in prestigious areas of Paris in the same year.
The funds directed to leading Muslim Brotherhood figures in France and Switzerland, including Mucivi, or Le Musée des civilisations de l'Islam, a museum in Geneva that displays Muslim Brotherhood propaganda. It has received 1.4 million Swiss francs. Swiss police are quoted expressing frustration that they cannot investigate the affairs of the Muslim League of Switzerland because it is a religious association, except in matters of terrorism. Documents found in the Swiss home of Youssef Nada, a formerly prominent leader of the brotherhood, set out a strategy for co-opting mayors and other local bodies as tools of influence.
The book names a long-standing employee of the Qatari embassy in Paris as the key link in the money chain in Paris. The employee is described as a protege of the ideological leader of the group, Qatar-based Yusuf Al Qaradawi. It also highlights French intelligence warnings about Qatari support for the L'Union des organisations islamiques de France, an umbrella body in France. It adds that Emmanuel Macron sought assurances from Qatari leaders that there would be no unreported financing of activities in France and that Doha would comply with initiatives to control funding of terrorism. "Following our investigation we have some reason to doubt that the Qatari leader respected his promise," the authors state.
Investigations into Mr Ramadan, a 56-year-old who is currently on bail and has surrendered his passport to the French authorities, centre on accusations that he raped two women, in 2009 and 2012. One is the outspoken feminist and activist Henda Ayari and the other, a disabled convert to Islam who has been named only as "Christelle". He denies the charges.
Last month a French court rejected a request to drop the two rape charges levelled against him. He was released on a €300,000 (Dh1.24 million) bail last November after ten months in jail. The Swiss academic was a professor at Oxford University but agreed to take a leave of absence in November 2017 when the allegations surfaced.
He is still being paid by the college, which has benefited from lavish Qatari funding.
A married father of four, Mr Ramadan's Egyptian grandfather was the founder of the Muslim Brotherhood and his brother Hani heads the movement's Islamic Centre of Geneva.
Large sums were also directed to Italy where the Al Houda Centre in Rome received €4million and the Union delle Comunita Islamiche d'Italia is the main conduit for Doha's largesse.
The book also raises the fundraising and spending patterns of the Nectar Trust, which was formerly known as Qatar Charity. While it raised £27.9 million from grants in the year to March 31, 2017, its income slumped dramatically the following year to just £116,615.
Not just British projects were listed among the beneficiaries in the accounts. Nectar Trust directed funds to the Annour Centre in Mulhouse, France, one of towns where Qatar spending ran into the millions of euros.
https://www.thenational.ae/world/qatar-spent-huge-sums-on-muslim-brotherhood-groups-in-europe-1.845510
--------
IAEA's Amano asks Saudi Arabia to provide safeguards for 1st nuclear reactor
Apr 5, 2019
The International Atomic Energy Agency (IAEA) has asked Saudi Arabia to implement safeguards for its first nuclear reactor under construction near the Saudi capital Riyadh that could complete by the end of the year.
Recently-released satellite images have revealed that the contentious Saudi nuclear reactor is nearing completion on the outskirts of Riyadh, as a heated controversy is underway in the US over what Democrats say is President Donald Trump's rush to approve nuclear projects with the oil-rich Arab kingdom.
The US nuclear deal with Saudis, however, is assumed to be lucrative enough to match the money-driven politics of the American president, a businessman-turned-politician who is not afraid of overstepping boundaries for more dollars.
IAEA Director General Yukiya Amano said on Friday that there was nothing secret about Saudi Arabia's nuclear reactor and that Riyadh had informed the agency about its plans as early as 2014.
He also noted that the Vienna-based UN body had encouraged the Arab kingdom to sign a comprehensive safeguards agreement, according to which the IAEA ensures that nuclear material is not being used for building nuclear weapons.
Saudi Arabia is a signatory to a weaker accord designed for countries with minimal quantities of nuclear material, the IAEA's so-called Small Quantities Protocol, which according to Amano, is fine only until Riyadh imports significant amounts.
"We have proposed to Saudi Arabia to rescind and replace it by the full-fledged comprehensive safeguards agreement," the IAEA chief said during a press conference in Washington.
Amano, however, noted that the Saudi authorities had not yet responded to the agency's request,
"They didn't say no, they didn't say yes, and they are now giving thoughts. We are waiting," he said, adding, "For now, they don't have the material, so there is no violation."
The IAEA head also revealed that Saudi Arabia might bring in nuclear material "by the end of the year," although he cautioned that nuclear projects often get delayed.
Last month, US Energy Secretary Rick Perry told a Senate hearing that his department had given approved six applications by US companies to do nuclear work in the Arab kingdom.
This is while that Riyadh has not sought a so-called Section 123 Agreement to guarantee the peaceful use of nuclear technology. Abiding by this section is required under US law before any transfer of sensitive material.
The 123 agreement, often referred to as Washington's "gold standard" for foreign civil nuclear cooperation, prevents the foreign entity from enriching uranium or reprocessing plutonium made in reactors - two routes to making nuclear weapons.
On Tuesday, a bipartisan group of American legislators raised concerns about the US nuclear dealings with Saudi Arabia despite Crown Prince Mohammed bin Salman's "deeply troubling actions" and his not-so-secret penchant for acquiring nuclear weapons.
Negotiations between the US and Saudi Arabia for nuclear cooperation came to a halt under the administration of former President Barack Obama, after Riyadh refused to accept Washington's proposed standards.
Saudi Arabia has come under sharp criticism in the US over the civilian death toll in its war against impoverished Yemen and for the gruesome murder and dismemberment of US-based dissident writer Jamal Khashoggi in Istanbul back in October.
The Trump administration has so far ignored calls at home and abroad for it to confront bin Salman over the kingdom's murder of Khashoggi, which experts and members of both parties believe bin Salman had a hand in.
"If you cannot trust a regime with a bone-saw, you should not trust them with nuclear weapons," said Democratic Representative Brad Sherman to Secretary of State Mike Pompeo at a hearing last week.
https://www.presstv.com/Detail/2019/04/05/592671/Saudi-Arabia-IAEA-Amano-nuclear-reactor-safeguards-US
--------
Tahrir Al-Sham, White Helmets Mount Chemical Warheads on over 100 Missiles in Demilitarized Zone
Apr 05, 2019
The Arabic-language website of Sputnik quoted local sources in Idlib province as saying on Thursday that Tahrir al-Sham and Turkistani terrorist groups have mounted chemical warheads on 120 missiles in one of the former's strongholds in Sahl al-Rouj region in Western Idlib.
They added that the missiles had been transferred from one of Tahrir al-Sham's arms caches to their stronghold in Sahl al-Rouj on 5 ambulance vehicles last Monday, noting that the White Helmets have also transferred special equipment from Khan Sheikhoun to the region.
The sources said that Belgian chemical experts collaborated in equipment of missiles with chemical materials, adding that they also supervised transfer of 8 chlorine gas capsules from one of Tahrir al-Sham positions in the town of al-Dana in Northern Idlib to the base.
According to the report, the missiles equipped with chemical warheads were delivered to Jeish al-Izza and Horras al-Din terrorists in Northern Hama and the regions occupied by Ansar al-Touhid in Sahl al-Ghab and Turkistani party in Northeastern Lattakia.
Relevant reports said last Sunday that the pro-militant White Helmets Organization in collaboration with the Western spy agencies were planning to carry out a fake chemical attack in Hama and Aleppo to later accuse the Syrian Army of the incident and annul the Turkish-Russian agreement.
The Arabic-language al-Mayadeen news channel quoted a local source in Aleppo as saying that the White Helmets have transferred a number of barrels containing toxic materials from their bases in Idlib to Northern Hama.
He added that the terrorists are plotting to launch a new false-flag chemical attack in cooperation with the western intelligence agents, noting that the scenario is due to be implemented in the demilitarized zone in Northern Hama and Aleppo where Jeish al-Izza terrorists are stationed.
The source said that the aim of such provocative acts is defeating the plans to return control of Idlib to the Syrian government without any conflicts, adding that the plot was hatched after commanders of Tahrir al-Sham, Horras al-Din and Turkistani terrorist groups rejected a Turkish-Russian plan to give in the control of Idlib to the Syrian government.
http://en.farsnews.com/newstext.aspx?nn=13980116000092
--------
Islamic banking in Ethiopia offers Muslims financial inclusion
by Elias Gebreselassie
6 April 2019
Addis Ababa, Ethiopia - It's afternoon in Addis Ababa's bustling Bole Michael district, and businesswoman Hukun Aden Mohammed is doing a brisk trade.
The 45-year-old, single mother of seven opened her modest cosmetics and snack shop in the heavily ethnic Somali neighbourhood two years ago.
Business is so good, she's planning to grow and diversify.
"I plan to expand my business by opening up a shoe store," Mohammed told Al Jazeera. "Inshallah (God willing) I also plan to open businesses in my home city, Jijiga in Somali regional state and across other parts of Ethiopia."
Ten years ago, Mohammad, an observant Muslim, would have struggled to find funding that aligned with her religious beliefs.
But Ethiopia's measured embrace of Islamic banking is offering her and other entrepreneurial-minded Muslims a gateway to financial inclusion.
She started her business with a loan from the Somali Microfinance Institution (SMFI), Ethiopia's first provider of sharia-compliant microfinance services.
"I first received around 7,000 Ethiopian bir ($246) loan from SMFI and with my business successfully expanding, I have recently received a loan of around 75,000 Ethiopian Birr ($2,645)," said Mohammed.
Unlike conventional finance, sharia-compliant financial institutions do not charge interest on loans. Instead, they share in any potential profits or losses of the businesses they underwrite.
They also refrain from lending to businesses that engage in or promote activities prohibited under Islamic law, such as gambling, or selling pork or alcohol, or selling services that promote "immorality."
The vast majority of SMFI's loans are structured as resale agreements known as Murabaha, where the bank purchases goods for its client and then sells the goods back to them at a slightly higher price than the original cost. The customer can then repay the loan in instalments.
For Mohammad, Islamic banking services have transformed her financial life.
"The loans from Somali Microfinance Institution have already allowed me to support the needs of my children, pay for my accommodation and business rent," she said. "With future loans from SMFI, I plan to buy house or land to expand my business and build a stable home for me and my family."
Boosting financial inclusion
While financial inclusion has improved in Ethiopia, it still lags behind the rest of sub-Saharan Africa.
The percentage of adults in Ethiopia with a bank account increased from 22 percent in 2014, to 35 percent in 2017, according to the World Bank Global Findex database.
In Kenya, by contrast, 82 percent of adults had a bank account in 2017.
Part of that gap can be attributed to mobile money uptake, which is far greater in Kenya than Ethiopia.
While the drivers of that difference are not fully understood, Islamic banking is helping to boost financial inclusion in Ethiopia by reaching communities which formerly felt excluded from the country's banking sector.
Though roughly a third of Ethiopia's estimated 105 million citizens are believed to be Muslim, formal directives on Islamic law-compliant finance were only issued by the National Bank of Ethiopia (NBE) in 2011 - the same year SMFI opened its doors.
SMFI has since served around 30,000 customers, mostly in rural communities in Ethiopia's eastern Somali region. Islamic law-compliant microfinance institutions have also sprung up in Ethiopia's Afar region.
Inching towards a fully-fledged Islamic bank
SMFI hopes to evolve from a microfinance institution into a fully-fledged Islamic bank - a hurdle no Ethiopian financial institution has cleared yet.
"Regardless of whether we become a fully-fledged sharia-compliant bank in the future, we plan to expand our services to other parts of Ethiopia serving interested customers, Muslims and non-Muslims alike," Ubah Hassan, senior saving and credit officer at SMI, told Al Jazeera.
While most big banks in the country have a window where customers can access Islamic financial services, a dearth of expertise in Islamic law-compliant banking has hampered past attempts to form an Islamic bank.
The proposed Islamic bank Zamzam stalled in 2012 when it failed to satisfy NBE directives on interest-free banking issued the year before.
"We didn't have experienced personnel in Ethiopia on sharia-based banking services and products in Ethiopia previously," Solomon Desta of NBE told Al Jazeera. "That's why we initially opted to start with interest-free window banking services."
Abdillahi Farah, financial inclusion adviser at Mercy Corps Ethiopia which helped launch SMFI, said Islamic law-compliant windows in big banks do not go far enough for some customers.
"Sharia-compliant MFIs have attracted customers who have felt banks don't represent them even though they have window-based interest banking system as some suspect it's a compromised banking practice," he told Al Jazeera.
But Ethiopia may be inching closer to green-lighting an Islamic bank.
Efforts to create a more hospitable climate for Islamic banks have been renewed since Prime Minister Abiy Ahmed, a Christian whose father is Muslim, came to power in April 2018.
And many see greenlighting Islamic banks as part of a greater liberalisation drive to attract more foreign investment, including the NBE, which is preparing a study to assess the impact of allowing fully Islamic law-compliant financial institutions.
"Ethiopia is looking on how to comprehensively liberalise the financial sector," said Desta. "Ethiopia is geographically close to Middle Eastern countries that have lots of money which can be easily mobilised to invest in the country."
https://www.aljazeera.com/indepth/features/islamic-banking-ethiopia-offers-muslims-financial-inclusion-190404192204542.html
--------
New York man threatened to kill Minnesota Congresswoman: FBI
April 06, 2019
NEW YORK: A western New York man has been charged with threatening to kill US Rep. Ilhan Omar of Minnesota.
Federal prosecutors announced Friday that Patrick Carlineo Jr. was arrested after placing a threatening call to Omar's office in Washington D.C. last month.
Authorities did not say when Carlineo was arrested.
Omar is among the first of two Muslim women to serve in Congress.
The FBI said in a criminal complaint Carlineo called her a "terrorist" and threatened to shoot her.
The bureau said that Carlineo sounded angry during the call but "spelled his name correctly and provided contact information" to a staffer.
Carlineo told the FBI that he is a patriot, "loves the president and that he hates radical Muslims in our government," the criminal complaint says.
Carlineo's defense attorney declined to comment on the charges Friday.
Omar was met with backlash for remarks she made earlier this year on Israel, including comments that American supporters of Israel are pushing people to have "allegiance to a foreign country ." Some people perceived Omar's comments were anti-Semitic. She later apologized, saying "anti-Semitism is real and I am grateful for Jewish allies and colleagues who are educating me on the painful history of anti-Semitic tropes."
Omar, a Somali-American, has also received anti-Semitic and racists comments.
http://www.arabnews.com/node/1478411/world
--------
Muslim American Centre In Lexington Will Emphasize Service
APRIL 05, 2019
Local Muslims who want to give back to their community and practice their faith now have a new organization in Lexington to help them do it.
The Muslim American Community Center of Lexington was founded in January to create new opportunities for Muslims to serve others and contribute to a better understanding among cultures, while also providing them a convenient place for worship.
The fledgling group recently agreed to purchase a house on Lowell Street to use for worship and as the base for its community service activities, with plans to take occupancy of it in May, according to Mawdudur Rahman, one of the group's founding leaders. "Everyone is excited about it," Rahman said of the response by the local Muslim community to the new organization. "They think service is the most important thing. They want to participate."
The center so far has about 150 to 200 members, but Rahman expects the numbers to grow considerably, noting that Lexington alone has an estimated 1,400 Muslims — based on census data — and that the center welcomes people from surrounding communities.
A native of Bangladesh who has lived in Lexington since 1982, Rahman actively volunteers to assist mosques in Greater Boston. But he said while it will provide a place for religious practice, the Lexington center should not be seen simply as a mosque but as a community service organization.
"Our primary goal is holistic — one part is service, the other is ritual, prayers," said Rahman, a professor emeritus at Suffolk University, where he taught accounting and management for close to 40 years. He said he is not aware of any other Muslim organizations in the state with that distinctly dual mission.
"Islam is perceived as only ritual," Rahman said. But he said the religion also encompasses a responsibility to be compassionate and serve others. "Compassionate Islam means you have to be kind, you have to help people."
Dr. Mohammed Jaleel, another leader of the group, said by e-mail that the center was started "to create a social space for Muslims of all ages to pray, play, share their knowledge and experience, perform their religious duties and social functions. We will invite people of any faith to participate in our social activities and services to benefit Lexington and the neighboring communities."
Rahman said that the local Islamic community — most of whom are immigrants or children of immigrants — includes many professionals with valuable skills to offer as volunteers. His message to them is that "If you don't serve people, you are not doing enough as a Muslim."
He said another goal of the center is to teach other community members about Islam, but also help Muslims understand other faiths.
"It's sharing knowledge," he said.
The center already has begun some community activities, including arranging for several physicians from the Muslim community to offer free medical counseling to low-income people served by the the Church of Our Redeemer's meals program in Lexington.
Rahman said he foresees Muslim professionals offering free assistance with other matters ranging from legal questions to college admissions and personal finance.
The center also hopes to educate young Muslims about their opportunities and responsibilities as American citizens.
"We need them to understand that 'this is your country. You need to be part of the American cultural matrix.'."
https://www.bostonglobe.com/metro/globelocal/2019/04/05/muslim-american-center-lexington-will-emphasize-service/SVLEd3At1jQi3WWFI4xJkI/story.html
--------
Malaysia won't join ICC over pressure from Muslim opposition
April 5, 2019
Prime Minister Mahathir Mohamad said Friday Malaysia won't ratify the Rome Statute of the International Criminal Court, the second treaty the government is withdrawing from after coming under pressure from the majority Muslim opposition.
Malaysia earlier this year backtracked on acceding to a UN treaty against racial discrimination following a massive Muslim rally.
Mahathir said the Cabinet decided not to ratify the Rome Statute as it has been manipulated by his opponents.
He rejected allegations that the treaty will undermine Malaysia's sovereignty and its royal families after a powerful state sultan joined the opposition to Malaysia's joining the court.
The court has been hobbled by the refusal of the US, Russia, China and other major nations to join.
Others that have quit include Burundi and the Philippines.
"This is not because we are against it but because of the political confusion about what it entails, caused by people with vested interest," a visibly upset Mahathir told a news conference.
"I see this as a way to blacken my face because they know they cannot oust me easily," said Mahathir, the world's oldest leader at 93.
Mahathir's government still struggles with racial issues as many ethnic Muslim Malays, who account for two-thirds of the population, support the opposition.
Malaysia signed the Rome Statute in March but the opposition had objected to it on racial grounds that it could undermine privileges for Malays as well as the immunity of nine Malay state rulers.
The wealthy ruler of southern Johor state also recently accused the government of breaching the constitution by signing the treaty.
Mahathir slammed efforts to engage Malaysia's royal families in the discourse against the government.
"They claimed the law negates the rights of the Malays, the rights of the rulers. It's absolute nonsense," he said.
"We understand that this is a political move to get the rulers to back them up. Of course, some members of the royal family may be involved, but the whole idea is to get the royalty in Malaysia to go against the government."
Traditional ethnic Malay rulers constitutionally head nine of Malaysia's 13 states. They do not have executive power but are highly respected among Malay Muslims.
https://www.business-standard.com/article/pti-stories/malaysia-won-t-join-icc-over-pressure-from-muslim-opposition-119040501140_1.html
--------
US to designate Iran's Revolutionary Guards as terrorist organization
6 April 2019
The United States is expected to designate Iran's elite Revolutionary Guards Corps a foreign terrorist organization, three US officials told Reuters, marking the first time that Washington will formally label another country's military as a terrorist group.
The decision, which critics warn could open US military and intelligence officials to similar actions by unfriendly governments abroad, is expected to be announced by the US State Department, perhaps as early as Monday, the officials said.
The Pentagon declined to comment and referred queries to the State Department. The State Department and White House also declined to comment.
US Secretary of State Mike Pompeo, a strident Iran hawk, has advocated for the change in US policy as part of the Trump administration's tough posture toward Tehran.
The announcement would come ahead of the first anniversary of President Donald Trump's decision to pull out of a 2015 nuclear deal with Tehran and to reimpose sanctions that had crippled Iran's economy.
The administration's decision to make the designation was first reported by the Wall Street Journal.
The United States has already blacklisted dozens of entities and people for affiliations with the IRGC, but the organization as a whole is not.
In 2007, the US Treasury designated the IRGC's Quds Force, its unit in charge of operations abroad, "for its support of terrorism," and has described it as Iran's "primary arm for executing its policy of supporting terrorist and insurgent groups."
Iran has warned of a "crushing" response should the United States go ahead with the designation.
IRGC commander Mohammad Ali Jafari warned in 2017 that if Trump went ahead with the move, "then the Revolutionary Guards will consider the American army to be like ISIS all around the world."
Such threats are particularly ominous for US forces in places such as Iraq, where Iran-aligned Shi'ite militia are located in close proximity to US troops.
Former Under-Secretary of State and lead Iran negotiator, Wendy Sherman, said the move had implications for US forces.
"One might even suggest, since it's hard to see why this is in our interest, if the president isn't looking for a basis for a conflict," said Sherman. "The IRGC is already fully sanctioned and this escalation absolutely endangers our troops in the region."
IRGC'S Reach
Set up after the 1979 Islamic Revolution to protect the Shi'ite clerical ruling system, the IRGC is Iran's most powerful security organization. It has control over large sectors of the Iranian economy and has a huge influence in its political system.
The IRGC has an estimated 125,000-strong military with army, navy and air units and answers to Supreme Leader Ayatollah Ali Khamenei.
But it is the IRGC's Quds Force, led by Major-General Qassem Soleimani, which operates outside of Iran and has drawn much of Washington's attention for its role in places such as Syria, Yemen, and Iraq.
Pompeo has repeatedly singled out Soleimani and in 2017, when he was CIA director, he wrote to Soleimani and other Iranian leaders warning that the United States would hold them accountable for any attacks on US interests in Iraq by forces under their control.
It is unclear what impact the US designation of the IRGC as a terrorist organization might have on America's activities in countries that have ties with Tehran, including in Iraq.
Baghdad has deep cultural and economic ties with Iran and Oman, where the United States recently clinched a strategic ports deal.
https://english.alarabiya.net/en/News/middle-east/2019/04/06/US-to-designate-Iran-s-Revolutionary-Guards-as-terrorist-organization.html
--------
Pakistan could appoint a moderate Sikh as PSGPC president
Apr 5, 2019
AMRITSAR: Ahead of opening of Kartarpur corridor, Pakistan government could appoint a moderate Sikh as a new president of Pakistan Sikh gurdwara parbandhak committee (PSGPC).
Intelligence sources informed TOI on Friday that after the announcement of ten member committee of PSGPC by Pakistan's federal minister for information and broadcasting, Chaudhary Fawad Hussain on March 27, Pakistan government was looking for a moderate Sikh face who could lead the committee.
"We have reports that the ten member committee is divided in the groups of Bishan Singh, former PSGPC president and Gopal Singh Chawla" said sources adding that Bishan was considered as a moderate Sikh face of PSGPC while Chawla was considered a Sikh hardliner fanning anti-India sentiments and propagating secessionist movement Referendum 2020.
Indian objection of inclusion of some controversial elements in the ten member committee had also disenchanted Pakistan government from Gopal Singh, general secretary of PSGPC, who had brought much embarrassment to Pakistan government through his venomous propaganda against India.
Besides, sources informed that Bishan had also maintained cordial relations with shiromani gurdwara parbandhak committee and Delhi Sikh gurdwara management committee past and present presidents.
Notably, the present term of PSGPC led by Taru Singh had expired in September 2018 following which it was given extension.
"It was this committee that had made a list of fifty prominent Sikhs from Pakistan and shortlisted them to a list of 20 which was sent to Pakistan prime minister for the selection of a ten member committee" said sources.
Another source informed that the election of the new PSGPC president could be held after Baisakhi festival.
Following construction of Kartarpur corridor which has attracted international attention, this was for the first time that Pakistan's high profile minister had himself announced the name of ten members of PSGPC in wake of arrival of Indian jatha at Kartarpur Sahib via the corridor .
Earlier, sources informed that Evacuee Trust Property Board (ETPB), a Pakistan government department which look after religious places of Hindu's and Sikhs following Indo Pak partition, used to play a major role in the formation of PSGPC office bearers but now Pakistan's prime minister office has directly intervened in PSGPC.
https://timesofindia.indiatimes.com/world/pakistan/pakistan-could-appoint-a-moderate-sikh-as-psgpc-president/articleshow/68743586.cms
--------
Europe
G7 foreign ministers' meeting to discuss Libya
5 April 2019
Foreign ministers from the G7 group of nations will discuss the threat of a resurgence in Libya's civil war at a meeting in western France on Friday, as world powers scrambled to defuse a dangerous escalation in the oil producer's power struggle.
A military advance towards Tripoli and Libya's UN backed government by eastern commander Khalifa Haftar has taken the United Nations by surprise, just as its secretary general was in the capital to plan a peace conference later this month.
Shortly before the summit began, British Foreign Secretary Jeremy Hunt said the G7 was monitoring the situation with a great deal of concern.
"Libya is likely to be at the heart of exchanges today and tomorrow. It will be looked at in detail, hopefully to allow us to move forward and avoid the situation getting worse," a senior French diplomat said.
Concern over Libya's stability is heightened by continuing political tensions around Europe over migration from north Africa, despite the fact that the numbers of new arrivals in Europe via the central Mediterranean have plummeted.
French Foreign Minister Jean-Yves Le Drian welcomed his counterparts from the club of big rich nations under a dull grey sky in Brittany, for a meeting overshadowed by US Secretary of State Mike Pompeo's absence and Britain's Brexit meltdown.
French diplomats say Paris has scaled back its ambitions for France's presidency of the club of big rich countries, after US President Donald Trump threw last year's summit in Canda into disarray, backing out of a joint communique and firing barbs at Prime Minister Justin Trudeau.
The French diplomat sought to downplay Pompeo's snub saying: "We're working well with the Americans. Yes, we have differences on some subjects, but that isn't holding back the quality of our dialogue."
Brexit looms large
Workers at dawn had furiously scrubbed away at graffiti spray-painted onto buildings near the secure zone in Dinard that attacked capitalism and President Emmanuel Macron.
The slogans screamed "Thieving banks", "Revolution" and "No to the G7", mirroring the anger vented across France in five months of anti-government "yellow vest" protests fueled by perceptions of a growing rich-poor divide and aloof politicians.
The summit is expected to result in three joint statements on cyber security, sexual violence against women in armed conflict and trafficking in the Sahel region, and not too much wrangling over issues where there is less consensus such as Iran and Russia.
Britain's Hunt said he would use the summit to call on his European counterparts to support his government's request for a short delay to Britain's exit from the EU.
British Prime Minister Theresa May wrote to Brussels on Friday asking for a delay of Brexit until up to June 30, while saying she aims to get Britain out of the EU earlier to avoid it participating in European elections.
"What we are looking for is to avoid a long extension," Hunt said. "We are a democracy with a hung parliament, so it's not easy."
Hunt said the G7 was proof Britain would not play a diminished international role after Brexit.
https://english.alarabiya.net/en/News/world/2019/04/05/Libya-in-focus-at-G7-foreign-ministers-meeting-minus-Pompeo.html
--------
France won't take back Daesh terrorists, their families captured in Syria: Interior minister
Apr 5, 2019
French Interior Minister Christophe Castaner has dismissed reports that his country is mulling over repatriating Daesh militants and their families detained in Syria after the elimination of the self-proclaimed "caliphate" of the Takfiri terrorist group in the war-torn country.
"It's logical that our services considered all hypotheses. This was one of the hypotheses they prepared," Castaner said at a press conference on Friday following a meeting of G7 interior ministers in Paris.
"No communal repatriation was under consideration to be carried out," he said, reiterating that France would nonetheless study bringing back children of the terrorists on a "case-by-case basis."
The top French diplomat also rejected an allegation by daily newspaper Libération that France's policy with regards to Daesh in Syria was being dictated by public opinion.
Libération reported on Friday that the government had voiced readiness in early March to repatriate around 250 men, women and children before it decided to shelve the plan over public outrage.
Last month, French authorities for the first time brought home five orphaned children of French Daesh terrorists from camps in northeastern Syria.
Up to 1,700 French nationals are thought to have traveled to Iraq and Syria to join the Takfiri terrorists between 2014 and 2018, according to government figures. About 300 are believed to have died in combat.
Prominent French militant Jean-Michel Clain was killed in Syria in mid-February as US-backed and Kurdish-led Syrian Democratic Forces (SDF) were fighting to retake the group's last enclave in the eastern Syrian province of Dayr al-Zawr.
Clain's wife Dorothee Maquere told AFP on March 5 that he had been killed in mortar shelling less than two weeks ago.
Maquere, fully veiled in black and surrounded by her five children, added that her husband had earlier been wounded when the US-led coalition purportedly fighting Daesh carried out a drone strike against the village of Baghouz near the Iraqi border on February 20.
"The drone killed my brother-in-law (Fabien) and then the mortar killed my husband," she said as she was cradling her two-week-old baby under a red blanket at a screening area run by SDF militants.
Full report at:
https://www.presstv.com/Detail/2019/04/05/592647/France-Daesh-families-
--------
3 jailed for attack on German mosque
Ayhan Şimşek
05.04.2019
BERLIN
A German court on Friday jailed three men for throwing Molotov cocktails on a mosque in southern Germany last year.
The mosque of Turkish-Muslim association IGMG in Ulm was attacked in March 2018 by followers of the PYD/PKK terrorist group to protest Turkey's counter-terrorism operation in northwestern Syria.
The district court in Ulm handed down jail terms -- ranging from three to five-and-half years -- to attackers for the assault that caused no casualties but minor damage to the mosque.
Two other suspects received suspended prison sentences between six months and one-and-half years.
The PYD/PKK group and far-left organizations claimed responsibility for dozens of attacks last year which targeted Turkish mosques, associations and shops in various cities, including Berlin, Frankfurt, Hamburg, and Aachen.
The PKK has been banned in Germany since 1993, but it remains active, with nearly 14,000 followers in the country.
Ankara has long criticized German authorities for not taking serious measures against the PKK and its Syrian affiliates -- PYD and YPG -- which continue to use Germany as a platform for their fund-raising, recruitment and propaganda activities.
Full report at:
https://www.aa.com.tr/en/europe/3-jailed-for-attack-on-german-mosque-/1443654
--------
Libya: Germany calls on Haftar to end military operations
Ayhan Simsek
05.04.2019
BERLIN
Germany on Friday called for an immediate end to military operations in Libya, after forces loyal to commander Khalifa Haftar launched an offensive to take capital Tripoli from the UN-backed government.
Chancellor Angela Merkel's spokesman told a news conference in Berlin that the German government was gravely concerned about military escalation in Libya.
"We are calling on those responsible to immediately end their military operations and refrain from any rhetoric that could further escalate the situation," Steffen Seibert said.
He also reaffirmed Germany's strong support to UN Secretary General Antonio Guterres' efforts for a political solution to the conflict.
"We have to clearly state that there can be no military solution in Libya. Therefore, we will continue to support the ongoing efforts by the UN Secretary General and his special envoy [Ghassan] Salame to prevent a further escalation and achieve progress in the political process," he said.
Seibert also noted that the UN Security Council was called for an emergency meeting to discuss the rising tensions in Libya.
Military commander Haftar on Thursday launched a campaign to capture Tripoli, where Libya's UN-backed unity government is headquartered.
Fayez al-Sarraj, head of the Tripoli-based government, ordered the government's security forces to "prepare for -- and respond to -- any threats aimed at destabilizing the region".
Libya has remained beset by turmoil since 2011, when a bloody NATO-backed uprising led to the ouster and death of President Muammar Gaddafi after four decades in power.
Full report at:
https://www.aa.com.tr/en/europe/libya-germany-calls-on-haftar-to-end-military-operations/1443313
--------
Germany repatriates ISIS children from Iraq
April 5, 2019
Germany has repatriated several children of jailed Islamic state militants from Iraq, the foreign ministry said on Friday.
"The number of minors already brought back to Germany has reached a high single-digit figure," told AFP.
The children were returned with the consent of their parents, the source added.
Among the first young returnees to Germany were three children who arrived with their 31-year-old mother at Stuttgart airport on Thursday, their lawyer Mahmut Erdem said in a statement.
They were taken into custody immediately, the lawyer said.
According to the Foreign Ministry, at least eight Germans were jailed in Iraq, after they were convicted over their membership of ISIS.
The Foreign Ministry said it was aware of cases of German nationals in custody in northern Syria, but added that it did not have direct consular access to them as the embassy in Damascus has been closed.
Nevertheless, the government is looking for ways to repatriate the German nationals, it added.
With the collapse of the last ISIS stronghold in the village of Baghouz in Syria last month, the fate of foreign fighters and their families has become a significant problem for governments as the conflict against ISIS draws to a close.
France last month took in five orphans and is dealing with returns on a case-by-case basis. The French government said it made the decision to return the children because they were "very young and especially vulnerable", before thanking the Syrian Democratic Forces for helping return them.
Full report at:
https://www.thenational.ae/world/europe/germany-repatriates-isis-children-from-iraq-1.845536
--------
France 'will not take back Daesh fighters and their families'
April 05, 2019
PARIS: France has ruled out the repatriation of French terrorists and their families detained in Syria after the fall of Daesh's "caliphate," Interior Minister Christophe Castaner said on Friday.
France and other European nations have been wrestling with how to handle the hundreds of foreign fighters, many of whom are being held by the Kurdish-led Syrian Democratic Forces which led the final push against Daesh.
French daily Liberation reported Friday that in early March the government had been ready to bring home around 250 men, women and children before abandoning the plan given public hostility to the repatriations.
The issue is extremely sensitive in France, where a deadly 2015 attack on the capital claimed by Daesh killed 130 people and set off a wave of other deadly assaults since then.
"It's logical that our services considered all hypotheses. This was one of the hypothesis they prepared," Castaner said at a press conference following a meeting of G7 interior ministers in Paris.
"No communal repatriation was under consideration to be carried out," he said, reiterating that France would nonetheless study bringing back children of jihadist fighters on a "case-by-case basis."
Last month, French authorities for the first time brought home five orphaned children of French extremists from camps in Syria.
According to the UN children's agency UNICEF, around 3,000 foreign children from 43 countries are housed at the Al-Hol camp in Syria alone, which has taken in most of the people fleeing Daesh's self-proclaimed "caliphate" in recent weeks.
Up to 1,700 French nationals are thought to have traveled to Iraq and Syria to fight with the terrorists between 2014 and 2018, according to government figures. Around 300 are believed to have died in combat.
Kurdish officials have warned they do not have the resources to hold all the captured fighters indefinitely, and Washington is also urging its allies in the anti-Daesh coalition to take home their citizens.
Full report at:
http://www.arabnews.com/node/1478261/world
--------
Germany repatriates Daesh children from Iraq
April 05, 2019
BERLIN: Germany has repatriated from Iraq several children of jailed extremists, the foreign ministry said Friday, as the war against the Daesh group draws to a close.
"The number of minors already brought back to Germany has reached a high single-digit figure," the foreign ministry source said, adding that the returns were carried out with the consent of the children's parents.
They are now in the custody of their relatives in Germany, the source added.
Among the first young returnees to Germany were three children who arrived with their 31-year-old mother at Stuttgart airport on Thursday, their lawyer Mahmut Erdem said in a statement.
They were taken into custody immediately, the lawyer said.
According to the foreign ministry, at least eight Germans were jailed in Iraq, after they were convicted over their membership of Daesh.
The foreign ministry said it was aware of cases of German nationals in custody in northern Syria, but added that it did not have direct consular access to them as the embassy in Damascus has been closed.
Nevertheless, the government is looking for ways to repatriate the German nationals, it added.
With the collapse of the last Daesh bastion in Syria last month, the fate of foreign fighters and their families has become a significant problem for governments as the conflict against Daesh draws to a close.
Full report at:
http://www.arabnews.com/node/1478051/world
--------
Arab World
US-Backed SDF Cracks Down on Uprising in Raqqa
Apr 05, 2019
Local sources reported on Friday that a large number of people from Raqqa city gathered in Seif al-Dolah district on Thursday against the SDF measures in the region.
They added that the SDF militants fired at the protestors to disperse them and detained over 20 people.
The sources said that the civilians in the Western parts of Raqqa city hoisted the Syrian government's flags over the electricity pylons and printed graffiti on the walls near al-Ba'ath dam in the village of Kadiran, calling for Raqqa's liberation from the SDF occupation.
Meantime, the Arabic-language al-Manar news channel reported that a US military convoy, accompanied by the SDF, is moving from Northern Deir Ezzur towards Raqqa province.
In a relevant development last Friday, large groups of people in Eastern Deir Ezzur held protest rally against the Syrian Democratic Forces, while a new round of infighting started among the SDF forces after rifts widened among the militias, media activists said.
The activists reported from Deir Ezzur on Friday that a large number of civilians in the town of al-Kasrah in Eastern Deir Ezzur staged rally against the SDF measures, corruption and hoarding fuel.
They added that the SDF tried to suppress the protest rallies by closing the roads leading to the town and arresting people.
http://en.farsnews.com/newstext.aspx?nn=13980116000292
--------
Syrian Army Pounds Tahrir Al-Sham's Positions, Movements in Idlib, Hama
Apr 05, 2019
The Syrian army units on Friday responded to the terrorists' missile strikes on residential areas in the town of Mahradeh in Northern Hama which killed and wounded several civilians, with artillery and missile fire, smashing Tahrir al-Sham strongholds in the towns of Kafr Zita and al-Hawir in the Northern parts of Sahl al-Ghab in Northern and Northwestern Hama and leaving several militants dead.
Meantime, the Arabic-language service of Sputnik reported that the army troops launched artillery attacks on terrorists' moves and positions in al-Tah, al-Tamane'ah, al-Khuwain, al-Zarzour and Khan Sheikhoun in Southeastern Idlib, destroying several positions of the terrorists.
It added that 5 Syrian army soldiers had been killed during Horras al-Din terrorist group's guided missile attacks on the town of Sham al-Haqa in Southeastern Idlib on Thursday.
In a relevant development on Wednesday, the Syrian and Russian air forces heavily pounded and smashed the main stronghold and arms cache of Tahrir al-Sham in response to the terrorist group's continued attacks from the demilitarized zone in Hama and Idlib.
The Arabic-language al-Watan newspaper reported that Tahrir al-Sham's base near Jabal al-Zawiyeh region in Southwestern Idlib and Nabi Ayoub hill was fiercely attacked by the Russian and Syria warplanes in response to their offensives.
Meantime, the Arabic-language service of Sputnik news agency reported that one of the main bases of Tahrir al-Sham that hosted a meeting of a number of terrorists and one of their arms and military equipment cache which was used to target residential areas were destroyed during the Syrian army's airstrikes against Jabal al-Zawiyeh region.
It added that the Syrian army forces also launched artillery and missile strikes against the terrorists' movements to transfer weapons and military equipment towards their positions in al-Tah, al-Tamane'ah and Khan Sheikoun in Southern Idlib, killing a number of militants and destroying their military equipment.
Full report at:
http://en.farsnews.com/newstext.aspx?nn=13980116000119
--------
Saudi authorities arrest more activists in crackdown on dissent
Apr 5, 2019
In Saudi Arabia, several more activists, including two people holding dual citizenship in the United States and the Saudi kingdom, have been arrested.
Muslim preachers and members of the press as well as intellectuals are being targeted in a widening crackdown led by Crown Prince Mohammed bin Salman.
The London-based rights group ALQST, which is an independent non-governmental organization advocating human rights in Saudi Arabia, said Friday that a group of seven people, including writers and bloggers, had been arrested.
It identified the dual citizens as Salah al-Haidar, whose mother Aziza al-Yousef is among a group of prominent activists advocating women's rights and is currently on trial, and Bader al-Ibrahim, a doctor and author of a book about Shia Muslim politics.
The rights group Prisoners of Conscience, a similar NGO, announced in a post on its official Twitter page that the number of people arrested stands at 10.
"What is disturbing about new Saudi arrests is that waves of arrests keep moving from most-known to successively lesser knowns," Saudi-American activist Nora Abdulkarim wrote on Twitter.
"Another confusing aspect is timing, leaves one asking: 'why now?'"
Saudi Arabia faces international criticism over the ongoing trial of eleven female activists advocating women's rights, some of whom reportedly faced torture and sexual abuse during nearly a year in detention on trumped-up charges related to their activities and contacts with foreign journalists and diplomats.
The activists were detained in a sweeping crackdown weeks before Saudi Arabia overturned the world's only ban on female motorists on June 24, 2018. The women had staunchly advocated for the right to drive.
Saudi Arabia has stepped up politically-motivated arrests, prosecution and conviction of peaceful dissident writers and human rights campaigners.
Saudi officials have also intensified crackdown in the country's Shia-populated Eastern Province.
Eastern Province has been the scene of peaceful demonstrations since February 2011. Protesters have been demanding reforms, freedom of expression, the release of political prisoners, and an end to economic and religious discrimination against the oil-rich region.
The protests have been met with a heavy-handed crackdown by the regime, with security forces increasing security measures across the province.
Over the past years, Riyadh has also redefined its anti-terrorism laws to target activism.
Full report at:
https://www.presstv.com/Detail/2019/04/05/592640/Saudi-crackdown-activists
--------
Study: US-Saudi arms deals 'dramatically understated'
Apr 5, 2019
An American think tank says it has found new data showing US arms deals with Saudi Arabia and the UAE are "dramatically understated" and billions more than previously reported.
The data collected by arms trade watchdog Security Assistance Monitor (SAM) shows the US has struck at least $68.2 billion worth of deals with the two countries since they started their war in Yemen.
The colossal sum includes, for the first time, both commercial and governmental arms deals and indicates that US involvement in the disastrous war may be greater than suspected, said London-based Middle East Eye which cited the data.
"In fact, the weapons expenditure could have funded the United Nations's 2019 humanitarian appeal for Yemen – which totaled $4 billion – 17 times over," the online news outlet said.
Government sales tend to be for major systems, like combat aircraft, tanks, bombs, and ships, while commercial sales include smaller weapons like firearms and bombs disproportionately used in Yemen.
According to William Hartung, the director of the arms and security project at the Center for International Policy, the commercial data shows the US role in Yemen is "dramatically understated."
That is because commercial sales are "so rarely discussed, compared to big glitzy deals like the fighter planes," said Hartung whose progressive think tank in Washington houses SAM.
Middle East Eye quoted a US State Department official who confirmed the overall value of American weapons deals with Saudi Arabia and the UAE in their war on Yemen totaling about $67.4 billion.
New details about the arms deals come amid a continued push in US Congress to end Washington's involvement in the war in Yemen, which has displaced millions and led to widespread disease and malnutrition.
On Thursday, the House of Representatives approved a resolution to end US support for the Saudi war. The lower chamber voted 247 to 175 to approve a resolution that directs President Donald Trump "to remove United States Armed Forces from hostilities in or affecting the Republic of Yemen" within 30 days.
The new data reportedly shows the US approved arms deals with Saudi Arabia and the UAE just days after they used US bombs to kill civilians in Yemen and also after the brutal killing leading journalist Jamal Khashoggi.
Deals made soon after Saudi attacks using US weapons included a bomb on August 9, 2018 which hit a school bus in northern Yemen carrying boys on a field trip, killing 54 people, Middle East Eye reported.
Another Saudi bombing of a wedding northwest of the Yemeni capital Sana'a on April 22, 2018 reportedly killed 33 people, including the bride. Days later, it was proved that US firm Raytheon had made part of a bomb found at the scene of the attack.
"It's hard to imagine a more dramatic example of the negative consequences of US arms sales," Hartung said.
"They're supporting regimes that are murdering civilians and causing a humanitarian catastrophe… This is a stain on the United States."
According to Hartung, a withdrawal of all channels of military support to Saudi Arabia and the UAE would cripple their ability to wage war in Yemen and particularly the indiscriminate air war.
However, the Trump administration is "putting a stamp of approval on what these countries are doing" in Yemen so much so that over two-thirds of the entire Saudi combat-ready fleet comes from the US.
The Saudi war has so far claimed the lives of about 56,000 Yemenis, says the Armed Conflict Location and Event Data Project (ACLED), a nonprofit conflict-research organization.
The war has also taken a heavy toll on Yemen's infrastructure, destroying hospitals, schools, and factories.
Full report at:
https://www.presstv.com/Detail/2019/04/05/592610/Saudi-Arabia-Yemen-UAE-US-arms-deals
--------
Saudi Arabia urges UN to address Houthi weapon stockpiles
April 05, 2019
NEW YORK: Saudi Arabia has called upon the UN Security Council (UNSC) to disarm Houthi militias in Yemen by targeting their munitions depots and stockpiles.
The request came in a letter sent by the Saudi ambassador to the UN, Abdallah Al-Mouallimi, to the president of the UNSC and to UN Secretary-General Antonio Guterres, illustrating the pressure ongoing Houthi aggression was bringing to the conflict.
In the letter, Al-Mouallimi said: "Saudi air defenses discovered two remote-controlled drones flying toward civilian targets over Khamis Mushayt on April 2. As a result of intercepting them, debris hit two civilian areas, injuring 5 civilians, including a woman and a child, in addition to damaging houses and vehicles.
Full report at:
http://www.arabnews.com/node/1478291/saudi-arabia
--------
Saudi Arabia detains dual US-Saudi citizens: report
Umar Farooq
05.04.2019
WASHINGTON
Saudi Arabia detained two dual U.S.-Saudi citizens as a part of their latest crackdown on activists and writers, according to The Washington Post.
The latest arrests occurred Thursday, including Salah al-Haidar and Bader al-Ibrahim, the newspaper reported.
Haider is the son of Aziza al-Yousef, who is a prominent women's rights activist in the country. Yousef was temporarily released from custody last week but she currently stands on trial for charges related to her activism work.
"Haidar, Ibrahim and others arrested were part of a loose-knit group of writers and activists who were supportive of the women's rights movement and other progressive causes but not considered to be especially visible or outspoken," the Post said.
The arrests come as a surprise to some because the government had promised to ease on the detentions, offering a sense of benevolence after releasing Yousef from prison.
Saudi embassy in Washington did not respond to Anadolu Agency's request for comment.
The detentions are a part of a larger crackdown by the Saudi Crown Prince Mohammed bin Salman, the kingdom's de facto ruler, who has been targeting clerics, academics, writers, and activists, arresting hundreds since September 2017.
While bin Salman has seemed to have lifted restrictions on Saudi society, such as lifting the ban on women driving, at the same time he has tightened his rule by wiping out dissenting voices. This came to light on the international stage when Saudi agents killed journalist Jamal Khashoggi at the Saudi Consulate in Istanbul in October.
Full report at:
https://www.aa.com.tr/en/americas/saudi-arabia-detains-dual-us-saudi-citizens-report/1443577
--------
Africa
Libya: Pro-Haftar forces 'capture' 3 areas near Tripoli
Mehmet Nuri Ucar
05.04.2019
TRIPOLI
Forces loyal to Khalifa Haftar claimed to have captured three major areas near Libya's capital Tripoli on Friday.
In a Facebook post, the forces said Qasr bin Ghashir, Wadi Al Rabi and Suq al Khamis areas located in the south of Tripoli were captured.
The regions are about 27 to 40 kilometers away from the center of Tripoli, authorities say.
Mayor of Qasr bin Ghashir stated on Libya's Al Ahrar TV there were violent clashes in the vicinity of the International Tripoli Airport, which had been closed to air traffic since 2014.
Khalifa Hafter, who commands forces loyal to Libya's eastern government, reportedly announced in a voice recording released on Thursday that they had launched an attack to seize Tripoli.
https://www.aa.com.tr/en/africa/libya-pro-haftar-forces-capture-3-areas-near-tripoli/1443670
--------
OIC, Arab League call for political settlement in Libya
Aydogan Kalabalik
05.04.2019
The Organization for Islamic Cooperation (OIC) and Arab League on Friday warned both warring parties in Libya against growing escalation and called for a political settlement.
In a statement, OIC called on the parties to de-escalate the current situation that can lead to chaos in the country.
The Arab League, in a separate statement, also called on both sides to ease the growing tensions in the south of the country and to stick to the political solution.
Military commander Khalifa Haftar on Thursday launched a campaign to capture Tripoli, where Libya's UN-backed unity government is headquartered.
Fayez al-Sarraj, head of the Tripoli-based government, ordered the government's security forces to "prepare for -- and respond to -- any threats aimed at destabilizing the region".
Libya has remained beset by turmoil since 2011, when a bloody NATO-backed uprising led to the ouster and death of President Muammar Gaddafi after four decades in power.
Full report at:
https://www.aa.com.tr/en/africa/oic-arab-league-call-for-political-settlement-in-libya/1443667
--------
UN chief holds talks with Haftar in Libyan capital
Suhair al-Kharraz
05.04.2019
TRIPOLI
UN Secretary General Antonio Guterres on Friday met with Khalifa Haftar -- who commands forces loyal to Libya's eastern government based in the city of Al-Bayda -- amid recent military escalation.
On Wednesday evening, Libya's UN-backed Presidential Council went on high alert after forces loyal to military commander Khalifa Haftar reportedly began advancing westward toward Tripoli.
In a statement, Presidential Council Chairman Fayez al-Sarraj said that government security forces had been told to brace for a possible attack from the east.
Following the meeting that concluded Guterres' visit to Libya, the UN chief wrote in a Twitter post: "I leave Libya with a heavy heart and deeply concerned. I still hope it is possible to avoid a bloody confrontation in and around Tripoli."
"The UN is committed to facilitating a political solution and, whatever happens, the UN is committed to supporting the Libyan people," he added.
Ahead of his meeting with Haftar, Guterres -- who arrived in Libya on Wednesday -- alongside the UN Envoy to Libya Ghassan Salame, met with Aqila Saleh, speaker of the eastern-Libya-based assembly, in the city of Tobruk.
Guterres has discussed with Saleh the recent developments in Libya, the military escalations in Tripoli, as well as anticipated referendum on the constitution and parliamentary and presidential polls, the media advisor to the House of Representatives (HoR) Fathi Al-Miryami said.
Haftar on Wednesday reportedly ordered his forces to deploy to western parts of the country with a view to "purging the region of terrorist groups and strongholds".
Full report at:
https://www.aa.com.tr/en/africa/un-chief-holds-talks-with-haftar-in-libyan-capital-/1443628
--------
Tunisia tightens border controls following Libyan escalation
5 April 2019
Tunisia has tightened control on its border with Libya in response to the renewed conflict between rival factions there, the defense ministry said on Friday.
"The Ministry of National Defense has taken all necessary precautions to secure the southeastern border and face potential repercussions," the ministry said in statement.
On Friday, Forces loyal to Libya's Khalifa Haftar were pushed back from a key checkpoint less than 30 kilometers from Tripoli, checking their lightning advance on the capital, a security source said.
Full report at:
https://english.alarabiya.net/en/News/north-africa/2019/04/05/Tunisia-tightens-border-controls-due-to-Libyan-escalation.html
--------
Russia 'not backing Haftar's Tripoli offensive'
Apr 5, 2019
Russia says it has not assisted forces loyal to Libyan strongman Khalifa Haftar in their latest push to take over Tripoli, calling for a political solution to the recent flare-up of tensions in Libya.
Asked if Russia was backing Haftar's new offensive on the Libyan capital, Kremlin spokesman Dmitry Peskov told reporters on Friday that Russia was not involved.
Haftar on Thursday announced that his forces would begin an offensive against Tripoli, which is currently controlled by the county's internationally-recognized government. The so-called Libyan National Army (LNA), under Haftar's command, claimed that its advance on the country's west was meant to root out what it called "terrorist groups" in the restive region.
Peskov said Moscow was monitoring the developments.
"We are closely following the situation in Libya," the Kremlin spokesman said. "Of course we consider that the most important thing is that (military) operations there do not lead to bloodshed. The situation should be resolved peacefully."
UN chief meets Haftar in Benghazi
Amid the escalation, United Nations (UN) Secretary-General Antonio Guterres met Haftar in the eastern city of Benghazi on Friday, witnesses said.
Guterres, who had been in the Libyan capital this week to help organize a national reconciliation conference slated for later this month, reportedly also met Aguila Saleh, the speaker of the eastern-based parliament, in the city of Tobruk earlier on Friday.
The UN chief left Libya after the meetings, with "a heavy heart and deeply concerned," he said on Twitter, adding, "I still hope it is possible to avoid a bloody confrontation in and around Tripoli."
António Guterres
✔
@antonioguterres
I leave Libya with a heavy heart and deeply concerned. I still hope it is possible to avoid a bloody confrontation in and around Tripoli.
The UN is committed to facilitating a political solution and, whatever happens, the UN is committed to supporting the Libyan people.
2,830
8:55 PM - Apr 5, 2019
Twitter Ads info and privacy
1,542 people are talking about this
Haftar's forces, however, continued their advance on the capital on Friday, capturing the village of Suq al-Khamis, some 40 kilometers south of Tripoli, a resident and an eastern military source said. The capture came after clashes with forces allied to the UN-backed Tripoli government, the sources said.
Eastern Libyan forces later seized the former Tripoli International Airport on the southern outskirts of the capital, a spokesman said.
Ahmed Mismari also told reporters his forces were in control of Tarhouna and Aziziya, two towns near Tripoli. He said five of his troops had been killed.
On Thursday, LNA forces seized Gharyan, about 80 kilometers south of Tripoli after skirmishes with forces allied to the Tripoli-based government. But they were driven from a checkpoint less than 30 kilometers from Tripoli early on Friday.
Tripoli's forces captured 145 LNA fighters in Zawiya, west of Tripoli, a western commander, Mohamed Alhudair, told Reuters on Friday, adding that 60 of their vehicles had also been confiscated.
An LNA source said 128 forces had been captured.
UN Security Council, G7 call on Haftar to halt Tripoli advance
In another development, the UN Security Council on Friday called on Libyan forces under Haftar to halt their advance on Tripoli, warning the military move was putting Libya's stability at risk.
The council "called on LNA forces to halt all military movements," German Ambassador Christoph Heusgen, who holds the council presidency, told reporters following a closed-door meeting.
In addition, foreign ministers from the G7 group of industrialized nations issued a similar warning against an advance towards the capital.
The top diplomats from Britain, Canada, Germany, Italy, France, Japan and the United States issued a statement amid an annual meeting in western France, saying the Libyan conflict has "no military solution."
"We strongly oppose any military action in Libya. Any Libyan actor or faction that precipitates further civil conflict are harming innocent people and standing in the way of the peace that Libyans deserve," the statement said.
Libya has been the scene of increasing violence since 2011, when former dictator Muammar Gaddafi was toppled from power after an uprising and a NATO military intervention. His ouster created a huge power vacuum, leading to chaos and the emergence of numerous militant outfits, including the Takfiri Daesh terrorist group.
The oil-rich country is now divided between two rival governments — the House of Representatives, based in the eastern city of Tobruk, and the internationally-recognized government of Fayez al-Sarraj, or the Tripoli-based Government of National Accord (GNA).
Full report at:
https://www.presstv.com/Detail/2019/04/05/592656/Russia-not-backing-Haftar-Tripoli-offensive
--------
IOM fret about migrants in Libya amid military action
Busra Nur Bilgic
05.04.2019
The International Organization for Migration (IOM) on Friday raised concern for detained migrants and civilians in Libya amid commander Haftar-led military campaign in the North African country.
IOM Director General António Vitorino dubbed Libya as an unsafe country for the migrants who tried and failed to reach Europe.
"The safety of migrants in detention is especially concerning should there be an escalation in military action. The fate of all Libyan civilians and the safety of humanitarian workers also remains an overriding concern," Vitorino said in a statement.
On Thursday, Khalifa Haftar -- who is affiliated with a rival government based in the eastern city of Al-Bayda -- formally announced the launch of operations to seize control of the capital Tripoli.
According to UN, 1,073 migrants have returned to Libya after rescued at sea and placed in "arbitrary detention" in 2019 so far.
In 2018, more than 14,000 civilians were displaced and over 2,000 migrants caught up in fighting, the IOM noted.
Visiting Tripoli amid escalations, UN Secretary General António Guterres said migrants in detention are not only Libya's responsibility but whole international community.
"I am deeply shocked and moved by the suffering and despair I have seen in the detention centre in Tripoli, where migrants and refugees are in detention for unlimited time and without any hope to regain their lives," he said.
Earlier on Friday, Antonio Tajan, the president of European Parliament, said chaos and a new migration crisis must be avoided in Libya.
Libya has remained beset by turmoil since 2011, when a bloody NATO-backed uprising led to the ouster and death of President Muammar Gaddafi after four decades in power.
Full report at:
https://www.aa.com.tr/en/africa/iom-fret-about-migrants-in-libya-amid-military-action/1443509
--------
North America
Turkey says US distorted meeting, but Pompeo stands by account
5 April 2019
Turkey on Thursday accused the US State Department of making false claims about rows during a meeting between the top US and Turkish diplomats, but Secretary of State Mike Pompeo said he stood by the account.
The NATO allies are at odds over issues including US support for a Syrian Kurdish militia viewed as terrorists by Ankara and Turkey's purchase of a Russian missile system over US objections.
Turkish Foreign Minister Mevlut Cavusoglu and US Secretary of State Mike Pompeo held talks on Wednesday during the Turkish official's visit to Washington as part of 70th-anniversary celebrations of the NATO alliance.
The US State Department said Pompeo had warned Ankara of "potentially devastating consequences" if Turkey launches an offensive in Syria and urged the "swift resolution" of legal cases involving US citizens and US mission employees under investigation in Turkey.
Pompeo also pressed Cavusoglu about Turkey's plans to buy the S-400 missile defense system from Russia, which Washington has warned could put Ankara at risk of US sanctions, the State Department said in a statement.
But Cavusoglu questioned on the issue by reporters in Washington insisted "I was there... such language was never used, on Syria particularly they never mentioned such things about unilateral actions from Turkey."
He backed up earlier comments by his foreign ministry spokesman Hami Aksoy said the US readout "not only fails to reflect the content of the meeting but also contains matters that were not even raised during the said meeting".
It was not clear what "matters" Aksoy was referring to in his statement and foreign ministry officials were not immediately available for comment. Aksoy said similar problems had arisen after previous talks, and urged statements to be prepared with "greater care".
Pompeo, asked by reporters about the Turkish comments, insisted that the State Department account was accurate. "I've re-read the readout of our meeting. Spot on. Stand by every word of it," Pompeo said.
Pompeo said he believed that Turkey "understands the American position quite clearly" but said he was hopeful of resolving issues. "There are great opportunities for the United States and Turkey to work closely together," he said.
"I had a good, long conversation with the Turkish foreign minister yesterday and I am very confident we'll find a path forward."
Ties have been frayed recently by Ankara's purchase of Russian S-400 missiles, which US officials fear have technology that will allow Moscow to gather data from NATO aircraft.
The US wants Turkey to instead opt to buy the US Patriot system. Washington responded earlier this week by suspending Turkey's participation in the F-35 fighter-jet program, in which Turkey has invested over $1 billion.
https://english.alarabiya.net/en/News/world/2019/04/05/Turkey-says-US-distorted-meeting-but-Pompeo-stands-by-account.html
--------
Pompeo calls for NATO unity to confront Iran, Russia, China
Apr 5, 2019
US Secretary of State Mike Pompeo has called on NATO members to get united in the face of what he called emerging threats from Iran, Russia and China.
"We must continue to do so, especially in this new era of great power competition from Russia, from China, and the Islamic Republic of Iran," he told a meeting of NATO's foreign ministers in Washington.
The ministers gathered to celebrate the 70th anniversary of the North Atlantic Treaty Organisation, but the meeting was marked by public rifts among the member states.
Pompeo said addressing the new challenges required enhanced military and security spending.
"We must adapt our alliance to confront emerging threats whether that's Russian aggression, uncontrolled migration, cyber attacks, threats to energy security, Chinese strategic competition, including technology and 5G, and many other issues," he said.
The ministers approved a new raft of measures in the Black Sea to counter Russia and boost Georgia and the Ukraine - two aspiring NATO members - with increased maritime cooperation, patrols and port visits.
Pompeo has also been seeking with limited success to persuade US allies not to choose Chinese telecom giant Huawei for their fifth-generation networks, claiming that the company poses risks to security and personal privacy.
US President Donald Trump has called on NATO countries to increase military spending to 4 percent of their gross domestic product and singled out Germany for not doing enough.
The gathering on Thursday was overshadowed by those rifts as well as a deepening dispute with Turkey over Ankara's planned purchase of Russian-built S-400 air defense missile systems.
Though Pompeo did not address the spat with Ankara in his speech, he reiterated Washington's displeasure on the issue in a meeting with Turkish Foreign Minister Mevlut Cavusoglu a day earlier.
Cavusoglu, however, made it clear that the purchase of the missile system from Russia "is a done deal" and that Ankara does not have to choose between Russia and other countries.
"We are not choosing between Russia and any other allies… We don't see our relations with Russia as an alternative to our relations with others. And nobody, neither West nor Russia, should or can ask us to choose," he said.
The US has already suspended deliveries of equipment of F-35 jets to Ankara over the dispute. Cavusoglu said Washington has made a final offer for Patriot defense system sales to Turkey, but "we couldn't get it for 10 years."
Bolton campaigning against China at UN
US National Security Adviser John Bolton is busy campaigning against China's influence in the United Nations and other international organizations, American news publication Foreign Policy magazine reported.
"The effort is one part of a broader bid by the Trump administration to try to stall China's rise as a global power, breaking with decades of US diplomatic efforts to manage China's inevitable emergence as a responsible global competitor," it wrote.
In recent months, the United States has moved beyond trade sanctions, pressing European governments to bar the Chinese telecom giant Huawei from building the region's infrastructure for high-speed 5G internet access.
According to Foreign Policy, Bolton's new push to contain China's influence at the UN is ironic given the national security adviser's efforts to sideline the international institution.
European allies have warned that the Trump administration's withdrawal from a range of international organizations and agreements have paved the way for China and other powers to fill the diplomatic vacuum.
The Europeans, however, are looking to avoid an outright confrontation with Beijing, while key European countries, including Greece and Italy, have decided to participate in China's Belt and Road Initiative.
The dispute reflects the emergence of an increasingly confrontational approach to China by the US since Bolton's appointment to the White House's top national security job last April.
The two powers are currently locked in a deepening trade dispute and a confrontation in the South China Sea which is mostly claimed by Beijing.
Full report at:
https://www.presstv.com/Detail/2019/04/05/592612/NATO-anniversary-Pompeo-Iran-Russia-China
--------
Groups demand West issue Khashoggi trial reports
Michael Hernandez
05.04.2019
WASHINGTON
More than a half-dozen rights and free press groups Friday demanded the U.S., U.K. and France to publicly release assessments of Saudi Arabia's trial of those accused of murdering columnist Jamal Khashoggi.
Riyadh invited representatives from the three countries to attend judicial proceedings, which are otherwise closed to outside observers.
Paris, London and Washington should ensure their presence is not used by Saudi officials to "provide cover for what could be a sham trial," Amnesty International and others said in an open letter.
The Washington Post journalist was killed shortly after he entered the Saudi Consulate in Istanbul last October.
Saudi Arabia initially denied responsibility for the journalist's grisly killing, but later acknowledged he was killed by a team of Saudi operatives it said was conducting a rogue rendition operation.
The narrative, however, has fallen flat for critics who suggest Khashoggi's murder could not have been carried out without the explicit consent of Crown Prince Mohammad bin Salman, the Kingdom's de facto ruler, and suggest Riyadh is seeking to deflect responsibility to fall men.
The closed-door trials "would also run the risk of enabling the authorities in Riyadh to find a set of individuals guilty, without due process, while whitewashing the possible involvement of the highest levels of the Saudi government," the groups wrote to the French, British and American top diplomats.
Full report at:
https://www.aa.com.tr/en/americas/groups-demand-west-issue-khashoggi-trial-reports/1443620
--------
Congress stares down Trump on Yemen war
Bryant Harris
April 4, 2019
The House voted today to end US support for the Saudi-led coalition fighting in Yemen, finally sending the resolution to President Donald Trump's desk after five votes since March 2018.
Today's 247-175 vote marks the first time Congress has successfully used the 1973 War Powers Act in a bid to curtail a foreign military intervention. But Trump has threatened to veto the bill, which has not garnered enough support in either chamber to override him.
"This is the first time in the history of this nation that a War Powers Resolution has passed the House and Senate and made it to the president's desk," the bill's sponsors, Sen. Bernie Sanders, I-Vt., and Rep. Ro Khanna, D-Calif., said in a statement. "Despite the many procedural roadblocks deployed in both chambers to block this resolution, commitment to human rights and responsibility prevailed."
The resolution enjoyed bipartisan support when it passed the Republican-led Senate 54-46 last month. But today's House vote was mostly along party lines, with just 16 Republicans joining their Democratic colleagues to pass the bill.
Most Republicans sided with Trump in arguing that the Vietnam-era War Powers Act does not apply in this case because US support for the Saudi intervention against the Iran-backed Houthi rebels does not rise to the level of "hostilities." Lawmakers of both parties have long argued that Saudi Arabia and the United Arab Emirates should do more to limit civilian casualties in Yemen, but disagree on the best approach.
"This resolution abuses the war powers tool to get at a completely different security assistance issue which Congress already has clear tools to address," Rep. Mike McCaul, R-Texas, the top Republican on the House Foreign Affairs Committee, said ahead of the vote. "If a member wants to condition or cut off US security assistance to Saudi Arabia, then bring forward a bill to do just that."
McCaul argued that the resolution's only legal effect is to cut off US midair refueling support for Saudi Arabia, which the Trump administration already ended last year after the murder of journalist Jamal Khashoggi. But Democrats note that it would also prevent the Trump administration from resuming that support. The liberal Congressional Progressive Caucus goes a step further, insisting that the resolution requires the United States to end targeting and logistical support for the Saudi coalition.
The Democratic caucus stood largely united against a last-ditch Republican attempt to keep the bill off Trump's desk by adding unrelated language regarding Israel. Exploiting Democratic divisions over the pro-Palestinian boycott, divestment and sanctions movement (BDS), Republicans attempted to attach a nonbinding resolution to the bill opposing the movement. Most Democrats voted against the Republican motion, which failed 194-228, with five Democrats voting in favor.
When offering the motion, McCaul labelled the Yemen resolution as "pro-Iran and anti-Israel."
Democrats in turn accused Republicans of using Israel as a partisan wedge issue.
Full report at:
https://www.al-monitor.com/pulse/originals/2019/04/congress-vote-yemen-war-end-us-support-trump-veto.html
--------
Southeast Asia
Shia group blames Shiaphobia for Amri's enforced disappearance
April 5, 2019
KUALA LUMPUR: A local Shia group has blamed religious authorities for being part of a systematic campaign to vilify the minority Muslim community, saying it has encouraged criminal action against them including forced disappearance as revealed recently by Suhakam.
Komuniti Shia Malaysia, a support group representing followers of Shia Islam – the school of thought frowned by Malaysian Islamic authorities – said there has been a spike in Shiaphobia through the use of the mainstream media as well as mosque pulpits.
It said the recent findings by Suhakam, the government's Human Rights Commission, only confirmed the community's fears on their personal safety.
"Our community including Amri has never been given the right to defend themselves although the Constitution gives us the freedom to hold to our conviction.
"We are Malaysian citizens who live within the freedom allowed by the Malaysian Constitution," the group said in a statement to FMT.
It said there has also been fear mongering to whip up anti-Christian sentiments in the country.
On Wednesday, Suhakam declared Pastor Raymond Koh and Amri Che Mat victims of "enforced disappearances", and blamed Bukit Aman's Special Branch for their abductions based on testimonies from some 40 witnesses during its year-long inquest.
Amri, a Perlis-based activist who runs a charity organisation, is believed to be a Shia follower, and had in the past been questioned over his belief by state Islamic authorities.
In January 2018, Perlis mufti Mohd Asri Zainul Abidin, who was present during a raid on Amri's home, criticised him for practising Shia Islam, the second largest sect in the Muslim world which Malaysian Islamic authorities label as "deviant".
But Asri rejected suggestions that he was involved in Amri's disappearance, who witnesses said was abducted on Nov 24, 2016 just 500 metres from his home in Kangar.
The Shia support group said there have been attempts to use state institutions to justify "evil and inhumane" acts.
"The rulers, police and Islamic institutions must be defended and this small group targeting the minority like us should be identified, brought to justice, punished and removed," it said.
It welcomed any move to convene a royal commission of inquiry as a follow-up to the Suhakam findings, but said there should also be efforts to fight hate speech.
"We call for positive efforts to fight Shiaphobia and Christianophobia as long as they do not violate the constitution," said the group.
https://www.freemalaysiatoday.com/category/nation/2019/04/05/shia-group-blames-shiaphobia-for-amris-enforced-disappearance/
--------
Politics and Policy: Was Mujahid right to meet Zakir Naik?
Mohsin Abdullah
April 05, 2019
QUITE a number of Malay Muslims in this country of ours have much respect for controversial preacher Zakir Naik. Hence, should the government turn its back on him or send him back to India — which has a government led by Hindu nationalists — they will see that as a religious man being knowingly delivered to his persecutors by a Malay Muslim-led government.
To Zakir's sympathisers, he is seen as being successful in getting non-Muslims, in particular Hindus, to convert to Islam. They say that is why the authorities in India, being Hindu, have an axe to grind with him.
But to many non-Muslims, Zakir is divisive and a preacher of hate, someone who is fond of putting down other religions. To them, Zakir, who is wanted by India on a range of criminal charges, must be deported. And obviously, they do not want the government to have anything to do with the preacher.
Non-Muslims are agitated that Zakir was given permanent residence status. First, we should note that his PR status was awarded under the administration of Datuk Seri Najib Razak.
While the current government can revoke it, not only has Zakir retained his PR status, but the government is also seen as being friendly with him.
And recently, Minister in Charge of Islamic Affairs Datuk Seri Mujahid Yusof met the preacher at his office. A picture of the two hugging each other went viral. Mujahid was reported to have said that what Zakir is doing with regard to dakwah is "inspiring".
Mujahid, who had been doing and saying the right things until now and was accepted by non-Muslims, found himself fiercely criticised by the same people who had sung his praises previously.
It seems that all of the minister's good work, which incidentally had incurred the wrath of many a Malay Muslim, became undone in one moment. It's ironic, sad even.
Mujahid, a former PAS leader who is now with Amanah, has always been the target of PAS, which has labelled him a liberal — too soft and too compromising about Islam for their liking.
Beyond Mujahid's case specifically, the government, generally speaking, is caught between a rock and a hard place.
So, where do we go from here?
I took the issue to Prof Dr Ahmad Fauzi Abdul Hamid, an expert on political Islam.
Recall that when the previous government did not allow Turkish writer Mustafa Akyol to speak in public on Islam in the country a few years ago, citing his "lack of Islamic credentials", Ahmad Fauzi questioned that decision, drawing a parallel with Zakir.
Ahmad Fauzi had asked then whether the authorities were being fair in requiring speakers on Islam to have the necessary credentials.
He was quoted as saying, "You may disagree with Akyol but if you want to apply the credentials rule, then apply it on the preacher Zakir Naik as well."
"Has Zakir Naik applied for credentials? Has anyone questioned whether he has credentials or not? Not only do we not question that, we even grant him permanent residence status," Ahmad Fauzi said.
The questions are still relevant. Have they been asked and answered since then?
Before we look at the way forward, Ahmad Fauzi says the concern of Malay Muslims that Zakir may risk being persecuted should he return to India ought to be addressed.
According to him, the human rights situation in India must be considered, what with the violence against Muslims in India and so-called cow vigilantes aggravating the situation.
He observes that it is not only Muslims who are the victims, but Christians as well. The violence, he points out, is carried out mostly by Hindu nationalists and not Hindus per se.
As far as Zakir is concerned, he says, the government needs to set up a special task force to conduct a thorough investigation.
The task force or high-level committee should comprise academics, the relevant authorities and representatives of law enforcement agencies, and it must look into every aspect of the case. Nothing is small enough to be disregarded.
It must study whether the preacher's brand of dakwah is suitable for a multiracial country like Malaysia. In fact, some people have attempted to tackle this issue.
Most importantly, says Ahmad Fauzi, the task force should get to the bottom of the allegations against Zakir. "We must know if the things attributed to him — like the accusation of links to terrorism and of being pro-Osama bin Ladin — are true or not," he says.
Only when all the questions have been answered can the government plan the next course of action.
True. Only then can the Zakir Naik issue, which is driving many Muslims and non-Muslims in this country apart, be resolved — to some extent, at least.
Full report at:
https://www.theedgemarkets.com/article/politics-and-policy-was-mujahid-right-meet-zakir-naik
--------
1 hostage escapes, another drowns and 3rd shot
APRIL 06, 2019
The two Indonesians and the Malaysian separately escaped while Philippine marines were attempting to rescue them on Simusa island in southern Sulu province in the last two days, regional military spokesman Lt. Col. Gerry Besana said.
An Indonesian hostage held by Muslim militants in the southern Philippines swam his way to freedom but another drowned while a Malaysian was shot in the back while escaping, officials said Saturday.
The two Indonesians and the Malaysian separately escaped while Philippine marines were attempting to rescue them on Simusa island in southern Sulu province in the last two days, regional military spokesman Lt. Col. Gerry Besana said.
The dramatic escapes leave at least three more hostages in the custody of the Abu Sayyaf, which is blacklisted by the United States and the Philippines as a terrorist organization due to its brutal history of bombings, ransom kidnappings, extortion and beheadings. The remaining captives include a Dutch bird watcher, Elwold Horn, who was kidnapped by the militants in 2012, and two Filipinos.
One of the Indonesians, Heri Ardiansyah, was plucked from the waters by marines on board a gunboat while they recovered the body of his companion, Hariadin, who drowned. The marines gunned down three Abu Sayyaf captors who were trying to chase the two Indonesians at sea, military officials said.
The Malaysian, who was identified by the military as Jari Bin Abudullah, was shot by the militants when he ran away Thursday as marines tried to rescue him and engaged his captors in a gunbattle. Government forces surrounded Simusa island, where a small community thrives near mangroves , to hunt down the remaining Abu Sayyaf gunmen.
The Malaysian was airlifted to Zamboanga city, where he was in critical condition in a hospital, military officials said.
The three hostages were kidnapped off Malaysia's Sabah state on Borneo island in December last year and taken by speedboat to Sulu, the predominantly Muslim and poverty-wracked province where a few hundred Abu Sayyaf have survived in the jungles despite frequent military offensives.
Army troops on Friday clashed with about 80 Abu Sayyaf gunmen in Sulu's mountainous Patikul town in a fierce but brief gunbattle that left three soldiers and four militants dead and several wounded on both sides, the military said.
Full report at:
https://www.thehindu.com/news/international/philippines-officials-say-an-indonesian-hostage-has-swum-his-way-to-freedom-from-his-captors/article26753871.ece
--------
Bersatu enters Sabah, mixed feelings all round
06 April 2019
By Julia Chan
KOTA KINABALU, April 6 — It promises to be a grand affair. The launch today to mark the entry of Parti Pribumi Bersatu Malaysia (Bersatu) into the state has seen workers labouring round the clock to get things ready.
Organising chairman Datuk Hajiji Noor said they are expecting up to 30,000 people; no mean feat in a state which rarely sees crowds of half that number.
The venue — the International Technology and Commercial Centre (ITCC) in Penampang — has never seen an event of this scale.
The event will begin at 1pm with stage performances followed by speeches. Tun Dr Mahathir Mohamad is expected to speak at 4pm.
ITCC developer Caesar Mandela Malakun said the ballroom, exhibition centre, outdoor stage and mall atrium can each hold 5,000 people.
"Realistically, we can fit 20,000 comfortably," he said.
Whether the national Malay party can attract a crowd of that size is one thing, but political observers are eyeing the line-up of its state leaders which will give them an idea of the party's future in Sabah.
"I will be watching closely. It will be interesting to see the make up of their supporters, whether they can attract more than just the Muslim Bumiputera crowd.
"In the past, Umno has had a few non-Muslim leaders and members, so it will be interesting to see the leadership line-up at this convention," said political lecturer Raheezah Shah.
He said that if the party attracts non-Muslim Bumiputeras — often refered to as KDM, the acronym for Kadazan Dusun Murut — it would mean UPKO, PBS and to a certain extent, Warisan and perhaps Bersatu will be fighting for their support.
"Will it mean the KDMs do not trust Warisan? If there is no KDM in the line-up, then how will they reach out to the non-Muslim Bumis? That's why the line-up is important," he said.
The line-up is expected to see Hajiji named state chairman, followed by prominent former Umno leaders like Datuk Masidi Manjun and Datuk Ronald Kiandee, who are among nine state assemblymen and five MPs who quit Umno last December and joined Bersatu when the time came.
So far, eight former Umno assemblymen have officially joined Bersatu in a small ceremony in Putrajaya two weeks ago, but word has it they have 10,000 members already in Sabah.
With Bersatu's arrival, Warisan, as the biggest party in the Warisan-PKR-DAP-UPKO combo, stands to be the biggest loser with the most shared supporter demographic.
Pre-May 9, Bersatu leader Dr Mahathir and Warisan president Datuk Seri Shafie Apdal had an agreement that Bersatu would not come to Sabah and Warisan would work with the PH government if they won the election.
Now Shafie has to believe that the prime minister and Bersatu chairman will stick to his promise of supporting the state government and not "bring it down" from the inside.
As it is, many see the entry of Bersatu into the state as Mahathir bulldozing his way into Sabah again — a kind of Umno 2.0 — while others see it as just more "Malaya power" that the state has been fighting to get away from.
A Warisan leader, who declined to be named, hinted that the party was not happy with the turn of events despite appearances.
"We all know what's the catch here. Sabahans are no longer gullible.
"Sabahan feelings in general are exactly my and Warisan's feelings because we are Sabahans," he said when contacted.
He said Warisan leaders have been invited to the launch but he did not know if they would attend, given the resentment some were feeling.
For national PH partners DAP, the move to bring Bersatu to Sabah is a good one that will strengthen both the federal and state governments
"The extension of PPBM here can help keep Umno out of power. I don't think they're coming here to create trouble. I strongly believe they are not eyeing positions or anything like that," said DAP state secretary Chan Foong Hin, referring to Pribumi.
"I also don't think they're 'Umno 2.0.' Yes, they might be many of the same players and quite similar in their struggles, but in today's political landscape, no one party can dominate the way Umno did in the past.
"They also will not be playing up racial and religious issues like before, or now. So I think it's unfair to give them that label. That just won't work and even Umno Sabah had to distance themselves from them," said Chan.
Chan said that it should not be an issue for the Sabah government to work with Bersatu given the fluidity of politics.
Full report at:
https://www.malaymail.com/news/malaysia/2019/04/06/bersatu-enters-sabah-mixed-feelings-all-round/1740348
--------
Legislative candidates look to supernatural to win races
April 6, 2019
Legislative candidates are resorting to the supernatural ahead of April's election, with many visiting the graves of respected figures or praying to the ancestors in traditional rituals.
Several legislative candidates running in Palembang, South Sumatra, have visited the grave of renowned local cleric Ki Marogan, as well as the graves of members of the Sriwijaya Kingdom's royalty on Siguntang Hill.
Among those seeking the blessings of the deceased was Golkar Party legislative candidate Anita Noeringhati, who said she visited Ki Marogan's grave to pay her respects. Many graves in Palembang were historic sites, she said.
"[During the visit] an ustaz [Islamic teacher] guided me in how to pray properly," Anita told The Jakarta Post recently, adding that she visited the graves regularly, even before the campaign season.
She said apart from praying for success in her provincial legislative council race, she also prayed for the clerics and for a peaceful Indonesia.
According to Ismail of the Kiai Muara Ogan (Ki Marogan) Foundation, legislative candidates also visited cemeteries in other regions of the country such as Lampung and Jakarta. They typically visited in groups, he said.
"They do not explicitly say they come as legislative candidates, but they pray for victory [in their legislative races]," said Ismail.
The caretaker of King Segentar Alam's grave on Siguntang Hill in Palembang, Yadi, told a similar story.
According to Yadi, most visitors did not openly declare their true intentions or identity, but he recognized them as legislative candidates nonetheless.
"They usually come in groups, not just to the king's grave but also to the graves of the commander and the princess," he told the Post.
The local culture and tourism agency said the graves were important heritage sites. Siguntang Hill, on which at least seven tombs of the Sriwijaya Kingdom's royalty are preserved, is the highest peak in Palembang and is believed to have served as a place of worship for members of the royal family in the past.
In Surakarta, Central Java, the grave of Ki Gede Sala, who is considered the founder of Sala, a former name for the city, is among the most popular destinations visited by legislative candidates.
"For many officials it has become a place to seek blessings. During an election, even more people, mostly candidates, visit the grave to pray to the deceased and seek clues on how to win their races," cemetery caretaker Joko Saputro Adi said, adding that Friday, or Kliwon according to the Javanese calendar, was the most popular day for legislative candidates and officials to visit.
Ki Gede Sala was one of the most influential religious figures in the country's history and introduced Islam to Central Java.
Another popular site in the city is the grave of former authoritarian president Suharto in Karanganyar.
"I admired Pak Harto. I think political rituals like this are acceptable," legislative candidate Sutopo said.
Another legislative candidate, Hartono, denied the candidates' actions were heretical, contrary to what many conservative Muslims might say.
"Our visits [to graveyards] does not mean we don't believe in God. This is what Javanese people call effort. We still leave the rest to God," he said.
Candidates in East Manggarai, Flores, East Nusa Tenggara, have even conducted traditional rituals to bring good luck and blessings.
Fransiskus Yosef Andi Syukur said he performed the Teing Hang ritual on Thursday night, which involved preparing offerings for the ancestors and asking them to secure victory.
"We can fight and win through the spirits of our ancestors. I have become part of the Manggarai people and tradition, so [the ritual] is necessary," he told the Post.
Local traditional leaders, who lead the ritual, are believed to be able to predict the results of the election through signs shown by a white chicken prepared as an offering, as explained by traditional leaders Fransiskus Ndolu, Damianus Tarung, Petrus Ngempeng and Aloisius.
The leaders then share the signs with the candidate and provide insights.
Full report at:
https://www.thejakartapost.com/news/2019/04/05/legislative-candidates-look-to-supernatural-to-win-races.html
--------
Mideast
Israel's Arab minority urged to boycott election over divisive law
5 April 2019
Some of Israel's young Arab citizens are calling for a boycott of Tuesday's parliamentary election, dismayed by a recent law which they say reduces them to second-class citizens.
The pro-boycott activists, many of whom identify as Palestinian, have tried in the past to persuade others among Israel's Arab minority not to vote.
But this time, they say, they are tapping into anger over the 2018 law that declares only Jews have a right to self-determination in the "nation-state" of the Jewish people.
Leaders of Israel's main Arab parties are pushing for their voters to turn out, fearing a boycott would weaken the 21-percent Arab minority's representation in parliament, and boost Prime Minister Benjamin Netanyahu's election chances.
Ignoring the party leaders, dozens of activists from the "Popular Campaign to Boycott the Zionist Knesset Elections" have been handing out leaflets in the northern Israeli port city of Haifa, which has a mixed Jewish and Arab population, and in smaller Arab towns and villages.
"This is an attempt to boycott the body that actively tries to erase our Palestinian identity," said Joul Elias, a student from Haifa who turned up to distribute flyers in Wadi Nisnas, a majority Arab neighborhood in the city.
Israel's Arab minority comprises mainly descendants of the Palestinians who remained in their communities or were internally displaced after the 1948 war that surrounded Israel's creation.
According to figures released by Israel's Central Bureau of Statistics, there were 1.9 million Arabs in Israel's roughly 9 million population at the start of 2019. Most were Muslims, Christians or Druze. Jews made up 74.3 percent of the population.
Wake-up call
Despite holding Israeli citizenship, many Arabs say their communities, from the fertile Galilee in the north to the Negev desert in the south, face discrimination in areas such as health, education and housing.
Netanyahu's ruling Likud party counters that its 15 billion shekel ($4.19 billion) investment plan for the Arab sector "is the largest such commitment in Israel's history," according to Eli Hazan, Likud's foreign affairs director.
But Netanyahu rekindled Arab resentment in March when he wrote on Instagram that "Israel is not a state of all its citizens." It was a reference, he said, to the new law, and the country being the homeland of the Jewish people.
Many in the Arab community saw the Instagram post as an echo of divisive comments he made in the 2015 election.
Hours before the polls closed on election day that year, Netanyahu said that Arabs were flocking "in droves" to cast ballots.
This was an attempt to prod any complacent right-wing supporters to get out and vote for him.
"The nation-state law was like a wake-up call for many people, making them realize this country will never be a country for all its citizens," said Muhannad Abu Ghosh, 42, a pro-boycott activist from Haifa.
But Ayman Odeh, an Arab legislator who heads the Hadash party, says that engagement is key to bringing about political changes that will benefit the Arab minority.
"Our challenge, number one through five, is to increase the number of people who vote," he said.
He said some Arabs would, as they have in the past, vote for non-Arab center- or left-wing parties, but that even those votes "play a significant role in fighting right-wing extremism in Israel."
Arab legislators
Arabs have served in Israel's parliament since the country's founding, but low turnout and other factors have typically left them under-represented in the 120-seat body.
No Arab party has served in a governing coalition, meaning they have little say in shaping Israeli policies.
In the 2015 election, Israel's four Arab-dominated political parties united to form a "Joint List" that won 13 seats - their biggest representation yet.
But this time around they are divided, which is likely to further deter an already dismayed electorate from voting, say political analysts.
Arab voter turnout is expected to be just 51 percent, down from 64 percent in 2015, according to a recent poll from the Konrad Adenauer Program for Jewish-Arab Cooperation at Tel Aviv University. The poll projects nationwide turnout of 70 percent.
"The majority of Palestinians in Israel consider the Knesset election as a practical tool. If it helps them, they will go and vote," said As'ad Ghanem, a professor of political science at the University of Haifa.
"This time, with the collapse of the Joint List and frustration with discriminatory practices, voter turnout will be low."
Ahmad Tibi, a veteran Arab legislator whose Ta'al party has forged an alliance with Odeh, says Arab parties are likely to lose two Knesset seats in this election. But he doesn't see the nation state law or political division as a reason to boycott the vote.
"You can be a critic, you can have reservations, you can be angry at Arab parties or Arab," Tibi said. "But to be nonchalant and to sit aside is not the solution," he added.
Still, the boycott movement's members, many of whom voted in previous elections, believe that grassroots activism is a more effective agent of change than voting.
Rula Nasr-Mazzawi, 43, a former activist with the Arab party Balad, says she left the faction and joined the boycott out of frustration with Arab parties' divisions in the face of what she described as Israel's "racist policies."
"The parties stopped working for the people. They are just clinging onto their own seats and their own power," she said.
Israeli polls forecast Netanyahu win
Meanwhile, Final authorized opinion polls published on Friday just days ahead of the Israeli general elections showed Netanyahu heading for a fifth term in office, leading a right-wing coalition.
The polls revealed the rival centrist Blue and White list led by former military chief Benny Gantz was running virtually neck-and-neck with Netanyahu's Likud ahead of Tuesday's vote.
But while most polls saw Gantz's list as scooping slightly more votes than Likud, neither party was predicted to win more than 25 percent of seats in parliament.
And the polls were unanimous in forecasting that Likud would be able to build a viable ruling coalition to beat off Gantz's challenge.
None gave a figure for undecided voters, although the number is reportedly high enough to swing the outcome.
"Past polls have shown that nearly one out of every six-seven voters makes a decision only in the last two days before the elections, and it isn't clear what will be the dynamic of the coming few days," Maariv daily wrote Friday.
A poll by Smith Research for the Jerusalem Post published Friday showed Gantz's Blue and White, picking up 28 seats in the 120-member Knesset, with the right-wing Likud at its heels with 27, according to AFP.
But it found that overall the right and center-right would control 68 seats compared to 52 from the center and left.
Friday is by law the last day on which surveys can be released before the ballot boxes open on Tuesday morning.
A poll published late Thursday by public broadcaster KAN gave the right a narrower, although still decisive, lead of 64 to 56.
The daily Yediot Aharonot put the gap as narrower still, at 63-57.
https://english.alarabiya.net/en/News/middle-east/2019/04/05/Israel-s-Arab-minority-urged-to-boycott-election-over-divisive-law.html
--------
Israeli forces injure 80 Gazans
Apr 5, 2019
Israeli forces have attacked Palestinians taking part in an anti-occupation protest along the edge of the besieged Gaza Strip, leaving more than 80 people injured.
Ashraf al-Qedra, a spokesman for Gaza's Health Ministry, said that at least 83 Palestinians had sustained various injuries during the rallies east of Gaza and along a fence separating the enclave from occupied lands on Friday.
The rallies have been held every week since March 30 last year. The Palestinians demand the right to return for those driven out of their homeland by Israeli aggression. Israeli troops have killed over 260 Palestinians since the beginning of the rallies — called the "Great March of Return" — and wounded 26,000 others, according to the Gazan Health Ministry.
A United Nations (UN) fact-finding mission found earlier that Israeli forces committed rights violations during their crackdown against the Palestinian protesters in Gaza that may amount to war crimes.
On the eve of the first anniversary of the "Great March of Return" protests last Friday, Israel deployed tanks near the fence separating the occupied territories from Gaza.
Full report at:
https://www.presstv.com/Detail/2019/04/05/592662/Israeli-forces-injure-Gazans-80
--------
Dozens of Palestinians wounded in Israel border clashes
April 05, 2019
GAZA CITY, Palestinian Territories: Dozens of Palestinians were wounded along the Israel-Gaza border fence during weekly protests Friday, the health ministry in the enclave said.
At least 83 people were hospitalized in Gaza, the ministry said in a statement, as thousands again demonstrated along the heavily fortified border.
It did not say how many of those were gunshot wounds but three people were reported to be in critical condition.
Numbers were lower than recent Fridays, however, an AFP correspondent said.
A spokeswoman for the Israeli military said some 10,500 Palestinians were taking part in the events, some of whom were throwing stones at soldiers.
At least 263 Palestinians have been killed by Israeli fire since the protests and clashes began a year ago.
Two Israeli soldiers have been killed over the same period in Gaza-related violence.
Five men were killed on Saturday as tens of thousands gathered for the first anniversary of the protests.
Israel says its strong response is necessary to defend its borders and accuses Hamas, the political movement that rules the Gaza Strip, of orchestrating violence there.
Full report at:
http://www.arabnews.com/node/1478216/middle-east
--------
Yemen schoolchildren killed by unexploded ordnance: UN
April 05, 2019
DUBAI: Two children were killed and eight critically wounded when an unexploded bomb went off at a school in the Houthi-held Yemeni capital, the UN children's agency said on Friday.
A child had found the bomb and brought it to Al-Fatah school in the Hamdan district of Sanaa on Wednesday to show friends, UNICEF said in a statement.
The casualties were aged between 12 and 14.
Children often fall victim to unexploded ordnance, failing to fully appreciate the dangers.
"It is highly likely, as we've seen in Syria, Iraq and elsewhere, that children will continue to be killed even when there's a lull in violence or the violence comes to an end," said UNICEF's regional chief of communications, Juliette Touma.
The Saudi Project for Landmine Clearance (MASAM) in Yemen extracted 14 anti-personnel mines, 625 anti-vehicle mines, 67 explosive devices and 665 unexploded ordnance — totaling 1,371 mines — during three weeks of February.
A total of 44,743 mines have been extracted since the beginning of the project. An estimated 1 million mines have been planted by the Iranian-backed Houthi militias in Yemen over the past three years claiming hundreds of civilian lives.
Full report at:
http://www.arabnews.com/node/1478096/middle-east
--------
Pakistan
Pakistani Opposition Questions Need for Military Tribunals
April 05, 2019
Prominent opposition parties in Pakistan have demanded a debate in Parliament over the possible reinstatement of military courts and have called for them to be disbanded, deeming them "illegal" and "unconstitutional."
The courts' two-year term ended Sunday and the government reportedly is considering a two-year extension, arguing they have been effective in prosecuting terror suspects.
Farhat Ullah Babar, a senior leader of the Pakistan Peoples Party (PPP), however, said his party believes there is no longer a need for military courts in Pakistan and their existence is unconstitutional.
"We simply say no to military courts. There has been a decline in terrorism in the country and we need to know why do we still want military courts," Babar told VOA.
"They are a violation of our constitution. ... PPP wants the Parliament to be taken into consideration and confidence to have a debate about why the government is willing to reinstate the military courts," he added.
Khaqan Abbassi, Pakistan's former prime minister and a key member of the Pakistan Muslim League Nawaz (PMLN) party, which was in power before the current government, also spoke against military courts while talking to reporters last week.
"If the government wants an extension to the military courts, it will have to take the opposition parties in confidence," Abbassi said, meaning it would have to take up the issue with them.
Action plan
The military courts were reinstated in 2015 under the National Action Plan, or NAP. The plan, aimed at addressing growing militancy, was a response to a 2014 terrorist attack on an army public school in Peshawar, the capital of Khyber Pakhtunkhwa province. More than 200 people, including 151 civilians, were killed and 200 others wounded.
The Pakistani Taliban, a U.S.-designated terror group, claimed responsibility.
The justification for military tribunals at the time was to expedite the trials of suspects arrested on terrorism charges and to provide protection to witnesses who hesitated to testify in civil courts, fearing retaliation from militant groups.
Now, four years later, concerns over the legality and the need for these tribunals are being raised, as Prime Minister Imran Khan's government consults different opposition parties to push for legislation to extend the courts for another two years.
In order for the courts to resume their work, both the lower and upper houses of Parliament would have to vote for a constitutional amendment. They extended the courts once for two years in 2017.
Mehdi Hassan, a Pakistan-based human rights activist and political analyst, believes the security situation has improved, comparing the situation to what it was in 2014. Hassan says there is no longer a need for military courts.
"The opposition has taken a stand and they believe the circumstances have changed regarding terrorism in Pakistan. When the military courts were formed, the country was facing an immense terrorism threat, but that is not the case anymore," Hassan told VOA.
Other analysts, who are advocating for the courts, charge they have been effective and a good alternative to the slower civil courts.
"There is friction between government and opposition parties. They should put aside their differences and come to a consensus regarding the military courts because it is for the betterment of the country. This is in the interest of the country that we need to have military courts for the next few years," Muhammad Ali Ihsaan, a former military official and a defense analyst, said.
"We are not part of a developed world. Our problems are different, and we are at the forefront of the war against terror," he added.
Secrecy concerns
Rights groups and experts have raised concerns over the secret nature and operations of these courts, with some labeling them as a parallel judiciary.
"There is no doubt about complications regarding the military courts and the way they operate. If the government wants to reinstate these courts, it should [do so through appealing to the will of the people]," Hassan said.
"In 2015, the whole nation was in shock after the school massacre and politicians felt compelled to pass the amendment to allow military tribunals to work," Shama Junejo, a rights activist who opposes these courts, told VOA.
Earlier this year, a global watchdog for justice called on Pakistan not to use military courts to try civilians for terrorism-related offenses, saying that doing so amounted to rights violations.
The International Commission of Jurists (ICJ) said in January that military tribunals have committed serious fair trial violations.
In a statement, the ICJ listed "serious fair trials violations in the operation of military courts, including: denial of the right to counsel of choice; failure to disclose the charges against the accused; denial of a public hearing; a very high number of convictions — more than 97 percent — based on "confessions" without adequate safeguards against torture and ill treatment."
Military's defense
Pakistan's military says the courts have been effective in the war against terror in the country.
Maj. Gen. Asif Ghafoor, Pakistan's military spokesperson, said in January that the courts were still needed.
"Military courts instilled fear in terrorists, and a remarkable decline in terrorism-related incidents was seen after the military courts [were established]," he told ARY News, a Pakistani news channel.
The exact number of these courts in the country is still not known, but according to local media reports, several such courts had remained active in the past four years, including three in Punjab, two in Sindh, three in Khyber Pakhtunkhwa and one in Balochistan province.
According to the Pakistani military, the federal government referred 717 cases to these courts over the past four years. The courts handled 546 cases and handed over death sentences to 310 suspects.
https://www.voanews.com/a/pakistani-opposition-parties-question-need-for-military-tribunals-/4864130.html
--------
Anti-aircraft shells found near Imran's Banigala house
Munawer Azeem
April 06, 2019
ISLAMABAD: Over a dozen live shells of an anti-aircraft gun were found from a plot located about half a kilometre from the Banigala residence of Prime Minister Imran Khan.
Police said a senior officer of a foreign mission spotted the ammunition lying in the plot adjacent to the prime minister's house and informed the police.
A patrolling team reached the spot and cordoned off the area.
Teams from different police wings, including Counter-Terrorism Force, Crime Investigation Agency and Bomb Disposal Squad later seized 18 bullets of the anti-craft gun.
The bullets were 30mm in length and de-coloured and seemed to be old, a police officer said.
He said because of the private residence of the prime minister, search and combing operation were conducted on a regular basis in the area. Recently, the area was scanned and declared cleared.
Circumstances suggested that someone had brought the ammunition to the plot during the last a couple of days and tried to hide them in the garbage there, he added.
Full report at:
https://www.dawn.com/news/1474163/anti-aircraft-shells-found-near-imrans-banigala-house
--------
US envoy for Afghanistan visits Pakistan
APRIL 5, 2019
Zalmay Khalilzad US special envoy for Afghan reconciliation arrived in Islamabad today and acknowledged the efforts of Pakistan in ending the 17-year-long conflict in Afghanistan.
A concise statement was issued by the Inter-Services Public Relations; it said that Khalilzad met Chief of Army Staff General Qamar Bajwa at the General Headquarters.
The press release further stated, "During the meeting, overall regional security situation with particular reference to ongoing Afghan reconciliation process were discussed."
Khalilzad instructed the Foreign Minister Shah Mehmood Qureshi on the result of Doha talks and his recent activities in the region.
Another statement was issued by the Foreign Office after the meeting which stated that Khalilzaad gave Qureshi updates on his meetings in Afghanistan and talked about the dynamics of the Intra-Afghan dialogue.
Qureshi appreciated the efforts of Khalilzad and assured him of Pakistan's commitment to the entire peace process. "Intra-Afghan Dialogue was a vital component of the reconciliation process," the foreign minister was quoted as saying. "Pakistan wished well for the peace and stability in Afghanistan which would directly benefit Pakistan's own vision for economic and human development."
The US special envoy held talks with Foreign Secretary Tehmina Janjua. Janjua had discussed the telephonic conversation between Qureshi and US Secretary of State Mika Pompeo with Khalilzad.
Full report at:
https://dailytimes.com.pk/373506/us-envoy-for-afghanistan-visits-pakistan/
--------
India's demand for consular access to Jadhav not appropriate as case is in ICJ: Pakistan
Apr 5, 2019
ISLAMABAD: Pakistan on Monday said that India's demand for consular access to Kulbhushan Jadhav is not appropriate at this point as the case is pending in the International Court of Justice (ICJ).
Foreign Office spokesman Mohammad Faisal, addressing media in Islamabad said India has so far not given response to Pakistan's questions about the passport of Jadhav who was sentenced to death by a Pakistani military court on charges of "espionage and terrorism" after a closed trial in April 2017.
Pakistan claims that its security forces arrested Jadhav from restive Balochistan province on March 3, 2016 after he reportedly entered from Iran. However, India maintains that Jadhav was kidnapped from Iran where he had business interests after retiring from the Navy.
During a media briefing, Pakistan Foreign Office spokesman said the case is in ICJ and the question of consular access was "not appropriate at this point".
On the issue of abrogation of Article 370 of the Indian Constitution that provides special status to Kashmir, Pakistan said it will be in violation of the UN resolutions.
"The abrogation of Article 370 of Indian constitution is violation of UN resolutions. We will not accept it under any circumstances and the Kashmiris will also not accept it," he said.
Faisal also said that Pakistan is committed to operationalise the Kartarpur corridor by the 550th birth anniversary of founder of Sikhism Baba Guru Nanak Dev in November 2019.
Faisal said that if the corridor failed to open, India would be responsible.
"But it is important to have the meetings so that all issues about Kartarpur are settled. In principle we are ready to open it as Prime Minister Imran Khan announced but it will be only possible if India agreed to it," he said.
India on Thursday said Pakistan is yet to respond to its concerns over reports that controversial elements have been appointed by Islamabad to a committee which is to be associated with the Kartarpur corridor.
Sources had last week said India had summoned Pakistan's deputy high commissioner in New Delhi and conveyed its concerns over the presence of a leading Khalistani separatist in the committee appointed Pakistan on the Kartarpur corridor project.
India had also sought clarifications on several issues related to the Kartarpur corridor from Pakistan.
Commenting on the sale of anti-submarine weaponry to India by the US, Faisal said that such decisions will lead to an escalation in the arms race within the region.
"We are prepared and want peace but we are not negligent to our defence," he said.
The spokesperson said that all steps were being taken for the implementation of the National Action Plan which included actions against proscribed groups. "We are taking these steps in our own interests," he said.
Full report at:
https://timesofindia.indiatimes.com/world/pakistan/indias-demand-for-consular-access-to-jadhav-not-appropriate-as-case-is-in-icj-pakistan/articleshow/68745830.cms
--------
India
'Not aware': Pentagon on Pak F-16 count after Feb aerial dogfight with IAF
Apr 06, 2019
Yashwant Raj
The United States defence department on Friday said it was "not aware" of any investigation that was conducted to ascertain if Pakistan had lost an F-16 in a dogfight with Indian fighter jets on February 27, contrary to a report by a news publication that had gone on to say, citing unidentified defence officials, the count revealed none was missing.
Foreign Policy magazine reported Thursday that US defence personnel conducted recently a physical count of Pakistan's F-16s and found all in tact, none missing. It attributed the finding to two unidentified senior US defence officials and said the count was conducted at the invitation of Pakistan..
A US defence department spokesman told Hindustan Times in a statement that they, the department, "weren't aware of any investigation like that", that was said to have been conducted, according to unidentified defence officials cited in the FP report, and referred this reporter to the Department of State.
The state department distanced itself from the news report saying in response to a direct request to confirm or deny it, "As a matter of policy, the Department does not publicly comment on details of government-to-government agreements on end-use monitoring of US-origin defence articles."
And it went on to reiterate its stated policy on Pakistan: "It is important to note that since January 2018, the United States government has suspended security assistance to Pakistan."
US government's position appears to be in line with India, which in the backdrop of the attack, has reaffirmed its account of the downing of the Pakistani F-16, citing "electronic signature" as evidence. "During the aerial engagement that followed, one MiG 21 Bison of the IAF shot down one F-16," Air Vice Marshal RGV Kapoor said Friday, "The Indian Forces have confirmed ejections at two different places on that day. These were separated by at least 8-10 kms. One was an IAF MiG 21 Bison and the other a PAF aircraft."
India had scrambled its fighter jets to respond to a Pakistan air force intrusion into Indian airspace on February 27. Wing Commander Abhinandan Varthaman, who was flying a MiG 21 Bison, got a lock on a PAF F-16 and shot it before his own aircraft was hit, forcing him to bail, according to Indian officials.
The wing commander landed in Pakistan and was captured by Pakistan's armed forces. Pakistani aircraft, on the other hand, fell in Pakistan, India has said and circulated pictures of one of its pilots and it has also said it knew the pilot's name.
India has also complained to the United States that Pakistan used American-supplied F-16s in the attack in a possible infraction of the memorandum of sale of the aircraft, and handed over evidence, pieces of an AMRAAM (advanced medium range air-to-air missile) that Pakistani fighter jets had used in the dogfight — no other Pakistani air-force aircraft can fire these missiles.
The United States routinely inspects defence equipment sold by its companies to foreign countries, as part of their respective end-use agreements. Pakistan, for instance, is prohibited from flying F-16s out of the country without notifying the United States in advance, according to sale agreement.
Foreign policy magazine cited a senior US defence official to say the physical count was conducted at the invitation of Pakistan. And it took a while because not all aircraft were immediately available for inspection due to the conflict.
The report went on to quote an unidentified senior defense official, "all aircraft were present and accounted for". It cited a second official, who knew of the count, to say no Pakistani F-16s were missing.
The count included F-16s that Pakistan had acquired from Jordan under third-party transfer the report said, adding that they were subject to the same end-user agreement and its rules.
https://www.hindustantimes.com/india-news/not-aware-pentagon-on-pak-f-16-count-after-feb-aerial-dogfight-with-iaf/story-Rw4gSknuuSBnMc2EyYe62H.html
--------
On Afghan peace tour, US envoy again skips India tour
Apr 06, 2019
Rezaul Laskar
The US special representative for Afghanistan reconciliation, Zalmay Khalilzad, has again skipped India during a multi-nation tour to brief leaders about his talks with the Taliban, creating an impression in some quarters that he is keeping New Delhi out of the loop.
Khalilzad recently held a marathon round of talks with the Taliban leadership in Qatar, during which the two sides finalised a draft agreement on US troop withdrawal and assurances that Afghan soil would not be used by any terror group.
On Friday, Khalilzad met Pakistan foreign secretary Tehmina Janjua and foreign minister Shah Mehmood Qureshi.
During his tour, from March 25 to April 10, Khalilzad is travelling to Afghanistan, the UK, Belgium, Pakistan, Uzbekistan, Jordan and Qatar. The US state department said this is "part of the overall effort to facilitate a peace process that brings all Afghan parties together in inclusive intra-Afghan negotiations".
During his last multi-nation tour in February, Khalilzad visited Belgium, Germany, Turkey, Qatar, Afghanistan and Pakistan. He visited India for two days in January and met external affairs minister Sushma Swaraj. There has been no official response from New Delhi to Khalilzad's recent tours.
However, India has conveyed to the US that any possible deal with the Taliban should not alter the fundamental structure of the Afghan Constitution or erode the gains made over the past 17 years, especially in terms of the country's democratic set-up and rights of groups such as women and minorities, people familiar with developments said.
In some quarters of New Delhi and Kabul, Khalilzad is perceived to be aligning himself closely with Pakistan on the talks with the Taliban. During stopovers on his recent tours, he has also held meetings with his counterparts from China and Russia.
Former ambassador Rajiv Bhatia, who is a distinguished fellow in the foreign policy studies programme at Gateway House, said the US appeared to be still defining its policy for Afghanistan. "The US wants a withdrawal and will get it too, but to what extent such a withdrawal promotes their interests remains to be seen. The US will be accountable to history," he said.
The response in India to the latest developments in the talks between the US and the Taliban has ranged between "utter despair and quiet confidence, because of the belief in New Delhi that things can't all go wrong", Bhatia said. "But we have to be humble at this stage when there is a lot of churning going on – especially because we have some soft power in Afghanistan but we lack hard power assets," he added.
Full report at:
https://www.hindustantimes.com/india-news/on-afghan-peace-tour-us-envoy-again-skips-india-tour/story-PbU9Zb3gBmZvOegIVPcFuN.html
--------
NIA files charge sheet against four Kashmiri students
Apr 05, 2019
The National Investigation Agency on Friday filed a charge sheet against four Kashmiri students, including the cousin of Zakir Musa — who leads Ansar Ghazwat-ul-Hind (AGH), a valley based terror outfit having affiliations with Al-Qaeda.
Musa's cousin Yasir Rafiq Bhat and two others – Zahid Gulzar and Mohammad Idris Shah, all residents of Awantipora in Kashmir valley, were arrested in October last year with a cache of arms and explosives – including one AK-56 rifle, two magazines with 27 live rounds and 1kg explosive powder, from a hostel room of CT Group of Institutions in Jalandhar, Punjab. Later, their associate – Ghulam Mohammad Bhat, who was studying in another institute in Punjab, was also arrested.
According to NIA spokesperson Alok Mittal, "It was found that the arrested accused were cadres of Ansar Ghazwat-ul-Hind (AGH), a Kashmir-based terrorist organisation with a pan-Islamic ideology...".
Full report at:
https://www.hindustantimes.com/india-news/nia-files-charge-sheet-against-four-kashmiri-students/story-H5f655MYERvyt2D108uwIO.html
--------
NIA summons Hurriyat leader Mirwaiz on April 8 to Delhi, says will take care of his security
Apr 5, 2019
SRINAGAR: The National Investigation Agency (NIA) issued a third notice to Hurriyat faction chairman Mirwaiz Umar Farooq in an alleged terror funding case, asking him to produce himself before the agency in New Delhi on April 8, it is learnt.
The notice also reads that the NIA would take care of the security concerns of the Mirwiaz in New Mirwaizuring questioning. He had refused to travel to Delhi on two occasions citing security threats and a hostile atmosphere.
The Mirwaiz had said in a recent Friday sermon that New Delhi could not intimidate Kashmiris by issuing summons. He was referring to the NIA summons issued to him asking him to present himself before the agency in New Delhi.
During the earlier summons, the counsel for the Mirwaiz had conveyed to the NIA that "it was unwise for his client to travel to Delhi under the prevailing conditions of hostility wherein there is a threat to the personal safety of my client".
The NIA has already questioned two maternal uncles of the Mirwaiz —Maulvi Manzoor and Maulvi Shafat — and his aides last year. Both Manzoor and Shafat are retired senior government officers. The NIA has arrested nearly a dozen people, including seven separatist leaders, a high-profile businessman and a son of PoK-based Hizbul Mujahideen chief Syed Salah-uddin.
Full report at:
https://timesofindia.indiatimes.com/india/nia-summons-hurriyat-leader-mirwaiz-on-april-8-to-delhi-says-will-take-care-of-his-security/articleshow/68746072.cms
--------
South Asia
Bangladesh stops 115 Rohingya seeking to reach Malaysia
April 6, 2019
Bangladesh police have prevented 115 Rohingya refugees from being smuggled to Malaysia in rickety fishing boats, officials said Saturday, but no suspected traffickers were detained.
The group from the Kutupalong camp near Bangladesh's border with Myanmar -- the biggest refugee settlement in the world -- were stopped as they headed to boats in the Bay of Bengal.
The operation, which took place late Friday, was the latest in a series involving Rohingya refugees seeking to leave squalid camps for Malaysia, a more prosperous Muslim-majority nation.
"We stopped a convoy of 15 auto-rickshaws and rescued 50 men, 39 women and 26 children," Bangladeshi police officer Anwar Hossain told AFP. "But we could not catch any traffickers."
The officer said the Rohingya, who had already paid the traffickers some money, would be taken back to the camp.
About 740,000 of the Muslim minority Rohingya fled Myanmar for Bangladesh following a brutal military clampdown in the Buddhist-majority nation in August 2017.
They joined another 300,000 Rohingya who have already been living in the overcrowded camps in the Cox's Bazar area following previous bouts of violence.
Thousands have risked their lives travelling to Malaysia and Thailand by boat when the Bay of Bengal is calm before monsoon season sets in at the end of March.
So far this year, Bangladeshi security forces have stopped more than 300 Rohingya from attempting the trip on small fishing boats, which experts say are not fit for deep-sea navigation.
The group detained Friday was the third prevented from heading to Malaysia this week alone.
The UN refugee agency (UNHCR) has said the vulnerability of Rohingya to trafficking has increased enormously as livelihoods, support networks, and other fundamental systems are disrupted.
"It is hard to comment on the scale of the activity, due to the clandestine nature of the activity," UNHCR spokeswoman Caroline Gluck told AFP. "The community finds it difficult to speak up.
https://www.business-standard.com/article/pti-stories/bangladesh-stops-115-rohingya-seeking-to-reach-malaysia-119040600067_1.html
--------
Afghan Special Forces kill 53 ISIS-K militants during a multi-day operation in Nangarhar
05 Apr 2019
At least 53 ISIS Khurasan militants were killed during a multi-day operation of the Afghan Special Forces in eastern Nangarhar province.
According to informed military sources, the operations were conducted in the vicinity of Barsengani village in Khogyani district of Nangarhar.
The sources further added "A multi-day clearance operation by Afghan Special Forces targeting ISIS-K forces in Bar Sengani in Nangarhar has killed 53 fighters."
The anti-government armed militants including ISIS loyalists have not commented regarding the operations so far.
Full report at:
https://www.khaama.com/afghan-special-forces-kill-53-isis-k-militants-during-a-multi-day-operation-in-nangarhar-03650/
--------
Two soldiers wounded in an explosion in Jalalabad city
6 Apr 2019
Two soldiers of the border protection forces were wounded an in explosion in Jalalabad city, the provincial capital of Nangarhar province.
Attaullah Khogyani, a spokesman for the provincial government, said the incident took place earlier today in the vicinity of 2nd police district of Jalalabad city.
Khogyani further added that an Improvised Explosive Device planted on a roadside went off as a Ford Ranger vehicle of the border forces was crossing the area.
According to Khogyani, two soldiers of the border forces have sustained injuries in the explosion.
No individual or group has so far claimed responsibility for the incident.
Full report at:
https://www.khaama.com/two-soldiers-wounded-in-an-explosion-in-jalalabad-city-03654/
--------
Khalilzad shares new plans with Pakistani officials for intra-Afghan talks: report
06 Apr 2019
The U.S. Special Representative for Afghanistan Reconciliation Ambassador Zalmay Khalilzad has shared new plans with Pakistani officials regarding intra-Afghan talks, it has been reported.
"The US wants to bring together all Afghan factions, including the government and different segments of the society, and begin discussions on the lines of the Moscow Format," Pakistan's foreign minister Shah Mehmood Qureshi has told Dawn News.
This comes as the first exclusive intra-Afghan dialogue was organized earlier in the month of February in Moscow, the capital city of Russia.
Representatives of the Taliban group and some prominent political leaders had taken part in the summit to discuss ways to end the ongoing conflict in the country.
In the meantime, Pakistan's foreing minister has said that he was "optimistic" despite the challenges and presence of forces that would try to impede the process.
Full report at:
https://www.khaama.com/khalilzad-shares-new-plans-with-pakistani-officials-for-intra-afghan-talks-report-03653/
--------
9 Taliban fighters killed in Afghan army operations in Zabul and Paktiya provinces
05 Apr 2019
At least nine Taliban fighters were killed during the operations of the Afghan National Army forces in southern Zabul and southeastern Paktiya provinces, informed military sources said Friday.
"The Afghan National Defense and Security Forces in Shinkai district district of Zabul province, conducted a strike killing 3 Taliban fighters," the sources said.
The sources further added that the ANA 203rd Corps conducted a strike of near Shabaz Village in Gardez district of Paktiay province leaving 6 Taliban fighters dead.
The anti-government armed militants including Taliban have not commented regarding the operations so far.
Both Zabul and Paktiya provinces are among the relatively volatile provinces in southern and southeastern parts of Afghanistan.
Full report at:
https://www.khaama.com/9-taliban-fighters-killed-in-afghan-army-operations-in-zabul-and-paktiya-provinces-03652/
--------
Taliban storms west Afghanistan district, kills dozens
5 April 2019
Hundreds of Taliban fighters stormed a district in Afghanistan's western Badghis province, with both Afghan government forces and the insurgent group suffering dozens of casualties, provincial officials said.
The district of Bala Murghab has been a recurring hotspot of fighting in the past two months, and officials have previously warned that it could fall to the Taliban without reinforcements.
Fighting in Afghanistan has escalated ahead of the usual spring season, as both sides seek to increase leverage in talks on a peace settlement.
The Taliban killed 36 members of the government forces and captured several security checkpoints in attacks that began on Wednesday night, Waris Sherzad, district governor of Bala Murghab, said late on Thursday. Fighting was ongoing, he said.
More than 30 Taliban were also killed, said Jamshed Shahabi spokesman for Badghis' provincial governor. Taliban spokesman Qari Yousuf Ahmadi said it attacked from four directions, capturing five checkpoints.
Afghanistan's defense ministry, in a series of tweets, said its forces chose to "tactically retreat" from the checkpoints to prevent civilian casualties. The ministry said it called in multiple air strikes on Taliban positions.
The conflict in Badghis has been particularly intense along with northern Kunduz province and Helmand province in the south in recent weeks. Both sides took heavy casualties in Badghis last month, and at one-point 50 members of Afghan security forces surrendered to the Taliban.
Fighting between militant groups has also intensified. The United Nations Office for the Coordination of Humanitarian Affairs (OCHA) said in a statement on Thursday that ISIS attacks on Taliban positions on March 23 resulted in 21,000 people being displaced in Kunar and Nangarhar provinces.
Full report at:
https://english.alarabiya.net/en/features/2019/04/05/Taliban-storms-west-Afghanistan-district-kills-dozens.html
--------
URL: https://www.newageislam.com/islamic-world-news/german-military-appoint-jewish-chaplains/d/118249
New Age Islam, Islam Online, Islamic Website, African Muslim News, Arab World News, South Asia News, Indian Muslim News, World Muslim News, Women in Islam, Islamic Feminism, Arab Women, Women In Arab, Islamophobia in America, Muslim Women in West, Islam Women and Feminism