New Age Islam News Bureau
3 Aug 2014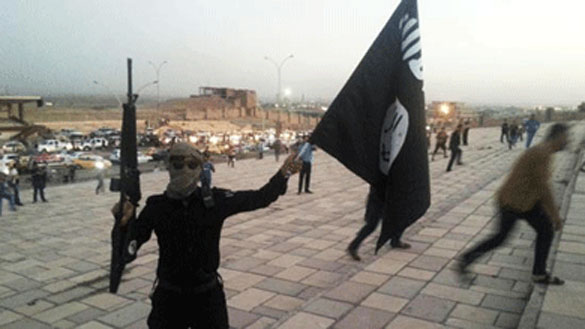 The Islamic insurgents warned residents in nearby villages along the border with Syria to leave their homes. (File photo: Reuters)
-----------
Mideast
• Gaza Offensive 'Joint Arab-Israeli War against Palestinians': CNN
• Israeli shelling kills 30 as Palestinian toll rises to 1,712
• Netanyahu castigates US: Don't second guess me on Hamas
• Israeli strike on U.N. school in Gaza kills seven
• Hamas delegation arrives in Cairo for Gaza talks
• Seven villagers killed in armed attack in south-eastern Turkey
• International community should stop 'Israel's desire for genocide,' says PM Erdoğan
South Asia
• 37 Civilians, 59 'Terrorists' Killed In Earlier China Attack: Xinhua
• 'No violence to be tolerated': Bangladesh State Minister
Arab World
• Islamic Extremists Impose Reign Of Terror in Iraq
• Jihadists Kill Dozens as Iraq Fighting Rages
• Jihadists kill 30 in fighting south of Baghdad: Army
• ISIL captures two Iraqi towns, oil field, defeating Kurdish fighters
• Lebanese army kills 11 militants near Syria border
• Gunmen kill eight Lebanese soldiers near Syria border
• KSA played 'pivotal role in combating terrorism'
North America
• Muslim Movement Embraces Gay, Interfaith Marriages and Female Imams
• Report: Israel 'spied' on Kerry during peace talks last year
• 'I had chance to kill Osama bin Laden,' Bill Clinton said hours before 9/11
• Gaza: 20,000 protesters march on White House
Africa
• 22 killed in Tripoli airport clashes
• Somalia executes three Shebab militants
• Libya unrest 'worse than under Gaddafi': Evacuees
• Militants attack Tunisian army base, kill one soldier
Pakistan
• Law Minister accuses Imran of 'sabotaging' Zarb-e-Azb
• Pakistan Troops to Defend Jittery Saudis along Their Frontier with Iraq
• Nawaz urged to muster support against Israel: Hafiz Saeed
• PM must step down to 'save' country: MQM
• Jamaat-e-Islami chief terms PTI long march 'justified'
• Tahirul Qadri announces 'Martyrs Day' for Aug 10
• Karachi: Three killed, including an intelligence agency official
• Law and order in Balochistan has improved: Malik
India
• India Grants Residential Visa to Taslima Nasreen
• 11,000-page 26/11 Mumbai attack chargesheet had one Para on LeT: Book
Europe
• Islam helps boost British values, former archbishop says
• U.N.: jihadist takeover of Iraq town sparks 'humanitarian tragedy'
• Anti-war mood in Britain grows as bombing of Gaza intensifies
• Nearly 300 Palestinian children dead: UN
• Destroyed mosque reopens in Bosnia's Srebrenica
Southeast Asia
• Muslims must see difference between criticism and insult, says ex-Perlis mufti
• In Indonesia, Jihad Video Raises Concern
Compiled by New Age Islam News Bureau
URL: https://www.newageislam.com/islamic-world-news/new-age-islam-news-bureau/gaza-offensive-'joint-arab-israeli-war-against-palestinians'--cnn/d/98396
-----------
Mideast
Gaza Offensive 'Joint Arab-Israeli War against Palestinians': CNN
Aug 3, 2014
Offensive on the Gaza strip is a "joint Arab-Israeli war against the Palestinians, CNN said in a report.
It quoted an analyst who has covered the region for decades, Ali Younes, who considered the war in Gaza as "unprecedented in the history of the Arab-Israeli conflict."King Abdullah and Israeli PM Netanyahu
"Most Arab states are actively supporting Israel against the Palestinians -- and not even shy about it or doing it discreetly."
It's a "joint Arab-Israeli war consisting of Egypt, Jordan, Saudi Arabia against other Arabs -- the Palestinians as represented by Hamas," Younes said.
One of the outcomes of the fighting will likely be "the end of the old Arab alliance system that has, even nominally, supported the Palestinians and their goal of establishing a Palestinian state," the analyst added.
For his part, Danielle Pletka, vice president of foreign and defense policy studies at the American Enterprise Institute, said that the "Israel-Hamas conflict has laid bare the new divides of the Middle East."
"It's no longer the Muslims against the Jews. Now it's the extremists -- the Muslim Brotherhood, Hamas, Hezbollah, and their backers Iran, Qatar and Turkey -- against Israel and the more moderate Muslims including Jordan, Egypt, and Saudi Arabia."
"It's a proxy war for control or dominance in the Middle East," said CNN's Fareed Zakaria.
The American channel quoted the analysts as saying that Hamas is part of the Muslim Brotherhood. "The Muslim Brotherhood is international, with affiliated groups in more than 70 countries, including Saudi Arabia and the UAE," said Eric Trager of the Washington Institute for Near East Policy.
"Israel's ongoing battle against Hamas is part of a wider regional war on the Muslim Brotherhood," said the Soufan Group, which tracks global security. "Most Arab states share Israel's determination to finish the movement off once and for all, but they are unlikely to be successful."
"From the perspective of Egypt, Saudi Arabia, Jordan, the UAE and some other Arab states, what the Israeli Prime Minister is doing is fighting this war against Hamas on their behalf so they can finish the last stronghold of the Muslim Brotherhood," Younes noted.
Going to Egypt, it is a "regime that came to power by toppling a Muslim Brotherhood government," said Trager. "It's therefore in an existential conflict with the Brotherhood. So it doesn't want to see Hamas, the Palestinian Muslim Brotherhood, emerge stronger in a neighboring territory."
Talking about the monarchies of Saudi Arabia, the United Arab Emirates and Jordan, they have called on Hamas to accept the cease-fire proposal as is.
Countries such as Saudi Arabia and the UAE are "challenged by Islamists who come to power via the ballot box rather than through royal succession," the CNN quoted Trager as saying.
"So these countries have been directly supportive of the coup in Egypt because it removed elected Islamists and therefore discredited that model."
Saudi Arabia is "leading the charge," partly through backing the coup and financing state media reports that attacked the brotherhood, Younes stated.
"Egypt, Jordan, Saudi Arabia and the UAE all see the destruction of Hamas as of benefit to their internal security as well as to regional stability."
"The Saudis and the Egyptians are now more scared of Islamic fundamentalism than they are of Israel," Zakaria pointed out.
Meanwhile, Turkey and Qatar remain supportive of Hamas.
As Doha has supported Egypt's Muslim Brotherhood government, it also funds many Muslim Brotherhood figures in exile.
Turkey has "more of an ideological sympathy with the Brotherhood," Trager added.
http://www.almanar.com.lb/english/adetails.php?eid=163678&cid=31&fromval=1&frid=31&seccatid=91&s1=1
-----------
Israeli shelling kills 30 as Palestinian toll rises to 1,712
Aug 3, 2014
At least 30 people were on Sunday killed in renewed Israeli shelling in the Gaza Strip taking the Palestinian toll to 1,712, even as the Jewish state vowed to keep up pressure on Hamas while signalling plans to scale down its three-week long military operation.
Nine members of a family were among 30 people killed today in Israeli attacks in Rafah, bordering Egypt, taking the Palestinians toll to 1,712, with more than 9,000 wounded.
The dead included 398 children, 207 women and 74 elderly people, said Dr. Ashraf al-Qedra, spokesman for the Palestinian Health Ministry in Gaza.
Meanwhile, Israel on Sunday declared dead one of its soldiers who was captured by militants on Friday, triggering a major escalation of conflict and collapse of a 72-hour humanitarian truce, brokered by the US and the UN.
So far 64 Israeli soldiers have been killed and 400 others injured. Three Israeli civilians and a Thai national also died in rocket and mortar attacks.
Israel has indicated that it may be scaling down its ground offensive in Gaza as its troops pulled out from parts of the coastal strip.
The Israeli army on Saturday told residents of Beit Lahiya town in northern Gaza that it was "safe" to return to their homes, as witnesses said troops were seen withdrawing from the area.
"We have told Beit Lahia residents that they may return to their homes. We advised them to avoid explosives placed by Hamas across the area," the Israel Defence Forces tweeted.
It was the first time troops had been seen pulling back since the start of the deadly 27-day conflict, which has forced up to a quarter of Gaza's population into exile.
The move came after the army said Israel was "quite close to completing" the destruction of tunnels used to infiltrate southern Israel.
However, later in the day, Prime Minister Benjamin Netanyahu said Israel will keep up its military campaign in Gaza for as long as needed and with as much force as necessary. He said that all options were "on the table".
"From the beginning, we promised to return the quiet to Israel's citizens and we will continue to act until that aim is achieved. We will take as much time as necessary, and will exert as much force as needed," he said in a public address.
But despite the partial withdrawal, Israel's security cabinet decided against sending representatives to hold ceasefire talks with the Palestinian delegation that had arrived in Cairo on Saturday.
The delegation included a representative of Fatah and Palestinian intelligence, with Hamas and Islamic Jihad likely to join it later.
http://www.thehindu.com/news/international/world/israeli-shelling-kills-30-as-palestinian-toll-rises-to-1712/article6277265.ece
-----------
Netanyahu castigates US: Don't second guess me on Hamas
Aug 3, 2014
WASHINGTON/GAZA CITY — Following the quick collapse of the cease-fire in Gaza, Israeli Prime Minister Benjamin Netanyahu told the White House not to force a truce with Palestinian militants on Israel.
Sources familiar with conversations between Netanyahu and senior US officials, including Secretary of State John Kerry, say the Israeli leader advised the Obama administration "not to ever second guess me again" on the matter. The officials also told the Associated Press that Netanyahu said he should be "trusted" on the issue and about the unwillingness of Hamas to enter into and follow through on cease-fire talks.
In a phone call with US Ambassador to Israel Dan Shapiro, Netanyahu vented his anger, according to people familiar with the call.
Netanyahu told Shapiro the Obama administration was "not to ever second guess me again" and that Washington should trust his judgment on how to deal with Hamas, according to the people.
Netanyahu added that he now "expected" the US and other countries to fully support Israel's offensive in Gaza, according to those familiar with the call. They spoke on condition of anonymity because they were not authorized to discuss the matter by name.
The strong reaction came as top Israeli officials questioned the effort to forge the truce, accusing the US and the United Nations of being naive in assuming the radical Hamas movement would adhere with its terms. The officials also blamed the Gulf state of Qatar for not forcing the militants to comply.
With the cease-fire in tatters fewer than two hours after it took effect with an attack that killed two Israeli troops and left a third missing, Obama demanded that those responsible release the soldier. At the same time, Obama called the situation in Gaza "heartbreaking" and repeated calls for Israel to do more to prevent Palestinian civilian casualties.
The Israeli Army on Saturday gave a first indication it was ending operations in parts of Gaza, while continuing to bombard other areas ahead of fresh truce talks in Cairo. As a Palestinian delegation flew to Egypt in search of a ceasefire, the Israeli Army conveyed a message to residents of part of northern Gaza that it was "safe" to return home.
"They have been informed it is safe for civilians to return to Beit Lahiya and Al-Atatra," a spokeswoman told AFP. It was the first time troops had been seen pulling back since the start of Israel's devastating 26-day operation, which has so far claimed more than 1,660 Palestinian lives and forced up to a quarter of the territory's population into exile.
The move came after an army spokesman told AFP Israel was "quite close to completing" the destruction of tunnels used for infiltrating southern Israel — the main objective of the ground operation.
Despite the partial withdrawal, Israel's security Cabinet decided against sending a delegation to cease-fire talks with the Palestinian delegation in Cairo.
But the chances of the sides halting fire seemed remote after Israel said it believed militants had captured a 23-year-old soldier in a Friday morning ambush near the southern Gaza city of Rafah.
Immediately afterwards, Israel bombarded the Rafah area in shelling that is still ongoing, with medics saying it killed 114 people in 24 hours. Since midnight (2100 GMT), more than 74 people have been killed, the vast majority in Rafah, raising the overall toll to 1,670, emergency services spokesman Ashraf Al-Qudra said.
The vast majority of the dead are civilians, medics said, with the number of wounded at more than 9,000. The alleged capture of Second Lt. Hadar Goldin drew sharp condemnation from the United Nations and the White House, who had jointly brokered the abortive 72-hour truce, and who demanded his immediate release.
Hamas's armed wing, the Ezzedine Al-Qassam Brigades, acknowledged its militants had staged an ambush early Friday in which soldiers were killed, but denied holding the missing man, saying the attackers were missing and presumed dead.
Meanwhile, air strikes and tank fire pounding huge areas of Gaza into rubble, killing four members of the same family in the central area of Deir Al-Balah and another eight — from two separate families — in Rafah, medics said.
Egypt's President Abdel Fattah Al-Sisi said Saturday a Cairo truce plan can offer a solution to the spiraling violence. The Palestinian delegation going to Cairo includes intelligence chief Masjid Faraj, senior Hamas official Mussa Abu Marzuq, and Ziad Al-Nakhale, a leader of Islamic Jihad.
Ahead of the meeting, Sisi said Egypt's Gaza truce proposal offered a "real chance to find a solution to the crisis" but that it must be implemented quickly to stop the bloodshed..
At least 296 Palestinian children and adolescents have been killed since Israel launched its offensive in the Gaza Strip, the UN said on Saturday. "Children make up for 30 percent of the civilian casualties," said the UN children's agency UNICEF, adding that the toll was based on deaths which it was able to verify and was likely to rise.
"The number of child casualties during the last 48 hours may rise as a number of incidents are pending verification," it said in a statement. The toll breaks down to 187 boys and 109 girls, with at least 203 of them under the age of 12.
Meanwhile, thousands of people took to the streets in several cities across France on Saturday to protest Israel's deadly offensive in the Gaza Strip.
"Israel murderer, Hollande partner in crime," shouted demonstrators at a rally in Paris, while others gathered in several cities throughout the country, including Marseille, Lyon and Lille, to voice their support for the Palestinians.
http://www.saudigazette.com.sa/index.cfm?method=home.regcon&contentid=20140803213450
-----------
Israeli strike on U.N. school in Gaza kills seven
3 August 2014
Seven have been killed in an Israeli attack on a United Nations school in Gaza, witnesses and medics said.
A missile launched by an aircraft struck the entrance to the school in the town of Rafah south of Gaza, the sources told Reuters news agency.
Hundreds of Palestinians in the area, where the Israeli military said it has been battling Hamas fighters, had been sheltering in the school.
Withdrawal and redeployment
This comes after an Israeli army spokesperson said Sunday some troops had begun withdrawing as operations against Hamas continue.
"We are removing some (forces), we are changing from within," Lieutenant Colonel Peter Lerner said, saying it as "an ongoing mission".
"We are redeploying within the Gaza Strip and taking out other different positions, and relieving other forces from within, so it won't be the same type of ground operation," he told AFP.
"But indeed we will continue to operate ... (and) have a rapid reaction force on the ground that can engage Hamas if required," he added.
These remarks follow yesterday's indications that operations in Gaza were coming to an end after the army informed citizens of Beit Lahiya and Al-Atatra in the north that it was "safe" to return home.
Witnesses in the north confirmed seeing troops leaving the area as others were seen pulling out of villages east of Khan Yunis in the south.
It was the first time troops had been seen pulling back since the start of the Israeli operation which began on July 8.
Lerner confirmed troops had pulled out of Beit Lahiya and Al-Atatra, but refused to be drawn on whether the pullout would expand into other areas hit by heavy fighting.
"The reality is that Hamas has tried to continue its attacks so we need to maintain our presence to a certain extent and combat those intentions," he said.
"In the next 24 hours we will see the activity continued on the ground and the redeployment in parallel," he said, without elaborating.
http://english.alarabiya.net/en/News/middle-east/2014/08/03/Israeli-army-pulls-troops-from-Gaza-operations-ongoing-.html
-----------
Hamas delegation arrives in Cairo for Gaza talks
3 August 2014
A delegation of members from Palestinian militant groups Hamas and Islamic Jihad arrived in Cairo on Sunday for indirect ceasefire talks with Israel, to be conducted through Egyptian and U.S. officials, Egyptian sources said.
Truce talks would include Hamas' demand that Egypt ease movement across its border with blockaded Gaza. Israel said on Saturday it would not send envoys as scheduled, accusing enemy Palestinian Islamists of misleading international mediators.
A U.S./U.N-brokered ceasefire proposal broke down within hours on Friday, with Israel and Hamas trading blame. Members of the Palestinian Authority, which rules the West Bank, arrived in Cairo on Saturday.
Full report at:
http://english.alarabiya.net/en/News/middle-east/2014/08/03/Hamas-delegation-arrives-in-Cairo-for-Gaza-talks-.html
-----------
Seven villagers killed in armed attack in southeastern Turkey
Aug 3, 2014
Seven people, including women and children, were killed in an armed attack as they were going to farm in a rural area of the southeastern province of Batman late Aug. 2.
One suspect has been arrested, Batman Gov. Azmi Çelik said in a statement, while the headman of the Örensu village where the incident occurred claimed that the attackers were disguised in women's clothing. A search has been launched to find other possible suspects, officials have also said.
The attacked occurred as the seven victims were walking to the shores of small stream, located one kilometer from the village, to find pasture for their animals.
Sultan and Bilal Efe, both 15, İdris Güneş, 17, Sevime Tung, 25, and Sadıya Tung, 65, died in the attack. A 13-year-old whose name was not disclosed, as well as an imam who had come to the village for a visit were also among the victims.
Full report at:
http://www.hurriyetdailynews.com/seven-villagers-killed-in-armed-attack-in-southeastern-turkey.aspx?pageID=238&nID=69898&NewsCatID=509
---------
International community should stop 'Israel's desire for genocide,' says PM Erdoğan
Aug 3, 2014
Turkish Prime Minister Recep Tayyip Erdoğan has once again slammed Israel for its offensive on Gaza, also criticizing the international community for remaining silent on the issue.
"Israel did not obey the truce declared yesterday, their lust for blood will not end," Erdoğan said Aug. 2 at a presidential campaign rally in the western province of Balıkesir. "But they will drown in the blood they lust for," he added.
Erdoğan said Israel killed hundreds of people, including the elderly and children, and the world started to pay attention to the issue only after hundreds of children and over 1,500 people were killed.
"The international community should stop Israel's desire for genocide," the prime minister said. "When our police responded to vandals who attacked shops in Istanbul's Taksim, the western media talked about it for days. The United States, Europe, you were als talking. Where are you now?" he asked, recalling the criticism the government faced for police brutality during the Gezi protests in June, 2013.
Full report at:
http://www.hurriyetdailynews.com/international-community-should-stop-israels-desire-for-genocide-says-pm-erdogan.aspx?pageID=238&nID=69891&NewsCatID=338
-----------
South Asia
37 Civilians, 59 'Terrorists' Killed In Earlier China Attack: Xinhua
Aug 3, 2014
Chinese state media said Sunday that 37 civilians and 59 "terrorists" had been killed in an attack earlier in the week in Xinjiang, home to China's mainly Muslim Uighur minority.
The total toll makes the incident by far the bloodiest since rioting involving Uighurs and members of China's Han majority killed around 200 people in the regional capital Urumqi in 2009.
Police had arrested 215 "terrorists" while 13 civilians were also wounded in Monday's attack on a police station and government offices in Shache county, or Yarkand in the Uighur language, in Kashgar prefecture, according to the official Xinhua news agency.
It was the latest in a series of violent incidents over recent months in and connected with the vast resource-rich region, where rights groups accuse China's government of cultural and religious repression they say fuels unrest.
Full report at:
http://english.ahram.org.eg/NewsContent/2/9/107585/World/International/-civilians,--terrorists-killed-in-earlier-China-at.aspx
-----------
'No violence to be tolerated': Bangladesh State Minister
Aug 3, 2014
The situation will be tackled politically. But the government will not tolerate any kind of violence in the name of their [BNP's] movement, home minister says
The government will not tolerate any kind of violence in the name of BNP's movement, State Minister for Home Asaduzzaman Khan has said.
The minister has made the warning while talking to the journalists at his office on Sunday afternoon.
Khan said: "The situation will be tackled politically. But the government will not tolerate any kind of violence in the name of their [BNP's] movement."
"The administration will take necessary steps to deal with the violence," he said.
Asked about Taher's son's marriage at the jail gate, the minister said: "The marriage was conducted as per the administrative rules."
http://www.dhakatribune.com/politics/2014/aug/03/%E2%80%98no-violence-be-tolerate%E2%80%99#sthash.eAOzi41K.dpuf
---------
Arab World
Islamic Extremists Impose Reign Of Terror in Iraq
Aug 3, 2014
BAGHDAD — Police cars have been repainted to say "Islamic police." Women are forbidden from wearing bright colours and prints. The homes of Shiites and others have signs stating they are property of the Islamic State. And everyone walks in fear amid a new reign of terror.
That's what life is like in Mosul, Tikrit and other cities in northern and western Iraq under the control of Islamic extremists after their lightning-fast military campaign that overwhelmed the Iraqi army in June.
The new normal for these residents means daily decrees about attire and raids to root out religious minorities in a campaign to impose strict Islamic rule in cities that tolerated multiple religions for centuries.
Residents chafe at the radical changes, and some are starting to rebel against the militants as they try to "cleanse" the region of anything — and anyone — deemed non-Islamic. As many Christians in Mosul have discovered, their only choice is fleeing.
"I was shocked when I heard the new decision forcing me to wear a veil and totally cover my face," said Mais Mohamad, 25, a pharmacist in Mosul, the second-largest city in Iraq. "I can't do that — I was always free to wear what I like. I can't live the rest of my life with my face covered."
Full report at:
http://www.usatoday.com/story/news/world/2014/08/03/iraq-mosul-islamic-state-fear/13344551/
-----------
Jihadists Kill Dozens as Iraq Fighting Rages
Aug 3, 2014
Islamic State of Iraq and Syria (ISIS) fighters killed 16 Kurdish troops in attacks in northern Iraq, while 30 pro-government forces died battling the jihadists on other frontlines, officials said.
ISIS fighters, who control Iraq's main northern city of Mosul, attacked a nearby dam and oil facility on Friday but Kurdish Peshmerga deployed in the area fought them off.
The jihadist fighters "attacked a Peshmerga post in Zumar (Friday) and a fierce battle erupted," an official in the Patriotic Union of Kurdistan told AFP.
He said 14 Peshmerga fighters were killed there, a toll confirmed by a senior officer in the Kurdish force.
The PUK official said the Peshmerga killed "around 100" ISIS fighters and captured 38 in a battle that lasted several hours.
Zumar is a small Kurdish-majority outpost northwest of Mosul, which used to be under federal government control but was taken over by the Peshmerga in June.
Full report at:
http://english.alarabiya.net/en/News/middle-east/2014/08/02/Army-Jihadists-kill-30-in-fighting-south-of-Baghdad-.html
-----------
Jihadists kill 30 in fighting south of Baghdad: Army
Aug 3, 2014
Islamic State jihadist fighters killed at least 30 Iraqi soldiers and members of allied Shiite militia in a flashpoint area south of Baghdad, army sources said Saturday.
IS militants firing salvos of mortar rounds began attacking the town of Jurf al-Sakhr late Friday, killing 11 soldiers and 12 members of the Asaib Ahl al-Haq militia, an officer and army medic said.
Another seven soldiers had their throats slit during a subsequent government operation against jihadist fighters in Jurf al-Sakhr, Al-Hamya and Latifiya, the sources said.
http://english.ahram.org.eg/NewsContent/2/8/107563/World/Region/Jihadists-kill--in-fighting-south-of-Baghdad-Army.aspx
-----------
ISIL captures two Iraqi towns, oil field, defeating Kurdish fighters
Aug 3, 2014
Islamic State of Iraq and the Levant (ISIL) militants have captured two northern Iraqi towns and an oil field in their first major victory over Kurdish fighters, witnesses said on Aug. 3.
The al-Qaeda offshoot, which swept through northern Iraq in June almost unopposed by Iraq's U.S.-trained army, poses the biggest challenge to the stability of the country since the fall of Saddam Hussein in 2003.
After thousands of Iraqi soldiers fled the Islamic State offensive, Shiite militias and Kurdish fighters have emerged as a key line of defence against the militants, who have threatened to march on Baghdad.
Kurdish forces poured in reinforcements, including special forces, to the town of Zumar this weekend to battle Islamic State fighters who had arrived from three directions on pickup trucks mounted with weapons, residents said.
Full report at:
http://www.hurriyetdailynews.com/isil-captures--two-iraqi-towns-oil-field-defeating-kurdish-fighters.aspx?pageID=238&nID=69893&NewsCatID=352
-----------
Gunmen kill eight Lebanese soldiers near Syria border
Aug 3, 2014
Gunmen have killed eight Lebanese soldiers in clashes that erupted near the border with Syria after the army detained a suspected jihadist from the war-torn country, the military said Aug. 3.
The clashes are some of the worst violence to hit the tense border area of Arsal since the beginning of the war in neighbouring Syria in 2011, with gunmen attacking Lebanese soldiers and police.
They broke out on Aug. 2 afternoon, after the detention of a Syrian man who the army said admitted being a member of al-Qaeda's Syrian affiliate, al-Nusra Front.
On Aug. 3 morning, the fighting was continuing, and the army said it had lost eight soldiers. "Army units continued military operations in the Arsal area and its surroundings throughout the night and into the morning, pursuing and engaging armed groups," the military said.
"During the battles the army lost eight martyrs and a number of others have been wounded," it said in a statement. Throughout the night, the army said, troops battled gunmen who fired mortar shells at Arsal and the surrounding region.
Full report at:
http://www.hurriyetdailynews.com/gunmen-kill-eight-lebanese-soldiers-near-syria-border.aspx?pageID=238&nID=69895&NewsCatID=352
-----------
Lebanese army kills 11 militants near Syria border
Aug 3, 2014
Eleven militants were killed in fighting with the Lebanese army near the Syrian border on Saturday, a Lebanese security official told Reuters, in a battle touched off by an attack on security forces in a border town.
The killing of the Islamist militants came after the gunmen seized a police station in the Lebanese border town Arsal and killed two soldiers.
Two Lebanese civilians were also killed Saturday when the police post was stormed after clashing with army troops over the arrest of an alleged Syrian jihadist, security sources told Agence France-Presse.
The Lebanese army shelled militant positions near Arsal, security sources told Reuters, while witnesses said Syrian warplanes had bombed rebel positions in the area.
Soldiers fought against the militants into the night in what appeared to be a bid to drive them back into the border zone.
Full report at:
http://english.alarabiya.net/en/News/middle-east/2014/08/02/Syria-rebels-storm-Lebanon-police-post-kill-two-.html
-----------
KSA played 'pivotal role in combating terrorism'
Aug 3, 2014
RIYADH — Saudi officials, newspapers and commentators welcomed Custodian of the Two Holy Mosques King Abdullah's call on Friday for eradicating global terrorism.
They said the Kingdom has always condemned, at several world events and conferences, all forms of terrorism and has played a pivotal role in fighting this malice on national, regional and international levels. It has shown its readiness and preparedness to cooperate with all efforts in the framework of the United Nations seeking to eradicate global terrorism.
Grand Mufti Sheikh Abdulaziz Al-Asheikh said the King's speech called upon scholars to shoulder their responsibility for the decisive cases of the Muslim Nation. He added that the Kingdom has always fought terrorism.
Minister of Justice Muhammad Al-Issa said the King's speech condemned all forms of terrorism.
"The country itself has been the victim of several terrorist attacks over the past few years," Al-Riyadh newspaper said.
Full report at:
http://www.saudigazette.com.sa/index.cfm?method=home.regcon&contentid=20140803213368
---------
North America
Muslim Movement Embraces Gay, Interfaith Marriages and Female Imams
Associated Press
Aug 3, 2014
LOS ANGELES – Omar Akersim prays regularly and observes the dawn-to-dusk Ramadan fast. He is also openly gay.
Akersim, 26, is part of a small but growing number of American Muslims challenging the long-standing interpretations of Islam that defined their parents' world. They believe that one can be gay and Muslim; that the sexes can pray shoulder-to-shoulder; that females can preach and that Muslim women can marry outside the faith — and they point to Quran passages to back them up.
The shift comes as young American Muslims work to reshape the faith they grew up with so it fits better with their complex, dual identity, with one foot in the world of their parents' immigrant beliefs and one foot in the ever-shifting cultural landscape of America. The result has been a growing internal dialogue about what it means to be Muslim, as well as a scholarly effort to re-examine the Quran for new interpretations that challenge rules that had seemed set in stone.
"Islam in America is being forced to kind of change and to re-evaluate its positions on things like homosexuality because of how we're moving forward culturally as a nation. It's striving to make itself seen and known in the cultural fabric and to do that, it does have to evolve," said Akersim, who leads a Los Angeles-based support group for gay Muslims. "Ten or 15 years ago, this would have been impossible."
Full report at:
http://www.foxnews.com/us/2014/08/02/emerging-muslim-movement-embraces-gay-and-interfaith-marriages-female-imams-and/
-----------
Report: Israel 'spied' on Kerry during peace talks last year
3 August 2014
Israel spied on U.S. Secretary of State John Kerry during peace talks with the Palestinians last year, German news weekly Der Spiegel reported Sunday.
The article said the Israelis listened in on Kerry's conversations as he tried to mediate a deal with the Palestinians that Der Spiegel said was likely to strain ties between Israel and the U.S.
Kerry regularly spoke by telephone with high-ranking officials throughout the Middle East during the negotiations that collapsed earlier this year.
Spiegel, which cited "several sources among secret services", said that while Kerry made phone calls using secure lines in he also used normal telephones with satellite connections onboard his plane that the German weekly said would have been vulnerable to tapping.
"The government in Jerusalem used this information in the negotiations on a diplomatic solution in the Middle East," it said.
Full report at:
http://english.alarabiya.net/en/News/2014/08/03/Israel-spied-on-Kerry-last-yeasr-.html
-----------
Gaza: 20,000 protesters march on White House
World Bulletin/News Desk
Aug 3, 2014
Tens of thousands of demonstrators have marched on the White House in Washington DC to protest against Israel's ongoing military offensive on Gaza.
Approximately 20,000 people from different religious and ethnic backgrounds gathered outside the building in the U.S. capital to oppose Israel's bombardment and incursion into the Gaza Strip, in which more than 1,700 civilians have been killed and over 9,000 wounded.
"Free Palestine, let Gaza live," thousands of people shouted outside the White House on Saturday.
Led by the Washington-based anti-war coalition ANSWER and a broad coalition of Muslim-American organizations including the Council of American-Islamic Relations, American-Muslim Alliance, New York Muslim Legal Fund of America and Islamic Circle of North America, demonstrators came from different cities and states from across the U.S.
Many carried banners declaring: "Israel has terrorized the region and world since 1948" as well as "Stop genocide in Gaza" and "Free Palestine."
Full report at:
http://www.worldbulletin.net/headlines/141806/gaza-20000-protesters-march-on-white-house
-----------
'I had chance to kill Osama bin Laden,' Bill Clinton said hours before 9/11
Aug 3, 2014
LOS ANGELES: Bill Clinton admitted in 2001 that he had passed up the chance to kill Osama Bin Laden because he was concerned about potential civilian casualties, according to a newly-unearthed audio tape recorded just hours before the 9/11 attacks on the US. In the recording, the former US president addresses a group of business leaders at a paid engagement in Australia, on September 10, 2001.
"Osama bin Laden (is) a very smart guy," Clinton says. "I've spent a lot of time thinking about him, and I nearly got him once ... I could have killed him, but I would have had to destroy a little town called Kandahar in Afghanistan and kill 300 innocent women and children. And then I would have been no better than him. And so I didn't do it."
The tape was released to Sky News Australia this week by Michael Kroger, the former state president of the Liberal Party in Victoria, who said he had not deliberately kept its existence a secret, but had simply forgotten about it until now.
Full report at:
http://timesofindia.indiatimes.com/world/us/I-had-chance-to-kill-Osama-bin-Laden-Bill-Clinton-said-hours-before-9/11/articleshow/39486137.cms
---------
Africa
22 killed in Tripoli airport clashes
3 August 2014
A day of militia fighting for control of the international airport in Libya's capital Tripoli has killed 22 people, the interim government said Sunday.
It said "heavily armed groups" have shelled "civilian targets," endangering thousands of citizens and displacing hundreds of families. The 22 people were killed on Saturday alone, the latest casualties in fighting that has claimed more than 200 lives in recent weeks.
The government statement said another 72 people were wounded in Saturday's battles.
Libya is in the grip of its worst violence since the 2011 uprising that toppled longtime dictator Moammar Gadhafi. Islamist militias from the coastal city of Misrata have led the assault on the airport, seeking to seize it from militiamen from the mountain town of Zintan. The fighters on both sides are mainly drawn from the rebels who toppled and killed Gadhafi nearly three years ago with the help of a NATO air campaign against his forces.
The fighting on Saturday came as more than three-quarters of Libya's newly elected parliament met for the first time in Tobrouk, a city near the Egyptian border chosen by a prominent anti-Islamist politician, signaling a swing against Islamist parties and extremist militias.
Full report at:
http://english.alarabiya.net/en/News/middle-east/2014/08/03/22-killed-in-Tripoli-airport-clashes-.html
-----------
Somalia executes three Shebab militants
Aug 3, 2014
Three suspected Shebab Islamic militants were executed by firing squad in Mogadishu on Sunday, Somali police said.
All three had been condemned to death for murder, police chief Abdi Mohamed told AFP, with one of the men allegedly taking part in an assault on the presidential palace last month.
The executions come three days after another Somali MP was assassinated by Shebab guerrillas in the capital, the fifth this year, as the militants step up their attacks in Mogadishu to counter claims that their insurgency is waning.
"Three Al-Shebab members including the one who facilitated the last attack on the presidential palace were executed this morning," Mohamed said.
The men were shot in front of a small crowd of military officials and spectators at the police academy in Mogadishu.
Full report at:
http://english.ahram.org.eg/NewsContent/2/9/107614/World/International/Somalia-executes-three-Shebab-militants.aspx
-----------
Libya unrest 'worse than under Gaddai': Evacuees
Aug 3, 2014
Libya is descending into a civil war spiral that is "much worse" than the unrest that toppled its dictator Moamer Gaddafi in 2011, residents fleeing the country said Saturday.
"We have gone through (war) before, with Kadhafi, but now it's much worse," Paraskevi Athineou, a Greek woman living in Libya, told AFP.
"Chaos reigns. There is no government, we have no food, no fuel, no water, no electricity for hours on end," she said.
Athineou was part of a group of 186 people evacuated from Tripoli by a Greek navy frigate which reached the port of Piraeus early on Saturday.
In addition to 77 Greek nationals, there were 78 Chinese, 10 Britons, 12 Cypriots, seven Belgians, one Albanian and a Russian.
Full report at:
http://english.ahram.org.eg/NewsContent/2/8/107558/World/Region/Libya-unrest-worse-than-under-Gaddai-Evacuees.aspx
---------
Militants attack Tunisian army base, kill one soldier
World Bulletin/News Desk
Aug 3, 2014
A Tunisian soldier was killed after militants tried to storm an army base early on Sunday in the town of Sbitla near the Algerian border, the Tunisian government said on Sunday.
Militant assaults on the Tunisian army have become more frequent in recent months. Since April, thousands of troops have been deployed to the mountainous Chaambi region on the border with Algeria where fighters fleeing a French military intervention in Mali last year have taken refuge.
At least 15 soldiers have been killed in attacks on military checkpoints in the area.
"A group of armed terrorists tried to storm a military base and units from the army and the security forces fought them," a statement from the defence and interior ministries said.
"One soldier was killed and one civilian was wounded," the statement added.
Tunisia's state radio reported earlier on Sunday that militants had also attacked Sbitla's police station.
Full report at:
http://www.worldbulletin.net/todays-news/141824/militants-attack-tunisian-army-base-kill-one-soldier
-----------
Pakistan
Law Minister Mashhood accuses Imran of 'sabotaging' Zarb-e-Azb
Aug 3, 2014
LAHORE: Law Minister Rana Mashhood Ahmed Khan has said that 2014 is the year of completion of promises made by the PML-N during electioneering ahead of May 2013 general elections and that restoration of the lost image of the country, strengthening of economy and elimination of unemployment and price-hike are real challenges being faced by the country.
He said that the entire world was expressing confidence in the PML-N government for trying to overcome these challenges but that some "mischievous" elements were creating hindrance in the process of development started by the PML-N.
According to a handout, the minister expressed these views while addressing party workers of Punjab Assembly's PP-149 constituency in Lahore on Saturday.
Rana Mashhood said that the entire nation wanted complete elimination of terrorists and that it was ready to help 1 million internally displaced persons (IDPs) from North Waziristan to get this mission accomplished but that Imran Khan, on the behest of foreign forces, was "sabotaging" Operation Zarb-e-Azb. He said that Pakistan was achieved as a result of numerous sacrifices rendered by our forefather and that on the occasion of Independence Day, we have to convey a message to the world that we were a united nation but that Imran Khan was conveying a message to the world that the Pakistani nation was a divided one.
Full report at:
http://www.dailytimes.com.pk/punjab/03-Aug-2014/mashhood-accuses-imran-of-sabotaging-zarb-e-azb
-----------
Pakistan Troops to Defend Jittery Saudis along Their Frontier with Iraq
Aug 3, 2014
LONDON- Saudi Arabia has deployed thousands of troops from Egypt and Pakistan along its frontier with Iraq, amid fears of invasion by the al-Qaeda splinter group that has declared a radical Islamic state across the border, reported a source today.
Saudi Arabia has been strengthening its border defences since the crisis in Iraq began. Panicked by the advance of the Islamic State of Iraq and al-Sham (ISIS), Riyadh has taken the drastic step of calling in military assistance from its close allies to shore up the porous 500-mile border, Gulf security sources said.
Saudi Arabia spent an estimated 35 billion sterling pounds on defence last year, Leapfrogging Britain as the world's fourth-largest military spender. This massive outlay highlights Riyadh's unease.
http://www.nation.com.pk/national/02-Aug-2014/pakistan-troops-to-defend-jittery-saudis
-----------
Nawaz urged to muster support against Israel: Hafiz Saeed
Aug 3, 2014
LAHORE: Jamaat-ud-Dawa emir Hafiz Saeed has urged Prime Minister Nawaz Sharif to be bold like Zulfikar Ali Bhutto and gather Islamic countries at one platform to end bloodshed of innocent Palestinians by Israel.
"It is a dilemma that Islamic countries are just issuing statements against Israel. Nawaz Sharif should come forward and gather Saudi Arab and other countries at one platform against the issue as Zulfikar Ali Bhutto did in the past," he told a press conference here on Saturday.
The jamaat-ud-Dawa chief said Pakistan, Saudi Arab and other Islamic countries should give a deadline to Israel to stop carnage of innocent Palestinians or face a joint military action.
As for the JuD's nationwide protests schedule against Israeli brutalities, Hafiz Saeed said his party had launched a movement.
"On Sunday (today), a protest caravan will be taken out from Nasser Bagh to Masjid-i-Shuhada. Similarly on next Friday, the Jamaat-ud-Dawa will mark the day as Yaum-i-Ehtejaj against Israel across the country," he said.
http://www.dawn.com/news/1122927/nawaz-urged-to-muster-support-against-israel
-----------
PM must step down to 'save' country: MQM
Aug 3, 2014
KARACHI: Muttahida Qaumi Movement (MQM) chief Altaf Hussain on Saturday urged Prime Minister Nawaz Sharif to step down from his high office if there was any imminent danger to the lives or property of the people during the upcoming long march and protests. In a statement issued on Saturday, the MQM chief urged Nawaz to take the first step and address the genuine complaints of the opposition groups through dialogue. He said if there was any danger during the upcoming long march or protests, the premier should bravely step down and hand over the reins to someone else from within his party after due consultations with party members. "The other option would be to find a constitutional solution to the crisis." Altaf urged the masses as well as political and religious leaders to sort out differences through a meaningful dialogue. He urged the aggrieved parties, who intended to carry out long marches and protest demonstrations on August 12 and 14, to refrain from aggressive actions and confrontations. Instead, he asked them to seek a solution through dialogue and discussions.
http://www.dailytimes.com.pk/sindh/03-Aug-2014/pm-must-step-down-to-save-country-mqm
-----------
Jamaat-e-Islami chief terms PTI long march 'justified'
Aug 3, 2014
PESHAWAR: Jamaat-e-Islami (JI) chief Sirajul Haq on Sunday said the Pakistan Tehreek-e-Insaaf's (PTI) call for a long march was "justified" DawnNews reported. He however added that the JI would not support any move to dissolve the Khyber-Pakhtunkhwa assembly.
Distancing himself from recent reports that suggest PTI leaders may hand in their resignations from the National Assembly, Haq said, "If the PTI chooses to step down from power it would be entirely their own choice."
On Saturday, Haq had clarified that the JI would not be supporting any "unconstitutional step" taken by the PTI.
"The people have given us the mandate and we will not breach their trust," he had said while addressing his party workers at Fazal Qadir Shaheed Park. Earlier in July, it was reported that the JI had opted not to join the PTI long march because the party had not been consulted on the proposed protest plan.
Full report at:
http://www.dawn.com/news/1123023/ji-chief-terms-pti-long-march-justified
-----------
Tahirul Qadri announces 'Martyrs Day' for Aug 10
Aug 3, 2014
LAHORE: Pakistan Awami Tehreek (PAT) chief Dr Tahirul Qadri on Sunday announced that his party will observe a 'Day of Martyrs' on August 10, to commemorate the lives lost in violent clashes that broke in Lahore's Model Town on June 17.
In press conference held outside the Minhajul Quran secretariat, Dr Qadri said that before staging a 'Revolution March' — a date for which has not yet been announced — those responsible for the loss of lives on June 17 must be brought to justice.
He said that if the government tried to present obstacles in the way of the 'Martyrs Day' call, it would result in the dissolution of the government within the month of August.
Dr Qadri held the Punjab government completely responsible for the Model Town tragedy and said, "Nawaz Sharif should decide whether he will leave office first or his brother."
The PAT chief said that 14 people were killed and 90 wounded due to direct gun fire. He added that a total of 469 rounds had been fired during the clashes on June 17.
He alleged that police had subjected women and the elderly to torture and violence and warned that police would be meted with the same treatment it gave to PAT activists.
http://www.dawn.com/news/1123022/tahirul-qadri-announces-martyrs-day-for-aug-10
-----------
Karachi: Three killed, including an intelligence agency official
August 03, 2014
Karachi- Three people including the intelligence agency official was killed in firing incidents, police official said.
According to police, a man was killed in firing near Sakhi Hassan roundabout in purported incident of robbery. Police said the deceased man was an intelligence agency official. The incident occurred outside a marriage hall near Sakhi Hassan. The victim was identified as Major Amir Azhar. He was returning from a wedding hall with his nephew when 'armed robbers' targeted him outside the hall in an apparent mugging bid, police said, adding the deceased officer was deployed in Station Headquarters in Malir Cantt for a post-graduate course. His body was moved to Abbasi Shaheed Hospital.
http://www.nation.com.pk/karachi/03-Aug-2014/karachi-three-killed-including-an-intelligence-agency-official
-----------
Law and order in Balochistan has improved: Malik
August 03, 2014
QUETTA: Balochistan CM Dr Abdul Malik Baloch has said the law and order situation in the province has improved. Addressing a meeting in Dasht Saturday, he said his govt has overcome crimes like kidnappings for ransom. He said the govt will ensure education to every child to improve literacy rate in the province. The Chief Minister said all highways of the province have been made secure for travelling. He said no one will be allowed to loot wealth of Balochistan.
http://www.nation.com.pk/national/03-Aug-2014/law-and-order-in-balochistan-has-improved-malik
---------
India
11,000-page 26/11 Mumbai attack chargesheet had one para on LeT: Book
TNN | Aug 3, 2014
NEW DELHI: The chargesheet in the 26/11 Mumbai attack case that ran into over 11,000 pages had just one paragraph on Lashkar-e-Taiba, the terror organization behind the attacks and scant reference to ISI.
According to a book set to be published shortly, the chargesheet also left several other lacunae that thoroughly disappointed many, including Chikako Taya, a former Japanese judge who was on the International Criminal Tribunal for former Yugoslavia (ICTY). Justice Taya studied the Mumbai attack case as part of an effort to see if it can be covered under 'joint criminal enterprise' (JCE), to prosecute those in Pakistan who orchestrated the terror strike under an international tribunal.
"(With its flimsy chargesheet) The prosecution relieved the real criminals behind the actual crime. The name of ISI does not figure in the chargesheet and consequentially the name did not figure in the judgment. As it is said, the LeT is also scantily defined in the chargesheet. The terror organization did not draw much indictment from the court," the book says.
According to 'Fragile Frontiers: The Secret History of Mumbai Terror Attacks', by Saroj Kumar Rath, when Justice Taya visited the 26/11 attack special public prosecutor Ujjwal Nikam in Mumbai, she was surprised to see that the lawyer in India's most important terrorism case had no clue of JCE, a concept that had been innovatively applied by ICTY recently.
Full report at:
http://timesofindia.indiatimes.com/india/11000-page-26/11-Mumbai-attack-chargesheet-had-one-para-on-LeT-Book/articleshow/39503322.cms
-----------
India grants residential visa to Taslima Nasreen
Aug 3, 2014
NEW DELHI: Bangladeshi writer Taslima Nasreen on Saturday was granted residential visa by India following her meeting with Union home minister Rajnath Singh seeking long-term extension of her residence permit earlier in the day.
"I met Singh today (Saturday) and he assured me that my stay in India will be extended. I gave him my book 'Wo Andhere Din' (Those Dark Days) and in return he said my dark days are over," Nasreen told IANS.
Earlier, Nasreen had expressed her anguish after the government on Wednesday refused her a one-year visa giving instead a temporary permission to stay in India for two months.
Following her outburst on a social networking site, support for her has been pouring from various quarters with Press Council of India Chairperson and former Supreme Court judge Markandey Katju demanding permanent visa for the 52-year-old who has been living in exile since 1994.
Full report at:
http://timesofindia.indiatimes.com/india/India-grants-residential-visa-to-Taslima-Nasreen/articleshow/39494383.cms
----------
Europe
Islam helps boost British values, former archbishop says
Aug 3, 2014
Muslims in Britain are reinstating tradition British values such as "open, honest and difficult public discussion," a former archbishop said, the Times reported.
In a speech criticizing media outlets who portrayed Muslim as "un-British," Rowan Williams, the former Archbishop of Canterbury, said on Friday during Living Islam Festival in Lincoln.
Williams also complained of religion "illiteracy' among government figures in the UK.
His comments were welcomed by Muslim organizations, but other secular groups accused him of "foolishness," according to the Times.
According to Williams, Britain was an "argumentative democracy," where "individuals and communities engage in open, honest and difficulty public discussion."
"One of the greatest gifts of the Muslim community to the UK has been that they have brought that back to the people," Williams said.
Dr. Williams provoked controversy by saying that applying some aspects of the Islamic law was "unavoidable" in British courts, the Guardian British newspaper reported. He also faced criticism when saying, in 2012, that wearing the hijab gave some Muslim women strength.
Islamophobia
Full report at:
http://english.alarabiya.net/en/life-style/art-and-culture/2014/08/02/Islam-helps-boost-British-values-former-archbishop-says.html
-----------
U.N.: jihadist takeover of Iraq town sparks 'humanitarian tragedy'
3 August 2014
The capture of the Iraqi town of Sinjar by jihadist fighters has sent up to 200,000 people into flight and sparked a "humanitarian tragedy" amid fears for their lives, the United Nations said Sunday.
"A humanitarian tragedy is unfolding in Sinjar," the top U.N. envoy in Iraq, Nickolay Mladenov, said in a statement after the Islamic State of Iraq and Syria (ISIS) group captured the northern town, which lies near the Syrian border and was already home to thousands of previously displaced families.
The U.N. statement said some reports put the number of people forced to flee by the ISIS takeover at 200,000.
"The United Nations has grave concerns for the physical safety of these civilians," the statement said.
It said it was particularly alarmed by the fate of those civilians who fled in the Jabal Sinjar mountains and could be trapped in an area completely surrounded by jihadist fighters.
"The humanitarian situation of these civilians is reported as dire, and they are in urgent need of basic items including food, water and medicine," the statement said.
Sinjar was controlled by Kurdish troops but they withdrew on Sunday, the second consecutive day of losses for the peshmerga, who also relinquished the town of Zumar and two nearby oilfields on Saturday.
Sinjar is a historical home for the Yazidis, a Kurdish-speaking minority which follows a pre-Islamic faith derived in part from Zoroastrianism. They have been targeted by the jihadists, who call them devil worshippers.
Mladenov urged authorities of the autonomous Kurdish region in northern Iraq and the federal government in Baghdad to cooperate fully in addressing the crisis.
http://english.alarabiya.net/en/News/middle-east/2014/08/03/U-N-Jihadist-takeover-of-iraq-town-sparks-humanitarian-tragedy-.html
----------
Anti-war mood in Britain grows as bombing of Gaza intensifies
PARVATHI MENON
Aug 3, 2014
As the deaths in Gaza from targeted Israeli bombings steadily mount, international public opinion appears to be turning against Israel.
In the United Kingdom, thousands are taking to the streets in protest marches, even as other groups – politicians, doctors and scientists for example -- use their own platforms to denounce the indiscriminate bombing of Gaza where the death toll has now climbed to the 1500s.
A large demonstration of slogan-shouting angry activists holding placards condemning Israel was yesterday outside the Israeli Embassy on High Street Kensington. Last Saturday an estimated 60,000 people marched from the Embassy to Parliament, and a week before that another demonstration marched from 10 Downing Street to the Embassy.
The Stop War Coalition has now called for a national demonstration on August 9, to coincide with an international day of protests against Israel, and solidarity with the people of Gaza.
"We expect at least 100,000 people at the demonstration on August 9," Ian Chamberlain, spokesperson for Stop War Coalition, told The Hindu.
Full report at:
http://www.thehindu.com/news/international/antiwar-mood-in-britain-grows-as-bombing-of-gaza-intensifies/article6275469.ece
-----------
Nearly 300 Palestinian children dead: UN
August 03, 2014
JERUSALEM - At least 296 Palestinian children and adolescents have been killed since Israel launched its offensive in the Gaza Strip against Hamas on July 8, the UN said on Saturday. "Children make up for 30 percent of the civilian casualties," said the UN children's agency UNICEF, adding that the toll was based on deaths which it was able to verify and was likely to rise. "The number of child casualties during the last 48 hours may rise as a number of incidents are pending verification," it said in a statement.
UNICEF stressed that its figures are "cross-checked to the best extent possible in the current situation... subject to change based on further verifications."
"Between 8 July and 2 August 2014 (up until 11:00), at least 296 Palestinian children were reported killed as a result of airstrikes and shelling by Israel aerial, naval and ground forces," it said.
Full report at:
http://www.nation.com.pk/national/03-Aug-2014/nearly-300-palestinian-children-dead-un
-----------
Destroyed mosque reopens in Bosnia's Srebrenica
World Bulletin/News Desk
Aug 3, 2014
The Dalye Hosta mosque, which was demolished by Serbs during the Srebrenica massacre in Bosnia, reopened to worship on Saturday.
The mosque's reopening, which followed a restoration completed with the financial assistance of Bosnians, marked the 19th anniversary of the massacre that killed more than 8,000 Bosnians.
During the war in Bosnia, Srebrenica, the northeast of the country was declared a safe zone by United Nations, but was captured by Serbian troops commanded by Gen. Ratko Mladic on July 11, 1995. The UN troops failed to protect the people who had gathered there and abandoned the area.
More than 8,000 Bosnian men and boys were massacred in forests, fields, factories and warehouses. The bodies of the victims were buried in various mass graves across the country, and some are still being discovered and identified today.
http://www.worldbulletin.net/headlines/141782/destroyed-mosque-reopens-in-bosnias-srebrenica
-----------
Southeast Asia
Muslims must see difference between criticism and insult, says ex-Perlis mufti
Aug 3, 2014
In a veiled attack against an ustaz, who incurred the wrath of Hindus after a video clip of him insulting Hindus went viral, former Perlis mufti Datuk Dr Mohd Asri Zainul Abidin said Muslims needed to be wiser in differentiating between criticism and insult.
"Everyone needs to be careful. Islam allows us to be critical in order to make people realise things but not to the point of making others feel insulted," Asri told The Malaysian Insider.
The well-known Muslim scholar said Islamic analysis on other faiths using academic arguments was allowed, but attacking or poking fun was clearly forbidden in Islam.
Asri was commenting on Ustaz Shahul Hamid Seeni Mohd who had poked fun at the statue of a Hindu deity on the premises of an Alagappa's factory in Bukit Mertajam and told his audience at a ceramah four years ago not to buy curry powder from "Hindu companies", such as Alagappa's and Baba's.
In the recording that was uploaded onto YouTube, Shahul had said: "If you go to the Alagappa's factory near Permatang Pauh, you will see a statue (goddess) at the entrance, and the tongue is out. Why is the tongue out? Because the goddess must taste all the curry powder before they sell it."
Full report at:
http://www.themalaysianinsider.com/malaysia/article/muslims-must-see-difference-between-criticism-and-insult-says-ex-perlis-muf#sthash.2Tzyac9O.dpuf
------------
In Indonesia, Jihad Video Raises Concern
Aug 3, 2014
A recent video calling on Indonesians to join the Islamic State of Iraq and the Levant (ISIL) has sparked concern in Indonesia, where officials and experts are trying to raise public awareness to counter the jihad recruitment.
In the eight-minute YouTube video, a man named Abu Muhammad al-Indonesi makes an impassioned speech in Indonesian, saying it is an obligation mandated by Allah for Muslims to participate in the fight in Iraq and Syria.
An Indonesian National Police spokesperson, Senior Commander Agus Rianto, warned the public Friday not to be duped by such material.
"People have to be cautious about certain websites and blogs because those can be made by anyone, from anywhere and for any purpose. People also need to be cautious about online invitations or information that cannot be verified. We are also coordinating with the communications ministry to check these videos," said Rianto.
National Counterterrorism Agency (BNPT) head Ansyaad Mbai said recently convicted terrorist Abu Bakar Ba'asyir and his network had been actively helping ISIL by seeking donations and recruiting Indonesian fighters for several months.
Full report at:
http://www.voanews.com/content/jihad-recruiting-video-raises-concern-in-indonesia/1969940.html
-----------
URL: https://www.newageislam.com/islamic-world-news/new-age-islam-news-bureau/gaza-offensive-'joint-arab-israeli-war-against-palestinians'--cnn/d/98396