New Age Islam News Bureau
1 Jan 2016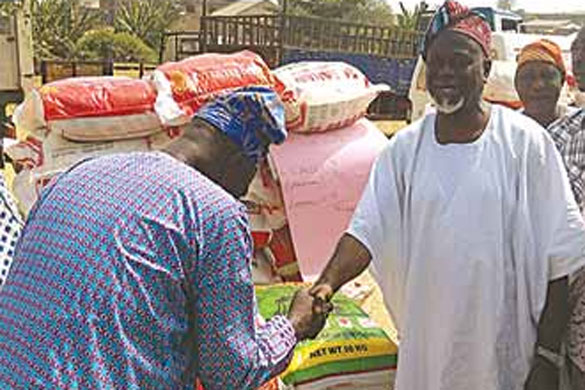 Photo: Ekungba distributing rice to the people
-----------
Africa
• Gaddafi Tried to Marry Son, Saif al-Islam Gaddafi, to Putin's Daughter
• Muslim Faithful Fetes Christians, Community
• U.N. Libya envoy push for national unity govt
• UN council envoys plan visit to Burundi
------------
North America
• Muslim Group Calls for Hate Inquiry after Mosque Vandalized With Pork
• US Man Charged with Planning ISIS Attack on New Year's Eve
• More Latinos are converting to Islam in US
• Suspected ISIS backer held for New York attack plot
• Canada misses year-end Syrian refugee target
------------
Europe
• Russia: Islamic Researcher Convicted Of Extremism
• France's War on ISIL 'Starting To Pay Off'
• Germany shuts Munich train stations after tip Islamic State planned attack
------------
South Asia
• MoD: 14 ISIS fanatics killed in Afghan Air Force raids in Nangarhar
• Bangladeshi Court Convicts Two Men for Murder of Atheist Blogger
• Freed Afghan Village Reveals Key to Taliban 'Success'
• Afghan intelligence rescue 10 civilians taken hostage by terrorists in Zabul
• Taliban leader treated at cancer hospital in Pakistan's Lahore city
• End to terror a condition for peace talks, says Ghani
• Fate of Afghan refugees still unclear
• Bangladesh to send more maids upon KSA request
• Why 2015 was a good year for Bangladesh
------------
Arab World
• Infighting between Takfiri Militants Erupts in Damascus
• Muslim Brotherhood Seen Cracking Due To Failure in Managing Internal Strife
• Egypt's Al-Azhar Slams Daesh Sex Slavery Rules
• Syria: Militants Surrendering in Groups in Homs, Damascus, Hama
• Syria: Quneitra Village Liberated from Terrorists' Control
• Syria: Army Scores New Victory in Hama
• Syria: Militants Hit Hard in Dara'a
• Syrian Forces Thwart Infiltration Attempt in Homs
• Kingdom: Global support vital for war on terrorism
------------
Southeast Asia
• Indira Won't Find Justice at Shariah Court, Ex-Law Minister Says After Conversion Ruling
• Indonesia Arrests Three with Links to Daesh Terror Group
------------
Pakistan
• Nine 'Hardcore Terrorists' Set To Hang: ISPR
• Saudi Official Discusses Defence Ties with Army Chief
• FBI confirms five Pakistanis held for illegally entering US
• Centre-Sindh tiff hurting peace: JI
• Tribute to Muslim League leaders
• Afghan Taliban leader treated at SKMCH: Imran
------------
India
• India, Pakistan Look to Tap Trade as Peace Dividend
• Muslim Family in Rajasthan Shelters 600 Cows for Communal Harmony
• ISI Mole Leaked Info on 2 Other Exercises Too
• Denied Chief Secy Post, Rajasthan IAS Officer Converts to Islam, Opts For VRS
• Jamaat Ulema-e-Hind's Drive to fight for 'unfulfilled promises' to Muslims in UP
• Singer Adnan Sami receives Indian citizenship certificate
------------
Mideast
• Turkey Won't Relent In Offensive against Kurd Rebels, Vows Erdogan
• Iran Gears Up Missile Program for Faster Growth in Response to New US Sanctions
• Senior militia leader killed in Aden, Gen survives attack
• Palestinian rams Israeli forces with car, shot dead
• Saudi Arabia's Strategic Airport in Asir Comes under Yemen's Ballistic Missile Attack
• Iran to stand by Iraq, Syria in anti-terror fight: Official
Compiled by New Age Islam News Bureau
URL: https://www.newageislam.com/islamic-world-news/new-age-islam-news-bureau/gaddafi-tried-marry-son-saif-al-islam-gaddafi-putin-s-daughter/d/105830
------------
Africa
Gaddafi Tried to Marry Son, Saif al-Islam Gaddafi, to Putin's Daughter
By: IANS: Friday, 1 January 2016
Tripoli: Muammar Gaddafi tried to engineer a 'political' marriage between his second son and planned heir and one of Russian president Vladimir Putin's daughters, a former advisor to the late Libyan dictator has claimed.
Gaddafi approached a bemused Putin to ask if one of his daughters could wed his second son Saif al-Islam Gaddafi, with the aim of strengthening ties between Libya and Russia, Mohammed Abd El Motaleb al-Houni told al-Arabiya.
"Gaddafi talked about it with Putin, proposing his son as a future son-in-law, but the Russian president was taken aback and said his daughter did not know Saif al-Islam," al-Houni said.
Gaddafi was ousted and killed in a NATO-back revolt in 2011. Saif al-Islam was in July sentenced to death by a court in Tripoli in a mass trial of former regime figures widely criticised by human rights groups.
Saif al-Islam has been in custody in the Libyan mountain town of Zintan since he was caught trying to flee Libya in the aftermath of the 2011 revolution. The militia holding him has refused to hand him over.
http://www.abplive.in/world-news/gaddafi-tried-to-marry-son-to-putins-daughter-267678
------------
Muslim Faithful Fetes Christians, Community
January 1, 2016
DESPITE the differences in creeds and faith, the Board of Trustees (BoT) member of the All Progressives Congress (APC), Jamiu Ekungba, has extended hands of fellowship and goodwill to Christians, his community and 203 wards across the 18 local councils of Ondo State.
Ekungba, who anchored the distribution of rice, chickens and cash gifts in his Owo hometown, Owo Local Council on Monday, said he has been extending such goodwill to the people of his community since 1972 though he joined the Christian counterparts recently.
According to him, his late father drew his attention in 1992 to that fact that he has been taking care of Muslims during Ileya and fasting and that there were Christians also to take of. He said his late father advised him to extend his hands of fellowship to Christians in his community.
The APC chieftain explained that since then, he has been giving to people in his community irrespective of tribe, religion and party affiliation, in gratitude to what God has done for him; and especially to offer humanitarian services to the less-privileged in the society as spelt out by Islamic dictates.
http://www.ngrguardiannews.com/2016/01/muslim-faithful-fetes-christians-community/
------------
U.N. Libya envoy push for national unity govt
1 January 2016
The U.N. envoy for Libya arrived Thursday in the east of the restive country in a bid to persuade the internationally recognized administration to join a national unity government, state media reported.
Martin Kolber visited Shahat, a town close to the temporary headquarters of Libya's exiled legislature, and met with senior officials, including parliament head Aguila Saleh, the LANA news agency said.
The diplomat was heckled upon his arrival, with one protester calling for the U.N. to "let Libyans decide their destiny", an AFP photographer said.
Libya has been in chaos since the 2011 uprising that toppled dictator Muammar Qaddafi, with armed factions battling for territory and control of its oil wealth.
The internationally recognized government fled Tripoli when the capital was seized in August 2014 by militias, who are behind a rival government there.
On December 17, under U.N. guidance, envoys from both sides and a number of independent political figures signed a deal to unify the government.
Around 80 of 188 lawmakers from Libya's internationally recognized parliament and 50 of 136 members of the rival Tripoli-based General National Congress signed the deal.
It calls for a 17-member government, headed by businessman Fayez el-Sarraj as premier, based in Tripoli.
But analysts have cast doubt on the viability of a deal that would seek to bring together two parliaments controlled by hardliners.
https://english.alarabiya.net/en/News/middle-east/2016/01/01/U-N-Libya-envoy-push-for-national-unity-govt.html
------------
UN council envoys plan visit to Burundi
01 January 2016
UN Security Council envoys are awaiting agreement from Burundi's government to travel to the country in January as part of a diplomatic effort to pull the nation away from the brink of war, diplomats said Thursday.
The United States had proposed a trip to Burundi in December during its presidency of the Security Council but the mission never materialized.
"We think it's very important for the Security Council to travel to Burundi and are engaging to try to make that happen," said US Deputy Ambassador David Pressman.
"The situation is in flux, it's dangerous and merits the full attention of the council."
The council pushed ahead with its proposed visit after Burundi's President Pierre Nkurunziza rejected an African Union plan to deploy a peacekeeping mission to help quell the violence.
Diplomats, speaking on condition of anonymity, said the visit could take place around January 15 or January 22 if Bujumbura agrees to the talks with council members.
Burundi descended into violence in April when Nkurunziza announced he would seek a third term in a July election that he went on to win.
Hundreds have been killed and more than 200,000 have fled the country during the violence that the United Nations fears could lead to mass atrocities.
Burundi's government has yet to confirm whether it will attend a new round of talks with the opposition in Uganda scheduled to begin on Wednesday.
Opening a dialogue with the opposition has been a key demand of the Security Council to end the violence.
During a visit to Burundi in March, Security Council envoys told Nkurunziza that a decision to seek a third term in office would be divisive, although Russia and China appeared more sympathetic to the government's stance.
http://www.worldbulletin.net/africa/168000/un-council-envoys-plan-visit-to-burundi
------------
North America
Muslim group calls for hate inquiry after mosque vandalized with pork
December 30, 2015
A Muslim civil rights group is calling for a hate crime investigation after a vandal wrapped the doorknobs of a Las Vegas mosque in raw bacon early Sunday.
The Council on American-Islamic Relations called the incident at the Masjid-e-Tawheed mosque a bias crime.
MAN CHARGED IN MOSQUE FIRE DENIES HATRED OF MUSLIMS
"This type of attempted desecration must be investigated as an act of intimidation and hate, and the perpetrators must be brought to justice," said a statement from Ibrahim Hooper, CAIR National Communications Director.
Because they are prohibited from consuming pork, pigs and other pork products are often used to offend Muslims, according to CAIR.
A worshipper found the bacon when he arrived for morning prayers and notified police.
Members of the congregation used napkins to remove the pork, according to the Las Vegas Review-Journal.
"It's being investigated possibly as a hate crime," Las Vegas Metro Police spokesman Larry Hadfield told the Review-Journal.
Full report at:
http://www.nydailynews.com/news/crime/muslim-group-calls-hate-inquiry-mosque-vandalized-article-1.2480896
------------
US man charged with planning ISIS attack on New Year's eve
January 1, 2016
New York: A 25-year old man, who had pledged support to the Islamic State (ISIS) terror group, has been arrested in the US and charged with planning to carry out an attack against civilians at a restaurant near here on New Year's eve.
Emanuel Lutchman was arrested and charged by criminal complaint with attempting to provide material support to ISIS and faces a maximum penalty of 20 years in prison and a USD 250,000 fine.
"According to the complaint, as part of Emanuel Lutchman's attempt to provide material support to ISIS, he planned to kill innocent civilians on New Year's Eve in the name of the terrorist organisation," Assistant Attorney General for National Security John Carlin said in announcing the charges. The complaint said Lutchman is a "self-professed Muslim convert" with a criminal history dating back to 2006.
According to court records, he had claimed to receive direction from an overseas ISIS member and planned to commit an armed attack against civilians at a restaurant/bar located in the Rochester area on New Year's Eve on behalf of ISIS and in furtherance of his plan to join ISIS overseas.
The defendant made an initial appearance this morning before US Magistrate Judge Marian Payson of the US Western District of New York. Prosecutors said Lutchman communicated with an individual who had been cooperating with the FBI and had expressed his strong support for ISIS and his desire to travel overseas and join ISIS in Syria.
Lutchman told the individual that he was in contact with an ISIS supporter overseas who told him that since New Year's eve is approaching, he should do some "operations and kill" people to show his seriousness towards ISIS.
Full report at:
http://www.siasat.com/news/us-man-charged-planning-isis-attack-new-years-eve-895125/
------------
More Latinos are converting to Islam in US
January 1, 2016
California: According to organizations that cater to Hispanics converting to Islam, Latinos in the U.S. are considered to be the fastest-growing of Muslims in America.
Most US official measures also say that Latinos in the US are considered to be the fastest-growing demographic segment. According to Press-Enterprise, there are an estimated 150,000 Muslim converts among the Latino community in the US.
Rafael Delgado, born and raised as a Catholic in Nicaragua, doesn't call his shift to Islam "converting". Instead, he describes it as "reverted".
"It's our belief every human being, every soul comes with a natural disposition to submit to Allah, to God," Delgado explained. "That's what we call a reversal; you're going back to your origins."
Mark Gonzales, a Muslim poet and artist in California, said that immigration officials' targeting of Mexicans and Muslims after the September 11 terror attacks helped the two demographics find common ground. "Islam is the fastest-growing religion in the world, and Latinos are converting to Islam at a rate higher than any other [ethnicity]," Gonzalez, who converted to Islam 12 years ago, said.
Jihad Turk, president of Bayan Claremont, an Islamic graduate school in California, told the Press-Enterprise that Islam is most similar to Catholic beliefs. Muslims believe in many stories contained in the Christian Bible, including the prophets, he said.
"Muslims not only believe in God and the Ten Commandments, but also in Jesus as Christ born to the Virgin Mary and her story is told in the Qur'an in more detail than it's told in the Bible", Turk said.
Full report at:
http://www.siasat.com/news/latinos-converting-islam-us-894745/
------------
Suspected ISIS backer held for New York attack plot
31 December 2015
A 25-year-old man who planned to attack a restaurant in Rochester, New York, on New Year's Eve has been arrested and charged with attempting to provide material support to Islamic State of Iraq and Syria (ISIS), the U.S. Justice Department said on Thursday.
Full report at:
https://english.alarabiya.net/en/News/world/2015/12/31/Suspected-ISIS-backer-held-for-New-York-attack-plot-.html
------------
Canada misses year-end Syrian refugee target
01 January 2016
The Canadian government said Thursday it had welcomed more than 6,000 Syrian refugees by the end of 2015, falling short of its pledge to take in 10,000 but vowing to meet that target next month.
New Prime Minister Justin Trudeau had initially promised to resettle 25,000 Syrian refugees by December 31.
But his Liberal government then pushed the target date to end-February, following criticism it was moving too fast amid security concerns in the aftermath of deadly attacks in Paris as well as logistical issues.
The interim target of taking in 10,000 Syrian refugees by year's end was set in late November. But as of Thursday, with the arrival of three charter planes carrying about 800 refugees, the total stood at slightly more than 6,000.
"I am confident that a full 10,000 refugees would have landed in two weeks by mid-January and also that 25,000 would have arrived in Canada by the end of February," Immigration Minister John McCallum told reporters.
Beyond the 6,000 Syrians already on Canadian soil, another 4,700 are already cleared for arrival, McCallum said.
Health Minister Jane Philpott noted: "Had we not set such incredibly audacious goals, I know, I can tell you, we would not be where we are today."
Earlier in December, Trudeau personally welcomed the first group to arrive at Toronto airport aboard a military transport plane.
Full report at:
http://www.worldbulletin.net/america-canada/167997/canada-misses-year-end-syrian-refugee-target
------------
Europe
Russia: Islamic researcher convicted of extremism
31 December 2015
A famous Islamic researcher, Rais Suleymanov has been sentenced Thursday to seven days in prison in Russia's republic of Tatarstan.
The political analyst and Islamic researcher from the Tatarstan National Strategy Institute was convicted spreading "extremist ideology" via Internet and therefore received a sentence of seven days from the Kazan city's Volga convicted district court.
"I wasn't in the courtroom even for a minute. They immediately read my sentence. This means it was pre-planned. This is farce, they accused of extremism, the one who is against it," Suleymanov said.
Full report at:
http://www.worldbulletin.net/europe/167977/russia-islamic-researcher-convicted-of-extremism
------------
France's war on ISIL 'starting to pay off'
01 January 2016
French Defence Minister Jean-Yves Le Drian told forces on an aircraft carrier in the Gulf Thursday that the war against the Islamic State group was starting to bear its fruit.
"The war (against ISIL) is being played out here," he said aboard the Charles de Gaulle, which is participating in the US-led coalition carrying out air strikes on ISIL in Syria and Iraq.
"The strategy is starting to pay off. Everywhere our sensors show that ISIL is going on the defensive... as shown in the loss of Ramadi," he said.
Earlier this week, Iraqi forces pushed ISIL fighters out of the city west of Baghdad with air support from the coalition in an important setback for the group.
"Several weeks ago, France was hit at its heart," Le Drian told 250 French troops gathered in the carrier's aircraft hangar among Rafale and Super Etendard jets.
The Charles de Gaulle set off for the eastern Mediterranean shortly after ISIL claimed November 13 bombing and shootings in Paris that killed 130 people and wounded many more.
"The aggression on our soil calls for a retaliation where ISIL is organising to hit us," he said, referring to ISIL training camps in Syria.
The aircraft carrier has been stationed in the Gulf since December 20.
"Our aim is this terrorist organisation's destruction, pure and simple," he said.
"To destroy an enemy, you have to degrade its capacities, contain it," he said, referring to the airstrikes against the group's positions since summer 2014.
"You then must reduce it. For that, you need to act on the ground and that's what our local partners are doing with our support."
Full report at:
http://www.worldbulletin.net/europe/167998/frances-war-on-isil-starting-to-pay-off
------------
Germany shuts Munich train stations after tip Islamic State planned attack
Jan 1, 2016
Germany shut down two train stations in Munich about an hour before midnight on Thursday following a tip from the intelligence service of a friendly country that the Islamic State (IS) militant group was planning a suicide bomb attack.
The action by German authorities added to jitters in many capitals as Europe ushered in the New Year with heightened security after a year of militant attacks, the biggest of which killed 130 in Paris in November.
The stations – Munich's central station and Pasing station some 8 km (5 miles) away – reopened several hours later after the tip-off could not be substantiated.
Bavarian Interior Minister Joachim Herrmann told a news conference on Friday that Germany had received a tip from another country's intelligence service that IS planned to attack Munich. He did not name the country but German television said in an unsourced report that the tip-off came from France.
Five to seven suicide bombers were to take part in the attack, Munich police chief Hubertus Andrae said at the same conference.
"The Federal Criminal Police Office informed the Bavarian police on New Year's Eve of the existence of a tip-off from a friendly intelligence agency that Islamic State plans a concrete attack, attacks tonight, at midnight at the Munich central station or/and Pasing (station)," Herrmann told reporters.
"I believe this decision was right because I think we cannot take unnecessary risks when we are dealing with such concrete threats, concrete locations, and a concrete time," he said.
Security fears in Europe were heightened two days ago by Belgium's decision to cancel New Year's Eve celebrations in Brussels, citing a suspected plot to carry out an attack in the capital.
Belgian police said late on Thursday three people were being held for questioning as part of an investigation into the plot.
Full report at:
http://indianexpress.com/article/world/world-news/germany-shuts-munich-train-stations-after-tip-islamic-state-planned-attack/
------------
South Asia
MoD: 14 ISIS fanatics killed in Afghan Air Force raids in Nangarhar
Jan 01 2016
At least 14 fanatics affiliated with the Islamic State of Iraq and Syria (ISIS) terrorist group were killed in airstrikes carried out by Afghan Air Force in eastern Nangarhar province.
The Ministry of Defense (MoD) said the airstrikes pounded the sanctuaries of the terror group in the restive Achin district.
A statement by MoD said at least 12 ISIS fanatics were also injured and numerous weapons, ammunition and explosives were also destroyed in the raids.
The Afghan national security forces have stepped up counter-terrorism operations in the restive districts of Nangarhr province as the insurgency activities by ISIS fanatics have been rampant during the recent months.
Meanwhile, the Afghan Air Force has also doubled air raids against the terrorist groups with the arrival new combat aircraft which are expected to turn tide in favor of the Afghan security forces.
Full report at:
http://www.khaama.com/mod-14-isis-fanatics-killed-in-afghan-air-force-raids-in-nangarhar-1904
------------
Bangladeshi Court Convicts Two Men for Murder of Atheist Blogger
By SYED ZAIN AL-MAHMOOD
Dec. 31, 2015
DHAKA, Bangladesh—A Bangladeshi court sentenced two men to death and jailed half a dozen others on Thursday over the 2013 murder of an atheist blogger who had been critical of Islam, amid fears of growing Muslim radicalization in the South Asia country following a string of brutal killings there.
A fast-track tribunal convicted Faisal bin Nayem and Rezwanul Azad Rana, both students at a prestigious private university in Dhaka, of killing 35-year-old Ahmed Rajib Haider in a machete attack near his home in February 2013.
Prosecutors said the convicted men are members of Ansarullah Bangla Team, also known as Ansar Bangla, a banned Islamist militant group with links to international jihadist networks.
Prosecutor Mahbubur Rahman said the state had proved the guilt of the accused beyond reasonable doubt. Faruque Ahmed, a defense lawyer, said the defendants were unjustly convicted and said they would appeal. They all pleaded not guilty to the charges.
Mr. Haider, an atheist blogger who wrote under the pen name Thaba Baba or The Claw, was a regular contributor to blogs such as dhormockery.com—a website that criticizes Islam and mocks the Prophet Muhammad.
The murder of Mr. Haider was the first in a series of deadly attacks on secular and atheist writers in Muslim-majority Bangladesh, which have raised concerns of increasing extremism among fringe groups in the South Asian nation of 160 million people.
Five other secular bloggers and a publisher have been killed by machete-wielding assailants since then.
The judge said the two men convicted of killing Mr. Haider were inspired by the sermons of Mufti Jasim Uddin Rahmani, a firebrand preacher who police say is the spiritual head of Ansar Bangla.
Full report at:
http://www.wsj.com/articles/bangladeshi-court-convicts-two-men-for-murder-of-atheist-blogger-1451577416
------------
Freed Afghan village reveals key to Taliban 'success'
January 01, 2016
Anuj CHOPRA
Flanked by shaggy-haired gunmen, commander Ghulam Farooq peered out from a hilltop at the biggest military prize of his storied career as a warlord - a mud-walled Afghan village captured after five years of Taliban control.
The village of Qara Ghoily in the remote northwestern badlands bordering Turkmenistan offers a rare glimpse into life under Taliban rule and encapsulates governance failures that have helped the Islamists gain ground against NATO-backed Afghan forces.
When Farooq, a powerful anti-Taliban militia commander in Faryab province, wrested control of the village in August after a scorched-earth offensive, he found a population deeply disaffected with the government despite years of hardline Taliban rule.
"There," said Farooq, pointing down to a patch of clay dirt surrounded by fields of wild grapevines and deserted village roads. "The Taliban had no prison. They didn't need one. They beheaded all their prisoners over there."
They also kept a chokehold on social freedoms, a throwback to their 1996-2001 rule that made them international pariahs, including a ban on music, shaving of beards and hip Hollywood hairstyles.
The Taliban shored up support by restoring a modicum of order in the village through an effective sharia-inspired judicial system, filling a vacuum left by a Western-backed government seen as inept and corrupt.
Unlike the official legal system, built with millions of dollars of foreign aid, the Taliban's informal court dispensed swift justice on all matters, from adultery to robbery. And one thing in particular set them apart from government officials: they never demanded a bribe.
"If you go to a city court, the judge will take your money, the clerk will take your clothes and the guards will take whatever is left," remarked a village resident, requesting anonymity for fear of retribution. "People prefer to tolerate the cruelty of the Taliban than be robbed of justice and everything they own."
The testimony highlights the anguished choices faced by a population seemingly trapped between two evils and helps explain the insurgency's stunning rise despite a decade of costly Western intervention.
The Taliban remain largely unpopular in urban centres, but in many rural areas the puritanical movement has entrenched itself among alienated groups, competing directly with the government for public loyalty.
The Taliban now control more territory than in any year since they were toppled from power in a 2001 US-led invasion, with the UN estimating that nearly half of all districts across Afghanistan are at risk of falling.
NATO-backed Afghan security operations that claim to kill scores of militants on a daily basis are causing the "displacement of the insurgency, not its eradication", a Western official in Kabul told AFP.
'Taliban's advantage'
"Insurgency is like a fever," said Sarah Chayes, author of "Thieves of State: Why Corruption Threatens Global Security", which looks at how Taliban propaganda appeals to graft-weary Afghans.
Full report at:
http://nation.com.pk/international/01-Jan-2016/freed-afghan-village-reveals-key-to-taliban-success
------------
Afghan intelligence rescue 10 civilians taken hostage by terrorists in Zabul
Dec 31 2015
The Afghan intelligence operatives conducted a successful operation in southern Zabul province of Afghanistan and rescued at least ten civilians taken hostage by terrorist groups.
The National Directorate of Security (NDS) said the civilians were abducted by the militants earlier and were safely rescued by the intelligence operatives.
No further details were given regarding the exact location where the operation was conducted and the group which held the civilians as captives.
However, the anti-government armed militant groups, mainly belonging to Taliban group are actively operating in parts of Zabul province.
The fanatics loyal to the Islamic State of Iraq and Syria (ISIS) terrorist group are also reportedly operating in Zabul.
Meanwhile, NDS said the civilians rescued during the operation are in good health condition and will join their families soon.
Full report at:
http://www.khaama.com/afghan-intelligence-rescue-10-civilians-taken-hostage-by-terrorists-in-zabul-1902
------------
Taliban leader treated at cancer hospital in Pakistan's Lahore city
Dec 31 2015
A leader of Afghan Taliban has received medical treatment at Pakistan's largest research-oriented cancer specialized hospital and radiation oncology centre located in Lahore city, Geo News reported on Thursday.
Chairman of Pakistan Tehreek-e-Insaf (PTI) Imran Khan who heads Shaukat Khanum Memorial Cancer Hospital and Research Centre (SKMCH&RC) has told Geo's Hamid Mir during its program 'Capital Talk' that he was unaware of it until he received an appreciation letter from Taliban.
Imran Khan has not revealed name of the Taliban leader.
Full report at:
http://www.khaama.com/taliban-leader-receives-treatment-at-cancer-hospital-in-pakistans-lahore-city-4452
------------
End to terror a condition for peace talks, says Ghani
January 01, 2016
KABUL - Afghan President Ashraf Ghani said international meetings next month to lay the groundwork for a possible resumption of peace talks with the Taliban had to seek an approach to the fractured insurgent movement that ensured a rejection of terrorism. Officials from Afghanistan, Pakistan, China and the United States are due to meet in Islamabad on Jan 11 to try to revive a peace process that stalled in July when the news came out that Taliban leader Mullah Mohammad Omar had died two years earlier.
"It is obvious that there are groups of Taliban, not a unified movement," Ghani told a news conference on Thursday. "The fundamental issue here is the choice: choose peace or terrorism," he said. "There will be no tolerance for terrorism."
January's meeting will be followed by another encounter in Kabul, with Afghanistan initially represented by Deputy Foreign Minister Hekmat Khalil Karzai.
The United States and China have both been pressing hard for a resumption of talks with the Taliban but mutual suspicions between Kabul and Islamabad, as well as the factional fighting within the Taliban, have held up the process.
Afghanistan has long said Pakistan is harbouring Taliban leaders and sponsoring the insurgency as a means of exerting control over Kabul, a charge that Pakistan rejects, saying it too is a victim of terrorism.
Full report at:
http://nation.com.pk/national/01-Jan-2016/end-to-terror-a-condition-for-peace-talks-says-ghani
------------
Fate of Afghan refugees still unclear
January 01, 2016
Maqbool Malik
Over a million Afghan refugees in Pakistan are on verge of facing evictions, police extortion and hunger after 31 December 2015 because of confusion about their status and crises in Syria.
"Because of uncertainty over Pakistan government's decision about extension in the status of registered Afghan refugees and because of compelling financial constraints due to crisis in Syria the United Nations High Commission (UNHCR) is limiting its operation in Pakistan", UNHCR spokesperson Ms. Dunya Aslam Khan told The Nation on Monday.
Pakistan had extended refugee status of over a million Afghans for six months in June to 31 December, 2015 after the government unveiled a new policy on counter terrorism and launched a nationwide National Action Plan (NAP) to check and plug the loopholes including documentation of all the Afghan nationals living across the country.
Under the new policy refugee status allows Afghans to get a government ID card that they use for everyday activities like banking or registering for school.
Even though Pakistan government is carefully following policy of voluntary repatriation many fear repeat of harassment of Afghans in case of any delay in government's decision about extension of refugee status. One of the factors that created gulf between Islamabad and Kabul this year was mistreatment of Afghans living in Pakistan. The Afghan government openly accused Pakistan government for mishandling the repatriation issue. More than 60,000 Afghans had repatriated to Afghanistan in 2015.
"We fear harassment of Afghan refugees will restart in Pakistan in case of delay in revalidation of Proof of Registration of refugees by National Database and registration Authority (NDRA) of Pakistan", Dunya Aslam said amid increased concerns over international financial constraints to tackle refugees problem following the situation in Syria. UNHCR spokesperson in Pakistan said "Because of international financial constraints we are accordingly limiting of operations with staff cuts".
On the other hand, government sources while playing down gravity of the situation claimed that government has in principle agreed to extend refugee status of registered Afghans in Pakistan for next two years up to 31 December 2017 and only the Cabinet approval is awaited.
Pakistan has been hosting Afghan refugees dating back to the Soviet invasion of Afghanistan three decades ago and decided to encourage accelerated voluntary repatriation of Afghans largely for security reasons and economic implications for its population.
There had been no proper documentation of Afghans living in the country since their arrival in 1979 and according to the UNHCR data there are 1.6 million registered Afghan refugees in Pakistan. They were registered for the first time in 2005 when Pakistan government carried out a census in March 2005 to assess number of Afghans which revealed more than three million Afghan nationals living across the country. A study done by Islamabad based think- tank Institute of Policy Studies (IPS) suggests 80 percent of the refugee influx occurred between 1979 and 1985. The door-to-door data collection put the total number of Afghan refugees in the country at three million and over the years, 1.5 million refugees have repatriated to their country.
They were soon issued the Proof of Registration (POR) cards by Nadra. Under the process the family is given a unique number. In case of married men with children under the age of five, the children's names are then printed at the back of the card. As soon as the children reach the age of five, they have their own POR cards.
Explaining the process, public information officer at the UNHCR Duniya Aslam Khan said that the first POR cards were issued to the refugees in 2006 for a period of three years with the expectation that the situation would improve in Afghanistan during that period.
On its part the then government of Afghan President Hamid Karzai tried to attract Afghan refugees living in Pakistan by offering several incentives but the plan did not work. In an effort to resolve some of the shelter related problems, in 2005, the Afghan government began an ambitious land distribution to over 300,000 returnees.
Some 13,000 plots of land were distributed, mostly in the provinces of Farah, Logar, Faryab and Parwan. In provinces where government land is not available for distribution, eligible returnees are to be provided land in a neighboring province that can absorb them. Kabul has said priority would be given to returnees who are disabled or widowed, and to families lacking a breadwinner.
Full report at:
http://nation.com.pk/national/01-Jan-2016/fate-of-afghan-refugees-still-unclear
------------
Bangladesh to send more maids upon KSA request
MOHAMMED RASOOLDEEN
1 January 2016
RIYADH: On a request made by the Saudi government, Bangladesh will increase the number of housemaids coming to the Kingdom from Dhaka.
The announcement of the new development was made on Thursday following the bilateral talks held here between Minister of Labor Mufarrej bin Saad Al-Haqbani and visiting Bangladesh Minister for Expatriates' Welfare and Overseas Employment Nurul Islam at the Labor Ministry headquarters.
During the meeting, Bangladesh Ambassador Golam Moshi was also present.
Speaking to Arab News, Ambassador Moshi said it was a successful discussion which paved the way for new areas of cooperation in bilateral labor matters.
"Besides more maids from Bangladesh, the Saudi minister also wants male and female academicians to work for Saudi universities," Moshi said, pointing out that other categories of workers would be recruited by the Kingdom subsequently.
The envoy said that around 4,000 housemaids come to the Kingdom monthly and this will be increased to cater to the local labor market. At present there are some 20,000 Bangladesh maids working in the Kingdom.
He said that the Saudi minister has promised to appoint mega labor recruiting offices to deal with the large intake of housemaids. "There are more than 36,000 housemaids ready to come to the Kingdom from Dhaka," he noted.
During the bilateral meeting, both ministers agreed to enhance cooperation in manpower sector through addressing issues to reduce migration cost, imparting training to Saudi-bound workers and recruiting more male workers for mutual benefits.
Describing the talks as highly successful, Moshi said the discussions centered on various topics such as human resources development, manpower training, recruitment of Bangladesh manpower to the Kingdom and several other matters related to the labor affairs of the two countries.
Al-Haqbani expressed his country's willingness to work together in the area of human resource development and recruitment for mutual benefits at the bilateral meeting. He referred that both countries had agreed to cooperate in this manpower sector through signing of an agreement in February this year and hoped that this visit would serve to improve cooperation in manpower sector between the two countries.
Appreciating the measures taken by Bangladesh, Al-Haqbani underlined the need for regular and increased interaction between officials of both the countries to enhance better understanding of the issues related to manpower sector. He assured that Saudi Arabia would recruit male family members of the housemaids as well as open up the market soon for all categories of male domestic workers.
The visiting Bangladesh minister termed relations between the two countries as a time tested and deep rooted one with common history, faith, culture and religion. He appreciated the noble gesture of the Custodian of the Two Holy Mosques King Salman and his government toward Bangladesh over the years.
Full report at:
http://www.arabnews.com/saudi-arabia/news/858621
------------
Why 2015 was a good year for Bangladesh
January 01, 2016
It's a good time to be alive while history is being written. As we bid adieu to 2015 we realise the year was a roller coaster ride! It was a year of aggression and violence that carved the world for many new beginnings. Even though it was the year that witnessed the rise and aggression of Islamic State, thousands of Syrians fleeing their home for asylum and the atrocities of the Asian migrant crisis, it was also a year that made history for the right reasons as well.
For Bangladesh, 2015 was an eventful year that kept reporters on the tip of their feet. Let us take a stroll and reminisce the achievements of the past year in various arenas that molded the nation to take on 2016.
It was the year of the Tigers. With a World Cup quarterfinal appearance, series wins over Pakistan, India and South Africa, and the unearthing of a bowling gem-Mustafizur Rahman, this was a great year for Bangladesh cricket.
Full report at:
http://www.thedailystar.net/country/why-2015-was-good-year-bangladesh-195472
------------
Arab World
Infighting between Takfiri Militants Erupts in Damascus
Dec 31, 2015
Terrorists from Jeish al-Islam engaged in fierce clashes with Jeish Tahrir al-Sham terrorists in al-Damir city in Damascus countryside, informed sources said today.
Earlier this month, heavy fighting erupted between the ISIL and other terrorist groups in the Northern part of Aleppo province, leaving casualties on both sides.
A group of terrorists were killed in exchange of fire between the ISIL and other terrorist groups in Kafra village in the Northern province of Aleppo on December 7.
The recent victories of the Syrian army and its allies across Syria, specially in Aleppo province, have winded rift among the militant groups.
Militant sources said on December that the Mo'arez (Dissident) and Thowar terrorist groups stormed ISIL's positions in the Northern parts of Aleppo province and captured two villages.
The sources said that Mo'arez terrorists pushed back the ISIL militants and took control of al-Kharbah and al-Qazal villages near the border with Turkey after hours of clashes.
They further added that Thowar militant group also launched an offensive on the ISIL to capture Qarah Mazra'a Farm near the Syria-Turkey border.
The rival terrorist groups announced earlier that they had killed tens of the ISIL militants in a car-bomb attack in the ISIL-held Thowran village.
On Monday, the notorious terrorist group, ISIL, engaged in heavy clashes with rival militants in Dalha village in the Northern countryside of Aleppo.
Reports said the ISIL terrorist group launched heavy mortar attacks on the strongholds of other militant groups in the Northern part of Aleppo province.
Local sources said the ISIL's mortar shelling was conducted in Marea town some 25 kilometers North of Aleppo city.
There have been no reports on the identity of the targets and their possible casualties.
Sources said last week that the al-Qaeda-affiliated al-Nusra Front has declared war on the ISIL militants after a dispute over the latter's prisoner exchange with the Lebanese Army.
Prior to this turmoil along the border of Lebanon and Syria in Qalamoun mountains, there have been similar cases of fight between them in Northern Syria that included a war in Northern Aleppo and Raqqa.
Full report at:
http://en.farsnews.com/newstext.aspx?nn=13941010000414
------------
Muslim Brotherhood seen cracking due to failure in managing internal strife
By Khetam Malkawi
Dec 31,2015
AMMAN — Although the Muslim Brotherhood in Jordan survived the threat of a terrorist group label like sister groups in some other Arab countries, the entity is struggling with a life-threatening internal rift that has seen hundreds of veteran leaders abandon it and its political arm, the Islamic Action Front (IAF).
The widening crack within the IAF was obvious Thursday, when 400 members including top leaders and founding members tendered their resignation in an unprecedented mass move.
Hamzeh Mansour, the former IAF's secretary general, Abdul Hamid Qudah and Salem Falahat, who are members of its top-authority body, the shura council, were among the leaders who jumped overboard. Before that, they had gathered in a group dubbed "Partnership and Rescue" committee, which is also called the "Group of Elders".
This move, according to Ghaith Qudah, a member of this wing, was the outcome of internal strife that started 18 months ago and the failure of attempts to mend fences between two distinct wings: the hawks and the doves. The group that left the party mainly belongs to the latter.
He added that this group believes that the IAF should have been a national party with a diverse membership base. "But in reality, 99 per cent of the party's members are also affiliates of the Muslim Brotherhood," an 88-year old Egypt-born organisation that seeks to restore Islamic caliphhood.
"We tried to change this", but all attempts have failed, said Qudah, adding that the Elders who submitted their resignation were not also satisfied with the way some files have been being managed.
These resignations were not the first, as they were preceded by withdrawals by around 30 members from Zamzam Initiative and the new Muslim Brotherhood Society, a legalised entity seeking to replace the old group.
Although the 400 new resignations are from the IAF, analysts and experts in the organisation said that this will be reflected on the entire "Islamic movement", in reference to the Brotherhood, and those who resigned the political party will also walk out the main group.
The crisis of the Muslim Brotherhood in Jordan started when a group of reformists led by Abdul Majid Thneibat re-registered the movement as a Jordanian society, severing its affiliation with its mother group in Egypt.
Muslim Brotherhood-Jordan was licensed in 1946 as a charity affiliated with the elder sister in Egypt and relicensed in 1953 as an Islamic society.
Members of the "Partnership and Rescue" committee are not associated with newly established Muslim Brotherhood Society or Zamzam Initiative, two splinters whose members share similar reformist ideas.
Ibrahim Gharaibeh, an expert in Islamic movements expected the older Brotherhood to "cease to exist", while another expert, Hassan Abu Hanieh, said the organisation is in its "weakest" state since its inception.
Full report at:
http://www.jordantimes.com/news/local/muslim-brotherhood-seen-cracking-due-failure-managing-internal-strife
------------
Egypt's Al-Azhar slams Daesh sex slavery rules
Dec 31, 2015
Egypt's highest Islamic authority, al-Azhar, has strongly denounced the Takfiri Daesh terrorists' newly-released rules for sex slavery, stressing that they have nothing to do with Islam.
"This organization is a criminal and terrorist organization, and one of the goals of terrorism is the spread of its ideologies and the spread of its propaganda that will attract people's attention," Mohamed Mehna, a member of al-Azhar's Grand Sheikh's Technical office, said on Wednesday.
"Researchers who study terrorist organizations know this very well; that the media division is considered one of the most important tools for a terrorist organization to achieve its goals through instilling fear in people," he added.
The remarks come as Daesh leaders have recently issued an extremely detailed ruling on when "owners" of women enslaved by the extremist group can have sex with them. They have also issued a series of rules about the treatment of captured females.
Mehna added that Daesh and other terrorist organizations resort to such tactics to draw attention to their extremist ideologies.
"This is not Islam. Because Islam, with its long history, and the spread of Islam around the world, from South to North and from East to West, and the true history that has witnessed its sublime values, needs no debate," he said.
Back in November, the head of the al-Azhar center of Islamic learning, Sheikh Ahmed al-Tayeb, said it would be unjust to link atrocities committed by Daesh to Islam.
Separately, Shia clerics have, on numerous occasions, condemned Daesh ideologies as irrelevant to Islamic teachings.
Full report at:
http://www.presstv.ir/Detail/2015/12/31/443978/Egypt-AlAzhar-Mohamed-Mehna-Daesh-Syria-Iraq--/
------------
Syria: Militants Surrendering in Groups in Homs, Damascus, Hama
Dec 31, 2015
Some 117 wanted persons from Homs surrendered on Wednesday to be pardoned.
Meanwhile, 40 wanted persons from the provinces of Damascus and Hama also turned themselves in to the authorities.
On Saturday, 86 wanted persons from Damascus province and Aleppo also gave up fight.
City officials also announced on December 22 that at least 15 militants laid down arms and surrendered to the competent authorities in Aleppo after the army and the country's popular forces' victories across the province.
Until last year, most surrendering cases happened in Homs and Damascus provinces, but now a growing number of militants lay down arms across the country. As the army scores more wins across Syria more militants lay down arms to save their lives.
Some 116 Takfiri militants turned themselves in to the Syrian army in Homs province on December 20.
Full report at:
http://en.farsnews.com/newstext.aspx?nn=13941010000191
------------
Syria: Quneitra Village Liberated from Terrorists' Control
Dec 31, 2015
The Syrian forces won back the village of al- Samadanieh al-Gharbiya in Quneitra after clashes with the Takfiri terrorists.
A large group of terrorists were killed and injured in the fighting.
However, there are no immediate reports of the exact number of the dead terrorist.
Full report at:
http://en.farsnews.com/newstext.aspx?nn=13941010000369
------------
Syria: Army Scores New Victory in Hama
Dec 31, 2015
The Syrian army, backed by the National Defense Forces, regained control of the villages and towns of Zorsarhin, al-Maktot, Jenan, al-Saromia, Ra'boun, al-Makhraz and al-Mouradia in the Eastern countryside of Hama, the sources said.
Separately, the Syrian army launched artillery attacks against militants' positions in the town of Qalaat al-Madiq in the province.
There are no immediate reports on the number of casualties among the terrorists.
Earlier reports said a group of militants were killed in Syrian airstrikes on Takfiris' concentration centers in several regions across Hama province.
Field sources said on Thursday that the Syrian warplanes bombed militants' positions and movements in Kafr Zita, Morek, Tloul al-Homr and al-Lataminah in Hama.
On Wednesday, the Syrian airstrikes also hit ISIL positions and vehicles in Jena al-Elbawi and Jeb al-Rayan in Hama.
The Syrian army also fired artillery shells at militants' positions in the villages of al-Sharia, al-Qahera and al-Mansoura.
Full report at:
http://en.farsnews.com/newstext.aspx?nn=13941010000470
------------
Syria: Militants Hit Hard in Dara'a
Dec 31, 2015
The Syrian warplanes heavily bombed militants' gathering centers in Ibtta town in Dara'a on Wednesday.
Separately, the army destroyed 12 terrorists' vehicles, some equipped with machine gun, on the Ibtta-Dael road in Dara'a.
The Syrian army also fired artillery shells at militants' positions in the towns of al-Herak, Busra al-Sham and Inkhil.
Terrorists' positions in Nawa city were also hit by artillery shells.
The terrorists suffered heavy losses in the army's attacks.
Also on Wednesday, the Syrian Army and popular forces stormed the militant groups' positions in one of the major neighborhoods of the Southern city of Dara'a after the Syrian army's artillery units shelled the terrorists' defense lines.
"The Syrian army troops alongside the country's National Defense Forces (NDF) have gained the upper hand against the militant groups in Manshiya neighborhood in Dara'a," city sources said.
"The pro-government forces' advances are mainly indebted to the heavy shelling of the army artillery units that left nowhere safe for the militant groups in Manshiya," the sources added.
"The militant groups were pinned down behind their defense lines as a result of the army's shelling," they went on to say.
"The militant concentration centers were also targeted by the army's rocket shelling," the sources confirmed.
Northern part of Dara'a witnessed significant victories of the Syrian forces against the terrorist group.
The Syrian Army announced on Wednesday that its troops alongside the popular forces drove the militant groups back from the entire districts of the key town of Sheikh Meskeen North of Dara'a after killing, wounding and capturing a large number of the terrorists.
"Sheikh Meskeen is now under the full control of the Syrian government forces," the army said.
Full report at:
http://en.farsnews.com/newstext.aspx?nn=13941010000217
------------
Syrian Forces Thwart Infiltration Attempt in Homs
Dec 31, 2015
The Syrian army on Wednesday thwarted an attempt by the Takfiri terrorists to infiltrate from the neighborhood of al-Waer in Homs city towards al-Kanadi tower.
The army killed and injured a large group of militants in the clashes and forced the others to flee.
Also on Wednesday, the Syrian army conducted large-scale attacks against ISIL positions in Homs as the country's warplanes destroyed the terrorists' strongholds in the Central province.
The Syrian army targeted ISIL's movement routes along Hawareen-Quaryatayn road in the Southeastern countryside of Homs and destroyed the terrorists' machine gun-equipped vehicles, killing all the terrorists inside the vehicle
Meantime, the Syrian warplanes destroyed fortifications and positions of ISIL in Abu Haris, Unq al-Hawa and Jub al-Jarrah regions in Homs.
Earlier reports said the Syrian and Russian air forces staged heavy bombardment on Takfiri terrorists' positions in an area located between two strategic towns in the Central Homs province.
Full report at:
http://en.farsnews.com/newstext.aspx?nn=13941010000323
------------
Kingdom: Global support vital for war on terrorism
1 January 2016
TUNIS: Saudi Arabia and Tunisia bolstered cooperation in fighting terrorism, said Foreign Minister Adel Al-Jubeir.
Addressing a joint press conference with his Tunisian counterpart Taib Baccouche, Al-Jubeir said the two sides also held discussions on ways to boost economic ties, according to a report carried by the Saudi Press Agency.
On the recently formed Islamic Military Alliance to combat terrorism, Al-Jubeir said: "The alliance, which consists of more than 35 countries currently, is for all nations. Its aim is to counter terrorism in terms of security, military and intellectual aspects."
He said participation was voluntary and that countries can contribute based on their capacity.
There would be coordination in terms of sharing information, expertise and equipment, and the development of a "comprehensive strategy" on all levels, he said.
Al-Jubeir said that international cooperation is important to eliminate terrorism because one country on its own cannot achieve success.
The Islamic alliance is critical to refute arguments that the religion supports extremism, he said.
Full report at:
http://www.arabnews.com/featured/news/858696
------------
Southeast Asia
Indira won't find justice at Shariah Court, ex-law minister says after conversion ruling
January 1, 2016
KUALA LUMPUR, Jan 1 — It would be pointless for M. Indira Gandhi to seek relief over the unilateral conversion of her children to Islam at a Shariah Court as it is unlikely that it would even entertain the Hindu woman's plea, Datuk Zaid Ibrahim said.
In a blog posting yesterday, the former law minister pointed out that the Shariah Court has a legal right to choose not to listen to Indira's case as it is a religious court tasked only to uphold Islam and the interests of its adherents.
"The Court of Appeal judges now want Indira to go to the Shariah Court for relief. It's a proposition that's ridiculous and without legal basis. I urge her not to waste her time.
"But the Shariah Court (being a religious court) will not even listen to Indira's plea, and they have a legal right to do that. Why should they do the work of the civil courts?" Zaid said.
He said Indira's case saddened and angered him, as it told the story of a mother who had been denied custody of her child simply because her ex-husband Muhammad Riduan Abdullah had unilaterally converted their daughter to Islam.
"I ask myself: what kind of country have we become to produce such harsh laws and heartless judges? If Indira had been a Muslim mother, and the former husband did the unilateral conversion of the daughter to say Christianity, would the decision still be the same?
"Of course not. Indira did not get justice because she is not a Muslim," Zaid claimed.
He revealed that during his stint as de facto law minister, he had asked the Attorney-General's Chambers (AGC) to make a constitutional amendment to ensure that the conversion of minors occurred only with the agreement of both parents, and that he was told back in 2008 that a Cabinet committee had already been formed under the chairmanship of Datuk Seri Najib Razak— who was the then deputy prime minister.
On Wednesday, the Court of Appeal reversed a lower court's order quashing the unilateral conversion of Indira's three children to Islam, in a critical blow to the Hindu mother's battle against her Muslim ex-spouse.
Full report at:
http://www.themalaymailonline.com/malaysia/article/indira-wont-find-justice-at-shariah-court-ex-law-minister-says-after-conver
------------
Indonesia arrests three with suspected links to Islamic State amid terror alert
January 1, 2016
Jakarta: Indonesian police on Thursday arrested three men with suspected links to Islamic State as part of an operation in the province of Central Sulawesi to capture the country's most-wanted man, state media reported.
The arrests came as the US embassy in Jakarta issued an "emergency message" for US citizens warning of potential security threats at tourist beaches on the island of Lombok surrounding the New Year's celebrations.
Counter-terrorism officials believe there are at least 1000 sympathisers of the radical jihadist group across Indonesia. More than a dozen men suspected of planning bomb attacks over the holiday period were arrested in a series of raids recently, and the hunt is on for their ringleaders.
"This morning my team just reported that they had captured three more people," the Antara news agency quoted Central Sulawesi police chief Idham Azis as saying.
He gave no details of the arrests or the identities of the men, but said they are thought to be linked to militant leader Santoso, who has eluded capture for years and is holed up in jungles near Poso town in Central Sulawesi.
A National Police spokesman did not immediately respond to requests for comment on the Antara report.
Azis said a hunt for Santoso and about 30 of his followers would conclude on January 9. He said seven suspected militants as well as two policemen and an army officer had been killed in the operation.
US authorities on Wednesday noted arrests made by authorities in Turkey, Belgium and Indonesia in connection with suspected plots by Islamic State operatives or sympathisers to launch attacks over the holiday, and said they were monitoring investigations. Analysts say Santoso, the first Indonesian to publicly pledge loyalty to Islamic State, may be an inspiration for would-be jihadis and militants returning from fighting with the group in Syria.
However, some believe there is a bigger threat closer to the capital, Jakarta, on the populous island of Java, where most of the recent arrests were made, and say militants could increasingly target Westerners.
Full report at:
http://www.smh.com.au/world/indonesia-arrests-three-with-suspected-links-to-islamic-state-amid-terror-alert-20151231-glxmgf.html
------------
Pakistan
Nine 'hardcore terrorists' set to hang: ISPR
Jan 1, 2016
RAWALPINDI: The new year opened with the military announcing death sentences for nine "hardcore terrorists" tried by military courts for a series of attacks that killed dozens of security officials and civilians in recent years.
An Inter Services Public Relations (ISPR) statement released Friday said Chief of Army Staff General Raheel Sharif confirmed the death sentences of the nine men who were sentenced for offences relating to terrorism, including an attack on the Parade Lane mosque, Inter-Services Intelligence (ISI) Headquarters (HQ) in Multan, attacks on law enforcement agencies (LEAs), and the kidnapping and murder of civilians in Lahore.
In 2015, 326 people were hanged after the moratorium on the death penalty was lifted following the Dec 2014 attack on Peshawar's Army Public School.
ISPR provided the following details:
Muhammad Ghauri, son of Javed Iqbal
The convict was an active member of Tehreek-i-Taliban Pakistan (TTP) and TTP media cell in-charge. He was involved in the attack on Parade Lane Mosque, Rawalpindi, in which 38 people were killed and 57 injured. He admitted his offences before a magistrate and trial court. He was tried on four charges and awarded a death sentence.
Abdul Qayyum, son of Ameer Muhammad
The convict was an active member of Harkat-ul-Jehad-i-Islam, Punjab. He was involved in the attack on ISI Headquarters, Multan, in which seven people were killed and 72 injured. He admitted his offences before a magistrate and a trial court. He was tried on seven charges and awarded a death sentence.
Muhammad Imran, son of Abdul Manan
The convict was an active member of TTP. He was involved in terrorist acts and attacks on LEAs, killing and injuring civilians and soldiers. He admitted his offences before a magistrate and trial court. He was tried on four charges and awarded a death sentence.
Full report at:
http://www.dawn.com/news/1230036/nine-hardcore-terrorists-set-to-hang-ispr
------------
Saudi official discusses defence ties with army chief
BAQIR SAJJAD SYED
Jan 1, 2016
ISLAMABAD: A Saudi official met Chief of Army Staff Gen Raheel Sharif on Thursday for discussing regional security and bilateral defence cooperation.
"Muhammad Bin Abdullah Al-Ayish, Assistant Defence Minister for Military Affairs, Kingdom of Saudi Arabia, visited General Headquarters today and called on Chief of Army Staff General Raheel Sharif," the ISPR said in a statement.
"Matters related to regional security and bilateral defence collaboration including training exchanges came under discussion," it said.
Though ISPR did not clarify which regional security aspect came under discussion, the two countries have been closely coordinating on terrorism.
Pakistan had earlier in December joined the 34-nation counter-terrorism coalition announced by Saudi Arabia, but had said that the decision on the extent of its participation would be taken after receiving details about it from Riyadh. It is speculated that the Saudi official was here for sharing the awaited details on the coalition.
Full report at:
http://www.dawn.com/news/1229967/saudi-official-discusses-defence-ties-with-army-chief
------------
FBI confirms five Pakistanis held for illegally entering US
ANWAR IQBAL
Jan 1, 2016
WASHINGTON: The US Federal Bureau of Investigation has confirmed that five Pakistanis and an Afghan detained in Arizona in December were held for entering the United States illegally, not as suspected terrorists.
Local media outlets in Arizona first reported the news, but it became a major news story when the electronic media in Pakistan claimed on Wednesday that all six were suspected terrorists.
But when contacted by other media outlets, an FBI official told reporters that one of their agents with the Joint Terrorism Task Force had interviewed the men, and also checked the national security databases for their possible links to terrorism. Nothing came up.
An FBI spokesman told an NBC affiliate in Arizona that all six men were then placed in the custody of the US Immigration and Customs Enforcement.
Full report at:
http://www.dawn.com/news/1229974/fbi-confirms-five-pakistanis-held-for-illegally-entering-us
------------
Centre-Sindh tiff hurting peace: JI
January 01, 2016
LAHORE - JI chief Sirajul Haq yesterday said the federal government had failed to resolve the impasse over the Karachi operation, which equaling undoing the achievements made so far for peace in the city.
Addressing the concluding session of the JI central workshop for party workers at Mansoora, he said, "The Centre-Sindh tiff is not a good omen for peace efforts in the economic backbone of the country.
Both should not make it a matter of ego.
"A large number of youth searching for jobs, are falling into the hands of human smugglers.
It is the prime responsibility of the of the rulers to provide bread and butter opportunities for each citizen which it is not doing.
Hundreds of our youth are losing their life to reach the European countries," said Mr Haq while expressing concern over growing activities of human traffickers.
"The government is bent upon selling precious national assets on throw away prices.
"The rulers are exploiting the state institutions for their personal interests and are involved in worst kind of corruption," he alleged.
Full report at:
http://nation.com.pk/lahore/01-Jan-2016/centre-sindh-tiff-hurting-peace-ji
------------
Tribute to Muslim League leaders
January 01, 2016
LAHORE - The speakers said that the Muslim League was the political organisation of the Muslims that struggled for their freedom from the British imperialism and Hindu domination.
They expressed these views at a special ceremony held at the Aiwan-i-Karkunan-i-Tehreek-i-Pakistan to commemorate the Foundation Day of the Muslim League and the Muslim Students Federation.
The speakers further said that it was the 20th session of the All – India Muhammadan Educational Conference at Dhaka and the Muslim delegations from all over India were participating in it. After the Conference, they gathered at the same venue to from a political organisation of the Muslims. That is how the Muslim League was founded at Dhaka on December 30, 1906. The Muslim Students' Federation acted as its pioneering party throughout the struggle for independence.
The courage, valour and perseverance of the Muslim Students Federation young men cannot be over-emphasised. It is the need of the hour to recreate the same zeal and fervor in the youngsters in order to secure Pakistan honourable position in the comity of the nations, the speakers added.
The speakers included Nazaria-i-Pakistan Trust Vice Chairman Prof Dr Rafique Ahmad, Col (r) Muhammad Salim Malik, Begum Safia Ishaq, Rana Muhammad Arshad, Rana Tajammal Hussain and Shehzad Khan. The event was jointly organised by the Nazaria-i-Pakistan Trust and the Pakistan Movement Workers Trust.
The proceedings of the event were conducted by the Nazaria-i-Pakistan Trust Secretary Shahid Rasheed.
In his message, the Nazaria-i-Pakistan Trust chairman Muhammad Rafique Tarar observed that the Muslim League changed the map of South Asia by creating the largest Islamic State that commanded respect and honour in the Islamic world, especially the Middle East. By depriving the common people of sovereignty, the civil and military bureaucracy split the Muslim League into several factions.
The Muslim League would once again perform the task of the completion of Pakistan by following the Quaid-i-Azam's vision, he added.
Prof Dr Rafique Ahmad observed that in none of the revolutions that have taken place in the world, the youth of the country played so prominent a part as they young men amongst the Indian Muslims did during the Pakistan Movement. Under the charismatic personality of the Great Quaid, the young men, women and even the common masses were galvanised into action.
Full report at:
http://nation.com.pk/lahore/01-Jan-2016/tribute-to-muslim-league-leaders
------------
Afghan Taliban leader treated at SKMCH: Imran
January 01, 2016
ISLAMABAD - A senior leader of the Afghan Taliban militant movement was recently treated at the Shaukat Khanum Memorial Cancer Hospital in Lahore, Pakistan Tehreek-e-Insaf chairman and SKMCH founder, Imran Khan, said Thursday.
The PTI chairman said this in an exclusive interview with a private TV channel.
Sharing his successes, Khan said the inauguration of the Shaukat Khanum Cancer Hospital in Peshawar was one of his biggest achievements in the outgoing year.
Speaking about the management of the SKMCH Lahore, he said the hospital was so successful that even a senior Afghan Taliban leader went through treatment there.
Imran further said the Taliban, later, wrote him a letter, thanking him for their leader's treatment.
Full report at:
http://nation.com.pk/islamabad/01-Jan-2016/afghan-taliban-leader-treated-at-skmch-imran
------------
India
India, Pakistan look to tap trade as peace dividend
Sachin Parashar
Jan 1, 2016
NEW DELHI: As part of the new comprehensive bilateral dialogue mechanism, India is looking to give Pakistan preferential access to its large market under the South Asian Free Trade Area (SAFTA) regime provided Islamabad can keep its promise to give India MFN status, known in the neighbouring country as non-discriminatory market access (NDMA).
Pakistan, in fact, was on the verge of giving India NDMA in early 2014 before the Nawaz Sharif government backed out because of, according to Indian officials, pressure from the Pakistan Army.
Economic and commercial cooperation is one of the pillars of the comprehensive dialogue, as indeed it was under the composite dialogue process. Foreign secretary S Jaishankar is scheduled to travel to Islamabad on January 15 to discuss the modalities and schedule of the comprehensive bilateral dialogue with his counterpart Aizaz Ahmed Chaudhary.
India believes that Pakistan can greatly ease its foreign exchange constraints and provide stimulus to its exports with access to the Indian market. India also believes that trade normalisation could be one of the low hanging fruits after the leg-up to the relationship in the form of PM Narendra Modi's unexpected Lahore stopover.
After he came to power in 2013, Sharif had signalled that his government could look at reviving the September 2012 roadmap under which both countries were meant to initiate trade in gas and electricity to help Pakistan overcome its power woes. Late in 2013, according to India, the Sharif government did a complete turnaround over the issue as it perhaps felt that trade normalisation would perhaps be too much of a concession to the outgoing UPA government.
Pakistan though is likely to wait until Modi's visit to Islamabad later this year before taking any decision on NDMA to India. It continues to maintain that it is only seeking a level playing field with a view to making trade mutually beneficial. Pakistan high commissioner Abdul Basit said in November that non-tariff barriers on the Indian side were adversely impacting Pakistan's exports to India. India counters this by saying that Pakistan has never specifically spelt out these barriers. "As far as we know, Pakistan has only taken mentioned issues like poor connectivity with Lahore and the stringent visa regime,'' said an official.
The Sharif government for a brief while in early 2014 indicated that it could consider opening up the Wagah border for trade but later backtracked. According to Pakistani sources, Islamabad has not given up the idea but it will wait for India to make the right concessions to facilitate it.
Full report at:
http://timesofindia.indiatimes.com/india/India-Pakistan-look-to-tap-trade-as-peace-dividend/articleshow/50401045.cms
------------
Muslim family in Rajasthan shelters 600 cows for communal harmony
Zakir Hussain
Dec 31, 2015
With the country witnessing a fierce debate over perceived intolerance, a Muslim family in Rajasthan is doing its bit to maintain communal harmony, dedicating its life to the service of cows.
Phule Khan and his family, who hail from Ledi village in Ladnu tehsil, shelter around 600 cows. The practice, which started with 20 cows in 1995 by Phule's brother Aasu Khan, has two aims — providing shelter and fodder to abandoned cows and saving crops from being destroyed by stray cattle during harvesting seasons.
"We are working towards building a spirit of brotherhood among Hindus and Muslims. No nation can survive if there is a trust deficit between two communities. Hindus revere the cow and there is no harm if Muslims respect their sentiments," Phule said.
Quoting verses from the Quran, Khan said it is a Hadith (tradition and sayings of Prophet Muhammad) which records the Prophet as saying that consumption of beef is bad for health. "When such a Hadith exists, there is no room for further debate," the farmer added.
The family has welcomed the Rajasthan Cow Protection Act, which bans cow slaughter in the state. "The bulls are sold only to local farmers at heavily discounted prices with a written undertaking that the cattle would not be sold to butchers and would be returned once they grow old," Phule's brother Habib Khan said.
Full report at:
http://www.hindustantimes.com/india/muslim-family-shelters-600-cows-for-communal-harmony/story-dzgpz19zH91RqAlnK7n7dM.html
------------
ISI mole leaked info on 2 other exercises too
Raj Shekhar
Jan 1, 2016
NEW DELHI: The arrest of airman Ranjith K K has opened a can of worms for the police with the IAF employee revealing that not only had be given out details of Operation Indra Dhanush held in the UK but also classified information regarding Operation Live Wire on October 28, and another exercise, Operation Indra, to the 'honey-trap' going by the name of McNaught Damini. The latter information had compromised the movement of aircraft in the military exercises, he told sleuths.
Thursday's revelations have left the IAF brass alarmed, sources said. Military intelligence sources too confirmed Ranjith had shared the identity details and the photograph of the IAF officer who was assigned to be the commander of operation Indra Dhanush.
Incidentally, this officer, a group captain, was also the commander of TAC-DE (tactical and combat deployment establishment) Gwalior, an information Ranjith shared with the undercover agent. When contacted, joint commissioner (crime) Ravindra Yadav said, "Probe details can't be shared at this stage."
However, sources said these developments were recorded in Ranjith's confessional statement and will be shared with the court when he is produced next.
Ranjith also gave more details of his "love story" with McNaught, a terror operative moonlighting on Facebook with a fictitious identity and honey-trapping security personnel.
Ranjith said while their initial chats were limited to Facebook, Damini began pressing him to get on to Whatsapp and Skype. He was so fixated on her that he saved money and bought a new android phone for Rs 21,000 in January 2013 to be able to be in touch with her 24X7. He said he called her "jaanu" in chats and was called the same by the woman. He even discussed his family problems with her, Ranjit claimed.
Full report at:
http://timesofindia.indiatimes.com/india/ISI-mole-leaked-info-on-2-other-exercises-too/articleshow/50401461.cms
------------
Denied chief secy post, Rajasthan IAS officer converts to Islam, opts for VRS
by Mahim Pratap Singh
Jan 1, 2016
A senior IAS officer here publicly announced his decision to convert to Islam and applied for voluntary retirement from the services alleging victimisation by Rajasthan government.
Umrao Salodia, a 1978 batch officer, wrote to Chief Minister Vasundhara Raje expressing disappointment for purportedly being overlooked for the post of chief secretary.
"Under the Fundamental Right (to profess, practice and propagate any religion) guaranteed by Article 25 (I) of the Constitution of India, I have converted myself from Hinduism to Islam religion today, the 31st December," the officer wrote in his handwritten public declaration. "After conversion, my name is Umrao Khan," he added.
Full report at:
http://indianexpress.com/article/india/india-news-india/rajasthan-ias-officer-converts-to-islam-says-feeling-victimised/
------------
Javeed Ahmed appointed new Uttar Pradesh DGP
Jan 01, 2016
Javeed Ahmed, a 1984 batch Indian Police Service officer, was on Friday appointed as the director general of police by the Uttar Pradesh government.
Ahmed, who had earlier served as the joint director of the Central Bureau of Investigation during central deputation, was serving as the director general (railways). The post fell vacant after Jagmohan Yadav retired on Thursday.
State principal secretary (home) Debashish Panda said Ahmed will take the charge on Friday.
There was a race among IPS officers for the top post after Yadav's retirement. The officers played all the cards - caste, religion, loyalty to the ruling party, experience as well as closeness to the family members of the ruling Yadav family - to outdo each other for the coveted post.
Full report at:
http://www.hindustantimes.com/india/javeed-ahmed-appointed-as-new-uttar-pradesh-dgp/story-rp5h6ISnL9KMC1OQ2HrrOO.html
------------
Jamaat Ulema-e-Hind's Drive to fight for 'unfulfilled promises' to Muslims in UP
Jan 1, 2016
LUCKNOW: Jamaat Ulema-e-Hind general secretary Maulana Mehmood Madani said on Thursday the Samajwadi Party government in Uttar Pradesh had failed to fulfill promises it made to Muslims during the state polls. Madani also announced a "massive campaign" in Uttar Pradesh to remind the ruling party of its unfulfilled promises.
"Akhilesh Yadav government has completed four years but failed to deliver on electoral promises made to Muslims. This government is useless and incompetent. If they fail in fulfilling them in time left with them, people will teach them a lesson in the Assembly polls," Madani said. He also said the Samajwadi Party had promised to put pressure on the Centre to implement the Sachchar and Rangnath Mishra committee recommendations after it came to power. Nothing, however, was done.
Full report at:
http://timesofindia.indiatimes.com//articleshow/50400100.cms?
------------
Singer Adnan Sami receives Indian citizenship certificate
January 1, 2016
Mumbai: Noted singer Adnan Sami, who is of Pakistani descent, on Friday received his certificate of Indian citizenship from Minister of State for Home Kiren Rijiju here. He has described it as a "new birth".
Sami also thanked Prime Minister Narendra Modi and union Home Minister Rajnath Singh for granting him the Indian citizenship.
"A new beginning. A new feeling. A new belonging. A new love affair. A new country. Jai Hind," tweeted Sami, who was born in Britain and was earlier a Canadian citizen.
He also tweeted a photograph of himself while receiveing the certificate from Rijiju. "Receiving my Indian Citizenship Certificate of Naturalisation from MOS Home Affairs @KirenRijiju ji. Huge Thanks," he captioned the image.
"My profound thanks to honourable Prime Minister @narendramodi ji for approving my Indian citizenship. A new birth. I'm highly indebted to the Honourable Home Minister @BJPRajnathSingh ji for his tremendous support in granting me Indian citizenship," added Sami, who looked dapper in a black bandhgala, and was accompanied by hisr wife Roya Faryabi.
Full report at:
http://www.siasat.com/news/singer-adnan-sami-receives-indian-citizenship-certificate-895183/
------------
Mideast
Turkey won't relent in offensive against Kurd rebels, vows Erdogan
Jan 1, 2016
ISTANBUL: Turkish security forces killed 3,100 Kurdish militants in 2015, President Recep Tayyip Erdogan said on Thursday, vowing no let-up in a relentless offensive to oust rebels from towns and mountains in the southeast.
His remarks, which were part of a televised New Year's address, come as alarm grows over the humanitarian impact of curfews in the southeast to back up the latest military campaign against the outlawed Kurdistan Workers Party (PKK) that began earlier this month.
"In 2015, 3,100 terrorists were neutralised in operations at home and abroad," he said referring to the military operations on PKK strongholds in southeastern Turkey and northern Iraq.
"Our security forces are flushing out the terrorists from every inch of the mountains and the towns and will continue to do so," he said.
It was not possible to independently verify the toll. Erdogan said another 200 members of the security forces had been killed, as well as an unspecified number of civilians.
A new upsurge of violence between the security forces and Kurdish rebels erupted in July in the wake of attacks blamed on Islamic extremists, shattering a fragile two-and-a half year truce.
The authorities sent tanks into the southeast and also carried out bombing raids on PKK storage facilities and hideouts in southeast Turkey and northern Iraq.
In the latest operations, curfews imposed on December 14 are still in place in the towns of Silopi and Cizre in Sirnak province which normally have populations of some 100,000. A partial curfew is also in force in the Sur district of the Diyarbakir region which was put in place on December 2.
Ankara says the extreme measures are needed to root out the PKK from urban areas where they had erected barricades and dug trenches. But opponents say the use of force has been excessive.
Full report at:
http://www.dawn.com/news/1229934/turkey-wont-relent-in-offensive-against-kurd-rebels-vows-erdogan
------------
Iran Gears Up Missile Program for Faster Growth in Response to New US Sanctions
Dec 31, 2015
President Rouhani noted the United States' "hostile policies and illegal and illegitimate meddling against Iran's right to develop its defensive power", and ordered the defense minister to accelerate production of various types of missiles needed by the Iranian Armed Forces more powerfully.
"As the United States seems to plan to include the names of new individuals and firms in its previous list of cruel sanctions in line with its hostile policies and illegitimate and illegal meddling in the Islamic Republic of Iran's right to reinvigorate its defense power, the program for the production of the Armed Forces' needed missiles is required to continue more speedily and seriously," President Rouhani's written order to the Defense Minister read.
President Rouhani's decree came in reaction to the US Treasury Department's announcement that it is preparing sanctions on two Iran-linked networks helping develop the missile program.
The presidential decree also required the defense ministry to think of new missile production programs at a much wider scale in case Washington continues its sanctions policy against Iran's defense industries.
"In case such wrong and interventionist measures are repeated by the United States, the Defense Ministry will be duty-bound to make use of all possibilities to bring up new planning to develop the country's missile capability," it stressed.
The president further described Iran's defense capabilities as a contributor to regional stability and security, and not a threat to any other state or party. Rather it is a means to "safeguard the country's sovereignty, independence and territorial integrity and to combat the evil phenomenon of terrorism and extremism in line with common regional and global interests".
President Rouhani further reminded that Tehran has time and again underlined all throughout the nuclear negotiations with the six world powers - that ended up in the nuclear deal in Vienna in July - that it would "never negotiate with anyone about its defense power, including the missile program, and would never accept any restriction in this field, emphasizing its entitlement to the legitimate right of defense".
"It is crystal-clear that Iran's missile program is not at all a part of the Joint Comprehensive Plan of Action (JCPOA) - also known as the nuclear deal - and this is acknowledged by the US officials as well," said the decree, and added, "As repeatedly stated, nuclear weapons have no room in Iran's defense doctrine, and therefore, the development and production of Iran's ballistic missiles which have never been designed to carry nuclear warheads, will continue powerfully and firmly as a crucial and conventional tool for defending the country."
According to Washington officials, the US is preparing sanctions against firms and individuals in Iran, Hong Kong and the United Arab Emirates over alleged links to Iran's ballistic missile program, a move seen by many in and outside Iran as a major blow to the nuclear deal between Tehran and the 5+1 group of powers that include the US, Russia, China, France and Britain plus Germany.
Full report at:
http://en.farsnews.com/newstext.aspx?nn=13941010000886
------------
Senior militia leader killed in Aden, Gen survives attack
January 01, 2016
ADEN - Gunmen shot and killed a senior Yemeni militia leader and four people travelling in his convoy in the southern city of Aden, residents and militia sources said on Thursday.
Assailants in a car and on a motorcycle opened fire on the motorcade of Ahmed al-Idrisi, a top commander in the pro-government Popular Southern Resistance group, while it travelled on a main road in the Mansoura district late on Wednesday.
The attack underscoring security chaos in the city which is the embattled Yemeni government's temporary capital.
Meanwhile, a senior pro-government Yemeni army commander survived a car bombing in second city Aden on Thursday that left one of his bodyguards dead, a military official told AFP. General Ahmed Saif al-Yafie, commander of the Fourth Military Region, escaped unharmed when an explosive device planted in his vehicle blew up killing a bodyguard, the source said.
There was no immediate claim of responsibility for the attack and the military official did not blame any group for the bombing.
Idrisi's militia is a main ally of a mostly Gulf Arab coalition which has been bombing the Iran-allied Houthi movement based in the capital, Sanaa, in Yemen's north.
The alliance intervened in the country's civil war on March 26 in support of President Abd-Rabbu Mansour Hadi's government.
In a separate incident, gunmen abducted the dean of a department at Aden University on Thursday, faculty and eyewitnesses said, two days after armed militants stormed the campus and demanded men and women not mix in classes.
Staff closed the university in a protest against Dr. Saleh Mubarak's kidnapping and demanded the government do more to improve security, faculty of arts dean Mohammed Abdul Hadi said.
Full report at:
http://nation.com.pk/international/01-Jan-2016/senior-militia-leader-killed-in-aden-gen-survives-attack
------------
Palestinian rams Israeli forces with car, shot dead
January 01, 2016
JERUSALEM - A Palestinian drove his car into Israeli forces in the northern West Bank on Thursday before being shot dead, the Israeli army said.
"A Palestinian attacker rammed his vehicle into forces securing routes near Huwara and wounded a soldier," an army statement said, referring to a checkpoint near Nablus in the north of the occupied West Bank. "The assailant was shot by forces on site, resulting in his death."
Israeli medical services said they were treating a soldier who was lightly wounded. The attack was the latest in three months of assaults by Palestinians on Israelis, as well as clashes between Palestinian youths and Israeli soldiers.
Since the violence erupted at the start of October 137 Palestinians, 20 Israelis, an American and an Eritrean have been killed, according to a AFP count.
The majority of the Palestinians were killed while carrying out attacks. Huwara, to the south of Nablus, has been among the flashpoints.
Two Palestinians were shot dead on Sunday in the area after stabbing an Israeli soldier.
Full report at:
http://nation.com.pk/international/01-Jan-2016/palestinian-rams-israeli-forces-with-car-shot-dead
------------
Saudi Arabia's Strategic Airport in Asir Comes under Yemen's Ballistic Missile Attack
Dec 31, 2015
Military sources said that the missile hit the target with high precision and "caused heavy damage to the airport".
It was the tenth Qaher-I ballistic missile fired at the Saudi targets in the past 20 days, meaning that Yemen targeted its enemy with one ballistic missile every other day, they added.
Wednesday reports also said that the Yemeni army and popular forces launched a fresh round of attacks on the Saudi forces' positions in the province of Jizan in the Southern part of the kingdom with their upgraded ballistic missiles.
Yemen's Qaher-I ballistic missile precisely hit Saudi Arabia's military bases in Jizan province, inflicting heavy losses on them.
Tens of Saudi troops were killed and dozens more were injured in the missile attack.
Qaher-I is an updated version of a Russian-made surface-to-surface missile.
On Tuesday, the Yemeni army and popular forces targeted Saudi Arabia's Aramco Oil Company in Jizan with Qaher-I ballistic missiles for a second time in less than two weeks.
"The (Qaher-I) missile precisely hit Aramco oil company on Monday night," the Arabic-language media outlets quoted an unnamed Yemeni army official as saying.
He reiterated that the missile attack came in retaliation for the Saudi-led aggressors' violation of the UN-sponsored ceasefire.
Yet, the source did not give further details about the damage incurred on Aramco Company.
On December 21, the Yemeni forces also hit Aramco Oil Company with Qaher-I ballistic missile
The ballistic missiles that have recently come into service in Yemen's army have claimed a heavy toll from the Saudi side of the war. Only in the last one week, around 550 Saudi-led troops have been killed by these ballistic missiles.
Earlier this month, the Yemeni army's ballistic missiles hit Saudi Arabia's National Guards Base in the city of Najran in the Southern part of the kingdom.
The Qaher-I missile strike incurred heavy losses on the Saudi troops in Najran province.
Military sources announced on December 22 that the Yemeni army and the popular forces pounded targets in Al-Khuba region in Saudi Arabia's Southern Jizan province with hundreds of home-made missiles and rockets.
Full report at:
http://en.farsnews.com/newstext.aspx?nn=13941010000504
------------
Iran to stand by Iraq, Syria in anti-terror fight: Official
Dec 31, 2015
A senior Iranian official has reiterated the Islamic Republic's support for Syria and Iraq in their fight against terrorism, stressing that there is "no military solution" to the ongoing crises gripping the two Arab countries.
In an exclusive interview with PressTV, Ali Akbar Velayati, a senior adviser to Leader of the Islamic Revolution Ayatollah Seyyed Ali Khamenei, said Iran will continue to stand by Syria and Iraq in their anti-terror battles at the behest of the governments in Baghdad and Damascus.
"The security of [the] region is the security of Iran," said Velayati, adding, "If Iraq or Syria or any other neighboring country is in danger…, we should not remain indifferent. So...on the base of the request of the legal governments of Baghdad and Damascus, we have tried to help these two governments to fight against terrorism."
Referring to the international talks on the crisis in Syria, Velayati said the Islamic Republic only supports intra-Syrian dialogue aimed at ending the violence in the Arab state, rejecting any negotiations with terror groups.
The Iranian official further emphasized that it is up to Syrians themselves to decide the future of their country.
The comments come as diplomatic efforts are underway at the international level to help resolve the deadly turmoil which has claimed over 250,000 lives in Syria since 2011.
Three rounds of UN-backed negotiations have so far been held in Vienna and New York on the situation in Syria since October. A fourth session is also scheduled to be held in Geneva, Switzerland, in late January.
The participating states, including Iran, are trying to work out a list of legitimate opposition groups, as opposed to terrorists, in Syria to engage in talks with the government in Damascus.
Foreign ministers vote during a UN Security Council meeting on Syria in New York, December 18, 2015. ©AFP
The UN Security Council on December 18 adopted a resolution supporting an international roadmap for peace in Syria. The resolution called for a nationwide ceasefire in Syria and the formation of a "credible, inclusive and non-sectarian" government within six months and UN-supervised "free and fair elections" within 18 months.
Velayati, who is also the president of the Center for Strategic Research of Iran's Expediency Council, further hailed Russia's military engagement against terrorists in Syria, which came at the request of the legitimate Syrian government.
Full report at:
http://www.presstv.ir/Detail/2015/12/31/443975/Iran-Ali-Akbar-Velayati-Iraq-Syria-Saudi-Yemen-Talks-/
URL: https://www.newageislam.com/islamic-world-news/new-age-islam-news-bureau/gaddafi-tried-marry-son-saif-al-islam-gaddafi-putin-s-daughter/d/105830
New Age Islam, Islam Online, Islamic Website, African Muslim News, Arab World News, South Asia News, Indian Muslim News, World Muslim News, Womens in Islam, Islamic Feminism, Arab Women, Womens In Arab, Islamphobia in America, Muslim Women in West, Islam Women and Feminism, Islamic World News