New Age Islam News Bureau
16 Jul 2015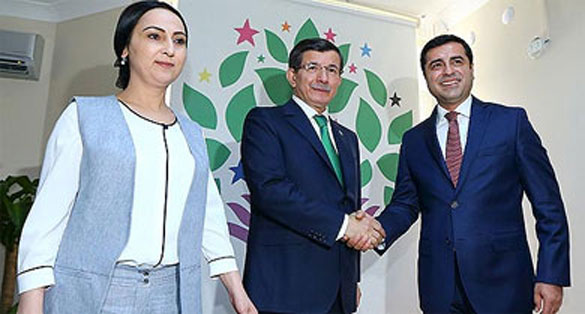 Prime Minister Ahmet Davutoglu (C) meets co-chairs of the pro-Kurdish HDP, Selahattin Demirtas (R) and Figen Yüksekdag, as part of the first round of coalition talks on Wednesday. (Photo: Reuters)
-------------
Arab World
• Fresh ISIS Horror As 10-Year-Olds Used As Cold-Blooded Executioners
• U.S. delivers Iraqi antiquities seized in raid on Islamic State
• US, allies target Islamic State with 27 air strikes in Syria, Iraq
• Fresh ISIS horror as 10-YEAR-OLDS used as cold-blooded executioners
• Kuwait seeks to execute 11 for Islamic State mosque bombing
• 'Persian Gulf Arab states to blame for potential Morsi execution'
• Egyptian cabinet agrees to revise 'anti-terror' law
• Shells fired from Yemeni territories fall into border village
• More than 50 Islamic State child soldiers killed in Syria in 2015
• Militants clash with Egyptian coastguard, setting boat on fire
• Worshippers at Mecca have given non-Muslims a unique and intimate insight into one of Islam's holiest nights by sharing images from inside the city
• Islamic State's chief song-writer killed in airstrikes: Report
-------
Pakistan
• No Unregistered Madressahs Sealed In Karachi, Many Other Districts
• Seeking their rights: Forced conversions still an issue for Hindus in Sindh
• Four Militants, key commander surrender in Balochistan's Sui
• APS attack victims have united nation, says army chief
• Lockheed Martin to upgrade Pakistan's F-16 fleet
------
South Asia
• China to prosecute 'cult leader' amid religious group purge
• Drone strike kill 10 Haqqani network militants in Wardak
• Maidan Wardak will have a clean-up drive at the end of each month
• Will Afghan Peace Talks Deliver Concrete Results?
• Bangladesh arrests man for 'filming' boy's lynching
• Senior police officer gunned down in Kandahar
• Bomb blast leaves two civilians wounded in Kabul
------
Mideast
• Yemen army, allied fighters deal major blow to al-Qaeda, pro-Hadi militants
• Iran says nuclear deal ends 'manufactured crisis'
• Davutoglu completes first round of talks, AK Party-CHP emerges as only coalition option
• Muslim Scholars Use Ramadan to Push for an Islamic Renewal
• Israeli air strike hits Gaza Strip after militant rocket launch
• Iranian deal will usher in regional security, hopes OIC
• Bahrain hits back at U.S. human rights criticism
-----
India
• Major announcement soon for empowerment of minorities: Minister
• Ahmadiyya Muslims meet HM, seek Indian citizenship for Pak women married in India
• J&K Separatist leader Geelani says 'No' to Pak High Commission's invite for Id Milan celebrations
• Yakub Memon will be hanged on 30 July: This act of 'justice' will alienate Indian Muslims even more
• Kashmiri leaders irked by omission of Kashmir from Ufa statement
• Pakistan summons Indian envoy over 'spy drone' issue
• Both India and Pakistan need to ease trade restrictions
• Four killed in Indian BSF firing: ISPR
• Ceasfire violations won't affect peace talks: Pak FO
--------
Europe
• Tory MP, Nadhim Zahawi, behind ISIL oil trade
• UK fighting 'Battle of Britain' against Islamic State by sending SECOND spy plane to Syria
• Iran nuclear deal: what Britain's national newspapers think
• 17-year-old Austrian found guilty of joining Islamic State
-------
North America
• US Senator Mark Kirk says Obama 'sold out' Israel on nuclear agreement with Iran
• Iran must be part of Syria solution: Obama
• American Muslims Fight Stereotypes
-------
Africa
• Tunisian winemakers remain upbeat despite concerns
Compiled by New Age Islam News Bureau
URL: https://www.newageislam.com/islamic-world-news/new-age-islam-news-bureau/fresh-isis-horror-as-10-year-olds-used-as-cold-blooded-executioners/d/103924
--------
Arab World
Fresh ISIS Horror As 10-Year-Olds Used As Cold-Blooded Executioners
By REBECCA PERRING
Thu, Jul 16, 2015
Amid one of the biggest massacres ever committed by ISIS extremists in Tikrit, Iraq last year, the young boy is captured shooting at least two men in the head with a pistol.
As the prisoners' desperately plead for their lives, the child pulls the trigger leaving the men's limp bodies to be thrown into the river, which immediately runs red with blood.
The footage of the boy executioner is part of a longer and graphic 22-minute video, which records the Speicher massacre last year - which left an estimated 1,700 dead and is said to be the single greatest atrocity in Iraq since the American-led invasion in 2003.
The sickening video also shows scores of young men begging for mercy before they are forced to kneel close to shallow graves and riddled with bullets.
Others are executed individually as the murders continue into the night.
This is a message I address to the whole world and especially to the Rafidha dogs, I tell them we are coming
ISIS militant
Hundreds of men were marched from the Speicher army base before being loaded onto trucks by ISIS fanatics.
They were then executed at various locations, mostly in the city's former presidential palace complex, which was built by former dictator Saddam Hussein.
Around 600 bodies have been exhumed since Government and allied fighters retook Tikrit from the terror group in April - but many of the victims were dumped in the Tigris River.
An ISIS leader, wearing a military uniform, is captured in the video released on Saturday saying: "This is a message I address to the whole world and especially to the Rafidha dogs, I tell them we are coming."
http://www.express.co.uk/news/world/591529/Islamic-State-child-executioner-video-ISIS-Syria-Iraq-Speicher-massacre
------
U.S. delivers Iraqi antiquities seized in raid on Islamic State
By Saif Hameed
BAGHDAD Wed Jul 15, 2015(Reuters) - The United States handed back to Iraq on Wednesday antiquities it said it had seized in a raid on Islamic State fighters in Syria, saying the haul was proof the militants were funding their war by smuggling ancient treasures.
The Iraqi relics were captured by U.S. special forces in an operation in May against an Islamic State commander known as Abu Sayyaf. They included ancient cylindrical stamps, pottery, metallic bracelets and other jewellery, and glass shards from what appeared to be a coloured vase.
The haul also included early Islamic coins.
Islamic State, a hardline Sunni Islamist group, has ransacked some of the greatest archaeological sites in northern Iraq, posting video footage of fighters destroying pre-Islamic monuments they consider idolatrous.
Iraqi officials have been unable to verify the full extent of damage at the sites under Islamic State control, but they have said that footage of the destruction was published in part to distract attention from the fact Islamic State is smuggling antiquities to raise cash.
"This is the first tangible evidence that Daesh are selling artefacts to fund their activities," U.S. ambassador Stuart Jones, said, referring to Islamic State by its Arabic acronym.
"Their goal is to sell these antiquities on the global black market," he told reporters at Baghdad's national museum where the items were handed over.
Abu Sayyaf, who was killed in the raid, was described by U.S. officials at the time as an Islamic State commander responsible for the group's oil and gas sales.
He was killed south-east of the city of Deir al-Zor, near Syria's main oil fields and about 100 km (60 miles) from the Syria-Iraqi border across which Islamic State declared its "caliphate".
"Today's effort represents one success in the efforts to return Iraq's historic patrimony, but the campaign to return all of Iraq's treasures continues," Jones said.
Islamic State fighters have desecrated ancient Assyrian and Graeco-Roman palaces in northern Iraq including the 2,700-year-old Assyrian capital of Khorsabad, the cities of Nimrud and Nineveh and the desert complex at Hatra.
Iraqi officials have appealed for international help to protect the sites, asking why the U.S.-led coalition which has been bombing Islamic State bases and convoys across Iraq and Syria has not deployed its air power in defending the ancient treasures.
Jones said that, in the absence of forces on the ground, aerial bombardment near the remains would have limited effect and could be self-defeating.
"The coalition does not have boots on the ground and certainly using air strikes on targets like that can be damaging to the patrimony of Iraq," he said.
(Writing by Dominic Evans; Editing by Robin Pomeroy)
http://af.reuters.com/article/worldNews/idAFKCN0PP0Y020150715?pageNumber=2&virtualBrandChannel=0
-------
US, allies target Islamic State with 27 air strikes in Syria, Iraq
15 Jul 2015
WASHINGTON: U.S.-led forces conducted 20 air strikes in Iraq on Monday against Islamic State forces, concentrating on the Anbar province cities of Ramadi and Falluja, and seven more in Syria, the Combined Joint Task Force leading the air operations said on Tuesday.
In Iraq, air strikes using bomber, attack, and fighter-attack aircraft were conducted near Falluja, Habbaniyah, Haditha, Makhmur, Mosul, Ramadi, Sinjar and Tal Afar, the statement said. Six of the air strikes were near Falluja and five near the provincial capital Ramadi, the statement said.
In Syria, air strikes using bomber, fighter and drone aircraft were conducted near Al Hasakah, Aleppo and Dayr Az Zawr, the statement said.
Iraqi troops and Shi'ite Muslim militia forces also attacked Islamic State fighters on several fronts on Monday in Anbar province.
(Reporting by Will Dunham; Edting by Bill Trott)
http://www.channelnewsasia.com/news/world/us-allies-target-islamic/1984754.html
------
Kuwait seeks to execute 11 for Islamic State mosque bombing
JULY 15 2015
Kuwait will seek to execute 11 people accused of involvement in an Islamic State-claimed bombing last month at a Shiite mosque that left 26 worshippers dead, a newspaper reported Wednesday.
Kuwait's prosecutor has sent 29 people - including a number of foreigners - to criminal court to face a range of charges.
Only two, however, are facing charges of premeditated murder, the state-run Kuna news agency reported, while the rest are accused of a range of crimes, from incitement to joining an illegal extremist group.
The al-Qabas newspaper in Kuwait quoted a source as saying the prosecutor is demanding that 11 of the defendants face the death penalty. The Islamic State group, a Sunni extremist militia, has formally claimed the attack.
On the same day of the Kuwait attack, an Islamic State militant also launched an attack against tourists in Tunisia, killing 38 people, while sympathizers of the group beheaded a person in France.
http://dalje.com/en-world/report--kuwait-seeks-to-execute-11-for-islamic-state-mosque-bombing/550221
--------
'Persian Gulf Arab states to blame for potential Morsi execution'
Jul 16, 2015
A leading figure of Egypt's Muslim Brotherhood movement has condemned the position of certain Arab states of the Persian Gulf on the potential execution of deposed Egyptian president Mohamed Morsi.
Yehia Hamed, who worked as investment minister in Morsi's administration, and was the youngest minister in his democratically elected government, specifically pointed fingers at Saudi Arabia, a Press TV correspondent reported.
In press statements published in regional media outlets on Thursday, Hamed said he considered the silence of these countries "a green light" for the military-backed government of former army chief and now president Abdel-Fattah el-Sisi to go ahead with the execution of Morsi.
Addressing the leaders of the Persian Gulf Arab states, Hamed who is now in Turkey, reportedly said, "Your silence is unacceptable, and cannot be justified, or comprehended."
The former official said Sisi's government was after Morsi's head because it wanted to rid itself of what he called the "sword of Morsi's legitimacy."
He also said that if the former leader is ever executed, "Morsi's blood will be a curse upon Sisi and his entire regime, as well as upon all of his aides and allies."
Hamed finally warned of what he called "a regional earthquake that only God knows its extent," if Morsi's death sentence is implemented.
Saudi Arabia and the United Arab Emirates are accused by the Brotherhood of collaboration in the process of Morsi's overthrow.
Morsi was among more than 100 defendants ordered by a court in Egypt on May 16 to face the death penalty for a mass prison break in 2011 during the country's revolution against long-time dictator Hosni Mubarak.
http://www.presstv.in/Detail/2015/07/16/420511/Muslim-Brotherhood-former-Egyptian-President-Mohamed-Morsi-
-------
Egyptian cabinet agrees to revise 'anti-terror' law
Jul 16, 2015
Egypt has agreed to revise a controversial article in an 'anti-terror' law, which threatens to imprison journalists for at least two years over their reporting on terrorist attacks in the country.
The Middle East News Agency (MENA) reported on Wednesday that the Egyptian cabinet agreed to replace the envisaged jail sentence with a heavy fine.
"The cabinet has agreed... to remove the prison sentence under Article 33 and replace it by strengthening the fine, which can range from 200,000 to 500,000 Egyptian pounds [between 23,000 and 58,000 euros, or 25,500 to 64,000 dollars]," MENA quoted government spokesman Hossam al-Qawish as saying.
The article threatened to imprison journalists for the publication of "false information on terrorist attacks that contradict official statements."
It was introduced by the State Council shortly after the assassination of State Prosecutor Hisham Barakat, and a series of militant attacks that left at least 21 Egyptian soldiers dead in the Sinai Peninsula back in June.
The bill is presented as part of a crackdown on militants who have been carrying out attacks in the country since the ouster of Egypt's first democratically elected president, Mohamed Morsi, by the army in July of 2013.
The anti-terrorism law aims to further empower prosecutors to detain suspects for long periods of time and allow authorities to inspect the bank accounts of those accused of terror-related charges.
It was approved by the government on July 1, and is yet to be ratified by Egyptian President Abdel Fattah el-Sisi.
The move by Cairo to make changes to the bill comes after human rights group Amnesty International slammed the law, calling it a "strike at the very heart of basic freedoms" in a recent report.
"The draconian new measures would effectively place a gag order on journalists attempting to independently report facts as they perceive them. It is a plain effort by the authorities to blackmail and intimidate journalists who challenge the official narrative," Said Boumedouha, Amnesty's deputy Middle East and North Africa director, said.
Last month, Egypt's syndicate of journalists called on Sisi to express a clear stance on the crackdown on media by the country's police and the judiciary.
Cairo has already been under pressure over its harsh crackdown on peaceful anti-government protesters and supporters of the Muslim Brotherhood movement since the ouster of Morsi, which has left more than 1,000 people dead.
http://www.presstv.in/Detail/2015/07/16/420481/Egypt-antiterror-law-journalists-Hossam-alQawish
------
Shells fired from Yemeni territories fall into border village
July 16, 2015
ABHA – Four shells fell from the Yemeni side of the border area on to Irq Baidhan village in Dhahran Al-Janoub governorate at 6.38 pm Wednesday. Three of the shells fell on farms and the fourth fell into a mud house where a Yemeni family is staying. This led to the death of the head of the family in his thirties and injury of a 4-year-old girl, who was rushed to the hospital, Saudi Press Agency (SPA) quoted Maj. Riyadh Al-Shehri, deputy spokesman of the Civil Defense in Asir region as saying. — SPA
http://www.saudigazette.com.sa/index.cfm?method=home.regcon&contentid=20150716250597
-------
More than 50 Islamic State child soldiers killed in Syria in 2015
July 15, 2015
Beirut: More than 50 child soldiers recruited by the Islamic State group in Syria have been killed since the beginning of this year, a monitoring group said Wednesday.
The Syrian Observatory for Human Rights said it had documented the deaths of 52 child soldiers, all under the age of 16, who had been part of IS`s "Cubs of the Caliphate" program.
The programme provides intense military and religious training to children throughout IS`s areas of control in Syria, the Britain-based Observatory said.
As many as 31 were killed in July alone, in explosions, clashes, and air strikes by Syria`s regime and the US-led coalition.
The child soldiers are used to man checkpoints or gather intelligence from areas outside IS control, but IS has been increasingly using them to execute prisoners or conduct suicide attacks.
So far this year, IS has used eight children as suicide bombers, most recently in its fight against Kurdish militia in northeastern Syria.
"This shows that Daesh is exploiting the suffering of the Syrian people," said Observatory head Rami Abdel Rahman, using the Arabic acronym for IS.
"When a child reaches the point of becoming a suicide bomber, this means that he`s been completely brainwashed," Abdel Rahman told AFP.
The Observatory said it had received information on dozens more children killed, but that it could not confirm their deaths.
Since the beginning of 2015, IS has recruited more than 1,100 children.
Also on Wednesday, Human Rights Watch criticised the Kurdish People`s Protection Units (YPG), which is fighting IS in Syria, of failing to meet a commitment to stop using children in combat.
It said the YPG had demobilised some children since June 2014, but that it was still using both boys and girls under 18 as fighters.
"The YPG promised to stop sending children to war and it should carry out its promise," said Fred Abrahams, HRW special adviser.
"Of course the Kurdish forces are fighting groups like IS that flout the laws of war, but that`s no excuse to tolerate abuses by its own forces."
HRW said many armed groups in Syria were using child soldiers, but that it hoped the YPG would "do more to stop the practice."
Syria`s conflict began in 2011 with anti-government protests, which degenerated into a civil war that has killed more than 230,000 people and forced millions to flee. AFP
http://zeenews.india.com/news/world/more-than-50-islamic-state-child-soldiers-killed-in-syria-in-2015_1630615.html
-------
Militants clash with Egyptian coastguard, setting boat on fire
Reuters
CAIRO (Reuters) - Militants exchanged shots with an Egyptian coastguard vessel in the Mediterranean Sea on Thursday, causing it to catch fire, the military said in a statement.
There was no immediate claim of responsibility for the attack on the coast of northern Sinai, an area bordering Israel and the Gaza Strip.
Such incidents at sea are rare, though Egypt is battling an Islamist insurgency in the region. On July 1, 100 militants and at least 17 members of the security forces were killed in a single day of clashes.
"The (coastguard) launch crew suspected the movements of some terrorist elements on the coast, so it chased (them) and exchanged gunfire, which led to the launch catching fire without loss of life," said the statement posted to Facebook.
Military sources said the suspected militants had fled after firing on the vessel.
A Reuters witness in Gaza saw a plume of dark grey smoke rising from a boat off the coast. Other witnesses in the Palestinian enclave said they heard explosions and gunfire.
An Israeli military spokeswoman said Israel was not involved in the incident and had not been asked to assist.
In November, four assailants were killed and 32 people detained when gunmen in a fishing boat opened fired on an Egyptian naval launch north of Damietta port, near the Suez Canal and west of Thursday's incident.
(Reporting by Stephen Kalin; Additional reporting by Nidal al-Mughrabi and Salah Salem in Gaza and Ori Lewis in Jerusalem; Editing by Mark Trevelyan)
https://in.news.yahoo.com/militants-clash-egyptian-coastguard-setting-boat-fire-112422977.html
--------
Worshippers at Mecca have given non-Muslims a unique and intimate insight into one of Islam's holiest nights by sharing images from inside the city
ROSE TROUP BUCHANAN 14 July 2015
Muslims were able to collaborate and share personal videos of Mecca using Snapchat's Live Story feature, which collects submitted clips and splices them together before releasing the best footage to all 100 million Snapchat users.
The social media giant's decision was prompted by an online campaign from hundreds of thousands of Saudi Muslims to live stream the event, the BBC reported over the weekend, under the hashtag 'Mecca_live'.
It allowed a rare glimpse into Mecca, the birthplace of the Prophet Mohamed, for non-Muslims who are not allowed to enter one of Islam's holiest cities.
On Monday, more than a million people tweeted out under the hashtag, celebrating the 'live' story which featured worshippers in the city, people in prayer and the joyful atmosphere in the city.
Muslims tweeted their thanks to Snapchat for streaming the event, as non-Muslims celebrated the peaceful and "beautiful" portrayal of the Islamic faith.
Social media was also deluged by Muslims inside Mecca tweeted photographs and short clips. Tens of thousands of tweets about Mecca were posted on Monday night, according to analyst website Topsy.
Millions of Muslims journey to Mecca every year for the culmination of the holy night of Ramadan. The Saudi Arabian city's population almost trebles during the festivities.
http://www.independent.co.uk/news/world/snapchat-streams-mecca-live-as-thousands-share-incredible-images-of-holiest-city-in-islam-10387880.html
------
Islamic State's chief song-writer killed in airstrikes: Report
Wednesday, 15 July 2015
Islamic State's chief song- writer, known for penning jihadi hymns that are regularly played as background music in the terror group's videos, has been killed in airstrikes in Syria, according to a media report.
Maher Meshaal, also known as Abu Hajar al-Hadrami, a Saudi National, was killed Saturday in airstrikes south of the city of Al Hasaka in eastern Syria, CBS NEWS reported citing supporters of the Islamic State of Iraq and Syria (ISIS).
Meshaal is the author of jihadi hymns such as "Saleel al-Sawarem" and "Halomoo Halomoo O' lions of war," which are regularly played as background music in combat and execution videos released by ISIS.
Songs such as "Saleel al-Sawarem" celebrate "martyrdom" of ISIS jihadists.
After spending five years working as an Islamic chant singer and later a mosque imam in Riyadh, Meshaal joined the Islamic State in April 2013, according to an earlier report in the Saudi Gazette. He reportedly participated in the celebrations of pledging allegiance to Islamic State leader Abu Bakr Al-Baghdadi.
The US has intensified its airstrikes in Iraq and Syria over the weekend. It has been pounding Hasaka and surrounding areas where ISIS has a stronghold. On June 25, ISIS seized two southern neighbourhoods in Hasaka from pro-government forces, who share control of the city with Kurdish militia.
http://www.dnaindia.com/world/report-islamic-state-s-chief-song-writer-killed-in-airstrikes-report-2104823
------
Pakistan
No Unregistered Madressahs Sealed In Karachi, Many Other Districts
By Hasan Mansoor,16 July, 2015
The closure of only 28 unregistered seminaries in Benazirabad and 139 in Hyderabad since the launch of a province-wide operation against 1,423 unregistered seminaries has displeased the authorities who have directed the law-enforcers to 'go for a fierce hunt', it emerged on Wednesday.
At least 579 unregistered madressahs — two dozens of them being allegedly involved in extremism — have been functioning in Karachi besides hundreds of others elsewhere in the province, but the law-enforcers appear to be reluctant to take action against them because of the street power many of them wield and the support they get from religious groups and parties, according to officials.
The progress was reviewed at the latest meeting of the apex committee which discussed the issue threadbare and such figures disappointed both Sindh Chief Minister Syed Qaim Ali Shah and Corps Commander Lt Gen Naveed Mukhtar who said the situation should have been much better than what was being presented before them.
A report prepared by the Sindh Police and submitted to the home department shows that just 167 unregistered madressahs — 139 in Hyderabad and 28 in Benazirabad — have been sealed by the authorities so far. They included 95 Barelvi madressahs, 63 Shia, five Deobandi and four Ahl-i-Hadith madressahs.
No seminary has been sealed in Karachi, Mirpurkhas, Sukkur and Larkana at all, according to the report.
"This should be unacceptable to everyone who is striving to restore peace to Sindh," said a senior official in the home department, adding that the chief minister asked them to go for a 'fierce hunt' against all unregistered madressahs.
The report identified a total of 4,021 madressahs in Sindh. Of them, 2,598 were registered and 1,423 unregistered. But the report mentioned that a list of unregistered madressahs was still being prepared by police.
The district-wise number of madressahs documented by the home department shows Tando Allahyar with the least seminaries (30) and Karachi West with the most of madressahs (1,358).
Officials said they had sealed 139 out of 286 unregistered madressahs in Hyderabad and 28 out of 61 in Benazirabad. None of over 1,200 unregistered madressahs elsewhere in Sindh, which included 559 unregistered madressahs only in Karachi West, have been touched so far.
A total of 1,887 madressahs have been identified in Karachi out of which 1,308 are registered. Divided in seven zones, the breakdown of the registered madressahs is: Karachi East (86), Korangi (138), Malir (108), Karachi Central (295), Karachi South (46), Karachi City (76) and Karachi West (559).
An official of the home department said: "We are expediting our effort and orders have been placed to all the relevant departments including the industries ministry to amend its rules forthwith relating to granting permission for the construction of new madressahs."
No action against new construction
Nearly half of the Madressahs across the province were situated in Karachi, the officials said, admitting that no action had been taken so far to stop the construction of new madressahs without having formal permission and registration. "But we are trying to make all possible efforts to stop construction of unregistered seminaries and close the ones already open and spreading its influence and space," the official added.
Sources privy to the apex committee meeting said that a pro forma had been finalized for the registration of seminaries in the province. They said the pro forma would require management of a madressah to fill in the details of students, teachers and sources of fund, if any, it received.
An official requesting anonymity told Dawn that the reluctance shown by the officials taking action against seminaries in Karachi and certain madressahs elsewhere in Sindh was because of the street power which a number of those seminaries manifested from time to time in the past and were considered to be the 'reserve force' for certain religious groups and parties.
"A large number of those seminaries are supported by some political and religious parties, which is the one greatest hurdle in our plan in addition to the street power," the official said.
Official figures say 388,327 students are enrolled with madressahs in Sindh. Of them, 269,325 students were enrolled with 2,598 registered and around 119,002 enrolled with 1,423 unregistered madressahs.
Ten out of 663 foreign students are found to be enrolled with unregistered madressahs, according to the report.
Officials said majority of the madressahs were owned by Wafaq-ul-Madaris Arabia (Deoband), followed by Tanzeem-ul-Madaris Ahle Sunnat (Barelvi), Wafaq-ul-Madaris (Fiqh Jafria) and Wafaq Al-Sulfia (Ahle Hadith).
http://www.dawn.com/news/1194706/no-unregistered-madressah-sealed-in-karachi-many-other-districts
--------
Seeking their rights: Forced conversions still an issue for Hindus in Sindh
By Our Correspondent: July 15, 2015
KARACHI: The forced conversion and marriage of young Hindu girls to Muslim men remains a grave problem for the Hindu community in Sindh: of the 15 cases of attacks against the community so far this year, five were reported as cases of kidnapping and forced conversion.
This was revealed at a press conference held by the Pakistan Hindu Seva (PHS) Welfare Trust and the Sindhi Hindu Youth Wing, Nawabshah, at Karachi Press Club on Wednesday.
"In only 20 per cent of the cases can it be said that conversion was voluntary and not forced upon the girl after abduction," said PHS head Sanjesh Dhanja. "We have no issue if someone opts for it on their own but in most cases, the girls are forced into it."
According to the PHS, the Hindu community in Karachi faced land grabbing, attacks and kidnappings while forced conversions, incidents of temple burning, rape and murders were reported from Sakrand, Ghotki and Nagarparkar districts.
Pointing out that the culprits were released on bail even when caught, Dhanja made an appeal to the government for justice. "Even when Hindus consider themselves Pakistanis above all, they are treated as second-class citizens."
Sindhi Hindu Youth Wing's Vijay Kumar said that despite a five per cent quota, minorities were denied educational and job opportunities. "As a graduate student, I have been looking for work for three years," he said.
Highlighting the plight of Nawabshah's Hindu community, he said that the elected representatives work for their own vested interests, while Nawabshah remained marginalised.
Researcher Ravi Kumar Chouhan said that education and bonded labour were inextricably linked. "Feudal lords do not allow children to go to school, reasoning that no one will attend to their fields if they leave," he pointed out.
http://tribune.com.pk/story/921649/seeking-their-rights-forced-conversions-still-an-issue-for-hindus-in-sindh/
------
Four Militants, key commander surrender in Balochistan's Sui
SYED ALI SHAH 16 July, 2015
QUETTA: Four militants, including a key commander of a banned organisation, surrendered to security forces in Balochistan's Sui area on Friday.
The commander identified as Tota Khan Bugti laid down weapons along with three other militants before officials at a ceremony.
Frontier Corps spokesman Khan Wasey said Tota Khan Bugti was fighting against security forces for a long time in the area.
The militants handed over 4 SMGs, 20 SMG magazines, a satellite phone and other equipment to security forces.
Besides officials, tribal elders were also present during the ceremony held in Sui tehsil of Dera Bugti, Wasey said.
The surrender has come after the Balochistan government announced amnesty for youths surrendering their weapons and adopting peaceful lives in the province few days back.
In the past month, more than one hundred militants hailing from various militant organisations have laid down their weapons in Balochistan.
The government also announced a compensation policy for youth surrendering before security forces in the province.
http://www.dawn.com/news/1194861/militants-key-commander-surrender-in-balochistans-sui
------
APS attack victims have united nation, says army chief
BUREAU REPORT
PESHAWAR: Army chief Gen Raheel Sharif has said that the nation and the armed forces stand with the families of the children who lost their lives in last year's terrorist attack on the Army Public School and acknowledge their sacrifice.
Accompanied by his wife, he arrived here on Wednesday to express solidarity with the parents of the children. The COAS also hosted an Iftar diner at the 11 Corps Headquarters.
According to the Inter-Services Public Relations, Gen Raheel met each affected family and expressed sorrow and solidarity with them. He paid tribute to the students and teachers who either lost their lives or suffered injuries in the terrorist attack.
Militants stormed the school on Dec 16, 2014, killing 150 students and teachers and injuring over 100. Several injured children injured are still under treatment.
After the shocking incident, the government worked out the National Action Plan to wipe out terrorism and extremism from the country.
Gen Raheel said: "The sacrifice of young martyrs has united the nation. The tragic incident cannot be forgotten. No religion and society allows such a heinous act. The terrorists who killed the innocent schoolchildren have no religion."
He said that most of the terrorists involved in the attack had met their fate. The army operation would continue until the last terrorist was eliminated.
http://www.dawn.com/news/1194754/aps-attack-victims-have-united-nation-says-army-chief
---------
Lockheed Martin to upgrade Pakistan's F-16 fleet
By Web Desk: July 15, 2015
Pakistan Air Force has sent a follow-on foreign military sale contract to Lockheed Martin to produce and upgrade Sniper Advanced Targeting Pods (ATP) for its F-16 fleet.
The contract includes the upgrade of Pakistan's existing 22 Sniper ATPs as well as the production of 15 new Sniper ATPs.
Delivery will begin late in 2015 to satisfy Pakistan's urgent operational needs. Upgrades will also begin in late 2015 and they will increase compatibility with the aircraft and enable enhanced features.
"Sniper ATP has supported the Pakistan Air Force's mission since 2010," said Rich Lovette, Sniper international programme director at Lockheed Martin Missiles and Fire Control. "Additional Sniper ATPs and upgrades will give the Pakistan Air Force a more robust precision targetting capability to support the nation's security requirements."
Sniper ATP enables pilots to have high-resolution imagery for precision targetting, surveillance and reconnaissance missions. It also detects, identifies, automatically tracks and laser designates small tactical targets at long ranges. Apart from that, it also enables the use of all laser and GPS-guided weapons against various fixed and moving targets.
Further, Sniper ATP can be operated on multiple platforms, including US Air Force and multi-national F-15, F-16, F-18, A-10, B-1 and B-52 aircraft.
http://tribune.com.pk/story/921256/lockheed-martin-to-upgrade-pakistans-f-16-fleet/?utm_source=Daily+Roundup+Newsletter&utm_campaign=42d7d5f63f-Daily_Roundup_5pm&utm_medium=email&utm_term=0_19961368d8-42d7d5f63f-65338937
------
South Asia
China to prosecute 'cult leader' amid religious group purge
By AFP: July 16, 2015
BEIJING: The spiritual leader of a Chinese Buddhist sect is to be prosecuted for financial and sexual offences, state media said Thursday, as Beijing intensifies its crackdown on what it calls dangerous cults.
Wu Zeheng, the leader of the Huazang Dharma group, will face a number of charges, including rape and using a cult "to sabotage law enforcement", the official Xinhua news agency said.
Xinhua — which calls the group Huazang Zongmen — also said several other "suspected cult members" will face prosecution following a year-long investigation.
China has previously cracked down harshly on religious groups, and submitted to its rubber stamp parliament last month a new criminal law which includes harsher punishments for those involved in "cults or superstitious activities".
Supporters of Wu have said in overseas media that he is being persecuted, while the US Commission on International Religious Freedom, an independent government commission, has called for his release.
Wu — who calls himself His Holiness Vairocana Xing Wu on the group's website — seduced dozens of women by telling them sex with him could give them "supernatural power", the Xinhua report said.
The 47-year-old from China's southern Guangdong province was arrested last July with "a young woman in pyjamas" inside a locked bedroom, it added.
The report cited one follower who said she had been repeatedly raped and had become pregnant three times, but was forced to have abortions.
The police investigation showed Wu had amassed an illegal fortune of more than ¥6.9 million, according to Xinhua, which also said he would be prosecuted for "fraud, and production and sale of harmful food".
He raised money by selling paintings with "holy power" and "blessed" stamps, as well as running a restaurant in Shenzhen, neighbouring Hong Kong, where he claimed the food was cooked with "precious" ingredients.
Xinhua said prominent monks had denied any links with Wu, and that most of his writings turned out to be "plagiarisms or unlawful".
State broadcaster China Central Television (CCTV) screened a 22-minute investigation into Huazang Dharma Thursday morning, interviewing "victims" and showing Wu in prison garb being interrogated by police.
Beijing's most notable crackdown on religious groups was directed against the Falungong spiritual movement, which was banned in the late 1990s.
More recently the outlawed "Quannengshen" — which can be translated as the Church of Almighty God — has been targeted.
A father and daughter who belonged to Quannengshen were executed in February, having been convicted of beating a woman to death at a McDonald's restaurant, reportedly after she rebuffed their attempts to recruit her.
http://tribune.com.pk/story/921875/china-to-prosecute-cult-leader-amid-religious-group-purge/
--------
Drone strike kill 10 Haqqani network militants in Wardak
By MIRWAIS ADEEL - Thu Jul 16 2015,
At least ten militants of the Haqqani terrorist network were killed in a drone strike in central Maidan Wardak province of Afghanistan.
According to the local government officials, the airstrike was carried out early on Thursday morning targeting a gathering of the militants in Torkhel area.
The provincial governor spokesman Ataullah Khogyani confirmed that the militants killed in the air raid belonged to Haqqani terrorist network.
In the meantime, a security official said a commander of the militants was also among those killed in the airstrike.
The official further added that the militants had key role in a deadly attack on Afghan Local Police (ALP) forces check post in Jalrez district two weeks ago.
The anti-government armed militant groups have not commented regarding the report so far.
Wardak is among the relatively volatile provinces where anti-government armed militant groups are actively operating in a number of its districts and frequently carry out insurgency activities.
http://www.khaama.com/drone-strike-kill-10-haqqani-network-militants-in-wardak-1290
------
Maidan Wardak will have a clean-up drive at the end of each month
By ZABIHULLAH MOOSAKHAIL - Thu Jul 16 2015
Maidan Wardak province will have a clean-up drive at the end of each month to clean government offices and the provincial capital "Maidan Shar", said Hayatullah Hayat the governor.
Hayat who launched the drive on Thursday said that this time it is conducted before the scheduled period because of the Eid-u-lfitr, going to be observed on Friday or Saturday when the first new moon is sighted.
Hayat was accompanied by security and other government officials on Thursday's clean-up drive.
It began from the central square of Maidan Shar and ended after cleaning all government offices.
The governor also met with a number of shop keepers in the city and instructed them to keep their surroundings clean.
This is first time a clean-up drive takes place in Maidan Wardak province.
http://www.khaama.com/maidan-wardak-will-have-a-clean-up-drive-at-the-end-of-each-month3649
------
Will Afghan Peace Talks Deliver Concrete Results?
By KHAAMA PRESS - Thu Jul 16 2015
By Manish Rai
The Afghan government and the Taliban held their first official meeting in Pakistan hill station of Murree a significant step beyond an informal gathering that took place in May. The most important thing about the two-day meeting is that the delegations agreed to convene again in several weeks to discuss the possibility of formal peace talks. Though the Afghan National Army (ANA) and the Taliban continue to fight on the battlefield, it is becoming clear even to the warring sides that political reconciliation is the only possible solution to the conflict. Even the UN Security Council has welcomed these talks between the Afghan government and the Taliban as a step towards "peace and reconciliation" in the war-torn country. Previous attempts to engage Kabul and Taliban in negotiations have fallen flat, including the opening of a Taliban office in Qatar in 2013 which was shut down after former Afghan President Hamid Karzai sharply criticized the move, arguing that Kabul would only engage in inter-Afghan talks. So this time there is lot of hope from this rounds of talks called Murree Peace Process. It's true that the parties to the conflict in Afghanistan may be coming round to the idea of a negotiated settlement but the contours of a possible agreement acceptable to everyone are still far from clear.
DelegationSome analysts believe that Taliban agreed to attend the meeting only under pressure from Islamabad its long-time patron. After this round of talks, Pakistani and Afghan officials insisted that the Taliban who attended were "duly mandated," but Taliban members who are part of the group's official political office in Qatar disagreed. What that means for the future is still unclear. The Taliban have yet to comment on the meeting, but its official spokesman Zabihullah Mujahid said in a statement that the group managed its affairs through its political office in Qatar which has the authority to maintain talks with foreign and Afghan sides in any country. There is a clear rivalry between the Qatar and the Pakistani process and the question is whether this is being done on purpose by the Afghan government in a bid to drive a wedge between the Taliban movement or whether the Taliban are simply not saying the truth. Taliban are also not in a hurry to enter formal negotiations, as they had almost zero political capital in terms of mass public support in Afghanistan. Their only strength which they capitalise is that of being a dreadful fighting machine.
Full Report at:
http://www.khaama.com/will-afghan-peace-talks-deliver-concrete-results
--------
Bangladesh arrests man for 'filming' boy's lynching
AFP —16 July 2015
DHAKA: Bangladesh police said Thursday they had arrested a man on suspicion of filming the brutal murder of a 13-year-old boy that provoked public outrage after the footage went viral.
Police arrested Nur Mia, 20, on the outskirts of the north-eastern city of Sylhet late Wednesday.
"Nur Mia shot the video on his Nokia set at the instruction of Kamrul (Islam)," local police chief Akhter Hossain told AFP, referring to another suspect in the case.
"He then uploaded the video to Facebook and shared it with his friends, "said Hossain.
Mia is the ninth person to be arrested over the July 8 killing of Samiul, who was tied to a pole and then subjected to a brutal assault in which he pleaded for his life.
Islam fled to Jeddah in the immediate aftermath of the attack but reports said he had been arrested by Saudi authorities.
Police said Wednesday they had arrested another man, Moyna Chowkidar, calling him a "prime" suspect.
The 28-minute video of Samiul, which was widely circulated after being posted on social media, has prompted deep soul-searching among Bangladeshis as well as a series of protests.
Thousands of people demonstrated in Samiul's home city and across the country for days, demanding that the killers be sent to the gallows.
Bangladesh authorities have promised swift action against the killers, who had accused Samiul of stealing a bicycle.
His family says he was innocent and police said their investigation had found "no evidence of theft".
In the video, the terrified youngster can be heard screaming in pain and repeating: "Please don't beat me like this, I will die."
At one stage he is told to walk away. But as he tries to get to his feet, one of the attackers shouts: "His bones are okay. Beat him some more."
http://www.dawn.com/news/1194840/bangladesh-arrests-man-for-filming-boys-lynching
-------
Senior police officer gunned down in Kandahar
By ZABIHULLAH MOOSAKHAIL - Thu Jul 16 2015
Unidentified armed men have gunned down a senior police officer in southern Kandahar.
Local officials say that Abdul Hadi Farahi, the commander of the 13th police district, was on usual patrol when unknown miscreants fired at his vehicle in Choni area last night.
Abdul Hadi Farahi and his brother, also a policeman, died on the spot and two other policemen sustained injuries in the attack.
Other security personnel arrived at the scene following the incident but the attackers had already fled the area.
Zia Durani, spokesman for the provincial police headquarters of Kandahar says that an investigation has been initiated into the incident to arrest the culprits.
Kandahar's provincial administration has expressed deep sorrow over the loss of lives in the militant attack.
No group had claimed responsibility for the attack by the time this report was filed most attacks on security forces have been claimed by Taliban in the past.
http://www.khaama.com/senior-police-officer-gunned-down-in-kandahar-3650
-------
Bomb blast leaves two civilians wounded in Kabul
By ZABIHULLAH MOOSAKHAIL - Jul 16 2015
Two civilians have been wounded in a bomb explosion in Pul-e-Bagh-e-Omomi area of Kabul city.
Homayoun Aini, officer of the 119 Police helpline said that the bomb was attached to a police vehicle that exploded on Thursday morning.
According to the officer, at the time of the blast there was no security men in the vehicle but it wounded two civilians.
The car is also badly damaged in the explosion.
Another report from security officials foiled a possible explosion from the militants in 8th police district suggest of Kabul city.
A twitter post from the Ministry of Interior states that police defused a suicide vest in the jurisdiction of 8th police district of Kabul city this morning.
According to the post, police were assisted by civilians to prevent the blast.
http://www.khaama.com/bomb-blast-leaves-two-civilians-wounded-in-kabul-3649
-------
Mideast
Yemen army, allied fighters deal major blow to al-Qaeda, pro-Hadi militants
Jul 16, 2015
Yemeni army troopers backed by fighters from the allied Popular Committees have killed dozens of al-Qaeda-linked militants and militiamen loyal to fugitive former president Abd Rabbuh Mansour Hadi in the country's strategic southern port city of Aden.
Fierce exchanges of fire broke out between the two sides as al-Qaeda-affiliated militants coupled with pro-Hadi militiamen attempted to overrun the city, situated 346 kilometers(214 miles) south of the capital, Sana'a, late on Wednesday, media reports said.
The fierce clashes left at least 180 al-Qaeda affiliates and pro-Hadi militiamen dead. A large number of vehicles belonging to the militants were also destroyed during the heavy fighting.
Reports said militants of different Arab nationalities were among the slain terrorists. There were no immediate reports of casualties among Yemeni soldiers and their allies.
Moreover, Yemeni forces launched six Grad missiles against a communications center in the south-western Saudi province of Dhahran al-Janub in the region of Asir. No reports of possible casualties and the extent of damage inflicted were immediately available.
Yemeni troops also pounded the Malhamah military base in Saudi Arabia's southwestern province of Jizan with five Grad rockets late on Wednesday, though no casualties were reported.
A Saudi police station in the kingdom's border city of Najran, located 844 kilometers (524 miles) south of the capital, Riyadh, also came under retaliatory fire as rockets launched by Yemeni forces struck the area.
Additionally, Saudi Apache combat helicopters fired 14 missiles into the Shada and al-Manzala districts of the northwestern Yemeni province of Sa'ada. Saudi forces also launched several artillery rounds at various areas across the Yemeni province.
Saudi military aircraft also launched an aerial assault against the Monabbih district in the same Yemeni province. There were no immediate reports of possible casualties there.
Meanwhile, a woman lost her life as Saudi warplanes bombarded a residential neighborhood in the provincial capital city of Sa'ada, located 240 kilometers (150 miles) north of Sana'a.
Reports say a girl was killed and seven others were injured in a Saudi attack on a mosque in Sana'a.
Other reports say the Saudi warplanes pounded a school as well as trade and health centers in Sa'ada.
They also carried out fresh attacks on the Yemeni port city of Aden.
On Thursday morning, Saudi warplanes conducted three airstrikes against the al-Dulaimi military airbase in the capital. No reports on casualties and the extent of damage were available.
Saudi jets also hit a government building in the Khamis Mastaba district of Yemen's northwestern province of Hajjah.
Saudi Arabia launched its military aggression against Yemen on March 26 – without a UN mandate – in a bid to undermine the Houthi Ansarullah movement and to restore power to the country's fugitive former president Hadi, a staunch ally of Riyadh.
More than 3,000 people, including 1,500 civilians, have been killed over the past three months in Yemen, according to the United Nations. Some local sources though put the number of the dead at 4,500.
http://www.presstv.in/Detail/2015/07/16/420483/Yemen-army-alQaeda-militants-Aden-Saudi-warplanes
------
Iran says nuclear deal ends 'manufactured crisis'
July 15, 2015
TEHRAN — A deal with world powers ended a "manufactured crisis" over Iran's nuclear program, its foreign minister said Wednesday after negotiating the accord which drew furious objections from US lawmakers.
President Barack Obama faced a bruising battle to sell the deal in Washington as Congressional leaders queued up to denounce it. In return for curbs on its nuclear program for at least 10 years, Iran will be freed from Western and UN sanctions that have crippled its economy.
Obama was to hold a press conference later on Wednesday to try to convince Americans of the benefits of an agreement which has drawn opposition from US allies in the region.
Foreign Minister Mohammad Javad Zarif, who led Iran's negotiating team in the 18 straight days of talks that culminated in Tuesday's deal, said on his return home that common ground had been found with the six powers led by the United States.
"We will take measures and they will do their part," he said. "It will happen in around four months from now," he said of the formal implementation of the deal.
Zarif's comments came after a night of celebrations in Tehran where his own name was chanted in the streets by joyous Iranians.
Many festooned their cars with balloons and danced on the street to celebrate the prospect of an end to the long years of economic hardship caused by Western sanctions.
"Maybe the economy is going to change, especially for the young people. I was thinking about leaving, but now I will stay to see what happens," said Giti, 42, a computer programmer.
The sentiment was shared by most Iranian newspapers.
Financial daily Donyaye Eqtesad said Iran had "entered the post-sanctions age." "Iran Siege Broken," headlined the moderate daily Ghanoon.
In Washington, however, the nuclear deal came under intense scrutiny.
The speaker of the Republican-led US House of Representatives, John Boehner, said it was "likely to fuel a nuclear arms race around the world".
But Zarif hit back at the deal's biggest critic, Israeli Prime Minister Benjamin Netanyahu, head of the region's sole if undeclared nuclear state, who branded the agreement a "historic mistake".
"Netanyahu kicked up a fuss as he is upset that Iran managed to get sanctions lifted and prevent a manufactured crisis," Zarif said.
Soon after the deal was announced the White House launched a campaign to stop skeptics at home and abroad from derailing the hard-won accord.
US lawmakers have 60 days to review the agreement but Obama has vowed to use his presidential veto over any attempt to block it. — AFP
http://www.saudigazette.com.sa/index.cfm?method=home.regcon&contentid=20150716250532
------
Davutoglu completes first round of talks, AK Party-CHP emerges as only coalition option
July 15, 2015
With the pro-Kurdish party having also announced, following coalition talks with the ruling party, that it would favor a coalition government between the ruling and main opposition parties, a coalition of the two leading parties remains the only option following the recent general election.
"We believe the two parties that got the most votes will produce solutions to the many structural problems of the country," Sirri Süreyya Önder, a deputy of the pro-Kurdish Peoples' Democratic Party (HDP), said at a press conference on Wednesday.
Accompanied by an AK Party delegation, acting Prime Minister Ahmet Davutoglu met on Wednesday with HDP officials as part of his round of coalition talks with party leaders.
Davutoglu announced on Tuesday, following a meeting with Devlet Bahçeli, the leader of the Nationalist Movement Party (MHP), that the MHP did not want to be part of a coalition government.
In the election on June 7, in which the AK Party lost its parliamentary majority for the first time since coming to power in 2002, no single party got enough votes to form a government.
Önder also said the HDP would offer constructive opposition to a coalition government between the ruling Justice and Development Party (AK Party) and the main opposition Republican People's Party (CHP) should such a coalition act in line with justice, peace and democracy.
The AK Party and the CHP have 258 and 132 deputies, respectively, while the MHP and the HDP each have 80 deputies.
Önder was accompanied at the press conference at the party headquarters by Figen Yüksekdag, HDP co-chair, and Idris Haluken, HDP parliamentary group deputy chairman.
Generally speaking, a total of 276 seats, representing an absolute majority in the 550-seat Parliament, are required to form a government.
The statements made by Önder and Davutoglu following the meeting between the AK Party and the HDP delegations reveal that the focus in the talks was the settlement process which was launched by the government to resolve the country's Kurdish issue.
The meeting at the HDP headquarters in Ankara lasted almost two hours, longer than the time the AK Party delegations spent during visits to the CHP and MHP officials.
After being given last week the mandate to form the government by President Recep Tayyip Erdogan, Davutoglu, who is acting prime minister, visited the CHP on Monday and the MHP on Tuesday.
In a press meeting following the talks with the HDP officials, which was before the HDP press meeting, Davutoglu also signaled once again that the AK Party does not see the HDP as a potential coalition partner.
"We could talk about any topic [with the HDP], but a framework for a potential coalition partnership is not there," Davutoglu told reporters at the meeting at the AK Party headquarters.
He also said no mechanism has been established, in contrast to the case between the AK Party and the CHP, for the continuation of coalition talks between the two parties.
"Talks will continue, but there is no a mechanism like the one we have established with the CHP," he said.
Davutoglu talked favorably about the HDP adopting a more critical discourse towards terrorism saying: "In the past month, we have seen that the HDP's stance has changed. This is what is right."
Following the coalition talks between the CHP and the AK Party, both sides affirmed that an understanding had been reached to continue with talks to achieve a coalition.
Davutoglu is expected to pay a second visit to the CHP next week, which is not the case for the other two opposition parties.
Davutoglu had also earlier said he does not consider the HDP as a potential coalition partner.
"We don't see a coalition with the HDP as feasible at this stage," Davutoglu said in the first week of the month.
Following the election, the HDP, which was accused by the AK Party all through the election campaign of being linked with terrorism, declared that it would not join forces with the AK Party in a coalition.
The AK Party government launched at the end of 2012 the settlement process with Abdullah Öcalan, jailed leader of the outlawed Kurdistan Workers' Party (PKK). The HDP is also a partner in the now-stalled process.
There is no possibility of a coalition government that excludes the AK Party as the nationalist MHP rules out being a part of any coalition that also includes the HDP.
Following the talks with Davutoglu on Tuesday, the MHP's statement came after midnight the same day.
In a statement to the etikhaber news portal, which is close to the right-wing party, Bahçeli called on, as usual, the AK Party to forge a coalition with the main opposition CHP.
"Under the circumstances Turkey is faced with today, a coalition government between the AKP [AK Party] and the CHP should be made possible without delay," the MHP leader said.
Although underlining that the MHP does not want the country to go without a government, Bahçeli added: "However, the MHP's interlocutors were told in a clear and sincere way that there has been no change in the political stance the MHP has adopted since the evening of June 7 [general election]."
Arguing that the people's message to the MHP, which only won 80 deputies in the election, is to remain in the opposition, Bahçeli added that the HDP would be the most suitable coalition partner for the AK Party as the HDP is a partner of the government in the settlement process.
The party describes the settlement process to resolve the country's Kurdish issue and terrorism problem as a "treason process," arguing that the process will lead to the disintegration of the country.
The "political stance" in Bahçeli's remarks refer to the preconditions laid out by the party for the MHP to be involved in a coalition.
The MHP's preconditions include the definitive suspension of the settlement process; the re-launch of the corruption investigation about suspects implicated in a probe that went public on Dec. 17 and 25, 2013; and the restriction of President Recep Tayyip Erdogan's use of power to within constitutional limits.
The party has made it clear on numerous times that it would not be part of a coalition unless its red lines are fully respected.
The MHP leader added in the statement that his party would not shy away from dialogue and meeting with potential coalition partners as long as that would be in the interests of the country.
http://www.todayszaman.com/national_davutoglu-completes-first-round-of-talks-ak-party-chp-emerges-as-only-coalition-option_393822.html
-------
Muslim Scholars Use Ramadan to Push for an Islamic Renewal
Jul 16, 2015
By AYA BATRAWY Associated Press
During the Islamic holy month of Ramadan, Muslims are called on to reflect on their faith as they conduct their daily fast. This past month, some clerics and scholars reflected on ways to reform the religious discourse in Islam to keep up with modern-day challenges and oppose extremism.
A popular Egyptian religious figure used his daily TV show to talk about ways to renew interpretation of Islam's holy book, the Quran. The United Arab Emirates hosted a series of Ramadan mosque lectures by dozens of clerics, including many from al-Azhar, Egypt's premier Sunni Muslim center of thought and learning, and a popular American sheikh, who warned that renovation is needed in Islam after centuries of neglect in thought left the Muslim world in disrepair.
On one level, the religious reform effort — known in Arabic as "tajdeed," or "renewal"— is aimed at drawing the faithful away from extremism at a time when militant violence has escalated in the region with the spread of the Islamic State group. A common theme among renewal-minded clerics is a call for greater emphasis on tolerance of others. On another level, the movement faces a struggle in revamping how the faith is practiced without altering its foundations.
Talk of change rose to the fore in January, when Egyptian President Abdel-Fattah el-Sissi called for a revolution in Islam, saying outdated interpretations made the Muslim world a source of destruction. He urged government clerics and the 1,000-year-old al-Azhar to carry out this change. On Tuesday, he broached the subject again, saying "tolerance is disregarded by extremist interpretations" of Islamic texts.
Critics of el-Sissi have accused him of using this effort to purge religious institutions of his Muslim Brotherhood opponents and control another arm of the state's levers, in this instance a religious institution that is already weighed down by bureaucracy and government meddling.
But he also has strong regional support from the oil-rich emirate of Abu Dhabi, the UAE's seat of government. The UAE's counterterrorism lectures, organized by Abu Dhabi's Islamic Affairs authority during the month of Ramadan, which ends Friday, drew more than 300 speakers, many of them from Cairo's al-Azhar.
Among the best known speakers in the lectures was an American from California, Sheikh Hamza Yusuf, who converted to Islam almost 40 years ago. He is a founder of Zaytuna College in Berkeley in 2008, the first accredited Muslim college in the United States.
Speaking to a crowd of mostly young professionals of various ethnic backgrounds in the UAE, he acknowledged that "our scholars have not responded properly" to current challenges quickly enough. He urged a return to the core tenet of mercy in Islam. People in the audience asked him questions ranging from how Muslims should react to the U.S. Supreme Court's gay marriage decision to whether "Catcher in the Rye" was appropriate summer reading material for a ninth grader.
Speaking to The Associated Press later, the 58-year-old Yusuf described Islam as a house that has been neglected and is in need of renovation.
"The water taps aren't working, the plumbing's not working. The house is in disarray. It's derelict," he said. "The house is dilapidated. You don't destroy it, you don't set it aside. You renovate it." He said Muslims should not oppose even strong reforms, nor feel that everything needs to be changed.
http://abcnews.go.com/International/wireStory/muslim-scholars-ramadan-push-islamic-renewal-32484535
-----
Israeli air strike hits Gaza Strip after militant rocket launch
By Reuters: July 16, 2015
JERUSALEM: Israeli aircraft struck militant targets in the Hamas-controlled Gaza Strip early on Thursday after a rocket from the coastal territory landed in southern Israel, the Israeli military said.
A passerby was lightly hurt in the Gaza Strip, according to residents. No damage or injuries were reported in Israel after warning sirens sounded and the rocket struck open ground near the city of Ashkelon before dawn, the army said.
Rocket launching has become an almost weekly occurrence from the coastal strip recently but no militant group took immediate responsibility for the attack.
"The repeated rocket fire at Israel … is a deliberate decision to target civilians. No person should live under the threat of terrorism," Israeli military spokesman Lieutenant-Colonel Peter Lerner said in a statement.
A group that sympathizes with al Qaeda, who have defied Hamas, has been blamed for other recent strikes, none of which caused injuries or damage.
The Israel-Gaza border area had largely been quiet since last year's July-August war, when Palestinian militants launched thousands of rockets and mortar bombs into Israel and Israeli shelling and air strikes battered the enclave.
More than 2,100 Palestinians were killed, most of them civilians, while 67 soldiers and six civilians were killed on the Israeli side.
http://tribune.com.pk/story/921866/israeli-air-strike-hits-gaza-strip-after-militant-rocket-launch/
------
Iranian deal will usher in regional security, hopes OIC
July 16, 2015 12:38 AM
JEDDAH — Iranian nuclear deal will usher in stability and security of the region, the Organization of Islamic Cooperation has said.
Iyad Bin Amin Madani, OIC chief, hoped that the agreement will be adhered to in letter and spirit and it would move forward a new political paradigm in the region in place of strife and unrest that has become a major threat to peace and security of the region and the world.
He underlined OIC's continued efforts to be a platform for such a paradigm.
Madani also stressed the priority for addressing economic integration and fostering the necessary environment for sustainable development in the region, utilizing energies of its people toward construction and creation, away from sectarianism and division; emphasizing the keenness of the OIC to strengthen economic and trade activity between the member states in accordance with agreements, economic programs and instruments adopted by the organization.
Madani also reiterated OIC's stand on the need to respect the inalienable right of the developing countries to conduct nuclear energy research, its production and use for peaceful purposes without discrimination and in accordance with the Non-Proliferation Treaty.
Madani called on the international community to pursue with the same spirit as was adopted for the Iranian deal to oblige Israel to join the NPT and put its nuclear arsenal under full and comprehensive supervision of the United Nations. Efforts should also be exerted, he said, toward establishment of a nuclear-free zone in the Middle East for the sake of peace, security and stability in the region and the world. — SPA
http://www.saudigazette.com.sa/index.cfm?method=home.regcon&contentid=20150716250598
----
Bahrain hits back at U.S. human rights criticism
REUTERS Jul. 15, 2015
DUBAI (Reuters) - Bahrain hit back at U.S. expressions of concern over the Gulf Arab kingdom's treatment of opposition figures on Wednesday, saying all its actions followed due legal process.
The State Department on Tuesday said the arrest of Ibrahim Sharif, prosecution of Majeed Milad and reports that a case against Ali Salman, head of Bahrain's main opposition group, had been reopened, "raise serious concerns about restrictions on freedom of expression".
In response, Bahrain's Foreign Ministry said in a statement the individuals were detained on the basis of criminal acts not political expression. "The government of Bahrain will not tolerate incitement to violence, and it is the government's duty to protect citizens, residents and visitors alike," it said.
Bahrain, which hosts the U.S. Fifth Fleet, has experienced sporadic unrest since 2011 when its security forces ended mass protests calling for democracy in the country, which has a Shi'ite Muslim majority but a Sunni ruling family.
The opposition says the government, backed by its Sunni ally Saudi Arabia, is attempting to stifle free speech by detaining, prosecuting and jailing peaceful political dissidents.
The government has accused the opposition of stirring up violent protests and of links to Shi'ite Iran, which both it and Tehran deny.
The official BNA news agency said on Monday Rajab had been freed from a six-month jail term imposed in May for insulting the authorities. It cited health reasons for the release.
Last year Bahrain denied entry to a U.S. congressman seeking to meet opposition figures, and expelled U.S. Assistant Secretary of State for Democracy, Human Rights and Labor Tom Malinowski for meeting Ali Salman.
Bahrain's King Hamad did not attend a summit between U.S. President Barack Obama and Gulf Arab leaders at Camp David in May, choosing instead to send his crown prince while himself attending a horse show with Britain's Queen Elizabeth.
(Reporting By Angus McDowall, editing by William Maclean and Ros Russell)
http://www.businessinsider.com/r-bahrain-hits-back-at-us-human-rights-criticism-2015-7#ixzz3g2MO2on4
-------
India
Major announcement soon for empowerment of minorities: Minister
July 15, 2015
Hyderabad: The Centre will shortly announce a major policy decision towards empowerment of Muslims and other minority communities in the country, Union Minister Mukhtar Abbas Naqvi said today.
"In the coming days... During or after Eid, a major announcement, specially for the minorities' socio-economic, educational empowerment and to uplift them, a scheme will be launched that will directly benefit the minorities in Telangana, Andhra Pradesh, J&K and other parts of the country," Naqvi told reporters here after participating in an Iftar organised by BJP.
"The proposed scheme to be launched after Eid, to uplift and empower minorities and Muslims, will focus on education and employment opportunities for their youths and towards infrastructure development in their areas," said the Union Minister of State for Minority Affairs.
"I feel that whatever money that was spent by the (successive) Central and state governments in the country so far in the name of empowerment and development of minorities and Muslims in particular... Had that been spent honestly then not a single youth belonging to minorities would have remained unemployed," Naqvi asserted.
"Now a brake has been applied on all that loot," he said.
According to Naqvi, a development package for Jammu and Kashmir by the central government is also in the offing.
The senior BJP leader added that Prime Minister Narendra Modi has taken an initiative for better relations with Pakistan.
"We believe that under Narendra Modi ji, India's relationship with Pakistan will improve and hatred will get finished," he said.
People in both the countries seek to live in peaceful atmosphere, he said adding, "However, some forces who are enemies of peace, try to create problems, but such things will fail and both the countries will progress on developmental path."
http://zeenews.india.com/news/india/major-announcement-soon-for-empowerment-of-minorities-naqvi_1630758.html
-----
Ahmadiyya Muslims meet HM, seek Indian citizenship for Pak women married in India
HT Correspondent, Hindustan Times,
Qadian: Jul 15, 2015, A delegation of Ahmadiyya Muslims led by Mehmood Ahmad had a meeting with the Union home minister Rajnath Singh in New Delhi on Tuesday, where they apprised the minister of the problem faced by Pakistani girls married in India.
The delegation told him that the Pakistani girls married to Ahmadiyya Muslim boys in India, especially at Qadian town of Gurdaspur district, were not being given Indian citizenship even after fulfilling requisite conditions.
The delegation also submitted a memorandum containing their demands to the home minister, who assured them of all help in solving the problem.
Sources said some of the Pakistani women spent their life with their Indian husbands and children at Qadian and died there without getting the Indian citizenship.
http://www.hindustantimes.com/amritsar/ahmadiyya-muslims-meet-hm-seek-indian-citizenship-for-pak-women-married-in-india/article1-1369594.aspx
------
J&K Separatist leader Geelani says 'No' to Pak High Commission's invite for Id Milan celebrations
Neha Dwivedi Jul 14, 2015
In a move that has been termed 'surprising' by reports, separatist leader Syed Ali Shah Geelani, on Tuesday, refused Pakistan High Commission's invite for Id Milan celebrations on July 21.
Rejecting the invite, Geelani said he won't attend the event because Pakistan, in a recent joint statement of Indo-Pak, had sidelined Kashmir.
Pakistan High Commission, on Monday, had defended its move of extending the invitation, saying:
"There is nothing unusual about our invite to Hurriyat leaders. The hype being created by some is unfortunate, to put it mildly. Pakistan will continue extending its full moral, political and diplomatic support to the people of Jammu and Kashmir in their legitimate struggle for self determination as provided for in the UN Charter and the Universal Declaration of Human Rights."
Geelani, while speaking to a news agency on phone, said the Prime Ministers of India and Pakistan had ignored the fate of over 10 million people of Jammu and Kashmir in their meeting.
"The Kashmir issue is question of life and death for us. Nobody can take us for granted. And I will not attend the Eid Milan in New Delhi to register a symbolic protest," he said
MEA/Twitter
The Pakistan High Commission had invited Kashmiri separatists and Hurriyat leaders to Delhi for Id Milan. The leaders were disappointed by the Prime Ministers of the two countries not discussing the Kashmir issue in Ufa, Russia.
Prime Minister Modi and his Pakistan counterpart Nawaz Sharif met on the sidelines of the Shanghai Cooperation Organisation (SCO) summit. While the leaders discussed various issues, including Lakhvi, there was no mention of Kashmir.
Ayaz Akbar, spokesman of the hardline Hurriyat, led by Syed Ali Shah Geelani, had said.
"Our stand is clear; they (India, Pakistan) should both concentrate on the core issue and resolve Kashmir. Till Kashmir issue is addressed, such talks will be futile. They will be disappointing."
adding,
"Instead of such meetings, where a wide range of issues are discussed, the two countries should focus on the core issue of Kashmir."
https://www.saddahaq.com/separatist-leader-geelani-says-no-to-pakistan-high-commissions-invite-for-id-milan-celebrations
------
Yakub Memon will be hanged on 30 July: This act of 'justice' will alienate Indian Muslims even more
By Wajahat Qazi Jul 16, 2015
Yakub Memon - the only convict sentenced to death for his involvement in the 1993 serial blasts in Mumbai - is reportedly set to be hanged on 30 July. The serial bombings in Mumbai which lead to the deaths of 257 people were apparently in the nature of 'retributive justice' for the rioting that took place after the demolition of the Babri Masjid in Ayodhya. Defined by vigilantism, the bombings punished and took the lives of people who had nothing to with the riots.
To paraphrase Sudhir Kakkar, in conditions of riots, the distinction between the victim, perpetrator collapses and a reductive , synoptic worldview takes over and the 'them' versus 'us' thinking takes over and finer distinctions are elided. This is what may have happened in Mumbai after the Ayodhya riots. All this is not to whitewash or justify the Mumbai bombings. The bombings were ghastly and took the lives of innocent people. But both the bombings and now the potential hanging of one of the perpetrators raise a bevy of questions.
First, why did Muslims or some Muslims in Mumbai take the law in their own hands and took recourse to violence? Second, the question pertains to the nature of justice: is capital punishment the answer to violent vigilantism? Will it serve to sate the 'collective conscience' of the masses in India? Third, what will the hanging signal to Muslims? Is justice skewed in India? What has happened to the perpetrators of Godhra riots and others of a similar nature?
Yakub Memon. Image courtesy: IBN Live.Yakub Memon. Image courtesy: IBN Live.
The obvious answer to Muslim vigilantism and acts of counter violence is that Muslims do not appear to have faith in India's justice system. The judiciary and its concomitant may be viewed by Muslims in India as slanted and beyond their scope and reach. Hence, vigilantism in extreme circumstances and taking recourse to non formal means and methods of seeking justice.
The Mumbai underworld springs to mind here. This gels in with what appears to be seen by Indian Muslims as slanted and skewed justice. If, for example, the perpetrators of Gujarat riots were identified, and are known , why are not they meted the same 'justice' as was meted out to say Afzal Guru or now Yakub Memon?
The obvious inference that Muslims would draw is that there are double standards at work. The corollary to this is not hard to decipher: given that Muslims do not have access to justice like other citizens of the country and given that double standards are at work, the best defence lies in offence and in protection rackets. This is not to justify the means and methods chosen by Indian Muslims but to delineate the psychology behind their inclination to take recourse to extra legal methods to seek 'retributive justice'.
Now, having laid out the reasons for violent Muslim vigilantism (unjustifiable as it is), I would like to draw attention to capital punishment. Broadly speaking, the proponents of capital punishment assert that society has a moral obligation to protect its members and their welfare and security are paramount. Depriving a criminal or a murderer of his life is the best means for ensuring this as depriving the perpetrator of his life serves as a deterrent. There is also an element of equality in capital punishment- an eye for an eye thing. However, at the same time, the argument against death penalty is that life is sacrosanct and it is incumbent upon society to protect it.
The death penalty has not been an effective deterrent and depriving a perpetrator of his liberty and imprisoning him has the same effect. This, of course, is a very reductive delineation of the case for and against death penalty. The question now is: what would depriving Yakub Memon of his life serve? And more to the point, the question of justice arises here. That is, who punishes?
Morally, I side with those who make a case against capital punishment. However, the problem is more poignant in the political domain. Yakub's hanging, like the hanging of Afzal Guru, would signal to Muslims that justice is slanted in India and that they don't have a real voice in the country's justice system. The question of equivalence would obtain here. If Godhra riot perpetrators are either scot free or got away with light sentences, why is Muslim being hanged here?
Again a synoptic and reductive world view would hold and the 'us' against 'them' psychology would take surface. This time, however, the state would be implicated in this. The question of,' Who punishes' would also become salient. In some theories of justices, it is held that the powerful and those who wield power in society are the ones who enforce justice. In this schema, the majority community in India would be implicated here . The potential hanging of Yakub would then carry communal overtones (perceived or real) and would further lead to the alienation of Indian Muslims.
If, however, the state is really interested in justice, then the state has its work cut for it. The state must do its bit to ameliorate the condition of Indian Muslims and reach out to them. The first prong of this should be empowerment of Muslims in India through education and economic advancement followed by making equal rights real for them. This means access to and fair justice for Muslims in India. Inculcating a sense of security would also help. In conjunction, these prongs could lead to a condition where security, peace and prosperity would obtain for all communities forming the Indian firmament-the sine qua non of Justice.
http://www.firstpost.com/india/hanging-1993-mumbai-blasts-convict-yakub-memon-will-send-the-wrong-signal-to-muslims-in-india-2343434.html
--------
Kashmiri leaders irked by omission of Kashmir from Ufa statement
GOWHAR GEELANI, 16 July, 2015
SRINAGAR: While there is a lot of anger brewing within many circles in Pakistan over Kashmir not having been specifically mentioned in a joint statement issued after a meeting between Prime Minister Nawaz Sharif and his Indian counterpart Narendra Modi on July 10 on the sidelines of the Shanghai Coopera­tion Organisation Summit in the Russian city of Ufa, pro-freedom leaders in India-held Kashmir are "disappointed" at the omission of the Kashmir issue from the statement.
According to the joint statement, the two leaders "agreed that India and Pakistan have a collective responsibility to ensure peace and promote development. To do so, they are prepared to discuss all outstanding issues".
Syed Ali Geelani, a pro-Pakistan leader and Chairman of Tehreek-i-Hurriyat Jammu and Kashmir, rejected the Ufa statement and said Pakistan's stand appeared to be "wavering" and "inconsistent" in recent times.
"First they [Pakistani leaders] say that Kashmir is the core dispute, but when they meet Indian leaders they do not even mention it. This is sheer inconsistency," the octogenarian Kashmiri resistance leader told Dawn.com over phone.
Like Mr Geelani, moderate Hur­riyat Conference leader Mirwaiz Maulvi Umar Farooq also asserts that Kashmir remains the core issue between India and Pakistan and that its resolution guarantees a lasting peace and prosperity in the South Asian region.
"I have said it earlier too that 26/11 [Mumbai attacks] is not the core issue between India and Pakistan. The core issue is Kashmir. I feel there is a lot of scepticism around the Ufa joint statement in Kashmir, but resumption of dialogue between the two sides is a good beginning nevertheless," the Mirwaiz said, adding: "Progress on Kashmir issue holds the key".
Talking to Dawn.com, he said no-one could imagine that Pakistan would sideline the Kashmir issue or Kashmiris for that matter. "India and Pakistan should have mentioned Kashmir in their joint statement, but I believe they perhaps wanted to create right kind of atmo­spherics for trust building and confidence before moving forward on a sensitive and core issue like Kas­hmir," he said. The joint statement also said: "The meeting was held in a cordial atmosphere. The two leaders exchanged views on issues of bilateral and regional interest."
After the joint statement, Adviser to the Prime Minister on Foreign Affairs and National Security Sartaj Aziz said at a press conference in Islamabad that Mr Sharif and Mr Modi had agreed to revive the Track-II dialogue on long-standing issues between the two sides, including Kashmir.
Although Mirwaiz Farooq is not averse to the back-channel diplomacy on Kashmir, he said: "There has to be a forward movement on the front channel as well. We understand Kashmir is a sensitive issue."
Mohammad Yasin Malik, chief of pro-independence Jammu and Kashmir Liberation Front (JKLF), told Dawn.com that every Kashmiri was disappointed at the joint statement.
"We [Kashmiris] have a genuine right to raise this question. Do we [Kashmiris] count for nothing? Our four generations have suffered; we are paying a colossal human cost of the continued conflict. We believe that India and Pakistan will have to first resolve the Kashmir dispute, with Kashmiris being a principal party to it, and then move forward on secondary issues like trade, travel, tourism, etc," he said.
Syed Ali Geelani, the chief of his own faction of the All Parties Hurriyat Conference, further said that India and Pakistan could not achieve peace unless they resolved the Kashmir dispute.
Mr Geelani was the only Kashmiri leader who had openly rejected a four-point Kashmir formula proposed by former military ruler Pervez Musharraf in December 2006.
Meanwhile, the JKLF passed a resolution on July 14 rejecting the Ufa joint statement for not mentioning Kashmir. "The august representative meeting terms the peaceful resolution of Jammu and Kashmir issue inevitable and pivotal for peace and stability of South Asia. This meeting also emphasises on the need of inclusion of Kashmiris as principal party in Indo-Pak talks on Kashmir..," the resolution reads.
http://www.dawn.com/news/1194740/kashmiri-leaders-irked-by-omission-of-kashmir-from-ufa-statement
-------
Pakistan summons Indian envoy over 'spy drone' issue
TNN | Jul 16, 2015,
NEW DELHI: Pakistan has summoned the Indian envoy to Foreign Office in Islamabad claiming violation of its territory by an alleged Indian "spy" drone which was being used for aerial photography near the Line of Control (LoC).
High commissioner T C A Raghavan was called to the Foreign Office today, an official of Indian mission said.
Pakistan on Wednesday claimed to have shot down an "Indian spy drone" at Bhimber along the line of control (LoC) in Pakistan-occupied Kashmir (PoK).
A Pakistani military statement said the drone was shot down after it violated Pakistan's airspace and "territorial integrity". "The spy drone is used for aerial photography," the statement said.
The Indian Army and the Air Force denied any of their drones had crashed or been shot down while operating along the LoC.
"Some reports of a drone crash in PoK are being referred to. No drone or UAV crash of the Indian Army has taken place," said a senior officer.
Experts said the drone shot down is sold commercially for aerial filming and contains no secret military technology.
A news agency quoted "Unmanned Systems" editor of IHS Jane's International Defence Review Huw Williams saying a Pakistani military photo appeared to show the drone is a Chinese-made DJI Phantom 3.
"Due to its limited operating range - about 2km - if the Indian military is using the system it would most likely be for close reconnaissance or security work," Williams said.
The Pakistani claim came days after Prime Minister Narendra Modi met his Pakistani counterpart, Nawaz Sharif, in Russia.
Earlier this month, a Pakistani Rangers drone had crashed near the India-Pakistan border in Punjab's Shakargarh sector.
http://timesofindia.indiatimes.com/india/Pakistan-summons-Indian-envoy-over-spy-drone-issue/articleshow/48095220.cms
------
Both India and Pakistan need to ease trade restrictions
By Our Correspondent: July 16, 2015
KARACHI: Pakistan Business Council (PBC) – a private sector not-for-profit business policy advocacy forum – has said that Pakistan's Non Discriminatory Market Access (NDMA) to India will lead to a mutually beneficial trade relationship only if India agrees to gradually ease its Non-Tariff Barriers (NTBs).
In its latest report on Pakistan India trade, PBC, which represents Pakistan's 47 largest enterprises including multinationals, said the country must build capacity to support its exports and protect the local industry from subsidised imports from India.
The report also said that details and time-frame of India's promised concessions to Pakistan must be determined and considered before granting NDMA.
India's concessions to Pakistan must be consistent with its concessions to other South Asian Free Trade Area (SAFTA) countries such as Bangladesh and Sri Lanka to ensure Pakistan gains fair access to the Indian market post-NDMA.
SAFTA came into force in 2006 resulting in tariff concessions by both, India and Pakistan along with the other South Asian neighbours.
India granted Most Favoured Nation (MFN) status to Pakistan in 1996, which Pakistan has to reciprocate being a signatory of the World Trade Organisation (WTO). The final step towards normalised trade relations between the two countries is thought to be NDMA status for India to be granted by Pakistan. The PBC study argues for caution in granting India NDMA given the current challenges faced in Pakistan-India trade.
Pakistan's exports to India grew from $158 million in 2004 to $392 million in 2014, but it could only claim 0.09% of total Indian imports from the world in 2014. India's exports to Pakistan grew much more significantly over the period under consideration, from $454 million to $2.1 billion, but it too could only claim 0.63% of total Pakistani imports from the world in 2014.
The study finds that there is significant potential for trade between Pakistan and India and offers analysis of high potential export products at 6-digit level.
Though there is no doubt of huge trade potential that currently lies dormant between the two countries, granting India NDMA without resolving the major issues like NTBs will result in a one-sided realisation of this potential, squarely in India's favour.
India, in addition to possessing very high export capability to Pakistan, offers substantive support to its producers in the form of subsidies and export support schemes and maintains intractable NTBs to discourage imports, the report noted.
Pakistan also possesses considerable export potential to India, but it offers little support or protection to its producers and exporters, and has relatively low NTBs.
http://tribune.com.pk/story/921689/both-india-and-pakistan-need-to-ease-trade-restrictions/
--------
Four killed in Indian BSF firing: ISPR
MATEEN HAIDER | IMRAN SADIQ July 17, 2015
SIALKOT/ISLAMABAD: Three people were killed and five others injured in Sialkot's Chaprar sector, whereas another person was killed in firing across the Line of Control (LoC) in Rawalakot's Neza Pir sector in separate instances of unprovoked firing by Indian Border Security Forces on Thursday, the Inter-Services Public Relations (ISPR) said.
Those killed in Sialkot have been identified as Ghulam Mustafa, Rahat and Muhammad Boota. Zarina Bibi, an 18-year-old, was killed in Rawalakot.
Episodic attacks of firing and shelling which commenced in Sialkot on Wednesday morning at 8:30am are said to be ongoing and Pakistani troops are responding with retaliatory firing, Punjab Rangers said.
Rangers sources said the attacks along the Sialkot Working Boundary have mostly harmed civilians, adding that livestock belonging to residents of the area has been killed, while houses have been partially damaged.
Yesterday's attacks targeted Sialkot's Bajwat sector. No loss of life or casualties were reported at the time.
AP on Wednesday quoted D. Parekh of India's BSF as saying that Pakistani troops fired heavy mortar shells, adding that one woman was killed and three civilians injured when one of the shells exploded near a border village.
Parekh had alleged that Pakistani soldiers first fired at a paramilitary soldier guarding a border post in the Pargwal area. As troops tried to evacuate the seriously injured soldier, they came under heavy fire and retaliated, he had said.
Instances of unprovoked firing across the Indo-Pak border have occurred intermittently over the years.
In March 2015, Indian border forces opened unprovoked fire on some villages in the Charwah sector along the Working Boundary. At the time, Pakistani officials had alleged that the Indian BSF personnel had violated the ceasefire accord and targeted civilian population.
A similar incident was also reported in January this year, when Indian BSF resorted to unprovoked intensified heavy mortar shelling on several Pakistani villages along the Working Boundary in Sialkot, killing four Pakistani civilians.
In December 2013, the two countries had pledged to uphold the 2003 ceasefire accord which was left in tatters by repeated violations that year. The truce breaches had put the nascent bilateral peace dialogue on hold.
Indian High Commissioner summoned
Indian High Commissioner to Pakistan T C A Raghavan was summoned to the Foreign Office yesterday by Foreign Secretary Aizaz Chaudhry to lodge a strong protest over airspace violation at Banchirian Sector near Bhimber.
An Indian spy drone had entered Pakistan's air space in violation of the international law, Pakistan's territorial integrity and the two agreements of 1991 on Air Space Violation and SOPs of advance notice for military exercises, military maneuvers and troops movement. The UAV was brought down by Pakistani troops.
FO spokesman Qazi Khalilullah said Chaudhry also registered the government's concern over Heli maneuvers near Line of Control (LoC) on July 11 which was an offensive and threatening posture.
The spokesman said the protest was also lodged over the unprovoked ceasefire violation by Indian BSF at Phuklian-Akhnor sector on July 15 which continued until sunset.
Khaliullah said the FO secretary also protested the ceasefire violations which took place this morning at LoC and Working Boundary.
Chaudhry emphasised that in the spirit of maintaining peace and tranquility at the LoC and WB, and the region at large, it was important that the 2003 understanding on maintaining ceasefire is observed.
Raghavan assured to convey the message to his authorities accordingly.
http://www.dawn.com/news/1194819/four-killed-in-indian-bsf-firing-ispr
------
Ceasefire violations won't affect peace talks: Pak FO
By Kamran Yousuf: July 16, 2015
ISLAMABAD: Pakistan on Thursday summoned Indian High Commissioner to the Foreign Office and lodged a protest over airspace and unabated ceasefire violations.
A statement issued by the Foreign Office said the foreign secretary lodged a 'strong protest' over air space violation near Bhimber yesterday as an Indian 'spy drone' intruded into Pakistani territory.
"An Indian UAV (spy drone) entered Pakistan's air space in violation of the international law, Pakistan's territorial integrity and the two agreements of 1991 on air space violation, and SOPs of advance notice for military exercises, military maneuvers and troops movement," the statement said.
However, the Foreign Office clarified that it is committed to the agreements made between Prime Minister Nawaz Sharif and his Indian counterpart Narendra Modi in Ufa, Russia, Radio Pakistan reported.
"Pakistan is committed to abide by the decisions taken at the Ufa meeting," Foreign Office Spokesperson Qazi Khalilullah said, during his weekly news briefing in Islamabad.
The spokesperson refuted that the recent ceasefire violations will have any adverse impact on the upcoming meetings. "Ceasefire violations took place in the past also but despite that both sides met from time to time," Khalilullah said, while responding to a question.
"It was also decided at the Ufa meeting between the prime ministers of the two countries that the relevant officials will meet to discuss the issue," he added.
Full Report at:
http://tribune.com.pk/story/921892/pakistan-lodges-protest-with-india-over-spy-drone-and-ceasefire-violations/
------
Europe
Tory MP, Nadhim Zahawi, behind ISIL oil trade
Jul 15, 2015
A member of the UK Parliament has been accused of playing a pivotal role in ISIL terrorists' black market oil business.
According to some reports published on social networks, Nadhim Zahawi is involved in trading oil derived from ISIL-controlled fields in Iraq.
Reports say Nadhim Zahawi, the Conservative MP for Stratford-upon-Avon, has been buying crude at a very low price (between $12 to $30 per barrel) from ISIL terrorists and transporting it to Israel and European markets through Turkey and the Mediterranean Sea.
The Tory MP, who sat on an influential House of Commons Select Committee during the last parliament, has already been involved in oil business with the Kurdistan Regional Government.
Born in Iraq to Kurdish parents, the Tory MP is believed to have significant influence in the region.
Known as millionaire MP, Zahawi owns shares in Genel Energy, another Kurdish oil explorer.
The allegations against Zahawi come against the backdrop of reports that ISIL terrorists sell oil through certain regional countries including Turkey and Iraq's Kurdistan region.
Back in 2014, David Cohen, US Treasury under-secretary for terrorism and financial intelligence said middlemen from Turkey and Iraq's Kurdistan region buy oil from ISIL terrorists.
Cohen said ISIL is earning some $1 million a day from black market oil sales.
Reports say ISIL controls nearly a dozen oil fields in northern Iraq as well as Syria's Raqqa province.
Last year, in a briefing to the European Parliament Foreign Affairs Committee, EU Ambassador to Iraq Jana Hybas-kova announced that some European countries have purchased crude from the ISIL.
The ISIL terrorist group has captured parts of northern Iraq and neighboring Syria. The terrorist group has carried out heinous crimes such as public decapitations and crucifixions against all ethnic and religious groups.
http://www.presstv.in/Detail/2015/07/15/420406/UK-MP-ISIL-OIL-TRADE
-------
UK fighting 'Battle of Britain' against Islamic State by sending SECOND spy plane to Syria
By ALIX CULBERTSON
Jul 16, 2015
Mr Fallon will today announce the deployment of a £700 million intelligence-gathering aircraft to "spearhead" a counter-terrorism attack by the end of August.
This will be the second Rivet Joint spy plane in the region and will be used to intercept encrypted mobile phone and radio calls between Islamist extremists, as well as text messages and other electronic communications such as WhatsApp.
British fighter jets in Iraq will be sent the information to then launch airstrikes in the country and US-led coalition's planes will launch airstrikes in Syria, where British planes cannot fly.
Mr Fallon will tell the Royal United Services Institute think-tank Britain is providing around 30 per cent of aerial intelligence in the area and describe the conflict as "a new Battle of Britain".
He will say: "With more warnings of threats to our citizens in Tunisia following the horrific events of two weeks ago.
"We're fighting a new Battle of Britain. Once again, against a fascist enemy prepared to kill civilians and opponents alike - our RAF is again spearheading the counter attack."
It comes days after Prime Minister David Cameron ordered more spending on drones and special forces in order to combat the threat posed by Islamic extremists.
Full Report at:
http://www.express.co.uk/news/world/591525/UK-Battle-Britain-Islamic-State-sending-second-spy-plane-Syria-Iraq
------
Iran nuclear deal: what Britain's national newspapers think?
15 July 2015
The historic nuclear deal between the west and Iran got a mixed reception from Britain's national press. Some newspapers hailed it as a triumph (Guardian, Daily Mirror). Some thought it unacceptable (Times, Sun). Several were wary (Daily Telegraph, Daily Mail, Independent).
All recognised what it means for US president Barack Obama. It could well be the legacy that defines his presidency in the future. But not all were convinced he should have dared to make, as in the Times's headline over its leading article, a reckless gamble.
"An unreconstructed theocracy", said the Times, "has won concessions on sanctions that enable it to tighten its grip on power and enrich its hardliners, including those who sponsor international terrorism".
It argued that "loopholes" in the deal could allow Iran "to outmanoeuvre weapons inspectors... the compromise over military site inspections thrashed out in the final sessions of the Vienna talks gives far too much away".
The Times contended that Obama has been guilty of "appeasement for the sake of a presidential legacy" and that his "gamble that will make life more dangerous for Iran's neighbours and more difficult for future US presidents".
The Sun, Rupert Murdoch's Little Sir Echo in the UK, believes that Iran will now be rich as well as dangerous. It compared Bill Clinton's "worse than useless" ill-fated nuclear deal with North Korea to Obama's Iranian initiative. It concluded sarcastically: "Great work, Mr President".
If the agreement with Iran is honoured, said the Telegraph, "then Iran's bomb-making potential will be dramatically curtailed. But that is a big if".
It pointed to possible "flaws" in the deal and the "genuine concerns" of Israel and the Gulf states who do not trust the Islamic Republic. But, in its view, "a deal had to be negotiated" and said:
"Perhaps the Vienna agreement marks a turning point – but we still need to be wary of an unshackled Tehran".
The Mail was also worried about whether we can trust Iran? "Seen in the most optimistic light", it said, it might gain the west "a powerful ally in the fight against IS".
But it recognised that the deal is controversial: "Barack Obama may hail a rare foreign policy triumph. But the west must be ready to reimpose sanctions at the first hint of treachery from Tehran".
The Independent, in a lengthy leader assessing the pros and cons of the deal, said: "Much depends on just how intrusive and comprehensive the agreed international monitoring proves to be. Iran has a long track record of cheating. Even so the inspection regime, on paper, is among the toughest ever agreed to by a sovereign nation".
It accepted that critics within the US and elsewhere "will not be shaken from their belief that an over-accommodating American president... has been outmanoeuvred".
The Indy thought "the greatest short-term risk is that the deal will increase Tehran's capacity to meddle, thanks to the release of billions of frozen dollars and the broader economic boost to Iran following the easing of sanctions".
It concluded: "It is essential that the agreement is thoroughly scrutinised... The achievement is a large one, however closely its consequences must be watched".
The Mirror was much more enthusiastic about the outcome of the deal, seeing it as a "ray of hope" and believing "the world is a slightly safer place today".
It contended: "Ten years of tense negotiations to bring Tehran in from the cold is a triumph for political and economic pressure over the hawks who would have started another war...
"The landmark agreement tacitly acknowledges the important truth that Iran, not the USA or Britain, is best placed to confront and defeat the terrorists of the Islamic State... we should celebrate the success of dull diplomacy".
Similarly, the Guardian, in a leader headlined "a triumph of diplomacy", viewed the deal as "a victory for patient diplomacy". It continued:
"Credit goes to the tireless US secretary of state, John Kerry, but also to America's partners: Germany, France and Britain, including the former European high representative on foreign affairs, Baroness Ashton, and, in spite of tensions over Ukraine, also to Russia, and, to a lesser extent, China.
Credit, too, to the Iranian president Hassan Rouhani, who has had to face down suspicious hardliners at home".
It urged President Rouhani to "push for domestic reforms, ending the house arrests of opposition leaders and the charade of the trial of the Washington Post reporter Jason Rezaian".
And the Guardian, even more optimistically, called on Tehran to adopt "a more emollient approach to Israel" and to use "its influence to promote a peace agreement with the Palestinians".
Leaving aside the question of Obama's legacy, the paper said: "The repercussions of the Vienna agreement go far beyond history's eventual verdict on a US president.
"This accord, so long in the making, offers the hope that one of the world's great civilisations might be drawn back into the international community, with untold benefits not only for Iranians but for its conflict-ravaged neighbours. The opportunity should be seized".
http://www.theguardian.com/media/greenslade/2015/jul/15/iran-nuclear-deal-what-britains-national-newspapers-think
--------
17-year-old Austrian found guilty of joining Islamic State
Associated Press July 16, 2015
BERLIN (AP) — A court in Austria has sentenced a 17-year-old boy to 2 ½ years in prison for joining the Islamic State group.
The Vienna regional court found Oliver N. guilty Wednesday of participating in a terror organization and incitement to terrorism.
The boy, whose full name wasn't released in line with Austrian privacy rules, had traveled to Syria last year and claimed to have worked as an ambulance driver collecting wounded IS fighters.
Prosecutors said he also spread IS propaganda videos online.
Presiding judge Alexandra Skrdla said there was insufficient evidence to prove that the boy had actively taken part in combat.
The boy's lawyer, Wolfgang Blaschitz, said his client had turned his back on jihadist ideology since returning to Austria this spring.
http://news.yahoo.com/17-old-austrian-found-guilty-joining-islamic-state-145604043.html
--------
North America
US Senator Mark Kirk says Obama 'sold out' Israel on nuclear agreement with Iran
Jul 16, 2015
US Senator Mark Kirk, one of the key architects of Iran sanctions, says the Obama administration has "sold out" Israel on the nuclear agreement with Iran.
"This agreement condemns the next generation to cleaning up a nuclear war in the Persian Gulf," Kirk said on WRKO's Financial Exchange radio program. "It condemns our Israel allies to further conflict with Iran."
The Illinois Republican stressed that Israel will have no choice but to prepare for "military action against Iran."
"Tens of thousands of people in the Middle East are gonna lose their lives because of this decision by Barack Hussein Obama," he said.
Iran and the P5+1 group of countries - the US, the US, France, Russia, China, and Germany – announced the conclusion of nuclear talks in the Austrian capital, Vienna, on Tuesday.
The US Congress now has 60 days to review the text of the Joint Comprehensive Plan of Action and vote to either approve or disapprove of the text.
The White House has launched a sales pitch to members of Congress who remain skeptical of the nuclear accord with Iran.
The Republican-controlled House of Representatives reportedly has the votes to pass a resolution, but in the Senate, Republicans would need support from a half a dozen Democrats in order to guarantee a veto-proof majority.
President Obama has said he would veto any legislation that seeks to block the implementation of nuclear agreement.
Sen. Kirk said Obama was trying to make this a "viciously partisan issue," making it difficult to pass a resolution. "He will ask the Democrats all to stand with Iran and make sure that we can't get two-thirds majorities in the House and Senate."
The senator said he believed the only reason Obama agreed to a congressional review of the nuclear accord in the first place was because he "wants…to get nukes to Iran."
Meanwhile, the American Israel Public Affairs Committee (AIPAC) called on US lawmakers to reject the conclusion of the nuclear talks.
http://www.presstv.in/Detail/2015/07/16/420531/Senator-Kirk-Iran-nuclear-deal-nuclear-war-Israel-
-------
Iran must be part of Syria solution: Obama
Jul 16, 2015
US President Barack Obama says the crisis in Syria will not be resolved without support from Iran, Russia, Turkey and other regional countries.
"In order for us to resolve [the Syrian crisis], there is going to have to be agreement among the major powers that are interested in Syria that this is not going to be won on the battlefield," Obama said on Wednesday during a press conference in the White House.
"Iran is one of those players, and I think it's important for them to be a part of that conversation," the US president added.
He went on to say that "it's not the job of the US president to solve every problem in the Middle East."
"I do agree that we're not going to solve the problems in Syria unless there's buy-in from the Russians, the Iranians, the Turks, our (Persian) Gulf partners," Obama said.
"It's too chaotic, there are too many factions, there's too much money and too many arms flooding into the zone," he continued.
Syria has been gripped by deadly unrest since March 2011. The United States and its regional allies - especially Qatar, Saudi Arabia, and Turkey - are supporting the militants operating inside the country.
According to the United Nations, more than 230,000 people have been killed and millions displaced due to the turmoil that has gripped Syria for nearly four years.
Since September last year, the US and some of its Arab allies have been carrying out airstrikes against ISIL terrorists inside Syria without any authorization from Damascus or a UN mandate.
http://www.presstv.in/Detail/2015/07/16/420472/Iran-Syria-crisis-Obama-
-------
American Muslims Fight Stereotypes
July 16, 2015
Muslims around the world will celebrate the holiday of Eid-al-Fitr, the end of the holy month of Ramadan, on Friday. Ramadan is a time when Muslims fast and focus on God.
For Muslims in the United States, it is also a time to reflect and fight misconceptions and negative stereotypes of Islam.
Muslims feel Islamic extremists hurt their community
Ahsan Mahmood Khan is the President of the Ahmadiyya Muslim Community Los Angeles East Chapter. He says the news does not reflect who Muslims are.
"You hear a lot in the news about (the Islamic State group) ISIL or ISIS and what is going on in the Middle East. It is just terrible, and we hear this in the news every day."
He says it is very similar to what happened after the September 11 terrorist attacks against the U.S. in 2001.
Mohammed Zafarullah is the imam of the Baitul Hammed Mosque. He says Islam is a religion of peace. But extremism has led to misconceptions about Islam.
"Those people who are doing these kind of things, they say they are Muslim but according to our religion, they are not a real Muslim because that is … they have their own agenda, which they are using in the name of the religion."
A 2011 study by the Pew Research Center showed that Muslims in the U.S. are concerned about the acts of Islamic extremists. The study explains how life became more difficult for Muslim-Americans after the September 11 attacks. Some Muslims reported that people looked at them with suspicion and called them offensive names.
More than half of the Muslims surveyed also said they believe government policies single out Muslims in the United States for increased monitoring.
Even more challenges for Muslim women
Muslim women in the U.S. face other challenges in their daily lives. People can notice them more easily because of their hijab – the head covering worn by some Muslim women.
Mozna Khraiwesh is a Muslim woman from Jordan. She and her husband came to the U.S. in 2002. They live in Washington D.C. with their two sons and one daughter.
"People right away, some of them of course you can't generalize--not everyone is the same--but majority whenever they see you wearing hijab, they assume right away that you are a woman oppressed, treated unequally, with no rights, which is, unfortunately, it's totally the opposite."
She says sometimes people look at her differently at grocery stores.
"And it used to bother me a lot. Now I start to train myself how to deal with it. And sometimes I feel sorry for these people, because they don't know. And maybe we have, as a Muslim, we have to do more to show who we are and to present ourselves in a good way, so maybe to get them in a better way."
Edina Lekovic is the Director of Policy and Programming at the Muslim Public Affairs Council. In an interview with Share America, she said American Muslim women in positions of leadership play an important role in fighting these stereotypes.
She added that it is important to show people that Muslim women are "not second-class citizens" and "are active members of the communities and society."
Islam is already the fastest-growing religion in the world. And several studies have shown that the number of Muslims will equal the number of Christians by the year 2050.
Triwik Kurniasari wrote this story for Learning English with additional reporting from Elizabeth Lee and Adam Brock. Hai Do was the editor.
http://learningenglish.voanews.com/content/this-is-america-muslim-family-reflects-on-life-in-america/2859918.html
------
Africa
Tunisian winemakers remain upbeat despite concerns
By Thessa Lageman
16 July 2015
The two Muslim women in headscarves pull out weeds from between chardonnay vines at a vineyard in north eastern Tunisia.
They say that their faith is no barrier to doing their job.
"What else can we do? There is no other work," says one of the women.
"We don't drink in our family," adds her friend. "But everyone should decide for themselves."
The two women continue to tend the rows of budding vines under a bright blue sky. But this picturesque scene is sadly no longer the sort of image that springs to mind at the mention of Tunisia.
The north African country has instead been the focus of attention recently following the deadly attack on holidaymakers in the seaside resort of Port El Kantaoui, near the city of Sousse, on 26 June.
In the attack, for which the Islamic State group claimed responsibility, a gunman opened fire on a beach and at a hotel killing 38 tourists.
Wine has been made in Tunisia since ancient times
With foreign governments now advising against travelling to Tunisia, the country's tourism sector - a vital part of its economy - faces an uncertain future.
Yet while the Tunisian holiday industry will inevitably be most affected by the fear of further Islamist violence, and the knock-on big reduction in tourist numbers, the country's wine producers are also now increasingly nervous.
Although it may seem odd to some that a Muslim country like Tunisia has a wine industry, given that alcohol is generally considered to be forbidden under Islam, the drink has been made in the country since before Roman times.
And while production diminished after the introduction of Islam in the 7th Century, it never completely stopped. Under French rule between 1881 and 1956 it increased substantially.
Following the departure of French winemakers, and the nationalisation of the industry, the sector saw decades of decline.
Wine sales in Tunisia have grown in recent years
However, some Tunisians still to this day discreetly enjoy a glass or two of wine, especially in the north of the country.
Wine is available for them to buy in large supermarkets, with the only restriction that it cannot be bought on Fridays, the Islamic holy day, or during the month of Ramadan, which this year is due to end this weekend.
And in the past decade, the quality of Tunisian wine has increased greatly. The state-run monopoly on production has been removed, clearing the way for the establishment of more than 10 ambitious privately-owned wineries.
Last year industry figures estimate that Tunisians drank 14.3 million bottles of the country's wine, only slightly fewer than the 14.4 million bottles consumed by visiting tourists.
But with foreign holidaymakers now staying away, the country's winemakers may be left with a lot of unsold wine on their hands.
And there is fear that Islamist extremists may turn their attention to the industry.
One Tunisian winemaker asked not to be quoted in this article, saying that the authorities had advised caution, and that he had to be discreet because of security concerns. But others remain upbeat and open.
'My passion'
Among the rolling hills, olive groves and fruit trees of the Cap Bon region in north eastern Tunisia - the centre of the country's wine industry - lies the winery Domaine Neferis.
"Since there are now more competitors, the quality has increased," says Samia Ben Ali, showing the oak barrels in which her red wine matures.
Samia Ben Ali says she is proud to be winemaker, and loves her job
The 39-year-old, who learned the trade in Australia, is currently the only female Tunisian winemaker.
"My work is my passion," she says. "Not many people get to do what they want."
Despite being often warned not to talk to the media, Ms Ben Ali says: "I think it's important to let the rest of the world see that women in Tunisia can do the work they want to do."
She adds that drinking wine is certainly not taboo in her family.
"I come from the Kerkennah Islands [which lie off Tunisia's eastern coast], where people have been making wine at home for centuries."
'Good place'
When the moderate Islamic party Ennahda came to power in Tunisia after the 2011 revolution, there was an initial fear that alcohol would be banned.
Instead the government only increased the tax on alcoholic drinks, and this had no impact on sales. And in last year's general election Ennahda was replaced by the secular Nidaa Tounes party.
The wines of Yacine Amami have won numerous awards
At the nearby winery, Societe Ceptunes, winemaker Yacine Amami pours a glass of white wine.
The 43-year-old, who has a Tunisian father and a German mother, says that wine will always be popular in some quarters of the country.
"Throughout the history of mankind, people have wanted to drink," he says.
A few hours drive to the west, past golden wheat fields and flocks of sheep, another woman is working in the Tunisian wine industry.
Pilar Rodrigo Monzon, a 49-year-old Spaniard, is the owner of a winery called Domaine Shadrapa.
Full Report at:
http://www.bbc.com/news/business-33424302
-------
URL: https://www.newageislam.com/islamic-world-news/new-age-islam-news-bureau/fresh-isis-horror-as-10-year-olds-used-as-cold-blooded-executioners/d/103924