New Age Islam News Bureau
1 Oct 2012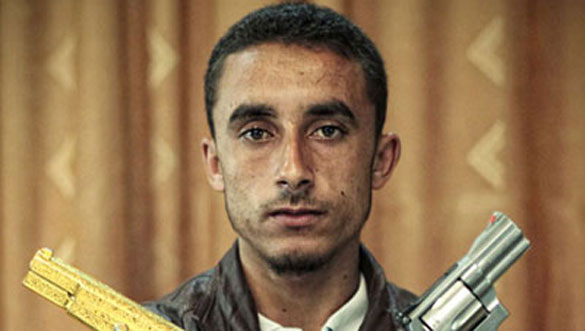 Pakistan
• Madrasa Students Led By a Cleric Attack Guests at Wedding Party in Pak
• Pakistan: In twist, Muslims accused of blasphemy
• Blasphemy case against 9 Pak men for temple damage
• Three die as militants clash in Khyber
• US drone strike kills 3 in Pakistan's tribal region
• New bounty offer in Pakistan for anti-Islam filmmaker
• Witnesses in Pak blasphemy case turn hostile
• Pak Prez invites J& K separatists
• Transparent polls only solution to Balochistan issue: Nawaz
• Two more killed in Balochistan firings
• Political forces rendered sacrifices for democracy, says Gilani
• 'PPP can never compromise on Sindh's rights'
• 'Shabash Pakistan' kicks off with common pledge to bring change
• Two killed in Karachi violence
South Asia
• In Afghanistan, Taliban openly supported by clerics
• Bangladesh detains 166 suspects in torching of Buddhist temples
• Taliban suicide attack kills 14, including NATO troops
• Bangladesh blames Muslim Rohingyas for temple attacks
• Afghan soldiers turn guns on NATO mates as Taliban applaud
• Former Maldives President goes on trial
• Bangladesh deploys troops after new attacks on Buddhists
• China & ISI touch a RAW nerve in N-E
• Custom seize two men carrying books about Christianity
• Two Chinese workers killed in Gilgit mishap
• 80 per cent of Afghanistan free of violence: NATO commander
India
• For rent but not for Muslims & live-ins
• Indian Muslims don't fare well at all, says US report
• Five militants killed in Kashmir
• Kerala's Catholic Church plays matchmaker
• My husband being harassed unnecessarily: Fasih Mahmood's wife
• When ISI became a 'front for SIMI'
• U P: Urdu pitch to strengthen Muslim base
• Kalam to unveil Mahatma Gandhi's statue in Florida tomorrow
• Shinde to visit forward areas along India-Pakistan border in Punjab, J&K
• Ajmal Kasab wrote to Pakistan envoy twice seeking legal help
• Local feud may have been behind Kashmir deputy Sarpanch killing
• Amit Shah falsely implicated: Narendra Modi
• BSF chief promises to bring down border casualties to zero
Arab World
• Saudi defends refusal to accept Nigerian women for Haj
• Minister: Rise of extremists dangerous for Christians
• Five children among 12 killed in Syria air strike: activists
• Emergency meeting on saving Syria's heritage to be held
• Religious healing "ruqyah" to be controlled in Saudi Kingdom
• Iraq's Monthly Death Toll Doubles, Bloodiest for Two Years
• Prince Salman: Moderation is answer to current crisis
• Armenian Christians torn in Syria's civil war
• Church in south Lebanon damaged by gunfire
• Top Bahrain court confirms jail terms on protesting medics: BNA
• Islamist Militant group says it captured officers sent by Yemen to Syria
• TV Critic of Egypt's Islamist President Freed
• Aleppo heritage burns as war rages
• In Syrian shadow, Iraq's Maliki juggles Tehran and Washington
• Former Minister and MP to be blamed for any Akkar violence: MP
• Syrian forces shell rebel strongholds in east Damascus: activists
• Assad 'sold out fellow tyrant Gaddafi in act of self-preservation'
Mideast Asia
• Gaza Salafist group accuses Hamas of torturing members
• Yasser Arafat's exhumation may answer questions over his death
• Israel Finance Minister Says Iran Economy 'on Verge of Collapse'
• Millions Are Facing Food Crisis in Yemen, U.N. Agency Says
• Proudly Bearing Elders' Scars, Their Skin Says 'Never Forget'
• After U.S. Embassy Attack, West Uneasy Over Saleh's Role
• Iran unblocks access to Gmail
• Turkey's Erdogan re-elected as party leader
Southeast Asia
• 1965 mass killings justified: Indonesian Minister
• Islamic Defenders Front Shut Down South Kalimantan Nightclub
• Human rights watchdog urges RI to confront its "demons"
Africa
• Pipeline Fire in Southeast Nigeria Kills 20
• As Kenyan Forces Press Militants across Border, a Church Is Attacked Back Home
• Tanzania: Behind the Scenes At Arusha-Held Agra Forum
• Tinubu: Islam has lost a peerless mouthpiece
• Somali, AU Troops in No Rush to Enter Kismayu
Europe
• French spy shot dead Gaddafi on Nicolas Sarkozy's order: report
• Serbia: Radical Islam 'latent threat' in Muslim-majority region
• UN urges Myanmar to address roots of communal conflict
• 3rd Terror Suspect to Fight Extradition to US
North America
• U.S. May Have Put Mistaken Faith in Libya Site's Security
Australia
• Australian aid worker 'free to leave Libya'
Compiled by New Age Islam News Bureau
Photo: Ben Omran Shaaban, French Spy who Shot Dead Gaddafi
URL: https://www.newageislam.com/islamic-world-news/new-age-islam-news-bureau/french-spy-shot-dead-gaddafi-on-nicolas-sarkozy-s-order/d/8837
-----------
French Spy Shot Dead Gaddafi on Nicolas Sarkozy's Order
Oct 01 2012
London: A French secret serviceman shot dead Libya's former strongman Muammar Gaddafi and not a lynch mob of rebels as he lay trapped and cornered in a sewage pipe in his home town of Sirte.
The French secret agent is said to have infiltrated a violent mob which had encircled the Libyan leader on October 20, 2011, in a sewage pipe in his home town, and shot him in the head, the Daily Mail reported.
Quoting diplomatic sources in the North African capital, the Mail said the motive apparently was to stop Gaddafi being interrogated about his highly suspicious links with Nicolas Sarkozy, who was the President of France at that time.
The paper said Sarkozy who once welcomed Gaddafi as the "Brother leader" during a state visit to Paris was said to have received millions of dollars from the Libyan despot to fund his election campaign in 2007.
Sarkozy, the paper said, was not the only Western leader to have close links with Gaddafi and claimed that former British Prime Minister Tony Blair visited Gaddafi regularly and was helping to facilitate multi-billion pounds business deals.
Italian newspaper Corriere della Serra also reported that the French agent was acting on the express orders of Sarkozy.
"Since the beginning of NATO support for the revolution, strongly backed by the government of Nicolas Sarkozy, Gaddafi openly threatened to reveal details of his relationship with the former president of France, including the millions of dollars paid to finance his candidacy at the 2007 elections," the paper said.
The reports of involvement of French agents in the death of Gaddafi were corroborated by Mahmoud Jibril, who led the interim government in Libya after the ouster of Gaddafi.
Jibril told an Egyptian TV that "it was a foreign agent who mixed with the revolutionary brigades to kill Gaddafi."
The Daily Mail quoted diplomatic sources in Tripoli as saying "Sarkozy had every reason to try to silence the Colonel and as quickly as possible."
The new revelations said that Gaddafi had been tracked through his satellite telecommunications system as he talked to Syrian President Bashar Al-Assad.
NATO experts were able to trace the communications traffic between the two Arab leaders, and so pinpoint Gaddafi to the city of Sirte, where he was murdered on October 20.
NATO jets shot up Gaddafi's convoy, before rebels on the ground dragged Gaddafi from a drain where he was hiding and then subjected him to a violent attack which was videoed.
In another sinister twist to the story, a 22-year-old who was among the group which attacked Gaddafi and who frequently brandished the gun said to have killed him, died in Paris last Monday.
Ben Omran Shaaban was said to have been beaten up by Gaddafi loyalists in July, before being shot twice. He was flown to France for treatment, but died of his injuries.
Sarkozy, who lost the presidential election in May, has continually denied receiving money from Gaddafi.
http://www.indianexpress.com/news/french-spy-shot-dead-gaddafi-on-nicolas-sarkozys-order-report/1010298/
--------
Pakistan
Madrasa Students Led By a Cleric Attack Guests at Wedding Party in Pak
Oct 01 2012
Islamabad: Two persons were injured when madrasa students attacked guests at a wedding in Pakistan's southern Sindh province for singing folk songs, according to a media report today.
The incident occurred in Dad Laghari area of Ghotki yesterday. Women were singing the Sindhi folk song "Sehra" when students from a nearby madrasa attacked guests at the wedding with sticks and stones.
A man named Hadi Bux Malik and his son-in-law, Hajan Malik, were injured. The students were led by a cleric named Maulvi Tayyab Arain, The Express Tribune reported.
"It was my son's engagement," said Hadi Bux.
"They asked us to stop singing and used abusive language for our women and children."
Hadi Bux and his relatives went to the local police station to register an FIR.
Instead police detained Hajan and registered a case against him on the complaint of Arain, who too reached the station with the seminary students.
"The police did not listen to us," Hadi Bux said.
The students used abusive language in the police station, he added.
"It was not the first time that these students attacked us. The whole city is afraid of them," Hadi Bux said.
Arain claimed the people at the wedding were singing songs at the time of 'Isha' prayers.
"We've told them before not to play drums or sing duringprayers timings," he claimed.
"We did not attack their home – we only asked that they stop singing and then registered a case at the police station," he said.
Several political leaders, including Mian Abdul Rasheed of the ruling Pakistan People's Party, condemned the attack.
They said protests will be organised against the use of violence by the seminary students. They urged authorities to act against police officials who allowed the students to take the law into their hands.
http://www.indianexpress.com/news/madrassa-students-attack-guests-at-wedding-party-in-pak/1010305/
---------
Pakistan: In twist, Muslims accused of blasphemy
KARACHI: Oct 1, 2012, Pakistan's blasphemy laws may be used to punish Muslims suspected of ransacking a Hindu temple, an intriguing twist for a country where harsh laws governing religious insults are primarily used against supposed offenses to Islam, not minority faiths.
The blasphemy laws, sections of which carry the death penalty or life imprisonment, have drawn renewed international scrutiny this year after a young Christian girl in Islamabad was alleged to have desecrated the Muslim holy book, the Quran. A Muslim cleric now stands accused of fabricating evidence against the girl, who has been freed on bail and whose mental capacity has been questioned.
Police officer Mohammad Hanif said Sunday the anti-Hindu attack took place Sept. 21. The government had declared that day a national holiday - a "Day of Love for the Prophet" - and called for peaceful demonstrations against an anti-Islam film made in the U.S. that has sparked protests throughout the Muslim world. Those rallies took a violent turn in Pakistan, and more than 20 people were killed.
Hanif said dozens of Muslims led by a cleric converged on the outskirts of Karachi in a Hindu neighborhood commonly known as Hindu Goth. The protesters attacked the Sri Krishna Ram temple, broke religious statues, tore up a copy of the Bhagavad Gita, a Hindu scripture, and beat up the temple's caretaker, Sindha Maharaj.
"The attackers broke the statues of (Hindu deities) Radha, Hanuman, Parwati and Krishna, and took away the decorative gold ornaments," Maharaj said. "They also stormed my home and snatched the gold jewelry of my family, my daughters."
Maharaj and other Hindu leaders turned to the police, who registered a case against the cleric and eight other Muslims. But none of the suspects had been found as of Sunday, police said.
Officials said the case against the attackers was registered under Section 295-A of the blasphemy laws, which covers the "outraging of religious feelings." That section of the law can apply to any religion and carries a fine or up to 10 years imprisonment.
The Asian subcontinent's British rulers originally framed blasphemy laws partly to prevent violence between Muslims and Hindus. Muslim-majority Pakistan was carved out of India in 1947, and under the military rule of Gen. Muhammad Zia ul-Haq, a fervent Islamist, the statutes covering blasphemy were toughened in the 1980s.
Area police chief Jaffer Baloch said authorities were simply considering the Hindus' complaint under the relevant section of the law.
Islam's Prophet Muhammad "teaches us to respect others' religions so that ours shall also be respected," he said. "Like us, Hindus have their own faith and religion and they do have sentiments for their Bhagavad and gods."
Human rights activists say Pakistan's blasphemy laws are too broad and vague, and are often used by people who are trying to settle scores with rivals or target religious minorities, who make up 5 percent of Pakistan's 180 million people.
Although many Muslims are accused of insulting Muhammad or other acts deemed blasphemous, minorities are disproportionately represented among the defendants, rights groups say.
Hindus and Christians are among prominent minorities who fear the blasphemy laws. Also frequently blamed for blasphemy are Ahmadis, who consider themselves Muslims but are reviled as heretics by mainstream Muslims.
Pakistan is not known to have actually executed anyone for blasphemy, and while courts often set the accused free on technical grounds or other reasons, many extremists have killed people who were let go by judges.
Even speaking out against the blasphemy laws can put people in danger. Two prominent politicians, including the sole Christian member of the federal Cabinet, were assassinated in 2011 for urging reform of the law.
The politicians, Punjab province Gov. Salmaan Taseer and Minister for Minorities Shahbaz Bhatti, had spoken out in defense of Asia Bibi, a Christian sentenced to death in 2010 for allegedly insulting Islam's Prophet Muhammad. Bibi, whose case prompted international criticism, is believed to be the first woman condemned to die under the statute and remains in prison.
The laws retain broad support in Pakistan, where Islamic conservatism is on the rise alongside extremism and Muslims are highly sensitive about their faith. Taseer's killer, for instance, was hailed as a hero in many quarters. Thousands of people rallied to support him, and lawyers showered him with rose petals.
Many human rights activists, partly out of their own security concerns, have tempered their demands: years ago, they used to call for the blasphemy laws' repeal, but now they say the laws should be reformed to prevent misuse. Even leaders of minority religious groups have often said they support the law but simply do not want to see it abused.
Although there's no sign that the weak civilian government plans to amend the law, the case of the Christian girl has brought some hope that sentiments about it may change. Even some Islamist clerics sympathized with the girl, whose age has been said to be 14 or younger and who may be developmentally disabled.
Witness claims that a Muslim cleric stashed pages of a Quran in the girl's bag to make it seem as if she burned them have added to the sympathy for her. The cleric is accused of planting the evidence to push Christians out of the neighborhood and is now being investigated for blasphemy himself. He denies any wrongdoing.
http://timesofindia.indiatimes.com/world/pakistan/Pakistan-In-twist-Muslims-accused-of-blasphemy/articleshow/16626385.cms
--------
Blasphemy case against 9 Pak men for temple damage
Oct 01 2012
Islamabad: In what seems to be a first for Pakistan, a group of Muslim men who damaged a temple and attacked homes of Hindus during a protest in Karachi against an anti-Islam film have been charged under the country's harsh blasphemy law, a media report said on Sunday.
Welcoming the move by the police, Human Rights Commission of Pakistan chairperson Zohra Yusuf said she had never heard of a blasphemy case registered against Muslims for damaging a house of worship.
Nine men, including Maulvi Habibur Rehman and his accomplices, have been named in the police complaint regarding the ransacking of the Sri Krishna Bhagwan Mandir in Gulshan-e-Maymar area of Karachi. The temple was vandalised during government-sanctioned protests against the film "Innocence Of Muslims" on September 21.
The men charged by police belong to residential areas near the temple, The Express Tribune reported. They also ransacked some houses and looted jewellery and valuables.
The police registered a case against the men under section 295-A of the Pakistan Penal Code, which covers "deliberate and malicious acts intended to outrage religious feelings of any class by insulting its religion or religious beliefs". They were also charged with looting, vandalism and theft.
Police officer Jaffar Baloch said: "The desecration of a temple meant blasphemy to me and that's why we inserted that section." No one has been arrested so far by police as the accused are on the run.
http://www.indianexpress.com/news/blasphemy-case-against-9-pak-men-for-temple-damage/1010097/
-----------
Three die as militants clash in Khyber
Oct 1, 2012
LANDI KOTAL: Three militants, among them a 'commander', were killed and nine others injured when rival groups clashed in the remote Bazaar-Zakhakhel area of Khyber Agency on Sunday.
According to sources, the clash took place when armed activists of Lashkar-i-Islam attacked the positions of Tawheedul Islam in Bhango Darra area of Zaoddin to reopen a supply line blocked by the latter a few days ago.
Full report at:
http://dawn.com/2012/10/01/three-die-as-militants-clash-in-khyber/
---------
US drone strike kills 3 in Pakistan's tribal region
Oct 1, 2012
ISLAMABAD: At least three suspected militants were killed today in a US drone strike in the lawless North Waziristan tribal region of Pakistan, security officials said.
The CIA-operated spy planes fired four missiles at a vehicle carrying militants, the security officials were quoted as saying by TV news channels.
Full report at:
http://timesofindia.indiatimes.com/world/pakistan/US-drone-strike-kills-3-in-Pakistans-tribal-region/articleshow/16623680.cms
-----------
New bounty offer in Pakistan for anti-Islam filmmaker
PESHAWAR: A former Pakistani legislator has offered a $200,000 bounty for anyone who kills the maker of a US-made anti-Islam film insulting the Holy Prophet and angering Muslims around the world.
Ikramullah Shahid made the offer at a rally Monday in the northwestern city of Peshawar, before a crowd of about 15,000 people.
Full report at:
http://dawn.com/2012/10/01/new-bounty-offer-in-pakistan-for-anti-islam-filmmaker/
-------
Witnesses in Pak blasphemy case turn hostile
Oct 01 2012
Islamabad: The three men who had accused a cleric of tampering evidence to implicate young Christian girl Rimsha Masih in a blasphemy case today withdrew their statement, claiming they were tortured by police to testify against the imam.
The three witnesses, who had earlier recorded statements against cleric Khalid Chishti, submitted a fresh statement in the court of a district and sessions judge in Islamabad that said police had forced them to blame Chishti for the incident.
The witnesses claimed police had tortured them and made them give statements against Chishti.
Full report at:
http://www.indianexpress.com/news/witnesses-in-pak-blasphemy-case-turn-hostile/1010347/
-----------
Pak Prez invites J& K separatists
By Naseer Ganai in Srinagar
October 1, 2012
PAKISTAN PRESIDENT Asif Ali Zardari has invited moderate Hurriyat Conference chairman Mirwaiz Umar Farooq and other separatist leaders from Kashmir to visit his country.
Zardari extended the invitation during his meeting with Mirwaiz on the sidelines of the United Nations General Assembly session on Friday evening, a Hurriyat spokesman said.
Pakistan's foreign minister Hina Rabbani Khar and ambassador to the US Sherry Rehman were also present during the meeting.
Full report at: Mail Today
-----------
Transparent polls only solution to Balochistan issue: Nawaz
Oct 1, 2012
JACOBABAD/QUETTA: Pakistan Muslim League -Nawaz (PML-N) chief Nawaz Sharif on Sunday said that transparent election was the only solution to the Balochistan issue.
He criticised the new local government system in Sindh, saying his party opposed the dual system and stood with the nationalist parties of Sindh regarding the issue.
He also said that his party would continue supporting the flood-affected people of the province.
Full report at:
http://www.dailytimes.com.pk/default.asp?page=2012\10\01\story_1-10-2012_pg1_3
---------
Two more killed in Balochistan firings
Oct 1, 2012
QUETTA: Two men were killed and another wounded in two separate incidents of firing in Quetta and Turbat on Sunday while a body was found in Hub.
According to police, a scuffle broke out between a Levies Force official and a jeweller in main Liaquat Bazaar. Resultantly the Levies Force constable, identified as Mujeebur Rehman, was killed and jeweller Abdul Khaliq sustained injuries. In another incident, a man was killed in Turbat. Unidentified armed men opened fire on Muhammad Murad in Turbat Bazaar and fled from the scene. The victim received serious wounds and died on the spot.
Separately, police acting on a tip-off recovered a body packed in gunny bag and shifted it to hospital for medico-legal formalities.
http://www.dailytimes.com.pk/default.asp?page=2012\10\01\story_1-10-2012_pg1_5
---------
Political forces rendered sacrifices for democracy, says Gilani
Oct 1, 2012
ANKARA: Former prime minister Yousaf Raza Gilani said on Sunday that political forces in Pakistan have fought many battles and rendered sacrifices for democracy.
Speaking at the 4th party congress of the Justice Development Party (AK Party) in Ankara, Gilani said the journey of democracy in Pakistan has also been a persistent endeavour towards attaining the ideals. The former prime minister addressed a gathering of about 40,000 members/delegates of the AK Party and over 200 foreign dignitaries who attended the event at Ankara Arena.
Full report at:
http://www.dailytimes.com.pk/default.asp?page=2012\10\01\story_1-10-2012_pg7_23
---------
'PPP can never compromise on Sindh's rights'
Oct 1, 2012
KARACHI: Sindh Revenue Minister Jam Mehtab Hussain Dahar has said that all measures were being taken to drain out rainwater from flood-affected areas and there was no interruption in relief work.
News regarding interruption in relief work are baseless, he said while talking to media men visiting and monitoring relief work in Ubauro and its adjacent areas.
Full report at:
http://www.dailytimes.com.pk/default.asp?page=2012\10\01\story_1-10-2012_pg7_22
---------
'Shabash Pakistan' kicks off with common pledge to bring change
Oct 1, 2012
ISLAMABAD: As many as 250 National University of Science and Technology students gathered in NUST School of Civil and Environmental Engineering auditorium and pledged to save their motherland by becoming 'ambassadors of peace' as they kicked off their nationwide campaign, entitled 'Shabash Pakistan'.
'Shabash Pakistan' is a nation-branding movement started by the School of Leadership. This movement aims at re-awakening patriotism and 'Pakistaniat' in the youth of Pakistan. The programme will help put them on the path of creating a positive image of Pakistan in the international arena.
Full report at:
http://www.dailytimes.com.pk/default.asp?page=2012\10\01\story_1-10-2012_pg11_7
---------
Two killed in Karachi violence
Oct 1, 2012
KARACHI: Two people, including a woman, were killed in Karachi, whereas one suspected target killer was arrested on Monday, DawnNews reported.
The body of a woman was found in the Sherpao Colony area in Karachi's Quaidabad area. The woman had died of poisoning.
In another incident, a man was shot dead in Liaquatabad No.1 area of Karachi.
Meanwhile, police arrested one person in the city's Surjani Town area and recovered a Kalashnikov and a pistol from his possession.
The suspect was wanted by the police for his alleged involvement in targeted killings and robberies, according to police sources.
Police did not make the arrest public and shifted the suspect to an undisclosed location for further questioning, sources told DawnNews.
http://dawn.com/2012/10/01/two-killed-one-arrested-in-target-killings-in-karachi/
---------
South Asia
In Afghanistan, Taliban openly supported by clerics
Chris Sands
September 30, 2012
The occupation, they say, has actively encouraged a litany of personal and political ills in an effort to weaken the bedrock of society: Islam.
KABUL, Afghanistan — Mawlawi Ataullah Faizani took time out from teaching Islamic studies at a girls' school in Kabul to explain why Afghans have a duty to resist the occupation of their country.
He quoted sayings of the Prophet Muhammad, spoke of foreign troops humiliating civilians, and ridiculed the corruption that runs through the heart of the government.
"This anarchy has been created by the West," he told GlobalPost. "The West is never happy to let Muslims be united."
Faizani's views are common among members of the powerful religious establishment here. Clerics and scholars now openly sympathize with the Taliban and question much of what NATO claims to have achieved.
Full report at:
http://www.globalpost.com/dispatch/news/regions/asia-pacific/afghanistan/120926/islam-sharia-nato-taliban
----------
Bangladesh detains 166 suspects in torching of Buddhist temples
October 1, 2012
Bangladeshi police on Monday detained 166 suspects for the torching of Buddhist temples by angry Muslims over a Facebook posting that insulted Muslims, a government minister said.
Home Minister Mohiuddin Khan Alamgir blamed a right-wing political party for inciting the weekend attacks.
"Police were instructed to curb any attempts of vitiating religious harmony with an iron fist," he said.
Full report at:
http://www.thehindu.com/news/international/bangladesh-detains-166-suspects-in-torching-of-buddhist-temples/article3954772.ece
-----------
Taliban suicide attack kills 14, including NATO troops
Khan Mohammad | October 01, 2012
A suicide attack on a joint Afghan-NATO foot patrol on Monday killed at least 14 people, including three NATO troops and an interpreter, officials said.
Four Afghan police and six civilians were also killed, and 37 were wounded in the attack near a market in the eastern city of Khost, the provincial governor's office said.
Taliban insurgents claimed responsibility for the blast.
"Today at around 8:30 am (0400 GMT) a suicide bomber on a motorcycle targeted a joint patrol in Khost city in a crowded area.
Full report at:
http://www.thejakartaglobe.com/afp/taliban-suicide-attack-kills-14-including-nato-troops/547569
----------
Bangladesh blames Muslim Rohingyas for temple attacks
Oct 1, 2012
(Reuters) - Bangladesh accused Muslim Rohingya refugees from Myanmar on Monday of involvement in attacks on Buddhist temples and homes in the southeast and said the violence was triggered by a photo posted on Facebook that insulted Islam.
Thousands of Muslims went on a rampage in Buddhist areas of Bangladesh near the border on Saturday, setting ablaze more than a dozen temples and monasteries and at least 50 homes. Property was looted, including statues of the Buddha.
"The attacks on temples and houses in Buddhist localities in Ramu and neighboring areas in Cox's Bazar (district) were perpetrated by radical Islamists," Home Minister Mohiuddin Khan Alamgir told reporters in Dhaka.
Full report at:
http://www.reuters.com/article/2012/10/01/us-bangladesh-temples-idUSBRE8900CZ20121001
----------
Afghan soldiers turn guns on NATO mates as Taliban applaud
Subodh Varma
Oct 1, 2012
NEW DELHI: The ominously rising trend of 'green on blue' attacks in Afghanistan received another up tick on Saturday when a soldier of the Afghan National Security Forces shot down a NATO soldier and a civilian contractor in Sayyidabad district of Wardak province. With this, the number of such attacks by Afghan soldiers on their NATO allies has gone up to 33 this year, up from just 15 last year. There have been 60 such attacks since 2008.
The latest killing increased the death toll of NATO soldiers in these insider attacks to 53 this year, up from 33 last year. In addition, an estimated 50 NATO soldiers have been wounded in these attacks.
Full report at:
http://timesofindia.indiatimes.com/world/us/Insider-Attacks-Afghan-soldiers-turn-guns-on-NATO-mates-as-Taliban-applaud/articleshow/16626685.cms
----------
Former Maldives President goes on trial
Oct 01 2012
Male : Maldives first democratically elected president Mohamed Nasheed will go on trail on Monday on abuse of power charges, nearly eight months after he resigned following what he called "coup d'etat".
Nasheed, 45, is facing trial for detaining the chief criminal court judge on corruption allegations during his final days in office. The trial will be presided over by a three-Judge bench.
Full report at:
http://www.indianexpress.com/news/former-maldivian-president-goes-on-trial-today/1010244/
-----------
Bangladesh deploys troops after new attacks on Buddhists
Oct 1, 2012
DHAKA: Bangladesh sent in troops to guard Buddhist neighbourhoods Monday after Muslim mobs carried out fresh attacks on temples and homes over a Facebook photo deemed offensive to Islam, police said.
At least five temples were attacked in different neighbourhoods of the resort region of Cox's Bazaar on Sunday evening, with thousands of protestors smashing several statues of Lord Buddha before riot police used force to repel the crowds.
"We shot rubber bullets to disperse the crowd," said Faruk Ahmed, deputy police chief for the southeastern region.
Full report at:
http://timesofindia.indiatimes.com/world/south-asia/Bangladesh-deploys-troops-after-new-attacks-on-Buddhists/articleshow/16623411.cms
-----------
China & ISI touch a RAW nerve in N-E
By Abhishek Bhalla
October 1, 2012
CHINESE and Pakistani intelligence agencies are working in tandem to create mayhem in India's north- eastern region. Counter- terrorism officials have gathered intelligence that the Chinese agencies are financing and providing assistance to Pakistan's ISI to keep insurgent groups active in the North- East.
A note prepared by the Research and Analysis Wing ( RAW) on the recent unrest in the North- East says: " ISI is being used by Chinese intelligence agencies as a surrogate." The note has been forwarded to the home ministry.
Full report at: Mail Today
-----------
Custom seize two men carrying books about Christianity
By Ahmed Nazeer | September 30th, 2012
Customs officials at the Male' Ibrahim Nasir International Airport (INIA) on Thursday seized 11 books about Christianity, typed in Dhivehi, from a Bangladeshi expatriate who came to the Maldives via Sri Lanka.
Speaking with the press last Thursday inside the Customs Building, Chief Customs Officer Ahmed Samah identified the Bangladeshi expat as Jathish Bisvas, 44.
Samah said the 44 year-old man had arrived to the Maldives ona tourist visa and that it was the first time he visited Maldives.
Full report at:
http://minivannews.com/society/custom-seize-two-men-carrying-books-about-christianity-44580
-----------
Two Chinese workers killed in Gilgit mishap
Oct 1, 2012
GILGIT: Two Chinese workers were killed while another sustained injuries when large rocks fell upon them during rock blasting in Hunza Nagar on Sunday. According to details, the Chinese workers were working in Hunza Nagar when large rocks fell on them during the blasting.
http://www.dailytimes.com.pk/default.asp?page=2012\10\01\story_1-10-2012_pg7_27
----------
80 per cent of Afghanistan free of violence: Nato commander
Oct 1, 2012
KABUL: A senior Nato commander has said that 80 per cent of Afghanistan is free of violence but warned that an insurgency still rages in the south and east, "fuelled by fighters coming from Pakistan".
"About 80 per cent of Afghan territory and the Afghan population are not affected by security problems or violence," Lt-Gen Olivier de Bavinchove said in an interview.
"On the other hand, there is a huge contrast when it comes to security between the different regions and districts," said Bavinchove, chief of staff of Nato's International Security Assistance Force (Isaf).
Full report at:
http://dawn.com/2012/10/01/80-per-cent-of-afghanistan-free-of-violence-claims-nato-commander/
----------
India
For rent but not for Muslims & live-ins
By Aditya Menon
October 1, 2012
DELHI landlords just refuse to give up their discriminatory ways. Live- in couples, Muslims and people from Haryana are among the "least preferred" tenants, according to a recent survey conducted among property brokers in the city.
The survey, which has been conducted by the Centre for Civil Society, states that a vast majority of landlords specifically state their preference against tenants from certain backgrounds. Unmarried couples who want to stay together are the biggest anathema to landlords according to the survey.
As many as 88 per cent of the landlords surveyed said they did not want unmarried men and women as tenants. "Most landlords would not even consider unrelated, unmarried men and women who want to live together.
Full report at: Mail Today
-----------
Indian Muslims don't fare well at all, says US report
Zia Haq, Hindustan Times
October 01, 2012
Two India reports by the US-India Policy Institute, a Washington-based think-tank, has noted a steady decline in key human development indicators of Muslims, apart from high hunger levels in Gujarat, one of India's fastest growing states.
The UPA government had rolled out multiple welfare programmes after the 2006 Sachar Committee report on disadvantages faced by Muslims.
Full report at:
http://www.hindustantimes.com/India-news/NewDelhi/Indian-Muslims-don-t-fare-well-at-all-says-US-report/Article1-938101.aspx
-----------
Five militants killed in Kashmir
Oct 1, 2012
SRINAGAR: Five separatist militants, all from Pakistan, were killed in a gunfight with security forces in north Kashmir's Ganderbal district on Monday, police said.
"Five militants have been killed in this encounter. All of them belonged to the Hizbul Mujahideen group," a senior police officer said.
The officer said all the slain guerrillas were foreigners belonging to Pakistan.
A huge cache of arms and ammunition has been recovered from the encounter site.
Full report at:
http://timesofindia.indiatimes.com/india/Five-militants-killed-in-
-----------
Kerala's Catholic Church plays matchmaker
Shaju Philip
Oct 01 2012
Thiruvananthapuram : Going beyond its traditional role of solemnising marriages, the Kerala-based Syro-Malabar Catholic Church has started an online matchmaking service to ensure that its members married from among the state's Catholic community.
The church recently floated syromalabarmatrimony.org, controlled directly by its headquarters in Kochi.
Church Internet mission chairman Bishop Joseph Porunnedam said: "Catholic youths are migrating in drives to various places in India and abroad for education and employment. It is difficult for them to find partners from their own caste and community. In such a scenario, the chances of our men and women tying the knot with persons from other religions are high. Full report at:
http://www.indianexpress.com/news/kerala-s-catholic-church-plays-matchmaker/1010134/
-----------
My husband being harassed unnecessarily: Fasih Mahmood's wife
Sep 30 2012
New Delhi : Saudi Arabia's refusal to deport terror suspect Fasih Mahmood might have miffed Indian authorities but it has given fresh hope to the Bihar engineer's wife who sees it as proof that there is no evidence against her husband.
Nikhat Parveen, the wife of the Darbhanga man who was picked up by Saudi police in May, says she came to know through reports in the media that the Saudi government has asked India to furnish more evidence to prove Fasih's alleged role in terror strikes.
Full report at:
http://www.indianexpress.com/news/my-husband-being-harassed-unnecessarily-fasih-mahmood-s-wife/1009987/
-----------
When ISI became a 'front for SIMI'
Muzamil Jaleel
Oct 01 2012
New Delhi : In the circles of police's "SIMI investigations", the name Maulana Naseeruddin comes up often. Sometimes he has been charged, sometimes his sons, sometimes his acquaintances. In one such case against an "associate" of his son, the Hyderabad police filed an affidavit before the Unlawful Activities (Prevention) Tribunal calling Pakistan's ISI a front of SIMI.
Full report at:
http://www.indianexpress.com/news/when-isi-became-a--front-for-simi-/1010126/
-----------
U P: Urdu pitch to strengthen Muslim base
By Piyush Srivastava
October 1, 2012
IN A bid to keep the Muslim minorities in good humour, Mulayam Singh Yadav has decided to play the linguistics card.
The Samajwadi Party ( SP) president has asked the UP government to weigh the option of introducing Urdu as a compulsory subject in government schools.
The party had promised to establish Urdu medium primary and high schools in Muslim majority areas of the state in its assembly election manifesto.
Full report at: Mail Today
-----------
Kalam to unveil Mahatma Gandhi's statue in Florida tomorrow
Oct 1, 2012
FLORIDA: Former President APJ Abdul Kalam will unveil a statue of Mahatma Gandhi and dedicate a memorial built by an association of Keralites here on Tuesday on the occasion of Gandhi Jayanti.
The memorial and the statue is built by Kerala Samajam at a cost of USD 49,000, a statement said.
Full report at:
http://timesofindia.indiatimes.com/world/us/Gandhi-Jayanti-Kalam-to-unveil-Mahatma-Gandhis-statue-in-Florida-tomorrow/articleshow/16624680.cms
-----------
Shinde to visit forward areas along India-Pakistan border in Punjab, J&K
Oct 1, 2012
NEW DELHI: Union home minister Sushil Kumar Shinde will visit Punjab and Jammu & Kashmir next week to review security situation in forward areas along the Indo-Pak border.
During the three-day tour, he will visit forward border guarding posts in Attari-Wagah in Punjab, Leh and Kargil in J&K and interact with soldiers and officers of the BSF and ITBP posted there.
This will be Shinde's first visit to the two border states after assuming office. He is expected to be in Punjab on October 6, and then leave for J&K for two days.
http://timesofindia.indiatimes.com/india/Shinde-to-visit-forward-areas-along-India-Pakistan-border-in-Punjab-JK/articleshow/16620349.cms
-----------
Ajmal Kasab wrote to Pakistan envoy twice seeking legal help
Mateen Hafeez
Oct 1, 2012
MUMBAI: Convicted 26/11 terrorist Ajmal Kasab desperately wanted to meet the Pakistani high commissioner in India after his arrest in Mumbai.
TOI has obtained exclusive copies of the two letters Kasab wrote in Urdu to the Pakistani high commissioner. The first sought an appointment for legal help and requested that the body of his colleague, Ismail Khan, be taken back to Pakistan for burial. The second letter said he did not want the services of an Indian lawyer and requested the Pakistan government to appoint a compatriot "mere bachav ke liye (for my protection)". Neither of his letters got any response.
Full report at:
http://timesofindia.indiatimes.com/india/Ajmal-Kasab-wrote-to-Pakistan-envoy-twice-seeking-legal-help/articleshow/16618558.cms
-----------
Local feud may have been behind Kashmir deputy sarpanch killing
Mir Ehsan
Oct 01 2012
Nowpora, Kreeri : Top Army, police and state officers will be present on Monday as Chief Minister Omar Abdullah holds a meeting of the Unified Headquarters to decide on providing security to panchayat members in the state.
Ironically, the killing that has finally spurred the state and Centre into action on the matter — after ignoring it for months as panchs and sarpanchs complained of threats and resigned — may have little to do with militancy.
Full report at:
http://www.indianexpress.com/news/local-feud-may-have-been-behind-kashmir-deputy-sarpanch-killing/1010212/
-----------
Amit Shah falsely implicated: Narendra Modi
Oct 01 2012
New Delhi : Coming out in support of former state minister Amit Shah, Gujarat Chief Minister Narendra Modi termed his arrest as "unfortunate" and claimed that he was falsely implicated in the Sohrabuddin Sheikh fake encounter case.
"Judiciary is not under the government and is independent. Therefore, the state government need not comment on it. It is unfortunate he (Shah) was falsely implicated in the case and sent to jail, which is most unfortunate," Modi told TV channels in Gujarat during his month-long yatra.
Full report at:
http://www.indianexpress.com/news/amit-shah-falsely-implicated-narendra-modi/1010260/
-----------
BSF chief promises to bring down border casualties to zero
HAROON HABIB
October 1, 2012
Bansal holds four-day meeting with Bangladesh counterpart
India has assured Bangladesh of bringing down casualties along the border to zero, Director General of Border Security Force (BSF) U.K. Bansal told journalists here on Saturday after a four-day meeting between the chiefs of the two border forces.
The meeting discussed coordinated patrol, smuggling of narcotics, human trafficking and curbing operations of foreign extremists and criminals.
Asked about the killing of 15-year-old Bangladeshi girl Felani in January this year, the BSF chief said the people charged with the crime had been suspended, and an inquiry was underway.
Full report at:
http://www.thehindu.com/news/international/bsf-chief-promises-to-bring-down-border-casualties-to-zero/article3952115.ece
----------
Arab World
Saudi defends refusal to accept Nigerian women
September 29, 2012
Riyadh: Saudi Arabia on Friday defended its decision to turn back hundreds of Nigerian women who flew into the kingdom for the Haj, saying they had failed to abide by the rules for the annual pilgrimage.
"The rules for the pilgrimage have been in force for several years and must be applied as they stand since nothing new has been introduced," said Haj ministry spokesman Hatem Bin Hassan Qadi, quoted by the official news agency SPA.
Full report at:
http://gulfnews.com/news/gulf/saudi-arabia/saudi-defends-refusal-to-accept-nigerian-women-1.1082312
-----------
Minister: Rise of extremists dangerous for Christians
October 01, 2012
BEIRUT: Energy and Water Minister Gebran Bassil said the Arab Spring has turned out to be "a windy and cold winter," highlighting the dangers facing Christians in the Levant as extremist Islamist governments replace dictatorships.
"The so-called Arab Spring turned out to be not more than a windy and cold winter, as dictatorships were replaced by extremist Islamist governments and Al-Qaeda-inspired movements were given a boost," Bassil said.
Full report at:
http://www.dailystar.com.lb/News/Local-News/2012/Oct-01/189716-bassil-rise-of-extremists-dangerous-for-christians.ashx#ixzz282W2sHDZ
-----------
Five children among 12 killed in Syria air strike: activists
October 01, 2012
BEIRUT: A military air strike on the town of Salqeen in Syria's mostly rebel-held province of Idlib on Monday killed 12 people, including five children, the Syrian Observatory for Human Rights reported.
"Twelve civilians, including five children, were killed in bombing on the town of Salqeen and the number is expected to rise because many are in critical condition," the Britain-based watchdog said, citing an activist and a medical source.
Full report at:
http://www.dailystar.com.lb/News/Middle-East/2012/Oct-01/189747-5-children-among-12-killed-in-syria-air-strikes-activists.ashx#ixzz282VZnZfc
----------
Emergency meeting on saving Syria's heritage to be held Monday at Cairo University
An emergency meeting will take place Monday at Cairo University aimed at saving Syrian heritage from further destruction amid the country's civil war
Nevine El-Aref , Sunday 30 Sep 2012
Under the auspices of Islamic Educational, Scientific and Cultural Organisation (ISESCO), the United Nations Educational, Scientific and Cultural Organisation (UNESCO) bureau in Egypt and Egypt's Ministry of State for Antiquities, the Faculty of Archaeology at Cairo University is hosting an emergency meeting to discuss all possible measures to protect Syrian archaeological heritage presently subject to destruction amid the ongoing civil war in the country.
Full report at:
http://english.ahram.org.eg/NewsContent/9/43/54287/Heritage/Islamic/Emergency-meeting-on-saving-Syrias-heritage-to-be-.aspx
-----------
Religious healing "ruqyah" to be controlled in Saudi Kingdom
RIYADH: ARAB NEWS
Monday 1 October 2012
Authorities are currently working out legislation to control "ruqyah" or religious healing, Al-Watan newspaper reported.
The government aims to prevent the misuse of religious healing by issuing licenses to practice it.
The newspaper said the law considers practice of ruqyah by expatriates as violating the terms of their work contracts, and those expats should be arrested and deported to their countries.
Sources said under the new law, licenses would be granted to people with a sound knowledge of Shariah. Accounts will be kept of income gained from practicing ruqyah.
Full report at:
http://www.arabnews.com/religious-healing-be-controlled
-----------
Iraq's Monthly Death Toll Doubles, Bloodiest for Two Years
October 1, 2012
BAGHDAD (Reuters) - The death toll from militant attacks across Iraq doubled in September to 365, the highest toll for more than two years, with most of them killed in bomb attacks, according to government figures released on Monday.
The insurgents have launched one major assault a month since U.S. troops withdrew in December.
Full report at:
http://www.nytimes.com/reuters/2012/10/01/world/middleeast/01reuters-iraq-violence-
--------
Prince Salman: Moderation is answer to current crisis
1 October 2012
Crown Prince Salman, deputy premier and minister of defense, has stressed the need for moderation to contain the current crisis in the Muslim world.
"Moderation is not something that can be achieved through words. It is not a mere slogan but a total path and commitment to a principle that will achieve general welfare aimed at the goodness and growth (of the people)," Prince Salman said during a series of lectures on "moderation in the life of King Abdul Aziz" at King Abdulaziz University in Jeddah on Saturday.
Full report at:
http://www.arabnews.com/prince-salman-moderation-answer-current-crisis
-----------
Armenian Christians torn in Syria's civil war
October 01, 2012
By Martin Armstrong
BEIRUT: Armenian Christians in Aleppo are being dragged in to the increasingly sectarian civil war in the country, straining the leadership's policy of neutrality.
Government shelling and fighting between the forces loyal to President Bashar Assad and the opposition fighters has reached the predominantly Christian neighborhoods of Al-Midan, Suleimaniyah and Azizieh in the center of the city.
On Sept. 11, four Syrian Armenians were killed and 13 wounded when the bus they were traveling on from the airport came under fire.
Full report at:
http://www.dailystar.com.lb/News/Middle-East/2012/Oct-01/189725-armenian-christians-
-----------
Church in south Lebanon damaged by gunfire
September 30, 2012
SIDON, Lebanon: Several shots were fired inside an ancient church in the coastal city of Sidon, damaging the altar and glass windows, residents of the Bqosta neighborhood discovered Sunday.
The shots also targeted the entrance of the St. Joseph Church, located in one of the few predominantly-Christian neighborhoods in Sidon, as well as a number of chalices, a picture of the Virgin Mary and several pews.
Full report at:
http://www.dailystar.com.lb/News/Local-News/2012/Sep-30/189660-church-in-south-
-----------
Top Bahrain court confirms jail terms on protesting medics: BNA
October 01, 2012
DUBAI: Bahrain's top court confirmed on Monday jail sentences issued against nine doctors for their role in last year's pro-democracy uprising, state news agency BNA reported.
BNA quoted Attorney General Abdul-Rahman al-Sayed as saying Bahrain's Court of Cassation has rejected all appeals presented by the defendants and confirmed the previous verdicts of prison terms of up to five years.
Full report at:
http://www.dailystar.com.lb/News/Middle-East/2012/Oct-01/189749-top-bahrain-court-
-----------
Islamist Militant group says it captured officers sent by Yemen to Syria
September 30, 2012
ABU DHABI: An Islamist militant group fighting President Bashar al-Assad's forces in Syria said in a video posted online on Sunday it had captured five Yemeni army officers sent by their government to help quell the Syrian uprising.
The video by Al Nusra Front showed clips of five men in civilian clothes asking the Yemeni government to stop supporting the Assad regime. The authenticity of the recording could not immediately be verified.
One of the men identified himself as Mohammed Abdo Hezam al-Meleiky and said the Yemeni government had sent him and his colleagues to Damascus to help Assad's forces in the civil war raging across the country.
Full report at:
http://www.dailystar.com.lb/News/Middle-East/2012/Sep-30/189691-militant-group-says-it-
-----------
TV Critic of Egypt's Islamist President Freed
October 1, 2012
CAIRO (AP) — The owner of a TV station on trial for incitement following his call for the killing of Egypt's Islamist president has been released after being briefly detained over allegations of theft of electrical power and bounced checks, security officials said on Monday.
They said Tawfiq Okasha was released late Sunday after nearly 10 hours of questioning at a police station in Cairo's Nasr City district.
Authorities last month closed Okasha's TV station — Al-Faraeen," or "The Pharaohs" — which he used to launch scathing attacks on President Mohammed Morsi and the leader's Islamist group, the Muslim Brotherhood.
Full report at:
http://www.nytimes.com/aponline/2012/10/01/world/middleeast/ap-ml-
--------
Aleppo heritage burns as war rages
October 01, 2012
By Lauren Williams
BEIRUT: Large parts of Aleppo's historic souk smoldered Sunday after a fire sparked by clashes between government and opposition forces a day earlier ravaged the UNESCO world heritage site. The souk's devastation prompted an outpouring of anger from residents frustrated with the cost of a revolution they say is destroying Syria's rich cultural and historical legacy as well as the lives of its 22.5 million people.
The 18-month uprising, which began with peaceful protests, has morphed into a violent insurgency. So far both sides have failed to gain the upper hand and up to 30,000 people have been killed, according to activist groups.
Full report at:
http://www.dailystar.com.lb/News/Middle-East/2012/Oct-01/189737-aleppo-heritage-burns-
-----------
In Syrian shadow, Iraq's Maliki juggles Tehran and Washington
October 01, 2012
By Patrick Markey, Suadad al-Salhy
BAGHDAD: Iraq's move to inspect Iranian aircraft flying to Syria may appease the United States but also shows how the crisis in Damascus has pushed Prime Minister Nouri al-Maliki into an ever more delicate balancing act between his two main allies. When Maliki's faced a parliamentary revolt this year, he could count on Tehran to pull strings of influence over restive fellow Shiite politicians in Iraq's majority community that saw the Iraqis quickly fall in line again behind the Shiite premier.
Full report at:
http://www.dailystar.com.lb/News/Middle-East/2012/Oct-01/189724-in-syrian-shadow-iraqs-
-----------
Former Minister and MP to be blamed for any Akkar violence: MP
October 01, 2012
BEIRUT: Future Movement MP Mouein Merhebi held former Minister Wiam Wahhab and MP Suleiman Franjieh responsible Sunday for any bloodshed in Akkar and urged authorities to provide aid for around 2,000 refugees who recently arrived from Syria.
"We hold the two [former] Ministers Suleiman Franjieh and Wiam Wahhab responsible for every drop of blood [that could be] spilled in Akkar," Merhebi told reporters while touring a number of villages in the border region of Wadi Khaled in Akkar, north Lebanon.
Full report at:
http://www.dailystar.com.lb/News/Local-News/2012/Oct-01/189715-wahhab-franjieh-to-
-----------
Syrian forces shell rebel strongholds in east Damascus: activists
October 01, 2012
BEIRUT: Syrian government forces shelled the eastern suburbs of Damascus Monday and clashed with armed rebels seeking to overthrow President Bashar al-Assad, activists and residents said.
Residents reported hearing heavy gunfire from around 6 a.m. (0300 GMT). They said the capital was shaken by several loud blasts, possibly artillery fire, two hours later.
"Every one of them feels like an earthquake," a resident in the central district of Adawi told Reuters in a telephone call punctuated by two loud explosions.
Full report at:
http://www.dailystar.com.lb/News/Middle-East/2012/Oct-01/189746-syrian-forces-shell-
-----------
Assad 'sold out fellow tyrant Gaddafi in act of self-preservation'
Oct 01 2012
London : Syrian President Bashar-al Assad's regime brought about Libyan dictator Muammar Gaddafi's death by providing France with the key intelligence which led to the operation that killed him, it has been claimed.
Sources in Libya claimed that French spies operating in Sirte, Gaddafi''s last refuge, were able to set a trap for him after obtaining his satellite telephone number from the Syrian government.
Full report at:
http://www.indianexpress.com/news/assad-sold-out-fellow-tyrant-gaddafi-in-act-of-selfpreservation/1010280/
-----------
Mideast Asia
Gaza Salafist group accuses Hamas of torturing members
October 01, 2012
GAZA CITY, Palestinian Territories, Oct 1, 2012 (AFP) - The Gaza-based Salafist group Jaysh al-Umma accused the ruling Hamas movement on Monday of arresting and torturing six of its members, including its leader.
In a statement obtained by AFP, the group said it was breaking the "media blackout" over the arrest of its leader Sheikh Ismail Hamid, also known as Abu Hafs al-Maqdisi.
He is "languishing in the dark cells of the Hamas government, subjected to harsh interrogation," the group said, adding that five other members were also being held by Hamas forces.
"There will be no compromises, the Sheikh will continue jihad and preaching and will not be subject to political calculations that waste our rights and embolden our enemies," the group said.
Full report at:
http://www.dailystar.com.lb/News/Middle-East/2012/Oct-01/189752-gaza-salafist-group-
-----------
Yasser Arafat's exhumation may answer questions over his death
Harriet Sherwood
Sunday 30 September 2012
Nearly eight years after the Palestinian leader died, his body is to be exhumed from its Ramallah tomb. Was he poisoned with polonium, as some believe?
Within the guarded walls of the Palestinian presidential compound, known as the Muqata, the body of Yasser Arafat lies inside a gleaming limestone and glass mausoleum. It is here that political figures, dignitaries, devotees and tourists come to pay their respects to a man who was revered and reviled across the world as the face of the Palestinian struggle for decades.
The mausoleum is closed to visitors for renovations to the Muqata. So the next group to cross the smooth pale flagstones between the compound's southern gate and Arafat's tomb is likely to comprise three French judges, expected to arrive in Ramallah in the next few weeks. Their mission is to investigate allegations that the former Palestinian president did not die of natural causes but was murdered, poisoned by agents acting for Israel.
Full report at:
http://www.guardian.co.uk/world/2012/sep/30/yasser-arafat-exhumed-questions
-----------
Israel Finance Minister Says Iran Economy 'on Verge of Collapse'
October 1, 2012
JERUSALEM (Reuters) - Iran's economy is edging towards collapse due to international sanctions over its controversial nuclear programme, Israeli Finance Minister Yuval Steinitz said on Sunday.
Israel regards the prospect of its arch enemy developing nuclear weapons as a threat to its existence, and Prime Minister Benjamin Netanyahu has said that, although sanctions are taking their toll, they are not yet forcing Iran to abandon work that could soon lead to a nuclear warhead.
Full report at:
http://www.nytimes.com/reuters/2012/10/01/world/middleeast/01reuters-iran-nuclear-
-----------
Millions Are Facing Food Crisis in Yemen, U.N. Agency Says
September 30, 2012
SANA, Yemen (Reuters) — Nearly half of Yemenis go to bed hungry as political instability compounds a surge in global food and fuel prices, giving Yemen the world's third-highest rate of child malnutrition, the World Food Program said Sunday.
Yemen has been in turmoil since the revolt last year against Ali Abdullah Saleh, who had ruled for more than three decades. Already weak state control in outlying regions broke down as the army split into pro- and anti-Saleh factions and Al Qaeda militants occupied some areas.
The country has to import most of its food needs because of a paucity of arable land, and the rise in food and fuel prices has hit it badly, a World Food Program spokesman, Barry Came, said.
Full report at:
http://www.nytimes.com/2012/10/01/world/middleeast/yemen-in-crisis-as-global-food-
-----------
Proudly Bearing Elders' Scars, Their Skin Says 'Never Forget'
By JODI RUDOREN
September 30, 2012
JERUSALEM — When Eli Sagir showed her grandfather, Yosef Diamant, the new tattoo on her left forearm, he bent his head to kiss it.
Mr. Diamant had the same tattoo, the number 157622, permanently inked on his own arm by the Nazis at Auschwitz. Nearly 70 years later, Ms. Sagir got hers at a hip tattoo parlor downtown after a high school trip to Poland. The next week, her mother and brother also had the six digits inscribed onto their forearms. This month, her uncle followed suit.
"All my generation knows nothing about the Holocaust," said Ms. Sagir, 21, who has had the tattoo for four years. "You talk with people and they think it's like the Exodus from Egypt, ancient history. I decided to do it to remind my generation: I want to tell them my grandfather's story and the Holocaust story."
Full report at:
http://www.nytimes.com/2012/10/01/world/middleeast/with-tattoos-young-israelis-bear-
-----------
After U.S. Embassy Attack, West Uneasy Over Saleh's Role
October 1, 2012
SANAA (Reuters) - Seven months after he reluctantly handed over the presidency, Ali Abdullah Saleh's continuing sway over Yemen is worrying Gulf neighbors and Western nations who fear that the political transition could descend into chaos.
While Saleh is held responsible by many Yemenis for the more than 2,000 deaths during last year's uprising, it was the storming of the U.S. embassy on September 13 that appears to have jolted Western countries into changing their view of a man long seen by Washington as its best bet for containing militants.
Full report at:
http://www.nytimes.com/reuters/2012/10/01/world/middleeast/01reuters-yemen-
--------
Iran unblocks access to Gmail
October 01, 2012
TEHRAN, Oct 1, 2012 (AFP) - Iran on Monday removed online blocks on Gmail but a government Internet filtering committee official said other, additional censorship was being prepared against YouTube, according to reports.
Internet users in Iran found themselves able to freely access their Gmail accounts for the first time since the blocks were suddenly established on September 24.
The secure-protocol HTTPS version of Google search was also made accessible after being blocked at the same time. The unsecure HTTP version of Google search was never blocked.
Abdolsamad Khoramabadi, the secretary of an official group tasked with detecting Internet content deemed illegal, had said in a message last week that "Google and Gmail will be filtered nationwide... until further notice."
Full report at:
http://www.dailystar.com.lb/News/Middle-East/2012/Oct-01/189748-iran-unblocks-access-to-gmail.ashx#ixzz282VTyQJP
-----------
Turkey's Erdogan re-elected as party leader
October 01, 2012
ANKARA: Turkey's Prime Minister Recep Tayyip Erdogan was re-elected Sunday as leader of his Islamic-rooted Justice and Development Party (AKP), securing his seat for three more years. Erdogan faced no competition in the vote, which was held at a congress of AKP – his last as prime minister and party leader as AKP bylaws set a limit of three consecutive terms.
At the congress attended by thousands of party members and regional leaders, Erdogan cemented ties with another rising regional power – Mohammad Mursi's Egypt, signing a deal to loan Cairo $1 billion, half of the aid package Ankara promised earlier this month.
Full report at:
http://www.dailystar.com.lb/News/Middle-East/2012/Oct-01/189738-turkeys-erdogan-re-elected-as-party-leader.ashx#ixzz282Wpe18z
-----------
Southeast Asia
Islamic Defenders Front (FPI) Shut Down South Kalimantan Nightclub
Jakarta Globe | October 01, 2012
Banjarmasin. The Islamic Defenders Front (FPI) raided a South Kalimantan nightclub early Sunday morning, shouting "get out of this immoral place" as police officers watched from outside.
Dozens of members of the Banjarmasin chapter of the FPI stormed through the front door of the Banjarmasin Onestop Entertainment Club at 2 a.m. on Sunday. The action forced hundreds of clubgoers to flee the premises as the hard-line Islamists forced the nightclub to close.
Full report at:
http://www.thejakartaglobe.com/home/fpi-shut-down-south-kalimantan-nightclub/547557
----------
1965 mass killings justified: Indonesian Minister
Margareth S. Aritonang
October 01 2012
Coordinating Political, Legal, and Security Affairs Minister Djoko Suyanto has rejected the findings by the National Commission on Human Rights' (Komnas HAM) investigative team that the 1965 purge was a gross human rights violation.
"Define gross human rights violation! Against whom? What if it happened the other way around?" Djoko said on the sidelines of a meeting with the House of Representatives' Budget Committee on Monday.
Full report at:
http://www.thejakartapost.com/news/2012/10/01/1965-mass-killings-justified-minister.html
-----------
Human rights watchdog urges RI to confront its "demons"
The Jakarta Post
October 01 2012
TAPOL, a UK-based human rights watchdog, has urged Indonesia to address the 1965 Communist purge, as failure to do so would result in continued community divisions, fuel conflict and lead to further atrocities in the country.
The organization recently released a report titled "Indonesia's unresolved mass murders: undermining democracy" prior to the 47th commemoration of the September 30 movement that set off a chain of violent reactions, including a massacre of suspected communists reportedly led by the Army.
Full report at:
http://www.thejakartapost.com/news/2012/10/01/human-rights-watchdog-urges-ri-confront-its-demons.html
-----------
Africa
Pipeline Fire in Southeast Nigeria Kills 20
October 1, 2012
ABUJA, Nigeria (AP) — A government spokesman says 20 people in southeast Nigeria died when a broken gasoline pipeline caught fire, burning alive those gathering the fuel.
The fire happened in a remote village in Abia state, near Nigeria's oil-rich southern delta. Abia state government spokesman Ugochukwu Emezue said Monday that the fire happened Sept. 23, but it took days for the information to reach officials.
Full report at:
http://www.nytimes.com/aponline/2012/10/01/world/africa/ap-af-nigeria-pipeline-
--------
As Kenyan Forces Press Militants Across Border, a Church Is Attacked Back Home
By JEFFREY GETTLEMAN
September 30, 2012
MOMBASA, Kenya — A 9-year-old boy was killed and several other children were wounded on Sunday when a grenade was hurled into a church in Kenya's capital, Nairobi, two days after Kenyan forces invaded the last major stronghold of the Shabab militant group in Somalia.
No suspects have been apprehended, but suspicion immediately focused on sympathizers of the Shabab who have attacked several churches and public gathering spots in Kenya in the last year.
Full report at:
http://www.nytimes.com/2012/10/01/world/africa/blast-kills-boy-at-church-in-
----------
Tinubu: Islam has lost a peerless mouthpiece
September 30, 2012
A Tribute To Dr. Lateef Adegbite, the late Secretary General of the National Supreme Council of Islamic Affairs
By Asiwaju Bola Ahmed Tinubu, national Leader of the Action Congress of Nigeria
"I was shocked Friday night to learn the death of our brother and uncle, Dr Lateef Adegbite, the long serving secretary of the Nigerian Supreme Council for
Islamic Affairs, a lawyer, teacher and former Attorney General of the old Western state.
"His passing away was not just a personal loss to me, it was a great loss to our country, for Adegbite passed on at a time Nigeria needed men and women of moral conviction and national and international stature to pilot it out of its present cloudy political and economic crisis.
Full report at:
http://pmnewsnigeria.com/2012/09/30/tinubu-islam-has-lost-a-peerless-mouthpiece-in-adegbite/
-----------
Somali, AU Troops in No Rush to Enter Kismayu
October 1, 2012
MOGADISHU (Reuters) - African Union and Somali government troops are in no rush to enter Kismayu, the southern stronghold abandoned by Islamist militants, a military spokesman said on Monday as anxiety over revenge attacks gripped many in the port city.
Al Shabaab rebels fled Kismayu on Friday after a surprise assault by sea, air and ground forces, but Kenyan soldiers fighting under the banner of an AU peacekeeping mission have been cautious about pouring into the port city from its outskirts.
Mohamed Farah, a spokesman for Somali government forces in the southern Juba regions, said the rebels might have laid explosives in Kismayu and soldiers were being deployed to strategic locations step by step.
Full report at:
http://www.nytimes.com/reuters/2012/10/01/world/africa/01reuters-somalia-
-----------
Europe
Serbia: Radical Islam 'latent threat' in Muslim-majority region
September 24, 12:02
Belgrade/Sarajevo, September 24 (Aki) - Serbia's Muslim-majority Sandzak could see a dangerous upsurge in fundamentalism, which is simmering in the southern region, an Islamology expert has warned.
"The symptoms are not serious threats at the moment but could trigger a chain of events in the future," Belgrade-based Islamology expert Darko Tanaskovicas aid on on Monday, cited by Pres daily.
His comments followed rallies held on Saturday by ultraconservative Wahabis in Sandzak's main town Novi Pazar and in the Bosnian capital Sarajevo calling for Muslim unity and a state governed by Sharia or Islamic law.
Full report at:
http://www.adnkronos.com/IGN/Aki/English/Religion/Serbia-Radical-Islam-latent-threat-in-Muslim-majority-region_313725936221.html
-----------
UN urges Myanmar to address roots of communal conflict
Yohanna Ririhena
October 01 2012
The United Nations Secretary General Ban Ki-moon urged Myanmar to seek an immediate and long-term perspective to promote intercommunal harmony and to resolve the root causes of tension in the country.
Ban conveyed the message in a meeting with Myanmar's President Thein Sein on the sidelines of the General Assembly' general debate in New York, on Saturday.
Recent tension between Buddhists and Rohingya Muslims in Rakhine left at least a dozen civilians dead and hundreds of homes destroyed, as well as at least 64,000 people displaced.
Besides the Rohingya issue, Ban also called for concerted efforts in addressing the situation in Kachin state — which has experience mass displacement since fighting broke out between government troops and rebels last year.
Full report at:
http://www.thejakartapost.com/news/2012/10/01/un-urges-myanmar-address-roots-communal-conflict.html
-----------
3rd Terror Suspect to Fight Extradition to US
October 1, 2012
LONDON (AP) — A British man accused of terrorist fundraising on Monday launched a High Court bid to halt his extradition to the United States, mirroring a similar move by radical cleric Abu Hamza al-Masri.
Babar Ahmad, 38, has been detained in Britain since 2004 on a U.S. warrant. He is accused of running websites used to raise money for terrorists, and of supplying terrorists with gas masks and night-vision goggles. He has not faced charges in Britain, but has been held without trial for the longest period of any British citizen detained since the Sept. 11, 2001, attacks.
Full report at:
http://www.nytimes.com/aponline/2012/10/01/world/europe/ap-eu-britain-terror-
--------
North America
U.S. May Have Put Mistaken Faith in Libya Site's Security
By ERIC SCHMITT, DAVID D. KIRKPATRICK and SULIMAN ALI ZWAY
October 1, 2012
WASHINGTON — An effective response by newly trained Libyan security guards to a small bombing outside the American diplomatic mission in Benghazi in June may have led United States officials to underestimate the security threat to personnel there, according to counterterrorism and State Department officials, even as threat warnings grew in the weeks before the recent attack that killed Ambassador J. Christopher Stevens and three other Americans.
Full report at:
http://www.nytimes.com/2012/10/01/world/africa/mistaken-sense-of-security-cited-before-envoy-to-libya-died.html?hp
------------
Australia
Australian aid worker 'free to leave Libya'
1 October 2012
Australia yesterday said it had secured free passage from Libya for an aid worker stopped from leaving the country reportedly over a sexual assault probe involving a Libyan official.
Australian national Alexandra Bean, an employee of the International Organisation for Migration, had her passport confiscated and was blocked from leaving Libya after being questioned by police.
According to her family Bean had refused to sign a statement in Arabic after her police interview, reportedly linked to a sexual assault investigation involving a senior health official.
Bean has been described as a witness in the case and Australian officials have stressed that she has done nothing wrong.
Full report at:
http://www.thedailystar.net/newDesign/news-details.php?nid=251983
-----------
URL: https://www.newageislam.com/islamic-world-news/new-age-islam-news-bureau/french-spy-shot-dead-gaddafi-on-nicolas-sarkozy-s-order/d/8837