New Age Islam News Bureau
29 Sept 2014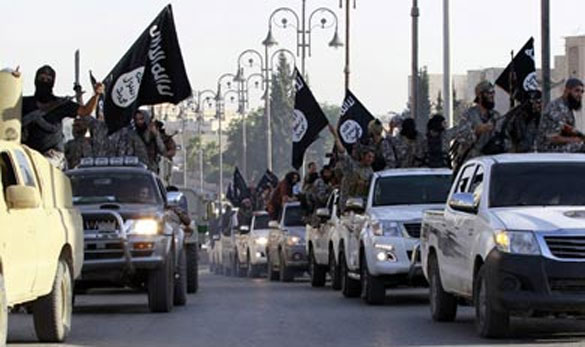 Militant Islamist fighters parade on military vehicles along the streets of Raqqa after capturing territory in neighbouring Iraq.Photo credit: REUTERS/KNESSET
----------
Europe
• French Muslims Won't Apologise for ISIL
• Top Tajik Cleric Issues Fatwa against Government Critics
• HRW Documents Torture of Political Prisoners in Uzbekistan
• Turkey suffering 'rights rollback' under Erdoğan: HRW
• Belgium tries suspected Syria militant group
• Russia demands truth about Libyan chemical weapons
Pakistan
• Lahore Passes Verbal 'Save Pakistan Declaration'
• Five militants killed, four injured in Tirah explosion
• Pakistan stands for universal ban on nukes
• Imran thankful to Almighty, says nation finally awoken
• It is natural for Imran to attract a few people- PPP senior leader
• Democratic govt to complete its tenure: Pervaiz Rashid
• Nawaz positively presented Pakistan's viewpoint in UN: Javed Malik
• 85 'militants' surrender in Dera Bugti
Arab World
• Iraq's Warplanes Fire Rockets at ISIL Positions in Tikrit Kill, 25
• Terror groups are a serious threat to world peace: UAE
• Militants Suffer Heavy Losses in Syria's Quneitra, Aleppo
• Arab League chief says confident Iraqi army can fight ISIS
• Be Modern, but Don't Shun Islamic Values: Saudi King
• Zero tolerance for subversive activity in Haj
• Proposed Egyptian law to reduce restrictions on building churches
• Ex-Lebanese PM Al-Hariri condemns Syrian coalitions on army's violation
North America
• US leverages Iran-Iraq-Syria axis against Islamic State
• ISIL fight already near $1 billion as strategy shifts
• Obama admits underestimated Islamic State, as US presses air war
• American Muslims to Mark End of Hajj with Prayers
• 'ISIS' Shisha café name worries New York owner
Mideast
• Israel's shadowy Mossad looks to recruit online
• Barbarism of Iranian militias based in Iraq, Syria being seriously overlooked
• Police seize ISIS flag, other jihad material in home of Israeli teacher
• No ISIL attack on Turkish tomb in Syria: Military sources
• Israeli Arab lawmaker: Israel has an interest in Islamic State's success
• Israeli Weapons Contaminate Palestinian Soil with Toxic Substances
South Asia
• Suicide Blast Kills Four in Kabul as President Inaugurated: Police
• UK citizen held in Dhaka for link with Syrian militants
• Afghanistan President Calls on Taliban and Hizb-e-Islami to Join Political Process
• Singapore moves to counter militant ideology
• Karzai Defends His Rule, Admits Failed Peace Efforts
• Constable killing: 89 BNP-Jamaat men charged
• Awami League General Secretary: Jamaat enemy of humanity
India
• Indian-Israeli PMs meet for the first time in more than a decade
• Modi overshadowed Nawaz Sharif at UN: Pakistani daily
• Pakistan softens stance after Modi's speech
Southeast Asia
• Youths Can Express 'Jihad' In Many Ways –Dy Minister Azizah Dun
• Jihadists pulling in Muslim youths with poor religious knowledge, says Anwar
• German captives plead to be set free from Philippine Islamist militants
Africa
• Al Shabaab Is Still Recruiting in Kenya - Report
• Islamist gunmen kill two soldiers in western Algeria
• South Africa: Medical Male Circumcision Becomes the 'In' Thing
• I Will Crush Boko Haram - Jonathan
• Nigeria: Over 4,000 Killed in Kaduna Attacks
Compiled by New Age Islam News Bureau
URL: https://www.newageislam.com/islamic-world-news/new-age-islam-news-bureau/french-muslims-won't-apologise-for-isil/d/99314
--------
Europe
French Muslims Won't Apologize for ISIL
FRANCE 24
29 September 2014
PARIS – Feeling scapegoated for the actions of an extremist minority, French Muslims have decided to take a clear stand against Islamophobia, adopting the notion "stop asking me to apologize".
"These [Islamist] men and women do not worship the God that I worship and I doubt they know him at all," researcher Moussa Bourekba, who writes in the Nouvel Observateur Weekly news magazine, told FRANCE 24 on Saturday, September 27.
"If the murder [of Hervé Gourdel] horrifies and upsets me, it is as a human being.
"I don't go around asking Catholics to apologize in the name of all Christians every time there is a paedophilia scandal.
"And I would never ask Protestants to publicly condemn [Norwegian mass murderer] Anders Breivik. Just like these people, the madmen who killed Hervé Gourdel are not of my community," he added.
France's Muslims have found themselves under pressure to disdain themselves from crimes that contradict with their religion, putting them in the middle of a backlash by the far-right groups.
Repeated condemnations of the so-called Islamic State and apologizes by Muslims across the world have wearied French Muslims.
The increasing pressure on Muslims to condemn the heinous crimes of the extremist groups has been deemed as "Islamophobic madness".
The frenzy has extended to some French media outlets like the conservative daily Le Figaro which ran an editorial on Thursday, September 25, calling on Muslims to "take to the streets to denounce these barbarians".
Moreover, the French paper has launched an online poll asking readers if there had been "sufficient condemnation by French Muslims of the assassination of Hervé Gourdel", a poll that was criticized by it journalists who considered it "ineptitude".
"This question effectively insinuates that the entire Muslim community is somehow complicit or even complacent when it comes to terrorism," Le Figaro's editorial oversight committee (Société des Journalistes, SDJ) said in a statement.
France is home to a Muslim community of nearly six million, the largest in Europe.
French Muslims have been complaining of restrictions on performing their religious duties.
#PasEnMonNom
Other French Muslim groups chose to condemn atrocities committed by the ISIL, launching an equivalent online campaign to the British #NotInMyName, using the hatshatg "PasEnMonNom.
Besides online campaigns, thousands of French Muslims held several protests in France's major cities on Friday to denounce the murder of French hiker Hervé Gourdel, kidnapped in Algeria by the militant group calling themselves Jund al-Khalifa, which claims links to the ISIL group.
Holding signs that read: "stop barbarism" and "Not in my name", hundreds of Muslims gathered outside the Grand mosque in Paris.
"Herve Gourdel was the victim of a cowardly murder. Islam demands respect of life and bans the assassination of an innocent," Dalil Boubakeur, rector of the Grand Mosque, told Xinhua agency.
"The Qur'an tells us that to kill one man is to kill all humanity. Today's gathering shows our rejection of such acts and our willingness to live together," he said.
Expressing weariness about Muslims' apologize for the heinous crimes committed in the name of Islam, Parisian Muslim of North African descent rejected calls to participate in Friday's protests.
"I will not be going to the Paris Mosque (where Friday's demonstration is due to take place)," the Persian Muslim Nourredine said last week.
"If I had to go, it would be as a Frenchman, horrified at the beheading of one of my compatriots, but not as a Muslim.
"Are Christians expected to demonstrate against the excesses of the Klu Klux Klan?"
Muslims around the world have turned to humor to battle rising Islamophobia spawning the hashtag #MuslimApologies after finding themselves in the spotlight for the offenses of a violent minority they have nothing to do with.
A number of Muslim leaders around the world have overtly condemned the Islamic State, issuing strong-worded statements to deny any relation between Islam and the militant group.
Earlier this month, Sheikh Ahmed el-Tayeb, the Grand Imam of Al-Azhar, the highest seat of religious learning in the Sunni world, has condemned ISIL, accusing it of serving a "Zionist" plot to "destroy the Arab World".
Two weeks ago, Saudi Grand Mufti Sheikh Abdul Aziz al-Sheikh condemned Al-Qaeda and the Islamic State jihadists as "enemy number one" of Islam, urging urged Muslims to take up arms against the militant group's members as aggressors who abuse people's lives, possessions and honour.
The International Union of Muslim Scholars (IUMS) has dismissed ISIL announcement of forming a "caliphate" in areas they control in Iraq and Syria, saying it lacked any Islamic or realistic aspects.
http://www.onislam.net/english/news/europe/477973-isil-apologies-annoy-french-muslims.html
--------
Top Tajik Cleric Issues Fatwa against Government Critics
29 September 2014
Tajikistan's top Muslim cleric has issued a fatwa against criticising the isolated ex-Soviet country's hard-line regime, telling reporters today it would be considered a "great sin".
"The Islamic centre of Tajikistan has passed a new special fatwa according to which criticism of the ruling powers will be judged a 'great sin'," said chief mufti Saidmukarram Abdulkodirzoda.
"Criticism undermines trust in the authorities," he warned.
The chief mufti issued the fatwa or religious edict during his Friday sermon at the main mosque in the capital Dushanbe.
Tajik religious experts said the fatwa was agreed with the Central Asian country's authorities and that most moderate Muslims would not obey it.
Tajikistan's moderate opposition Islamic Revival Party also said the fatwa was "dictated by the authorities" in the overwhelmingly Sunni Muslim country of 8.5 million, which is officially secular.
A journalist from an opposition newspaper who asked not to be named said: "Now even official religious leaders want to sew up the mouths of journalists and those who want to express themselves freely in a democratic, secular country."
"Now it's dangerous to tell the truth. What are we coming to?" he told AFP.
The chief mufti also warned Muslims against making contact with international organisations or media, which he said would "threaten stability in the country and the world."
"Those who call for and engage in incitement and set the people against the current authorities will suffer God's punishment," he said.
The Tajik authorities are alarmed at what they see as the radicalisation of young Muslim men amid widespread unemployment in the poorest ex-Soviet country.
Last year around 100 people were arrested, of whom six were jailed, after taking part in training abroad in radical groups. In the last three months alone, 10 Tajiks have been killed fighting on the side of the opposition in Syria.
Tajikistan has been led since 1992 by President Emomali Rakhmon, who came to power amid the chaos of a civil war between the Moscow-backed communist government and the Islamic opposition.
A peace accord was signed in 1997 but authorities of the country bordering Afghanistan are still deeply concerned with the security threat posed by Islamist insurgents.
http://www.business-standard.com/article/pti-stories/top-tajik-cleric-issues-fatwa-against-government-critics-114092700831_1.html
--------
HRW Documents Torture Of Political Prisoners In Uzbekistan
29 September 2014
Uzbeks jailed on politically motivated charges are subjected to torture and abysmal prison conditions, according to Human Rights Watch (HRW).
The finding of the rights watchdog's 121-page report, "Until The Very End: Politically Motivated Imprisonment In Uzbekistan," released on September 26, are based on court documents and extensive interviews, including with 10 recently released prisoners.
Various accounts of torture -- including beatings, electric shock, simulated suffocation, threats of rape, and sexual humiliation -- are described in the report.
In many cases prison sentences are handed down based on ill-defined or fabricated charges, and can be extended arbitrarily on what HRW Central Asia researcher Steve Swerdlow describes as "bizarre grounds."
"We were able to document 14 cases out of 44 cases in the report where prisoners had their sentences extended," Swerdlow told RFE/RL.
"And the extensions were for such reasons as improperly peeling carrots in the prison kitchen, failure to remove your shoes, wearing a white shirt, saying your prayers, going to the bathroom without permission."
The researcher singles out the case of Muhammad Bekjanov, whom he describes as the world's longest-imprisoned journalist.
"His case is a perfect example of the many types of human rights violations that the Uzbek government employs in imprisoning its critics," Swerdlow said.
"He was kidnapped and sent to Uzbekistan without any legal process in 1999. He suffered horrific torture during the trial and his case also accurately describes the policy of extending sentences to political prisoners."
The report notes how Abdurasul Khudoynazarov, a rights activist who died of cancer shortly after his release this spring, told rights groups before his death that his requests for medical treatment were repeatedly denied over the course of his eight years in prison.
And in another case, rights activist Azam Farmonov, who has been imprisoned since 2006, alleges that policed forced him into a false confession by beating him on the legs and feet and placing a sealed mask on his head to simulate suffocation.
"The Uzbek government tries to hide the abuses its critics suffer in prison, even their very existence, from the world," Swerdlow said of the findings in a press release.
"This new evidence means Tashkent can no longer pretend that politically motivated imprisonment in Uzbekistan does not exist."
Some of what HRW describes as "Uzbekistan's most talented and remarkable figures" are profiled for the report, including journalists, rights activists, academics, cultural figures, and individuals involved in exposing corruption.
In its press release, HRW calls on Uzbekistan to immediately and unconditionally release everyone imprisoned on politically motivated charges.
It also urges international partners of Uzbekistan to press its president, Islam Karimov, to improve the country's human rights record.
Swerdlow told RFE/RL that "pressure does work," citing the example of Uzbekistan changing its behavior after coming under international criticism for its use of child labor during its annual cotton harvest.
http://www.rferl.org/content/uzbekistan-human-rights-watch-prison-conditions/26606889.html
--------
Turkey suffering 'rights rollback' under Erdoğan: HRW
29 September 2014
Turkey is undergoing a "worrying rollback" on human rights as the government is taking "far-reaching steps to weaken the rule of law, control the media and Internet, and clamp down on critics and protestors," Human Rights Watch (HRW) reported Sept. 29.
HRW accused the government of seeking to curb the independence of the judiciary and weaken the rule of law in a bid to halt a corruption probe over the past nine months.
"Turkey is undergoing a worrying rollback of human rights," HRW said in its report on Turkey, accusing the government of "increasing intolerance of political opposition, public protest and critical media."
President Recep Tayyip Erdoğan has also shown no mood for compromise following pro-tests last year sparked by plans to redevelop Gezi Park in Istanbul, the report emphasized.
"The government feels no hesitancy to intervene in the criminal justice system when its interests are threatened," said HRW, pointing to the replacement of thousands of employ-ees in the security forces and legal system who were alleged members of a "parallel state," a term used by the government to define those who work in state institutions and use their duties to benefit the Gülen movement. The authorities have gone on the offensive against opponents after corruption allegations, blaming them on U.S.-based Islamic scholar Fe-thullah Gülen, the report said.
"Turkey is unlikely to succeed in moving closer to Europe unless Turkey's leaders take steps to reverse the rollback on rights and strengthen the rule of law," said HRW's Turkey researcher and author of the report, Emma Sinclair-Webb.
"Over the past year, Erdoğan's AKP has responded to political opposition by tearing up the rule book, silencing critical voices, and wielding a stick," said Sinclair-Webb. "For the sake of Turkey's future and the rights of its citizens, the government needs to change course and protect rights instead of attacking them."
The New York-based rights group said there had been "near impunity" for police violence in the 2013 protests, with the jailing this month for almost eight years of a policeman who killed a protester in Ankara a "rare moment of accountability."
Meanwhile, at least 5,500 people have been put on trial across the country for their in-volvement in the protests. The report recommended Turkey drop cases against Taksim Sol-idarity representatives and others who participated in Gezi Park protests, exercising their right to free assembly and expression, and also drop coup charges and other charges against 35 individuals associated with the çArşı football fan group for exercising their right to free assembly and expression during the May-June 2013 Gezi protests. It also called on the government to end the excessive use and misuse of tear gas while policing protests and hold to account officers who bear responsibility for either conduct.
HRW also expressed alarm at an April 2014 law granting immunity to personnel of the National Intelligence Organization (MİT) unless the organization gives express permission for it to be removed.
There has also been impunity for past abuses by the authorities, notably the lack of pros-ecutions over a December 2011 air strike that killed 34 villagers who were wrongly sus-pected of being outlawed Kurdistan Workers' Party (PKK) militants.
Investigations into a wave of killings and disappearances of Kurds that took place from 1993 to 1995 will soon fall under a 20-year statute of limitations.
Under Erdoğan's rule, large parts of the media, and in particular television, have followed a pro-government line and do nothing to challenge it, HRW reported.
"The space for independent, nonaligned and critical journalism in Turkey has shrunk," HRW said, pointing to the case of two journalists for daily Taraf, who were prosecuted for leaking details of a secret meeting in a Nov. 13, 2013, report.
While Erdoğan and the ruling Justice and Development Party (AKP) have won successive elections with large majorities, the authorities "appear to take the view that majoritarian power takes precedence over the rule of law," the report said.
The report stressed that reforms were needed to support the Kurdish peace process, strengthen the independence of the criminal justice system, combat violence against wom-en and impunity for serious human rights abuses, and improve Turkey's record on free speech, media freedom and the rights to assembly and association.
http://www.hurriyetdailynews.com/turkey-suffering-rights-rollback-under-erdogan-hrw.aspx?pageID=238&nID=72295&NewsCatID=339
--------
Belgium tries suspected Syria militant group
29 September 2014
Forty six people, most of them still at large, went on trial in Belgium on Monday for suspected membership of a group believed to be sending extremist fighters to Syria.
Armed police guarded the court in the northern port city of Antwerp where 16 people alleged to be part of Sharia4Belgium, including its head Fouad Belkacem, are being tried on charges of leading a terrorist organization.
If convicted, they could face 20 years in prison.
The remaining 30 are being tried on charges of belonging to Sharia4Belgium.
Present for the trial were Belkacem, a Salafist ideologue known for his sermons in the streets and on the Internet, and seven others.
At large
The defendants who are at large are believed to be in Syria where some of them may have been killed, according to the federal justice office.
Investigators said Belkacem never travelled to Syria, unlike most of the members of the group, but he was the "catalyst" who prompted many to go and fight there.
Sharia4Belgium, based in Antwerp, campaigned for the introduction of Sharia Islamic law in Belgium.
In 2012, it said it was disbanding but the authorities suspect that it has continued to recruit dozens of volunteers to fight in Syria.
Officials say that up to 400 Belgian nationals may have gone to fight in Syria, with about a quarter having returned home.
The trial comes five months after a deadly attack on the Jewish museum in the center of Brussels raised fears of a resurgence of anti-Semitic violence in Europe and of terror strikes from foreign fighters returning from Syria.
The main suspect in the attack which left four people dead is a Frenchman, Mehdi Nemmouche, who spent more than a year fighting with Islamist extremists in Syria and is now also being held in Belgium on charges of "murder in a terrorist context."
http://english.alarabiya.net/en/News/middle-east/2014/09/29/Belgium-tries-suspected-Syria-militant-group-.html
--------
Russia demands truth about Libyan chemical weapons
29 September 2014
NEW YORK — Russia has demanded the facts about Libya's remaining chemical weapons, with foreign minister Sergei Lavrov that NATO could not pretend the problem did not exist. Lavrov told the United Nations General Assembly: "We would like to see truthful information about the state of the chemical arsenal in Libya. We understand" he continued "that our colleagues in NATO, having mutilated the country in violation of the UN Security Council resolution, would rather not touch the mayhem they have created. But the issue of an uncontrolled Libyan chemical arsenal is too serious to turn a blind eye to it".
http://www.saudigazette.com.sa/index.cfm?method=home.regcon&contentid=20140929219668
--------
Pakistan
Lahore Passes Verbal 'Save Pakistan Declaration'
29 September 2014
LAHORE: Historical city of the political changes in subcontinent and later in Pakistan in the recent past—Lahore—again geared up the slogan of change called by Imran Khan of PTI after holding a biggest rally of it here at the right place of Declaration of Pakistan 1940, Azadi Party (previous name the Minto Park) on Sunday and passing a verbal "Save Pakistan Declaration" unanimously in it.
Worthy to mention that it was first time when all the ground of the park which has a total capacity of 0.3 million to 0.4 million population and is being considered a biggest ground of the city was totally jam-packed and thousands people were also standing outside the ground during the PTI rally and also broke all the previous records of rallies of the party. In the rally, before the key speech of PTI Chairman Imran Khan, the party's city president and main organizer of this successive procession, Abdul Aleem Khan announced that his party would present a "Declaration to Save Pakistan" and later, Shah Mehmood Qureshi verbally presented a three points declaration that was passed by the participants unanimously saying 'Ayes' loudly.
Full report at:
http://www.dailytimes.com.pk/national/29-Sep-2014/lahore-passes-verbal-save-pakistan-declaration
--------
Five militants killed, four injured in Tirah explosion
29 September 2014
PESHAWAR: Five militants were killed and four others were injured on Monday in a blast in the remote Tirah Valley of Khyber Agency.
Intelligence sources said the blast occurred at the Lashkar-i-Islam base in Kandao area and left at least five militants dead and four others injured.
Sources said that militants were testing an explosive device when it exploded causing the casualties.
The LI is yet to confirm or deny the incident.
The exact number of deaths and the nature of the blast could not be verified from independent sources as journalists cannot enter the area.
Khyber is part of Pakistan's semi-autonomous tribal belt on the Afghan border. The Taliban and other Al Qaeda-linked groups, who stage attacks in both countries, are known to have strongholds in the zone.
Full report at:
http://www.dawn.com/news/1135074/five-militants-killed-four-injured-in-tirah-explosion
--------
Pakistan stands for universal ban on nukes
29 September 2014
WASHINGTON: Pakistan is not against nuclear disarmament but it should be universal and non-discriminatory, says Foreign Secretary Aizaz Chaudhry.
During the 69th General Assembly, the United Nations observed the first-ever annual day for the total elimination of nuclear weapons. In a message released by his office, UN Secretary-General Ban Ki-moon urged member states that "the time has come for the total elimination of nuclear weapons stockpiles".
While most active members of one group lobbied for a complete, across the board ban on all nuclear arms, others quietly tried to put the spotlight on Pakistan.
India led this group, which argued that Pakistan was an instable country, facing widespread terrorism and political chaos. They also drew attention to PTI's dharna, both outside the parliament building in Islamabad and near the UN headquarters during Prime Minister Nawaz Sharif's address on Sept 26.
Full report at:
http://www.dawn.com/news/1135054/pakistan-stands-for-universal-ban-on-nukes
--------
Imran thankful to Almighty, says nation finally awoken
29 September 2014
ISLAMABAD: Pakistan Tehreek-e-Insaf (PTI), Chairman Imran Khan Sunday said the nation was finally awoken and thanked Allah Almighty for fulfilling his prayer.
Addressing thousands of his party's supporters here at Minar-e-Pakistan, Imran Khan said: "Allah fulfilled my prayer. He has awoken the entire nation".
He admired the step of the government to convene the joint session of the parliament, saying it exposed true faces of the entire political leadership which stood together to save their so-called democracy.
Imran Khan also criticized Pakistan People's Party (PPP) Co-chairman, Asif Ali Zardari 'for coming from Dubai to save Nawaz Sharif'.
I didn't take money from ISI like you (Nawaz Sharif) did as it was revealed in Asghar Khan case," he continued.
Full report at:
http://www.thenews.com.pk/article-161095-Imran-thankful-to-Almighty,-says-nation-finally-awoken
--------
It is natural for Imran to attract a few people- PPP senior leader
September 29, 2014
Islamabad- Pakistan People's Party (PPP) senior leader, Qamar Zaman Kaira, says it's natural for a charismatic leader like Imran Khan to attract a few people. However, unlike Pakistan Tehreek-e-Insaf (PTI), the PPP is a party with an ideology.
Kaira said this in a statement that was all about singing praises of party patron-in-chief, Bilawal Bhutto Zardari for going down on his knees to win disillusioned sympathizers back. Kaira analyzed that Bilawal was an up-and-coming politician of this age and his unconventional style had always raised the eyebrows of many an old-school politico.
"Bilawal is new-school but his coming down to his knees to apologize to the workers who had been inadvertently hurt, is heartening. He knows it's the workers who make parties and not the other way round", said he.
Responding to PTI bigwig Asad Umer's wishing him and Saeed Ghani to join PTI, a courteous Kaira said all he could say was thanks for making him feel worthwhile.
"I can only appreciate Umer for this compliment, but in the same breath want him to know that PPP is my heart and soul," he added.
http://nation.com.pk/national/29-Sep-2014/it-s-natural-for-imran-to-attract-a-few-people-kaira
--------
Democratic govt to complete its tenure:Pervaiz Rashid
29 September 2014
ISLAMABAD: Federal Information Minister Pervaiz Rashid has said that the people elected government through ballots not sit-ins.
In a statement here Sunday, the minister said it seemed that Imran Khan has realized that general elections will be held in 2018 and thus accordingly he had started canvassing for it.
He said that democratic government will complete its tenure as people have given it a mandate to PML-N government for five years.
http://www.thenews.com.pk/article-161111-Democratic-govt-to-complete-its-tenure:-Rashid
--------
Nawaz positively presented Pakistan's viewpoint in UN: Javed Malik
29 September 2014
ISLAMABAD - Pakistan's Ambassador at Large and Prime Minister's Special Envoy, Javed Malik has said that Prime Minister Nawaz Sharif's speech at the United Nations has presented Pakistan's point of view in a very positive and comprehensive manner.
"The world community has also welcomed Prime Minister Nawaz Sharif's vision for building a progressive Pakistan, developing positive relations with its neighbors and his commitment to resolving all disputes through diplomacy and dialogue", he said in a message received here from Dubai today.
Moreover, he said that the prime minister's focus on the economic uplift of the people of Pakistan through sustainable development and creating opportunities for expansion of trade and economic relations both regionally and internationally has also sent a very positive message to the world community about Pakistan's future as a progressive, democratic and stable country.
Full report at:
http://www.dailytimes.com.pk/national/29-Sep-2014/nawaz-positively-presented-pakistan-s-viewpoint-in-un-javed-malik
--------
85 'militants' surrender in Dera Bugti
29 September 2014
QUETTA: Fifteen people reported to be militants belonging to the Bugti tribe and their 70 accomplices surrendered themselves to law-enforcement personnel in Sui on Sunday.
Khan Wasey, spokesman for the Frontier Corps, Balochistan, said in a statement that the men belonged to various Bugti clans living in Sui area of Dera Bugti.
They had been involved in attacks on security forces and national installations in Dera Bugti and other areas of the province.
They laid down their weapons in the presence of FC Inspector General Maj Gen Muhammad Ejaz Shahid at a ceremony attended by tribal elders and senior officials.
The weapons, ammunition and explosives surrendered by them included 89 rifles and landmines. The militants vowed to renounce violence. They also pledged not to get involved in anti-state activities. They welcomed the general amnesty announced by the provincial government, along with a special package for militants surrendering to the state and pledging not to take part in anti-state activities.
http://www.dawn.com/news/1135057/85-militants-surrender-in-dera-bugti
--------
Arab World
Iraq's Warplanes Fire Rockets at ISIL Positions in Tikrit, Kill 25
29 September 2014
Iraqi bombers launched a series of strikes against the ISIL positions in Diyala district, South of Tikrit, killing more than 25 members of the Takfiri group.
A military source told Iraqi News that Iraq's fighter jets fired several rockets at the strongholds of the ISIL terrorists and claimed the lives of some 25 terrorists.
The Takfiri terrorists currently control parts of Syria and Iraq. They have threatened all communities, including Shiites, Sunnis, Kurds, Christians, Ezadi Kurds and others, as they continue their atrocities in Iraq.
Senior Iraqi officials have blamed Saudi Arabia, Qatar, and some Persian Gulf Arab states for the growing terrorism in their country.
The ISIL has links with Saudi intelligence and is believed to be indirectly supported by the Israeli regime.
http://english.farsnews.com/newstext.aspx?nn=13930707000380
--------
Terror groups are a serious threat to world peace: UAE
29 September 2014
New York: The United Arab Emirates has stressed on the importance of the current collective action to counter the threat posed by terrorist groups, especially 'Daesh', in both Iraq and Syria, describing the form of extremism, terrorism and fragmentation witnessed by the region and beyond to areas of the world, as a serious threat to international peace and security, and a threatens the goals and values of the states, its development achievements and its humanitarian and cultural heritage.
In a speech made by Shaikh Abdullah bin Zayed Al Nahyan, UAE's Foreign Minister, before the 69th Session of the United Nations General Assembly on Saturday evening, he said that the UAE expresses its serious concern at the current forms of extremism, terrorism and sectarian divisions in the region, which have become a grave threat to international peace and security. In addition to being a violation of human rights, terrorism threatens the integrity and values of States, undermines their social fabric, destroys their security and development achievements and erodes their cultural and human heritage.
Shaikh Abdullah stated that the acts of these terrorist organisations, which include indiscriminate killings, mass executions, kidnappings and intimidation of innocent women and children, are criminal acts, which are strongly condemned by the UAE. The UAE also denounces the brutal methods used by such groups in the name of Islam, as Islam rejects such crimes, which are inconsistent with the moderate approach of Islam and the principles of peaceful coexistence among all people.
Full report at:
http://www.khaleejtimes.com/nation/inside.asp?xfile=/data/government/2014/September/government_September56.xml&section=government
--------
Militants Suffer Heavy Losses in Syria's Quneitra, Aleppo
29 September 2014
Foreign-backed militants sustained major losses as the Syrian Army gained major ground against the armed groups in Quneitra and Aleppo.
A military source told Syrian Arab news agency that the army soldiers inflicted heavy casualties on the rebels in al-Bawabiyeh, al-Duhour, Nahleh, and Jisr al-Shohgour, killing and inuring too many of them.
The army also destroyed two vehicles equipped with heavy machine-guns and another one loaded with motorcycle in addition to an ammunition warehouse.
Meantime, the hideouts of the insurgents were raided in various areas surrounding Aleppo countryside, including al-Ansari, al-Ramouseh, al-Lairamoun and al-Kalaseh. A large number of rebels lost their lives during the Aleppo operations.
Also in the past 24 hours, the Syrian army continued its major advances in different districts of Deir Ezzur city in Eastern Syria, killing a large number of militants.
The army units targeted the terrorist groups' positions near the petrochemistry university as well as Al-Jabalieh and Al-Haviqeh districts of the city.
Full report at:
http://english.farsnews.com/newstext.aspx?nn=13930707000661
--------
Arab League chief says confident Iraqi army can fight ISIS
29 September 2014
Arab League chief Nabil el-Araby told Al Arabiya News Channel on Sunday that he believed the Iraqi army had the ability to fight Islamist insurgents in the country.
Speaking to Al Arabiya's New York bureau chief Talal al-Haj, the Arab League head said the Iraqi army can still engage in a ground offensive against Islamic State of Iraq and Syria (ISIS) militants, even with the absence of U.S. ground troops.
Araby also stressed on the importance of the Iranian participation in the anti-ISIS coalition, saying Iran is an integral part of many conflicts in the region and should be considered "as part of the solution."
Regarding Yemen, Araby said the situation in the country is very "critical" after Houthi rebels continue to maintain control over the Yemen capital.
http://english.alarabiya.net/en/News/middle-east/2014/09/29/Arab-League-chief-says-confident-Iraqi-army-can-fight-ISIS.html
---------
Be Modern, But Don't Shun Islamic Values: Saudi King
29 September 2014
The glittering Islamic culture and civilization is a unifying force for millions of Muslims all over the world, said Custodian of the Two Holy Mosques King Abdullah, urging Muslims to stand united in upholding the teachings of Islam.
In his keynote speech at the annual conference of the Muslim World League (MWL) in Makkah, King Abdullah also called upon Muslims to embrace modernity without discarding their cultural values.
"Islamic culture is the identity of the Ummah. It connects its different parts, bonding them together. It links a Muslim with hundreds of millions of other Muslims scattered around this world," the king said.
He emphasized the need to take care of the Islamic religion to strengthen Islamic culture. Makkah Gov. Prince Mishaal bin Abdullah read out the king's speech.
King Abdullah welcomed the millions of pilgrims who have arrived from different parts of the world to perform Haj. "Our objective is to enable them to perform Haj in the best and safest possible manner. We want them to return home safely after gaining immense reward."
King Abdullah said: "Our Islamic Ummah is a full-fledged nation. It has a dazzling civilized experience and a rich heritage. Our nation is distinct from others. It is the best nation given to mankind; it believes in Allah, promotes virtue and prohibits evil. It carries the final universal message of God, a message of enlightenment, compassion and mercy."
Full report at:
http://www.arabnews.com/featured/news/637246
--------
Zero tolerance for subversive activity in Haj
29 September 2014
Saudi Arabia will not allow any activity that could undermine the security and safety of pilgrims and violate the sanctity of Haj, said Interior Minister Prince Mohammed bin Naif. Saudi security forces are capable of confronting any terrorist group or individual, he said.
Prince Mohammed, who is chairman of the Supreme Haj Committee, was speaking to reporters in Mina after inspecting the preparedness of the Kingdom's security agencies for Haj.
He advised pilgrims to avoid engaging in any political propaganda or any other activity that would violate the sanctity of Haj.
Asked about the threat of Islamic State militants, the minister said Custodian of the Two Holy Mosques King Abdullah has warned world leaders that terrorism would hit their countries if they continue their silence on the crimes being committed by the IS and other terrorist groups.
Full report at:
http://www.arabnews.com/news/637251
--------
Ex-Lebanese PM Al-Hariri condemns Syrian coalition's on army's violation
29 September 2014
Former Lebanese prime minister Saad Al-Hariri on Sunday denounced a statement from the Syrian National Coalition of Revolution and Opposition Forces which criticised the Lebanese army's measures towards refugees last week, Al-Hayat news website reported.
The coalition issued a statement on 25 September condemning the Lebanese army after it attacked Syrian refugee camps in the border town of Arsal on Thursday and arrested 200 persons, claiming that a number of wanted persons were holed up inside the camps.
However, Al-Hariri assured in a statement of his own that the coalition's comments don't "express the criteria of the relation between the Lebanese and the Syrians who fled from Bashar Assad's aggression against Lebanon."
Full report at:
http://english.ahram.org.eg/NewsContent/2/8/111912/World/Region/ExLebanese-PM-AlHariri-condemns-Syrian-coalitions-.aspx
--------
Proposed Egyptian law to reduce restrictions on building churches
29 September 2014
The unified houses of worship law, which regulates the construction of mosques and churches in Egypt, is still waiting for the parliament's approval.
Although the voting sessions in parliament haven't begun yet, the controversy about the houses of worship law started when Christian lawyer Nabil Luka Bibawi filed a lawsuit with the Administrative Court of the Egyptian State Council to compel the prime minister and the justice minister to form a committee comprising scholars from Al-Azhar and the Egyptian church to write the law's outline.
The lawsuit was referred to the State Commissioners Authority on Sept. 1, to prepare a report about it and to hear the legal opinion of the commission, which did not decide on the lawsuit yet. Al-Monitor tried to find out the proposals of all parties about the law and identify the obstacles facing the building of Muslim and Christian houses of worship in Egypt.
Safwat al-Bayadi, the head of the Evangelical Church in Egypt, told Al-Monitor that the obstacles restricting the building of churches date back to 1934, when then-Deputy Interior Minister Al-Ezabi Pasha put down 10 conditions on the building of churches. The conditions included: not building churches near schools, canals in villages, railways, government offices, government facilities or between residential areas.
Full report at:
http://www.al-monitor.com/pulse/originals/2014/09/houses-of-worship-law-egypt-churches.html#ixzz3Ejo1XN9y
--------
North America
US leverages Iran-Iraq-Syria axis against Islamic State
29 September 2014
Last week, this column, picking up on US Secretary of State John Kerry's remark to the UN Security Council on Sept. 19 that Iran has a role to play in the coalition against the Islamic State (IS), suggested, "While the Obama administration has ruled out an alliance with Syria, Iran could be a bridge to Damascus within an international coalition against IS and in a subsequent political transition in Syria."
This week, Reuters, citing unnamed senior Iranian and US officials, reported that the United States had informed Iran in advance of airstrikes against IS forces in Syria and assured Tehran that it would not target Syrian government positions.
Another bridge to Syria and Iran has been Iraq, according to Foreign Policy's The Cable and The Wall Street Journal. Iraqi national security adviser Faleh al-Fayyad traveled to Syria on Sept. 16 to brief Syrian President Bashar al-Assad on the "latest steps taken in this regard, as well as discussing upcoming steps and possible measures to ensure the success of these efforts and eliminate terrorist organizations in all their forms."
Although the deputy chief of staff of Iran's armed forces, Gen. Massoud Jazayeri, said that Iran's nuclear negotiating team at the United Nations has no authority to discuss the campaign against IS, as reported by Arash Karami, it is an open secret that US and Iranian officials have been talking about just that on the sidelines of the nuclear talks.
Iranian President Hassan Rouhani, in his remarks at the UN, opened the door to even further collaboration against IS once a nuclear deal is reached, as reported by Barbara Slavin and Laura Rozen.
Full report at:
http://www.al-monitor.com/pulse/originals/2014/09/syria-iran-alliance-islamic-state-extremism-rouhani-zarif.html#ixzz3EjoETrJM
--------
ISIL fight already near $1 billion as strategy shifts
29 September 2014
WASHINGTON — The air war in Syria and Iraq has already cost nearly $1 billion and ultimately could cost as much as $22 billion per year if a large ground force is deployed to the region, according to an analysis by the Center for Strategic and Budgetary Assessments.
The study, due to be released Monday, shows a range of costs based on sustained but low-intensity combat up to a force of 25,000 U.S. troops on the ground.
President Obama and the Pentagon have ruled out the the use of American boots on the ground, making the most expensive option the least likely. Yet as Todd Harrison, the lead author points out, war is "an unpredictable enterprise" and the ability to forecast its costs is limited.
Meanwhile, there are signs that the war may be shifting toward lower-intensity conflict. Already, pilots are finding fewer Islamic State buildings and infrastructure to destroy in Syria, hoping to pick off smaller enemy targets as they pop up, according to senior Defense Department officials. The Islamic State is also known as ISIL.
Full report at:
http://www.usatoday.com/story/news/world/2014/09/28/airstrikes-syria-strategy/16286679/
--------
Obama admits underestimated Islamic State, as US presses air war
29 September 2014
President Barack Obama has acknowledged that US agencies underestimated the threat posed by the Islamist insurgency in Syria.
In a frank TV interview, he said that al-Qaeda had been beaten in Iraq by US forces working with Sunni tribes.
But they took advantage of the power vacuum in neighbouring Syria to emerge as Isis, later called Islamic State.
Meanwhile, there has been fierce fighting to the west of the Iraqi capital, Baghdad.
Air strikes helped Iraqi fighters repel an attack at Ameriyat al-Fallujah, a strategic town 40km (25 miles) outside Baghdad.
In a separate development, the BBC's Lyse Doucet was told that in some areas around Baghdad, insurgents were less than 10km (six miles) from the city.
In an interview with the CBS TV programme 60 Minutes, Mr Obama said Syria had become a "ground zero" for militants who had been able to take advantage of the chaos there.
He reiterated that only part of the solution to defeating them would be military and that a political solution was also necessary.
Full report at:
http://www.bbc.com/news/world-middle-east-29405373
--------
American Muslims to Mark End of Hajj with Prayers
29 September 2014
(WASHINGTON, D.C., 9/28/14) - On Saturday, October 4, American Muslims will mark the end of the yearly pilgrimage to Mecca, or Hajj, with communal prayers and celebrations at locations around the country. The prayers and the holiday that follows are called Eid ul-Adha (EED-al-ODD-ha), or "festival of the sacrifice."
Eid ul-Adha also commemorates the Prophet Abraham's willingness to sacrifice his son Ishmael at God's command. The holiday is celebrated with the prayers, small gifts for children, distribution of meat to the needy, and social gatherings. During this holiday, Muslims exchange the greeting "Eid Mubarak" or "blessed Eid." Each year, some two million Muslims, including thousands of American Muslims, go on Hajj.
WHEN: Saturday, October 4 - The prayers are held in the morning. Many communities also hold day-long Eid festivals for families.
WHERE: The Eid prayers and festivals are held either in local mosques or in public facilities designed to accommodate large gatherings. Call local CAIR chapters or other Muslim organizations for details about Eid celebrations.
Full report at:
--------
'ISIS' shisha café name worries New York owner
29 September 2014
The owner of a New York-based shisha café has claimed that the Islamic State of Iraq and Syria (ISIS) militant group has given a "bad reputation" to his business – the ISIS Hookah Lounge.
Michil Gadalla, a Egyptian Coptic Christian, opened the shisha café in 2010, naming it after an Egyptian girl he had fallen in love with years ago, according to the New York Daily News.
But in recent months, as the notoriety of the Middle East-based extremist group grew, the ISIS Hookah Lounge has received widespread attention from pedestrians shocked at its accidental affiliation.
"They're terrorists - terrible people," Gadalla told the Daily News. "They give a bad reputation to my business."
Full report at:
http://english.alarabiya.net/en/variety/2014/09/29/-ISIS-shisha-caf-name-worries-owner.html
--------
Mideast
Israel's shadowy Mossad looks to recruit online
29 September 2014
It used to be that if you wanted to join one of the world's most secretive espionage organizations you had to sneak into a foreign embassy, answer a cryptic newspaper ad or show up in a nondescript building in Tel Aviv to meet a shadowy recruiter. Now all it takes to apply for a job at Israel's Mossad spy agency is a click of the mouse.
The typically shadowy Mossad revamped its website last week to include a snazzy recruiting video and an online application option for those seeking employment. With versions in Hebrew, English, French, Russian, Arabic and Persian, the sleek site looks to revolutionize the way Israel's legendary agency seeks out potential agents after generations of backdoor, cloak-and-dagger antics.
"We must continue to recruit the best people into our ranks so that the Mossad might continue to lead, defend and allow for the continued existence of the state of Israel," Mossad Chief Tamir Pardo said in a statement announcing the launch. "The Mossad's qualitative human capital is the secret of our success."
Full report at:
http://indianexpress.com/article/world/middle-east-africa/israels-shadowy-mossad-looks-to-recruit-online/99/#sthash.ogE9O5Iy.dpuf
-----------
Barbarism of Iranian militias based in Iraq, Syria being seriously overlooked
29 September 2014
The US's deadly strike on the al-Qaida-linked Khorasan group leader Mohsin al-Fadhli shone a spotlight on Iran's nefarious activities in Syria and Iraq.
According to the SITE monitoring service on Sunday, a jihadi's Twitter feed confirmed Fadhli's death. This is the same Fadhli who oversaw Iran's al-Qaida- based network and received protection from Iran's regime as part of a clandestine agreement between Tehran and the Sunni terrorist entity.
While Obama's coalition with European and Arab countries to battle the Sunni terrorist organization Islamic State has largely dominated the headlines and policy debates, Iran's Shi'ite proxies have replicated the same form of barbarism as the Islamic State.
In a Skype interview with The Jerusalem Post, Phillip Smyth, a leading researcher on Iranian proxies affiliated with the University of Maryland, said there are more than 50 Shi'ite groups operating in Iraq. By his estimate, Iran and its militias are responsible for the murders of at least 100 US service personnel and as many as 1,000 American soldiers since 2003, Smyth noted in his September Foreign Policy article "All the Ayatollah's Men" that Iranian- affiliated or inspired Shi'ite organizations mirror the ghastly tactics of Islamic State. He wrote of "armed men posing with severed heads, massacres of mosque-goers during Friday prayers, massive reliance on transnational jihadists."
Full report at:
http://www.jpost.com/International/Barbarism-of-Iranian-militias-based-in-Iraq-Syria-being-seriously-overlooked-376535
-----------
Police seize ISIS flag, other jihad material in home of Israeli teacher
29 September 2014
A police search of a home in Kfar Kara belonging to a 24-year-old teacher suspected of association with a terror organization resulted in the seizure of computers, other electronic devices, a flag of the Islamic State and a great deal of literature on the subject of jihad.
The teacher from Kfar Kara, in the Wadi Ara region of central Israel, was taken to the police station in Iron for questioning. The suspect admitted that he brought the materials back to Israel from Jordan where he was studying. Police said the investigation was ongoing. The Hadera Magistrates Court remanded the suspect in custody until Wednesday.
Israel officially banned the Islamic State and anyone associating with it at the beginning of September. The decree outlawed meetings of any kind between Islamic State members and named it an illegal organization.
Last week, the Haifa Magistrate's Court convicted Umm al-Fahm resident Ahmed Shurbaji, 23, of illegally traveling to Syria to take part in military drills after he admitted to training with Islamic State terrorists.
Full report at:
http://www.jpost.com/Israel-News/Police-seize-ISIS-flag-other-jihad-material-in-home-of-Israeli-teacher-376565
-----------
No ISIL attack on Turkish tomb in Syria: Military sources
29 September 2014
Turkish military sources on Sept. 29 categorically denied any attack by the Islamic State of Iraq and the Levant (ISIL) on the Suleiman Shah tomb, an official enclave in Syria protected by Turkish troops.
A ranking military source, speaking on the condition of anonymity, told Hürriyet Daily News the "claims" in The Washington Post story on Dec. 26, 2013 about ISIL surrounding the tomb and taking patrolling Turkish soldiers "hostage" were "untrue and baseless." "We do not have any such problems" the source said.
Full report at:
http://www.hurriyetdailynews.com/no-isil-attack-on-turkish-tomb-in-syria-military-sources.aspx?pageID=238&nID=72304&NewsCatID=338
--------
Israeli Arab lawmaker: Israel has an interest in Islamic State's success
29 September 2014
Israel is similar to Islamic State and has an interest in its expansion, MK Muhammad Barakei (Hadash) posited in an interview with the Palestinian Authority's television station.
"The Israeli organization closest to Islamic State is the Government of Israel," Barakei said, according to a translation released by Palestinian Media Watch on Sunday.
Although associating with Islamic State is illegal in Israel, Barakei posited that "Israel has an interest in this phenomenon [of Islamic State]."
According to Barakei, Israel and Islamic State "make similar things happen, using different means, like pressing buttons from the air. The one who kills and slaughters innocents is Israel, and we can see what happened in Gaza."
Barakei agreed with the Palestinian interviewer, who asserted that Israel openly provides aid to Islamic State, allowing its members to move openly along its borders and providing them medical aid, and called the supposed connection between Israel and Islamic State "suspicious and complex."
Full report at:
http://www.jpost.com/Israel-News/Politics-And-Diplomacy/MK-Barakei-Israel-has-an-interest-in-Islamic-States-success-376571
-----------
Israeli Weapons Contaminate Palestinian Soil with Toxic Substances
29 September 2014
The weapons used by Israel in its recent offensive on the Gaza Strip have contaminated the soil and water of the Palestinian enclave with toxic substances, making the farmlands useless, media reports said.
Many farmlands in the Palestinian territory were destroyed by Israeli bombers and bulldozers during the 50-day war, press tv reported.
The agriculture sector's loss is estimated at around $500 millions.
"Almost 5,000 acres of finest and most productive green land and farms are destroyed. More than 300 roads are destroyed in addition to the ruined irrigation networks and water catchments. These all have contributed to the soil pollution, which threatens our lives now," Gazan Agriculture Minister Nazir Wahidi said.
Full report at:
http://english.farsnews.com/newstext.aspx?nn=13930707001073
-----------
South Asia
Suicide Blast Kills Four in Kabul as President Inaugurated: Police
29 September 2014
KABUL: A Taliban suicide attacker killed four civilians and injured two near Kabul airport on Monday as Ashraf Ghani was inaugurated as Afghan president at a ceremony in the city centre.
"We can confirm a suicide bomber on foot detonated near the airport, killing four people and wounding two," said a spokesman for the police investigation department.
The Taliban claimed responsibility via a recognised Twitter account, saying foreign and Afghan soldiers had been targeted.
http://www.thenews.com.pk/article-161140-Suicide-blast-kills-four-in-Kabul-as-president-inaugurated:-police
--------
UK citizen held in Dhaka for link with Syrian militants
29 September 2014
A Bangladesh origin British citizen, who fought against the Assad government in Syria, has been held at Kamalapur in Dhaka today, six months after he flew in to recruit jihadists for Syrian militant groups, detectives say.
Samiun Rahman alias Ibn Hamdan was arrested following information gleaned from some people arrested recently over alleged links with militancy, said Monirul Islam, joint commissioner of Dhaka Metropolitan Police, at a press briefing.
Samiun came to Dhaka in February to recruit jihadists from Bangladesh and Myanmar, Islam claimed.
Using information and communication technology and social networking websites including Facebook, he communicated with the people who are interested to join militants in Syria, according to the police joint commissioner.
Samiun promised that he would take the interested Bangladeshis to different parts of Syria where several militant groups including Islamic State, al-Qaeda and al-Nusra Front raised jihad, Monirul told the reporters.
"From his passport we came to know that he went to Syria in September last year and took part in the demonstration against Bashar al- Assad," the DMP spokesperson said.
"He also went to Morocco and Mauritania but we are yet to know the reason behind his trips," he added.
http://www.thedailystar.net/uk-citizen-held-in-dhaka-for-link-with-syrian-militants-43859
--------
Afghanistan President Calls on Taliban and Hizb-e-Islami to Join Political Process
Sep 29 2014,
President Dr. Ashraf Ghani Ahmadzai called on Taliban group to join the political process in a bid to put an end to violence in the country.
Dr. Ashraf Ghani was speaking after taking oath of the office as the new president of Afghanistan on Monday.
He said the political issues should be resolved through negotiations and called on all militants groups, including the Taliban group and Hizb-e-Islami led by Gulbuddin Hekmatyar to sit in for talks and join political process.
Dr. Ghani also added that the government of Afghanistan believes and supports peace and stability. However, he warned that the government will use all legitimate means against those who kill Afghan people and children.
Full report at:
http://www.khaama.com/dr-ghani-calls-on-taliban-and-hezb-e-islami-to-join-political-process-6767
--------
Singapore moves to counter militant ideology
29 September 2014
A group of Islamic scholars and teachers set up to curb the Jemaah Islamiah (JI) threat in Singapore has been counselling people who actively read online material related to the Islamic State in Iraq and Syria's (ISIS) ideology and were referred to them by the authorities.
It is now also looking to counter ISIS' radical ideology, including through a more active presence online, videos, talks at schools and distributing pamphlets at mosques.
Dr Mohamed Ali, vice-chairman of the Religious Rehabilitation Group (RRG), would not disclose the exact number counselled or how they were identified.
But he said that "support (for ISIS) is there... (It's) a very small group, but growing".
ISIS' ideology has gained traction closer to home in recent months but Singapore has been lucky so far, Dr Mohamed said.
"We are fortunate that these individuals are identified by the authorities early, before they become deeply convinced of the radical narratives," he said in an interview this week.
"So they are receptive to explanations by RRG counsellors and can easily wean themselves off radical ideas they encounter."
Full report at:
http://news.asiaone.com/news/singapore/singapore-moves-counter-militant-ideology?page=0%2C0
--------
Karzai Defends His Rule, Admits Failed Peace Efforts
29 September 2014
ISLAMABAD— Afghanistan's outgoing President Hamid Karzai in his final address to the nation Sunday night defended his 13-year rule, saying it has laid a "great foundation for our future."
In his nationally televised speech, Karzai thanked the Afghan nation for supporting him and urged his successor, President-elect Ashraf Ghani, and the country's new chief executive, Abdullah Abdullah, to continue demonstrating "a spirit of cooperation and partnership" to serve Afghanistan.
Former finance minister Ghani will be sworn in Monday, marking the first ever peaceful transfer of power from one elected government to another in the war-torn country. The ceremony will also see election runner-up Abdullah Abdullah named chief executive, a post similar to prime minister.
"When I first took charge of office, we did not have a flag, or a currency. We were the target of foreign agendas we were homeless in our own country," said Karzai. "I am proud to have worked toward rebuilding the nation and bringing [people] together to live in their shared homeland under one flag," he added.
Full report at:
http://www.voanews.com/content/karzai-defends-his-rule-and-admits-failed-peace-efforts/2465444.html
--------
Constable killing: 89 BNP-Jamaat men charged
29 September 2014
Detective Branch of Police in Rajshahi have submitted charge sheet against 89 leaders and activists of BNP and Jamaat-e-Islami in police constable Shiddharth killing case.
The accused leaders include BNP joint secretary general Mizanur Rahman Minu, Rahshahi City Corporation Mayor Mosaddek Hossain Bulbul, district BNP president Advocate Nadim Mostafa and city BNP general secretary Shafiqul Haque Milon.
Nur Hossain Khandakar, officer-in-charge of Rajshahi DB Police, submitted the charge sheet to Metropolitan Judicial Magistrate Court on Monday morning.
Full report at:
http://www.dhakatribune.com/politics/2014/sep/29/89-bnp-jamaat-men-charged-over-constable-killing#sthash.L685WXTJ.dpuf
--------
Awami League General Secretary: Jamaat enemy of humanity
29 September 2014
The ruling party spokesperson has made the remarks in a DVD launching ceremony at National Press Club
Awami League General Secretary Syed Ashraful Islam has termed Jamaat-e-Islami enemy of humanity and people.
The ruling party spokesperson made the remarks in a DVD launching ceremony at National Press Club on Monday afternoon.
The DVD titled BNP-Jamaat's Rampage: Blood-stained Bangladesh is a production of Awami League's publicity cell.
"Jamaat and its associates have declared a global war in different names in the countries across the world. We are not too far from the war," Ashraf said.
Calling all to rest Jamaat, he said no one is safe in its hand.
Publicity and Publication Secretary Dr Hasan Mahmud presided over the programme.
http://www.dhakatribune.com/politics/2014/sep/29/ashraf-terms-jamaat-enemy-humanity#sthash.Lmu83wlU.dpuf
--------
India
Indian-Israeli PMs meet for the first time in more than a decade
SUHASINI HAIDAR
September 29, 2014
In the first meeting between Indian and Israeli Prime Ministers in more than a decade, PM Modi asked PM Benjamin etanyahu to explain Israel's perspective on the Islamic State (ISIS). According to the MEA spokesperson Syed Akbaruddin, the two leaders discussed the situation in West Asia. "Given that Israel is well placed in that region, so Prime Minister requested and was given a briefing of their understanding of the situation."
The conversation takes significance given it came before PM Modi's dinner meeting with US President Obama in Washington, as well as Mr. Modi's address to the council for foreign relations to outline his government's foreign policy objectives.
Mr. Modi and Mr. Netanyahu also discussed ways of increasing bilateral ties in the areas of agriculture, water management and urban development. Israel is one of India's largest defence suppliers, and PM Modi discussed his government's decision to open up Foreign Direct Investment (FDI) in the field to 49%, also telling Mr. Netanyahu that Israel should consider defence partnerships based in India, in line with his "Make in India" initiative. According to The Jerusalem Post, PM Netanyahu said "the sky is the limit" for relations between both countries.
Full report at:
http://www.thehindu.com/news/national/sky-is-the-limit-for-indiaisrael-ties-netanyahu-to-modi/article6456782.ece
---------
Modi overshadowed Nawaz Sharif at UN: Pakistani daily
IANS | Sep 29, 2014
ISLAMABAD: Prime Minister Narendra Modi's speech at the UN was everything his Pakistani counterpart Nawaz Sharif's was not, said a Pakistani daily on Monday.
An editorial "Modi at the UN" in the Daily Times said: "Modi continued his charm offensive in the west with a speech to the UN general assembly that was everything Nawaz Sharif's was not."
Modi began with a quaint reference to India's ancient Vedic culture, a running theme in his speech.
He took the opportunity following this to rebut Nawaz Sharif's speech from the day before.
"He (Modi) was correct of course; the general assembly is no longer a platform for serious discussion, it is a way for heads of state to build an image for their country and themselves," said the editorial.
Full report at:
http://timesofindia.indiatimes.com/india/Modi-overshadowed-Nawaz-Sharif-at-UN-Pakistani-daily/articleshow/43784077.cms
--------
Pakistan softens stance after Modi's speech
SUHASINI HAIDAR
September 29, 2014
In a softening of positions, Pakistan welcomed Prime Minister Narendra Modi's call for dialogue in his speech at the United Nations General Assembly on Saturday, accepting that talks with the Hurriyat were not "necessary" before dialogue with India. India said it was "committed to all bilateral interactions with Pakistan."
The turnaround, coming 24 hours after Pakistan Prime Minister Nawaz Sharif's tough language over Kashmir at the same venue, seemed to have arisen from Mr. Modi's speech. Contrary to expectations, Mr. Modi did not retort to Mr. Sharif's words directly, but called for a bilateral dialogue "without the shadow of terrorism."
Full report at:
http://www.thehindu.com/news/national/pakistan-softens-stance-after-modis-speech/article6455129.ece
--------
Southeast Asia
Youths Can Express 'Jihad' In Many Ways –Dy Minister Azizah Dun
29 September 2014
BEAUFORT: Muslim youths in the country must guard themselves against falling under the influence of the militant group that called itself Islamic State, cautioned Datuk Azizah Mohd Dun.
The Women, Family and Community Development Deputy Minister said youths with a strong sense of 'jihad' (religious duty), could express their spiritual energy in many ways.
"They can help the needy, or combat social ills such as the drug menace. Or they can defend the country against intruders," she told reporters after launching a volunteer programme, here.
On the programme, Azizah who is also Beaufort Member of Parliament, said volunteers would be trained at the Malaysian Social Institute (MSI).
Meanwhile, MSI Director Dr Al-Azmi Bakar said since January 2002 until August this year, 45,119 social media practitioners had undergone basic and advanced training at the institute.
"This year as at August, 1,038 participants have followed basic training and practical training through an outreach programme," he said.
Full report at:
http://www.dailyexpress.com.my/news.cfm?NewsID=91446
--------
Jihadists pulling in Muslim youths with poor religious knowledge, says Anwar
29 September 2014
SHAH ALAM, Sept 29 ― The violent wave of jihadism as espoused by militant religious movements will grow unless the authorities first deal with Muslim youths with an idealised but "flawed" understanding of Islam, Datuk Seri Anwar Ibrahim said today.
The opposition leader attributed the rise of militant Islam to a growing number of Muslim youngsters who were disappointed with the lack of action by their governments to defend their religion,
"The central issue here is the lack knowledge and education. The difference of opinion is allowed in Islam and not to be punished if you disagree," he told a 100-strong student audience attending a forum on fighting extremism at Universiti Selangor here.
Anwar said the spread of violent jihad as promoted by groups such as the Islamic State (IS) in Syria and Iraq was founded on the ideological conflict between Islam's two biggest schools, Sunni and Shiah.
He also said that Muslims fascinated by IS might replicate the spread of violence religious revolution here, echoing similar warnings by police officials and former prime minister Tun Dr Mahathir Mohamad.
Full report at:
http://www.themalaymailonline.com/malaysia/article/jihadists-pulling-in-muslim-youths-with-poor-religious-knowledge-says-anwar#sthash.i9e192Aa.dpuf
--------
German captives plead to be set free from Philippine Islamist militants
SEPTEMBER 29, 2014
MANILA, Sept 29 — Two Germans being held by an Islamist group in the southern Philippines appealed to the Philippine and German governments to secure their release through a message on local radio today, days after the militants threatened to kill them.
The Abu Sayyaf group has demanded that the German government stop supporting US action against Islamic State in Iraq and Syria and wants a ransom paid for the captives. It has said it would behead one of them if the demands are not met by October 10.
"Hopefully, our government will do all they can to get me free," a male captive, who identified himself as a medical doctor, told a radio station based in Zamboanga City.
"We were sailing on our sailboat and unfortunately I was taken hostage," he said, adding that he was concerned for his health.
According to media reports, the two Germans were seized at gunpoint from a yacht between Malaysian Borneo and the southern Philippines in April.
Full report at:
http://www.themalaymailonline.com/world/article/german-captives-plead-to-be-set-free-from-philippine-islamist-militants#sthash.VyPB3J8x.dpuf
----------
Africa
Al Shabaab Is Still Recruiting in Kenya - Report
29 September 2014
AL SHABAAB and other local terror networks are taking advantage of historical injustices of marginalisation to advance their agenda, a new report has said.
The report, released on Friday by think tank International Crisis Group, said extremists are actively seeking to appeal to the most alienated members of Kenyan society to spread their influence, especially among the youth.
Titled "Kenya: Al Shabaab Closer to Home", the ICG report explains how local terror networks with a global jihadist agenda have used "grievances of marginalisation among Muslim communities in Nairobi, the Coast and North Eastern and institutional discrimination at a national level".
It goes on: "Not only are there plenty of immediate grievances to exploit, but nearly two decades of radicalisation and recruitment in Kenya means that the threat is both imminent and deep. The absence of a common Kenyan Muslim agenda and leadership has meant little resistance to the extremist message".
Full report at:
http://allafrica.com/stories/201409290816.html
--------
Islamist gunmen kill two soldiers in western Algeria
29 September 2014
Islamist gunmen have killed two soldiers in western Algeria less than a week after extremist-linked militants beheaded a French hostage they abducted east of the capital, press reports said Monday.
The two soldiers were ambushed on Sunday as they inspected a power plant in the town of Telagh, 150 kilometers south of Algeria's second city Oran, the reports said.
Islamist militants, some of them loyal to Al-Qaeda, remain active in several areas of Algeria more than a decade after the end of the country's devastating 1992-2002 civil war.
World outrage
Full report at:
http://english.alarabiya.net/en/News/middle-east/2014/09/29/Islamist-gunmen-kill-two-soldiers-in-western-Algeria-.html
--------
South Africa: Medical Male Circumcision Becomes the 'In' Thing
29 September 2014
Younger men say voluntary medical male circumcision is becoming cool among peers as the country continues rolling out new method.
Karabo Nhlapo, 21, chose to be medically circumcised about a month ago. He says his friends have chosen to follow his lead.
"I did my circumcision four weeks back using Prepex - it was painless," said Nhlapo, who added that his girlfriend encouraged him to go for the procedure.
"I started become interested in getting circumcised last year while I was on campus," he tells Health-e News. "I was shy to get into the shower with the other guys because of my penis as I saw that majority had done it".
After Nhlapo told his friends, four others decided to get medically circumcised and now his entire group of friends has also undergone the procedure.
"When you haven't done it, we wonder what's wrong with you because everybody is doing it," he adds.
Full report at:
http://allafrica.com/stories/201409291076.html
--------
I Will Crush Boko Haram - Jonathan
29 September 2014
Benin City — President Goodluck Ebele Jonathan, yesterday, at the South-south Unity Party of the Peoples Democratic Party (PDP), held in Benin-City, vowed that his administration will crush Boko Haram exactly the way it fought Ebola virus disease.
The President also boasted that the PDP will recapture Rivers and Edo states in 2015 and 2016, insisting that the entire South-south must return to the PDP as it were in 1999.
This comes as South-south PDP leaders and governors, through the Chairman, Board of Trustees of the PDP, Chief Tony Anenih, urged the North to back Jonathan's re-election bid, asserting that the people of the zone were determined to ensure his re-election. According to Anenih, the North must reciprocate the gesture of the South-south in the political empowerment of the North in the past.
Full report at:
http://allafrica.com/stories/201409290209.html
--------
Nigeria: Over 4,000 Killed in Kaduna Attacks
29 September 2014
Over 4, 000 people have been killed in separate attacks in the Southern part of Kaduna, Kaduna State, Victor Bodam, the Chancellor Gurara Forum, a Kaduna-based Christian forum, has said.
Mr. Bodam, also a member of a coalition of Non-Governmental Organizations of Southern Kaduna, in a briefing in Abuja, said most of the affected victims of the Southern Kaduna killings have been women and children.
He also said the attacks have rendered many people homeless with the state government having done little or nothing to put an end to the crisis.
According to records made available to journalists, 16 of the attacks happened from 1980-2010, while 39 of the recent attacks occurred in four years - 2011 to 2014.
"In most of the affected communities, women and children have been killed and brutally murdered in a most barbaric manner. While in some cases they were hacked to death, in others they were burnt alive and or blown up with explosives," Mr. Bodam said.
Full report at:
http://allafrica.com/stories/201409270468.html
--------
URL: https://www.newageislam.com/islamic-world-news/new-age-islam-news-bureau/french-muslims-won't-apologise-for-isil/d/99314