New Age Islam News Bureau
21 Apr 2017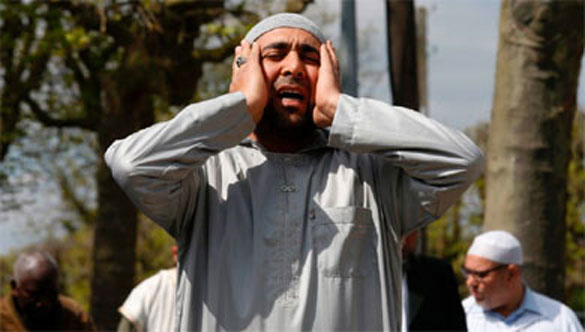 Muslims pray in the street of the Parisian suburb Montfermeil | Geoffroy van der Hasselt/AFP via Getty Images
------
• French Muslims Brace For Le Pen Presidency
• Western States Purchasing Palmyra's Antiques from ISIL
• NIA Court Issues Non-Bailable Warrant Against Zakir Naik
• Palestinians Want Red Cross To Intervene In Hunger Strike
• U.S. VP In Indonesia Sends Conciliatory Message To Islamic World
Europe
• French Muslims Brace For Le Pen Presidency
• Is France Right To Criminalize Online Hate Speech?
• One dead, two wounded as Paris police come under fire on Champs-Elysees
• Muslims of France Have Their Say In Race For President
• Russia denies gay men persecuted in Chechnya as rights groups predicated
--------
Arab World
• Western States Purchasing Palmyra's Antiques from ISIL
• Egyptian Military Kills 19 Daesh-Linked Militants In Restive Sinai
• Saudi Arabia to award licenses to 15 U.S. firms in May: officials
• Young Syrian, fighting for home, joined ISIS
• Iraq forces retake more areas in west Mosul
• Scared Syrian evacuees stuck at site of deadly bombing
• Army Starts New Phase of Operations in Northern Hama, Kills 2 Terrorist Commanders
• Damascus: Syrian Army Seizes Back New Regions in Al-Qaboun
• ISIL Forced to Retreat from Strategic Districts in Eastern Homs
• West blocking probe into suspected chemical attack in Syria: Assad
--------
India
• NIA Court Issues Non-Bailable Warrant Against Zakir Naik
• 4 ISIS Terror Suspects Arrested, Major Terror Attack Averted: Police
• Kerala Islamic State commander may have been killed in Afghanistan strike
• Sonu Nigam insulted Constitution of India, must leave country: Cleric
• Terror module busted recently may be connected to Islamic State affiliat
--------
Mideast
• Palestinians Want Red Cross To Intervene In Hunger Strike
• 17 Houthi Militias Killed, 20 Wounded, In Coalition Attacks Near Taiz
• Israeli forces suppress rally in support of hunger-striking prisoners
• Israel deterred from launching new war on Lebanon: Hezbollah deputy chief
• UN must list S Arabia, allies for violating child rights in Yemen: Aid groups
• Weighing arms sale, U.S. seeks Saudi pledge on Yemen civilian casualties
• Turkish police detain leftist editor after referendum
• Trump: Iran not 'living up to spirit' of nuclear deal
--------
Southeast Asia
• U.S. VP In Indonesia Sends Conciliatory Message To Islamic World
• Preacher Zakir Naik Should Not Be Allowed To Remain In Malaysia: Minister
• Conservative Islam Has Scored a Disquieting Victory in Indonesia's Normally Secular Politics
• Kelantan's night market ruling does not apply to non-Muslims
• Insult Islam and you're out, just like Ahok, PAS tells political leaders
• Chinese, Iranian firms to sign first nuclear plant redesign contracts
• In Malaysia, Islamic spiritual healing seeks scientific recognition
--------
Pakistan
• Terror Incidents In Fata Increased By 72pc: Report
• CTD Kills Eight Terrorists Near Narang
• Pakistan: Christian-Muslim campaign for peace
• Ahmadiyya Muslims are killed for their faith in Pakistan
• Four soldiers handed over to military for court martial in murder case
• Minister For National Health Services Avoids Answering Question About Saudi Arabia
• Fresh surge of refugees return to Afghanistan
--------
South Asia
• BNP: Courting Hefazat Won't Win AL Any Support
• 4 Militants Killed, Hideout Eliminated In A-29 Strike In South Of Afghanistan
• The strike accurately targeted the terrorists and locals are very happy about it
• You committed an immense atrocity against Afghans, Karzai tells Trump
• Is Shamim Osman behind Hefazat's case against Rafiur Rabbi?
--------
Africa
• Nigeria Arrests 53 Over Gay Wedding
• Uganda: Mulira, DP's Challenges Are Influenced By Tribe, Religion
--------
North America
• Technology Firms Urge US Court To Toss Trump Travel Ban
• Possible Trump trip to Saudi Arabia next month being discussed
• Is Canada's Anti-Islamophobia Motion As Benign As It Seems?
Compiled by New Age Islam News Bureau
URL: https://www.newageislam.com/islamic-world-news/french-muslims-brace-le-pen/d/110856
--------
French Muslims brace for Le Pen presidency
21 April 2017
LE BOURGET, France — "Inshallah, it won't be Marine Le Pen," said Nassim with an anxious smile. "But if it is, we'll have to accept our fate."
Handing out fliers at last weekend's Annual Meeting of French Muslims just north of Paris, the baby-faced 25-year-old said he'd happily vote for any other candidate to keep Le Pen from becoming France's first far-right president. Even if it meant abandoning his left-wing convictions.
Nassim's dilemma reflects the difficult position many French Muslim voters find themselves in — traditionally loyal to the political left, partly for its track record of championing social equality, this year's campaign has offered up no viable candidate from the mainstream left. This means France's Muslim population has had to wade through the campaign promises of a jumble of loose-cannon candidates in an increasingly polarized debate in which they have become prime targets themselves. And in which one candidate in particular has raised alarm at what she says is the encroaching influence of radical Islam in France.
"If Marine Le Pen arrives in power, this dream of ours — our common ambition to live alongside each other — will be finished," says Nassim, a student at a top Paris business school who preferred to go by his first name.
Some 50,000 visitors flock to the Paris suburb of Le Bourget every year for Europe's biggest Muslim gathering, an event somewhere between a religious convention and a giant exercise in Islamic retail therapy. In between lectures on spiritual and political issues, visitors throng hundreds of stalls to snap up headscarves and dresses, sticky halal sweets, books, soap and perfume.
This year, in the wake of a presidential campaign during which the role of Islam and perceived threats to French identity have played an outsized role, convention-goers were noticeably apprehensive about the vote on Sunday, when the country goes to the polls in the first round of the most nail-biting election in decades.
Amar Lasfar, head of the Union of French Islamic Organizations (UOIF), which has organized the fair for the past 34 years, implored the assembled crowd on Saturday to "go and vote." It would be up to them to "protect France from the threat of the far right," he said.
On the eve of the gathering in Le Bourget, Le Pen had released a video calling on the interior ministry to shut down the event. She has repeatedly urged the government to ban the UOIF over alleged ties to the Muslim Brotherhood and complained that it has invited what she calls "hardcore hate preachers" to address its annual fair in previous years.
Lasfar accused the National Front leader of "pouring oil on the fire" and defended his organization's respectability as France's biggest Muslim federation. The UOIF was officially rebranded as "Muslims of France" at this year's gathering, in a move to smooth its image in wider French society. Like other presidential candidates, Le Pen snubbed an invitation to attend the fair.
The National Front leader would hardly have picked up many votes anyway. Muslims overwhelmingly backed Socialist François Hollande at the last election in 2012; nearly 90 percent chose him over the right-wing incumbent Nicolas Sarkozy, according to a post-vote study by pollster IFOP.
France heavily restricts the collection of ethnic and religious data, and no published surveys have tracked how the Muslim community — at an estimated 5 million strong, one of the largest in Europe — is likely to vote this Sunday and in the decisive run-off on May 7.
Antoine Jardin, a sociologist at the National Scientific Research Center and Sciences Po university who has researched the voting habits of Muslims in working-class suburbs, stressed there was no such thing as "the Muslim vote." The community is as diverse as any other, he said, and in any case, data is sketchy.
But he acknowledged that France's Muslims have traditionally leaned left, in part because of leftist parties' role in pushing for decolonization and fighting against racism. The fact that many Algerians, Moroccans and Tunisians arrived as industrial workers in the post-war boom years also meant their children were raised in a staunchly left-wing environment.
Those mingling around the stands in Le Bourget hailed almost exclusively from the left, but it was difficult to find anyone putting their faith in Hollande's anointed Socialist successor, Benoît Hamon. Like left-wingers across the country, many saw little point in backing a candidate languishing at 8 percent in the polls.
Instead, the name on French Muslims' lips this past weekend was that of Jean-Luc Mélenchon, the far-left firebrand who has seen a surge of support in recent weeks and now has a genuine shot at reaching the second round of voting. Polls place him nationally at 20 percent, just a couple of points behind front-runners Le Pen and centrist Emmanuel Macron, and neck-and-neck with embattled conservative François Fillon.
Mélenchon, Muslim defender?
"His ideas are definitely eye-catching, especially for people from our community," said an animated young woman who gave her name only as Sarah. Immaculately made-up under a black hijab, she was in Le Bourget to promote a new guide to the best halal restaurants in the Paris area.
Sarah, still undecided, said she was considering casting her vote for Mélenchon, who has proposed huge public spending increases, a 100 percent tax on earnings over €360,000, and a renegotiation of all European Union treaties.
"In some places, people feel like he's standing up for us," she said.
Mélenchon's far-left party has won around a fifth of Muslim votes since 2002, according to the IFOP study, which noted this was partly attributable to "his very clear opposition to the [National Front] and his recognition of the benefits that Arab-Muslim immigration has brought to France."
Among the many people perusing the bright clothing racks in Le Bourget, most said they were preoccupied with the same issues as other French voters: how to kick-start the country's torpid economy, how to secure the best education for their children. Some expressed the same criticisms of the EU and globalization more commonly associated with Le Pen supporters.
Yet the context of this election — after two years in which more than 230 people have been killed in successive jihadist attacks on French soil — escaped no one. The backlash has handed Le Pen huge gains as her party capitalized on people's fear for their security and contributed to an increasingly polarized debate over what it means to be French.
In the wake of the November 2015 Paris attacks, Hollande's controversial proposals to strip dual nationality terror convicts of their French nationality — ultimately dropped — galled many Muslims who felt the measure exclusively targeted immigrants and their descendants.
And then there was last summer's furious debate over the "burkini," when several mayors in the south of France moved to ban the full-body Islamic swimsuit from their beaches. Le Pen backed their right to do so, calling the swimwear an affront to French secular values. Both she and Fillon have expressed support for a national ban on the garment.
For Sarah, it was an upsetting episode. She feels Le Pen and Fillon have "made a business" out of attacking Muslims.
"I wear a headscarf. It doesn't bother me if I go to the beach and there's a woman topless there," she said. "We're in France. I grew up here. My father, who wasn't born in France, always raised me to be tolerant."
'Multicultural drift'
Burkinis — now allowed back on all beaches after the courts intervened — were on sale at this weekend's fair, a visible reminder of unresolved tensions. As were panel discussions on deradicalization; on life in the depressed, immigrant-heavy suburbs that have produced many young jihadists; on whether a French version of Islam is truly possible. One phrase came up time and time again in conversation: vivre-ensemble, or the ability to live together.
"The vast majority of French Muslims live their faith in a way that is absolutely peaceful in its respect for republican values," Le Pen said earlier this month. But she has accused Fillon of letting ultra-conservative Muslims shut themselves off from the rest of society while he was prime minister from 2007 to 2012, and warns that Macron, too, would "accelerate the multicultural drift" with his relaxed attitude to community relations.
Fillon, a devout Catholic, has also threatened to get tough with the UOIF but rejects a ban on the veil in universities. Macron, meanwhile, accused Le Pen during a presidential debate of treating "more than 4 million French women and men" like "enemies of the Republic."
Laoufel Gasmi, the deputy mayor of the Strasbourg suburb Illkirch-Graffenstaden who was in Le Bourget to promote his Muslim NGO, called Le Pen's rhetoric "corrosive" and designed to exacerbate rifts in society.
"Sometimes for politicians the old adage 'divide and conquer' makes sense," he said.
Most Muslims shopping in Le Bourget could imagine nothing worse than watching Le Pen move into the Elysée Palace. Yet some said they were willing to consider her proposals, not least when it comes to shaking up France's relations with Europe.
Shaïma Seghiri, a 19-year-old wearing a bright yellow headscarf over a leather jacket, said she found common ground with Le Pen in her doubts over the EU. She's backing fringe anti-EU candidate François Asselineau.
"For me, quitting the euro is a good idea — that would kickstart the economy," the psychology student said.
Still, she and her friends are worried about what kind of future Muslims would face under a Le Pen presidency.
"It's a shame," chipped in Nour, a 19-year-old trainee nurse. "Because her policies, they aren't bad."
http://www.politico.eu/article/french-muslims-brace-marine-le-pen-presidency-far-right/
--------
Western States Purchasing Palmyra's Antiques from ISIL
Apr 20, 2017
According to Prima TV channel's reporter, the ISIL has not only destroyed a large number of ancient monuments in Palmyra but also stolen many of them.
Noting that the ISIL has sold the stolen antiques to the western states, he said that those who have bought the artifacts have continued trade with the terrorists.
The UNSC in a resolution in 2015 had called for cutting the ISIL's financial resources.
Reports said in 2015 that the ISIL terrorists didn't just demolish the World Heritage site, the city of Palmyra, they had been successfully trading the city's unique relics while in control of the territory.
Russian investigators estimate that the terrorist group has garnered around $200 million by selling artifacts it has looted from ancient sites in Palmyra, Sputnik reported.
The archeological wonder with 2,000-year-old ruins, is located amid the Syrian desert.
http://en.farsnews.com/newstext.aspx?nn=13960131000490
--------
NIA court issues non-bailable warrant against Zakir Naik
Apr 20, 2017
MUMBAI: The special NIA (National Investigation Agency) court here on Thursday issued a non-bailable warrant against the controversial Islamic preacher Zakir Naik, wanted by the agency for his alleged role in a terror case.
The National Investigation Agency had registered a case against Naik+ under Unlawful Activities (Prevention) Act last year.
It told the court that Naik didn't appear before it even after three summonses were issued and it would need to take Interpol's help to bring him back to India.
"Issue NBW against Naik," said Special Judge V V Patil.
Last week, another city court had issued an NBW against Naik+ in a case of money laundering registered by the Enforcement Directorate against him. The ED lawyer had said Naik was believed to be in the United Arab Emirates.
Naik, 51, left India last year, allegedly to evade arrest after some perpetrators of Dhaka terror attack+ claimed they were inspired by him.
Following the Dhaka attack, the NIA had registered a case against him and some officials of his organisation, Islamic Research Foundation, under section 153-A of IPC (promoting enmity between different groups on grounds of religion) and the UAPA.
http://timesofindia.indiatimes.com/india/nia-court-issues-non-bailable-warrant-against-zakir-naik/articleshow/58280709.cms
--------
Palestinians want Red Cross to intervene in hunger strike
21 April 2017
The Palestinian envoy to the UN on Thursday called for the International Committee of the Red Cross to intervene to help end a crisis over a hunger strike by Palestinian prisoners in Israeli jails.
Ambassador Riyad Mansour to the UN Security Council said that the ICRC can play a "facilitating role" to avert "the dangerous consequences of a deterioration of this situation."
The Palestinian detainees, led by popular leader Marwan Barghouti, launched the hunger strike on Monday to press demands such as better medical services and access to telephones.
Several dozen Palestinian protesters clashed with Israeli forces Thursday outside a prison north of Jerusalem where detainees are on the hunger strike. Palestinian prisoners have mounted repeated hunger strikes, but rarely on such a scale.
https://english.alarabiya.net/en/News/middle-east/2017/04/21/Palestinians-want-Red-Cross-to-intervene-in-hunger-strike-.html
--------
U.S. VP in Indonesia sends conciliatory message to Islamic world
20, 2017
U.S. Vice President Mike Pence on Thursday praised Indonesia for its tradition of "modern Islam", sending a conciliatory message to the Islamic world.
Pence was speaking in the world's most populous Muslim nation midway through a 10-day swing in Asia meant to reinforce key US alliances at the start of the Trump administration, reports the CNN.
He met Indonesian President Joko Widodo and toured the largest mosque in the region.
Pence said the US would continue working with Indonesia to combat terrorism, adding the country's form of Islam should serve as an example to other nations.
As the largest majority Muslim country, Indonesia's tradition of modern Islam, frankly, is the inspiration to the world," he said.
The Trump administration has caused concern among the Muslim communities with some of its executive orders, including barring entry to citizens of some predominantly Muslim nations. That plan, however, remains stalled in courts and hasn't gone into effect.
Pence, in Jakarta, said Trump was not interested in banning entry to all Muslims.
"Rest assured, under President Trump, the United States welcomes all who share our values for that brighter future," he said.
He also announced Trump's intentions to visit Southeast Asia in November for a yearly set of conferences. The Summits this year take place in Vietnam and the Philippines.
http://www.business-standard.com/article/news-ani/u-s-vp-in-indonesia-sends-conciliatory-message-to-islamic-world-117042001271_1.html
--------
Europe
Is France Right To Criminalize Online Hate Speech?
By Shira Rubin
Apr 20, 2017
PARIS _ Illan Haddad, 31, has for years worn a baseball hat over his yarmulke in fear of being attacked because he's a Jew. It's been that way since he was 15 and a Muslim neighbor shouted "Long live Palestine!" before spitting and assaulting him in his hometown of Gennevilliers, a northwestern suburb of Paris.
As he waits in a metro station in the center of Paris on his way home from work, he sighs with relief, anxious to escape what he says is a daily "atmosphere of tension."
Hate speech, both online and in real life, has been percolating in French society for years. Human rights advocates say the toxic French brands of anti-Semitism, Islamophobia and racism have resurged in the week leading up to Sunday's presidential elections, as candidates launch their final efforts to mobilize the party and draw new voters. A Thursday night shootout, in which a gunman claimed by ISIS killed a police officer on the iconic Champs Elysees boulevard, has caused tensions to soar.
After Brexit in the United Kingdom and the election of Donald Trump in the U.S., this year's presidential campaigns have morphed into an insidious and unprecedented competition of identity politics. Marine Le Pen, the surprising far-right frontrunner who heads the once-fringe National Front party, has brought xenophobia and the "clash" of Islamic and Western civilizations into mainstream discourse. On Wednesday, the anti-European Union and anti-immigration Le Pen wrapped up her last rally in Marseille — where a day earlier police arrested two men on suspicion of plotting an election attack — with a promise to stamp out the "poison" of radical Islam. She's also promised to ban the head scarf for Muslim women and the yarmulke for Jewish men.
Even Francois Fillon, the once-favored conservative candidate now polling in third place after a corruption scandal, has tapped into his conservative Catholic voting bloc who argue that the country's Christian traditions serve as its bulwark. "Let's stop kidding ourselves," Fillon wrote in his recently released bestselling book, Vanquishing Islamic Totalitarianism. "France doesn't have a problem with religion. The problem is linked to Islam."
In a fake interview published last week on the satirical website NordPresse, the prominent French-Jewish philosopher Bernard-Henri Levy was quoted as saying, "If Melenchon is elected, I'm leaving France," referring to Communist-backed candidate Jean-Luc Melenchon who has recently risen in the polls. The hashtag #BHL — standing for Bernard-Henri Levy — has since exploded on Twitter, and hundreds of Melenchon supporters circulated the fake interview on Twitter along with anti-Semitic comments. "Shove off to Israel or the States, you son of a bitch," one Twitter user wrote.
France's unusual political foray into the realm of religion, "is bad for all of us," says Haddad.
"Jews and Muslims are being talked about as 'others,' but we are French above anything else," he says. He adds that Jews and Muslims are being increasingly co-opted by the candidates, but none are addressing the real problems affecting the Muslim minority: lower access to education and housing and their over-representation in prisons where they're exposed to radicalization. He says the Jewish community has an interest in seeing those resolved, "since we, Jews and Muslims, we share the same struggle," and because French Muslims today carry out the greatest number of attacks against French Jews.
The French election will take place in two rounds, on April 23 and May 7. Many polls show that Le Pen will win the first round and lose to centrist candidate Emannuel Macron in the second.
Macron, Le Pen, Fillon and Mélenchon make it a four-horse race. The "Le Pen effect" now has all four campaigning on law and order and "national identity." But they've been virtually silent on a rising torrent of hate speech that has "become commonplace" in France, according to a report last year by the European Commission Against Racism and Intolerance.
Hundreds of attacks are carried out every year against Jews, Muslims, and black French citizens. The organizations that track the trends — operating independently of the government, which forbids official consensus based on religious affiliation, and has shown little political will to get involved in the problem — say that there is severe under-reporting.
That is because French security forces provide little incentive for those coming forward with incidents not directly linked with terrorism. When Illan Haddad filed a complaint with the police more than fifteen years ago, they only responded a year later with a letter of apology but no promise of action.
In recent years, the focus on Islamic terrorism has only increased. The Charlie Hebdo massacre and a spate of brutal coordinated killings in 2015 in and around Paris, carried out by French and Belgian Muslim citizens who pledged allegiance to ISIS, shook the French consciousness and spurred new questions about the place of Muslims in French society. France declared a state of emergency that gave the state greater powers of surveillance, originally meant to be temporary but which remains in place today. The state has carried out more than 4,100 house raids overwhelmingly targeting Muslim communities, resulting in only six terror-related investigations, according to the most recent European Islamophobia Report.
"In the wake of a series of appalling attacks, from Paris to Berlin, governments have rushed through a raft of disproportionate and discriminatory laws," said John Dalhuisen, Amnesty International's Director for Europe. "Taken alone these individual counter-terrorism measures are worrying enough, but when seen together, a disturbing picture emerges in which unchecked powers are trampling freedoms that have long been taken for granted."
Critics say that national security tunnel vision meant that too few politicians have challenged the country's claims of being colorblind and or its exclusivist state program of secularism (laïcité). Anti-hate speech organizations say the government's muscular stance has heightened minorities' sense of isolation, especially in France's blighted suburbs where Muslims, Jews, and other groups live in bleak housing projects and face economic discrimination.
Many of France's five million Muslims and 500,000 Jews coexist uneasily in the suburbs surrounding Paris. Many Muslims complain that questioning the Holocaust is forbidden by law but insulting the Prophet Muhammad is not. Many Jews say they have returned to the level of insecurity their grandparents experienced in North Africa, where anti-Jewish pogroms forced a mass Jewish exodus to France in the 1950s and 1960s. Inter-communal violence and intimidation have become rampant, as the country polarizes in one of the most divisive elections in recent memory.
Anti-hate speech organizations say that it is the responsibility of American companies like Facebook and Twitter to take a more active stance. But tech giants have been reluctant to interfere in the murky world of online anti-Semitism, which is characterized today by a casualness that is both difficult to quantify and often deeply intertwined with politics. Even if users are banned from one site, they can always find other outlets, the argument goes.
"France is one of the only countries in the world that has laws against anti-Semitism and Holocaust denial, but we've seen that Facebook and other companies have not lived up to their pledge to take down illegal material within 24 hours," said Jonathan Arfi, vice president of the Representative Council of French Jewish Institutions (CRIF), an umbrella organization of Jewish organizations in France. He adds that the sluggish response of social media groups has helped inflame the problem. He says he meets regularly with the local representatives of Facebook and other companies to "put pressure on them to take more responsibility."
Facebook and other social media companies have argued it is not their role to police the internet, and have lagged in taking down illegal online content. They are based in the United States, where free speech, including hate speech, is protected under the First Ammendment.
But since the 2015 terror attacks, companies have slowly begun to consent to sharing some responsibility for dangerous materials shared on their sites. Facebook, YouTube, Twitter and Microsoft signed the EU hate speech code, requiring them to remove illegal content within 24 hours. Audrey Herblin-Stoop, the director of Twitter relations in France, wrote in Le Monde that "some people have abused the strength [of our platform.] They shout louder than the others, even deafening the positive messages. They have distorted freedom of expression." Ahead of the elections, Facebook, Twitter, and other sites have been cooperating with local newspapers to enhance fact-checking tools to tackle hate speech and misinformation. Facebook announced last week that it closed 30,000 "fake accounts" in France.
Yasser Louati, a board member of the European Muslim Initiative For Social Cohesion, an organization that fights Islamophobia and hate crimes, says that such actions from companies like Facebook are too little, too late, and that lax policies of social media sites endanger the lives of all minorities in divided countries like France.
But as Facebook shirks its responsibilities under the "free speech" argument, Louati says social media's role in France's social discord has also emphasized the complicity of the French government, which he says has responded unevenly to anti-Semitism and Islamophobia.
"The result is a hierarchy of one-upmanship – the government is prioritizing tackling anti-Semitism while ignoring other forms of racism – and it's fueling conspiracy theories held by many Muslims, which say that the state is controlled by the Jews," says Louati. He claims there's been a rise in anti-Muslim sites claiming that Muslims are "invading Europe" and that they have gone unchecked.
He says to understand the double failure of social media sites and the French government to grapple with hate speech, you need only look at the case of Dieudonne, a French comedian of Cameroonian descent. He popularized the so-called "quenelle," an inverted Nazi salute, which he said was anti-Zionist and anti-establishment, but not anti-Semitic. He's called on Christians and Muslims to unite to kill Jews and has depicted an Israeli settler as a Nazi. He's been repeatedly convicted for hate speech, advocating terrorism, and slander in Belgium and in France.
But the ongoing state-versus-Dieudonne saga has only intensified the die-hard Dieudonne fan club, which praise every encounter with authorities. Feeding off the controversies, Dieudonne has continued to provoke.
In 2015, he posted of Facebook: "Je me sens Charlie Coulibaly," I feel like Charlie Coulibaly, in reference to Amedy Coulibaly, the Islamist gunman who murdered four hostages at a kosher market in Paris in coordination with the terrorists who carried out the Charlie Hebdo killing two days earlier. Dieudonne said he was referring to the double standard in French free speech laws that defend a satirical magazine that published an image of the Prophet Muhammed, but seeks to limit Dieudonne's shows. He was arrested and charged with a misdemeanor: "praising terrorism."
Since then, controversies and lawsuits have kept on coming, and Dieudonne has used them to build his anti-establishment street cred.
Dieudonne is on tour ahead of the French elections. Nice has banned him, saying his jokes about an attack last year were a "Nicoise quennelle" that insulted the victims of the attack. In that attack a man who'd sworn loyalty to ISIS plowed a semi-trailer into a crowd of people celebrating Bastille Day, killing 86 and wounding dozens others.
But fans can head to the comedian's official Youtube channel, which regularly fetches hundreds of thousands of views. "Dieudonne goes to prison" was viewed more than 600,000 times.
"Bravo Dieudo, like Mohamed Ali you prefer to be imprisoned rather than sacrifice your values. You are an example for all of us, in this world of cowards and collaborators," read one comment on his Youtube page.
Rafael Tyszblat, the program director of a European interfaith organization, the Muslim-Jewish council, said that "the state is clueless about what to do with cases like Dieudonne. It's running after this repressive policy which will never be comprehensive as long as it refuses to break down barriers and open up the ghettos."
http://www.vocativ.com/422277/france-criminalize-online-hate-speech/
--------
One dead, two wounded as Paris police come under fire on Champs-Elysees
By James McAuley and William Branigin
21 April 2017
PARIS — A gunman opened fire on French police Thursday on Paris's best-known boulevard, killing one officer and wounding two others before being fatally shot himself in an incident that raised the specter of renewed terrorism just three days before voters go to the polls to elect a new president.
The Islamic State, through its affiliated Amaq News Agency, quickly asserted responsibility for the attack, which sent panicked pedestrians fleeing into side streets and prompted police to seal off the renowned Champs-Elysees, close metro stations and order tourists back into their hotels. The terrorist organization said the attack was carried out by a Belgian national it identified only as Abu Yusuf al-Baljiki, a pseudonym.
There was no immediate confirmation that the Islamic State was behind the shooting. French officials declined to attach a motive to the attack, although they said police were deliberately targeted and that they were opening a terrorism investigation.
The incident occurred three days before France holds the first round of a hotly contested presidential election, with candidates from across the political spectrum vying to succeed François Hollande as president. Hollande scheduled an emergency meeting late Thursday to discuss the attack.
François Fillon, one of the presidential candidates, said in a statement that the election campaign should be suspended. "We must show our solidarity with the police and the French population, which is increasingly worried," he said. "The fight against Islamist totalitarianism must be the top priority."
Marine Le Pen, leader of the far-right National Front party, wasted no time in using the attack as the latest evidence in her call for France to intensify its fight against "Islamist terrorism."
By contrast, Emmanuel Macron, the popular independent candidate vying for the presidency, was quick to argue against any fearmongering.
"We must not yield to fear today," he said Thursday. "This is what our assailants are waiting for, and it's their trap."
Ahead of the first round of the vote on Sunday, Macron is leading Le Pen in the latest polls, but by only a small margin. After Thursday's attack, both Fillon and Le Pen announced that they would cancel events planned for Friday, the last official day of campaigning.
There was no immediate information on the identities of the attacker or the policemen who were shot.
According to Christophe Crépin, a spokesman for the UNSA Police Union, the gunman opened fire on the police with an AK-47 assault rifle, targeting officers who were near a Marks and Spencer store on the corner of the busy avenue.
Police ordered people away from the area, and at least three metro stations were closed, the Interior Ministry said.
A European security official told The Washington Post that the dead attacker was known to French intelligence, having previously come to authorities' attention because of radical Islamist links.
One French official said investigators recovered an ID card on the shooter and were awaiting the results of fingerprints.
François Molins, the Paris prosecutor who spoke at an impromptu news conference late Thursday, confirmed that "the identity of the attacker is known" and said that "investigations are underway with searches to find out whether he benefited from collaborators."
Police were searching the home of the suspect, in Seine-et-Marne outside Paris.
The French Interior Ministry said one police officer was killed on the spot and two others were "seriously wounded" when the gunman opened fire on a police car. The ministry said security forces gunned down the attacker as he tried to flee on foot.
A spokeswoman for the Paris police, Johanna Primevert, said the gunman attacked police guarding an area near the Franklin Roosevelt metro station at 8:50 p.m. Thursday Paris time at the center of the heavily traveled Champs-Elysees.
She said the attacker appeared to act alone, but other officials said it was too soon to tell whether he might have had an accomplice.
The Reuters news agency reported that police issued an arrest warrant for a second suspect who they said had arrived in France by train from Belgium.
Interior Ministry spokesman Pierre-Henry Brandet told France's BFM television that the gunman got out of a car that pulled up beside a police vehicle and opened fire on the police officers.
[45 years of terrorist attacks in Europe, visualized]
"It's too early to say what's behind this, but clearly police were the target," he said. "We don't know yet what his motivations were." There were conflicting reports about whether another person was in the gunman's car.
In Washington, President Trump said during a news conference with the visiting Italian prime minister that the Paris shooting "looks like another terrorist attack," and he offered condolences to France.
"Again it's happening, it seems," Trump said. "I just saw it as I was walking in. . . . That's a very, very terrible thing that's going on in the world today. But it looks like another terrorist attack. And what can you say? It just never ends. We have to be strong and we have to be vigilant, and I've been saying it for a long time."
The country has been hit by a deadly wave of terrorist violence in the past two years that has claimed the lives of at least 230 people and injured hundreds of others.
Thursday's shooting — on the most famous boulevard in the French capital, always crowded with tourists and commuters — came just two days after authorities arrested two men in the southern city of Marseille on suspicion of plotting what Paris prosecutors described as an "imminent" and "violent" assault. Police discovered an Islamic State flag and three kilograms (6.6 pounds) of explosives in one suspect's home.
The Islamic State has asserted responsibility for previous attacks in France, including a coordinated November 2015 terrorist assault on multiple targets in Paris that left 130 people dead and more than 360 wounded.
After that attack and others in the past two years — many perpetrated by Islamic State militants or those claiming to be inspired by the extremist group — terrorism and national security have become crucial issues in the most contentious election France has seen in decades.
Full report at:
https://www.washingtonpost.com/world/europe/french-police-come-under-fire-in-paris-two-reported-shot/2017/04/20/fc1f254c-25ff-11e7-bb9d-8cd6118e1409_story.html?utm_term=.b3ec74772eee
--------
Muslims of France Have Their Say In Race For President
2017-04-20
PARIS — A long line stretched in front of Hall 2 of the Bourget Exhibition Center on the outskirts of the French capital last Saturday afternoon, ahead of an annual three-day conference by the Union of Islamic Organizations of France. Fliers announced the topic of the upcoming roundtable: "Eleven candidates in the presidential election, who will you vote for?"
Many in attendance confess that they have not yet made their choice, with just days to go before Sunday's first round of voting. Others, however, have picked their candidate. Leïla has made her decision. She will vote "J.L.M." for Jean-Luc Mélenchon, the far-left candidate who has shot up in the polls over the past month.
"This is neither the Right nor the Socialist party," this 32-year-old stay-at-home mom explains. "For five years, the Socialists have not ceased to stigmatize women wearing hijabs. This time, we will show them that these women are not submissive!"
Like many here, Leïla voted in 2012 for Socialist candidate François Hollande, who has been an unpopular president and opted not to seek reelection. Over these past five years in France, which has Europe's largest Muslim population (estimated at 5 million in a nation of 66 million), issues linked to Islam have increasingly dominated debate. Immigration, terrorism and the wearing of Islamic head scarves and hijabs by Muslim women are among the topics that have come up during the current campaign. Still, few have asked what Muslim citizens themselves will do when they go to the polls.
In 2017, voting for the left remains "a fundamental tendency" predominant in the Muslim community, confirms Fatima Khemilat, a doctorate candidate at Science Po Aix university who is studying the Muslim electorate.
But this time may be more split than the vote five years ago. Khemilat notes that the hard-line rhetoric of Manuel Valls, who served as prime minister under Hollande, on the topic of Islam — and particularly on the wearing of hijabs by Muslim women — "has been experienced like a betrayal."
No candidates present
When the Bourget room finally opens its doors for the debate on the presidential election, the organizers bemoan the fact that not one of the 11 presidential candidates sent a representative. The UOIF, linked to the Muslim Brotherhood, has been rebranded as the "Muslims of France," but continues to be on the defensive because of regular criticism by right-wing candidates François Fillon and Marine Le Pen against the Muslim Brotherhood.
Muslims have abstained for 30 years, this plays into the hands of those who do not want the Muslim presence in France.
Indeed, among the speakers this past weekend was Camel Bechikh, a Muslim from the political right. He spoke about the "national right" in reference to Le Pen's populist National Front party. "Must we welcome new waves of migrants?" asked this activist known for his past vocal opposition to gay marriage.
For his part, Amar Lasfar, the president of the UOIF, advised that people "not confine themselves just to what a candidate has said about Islam" when choosing for whom to vote. Such a calculation, he said, could lead to a run-off of two right-wing candidates. "Vote!" was the central message from Lasfar, "we will protect France from the threat of the extreme right."
muslim islam paris election montmartre
In Montmartre — Photo: Francisco Osorio
In the room, Ahmed Mcherfi, an official of the Reims region in northeast France, looked back on how Muslims' role in French politics has evolved. "There was a time when we posed the question of whether we could vote. Today, we ask for whom should we vote. It is a sign of integration. Muslims have abstained for 30 years, this plays into the hands of those who do not want the Muslim presence in France."
In attendance with her mother, Fatima is undecided between Mélenchon, Socialist candidate Benoit Hamon and centrist front-runner Emmanuel Macron, saying that there are elements of each that she likes. Ultimately, this civil servant will vote for "the most tolerant, the most just, and the most dynamic" candidate.
Full report at:
https://www.worldcrunch.com/world-affairs/muslims-of-france-have-their-say-in-race-for-president
--------
Russia denies gay men persecuted in Chechnya as rights groups predicated
April 20, 2017
MOSCOW — For weeks, LGBT rights groups have sounded alarms that gay men are being persecuted in the Russian republic of Chechnya, but they predicted that a formal government investigation into their allegations of detention and torture would find no supporting evidence.
They are proving to be prescient. On Thursday, President Vladimir Putin's spokesman Dmitry Peskov said investigators have so far found no evidence to confirm reports by the Novaya Gazeta newspaper this month that police in Chechnya rounded up 100 suspected gay men and held them in special detention centers, killing at least three.
The newspaper reported on April 1 that the roundup occurred in response to reports of a planned gay pride parade. Earlier this week, Chechen prosecutors launched a probe into the reports.
Chechen leader Ramzan Kadyrov, who met with Putin on Wednesday, also said that there's been no persecution of gays.
Even before the Kremlin's denial, Oleg Orlov, a member of the board of the Memorial Human Rights Center, predicted, "This will likely just be a formal probe, allowing them to say they didn't find anything unless there is some sort of pressure from the Kremlin."
Kadyrov has gone so far as to deny the existence of gay men in Chechnya. "You cannot arrest or repress people who just don't exist in the republic," Kadyrov's spokesman Alvi Karimov told Interfax news agency. "If such people existed in Chechnya, law enforcement would not have to worry about them since their own relatives would have sent them to where they could never return."
LGBT rights groups dispute that, saying dozens have been forced to flee their homes to escape persecution in Chechnya, a restive, majority-Muslim republic in southern Russia.
"People are telling us they were being kept in these detention centers where there are hardly any other criminals other than those suspected of being (gay)," said Tatyana Vinnichenko, who chairs the Russian LGBT Network. "We know of two such detention centers — in (the Chechen towns of) Argun and Tsotsi-Yurt. People are finding it hard to believe that something like this is happening in a country with a constitution, in the 21st century, but it is."
Full report at:
https://www.usatoday.com/story/news/world/2017/04/20/russia-chechnya-lgbt-gay-men/100689962/
--------
Arab World
Egyptian military kills 19 Daesh-linked militants in restive Sinai
Apr 20, 2017
The Egyptian military says it has killed about 20 militants linked to the Daesh Takfiri terrorist group in the North African country's restive Sinai Peninsula.
According to a military statement, at least 19 militants were killed after strikes targeted hideouts of a local affiliate of Daesh in northern and central Sinai on Thursday.
At least four vehicles were also destroyed as the Egyptian Air Force carried out raids on "terrorist strongholds" in the troubled region, it added.
The strikes come a day after Egyptian police killed one of the militants involved in an attack earlier this week on a checkpoint near Sinai's famed Saint Catherine's Monastery. A police officer was killed in the attack on the security forces. Daesh claimed the raid.
Hundreds of security forces have been killed during the violent clashes with militants across the troubled region over the past months.
The Sinai Peninsula has been under a state of emergency since October 2014, following a deadly terrorist attack that left 33 Egyptian soldiers dead.
Over the past years, militants have been carrying out anti-government activities and fatal attacks, taking advantage of the turmoil caused in Egypt after the democratically-elected president, Mohamed Morsi, was ousted by the military in July 2013.
Velayat Sinai Takfiri terrorist group -- previously known as Ansar Beit al-Maqdis -- which pledged allegiance to Daesh in 2014, has been responsible for most of the attacks in the Sinai Peninsula as well as Cairo.
http://www.presstv.ir/Detail/2017/04/20/518816/Egypt-Sinai-Daesh-Velayat-Sinai-Takfiri-Ansar-Beit-alMaqdis
--------
Saudi Arabia to award licenses to 15 U.S. firms in May: officials
Apr 21, 2017
Saudi Arabia plans next month to award licenses to at least 15 U.S. companies to operate in the kingdom, two Saudi officials said on Thursday, with one saying they would go to technology and pharmaceutical firms among others.
Dow Chemical Co (DOW.N) last June said it had become the first foreign company to receive a trading license from Saudi Arabia as the kingdom seeks to diversify its economy and reduce its dependence on oil exports amid a slump in global oil prices.
A year ago the world's top oil exporter announced a package of economic and social policies known as Vision 2030 to try to dramatically increase non-oil revenue. A plunge in oil prices since mid-2014 has intensified the need for the plan, which relies on an expanding private sector, selling shares in the Saudi state-owned oil company and cutting government subsidies.
"Next month we will ... give 15 licenses to American companies," a Saudi official told reporters on condition of anonymity, later saying "at least 15" would be awarded and that they would go to technology, pharmaceutical and other sectors.
"Most of them are outside the oil and gas field," a second Saudi official told reporters, also on condition of anonymity.
The officials said none of the licenses would go to firms affiliated with U.S. President Donald Trump or his family.
The first official said all major stock exchanges, including those in Tokyo, London and Shanghai, were vying to make the case for Saudi Aramco to list with them in the oil company's planned initial public offering next year.
China is creating a consortium, including state-owned oil giants and banks and its sovereign wealth fund, that will act as a cornerstone investor in the initial public offering, people with knowledge of the discussions told Reuters.
Full report at:
http://nation.com.pk/international/21-Apr-2017/saudi-arabia-to-award-licenses-to-15-us-firms-in-may-officials
--------
Young Syrian, fighting for home, joined ISIS
Apr 21, 2017
GAZIANTEP: He was barely 20 when Islamic State group militants stormed his home city of Deir el-Zour in oil-rich eastern Syria. Mohammed had already been fighting government forces the past two years, so it was an easy decision for him: join the militants to keep up the battle against President Bashar Assad's rule.
Though he insists he was never a full-on member, Mohammed set about gaining the militants' trust. He memorized more of the Quran and learned by heart Shariah laws governing jihad, or holy war. He perfected the "IS look," letting his beard go bushy, wearing pants that stop above the ankle, and removing embroidery from his baggy shirt to show more austerity. He even carried a book of prayers in his pocket.
He did whatever was necessary to keep fighting for Deir el-Zour. But when the militants ordered him last summer to fight elsewhere, he broke ranks, escaping to Turkey.
Mohammed's journey tells a story from a generation of Syrians who came of age in the midst of war. Teenagers when the civil war erupted in 2011, some had to choose who and what to fight for. At first, the Islamic State group was just another armed group fighting a common enemy.
For Mohammed, his cause was his home.
"We the people of Deir el-Zour, unlike the other people of Syria ... have an instinctual love for the place we were born in," Mohammed boasted, explaining why he didn't leave when IS took over and showing the local pride that is deepening as Syria's divisions grow. "Why should I go and leave it to outsiders?"
He spoke to The Associated Press on condition he be identified only by his first name, fearing reprisals from Turkey or the Islamic State group.
Deir el-Zour province is the Islamic State group's "last fortress," said Omar Abu Layla, a local activist now in Germany. Some 2,500 IS fighters are estimated to be in the provincial capital alone. Hundreds more, many of them fleeing losses in Iraq, have flowed into rural parts of the province in recent months, digging in as the U.S.-backed forces concentrate on their assault on the group's de facto capital, Raqqa, in northern Syria.
Stretching along the Euphrates River through Syria's eastern desert to the border with Iraq, Deir el-Zour is richer and more important strategically than Raqqa, because it is the center of Syria's oil industry and because of its links to Iraq. Heavily reliant on tribal politics, its population is closely connected to that of Iraq's Sunni Anbar province — Deiris, as they're called, joke they are the Iraqis of Syria or the Syrians of Iraq.
Small in stature, Mohammed was a tough young man. A child of a poor neighborhood in the city of Deir el-Zour, the provincial capital, he made himself into a skillful striker on the soccer pitch and a determined fighter on the battlefield. In the interview, he often expressed his devotion for two things. One was his mother. "All for you, mother," reads a tattoo he got inked on his forearm after reaching Turkey. The other was his gun. "During five years (of fighting), the rifle became part of my body," he said.
He seemed intent on showing he never sympathized with IS. He admitted taking the oath of allegiance to the group but insisted it was not valid because of a technicality: he didn't seal it with a handshake with the emir of his battalion as required.
He laughed about smoking in secret in defiance of IS rules and talked of the girl he loves back home. As an example of how he didn't accept the militants' doctrine, he noted he always kept a single bullet in his pocket on the battlefield to kill himself to avoid capture. IS allows "martyrdom" by suicide bombers but otherwise considers taking one's own life a sin.
Still, it was hard to hide his time immersed in militant ideology. His speech was peppered with jihadi jargon. He was proud of acing the Islamic State group's Shariah exams. He was comfortable with hard-line versions of Islam. Before IS came, he served as a guard at a Shariah court set up by a rebel faction.
"I won't hide it," he said of IS, "they are fierce fighters who go in without fear, with determination and a strong heart. They are going for death."
While Deir el-Zour is now seen as a stronghold of the militants, it was originally a rebel heartland.
Unlike Raqqa, it erupted with protests early in the 2011 uprising against Assad's rule, bitter over years of neglect by Damascus.
Mohammed's neighborhood of Jbeileh, one of Deir el-Zour's poorest, became a fierce front line between rebels and Assad's forces. Then 17, Mohammed was drawn naturally to the rebels. His older brother fought for a Free Syrian Army faction and was seriously wounded three times — the third time crippling him. Two cousins died in fighting. His sister-in-law was killed in a government airstrike as she cradled her baby daughter. Another brother is in government custody, and a sister is on the run.
Rebels seized much of the province, though the government kept hold of part of the city and the strategically vital airport. Then the Islamic State group swept in and overran rebel areas in the summer of 2014, flush with resources after taking Mosul in Iraq.
"It was either let Daesh enter or the regime enter. Both were our enemies," Mohammed said, using the Arabic name for IS.
After gaining control, the group massacred members of a tribe that resisted its rule, sending a message to others. Deiri tribes split, some backing IS, others the opposition or government. Many rebels and anti-government activists fled.
IS tightened control over the remaining local fighters. It monopolized weapons distribution and demanded former rebels take "repentance" courses to ensure loyalty.
Mohammed enrolled.
Nearly 1,000 people, mostly former rebel fighters, packed into classes from dawn to midnight on Islamic law, the Quran and rules of jihad. The militants punished anyone who showed disobedience. Sometimes it was lashes; sometimes they would make the offender wear a baby bottle around his neck as a mark of shame.
When a call came for volunteers for a planned battle in the city, Mohammed saw his chance and raised his hand. He was accepted after passing a religion test. Mohammed said his Tunisian examiner was so impressed by his knowledge that he praised him as one of the "cubs of the Caliphate."
He was deployed in the fighting in Deir el-Zour as the militants advanced against government forces in late 2015 and early 2016. In one battle, he recalled, he and other fighters provided cover fire for a suicide bomber who hit the military's positions.
But he rankled at the group's hierarchy. Foreign jihadis who made up the elite raiding forces didn't mix with local fighters and didn't trust them. "We don't talk or sit together," he said. "They come to see us with their weapons cocked."
Mohammed's impetuousness soon got him into trouble. One evening, he threw a firecracker into a campfire as a joke, startling his IS commanders, he said.
He was detained and his gun taken away. He pleaded to be let go to join a planned offensive in a Deir el-Zour neighborhood.
Instead, IS commanders ordered him to Hassaka province, further north, to fight Kurds. He balked, and they accused him of undermining morale. Blindfolded, he was interrogated by a Saudi sheikh, who tauntingly asked him if he was afraid of the Kurdish forces' women fighters, as another militant hit him on the feet with a hose.
"He told me jihad is not about choice," Mohammed recalled.
Eventually, the sheikh ordered Mohammed to Manbij, near the Turkish border, where IS fighters were under assault by Kurdish forces.
As soon as he reached Manbij, Mohammed paid a smuggler to get him to Turkey.
Speaking to the AP in the Turkish city of Gaziantep, Mohammed struggled to explain his relationship with IS. He showed little concern over its atrocities. He shrugged off the massacre of Deiri tribesmen, saying he was from the city and had nothing to do with rural, tribal matters. What disillusioned him was the militants' abuse of power like harassment of women and discrimination against local fighters.
"We are simple people, and they talked to us using religion," he said, explaining why people worked with them. "They are Islam ... But they don't know how to implement it. They take what they want from Islam."
Full report at:
http://nation.com.pk/international/20-Apr-2017/young-syrian-fighting-for-home-joined-isis
--------
Iraq forces retake more areas in west Mosul
Apr 21, 2017
MOSUL - Iraqi forces retook two more neighbourhoods in west Mosul on Thursday, tightening the noose around militants holed up in the Old City, commanders said.
"The forces completed the liberation of Al-Thawra neighbourhood," Sabah al-Noman, spokesman for the elite Counter-Terrorism Service, told AFP.
An officer with federal police forces also deployed in west Mosul confirmed that the neighbourhood, which lies just west of the Old City, had been retaken from the Islamic State group.
The Joint Operations Command coordinating the fight against the militants nationwide said the Nasr neighbourhood was also retaken on Thursday.
The head of Iraq's federal police, Raed Shakir Jawdat, also said in a statement that Iraqi forces had killed a senior IS operative, who had been in charge of chemical weapons for the group in Mosul, in a guided missile strike in the Zanjili neighbourhood. A US official said on Wednesday that Iraqi forces working alongside US and Australian military advisers had been targeted in an IS attack that used a low-level chemical agent in west Mosul.
Major General Joseph Martin said nobody died as a result of the attack. Iraqi forces in mid-October last year launched a huge operation, their largest in years, to retake second city Mosul.
They retook the side of the city that lies east of the Tigris river in January and launched a push on remaining IS fighters in western Mosul, which is more densely populated and has seen fierce fighting.
On the west bank, Iraqi forces control southern neighbourhoods and are slowly surrounding the Old City, whose narrow streets are expected to make federal operations very difficult.
An estimated 400,000 civilians are believed to still be there, unwilling or unable to leave because any escape would be too dangerous or because the militants are using them as human shields.
The loss of Mosul would be a death blow to the "caliphate" IS proclaimed after capturing the city in a massive offensive in June 2014.
According to an Iraqi military spokesman, the militants only control seven percent of Iraq, down from the 40 percent of the national territory over which they ruled three years ago.
The only two other significant towns IS still holds are Hawija and Tal Afar. The militants also control territory in remote areas of western Iraq, near the Syrian border.
Full report at:
http://nation.com.pk/international/21-Apr-2017/iraq-forces-retake-more-areas-in-west-mosul
--------
Scared Syrian evacuees stuck at site of deadly bombing
Apr 21, 2017
RASHIDIN - Hundreds of frightened Syrians being evacuated from besieged towns were stuck Thursday at a rebel-held transit point where more than 120 of their fellow townspeople were killed in a weekend bombing.
The 3,000 evacuees left their homes in the government-controlled towns of Fuaa and Kafraya at dawn on Wednesday as part of a deal that is also seeing residents and fighters transported out of several rebel areas surrounded by government forces.
The evacuations began last week but were delayed after Saturday's suicide car bombing, which saw 126 people killed, 68 of them children, at the transit point in Rashidin, west of Aleppo.
They resumed on Wednesday but evacuees were forced to spend the night in buses at the marshalling area following another delay.
The Syrian Observatory for Human Rights said the latest delay was the result of an 11th-hour rebel demand for the release of prisoners held by President Bashar al-Assad's government.
"The convoys will not move until after the release of 750 prisoners - men and women - from regime prisons and their arrival in rebel-held areas," the British-based monitoring group said.
On Thursday, an AFP correspondent saw the evacuees gathered together at the transit point, surrounded by armed rebels, as children played near the waiting buses.
Umm Sanad, a 50-year-old woman from Fuaa, said they had overcome their fear to join the evacuation. "We left because of the siege and the rockets. We left even though we were afraid after the attack," said Sanad, who evacuated along her teenaged sons.
The rebel fighters were keeping all other cars away from the area, except for a Red Crescent vehicle that was allowed to distribute aid.
Saturday's attack was one of the deadliest since the start of Syria's six-year civil war and was widely condemned for targeting civilians. No group has claimed responsibility for the bombing. The government blamed "terrorists" - a catch-all term for its opponents.
The current evacuations mark the end of the first stage of a deal brokered by regime ally Iran and Qatar, a longtime supporter of rebel groups battling Assad's forces.
Under the agreement, residents and rebel fighters are being evacuated from the towns of Madaya, Zabadani, and other nearby oppositions-held areas close to Damascus.
On Wednesday, 11 buses carrying around 300 people left Zabadani and two other rebel-held areas around Damascus.
They were being held up on Thursday at a staging point at Ramussa in government-held territory, the Observatory said.
When the current phase of evacuations is complete, a total of 8,000 people should have left Fuaa and Kafraya in exchange for 2,500 civilians and rebels from opposition areas.
- Sarin used in attack: watchdog -
A second phase of the evacuations - which in all will see up to 30,000 people transferred from their homes - is to begin in June.
Assad's regime has presented evacuation deals as the best way to end Syria's war, which has killed more than 320,000 people and forced more than half the population from their homes.
The opposition says the evacuations amount to forced relocation after years of bombardment and siege.
Full report at:
http://nation.com.pk/international/21-Apr-2017/scared-syrian-evacuees-stuck-at-site-of-deadly-bombing
--------
Army Starts New Phase of Operations in Northern Hama, Kills 2 Terrorist Commanders
Apr 20, 2017
The army and its allies engaged in heavy clashes with the terrorists from the direction of the town of Mahrada in the West and Sansahar checkpoint in the South.
Meantime, the news websites affiliated to the dissident groups reported that during the clashes in Northern Hama, 2 military commanders of Jeish al-Izza terrorist group, named as Mohammad Jallad and Saher Adnan al-Saleh, were killed.
In a relevant development on Wednesday, the Syrian Army troops started their massive attack on the positions of Al-Nusra Front (also known as Fatah al-Sham Front or the Levant Liberation Board) in Northern Hama and managed to open their way into the key town of Taybat al-Imam after daylong clashes.
The army troops started ground operation from several directions after the Syrian Air Force and the army's artillery and missile units pounded Al-Nusra's defense lines in Taybat al-Imam.
Full report at:
http://en.farsnews.com/newstext.aspx?nn=13960131000785
--------
Damascus: Syrian Army Seizes Back New Regions in Al-Qaboun
Apr 20, 2017
The army units heavily clashed with the terrorists in the Northeastern parts of al-Qaboun and drove them out of several farms and residential blocks.
They also attacked the al-Nusra Front's positions in al-Qaboun district and its supply routes in Jobar, killing several terrorists.
Earlier today, the Syrian ground and air force units destroyed several terrorist bases in al-Qaboun district.
The army units targeted the al-Nusra's position in al-Qaboun with missile and artillery fire.
The Syrian fighter jets, meantime, launched repeated attacks against the terrorists in the Eastern and Southern parts of al-Qaboun, blowing up several positions and killing a number of militants.
The Syrian air force also attacked the terrorists' supply routes in regions between Jobar district and the town of Ain Tarma in Eastern Ghouta.
Full report at:
http://en.farsnews.com/newstext.aspx?nn=13960131000803
--------
ISIL Forced to Retreat from Strategic Districts in Eastern Homs
Apr 20, 2017
A field source said that the Syrian army forces have started massive operations in the Northeastern parts of Abu Qalla dam to extend the security belt around Palmyra (Tadmur) city and drive the terrorists out of their bases.
During the operations, they killed and wounded a large number of ISIL terrorists and advanced in the region.
The source added that the Syrian soldiers have also advanced in al-Qataar heights but have not taken it back yet.
Reports from Palmyra said on Wednesday that the Syrian army troops continued to hit ISIL's defense lines in Eastern Homs, forcing the terrorist group to retreat from vast regions Northeast of the ancient city.
The army soldiers won another battle against ISIL and drove them out of a set of strategic hills near Mount al-Qataar 25km Northeast of Palmyra.
The ISIL suffered a number of casualties and its military hardware and vehicles sustained major damage in the attack.
Full report at:
http://en.farsnews.com/newstext.aspx?nn=13960131000677
--------
West blocking probe into suspected chemical attack in Syria: Assad
Apr 21, 2017
Syrian President Bashar al-Assad says the West seeks to prevent any impartial investigation into the recent suspected chemical attack in the country as any such probe will reveal that the incident was just another "false flag" scenario.
"We formally sent a letter to the United Nations. We asked them in that letter to send a delegation in order to investigate what happened in Khan Shaykhun," Assad said in a Thursday interview with the Russian Sputnik news agency.
"Of course till this moment they did not send [a response], because the West and the United States blocked any delegation from coming, because if they come, they will find that all their narratives about what happened in Khan Shaykhun and then the attack on Shayrat airport was a false flag, was a lie," Assad stressed.
Over 80 people died in the April 4 purported gas attack on the town of Khan Shaykhun in Idlib Province, which the Western countries blamed on the Syrian government.
Using the incident as a pretext, US warships fired 59 Tomahawk cruise missiles from two warships in the Mediterranean Sea at the Shayrat airfield in Syria's central province of Homs on April 7. US officials claimed that the suspected Khan Shaykhun gas attack had been launched from the military site.
Assad described the chemical incident as "a false flag play just to justify the attack on the Shayrat base."
He noted that the Syrian army launched an attack in Idlib Province on April 4 at 11:30 a.m. local time, while the suspected chemical incident is reported to have happened at 6:30 a.m.
"We did not launch any attack at that time," Assad pointed out.
Assad cast doubt on the authenticity of the images and videos attributed to the scene of the suspected chemical incident in Khan Shaykhun.
"Even if you look at the pictures, you can see that the rescuers — presumable rescuers — were rescuing people without masks, without gloves, and they were moving freely. How? This is against all the specifications of the sarin gas that they talked about," Assad said.
"You can fake this image, it is very easy. So, you cannot just base your judgment on images and videos, especially made by al-Qaeda," he added.
'West against full-fledged probe'
On Thursday, the head of the Russian Foreign Ministry's Department for Non-Proliferation and Arms Control, Mikhail Ulyanov, lashed out at the US and the West over their efforts to prevent an impartial probe into the Khan Shaykhun incident.
Ulyanov made the remarks after the Organization for the Prohibition of Chemical Weapons (OPCW) voted against a proposal by Iran and Russia for a probe into the incident.
"Frankly speaking, we expected exactly this result," he said.
"The conclusion is one — for us this behavior of Western colleagues is tantamount to the acknowledgment that they understand [that] the Syrians did not use chemical weapons. So, their main task is to hinder… a full-fledged investigation, as it can reveal the truth, which would be extremely unpleasant for them," Ulyanov said.
Iran and Russia's call for disarming terrorist groups in Syria comes as the Daesh Takfiri terror group has launched several chemical attacks in Syria over the past years.
Full report at:
http://www.presstv.ir/Detail/2017/04/21/518848/Syria-Assad-OPCW-russia-Iran-chemical-attack-Khan-Shaykhun-idlib
--------
India
4 ISIS terror suspects arrested, major terror attack averted: Police
Apr 20, 2017
LUCKNOW/MUMBAI: A major terror attack in the country was claimed to have been averted as 10 suspected ISIS activists were held on Thursday in a major multi-state operation.
The joint operation was carried out by the police teams of Delhi, Maharashtra, Uttar Pradesh, Punjab, Bihar and Andhra Pradesh, in which four suspected terrorists belonging to the ISIS Khorasan module were arrested and six others were detained, officials said.
The arrests were made during raids this morning in Mumbra (Maharashtra), Jalandhar (Punjab), Narkatiaganj (Bihar), and Bijnor and Muzaffarnagar (both in Uttar Pradesh), the officials added.
Inspector General of the UP Anti-Terrorist Squad (ATS) Aseem Arun, in a statement in Noida, said that four persons were arrested on charges of hatching terror conspiracies.
He said the accused were planning a major terror attack in the country.
Important documents relating to the ISIS were seized from them, Arun claimed.
He said two persons Mufti Faizan and Tanveer, allegedly connected with the ISIS, were arrested from Bijnor district.
Nazim Shamshad Ahmed (26), who hails from Bijnor, was nabbed from Mumbra township in Thane district adjoining Mumbai.
Another suspect identified as Muzammil was arrested from Jalandhar district of Punjab.
According to an UP ATS statement in Lucknow, six others were taken into custody and were being questioned in Noida, on the outskirts of Delhi.
The accused had got in touch with each other over the internet, Arun said, adding that central security agencies played an important role in the operation.
According to the IG, the UP ATS had seized some important documents after the March 7 encounter in Lucknow in which a suspected terrorist belonging to the Khorasan module was killed. Following this, the probe was expanded to five states.
The ATS had received information that the ISIS had been expanding its network in Uttar Pradesh, Maharashtra, Punjab and Bihar and some youths from these states had joined the terror organisation.
Investigations show that one of them wanted to finance the group and they were continuously communicating with each other about carrying out some major strike in the near future. But police and other agencies of different states with the help of surveillance made the arrests before they could carry out any such attack, the ADG said.
A spokesperson of the UP ATS said those arrested were suspected to be looking for potential recruits in Bihar, UP and Maharashtra.
http://timesofindia.indiatimes.com/india/4-isis-terror-suspects-arrested-major-terror-attack-averted-police/articleshow/58283224.cms
--------
Kerala Islamic State commander may have been killed in Afghanistan strike
April 21, 2017
Sajeer Mangalasseri Abdulla, the head of the Islamic State (IS) volunteers from Kerala in Afghanistan's remote Nangarhar province, is suspected to have been killed in the April 13 GBU-43/B bomb strike near Asadkhel, police and intelligence sources have told The Indian Express. Sources said that the information was based on communications between friends of the IS commander in Kerala, and his associates in West Asia and Afghanistan. In an off-the-record briefing to Kabul-based journalists on Tuesday, an Afghan official had claimed that 13 Indian nationals were among 96 IS insurgents killed in the strike. The official claimed that two Indians, named as Mohammad and Allah Gupta or Alagitha, were among the IS commanders killed.
However, Indian diplomats and intelligence officials, who spoke to The Indian Express, disputed the claims, saying no such information had been provided to them by their Afghan or US counterparts, a standard part of counter-terrorism cooperation. They said that the US and Afghan special forces were still fighting at the periphery of the Shadel Bazaar valley, over a kilometre from the edges of the cave-complex targeted by the bomb, making physical verification impossible. Kerala police sources said that there was nothing to indicate that families of any of the other residents of the state in Nangarhar, who include women and children living far from the combat zone, had learned of other fatalities among the group.
"There have been a lot of Telegram chat messages going back and forth seeking information,'' one officer said. "But there is no hard news on losses or injuries, because the Kerala families on the ground have dispersed into the hills. Even the news on Mangalasseri could be true, or not.'' Born to Kerala State Road Transport Corporation driver Mangalassery Abdulla and his wife, Subaida Abdullah, in 1981, Abdulla grew up in the Wayanad town of Sultan Batheri. He moved to the UAE in 2004, two years after earning a Bachelors degree in civil engineering from the National Institute of Technology, Calicut. He is believed to have been drawn to jihad by Islamist groups operating in the UAE, which claimed to be preparing to avenge the 2002 violence in Gujarat.
Hafesudheen Theke Koleth and Murshid Muhammed, part of the 25-strong group of Kerala émigrés to Nangarhar, had earlier been killed in US drone strikes. The information was conveyed by Ashfak Majeed Kallukettiya Purayil, who is believed to be living some distance from Shadel Bazaar. Abdulla was believed to have been a key figure, together with alleged Indian Mujahideen operative Muhammad Sultan Armar, to carve out a safe haven for training Indian jihadists in Afghanistan in the face of the collapse of the IS.
Armar, along with Abu Rashid, Shahnawaz Ahmad and Mirza Shadab Beig, had fled to Pakistan in the wake of the 2008 Batla House shootout, only to split with their leadership and leave for Syria. The plan, intelligence sources say, likely matured around September 2016, when under intense air assault, the IS began moving important foreign leaders and their families to al-Thakanah on the eastern outskirts of its capital, Raqqa.
Early this summer, key IS leaders were shifted, western sources say, to al-Mayadin, in Syria's Deir es-Zor region, deep in the Euphrates valley. Even as leaders and their families were barred from leaving the city without permission, top foreign commanders were told to prepare to wage a long war in the periphery, using the cadre in their home countries rather than in the so-called caliphate.
Full report at:
http://indianexpress.com/article/india/kerala-islamic-state-commander-may-have-been-killed-in-afghanistan-strike-4621689/
--------
Sonu Nigam insulted Constitution of India, must leave country: Cleric
April 21, 2017
Muslim cleric Syed Sha Atef Ali Al Quaderi on Thursday claimed Bollywood singer Sonu Nigam had disrespected the Constitution with his comment over the use of loudspeakers in shrines, adding he should consider leaving the country.
"Sonu (Nigam) has insulted the Constitution of the country…. I think such a person must consider leaving the country," Quaderi, the vice-president of West Bengal Minority United Council, said here.
"If people have a problem with azaan and the sound of bells in temples, then they should leave the country. Being a citizen of this country, one has to respect the religious activities of every religion," he added.
Sonu Nigam Should've Talked About All Religions, Not Just Azaan: Gul Panag
The cleric also refused to pay Rs 10 lakh to the singer after he shaved his head, instead asking him to apologise for "hurting the religious sentiment of Indians" and fulfil the "other two conditions of the challenge".
"First of all, he did not complete the challenge. Two other conditions remain. He has shaved his head only to get rid of lice and escape the summer heat. He should fulfil the other two conditions, which are to wear a garland of old shoes around his neck and visit houses of 130 crore people of the country and apologise to them," Quaderi said at a news conference.
On Wednesday, singer Sonu Nigam shaved his head and asked the Kolkata-based cleric, who had announced a reward of Rs 10 lakh to anybody who tonsured the Bollywood singer and garlanded him with old shoes, to pay him. Quaderi had given this call to condemn the singer's complaint on Twitter about being woken up by the sound of azaan. He also said some media houses misinterpreted his comments as fatwa.
"I did not issue a fatwa. It was just my personal opinion. Being a citizen of this country, everybody has a right to freedom of speech," he said.
The Muslim cleric also gave examples of Prime Minister Narendra Modi and Chief Minister Mamata Banerjee, saying they respected the secular fabric of the country.
Full report at:
http://indianexpress.com/article/india/sonu-nigam-insulted-constitution-of-india-must-leave-country-cleric/
--------
Terror module busted recently may be connected to Islamic State affiliat
April 21, 2017
by Deeptiman Tiwary
The Islamic State (IS)'s alleged Lucknow-Kanpur module busted recently had been found to be without any foreign handler. The National Investigation Agency (NIA)'s probe has now found that the module may be connected to IS-affiliated Junud-al-khilafa-fil-Hind (JKH), whose over 20 alleged members were arrested in 2016. The interrogation of alleged JKH member Amzad Khan, who was deported on April 5 from Saudi Arabia, has revealed that he was in touch with the module's leader, Atif Muzaffar. The two had had long discussions about Islam and IS activities.
Khan, a Rajasthan resident, was deported for allegedly motivating youths online to join the IS. "We are verifying his claims. …Muzaffar has denied that he knows Khan. However, Khan had many online identities and Muzaffar may not have known Khan by his real name. We are scanning their online activity. If need be, we will bring them face to face," an NIA officer said.
Sources said that Khan, who worked in Saudi Arabia as a mason, got radicalised when he was in Rajasthan without work before returning to the country in 2014. "In this period, he joined Ahl-e-Hadis sect and came in contact with some people who held fundamentalist views. Because he had a lot of time… he was also constantly surfing internet over his phone,'' an NIA officer said. "Through social media, he came in contact with radical elements and was soon hooked to information on IS activities.''
Sources said that Khan came in contact with former Indian Mujahideen (IM) operative-turned-IS-recruiter Shafi Armar after returning to Saudi Arabia. According to the NIA, Khan was known by online identities of Ayan Khan Salafi, Muhammadi Ayan and Al Wala Wal Bara. He allegedly played a major role in radicalising Indian youths and motivating them to work for the IS. Khan was allegedly in touch with Bengaluru Church Street blast accused and former IM operative Alamzeb Afridi. NIA sources said Khan had helped Afridi hide at the Hyderabad house of IS accused, Nafees. NIA sources said that Khan and Armar allegedly motivated Indian youth online to form JKH and pledge allegiance to IS.
Full report at:
http://indianexpress.com/article/india/terror-module-busted-recently-may-be-connected-to-islamic-state-affiliate-4621684/
--------
Mideast
17 Houthi militias killed, 20 wounded, in Coalition attacks near Taiz
20 April 2017
As many as 17 members of Houthi militias were killed and 20 others were wounded following bombing targets launched by the Arab alliance jets over north Mukha and West Taiz.
A military source said that 10 raids targeted locations in Camp Khaled and the east of Mozea, while the battleships of the alliance launched 20 rockets aiming at these locations.
On the other hand, there were a number of confrontations in the vicinity of Camp Khaled as the Houthi militias pushed reinforcements setting up platforms to launch Katyusha rockets west of Muqtada and targeting positions of the legitimate forces near Camp Khalid and East of Mukha.
The New York-based Human Rights Watch says in a new report released on Thursday, that the Houthi militia are allied with the forces of the country's former president and have been using land-mines in at least six provinces since March 2015, when a Saudi-led coalition launched its military campaign against them.
https://english.alarabiya.net/en/News/middle-east/2017/04/20/17-militias-killed-20-wounded-as-coalition-bomb-west-Taiz.html
--------
Israeli forces suppress rally in support of hunger-striking prisoners
Apr 20, 2017
At least one Palestinian man has sustained gunshot wounds and several others suffered tear gas inhalation after skirmishes broke out between Israeli forces and demonstrators holding a rally in support of hunger-striking Palestinian prisoners.
Local sources, speaking on condition of anonymity, said dozens of Palestinians had converged outside the Israeli-run Ofer prison near the occupied West Bank city of Beitunia on Thursday to express solidarity with the Palestinian inmates on hunger strike in Israeli jails.
Israeli military forces then intervened and fired rubber-steel bullets and teargas canisters to disperse the crowd. A protester was shot and injured during the conflict. The area was partially covered with a cloud of smoke, causing several demonstrators to cough and wheeze.
The rally came as some 1,500 prisoners from all Palestinian political factions are taking part in an open-ended hunger strike in protest at harsh prison conditions and restrictions on family visits.
On April 13, the London-based prominent rights group Amnesty International called on the Tel Aviv regime to end "unlawful and cruel" policies towards the Palestinian prisoners.
"Israel's ruthless policy of holding Palestinian prisoners arrested in the Occupied Palestinian Territories in prisons … is a flagrant violation of the Fourth Geneva Convention," said Magdalena Mughrabi, Deputy Regional Director for the Middle East and North Africa at Amnesty International.
"It is unlawful and cruel and the consequences for the imprisoned person and their loved ones, who are often deprived from seeing them for months, and at times for years on end, can be devastating," Mughrabi added.
Meanwhile, clashes between Palestinian protesters and Israeli troopers near the al-Quds University campus in Abu Dis town have left one Palestinian injured.
Israeli military forces had raided the town in the early hours of Thursday, deploying dozens of troops in its streets and neighborhoods.
The forces reportedly stopped and inspected Palestinian students on their way to the university, triggering clashes.
The Palestine Red Crescent Society announced that one Palestinian had been hit and injured with a rubber-coated steel bullet, while 11 others had suffered tear gas inhalation. A Palestinian protester was detained as well.
The occupied Palestinian territories have witnessed new tensions ever since Israeli forces introduced restrictions on the entry of Palestinian worshipers into the al-Aqsa Mosque compound in East Jerusalem al-Quds in August 2015.
More than 300 Palestinians have lost their lives at the hands of Israeli forces in the tensions since the beginning of October 2015.
The Tel Aviv regime has tried to change the demographic makeup of Jerusalem al-Quds over the past decades by constructing illegal settlements, destroying historical sites and expelling the local Palestinian population. Palestinians say the Israeli measures are aimed at paving the way for the Judaization of the city.
Full report at:
http://www.presstv.ir/Detail/2017/04/20/518781/Israel-Palestinian-hunger-strike-West-Bank
--------
Israel deterred from launching new war on Lebanon: Hezbollah deputy chief
Apr 21, 2017
Lebanon's Hezbollah resistance movement says its high level of defense readiness has deterred Israel from launching a new act of aggression against the country, warning that any such war would end in a "guaranteed loss" for the regime.
"All the indications point to the fact that Israel is deterred. It has not taken a decision to act in a renewed aggressive manner against Lebanon at this stage," Naim Qassem, Hezbollah's deputy leader, said in a Thursday interview with al-Akhbar daily.
"It does not flow from its morals, but rather from its understanding that any war against Lebanon is a guaranteed loss for Israel," he added.
Qassem noted that any military adventures by Israel would yield no "positive results, either on the ground or in the political arena."
"The resistance is at the peak of its readiness. If Israel surprises, despite the political analysis, it will be a foolish and reckless step. The level of Hezbollah's readiness enables it to withstand any possible war, both numerically and in terms of means and goals," he pointed out.
On April 2, Lebanese Prime Minister Sa'ad Hariri warned that recent Israeli actions have indicated a desire for a new conflict after Israel unveiled the "David's Sling" missile system at Hatzor air force base in central occupied Palestinian territories.
The system became operational amid heightened tensions along northern borders with Lebanon and Syria.
Tel Aviv has escalated its aggressive rhetoric against Lebanon, prompting President Michel Aoun to warn that any Israeli attempt to violate his country's sovereignty would be met with an "appropriate response."
Israeli Education Minister Naftali Bennett said last month that "life in Lebanon today is not bad" compared to Syria, adding Tel Aviv should target civilians in a future war with the country and send it "back to the Middle Ages."
Israeli threats forced the Lebanese government to task Foreign Minister Gebran Bassil with preparing a report for the UN Security Council regarding a potential conflict.
Full report at:
http://www.presstv.ir/Detail/2017/04/21/518856/Lebanon-Hezbollah-Israel-war
--------
UN must list S Arabia, allies for violating child rights in Yemen: Aid groups
Apr 20, 2017
A new report by two international aid groups says Saudi Arabia and its allies must be named in the UN's annual list of perpetrators of child rights violations as Riyadh continues to carry out attacks on schools and medical facilities during its military aggression against Yemen.
The report, by Save the Children and Watchlist on Children and Armed Conflict, called on UN Secretary General António Guterres to add Saudi Arabia to his list of those responsible for grave violations of children's rights in conflict.
The report also documents a series of deadly attacks by Saudi-led forces on hospitals and medics over the past two years.
"Repeated violations by the coalition have been verified in multiple UN reports and by credible human rights organizations, including Save the Children," said Patricia Erb, the president and CEO of Save the Children in Canada.
Saudi Arabia has carried out several attacks on schools and medical facilities and personnel in Yemen over the past two years.
Elsewhere in the report, Erb also called on the Ottawa government to exert pressure on the Saudi regime to prevent deadly attacks on Yemeni children.
"Canada must speak up and call for accountability for any actor engaged in grave violations against children," she said, adding that, "We know that schools are also under attack. The importance of protecting education for children in conflict is paramount."
The new report also calls on UN members to stop all arms sales or shipments to Saudi Arabia and its allies.
"Canada should not be permitting arms transfers to a country that is bombing schools and health centers and killing children. We must put a stop to these double standards and halt all arms exports to Saudi Arabia until those accountable for grave violations are held responsible," Erb stated.
In 2014, Canada approved a controversial export license for the sale and transfer of armored vehicles to the Riyadh regime. However, the Canadian government later indicated that it would consider suspending or canceling arms exports to Saudi Arabia if "human rights conditions deteriorated."
The developments come as this year's UN report on Children and Armed Conflict is due to be published in the coming months.
In June 2016, the then UN Secretary General Ban Ki-moon briefly listed Saudi Arabia for killing children and attacking schools and hospitals in Yemen. The UN dropped Saudi Arabia from its annual blacklist, only one week after it announced the blacklisting of the regime.
Full report at:
http://www.presstv.ir/Detail/2017/04/20/518800/Yemen-Saudi-Arabia-UN-
--------
Weighing arms sale, U.S. seeks Saudi pledge on Yemen civilian casualties
Apr 21, 2017
The United States wants new commitments from Saudi Arabia to improve its targeting procedures to minimize civilian casualties in its part in the Yemen civil war as it weighs resuming sales of precision-guided munitions to Riyadh, U.S. officials told Reuters.
An announcement of the weapons sale had been anticipated last month, but objections by mostly Democratic lawmakers and human rights groups have complicated the matter, the U.S. officials and others close to the issue said.
"We want the Saudis to show that they are committed to use these things properly," said one U.S. official, who spoke on condition of anonymity.
At issue is the sale of about $390 million worth of guidance systems made by Raytheon Co that convert "dumb" gravity bombs into precision-guided munitions that are supposed to more accurately hit targets.
Nearly 4,800 civilians have been killed in Yemen since the latest round of conflict began in March 2015, most of them by the Saudi-led coalition seeking to restore ousted President Abd-Rabbu Mansour Hadi, the United Nations human rights office said in March.
The conflict pits Iran-allied Houthi rebels against the government backed by the Saudi-led Arab coalition.
A representative of the Saudi Embassy in Washington declined comment on discussions with Washington over the precision-guided weapons.
The Saudi government has called allegations of civilian casualties fabricated or exaggerated, and has said the coalition follows rigorous rules of engagement.
A group of U.S. senators introduced legislation on April 13 to set new conditions for U.S. military support for Riyadh.
"The Saudis are important partners in the Middle East, but they have continued to disregard our advice when it comes to target selection and civilian protection," Democratic Senator Chris Murphy said in a statement.
The U.S. officials, who spoke on condition of anonymity because of the sensitivity of diplomacy with Saudi Arabia, declined to specify what additional safeguards they were seeking to avoid civilian deaths and injury.
The first official said the commitments could come in the form of a letter from Saudi Foreign Minister Adel al-Jubeir.
"This is an unconditional sale. There are no conditions attached. The decision has been made to let the sale go through," a second U.S. official said.
The official said the United States was in "regular dialogue" with Saudi Arabia on the issue of civilian casualties "and specific steps on how to do this."
In the past, Washington has pressed Riyadh to take more care in targeting; abide by "no strike" lists of off-limits areas; and promptly investigate reports of civilian casualties.
U.S. President Donald Trump's predecessor Barack Obama suspended the arms sale in December after an estimated 140 people were killed when planes struck mourners at a funeral in the Yemen capital, Sanaa, in October 2016. The Saudi-led coalition received incorrect information from Yemeni military figures that armed Houthi leaders were in the area, a coalition probe found.
Asked about the new commitments being sought from Riyadh, the State Department did not respond directly.
Full report at:
http://nation.com.pk/international/21-Apr-2017/weighing-arms-sale-us-seeks-saudi-pledge-on-yemen-civilian-casualties
--------
Turkish police detain leftist editor after referendum
Apr 21, 2017
ISTANBUL - Turkish police Thursday detained the editor of a website that denounced as illegitimate the victory of the 'Yes' camp in the referendum on expanding President Recep Tayyip Erdogan's powers, the news site said.
Left-wing website sendika.org said its editor-in-chief Ali Ergin Demirhan was held in a pre-down raid on its offices.
The arrest comes after at least 16 leftist activists involved in demonstrations against the 'Yes' victory were detained by Istanbul police on Wednesday. In all, a total of 38 arrest warrants were issued.
The 'Yes' camp won Sunday's poll with just 51.41 percent of the vote but the opposition has alleged there was foul play that swung the outcome of the vote.
The authorities insist the referendum was clean and the election board on Wednesday rejected opposition demands for the poll to be annulled.
There have been daily street protests in anti-Erdogan neighbourhoods in Istanbul after the referendum.
Sendika.org said Demirhan was detained on accusations of "organising protests on social media while attempting to depict the results of the referendum as illegitimate" and "inciting people to enmity".
It added that his hard disk and personal cell phone were confiscated in the raid.
The news site has made clear its opposition to the result, saying "the 'Yes' will not be legitimised, sendika.org will not be silenced" and calling for protests.
The opposition is particularly incensed by a last-minute move by the election authorities to accept ballot documents in envelopes without an official stamp.
Full report at:
http://nation.com.pk/international/21-Apr-2017/turkish-police-detain-leftist-editor-after-referendum
--------
Trump: Iran not 'living up to spirit' of nuclear deal
21 April 2017
Iran is "not living up to the spirit" of the nuclear deal struck with world powers in 2015, US President Donald Trump said Thursday, warning America would set out a position on that soon.
"Iran has not lived up to the spirit of the agreement, and they have to do that," he said in a joint news conference in the White House with Italy's visiting prime minister Paolo Gentiloni. "We're analyzing it very, very carefully and will have something to say about it in the not-too-distant future," he said.
Meanwhile, Iran and the United States traded barbs over the 2015 nuclear deal on Thursday, with the US leader accusing Tehran of not living up to the spirit of the accord and Iran's top diplomat urging Washington to fulfill its own commitments.
The exchange came a day after US Secretary of State Rex Tillerson sent a letter to Congress saying Iran was in compliance with the nuclear deal but raising questions about Tehran's role in sponsoring terrorism in the region.
Tillerson accused Iran of "alarming ongoing provocations" to destabilize countries in the Middle East and said the Trump administration had launched a review of its policy toward Tehran that will include the 2015 nuclear deal.
In the first reaction to Tillerson's remarks from a senior Iranian official, Iranian Foreign Minister Mohammad Javad Zarif, who tweeted that the United States should "fulfill its own commitments."
Full report at:
https://english.alarabiya.net/en/News/middle-east/2017/04/21/Trump-Iran-not-living-up-to-spirit-of-nuclear-deal.html
--------
Southeast Asia
Preacher Zakir Naik Should Not Be Allowed To Remain In Malaysia: Minister
20 Apr 2017
By Sumisha Naidu
KUALA LUMPUR: A cabinet minister and president of the Malaysian Indian Congress (MIC), a component party of Malaysia's ruling coalition, said on Thursday (Apr 20) that controversial Muslim preacher Zakir Naik should not be allowed to remain in Malaysia nor should he be allowed to use his "questionable" credentials to solicit support from the country to shield him from prosecution in India.
The Times Of India on Thursday reported that a non-bailable warrant of arrest had been issued for the televangelist, who is wanted by authorities there for his alleged role in a terror case.
Zakir is in Malaysia, where he has permanent residence, and has reportedly said he does not want to return to India for fear of torture.
"It is known that the Zakir Naik-owned, provocative evangelist TV channel, has been banned in Bangladesh, Canada and in the UK," said Dr S Subramaniam in a statement.
"When a large Muslim country like Bangladesh has taken action against Zakir Naik, we in Malaysia should never allow a proven provocateur to remain in our midst advocating his nefarious and divisive form of Islamic worldview. Zakir Naik should not be allowed to use his questionable religious credentials to solicit support from Malaysia to be shielded from possible prosecution in India."
Malaysia's Deputy Prime Minister and Home Minister Ahmad Zahid Hamidi told the media this week that India could seek mutual legal assistance to gain custody of Zakir if there was an existing agreement.
Full report at:
http://www.channelnewsasia.com/news/asiapacific/preacher-zakir-naik-should-not-be-allowed-to-remain-in-malaysia/3693504.html
--------
Conservative Islam Has Scored a Disquieting Victory in Indonesia's Normally Secular Politics
Apr 20, 2017
On Wednesday evening, hours after early counting revealed his electoral victory, the new governor of Jakarta, Anies Baswedan, celebrated his victory at Istiqlal, the Indonesian capital's biggest mosque.
He was welcomed by Rizieq Shihab, the leader of the hard-line group Islamic Defenders' Front (known by its Indonesian initials FPI). Also present were Bachtiar Nasir — a Muslim cleric who, along with Rizieq, organized a series of massive Muslim protests against Anies' opponent, the incumbent governor — and Prabowo Subianto, chairman of Gerindra Party, which endorsed Anies' candidacy.
Jakarta's high-profile gubernatorial election is the most viciously fought in Indonesia, and seen as a stepping stone to national politics. (Indonesia's current leader, President Joko "Jokowi" Widodo, is himself a former governor of Jakarta.) Anies won 58% of the vote according to early tallies (official results will be announced next week) and his victory is widely seen as a triumph for religious conservatism in Indonesia — momentously so. For although the country is the most populous Muslim nation in the world, political Islam has hardly made inroads until now.
A former Education Minister, Anies had been thought of as a religious moderate, but during campaigning he made unexpected overtures to hard-line Islamist groups that were using racist and Islamist rhetoric to stir up opposition to Anies' ethnic Chinese, Christian rival, Basuki Tjahaja Purnama (popularly known as Ahok), and calling for him to be jailed for blaspheming Islam.
Ahok, Jakarta's first Christian governor in half-century, had won praise for his no-nonsense approach in managing a sprawling city of 10 million that faces numerous, seemingly insurmountable infrastructural problems. He won the most votes in the first round of election, but it was always going to be an uphill battle after his criticism of Muslim hard-liners in a campaign speech backfired and landed him in court on blasphemy charges. (Ahok is attending a hearing Thursday during which the prosecutors ask for a one-year jail sentence with two years of probation, the Associated Press reports.)
On a visit to Jakarta on Thursday, U.S. Vice President Mike Pence praised Indonesia's moderate Islam following a meeting with Jokowi. But there was nothing moderate about the leading players in Jakarta's elections this year. They were distinguished by their religious bigotry and fundamentalism. Rizieq's FPI thugs are notorious for raiding and vandalizing bars and night spots during Ramadan. Bachtiar has chaired a pro-family group of academics that is asking the Constitutional Court to criminalize adultery and sodomy. On Tuesday, a day before polling booths opened, Anies even compared the election to the Prophet Muhammad's Battle of Badr. "At that time, the Prophet said, Allah's assistance would come and the help would come if we battled to defend the poor, to defend the oppressed," he said, perhaps referring to slum-clearance schemes initiated by Ahok.
"Anies' victory is a victory of religious sentiment," says Alissa Qotrunnada Munawaroh, daughter of late President Abdurrahman "Gus Dur" Wahid and founder of the Gusdurian Network, which advocates for democracy and diversity. "Conservative Islamic groups everywhere [in Indonesia] will surely learn from this experience. Politicians will also learn to use populism as well," she tells TIME.
Pre-election polls showed that 76% of voters were actually satisfied with Ahok's performance in running the city — but at the same time many Muslims were persuaded they should only vote for a Muslim leader. (Among them was the prominent Indonesian comic artist Ardian Syaf, who joined an anti-Ahok protest last December and later inserted Islamist references into the Marvel comic book X-Men Gold #1. Marvel has since fired Ardian.)
Read More: The Blasphemy Trial of Jakarta's Governor Puts Indonesian Secularism in a Shockingly Poor Light
The coalescing of an Islamic vote is a surprisingly new development in a political scene that has always been dominated by secular parties. Indonesia's Presidents have largely hailed from secular, nationalist parties (the exception was Gus Dur, a Muslim cleric whose commitment to diversity earned him the title "Father of Pluralism"). The main parties backing the candidates in the Jakarta election were also secular.
It is not uncommon for religious issues to factor into the electoral process in Indonesia, but they have never really been decisive. When Jokowi ran in the Jakarta gubernatorial election in 2012, with Ahok as his running mate, their opponents played the religious card against Ahok, telling Muslim voters it was haram (forbidden) to elect an "infidel." The campaign didn't work: Jokowi was elected governor, and when he became President in 2014, his deputy Ahok succeeded him as Jakarta's top official.
But this time, religious campaigns were aggressively conducted on social media and through sermons at mosques. There was psychological intimidation of Muslim voters as well. A number of mosques in Jakarta erected banners stating that they would not perform funeral rites for any supporters of "the blasphemer." Rape threats were made on Facebook against women who voted for Ahok, echoing the rapes that took place during the anti-Chinese riots in 1998 in Jakarta.
Full report at:
http://time.com/4747709/indonesia-jakarta-election-governor-islam-christianity-ahok-anies/
--------
Kelantan's night market ruling does not apply to non-Muslims
April 20, 2017
KOTA BARU, April 20 — The Kelantan government's new policy requiring night market traders to stop their activities for 10 minutes during Maghrib prayers does not apply to non-Muslim traders and visitors.
State Local Government, Housing, Youth and Sports Committee chairman Datuk Ab Fattah Mahmood said non-Muslim night market traders and visitors could continue their activities during that time.
"The ruling is aimed at providing comfort to Muslim traders to perform Maghrib prayers as the prescribed time for it is quite short, which is only about an hour.
"If we don't do something to remind them of the time, it is feared that they will remain preoccupied and miss the prayers, which is of the pillars of Islam.
"As such, non-Muslim traders and visitors need not to worry about it as there is no restriction for them to continue their activities during that time," he told reporters at the Kota Darul Naim Complex here today.
Full report at:
http://www.themalaymailonline.com/malaysia/article/kelantans-night-market-ruling-does-not-apply-to-non-muslims
--------
Insult Islam and you're out, just like Ahok, PAS tells political leaders
April 21, 2017
KUALA LUMPUR, April 21 — Political leaders who insult Islam will never be elected, PAS asserted today, with a nod to neighbouring Indonesia where Jakarta's Christian and ethnic Chinese governor Basuki Tjahaja Purnama — better known as Ahok — lost his post in a religiously-charged poll this week.
The Islamist Opposition party claimed that similar to Indonesia, Malaysia's Muslim voters will rise to reject anyone who demeans their religion, amid fierce debates over its party president's private motion seeking harsher Shariah offences by amending Act 355, and another Bill to amend Act 164 that would ban unilateral child conversion.
"This success clearly shows a signal of Islam's uprising there. When you insult Islam, don't think Muslims will not act by rejecting you as a leader. The Jakarta election has proven it," PAS information chief Nasrudin Hassan said in a statement.
"Now, the same spirit is spreading among Muslims in Malaysia. The issue of amending Act 355 and Act 164 will open the eyes of citizens here to see who are foes and friends when it comes to fighting for Islam.
"The same uprising is flourishing for the next general elections," the Temerloh MP added.
Act 355 is formally known as the Syariah Courts (Criminal Jurisdiction) Act 1965, while Act 164 refers to the Law Reform (Marriage and Divorce) Act.
On Wednesday, the Jakarta gubernatorial elections was won by Ahok's Muslim challenger Anies Baswedan, who was accused of pandering to Muslim hardliners to win votes, with 58 per cent of the votes.
The controversy surrounding Ahok had begun in September last year when he caused outrage among Muslims for quoting a controversial verse from the Quran ahead of the elections, insinuating that his opponents were using Islamic scriptures to urge the public against voting him.
Full report at:
http://www.themalaymailonline.com/malaysia/article/insult-islam-and-youre-out-just-like-ahok-pas-tells-political-leaders
--------
Chinese, Iranian firms to sign first nuclear plant redesign contracts
Apr 21, 2017
BEIJING - Companies from China and Iran will this weekend sign the first commercial contracts to redesign an Iranian nuclear plant as part of an international deal reached in 2015 over Iran's nuclear programme, China's Foreign Ministry said on Thursday.
The fate of the Arak reactor in central Iran was one of the toughest sticking points in the long nuclear negotiations that led to the agreement, signed by Iran with the United States, Britain, France, China, Russia and Germany.
In the redesign, the heavy water reactor will be reconfigured so it cannot yield fissile plutonium usable in a nuclear bomb.
Ministry spokesman Lu Kang said the contracts for the plant's redesign would be signed on Sunday in Vienna with initial agreements having already been reached in Beijing, describing it as an important part of the Iran nuclear deal.
China and the United States are joint heads of the working group on the Arak project, and progress has been smooth, Lu told a daily news briefing.
"The signing of this contract will create good conditions for substantively starting the redesign project," Lu said.
Iran has said that the 40-megawatt, heavy-water plant is aimed at producing isotopes for cancer and other medical treatments, and has denied that any of its nuclear activity is geared to developing weapons.
The announcement comes as US Secretary of State Rex Tillerson accused Iran of "alarming ongoing provocations" to destabilise countries in the Middle East as the Trump administration launched a review of its policy towards Tehran.
Tillerson said the review would not only look at Iran's compliance with the 2015 nuclear deal but also its behaviour in the region which he said undermined US interests in Syria, Iraq, Yemen and Lebanon.
Full report at:
http://nation.com.pk/international/21-Apr-2017/chinese-iranian-firms-to-sign-first-nuclear-plant-redesign-contracts
--------
In Malaysia, Islamic spiritual healing seeks scientific recognition
BY ZURAIRI AR
April 21, 2017
KUALA LUMPUR, April 21 — In 2006, the Health Ministry started offering traditional and complementary medicine (T&CM) in public hospitals, ranging from traditional Malay massage, acupuncture, herbal therapy for cancer, to Ayurveda therapy.
While recognised in the National T&CM Policy, Islamic spiritual healing that mostly consists of reciting Islamic scriptures and supplications to heal illnesses, has yet to find mainstream acceptance.
Packaging the treatment as "Islamic psychospiritual therapy", several psychiatrists and religious experts are now lobbying for its inclusion along modern medicine. But a big barrier remains ahead of them: empirical scientific evidence.
"Islamic psychospiritual therapy must prove itself capable to help in rehabilitating emotional disturbance, anxiety and depression," said Datuk Prof Dr Azizan Baruddin, the director-general of the Institute of Islamic Understanding Malaysia (Ikim) yesterday.
"It must also prove itself capable in helping solve psychosis disorder, personality disorder, and problems involving the LGBT," she added, referring to the lesbian, gay, bisexual and transgender.
Azizan was speaking in a conference organised by Ikim on the topic, bringing together dozens of experts from both scientific and spiritual fields, in order to develop a cohesive module to offer the therapy as a mechanism and intervention method in mental health treatment.
Among the speakers were two psychiatrists who have started using the therapy as a means to cure post-traumatic stress disorder (PTSD) and rehabilitate victims of substance abuse.
"I am confident this Islamic psychospiritual has its place, not just in Malaysia but across the world. But for that we need to have it as more scientific," said Dr Rafidah Bahari of Cyberjaya University College of Medical Sciences, whose research is on PTSD.
Reciting scriptures as healing method
At the heart of the therapy is a concept called "ruqyah", which stems from the belief that ailments are caused by djinns and other supernatural beings, and that the recital of Islamic scriptures and supplications could consequently heal the body.
The practice is split into two categories — Shariah-compliant and otherwise — with the latter commonly associated with shamans who mix ancient pagan practices with Islamic teachings. Modern faith healers differentiate themselves by putting themselves in the first category.
But even when it is Shariah-compliant, the practice may seem fantastic and fanciful to those more accustomed to evidence-based medicine, as demonstrated by another speaker in the conference, faith healer Mohd Fauzi Mustaffa.
The president of the Malaysian Islamic Healing Practitioners Alliance, or Gapimma, said that between 80 and 85 per cent of their patients sought the healers to rid themselves of "spiritual hauntings" ranging from black magic to possessions and hexes.
Fauzi also presented a long list of mental and physical ailments that he claimed can be resolved just by reciting scriptures.
Anxiety, rage, sadness, fear, envy, insomnia, impotence, venom poisoning, unattractive appearance, bleeding, toothache, lack of appetite… these are but a sample of conditions he said were treatable with prayer recitals.
He even related briefly that one patient was miraculously healed from Stage IV cancer moments after a "ruqyah" session, to the point of skipping a doctor appointment after declaring herself "cured of cancer".
Stage IV refers to when the cancer has spread to organs or vital parts of the body. Survivability at this point is often low and requires extensive radiotherapy and chemotherapy treatments.
While confident Islamic spiritual healing and "ruqyah" would work, Fauzi is equally prepared for when they do not.
"If the ruqyah heals, then it heals. But if it doesn't work, it is because Allah has not permitted it yet," said Fauzi.
"There are many dimensions of healing … Even if one is not healed, at least he will be relieved. Relief is also healing."
Despite that nonchalance, other presenters were more committed towards the need for empirical scientific evidence to support Islamic psychospiritual therapy's bid for acceptance among modern medicine.
Dr Zul Azlin Razali, a psychiatrist with Universiti Sains Islam Malaysia, admitted that there is concern over not only the validity, but also the reliability of the therapy, despite the volume of scientific literature and case reports on the topic.
"One researcher may formulate a model for therapy, but others do not wish to apply that model and test it with other populations … We don't have randomised controlled trials. That's what we don't have," Dr Zul Azlin said.
Quoting a 2011 paper titled Empirically based psychology of Islam, Dr Zul Azlin pointed out that systematic, rigorous and large-scale scientific psychological research on Muslims has been particularly sparse.
"None of them is valid, and none of them is reliable. At least so far. That is based on my rough observation," he said on Islamic therapies.
Still, the work goes on. Dr Rusdi Abd Rashid of University of Malaya's Centre of Addiction Sciences, who uses the therapy to supplement methadone maintenance treatment for victims of substance abuse, said he has already started on randomised controlled trials.
Dr Rafidah, admitting that her proposed treatment for PTSD has not gone through the same scrutiny, also has expressed her hope to be awarded a grant for such trials.
Academic discourse on Islamic healing is not new. In November 2014, Universiti Kebangsaan Malaysia held a forum on spiritual beings and black magic. Earlier this year in February, Universiti Sains Malaysia was set to host a seminar on "santau", the Malay supernatural act of curse and poisoning, before it was cancelled.
In May 2015, Universiti Malaysia Pahang had made the news for promoting a RM8,750 anti-hysteria kit. The director of the centre responsible for the kit, Dr Mahyuddin Ismail, was among those present at Ikim's conference.
For Ikim's Azizan, the conference was at least a starting point to formulate a body or agency at the federal level to further develop the field.
Full report at:
http://www.themalaymailonline.com/malaysia/article/in-malaysia-islamic-spiritual-healing-seeks-scientific-recognition
--------
Pakistan
Terror incidents in Fata increased by 72pc: Report
April 21, 2017
PESHAWAR - Terrorist incidents in Federally Administered Tribal Areas (Fata) increased by 72 per cent in the first quarter of 2017, as compared to the last quarter of 2016.
This was stated in a FATA Research Centre report released on Thursday.
The report stated that 69 violent incidents took place during the last quarter of 2016, while 119 such incidents were recorded in the first quarter of 2017. Out of these incidents, 57 were terrorist attacks while 62 related to various counter-terrorism actions.
Similarly, 54 per cent of the terrorist attacks targeted the civilians, while 42 per cent were carried out against the security forces. Four percent of the terrorist attacks targeted members of amn lashkars in the region.
There was a spike in terms of casualties during the first quarter of 2017, in which 491 casualties were reported as compared to 180 casualties during the last quarter of 2016. The casualties included 281 deaths and 210 injured.
It was further observed that 50 per cent of the total casualties during the first quarter comprised of civilians, while 37 per cent casualties related to those of terrorists.
Eleven per cent of the casualties belonged to the security forces and two percent were that of members of amn lashkars.
In terms of casualties, Kurram Agency remained the most volatile agency of Fata during the outgoing quarter. In total, 212 casualties (69 killed and 143 injured) were recorded from different areas of the agency.
Khyber Agency, where military operations are going on, follows the list with 119 casualties. Mohamand Agency remained third with 66 casualties (48 killed and 18 injured).
Bajaur and South Waziristan Agency also remained disturbed during the first quarter of 2017 with 32 (13 killed and 19injured) and 23 (17 killed and 6 injured) casualties respectively.
North Waziristan Agency witnessed a calmer period as terrorist incidents and the resultant casualties decreased as compared to the fourth quarter of 2016, the report said.
During the first quarter of 2017, Mehsud Taliban and banned Jamaatul Ahrar remained dominant terrorist groups to carry out terrorist activities with the use of improvised explosive devices (IED). According to the report, 27 IED attacks, 15 incidents of target killings, 10 ambushes, three cross-border attacks and two suicide blasts occurred during the first quarter of 2017.
Full report at:
http://nation.com.pk/national/21-Apr-2017/terror-incidents-in-fata-increased-by-72pc-report
--------
CTD kills eight terrorists near Narang
April 21, 2017
SHEIKHUPURA - At least eight alleged militants were killed by a CTD team in an encounter that took place on Muridke-Narrowal Road near Pandori Stop in the limits of Narang police station in wee hours on Thursday.
According to the information received from a CTD spokesman, the militants had set up their hideout in the area. On a tip off, a CTD team surrounded the area, on which the militants opened fire. The law enforcers retaliated and killed eight TTP terrorists while their three or four accomplices fled from the site, taking advantage of darkness
On the other hand, two CTD personnel also sustained bullet injuries. The team recovered 3kg explosive material, prima cord, three kalashnikovs, five pistols and ammunition.
The killed terrorists were said to be affiliated with Tehreek-e-Taliban Pakistan's splinter group, Jamaat-ul-Ahrar. The deceased could not be immediately identified.
The law enforcers recovered 3kg explosives, suicide vests, three Kalashnikovs, five handguns and several live rounds from the scene. Officials added three to four terrorists managed to flee during the encounter. They said the deceased terrorists wanted to target key places and installations in the city.
The injured personnel and the bodies of terrorists and were shifted to hospital.
Full report at:
http://nation.com.pk/national/21-Apr-2017/ctd-kills-eight-terrorists-near-narang
--------
Pakistan: Christian-Muslim campaign for peace
April 20, 2017
The Pakistani bishops' conference and a Muslim organization have begun a joint campaign for peace that will last through the Easter season.
The campaign's symbol is an olive branch, and olive trees are being planted at churches, mosques, schools, and madrasas, according to a Fides report.
Full report at:
http://www.catholicculture.org/news/headlines/index.cfm?storyid=31352
--------
Ahmadiyya Muslims are killed for their faith in Pakistan
By Bashir U. Mehmud
04/20/2017
Thanks for your April 4 editorial ("Censorship in Pakistan hits home in the U.S."), which is 100 percent correct.
The country, which is called "The Islamic Republic of Pakistan" is the worst place to live for any human being such as Muslim, Christians, Jews, Hindus and Budhmut.
The ruler is not Prime Minister Nawaz Sharif. The real rulers are the so-called fanatic mullahs, whose thinking is that they have, God forbid, more power than the almighty God, the creator of the universe. The most disliked communities in Pakistan are Christians and Ahmadiyya Muslims. Their houses of worship are set on fire in the presence of Pakistani police. The members of both communities are killed almost every month, especially the Ahmadi Muslims.
Nobody on the face of the earth has the right to protest or take any action against blasphemy except the God himself. The meanings of blasphemy written in Webster's dictionary are "the act of expressing lack of reverence for God." The Islamic greetings like Assalamo Alaikum (peace and blessing of God be on you) or reciting of Kalima (the first pillar of Islam) are forbidden for an Ahmadi Muslim to say or calling their worship places as mosques are forbidden. If any Ahmadi Muslim recites the Kalma or says Assalamo Alaikum in presence of mullah; the same moment the mullah will call the police, the Ahmadi Muslim will be arrested and put in jail forever without any trial.
Any Judge who makes judgment and declares an Ahmadi not guilty of any crime loses his job and most likely will get killed by by the mob misguided by mullah. Like a Punjab governor who defended a Christian woman who said some words about the Prophet of Islam was killed by his own police guard accusing him of blasphemy.
The 40 people on death row are 99.9 percent Ahmadi Muslims. Therefore, as you mentioned, the puppet of mullahs calls blasphemy an "unpardonable offense." One store owner in his 80s in Rabwah, Pakistan, a city that is the headquarters of the Ahmadiyya Muslim community, was arrested and accused of preaching Islam, and is in and undisclosed location barring his family members to see him and provide the old man his medications or any help. There is clause in the so-called Pakistani constitution that says Ahmadies are not Muslims. This was done under the Prime Minister Zulfiqar Ali Bhutto (father of Benazir Bhutto) who later was hanged under the martial law administrator Gen. Zia-ul-Haq, who later was killed in a plane crash.
Full report at:
http://www.sentinelandenterprise.com/columnists/ci_30934115/ahmadiyya-muslims-are-killed-their-faith-pakistan
--------
Four soldiers handed over to military for court martial in murder case
Apr 21, 2017
HYDERABAD: The Noori­abad police on Thursday confirmed the handing over of four murder suspects to military authorities after their arrest and subsequent remand obtained from a civil judge.
An FIR (21/17) was registered against the four personnel of a law enforcement agency after an incident of firing in which a police constable, Ashiq Jatoi, had lost his life during the night intervening Monday and Tuesday, the Nooriabad police said.
They identified the suspects as Zardar Awan, Imtiaz Jaskani, Abdul Wahid Janwari and Muneer Almani. Another suspect named in the FIR is a civilian, Shabbir Magsi, who is an activist of the Sindh Taraqqi-pasand Party (STP) based in Jamshoro district, according to the police.
Sharing details of the firing incident with the media, sources in the area police said that four suspects riding a Vigo had opened fire on a car killing one of its occupants, Ashiq Jatoi, instantly. Ashiq, a resident of Dadu district, was sitting on the rear seat of the car which was on its way to the Nooriabad police station. Soon after the incident, a team of the area police rushed to the spot and caught hold of the four suspects. Some weapons, which later appeared to be official, were also seized.
"The four suspects were handed over to the military authorities as they are to be court martialled," according to Nooriabad DSP Nazar Deeshak.
"They were on Tuesday produced before the Thana Bula Khan civil judge who formally remanded them into custody of military authorities," he said, adding that the military authorities took their custody from police the same night.
"We cannot keep military personnel in our custody. Therefore, we handed them over to their authorities," he said.
Reports said that some acquaintance of Shabbir Magsi had arrived from Karachi for some work and he had hosted them at a filling station. One account of the incident suggested that the suspects were interested in a sale-purchase deal involving Rs500,000 and during the course of negotiation the other side deceived them and tried to flee by car. The suspects chased the car but faced poor visibility due to dust while passing through an area where the Frontier Works Organisation (FWO) is executing the motorway project.
Fearing that the target might escape, they opened fire. It later transpired that a bullet hit constable Ashiq Jatoi, the driver of the Nooriabad DSP, who was travelling in the car driven by his friend, Aslam Palari.
Full report at:
https://www.dawn.com/news/1328211/four-soldiers-handed-over-to-military-for-court-martial-in-murder-case
--------
Minister For National Health Services Avoids Answering Question About Saudi Arabia
IKRAM JUNAIDI
Apr 21, 2017
ISLAMABAD: The Pakistan People's Party (PPP) and Pakistan Tehreek-i-Insaf (PTI) on Thursday observed a token walkout from the Senate after Minister for National Health Services (NHS) Saira Afzal Tarar did not give a reply to a question about Saudi Arabia's refusal to accept Pakistani medical certificates.
Even Chairman Senate Mian Raza Rabbani said the state minister avoided replying the question because it was about Saudi Arabia.
PTI Senator Mohammad Azam Khan Swati had asked why Saudi Arabia did not accept polio vaccination and immunisation certificates issued in Pakistan.
Instead of giving a reply to this, the minister in her written reply said so far in 2017 only two cases of polio had been reported from Lodhran (Punjab) and Diamer (Gilgit-Baltistan).
Speaking on the occasion, Mr Swati said Saudi Arabia was taking Pakistan for granted. This is not fair as Pakistan is an independent country and no one will be allowed to treat us like this. He along with senators of other opposition parties then staged the walkout.
The Senate chairman asked PML-N Senator Raja Zafarul Haq to bring the members back. Mr Haq went out and convinced the members to join the proceedings again.
Despite repeated attempts, Ms Tarar could not be contacted for comments.
However, an official of her ministry requesting not to be quoted confirmed to Dawn that Saudi Arabia did not accept medical certificates from Pakistan.
"However, we ourselves are responsible for this because we don't have a proper and transparent health system. Here medical certificates are obtained without visiting a doctor and the world knows it," he said.
"Without removing the flaws in our system, how can we ask other countries to accept our vaccination and immunisation certificates," he said.
A doctor from the Pakistan Institute of Medical Sciences (Pims) said a number of people visited the hospital and insisted that they should be issued certificates without vaccination.
Full report at:
https://www.dawn.com/news/1328315/minister-avoids-answering-question-about-saudi-arabia
--------
Fresh surge of refugees return to Afghanistan
April 21, 2017
KABUL - A fresh surge of undocumented refugees have returned to Afghanistan from Pakistan this month, a humanitarian group said Thursday, saying they felt "forced to leave" as Islamabad continues a crackdown.
The Norwegian Refugee Council said it had registered an average of 1,000 people crossing the border daily in the first two weeks of April, which was a "sharp increase" from the first three months of the year.
"We are concerned that without proper registration documents Afghan refugees are unprotected," Kate O'Rourke, head of the NRC in Afghanistan, said in a statement.
"Families are telling us that without registration documents they felt forced to leave." Since 2016 hundreds of thousands of refugees have returned from Pakistan, where some had sheltered for decades, to Afghanistan amid accusations of coercion.
They face an uncertain future in war-torn Afghanistan which is already struggling to support thousands of internally displaced people fleeing fighting.
Those who were not registered in Pakistan do not have access to what little succour there is in Afghanistan, the NRC said.
Approximately 380,000 registered and 225,000 unregistered refugees returned to Afghanistan from Pakistan last year, the vast majority between July and December, the NRC added.
Human Rights Watch issued a scathing report in February that accused Pakistan of coercion, threats and abuse in the mass repatriation, and the United Nations of complicity. The report said a combination of insecure legal status, the threat of deportation during winter, and police abuses - including extortion, arbitrary detention and night raids - had left the Afghan refugees with no choice but to leave. It also accused the UN's refugee agency of effectively encouraging the exodus, and said the UNHCR should end the "fiction" that the returns are voluntary.
The UN has previously rejected the criticism. This month Pakistan resumed repatriating documented refugees.
Some Afghan refugees have been sheltering in Pakistan for decades, first fleeing over the border after the Soviet invasion of 1979.
UNHCR and Pakistani officials have said some 1.34 million registered refugees remain in the country.
A further half a million undocumented refugees are also estimated to be there, making Pakistan one of the world's largest refugee-hosting nations.
http://nation.com.pk/national/21-Apr-2017/fresh-surge-of-refugees-return-to-afghanistan
--------
South Asia
BNP: Courting Hefazat won't win AL any support
April 20, 2017
Some Hefazat leaders believe that this recognition will not bring any groundbreaking changes in the upcoming national election results
BNP on Thursday said the ruling party's move to recognise Dawra degree as a masters' equivalent will not win the Awami League any votes from supporters and members of Hefazat-e-Islam.
BNP standing committee member Zamir Uddin Sircar told Bangla Tribune: "We believe that Hefazat-e-Islam supports Bangladeshi nationalism and can see the Awami League's lack of Islamic values which is why the BNP will always get their votes."
Senior leaders of the party also said they believe that this "illusion" of support for Islamic parties will not affect Awami League's voter bank because the people of Qawmi madrasa will always vote for the party which was formed with Islamic values – the BNP.
Senior BNP leader Shamsuzzaman Dudu said: "The government, on one hand, is suppressing the Islamic minded people by labeling them as militants while on the other hand is recognising the Dawra degree."
"The government's opportunistic position on this is very clear," he added.
BNP leaders claimed the Awami League government during its first tenure was in conflict with Qawmi madara based Islamist parties and the opposition leaders hoped Hefazat-e-Islam would not forget that period from 1996-2001.
BNP Vice-Chairman Inam Ahmed Chowdhury said: "Because the government has not detailed how the Dawra degree would be incorporated, it is a clear indication of how this was just a political decision and will never be implemented."
Speaking on how the BNP would treat madrasa graduates, BNP Secretary General Mirza Fakhrul Islam Alamgir said: "We would modernise madrasa education and have these students join the workforce as the BNP does have double standards like the Awami League."
He also said the government was trying to subdue Hefazat by adhering to their demands.
BNP central organizing secretary Dr Shakhawat Hossain Jibon said it was their party that first issued the circular to recognise Dawra degree.
In fact, some Hefazat leaders also believe that this recognition will not bring any groundbreaking changes in the upcoming national election results.
But Hefazat-e-Islam Central Organising Secretary Mawlana Azizul Haque Islamabadi said: "Every students studying in Qawmi madrasas is a citizen of this country and has a constitutional right to be recognised."
http://www.dhakatribune.com/bangladesh/politics/2017/04/20/bnp-dawra-degree-recognition-will-not-make-hefazat-support-al/
--------
4 militants killed, hideout eliminated in A-29 strike in South of Afghanistan
Apr 20 2017
At least four militants were killed and their hideout was eliminated in an airstrike involving the newly-deployed A-29 Super Tucano aircraft in southern Uruzgan province of Afghanistan.
The Ministry of Defense (MoD) said the militants were targeted in the vicinity of Tarinkot city, the provincial capital of Uruzgan province.
A Dshk heavy machine gun as well as a hideout of the militants was also destroyed in the airstrike, the Ministry of Defense added.
The anti-government armed militant groups including the Taliban insurgents have not commented regarding the report so far.
This comes as at least twenty insurgents were killed and a vehicle packed with explosives was destroyed in an airstrike conducted in this province nearly two weeks ago.
Uruzgan is among the relatively volatile provinces in southern Afghanistan which often witnesses violence and insurgency.
Both the Taliban insurgents and militants belonging to the other insurgents and terrorist groups are actively operating in some of the districts of Uruzgan including the outskirts of Tarinkot city.
Full report at:
http://www.khaama.com/4-militants-killed-hideout-eliminated-in-a-29-strike-in-south-of-afghanistan-02610
--------
The strike accurately targeted the terrorists and locals are very happy about it
Apr 21 2017
The United States Air Force recent drop of GBU-43/B, the largest non-nuclear bomb ever used in combat, against ISIS terrorists' network in Nangarhar province of eastern Afghanistan demonstrates that Washington's longest war – now in its sixteenth year is far from over. The lethal weapon also known as Massive Ordnance Air Blast was dropped at 7:32 p.m. local time from a U.S. Air Force special mission aircraft MC-130.
The U.S. government has not reported any specific details about the stunning air strike, but the deployment of weapon of this scale follows hours after Hanif Atmar, Afghanistan's National Security Advisor, accompanied by the commander of US Armed Forces in Afghanistan General John Nicolson, addressed Afghan National Security Forces (ANSF) in Jalalabad, capital of Nangarhar province.
"We don't want terrorists to make peace, we want to force them to make peace" said Hanif Atmar in his speech to ANSF before the megaton bomb was dropped on alleged ISIS tunnel network in Achin district. The visit of the most senior security officials from both sides the U.S. and Afghanistan indicates that Afghan officials were aware of the forceful strike at some level.
Authorizing the force of such magnitude is a testament to President Donald Trump genuine commitment to destroy the terrorist networks. In his speech on 15 August 2016 in Youngstown, Ohio, Mr. Trump, then as a Presidential contender said "We will defeat radical Islamic terrorism, just as we have defeated every threat we face at every age and before."
President Trump and his administration's desire to maximize the damage to terrorist groups and deny them operational grounds in defense of U.S. national security interest is indeed a sound strategy; however, the general consensus in Afghanistan is that destroying terrorists' networks require regional cooperation mainly from Pakistan.
Pakistan remains accused of sheltering terrorist groups and subverting Washington's objectives in Afghanistan. "Indeed, Pakistani policy is the principal cause of the ongoing conflict in Afghanistan" said Zalmay Khalilzad, the former U.S. Ambassador to Afghanistan, Iraq, and United Nations, in his testimony to the House Committee on Foreign Affairs on 12 July 2016.
Previously, top U.S officials in President Obama's Administration, Admiral Mike Mullen, the Chairman of the Joint Chiefs of Staff, and Leon Panetta, the secretary of defense have confirmed to the Senate Armed Services Committee that Pakistan's Inter Service Intelligence (ISI) spy agency "worked hand-in-glove with the Haqqani network" a notorious terrorist group hiding in Pakistan.
What can be done to destroy radical Islamic terrorism?
Terrorism will not be defeated by dropping the mother of all bombs or even by dropping the grand mother of all bombs (if it existed) simply because they are used as a policy tools by states – at least in the case of Pakistan. For this reason, it is important to secure commitment from Pakistan towards a durable peace and stability.
Pakistani cooperation is essential to defeat Islamic militancy in South Asia. Progress will be made only if Pakistani military is encouraged to crack down on terrorists in its country who operate in Afghanistan, namely the Quetta Shura and the Haqqani network, with the same commitment it bears to fight against more direct threats like the Pakistani Taliban.
President Donald Trump will first have to resort to diplomacy by putting Pakistani generals "on notice" that the United States will stay around for the long haul this time. Mr. Trump should also assuage Pakistan's partially legitimate fears of India's influence in Afghanistan. In a region of difficult strategic and diplomatic turmoil, this might well be Mr. Trump's toughest task.
Talk won't be enough. President Trump needs to keep up the pressure as well. Washington has already suspended or canceled millions of dollars in military aid in the past, and future aid must strictly depend on Pakistan's genuine actions against the Haqqanis.
Without escalating tension with Islamabad, the Americans will also have to resume full scale drone strikes against terrorist networks in Pakistan. Drone strikes have killed several top Taliban leaders, including Mullah Mohammad Akhtar Mansoor who was killed in the strike on 22 May 2016 in Baluchistan province of Pakistan.
Full report at:
http://www.khaama.com/the-strike-accurately-targeted-the-terrorists-and-locals-are-very-happy-about-it-02613
--------
You committed an immense atrocity against Afghans, Karzai tells Trump
Apr 20 2017
The former Afghan President Hamid Karzai has told Trump that he has commuted an immense atrocity against the Afghan people.
"My message to President Donald Trump today is that he has committed an immense atrocity against the Afghan people," He said in a Twitter post.
Karzai further added that Trump has committed atrocity againstthe fellow Afghans, against fellow human beings as he he was apparently gesturing towards the use of MOAB against ISIS in East of Afghanistan.
"If the US government sees us as human beings, then they have committed a crime against fellow human beings, but if they treat us as less than human beings, well, of course they can do whatever they want," he added.
This comes as Karzai earlier said Russia has the right to have relations with the Taliban group as he has adopted a hard stance against the United States, specifically after the MOAB bombing o ISIS hideouts in Achin district of Nangarhar.
Earlier this week, Karzai had vowed to step up efforts in a bid to oust the US military from the country following the massive airstrike in Achin Nangarhar against ISIS terrorists involving the non-nuclear GBU-43 bomb.
Full report at:
http://www.khaama.com/you-committed-an-immense-atrocity-against-afghans-karzai-tells-trump-02611
--------
Is Shamim Osman behind Hefazat's case against Rafiur Rabbi?
April 20, 2017
Hefazat's Narayanganj unit chief Ferdaus-ur-Rahman has accused Rabbi of hurting religious sentiments.
Narayanganj locals suspect cultural activist Rafiur Rabbi is being sued by a leader of radical Islamist group Hefazat-e-Islam at the behest of Awami League lawmaker, Shamim Osman.
Shamim is a member of the influential Osman family blamed by Rabbi for the killing of his son, Tanvir Mohammad Twaki, in 2013.
Now the Hefazat unit chief for Narayanganj, Ferdaus-ur-Rahman, has accused Rabbi of hurting religious sentiment in a speech he made at an event on April 7.
Ferdaus alleges that Rabbi claimed none of the three million martyrs would have participated in the 1971 Liberation War, "had they known the constitution would begin with 'Bismillah' and the country would turn into a communal one".
However, Narayanganj Press Club President Mahbubur Rahman Masum said Rabbi did not make any anti-religious comments.
"The Osman family has mobilised Hefazat to take down those who demand justice for Twaki," he said.
Sanskritik Jote General Secretary Dheman Saha Jewel also said "a certain quarter" was trying to tarnish Rabbi's image, while Communist Party of Bangladesh leader Hafizul Islam said those who promoted communalism were behind the case.
"The Narayanganj 4 MP could be behind this," Hafizul said, without elaborating.
Ferdaus, however, is insisting that nobody asked him to file the case, saying: "… We [Hefazat] have protested against anyone who made defamatory comments about religion."
Shamim has pledged to stage a rally in front of DIT Jame Mosque in Narayanganj Sadar after Jumma prayers on Friday, to protest those who made defamatory comments about "his religion".
"I want to set an example in Narayanganj by bringing everyone on to one platform to protest against those defaming religion. Every party should be a part of this protest – Awami League, BNP, Jaitya Party, Hefazat," he said at a meeting with local religious scholars and leaders at Narayanganj City Corporation Central Mosque.
The Awami League lawmaker also questioned why no one other than Ferdaus – who was present at the April 7 meeting – protested Rabbi's audacity.
"Nobody raised a voice against the remark on 'Bismillah'. Only Ferdaus filed a case… not as a Hefazat leader but as a Muslim," he said.
Full report at:
http://www.dhakatribune.com/bangladesh/nation/2017/04/20/shamim-osman-hefazat-rabbi/
--------
Africa
Nigeria Arrests 53 Over Gay Wedding
20 APRIL 2017
The man have been charged with belonging to "an unlawful society." Being in a homosexual relationship can come with a hefty prison sentence in Nigeria.
Police in Nigeria said 53 men had been arrested on conspiracy charges on Thursday for trying to organize a gay wedding. Some of them face up to 14 years in jail.
The suspects were arrested at a hotel in the northern city of Zaria, where they had allegedly gathered to celebrate the ceremony. All of the accused are between 20 and 30 years old. The couple who were being honored managed to escape, police said.
The rest have been charged with "belonging to a gang of unlawful society."
Gay marriage is not only banned in Nigeria, in 2014 former President Goodluck Jonathan oversaw a raft of harsh anti-homosexual laws that make gay relationships punishable by between 10 and 14 years in prison.
Despite the harsh laws, many gay couples hold informal ceremonies with their loved ones. One of the most prominent cases came in January 2014, when 12 men were arrested and charged in the city of Bauchi. Violent protests broke out on the court steps with angry mobs demanding the men be put to death. The men were eventually released on bail or had their cases dropped.
In some Muslim regions of Nigeria, which operate under de fact Sharia law, practicing homosexuality is a capital crime.
http://allafrica.com/stories/201704210113.html
--------
Uganda: Mulira, DP's Challenges Are Influenced By Tribe, Religion
21 APRIL 2017
By Yoga Adhola
Peter Mulira begins his article, "Mao should not use religion, tribe to explain challenges in DP" (Daily Monitor, April 18) by quoting an unnamed British friend who told him that Africa should look for positives in its past instead of dwelling on the negatives to develop.
Mulira then turns to Democratic Party (DP) president Norbert Mao: "Mao's attempt to use religion and tribalism to explain the problem in his party is unfortunate".
On the other hand, I will premise my response to his article on Karl Marx's statement: "Men make their own history, but they do not make it just as they please; they do not make it under circumstances chosen by themselves, but under circumstances directly encountered, given and transmitted from the past."
The circumstances, which are "directly encountered, given and transmitted from the past", and that are conditioning the present struggles in DP, stem from the February 1892 battle of Mengo.
That battle pitted the Protestants led by Apolo Kagwa, and assisted by Captain Lugard with his maxim guns, against the Catholic forces led by Kabaka Mwanga and Stanislaus Mugwanya. The Protestants won and from that point on a Protestant oligarchy was established in Mengo.
We should point out that before this battle, through the religious wars in Buganda in the late 19th century, religious denominations had assumed the substance of social identities.
The settlement made Protestants, vis-a-vis the Catholics, the dominant identity. The Kabaka had to be a Protestant. A Catholic could not be Katikiro. The highest post in the kingdom a Catholic could aspire to was the Omuwanika.
There had always been 10 Protestant county chiefs, compared to eight Catholics.
In the Kabaka's government, which was formed following the return of Mutesa from exile in 1955, four ministers were Protestants, one a Muslim and another one a Catholic. This was the order, which obtained throughout the colonial period. Much as Catholics were treated as second class subjects and were uneasy about it, there was not much they could do. To make matters worse, in 1955 Matayo Mugwanya, the son of Stanislaus Mugwanya, contested for the post of Katikiro and came within three votes of being elected. Had the Kabaka not replaced several of his representatives in the Lukiiko, he would have won. Leading Catholics felt their man had been unfairly denied being Katikiro.
With the political awakening on the eve of colonialism, the Catholics in Buganda organised themselves in political party--DP--to redress their minority status. Ironically, the first party president was Matayo Mugwanya.
It should be clear that DP was organised to address issues of Buganda. This is what makes some of us argue that DP is essentially a Buganda affair.
Prof Mamdani in his book, "Politics and Class Formation in Uganda", states that outside Buganda, DP is a secondary affair. It is in this context that I believe Mao cannot constitute the embodiment of DP. It is well-known that the Mbale conference, which elected him president was boycotted by a sizable DP membership. And that makes his leadership even more illegitimate.
Full report at:
Mr Yoga is a former editor-in-chief of UPC's The People newspapers.
http://allafrica.com/stories/201704210022.html
--------
North America
Technology firms urge US court to toss Trump travel ban
20 April 2017
Scores of technology firms including Amazon, Facebook, Google and Microsoft on Wednesday joined in a legal filing urging a judge to toss out President Donald Trump's latest travel ban.
More than 160 companies, all but a couple of which are in the technology sector, signed a "friend of the court" brief siding with opponents of Trump's executive order in a US appeals court for the District of Maryland.
Federal judges have halted Trump's revised executive order issued in March to temporarily close US borders to refugees and nationals from six Muslim-majority countries, dealing the president a humiliating defeat.
The rulings triggered a nationwide freeze on enforcement of a ban on entry by nationals of Iran, Libya, Somalia, Sudan, Syria and Yemen for 90 days. A US judge ruled that the state of Hawaii, in its legal challenge, had established a strong likelihood that the ban would cause "irreparable injury" were it to go ahead.
In Maryland, US District Judge Theodore Chuang issued a similar nationwide injunction on a separate complaint filed by advocacy groups claiming that the amended order discriminates against Muslims.
Overstepping authority?
In the "amicus brief" filed Wednesday, companies backed the argument that Trump's ban not only discriminated on the basis of religion, it also overstepped the authority of the president to change rules regarding who is allowed into this country.
"The second order effects a fundamental shift in the rules governing entry into the United States, and is inflicting substantial harm on US companies, their employees, and the entire US economy," lawyers argued in a copy of the brief available online.
The ban makes it more difficult to attract talented employees, increases costs; makes it tougher to compete, and makes it more appealing for global enterprises to invest in operations in more immigrant-friendly countries, according to the brief.
Trump has said a travel ban is needed to preserve US national security and keep out extremists. His first effort, in January, banned travelers from seven majority-Muslim countries and all refugees but was blocked by a court in Washington state on the grounds that it violated the constitution's prohibition of religious discrimination.
Full report at:
https://english.alarabiya.net/en/News/middle-east/2017/04/20/Technology-firms-urge-US-court-to-toss-Trump-travel-ban.html
--------
Possible Trump trip to Saudi Arabia next month being discussed
20 April 2017
US President Donald Trump may add a visit to Saudi Arabia to a trip to Europe in May in what will be his first overseas journey since becoming president, a senior administration official said on Wednesday.
Such a trip is "being discussed," the official said, speaking on condition of anonymity. Trump is already planning to attend a NATO summit in Brussels on May 25 and travel to Sicily for a Group of Seven leaders' summit scheduled for May 26-28.
Defense Secretary James Mattis was in Riyadh on Wednesday meeting with senior Saudi officials. He said he hopes his trip could potentially open the door for Trump to visit Saudi Arabia.
Former President Barack Obama met leaders of the six-nation Gulf Cooperation Council, Saudi Arabia, Qatar, the United Arab Emirates, Kuwait, Bahrain and Oman about a year ago.
Syria and ISIS
Trump has made the Middle East and the fight against ISIS a focus of his young presidency. He ordered the US Navy to fire cruise missiles at a Syrian airfield after a chemical weapons attack in Syria earlier this month.
Saudi Arabia's Deputy Crown Prince Mohammed bin Salman met Trump in Washington in March in a visit that was touted by a senior Saudi advisor as one that hailed a "historical turning point" in US-Saudi relations.
Full report at:
https://english.alarabiya.net/en/News/gulf/2017/04/20/Possible-Trump-trip-to-Saudi-Arabia-being-discussed.html
--------
Is Canada's Anti-Islamophobia Motion As Benign As It Seems?
04/20/2017
When Motion 103, a non-binding proposal titled "Systemic Racism and Religious Discrimination" was first introduced by MP Iqra Khalid, supporters claimed it was a thoroughly uncontroversial request to study religious discrimination – with a particular focus on Islamophobia – and develop a method of reducing its impact.
The motion was approved on March 23, 2017. Initially brought before the House of Commons for debate as the province of Quebec was recovering from an attack by a crazed gunman on a mosque, killing six worshippers, the motion spoke to an "increasing public climate of hate and fear." As parliamentary motions in Canada are usually passed with a minimum of fuss and because a similar motion condemning Islamophobia had been passed by Parliament months before, there were grounds to assume that M103 would pass without complaint.
However, this time, Canadians – who already have a pretty solid reputation as the most tolerant country in the world – weren't buying it. Polls showed the motion was vastly unpopular. Canada's official opposition leader Rona Ambrose decried the motion as divisive. Protests against the motion sprang up in Canadian cities all throughout February and March. Opponents of M103 claim the motion benefits the growing Islamist presence within Canada's Muslim communities.
Full report at:
http://dailycaller.com/2017/04/20/is-canadas-anti-islamophobia-motion-as-benign-as-it-seems/
--------
URL: https://www.newageislam.com/islamic-world-news/french-muslims-brace-le-pen/d/110856
New Age Islam, Islam Online, Islamic Website, African Muslim News, Arab World News, South Asia News, Indian Muslim News, World Muslim News, Women in Islam, Islamic Feminism, Arab Women, Women In Arab, Islamophobia in America, Muslim Women in West, Islam Women and Feminism