New Age Islam News Bureau
14 October 2021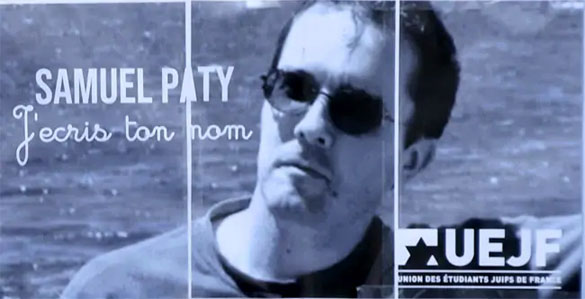 Samuel Paty's violent death sent shockwaves through France. (File)
-----
• Pakistan Supreme Court Asks KP Govt. to Recover Rs33m from Culprits Involved In Vandalising Temple
• Islamic Emirate of Afghanistan Creates Commission to Expel Those Who Misuse the Name of the Taliban and Have Nasty Backgrounds
• Love Jihad Case in Gujarat: Victim Sought Quashing Of the Charges and Requested Bail
Europe
• Religious leaders of Russia, Azerbaijan, Armenia meet in Moscow
• Putin Says Battle-Hardened Militants From Iraq And Syria Entering Afghanistan
• German Far-Right Party Opposes Mosque's Call to Prayer in Cologne
• Extremists entering Afghanistan from Syria, Iraq; situation in Afghanistan is not easy: Putin
--------
Pakistan
• Islamic Sharia Prohibits Forced Conversion, Marriages: Ashrafi
• Parliamentary Panel Rejects Anti-Forced Conversion Bill amid Protest by Minorities' Lawmakers
• First Transgender Protection Centre opens in Islamabad
• Imran Khan wants ISI chief Faiz Hameed to continue amid differences with Pak Army
• KU professor Dr Iqbal Choudhary honoured with top Muslim world science award
--------
South Asia
• Afghan refugee children in South Korea welcome new life away from war, restrictions
• A number of FMs to visit Kabul, Afghan FM to leave Qatar for Turkey
• Afghan Shia scholars demand probe into Kunduz terrorist attack
• Taliban's record so far shows why the G20 is reluctant to help
• Taliban asks Iran to facilitate Afghan dry fruits export to India via Chabahar
--------
India
• International Union of Muslim Scholars To Voice Support For India, Kashmir Muslims
• Muslims Will Get Respect Only When They Can 'Make or Break' Govt: Top Shia Cleric
• Indore Garba Ruckus: Kin of Arrested Muslim Student Mulls To Move HC
• Kashmiri Pandit leader says his appeal to mosques to reassure minority communities got good response
• Kashmir will remain part of India even if I am killed: Farooq Abdullah
• Wanted Jaish commander shot in J&K gunfight, 5 held in NIA raids on terror caucus
• PM Modi's understanding of human rights is flawed: Owaisi
• Jammu and Kashmir will never become a part of Pakistan: Farooq on Kashmir killings
--------
Arab World
• UAE's Abdullah Bin Zayed Meets US, Israel FMs, Plans to Bolster Religious Coexistence
• Expo 2020 Dubai: Arabic singing sensations to put on musical showcase
• Qatar advises West not to isolate Taliban
• Israeli air strike kills four in central Syria: Monitor
• US troops staying put in Iraq and Syria: Officials
• Turkey says will do 'what is necessary' after cross-border attacks from Syria
• Arab coalition destroys two explosive-laden boats used by Houthis
--------
Southeast Asia
• Piety or Noise Nuisance? Indonesia Tackles Call to Prayer Volume Backlash
• Prosecution: Zahid's lawyers 'fitting square peg in round hole', charity's RM10.3m cheques to companies not for poverty eradication
• Annuar Musa: Umno supreme council will only decide Melaka election stance tonight
• Indonesian CG discusses Indonesia– Pak education cooperation
--------
Mideast
• Muslim World Needs To Return To Values Promoted By Holy Prophet: Yemeni Official
• Turkey detains 22 Islamic State suspects in nationwide raids
• Islamic Jihad inmates stage hunger strike in Israeli jails
• Iran Arrests 10 Spies in Southern Province
• IRGC Operates Its Domestically-Built Qods Radar for 1st Time in Drills
• Turkey detains eight people, thwarting attempt to kidnap former Iranian soldier
--------
Africa
• Mosque Attack in Western Niger Leaves 10 Dead
• Erdogan to begin diplomacy tour to 3 African countries on Sunday: Sources
• Man who confessed to killing 10 children in Kenya escapes from police cell
• Kenya rejects ICJ ruling over maritime dispute with Somalia
--------
North America
• Biden Admin Plans To Exempt Some Taliban-Era Afghan Civil Servants from US Terror-Related Entry Restrictions
• US warns of 'other options' if diplomacy fails on Iran nuclear program
• US maintains course on de facto Palestinian embassy despite Israeli pressure
• US rules out normalizing with Syria's Assad
• US will weigh all options if Iran will not resume nuclear deal: Special envoy Malley
Compiled by New Age Islam News Bureau
URL: https://www.newageislam.com/islamic-world-news/france-samuel-paty-cartoons-mohammad-pbuh/d/125572
--------
France Honours 'Hero' Teacher Killed For Showing His Students Cartoons of the Prophet Mohammed
Oct 13, 202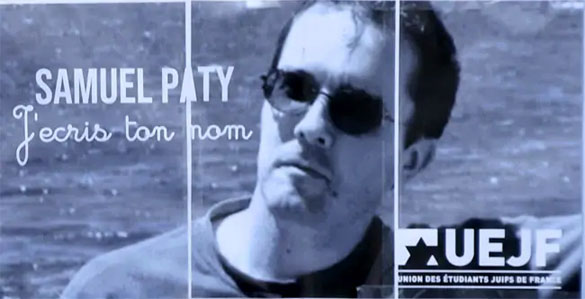 Samuel Paty's violent death sent shockwaves through France. (File)
-----
PARIS: A year after the brutal murder of a French teacher, beheaded for showing his students cartoons of the Prophet Mohammed, schools are struggling with how to teach core French values without inflaming tensions with young Muslims.
Samuel Paty, who was 47, was killed after leaving the middle school where he taught history and geography in the tranquil Paris suburb of Conflans-Sainte-Honorine on the evening of October 16, 2020.
His killer, 18-year-old Chechen refugee Abdullakh Anzorov, who had been living in France for years, claimed the attack as revenge for Paty showing his class the Mohammed cartoons in a lesson on free speech.
On Saturday, several ceremonies will be held in memory of the popular teacher hailed by President Emmanuel Macron as a "quiet hero" of the French republic.
In Conflans, the ceremonies will include the unveiling of a monument of an open book, while in Paris a square opposite the prestigious Sorbonne university will be renamed in his honour.
Paty's violent death sent shockwaves through France, where it was seen as an attack on the core values drilled by teachers into generations of schoolchildren, including the separation of church and state and the right to blaspheme.
For sociologist Michel Wieviorka, it was an attack on the idea, long cherished by the French, "that children leave their differences at the door when they enter school".
Students are expected to embark on the path to "modernity, progress, civilisation and knowledge" in the classroom, he added.
In scenes reminiscent of the rallies held after the 2015 killing of a group of Charlie Hebdo cartoonists -- whose drawings Paty showed his class -- thousands of people marched across France in defence of free speech after the teacher was killed.
At least three towns went on to name schools after Paty, including the multi-ethnic eastern Paris suburb of Valenton.
Despite the show of defiance, some teachers say Paty's murder has caused them to exercise a form of self-censorship.
A teacher in a town near Conflans-Sainte-Honorine, who did not want to be named, told AFP she "holds back more" now when discussing religion with her class.
In an interview with Liberation newspaper, one of Paty's colleagues said she too had grown more guarded.
"I weigh every word I say now," the woman, who was also not named for security reasons, told the paper.
She said she feared that her remarks could be "misinterpreted by the students and widely shared (outside the school), as happened with Samuel".
Paty's decision to show students aged 14-15 two cartoons of Mohammed, one featuring the prophet naked on all fours, unleashed a vicious online smear campaign started by the father of a student who falsely claimed that Paty had asked Muslims to leave the classroom.
The campaign caught the attention of Normandy-based extremist Anzorov, who traced Paty to his school and paid some of his students to point him out as he was walking home from work.
Anzarov was himself shot dead later that day by police.
The attack came in the midst of a heated debate over Macron's campaign against what he called "Islamist separatism" in immigrant communities, where conservative Muslims are accused of rejecting secularism, free speech and other values taught in school.
Macron was accused by leftist critics at the time of stigmatising Europe's biggest Muslim community and pandering to the far-right ahead of 2022 elections.
But on the right, voters and politicians have long been urging tougher action to restore the state's authority in what a group of teachers described in a 2015 book as the "lost territories of the Republic".
They include controversial media pundit Eric Zemmour, a possible candidate for the presidency in next year's vote, who has declared Paty's murder proof that France is in a "civil war" with radical Islamists.
The anti-Islam commentator, whom polls show closing in on Marine Le Pen for the leadership of the far-right, stresses the need for immigrants to assimilate into French society.
For Wieviorka, however, the notion that newcomers should renounce the customs and culture of their countries of origin is not tenable.
"That's the old French model which no longer really works," he said.
He contrasted the tough rhetoric from ministers on secularism with the reality in schools, where teachers are being challenged daily by students about laws protecting the right to mock people's faith, which many Muslims see as chiefly targeting Islam.
"They (the teachers) are not prepared for that," he said.
To help them provide answers, the education ministry has developed a series of educational tools, including a "republican guide" sent to each school and a series of posters explaining secularism.
Source: Times of India
Please click the following URL to read the text of the original story:
https://timesofindia.indiatimes.com/world/europe/france-honours-hero-teacher-killed-for-mohammed-cartoon/articleshow/86990833.cms
--------
Pakistan Supreme Court Asks KP Govt. to Recover Rs33m from Culprits Involved In Vandalising Temple
Nasir Iqbal
October 14, 2021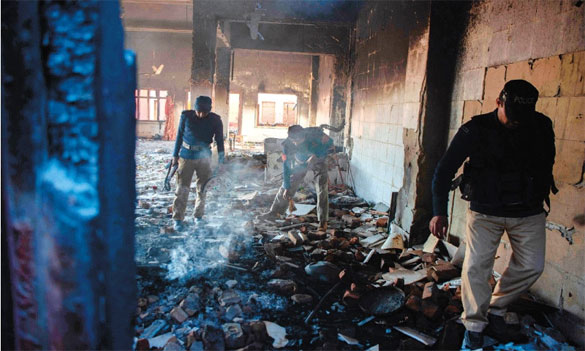 Policemen inspect the burnt-out Hindu shrine in Karak district on Jan 1. — AFP/File
-----
ISLAMABAD: The Supreme Court on Wednesday issued directives to the Khyber Pakhtunkhwa government to collect Rs33 million from culprits involved in vandalising and torching of a century-old Samadhi (shrine) of a Hindu saint in the Teri village of Karak district.
A three-judge SC bench, headed by Chief Justice of Pakistan Gulzar Ahmed, issued the directive to the provincial government while hearing the case pertaining to vandalism incidents in Hindu temples when Advocate General for Khyber Pakhtunkhwa Shumail Butt apprised the bench that over Rs33m was spent on the rehabilitation and restoration of the temple, which was built before 1920.
The apex court had taken notice of the Karak incident of Dec 30, 2021 when over 1,000 people led by some local elders of a religious party held a protest and demanded demolition of the temple before attacking it.
In a report submitted to the Supreme Court, Pakistan Hindu Council (PHC) chief Dr Ramesh Kumar Vankwani alleged that getting encouraged with complete silence of the district administration over previous court rulings to recover the restoration cost, the miscreants led by Qari Faizullah, who was released on bail by an anti-terrorism court in Kohat, had raised objection to the word "Mandir" written on the Samadhi wall. The suspect demanded that instead of the word 'temple', the wall be inscribed with the word 'shrine'.
AG files three-page report on vandalism of century-old Hindu saint's shrine in Karak
The PHC report stated: "It is really beyond comprehension whether the holy site such as Mandir, Ashram, Gurdwara, Krishn Dwara, Marhi, Darbar, Tikaano, Teerath or Samadhi would be decided by these miscreants, emboldened by pathetic approach of administration."
The KP advocate general explained to the Supreme Court that the accused involved in the vandalism were still facing trial, wondering what would transpire if someone from whom the restoration cost was recovered later was found to be innocent.
In its three-page report filed in the court, the KP government stated that the culprits had been arrested without wasting time but they were granted bail by courts. The SC was further informed that notices for the recovery of the cost were served to all the detained suspects on Feb 12, 2021 through the Kohat jail superintendent.
The official report highlighted that a week before the incident, the Teri peace committee and an advocate, Rohit Kumar, had agreed the Hindu community could use a piece of land purchased a year ago to build residence, car park and courtyard etc. But the bone of contention was the extension in the prayer area of the shrine as the Muslim population was against any extension in the Samadhi area, according to the report. Undoing of a separating wall between the Samadhi and additionally purchased land could be taken as extension of the Samadhi area.
The KP government in its report explained that it had restored the Samadhi at its original site but could not include construction of any additional structure at any additional site at the state expense. It added that once the Samadhi was taken over by the Hindu community, they could raise residential quarters and other facilities at the additional land as per their agreement with the local peace committee.
The Hindu council, however, questioned how the assertive miscreants could be allowed to decide or interfere in the matters pertaining to the mandir. The PHC in its report demanded that all the commitments made by the KP chief minister during his meeting of Jan 1, 2021 with Dr Shoaib Suddle-led Commission of the Supreme Court for Minorities Rights be implemented without any delay.
The council also urged the apex court to ensure that the mandir was provided with all the facilities for comfortable stay of the pilgrims, including women, children and senior citizens, who visited the place from Sindh.
At the hearing, Rehmat Salam Khattak, one of the suspects facing the allegation of being involved in the vandalism, told the bench that around 100 men were rounded up after the incident, pleading that he was innocent as he played no role in vandalism of the temple.
The court adjourned further proceedings for a month.
Source: Dawn
Please click the following URL to read the text of the original story:
https://www.dawn.com/news/1651908/sc-asks-kp-govt-to-recover-rs33m-in-karak-temple-case
--------
Islamic Emirate of Afghanistan Creates Commission to Expel Those Who Misuse the Name of the Taliban and Have Nasty Backgrounds
13 Oct 2021
Islamic Emirate of Afghanistan has created a special commission to expel those who misuse the name of the Taliban, do not treat people well, and have nasty backgrounds.
The commission which has been named "filtration commission of forces" is composed of representatives from the defense ministry, interior affairs ministry, and high directorate of intelligence and was officially announced on Wednesday, October 13.
Spokesperson on the ministry of interior affairs Saeed Khostai said that the commission will get functional in all provinces of the country and heads of the intelligence of the provinces will be leading the provincial offices of the commission.
Saeed Khostai though did not disclose details of the unfavorable people, said that these are some people who stand against the government and Islamic system.
The IEA created the commission after gunmen started entering the houses of people pretending to be the Taliban fighters.
Earlier, it was said the IEA will also send back to provinces the Taliban fighters who are not trained enough to deal with people of Kabul especially the women.
Source: Khaama Press
Please click the following URL to read the text of the original story:
https://www.khaama.com/taliban-creates-commission-to-expel-unfavorable-members-568658568/
--------
Love Jihad Case in Gujarat: Victim Sought Quashing Of the Charges and Requested Bail
Oct 14, 2021
Ahmedabad: Nearly four months after the first complaint under the newly enacted 'love jihad' laws was filed at Gotri police station in Vadodara, the four accused persons — the victim's husband, the priest who solemnized the marriage and two persons who stood witness to the marriage — were granted bail by the Gujarat high court on Wednesday.
During a hearing on Tuesday, Justice I J Vora said he was thinking of granting bail to the accused husband Sameer Qureshi, the priest Islamuddin Shaikh and two witnesses to the marriage, Naushad Shaikh and Irshad Shaikh. The judge commented that the cleric and two witnesses appeared innocent in this case, but were behind bars for long. On Wednesday, the judge granted bail to all four of them. The accused's lawyer said they will be released after a copy of the court order is made available.
The FIR was lodged on June 17, two days after the Gujarat assembly amended the Gujarat Freedom of Religion Act and inserted sections making religious conversion by interfaith marriage a punishable offence. The victim first levelled allegations of forced conversion and then went on to level charges of rape, sodomy and caste atrocity.
There are eight accused persons in this case, of whom seven were arrested. The courts had granted bail to the husband's parents and sister.
All seven accused and the victim herself moved the high court in August seeking quashing of the charges and requesting bail as well. The victim alleged that police officials were "overzealous" and inserted the offence punishable under anti-conversion laws into her complaint. The cops, on the other hand, refuted the allegations and asserted that the victim herself had levelled the charges by way of a written complaint.
There is one more accused in this case, Meher Malek, who has been charged with abetment. She had also approached the court to get the charges against her quashed.
The HC stayed police from taking coercive action against her and from filing a chargesheet against her until the court passes further orders, said her advocate, Hitesh Gupta.
Source: Times of India
Please click the following URL to read the text of the original story:
https://timesofindia.indiatimes.com/city/ahmedabad/4-get-bail-in-gujs-1st-love-jihad-case/articleshow/87003944.cms
--------
Europe
Religious leaders of Russia, Azerbaijan, Armenia meet in Moscow
Elena Teslova
13.10.2021
MOSCOW
Patriarch Kirill of Moscow, Chairman of Caucasian Muslims Office in Azerbaijan Allahshukur Pashazade, and Armenian religious leader Catholicos Karekin II held a trilateral meeting in Moscow on Wednesday.
Opening the meeting, Patriarch Kirill said religions have the potential to bring peace between ethnic groups, "no matter how difficult relations between Azerbaijan and Armenia are at this stage.
"We believe that faith and love for God will heal the wounds caused by the tragic conflict that has lasted for many years," he said, referring to Nagorno-Karabakh, a territory internationally recognized as part of Azerbaijan but was under Armenian occupation since 1991.
New clashes erupted on Sept. 27 last year, which lasted for 44 days. The two countries signed a Russian-brokered agreement in November 2020 to end the fighting and work toward a comprehensive resolution.
Recalling that the Caucasus has always been famous for its diversity of peoples, languages and cultures, Kirill claimed there is no other future for the Azerbaijani and Armenian peoples than living together.
"Today it is especially important to restore people's trust in each other, to learn again to perceive a neighbor with respect and readiness for mutual assistance," he said.
Kirill stressed on the importance of respecting religious sites, historical monuments and graves, and religious feelings of people of different faiths.
"Religious leaders are called upon to use their authority to create and maintain an atmosphere of good neighborliness between religions and peoples," he added.
Kirill urged to find out what happened with missing people in the region, to release prisoners of war and civilians, and to refrain from the use of weapons.
Source: Anadolu Agency
Please click the following URL to read the full text of the original story:
https://www.aa.com.tr/en/europe/religious-leaders-of-russia-azerbaijan-armenia-meet-in-moscow/2391142
--------
Putin says battle-hardened militants from Iraq and Syria entering Afghanistan
13 October ,2021
Russian President Vladimir Putin said Wednesday that battle-hardened militants from Iraq and Syria are "actively" entering Afghanistan.
"The situation in Afghanistan is not easy," Putin said during a video conference with security service chiefs of ex-Soviet states.
"Militants from Iraq, Syria with experience in military operations are actively being drawn there," he said.
"It is possible that terrorists may try to destabilize the situation in neighboring states," he added, warning that they could even try "direct expansion."
Putin has repeatedly warned about members of extremist groups exploiting political turmoil in Afghanistan to cross into neighboring ex-Soviet countries as refugees.
While Moscow has been cautiously optimistic about the new Taliban leadership in Kabul, the Kremlin is concerned about instability spilling over into Central Asia where it houses military bases.
In the wake of the Taliban takeover, Russia held military drills with ex-Soviet Tajikistan -- where it operates a military base -- and in Uzbekistan. Both countries share a border with Afghanistan.
Tajikistan's national security chief, Saimumin Yatimov, for his part told the video conference that he had registered an "intensification" of attempts to "smuggle drugs, weapons, ammunition" from Afghanistan into his country.
Afghanistan has long been the world's largest producer of opium and heroin, with profits from the illicit trade helping fund the Taliban.
Earlier Wednesday, French President Emmanuel Macron hosted Tajikistan's leader Emomali Rakhmon in Paris, vowing to help the Central Asian state maintain stability.
Source: Al Arabiya
Please click the following URL to read the full text of the original story:
https://english.alarabiya.net/News/world/2021/10/13/Putin-says-battle-hardened-militants-from-Iraq-and-Syria-entering-Afghanistan
--------
German far-right party opposes mosque's call to prayer in Cologne
13.10.2021
BERLIN
Germany's far-right AfD party stepped up criticism of Cologne's mayor Henriette Reker for allowing mosques to broadcast call to prayer (Azan) on Fridays.
"This gives the impression that Germany is not a Christian country, but a Muslim one. This is not the case," Matthias Buschges, the AfD's deputy spokesman in Cologne, said in a statement.
Cologne is one of Germany's biggest cities, and home to more than 120,000 Muslims, nearly 12% of the city's entire population.
Its mayor Reker announced last week that nearly 30 mosques in the city will be allowed to broadcast muezzin's call for Friday prayers over loudspeakers.
"Cologne is a city of religious diversity and freedoms. Allowing muezzin's call to prayer is for me a sign of respect," she stressed.
But Islamophobic movements and the far-right AfD party heavily criticized Reker for her decision, arguing that this was another sign of "Islamization of Germany".
Beatrix von Storch, the deputy federal spokeswoman of the AfD, said her party strongly opposes this decision.
"The muezzin call is not an expression of religious freedom, and tolerance, and diversity. It is an expression of a political claim to rule, of submission and Islamization," she said on Twitter.
According to an agreement between the city of Cologne and the local Muslim community, mosques now can broadcast call to prayer on Friday afternoons for up to five minutes.
Germany's constitution guarantees freedom of religion, but broadcasting call to prayers from mosques have been controversial in some municipalities, due to different legislative frameworks.
Source: Anadolu Agency
Please click the following URL to read the full text of the original story:
https://www.aa.com.tr/en/europe/german-far-right-party-opposes-mosque-s-call-to-prayer-in-cologne/2391131
--------
Extremists entering Afghanistan from Syria, Iraq; situation in Afghanistan is not easy: Putin
14 Oct 2021
Russian President Vladimir Putin on Wednesday, October 13 said that battle-hardened militants are actively entering Afghanistan and acknowledged that the situation is not easy in Afghanistan.
The Russian president was talking to a virtual conference of the security service chiefs of the ex-soviet states.
Putin is apparently meant by ISIS fighters the ones that have not been taken seriously by the Taliban. The former is believed not to be a big threat to the de-facto government in Afghanistan because the group-ISIS-K- does not have international or regional support.
Putin said that it is possible that the extremists might destabilize the situation in the neighboring countries and might even seek direct expansion.
Though the Kremlin has been optimistic about the Taliban leadership in Kabul, it is concerned about instability spilling over into central Asian countries.
Source: Khaama Press
Please click the following URL to read the full text of the original story:
https://www.khaama.com/extremists-entering-afghanistan-from-syria-iraq-situation-in-afghanistan-is-not-easy-putin-74575457/
--------
Pakistan
Islamic Sharia prohibits forced conversion, marriages: Ashrafi
October 14, 2021
ISLAMABAD - Special Representative to the Prime Minister on Religious Harmony and Middle East Hafiz Tahir Mehmood Ashrafi on Wednesday said that Islamic Sharia strictly prohibited forced marriages and forced conversions adding no Muslim could think contrary to the teachings of his religion. Speaking in a seminar titled "The Rights of Minorities and Women in light of Seerat-e-Taiba of the Holy Prophet Hazrat Muhammad (Peace Be Upon Him)", Ashrafi said there is no concept of forced marriages or conversion in Islam. Referring to forced conversion cases in Sindh, he said tribal traditions must not be portrayed as Islamic traditions." We must not put the stamp of Islam on our own thinking, actions and tribal traditions." Islam did not prohibit female education. Brushing aside the claim of a right group about per annum 1,000 forced conversions in Pakistan, he said he contacted the right group and asked them to give addresses and names of 100 of the non Muslims who were forcefully converted in Islam in Pakistan but the group had failed to prove their claim. One of the main purposes of the advent of Hazrat Muhammad (PBUH) was to give respect to women folk. Islam taught the lesson of love, peace and the Constitution of Islamic Republic of Pakistan protected the rights of marginalized segment of society.
Source: The Nation
Please click the following URL to read the full text of the original story:
https://nation.com.pk/14-Oct-2021/islamic-sharia-prohibits-forced-conversion-marriages-ashrafi
--------
Parliamentary panel rejects anti-forced conversion bill amid protest by minorities' lawmakers
Nadir Guramani
October 13, 2021
A parliamentary committee on Wednesday rejected the anti-forced conversion bill after the Ministry of Religious Affairs opposed the proposed law while lawmakers from minority communities protested the decision.
The bill came under discussion during a meeting of the Parliamentary Committee to Protect Minorities from Forced Conversions, where Religious Affairs Minister Noorul Haq Qadri said the "environment is unfavourable" for formulating a law against forced conversions.
He warned that forming a law on forced conversions would deteriorate peace in the country and "create further problems for minorities". "They (the minorities) will be made more vulnerable," the minister said.
Stating that the provincial governments, the National Assembly speaker and the Prime Minister's Office may take other measures to end forced conversions, he reiterated that legislation on the matter could lead to a melee.
Minister of State for Parliamentary Affairs Ali Muhammad Khan said the issue of forced conversions had already been raised before the prime minister, who had formed a special parliamentary committee on the matter.
"We are serious about [addressing] the problem of forced conversions," he said. He added that the law on the subject, however, was to be formed to address the issue "and not for getting appreciation from an international organisation or a non-governmental organisation".
He further stated that legislation on the subject was being opposed as setting an age limit with regards to forced conversions "goes against Islam and the Constitution of Pakistan".
The minister informed the committee that Law Minister Farogh Naseem had called him to his office and cautioned him against legislating on the matter, terming the move "dangerous".
"He (Naseem) said to me that [being given] ministries is of little value as they come and go, but we should not go against Islam," Khan added.
Jamaat-i-Islami Senator Mushtaq Ahmed also opposed the bill, denying that the problem of forced conversions existed in Pakistan. "This bill is anti-Islam," he remarked.
Criticising the government for proposing the law in the first place, the senator said, "It is due to the incumbent government's wrong policies and neglect that not just Pakistan, but the entire Muslim world and minorities are also facing difficulties."
The opposition to the bill irked PTI MNA Lal Chand Malhi, who said the remarks by the ministers who had spoken earlier gave the impression that forced conversions were not a problem in Pakistan.
"You are cornering minorities and such decisions [rejecting the bill] will make life a living hell for minorities in this country," he said.
Malhi claimed that the bill had not been rejected by the Ministry of Religious Affairs or the Council of Islamic Ideology (CII) but had been dismissed on the instructions of Mian Mithu. Mithu, the pir of Bharchundi Sharif, has been blamed for the alleged forced conversions of Hindu girls in rural Sindh.
In response to allegations by Malhi, Khan accused him of making false and political statements.
An angry Senator Ahmed added, "No matter what happens, we will not allow anyone to go against Islam."
Another committee member, Maulvi Faiz Ahmed, also said the bill was against Islam and Shariah. "And we will not allow any legislation in this country that is against Islam," he added.
This led to a protest by members from minority communities, who decried that young people from their communities were being kidnapped in broad daylight and forcibly converted to Islam, while also lamenting the fact that Muslim members had taken the stance that forced conversion was not a problem in Pakistan.
PTI lawmaker Ramesh Kumar said that while they were not opposing willful conversions, many Hindus were promised money and marriages in order to lure them into converting to Islam.
"And when they are not given what they are promised, they return home. This means that they did not convert of their own free will," he added.
He went on to say that opposing legislation against forced conversion indicated that the "government is worried about [the reaction by] elements involved" in the problem.
Clerics had expressed reservations over the bill in August, calling it a conspiracy and suggesting that the government should not fall into the trap of the West by taking it to parliament.
At a meeting, chaired by Council of Islamic Ideology (CII) Chairperson Dr Qibla Ayaz, they had reviewed the draft bill and objected to several clauses, including the minimum age of conversion.
Draft bill
A copy of the draft bill, which is available with Dawn, shows that any non-Muslim, who is not a child, and is able and willing to convert to another religion will apply for a conversion certificate from an additional sessions judge of the area where he or she is residing.
The draft law highlights that the application will have to include the name of a non-Muslim who is willing to change the religion, age and gender, CNIC number, details of parents, siblings, children and spouse (if any), current religion and the reason to convert to the new religion.
The draft law states that the additional sessions judge will set a date for interview within seven days of receipt of an application for conversion, and on the date the judge will ensure that the conversion is not under any duress and not due to any deceit or fraudulent misrepresentation.
The proposed law states that the "Judge may award a time period of 90 days to the non-Muslim to undertake a comparative study of the religions and return to the office of the Additional Sessions Judge."
After satisfaction, the judge will issue the certificate of change of religion.
The proposed law also awards punishment between five to 10 years and a fine from Rs100,000 to Rs200,000 to any person who uses criminal force to convert a person to another religion.
Source: Dawn
Please click the following URL to read the full text of the original story:
https://www.dawn.com/news/1651813/parliamentary-panel-rejects-anti-forced-conversion-bill-amid-protest-by-minorities-lawmakers
--------
First Transgender Protection Centre opens in Islamabad
October 14, 2021
ISLAMABAD: Human Rights Minister Dr Shireen Mazari inaugurated the first Transgender Protection Centre in the country in H-9/4 on Wednesday.
Speaking at the event, Dr Mazari said similar centres would be established in other cities to ensure the rights of the transgender community, emphasising that members of the community should be provided the same employment and health facilities as other citizens of the country.
She said the PTI government had included the transgender community in the Ehsaas Programme and health card initiatives with the aim to provide them opportunities for development.
The Transgender Protection Centre would provide legal aid, basic health facilities, psychological counselling and temporary shelter as well.
The participants at the event were informed that the Ministry of Human Rights had taken various initiatives for effective implementation of the Transgender Persons (Protection of Rights) Act, 2018, with the aim to ensure protection, rehabilitation and fundamental rights of the transgender persons as guaranteed by the Constitution to all citizens.
They learnt that under Section-6(a) of the Transgender Protection Act, the ministry had set up a Transgender Protection Centre at a cost of Rs35.8 million, which would protect and rehabilitate transgender persons in need.
Source: Dawn
Please click the following URL to read the full text of the original story:
https://www.dawn.com/news/1651873/first-transgender-protection-centre-opens-in-islamabad
--------
Imran Khan wants ISI chief Faiz Hameed to continue amid differences with Pak Army
Oct 13, 2021
NEW DELHI: Pakistan Prime Minister Imran Khan informed the federal cabinet that he had told Pakistan Chief of the Army Staff (COAS) Gen. Qamar Javed Bajwa that he wanted Lt. Gen. Faiz Hameed to continue as Inter-Services Intelligence (ISI) director general for some time due to the critical situation in neighbouring Afghanistan, Dawn reported.
Reports about lack of consensus between the civil and military leadership over the matter had been making rounds on social media for the last few days, but after it appeared on regular media on Tuesday, Information Minister Fawad Chaudhry was compelled to clarify the government's point of view.
Pakistan Tehreek-i-Insaf (PTI) chief whip in the National Assembly Amir Dogar said Prime Minister Khan and Gen Bajwa held a detailed meeting late Monday night on the matter.
The meeting was also confirmed by Information Minister Fawad Chaudhry during his presser after the cabinet meeting, stating that the issue of appointment of new ISI DG Lt. Gen. Nadeem Ahmed Anjum had been resolved and that the PM enjoyed the authority to appoint the chief of the country's premier spy agency in accordance with law and Constitution.
Also sharing details of the meeting, Pak PM's aide on political affairs Amir Dogar said the premier wanted Lt. Gen. Hameed to stay as DG ISI in view of the situation in Afghanistan, adding that Prime Minister Khan and Gen. Bajwa enjoyed relation of respect and dignity, the report said.
Khan was of the opinion that the government wanted to take all institutions on board, Dogar said. "The body language of the prime minister was quite positive and he seemed confident," he added.
The PTI's chief whip said the prime minister had told the cabinet that he was an elected prime minister and chief executive of the country.
"The prime minister has the authority to appoint the DG ISI and he held a detailed meeting with Chief of the Army Staff Gen. Qamar Javed Bajwa in this regard," Chaudhry told the press conference.
Source: Times of India
Please click the following URL to read the full text of the original story:
https://timesofindia.indiatimes.com/world/pakistan/imran-khan-wants-isi-chief-faiz-hameed-to-continue-amid-differences-with-pak-army/articleshow/86986850.cms
--------
KU professor Dr Iqbal Choudhary honoured with top Muslim world science award
October 13, 2021
Pakistani Professor Dr Muhammad Iqbal Choudhary has been named a 2021 Mustafa Prize Laureate for his services in the field of bio-organic chemistry, it emerged on Wednesday.
The Mustafa Prize, a top science and technology award, is granted biennially to the top researchers and scientists from the Islamic world in four categories: Life and Medical Science and Technology, Nanoscience and Nanotechnology, Information and Communication Science and Technology, and all areas of science and technology.
The prize was established in 2012 as a symbol of scientific excellence at the international level, and is regarded as the Nobel Prize of the Muslim world, a news release said.
Five scientists from Pakistan, Iran, Bangladesh, Lebanon and Morocco have been awarded the 2021 Mustafa Prize in their respective fields of study.
The laureates in each category will be awarded $500,000, a medal and a certificate, according to the Mustafa Prize website.
Prof Dr Iqbal Choudhary, the director of the International Centre for Chemical and Biological Sciences (ICCBS) at the University of Karachi, is a world-renowned medicinal chemist. He has published 1,175 research papers in the fields of organic and bio-organic chemistry in international journals, 76 books and 40 chapters in books published by major US and European press. He has secured 40 US patents so far.
Dr Iqbal's work has been cited by researchers from around the world — 27,407 times in total — and his h-index is 70. As many as 94 local and international scholars have completed their PhD degrees under his supervision so far.
Dr Iqbal, who holds DSc, PhD, and CChem degrees, has been awarded by different Pakistani governments with the Hilal-e-Imtiaz, Sitara-e-Imtiaz and Tamgha-e-Imtiaz.
He has been elected a fellow by renowned academies including the Academy of Sciences for the Developing World, Islamic World Academy of Sciences, Pakistan Academy of Sciences, Royal Society of Chemistry, and Chemical Society of Pakistan.
Source: Dawn
Please click the following URL to read the full text of the original story:
https://www.dawn.com/news/1651807/ku-professor-dr-iqbal-choudhary-honoured-with-top-muslim-world-science-award
--------
South Asia
Afghan refugee children in South Korea welcome new life away from war, restrictions
Oct 13, 2021
SEOUL: For one young Afghan refugee girl, her new home in South Korea has already brought simple freedoms she would otherwise be denied.
"In Afghanistan, you can't do activities as freely as men do, and it's satisfying to do Taekwondo without a hijab in Korea right now," the girl told reporters after a Taekwondo class on Wednesday.
She is one of nearly 400 Afghan evacuees who arrived in Seoul in August under a special programme that aims to grant long-term residency to Afghans and their families who provided special service to South Korea.
Along with other refugees who spoke to reporters, the girl was not identified by age or name under an agreement with South Korean government officials.
The ministry of justice said it was giving the refugees Korean language classes as part of a "Social Integration Program," and all had received alien registration cards.
They were currently residing in processing facilities, officials said.
Source: Times of India
Please click the following URL to read the full text of the original story:
https://timesofindia.indiatimes.com/world/south-asia/afghan-refugee-children-in-south-korea-welcome-new-life-away-from-war-restrictions/articleshow/86992362.cms
--------
A number of FMs to visit Kabul, Afghan FM to leave Qatar for Turkey
14 Oct 2021
Foreign ministers of a number of countries are due to visit Kabul who is said to be from the Islamic nations.
The foreign ministers are said to be discussing the problems and limitations towards women especially their education.
Names of the foreign ministers are not disclosed yet but the visit of the foreign ministers of Turkey and Indonesia are confirmed.
Earlier, Turkish foreign minister Mevlüt Çavuşoğlu had said that he is planning to visit Kabul along with foreign ministers of a number of countries.
In the meantime, the spokesperson of the ministry of foreign affairs Abdul Qahar Balkhi said that the afghan acting foreign minister Amir Khan Motaqi to leave Qatar for Turkey on Thursday, October 14.
Source: Khaama Press
Please click the following URL to read the full text of the original story:
https://www.khaama.com/a-number-of-fms-to-visit-kabul-afghan-fm-leaves-qatar-for-turkey-745747/
--------
Afghan Shia scholars demand probe into Kunduz terrorist attack
October 14, 2021
Afghanistan Shia Council called on Taliban to bring the perpetrators of the terrorist attack against Kunduz Shia mosque which left nearly 300 people killed or injured.
Shia scholars in this statement said," Followers of certain denomination or ethnicity have systematically targeted by terrorist groups in recent years in a way that some social researchers have categorized that as "genocide."
The statement in another part denounced the Friday terrorist attack against Shia worshippers in Kunduz mosque which left scores of the Shia Muslims dead or injured.
Afghan Shia scholars also demanded the Taliban to endeavor for security of all Afghan citizens and bring the perpetrators of the terrorist attack to justice.
This is while Seyyed Hussein Alemi Balkhi, Shia cleric in Afghanistan called the terrorist attack against Kunduz mosque as the most painful incident following Taliban takeover of the country demanding serious investigation into the crime.
Source: ABNA
Please click the following URL to read the full text of the original story:
https://en.abna24.com/news/afghan-shia-scholars-demand-probe-into-kunduz-terrorist-attack_1188566.html?__cf_chl_managed_tk__=pmd_oKgG0Y9.ZxtssPH.BERPuunTczDIJjOWXbh6uNJGzxQ-1634193579-0-gqNtZGzNAzujcnBszROl
--------
Taliban's record so far shows why the G20 is reluctant to help
Oct 14, 2021
KABUL: Leaders of the world's top economies failed to agree on how to deal with the Taliban at an extraordinary summit, pledging only to channel aid through the United Nations as a humanitarian crisis looms. The group's track record since taking power helps explain the reluctance.
While the US and its Western allies held formal talks with Taliban officials in the lead-up to the Group of 20 summit on Tuesday, they have repeatedly emphasized that the new Afghan government will be judged by actions rather than words. And politically, it's not easy for them to convince voters the Taliban deserves a bunch of cash -- if even an economic collapse could bolster extremist groups.
The Taliban have insisted they've changed, pledging to form an inclusive government, let women continue to study and work, prevent Afghanistan from being used for terrorist activities and allow the safe passage of citizens with valid travel documents.
Here's how the Taliban have fared since sweeping to power in August:
Terrorism prevention
The Islamic State continues to be one of the biggest threats to the Taliban, carrying out at least three major attacks since the US evacuation. The latest came last weekend, when a suicide bomber attacked a crowded Shia mosque in northern Kunduz province.
The Taliban have said they don't need assistance from the US, particularly after they fought a 20-year war to eliminate foreign soldiers from Afghanistan. The group also has enough incentive to fight the Islamic State: The rival jihadist group poses the biggest political threat, as more conservative Islamists look to lure away Taliban fighters who want an even stricter Sharia-based system.
Still, the US is worried about the Taliban's ongoing ties with key al-Qaeda figures. The Afghan cabinet includes senior members of the Haqqani Network, a group linked to al-Qaeda that has been designated by the US as a terrorist organization. And that group was instrumental in sidelining Mullah Abdul Ghani Baradar, a moderate figure who led peace talks with the US, in a dramatic shootout at the presidential palace last month.
Women's rights
Women have seen their lives upended since the Taliban took over. The group has ordered female government workers to stay at home until offices can ensure gender segregation -- and it's unclear when that will happen in most cases.
Private universities have resumed segregated classes for men and women, but public universities are yet to open due to the "budgetary, logistical, and technical issues" to separate the students, according to Daud Samim, an assistant secretary to the minister of higher education. Schools also remain shut for girls from the sixth grade onwards in most cities, but boys are back in school.
UN Secretary General Antonio Guterres on Tuesday acknowledged the Taliban's lack of progress in this area, appealing to the group to stop breaking its promises and allow women to work and girls to have access to all levels of education.
Inclusive government
The Taliban's interim cabinet announced in early September included no female leaders, while the group disbanded the Ministry of Women's Affairs. Many prominent Afghan women leaders have either fled the country or are in hiding.
The cabinet also avoided any officials who took part in successive US-backed administration, including key leaders from the Tajiks, the second largest ethnic group, and other minorities such as Hazaras and Uzbeks that collectively make up almost half of the population. Rather, it consists almost exclusively of loyalist hard-liners and from the Pasthun ethnic group.
What's more, Higher Education Minister Abdul Baqi Haqqani said on October 4 there's no space in the government for workers who received diplomas and degrees in the past two decades, saying their training lacked proper Islamic values. That could further cut the ranks of diverse voices in the bureaucracy.
Source: Times of India
Please click the following URL to read the full text of the original story:
https://timesofindia.indiatimes.com/world/south-asia/talibans-record-so-far-shows-why-the-g20-is-reluctant-to-help/articleshow/87011519.cms
--------
Taliban asks Iran to facilitate Afghan dry fruits export to India via Chabahar
Oct 13, 2021
NEW DELHI: The Taliban has been realising that governance is a tough nut to crack. To restart the export of fresh and dry fruits, a major revenue earner, they have approached Iran for help.
Iran's Tasnim News is reporting that Tehran has agreed to evaluate Taliban's proposals for the transportation of Afghanistan's trade cargoes and export of fresh and dried fruits to India via the Chabahar route. The Taliban submitted the detailed plan last week when representatives of both countries signed a comprehensive trade agreement. Iran and the Taliban have agreed to maintain round-the-clock operation at the Islam Qala-Dogarun border crossing and take practical measures to improve and develop the land routes at the border crossing. In principle, Iran has agreed to allow Afghan traders to export fresh and dried fruits to India via Dogarun-Chabahar route which was closed after Taliban's capture of Afghanistan.
This year, exporters have to exclusively rely on land routes to ship their products as there are no air cargo flights available yet. Most of the Afghan traders have been using this route to Afghanistan through the 7200-km long International North-South Transport Corridor (INSTC), which passes through neighbouring Iran. Cargoes are then shipped from Chabahar port, Iran to western ports such as Mumbai. But that route was closed in July by Iran citing security concerns. After the Taliban came to power, they banned the export and imports to India. But now, under enormous economic pressure, the new regime has decided to rethink its stance. India imports around 85 per cent of its dry fruits from the war-torn country.
Afghanistan has witnessed a bumper dry fruit harvest this year. As a result, Afghan exporters are in constant touch with Indian buyers despite the current situation in their country. Generally, exports of dry fruits start in September, just before the beginning of the festival seasons of Durga Puja and Diwali.
Afghan exports to India include dried raisins, walnuts, almonds, figs, pine nuts, pistachios, dried apricot and fresh fruits such as apricot, cherry, watermelon, and a few medicinal herbs.
Earlier, the Afghan fresh fruits traders were using the India and Afghanistan air cargo corridor, which was stopped due to the political uncertainty in the country. Afghan traders were also using the country's Torkham and Chaman borders routes to Wagah border via Pakistan, but since July, these routes have become not feasible specially for perishable fresh fruits cargo.
The opening of these borders depends on the moods of Pakistani authorities, and they have also raised the bribe money for allowing the trucks to cross the border, says Bias Ibrahim Despite the bumper fruit crops, hundreds of tons of fresh fruits have remained stranded at the border crossing points with Pakistan for eventual exports for weeks and finally got rotten.
Source: Times of India
Please click the following URL to read the full text of the original story:
https://timesofindia.indiatimes.com/world/south-asia/taliban-asks-iran-to-facilitate-afghan-dry-fruits-export-to-india-via-chabahar/articleshow/86989223.cms
--------
India
International Union of Muslim Scholars to voice support for India, Kashmir Muslims
October 14, 2021
International Union of Muslim Scholars has scheduled to hold conference on the plight of the Muslims in India and Kashmir.
The international union will hold the meeting in cooperation with a number of institutes and Islamic associations with the theme of "Muslim Scholars, Aid Indian Muslims".
A number of prominent scholars from across the globe will attend the virtual meeting on Thursday October 14 to be broadcasted live on the Facebook and satellite channels.
Ali Qaradaghi, secretary general of the Muslim scholars condemned the systematic violence, abuse and massacre of Muslims in India.
He denounced the abuse of Muslims rights in India describing that as "state terrorism."
Source: ABNA
Please click the following URL to read the full text of the original story:
https://en.abna24.com/news/international-union-of-muslim-scholars-to-voice-support-for-india-kashmir-muslims_1188562.html?__cf_chl_jschl_tk__=pmd_nigOPfvCMsnhd1sp7Pac.CpzvvbnrxhF1w9nCbgwNMQ-1634193569-0-gqNtZGzNAnujcnBszQrl
--------
Muslims will get respect only when they can 'make or break' govt: Top Shia cleric
Oct 14, 2021
Muzaffarnagar: Prominent Shia cleric and senior member of All India Muslim Personal Law Board (AIMPLB) Maulana Kalbe Jawad has said that Muslims should tie up only with parties that can give enough seats to members of the community.
"When Muslims have enough seats to be able to make or break the government, only then will they get the desired respect," he said in Deoband on Wednesday.
Blaming Mohammad Ali Jinnah for the Partition, Jawad said, "In 1947, Jinnah made the biggest mistake of partitioning the country. If there was no Partition, there would have been 60 crore Muslims in India and no political party would have dared to point fingers at them."
Jawad said political parties had failed to do anything for the Muslim community. "Congress, SP, BSP have done nothing for Muslims even though Congress ruled the country for 55 years. BJP also wants to keep only the majority community happy," he said.
Source: Times of India
Please click the following URL to read the full text of the original story:
https://timesofindia.indiatimes.com/city/meerut/muslims-will-get-respect-only-when-they-can-make-or-break-govt-top-shia-cleric/articleshow/87001070.cms
--------
Indore garba ruckus: Kin of arrested Muslim student mulls to move HC
14th October 2021
BHOPAL: Alleging their son was arrested from a garba venue in Indore under pressure from Bajrang Dal activists, the family of 21-year-old BCom student Adnan Shah is planning to move the high court.
Four youths from the minority community were arrested from Oxford International College after Bajrang Dal activists barged into the garba venue at the college on Sunday evening and created ruckus over the presence of non-Hindus.
Adnan claimed he was roped in as a volunteer for the event. "I'm a student of the Oxford College and was among the 25 volunteers (all students). I was not even present inside, but was supervising the vehicle parking outside. Suddenly 100-150 men claiming to be from Bajrang Dal barged in and started enquiring about the identities of all those present. Despite showing them my volunteer card, they told me that being a Muslim, I could not be present at the garba," Adnan said.
Source: New Indian Express
Please click the following URL to read the full text of the original story:
https://www.newindianexpress.com/nation/2021/oct/14/indore-garba-ruckus-kin-of-arrested-muslim-student-mullsto-move-hc-2371491.html
--------
Kashmiri Pandit leader says his appeal to mosques to reassure minority communities got good response
By Tariq Bhat
October 13, 2021
Sanjay Tickoo, who heads the Kashmiri Pandit Sangharsh Samiti (KPSS), an organisation that represents the Pandit community in Kashmir, said the response to his appeal to mosques to make public announcements to reassure the minorities in Kashmir after the killing of members of minority communities has been encouraging.
Tickoo said seven to eight mosques have responded to his appeal and made announcements, reassuring the minorities living in their respective areas. "Seven to eight mosques have responded after I made an appeal on my Facebook page three days back,'' he said. He said he had urged the mosques to tell the minorities that they have no reason to be scared.
He said he is hopeful that on Friday when the congregational prayers are held in the mosques, this message of reassurance will be delivered.
Tickoo said he made the appeal not because of the death of a Pandit of Sikh, but in view of all civilian killings. "If we look at the figures, 21of the 28 civilians killed this year belong to the majority community," he said.
He said he made the appeal after sensing fear among people.
"M.L. Bindroo was killed 18 years after non-migrant Kashmiri Pandits were killed at Nadimarg in 2003,'' he said, and added that they were not expecting an attack on Kashmir Pandits who stayed back.
Tickoo said the majority community must reach out to the minorities living in their areas. He sought to know why media from India and abroad rush to Kashmir only when minority community members are targeted.
"My concern is not for the minority alone but for all the civilian killings in Kashmir,'' he said, adding, "my security has always been my neighbour."
Source: The Week
Please click the following URL to read the full text of the original story:
https://www.theweek.in/news/india/2021/10/13/kashmiri-pandit-leader-says-his-appeal-to-mosques-to-reassure-minority-communities-got-good-response.html
--------
Kashmir will remain part of India even if I am killed: Farooq Abdullah
Oct 13, 2021
SRINAGAR: Kashmir will never become Pakistan as we are a part of India and will remain so even if I am killed, National Conference (NC) president Farooq Abdullah said here on Wednesday.
Speaking at a condolence meeting for Supinder Kaur – the fallen principal of a government school in Eidgah who was shot dead by terrorists on October 7 – at a gurdwara here, Abdullah said the people of Kashmir have to be courageous and fight the killers together.
"We have to fight these beasts. This (Kashmir) will never become Pakistan, remember it. We are a part of India and we will remain a part of India come what may. They cannot change it even if they shoot me," Abdullah, the Member of Lok Sabha from Srinagar, said.
Expressing grief over Kaur's killing, he said the Sikh community did not leave the Kashmir valley in the 1990s when others left due to fear and appealed to them to not get scared now.
We have to keep our morale high and be courageous, he said.
"We all have to fight them together with courage and not be afraid. You (Sikhs) were the only community which remained here when everyone left. I am proud of the fact that you did not leave from here. Killing a teacher who was teaching young students does not serve Islam. They were serving the devil," he said.
Talking to reporters outside the gurdwara, the NC president said: "They (militants) will never succeed and will fail in their plans. But, we all – Muslims, Sikhs, Hindus, Christians -- have to stand together to fight them".
Source: Times of India
Please click the following URL to read the full text of the original story:
https://timesofindia.indiatimes.com/india/kashmir-will-remain-part-of-india-even-if-i-am-killed-farooq-abdullah/articleshow/86993223.cms
--------
Wanted Jaish commander shot in J&K gunfight, 5 held in NIA raids on terror caucus
Oct 14, 2021
SRINAGAR: A wanted Jaish-e-Mohammed commander whose journey from timber smuggler to terror merchant spanned two decades of bloodshed in J&K was shot dead in an encounter with security forces at Tral in south Kashmir's Pulwama on Wednesday, two years after he joined the Pakistan-based outfit full-time.
The killing of 45-year-old Shamsuddin Sofi, alias Sham Sofi, coincided with the National Investigation Agency (NIA) arresting five more overground operatives of various outfits as part of a crackdown on Kashmir's terror ecosystem that has supposedly spawned new threats hiding in plain sight.
Sofi was part of a group of terrorists cornered by a joint team of the police, the Army's 42 Rashtriya Rifles and CRPF in the Waggad area of Tral, where BJP councillor Rakesh Pandita was killed last June by an offshoot of the proscribed Lashkar-e-Taiba.
"We launched a cordon-and-search operation in that area after receiving information from Awantipora police about terrorist movement there. The hiding ultras fired at the advancing forces, triggering a gunfight in which one of them was killed. The slain terrorist turned out to be Jaish commander Sofi," a police official said.
Sofi, a resident of Satura Tral in Pulwama district, had found his moorings in terrorism as an overground worker providing logistical and other support to Jaish terrorists from Pakistan. He had been arrested in 2004 under the Public Safety Act, but continued his association with Jaish after his release, mainly by way of arranging shelter for terrorists in the Tral area. He joined the Jaish fold as a commander in 2019, carrying out a series of attacks on security forces and civilians, IGP (Kashmir) Vijay Kumar said.
Sofi, whose brother Nazir used to assist Hizbul Mujahideen till he switched loyalty to Jaish, was also known to radicalise and recruit local youth for the outfit. He is the eighth ultra to be gunned down by security forces in J&K since Monday, when five Army personnel were killed fighting terrorist infiltrators in the frontier district of Poonch in Jammu.
Weapons, ammunition and various incriminating material were found at the Tral encounter site, IGP Kumar said.
Source: Times of India
Please click the following URL to read the full text of the original story:
https://timesofindia.indiatimes.com/india/wanted-jaish-commander-shot-in-jk-gunfight-5-held-in-nia-raids-on-terror-caucus/articleshow/87003147.cms
--------
PM Modi's understanding of human rights is flawed: Owaisi
13th October 2021
Hyderabad: "Atmanah pratikulani paresham na samacharet" (What is not good for me cannot be meted out by me to others. What is not good for me would not be good for others also, because others are like me in every respect) remarked Prime Minister Narendra Modi at the 28th foundation day of National Human Rights Commission.
The quote in question is an extract from the Hindu religious text, Mahabharata which is controversial considering how people have bemoaned the ruling Bharatiya Janata Party's slant towards the Hindutva ideology.
The Prime Minister's speech was meant to shed light on the importance of human rights in keeping with the event organised by NHRC. However, Modi has been receiving significant flack from various groups including All India Majlis-e-Ittehadul Muslimeen chief Asaduddin Owaisi.
MS Education Academy
In a series of tweets on Twitter, Owaisi pointed out how PM Modi's speech represented a flawed understanding of human rights. Owaisi remarked that while there was only one passing mention of the constitution, "references to 'tradition', 'culture' & religion could be found throughout."
The Prime Minister spoke about how India was advancing vis-a-vis individual and human rights and spoke about how Muslim women were granted dignity after the abolition of the "triple talaq" law and also spoke about how the Transgender persons (protection of rights) act, passed in 2019, aided members of the trans community.
PM Modi, in his speech, further argued that small scale farmers, residents of Jammu and Kashmir and the citizens of Northeastern states were fairing better owing to the Indian government's policies.
In a series of tweets, Asaduddin Owaisi criticised the Prime Minister for the Center's mismanagement of the COVID-19 pandemic which witnessed the colossal loss of lives as a result of oxygen cylinder shortage. He also remarked that no Muslim beneficiary of PMAYG in UP has gotten a house since 2019.
Source: Siasat Daily
Please click the following URL to read the full text of the original story:
https://www.siasat.com/pm-modis-understanding-of-human-rights-is-flawed-owaisi-2207357/
--------
Jammu and Kashmir will never become a part of Pakistan: Farooq on Kashmir killings
Oct 14, 2021
National Conference president Farooq Abdullah on Wednesday visited a gurdwara in Srinagar where a prayer ceremony for slain school principal Supinder Kour, who was killed by suspected militants on October 7, was held.
Abdullah said that Jammu and Kashmir will never become a part of Pakistan, even if the "killers pump bullets into him".
"We have to fight these beasts. Never will this place become Pakistan. We are part of India and will remain so, whatever the circumstances," the former J&K chief minister said at Shaheed Bunga Sahib gurdwara in Baghat.
Kashmir has been restive since October 3 owing to the targeted killings of seven persons, including three belonging to Pandit and Sikh communities of the UT and forth one a non-local.
On October 7, suspected militants had shot dead two teachers of a government school in Srinagar's old city. The duo were killed two days after Makhan Lal Bindroo, a 68-year-old chemist, street vendor Virender Paswan from Bihar's Bhagalpur, and Muhammad Shafi Lone, a taxi driver, were shot dead in Srinagar and Bandipora districts on October 5.
On October 3, two persons were killed in two separate incidents in Srinagar.
Abdullah reminded that when people left from J&K, Sikh community remained here.
"It was you. We have to live here and die here. And I am proud of that. You gave me confidence that time," he said.
He said that the killers did not serve any religion by killing innocents. "A teacher would teach our children and show them the path. Killing her and then thinking that they are serving Islam. No, they are definitely serving the devil," he said.
"The devil will go into hell and they will also go into hell," he said.
The senior leader said that the whole country is "burning". "Attempts are being made to divide us . But those who are doing this won't be successful. For some time we will get a setback but the almighty won't allow them to succeed. Those who are doing it will get some benefit for the time being but will ultimately perish ," he said.
Later while talking to media persons on the targeted killings, Abdullah said that all the Muslims, Hindus, Sikhs and Christians have to fight the perpetrators together.
Source: Hindustan Times
Please click the following URL to read the full text of the original story:
https://www.hindustantimes.com/cities/chandigarh-news/jammu-and-kashmir-will-never-become-a-part-of-pakistan-farooq-on-kashmir-killings-101634159802293.html
--------
Arab World
UAE's Abdullah bin Zayed meets US, Israel FMs, plans to bolster religious coexistence
14 October ,2021
Sheikh Abdullah bin Zayed Al Nahyan, Minister of Foreign Affairs and International Cooperation for the United Arab Emirates, said the UAE, US and Israel have agreed on establishing two new working groups; with one focusing on religious coexistence and the other on water and energy issues.
The UAE top diplomat made the statements as he met in Washington DC the Secretary of State Antony J. Blinken and Israeli Foreign Minister Yair Lapid, state news agency Wam reported on Thursday.
The meeting covered the progress achieved one year following the signing of the Abraham Accords Peace Agreement by the UAE and Israel as well as the prospects of consolidating bilateral cooperation in several areas of common interest.
The three top diplomats also explored a number of regional and international developments.
Sheikh Abdullah said the three-way meeting reflects the US's commitment to build bridges of cooperation between two nations that are "committed to achieving advancement and development."
"Our presence here today reaffirms our commitment to the necessity of changing the prevailing conditions in the region in the right direction," Sheikh Abdullah noted.
"We have succeeded in establishing a nation that respects values and recognizes tolerance and co-existence," he said, stressing that the Abraham Accords Peace Agreement is a catalyst for establishing peace in the region.
He added that he would soon visit Israel at the invitation of the Israeli Foreign Minister.
"I will visit Israel soon in order to meet our friends and partners. We need to not only celebrate this bilateral relationship, but also to look forward to wider prospects of cooperation between the two nations.'' He added that there could be no talk of peace in the Middle East if Israel and the Palestinians were not "on talking terms".
"Therefore, we're happy to see over the past weeks Israeli officials meet with their Palestinian counterparts. We have to continue encouraging them to do so. We believe that the UAE-Israeli relations have enabled us to be frank with each other and helped us to encourage others whenever there are something we can do."
"We're impressed with the growing relationship with Israel. We always rely on our friends in the US of America. This is an important thing for us. And we need to look forward to wider prospects of cooperation between the UAE and Israel in several fields."
On Yemen, Sheikh Abdullah said that the UAE is always discussing the conditions in the country. "We should recall that it's the lack of commitment on the part of Houthis that drew us to the situation in Yemen. We're working hard and diligently with our friends to put an end to the Yemeni crisis and to ensure Yemenis will enjoy a better life."
He emphasized that the UAE will never accept a Hezbollah-style entity on the borders of the Kingdom of Saudi Arabia. "The Houthis have managed to increasingly reinforce their presence in a manner similar to that of Hezbollah. We certainly want to put an end to this dispute and to work with the international community on a plan to ensure reconstruction of Yemen. Neither do we want to see in Yemen a situation similar to that in South Lebanon," he continued.
For his part, the US Secretary of State emphasized his country's strong support for the Abraham Accords Peace Agreement between the UAE and Israel, noting the importance of working for delivering a bright future for the peoples of the Middle East region.
He underlined the importance of ensuring peaceful coexistence in the region, noting that diplomacy will remain the preferred option to end all conflicts.
The US top diplomat lauded the UAE's 2050 net-zero initiative as well Israel's endeavors to reduce carbon emissions by 25 percent by 2050 as well.
The Israeli Foreign Minister said his country is seeking to make the peace agreements signed recently a source of inspiration for other nations to follow suit, noting that the Israeli-UAE partnership is based on co-existence, economic prosperity and countering terrorism and extremism.
Source: Al Arabiya
Please click the following URL to read the full text of the original story:
https://english.alarabiya.net/News/gulf/2021/10/14/UAE-s-Abdullah-bin-Zayed-meets-US-Israel-FMs-plans-to-bolster-religious-coexistence
--------
Expo 2020 Dubai: Arabic singing sensations to put on musical showcase
14 October ,2021
Arabic singing sensations Nancy Ajram and Ragheb Alama are set to raise the stage as they co-headline a concert at Expo 2020 Dubai next month in a musical extravaganza to be streamed to the world.
Lebanese singer, dancer, composer, television personality, and philanthropist Ragheb Alama will bring to life music from his 30-year career in a crowd-raising performance on November 12.
Expo organizers said the performance "will highlight how music connects all humans, from all corners of the world, and encourage people across the globe to connect and engage in collaborative experimentation", in line with Expo's Mobility subtheme.
"I want to mix cultures together," Alama was quoted as saying. "I want their audience to hear me, and I want my audience to hear them. I have always liked opening doors, and Expo's Infinite Night Series is the perfect platform to make this happen."
Singer and UNICEF Goodwill Ambassador Nancy Ajram will perform her biggest hits at the Al Wasl Plaza dome, the world's largest 360-degree projection screen, which will enable spectators to experience an immersive audio and visual display of the featured live performances.
Personifying Expo 2020's subtheme of Sustainability, her show will convey a message of how human values and attitudes need to change to shape a more resilient future.
"When we all work together and collaborate, we can build a better society. I cannot wait to be part of Expo 2020's incredible journey," Ajram said. "I hope my show will inspire positivity among young people everywhere, building bridges to connect with one another regardless of culture, background or belief."
An illustrious line-up of global and regional performers is headlining the six-month Infinite Nights Series, beginning with the "Caesar of Arabia," Kadim al-Sahir, on October 15. Shows will be streamed live from the Al Wasl Plaza, the pulsating heart of Expo 2020 and home to the world's largest 360-degree projection surface.
Source: Al Arabiya
Please click the following URL to read the full text of the original story:
https://english.alarabiya.net/News/gulf/2021/10/14/Expo-2020-Dubai-Arabic-singing-sensations-to-put-on-musical-showcase
--------
Qatar advises West not to isolate Taliban
October 14, 2021
DUBAI: Qatar's foreign minister said isolating Afghanistan and its new Taliban rulers will never be an answer and argued on Wednesday that engaging with the former insurgents could empower the more moderate voices among them.
Sheikh Mohammed bin Abdulrahman Al Thani spoke amid a flurry of diplomatic meetings taking place in Qatar, where the Taliban have maintained a political office for years in the lead-up to their takeover of Afghanistan in August.
The world has been looking to see how the Taliban transition from two decades of insurgency and war to governance after they seized control of Kabul and the rest of Afghanistan as US and Nato forces withdrew from the country.
This week, the United States, 10 European nations and European Union representatives held face-to-face talks with Taliban leaders in Doha, the Qatari capital the first such meetings since the Taliban blitz.
Al Thani told an audience of counter-terrorism specialists in Doha that Qatar believes the international community should urge the Taliban to take the right steps and to incentivise" that rather than talking only of penalising them for negative steps." We see that its very important to provide guidance for them," he said. This will create an incentive for progress and for the way forward." This will help the moderate power (voices) to also provide an incentive to be more influential and more effective in their government, Al Thani added.
US State Department spokesperson Ned Price said Washington has made it clear in talks with the Taliban this week that the group will be judged by their actions on issues related to combating terrorism and protecting human rights.
He declined to discuss various carrots and sticks approaches related to Afghanistan's central bank reserves, currently frozen abroad and inaccessible to the Taliban leadership.
We engaged on a practical and pragmatic basis with the Taliban, as we have done in recent weeks, focusing on security and terrorism concerns, Price told reporters in Washington on Tuesday. The Taliban and US share common concern about the militant Islamic State group in Afghanistan, but the Taliban have ruled out cooperation with the US in fighting IS.
Source: Dawn
Please click the following URL to read the full text of the original story:
https://www.dawn.com/news/1651899/qatar-advises-west-not-to-isolate-taliban
--------
Israeli air strike kills four in central Syria: Monitor
14 October ,2021
An Israeli airstrike in central Syria killed one Syrian soldier and three pro-Iranian fighters on Wednesday, a Britain-based war monitor said.
The Syrian state news agency SANA had earlier quoted a military source as saying that the attack near the city of Palmyra in Homs province had killed a soldier and wounded three others.
"At around 23:34 (2034 GMT) the Israeli enemy carried out an aerial aggression... on the area of Palmyra targeting a communication tower and several positions in its vicinity," the source told SANA.
The Syrian Observatory for Human Rights, a UK-based monitor, said the attack targeted several Iranian positions, among them the communication tower, near the T4 airbase east of Palmyra.
It reported that the attack killed one Syrian soldier and three pro-Iranian fighters, but their nationality was not immediately clear.
Seven others, among them three Syrian soldiers, were wounded.
Last week, an Israeli missile strike on the same airbase killed two pro-Iranian foreign fighters, the Observatory reported.
Source: Al Arabiya
Please click the following URL to read the full text of the original story:
https://english.alarabiya.net/News/middle-east/2021/10/14/Israeli-air-strike-kills-four-in-central-Syria-Monitor
--------
US troops staying put in Iraq and Syria: Officials
13 October ,2021
American troops deployed to Iraq and Syria are "going nowhere," US officials and diplomats said, despite arguments that the US was disengaging from the Middle East following its quick Afghanistan withdrawal.
Last year, the Trump administration reduced the troop presence in Iraq by almost half. That left around 3,000 American forces in the country, which are there at the invitation of the Iraqi government to help in their fight against ISIS.
The removal of a sizeable chunk of American forces came after Iraq's parliament passed a law calling on all foreign troops to leave the country. And with the elections last weekend in Iraq, Shia cleric Muqtada al-Sadr, an anti-US figure, cemented his party's representation in parliament.
It remains unclear how quickly a new government in Iraq will be formed, but the influence of Sadr and other anti-US figures could see more legislation passed to push for a complete withdrawal of US troops.
But US officials say their troops are staying put.
"We remain committed to maintaining the US military presence in Iraq at the invitation of the Iraqi government to support the Iraqi security forces and Kurdish Peshmerga as they lead in the fight against ISIS," Pentagon Spokesperson Commander Jessica McNulty said in an email.
An adjustment of troop status was announced during the summer after Iraqi PM Mustafa al-Kadhimi met with US President Joe Biden. The former had come under increasing pressure from pro-Iran groups over foreign troops inside Iraq. This was exacerbated by the assassination of Iranian general Qassem Soleimani and the deputy chief of an Iran-backed militia in Iraq.
On the back of this, the announcement that US troops would end their "combat mission" and shift to an advising role was made.
"We will fulfill the commitments we made in the joint statement following the July US-Iraq Strategic Dialogue and continue to work toward that objective with our Iraqi partners. We continue to coordinate with our Iraqi partners on the transition to a training, advising, assisting, and intelligence-sharing role," McNulty said.
Analysts said at the time it was a move to help ease pressure on Kadhimi.
It also came when the US began its complete withdrawal from Afghanistan, raising eyebrows because the view was that Washington was ending its interest and presence in the Middle East.
"We're not going anywhere for the time being. Afghanistan is completely separate, and it has nothing to do with our troops in Syria and Iraq," a US official told Al Arabiya English.
A US diplomat source reaffirmed the conviction that the Biden administration had no intention of scaling back any of its military posture in the region.
Executive Editor at Washington-based Defense One Kevin Baron said there was "far less" political pressure or need to pull US troops from Iraq or Syria. "In fact, there's an even greater US security argument for keeping them there," he told Al Arabiya English.
Baron pointed to US strategic and geopolitical interests, including deterring Iran, Russia, Turkey and Assad from "turning that human tragedy of their own making into something worse."
Baron added that any decision to withdraw or reduce the number of US troops would likely depend more on Baghdad than Biden. "We've seen this story in Iraqi elections before. I don't expect it to end any differently this time."
Source: Al Arabiya
Please click the following URL to read the full text of the original story:
https://english.alarabiya.net/News/middle-east/2021/10/13/US-troops-staying-put-in-Iraq-and-Syria-Officials
--------
Turkey says will do 'what is necessary' after cross-border attacks from Syria
13 October ,2021
Foreign Minister Mevlut Cavusoglu said on Wednesday Turkey would "do what is necessary for its security" and said the United States and Russia bore responsibility over cross-border attacks by Syrian Kurdish YPG militia.
President Tayyip Erdogan said on Monday that an attack that Ankara blamed on the US-backed YPG that killed two Turkish police officers was "the final straw" and that Turkey was determined to eliminate threats originating in north Syria.
Source: Al Arabiya
Please click the following URL to read the full text of the original story:
https://english.alarabiya.net/News/middle-east/2021/10/13/Turkey-says-will-do-what-is-necessary-after-cross-border-attacks-from-Syria
--------
Arab coalition destroys two explosive-laden boats used by Houthis
13 October ,2021
The Arab Coalition destroys two explosive-laden boats used by Yemen's Iran-backed Houthis, the Coalition announced in a statement on Wednesday.
"The Houthis continue to threaten shipping lines and international trade in the Bab al-Mandab strait and the southern Red Sea," the Coalition said.
It added that the Houthis violated the Stockholm Agreement "by launching attacks from the Hodeidah Governorate."
The channel did not give indications about the target of the attempted attack.
Source: Al Arabiya
Please click the following URL to read the full text of the original story:
https://english.alarabiya.net/News/gulf/2021/10/13/Arab-coalition-destroys-two-explosive-laden-boats-used-by-Houthis
--------
Southeast Asia
Piety or noise nuisance? Indonesia tackles call to prayer volume backlash
Oct 14, 2021
JAKARTA: Every night at 3:00 am, Rina is jolted awake by blaring speakers so loud she has developed an anxiety disorder: she can't sleep, she's too nauseous to eat -- but she is also too scared to complain because doing so could see her jailed or attacked.
The noisy neighbour is the local mosque in her Jakarta suburb, and the clamorous sound is the call to prayer.
Both are so sacred in Indonesia, the world's biggest Muslim majority nation, that criticising them can lead to accusations of blasphemy, a crime punishable by as much as five years imprisonment.
"None dares to complain about it here," says Rina, a 31-year-old Muslim woman who is using a pseudonym in case of reprisals.
"The loudspeakers are not only used for call to prayer but they also use it to wake people up 30-40 minutes before the morning prayer time," she tells AFP, adding that she is at breaking point after enduring the noise for six months.
Online complaints about noisy loudspeakers are increasing, but the lack of anonymity and fear of a backlash means there are no reliable official statistics. Aware of the growing discord, the Indonesian Mosque Council (IMC) is deploying teams to tackle mosque sound systems around the nation -- but it's a delicate subject.
The Southeast Asian archipelago was once hailed for its religious tolerance with people of many faiths living alongside each other, but there are concerns its moderate brand of Islam is coming under threat from hardliners.
In 2018, a Buddhist woman was jailed after saying the call to prayer "hurt my ears", and earlier this year actress and influencer Zaskia Mecca, who has 19 million followers on Instagram, was condemned online after the hijab-wearing Muslim criticised mosque speaker volume during the holy month of Ramadan.
Around the Islamic world, the broadcast of the call to prayer and sermons via external loudspeakers are regarded as a key pillar of Muslim identity, but the issue is deeply divisive.
In June, authorities in Saudi Arabia ordered mosques to limit the volume of their external loudspeakers to one-third of their maximum capacity, citing concerns over noise pollution. There was an immediate backlash.
There are around 750,000 mosques across Indonesia -- a medium sized venue could have at least a dozen external loudspeakers that blare the call to prayer five times a day.
For Rina the nightly interruptions are impacting her health.
"I started having insomnia, and I was diagnosed with anxiety disorders after always being woken up. Now I am trying to make myself as tired as possible, so I can sleep through the noise," she explains.
Indonesian Mosque Council chairman Jusuf Kalla estimates around half the nation's mosques have poor acoustics, which exacerbates the noise problem.
"There is a tendency to set the volume high so that the call to prayer can be heard by as many worshippers as possible from far away because they consider it a symbol of greatness in Islam," explained the IMC's acoustics programme coordinator Azis Muslim.
The organisation is battling to minimise community tension with a free door-to-door service to repair sound systems and offer training -- some 7,000 technicians work on the project and have already fixed the audio at more than 70,000 mosques.
Although the programme is not mandatory, Jakarta's Al-Ihkwan mosque chairman Ahmad Taufik used it because he wanted to ensure social harmony.
"The sound is softer now. That way it will not disturb people in the neighbourhood, not to mention we have a hospital behind the mosque," he says.
But it has long been a contentious issue.
Then vice president Boediono, who like many Indonesians uses one name, faced condemnation when he suggested the volume of the call to prayer be restricted in 2012.
Five years ago, hundreds of protesters torched nearly a dozen Buddhist temples in North Sumatra's Tanjung Balai after Meiliana, who is of Chinese descent and also goes by one name, criticised the volume of the call to prayer.
The mother-of-four was jailed for 18 months in 2018.
More recently in May this year, angry mobs marched to a luxury housing complex near Jakarta after a resident asked for the local mosque's loudspeakers be turned away from his house.
Source: Times of India
Please click the following URL to read the full text of the original story:
https://timesofindia.indiatimes.com/world/rest-of-world/piety-or-noise-nuisance-indonesia-tackles-call-to-prayer-volume-backlash/articleshow/87014324.cms
--------
Prosecution: Zahid's lawyers 'fitting square peg in round hole', charity's RM10.3m cheques to companies not for poverty eradication
13 Oct 2021
BY IDA LIM
KUALA LUMPUR, Oct 13 — Datuk Seri Ahmad Zahid Hamidi's lawyers had been trying to justify his use of Yayasan Akalbudi's funds to give out RM10 million to a coal supplying company and RM360,000 to a voter registration firm, but these companies ultimately do not fit within the charity's aims of eradicating poverty, the prosecution told the High Court today.
The prosecution was responding to Ahmad Zahid's lawyers' attempts to explain the use of Yayasan Akalbudi cheques to pay out money to the two companies, as well as to give RM1.3 million to the Persatuan Bola Sepak Polis Diraja Malaysia or the police football association.
These cheques form part of the criminal breach of trust charges that Ahmad Zahid is facing, where the former deputy prime minister is accused of having dishonestly misappropriated Yayasan Akalbudi's funds that were entrusted to him as the charity's trustee.
Lead prosecutor Datuk Raja Rozela Raja Toran today said that Ahmad Zahid's lawyers had tried to cite minor or secondary objectives in Yayasan Akalbudi's company constitution, but argued that they had ultimately failed as the use of the foundation's money would still have to meet the main purpose of helping the poor.
"My observation is that the defence picked on random words that appear in the incidental objects they pick on the word 'training', the word 'loan', they pick on the word 'investment'. And they used these random words which appeared in incidental objects to justify the use of the cheques.
"My submission is that, My Lord, what they are actually doing is trying to fit in a square peg into a round hole.
"And to do that, My Lord, would result in inevitable failure because the thing is this — the incidental objects appearing in the Articles of Association must be read in line with the main object, which is eradicating poverty and enhancement of the welfare of the poor," she said.
She pointed out that Yayasan Akalbudi's company constitution had stated "to this end" after listing poverty eradication and enhancing the welfare of the poor before listing down the incidental objectives allowed for the use of its funds.
Raja Rozela had pointed out that "gifting or lending money to a businessman such as Armada Holdings or a football team or political consultancy firm is not charity" by any stretch of imagination, and that such use of Yayasan Akalbudi's funds would further not be considered as a "means to eradicate poverty".
RM10m loan not for poverty eradication, prosecution says
Ahmad Zahid's lawyers had previously sought to explain their client's RM10 million payment in December 2015 using Yayasan Akalbudi's cheque to company Armada Holdings as both a loan and investment for the charitable foundation, as the company had repaid the RM10 million along with interest. (Armada Holdings CEO Datuk Wasi Khan @ Wasiyu Zama Israr had previously told the court that the company had in February 2016 repaid the RM10 million along with a four per cent interest totalling RM69,722.65 as he felt responsible after being told that Yayasan Akalbudi's funds were for the poor and orphans.)
Ahmad Zahid's lawyers had also cited an ancillary objective of Yayasan Akalbudi to justify the RM10 million cheque, namely the secondary purpose of using the foundation's money — which it does not immediately need — to "invest in Malaysia" from time to time in such manner as its board of trustees may think fit.
Raja Rozela however did not mince her words in saying that this RM10 million cheque was actually a loan and which ultimately goes against Yayasan Akalbudi's purpose of doing away with poverty.
"Giving a loan and to be paid back surplus interest — that is not investment, that is money lending. It does not fall, by any measure, within the ambits of the objects of the foundation," she said, highlighting that dishonest intention is established once it is shown that a person has used money they were entrusted with outside of the purpose intended.
She pointed out that Armada Holdings Sdn Bhd itself is a business set up to import and supply coal to Tenaga Nasional Berhad and that it has "absolutely nothing to do with poverty" or for poverty eradication, and ultimately argued that Ahmad Zahid had committed criminal breach of trust in relation to the RM10 million given to this company.
"There was misappropriation by the accused made with dishonest intention to use up RM10 million of Akalbudi's amount.
"The fact it was paid back, the so-called interest — if that is to be translated as a profit to Yayasan Akalbudi — does not work in this sense, My Lord. Because the main thing is that Akalbudi cannot give a loan to a business entity like Armada Holdings, it does not sync with the objects and establishment of Yayasan Akalbudi," she said.
Firm helping to register voters, not to end poverty
As for the total RM360,000 given in two cheques in 2015 and 2016 using Yayasan Akalbudi's funds and bearing Ahmad Zahid's signature which were given to TS Consultancy & Resources, Raja Rozela noted that Ahmad Zahid's lawyers had tried to argue that this company was not set up for registration of voters as the Companies Commission of Malaysia's records show its business to be organising training including for motivational purposes.
"Now even though SSM (Companies Commission of Malaysia) records state so, in reality, however, TS Consultancy was a political arm of the then ruling government and it was established specifically to assist in registration of voters in certain areas," Raja Rozela said of the company that was set up in February 2015 but became defunct in May 2017.
Ahmad Zahid's lawyers had claimed that the giving of RM360,000 to the company was not wrongful as Yayasan Akalbudi's incidental objectives include providing "facilities" including for "training", Raja Rozela noted that the charity's objectives would include training only for poverty-linked matters while TS Consultancy & Resources is a political consultancy firm unrelated to poverty matters.
"TS was set up to help voters, TS was not set up to help eradicate poverty," she said, adding that the Yayasan Akalbudi's incidental objectives could not be read so widely to the point that it ignores the main objective of the foundation's establishment to eradicate poverty.
Among other things, Raja Rozela had highlighted the previous court testimony given by Datuk Seri Wan Ahmad Wan Omar, who was both the former Election Commission (EC) deputy chairman and the special officer to two deputy prime ministers — Tan Sri Muhyiddin Yassin and subsequently Ahmad Zahid.
Raja Rozela said Wan Ahmad had as the 18th prosecution witness told the court that Muhyiddin had asked him to set up TS Consultancy to help Barisan Nasional register voters in certain areas, and that the company's budget was decided in a special meeting at Umno headquarters chaired by then deputy prime minister Muhyiddin and attended by Umno leaders such as Ahmad Zahid.
"What is most obvious here is this, that the accused was well aware of TS Consultancy's role when he was present at the special meeting back then with then with then DPM about the role, about the management costs, wages, operating costs in TS Consultancy," she said, adding that the fact that Ahmad Zahid's lawyers had never challenged the statement regarding his presence at the special meeting meant that he had "knew all along" what the company was for.
Raja Rozela also said Wan Ahmad's words regarding the company must surely "carry some weight" as he was a special officer to two deputy prime ministers.
Raja Rozela highlighted that Ahmad Zahid's lawyers had also sought to rely on Wan Ahmad and TS Consultancy's co-owner Sabri Said's agreement that some of the RM360,000 was used to provide food and transportation for the company's staff and voters in order to suggest that this amounts to "acts of charity" and falls within Yayasan Akalbudi's objects of being a charitable foundation.
Raja Rozela said however that the defence was merely zeroing in on any words that they could use to justify the use of Yayasan Akalbudi's funds, saying: "Your Lordship will see on one hand, the defence says TS Consultancy is not for registration of voters, but on the other hand, they happily accepted the fact that TS Consultancy was indeed helping voters to register. So My Lord, our contention is that the defence's challenge is weak and does no damage to the prosecution's case."
Source: Malay Mail
Please click the following URL to read the full text of the original story:
https://www.malaymail.com/news/malaysia/2021/10/13/prosecution-zahids-lawyers-fitting-square-peg-in-round-hole-charitys-rm10.3/2013107
--------
Annuar Musa: Umno supreme council will only decide Melaka election stance tonight
14 Oct 2021
BY KEERTAN AYAMANY
KUALA LUMPUR, Oct 14 — The Umno supreme council is yet to decide if the party, along with the Barisan Nasional (BN) coalition, will compete alone in the Melaka state election, according to council member Tan Sri Annuar Musa.
Annuar said that, to his knowledge, the matter will be discussed and decided at a supreme council meeting tonight.
"I think Umno needs to be more careful before putting out a statement, because sometimes statements are put out as individual opinions and can bring problems to the party," he told reporters in Putrajaya today.
He was responding to Umno president Datuk Seri Ahmad Zahid Hamidi's announcement yesterday that the party and BN will be standing alone in the Melaka polls, without PAS or Bersatu, who had been its allies before.
Annuar added that Umno was now leading the government through Prime Minister Datuk Seri Ismail Sabri Yaakob, and the party must not forget how important it is for the prime minister and other leaders to win the cooperation of others.
"If we reject people, then if people reject us, we will be on the losing end," he said, adding that Umno now only holds 37 seats out of 114 parliamentary seats, meaning it requires the support of other parties to maintain power.
Source: Malay Mail
Please click the following URL to read the full text of the original story:
https://www.malaymail.com/news/malaysia/2021/10/14/annuar-musa-umno-supreme-council-will-only-decide-melaka-election-stance-to/2013357
--------
Indonesian CG discusses Indonesia– Pak education cooperation
October 14, 2021
KARACHI - On Monday, 11 October 2021, Consul General for the Republic of Indonesia in Karachi Dr June Kuncoro Hadiningrat hosted a meeting with six universities in Karachi to promote education cooperation between the two countries.
The meeting was facilitated by Prof. Iqbal Chaudhary from the International Center for Chemical and Biological Sciences (ICCBS), University of Karachi, and was attended by University of Karachi, Sir Syed University, Sindh Madressatul Islam University, Indus University, Iqra University, and NED University. There was also a virtual participation from the Department of International Cooperation and faculty members of Universitas Sumatera Utara (USU) Indonesia. During his opening remarks, Consul General Dr. June highlights the importance of education cooperation as one of the instruments in promoting bilateral relations between Indonesia and Pakistan, especially in terms of people-to-people contact.
While expressing his keen interest in facilitating the meeting, Prof. Iqbal Chaudhary further proposed the academia of both countries to also consider developing cooperation within the scheme of Reverse Linkage Capacity Development by the Islamic Development Bank, as both Indonesia and Pakistan are members of OIC and are two of the largest Muslim countries in the world.
The meeting highlights several proposal for cooperation from each universities, namely scholarship programs, faculty exchange, research supervision, workshops, and seminar/conference across different fields of study such as science, engineering, medicine, business and managements, as well as arts and culture. Furthermore, there was also a special interest in developing Indonesian language course in some universities in Karachi.
Source: The Nation
Please click the following URL to read the full text of the original story:
https://nation.com.pk/14-Oct-2021/indonesian-cg-discusses-indonesia-pak-education-cooperation
--------
Mideast
Muslim world needs to return to values promoted by Holy Prophet: Yemeni official
October 14, 2021
A senior Yemeni official underlined that what the Muslim world needs the most today is returning to the values and concepts promoted by the Holy Prophet (PBUH).
Speaking Wednesday night at an event held to mark the anniversary of Yemen's liberation from British colonialism, President of Yemen's Supreme Political Council Mahdi al-Mashat added that it is very important in the current conditions as the Muslim Ummah (community) is facing wars, acts of terrorism and extremism.
Now that the enemies of Islam (are smearing the Islamic Ummah by creating and supporting terrorist groups), "it is our urgent need to counter them with the introduction of the Seerah of the Holy Prophet (PBUH)," he stated.
Al-Mashat hailed the Yemeni nation for holding glorious ceremonies to celebrate the birth anniversary of the Prophet (PBUH) in recent days and congratulated Muslim and Arab nations on the auspicious occasion.
He also referred to the Saudi-led coalition's years-long aggression on Yemen, saying Sana'a has always sought peace provided that the aggression ends.
Sana'a is at the forefront of fighting terrorist groups like Al-Qaeda and Daesh and defending the security and interests of the Yemeni nation, he went on to say.
"We will liberate every inch of our occupied land at any cost,"al-Mashat underlined.
Yemen has been beset by violence and chaos since March 2015, when Saudi Arabia and its allies—emboldened by political support and a steady stream of arms from the United States—launched a devastating war against the poorest West Asian country to reinstall Yemen's overthrown government of Abd Rabbuh Mansour Hadi in Sana'a and crush the Ansarullah resistance movement.
Source: ABNA
Please click the following URL to read the full text of the original story:
https://en.abna24.com/news/muslim-world-needs-to-return-to-values-promoted-by-holy-prophet-yemeni-official_1188560.html--------
--------
Turkey detains 22 Islamic State suspects in nationwide raids
13 October, 2021
Turkish security forces detained 22 people suspected to have links to the Islamic State group in a number of simultaneous operations carried out across the country, Turkish state media has reported.
Turkish police arrested 11 suspects after Ankara prosecutors issued arrest warrants across nine provinces over allegedly providing assistance to the extremist group, according to Anadolu Agency.
Seven IS suspects who had illegally entered Turkey from Iraq were also detained in the southern province of Adana.
Four more IS suspects, all of whom were foreign nationals, were detained in central Kayseri province on suspicion of being active members of the militant organisation.
Turkey has been active in the capture of IS suspects both domestically and in neighbouring Iraq and Syria.
Three Iraqi security sources said on Tuesday that Turkish intelligence helped Iraq capture a senior IS leader who had been hiding out in northwestern Syria, in an operation that points to closer cooperation against remnants of the group.
Source: The New Arab
Please click the following URL to read the full text of the original story:
https://english.alaraby.co.uk/news/turkey-detains-22-islamic-state-suspects-nationwide-raids
--------
Islamic Jihad inmates stage hunger strike in Israeli jails
Awad al-Rujoub
13.10.2021
RAMALLAH, Palestine
Around 250 Palestinian detainees from the Islamic Jihad group began an open-ended hunger strike Wednesday to protest Israel's punitive measures against inmates, according to a Palestinian NGO.
"Around 100 of the prisoners will stop drinking water after one week," said Palestinian Prisoner Society head Qadura Fares at a news conference in the West Bank city of Ramallah.
"The hunger strike is part of protests by the detainees to defend their rights," added Fares.
He said detainees from other Palestinian factions will later join the strike.
There are around 400 Palestinian detainees from the Islamic Jihad group in Israeli prisons.
Prison authorities have imposed punitive measures against Islamic Jihad prisoners after six inmates tunneled out of the high-security Gilboa prison last month in northern Israel.
Five were from the Islamic Jihad group.
The prisoners were captured by Israeli forces almost one week after their escape.
Source: Anadolu Agency
Please click the following URL to read the full text of the original story:
https://www.aa.com.tr/en/middle-east/islamic-jihad-inmates-stage-hunger-strike-in-israeli-jails/2391078
--------
Iran Arrests 10 Spies in Southern Province
2021-October-13
"The intelligence forces have arrested 10 people who were linked to foreign intelligence services in the Southern part of the country," the Intelligence Ministry said in a statement today.
It pointed out tha the arrested spies were working for the intelligence services of some regional countries that are allied to the global arrogant powers.
The statement said that they were identified and arrested in the Southern province of Bushehr.
In a relevant development in mid-September, Iranian security forces identified and disbanded a terrorist cell affiliated to the foreign spy agencies.
The security and intelligence forces dismantled the terrorist team in an operation while it was attempting to carry out acts of sabotage and terrorist attacks against Iran's vital and sensitive centers, the intelligence ministry announced in a statement.
It added that more information about the terrorist team will be provided to people in the near future.
In a relevant development in July, the Iranian security forces had also dismantled a terrorist group affiliated to the Israeli spy agency, Mossad, and captured its members.
"A network of agents of the Zionist regime (Mossad) has been dismantled and captured along with a large shipment of weapons and ammunition after arriving at the western border posts of the country," the director-general of the Intelligence Ministry for Counter-Espionage Operation said.
Source: Fars News Agency
Please click the following URL to read the full text of the original story:
https://www.farsnews.ir/en/news/14000720000847/Iran-Arress-0-Spies-in-Shern-Prvince
--------
IRGC Operates Its Domestically-Built Qods Radar for 1st Time in Drills
2021-October-13
Qods Radar is able to monitor targets at a 500km range and altitude of over 90,000 feet. Tactical and single-vehicle capability, domestic software, the ability to deal with electronic warfare in various techniques, friend-enemy detection system and the ability to link with defense systems are among the characteristics of Qods radar system.
Iranian Army and the IRGC started large-scale aerial drills aimed at enhancing preparedness for defending the country's skies against threats.
The operational phase of the joint large-scale drill, codenamed Modafe'an-e Aseman-e Velayat 1400 (Defenders of Velayat Skies 1400), began on Tuesday morning in the central desert areas of Iran.
The units of the Iranian Army's Air Defense Force, the IRGC Aerospace Force and the Army's Air Force are taking part in the exercises.
The drill is aimed at boosting the combat preparedness, strengthening deterrent power, evaluating the homegrown air defense systems in countering various threats, full defense against electronic warfare and cyberattacks, improving knowledge and skill of the units and boosting coordination among the Army and the IRGC's command and control centers.
The participating units are employing combined, indigenous and creative tactics and techniques which would be implemented in proportion to threats.
The use of modern technology is among leading features of this maneuver.
In a relevant development in June, Commander of Khatam al-Anbia Air Defense Base Brigadier General Qader Rahimzadeh said that the country's air defenses work as an integrated network, which provides full protection for Iran's entire airspace, guaranteeing complete security for all authorized aircraft.
Source: Fars News Agency
Please click the following URL to read the full text of the original story:
https://www.farsnews.ir/en/news/14000721000493/IRGC-Operaes-Is-Dmesically-Bil-Qds-Radar-fr-s-Time-in-Drills
--------
Turkey detains eight people, thwarting attempt to kidnap former Iranian soldier
13 October ,2021
Turkish authorities have detained eight people, including two alleged Iranian agents, who attempted to abduct a former Iranian soldier back to Iran, Turkey's state-run agency reported on Wednesday.
The Anadolu Agency said the eight were caught in the eastern province of Van, which borders Iran, in a joint operation by Turkey's police and intelligence agency on Sept. 24.
A Turkish government official confirmed the arrests on Wednesday but did not elaborate.
Anadolu said the Iranian agents were sent to Turkey with the purpose of creating a "network" that would kidnap and smuggle the soldier back to Iran. The group reportedly offered money to the soldier's wife to help them kidnap him and threatened to harm family members in Iran if she refused.
Source: Al Arabiya
Please click the following URL to read the full text of the original story:
https://english.alarabiya.net/News/world/2021/10/13/Turkey-detains-eight-people-thwarting-attempt-to-kidnap-smuggle-Iranian-soldier
--------
Africa
Mosque Attack In Western Niger Leaves 10 Dead
James Tasamba
14.10.2021
At least 10 people were killed when suspected militants attacked a mosque in western Niger, the country's defines minister said Wednesday.
The attack took place Monday in the village of Tizigorou in a region where Niger, Mali and Burkina Faso meet.
"The assailants, riding on motorcycles, attacked a mosque during prayer time in the prefecture of Banibangou in the Tillaberi region. The victims were praying," Issoufou Katambe told the media.
Since early this year, attacks by suspected militants have intensified in the area around Banibangou and nearby towns in the region.
Targeting civilians and the army, they are blamed on Daesh in the Greater Sahara and an Al-Qaeda-affiliated group.
Since the beginning of the year, more than 500 deaths have been recorded, according to official data, and thousands have been displaced fleeing the violence.
Meanwhile, local authorities on Wednesday reinstated a ban on motorbikes in several parts of the Tillaberi region following persistent security threats.
The ban, first imposed last year to combat militant attacks carried out by gunmen on motorbikes, had been lifted on Sept. 1 following a relative containment of the security situation by government forces.
Various militant groups operating in the area most often use motorbikes to attack civilian populations as well as army positions.
The initial decree also regulated the sale of fuel and shut down markets suspected of hiding informants and feeding the armed groups.
Source: Anadolu Agency
Please click the following URL to read the full text of the original story:
https://www.aa.com.tr/en/africa/mosque-attack-in-western-niger-leaves-10-dead/2391475
--------
Erdogan to begin diplomacy tour to 3 African countries on Sunday: Sources
Mumin Altas
13.10.2021
The Turkish president will leave on Sunday for a four-day diplomatic tour to three African countries, diplomatic sources have told Anadolu Agency.
Recep Tayyip Erdogan has officially visited 28 African countries to date, and will now tour Angola, Nigeria and Togo.
The trip is significant as Turkey is hosting two important events in Istanbul: a two-day Turkey-Africa 3rd Economy and Business Summit on Oct. 21, and a two-day Turkey-Africa 3rd Partnership Summit on Dec. 17.
Turkey's African policy, which encompasses political, humanitarian, economic, and cultural spheres, is part of its multidimensional foreign policy.
Turkey aims to contribute to the economic and social development of the continent with peace and stability, as well as to develop bilateral relations on the basis of equal partnership and mutual benefit.
To this effect, the number of Turkish embassies in Africa has increased from just 12 in 2002 to 43 in 2021.
Turkey's trade with Africa was $5.4 billion at the end of 2003, which climbed to $25.3 billion by 2020, despite the coronavirus pandemic.
According to sources, Erdogan is expected to meet his Angolan counterpart Joao Lourencho as well as attend a forum with businesspeople from both the countries.
Erdogan hosted Lourencho in July, and the two leaders inked agreements of cooperation on air transport, mutual promotion of investments, hydrocarbons and mining, renewable energy, and visa exemptions.
Sources said Erdogan will also meet Nigerian President Muhammadu Buhari and attend the Turkey-Nigeria Business Forum on his second visit to the West African country.
Steps will be taken to harness the true potential of the two countries' relations during the talks, which will include bilateral economic and regional developments. Three agreements in the fields of hydrocarbons, mining, and energy are also expected to be signed.
Source: Anadolu Agency
Please click the following URL to read the full text of the original story:
https://www.aa.com.tr/en/africa/erdogan-to-begin-diplomacy-tour-to-3-african-countries-on-sunday-sources/2391199
--------
Man who confessed to killing 10 children in Kenya escapes from police cell
Andrew Wasike
13.10.2021
A serial killer who confessed to killing 10 children has escaped from police custody days after leading homicide detectives to four crime scenes where some of the murders occurred.
Police confirmed to the media on Wednesday that the 20-year-old Masten Wanjala Milimu escaped either late Tuesday or early Wednesday from the Jogoo Road Police Station in the Kenyan capital Nairobi. He was waiting to face over 10 counts of murder.
It is still unclear how the serial killer escaped but police, led by Nairobi police boss James Mugera, say that they have cast their dragnet in major cities in search of the killer.
Policemen who were taking the routine morning roll call raised the alarm Wednesday morning after they found that one of the prisoners was missing.
Source: Anadolu Agency
Please click the following URL to read the full text of the original story:
https://www.aa.com.tr/en/africa/man-who-confessed-to-killing-10-children-in-kenya-escapes-from-police-cell/2391092
--------
Kenya rejects ICJ ruling over maritime dispute with Somalia
Andrew Wasike
13.10.2021
Kenyan President Uhuru Kenyatta Wednesday rejected a ruling by the International Court of Justice that gave Somalia a large chunk of territory in a maritime border dispute.
Kenya said while it is not surprised at the decision, it is profoundly concerned by the impact of the decision and its implications for the Horn of Africa region, and international law generally.
"At the outset, Kenya wishes to indicate that it rejects in totality and does not recognize the findings in the decision," Kenyatta said in a statement.
Kenyatta said Kenya, as an avid supporter of the rule of law, accepted the court's jurisdiction through a declaration in 1965, with an objectively clear outline of certain excluded matters.
"At the time, Kenya never imagined that the ICJ would violate the declaration to the extent of imposing its mandate over expressly excluded matters," Kenyatta said.
Kenya withdrew its participation in the public hearings on March 14 citing "substantive and persistent procedural unfairness from a biased bench, and the denial of the right to a fair hearing".
Source: Anadolu Agency
Please click the following URL to read the full text of the original story:
https://www.aa.com.tr/en/africa/kenya-rejects-icj-ruling-over-maritime-dispute-with-somalia/2390548
--------
North America
Biden admin plans to exempt some Taliban-era Afghan civil servants from US terror-related entry restrictions
14.10.2021
EXCLUSIVE: The Biden administration is planning to allow some Afghan civil servants who were employed by the 1996-2001 Taliban government to be exempt from terror-related bans on entering the United States, according to a draft document obtained by Fox News. The administration continues to bring in tens of thousands of Afghans as part of the U.S. withdrawal from Afghanistan.
The draft U.S. Citizenship and Immigration Services (USCIS) planning document, reviewed by Fox News, outlines how the Department of Homeland Security is planning on issuing a memorandum to allow Afghan civil servants who worked during the Taliban regime to be exempted from terrorism-related inadmissibility grounds (TRIG) if they fulfill other background and screening requirements.
TRIG places limits on individuals who are members of a terrorist organization or who have engaged in terrorism, making them inadmissible to the U.S. and ineligible for immigration benefits. The USCIS website says that the definition of terrorism-related activity "is relatively broad and may apply to individuals and activities not commonly thought to be associated with terrorism." It means that TRIG would likely rule out those who worked under the Taliban regime, which ruled from 1996 until its ouster by the U.S. in 2001 due to its harboring of al Qaeda after the 9/11 attacks.
"Many individuals who worked in civil service positions before the declaration of the Islamic Emirate of Afghanistan in 1996 continued to do so after the declaration," the document says in justification of the application. "Some did so under duress or other situations of hardship."
"Some used their positions in humanitarian capacities to mitigate the repressive actions of the Taliban regime, often at great personal risk. Some of these civil servants later worked for or helped the International Security Assistance Force, the U.S. government or the Afghan government that was established in Dec. 22, 2001," it adds.
The Taliban has regained control of Afghanistan in the wake of the U.S. withdrawal, and the Biden administration has been bringing tens of thousands of Afghans into the U.S., including those who helped the U.S. mission and those deemed "at risk." The administration has estimated it will bring in approximately 95,000 Afghans during this fiscal year.
The TRIG exemption authority for Afghan civil servants was finalized in the final days of the Obama administration in January 2017, but it was never published or applied to any refugees, the document says. USCIS says the guidance is being applied now as it anticipates increased filings from Afghan nationals. The authority allows USCIS officers to exempt terror-related inadmissibility grounds that result from employment by the Taliban as civil servants between Sept. 1996 and Dec. 2001.
An administration official emphasized to Fox News that the memo would not change the screening and vetting process in existence and that each individual would still be screened, evaluated and cleared by law enforcement and counterterrorism officials before being admitted into the U.S. The official also said that similar exemptions have been made with refugees from countries like the Soviet Union and Cuba, and that, without an exemption, Afghans who worked as teachers or in health care could be excluded from entering the U.S.
"The effect [of the memo] is that people who worked as doctors, grade school teachers, civil servants or low-level government employees wouldn't automatically be barred from ever entering the United States because they worked in those professions," the official said.
The official told Fox News that the move's status is "pre-decisional."
The planning document also notes that TRIG exemptions have occurred periodically and that exemptions have included those who offered material support under duress for voluntary provisions of medical care and membership of a number of groups. It also says that an individual will only be considered for an exemption if the evacuee has passed "all background checks and pose[s] no danger to the safety and security of the United States, and other threshold requirements."
Source: Fox News
Please click the following URL to read the full text of the original story:
https://www.foxnews.com/politics/biden-admin-exempt-afghan-civil-servants-taliban-terror-restrictions
--------
US warns of 'other options' if diplomacy fails on Iran nuclear program
13 October ,2021
US Secretary of State Antony Blinken warned Wednesday that Washington had "other options" if diplomacy failed on Iran's nuclear program, as his visiting Israeli counterpart said they reserved the right to use force.
Blinken told reporters that he had hoped for the success of talks with Iran, but "the runway that we have left to do that is getting shorter and shorter."
Referencing Israeli Foreign Minister Yair Lapid's threat to use force, Blinken said without elaborating: "We are prepared to turn to other options if Iran doesn't change course."
Source: Al Arabiya
Please click the following URL to read the full text of the original story:
https://english.alarabiya.net/News/world/2021/10/13/Blinken-warns-of-other-options-if-diplomacy-fails-on-Iran-nuclear-program
--------
US maintains course on de facto Palestinian embassy despite Israeli pressure
Michael Hernandez
13.10.2021
WASHINGTON
The US is intent on opening its de facto embassy to Palestinians, Secretary of State Antony Blinken said Wednesday despite stalwart opposition from Israel.
"We will work closely with Israel, deepen our diplomatic ties with the Palestinians, and consult with partners in the region and beyond who have a common interest in supporting efforts to advance a lasting peace," he told reporters during a news conference with his Israeli and Emirati counterparts.
"As I said in May, we'll be moving forward with the process of opening a consulate, as part of deepening those ties with the Palestinians," added Blinknen.
Israeli Foreign Minister Yair Lapid previously warned that reopening Washington's consulate general in West Jerusalem, which has traditionally served as the US' diplomatic headquarters for the Palestinians, is a "bad idea."
The move, he said, "will send the wrong message, not only to the region, not only to the Palestinians, but also to other countries, and we don't want this to happen."
The building, which was built before the creation of the state of Israel, was closed by former US President Donald Trump in 2019 when he moved the American Embassy from Tel Aviv to Jerusalem and recognized the contested city as Israel's capital. The consulate's functions were folded in to those of the embassy.
Source: Anadolu Agency
Please click the following URL to read the full text of the original story:
https://www.aa.com.tr/en/americas/us-maintains-course-on-de-facto-palestinian-embassy-despite-israeli-pressure/2391412
--------
US rules out normalizing with Syria's Assad
14 October ,2021
Secretary of State Antony Blinken renewed US opposition Wednesday to normalization with Syrian President Bashar al-Assad, who has seen growing acceptance from Arab nations that have concluded he won the brutal civil war.
Meeting with his Israeli and UAE counterparts, Blinken said that President Joe Biden's administration's policy on Syria was largely focused on humanitarian relief.
"What we have not done, and what we do not intend to do, is to express any support for efforts to normalize relations or rehabilitate Mr. Assad," Blinken told a joint news conference, not referring to Assad as president.
The United States has not "lifted a single sanction on Syria or changed our position to oppose the reconstruction of Syria until there is irreversible progress toward a political solution, which we believe is necessary and vital," Blinken said.
A US law known as the Caesar Act came into force last year that punishes any companies that work with Assad as he seeks to rebuild after a decade of war.
The Caesar Act, accompanied by a slew of US sanctions on Syrians close to Assad, aims to force accountability for human rights abuses and to encourage a political solution in Syria.
The United Arab Emirates has earlier said that the Caesar Act made it difficult for Syria to return to the Arab League.
Source: Al Arabiya
Please click the following URL to read the full text of the original story:
https://english.alarabiya.net/News/middle-east/2021/10/14/US-rules-out-normalizing-with-Syria-s-Assad
--------
US will weigh all options if Iran will not resume nuclear deal: Special envoy Malley
13 October ,2021
The United States is ready to consider all options for how it would deal with a world in which Iran were not willing to return to the constraints of the 2015 nuclear deal, US Special Envoy for Iran Rob Malley said on Wednesday.
"We will be prepared to adjust to a different reality in which we have to deal with all options to address Iran's nuclear program if it's not prepared to come back into the constraints," of Tehran's 2015 nuclear deal with six major powers," he said in a virtual appearance at a Washington think tank.
In rare public remarks, Malley adopted a more coercive rhetorical stance toward Tehran if it were unwilling to resume compliance with the deal, under which Tehran had agreed to limit its uranium enrichment program -- which is a possible pathway to fissile material for a weapon -- in return for sanctions relief.
Among other things, Malley said the United States and Israel, which has previously struck both Iraqi and Syrian nuclear sites, are united in their opposition to Iran developing a nuclear weapon, and he spoke of enforcing US sanctions designed to prevent Iran from selling its oil abroad.
Rob Malley, who led indirect talks with Iran earlier this year, said that President Joe Biden's administration still felt it was best to return to the deal that was trashed by former president Donald Trump.
"We feel like coming back would still be the best outcome but we're realistic," Malley said at an event at the Carnegie Endowment for International Peace.
"We know that there's at least a good possibility that Iran is going to choose a different path and we need to coordinate with Israel and with our other partners in the region," Malley said.
Source: Al Arabiya
Please click the following URL to read the full text of the original story:
https://english.alarabiya.net/News/world/2021/10/13/US-will-weigh-all-options-if-Iran-will-not-resume-nuclear-deal-Special-envoy-Malley
--------
URL: https://www.newageislam.com/islamic-world-news/france-samuel-paty-cartoons-mohammad-pbuh/d/125572
New Age Islam, Islam Online, Islamic Website, African Muslim News, Arab World News, South Asia News, Indian Muslim News, World Muslim News, Women in Islam, Islamic Feminism, Arab Women, Women In Arab, Islamophobia in America, Muslim Women in West, Islam Women and Feminis