New Age Islam News Bureau
28 Dec 2012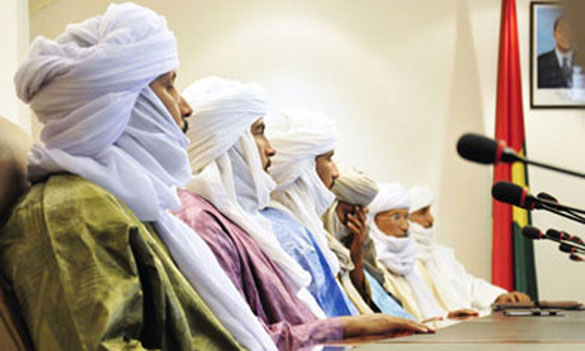 Europe
• France hastens military intervention against al-Qaida-linked groups in Mali
• Germany: Suspected Islamists attack Indian student
• The Pig's Head Left Outside the Muslim's Prayer Centre in Leicester
• Russia warns of 'bloody chaoses in Syria
• Russia: Gunmen Kill Islamic Cleric, North Ossetia's deputy mufti
• France to take in Afghans in danger for working with troops
------------
Africa
• Islamists' Harsh Justice Is on the Rise in North Mali
• Several Military Men Assassinated Days after Yemen President's Military Restructure
• S. Sudan 'armed groups' attack disputed area: Khartoum
• Blast kills two teens in Algeria
------------
Southeast Asia
• Indonesian Govt urged to clarify minimum age for marriage
• Indonesian Helps Turn Page for Literacy with Library
• Jakarta civil servants to wear Betawi attire at work next year
• Home Births Still Common Practice for Indonesians
• Late-season storm kills 11 in Philippines
• Jakarta drug cases level in 2012: Police
• Digital video makers in Indonesia defending pluralism
------------
India
• Tehreek-E-Taliban Pakistan Peace Offer to Pak: Train Guns on India
• Over 250 militants from Pakistani Kashmir waiting to enter Jammu: BSF
• One militant killed in Kashmir encounter
• 'BJP will oppose SP's move for Muslim quota'
• India, Pakistan review CBMs
• 'Shocked' at arrest, Munif's family says cops had planned to make him witness
• 'Kashif had gone to offer prayers at mosque when he was picked up'
• 'Urdu not being given its due by Andhra Pradesh govt'
• Ahmedabad gave Pak a PM, Ismail Ibrahim Chundrigar
------------
South Asia
• Saudi Shura Council Speaker to arrive Jan 6 in Bangladesh
• Betrayed While Asleep, Afghan Police Die at Hands of Their Countrymen
• 29 Afghans get 'revenge' beating near Torkham
• Four Afghan policemen killed with 'insider' help
• Arranged attacks: Private war breaks out on Pak-Afghan border
• Afghan envoy urged to help arrest Pakistani fugitive
• BSF kidnap 2 Bangladeshis in Thakurgaon
• Madrasa students see higher pass rate in Bangladesh
------------
Pakistan
• Head of Pakistan Taliban says group will negotiate, but not disarm
• Taliban capture 33 Pakistani troops
• Taliban's offer of conditional truce unacceptable: Interior Minister
• Two killed, 22 levies personnel missing in checkposts attack
• Khar and Saudi FM to discuss crisis in Syria
• Tahir Qadri Qadri's Lahore show earns laurels from Human Rights Forum
• Support 'reforms before polls' agenda or alliance with PPP is over: MQM
• Altaf pays tribute to Shaheed Benazir
• KP govt cautiously welcomes talks offer: Anti-terror stance to remain unchanged
• 'New Bhutto' comes out gunning against judiciary
• Benazir assassination probe report: 'Strongly worded' UN letter being kept under wraps
• New accord for CSF likely: Pakistan, US to hold talks next year
• Afghan mortar shells land in Pakistan
• One Pound Fish singer Shahid returns to Pakistan in triumph
• Boy's school bombed near Peshawar
------------
Arab World
• Grand Mufti of Lebanon reverses call for Islamic Council polls
• Egypt prosecutor orders investigation into Morsi opposition figures
• Salafist sheikh says regrets picking Hezbollah lawyer
• Gulf News tops Forbes ranking of the most popular online English media
• Jordan and Israel in secret talks over Syria's chemical weapons
• Syrian fighters reject Assad role in interim govt
• Ebsar Society distributes Holy Qur'an in the Braille language
• Saudi Government incentives spurring growth in industrial investment
• President Morsi could face a summer of discontent: News Analysis
• Salafist party to refrain from decisions damaging to tourism: Bakkar
• Egypt's parliamentary affairs minister resigns from Qandil's Cabinet
• Egypt: Morsi Regime Rams through New Egyptian Constitution
• Palestinian envoy to Lebanon in Ramallah to discuss refugees
• Spate of crimes across country targets Syrians
• Shiite council urges patience by kin of Lebanese hostages
• Battle for Syrian City Lays Both Sides' Weaknesses Bare
• Moscow shoots-down rumors of Russia-U.S. collaboration to solve Syria conflict
• Egypt's Mubarak back in hospital
------------
North America
• Obama's gift to al-Qaida, support for tyranny, and FBI monitoring of dissent
------------
Mideast Asia
• Iran's Slowing of Enrichment Efforts May Show It Wants a Deal, Analysts Say
• Tension between Bangladesh and Turkey
• Abbas warns of disbanding Palestinian Authority
• Turkish Journalist Accused of Terrorist Plot Is Freed Pending Trial
• Knesset member appeals Israel election ban
• Israel PM met Jordan king in Amman over Syria: Media
• Hamas urged to accommodate Fatah rally in Gaza
Compiled by New Age Islam News Bureau
Photo: France hastens military intervention against al-Qaida-linked groups in Mali
URL: https://www.newageislam.com/islamic-world-news/new-age-islam-news-bureau/france-hastens-military-intervention-against-al-qaida-linked-groups-in-mali/d/9825
------------
Europe
France hastens military intervention against al-Qaida-linked groups in Mali
Alex Duval Smith
26 December 2012
France has named the general who will lead a European mission to the Sahel region, in a move widely seen as intended to speed up military intervention against al-Qaida-linked forces occupying northern Mali.
The announcement came after al-Qaida in the Islamic Maghreb on Christmas Day issued a four-minute video in which one of the group's leaders, Abou Zeid, criticised France for "not deigning to respond to our offer of dialogue'' over four Frenchmen kidnapped in Niger in September 2010. The video was carried by Mauritanian regional news website Sahara Media.
The men, employed by the uranium industry, are among seven French citizens held by Islamic groups in the desert region. Northern Mali has been occupied since March by groups linked to al-Qaida.
Responding to the video on Wednesday, French foreign ministry spokesman Vincent Floreani called for the release of all French hostages in the Sahel and said "no route is being ruled out'' to secure their freedom.
Meanwhile, French defence minister Jean-Yves Le Drian said European training of 3,000 Malian troops would begin next month in Mopti and Ségou, Mali. Four hundred mainly French troops were due to run "two or three'' six-week training courses, he said.
The European Training Mission will be headed by General François Lecointre, 50, a marine infantryman who has served in Djibouti, the Central African Republic, Rwanda, Gabon and Bosnia.
Last week the United Nations security council approved a resolution for the deployment of 3,300 troops to Mali from other West African countries. But the UN secretary general's special envoy to Mali, Romano Prodi, said the non-Malian troops would not be ready to deploy until September 2013.
The United States would be the main funder of a West African intervention force drawn from the Economic Community of West African States. Le Drian has been calling for the deployment to happen quickly but Washington doubts the desert-fighting capabilities of the Ecowas troops. Diplomats say the US wants non-Ecowas countries, such as Chad and Mauritania, to lead combat operations.
http://www.guardian.co.uk/world/2012/dec/26/mali-military-mission-against-al-qaida
------------
Germany: Suspected Islamists attack Indian student
December 27, 201
BERLIN: Police say an Indian student in Germany has been attacked and injured by suspected Islamic extremists who accosted him and demanded that he convert to Islam.
Police spokesman Frank Piontek said Thursday that two attackers in the western German city of Bonn severely beat the 24-year-old and then slashed his tongue with a knife.
Police say the attackers walked up to the student in a city street late Monday and demanded that he convert to Islam - then beat him up after he refused to do so.
The student, whose identity wasn't given in line with German privacy rules, was taken to a hospital for treatment. He was released a day later.
The Bonn police's department for politically motivated crimes is investigating.
http://www.dailystar.com.lb/News/International/2012/Dec-27/200032-germany-suspected-islamists-attack-indian-student.ashx#ixzz2GKVhTDON
------------
The pig's head left outside the Muslim's Prayer centre in Leicester
Police investigate incident in Leicester where Islamic group faces protests over plans to open centre in disused Scout hut
Haroon Siddique
Friday 28 December 2012
The pig's head left outside the community centre in Leicester used by a Muslim group for prayer.
Police have launched an investigation after a pig's head was left outside a community centre used for prayers by Muslims in an area of Leicester that has seen heightened far-right activity in recent months.
The head of the pig, which is offensive to Muslims who consider the animal unclean and are forbidden from eating pork, was discovered by worshippers from the As Salaam group at the Thurnby Lodge centre at 7.30am on Boxing Day.
The incident came amid tension over the group's plans to open an Islamic centre in a disused Scout hut neighbouring the community centre. There have been months of protests, including involvement by the English Defence League and the British National party, whose leader Nick Griffin visited the area in August.
The As Salaam imam Mohammed Lockhat told the Guardian the incident had only increased the group's commitment to stay: "We were shocked and saddened by this development. It's deeply discriminating and religiously offensive … Every single day we have got people standing outside, protesters hurling insults, racist abuse. We weren't expecting this to happen but it was only a matter of time."
As Salaam was initially given the go-ahead for the hut, which the Scouts no longer use, last year. It said it planned to provide food-sharing services, and drug and alcohol advice and education.
But some residents complained that the hut should be available for the wider community. Protests were held against As Salaam, and a group calling itself the Committee for the Forgotten Estates of Thurnby Lodge and Netherhall handed a 1,500-strong petition opposing the plans to the city council. As a result, earlier this month, the council put As Salaam's plans out for consultation and said a decision would be made in January.
Lockhat said the Islamic community's work in the hut would be aimed at improving life for everyone and that Thurnby Lodge centre would still be available for the local community.
He also said, despite denials by protesters, that opposition has been driven by far-right groups. The petition was handed in by self-proclaimed Leicester EDL member Chris Hopewell and Griffin attended a protest to express his support for opponents of the plans.
The campaign against As Salaam has not just affected Muslims, with members of the bingo club at Thurnby Lodge complaining of intimidation. Lockhat said protesters shouted "traitors" at people aged in their 70s and 80s.
"We are very, very peaceful … We are not here to take over anyone's land," he said. "We work in the community."
Leicester superintendent Mark Newcombe said: "The only people using the community centre on Wednesday were from a local Muslim group and it's easy to draw the conclusion that the pig's head was meant for them, and is the reason we believe this to be religiously motivated … We have no tolerance for discrimination in Leicester, be that racially or religiously motivated, and we want members of the public to help us do all we can to find those responsible and bring them to justice."
http://www.guardian.co.uk/uk/2012/dec/28/pigs-head-outside-centre-muslims
-----------
Russia warns of 'bloody chaoses in Syria
December 28, 2012
MOSCOW - Russia on Thursday warned of "bloody chaos" in Syria should peace talks led by UN-Arab League envoy Lakhdar Brahimi fail to end a 21 month conflict that has claimed an estimated 45,000 lives.
Foreign Minister Sergei Lavrov said the United States and other players must redouble their efforts amid fading hopes for a political solution to the bloodshed. "The alternative to a peaceful solution is bloody chaos. The longer it continues, the greater its scale - and the worse things get for all," Lavrov told the Interfax news agency.
Lavrov's comments followed a meeting with a senior Syrian delegation led by Deputy Foreign Minister Faisal Muqdad.
Russia remains Syria's most important international ally and is one of the few nations to have unlimited access to President Bashar al-Assad's government.
Lavrov's meeting with the Syrians came as Brahimi wound down several days of talks in Damascus by calling for "real change" and the quick introduction of a transition government "with all powers". Assad's government has still not responded to Brahimi's call.
But the armed opposition immediately rejected any transition plan that would see either Assad or his immediate cohorts retain their positions of authority. "We will accept any political solution that does not include the Assad family nor those who harmed the Syrian people," National Coalition spokesman Walid al-Bunni told a press conference in Istanbul.
"Our first condition for them is to leave the country," he added. It is not immediately clear how Moscow intends to proceed. A foreign ministry spokesman had earlier rejected reports of a joint Russia-US peace initiative that would see Assad stay in power until 2014 while preventing him from further renewing his mandate.
Brahimi will meet Lavrov in Moscow on Saturday in the hope of convincing Russia to do all it can to make sure that Assad accepts an accord that would gradually ease him from power. Lavrov did not disclose the full details of his talks with the visiting Syrians. But he conceded that hopes were fading for a Russian-backed initiative drafted in Geneva in June that made no explicit call on Assad to step down - an alternative the ruling regime appeared to accept.
"Considering what is happening in Syria, the chances for such a solution based on the Geneva communique...are diminishing," Lavrov told Interfax. "But they still exist, and we must fight for them." He said recent tri-party consultations that included Brahimi and US officials showed that chances of a peaceful solution based on the Geneva agreement "still exist".
"We need coordinated action from all the parties, and they must speak in one voice," Russia's top diplomat said.
Russia has always insisted it was not propping up Assad's regime but only pursuing a defence of international law that rejects foreign intervention in domestic disputes.
Egyptian Foreign Minister Mohamed Amr was also due in Moscow on Thursday on a visit that will include talks and a news conference with Lavrov on Friday.
There was more violence on Thursday, with a car bomb in a Damascus suburb killing four people and wounding 10, a day after 121 people died nationwide. Fierce fighting between troops and rebels raged in the central cities of Hama and Homs as well in the northwest and south.
http://www.nation.com.pk/pakistan-news-newspaper-daily-english-online/international/28-Dec-2012/russia-warns-of-bloody-chaos-in-syria
------------
Russia: Gunmen Kill Islamic Cleric, North Ossetia's deputy mufti
December 27, 2012
Gunmen killed an Islamic cleric in the Russian republic of North Ossetia, investigators said Thursday. The assailants attacked Ibragim Dudarov, North Ossetia's deputy mufti, in his car late Wednesday near the provincial capital, Vladikavkaz, the federal Investigative Committee said. The killing — at least the sixth this year of a Muslim religious leader — is likely to increase tensions between moderate and more radical Muslims. Moscow is struggling to extinguish an insurgency that stems from its two wars against separatists in Chechnya, east North Ossetia, and that has been fueled by unemployment, police brutality and poverty.
Full report at:
http://www.nytimes.com/2012/12/28/world/europe/gunmen-kill-islamic-cleric-in-russia.html?ref=europe&gwh=2D3B8EFDAE99AF600FFA58DFFC8A52CD
------------
France to take in Afghans in danger for working with troops
December 28, 2012
PARIS: France will take in Afghans whose security is at risk after having worked with its troops in the war-ravaged country, joining other Western nations facing a similar quandary.
France flew its last combat troops out of Afghanistan on December 15, two years before allied nations in the 100,000-strong Nato mission led by the United States are due to recall their fighting forces.
The defence ministry confirmed on Wednesday that France, which had soldiers in Afghanistan for 11 years, would accept "a few dozen" Afghans who had served as translators with their forces.
The same day, French daily Le Monde had reported that up to 170 Afghans would be "allowed to enter French territory from January to start a new life."
Full report at:
http://dawn.com/2012/12/28/france-to-take-in-afghans-in-danger-for-working-with-troops/
------------
Africa
Islamists' Harsh Justice Is on the Rise in North Mali
By ADAM NOSSITER
December 27, 2012
BAMAKO, Mali — Moctar Touré was strapped to a chair, blindfolded, his right hand bound tight to the armrest with a rubber tube. A doctor came and administered a shot. Then Mr. Touré's own brother wielded a knife, the kind used to slaughter sheep, and methodically carried out the sentence.
"I myself cut off my brother's hand," said Aliou Touré, a police chief in the Islamist-held north of this divided nation. "We had no choice but to practice the justice of God."
Such amputations are designed to shock — residents are often summoned to watch — and even as the world makes plans to recapture northern Mali by force, the Islamists who control it show no qualms about carrying them out.
After the United Nations Security Council authorized a military campaign to retake the region last week, Islamists in Gao, Mr. Touré's town, cut the hands off two more people accused of being thieves the very next day, a leading local official said, describing it as a brazen response to the United Nations resolution. Then the Islamists, undeterred by the international threats against them, warned reporters that eight others "will soon share the same fate."
Full report at:
http://www.nytimes.com/2012/12/28/world/africa/islamists-harsh-justice-on-rise-in-northern-mali.html?hp&_r=0&gwh=C5D15919D6F3A028FDAC9AD513C2ECC7
------------
Several Military Men Assassinated Days after Yemen President's Military Restructure
Ahmed Dawood
27 December 2012
SANA'A, Dec. 26 — One officer in Sana'a was assassinated, an attempt was made on the life of an officer in Dar Salm and soldier in Hadramout was killed on Tuesday, making them the latest casualties in a worrying trend.
The assassinations come days after President Hadi's decrees to restructure the military, which includes the purging of the First Armored Division and the Republican Guards.
Field Brigadier Fadhl Al-Radfani, a leader in Thamood military area in Hadramout, was assassinated mid-afternoon in front of the Defense Ministry building in Bab Al-Yemen area of Sana'a.
Full report at:
http://www.yementimes.com/en/1637/news/1778/Several-military-men-assassinated-days-after-Hadi%E2%80%99s-military-restructure.htm
------------
S. Sudan 'armed groups' attack disputed area: Khartoum
27 Dec 2012
"Armed groups" from South Sudan clashed with Arab tribesmen in Samaha, a flashpoint border region disputed by Khartoum and Juba, the Sudanese military said on Thursday.
The fighting occurred two days ago, army spokesman Sawarmi Khaled Saad told AFP.
"We hear that there was some groups from South Sudan, armed groups... and they attacked the nomads there, the Rezeigat," he said. "The fighting was not between the Sudanese army and the South Sudanese army."
He said he had no information on casualties or what sparked the incident.
"We are trying to find a political solution for this problem," Saad said.
The Samaha region is one of five areas disputed by Khartoum and the South's government in Juba.
Full report at:
http://english.ahram.org.eg/NewsContent/2/8/61390/World/Region/S-Sudan-armed-groups-attack-disputed-area-Khartoum.aspx
------------
Blast kills two teens in Algeria
December 28, 2012
ALGIERS (AFP) - A bomb intended to take out soldiers killed two youths from the same family in the restive Bouira region of central Algeria, newspapers said on Thursday. The two, aged 12 and 14, were on their way home from an olive grove when one of them trod on the explosive device which had been buried in the ground, some reports said. Others said it had been placed in a bag under a tree.
Full report at:
http://www.nation.com.pk/pakistan-news-newspaper-daily-english-online/international/28-Dec-2012/blast-kills-two-teens-in-algeria
------------
Southeast Asia
Indonesian Govt urged to clarify minimum age for marriage
December 27 2012
Activists with women's advocacy groups have called on the government to clarify stipulations on the minimum age for women to marry, saying different clauses in two existing laws have led to confusion.
The 1974 Marriage Law stipulates that the minimum age for a woman to marry is 16 years old. However, the 2002 Child Protection Law states anyone below the age of 18 is considered a minor.
The arguments on this issue relate to the controversy surrounding the marriage of Garut Regent Aceng Fikri, 40, to a 17-year-old girl identified as FO in July in an unregistered Islamic nuptial ceremony.
Full report at:
http://www2.thejakartapost.com/news/2012/12/27/govt-urged-clarify-minimum-age-marriage.html
------------
Indonesian Helps Turn Page for Literacy With Library
Arlina Arshad
December 28, 2012
Pemagarsari, West Java. Kiswanti went to great lengths to get people to read in Indonesia, a nation addicted to social media but with a lackluster interest in books.
For six years, as she cycled on bumpy village mud tracks in western Java as a door-to-door herbal medicine vendor, Kiswanti would carry a stack of books on the back of her bike to lend to children.
Her humble efforts have snowballed and her modest village is now home to a library, a rare sight even in Indonesia's biggest cities.
"Reading gives you knowledge and knowledge is power. Nobody, no matter how poor, should be deprived of reading," Kiswanti, 46, told AFP.
Kiswanti gave up her days as a "mobile librarian" in 2005 when a liver illness struck, confining her to her tiny concrete block house in Pemagarsari village, where narrow dirt trails lead off the main road.
Full report at:
http://www.thejakartaglobe.com/home/indonesian-helps-turn-page-for-literacy-with-library/563839
------------
Jakarta civil servants to wear Betawi attire at work next year
December 27 2012,
Next year will be different for civil servants in the Jakarta administration office. They will be obliged to wear Betawi attire to work, starting in January.
"This regulation will go into effect in January 2013: all employees at the Jakarta administration office, including the governor and the deputy governor, will have to wear Betawi attire every Wednesday," Jakarta Governor Joko "Jokowi" Widodo said at Jakarta City Hall on Thursday, adding that the regulation was aimed at preserving Betawi culture in its home town.
Full report at:
http://www2.thejakartapost.com/news/2012/12/27/jakarta-civil-servants-wear-betawi-attire-work-next-year.html
------------
Home Births Still Common Practice for Indonesians
December 28, 2012
Almost half of pregnant Indonesian women chose to give birth at home in 2012 rather than at health facilities that could help minimize infection risks, according to the Health Ministry.
Health Ministry data reveal that 55.4 percent of births in Indonesia occurred at health facilities, while the remainder took place at home.
"More than 40 percent of labors in Indonesia still took place at home. That's not hygienic. Don't be surprised to see mothers' mortality [rate] still very high as the result of infection," said Slamet Riyadi Yuwono, the Health Ministry's director general for nutrition and child and maternal health, on Thursday.
Full report at:
http://www.thejakartaglobe.com/home/home-births-still-common-practice-for-indonesians/563813
------------
Late-season storm kills 11 in Philippines
28 December 2012
A late-season storm expected to be the last of the year in the Philippines has killed 11 people but spared a southern region where more than 1,000 died in a powerful typhoon early this month, officials said Friday.
The national disaster agency said three people were killed when a tree fell on their house in Eastern Samar province, where Tropical Storm Wukong made landfall on Christmas Day. Other deaths occurred due to drowning and landslides as the storm slashed through central islands.
The storm weakened into a low pressure area over the South China Sea off Palawan province, southwest of Manila.
Full report at:
http://www.khaleejtimes.com/kt-article-display-1.asp?xfile=data/international/2012/December/international_December1082.xml&section=international
------------
Jakarta drug cases level in 2012: Police
December 28 2012
The number of drug cases in 2012 has remained stable, the Jakarta Police reports.
The police recorded 4,836 drug cases this year, a rise of only 0.39 percent from the 4,817 cases last year.
"We have managed to complete all the 4,836 cases we were handling, 100 percent," Jakarta Police chief Putut Eko Bayuseno said on Thursday at the Jakarta Police headquarters.
The police arrested 5,941 drug suspects this year, a 1.14 percent increase from the 5,874 suspects last year.
Based on investigations, the police concluded that most drugs were produced outside the country.
Full report at:
http://www2.thejakartapost.com/news/2012/12/28/jakarta-drug-cases-level-2012-police.html
------------
Digital video makers in Indonesia defending pluralism
December 28 2012
While some might make use of the digital era in order to create their own private cocoon, utilizing the latest technology for pleasure and separation from the reality of everyday, one group has opted to swim against that current.
Those young people are using digital tools to spread awareness, reminding people about the need to honor pluralism and tolerance as the ultimate requirement of a civilized society.
Through an online video competition "Bhinneka Tinggal Duka?" (What's left from Bhinneka Tunggal Ika is only sorrow), organized by Engage Media, they are expressing their concerns.
Engage Media is a group of digital media activists who are concerned with social and environmental issues.
It is also the name of the website that provides a platform for users to post videos that focus on defending human rights and other issues like pluralism, discrimination and the environment.
Dita Caturaning from Engage Media discussed the country's deteriorating tolerance, which can easily be seen in the burning of Ahmadiyah mosques, the eviction of Shiites in Sampang, Madura and the banning of church congregations in Bekasi, Bogor and other places in the country.
Full report at:
http://www2.thejakartapost.com/news/2012/12/28/digital-video-makers-defending-pluralism.html
------------
India
Tehreek-E-Taliban Pakistan Peace Offer to Pak: Train Guns on India
December 27, 2012
The Tehreek-e-Taliban Pakistan (TTP) — which has claimed responsibility for many of the brazen attacks across the country in recent years — has offered to negotiate with the government but only on its own terms. This offer was made through letters sent to a couple of local journalists on Wednesday.
The conditional ceasefire offer, according to The News, is subject to Pakistan withdrawing its support for the U.S.-led war in Afghanistan and agreeing to draft a new Constitution as per the Koran and Sunnah. The Army should become a "pure Islamic Army" and not act as mercenaries for the U.S.
Full report at:
http://www.thehindu.com/news/international/ttp-peace-offer-train-guns-on-india/article4245891.ece
------------
Over 250 militants from Pakistani Kashmir waiting to enter Jammu: BSF
Dec 27, 2012
JAMMU: Over 250 militants are waiting at launching pads in areas of Pakistan-occupied Kashmir (PoK) facing Jammu, a top Border Security Force (BSF) official said here on Thursday.
"Over 250 militants are waiting at launching pads in PoK opposite the Line of Control (LoC) in Jammu," BSF inspector general (Jammu frontier) Rajeev Krishna told reporters.
He said up to 60 militants were also waiting on the other side of the International Border in Jammu.
Full report at:
http://timesofindia.indiatimes.com/india/Over-250-militants-from-Pakistani-Kashmir-waiting-to-enter-Jammu-BSF/articleshow/17785477.cms
------------
One militant killed in Kashmir encounter
December 28, 2012
A militant was killed on Friday in an encounter with security forces in south Kashmir's Pulwama district.
"One militant has been killed so far. The operation is on," a police spokesman said. Exchange of fire broke out in Chandgam area of Pulwama on Friday morning between
security forces and holed up militants, the spokesman said.
Full report at:
http://www.hindustantimes.com/India-news/Srinagar/One-militant-killed-in-Kashmir-encounter/Article1-981768.aspx
------------
'BJP will oppose SP's move for Muslim quota'
Dec 28 2012
Lucknow : The Bharatiya Janata Party (BJP) has announced that it will oppose any resolution in UP Assembly that the Samajwadi Party (SP) government will move to seek reservation for Muslims in government jobs and education.
Full report at:
http://www.indianexpress.com/news/-bjp-will-oppose-sp-s-move-for-muslim-quota-/1051269/
------------
India, Pakistan review CBMs
Dec 28, 2012
NEW DELHI: The sixth round of expert level talks on conventional CBMs between India and Pakistan was held on Thursday with the two sides reviewing the implementation of existing CBMs. The talks are pursuant to the agreement between the foreign ministers of India and Pakistan during their meeting on September 8 in Islamabad.
The CBMs reviewed included the ceasefire along the LoC. The two sides exchanged ideas to further advance the CBM process and reaffirmed their commitment to continue discussions with the aim of strengthening conventional CBMs.
Full report at:
http://timesofindia.indiatimes.com/india/India-Pakistan-review-CBMs/articleshow/17788749.cms
------------
'Shocked' at arrest, Munif's family says cops had planned to make him witness
Atikh Rashid
Dec 28 2012
The family members of Munif Memon, one of the three suspects arrested by the Maharashtra Anti-Terrorism Squad (ATS) on Wednesday in connection with the J M Road blasts, said they were shocked by his arrest as the police had earlier told them that they were planning to make Munif a witness in the same case.
For the last six to seven years, his mother Yasmin Memon said, Munif had been working at tailoring shop Options by Feroze, owned by Syed Feroze who was arrested by the Delhi Police in October in connection with the J M Road blasts that took place on August 1. After the blasts, the Delhi Police had detained Munif for inquiry and had promised the family that "there was nothing to worry about" as they were planning to make him a witness in the case, said Yasmin.
Full report at:
http://www.indianexpress.com/news/-shocked--at-arrest-munif-s-family-says-cops-had-planned-to-make-him-witness/1051255/
------------
'Kashif had gone to offer prayers at mosque when he was picked up'
Express news service Dec 28 2012,
Family members of Sayyed Arif alias Kashif Sayyed Zafruddin Biyabani (32) of Aurangabad, the third suspect arrested by the ATS in the J M Road case, said Kashif had gone to offer prayers at a nearby mosque when he was picked up.
Full report at:
http://www.indianexpress.com/news/-kashif-had-gone-to-offer-prayers-at-mosque-when-he-was-picked-up-/1051260/
------------
'Urdu not being given its due by Andhra Pradesh govt'
Dec 27, 2012
HYDERABAD: The government has deliberately ignored Urdu which is the second official language of the state and has not taken up significant measures for its promotion and preservation while it is encouraging Telugu by organising the World Telugu Conference (WTC), leaders across various sections in the Old City said on Wednesday.
Even owners of business establishments are being forced to install signage in Telugu which few people in the Old City understand, said speakers at a meet to denounce current government moves to promote Telugu on a large-scale across the state spending crores of public money.
Full report at:
http://timesofindia.indiatimes.com/city/hyderabad/Urdu-not-being-given-its-due-by-govt/articleshow/17774639.cms
------------
Ahmedabad gave Pak a PM, Ismail Ibrahim Chundrigar
By Saeed Khan
Dec 28, 2012
AHMEDABAD: Only time will tell if Ahmedabad gives the country a prime minister in 2014, but the city has already given a PM to Pakistan.
As India play Pakistan in a T-20 cricket match in Ahmedabad, few know that Ismail Ibrahim Chundrigar, who went on to become Pakistan's prime minister for a short period of two months, was born in Ahmedabad — his family used to live in Bhungli ni Pol of Panch Pipli area of Jamalpur.
Chundrigar was sent to Bombay for education. Armed with a degree in law, he returned in 1920 and joined Ahmedabad Bar.
Full report at:
http://timesofindia.indiatimes.com/city/ahmedabad/Ahmedabad-gave-Pak-a-PM/articleshow/17789833.cms
------------
South Asia
Saudi Shura Council Speaker to arrive Jan 6 in Bangladesh
December 28, 2012
Speaker of the Consultative Assembly of Saudi Arabia also known as Shura Council Abdullah ibn Muhammad Al ash-Sheikh will arrive in Bangladesh on January 6 on a three-day visit.
He will be visiting at the invitation of Bangladesh Parliament Speaker Abdul Hamid, foreign ministry officials said.
The Saudi Speaker has no specific agenda of his visit, but during his stay in Dhaka, he will call on Prime Minister Sheikh Hasina, meet with his Bangladesh counterpart and Saudi-Bangladesh Parliamentary Group.
Full report at:
http://www.thedailystar.net/newDesign/news-details.php?nid=262914
------------
Betrayed While Asleep, Afghan Police Die at Hands of Their Countrymen
By ROD NORDLAND
December 27, 2012
KABUL, Afghanistan — A wave of betrayal has left at least 17 Afghan policemen dead in the past 10 days — all killed in their sleep, at the hands of those close to them.
Early Thursday morning, an Afghan policeman unlocked the door of the check post where he was stationed in Oruzgan Province and let in his friends from the Taliban, who helped him attack his sleeping colleagues with knives and guns, eventually killing four and wounding eight.
On Sunday, a local police commander in a remote northern province, Jawzjan, shot to death, in their beds, five men under his command and fled to join the Taliban.
And on Dec. 18, a teenager, apparently being kept for sexual purposes by an Afghan border police commander in southern Kandahar Province, drugged the commander and the other 10 policemen at the post to put them to sleep, and then shot them all; eight died.
In the crisis that has risen in the past year over insider killings, in which Afghan security forces turn on their allies, the toll has been even heavier for the Afghans themselves — at least 86 in a count by The New York Times this year, and the full toll is likely to be higher — than it has been for American and other NATO forces, which have lost at least 62 so far, the latest in Kabul on Monday.
Full report at:
http://www.nytimes.com/2012/12/28/world/asia/betrayed-while-they-sleep-afghan-police-are-dying-in-numbers.html?ref=asia&gwh=97DF97E141DCA7521ED88D9596871B24
------------
29 Afghans get 'revenge' beating near Torkham
By: Ahmad Nabi
December 28, 2012
KHYBER AGENCY – Masked men armed with weapons tortured 29 Afghan passengers near the Michini Checkpost when they were going to cross the Torkham border, official and local sources said on Thursday.Sources said unidentified people equipped with sophisticated weapons, on Thursday noon, appeared on Landi Kotal-Torkham Road near Michini post and started misbehaving with Afghan nationals. As the Afghan national protested, the gunmen dragged them out of the passengers' vehicles, tortured them physically, snatched their valuables and tore their passports, sources said. "The masked assailants thrashed me and snatched my money," said Mohammad Jan, an Afghan national.
Full report at:
http://www.nation.com.pk/pakistan-news-newspaper-daily-english-online/national/28-Dec-2012/29-afghans-get-revenge-beating-near-torkham
------------
Four Afghan policemen killed with 'insider' help
December 28, 2012
KANDAHAR - Four Afghan policemen were killed and two wounded on Thursday in an insurgent attack assisted by an insider loyal to the Taliban, officials said.Attackers stormed the police post at Trin Kot, a remote district in the southern province of Uruzgan, before dawn and killed the officers as they slept, police spokesman Farid Ahmad Aiel told AFP.One policeman who fled with the insurgents was believed to be a Taliban infiltrator who aided the attack, Aiel said. "He had links with the Taliban and he helped the Taliban to attack the post. Full report at:
http://www.nation.com.pk/pakistan-news-newspaper-daily-english-online/national/28-Dec-2012/four-afghan-policemen-killed-with-insider-help
------------
Arranged attacks: Private war breaks out on Pak-Afghan border
By Abuzar Afridi
December 28, 2012
LANDIKOTAL:
At least 29 Afghans were thrashed and their travel documents torn near the Torkham border on Thursday, apparently in retaliation to a similar attack on Pakistani workers by Afghan officials last week.
Officials said that the attackers included relatives of the 29 Pakistani labourers who were allegedly harassed by members of the Afghan National Army (ANA) at Pul-e-Charkhi area of Kabul on Friday. Following this incident, Pakistani authorities had closed the border for six hours on Saturday.
Full report at:
http://tribune.com.pk/story/485721/arranged-attacks-private-war-breaks-out-on-pak-afghan-border/
------------
Afghan envoy urged to help arrest Pakistani fugitive
December 28, 2012
RAWALPINDI: Police officers of Islamabad-Rawalpindi met the Afghan ambassador on Thursday to persuade him to give them access to Afghanistan to arrest a 'most wanted' fugitive, Roohullah.
According to official sources, the ambassador was informed that the man had escaped from a hospital in July and was seen in Afghanistan sheltered by Mangal Bagh's militant group.
Police arranged the meeting with the Afghan ambassador after getting Foreign Office's approval.
Full report at:
http://dawn.com/2012/12/28/afghan-envoy-urged-to-help-arrest-pakistani-fugitive/
------------
BSF kidnap 2 Bangladeshis in Thakurgaon
December 28, 2012
Indian Border Security Force (BSF) members intruded into Bangladesh territory and kidnapped two Bangladeshi men from Nagarvita village of Baliadangi upazila in Thakurgaon on Thursday.
Confirming the incident, Major Arif Hossain of BGB Thakurgaon 30 battalion said that a BSF petrol team kidnapped Abul Kashem Bhuiyan, 35, and Ayub Ali, 30 when they were walking near barbed-wire fencing in the morning.
Full report at:
http://www.thedailystar.net/newDesign/latest_news.php?nid=43516
------------
Madrasa students see higher pass rate in Bangladesh
December 28, 2012
This year's Ebtedai Certificate and Junior Dakhil Certificate (JDC) Examinations saw an increase in both the pass rates and highest grade points achievers over the previous years.
In the Ebtedai exams, 92.45 percent students became successful which is a rise of 1.17 percentage points from last year, while the pass rate in the JDC exams is 90.87 percent, a rise of 2.16 percentage points.
According to the results published yesterday, 2,920 students achieved GPA-5 (grade point average) in the Ebtedai exams, a rise of 770 students.
Out of 3,29,000 registrants, a total of 2,76,373 class V madrasa students -- 1,29,818 boys and 1,46,555 girls -- took the Ebtedai exams. Girls' success rate (91.71 percent) is lower than boys (93.28 percent).
Full report at:
http://www.thedailystar.net/newDesign/news-details.php?nid=262905
------------
Pakistan
Head of Pakistan Taliban says group will negotiate, but not disarm
DERA ISMAIL KHAN
Dec 28, 2012
Dec 28 (Reuters) - The head of Pakistan's Taliban said his militia is willing to negotiate with the government but not disarm, a message delivered in a video given to Reuters on Friday.
"We believe in dialogue but it should not be frivolous," Hakimullah Mehsud said. "Asking us to lay down arms is a joke."
Full report at:
http://www.reuters.com/article/2012/12/28/pakistan-taliban-idUSL4N0A22QB20121228
------------
Taliban capture 33 Pakistani troops
December 28, 2012
PESHAWAR - Two Levies soldiers were killed and one injured as 33 more went missing when militants stormed three checkposts Thursday near Peshawar. Some 200 heavily-armed militants attacked three paramilitary check posts in Jana Kora , Zarka and Zenati area from different sites. "The exchange of gunfire lasted about one hour in which they killed two soldiers, wounded one and took away 22 others," a local administration official said. But Taliban and other Pakistani sources put the number even higher.According to sources, militants targeted the Zaray, Zarka Kohi Hassankhel and Ghaki Sar checkposts during the early hour of Thursday, destroying three posts. Militants first hit the Zaray levy checkpost but were resisted by the personnel deployed at the post and the standoff continued for an hour in which two levies personnel were killed while another was injured. The officials said that about 60 soldiers were deployed at the checkpost.The second attack was launched on the Zarka Kohi Hassankhel checkpost.
Full report at:
http://www.nation.com.pk/pakistan-news-newspaper-daily-english-online/national/28-Dec-2012/taliban-capture-33-troops
------------
Taliban's offer of conditional truce unacceptable: Interior Minister
December 27, 2012
Interior Minister Rehman Malik has said that Taliban leader Ismatullah Muavia through his offer of conditional truce' has tried to dictate the government which is totally unacceptable.
Talking to newsmen here in Sukkur on Thursday' he said enemies want to derail democratic system in the country but their nefarious designs will be foiled with unity.
Full report at:
http://www.nation.com.pk/pakistan-news-newspaper-daily-english-online/national/27-Dec-2012/talibans-offer-of-conditional-truce-unacceptable-malik
------------
Two killed, 22 levies personnel missing in checkposts attack
December 28, 2012
Zahir Shah Sherazi
PESHAWAR: Two levies personnel were killed and more than 22 others are missing since the early hours of Thursday after militants launched a massive assault on three checkposts on the outskirts of Peshawar, official sources told Dawn.Com.
The militants destroyed two checkposts and also took away weapons, a double cabin pick-up, besides setting a vehicle ablaze.
More than 100 levies personnel had been deployed at the three checkposts and about 22 have not reported back and its feared they had been kidnapped along with their weapons.
Sources said that heavily armed militants attacked the Zaray, Zarka Kohi Hassankhel and Ghaki Sar checkposts between 01:50 am to 02:45 am on Thursday, ransacking two posts and blowing up one completely.
Full report at:
http://dawn.com/2012/12/27/two-killed-22-soldiers-missing-in-security-checkposts-attack/
------------
Khar and Saudi FM to discuss crisis in Syria
December 28, 2012
ISLAMABAD: Foreign Minister Hina Rabbani Khar is likely to visit Riyadh on Jan 1 for consultations on the aggravating Syrian crisis amid stepped-up international efforts to end the conflict.
"The foreign minister will stop over in the Saudi capital on her way to New York," a senior Pakistani official told Dawn.
Ms Khar is travelling to New York on the occasion of Pakistan assuming the United Nations Security Council's rotational presidency.
Ms Khar was last week invited by her Saudi counterpart Prince Saud Al Faisal bin Abdulaziz Al Saud to visit Riyadh for urgent consultations.
Full report at:
http://dawn.com/2012/12/28/khar-and-saudi-fm-to-discuss-crisis-in-syria/
------------
Tahir Qadri Qadri's Lahore show earns laurels from Human Rights Forum
December 28, 2012
MANDI BAHAUDDIN - Social circles including human rights organisations have welcomed the public gathering of Minhajul Quran movement held at Minar-e-Pakistan in Lahore.
Congratulating Tahir Qadri and workers of Minhajul Quran movement for arranging the historical gathering, Human Rights Forum Chairman Raja Sarwar said that the gathering had thrilled the downtrodden and deprived classes and gave them a hope for a positive change in the country. Society for Human Amity Peace and Education President Mian Zahid Sharif paid tributes to Tahir Qadri for raising slogan "Siasast nahein Riasat Bachoe" and said this slogan had exposed the rulers who had been playing politics to promote and protect their own interests at the cost of the public.
Full report at:
http://www.nation.com.pk/pakistan-news-newspaper-daily-english-online/national/28-Dec-2012/qadris-lahore-show-earns-laurels
------------
Support 'reforms before polls' agenda or alliance with PPP is over: MQM
By: Ashraf Mumtaz
December 28, 2012
LAHORE – Muttahida Qaumi Movement chief Altaf Hussain on Thursday expressed all-out support to Dr Tahirul Qadri's 'reforms before polls' agenda and said elections should not be held unless flaws in the electoral system were removed and terrorism uprooted."At present the integrity of the country is at stake. Pakistan's flag cannot be hoisted in vast areas of Balochistan and Khyber Pakhtunkhwa. I urge the army to stand by the people and stamp out terrorism. The MQM will fully back the initiative," he said in a telephonic interview with TheNation.He said at a time when the country was facing so many challenges, elections could be delayed.Altaf called upon the Pakistan People's Party to throw its weight behind Dr Qadri's agenda in the larger national interest. In case it did not, the MQM would part ways with the PPP."We are not haris or tenants of anyone. We are free to take our own decisions." This is the first time that the MQM chief personally took up the cudgels for the Tehrik.
Full report at:
http://www.nation.com.pk/pakistan-news-newspaper-daily-english-online/editors-picks/28-Dec-2012/support-reforms-before-polls-agenda-or-alliance-with-ppp-is-over-altaf
------------
Altaf pays tribute to Shaheed Benazir
December 28, 2012
KARACHI: Muttahida Qaumi Movement (MQM) chief Altaf Hussain has paid rich tributes to former prime minister and chairperson of Pakistan People's Party (PPP) Benazir Bhutto on her fifth death anniversary.
In a statement issued by the MQM here on Thursday, Altaf said that Shaheed Benazir Bhutto waged a long struggle for the revival of democracy in the country and for its continuation. Ultimately, she laid her life for the sake of democracy.
Full report at:
http://www.dailytimes.com.pk/default.asp?page=2012\12\28\story_28-12-2012_pg12_4
------------
KP govt cautiously welcomes talks offer: Anti-terror stance to remain unchanged
December 28, 2012
PESHAWAR, Dec 27: The Khyber Pakhtunkhwa government on Thursday welcomed the Tehrik-i-Taliban Pakistan's offer for conditional talks but said it would not deter it from its principled stand against terrorism and violence.
"We welcome the TTP's offer of truce and consider this a positive development," Information Minister Mian Iftikhar Hussain told Dawn.
"Let the TTP come to the table and present its conditions. It is for the state to decide what conditions are acceptable and what are unacceptable," he said.
His comments were sought after Punjabi Taliban, the TTP's Punjab faction, had offered a conditional ceasefire in a letter. The letter was written by Punjabi Taliban leader Asmatullah Muawiya outlining his conditions for talks. TTP spokesman Ehsanullah Ahsan endorsed the offer.
Full report at:
http://dawn.com/2012/12/28/kp-govt-cautiously-welcomes-talks-offer-anti-terror-stance-to-remain-unchanged/
------------
'New Bhutto' comes out gunning against judiciary
By: Nazir Siyal
December 28, 2012
GARHI KHUDA BAKHSH – PPP Chairman Bilawal Bhutto Zardari on Thursday promised to defend democracy and fight extremism. But at the same time, he criticised judiciary saying that it has no role in governance of the country.Addressing a large gathering on the 5th death anniversary of his mother and Pakistan People's Party (PPP) leader Benazir Bhutto, he said "judiciary is concerned over the prices of 'samosas' and CNG (compressed natural gas) but they don't care about the illegal hanging of Shaheed Zulfikar Ali Bhutto."On the occasion, which also marked his formal induction into Pakistani politics, Bilawal said, "I ask the chief justice of this county, does he has no time for hearing Bhutto reference case?" Every worker of PPP wants the decision of that case at the earliest, he added.The young PPP chairman said his party supported an independent judiciary but the role of the judiciary was to provide justice and not to govern. He said the PPP was aware of the crisis in Balochistan and the government had passed laws which would benefit the province.He paid a rich tribute to his slain mother Benazir Bhutto, grandfather Zulfikar Ali Bhutto and other activists of PPP and said that the 'martyrs of democracy live in his heart'. He said they, his mother and grandfather, along with hundreds of other PPP activists are also with him on the occasion. Full report at:
http://www.nation.com.pk/pakistan-news-newspaper-daily-english-online/editors-picks/28-Dec-2012/-new-bhutto-comes-out-gunning-against-judiciary
------------
Two sleuths shot dead in Quetta
December 28, 2012
QUETTA: Two personnel of an intelligence agency were gunned down in Satellite Town here on Thursday, police sources said.
The personnel were on their way on a motorbike when gunmen, also riding a motorcycle, opened fire on them near Barrach market. Both were seriously injured and taken to hospital, but died before receiving medical aid.
Full report at:
http://dawn.com/2012/12/28/two-sleuths-shot-dead-in-quetta/
------------
Benazir assassination probe report: 'Strongly worded' UN letter being kept under wraps
December 28, 2012
ISLAMABAD: The government has kept secret a 'strongly worded' letter of the United Nations written in reaction to Pakistan's response to the UN inquiry report on Benazir Bhutto assassination, according to informed sources.
The letter was written by Ambassador Heraldo Munoz, the head of a three-member inquiry commission on Benazir assassination, after then foreign minister Shah Mehmood Qureshi sent a reply to the UN in July 2010 raising serious objections to the 60-page report released on April 15, 2010.
The UN letter is reported to have exposed the Pakistan Peoples Party's intention of not revealing the names of perpetrators, planners, financiers and abettors of the fatal gun-and-bomb attack on the former prime minister after a public meeting outside Liaquat Bagh in Rawalpindi on Dec 27, 2007.
Full report at:
http://dawn.com/2012/12/28/benazir-assassination-probe-report-strongly-worded-un-letter-being-kept-under-wraps/
------------
New accord for CSF likely: Pakistan, US to hold talks next year
Kalbe Ali
December 28, 2012
ISLAMABAD: The flow of US financial aid for the armed forces in the fight against terrorism has officially ended because Pakistan is reportedly not forwarding any pending bill to the US. However, the two sides will discuss a new mode of anti-terror funding next year.
Acording to sources, the pending bill under the Coalition Support Fund (CSF) was to be submitted by the end of the year, but Pakistan is not billing the US for the expenses incurred on the war against terror.
"There are many reasons and issues, but Pakistan has not forwarded any CSF bill since May last year," said a senior official of the defence ministry, adding that working relations between the two countries had soured after the killing of Osama bin Laden in a US raid in May 2011.
Full report at:
http://dawn.com/2012/12/28/new-accord-for-csf-likely-pakistan-us-to-hold-talks-next-year/
------------
Afghan mortar shells land in Pakistan
December 28, 2012
Miranshah - At least 10 mortar shells landed in the Pakistani territory on Thursday but no casualty or damage was reported. According to a private TV channel, the shells landed in North Waziristan, an area bordering Afghanistan
Full report at:
http://www.nation.com.pk/pakistan-news-newspaper-daily-english-online/national/28-Dec-2012/afghan-mortar-shells-land-in-pakistan
------------
One Pound Fish singer Shahid returns to Pakistan in triumph
December 28, 2012
LAHORE - Internet sensation One Pound Fish singer returned to a hero's welcome in Lahore on Thursday, vowing to take his signature tune in honour of cut-price produce to France and the United States.
Hundreds showed up at Lahore airport to honour Muhammad Shahid Nazir, who scaled the British music charts with "One Pound Fish", which he originally composed to entice shoppers at the east London market where he worked.
The song became a YouTube hit after someone filmed Nazir singing it at the market and Warner Music signed him up for a record deal in the hope of getting the coveted Christmas number one spot in the charts.
Full report at:
http://www.nation.com.pk/pakistan-news-newspaper-daily-english-online/national/28-Dec-2012/one-pound-fish-singer-shahid-returns-to-pakistan-in-triumph
------------
Boy's school bombed near Peshawar
December 28, 2012
PESHAWAR: Unknown miscreants blew up another government primary school for boys in Badaber area near Peshawar early Thursday. According to police, unknown militants blew up a school in Mushtarzai area with explosives. The explosion partially damaged the school building and its boundary wall. Police reached the exploded building and collected evidence.
A police official said that one kilogram explosive materials were used in the attack.
Full report at:
http://www.nation.com.pk/pakistan-news-newspaper-daily-english-online/national/28-Dec-2012/boys-school-bombed-near-peshawar
------------
Arab World
Grand Mufti of Lebanon reverses call for Islamic Council polls
By Nafez Kawas
December 28, 2012
BEIRUT: Grand Mufti Sheikh Mohammad Rashid Qabbani Thursday reversed a controversial call to hold elections for the Higher Islamic Council at the end of this year.
The mufti issued a statement in which he announced that he canceled his prior "decision ... of Nov. 25, 2012, to call on electoral bodies to elect a new Higher Islamic Council on Dec. 30, 2012."
Prime Minister Najib Mikati met with Qabbani later in the day, and suggested holding elections in the next three months.
Full report at:
http://www.dailystar.com.lb/News/Politics/2012/Dec-28/200125-qabbani-reverses-call-for-islamic-council-polls.ashx#ixzz2GKVCDwGw
------------
Egypt prosecutor orders investigation into Morsi opposition figures
December 28, 2012
Egypt's top prosecutor ordered on Thursday an investigation into several opposition officials over allegations that they planned to overthrow the regime of newly elected Islamist President Mohammed Morsi.
The decree comes after a lawyer filed a complaint against Mohamed ElBaradei, Amr Moussa and Hamdeen Sabahi, the main opposition members of the National Salvation Front.
The order, issued by an appointee of Morsi, is likely to aggravate political tensions that have erupted into street violence, most recently surrounding the newly passed but divisive constitution.
Full report at:
http://www.albawaba.com/news/egypt-morsi-elbaradei-459791
------------
Salafist sheikh says regrets picking Hezbollah lawyer
December 27, 2012
BEIRUT: Lebanese militant Muslim preacher Omar Bakri, who is being retried on terrorist charges, says he regrets having appointed Hezbollah MP Nawar Sahli as his lawyer, and says attempts to replace him have so far failed.
"His constant work and absence as well as refusal to allow a new lawyer [to represent me] have made me regret having appointed him as my attorney," said Omar Bakri, in a statement Thursday.
Bakri, a controversial preacher with joint Lebanese-Syrian nationality, was arrested on Nov. 14, 2010 in Tripoli, north Lebanon, after a court sentenced him and 21 other people to life in prison for carrying out "terrorist acts."
However, a decision to re-try Bakri was taken after his arrest rendered the trial in absentia void.
Full report at:
http://www.dailystar.com.lb/News/Local-News/2012/Dec-27/200018-salafist-sheikh-says-regrets-picking-hezbollah-lawyer.ashx#ixzz2GKVqL3m3
------------
Gulf News tops Forbes ranking of the most popular online English media
By Saifur Rahman
December 27, 2012
Dubai: Gulf News, which has been creating a silent revolution online by expanding its reach amongst an increasing global online readership, has justifiably been named the top English newspaper online at the Forbes Middle East's Top Media Online in the Arab World awards ceremony held at the Meydan Hotel on Wednesday.
In the overall ranking, Gulf News jumped its position from 12th to 3 this year, while taking the top slot amongst the English media in the Middle East. The survey was based on a specific calculation of the online 2011 statistics.
Egypt's Al Ahram has been named the most popular news media in the Middle East. "Gulf News has made a tremendous leap from last year's ranking," Forbes Middle East said in a statement.
Full report at:
http://gulfnews.com/business/media-marketing/gulf-news-tops-forbes-ranking-of-the-most-popular-online-english-media-1.1124718
------------
Jordan and Israel in secret talks over Syria's chemical weapons
December 27th, 2012
Israeli Prime Minister Binyamin Netanyahu and Jordan's King Abdullah II have held secret talks in Amman to discuss Syria's potential use of chemical weapons, Al Quds Al-Arabi reported on Wednesday.
The meeting has not been confirmed by the Israeli government, but local media in Israel quoted unnamed officials who confirmed the reports carried in Al Quds.
In recent weeks, fears have grown over the potential use of Syria's chemical weapons. Russia, one of the few remaining allies of the Assad regime, said on December 22 that Syria was consolidating its chemical weapons stores in "one or two" places.
The United States has previously said that it considers that any use of such weapons by Assad's security forces against the civilian population would constitute a "red line" and could force nations in to military action.
Full report at:
http://www.albawaba.com/news/syria-chemical-weapons-459711
------------
Syrian fighters reject Assad role in interim govt
28 December 2012
ISTANBUL: Syria's opposition National Coalition said it would agree to any solution for a political transition as long as it excludes President Bashar Assad and his family.
"We will accept any political solution that does not include the Assad family nor those who harmed the Syrian people," Coalition spokesman Walid Al-Bunni told a press conference in Istanbul.
"Our first condition for them is to leave the country," Bunni said in remarks translated from Arabic, referring to the Assad family and the regime's inner circle.
The opposition said Assad's forces had killed too many people for him to play a role in any solution.
Full report at:
http://www.arabnews.com/syrian-fighters-reject-assad-role-interim-govt
------------
Ebsar Society distributes Holy Qur'an in the Braille language
28 December 2012
JEDDAH: The Ebsar Society (charity organization to help visually impaired people) launched the distribution of copies of the Braille language version of the Holy Qur'an in collaboration with the Custodian of the Two Holy Mosques Press for the printing of the Holy Qur'an in the Braille language.
Those who applied for the copies of the holy book, including those applied from foreign countries, will receive copies.
Full report at:
http://www.arabnews.com/islam-perspective/ebsar-society-distributes-holy-qur%E2%80%99-braille-language
------------
Saudi Government incentives spurring growth in industrial investment
27 December 2012
RIYADH: Commerce and Industry Minister Tawfiq Al-Rabiah yesterday emphasized the government's efforts to strengthen the country's industrial sector by offering incentives to Saudi and foreign investors.
"The Kingdom's industrial cities are attracting leading projects in various fields. There is a substantial increase in industrial investment as a result of government support," the minister said after launching a number of projects in the Second Industrial City in Riyadh.
Saleh Al-Rasheed, acting director general of Saudi Industrial Property Authority (Modon), said the second industrial city currently accommodates a number of international companies including factories of ABB and Henkel.
Established in 1976, the second industrial city, located south of Riyadh, is spread on an area of 18 million sq. m.
Full report at:
http://www.arabnews.com/saudi-arabia/government-incentives-spurring-growth-industrial-investment
------------
President Morsi could face a summer of discontent: News Analysis
27 Dec 2012
President Mohamed Morsi is expected to address the Shura Council Saturday morning. The council will assume legislative powers following the ratification by the president of a controversial constitution passed by referendum with a less than two thirds majority of Egypt's illegible 51 million voters, according to official results announced Tuesday.
Morsi's speech will be his second public statement since he gave a televised address three weeks ago in the wake of bloody confrontations between his followers and opponents around the presidential palace that saw 10 dead and tens injured.
In that short speech, a clearly iritated president spoke in "us and them" terms, blaming the opposition for the political turmoil that rocked the country after his controversial 22 November constitutional decree that maximised his powers before he then called for a referendum on a highly controversial text of Egypt's first post-25 January Revolution constitution.
Full report at:
http://english.ahram.org.eg/NewsContent/1/64/61331/Egypt/Politics-/President-Morsi-could-face-a-summer-of-discontent-.aspx
------------
Salafist party to refrain from decisions damaging to tourism: Bakkar
27 Dec 2012
Nader Bakkar, the official spokesperson for the Salafist Nour Party, announced during a national dialogue with the Egyptian Federation of Tourist Chambers on Wednesday evening that the party will not take any decision for a period of one year in the coming People's Assembly (the lower house of parliament) that might damage the country's tourism sector.
Bakkar explained that the Nour Party is calling for a new initiative to overcome the current economic crisis "by endorsing a political truce for a specific period, which could be a year, during which the government, presidency and various political forces can execute an agreed upon legislative and economic agenda for an economic renaissance."
He also pointed out that this step will be sufficient enough to reactivate the economy and to resolve the tourism crisis in the current period.
Full report at:
http://english.ahram.org.eg/NewsContent/1/64/61363/Egypt/Politics-/Salafist-party-to-refrain-from-decisions-damaging-.aspx
------------
Egypt's parliamentary affairs minister resigns from Qandil's Cabinet
27 Dec 2012
Mohamed Mahsoub, Egypt's Minister of Legal and Parliamentary Affairs, submitted his resignation to President Mohamed Morsi on Thursday, according to Essam Sultan, vice president of the moderate Islamist Wasat Party of which Mahsoub is a leading member.
Mahsoub explained in his resignation letter he realised that many of the policies adopted by the government "contradict" his personal beliefs and "do not reflect the aspirations of the people after the revolution or the sacrifices they made for it to succeed."
Full report at:
http://english.ahram.org.eg/NewsContent/1/64/61388/Egypt/Politics-/Egypts-parliamentary-affairs-minister-resigns-from.aspx
------------
Egypt: Morsi Regime Rams Through New Egyptian Constitution
James Phillips
December 26, 2012
Egyptian President Mohamed Morsi today signed into law Egypt's new constitution, which his fractured opposition has denounced as a betrayal of the original democratic goals of the 2011 revolution against the Hosni Mubarak regime.
The constitution was written by an Islamist-dominated assembly that pushed through a draft over the objections of its liberal, secular, and Christian members, many of whom resigned in protest. The new constitution tilts toward the goals of Morsi's Muslim Brotherhood, which seeks to impose its Islamist ideology on moderate Muslims, secularists, and non-Muslim minorities.
The constitution also protects the interests of the army by allowing it to retain control of its own budget and extensive business empire, thereby helping to solidify the growing alliance between the Muslim Brotherhood and the military, which has dominated Egyptian politics since 1952.
Full report at:
http://blog.heritage.org/2012/12/26/egypt-morsi-regime-rams-through-new-egyptian-constitution/
------------
Palestinian envoy to Lebanon in Ramallah to discuss refugees
By Misbah al-Ali, Mohammed Zaatari
December 28, 2012
BEIRUT: Palestine's ambassador to Lebanon headed for Ramallah Thursday with plans to speak with Palestinian President Mahmoud Abbas about the influx of Palestinian refugees from Syria into Lebanon.
A media adviser for the Palestinian Embassy, Hasan Sheshneya, told The Daily Star Ambassador Ashraf Dabbour and a delegation of PLO officials traveled to Ramallah to attend a meeting of Fatah's Revolutionary Council, and would speak with Abbas on the sidelines about the refugees' plight.
Full report at:
http://www.dailystar.com.lb/News/Local-News/2012/Dec-28/200130-palestinian-envoy-to-lebanon-in-ramallah-to-discuss-refugees.ashx#ixzz2GKVPOokw
------------
Spate of crimes across country targets Syrians
December 28, 2012
BEIRUT: Two men were hospitalized with gunshot wounds and four others were mugged Friday in a series of separate incidents that targeted Syrians in the Bekaa and Akkar.
Mohammad Ahmad was admitted to Riyaq hospital in Zahle after he was shot in the face with a hunting rifle, according to the National News Agency.
Majed al-Ali, a Syrian national, was admitted to the Rahhal hospital in Akkar after being shot twice with a hunting rifle. Ali's condition was reported to be critical, and investigations into both cases were launched.
In Zahle, a group of men impersonating security personnel stopped Syrians Ali Fahed and Khaled al-Ibrahim and robbed them of $500.
In a similar incident, a group of men impersonating authorities stopped Syrian national Othman al-Mohammad on a side road between the Bekaa villages of Karak and Terbol, robbing him.
Full report at:
http://www.dailystar.com.lb/News/Local-News/2012/Dec-28/200129-spate-of-crimes-across-country-targets-syrians.ashx#ixzz2GKVZPqqZ
------------
Shiite council urges patience by kin of Lebanese hostages
December 27, 2012
BEIRUT: The Higher Islamic Shiite Council called Thursday on relatives of the Lebanese pilgrims held hostage in Syria to exercise more patience and place their trust in the relevant authorities working to secure the return of their loved ones, the National News Agency reported.
"We recognize the rightful demands of the families but they should have patience and await the results of ongoing efforts to free the hostages," a statement by the Shiite body said, the state-run agency reported.
The statement came following a meeting between the council's vice president, Sheikh Abdul-Amir Qabalan, and Sheikh Abbas Zogheib, who was tasked by body to follow up on the case of the nine remaining hostages in Syria.
Full report at:
http://www.dailystar.com.lb/News/Local-News/2012/Dec-27/200042-shiite-council-urges-patience-by-kin-of-lebanese-hostages.ashx#ixzz2GKVyZXic
------------
Battle for Syrian City Lays Both Sides' Weaknesses Bare
By C. J. CHIVERS
December 27, 2012
ALEPPO, Syria — The sniper walked through the rubble near this city's front lines. He was searching for another spot from where he might catch a Syrian soldier in his rifle scope's cross hairs.
Speaking in French-accented English, he said he was not Syrian, but a roaming jihadist who had journeyed here to help the Sunni uprising against President Bashar al-Assad's secular, Alawite rule.
"I am a Muslim," he said. "When you see on TV many of your brothers and sisters being killed you have to go help them. This is an obligation in Islam."
The presence of this foreign antigovernment fighter, who claimed to be from Paris and gave his name as Abu Abdullah, pointed to recurring questions of the battle for Syria's largest city: How much longer will the fighting last, and what will its effects be?
Now in its sixth month, the battle for Aleppo has become the contest for Syria in a microcosm, exposing the weakness of both sides, while highlighting anew the perils and costs of the country's bitter civil war.
Full report at:
http://www.nytimes.com/2012/12/28/world/middleeast/battle-for-aleppo-shows-weaknesses-of-both-sides.html?hp&_r=0&gwh=F8A9377796E2C2A1DFE50FD89514EB42
------------
Moscow shoots-down rumors of Russia-U.S. collaboration to solve Syria conflict
December 27, 2012
The Foreign Ministry on Thursday denied it has made a joint plan with the United States to solve the Syrian crisis.
Moscow strictly followed the Geneva agreements and was not coordinating with the U.S. to settle the crisis in Syria, ministry spokesman Alexander Lukashevich said at a news conference.
"There is no such plan and it has not been considered," Lukashevich told reporters.
He said that Moscow only discussed with the UN-Arab League envoy to Syria, Lakhdar Brahimi, ways to implement the Geneva communique reached by world powers in June.
Brahimi will visit Moscow on Saturday to hold talks with Foreign Minister Sergei Lavrov, Lukashevich said.
Full report at:
http://www.albawaba.com/news/russia-usa-syria-plan-459785
------------
Egypt's Mubarak back in hospital
December 28, 2012
CAIRO: Egypt's state prosecutor on Thursday ordered imprisoned former dictator Hosni Mubarak transferred to a military hospital after his health deteriorated, a source at the prosecutor's office said.
Mubarak, serving a life sentence over the killings of protesters, was
briefly taken to hospital on December 19 for scans after he fell in his prison bathroom and hurt his head.
Mubarak, 84, will be returned to prison after he is treated, the source
said.
Full report at:
http://www.thenews.com.pk/article-81414-Egypts-Mubarak-back-in-hospital-as-health-worsens
------------
North America
Obama's gift to al-Qaida, support for tyranny, and FBI monitoring of dissent
Glenn Greenwald
26 December 2012
This week will likely entail light posting, but here are several items worthy of note:
(1) I can't recall any one news article that so effectively conveys both the gross immorality and the strategic stupidity of Obama's drone attacks as this one from Monday's Washington Post by Sudarsan Raghavan. It details how the US-supported Yemeni dictatorship lies to its public each time the US kills Yemeni civilians with a drone attack, and how these civilian-killing attacks are relentlessly (and predictably) driving Yemenis to support al-Qaida and devote themselves to anti-American militancy:
"Since the attack, militants in the tribal areas surrounding Radda have gained more recruits and supporters in their war against the Yemeni government and its key backer, the United States. The two survivors and relatives of six victims, interviewed separately and speaking to a Western journalist about the incident for the first time, expressed willingness to support or even fight alongside AQAP, as the al-Qaeda group is known.
"'Our entire village is angry at the government and the Americans,' Mohammed said. 'If the Americans are responsible, I would have no choice but to sympathize with al-Qaeda because al-Qaeda is fighting America.'
Full report at:
http://www.guardian.co.uk/commentisfree/2012/dec/26/drones-yemen-fbi-occupy-terrorism
------------
Mideast Asia
Iran's Slowing of Enrichment Efforts May Show It Wants a Deal, Analysts Say
By DAVID E. SANGER and JAMES RISEN
December 27, 2012
WASHINGTON — By subtly putting its hands on the brakes of its uranium enrichment efforts, Iran may be signaling that it wants to avoid a direct confrontation over its nuclear program, at least in the near term, according to United States and other Western officials. The action has also led some analysts to conclude that Iran's leaders are showing signs that they may be more interested in a deal to end the nuclear standoff with the West.
Evidence began emerging last summer that the Iranians were diverting a significant portion of their medium-enriched uranium for use in a small research reactor, converting it into a form that cannot easily be used in a weapon.
One American official said the move amounted to trying to "put more time on the clock to solve this," characterizing it as a step "you have to assume was highly calculated, because everything the Iranians do in a negotiation is highly calculated." Israel's departing defense minister, Ehud Barak, came to a similar conclusion when he said in October that his country could safely back away from threats of military action against Iran, at least until the late spring or summer of 2013.
But White House, State Department and Pentagon officials all cautioned against drawing firm conclusions about Iran's ultimate intentions.
Full report at:
deal.html?ref=middleeast&_r=1&&gwh=8E654F94432C690C8181EEA3A39C5404
------------
Tension between Bangladesh and Turkey
December 28, 2012
Diplomatic tension has been created between Dhaka and Ankara over Turkish President Abdullah Gul's letter to President Zillur Rahman calling for "clemency" to the accused under trial in the International Crimes Tribunal for the "sake of peace in the society".
Gul requested clemency for Ghulam Azam and the other accused, foreign ministry sources said.
Tension intensified as Ankara summoned yesterday Bangladesh Ambassador to Turkey Md Zulfiqur Rahman, a day after Dhaka summoned Turkish Ambassador in Bangladesh Mehmet Vakur Erkul on Wednesday.
The foreign ministry sources told The Daily Star yesterday that content of the December 23 letter from the Turkish president is not acceptable and it is a clear interference in the internal affairs of Bangladesh.
Full report at:
http://www.thedailystar.net/newDesign/news-details.php?nid=262861
------------
Abbas warns of disbanding Palestinian Authority
December 28, 2012
JERUSALEM: Palestinian president Mahmud Abbas warned Thursday that he will disband his Palestinian Authority if there was no Israeli movement toward renewing peace talks after Israel's elections on January 22.
Abbas, in an interview with the Israeli daily Haaretz, said that if such a
situation arises he will hand full responsibility for the occupied West Bank to the Israeli government.
"If there is no progress even after the election I will take the phone and call (Prime Minister Benjamin) Netanyahu," Abbas said.
"I'll tell him...Sit in the chair here instead of me, take the keys, and
you will be responsible for the Palestinian Authority."
"Once the new government in Israel is in place, Netanyahu will have to
decide -- yes or no," Abbas said in the interview published on the paper's website late Thursday.
Full report at:
http://www.thenews.com.pk/article-81417-Abbas-warns-of-disbanding-PA-
------------
Turkish Journalist Accused of Terrorist Plot Is Freed Pending Trial
By SEBNEM ARSU
December 27, 2012
ISTANBUL — A court in Istanbul released Soner Yalcin, a prominent journalist, from prison on Thursday after he had spent nearly two years behind bars, charged with plotting to overthrow the government with 12 other defendants.
Mr. Yalcin, the owner and editor of OdaTV, a news portal critical of the government, and 12 co-defendants are accused of acting as the media wing of what prosecutors call a terrorist network that aimed to topple the governing Justice and Development Party of Prime Minister Recep Tayyip Erdogan.
All but two of the defendants have now been released from custody pending the outcome of their trial, which was adjourned until March 21.
The court freed Mr. Yalcin but barred him from traveling abroad and ordered him to report to a police station every week, the semiofficial Anatolian News Agency reported.
Television news reports showed Mr. Yalcin leaving the Silivri Prison on the outskirts of Istanbul, surrounded by supporters, including his son and wife.
"We do not write or think with the permission of anyone; we think and write freely," Mr. Yalcin said as he left for his home after midnight. "Some could think of bending or breaking pens of Yalcin and other honorable, noble journalists by throwing them into jail. However, we would not become that."
Full report at:
http://www.nytimes.com/2012/12/28/world/europe/soner-yalcin-owner-and-editor-of-odatv-freed-from-prison.html?ref=europe&gwh=2CD639F10E6D53D5B102F23B9C46412A
------------
Knesset member appeals Israel election ban
28 Dec 2012
A Palestinian-Israeli politician is appealing a court ruling barring her from running in Israel's general elections next month.
Last week, Knesset member Haneen Zoabi was disqualified for "undermining" Israel because she was on board the Mavi Marmara ship in May 2010 as part of an international flotilla challenging Israel's blockade on the Gaza Strip.
The Turkish ship was boarded by Israeli special forces as it approached waters off Gaza. In the violence that followed, nine activists were shot dead by the commando's.
Israel's Supreme Court now has four days to decide whether to revoke Zoabi's election ban.
Speaking to Al Jazeera on Thursday, Zoabi said the ban was the culmination of a long process of persecution.
Full report at:
http://www.aljazeera.com/news/middleeast/2012/12/2012122723474671394.html
------------
Israel PM met Jordan king in Amman over Syria: Media
27 Dec 2012
Israeli Prime Minister Benjamin Netanyahu held talks with Jordan's King Abdullah II in Amman recently to discuss violence in Syria and the country's chemical weapons stock, Israeli media said Thursday.
Public radio, as well as several local newspapers, said Israeli and Jordanian officials had confirmed the meeting, which was first reported in the Al-Quds al-Arabi daily on Wednesday.
A spokesman for Netanyahu declined to comment on the reports.
The date of the meeting has not been reported, but Israeli media said the meeting focused on the regional threat posed by Syria's chemical weapons stocks.
Full report at:
http://english.ahram.org.eg/NewsContent/2/8/61349/World/Region/Israel-PM-met-Jordan-king-in-Amman-over-Syria-Medi.aspx
------------
Hamas urged to accommodate Fatah rally in Gaza
By Nasouh Nazzal
December 27, 2012
Ramallah: The Palestinian factions and political parties have urged the Gaza Hamas government to secure its rival Fatah the necessary approvals to organize Fatah's 48th anniversary wherever Fatah desires in the Gaza Strip just the way Fatah treated Hamas in the West Bank. The groups have called on Hamas to avoid making unnecessary trouble which would increase the gap and deepen the rift between the two rivals.
According to Dr Wasel Abu Yousef, a member of the Executive Committee of the Palestinian Liberation Organization (PLO), Hamas tries to create hindrances and unnecessary problems for Fatah. "There should be no problem when Fatah organises its rally anywhere in Gaza. Let Fatah organise a central rally at the Green Al Kateebah area just like the other Palestinian factions which organise their anniversaries and activities on the same spot," he said. "Why does Hamas not accept Fatah to organise its anniversary rally on that spot?"
Full report at:
http://gulfnews.com/news/region/palestinian-territories/hamas-urged-to-accommodate-fatah-rally-in-gaza-1.1124558
------------
URL: https://www.newageislam.com/islamic-world-news/new-age-islam-news-bureau/france-hastens-military-intervention-against-al-qaida-linked-groups-in-mali/d/9825