New Age Islam News Bureau
9 Jan 2015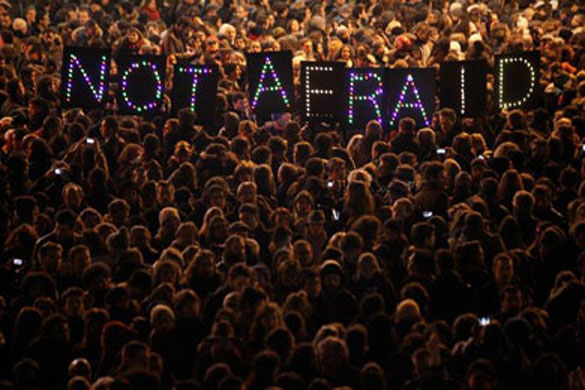 People gather to pay their respects for the victims of terror attack against satirical newspaper Charlie Hebdo, in Paris (AP Photo)
------------
Europe
• France 'At War' With Terrorism, Not Religion: French PM
• UK: Qaeda in Syria Planning Mass Attacks on West
• Paris Shooters Cornered, Want 'Martyr' Death
• French Author 'Suspends Promotion' Of Islam Book after Paris Massacre
• • Charlie Hebdo plans special edition while drawing bids of 70,000 Euros online
• Fresh firing in Paris, policewoman dead; many mosques attacked in France
• Majority of Germans see Islam as threat: poll
• In France, silence, bells and tears
• Hostage taken northeast of Paris as police seal off town
• Paris attack suspect met late al-Qaeda preacher in Yemen
Arab World
• IS Beheads Syria Imam for 'Insulting God'
• Al-Qaeda challenges Islamic State with Paris attack
• Iraqi Airstrike Kills 20 ISIL Terrorists in Salahuddin
• Islamic State Praise Paris Attackers as 'Heroic Jihadists'
• French Magazine Attack Incompatible with Islam: Saudi Arabia
• Egypt says Paris 'criminal' attack unrepresentative of Islam
• Islamic State book burnings target minorities
• Syria's al-Qaeda repelled from Shiite villages
• Paris attack reminds Arab cartoonists of dangers at home
• Blogger sentenced to ten years and 1,000 lashes for 'insulting 'Islam'
• Doubling buffer, Cairo to raze 1,220 more Gazan homes
Africa
• 100 Killed In Boko Haram Attack in Nigeria
• Bodies 'Littered On the Streets' After Boko Haram Attack on Baga
• U.N. Confirms Hundreds Slaughtered In South Sudan
• IS in Libya claims it executed two Tunisian journalists
• Somalia's Shebab, Islamic State praise attack on France's Charlie Hebdo
• Boko Haram crisis: Niger 'will not help retake' town of Baga
Mideast
• Turkish 'Tattoo Fatwa' Urges Inked Muslims to Repent
• Gaza Salafist Leader: 'We Are Following Islamic State Ideology'
• Rafsanjani: Unity Most Urgent Need of Muslims
• ICC 'close' to opening Gaza war investigation
• 'Over 1,000 foreign fighters deported' by Turkey so far
• Ankara offers assistance to Paris on terror attack
• Paris massacre 'not a game-changer,' Islamic terror experts say
North America
• Bill Maher: When You Make Fun of the Prophet, All Bets Are Off
• Qaeda Urges Revenge for Death Of Libyan Suspect In Us
• Pak Military courts: US calls for ensuring due process
• London imam Abu Hamza to be sentenced for US terrorism conviction
• US 'concerned' over Hamas-Turkey relations
• House Speaker wants Obama plan on U.S. force against ISIS
• Brothers wanted in newspaper Paris were on US no-fly list
Pakistan
• Report Cites Lal Masjid, Jamia Hafsa 'Waging War' Against State
• MQM Accuses Maulana Fazl Ur Rehman of Trying To Divide Nation
• Seven Suspected Militants Killed In Khyber Blast, Shelling
• Two killed, four injured in Quetta violence
• Al Qaeda man among militants killed in Karachi: police
• Sindh High Court rejects appeals of three death row convicts
• Mullah Fazlullah threatens PML-N leaders
• Another Pakistani beheaded for drug smuggling in Saudi Arabia
• Terrorism cases should be tried in military courts: Sindh Minister
• It's now or never to defeat terrorism: PM
• Bail To 26/11 Mastermind Lakhvi In Afghan Man's Abduction Case
• Imran should have waited till 'Chaliswan' of Peshawar school massacre: Altaf Hussain
India
• Haji Yakub Qureshi Booked For Defending Paris Terror Attack
• 'Western UP Muslim Youths In Touch With ISI'
• 3 IM operatives arrested, large cache of ammunition seized
• India home to 2, 00,000 refugees in first half of 2014: UNHCR
• Will engage France in tackling terrorism: MEA
• Among Amul Contributors, Flourishing All-Muslim Society
South Asia
• Afghanistan Approves Special Military Operations against Insurgents
• PM Sheikh Hasina: Bangladesh to stand on own feet
• Sedition case against Tarique, ETV boss
• Over 50 Maldivian militants fighting in foreign wars, reveals Commissioner of Police
• Hithadhoo School to become Maldives' first Arabic medium school
Southeast Asia
• Police Prevent Islamic State Gathering, Authorities Remain Alert
• Shop selling ISIS souvenirs in Bandar Baru Bangi, reports paper
• Indonesia Condemns Slayings at French Weekly, Supports Call for Justice
Compiled by New Age Islam News Bureau
URL: https://www.newageislam.com/islamic-world-news/new-age-islam-news-bureau/france--at-war--with-terrorism,-not-religion--french-pm/d/100936
----------
Europe
France 'at war' with terrorism, not religion: French PM
9 January 2015
France is at "war" with terrorism, but not religion, Prime Minister Manuel Valls said Friday as police cornered two suspected Islamist gunmen near Paris.
"We are in a war against terrorism. We are not in a war against religion, against a civilisation," Valls said. France is in shock over the massacre Wednesday of 12 people at a satirical weekly magazine by two brothers shouting Islamist slogans.
http://english.alarabiya.net/en/News/middle-east/2015/01/09/France-at-war-with-terrorism-not-religion-PM.html
----------
UK: Qaeda in Syria planning mass attacks on West
9 January 2015
Al-Qaeda militants in Syria are plotting attacks to inflict mass casualties in the West, possibly against transport systems or "iconic targets," the head of Britain's MI5 Security Service said on Thursday.
Speaking after gunmen killed 12 people in an assault on a French satirical newspaper, MI5 boss Andrew Parker warned a strike on the United Kingdom was highly likely.
"A group of core al-Qaeda terrorists in Syria is planning mass casualty attacks against the West," Director General Parker said in a rare public speech at MI5 headquarters in London. His last public speech was in October 2013.
In the speech, planned before the killings in Paris, Parker said seasoned al Qaeda militants in Syria aimed to "cause large-scale loss of life, often by attacking transport systems or iconic targets" in the West.
Al-Qaeda killed nearly 3,000 people by attacking the United States with hijacked passenger planes on September 11, 2001. Militants inspired by the group killed 52 commuters in London on July 7, 2005 with suicide bombs.
Al-Qaeda's leader Osama bin Laden was killed by U.S. special forces in 2011, and the threat posed by the network to the West seemed to recede in recent years.
But spies in Europe and the United States have been troubled that al-Qaeda militants from Pakistan have appeared in wartorn Syria, in what some intelligence analysts say could be part of a plot to mount a major attack against the West.
Thursday's stark warning from one of the West's most influential spymasters mirrors a growing concern among Western political leaders and their Arab allies about the threat from the cauldron of militant groups in Syria and Iraq.
'Dark places'
Parker said around 600 British extremists had travelled to Syria, many joining the militant group which calls itself "Islamic State" and has taken control of swathes of Iraq and Syria.
The group, an offshoot of al Qaeda, has beheaded two U.S. journalists and an American and two British aid workers in an effort to put pressure on a U.S.-led international coalition bombing its fighters in Syria.
Islamic State militants in Syria were plotting attacks on Britain and making sophisticated use of social media to incite British nationals to carry out violence, Parker said.
MI5, established in 1909 to counter German espionage ahead of World War One, had stopped three potentially deadly "terrorist plots" against the United Kingdom in recent months, he said.
"We face a very serious level of threat that is complex to combat and unlikely to abate significantly for some time," said Parker, who has argued strongly for more surveillance powers to spy on militant communications on the Internet.
He said that the security services needed to have access to such communications.
"My sharpest concern as Director General of MI5 is the growing gap between the increasingly challenging threat and the decreasing availability of capabilities to address it," he said.
Twitter and Facebook are so important to militants that technology giants should give security services greater access to their networks, the head of Britain's GCHQ eavesdropping agency said last year.
"The dark places from where those who wish us harm can plot and plan are increasing," Parker said. "We need to be able to access communications and obtain relevant data on those people when we have good reason."
http://english.alarabiya.net/en/News/world/2015/01/09/UK-Qaeda-in-Syria-planning-mass-attacks-on-West-.html
----------
Paris shooters cornered, want 'martyr' death
9 January 2015
The two brothers suspected behind the deadly killing of 12 people at Charlie Hebdo this week have been cornered inside a printing house northeast of Paris on Friday, holding hostages and telling police that they "want to die as martyrs."
Audrey Taupenas, spokeswoman for Dammartin-en-Goele where the suspects are cornered, said officials established phone contact with the suspects in order to negotiate the safe evacuation of a school nearby, the Associated Press reported. She said the suspects agreed and the school was evacuated.
Yves Albarello, a lawmaker who said he was inside the command post, said the two brothers told i-Tele on Friday they "want to die as martyrs."
Interior ministry spokesman Pierre-Henry Brandet told BFMTV: "The priority is to resolve this crisis in the smoothest way possible that is without violence. The priority is to establish contact."
The men are believed to be the masked assailants who methodically opened fire on an editorial meeting of the satirical newspaper Charlie Hebdo, leaving 12 people dead in central Paris on Wednesday.
As at least three helicopters hovered, Charles de Gaulle closed two runways to arrivals to avoid interfering in the standoff, an airport spokesman said. The town appealed to residents to stay inside.
The siege in Dammartin-en-Goele unfolded after the suspects hijacked a car early Friday in a nearby town.
Tens of thousands of French security forces have mobilized to prevent a new terror attack since the Wednesday assault on Charlie Hebdo, which decimated the editorial staff, including the chief editor who had been under armed guard after receiving death threats for publishing caricatures of the Prophet Muhammad. He and his police bodyguard were the first to die, witnesses have said.
Brothers Cherif and Said Kouachi were named as the chief suspects after Said's identity card was left behind in their abandoned getaway car.
http://english.alarabiya.net/en/views/news/world/2015/01/09/Reports-gunmen-hold-hostages-near-Paris.html
---------
French author 'suspends promotion' of Islam book after Paris massacre
9 January 2015
It was widely hailed as one of the most awaited books of 2015 in France, but after the massacre that was orchestrated in Paris this week, a book which imagines an Islam-dominated France did not stay long on the shelves.
"Soumission" or Submission, in which the author imagines a France in 2022 under Muslim rule, was suspended 48 hours after its release, French media reported.
On Friday, controversial author Michel Houellebecq announced the suspension of the promotion of his new novel after this week's massacre at satirical weekly Charlie Hebdo's office.
The controversial novel was released Wednesday, the same day of the attack.
Following the massacre, a police guard has been placed on duty at Houellebecq's French publisher Flammarion and all the staff was sent home, according to France's Le Monde.
The cover of Charlie Hebdo, published the day of the attack, showed a caricature of Houellebecq and included several pages dedicated to the book.
http://english.alarabiya.net/en/media/print/2015/01/09/French-author-suspends-promotion-of-controversial-Islam-book-after-Paris-massacre.html
----------
Charlie Hebdo plans special edition while drawing bids of 70,000 euros online
9 January 2015
French satirical magazine Charlie Hebdo announced Thursday it will defy its attackers and publish a special edition with a print run of a million copies next week, as a wave of public support rose up to save it from bankruptcy.
Surviving columnist Patrick Pelloux told AFP the magazine would bring out a "survivors' issue" next Wednesday to show that "stupidity will not win" after the attack on its headquarters which left 12 dead.
Within hours of a terrorist attack that decimated the staff at Charlie Hebdo, copies of the latest issue of the satirical weekly were drawing bids of more than 70,000 euros ($82,400) online.
The 60,000 print run of issue number 1177 sold out nearly instantly following the assault on the magazine's headquarters that killed 12 people, including some of its top journalists.
By midday Wednesday, scores of the three-euro magazine bearing a cartoon likeness of controversial French author Michel Houellebecq on its cover were popping up online at astronomical prices.
Of over 80 ads offering the issue on eBay, some were available for immediate purchase at up to 50,000 euros.
The newspaper's lawyer, Richard Malka, said the 60,000 copies Charlie Hebdo would normally print was being multiplied because of the massive attention worldwide brought by Wednesday's bloody attack.
Malka spoke after attending a meeting of the 30 remaining staff that discussed the paper's future and how to bring out the issue.
All agreed that "the next issue has to come out -- it's the best way to pay homage to the dead and to show that they (the attackers) did not kill us off," he said.
Pelloux admitted that "It's very hard. We are all suffering, with grief, with fear, but we will do it anyway because stupidity will not win".
In November, the 44-year-old publication, which seeks to amuse and provoke readers over current events with irreverent cartoons, had launched an appeal for donations to stave off imminent bankruptcy.
Usually priced at three euros ($3.60) apiece, it often sells only half of its 60,000 copies per week.
The cartoon-reliant newspaper -- with a name inspired by the American comic book character Charlie Brown from the series "Peanuts" (with "Hebdo" being French slang for weekly) -- will present a special issue of eight pages instead of its usual 16, Malka said.
The leftwing French daily newspaper Liberation will host Charlie Hebdo's journalists from Friday, because the weekly's own blood-soaked, bullet-riddled offices are sealed after the attack. Other major French media, including AFP, Le Monde newspaper and Canal+ television, are also offering assistance.
A French media fund managing 60 million euros ($70 million) donated by Google in 2013 will make an unspecified financial contribution to Charlie Hebdo. Government agencies have also taken subscriptions to the newspaper to lend it support.
The French government and dozens of media organisations have now vowed to ensure Charlie Hebdo continues.
"Charlie has to come out. To not do so would be an abdication" of the media's duty, the head of the AFP news agency, Emmanuel Hoog, said after a meeting late Wednesday with several radio, television and newspaper counterparts at the French culture ministry.
France's justice minister, Christiane Taubira, added on Thursday, to France Info radio: "Public aid to help Charlie would be justified. We cannot envision Charlie Hebdo disappearing."
Charlie Hebdo's staff had been the target of death threats for years, starting in 2006 when it reprinted 12 cartoons of Islam's Prophet Mohammed published the previous year by the Danish newspaper Jyllands-Posten.
Even though the paper was under police protection, two masked men wielding assault rifles were able to carry out Wednesday's methodical, military-style attack and escape.
Previously, the worst attack the newspaper had suffered was in 2011 and came the day it published more of its own caricatures of Mohammed. Then, suspected Islamists firebombed its empty premises.
Wednesday's attack wiped out most of its leading figures.
The newspaper's 47-year-old editor-in-chief, Stephane "Charb" Charbonnier, who was also one of its cartoonists, was murdered along with his police bodyguard.
Four other cartoonists, all major names in France -- Jean "Cabu" Cabut, 76; Georges Wolinski, 80; Bernard "Tignous" Verlhac, 57; and Philippe Honore, 73 -- were also slain, as were three other employees, including a notable economist for French radio, Bernard Maris.
Others killed were a maintenance man the assailants shot on the ground floor as they entered the building, and a policeman they executed in cold blood as he lay wounded on the pavement outside.
Pelloux, who is head of France's emergency room doctors' association, said the news editor and two others who contributed to the newspaper were wounded in the attack.
They were Laurent "Riss" Sourisseau, also a cartoonist in addition to being news editor, as well as Philippe Lancon and Fabrice Nicolino.
http://english.ahram.org.eg/NewsContent/2/9/119828/World/International/Charlie-Hebdo-plans-special-edition-while-drawing-.aspx
----------
Fresh firing in Paris, policewoman dead; many mosques attacked in France
TNN | Jan 9, 2015
PARIS: A policewoman was killed and a city employee was seriously hurt on Thursday after a man opened fire with an automatic rifle outside Paris, police said, but no link has yet been established with Wednesday's deadly attack on a satirical magazine.
The gunman is still on the run, said interior minister Bernard Cazeneuve — who rushed to the scene at Malakoff just south of the city — contradicting information given earlier by a source close to the case, who said the suspect had been detained.
Police initially said the two victims were critical, but later said policewoman succumbed to her injuries.
Several mosques have been attacked across France a day after masked gunmen stormed the offices of Charlie Hebdo and killed 12 people, AFP reported on Thursday quoting officials.
Explosion at kebab shop near mosque, no casualties
A "criminal" explosion occurred early Thursday at a kebab shop near a mosque in the eastern French town of Villefranche-sur-Saone, officials said, but left no casualties.
"It is a criminal act," a local official told AFP, adding that a police investigation has been opened. No link was suggested with the deadly attack on Paris magazine Charlie Hebdo a day earlier.
Full report at:
http://timesofindia.indiatimes.com/world/europe/Fresh-firing-in-Paris-policewoman-dead-many-mosques-attacked-in-France/articleshow/45806821.cms
-----------
Majority of Germans see Islam as threat: poll
January 09, 2015
A large and growing majority of Germans believe Islam does not belong in the Western world and more than half see it as a threat, a poll published Jan. 8 showed.
In a survey conducted in November, before Wednesday's massacre by Islamist gunmen at a French satirical paper or widespread media coverage of a new German anti-migrant movement, 61 percent of non-Muslim Germans said Islam had no place in the West.
The figure was up from 52 percent in 2012, according to the study released by the Bertelsmann Foundation think tank.
More than half -- 57 percent -- said they felt threatened by Islam, four percentage points higher than in 2012.
Forty percent said they felt like "foreigners in their own country" because of the presence of Muslims.
And one in four (24 percent) said that Muslims should be barred from migrating to Germany.
About four million Muslims live in Germany, around three-quarters of them of Turkish origin, among a population of 80 million people.
Full report at:
http://www.hurriyetdailynews.com/majority-of-germans-see-islam-as-threat-poll-.aspx?pageID=238&nID=76673&NewsCatID=351
----------
In France, silence, bells and tears
TNN | Jan 9, 2015
Office workers stood shoulder to shoulder, buses and metros halted, and only the toll of bells and sound of weeping broke the silence on Thursday as France honoured the 12 people massacred at Charlie Hebdo.
"Charlie will be free!" cried a woman in front of Paris' Notre Dame cathedral a moment before noon when the country observed a minute of silence.Many of the hundreds gathered on the square were in tears, while some prayed. "They wanted to kill Charlie Hebdo, but they made it immortal," a man in Nantes said.
http://timesofindia.indiatimes.com/world/europe/In-France-silence-bells-and-tears/articleshow/45816932.cms
---------
Hostage taken northeast of Paris as police seal off town
January 09, 2015
At least one hostage was seized in a town northeast of Paris on Friday during a huge manhunt for two brothers suspected of killing 12 people at a satirical weekly, according to a police source.
Five helicopters were seen flying over an industrial zone outside the town of Dammartin-en-Goele and the French Interior Minister confirmed an operation was taking place there. A police source said the two suspects had been sighted in the town, where at least one person was taken hostage.
Before night fell on Thursday, officers had been focusing their search some 40 km (25 miles) away on the woodland village of Corcy, not far from a service station where police sources said the brothers had been sighted in ski masks a day after the shootings at the newspaper.
The fugitive suspects are French-born sons of Algerian-born parents, both in their early 30s, and already under police surveillance. One was jailed for 18 months for trying to travel to Iraq a decade ago to fight as part of an Islamist cell. Police said they were "armed and dangerous."
Full report at:
http://www.jpost.com/International/Person-taken-hostage-where-police-are-searching-for-men-behind-Paris-attack-387214
----------
Paris attack suspect met late al-Qaeda preacher in Yemen
9 January 2015
One of the two brothers suspected of carrying out the deadly shooting at a French satirical weekly visited Yemen in 2011 and met the late al-Qaeda preacher Anwar al Awlaki during his stay, a senior Yemeni intelligence source told Reuters news agency Friday.
The source said Said Kouachi, was in Yemen for a number of months in 2011 as one of the foreigners who entered the country for religious studies, but there was no confirmed information whether he was trained by al-Qaeda in the Arabian Peninsula (AQAP), one of the group's most active affiliates.
This Yemeni official's remarks corroborates that of a senior U.S. counterterrorism official who said the older brother had traveled to Yemen.
The Associated Press reported that witness said the gunmen also pledged allegiance to the al-Qaeda in the Arabian Peninsula, the organization's offshoot in Yemen.
http://english.alarabiya.net/en/News/world/2015/01/09/Paris-attack-suspect-met-late-al-Qaeda-preacher-in-Yemen-.html
----------
Arab World
IS Beheads Syria Imam for 'Insulting God'
9 January 2015
The Islamic State (IS) group beheaded a Syrian imam, or mosque prayer leader, for "insulting God," a monitoring group said.
"The IS executed the imam of a mosque from the village of Abu Khuyut near Hasakeh city (in north-eastern Syria) at dawn Thursday," said the Syrian Observatory for Human Rights.
The Britain-based Observatory added that three of the Imam's sons were IS fighters, and that it was the first time the jihadists executed a religious official for this reason.
The man was detained after watching a video on executions carried out by IS and cursing because God had permitted them, Observatory director Rami Abdel Rahman said.
The IS carries out near-daily executions in the territories of Syria and Iraq that it controls.
Originating in Iraq, it appeared in Syria's civil war in spring 2013, and has since committed some of the conflict's worst abuses.
http://english.ahram.org.eg/NewsContent/2/8/119816/World/Region/IS-beheads-Syria-imam-for-insulting-God-Monitor.aspx
----------
Al-Qaeda challenges Islamic State with Paris attack
January 09, 2015
The deadly attack at the offices of Charlie Hebdo in Paris was the realization of a long-expected nightmare — a planned homegrown terrorist attack. The two prime suspects, brothers Said and Cherif Kouachi, are French-born Muslims of North African descent. The brothers allegedly went on a killing spree that claimed 12 lives, while a third, 18-year-old Hamyd Mourad, provided the getaway car. Mourad, who has been unemployed and according to reports homeless, has since surrendered, while the brothers, at time of writing, remain at large, having reportedly robbed a service station in the north of France.
From the information available, it seems clear the Paris attack was well-planned and executed by an established terror network, or sleeper cell. The two men were well-armed with Kalashnikovs, carried out a military-style assassination of its prime target, the editor-in-chief of Charlie Hebdo, Stephane Charbonnier, and had devised an exit strategy that has so far succeeded in evading French police. Seven people connected to the suspects have already been arrested, suggesting a wider network could have helped facilitate the attack.
This differs substantially from the Sydney cafe siege in December, which was the action of a single man who, despite his professed radical Islamist leanings, appeared to be mentally unstable. According to eyewitnesses, the French brothers claimed to be members of al-Qaeda in the Arabian Peninsula (AQAP), which has for years maintained a foothold in parts of Yemen. Charbonnier was publicly identified as an assassination target by al-Qaeda in 2013.
Full report at:
http://www.al-monitor.com/pulse/originals/2015/01/charlie-hebdo-paris-qaeda-terror-attack-france.html#ixzz3OH3tUyy2
----------
Iraqi Airstrike Kills 20 ISIL Terrorists in Salahuddin
9 January 2015
The Iraqi air force bombed a concentration center of the Islamic State of Iraq and the Levant (ISIL) terrorists in a residential compound in al-Dor district in Salahuddin province, and killed 20 of the terrorists.
"The killed ISIL terrorists include a number of Afghan terrorists," a security source said on Thursday.
http://english.farsnews.com/newstext.aspx?nn=13931018000904
----------
Islamic State praise Paris attackers as 'heroic jihadists'
January 09, 2015
The Islamic State militant group praised the gunmen behind this week's killings at the Paris headquarters of the Charlie Hebdo weekly newspaper as "heroic jihadists", a monitoring group said today.
The SITE Intelligence Group, which monitors radical Islamist organisations in the media, said Islamic State praised the gunmen in a brief note in its daily audio bulletin, which was distributed on Twitter and jihadi forums yesterday.
"We start our bulletin with France. Heroic jihadists killed 12 journalists and wounded ten others working in the French magazine Charlie Hebdo, and that was support for our master (Prophet) Muhammad, may Allah's peace and blessings be upon him," according to the audio bulletin.
Full report at:
http://www.themalaysianinsider.com/world/article/islamic-state-praise-paris-attackers-as-heroic-jihadists#sthash.VgqYkaYb.dpuf
----------
French Magazine Attack Incompatible with Islam: Saudi Arabia
Jan 9, 2015
The killing of 12 people at a French satirical weekly is incompatible with the Muslim religion, said Saudi Arabia, the home of Islam's holiest sites.
"The Kingdom of Saudi Arabia has followed with deep sorrow the terrorist attack" at the Charlie Hebdo magazine, the state Saudi Press Agency said, citing an unnamed official source.
It said the source condemned "this cowardly terrorist attack which is incompatible with Islam".
Prosecutors said witnesses heard the gunmen shout "we have avenged the prophet" and "Allahu Akbar" (God is greatest) while they carried out the attack.
Charlie Hebdo had published controversial cartoons of the prophet Mohammed, whose migration from Mecca to Medina in 622 marked the beginning of the Muslim era.
France and Saudi Arabia enjoy friendly relations.
http://english.ahram.org.eg/NewsContent/2/8/119730/World/Region/French-magazine-attack-incompatible-with-Islam-Sau.aspx
---------
Egypt says Paris 'criminal' attack unrepresentative of Islam
9 January 2015
Egypt's Journalists Syndicate and Al-Azhar, Sunni Islam's most prestigious centre of learning, say the assailants who staged Wednesday's attack on the French cartoon magazine Charlie Hebdo do not represent Islam, labeling the deadly assault "criminal".
"On behalf of all Egyptian journalists we present our condolences to all the victims' families in that horrifying attack," said a statement published by the Journalists Syndicate afternoon. "Those attackers can not belong to any religion, especially Islam. They are only savage killers," said the statement.
At least 12 people, mostly journalists, were killed in Paris when gunmen opened fire on them.
The Journalists Syndicate added that the battle to fight fascists and terrorists on all levels was not a single nation's battle, but rather humanity's battle.
Al-Azhar, meanwhile, denounced the incident as a "criminal attack," saying that "Islam denounces any violence," according to Egypt's state news agency MENA.
For his part, Egyptian Foreign Minister Sameh Shoukry expressed his country's support for France against terrorism.
Full report at:
http://english.ahram.org.eg/NewsContent/1/64/119719/Egypt/Politics-/Egypt-says-Paris-criminal-attack-unrepresentative-.aspx
----------
Islamic State book burnings target minorities
January 09, 2015
NAJAF, Iraq — For decades, the overland route between western Iraq and Lebanon has been the busiest and most important passage for the transportation of books and publications to Iraq. Today, the route has fallen under control of the Islamic State (IS), with fighters censoring book shipments to prevent the entry of material and information they consider to be contrary to Islam. Given that the transportation of books by air and sea is much more costly, IS' control over land routes will affect the market for and distribution of cultural products in Iraq.
Fighters usually inspect cargo, impose custom duties and confiscate any publication deemed contrary to their principles. The offending books are burned or otherwise destroyed on the spot. Moreover, the vehicle drivers face serious consequences. In many cases, they are only released after their relatives or the publishing houses they work for agree to pay large sums of money as ransom.
Full report at:
http://www.al-monitor.com/pulse/originals/2015/01/islamic-state-confiscates-books-iraq.html#ixzz3OH4pUAeq
----------
Syria's al-Qaeda repelled from Shiite villages
9 January 2015
Syria's al-Qaeda-affiliated Nusra Front and other Sunni Muslim militants fought during the night to capture two Shiite villages in the country's north but were repelled, activists on both sides of the war and a monitoring group said on Friday.
The insurgents were briefly able to control streets in the southern part of Zahra and buildings in the nearby village of Nubl, north of Aleppo city, according to the Britain-based Syrian Observatory for Human Rights.
The militants, who used tanks, were pushed back from both areas by the National Defense Force, a grouping of loyalist militias under the umbrella of the army, it said.
Pro-government activists published photos on social media that they said showed the bodies of Nusra Front fighters in a ditch near the villages. Reuters could not confirm the authenticity of the photos.
Full report at:
http://english.alarabiya.net/en/News/middle-east/2015/01/09/Syria-s-al-Qaeda-repelled-from-Shiite-villages.html
----------
Paris attack reminds Arab cartoonists of dangers at home
9 January 2015
After Egyptian cartoonist Andeel took to social media to condemn the slaughter of colleagues in Paris, he received expressions of sympathy - often not for the victims but for the suspected Islamist gunmen.
Some respondents on his Facebook page criticized the attack at the offices of the Charlie Hebdo newspaper, in which 12 people including several of France's top cartoonists were shot dead on Wednesday.
But Andeel was alarmed by the level of backing for the killings at the French weekly which is known for mocking religion, including Islam. The 28-year-old satirist said he feared voices of moderation were being drowned out because expressions of hate "are always a lot more colorful and loud".
The Charlie Hebdo killings were thousands of kilometers from Cairo, and yet reminded Arab cartoonists of the risks they face from those who draw a red line when it comes to criticism of the Prophet Mohammad and their faith.
Full report at:
http://english.alarabiya.net/en/perspective/features/2015/01/09/Paris-attack-reminds-Arab-cartoonists-of-dangers-at-home.html
--------
Blogger sentenced to ten years and 1,000 lashes for 'insulting 'Islam'
January 09, 2015
A Saudi blogger will be publicly flogged tomorrow as part of his 10-year jail term for 'ridiculing Islamic religious figures'.
Raif Badawi, who co-founded the Free Saudi Liberals website, was arrested in 2012 and sentenced to 1,000 lashes and a decade in prison for insulting Islam on his online forum.
His corporal punishment will be carried out after Friday prayers, outside the Al-Juffali mosque in Jiddah, which has earned the grisly nickname 'Chop Chop Square' as the site of executions.
The online activist was found guilty of cyber-crime in May last year and ordered by the Jiddah Criminal Court to pay a fine of 1 million Saudi riyals, or about £175,900.
He was also charged with apostasy, which carries the death penalty in the Saudi Kingdom, but he was cleared of this crime in 2013.
Badawi called his family from prison and informed them of the flogging, according to the Associated Press.
Amnesty International said Badawi would receive 50 lashes on Friday and the rest of the sentence would be carried out over a period of 50 weeks.
'It is horrifying to think that such a vicious and cruel punishment should be imposed on someone who is guilty of nothing more than daring to create a public forum for discussion and peacefully exercising the right to freedom of expression,' said Philip Luther, Amnesty's Middle East and North Africa director.
Full report at:
http://www.dailymail.co.uk/news/article-2902014/Saudi-blogger-publicly-flogged-insulting-Islam.html#ixzz3OGTkSELo
----------
Doubling buffer, Cairo to raze 1,220 more Gazan homes
9 January 2015
El-Arish, Egypt: The Egyptian Army is doubling the size of a buffer zone along the border with the Gaza Strip, an operation that will involve the destruction of 1,220 more homes and the eviction of residents, military officials said.
The operation will expand the existing 500-meter buffer zone in the north of the Sinai Peninsula. The buffer was created last November to a full kilometer, a move meant to halt the passage of weapons and militants through cross-border smuggling tunnels but which also puts more pressure on the Palestinian militant Hamas group, which rules the coastal area.
The expansion of the buffer zone is expected to be completed by the middle of next week, said the officials, speaking on condition of anonymity because they were not authorized to speak to media. They added that the army plans to compensate the evicted families.
Full report at:
http://www.arabnews.com/middle-east/news/686786
-------------
Africa
100 Killed In Boko Haram Attack in Nigeria
9 January 2015
At least 100 people are reported to have been killed in an attack by Boko Haram militants in northern Nigeria.
Local officials said it happened over the past two days and that 100 people were killed in the town of Baga.
Two locals said the insurgents began shooting indiscriminately and burning buildings on Tuesday evening in several raids.
They said that the militants were targeting the civilian population and that the attacks carried through to yesterday.
"They burnt to the ground all the 16 towns and villages including Baga, Dorn-Baga, Mile 4, Mile 3, Kauyen Kuros and Bunduram," said Musa Bukar, head of the Kukawa local government in Borno state.
Abubakar Gamandi, head of Borno's fish traders union and a Baga native, confirmed the attacks.
He said hundreds of people who fled were trapped on islands on Lake Chad.
Boko Haram has declared a "caliphate" in the zones it controls in northeast Nigeria.
It is also increasingly active on the borders of Niger and Cameroon.
http://www.rte.ie/news/2015/0108/671261-nigeria/
http://www.aljazeera.com/news/africa/2015/01/killed-boko-haram-raids-20151818215251155.html
-----------
Bodies 'Littered On The Streets' After Boko Haram Attack On Baga
January 09, 2015
Nigerian Islamist militant group Boko Haram have attacked the north-eastern town of Baga for the second time in a week, leaving bodies littering the streets, according to an official.
Two locals said the Islamist insurgents began shooting indiscriminately and burning buildings on Tuesday evening in raids on the civilian population that carried on into Wednesday.
More than 2,000 people are unaccounted for according to Musa Bukar, chairman of local government for the Kukawa district, which includes Baga.
The dead are "littered on the streets and surrounding bushes", said Mr Bukar, speaking from a camp in the city of Maiduguri that is sheltering people who have fled the attacks.
On January 3rd, Boko Haram captured the headquarters of a multinational military force in Baga set up to combat the insurgency.
"I escaped with my family in the car after seeing how Boko Haram was killing people ... I saw bodies in the street. Children and women, some were crying for help," Mohamed Bukar told Reuters after fleeing to the state capital Maiduguri.
Full report at:
http://www.irishtimes.com/news/world/africa/bodies-littered-on-the-streets-after-boko-haram-attack-on-baga-1.2059373
----------
U.N. confirms hundreds slaughtered in South Sudan
9 January 2015
Rebels in South Sudan slaughtered at least 353 civilians in April last year, including people sheltering in a mosque, hospital and a United Nations base, U.N. rights investigators said Friday.
The report is the first detailed account of two incidents that have highlighted a pattern of gross abuses and atrocities committed during the year-old civil war in the world's youngest nation.
The U.N. also noted that nearly nine months after the events, "no perpetrator has been held accountable" for the killings.
In the April 15 attack on the northern oil-town of Bentiu, fighters backing South Sudan rebel leader Riek Machar murdered at least 287 civilians sheltering in a mosque, many of them traders and their families from neighboring Sudan's Darfur region.
Later that day, 19 civilians were killed in the town's hospital, U.N. investigators said.
Fighters also took to the radio urging rival groups to be forced from the town and for men to rape women from the rival tribe.
Full report at:
http://english.alarabiya.net/en/News/africa/2015/01/09/U-N-confirms-hundreds-slaughtered-in-South-Sudan-.html
----------
Somalia's Shebab, Islamic State praise attack on France's Charlie Hebdo
9 January 2015
Somalia's Shebab militants, Al-Qaeda's main affiliate in Africa, on Friday praised the massacre at the Charlie Hebdo satirical weekly in Paris as a "heroic" act.
"They made millions of Muslims happy by taking action. Some misguided people claim that freedom of expression was attacked, but that is not the case, and the two heroic people acted accordingly," Radio Andalus, the official mouthpiece of the militants, said in a commentary.
The Islamic State militant group praised the gunmen behind this week's killings at the Paris headquarters of the weekly newspaper as "heroic jihadists", a monitoring group said on Friday.
Full report at:
http://english.ahram.org.eg/NewsContent/2/9/119857/World/International/Somalias-Shebab,-Islamic-State-praise-attack-on-Fr.aspx
----------
Boko Haram crisis: Niger 'will not help retake' town of Baga
January 09, 2015
Niger has said it will not be involved in any attempt to retake the key north-east Nigerian town of Baga from the militant Islamist group, Boko Haram.
Bodies reportedly lay strewn on the streets of the town following an assault by the Islamists on Wednesday, with hundreds feared killed.
The town is near the border with Chad and had housed a military base staffed partly by multinational forces.
Soldiers from Niger had been there but were not present when it was attacked.
The BBC's Nasidi Yahaya in Abuja says the decision of Niger is clearly a big blow to Nigeria which boasts that the presence of a multinational task force in the area would help defeat Boko Haram militants.
Full report at:
http://www.bbc.com/news/world-africa-30743030
----------
Mideast
Turkish 'Tattoo Fatwa' Urges Inked Muslims to Repent
9 January 2015
In its most recent religious edict, or fatwa, the top Turkish religious authority called on Muslims with tattoos to repent if they are unable to remove their ink, Turkey's Hurriyet Daily News reported Thursday.
"A person who has tattoo on his/her body should erase it, if possible. He/she should repent to God if the tattoo cannot be erased," the Religious Affairs Directorate (Diyanet) shas aid the Diyanet in a response to the question, according to the Turkish news outlet.
However, the authority noted that while taboo, tattoos would "not prevent making ablutions," a self-cleaning process Muslims go through before prayer.
This follows a government decree issued on Sept. 27, 2014 in which tattoos were also banned from dress code in public schools, the Hurriyet reported.
Students "are to be present in schools with their faces visible; cannot use scarves, berets, hats, bags or similar materials that feature political symbols, pictures or writings; cannot dye their hair, cannot have tattoos or make-up; cannot have piercings and cannot have moustaches or beards," the regulations read, as published in the country's Official Gazette.
The regulation came after President Recep Tayyip Erdoğan reportedly rebuked a young footballer over his tattoos in July 2014.
"What are these tattoos? Why do you harm your body like that?" said the controversial president, who has being accused of leading a conservative agenda in secular country.
""Don't be fooled by foreigners. God forbid, it could even give you skin cancer in the future," Erdogan reportedly told the 18-year-old player.
http://english.alarabiya.net/en/variety/2015/01/09/Taboo-tattoos-Turkey-urges-inked-Muslims-to-repent-.html
---------
Gaza Salafist Leader: 'We Are Following Islamic State Ideology'
January 09, 2015
GAZA CITY, Gaza Strip — Ahmed, a 19-year-old affiliated with one of the Salafist jihadist factions in Gaza, thought he had found the perfect environment in Syria for implementing his jihadist ideas, fighting among the ranks of the Islamic State (IS). His father told Al-Monitor that Ahmed (a pseudonym) had been living in a refugee camp in the central Gaza Strip before joining IS at the beginning of 2014. Ahmed was killed at the end of the year.
Ahmed's father, who asked to remain anonymous for safety reasons, said his son had died during clashes between IS and Kurdish forces, adding that Ahmed had initially kept him in the dark about his trip to Syria. "I didn't know he had gone to fight in Syria. Had I known, I would have stopped him," he said. He later learned that his son had left Gaza via the tunnels on the Egyptian border.
Full report at:
http://www.al-monitor.com/pulse/originals/2015/01/salafist-fighters-gaza-travel-to-syria.html#ixzz3OH4597Uh
----------
Rafsanjani: Unity Most Urgent Need of Muslims
9 January 2015
Chairman of Iran's Expediency Council Akbar Hashemi Rafsanjani described unity as the most important and urgent need of the Muslims.
Unity is the most urgent need of the Muslims, specially the Iranians, under the current conditions, Rafsanjani said in a meeting with a group of Khuzestan province's political, social and cultural figures on the occasion of the birth anniversary of Prophet Muhammad (PBUH).
He said that the disputes play a destructive role in any society, group or system.
"If the rulers of the Islamic countries instead of expanding the dimensions of disputes emphasized on interactions over commonalties, oil, which is the main capital of the Islamic countries, would not have become a cheap toy in the hands of other politicians," Rafsanjani said.
Full report at:
http://english.farsnews.com/newstext.aspx?nn=13931018000588
----------
ICC 'close' to opening Gaza war investigation
January 09, 201
Al Jazeera has learned that the chief prosecutor of the International Criminal Court (ICC) may be close to opening an initial investigation into last summer's Gaza war.
The news comes after Riyadh Mansour, the Palestinian UN ambassador, told a group of reporters on Thursday that Palestine's formal acceptance of the court's jurisdiction starting June 13, 2014 gives prosecutor Fatou Bensouda a green light to take up the question of alleged war crimes on Palestinian territory without waiting for Palestine to formally become a member of the court on April 1.
"It is within her discretion that she can do that," Mansour said.
Al Jazeera's diplomatic editor James Bays, reporting from the UN headquarters in New York, said legal experts had said the chief prosecutor had "very little option but to open initial investigation into war crimes".
Full report at:
http://www.aljazeera.com/news/middleeast/2015/01/icc-close-opening-gaza-war-investigation-20151823737595395.html
----------
'Over 1,000 foreign fighters deported' by Turkey so far
January 09, 2015
Turkey has deported 1,056 foreigners and put a travel ban on 7,833, as part of its efforts to stop the recruitment of jihadists in Syria and Iraq, according to the head of the National Intelligence Organization (MİT).
The information was provided by MİT Head Hakan Fidan, accompanied by Deputy Chief of General Staff Org. Yaşar Güler, during a briefing to Turkish ambassadors at the annual ambassadors' conference in Ankara late on Jan. 7, during which he spoke about Ankara's operations in the campaign against the Islamic State of Iraq and the Levant (ISIL).
In a separate briefing to the ambassadors on Jan. 7, Interior Minister Efkan Ala said 1,056 foreigners have been deported from Turkey and tasked the gathered envoys to "tell the world about the facts."
Full report at:
http://www.hurriyetdailynews.com/over-1000-foreign-fighters-deported-by-turkey-so-far.aspx?pageID=238&nID=76688&NewsCatID=341
----------
Ankara offers assistance to Paris on terror attack
January 09, 2015
Turkey has officially proposed cooperation to France in investigating the fatal Charlie Hebdo attack and expressed its readiness to provide any kind of institutional support, the Turkish ambassador to France has said.
The support message was delivered by Turkish Foreign Minister Mevlüt Çavuşoğlu during a phone conversation with French Foreign Minister Laurent Fabius late on Jan. 7, Turkish Ambassador to Paris Hakkı Akil told the Hürriyet Daily News yesterday.
France welcomed the Turkish proposal, diplomatic sources said, adding that Ankara's offer was a comprehensive one that contained both political and intelligence means. Turkey and France have already been in close and intense cooperation in stopping the recruitment of French foreign fighters by the Islamic State of Iraq and the Levant (ISIL).
There is no information yet as to whether the perpetrators of the Charlie Hebdo attack had fought alongside extremist jihadists in Syria or in Iraq.
Full report at:
http://www.hurriyetdailynews.com/ankara-offers-assistance-to-paris-on-terror-attack-.aspx?pageID=238&nID=76695&NewsCatID=510
----------
Paris massacre 'not a game-changer,' Islamic terror experts say
January 09, 2015
Islamist terrorism experts told The Jerusalem Post that the writing was on the wall for the Paris terrorist attack against the French newspaper, Charlie Hebdo.
They said that it should not be seen as a "game changer" in altering the country's anti-terrorist strategy or foreign policy.
They suggested that the attack would not have any significant influence on France's policy toward Israel's struggle with terrorism, since it sees the Jewish state's conflict as politically based.
Jean-Pierre Filiu, a professor of Middle East studies at Sciences Po's Paris School of International Affairs and a long-time French diplomat who served in Arab countries, told the Post that this attack is "no game changer at all."
"Islamic State is moving according to its operational plan, with the strong asset of the former '19th arrondissement network' strongmen Boubaker al-Hakim, who is trained by the Syrian and/or Iraqi intelligence services, and Cherif Kouachi."
Full report at:
http://www.jpost.com/Middle-East/Paris-massacre-not-a-game-changer-Islamic-terror-experts-say-387203
----------
North America
Bill Maher: When you make fun of the Prophet, all bets are off
January 09, 2015
The comedian responded to the deadly attack on a French satirical magazine by renewing his recent criticisms of the Islamic faith.
Bill Maher didn't hold back Wednesday night, blasting "hundreds of millions" of the world's Muslims for allegedly supporting the Islamic terrorist massacre of cartoonists, writers, and editors at a Parisian satirical magazine that has mocked the Prophet Muhammad.
"I know most Muslim people would not have carried out an attack like this," the host of HBO's Real Time With Bill Maher said on ABC's Jimmy Kimmel Live. "But here's the important point: Hundreds of millions of them support an attack like this. They applaud an attack like this. What they say is, 'We don't approve of violence, but you know what? When you make fun of the Prophet, all bets are off."
"Hundreds of millions of Muslims?" a clearly sceptical Kimmel asked his fellow comedian, an out and proud atheist who in recent years has targeted the adherents of Islam for harsh criticism.
"Absolutely," Maher insisted. "That is mainstream in the Muslim world. When you make fun of the Prophet, all bets are off. You get what's coming to you. It's also mainstream that if you leave the religion, you get what's coming to you—which is death. Not in every Muslim country… but this is the problem in the world that we have to stand up to."
Full report at:
http://www.thedailybeast.com/articles/2015/01/08/bill-maher-hundreds-of-millions-of-muslims-support-attack-on-charlie-hebdo.html
----------
Qaeda urges revenge for death of Libyan suspect in US
January 09, 2015
Al-Qaeda has urged Muslims to avenge the death of a Libyan suspect last week in the United States ahead of his trial for embassy bombings, a monitor said Thursday.
The group's Yemen branch also warned the United States that it would "pay the price" for its "crimes," in a Twitter message picked up by SITE Intelligence Group.
"We say to our Muslim brothers in general and to our brothers in Libya in particular ... revenge must be taken for him, no matter how long it takes," it said.
Abu Anas al-Libi had been due to stand trial on January 12 over the 1998 attacks on the US embassies in Kenya and Tanzania that killed 224 people and wounded around 5,000.
He was captured by US troops in Libya in 2013 and died last Friday in a New York hospital. He was suffering from hepatitis C and liver cancer.
Al-Qaeda in the Arabian Peninsula (AQAP), considered by Washington to be the jihadist network's most dangerous branch, pledged attacks on US interests, including American civilians and troops.
Full report at:
http://www.al-monitor.com/pulse/contents/afp/2015/01/us-attacks-saudi-britain-libya-aqap.html#ixzz3OH5akWEm
----------
Pak Military courts: US calls for ensuring due process
January 09, 2015
WASHINGTON: The United States has urged Pakistan to ensure that its decision to try civilian terrorism suspects in military courts is "consistent with principles of due process".
At a US State Department news briefing, spokesperson Jen Psaki also asked Pakistan to provide more information about the move but refrained from condemning it.
The issue has been raised at the State Department's news briefings several times since last week, when Pakistan began the process of amending its laws to try civilian terrorism suspects in military courts. But the department avoided getting involved in the controversy, although several European governments and key human rights groups have criticised the decision.
But when the Pakistani parliament made the required amendments on Wednesday, the State Department was ready with a carefully worded response.
Full report at:
http://www.dawn.com/news/1155812/military-courts-us-calls-for-ensuring-due-process
----------
London imam Abu Hamza to be sentenced for US terrorism conviction
January 09, 2015
NEW YORK: For years, the radical imam Abu Hamza al-Masri delivered incendiary sermons at a London mosque, using words that US and UK authorities say helped inspire a generation of militants, including British would-be shoe bomber Richard Reid.
On Friday, he will have one final chance to convince a US judge that he should not spend the rest of his life in prison, eight months after a federal jury in New York convicted him of terrorism charges.
Abu Hamza, 56, is scheduled to appear in US District Court in Manhattan at 10 am (local time) to be sentenced.
The one-eyed, handless Abu Hamza gained notoriety for his fiery rhetoric and use of a hook in place of his missing right hand.
He was found guilty of providing a satellite phone and advice to Yemeni militants who kidnapped Western tourists in 1998. Four hostages died in the operation.
He was also convicted of sending two followers to Oregon to establish a militant training camp and of dispatching an associate to Afghanistan to aid al Qaeda and the Taliban against the United States.
Full report at:
http://www.dawn.com/news/1155895/london-imam-abu-hamza-to-be-sentenced-for-us-terrorism-conviction
----------
US 'concerned' over Hamas-Turkey relations
January 09, 2015
The United States Department of State has conveyed its concerns about the relationship between Hamas and Turkey to Turkish officials, announced a day after Ankara said the leader of Hamas is welcomed in Turkey.
"Our position on Hamas has not changed. Hamas is a designated foreign terrorist organization that continues to engage in terrorist activity and demonstrated its intentions during the summer's conflict in – with Israel," U.S. State Department Spokesperson Jen Psaki said during daily press briefing on Jan. 8.
Her remarks came as a response to a question about Turkish Foreign Minister Mevlüt Çavuşoğlu's statements that Khaled Mashaal, the head of Hamas' political bureau, is welcome in Turkey.
"We continue to raise our concerns about the relationship between Hamas and Turkey with senior Turkish officials, including after learning of Mashaal's recent visit there. And we have urged the government of Turkey to press Hamas to reduce tensions and prevent violence," Psaki stated.
Full report at:
http://www.hurriyetdailynews.com/us-concerned-over-hamas-turkey-relations.aspx?pageID=238&nID=76702&NewsCatID=510
----------
House Speaker wants Obama plan on U.S. force against ISIS
9 January 2015
U.S. House of Representatives Speaker John Boehner called on President Barack Obama on Thursday to soon send Congress the administration's plan for using military force against Islamic State of Iraq and Syria (ISIS).
The Obama administration has argued that its campaign of air strikes in Iraq and Syria against ISIS militants is legal, based on authorization passed in the early 2000s under President George W. Bush for the Iraq War and fighting al-Qaeda and associated groups.
But several members of Congress have said it would be preferable to debate and pass a new authorization for combating ISIS fighters, who have killed thousands of people while seizing swaths of territory in Iraq and Syria.
Full report at:
http://english.alarabiya.net/en/News/world/2015/01/09/House-Speaker-wants-Obama-plan-on-U-S-force-against-ISIS.html
----------
Brothers wanted in newspaper Paris were on US no-fly list
January 09, 2015
PARIS: The two French brothers wanted in the newspaper office bloodbath in Paris were already known to US authorities and had been put on the American no-fly list, a senior US counter-terrorism official said Thursday.
Another US official said the older brother, Said Kouachi, had travelled to Yemen. It was unclear whether he was there to join up with extremist groups such as Al Qaeda.
The details emerged as French authorities conducted an all-out manhunt for the Kouachi brothers Cherif, 32, and Said, 34 in the terror attack Wednesday that killed 12 people at the offices of Charlie Hebdo, a weekly that lampooned radical Islam and the Prophet Muhammad.
They were identified as suspects after the older brother's ID card was found in the getaway car, authorities said. Witnesses said the gunmen in the attack claimed allegiance to Al Qaeda's offshoot in Yemen.
Both Kouachi brothers the Paris-born offspring of Algerian parents were already known to French counterterrorism authorities.
Cherif, a former pizza deliveryman, had appeared in a 2005 French TV documentary on Islamic extremism and was sentenced to 18 months in prison in 2008 for trying to join up with fighters battling in Iraq.
Full report at:
http://www.dawn.com/news/1155907/brothers-wanted-in-newspaper-paris-were-on-us-no-fly-list
----------
Pakistan
Report cites Lal Masjid, Jamia Hafsa "waging war" against state
Police to act against Jamia Hafsa over Daish video
January 09, 2015
ISLAMABAD: The capital city's police department has decided to register criminal cases against the Shohada Foundation and students of Jamia Hafsa for 'waging war' and inviting the terrorist organisation Islamic State (IS), also known by its Arabic acronym Daish, to avenge Operation Silence, that was carried out against the Lal Masjid in 2007.
Senior police officials told Dawn on Thursday that the department had sought the legal opinion of their prosecution department over a press release and video massage, made by students of the Jamia Hafsa seminary, inviting Daish to come to Pakistan.
The press release and video were issued by the Shohada Foundation. A report was prepared on the issue by Superintendent of Police (SP) City Rizwan Omar Gondal, which was forwarded to Inspector General (IG) Tahir Alam Khan for further action.
The IG asked for a legal opinion on the matter and the report was sent to Islamabad deputy superintendent of police (DSP) Legal for his opinion.
Prosecutors say video message to IS leader asking him to avenge Operation Silence qualifies as 'waging war' against Pakistan
The DSP Legal reported that he had consulted with Syed Mohamamd Tayyab, a special public prosecutor for the Anti-Terrorist Courts as well as the notified prosecutor in cases registered under the newly-passed Protection of Pakistan Act 2014.
The words spoken by the students in the video and the content of the press release reportedly fall under offences laid out in sections 121, 121A, 505(1)b and 505(2) of the Pakistan Penal Code.
Full report at:
http://www.dawn.com/news/1155803/police-to-act-against-jamia-hafsa-over-daish-video
----------
MQM accuses Maulana Fazlur Rehman of trying to divide nation
January 09, 2015
KARACHI: The Muttahida Qaumi Movement has criticised JUI-F chief Maulana Fazlur Rehman for defying national consensus over the National Action Plan to combat terror and setting up of military courts.
Addressing a press conference here on Thursday, Qamar Mansoor, a central leader of the MQM, called Maulana Fazl a sympathiser of the banned Tehreek-i-Taliban Pakistan and said the JUI-F chief tried to divide the nation by 'distorting facts' and exhibited a 'biased mindset' on the matter of holding the Taliban to account. The MQM had already presented its stance over Saulat Mirza, who is on death row, he said.
"Saulat Mirza has been behind bars for 15 years, while Ajmal Pahari has never been convicted by a court," Mr Mansoor said, adding that Saulat Mirza's case was of political connotation.
He accused the Maulana of failing the nation from being united against 'terrorists' through misleading statements and demanded him to declare foreign funding to his organisation.
"Maulana Fazlur Rehman is pushing the country towards fire and pitching one brother against another," he said.
Another MQM leader Babar Ghauri said Mr Rehman tried to divide the nation even before the Chehlum of the Peshawar school martyrs.
Maulana Fazl "nodded in the affirmative to the constitutional amendment in presence of the army chief during the All-Party Conference and opposed the same later", Mr Ghauri said.
http://www.dawn.com/news/1155835/mqm-accuses-fazl-of-trying-to-divide-nation
----------
Seven suspected militants killed in Khyber blast, shelling
January 09, 2015
PESHAWAR: At least three suspected militants were killed in an 'accidental blast' at a Lashkar-i-Islam (LI) picket set up in Khyber tribal region's Tirah valley on Friday, sources said.
The explosion was followed by mortar shelling by security forces from Jarobi camp which led to the deaths of another four suspected militants.
Sources said the blast in Sandana area of Tirah valley's Sipah village occurred when explosives kept at the spot went off.
Soon after the explosion, other 'militants' rushed to the spot which was then targeted by security forces with artillery and mortar fire, resulting in the four deaths.
Security forces were still targeting militant positions from Jarobi camp near the Pak-Afghan border.
Full report at:
http://www.dawn.com/news/1155900/seven-suspected-militants-killed-in-khyber-blast-shelling
----------
Two killed, four injured in Quetta violence
January 09, 2015
QUETTA: At least two people were killed and four others injured in an explosion and firing in the Balochistan capital on Thursday night.
Police sources told Dawn.com that four people were injured in Quetta's Bacha Khan Chowk area in the explosion.
Two children were also among the injured, they added.
Police officials said unknown miscreants had planted explosives in a motorcycle parked on the roadside. The bomb blast smashed glasses of nearby shops and vehicles parked on the road.
The injured were rushed to Civil Hospital Quetta for medical treatment.
In a separate incident, unidentified armed men opened fire on a house and killed two persons in Khilji Colony area of Quetta.
Full report at:
http://www.dawn.com/news/1155710/two-killed-four-injured-in-quetta-violence
----------
Al Qaeda man among militants killed in Karachi: police
January 09, 2015
KARACHI: At least two gang war members and four suspected militants — including a commander of Al Qaeda South Asia's Karachi wing — were killed and five policemen wounded during 'encounters' with Crime Investigation Department (CID) and police in different areas of the city early on Friday, DawnNews reported.
A police team headed by CID In-charge Raja Umer Khattab, acting on a tip-off, conducted a raid in the Qayyumabad area of Karachi where an alleged encounter took place.
At least four suspected militants, including a commander of Al Qaeda South Asia's Karachi wing, were killed in the encounter, police sources said.
CID official Raja Umer said that militants were planning to attack a vehicle of an intelligence agency.
Full report at:
http://www.dawn.com/news/1155890/al-qaeda-man-among-militants-killed-in-karachi-police
----------
Sindh High Court rejects appeals of three death row convicts
January 09, 2015
KARACHI: The Sindh High Court on Friday rejected the mercy appeals of three death row convicts.
Family member of death row prisoners Shafqat Hussain, Behram Khan and Saeed Awan had submitted mercy appeals before the Sindh High Court.
The jail superintendent informed the court that the Federal Interior Ministry had already halted Hussain's execution. As such, his appeal was not applicable for hearing.
On the other hand, appeals filed by family members of convicts Saeed Awan and Behram Khan were cancelled on the grounds that they did not receive a presidential pardon.
Khan's execution will take place on Jan 13 whereas Awan is scheduled to be hanged on Jan 15 in Sukkur.
Shafqat Hussain, a watchman at a residential complex, was condemned to death by an anti-terrorism court in September 2004 for abducting and killing a child.
The convict was said to be 14 years of age when he was convicted, mainly based upon his own confession submitted in court after nine days of detention with the police.
In speaking to the human rights group Reprieve, Shafqat said that during those nine days he was kept in solitary confinement, blindfolded, beaten, electrocuted and burnt with cigarette butts.
Full report at:
http://www.dawn.com/news/1155903/shc-rejects-appeals-of-three-death-row-convicts
----------
Mullah Fazlullah threatens PML-N leaders
January 09, 2015
PESHAWAR: Rattled by the growing consensus in the country on taking firm action against militant groups to eradicate terrorism, the absconding chief of the outlawed Tehreek-i- Taliban Pakistan (TTP), Mullah Fazlullah, has threatened to go after government leaders and senior members of the ruling PML-N.
In a video message released to the media, apparently recorded at his hideout somewhere in Afghanistan, he said that "from now" the PML-N "is our target".
About 800 leaders and workers of the Awami National Party have been killed in Khyber Pakhtunkhwa, the Federally Administered Tribal Areas and other parts of the country during the past few years.
Full report at:
http://www.dawn.com/news/1155830/mullah-fazlullah-threatens-pml-n-leaders
----------
Another Pakistani beheaded for drug smuggling in Saudi Arabia
January 09, 2015
RIYADH: Saudi Arabia beheaded a Pakistani man convicted of drug smuggling and a Saudi for murder, the interior ministry said.
Their executions bring to six the number of people beheaded since the start of January in the conservative Muslim kingdom.
Awida Utaibi was executed after a court found him guilty of murdering a relative, the ministry said in a statement carried by the official Saudi Press Agency.
Mohammad Shahbal of Pakistan was beheaded for smuggling heroin into the country. The drugs were found in capsules he had swallowed.
Rape, murder, apostasy, armed robbery and drug trafficking are punishable by death in Saudi Arabia.
Last year, Saudi Arabia executed 87 people, compared with 78 in 2013, according to an AFP tally.
http://www.dawn.com/news/1155732/another-pakistani-beheaded-for-drug-smuggling-in-saudi-arabia
----------
Terrorism cases should be tried in military courts: Sindh Minister
January 09, 2015
KARACHI: The Sindh government – short-listing major cases related to terrorism including terror incidents of Karachi Airport, Mehran Base, Karsaz attack and attack on Benazir Bhutto – recommended these cases should be tried in military courts.
Sindh Information Minister Sharjeel Memon after review meeting on mechanism of National Action Plan (NAP) said 15 out of 20 points of the NAP were related to the provincial governments.
He said the 21st Constitutional Amendment was a concrete step towards maintaining law and order. This development would definitely help to uproot terrorism from the country. He said we were not in the fever of any undemocratic act but after Peshawar incident we needed to work for eliminating terrorism. Memon said approximately 3,000 terrorism-related cases were still pending, mainly the cases of extortion and target killing in Sindh province. He said these cases would be recommended to federal government to refer them for trail in military courts.
He clarified Sindh government was not authorised to refer directly the cases for trail courts, but would recommend the federal government in this regard.
Full report at:
http://www.dailytimes.com.pk/sindh/09-Jan-2015/terrorism-cases-should-be-tried-in-military-courts-memon
----------
It's now or never to defeat terrorism: PM
January 09, 2015
MANAMA: Prime Minister Nawaz Sharif said that now is the time to defeat terrorism.
He said the 21st Constitutional Amendment would lead to quick dispensation of justice and help the country eliminate the terrorism. Addressing members of the Pakistani community here on the second day of his official visit to Bahrain, the prime minister said the military courts were being established to bring into count all those elements involved in terrorist activities against the state of Pakistan and its innocent people, who fell victim to their nefarious designs. He said that the government was committed to bring peace to the country at all costs and vowed that the war will continue till the elimination of the last terrorist. The prime minister appreciated the political parties who extended full support on the constitutional amendments to bring peace to the country and establishment of the military courts.
Full report at:
http://www.dailytimes.com.pk/national/09-Jan-2015/it-s-now-or-never-to-defeat-terrorism-pm
----------
Imran should have waited till 'Chaliswan' of Peshawar school massacre: Altaf Hussain
January 09, 2015
LONDON - Muttahida Qaumi Movement (MQM) chief Altaf Hussain on Friday said that the nation is still mourning the deaths of innocent children of Peshawar school attack and Pakistan Tehreek-e-Insaf Chairman Imran Khan should have waited for wedding till 'Chaliswan' (40th day) of the massacre.
Talking to a private TV channel from London, Altaf, however, congratulated PTI chairman Imran Khan and Reham Khan for starting new phase of life. Altaf also criticized the role of media, saying that it was showing dance and music. He asked media not to invite the wrath of Allah by such deeds. MQM chief said that it is the job of TV channels to inform the masses of the reality. He also asked the analysts to give the story of marriage with prayers and joy. He also condemned the killing of MQM worker in Karachi.
http://www.dailytimes.com.pk/national/09-Jan-2015/imran-should-have-waited-till-chaliswan-of-peshawar-school-massacre-altaf
----------
India
Haji Yakub Qureshi booked for defending Paris terror attack
PTI | Jan 9, 2015
MEERUT: A case has been registered against former Uttar Pradesh minister and BSP leader HajiYakubQureshi for his controversial comments, in which he defended the terror attack on French satirical magazine Charlie Hebdo.
A case under section 505 1 (c) (with intent to incite, or likely to incite, any class or community of persons to commit any offence against any other class or community) of the IPC was registered against Qureshi last night in the Kotwali police station, SP Om Prakash said.
The case was lodged on the complaint of Inspector Lal Singh and action will be taken after investigation, he said.
Qureshi had yesterday courted controversy when he sought to defend the terror attack on French satirical magazine Charlie Hebdo, saying whoever shows disrespect to the Prophet will invite death.
"Prophet Mohammad had conveyed a message of peace to the entire world and if anyone makes certain cartoons on him will invite death like the cartoonists and journalists in Paris," Qureshi had said in comments that came at a time when the massacre came in for all-round condemnation across the world.
Full report at:
http://timesofindia.indiatimes.com/india/BSP-leader-Haji-Yakub-Qureshi-booked-for-defending-Paris-terror-attack/articleshow/45822845.cms
----------
'Western UP Muslim Youths In Touch With ISI'
MOHAMMAD ALI
Jan 9, 2015
The Uttar Pradesh Government has alerted the Union Home and Defence Ministries about the Pakistani intelligence agency ISI establishing its network in western UP.
In a letter written to the Ministry, a copy of which is with The Hindu, State Principal Secretary (Home) Devashish Panda expressed concern about certain youths of the region being "in touch" with the Pakistani agency.
The issue grabbed headlines after Congress vice president Rahul Gandhi, in the aftermath of the Muzaffarnagar riots, had expressed concern at the ISI's conspiracy to indoctrinate the youth of the sensitive region.
Apprehending that such cases of espionage were "gradually increasing" the State Principal Secretary (Home) wrote the letter asking for the Union Home Ministry's permission to act against these instances of espionage under the Provisions of the Official Secrets Act 1923.
Interestingly the letter talks about Muslim youths being "in touch" with the ISI but has just one instance of Asif, a resident of Meerut who was arrested on June 16, 2014, to substantiate its claim.
Full report at:
http://www.thehindu.com/news/national/western-up-youths-arrested-for-sharing-sensitive-information-with-pakistans-isi/article6768162.ece
-------
3 IM operatives arrested, large cache of ammunition seized
Jan 9, 2015
BENGALURU: In a joint operation by the Central Crime Branch (CCB) and state internal security division, three Indian Mujahideen (IM) operatives were arrested and a large cache of bomb making materials and communication devices were seized. These arrests were made in two simultaneous raids in Bengaluru and Bhatkal district of Uttara Karnataka on Thursday morning.
Announcing arrests, MN Reddi, city police commissioner said that so far no connections have been established between these men and the recent bomb blast on Church Street. However, cops said they are investigating the matter further into this matter.
Full report at:
http://timesofindia.indiatimes.com/india/3-IM-operatives-arrested-large-cache-of-ammunition-seized/articleshow/45812141.cms
----------
India home to 2,00,000 refugees in first half of 2014: UNHCR
Jan 9, 2015
India was home to over 2,00,000 refugees in the first six months of 2014, a period that saw over 5.5 million people displaced worldwide mainly due to war and violence across large swathes of the Middle East and Africa.
The U.N. Refugee Agency (UNHCR) in its new Mid-Year Trends 2014 report said of the 5.5 million who were newly displaced, 1.4 million fled across international borders becoming refugees, while the rest were displaced within their own countries.
The new data brings the number of people being helped by the UNHCR to 46.3 million as of mid-2014 — about 3.4 million more than at the end of 2013 and a new record high.
India was home to 1,98,665 refugees as of June 2014 and had 4,718 pending cases of asylum seekers, bringing the total population of concern to 2,03,383.
"In 2014, we have seen the number of people under our care grow to unprecedented levels. As long as the international community continues to fail to find political solutions to existing conflicts and to prevent new ones from starting, we will continue to have to deal with the dramatic humanitarian consequences," said UNHCR head Antonio Guterres.
Full report at:
http://www.thehindu.com/news/national/india-home-to-200000-refugees-in-first-half-of-2014-unhcr/article6771040.ece
----------
Will engage France in tackling terrorism: MEA
RAHI GAIKWAD
Jan 9, 2015
India will continue to engage with France on bilateral and multilateral levels to tackle terrorism, Syed Akbaruddin, spokesperson of the Ministry of External Affairs said at a press conference here on Thursday.
In response to a question on the shootings in Paris, Mr. Akbaruddin said, "India is shocked like the rest of the world. Prime Minister Narendra Modi has already condemned this attack as a dastardly act. Minister of External Affairs Sushma Swaraj has written to her French counterpart [to express solidarity]. We intend to continue to work with France bilaterally and multilaterally to tackle issues of terrorism."
Asked about Pakistan's denial about the boat incident off Gujarat coast, Mr. Akbaruddin said the Defence Ministry had indicated it would provide all the information in due time. On reports of Indians being abducted by members of the IS, he said the government did not have any concrete information on the status of the Indians. "We have uncorroborated information from other sources. India will never forget them. When we have corroborative evidence, we will share it."
To a question on the surfacing of audio tapes of underworld don Dawood Ibrahim, Mr. Akbaruddin said, "Our view is that Dawood Ibrahim is an absconder from justice. He will be brought to justice," he said.
http://www.thehindu.com/news/national/will-engage-france-in-tackling-terrorism-mea/article6768572.ece
----------
Among Amul Contributors, Flourishing All-Muslim Society
Jan 9, 2015
At first sight, Kamyabpura is just one of the 17,000-odd village-level dairy societies constituting the Gujarat Cooperative Milk Marketing Federation's (GCMMF/Amul) vast supply network. With a difference. All the 73 farmer members of the society, contributing roughly 1,800 litres of milk daily, are "Momna": Gujarati-speaking Muslims.
"We are from 30 families belonging to the Momin Shia sect," says Imdad Hussain Parbadiya, secretary of the Kamyabpura Milk Producers' Cooperative Society, which supplies to the GCMMF-affiliated Banaskantha District Cooperative Milk Producers' Union.
In 2013-14 (April-March), this "exclusively" Momna society at Bhagal Pimpli village in Palanpur Taluka of Banaskantha bought 5.67 lakh litres from its members and paid them a total of Rs 1.48 crore.
"Our society was formed on October 1, 2009. Earlier, we were part of the Bhagal Pimpli society," says Parbadiya.
The original society, which procured over one crore litres and paid out Rs 2.72 crore last year, has members across communities: Choudhary Patel, Rajput, Thakor (OBC Kshatriya), Prajapati (potter), Panchal (blacksmith), Mewada (carpenter), Rabari (pastoralists), Garasia (Scheduled Tribe) as well as Muslim.
Full report at:
http://indianexpress.com/article/india/india-others/among-amul-contributors-flourishing-all-muslim-society/99/#sthash.YQOrsKSC.dpuf
----------
South Asia
Afghanistan approves special military operations against insurgents
January 09, 2015
The government of Afghanistan approved special military operations in a bid to tackle the terrorist activities by anti-government armed militant groups.
During a meeting of the National Security Council (NSC) chaired by President Mohammad Ashraf Ghani, the special military raids were approved after incorporating new changes, the Presidential Palace said following a statement.
According to the National Security Council (NSC), special military raids are one of the most effective approaches to fight terrorism and organized crimes.
The statement by the Palace further added that the Afghan national security force use less power to eliminate the terrorist threats in less time and in a cost effective way and without incurring casualties to civilians or security forces.
The NSC members are also added that the special military raids will further increase the responsibilies of the Afghan security forces towards the Afghan citizens.
The Afghan national security forces were instructed to take all necessary measures to respect the Islamic values, the Afghan culture, Afghan constitution and other laws of the country while executing a special military operation.
The approval of the special military raids by the National Security Council (NSC) comes as the insurgency activities by the militant groups have been rampant during the recent months.
The militants are frequently carrying insurgency attacks in various parts of the country including capital Kabul.
http://www.khaama.com/afghanistan-approves-special-military-operations-against-insurgents-8930
----------
PM Sheikh Hasina: Bangladesh to stand on own feet
January 09, 2015
Prime Minister Sheikh Hasina yesterday sought support of the country's leading economists to take Bangladesh to a dignified position, saying economic prosperity was the only means to live with honour amidst world community.
"We want to take Bangladesh to a position when we would not need to beg or look to others for help to sustain our economy," she told the inaugural ceremony of the 19th biennial conference of Bangladesh Economic Association at the IEB auditorium of the capital.
Hasina said Bangladesh would stand on its own feet and the countrymen should be confident about its own strength. "Bangladesh will follow homegrown policies and depend on own resources to build its economic future."
She said it was a misfortune for the people that they had to face setback whenever proceeding to the path of growth.
Full report at:
http://www.dhakatribune.com/bangladesh/2015/jan/09/pm-bangladesh-stand-own-feet#sthash.knRTMHzO.dpuf
----------
Sedition case against Tarique, ETV boss
January 09, 2015
A sedition case has been filed against BNP Senior Vice-Chairman Tarique Rahman and private television channel ETV Chairman Abdus Salam for their alleged involvement in threatening sovereignty by circulating instigating words.
Assistant Sub-Inspector Borhan Uddin filed the case with Tejgaon police station in the afternoon.
Officer-in-Charge of the police station Mazharul Islam confirmed the news to the Dhaka Tribune.
Earlier on Wednesday, ASI Borhan filed a General Diary with the same police station against the accused for "circulating provocative and instigative speeches against the members of the police, Border Guard Bangladesh and the Armed Forces."
The GD statement stated that Tarique has misguided the nation by delivering "provocative speech against the law enforcers which should be considered as a threat to the sovereignty of the country."
Full report at:
http://www.dhakatribune.com/politics/2015/jan/08/sedition-case-filed-against-tarique-salam#sthash.O3dWcGiB.dpuf
----------
Over 50 Maldivian militants fighting in foreign wars, reveals Commissioner of Police
January 09, 2015
There are over 50 Maldivians fighting in foreign wars, Commissioner of Police Hussein Waheed has revealed.
"These people leave the country under normal procedures. So it is not easy to identify if they are traveling to go fight with foreign rebel groups," Waheed told the press today.
"However, within a few days we hear that they have joined these groups. Our statistics estimate there are 50 Maldivians working with foreign rebel groups."
The commissioner's estimate dwarfs the figure suggested by Home Minister Umar Naseer to the People's Majlis in December. Naseer at the time said that over seven Maldivians were fighting abroad.
In the past fortnight, at least twelve Maldivians have traveled to Syria via turkey for jihad.
Responding to a question from Minivan News on mechanisms to prevent radicalisation, Waheed said police might reveal plans at a later late.
"We are working on it. Even now, we are doing a lot of work with the Islamic ministry and other relevant government institutions."
The police do not yet know who the most vulnerable groups to radicalisation are in the Maldives, Waheed continued, pointing out recent jihadis included both genders, urban and rural areas, and people of all ages.
Full report at:
http://minivannews.com/politics/over-50-maldivian-militants-fighting-in-foreign-wars-reveals-commissioner-of-police-92050
----------
Hithadhoo school to become Maldives' first Arabic medium school
January 09, 2015
Nooraanee School in Hithadhoo will become the first in the Maldives to teach classes exclusively in Arabic from next week.
The Ministry of Education has confirmed that the school in Seenu Atoll will hold all grade one classes in Arabic, other than English, Dhivehi, and Islam.
Minister of State for Education Abdulla Nazeer told local media that all the teachers had been trained, and facilities prepared to begin teaching 32 grade one students in Arabic from Sunday (January 11).
The ministry had previously announced that two schools had been designated to conduct classes in the Arabic medium, with Nazeer telling Sun Online that a second school in Haa Dhaalu Kulhudufushi was to follow in 2017.
The government has pledged to mainstream Arabic education, with Arabic lessons having been introduced in 20 schools in the past year, as well as the introduction of Quran as a subject for grades 1 – 7 in all schools during the 2014 academic year.
The Ministry of Islamic Affairs has also pledged to broaden Islamic knowledge in the national curriculum
Full report at:
http://minivannews.com/society/hithadhoo-school-to-become-maldives-first-arabic-medium-school-92041
-------
Southeast Asia
Police prevent Islamic State gathering, authorities remain alert
January 09, 2015
The National Police say they have halted a plan by alleged supporters of the Islamic State (IS) movement to hold a gathering in the Central Java city of Semarang scheduled for this Sunday.
National Police spokesman Sr. Comr. Agus Rianto told reporters on Thursday that police in Semarang, East Java, had talked organizers of the event into canceling it.
"Yes, a group of people promoted the gathering at a mosque by putting up posters that depicted the IS flag, but we have met with them and they have agreed to cancel it," Agus said at National Police headquarters in South Jakarta.
The poster, which was first published on Indonesian hard-line website al-mustaqbal.net, invited people to join a talk titled "They are jihadists, not those who abandon Islam: Defending the Caliphate that has been defamed" at Madyo Mangunkarso mosque in Semarang on Sunday.
The poster features the IS flag along with pictures of some well-known figures, including al-Qaeda founder Osama bin Laden.
The poster went viral on social media, prompting Semarang Mayor Hendrar Prihadi to alert the local police.
Full report at:
http://www.thejakartapost.com/news/2015/01/09/police-prevent-is-gathering-authorities-remain-alert.html#sthash.ePeBHS2r.dpuf
----------
Shop selling Isis souvenirs in Bandar Baru Bangi, reports paper
January 09, 2015
Unperturbed by the threat of action from authorities, a shop in Bandar Baru Bangi is doing brisk business selling militant merchandise, The Star reported today.
"I am doing this for Allah and if I am doing it for Him, I should not be afraid," the shopkeeper, who declined to be named, told the daily.
From the outside, the shop appears nondescript, belying the controversial items sold within.
Filled with militant-themed flags, T-shirts and caps, the shop sells items bearing the symbols of militant groups, especially the Islamic State of Iraq and Syria (Isis) and Taliban.
The shopkeeper said he has been operating for three months, with the items made and imported from Indonesia.
The Star reported that the shop seemed to be a hub for militants and their supporters would go there to equip themselves with the latest Isis paraphernalia.
Isis T-shirts are retailing at RM59, while stickers with Isis and Taliban logos are going for RM5 to RM10 each.
Full report at:
http://www.themalaysianinsider.com/malaysia/article/shop-selling-isis-souvenirs-in-bandar-baru-bangi-reports-paper#sthash.GCdl1ypD.dpuf
----------
Indonesia Condemns Slayings at French Weekly, Supports Call for Justice
January 09, 2015
Jakarta. Indonesia has condemned an attack on the offices of a French satirical weekly in Paris on Wednesday that left 12 people dead, and expressed its support of the French government's attempts to bring the perpetrators to justice.
"The Indonesian government would like to express its deepest condolences to the government and people of France, especially to the victims' families, because no act of violence can be justified," the Foreign Affairs Ministry said in a statement on Thursday.
The attack on the office of Charlie Hebdo, which in the past has drawn criticism for its lampooning of Islam, was the deadliest attack on French soil in decades. Police have identified the two gunmen as brothers Cherif and Said Kouachi, aged 32 and 34, Reuters reported.
The younger brother was part of an Islamist cell enlisting French nationals from a mosque in eastern Paris to go to Iraq to fight Americans in Iraq and arrested before leaving for Iraq himself in 2005. He served 18 months in prison on a charge of criminal association related to a terrorist enterprise, Reuters reported.
Indonesian Foreign Minister Retno L.P. Marsudi said Indonesians currently in France and elsewhere in Europe should be "extra careful" in the wake of the shooting and reports of non-fatal retaliatory attacks against Muslim communities.
Full report at:
http://thejakartaglobe.beritasatu.com/news/indonesia-condemns-slayings-french-weekly-supports-call-justice/
----------
URL: https://www.newageislam.com/islamic-world-news/new-age-islam-news-bureau/france--at-war--with-terrorism,-not-religion--french-pm/d/100936