New Age Islam News Bureau
4 Feb 2014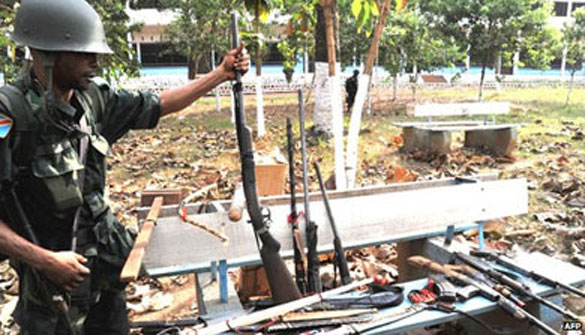 France is working with some 4,000 troops from African countries to help end the violence which has seen about a million people - 20% of the population - flee their homes
-----------
Arab World
• Former Security Official Discloses How Arab Leaders Send Petrodollars to ISIL in Iraq
• New Saudi Law: 20 Years for Belonging to Terrorist Groups
• ISIS 'negotiator' blows self up at Syria rebel base
• Al Qaeda Breaks With Jihadist Group in Syria Involved in Rebel Infighting
• Syrian airstrikes kill at least 18 in Aleppo
• Egyptian Army Kills 21 Militants in Sinai Crackdown
• Bombings in and around Iraqi capital kill 7 people
• Syria opposition chief to press Russia on Assad
• Egypt to Try Mossad 'Spies' in Absentia
Africa
• Central African Republic clashes 'kill 75' in Boda town
• Kenya charges 129 as Shebab members after mosque raid
• Libya: Muammar Gaddafi's secrets finally revealed
• Religious fanatics are not what Kenya tourism needs right now
• UN delegation meets with armed groups in Mali
Europe
• Lavrov: Russia Urges West to Work with All sides in Syria, Except for Terrorists
• UK: Jihadist, who murdered Lee Rigby, tries to gouge doctor's eye out with a pen
• Brits who fight or join rebel training camps in Syria to face life in jail
• HRW urges Kuwait to amend laws curbing free speech
• UN appeals for $1.27 billion for 'shattered' South Sudan
South Asia
• War Crimes Trial of Mir Quasem Ali: Chhatra Sangha turned hotel into torture centre
• China: Suppression of religious freedoms in Xinjiang continues
• Coalition parties' Maldivian Majlis selections continue amid internal criticism
• Karzai in secret talks with Afghan Taliban: report
• Uyghur Official Murdered, Man Killed in Xinjiang
• Encounters with the American Military in Afghanistan
Pakistan
• Majlis Wahdat-ul-Muslimeen rejects idea to talk with Taliban
• PTI, JUI refusal not to affect peace process: Jamaat-e-Islami
• Negotiating committee: JUI-F, Imran say 'goodbye' and 'good luck'
• Govt committee should have come for peace talks meeting: Sami ul Haq
• Four policemen shot dead in Karachi
• Taliban talks: PPP Leader calls for deadlines, transparency
• Nawaz 'optimistic' about peace talks with Taliban
• Long way for acceptance of transgenders in Pakistan
• 'Stop making excuses for Taliban': Bilawal Bhutto Zardari
North America
• Obama to face blunt talk in Saudi Arabia
• 'Religious Freedom' Rep Says No to Muslims' Rights in Military
• Some 130 Canadians Support Foreign Extremists, 30 in Syria Alone
• Group hopes I-96 billboard helps educate others about Islam
• Highly qualified Muslim immigrants face employment discrimination
• CIA Reprehends US Proxy War Commander in Syria
• US denies Kerry favoured arming Syrian rebels
Mideast
• Islamic Jihad Threatens to Sabotage Peace Talks
• Limit of lengthy detentions in Turkey to be reduced to five years: PM Erdoğan
• Turkey most supportive non-Arab state of Palestinians
• U.S. Treasury confirms $550 mln transfer to Iran
Southeast Asia
• Barisan's Upko vows to help native Christians tricked into becoming Muslims
• Sabah Christians meet today in bid to reverse conversions to Islam
• US eases visa process for RI citizens
India
• Shiv Sena workers disrupt Pakistani band's press conference in Mumbai
• Yasin Bhatkal kin and multiple bomb blasts accused is held in Abu Dhabi
Compiled by New Age Islam News Bureau
URL: https://newageislam.com/islamic-world-news/new-age-islam-news-bureau/former-security-official-discloses-how-arab-leaders-send-petrodollars-to-isil-in-iraq/d/35592
-----------
Arab World
Former Security Official Discloses How Arab Leaders Send Petrodollars to ISIL in Iraq
Feb 4, 2014
A prominent Iraqi politician and former security official disclosed how leaders of the Persian Gulf Arab states send petrodollars to the Islamic State of Iraq and the Levant (ISIL).
Speaking to FNA, former Iraqi National Security Advisor Mowaffak al-Rubaie underlined that the Persian Gulf Arab states support terrorism in the region, especially in Iraq, and said, "I am fully aware that the sum of cash is remitted to HSBC Bank in Oman from a bank in a Persian Gulf Arab state."
He reiterated that the same amount of cash is spent for supporting terrorism in Iraq, especially in Al-Anbar province.
"Supporting terrorism in Iraq is not only restricted to the financial support, but also active (terrorist) groups such as ISIL, Al-Nusra Front, Al-Qaeda and others recruit terrorists from regional countries and dispatch them to Iraq via the Persian Gulf Arab states," Al-Rubaie said.
Last month, the Iraqi 'Afaq TV' broadcast footages of a group of arrested members of the so-called 'Islamic State of Iraq and the Levant' (ISIL) confessing to their direct links with the Saudi Arabia.
The video included confessions about the ISIL relations with the Saudi authorities and their role in terrorist attacks in number of Iraqi provinces, along with transporting weapons and booby-trapped cars into Iraqi cities, Al-Manar reported.
The emir of ISIL special groups in Karbala' and Najaf is among the arrested members.
During confessions, he said he was working for 'the Saudi Abu Jassem', a military man who ordered him to carry out several attacks.
Iraqi Federal Intelligence and Investigations Directorate in Karbala' has arrested a large number of terrorists during several operation it made recently.
Earlier, a well-known Saudi tweeter named 'Mojtahed' had posted tweets about armed groups in which the Kingdom intelligence services had infiltrated.
Mojtahed distinguished between three categories of armed groups, the first was made by Bandar Bin Sultan, the second had been infiltrated partially and planted by agents, and the third had been directed by deception.
Iraqi Prime Minister declared war on Al-Qaeda terrorist organizations in the country following wave of violence against Iraqi cities.
http://english.farsnews.com/newstext.aspx?nn=13921115000602
----------
New Saudi Law: 20 Years for Belonging to Terrorist Groups
Feb 04, 2014
Saudi King Abdullah decreed jail terms of up to 20 years for belonging to "terrorist groups" and fighting abroad, AFP reported.
The new law comes as part of Saudi Arabia's struggles to deter Islamist Saudis from becoming jihadists.
"Taking part in combat outside the kingdom, in any form" will be punished by jail terms of between three and 20 years, said the decree published by state news agency SPA.
Similar sentences will be passed on those belonging to "extremist religious and ideological groups, or those classified as terrorist organizations, domestically, regionally and internationally," the decree said, according to AFP.
Supporting such groups, adopting their ideology or promoting them "through speech or writing" would also incur prison terms, the decree added.
Rights group Amnesty International sharply criticized the new legislation, saying it could be used to suppress peaceful political dissent because the law used an "overly vague definition of terrorism".
"The Saudi Arabian authorities are seeking legal cover to entrench their ability to crack down on peaceful dissent and silence human rights defenders," Amnesty's Said Boumedouha said in a statement quoted by AFP.
Saudi Arabia set up specialized terrorism courts in 2011 to try dozens of nationals and foreigners accused of belonging to Al-Qaeda or being involved in a wave of bloody attacks that swept the country from 2003.
As part of its efforts to fight terrorism, the kingdom last year opened a luxury rehabilitation center in Riyadh, featuring counseling, spa treatments and exercise for convicted Al-Qaeda terrorists.
Scores of Saudis are believed to have joined Islamist extremists fighting in Syria, where Riyadh is a strong backer of the nearly three-year rebellion against the regime of President Bashar Al-Assad.
The Saudis have reportedly been providing the rebel groups that are considered to be moderate with anti-tank missiles.
Last week it was reported that the U.S. Congress had approved funding for light arms for the moderate rebel groups in Syria.
http://www.israelnationalnews.com/News/News.aspx/177062#.UvASqT1dUqM
-----------
ISIS 'negotiator' blows self up at Syria rebel base
Feb 4, 2014
A double bomb attack in Aleppo carried out by al-Qaeda-affiliated group, the Islamic State of Iraq and Syria (ISIS), claimed the lives of at least 16 Syrian rebel fighters on Sunday, an NGO said.
An ISIS fighter blew himself up at the headquarters of an Islamist rebel brigade in the Aleppo town, while a car bomb detonated outside at the same time, the Observatory said.
The bomber had reportedly offered to negotiate with the rebels in the name of ISIS, but detonated an explosive belt inside the headquarters.
The attack, which took place in the town of al-Ra'ei, not far from the Syrian border with Turkey, also injured another 20 rebel fighters, the Syrian Observatory for Human Rights said.
The Observatory said the bombings came as fighters gathered at the headquarters to discuss the possibility of a truce in the fighting with ISIS that has raged throughout rebel-controlled areas
According to Agence France-Presse, the rebels were Islamist brigades that have joined moderate rebels in fighting the jihadist ISIS since the beginning of a backlash in early January.
The rebel-jihadist clashes have killed around 1,400 people since they began, although the Observatory says the real toll is likely much higher because both sides are secretive about their losses.
Meanwhile, the ISIS has formed two female battalions in Syria's northern city of Raqqah, pan-Arab newspaper Asharq al-Awsat reported on Sunday.
The battalions were reportedly launched as part of ISIS' efforts to "expose male activists who disguise in women's clothing to avoid detention when stopping at the ISIS checkpoints."
http://english.alarabiya.net/en/News/middle-east/2014/02/03/Al-Qaeda-in-Syria-launch-deadly-Aleppo-attack-.html
---------
Al Qaeda Breaks With Jihadist Group in Syria Involved in Rebel Infighting
Feb 04, 2014
ISTANBUL — Al Qaeda's central leadership has officially cut ties with a powerful jihadist group that has flourished in the chaos of the civil war in Syria and that rushed to build an Islamic state on its own terms, antagonizing the wider rebel movement.
The animosity between the group, the Islamic State of Iraq and Syria, or ISIS, and other rebel groups has fueled the deadliest infighting yet between the foes of President Bashar al-Assad and has sapped their campaign to depose him.
Though the isolation of the group could lead to greater unity among other rebel forces, it is unlikely to assuage fears in the United States and elsewhere about the increasing power of extremists in Syria.
The break between Al Qaeda and the Islamic State of Iraq and Syria, announced late Sunday on jihadist websites, served both sides, said William McCants, a scholar of militant Islam at the Brookings Institution. Al Qaeda cut ties with a group that was besmirching the Qaeda name among other militants, while the Islamic State of Iraq and Syria bolstered its image as a force to reckon with.
"ISIS is now officially the biggest and baddest global jihadi group on the planet," Mr. McCants said. "Nothing says 'hard-core' like being cast out by Al Qaeda."
The rise of the group has largely reflected what many analysts see as the diminished clout of the original Al Qaeda organization and the rise of affiliates and other militant groups that share its ideology but run their own affairs.
Rifts between Al Qaeda and the group emerged last year when the Qaeda leader, Ayman al-Zawahri, ordered it to withdraw from Syria and leave the insurgency there to be run by the official Qaeda affiliate, the Nusra Front. The Islamic State of Iraq and Syria refused.
Its haste to seize resources like oil fields and border crossings brought it into conflict with other rebels, and widespread clashes between the sides in recent weeks have left thousands dead across northern and eastern Syria, according to partisan activist groups. That violence has led to harsh criticisms of the group from other rebel leaders who consider it just as dangerous as Mr. Assad.
On Monday, a bomber from the Islamic State of Iraq and Syria detonated himself at a rebel base in northern Syria, killing 16 fighters and wounding 20, activists said.
Such attacks have led an influential Saudi cleric who is based in Syria and was once close to the group to disown it and call on its fighters to defect.
In a video posted online on Sunday, the cleric, Abdullah al-Muheiseni, said one of the group's suicide attacks had killed a 12-year-old boy. Another destroyed a water facility and killed a civilian.
"That brother who blew himself up, what is his destiny now before the almighty God?" Sheikh Muheiseni said.
In a written statement posted on jihadist forums, Al Qaeda accused the Islamic State of Iraq and Syria of not working with other groups, naming its own leaders and trying to impose its own authority.
The statement called on all groups in Syria to work together to spare the blood of Muslims and to remain loyal to the teachings of Osama bin Laden.
American intelligence and counterterrorism analysts said the group's increasing economic independence — largely through revenue from commandeered oil fields, border tolls, extortion and granary sales — had allowed it to thrive without links to Qaeda leaders in Pakistan.
"Although the Al Qaeda brand still carries weight among jihadists worldwide, ISIS has never been dependent on the Al Qaeda core for resources or direction, so the tangible impact of the decision may not be that significant," a counterterrorism official said.
The official, who requested anonymity to speak about intelligence reports, said the Nusra Front was likely to try to benefit from its exclusive Qaeda credentials.
Inside Syria, however, those credentials appeared to be less significant than the Nusra Front's efforts to maintain good relations with other rebel groups.
"We have no problems with Nusra, and we fight with them sometimes in the same trench," a rebel fighter, Nader Ramandan, said in a Skype conversation from northern Idlib Province. While he disagrees with the Nusra Front's ideology, he said, he does not consider the group a threat and hopes it will help get rid of the Islamic State of Iraq and Syria.
Nearly three years of civil war in Syria have left more than 130,000 people dead and destabilized neighboring countries. On Monday, a suicide bomber blew himself up in a bus south of the Lebanese capital, Beirut, killing himself and wounding other passengers. The bombing was the latest in a series of attacks that have targeted civilian areas across Lebanon.
Also on Monday, at least 30 people, including 13 children and three women, were killed in aerial bombardments by the Syrian government in the northern city of Aleppo, according to the opposition Syrian Observatory for Human Rights. Similar attacks had killed scores of people in the city in recent days.
International efforts have so far failed to stop the war, and a first round of international peace talks concluded in Geneva last week with no concrete progress.
In what appeared to be a concession to the Syrian government, the United Nations announced on Monday that the deputy to Lakhdar Brahimi, the United Nations special envoy for Syria, was resigning, effective this week.
The deputy, Nasser al-Kidwa, a former foreign minister of the Palestinian Authority, is also the nephew of Yasir Arafat, the Palestinian leader who died in 2004. Mr. Assad's father and predecessor, Hafez al-Assad, was said to have despised Mr. Arafat, and Syrian officials objected to Mr. Kidwa's role in the talks.
A statement posted online by the office of Ban Ki-moon, the United Nations secretary general, gave no reason for Mr. Kidwa's departure.
http://www.nytimes.com/2014/02/04/world/middleeast/syria.html
-----------
Syrian airstrikes kill at least 18 in Aleppo
Feb 4, 2014
The Syrian government extended its intense aerial campaign against rebel-held areas of the northern city of Aleppo on Monday, conducting a series of airstrikes that killed at least 18 people, including five children, activists said.
President Bashar Assad's air force has pounded opposition areas of the divided city since mid-December, reducing apartment blocks to rubble and overwhelming already strapped hospitals and medical clinics with the wounded. On Sunday, government aircraft also targeted areas of east Aleppo under rebel control, killing nearly 40 people.
Full report at:
http://www.thehindu.com/news/international/world/syrian-airstrikes-kill-at-least-18-in-aleppo/article5651858.ece
-----------
Egyptian Army Kills 21 Militants in Sinai Crackdown
Feb 4, 2014
The Egyptian army shot dead 21 gunmen affiliated to a radical Takfiri group in North Sinai on Tuesday, a security official said.
Egyptian forces launched a crackdown against two suspected "terrorist" cells in the villages of Juz Abu Raad and al-Wadi al-Akhdar in the central Sinai peninsula, the official told Ma'an.
Fierce clashes broke out between Egyptian forces and the gunmen following the raid with 21 suspected militants killed.
Full report at:
http://english.farsnews.com/newstext.aspx?nn=13921115001056
----------
Bombings in and around Iraqi capital kill 7 people
Feb 4, 2014
Iraqi officials say a new string of bombings in and around Baghdad has killed at least seven people.
A police officer says a parked car bomb ripped through an outdoor market in Baghdad's western Shurta district on Tuesday morning, killing four people and wounding 11.
Another car bomb, this one in the southwestern Maalef neighborhood, killed two people and wounded nine. And in the northern suburb of Taji, a roadside bomb struck a police convoy, killing one policeman and wounding four.
Full report at:
http://english.ahram.org.eg/NewsContent/2/9/93438/World/International/Bombings-in-and-around-Iraqi-capital-kill--people.aspx
-----------
Syria opposition chief to press Russia on Assad
February 4, 2014
MOSCOW: Syria's opposition leader met Russia's top diplomat on Tuesday in a bid to persuade Moscow to pressure Damascus to agree to a transitional government for the war-scarred nation.
The talks between Syrian National Coalition chief Ahmad Jarba and Foreign Minister Sergei Lavrov came after an inconclusive 10-day peace conference in Geneva broke up on Friday without a firm commitment from Damascus to attend a new round set for February 10.
The so-called Geneva II talks were promoted jointly by Washington — a firm backer of the Syrian opposition — and Moscow — an ally of the Damascus regime — in a bid to convince the warring sides to sit down for direct negotiations for the first time.
Full report at:
http://tribune.com.pk/story/667340/syria-opposition-chief-to-press-russia-on-assad/
-----------
Egypt to Try Mossad 'Spies' in Absentia
Feb 04, 2014
Five alleged officers from Israel's Mossad spy agency and three Egyptians will stand trial in absentia on Wednesday in an Egyptian court, on charges of spying for the Jewish state, judicial sources said.
Egyptian prosecutors have accused the eight of espionage and supplying Israel with information impacting Egypt's national security, the sources said on Sunday.
The trial is expected to open with none of the defendants present, the sources said, because the alleged Mossad officers are "on the run" while it is not clear if the three Egyptians had been arrested.
Full report at:
http://www.israelnationalnews.com/News/News.aspx/177010#.UvAS4z1dUqM
-----------
Africa
Central African Republic clashes 'kill 75' in Boda town
Feb 04, 2014
Sectarian fighting in the Central African Republic town of Boda since Tuesday has left at least 75 people dead, a local priest has said.
Father Cassien Kamatari said help was needed to stop the violence between Muslims and Christians.
The majority of those confirmed dead were Christian, Fr Kamatari said.
Because Muslim victims were buried soon after the attacks it was not known how many of them were killed, he said.
There have been widespread reports of revenge attacks since mainly Muslim fighters withdrew from the capital Bangui last month.
They did so following the resignation of interim President Michel Djotodia.
Correspondents say that while the security situation in Bangui has improved since the peacekeepers' arrival, outbreaks of violence continue in the north and west of CAR.
Full report at:
http://www.bbc.co.uk/news/world-africa-26021850
-----------
Kenya charges 129 as Shebab members after mosque raid
Feb 4, 2014
More than 100 people arrested after deadly rioting following a police raid on a Kenyan mosque were charged Monday for being members of Somalia's Al-Qaeda linked Shebab insurgents.
"We received information that there was a jihad convention in the mosque and that's when we moved in," said local police chief Robert Kitur.
The men in the mosque then "turned violent and attacked our officers".
Judge James Ombura ordered the 129 men be held in prison until Friday to allow prosecutors to finish their investigations, when the accused are expected to enter a plea.
Full report at:
http://english.ahram.org.eg/NewsContent/2/9/93395/World/International/Kenya-charges--as-Shebab-members-after-mosque-raid.aspx
---------
Libya: Muammar Gaddafi's secrets finally revealed
By Christopher Olgiati
Feb 4, 2014
Since Muammar Gaddafi's ignominious death at the hands of a rebel mob in October 2011 much has been written and said about him. But now a new film, with unprecedented access to those close to Gaddafi, provides a comprehensive study of Libya's brutal and contradictory long-time leader.
Ali Aujali, Gaddafi's former ambassador to the United States, is an exceptionally charming man.
He is also something of a magician. He began his career in the Libyan diplomatic service a couple of years after Gaddafi seized power in 1969.
In a series of postings from London to Latin America, he explained away the excesses of the Gaddafi regime. So I was rather surprised to sit with Mr Aujali surrounded by the staggeringly ornate Libyan embassy in Washington and hear him tear the colonel to pieces.
Mr Aujali defected to the rebels in February 2011 and became their ambassador to the United States.
Full report at:
http://www.bbc.co.uk/news/world-africa-25979532
---------
Religious fanatics are not what Kenya tourism needs right now
Feb 04, 2014
Reports from Mombasa overnight talk of some serious trouble at two mosques in Mombasa, known for their agitation if not outright indoctrination and radicalization of gullible young people. A police officer died and another was stabbed in the neck when security forces entered the two supposed places of worship, only to discover weapons, including an AK 47 and a range of materials described as a recipe for insubordination, violence and broadly supporting militant views similar to those by Al Shabab in preparation of Jihad. During the operation, according to local sources in Mombasa, at least two of the radical youths were also killed.
Full report at:
http://www.eturbonews.com/42387/religious-fanatics-are-not-what-kenya-tourism-needs-right-now
-----------
UN delegation meets with armed groups in Mali
Feb 4, 2014
The U.N. Security Council met on Monday with representatives of armed Tuareg groups active in northern Mali as part of an effort to accelerate peace talks with the government, though participants said disagreements on conditions for the talks had not been resolved.
Tuareg rebels launched a rebellion in northern Mali in early 2012 that gave way to a military coup, allowing them to take control of the country's north. However, al-Qaeda-linked Islamic extremists later took over much of the north, prompting France to launch a military intervention in early 2013.
Full report at:
http://www.thehindu.com/news/international/world/un-delegation-meets-with-armed-groups-in-mali/article5651876.ece
----------
Europe
Lavrov: Russia Urges West to Work with All sides in Syria, Except for Terrorists
Feb 4, 2014
Russia has called on the United States and other countries able to influence the sides in the Syrian conflict to maintain contact with all the parties in the Syrian confrontation, except for terrorists, Russian Foreign Minister Sergei Lavrov said.
"We encourage our American and European partners, as well as the region's countries to take such an approach. We are convinced that they also should work together with all of the sides in the Syrian conflict. I certainly mean political sides, not terrorist ones," Lavrov said at a meeting with the leader of the opposition Syrian National Coalition, Ahmad Jarba, Voice of Russia reported.
Full report at:
http://english.farsnews.com/newstext.aspx?nn=13921115001007
-----------
UK: Jihadist, who murdered Lee Rigby, tries to gouge doctor's eye out with a pen
Feb 04, 2014
The 22-year-old, who butchered Fusilier Lee Rigby, flipped during a hospital visit.
He lunged at a consultant at the Royal London Hospital after being asked to sign a patient consent form.
The doctor handed him his own silver pen despite being warned Adebowale, below, could use it as a weapon.
The killer had been taken to be treated for an infection to his leg.
The male doctor's eyesight was only saved by the prompt action of prison officers.
Two guards, who were handcuffed to the killer by short chains, yanked Adebowale's arm away with just inches to spare.
Armed police, who were outside the room, rushed in and one pulled a Taser gun and threatened to shoot.
Full report at:
http://www.dailystar.co.uk/news/latest-news/363576/Lee-Rigby-killer-Michael-Adebowale-tried-to-gouge-doctor-s-eye-out-with-a-pen
-----------
Brits who fight or join rebel training camps in Syria to face life in jail
Feb 04, 2014
About 700 Brits are thought to have joined forces with Muslim rebels in the civil war raging in the Middle Eastern country.
Sue Hemming, head of counter-terrorism at the Crown Prosecution Service, said it was a crime to fight in another country, even if it was to topple a "loathsome" dictator such as president Bashar al-Assad.
She said Britons could also face charges for attending rebel training camps and even those yet to depart could be prosecuted if police found evidence that they were planning to fight.
Seven British residents, including two women, await trial over charges connected to the Syrian conflict which began in March 2011.
Full report at:
http://www.dailystar.co.uk/news/latest-news/363901/Brits-who-fight-or-join-rebel-training-camps-in-Syria-to-face-life-in-jail
-----------
HRW urges Kuwait to amend laws curbing free speech
Feb 4, 2014
Human Rights Watch urged Kuwait on Tuesday to amend laws that officials are using to crack down on free speech and send people to jail for criticising the country's ruler.
HRW also called on Kuwaiti authorities to fulfil their promises to resolve the decades-old problem of over 100,000 stateless people, or bidoons, who claim the right to citizenship.
During the past year, authorities in the Gulf state have brought cases against at least 29 people for expressing critical views on social media platforms and at protests, the New York-based HRW said in a statement on the occasion of releasing its 2014 report on Kuwait.
"The government should let Kuwait's people speak and write freely, and keep its promises to address Bidoon citizenship claims," said Nadim Houry, deputy Middle East director at HRW.
Prosecutors brought most of the speech cases under the vaguely worded article 25 of Kuwait's 1970 penal code, under which anyone who publicly "objects to the rights and authorities of the emir or faults him," can be jailed up to five years, HRW said.
Full report at:
http://english.ahram.org.eg/NewsContent/2/8/93424/World/Region/HRW-urges-Kuwait-to-amend-laws-curbing-free-speech.aspx
-----------
UN appeals for $1.27 billion for 'shattered' South Sudan
Feb 4, 2014
The United Nations issued an urgent appeal Tuesday for 1.27 billion dollars for aid for South Sudan, hit by a seven-week-old conflict that has forced close to a million people from their homes.
"The priority is to save lives now, and ensure that we have food, medicine and other lifesaving supplies prepositioned in the field, in easy reach of aid agencies before the rains hit and the roads become impassable," said Toby Lanzer, the UN's top aid official in South Sudan.
Describing the impact of the fighting as "devastating", he said there were 3.2 million people suffering the humanitarian consequences, including 900,000 people who have been forced to abandon their homes and thousands more wounded.
Full report at:
http://english.ahram.org.eg/NewsContent/2/8/93439/World/Region/UN-appeals-for--billion-for-shattered-South-Sudan.aspx
-----------
South Asia
War Crimes Trial of Mir Quasem Ali: Chhatra Sangha turned hotel into torture centre
Feb 4, 2014
Members of Islami Chhatra Sangha, the then student wing of Jamaat-e-Islami, occupied Dalim Hotel in Chittagong before turning it into a torture centre of the infamous Al-Badr force during the 1971 Liberation War, said a prosecution witness yesterday.
The third witness, Nasiruddin Chowdhury, in the war crimes case against Mir Quasem Ali, also said the establishment had the name Mahamaya Hotel and was owned by a Hindu man before being occupied and renamed.
It was also where he was confined and had first met Quasem, said the freedom fighter while being cross-examined by Quasem's counsel Mizanul Islam before the International Crimes Tribunal-1 adjourned proceedings till February 17.
Full report at:
http://www.thedailystar.net/city/chhatra-sangha-turned-hotel-into-torture-centre-9827
-----------
China: Suppression of religious freedoms in Xinjiang continues
By Ahmed W Khan / 3 February, 2014
During China's Cultural Revolution the Uyghur linguist Ibrahim Mutte'i, who helped compile a comprehensive multilingual dictionary, was tortured in the pursuit of cultural conformity by having large volumes of his edited dictionary dropped on his head.
Although the Cultural Revolution resonates as an extreme moment in China's modern history, today the Chinese Communist Party (CCP) continues to develop expansive legal and political frameworks that repress the cultural and religious freedoms of its Uyghur population in Xinjiang province.
Full report at:
http://www.indexoncensorship.org/2014/02/china-suppression-religious-freedoms-xinjiang-continue/
-----------
Karzai in secret talks with Afghan Taliban: report
2014-02-04
KABUL: Afghanistan's President Hamid Karzai has been holding secret talks with Taliban officials in the hope of persuading them to make peace with his government, the New York Times reported on Tuesday, citing unnamed Afghan and Western officials.
Karzai's spokesman could not reached for comment. But the Times, in its report, said the spokesman had confirmed contact had been made and described the past two months as positive.
Officials, however, told the paper the Taliban-initiated talks had been fruitless so far, although they may help explain Karzai's mounting public hostility to Washington.
In November — around the same time the secret talks reportedly began — Karzai announced his intention to avoid signing a bilateral security deal with the United States until after a presidential election in April.
Full report at:
http://www.dawn.com/news/1084892/karzai-in-secret-talks-with-afghan-taliban-report
---------
Uyghur Official Murdered, Man Killed in Xinjiang
Feb 04, 2014
A Uyghur village secretary for the ruling Chinese Communist Party has been murdered and a Uyghur man shot dead in a township in northwestern China's troubled Xinjiang province, adding to a spate of violence in recent months, according to local police and officials.
Jume Tohtiniyaz, the Communist Party's secretary for Ghaldir village in Aksu city's Karatal township, was stabbed to death on the night of Jan. 22 by "separatists" acting on behalf of ethnic minority Uyghurs languishing in jail for unknown offenses, the authorities said.
Two suspects have been arrested over the killing of the official, who was known for supporting strict pro-government policies.
Full report at:
http://www.rfa.org/english/news/uyghur/deaths-02032014174649.html
-----------
Encounters With the American Military in Afghanistan
Feb 04 2014
The American Military was summoned to Afghanistan to better the conditions of the country and find any terrorists who might be striking attacks in different parts of the world seen every other day. These military soldiers are responsible for organizing and planning executions in order to save the lives of civilians living in dangerous areas of the country. This state of affair has become a worldwide agenda since there have been many killed and injured during the process including the military soldiers who gave up their lives in order to save others.
Various journalists have traveled to the country on safe grounds and have encountered real-time damage caused to the soldiers and the civilians in Afghanistan. These encounters have been reported in order to bring information to the world's attention of what is going on in the country and how the American Military is trying its best to resolve issues for the locales.
Full report at:
penhttp://www.khaama.com/encounters-with-the-american-military-in-afghanistan-3396
-----------
Pakistan
Majlis Wahdat-ul-Muslimeen rejects idea to talk with Taliban
Feb 4, 2014
KARACHI: Majlis Wahdat-ul-Muslimeen (MWM) on Monday demanded of the government to immediately arrest culprits involved in the target killing of three local bodies candidates of MWM and other Shias.
Addressing the Chehlum Programme of martyred workers at Abbas Alamdar Mosque Gulistan-e-Johar, MWM Central Deputy Secretary General Allama Hassan Zafar Naqvi, Senior Shia Cleric Maulana Mirza Yousuf Hussain and Maulana Ejaz Behishti said that the PPP led Sindh government had failed to protect citizens from terrorists. They said that the rising incidents of target killing have raised the question on the capability of Sindh government, police and Rangers.
Full report at:
http://www.dailytimes.com.pk/sindh/04-Feb-2014/mwm-rejects-idea-to-talk-with-taliban
-----------
PTI, JUI refusal not to affect peace process: Jamaat-e-Islami's Prof Ibrahim
February 04, 2014
LAHORE- Despite PTI's announcement that its chief Imran Khan will not act as a representative of Tehrik-i-Taliban Pakistan in peace talks, the Jamaat-e-Islami's Prof Muhammad Ibrahim Khan thinks the decision of their partner will not harm Khyber Pakhtunkhwa coalition government.
"The refusal of Imran Khan to become part of Taliban's negotiation team does not make any difference as the PTI (Pakistan Tehreek Insaf) has announced that the KPK government will facilitate the peace dialogue," said Ibrahim, who has also been nominated by TTP as its representative for talks.
Full report at:
http://www.nation.com.pk/lahore/04-Feb-2014/pti-jui-refusal-not-to-affect-peace-process-ibrahim
-----------
Negotiating committee: JUI-F, Imran say 'goodbye' and 'good luck'
February 4, 2014
ISLAMABAD: The Jamiat Ulema-e-Islam (Fazlur Rehman faction) and Pakistan Tehreek-e-Insaf – the two avid supporters of peace talks – wished the proposed dialogue luck and excused themselves from the Tehreek-e-Taliban Pakistan's intermediary committee.
The Taliban had nominated five prominent figures — PTI Chairman Imran Khan, JUI-S chief Maulana Samiul Haq, Jamaat-e-Islami (JI) leader Prof. Mohammad Ibrahim, JUI-F politician Mufti Kifayatullah and Lal Masjid prayers leader Maulana Abdul Aziz — to act as intermediaries between them and the government's negotiating team.
Full report at:
http://tribune.com.pk/story/667228/negotiating-committee-jui-f-imran-say-goodbye-and-good-luck/
-----------
Govt committee should have come for peace talks meeting: Samiul Haq
February 4, 2014
ISLAMABAD: The government committee for peace negotiations should have come to the meeting even if it was for two minutes, stated Jamiat Ulema Islam-Samiul Haq group (JUI-S) chief Maulana Samiul Haq, Express News reported on Tuesday.
The JUI-S chief, who is one of the members of the Tehreek-e-Taliban Pakistan (TTP) committee was talking to the media in Islamabad.
The Taliban intermediaries and government negotiators were originally scheduled to meet today at 2pm to devise a strategy for the peace process.
However, earlier today the government representatives asked for explanation of certain unidentified issues before the dialogue process formally began.
Lal Masjid chief cleric Maulana Abdul Aziz, who is also a member of the TTP committee, had earlier said that he was not aware of the questions raised by the government negotiators, while talking to the media in Islamabad.
Full report at:
http://tribune.com.pk/story/667336/peace-talks-govt-committee-asks-for-clarifications-from-ttp-intermediaries/
-----------
Four policemen shot dead in Karachi
2014-02-04
KARACHI: Gunmen on motorcycles late Monday shot dead four policemen in Karachi, police said.
The incident occurred in Ibrahim Hyderi area, a poor neighbourhood in the eastern part of the port city where the policemen were on duty.
"The attackers came on motorcycles, they opened fire on the police and fled away," senior police official Munir Shaikh told AFP, adding that "all four policemen died in the attack".
No group has yet claimed responsibility for the attack.
Karachi, a city of 18 million people which contributes 42 per cent of Pakistan's GDP, has been plagued by sectarian, ethnic and political violence for years.
Full report at:
http://www.dawn.com/news/1084680/four-policemen-shot-dead-in-karachi
-----------
Taliban talks: PPP Leader calls for deadlines, transparency
2014-02-04
ISLAMABAD: Pakistan People's Party (PPP) leader Raza Rabbani on Tuesday demanded that a deadline should be decided upon for results in relation to talks between negotiators representing the government and the Tehrik-i-Taliban Pakistan (TTP), adding that the government should also explain the terms and conditions involved in these negotiations.
Speaking at a session of the Senate, Rabbani severely criticised the government's decision to approach the talks' route with the militants.
Full report at:
http://www.dawn.com/news/1084897/taliban-talks-rabbani-calls-for-deadlines-transparency
-----------
Nawaz 'optimistic' about peace talks with Taliban
LAHORE: Prime Minister Nawaz Sharif on Monday expressed optimism about the outcome of peace talks with the Taliban.
"I will personally supervise the talks process, while Interior Minister Chaudhry Nisar Ali will assist me," said the prime minister while talking to newsmen at the Alhamra Arts Council after a meeting with senior journalists and columnists. He said, "It is my utmost desire that the committees formed by the government and the Tehreek-e-Taliban Pakistan make a headway in the talks." He said the government preferred to resolve all issues through dialogue to save the country from further crises.
Nawaz Sharif said the government wanted to settle all issues through dialogue with India, Afghanistan and other countries for durable peace in the region. On the Balochistan issue, he said, "Chief Minister Dr Abdul Malik Baloch will take all stakeholders on board for durable peace in the province in the larger interest of the country." He said the federal government's support and cooperation would always be with them. Replying to a query, Nawaz said his government had inherited all the present problems and was striving hard to resolve them by taking measures through comprehensive policies.
Full report at:
http://www.dailytimes.com.pk/punjab/04-Feb-2014/nawaz-optimistic-about-peace-talks-with-taliban
-----------
Long way for acceptance of transgenders in Pakistan
MEENA MENON
Feb 4, 2014
When Rifee Khan recently approached a premier English language speaking training institute in Karachi, she was told that it could not enroll her in their classes as she was a transgender. Instead the institute suggested Khan take private lessons in learning spoken English because the families of the other students would object to her presence.
Khan who works for the Gender Interactive Alliance was in tears as she narrated this incident at a workshop on Monday organised by the Sustainable Development Policy Institute (SDPI). "I am an educated person and have a double M. A., yet this is how they treated me," she later said. Yet in an unprecedented step, Ms Khan is one of the three transgenders to get jobs a few days ago in the Sindh government's social welfare department as office assistant. Two others Mazhar Anjum and Muskan have also been given jobs.
Full report at:
http://www.thehindu.com/news/international/south-asia/long-way-for-acceptance-of-transgenders-in-pakistan/article5649769.ece
-----------
'Stop making excuses for Taliban': Bilawal Bhutto Zardari
2014-02-04
Bilawal Bhutto Zardari, chairman of the Peoples Party, has launched a scathing attack on his political opponents who he said must stop "making excuses" for Taliban violence.
Bilawal also accused Prime Minister Nawaz Sharif and Tehreek-i-Insaf chief Imran Khan of "letting down the people" by not backing firm military action against the Taliban.
"Perhaps they are suffering from Stockholm Syndrome," he said, referring to cases of hostages who sympathise with or even assist their captors. "There is no reason why the national leaders, the so-called leaders, should not speak out against people who are murdering our citizens, murdering our armed forces and claiming responsibility."
The remarks are likely to further burnish his reputation as both a brash new arrival on the country's political scene, but also the most outspoken politician on the issue of militancy and extremism.
Full report at:
http://www.dawn.com/news/1084785/stop-making-excuses-for-taliban
-----------
North America
Obama to face blunt talk in Saudi Arabia
2014-02-04
WASHINGTON: Blunt talk over the US opening to Iran and reticence in Syria will be on the menu when President Barack Obama travels to Saudi Arabia next month to meet King Abdullah.
Obama's White House years have caused frustration and incomprehension in Riyadh and a rocky ride for Washington's key strategic relationship with the Gulf kingdom.
His nuclear diplomacy with Iran, Sunni Saudi Arabia's Shiite-led foe in a swirling regional proxy war, and his last gasp reversal on striking Syria last year infuriated the Saudi court.
Since then, Saudi princes, mouthpieces for the aged monarch, have vented in opinion pieces for US newspapers, comparing Washington to a "big bear"reluctant to show its claws and branding an interim nuclear deal with Iran a "dangerous gamble.
Full report at:
http://www.dawn.com/news/1084878/obama-to-face-blunt-talk-in-saudi-arabia
-----------
'Religious Freedom' Rep Says No to Muslims' Rights in Military
Feb 04, 2014
The Council on American-Islamic Relations (CAIR), the nation's largest Muslim civil rights and advocacy organization, today called on the United States Commission on International Religious Freedom (USCIRF) to investigate one of its own members for seeking to deny religious rights to Muslim military personnel.
USCIRF Vice Chair Zuhdi Jasser appeared on Fox News to speak out against the Pentagon's recent broadening of religious rights for minority faiths. While supporting those broadened rights for Sikhs and Jews, Jasser decried the expanded rights as they applied to American Muslims. He claimed the Obama administration is "bending over backwards for political correctness," which will lead to what he called "litigation jihad."
Full report at:
http://www.aljazeerah.info/Opinion%20Editorials/2014/February/3%20o/Islamophobia%20in%20the%20US,%20Religious%20Freedom%20Does%20Not%20Apply%20to%20Muslims%20in%20the%20Military,%20February%203,%202014.htm
-----------
Some 130 Canadians Support Foreign Extremists, 30 in Syria Alone
Feb 4, 2014
A senior intelligence official said some 130 Canadians are working abroad in support of extremist activities — including about 30 in Syria alone.
Michel Coulombe, director of the Canadian Security Intelligence Service, told a Senate committee the individuals' activities include paramilitary operations, training in weapons and explosives, logistical support, terrorist fundraising and studying in extremist schools, Voice of Russia reported.
Two cases of young Canadian men who died in hostilities in Syria recently grabbed headlines.
Coulombe says some never achieve their intent and simply return home, potentially posing a more immediate threat to Canadians.
Full report at:
http://english.farsnews.com/newstext.aspx?nn=13921115000344
----------
Group hopes I-96 billboard helps educate others about Islam
Feb 04, 2014
Perched along Interstate 96 near Milford Road for the past month, a large red billboard asks travelers in the thousands of vehicles that pass it daily: "What is Islam? Who are the Muslims?"
The sign in Oakland County also lists a phone number and website for GainPeace, a Chicago nonprofit associated with the Islamic Circle of North America.
The curious who follow through have the chance to earn a free copy of the Quran, the Muslim holy book, and learn more about the religion, which is the aim of the group's campaign.
"We want to do away with the misconceptions people have about the fundamentals of Islam," said Sabeel Ahmed, national director of GainPeace.
The initiative, launched in cities nationwide and in Canada, started several years ago yet gained momentum in the wake of the controversy in 2012 surrounding the film "Innocence of Muslims." The video shared online was considered anti-Islamic and sparked international outrage.
Full report at:
http://www.detroitnews.com/article/20140202/RELIGION/302020036#ixzz2sIOVmzRs
-----------
Highly qualified Muslim immigrants face employment discrimination
Feb 04, 2014
Last week, Quebec business interests sounded an alarm about the negative economic ramifications on the province of the proposed values charter.
First the Conseil du patronat and then the head of a cable and media company warned that Bill 60 would discourage immigrants needed for economic growth.
This issue arose the first day of the charter hearings last month, when the leader of a Muslim organization talked about a crisis among families of highly qualified North Africans who are being shut out of jobs in their fields.
Samira Laouni, of Communication pour l'ouverture et le rapprochement interculturel, estimated that current unemployment in the North African community is around 30 per cent — even though overall unemployment in Montreal is roughly 8 per cent.
Full report at:
http://www.montrealgazette.com/life/Highly+qualified+Muslim+immigrants+face+employment+discrimination/9463890/story.html
-----------
CIA Reprehends US Proxy War Commander in Syria
Feb 4, 2014
The US spy agency, the CIA, has rebuked General John Wright, the operation and cooperation commander for the proxy war in Syria, for his failure in provoking the anti-Assad forces to intensify their attacks against the governmental forces, sources said.
"Brigadier General John Wright was reprehended by the CIA and was summoned to Washington on January 20 on a military plane," an informed source told FNA on the condition of anonymity due to the secrecy of the issue.
The 57-year-old veteran US General who has fought in Afghanistan, Iraq and Libya wars had set up his office in Amman as a first step and started coordination with Saudi Arabia but couldn't persuade Riyadh to remain committed to its undertakings to provide financial and logistic aids to the armed forces in Syria, the source said.
Full report at:
http://english.farsnews.com/newstext.aspx?nn=13921115000813
----------
US denies Kerry favoured arming Syrian rebels
Press Trust of India | Washington | February 4, 2014
The US has said that it wants a negotiated political settlement to resolve the crisis in Syria and denied that Secretary of State John Kerry had called for a change of strategy and to arm opposition rebels.
"We believe that it is absolutely necessary to press for a negotiated political resolution to this conflict. There is no other alternative," White House Press Secretary Jay Carney told reporters at his daily news conference on Monday.
President Barack Obama's view is that the US should not be putting American troops on the ground in Syria and that his administration needs to pursue a policy that presses both sides on the basis of the Geneva Communique to resolve this conflict through a negotiated settlement, he noted.
Full report at:
http://indianexpress.com/article/world/americas/us-denies-kerry-favoured-arming-syrian-rebels/
-----------
Mideast
Islamic Jihad Threatens to Sabotage Peace Talks
Feb 04, 2014
The Islamic Jihad terrorist group has threatened to sabotage any peace agreement between Israel and the Palestinian Authority (PA).
Ahmed al-Mudallal, a senior official in the organization, on Monday told the French magazine Le Figaro that the Islamic Jihad will destroy any agreement that would "legitimize the Zionist occupation of Palestine."
"We are totally opposed to the negotiations, which can bring nothing good," he said, adding, "As we have in the past fought the Oslo process, we will destroy any agreement that would legitimize the Zionist occupation of Palestine. We will not compromise because our purpose is the liberation of our land, our people and our holy places."
Full report at:
http://www.israelnationalnews.com/News/News.aspx/177060#.UvASsD1dUqM
-----------
Limit of lengthy detentions in Turkey to be reduced to five years: PM Erdoğan
Feb 4, 2014
The duration of lengthy detentions will be lowered to five years in a new bill, Prime Minister Recep Tayyip Erdoğan has announced.
"The duration of detentions was previously reduced to 7.5 years from 10 years. With the new efforts we undertook yesterday [Feb. 2], we are lowering it to five years. Hundreds of people will benefit from it after it passes at Parliament," Erdoğan told reporters in Ankara on Feb. 3.
Turkey has long been criticized for its lengthy detention periods. The Constitutional Court recently ruled in favor of individual applications of jailed lawmakers, citing European Court of Human Rights decisions.
Full report at:
http://www.hurriyetdailynews.com/limit-of-lengthy-detentions-in-turkey-to-be-reduced-to-five-years-pm-erdogan.aspx?pageID=238&nID=61946&NewsCatID=338
-----------
Turkey most supportive non-Arab state of Palestinians
World Bulletin / News Desk
Feb 4, 2014
Nearly a quarter of polled Palestinians consider Turkey as the most non-Arab supportive country politically and financially to their cause, according to a recent survey.
The Ramallah-based Alpha International for Research, Polling and Informatics said it had surveyed 538 Palestinians, all over the age of 18 and living inside Palestinian territories.
Some 23 percent of them described Turkey as the first non-Arab country in terms of financial assistance to Palestinians.
Full report at:
http://www.worldbulletin.net/headlines/128217/turkey-most-supportive-non-arab-state-of-palestinians
-------
U.S. Treasury confirms $550 mln transfer to Iran
Feb 04, 2014
The U.S. Treasury Department on Monday confirmed that it has allowed the transfer of $550 million in Iran's frozen oil revenues to the country under an interim nuclear deal.
A U.S. Treasury spokeswoman said the transfer began Jan. 31 and would be complete early this week but declined to specify which foreign banks were involved.
No U.S. banks were involved in the transactions, but the United States, which has extensive sanctions on Iran tied to its disputed nuclear program, helped facilitate the transfer of funds, the spokeswoman said.
Full report at:
http://www.reuters.com/article/2014/02/03/usa-iran-treasury-idUSL2N0L80Z520140203
-----------
Southeast Asia
Barisan's Upko vows to help native Christians tricked into becoming Muslims
Feb 4, 2014
The United Pasokmomogun Kadazan Dusun Murut Organisation (Upko) of Sabah will take the lead to help 64 Christian natives from remote villages to reverse their conversion to Islam, according to a source.
This was decided at a meeting chaired by Upko president Tan Sri Bernard Dompok (pic) in Penampang this afternoon.
"Dompok told the meeting that 'the party is ready to serve and help the natives all the way'," the source, who attended the meeting, told The Malaysian Insider.
Full report at:
http://www.themalaysianinsider.com/malaysia/article/barisans-upko-vows-to-help-native-christians-tricked-into-becoming-muslims
-----------
Sabah Christians meet today in bid to reverse conversions to Islam
Feb 4, 2014
Amid rising religious tension in Malaysia, Christian interest groups in Sabah are meeting today to find ways to reverse the conversion of 64 natives who claimed they were tricked into converting to Islam last month.
The Malaysian Insider learnt that a lunch meeting in Kota Kinabalu on the matter will be chaired by United Pasokmomogun Kadazan Dusun Murut Organisation (Upko) president Tan Sri Bernard Dompok.
Upko is part of the ruling Barisan Nasional (BN) coalition but a source told The Malaysian Insider the meeting transcends political beliefs.
"Christians from both sides of the political divide, non-governmental organisations and a group of lawyers are banding together to help fellow Christians in trouble," the source said.
The 64, including children as young as five, are from three remote villages, Kampung Layung Maliau, Dowokon and Sosop.
Full report at:
http://www.themalaysianinsider.com/malaysia/article/sabah-christians-meet-today-in-bid-to-reverse-conversions-to-islam
----------
US eases visa process for RI citizens
Feb 4, 2014
Aiming at expanding people-to-people cooperation between the two nations, US Ambassador to Indonesia Robert O. Blake Jr., said US visa applications would be more accessible.
Blake, who presented his credentials to President Susilo Bambang Yudhoyono on Thursday, brushed aside the widespread perception that — for Indonesians — US visas were very difficult to secure.
"Sometimes I hear Indonesians say it is hard to get a visa. I want to say very categorically that that is not true," Blake said during a discussion with the media at his residence on Monday.
Blake cited the fact that the US Embassy in Jakarta had approved most of the visa applications it processed.
Full report at:
http://www.thejakartapost.com/news/2014/02/04/us-eases-visa-process-ri-citizens.html
-----------
India
Shiv Sena workers disrupt Pakistani band's press conference in Mumbai
PTI | Feb 4, 2014
MUMBAI: Shouting anti-Pakistan slogans, dozens of Shiv Sena activists on Tuesday disrupted the press conference of a Sufi music band from that country at the Mumbai Press Club, police said.
Carrying saffron party flags and chanting "Pakistanis go back" and "Vande Mataram", alleged Sena workers forced their way into the conference hall, heckled the artistes of 'Meekal Hasan Band' and overturned chairs when they were in the middle of a media briefing.
Swinging into action, police managed to evict the protesters and the entrance to the club was shut.
Full report at:
http://timesofindia.indiatimes.com/city/mumbai/Shiv-Sena-workers-disrupt-Pakistani-bands-press-conference-in-Mumbai/articleshow/29860988.cms
-----------
Yasin Bhatkal kin and multiple bomb blasts accused is held in Abu Dhabi
Written by Rahul Tripathi | New Delhi | February 4, 2014
A suspected key Indian Mujahideen operative, accused of routing funds to carry out bomb blasts in India, was apprehended last week by authorities in Abu Dhabi and Indian agencies are working to establish his identity and seek his deportation.
The suspect, believed to be Abdul Wahid Siddibapa, belongs to the coastal Karnataka town of Bhatkal and is also a distant relative of IM founders Riyaz and Yasin Bhatkal, sources said.
An Interpol red corner notice issued against Wahid says he is wanted for his alleged involvement in the July 2006 Mumbai serial blasts, the 2008 Delhi blasts and the 2010 Chinnaswamy Stadium blasts in Bangalore.
Full report at:
http://indianexpress.com/article/india/india-others/yasin-bhatkal-kin-and-multiple-bomb-blasts-accused-is-held-in-abu-dhabi/
---------
URL: https://newageislam.com/islamic-world-news/new-age-islam-news-bureau/former-security-official-discloses-how-arab-leaders-send-petrodollars-to-isil-in-iraq/d/35592