New Age Islam News Bureau
4 Oct 2017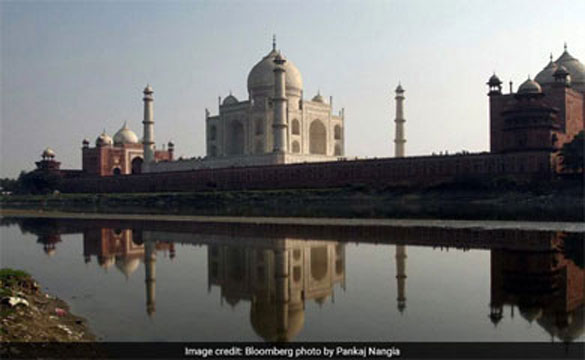 The Taj Mahal has long been one of India's prime tourist draws for foreign visitors
-----
• Foreign Media Asks Is India Neglecting Taj Because Muslims Built It
• Putrajaya Bans Books by Progressive Muslim Scholars Farouk Musa, Wan Ji
• Pakistan's ISI Has Clear Links with Terror, Runs Its Own Policy: US
• Watching Terrorism Videos Online To Become Criminal Offense In UK
• Pope's Bangladesh, Burma Trip to Emphasize Peace amid Conflict
India
• Foreign Media Asks Is India Neglecting Taj Because Muslims Built It
• Kerala 'Love Jihad': New SC Bench Asks Why Marriage Was Annulled By High Court
• 82 Year-Old Hindu Man Laid To Rest With Muslim Rites
• Arguments on Rohingya Muslims must be on law points, not on emotional aspects: Supreme Court
• PoK-Based Terrorists From Own Group Helped Cops Kill Hizbul Mujahideen Top Gun
• BSF camp near Srinagar airport attacked, ASI and three terrorists killed
• Srinagar BSF camp attack: Terrorist in uniform tried to blend with forces, identified
• Prove charge Kerala's soil fertile for jihadi terrorism: Left to BJP
--------
Southeast Asia
• Putrajaya Bans Books by Progressive Muslim Scholars Farouk Musa, Wan Ji
• Poser over Arrests of 200 Iraqi Shia Muslims
• The politics behind the arrest of Turkish intellectual Mustafa Akyol
• Oxford confirms Syed Saddiq scholarship, but not amount
• Muslim community tackling various challenges
--------
North America
• Pakistan's ISI Has Clear Links with Terror, Runs Its Own Policy: US
• US Muslim, Jewish Group Branching Out To Build on Mission
• Nuclear accord with Iran in US interest: Mattis
• Afghanistan pull-out would be 'to our ultimate peril': Mattis
• Canada: Quebec City mosque murder case moves to trial
• America faces greater threat from its own white men than from Muslim foreigners
--------
Europe
• Watching Terrorism Videos Online To Become Criminal Offense In UK
• Boris Johnson: Sirte Can Be Next Dubai – Only If 'Dead Bodies Are Cleared Away'
• French lawmakers adopt anti-terror bill 'at expense of' civil liberties
• Russia denies Daesh captured soldiers in Syria's Dayr al-Zawr
• First trial for jihadist massacre in France opens
• Charity group censures UK over selling arms to Saudi Arabia
• 5 arrested after makeshift bomb found in Paris
--------
South Asia
• Pope's Bangladesh, Burma Trip to Emphasize Peace amid Conflict
• Taliban suffer heavy casualties in Kunduz and Faryab operations
• 10,000 Rohingya Poised To Enter Bangladesh As Exodus Swells Again
• US lauds Bangladesh's role over Rohingya issue
• Rohingya crisis: aid groups seek $400m to help a million people in Bangladesh
• Three key members of Taliban group arrested in Kabul city
• Rocket attack foiled on Kabul city days after similar attack rocked the airport
--------
Arab World
• Why Has Baghdadi Threatened The Media And Intellectual Institutions?
• Arab Daily: S. Arabia Thinking of Withdrawal from Yemen War
• Daesh defence line collapses in Hawijah as Iraqi forces liberate more villages
• Idlib: Syrian Fighter Jests Bomb Terrorists' Large Arms Depot
• Syrian Army Makes Fresh Gains in Battle with Terrorists in Eastern Hama
• Terrorists Deploy at Syria's Nassib Border-Crossing Despite Jordan's Ultimatum
• US Air Strikes in Syria Take Civilian Toll Again
• ISIS claims deadly suicide attack in Syrian capital
• Cairo says N Korean arms seized in 2016 was not bound for Egypt military
• Syria calls on UNSC to halt US-led coalition's illegal airstrikes
--------
Mideast
• Israel Seeking To Link Las Vegas Shooting To Muslims: Scholar
• Israeli Warning As Palestinians Edge Closer To Reconciliation
• Yemeni Deputy PM Calls on Saleh Followers to End Alliance with Houthis
• Palestinian rivals declare three stages to end decade-long split
• Israeli premier vows to build more settlements at heart of West Bank
• Israeli defence minister says Syria's Assad 'victorious'
• Saudi regime begins joint drill with France amid war on Yemen
• Israel demolishes Bedouin village, makes 200 homeless
• Iranian lawmaker slams Iraqi secession vote as 'strategic mistake'
• EU ties expansion, JCPOA endurance, terrorism eradication Iran's main policies: Rouhani
--------
Pakistan
• Religious Parties to Launch Movement against Election Act
• 3 terrorists convicted by military courts executed in KP: ISPR
• US will try to work with Pakistan 'one more time', says Mattis
• COAS Bajwa chairs 'seven-hour' huddle at General Headquarters
--------
Africa
• Malawi Approves Islamic Banking, Sharia-Compliant Services
• Sudan Remains Committed To Fighting Terrorism
• Kenyan university closed indefinitely after riots
Compiled by New Age Islam News Bureau
URL: https://www.newageislam.com/islamic-world-news/foreign-media-asks-india-neglecting/d/112766
--------
Foreign Media Asks Is India Neglecting Taj Because Muslims Built It
October 04, 2017
NEW DELHI: In recent years, the Taj Mahal, India's iconic monument to eternal love, has taken a beating. Its attendance figures are down. Air pollution is slowly turning its ethereal white marble yellow.
And now, to make matters worse, some in India feel that a staunch Hindu nationalist government recently elected in the Taj's home state of Uttar Pradesh is starving the world heritage site of funds and support because it was built by Muslim invaders.
The state's new chief minister, the saffron-robed Hindu priest Yogi Adityanath, set the tone early on when he lamented at a rally that tiny models of the Taj Mahal are often given to visiting foreign dignitaries, saying the monument "does not reflect Indian culture."
The Taj, the country's biggest tourism draw, was not allotted any cultural heritage funds in the state budget for the coming year. And in a blow that provoked yelps of protest from India's opposition party, the monument was omitted from the state's official tourism brochure last week.
Indian National Congress spokesman Abhishek Manu Singhvi likened a tourism brochure without the Taj Mahal to a Hamlet-less Hamlet.
"If it is a booklet on tourism and it excludes Taj Mahal, at one level it is a joke and at another level it is tragic. It is like saying we will have 'Hamlet' without the Prince of Denmark," Singhvi told reporters Monday. He called the omission "a clear religious bias which is completely misplaced."
Adityanath's government countered criticism by saying that the state, supported by funds from the World Bank, had slated $22 million to the monument for new gates, beautification and a multilevel parking structure.
"The Taj Mahal is the seventh wonder of the world. It has always been a priority not only for Uttar Pradesh but for the entire country of India," said Awanish Awasthi, Adityanath's principal secretary. "It will always be central to all our tourism policy but there were some other new projects we wanted to feature."
The soaring white marble mausoleum, a UNESCO World Heritage site, was built in the 17th century by the Mughal Emperor Shah Jahan in memory of his late wife, Mumtaz Mahal, and is considered one of the finest examples of Indo-Islamic architecture. India's famed poet Rabindranath Tagore called it "one tear-drop . . . on the cheek of time."
The Taj Mahal has long been one of India's prime tourist draws for foreign visitors, but its tourist numbers have dropped steadily since 2012, despite the opening of a modern highway that can shoot tour buses there from the nation's capital, New Delhi, in under three hours.
According to the Ministry of Tourism, 480,000 tourists visited the mausoleum in 2015, a 35 percent drop from the 743,000 foreign tourists who visited there in 2012. Even with domestic tourists, the figure dropped by almost 113,400 from 2012 to 2015, officials say.
Tourism officials have given varying reasons for the decline, including the economy, lack of infrastructure, and security concerns in the fallout of a well-publicized gang rape in New Delhi.
Golden State Warriors player Kevin Durant sparked controversy when he described the poor conditions around the Taj Mahal in blunt terms after a visit there this summer while on an official National Basketball Association tour.
"As I was driving up to the Taj Mahal, like I said, I thought that this would be holy ground, super protected, very very clean. And as I'm driving up, it's like, (expletive), this used to remind me of some neighborhoods I would ride through as a kid," he told the Athletic website. "Mud in the middle of the street, houses were not finished, but there were people living in them. No doors. No windows. The cows in the street, stray dogs and then, boom, Taj Mahal, one of the seven wonders of the world. It's like holy (expletive), this was built 500 years ago and everyone comes here. It's just an eye-opener."
Durant later apologized for his remarks on Twitter.
Tourism officials in the Uttar Pradesh city of Agra, where the Taj is located, said that the hint that the monument may be neglected by the current administration in favor of Hindu religious sites was unfortunate, given its needs.
"The current state government is not supporting Agra as a tourist destination because of its Mughal monuments. Money for tourism development has not been announced. Their focus is on religious tourism," said Rajiv Saxena, secretary of the Tourism Guild of Agra.
The Adityanath government has focused on promoting places such as the ancient city of Varanasi, a site for Hindu pilgrims, and Gorakhpur, where he is the chief priest of a large temple, critics have said. The previous state government had launched plans for a Mughal museum and an orientation centre at the site, but it is unclear whether those will be fully funded going forward, Saxena said.
"Government programs have to be backed by the annual budget. If there is no allocation in the budget, it will die a fast death," he said.
Swati Gupta contributed to this report.
Source: https://www.ndtv.com/india-news/indias-iconic-taj-mahal-is-taking-a-beating-foreign-media-1758332
--------
Putrajaya bans books by progressive Muslim scholars Farouk Musa, Wan Ji
October 3, 2017
KUALA LUMPUR, Oct 3 — The Home Ministry recently banned books by two local Muslim scholars that are seen as progressive, as well as another book by a famous novelist.
In a series of eight federal gazettes just published last Thursday, the Home Ministry announced that it had, on September 6, banned Malay-language publication "Ulama Yang Bukan Pewaris Nabi" by independent preacher Wan Ji Wan Hussin.
Wan Ji, a popular preacher who hails from Kelantan, was just appointed last Thursday as an information officer for the Penang Chief Minister's Office.
The Home Ministry also announced its September 6 ban of two Malay-language books published by Muslim think tank Islamic Renaissance Front (IRF) and authored by the latter's founder Ahmad Farouk Musa: "Wacana Pemikiran Reformis (Jilid 1)" and "Wacana Pemikiran Reformis (Jilid 2)".
Ahmad Farouk was yesterday summoned by the Federal Territories Islamic Religious Department (JAWI) to appear at the Kuala Lumpur Shariah Court on December 4 for allegedly abetting Turkish writer Mustafa Akyol.
Akyol, who was last week detained by JAWI after giving a talk at a IRF-organised forum here before his release without being charged, also saw two of his books banned.
In one of the gazetted orders, the Home Ministry banned Akyol's 2011 English-language book "Islam Without Extremes: A Muslim Case for Liberty", and its Malay-language translation "Islam Tanpa Keekstreman: Berhujah untuk Kebebasan" that was published by IRF and which Ahmad Farouk had co-edited. The Malay version was launched last January.
A Malay-language book titled "AKU___, MAKA AKU ADA!" by local novelist Faisal Tehrani was similarly banned. Faisal, whose actual name is Mohd Faizal Musa, had won awards for his works but some of his publications have been banned in Malaysia.
The ministry also banned 10 translated versions of the Quran in Bahasa Malaysia, English, Mandarin and Korean by several local publishers, as well as an English-language book called "Tantra: The Search for Ecstasy" by Indra Sinha.
It also banned three Indonesian-language books, including one titled "Islam Kemodernan dan Keindonesiaan", and a book in the Malay language.
The eight orders for the book bans that were all dated September 6 were signed off by Home Minister Datuk Seri Ahmad Zahid Hamidi in exercise of his powers under Section 7(1) of the Printing Presses and Publications Act.
According to all eight gazetted orders, the printing, importing, distribution, selling and ownership of the undesirable publications listed were "absolutely prohibited" in Malaysia as they were allegedly "likely to be prejudicial to public order", as well as "likely to alarm public opinion" and be "prejudicial to public interest".
http://www.themalaymailonline.com/malaysia/article/putrajaya-bans-books-by-progressive-muslim-scholars-farouk-musa-wan-ji#EVoSRUIwdJ0lEqM6.97
--------
Pakistan's ISI has clear links with terror, runs its own policy: US
Oct 4, 2017
NEW DELHI: Pakistan's intelligence agency clearly has links with terrorist groups, said the US Joint Chiefs of Staff chairman General Joseph Dunford on Tuesday, according to Washington publication The Hill.
US defense secretary James Mattis went a step further and said that Pakistan's Inter-Services Intelligence even "appears to run its own policy".
Both officials were testifying at the US Senate Armed Services Committee on the US's strategy in Afghanistan. On the same day, they also testified at the House Armed Services Committee on the same subject.
"We've seen the government of Pakistan come down on terrorists, when the ISI appears to run its own policy," said Mattis, according to Russia Today.
When asked if taking away Pakistan's status as a major non-NATO ally is an option on the table if it doesn't act to immediately to rein in terror, Mattis's response was, "sure it will be."
Pakistan, of course, continues to deny there is state or institutional support for terrorists, but the US isn't buying that falsehood, said Dunford.
"It is clear to me that the [Inter-Services Intelligence] has connections with terrorist groups," said Dunford, in his testimony at the Senate hearing.
Still, both Dunford and Mattis said they're willing to work with Pakistan "one more time" before taking punitive measures against the country.
"We need to try one more time to make this strategy work with them, by, with and through the Pakistanis, and if our best efforts fail, President (Donald) Trump is prepared to take whatever steps are necessary," said Mattis said at the House hearing, reported The Hill.
The US defense secretary said he'd "like to think we will be successful," in putting pressure on Pakistan, especially with upcoming visits to Islamabad by US assistant secretaries and national security staff to discuss a clampdown on terror.
If nothing else, Mattis believes the fact that Pakistan is getting increasingly isolated diplomatically, which will then affect it economically, should act as some sort of catalyst for action.
"I think that right now with the growing consensus against terrorism, they'll find themselves diplomatically isolated, they'll find themselves economically in increasing trouble as countries that are damaged by this terrorism coming out of there say enough is enough and take steps," he said.
"There's an awful lot of advantage to Pakistan coming on line with the international community."
https://timesofindia.indiatimes.com/world/pakistan/pakistans-isi-has-clear-links-with-terror-runs-its-own-foreign-policy-top-us-general/articleshow/60934697.cms
--------
Watching terrorism videos online to become criminal offense in UK
Oct 3, 2017
In a move designed to tighten laws tackling extremism, people who watch terrorist material online could face up to 15 years behind bars, UK Home Secretary Amber Rudd has announced.
The new law will extend an existing ban on possessing and downloading terrorist propaganda on a PC to repeatedly watching it through sites like YouTube, Rudd said Tuesday.
"I want to make sure those who view despicable terrorist content online including [extremist] websites, far-right propaganda and bomb-making instructions face the full force of the law," she said on the sidelines of the Conservative Party's annual conference in Manchester.
"Changes will enable police and the security service to keep pace with modern patterns of internet use and intervene earlier in an investigation given the speed with which online radicalization is taking place."
The move comes as the Home Secretary stepped up her calls for internet giants such as Facebook and Google to do more to tackle extremism on the internet.
She criticized technology firms for developing encrypted software that has prevented authorities from reading terrorists' and criminals' messages.
"The tech giants need to step up and do more, take a moral responsibility for the fact their platforms are being used in this way," she said. "Businesses are developing models that keep security services at bay and that is unacceptable."
Since September 1, 2016, supporters of the Daesh terrorist group (ISIL) have published nearly 67,000 tweets in English, promoting links to their propaganda on a range of online platforms, according to Home Office analysis seen by The Guardian.
http://www.presstv.ir/Detail/2017/10/03/537372/UK-Home-Secretary-Amber-Rudd-ISIL-terrorist-propaganda
--------
Pope's Bangladesh, Burma trip to emphasize peace amid conflict
By Hannah Brockhaus
Oct 4, 2017
Rome, Italy, Oct 4, 2017 / 12:03 am (CNA).- In November Pope Francis will visit Bangladesh and Burma, two developing countries in Asia, where he will bring a message of peace and coexistence amid persecution of minorities, a missionary priest said.
"The Pope's visit, in my opinion, will help to emphasize that coexistence helps the future of the country, not conflict," Fr. Bernardo Cervellera told CNA.
In particular, Pope Francis will address the plight of the long-persecuted Rohingya people, in whose defense he has spoken out many times.
Rejected by Buddhist fundamentalist groups – Burma's religious majority – the Muslim ethnic group has been largely turned away from the Muslim country of Bangladesh as well, where they have sought refuge.
"So these people don't have a country, they are migrants in the full sense of the term, they have nowhere to lie their head," Cervellera said.
"And so the Pope defends them, to let Christians and Muslims know that we need to help people not on the basis of their creed, or on the basis of their wealth, or their abilities, but simply because they are human beings."
Cervellera, a priest of the Pontifical Institute for Foreign Missions (PIME) and editor-in-chief of AsiaNews, has spent time in both Burma and Bangladesh. He spoke about Francis' upcoming visit to Bangladesh and Burma, also known as Myanmar, Nov. 27-Dec. 2.
Something to note about the visit, he said, is that Catholic population in both countries is very small. In Bangladesh less than three percent of the population is Catholic and in Burma it's less than one percent.
So the Church there is undoubtedly a small minority, he explained, and on top of that, Burma and Bangladesh are still developing, very much placing these countries at the "peripheries of the world."
"The Pope continues to say: I should go to the peripheries, go out to the peripheries. I find that the Pope really goes to the peripheries to meet with these Catholics and to sustain their mission," he continued.
In addition to being a minority religion in itself, the Church in these countries is also made up of people from a variety of ethnic minority backgrounds as well.
Besides the Rohingya, during his visit in November the Pope will likely speak out strongly against the ongoing persecution of other minorities in these countries, and "in this case the two things coincide," Cervellera said.
"That is, the Catholic minority is formed from many ethnic minorities. So the Pope speaks of defending minorities because in this way he also defends Catholics."
"But in the defense of Catholics, the defense of minorities, he wants to speak to the whole society because the way of peace is the most fruitful for everyone," he emphasized.
Cervellera also stressed that the Catholics in these areas, though a tiny minority, also have a very important mission in their contribution to development. Because of the Church "there are hospitals, shelters, clinics for the poor, schools, professional schools, colleges, work cooperatives," he said.
"The Church is a help to the society, to evolve, to mature."
He also said that he has been to both Bangladesh and Burma and can say that they are "very enthusiastic communities in their faith." Their faith is "what gives meaning to their life, what gives it color and dignity," he said.
Though they sometimes face persecution and oppression because of their minority status, this seems to only strengthen their catholicity, he pointed out, finding consolation in having a larger, universal identity to which they also belong.
Though the Catholics in these two countries are among the poorest, living in huts and sleeping on dirt floors, "they are joyous," he said, and they wish to share the faith with others.
"I think that we can learn from them, this enthusiasm. And maybe we can support them in some way. Because their mission is also ours," he pointed out.
https://www.catholicnewsagency.com/news/popes-bangladesh-burma-trip-to-emphasize-peace-amid-conflict-98153?utm_source=CNA&utm_medium=email&utm_campaign=daily_newsletter
--------
India
Kerala 'love jihad': New SC bench asks why marriage was annulled by high court
Oct 03, 2017
he Supreme Court questioned on Tuesday the annulment of a Kerala woman's marriage by the state's high court in May, after she was allegedly converted to Islam forcibly by an organisation with suspected terrorist links.
Also, a bench headed by chief justice Dipak Misra observed if the case warranted a National Investigation Agency (NIA) probe. The top court ordered the country's anti-terrorism agency in August to investigate the allegations of terrorist links.
But the main question remained the marriage of 24-year-old homeopathic doctor Hadiya Shefin, born Akhila Ashokan, to Shafin Jahan without her family's consent and the high court annulling the relationship. The 27-year-old husband challenged the order in the top court.
"The question is can the HC in exercise of Article 226 (special powers) annul a marriage?" the bench asked additional solicitor general Tushar Mehta.
He said the court would have to go deeper to ascertain whether Hadiya's religious conversion for marriage was an isolated case or if there was a pattern emerging in the state.
Mehta also opposed Jahan's application asking the top court to recall the NIA inquiry into his marriage.
The counter-terrorism organisation said in a report to the court in August that Hadiya was not an isolated case but part of a growing pattern of converting women from Hinduism to Islam.
Hadiya was allegedly recruited by the Islamic State terrorist group and her husband, who she married last December, was only a stooge. Retired military man Ashokan KM, her father, alleged there was a "well-oiled systematic mechanism" for conversion and Islamic radicalisation.
The woman now lives with her father in Thiruvananthapuram and human rights activists allege her family is torturing her.
Chief Justice Misra wondered how an adult can be forced to stay with her parents.
"She is a 24-year-old lady. You cannot control her," he told advocate Madhvi Diwan when she tried to intervene on behalf of the father.
"We may appoint a custodian or send her to some home. She should have her own choice."
The Hadiya lawsuit put the spotlight back on "love jihad", a controversial term coined by fringe outfits to describe cases of what they believe are forced marriages between Muslim men and Hindu women. They also alleged that such couples often work for terrorist outfits.
A Supreme Court bench headed by then Chief Justice JS Khehar ordered an NIA probe on August 17 into the case, insisting that an adult can also be brainwashed these days.
Former judge RV Raveendran was asked to supervise the probe but he recused later.
Senior advocate Dushyant Dave, the counsel for Jahan, questioned the court's wisdom in ordering an investigation based on an appeal filed by the husband.
Dave said the order had shaken the "foundation of this multi-religious country".
http://www.hindustantimes.com/india-news/kerala-love-jihad-sc-questions-high-court-order-annulling-hadiya-s-marriage/story-ws3yLwkK7AK2d35NHGmpCK.html
--------
82 Year-Old Hindu Man Laid To Rest With Muslim Rites
Arindam Ghosh
Oct 4, 2017
JHANSI: In one of the never heard before incidents, an 82 year-old Hindu man's last rites were performed as per Muslim customs and he was buried and not cremated as it had been his last wish. Madan Mohan Yadav, who was famous for the mouth-watering Samosas of his iconic shop "Dau Samose Wala' for over five decades, died on Monday. Since long, he had been telling his family and friends about his desire to be buried instead of being cremated upon his death. Accordingly , on Monday evening, his mortal remains were taken to Jewanshah burial ground for burial.
Madan Mohan's children and neighbours recalled that he always had equal respect for both religions and used to follow their customs with full devotion. "My father always had a lot of respect for both the religions and he regularly visited a `dargah' apart from temples. He always used to send `Samosas' to the nearby mosque during the holy month of Ramzan at the time of `Iftar' for breaking the Roza," says Ashok Yadav, the eldest son of Madan.
His sons and other family members had no objection in fulfilling his last wish and they conducted his last rites accordingly with full devotion. "It is yet another example of communal harmony for which this city is famous," said one of the persons present at the burial.
Full report at:
https://timesofindia.indiatimes.com/city/agra/hindu-man-laid-to-rest-with-muslim-rites/articleshow/60933683.cms
--------
Arguments on Rohingya Muslims must be on law points, not on emotional aspects: Supreme Court
October 3, 2017
Fixing October 13 as the date for hearing the matter of Rohingya Muslims, the Supreme Court on Tuesday said that the arguments in the case should be based on law points and now on emotional aspects. The apex court added that the concern for humanitarian cause and humanity should come with mutual respect. The court directed Centre and the two Rohingya petitioners to compile all documents and international conventions for its assistance.
In its affidavit last month, the Centre had told the apex court that Rohingya Muslims are "illegal" immigrants in the country and their continued (rpt continued) stay posed "serious national security ramifications". The Centre's affidavit, filed in the apex court Registry, said the fundamental right to reside and settle in any part of the country is available to citizens only and illegal refugees cannot invoke the jurisdiction of the Supreme Court to enforce the right. Also Read: India on Rohingya crisis: Committed to assisting Bangladesh
The Centre said the Rohingya refugees were illegals and their continuous stay pose a grave security threat. The government said it may file in sealed cover the details of the security threats and inputs gathered by the various security agencies in this matter. The Centre said that since India is not a signatory to the Convention Relating to the Status of Refugees, 1951, the obligations concerned to non-refoulement is not applicable. Also Read: 'We don't want to go back, we feel safe here': Rohingya exodus tops 500,000
Full report at:
http://indianexpress.com/article/india/rohingya-muslims-myanmar-supreme-court-of-india-4872600/
--------
PoK-based terrorists from own group helped cops kill Hizbul Mujahideen top gun
Oct 4, 2017
NEW DELHI: The killing of senior Hizbul Mujahideen leader Qayoom Najar in Jammu & Kashmir last week followed a specific tip-off from PoK-based terrorists of the same outfit. The information regarding Najar's plans to return to Kashmir from Pak occupied Kashmir, including the exact route he would take through the mountainous terrain, was leaked to J&K police a few days before the forces intercepted him at the LoC and shot him dead.
Though the date of his return was not revealed in the tip-off sent out via social media, the J&K police were told the route by which he would return to the valley from the north Kashmir side. The J&K police passed on the inputs to the Army, which mounted a round-the-clock vigil on the suggested route. Najar was subsequently killed while trying to infiltrate across the LoC in Uri sector.
Intelligence agencies here claimed Pakistan had been doubting Najar's loyalty ever since he fell out with his PoK-based Hizbul Mujahideen handlers in 2015 and floated his own outfit Lashker-e-Islam. It was during this independent stint that Najar carried out attacks on mobile towers and personnel linked to cellphone companies in the Valley.
However, after working on his own for a few months, Najar and Hizbul Mujahideen leaders, for reasons still steeped in mystery, buried their differences. Soon after, he decided to cross over to PoK and had been staying there since. It is believed that he was camping in PoK to hold secret talks with Hizbul Mujahideen chief Syed Salahuddin.
According to sources, Salahuddin is said to have persuaded Najar to return to his homeland to take charge of Hizbul Mujahideen after its top commanders—Burhan Wani, Sabzar Ahmed and Yasin Itoo — were killed one after the other in counter-terror operations by the Indian forces. "But this seems to have been a ploy because the same group informed police about his return," claimed an intelligence operative.
Hailing from Sopore, Najar joined militancy as an over ground worker (OGW) of Hizbul in 1992 at the age of 16. He initially transported weapons and provided lodging facilities for militants. Najar was arrested in 1994 but released later. He re-joined active militancy in 1999.
Full report at:
https://timesofindia.indiatimes.com/india/pok-based-terrorists-from-own-group-helped-cops-kill-hizbul-mujahideen-top-gun/articleshow/60931709.cms
--------
BSF camp near Srinagar airport attacked, ASI and three terrorists killed
Oct 3, 2017
SRINAGAR: Security forces foiled an attempt by the Jaish-e-Muhammed to storm a BSF camp near the high-security Srinagar airport on Tuesday, killing all three terrorists in an operation that also claimed the life of an assistant sub-inspector of the force, police said.
State Director General of Police S P Vaid said the three terrorists who had sneaked into the BSF camp had been "neutralised".
"We are carrying out search operations inside the premises to rule out the possibility of planting of explosives," he said.
Officials in the know of developments said there was prior intelligence that a Jaish-e-Muhammed operative identified as 'Noora Trali' had brought in a suicide squad into the city.
Briefing reporters later, Inspector General of Police (Kashmir range) Munir Khan said the overground network of the terror group had been identified but did not divulge any further information.
Asked specifically whether Jaish-e-Muhammed was behind the attack, Khan said, "Such type of attacks have been carried out by this group only."
Assistant Sub-Inspector B K Yadav was killed and three BSF jawans injured when the three terrorists entered the BSF battalion headquarters at Gogoland, adjacent to the airport.
The old airfield, being manned by the Indian Air Force, is also located in the area.
Civilian air operations, which were suspended for nearly three hours in the morning, resumed at 10 am. "I personally went to the airport and ensured that the public does not face any problems in catching the aircraft," Vaid said.
Piecing together the chain of events, police said terrorists entered the BSF's 182 Battalion headquarters through a damaged perimeter wall and started firing in all directions.
Three BSF jawans were injured in the beginning of the attack and one terrorist killed in the retaliatory fire, a police official said. After this, the two remaining terrorists moved in different directions and took shelter in different buildings before being killed by security forces.
Yadav's body was recovered during the mopping up operations.
"Normal flight operations have resumed and passengers were boarding flights," said Sharad Kumar, director, Airports Authority of India, Srinagar.
The 182 Battalion is entrusted with the security of the runway of the Srinagar airport.Jaish-e-Muhammad, the Pakistan-based terror outfit terrorist outfit, has claimed responsibility for the attack.
Full report at:
https://timesofindia.indiatimes.com/india/bsf-camp-near-srinagar-airport-attacked-asi-and-three-terrorists-killed/articleshow/60923812.cms
--------
Srinagar BSF camp attack: Terrorist in uniform tried to blend with forces, identified
October 4, 2017
by Deeptiman Tiwary
The attack on the BSF camp near the Srinagar airport on Tuesday could have resulted to more casualties had the troops not identified one of the terrorists in the nick of time.
The third terrorist of the fidayeen squad, wearing combat uniform like the other two, had taken position with the forces and had trained his gun in the same direction as the soldiers. He was even communicating with the forces through signals and perhaps planned to kill them once they moved ahead. It was just that the forces identified the terrorist once they moved closer and killed him.'
According to BSF and CRPF, which thwarted the fidayeen squad inside the BSF camp with J&K Police, the three terrorists entered the camp around 4.10 am from a gate adjacent to Gogo village. While one terrorist was killed by a BSF sentry at the gate, the other two entered the camp firing indiscriminately at the forces. One terrorist entered the Subordinate Officers' mess and the other entered a two-storey building in the administrative block.
The terrorist who entered the mess was killed by the officers inside after a gunbattle, the BSF said.
The third terrorist, however, had to be smoked out of the administrative building. "We were firing rockets and tear gas shells to force him out. It seems he came out unnoticed and took position about 30 yards from the building. He had trained his gun in the same direction, that is towards the building, as that of the forces and so no one noticed him. He even signalled to our troops, positioned behind him, to move ahead. However, when we came closer, we realised he was not one of us. He tried to shoot at us but alert troops killed him. He was perhaps calling the troops ahead to fire from behind and escape," CRPF IG (Srinagar) Ravideep Singh told The Indian Express.
Home Minister Rajnath Singh complimented the forces on the operation. "I have spoken to the DG CRPF and DG BSF. It was a good operation that they have conducted," he told reporters.
A BSF statement said, "The third militant was restricted to Adm block building. He was forced to flee from Adm block and was neutralised while trying to escape from the Adm Block building near the temple. The combine troops of SOG, CRPF and BSF neutralised the third militant."
Full report at:
http://indianexpress.com/article/india/terrorist-in-uniform-tried-to-blend-with-forces-identified-bsf-officer-killed-4873330/
--------
Prove charge Kerala's soil fertile for jihadi terrorism: Left to BJP
October 3, 2017
The ruling CPI(M) in Kerala today hit back at the BJP over its charge that the state had turned into a "fertile soil" for jihadi terrorism, and challenged the saffron party to prove it. BJP national executive member V Muraleedharan had leveled the charge here on September 30 and also claimed that the reported presence of Keralites in global terror outfit ISIS was the "result of growing jihadi terrorism" in the state.
Speaking at a meet-the-press programme here, CPI(M) state secretary Kodiyeri Balakrishnan alleged that there was a deliberate attempt to attack the CPI(M)-led LDF government and the campaign that Kerala "is a land of jihadi" was part of it. He said the state government would take stringent action against terrorism, whatever religion it may profess to be, and alleged that BJP president Amit Shah was attempting to create tension in the state by leveling baseless charges.
Shah had earlier today announced a 'padyatra' in all state capitals against CPI(M)'s alleged targeting of his party workers and questioned Kerala Chief Minister Pinarayi Vijayan over the political violence in the state. "More than 84 BJP and RSS workers have been killed in the district alone and I want to ask Pinarayi Vijayan…Who has killed them in the state? If he does not have answers, then I am saying Chief Minister Vijayan is responsible for the killings," Shah had said at Payyanur.
Balakrishanan alleged that 13 CPI(M) workers had been killed by BJP activists in the last 18 months in Kerala.
He said the yatra flagged off by Shah was only meant to cover up the "failures" of the BJP-led NDA government at the Centre. The 15-day padyatra, led by BJP state president Kummanom Rajasekharan, is to highlight the CPI(M)'s alleged targeting of party workers.
Taking a dig at Union ministers and BJP leaders who are set to participate in the yatra, the CPI(M) leader said, "Let them study and learn lessons from the secular fabric and progressive mind of Kerala society". Referring to the state BJP, Balakrishnan said the party's image had taken a beating due to corruption charges against party leaders in the state.
On the assembly by-poll at Vengara, Balakrishnan alleged it was imposed by the IUML on the people. Vengara in Malappuram is a constituency that has a large number of Non-Resident Keralites who are well aware of what the LDF government has done for them, he said.
"Surely, it is going to reflect in the polls," he said, adding LDF was confident of winning it.
Full report at:
http://indianexpress.com/article/india/prove-charge-keralas-soil-fertile-for-jihadi-terrorism-left-to-bjp-4873071/
--------
Southeast Asia
Poser over arrests of 200 Iraqi Shia Muslims
Khairil Ashraf
October 3, 2017
PETALING JAYA: Questions have been raised over the status of more than 200 Iraqi nationals who were arrested in Selangor recently for taking part in a Shia Muslim ceremony, after both police and religious authorities gave contradicting statements on the matter.
Selangor Islamic Department (Jais) director Haris Kasim said today he could not comment on the matter as it was now a police case.
"Cannot comment anymore. It is now under the police," he told FMT, adding that Jais had made a police report.
Several Middle East-based media outlets reported over the weekend that some 200 Iraqis arrested by Selangor religious authorities at a condominium near Serdang were released after pressure from the Iraqi government.
The Iraqis, most of them postgraduate students, were attending a Muharram 10 ceremony, a major date in the Islamic calendar which among others marks the death of the grandson of the Prophet, Hussein, a central figure in Shia Islam.
Contacted by FMT, Serdang police chief ACP Megat Mohamad Aminuddin Megat Alias said the police were not aware of the incident as the arrests were made by Jais.
"The religious department made the arrests. Don't ask the police. It (the department) didn't hand anything to us," he said.
A similar reply was given by Selangor police chief Mazlan Mansor.
"The investigation is being done by Jais," he told FMT when contacted.
The arrests were reported by Al-Kawthar TV, a pan-Arab channel operating from Tehran, which quoted an official from the Iraqi government as saying that it "would not tolerate the Malaysian authorities' detention of (Iraqi) students", adding that Baghdad viewed the action "as damaging to the bilateral relations".
http://www.freemalaysiatoday.com/category/nation/2017/10/03/poser-over-arrests-of-200-iraqi-shia-muslims/
--------
The politics behind the arrest of Turkish intellectual Mustafa Akyol
October 3, 2017
By P Ramasamy
A dangerous precedent seems to have been established in Malaysia lately. The conservative Islamic religious departments are slowly but surely dragging in other governmental departments to engage in moral policing.
The recent arrest and detention of the Turkish intellectual and journalist Mustafa Akyol by the police working in tandem with the Federal Terrorities Islamic Affairs Department (Jawi) is a case in point. But I am sure there are many other unreported cases.
If Mustafa Akyol was not a threat to Malaysia, why was he arrested and detained at the KLIA airport before he had to take his flight to the USA?
Why was he, during his period of detention, denied basic visiting rights by his host, lawyers, and friends? What terrible thing did he do to invite such kind of hostility?
According to the Inspector General of Police Mohammed Fuzi Harun, Akyol was no threat to Malaysia, but the police had no choice but to follow the advice of Jawi in detaining him before his departure.
He further added that Akyol was detained because he did not have the right religious credentials to give lectures on Islamic topics. Fuzi did not dare comment about what constitutes the "right" religious credentials!
It is strange and funny that Malaysian police acted expeditiously on this matter when there are so many things that need their attention in the country. It is a shame that the newly minted IGP, Fuzi, put the blame on Jawi when the arrest was actually done by the police.
Since the religious departments do not have the power of enforcement, they rely on the police. However, the police have their own set of rules and regulations and they cannot arrest just because someone is asking them to do the "dirty job".
Even if Akyol did not have the "right" religious credentials as required by Jawi, they could have requested him to cease giving religious talks, but why the need to detain an intellectual?
By the way, Akyol was invited to the country not to talk about Islamic religious texts but to talk on matters of democracy, faith, and justice. Are such talks so troublesome to members of Jawi? Are members of Jawi so blind or so deaf that they cannot accept alternative views and thoughts in the Islamic world?
Akyol is no intellectual push-over. He published books on the Kurdish independence and on the need to avoid extremism in Islam. Have those in Jawi read these books of Akyol? Are the contents of these publications that pose an imminent threat to the national security of Malaysia?
If the police cooperated with Jawi in arresting Akyol, there is more to it. In the recent past, a number of Turkish intellectuals who came into the country were deported. What was the reason? Were they religious extremists or did they have terrorist links?
No. They were intellectuals and writers who were opposed to the Recep Tayyip Erdoğan regime in Turkey. I think that there is an unwritten rule in this country or an understanding that Malaysia would not allow individuals or groups that are against the authoritarian regime of the President of Turkey, Erdogan, to operate in the country.
This applies not only to Turkish intellectuals who are anti-Erdogan but also applies to Tamils who escaped the military oppression in Sri Lanka. Similarly, recently the deputy prime minister was so pleased to announce that a number of Uighur Muslims had been deported to China, merely to please the regime in China.
For reasons of investment and capital flow, Malaysia wants to be in the good books of China, even if this means that it would take action against those Muslims who escaped to Malaysia due to religious persecution.
Although Malaysia would like to impress upon the Muslim world that it is a "protector of Islam and Muslims," when it comes to matters of "national interest" or for that matter the "interests" of the present government, it is willing to subordinate its Muslim interest.
Take the case of the Rohingya Muslims. Even though Malaysia made much noise about the plight of these stateless Muslims, in reality, it has not done much. For the present Malaysian government, the Rohingya issue is an issue that they can capitalise on in order to maximise political gains, especially in the light of the coming general election. There is nothing more to this, but an empty propaganda.
While Malaysia has little or no tolerance for Muslim intellectuals like Akyol, it has all the time for the Muslim preacher from Bombay, Zakir Naik. Naik is wanted by India for his alleged role in money laundering, links with underworld figures like Dawood Ibrahim and for promoting terrorist activities, but Malaysia has ignored these matters and has gone ahead to give him VIP treatment to the extent of bestowing upon him the status of a permanent resident.
There are rumors that Naik is still in Malaysia, but these cannot be verified. Meanwhile, the Indian authorities might not be pleased that Malaysia might not be telling the truth as to the whereabouts of Naik.
It is real shame that Muslim intellectuals like Akyol should be deported on the grounds that he did not have the "right" religious credentials. But the real reason might be something else.
Full report at:
http://www.freemalaysiatoday.com/category/opinion/2017/10/03/the-politics-behind-the-arrest-of-turkish-intellectual-mustafa-akyol/
--------
Oxford confirms Syed Saddiq scholarship, but not amount
October 4, 2017
KUALA LUMPUR, Oct 4 — Oxford University said it did offer Syed Saddiq Abdul Rahman a postgraduate scholarship, but said the amount was not more than the £40,000 (RM224,000) it charges for his course.
The Parti Pribumi Bersatu Malaysia Youth chief previously announced that he received a RM400,00 scholarship from the British university, aside from claiming he was offered a RM5 million bribe to quit his party and leave Malaysia.
According to The Star Online, Oxford also said Syed Saddiq's scholarship was only partial, suggesting the amount was even less that the £40,000 listed for its Masters in Public Policy course.
Syed Saddiq told the news portal later that his sponsorship was in addition to the university's tuition fees, but declined to say who was paying for the additional items.
Full report at:
http://www.themalaymailonline.com/malaysia/article/oxford-confirms-syed-saddiq-scholarship-but-not-amount#VIJUpVz9fOvjcGqH.97
--------
Muslim community tackling various challenges
Nur Asyiqin Mohamad Salleh
Oct 4, 2017
Singapore's Malay/Muslim community is concerned about the triple threats of extremist ideology, exclusivist beliefs and practices, and Islamophobia, and is taking a range of steps to tackle them, Minister-in-charge of Muslim Affairs Yaacob Ibrahim said yesterday.
Measures include starting a local Islamic College and a new network of young religious teachers who will counter radicalisation and reach out to youth on social media.
Dr Yaacob, who is Minister for Communications and Information, told Parliament: "All of us, regardless of race or religion, must squarely face and defeat this trifecta of disunity and not let it take root in Singapore."
The Malay/Muslim community, as a minority in a plural society, is acutely aware of the challenges, he said, noting the intense scrutiny it had been put under after the Sept 11, 2001 terror attacks and the discovery of the Jemaah Islamiah (JI) plots here. Yet community and religious leaders rallied together with others to tackle the threat of extremism.
Today, the emergence of ISIS-inspired ideologues has planted seeds of doubt and fear in non-Muslims, magnifying the challenge, he said, spelling out key community efforts.
One, it is working to develop religious leaders and teachers who can provide sound guidance to Muslims and act as a bulwark against extremist and exclusivist ideologies in a multiracial, multireligious society.
The Islamic Religious Council of Singapore (Muis) and Singapore Islamic Scholars and Religious Teachers Association (Pergas) have decided to make it a must for all religious teachers to register under the Asatizah Recognition Scheme. More than 3,000 have done so.
Central to this, the minister noted, is the need for all asatizah, or religious teachers, to abide by a code of ethics, which includes not denigrating any racial or religious group.
"Anyone who crosses the line will be dealt with decisively," he said, citing Singaporean preacher Rasul Dahri, who has been barred from teaching Islam here and whose books - containing "extremist views under the guise of religious guidance" - have been banned.
In a bid to develop future teachers who can provide Islamic knowledge appropriate for Singapore's unique context, Muis has started looking into the development of a Singapore Islamic College.
Two, the community is working to engage members effectively.
Hence, Muis has strengthened its part-time religious programmes to include elements to inoculate young people against extremist influences, and started seminars to advise parents on issues like authenticating online Islamic content.
The Religious Rehabilitation Group, set up in 2003 to rehabilitate radicalised individuals and terror detainees, has also expanded its role to organise dialogues and educate people about Islamic concepts that have been distorted by extremists. To complement its work, Muis has started an asatizah youth network that can be a "first line of response" for those seeking answers.
Dr Yaacob noted that recent years have been "a difficult and challenging journey" for the community.
"Sometimes the majority does not know what it feels to be a minority community. And for the Malay/Muslim community, this sense of being misunderstood is deeply felt, having been in the spotlight for quite some time," he said.
"It is not a pleasant experience when your religion and your religious orientation is under constant scrutiny. But we persevered.
"When other faith communities stepped forward to lend support to our struggle, it gave us comfort that we are not in this alone."
Dr Yaacob said Singaporeans recognise the battle against extremism is not just for the Muslim community, but for all Singaporeans. Strong bonds must therefore be built between the different groups to nurture understanding and respect, he said.
Several members have lauded the Muslim community for its efforts.
Singapore's Muslim leaders are in sync with the larger good of the community, said Mr Alex Yam (Marsiling-Yew Tee GRC), who pointed out that their progressive approach to issues such as organ donation and the human milk bank "only serves to strengthen our social fabric".
Mr Murali Pillai (Bukit Batok) said as the Malay/Muslim community fights extremism, members of the other communities have a responsibility to ensure radicalisation does not set in. "We have a duty to strengthen bonds and preservation of common space," he said.
Dr Yaacob said there must also be more individuals who step forward, online and outside of social media, to reach out to as many as possible.
"New media and the anonymity it lends have led to individuals denigrating other religions or sowing discord between communities over the Internet, inadvertently or otherwise," he said.
Full report at:
http://www.straitstimes.com/singapore/muslim-community-tackling-various-challenges
--------
North America
US Muslim, Jewish group branching out to build on mission
October 3
DEARBORN, Mich. — A national Muslim-Jewish alliance formed to fight hate crimes and forge better ties between them is branching out to build on its mission.
The Muslim Jewish Advisory Council met Tuesday in Detroit suburb of Dearborn, one of the largest and oldest communities of Arabs and Muslims in the United States. Leaders say it was an intentional destination for its first meeting outside New York City and Washington, D.C.
Co-chairs Stanley Bergman and Farooq Kathwari say the Detroit area has been a model for Muslim-Jewish partnerships, and other officials add it could host a regional affiliate office next year. Current affiliate sites include Los Angeles, Philadelphia, Dallas and Miami.
Bergman says U.S. Muslims and Jews previously lacked a "vehicle" where they "could be in a room and talk about respective concerns."
Copyright 2017 The Associated Press. All rights reserved. This material may not be published, broadcast, rewritten or redistributed.
https://www.washingtonpost.com/national/religion/us-muslim-jewish-group-branching-out-to-build-on-mission/2017/10/03/c6194cd8-a89b-11e7-9a98-07140d2eed02_story.html?utm_term=.72d1c3c30233
--------
Nuclear accord with Iran in US interest: Mattis
Oct 4, 2017
WASHINGTON - US Defence Secretary Jim Mattis said Tuesday that President Donald Trump should consider sticking with the nuclear accord with Iran, which he said is in the US national interest.
Mattis's expression of support for the 2015 agreement curbing Iran's nuclear program was in sharp contrast with Trump's blunt assessment that the deal is an "embarrassment to the United States."
"If we can confirm that Iran is living by the agreement, if we can determine that this is in our best interest, then surely we should stay with it," told the Senate Armed Services Committee. "I believe at this point in time, absent indication to the contrary, it is something that the president should consider staying with," he said. Asked whether he believed the Iran deal was in the national interest, Mattis replied: "Yes, senator, I do."
Trump must notify Congress every 90 days whether he believes that Iran is abiding by the accord and whether lifting of sanctions against Tehran, as provided for under the agreement, remains in the US national interest.
He has so far certified that Iran is in compliance but has indicated that the next deadline on October 15 will be crucial.
Meanwhile, Jim Mattis said his department "supports fully" Secretary of State Rex Tillerson's effort to find a diplomatic solution to the North Korea nuclear stand-off.
Defence Secretary Mattis was speaking two days after President Donald Trump appeared to undermine his top diplomat by saying he was "wasting his time" by talking to Kim Jong-Un's regime.
State Department officials insist Trump was not criticizing Tillerson, but pressuring Kim Jong-Un's regime to agree to discuss its disarmament while a diplomatic option remains on the table.
Mattis, in testimony to the House Armed Services Committee, said the Pentagon stands four square behind the strategy - and singled out Tillerson for support. "The international community... is focused on the destabilizing threat posed by North Korea and Kim Jong-Un's relentless pursuit of nuclear and ballistic missile capabilities," he said.
"The Defence Department supports fully Secretary Tillerson's efforts to find a diplomatic solution but remains focused on Defence of the United States and our allies."
Tillerson has explained the strategy as one of using United Nations and US sanctions and diplomatic pressure to convince Kim of his isolation and force him to negotiate nuclear disarmament.
US officials insist publicly that they have military options to counter the threat from Pyongyang if this fails, but admit privately that they are risky. So it was hard to square Tillerson's diplomatic push with the Trump tweets that greeted him Sunday as he flew back from meeting Chinese leader in Beijing.
"I told Rex Tillerson, our wonderful Secretary of State, that he is wasting his time trying to negotiate with Little Rocket Man," Trump wrote, using his dismissive nickname for Kim.
"Save your energy Rex, we'll do what has to be done!" he added, apparently suggesting that some kind of non-diplomatic option was back on the table.
"Being nice to Rocket Man hasn't worked in 25 years, why would it work now? Clinton failed, Bush failed, and Obama failed. I won't fail."
Kim is 33 years old and came to office in 2011, but Trump appears to have been referring to previous US efforts to deal with his father and grandfather.
While in China, Tillerson had told reporters that he was "probing" whether the North is ready for talks on the denuclearization of the Korean peninsula. "So stay tuned," he added.
"We have lines of communications to Pyongyang. We're not in a dark situation, a blackout. We have a couple, three channels open to Pyongyang. We can talk to them. We do talk to them."
Full report at:
http://nation.com.pk/international/04-Oct-2017/nuclear-accord-with-iran-in-us-interest-mattis
--------
Afghanistan pull-out would be 'to our ultimate peril': Mattis
Oct 3, 2017
US Defense Secretary Jim Mattis has warned that an American withdrawal from Afghanistan would be "to our ultimate peril," weeks after President Donald Trump announced to prolong the Afghan war, which he once described as a "complete waste."
"Based on intelligence community analysis and my own evaluation, I am convinced we would absent ourselves from this region at our peril," Mattis said on Tuesday while briefing the US Congress on plans to increase American troop levels in the South Asian country.
The Trump administration recently announced plans to send an additional 3,000 troops to Afghanistan where the US already has 11,000 forces.
The US-led occupying force officially announced to end its combat operations against the Taliban in the country at the end of 2014, and its current mission is to "train, advise, and assist" Afghan troops. But the Trump administration has permitted more direct engagement between US forces and the Taliban.
"We must always remember we are in Afghanistan to make America safer and to ensure South Asia cannot be used to plot transnational attacks against the US homeland or our partners and allies," Mattis said, testifying before the Senate Armed Services Committee.
The United States -- under Republican George W. Bush's presidency -- and its allies invaded Afghanistan on October 7, 2001 as part of Washington's so-called war on terror. The offensive removed the Taliban regime from power, but after 16 years, the foreign troops are still deployed to the country.
After becoming the president in 2008, President Barack Obama, a Democrat, vowed to end the Afghan war -- one of the longest conflicts in US history – but he failed to keep his promise.
Trump, who has spoken against the Afghan war, has dubbed the 2001 invasion and following occupation of Afghanistan as "Obama's war".
On August 21, Trump announced his new Afghanistan policy and said he would raise the number of US forces in Afghanistan, citing fight against the Taliban and other terrorist groups.
Full report at:
http://www.presstv.ir/Detail/2017/10/03/537369/Afghanistan-pullout-would-be-to-our-ultimate-peril-Mattis
--------
Canada: Quebec City mosque murder case moves to trial
03 October 2017
The man charged with killing six men at a Quebec City mosque will forego a preliminary hearing and go directly to trial, it was decided Monday in a Quebec court.
The prosecution filed a direct indictment to speed up the trial of Andre Bissonnette, who faces six charges of first-degree murder and six counts of attempted murder using a restricted weapon.
But he will not face terrorism charges, said Crown prosecutor Thomas Jacques.
Under Canadian law, there is unlikely to be a conviction under terrorism charges if a person acts alone, as authorities believe is the case with Bissonnette.
"A truly lone wolf attack cannot result in most terrorism offences, which require participation or support of a group or commission of an offence for a group," University of Toronto law professor Ken Roach told Canadian media.
The penalty under terrorism charges would be no more severe than if Bissonnette, 27, is convicted on first-degree murder charges.
But not leveling the charge did not sit well with the vice-president of the Islamic Cultural Centre, where the victims were shot in the back as they prayed in late January.
"This terrorist act must be recognized and condemned, so that it serves as a strong lesson for Quebec society, Canadian society and … globally," Boufeldja Benabdallah told Canadian media.
But the Crown prosecutor said he had to proceed within the framework of the Canadian criminal code.
"All the evidence gathered by the various police forces involved in this large-scale investigation has been rigorously analyzed and the charges laid are the result (of) the evidence gathered, the available evidence and the current laws in Canada," Jacques said.
For the first time, five of the six women widowed by the shootings were in court and were often in tears, Canadian media reported.
But they left without speaking to reporters.
Bissonnette had faced five counts of attempted murder, but Jacques said the Crown on Monday laid another charge of attempted murder with a restricted firearm to reflect the close proximity of 35 people, including four children, who could have been hit by gunfire.
Full report at:
http://www.worldbulletin.net/america-canada/194598/canada-quebec-city-mosque-murder-case-moves-to-trial
--------
America faces greater threat from its own white men than from Muslim foreigners
October 03, 2017
US President Donald Trump promised to protect America from "radical Islamic terrorists" when he signed his much-debated executive order and decided to ban citizens of seven Muslim majority countries from entering his nation.
At the Pentagon, he said: "We don't want 'em here," to reporters while signing the order in January.
In spite of all the precaution and his effort, terrorist activities did not stop and white Americans killed even more Americans than outsider terrorists within the first eight months of Trump government, reports Vox.
Radical Islamist terrorist organisations like ISIS and al-Qaeda claimed 49 lives in Orlando, Florida in 2016 before last night's deadly attack in Las Vegas. The 2016 attack also left 53 people injured. Besides, dozens of people have been killed in England, France and Canada this year by the ISIS-linked militants.
But a bigger threat has become visible in America from a different kind of attackers who have no ties with any religion based terrorist organisation or Islamist extremism.
A 64-year-old white man, hailing from Nevada, opened fire at a country music festival in Las Vegas Sunday night where more than 22,000 people had gathered.
Another white man, aged 66, shot a Republican Congress member in June during a baseball practice. The attack also caused injuries to several other people.
A 20-year-old white man from Ohio killed an anti-racist protester and injured 19 others in a procession in Virginia with his car.
In March, black men in New York City were to become targets of a 28-year-old white man who travelled from Baltimore. He stabbed Timothy Caughman, 66, to death.
Muslim teenagers of Portland became victims of harassment in May when a 35-year-old white man who chanted "We need Americans here" at them. Later, he stabbed two men to death for protesting against him.
According to a study by New America, a nonpartisan think tank in Washington, DC, more Americans were killed by right-wing terrorists than by Islamist terrorists between 2001 and 2005.
Although Trump said "the vast majority of individuals convicted of terrorism and terrorism-related offenses since 9/11 came here from outside of our country" in his first speech to Congress, none of the major US terrorist attacks in the last 15 years were carried out in the name of Islam.
The San Bernardino shooting, which claimed 14 lives, was carried out by an American-born US citizen. The Orlando nightclub shooter who murdered 49 people was an American-born US citizen of Afghan descent.
The Boston marathon bombers, who left three people dead, came to the US from Kyrgyzstan and grew up in Cambridge, Massachusetts.
The attempted Times Square bomber Faisal Shahzad was a Pakistani-American. Nidal Hasan, who killed 13 people at Fort Hood in 2009, was born in Virginia to Palestinian parents.
Zack Beauchamp, a senior reporter at Vox, once wrote the average American is more likely to die from their own clothing or a toddler with a gun than an immigrant terrorist.
Full report at:
http://www.dhakatribune.com/world/2017/10/03/america-faces-greater-threat-from-its-own-white-men-than-from-muslim-foreigners/
--------
Europe
Boris Johnson: Sirte can be next Dubai – only if 'dead bodies are cleared away'
4 October 2017
British Foreign Minister Boris Johnson came under fire Tuesday for saying Libya could become a magnet for tourists and investors -- if it can "clear the dead bodies away" first.
Reflecting on his August visit to Libya, strife-torn since a war and the eventual toppling of longtime dictator Moamer Gadhafi in 2011, Johnson said British businesses wanted to invest in the city of Sirte.
"They have got a brilliant vision to turn Sirte into the next Dubai," he told Conservatives attending the party's annual conference in Manchester, talking up its "bone-white sands, beautiful sea" and "brilliant young people".
"The only thing they have got to do is clear the dead bodies away," he added, before laughing.
Johnson's political career has been characterized by outspoken comments and personal controversy, which have won voters over but also led to despair among both detractors and colleagues.
His comments on Sirte, from where ISIS militants were driven out in December, were slammed by shadow foreign secretary Emily Thornberry.
"For Boris Johnson to treat those deaths as a joke -- a mere inconvenience before UK business people can turn the city into a beach resort -- is unbelievably crass, callous and cruel," said Thornberry, a Labour MP.
"There comes a time when the buffoonery needs to stop, because if Boris Johnson thinks the bodies of those brave government soldiers and innocent civilians killed in Sirte are a suitable subject for throwaway humour, he does not belong in the office of foreign secretary," she added.
Johnson travelled to Tripoli and Benghazi, becoming the first British foreign minister to visit the latter city since 2011, the year Gadhafi was overthrown and killed in a NATO-backed uprising.
MP Jo Swinson, the Liberal Democrats foreign affairs chief, said Johnson lacked the diplomatic skills necessary for his role and called on Prime Minister Theresa May to fire him.
"This latest unbelievably crass and insensitive comment about an issue of such importance is further proof Boris is not up to the job. May needs to get her house in order and sack him," Swinson said.
Johnson's appointment last year as Britain's top diplomat has added a global dimension to his gaffes, at a sensitive time as the country negotiates its exit from the European Union.
The foreign minister's Brexit diplomacy has seen him tell Czech newspaper Hospodarske Noviny it was "bollocks" to claim that freedom of movement of people was an EU founding principle.
He also told Italy's economic development minister the country should support Britain's access to the single market if it wants to keep selling Prosecco to the UK.
But Johnson's unorthodox approach has proven a success among Conservatives, with frequent debate about whether he will be the next party leader.
https://english.alarabiya.net/en/News/world/2017/10/04/Boris-Johnson-Sirte-can-be-next-Dubai-only-if-dead-bodies-are-cleared-away-.html
--------
French lawmakers adopt anti-terror bill 'at expense of' civil liberties
Oct 3, 2017
The French parliament has overwhelmingly adopted a new controversial counterterrorism bill, which will boost police surveillance powers and make it easier to close religious centers, as the European country is under a nearly two-year-old state of emergency.
Legislators in France's lower house of parliament on Tuesday approved the bill by 415 votes to 127, with 19 abstentions, two days after a suspected member of the Daesh Takfiri terrorist group stabbed to death two young women at a train station in the Mediterranean port city of Marseille.
The bill encountered little resistance from a nation traumatized by a string of terror attacks by Daesh in recent years. However, the French left and right groups strongly criticized the law, arguing it would lead to the infringement of civil freedoms.
"Lawmakers realize that today's threat is serious and that we must protect ourselves against terrorists. This must be done in a way that balances security and freedom," Interior Minister Gerard Collomb told reporters after the vote, adding, "This text will help protect French people."
He also described France as being "still in a state of war" as authorities struggle to eliminate the threat posed by foreign terrorists and home-grown militants. Collomb called the anti-terror bill a "lasting response to a lasting threat."
According to the bill, authorities are allowed to close down a mosque or other places of worship if preachers are spotted to have encouraged assaults, glorified terrorism or spread radical "ideas and theories."
Last week, UN experts also raised objections regarding the bill in a letter to the French government.
France is still on high alert as sporadic attacks happen across the country by Daesh operatives or people expressing loyalty to the terrorist outfit. Some 7,000 troops have been deployed in cities and towns as part of the Opération Sentinelle to guard high-risk areas such as transport hubs, tourist sites and religious buildings.
A total of 239 people, excluding the two victims of the Sunday stabbing attack in Marseille, have been killed in attacks in France since January 2015, when two Daesh sympathizers attacked the Charlie Hebdo magazine's offices in Paris, killing 12 of its staff. The attack, denounced by Muslims across the world, was allegedly a response to the magazine's blasphemous cartoon of Prophet Mohammad (peace be upon him).
The deadliest of all the attacks, however, came in November 2015, when Daesh terrorists brutalized the capital city of Paris in coordinated attacks, killing some 130 and wounding several hundreds of others. A state of emergency mandate was initially imposed shortly after the carnage and has since been extended several times.
The new legislation, which is designed to replace the current state of emergency measure, is expected to come into force on November 1. It would see most of the emergency powers enshrined in law, with restricted oversight from the judiciary.
According to the new law, the interior ministry, without approval from a judge, can establish security zones when there is "a threat," limiting the movement of people and vehicles in and out of the zone. Authorities will also be able to carry out searches inside the area, and, equipped with judicial approval, can also raid private property.
Full report at:
http://www.presstv.ir/Detail/2017/10/03/537377/France-parliament-bill-terror
--------
Russia denies Daesh captured soldiers in Syria's Dayr al-Zawr
Oct 3, 2017
Russia's Defense Ministry has denied that two Russian soldiers were captured by the Daesh Takfiri terrorists in Syria.
"There have been no incidents involving the capture or losses among military servicemen of Russia's armed forces in the province of Dayr al-Zawr or in other areas in Syria," Russia's Interfax news agency quoted a defense ministry official as saying on Tuesday.
Hours earlier, Daesh had released a video it said showed two Russian soldiers captured in Dayr al-Zawr, eastern Syria.
One of the men in the video, bearded and wearing handcuffs, spoke in Russian and the one who remained silent had bruises on his face. The two appeared wearing gray tunics. The 42-second video, which was released on Daesh's AMAQ propaganda website and dated October 3, has yet to be verified by independent sources. It is not clear when the video was made.
In the clip, the man who spoke to the camera said he was from a village in southern Russia. He gave his name and his date of birth. He said he "was taken prisoner during a counteroffensive" by Daesh. He also gave the name, date of birth and home district of the other man who, according to the video, was taken captive with him.
In a similar statement last month, Daesh claimed that it had captured two Russians as they battled in towns around Dayr al-Zawr. Russia denied the account at the time.
Russia has been helping Syrian forces in an ongoing battle in the province of Dayr al-Zawr as Daesh struggles to keep its last positions in eastern Syria. The Russian military assistance, which began in late 2015 at the official request of the Syrian government, has proved effective as Syrians continue to recapture key areas from Daesh and other terrorist groups across the country with the backing of Russian air cover.
In Dagestan, Daesh claims hitting Russian police
Daesh has been seeking to compensate the losses in Syria by launching or cooperating in attacks against civilians and security forces inside Russia.
In a Tuesday statement, Daesh claimed responsibility for the killing of two policemen in Russia's Dagestan region.
The group said three of its members had killed the two Russian policemen near the Dagestani city of Kizilyurt on Sunday. Russian authorities said in turn that police had neutralized "two bandits" involved in the killing of policemen during an "anti-terror operation" in Dagestan on Sunday.
Full report at:
http://www.presstv.ir/Detail/2017/10/03/537357/Russia-Daesh-soldiers-Syria-Dayr-alZawr
--------
First trial for jihadist massacre in France opens
Oct 2, 2017
The first trial for a jihadist massacre in France opened on Monday in Paris, 5½ years after Mohamed Merah, a 23-year-old Franco-Algerian, murdered three soldiers, three Jewish children and their teacher in Toulouse and Montauban.
"The facts we are about to examine are terrible," Franck Zientara, the presiding magistrate said. Mohamed Merah was shot dead at the end of his 11-day killing spree. His older brother Abdelkader, age 35, is charged with complicity in the killings.
Because four of the murders occurred at the Ozar Hatorah Jewish school, anti-Semitism has been cited as an aggravating factor. Abdelkader had been convicted of stabbing another brother, Abdelghani, because he married a Frenchwoman of Jewish origin.
Fettah Malki, a childhood friend of the Merahs, is also on trial, for providing Mohamed with an Uzi submachine gun and a policeman's bulletproof vest.
Mohamed Merah's rampage opened a new era of jihadist attacks carried out by one or two individuals against easy targets and claimed on behalf of al-Qaeda or Islamic State. The trial in the Paris assize court opened just hours after what may have been jihadist attacks in Marseilles, Edmonton and Las Vegas.
Police siege
Abdelkader Merah was arrested while Mohamed was still holed up during the 32-hour police siege that ended with his death. The elder brother has been in prison ever since.
Merah sat calmly in the dock on Monday, wearing a white shirt and a bushy black beard. From time to time he surveyed the courtroom. He did not look at the seven professional magistrates who may sentence him to life in prison. Flanked by two policemen, he stared straight ahead as the charges against him were read out.
Judge Zientara read quotes from Abdelkader Merah's interrogation. "I am proud of the way [Mohamed] died. He died as a combatant. That's what the Koran teaches us," he said.
Merah's mother, Zoulikha Aziri, veiled and dressed in black, angered civil plaintiffs by blowing a kiss to her son. She will take the witness stand on October 18th.
Bernard Squarcini, the former head of French domestic intelligence, told journalists in 2012 that Mohamed Merah was "an undetectable lone wolf". Squarcini was ordered to testify, against his wishes, on October 19th.
Subsequent investigations established Merah was not a "lone wolf". Though he had trained in Afghanistan and Pakistan and was on the "S" list of suspected Islamist radicals, surveillance of Merah was lifted three months before the killings.
'The scooter killer'
There may be no physical proof of Abdelkader's complicity. But on March 6th, 2012, five days before the first murder, Abdelkader helped Mohamed steal the Yamaha T-Max scooter that he rode to all his crimes, and which earned him the nickname "the scooter killer". Abdelkader also gave Mohamed the black leather jacket he wore when he committed the murders.
Merah targeted Arab soldiers in the French army. His first victim, Imad Ibn Ziaten, was trying to sell his Suzuki motorcycle on the internet and indicated he was in the military, to indicate the vehicle had been well maintained.
Mohamed replied to the announcement from a computer in his mother's apartment on the night before the killing, when Abdelkader was present. Because he filmed all his attacks with a GoPro camera attached to his helmet, investigators know that Ziaten asked Merah, "Is he your buddy?" to which Merah replied "He's my brother."
Four days after killing Ziaten, Mohamed Merah shot two French Arab soldiers dead as they withdrew money from an ATM. A third soldier, from the French island of Guadeloupe, was seriously wounded and is now a tetraplegic.
Abdelkader saw Mohamed at least three times during his brother's killing spree. A few hours after Mohamed murdered the soldiers Mohamed Legouad and Abel Chennouf, the Merah brothers and their sister shared a pizza in a Toulouse restaurant. "Obviously we talked about it," Abdelkader said during his interrogation. "He didn't tell me it was him."
Though he has a criminal record for violence against his mother, sisters and brothers, Abdelkader was apparently a father figure to Mohamed. When the latter was in prison in 2008, Abdelkader sent him books and CDs about Islam and jihad. Abdelkader was in contact with other radical Islamists in Toulouse, including Fabien Clain, the French convert who recorded an audiotape claiming Islamic State's responsibility for the murder of 130 people in Paris on November 13th, 2015.
Three members of the Sandler family, Jonathan, a teacher, aged 30, and his sons Arieh (5), and Gabriel (3), were murdered by Merah. Their father and grandfather, Samuel, is one of 232 civil plaintiffs represented at the trial.
Full report at:
https://www.irishtimes.com/news/world/europe/first-trial-for-jihadist-massacre-in-france-opens-1.3241694
--------
Charity group censures UK over selling arms to Saudi Arabia
Oct 4, 2017
A prominent international charity group has censured Britain for selling arms to Saudi Arabia, accusing London of "exporting fear" to Yemeni children.
Save the Children said in a report on Tuesday that Britain had earned at least 3.2 billion pounds (4.24 billion US dollars) from selling missiles and military equipment to Saudi Arabia and its allies during the ongoing war in Yemen.
The London-based NGO also said the UK was one of the largest international donors to help those trapped in Yemen's war through humanitarian aid, while supporting constant Saudi airstrikes on civilians in the impovrished country.
"The UK is leading the world by providing aid to Yemen, but we are also providing weapons and support to countries involved in a conflict that is killing, maiming and starving children," the charity's chief executive Kevin Watkins said. "The UK should stand tall in the world and export hope to Yemen's children, not fear."
Meanwhile, Britain's Shadow International Development Secretary Kate Osamor warned that "this report sounds the alarm bells once again" on the "disjointed" cross-government approach to international development.
"[It] highlights the sheer hypocrisy of delivering aid to Yemen while British-made bombs rain down," she said. "Labour will review the way... decisions are made on the exports of arms and we will review the cross-government approach to aid spending, making sure it delivers development outcomes for the world's many, not short-term benefits for the few."
A British government spokesperson, meanwhile, claimed that, "The UK is the third largest donor to Yemen, having committed over £155 million in UK aid this year," and that London is playing "a leading role in diplomatic efforts to achieve a political solution, which can end the conflict and the terrible humanitarian suffering" in the war-ravaged country.
The UK government takes its defense responsibilities "very seriously" and "already operates one of the most robust export control regimes in the world," the spokesperson said. "We rigorously examine every application on a case-by-case basis against the consolidated EU and national arms export licensing criteria."
A report published by The Guardian in May showed that the UK was selling record quantities of arms to countries the Foreign Office listed as having poor human rights records, including but not limited to Saudi Arabia, Bahrain, Burundi and the Maldives.
In 2015, over £3 billion of British-made weaponry was licensed for export to 21 of those countries, according to the report.
Britain has signed a framework deal on military and security cooperation with Saudi Arabia, media outlets said in September.
Saudi Arabia has been incessantly pounding Yemen since March 2015 in an attempt to crush the popular Houthi Ansarullah movement and reinstate Yemen's former President Abd Rabbuh Mansur Hadi, who is a staunch ally of the Riyadh regime.
More than 12,000 people have been killed since the onset of the campaign more than two and a half years ago. Much of the Arabian Peninsula country's infrastructure, including hospitals, schools and factories, has been reduced to rubble due to the war.
Full report at:
http://www.presstv.ir/Detail/2017/10/04/537398/charity-group-Britain-arms-sale-Saudi-Arabia
--------
5 arrested after makeshift bomb found in Paris
03 October 2017
Five people were arrested, including one known to French intelligence services, after police found a makeshift bomb in Paris over the weekend, Interior Minister Gerard Collomb said on Tuesday.
The Paris prosecutor has opened an anti-terror investigation after the bomb, made of two gas cylinders and a cellphone, was discovered on Saturday in the capital's chic 16th arrondissement on the western edge of the capital.
Collomb told Franceinfo radio on Tuesday that one of the men was on a police terror watch list.
"That shows that the threat level in France is extremely high," the minister said.
Last month, Collomb revealed that 12 planned attacks had been foiled since the beginning of the year.
Collomb added the incident and the recent knife attack in Marseille on Sunday that left two women dead underlined the importance of a controversial new counterterrorism and security law.
The national assembly -- the lower house of parliament -- is set to vote on Tuesday afternoon on the new bill, slammed by several rights groups, as a threat to civil liberties.
France was placed under a state of emergency since the November 2015 terrorist attacks that killed 130 people.
Full report at:
http://www.worldbulletin.net/europe/194612/eu-parliament-slams-slow-progress-in-brexit-talks
--------
South Asia
Taliban suffer heavy casualties in Kunduz and Faryab operations
Oct 03 2017
The Taliban insurgents suffered heavy casualties during the airstrikes and ground operations involving artillery strikes in northern Kunduz and Faryab provinces of Afghanistan.
The 209th Shaheen Corps of the Afghan National Army in the North said Monday that the operations were conducted in various parts of the two provinces in the past 24 hours.
The Shaheen Corps officials said at least 31 militants were killed and 16 others were wounded after airstrikes and artillery raids pounded the Taliban positions in Imam Sahib district.
The officials further added that the operations were conducted in Pul-e-Pakistani, Nasiryan, and Joi Begum villages of the district.
In the meantime, the Shaheen Corps officials said at least 17 militants were killed and 13 others were wounded during the operations in Qaisar district of Faryab province.
The militants were targeted in Chechakato, Gandab, and Kanjak areas of Qaisar, the officials added.
The Afghan security forces also confiscated 7 Humvee armored personnel carriers from the custody of the militants and landmine was discovered and seized as well during the operations.
The anti-government armed militant groups have not commented regarding the reports so far.
http://www.khaama.com/taliban-suffer-heavy-casualties-in-kunduz-and-faryab-operations-03567
--------
10,000 Rohingya poised to enter Bangladesh as exodus swells again
Oct 4, 2017
COX'S BAZAR - More than 10,000 Muslim Rohingya have massed in Myanmar near a crossing point into Bangladesh, Myanmar media said Tuesday, apparently poised to join an exodus across the border due to food shortages and fear of attacks in their mainly Buddhist homeland.
Over 500,000 Rohingya have streamed into Bangladesh in just the past five weeks, and numbers are again swelling, raising doubt about the practicality of a Myanmar proposal to begin repatriating them. Myanmar's northern state of Rakhine has been emptied of half of its Rohingya population in weeks. More are on the move as insecurity presses them to leave those villages which have so far been spared the worst of the violence that ripped through the state.
Attacks by Rohingya militants on August 25 spurred a ferocious Myanmar army crackdown that the UN says amounted to "ethnic cleansing".
Over 10,000 "Muslims" have arrived "between Letphwekya and Kwunthpin village to emigrate to the neighbouring country", the state-backed Global New Light of Myanmar newspaper reported Tuesday.
Myanmar's government refuses to recognise the Rohingya as a distinct ethnic group, instead calling them "Muslims" or "Bengalis" - code for illegal migrants from Bangladesh.
Authorities have tried to reassure fleeing Rohingya that they are now safe in Rakhine, the report added, but they want to leave "of their own accord".
Violence appears to have ebbed in northern Rakhine, although independent reporting is still prevented by an army lockdown.
But fear has unsettled many of the Rohingya who remain, threatened by Myanmar's army and their hostile ethnic Rakhine neighbours and cut off from aid agencies. After a brief lull in arrivals, the Bangladesh Border Guard says 4-5,000 Rohingya are now crossing each day. "They don't want to stay (in Myanmar). They want to come here... they are being told to leave," Lieutenant-Colonel S.M Ariful Islam told AFP. Food is also running out, with villagers too fearful to tend to their crops in case they are attacked by their neighbours.
"In some villages they are scared to pass by Rakhine villages," Chris Lewa, from Rohingya advocacy group the Arakan Project, told AFP.
Myanmar denies most Rohingya citizenship and the public in the Buddhist-majority nation does not want them back. Myanmar's army has branded them illegal immigrants intent on imposing Islam via the country's western gateway.
On Monday Myanmar's Minister of the Office of State Counselor, Kyaw Tint Swe, told Bangladesh his country was ready to accept refugees subject to a verification process agreed in the early 1990s by the neighbours. The minister's offer applies only to those who fled in the past year, according to a Bangladeshi official - excluding some 300,000 Rohingya who fled earlier. And refugees and rights groups say the verification which Myanmar wants will leave huge numbers in the squalid refugee camps in Bangladesh, since it relies on documentation which most Rohingya do not have. The refugees are also deeply fearful of what awaits back in Myanmar, with many recounting stories of rape and mass murder at the hands of the army while their villages have been destroyed. Relief agencies Tuesday were fighting to contain a diarrhoea outbreak around hugely overcrowded camps in Bangladesh.
A 20-bed clinic was opened at Kutupalong camp Monday for diarrhoea victims and another 60-bed facility will be set up this week.
"We have seen an increasing trend of diarrhoeal disease cases, including cases of diarrhoea with severe dehydration," said United Nations refugee agency spokesman Andrej Mahecic.
The UN said it would seek $430 million to increase operations in the camps. Inside Rakhine, already one of Myanmar's poorest states, conditions are worsening for those left behind.
UN officials toured a conflict-hit portion of the state on Monday, noting the "unimaginable" scale of suffering and urging humanitarian access.
Full report at:
http://nation.com.pk/international/04-Oct-2017/10-000-rohingya-poised-to-enter-bangladesh-as-exodus-swells-again
--------
US lauds Bangladesh's role over Rohingya issue
October 04, 2017
The United States has highly appreciated Bangladesh's approach to provide temporary shelter to Rohingya refugees who have fled persecution in Myanmar.
US' appreciation came at the sixth round of annual Security Dialogue between Bangladesh and the USA held in Washington, reads a press release.
Bangladesh expressed its deep appreciation for US support in handling the unprecedented humanitarian crisis, reads the release from Bangladesh mission in US.
The US also recognised Bangladesh's role as a trailblazer in peacekeeping and commended Bangladesh's pioneering role in contributing the very first women-only contingent of UN peacekeepers to Haiti.
Full report at:
http://www.thedailystar.net/country/us-lauds-bangladesh-role-over-rohingya-issue-crisis-1471378
--------
Rohingya crisis: aid groups seek $400m to help a million people in Bangladesh
4 October 2017
Humanitarian organisations helping Rohingya Muslim refugees in Bangladesh say they need $434m over the next six months to help up to 1.2 million people, many of them children, who need life-saving help.
There are an estimated 809,000 Rohingya sheltering in Bangladesh after fleeing violence and persecution in Myanmar, more than half a million of whom have arrived since 25 August to join 300,000 Rohingya who were already in Bangladesh.
"The Rohingya population in Cox's Bazar is highly vulnerable, many having experienced severe trauma, and are now living in extremely difficult conditions," Robert Watkins, United Nations resident coordinator in Bangladesh, said on Wednesday, referring to the Bangladeshi border district where most Rohingya living.
Bangladesh and humanitarian organisations are struggling to help the 509,00 Rohingya who have arrived since 25 August, when attacks by Rohingya militants triggered a Myanmar military offensive that the United Nations has branded ethnic cleansing.
Myanmar rejects accusations of ethnic cleansing. It says its security forces are fighting insurgents of the Arakan Rohingya Salvation Army who claimed responsibility for attacks on about 30 police posts and an army camp on 25 August.
The insurgents were also behind similar but smaller attacks in October last year that also led to a brutal Myanmar army response, triggering the flight of 87,000 Rohingya to Bangladesh.
The agencies' plan factors in the possibility of another 91,000 refugees coming, as the influx was continuing day to day, Watkins said.
"The plan targets 1.2 million people, including all Rohingya refugees and 300,000 Bangladeshi host communities over the next six months," he said.
Full report at:
https://www.theguardian.com/world/2017/oct/04/rohingya-crisis-aid-groups-seek-400m-to-help-a-million-people-in-bangladesh
--------
Three key members of Taliban group arrested in Kabul city
Oct 03 2017
Three key members of the Taliban group have been arrested during an operation in Kabul city as they were deployed to plan the future attacks of the group in the city.
The Afghan intelligence, National Directorate of Security (NDS), in a statement said the suspects were arrested during an operation in the city.
The statement further added that the detained individuals have been identified as Zia-ul-Haq son of Abdul Wasi, Akhtar Gul famous as Ulfat, and Abdullah son of Bahlol.
The suspects were deployed to Kabul city by Taliban commander Qari Nasim and were mainly tasked to take photographs from the key parts of the city for the future attacks, NDS said.
The statement also added that the detained men have confessed to their crime and are currently in the custody of the intelligence operatives for further investigations.
The anti-government armed militant groups have not commented regarding the report so far.
This comes as the anti-government armed militant groups including the Taliban and ISIS loyalists are attempting to carry out attacks in the main cities of the country.
Full report at:
http://www.khaama.com/three-key-members-of-taliban-group-arrested-in-kabul-city-03570
--------
Rocket attack foiled on Kabul city days after similar attack rocked the airport
Oct 03 2017
The Afghan security forces thwarted the militants plan to carry out an attack on Kabul city days after a similar attack rocked the international airport in the city.
Officials in the Criminal Investigation Department in the Ministry of Interior said the militants were looking to fire several rockets on the city but the security forces managed to thwart their plan with on time reaction and surveillance.
The officials further added that the militants had prepared eight BM-1 Russian made rockets for the attack in Khak Jabar district, not far from the city, to hit the city on the occasion of Ashura Day.
The rockets, eight in total, were discovered from Chakari village, during an operation of the security forces late on Monday night.
The anti-government armed militant groups have not commented regarding the report so far.
This comes as the anti-government armed militants carried out a similar attack in the city last week by fireing several rockets on Hamid Karzai international airport.
The attack was launched at around 11 am local time and hours after the US defense secretary and NATO Secretary General arrived to the city.
The Taliban group claimed responsibility behind the attack which lasted until late evening of the city and after all militants were eliminated during the operation.
Full report at:
http://www.khaama.com/rocket-attack-foiled-on-kabul-city-days-after-similar-attack-rocked-the-airport-03569
--------
Arab World
Why has Baghdadi threatened the media and intellectual institutions?
3 October 2017
In the wake of its several military losses recently —namely the loss of Sirte (in Libya) in December 2016, Ramadi in February 2016, and Mosul in July 2017 — ISIS has had to retreat to its stronghold in Raqqa in northern Syria. The group has also lost many of its high-ranking militants and hundreds of fighters have deserted its ranks.
ISIS has lost the media war as well, which once supplied it with both financial and human resources. Ever since Baghdadi stepped on the pulpit of the Grand Mosque in Mosul in 2014 to declare himself head of the so-called Caliphate, he became the brains behind the group's many media outlets and promotional outfits, as well as of a large base of cyber supporters from all around the world.
All of this was done with the aim of enhancing Baghdadi's influence on the ground and broadcasting his brutal and bloody messages to the West and the rest of the world, with videos of his 'human sacrifices'. This generated an international response to counter ISIS propaganda and pressure was put on Twitter, Facebook, Instagram, YouTube, and other social media outlets to block the transmission of ISIS' horrific messages.
In a recent audio clip, Baghdadi is claimed to be calling on his fighters to attack media institutions. This statement is a clear proof of the collapse of the ISIS propaganda machinery. In this recording, a person claiming to be Baghdadi can be heard as saying: "Behold, soldiers of Islam and supporters of the Caliphate everywhere! Intensify the strikes one after the other! Make the centers of information of those infidels your targets."
These threats point to the defeat of the ISIS' media war in the face of successive military reversals. One ISIS supporter calling himself 'the Dragunov of the State' tried to launch his own disinformation campaign. He reportedly averred: "All the statements and media coverage about the city of Mosul are lies. All the news channels do not know what's going on inside (sic. the city). As for the reporters, they have only seen flames of the booby traps."
But Baghdadi's image had started to wilt much earlier. The offensive of Sirte launched under the name 'Al-Bunyan Al-Marsoos,' or the 'Impenetrable Wall' successfully liberated the city late last year. Similarly, the victories of the Iraqi army supported by the air force began to clear ISIS-held positions. Media crews and correspondents from all around the world began touring the ruins of the former cities of the Caliphate. The world watched the liberation of those who were detained as human shields during the conflict. Dozens of interviews with women from the battalion of Khansa and Hesba were aired as well as of the so-called 'cubs of the Caliphate'.
ISIS' media machinery
In its heydays, ISIS media apparatus was twice as big as Al-Qaeda's. As the organization expanded its sway in Syria, it opened Al-I'tasam Foundation. Its other media outlets included Al-Hayat Foundation and the monthly online magazine Dabiq (since July 2014), which produced content in both Arabic and foreign languages and employed foreign hostages and prisoners. It also launched its Al-Bayan radio station, which was broadcast on shortwave and the Internet from Mosul and had transmission towers in Raqqa. It also published the e-magazine Rumiyah, which was launched after the death of ISIS spokesman Abu Muhammad al-Adnani. The Ajnad Media Production was established in May 2014, which produced books, videos and songs in foreign languages (English, German, French and Russian). The Center continues to publish the Dabiq magazine in English, Dar al-Islam in French, Constantinople in Turkish and Masdar in Russian.
The Amaq News Agency, the official news agency of the organization, first appeared in August 2014 and was tasked with broadcasting the organization's political and military news round the clock, along with releasing video footage of the battles. ISIS also developed an app on 'Google store' for Android devices as well as set up information offices in the so-called states under the control of the organization, and a network of supporters of the state worldwide on social networking sites.
It is clear that the breakdown of this media machinery in the wake of recent military reversals provoked ISIS into issuing threats against international media outlets. This is what led the so-called voice of al-Baghdadi to plead with his supporters: "You should not be influenced by the deceitful media. God willing you will find us to be the most merciful of all, this is who we are. And we sincerely and loyally seek to protect Muslims and honor them in their blood and dignity."
However, the war of ISIS with the international media is hardly new. The media community has always been victims of ISIS' murders and assassinations.
The ISIS and the Arab Spring Connection
Baghdadi's reference to the ideological war reflects great concern among ISIS' supporters. In a major development, Saudi Arabia opened the Etidal world center in Riyadh on 21 May 2017, with the aim of fighting extremist ideology. There have been several similar initiatives launched earlier to combat extremism.
The ISIS brand of political extremism cannot be seen in isolation from the so-called 'Arab Spring'. It is this uprising that first championed the ideals of 'Islamic State', which paved the way for the emergence of the ISIS Caliphate. The Baghdadi project is only the militant form of the right wing uprising that is so-called as the 'Arab Spring'. One of the manifestations of this is the radical movement of Hamas, affiliated with the Muslim Brotherhood in Egypt.
The early signs of the larger Arab Spring project became evident with the release of so-called 'jihadists' and the theorists of radical Islamic groups — both Sunni and Shiite — from prison through a comprehensive amnesty by the erstwhile Moursi government. Among the most popular figures were Aboud al-Zomor, who was released from prison by Egyptian President Mohamed Morsi. Al Zomor is accused of participating in the assassination of former Egyptian President Anwar Sadat. Safwat Abdul Ghani, who is accused of killing Faraj Fouda and Rafat Mahjoub, was also released from prison along with other leaders of al-Jama'a al-Islamiyya, such as Alaa Al-Nasr. Safwat Ahmed Abdul Ghani was appointed as a member of the Shura Council of the al-Jama'a al-Islamiyya and an official of the military wing and was sentenced to prison in 1990 for the assassination of the President of the People's Assembly.
In addition, the now imprisoned Egyptian President Mohamed Morsi had pardoned during his term 55 prisoners of the al-Jama'a al-Islamiyya and 'Islamic Jihad', including four who were sentenced to death on various counts: Gharib al-Shahat, Shaaban Haridi, Hassan Khalifeh, Ahmed Abdel Qader (all members of the al-Jama'a al-Islamiyya) as well as Ahmed Salama Mabrouk, the prominent radical leader among other figures whose sentences range from life in prison to 25 years.
It is noteworthy that a number of those released from jail eventually joined the ranks of ISIS and Al-Nusra Front. Some of them were killed in Syria, Iraq and Libya, while a number of them are still in their ranks. Statistics estimate that 300 Egyptians have joined the war zones.
The so-called 'Jihadist confederation'
The establishment of a confederation and a global federation of so-called 'jihadist' organizations and parties was one of the pillars of the 'Arab Spring' project, a fact corroborated by the Indian preacher Salman Husaini Nadwi, who is a permanent guest of al-Qaradawi. He was the first to congratulate Abu Bakr al-Baghdadi when the latter established his so-called 'Islamic State'. In an open letter addressed to the Government of Saudi Arabia in 2014, he called for the formation of a global federation of 'jihadist organizations' and stressed that: "They should not be accused of terrorism or hostility. Innocent young people should not be arrested for belonging to these groups nor should prisons and detention centers be filled solely based on intelligence reports."
It should be noted that the radical organizations of political Islam are well aware that the boycott of the four countries against Qatar and the solidarity of the international community with the Saudi position in fighting extremist ideology poses a serious challenge to them. It is time that this war eliminates the brains behind the ISIS media campaigns — the Minister of Information of ISIS Abu Muhammad al-Furqan and Abu Mariyah Iraqi, the media leader of the Camp Speicher massacre.
ISIS, like any other terrorist groups, believes that "there is no fear of running out of young men as long as the ideology is conscious and constant".
https://english.alarabiya.net/en/media/print/2017/10/03/Why-has-Baghdadi-threatened-the-media-and-intellectual-institutions-.html
--------
Arab Daily: S. Arabia Thinking of Withdrawal from Yemen War
Oct 03, 2017
The Arabic-language al-Ray al-Youm newspaper underlined that given the withdrawal of Saudi Arabia's allies from the Yemen war, Riyadh will also declare its gradual retreat from the assault.
"Those who have read the remarks by the high-ranking Saudi officials and journalists close to the monarchy on the crisis in Yemen have certainly understood that Riyadh has admitted that the war in Yemen in its current form and after 2.5 years of operations could not attain its goals and now they are searching for alternatives to the war," it added.
According to the daily, one of the alternatives is the peaceful settlement of the crisis and if not efficient, Saudi Arabia and the UAE will gradually withdraw from the war and will leave the affairs to the Yemeni sides to fight with each other.
Saudi Arabia has been striking Yemen since March 2015 to restore power to fugitive president Mansour Hadi, a close ally of Riyadh. The Saudi-led aggression has so far killed at least 15,000 Yemenis, including hundreds of women and children.
Despite Riyadh's claims that it is bombing the positions of the Ansarullah fighters, Saudi bombers are flattening residential areas and civilian infrastructures.
According to several reports, the Saudi-led air campaign against Yemen has drove the impoverished country towards humanitarian disaster, as Saudi Arabia's deadly campaign prevented the patients from travelling abroad for treatment and blocked the entry of medicine into the war-torn country.
The cholera outbreak in Yemen which began in April, has also claimed 2,000 lives and has infected 700,000, as the nation has been suffering from what the World Health Organization (WHO) describes as the "largest epidemic in the world" amid a non-stop bombing campaign led by Saudi Arabia. Also Riyadh's deadly campaign prevented the patients from traveling abroad for treatment and blocked the entry of medicine into the war-torn country.
Full report at:
http://en.farsnews.com/newstext.aspx?nn=13960711001092
--------
Daesh defence line collapses in Hawijah as Iraqi forces liberate more villages
Oct 3, 2017
A high-ranking commander of the Iraqi pro-government Popular Mobilization Units says the defense lines of Daesh Takfiri militants have collapsed in the northern town of Hawijah as army troops and their allied fighters have adanaced dozens of kilometers, seizing nearly three dozen villages from the terrorists.
Jabbar al-Mamouri told Arabic-language al-Sumaria television network on Tuesday that Daesh militants can no longer put up stiff resistance in the face of advancing Iraqi soldiers and fighters from Popular Mobilization Units, better known by the Arabic name Hashd al-Sha'abi, as the terror group's snipers stationed on rooftops and at vital intersections in the heart of Hawijah, located 45 kilometers west of Kirkuk, have fled to save their lives.
Meanwhile, Secretary General of Iraq's Badr Organization Hadi al-Ameri said Iraqi army forces and Hashd al-Sha'abi fighters have retaken nearly 100 villages and hamlets ever since the operation to liberate Hawijah was launched late last month.
Ameri, in a press release issued on Tuesday, announced that al-Rashad area and Heynas air base have been completely purged of Daesh Takfiris.
The commander of the Hawijah liberation operation, Lieutenant General Abdul AmirYarallah, also said members of the Counter-Terrorism Service (CTS), army units and Hashd al-Sha'abi brigades have freed 35 villages during the second part of the second phase of Hawijah liberation operation.
Iraqi Prime Minister Haider al-Abadi on September 29 announced the start of the second phase of an offensive to liberate Hawijah from the grip of Daesh Takfiris.
Full report at:
http://www.presstv.ir/Detail/2017/10/03/537363/Daesh-defense-line-collapses-in-Hawijah-as-Iraqi-forces-liberate-more-villages
--------
Idlib: Syrian Fighter Jests Bomb Terrorists' Large Arms Depot
Oct 03, 2017
The warplanes carried out several combat flights over Al-Nusra Front's positions in Abu al-Dhuhour military airport and bombed a depot of weapons and arms.
The depot was badly damaged and a large number of terrorists were killed in the air raid.
Relevant reports said last month that nine terrorists of Al-Nusra Front were killed and several more were wounded in a large blast in the Northwestern city of Idlib.
Nine Al-Nusra members were killed and several more were wounded in a huge explosion near the Municipality Sports Stadium in the militant-held city of Idlib.
In the meantime, Al-Nusra announced that a number of its forces were injured in the explosion of vehicles carrying ammunitions.
http://en.farsnews.com/newstext.aspx?nn=13960711001351
--------
Syrian Army Makes Fresh Gains in Battle with Terrorists in Eastern Hama
Oct 03, 2017
The army men engaged in though battle with ISIL in Eastern Hama and drove terrorists out of the key village of Akash in Aqayrabat region West of the town of Souha.
Also, the army's artillery and missile units pounded ISIL's positions in the region, inflicting heavy casualties on the militants.
In the meantime, the Syrian and Russian fighter jets carried out several air raids over ISIL-held villages and towns in Eastern Hama.
Relevant reports said on Monday that The Syrian Army troops engaged in a tough battle with ISIL terrorist group South of the town of al-Souha and captured two more villages on Monday.
The army men managed to take back the villages of Rasm al-Abd and Rasm al-Abayekeh in Eastern Hama.
The army's engineering units have now started defusing landmines and bombs planted by the ISIL in the newly-captured regions.
http://en.farsnews.com/newstext.aspx?nn=13960711001204
--------
Terrorists Deploy at Syria's Nassib Border-Crossing Despite Jordan's Ultimatum
Oct 03, 2017
The Arabic-language al-Watan daily reported that terrorists of the National Front for the Liberation of Syria entered Nassib border-crossing by force and fortified their positons regardless of Jordan's ultimatum to close off the passageway.
In the meantime, chief coordinator of the National Front for Liberation of Syria Abu Mohammad al-Akhtabout said that the group's move to enter the Nassib passageway is aimed at preventing the Syrian government from reopening the border-crossing as it serves Damascus' interests.
He further said that the group's move is a reaction to any attempt, including de-escalation zone agreement, that tries to put an end to hostilities.
A well-informed source reported on Monday that differences were rising among terrorists over the reopening of Syria's Nassib border-crossing with Jordan after Amman gave a last ultimatum to the terrorists to pull back from the passageway.
The source said the rift widened after the Syrian Army troops' rapid advances at border with Jordan and after Amman gave a last ultimatum to the terrorists to leave the Nassib border-crossing.
The source further said that the terrorists were so disunited that some of them intended to hand over the Nassib border-crossing to Damascus via the mediation of Russia and Jordan, while the rest of terrorists were opposing compromise and trying to specify some terms before handing the passageway over.
In the meantime, Khalid al-Khatib, one of the well-informed sources aware of talk said that the Jordanian officials gave only 10 days to the terrorists and the so-called Free Council of Dara'a province to say their last word about talks over reopening of Nassib border-crossing.
He further said that the roads and passageways that connect the terrorist-held region to the Damascus-controlled region would be cut off after Jordan closes off the passageways to the terrorists and as the Syrian Army intensifies attack on terrorists from different directions.
The Syrian and Jordanian Armed Forces gave a last ultimatum to the terrorists to retreat from Nassib border-crossing in Dara'a province fast, al-Watan reported on Friday, adding that Damascus and Amman are insisting on the immediate reopening of the border-crossing.
The al-Watan daily quoted Khalid al-Khatb, one of the well-informed sources in talks with the terrorists in Dara'a as saying that Amman announced to the terrorist commanders, deployed in Jordan, that the Nassib border-crossing would be reopened soon whether they agree or not.
The daily added that the Syrian Army also underlined its own conditions for the reopening of the border-crossing.
Al-Khatib told al-Watan that the Syrian Army dispatched a large number of forces and a large volume of military equipment to the Southern city of Dara'a, adding that if the terrorists do not comply with the army's conditions, the border-crossing would be reopened by military force.
Full report at:
http://en.farsnews.com/newstext.aspx?nn=13960711001167
--------
US Air Strikes in Syria Take Civilian Toll Again
Oct 03, 2017
The US warplanes bombed heavily residential neighborhoods in the town of Albu Kamal, killing 15 civilians and wounding several more.
Local sources said earlier today that over 45 civilians were killed and several more were wounded after US' jets targeted the al-Touse'eiyah district in Raqqa city.
The incident comes just one day after the Syrian Observatory for Human Rights reported that more than 3,000 people, including nearly 1,000 civilians, have been killed during the past month.
In the meantime, the UK-based monitoring group says at least 29 people have been killed in US airstrikes in Raqqa city.
http://en.farsnews.com/newstext.aspx?nn=13960711001053
--------
ISIS claims deadly suicide attack in Syrian capital
3 October 2017
The ISIS group on Tuesday claimed responsibility for a pair of suicide bombings in the Syrian capital that killed 17 civilians and policemen the previous day.
In Monday's bombings, two men attacked a police station in the al-Midan neighborhood with several bombs, before one of them blew himself up, according to Syria's interior minister, Lt. Gen. Mohammad al-Shaar. He said the other bomber made it inside the compound, where police killed him, causing his bomb to explode.
The blasts damaged the lower floors of the building, and shattered the windows along one side. Blood stained the floors.
The ISIS Aamaq news agency said the militant group carried out the al-Midan attack. The statement carried by the agency gave no other details.
The Syrian army, backed by Russia, is at war with the ISIS group as well as a local al-Qaeda affiliate and an array of rebel groups trying to oust President Bashar Assad. The military has been steadily claiming territory from ISIS in central and eastern Syria recently.
Also on Tuesday, Russia's military said its airstrikes in eastern Syria this week killed more than 300 ISIS militants.
Russia has been a major backer of Syria's President Bashar Assad whose government troops have been advancing in the eastern province of Deir el-Zour against ISIS under the cover of Russian airstrikes.
Meanwhile, the Kurdish-led Syrian Democratic Forces are also marching against the ISIS group, backed by the US-led coalition.
Russia's Defense Ministry said in a statement early on Tuesday that its airstrikes just outside Deir el-Zour, on the eastern bank of the Euphrates River, killed more than 304 ISIS fighters and left more than 200 wounded.
Full report at:
https://english.alarabiya.net/en/News/middle-east/2017/10/03/ISIS-claims-deadly-suicide-attack-in-Syrian-capital.html
--------
Cairo says N Korean arms seized in 2016 was not bound for Egypt military
Oct 3, 2017
Egypt has rejected a Washington Post report that a shipment of North Korean weapons seized last year at Suez Canal had been destined for its military.
Citing US officials and Western diplomats, the Post reported Sunday that the Egyptian army was secretly buying $23 million worth of rocket-propelled grenades in 2016 from North Korea, which has been the subject of harsh UN Security Council bans over its missile and nuclear tests.
More than 24,000 of such grenades were discovered on a ship operated by North Korean crew, named the Jie Shun, by Suez Canal customs officials, according to the report.
However, in a statement sent to AFP on Monday, Egyptian Foreign Ministry spokesman Ahmed Abu Zeid "categorically denied what the (Washington Post) report mentioned regarding Egypt being the destination for the shipment."
"The sanctions committee report did not indicate that the shipment was destined for Egypt," he added, referring to a UN report mentioned in the Post story.
The report had said a UN investigation found that Egypt was the original buyer of the shipment.
The United States, the Post report said, had warned Egypt in August 2016 that the Jie Shun, under the Cambodian flag, was headed toward the Suez Canal.
It "was one of a series of clandestine deals" that led United States President Donald Trump's administration to freeze or delay about $300 million in military aid to Egypt this year, according to the Post report.
Abu Zeid, however, said, "Egyptian authorities indeed intercepted a ship flying the Cambodian flag before it entered the southern entrance of the Suez Canal, following information that it was carrying anti-tank rockets from North Korea in violation of (UN Security Council) sanctions," said the official.
He added, "Egyptian authorities indeed confiscated the shipment and destroyed it in the presence of a team of experts from the 1718 committee overseeing the UNSC sanctions on North Korea."
Full report at:
http://www.presstv.ir/Detail/2017/10/03/537299/Egypt-North-Korea-Arms-Deal-UN-Sanctions
--------
Syria calls on UNSC to halt US-led coalition's illegal airstrikes
Oct 4, 2017
Syria has called on the UNSC to do its job and halt the US-led so-called anti-terror coalition's crimes against the nation.
On Wednesday, the Syrian foreign ministry sent two letters to UN Secretary General Antonio Guterres and the chairman of the UN Security Council, criticizing the international community's silence towards the US' atrocities.
The letter goes on to slam the states and organizations "which bargain in the humanitarian issues, but they remain silent when it comes to the US-led coalition crimes against the Syrian people."
"Syria strongly condemns crimes committed by the international coalition and the terrorist groups against Syrian civilians, infrastructure and services and economic facilities shedding the blood of hundreds and causing huge damage and destruction," the letter added.
The letters also brought to attention the US' latest airstrikes which have killed a large number of people and destroyed large amounts of civilian infrastructure.
On Sunday, at least 12 civilians were killed in the US' latest airstrikes on Syria's eastern province of Dayr al-Zawr.
According to Syria's official news agency, SANA, five people were killed while US jets targeted civilian areas located in the al-Kitf Street, the surroundings of al-Shafiei Mosque and al-Massriyeh roundabout in al-Bukamal city.
At least seven more people were killed in strikes on the village of Buqrus Fouqani in the province's eastern countryside.
On Monday, at least 45 people were killed in the US' latest airstrike in Syria.
Full report at:
http://www.presstv.ir/Detail/2017/10/04/537395/syria-unsc-un-us-airstrikes
--------
Mideast
Israel seeking to link Las Vegas shooting to Muslims: Scholar
Oct 3, 2017
Israeli elements are spreading misleading information that Muslims were responsible for the deadliest mass shooting in modern American history that occurred on Sunday night in Las Vegas, Nevada, an American scholar says.
Israeli propagandists "do everything they can to slander Muslims," said Kevin Barrett, an author and political commentator in Madison, Wisconsin.
"There is not one bit of evidence that there's any Islam connection…or Muslim involvement," Barrett told Press TV on Tuesday.
Daesh has claimed the Las Vegas concert shooting which left at least 59 people dead and over 500 injured; however, US officials have said there is no known link to international terrorism.
The terrorist group, through its Amaq news channel, said the suspected gunman, Stephen Paddock, 64, converted to Islam a few months ago.
Daesh said the attack was carried out by a "soldier" of the group and was done "in response to calls to target coalition countries."
US officials have said they are examining the claim, but are yet to find any evidence linking the shooter to any international terrorist organization.
Paddock fired as many as 300 rounds from a hotel room on the 32nd floor of the Mandalay Bay hotel.
Police said Paddock, of Mesquite, Nevada, killed himself after the shooting and that there was reason to believe that he had a history of psychological problems.
Amarnath Amarasingam, a senior research fellow at the London-based Institute for Strategic Dialogue, told the Telegraph that ISIL has made similar claims of responsibility in the past which later turned out to be false, including of an attack at a casino in the Philippines in June which police maintain was an indebted gambler with no link to the group.
http://www.presstv.ir/Detail/2017/10/03/537388/US-mass-shooting-Las-Vegas-Kevin-Barrett
--------
Israeli warning as Palestinians edge closer to reconciliation
Oct 4, 2017
GAZA CITY - The Palestinian cabinet met in Gaza for the first time since 2014 Tuesday, as Israel warned it would reject any reconciliation deal between the Palestinian factions unless Hamas disarm.
The meeting comes as part of moves to end a decade-long split between the internationally recognised Palestinian Authority, based in the occupied West Bank, and Hamas, which runs the Gaza Strip.
The return of the PA to Gaza had been cautiously welcomed by the United States and the United Nations, but Israeli Prime Minister Benjamin Netanyahu said it could be a "bogus" reconciliation "at the expense of our existence".
Hamas has controlled Gaza since seizing it from the PA in a near civil war in 2007, and since then multiple reconciliation attempts have failed.
But following Egyptian pressure the Islamists announced last month they were willing to hand over civilian control to the PA, which is dominated by Palestinian president Mahmud Abbas's Fatah movement.
Tuesday's cabinet meeting was the first in Gaza since November 2014, and comes a day after Palestinian prime minister Rami Hamdallah entered the territory for the first time since a unity government collapsed in June 2015.
At the beginning of the meeting, which took place at the official Gaza residence of Abbas in Gaza, Hamdallah pledged to end the rift.
"We are here to turn the page on division, restore the national project to its correct direction and establish the (Palestinian) state," he said.
Afterwards government spokesman Yusuf Al Mahmud said a full reconciliation deal would take time. "The government does not have a magic wand," he told reporters.
Egypt has brokered the rapprochement between the two sides. Its intelligence chief, Khaled Fawzi, visited the strip in the afternoon and met with Hamdallah and Hamas head Ismail Haniya.
In a pre-recorded speech played at the meeting, Egyptian President Abdel Fattah al-Sisi backed the talks. "The whole world is waiting for your efforts to achieve reconciliation among the Palestinian people," he said. The sides will hold further talks on Tuesday in Cairo.
Hamas disarming
More than two million people live in impoverished Gaza, which has been blockaded by Israel and Egypt for years.
Hamas hopes to convince Egypt to ease its border restrictions, which, along with the isolation of key regional ally Qatar, have left the Islamists weak.
The Palestinian Authority has also sought to punish Hamas for setting up what was seen as a rival government, reducing electricity payments for Gazans.
A key sticking point between the two Palestinian sides will likely be Hamas's powerful military wing that has fought three wars with Israel since 2008. The Palestinian Authority has signed peace deals with Israel, but Hamas was not party to them and does not recognise Israel's right to exist. The United States and the European Union blacklist Hamas as a terrorist organisation, complicating the formation of any potential unity government.
Israel said any deal would be unacceptable unless Hamas disarmed.
"We are not prepared to accept bogus reconciliations in which the Palestinian side apparently reconciles at the expense of our existence," Netanyahu said in a statement.
"Whoever wants to make such a reconciliation, our understanding is very clear: recognise the State of Israel, disband the Hamas military arm, sever the connection with Iran - which calls for our destruction."
In response Hamas said Israel was the primary beneficiary of the division.
In an interview on Monday night Abbas said there would be "one state, one system, one law and one weapon" - in an apparent reference to Hamas's military wing.
Hamas could not "copy or clone Hezbollah's experience in Lebanon," he added, referring to a situation where an independent armed group exerts major influence on national politics.
Hamas officials reject the possibility of disarming. Hamas leader Haniya said they were willing to "pay any price" for reconciliation but analysts say disarming would effectively mean the end of the movement.
The United States cautiously welcomed Hamdallah's visit Monday. But US special envoy Jason Greenblatt also said any Palestinian government "must unambiguously and explicitly commit to nonviolence, recognition of the State of Israel, acceptance of previous agreements and obligations between the parties and peaceful negotiations."
UN Middle East envoy Nickolay Mladenov said he was "encouraged" by the developments and wanted to see the Palestinian Authority government exercise full control in Gaza.
"This is essential for resolving the humanitarian situation as soon as possible, most notably the crippling electricity and health crises," he said in a statement.
Netanyahu pledges expansion
of major W Bank settlement
Israeli Prime Minister Benjamin Netanyahu on Tuesday pledged to build "thousands" of new homes in a major West Bank settlement east of Jerusalem, insisting it would one day be part of Israel.
Full report at:
http://nation.com.pk/international/04-Oct-2017/israeli-warning-as-palestinians-edge-closer-to-reconciliation
--------
Yemeni deputy PM calls on Saleh followers to end alliance with Houthis
4 October 2017
Deputy Prime Minister of Yemen, Mohamed Abdelaziz al-Jabari, said on Tuesday it was time to completely cleanse Taiz from followers of ousted President Saleh and the Houthi militia.
Taiz is undergoing a "military and psychological breakdown," he added.
Jabari has continued visiting Taiz – while heading a high-rank government delegation – which has been under siege for days.
As such, he stressed the need to step up efforts to strengthen security and stability means in the city. Life in Taiz must return to how it once was, he added.
Jabari called on the remaining members from Saleh's party, whom are allied with the Houthi militia, to "join the law and the republic's ranks, and ditch their illusions."
Jabari also called on them to "renew the worn-out leadership which ignored the revolution and the conference's principles, and allied itself with the disastrous coup against state institutions."
The deputy prime minister made this statement in reference to Saleh who has led the party since its founding 35 years ago.
Full report at:
https://english.alarabiya.net/en/News/middle-east/2017/10/04/Yemeni-deputy-PM-calls-on-Saleh-followers-to-end-alliance-with-Houthis.html
--------
Palestinian rivals declare three stages to end decade-long split
3 October 2017
Palestinian Authority Spokesperson Yousef al-Mahmoud has said that the agreement to end division between rivals Hamas and Fatah will be accomplished in three stages; the formation of committees to begin work on solving the problems of the crossings, electricity, water and other issues.
"We are determined to resolve all outstanding issues to achieve reconciliation," he added.
He said that the government held a "quick discussion to resolve electricity, water and reconstruction issues, and the security and the crossings issues will be discussed in Cairo next week."
Decade-long split
The Palestinian cabinet met in Gaza on Tuesday for the first time since 2014 in a further step towards the internationally recognised Palestinian Authority (PA) retaking control of the territory.
In an opening speech, Prime Minister Rami Hamdallah renewed his pledge to end a decade-long split between the Islamist Hamas movement that controls Gaza and his West Bank-based government.
"We are here to turn the page on division, restore the national project to its correct direction and establish the (Palestinian) state," he said.
The session took place at the official Gaza residence of Palestinian president Mahmud Abbas in the cabinet office, hung with portraits of Abbas and historic Palestinian leader Yasser Arafat.
Full report at:
https://english.alarabiya.net/en/News/middle-east/2017/10/03/Palestinian-government-meets-in-Gaza-for-first-time-since-2014-.html
--------
Israeli premier vows to build more settlements at heart of West Bank
Oct 3, 2017
Israeli Prime Minister Benjamin Netanyahu has promised that his regime would build more settlements in an area at the heart of the occupied West Bank, defying repeated international calls for a halt to the controversial activity seen as a major impediment to peace.
Netanyahu said on Tuesday during a visit to the Maaleh Adumim settlement that "We shall build here thousands of housing units."
He said Israel would add industrial zones in the area, which currently hosts some 37,000 settlers.
The controversial remarks come against the backdrop of previous calls by Netanyahu and other Israeli officials to absorb parts of the West Bank into what Israel promotes as a so-called future state.
Israel occupied the West Bank in the 1967 Six Day War. More than 400,000 Israeli settlers have been accommodated in settlements in the territory which is home to 2.6 million Palestinians. The international community has repeatedly warned that those settlers would have no place in a future Palestinian state and Israel should evacuate them.
During his visit to Maaleh Adumim, Netanyahu did not elaborate on where the new settlements would be built but other reports suggested it would lie on a contentious area adjacent to a settlement known as E1. Palestinians have repeatedly warned against plans for expanding the two settlements, saying they would further divide the West Bank and make it harder for the Palestinians to claim the territories in a future state.
Senior officials from the Palestinian Authority reacted to Netanyahu's Tuesday comments and called them "totally unacceptable."
Full report at:
http://www.presstv.ir/Detail/2017/10/03/537379/Israel-settlements-expansion
--------
Israeli defense minister says Syria's Assad 'victorious
3 October 2017
Israeli Defense Minister Avigdor Lieberman said on Tuesday that President Bashar al-Assad has been "victorious" in Syria's civil war and was now being courted by former enemies.
"Assad has emerged victorious in the battle," Avigdor Lieberman told Israeli news website Walla!.
"Suddenly, everyone wants to get closer to Assad," he said.
"I see that there is now a long line of countries applauding and wooing Assad, including Western (and) moderate Muslim (states)."
Assad's fortunes have changed dramatically since Russia launched a military intervention to shore up his forces in 2015 and he now appears well on top after a series of key victories.
Israel has previously called on Assad to step down, but officials have sought to avoid getting too heavily involved in the conflict.
Israel has accused Assad-backer Iran of transferring sophisticated weapons to Lebanon's Hezbollah and has sporadically struck weapons convoys to the movement inside the war-ravaged country, as well as Syrian government forces.
Israel and Syria have technically been in a state of war for decades and the Jewish state has become alarmed at the growing Iranian influence in Damascus.
Lieberman said they were hoping for increased American involvement to counterbalance the Iranian threat.
"We hope that the United States will be more active on the Syrian front and in the Middle East in general. We are on the northern front against the Russians, Iranians, Turks and Hezbollah," he said.
Full report at:
https://english.alarabiya.net/en/News/middle-east/2017/10/03/Israeli-defense-minister-says-Syria-s-Assad-victorious-.html
--------
Saudi regime begins joint drill with France amid war on Yemen
Oct 3, 2017
Saudi Arabia and France have begun a joint military exercise in the southwest of the kingdom. The drill takes place at a time that a deadly campaign led by the regime in Riyadh keeps claiming more lives in the impoverished Yemen.
Saudi Arabia's official SPA agency said on its Arabic website on Tuesday that the joint drill began earlier in the day in the city of Ta'if in the southwestern Saudi province of Mecca.
It said the exercise, involving an unspecified number of ground troops from the two countries, would focus on battles in mountainous regions and on how to back ground operations with proper air cover.
The SPA statement said the drill was a routine part of military cooperation between France and Saudi Arabia.
Since March 2015, the Saudi regime has been engaged in a protracted war it has imposed on Yemen.
More than 10,000 people have been killed and hundreds of thousands have been displaced by the deadly campaign.
In the initial days of the campaign, Riyadh said its objective was to reinstate Yemen's ousted president, Abd Rabbuh Mansour Hadi, and crush the Houthi Ansarullah movement. The mission has not been accomplished.
France and other Western governments have tacitly supported Saudi Arabia's military operation in Yemen while countries such as the United States have openly provided Riyadh with intelligence and logistic support.
The joint drill between Saudi Arabia and France is an apparent bid to empower the Saudis in battles in mountainous regions of northern Yemen.
Full report at:
http://www.presstv.ir/Detail/2017/10/03/537365/Saudi-France-drills-Yemen-war
--------
Israel demolishes Bedouin village, makes 200 homeless
Oct 4, 2017
Israeli troops have made some 200 Bedouin Palestinians homeless after demolishing their village in the Negev region.
According to residents of the Araqib village on Tuesday, Israeli troops raided the village with bulldozers and destroyed every single building.
"They stormed in and destroyed everything, every single building, every single home," said a local elder.
The village, with about 220 residents, was initially demolished on July 27, 2010, but has since then been rebuilt multiple times by its residents and activists.
"We're now living in makeshift homes, thanks to the state's racist and criminal policies," he added.
A recent report by the United Nations Office for the Coordination of Humanitarian Affairs (OCHA) showed that Israeli authorities have demolished or seized over 1,080 Palestinian-owned structures since the start of the last year up until December 28. The demolitions have left some 1,593 Palestinians homeless and affected the lives of another 7,101, according to the report released on December 29, 2016.
The UN also notes that the "vast majority" of the Palestinian structures are destroyed or seized because the Israeli policies made it virtually impossible for Palestinians to obtain building permits.
Full report at:
http://www.presstv.ir/Detail/2017/10/04/537397/israel-village-bedouin-demolish
--------
Iranian lawmaker slams Iraqi secession vote as 'strategic mistake'
Oct 4, 2017
A senior Iranian lawmaker has denounced the recent Kurdish secession referendum in northern Iraq as a "strategic mistake," warning that the plebiscite will pose a myriad of challenges to the Kurdish region.
"The holding of the referendum in northern Iraq was a strategic mistake made in spite of the advice offered," Chairman of the Iranian Parliament's Committee on National Security and Foreign Policy Alaeddin Boroujerdi said in a Tuesday interview with IRNA in Damascus.
The lawmaker, who is visiting Syria on top of a parliamentary delegation, called on Iraq's semi-autonomous Kurdistan Regional Government (KRG) to immediately revoke the results of the referendum to help restore security and stability to the Kurdish region.
"If the authorities of Iraq's Kurdistan insist on this path, they will face a lot of political, economic and military problems," he added.
On September 25, the Kurdistan Regional Government held the non-binding referendum on secession from Iraq in defiance of stiff opposition from the central government in Baghdad and much of the international community. Kurdish officials said over 90 percent of voters said 'Yes' to separation from Iraq.
Political observers have warned that KRG's referendum scenario is in line with Israel's policy of dividing the regional Muslim states.
After the Monday referendum, the Iraqi government ordered the KRG to hand over its international airports in Erbil, and the city of Sulaymaniyah, as well as its border crossings.
It also asked the KRG to either cancel the result of the plebiscite or face potential sanctions, international isolation, and military intervention.
A ban on international flights into and out of the Iraqi Kurdish region also took effect on Friday.
The KRG has so far refused to either hand over the airports and land terminals or annul the outcome of the vote.
Syria passed risky phase
Elsewhere in his comments, Boroujerdi lauded the continued achievements of Syria's anti-terrorism campaign, saying, "Despite direct and indirect US support for terrorists…the balance of power changed in the interest of the resistance front."
"The victories of the Syrian army, popular and resistance forces as well as the assistance provided by the Islamic Republic of Iran plus the valuable role of Lebanon's Hezbollah helped Syria pass the risky stage," he added.
The US has been conducting airstrikes against what it says are Daesh targets inside Syria since September 2014 without any authorization from the Damascus government or a United Nations mandate.
Washington and its allies have repeatedly been accused of targeting and killing civilians and drawn criticism over their failure to destroy Daesh, which they claim to be fighting.
Full report at:
http://www.presstv.ir/Detail/2017/10/04/537405/Iran-Iraq-referendum-Kurds
--------
EU ties expansion, JCPOA endurance, terrorism eradication Iran's main policies: Rouhani
Oct 3, 2017
ranian President Hassan Rouhani says the Islamic Republic's foreign policy is directed at the attachment of special importance to preserving the historic nuclear deal it signed with the P5+1 group of countries more than two years ago.
Rouhani made the remarks in a meeting with Denis O'Donovan, the chairperson of Irish Seanad Eireann (Senate), in Tehran on Tuesday in a reference to the nuclear agreement, known as the Joint Comprehensive Plan of Action (JCPOA).
"Expanding relations with the European Union, [working toward] the endurance of the JCPOA and all sides' commitment to their obligations and cooperating with the [International Atomic Energy] Agency (IAEA) as well as fighting against terrorism are the three important pillars of Iran's foreign policy," the president said.
He added that Iran is firmly determined to remain committed to its obligations under the JCPOA as the IAEA has released eight reports verifying the Islamic Republic's commitment to the nuclear deal.
"As we have repeatedly announced, Iran will never be the initiator of the violation of the agreement," Rouhani pointed out.
Iran and the five permanent members of the United Nations Security Council – the United States, France, Britain, Russia and China – plus Germany signed the nuclear agreement on July 14, 2015 and started implementing it on January 16, 2016.
Under the JCPOA, Iran undertook to put limitations on its nuclear program in exchange for the removal of nuclear-related sanctions imposed against Tehran.
The IAEA has consistently verified Iran's adherence to the terms of the JCPOA since the deal started being implemented.
Elsewhere in the meeting, Rouhani pointed to the settlement of many issues in the region and the weakening of terrorist groups in Iraq, Syria and Lebanon and urged unity and integrity to counter terrorism as a threat to all countries in the world.
"The Islamic Republic of Iran has given a positive response to the neighboring countries' request for the fight against terrorism," he said and expressed Tehran's readiness to bolster cooperation with all countries, including Ireland, in the campaign.
Referring to Iran's great potential in different sectors, including mine, petrochemistry and energy, the Iranian president welcomed investment of Irish economic activists in the country's development projects.
"Iran can be a reliable source for supplying the European countries' requirements in the energy sector," Rouhani said.
He stressed the importance of improving Iran's all-out cooperation with the European countries and added that Tehran welcomes the expansion of relationships with Dublin in political, cultural, economic and scientific areas.
JCPOA beneficial to international peace: O'Donovan
The Irish senator, for his part, said the JCPOA is beneficial to global peace and called for the deal to continue to stand.
European countries believe that no one would benefit from undermining the JCPOA, he added.
At an Atlantic Council panel discussion on September 25, the ambassadors from Britain, France, Germany and the European Union to the United States expressed their countries' strong support for the JCPOA.
O'Donovan also expressed his country's determination to improve cooperation with Iran to serve the two nations' interest.
Full report at:
http://www.presstv.ir/Detail/2017/10/03/537344/Iran-Ireland-Hassan-Rouhani-Seanad-Eireann-Denis-ODonovan-JCPOA-terrorism-energy
--------
Pakistan
Religious parties to launch movement against Election Act
October 04, 2017
Iftikhar Alam
LAHORE - Religious organisations all over the country Tuesday expressed severe reservations, held protest demonstrations and announced to intensify their movement in the coming days against Election Act 2017, claiming the finality of the prophet was compromised through the parliament.
Jamaat-e-Islami, Milli Muslim League, Jamaat-ud-Dawa, Majlis-e-Wahdat-ul-Muslimeen, Tehreek-e-Labbaik Pakistan, Pakistan Ulema Council, Jamiat Ahle Hadith, Sunni Tehreek, Tanzeem Ittehad-e-Ummat Pakistan, Tehreek-e-Hurmat-e-Rasool, Sunni Ittehad Council, Jamiat Ulema-e-Islami-S, Jamiat Ulema-e-Pakistan-Noornai and Khatm-e-Nabuwwat Pakistan have warned the government to immediately repeal the law or be ready to face the anger of people. The parties represent all schools of thought i.e. Brelvi, Deobandi, Ahle Hadith and Shia. Some banned organizations will also be part of the protest movement.
The main concern of the religious parties is that the controversial law has paved the way for Ahmadis (a non-Muslim minority in Pakistan according to the constitution) to get themselves registered in the list of Muslim voters.
The country had witnessed a strong Khatm-e-Nabuwwat movement during the Zulfikar Ali Bhutto tenure in 70s as a result of which Ahmadis were declare as non-Muslims.
The religious groups that are allies of the government, including Jamiat Ulema-e-Islam-F, Jamiat Ulema-e-Pakistan and Markazi Jamiat Ahle Hadth, have not so far expressed any reaction over the law. The government itself claimed the new law was not against any Islamic article in the constitution.
"The law had provided an opportunity to Ahmadis to join the list of Muslim voters after the deletion of affidavit concerning the finality of the holy prophet (PBUH)," Jamaat-e-Islami chief Sirajul Haq said in his statement on Tuesday. The Ahmadis, he claimed, now would be able to get themselves registered as Muslim voters and they would be no more a non-Muslim minority. He also raised concern about the law, saying it would provide an opportunity to Ahmadis to rise to the highest offices in the country. The JI chief will address a press conference at Mansoora on the issue Wednesday (today).
Milli Yakjehti Council chief Sahibzada Abul Khair Zubair who is also head of JUP-Noorani has called a meeting of the council on October 5 to prepare a plan for the movement against the law. The council represents more than 20 religious and political parties.
Tehreek Labbaik Al-Alami chief Dr Asif Ashraf Jalali addressed a press conference at Lahore Press Club and later staged a protest, demanding the government immediately repeal the law. He said Muslims of this country would never accept the amendment in the law of Khatm-e-Nabuwwat.
Tahreek Labbaik Pakistan chief Allama Khadim Hussain Rizvi along with his workers staged a sit-in outside the Punjab Assembly in protests against the law. Their sit-in was in progress till late night.
Tanzeem Ittehad-e-Ummat Pakistan also held protest in front of the Punjab Assembly.
Pakistan Ulema Council Ashrafi faction announced countrywide protest against the law on Wednesday. Pakistan Ulema Council Zahid Mahmood Qasmi faction issued warning to the government to withdraw the law.
Milli Muslim League, Jamaat-ud-Dawa, Tehreek Hurmat-e-Rasool and Muhammadia Students Organisation announced a countrywide protest on Friday.
Sunni Ittehad Council, led by Sahibzada Hamid Raza, held a meeting of more than 20 Brelvi organisations at Jamia Rizvia and announced movement against the passage of the bill.
http://nation.com.pk/newspaper-picks/04-Oct-2017/religious-parties-to-launch-movement-against-election-act
--------
3 terrorists convicted by military courts executed in KP: ISPR
Naveed Siddiqui
October 04, 2017
Three terrorists tried and convicted by military courts were executed at a jail in Khyber Pakhtunkhwa on Wednesday, according to Inter-Services Public Relations (ISPR).
The convicts were "involved in committing heinous offences relating to terrorism, including [an] attack on a Pakistan International Airlines (PIA) plane at Peshawar Airport, killing of civilians, attacking the armed forces and law enforcement agencies," the ISPR handout read.
Former army chief Gen Raheel Sharif signed the death warrants of the three terrorists, identified as Sajid, Behram and Fazal-i-Ghaffar, on Nov 7, July 14 and March 15 last year.
The details of the convicts provided by ISPR are as follows:
Sajid s/o Ibrahim Khan: The convict was a member of proscribed organisation. He was involved in firing on a PIA plane landing at Peshawar Airport which resulted in death of a woman and injuries to two other passengers. He was also involved in killing of innocent civilians and attacking LEAs, which resulted in death of a man identified as Pir Israr, along with eight of his family members, a civilian Niaz Gul, Assistant Sub Inspector Sajid Khan and injuries to civilians and police officials. The convict was in possession of fire arms and explosives. He admitted his offences before a magistrate and the trial court. He was awarded a death sentence.
Behram Sher s/o Khairan: The convict was a member of proscribed organisation. He was involved in destruction of the Government Girls Primary School as well as attacking army personnel, which resulted in the death of a soldier and injuries to 2 other soldiers. He was also in possession of explosives. The convict admitted his offences before a magistrate and the trial court. He was awarded a death sentence.
Full report at:
https://www.dawn.com/news/1361654/3-terrorists-convicted-by-military-courts-executed-in-kp-ispr
--------
US will try to work with Pakistan 'one more time', says Mattis
October 04, 2017
WASHINGTON: US Defence Secretary James Mattis said on Tuesday Washington would try "one more time" to work with Islamabad on the Afghanistan front before President Donald Trump turned to options to address Pakistan's alleged support for militant groups.
"We need to try one more time to make this strategy work with them, by, with and through the Pakistanis, and if our best efforts fail, the President is prepared to take whatever steps are necessary," the defence secretary said at a hearing of the House Armed Services Committee.
According to sources in Washington, the likely Trump administration responses being discussed include expanding US drone strikes and perhaps eventually downgrading Pakistan's status as a major non-Nato ally.
In a separate Senate hearing on Tuesday, the top US military officer said he believed the Inter-Services Intelligence (ISI) had ties to militant groups.
"It is clear to me that the ISI has connections with terrorist groups," General Joseph Dunford, chairman of the Joint Chiefs of Staff, told the Senate Armed Services Committee.
https://www.dawn.com/news/1361581/us-will-try-to-work-with-pakistan-one-more-time-says-mattis
--------
COAS Bajwa chairs 'seven-hour' huddle at General Headquarters
Iftikhar A. Khan
October 04, 2017
ISLAMABAD: A special corps commanders conference that reportedly lasted around seven hours was held at the military's General Headquarters (GHQ) on Tuesday.
Chaired by Chief of the Army Staff Gen Qamar Javed Bajwa, the huddle reviewed the security challenges facing the country, as well as the preparedness of the armed forces to deal with any situation that may develop.
Sources told Dawn that the forum considered the continuing unprovoked ceasefire violations committed by India on both the Line of Control (LoC) and the Working Boundary, as well as the irresponsible statements emanating from New Delhi.
But in a rare move, the army's PR wing Inter-Services Public Relations (ISPR) did not issue any official statement following the marathon special meeting of top military commanders.
The ISPR usually issues a brief statement outlining the crux of the discussion, but the lack of an official account of the huddle triggered all sorts of rumours about what transpired behind closed doors on Tuesday.
This echoed what happened a day earlier, as there was no official announcement from the ISPR regarding the meeting.
ISPR Director General Maj Gen Asif Ghafoor did not to respond to queries about what was discussed in the meeting and whether the corps commanders talked about the prevailing political situation in the country.
The meeting took place a day after former prime minister Nawaz Sharif appeared before an accountability court in connection with the corruption references filed against him on the orders of the Supreme Court.
On that day, ministers, PML-N leaders and supporters were barred from entering the judicial complex by Rangers personnel, who inexplicably took over security of the courts from the police, even though their deployment had not been requisitioned by the relevant authorities.
Full report at:
https://www.dawn.com/news/1361576/coas-bajwa-chairs-seven-hour-huddle-at-general-headquarters
--------
Africa
Malawi Approves Islamic Banking, Sharia-Compliant Services
3 OCTOBER 2017
Malawi government has approved to embrace the Islamic banking system which doesn't demand any interest from the borrowers as is the case with non-Islamic banking systems.
Registrar of Financial Institutions Dalitso Kabambe , who is also Reserve Bank Governor, says in the approval document seen by Nyasa Times that this will only be through "Window Model Only."
"This shall entail banks offering Islamic (non-interest) Banking products alongside conventional banking facilities," says Kabambe.
He says in this regard; bank supervisors will shortly be engaging with each bank to prove guidance on reporting requirements of Sharia-compliant products and services.
"Once developed, the guidelines will be shared with each bank," says Kabambe.
The International Monetary Fund (IMF) said in its recent report that Islamic finance has potential to spur inclusive growth but calls for its proper regulation and supervision.
In relation to this, the Muslim Association of Malawi recently invited an expert in Islamic Finance that during the meeting facilitated by a South African Mufti Ismail Ebrahim Desai, a renowned scholar in Islamic Finance and Banking.
Key features of Islamic banking include a prohibition on interest, an emphasis on ethical standards that embrace moral and social values, and the overarching principle of fairness when handling liability and business risk. The system's popularity in many North African and Middle Eastern countries stems from the less speculative nature of its products.
http://allafrica.com/stories/201710030839.html
--------
Sudan remains committed to fighting terrorism
03 October 2017
Sudanese President Omer Al-Bashir on Monday reaffirmed his nation's commitment to the global war against terrorism.
With Washington expected to decide Oct. 12 whether to permanently lift two decades of sanctions on Sudan, Bashir stressed that his government will work closely with the international community on anti-terrorism efforts.
Sudan was designated by the U.S. as a state sponsor of terrorism in 1993 for allegedly harboring terrorist organizations.
Cooperating in the war against terrorism is one of the main conditions it must meet in order for sanctions to be lifted.
Addressing the Sudanese parliament Monday, Bashir also confirmed his government's commitment to combating human trafficking, money laundering and corruption.
In addition, he said Sudan will press for economic and political reform.
"We will continue the implementation of the unprecedented recommendations of the national dialogue with the participation of the many vital forces in the country," he said.
Bashir added that Sudan had managed to emerge from the isolation imposed on it long ago by the international community, noting that officials from Europe and the U.S. frequently visit the country.
Last week, Sudan welcomed the U.S.'s decision to remove it from a list of countries whose citizens are banned from entering the U.S.
Full report at:
http://www.worldbulletin.net/africa/194607/kenyan-university-closed-indefinitely-after-riots
--------
Kenyan university closed indefinitely after riots
03 October 2017
A university in capital Nairobi has been closed for indefinite period as the students demanded resignation of the vice chancellor over last week's police assault on students.
The decision by the University of Nairobi, the largest university in East and Central Africa, was taken on a plea filed by the Students Welfare Authority, a board set up to monitor students' relations with the university administration.
A student body's chairman claimed that a student was killed and 26 others were injured after police used excessive force on Saturday against the students protesting the arrest of an opposition lawmaker.
"They [police] beat him to death, I have told the media about that… even the opposition leader has confirmed the killing," Jamal Birkan, head of Students Organization of Nairobi University told Anadolu Agency.
Also videos that surfaced online show police beating up students and throwing tear gas canisters into the hostels of students.
The unrest led to an investigation launched by Independent Policing Oversight Authority, a government-funded watchdog.
Paul Ongili, Embakasi East member of the parliament, was arrested last Monday on charges of insulting President Uhuru Kenyatta on television.
The arrest came as the opposition led by Raila Odinga protested against 12 members of Kenya's electoral body, seeking their removal. The opposition accused the members of aiding the ruling party in poll rigging.
Full report at:
http://www.worldbulletin.net/africa/194611/kenyan-university-closed-indefinitely-after-riots
--------
URL: https://www.newageislam.com/islamic-world-news/foreign-media-asks-india-neglecting/d/112766
New Age Islam, Islam Online, Islamic Website, African Muslim News, Arab World News, South Asia News, Indian Muslim News, World Muslim News, Women in Islam, Islamic Feminism, Arab Women, Women In Arab, Islamophobia in America, Muslim Women in West, Islam Women and Feminism