New Age Islam News Bureau
13 Apr 2020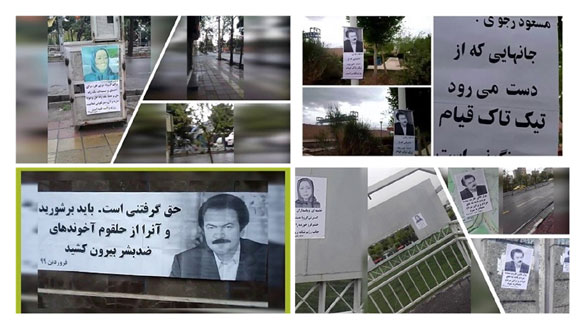 Resistance Units Activities in Iranian Cities
----
• Follow Lockdown Orders, Maintain Social Distance During Ramzan: Islamic Centre of India
• Resistance's Leadership Calls on Iranians to Revolt and Join the National Solidarity, Underscores Mullahs' Role in Coronavirus Spread
• Islamic Finance - An Amalgamation of Sharia Law and Modern Banking - Has Become A US$2 Trillion Business Over the Past Two Decades
• COVID-19: Italian Imam Says Cremation of Muslims Deaths Is 'Rumour'
• How Muslim Clerics Greeted Kaduna Christians At Easter Amid COVID-19
• Meet Targets Specified in U.S.-Taliban Agreement, Khalilzad Urges Afghan Govt And Taliban
• Indonesian Muslims Told to Remain at Home as Ramadan Approaching
• Karachi's Christians Content with Online Easter Mass
• In Battle for The Muslim Vote, Sanders Destroys the Competition: Poll
---------
India
• Follow Lockdown Orders, Maintain Social Distance During Ramzan: Islamic Centre of India
• In Haryana, 20 Cases of Muslims Being Targeted In Week
• 40 Out Of 58 Who Attended Delhi Mosque Event Traced: Maharashtra Minister
• Maharashtra: Case Against 156 Foreign Attendees of Delhi Mosque Event
• Jharkhand: Muslim Coronavirus Victim Struggles to Get 'Do-Gaz Zameen' For Burial
• 8 persons, including Imam of mosque, booked under NSA for opposing sealing in Meerut
------
Mideast
• Resistance's Leadership Calls on Iranians to Revolt and Join the National Solidarity, Underscores Mullahs' Role in Coronavirus Spread
• Israeli President Rejects Gantz's Request for More Time to Form Unity Government
• Iran's UN Mission: Sanctions Enemy's '5th Column' In Fight Against Pandemic
• KRG rejects 'unfounded' reports claiming mosques will be reopened during Ramadan
• Turkish court indicts 20 Saudis for murdering Khashoggi
• 'Sustainable Ceasefire Prelude to Political Settlement in Yemen'
• Turkey's interior minister resigns over lockdown decision, Erdogan rejects
• Iran says OPEC+ meeting to review Mexico's share of oil supply cuts
-------
Arab world
• Islamic Finance - An Amalgamation of Sharia Law and Modern Banking - Has Become A US$2 Trillion Business Over the Past Two Decades
• How young Arabs are reacting to the COVID-19 crisis through art
• UAE buys Israeli missile system for Libya rebels: Report
• OPEC+ oil producers to cut output by 9.7m barrels
• Saudi Arabia records 7 more coronavirus deaths and hundreds more cases
• Campaign launched to distribute meat to Makkah's needy
• OPEC's Historic Deal May Still Not Be Enough
------
Europe
• COVID-19: Italian Imam Says Cremation of Muslims Deaths Is 'Rumour'
• Planning application for new mosque and community centre is submitted
• Inverness mosque sends out 150 meals for people in need
• Tributes paid to mosque imam who has died after contracting coronavirus
• Coronavirus: UK could be worst-hit country in Europe, experts warn, as 'sombre day' sees death toll pass 10,000
• Prince William becomes patron of NET; Duke, Duchess share picture of Kensington Palace
------
Africa
• How Muslim Clerics Greeted Kaduna Christians At Easter Amid COVID-19
• FCTA Arrests Islamic Cleric, 2 Foreigners for Violating Lockdown Order
• Blame Self-Acclaimed Pastors, Imams for Religious Intolerance –Prof Omonokhua, NIREC Executive Secretary
• Finding Community Among the Ashes: How Faith Reaches Across Distance
• Sudan arrests Islamists for holding protests hostile to Hamdok government
--------
South Asia
• Meet Targets Specified in U.S.-Taliban Agreement, Khalilzad Urges Afghan Govt And Taliban
• Plan Being Reviewed to Form Partnership Government with Ghani: Tahyanj
• Afghan forces kill the shadow governor of Taliban for Wardak province
• BSTI asks 20 companies to ensure quality production, marketing during Ramadan
• Meet Targets Specified In U.S.-Taliban Agreement, Khalilzad Urges Afghan Govt And Taliban
• Afghanistan records 58 new positive cases of coronavirus in the past 24 hours
• Afghan forces repulse Taliban attack in Helmand; kill 3 militants, wound 5 others
------
Southeast Asia
• Indonesian Muslims Told to Remain at Home as Ramadan Approaching
• Jakarta Islamic Center Holds Online Programs Amid Coronavirus Outbreak
• No Ramadan bazaars nationwide throughout MCO period, announces Putrajaya
• Rooted in faith: Islam's role in Indonesia's environmental fight
• Indonesia orders Ramadan travel curbs as nation sees biggest daily jump in coronavirus cases
• Coronavirus: Muslims prepare to mark Ramadan, Hari Raya at home
• Hadi divides nation even as M'sians face Covid-19
------
Pakistan
• Karachi's Christians Content with Online Easter Mass
• Islami Jamhoori Ittehad and Markazi Jamiat Ahle Hadith Call to Re-Open Mosques
• Dozens of healthcare providers infected with Covid-19
• Sanitation workers urge capital managers to disinfect slums
• Pakistani court seeks report on Mullah Mansoor's properties in Karachi, Quetta, Peshawar
• Lockdown ineffective due to mixed signals from Centre, alleges Murad Ali Shah
• Murad orders mobile coronavirus testing facility for slum dwellers in Karachi
-------
North America
• In Battle for The Muslim Vote, Sanders Destroys the Competition: Poll
• As European Countries Celebrate Passover, Easter, and Ramadan, This Is How They're Regulating Religious Worship
• What if Ignored Covid-19 Warnings Had Been Leaked to WikiLeaks?
Compiled by New Age Islam News Bureau
URL: https://www.newageislam.com/islamic-world-news/follow-lockdown-orders-maintain-social/d/121565
------
Follow Lockdown Orders, Maintain Social Distance During Ramzan: Islamic Centre of India
Apr 12, 2020
LUCKNOW: The Islamic Centre of India on Sunday asked Muslims to abide the lockdown orders and maintain social distance during the holy month of Ramzan to protect themselves from coronavirus.
In an advisory, chairman of the Lucknow-based centre Maulana Khalid Rashid Farangi Mahali said all Muslims should pray during 'iftaar' (ending the day's fast) for this pandemic to end.
"The lockdown is in place till April 14, but there are possibilities that it may be extended. The moon for the Ramzan will be seen on April 24, and the first roza (fast) of Ramzan will be observed on April 25. All Muslims are requested to follow the lockdown orders and adhere to social distancing," he said.
Those who organise 'iftaar' in mosques, should spend the money to provide ration and food to the poor."Those on fast should ensure no person goes hungry during Ramzan," the maulana said added.
The advisory also said not more than 5 persons should gather at a time in a mosque.
https://timesofindia.indiatimes.com/india/follow-lockdown-orders-maintain-social-distance-during-ramzan-islamic-centre/articleshowprint/75111223.cms
-----
Resistance's Leadership Calls on Iranians to Revolt and Join the National Solidarity, Underscores Mullahs' Role in Coronavirus Spread
12th April 2020
In recent days, the Resistance Units, and supporters of the People's Mojahedin Organization of Iran (PMOI / MEK) in Tehran, Shiraz, and Karaj distributed the messages of Mr. Massoud Rajavi, the Leader of the Iranian Resistance, and the calls by Mrs. Maryam Rajvi, the President-elect of National Council of Resistance of Iran, for national solidarity with the victims of the Coronavirus.Defiant youths wrote graffiti in various cities, including in Tehran, Mashhad, Behbahan, Isfahan, Kerman, Semnan, Boroujerd, and Shiraz, blaming Khamenei and his corrupt regime for the rapid Coronavirus outbreak in Iran. Supporters of the MEK also echoed the Iranian people's aspirations and determination to revolt and overthrow the regime and stressed the need for national solidarity to combat two viruses at the same time, the Coronavirus, and the Mullah's virus.
Some of the slogans were: "Massoud Rajvai: Through rebellions and increasing activities the criminal clergy's rule will be destroyed, and the great spring of freedom will overcome the dark and cold of winter." "Massoud Rajavi: The plundered wealth of the Iranian people must serve their interests.", "Massoud Rajavi: Let's rise up to get your rights from the inhuman ruling theocracy.", "Maryam Rajavi: Khamenei and the Revolutionary Guards are the cause of the spread of Coronavirus, let's direct our outrage against them.", "Maryam Rajavi: The mullahs spread despair and hopelessness, let's rebel against that.", "Maryam Rajavi: The mullahs do not want Iran, and Iran and Iranians do not want the mullahs.", and "Maryam Rajavi: There is only one solution to get rid of the Coronavirus, poverty, and repression in Iran: regime change in its entirety."
https://www.ncr-iran.org/en/ncri-statements/statement-iran-protest/resistances-leadership-calls-on-iranians-to-revolt-and-join-the-national-solidarity-underscores-mullahs-role-coronavirus-spread/
-----
Islamic finance - an amalgamation of Sharia law and modern banking - has become a US$2 trillion business over the past two decades, covering everything from bonds to buying cars.
But with complex standards set out by a number of Islamic bodies, it is not easy for observant Muslims to decide whether or not an investment is halal (religiously permissible).
Tesla, the American electric car pioneer, for example, is considered 96 per cent Sharia compliant, according to the Zoya mobile application.
The app screens US-listed stocks based on criteria issued by the Accounting and Auditing Organization for Islamic Financial Institutions, one of several bodies that set Islamic finance standards.
Islamic funds are banned from investing in companies associated with tobacco, alcohol, pork or gambling. Earning interest is also banned as "usury".
US-based Wahed Invest, an online halal platform, uses those criteria to help tens of thousands of people invest "ethically".
Islamic bankers are hoping that modern platforms will open the industry up to young investors, and that its innately ethical credentials will prove to be another draw.
Mehdi Benslimane, global expansion strategist at Wahed Invest, said the guidelines in religious texts boil down to two conditions.
"A business must have a real economic impact, not just a speculative one. And it must have a positive contribution to the world," he told AFP.
Ratings agency Standard & Poor's showed the Islamic finance industry has in its relatively short existence grown to be worth US$2.1 trillion.
In projections made before the coronavirus outbreak, it predicted the sector would "continue to expand slowly" in 2020.
Financial technology, or fintech, could help the industry grow by "facilitating easier and faster transactions", it said in its Islamic Finance Outlook 2020 Edition.
The meltdown the coronavirus pandemic has caused in other parts of the economy has prompted fears of a collapse in the sector. Dubai Islamic Bank has already delayed a planned issue of Shariah-compatible bonds, according to Emirati media reports.
Yet Islamic finance - based on the concept of shared profit and loss, thus minimising risk for banks - has fans well beyond the Muslim world.
For example, the Jeddah-based Islamic Development Bank in November signed an agreement with Japan's mammoth pension fund to support the development of sustainable Sharia-compliant products.
And the Responsible Finance & Investment (RFI) Foundation, a think- tank, has talked up their ability to respond to the latest crash, due to the fact they are anchored in the real economy.
It also suggests that profits on investments in industries such as protective medical equipment could be donated to charities, helping tackle the coronavirus crisis without breaking the Islamic ban on interest payments.
The emphasis has been on growing the market rather than making it more efficient, said Mohammed al-Sehli, CEO of Wethaq Capital, a Dubai-based fintech firm.
The sector must focus more on innovation after "suffering from lack of innovation, standardisation and automation of processes", he told AFP.
Before the novel coronavirus pandemic forced them to work from home, young men and women - in traditional abaya robes or jeans and T-shirts - sat on bean bags or hunched over their laptops in an open working space at Dubai's FinTech Hive.
The company's executive vice-president Raja al-Mazrouei says it connects start-ups with the Dubai Islamic Economic Development Centre, Sharia scholars, Islamic banks and financial regulators.
"If you're targeting countries like Malaysia, Indonesia and Saudi Arabia ... you have to be able to offer a (sharia-compliant) solution," Mr Mazrouei told AFP.
"The main challenge ... is to make sure that the whole supply chain, the regulations, are actually tested and verified by the Sharia scholars," said Mr Mazrouei, a former computer scientist and a Harvard graduate.
Talal Tabbaa, founder of Jibrel.com which connects investors with start-ups, and itself uses blockchain technology, describes an industry where cultures can collide.
The approach of some Muslim scholars who approve financial products "is not technological, it is very manual and, in my opinion, subjective", he said.
https://www.businesstimes.com.sg/technology/is-this-stock-halal-islamic-finance-looks-to-high-tech-future
-----
COVID-19: Italian Imam Says Cremation of Muslims Deaths Is 'Rumour'
2020-04-12
(Zaman Al Wasl)- With the help of protective suits, masks and gloves, and the most precautionary measures, the 13-year-old Libyan child, Ismail Abdul Wahab, who hails from Brixton State, south of London, was buried.
Abdul Wahab was one the youngest people to die of Coronavirus worldwide. His mother and his six siblings remain in their home, attending the funeral from their mobile phones through a live broadcast that was photographed by a relative, since most of them are put under quarantine.
Nearly 1,800,000 people have now been confirmed with the coronavirus globally, and while at least 412,000 people have recovered from COVID-19, more than 110,000 have died, including 20,000 in Italy, according to data from the World Metres.
In Italy, the refugees are not allowed to transfer the bodies of their dead to their countries following the request of the dead or his relatives, as was customary. However, due to the lack of Islamic graves in all Italian cities, the Muslim community requested the official authorities in the country to address this issue.
Yassin Al-Yafii, who works as a cultural mediator and imam in the city of Piacenza, said there are dozens of bodies still in hospitals because of air and sea transport being stopped and prevented from carrying out their normal function; not all of them were Coronavirus victims.
There are difficulties encountered by Muslims specifically since pandemic has spread, including those related to burial rituals like washing and shrouding the dead, and praying and burying the dead in light of what has become known as social distancing, said Al-Yafeai.
The religious institutions in Europe dealt with the current situation with harmony, and with the decisions of the authorities and the words of the expert doctors regarding the transmission of infection and the precautions needed to prevent it; these institutions decided not to wash the dead and to use 'tayammum' instead, using gloves of course, and finally they decided the corpse to be shrouded, buried and prayed for from afar.
Al-Yafea regained the privilege of Islamic cultural customs of preparing the dead before the Coronavirus epidemic, as hospitals provided rooms for the washers in which they washed the bodies, and then shroud them in the legitimate Islamic shroud; there are people who are buried in Muslim cemeteries across Italy and there are many bodies whose bodies are returned to their countries too.
Donations are collected for this purpose, and some people decide to pay insurance for this specific purpose; if they die, insurance will transfer them to their countries. Now, however, in light of the difficulty and unavailability of flights, as well as maritime transport, transporting the bodies has become almost impossible.
Under these circumstances, the Federation of Islamic Organizations put pressure on the state to provide graves for Muslims in every city, and this request was met in most cities in Italy, pointing out that these graves may be an independent piece of land or may be part of a Christian cemetery in general; given the breadth of these Christian cemeteries, it can be possible to integrate Muslim bodies in them, and this is exactly what is happening now.
Al-Yafeai also revealed that he had buried three Syrian refugee doctors Abdul Sattar Ayroud, Abdul Ghani Makki and Iyad Al Daqar in the city of Buchens, in which they used to reside
https://en.zamanalwsl.net/news/article/53968/
---------
How Muslim clerics greeted Kaduna Christians at Easter amid COVID-19
By Saxone Akhaine
13 April 2020
To break the lockdown barrier created by the coronavirus disease (COVID-19), Muslim clerics yesterday felicitated with Christians in Kaduna State, urging them to use the season to pray God to end the plague.
As the Christians celebrated the Easter indoors with members of their families due to the lockdown, the Islamic clerics sent text messages and used social media platforms to felicitate with them.
The Muslims said the gesture was to strengthen cordial relationship, religious tolerance, better understanding, peace and unity among Nigerians.A leading Islamic cleric, Abdulrahman Bichi, told journalists yesterday that he sent many greeting through Short Message Service (SMS) to all Christians he knew, wishing them happy Easter celebration.
He could not go to the houses of his Christian friends as he used to, hence he resorted to electronic messages.Sheikh Nuraini Ashafa from Interfaith Mediation Centre, Kaduna, also felicitated with Christians and urged them to pray God to heal the planet of COVID-19.
In her own message, another interfaith personality, Hajiya Ramatu Tijjani, congratulated Christians worldwide for the successful completion of the 40 days prayer and fasting, which culminated in the Easter celebration.
Tijani advocated more educative programmes on radio, print media and television on COVID-19, to sensitise both the rural and urban residents.
Meanwhile, Yohanna Buru, one of the pastors close to Bichi, commended all the Muslim clerics that sent him Easter messages through various social media platforms, saying he received over 2,500 text messages from Muslim youths and clerics from Nigeria and other countries.
https://guardian.ng/news/how-muslim-clerics-greeted-kaduna-christians-at-easter-amid-covid-19/
-----
Meet targets specified in U.S.-Taliban agreement, Khalilzad urges Afghan govt and Taliban
13 Apr 2020
The U.S. envoy for Afghan peace Zalmay Khalilzad has urged the Afghan government and Taliban to expedite efforts to meet the targets specified in the U.S.-Taliban peace agreement, warning that the novel coronavirus (COVID-19) poses a real threat to prisoners.
Welcoming the release of prisoners by both the Afghan government and Taliban, Khalilzad said in a Twitter post "Welcome the release of prisoners by both the Afghan government and the Taliban. The release of prisoners is an important step in the peace process and the reduction of violence."
Khalilzad further added "Both sides should accelerate efforts to meet targets specified in the US- Taliban agreement as soon as possible. The potential for COVID-19 outbreaks in prisons poses a real threat and all the more reason to move urgently."
This comes as the Afghan government recently released 300 Taliban prisoners as part of the ongoing efforts to kick start the intra-Afghan talks aimed at ending the conflict in the country.
The Taliban group also announced on Sunday that the group has released 20 people who were previously serving with the Afghan government.
https://www.khaama.com/meet-targets-specified-in-u-s-taliban-agreement-khalilzad-urges-afghan-govt-and-taliban-04655/
------
Indonesian Muslims Told to Remain at Home as Ramadan Approaching
BY :TARA MARCHELIN
APRIL 11, 2020
Jakarta. The Religious Affairs Ministry encouraged Muslims to remain at home while observing Ramadan later this month during Covid-19 pandemic.
"We appealed Muslims to pray from home during Ramadan, including the tarawih," Kamaruddin Amin, the ministry's director general of Islamic society development, said in the weekend, referring to the month-long evening prayers in addition to the obligatory five prayers a day.
According to the religious affairs minister's circular issued earlier this month, Indonesian Muslims are also told to refrain from joining the congregational Idul Fitri prayer the day after Ramadan, usually held in squares to accommodate a large crowd.
Kamaruddin also asked Muslims in big cities not to return to their hometowns in the Idul Fitri exodus or mudik to contain the spread of the disease.
The ministry's acting-director of Christian affairs F.X. Rudy Andriyanto said the government and church representatives have agreed not to hold any religious activities and celebrations that can attract the crowd.
"We will provide sermon and worship through social media, YouTube and [state-run broadcaster] TVRI, including for the Easter weekend," Rudy said.
Nyoman Suriadarma, the ministry's secretary of the Buddhist society directorate, said celebrations of Wesak, the Buddhists New Year festival, should be held at home.
"Wesak falls on May 7 and we ask all Buddhists to celebrate it from home. Not only for Wesak, the Sunday prayer or Puja Bhakti, must be observed from home as well," Nyoman said.
The pandemic has prevented followers of all religions from performing prayers in the usual way, according to I Made Sutresna, the ministry's secretary of the Hindu society directorate.
"We have to be smart, wise and able to adapt with this situation, for example, using social media platforms to replace the congregational prayer," he said.
Made said health protocols should take precedence during the pandemic, without hampering religious communities in performing prayers.
https://jakartaglobe.id/news/indonesian-muslims-told-to-remain-at-home-as-ramadan-approaching
----
Karachi's Christians content with online Easter mass
April 13, 2020
Shazia Hasan
KARACHI: No church bells rang on Easter Sunday in Karachi. But there were lights, cameras and a bit of action at the St Patrick's Cathedral because the mass was to be viewed live online by the thousands of Christians ready with their laptops and PCs at home.
Father Aamir Bhatti of the Catholic Christian Good News TV channel, a web channel, had asked the church to allow him to record and broadcast services throughout Lent and now he was at the Cathedral to ensure a smooth live streaming of the Sunday mass.
"Earlier, we also broadcast a recorded Easter message from His Eminence Joseph Cardinal Coutts. We had recorded it after the Good Friday service to air on Easter Sunday," Father Bhatti told Dawn.
About his experience of recording the services, Father Bhatti said he knew he had to do this during the pandemic lockdown. "Even if they could not be in church to attend mass, we had to do something to make them spiritually attend the Pak mass, and we are grateful that we were granted permission to make it possible," he said.
'He called one child at a time to bless and the children were so happy, they had never experienced anything like this before'
"We are receiving so many blessings in the form of personal messages for our work now from not just people in Pakistan but also abroad," he said, adding that they were able to record the mass using two cameras. "We had two cameras, handled by professional cameramen. We had brought with us extra lights too but they were not needed as the St Patrick's Cathedral has good natural light."
In his message to Catholics on Easter, Joseph Cardinal Coutts focused on how healthy people can play their part in helping those affected by the coronavirus pandemic. "Everyone is worried these days. Some are sick, some have relatives who are sick and some have lost loved ones. There are also so many who have lost their means of earning because of the lockdown. But I am so glad to see in my city Karachi there are not just Christians helping Christians, there are also Muslims helping Christians in their time of need," he said.
"So my message this Easter is not just for Christians, it is for all you human beings to not lose heart but open your hearts. Keep the faith. Happy Easter!"
Maria Soares watching the St Patrick's service from home said she was also able to catch the Easter Mass at the Vatican. "Of course, it was depressing spending Easter under lockdown, but I watched both mass. Then my sister Celine baked a special coconut cake, which was devoured by the family," she said, while explaining that they didn't even try to go out looking for Easter delicacies, especially the marzipan eggs filled with treats.
"My mother is elderly and vulnerable. I have been in self-isolation, working from home since the middle of March. I don't want to venture out and bring something back home. So I stayed home and prayed and cherished this time with my family," she said.
When asked how the people reacted upon learning that the churches would be closed and that there would be no mass, Father Arthur Charles, the parish priest at the St Anthony's Church, said that there was no objection or arguments from them. "The people listened, and they understood the need of the hour," he said.
Stephan, a young father of two, also said that although his wife and he understood the importance of staying home, the children did not understand. "They are still little and don't understand the crisis we are in. But their Easter was made when the pastor of our neighbourhood church in Azam Basti visited our home in the morning. He called one child at a time to bless and the children were so happy, they had never experienced anything like this before," he said.
"In fact, the notification from His Eminence Joseph Cardinal Coutts, who is also bishop of Karachi, to stop holding congregations at churches came on March 17, which was a Tuesday when we also observe St Anthony's Day with three to four special mass. There are more than usual Catholics at the church that day but when we made the announcement, everyone was quite understanding. Some respectfully touched the church walls and left without insisting on going inside. They knew they should adhere to government directives without question," he said.
"So this Easter and Good Friday, all remained at home. Anticipating what might happen, we had earlier distributed printouts of scriptures and prayers that they can say at home during the Lent season, which they were grateful for," he said.
"Easter Sunday is a big day for Christians. It may be hard for everyone to not come to church this year to celebrate, but praying at home in solitude also helps one feel close to the Lord. You have lots of time to meditate, too, and think," he said.
"We priests are always working with the people but this Easter even I found time to pray alone and reflect. God is everywhere, and watching. Respect each other, support each other as you celebrate the mysteries and miracles of God."
https://www.dawn.com/news/1548717/karachis-christians-content-with-online-easter-mass
------
In battle for the Muslim vote, Sanders destroys the competition: poll
By Sheren Khalel
6 March 2020
US presidential candidates made unprecedented efforts to court the Muslim vote in the lead-up to Super Tuesday, but according to a recent poll, Bernie Sanders won that battle in a landslide.
Sanders took 58 percent of the overall Muslim vote on Super Tuesday, according to a poll released by the Council on American-Islamic Relations (CAIR) released on Friday.
'American Muslim voters are a growing demographic that in certain states - like Michigan - can give candidates the edge they need,'
Meanwhile, Elizabeth Warren, who dropped out on Thursday, came in at just five percent despite a concerted last-minute push in her Muslim outreach efforts.
Joe Biden, who compared to his progressive counterparts has done little in terms of targeted Muslim outreach, came in with 27 percent, according to CAIR.
In terms of actual election results from Super Tuesday, Biden is now the frontrunner with 627 total delegates. Sanders is second with 551, and Warren, before dropping out, had a lacklustre 64.
The next set of primaries will take place on Tuesday in the states of Michigan, Washington, Missouri, Mississippi, Idaho and North Dakota.
With 125 delegates, Michigan alone accounts for more than a third of the delegates up for grabs, making it a make-or-break state in the hotly contested primary.
Sanders has held numerous rallies, town halls and other outreach events targeted at the Muslim population of Detroit, a city that boasts the largest Muslim population in the country.
While Muslims only make up one percent of the US population, they constitute around 2.75 percent in Michigan.
"Muslims are never going to be a swing vote for a general election, but they could meaningfully impact certain states, especially in the primaries, Michigan being the best case in point," Youssef Chouhoud, a political science professor at Virginia's Christopher Newport University, told MEE.
With the voting power of Muslims increasing over the years, it makes sense that two of the top campaigns in this year's race chose to invest in extraordinary Muslim-American outreach efforts.
"These survey results show exactly why several 2020 presidential candidates have made unprecedented attempts to court American Muslim voters," CAIR government affairs director Robert McCaw said in a news release accompanying the survey's findings.
"The interconnectedness of the American Muslim community and its more than 1 million registered voters makes Muslims a strong and increasingly critical voice in American politics."
According to the ISPU, a think-tank focused on American Muslims, their voter registration was up from 60 percent in 2016 to 73 percent in 2019.
Petra Alsoofy, Outreach and Partnerships Manager at ISPU, told MEE it would be a mistake for candidates to not take the needs of American Muslims into account during the campaign season.
"American Muslim voters are a growing demographic that in certain states - like Michigan - and can give candidates the edge they need," Alsoofy continued.
In the days leading up to Super Tuesday primary vote, progressive presidential candidates Sanders and Warren both put Muslim Americans at front and center in their outreach efforts.
The hashtag #MuslimsForBernie was trending on Twitter on Monday, just days after Warren's campaign released an extensive policy plan aimed at Muslim Americans.
While Warren did not start pushing hard for the Muslim vote until last month, the Sanders campaign had been building support from the Muslim-American community since his last presidential campaign.
As the first frontrunner in a presidential election to openly criticise Israel, coupled with his on-the-ground outreach, Bernie enjoyed significant support from the Muslim-American community from the start of the 2020 campaign.
Sanders has endorsements from the first two Muslim women elected to Congress, Rashida Tlaib and Ilhan Omar. He has also received endorsements from prominent Muslim political groups Emgage PAC and the Muslim Caucus of America.
Prominent faith leaders, including Omar Suleiman, founder of the Yaqeen Institute in Texas, and Johari Abdul-Malik, a Washington-based imam, have also signed on to the Sanders campaign.
Biden, meanwhile, has taken some recent heat for his chosen director of Muslim outreach, Amit Jani, an avid supporter of Indian Prime Minister Narendra Modi and his Hindu-nationalist BJP party.
Jani took to Facebook in May to celebrate the reelection of Modi, whose party has encouraged massive anti-Muslim protests in India and backed a discriminatory Citizenship Amendment Bill that threatens the existence of the country's 200 million-strong Muslim population.
A search on Twitter for "Biden Muslim outreach" brings up nothing but pages of criticism for his pick of Jani as his outreach coordinator.
Biden also landed an endorsement on Wednesday from Mike Bloomberg, who last week said spying on Muslims and mosques while mayor of New York was the "right thing to do".
For her part, before dropping out of the race this week, Warren released a detailed policy plan that dove deeply into Muslim issues.
Iram Ali, a senior content strategist and point person for Muslim engagement on the Warren campaign, told MEE earlier this week that Warren made sure to tap experts from different Muslim communities to provide feedback and ensure their concerns and ideas were heard within the policy package.
The Warren campaign last month had also launched its Muslims With Warren Twitter page and hosted a virtual roundtable with Muslim communities to discuss her wealth tax.
Warren chose to come back to Detroit to ring in Super Tuesday, and on Friday, Sanders scrapped his plans to rally in Mississipi, instead choosing the city for one of his last campaign efforts before the pivotal vote on Tuesday.
On Saturday Sanders plans to hold a rally in Dearborn, a town within the Detroit metropolitan area that has a 30 percent Muslim population.
https://www.middleeasteye.net/news/muslim-vote-super-tuesday-bernie-sanders-outreach
----
India
In Haryana, 20 cases of Muslims being targeted in week
Apr 12, 2020
CHANDIGARH: As the count of Covid-19 cases continues to swell in Haryana, and Tablighi Jamaat (TJ ) members forming a significant number, there has been a rise in incidents of Muslims being targeted. There were 20 cases of people from the community being allegedly targeted in the last week till Saturday. Six incidents took place in Panipat, three in Sonipat, two in Gurugram, and one each in Jind and Kaithal.
The most recent cases – in Nuh and Panchkula -- were reported on Friday and Saturday. Despite Haryana DGP Manoj Yadava's warning asking those attempting to disturb communal harmony in the state to desist from acts, there has been no let-up in the attacks.
A common factor in bulk of the complaints is that the accused blamed the community or its members for the spread of novel coronavirus in the state.
https://timesofindia.indiatimes.com/city/chandigarh/in-haryana-20-cases-of-muslims-being-targeted-in-week/articleshowprint/75105571.cms
------
40 Out Of 58 Who Attended Delhi Mosque Event Traced: Maharashtra Minister
April 13, 2020
Mumbai: Maharashtra Home Minister Anil Deshmukh on Monday said out of the 58 ''missing'' Tablighi Jamaat members from Maharashtra who attended the group's religious gathering at Nizamuddin in Delhi last month, 40 have been traced and quarantined.
The remaining 18 members of the Islamic group are still missing and efforts are on to trace them, the minister told PTI.
Till last week, 58 members of the Islamic group from the state were missing. Some of them switched off their phones, hence it was difficult to trace them, he said. "However, the police diligently followed every information and traced 40 of them. They all have been kept under institutional quarantine and their swab tests for coronavirus will be carried out as per the health departments advisory," Mr Deshmukh said.
Further commenting on the 40 Tablighi Jamaat members traced by the state police, he said, "They are Indian citizens. We have convinced them about the need to stay quarantined. If they do not show any symptoms or test negative for coronavirus, the government will release then after completing the due procedures."
He said the state authorities have already traced 156 foreign nationals who attended the congregation at Nizamuddin in New Delhi, and they have been booked for various offences, inluding misuse of visa.
The religious congregation organised by Tablighi Jamaat in the national capital last month emerged as one of the major COVID-19 hotspots in the country, prompting various state authorities to trace all those who attended the event and quarantine them.
https://www.ndtv.com/india-news/coronavirus-40-out-of-58-who-attended-delhi-mosque-event-traced-anil-deshmukh-2210826
-----
Maharashtra: Case Against 156 Foreign Attendees Of Delhi Mosque Event
April 13, 2020
Mumbai: A total of 156 foreigners who travelled to Maharashtra after attending the Tablighi Jamaat event in New Delhi last month have been booked on the charges of violating the Foreigners Act 1946, state Home Minister Anil Deshmukh said on Sunday.
These people, who were visiting India on a tourist visa, allegedly participated in religious activities including preaching, he said.Maharashtra
The Health ministry has attributed the spike in COVID-19 cases in various parts of the country to the religious congregation held at Nizamuddin Markaz in March.
"Section 14-B of the Foreigners'' Act has been invoked against the 156 people for forgery of passport which stipulates 2-8 years in prison and the fine between Rs 10,000 and Rs 50,000," said an official from the home department.
Sections 188 (Disobedience to order duly promulgated by public servant), 269 (Negligent act likely to spread infection of disease dangerous to life) and 270 (Malignant act likely to spread infection of disease dangerous to life) of the Indian Penal Code (IPC) were also invoked against them, he said.
These people hailed from 17 countries like Kyrgyzstan, Ghana, Djibouti, Malaysia, Togo, Indonesia, Bangladesh to name a few, Mr Deshmukh said.
https://www.ndtv.com/india-news/maharashtra-case-against-156-foreign-attendees-of-delhi-mosque-event-2210592
------
Jharkhand: Muslim coronavirus victim struggles to get 'Do-gaz Zameen' for burial
12th April 2020
By Mahesh Ranjan
RANCHI: The 60-year old second Muslim coronavirus victim, who died at Rajendra Institute of Medical Sciences (RIMS) in Ranchi on Sunday, had to struggle for several hours to get 'Do-gaz Zameen' for burial after locals opposed his burial after it was taken to the cemeteries in Ranchi. Notably, people took to the
streets and created ruckus opposing burial of the dead body when it was taken to at least three cemeteries in Ranchi on Sunday.
Firstly, the dead body was taken to Bariatu cemetery but the district administration had to face opposition from the local people living in the area following which it was decided to dispose the body at Ratu Road cemetery.
Amid lockdown, hundreds of locals gathered on the entrance of Ratu Road cemetery after they got information that the dead body is being brought there for burial and locked it from outside. Apprehending that the virus will further get spread among the people living adjacent to the cemetery, people wanted
district administration to cremate the body.
Even though the officials were trying to convince people that the dead body will be buried under the guidelines issued by the World Health Organization, the crowd dispersed only after getting assurance from the district administration that the dead body will not be buried in that cemetery.
"If people do not want it to be buried here, it will not be done here. There is no problem in it some arrangement will be done to dispose the dead body," said Traffic SP Ajit Peter Dungdung. He also said that action will be taken against those who have violated the lockdown on the basis of video footage.
The district administration, however, is yet to decide whether the dead body will be buried or cremated. Meanwhile, the dead body remained on the ambulance for several hours while the district administration kept on mulling to decide on the issue of disposal of the dead body till the report was being filed late
in the evening on Sunday.
https://www.newindianexpress.com/nation/2020/apr/12/jharkhand-muslim-coronavirus-victim-struggles-to-get-do-gaz-zameen-for-burial-2129174.html
-----
8 persons, including Imam of mosque, booked under NSA for opposing sealing in Meerut
April 12, 2020
Swati Sharma
National Security Act would be imposed on Imam of a mosque and seven others for attempting to prevent the officials from sealing the Jali Kothi area of the city after three persons were tested positive with Covid 19 on Saturday.
The situation now is situated to be under control while the three Corona positives are undergoing treatment in the isolation ward in the LLRM Medical college.
According to SSP Ajay Kumar Sahni, the police have arrested eight persons including Imam of the mosque that has been sealed and would be booked under NSA.
A case has been registered against the eight arrested persons in Delhi gate police station under different sections 147, 148, 149 , 307, 332, 333 ,336 ,,353,504,506 186,188,269,270,271 of IPC and epidemic act and disaster management acts.
SSP told that a group of local residents came out in protest when a team of cops along with city magistrate was trying to seal the area around a mosque in Jali Kothi locality where three persons were tested positive of Corona on Friday.
Someone in the crowd of locals pushed the city magistrate Satendra Kumar Singh who fell down and sustained injuries on his hand this led to the commotion. The team of cops there than controlled the situation and informed the senior officers who immediately rushed to the spot.
District magistrate Anil Dhingra and SSP Ajay Sahni reached there with a heavy force and arrested 8 persons including Imam of the mosque that was sealed.
The Mosque, as well as the area around it, was sealed after which the Senior officials than took out flag March in the area along with force. A heavy force has been deployed in the area.
Circle Officer Dinesh Shukla claimed the situation as under control and said that the residents have been warned against violation of the Lock down.
https://www.thestatesman.com/india/8-persons-including-imam-of-mosque-booked-under-nsa-for-opposing-sealing-in-meerut-1502876648.html
------
Mideast
Israeli president rejects Gantz's request for more time to form unity government
12 April 2020
A months-long political paralysis further persists in the Israeli regime after its President Reuven Rivlin turned down a request by Blue and White chairman Benny Gantz for a two-week extension to form a coalition government.
In a statement on Sunday, the President's Residence said that Rivlin had not granted Gantz, an ex-military chief and the current Knesset speaker, a 14-day extension he requested a day earlier to form a coalition government.
Gantz had argued that the COVID-19 pandemic and the Passover holiday had caused delay in his talks with other parties to form a government.
Last month, the Israeli president gave Gantz a four-week time to reach an agreement with other parties, most notably the right-wing Likud party headed by Prime Minister Benjamin Netanyahu, to form a power sharing government.
Three previous elections– in April and September 2019 and in March this year – tuned out to be inconclusive as no party could secure the necessary 61-seat, in the 120-seat parliament, to form a government. The Netanyahu's bloc only managed to win 59 seats.
Gantz's mandate to form a government will end by midnight Monday, prompting the desperate Knesset speaker to assure Rivlin that he was near an agreement with Netanyahu.
Although Netanyahu has said that he is open to negotiations with Gantz, it does not seem that an agreement between the two on a unity government be on the horizon, as the Israeli president stressed that the two were not close to any agreement.
"The president made his decision after also speaking to ... Netanyahu, who did not confirm in their conversation that the parties are close to signing an agreement that would lead to a unity government," the statement said.
It also said that if Gantz and Netanyahu did not reach an agreement to form a unity government by midnight Monday, "and if the number of recommendations for each candidate does not change, the task of forming the government will return to the Knesset and a period of 21 days will begin during which Knesset members can form a majority to recommend an agreed-on candidate to form a government, who would have 14 days to do so."
Any lawmaker who can secure 61 recommendations would be tasked by the president to form a government. If Knesset members fail to agree on a peer, the regime has to prepare itself for holding yet another election.
As the right-wing religious bloc urged Rivlin on Sunday to tap once again Netanyahu to form a coalition government, a number of public figures petitioned the High Court of Justice in the same day that the Israeli president should not be allowed to task the premier with forming government, citing the three criminal indictments on corruption charges that are pending against Netanyahu.
It seems that Netanyahu intentionally does not reach an agreement with Gantz, hoping that during a fourth election he might secure the parliamentary majority necessary to grant him both a powerful government and immunity from prosecution.
https://www.presstv.com/Detail/2020/04/12/622890/Rivlin-Gantz-unity-government-Netanyahu-Knesset-elections--
------
Iran's UN mission: Sanctions enemy's '5th column' in fight against pandemic
12 April 2020
Iran's Permanent Mission to the United Nations in New York has issued a message to member countries, saying that the brutal sanctions imposed by the United States on the Islamic Republic act as the enemy's "fifth column" as they compromise the country's ability to control the ongoing pandemic of new coronavirus known as COVID-19.
Here's the complete text of the Iranian Mission's message, which is entitled, "The Impacts of US Sanctions in the War Against Coronavirus":
The entire world is now facing a World War Against COVID-19. This relentless and highly contagious virus, as the common enemy of the whole human family, is seriously threatening the lives of all with no distinction as to nationality, race, color, religion or gender.
At this common fight, all of humanity is on the same front. But, despite our tireless efforts, according to the World Health Organization (WHO), the virus is clearly "accelerating".
We MUST win this battle by standing united, going beyond mere "expression of solidarity" and demonstrating "solidarity in action" as well as well-coordinated international cooperation.
To succeed quickly and sustainably, we must ensure that no individual, family, community or nation is left behind as no nation will be spared and no one will be safe until everyone all over the world is safe.
Any act whatsoever restricting the ability of a nation to tackle the crisis would let the disease spread like wildfire and consequently weaken the global fight against the pandemic.
A clear example is the continued application of unilateral sanctions, which undermine the related ability of targeted nations and the whole world to fight the pandemic. Accordingly, their application under current unprecedented global health crisis involving all nations is against the common interests of humanity.
In short, in our common fight against COVID-19, sanctions, by undermining our front from within in favor of the enemy, function exactly like the "fifth column". It is but a treachery.
While Iran is experiencing one of the worst outbreaks of the coronavirus, the US sanctions – which, according to the US officials are the most extensive sanctions ever imposed on a country -- are drastically hindering Iran's efforts to identify and treat patients and effectively prevent the spread of the virus.
This is despite the fact that Iran's medical facilities, doctors and nurses are among the very finest in the world, and the professional nature of its national efforts to suppress COVID-19 is highly acknowledged by the WHO.
To escape from the disgrace of the illegal and immoral nature of sanctions, the US officials continue to claim that humanitarian and medical needs are exempt from sanctions.
On 27 February 2020, the US Treasury finalized with much fanfare "The Swiss Humanitarian Trade Arrangement" (SHTA) allowing certain humanitarian transactions with Iran. However, this narrow channel does not match Iran's humanitarian needs in the current situation.
The United States has forced SHTA to pursue a very tight and tough procedure, under the pretexts like "ensuring the upmost transparency" or "enhanced due diligence" -- requiring companies to provide extensive information to the Treasury Department every month on the Iranian beneficiaries of the goods, the Iranian companies' business relationships and financial details and alike -- thus making it practically very difficult for companies to trade with Iran.
Additionally, almost impossible or cumbersome nature of transferring Iran's reserves blocked outside the country to the designated Swiss bank, not only does not allow the SHTA to function properly now but may actually render it redundant in a matter of few months.
Likewise, recently several companies that supply the medical equipment required to fight the coronavirus have stopped shipping to Iran because the current US sanctions regime makes the shipping of such items to Iran almost impossible.
Moreover, the only message of the U.S.' additional new sanctions, imposed in the midst of the coronavirus outbreak, is that companies must avoid doing any business with Iran, even if their work is humanitarian in nature.
In short, the US sanctions regime, including its related penalties, is extremely broad and has created a compliance minefield for the legal trade with Iran and consequently, medical suppliers and relief organizations simply steer clear of doing business in Iran in the fear of accidentally getting caught up in the US sanctions' web.
From the start of the COVID-19 outbreak, Iran has received emergency aid from neighboring and other countries as well as the WHO and certain humanitarian organizations, which are highly valuable and much appreciated in current trying times.
However, for a vast country like Iran with a population of nearly 83 million, which is among the worst impacted countries by COVID-19, such emergency aid is not the panacea as, under the current pandemic, donor countries themselves face their own crises. Accordingly, neither Iran nor any other country can rely only on emergency aids.
In the World War Against COVID-19, either we will win together or we will lose together. But we MUST win it through, first and foremost, rendering massive support to the most needed developing countries.
It is also essential that each and every country could use, freely and fully, its own resources to effectively suppress the pandemic, which is impossible without immediate removal of all sanctions on banking, insurance, transportation, medical, industry, energy, exports, imports and the like.
This is what the international community is calling for. Such strong and repeated calls have recently been made including by the United Nations Secretary-General, the WHO Director-General, the United Nations High Commissioner for Human Rights and some other international dignitaries as well as many former and current statesmen and stateswomen, parliamentarians, religious leaders, academia, non-governmental organizations and civil society institutions.
To prevent further deterioration of the situation as a result of the COVID-19 pandemic, the international community must not allow the continued application of inhuman and unlawful sanctions to harm the very health and lives of the world citizens.
Under the current global pandemic, urgent removal of all sanctions is in the interest of all humanity and hence a must. To prove that we are mature enough to care, in addition to our own, about the life of the rest of the humankind, this is the right thing to do which must be done promptly.
https://www.presstv.com/Detail/2020/04/12/622889/Iran-UN-mission-Sanctions-enemy%E2%80%99s-%E2%80%985th-column%E2%80%99-in-fight-against-pandemic
-----
KRG rejects 'unfounded' reports claiming mosques will be reopened during Ramadan
11 hours ago
ERBIL (Kurdistan 24) – The Kurdistan Region's Ministry of Endowments and Religious Affairs on Sunday rejected reports claiming that the government would allow the reopening of mosques for the holy month of Ramadan throughout the autonomous region as restrictions remain in place to limit the spread of the new coronavirus disease.
Ramadan is set to begin on the evening of April 23 and will end on May 23. The Kurdistan Regional Government (KRG) ordered in March that mosques were to remain closed indefinitely as places of large gatherings are at high risk of spreading the coronavirus to a large number of people.
A ministry statement affirmed that claims of such sites reopening for Ramadan are "unfounded." It noted that the government looks forward to the day services can finally be resumed, but stressed that protecting the health and lives of the public remains a top priority as the outbreak lingers.
The statement also said that the ministry would not issue the decision of allowing the reopening of places of worship. It is, instead, a task for the KRG's Higher Committee to Combat the Coronavirus.
In his Easter message to Christians in the Kurdistan Region, Prime Minister Masrour Barzani stated, "I know the heavy burden on all faiths; our churches, mosques and temples remain closed to protect people against #coronavirus."
In early March, the KRG ordered the closure of all religious services, as well as restaurants, coffee shops, and other entertainment or sports venues. This was followed by strict curfew measures two weeks later that the government has extended and expanded on multiple occasions.
The number of coronavirus cases in the Kurdistan Region has reached 330, among which four have died and 149 have recovered, a statement from the regional Health Ministry said late Sunday.
The disease has infected over 1,350 people across Iraq, according to numbers reported by Baghdad, despite strict measures instituted by the authorities in Baghdad and Erbil to contain it. Baghdad has reported 76 deaths due to COVID-19 and 601 recoveries.
kurdistan24.net/en/news/e30a638c-d418-4ef1-882f-31e68b1fbcf0
-----
Turkish court indicts 20 Saudis for murdering Khashoggi
13 April 2020
A Turkish court has accepted an indictment brought against 20 Saudis, including two former associates of Saudi Crown Prince Mohammed bin Salman, for the brutal murder of prominent dissident and journalist Jamal Khashoggi in Istanbul in 2018.
The 117-page indictment prepared by Istanbul prosecutors was accepted by the city's Heavy Penal Court No. 11 on Saturday, Turkey's state Anadolu news agency reported.
According to the document, Mansour Othman M. Abbahussain, working as major general and intelligence officer in Saudi Arabia, "was tasked in the office of bin Salman and instructed by Asiri to bring Khashoggi back to the country and to kill him if he resisted," the agency reported.
Khashoggi, a former advocate of the Saudi royal court who had become a critic of bin Salman, was killed and his body dismembered by a Saudi hit squad after being lured into the Saudi consulate in Istanbul on October 2, 2018.
The Washington Post, for which Khashoggi was a columnist, reported in November that year that the CIA had concluded that bin Salman personally ordered his killing.
Agnes Callamard, the United Nations special rapporteur for extrajudicial summary or arbitrary executions, has said there was credible evidence that the crown prince and other ranking Saudi officials were individually liable. She has called for an independent and impartial international inquiry into the foul play.
Riyadh has spurned all the allegations linking the killing to bin Salman and instead claimed that the murder was committed by a "rogue" group.
After being assigned to the mission, Abbahussain brought together a 15-strong kill team, including himself, for the murder which he broke into three groups tasked with taking care of intelligence, logistics, and negotiation, the indictment reads.
The indictment charges al-Asiri and al-Qahtani with incitement to deliberate killing through torture and seeks aggravated life sentences for both.
A Turkish daily releases what it says are transcripts of audio recordings from inside Saudi Arabia's consulate in Istanbul on the day when Saudi government agents killed dissident journalist Jamal Khashoggi.
It recommends the same sentence for the rest of the Saudis, saying they were in consensus over killing Khashoggi if he refused to return to Saudi Arabia and acted on the decision taken to commit the crime.
https://www.presstv.com/Detail/2020/04/13/622904/Turkey-Saudi-Arabia-indictment-Khashoggi-bin-Salman
-----
'Sustainable ceasefire prelude to political settlement in Yemen'
13 April 2020
Iran's top diplomat, Mohammad Javad Zarif, has said that a sustainable ceasefire in the war-torn country of Yemen sets the ground for a political settlement of the crisis arising from Saudi Arabia's five-year war against the country.
Speaking with United Nations Secretary General Antonio Guterres during a phone call on Sunday, Zarif stressed that there is no military solution to the conflict in Yemen.
Last week, the Saudi-led coalition claimed it was halting military operations in support of UN peace efforts and to avoid the outbreak of the coronavirus in the country.
Days after the so-called Saudi-led coalition claimed to have halted its aggression in Yemen due to the COVID-19 outbreak, the Yemeni Army has announced that it repelled several Saudi assaults on various fronts in just one day.
Yemeni officials have described Riyadh's announced truce as a "deceitful" measure "meant to mislead the world public opinion"
https://www.presstv.com/Detail/2020/04/13/622897/Guterres-Zarif-Yemen-Saudi-truce
------
Turkey's interior minister resigns over lockdown decision, Erdogan rejects
12 April 2020
Turkey's Interior Minister Suleyman Soylu said on Sunday (April 12) he was resigning from his post over the implementation of a two-day curfew in major Turkish cities to tackle the coronavirus outbreak.
Turkey announced the weekend lockdown late on Friday, but in the brief time before it went into effect many people rushed out to buy food and drink in the country's commercial hub Istanbul, a city of 16 million people, and other cities.
The lockdown decision was taken with good intention and aimed at slowing the spread of coronavirus, he said. Lockdown ended at 2100 GMT on Sunday.
Turkish President Tayyip Erdogan has not accepted the resignation of Interior Minister Suleyman Soylu, the Turkish presidency said on Sunday.
"The resignation of our interior minister has not been accepted by the president, he will continue his duty," the presidency's communications directorate said.
Turkey's death toll from COVID-19 has risen above 1,100, with more than 50,000 confirmed cases since first patient diagnosed a little over a month ago.
https://www.presstv.com/Detail/2020/04/12/622893/Turkey's-interior-minister-resigns-over-lockdown-decision,-Erdogan-rejects
-----
Iran says OPEC+ meeting to review Mexico's share of oil supply cuts
12 April 2020
An Iranian Oil Ministry official says members of the Organization of Petroleum Exporting Countries and allies, a grouping known as OPEC+, are holding a fresh meeting via video-conference to decide the share of Mexico in a series of cuts to the global oil supplies agreed earlier this week.
Oil Ministry spokesman Kasra Nouri said that the meeting had already started on Sunday and energy ministers of the OPEC+ countries were joining in.
He said the reason for the emergency meeting was to decide whether Mexico, a non-OPEC oil producer, should be excluded from a massive oil supply cut agreement reached on April 9 or if the share of the North American country should be reduced from an initial 400,000 barrels per day (bpd) demanded by other members.
"Probably, the reason for this sudden meeting is to remove Mexico from this agreement or to modify the share of this country from the oil production cut agreement," said Nouri.
The official said that Iranian Oil Minister Bijan Namdar Zanganeh was at his office in Tehran to attend the meeting via video conference. He said that other OPEC+ ministers had yet to join the meeting.
OPEC+ members, comprised of major producers like Saudi Arabia and Russia, agreed on Friday to cut their output by 10 million bpd until June and then reduce the cuts over the course of the next two years.
Members of the grouping also demanded a further cut of 5 million bpd by other producers including the United States to help boost oil prices in a market which has been seriously affected by the lack of agreement among major suppliers and a new coronavirus pandemic
https://www.presstv.com/Detail/2020/04/12/622884/Iran-OPEC-Mexico-cuts
------
Arab world
How young Arabs are reacting to the COVID-19 crisis through art
RUBA OBAID
April 13, 2020
JEDDAH: Everything is changing as the coronavirus disease (COVID-19) rages on. Humanity is facing the biggest global crisis of this generation, where the impossible has already happened and things have suddenly overturned.
The current crisis has imposed radical changes on the way people practice daily life. Even the simplest acts of love, compassion and solidarity have taken new forms that are completely strange from what humans used to consider normal, whereas the greatest act of love is to stay away from your loved ones.
Saudi artist Lina Amer used her art to express sentiments of Muslims across the world who are unable to visit mosques due to COVID-19. She showed mosques' prayer rugs printed on a human heart depicting Muslims' longing for mosques and prayer gatherings.
Consequently, art and music production has also been affected. Arab artists are using their talents in different ways to enhance community connections, spread awareness, express appreciation and document history.
Saudi artist Lina Amer has used her art to document the effect of COVID-19 on the religious practices of millions of people around the world.
Saudi Arabia closed mosques for the customary five daily prayers as well as Friday congregations in March, many other countries took similar measures. Amer pictured mosques' prayer carpets printed on the human heart with the caption "Pray at home, March 2020."
Across Muslim countries, the call for prayer has partly changed, muezzins had to replace the penultimate part of the adhan — "Hayya Alasalah" (come to the prayer), with "pray where you are," or "pray at home."
Interpretations of sacred texts can change too in the time of the pandemic. Concept artist Yasmin (@yasmintoon) used a verse from the Qur'an that tells the story of the two sons of Adam, Able and Cain, to refer to the danger of handshaking as a greeting norm during the COVID-19 pandemic.
The verse reads: "If you will stretch forth your hand towards me to slay me, I am not one to stretch forth my hand towards you to slay you surely I fear Allah, the Lord of the worlds," (5:28)
While Asma Khamis (@a0sma.k), Omani painter and graphic designer, chose to send more than one message in her work where she substituted a sanitizer for an engagement ring.
"First, I wanted to express how brides feel, whose weddings were postponed or canceled because of the crisis," Khamis told Arab News, adding: "It is intended to console those women by reminding them that sacrificing their special day indicates a high sense of responsibility towards the health of the community."
Khamis also wanted to say that sanitizers have become more important than jewelry because they help to preserve health. There is no more valuable gift than sanitizer because they are rarely available in the market.
Regardless of the obvious downside of this crisis, artists like Khamis see that it has given them two important things: "It has given us the time and a new problem, which is a new space for work and inspiration."
Other artists used their work to express their appreciation to health workers, like Bahraini artist and art director Sayed Al-Majed (@almajed.art).
Al-Majed pictured a medical staff member raising their hand with the victory sign using the line drawing technique, which he said "indicates interdependence, coalescence and unity between humankind, and the line ends with the heart symbol which indicates life, love, giving as well as gratitude to health workers."
Al-Majed said: "I believe that artists have an ethical and societal responsibility to devote their art in facing this crisis by spreading awareness and extending thanks and appreciation to the defenders of all humanity at this stage of our lives: Health workers."
Amal Al-Ajmi (@al.up2sky) from Kuwait agrees with Al-Majed that artists should use their art to spread awareness but she added that art has to be an antidote to the growing sense of alienation, isolation and anxiety.
"I hope that artists play a positive role in this difficult period because it is unfortunately very stressful and uncertain," Al-Ajmi told Arab News. Al-Ajmi decided to use art as to declare an ironic statement, by drawing a Khaliji woman wearing niqab and a man covering his face with a mask adding the caption "it is the niqabi men era."
Her work comes after a tweet by a Saudi influencer who wanted to promote niqab as obligatory for Muslim women said: "People are racing to buy masks to protect them from corona, while Islam discovered the treatment a 1400 years ago when it ordered the wearing of Niqab to as a protection against viruses." The tweet went viral and was deleted days later after it received a lot of criticism.
Michelangelo's legendary painting "The Creation of Adam" will always find its place in every trend and will forever inspire artists and internet meme creators. Ibrahim Al-Baker (@ibxrm) reconceptualized the painting by adorning one hand with henna as it reaches from behind the door to the hand of her lover who holds a sanitizer.
Al-Baker used a sentence from a popular Khaliji song and reworded it saying, "I stand at your door bewildered and sanitized."
Similarly, collagist Razan Al-Naas (@razangryffindor) from Libya used the same hands from Michelangelo's painting to place them under a huge sanitizer bottle, to resemble how suddenly sanitizers gained an existential meaning and an intrinsic value.
In the same sense, designer Anas Al-Absi (@anas.alabsi.design) has placed the sanitizer in what Michelangelo depicted as God's hand outstretched to Adam.
In another piece, Al-Nass explained how quarantine measures are not new for people living in war zones, "In Tripoli, you can't spell quarantine without war."
On the social impact of the pandemic, Moroccan artist Ichraq Bouzidi pictured how distancing has impacted society's hospitable social habits, especially the Atay or Moroccan mint teatime, which is central to social life.
Bouzidi pictures two Moroccan neighbors continuing their teatime tradition though the windows, socializing while maintaining social distancing. One woman appears to pour traditional mint tea from her window to her neighbor's cup reached out from the other window and the caption reads, "Confinement Story: So close no matter how far."
The piece also reflects another important phenomenon that appeared during the crisis, which is the revival of the use of windows and balconies in different societies around the world.
https://www.arabnews.com/node/1657736/saudi-arabia
-------
UAE buys Israeli missile system for Libya rebels: Report
April 12, 2020
AhlulBayt News Agency (ABNA): The United Arab Emirates (UAE) has paid the Israeli regime to deliver an advanced anti-aircraft missile system to the Libyan rebels under the command of renegade general Khalifa Haftar, a report says.
The Libya Observer on Saturday cited the New Arab newspaper as reporting that the UAE's purchase of the missile system was an effort to boost Haftar's forces trying to overtake the Libyan capital, Tripoli, and unseat the internationally-recognized government there.
"The UAE has signed a contract with Israel to provide Haftar with an air defense system made by [an] Israeli defense firm. The system has been transferred to Egypt in order to send it to pro-Haftar areas after training some of Haftar forces' military officers on how to use it," the report said, citing sources.
While the Emirates had traditionally been one of the many Arab countries to side with the Palestinians in the Israeli-Palestinian conflict, it has increasingly warmed up to the Tel Aviv regime in recent years.
They have been fighting to overrun the Libyan capital since April last year but have been bogged down on the city's outskirts since the start; and in recent days, they have been suffering heavy losses in intensified fighting. The rebels have lost a dozen commanders, armored vehicles, ammunition supplies, and at least three fighter jets and one cargo plane.
Fighting around Tripoli intensified in recent days after the rebels breached a March 21 humanitarian truce that had aimed to allow a focus on efforts to combat the coronavirus outbreak in the North African country.
Last Tuesday, Libyan government forces said Emirati drones had carried out two airstrikes in support of Libyan rebels near the city of Sirte.
Libya plunged into chaos in 2011, when a popular uprising and a NATO intervention led to the ouster of long-time dictator Muammar Gaddafi.
Since 2014, two rival seats of power have emerged in the North African country — the United Nations-recognized government of Prime Minister Fayez al-Sarraj, and another group based in the eastern city of Tobruk, supported militarily by Haftar's rebels.
https://en.abna24.com/news//uae-buys-israeli-missile-system-for-libya-rebels-report_1024859.html
-------
OPEC+ oil producers to cut output by 9.7m barrels
FRANK KANE
April 12, 2020
DUBAI: Big oil producers led by Saudi Arabia and Russia agreed on Sunday to cut output by 9.7 million barrels a day as energy markets grapple with the fallout from the coronavirus pandemic.
The biggest oil deal in history was clinched after three days of hard bargaining, two "virtual" meetings by video conference and a special meeting of G20 energy ministers.
SaudiArabia's energy ministry (@MoEnergy_Saudi) the moment a deal was agreed between #Opecplus oil producers to cut production by 9.7 million barrels a dayhttp://arab.news/6n7x4
The tipping point was a compromise by OPEC+ — the alliance of OPEC members and non-OPEC producers — to accommodate Mexico, which had resisted pressure to cut output by 400,000 barrels a day. US President Donald Trump intervened to ease through the special Mexico terms, under which it will reduce output by much less than other OPEC+ members.
"The big Oil Deal with OPEC Plus is done," he said. "This will save hundreds of thousands of energy jobs in the United States."
Saudi Arabia's energy minister Prince Abdulaziz bin Salman, who chaired the meeting, said the cuts would amount to 12.5 million barrels per day, because of higher output in April from Saudi Arabia, the UAE and Kuwait.
"I am honored to be a party of this historic moment and historic agreement," Prince Abdulaziz told Reuters.
The UAE's energy minister Suhail Al-Mazrouei said the Emirates is committed to reducing its oli production from the current level of 4.1 million barrels a day.
The production cuts will take about 10 percent of global oil output off the market from May 1. Global demand for crude is down by at least 20 percent.
On Tuesday, Saudi Aramco will release its "official selling prices" for crude in May, a key indicator of how the Kingdom thinks the market will go.
Aramco agreed to cut output by 23 percent under the OPEC+ deal, and delegates at the virtual conference said there could be further reductions — about 3.5 million barrels — from other big producers such as the US, Canada and Norway, whose output is in decline because of the pandemic.
After the agreement was reached, Kremlin spokesman Dmitry Peskov said: "The whole world needs it. That's because the global economy will be on the brink of uncontrolled chaos in prices, on energy supplies, unless there is such a deal."
Leonid Fedun, head of one of Russia's big oil companies Lukoil, said he expected the oil price to remain in the $30-$40 range after the deal. Nigeria's energy minister, Emmanuel Kachikwu, said he hoped for a rise of at least $15 on oil's closing price last week of $32.
Oil producers will be waiting anxiously to see how news of the cuts is received by crude markets when they open after a Western holiday weekend and the prolonged OPEC+ and G20 talks.
Matt Stanley, oil broker at Starfuels in Dubai, said: "Whatever way the 10 million barrel cut is finally agreed, it is not enough to balance the markets."
https://www.arabnews.com/node/1657651/business-economy
------
Saudi Arabia records 7 more coronavirus deaths and hundreds more cases
RAWAN RADWAN
April 12, 2020
RIYADH/JEDDAH: Saudi Arabia's health ministry has announced 429 new coronavirus cases and seven more deaths during a press conference on Sunday.
Dr. Mohammed Abdl Al-Aly, ministry spokesman, said there are currently 3,642 active cases with 65 cases in critical care, and there had been 41 new recoveries, taking the total number of recoveries to 761.
Of the seven new deaths, one was a 90-year-old male in Al-Hofuf and a 53-year-old male in Makkah. Both are Saudis and had prior health conditions.
The remaining five were residents aged between 38 and 63. They lived in Makkah, Madinah and Jeddah. Most of the five also had prior health conditions.
Riyadh has the highest number of confirmed cases at 198, Makkah has 103, Madinah has 73 and there are 19 confirmed cases in Jeddah.
The ministry announced there were more than 40,000 people in self-isolation, monitored by health officials from the start of the outbreak.
There are currently 7,000 people in accommodation set aside by the Ministry of Tourism for the duration of their isolation period, and 2,000 of these are Saudis who have returned to the Kingdom from overseas.
The spokesman said that 95 percent had been cleared after finishing their required 14-day quarantine as laboratory tests confirmed their lack of infection, and just 5 percent had been confirmed.
The ministry is advising people to get their information from official sources and has a dedicated web page for updates about disease numbers in the Kingdom (covid19.moh.gov.sa).
The 937 number provides medical consultations, referrals and treatment requests 24 hours a day throughout the week.
https://www.arabnews.com/node/1657591/saudi-arabia
------
Campaign launched to distribute meat to Makkah's needy
April 12, 2020
JEDDAH: A meat distribution campaign has been launched in Makkah to help needy people affected by the coronavirus curfew period, the Saudi Press Agency reported.
Makkah Gov. Prince Khalid Al-Faisal launched the campaign, which is managed by the Islamic Development Bank Group (IDBG). Saudi Arabia's Project for Utilization of Hady and Adahi, which is in charge of supervising animal sacrifice during the Hajj and distributing meat to Muslims around the world, is participating.
Dr. Bandar Al-Hajjar, chairman of IDBG and Adahi, said that the project allocated more than 15,000 carcasses, equivalent to 150,000 kilograms of meat, for distribution to families affected by the precautionary measures against the coronavirus pandemic in Makkah, in cooperation with charitable societies, neighborhood associations and charitable endowments centers.
He said the distribution was made directly to families, while the meat was also added to food baskets and provided to charitable endowments that provided meals cooked daily for the neediest families, where some endowments provided more than 2,000 meals a day.
https://www.arabnews.com/node/1657726/saudi-arabia
------
OPEC's historic deal may still not be enough
APR 12, 2020
On April 12, a meeting of the Organization of the Petroleum Exporting Countries (OPEC) and ten other oil producing countries (known as OPEC+) reached a historic deal to cut 9.7 million barrels per day (bpd) to meet the historic challenge of a COVID-19-driven drop in demand. But as the oil market digests OPEC's and OPEC+'s largest-ever single oil production cut in the face of an overwhelming demand shock, the question remains: will it be enough?
Following the spectacular collapse of OPEC+ negotiations in early March, a price war between Saudi Arabia and Russia flooded the market just as the impact of COVID-19 on global oil demand was coming into sharp relief. The oil price dropped precipitously, from about $50 for Brent crude in early March to a low of under $25, before rebounding back above $30 over the past few days. With oil consumption continuing to drop, available global oil storage appeared to be the next massive problem—there literally would be nowhere else to put surplus oil.
OPEC+ called an emergency meeting on April 9 and the Group of Twenty (G20) called a special session on April 10—and after nearly four days of overnight negotiations (including the intervention of US President Donald J. Trump) an agreement was reached. The 9.7 million bpd cut by OPEC+, bolstered by a pledge to cut an additional 2 million bpd by Saudi Arabia, the UAE, and Kuwait, is the single largest collective market action since the creation of OPEC itself. The United States, Brazil, and Canada are projecting a combined 3.7 million bpd "organic cut" (production declines due to market forces) and there are reports that several G20 members will make an additional announcement on April 13 that could bring total production down by 18-19 million bpd.
However, with a projected 30 million bpd decline in demand in April, it is not clear that the herculean effort will be enough to stop the falling oil price. What the agreement will do at a minimum, however, is delay the rapidly approaching crisis in available oil storage. According to analysis from KPLER, an oil market data company, there are only around thirty days of available storage left at current build rates. The cut pushes that deadline back and allows for the chance that the world might avoid the storage crisis altogether.
The deal almost did not happen: First, Russia-Saudi bickering over who was at fault for the collapse of the March 6 OPEC+ talks and the subsequent price war nearly derailed the meeting to begin with, and pushed it back from April 6 to April 9. Second, while by early April both Russia and Saudi seemed to recognize the need for a deal, Russia insisted that the United States participate in cuts, which was politically challenging. Third, Mexico held the talks hostage for three days as it refused to cut the 23 percent required by the agreement.
Two factors played a role in overcoming these obstacles, though it is hard to say which was more important. The sheer necessity of cuts made the deal all but a foregone conclusion. In March, all OPEC+ countries were ready to cut, apart from Russia. As the situation deteriorated, it became obvious that cuts would happen regardless, either through an organized process or through the chaos of maxing out storage. All parties, even Russia, had the incentive to be involved.
In addition, President Trump's intervention in the negotiations—though the United States officially stayed out of them—probably helped resolve several sticking points as countries tried to maximize their own benefit within the framework. Long opposed to OPEC, the US president found himself on several calls with Russian and Saudi leadership, pushing and prodding to make sure the organization did its job. The options the administration presented were often contradictory and bordered on inchoate (floating the idea of a US-Saudi oil production partnership, for example, which seemed to be aimed at Russian fears of being pushed out of the market by the United States.) Much of this was kabuki. To ensure Saudi stuck to the deal even though Mexico was balking—and Saudi Arabia was taking an all or nothing approach to ensure compliance from all parties—the United States threatened to pull troops out of the Kingdom. This was most likely just political theatre. We will never know how much this type of pressure influenced the Saudis, but the deal held together and Trump tweeted a victorious congratulations to all parties.
At the time of publication, Brent futures are up by over four percent. But the next several days of market action will likely be volatile as key elements of the deal and its potential weaknesses become clearer. For instance, to overcome Mexico's recalcitrance, the United States agreed to cut 250,000 bpd and have Mexico pay it back later. No one really knows what this means because at the federal level, the United States has no mechanism to enforce cuts and simply relies on market forces.
Current cuts should continue through July before drawing down and settling to 6 million bpd between January 2021 and April 2022. But the path set out by OPEC+ should be seen as a re-commitment from the group to intervene as the oil market recovers from a COVID-19 induced shock to demand, not as the resolution to a market currently in crisis. While the result of an Easter-weekend negotiation not remove market anxiety, at the very least the agreement should pull it out of free-fall.
https://www.atlanticcouncil.org/blogs/new-atlanticist/opecs-historic-deal-may-still-not-be-enough/
-------
Europe
Planning application for new mosque and community centre is submitted
2 hrs ago
By Chris Young
A vacant plot of former allotment land on Moor View Drive, near Bradford Moor Golf Club, is the subject of a new application.
The application is for the construction of a new Masjid (mosque) and community centre that will provide 560 square metres of teaching and praying facilities, a library, 131 square metre workshop, crèche and 110 square metre exhibition space.
It says the new facility, which will be much larger than the existing madrassa, will "act as a beacon for the local community."
According to the recently submitted planning application, once the new centre is up and running the existing Madrassa on Hustler Street will be used as a women's and elderly day centre.
As well as the two storey mosque building, the plans include a 41 space car park on the site, although the application suggests most people will likely walk to the facility.
It adds: "The new building will enhance the existing character of the surrounding area by providing a significant and a quality piece of contemporary architecture.
"The community centre will potentially aid promoting private events, which could be held in the communal hall, local exhibits and localised workshop to further enhance skills and knowledge.
"Typical examples such as classroom workshops, for educating children and adults, training room for courses, and an exhibition area for local creative talent.
"The site is located is a highly sustainable area with good public transport links and is convenient for the high density residential population surrounding the site.
"The majority of the users will walk to the facility and trips will be linked at times with other activities within the area.
"The scale and appearance of the building has been carefully considered to respond gently to the mosques, residential and educational developments near by the site.
"The proposal will enhance the visual amenity within the district; it will act as catalyst to regeneration within the local area.
https://www.thetelegraphandargus.co.uk/news/18371401.planning-application-new-mosque-community-centre-submitted/
-----
Inverness mosque sends out 150 meals for people in need
12 April 2020
MEMBERS of the Muslim community in Inverness have put together 150 meals for people in need.
The initiative was instigated by the city's mosque whose members gave money and ingredients for the meals which were cooked by a team led by Tamjeed Miah, owner of the Wee Delhi takeaway in Milton of Leys.
Volunteers helped pack the meals which will be distributed by charities including Ness Bank Church's food bank project.
Dr Waheed Khan, a trustee of Inverness Mosque, said the meals would go to homeless people or families in need.
"They are freshly-cooked meals and packed in large containers," he said. "We may keep doing it depending on demand.
As with other places of worship the mosque, in the city's Portland Place, is closed due to coronavirus restrictions, something Dr Khan said was difficult for many of the region's Muslims.
Up to 200 worshippers from across the Highlands gather there for Friday prayers during normal times, and it is also used up to five times a day for prayers and other gatherings.
"The main problem is we are a small community and the mosque is quite a major hub," he said. "In history, we have never known the mosque close to people."
"It is a difficult time for businesses, for people's livelihoods, for congregations to worship, but we are providing support through the network we have," Dr Khan said.
https://www.inverness-courier.co.uk/news/inverness-mosque-sends-out-150-meals-196385/
----
Tributes paid to mosque imam who has died after contracting coronavirus
12th April,2020
Hafiz Nisar Gorji who was a maulana (religious leader) at the Ghousia Mosque based on Leamington Road, Blackburn passed away yesterday asged 61. Hafiz Nisar was admitted to hospital last week.
Hafiz Nisar was well respected and known throughout the town and will be remembered by many people who grew up with him as their Islamic teacher. He also led many Taraweeh prayers both in Blackburn and surrounding areas.
This may well have been one of the largest funerals the town has seen. However, it has been announced that ten people will be permitted at the funeral due to the present circumstances.
A message from former student Maksud Yusuf read, "Hafiz Nisar's passing has left the whole community, elders and children in shock. I have known Hafiz Sahib since I was a child. He was a very simple and humble person.
"He used to maintain the Masjid-e-Ghousia at Preston New Road and without his invaluable support, the mosque on Leamington Road wouldn't have been possible.
"Not only his local masjid but he was also doing Khidmat (service) at other local Masajids when needed as matter of emergency and he will be sorely missed by all.
"May Almighty Allah grant him the highest place in heaven and give patience to his children, family, friends and all the members of the Masjid-e-Ghousia."
Leader of Blackburn with Darwen Council, Cllr Mohammed Khan told us today, "I, like many people was very saddened to hear of the death and we are going to miss him dearly.
"For the past few years he would also lead prayers at the Blackburn Islamic Centre on Davenport Road and many were looking forward to hearing him again before the lockdown was announced.
Kas Akhtar posted, "Everyday we hear the passing away of someone we know from COVID-19. Today the news has come that a person who was dearly respected and was the backbone of the masjid community who taught most of you."
Six-year old Mustafa Raza Yusuf said, "Hafiz Nisar used to give me money every time he used to meet me and very kind to me and my sisters."
Yahya Garda, aged 12 said, "It is with great sadness that we mourn the loss of our teacher, mentor, leader and friend, Hafiz Nisar Molisab.
"He was my Hafiz teacher, he always showed me the utmost respect and guided me towards my hifz of the Quran, where I've memorised 19 siparah (chapters) at the age of 12.
"He used to listen to my recital to check that I haven't forgotten anything everyday and used to reward me with £5 each month, this shows the generosity of this amazing man.
"May Allah grant him the highest rank in Jannah and give sabr to his family and friends. I will miss you dearly."
https://www.lancashiretelegraph.co.uk/news/18375326.tributes-paid-mosque-imam-died-contracting-coronavirus/
------
Coronavirus: UK could be worst-hit country in Europe, experts warn, as 'sombre day' sees death toll pass 10,000
7 hours ago
The UK has endured a "sombre day" in its battle against coronavirus as the death toll soared beyond 10,000 amid warnings the UK could be the worst-hit country in Europe.
Matt Hancock, the health secretary, confirmed that some 737 people had died in hospital from the virus, taking the tally of UK deaths from Covid-19 to 10,612 on Sunday.
The news came as one of the government's most senior scientific advisers warned that the UK was "likely to be one of the worst, if not the worst, affected countries in Europe" by the outbreak.
Mr Hancock declined to apologise to nurses being forced to choose between working and staying safe amid a furious row over shortages of protective equipment (PPE)
The health secretary confirmed a new NHS app will warn if people come into close contact with someone experiencing coronavirus symptoms
Commons leader Jacob Rees-Mogg confirmed parliament was on course to return on 21 April with work underway for a "virtual" Commons
Transport staff may be one of the first sent back to work if ministers decide to lift lockdown restrictions on a sector-by-sector basis
Labour demanded the government publish its lockdown strategy as splits emerged in the cabinet over when to lift the most restrictive measures
On Sunday, the UK became the fifth country to surpass 10,000 deaths from coronavirus, after France, Spain, the United States and Italy.
Mr Hancock told the daily Downing Street briefing: "Today marks a sombre day in the impact of this disease as we join the list of countries who have seen more than 10,000 deaths related to coronavirus.
"The fact that over 10,000 people have now lost their lives to this invisible killer demonstrates just how serious this coronavirus is and why the national effort that everyone is engaged in is so important."
Earlier, Sir Jeremy Farrar, director of the Wellcome Trust, warned the UK could end up with the worst coronavirus death rate in Europe.
"Numbers in the UK have continued to go up," he told the BBC's Andrew Marr Show. "And yes, the UK is likely to be certainly one of the worst, if not the worst affected country in Europe."
Pressed on the prediction, Mr Hancock said the "future of this virus is unknowable" and that there had been "a flattening of the curve" as the majority of the public were observing social distancing measures.
The health secretary also confirmed work was under way on a contact tracing app by NHSX, the government's innovation unit, which will alert users when they have been in contact with a person with coronavirus symptoms.
Mr Hancock also came under pressure to apologise to frontline staff amid a growing row over lack of adequate PPE for health workers.
The Royal College of Nursing issued new guidance to its members urging them to refuse to treat patients as a "last resort" if appropriate PPE was not available.
Asked whether he would apologise to medics "who are being put in that impossible position", Mr Hancock did not answer directly, instead saying: "We are working night and day to make sure that we get the right PPE.
"The thing I want to do is pay tribute to the unbelievable of a huge number of people to get to the position where we are in now, which is improving, but we won't rest until we get there."
Mr Hancock said it was "impossible" to commit to a date for all frontline staff to have the protective equipment they need, despite insisting "record" amounts of kit were in the system.
Elsewhere, the prime minister paid an emotional tribute to the NHS staff who saved his life as he battled coronavirus at St Thomas' Hospital, in London.
Mr Johnson singled out Jenny, a nurse from New Zealand, and Luis, from Portugal, for particular praise, who were at his bedside during his three days in intensive care.
The prime minister said it was "hard to find the words to express my debt" to the medics who saved him, adding: "The reason my body started to get enough oxygen was because for every second of the night they were watching and they were thinking and they were caring and making the interventions I needed.
"So that is how I also know that across this country, 24 hours a day, for every second of every hour, there are hundreds of thousands of NHS staff who are acting with the same care and thought and precision as Jenny and Luis."
Mr Johnson will not return to work immediately following advice from his doctors, instead moving to Chequers, where he will convalesce.
The UK has endured a "sombre day" in its battle against coronavirus as the death toll soared beyond 10,000 amid warnings the UK could be the worst-hit country in Europe.
Matt Hancock, the health secretary, confirmed that some 737 people had died in hospital from the virus, taking the tally of UK deaths from Covid-19 to 10,612 on Sunday.
The news came as one of the government's most senior scientific advisers warned that the UK was "likely to be one of the worst, if not the worst, affected countries in Europe" by the outbreak.
Meanwhile, Boris Johnson said the NHS "saved my life, no question" in an emotional tribute to frontline staff as he was discharged from hospital after a seven-day stay.
Mr Hancock declined to apologise to nurses being forced to choose between working and staying safe amid a furious row over shortages of protective equipment (PPE)
The health secretary confirmed a new NHS app will warn if people come into close contact with someone experiencing coronavirus symptoms
Commons leader Jacob Rees-Mogg confirmed parliament was on course to return on 21 April with work underway for a "virtual" Commons
Transport staff may be one of the first sent back to work if ministers decide to lift lockdown restrictions on a sector-by-sector basis
Labour demanded the government publish its lockdown strategy as splits emerged in the cabinet over when to lift the most restrictive measures
On Sunday, the UK became the fifth country to surpass 10,000 deaths from coronavirus, after France, Spain, the United States and Italy.
Mr Hancock told the daily Downing Street briefing: "Today marks a sombre day in the impact of this disease as we join the list of countries who have seen more than 10,000 deaths related to coronavirus.
The fact that over 10,000 people have now lost their lives to this invisible killer demonstrates just how serious this coronavirus is and why the national effort that everyone is engaged in is so important."
Earlier, Sir Jeremy Farrar, director of the Wellcome Trust, warned the UK could end up with the worst coronavirus death rate in Europe.
"Numbers in the UK have continued to go up," he told the BBC's Andrew Marr Show. "And yes, the UK is likely to be certainly one of the worst, if not the worst affected country in Europe."
Pressed on the prediction, Mr Hancock said the "future of this virus is unknowable" and that there had been "a flattening of the curve" as the majority of the public were observing social distancing measures.
The health secretary also confirmed work was under way on a contact tracing app by NHSX, the government's innovation unit, which will alert users when they have been in contact with a person with coronavirus symptoms.
Mr Hancock also came under pressure to apologise to frontline staff amid a growing row over lack of adequate PPE for health workers.
The Royal College of Nursing issued new guidance to its members urging them to refuse to treat patients as a "last resort" if appropriate PPE was not available.
Asked whether he would apologise to medics "who are being put in that impossible position", Mr Hancock did not answer directly, instead saying: "We are working night and day to make sure that we get the right PPE.
"The thing I want to do is pay tribute to the unbelievable of a huge number of people to get to the position where we are in now, which is improving, but we won't rest until we get there."
Mr Hancock said it was "impossible" to commit to a date for all frontline staff to have the protective equipment they need, despite insisting "record" amounts of kit were in the system.
Elsewhere, the prime minister paid an emotional tribute to the NHS staff who saved his life as he battled coronavirus at St Thomas' Hospital, in London.
Mr Johnson singled out Jenny, a nurse from New Zealand, and Luis, from Portugal, for particular praise, who were at his bedside during his three days in intensive care.
The prime minister said it was "hard to find the words to express my debt" to the medics who saved him, adding: "The reason my body started to get enough oxygen was because for every second of the night they were watching and they were thinking and they were caring and making the interventions I needed.
"So that is how I also know that across this country, 24 hours a day, for every second of every hour, there are hundreds of thousands of NHS staff who are acting with the same care and thought and precision as Jenny and Luis."
Mr Johnson will not return to work immediately following advice from his doctors, instead moving to Chequers, where he will convalesce.
https://www.independent.co.uk/news/uk/politics/coronavirus-uk-news-latest-death-toll-worst-country-europe-a9461866.html
-----
Prince William becomes patron of NET; Duke, Duchess share picture of Kensington Palace
By Jaskiran Kaur
April 13, 2020
Prince William continues to carry out royal engagements even during the lockdown due to coronavirus outbreak. The heir to the throne continues to do the good work, virtually and staying in touch with his charitable organisations and patronages as he was announced to have become a patron of the National Emergencies Trust (NET) for 2020.
According to Daily Mail, the Duke of Cambridge happens to be NET's "first patron." Meanwhile, the royal dad continues to stay in touch with the charities working to provide relief to communities during the coronavirus pandemic.
Prince William recently spoke to two local charities that are supported by NET through video-calling and expressed his gratitude and pride for the work they are doing. In conversation with the Moorlands Community Charity, the duke lauded the community spirit and Britain's response to the pandemic. He believes that "Britain is at its best" as the world fights against the fast-spreading virus.
"I think Britain is at its best, weirdly, when we're in a crisis. We all pull together and that community spirit and that community feel comes rushing back quicker than anything else," the duke said in the video.
Apart from work, William also took the time to speak to the charity's representative about their home life in the times of lockdown and had a light-hearted conversation.
Last month, the newly announced patron launched NET Coronavirus Appeal, a fundraising effort to help those who are hard hit by the coronavirus outbreak. As per the report, so far, NET has distributed £12.5 million to local charities that are doing amazing work to provide support to the communities who are most vulnerable at the time of the health emergency.
William spoke to the representative of one of the beneficiaries DalDyDir, a community farm in Wales that is working to provide support to marginalised groups and people with disabilities.
https://www.ibtimes.co.uk/prince-william-becomes-patron-net-duke-duchess-share-picture-kensington-palace-1677490
-----
Africa
FCTA Arrests Islamic Cleric, 2 Foreigners for Violating Lockdown Order
April 12, 2020
By Olawale Ajimotokan
A popular Islamic cleric, Imam Abubakar, was arrested Sunday in the Wuye District of the FCT for contravening the presidential lockdown measures in the FCT aimed at curbing the further spread of coronavirus in Abuja.
It was also gathered that a Turkish and an Angolan citizen, were arrested in Wuse 2 for violating the stay-at- home restriction. Following their arrest, they were taken to the Maitama Police Division.
Attah said early on Sunday morning, the taskforce commenced operation after it was inundated with many calls from residents that the Christ Embassy Church in Durumi was holding a service.
But upon arriving at the scene, they found the allegation to be false as the said pastor was inside the church with some cameramen and some production crew.
"We found out that they were doing their streaming online but the generating set was on. That was the noise they heard that they concluded that it was a church service," Attah said.
He also spoke on the arrest of a man at Area 1 Roundabout, Abuja, found with four military caps belonging to the Army, Nigeria Airforce and Nigeria Navy in his vehicle. He was apprehended and handed over to the FCT Commissioner of Police.
"We then moved to the mosque at Wuye district, because we had gotten several complaints that the man (Imam) had worshipped on Friday. But on that Friday, we were at Kuje so we could not have come back within five minutes. So we got there today and invited him to come and explain; and we cautioned him at the FCT Police Command, Garki", Ikharo said.
He warned the residents, particularly uniformed personnel and diplomats against infringing on the law meant to save the society from contracting the virus.
It would be recalled that I the first week of the lockdown, a pastor, U.U Uden, was equally invited to the FCT Police Command, after he violated the directive. He was, however released after he was cautioned for his action.
https://www.thisdaylive.com/index.php/2020/04/12/fcta-arrests-islamic-cleric-2-foreigners-for-violating-lockdown-order/
-----
Blame self-acclaimed pastors, Imams for religious intolerance –Prof Omonokhua, NIREC executive secretary
12th April 2020
The Executive Secretary, Nigeria Inter-Religious Council (NIREC), Rev. Fr (Prof) Cornelius Afebu Omonokhua, has said that there are no inter-religious conflicts in Nigeria.
The Secretary General of the West Africa Inter-Religious Council (WAIRC) in an interview with Sunday Sun in Abuja, stated that what obtained in Nigeria is that some people in privileged leadership positions in the country use religion and ethnicity to selfishly drive their agenda to satisfy their greed.
Omonokhua, a priest of the Catholic Diocese of Auchi, said: "I think that we really do not have inter-religious conflicts in Nigeria. What we do have is that some people in privileged leadership positions use religion and ethnicity to selfishly drive their agenda to satisfy their greed. Because of hunger and deprivations in many parts of the nation, those at the grassroots level are easily manipulated, while the middle class who should be the voice of the voiceless are bribed to mortgage their consciences."
The former Director, Department of Mission and Dialogue, Catholic Secretariat of Nigeria, also dwelt on the cry of marginalization in the country, saying that only the restructuring of the country will put an end to marginalization.
Going by your experience in inter-religious dialogue, what do you think is responsible for incessant ethno-religious crisis in Nigeria?
I think that we really do not have inter-religious conflicts in Nigeria. What we do have is that some people in privileged leadership positions use religion and ethnicity to selfishly drive their agenda to satisfy their greed. Because of hunger and deprivations in many parts of the nation, those at the grassroots level are easily manipulated, while the middle class who should be the voice of the voiceless are bribed to mortgage their consciences. What takes the form of incessant ethno-religious crisis is the reality of lack of respect for justice and federal character in the distribution of amenities and political positions.
Is the objective for establishing NIREC, its mandate, being achieved considering the spate of religious conflicts across the country?
I think things would have been worse if not for the existence of the Nigeria Inter-Religious Council. To live in peace, social cohesion and justice, the leaders of the two principal religions, Islam and Christianity in Nigeria voluntarily decided to come together to form the Nigeria Inter-Religious Council on the 11th day of September, 1999, and the association having been inaugurated on the 29th day of September, 1999; guided by divine regulations and the dictates of our Creator, determined, within the context of our religions, to forge inter-religions harmony and concord (Preamble to the Constitution of NIREC). This means that we need to have a meeting point outside the newspapers and social media to discuss the way forward. Christian and Muslim journalists who claim to be talking and writing in the name of the Christian Association of Nigeria (CAN) and the Nigeria Supreme Council for Islamic Affairs (NSCIA) should consider the feelings of the others in their utterances and publications. Some of these publications in the media give negative impression. This does not mean that all is well. The scourge of the terrorists is affecting everybody irrespective of religion and ethnicity; hence NIREC insists that we must work together in the form of dialogue of social engagement. I think that the objectives of NIREC are being achieved.
That the government supports NIREC is a sign that the political leaders have the political will to accept the joint recommendations of NIREC. If the expression "government" is not restricted to the president, governors and political leadership, then it means that if we work together, we can be the voice of the voiceless. Together, we can speak truth to power; hence we need a common action to transform fanaticism and radicalism to orthodox faith of the main stream religions. We can make this nation great if we can manage our differences, religious sentiments and ethnic bigotry. The Muslims believe that Islam is a religion of peace, while Christians believe that Jesus is the Prince of Peace. This is why we can together combat terrorism, kidnapping, religious bigotry, ethnic and religious discrimination. Criminality has no religion; hence we must trust that the criminals are not acting out a script of any religion. A criminal is a criminal. It does not matter whether he answers a Christian or Muslim name. If the criminal with a religious name acts in the name of his or her religion, then he or she would cease to be a criminal. Crime is a sin in any religious context. Coincidently, most political leaders in Nigeria are either Christians or Muslims who should serve as ambassadors of their religions in governance.
Most members of NIREC are religious leaders and some of them are also traditional rulers. I interact with them at this level. Besides, I am in contact with some religious and traditional rulers who are not members of NIREC when there is need to do so.
Religious intolerance depends more on the way and manner a person was brought up and trained in religious matters. Every religion has the mandate to evangelize, but those who have been indoctrinated and brainwashed, have the tendency to be fanatics or radicals. Some people who teach and preach religion are not well trained. Self-acclaimed pastors and Imams are the main problems because they are the protagonists of religious intolerance.
President Muhammadu Buhari is being accused of skewering political positions to favour Muslims in the country. What is your position on this?
If President Buhari were a Christian, he would still be accused of promoting Christianity and favouring Christians. I think the issue should not be reduced to religious favouritism. Our emphasis should be the promotion of efficiency, merit and the capacity to do a job irrespective of religion. We have credible Nigerians who can make this nation a great country if we can control our religious and ethnic sentiments. We need leaders who can deliver on their political promises. It does not matter where the leader comes from and his religious affiliation. Sierra Leone has a very high percentage of Muslims. The Muslims vote for credible people such that most presidents in Sierra Leone have been Christians. Only one Muslim has emerged as president in Sierra Leone, yet both Christians and Muslims in that country fast and pray together for peace. In Nigeria, some Christians have benefited from Muslims and some Muslims have benefited from Christians, hence we must not encourage this useless competition between Christians and Muslims in leadership. We should rather compete for credible leaders with integrity.
That you refer to Boko Haram as "Self-Styled Islamic Group" partly answers your question because the main stream or orthodox Muslims believe that Boko Haram does not represent Islam. This means that they are seen as criminals whose dialogue partners must be the law enforcement agents. The best NIREC has done is to prevail on government to bring the terrorists to justice like every other criminal. Criminals should not be given religious labels even if they claim to belong to a particular religion. The repentant terrorists should be debriefed, de-radicalized and reformed, while those who are not ready to repent should face justice.
If the Nigerian Army could excel in restoring peace to Sierra Leone and Liberia, I think the same Army can assist the government to bring the war with the insurgent to a final end as soon as possible if there is political will, honesty and lack of sabotage in the form of military conspiracy.
One of the achievements of NIREC is that it has succeeded in stopping reprisal attacks in the country as a result of the activities of Boko Haram. How did NIREC succeed in achieving that?
This could be credited to the leadership of NIREC and the docility of NIREC members. For instance, December 2019 to February, 2020 was very challenging for the Nigeria Inter-Religious Council. I received messages from some prominent Christians and Muslims who contemplated resigning from NIREC because of the publications that gave the impression that the Christian Association of Nigeria and the Nigeria Supreme Council for Islamic Affairs were in conflict. Knowing that one of the strategies of the terrorists is to cause religious war by turning Christians and Muslims against each other, I responded by sending a text message to the co-chairmen of NIREC who graciously met and put a stop to the spark that could lead to an inferno. I personally reached out to some Christians and Muslims who made provocative statements and publications that were reported in the media. I invited some to NIREC office and appealed to them to take their grievances to NIREC. The scenario of religious combat in the media is what gave rise to the theme of the 1st quarter meeting of NIREC at Sheraton on March 12, 2020. This theme was: "Together we can grow peace for the nation."
This issue was discussed exhaustively in the 1st quarter meeting of NIREC. It depends on how you look at marginalization. The Christians are seen to be marginalized in the North, while the Muslims complain that they are marginalized in the South when it comes to acquiring land to build houses of worship. Whoever feels marginalized in justice has the right to cry out, but we need to look at this whole issue from a more objective and global perspective than political appointments. The cry of marginalization will not stop until the nation considers the option of restructuring.
The way out is to know in the first place that in Nigeria, there is no conflict between Christianity and Islam. Christians and Muslims can enjoy peaceful co-existence through dialogue of life, dialogue of religious experience, dialogue of social engagements, dialogue of theological exchange, dialogue of love and dialogue of encounter.
We need to seek the face of God and see what lessons we can learn from the ongoing COVID-19 that is ravaging the world. Perhaps, God is calling us to review our lifestyle so that we can have change of attitude and values. This time calls for mental re-engineering. This time has shown the need to put our nation in order because no condition and position are permanent. Religious and traditional leaders should ensure that their followers obey the civil authorities in curtailing the virus. We must obey our religious and traditional leaders to observe the rules.
The religious leaders should ensure that religious gatherings are in line with the legislations of government, while the traditional rulers should put on hold, all traditional gatherings and festivals.
There is no ban on religious worship. People are encouraged to pray at home like the Christians of the early Church. Sr. Prof. Teresa Okure (SHCJ), a Professor of Biblical Studies in the Catholic Institute of West Africa (CIWA) did a reflection on "Locked Church Doors and Prohibition of Public Masses as Measures to Stop the Spreading of COVID-19." I think she provides the best answer to your question. I would like you to share this with the public for better enlightenment. According to Sr. Prof. Teresa Okure SHCJ, many people are asking: how can the church run away from COVID-19, especially at this time? Does it mean that the church has no faith; etcetera? The lay faithful feel abandoned by the church. At face value, these questions are very sound. Perhaps, we need to look at this situation in a different light. Who is the church? What is the church? Does our daily going to church on Sundays make us truly the church, body of Christ, family of God? Or a congregation of people coming to sing, dance, feel good; then leave the church without connecting with each other, knowing each other and caring for each other even during the Mass?
https://www.sunnewsonline.com/blame-self-acclaimed-pastors-imams-for-religious-intolerance-prof-omonokhua-nirec-executive-secretary/
------
Finding Community Among The Ashes: How Faith Reaches Across Distance
April 12, 2020
CLAIRE WALLACE
Every Ash Wednesday for over 20 years, photographer Greg Miller has lugged a large format camera around New York City, taking photos on old-school film, and capturing how Catholics across the world perform this devotional together.
This year, instead of New York, he brought his camera to Capitol Hill to photograph members of Congress, their staff, lobbyists and religious leaders and discuss what Ash Wednesday means to them.
Miller arrived in Washington in late February, just as Lent was beginning, but weeks before the coronavirus would come to fully grip the nation. It was a time when people could still attend church and celebrate their faith together.
Some 40 days and 40 nights later, the world feels like a very different place. While Lent has always been a time for self-reflection and sacrifice, this year, with millions sheltering in place and a global pandemic swirling around them, the season has taken on new meaning for many Christians.
Still, in their February conversations with Miller, Christians from all types of different backgrounds paused to reflect on their faith and discuss the importance of religion in their lives. The themes that emerged — community, togetherness, renewal — are perhaps more resonant than they could have known, and help highlight how the bonds faith can connect people across time and distance.
By subscribing, you agree to NPR's terms of use and privacy policy. NPR may share your name and email address with your NPR station. See Details. This site is protected by reCAPTCHA and the Google Privacy Policy and Terms of Service apply.
Jack Cline is a lobbyist for the University of Kansas. When he met Miller, he had only 10 minutes to stop before rushing to a meeting. In that time, he spoke adamantly about his faith.
"Every year I get my ashes on Ash Wednesday, and so it's important to me, my faith is important to me," said Cline. "I think my upbringing, upbringing as a Catholic, has me in a place where it's important to me to reaffirm my faith."
Miller caught Regan, who asked only to be identified by her first name, as she was stepping through the Rayburn Reception Room on Capitol Hill.
Regan was "born and raised" Catholic back home in Marietta, Ga., and said her faith plays a prominent role in her life.
These days, she said, between her internship and school, she doesn't have the chance to attend mass as much as she used to. But Ash Wednesday is important to her, so she made it a point to go to church before work on Ash Wednesday
"My faith guides everything that I do and it encompasses everything that I am," she said. "Being Catholic, we're called to love everyone, you know, and love our fellow Americans and fellow people. I think that being on the Hill, it's definitely guided many things in my life. And it means a lot to me."
Ash Wednesday was a voting day for Congress. In between votes, representatives would rush out to stand in front of Miller's camera while aides watched the clock closely, ushering lawmakers back to the chamber as the next vote started.
Rep. Veronica Escobar (D-Texas) was the first to come off the floor to pose for Miller's camera, the smudgy cross dark on her forehead.
Escobar recounted growing up in a deeply Catholic home on the U.S.—Mexico border. She confessed, though, that she isn't "a great Catholic."
Kidding aside, she called Ash Wednesday a reminder of her values, saying it helps her "honor" what she learned as a child in church.
"I just remember the feeling of renewal," Escobar said. "There's something so beautiful and profound in the tradition of death and rebirth. Death and renewal. Forgiveness. Suffering for a cause greater than you. For people who are bigger than you. For a community. For each other. For one another."
"I always get my ashes on Ash Wednesday," said Rep. Virginia Foxx (R-N.C.). "I think it's a really important reminder of who we are as individuals. And while we have important jobs to do, we are, as the priest says, from ashes you come and from ashes you go. And it's important to understand that."
Faith is a major part of Foxx's life. She reads devotionals daily, and even authored a book about how legislators use faith to guide their policy.
Foxx told the story of how earlier this year, she was visiting her district when a young woman walked up to her and thanked her for a bill she helped pass when she was still in the state senate for foster family aid. Later that same day, Foxx said, she met another man who thanked her for the same thing because he and his wife had been a foster family at that time.
"I am so humbled when I get messages like that, and I tell people those stories so that I hope that will encourage them in their walk of faith ... When I get signs like that ... I believe that I am doing the right thing."
"For me personally, faith is about finding yourself, is about finding your love for others, whether you express it through Catholicism, through Judaism through Islam through any religion," says Julia Beliz, an intern for the House of Representatives. "But for me, faith is ... finding love for others and practicing love for others and myself."
"When I moved back to the U.S., a way to get in contact with my culture in a way [was] to remain practicing, [and] not just my Spanish," Beliz said.
She carries her faith with her daily, asking herself if she is showing love to others; whether "it's something small, getting a coffee, saying thank you in a really nice way, [or] giving a hug."
Rep. Ruben Gallego (D-Ariz.) said his first memory of Ash Wendesday was in a small farming town in Mexico where his family is from. He was a small child, but remembers watching the farmers and ranchers march through the town after work, recieve their ashes and then go home to rest.
"It's always a good reminder for me to get my ashes that I should be a good person, be a good Catholic and try to live up to the values that I think Jesus Christ would want me to," he said of Ash Wednesday.
He continued: "It's great to see some of my colleagues that I did not know were Catholic ... It's great to see them also professing their faith. It makes you feel like there's this little community, both Democrats and Republicans, and they're on the inside and in some kind of club."
Before ever becoming a politician, Rep. Juan Vargas (D-Calif.) studied to be a Jesuit priest. On Capitol Hill, people teasingly call him "Father."
Lent is his second favorite season — "I like Christmas better, to be frank" — because it reminds him to be positive, and to do good things for other people. During Lent, Vargas spends 15 minutes a day reflecting on his actions and whether he is truly living his faith.
Vargas said he has seen how Ash Wednesday can transcend culture. He and his wife fostered a Muslim family during the Kosovo War, and despite a language barrier, they slowly started to find the similarities in their religions. Both Lent and Ramadan call for fasting, prayer and devotionals. But, Vargas laughed, coming back after church with ashes on his forehead still shocked the family they were fostering.
"I chose to become a Christian and to become a Catholic," said the California Democrat. He was baptized in college, but he'd gone to St. Ignatius High School in Cleveland, Ohio, which he says had a "profound effect" on him.
"I look at ways, like, how can we help poor people?" Lieu said. "How can we help people who are homeless? How can we help people who don't have the means to be able to help themselves? I often think about my position as one where you can affect change. And I try to affect change that can help people."
Lieu wasn't sure what he was going to give up for Lent, saying he has already done things like give up red meat and chocolate.
"Maybe I'll give up like some of the favorite things I do, which is watch Netflix when I'm at home," Lieu said. "But then my family might get mad. So we'll see how that works."
Jalina Porter believes that her faith guides her in her job as communications director for Rep. Cedric Richmond (D-La.) It's a service to her country, she said, and "that alone is an act of faith."
"I have core values which stand for integrity and service and family, and I feel like we have all of that right here on the Hill," Porter said, "And as someone who does this work, the work of the people every day, I think it's acting out what ultimately God wants us to do."
Porter is a member of the Congressional Catholic Staff Association who, for a time, lived overseas in Cambodia. While there, she said she attended Catholic services conducted in Cambodia's native language of Khmer. Though she couldn't understand much of the services at first, the order of Mass was familiar to her.
"When you are ... a foreigner in a foreign land, as I was, as a woman, as an African American, as a Catholic, in a Buddhist country," Porter said, "you know what it is to kind of be isolated and alone, but you really aren't alone if you really practice your faith."
Father Patrick Conroy is the chaplain for the House of Representatives. When he met Miller, he didn't have ashes on his forehead. He bowed like he's praying, to show the ashes drawn on the crown of his head instead.
His office is cloistered in the bottom of the Capitol, but it's vibrant with personality. A fish tank sits against the wall, nearly lost among all the Gonzaga University paraphernalia. On a shelf behind his desk hangs a picture of himself blessing the pope.
Conroy has spent nine years as the House chaplain. During his time at the Capitol, he's blessed Barack, Michelle and Malia Obama, and both Bill and Hillary Clinton. Conroy said he originally went to school to become a lawyer so he could become a senator. But God had different plans for him. Conroy joked that God must have remembered his bucket list and put him on Capitol Hill.
"How many people get to do this?," Conroy said, "To have four or five senators acknowledging their sin? ... Not confessing, but acknowledging their sin and their brokenness and their need for mercy together."
Receiving ashes, he stressed, is a devotional and not an obligation. It's an act of desire and hope — and it shouldn't just be "going through the motions."
"God's working in that moment, and oftentimes profoundly more than the person themself even realizes," Conroy said. It's these moments, he added, that remind people that "God takes our humanity seriously."
https://www.npr.org/2020/04/12/829710366/finding-community-among-the-ashes-how-faith-reaches-across-distance
-------
Sudan arrests Islamists for holding protests hostile to Hamdok government
April 13, 2020
(KHARTOUM) - The Sudanese authorities Sunday arrested some Islamists who organized two protests calling to overthrow the transitional government on the backdrop of the economic crisis
Musa who is a leading member of a new group called the United Popular Movement organized two demonstrations on Thursday and Sunday to protest the living conditions in the country and the "neo-liberal" reforms undertaken by Hamdok government.
In a statement released on Sunday, the group condemned the arrest of Musa and twenty other people as well as two women who participated in Sunday's protest.
"The movement declares its full rejection of this abhorrent repression that we announced its downfall last April (2019) when the spirit of the revolution defeated the lust for repression".
The two protests by the Islamist group were organized under the health emergency measures banning gatherings and meetings. The police last Thursday surrounded the protest but did not disperse it despite the ban.
The Prime minister on Sunday evening issued an emergency decree imposing sanctions on people who violate the restrictive measures banning the spread of coronavirus.
On Sunday the police dispersed a protest a women-protest organized by the United Popular Movement calling for the removal of the government of the Forces for Freedom Change.
Also, they chanted slogans such as "Down with neo-colonialism" referring the Western support for Hamdok government or "One army, one people" in a call for a military takeover.
After a waging a campaign hostile to Hamdok government on the social media during the past months, the Sudanese Islamists try to use the endemic economic crisis and its consequent social stresses to organise protests paving the way for military intervention.
https://www.sudantribune.com/spip.php?article69210
------
South Asia
Plan being reviewed to form partnership government with Ghani: Tahyanj
13 Apr 2020
Bashir Ahmad Tahyanj, a member of the electoral team of Abdullah Abdullah, has said a plan is under review to form a partnership government with Mohammad Ashraf Ghani.
In a video message released late on Sunday, Tahyanj said the key members of the electoral team of Abdullah will review the plan which will later be presented to Ghani.
He did not disclose further information regarding the plan but warned that the supporters of Abdullah are prepared for further actions if Ghani rejects the proposed plan for partnership.
Tahyanj also added that the plan has been prepared based on the repeated request of the international community, specifically the United States.
This comes as tensions remain high on political level following the controversial announcement of presidential elections and parallel presidential inaugurations by both Ghani and Abdullah.
Reacting to the tensions, Washington announced late last month that it is cutting $1 billion in aid to Afghanistan, warning that a further reduction of $1 billion would follow if the tensions are not resolved.
https://www.khaama.com/plan-being-reviewed-to-form-partnership-government-with-ghani-tahyanj-04652/
-----
Afghan forces kill the shadow governor of Taliban for Wardak province
12 Apr 2020
The Afghan forces killed the shadow governor of the Taliban group and his 4 accomplices during a clash in central Maidan Wardak province.
The 203rd Thunder Corps in a statement said the Afghan forces responded to a Taliban attack while acting in self-defense, killing Wali Jan alias Hamza, the shadow governor of Taliban for Wardak.
The statement further added that the security forces also 4 other Taliban militants and wounded 8 more during the clash.
The security forces destroyed some weapons and munitions belonging to Taliban militants during the clash, the 203rd Thunder Corps added in its statement.
https://www.khaama.com/afghan-forces-kill-the-shadow-governor-of-taliban-for-wardak-province-04649/
----
BSTI asks 20 companies to ensure quality production, marketing during Ramadan
Apr 12,2020
The Bangladesh Standards and Testing Institution on Sunday asked 20 leading food products manufacturers in the country to produce quality products and market them accordingly during the month of Ramadan.
The BSTI sent separate letters to the companies urging them to ensure quality production and marketing of products mostly consumed at Ifter and Sehri during the fasting month.
The companies concerned comprise those engaged in production and marketing of drinking water, soft drink powder, fruit syrup, fruit juice, carbonated beverages, ghee or clarified butter, vermicelli, noodles, pasteurised liquid milk, puffed rice, edible oil and other consumer products.
The BSTI, in a press release, said that the products were included in the list of the 181 items for which obtaining a standard certification from the institution was mandatory.
However, many unscrupulous traders produced these products in unhygienic and dirty environments and supplied them to the market during Ramadan without the BSTI certification.
The testing body sent letters to PRAN Foods Ltd, TK Group, Akij Group, Transcom Beverage Ltd, City Group, Meghna Group, ACI Group, BRAC Dairy and Food Project, Bangladesh Edible Oil Ltd, New Zealand Dairy Ltd, Bashundhara Multi-food and beverages ltd, Abul Khair Ltd, Square Foods Ltd, BD Foods Ltd, Sajeeb Corporation, Swiss Bakery, the Bangladesh Super Shop Owners Association and the Bangladesh Milk Producers Co-operative Union Ltd (Milk Vita).
https://www.newagebd.net/article/104280/bsti-asks-20-companies-to-ensure-quality-production-marketing-during-ramadan
-----
Afghanistan records 58 new positive cases of coronavirus in the past 24 hours
13 Apr 2020
The Afghan authorities recorded 58 new positive cases of the novel coronavirus (COVID-19) in the past hours, the Ministry of Public Health (MoPH) said Monday.
Waheed Mayar, a spokesperson for the Ministry of Public Health, said 38 people infected with disease have so far recovered.
Mdeanwhile, the officials said 28 of the positive cases were recorded in southern Kandahar province where the total number of the positive cases have climbed to 75.
Similarly, the authorities recorded 13 new positive cases in capital Kabul, 6 new cases in Nimroz, 3 in Tarkhar and one in northern Kunduz province.
The authorities in western Herat province reported that they have recorded 7 new positive cases of COVID-19 in this province.
https://www.khaama.com/afghanistan-records-58-new-positive-cases-of-coronavirus-in-the-past-24-hours-04654/
-----
Afghan forces repulse Taliban attack in Helmand; kill 3 militants, wound 5 others
13 Apr 2020
The Afghan forces repulsed a Taliban attack in southern Helmand province, killing 3 militants and wounding at least 5 others, the Afghan military said.
The Special Operations Corps in a statement said the Taliban militants attacked the security posts in Greshk district of Helmand on Saturday.
The statement further added that the security forces responded to the attack while reacting in self-defense, killing 3 militants and wounding 5 others.
The security forces also arrested a Taliban militant and confiscated a motorcycle following the clash, the Special Operations Corps added.
https://www.khaama.com/afghan-forces-repulse-taliban-attack-in-helmand-kill-3-militants-wound-5-others-04651/
-----
Southeast Asia
Jakarta Islamic Center holds online programs amid Coronavirus outbreak
April 12, 2020
AhlulBayt News Agency (ABNA): Due to the spread of the coronavirus in Indonesia, the Islamic Center of Jakarta continues its activities online.
Since all public centers, schools and universities in Jakarta and most other cities in the Southeast Asian country are closed due to the virus outbreak, the center holds online programs on different media channels.
Daily recitation of Sha'ban supplications with interpretation, classes on religious beliefs, Quran interpretation, Islamic jurisprudence, Mahdaviyat, mysticism and ethics, religious ceremonies on the birthday anniversaries of the infallible Imams (AS), and recitation of Komeil, Nudba and Tawassul supplications are among the programs of the center broadcast live.
Hundreds of Indonesians as well as Malay speakers residing in other countries have welcomed the programs.
The center has also launched internet radio and TV channels and publishes digital books, news and articles.
There are 3,842 confirmed cases of coronavirus in Indonesia and 327 people have died from the disease in the country as of Sunday morning.
https://en.abna24.com/news//jakarta-islamic-center-holds-online-programs-amid-coronavirus-outbreak_1024812.html
----
No Ramadan bazaars nationwide throughout MCO period, announces Putrajaya
13 Apr 2020
BY DANIAL DZULKIFLY
KUALA LUMPUR, April 13 — Putrajaya has announced a nationwide prohibition on Ramadan bazaars throughout the movement control order (MCO) period.
During the daily non-health press briefing today, Defence Minister Datuk Seri Ismail Sabri Yaakob stated that Prime Minister Tan Sri Muhyiddin Yassin has decided to prohibit all forms of Ramadan bazaars as the nation complies with the MCO that will extend well into the Muslim fasting month.
"The prime minister has decided all forms of Ramadan bazaars are not allowed to operate nationwide throughout the MCO period,'' he said.
The announcement today came after several state governments such as Melaka, Selangor, Terengganu, Penang and Kedah stated that no Ramadan bazaar will take place this year.
However, Selangor, Pahang and even the Federal Territories, among others, had announced 'alternative' Ramadan bazaars in the form of online bazaars, drive-throughs, pick and pack services and e-hailing delivery.
On April 3, Ismail Sabri stated the National Security Council would draft a post-MCO standard operating procedure for bazaar operations should the need arise.
https://www.malaymail.com/news/malaysia/2020/04/13/no-ramadan-bazaars-nationwide-throughout-mco-period-announces-putrajaya/1856218
----
Rooted in faith: Islam's role in Indonesia's environmental fight
13 Apr, 2020
For the past 15 years, Iskandar Waworuntu has been implementing and teaching permaculture outside Yogyakarta in Central Java, one of Indonesia's main tourist sites.
In the green hills that surround the city, he founded Bumi Langit, a socio-ecological project that combines the principles of Islam with the activities of a sustainable commune, which vary from farming and food production to education through courses open to the public.
Waworuntu's journey began in 2000, when he embraced Islam and relocated from Bali to Java to explore its teachings. "I married a Muslim and converted," he says. "The very attractive part of Islam, for me, is Sufism, a dimension of love and beauty within the religion."
The position of humans in relation to the environment is at the base of Bumi Langit, which started as a permaculture farm in 2006 but evolved into a foundation that integrates local villagers and provides jobs and practical teachings to implement sustainable agriculture.
Permaculture is based on a carefully planned use of resources and an ethical approach to every aspect of nature. Photo: Bumi Langit
Permaculture is based on a carefully planned use of resources and an ethical approach to every aspect of nature. Photo: Bumi Langit
The project, still a unique concept in Indonesia, is emblematic of a wider scholarly engagement and revival in the practice of environmental action as an integral part of Islam.
"I've always been interested in permaculture because it's about all the elements of life, it's a holistic process," Waworuntu says. "When I started to understand Islam more, and it was confirmed by more scholars, I realised that permaculture can be seen as a way to implement Islam in everyday life and how to be ethical in our relationship with nature, principles that are in the Koran and the Hadith."
Waworuntu firmly believes the principles of eco-Islam and its positive outcomes, rather than frenetic industrialisation and urbanisation, can offer a solution and model to fight the local and global crises that are endangering the planet.
"In Indonesia, most people, or at least a large part of the population, make daily life and important decisions moved by religion," says Muharram Atha Rasyadi, an urban campaigner at Greenpeace Indonesia. "That's why we need to make sure that big Islamic organisations also campaign for environmental causes and help spread the message."
In 2018, Greenpeace Indonesia launched the campaign #pantangplastik to reduce the consumption of single-use plastic during Ramadan. Photo: Greenpeace
In 2018, Greenpeace Indonesia launched the campaign #pantangplastik to reduce the consumption of single-use plastic during Ramadan. Photo: Greenpeace
Rasyadi is based in Jakarta and has been working for Greenpeace for more than two years, focusing on tackling plastic pollution in the fast-developing capital. Indonesia is the world's second-largest plastic marine waste polluter, behind China.
While Waworuntu's utopian vision of a "green Islamic society" is still confined to the hills of Yogyakarta, its basic principles are gaining momentum all over the country. In the past few years, environmental action and awareness among Muslim leaders and the authorities in both urban and local areas have grown, thanks to an increasingly popular Islamic environmental ethic put forward through local initiatives.
"Since 2018, we [Greenpeace] have been working with the Indonesia Ulama Forum, or MUI, one of the biggest religious organisations in the country," Rasyadi says.
"They have a lot of power and they issued a fatwa [a ruling on a point of Islamic law] in 2015 against littering in the streets, so we naturally want to boost their initiatives and collaborate with them to spread the message to a wider audience."
Following the success of the first collaborations and an increasingly successful presence on social media among young Indonesians, Greenpeace also approached the NU (Nahdlatul Ulama), the largest socio-religious Islamic organisation in the country. At its 2019 international congress, "plastic pollution and waste became a topic of discussion for the first time in history and it's such a great start", Rasyadi says.
According to a 2013 study published by Oryx, The International Journal of Conservation, Indonesian Muslim clerics successfully raised awareness about pressing environmental issues by incorporating messages about sustainability and conservation in relation to Islam into their sermons, especially by emphasising some key principles in the Koran that define the role of humans towards nature.
One of these values, the concept of people as khalifah, or caretakers, is one of the driving concepts behind Bumi Langit and many pesantren (Islamic boarding schools) around Indonesia.
The tiny Ilmu Giri Pesantren in Central Java was a pioneer of this movement. The school first rose to prominence at the 2007 United Nations Climate Change Conference in Bali, where its founder Nasruddin Anshory was widely praised for his commitment to using Islamic teachings to preserve the environment. Years later, students of Islam still flock to the campus to learn the best sustainable practices.
"There is a strong sense of self-sustainability in some large pesantren," says Intan Suci Nurhati, a palaeoclimate scientist and palaeoceanographer at the Research Centre for Oceanography of the Indonesian Institute of Sciences and National Geographic Explorer.
"More and more programmes have their own farms and make compost and I think there is room to expand from here and to merge this concept, Islam and environmentalism. Many Islamic organisations have pesantren and they have historically been playing important roles in social and political movements in Indonesia."
As a scientist, an expert on Indonesia's marine plastic waste emergency and a Muslim, Nurhati is always concerned when big religious celebrations are approaching. Beyond educating people and collaborating with the religious authorities, it is important to raise awareness among food sellers to use organic packaging as much as they can, she says. Some habits, like buying quick meals on the streets of big cities, are deeply embedded in popular culture and hard to change.
Waworuntu also sees consumerism and globalisation as the biggest threats to a greener Indonesia and planet. But while there is still a lot to do, "if within my own community, I can change things, I'm already happy to be able to make a difference locally", he says.
https://www.scmp.com/print/week-asia/lifestyle-culture/article/3079366/rooted-faith-islams-role-indonesias-environmental-fight
----
Indonesia orders Ramadan travel curbs as nation sees biggest daily jump in coronavirus cases
April 12, 2020
Indonesia on Sunday imposed curbs on public transport ahead of the annual exodus to home villages that marks the end of the Muslim fasting month, in a bid to slow the spread of the coronavirus in the world's fourth most populous country.
Still, the curbs are far short of the calls by some health experts for an outright ban on the Ramadan travel home as the number of cases and deaths from the new disease jump.
Indonesia confirmed a record daily increase of 46 deaths on Sunday to 373, the highest official toll in East Asia after China, where the novel coronavirus was first detected. The number of cases rose by 399 on Sunday to 4,241, also the biggest daily increase.
Health experts have been warning that Indonesia faces a surge in cases after a slow government response masked the scale of the outbreak.
About 75 million Indonesians usually stream home from cities at the end of Ramadan, due this year at the end of May. There are concerns this could further ignite the spread of the disease.
Public buses, trains, aeroplanes and ships will be allowed to fill only half their passenger seats, under a new regulation that also limits occupation of a private car to just half the seats, while a motorcycle may be ridden only by one person.
President Joko Widodo has been criticised for rejecting calls for a ban on the Ramadan travel home, as well as stricter lockdowns such as those imposed by neighbours.
Widodo has instead sought to persuade people to stay put by expanding welfare programmes. He has opted for widespread social curbs in some areas, letting local authorities decide on closures of schools and offices, and bans on mass gatherings.
Indonesian authorities have ramped up testing in the past week with more than 27,000 people checked for the virus as of Sunday, up nearly three-fold in a week.
"This shows we are being serious in looking for positive cases in communities," Achmad Yurianto, an Indonesian health ministry official, told a televised briefing.
But the number of tests in Indonesia, a country of 260 million people, is still dwarfed by many neighbours. Malaysia, with 32 million people, has tested more than 71,000, while Vietnam had done nearly 119,000 tests by Friday.
The Philippines also saw a record jump in coronavirus-related fatalities, with 50 more reported on Sunday taking the total to 297, with 4,648 infections. Authorities in Manila have taken a tougher response than Indonesia by locking down much of the country, but they have also not undertaken mass testing.
Southeast Asia as a whole has recorded some 18,000 infections and nearly 800 deaths, sparking concern about an escalating crisis in parts of the region.
https://www.indiatoday.in/world/story/indonesia-orders-ramadan-travel-curbs-as-nation-sees-biggest-daily-jump-in-coronavirus-cases-1666186-2020-04-12
-----
Coronavirus: Muslims prepare to mark Ramadan, Hari Raya at home
APR 13, 2020
When the Muslim month of Ramadan begins later this month, Republic Polytechnic associate lecturer Suhaila Jamat and her family will have no choice but to stay indoors.
With circuit breaker measures in Singapore to curb the spread of the coronavirus, there will be none of the last-minute shopping at Geylang Serai bazaar or visits to Al-Istighfar Mosque to perform the special terawih prayers every night.
Instead, the 40-year-old will be attending religious classes via video-conferencing app Zoom, listening to Quranic podcasts and watching live religious talks on Facebook.
"It will surely be a little sad for us since we won't be able to meet our religious teachers and friends like we usually do," she told The Straits Times. "We have to remind ourselves that we're facing a global pandemic and certain measures have to be put in place to ensure the well-being of everyone."
Mass worship at mosques, temples and churches in many parts of the world have been put on hold as a measure against the Covid-19 pandemic, which has so far killed more than 100,000. Over 1.7 million have been infected by the coronavirus, which causes Covid-19.
For Muslims who traditionally spend hours during Ramadan at mosques to perform the congregational terawih prayers or to study the Quran, among other things, the closure of mosques by governments is yet another blow after Saudi Arabia early last month suspended the all-year umrah pilgrimage in Mecca on fears of the virus spreading to Islam's holiest cities.
In South-east Asia, government leaders have joined forces with top clerics and religious organisations to calm anxieties as drastic measures were swiftly put in place.
The Religious Affairs Ministry in Indonesia - the world's biggest Muslim-majority nation of 270 million people - has issued a circular outlining prayer and worship guidelines for Ramadan, which include limiting gatherings such as breaking-of-fast dinners and terawih prayers. Muslims need not go out of their homes to pay the compulsory zakat, or alms; officials will go door to door to collect them instead.
Most mosques in the capital Jakarta, the epicentre of the country's outbreak, have shut but many in the provinces remain open.
The Indonesian Ulema Council has urged mosque-goers to wash their hands often and to use their own prayer mats so as to minimise contact.
In Malaysia, the government last Friday announced that it would extend the country's movement control order, or MCO, to April 28, in a bid to further flatten the Covid-19 infection curve.
Police officers with protective masks outside the National Mosque in Kuala Lumpur last month. Malaysia said last Friday that it would extend its movement control order to April 28. PHOTO: REUTERS
Next door, the Islamic Religious Council of Singapore, or Muis, told The Straits Times that mosques were expected to remain closed at least until May 4, or 11 days into the Muslim sacred month.
If the circuit breaker measures are lifted, mosques may reopen, but even so, precautionary measures could remain, including limits on the number of congregants, he added.
"So the community will still be advised to perform terawih with their family at home. The same will apply for Aidilfitri prayer as well," the spokesman added. The Aidilfitri prayer is typically conducted in large congregations at the mosques after the fasting month.
For instance, Ms Suhaila, her husband, aircraft engineer Mohammad Shahrin Sharni, 42, and their four young children have been participating in Quran reading sessions with their extended family via Zoom. "During this period, we should make the best use of technology and the time we have to continue our religious practices at home," said Ms Suhaila.
After two weeks of praying five times a day at home, Indonesian cameraman Harry Syahrizal, 50, was "missing the mosque too much" and he sneaked out for a quick congregational prayer with his neighbours.
Wearing a face mask, he joined a few dozen residents to pray at the mosque near his home in South Tangerang, outside Jakarta. He washed his hands with soap and water before entering the mosque, and maintained his distance from other congregants.
"It's boring at home, I just miss praying with others at the mosque," he said. "The virus can't be seen so of course I'm scared if I get infected. But my neighbourhood is still in a safe zone with no known cases and I'll be very careful," he said.
Indeed, governments continue to face an uphill task in getting the faithful to adhere to social distancing measures for extended periods.
The strongest resistance has come from the Tabligh Islamic missionary movement, which has roots in India dating back a century.
Devotees adhering to social distancing measures during a prayer session at a mosque in Temanggung in Central Java province, Indonesia, earlier this month. PHOTO: REUTERS
When contacted by The Straits Times by phone, Malaysian draughtsman and Tabligh member Mohamed Irfan Majid, 38, said: "We shouldn't be shutting down mosques. In fact, it should be open to all so that everyone can pray and mend their relationship with God.
But with greater awareness of the dangers of Covid-19, members of the Muslim community, even opposition politicians and conservative clerics, are putting their differences aside to battle the pandemic together.
The Islam-based Prosperous Justice Party in Indonesia, or PKS, the main opposition party to President Joko Widodo's administration, said it supported calls to worship from home.
The party's senior leader Mardani Ali Sera told The Straits Times: "We strongly agree as religion cares for the safety and well-being of the people.
"When necessary, enforcement has to be carried out to ensure people follow proper health protocols at the mosque, such as maintaining cleanliness and distance."
The Academy of Medicine of Malaysia has called for the movement control order to be extended until June to discourage city dwellers from returning to their villages, known locally as "balik kampung", to celebrate a number of upcoming festivals, including Hari Raya.
Malaysian pharmacist Norazrin Noah, 29, said: "The extension is necessary. The earlier we take action, the faster we can contain the spread of the virus and get back to our normal life. There's a need for this sacrifice."
Singaporean Zalina Hasan, a 46-year-old senior finance executive at a mosque, said: "I'm sure the majority of Muslims, especially those who often go to the mosques, feel very sad.
https://www.straitstimes.com/asia/muslims-prepare-to-mark-ramadan-hari-raya-at-home
-----
Hadi divides nation even as M'sians face Covid-19
Mazilamani: I am hoping that this letter is not written by PAS president Abdul Hadi Awang, and if he had, he is not building his wealth in heavens but soiling himself with the dividing and degrading concerns of the worldly.
There are so many Muslim scholars spread throughout the country as those from other religions, teaching the adherents about faith, love and devotion, and to respect everything and everybody as valuable creation to beautify the world.
These people keep themselves completely isolated from politics and from activities creating division among mankind. They see everybody as God's creation.
They will be prepared to sincerely help anybody without bothering to know their race and religion. Some have developed certain inner qualities through prayers and devotion to know the motive and intentions of others. Yet they never deny them help.
I saw such great souls in my kampung off Jalan Kuala Kangsar (Ipoh) during the 1969 Black Episode. The kampung folk rallied to help and protect the only Indian family living among them with a full month's grocery requirement. They treated us as their own.
So, who is the cause for the large-scale division among Malaysians? The spineless race-based politicians. Hadi has played his divisive game to the fullest. If the letter is proven to be his, then God Bless his soul, for he has chosen an unforgiveable time to produce it.
Han G: What we are witnessing is the culmination of Hadi's blatant lies about Pakatan Harapan when he allegedly wrote this dishonest letter in Arabic. But then again, in Islam, he once said, telling lies is permissible in some circumstances.
Fine, Hadi, if you want to lie, you deal with your own lies yourself but when you start to lie for political reason, then you cannot escape the utter disgust the people have for you.
Seriously, we are totally flabbergasted with Hadi's behaviour. He is a sower of discord and hatred locally and now, globally. Worst of all, Hadi goes around wearing the outward piety on his sleeve to cover his inward filth of an unrighteous, racist character who is so much about himself.
I cannot understand how on earth people could be so deceived to think he is a pious man. With such a politician in our midst, we could only plead that God has mercy on Malaysia.
Kim Quek: Hadi's baseless accusations and slanders have confirmed beyond any doubt that he is a totally immoral and vile person. His position as a special envoy to the Middle East would pose a real danger to this country, besides degrading the image of Malaysia in the Islamic world.
I pity Prime Minister Muhyiddin Yassin for making this Hadi appointment, which was obviously done out of political expediency to ensure PAS' continued support to Muhyiddin's wobbly leadership.
What Hadi wrote to leaders in the Middle East in his capacity as Malaysia's special envoy carries the authority of the entire Perikatan Nasional (PN) government. Hence, Muhyiddin has no choice now but to clarify whether he agrees or disagrees with the content of Hadi's letter.
Vijay47: One would have thought that elevation to the post of ambassador-at-large would be an honour, however unworthy one may be to hold such office.
Hadi, greatness has been thrust upon you. Not just mere recognition, it is a sacred responsibility you bear towards Malaysia even as you wander lonely as a cloud across the arid deserts of the Middle East.
You represent your country; our flag should be embedded in your heart and on your forehead. In carrying out your functions, you speak for all Malaysia, you hold the torch for all our races and religions, even if such egalitarian considerations are difficult to encounter in that neck of the woods.
At home, you may have your countless differences with others, others may not view you with any respect or trust, but those are afflictions to be resolved within our borders, not to be paraded internationally for the world to again laugh at us.
The man who carries himself with self-respect in turn earns respect, Hadi, but where he reveals himself to be a crude, misbegotten specimen of the human race, he receives appropriate opinion.
Whether one is an ambassador, high commissioner, envoy, or consul, your every action and statement must reflect wisdom and dignity.
I grant that being afar from former prime minister Dr Mahathir Mohamad and the hordes in Kelantan and Terengganu, you may have problems understanding what 'dignity' is, despite congresses to trace this missing attribute.
I am not especially fluent in Arabic, apparently your new-found national language, but in Bahasa Malaysia, 'masih ingat tak'? (can you still remember?), I believe the word is 'maruah'.
I wish you all the best, sir. May you blossom with this holy appointment and may you remain there for as long as qisma (fate) decides.
Gerard Lourdesamy: The letter is beneath contempt and the work of an unprincipled hypocrite. This person was and is willing to enable corruption, kleptocracy, abuse of power and immorality in the name of his religion.
There are only 61 percent Muslims in Malaysia. In GE14, about 40 percent of them voted for Umno, 30 percent for PAS and 30 percent for Pakatan Harapan that included PKR, DAP, Bersatu and Amanah.
Between 1999 and 2015, PAS cooperated with PKR and DAP in one form or another. In fact, PAS formed the state governments in Kedah, Penang, Perak and Selangor together with PKR and DAP between 2008 and 2015.
So, how were Muslim rights eroded then? Even in PN, PAS is working with GPS, MCA and MIC that consists of Christians, Buddhists and Hindus. In Sarawak, Christians make up a whopping 44 percent of the population and yet PAS can work with GPS.
Isn't all of this a tacit acceptance of religious pluralism and the reality that 39 percent of the population is non-Muslim? If PKR leader Anwar Ibrahim's morality is in doubt, what about Azmin Ali from Bersatu and Hishammuddin Hussein of Umno?
Where is the evidence that Harapan parties like PKR and Amanah are supported by Western liberalists and Zionists? The DAP is a Chinese majority party with Indians and Malays, but what about parties like MCA and MIC that are 100 percent communal-based?
Hadi can spin the appointment of the backdoor PN government, whichever way he wants to, but the fact remains that in GE14, the majority of the voters supported Harapan and not Umno or PAS who were not aligned then. So, where is the mandate from the voters for PN?
Royal approbation does not give legitimacy to the PN government when it does not have the mandate of the people. The PN's fear of facing Parliament suggests that their leaders may have deceived the king when they claimed to have majority support in the Dewan Rakyat to form the government.
The least they could have done was to go back to the people for a fresh mandate. Even Islam does not condone treachery and the betrayal of voters. If PAS was consistent in their support of Mahathir, Muhyiddin would never have become the 8th PM. So, what moral high ground do they claim to have?
David Dass: Hadi's statistics are wrong. Chinese are 26 percent, Indians are seven percent, the non-Muslim indigenous population of Sabah and Sarawak are 12 percent. That makes it 45 percent. Muslims are therefore 55 percent of Malaysia.
PAS was a member of the coalition comprising PKR and the DAP prior to GE14. So PAS actually had no problem being in a coalition with DAP and Anwar's party PKR.
Of course, it was PAS under Nik Aziz Nik Mat, who placed a clean government above everything else. Nik Aziz was austere, absolutely incorruptible and believed in the universal humanity of mankind. He implicitly believed in the equality of all citizens.
And he was the first leader to rush to the church that was attacked by arsonists as a gesture of friendship and to show the world that his hand of protection extended to people of all religions. And Harapan under Mahathir did nothing to reduce the aid and privileges that had previously been given to Muslims.
FlabberPro: At such a time when the world is facing a deadly pandemic, Hadi is still playing his political games of lies, deceit and self-righteousness.
If Hadi is truly a religious and godly person, shouldn't he look into the plight of his fellow tabligh attendees who are suffering as a result of the spreading virus? Why is he busy demonising the non-Muslims in Malaysia?
His story is also twisted and worst, as a religious guru, he is defending an immoral government just to stay in power. Isn't that greed manifested? A ravenous wolf in a sheep's clothing, he is.
Federal Bakery: Leaders across the world are concerned about the Covid-19 epidemic and how it will affect large sections of the world's population.
The shortage of medicine and medical apparatus to combat the epidemic is foremost in the minds of political leaders and the frontliners who place their own lives at risk daily. The UN chief is calling for a ceasefire so that valuable resources wasted in wars can be applied to ameliorate the dangers of the epidemic.
Amidst all that, Hadi is talking about Zionists and Freemasons. And he is our envoy to where? Where does he keep his conscience?
The above is a selection of comments posted by Malaysiakini subscribers. Only paying subscribers can post comments. In the past one year, Malaysiakinians have posted over 100,000 comments. Join the Malaysiakini community and help set the news agenda.
https://www.malaysiakini.com/news/520289
-------
Pakistan
Islami Jamhoori Ittehad and Markazi Jamiat Ahle Hadith Call to Re-Open Mosques
April 13, 2020
LAHORE :Islami Jamhoori Ittehad (IJI) president and Markazi Jamiat Ahle Hadith (MJAH) vice-president Allama Zubair Ahmad Zaheer has demanded the government review the closure of mosques in view of the advent of the holy month of Ramazan, and evolve some SOP to allow the believers to pray inside as long as coronavirus threat was not removed.
Addressing a meeting to review the preparations for the month of Ramazan here Sunday, he said that the government should keep in mind that mosques are the house of The Almighty and the doors of blessings for the believers, which must not be closed at a time when the humanity badly needed the blessings of Almighty to avert the coronavirus spread.
He said after the government's planning to open industries and businesses on the assurances of effective measures for coronavirus prevention, they had no justification to keep mosques closed as Ramazan was round the corner.
He said prayer leaders were ready to assure of taking all preventive measures to be prescribed by the government in consultation with religious scholars. He warned that lockdown had pushed entire nation into economic crises, while the closure of mosques was also creating unrest among the masses.
He said absence of worshippers caused serious drop of donations in the mosques, and demanded the government waive off utility bills to mosques for next three months and provide rations relief package to mosques and seminaries.
https://www.thenews.com.pk/print/643575-call-to-re-open-mosques
------
Dozens of healthcare providers infected with Covid-19
April 13, 2020
Ikram Junaidi
ISLAMABAD: As the federal and provincial governments are going to discuss possible extension of lockdown on Monday (today) at a meeting of the National Coordination Committee (NCC), dozens of healthcare providers have been infected with novel coronavirus across the country.
The Pakistan Medical Association (PMA), a representative body of doctors, has blamed the low quality personal protective equipment (PPE) for the tragedy. However, Special Assistant to the Prime Minister (SAPM) on Health Dr Zafar Mirza on Sunday suggested to the healthcare providers to stop irrational use of the PPE.
Meanwhile, three areas of Pakistan — Islamabad, Gilgit-Baltistan and Azad Jammu and Kashmir — have reportedly started flattening the curve with their active response.
In Multan's Nishtar Medical Hospital, as many as 28 doctors and paramedics have been confirmed with Covid-19. Similarly, a number of healthcare providers have contracted the virus in Karachi. These healthcare providers are reported to have come into contact with infected but asymptomatic patients as they were not wearing proper PPE.
PMA representative Prof Dr Shahid Malik, while talking to Dawn, disclosed that some of the doctors had died while a number of others were infected due to unavailability and low quality PPE. "As many as 28 healthcare providers have been infected only in one hospital of Multan. We should understand the magnitude of the problem as a large number of healthcare providers are yet to be diagnosed," he said.
Dr Malik alleged that low quality Tyvek Suits and defective PPE were being provided to the healthcare providers. "Moreover, only N-95 masks can stop Covid-19 as the size of the virus is 300 millimicron and it can easily pass through surgical masks. Yet the government has been insisting that even staff and doctors should wear surgical masks, which are useless," he said.
Dr Mirza, the PM's aide on health, has been claiming that the quality of PPE is according to the international standards.
Dr Malik said it was unfortunate that the government was purchasing ventilators without realising that there was lack of human resources to run them and take care of patients.
In a statement, the PMA said health professionals must be protected all over the country on a priority basis because they and their families were at risk. "So many doctors have been found positive with coronavirus; one of the recent examples is of an ENT professor at Hayatabad Medical Complex, Peshawar, who has tested positive for coronavirus and has been shifted to ICU. He is on ventilator and fighting for his life. Two of our doctors have died so far while fighting on the frontline — Dr Usama Riaz and Dr Abdul Qadir Soomro. Unfortunately, no compensation has been announced yet for the aggrieved families of the deceased doctors," the statement added.
SAPM Dr Mirza told the media that the PPE, especially N-95 masks, were being wrongly used by the health professionals and suggested that only those doctors should wear N-95 masks who were required to wear them as their irrational use would deprive the needy ones of N-95 masks.
He said 14 persons died over the past 24 hours and 367 persons were put on ventilators due to their critical condition. He insisted that 50 per cent cases in Pakistan spread due to local transmission. "Take precautionary measures because casual attitude towards Covid-19 will make the situation uncontrollable," he warned.
While the overall situation in most parts of the country is worsening, Pakistan's capital as well as two other areas Gilgit-Baltistan and AJK have started flattening the curve.
An official of the Ministry of National Health Services explained that the curve is flattened when the number of incoming patients equals the number of recovered patients.
https://www.dawn.com/news/1548753/dozens-of-healthcare-providers-infected-with-covid-19
-----
Sanitation workers urge capital managers to disinfect slums
April 13, 2020
ISLAMABAD: Urging city managers to disinfect the capital's slums at the earliest, a sanitation worker, residing in the G-7 katchi abadi, said people of his community lift garbage and work at hospitals which makes them most vulnerable to Covid-19.
Katchi abadis require extra-precautionary measures due to their peculiar conditions, as most people living in them are sanitation workers who are continually exposed to unhygienic places because of the nature of their work.
Ilyas, a sanitation worker from Metropolitan Corporation of Islamabad (MCI), said a large number of residents of his slum had been performing duties without wearing full safety gear.
Interfaith League Against Poverty (ILAP), a non-governmental organisation, has also raised concern and called for taking urgent steps to protect people living in slum areas.
ILAP President Sajid Ishaq said currently around 60,000 people were residing in 11 permanent and temporary slums in multiple sectors. He underlined the need for sensitisation of people living in slums towards Covid-19 and provision of safety kits to workers, performing sanitation duties across the country.
Mr Ishaq pointed out that a Covid-19 positive case which surfaced in Rimsha Colony should be taken seriously by the authorities. Less care of these people may undermine the efforts of government departments, who have been fighting this virus, he added.
Joint Christian Action Committee President Basharat Khokhar said after medical and paramedical staff, sanitation workers were performing their duties on the front lines against Covid-19.
He said at present there were about 1,200 permanent sanitation workers of the MCI while 800 were working under contractors. Temporary sanitation workers should be given a health risk allowance, he added.
https://www.dawn.com/news/1548718/sanitation-workers-urge-capital-managers-to-disinfect-slums
------
Pakistani court seeks report on Mullah Mansoor's properties in Karachi, Quetta, Peshawar
12 Apr 2020
A court in Pakistan has sought report on purchases of properties by former Taliban supreme leader Mullah Akhtar Mansoor which he reportedly purchased in Karachi, Quetta and Peshawar.
Mullah Mansoor reportedly purchased the properties using his fake identities before a drone strike killed him the tribal regions of Pakistan.
The Anti-Terrorism Court (ATC) on Saturday directed the Federal Investigation Agency (FIA) to submit reports pertaining to the attachment of the properties that Mullah Mansoor had purchased, according to Dawn News.
Dawn News also added that the court also directed the agency to submit a report on the proclamation of the slain Taliban leader's two alleged accomplices, who are absconding in an alleged terror financing and money laundering case filed in July, 2019.
Mullah Mansoor was reportedly killed in a US drone strike in the vicinity of Balochistan province on 21st May of 2016 as he was reportedly on his way from Iran.
The Pakistani officials later confirmed that DNA collection report confirmed that the man killed in the US drone strike was the Taliban supreme leader, Mullah Mansoor.
https://www.khaama.com/pakistani-court-seeks-report-on-mullah-mansoors-properties-in-karachi-quetta-peshawar-04650/
-----
Lockdown ineffective due to mixed signals from Centre, alleges Murad Ali Shah
April 13, 2020
Sindh Chief Minister Murad Ali Shah on Monday said that the reason a lockdown has not been effective in curbing the spread of the coronavirus is due to "mixed signals" from the federal government.
Speaking at a press conference in Karachi, the chief minister lamented the fact that despite his repeated warnings, there has been a lot of back and forth from the Centre on how to effectively tackle the coronavirus outbreak in the country.
"The Covid-19 pandemic is not a provincial or a personal matter — I want to say this very clearly. We cannot make decisions in isolation because their consequences affect everybody."
Shah held the presser hours ahead of the National Coordination Committee (NCC) meeting, to be chaired by Prime Minister Imran Khan, to take policy decisions for containment measures post-April 14.
During today's press conference, Shah maintained that the only way to effectively deal with the pandemic was to learn from the experiences of other countries around the world.
"That's what we did in Sindh, and we have been blamed for enforcing a lockdown without giving it much prior thought. There is no correct way to tackle the pandemic. But, the only way to do so is by taking action," he said.
Shah was addressing rifts between the federal and Sindh governments which came to the fore on Sunday after Federal Minister Faisal Vawda had accused the PPP government of being "inefficient" and failing to contain the spread of the virus.
Shortly after, Sindh Information Minister Nasir Shah and Education Minister Saeed Ghani had held a press conference in which they had defended measures taken by the provincial government and called out the federal government for "lack of cooperation".
"We will make mistakes [in the fight against the pandemic] but the biggest mistake is to not take any action at all," Murad said in today's press conference.
The chief minister added that he had tried to sound an alarm about the situation potentially worsening exponentially early on during the very first NCC meeting.
"I had said that we needed to go towards a planned lockdown. It is possible that my advice would have been impractical at the time, but in hindsight, if we had done so, we would not have been in this situation right now."
The Sindh government had also thought about an effective way to distribute ration, but we had realised that delivering it to people's houses was the only way, he said. "The problem we had encountered was that we required data from institutions such as Nadra to roll out this initiative."
By this time the federal government had introduced their programme, and we supported it wholeheartedly, he said. But we told them that the manner of distributing the cash was not appropriate, he stated.
"We enforced a lockdown to stop people from gathering in an effort to avoid transmission of the disease. But, people gathered in large crowds to receive the cash handout."
"I am tired of repeating this. The pandemic has affected economies around the world, but nothing is more important than people's lives," he said.
"You can revive a lifeless economy but you cannot bring back the dead," he said. The chief minister added that if the coronavirus were to spread to rural areas, there will be no way to stem the spread.
Shah went on to say that the details of all contributions made to the provincial coronavirus emergency fund were available on the financial department's website.
"Our MPAs contributed their salaries towards this fund, and I am thankful to them for doing so," he said. All of the money spent has been put towards the field hospital at Expo Centre, he added.
However, we are unable to procure items, Shah said. "We have asked for help from the federal government in this regard. The federal government is in a better position to bring in ventilators and personal protective equipment."
"We are grateful for what they have done so far, but they have done very little," he said. Provincial governments can only do so much, all points lead back to the Centre, he said.
"If a provincial government can arrange 10,000 testing kits from day one, and an additional 50,000 after that, then we expect more from the federal government," he added.
Shah added that the provincial government was carrying out targeted testing for coronavirus which has allowed them to effectively manage the outbreak.
"During a meeting two days ago, the World Health Organisation said that Sindh is the only province that is carrying out testing according to the guidelines issued by them," he said.
The chief minister also took the opportunity to tell Prime Minister Imran Khan to form a comprehensive national policy with regards to the outbreak.
"We need a national narrative, or a national action plan regarding this," he said. "We became one on the fight against terrorism after the APS attack. Are we still waiting for the same," he asked.
"We want PM Imran to lead. Do not allow for the lockdown to be compromised in any scenario. Do not say that provinces are free to decide, that will be more painful," he concluded.
https://www.dawn.com/news/1548839/lockdown-ineffective-due-to-mixed-signals-from-centre-alleges-murad-ali-shah
-----
Murad orders mobile coronavirus testing facility for slum dwellers in Karachi
April 13, 2020
Tahir Siddiqui
KARACHI: Sindh Chief Minister Syed Murad Ali Shah on Sunday directed the health department to start a mobile facility in katchi abadis of the city to check the spread of the coronavirus.
"I am ready to provide extra kits to different labs," he said, adding that if tested positive the confirmed patients would be shifted to isolation centres.
He said that a large number of positive cases were surfacing in the city's slums. "In katchiabadis people have no space in their houses to stay in home isolation, therefore they would be shifted to isolation centres," he said.
Mr Shah said that 11 hospitals/labs — Aga Khan University Hospital, Indus hospital, Civil Hospital, Dow's Ojha hospital, Jinnah Postgraduate Medical Centre, Sindh Institute of Urology and Transplantation, Ziauddin Hospital, Chughtai Hospital and Gambat hospital — had the capacity of conducting 3,520 tests per day.
He was told that at present a stock of 16,920 swabs, 15,920 Viral Transport Media, 27,000 extraction and 23,700 amplification tests was available with the provincial authorities.
The meeting was attended by Labour Minister Saeed Ghani, Energy Minister Imtiaz Shaikh, Information Minister Nasir Shah, Law Adviser Murtaza Wahab and others. The CM was told that around 200,000 ration bags had been provided to the deserving people at their doorsteps.
The CM was told that the deputy commissioners and their teams were doing the job and time to time a provincial minister inspected the distribution work.
The chief minister once again emphasized the need of keeping ration distribution work confidential. "It must be between the distributor and recipient," he said, adding: "We have to keep in mind the respect and the dignity of the people."
The CM said during the last 24 hours 93 new cases of coronavirus were detected while two more patients died. He said that during the last 24 hours 569 tests were conducted, of them 93 were diagnosed as positive. "The number of tests conducted so far comes to 13,309 while tally of the positive cases has risen to 1,411," he said.
In the Dalmia neighbourhood, is closed with a qanat as part of the stricter restrictions in certain union committees of the city on Sunday.—Shakil Adil / White Star
He said that the number of patients recovered during the last 24 hours was 18 and added that so far 389 patients had recovered and returned to their respective home.
Giving details of the patients, Mr Shah said that at present 645 were in home isolation, 60 at Isolation Centers and 992 under treatment at different hospitals of the province.
Talking about frequency of the age of the patients, Mr Shah said that 71 patients were between one and 10 years, 118 between 11 and 20, 311 between 21 and 30, 260 between 31 and 40, 196 between 41 and 50, 226 between 51 and 60, 152 between 61 and 70, 47 between 71 and 80 and five patients were between 81 and 90 years of age.
"This shows that the people of every age are prone to the virus, therefore we all have to be careful in our movement and must maintain social distancing even at home," he said.
"The ratio shows that the males have been affected more than the females because they frequently go out of their homes and do not care of social distancing as has been advised by experts," he said, adding that then the male members become carriers of the virus and bring it back to their homes.
The chief minister once again urged the people to maintain social distancing and properly observe the ongoing lockdown. "Otherwise we will not be able to contain the virus," he added.
https://www.dawn.com/news/1548729/murad-orders-mobile-coronavirus-testing-facility-for-slum-dwellers-in-karachi
----
North America
As European Countries Celebrate Passover, Easter, and Ramadan, This Is How They're Regulating Religious Worship
April 12, 2020
by Alexis Artaud de La Ferrière
In response to the coronavirus pandemic, most European countries have imposed unprecedented confinement measures on their populations, banning social gatherings and closing public spaces.
Many forms of religious worship require collective participation and physical proximity between participants. So there is a strong public health impetus to ban religious celebrations and to close places of worship to stop the virus spreading. This is especially true as the world's three major monotheistic traditions prepare for the mass celebrations of Passover, Easter and Ramadan.
The European Convention on Human Rights stipulates that freedom of religion can be subject to certain limitations, including where necessary in the interests of public health. In practice, the restrictions European states have been willing to impose on places and practices of religious worship during this crisis vary considerably.
Given that the mode and risk of viral transmission is the same in all these countries, why is there such a divergence in public policy?
As part of my ongoing research on the sociology of religion in the context of the coronavirus pandemic, the table below offers a review of restrictions imposed on collective religious worship in the 27 EU member states and the UK as of April 8. For the purposes of analysis, these policy approaches are grouped into four levels of restrictiveness.
https://nationalinterest.org/blog/buzz/european-countries-celebrate-passover-easter-and-ramadan-how-theyre-regulating-religious
-----
What if Ignored Covid-19 Warnings Had Been Leaked to WikiLeaks?
by Ray McGovern Posted on
April 13, 2020
The British court system continues to mock the Magna Carta. Bowing vassal-like to U.S. pressure it persists with Star Chamber proceedings against WikiLeaks publisher Julian Assange until he is either extradited to the US or winds up dead.
The judicial pantomime under way in London, under the guise of an extradition hearing, would make the English nobles who wrested precious civil rights from King John eight centuries ago sob in anger and shame. But nary a whimper is heard from the heirs to those rights. One searches in vain for English nobles today.
Yet the process stumbles along, as awkward as it is inexorable, toward extradition and life in prison for Assange, if he lasts that long.
The banal barristers bashing Assange now seem to harbor hope that, unlike the case of Henry II and Thomas More, the swords of royal knights will be unneeded to "deliver the Crown from this troublesome priest" – or publisher. Those barristers may be spared the embarrassment of losing what residual self-respect they may still claim. In short, they may not need to bow and scrape much longer to surrender Assange to life in a US prison. He may die first.
For the UK and US barristers and their puppeteers in Washington, salivating to seize the Australian publisher, a deus ex machina has descended backstage. It is called Covid-19 and London's Belmarsh prison is accurately described as a petri dish for such disease. We already know of one prisoner death there from the virus. God knows how many more there already are – or will be.
In refusing to allow nonviolent prisoner Julian Assange to leave that crowded prison (with his immunocompromised condition, weakened lungs, and clinical depression), presiding Judge Vanessa Baraitser leaves an open door to deliver Kings Boris and Donald this "troublesome" publisher by "natural" means. The swords of royal knights are not needed for this kind of faux-judicial, royal screw. And, happily for Lady Baraitser, she may not have to keep washing blood off her hands as Lady Macbeth was compelled to do.
Meanwhile, as all await Assange's demise – one way or the other – his lawyers have had no contact with him for three weeks. They cannot visit him in prison; nor can they even talk to him by video chat, according to WikiLeaks editor-in-chief Kristinn Hrafnnson.
However Assange is eventually dispatched – dead or alive – from Star Chamber and prison, the Empire remains hell-bent on demonstrating that it will give no quarter to those endangering it by WikiLeaks-type disclosures.
The lesson is now abundantly clear to all "troublesome" publishers tempted to follow Assange's example of publishing documentary truth (a function of what used to be called journalism). They will be cut down – whether by "natural" means, or by endless faux-judicial proceedings resulting in lengthy imprisonment, financial ruin, or both.
On Tuesday Judge Baraitser announced that the Assange extradition hearing will resume on May 18, as previously scheduled and that it may drag on into July — Covid-19 notwithstanding. The big question is whether Assange, if he is kept confined in Belmarsh prison, will live that long. Meanwhile, thousands of other nonviolent prisoners are being released from other UK prisons in a humane step to reduce the chances of infection.
As I think of my good friend Julian, what comes to mind are the desperate words of Willy Loman's wife Linda in "Death of a Salesman":
"He's a human being, and a terrible thing is happening to him. So attention must be paid. He's not to be allowed to fall in his grave like an old dog. Attention, attention must finally be paid to such a person."
(On the chance you are wondering, The New York Times, Washington Post, and Wall Street Journal – as well as National Public Radio – have paid zero attention to the extradition hearing in recent weeks – much less to Judge Baraitser's Queen of Hearts-style, "off-with-his-head" behavior.)
The pitiable Baraitser, of course, is simply a cog in the imperial machinery, a self-impressed, self-interested, rigid functionary aping the role of Caiaphas, the high priest beholden to an earlier Empire. "It's better that one man die," he is said to have explained, when another nonviolent truth-teller dared to expose the cruelties of Empire to the downtrodden of his day – including the despicable accessory role played by the high priests.
Here is how theologian Eugene Peterson's renders Caiaphas's words in John 11: "Can't you see that it's to our advantage that one man die … rather than the whole nation be destroyed." ("Nation" in that context meant the system of privilege enjoyed by collaborators with Rome – like the high priests and the lawyers of the time.)
The lesson meant to be taken away from Assange's punishment are as clear – if less bloody – as the crucifixion that followed quickly after Caiaphas explained the rationale. The behavior of today's empire pretends to be more "civilized" as it manufactures stories of rape, leans on ratty satraps in Sweden, England, and Ecuador, and ostentatiously thumbs its nose at official UN condemnations of "arbitrary detention." And, if that were not enough, it also practices leave-no-marks torture.
Meanwhile, those who in an ideal world should be natural allies of WikiLeaks, the media, are cowed, and are as pitiable as Baraitser. Many loudly betray Assange outright.
There is no need now, two millennia later, to erect crosses along the roadside as graphic reminders to intimidate those who would expose Empire's oppression. Civil rights wrested from King John 800 years ago – habeas corpus, for one – have become "quaint" and "obsolete", adjectives applied by that distinguished American jurist, and George W. Bush "lawyer," Alberto Gonzales to the Geneva Convention protections against torture. The successors to the English "nobles" of Runnymede seem to have gone the way of Gonzales.
This is not only a case of "killing the messenger", lamentable as that is. It amounts to cutting off our collective nose to spite our face.
Because most Americans are so impoverished on accurate information, and so misled by the corporate media regarding WikiLeaks – and Assange, in particular – they are blissfully unaware of WikiLeaks' capability to expose crucial information that can head off disaster.
Several Veteran Intelligence Professionals for Sanity (VIPS) have written retrospectives, sharing acute personal frustration at our inability to get important warnings through calcified bureaucracies before calamity struck – real calamities like 9/11 and the unprovoked attack on Iraq that has brought chaos and widespread death.
We have asked ourselves, "What if?" What if WikiLeaks had been up and running before those catastrophes? Would those of us privy to critical – but unheeded – information have turned to WikiLeaks to get the word out? Could those liminal events have been prevented?
"WikiLeaks and 9/11: What If?" is the title The Los Angeles Times gave an Oct. 15, 2010 op-ed by former FBI Special Agent/Minneapolis Division Counsel Coleen Rowley and former Air Marshal Bogdan Dzakovic, who led an elite "Red Team" for the Federal Aviation Administration to probe vulnerabilities of airports and aircraft during the years before 9/11.
After arresting would-be hijacker Zacarias Moussaoui on August 16, 2001, Rowley's colleagues in Minneapolis ran into unconscionable foot-dragging by FBI headquarters functionaries, who would not permit a search of Moussaoui's laptop computer or his personal effects.
In late August, the same Washington functionaries stonewalled an FBI Minneapolis Division supervisor, who emphasized that he was just "trying to keep someone from taking a plane and crashing it into the World Trade Center." (Yes, those were his exact words.) Special Agent Harry Samit, who helped arrest Moussaoui, later testified that the actions of his FBI superiors in Washington constituted "criminal negligence."
This was before WikiLeaks was up and running. Would Samit's sense of duty and his frustration have prompted him to contact WikiLeaks, were it to have been available then and as technically easy to approach (via anonymous drop box) as it continues to be now? Someone should find Samit and ask that question. (Thus far, we have had no success contacting him.)
No one has to ask Federal Air Marshal Dzakovic whether he would have gone to WikiLeaks in desperation over the foot-dragging he encountered at senior levels of the FAA. His story is as painful to hear as Special Agent Samit's, in terms of being ignored and stymied in the period leading up to 9/11.
Dzakovic's "Red Team" included two Vietnam veterans: Steve Elson, a retired Navy Seal lieutenant commander, and Brian Sullivan, a retired Army lieutenant colonel with experience in intelligence and law enforcement. They both join Dzakovic in a loud "Hell Yes," when I asked if they would have gone to WikiLeaks before 9/11, if it were in operation at the time.
That elite Red Team had found weaknesses in airport and airline security nine out of ten times, vulnerabilities that made it possible to smuggle weapons aboard and seize control of airplanes.
Starting in 1997-98, the Team worked feverishly through its chain of command, and got nowhere with its urgent warnings. It then went to the FAA inspector general and, later, the Government Accountability Office; and got nowhere.
Team members then contacted and briefed members of Congress in person; and got nowhere. As a last resort, about a year before the 9/11 attacks, Team members desperately tried to get the media interested in the calamity they could see brewing. This resulted in only two small stories, easily ignored in other mainstream media.
"In the simulated attacks, the Red Team was extraordinarily successful in killing large numbers of innocent people … [and yet] we were ordered not to write up our reports and not to retest airports where we found particularly egregious vulnerabilities… Finally, the FAA started providing advance notification of when we would be conducting our 'undercover' tests and what we would be checking."
Dzakovic has expressed "contempt… for the bureaucrats and politicians who could have prevented 9/11 but didn't." Adding further bureaucratic insult to injury, the 9/11 Commission did not see fit to include any of his testimony in its report.
Many – probably hundreds – of US intelligence analysts knew in 2002-03 that there was no reliable evidence that Iraq had weapons of mass destruction or – still less – had significant ties to al-Qaeda.
They did not have to wait for the conclusions of the five-year Senate Intelligence Committee's study. Announcing the committee's bipartisan findings on June 5, 2008, then Chairman Jay Rockefeller (D-WVA) was unusually direct:
"In making the case for war, the Administration repeatedly presented intelligence as fact when in reality it was unsubstantiated, contradicted, or even nonexistent. As a result, the American people were led to believe that the threat from Iraq was much greater than actually existed."
What does "nonexistent" intelligence look like? And who created it out of nothing? We know the names. No one has been held accountable. One of the miscreants, former Acting CIA Director John McLaughlin, unabashedly regaled a large audience at the National Press Club last October with, "Thank God for the Deep State."
The question, again: surely there was at least one intelligence officer with courage enough to go to WikiLeaks – had it been operating at the time – to out the lies and liars, "undeceive" the American people, and, not incidentally,
possibly head off the war on Iraq. Lt. Col. Karen Kwiatkowski, USAF (ret.), a VIPS member, says she would probably have done so.
As it was, Kwiatkowski, the 2018 recipient of the Sam Adams Award for Integrity in Intelligence, exhibited unusual courage in doing what she could to get the truth out before the attack on Iraq. In a recent posting Karen explains:
"Almost two decades ago, I challenged the status quo in my workplace, the politicized Pentagon, for creating urgency when there was none, publicizing lies when the truth did not support the political agenda. I spoke directly to investigative reporters with Knight Ridder (as portrayed in the [Rob Reiner] film Shock and Awe).
Films and popular media coverage of the truth took a decade to percolate. Had WikiLeaks been available in 2001 and 2002, global awareness of government and corporate lies relating to the Iraq war alone would have saved lives, protected the environment, and slowed or stopped the … wars that still invigorate Western foreign policy. The truth is owned by all of us; those willing to step up and risk careers, reputations, and even their own lives to speak truth to power are a small, and sadly, expendable number. Julian Assange and his vision of simple transparency, for the people, with technical protection for witnesses to evil, has saved lives … and elevated the concept of honesty everywhere. …"
So you say you have not seen the film (in which an actress plays Karen), and you had been wondering how it was that Knight Ridder journalists Warren Strobel and Jonathan Landay were virtually the only newspapermen to see through and report accurately on the widespread lies before the attack on Iraq? Now you know.
The problem, of course, is that – however enterprising, dogged, and professional the behavior of Strobel and Landay, they were largely marginalized as outliers in the mainstream media and were not given much play before the war. Exposure of the lies through WikiLeaks surely would have been more effective.
In terms of fatalities in the U.S., the number of those succumbing to the Covid-19 pandemic already dwarf the total killed on 9/11. True, preparations, going back years, to prevent and/or deal with such a tragedy were inadequate, to say the least. Accountability for that, as usual, is zero, and there is abundant crow for recent administrations to eat. Even though this is not the time for a blame game, one is going full speed ahead. Consequently, it is doubly difficult to separate the fake-news chaff from the wheat.
On Wednesday, ABC News put out a breathless story titled "Intelligence report warned of coronavirus crisis as early as November; analysts concluded it could be a cataclysmic event." The alleged report was said to have been prepared by the US military's National Center for Medical Intelligence (NCMI).
It was alleged to include information from satellite imagery and intercepts, and to have been briefed "multiple times" at the Pentagon and White House, with detailed warnings about the spread of what has become known as Covid-19.
Colonel Dr. R. Shane Day, director of the Center, wasted no time pouring ice water on the ABC report later on Wednesday. Col. Day stated:
"… in the interest of transparency during this current public health crisis, we can confirm that media reporting about the existence/release of a National Center for Medical Intelligence Coronavirus-related product/assessment in November of 2019 is not correct. No such NCMI product exists."
A hint as to the probable motivation behind the original ABC report rests in its pointed suggestion that the "government could have ramped up mitigation and containment efforts far earlier to prepare for a crisis poised to come home." The neuralgic question of how much time it took the Trump administration to take the pandemic seriously is, of course, a legitimate line of inquiry – assuming one stays alert for agenda-laden "breaking news."
There have, however, been other accurate reports of studies done about preparation for a pandemic that the Trump administration ignored.
As for WikiLeaks, even US intelligence officials have begrudgingly acknowledged, in backhanded but unmistakable ways, that WikiLeaks' enjoys an unusually high reputation for accuracy. Documents, including emails and the like, are its stock in trade and considerable pain is taken to verify their authenticity and then let them speak for themselves. So, were WikiLeaks to be given an authentic document with significant information on the reaction of senior officials' anywhere to Covid-19, it would almost certainly be posted.
The name of the game is documents. Daniel Ellsberg's most insistent advice to leakers is: "Always bring documents." With the help of clever, committed friends and the courageous stand taken by a highly principled senior lawyer at The New York Times, Ellsberg made it virtually impossible for the Times to turn down The Pentagon Papers. (One often overlooked, key factor was that the Times knew Ellsberg had also given the documents to the Times' competitors.)
Chelsea Manning and Edward Snowden followed Ellsberg's advice on documents and, in their case, did not need to spend countless hours at a Xerox machine. It's far easier now. Any questions as to why Assange is hated by those who have a lot to hide?
In the coming weeks and months there will be a high premium on the kind of transparency WikiLeaks can provide in publishing information otherwise hidden from the public.
This is particularly the case on the Covid-19 issue, inasmuch as government deliberations and decisions are being "classified,"thereby thwarting the transparency an educated populace should be able to expect.
Ray McGovern works with Tell the Word, a publishing arm of the ecumenical Church of the Saviour in inner-city Washington. His 27-year career as a CIA analyst includes serving as Chief of the Soviet Foreign Policy Branch and preparer/briefer of the President's Daily Brief. He is co-founder of Veteran Intelligence Professionals for Sanity (VIPS). This originally appeared at Consortium News.
https://original.antiwar.com/mcgovern/2020/04/12/what-if-ignored-covid-19-warnings-had-been-leaked-to-wikileaks/
-----
URL: https://www.newageislam.com/islamic-world-news/follow-lockdown-orders-maintain-social/d/121565
New Age Islam, Islam Online, Islamic Website, African Muslim News, Arab World News, South Asia News, Indian Muslim News, World Muslim News, Women in Islam, Islamic Feminism, Arab Women, Women In Arab, Islamophobia in America, Muslim Women in West, Islam Women and Feminism