New Age Islam News Bureau
26 Jan 2020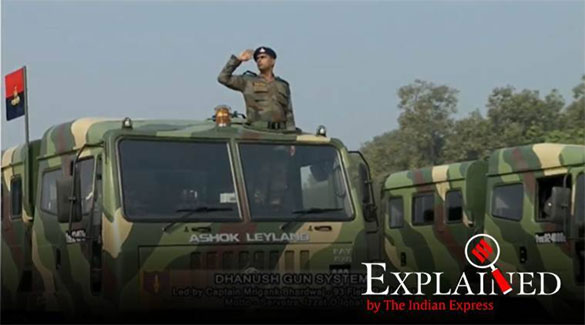 The Dhanush gun system at the Republic Day 2020 parade (Source: Screengrab)
----------
• Al-Azhar To Hold Int'l Conference on Renewing Islamic Thought
• Muslim World League Leads Friday Prayers in Warsaw With Jews In Attendance
• Protesters March Against CAA On London Streets
• Why Pakistan Isn't Taking Sides After Outbreak of US-Iran Conflict
• How The CAA Affects Ties With Afghanistan And Bangladesh
• Muslim Convert Still Celebrates Chinese New Year with Family Every Year
• Christian Authorities Worry About Being Targeted by Boko Haram
• Delta Fined $50K for 'Discriminatory' Removal of Three Muslim Passengers
India
• First Look At R-Day Parade: Dhanush, India's First Indigenous Long-Range Artillery Gun
• After Trump, Feeler by Nepal To Mediate Between India, Pak; Says Revive SAARC
• Muslim bhajan singer, 'Langar Baba', Sundarban doctor among Padma award winners
• Left parties form human chain against CAA
• Shah Rukh Khan: 'I Am a Muslim; My Wife Is a Hindu And My Kids Are Hindustan'
• Assam police book man for 'cut off Assam' remark at Shaheen Bagh
• Cattle smugglers along Bangladesh border switching to narcotics, fears BSF
• Fighting terror: Jammu and Kashmir Police win 108 gallantry medals, CRPF 76
• JeM's self-styled Kashmir chief among 3 killed in gunfight: Police
• India, Brazil decide to deepen anti-terror cooperation
• J-K: Two terrorists killed in Awantipora encounter
• Sharjeel Imam is a curse to Islam: Baba Ramdev hits out at JNU student's remarks
• No bias against Muslims, no persecution of Hindus in Sri Lanka: RSS' Joshi
• Government allows fixed-line, 2G mobile internet across Jammu and Kashmir
• First time in India's history a law discriminates people on religious grounds: Ashok Gehlot on CAA
• Throw out Bangladeshi, Pakistani Muslim infiltrators, says Sena
--------
Arab World
• Al-Azhar To Hold Int'l Conference on Renewing Islamic Thought
• Pope Francis Backs Iraqi Call for Its Sovereignty To Be Respected
• Marking 100 days of demonstration, Lebanese protesters hit Beirut streets
• Three Iraqi protesters killed in Baghdad, south
• Syrian forces advance towards key Idlib city as terrorists block civilians' exit
• Lebanese security forces fire water cannons, tear gas at protesters
• Kurdish authorities move 21 orphans out of Syria al-Hol camp
• Iraqi forces raid protest camps, four killed after Sadr followers withdraw
• Riot police in Lebanon fire water cannons at protesters breaching barricade in Beirut
• Iraq clears protest barriers after massive anti-US rallies
• Saudi Arabia's envoy to UK: We need to do a better job of showing who we are
• Lebanon central bank reassures foreign investors about deposits
--------
Mideast
• Muslim World League Leads Friday Prayers in Warsaw With Jews In Attendance
• Israel Bans Senior Palestinian Cleric from Entering Al-Aqsa Mosque For 4 Months
• US-crafted Israeli-Palestinian plan 'fraud of the century': Erekat
• Trump's Middle East peace plan will be 'historic': Netanyahu
• Tensions run high in Jerusalem as mosques and Muslims targeted
• Palestinian Authority demands cessation of Israeli settler attacks on places of worship
• Turkey quake death toll rises to 31
• Israel strikes in Gaza in response to flammable balloons
• Iran has capacity to enrich uranium 'at any percentage': Official
• Israel's Gantz says to meet Trump on peace plan
• Iran's foreign minister says Tehran still willing to negotiate with Washington
• Iran's Rouhani offers condolences to Turkey over deadly earthquake
• US state terrorism starts end of its presence in region: Iran deputy FM
• Israeli warplanes launch fresh attacks on besieged Gaza enclave
• 8-year-old Palestinian boy found dead, suspected to have been kidnapped by settlers
• Turkey's Halkbank facing fines for avoiding US sanctions case
• Houthi military leaders die in clashes near Sanaa
--------
Europe
• Protesters March Against CAA On London Streets
• French extremist recruiter sentenced to 22 years in prison
• Mnuchin says optimistic about US-UK trade deal
• Prince Charles wants to visit Iran: Sunday Times
--------
Pakistan
• Why Pakistan Isn't Taking Sides After Outbreak of US-Iran Conflict
• New FTA with China is a 'marked improvement'
• NA speaker urges UK to relax visa rules for Pakistanis
• Imran says Modi's 'anti-democratic, fascist ideology' biggest threat to region
• PML-N leader files complaint against Vawda to UK agency
• Embassy in Beijing says 500 Pakistani students in Wuhan
• Buzdar reaches out to disgruntled MPAs
• Pakistan's external affairs to have serious implications: report
• Trials in terrorism cases suffer due to lack of witness protection
• PTI govt faces no threat from 'inactive' Opp, says Rasheed
• Wells lauds Pakistan's role in Afghan peace process
• Imran approaches SC to challenge ECP's jurisdiction in foreign funding case
--------
South Asia
• How The CAA Affects Ties With Afghanistan And Bangladesh
• The Rohingya Find Some Justice in Court
• Afghan army helicopter gunned down in Helmand
• U.S. to provide CH-47 Chinook helicopters to Afghan Special Mission Wing
--------
Southeast Asia
• Muslim Convert Still Celebrates Chinese New Year with Family Every Year
• Indonesia's 'minority within a minority' celebrate Lunar New Year
• Drawing Battle Lines: Center-Right Parties Take on Civilizationalism
• After Complaint By 'Cleopatra' On Chinese Altar with Mosque-Looking Roof, Police Tell Worshipper to Change Its Shape
• Suhakam to hold public inquiry into disappearance of Christian couple
• Thai Peace Negotiator Meets with BRN Rebel Delegates in Malaysia
• Sabah Cabinet says yes to scrapping PSS
• Jokowi remark gives political boost to Sandiaga
• Malaysia imports 130,000 tons of sugar from India
--------
Africa
• Christian Authorities Worry About Being Targeted by Boko Haram
• Bishop says Nigeria's government giving Boko Haram a 'confidence boost'
• Boko Haram kidnaps, kills pastor amid renewed attacks
• Libyan state oil firm says output down 75% due to blockade imposed by Haftar's militia
--------
North America
• Delta Fined $50K for 'Discriminatory' Removal of Three Muslim Passengers
• Trump says 'no thanks' to Iran's FM negotiation proposal
• American tortured by rebels sues Qatari bank for financing terrorism in Syria
• US senators push Pentagon on Syria strategy after withdrawal uproar, Gen. Soleimani's assassination
• USA: Protesters urge Trump to ease tensions with Iran at Washington rally
• Iran's military capabilities give US commanders pause
• US condoles with Turkey following 'terrible' earthquake
Compiled By New Age Islam News Bureau
URL: https://www.newageislam.com/islamic-world-news/first-look-r-day-parade/d/120893
--------
First Look At R-Day Parade: Dhanush, India's First Indigenous Long-Range Artillery Gun
By: Explained Desk | New Delhi
January 26, 2020
The Dhanush gun system was showcased for the first time at the 71st Republic Day parade on Sunday. The 155 mm/45-calibre gun system is a towed Howitzer designed indigenously by the Ordnance Factory Board (OFB). It is the first long-range artillery gun to be produced in India and has been billed as a success of the government's Make in India initiative.
Range and capabilities
The gun has a maximum range of 36.5 km and has the capability of automatic alignment and positioning. According to a government release from last year, it is equipped with inertial navigation-based sighting system, auto-laying facility, onboard ballistic computation and an advanced day and night direct firing system.
The gun is intended for use in all kinds of terrain. The self-propulsion unit allows it to negotiate and deploy itself in mountainous areas with ease. The performance of Dhanush has been evaluated under arduous conditions in several phases, the government release said. Each gun travelled over 1,600 km in towed and self-propelled mode in both desert and high altitude terrains. Such an extensive exercise was carried out by the user for the first time for any gun system under the process of induction, the release said.
Successor to Bofors guns
Dhanush, a product of joint efforts by the OFB and the Indian Army with contributions from DRDO and several other government and private enterprises, is an improved version of the FH-77B 155 mm/39-calibre field howitzers that were originally produced by AB Bofors of Sweden, which is now BAE Systems.
According to the government release, the manufacture of a 155 mm modern artillery gun was initially a challenge for OFB. This was due to change in the vision parameters from 155/39 calibre to 155/45 calibre. OFB received the Transfer of Technology (ToT) documents pertaining to 155/39 calibre and then converted it to 155/45 calibre successfully.
Dhanush has been mechanically upgraded to fire standard NATO 155 mm ammunition and can accommodate both boll bags and the bimodular charge system (BMCS) which have resulted in increasing the range. Dhanush has also been electronically upgraded to enhance firing accuracy.
https://indianexpress.com/article/explained/first-look-at-r-day-parade-dhanush-indias-first-indigenous-long-range-artillery-gun-6236222/
--------
Al-Azhar to hold int'l conference on renewing Islamic thought
25 Jan 2020
Al-Azhar, the highest institution of Sunni Islamic learning, will organize an international conference on renewing Islamic thought under the auspices of President Abdel Fattah El-Sisi.
The conference, due to be held on Monday and Tuesday, is expected to attract prominent political and religious personalities from all over the world.
It is scheduled to also include representatives of the Ministry of Religious Endowments (Awqaf), Dar Al-Efta, the highest institution tasked with deciding religious questions and affiliated with Egypt's Al-Azhar, as well as Muslim councils from 46 Muslim countries.
The conference's agenda focuses on means of renewing religious discourse, refuting misconceptions about Islam, discussing women and family issues, as well as the roles of the religious, academic, and international institutions in this regard.
http://english.ahram.org.eg/NewsContent/1/64/362243/Egypt/Politics-/AlAzhar-to-hold-int%E2%80%99l-conference-on-renewing-Islam.aspx
--------
Muslim World League Leads Friday Prayers in Warsaw With Jews In Attendance
25 January 2020
Saudi Arabian cleric Mohammed al-Issa, the head of the Mecca-based Muslim World League, led Friday prayers at the Tatarska St. Mosque in Warsaw which was also attended by Jewish delegates a day after visiting the Auschwitz-Birkenau Memorial site.
"We've come here as a high-level Islamic delegation comprising of senior Muslim scholars from different sects to say these words and through tangible actions – not just through talk nor negative reservation, but through all of our attendance – this is our religion's stance toward that crime," al-Issa said to both Muslim and Jewish attendees at the Tatarska St. Mosque.
During his visit to Poland on Friday, al-Issa also addressed the Kabbalat Shabbat service at Nożyk Synagogue in Warsaw.
Muslim World League
✔
@MWLOrg_en
HE Dr. #MohammadAlissa addresses Kabbalat Shabbat service at Nożyk Synagogue.
"We should act together to make just peace a reality for all religions, countries, people, civilizations, and cultures."#WeRemember #HolocaustMemorialDay @AJCGlobal
View image on Twitter
172
11:05 PM - Jan 24, 2020
Twitter Ads info and privacy
40 people are talking about this
"We should act together to make just peace a reality for all religions, countries, people, civilizations, and cultures," al-Issa told both Jewish and Muslim attendees.
The visit to Warsaw comes days before Holocaust Memorial Day on January 27. The day marks 75 years since the Nazi German death camp at Auschwitz was liberated.
More than 1.1 million men, women, and children lost their lives at Auschwitz, built by the Nazis in occupied Poland as the largest of their concentration camps and extermination centers. Some six million Jews were killed in the Holocaust.]
https://english.alarabiya.net/en/features/2020/01/25/Muslim-World-League-leads-Friday-prayers-in-Warsaw-with-Jews-in-attendance.html
--------
Protesters March Against CAA On London Streets
JANUARY 26, 2020
he rally, organised by student groups and Indian outfits in the UK, marched around a mile down the streets to gather outside the Indian High Commission in London
Thousands of students, activists and representatives from several Indian diaspora and human rights organisations gathered opposite Downing Street in London to protest against India's new Citizenship Amendment Act (CAA).
The rally, organised by student groups and Indian outfits in the UK, marched around a mile down the streets to gather outside the Indian High Commission in London.
The protesters carried placards reading Protect the Constitution, Stop Dividing India, United Against Racism in India and No Citizenship on the Basis of Religion.
The CAA came into force in India last December amid protests in India and around the world.
The Indian government has stressed that the new Act does not deny any citizenship rights but has been brought in to protect the oppressed minorities of neighbouring countries and provide them citizenship.
The protesters, from around the UK and describing themselves as representative of diverse and multi-faith Indian communities across the UK, demanded that the CAA be repealed because it undermines India's secular Constitution .
They also called for the abolition of the National Register of Citizens (NRC) and National Population Register (NPR), which they said in conjunction with the CAA, open the way for selective mass disenfranchisement of India's Muslim population.
UK Opposition Labour Party MP Sam Tarry addressed the demonstrators with the message that human rights in any country is an international issue.
"We are not here as any anti-India demonstration, we are here as a pro-India demonstration. It is incredibly important that our voices are heard against laws that are not good for the future of the country," said the east London MP.
Messages of support from Labour MPs Stephen Timms, Clive Lewis and newly-elected Indian-origin parliamentarian Nadia Whittome were also read out, calling on the UK government to take up the issue with Indian counterparts.
"On the eve of Republic Day, we are reminded of our core values of freedom, equality and diversity. We stand in solidarity with all the people in India and around the world in their fight against injustice and racism," said Harsev Bains, of the Indian Workers Association (GB).
"The protest in front of the Brazilian embassy, which preceded the march to the Indian High Commission, seeks to highlight the fact that fascism today is a truly global problem," said a spokesperson for the School of Oriental and African Studies (SOAS) India Society.
Some of the other groups backing Saturday's march included CasteWatch UK, Tamil People in the UK, Indian Muslim Federation(UK), Federation of Redbridge Muslim Organisations (FORMO), Kashmir Solidarity Movement, South Asian Students Against Fascism among others.
Saturday's demonstration, to mark the eve of India's Republic Day, will be followed by another protest outside India House in London on Sunday, when pro-Pakistani and separatist groups led by Tehreek-e-Kashmir UK plan to observe a 'Black Day' against the Indian government.
The Indian High Commission in London has raised serious concerns for the safety of the mission and its staff and Indian High Commissioner Ruchi Ghanashyam had even taken up the matter with UK Home Secretary Priti Patel.
London Mayor Sadiq Khan has pledged robust security to prevent any violence during Sunday's protests, as the Metropolitan Police said that a proportionate policing plan would be in place.
https://www.thehindu.com/news/international/protesters-march-against-caa-on-london-streets/article30656792.ece
--------
Why Pakistan Isn't Taking Sides After Outbreak of US-Iran Conflict
By Michael Lipin, Niala Mohammad, Mubashir Ali
January 25, 2020
Pakistan's bid to mediate a de-escalation of conflict between the U.S. and Iran is driven largely by its concerns about potential domestic fallout from hostilities between its two longtime partners, analysts say.
Islamabad's peace effort, launched this month after the U.S. and Iran traded rare military blows in their decades-old tense relationship, also is rooted in its longstanding neutrality toward regional conflicts involving Iran or Iranian proxies, they say.
"We are not going to repeat our mistakes of getting involved in others' wars. Pakistan will become a country which will make peace among states," said Pakistani Prime Minister Imran Khan at a public event Jan. 9, a day after Iran carried out a missile strike on an Iraqi base housing U.S. troops.
The Iranian attack, which left dozens of U.S. forces with concussion-related injuries but killed no one, was Tehran's retaliation for what the U.S. called a self-defense strike that killed top Iranian general Qassem Soleimani at Baghdad airport Jan. 3.
"I have told U.S. President Donald Trump that Pakistan is ready to mediate between Iran and the U.S. to resolve differences between them," Khan said in his public remarks, adding that he also wanted to resolve longstanding tensions between Iran and Saudi Arabia, a military ally of Washington.
Since then, Khan has dispatched Foreign Minister Shah Mahmood Qureshi to Tehran, Riyadh and Washington to urge them to exercise restraint and warn them that further hostilities could destabilize the region.
US-Pakistan relations
Pakistan has generally enjoyed a close relationship with the United States for decades, according to the Office of the Historian at the U.S. State Department.
Islamabad has benefited from U.S. economic aid and has been a major purchaser of U.S. military equipment. But the Trump administration suspended security assistance to Pakistan in 2018 to press Pakistani authorities to take more action against what it called "externally focused militant groups and U.N.-designated terrorist organizations operating from its territory."
When it comes to Iran, Pakistan has long expressed a mutual feeling of brotherliness toward its neighboring Muslim majority state. But those relations have been strained in recent decades by Pakistan's close ties with predominantly Sunni Muslim regional states such as Saudi Arabia, its cooperation with the U.S. and its support for Afghanistan's Sunni militant Taliban group — all rivals of predominantly Shiite Iran.
Islamabad has sought to mediate between the U.S. and Iran rather than take sides as it fears an escalation of their conflict could draw in U.S. ally Saudi Arabia and worsen Sunni-Shiite sectarian divisions in Pakistani society, according to political scientist Rasul Bakhsh Rais of Lahore's LUMS University.
A 2018 State Department report said about 80% to 85% of Pakistan's Muslim population is Sunni, while Shiites make up about 15% to 20%.
"One segment of Pakistani society supports (Sunni-majority) Saudi Arabia, while another feels closer to (Shiite-majority) Iran," Rais said in a VOA Urdu interview.
Radicalized supporters
Saudi Arabia and Iran have radicalized their Islamist supporters in Pakistan for years by quietly funding thousands of Sunni and Shiite seminaries in Pakistan, respectively. Some Sunni and Shiite graduates of those seminaries have carried out violent attacks on members of the other sect, fueling Pakistan's long-running sectarian tensions.
Pakistan also opposes letting U.S. forces use its territory for military action against Iran because of concerns about a potential domestic backlash from militants who would be angered by such cooperation, former Pakistani Interior Minister Lt. Gen. (Ret.) Moinuddin Haider told VOA Urdu in another interview.
In recent weeks, Pakistani Foreign Minister Qureshi repeatedly has said his nation will not allow its territory to be used in hostilities between the U.S. and Iran.
Policy of neutrality
In the years after the 2001 terrorist attacks on the U.S., Islamabad allowed U.S. forces to use an airbase in Baluchistan province to conduct drone strikes against Taliban-allied militants along the Pakistani-Afghan border, Wilson Center analyst Michael Kugelman told VOA. He said the Pakistani government ordered an end to such cooperation in 2011 as U.S.-Pakistani tensions intensified, especially following a NATO airstrike that inadvertently killed about two dozen Pakistani soldiers in the region.
Taliban-allied militants retaliated for the Pakistani-assisted U.S. drone strikes by carrying out suicide bombings across Pakistan. Former Pakistani Interior Minister Haider said Islamabad worries that if it helps the U.S. to attack a neighboring country such as Iran, a similar violent backlash would result.
Former Pakistani Foreign Secretary Najmuddin Sheikh told VOA Urdu that Islamabad's push for peace between Iran, the U.S. and U.S. ally Saudi Arabia also reflects a pattern of Pakistani neutrality toward conflicts involving Muslim-majority nations.
Pakistan's then-president Muhammad Zia-ul-Haq publicly expressed a neutral position regarding the Iran-Iraq war of 1980-88. More recently, then-Pakistani Prime Minister Nawaz Sharif first declared neutrality in Yemen's ongoing conflict between a Saudi-led coalition and Iranian-backed Houthi militants in 2015. Sharif's successor, Prime Minister Khan, has continued that approach.
https://www.voanews.com/middle-east/voa-news-iran/why-pakistan-isnt-taking-sides-after-outbreak-us-iran-conflict
--------
How The CAA Affects Ties With Afghanistan And Bangladesh
22 Jan 2020
Among the many flaws in the Citizenship (Amendment) Act, or CAA, that India's Parliament passed late last year is the manner in which it divides those who have suffered injustice. The former Afghan president Hamid Karzai pointed this out when he said that the victims of religious intolerance in Afghanistan are not only Sikhs or Hindus, but also Muslims themselves. In doing so, he was contradicting assertions made by some leaders of the Indian government who had spoken about the persecution of Hindus in Afghanistan, implying that others suffered less or not at all. Any failure to see that tyrants in Afghanistan spare no one shows either naïve ignorance or political expedience. It also plays to a vociferous gallery within India that seems highly uninformed, and does little to enhance India's global reputation.
The Karzai intervention is important because it calls out an Indian law that uses the lofty language of human rights to justify what is blatantly discriminatory. As it happens, the CAA also makes little strategic or diplomatic sense. Winning the hearts and minds of people in another country is more important in the long run than securing bilateral deals with its government of the day. Governments and their leaders come and go, but the people are always there. The CAA annuls the goodwill India has enjoyed among the people of Afghanistan. Given Pakistan's terrible record of interference in Afghan affairs for decades, many Afghans have historically and naturally gravitated towards India. The CAA fritters away that goodwill.
The pattern repeats in Bangladesh. That is a graver mistake, since India has historically had a relatively frictionless relationship with what was East Pakistan before 1971. Over the years, hardline nationalists in Bangladesh have accused the Awami League government of appearing to bow to Indian demands. Whether it is building a fence along the border, investing jointly in the controversial coal-fired Rampal power plant near the Sundarbans, or cooperating with New Delhi on curbing the activities of the United Liberation Front of Assam, Bangladesh under its prime minister, Sheikh Hasina Wajed, has acted in ways that align with Indian interests. However, India often appears to look upon its eastern neighbour as a kind of client state, which may explain the surprise in New Delhi each time Dhaka asserts its independence, but also reveals a profound misreading of that 49-year-old country.
While those who played no role in Bangladesh's liberation may lack a historical understanding of the country, too many politicians today seem to have a unidimensional view of Islam and a confused view of Bangladesh, seeing in it a mirror image of Pakistan. Bangladeshi nationalism is distinct from Pakistani nationalism. While Pakistan began a composite of different languages and ethnicities that tried to forge a common identity rooted in one faith and one language, namely Urdu, its Bengali wing fought for independence because it resented that monocultural imposition. Not only was it not going to accept Urdu, preferring Bengali, the rhetoric of its liberation war was to create a more inclusive nation. Its original constitution enshrined those values.
This is not to suggest that religious minorities in Bangladesh have had it easy. To be sure, among those who have expropriated Hindu-owned property in Bangladesh are politicians of all parties, including the Awami League. And yet, Bangladeshis hold Rabindranath Tagore in the same high national esteem as does India. You won't find many Bangladeshis shunning Tagore's poetry, calling it alien, unlike those in India who have issues with Faiz Ahmed Faiz's poetry.
Before Bangladesh's independence, Pakistan attempted to relegate Tagore to obscurity, which only emboldened the Bangla language movement that ultimately led to the war in 1971. At an academic conference in New York some years ago, a Pakistani delegate asked a Bangladeshi delegate why Bangladeshis cared so much for Tagore when they had Kazi Nazrul Islam. We are lucky to have both, replied the Bangladeshi. As the Bangladeshi-American poet Tarfia Faizullah puts it in a poem, Bangladesh is Bengali and Muslim; Pakistan didn't understand that, and India, it seems, is forgetting that. Which is why Sheikh Hasina Wajed has a valid point when she asks: "We don't understand why India did it. [The CAA] wasn't necessary." Her argument is self-serving: She claims that minorities are safe in Bangladesh, which is odd, since many, not just minorities, feel unsafe there. People leave Bangladesh, as do those who leave India, for similar reasons: Some flee injustice, many flee poverty.
Bangladesh has scrapped several high-level meetings with India in recent weeks. Dhaka seems worried that if India declares many people stateless and attempts to expel them, it will impact Bangladesh, since the Bengali-speaking among them, particularly if they are Muslims, would probably be assumed to be Bangladeshi. What will India do if Bangladesh refuses to accept them? Detain them in camps? Given the imperfect process of determining nationality, what might happen if it is carried out across India? The blazing summer could make the winter of discontent seem mild.
https://www.livemint.com/opinion/columns/how-the-caa-affects-ties-with-afghanistan-and-bangladesh-11579712243381.html
--------
Muslim Convert Still Celebrates Chinese New Year with Family Every Year
26 JAN 2020
GEORGE TOWN: Being a Muslim does not stop independent preacher, Ben Ooi Chooi Beng, 38, from celebrating Chinese New Year with his family members joyfully as he did before converting to Islam three years ago.
Ben, as he is fondly known, and his Indonesian wife Ema Ariani, 43, who were both former Christians, have never missed celebrating Chinese New Year with his family as it is a cultural and not a religious celebration.
"Although I am now a convert, I'm still Chinese and my relationships with my family members have never been stronger. I became a Muslim, not a Malay.
"So, every Chinese New Year I would head over to my brother's house in Bayan Lepas to celebrate with other family members including our parents," he told Bernama when met at his brother's house, near here.
Ben said his father, Ooi Keat How, 76, and mother, Loh Nget Sun, 73, who are staying with him in Bukit Mertajam, would be attending the reunion dinner on the eve of Chinese New Year at his brother's home and would later visit their relatives and friends.
The father of three said his parents never stopped him from converting but encouraged him instead to become a better Muslim.
"In addition to Chinese New Year, my family members, who are all Christians, celebrate Christmas but they know my limits as a Muslim especially regarding halal food.
"My brother would cook for all family members and buy halal food for me and my family from outside. We would then enjoy the meals together. We hardly see each other due to work commitments, so the Chinese New Year celebration provides a golden opportunity to get together with the family," said the youngest of three siblings.
Ben said he was happy and thankful to all family members for accepting him, in fact his brother, Ooi Chooi Leong, 44, and sister, Ooi Kim Suan, 47, also provided him and his family a prayer room at their homes.
During Aidilfitri celebration, all his family members would gather at his home to celebrate together.
Ben has two sons Gabriel Ooi Wei Sheng, 15, and Joshua Ooi Shan,11, and an eight-year-old daughter Angelina Ooi Wei Ting.
Meanwhile, Keat How said when Ben told him his intention to convert to Islam, he just advised him to become a good Muslim and to obey the religion.
"We respect his decision and our relationship will never change or be broken. As the saying goes, 'blood is thicker than water'," he said. — Bernama
https://www.thesundaily.my/local/muslim-convert-still-celebrates-cny-with-family-every-year-IK1936039
--------
Christian Authorities Worry About Being Targeted by Boko Haram
By Timothy Obiezu
January 25, 2020
ABUJA - The killing of a Nigerian priest by Boko Haram has raised fresh concerns among Nigeria's Christian community that it is being targeted by the Islamist militants. The death came barely two weeks after President Muhammadu Buhari urged Nigerians to stop viewing acts of terror as a "religious war."
The Reverend Lawan Andimi was declared missing January 3 after Boko Haram insurgents raided his village in Michika, in northeastern state of Adamawa.
He headed the state's chapter of the Christian governing body, Christian Association of Nigeria (CAN).
The insurgents murdered him on Monday while negotiations for his release were ongoing — an event that has triggered widespread criticisms of the government by the Christian body.
Security analyst Ebenezer Oyetakin says the killing was intended to incite religious tensions between the two major religious groups in the country.
"The Muslims and the Christians in Nigeria and the citizens must know that the instrument these external forces and their internal collaborators are exploiting are our front lines. Front lines of tribes, religion and ethnicity. So the Nigerian people should unite against them," he said. "I personally as a Christian do not see the killing of the CAN chairman in Adamawa as a target against Christians. It is a target against the national exploiting our front lines."
Boko Haram often holds some captives on the basis of their faith while setting others free.
The Christian Association of Nigeria, CAN, accuses authorities of not doing enough to secure the release of abducted Christians. Security expert Senator Iroegbu shares that opinion.
"You cannot lie that Christians are not targeted because that's the reality and you wouldn't say they should stop complaining," he said. "If the CAN chairman is kidnapped, if terrorists abduct people and segregate Christians and hold them captive, you won't say it's not there, it's there. So what are you doing to ensure that this set of people are not vulnerable to this kind of terrorist onslaught?"
Oyetakin says concerns about religious tensions can be avoided if the government was more proactive.
"The government must govern in such a way that regenerates a bond of national unity," he said.
Earlier this month, President Muhammadu Buhari urged Nigerians to stop seeing acts of terrorism as a "religious war."
On Tuesday, he reacted to the killing of the priest using his official social media account. The president said he was, "greatly saddened by the fact that the terrorists went on to kill him even while giving signals of willingness to set him free by releasing him to third parties. This barbarism is condemnable. We will ensure that these terrorists pay a heavy price for their actions."
https://www.voanews.com/africa/christian-authorities-worry-about-being-targeted-boko-haram
--------
Delta fined $50K for 'discriminatory' removal of three Muslim passengers
Jan. 26, 2020
By Nicole Acevedo
Delta Air Lines has been fined $50,000 for "discriminatory conduct" in the removal of three Muslim passengers from two flights in 2016, the U.S. Department of Transportation said.
A consent order released by the Transportation Department on Friday says Delta violated the law "when it removed and denied re-boarding" to the Muslim passengers.
The order also requires Delta to provide cultural-sensitivity training to all cabin crew members and customer service staff involved in both cases.
The airline for its part said it could have handled both incidents better but disagreed that its conduct was discriminatory.
The first incident occurred on July 26, 2016, when a Muslim married couple boarded a flight in Paris, France to return to their home in Cincinnati, Ohio. The wife "was wearing a head scarf" at the time.
A fellow passenger told a flight attendant the couple made her "very uncomfortable and nervous" because she saw the husband insert "something plastic into his watch" and do "something with it." The passenger described the couple, who are U.S. citizens, as "fidgety, nervous, and sweating," according to the consent order.
Flight attendants also told the plane's captain they saw the husband "texting on his cell phone using the word 'Allah' several times" and raised concerns over him not smiling after their making eye contact with him. The captain then asked security officers to remove the passengers from the plane for additional vetting, the Transportation Department said.
The captain later refused to let the couple re-board the plane, after they were interviewed and cleared, because the flight attendants were "uncomfortable" having the couple on the flight, the order said.
If it weren't for the couple's "perceived religion, Delta would not have removed or denied them re-boarding," the order said.
The second incident occurred five days later on July 31, 2016, when a Muslim man boarded a flight from Amsterdam, Netherlands, to New York City.
Passengers at the departing gate told Delta's flight crew they observed the man making "significant eye contact" and later speaking with a person of similar ethnicity in the gate area. The person he spoke to didn't board the plane and appeared to have given him a small package, according to the Transportation Department's investigation.
At the captain's request the flight's First Officer walked through the cabin but "observed nothing remarkable" about the passenger. Delta Corporate Security also informed the captain that the man's record showed "no red flags."
The captain proceeded to begin departure but later "returned to the gate" because "the flight attendants expressed, without any intervening incident, that they remained uncomfortable," according to the order.
The Transportation Department found the man was not subjected to additional security screening prior to being relocated on another flight, leading the agency to conclude that his removal "was discriminatory."
Delta disagrees with the federal department's characterization of their actions as "discriminatory."
The airline told NBC News in a statement that its "best customer service was not reflected" in how the incidents were handled, but "we disagree with the Department of Transportation's contention that Delta engaged in discriminatory conduct."
Delta said it has "worked to improve our investigative process since these incidents and we have supporting programs, policies, training and procedures that back up our commitments in this area." 
The company also said in a statement in the consent order, that it is "a global airline that serves customers of all races, ethnicities, and religious affiliations ... Delta stands by its record as an airline where all are welcome, and unlawful discrimination of any kind is not tolerated."
https://www.nbcnews.com/news/us-news/delta-fined-50k-discriminatory-removal-three-muslim-passengers-n1122956
--------
India
After Trump, feeler by Nepal to mediate between India, Pak; says revive SAARC
by Shubhajit Roy
January 26, 2020
Days after US President Donald Trump reiterated his offer to "help" on Kashmir, a top Nepal government source on Saturday said that "if necessary", it "can play the role of a mediator" between India and Pakistan since the country is "impartial, neutral, friendly, independent and peace-loving". However, the source added for good measure that it would be "better" if the two countries talked directly.
This is the first time that Nepal has offered to mediate between India and Pakistan, as the SAARC summit — due to be held in Pakistan — has been postponed since 2016. At the last SAARC summit in Kathmandu in November 2014, former PM Sushil Koirala had played a role in getting the two leaders to talk to each other at a retreat in Dhulikhel.
The top Nepalese government source also asserted that there is "no relation between SAARC and terrorism". New Delhi has always maintained that Pakistan's support to terrorist activities in the region has led to a situation, which is not conducive to holding the SAARC summit.
Nepal would like to play a constructive role as mediator, the top Nepalese government source said, "Peaceful talks and discussions are the best ways to resolve any problems. There may be contradictions and differences but it can be resolved through dialogue. If necessary, we can play the role of the mediator as Nepal is an independent, neutral and peace-loving country. In the region, we are neutral, impartial and we love truth and facts."
The source, however, said that a better solution would be to develop better dialogue between the two countries. "We can be instrumental, but it will be better (for the two sides) to develop direct contact," the source told a group of visiting Indian journalists.
India has always maintained that there is no space for a third-party involvement in the bilateral relationship between New Delhi and Islamabad. The government reiterated this position this week, in response to Trump's comments, once again, in Davos. The US President has been talking about his willingness to mediate since July last year, and has been politely refused by Delhi several times, including by Prime Minister Narendra Modi in Biarritz in August last year. What makes Nepal's offer a bit more interesting is that it is headed by a strong Nepalese government, led by K P Sharma Oli, which has been asserting its position on bilateral issues of concern.
The top source in the Nepalese government said SAARC is "not dead" and needs to be "revived". "There is no relation between SAARC and terrorism. We cannot connect the two. Terrorism is a common enemy. We are strongly against all forms and manifestations of terrorism."
The source said SAARC has been pushed into "uncertainty" and that "misunderstandings should be narrowed down and resolved". "We can come together, sit together, and differences can be narrowed down, gaps can be narrowed down. In each and every situation, we have to sit and try to resolve the problems, otherwise the situation can deteriorate…. I think misunderstandings should be narrowed down and SAARC should be revitalised… We can find out amicable solutions," the source said.
https://indianexpress.com/article/india/after-trump-feeler-by-nepal-to-mediate-between-india-pak-says-revive-saarc-6235580/
--------
Muslim bhajan singer, 'Langar Baba', Sundarban doctor among Padma award winners
Jan 25, 2020
NEW DELHI: Padma Awards 2020 continue the tradition started by the Modi government a few years ago, of honouring unsung heroes who have been silently contributing to social, cultural, educational and environmental fields.
The list of 21 such Padma Shri awardees includes a Bhopal gas leak victim who spent 35 years of his lifespan working with other survivors, a 'divyang' from Anantnag in J&K who runs a school for specially-abled children; a 'langar baba' who has been feeding patients and attendants outside a hospital in Punjab; a doctor in West Bengal who travels 6 hours each day to Sundarban villages to treat patients; an orange seller who spends his meagre earnings on educating children; a former manual scavenger lady who now heads the Sulabh International Social Service Organisation; an elephant conservationist from Assam; and a Muslim bhajan singer from Rajasthan who has penned bhajans in praise of Lord Krishna and cows.
At least five on the list of 'unsung' 21 Padma Shri awardees are Muslims.
Among the commoners honoured this year is Late Abdul Jabbar, a 1983 Bhopal gas leak victim who ran an advocacy group for other victims and survivors. He provided vocational training to 2300 widows of gas leak victims and fought for medical rehabilitation of victims in courts.
Kerala-born Sathyanarayan Mundayoor or 'Uncle Moosa', also awarded Padma Shri for social work, has been honoured for promoting education and reading culture in Arunachal Pradesh by starting a home library movement. Tribal lady from Karnataka Tulasi Gowda with no formal education, has been awarded Padma Shri on account of her vast knowledge of various species of plants and herbs.
The services of Javed Ahmad Tak, a 'divyang' from Anantnag, J&K who has been working with specially-abled children for 2 decades, have also been recognised with a Padma Shri. Mohammad 'Chacha' Sharif from Uttar Pradesh who has performed last rites of over 25,000 unclaimed bodies in and around Faizabad for past 25 years had been honoured for being "an apostle of communal harmony".
Another 'divyang' on the list includes S Ramakrishnan from Tamil Nadu, who has rehabilitated over 14,000 specially -abled people over four decades across 800 villages.
'Langar Baba' Jagdish Lal Ahuja, a Padma Shri winner, has been serving food daily to hundreds of poor patients and attendants outside PGIMER hospital in Punjab. He sold off his properties to fuel his mission and was undeterred even by his stomach cancer.
Father-daughter awardee duo from Odisha, Radha Mohan and Sabarmatee, run a resource centre where they exchange seeds and learn organic farming.
Doctor Arundoday Mondal who travels 6 hours everyday to treat patients in remote Sundarban villages in West Bengal, has been recognised for his selfless service after having treated more than 4,000 people. Another doctor, oncologist Ravi Kannan who has treated over 70,000 cancer patients free of cost in Barak valley of Assam, has been awarded Padma Shri.
Harekala Hajabba who educates poor children in his Dakshin Kannada village for 20 years through meagre earnings from selling oranges, has also been given Padma Shri. He had set up a Hajabba school initially as a mosque but later converted into into a zila panchayat higher primary school with the help of people and government. He now plans to upgrade it to a pre-University college .
Popatrao Pawar, a sarpanch of Hiware Bazaar village in Maharashtra, transformed it from an impoverised, drought-prone village to a role model of village development. The village now has no BPL families, no alcohol consumption and is open defecation free.
Usha Chaumar, a Dalit lady from Rajasthan who was a manual scavenger since seven years of age but was rescued by Nai Disha NGO of Sulabh International and now heads Sulabh International Social Service Organisation and leads the fight against manual scavenging, is also on the Padma Shri list.
A Bhajan singer from traditional Muslim family of Bagadu in Jaipur who has been carrying forward the family tradition of singing Ram-Krishna bhajans, Munna Master has also been with Padma Shri awarded for his work.
Full report at:
https://timesofindia.indiatimes.com/india/padma-award-2020-muslim-bhajan-singer-langar-baba-sundarban-doctor-among-padma-award-winners/articleshow/73617764.cms
--------
Left parties form human chain against CAA
Jan 26, 2020
PATNA: The five-party Left combine on Saturday formed one-hour human chain at Patna and the district headquarters in the state demanding withdrawal of Citizenship (Amendment Act (CAA) and opposing proposed National Register of Citizens (NRC) and National Population Register (NPR). They claimed that once implemented, these issues would deprive crores of people of citizenship rights, besides causing incalculable harassment and monetary loss to all in mustering proofs to get the citizenship rights.
The representatives of Congress, Hindustani Awam Morcha (Secular), Rashtriya Lok Samata Party (RLSP) and Vikassheel Insaan Party (VIP) also joined the human chain organized formed from Buddha Smriti Park to Gandhi Maidan in Patna.
CPI(ML) general secretary Dipankar Bhattacharya, CPI state secretary Satya Narayan Singh, CPM secretariat member Sarvoday Sharma, CPM senior Subhashini Ali and senior functionaries of the Forward Bloc and Revolutionary Socialist Party (RSP) joined the human chain at Patna. Groups of people also took out processions in various localities of Patna.
Bhattacharya said the BJP-led NDA government at the Centre first wanted to create Hindu-Muslim divide in the country through CAA, NRC and NPR, but the Centre's policy moves on citizenship have evoked widespread protests from people across the country.
"The most sinister part of the new citizenship determination exercise is that the official concerned would have the discretion to mark the application with "Doubtful or D" having perused the documentary proofs submitted. In that case, the person would eventually be put in detention camps, which have been constructed in Assam and were in the process of being newly built in all the states. Or the existing jails would be treated as detention camps," Dipankar said.
The human chain was also supported by the Imarat-e-Shariah, a religious body of Muslims of Bihar, Jharkhand and Odisha. Various other religious groups, including All India Milli Council (AIMC), Jammat-e-Islami and All India Muslim Majlis-e-Mushawarat also participated in the human chain formation.
Maulana Shibli Qasmi, the general secretary of Imarat-e-Shariah, said, "In the past, several governments had taken wrong decisions but after public opinion, they also made amends. The government need to realize their mistake and should revoke the law. Such laws do not make the country, rather it breaks the democratic fabric."
Full report at:
https://timesofindia.indiatimes.com/city/patna/left-parties-form-human-chain-against-caa/articleshow/73619337.cms
--------
Shah Rukh Khan: 'I Am a Muslim; My Wife Is a Hindu And My Kids Are Hindustan'
Jan 26, 2020
Shah Rukh Khan has once again reiterated that religion is not discussed at his house, adding that his children write "Indian" in forms where they need to mention their religion.
During his visit to the sets of Dance Plus 5 that was aired Saturday night, Shah Rukh said, "Humne koi Hindu-Musalman ki baat hi nahi ki. Meri biwi Hindu hai, mai Musalman hoon. Aur mere jo bacche hain, wo Hindustan hain." Everyone clapped as he continued, "Jab wo school gae to school me wo bharna padta hai ki religion kya hai. To jab meri beti choti thi, usne aa ke pucha bhi mujhse ek baar, 'papa hum kaun se religion ke hain?' Maine usme ye likha ki hum Indian hi hain yaar, koi religion nahi hai. Aur hona bhi nahi chahiye. (We have never discussed Hindu-Muslim. My wife is Hindu, I am a Muslim and our kids are Hindustan. When they went to school, they had to write their religion. My daughter came to me once and asked 'what is our religion?' I simply wrote in her form that we are Indian, we do not have a religion. )
Neel Joshi
@neeljoshiii
My wife is Hindu, I am a Muslim and my kids are Hindustan. My daughter was asked the religion in school form, I told her we are Indians 🇮🇳 ❤️ - The pride of India Shah Rukh Khan. #RepublicDayIndia #RepublicDay2020
Embedded video
1,878
10:23 PM - Jan 25, 2020
Twitter Ads info and privacy
791 people are talking about this
SRK has often insisted that religion is not imposed inside his house and they celebrate all festivals. Talking about his kids, SRK had earlier said, "I gave my son and daughter names that could pass for generic (pan-India and pan-religious) ones - Aryan and Suhana. The Khan has been bequeathed by me so they can't really escape it."
About his own religion, Shah Rukh had said,, "I'm not religious in terms of reading namaz [prayer] five times but I am Islamic. I believe in the tenets of Islam and I believe that it's a good religion and a good discipline.1
Full report at:
https://www.hindustantimes.com/bollywood/shah-rukh-khan-i-am-a-muslim-my-wife-is-a-hindu-and-my-kids-are-hindustan-watch-video/story-T9VFzvApB2nI7Y79mdPnCJ.html
--------


Assam police book man for 'cut off Assam' remark at Shaheen Bagh
Jan 26, 2020
The Assam Police on Saturday registered an FIR under an anti-terror law against activist Sharjil Imam, who came to limelight during the ongoing protests against the Citizenship Amendment Act in Delhi's Shaheen Bagh, for his alleged remarks threatening to "cut-off" the state from rest of India.
Additional Director General of Assam Police GP Singh said the FIR was registered against Imam under the Unlawful Activities (Prevention) Act at the crime branch police station in Guwahati.
"An FIR has been lodged against Sharjil Imam for his speech and inter alia commission of offence u/s 13 (1)/18 of the UA(P)ACT read with section 153 A, 153 B and 124 A IPC at Guwahati Crime Branch Police Station," Singh tweeted along with the purported video of Imam's speech.
Imam was heard telling in the audio clip that Assam should be cut-off from the rest of India as Bengalis -- both Hindus and Muslims -- are being killed or put into detention centres.
Earlier, Assam Minister Himanta Biswa Sarma said the Assam government would register a case against Imam his "seditious" comment "aimed" at disrupting law and order in the state.
"Assam government has taken cognisance of this very seditious statement and we will register a case against this individual," Sarma said.
Union minister Ramdas Athawale, too, said that Assam and Northeast are integral parts of India and cannot be separated from the country.
Full report at:
https://www.hindustantimes.com/india-news/assam-police-book-man-for-cut-off-assam-remark-at-shaheen-bagh/story-lUaCmvyrI7zfdLEWmowWtN.html
--------
Cattle smugglers along Bangladesh border switching to narcotics, fears BSF
Joydeep Thakur
Jan 26, 2020
Border Security Force (BSF) crackdown on cattle smugglers along the India-Bangladesh border in West Bengal may have forced them to switch to smuggling of narcotics, especially Yaba tablets, over the past one year, fear officials.
"We managed to bring down cattle smuggling by more than 80% in 2019. But now it seems the smugglers have switched to the narcotics trade, with Yaba being the main product. It started in 2019 and has shot up manifold," said YB Khurania, inspector general, BSF south Bengal frontier.
A mixture of methamphetamine and caffeine and sold as red or pink pills, Yaba originated in Myanmar and entered Bangladesh black market in early 2000 and gained instant popularity due to the paucity of such stimulants locally. The fact that it was cheap, also helped.
"While in 2018, not a single consignment of this drug was seized, in 2019, BSF seized 42,023 Yaba tablets. In the first three weeks of January 2020 we have already seized 10,000 such tabs," said Khurania.
Incidents of cattle smuggling, which was once rampant along the 923 km international border in south Bengal, has dropped on the other hand.
In 2018, about 40,000 cattle were seized by BSF. In 2019, the number dropped to about 31,000. Till January 25, only 1301 cattle have been seized.
"Earlier, we used to focus on areas along the international border only. But now we have moved further inland, by about 12 km," a senior BSF official said explaining how they have outsmarted Smugglers who used to force the herds into the border rivers from jetties located in villages 10 –12 km away from the border. "We have identified all these routes," the officer requesting anonymity added.
He said rehabilitation instead of auctioning the seized cattle has ensured that it remains out of bounds for the smugglers.
"All the cattle seized in January 2020 will go off the smugglers' supply chain and this is a huge blow to them," the officer quoted above said.
Full report at:
https://www.hindustantimes.com/india-news/cattle-smugglers-along-bangladesh-border-switching-to-narcotics-fears-bsf/story-Jhob28x7JKLhtqSmXjvGnJ.html
--------
Fighting terror: Jammu and Kashmir Police win 108 gallantry medals, CRPF 76
Jan 26, 2020
In recognition of their round the year stellar counter-terrorism operations, the Jammu and Kashmir Police has been honoured with 108 medals, the maximum number of gallantry awards on the occasion of the 71st Republic Day, followed by 76 won by the CRPF, said a government release on Saturday. The above two forces accounted for a 184 of the total of 290 police gallantry awards declared for 2020.
The 108 medals for the police force of the newly carved Union Territory also include three President's Police Medal for Gallantry (PPMG), the top most decoration. Abdul Jabbar (IPS), Gh. Hassan Sheikh (Deputy Superintendent of Police) and Asif Iqbal Qureshi (Constable) from Jammu and Kashmir will receive the highest police gallantry award for their valour during counter terror operations.
Jammu and Kashmir police's tally of gallantry medals is one of the highest in recent times won by a police force. The Central Reserve Police Force (CRPF),too, continued its tradition of sweeping the multi-theatre gallantry medals with 75 honours for its personnel this year including a PPMG (posthumously) for CoBRA commando Utpal Rabha.
Rabha declared "extraordinary valour" during an encounter with Maoists in Jharkhand in June 2018, before getting killed in the gunbattle.
CRPF's Assistant Commandant Naresh Kumar has been honoured with a gallantry medal for a record sixth time. He was a member of the quick action team based in Srinagar, specialising in counter-terror operations. Kumar has served for five years in Kashmir and been involved in security operations that have led to the killing of more than 50 terrorists.
Director of Sardar Vallabhai Patel National Police Academy in Hyderabad, Atul Karwal was the other winner of the PMG for bravery displayed in a 2016 operation when he was the CRPF Inspector General (IG) in Kashmir.
"I also salute the families of personnel who laid down their lives in the line of duty," the CRPF Director General (DG) A P Maheshwari said.
Insurgency hit Jharkhand's police was the next on the honour roll with 33 police bravery medals followed by 16 for Odisha, 12 for Delhi Police, 10 for Maharashtra, eight for Chhattisgarh, seven for Bihar, four for Punjab and two for Manipur.
Among the central forces, the Border Security Force (BSF) got nine PMG followed by four won by Sashastra Seema Bal (SSB), and one by the Railway Protection Force (RPF).
Full report at:
https://www.hindustantimes.com/india-news/fighting-terror-jammu-and-kashmir-police-win-108-gallantry-medals-crpf-76/story-BjXX9cM6ab1RybLZMcH3hK.html
--------
JeM's self-styled Kashmir chief among 3 killed in gunfight: Police
Ashiq Hussain
Jan 25, 2020
Srinagar: In an encounter in Pulwama on Saturday, security officials claimed to have killed three militants, including the self-styled Kashmir chief of Jaish-e-Mohammad who had a supervisory role in February 14 suicide attack of last year. The two others killed were allegedly planning a major attack on Republic Day in Kashmir.
Qari Yasir, a Pakistani, was killed at the Hariparigam village of Tral after the day-long encounter. His associates have been identified as Pakistan national Moosa and Tral resident Burhan.
"On Friday evening, Awantipora police generated specific intelligence input about the presence of three militants in a village in Hariparigam, where Qari Yasir was also present," said Kashmir inspector general of police Vijay Kumar at a press conference later.
"As per our intelligence, Yasir was the self-styled chief of JeM in Kashmir. He was involved in last year's February 14 attack. He was an IED expert and would recruit and relocate militants coming from Pakistan," he said.
"Their names were also cropping up in connection with a possible attack or IED blast on R-day eve," he said.
Army's Srinagar-based 15 Corps commander Lt Gen K J S Dhillon seconded that by adding that the Pakistani Jaish module had been planning to do something big on Republic Day for the past four –five days.
"One of the terrorists of the module, Saifullah, was killed in Khrew area of Pulwama (on Wednesday) in which we also lost a soldier and police man …This morning, we got some information about some terrorists of JeM. The module of JeM, which basically comprises Pakistani militants, had been on the radar for a few days," he said.
He said three army jawans were also injured and they were being treated at the 92 Base Hospital.
"Today's operation was based on actual intelligence and I want to say (that by their killing), a major incident on January 26 has been averted," he said.
Dhillon said that JeM was trying to resurface after its leadership was wiped out by the security forces following the February 14 attack.
Full report at:
https://www.hindustantimes.com/india-news/jem-s-self-styled-kashmir-chief-among-3-killed-in-gunfight-police/story-BF8VnY8h4ZH74YqmkbingM.html
--------
India, Brazil decide to deepen anti-terror cooperation
Jan 25, 2020
India and Brazil on Saturday vowed to work closely at the global anti-terror watchdog FATF to effectively confront challenges of terror financing and state-sponsored terrorism.
In their wide-ranging talks, Prime Minister Narendra Modi and Brazilian President Jair Messias Bolsonaro urged all countries to work towards rooting out terrorist safe havens and infrastructure, disrupting terror networks and financing channels as well as halting cross border movement of terrorists.
The two leaders asserted that global action must be initiated with ultimate objective of eradicating terrorism in all its forms and manifestations including cross border terrorism, according to a joint statement issued after Modi-Bolsonaro meeting.
In the talks, the two leaders agreed on having deeper bilateral cooperation to deal with specific terrorist threats.
"They underlined the need for all countries to ensure that their territory is not used to launch terrorist attacks on other countries," the joint statement said without naming either Pakistan or any other country.
It said Modi and Bolsonaro reaffirmed that international terrorism constitutes one of the most serious threats to peace and security and called for concerted and coordinated global action to deal with the menace.
"The prime minister and the president of Brazil also reiterated the mutual interest to work closely in the Financial Action Task Force (FATF) in issues related to money laundering and financing of terrorism, state sponsored terrorism, etc," the joint statement said.
The FATF has piled up pressure on Pakistan to crackdown on terror networks operating from its soil.
A plenary meeting of the FATF in Paris next month will carry out a detailed review of whether Pakistan has complied with its action plan to contain terrorism.
Depending on the outcome, FATF will decide whether Pakistan will be put under its "blacklist" along with Iran and North Korea.
In the talks, Modi and Bolsonaro also called for early adoption of Comprehensive Convention on International Terrorism.
It said the two leaders also pitched for stronger international partnership in countering terrorism and violent extremism, including through increased sharing of timely, actionable and complete information and intelligence.
The two leaders also pitched for the implementation of measures to combat terrorism as outlined in relevant UN Security Council resolutions and stressed that cooperation to combat terrorism should be guided in conformity with the principles of the UN Charter, international law and relevant international conventions, the joint statement said.
It said the two leaders expressed confidence in early conclusion of an agreement on combating international terrorism and transnational crimes.
Full report at:
https://www.hindustantimes.com/india-news/india-brazil-decide-to-deepen-anti-terror-cooperation/story-LMDWU5sWTLw7YKE75DEKDO.html
--------
J-K: Two terrorists killed in Awantipora encounter
January 25, 2020
Two terrorists were killed in hours-long exchange of fire with security forces in Awantipora town of Pulwama district on Saturday, the Jammu and Kashmir Police said.
A police official told PTI that the encounter broke out in the morning during a cordon-and-search operation in Hari-Pari area of Tral. "Awantipora encounter update: In the exchange of fire, two terrorists have been killed. Operation is in progress. Further details shall follow," the Kashmir zone police tweeted.
Kashmir Zone Police
@KashmirPolice
#Awantipora #encounter update: In the exchange of fire two #terrorists have been #killed. Operation is in progress. Further details shall follow. @JmuKmrPolice https://twitter.com/KashmirPolice/status/1220910753462358017 …
Kashmir Zone Police
@KashmirPolice
#Encounter has started at #Awantipora. #Police & security forces are on the job. Further details shall follow.@JmuKmrPolice
96
5:17 PM - Jan 25, 2020
Twitter Ads info and privacy
43 people are talking about this
It also retweeted a post informing that seven hardcore overground workers of Lashkar-e-Taiba and Hizbul Mujahideen outfits were arrested in a joint operation by Bandipora police, Army and CRPF.
"Arms/Ammunition recovered. They (were) involved in harbouring, providing logistics support to militants.02 FIRs registered under relevant sections of law," it added.
Full report at:
https://indianexpress.com/article/india/j-k-two-terrorists-killed-in-awantipora-encounter-6235286/
--------
Sharjeel Imam is a curse to Islam: Baba Ramdev hits out at JNU student's remarks
January 25, 2020
Yoga guru Baba Ramdev on Saturday condemned the remarks of Jawaharlal Nehru University (JNU) student Sharjeel Imam, who was seen making highly objectionable comments against the Constitution and the integrity of the country this week.
While it can now be said that Sharjeel's remarks were made at a Citizenship Act protest in Aligarh, the JNU student has also been a regular at the ongoing sit-in protest in New Delhi's Shaheen Bagh. In fact, several media reports have labelled him as the "mastermind" of the Shaheen Bagh demonstration, which is now in its second month.
"He is a curse to Islam. Strict action must be taken against him," Baba Ramdev said during an exclusive chat with India TV's Senior Executive Editor Saurav Sharma.
Further remarking upon Sharjeel's remarks, the yoga guru said that he was "poisoning the minds of Indian Muslims." "Most of our Muslim brothers and sisters are patriots," he said.
Ramdev said that the irony of Sharjeel's remarks wasn't lost on him, as the JNU student appeared at Shaheen Bagh in the so-called bid to defend the constitutional rights while he himself termed the book as "fascist."
"The Constitutions is fascist. You can cite in the court, but this can't be the last resort option," Sharjeel can be heard saying in the viral video.
In a video that has gone viral, Imam can be heard saying that the aim of the anti-CAA protests must be to "cut-off" Assam from the rest of the country.
"Our main aim is to cut the Assam and North-east India from rest of India".
Full report at:
https://www.indiatvnews.com/news/india/sharjeel-iman-is-a-curse-to-islam-baba-ramdev-hits-out-at-jnu-student-sharjeel-imam-s-remarks-at-shaheen-bagh-582922
--------
No bias against Muslims, no persecution of Hindus in Sri Lanka: RSS' Joshi
Jan 26, 2020
The RSS Sarkaryavahak (general secretary) Bhaiyaji Joshi said there had been no discrimination against followers of Islam in the country. As far as citizenship of India is concerned, even the Muslims can apply under the normal procedure.
Joshi was speaking at the sidelines of a flag hoisting function at the RSS headquarters in Mahal locality of Nagpur. Joshi is next to Mohan Bhagwat in the RSS hierarchy.
On question about excluding Sri Lankan Tamils in the Citizenship Amendment Act (CAA), Joshi said the issue was also raised in Tamil Nadu but it has been seen that there is no such persecution of Hindus happening in Sri Lanka as compared to countries like Pakistan Bangladesh and Afghanistan.
Calling the protests against CAA and NRC to be a campaign to mislead the country, Joshi said even other governments have tried to bring similar laws related to citizenship, so why should there be so much opposition only now.
"Republic Day is a matter of pride for the country. After freedom the country has been running on the Constitution framed under the leadership of Dr Babasaheb Amebdkar and it's our duty to mantain the glory of the Constitution," he said
Full report at:
https://timesofindia.indiatimes.com/india/no-bias-against-muslims-no-persecution-of-hindus-in-sri-lanka-rss-joshi/articleshow/73629187.cms
--------
Government allows fixed-line, 2G mobile internet across Jammu and Kashmir
Jan 25, 2020
SRINAGAR: The Jammu and Kashmir administration allowed limited mobile data services and fixed-line internet connectivity across the Union Territory from Saturday while still keeping broadband facilities out of the reach of netizens. Internet services were suspended in J&K on the night of August 4 last year, hours before Parliament ended the special status of the erstwhile state the next day.
Issuing an order to this effect on Friday night, J&K home department said internet speed would be restricted to 2G and the facility would be limited only to white-listed websites. "Access will be limited only to white-listed sites and not to any social media applications allowing peer-to-peer communication and virtual private network applications," the order said.
Data services would be available on postpaid mobiles as well as prepaid SIM cards of such holders whose credentials have been verified as per the norms applicable for postpaid connections, the order said, adding: "For fixed-line internet connectivity, access will be limited only after Mac-binding."
The order has listed around 300 white-listed websites, saying that white-listing of sites shall be a continuous process. "The administration has also decided to continue the communication/access facilities at e-terminals and internet kiosks for students, tourists, traders, etc.," the order said.
Valley-based journalists, however, have been kept out of fixed-line and broadband facilities, which have been allowed to essential service providers and the tourism sector. To file their reports, they have been using the internet at the media facilitation centre set up by the government in the office of the director of information on Maulana Azad Road here.
Valley-based scribes have protested several times in the past at the Kashmir Press Club, demanding restoration of their internet facilities, but the government so far has remained unmoved.
Full report at:
https://timesofindia.indiatimes.com/india/government-allows-fixed-line-2g-mobile-internet-across-jammu-and-kashmir/articleshow/73619380.cms
--------
First time in India's history a law discriminates people on religious grounds: Ashok Gehlot on CAA
Jan 25, 2020
JAIPUR: For the first time in India's history a law has been enacted which discriminates people on religious grounds, Rajasthan chief minister Ashok Gehlot said about the Citizenship (Amendment) Act on Saturday after the Assembly passed a resolution urging the Centre to repeal the contentious law.
It is the second Congress-ruled state after Punjab to pass such a resolution. Kerala assembly too had passed a resolution against the CAA moved jointly by the ruling Left alliance and the opposition Congress-led UDF.
"Rajasthan assembly has passed a resolution today against the CAA and we have urged the Central govt to repeal the law as it discriminates against people on religious grounds, which violates the provisions of our Constitution," Gehlot said in a tweet.
#Rajasthan Assembly has passed a resolution today against the #CAA and we have urged the Central govt to repeal the… https://t.co/ZrhWAyOWDb
— Ashok Gehlot (@ashokgehlot51) 1579949174000
In a series of tweets, he said the Constitution prohibits any kind of discrimination but "this is the first time in the history of the nation that a law has been enacted which discriminates people on religious grounds".
Our Constitution prohibits any kind of discrimination. This is the first time in the history of the nation that a l… https://t.co/U7FRrGKe9G
— Ashok Gehlot (@ashokgehlot51) 1579949218000
"It violates secular principles of our Constitution and also Article 14 of our Constitution," he said, adding that Article 14 clearly states that the state shall not deny to any person equality before the law or the equal protection of the laws within the territory of India.
"The term secular in the Constitution of India means that all the religions in India get equal respect, protection and support from the State. CAA aims to change this basic principle. For this very reason, CAA has been opposed across the country," Gehlot said.
The term secular in the Constitution of India means that all the religions in India get equal respect, protection a… https://t.co/EI9rB6WQ7u
— Ashok Gehlot (@ashokgehlot51) 1579949442000
Full report at:
https://timesofindia.indiatimes.com/india/first-time-in-indias-history-a-law-discriminates-people-on-religious-grounds-ashok-gehlot-on-caa/articleshow/73617179.cms
--------
Throw out Bangladeshi, Pakistani Muslim infiltrators, says Sena
January 26, 2020
Two days after the MNS declared its support to the Narendra Modi government over the eviction of Bangladeshi and Pakistani infiltrators, the Shiv Sena on Saturday said that Muslim infiltrators from these countries should be thrown out of India.
The party also took a dig at MNS chief Raj Thackeray over his ideological shift towards Hindutva, saying that dealing with the Hindutva ideology as propagated by V D Savarkar and late party founder Balasaheb Thackeray was not a child's play. Further, it taunted him saying that having two flags showed a confused state of mind.
"Pakistani and Bangladeshi Muslim infiltrators should be thrown out of the country. There should not be any doubt about it. But it is amusing to see a party changing its flag… having two flags is a sign of a confused mindset," an editorial in Sena mouthpiece Saamana said.
Raj Thackeray on Thursday had unveiled his party's new flag, which is saffron in colour and bears the royal seal used during the times of Chhatrapati Shivaji.
The editorial said that the MNS chief has the right to present his views. "But the stand taken by him today and his opinions expressed 15 days ago are different. While he extended support to the Citizenship (Amendment) Act (CAA) on Thursday, he had taken the exactly opposite stand a month ago. MNS chief had said that (Home Minister Amit) Shah is playing a game to divert opinion from serious issues like economic slowdown and unemployment and he has become successful in it.
In a month's time, Raj Thackeray has become a successful victim of the same game and has extended support to CAA," it added.
During his speech on Thursday, Raj Thackeray had defended the CAA and the National Register of Citizens (NRC) and also announced that the MNS would take out a protest march on February 9 seeking eviction of illegal migrants from Pakistan and Bangladesh.
Maintaining that there was a lot of chaos across the country on CAA and NRC, the Sena said: "The government is aiming to reap political benefits through this chaos. The CAA will not only impact Muslims but also around 30 to 40 per cent of the Hindu population. But this truth has been kept hidden. Armymen and the family of former a President are being termed as outsiders in Assam under this law…"
Unlike the other states that have taken a clear stand against CAA and NRC, Sena has been ambiguous in its positioning on these. In the last week of December, Chief Minister Uddhav Thackeray said "nobody's rights will be taken away and the government is strong enough protect the rights of citizens of all religions". But he has not said that his government will not implement the NRC.
The Sena further criticised the MNS over aligning with Hindutva. "It is not a child's play to take forward the Hindutva of Veer Savarkar and Balasaheb Thakceray. Still, we are large-hearted enough to welcome those who have a pro-Hindutva agenda. Go ahead if you think you can bear it," it said.
It added that the MNS is unlikely to achieve anything from its new Hindutva stand as Sena had never shed its saffron colour. "The Shiv Sena had already done a lot of work on the issue of Marathi. Hence, MNS did not get any response from Marathi people. There is a criticism that Raj Thackeray has turned towards Hindutva as BJP wanted it…"
"Shiv Sena formed the government in Maharashtra with Congress and NCP. This doesn't mean that the party has given up on its ideology. More than criticism, there is heartburn… BJP can join hands with anybody, including Mehbooba Mufti, but if others make a similar political move, it becomes a sin," the party said.
Full report at:
https://indianexpress.com/article/cities/mumbai/throw-out-bangladeshi-pakistani-muslim-infiltrators-says-sena-6235504/
--------
Arab World
Pope Francis backs Iraqi call for its sovereignty to be respected
25 January 2020
Pope Francis met Iraq's president on Saturday and the two agreed that the country's sovereignty must be respected, following attacks on Iraqi territory this month by the United States and Iran.
President Barham Salih held private talks for about 30 minutes with the pope and then met the Vatican's two top diplomats, Secretary of State Cardinal Pietro Parolin and Archbishop Paul Gallagher, its foreign minister.
The talks "focused on the challenges the country currently faces and on the importance of promoting stability and the reconstruction process, encouraging the path of dialogue and the search for suitable solutions in favor of citizens and with respect for national sovereignty," a Vatican statement said.
On January 8, Iranian forces fired missiles at two military bases in Iraq housing US troops in retaliation for Washington's killing of Iranian General Qassim Soleimani in a drone strike at Baghdad airport on January 3.
The Iraqi parliament has passed a resolution ordering the 5,000 US troops stationed in Iraq to leave the country.
Soon after the Iranian attack, Francis urged the United States and Iran to avoid escalation and pursue "dialogue and self-restraint" to avert a wider conflict in the Middle East.
The pope discussed the Middle East with US Vice President Mike Pence on Friday.
The recent tensions in Iraq could make it impossible for Francis to visit the country, which he has said he would like to do this year.
The Vatican said the pope and Salih also discussed "the importance of preserving the historical presence of Christians in the country."
The Christian presence in Iraq and some other countries in the Middle East has been depleted by wars and conflicts.
Iraq's several hundred thousand Christians suffered particular hardships when ISIS controlled large parts of the country, but have recovered freedoms since the extremists were pushed out.
https://english.alarabiya.net/en/News/middle-east/2020/01/25/Pope-Francis-backs-Iraqi-call-for-its-sovereignty-to-be-respected.html
--------
Marking 100 days of demonstration, Lebanese protesters hit Beirut streets
25 January 2020
Hundreds of people hit the streets of the Lebanese capital on Saturday to mark 100 days of anti-government demonstrations and denounce a new cabinet line-up.
Protests demanding the removal of politicians deemed incompetent and corrupt have gripped Lebanon since October 17 and forced the resignation of the government.
A new cabinet was announced on Tuesday after a three-month vacuum.
But protesters say the ministers were chosen along sectarian lines and that the line-up does not satisfy their demands for a government of independents and technocrats.
On Saturday, several marches were held in Beirut under the slogan "No trust," with protesters converging on the city center.
Demonstrators chanted "Revolution, Revolution" under the watchful gaze of security forces, who were deployed in high numbers.
The protest movement has largely been peaceful since it began more than three months ago, but has turned violent in recent weeks.
"The government (formed on Tuesday) is not the one we have been seeking," demonstrator Perla Maalouli said in central Beirut.
"We demand a salvation government... not one whose members are selected according to (sectarian) quotas," which the protest movement had mobilized against, she said.
Apportioning positions between Lebanon's main Christian, Sunni and Shiite communities has been key to forming governments since the end of the 1975-1990 civil war.
Maalouli said politicians had failed to heed the protest campaign.
"After 100 days (of demonstrations), they continue to do as they please, as if the people have not spoken," she said.
The new government, headed by academic Hassan Diab, faces huge economic and political challenges.
Lebanon has one of the world's highest debt-to-GDP ratios and economists have argued it is hard to see how the near-bankrupt country could repay its creditors.
The Lebanese pound has lost over a third of its value against the dollar in the parallel market and banks are tightening restrictions on dollar transactions amid a liquidity crunch.
The economic downturn has raised questions over whether Lebanon will turn to the International Monetary Fund for a bailout, an option the government has yet to comment on, but which some officials regard as inevitable.
Earlier Saturday, the new Finance Minister Ghazi Wazni met with a senior IMF official in Beirut, a day after holding talks with a World Bank delegation.
Full report at:
https://english.alarabiya.net/en/News/middle-east/2020/01/25/Marking-100-days-of-demonstration-Lebanese-protesters-hit-Beirut-streets.html
--------
Three Iraqi protesters killed in Baghdad, south
25 January 2020
Three protesters were shot dead on Saturday in Iraq's capital and south, medics told AFP, as demonstrators clashed with security forces clearing streets and squares occupied for months by protesters.
One demonstrator was killed in the capital Baghdad and two others were shot in the southern flashpoint city of Nassiriya, medics in each city said.
The deaths came a day after firebrand cleric Moqtada al-Sadr withdrew his support for the anti-government campaign, prompting fears of a crackdown by security forces.
Earlier on Saturday, clashes erupted after authorities began removing concrete barriers near Tahrir Square, where anti-government demonstrators have camped out for months, and across at least one main bridge over the Tigris River in the capital.
Supporters of populist cleric Moqtada al-Sadr had begun to leave protest camps overnight after he announced he would no longer be involved in the anti-government demonstrations.
In the southern city of Basra, security forces raided the main anti-government sit-in overnight and deployed in force to stop protesters gathering there again, security sources said. Police arrested at least 16 protesters in the city, they said.
At least 34 people were injured in the clashes between police and protesters in Baghdad, and another six in the southern city of Nassiriya, security sources and medics said.
The actions of the security forces appeared to be an attempt to fully clear anti-government sit-ins and end months of demonstrations calling for the removal of Iraq's ruling elite.
The raids began hours after al-Sadr said he would halt the involvement of his supporters in the anti-government unrest.
Al-Sadr had supported the demands of protesters for the removal of corrupt politicians and for the provision of services and jobs soon after the demonstrations began in October, but stopped short of calling all his followers to join in.
Many of al-Sadr's millions of supporters many hailing from Baghdad's slums have however been involved in the protests.
Al-Sadr's followers held a march on Friday calling for the removal of US troops from the country in a rally separate from the anti-government protests. The march dissipated after several hours.
Al-Sadr wrote on Twitter late on Friday he would "try not to interfere in the issue (of protesters), either negatively or positively, so that they can shepherd the fate of Iraq." He did not elaborate.
Full report at:
https://english.alarabiya.net/en/News/middle-east/2020/01/25/Iraqi-authorities-remove-barriers-near-main-Baghdad-protest-site-7-injured.html
--------
Syrian forces advance towards key Idlib city as terrorists block civilians' exit
26 January 2020
Syrian forces inch closer to a key city in the northwestern Idlib Province as part of a counter-terrorism operation, but foreign-backed Takfiri militants prevent civilians from leaving through humanitarian corridors.
Syria's official SANA news agency reported on Saturday that army units had managed to wrest control over the villages and towns of Karsian, Ma'ar Shamarin, Abu Jreif and Takana near the city of Ma'arat al-Nu'man after eliminating terrorists.
Syrian soldiers conducted accurate artillery and missile strikes on militant-held positions in those towns, the report said.
Idlib remains the only large area in the hands of terrorists after the Syrian military managed to undo militant gains across the country and bring back almost all of Syrian soil under government control.
In another report, SANA said the terror outfits occupying Idlib and Aleppo countryside use locals as human shields and prevent them from leaving to safe areas through Abu al-Dohour, al-Habit and al-Hader corridors.
Jabhat al-Nusra and affiliated terrorist groups have established a number of monitoring posts in the areas adjacent to the recently liberated areas in a bid to block the civilians' exodus, the report added.
On Saturday, Syria's Foreign Ministry wrote to the UN, stressing that the operation in Idlib and Aleppo against Takfiri elements "will not stop until the elimination of those terrorists, who threaten safety and security of Syrian civilians."
In two letters sent to the UN chief and the head of the Security Council, the ministry complained that armed terrorist groups, particularly Hayat Tahrir al-Sham and Jabhat al-Nusra, continue to target civilians and facilities such as hospitals, schools and places of worship in Idlib and Aleppo.
The militants prevent locals from leaving the occupied towns to safe areas, according to the letters.
"The precise and well studied military operations carried out by the Syrian Arab Army and its allies in Aleppo and Idlib come after the appeals from the Syrian citizens in these two governorates, and in response to the systematic crimes committed by the armed terrorist groups which continue to exploit the unwavering military and logistic support provided by Western countries and their tools in the region," the letters read.
US soldier dies in Syria
Also on Saturday, the Pentagon announced that an American soldier had died in Syria, adding that the incident was under investigation.
According to a release by the department, Army Specialist Antonio I. Moore, 22, from Wilmington, North Carolina, died in Syria's Dayr al-Zawr Province on Friday "during a rollover accident while conducting route clearing operations."
General Frank McKenzie, the US Middle East commander, made an unannounced tour of five military bases in Syria, during which he was asked about the future of American troops in the Arab country.
"This is an area where we made a commitment. I think we're going to be here for a while," he replied.
On Saturday morning, McKenzie met with Mazloum Abdi, the commander of the so-called Syrian Democratic Forces (SDF) - a US-backed alliance of mainly Kurdish militants. He said that Abdi wanted assurances that Washington would continue to help SDF militants.
The US commander said his answer was that the US would continue to partner with militants and control Syrian oil fields, but that he had not put a deadline on it.
"He knows, and I agree, that we're not going to be here for 100 years," McKenzie said during a stop at Green Village military outpost, east of Dayr al-Zawr.
Full report at:
https://www.presstv.com/Detail/2020/01/26/617110/Syria-Idlib-Aleppo-terrorists
--------
Lebanese security forces fire water cannons, tear gas at protesters
26 January 2020
Lebanese security forces on Saturday fired water cannons and tear gas at anti-government protesters trying to breach a security barricade outside government headquarters in central Beirut.
Some protesters among the hundreds who had gathered for a planned march managed to open a metal gate blocking their way but were pushed back.
After Lebanon's Internal Security Forces used Twitter to warn peaceful demonstrators to leave for their own safety, riot police fanned out to disperse dozens of remaining protesters.
"We want the demonstrations to be peaceful so they can prevail," said Abdo Saadeh, criticizing a government formed this week as a "masquerade" by a political elite that protesters blame for driving the country towards collapse.
The Iranian-backed group Hezbollah and its allies formed a cabinet of technocrats nominated by their parties under Prime Minister Hassan Diab, who was tapped for the job after protests forced former premier Saad Hariri to resign on October 29.
"We came here today because there is no trust in this government," Saadeh said. "They brought their cronies, their consultants."
The new government must tackle a financial emergency that has sunk the currency, pushed up prices and driven banks to impose capital controls. Security conditions have deteriorated, with hundreds injured last weekend in clashes between demonstrators and security forces.
Full report at:
https://english.alarabiya.net/en/News/middle-east/2020/01/26/Lebanese-security-forces-fire-water-cannons-tear-gas-at-protesters.html
--------
Kurdish authorities move 21 orphans out of Syria al-Hol camp
26 January 2020
Kurdish authorities said they transferred 21 orphans from a squalid displacement camp in northeast Syria on Saturday, including two French children who are set to be repatriated.
The children, including some from France, Egypt and Dagestan, were only a fraction of the 224 orphans living in al-Hol camp, home to thousands of relatives of ISIS fighters.
They were transferred to the Kurdish-run settlement of Roj, also in northeast Syria, said Jaber Mustafa, an official at al-Hol.
He did not say why only 21 orphans were being transferred but argued that Roj is better equipped to host orphans.
"The child care centers in Al-Hol lack many basic services," including trained specialists and educators, he said.
Two French orphans are among those being transferred, said another camp official who asked not to be named because he was not authorized to speak on the issue.
They will be handed to a representative of the French government who will then repatriate them, the official added, without providing a timeline.
The repatriation, according to the official, is taking place at the request of Paris.
Full report at:
https://english.alarabiya.net/en/News/middle-east/2020/01/26/Kurdish-authorities-move-21-orphans-out-of-Syria-al-Hol-camp.html
--------
Iraqi forces raid protest camps, four killed after Sadr followers withdraw
26 January 2020
Iraqi security forces raided Baghdad's main protest site on Saturday and tried to eject protesters in southern cities, firing tear gas and bullets killing four people and wounding dozens more, police and medical sources said.
The new push to end the sit-ins and restore order came hours after populist cleric Moqtada al-Sadr, who counts millions of supporters in Baghdad and the south, said he would halt his involvement in anti-government unrest.
Sadr's supporters, who had bolstered the anti-government protesters and sometimes played a role in protecting them from attacks by security forces and unidentified gunmen, began withdrawing from sit-ins early on Saturday after Sadr's announcement.
Clashes then took place after authorities began removing concrete barriers near Tahrir Square where anti-government demonstrators have camped out for months, and across at least one main bridge over the Tigris River in the capital, Reuters reporters said. Supporters of al-Sadr had begun to leave protest camps overnight after he announced he would no longer be involved in the anti-government demonstrations.
In the southern city of Basra, security forces raided the main anti-government sit-in overnight and deployed in force to stop protesters gathering there again, security sources said. Police arrested at least 16 protesters in the city, they said.
In Baghdad, at least one person was killed and more than 30 injured in clashes between police and protesters near Tahrir Square. Another three died and 14 were wounded in the southern city of Nassiriya when security forces took control of a bridge occupied for days by demonstrators, security sources and medics said.
Full report at:
https://english.alarabiya.net/en/News/middle-east/2020/01/26/Iraqi-forces-raid-protest-camps-four-killed-after-Sadr-followers-withdraw.html
--------
Riot police in Lebanon fire water cannons at protesters breaching barricade in Beirut
25 January 2020
Lebanese security forces have fired water cannons and tear gas at crowds of anti-government protesters in a bid to prevent them from breaching a security barricade just outside the government headquarters in central Beirut.
"Rioting and attacks against Internal Security Forces (ISF) have begun, we therefore ask peaceful protesters to leave Riad al-Solh area for their safety," the ISF said on Twitter on Saturday.
قوى الامن الداخلي
✔
@LebISF
بدأت أعمال الشغب والاعتداء على عناصر #قوى_الأمن الداخلي، لذلك نطلب من المتظاهرين السلميين مغادرة ساحة رياض الصلح حفاظًا على سلامتهم .
View image on Twitter
432
10:00 PM - Jan 25, 2020
Twitter Ads info and privacy
148 people are talking about this
In another tweet, it also warned that everyone present in the riot site would be arrested by riot police, so the ISF "again requires the protesters to leave immediately."
قوى الامن الداخلي
✔
@LebISF
كل شخص موجود في مكان أعمال الشغب سوف تعمد عناصر مكافحة الشغب على توقيفه لذلك تطلب #قوى_الأمن الداخلي مجددا من المتظاهرين المغادرة فوراً.
View image on Twitter
777
10:55 PM - Jan 25, 2020
Twitter Ads info and privacy
257 people are talking about this
The planned protest on Saturday was held under the slogan "We won't pay the price" and it began peacefully but then saw a repeat of violence that has marked recent anti-government demonstrations against a political class that demonstrators have accused of having plunged the country into its worst crisis in decades.
Unrest in Beirut has deepened the multi-faceted crisis sweeping the country, which grapples with financial strains that have sunk the currency, increased prices and driven banks to impose capital controls.
Lebanon has been facing a tough economic situation because of the policies of successive governments, prompting people to hold numerous protest rallies since October 17 last year, when the government proposed imposing a tax on WhatsApp calls, along with other austerity measures.
On October 29, then Prime Minister Saad Hariri resigned under pressure from unprecedented cross-sectarian protests, creating a persisting political void.
In December, Hassan Diab was designated as prime minister. He vowed to form a government made up of "independent specialists" who did not belong to political parties.
However, the 60-year-old former education minister failed to form such an ideal government due to political divisions and jockeying for power, leaving the country with no choice other than having a caretaker government.
Nevertheless, Diab, a self-professed "technocrat", announced on Tuesday that he had managed to form his government, saying it was made up of 20 specialist ministers backed by the political parties.
The anti-government demonstrators blame the faltering economy on widespread corruption and abuse of privileges among politicians as the national debt hovers around $85 billion.
Full report at:
https://www.presstv.com/Detail/2020/01/25/617085/Lebanon-police
--------
Iraq clears protest barriers after massive anti-US rallies
25 January 2020
Iraqi security forces have cleared concrete blocks from main protest sites in Baghdad and Basra, which a group of rioters had used to disrupt normal life.
Security forces descended on Tayaran Square, Mohammad Qasim highway and Ahrar Bridge in Baghdad on Saturday to open them to traffic.
As they began opening roads, a group of protesters reportedly attacked them, triggering clashes which left several casualties.
Medics said security forces were using tear gas and live rounds to clear protest camps across the capital.
The decision to open roads came a day after hundreds of thousands of Iraqis rallied in Baghdad to call for an end to US military presence in the country following high-profile assassinations and airstrikes targeting anti-terror forces.
Huge crowds of men, women and children of all ages converged on the Jadriyah neighborhood near Baghdad University, with protesters carrying banners and chanting slogans calling for the expulsion of US forces.
The massive rally came after influential cleric Moqtada al-Sadr called on Iraqis to stage "a million-strong, peaceful, unified demonstration to condemn the American presence and its violations".
Protesters chanted "get out, get out, occupier" as they massed in the Jadiriyah district of east Baghdad. Others chanted "Death to America", while the Iraqi flag was widely flown.
Around 5,200 US troops are still in Iraq. Earlier this month, the Iraqi parliament voted to expel all American forces in the country.
US President Donald Trump has refused to discuss the withdrawal with Iraq's acting prime minister Adel Abdul Mahdi and instead threatened to seize about $35 billion of Iraqi oil revenues held in a bank account in New York.
The rally coincided with a report by the Middle East Eye that the US was seeking to carve out a "Sunni state" in Iraq's Anbar province in a bid to secure the presence of its military forces.
Full report at:
https://www.presstv.com/Detail/2020/01/25/617050/Iraq-Iraqi-forces-Baghdad-protest-corruption-economy
--------
Saudi Arabia's envoy to UK: We need to do a better job of showing who we are
January 25, 2020
LONDON: Saudi Arabia needs "to do a better job" of "showing the world who we really are," its ambassador to Britain said.
"In Saudi we do not always represent ourselves very well because we are a reticent people and our culture does not push us to talking about ourselves," Prince Khalid bin Bandar bin Sultan told the Daily Telegraph.
He made his comments in light of recent allegations that Saudi Crown Prince Mohammed bin Salman was involved in hacking the phone of Amazon CEO Jeff Bezos.
"It is very easy for people to throw these unsubstantiated allegations against Saudi Arabia because they know that it is very difficult for Riyadh to defend itself when it does not have proper access to the details," the ambassador said.
"We need to see the evidence before we make any response, because the evidence made public so far is circumstantial at best."
Prince Khalid, who was appointed last year, encouraged people to visit his country before forming an opinion of it.
"There are a lot of misconceptions about Saudi Arabia. We want people to come and see Saudi Arabia for themselves, and not rely on what they have read somewhere or heard somewhere to form their opinion of the country," he said.
"There is plenty to see, and you will find a warm, generous and hospitable people there waiting to greet you."
He said Riyadh does not seek conflict with Tehran but will not let "Iran's meddling in the region" go unchecked.
"We do not seek conflict. We do not seek escalation. We have always been supporters of taking a firm stand against Iran. Our issue is not with the people of Iran, it is with the regime running the country," he added.
"But we do not believe in appeasement. At no point in history has appeasement proved to be a successful strategy. You cannot give in to a country like Iran because they will see it as a sign of weakness."
France, Germany and the UK, three of the signatories to the Joint Comprehensive Plan of Action (JCPOA), triggered a "dispute resolution mechanism" recently in response to Iran ramping up its nuclear program in violation of the deal.
Prince Khalid criticized the JCPOA because it does not address "all the other things that Iran" is doing in the region.
Full report at:
https://www.arabnews.com/node/1618046/saudi-arabia
--------
Lebanon central bank reassures foreign investors about deposits
January 25, 2020
BEIRUT: Lebanon's central bank said on Saturday there would be no "haircut" on deposits at banks due to the country's financial crisis, responding to concerns voiced by a UAE businessman about risks to foreign investments there.
Emirati Khalaf Ahmad Al-Habtoor, founder of the Al-Habtoor Group that has two hotels in Beirut, posted a video of himself on his official Twitter account asking Lebanon's central bank governor if there was any risk to dollar deposits of foreign investors and whether there could be any such haircut.
"The declared policy of the Central Bank of Lebanon is not to bankrupt any bank thus preserving the depositors. Also the law in Lebanon doesn't allow haircut," the Banque Du Liban (BDL) said in a Twitter post addressed to Al-Habtoor, from Governor Riad Salameh.
"BDL is providing the liquidity needed by banks in both Lebanese pound and dollars, but under one condition that the dollars lent by BDL won't be transferred abroad."
"All funds received by Lebanese banks from abroad after November 17th are free to be transferred out," it added on its official Twitter account.
The heavily indebted country's crisis has shaken confidence in banks and raised concerns over its ability to repay one of the world's highest levels of public debt.
Seeking to prevent capital flight as hard currency inflows slowed and anti-government protests erupted, banks have been imposing informal controls on access to cash and transfers abroad since last October.
A new government was formed this week, and its main task is to tackle the dire financial crisis that has seen the Lebanese pound weaken against the dollar.
Full report at:
https://www.arabnews.com/node/1618051/business-economy
--------
Mideast
Israel bans senior Palestinian cleric from entering al-Aqsa Mosque for 4 months
25 January 2020
Israeli officials have banned a high-ranking Palestinian Muslim cleric from entering al-Aqsa Mosque in occupied East Jerusalem al-Quds amid an escalation of acts of violence by Israeli forces and settlers against Palestinian people.
Israeli police forces raided the house of the head of the Supreme Islamic Commission and the Imam of al-Aqsa Mosque, Sheikh Ekrema Sabri, in occupied Jerusalem al-Quds early on Saturday and handed him a notice, banning him from entering the sacred site for four months.
Israeli forces also summoned the senior Palestinian cleric for interrogation at al-Qashla interrogation center in Jerusalem al-Quds.
Wafa News Agency
@WAFA_PS
الاحتلال يبعد الشيخ عكرمة صبري عن الأقصى 4 أشهر ويسلّمه بلاغا لمراجعة مخابراتهhttps://bit.ly/36nwGK8
View image on Twitter
1:09 PM - Jan 25, 2020
Twitter Ads info and privacy
See Wafa News Agency's other Tweets
The measure came hours after Sheikh Sabri ignored an Israeli ban, and entered al-Aqsa Mosque to perform Friday prayers while being carried on the shoulders of worshipers.
The imam arrived at the Lion Gate entrance, in the northern side of Al-Aqsa Mosque, but Israeli forces stationed there initially prevented him from entering the mosque.
Sheikh Sabri, however, insisted on entering the mosque, arguing that it is his right to have free access to the Islamic holy site. He entered al-Aqsa Mosque, accompanied by a number of Muslim community leaders and lawyers.
Several Palestinians sustained injuries on Friday after Israeli forces attacked worshipers inside al-Aqsa Mosque's compound following dawn prayers.
Israeli troops fired rubber-coated steel-bullets and attacked the worshipers in order to force them out of the religious site.
The al-Aqsa Mosque compound is a flashpoint, highly respected by Muslims, Jews, and Christians alike. The mosque is Islam's third holiest site.
Palestinians have long been wary of Israeli attempts to change the status quo of al-Aqsa Mosque, where only Muslim prayers are allowed under the status quo reaffirmed in 1967.
The holy compound is administered by the Islamic Waqf endowment on behalf of Jordan and Palestine. Non-Muslims can visit the site, but cannot pray there.
This coincided with the chief rabbinate of Israel's declaration in 1967 that Jews were not allowed to the compound as it would desecrate the site's holiness.
However, Israeli settlers, escorted by the regime's military, frequently desecrate the site by forcefully entering the compound.
https://www.presstv.com/Detail/2020/01/25/617060/Israel-bans-senior-Palestinian-cleric-from-entering-al-Aqsa-Mosque-for-4-months
--------
Trump's Middle East peace plan will be 'historic': Netanyahu
26 January 2020
Israeli Prime Minister Benjamin Netanyahu on Saturday said he expected US President Donald Trump's peace plan for the Middle East to be "historic" ahead of a trip to Washington.
"An opportunity such as this comes once in history and cannot be missed... I am full of hope that we are on the verge of a historic moment in the annals of our state," Netanyahu, who has been invited to meet Trump at the White House on Tuesday to discuss the plan, said in a statement.
https://english.alarabiya.net/en/News/middle-east/2020/01/26/Trump-s-Middle-East-peace-plan-will-be-historic-Netanyahu.html
--------
Tensions run high in Jerusalem as mosques and Muslims targeted
January 26, 2020
AMMAN: Tensions are running high in Jerusalem following an arson attack on a mosque, anti-Palestinian graffiti and a leading cleric given an extended ban from Al-Aqsa, senior figures have told Arab News.
Arson was suspected in the torching of a mosque in Beit Safafa and graffiti had been sprayed on a nearby wall outside the building.
The events follow the high-security commemoration of Holocaust memorial events that were attended by dignitaries and heads of state from around the world in Jerusalem.
Muslim leaders called on worshippers to attending sunrise morning prayers on Friday and at least 50,000 people turned up, causing Israeli authorities to panic.
Worshippers carried Sheikh Ekrima Sabri, who had already been told to stay away from Al-Aqsa, on their shoulders and the picture of the defiant congregation bearing him aloft was published around the world.
Wasfi Kailani, executive director of the Hashemite Fund, said the escalation of the situation has caused people to worry.
"Muslims are worried about their mosque and their action reflects their loss of trust in all the attempts to quieten them down," he told Arab News.
Sabri told Arab News he had not received any written ban to stop him entering the mosque when he entered it on Friday.
The following day Israeli soldiers appeared at his house at 2 a.m. and handed him a four-month ban from entering Al-Aqsa. The sheikh said the decision was "revenge for a picture that went around the world."
He said he would meet his lawyers and fellow Muslim leaders to decide what would happen next.
Fadi Hidmi, the Palestinian minister of Jerusalem affairs, told Arab News that Israelis had shown they did not respect holy places or faith leaders. The people of East Jerusalem were united and resilient, he added.
Israeli officials were upset with the visit to Al-Aqsa by French President Emmanuel Macron, which was not officially coordinated with any political side. The visit was preceded by a confrontation between Macron and Israeli police who tried to stop him from visiting the Church of St. Anne and his meeting there with Palestinian Christian leaders.
Macron visited Al-Aqsa, giving just 45-minutes notice to the head of the Islamic Waqf in Jerusalem Sheikh Azzam Khatib. But there was no official coordination with Israel, Palestine or Jordan.
Macron was well received at the holy site, and later met local merchants in the old city. He also visited the Western Wall.
Ziad Abu Zayyad, former minister of Jerusalem affairs in the Palestinian government, told Arab News that the attack on Jerusalem's mosques and leaders had become the norm and that Israel's anti-Palestinian attitude had become evident to the world.
Full report at:
https://www.arabnews.com/node/1618161/middle-east
--------
Palestinian Authority demands cessation of Israeli settler attacks on places of worship
25 January 2020
The Palestinian Authority has strongly condemned a recent attack by a group of extremist Israeli settlers on a mosque in the Jerusalem al-Quds, calling on the international community to take effective measures aimed at stopping such desecration of places of worship in the occupied Palestinian territories.
Palestinian Ministry of Foreign Affairs and Expatriates said in a statement that the arson attack against the mosque in Beit Safafa town, located 4.5 kilometers (2.7 miles) southwest of Jerusalem al-Quds, besides assaults on other Christian and Muslim places of worship reflects the nature of the Zionist regime's politics and attitudes, and its intentions to accommodate extremist Jews and fanatic settlers in the occupied West Bank.
The statement added that extremist Jews follow a dark ideology based on racism, hatred, violence and religious intolerance towards others, and the school of thought seeks to create an atmosphere that deters others and denies their presence in the occupied Palestine.
The Palestinian foreign ministry then condemned in the strongest terms Israeli settler price tag attacks on places of worship and worshipers, describing the assaults as a dangerous precedence to a religious war in the region with the aim of promoting Talmudic narratives.
It called on the international community and relevant international bodies to stand against such grave violations of international law, human rights principles and civil liberties – the foremost of which is the freedom of worship.
The ministry urged the international community to ensure protection for sacred places across the Palestinian land, and force Israel as an occupying regime to abide by its responsibilities as regards people under occupation.
Early on Friday, a group of extremist Israeli settlers torched al-Badriya Mosque southwest of Jerusalem al-Quds, and sprayed racist anti-Arab graffiti on its walls.
Back in July 2015, a large fire broke out after settlers threw firebombs and Molotov cocktails into two Palestinian houses in the West Bank town of Duma, setting them ablaze while their inhabitants were asleep.
The arson attack killed 18-month-old baby Ali Dawabsheh, and critically wounded his father and mother, Sa'ad and Riham, who later succumbed to their injuries. Ali's four-year-old brother, Ahmad, who was also wounded in the assault, remained the sole survivor of the ill-fated family.
More than 600,000 Israelis live in over 230 settlements built since the 1967 Israeli occupation of the Palestinian territories of the West Bank and East Jerusalem al-Quds.
All Israeli settlements are illegal under international law.
Full report at:
https://www.presstv.com/Detail/2020/01/25/617041/Palestine-demands-cessation-of-Israeli-settler-attacks-on-places-of-worship
--------
Turkey quake death toll rises to 31
26 January 2020
The death toll from a powerful earthquake which struck eastern Turkey rose to 31, officials said Sunday, as rescue efforts continued.
The magnitude 6.8 quake hit on Friday evening, with its epicenter in the small lakeside town of Sivrice in Elazig province but also affected neighboring cities and countries.
The Turkish government's disaster and emergency management agency (AFAD) said 31 people died, the majority in Elazig but at least four in nearby Malatya, and 1,607 were injured.
Rescuers scrambled all of Saturday and searched Sunday to rescue people alive from under the rubble. The latest number of individuals rescued was 45, according to AFAD.
Nearly 80 buildings collapsed while 645 were heavily damaged in Elazig and Malatya, the agency said in a statement.
President Recep Tayyip Erdogan promised Saturday that Turkey's housing agency TOKI would "do whatever is necessary and make sure no one is left without a home."
Full report at:
https://english.alarabiya.net/en/News/middle-east/2020/01/26/Turkey-quake-death-toll-rises-to-31-.html
--------
Israel strikes in Gaza in response to flammable balloons
26 January 2020
Israel carried out air raids on Hamas targets in the Gaza Strip late Saturday, in response to the launching of incendiary devices attached to balloons sent over from the Palestinian enclave, the army said.
"A short while ago, combat planes hit a number of targets of the Hamas organization in the southern Gaza Strip," the military said in a statement.
Among the targets was an arms factory, the army added, stressing that the air raids were in response to the launching of the incendiary balloons towards Israeli territory.
Hamas has controlled Gaza since 2008, and Israel holds the Islamist movement responsible for all rocket fire coming from the territory, although it has targeted other militant groups there.
On Tuesday, Israeli troops shot dead three Palestinians who crossed into Israel from Gaza and hurled an explosive device at soldiers, according to the army.
Full report at:
https://english.alarabiya.net/en/News/middle-east/2020/01/26/Israel-strikes-in-Gaza-in-response-to-flammable-balloons.html
--------
Iran has capacity to enrich uranium 'at any percentage': Official
25 January 2020
If Iranian authorities make the decision, Iran's nuclear agency has the capacity to enrich uranium at any percentage, the deputy head of Iran's nuclear agency said in a report that the agency posted on its official website on Saturday.
"At the moment, if (Iranian authorities) make the decision, the Atomic Energy Organization, as the executor, will be able to enrich uranium at any percentage," Ali Asghar Zarean said.
Last Wednesday, Iranian President Hassan Rouhani said that his country will never seek nuclear weapons, with or without nuclear deal, calling on the European powers to avoid Washington's mistake of violating Tehran's 2015 nuclear deal with major powers.
Full report at:
https://english.alarabiya.net/en/News/middle-east/2020/01/25/Iran-has-capacity-to-enrich-uranium-at-any-percentage-Official.html
--------
Israel's Gantz says to meet Trump on peace plan
25 January 2020
Israeli centrist party leader Benny Gantz said on Saturday he has accepted an invitation to meet US President Donald Trump in Washington on Monday to discuss a peace plan for the Middle East.
Gantz is the main rival to Prime Minister Benjamin Netanyahu, who is also traveling to Washington to meet with Trump, in an Israeli election in March.
On Thursday, President Trump said he will release his long-awaited peace plan for the Middle East before Israeli Prime Minister Benjamin Netanyahu visits Washington next week.
Full report at:
https://english.alarabiya.net/en/News/middle-east/2020/01/25/Israel-s-Gantz-says-to-meet-Trump-on-peace-plan.html
--------
Iran's foreign minister says Tehran still willing to negotiate with Washington
25 January 2020
Iran is not ruling out negotiations with the United States even after an American drone strike that killed a top Iranian general, the country's foreign minister said in an interview released Sunday.
Mohammed Javad Zarif told Germany's Der Spiegel magazine that he would "never rule out the possibility that people will change their approach and recognize the realities," in an interview conducted Saturday in Tehran.
There has been growing tension between Washington and Tehran since in 2018, when President Donald Trump pulled the United States out of the nuclear deal with Iran. The US has since re-imposed tough sanctions that have crippled Iran's economy.
But Zarif suggested Iran was still willing to talk, though reiterated his country's previous demand that first the US would have to lift sanctions.
"For us, it doesn't matter who is sitting in the White House, what matters is how they behave," he said, according to Der Spiegel. "The Trump administration can correct its past, lift the sanctions and come back to the negotiating table. We're still at the negotiating table. They're the ones who left."
Trump has maintained that the 2015 nuclear deal needs to be renegotiated because it didn't address Iran's ballistic missile program or its involvement in regional conflicts. The other signatories to the nuclear deal - Germany, France, Britain, China and Russia - have been struggling to keep it alive.
Following the US drone strike on January 3 that killed Gen. Qassim Soleimani, the head of Iran's elite Quds Force, Tehran announced it would no longer abide by any of the deal's limitations to its enrichment activities. It then retaliated January 8, launching ballistic missiles at two bases in Iraq housing American troops, causing injuries but no fatalities among soldiers there.
Zarif did suggest Iran was also still prepared for conflict with the US, though was not specific.
Full report at:
https://english.alarabiya.net/en/News/middle-east/2020/01/25/Iran-s-foreign-minister-says-Tehran-still-willing-to-negotiate-with-Washington.html
--------
Iran's Rouhani offers condolences to Turkey over deadly earthquake
25 January 2020
Iranian President Hassan Rouhani says he is grieved by a recent earthquake in Turkey which killed at least 29 people and left more than 1,400 more injured.
In a letter addressed to his Turkish counterpart Recep Tayyip Erdogan on Saturday, Rouhani offered his condolences to the "brotherly and friendly" country of Turkey over the incident which took place on Friday night.
"The earthquake in Elazig province of that country and death and injury of scores of people ... caused us grieve and sadness," said Rouhani while wishing endurance for the families of the victims.
The Iranian president also said that Tehran was ready to dispatch relief teams to areas in Turkey that were affected by the earthquake.
The letter came hours after Iranian Foreign Minister Mohammad Javad Zarif made a phone call to his Turkish counterpart Mevlut Cavusoglu to extend aid to the neighboring country.
During the call, Zarif also offered his condolences for the loss of lives in the disaster and expressed Iran's sympathy to the Turkish people and government.
On Saturday, Iran's health ministry ordered special teams of Emergency Medical Services (EMS) to stay on alert in order to help Turkey with relief efforts if there was any need to.
Reports late on Saturday said at least 29 people had been killed and more than 1,400 others injured in the 6.8-quake tremor that shook Elazig, located about 550 km (340 miles) east of the capital Ankara, at around 08.55 p.m. local time (1755 GMT) on Friday.
The death toll also included people killed in the neighboring province of Malatya.
Full report at:
https://www.presstv.com/Detail/2020/01/25/617091/Iran-Rouhani-condolence-letter-Turkey-earthquake
--------
US state terrorism starts end of its presence in region: Iran deputy FM
25 January 2020
A senior Iranian diplomat has lashed out at some White House "hawks" for still insisting on its failed maximum pressure campaign against Iran, saying Washington's assassination of Iranian "heroes" through state terrorism will end the US's presence in the region.
"Assassination of our heroes through US state terrorism started the end of US presence in region," Iranian Deputy Foreign Minister for Political Affairs Abbas Araqchi said in a post on his Twitter account on Saturday.
Seyed Abbas Araghchi
✔
@araghchi
#Maximum_Pressure is clearly a big failure but WH hawks-understand nothing about Iran-still insist!
Assasination of our heroes through US state terrorism started the end of US presence in region.
Now juniors in DoS-too blinde to see mass demonstrations-threaten another General!
165
4:12 PM - Jan 25, 2020
Twitter Ads info and privacy
62 people are talking about this
On January 3, the United States assassinated Lieutenant General Qassem Soleimani, the commander of the Quds Force of Iran's Islamic Revolution Guards Corps (IRGC), among others, in an air raid on an airport in the Iraqi capital of Baghdad.
General Soleimani has earned reputation as West Asia's most revered anti-terror commander due to his indispensable contribution to defeating terrorist outfits such as Daesh across the region.
The strike also led to the martyrdom of second-in-command of Iraq's Popular Mobilization Units (PMU) Abu Mahdi al-Muhandis along with eight other Iranians and Iraqis.
In retaliation, the IRGC fired volleys of ballistic missiles on January 8 at Ain al-Assad air base in the western Iraqi province of Anbar, which housed US forces.
Elsewhere in his tweet, Araqchi described the US maximum pressure policy as a clear "big failure" and added, "WH hawks -- understand nothing about Iran -- still insist!"
He then pointed to a new US threat to assassinate the successor of General Soleimani and said, "Now juniors in DoS-too blind to see mass demonstrations-threaten another General!"
US special representative for Iran Brian Hook has threatened the Islamic Republic with yet another act of state terrorism, saying Washington will assassinate the successor of the late IRGC commander as well if he follows in the path of the martyred general.
"If (Esmail) Qaani follows the same path of killing Americans then he will meet the same fate," Hook said.
Iran's Foreign Ministry Spokesman Abbas Mousavi said on Thursday that the US threat to assassinate the new commander of the IRGC's Quds Force is in fact an official publicizing of state terrorism.
Full report at:
https://www.presstv.com/Detail/2020/01/25/617059/Araqchi-US-state-terrorism-maximum-pressure-Soleimani
--------
Israeli warplanes launch fresh attacks on besieged Gaza enclave
26 January 2020
Israeli jet fighters have reportedly targeted the positions of Palestinian resistance forces in the south of the besieged Gaza enclave.
The attacks were aimed at the positions of Izz ad-Din al-Qassam Brigades, the armed wing of Hamas resistance movement, and Al-Quds Brigades, the armed wing of Islamic Jihad resistance group in the north-west and east if Khan Yunis town.
Details of possible damages have not been released yet.
Tel Aviv says the attacks were in retaliation for Hamas' alleged launch of "incendiary balloons" allegedly directed toward the occupied territories.
Earlier this week, Israeli planes sprayed toxic chemical substances and dangerous pesticides on farmlands near the Gaza Strip in the latest case of the Tel Aviv regime's acts of aggression against the besieged Palestinian coastal enclave.
Israeli newspaper Haaretz reported on Wednesday that the Israeli army sprayed the area in close proximity to the fence separating the Gaza Strip from the Israeli-occupied territories for three days last week.
The report added that the Israeli ministry of military affairs has defended the aerial spraying after having refrained from it throughout last year, claiming that it was necessary to destroy "vegetation that obscures soldiers' view of the area."
Gaza has been under Israeli siege since June 2007.
Full report at:
https://www.presstv.com/Detail/2020/01/26/617099/Israel-warplane-gaza-strip-attack
--------
8-year-old Palestinian boy found dead, suspected to have been kidnapped by settlers
25 January 2020
The body of an eight-year-old Palestinian, who had gone missing in Jerusalem al-Quds for around a day, is found at the bottom of a cistern in the occupied city amid suspicion and accusations of his murder by Israeli settlers.
Qais abu Ramila from al-Quds' Beit Hanina neighborhood was found lifeless on Saturday, a day after being reported missing by his family, The Jerusalem Post reported.
The paper cited the Israeli police as saying that the youngster "was last seen entering a car."
"When we arrived at the scene there was a big bustle, dozens of people were walking around the place," it quoted Yanai Levy, an Israeli paramedic, as saying in a statement.
His parents said they believe he was kidnapped, telling the Israeli outlet Maariv, "We demand the police check security footage [from the streets],"
"If it turns out he was kidnapped by [West Bank] settlers it would set the entire neighborhood on fire," they said.
Ahmad Tibi, a member of Knesset (Israeli parliament), told Israel's Ynet news website, "Things are worrisome." "I hope that all doubts will be proven false," he added.
Some, meanwhile, placed the blame for the child's death squarely on violent Israeli settlers.
George Galloway
✔
@georgegalloway
This child, aged 7, has just been fished out of a well dead in #Jerusalem Murdered by illegal Israeli settlers. Will anyone in power cry with his mother and father today? Will anyone check this evil rampage against the people of #Palestine? Anyone?
View image on TwitterView image on Twitter
7,264
5:57 PM - Jan 25, 2020
Twitter Ads info and privacy
6,555 people are talking about this
The settlers have in the past been found guilty in several cases of murdering Palestinians as young as an infant.
On July 31, 2015, a large fire broke out after settlers threw firebombs and Molotov cocktails into two Palestinian houses in the town of Duma, located 25 kilometers (15 miles) southeast of the city of Nablus in the north of the occupied West Bank, setting them ablaze while their inhabitants were asleep.
The arson attack killed 18-month-old baby Ali Dawabsheh and critically wounded his father and mother, Sa'ad and Riham, who later succumbed to their injuries. Ali's four-year-old brother, Ahmad, who was also wounded in the assault, remained the sole survivor of the ill-fated family.
Full report at:
https://www.presstv.com/Detail/2020/01/25/617087/Palestine-Israel-child-body-found-Jerusalem-al-Quds
--------
Turkey's Halkbank facing fines for avoiding US sanctions case
January 26, 2020
JEDDAH: Turkey's state-owned Halkbank has failed to defend itself in court in New York amid charges related to Iranian sanctions.
The non-appearances have increased the penalties the bank could pay for violating US sanctions against Iran between 2012 to 2016.
The suggested fine is $1 million for each day of absence during the first week of noncompliance, increasing to $2 million per day in the following week, with fines reaching $105 million after a month and $1.8 billion after two months.
Halkbank — one of Turkey's largest lenders — is accused of being involved in a gold-for-oil scheme and transferring $20 billion of restricted Iranian funds through the intermediaries of several senior ministers in the ruling Justice and Development Party. A court in New York, which last year rejected the bank's appeal for the case to be dropped, is set to begin hearings about the case on Feb. 25.
Halkbank may also be restricted from acceding to the US financial system and dollar transactions if found guilty of violating sanctions.
The case has been contentious due to the tense relationship between Ankara and Washington.
The bank's senior executive, Hakan Atilla, was sentenced to 32 months in jail two years ago.
In October 2019, Atilla, former jailed banker and former executive of the bank, was selected to become the CEO of the Istanbul stock exchange.
The European Bank for Reconstruction and Development, the second-biggest shareholder, sold its 10 percent stake in the stock exchange allegedly because of Atilla's selection.
He was sentenced to prison in the US for helping Iran in evade sanctions in a multibillion-dollar scheme. He was then released and returned to Turkey in July 2019 after serving 28 months behind bars.
His appointment came a week after US prosecutors in New York filed fraud and money laundering charges against Halkbank.
Ibrahim Kahveci, a Turkish economist, said the Halkbank case became political because it was used as a stick by Washington during a period of difficult relations.
"If Halkbank faces huge penalties, then the bank can cancel all its SWIFT operations. Foreign investors would avoid the bank and Turkey-based operators would not conduct operations through it. It would lead to short-term fluctuations in the economy," he told Arab News.
Full report at:
https://www.arabnews.com/node/1618171/middle-east
--------
Houthi military leaders die in clashes near Sanaa
January 26, 2020
AL-MUKALLA, YEMEN: Iranian-backed Houthi militias have announced the deaths of two military leaders killed in fierce fighting with government forces near the rebel-held city of Sanaa.
Brig. Osam Abdul Hadi and Yahyia Ahmad Al-Saraji died in clashes after government forces launched offensives to cut militia supply lines outside Sana'a and in Hodeida, Jawf and Serwah.
Hospitals in Sanaa, Hajja and Dhamar are struggling to deal with the rising number of wounded following the intense fighting.
On Saturday, fighting broke out in the mountainous Nehim district as army troops advanced into Houthi-controlled territory.
Yemen's Defense Minister, Lt. Gen. Mohammed Ali Al-Maqdashi, said earlier that army troops had withdrawn from locations in Nehim to regroup before resuming their efforts to expel Houthis from Sanaa.
Fighting intensified early last week after Houthi missile and drone attacks killed more than 110 soldiers and civilians in Marib. Saudi-led coalition aircraft also targeted Houthi establishments and reinforcements traveling from Sana'a to Nehim.
Meanwhile, government forces fought off a Houthi attack in the Red Sea city of Hodeida on Friday night. At least 10 rebels, including Abu Mohammed Al-Lahji, a senior Houthi spokesman, died in the fighting.
According to Yemen's Foreign Affairs Minister Mohammed Al-Hadrami, Houthi militias had taken advantage of a suspension of hostilities to reinforce their fighters.
Al-Hadrami warned that Houthi shelling and incursions in Hodeida could derail peace efforts, currently being led by UN Special Envoy for Yemen Martin Griffiths. Yemenis would not "tolerate" more violations by the militia, the minister added.
Full report at:
https://www.arabnews.com/node/1618181/middle-east
--------
Europe
French extremist recruiter sentenced to 22 years in prison
25 January 2020
A Frenchman has been sentenced to 22 years in prison for seeking to recruit dozens of youths to fight as extremists in Syria and for leading a brigade of French-speaking extremists in the war-torn country.
Mourad Fares, 35, fled Syria in 2014, and was arrested in Turkey and handed over to French authorities the same year.
Prosecutors said he played a "crucial" role in the recruiting of young people to fight as extremists in Syria, and noted a lack of any "real regret" for his actions.
Fares appeared unmoved as the verdict was read out at a special court on Friday evening.
He admitted to the court he "indirectly" recruited youths to fight as extremists via his propaganda videos and "facilitated" the entry of a number of people into Syria.
He denied taking part in combat operations in Syria, where he travelled in 2014.
But prosecutors said he "participated in armed actions" with ISIS, later known as the Islamic State group, before leaving to a join a cell of French-speaking extremists affiliated with the Al-Nusra front.
The court also found Fares guilty of leading this cell.
France has been on high alert since a wave of extremist attacks that began in 2015 which have killed more than 250 people.
Dozens of French citizens left to join ISIS in Syria and Iraq before US-led coalition forces dislodged the insurgents from their so-called "caliphate" last year.
ISIS leaders also urged followers in France to stage attacks on their own, often targeting security forces, and officials have said the threat of further ISIS-inspired attacks remains high.
https://english.alarabiya.net/en/News/world/2020/01/25/French-ISIS-recruiter-sentenced-to-22-years-in-prison.html
--------
Mnuchin says optimistic about US-UK trade deal
25 January 2020
US Treasury Secretary Steven Mnuchin said he was optimistic about the chances of a trade deal between the United States and Britain this year, adding that he met Britain's finance minister on Saturday to discuss it.
I'm quite optimistic," Mnuchin said when asked about the potential for a deal between the two countries at an event held at the Chatham House think tank in London.
Mnuchin said he had a breakfast meeting with British finance minister Sajid Javid earlier on Saturday, having also spoken to him this week at the World Economic Forum in Davos.
"We're focused on trying to get this done this year because we think it's important to both of us," he told the audience.
He said that after the United States recently concluded the initial phase of a trade agreement with China, deals with Britain and the European Union were now the focus.
While he conceded that Britain may need to finalize some issues with the European Union before it could discuss them with Washington, he didn't see this as creating a delay.
"I think a lot of the issues can be dealt with simultaneously and again we look forward to continuing a great trade relationship, and, if anything, I think there will be significantly more trade between the US and the UK," he said.
Full report at:
https://english.alarabiya.net/en/News/world/2020/01/25/Mnuchin-says-optimistic-about-US-UK-trade-deal.html
--------
Prince Charles wants to visit Iran: Sunday Times
26 January 2020
Prince Charles, the heir to the British throne, has told the Sunday Times newspaper that he would like to make an official visit to Iran.
"Yes, obviously I would like to [go to Iran]," the Sunday Times quoted him as saying.
"I know that Iran has been such an important part of the world for so many centuries and has contributed so much to human knowledge, culture, poetry, art. I mean, really remarkable people," he said.
Asked about any future royal visits, a spokeswoman for Prince Charles said, "There are no plans for The Prince of Wales to undertake an official visit to Iran."
Prince Charles's wish to visit Iran comes at a time of heightened tensions between Tehran and the West.
Charles told the Sunday Times he tries to be a peacemaker and that he has prayed for peace in the Middle East.
"I do think the most important thing is a just and lasting peace," he said in the interview.
In February 2004, Charles became the first member of the Royal Family to visit the Islamic Republic after the 1979. He visited the country following the devastating earthquake of Bam in late 2003, which killed more than 40,000 people.
London and Tehran have had rocky relations since the 1979 Islamic Revolution, typified by accusations of spying, tit-for-tat diplomatic expulsions and mutual distrust.
Full report at:
https://www.presstv.com/Detail/2020/01/26/617100/Prince-charles-visit-Iran-peacemaker
--------
Pakistan
New FTA with China is a 'marked improvement'
January 26, 2020
KARACHI: A new report just released on the second phase of China-Pakistan Free Trade Agreement (CPFTA) concludes that the "tariff structure offered to Pakistan [under the new agreement] is a marked improvement" over the first CPFTA that was signed in 2006.
"On over 80 per cent of the CPFTA-II product lines that China imports, Pakistan is now offered tariffs that are lower than or equivalent to China's main trade partner" the study says.
The study was commissioned by the Pakistan Business Council and carried out by the Consortium for Development Policy Research. The authors built a dataset of all 8,238 tariff lines at the HS-8 digit level that are part of the CPFTA-II. It merged three types of data, including the tariffs offered under CPFTA-I, trade data on volumes for China and Pakistan and growth rates for Pakistan, China and China's top trade partners. The authors seek to compare whether CPFTA-II gives better access to Pakistani products in the Chinese markets compared to the first FTA, as well as compared to competitor countries that have the same products to offer as those of Pakistan.
Of the 8,238 product lines studied in the report, China does not import 1,035 of the products, meaning 87pc of the product lines are actually there to be availed. Tariffs on these range from zero to 65pc. China has given Pakistan duty-free access on 3,707 lines. A further 30pc of the tariff lines will have duty free access by 2030, and 412 tariff lines will see duty reduced by 20pc in five years. For 1,867 tariff lines, duties will remain where they were in 2013, which is the base year for the study.
Pakistan's progress in the first FTA with China was limited. Even though trade volumes grew, the authors find that out of 7,550 tariff lines that were part of the agreement, actual trade only took place in 350 of these lines.
"It appears Pakistan utilised a meagre 5pc of the lines on which concessions were available, while China exported along 57pc of the lines on which preference tariff lines" under the agreement.
In CPFTA-II the authors identify 401 products that they mark as "high priority", meaning those products that present the highest potential for expansion of exports. Pakistan exported $1.6 billion worth of these products to China in the base year 2013, against China's imports of $148.4bn of the same products from around the world. Pakistan's total exports of these products were $13.8bn worldwide, "which indicates that it has the export capacity to expand exports to China" the report says.
"It will be important, however, to focus on creating new exports, rather than diverting exports from existing markets to China."
In priority 2, there are 1,436 products of which Pakistan exported $2.5bn to the world in 2013, while China imported $464.7bn. By the year 2030, 70pc of priority 2 product lines will have duty free access to China, and in 77pc of these product line Pakistan will find equal of superior access compared to its top five competitors.
The report says challenges to the growth of trade remain beyond tariff concessions. "These relate largely to capacity issues amongst Pakistani businesses, and Pakistan's poor ease of doing business, both of which affect the ability to deliver orders of the scale required in China within the specified period. In addition, there is a strong need for more "market research and scoping in China, identifying reliable Chinese partners, and meeting regulatory requirements in China."
The government will have an additional task to closely monitor FTAs that other countries sign with China in the coming years, and renegotiate this one accordingly. "The Asean-China FTA that followed quick on the heels of CPFTA-I was a sobering reminder that preference margins can be eroded when competitor countries in China successfully negotiate relatively better tariffs."
https://www.dawn.com/news/1530592/new-fta-with-china-is-a-marked-improvement
--------
NA speaker urges UK to relax visa rules for Pakistanis
January 26, 2020
ISLAMABAD: The National Assembly speaker has urged the British High Commissioner to insist upon his government to relax its visa requirements for Pakist­ani nationals following its announcement of updated travel advisory for the country.
National Assembly speaker Asad Qaiser articulated his thoughts when British High Commissioner to Pakistan Dr Christian Turner called on him, according to an official statement released on Saturday.
Dr Turner informed Mr Qaiser regarding their new travel advisory to Pakistan which now allows its citizens to travel by road to the north of Pakistan. He added that the advisory was upgraded in the wake of the improved security situation of the country.
The speaker lauded the decision and urged Dr Turner to emphasise to his government that it should now relax its visa rules for Pakistani nationals. Moreover, the visa centre for Pakistan currently based in the United Arab Emirates should be moved to Pakistan. And, presently the visa fee was too high which need to be reconsidered, he added.
Mr Qaiser said that Pakistan has relaxed its visa regime to attract tourists from across the globe and a visa portal has also been established for the issuance of online visas to international tourists.
The speaker also informed Dr Turner that the government and relevant agencies of Pakistan had taken numerous steps for countering terrorism as well as barring its financing. Therefore, friendly countries such as the UK should play their due role in removing Pakistan from the grey-list of the FATF.
Mr Qaiser also lauded ongoing projects of the United Kingdom in Pakistan for parliamentary development and said that there was still a need to further expand the scope of the projects for the capacity building of parliamentarians as well as parliamentary officials so they can better cope with challenges when enacting legislation.
He also outlined the need for initiating such parliamentary development projects in Khyber Pakhtun­khwa so that the capacity of the legislators in the province could also be built to bring them at par with their counterparts.
Referring to Brexit, the speaker said it was a challenge but could also be an opportunity for instance to enhance trade and commercial ties with Pakistan.
Full report at:
https://www.dawn.com/news/1530578/na-speaker-urges-uk-to-relax-visa-rules-for-pakistanis
--------
Imran says Modi's 'anti-democratic, fascist ideology' biggest threat to region
January 26, 2020
Prime Minister Imran Khan on Saturday said the world was acknowledging the anti-democratic and fascist ideology being imposed in Indian Occupied Jammu and Kashmir (IOJ&K) and in mainland India.
In a tweet, featuring the cover of The Economist, the prime minister said the fascist ideology of Indian Prime Minister Narendra Modi was the biggest threat to regional peace and stability.
He also pointed out that already eight million Kashmiris and Muslims in India were suffering because of Modi's fascist policies.
Imran Khan
✔
@ImranKhanPTI
The world is now acknowledging the anti-democratic and fascist ideology being imposed in IOJK and in India. This is the biggest threat to regional peace and stability. Already 8 million Kashmiris & Muslims in India are suffering because of Modi's fascist policies.
View image on Twitter
17K
09:45 - 25 Jan 2020
Twitter Ads information and privacy
7,462 people are talking about this
An article which appeared in the weekly magazine read that Modi-led Bharatiya Janata Party (BJP) government in India had "stoked divisions in the world's biggest democracy."
The cover of the magazine showed the BJP's election symbol, a saffron lotus flower, growing out of barbed wire.
The article addressed the recently passed controversial citizenship law and the growing intolerance in the country.
"Last month India changed a law to make it easier for adherents of all subcontinent's religions, except Islam, to acquire citizenship. At the same time BJP wants to compile a register of all India's 1.3bn citizens, as a means to hunt down illegal immigrants," says the article.
The article rightly recognises that the law targets the Muslims of India specifically as "many of the country's 200m Muslims do not have the papers to prove they are Indian, so they risk being made stateless".
Referring to the law as part of a "decades-long project of incitement", the Indian publication rightly recognises that the incumbent ruling party has used it as "electoral nectar".
"What has been electoral nectar for BJP is political poison for India."
Full report at:
https://www.pakistantoday.com.pk/2020/01/25/imran-says-modis-anti-democratic-fascist-ideology-biggest-threat-to-region/
--------
PML-N leader files complaint against Vawda to UK agency
Atika Rehman
January 26, 2020
LONDON: Pakistan Muslim League Nawaz (PML-N) leader Abid Sher Ali surfaced here this week when he was seen exiting the office of the United Kingdom's National Crime Agency (NCA) after "giving evidence" against what he claims are illegal properties belonging to federal Minister for Water Faisal Vawda.
Speaking to Dawn, Mr Sher Ali alleged that Mr Vawda owned 11 properties under his name in the UK but claimed there was no money trail to show how they were purchased. "I have shared all the evidence with the NCA, which includes land records, footage of the property and Vawda's nomination papers which do not reflect how these were purchased. The rest is up to the NCA," he said.
The former MNA said that he was moving the agency against the federal minister as he had been vocal in making allegations of corruption against members of the PML-N. "I appeal to NAB to investigate Faisal Vawda and prove that they are not just on a political witch hunt against my party," he said.
The NCA, which is the UK's prime agency investigating crime and money laundering, did not respond to Dawn's request for details.
Last month, the NCA made headlines when it confiscated a property and bank accounts belonging to the family of property tycoon Malik Riaz Hussain in London as part of its efforts to curb money laundering and unexplained wealth in the United Kingdom.
Mr Vawda said he would not comment on this issue till the ban on his talk show appearances is lifted. Earlier this month, Vawda was banned from appearing on talk shows by the prime minister after he stirred controversy by bringing a military boot to a prime time show to mock the opposition's role in parliament regarding the army chief's extension legislation.
To a question about speculations that some sort of 'deal' has been brokered by the PML-N and the establishment, Mr Ali said: "If there was any deal, would half the PML-N leadership be in jail?"
When asked to comment on the rationale behind the PML-N's decision to vote in favour of services chiefs' extension legislation in the National Assembly, Mr Ali said: "We have the utmost respect for the armed forces and feel creating a controversy at this juncture is not appropriate. In light of the current circumstances that Pakistan is in, regarding relations with India and Iran, it is in the best interest of the country that there is no confrontation with institutions."
Mr Ali also said that 2020 would be the year of fresh elections, and that the change in government would come about after free and fair polls are held. He added that his party was united under the leadership of Nawaz Sharif and that his decision was the final say.
Full report at:
https://www.dawn.com/news/1530566/pml-n-leader-files-complaint-against-vawda-to-uk-agency
--------
Embassy in Beijing says 500 Pakistani students in Wuhan
Ikram Junaidi | Shakeel Ahmed
January 26, 2020
ISLAMABAD / MULTAN: There are approximately 28,000 Pakistani students all over China, around 800 resident traders and around 1,500 Pakistani traders who travel to China frequently, according to a statement issued by the Embassy of Pakistan in Beijing.
"There are close to 500 students in Wuhan alone. These numbers have to take into account the fact that many of our students come to China either on self financing or on the scholarships offered by the Chinese and they don't always register with the Embassy. Similarly, our traders and other visitors from Pakistan also don't always register with the Embassy. So the Embassy has an approximate estimation," the statement says.
"Pakistani community members and students in Wuhan are advised to comply with the efforts of Chinese health authorities for curbing the spread of novel coronavirus (NCV). The Embassy urges Pakistani students to remain vigilant and adopt good personal hygiene practices. In case of any reports of viral infection in members of Pakistani community/students, it is requested to cooperate with local health authorities and share immediately the complete information with Pakistan's embassy in Beijing," it says.
Meanwhile as panic has been triggered across Pakistan after rumours that the first case of the NCV has been reported in Multan, the Ministry of National Health Services has declared it incorrect and misreporting by media.
"There is no confirmed case of NCV from Pakistan as we speak [Saturday 9:00pm]. There is an outbreak in China so as per international protocols we have to be vigilant and keep every suspected passenger, who has history of travelling to China, under observation," Special Assistant to Prime Minister (SAPM) on Health Dr Zafar Mirza said while talking to Dawn.
"Fact is that on Jan 21 a Chinese national was taken under observation from Multan Airport as he was having fever. The passenger, who is a male in mid 20s, has been showing signs of improvement which shows that he is not suffering from the severe acute respiratory infections, which is the major sign of NCV," he said.
The SAMP said that despite signs of improvement, the patient's samples had been collected and were being checked.
"A part of media is incorrectly reporting about diagnosis of first case of NCV in Pakistan. We expect responsible reporting by media. Please do not add to the nation's anxiety about NCV and meticulously check facts before reporting. Thank you" SAPM stated in a Tweet.
However, two people suspected of having contracted the coronavirus have been admitted to the Nishtar Hospital in Multan.
A 40-year-old Chinese national, Feng Fen, was brought to the hospital on Friday night with symptoms similar to those of coronavirus.
Mr Feng had arrived at Karachi airport on PIA flight PK332 on Jan 21 from Wuhan, to visit the Multan-Sukkur motorway project of the China-Pakistan Economic Corridor. He is an employee of the China State Construction Engineering Corporation and was staying at a camp at the Industrial Estate in Multan.
According to hospital sources, another patient, identified as Rahmatullah, resident of Multan, has also been admitted to the hospital with the same symptoms. Rahmatullah had been visiting China in connection with his business and returned to Pakistan on Jan 24.
Talking to the media, Nishtar Medical University Vice Chancellor Dr Mustafa Kamal Pasha said the suspected coronavirus patients were under treatment and being provided proper medical care. He said that blood samples of both patients had been sent to National Institute of Health, Islamabad.
He further said that the patients had been kept in the isolation ward and were being administered medicines meant for sore throat and flu.
"The medicines are showing results as the patients are recovering speedily, which is why we are hoping that they are not victims of coronavirus and are rather suffering from normal flu and seasonal throat infection. However, their treatment is under way while adopting all guidelines and parameters set by the World Health Organisation," he added.
According to an official report of the health department, Mr Fen returned from China nine days ago and was suffering from fever and sore throat for the last two days. His Chinese attendant, driver and translator were identified as his primary contacts.
Full report at:
https://www.dawn.com/news/1530580/embassy-in-beijing-says-500-pakistani-students-in-wuhan
--------
Buzdar reaches out to disgruntled MPAs
Mansoor Malik
January 26, 2020
LAHORE: Punjab is again on the radar screen of the Pakistan Tehreek-i-Insaf (PTI) government as it is passing through tense moments with dissenting voices within the party and allies as well as political disconnect in running the affairs of the province.
While Chief Minister Usman Buzdar has returned from his Balochistan and south Punjab visit and is taking up several issues one after another to get the tense situation cooled down, Prime Minister Imran Khan is also expected to visit Lahore on Sunday (today) to review the situation and take decisions to rectify it.
In a bid to silence the dissenting voices, the chief minister on Saturday held a meeting with 20 disgruntled MPAs from southern, central and northern parts of the province, assuring them that their respect and honour would be protected at all costs and their genuine issues would be resolved on a priority basis.
Though the disgruntled group's leader Sardar Shahabuddin had confirmed to Dawn that the government had committed to them Rs100 million to Rs150m each for their respective constituencies, no such announcement was made after the meeting.
"The chief minister assured us that all genuine issues of the MPAs would be resolved on a priority basis and he promised to allocate development funds for their respective constituencies in the next Annual Development Programme," a group member and MPA from Hafizabad Mamoon Tarar told Dawn after the meeting. He said the chief minister explained that there was funds paucity because the country was on the threshold of bankruptcy when the Pakistan Tehreek-i-Insaf (PTI) took over the government.
"We didn't insist on announcing funds for 20 members of the (disgruntled) group because we were not blackmailing the Punjab government," Mr Tarar asserted.
Earlier in the meeting, it is learnt, group leader Shahabuddin assured the chief minister that the 20 MPAs were standing behind him and they were loyal to the PTI chairman and the party. "Those looking to cash in on 'a few days' estranged relations' will be disappointed," he said. "We have a wonderful working relationship with CM Buzdar."
Mr Tarar said the chief minister also assured them that all governance issues in their constituencies would be resolved and bureaucracy would be directed to listen to the elected representatives.
In the meeting, CM Buzdar was all out to appease the disgruntled MPAs and assured them that their all genuine demands would be met on a priority basis. He stressed that the whole PTI party including MNAs and MPAs needed to serve masses in unison and fail all propagandists. "We are also taking along all our allies with respect and honour," he said.
Earlier in the day, the chief minister met the party's senior leader Jahangir Khan Tareen and discussed political affairs and overall situation in the province – ahead of meeting the prime minister on Sunday (today).
The chief minister told Mr Tareen that the party in Punjab was united and those spreading rumours about collapse of the Punjab government would be disappointed. "There is neither any forward bloc nor a pressure group in Punjab," he told Mr Tareen.
Mr Buzdar also explained that the Punjab government was taking its coalition partners along and all stakeholders were on the same page. "The PTI government, in a year and a half, has done wonders and executed governance that past governments could not do in years," he said.
Mr Tareen said the difference of opinion was the beauty of democracy. He said the PTI government was serving the people and would continue doing so. "Those hatching conspiracies will be left behind and Naya Pakistan under the leadership of Prime Minister Imran Khan will move forward," he asserted.
The chief minister and Mr Tareen also met the party's provincial and national assembly ticket holders and discussed matters regarding strengthening of the party, solution of problems in their constituencies and enhancing liaison with the people.
The chief minister announced that development projects would be launched in the constituencies of ticket-holders on preferential basis, saying neither any constituency nor any voter could be ignored. "The development works in the constituencies will be undertaken with the consultation of ticket-holders," the chief minister said and added that he would also hold a meeting with PTI's local leadership from different districts.
Mr Tareen said the ticket-holders were the asset of the PTI and added winning and losing elections was part of politics. "Strengthening the ticket-holders actually means strengthening the party," he said and added that process of consultation with ticket-holders would continue.
Meanwhile, the chief minister also announced that Punjab would adopt the Zainab Alert Bill to ensure safety and wellbeing of children in the province.
He said in tweet: "We have principally decided to adopt #ZainabAlertBill to ensure safety and wellbeing of children in Punjab. Child abuse cases are always traumatic to hear and are our biggest concern. This is another leap in our mission of providing our children with safest possible environment".
Full report at:
https://www.dawn.com/news/1530573/buzdar-reaches-out-to-disgruntled-mpas
--------
Pakistan's external affairs to have serious implications: report
January 26, 2020
ISLAMABAD: Pakistan's external environment will remain challenging throughout 2020 which will have serious implications for its economy, security and internal stability, says a report published by a local think tank.
The think tank, Islamabad Policy Institute, believes that tense relations with India would continue to consume much of Pakistan's strategic and diplomatic bandwidth. It, moreover, forecast that peace process in Afghanistan would in near future continue to be marred by uncertainty.
The report tilted, 'Pakistan Outlook 2020: Politics, Economy & Security', has reviewed current trends in external environment, economy, political stability, and security and on the basis of that made short-term projections in these areas. Foreign policy aspect has been analysed by former foreign secretary Salman Bashir, while the military dimension has been dealt with by former defence secretary retired Lt Gen Asif Yasin Malik. Economist Syed Hussain Haider evaluated the economic situation and Farhan Bokhari assessed the prospects of political stability.
The report said that the situation in occupied Kashmir and plight of Muslims in India will guide Pakistan's engagement with Delhi. Chances of limited conflict between India and Pakistan would remain high, it added.
Mr Bashir has maintained that the foremost threat to Pakistan's security from India has become dire with transformation of India as a Hindu state under the Bharatiya Janata Party. He contends that US support for India, while ignoring Delhi's reckless behaviour was in violation of all norms of civility, international norms and principles. The biggest challenge in 2020 for Pakistan, he therefore believes, will be to manage the fallout from the US-India nexus.
Mr Malik said that India considers Pakistan as an impediment to its rise as a regional hegemon, but at the same time it realises the limitations of a military adventure against it. This, he opines, is frustrating India.
The former defence secretary fears that India could in this situation intensify its operations to internally destabilise Pakistan. Indian strategy, he said, would be to undermine Pakistan Army's credibility and support among the public, fuel sub-nationalism in Balochistan and escalate terrorist activities in the newly merged districts of KP province or the erstwhile Fata.
"Larger objective appears strategic encirclement of Pakistan, thus, creating a multi front threat scenario. It would cause a priority dilemma as well as resource stress on our security forces," he added.
The report further said that navigating China-US competition will test craft of Pakistani policy-makers in near term. This would, moreover, strain Pakistan-US ties while complicating regional environment from Pakistan's perspective. About ties with the US, it said, it is a near certainty that bilateral engagement will remain limited to the minimum agenda of Afghanistan for foreseeable future and transactional nature of the relationship will continue.
The report flagged developments in the Middle East as a defining challenge for Pakistan's foreign policy.
On the economic front, the report projected that Pakistan's GDP growth would remain close to 2.5 per cent because of slowdown specifically in large scale manufacturing and agriculture sectors.
Inflation would remain high hovering around 13pc. Increase in power tariffs and higher oil prices could, however, cause inflation to shoot beyond these estimates. Furthermore, it is anticipated that policy rates would be cut in 2020, because the current rates are unsustainable.
Full report at:
https://www.dawn.com/news/1530579/pakistans-external-affairs-to-have-serious-implications-report
--------
Trials in terrorism cases suffer due to lack of witness protection
Naeem Sahoutara
January 26, 2020
KARACHI: Trials in various terrorism-related cases suffer delays as witnesses for the prosecution remain reluctant to testify due to the authorities' failure to implement the witness protection law enacted in 2017, it emerged on Saturday.
An antiterrorism court is legally bound to decide a case within seven days after indictment under the concept of swift trials envisaged in the Anti-Terrorism Act (ATA), 1997.
According to Section 19 (7) of the ATA, the court shall, on taking cognizance of a case, proceed with the trial on a day-to-day basis and shall decide it within seven days, failing which an application may be made to the administrative judge of the high court concerned for appropriate directions for an expeditious disposal of the case.
It is mentioned in Section 13 (2) of the ATA that one case at a time shall be assigned to a court. However, if for some reason a given case cannot be proceeded with, more than one case may be assigned to it to save time.
1,700 cases pending with ATCs
According to figures compiled by prosecution and judicial sources, by the end of November 2019 there were around 1,700 cases pending trial before the 42 ATCs, including 33 permanent ones, functioning in the province.
Of the 33 permanent ATCs, 20 are in Karachi, three in Hyderabad, two in Sukkur and one each in Mirpurkhas, Shaheed Benazirabad, Naushahro Feroze, Shikarpur, Kashmore/Kandhkot, Larkana, Khairpur and Ghotki.
The statistics further showed that the ATCs disposed of around 2,243 cases until November last and nearly 1,457 new cases were filed during the same period.
The ATCs convicted and handed down sentences to accused in 386 cases during the same period.
The conviction rate stood at around 17 per cent.
Similarly, the ATCs acquitted accused persons in around 1,857 cases during the same period, as the prosecution failed to prove its case against them. The acquittal rate remained around 82pc.
Lack of protection for witnesses
Commenting on the matter, the sources said witnesses lacked confidence to come forward to testify against criminals in courts of law.
They said that there was a deepening sense of insecurity among the witnesses, who were increasingly avoiding testifying against hardened criminals in high-profile terrorism cases.
Citing example of a case pertained to a suicide attack on the shrine of Lal Shahbaz Qalandar in Sehwan in which around 80 people were killed and over 350 others wounded, the sources said that the trial court had recently ordered the home secretary and inspector general of police to explain implementation of the Witness Protection, Security and Benefit Act, 2017 in the province.
The judge of the ATC-XVI, who is conducting the trial of two alleged facilitators affiliated with the militant Islamic State group, took serious exception to the issue of witnesses' protection and on Dec 20, 2019 directed the police to provide protection to two prosecution witnesses, Ali Hassan and Syed Mohammad Shah, who apprehended threats to their lives and sought protection so that they could testify in court.
However, the investigating officer filed a compliance report, which only mentioned that the DIG-CTD had corresponded with a Shikarpur SHO for providing security to the witnesses, but it was silent as to whether or not any security was provided to them.
"It has been observed by this court in number of cases including case of murder of Advocate Naimatullah Randhawa that the eyewitnesses (private) have hidden themselves due to the fear of demon of terrorism," the judge observed.
The judge added: "The public has become too frightened to assist the system fighting against terrorism, which is adding bad name to the country, adversely affecting the law and order situation, welfare of the people, tourism, foreign investment, economy of the country etc."
The judge noted that fighting against terrorism needed revolutionary steps at a warlike level and that no war could be won without the support and active participation of the public in general.
The judge remarked that while protection and security of the witnesses was of paramount importance in fighting terrorism, it did not seem to be at the top priority of the authorities.
"Witnesses are not being provided protection and security not to talk of promotion and projection of the witnesses despite enactment of Witnesses Protection and Benefit Act 2017 in which Section 4 about Witness Protection Programme also provides for new identity, accommodation, reasonable financial assistance of witnesses compensation in case of harm to witnesses," the judge wrote in his order.
The court had directed the home secretary and IGP to depute any focal person for filing their comments/report in terms of the implementation of the Witness Protection, Security and Benefit Act, 2017 in the province of Sindh in letter and spirit with recommendation, if any, for making the law more effective.
In addition, the court also asked the home secretary to explain as to whether or not any compensation to the victims and/or their family members of the incident of the Sehwan blast was provided by the government.
Full report at:
Sindh Prosecutor General Dr Faiz Shah was not available to comment on the issue.
https://www.dawn.com/news/1530503/trials-in-terrorism-cases-suffer-due-to-lack-of-witness-protection
--------
PTI govt faces no threat from 'inactive' Opp, says Rasheed
January 26, 2020
LAHORE: Federal Minister for Railways Sheikh Rasheed said on Saturday that the Pakistan Tehreek-e-Insaf (PTI) government is responsible for its own sufferings as an "already inactive" opposition posed no threat to Prime Minister Imran Khan's office.
The statement from the veteran politician and close ally of Prime Minister Imran comes amid increasing disgruntlement and internal squabbling in the ruling party, especially in Punjab.
Over 20 MPAs have formed a forward bloc in Punjab because they are not happy with Chief Minister Usman Buzdar who, they say, reshuffled the provincial bureaucracy without taking them into confidence and did not release development funds either.
Federal Minister for Science and Technology Fawad Chaudhry recently rebuked the Buzdar-led government for its "below-par performance".
The disgruntlement, however, is not limited to Punjab as similar situation appears to be emerging in Khyber-Pakhtunkhwa and Balochistan as well.
Speaking to reporters after the inaugural ceremony of a freight train from the newly-restored dry port to Karachi, Rasheed ruled out any possibility of a deal with former prime minister Nawaz Sharif's daughter Maryam Nawaz or the Sharif family.
"Why the government would make any deal with an already inactive opposition," he commented, adding that there was no threat to the government from any opposition party.
On recent allegations of rampant corruption, the railways minister said the corruption rate has reduced under the current regime and termed the Transparency International's report "fake".
To a question about the below-par performance by provincial governments, especially in Punjab, he said there was no need to listen to rumours as nothing was going to change in the provincial setups, adding that the prime minister was happy with Punjab Chief Minister Usman Buzdar.
"So rumours about 2020 as election year are wrong," he said.
Ruling out possibility of corruption in ongoing wheat and flour crisis in the country, he said "mismanagement and miscalculations in data could be the reason of shortage of flour".
Price control committees, he said, should be formed to monitor prices of the commodities, adding that the issue of surge in sugar price would be discussed in the forthcoming cabinet meeting.
The minister said Prime Minister Imran is an honest politician and does not tolerate corruption at any level. He said the prime minister is the voice of poor and wants to provide more employment opportunities. "He (PM Imran) was working to uplift the country's economy as strong economy means more employment," he added.
The national exchequer, he maintained, had been badly plundered before PM Imran took over the charge of his office, adding that the prime minister has worked hard for the economy during the last 17 to 18 months at the helm.
Rashid hoped that 2020 would be the year of prosperity and development for the country.
Full report at:
https://www.pakistantoday.com.pk/2020/01/25/pti-govt-faces-no-threat-from-inactive-opp-says-rasheed/
--------
Wells lauds Pakistan's role in Afghan peace process
January 26, 2020
ISLAMABAD: US Deputy Assistant Secretary for South Asia Alice Wells has appreciated the steps taken by Pakistan to advance the Afghan peace process.
The US diplomat, in a media briefing after her visit to three South Asian nations — Pakistan, India and Sri Lanka — said, "Pakistan has important leverage to promote lasting security and stability in Afghanistan."
She said that she held several meetings in Pakistan with government, military, civil society, and business leaders. "At the top of the agenda was understanding how we can grow our bilateral relationship commensurate with the cooperation that we are achieving in promoting peace in Afghanistan and regional stability," she added.
Talking about the Afghanistan peace deal, she said that US Ambassador Khalilzad and his team were in Doha to encourage the Taliban to make a commitment toward a reduction in use of force that would allow Afghans to sit at a negotiating table.
Wells also highlighted progress in US-Pakistan bilateral relations and said, "We've seen obvious progress in our relations with Pakistan, from the high-level engagement such as the US president's warm and constructive meeting with Prime Minister Khan at Davos to the restoration of the International Military Education and Training programmes."
"We're looking forward to welcoming 10 Pakistani buyer delegations to the United States and five regional trade shows in 2020, which will build deeper relationships between US and Pakistani firms."
She added that Prime Minister Khan's economic reform efforts contributed to the World Bank identifying it as one of the top 10 reformers globally in 2019.
FATF:
Talking about the FATF grey list, she welcomed Islamabad's efforts to meet its counter-terrorism financing obligations under the Financial Action Task Force.
"We strongly encourage Pakistan to work with FATF and the international community to fully satisfy its action plan commitments. Completion of the FATF action plan is critical to Pakistan's economic reform efforts, including its IMF programme," she said.
In response to a question about Foreign Minister Shah Mahmood Qureshi's statement seeking the US help for Pakistan's removal from the grey list, she said that the FATF is a technical process.
Full report at:
https://www.pakistantoday.com.pk/2020/01/25/wells-lauds-pakistans-role-in-afghan-peace-process/
--------
Imran approaches SC to challenge ECP's jurisdiction in foreign funding case
January 26, 2020
ISLAMABAD: Pakistan Tehreek-e-Insaf (PTI) Chairman Imran Khan on Saturday filed a petition in the Supreme Court (SC) challenging the Islamabad High Court's (IHC) decision of declaring Akbar S. Babar a part of PTI and reverting the case regarding the party's foreign funding back to the Election Commission of Pakistan (ECP).
A long-winding case — filed by Babar and others — regarding the scrutiny of sources of PTI's foreign funding has been pending since 2014. The case had earlier been presented to the ECP. However, the PTI had petitioned the IHC, questioning the ECP's jurisdiction in the matter.
In February 2017, the IHC had remanded back to the ECP for a fresh review of its jurisdiction. At the time, the court had also declared Akbar S Babar a part of PTI.
On May 8 of the same year, a full bench of the ECP had once again declared its complete jurisdiction over the matter and stated that the PTI had failed to produce any evidence that the petitioner had been expelled from the party and hence lost the right to question the PTI's accounts.
In March 2018, a scrutiny committee had been formed to look into PTI's foreign funding accounts to ascertain any wrongdoing.
Since then, the PTI sought secrecy in the scrutiny of its foreign funding. A request to this affect was rejected by the ECP on October 10, 2019.
In his petition to the SC, the PTI chief has raised questions about various aspects of the case, including the IHC's declaration that Babar is a part of PTI. "Babar has not been a part of PTI since 2011. An email in which Babar tendered his resignation is part of the case record," the petition claimed, while adding that a high court cannot use Article 199 to rule on conflicting facts.
Full report at:
https://www.pakistantoday.com.pk/2020/01/25/imran-khan-challenges-ihc-decision-in-party-funding-case-in-sc/
--------
South Asia
The Rohingya Find Some Justice in Court
BY AZEEM IBRAHIM
JANUARY 24, 2020
The International Court of Justice (ICJ) ruled on Thursday that Myanmar is to undertake a set of provisional measures to prevent further attempts at genocide against the roughly 600,000 members of the Rohingya Muslim minority remaining in Myanmar. The decision comes after more than two years of so-called clearing operations waged against the Rohingya by the military of Myanmar.
This was the first time that a genocide case has been brought before the ICJ by a signatory county. The case was brought on behalf of the Rohingya not by Myanmar's neighbors like Bangladesh but by the government of the African country of Gambia—a majority-Muslim nation, operating with the help of the Organization of Islamic Cooperation to protect fellow Muslims.
It was the first time that the 17 judges of the ICJ have unanimously mandated such provisional measures—less than two months after the case started. That's not only a powerful rebuke to the Myanmar government but also a strong precedent for future cases.
To be clear, this is not yet a ruling on whether the military or the broader state of Myanmar are guilty of the crime of genocide under international law. Those kinds of rulings take years, and the standard of evidence required is very high: so high in fact that even the Bosnian and Croatian genocides in the 1990s were found to fall short of it, and the final verdict was war crimes and crimes against humanity.
This was a judgment that the Rohingya yet remaining in Myanmar are, on the weight of the evidence before the court, currently facing a credible threat of genocide. To use an imperfect analogy, this is like a restraining order and a caution on the government of Myanmar.
The measures were that Myanmar will be expected to:
actively seek to prevent genocide against the Rohingya, under all definitions of genocide;
prevent the military and paramilitary groups from carrying out, conspiring to carry out, or inciting genocide;
preserve all evidence related to the allegations of human rights abuses in the affected region; and
report on the situation every six months through the proceedings of the ICJ.
This is not the harshest of rulings, but it's about as proactive as can be expected at this early stage in the legal process.
https://foreignpolicy.com/2020/01/24/myanmar-aung-san-suu-kyi-genocide-rohingya-find-some-justice-the-hague/
--------
Afghan army helicopter gunned down in Helmand
25 Jan 2020
Afghan National Army (ANA) helicopter crashed down in Kajaki district of southern Helman province on Saturday, as a result of which four Afghan soldiers were wounded.
According to the 215 Maiwand Corps, the helicopter was shot down while landing, with no accurate information on who committed the shooting.
An unknown source within the Afghan security forces reported that the Taliban insurgents had brought down a chopper; however, the Taliban militant group has not claimed responsibility for the downing so far.
"The helicopter was on its way to Kajaki district to transport supplies for the Afghan forces." the source said. The source adds that two army soldiers had also lost their lives, and its pilots had severe injuries.
On the contrary, the spokesman of the Ministry of Defense Syed Ghafoor Ahmad Jawid in a statement said that the chopper had to make an emergency landing due to technical issues, and it did not leave any casualties.
Full report at:
https://www.khaama.com/afghan-army-helicopter-gunned-down-in-helmand-678689789/
--------
U.S. to provide CH-47 Chinook helicopters to Afghan Special Mission Wing
25 Jan 2020
The United States has approved a plan to provide Ch-47 Chinook helicopters to the Special Mission Wing of the Afghan National Defense and Security Forces.
The Department of Defense informed regarding the planned delivery of the helicopters in its semiannual report which it recently provided to the U.S. Congress, covering events during the period of June 1 to November 30, 2019.
The report, Enhancing Security and Stability in Afghanistan, states that "The United States continued to provide the ANDSF the necessary equipment and training to improve their capacity during this reporting period and focused advisory efforts at the "point of need" with reliable security partners to increase their effectiveness."
"DoD continued to provide additional combat aircraft to the Afghan Air Force and plans to provide CH-47 Chinook helicopters to the Special Mission Wing to support its counter-terrorism operations and replace its Russian-made Mi-17 helicopters," the report said.
The report also added "During this reporting period, DoD approved a plan to provide the SMW with CH-47 Chinooks to fully replace its Mi-17 fleet by the end of 2023."
This comes as Efforts are underway to bolster the capabilities of the Afghan Air Force.
Full report at:
https://www.khaama.com/u-s-to-provide-ch-47-chinook-helicopters-to-afghan-special-mission-wing-5295/
--------
Southeast Asia
Indonesia's 'minority within a minority' celebrate Lunar New Year
Stanley Widianto
JANUARY 25, 2020
JAKARTA (Reuters) - As he does every year, ethnic Chinese Indonesian Purnama celebrated Lunar New Year on Saturday at a dinner with his extended family of more than 50 in Jakarta where they exchanged traditional red envelopes containing money.
But the 49-year-old Purnama, who uses one name, is unlike most of his ethnic Chinese family: he is a Muslim.
At the dinner, he and his immediate family were at a table where all the food was halal, while the rest of the tables featured non-halal dishes for the non-Muslims. But the difference in the food was not a big deal for Purnama.
"Lunar New Year just means hanging out with the family. There are no extraordinary traditions for me," he told Reuters.
Ethnic Chinese Muslims like Purnama, who converted in 1994, have a peculiar identity in Indonesia: a minority within a minority.
Chinese Indonesians make up less than 5% of the 260 million people in the world's biggest Muslim-majority country. Chinese Muslims number around 131,000 out of 2.8 million ethnic Chinese, according to a 2010 census.
Agni Malagina, an expert on the Chinese community in Indonesia, said Chinese Indonesians are usually Christian, Buddhist, or follow Confucianism.
"But we've seen cases of assimilation, while the Chinese embrace of Islam has also has a long history," she said. "They're heterogeneous, their motivations vary."
She has observed ethnic Chinese Muslims who have identified as such for generations.
Chinese Indonesians have been the targets of ethnic violence in the past, and Chinese cultural expressions were heavily restricted during the presidency of the late strongman Suharto, said Malagina.
It was not until 2000 after the fall of Suharto that President Abdurrahman Wahid lifted a ban on celebrating the Lunar New Year.
Naga Kunadi, 44, also an ethnic Chinese Muslim, said that after converting to Islam in 2002 some of his non-Muslim family made fun of him not eating pork, but he still celebrates the Lunar New Year.
"I also still get looks from mosque-goers sometimes, until they see that I pray in the right way," he said.
Kunadi is a member of the Haji Karim Oei Foundation, named after a renowned ethnic Chinese Muslim, which is based in the Lautze mosque in Jakarta.
Kunadi said it can be easier for Chinese Indonesians to be accepted when they convert to Islam.
"But my principle has always been when I converted to Islam, I'm still Chinese," he said.
https://www.reuters.com/article/us-lunar-newyear-indonesia-islam/indonesias-minority-within-a-minority-celebrate-lunar-new-year-idUSKBN1ZO0K7
--------
Drawing Battle Lines: Center-Right Parties Take On Civilizationalism
By James M. Dorsey
January 26, 2020
The Centrist Democrat International (CDI), in an attempt to counter the rise of civilizationalist states and leaders, has called for the creation of an alliance of nations, political parties and faith groups, that would seek to ensure that politics and international relations remain grounded in humanitarian values at a time of increasingly unimpeded violations of international law and human rights abuse.
CDI's call carries weight given that it is the world's largest coalition of almost 100 political parties from across the globe, including ruling parties in Europe, Latin America and elsewhere ranging from German Chancellor Angela Merkel's Christian Democratic Union to Fidesz, the party of Hungarian Prime Minister Victor Orban, a professed illiberal who envisions his country as a Christian nation.
The call takes on added significance because it was issued by a group that traces its roots to European and Latin American Christian democracy at a meeting in Indonesia, the world's third largest democracy and its most populous majority Muslim country, hosted by the largest Indonesian Islamic political party, the National Awakening Party (PKB).
PKB, founded by Nahdlatul Ulama (NU), the world's largest Muslim organization, joined CDI little over a year ago as part of the International's effort to expand its reach beyond Christian democracy and NU's advocacy of a humanitarian interpretation of Islam that encourages cooperation across political, ethnic and religious divides on the basis of a shared respect for human rights and international law.
The resolution adopted at this week's CDI executive committee meeting in Yogyakarta, comes at a moment that Fidesz's membership in the European People's Party (EPP), a CDI affiliate, hangs in the balance.
Fidesz was suspended from the EPP political family last March over rule-of-law concerns, though the party's 13 deputies remain part of the EPP group within the European parliament.
Mr. Orban and Fidesz stand accused of undermining pluralism in Hungary and removing the country's checks and balances by stacking the Constitutional Court with loyalists; reshaping the electoral system to favour the party; placing dozens of watchdog institutions, including the judiciary and prosecution service, under the leadership of their allies; and effectively eroding independent media.
Although a divorce with EPP is likely, Fidesz is expected to remain a member of CDI, prompting questions what the group means with its warning about civilizationalist leaders and states.
Mr. Orban was among prominent figures, including former heads of state and government, who attended the CDI meeting in Yogyakarta and voted unanimously in favour of the resolution.
Yet, at a news conference immediately after the meeting, Mr. Orban insisted that Hungary was "a Christian nation" and that Christianity had to inform all aspects of Hungarian society. He spoke of living "side by side" rather than with Muslims.
The CDI resolution came in response to what it described as the "emergence of authoritarian, civilizationalist states that do not accept the rules-based post-WWII (World War Two) order, whether in terms of human rights, rule of law, democracy or respect for international borders and the sovereignty of other nations."
The resolution was designed to counter "authoritarian regimes' blatant disregard for the fundamental rights articulated in UDHR" (United Declaration of Human Rights) and re-introduce "moral and ethical values" into public policy, economics and politics.
The resolution puts flesh on a skeleton that has fallen by the wayside in the battle to shape a new world order.
Its significance lies in the fact that it re-introduces the battle of ideas into a global power struggle that has largely been reduced to geopolitics, geo-economics, big and regional power rivalry and replacement of adherence to international law with the principle of might is right.
Equally importantly, it offers an antidote to the rise of civilisationalism and the civilizational state that seeks its legitimacy in a distinct civilization rather than the nation state's concept of territorial integrity, language and citizenry.
The trend towards civilisationalism feeds off the politicization of history. It benefits from the fact that 21st century autocracy and authoritarianism vests survival not only in repression of dissent and the limiting or denial of freedom of expression.
It creates the basis for an unspoken consensus on values and principles of governance that are illiberal at best and that would underwrite a new world order on which men like Mr. Orban, China's Xi Jinping, Russia's Vladimir Putin, Turkey's Recep Tayyip Erdogan, Saudi Arabia's Mohammed bin Salman, India's Narendra Modi, the Philippines' Rodrigo Duterte and US president Donald Trump find a degree of common ground.
Civilisationalism is frequently based on myths erected on a falsification and rewriting of history to serve the autocrat or authoritarian's purpose. Men like Messrs. Trump, Orban, and Erdogan project themselves as nationalist heroes who protect the nation from some invading horde.
In the final analysis, the CDI resolution constitutes a call for a continuous and robust discussion of what the principle of moral and ethical values means and how they are translated into law and policy.
Full report at:
https://www.eurasiareview.com/26012020-drawing-battle-lines-center-right-parties-take-on-civilizationalism-analysis/
--------
After complaint by 'Cleopatra' on Chinese altar with mosque-looking roof, police tell worshipper to change its shape
25 Jan 2020
BY R. LOHESWAR
KUALA LUMPUR, Jan 25 — Selangor police have asked a non-Muslim man to change the shape of his altar's roof after it courted the wrong kind of attention on the internet for looking like the roof of a mosque.
In a statement, Selangor police said after the pictures went viral, they approached the owner of the altar and he had agreed to change the shape of the altar after receiving scrutiny from Muslims online.
"From the information we gathered, we found this altar to be a longstanding one and was built to worship a Malay guardian known as "Datuk Gong" or "Na Tuk Kong" in Chinese and there was no intention to offend the delicate sensitivities of other races.
"Since this issue went viral on social media, the authorities discussed the matter with the owner and he has agreed to change or alter the shape of the altar," the police said in a statement.
Initially, the complaint was made by Nur Fathiah Syazwana Shaharuddin, 25, who now goes by the moniker "Cleopatra" on her Instagram account.
𝙆𝙀𝙉 🧢
@ruffleseed
This is 拿督公 Datuk Gong or Datuk Keramat
Since he's 'believed' by Chinese as a local Malay guardian, shrines are usually decorated with items related to the Datuk and his position as a Malay; a Malay sarong, songkok, keris, baju Melayu, even local mosque architecture.
View image on Twitter
5,141
10:21 AM - Jan 21, 2020
Twitter Ads info and privacy
4,904 people are talking about this
Nur Fathiah courted controversy last year for getting a meeting with sports minister Syed Saddiq Syed Abdul Rahman regarding the promotion of e-sports in the country.
Syed Saddiq faced allegations of bias and power abuse on the meeting, after it was made public that Cleopatra had recently joined his Parti Pribumi Bersatu Malaysia, and was welcomed into the Segambut branch by Sharifah Zohra Jabeen of "listen, listen" infamy.
Malay Mail did a search and found out that at the time of the meet, Cleo International, the company Cleopatra represents, was only registered for a week with the Companies Commission of Malaysia which raised further eyebrows of its ability to handle an e-sports portfolio.
Nur Fathiah snapped a picture of the controversial altar and posted it on her Instagram page four days ago asking "Who build this? I need further explanation. Location Taman Klang Utama."
She received both support and backlash from citizens. Some felt she was being racist while others rallied by her side for championing Islamic rights.
Upon hearing news of the police action, Nur Fathiah then shared the police statement and the accompanying picture of the altar on Instagram saying: "Thanks a million to the police and all parties involved for taking action following my raising of this issue."
However on her Twitter handle @lxcleopatraxl, she wasn't so humble.
Full report at:
https://www.malaymail.com/news/malaysia/2020/01/25/after-complaint-by-cleopatra-on-chinese-altar-with-mosque-looking-roof-poli/1831458
--------
Suhakam to hold public inquiry into disappearance of Christian couple
Sunday, 26 Jan 2020
BY SYED JAYMAL ZAHIID
KUALA LUMPUR, Jan 26 — The Human Rights Commission of Malaysia (Suhakam) said today it will hold a public inquiry into the 2016 disappearance of Pastor Joshua Hilmy and his Indonesian wife Ruth Hilmy to assist the authorities with their ongoing investigation.
The planned inquiry comes as rights groups and families of victims of enforced disappearance accuse Putrajaya of stonewalling efforts to uncover the truth. They believe the police were behind the abductions.
Suhakam held a similar inquiry last year to probe the high profile disappearances of two other persons, pastor Raymond Koh and social activist Amri Chet Mat, and released a damning report in April that found both men to be victims of enforced disappearances.
The commission said there are reasons to believe Hilmy and his wife had also been abducted.
"Through this inquiry, Suhakam intends to fully investigate to its best ability what has transpired in order to identify and make the best possible recommendations to the appropriate parties," the commission said in a statement.
Hilmy and Ruth were last seen on November 30, 2016. Ruth — a Christian-born native of Sumatera — had lived in Malaysia since 2000, where she worked as a seamstress and met Joshua. The couple married four years later.
Joshua reportedly told Ruth's family during a traditional wedding ceremony in North Sumatera in 2006 that he used to be Muslim, but had converted to Christianity.
On March 6, 2017, Joshua and Ruth's landlord filed a missing persons report. The case remains unsolved but activists have noted similarities in their disappearance with other cases — most victims are Christians and are known to be active in their communities.
Suhakam in its report of the Koh and Amri inquiry said the duo had been abducted by men in masks in what appeared to be a military-like operation, and had reasons to believe the Special Branch of the police were involved.
The commission said it is likely that Joshua and Ruth had disappeared in the same manner.
Police have denied the allegation.
"Notwithstanding Suhakam's investigation, the Commission calls on the authorities to fully and expeditiously investigate all cases where there is a reasonable suspicion that an enforced disappearance may have occurred," it said.
The inquiry into the disappearance of Joshua and Ruth will commence on February 18. The commission has urged Individuals or parties with important information are encouraged to come forward and have their statements recorded from now to February 14.
Full report at:
https://www.malaymail.com/news/malaysia/2020/01/26/suhakam-to-hold-public-inquiry-into-disappearance-of-christian-couple/1831558
--------
Thai Peace Negotiator Meets with BRN Rebel Delegates in Malaysia
2020-01-21
Thailand and southern BRN rebels have held direct talks in Kuala Lumpur for the first time in years, officials said Tuesday, expressing confidence the meeting set the stage for negotiations to end a decades-long conflict that has killed thousands.
A delegation from Bangkok, headed by chief Thai negotiator Gen. Wanlop Rugsanaoh, met with a team representing the Barisan Revolusi Nasional insurgents during talks on Monday facilitated by Malaysia, the two sides said.
"This meeting reaffirmed our endeavor and intention to seek peaceful solutions to the problems in the Southern Border Provinces of Thailand," according to a statement issued by Thailand's so-called Secretariat for Peace Dialogue.
"The meeting provided an opportunity for both sides to meet and get to know each other and also acknowledge a working framework which would help ensure the progress and continuity of the dialogue," the Thai side added.
It was the first official bilateral meeting between Thailand and BRN's military wing brokered by Malaysia since late 2013, when a previous effort at negotiating peace in the mainly Muslim and Malay-speaking southern border region appeared to go nowhere.
Monday's meeting took place in the Malaysian capital as Thai Prime Minister Prayuth Chan-o-cha visited the region known as the Deep South to promote economic development in the impoverished area.
"We hope that an improvement in people's living standard can help reduce violence," he said during his two-day trip.
Late last year, officials representing Thailand and the BRN held back-channel talks in Berlin that were organized by an international organization, but Malaysia was not consulted about the meeting ahead of time, an official on the Malaysian National Security Council told BenarNews in December.
At this week's meeting, the BRN delegation was led by Anas Abdulrahman (also known as Hipni Mareh), a former teacher at a religious school in southern Thailand's Yala province.
He told a news conference in Kuala Lumpur on Tuesday that the BRN and Thai delegations agreed to a set of commitments on which they could build mutual confidence.
"On Feb. 28, 2013, there was a political agreement between BRN and the Thai government. However, due to several issues, which saw the need for confidence building between both sides to be carried out step-by-step, we continued the process through the back channel," he told the press conference organized by Malaysia but where only a handful of news organizations were allowed in.
"The result, thank God, is the formation of this [negotiation] today," Anas told reporters.
The Thai military has blamed BRN for carrying with deadly attacks across the region.
"We reached a mutual agreement to resolve the unending conflict that, until now, has caused thousands of deaths and casualties," said Abdul Aziz Jabal, a BRN delegate.
"Therefore, both the BRN and Royal Thai government have a mutual understanding to resolve the conflict in Patani through political means, which is through the peace process," he added, using a separatist name for the Deep South.
According to Anas, both the Thai and BRN negotiators agreed during the first round of talks on Monday that they needed to strengthen their commitment to terms of reference, which they had framed before, and that Malaysia would continue to facilitate the process.
MARA's place in new talks unclear
Last month, Wanlop, Thailand's new negotiator, said he was determined to involve all rebel groups and factions in efforts to bring about peace to the Deep South.
Since 2015, Thailand has been involved in talks with MARA Patani, a panel representing southern insurgent organizations, but those negotiations achieved no breakthroughs to date and BRN's military wing stayed away from them.
On Tuesday, it was unclear whether BRN had included MARA Patani in the new talks with Thailand, excluded it from direct negotiations with Bangkok, or whether the Thai government was pursuing a second track of negotiations with MARA.
According to a highly placed Malaysian government source who has direct knowledge of the peace process, Monday's dialogue was only an introductory meeting and BRN had informed other participants that they would bring in the other groups to join future negotiations. The source requested anonymity because he was not authorized to speak to reporters.
Abu Hafez Al-Hakim, the spokesman for MARA Patani, said it was too early to predict if BRN would pursue negotiations with Thailand separate from MARA or involve other members of the panel in the talks.
"If they did not want others to be involved, and Malaysia along with Thailand also agreed on that, then MARA can just sit back and relax," he told BenarNews.
Crisis Group: Peace talks need 'reboot'
BRN panelists spoke to reporters in Kuala Lumpur the same day that the International Crisis Group (ICG), a Brussels-based NGO that specializes in research into conflict resolution, published a study about efforts to bring peace to the Thai Deep South.
The group's report noted how Wanlop had called for direct talks with BRN, "which has rejected the existing dialogue."
According to ICG, the dialogue process "needs a reboot" with BRN involved and prepared "to engage constructively."
Bangkok, for its part, "should overcome its aversion to international mediation and cease equating decentralization with partition," the group said as it urged Thailand and Malaysia "to incorporate external mediation."
More than 7,000 people have been killed in roadside bombings, shootings and other violence across the Deep South – which consists of Narathiwat, Pattani and Yala provinces and four districts of Songkhla province – since the separatist insurgency reignited in 2004.
Full report at:
https://www.benarnews.org/english/news/malaysian/peace-talks-01212020154917.html
--------
Sabah Cabinet says yes to scrapping PSS
22 Jan 2020
BY JULIA CHAN
KOTA KINABALU, Jan 22 — The Warisan government of Sabah will propose to the Home Ministry that a highly contentious travel document for foreign immigrants is cancelled.
State Chief Minister Datuk Seri Shafie Apdal said his Cabinet arrived at the decision to do away with the Sabah Temporary Pass (PSS) after taking into consideration the many objections raised before and during the Kimanis parliamentary by-election, in which the party lost to Barisan Nasional.
"After reviewing what happened, we decided today that we should cancel the PSS. The voice of the rakyat, not just from the by-election, were heard loudly and cannot be ignored.
"We will officially inform the Home Ministry of the decision and will decide on the next course of action. But as of now, we recommend that the exercise not go ahead as of June this year as planned," he told reporters here.
"We heard their voice loud and clear. It was especially clear in the KDM areas and we cannot take it lightly," he said. KDM is the acronym for Kadazan, Dusun, Murut and refers to non-Muslim natives.
He said that the state government will discuss the matter with the Home Ministry by next week and acknowledged it will be a joint decision to cancel it.
"This is what the people want," he said.
When asked what the people were unhappy with, Shafie said that there was a misconception that the PSS was a form of documentation akin to an identity card.
"They thought that when the document is issues it will be issued with an IC... that is totally wrong. With sincerity, we take into account the state interest. We don't want to be misconstrued," he said
"We leave it to the Home Ministry to see their take on it and listen to their recommendation and proposal on this. We cannot do this on our own," he said.
Meanwhile, Shafie said that work permits for foreigners and other business will go on as usual to keep industries working.
"We don't want people to worry about this," he said.
Full report at:
https://www.malaymail.com/news/malaysia/2020/01/22/sabah-cabinet-says-yes-to-scrap-pss/1830500
--------
Jokowi remark gives political boost to Sandiaga
January 19, 2020
In an apparent move to consolidate power around him, President Joko "Jokowi" Widodo has teased the public with the idea that his former rival Sandiaga Uno would "very likely" succeed him in 2024.
Jokowi made the remark during a speech before the members of the Association of Young Indonesian Businesspeople (Hipmi) in Jakarta on Jan. 15, where former vice presidential candidate Sandiaga was in the audience.
"The [Hipmi] chief patron [Bahlil Lahadalia] said earlier that among those in attendance is the candidate that would very likely to succeed me. I believe that is true, but I won't mention specifically who it is, but he just stood up [after being addressed] earlier," Jokowi said, referring to Sandiaga, who once served as Hipmi chairman.
The President started his speech by saying that he could not name all the senior Hipmi members and former chairmen, saying that he only remembered one name, "Bapak Sandiaga Uno", who stood up and was applauded by the organization members.
Jokowi, however, had appeared to downplay his remark, telling reporters on Friday that he merely "took the bait" from former Hipmi chairman and the current head of the Investment Coordinating Board (BKPM), Bahlil Lahadalia.
"I just played along with the bait from the head of the BKPM. We would support anyone [in the 2024 race], but it's still quite a long time ahead. The [2019] presidential election has just ended," said Jokowi at the Merdeka Palace on Friday.
Sandiaga, in his response to Jokowi's remark, said as quoted by kompas.com: "Maybe the President was joking, or maybe he just wanted to encourage me. He's a good man."
When asked about the possibility of running in the next election, Sandiaga said he would "never stop fighting".
The Gerindra Party politician previously left his deputy Jakarta governor post to run in the 2019 presidential election with the party's patron, Prabowo Subianto. The pair garnered 44.5 percent of the vote, while incumbent Jokowi, who ran with senior Muslim cleric Ma'ruf Amin, grabbed 55.5 percent.
Indonesian Institute of Science (LIPI) political observer Firman Noor said the remark could be another attempt made by Jokowi to consolidate power after the 2019 presidential election.
"It is concerning because a positive remark to a figure seen as a rival [during the election] can reduce the number of people seen as in opposition to the government. It can drop the country's democratic quality even further," he said on Sunday.
National Intelligence Agency (BIN) chief Budi Gunawan, who is also known for his close relations with Indonesian Democratic Party of Struggle (PDI-P) matriarch Megawati Soekarnoputri, also gave a positive signal for Sandiaga.
Budi, who also serves as Indonesian E-Sport Association chairman, inaugurated Sandiaga as the association's supervisory council member in a ceremony in Jakarta on Saturday.
"Our honorary guest, who is also willing to be a member of our supervisory board: Bapak Sandiaga Salahudin Uno. I don't think it's a problem to start the campaign early," Budi said jokingly in his speech, as quoted by Antara news agency.
He later correlated Indonesia's demographic dividend, which could become up to 52 percent from the total population, with the younger generations' penchant for e-sports.
"I repeat: 52 percent of [the demographic dividend]. For those who want to run in 2024, e-sports is a very strategic sector," Budi said.
Jokowi and Budi made their remarks amid speculation that Gerindra would team up with the PDI-P in the 2024 election after leaders of the two parties were involved in a series of meetings last year.
PDI-P and Gerindra, however, have not yet named any potential presidential candidates.
LIPI's Firman highlighted that although Budi and Jokowi encouraged Sandiaga, the two didn't exactly belong to the same camp.
"Jokowi represents himself, while Budi might be seen closely related to Megawati and the PDI-P," Firman said.
Jokowi had been at odds with the PDI-P over several issues, including over a controversial plan to amend the 1945 Constitution that would restore the People's Consultative Assembly (MPR) as the highest lawmaking institution in the country. While the PDI-P had been spearheading discussions on the amendments, Jokowi had said he would not support them.
Regardless of Jokowi and Budi's motives, observers believe that their remarks could boost Sandiaga's position for the 2024 presidential election.
The University of Indonesia's Center for Political Studies (Puskapol UI) executive director Aditya Perdana said Jokowi could have made his remark in recognition of Sandiaga's experience in the 2019 election, which positioned him as one of the strongest candidates for the next election.
"Sandiaga had previous experience in mobilizing campaign funds [in the 2019 presidential race] and that is a factor that could be discussed. I think Jokowi noticed that as well," said Aditya.
With Jokowi constitutionally barred from seeking a third term, Aditya said the presidential race in 2024 would be a more open contest, saying that a number of governors could participate in the upcoming race.
Jakarta Governor Anies Baswedan, Central Java Governor Ganjar Pranowo and West Java Governor Ridwan Kamil were among the figures touted for the 2024 presidential race.
Indonesia Political Review executive director Ujang Komarudin concurred with Aditya, saying that Jokowi's remark gave a signal to other candidates that the 2024 race could involve more fresh faces entering the national political scene.
"In 2024, when the incumbent leaves, the competitions will open up to new faces," said Ujang, adding that Sandiaga's last run as Prabowo's vice presidential candidate had granted him the political capital should he decide to run again.
Full report at:
https://www.thejakartapost.com/news/2020/01/19/jokowi-remark-gives-political-boost-to-sandiaga.html
--------
Malaysia imports 130,000 tons of sugar from India
January 26, 2020
KUALA LUMPUR: Malaysia has agreed to import 130,000 tons of raw sugar from India for $49 million, despite an ongoing row over palm oil trade between the two countries.
The amount is a leap from last year's raw sugar imports from India of 88,000 tons. Malaysia's sugar producer MSM Malaysia Holdings Berhad (MSM) said it has procured the first quarter of its raw sugar requirement from India for 2020, and is expecting the arrival of three more shipments between January and February.
MSM is the leading sugar refiner in Asia, with annual production capacity of up to 2.25 million tons of refined sugar.
The company operates under the world's largest palm oil producer FGV Holdings, which is a unit of the Malaysian state-owned Federal Land Development Authority.
MSM Group CEO Khairil Anuar Aziz said in a statement released on Thursday that the company decided to import Indian sugar due to "the acceptable quality and competitive freight cost of raw sugar produced from India."
India is among the world's largest sugar producers alongside Brazil and Thailand. "Over 900,000 metric tons of raw sugar were imported in 2019 from various top producing countries, which include India," said Anuar Aziz.
MSM did not cite the palm oil dispute as a cause for the increase in sugar imports, but sources from Reuters reported that the move was a bid to appease India, which has been urging Malaysia to reduce the trade deficit between the countries.
"These are two large Asian economies that are no strangers to international trade," said Dr. Oh Ei Sun, a senior fellow with the Singapore Institute of International Affairs.
"Hopefully with this and similar friendly measures the two countries will patch over their differences of opinion and restore their previously cordial relations."
Earlier this month, India decided to halt its refined palm oil imports from the country, which analysts at the time said could affect Malaysia's palm oil trade.
Full report at:
https://www.arabnews.com/node/1618201/world
--------
Africa
Bishop says Nigeria's government giving Boko Haram a 'confidence boost'
Jan 26, 2020
YAOUNDÉ, Cameroon - A Catholic bishop in Nigeria says the policies of the central government is giving the terrorist group Boko Haram a "confidence boost."
Bishop Matthew Hassan Kukah's comments came after several anti-Christian attacks by the Islamic group, including the murder of Rev. Lawan Andimi, a Protestant pastor, earlier this week.
In addition, Muslim Fulani herdsmen have been attacking Christians in the country: On Jan. 20, Augustine Avertse, a lay leader of the St. Augustine Catholic community in Nasarawa State, was murdered together with his father in a suspected Fulani attack.
"I travel around, and I know how the world feels about our lack of vision and direction. Internally, Nigerians have never felt so forlorn and despondent," the bishop told Crux.
"It is hard to convince any Nigerian today that they should be proud of their country and that they are under the protection of their government. Life has never been so cheap in this country and one feels that absolutely nothing is being seriously done to end the carnage. Imagine the way that Trump has behaved over the fact that someone has taken the lives of American citizens. Here today, death is a daily harvest," Kukah said.
Kukah is the bishop of Sokoto, in the far north of Nigeria, and his diocese is Muslim-majority.
Nigeria's more than 200 million people are almost evenly split between Christians and Muslims, with Christians predominant in the south, and Muslims in the north. Several Muslim-majority states have implemented sharia law, despite the nation's secular constitution.
The current president Muhammadu Buhari is a devout Muslim, and many of his critics have accused him of favoring his co-religionists.
Kukah blamed Buhari for "pursuing a policy that is divisive in the area of power sharing."
The bishop said all the security chiefs of the federal agencies are in the hands of Muslims, including the office of the National Security Adviser and the Minister of Defense.
"Between 80 and 90 percent of federal parastatals are headed by Muslims, not to talk of some of the most important ministries in the land. I am making the simple case that if Boko Haram is killing us and trying to take over Nigeria to establish an Islamic state, if it is killing Christians, if the federal government is so seriously and deliberately marginalizing power, I believe - willy-nilly - it is providing Boko Haram a confidence boost," he told Crux.
Kukah said Buhari's policies, which he said are based on religious discrimination, have reduced Christians "to a secondary layer in the scheme of things."
"By loading the dice of power so outrageously in favor of Muslims, whether inadvertently or not, he leaves room for Boko Haram to exploit the situation. If Boko Haram is killing Christians and Christians feel so much outside the loop of power, the difference is simply between the realm of the physical and the psychological," the bishop said.
He pointed to the gruesome Dec. 26 murder of a bride and her bridal party by Boko Haram militants in the northern Muslim-majority Kano state. Buhari did not personally condemn the attack, instead using an office spokesperson.
"Where in the world would this kind of murderous activity as happened with the gruesome killings of the 10 Christians elicit only a comment from a presidential spokesman? Should this not warrant some major shift in policy? Or even an attempt to meet with the families of these innocent citizens?" Kukah asked.
The bishop was quick to point out that there are also Muslim leaders, scholars and ordinary Muslims who are distressed by what is going on. But without a clear hierarchy - such as exists within the Catholic Church - it is easy for their voices to be drowned out.
"Those who are called religious leaders are actually traditional rulers who are appointed by the state governments and are often caught up in the web of political intrigues should they raise their voices," he said.
"Witness the drama in Kano," Kukah said.
"There no religious leaders that can speak in the way of the Christian leaders. They are on the payroll of government and therefore cannot raise their voice beyond a level. In any case, they have moral authority, but they are not theologians," he said.
https://cruxnow.com/church-in-africa/2020/01/bishop-says-nigerias-government-giving-boko-haram-a-confidence-boost/
--------
Boko Haram kidnaps, kills pastor amid renewed attacks
January 21, 2020
Northeast Nigeria (BP) -- Boko Haram insurgents have killed a Nigerian pastor they kidnapped weeks ago, news media said Tuesday (Jan. 21), amid a resurgence in northeast Nigeria of the splintered terrorist group blamed for Christian genocide.
Terrorists killed Lawan Andimi yesterday (Jan. 20), according to Today.NG, which described Andimi as a Michika pastor who led a local chapter of the Christian Association of Nigeria (CAN).
Andimi died as several Boko Haram attacks signal a resurgence of the group in northeast Nigeria, including an attack on an electrical power grid Jan. 17 that cut power to an entire city; and an attack with machine guns on a United Nations facility and the destruction of a nearby bridge, both on Jan. 18, Vanguard said Tuesday.
None of the UN workers were harmed, Vanguard reported, but the UN said it "was outraged by the extremely violent attack on this key humanitarian facility where United Nations staff were staying at the time of the incident."
Boko Haram, loyal to the Islamic State (IS), is resurging even as militant Fulani herdsmen continue to attack Christians in Nigeria's Middle Belt.
Boko Haram kidnapped Andimi Jan. 3, days after a foiled attack on the Michika local government association, Ripples Nigeria reported. Andimi led a local chapter of the Christian Association of Nigeria (CAN), and a CAN delegation was on its way to visit Andimi's family, Today.NG said.
Various Boko Haram splinter groups are believed responsible for several deaths since December, according to news reports.
The terrorists are suspected in the Dec. 26, 2019, murder of a Christian woman and her two bridesmaids as they traveled from Borno to Adamawa for her wedding, ordering the women from a vehicle and beheading them as they professed Christianity, Morning Star News reported Jan. 13.
"Martha [Bulus] and her two friends were indeed killed by Boko Haram at Gwoza as they were traveling back to her hometown, but they were not the only Christian victims that were killed on that day along the Maiduguri-Yori Highway," Morning Star News quoted pastor Naga Williams Mohammed, chairman of the Borno State chapter of CAN. "Eight other Christians were also killed on that spot on the same day, but at different times."
On Dec. 24, Boko Haram killed 11 Christian captives in Borno, saying the deaths were in retaliation for the October deaths of Abu Bakr al-Baghdadi and his spokesman, Today.NG reported. There was no indication that reports of the Dec. 24 murder of 11 captives were duplicate accounts of the 11 deaths Mohammad cited as occurring Dec. 26.
Also in December, the Islamic State in West Africa Province (ISWAP), a Boko Haram splinter group, abducted and killed four aid workers with Action Against Hunger, a non-governmental organization. ISWAP said the deaths were in retaliation for a breakdown in talks with Nigeria's federal government, Today.NG reported.
In the attack on the UN facility, Islamists in several trucks fitted with machine guns stormed the building that housed five aid workers serving a camp of 55,000 displaced persons, AFP reported. Insurgents destroyed the Gambouru Bridge in the process, AFP said.
Boko Haram terrorists destroyed Transmission Company of Nigeria (TCN) equipment between Maiduguri and Damaturu, disconnecting the entire city of Maiduguri from the power grid and leaving the city in the dark, TCN told Vanguard yesterday. TCN said the power would be restored as early as Tuesday.
A Nigerian security official downplayed the attacks Monday. According to Ripples Nigeria, Tukur Buratai, Nigeria's chief of Army staff, claimed "tremendous successes" in counter attacks on the insurgents, although no specifics were cited in news reports.
"The recent moribund activity of Boko Haram/Islamic State West Africa Province insurgents is synonymous with the kicks of a dying horse gasping for the last breath," Buratai said, according to Ripples Nigeria.
Full report at:
http://www.bpnews.net/54202/boko-haram-kidnaps-kills-pastor-amid-renewed-attacks
--------
Libyan state oil firm says output down 75% due to blockade imposed by Haftar's militia
25 January 2020
Libya's National Oil Company (NOC) says its oil production has plunged by 75 percent since forces loyal to the country's military strongman Khalifa Haftar laid siege to oil fields a week ago.
The NOC announced the news in a statement on Saturday, adding that the fall from 1.2 million barrels a day to just over 320,000 has caused estimated losses of $256 million since major oil fields and ports in the eastern and southern parts of oil-rich Libya were shut down.
Since 2014, two rival seats of power have emerged in Libya: the internationally-recognized government of Prime Minister Fayez al-Sarraj, known as the GNA, and another group based in the eastern city of Tobruk, supported militarily by Haftar's militia, who are collectively known as the so-called Libyan National Army (LNA).
The rebels launched an offensive to capture the capital, Tripoli, in April last year, interrupting peace negotiations underway at the time. Despite intense fighting, Haftar has so far failed to achieve his objective and his offensive has stalled outside the capital.
On January 19, the NOC announced that the major southwestern fields of Al-Sharara and Al-Feel were closing after Haftar's militia shut a pipeline, adding that the shutdown would cut oil production by 800,000 barrels a day. The LNA also blocked oil exports Libya's main ports a day earlier.
The move to cripple the country's main source of income came after Turkey's decision to send troops to shore up Sarraj against Haftar's persisting offensive.
Experts say any lasting closure could hit Tripoli hard since the government relies on oil revenues to fund its budget.
According to NOC, exports have already been suspended at the ports of Brega, Ras Lanouf, Al-Sidra, Al-Hariga and Zweitina in the country's "oil crescent."
Libya's state oil firm also condemned the closure of valves at a pumping station in the southwest, which shut down production the major fields of Al-Sharara and Al-Feel.
Additionally on January 19, leaders from Turkey, Russia, Egypt, France, Italy, Britain, and the United States, as well as Sarraj and Haftar, attended a United Nations (UN)-backed summit in Berlin to help establish a "permanent" ceasefire between the warring sides.
The final communiqué of the day-long summit, the first such event since 2018, called on all the parties concerned in the conflict "to redouble their efforts for a sustained suspension of hostilities, de-escalation and a permanent ceasefire." Participants also pledged not to interfere in Libya's internal affairs and its conflict. They also agreed to "fully respect" the arms embargo imposed on the North African country by the UN in 2011.
However, Haftar refused to sign the joint communiqué produced in Berlin.
Turkey was determined to send troops to Libya following a military agreement reached between Ankara and Tripoli. However, a day after the Berlin summit, Turkish President Recep Tayyip Erdogan said that Ankara had not yet sent troops to war-torn Libya, stressing that his country had so far only deployed military advisers and trainers there.
The apparent retreat was due to the general agreement in Berlin to refrain from interfering in Libyan affairs.
Full report at:
https://www.presstv.com/Detail/2020/01/25/617077/Libya-oil-Haftar-
--------
North America
Trump says 'no thanks' to Iran's FM negotiation proposal
26 January 2020
US President Donald Trump rejected on Sunday a negotiation proposal by Iran's Foreign Minister Mohammed Javad Zarif on the condition that sanctions be lifted.
"Iranian Foreign Minister says Iran wants to negotiate with The United States, but wants sanctions removed," Trump said in a tweet. "No Thanks!"
He retweeted his tweet with a Farsi translation as well.
Donald J. Trump
✔
@realDonaldTrump
Iranian Foreign Minister says Iran wants to negotiate with The United States, but wants sanctions removed. @FoxNews @OANN No Thanks!
76.5K
5:46 AM - Jan 26, 2020
Twitter Ads info and privacy
27.1K people are talking about this
Zarif on Saturday told Germany's Der Spiegel magazine that Iran is still willing to negotiate with the US even after an American drone strike killed Iranian General Qassem Soleimani.
The foreign minister said he would "never rule out the possibility that people will change their approach and recognize the realities."
There has been growing tension between Washington and Tehran since 2018, when President Donald Trump pulled the United States out of the nuclear deal with Iran. The US has since re-imposed tough sanctions that have crippled Iran's economy.
https://english.alarabiya.net/en/News/world/2020/01/26/Trump-says-No-thanks-to-Iran-s-FM-negotiation-proposal-.html
--------
American tortured by rebels sues Qatari bank for financing terrorism in Syria
25 January 2020
American photojournalist, Matthew Schrier, who was held captive and tortured for seven months in 2013 in Syria by extremist rebel groups, has filed a law suit against Qatar Islamic Bank alleging the bank provided financial services to terrorist groups, he told Al Arabiya on Friday.
Schrier said he was tortured by two Syrian al Qaeda-affiliated rebel groups, US-designated terrorist group al Nusra Front and rebel group Ahrar al-Sham. He now alleges that the Qatari bank helped finance the two Syrian organizations in several ways.
"One of the ways they did this was they donated allegedly five hundred thousand riyals (approximately $137,000) to Qatar Charity and gave them eight bank accounts at their institution."
Schrier adds that the bank allowed a man he identified as al Kabi to "open up an account under his minor son's name," which was then used by the "Madid [Ahl al Sham]" campaign -- online fundraising campaign -- to run a public social media campaign to collect donations.
"They ran a very public social media campaign soliciting donations from all over the Middle East, not just Qatar, to finance the al Nusra Front. And many of these social media tweets and WhatsApp and YouTube and Facebook posts literally had Qatar Islamic Bank's name and the account number, which was funneling the money directly to al Qaeda," said Schrier.
The posts for donations with the bank's details said it cost 5500 riyals to finance a fight, and that the fundraising bank account was open for over a year, according to Schrier.
According to the lawsuit he is seeking "to recover compensatory and punitive damages, statutory treble damages, and attorneys' fees and expenses of litigation for the injuries he suffered at the hands of the Nusra Front and Ahrar al-Sham, the terrorist groups QIB enabled."
Schrier filed the civil lawsuit on January 13 with the United States district court, southern district of Florida, Fort Lauderdale division, according to the court document.
Qatar Islamic Bank did not respond to a request for comment at the time of publication.
'Horrific nightmare' of torture
The New Yorker, who worked for a decade in the health care industry before finally following his passion of photography, ventured on his first trip as a war photographer to Syria and was kidnapped from a taxi as he headed to the Turkish border on December 2012.
Schrier said he was accused of being a Central Intelligence Agency (CIA) spy and was forced to confess to being an agent while wearing on orange jumpsuit on camera.
He was locked in a dark cell and tortured, including an instance where his knees were forced into a tire and another when the bottom of his feet were whipped 115 times with a thick cable.
"I literally couldn't walk. I couldn't even feel my feet. And then after that, they locked me in a dark room for almost a month and a half and barely fed me," said Schrier.
Full report at:
https://english.alarabiya.net/en/News/world/2020/01/25/American-tortured-by-rebels-sues-Qatar-Islamic-Bank-for-financing-terrorism-in-Syria.html
--------
US senators push Pentagon on Syria strategy after withdrawal uproar, Gen. Soleimani's assassination
26 January 2020
A bipartisan pair of senators is pressing the Pentagon for "clarity" on the US military mission in Syria.
In a letter to the top officials at the Pentagon, Sens. Catherine Cortez Masto (D-Nev.) and Mitt Romney (R-Utah) cited both the recent spike in US-Iran tensions and last year's firestorm over President Trump's order to withdraw from Syria when seeking answers to a dozen questions on the US strategy in Syria.
"We would appreciate further clarity about the mission of US troops currently deployed to Syria," the senators wrote to Defense Secretary Mark Esper and Joint Chiefs of Staff Chairman Gen. Mark Milley in a letter obtained by The Hill ahead of its release. "Until now, the administration has not articulated a coherent and consistent strategy to Congress."
In October, Trump ordered US forces in northeast Syria to withdraw ahead of a Turkish offensive against Syrian Kurdish forces, who had been instrumental in the US fight against ISIS.
Later, Trump said he would withdraw all US forces from Syria, save for a couple hundred at a garrison in southern Syria.
The orders sparked a fierce bipartisan backlash, as lawmakers fumed about abandoning Kurdish allies and warned of leaving a vacuum in which ISIS could reemerge.
Amid the opposition, Trump backtracked on a full withdrawal and left about 800 US troops in Syria. But Trump sparked a new round of confusion when he said those troops were staying to "secure the oil," leading to questions about whether the United States had changed its objective in Syria from fighting ISIS.
Meanwhile, the United States and Iran were on the brink of war earlier this month after a US drone strike killed Iranian Gen. Qassem Soleimani. Following the strike, which took place on Iraqi soil, US operations against ISIS in Iraq have been paused.
Iranian and Iranian-backed forces operate in Syria to bolster Syrian President Bashar Assad, and US officials have argued the US military presence in Syria helps curb Iranian influence.
In their letter, dated Thursday, Cortez Masto and Romney asked for unclassified answers to several questions "given the confusion over the mission of US troops in Syria, particularly amid heightened regional tensions and strain on counter-ISIS operations, as well as the lack of clarity over how the mission connects to the administration's articulated strategic aims."
The pair asked what the "primary" US mission in northern Syria is, what the mission is at the al Tanf garrison in southern Syria and whether US troops in Syria have any "secondary" missions.
The senators also asked whether there are enough forces on the ground to both protect oil fields and fight ISIS, and what the rules of engagement are for the troops at the oil fields when facing forces associated with the Syrian government, Russia or Iran.
They further asked whether threats to US troops in Syria have changed since the Soleimani strike, what steps are being taken to protect troops in Syria from Iranian retaliation and whether anti-ISIS operations have paused as they have in Iraq.
Alluding to Iraqi calls for a US troop withdrawal following the Soleimani strike, Cortez Masto and Romney also asked about the viability of the US mission in Syria if troops leave Iraq.
Full report at:
https://www.presstv.com/Detail/2020/01/26/617102/US-senators-Pentagon-Syria-strategy-troop-pullout-Soleimani-terror-bid
--------
USA: Protesters urge Trump to ease tensions with Iran at Washington rally
26 January 2020
Protesters marched in front of the White House in Washington DC on Saturday demanding the administration of President Donald Trump to ease tensions with Iran.
Footage shows activists with banners as they chant 'No to war with Iran' at the protest. "The tensions between the United States and Iran are very very disturbing to me. I am afraid of what any war or any regime of sanctions could do to the Iranian people," said Suhail Shafi, a protester.
Full report at:
https://www.presstv.com/Detail/2020/01/26/617098/Protesters-urge-Trump-to-ease-tensions-with-Iran-at-Washington-rally
--------
Iran's military capabilities give US commanders pause
25 January 2020
By Stephen Lendman
The US has been hostile to Iran since its 1979 revolution, ending a generation of US-installed fascist tyranny, the nation regaining its sovereignty that was destroyed by the CIA's 1953 coup, its first ahead of decades of high crimes to follow.
Trump regime hostility toward Iran exceeds the worst of his predecessors, waging all-out economic terrorism on the nation and its people — its aim all about regime change, wanting pro-Western rule replacing Iranian sovereign independence, along with gaining control over its vast hydrocarbon resources.
Asked on Friday what the Trump regime's plan is for Iran, neocon hardliner Mike Pompeo equated US war on the country by other means to "diplomatic efforts," together with "coalition" partners, aiming for unilateral surrender, a futile agenda against a nation willing and able to defend its sovereignty against a hostile aggressor.
Further remarks included his long ago debunked litany of bald-faced Big Lies about the Islamic Republic and outrageous demands.
Iran's legitimate nuclear program has no military component, affirmed annually by the US intelligence community and through regular IAEA monitoring.
Its ruling authorities are committed to combating regional terrorism, not supporting it like the US and its imperial partners.
Its missile program and other conventional weapons are solely for self-defense. Iran hasn't attacked another country in centuries — what the US and its imperial partners prioritize, smashing one nation after another, waging state terrorism globally.
On Friday, a New York Times opinion piece supported Trump's economic terror on Iran, a hostile agenda that flagrantly breaches international and US constitutional law.
The Times: Trump regime "maximum pressure (is a way) to gain maximum leverage ahead of negotiations to dismantle its nuclear program and address its malign activities (sic)."
Fact: Iran's nuclear program fully complies with NPT and JCPOA provisions. Accusations of "malign activities" are bald-faced Big Lies — how the US, NATO and Israel operate, not the Islamic Republic.
The Times lied claiming Iranian security forces killed "about 1,500…protesters" last November — ignoring US dirty hands all over days of violence, vandalism and chaos, instigated by CIA recruited thugs.
The Times falsely called the JCPOA "a fragile nonbinding political agreement."
Agreed to by the US, UK, France, Germany, Russia, China and Iran, it was unanimously adopted by the Security Council, making it binding international and US constitutional law.
More Big Lies followed, the Times falsely accusing Iran of "pursu(ing) headline-grabbing provocations…attack(ing) ships in the Strait of Hormuz, (striking) Saudi oil facilities, (and) shrink(ing) its breakout timeline" toward developing nuclear weapons (sic), adding:
Trump's "maximum pressure campaign remains fully intact with political space to increase the sanctions pressure even further" — ignoring its illegality and aim to immiserate ordinary Iranians.
The Times piece falsely claimed that Trump regime toughness on Iran will get its ruling authorities to yield to its demands.
What hasn't happened for 40 years is highly unlikely to change ahead.
The US is its own worst enemy, losing respect and influence on the world stage — unscrupulous, untrustworthy and ruthless, waging war on humanity, making more enemies than friends.
Iran, formerly Persia, has existed as a nation-state for thousands of years — while imperial USA is destined for the dustbin of history like all other earlier empires.
Iran is the region's leading peace and stability proponent, deploring war and related violence, seeking cooperative relations with other nations.
At the same time, it's militarily strong enough with conventional weapons to hit back hard if attacked — shown by its strikes on two US bases in Iraq in retaliation for the Trump regime's assassination of Quds Force commander General Qassem Soleimani.
Trump ignored significant damage to the bases and injuries to US forces, days earlier saying:
"I heard that they had headaches and a couple of other things, but I would say and I can report that it's not very serious" — after initially saying "no Americans were harmed."
There's nothing "not very serious" about brain damage, the Pentagon finally admitting much greater damage and casualties to US forces than reported straightaway, on Friday saying:
"Thirty-four total members have been diagnosed with concussions and TBI (traumatic brain injury)."
They're being treated in the US and Germany at US military hospitals.
Numbers injured from powerful missile blasts may be greater than the Pentagon is willing to admit.
Iranian retaliation against US aggression, its legal right under international law, showed its military can strike accurately with devastating force in response to a hostile attack.
Its military capabilities likely give Pentagon commanders pause about attacking a nation able to retaliate strongly against an aggressor.
Stephen Lendman, born in 1934 in Boston, started writing on major world and national issues began in summer 2005. In early 2007, radio hosting followed. Lendman now hosts the Progressive Radio News Hour on the Progressive Radio Network three times weekly. Distinguished guests are featured. Listen live or archived. Major world and national issues are discussed. Lendman is a 2008 Project Censored winner and 2011 Mexican Journalists Club international journalism award recipient.
Full report at:
https://www.presstv.com/Detail/2020/01/25/617070/Iran%E2%80%99s-military-capabilities-give-US-commanders-pause
--------
US condoles with Turkey following 'terrible' earthquake
Michael Hernandez
25.01.2020
WASHINGTON
The U.S. offered on Saturday its condolences to Turkey after an earthquake in the country's east left at least 22 people dead and over a thousand more injured.
"Our thoughts are with our friends and Allies in #Turkey following the terrible earthquake, and we share our deep condolences with all who lost loved ones to this tragedy," the State Department said on Twitter.
Department of State
✔
@StateDept
Our thoughts are with our friends and Allies in #Turkey following the terrible earthquake, and we share our deep condolences with all who lost loved ones to this tragedy. https://twitter.com/USEmbassyTurkey/status/1220973300404441090 …
U.S. Embassy Turkey
✔
@USEmbassyTurkey
Dün gece meydana gelen depremde hayatlarını kaybedenlerin ailelerine başsağlığı; yaralılara acil şifalar dileriz. Geçmiş olsun Türkiye. #Elazığ #Malatya
559
9:42 PM - Jan 25, 2020
Twitter Ads info and privacy
210 people are talking about this
The 6.8-magnitude quake hit eastern Elazig province at 8:55 p.m. local time (1755GMT) on Friday, with its epicenter in Sivrice district.
At least 22 people died and more than 1,200 were wounded in the earthquake on Friday night. Tremors were also felt in neighboring countries including Syria and Georgia.
Turkey's Disaster and Emergency Management Authority (AFAD) said more than a thousand rescue workers were dispatched to the region along with 18 sniffer dogs.
Full report at:
https://www.aa.com.tr/en/americas/us-condoles-with-turkey-following-terrible-earthquake/1714059
--------
URL: https://www.newageislam.com/islamic-world-news/first-look-r-day-parade/d/120893
New Age Islam, Islam Online, Islamic Website, African Muslim News, Arab World News, South Asia News, Indian Muslim News, World Muslim News, Women in Islam, Islamic Feminism, Arab Women, Women In Arab, Islamophobia in America, Muslim Women in West, Islam Women and Feminism