New Age Islam News Bureau
17 Jun 2017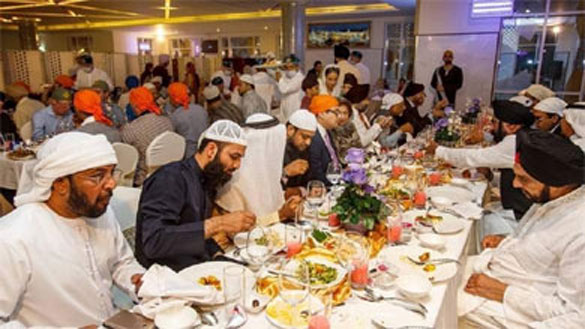 Gurunanak Darbar in Dubai is the largest gurudwara of Gulf region.(Twitter Photo)
----
• Fiery Speeches to Fatwas: Here's The Worst of India's Right-Wing Diatribe
• Yogi Pits Taj against Gita - 'Minarets Don't Reflect Indian Culture'
• 'We Will Break Every Bone': Islamist Leaders Threaten Bangladeshi Lawyer
• UAE: Gurdwara in Dubai Holds Ramzan Iftar for People of All Religions
• 'Forced Conversion' Of Minor Creates Uproar in Thar's Hindu Community
• Creation of New World Body's Counter-Terrorism Office Approved by UN
India
• Fiery Speeches to Fatwas: Here's The Worst of Right-Wing Diatribe
• UP Hindus, Muslims Unite Against 3am 'Loud Sehri' Call
• Yogi Pits Taj against Gita - 'Minarets Don't Reflect Indian Culture'
• Let Terrorists Kill 6 Cops, Then Mutilate Faces with Bullets
• 'Global terrorist' Shafi Armar under lens in Syria
• In touch with countries to locate 39 Indians missing in Iraq: Govt
• RSS-affiliate MRM to keep Pakistan out of its international iftar event on Monday
--------
South Asia
• 'We Will Break Every Bone': Islamist Leaders Threaten Bangladeshi Lawyer
• Rohingya Muslims May Be Threat to Bangladesh's Security: Foreign Minister
• ISIS media official killed in Nangarhar province of Afghanistan: Gen. Nicholson
• Taliban rejects report on Kandahar bombing that killed UAE ambassador, diplomats
--------
Arab World
• UAE: Gurdwara in Dubai Holds Ramzan Iftar for People of All Religions
• Jubeir: Whole World Wants Qatar to Stop Its Support for Terrorism
• US-led strike kills 4 Syrian civilians in Daesh-held Raqqah
• UN experts censure worsening human rights situation in Bahrain
• Daesh holding over 100k civilians as 'human shields' in Mosul's Old City: UN
• Syrian Army Regains Control of Key Oilfield in Raqqa Province
• Syria: Terrorists Breach Nationwide Truce in Damascus Province Again
• Syrian Army Scores More Victories against ISIL in Western Raqqa
• Syrian Soldiers Continue to Hit Terrorist Centers Hard in Dara'a
• Terrorist Groups Readying to Breach Ceasefire in Syria's Aleppo City
• Kurdish-Led SDF Makes Fresh Gains against ISIL in Northeastern Syria
• Saudi FM Jubeir: A political decision is the solution to the Qatar crisis
--------
Pakistan
• 'Forced Conversion' Of Minor Creates Uproar in Thar's Hindu Community
• Bajwa Urges Neighbours Not To Blame Pakistan For Their Woes
• Security, traffic arrangements in place for Youm-i-Ali observations across country
• Abducted Chinese nationals were offered security but they refused: interior ministry
• Sartaj for boosting Pak-China think tanks cooperation
• Pakistan looks up to US, Russia, China to end regional tension
--------
Europe
• Creation of New World Body's Counter-Terrorism Office Approved by UN
• Atleast 10,000 Muslims to March against Extremism in Germany
• Grenfell Tower fire: Kensington Muslims host sunset meal on street for people affected
• Man 'with knife' arrested outside UK parliament
• Liberal mosque challenges conservative Islam in Berlin
--------
Southeast Asia
• Kelantan Mufti Says Dreamcatcher Henna Tattoo Prohibited For Muslims
• Islamist Violence in Marawi City a Potential Threat To Indonesia
• Halal chocolate takes off as sweet-tooth Muslims want their fix
• 'Anti-evangelism laws' not for Malaysia, deputy home minister says
• Indonesia steps up mosque surveillance
• Investree to Introduce Sharia-Compliant Financing Next Month
• Philippines Says Some Militants May Have Slipped out of Embattled City
--------
Mideast
• Yemen: Houthis 'Planned To Starve' Detainees during Ramadan
• Turkish FM arrives in Saudi Arabia to end Persian Gulf states-Qatar row
• Israeli officers shoot dead three Palestinians after alleged stabbing
• Yemen PM: Houthis targeting Saudi aid trucks, UAE ship threatens intel peace
• Iran, Switzerland hold new round of political talks
--------
North America
• Canadian Politician Joins Muslims for Ramadan Fast
• How the Resistance Is Standing up To Anti-Muslim Speakers in America's Heartland
• Counter violent extremism, but don't stereotype Muslims
• Sahi: How fear of peace bonds affects Canadian Muslims
--------
Africa
• Christian Teacher Shot Dead by Jihadists in Kenya; Muslim Teacher Shields Other Christian
• Libyan coast guard intercepts more than 900 migrants: spokesman
• Kenya official: Roadside bomb kills 4 people; 11 wounded
• Nigeria: Pandemonium As Muslims, Masquerades Lock Horns in Ikun-Ekiti
Compiled by New Age Islam News Bureau
URL: https://www.newageislam.com/islamic-world-news/fiery-speeches-fat-heres-worst/d/111582
--------
Fiery Speeches to Fatwas: Here's The Worst Of Indian's Right-Wing Diatribe
June 16, 2017
Religion is a big part of the lives and identity of a majority of Indians, and there is therefore an abundance of religious leaders. In these polarising times, the firebrands among them often get away with saying outrageous things which attack the egalitarian fabric of India's diverse society and push regressive, divisive ideologies. Here are a few such figures from the recent times:
Sadhvi Saraswati: The violence quotient was overt and high in Saraswati's militant rhetoric, as she spoke at the inauguration of a four-day All India Hindu Convention in Goa, organised by the Hindu Janajagriti Samiti, of stocking up arms and public executions for what would normally be people's choice of food or mate. Speaking on the beef issue, she said "Jo vyakti apne (gau) ma ka maas khaane ko apna status symbol maanta hai, aisi vyaktiyon ko Bharat sarkar se nivedan karti hoon, phaansi pe latkana chahiye, beech chaurahey pe latkana chahiye… tab logon ko pata chalega ki gau mata ki rakhsa karna hamara kartavya hai (People who take it as status symbol to eat beef … I request the Centre to hang them in public. People will then understand that cow protection is our responsibility)". She also said, "Agar hum shastra nahi rakhenge toh aanewale samay mein hamara vinaash hoga (if we do not stock arms, we will be destroyed in future)", upon urging Hindus to save their daughters from "Love Jihad".
Yogi Adityanath: The firebrand successor of priest Mahant Avaidyanath of the Gorakhpur Math temple, in his pre-CM days, was displeased at Shah Rukh Khan in November 2015 for speaking about his comment about climate of intolerance. "Shah Rukh Khan should remember that if a huge mass in society would boycott his films, he will also have to wander on streets like a normal Muslim. I am saying these people are speaking in a terrorist's language. I think there is no difference between the language of Shah Rukh Khan and Hafiz Saeed", said Yogi Adityanath, who has never been a stranger to controversy. SRK's comment had also drawn vitriol of Pakistan loyalty from fellow figures like Kailash Vijayvargiya and Sadhvi Prachi.
Swami Ramdev: The yoga guru and founder of Patanjali group said last year at a RSS conference at Rohtak, Haryana, "We respect this country's law and Constitution, otherwise if anybody disrespects Bharat Mata, we have the capability of beheading not one but thousands and lakhs". It was his violent response just days after the fatwa issued by Darul Uloom Deoband that deemed chanting "Bharat Mata ki Jai" as unfit by Islamic tenet against idol worship, suggesting slogans like 'Hindustan Zindabad' and 'Madre Vatan'. In the recent years, Ramdev has made many controversial statements in relation to political leaders — but none as exaggeratedly violent as this one. Very recently, a non-bailable arrest warrant has been issued against him for it by a Rohtak court.
Syed Sha Atef Ali Al Quaderi: On a lighter note, cleric Syed Sha Atef Ali Al Quaderi, the vice-president of West Bengal United Minority Council, made national headlines in April this year by jumping in to respond with a comic effect to Sonu Nigam's tweet protesting loudspeaker "gundagardi" of azaan calls from the mosque in his neighborhood for supposedly disrupting his sleep. Quaderi seemed to take it as a personal affront to Islam.
"If anyone can shave his hair, put a garland of old torn shoes around his neck and tour him around the country, I shall personally reward that person with Rs 10 lakh", said Quaderi, said in response to the singer's dramatic protest statement. Nigam, of course, went ahead and shaved his head, which still left Quaderi dissatisfied about his other two 'demands'.
Shankaracharya Swami Swaroopanand Saraswati: Women "should not feel triumphant and stop all the drum beating" about finally being allowed into the Shani Shingnapur temple in Maharashtra, Shankaracharya Swami Swaroopanand Saraswati told reporters in April 2016. "Ab Shani ki drishti Mahilaon par padengi aur jo rape ki ghatnaen aur badhengi … Mahilaon ne jo Shani ka darshan karke anarth kiya hai, uska parinam ye anarth aur badhenge" (Now Shani will target women and incidents like rape will increase. They have committed a disastrous mistake and now disastrous incidents against them will increase)," he said.
Clearly the Shankaracharya, long known for his fiery anti-Sai baba rhetoric, was not pleased to learn that women would be allowed into Shani Shingnapur temple in Maharashtra. The statement was made in the wake of Bombay High Court's ruling, that it was a fundamental right for women to enter and worship in temples, in the favour of activists from the Bhumata Brigade. It's hard to digest Swaroopanand's lack of sensibility and restraint in openly "warning" an entire gender about increase in rapes.
Sadhvi Niranjan Jyoti: "Aapko tay karna hai ki Dilli mein sarkar Ramzadon ki banegi ya har**zadon ki. Yeh aapka faisla hai (you have to decide whether Delhi will get a government of those born of Ram or of those born illegitimately.)", said Sadhvi Jyoti as a Union Minister to a public rally in Delhi in December 2014 — using an unparliamentary word that embarrassed the BJP in the Parliament and otherwise. She was made to retract and apologise for it later.
Maulana Nurur Rehman Barkati: Shahi Imam of Tipu Sultan Mosque Maulana Nurur Rehman Barkati issued a fatwa against PM Narendra Modi early in January this year, soon after the demonetisation scheme was announced. He announced a reward of Rs 25 Lakh for anyone who would "cut off the Prime Minister's beard, shave his head and smear him with black ink" for inconveniencing innocent people by making them stand in bank queues. Explaining why he had singled out Modi's beard, Barkati had said, "People who keep beard are mostly religious like maulanas, sadhus, sufis, sikh gurus.. But Modi keeping beard is bhondami (bluffing)."
Sadhvi Prachi: Firebrand Sadhvi Prachi from the Vishwa Hindu Parishad has several controversial remarks, speeches and incitements to violence to her credit. One of them, which also generated an FIR against her 'for disturbing communal harmony', was made on June 7, 2016 in Roorkee. "Now that we have achieved the mission of making a Congress-free India, it is time to make India, Muslim-free. We are working on that," she said, bluntly voicing the 'final solution' of her vicious ideology.
Zakir Naik: The televangelist Islamic scholar, Salafi ideologue and preacher, who makes controversial comments on a regular basis, has an international following in many countries with significant Muslim populations. According to his logic, secularism is the result of other religions being unsure of their "true" status, which Islam is not. For instance, "How can we allow this (building of churches and temples in an Islamic nation) when their religion is wrong, their worshipping is wrong", the scholar 'reasoned' on the religious QTV. Among other things, he has also propagated the conspiracy theory that George Bush himself ordered the felling of the Twin Towers on September 11, 2001 and has controversially defended Bin Laden. Naik has been banned from visiting in countries like Britain, Canada and Malaysia for his views.
http://indianexpress.com/article/india/fiery-speeches-to-fatwas-heres-the-worst-of-right-wing-diatribe-4707411/
--------
Yogi Pits Taj against Gita - 'Minarets Don't Reflect Indian Culture'
Sanjeev Kumar Verma
Darbhanga, June 15: The Taj Mahal may be synonymous with India in the eyes of the world, but not to Yogi Adityanath.
"Foreign dignitaries visiting the country used to be gifted replicas of the Taj Mahal and other minarets which did not reflect Indian culture," the Uttar Pradesh chief minister said at a public meeting today at the Raj Maidan in Darbhanga, a historic ground that used to be the centre of sporting activities since the 16th century under the Maithil rulers.
Now (read as meaning under the Narendra Modi government), Adityanath pointed out, foreign dignitaries are gifted copies of the Bhagvad Gita and the Ramayan when they come to India.
Historians were aghast at the UP chief minister's description of the Taj.
"The period from the year 1206 to 1760 is known as medieval and pre-modern history," said Patna University history teacher Daisy Narayan. "But some people, especially of a particular political stripe, consider this period as the 'Islamic era' of Indian history. These people, in doing so, are trying to rewrite history and distort facts. It is very shocking that the Taj Mahal, which is our national heritage monument, is being claimed as not as part of our culture."
The Bihar BJP had organised today's event as part of a series of programmes across the state to showcase achievements in the three years of the Narendra Modi government.
There was a palpable buzz about Adityanath's visit because of two reasons.
One, this was the hardline Hindutva leader's first trip to Bihar after taking over as Uttar Pradesh chief minister.
Second, chief minister Nitish Kumar had yesterday visited Darbhanga and dared Adityanath - without naming him - to make Uttar Pradesh a dry state like Bihar and declare 50 per cent reservation for women.
After starting his speech with chants such as "Jai Shri Ram" and " gau mata ki jai", the Uttar Pradesh chief minister highlighted what he had done in his state - such as shutting unauthorised slaughter houses and setting up anti-Romeo squads, which he said aimed to establish rule of law and security of women.
Then he dared Nitish to clear his stand on the issue of instant triple talaq.
"I know he will not break his silence on this issue, but he should as it concerns women. Several Muslim women come to meet me daily, narrating their woes that stem from triple talaq."
He added: "But we don't do politics of caste or religion."
An early morning rain had left the ground muddy, and many among the roughly 20,000-strong crowd were struggling to find a dry spot to stand as the scorching sun beat down on them.
Adityanath attributed it to the Almighty.
"Even the nature God is with us," he said. "The rain washed off all the impure things this spot might have had before this meeting."
Much of Adityanath's speech had themes meant to connect with his core support base.
He invoked Lord Ram - who the faithful believe was born in Ayodhya in modern-day Uttar Pradesh -and Sita - believed to be from Sitamarhi in Bihar - to underline the "special relation" between the two states. He also announced that Union minister for road transport and highways Nitin Gadkari had approved a special road project connecting Ayodhya with Sitamarhi.
Before Adityanath began his speech, Bihar BJP president Nityanand Rai told the crowd that the Uttar Pradesh chief minister had "adopted" Bihar.
Adityanath explained that he had "chosen" to work in Bihar and would not rest till the lotus - the BJP's poll symbol - blooms in the Bihar Assembly.
He called the alliance of Nitish and RJD chief Lalu Prasad as "unnatural" and declared that Nitish had started "keeping bad company".
Adityanath also claimed no Prime Minister before Narendra Modi had thought about the poor.
Pakistan also figured in his speech. Urging people to take part in large numbers in the International Yoga Day celebration on June 21, he said Pakistan was not observing the day though 200 countries were doing so. Pakistan would have to follow yoga for its survival, he said.
Source; telegraphindia.com/1170616/jsp/frontpage/story_157074.jsp
--------
'We will break every bone': Islamist leaders threaten Bangladeshi lawyer
16 June 2017
Human rights groups have warned about the safety of a prominent Bangladeshi lawyer after Islamist leaders threatened to "break every bone" in her body for defending the installation of a Lady Justice statue outside the country's supreme court.
Sultana Kamal's remarks on a television talk show last month have earned her death threats from Muslim hardliners in Bangladesh, where religious fanatics are suspected to have killed 30 activists and writers among others in the past four years.
Kamal, the chair of anti-corruption group Transparency International Bangladesh, appeared in a televised debate in May about a Lady Justice statue that was installed outside the supreme court building last year.
Islamist groups including the hardline Hefazat-e-Islam campaigned to have the statue torn down on the grounds that its presence was an example of idol worship, forbidden in Islam.
During the debate, a Hefazat leader argued the statue was a religious object, and therefore had no place outside the supreme court of the country, which has been officially secular since it broke away from Pakistan in 1971. Kamal responded that by the same logic, "no mosques should be on the premises either".
In response, Hefazat called for Kamal to be arrested or exiled within 24 hours. A senior leader of the organisation warned her: "If you come out to the streets, we will break every bone in your body."
Kamal told the Guardian the threat had triggered a wave of "abusive postings on Facebook", including images doctored to show the activist being lynched.
She said police had contacted her after the threats and were now regularly patrolling her neighbourhood, "just keeping an eye".
"But I think the police should be filing a case against Hefazat-e-Islam," she said. "They have openly threatened to kill me."
Hefazat, a conservative mass movement based in the country's privately run religious schools, has been growing in influence in Bangladesh, exerting pressure on the government to insert Islamic references into textbooks, ban men and women from mixing in public, and crack down on writers who "offend religious sentiments".
A campaign started by the group and adopted by more mainstream Islamic movements led the government to relocate the Lady Justice statue to the front of another, less prominent building in the court complex.
This week, a coalition of human rights groups including Amnesty International called for police to investigate the threats of violence against Kamal and ensure she received adequate protection.
They called on the Bangladesh government to "openly and unequivocally condemn" the threats against Kamal, adding that its silence reinforced "a culture of impunity which emboldens extremists to act criminally without fear of prosecution, and affirms extremists views".
The joint secretary general of Hefazat-e-Islam, Mufti Faizullah, said the demands to arrest or exile Kamal were made by members of the organisation but did not represent its official position.
"Hefazat did not issue any statement officially or call for any movement against Sultana Kamal," he said. "When one or two leaders of a large organisation make a demand, this does not become the demand of the whole organisation."
But he added: "Ninety per cent of the people of this country are Muslim. If anyone gives any statement that goes against the sentiment of Muslim, people will not accept this."
Bangladesh has been trying to curb a spree of high-profile violence against bloggers, atheists and secular intellectuals in the past years. Also targeted for murder – in attacks often claimed by Islamic State or al-Qaida – have been religious minorities, foreign aid workers and liberal Sunni Muslims.
The government, led by the secular Awami League, has been accused of underplaying the killings, unwilling to risk riling conservative Muslim groups less than two years before the next national elections, scheduled for January 2019.
https://www.theguardian.com/global-development/2017/jun/16/we-will-break-every-bone-islamist-leaders-threaten-sultana-kamal-bangladesh-lawyer-statue-dhaka
--------
UAE: Gurdwara in Dubai holds Ramzan Iftar for people of all religions
Jun 16, 2017
In a heart-warming gesture, a gurdwara here, the largest in the Gulf region, organised an Iftar where people of different religions and over 30 nationalities broke the Muslim fast together.
To demonstrate the spirit of tolerance and giving, the Gurunanak Darbar Gurudwara, hosted about 120 residents of over 30 nationalities to celebrate the holy month of Ramzan and support the Muslim community in breaking their fast in a multicultural setting.
As the call to Maghreb (evening) prayers rang inside the gurdwara, Muslims broke their fast over water, dates and Indian dishes. Later, they offered their prayers inside the gurdwara premises in Jebel Ali.
Surender Singh Kandhari, chairman of Gurunanak Darbar, was quoted as saying by the Khaleej Times, that the Iftar on Wednesday was to bring people together in the face of adversity.
"In a world that struggles with extremism, the best way to cut it is through creating friendships among different faiths and nationalities and making the difference ourselves. It is only through communication that we can overcome adversities," said Kandhari, noting that guests varied from Arabs, Ethiopians, Mexicans to Americans and Serbians.
Indian Consul General in Dubai Vipul said the gurudwara is doing a great service by getting all communities and religions together.
He cited the example of the gurudwara achieving a Guinness World Record by hosting breakfast for 101 nationalities in April.
"I see today's Iftar also as a step in that direction," he was quoted as saying by Gulf News.
A regular visitor at the gurdwara, Mitchell Peeters from Belgium, said as a Christian, having Iftar in a Sikh temple makes the experience in UAE more special.
"It is a nice experience to enjoy happiness and friendliness of people around you from different faiths and nationalities. It is part of the charm of living in Dubai and adjusting to the customs of the local people," said Peeters, a UAE resident for four years.
Gurunanak Darbar is the largest gurudwara of Gulf region.
On a regular basis, the gurudwara serves free meals everyday to visitors, and distributes food packs to labour camps every weekend.
http://www.hindustantimes.com/world-news/uae-gurdwara-in-dubai-holds-ramzan-iftar-for-people-of-all-religions/story-KCSz34SwOg1351CW40nQ4K.html
--------
'Forced conversion' of minor creates uproar in Thar's Hindu community
Jun 17, 2017
The alleged abduction and conversion of a minor Hindu girl in Thar has triggered a wave of anger and indignation among members of the area's Hindu community.
Ravita Meghwar, 16, had allegedly been abducted by men from the Syed community of Wanharo village near Nagarparkar, Thar, on June 6th.
Yesterday (Thursday), the girl, along with 'husband' Nawaz Ali Shah, had met with local journalists in Umerkot to 'inform' them of her consent in both embracing Islam and her marriage.
She claimed to have embraced Islam in the presence of Pir Mohammad Ayub Jan Farooqui, an Islamic preacher, near the Samarro town of Umerkot district.
On Friday, the girl once again claimed to journalists in Islamkot that she had not been kidnapped but had eloped with Shah. She also demanded protection for both herself and her husband.
However, the Hindu community, along with the girl's family, has insisted that she was kidnapped and forced to convert. Satram Das Meghwar, Ravita's father, has alleged that influential members of the Syed community had kidnapped his daughter after giving sleeping pills to the family.
He alleged that despite frequent appeals, Thar police avoided tracing the girl till she was forced to convert.
According to the marriage certificate issued by the preacher, a copy of which is available with Dawn, "The girl is approximately eighteen years old, can marry the person of her choice and her Islamic name is Gulnaz".
However, according her primary school certificate, available with Dawn, Ravita was born on July 14, 2001.
The PML-N MNA from Thar and chief of the Pakistan Hindu Council, Dr Ramesh Kumar Vankwani, has expressed his concern over the alleged abduction and the subsequent conversion of Ravita.
"A Hindu girl below 18 years of age cannot be converted according to the Hindu Marriage Act," he told Dawn.com.
Activists from various communities and political parties have demanded the early recovery of the girl and her production before a court of law. They have termed the abduction of the girl an attempt to vitiate the peaceful and harmonious atmosphere of Thar.
Scores of people have also taken to social media to condemn the incident and demand a probe into the incident. They have also questioned the validity of the marriage certificate issued by the cleric, who they claim is a controversial personality and has been involved in many such cases.
PPP Senator from Thar Engineer Gyanchand has also expressed his anger and indignation over the issue.
An FIR was registered on the girl's request at the Dano Dhandal police station against four persons — Syed Nawaz Ali Shah, Syed Noor Ali Shah, Mohammad Nohrio Junejo and Sher Ali Junejo — on Thursday night.
The station house officer of Dano Dhandal police station, Mubarak Rajar, has said that the couple had submitted an application in Sindh High Court, seeking 'protection' from the girl's parents and other relatives.
He also said police were conducting raids to arrest those nominated in the FIR.
https://www.dawn.com/news/1339910/forced-conversion-of-minor-creates-uproar-in-thars-hindu-community
--------
Creation of new world body's Counter-Terrorism Office approved by UN
Jun 17, 2017
NEW YORK: The establishment of a new United Nations office to help Member States implement the Organization's global counter-terrorism strategy was approved by the UN General Assembly.
Adopting a consensus resolution, the 193-nation body also welcomed Secretary-General Antonio Guterres initiative to transfer relevant functions out of the UN Department of Political Affairs (DPA) and into the new United Nations Office of Counter-Terrorism.
As a result, the Counter-Terrorism Implementation Task Force Office (CTITF) and the UN Counter-Terrorism Centre (UNCCT), currently in DPA, will be transferred to the new office, together with their existing staff and all associated regular and extra-budgetary resources. The new Office would he headed up by an Under-Secretary-General.
In his report on this issue to the Assembly, the Secretary-General proposed that the new Under-Secretary-General would Chair the Task Force and Executive Director of the UN Counter-Terrorism Centre.
According to the report, the Office would have five main functions: provide leadership on the General Assembly counter-terrorism mandates entrusted to it from across the United Nations system. Enhance coordination and coherence across the 38 Counter-Terrorism Implementation Task Force entities to ensure the balanced implementation of the four pillars of the UN Global Counter-Terrorism Strategy. Strengthen the delivery of United Nations counter-terrorism capacity-building assistance to Member States, Improve visibility, advocacy and resource mobilization for United Nations counter-terrorism efforts. And ensure that due priority is given to counter-terrorism across the United Nations system and that the important work on preventing violent extremism is firmly rooted in the Strategy.
"The Secretary-General considers counter-terrorism and prevention of violent extremism to be one of the highest priorities of the United Nations to address a growing threat to international peace and security," his spokesman Stephane Dujarric, said in a statement issued just after the Assembly's action.
"He therefore hopes that this reform of the UN Counter-Terrorism architecture will contribute to the UN's broader efforts to promote conflict prevention, sustainable peace and development," the spokesman said.
For his part, General Assembly President Peter Thomson said, "This resolution will enhance the United Nation's capability to assist Member States in implementing the UN Global Counter-Terrorism Strategy across its four pillars by ensuring greater coordination and coherence across the UN system, and by improving visibility, advocacy and resource mobilization for United Nations' counter-terrorism efforts."
http://nation.com.pk/international/16-Jun-2017/creation-of-new-world-body-s-counter-terrorism-office-approved-by-un
--------
India
UP Hindus, Muslims unite against 3am 'loud sehri' call
Jun 17, 2017
BAREILLY: Residents of Bareilly's Premnagar, Hindus as well as a few Muslims, have approached the local administration against the use of loudspeakers by seven mosques to issue the wakeup call for 'sehri' at 3am daily during Ramzan.
In the wake of the complaint, the authorities have decided to take up the matter with the administration at the mosques, and get them to either take down the loudspeakers or mute them.
"I have instructed the superintendent of police (city) to investigate the matter and take action in accordance with the Supreme Court's guidelines. Either the loudspeakers will be uninstalled from the religious places or the caretakers will have to play them in a low volume," additional district magistrate (ADM) Alok Kumar told TOI.
According to the apex court's guidelines, loudspeakers cannot be used between 10pm and 6am. Besides this, defining peaceful sleep as a fundamental right under Article 21, the SC had observed, "To disturb sleep, therefore, would amount to torture, which is now accepted as a violation of human right."
The residents had approached the district administration with a memorandum last week. Uttar Pradesh Udyog Vyapar Pratinidhi Mandal (UPUVPM), a traders' union that is considered to be close to Samajwadi Party, also came out in support of the residents and filed acomplaint with the ADM.
"Whether it is a temple or a mosque, no religion allows bothering others. My father is a heart patient who underwent an open heart surgery just last year. He and my 73-year-old mother have not slept peacefully for days. There are infants in every house," UPUVPM district president Shobhit Saxena said.
Saxena added that seven Muslim neighbours were among the complainants as well. "They said Ramzan is about helping others, not causing distress," he said.
Following the complaint, Asif Beg, one of the complainants, was allegedly targeted by some people. "They stopped me near the mosque when I was on my way home in the evening and told me that I would go to hell as I had complained against the mosque loudspeakers. They even assaulted me and escaped from the scene," Beg said.
Bareilly's deputy shahr qazi Maulana Shahabbudin Rizvi said he agreed with the complainants. "It's wrong to use loudspeakers persistently to wake up people for sehri. Ideally, there should be just one wake-up call within permissible decibel levels. Some clerics are using recorded voices and playing them to bother others, which is against the spirit of Ramzan."
http://timesofindia.indiatimes.com/city/bareilly/up-hindus-muslims-unite-against-3am-loud-sehri-call/articleshow/59186692.cms
--------
LeT terrorists kill 6 cops, then mutilate faces with bullets
M Saleem Pandit
Jun 17, 2017
SRINAGAR: Displaying unprecedented savagery and viciousness, Lashkar-e-Taiba terrorists mangled the faces of six policemen, including one officer riddling their faces with bullets at Thajiwara village in Achabal town of Anantnag district on Friday.
The attack took place within hours of the killing of a top LeT militant, Junaid Mattoo, elsewhere in Anantnag district. Heavily armed terrorists attacked a police party and butchered the cops, including the SHO of Achabal police station, Feroz Ahmad Dar.
The policemen were found with their faces mutilated beyond recognition as the terrorists fired at them even after they were dead, all over the bodies, including their faces. A senior police officer said this was the first such terror attack on the security forces since the advent of militancy in Kashmir in 1990.
LeT claimed responsibility for the killings. Apart from SHO Dar, the five other cops killed and mutilated were constables Tasveer Ahmad, Sharaz Ahmad, Shariq Ahmad, Mohammad Asif, and a special police officer, Sabzar Ahmad.
Read this story in Malayalam
Sources said they were on barricade duty at Thajiwara in Achabal following inputs of terrorist movement in the area.
Nearly one dozen heavily armed terrorists arrived and outgunned the cops, killing and disfiguring them as a warning to other policemen, taking away their weapons, an intelligence source said.
The attack was apparently in retaliation of the killing of Mattoo and another LeT terrorist in a firefight in Arwani village of Bijebehara in Anantnag district of south Kashmir on Friday.
Mattoo, according to intelligence agencies, had on Thursday killed police constable Sajjad Ahmad at Kulgam, who was vacationing at home. Another constable, Shazad Dilwar, of Bandipora, was killed on Srinagar's arterial Airport Road by terrorists in a car. Police said Mattoo was also involved in an attack in which three policemen, including an officer, was killed last year.
A joint team of the Army, Jammu & Kashmir police and CRPF cordoned off Arwani village following a specific input about the presence of three Lashkar terrorists in the area on Friday morning. Soon, some villagers gathered and pelted stones on security forces. Khar, a youth, was hit by a bullet in the clashes and succumbed to his injuries.
Full report at:
http://timesofindia.indiatimes.com/india/let-terrorists-kill-6-cops-then-mutilate-faces-with-bullets/articleshow/59185232.cms
--------
'Global terrorist' Shafi Armar under lens in Syria
Jun 17, 2017
NEW DELHI: The US government's decision to include Shafi Armar, the chief recruiter for Islamic State in India, in the list of global terrorists has its roots in behind the scenes cooperation and sharing of valuable intelligence between Indian and US agencies.
It was US agencies' intelligence that had led to the Indian agencies busting the IS inspired modules recruited by Armar last January.
TOI had, in fact, carried a front page report on January 23, 2016 detailing how inputs shared by the CIA had led to the arrest of around 20 operatives from across the country.
Several US agencies including CIA, that were tracking ISIS computers and phones in West Asia, had intercepted communications being made by Armar using his aliases like Yousuf al Hindi, Chhota Maula and Anjaan Bhai.
The last intercepted message saying "Saat Kalash rakh do" — which was like a go-ahead for the bombs be planted at seven places — had led the cops to initiate immediate pan India crackdown.
Sources also explained that the trigger of this decision appears to be Armar's presence and activities and presence in Syria apart from his growing proximity to the core group of IS chief Abu Bakr al Bagdadi which has potential threat to the US and it's nationals in India and abroad.
According to officials, the handlers of IS modules had been making contacts with operatives asking them to initiate lone wolf attacks on US citizens.
His addition to the list also means that he was now under the radar of security forces in Syria and could be captured or eliminated soon.
His presence in Syria is confirmed now as the website of the US treasure department even mentions it as his address.
Last year, there had been unconfirmed reports that Armar and others had moved to the war zone in Syria from their erstwhile location in Af-Pak region. The older brother, Sultan, was killed in the US air strike, it is believed.
The move also confirms that the India-centric terror outfit named AuT no longer existed and had completely merged with the Islamic State, said another official.
The Armar brothers, from Bhatkal in Karnataka, had started off with an India based outfit called the Indian Mujahideen.
Full report at:
http://timesofindia.indiatimes.com/india/global-terrorist-shafi-armar-under-lens-in-syria/articleshow/59188475.cms
--------
Inter-agency will review funding for Pakistan, says US
Jun 16, 2017
NEW DELHI: The Trump Administration has announced an inter-agency review of America's support to Pakistan. The review may lead to reduction of US aid to Pakistan as Congressmen have questioned American aid to Islamabad following its abetment to terror. The move announced by secretary of state Rex Tillerson comes days ahead of PM Modi's visit to Washington.
Tillerson said that the president specifically asked questions about the level of support and funding to Islamabad. Counter-terror partnership and Af-Pak are set to figure high on the agenda of Modi-Trump dialogue on June 26.
The two leaders are likely to explore India's role in stabilising war-torn Afghanistan without boots on the ground. "We are beginning an inter-agency policy review towards Pakistan. This (continuation of US aid to Pakistan) is going to be one of the considerations," Tillerson told lawmakers during a congressional hearing on the state department's annual budget proposals.
He made the comments while responding to a question from Congressman Dana Rohrabacher as to why the US continued to give financial assistance to Pakistan. "Are we still giving money to Pakistan? Dr Afridi (who helped locate Osama bin Laden)...is being held in a dungeon there, and the Pakistanis continue — we know the ISI continues — with the notorious support of terrorist elements in Afghanistan. Why are we still giving Pakistan any aid at all?" Rohrabacher asked.
Hoping that the Trump administration will take a realistic view of the region, Rohrabacher said Pakistan has been acknowledged by most people he has dealt with as the source of terrorism in that part of the world. "And if we don't succeed in Afghanistan, it will be because of the ISI in Pakistan," Rohrabacher said.
In his reply Tillerson said this is one of the things being considered by the inter-agency review. "The president has asked the question specifically about our level of support and funding to Pakistan. No decision is to be taken until we complete that policy review."
"As you well can understand and appreciate, Pakistan and our relationship with them touches on some much broader issues relative to stability in Afghanistan and how we achieve that, but also stability in the Indo-Pacific region. It is a very complex relationship we have with the government of Pakistan, but your concerns are all well founded," he said.
Full report at:
http://timesofindia.indiatimes.com/india/inter-agency-will-review-funding-for-pakistan-says-us/articleshow/59172375.cms
--------
RSS-affiliate MRM to keep Pakistan out of its international iftar event on Monday
Jun 17, 2017
The Muslim Rashtriya Manch (MRM), an affiliate of the Rashtriya Swayamsevak Sangh (RSS), has decided to keep Pakistan out of its mega international iftart party to be held at parliament house annexe in New Delhi on Monday.
National convener of the MRM Mohammad Afzal told HT the neighbouring country was not invited considering its "negative attitude" towards India.
The MRM, is the Muslim-wing of the RSS, the ideological fountainhead of the BJP. It was set up in2002 by the saffron organisation to reach out to the Muslims.
For the past two years it has been organising iftar, the first meal a Muslim takes after Roza (dawn-to-dusk fasting) during the month of Ramadan.
Pakistan was not invited even last year.
"The purpose of the event is to promote communal and regional harmony," Afzal said.
Diplomats and representatives from more than 50 countries, including Afghanistan, Bangladesh, Saudi Arabia, Qatar, Iran, Iraq, Syria, Indonesia, Malaysia and Tunisia, are invited for the event to be presided by Union home minister Rajnath Singh.
The invitees will be offered cow milk to break the fast, which is a rare occurrence at an iftar party. Muslims traditionally break their fast with dates and a glass of water.
But the MRM this year is serving cow milk to those observing Roza (fasting) at the iftar parties, it has been hosting across the country, to create awareness against cow slaughter.
Far-right Hindu groups have long opposed the slaughter of cows, which are considered Holy in Hinduism.
The BJP-led central government issued a notification on May 26 banning the sale and purchase of cattle from animal markets for slaughter.
In 2016, the MRM did not invite Pakistan to protest its high commissioner Abdul Basit's remarks following the Pampore attack ostensibly by Pakistan-based Lashkar e Taiba that claimed the lives of eight army personnel.
"We would like to see friendly relations between India and all its neighbours. Unfortunately, Pakistan has not been reciprocating India's good gesture. They are directly behind the recent unrest in Kashmir. Inviting them to the iftaar would have gone against the spirit of the event," said Afzal.
Senior RSS leader Indresh Kumar, Manipur governor Najma Heptulla, Union minister of steel Choudhary Birender Singh, Delhi BJP president Manoj Tiwari will attend the iftar among others.
Full report at:
http://www.hindustantimes.com/india-news/rss-affiliate-mrm-to-keep-pakistan-out-of-its-international-iftar-event-on-monday/story-YLdIRXMGpMunhWhhEoVd4H.html
--------
South Asia
Rohingya muslims may be threat to Bangladesh's security: Foreign minister
16 Jun 2017
Dhaka [Bangladesh], June 16 (ANI): Bangladesh Foreign Minister Abul Hassan Mahmood Ali has said that the Rohingya muslims, migrants from the Rakhine state of Myanmar, may be a threat to the national security.
"Twenty to 25 percent people in Cox's Bazar are now Rakhine Muslims. Such huge presence of Rakhine Muslims in the area will pose a threat to the national security in future," he told the Parliament on Thursday in a reply.
The minister said Myanmar intruders are harming Bangladesh in many ways, including socio-economic, political and environmental aspects, reports the Daily Star.
He added, "The Rakhine people have been engaged in various misdeeds, including drug smuggling on bordering areas and arms and human trafficking. They've become a national security concern for Bangladesh."
"They are also putting a negative influence on our overseas labour market," said Ali.
The minister said some 33,000 Rohingyas, registered as refugees, are living in two camps run by United Nations High Commission for Refugees (UNHCR) in Cox's Bazar but it is estimated that some three to four lakh unregistered Myanmar citizens have been staying in five districts, including Cox's Bazar.
Ali said some 75,000 Myanmar citizens entered Bangladesh afresh since October 2016 till now following the military drives in Rakhine state.
Rohingya's are an ethnic Muslim group in the majority Buddhist country of Myanmar and make up around one million of the total 50 million population.
They hail from the country's northwest and speak a Bengali dialect. Almost all live in Rakhine, one of the poorest states, with a population of three million.
They are not regarded as one of the country's 135 official ethnic groups and are denied citizenship under Myanmar's 1982 Citizenship Law, which effectively renders them stateless. (ANI)
http://www.abplive.in/world-news/rohingya-muslims-may-be-threat-to-bangladesh-s-security-foreign-minister-540410?ani
--------
ISIS media official killed in Nangarhar province of Afghanistan: Gen. Nicholson
Jun 17 2017
The media official of the ISIS Khurasan, the offshoot of the ISIL in Afghanistan, was killed in an airstrike in eastern Nangarhar province of Afghanistan earlier this month, the commander of the US forces and NATO-led Resolute Support Mission, General John Nicholson has said.
According to a statement by U.S. Forces-Afghanistan "U.S. Forces-Afghanistan has confirmed the death of the ISIS-K senior director of media production, Jawad Khan. Khan was killed in an airstrike in Achin, Nangarhar Province on June 3, as part of ongoing efforts to defeat ISIS-K in Afghanistan this year."
"His death will disrupt the ISIS-K network, degrade their recruitment process and hinder their attempts to conduct International operations," said Gen. John Nicholson, commander, US Forces-Afghanistan. "There is no safe haven for ISIS-K in Afghanistan. With our Afghan partners we will continue to aggressively target ISIS-K and defeat them."
The statement further added that Khan served as the senior ISIS commander in the Khorasan branch of the group. The removal of Khan will deprive the group of an experienced media production director and skilled propagandist. This strike also destroyed a major ISIS-K media production hub and disrupts their connections to ISIS main in Syria.
Full report at:
http://www.khaama.com/isis-media-official-killed-in-nangarhar-province-of-afghanistan-gen-nicholson-02956
--------
Taliban rejects report on Kandahar bombing that killed UAE ambassador, diplomats
Jun 16 2017
The Taliban group in Afghanistan rejected the reports regarding the deadly Kandahar bombing that left several people dead, including high level officials from Afghanistan and the United Arab Emirates.
A spokesman of the group Qari Yousuf Ahmadi in reaction to the report said the group had no role in the attack and called the latest findings an attempt to sideline attentions from the ongoing internal rift among the government officials and use it as a propaganda tool against the Taliban fighters.
The Taliban spokesman also blamed the high level officials for having role in the explosion that took place inside a fortified compound and said the attack was carried out with an aim to remove certain officials from their posts.
However, the Afghan intelligence chief Masoom Stanikzai said late on Thursday that the probe into the bombing was carried out in coordination with the UAE intelligence and with the support of the US intelligence.
He said the findings of the three institutions produced similar results, particularly regarding the type of the explosives used and the other circumstances surrounding the incident, including the methods used to carry out the explosion.
According to Stanikzai, Taliban's leadership council based in Quetta city of Pakistan had plotted and coordinated the attack in the guesthouse of Kandahar governor.
Stanikzai said the chef of the guesthouse was recruited for the attack against $30,000 cash reward and an apartment in Pakistan.
Full report at:
http://www.khaama.com/taliban-rejects-report-on-kandahar-bombing-that-killed-uae-ambassador-diplomats-02953
--------
Arab World
Jubeir: Whole world wants Qatar to stop its support for terrorism
16 June 2017
Saudi Arabia's foreign minister said on Friday that a list of grievances involving Qatar was being drawn up and would be made public soon.
The minister, Adel al-Jubeir, said Qatar should respond to demands to halt its support for "extremism and terrorism" which, he said, were being made by the whole world and not just Gulf states.
Speaking to journalists in London after meeting British Foreign Minister Boris Johnson, Jubeir said: "I would not call them demands. I would say it is a list of grievances that need to be addressed and that the Qataris need to fix.
"We are working on those with our Bahraini, Emirati and Egyptian partners in order to compile this list and present it to the Qataris, and I think it will be done fairly soon," he said.
Separate bilateral meetings are scheduled to take place between British Foreign Minister Boris Johnson and his UAE and Bahraini counterparts, after his meeting with Jubeir. The crisis with Qatar is likely to be the highlight of these meetings.
Johnson issued a statement a few days ago that called on Qatar to take the concerns of its neighbors seriously and urged it to do more to prevent the support of extremist groups.
As regional and international efforts continue to try to contain the Qatari crisis, the British prime minister called on Doha authorities to make greater efforts to tackle terrorism in the region. The UAE foreign minister stressed the importance of taking decisive action on combating terrorism and stopping incitement and interference in neighbor affairs.
Discussions continue on the Arab, American and European level, where various parties have made almost identical calls to Qatar, to counter terrorism and to calm the concerns about its practices. The latest calls were made by UAE Foreign Minister Abdullah bin Zayed.
From Washington, where he met his US counterpart Rex Tillerson, the UAE foreign minister called on Doha to take decisive action to stop financing terrorist groups, refrain from interfering in the internal affairs of its neighbors and end its use of media platforms to incite and promote extremism.
Washington, for its part, denied that it had any intention to host a summit to discuss the crisis, which dodged bets that Washington may put its political and diplomatic weight to press in the direction of reaching a solution that may end the crisis with Qatar.
In a telephone conversation with the leaders of Saudi Arabia, Bahrain and Qatar, British Prime Minister Theresa May called for steps to calm tensions, engage wisely in dialogue and restore the unity of the Gulf Cooperation Council as soon as possible.
May called on Qatar to do more to counter terrorism in the region.
Turkish Foreign Minister Mevlut Cavusoglu has left Qatar in the direction for Kuwait and is expected to travel to Riyadh. However, Turkish mediation is facing many difficulties, notably Ankara's view that sanctions and embargoes are not positive in tackling the crisis.
https://english.alarabiya.net/en/News/gulf/2017/06/16/Saudi-foreign-minister-says-working-on-list-of-Qatar-grievances-.html
--------
US-led strike kills 4 Syrian civilians in Daesh-held Raqqah
Jun 16, 2017
A so-called monitoring group says at least four civilians have lost their lives when the US-led coalition purportedly fighting the Takfiri Daesh terrorist group carried out an aerial attack in Syria's militant-held northern province of Raqqah.
The Britain-based Syrian Observatory for Human Rights said on Friday that the airstrike targeted Khalid ibn al-Walid school in al-Intifada neighborhood of the provincial capital city of Raqqah, shortly after midnight.
The monitoring group said the aerial assault left a man and three of his children dead.
The US-led coalition has been conducting airstrikes against what are said to be Daesh targets inside Syria since September 2014 without any authorization from the Damascus government or a UN mandate.
The city of Raqqah, which lies on the northern bank of the Euphrates River, was overrun by Daesh terrorists in March 2013, and was proclaimed the center for most of the Takfiris' administrative and control tasks the next year.
The US-led coalition has repeatedly been accused of targeting and killing civilians. It has also been largely incapable of fulfilling its declared aim of destroying Daesh.
Separately, Syrian army soldiers, supported by Air Force Military aircraft, have launched a series of counter-terrorism operations against Daesh terrorists in and around the eastern city of Dayr al-Zawr, inflicting heavy losses on the terrorists in terms of military equipment and personnel.
A correspondent for Syria's official news agency SANA reported that government troops repelled a Daesh offensive on Tal al-Borouk area late on Thursday, killing scores of the terrorists and destroying a number of their vehicles.
Syrian Air Force jets also carried out a string of strikes against Daesh positions in Hetlah and Marat villages in the eastern outskirts of Dayr al-Zawr. A large Daesh ammunition depot was destroyed in an attack in Marat.
Full report at:
http://217.218.67.231/Detail/2017/06/16/525486/USled-airstrike-civilians-killed-Raqqah
--------
UN experts censure worsening human rights situation in Bahrain
Jun 16, 2017
United Nations experts have condemned an escalation of human rights violations in Bahrain, including an intensifying crackdown on dissent.
The five human rights experts, who are independent but commissioned by the UN human rights office, said in a statement on Friday that the rights situation in Bahrain had sharply deteriorated.
The experts said the repression "took a new turn" in June 2016 with a move by Bahraini authorities to dissolve the country's main Shia opposition group Al-Wefaq National Islamic Society.
The Bahraini regime has resorted to "drastic measures" to curb opposition such as torture, arbitrary detention, death threats and travel bans, according to the experts.
The statement also referred to the Manama regime troops' attack in May in the northwestern village of Diraz, and said they used "excessive and lethal force to disperse peaceful protesters," citing reported use of "tear gas, shotguns equipped with birdshot and lethal anti-personnel weapons."
On May 23, Bahraini forces raided Diraz, which has been under a military siege for almost a year, and stormed into the home of Sheikh Isa Qassim, Bahrain's top Shia Muslim cleric.
During the raid, regime forces killed at least five demonstrators, wounded dozens and arrested over 280 people. The raid took place shortly after a meeting between US President Donald Trump and Bahraini King Hamad bin Isa Al Khalifah in Riyadh, Saudi Arabia.
The raid came two days after a fresh wave of anti-regime protests broke out when a Bahraini court convicted Sheikh Qassim of illegal collection of funds and money laundering on May 21. The cleric was handed a suspended one-year prison term and ordered to pay a fine.
Last year, the cleric was also stripped of citizenship, which sparked repeated sit-ins outside his residence. The clergyman is reportedly under house arrest.
On Thursday, al-Wefaq issued a statement, criticizing the ruling Al Khalifah regime for the continued harassment of Sheikh Qassim.
The statement added that putting the Shia cleric under house arrest hindered the medical follow-up he needed, pointing to his deteriorating health condition.
Referring to the latest developments, including prohibition of the right to peaceful assembly, elimination of freedom of political action and approval of the trial of civilians at military tribunals, the group said the regime was "dragging Bahrain into a worse situation in terms of rights and politics."
Full report at:
http://217.218.67.231/Detail/2017/06/16/525478/UN-Bahrain-human-rights
--------
Daesh holding over 100k civilians as 'human shields' in Mosul's Old City: UN
Jun 16, 2017
The Office of the United Nations High Commissioner for Refugees (UNHCR) says members of the Takfiri Daesh terrorist group are holding more than 100,000 Iraqi civilians as human shields in the Old City of western Mosul as government forces are pushing to drive the extremists out of their last bastion in the city.
"More than 100,000 civilians may still be held in the Old City. We know that Daesh moved them with them as they left... locations where the fighting was going on. These civilians are basically held as human shields in the Old City," the presiding UNHCR representative in Iraq, Bruno Geddo, told reporters in the Swiss city of Geneva on Friday.
He added that there is virtually no food, water, electricity and fuel in the area, and civilians are "living in increasingly worsening situation of penury and panic because they are surrounded by fighting on every side."
Geddo further noted that Daesh snipers try to kill anyone trying to leave the militant-held Old City of Mosul, stressing that the small number of civilians who manage to escape are "deeply traumatized."
The senior US official said the UNHCR has so far provided assistance to more than 500,000 internally displaced people, and is helping those returning to liberated neighborhoods in Mosul.
Meanwhile, Iraqi security forces have managed to liberate two villages west of Mosul, located some 400 kilometers (250 miles) north of the capital Baghdad.
Commander of Nineveh Liberation Operation, General Abdul Amir Rashid Yarallah, announced in a statement on Friday that soldiers from the 15th Division of the Iraqi Army had retaken the villages of al-Zanazal and Abu Kaddour as well as a church east of the al-Kasik-al-Mahalibiyah road, and raised the Iraqi flag over several buildings there.
Iraqi government forces also targeted a gathering of Daesh militants in al-Shifa district, leaving dozens of the extremists dead and injured.
Separately, Commander of Federal Police Forces Lieutenant General Shaker Jawdat said army troops are engaged in fierce skirmishes with Daesh Takfiris in western Mosul, and have managed to control 30 percent of al-Shifa district.
"Daesh terror group is holed up in alleys and booby-trapped mined buildings, and using distant fire, while the Iraqi forces are deploying ground bumpers, intensifying their aerial monitoring, and bombing enemy barracks with artillery rounds and rockets," Jawdat said in the statement.
The high-ranking Iraqi security official pointed out that government forces have killed dozens of militants in al-Shifa and Bab al-Toub neighborhoods, and evacuated hundreds of civilians through humanitarian corridors to safe zones.
Iraqi army soldiers and volunteer fighters from the Popular Mobilization Units, commonly known by their Arabic name, Hashd al-Sha'abi, have made sweeping gains against the Takfiri elements since launching the Mosul operation on October 17, 2016.
The Iraqi forces took control of eastern Mosul in January after 100 days of fighting, and launched the battle in the west on February 19.
Full report at:
http://217.218.67.231/Detail/2017/06/16/525476/Daesh-militants-holding-civilians-western-Mosul-UN-refugee-agency
--------
Syrian Army Regains Control of Key Oilfield in Raqqa Province
Jun 16, 2017
"The army units regained control of three oilfields in Raqqa province on Thursday, and they captured al-Habari oilfield on Friday," the Arabic-language al-Mayadeen TV news network reported.
The capture of al-Habari comes as the Syrian army troops took control of al-Thawrah, Sefyan and al-Safih oilfields.
In a relevant development on Thursday, the Syrian Army troops continued their operation in Western Raqqa and managed to drive ISIL out of more energy-rich regions, killing and wounding a number of terrorists.
The army men engaged in fierce clashes with ISIL in Western Raqqa and pushed them away from al-Thawrah oilfield and pumping station.
The army forces also retake control over Sefyan oilfield, the village of Sefyan, al-Safih oilfield and al-Rasafeh crossroad after hours of tough battle with the ISIL.
A military source said by capturing al-Thawrah oilfield, the army troops are now ready to resume military operation towards Raqqa city or towards Ithriya town in Northeastern Hama.
Relevant reports said on Wednesday that the Syrian Air Force launched heavy bombing on ISIL's military convoys and positions in Western Raqqa and Eastern Aleppo, inflicting major losses on them.
Tens of ISIL terrorists were killed or wounded and the group's military hardware and vehicles were damaged in the army air raid on Western Raqqa and Eastern Aleppo.
Full report at:
http://en.farsnews.com/newstext.aspx?nn=13960326000771
--------
Syria: Terrorists Breach Nationwide Truce in Damascus Province Again
Jun 16, 2017
A military source confirmed that terrorist groups carried out two missile attacks on residential areas in al-Abbaseen neighborhood, violating another time the de-escalation zones agreement.
Earlier this month, armed groups violated the memorandum on de-escalation zones and fired shells on civilians' houses in Dara'a city.
Full report at:
http://en.farsnews.com/newstext.aspx?nn=13960326000291
--------
Syrian Army Scores More Victories against ISIL in Western Raqqa
Jun 16, 2017
The army units started battle against ISIL South of al-Tabaqa city and managed to retake control over al-Thawrah Housings, inflicting major losses on the terrorist.
Relevant reports said on Thursday that the army men engaged in fierce clashes with ISIL in Western Raqqa and pushed them away from al-Thawrah oilfield and pumping station.
The army forces also retake control over Sefyan oilfield, the village of Sefyan, al-Safih oilfield and al-Rasafeh crossroad after hours of tough battle with ISIL.
Full report at:
http://en.farsnews.com/newstext.aspx?nn=13960326000255
--------
Syrian Soldiers Continue to Hit Terrorist Centers Hard in Dara'a
Jun 16, 2017
The sources said that the Army troops, led by their elite 42nd Brigade (al-Ghiath Forces) of the 4th Mechanized Division, stormed terrorist groups' defense lines in Dara'a Camp in a new bid to fully capture this district.
The sources further added that the army soldiers managed to capture more than 50 percent of the Dara'a Camp, while continuously targeting the terrorists' positions in the al-Manshiyeh neighborhood and Dara'a al-Balad district.
At least ten militants were killed, including an operator of anti-tank TOW missile launcher.
The sources added that once the Dara'a Camp is captured, the Syrian Army will move towards the Tariq al-Sad neighborhood in order to cutoff the terrorists' defense lines to al-Manshiyeh.
Military sources said on Thursday that the Syrian Air Force had been using an advanced strong model of choppers called Flying Tanks to intensify attacks on militants in its recent advances in Dara'a,
Wistnik Moradfi website quoted the sources as saying that the air force had been utilizing Mi-24P military helicopters known as Flying Tanks in fighting terrorists in Dara'a.
The website quoted Yuri Liamin as explaining that Mi-25 choppers that are similar to Mi-24P model have recently been utilized in military operations against terrorists in Dara'a, adding that Mi-25 choppers had not earlier been used by the army in the battlefields.
Full report at:
http://en.farsnews.com/newstext.aspx?nn=13960326000198
--------
Terrorist Groups Readying to Breach Ceasefire in Syria's Aleppo City
Jun 16, 2017
Brigadier General Alexander Zorin said through a video conference in Russia al-Youm that terrorists deployed vastly in the Northern and Western countryside of Aleppo city are preparing to attack Aleppo.
The Russian general added that terrorists believe that the successful ceasefire in Aleppo can be expanded to other regions, that is why they try hard to violate it.
Zorin said meantime that the ISIL terrorists try to cut off the highway that connects Aleppo to Hama and Homs, but they fail to do so.
A commander said on Tuesday that the Syrian army strengthened security along the strategic Khanasser-Ithriya road as it played a vital role in its recent operations in Aleppo province.
The senior army commander who asked to remain unnamed said that recently, the Khanasser-Ithriya road witnessed massive ISIL attacks and the terrorists attacked the trade and military convoys with the aim of cutting the Syrian army's supply route and preventing its advances.
Also, the ISIL intended to reduce pressures in battlefields in al-Salamiyah and in the depth of Badiyeh regions after sustaining heavy defeats in Homs and Hama.
Meantime, the commander added that the Syrian army, supported by the Syrian air force, regained control of several hills and mountains near Khanasser-Ithriya road, including al-Tawihineh mountains in the Northeastern parts of the road which borders Aqayrabat region.
Full report at:
http://en.farsnews.com/newstext.aspx?nn=13960326000155
--------
Kurdish-Led SDF Makes Fresh Gains against ISIL in Northeastern Syria
Jun 16, 2017
The SDF stormed ISIL's defense lines in East of Raqqa city and took control over al-Sina'ah neighborhood after hours of fierce clashes.
The Kurdish forces had taken control over another part of Eastern Raqqa last week.
Raqqa city has 26 neighborhoods, including Romayleh, al-Rozeh, al-Sina'ah, Hosham Abdul Malek, al-Madineh al-Qadimeh, al-Barid, al-Nehzah, al-Sekeh and Andolos.
The SDF is carrying out its operation against ISIL in Raqqa from six different directions, that includes three flanks in the East, two flanks in the North and another flank in the West.
Relevant reports said on Monday that the SDF that had pushed ISIL back from the neighborhoods of al-Mashlab al-Sharqi and al-Sabahiyeh in the Western part of Raqqa city and engaged in fresh round of clashes with ISIL in al-Roumaniyeh neighborhood and managed to take control over it after killing and wounding tens of terrorists, including a field commander.
Full report at:
http://en.farsnews.com/newstext.aspx?nn=13960326000159
--------
Saudi FM Jubeir: A political decision is the solution to the Qatar crisis
17 June 2017
Saudi Foreign Minister Adel al-Jubeir, in an exclusive interview with Al Arabiya carried out by Rima Maktabi in London on Friday, discussed a potential solution to the Qatar diplomatic crisis.
According to the Saudi FM, the answer would be in a political decision taken by Qatar to refrain from supporting and financing terrorism, interfering in the affairs of other countries and waging incitement campaigns.
Jubeir said that this decision, if taken by Doha, would be in its best interest and that of all the countries in the region who are suffering from terrorism and extremism.
He hinted that Doha did not abide by the policies that it had already committed to in 2014.
The Saudi FM also pointed out that the countries that are boycotting Qatar are preparing a draft list of requirements from Doha, in order to clear things up.
Jubeir stressed the need to keep on updating the terrorists' list to include persons and organizations supported by Qatar, noting that some of them are on the list of the United Nations and others are on the US list.
He revealed that world countries understand the concerns of our region regarding Qatar's support and financing of terrorism.
Concerning the British stance on the Qatari crisis, the Saudi foreign minister denied that London is currently supporting Doha, pointing out that Britain suffers from terrorism and has already expressed its concern and frustration from Doha's activities, several times.
He highlighted the historical bonds linking Britain to the countries of the region, especially Saudi Arabia.
Regarding his meeting with his British counterpart Boris Johnson on Friday, Jubeir said that the meeting was constructive, given the strategic ties that bind the 2 countries.
He stated that the talks with Johnson focused on the Qatari crisis, the situation in Yemen, Libya, Syria, Iraq and the Middle East peace negotiations.
Full report at:
https://english.alarabiya.net/en/News/gulf/2017/06/17/Saudi-FM-A-political-decision-is-the-solution-to-the-Qatari-crisis.html
--------
Pakistan
Bajwa urges neighbours not to blame Pakistan for their woes
Baqir Sajjad Syed
Jun 17, 2017
ISLAMABAD: Chief of the Army Staff Gen Qamar Javed Bajwa has counselled unnamed neighbours to address problems at home instead of blaming Pakistan for their woes.
"Terrorism cannot be defeated by closing eyes to one's own responsibilities and resorting to throwing blame outside as being done by a few players in the region," Gen Bajwa said at the National Defence University here without naming the countries he was referring to. He was addressing participants of the National Security and War Course.
Pakistan's primary concern has been the blame game by Afghanistan and India, whose officials routinely accuse Pakistan of sponsoring terrorism on their soil. Afghan authorities blame most of terrorist acts in their country on Pakistan, while India uses the terrorism card to discredit the uprising in held Kashmir and at the same time refuse dialogue with the neighbour over bilateral disputes.
Islamabad has on a number of occasions rejected the allegations.
Kabul has repeatedly been asked to shun the blame game and start cooperating in fighting what is described as the "common enemy".
"The threat requires a trust based coordinated response rather than a blame game or unwarranted skirmishes," Gen Bajwa had said earlier this week while visiting Peshawar Corps. His message was directed towards Afghan authorities.
Pakistan and Afghanistan had on the sidelines of the Shanghai Cooperation Organisation (SCO) summit in Astana agreed to undertake specific actions against terror groups, which were to be identified through the Quadrilateral Coordination Group, and a mechanism for verification of those actions.
Gen Bajwa said Pakistan "indiscriminately" fought terrorism at home. He pledged to root out terrorism through the ongoing Raddul Fasaad military operation, which has been continuing for months.
The army on Friday announced elimination of two terrorists in an intelligence-based operation, carried out as part of Raddul Fasaad in Dera Ghazi Khan.
The two terrorists were planning to target a public gathering identified as "religious activity".
Moreover, recovery of a huge cache of weapons and ammunition was made during a raid in North Waziristan's Dattakhel tehsil.
Gen Bajwa said the full spectrum of threat demands, which covers both internal and external challenges, requires comprehensive national response.
"The Army is fully engaged in enabling that response in coordination with other institutions of the state. … Pakistan Army is committed to defence and security of the country and shall continue to perform with support of the people of Pakistan," he maintained.
https://www.dawn.com/news/1340045/bajwa-urges-neighbours-not-to-blame-pakistan-for-their-woes
--------
Security, traffic arrangements in place for Youm-i-Ali observations across country
Jun 17, 2017
Traffic police and security agencies in Pakistan's largest cities have prepared plans for traffic and security for Youm-i-Ali processions on Saturday.
Youm-i-Ali, observed on the 21st day of Ramazan, sees large processions across the country commemorating the martyrdom of Hazrat Ali.
Security forces and traffic police of all four provincial capitals have prepared plans for peaceful observation of the occasion and smooth flow of traffic on the day.
Karachi
A meeting presided over by Director General of the Rangers, Sindh, Maj Gen Mohammed Saeed reviewed security measures at the Rangers headquarters for Youm-i-Ali, a spokesperson for the paramilitary force said in a statement issued here.
A coordinated strategy was designed in the meeting to ensure law and order during Youm-i-Ali to meet any eventuality.
A total of 5,570 personnel will be deployed on the routes of processions and major imambargahs of the city where a total of 834 majlis events and 122 processions will be held.
A separate meeting, headed by Inspector General (IG) of Police Sindh A.D. Khawaja, was held to review security measures for Youm-i-Ali.
IG Khawaja has insisted on information sharing within the police department. SHOs have been directed to stay in constant contact with intelligence and other officials.
Approximately 650 majlis events and rallies will commence in Hyderabad, Mirpurkhas, Larkana, Sukkur and Shaheed Benazirabad, the IG was informed in the meeting.
Khawaja has also directed officials to reinforce security mechanisms at entry points of all cities in the province.
He has directed the officials to strengthen DIG-to-DIG, SSP-to-SSP and SHO-to-SHO communication. The progress of district-to-district information sharing through WhatsApp was also shared in the meeting.
Traffic Plan
Police have issued a traffic plan for a procession that will be taken out from Nishter Park in connection with Youm-i-Ali on Saturday. It will terminate at Imambargah Hussainian Iranian in the afternoon.
Under the plan, all traffic coming from the city side will be diverted to Soldier Bazaar (Bahaduryar Jang Road), Coasts Guard, Ankle-Saria, Jubilee and Garden Zoo. The traffic coming from the Nazimabad side will be diverted from Lasbella to Nishter Road and Garden Zoo and that coming from Liaquatabad to Martin Road.
The vehicles will, however, be permitted to proceed up to the Jail Road area via Jamshed, Dada Bhoy Noorji and Kashmir roads, Shahrah-i-Quaideen and Sharea Faisal. The traffic coming from the Stadium Road side will proceed via New MA Jinnah Road. The vehicles will be diverted at Dada Bhoy Noorji Road towards Kashmir Road, Society Light Signal, Shahrah-i-Quaideen and Sharea Faisal.
Lahore
Around 7,000 policemen will be deployed in the city to ensure foolproof security for the participants of Youm-i-Ali processions on June 17.
Capital City Police Officer (CCPO) Amin Wains held a meeting with religious scholars at Police Lines Qila Gujjar Singh on Wednesday.
He said a four-tier security plan had been finalised keeping in view the sensitivity of the task and the challenges. Every participant of the procession would have to be physically checked by policemen deployed for security.
The CCPO said the procession would also be monitored by the Safe City Authorities and police through CCTV cameras installed on the route. All the markets and shops in and around the procession route would be closed and snipers deployed on the roofs of all high-rise buildings. He also appealed to citizens to keep an eye on any suspicious elements and report to law enforcement agencies about any untoward incident.
Superintendent of Police (SP) Security Abadit Nisar said walk-through gates were installed at every entry and exit point of the procession route and vehicles should be parked 200 metres from the route.
Traffic Plan
According to the plan for Lahore, one SP, four deputy superintendents of police, 42 inspectors and more than 1,000 wardens, including 111 female wardens, will perform duty on the route of the main procession.
The Youm-i-Ali procession will begin from Mubarak Haveli inside Bhati Gate and culminate at Karbala Gamay Shah. Under the plan, traffic would be diverted to alternate routes from 19 points on the route of the procession.
Traffic coming from Shahdara will be diverted to the railway station, inner side Circular Road to Mori Gate, and traffic coming from Chauburji Chowk will be diverted from MAO College to Outfall Road.
Chief Traffic Officer Rai Ijaz Ahmed said the traffic police have organised a very easy traffic plan for Youm-i-Ali to facilitate commuters. There will be no obstruction even on the route of the procession and wardens would guide people about alternate routes.
He said seven parking lots, including Nasser Bagh, Deputy Commissioner's Office, Mochi Gate Bagh, Data Darbar Eye Hospital, Central Model High School, Bagh Ali and Adda Crown had been established for participants in the procession to park their vehicles.
Rawalpindi
Operational police and traffic police have prepared security and traffic plans for tomorrow.
According to the details available, 2,000 police personnel shall be deployed on the routes besides Special Branch, Female Police and Elite Force personnel.
Nobody would be allowed to enter the processions without going through a four-tier security check. Snipers will also be deployed on the route.
Traffic Plan
DAV College road, Tehsil Office, Committee Chowk, Mochi Bazaar, Thaana City, Alam Khan road, Imam Bargah Chowk, Dhok Ratta Chowk, City Saddar road and Masjid Gandum road will remain closed for traffic tomorrow.
An alternate plan has been presented to ensure smooth flow of traffic. Commuters will use Murree Road to reach Bani Gala via Asghar Mall Chowk. Those travelling to Committee Chowk will also use Murree Road. They will be permitted to travel towards Iqbal Road thereon.
CTO Rawalpindi Yousuf Ali Shahid informed DawnNews that a large number of traffic wardens will be deployed on alternate routes to ensure smooth flow of traffic, while 17 junior wardens, 65 wardens, 17 inspectors and five DSPs will be present on the closed routes.
Peshawar
Youm-i-Ali procession will emerge Friday night from Imambargah Syed Alam Shah and proceed through Chowk Nasir Khan and will conclude at the same imambarah after passing through its traditional routes.
To avoid any untoward incident, foolproof security arrangements have been made, while the mourning processions will follow the planned routes and gather at pre-decided venues.
Massive security arrangements will be observed throughout the procession routes, SSP Operations Sajjad Khan said. A total of 150 police officials have been deployed for security of the procession.
Quetta
Security has been put on high alert on the eve of Youm-i-Ali in Quetta.
The mourning procession will be taken out from Shuhada Chowk and it will pass through its traditional routes.
Full report at:
https://www.dawn.com/news/1339915/security-traffic-arrangements-in-place-for-youm-i-ali-observations-across-country
--------
Abducted Chinese nationals were offered security but they refused: interior ministry
Jun 17, 2017
New evidence has surfaced about the abduction and reported murder of two Chinese nationals by the militant Islamic State (IS) group in Quetta, the interior ministry said on Friday.
The ministry has cancelled the visa of a South Korean national who it had earlier linked to the abduction incident.
The interior minister was earlier told that the Chinese couple had gone to Quetta and were engaged in preaching under the garb of learning Urdu from a Korean national, Juan Won Seo, who is the owner of ARK Info Tech.
It was revealed during the investigation, the ministry said on Friday, that South Korea Juan Won Seo alias Gilbert came to Pakistan on a business visa but set up an Urdu academy and was "engaged in illegal activities".
It also emerged during the investigation that the two Chinese nationals had been taken into police custody from Quetta's Kharotabad area some time ago and were informed about threat to their security.
"They were offered security but they refused to accept the offer," the ministry said.
Security and intelligence agencies are closely looking into the background of the incident and reviewing photos of the kidnapped pair released on social media so they could reach some conclusion and it could also be confirmed whether the Chinese nationals were actually killed or not, the statement said, quoting ministry sources.
China's Foreign Ministry on Tuesday said it would work with Pakistani authorities to investigate reports the two Chinese nationals were missionaries.
The pair, identified by authorities as Lee Zing Yang, 24, and Meng Li Si, 26, were abducted by armed men pretending to be policemen on May 24 in Quetta. Last week, IS' Amaq propaganda agency claimed its members had killed them.
The kidnapping was a rare crime against Chinese nationals in Pakistan but it has alarmed the growing Chinese community in the country.
The interior ministry on Monday alleged for the first time that the two were preachers who had abused the visa system by posing as business people to enter the country.
Full report at:
https://www.dawn.com/news/1339970/abducted-chinese-nationals-were-offered-security-but-they-refused-interior-ministry
--------
Sartaj for boosting Pak-China think tanks cooperation
June 17, 2017
ISLAMABAD - Adviser to Prime Minister on Foreign Affairs Sartaj Aziz on Friday said that China was Pakistan's close and iron friend.
Addressing a gathering after inaugurating the Pak-China Study Centre along with Chinese Ambassador Sun Weidong here, the adviser said that the multi-billion-dollar China-Pakistan Economic Corridor (CPEC) project had further strengthened relations between the two countries over the last four years.
He said that the mega project would improve connectivity among peoples in the region.
Aziz said that China was the second biggest economy in the world. He said that both Islamabad and Beijing could make forward movement by taking advantage of each other's experiences.
Aziz said that think tanks in Pakistan must be linked with their counterparts in China to enhance people-to-people cooperation and exchange of knowledge.
He said that China's rise was creating an atmosphere of harmonious prosperity and they were fortunate to be at the centre of this wave of economic connectivity.
Aziz said there was still room for closer cooperation and exchange of ideas, which would lead to common development.
"Think tanks and study centres are the nerve-centres of ideas and policy initiative, so necessary for overall development and growth of countries. They provide vision and guidelines to embark on the journey of prosperity and progress. Knowledge creation and innovative research is key to excel in this globalised world. In this regard, The Institute of Strategic Studies has rendered outstanding services in excellent research and interaction on strategic and related issues," he said.
Aziz said that the strategic cooperative partnership must also include enhanced, pragmatic and meaningful cooperation in research, academia and science and technology.
"I am confident that the timely initiative of establishing this centre will provide the policy makers and intelligentsia the key resources to fully understand contours of bilateral relations between Pakistan and China, and also provide opportunities to explore and expand cooperation," he added.
Aziz said that in the recently held Belt and Road Forum in Beijing, a full session was dedicated to connectivity of think tanks among the One Belt, One Road (OBOR) countries.
"I highlighted the need for closer cooperation among think tanks for exchange of ideas, and the need to come together and pool our intellectual resources. Through knowledge and experience sharing, both countries can learn, grow and progress together in the light of shared vision of common development and shared prosperity," he recalled.
The Chinese ambassador, while speaking on the occasion said that the establishment of the study centre would help peoples of the two countries better understand each other's policies.
CHINA CALLS TO ENHANCE MILITARY COOPERATION
Agencies add: Chairman of the Joint Chiefs of Staff Committee General Zubair Mahmood Hayat and China's top political Adviser Yu Zhengsheng have held a meeting in Beijing.
The Chinese leader said that Beijing appreciates Pakistani government and military's firm support for China in fighting terrorism.
He called on both sides to enhance military-to-military cooperation so as to safeguard the security of countries as well as regional peace and stability.
General Zubair Mahmood Hayat said that Pakistan intends to increase cooperation between the two countries.
Meanwhile, China and Pakistan on Friday agreed to improve security and anti-terrorism cooperation, to guarantee the construction of the China-Pakistan Economic Corridor.
The agreement came out of a meeting between Meng Jianzhu, head of the Commission for Political and Legal Affairs of the Communist Party of China (CPC) Central Committee, and Pakistan's Chairman of the Joint Chiefs of Staff Committee Zubair Mahmood Hayat.
"China considers terrorism the common enemy of us all. China hopes the two sides will keep in close contact and strengthen coordination in fighting terrorism to ensure safety of the economic corridor, and to maintain the safety and stability of both countries and the region," said Meng, also a member of the Political Bureau of the CPC Central Committee.
Full report at:
http://nation.com.pk/national/17-Jun-2017/sartaj-for-boosting-pak-china-think-tanks-cooperation
--------
Pakistan looks up to US, Russia, China to end regional tension
June 17, 2017
ISLAMABAD - Pakistan looks up to the United States, Russia and China to resolve its tension with India and the regional conflicts as both India and Afghanistan have failed to respond to bilateral efforts, Foreign Ministry officials said.
Russia and China have offered Pakistan to play their role in defusing tension with India and Afghanistan respectively.
India however, claimed that Russia had made no such offer during Russian President Vladimir Putin's meeting with Prime Minister Nawaz Sharif on the sidelines of the Shanghai Cooperation Organisation (SCO) summit in Astana, Kazakhstan this month.
A spokesperson of India's Ministry of External Affairs said: "No offer of mediation between India and Pakistan was made by Russia to India. It is my understanding that Russia is very well aware of India's consistent position to address all outstanding issues with Pakistan bilaterally in an environment free of terrorism and violence."
This week, Pakistan had welcomed President Putin's offer to mediate between Islamabad and New Delhi to ease tension in South Asia.
Foreign Office spokesperson Nafees Zakaria said that Pakistan welcomed the UNSC permanent member Russia's attention and intention to play a role in this longstanding issue on the council's agenda.
A senior official at the foreign ministry told The Nation, that Pakistan had not sought Russian intervention but Putin had himself offered to help.
"India says we need to resolve the issues bilaterally but for the last 70 years they have failed to respond," he pointed out.
The senior official said that India had been violating the Line of Control (LoC) and the Working Boundary since 1947.
"Had they been sincere, we would have settled all the issues in 70-odd years. We now seriously look up to the US, Russia and China to play a role," he added.
The official said that the issues between Pakistan and India were bilateral but had gained international significance.
"There is nothing wrong if the super powers intervene and help us find a solution. China is active to improve our ties with Afghanistan, which we welcome. The US also wants peace in South Asia," he added.
Another official said that the US, Russia and China would not sit as parties in their efforts to defuse Pak-India and Pak-Afghan tension.
"They will play a role as a super power and may help us find a solution, which is acceptable to both of us," he maintained.
Meanwhile, on Friday, in a statement during the 35th session of the UN Human Rights Council, Pakistan highlighted the grave situation of gross and systemic violations of human rights and denial of fundamental freedoms in the Indian Occupied Kashmir.
Pakistan said that the Indian government had broken its own record of brutalities in Kashmir, not only target killings but also by indiscriminately killing over 100 young unarmed Kashmiri protesters.
The Indian forces have blinded hundreds of Kashmiris, including children, and injured over 16,000 protesters with live ammunition, pellet guns and gas shells, the statement said.
The world witnessed its first "mass blinding" in Kashmir, which compelled The New York Times to label the year 2016 as a "Year of dead eyes" in Kashmir, it added.
The continuing Indian brutalities and unprecedented violence by Indian occupation forces in occupied Jammu and Kashmir since July 2016 are crimes against humanity.
Indian barbarity is a cause of deep anguish and pain for the Kashmiris, and a slur on respect for human rights globally, the statement said.
"India has banned the social, electronic and print media to prevent reports of brutalities against Kashmiris from reaching the outside world. Despite this media blackout, the atrocities being committed in Kashmir are being reported in Indian and international media. These brutalities are also being increasingly criticised in many parliaments around the world. Political analysts and members of civil society from across the globe have concluded that the large-scale uprising, which is going on in IoK, involving mostly young unarmed Kashmiris confronting fully-armed Indian occupation forces, clearly shows that Kashmir is a burning issue requiring urgent International attention," the statement said.
In their desperation to hide the reality of the indigenous uprising of young Kashmiris, including by tens of thousands of girls and boys, India is trying to equate it with terrorism.
The facts have repeatedly come out proving that indigenous Kashmiris were killed by Indian occupation forces in "fake encounters" and "buried".
Nobody believes that thousands of young boys and girls, who have been agitating ceaselessly since July, 2016 are terrorists, it said.
The people of Indian Occupied Jammu and Kashmir are losing faith in Indian democracy since in the recent sham by-election in Srinagar on 9th April.
The abysmally low voter turnout of seven per cent collapsing to two per cent during re-polling is the lowest in 30 years, said the statement.
Despite Indian state terrorism and repression, the steadfast resolve displayed by the Kashmiris sends a clear message to India.
Full report at:
http://nation.com.pk/national/17-Jun-2017/pakistan-looks-up-to-us-russia-china-to-end-regional-tension
--------
Europe
Atleast 10,000 Muslims to march against extremism in Germany
Jun 17, 2017
According to The Independent, as many as 10,000 Muslims are set to protest in a rally against extremism in Cologne on Saturday.
The protest comes in the wake of recent terror attacks in the UK and around the world.
"The attacks by people who justify their acts by invoking Islam, without justification, are becoming more frequent," protest organisers write on a website for the rally called NichtMitUns, or Not With Us.
"Our faith is being abused, defiled, insulted and distorted into something unrecognisable by this. Let us put a powerful sign against violence and terror."
Dozens of organisations have backed the protest. However, one of the largest Muslim associations in Germany has refused to take part.
The Turkish-Islamic Union for Religious Affairs (Ditib), which represents more than 900 Muslim communities across the country, rejected the event in a statement accusing organisers of "hijacking and exploiting" the anti-terrorist agenda during the holy month of Ramadan.
"Calls for 'Muslim' anti-terror demos fall short, stigmatise Muslims, and confine international terrorism to being just among them and within their communities and mosques," Ditib said.
It also suggested the event was "not well thought through", saying it was unreasonable for organisers to expect fasting Muslims to march through Cologne on a day that's expected to see temperatures of 25°C.
Instead, Ditib said it would be collecting signatures under a joint petition against terrorism and for peace during a Friday prayer.
Rally organiser Lamya Kaddor criticised the Turkish-Islamic union's decision, writing on Twitter that the organisation has "missed a great opportunity" and has played into the hands of "Islam's enemies".
"Now more than ever. I appeal to everyone at DITIB to #NichtMitUns to come and take responsibility," she added.
A number of politicians have thrown their support behind the rally, including Armin Laschet of Angela Merkel's CDU and SPD politician Heiko Maas.
Earlier this week, around 300 imams in Austria signed a declaration calling Isis the "black sheep" of the Islamic faith.
The declaration signed by the Islamic Religious Community of Austria (IGGÖ) in Vienna condemns extremism, quoting a passage from the Quaran, which states: "When a man kills a man, it is as if he had killed all mankind."
The Not With Us rally is expected to take place in the German city on Saturday, 17 June, a day the group says it chose specifically because it is "an important day in German history and a day in the middle of Ramadan".
"Ramadan is the holy month in Islam. A month of peace, solidarity with the poor ... Perversely, the terrorists use this time again and again for especially many of their abominable acts.
"That's why the month is particularly appropriate to go out into the streets and cry out to them ... 'Not with us!' 'You are not one of them!' 'You are not us, and we are not you!'"
Isis has claimed responsibility for a string of terror attacks since it called on its followers to wage "all-out war" on the West at the start of the Muslim holy month.
The terrorist group renews its call for attacks each year at the start of Ramadan, which sees 30 days of fasting and prayer.
http://nation.com.pk/international/16-Jun-2017/atleast-10-000-muslims-to-march-against-extremism-in-germany
--------
Grenfell Tower fire: Kensington Muslims host sunset meal on street for people affected
Jun 17, 2017
Tablecloths were laid out along a street as the local Muslim community came together to host a meal for those affected by the Grenfell Tower tragedy.
Many people who live in the area surrounding the tower are Muslim and volunteers from the charity Penny Appeal decided to cater for those who are observing Ramadan, although anyone was welcome to join in.
At sunset people broke their fast for the Iftar meal and were offered water, fizzy drinks, bread and fruit to sustain them as the aid effort continued around them.
The impromtu meal was praised by Twitter users, with one pointing out: "That's the Muslim attitude".
It was another example of volunteers coming together to help those affected by the fire.
Hundreds of people have donated clothes and food, and fundraising initiatives have so far raised over £3m.
Zia Salik, head of fundraising at the charity Islamic Relief, told The Independent that his team and other volunteers worked day and night to help with the rescue effort.
"There was a huge outpouring from the community to say 'we want to do something'," he said.
It later emerged that Muslims awake for Ramadan might have helped save lives after they noticed the horrific blaze had started and alerted other residents.
Full report at:
http://www.independent.co.uk/news/uk/home-news/grenfell-tower-fire-muslims-kensington-sunset-meal-ramadan-fast-street-residents-victims-a7793336.html
--------
Man 'with knife' arrested outside UK parliament
Jun 17, 2017
London police on Friday arrested a man at the fence surrounding the British parliament on suspicion of carrying a knife, which comes nearly three months after an Islamist terror attack in the same area.
The man was detained at 11:10 am (1010 GMT) by the Palace of Westminster in central London, police said in a statement.
"The man -- aged in his 30s -- was arrested on suspicion of possession of a knife. There are no reports of any injuries," the brief statement said.
A bearded man, wearing black trousers and a grey sweatshirt, could be seen being held against the fence with his arms behind his back by a police officer.
A parliamentary spokesman said: "We are aware of an incident outside the Palace of Westminster, which is being dealt with by the Metropolitan Police."
On March 22, knifeman Khalid Masood drove into pedestrians on Westminster Bridge, killing four, and fatally stabbed a policeman guarding the gates of parliament before being shot dead by armed officers.
On April 27, a man was arrested across the street from parliament. Police said knives were recovered from him.
Khalid Mohammed Omar Ali, 27, of north London, was charged with the intention of committing acts of terrorism engaged in conduct in preparation for giving effect to that intention.
He was also charged with two counts relating to explosive substances in Afghanistan in 2012.
Friday's arrest comes on the first anniversary of the murder of MP Jo Cox, who was shot and stabbed to death in her constituency by a man with links to neo-Nazi organisations.
Full report at:
http://nation.com.pk/international/16-Jun-2017/man-with-knife-arrested-outside-uk-parliament
--------
Liberal mosque challenges conservative Islam in Berlin
Derek Scally
Jun 17, 2017
As a lawyer and women's activist, Seyran Ates has been cursed, spat on and shot at. Dressed in a long white coat, her short grey hair uncovered, the progressive German-Turkish woman unveiled her boldest project to date on Friday morning: the country's first liberal mosque.
Housed in a bright, third-floor room behind St John's Church, in Berlin's Moabit neighbourhood, the mosque has lofty ambitions: to reform Islam from within by offering a contemporary interpretation of the Koran to improve public perceptions of a religion hijacked by extremists.
"We are not inventing a new religion, we are simply showing our faces and taking a stand against Islamist terror," said Ates (54), who began studying Islamic theology a year ago. "We want to give Islam another voice, the voice of reflective, common sense."
The road to the new Ibn-Rushd-Goethe mosque, named after the Arabic philosopher and the German writer, began after the September 11th, 2001, attacks. As the post 9/11 public debate raged on, dominated by Islamist violence and the "war on terror", Ates and her friends began wondering why voices of liberal Muslims like them were rarely heard.
The real motivation for the mosque came in 2006 when Wolfgang Schäuble, Germany's then interior minister, invited Ates to participate in the forum at a German Islam conference.
Instead of discussing issues of importance – integration, education, discrimination – the conservative Muslim organisations in attendance attacked Ates as having no legitimate mandate to be there.
"This although they represent just 15 per cent of the Muslim population in Germany," she remembers.
Different kind of God
As part of the 85 per cent majority, Ates found herself excluded twice over, as a woman and as a liberal, and waiting. Not for Godot, she jokes, but God: a different kind of God than the one on offer by the existing Turkish and Arab mosques.
After waiting in vain for others to push for change, she decided a year ago that she would have to be the change. She found the space for the new mosque in a former theatre behind the Berlin church, and began renovating. Her brother painted the 90sq m space and her sister bought as many prayer carpets as she could find on holiday in Turkey.
The Berlin space is leased for a year and financed personally by Ates, though donations are flowing in and expressions of interest for similar mosques have come from Hamburg, Bremen and elsewhere.
"It's a super feeling to know I am not alone with my thoughts on this," she says.
At the opening ceremony she stressed the new mosque as a place for all: Sunni, Shia, Alawite and Sufi Muslims. In this mosque, women and men pray together and both men and women preach – in German. Gays are welcome, as are non-Muslim neighbours.
So many progressive ideas under one mosque roof are, depending on your perspective, revolutionary or blasphemous. A man wrote online that Ates would burn in hell for insisting she would pray in her new mosque without a headscarf.
"I replied by asking whether he viewed himself as God, to judge whether I was a good or a bad Muslim," she said. "Such ugly messages happen but the reaction as a whole as been hugely positive."
Slurs and threats
As a women's rights lawyer, specialising in cases involving Muslim women, Ates is no stranger to slurs and threats.
Eight years ago she published a book titled Islam Needs a Sexual Revolution, and was put under police protection after a shot was fired in her direction. Now she is back in the spotlight, but this time she is not alone. A fellow backer of the new mosque is the Freiburg Islam specialist Abdel-Hakim Ourghi, who helped lead the first Friday prayers.
"The mosque is a chance for Muslims to redefine themselves," he said.
But redefinition means posing awkward questions, he says.
Conservative Muslim organisations have to explain why they have done so little to spread a tolerant, merciful Islam, while liberal Muslims have to ask themselves why they let conservatives take over the practice of their faith.
Above all, says Ates, all peace-loving Muslims have to stop taking the easy way out over Islamist extremists, dismissing them as not being true Muslims.
"The men who shout allahu-akbar and behead people see themselves as Muslims . . . They pray five times a day, they go to the mosque," said Ates. It's not for other Muslims to dismiss them, or ignore them, she says, but to challenge them with what Islam can and should be in the modern world.
Full report at:
http://www.irishtimes.com/news/world/europe/liberal-mosque-challenges-conservative-islam-in-berlin-1.3123015
--------
Southeast Asia
Kelantan mufti says dreamcatcher henna tattoo prohibited for Muslims
June 17, 2017
KUALA LUMPUR, June 17 — Muslim women who love to apply henna on their hands and feet need to be careful in choosing henna designs because there are some that symbolise other religious beliefs like the 'dreamcatcher'.
Kelantan Mufti Datuk Mohamad Shukri Mohamad said any design which could cause confusion because of its similarity with those of other religious beliefs should be avoided.
"Muslims must not resemble people of other religions...for example, wearing a cross-shaped pendant," he said when contacted by Bernama.
However, Mohamad Shukri said the ban was decided in general, based on the Islamic law.
He said Muslims must abide by the guidelines on the usage of henna which should be water absorbent, would not invalidate ablution and not from unclean material.
In some native American cultures, the dreamcatcher, a small hoop decorated with feathers and beads, is believed to give its owner good dreams.
At several locations in the federal capital, Bernama observed that many henna tattoo artists offered dreamcatcher designs to their customers.
According to a henna tattoo fan who wanted to be known only as Mira, 24, said she was surprised when a henna artist at a night market in Shah Alam, Selangor told her that her stall was visited by officers from the Selangor Islamic Religious Department who informed her that dreamcatcher designs were not allowed. —Bernama
http://www.themalaymailonline.com/malaysia/article/kelantan-mufti-says-dreamcatcher-henna-tattoo-prohibited-for-muslims
--------
Islamist violence in Marawi City a potential threat to Indonesia
June 17, 2017
The flames of conflict that have raged around once little-known Marawi City in the predominantly Muslim province of Mindanao in the southern Philippines threaten to ignite a wider jihadist insurrection in archipelagic Southeast Asia unless they are quickly doused.
The raising of so-called Islamic State's black flag in a province that long has had a reputation for sectarian violence and Muslim resentment towards the central government in Manila has come as a rude shock to President Rodrigo Duterte, the maverick Philippine leader who prides himself on his tough approach to law and order. But it is also a wake-up call for Australia and the region.
Longstanding fears that Islamic State may seek to extend its caliphate into Southeast Asia are in danger of being realised as its bastions in Iraq and Syria crumble under sustained military pressure from the coalition of forces aligned against it, which includes Australia. Among the 300 jihadists believed to have been killed so far in fighting around Marawi are foreign fighters from Malaysia and Indonesia, as well Chechnya, Sau­di Arabia, Morocco and Yemen. On Thursday Australian journalist Adam Harvey, who was covering the conflict, was struck in the neck by a bullet, later removed without serious damage.
The scale of the fighting and the substantial military, logistical and financial planning that has allowed several hundred militants to hold out against thousands of Philippine troops is a clear indication that the Abu Sayyaf-Maute rebellion is qualitatively different from the largely criminal activities of the old Abu Sayyaf group. This could be the beginning of a full-blown Islamic State-inspired insurgency against the Philippine government with the potential to spread to other parts of Muslim Southeast Asia, including southern Thailand, Malaysia and, critically for Australia, Indonesia.
The leaders of this audacious and dangerous insurgency, the Maute brothers and Isnilon Hapilon, whom Islamic State proclaimed its Southeast Asian "emir" last year, are committed jihadists intent on establishing a Southeast Asian caliphate from sanctuaries in Mindanao.
Marawi was to have been The Philippines' equivalent of Raqqa, Islamic State's Syrian headquarters from which the lightning strikes into Iraq were successfully planned and executed in 2014.
The group reportedly had plans to stage "uprisings" in at least two other cities in The Philippines before it was forced into premature action by an operation by the nation's armed forces to capture Hapilon. However, such a strategy is unlikely to be successful without large numbers of committed supporters.
The question is, will the incipient Marawi uprising resonate more broadly in Southeast Asia and attract sufficient numbers of recruits to sustain and expand a region-wide jihadist insurgency?
Nobody knows for sure. But during the past decade there has been a discernible shift towards religious conservatism among Muslims, which jihadists believe provides fertile soil for their fundamentalist teachings to take root.
And there are plenty of Muslim grievances, real and imagined, for them to exploit.
A successful Islamic State-inspired insurgency in The Philippines could quickly attract a fresh wave of international jihadists, as well as returning foreign fighters, facilitating transnational tactical alliances with like-minded militants in other parts of Southeast Asia.
Separatist sentiment in Thailand's three Muslim provinces of Yala, Pattani and Narathiwat has become increasingly violent in recent years.
In Malaysia, five terrorist organisations have declared their support for Islamic State. And Indonesia has suffered several terrorist attacks perpetrated by disparate groups of hardline Islamists radicalised by Wahhabist and Salafist ideas imported from the Middle East.
Indonesia is the key to determining whether a caliphate can successfully entrench itself in the region because of its large Muslim population and strategic position at the maritime crossroads of Southeast Asia. If Indonesia remains a secular, tolerant, democratic state, it will be more difficult for jihadism to spread. An avowedly Islamist Indonesia, or one racked by religious turmoil and conflict, would be a security nightmare for Australia.
Societal, cultural and linguistic differences have made Indonesia a difficult country for Australians to read, so it's not surprising that Indonesia watchers are split on whether the global trend towards greater piety among Muslims makes Indonesia more vulnerable to radicalisation.
However, it is a possibility that warrants serious analysis in the wake of Marawi and the recent jailing of the ethnic-Chinese Christian former governor of Jakarta, Basuki Tjahaja Purnama, better known as Ahok, on blasphemy charges.
Former Department of Defence secretary and ASIO head Dennis Richardson, who served in Indonesia as a diplomat, made precisely this point in his retirement remarks at the National Press Club in Canberra last month. Richardson surmised that Ahok's jailing might be an early sign that Islamist thinking was beginning to reshape Indonesia's traditionally pluralist politics, while acknowledging that it was still too early to tell. However, the question was "at the sharp end of what we should be watching", he noted.
Evidence for the view that Indonesia may be more susceptible to Islamist thinking is not hard to find. Contact between Indonesian and Filipino Islamists is becoming more frequent as jihadists across Southeast Asia buy into the Islamic State vision of a transnational caliphate that subsumes national identities and loyalties.
In The Weekend Australian last Saturday, Southeast Asia correspondent Amanda Hodge drew attention to Omar Maute's time as a teacher at an Islamic boarding school in Indonesia and his attempts to imbue his students with a strict Wahhabist interpretation of the Koran. After marrying an Indonesian woman, Maute returned to The Philippines and joined his brother Abdullah in leading the Marawi rebellion.
Religious conservatism is clearly on the rise in Indonesia. It is striking how much more outwardly pious Indonesians have become. This is reflected in the proliferation of prayer groups and Koran discussion groups, the wearing of traditional headscarfs known as jilbabs by more religiously inclined women, and increasing strictures on the LGBT community.
Last month's public flogging of two gay men in conservative Aceh province for consensual sex prompted widespread international condemnation and raised fears that sharia law could be formally extended to other parts of Indonesia.
Whether religiosity and tolerant liberalism can coexist harmoniously in Indonesia is an open question. A 2015 Pew poll found that Indonesia is the third most religious country. The growing number of Indonesian Muslims who favour a strict interpretation of the Koran largely accounts for the hostility towards the LGBT community, the existence of which is regarded by many as contrary to religious teachings.
A local poll by Saiful Mujani Research & Consulting measuring tolerance found the LGBT community was the second most disliked group (16.6 per cent) after Islamic State (25.5 per cent).
Influential Muslim umbrella organisations such as the Indonesian Ulema Council have been ­instrumental in pushing a conservative sociopolitical agenda, issuing fatwas — religious rulings — against liberalism, secularism and pluralism. The widespread use of social media has inflamed and amplified prejudice and fear, creating a febrile, post-truth digital world of alternative facts and false news that has been exploited for political ends.
In this highly charged atmosphere even self-described moderates have felt under pressure to concede ground to Islamists. This was evident in President Joko "Jokowi" Widodo's conciliatory statements to the estimated 500,000 demonstrators who turned out in the centre of Jakarta to demand that his former protege Ahok be charged for blasphemy.
Mainstream politicians, not known for their religiosity, have been guilty of consorting with Islamists to advance their political interests. Jakarta's governor-elect Anies Baswedan set a dangerous precedent in unashamedly parading himself as the defender of Islam in his successful campaign to replace the purported blasphemer Ahok.
And there is little doubt that former president Susilo Bambang Yudhoyono and Suharto's former son-in-law and presidential aspirant Prabowo Subianto have both used the services of the thuggish, hardline Islamic Defenders Front to stir up unrest and discredit ­rivals, a classic Javanese political tactic.
Long a secular bastion against religious extremism, the Indonesian National Armed Forces (TNI) have not been immune from the broader societal trend towards religious conservatism. The prickly and politically aware TNI commander, General Gatot Nurmantyo, has licensed the military to wear religious symbols including the jilbab.
It's hard to escape the conclusion that Indonesian Muslims are more susceptible to political messaging clothed in a veneer of religious virtue.
This greening of Indonesian politics provides more space for Islamists to prosecute their agenda, fosters a climate of intolerance and plays into the jihadist narrative that nonbelievers must be co-opted, or eliminated, to guard against Islam's corruption.
Nonetheless, there are four reasons the country is unlikely to succumb to the siren call of jihadism and become another Mindanao or Syria.
First, the trend towards greater piety and religious observance doesn't mean Indonesians don't support their secular, hard-won democracy.
The constitutional separation of religion and state was a foundational principle of modern Indonesia and commands broad community and elite support. So does the accompanying state ideology of Pancasila, which explicitly rejects the idea of an Islamic state because it mandates the protection and equal status of all major religions in Indonesia — Islam, Catholicism, Protestantism, Buddhism and Hinduism.
The reality is that Indonesians consistently have voted against parties that want to establish Islam as the official state religion — by an overwhelming majority of 78 per cent at the most recent ­election.
Second, it is unlikely that non-Acehnese Indonesians would accept the national imposition of Acehnese-style sharia law, complete with its morality police and mandatory wearing of the jilbab.
As the first province to convert to Islam in the 13th century, Aceh has always been regarded as atypically religious by other Indonesians. Aceh-only sharia law is the price Jakarta had to pay to end a long-running separatist conflict that at one time threatened to split the province from the rest of Indonesia, before a peace agreement was signed in 2005.
Third, Indonesia's traditionally tolerant brand of Islam is in no small way due to the support provided by two mainstream Muslim organisations, Nahdlatul Ulama and Muhammadiyah, which together act as a bulwark against the spread of extremist ideas. Although the 40 million-strong NU is a conservative Sunni grouping, it rejects radical Islam and actively supports Pancasila, as does the modernist Muhammadiyah.
Fourth, the military will not permit extremist ideology and ­jihadism to undermine the unity of the Pancasila state, which it is ­institutionally sworn to respect and defend.
Fears that TNI itself may become Islamised are overblown and a misreading of the armed forces' culture and history. Pancasila, which is inculcated into the officer corps from an early age, effectively inoculates TNI against the creeping Islamisation that has affected other militaries in the Muslim world.
There also are encouraging signs that the Indonesian government and civil society are pushing back against extremist ideology, recognising the danger it represents to political stability and the country's vibrant but still young democracy.
On May 8, Jokowi ordered the dissolution of the Islamist Hizb-ut Tahrir organisation for promoting the idea of a global caliphate and for inciting Indonesians to overthrow secular governments.
Ten days later, following criticism that he was not doing enough to arrest the momentum of hardliners and defend democratic values, the normally mild-mannered President issued an uncharacteristically stern warning that he would gebuk, or clobber, any group that sought to replace Pancasila and the constitution.
Gebuk has a particular connotation in Indonesia's often opaque political discourse, having been used once before by former president Suharto in 1989 to foreshadow a crackdown on detrac­tors and alleged coup plotters.
Jokowi's unmistakeable message to Islamists and their supporters is that they have crossed a red line and that actions deemed to threaten Pancasila and the constitution will not be tolerated by his government.
As one may expect, human rights groups have been prominent in the recent civil society campaign against fake news and hate speech, urging people to respect the rights of fellow citizens.
However, they have been joined by Islamic preachers in opposing divisive rhetoric that polarises people along ethnic and religious lines.
For example, the advisory board of JUMAT (Young Islamic Preachers Network of the Archipelago) has publicly accused Hizb-ut Tahrir of harming "the plura­listic foundations of Indonesia".
But if worst-case scenarios of Indonesia becoming a religiously polarised or radicalised state are unlikely to eventuate, the jihadist insurrection in Marawi is a timely reminder that Islamic State-inspired terrorism is a resilient and constantly evolving threat that demands a more regionally focused and integrated counter-terrorism strategy.
Australia has an important role to play in shaping and resourcing a regional response.
We should start by offering intelligence and training support for the under-siege Duterte government. A next step would be to explore avenues for creative diplomacy in bringing together Indonesia and other threatened Southeast Asian states in the aftermath of Marawi to discuss the problem of returning foreign fighters. This is a much bigger problem than previously recognised.
Jihadists have astutely used Facebook and other social media to post blogs, videos and graphic pictures of the Marawi conflict, portraying it as a victory for Islamic State and its regional affiliates.
This is likely to inspire copycat uprisings and galvanise recruitment, complicating and exacerbating the issue of returning foreign fighters.
Indonesia already is struggling to reintegrate 500 fighters recently returned from the Middle East out of an estimated 800 who have fought in Iraq and Syria with Islamic State.
Another way in which Australia can contribute to a co-ordinated regional response is to help build a detailed intelligence picture of the communication links between jihadist groups in Southeast Asia, their modes and routes of travel, and the source and flows of their money and weapons.
We need to understand how the Abu Sayyaf-Maute group could acquire the logistics, weapons and financial support to threaten a city of 200,000 and defy The Philippines' armed forces for nearly a month.
Taking a leaf out of the Islamic State playbook, the Marawi jihadists have shown a surprising ability to conduct sophisticated, information warfare in support of their aims. Videos posted on social media showing putative military successes appeared within days of the first battles, along with an online propaganda magazine depicting the mass execution of Christians in the city.
Full report at:
http://www.theaustralian.com.au/news/inquirer/risks-to-indonesia-after-islamic-state-attack-in-philippines/news-story/7cfbb1edeb4f25a523ac1a15fb8b5816
--------
Halal chocolate takes off as sweet-tooth Muslims want their fix
June 16, 2017
KUALA LUMPUR: Muslim countries are turning into fast-growing markets for chocolate, and one Asian country is betting more people around the world are going to want candy and goodies that comply with the religion's strict food laws.
Malaysia doesn't grow much cocoa, but it has become the continent's No. 2 processor by grinding beans imported from neighbouring Indonesia, the largest producer outside of Africa and home to the world's biggest Muslim population.
With a majority of its own people classified as Muslim, Malaysia already sells mostly cocoa products in compliance with halal principles — which forbid the use of alcohol and some animal products.
Islam is the fastest-growing religion on the planet and may have 2.8 billion faithful by 2050, according to the Pew Research Center. Global sales of halal-certified chocolate confectionery will reach US$1.7 billion (RM7.2 billion) by 2020, growing at a 5% annual rate that exceeds the 4% gains expected for all chocolates, according to Euromonitor International Ltd. Malaysia is hoping the growth will help to boost exports that were a record last year.
"Halal certification is regarded as essential in emerging Muslim-majority markets like Indonesia and Malaysia," said Emil Fazira, senior research analyst at Euromonitor in Singapore.
"In markets where Muslims have increasing purchasing power, halal-certified products are expected to be preferred over uncertified products."
Demand
Based on the teachings in the Quran, the certification doesn't just apply to food ingredients. Processing machines also must avoid alcohol used in cleaning products as well as many animal-based lubricants — including emulsifiers or gelatins extracted from hogs.
Dazzle Food Sdn Bhd, which sells speciality couverture and consumer chocolates such as the Mr Coco and Marie Coco brands, became fully halal in 2009. In addition to the domestic market, it exports to Singapore, Indonesia, China and the Middle East. The Selangor-based company, in an email response to questions, said the certification helped boost sales by 20 to 30% over the past three years. Demand may grow even faster this year, it said.
Muslim-dominated countries in central Asia and the Middle East provide some of the biggest opportunities for increased exports as their economies expand, according to the Malaysian Cocoa Board. In many, halal-labelled products are not niche markets but mainstream staples.
"For countries in central Asia, their confectionery industries are developing and growing," Malaysian Cocoa Board director-general Norhaini Udin said in an interview at the board's Nilai office on the outskirts of here.
"The Muslim community is more cautious now. If you don't carry the halal logo, you can't capture their market."
Boycott
Malaysia does not just sell chocolate. A large part of its exports are cocoa products, fillings and coatings made on halal-compliant equipment, Norhaini said. Last year, overseas shipments of cocoa beans and products were valued at a record RM5.74 billion.
The word "halal" means "permissible" and is part of a system of morals known as syariah. In countries with Muslim minorities, the halal certification has sparked calls for boycotts of products with the halal label.
Nestle SA stopped halal certification of retail chocolate products sold in Australia as of March 2016. Other chocolate brands may comply with Islamic principles but are not labelled "halal".
That's not an issue in Malaysia, where all the foods that Nestle sells there, including Kit Kat, are halal-certified.
Malaysia has 51 chocolate manufacturers and confectioneries and 194 local chocolate producers, selling about RM1.095 billion a year, according to cocoa board data.
Growth
The country is focusing on four regions to boost sales, said Norhaini. The country already has more than 50% market share in cocoa powder and butter in Southeast Asia, and 30% in the rest of Asia, New Zealand and Australia. In the Middle East it holds a 20% market share for cocoa butter and powder imports and in eastern Europe it has a 15 to 17% share of chocolate ingredients. Top customers in that region are Russia, Ukraine and Kazakhstan.
"By 2020, we should be able to capture 20% from the current position for overall eastern Europe," Norhaini said.
Euromonitor estimates Asia-Pacific will continue to be the strongest market for cocoa ingredients, with compound annual growth of 4.5% over 2015-2020 compared with 1.7% globally. It's already the second-largest region by volume, ahead of North America.
Importantly for chocolate lovers, Dazzle says the halal certification does not affect taste.
"The thing about chocolate is there's a whole amount of science involved," company spokeswoman Awatif said.
Full report at:
http://www.freemalaysiatoday.com/category/nation/2017/06/16/halal-chocolate-takes-off-as-sweet-tooth-muslims-want-their-fix/
--------
'Anti-evangelism laws' not for Malaysia, deputy home minister says
BY SYED JAYMAL ZAHIID
June 17, 2017
KUALA LUMPUR, June 17 — Datuk Nur Jazlan Muhammed is against a suggestion for Malaysia to ban Christian evangelism.
The deputy home minister said outlawing the movement is counterproductive and will only drive its followers underground, in response to a non-governmental organisation leader's call for similar legislation to Russia's Yarovaya Act.
"Legislating any form of anti-evangelism or evangelicalism officially would have counterproductive outcomes because the followers would go underground instead of stopping their activities," Nur Jazlan told Malay Mail Online in a text message yesterday when contacted for comment.
He expressed scepticism on views that legislation is the best approach to tackle religious matters, saying instead that dialogue is the way forward to end interfaith suspicions.
Drawing from Islam's development over the centuries, Nur Jazlan said attempts at suppressing the faith in its early years had failed and instead turned it into one of the world's fastest growing religions then.
"Prophet Muhammad went through the same experience when he was spreading Islam and the authorities of the day couldn't stop it by banning it.
"The solution is for Muslims and Christians to have peaceful dialogue and establish a faith protocol based on individual choice," the Pulai MP added.
Malay daily Utusan Malaysia had published on Thursday an essay by Centre for Human Rights Research and Advocacy chief executive Azril Mohd Amin that called for "anti-evangelicalism laws" outlawing Christian evangelism in the country.
Azril claimed evangelicalism, which he described as having "exhibited new religious tendencies towards positivism, unfettered freedom and a tendency to uncontrolled openness", was seriously threatening Malaysia's religious harmony.
Evangelism in the Christian context is an activity that broadly refers to spreading its gospel.
Evangelicalism, on the other hand, is a movement born from the Protestant school with a specific core belief that is said to be different from mainstream Protestanism; one of them being the belief in "personal conversion".
It has been alleged that evangelical churches are the most active and purportedly running a well-financed proselytisation campaign worldwide.
In arguing for "anti-evangelicalism laws", Azril claimed evangelicalism is also opposed by followers of other Christian denominations.
But Nur Jazlan maintained that past attempts to ban religious sects have proven to be futile with the clearest example being Putrajaya's ban on the Shiah school of Islam in Malaysia.
"Shiah is banned in Malaysia but does that reduce the number of believers that practise Shiah?" he posed.
The call for an anti-evangelical law follows claims by conservative Muslim figures that some Christian groups were conspiring to "Christianise" Muslim-majority Malaysia which restricts propagation of any faith other than Islam to Muslims.
Full report at:
http://www.themalaymailonline.com/malaysia/article/anti-evangelism-laws-not-for-malaysia-deputy-home-minister-says
--------
Indonesia steps up mosque surveillance
Jun 17, 2017
The Indonesian government is taking steps to counter the radicalisation of mosques in Jakarta by deploying plainclothes officials to find out who manages them and what they preach.
A member of the government task force told The Straits Times that they have already uncovered an alarming fact - that some mosques in high-rise office buildings on the main Thamrin and Sudirman roads of downtown Jakarta, and just minutes from the presidential palace, are run by white-collar staff who are radicals.
At least one major government ministry and a top engineering school in Bandung, West Java, are also managed by radical groups. The government will now firmly "encourage" the building owners to oust the radical mosque caretakers.
The source told ST on Wednesday: "Typically, these mosques were rarely frequented - as we say the least 'makmur' mosques - so dedicated, radical Muslims were moved and began to dominate their day-to-day running and assumed the caretaker's role."
So committed are these new caretakers - some of whom are university graduates - that they invited hardline preachers to give sermons, he said.
The chairman of Indonesia's largest Islamic organisation Nahdlatul Ulama, Mr Said Aqil Siradj, told reporters on May 23 that radicalism has spread to mosques in a number of prominent universities in Jakarta, and the government needs to take urgent action to keep this from happening.
Mr Said Aqil also appealed to the government to be more active in countering the spread of radicalism on social media. He said he often noticed provocative sermons posted on Facebook that deviated from mainstream Islamic teaching.
Indonesia, which has the world's largest Muslim population, has seen a rise in Islamism, as rogue political elites in recent years have increasingly taken to rousing religious sentiments and racism to win elections and secure power.
While silent, moderate Indonesian Muslims are by far in the majority, there is a small minority of very vocal radicals who are often influential.
Officials in Indonesia categorise a mosque as radical if the caretaker has some affiliation to, or is a member of, any group that promotes syariah law or the establishment of an Islamic state, such as the Hizb ut-Tahrir Indonesia (HTI), a branch of a global Islamist group that the Indonesian government has filed to court to disband.
Mr Adhe Bhakti, a researcher at the Centre for Radicalism and Deradicalisation Studies, told ST: "Hizb ut-Tahrir Indonesia seeks to establish an Islamic caliphate. This objective is in line with the groups that have been promoting terror (in Indonesia).
"They are only one step towards violence, that is terrorism, because they share the same idea. Those that already engage in terrorism do not believe that not doing so would help them achieve their objective."
Among the terrorists who were members of HTI is Bachrun Naim, a Central Java-born militant who has lived in Raqqa, Syria, where he fought with terror group Islamic State in Iraq and Syria and supervised recent bomb attacks in Indonesia from there.
Full report at:
http://www.straitstimes.com/asia/se-asia/indonesia-steps-up-mosque-surveillance
--------
Investree to Introduce Sharia-Compliant Financing Next Month
Jun 17, 2017
Jakarta. Investree Radhika Jaya, an Indonesian peer-to-peer lending marketplace, will introduce a sharia-compliant lending service by the end of July, to meet a rising demand for such products, a top executive said on Thursday (15/06).
"We've sent an inquiry to the National Sharia Council and we are been waiting for its response," Investree co-founder and chief executive Adrian Gunadi said.
The National Sharia Council was established by the Indonesian Ulama Council to ensure that banking products, services and operations comply with the principles of Islamic law.
"Customers are waiting in line for the sharia-based loan," Adrian said.
The marketplace is currently running a pilot project with three small and medium enterprises from Jakarta and Surabaya as debtors and unnamed lenders.
The loan will be based on an Islamic scheme called wakalah, which involves a predetermined fee instead of interest.
If a lender lends Rp 100,000 ($7.5), Adrian said, then he already knows that he will get Rp 170,000 of investment in the future.
Adrian is no stranger to sharia-compliant products. He started his career as a management trainee at Citibank, then he managed the Standard Chartered's Islamic finances in Dubai, after which he became the head of Bank Permata's sharia department. Before founding Investree, he also served as managing director at Bank Muamalat.
According to him, Indonesia's Islamic banking is still struggling with limited human resources and bureaucracy. Fintech, therefore, makes it possible to test the market for Islamic banking products in an efficient and relatively cheap way.
Investree has been busy this year after it acquired a license from the Financial Services Authority (OJK).
Full report at:
http://jakartaglobe.id/business/investree-introduce-sharia-compliant-financing-next-month/
--------
Philippines Says Some Militants May Have Slipped out of Embattled City
Jun 17, 2017
Marawi City, Philippines. The Philippines military said on Friday (16/06) that some of the Islamist militants who stormed Marawi City in the south of the country last month may have mingled with evacuees to slip away during the battle that has raged for nearly four weeks.
Brigadier General Restituto Padilla said security had been tightened in the cities of Iligan and Cagayan de Oro and the authorities there were on the lookout for suspicious characters who might "attempt to sow some confusion or sow terror".
"We're not denying that there's probably a few who may have slipped along with the evacuees from Marawi going to Iligan and Cagayan de Oro," he told reporters in Manila, while OV-10 aircraft in Marawi pounded an area where militants have been holed up since May 23.
The military says that up to 200 fighters, most of them from local insurgent groups that have pledged allegiance to Islamic State but also some foreign fighters, are holding out, using civilians as human shields and mosques as safe havens.
The attempt by hundreds of well-armed militants to overrun and seal off the city has alarmed governments across Southeast Asia, which fear that Islamic State - losing ground in Iraq and Syria - is trying to establish a foothold in their region that could bring a rash of extremist violence.
The defense ministers and military chiefs of Indonesia, Malaysia and the Philippines will meet in the Indonesian town of Tarakan, on Borneo island, on Monday to discuss the threat and agree on steps to coordinate better to confront terrorism.
A port town, Tarakan is just south of the Malaysian side of Borneo and looks out across the sea to Mindanao in the southern Philippines, a sprawling island that has been plagued by insurgencies and banditry for decades.
Philippines military spokesman Padilla told reporters that talk of fighters planning attacks in neighboring towns was based on "misinformation that's being spread by the enemies" and in fact their capacity was severely reduced.
In a battle assessment on Friday, the military said those still in the town were also weakening.
"Enemy resistance continues to dwindle and enemy-held areas continues to get smaller as troops advance," it said, but giving no indication of how long it might take to retake the town.
Previous deadlines to defeat the insurgents were missed.
More than 300 people have been killed in the battle for Marawi, according to official estimates, including 225 militants, 59 soldiers and 26 civilians.
Full report at:
http://jakartaglobe.id/international/philippines-says-militants-may-slipped-embattled-city/
--------
Mideast
Yemen: Houthis 'planned to starve' detainees during Ramadan
16 June 2017
The mothers of the kidnapped Yemenis alleged that the Houthi militants and forces loyal to ousted Ali Abdullah Saleh intend to starve detainees during Ramadan.
The Association of Mothers of the Kidnapped launched a rescue call to members of the Human Rights Council at its 35th session being currently held in Geneva, to save their sons from death in militia prisons and to use all legal and humanitarian means to release them.
The mothers protested outside the headquarters of the High Commissioner for Human Rights in Sanaa, condemning the starvation of their kidnapped children in militia prisons by hitting "spoons and empty dishes," referring to the deteriorating health and inhumane conditions of their kidnapped children.
Prohibition of allowing food for fasting people
"The Houthis have prevented them from visiting their children for more than a month, and they are also preventing the entry of food and drink to them, even though all the kidnapped are fasting," according to a statement issued by the mothers.
In the statement, the mothers condemned the inability of many international and local human rights organizations to relieve the suffering of their children and their failure to get them released in order to save their life from danger and death.
They also criticized the inability of these organizations to visit some of the prisons to witness the inhumane conditions of the kidnapped.
"They are only monitoring and documenting and playing the role of weak mediator without the establishment of a practical mechanism to pressure the Houthi and Saleh militants to release the kidnapped and the forcibly hidden to ensure their safety," the statement said.
The statement repeated the mother's sole and fundamental demand for the release all their kidnapped children.
The Association of Mothers of the Kidnapped have held frequent protests in the capital Sanaa since more than two years ago, demanding the militias to release their children.
Full report at:
https://english.alarabiya.net/en/News/gulf/2017/06/16/Yemen-Houthis-planned-to-starve-detainees-during-Ramadan.html
--------
Turkish FM arrives in Saudi Arabia to end Persian Gulf states-Qatar row
Jun 16, 2017
The Turkish foreign minister has arrived in Saudi Arabia in an attempt to defuse a growing diplomatic crisis in the Persian Gulf region, as Qatar accuses its neighbors, particularly Riyadh, of imposing a crippling "siege" on the emirate.
Turkish Foreign Minister Mevlut Cavusoglu's plane landed in the western Saudi city of Jeddah on Friday ahead of a meeting with Saudi King Salman bin Abdulaziz Al Saud in the holy city of Mecca in a bid to broker a solution to the unprecedented crisis.
Saudi Arabia, Bahrain, Egypt, and the United Arab Emirates severed ties with Qatar in early June, officially accusing Doha of supporting terrorism and destabilizing the region, which Doha strongly denies. In their apparent bid to secure US support and that of Israel, they further suspended all land, air and sea traffic with Qatar, expelled its diplomats and ordered Qatari citizens to leave their countries.
Cavusoglu's visit to Saudi Arabia came a day after he met with his Kuwaiti counterpart to find a solution to the crisis. Kuwait's Emir Sheikh Sabah al-Ahmad al-Jaber al-Sabah, whose country did not sever ties with Doha, has also been engaged in shuttle diplomacy to help mediate between the two opposing sides, but so far all to no avail.
Ahead of his Saudi trip, Cavusoglu also paid a visit to Doha on Wednesday, when he called for dialogue after meeting with Qatar's Emir Sheikh Tamim bin Hamad Al Thani and Foreign Minister Mohammed bin Abdulrahman Al Thani.
To further pressure Qatar, Saudi Arabia has totally closed its land border with its tiny neighbor, through which much of Qatar's food supply crossed. Iran and Turkey are now providing Qatar's required food supplies. The Persian Gulf Arab states further gave Qataris two weeks to leave their countries and ordered home their own citizens living in Qatar.
The punitive measures against Qatar have drawn condemnation from rights groups, including Amnesty International. On June 10 and 13, the UK-based prominent rights group slammed the Saudi measures against Qatar, saying the diplomatic dispute has been toying with thousands of lives.
Meanwhile, Qatar's National Human Rights Committee Chairman Ali bin Smaikh al-Marri said at a press conference in the Swiss city of Geneva that the so-called punitive measures amounted to "collective punishment," citing one case of a mother being separated from her baby.
Describing the measure as "harsher than the Berlin Wall" in separating members of families, he further said the siege had led to "gross violations of human rights."
Full report at:
http://217.218.67.231/Detail/2017/06/16/525516/Turkey-Cavusoglu-Saudi-Arabia-Qatar-King-Salamn-Kuwait-row-Iran
--------
Israeli officers shoot dead three Palestinians after alleged stabbing
16 June 2017
Israeli security forces shoot dead three suspected Palestinian assailants after allegedly stabbing and critically wounding a policewoman outside Jerusalem's Old City on Friday police said.
"Female border policewoman injured critically in attack at Damascus gate," police spokesman Micky Rosenfeld wrote in a statement. "3 Arab terrorists shot by police units that responded at the scene."
Police said the three were dead.
The attack took place as Muslims were marking the end of the third Friday of the fasting month of Ramadan, during which tens of thousands of Palestinians from east Jerusalem and the West Bank attended prayers at the nearby Al-Aqsa mosque compound, Islam's third-holiest site.
According to police, two perpetrators opened fire at a group of police officers who returned fire, and a third stabbed the border policewoman a short distance away before being shot.
Medics said two other people were moderately wounded in the attack, and a further two lightly wounded.
Full report at:
https://english.alarabiya.net/en/News/middle-east/2017/06/16/Israeli-officers-shoot-dead-three-Palestinians-after-alleged-stabbing-.html
--------
Yemen PM: Houthis targeting Saudi aid trucks, UAE ship threatens intel peace
17 June 2017
Ahmed Obeid Bin Daghr, Prime Minister of Yemen's internationally recognized government, said on Friday that the Iran-backed Houthi militias targeting of three Saudi aid trucks and UAE ship was a flagrant threat to international peace, security and navigation.
"The militias continue their aggressive approach and do not obey the voice of reason and the international community is responsible for carrying out its duties to secure the international navigation and rescue the Yemeni people who are starved and killed by these militias stripped of all values and principles," he said in a statement published by Yemen's official News Agency,
He further called on the international community to take the necessary measures to stop the attacks, adding that the coup militias have rejected all options and initiatives for peace.
Full report at:
https://english.alarabiya.net/en/News/gulf/2017/06/17/Yemen-PM-Houthis-targeting-Saudi-aid-trucks-UAE-ship-threatens-intel-peace.html
--------
Iran, Switzerland hold new round of political talks
Jun 17, 2017
Iran and Switzerland have held a second round of political talks in line with a roadmap that the two countries devised last February to enhance bilateral relations.
The new talks were held in the Swiss city of Bern on Friday between Majid Takht-e Ravanchi, Iran's deputy foreign minister for European and American affairs, and State Secretary at the Swiss Ministry of Foreign Affairs Pascale Baeriswyl (seen below).
Swiss President Johann Schneider-Ammann visited Tehran last February, meeting with Leader of the Islamic Revolution Ayatollah Seyyed Ali Khamenei and President Hassan Rouhani.
Schneider-Ammann and Rouhani decided to have the roadmap devised, and the two sides signed six memorandums of understanding in the scientific and technical fields and chose to step up their cooperation in the area of tourism.
The visit was followed by a first round of political talks between Takht-e-Ravanchi and Swiss Foreign Minister Didier Burkhalter in Bern last June.
The follow-up talks on Friday saw the two sides laying emphasis on the further enhancement of mutual relations. They also featured discussions on all-out cooperation against instability and toward fighting terrorism as an international threat.
Takht-e-Ravanchi pointed to the recent developments in the Middle East and Persian Gulf region, which has seen Saudi Arabia and some of its allies cutting ties with Qatar. He said the Islamic Republic's policy concerning the development was one of cooperation toward the establishment of peace and stability in the region and the easing of regional tensions.
Baeriswyl, for her part, condoled with the Iranian nation and government over the recent terrorist attacks in the Iranian capital, which claimed 17 lives. The Swiss president and foreign minister had already extended their condolences over the incident.
Full report at:
http://217.218.67.231/Detail/2017/06/17/525532/Iran-Switzerland-Takhte-Ravanchi-Baeriswyl
--------
North America
Canadian politician joins Muslims for Ramadan fast
16.06.2017
A Canadian politician who is fasting for the month of Ramadan told Anadolu Agency on Friday he began the practice to raise money for a food bank, but has been overwhelmed at the support received from Muslims.
Mark Holland, Liberal Member of Parliament for Ajax, a city near Toronto, said a friend asked him in 2015 to raise money for Give 30, a food bank that asks people to take the savings gleaned from fasting during the holy month and contribute those savings to local food banks.
"I didn't hesitate when I was asked if I would fast with the community as a show of support," Holland said.
He joined the nearly 2 billion Muslims worldwide to observe the fast of Ramadan in the interests of charity and to focus the light on people who are too often forced to fast.
"As anyone who has fasted knows that that not eating during the day is difficult, but too many don't have a choice when it comes to deciding whether or not to eat and local food banks play a vital role in helping those in need," he said.
Give 30 supports 14 of the largest food banks in communities across Canada and the U.S., according to the organization's website.
As of June 9, more than $CAN75,000 had been raised in across the country, so the amount should be substantially more by the end of Ramadan that will end June 24.
"I would love to see Give 30 beat its amount raised from last year which was $170,505," the 42-year-old father of three said.
While the goal is to help the charity, joining in the Ramadan fast has paid other dividends.
"We are fortunate in Ajax to have an incredibly diverse Muslim population; the outpouring of support from the community has been bewildering and incredibly touching," Holland said. "When I first fasted I thought it would be a good way to raise some awareness about a worthy charity doing admirable work.
"I still fast in support of Give 30, but also now it has really served as a great bridge between groups in our community.
Full report at:
http://aa.com.tr/en/americas/canadian-politician-joins-muslims-for-ramadan-fast/843247
--------
How The Resistance Is Standing Up To Anti-Muslim Speakers In America's Heartland
BY JOSH SAUL
6/16/17
Demonstrators gathered on both sides of a South Dakota street Thursday night, one side protesting against what they saw as an anti-Muslim event, the other showing support—the latest in a series of conflicts over Islam in the sparsely populated state.
Sponsored by the local Republican Party, the event that sparked the demonstrations focused on "the threat of the global Islamic movement."
South Dakotans gathered outside the Rushmore Plaza Civic Center in Rapid City, with those protesting the event waving signs that read, "No hate, no fear, Muslims are welcome here," and "Rapid City Is Love."
On the other side of the street, demonstrators in favor of the event waved American flags and signs that read, "Indivisible Supports Christian Persecution," referencing Indivisible Rapid City, a local progressive group that spoke out against the event and says on its website that it aims to resist President Trump.
The event was titled "Understanding the Threat: Strategic and Operating Training & Consulting on the Threat of the Global Islamic Movement" and featured John Guandolo and Chris Gaubetz. Guandolo is the founder of an organization called Understanding the Threat, which says it is the only group training politicians, law enforcement and citizens about the threat of jihadi networks in communities around the nation. Progressive and Muslim groups call Guandolo an anti-Muslim conspiracy theorist.
In arguing their sides before the event, both raised the shooting Wednesday that targeted Republican members of Congress.
The Council on American-Islamic Relations called on the local Republican Party to drop its sponsorship of the event. "Following yesterday's terror attack on members of Congress and their staff in Virginia, it is more important than ever to repudiate the promotion of conspiracy theories and bigotry targeting any segment of our society," CAIR Government Affairs Director Robert McCaw said in a statement.
The Rapid City chapter of ACT for America, which co-sponsored the event, referenced the shooting in its explanation of why it barred reporters. "By likening Act for America to the KKK, the media has endangered our attendees … and by referencing the [Southern Poverty Law Center] whose hate speech has been tied to domestic terrorism incidents as recently as June 14 of 2017 – the shooting of Congressman Steve Scalise," reads a statement from ACT posted on the Indivisible Facebook page.
The conflict is the latest over events and speakers involving Islam, the world's second-largest religion.
A small group of protesters gathered outside a Rapid City hotel on May 6 to demonstrate against another ACT for America event, this one attended by the South Dakota attorney general and a Republican candidate for governor, according to the Rapid City Journal. "The nicer the West shows itself, there's a percentage of Muslims that view that niceness as weakness. And they take that as an invitation to attack," speaker William Federer, a Christian author and radio personality, told the audience, according to the newspaper.
Full report at:
http://www.newsweek.com/anti-muslim-speakers-resistance-south-dakota-protesters-626773
--------
Counter violent extremism, but don't stereotype Muslims
BY SORAYA DEEN
06/16/17
The Senate Homeland Security Committee convened a hearing this week to discuss violent extremism, but lawmakers must avoid the temptation to throw the entire Muslim community under the bus like protesters attempted to do last weekend at rallies nationwide.
On June 10th, anti-Muslim protesters held rallies in dozens of cities nationwide to spread fear and stereotypes about Muslims. As a peace activist, I worry that rallies and congressional hearings like these increase the risk of hate crimes against our fellow Americans.
I am a Muslim – one of more than a billion worldwide. I have dedicated my life to empowering women, gender equality, celebrating religious pluralism, and building bridges among interfaith communities. I join my fellow Americans in mourning the lives and loved ones lost to terrorism by criminal organizations that cloak themselves in faith. Fringe organizations like Islamic State in Iraq and Syria (ISIS) and al Qaeda do not represent my religion any more than the KKK represents Christianity, and they must be defeated.
At the same time, we must ensure that Muslim Americans do not live under a cloud of suspicion. According to Brigitte Gabriel, the organizer of the June 10th rallies, a practicing Muslim like me "cannot be a loyal citizen of the United States." Ayaan Hirsi Ali, a witness at this week's Senate hearing, has called my religion a "cult of death." Another witness – Asra Nomani – has openly supported racial and religious profiling of Muslims in violation of the U.S. Constitution.
There are several organizations dedicated to promoting conspiracy theories about Islam. One of the most ludicrous is the idea that Muslims want to impose sharia law on the United States. These organizations know the U.S. Constitution affirms the supremacy of American law, but this does not deter them from smearing Muslims. Ms. Gabriel has even questioned the patriotism of Khizr Khan, whose Muslim American son — Capt. Humayun Khan — lost his life in the Iraq war while serving in the U.S. Army.
At its worse, this divisive rhetoric can lead to violence against our fellow Americans. The FBI has documented a 67 percent increase in anti-Muslim hate crimes in its most recent data. Since 9/11, even Hindus and Sikhs have been targeted in hate crimes motivated by anti-Muslim bias.
Anti-Muslim bigots have a constitutional right to express themselves, but lawmakers should not allow people like them to monopolize the narrative about what it means to be an American.
There are more constructive ways to live out our common ideals.
During the month of Ramadan, mosques around the country are inviting their fellow Americans to join them for Iftar – a meal that is shared each night after sundown. I encourage lawmakers to visit their local mosques. This is a simple way to dispel stereotypes and learn more about the people who live in our communities. Interfaith dialogue is an effective deterrent against hate and a positive reminder of the importance of religious freedom.
Lawmakers should also speak out for our constitutional values when their peers and supporters attempt to divide Americans on any basis. For example, as our nation grapples with a proposed travel ban targeting Muslims, we should remember that our nation had the moral courage to reject discriminatory immigration laws in the early 20th century that targeted Asian Americans and overcome bias against Mormons, Jews, and Catholics. All of us can summon this courage now and make nondiscrimination a top priority.
Full report at:
http://thehill.com/blogs/pundits-blog/civil-rights/338137-counter-violent-extremism-but-dont-stereotype-muslims
--------
Sahi: How fear of peace bonds affects Canadian Muslims
June 16, 2017
In Phillip K. Dick's science fiction story The Minority Report, the concept of "pre-crime" becomes the new way law enforcement functions, as the NYPD finds a way to detect crimes before they're even committed.
Fast forward from when the story was written in 1956 to Canada today, and you might see more resemblance than you think. Just about all that you'd have to do is replace the word "precog" – Dick's characters who predict crimes – with the words "intelligence officer," or perhaps the words "CSIS" or "CSEC".
And instead of predicting all crimes, they seem to be predicting only certain kinds of crimes – terror-related activities to be exact. Call it "pre-terror." That's essentially what a "peace bond" does: it's levelled by a court against someone who's believed could commit a crime, but hasn't necessarily done so. It's a frightening prospect for the nearly 1 million Muslims in Canada.
Last spring, the RCMP arrested a 23-year-old man from Waterloo on the grounds that he was a threat to travel abroad for terrorism. But the strange thing is there were no terror charges laid, and many people who know the young man came forward and strongly denied that he was a terrorist.
While there doesn't seem to have been any abuse (yet) of the extraordinary powers granted by Bill C-51, the ultra-controversial anti-terrorism bill that makes it easier for police to limit a suspect's movement and crack down on terrorist propaganda – and makes it much easier to obtain a peace bond – one does wonder exactly how long it is before that blurred boundary of what exactly is enough to elicit a peace bond is crossed over into something so vague nobody would even know they're crossing it.
It's more than disconcerting that many young Muslim men in Canada feel they're one wrong tweet away from having the RCMP move in.
With the ever increasing anti-Islamic rhetoric – evidenced by data released just this week by Statistics Canada showing a 60 per cent rise in hate crimes against Muslims – one starts to wonder whether the next time an extremist claiming to be a Muslim does something violent, it doesn't get used as the justification to start apprehending a growing number of young Muslim men and women on an increasingly weakening basis, for crimes before they've even been committed.
Already, tools like peace bonds can be used for this. The possible expansion of their use is troubling.
Fear can push public opinion and legal lines to a level of sanctioned discrimination and paranoia against certain groups, in this case Muslims, where such arrests could become accepted practice.
While it seems hard to imagine in a country like Canada (Japanese Canadians who lived through internment camps will tell you otherwise), we have to be careful nonetheless and be aware ahead of time, because the slope is slippery.
There was a time when legislation such as C-51 was unthinkable. Now, it is simply reality.
We have to ask ourselves, "how did we get here?" because if we don't, we might be at the next stage before we know it. The atmosphere in general, whether from Internet comment boards, social media, mainstream media or Bill C-51, is one that is conducive to a growing suspicion of Muslims that makes conditions ripe for ostracization of Muslims in society.
Full report at:
http://ottawacitizen.com/opinion/columnists/sahi-how-fear-of-peace-bonds-affects-canadian-muslims
--------
Africa
Christian Teacher Shot Dead by Jihadists in Kenya; Muslim Teacher Shields Other Christian
Jun 16, 2017
Suspected radicals from the al-Shabaab terrorist group reportedly shot dead a Christian teacher at an elementary school in northeastern Kenya. A Muslim teacher tried to save another Christian by offering to sacrifice himself for the other.
According to Morning Star News, the attack, which took place on May 31 at Fafi Primary School in Fafi, cost the life of Christian teacher Elly Oloo Ojiema.
"The suspected al-Shabaab militants entered the school compound and right away fired on the teacher who was teaching the pupils," said a Somali Muslim teacher, who asked not to be named.
The source revealed that another Muslim teacher saved the life of Christian teacher Joseph Kamau, who was also about to be killed, by telling the radicals he was ready to die with his colleague. As punishment, both teachers were kidnapped by the radicals. "The al-Shabaab got angry, and told the teacher, 'We are going to teach you a lesson for protecting the infidels,' and immediately the two were carried away to unknown destination," the source explained.
The extremists beat several Muslims at the school, accusing them of housing Kenyan Christians.
"We are sounding a warning to you that we shall not take lightly you who are accommodating these infidels," one of the militants reportedly said.
Al-Shabaab, which earlier in June was named the deadliest terror group on the continent by the Africa Center for Strategic Studies, has been carrying out waves of attacks in Kenya, specifically seeking to kill Christians.
The al-Qaeda-linked group reportedly slaughtered as many as 4,000 people throughout 2016. In several incidents, the militants purposefully separated Christians from Muslims in order to kill followers of Christ.
One of their deadliest attacks occurred in an assault at Kenya's Garissa University College in April 2015, where nearly 150 students, most of them Christians, were massacred.
Still, Muslims have risked their lives to shield their Christian brothers and sisters before, such as in separate bus attacks in Kenya.
One such Muslim teacher who died shielding Christians in December 2015 was posthumously awarded one of Kenya's most prestigious awards for his sacrifice.
"He died defending people who he did not know," Kenyan President Uhuru Kenyatta said in April 2016, speaking of the victim, Salah Farah.
"This is because he believed in their right to freedom of worship and he knew that every single life — irrespective of faith — is sacred."
Al-Shabaab has sought to continue the viciousness of its attacks in 2017 as well.
The Independent reported that at least 31 civilians were killed, while nearly 40 others were injured, when the Islamic extremists opened fire at a popular Somalia restaurant in Mogadishu on Wednesday evening.
The terrorists apparently shot victims point-blank during the overnight siege, before they were killed by security forces arriving on the scene.
Somali President Mohamed Abdullahi Mohamed condemned al-Shabaab's attacks during the Islamic holy month of Ramadan, noting that it is "a time of spiritual reflection and increased piety, which makes the timing of this attack all the more atrocious."
http://www.christianpost.com/news/christian-teacher-shot-dead-by-jihadists-in-kenya-muslim-teacher-shields-other-christian-188203/
--------
Libyan coast guard intercepts more than 900 migrants: spokesman
Jun 17, 2017
Libya's coast guard intercepted 906 migrants off the western city of Sabratha on Friday, a spokesman said.
The migrants were on board several wooden and rubber boats, coast guard spokesman Ayoub Qassem said. One of the rubber boats was perforated and nearly submerged, and a wooden boat had its engine missing, he said.
The migrants were African, Asian and Arab, and included 98 women and 25 children, Qassem said.
Libya has been in turmoil for years and is the most common departure point for migrants trying to reach Europe by sea. More than 60,000 migrants have crossed the central Mediterranean route from Libya to Italy so far this year.
Smugglers pack the migrants onto ill-equipped boats that usually get picked up by European rescue vessels once they reach international waters.
Full report at:
http://nation.com.pk/international/17-Jun-2017/libyan-coast-guard-intercepts-more-than-900-migrants-spokesman
--------
Kenya official: Roadside bomb kills 4 people; 11 wounded
Jun 16, 2017
An improvised explosive device killed four people in a passenger vehicle in northern Kenya in a suspected extremist attack, an official said Friday, as fears grew that the al-Shabab extremist group in neighboring Somalia had adopted a deadly new strategy. Northeastern Coordinator Mohamed Saleh said the vehicle had 15 people inside and the other 11 were critically injured. One of those killed was a government chief and another chief was critically wounded, said Eric Oronyi, a deputy county commissioner. The vehicle is used commercially along the Elwak-Mandera route, he said.
Similar explosions in Kenya in the past month had killed at least 34 people, including 20 police officers. Al-Shabab claimed responsibility for those attacks.
The al-Qaida-affiliated al-Shabab has vowed retribution on Kenya for sending troops to Somalia in 2011 to fight the extremists. Kenya is part of the multinational African Union mission in Somalia to bolster its weak central government from al-Shabab's insurgency.
Al-Shabab spokesman Ali Mahmoud Rage in a message earlier this week threatened Kenya with an unrelenting war unless its citizens embrace Islam and the government withdraws its troops from Somalia, according to the SITE Intelligence Group, which monitors extremist groups.
Analysts call the improvised explosives a change in strategy by al-Shabab, which has been carrying out attacks inside Kenya since 2011.
Delano Kiilu, the secretary general of the Protective and Safety Association of Kenya, said al-Shabab has increased the use of improvised bombs to target supply routes. This may mean more fighters in the extremist group have learned how to make bombs, as previously there was a bomb maker for each cell, he said.
Al-Shabab increases its attacks during the Muslim holy month of Ramadan, Kiilu also said. This week's overnight attack on a popular restaurant in Somalia's capital began as people were breaking their daily Ramadan fast and 31 were killed, police said.
Full report at:
http://abcnews.go.com/International/wireStory/kenya-official-roadside-bomb-blows-passenger-vehicle-48080167
--------
Nigeria: Pandemonium As Muslims, Masquerades Lock Horns in Ikun-Ekiti
16 JUNE 2017
By Rotimi Ojomoyela
Ikun — Ekiti a hitherto peaceful and obscure community, home to an obsolete and moribund dairy farm, gained notoriety in recent times because of the clash between the Muslim Community and the Traditional 'Egungun' Masquerade worshippers.
The last week of May to the first week of June every year is very significant to the people of Ikun-Ekiti, in Moba Local Government Area of Ekiti State, because it is the period set aside for the celebration of Egungun festival and virtually everyone in the community participates in the ceremony. However, that of this year was ill-fated because it fell within the same period of this year's Ramadan, a period Muslims worldwide, including those at Ikun are observing it being one of the pillars of Islam, which is fasting .
How it all began: On the ill fated day, which was on May 30, 2017, the Muslims, had converged at the Ansar-ud-Deen Central Mosque in the community, the same place where the shrine of Ajagunmole was located, just about 20 meters away from each other, this was just as the procession of the masquerades was also making for the shrine.
Absolute silence and solemness
It was gathered that the fasting Muslims had converged at the central mosque in the community to break their f ast, while the masquerades were heading to the shrine of Ajagunmole for propitiate the Egungun deity.
A source in Ikun claimed that "in the community, the tradition is that when the masqueraders, which appear once in three years, hold their procession, any form of noise is not tolerated. It is done in absolute silence and solemness, but the Muslims' call to prayer was done at about the same time and this, I believe, caused the clash."
Vanguard gathered that it was the Muslims' loud call for prayer that irked the masqueraders, and prompted a violent reaction from them.
They descended on the Muslims with cudgels, stones and metals, resulting in varying degrees of injuries among the Muslims, just as the mosque was vandalised. Windscreens of two vehicles parked at the mosque were also smashed just as the panes of the mosque's windows. The Imam of the mosque, Alhaji Abdul-Rasak Abubakar-Bello, received a head injury and was treated at the Ekiti State University Teaching Hospital in Ado Ekiti (EKSUTH), while five other worshippers were also injured.
Abubakar-Bello said they were held hostage at the mosque for hours by the masquerades, who he said threatened to kill them, saying "there was no way we could escape because they laid siege outside the mosque after initially attacking us inside the mosque with iron and wooden rods. When we succeded in locking ourselves inside the mosque, they started throwing stones at us." The Muslim community alleged that the Monarch of the Community, Oba Olatunde Olusola orchestrated and physically supervised the attack. They also alleged that the police ignored their distress calls.
Monarch's reaction: The Onikun of Ikun-Ekiti, Oba Olatunde Olusola, who denied complicity in the allegation level against him, said he was the father of all and the custodian of all religions in the community. Oba Olusola said that it was not true that he orchestrated the attack, pointing out that "I have been fair to all faiths and the ugly incident happened in the full glare of a large crowd of people in the town."
He said he had written a letter to the Muslim community in Ikun, dated May 26, 2017 entitled "Appeal for Cooperation," saying he had done that to avoid any kind of trouble as this had always been the situation even before he became the traditional ruler. In the letter signed by his secretary, Akinwumi Jimoh, Oba Olusola had asked the Muslim community to grant the traditional worshippers Tuesday, May 30, 2017 for the grand finale of their triennial masquerade celebration.
Part of the letter read: "This is to inform the congregation that this year's ongoing Egungun festival will come to an end on Tuesday, 30th May, 2017. And as part of our culture, women are to be kept indoors in the evening of the final celebration rites on the said day. "You have all the year round, please grant the Egungun celebrants this one day in three years."
Oba Olatunde said "there has always been a crisis between them because the shrine is very close to the mosque; that is why we took the step of informing the various bodies before hand, to avoid trouble. Because they have to go to their shrine, there's always trouble that is why I wrote a letter to them to ask them to do their thing and it takes less than one hour."
He said the Muslim community had met with the traditional council and they had agreed that there would not be noise during the procession, pointing out that "I gave them another option of using the other mosques in the town instead of the one close to the shrine, all in a bid to avert trouble."
Full report at:
http://allafrica.com/stories/201706160526.html
--------
URL: https://www.newageislam.com/islamic-world-news/fiery-speeches-fat-heres-worst/d/111582
New Age Islam, Islam Online, Islamic Website, African Muslim News, Arab World News, South Asia News, Indian Muslim News, World Muslim News, Women in Islam, Islamic Feminism, Arab Women, Women In Arab, Islamophobia in America, Muslim Women in West, Islam Women and Feminism