New Age Islam News Bureau
29 Dec 2013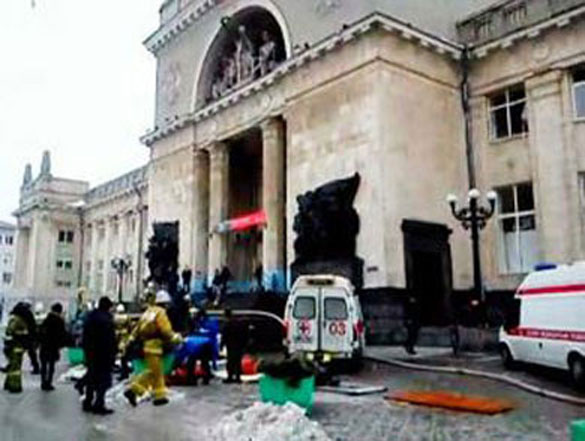 A still image taken from video shows firefighters, emergency ministry members and medics working outside the train station near the site of the explosion in Volgograd December 29, 2013. (Via Reuters)
--------
Europe
• Female Suicide Bomber Kills At Least 18 at Russian Train Station
• UK not following Egypt's listing of Brotherhood as terrorist group
• UN chief calls for punishing S Sudan rights abusers
• Nigel Farage calls for Syrian refugees to be allowed into UK
Arab World
• Over 300 Al-Qaeda Militants Killed in Eastern Syria
• Army Kills Tens of Militants, Al-Nusra Commander in Western Syria
• S. Arabia Fuelling Sectarian War in Muslim World
• Syria protects people of all faiths against militants: Assad
• 11 FSA Commanders Surrender to Syrian Army in Damascus Countryside
• Iraqi MP Reveals Collaboration between Terrorist ISIL, MKO
• Scores of Militants, Non-Syrians Killed in Douma
• Gunmen attack an anti-Qaeda militia checkpoint in Iraq, kill four
• 40 percent of Saudis 'have no respect for law'
• Assad tells Pope he is 'ready for peace talks'
Africa
• Made in Saudi Arabia: Salafist Radicalism in Africa
• South Sudan rivals under international pressure to end violence
• Rwandan peacekeepers promised to Central African Republic
Southeast Asia
• Muslim group calls New Year revelry Jewish, un-Islamic
• Cross-dressing outlawed in Malaysian state
• Bringing Malaysia together, one art piece at a time
• Khalid must take a stand against churches using 'Allah', says Selangor Umno
Pakistan
• Taliban against rulers, not constitution: Jamiat Ulema Islam, Samiul Haq
• Attack on Shia leader kills two in Karachi
• Convicted: Two get death sentence in blasphemy case
• Convince India on Kashmir solution, Jamaat-e-Islami asks Nawaz
• Conflicting realities: Humanising the war on terror
• "The whole army is with me," defiant Musharraf says
• National conference: Speakers condemn extremist narratives in media
South Asia
• Deadly clashes erupt in Bangladesh as opposition march gets underway
• Jamaat-e-Islami man held with explosives
• 1 dead as fresh violence grips Bangladesh
• Aid groups vow to stay as NATO exits Afghanistan
• 35 of 50 detained Hizb-ut Tahrir men taken on remand
India
• Gujarat riots: Victims say "Modi never protected people during the riots"
• Religious leaders to campaign against homosexuality
• Hindu married to non-Hindu can't get divorce under Hindu Marriage Act: Bombay high court
• Muslim NRIs aim to boost education within community
• Debate on organ donation among Muslim bodies
• Stop bulldozing relief camps, warns Muslim body
North America
• Benghazi US mission attack: 'No direct al-Qaeda role'
• US gains in Afghanistan will see significant rollbacks by 2017, report claims
• Kerry heads to Middle East next week for peace talks: US official
Mideast
• Tehran ready to consider EU opening embassy in Iran
• Israel plans to free another group of 26 Palestine inmates on Monday
• Yemeni court jails 9 for plotting to assassinate president
Compiled by New Age Islam News Bureau
For Details and More Headlines from All Regions, Please click, 'More'
URL: https://www.newageislam.com/islamic-world-news/new-age-islam-news-bureau/female-suicide-bomber-kills-at-least-18-at-russian-train-station/d/35046
-----------
Europe
Female Suicide Bomber Kills At Least 18 at Russian Train Station
AFP | Dec 29, 2013
MOSCOW: At least 18 people were killed and dozens injured on Sunday when a suicide bomber blew herself up in a train station in the Russian city of Volgograd ahead of February's Olympic Games in nearby Sochi.
Regional officials said the woman set off her charge near the metal detectors stationed at the entrance to the city's main train station while it was packed with afternoon travellers.
"It was a very powerful blast," train station store attendant Valentina Petrichenko told the Vesti 24 rolling news channel.
"Some people started running and others were thrown back by the wave of the blast," she said. "It was very scary."
State television footage showed windows blown off across the top two floors of the grey brick building and numerous ambulances gathered at the station's front entrance amid piles of debris and snow.
"Initial indications are that the blast was set off by a female suicide bomber," the national anti-terror committee said in a statement.
Russia's investigative committee spokesman Vladimir Markin said officials had launched an inquiry into a suspected "act of terror".
A regional government spokesman told RIA Novosti news agency that at least 18 people were killed and more than 40 injured in the attack.
But a federal health ministry spokesman told Russian state television that the number of people wounded stood at more than 50.
The city of Volgograd — known as Stalingrad in the Soviet era — was already attacked in October by a female suicide bomber with links to Islamists fighting federal forces in Russia's volatile North Caucasus.
The October 21 strike killed six people aboard a crowded bus and immediately raised security fears ahead of the February 7-23 Winter Games in Sochi.
The Black Sea city lies 690 kilometres (425 miles) southwest of Volgograd and in direct proximity to the violence ravaging North Caucasus regions such as Dagestan and Chechnya on a daily basis.
Militants are seeking to impose an Islamist state throughout Russia's North Caucasus. Their leader Doku Umarov has ordered his foot soldiers to target civilians outside the region and disrupt the Olympic Games.
The Sochi Games' success carries heavy political overtones for the Kremlin amid its efforts to use patriotism to mobilize support for President Vladimir Putin's 14-year rule.
Putin staked his personal reputation on the games' success by lobbying for Sochi's candidacy before the International Olympic Committee and then spending more than $50 billion (36 billion euros) for the event.
Russian authorities have repeatedly vowed to take the highest security precautions in Sochi, and there have been few indications to date of foreign sports fans cancelling their attendance out of security fears.
Female suicide bombers are often referred to in Russia as "black widows" — women who seek to avenge the deaths of their family members in North Caucasus fighting by targeting Russian civilians.
Female suicide bombers set off blasts at two Moscow metro stations in March 2010 that killed more than 35 people.
So-called black widows were also responsible for killing more than 90 people when they took down two passenger jets that took off from a Moscow airport within minutes of each other in 2004.
http://timesofindia.indiatimes.com/world/europe/Female-suicide-bomber-kills-at-least-18-at-Russian-train-station/articleshow/28105548.cms
----------
UK not following Egypt's listing of Brotherhood as terrorist group
Dec 29, 2013
The UK government has hinted it will not follow the Egyptian government's decision to proscribe the Muslim Brotherhood.
The UK hosts a considerable number of Brotherhood members and activists.
After the ouster of Islamist president Mohamed Morsi, who hails from the Muslim Brotherhood, 3 July, and the dispersal of sit-ins staged by his supporters at Rabaa Al-Adawiya and El-Nahda squares in Cairo 14 August, a number of the Islamist movement's spokesmen, members and activists moved to the UK.
The basis on which they have been given the right to reside it the UK is not clear.
On Wednesday, the interim Egyptian government declared the Muslim Brotherhood a terrorist group. The decision allows Article 86 of the Egyptian penal code, which defines terrorism and the penalties for engaging in it, to be invoked against the group.
The UK government did not immediately comment on the decision.
However, a UK Home Office spokeswoman told Ahram Online the UK authorities "are following local law and procedures on proscribing any organisation or group."
The UK has repeatedly called on the Egyptian government not exclude any group from the political process. It has also advised all parties, including the Muslim Brotherhood and all other Islamists, to stick to peaceful protests.
The UK says while it understands the need to maintain security, Egypt's pressing needs can only be met by pursuing a genuinely inclusive political process that involves all sides, rising above self-interest and shunning violence to deliver the reform and democratic transfer the Egyptian people deserve.
In August, UK Foreign Secretary William Hague said any political transition in Egypt should involve a process of dialogue and reconciliation between all political parties in Egypt, including the Muslim Brotherhood.
"A (UK) decision to proscribe an organisation must be based on a belief that it is engaged in terrorism as defined in the Terrorism Act 2000, and it must be proportionate," the spokeswoman added.
Under the UK Terrorism Act 2000, the home secretary may proscribe an organisation if he or she believes it is engaged in terrorism.
Since the terrorism law came into force around 13 years ago, 52 international organisations, including the Egyptian Al-Gamaa Al-Islamiya and Islamic Jihad, are proscribed under UK law.
The law defines any organisation or group as terrorist if it commits or participates in acts of terrorism, prepares for terrorism, promotes or encourages terrorism, including the glorification of terrorism, or is otherwise engaged with terrorism.
The home secretary can take into account the extent of the given organisation's presence in the UK.
Other factors considered include the nature and scale of an organisation's activities, the specific threat that it poses to the UK, the specific threat that it poses to British nationals overseas, the extent of the organisation's presence in the UK, and the need to support other members of the international community in the global fight against terrorism.
The penalties for terrorism offences are a maximum of 10 years in prison and/or a fine decided by the courts.
The spokeswoman refused to say whether the Egyptian government has the right to make a presentation to the UK government asking it to ban the Muslim Brotherhood in the UK.
http://english.ahram.org.eg/NewsContent/1/64/90232/Egypt/Politics-/UK-not-following-Egypts-listing-of-Brotherhood-as-.aspx
----------
UN chief calls for punishing S Sudan rights abusers
Dec 29, 2013
UN Secretary General Ban Ki-moon has reiterated a call for perpetrators of violence in South Sudan to be brought to justice.
"All violence, attacks and human rights abuses must end immediately," Ban's spokesman said in a statement late Saturday.
"The secretary general reminds those responsible that they will be held accountable. He calls on the government and all concerned to ensure the rights and security of civilians are protected," said the statement, issued in New York.
The government on Saturday meanwhile accused sacked former vice president and rebel leader Riek Machar of recruiting up to 25,000 young men of the Nuer tribe in eastern Jonglei state.
But rebel spokesman Moses Ruai Lat denied the allegation, telling AFP that Machar was "not mobilising his tribe", South Sudan's second biggest ethnic group.
Those young people were regular soldiers turning their back on the government and had not been drafted by Machar, he said.
The conflict, fuelled by an old rivalry between President Salva Kiir and Machar, has fanned ethnic differences between Kiir's Dinka group and the Nuer.
The accusations came as East African and Horn of Africa peace brokers set a Tuesday deadline for Kiir and Machar to start face-to-face talks and stop two weeks of fighting that is thought to have left thousands dead in the world's youngest country, which won independence from Sudan in 2011.
The regional grouping the Inter-Governmental Authority on Development is spearheading efforts to end the fierce battles for control over several strategic oil-producing areas notably in the north of South Sudan.
The United Nations, Washington and Beijing are also pressing for talks.
A spokesman for IGAD said President Kiir had on Friday expressed willingness for an "immediate" ceasefire though Machar would not immediately commit to a truce.
The rebel leader said he first wanted a mechanism to monitor any ceasefire as well as the release of all his political allies arrested when trouble first broke out.
Reports of massacres, rapes and murders have emerged in recent days. The United Nations -- whose hard-pressed peacekeepers are to be doubled to more than 12,000 -- said one mass grave had been discovered and large numbers of uncollected bodies were seen outside at least one UN base.
The fighting erupted December 15 after Kiir accused his former vice president of trying to mount a coup. Machar has denied the allegation and retorted that Kiir was trying to eliminate his rivals.
Rebels quickly took control of a few key regional cities including Bentiu, in the northern oil-producing state of Unity, as well as Bor which was recaptured by the army on Tuesday.
The death toll nationwide is said to be several thousand. The United Nations has said more than 120,000 residents have been displaced since the conflict started.
http://voiceofrussia.com/news/2013_12_29/UN-chief-calls-to-punish-S-Sudan-rights-abusers-0766/
----------
Nigel Farage calls for Syrian refugees to be allowed into UK
Dec 29, 2013
The UK should take in some refugees from Syria's civil war, UK Independence Party leader Nigel Farage has said.
He told BBC News that Western countries should agree to take an allocation, but he did not specify numbers.
Mr Farage, who has led opposition to allowing open immigration from Romania and Bulgaria in the new year, said refugees were "a very different thing".
The UK government is refusing to accept Syrian refugees, saying it is better to offer financial help.
BBC political correspondent Arif Ansari said Mr Farage's call was likely to surprise many.
Mr Farage said: "I think refugees are a very different thing to economic migration and I think this country should honour the 1951 declaration on refugee status that was agreed.
"It was agreed with the UN and even through the European Court, which sadly has changed its role.
"But the original ideas of defining what a refugee is were good ones and I think, actually, there is a responsibility on all of us in the free West to try and help some of those people fleeing Syria, literally in fear of their lives."
'Miserably failing'
He said it was time for "a proper debate" about "the difference between a refugee - who fears for his or her life - or somebody moving simply for economic benefit".
While Mr Farage did not put a figure on the estimated nine million Syrians displaced by war who should be allowed into the UK, Labour wants to accept 400 to 500.
On Saturday, the leaders of Britain's three main political parties issued a joint statement backing a UN appeal to raise £4bn to help Syrian refugees.
David Cameron, Ed Miliband and Nick Clegg said the fate of a Syrian generation "hangs in the balance" with four million children caught up in the civil conflict.
The leaders said the UK would add to the £523m it had already committed and urged other nations to do the same.
The UK says its aid is providing support including food, medical care and relief items for people in Syria and to refugees in Lebanon, Jordan, Turkey and Iraq.
In a report released earlier this month, Amnesty International accused European Union leaders of "miserably failing" to provide a safe haven to Syrians.
Only 10 member states had offered to take in refugees and even then only 12,000, it complained.
Italy - like the UK - had offered no places at all, the organisation said.
More than 100,000 people are estimated to have been killed since the unrest began in Syria more than two years ago.
http://www.bbc.co.uk/news/uk-politics-25539843
----------
Arab World
Over 300 Al-Qaeda Militants Killed in Eastern Syria
Dec 29 2013
TEHRAN (FNA)- The Syrian army killed hundreds of Al-Qaeda terrorists and injured hundreds more in heavy clashes in Deir Ezzur countryside.
More than 300 Salafi-Jihadist militants have been killed and over 400 others wounded in heavy clashes with the Syrian army near Deir Ezzur airport and Al-Jofrah village in Eastern Syria.
The clashes are still underway between the Syrian army and the militants of the Al-Nusra Front and Jeish al-Islam.
The conflict in Syria started in March 2011, when sporadic pro-reform protests turned into a massive insurgency following the intervention of western and regional states.
The unrest, which took in terrorist groups from across Europe, the Middle-East and North Africa, has transpired as one of the bloodiest conflicts in recent history.
As the foreign-backed insurgency in Syria continues without an end in sight, the US government has boosted its political and military support to Takfiri extremists.
Washington has remained indifferent to warnings by Russia and other world powers about the consequences of arming militant groups.
http://english.farsnews.com/newstext.aspx?nn=13921008000630
-----------
Army Kills Tens of Militants, Al-Nusra Commander in Western Syria
Dec 29 2013
TEHRAN (FNA)- The Syrian army killed tens of militants, including an Al-Nusra Front commander, in Homs countryside in Western Syria on Sunday.
The army units killed Abideh Al-Naq, an Al-Nusra Front ringleader, along with more than 30 other terrorists in Bab Hood town in Homs countryside.
The Syrian army also destroyed three vehicles of the militants in Housh Al-Daqli district of al-Saan region in Homs countryside, and killed more than 20 terrorists in heavy clashes in the area.
Full report at:
http://english.farsnews.com/newstext.aspx?nn=13921008001274
-----------
S. Arabia Fueling Sectarian War in Muslim World
Dec 29 2013
TEHRAN (FNA)- Saudi Arabia and Persian Gulf monarchies are sponsoring a sectarian war in the Middle East region through supporting extremists' presence in social networks such as YouTube, the Independent said.
"Anti-Shiite hate propaganda spread by Sunni religious figures sponsored by, or based in, Saudi Arabia and (Persian) Gulf monarchies, is creating the ingredients for a sectarian civil war engulfing the entire Muslim world," Patrick Kockburn said in an article for the Independent.
Cockburn added that the brutalities of Al-Qaeda affiliates in Syria and Iraq now has extended from Baghdad to Beirut and their anti-Shiite hostility threatens to set the whole region on fire.
Full report at:
http://english.farsnews.com/newstext.aspx?nn=13921008000897
-----------
Syria protects people of all faiths against militants: Assad
Dec 29 2013
President Bashar al-Assad has sent a message to Pope Francis, saying that Damascus is determined to protect Syrians of all religions against the Takfiri militants operating inside Syria.
The message was delivered during a meeting between a Syrian government delegation that held talks at the Vatican with the Vatican Secretary of State Pietro Parolin and foreign affairs official Dominique Mamberti.
Assad expressed the Syrian government's "determination to exercise its right to defend all its citizens, whatever their religion, against the crimes committed by the Takfiri bands who attack them in their homes, in their places of worship and in their neighborhoods."
The Syrian president also stated that the ongoing crisis in Syria could be resolved only by a "national dialogue between Syrians without foreign interference, because the Syrian people is the sole master of its own destiny and it alone should its leadership."
Full report at:
http://www.presstv.ir/detail/2013/12/29/342518/syria-defends-people-of-all-faiths-assad/
-----------
11 FSA Commanders Surrender to Syrian Army in Damascus Countryside
Dec 29 2013
TEHRAN (FNA)- A sum of 11 commanders of the Free Syrian Army (FSA) surrendered themselves to the Syrian army in Moazamieh town in Damascus countryside.
Syrian Minister of State for National Reconciliation Affairs Ali Haidar left Moazamieh region in Damascus countryside on Saturday while five FSA commanders who had surrendered themselves to the Syrian army were accompanying him.
Also in the last 24 hours, the Syrian army killed two notorious commanders of Al-Qaeda-affiliated groups in Daraa in the Southern parts of the country near the border with Jordan.
Abdullah Kerman, commander of Qoraish Eagle Battalion, was killed by the Syrian army's snipers near Al-Watani hospital in Jassem town in Daraa.
Full report at:
http://english.farsnews.com/newstext.aspx?nn=13921008000405
-----------
Iraqi MP Reveals Collaboration between Terrorist ISIL, MKO
Dec 29 2013
TEHRAN (FNA)- A senior Iraqi lawmaker disclosed that the Al-Qaeda-linked Islamic State of Iraq and the Levant (ISIL) and the terrorist Mojahedin-e Khalq Organization (MKO, also known as MEK, NCRI or PMOI) have collaborated in a plot to attack the guards of Liberty Camp near Baghdad and project the blame on the Iraqi government.
"There has been an agreement between the MKO and other terrorist groups, specially the ISIL, which are present near the capital, specially in Abu Ghraib, to attack the Liberty Camp and then accuse the Iraqi government of bearing the responsibility," Mohammad al-Agili said on Sunday after the Iraqi government strongly rejected involvement in the attack.
He underlined that Iraq is opposed to the presence of the MKO terrorists on its soil, and said, "Protecting them is a heavy burden on the shoulders of the Iraqi security forces."
A rocket attack earlier this week killed three members of the MKO and injured a number of others at Camp Liberty in Baghdad.
Full report at:
http://english.farsnews.com/newstext.aspx?nn=13921008000553
-----------
Scores of Militants, Non-Syrians Killed in Douma
Dec 29 2013
TEHRAN (FNA)- Syrian army units on Sunday destroyed militants' dens and gatherings in Douma, in Damascus Countryside, killing scores of them, a military source said.
Some of the killed terrorists, most of whom non-Syrians, belong to the so-called 'Islam Battalion', the military source said.
According to the source, bodies of the terrorists Mahdi al-Oneizi, Salim al-Shummari, Ayed al-Fahd, Boushar Tandar, Abdullah al-Bakkar, Saif al-Darawneh and Oweid al-Meshaal were identified among the killed terrorists.
http://english.farsnews.com/newstext.aspx?nn=13921008000994
-----------
Gunmen attack an anti-Qaeda militia checkpoint in Iraq, kill four
Dec 29, 2013
Gunmen attacked an anti-Qaeda militia checkpoint west of the Iraqi capital on Sunday, killing at least four fighters, security and medical officials said.
The attack on a Sahwa militia checkpoint in the Abu Ghraib area also wounded at least three more fighters, the officials said.
The Sahwa are made up of Sunni Arab tribesmen who joined forces with the United States from late 2006, helping to bring about a significant reduction in violence.
They are frequently targeted by Sunni Muslim militants, who consider them traitors.
In Baghdad itself, a roadside bomb exploded in the Jihad area, killing at least two people and wounding six, officials said.
Full report at:
http://voiceofrussia.com/news/2013_12_29/Gunmen-attack-an-anti-Qaeda-militia-checkpoint-in-Iraq-kill-four-5567/
-----------
40 percent of Saudis 'have no respect for law'
Dec 29, 2013
RIYADH – Experts have said nearly 40 percent of citizens have negative attitudes toward the law due to what they described as general ignorance and a culture that does not hold violators accountable, Al-Hayat newspaper reported on Saturday.
Citing the Kingdom's traffic laws as an example, the experts said traffic laws are not respected because they are not available in print for citizens to read and act accordingly.
"Bad behavior is caused by ignorance of the dangers involved, lack of punishment or because there are no monitoring bodies. Society lacks the necessary guidance to follow the law and deterrents for disobeying the law," said an expert.
Full report at:
http://www.saudigazette.com.sa/index.cfm?method=home.regcon&contentid=20131229190813
-----------
Assad tells Pope he is 'ready for peace talks'
Dec 29, 2013
Syrian President Bashar Assad, in a private message to Pope Francis, said the Syrian government is ready to participate in the Geneva-2 peace conference next month. However, Assad added that outside countries 'must stop supporting terrorist groups in the country's civil war,' reports Syria's state-run news agency. "The crisis will be solved through national dialogue among the Syrians and under a Syrian leadership, without foreign intervention so as to enable the Syrians to determine their future and leadership through ballots," the message stated. The Syrian president also expressed his appreciation for how Pope Francis has recently called upon ceasing violence and suffering in Syria, state-run SANA reported.
http://rt.com/news/line/2013-12-29/#53607
-----------
Africa
Made in Saudi Arabia: Salafist Radicalism in Africa
Dec 29 2013
TEHRAN (FNA)- Hardline Wahhabi radicalism, nurtured by Saudi Arabia's vast oil wealth, is spreading through Africa at a rapid pace.
Radical Salafist and Wahhabist groups with names like Boko Haram, Seleka, and Uamsho, unheard of a decade ago, are massacring Christians during church assemblies, razing Christian villages, and assassinating moderate Islamic clerics. Of course, this Saudi-made mayhem is a godsend for the US Africa Command (AFRICOM), which can point to the spread of «Al-Qaeda»-linked terrorism to Africa as a reason to increase America's military presence on the continent and add armed muscle behind Uncle Sam's quest for Africa's oil, natural gas, and mineral resources…
While US leaders like President Barack Obama, Secretary of State John Kerry, Secretary of Defense Chuck Hagel and others continue to kowtow to Saudi Arabia's misogynist princelings, including the head of Saudi intelligence, Prince Bandar bin Sultan, the Second US Circuit Court of Appeals in New York has ruled that families of the victims of the 9/11 attack can sue the government of Saudi Arabia for providing material support to the hijackers. In 2005, a federal judge dismissed plaintiff claims against Saudi Arabia ruling that Saudi Arabia enjoyed immunity from such claims pursuant to the Foreign Sovereign Immunities Act. That decision has not been overturned by the federal appellate court.
Full report at:
http://english.farsnews.com/newstext.aspx?nn=13921007001350
-----------
South Sudan rivals under international pressure to end violence
AFP | Dec 29, 2013
JUBA: International pressure bore down on the two sides on Saturday in South Sudan's bloody violence to open peace talks to keep the young nation from sliding into civil war.
East African and Horn of Africa peace brokers gave until December 31 for President Salva Kiir and de facto rebel leader Riek Machar, whom Kiir sacked as vice-president in July, to start face-to-face talks and stop two weeks of fighting that is thought to have left thousands dead.
"We, government, are ready to meet even before that," South Sudan's Vice-President James Wani Igga told reporters. "It's now up to Machar to accept the ceasefire."
The government on Saturday reiterated accusations that Machar was mobilizing thousands of youths to attack its interests.
Full report at:
http://timesofindia.indiatimes.com/world/rest-of-world/South-Sudan-rivals-under-international-pressure-to-end-violence/articleshow/28084957.cms
----------
Rwandan peacekeepers promised to Central African Republic
AP | Dec 29, 2013
DAKAR, Senegal: The African Union's commissioner for peace and security has announced that a contingent of Rwandan peacekeepers will deploy to the Central African Republic, where nine other peacekeepers have been killed in less than a month.
After touring the country's troubled capital on Saturday, Smail Chergui said that the Rwandan troops will join the 3,800 African Union peacekeepers already stationed there as early as January 2014.
Full report at:
http://timesofindia.indiatimes.com/world/rest-of-world/Rwandan-peacekeepers-promised-to-Central-African-Republic/articleshow/28083830.cms
--------
Southeast Asia
Muslim group calls New Year revelry Jewish, un-Islamic
BY BOO SU-LYN
DECEMBER 29, 2013
KUALA LUMPUR, Dec 29 — A Muslim group has urged Putrajaya to cancel New Year's Day celebrations, saying that such festivities reflect "Jewish" culture more than Islamic living.
Datuk Mustapha Idrus, president of the Malaysia International Institute of Islamic Cooperation (Ikiam), was reported by Malay daily Sinar Harian today as saying that celebrating New Year's Day would cause Muslim youth to commit sin.
"The celebrations will have excessive entertainment, which can cause the majority of Muslim youth to let their guard down and commit a lot of sin," Mustapha was quoted as saying.
"It is not just a matter of culture, but it is also time for the government to save money, seeing that the cost of living is going up. The government needs to look at the necessity of such events. Celebrating New Year's Day alone will cost millions of ringgit," he added.
Penang Mufti Datuk Seri Hassan Ahmad also reportedly said that it was better to celebrate the new year next week the Islamic way, rather than the "Western" method.
Full report at:
http://www.themalaymailonline.com/malaysia/article/muslim-group-calls-new-year-revelry-jewish-un-islamic#sthash.WCze43zT.dpuf
-----------
Cross-dressing outlawed in Malaysian state
Dec 29, 2013
Kuala Lumpur (dpa) - An Islamic state in Malaysia has decreed cross-dressing a criminal offence punishable by jail, news reports said Friday.
Under an amendment to the Sharia Criminal Offences Enactment, in force since December 1, any Muslim caught dressed as the opposite sex faces up to one year in jail and a possible fine of 1,000 ringgit (300 dollars), the Harian Metro daily reported.
"Before, we could only arrest them and advise them to change, but this has not brought any results," Pahang state Islamic Religious Council Deputy President Wan Wahid Wan Hassan was quoted as saying."Instead the phenomenon has become widespread."
Full report at:
http://www.nationmultimedia.com/breakingnews/Cross-dressing-outlawed-in-Malaysian-state-30223119.html
------------
Bringing Malaysia together, one art piece at a time
Dec 29, 2013
As 2013 draws to a close, Malaysia has seen its fair share of events with people who either inspire or bring despair to the country. It has been a year where some feel a sense of entitlement, that it is their way or the highway, that they have to make a name for themselves no matter what and where the little people's hopes have risen and have also been shattered. Yet, there are the few who do good work quietly to help their fellow man, to make Malaysia a better place. Over the next few days, The Malaysian Insider will feature some of them – Malaysia's Inspiring People 2013 – the ordinary heroes who never cease to amaze us with their perseverance, diligence, empathy and vision for a happier nation.
A Penang pothole is framed. Dirty walls in Johor Baru are "fixed" with some murals before the city council whitewashes them.
Full report at:
http://www.themalaysianinsider.com/malaysia/article/bringing-malaysia-together-one-art-piece-at-a-time
-----------
Khalid must take a stand against churches using 'Allah', says Selangor Umno
Dec 29, 2013
The Selangor menteri besar must direct the state religious authorities to act against churches using the word "Allah", said Umno Selangor.
State Umno liaison secretary Datuk Johan Abdul Khalid wants Tan Sri Khalid Ibrahim (pic), who is the executive councillor in charge of religious affairs, to direct the Selangor Islamic Religious Department (Jais) to look into the matter "since the sultan of Selangor has decreed that non-Muslims cannot use the word in the state".
Urging Jais to act against those who defied the decree, Johan was quoted by the Sunday edition of Berita Minggu that any move to counter the decree was an act of treason. Johan who is Semenyih assemblyman said Umno would hold a rally if Khalid and Jais failed to take any action on the issue.
Full report at:
http://www.themalaysianinsider.com/malaysia/article/khalid-must-take-a-stand-against-churches-using-allah-says-selangor-umno
---------
Pakistan
Taliban against rulers, not constitution: Jamiat Ulema Islam, Samiul Haq
Dec 29, 2013
LAHORE - Chief of his own faction of Jamiat Ulema Islam, Samiul Haq has said that the impression that Taliban do not accept the constitution of Pakistan is wrong.
Addressing a press conference Saturday after a meeting of party office bearers at Masjid Kubra, the JUI-S chief said that the Taliban are against the government which was not enforcing Sharia in the country. He said the constitution of the country guaranteed Islamic system, and Taliban believe the rulers were rebels of Islam.
Sami clarified that no talks were underway between the government and the Taliban because, he alleged, the government was under US pressure for not to hold peace negotiations with TTP. He said Taliban were demanding sureties for their security and that of other citizens against the implementation of US agenda in the country, but government was unable to guarantee that Pakistan would be free from US dictation and control.
Full report at:
http://www.nation.com.pk/national/29-Dec-2013/taliban-against-rulers-not-constitution-sami
-----------
Attack on Shia leader kills two in Karachi
2013-12-29
KARACHI: At least two people were killed and another one injured when unidentified gunmen opened fire at the vehicle of a Shia leader in an apparent sectarian attack in Karachi's Gulistan-e-Jauhar neighbourhood on Saturday night, DawnNews reported.
Initial reports suggest Mirza Yousuf, a leader of Majlis Wahdatul Muslimeen (MWM) remained unhurt in the attack. However, one of his personal guards and a policeman were killed and an aide of Yousuf sustained wounds.
Unidentified attackers managed to flee away from the site after police personnel, deployed for the MWM leader's security, responded with retaliatory gunfire.
Condemning the attack, MWM chief Allama Nasir Abbas and Millat-i-Jafaria Pakistan leader Allama Sajid Ali Naqvi demanded the government to arrest the culprits behind the attack at earliest.
Full report at:
http://www.dawn.com/news/1076946/attack-on-shia-leader-kills-two-in-karachi
-----------
Convicted: Two get death sentence in blasphemy case
December 29, 2013
MULTAN: Additional Sessions Judge Chaudhry Zafar Iqbal on Saturday awarded death sentences to two men he found guilty of blasphemy.
According to the prosecution, Riaz Ahmed, 34, and Ijaz Ahmed, 38, residents of Haroonabad, devotees of Chaman Sarkar in Gujrat district, had claimed in 2011 that they had seen God.
Qari Muhammad Ahmed, 27, the complainant, a resident of Haroonabad, said that the convicts had also invited other people to join them in their union with God through Chaman Sarkar.
Full report at:
http://tribune.com.pk/story/652001/convicted-two-get-death-sentence-in-blasphemy-case/
-----------
Convince India on Kashmir solution, Jamaat-e-Islami asks Nawaz
December 29, 2013
LAHORE - Jamaat-e-Islami chief Syed Munawwar Hassan impressed upon Prime Minister Nawaz Sharif to convince New Delhi for the solution of Kashmir issue. "The dispute must be settled as it is imperative for a lasting peace in the region and cordial relations between the two neighbouring countries," he added.
A delegation of the Kashmiris led by Ghulam Muhammad Safi called on him at Mansoora on Saturday.
The JI leader said that talks with India could not be successful without resolving the Kashmir issue. He said the PM should make it clear to New Delhi that peace talks would remain meaningless unless the issues of Kashmir and river waters were not addressed.
Full report at:
http://www.nation.com.pk/lahore/29-Dec-2013/convince-india-on-kashmir-solution-ji-asks-nawaz
---------
Conflicting realities: Humanising the war on terror
December 29, 2013
ISLAMABAD: No consensus on the number of Pakistani lives claimed by the "war on terror" has been reached as yet, said Senator Afrasiab Khattak of the Awami National Party (ANP) on Friday.
Speaking at a special lecture on "War and Humanitarianism: Widows, Orphans, Kinship in Contemporary Afghanistan" at the Sustainable Development Policy Institute (SDPI), he highlighted instances of dehumanisation which occur in conflicts. This is exacerbated when even government departments cannot concur on one figure for casualties of conflict. The lecture was delivered by Dr Anila Daulatzai, a visiting scholar from John Hopkins University, USA.
Full report at:
http://tribune.com.pk/story/652041/conflicting-realities-humanising-the-war-on-terror/
-----------
"The whole army is with me," defiant Musharraf says
2013-12-29
ISLAMABAD: Pakistan's former military ruler Pervez Musharraf on Sunday denounced treason charges against him as a "vendetta", and said he had the backing of the country's powerful army.
The 70-year-old told reporters the "whole army" was upset with the treason allegations, in his first comments to international media since he was put under house arrest in April.
The treason claims are the latest and potentially most serious in a flurry of criminal cases relating to Musharraf's nine-year rule that he has faced since returning to Pakistan in March.
The case puts the government on a possible collision course with the all-powerful army, which is seen as being reluctant to witness its former chief suffer the indignity of being tried by a civilian court.
Full report at:
http://www.dawn.com/news/1077140/the-whole-army-is-with-me-defiant-musharraf-says
-----------
National conference: Speakers condemn extremist narratives in media
December 29, 2013
BHURBAN: The hall with over 100 participants resounded with applause on Friday, when a participant at a media seminar read a poem about intolerance. "Jo hum kehte hein yeh bhi kyun nahi kehta, yeh kafir hai; humra jabr yeh haans kar nahi sehta,yeh kafir hai (Why doesn't he, too, say what I do, he is a non-believer; he doesn't put up with our oppression with a smile, he is a non-believer).
The participants were attending the South Asian Free Media Association's sixth national conference in Bhurban. The two-day conference, organised in collaboration with the South Asian Women's Network, has been centered on media and extremist narratives, and an alternative pedagogy of tolerance.
Full report at:
http://tribune.com.pk/story/652049/national-conference-speakers-condemn-extremist-narratives-in-media/
-----------
South Asia
Deadly clashes erupt in Bangladesh as opposition march gets underway
Dec 29, 2013
Bangladesh police fired water cannon and shotguns at opposition protesters in the capital Sunday, killing one person, at the start of a banned mass march aimed at thwarting next month's general election.
Hundreds of demonstrators, some throwing home-made bombs, battled police as they tried to gather at the opposition's headquarters and other places throughout Dhaka for the so-called "March for Democracy".
Some 11,000 police and elite Rapid Action Battalion officers were patrolling the capital to try to halt the march, Dhaka police spokesman Masudur Rahman told AFP.
Police have detained more than 1,000 opposition supporters as a "preventive measure", while authorities have suspended Dhaka-bound bus, ferry and train services -- virtually cutting off the city from the rest of the country.
Full report at:
http://www.hurriyetdailynews.com/deadly-clashes-erupt-in-bangladesh-as-opposition-march-gets-underway.aspx?pageID=238&nID=60257&NewsCatID=351
----------
Jamaat-e-Islami man held with explosives
Dec 29, 2013
Police arrested a Jamaat-e-Islami man with explosives, bomb-making materials and sharp weapons from Satkahania Upazila, Chittagong early on Sunday.
The man was held in possession of 400g of gunpowder, 2kg lead, three machetes and a saw from Chaumohoni area around 2am, police said.
Satkania police Officer-in-Charge Mohammad Shahjahan confirmed the arrest and the haul. However, he could not give the name of the arrestee in initial reports.
The man was shown arrested in a case of recent violence on Chittagong-Cox's Bazar highway.
Meanwhile, 26 more activists of Jamaat and its student wing Islami Chhatra Shibir were arrested in a separate post-midnight drive, the official said.
Full report at:
http://www.dhakatribune.com/bangladesh/2013/dec/29/jamaat-man-held-explosives#sthash.JiY1Zok2.dpuf
-----------
1 dead as fresh violence grips Bangladesh
Dec 29 2013
Dhaka : Security forces and opposition activists clashed in the Bangladeshi capital on Sunday, leaving at least student dead, as thousands of police took to the streets to foil a mass rally calling on Prime Minister Sheikh Hasina to cancel next month's elections.
Hasina's rival, former Prime Minister Khaleda Zia, was expected to address the rally later Sunday in defiance of a government ban on large political gatherings.
Security officials surrounded Zia's home in Dhaka's upscale Gulshan area, where most foreign embassies are located, and parked sand-laden trucks apparently to obstruct any attempt by Zia to leave her home.
Full report at:
http://www.indianexpress.com/news/1-dead-as-fresh-violence-grips-bangladesh/1213002/
-----------
Aid groups vow to stay as NATO exits Afghanistan
Dec 29, 2013
Darwazagi (Afghanistan) (AFP) - As NATO forces pack up and shift out of Afghanistan, aid groups are determined to avoid following them, but they face rising militant attacks and uncertainty over funding.
Projects working on everything from clean water to skateboarding parks sprung up in Afghanistan after the Taliban were ousted in 2001.
Now, many Afghans fear that the end of the NATO military mission next year will see a pullout of all but the most resilient programmes, putting at risk the fragile gains of the last 12 years.
"The international soldiers left here a year ago," said Noor Mohammed, an elderly man in Kapisa province, north of Kabul.
Full report at:
http://au.news.yahoo.com/world/a/20525517/aid-groups-vow-to-stay-as-nato-exits-afghanistan/
-----------
35 of 50 detained Hizb-ut Tahrir men taken on remand
Dec 29, 2013
A Dhaka court yesterday allowed police remand for 35 of the 50 Hizb-ut Tahrir men detained following a clash between law enforcers and the banned militant outfit's members in the capital's Segunbagicha on Friday.
A 10-day remand prayer sought by Ramna police for eight of the remaining 15 detainees will be heard on January 5.
Full report at:
http://www.thedailystar.net/city/35-of-50-detained-hizb-ut-tahrir-men-taken-on-remand-4497#.Us39IdJDsqM
-----------
India
Gujarat riots: Victims say "Modi never protected people during the riots"
TNN | Dec 29, 2013
AHMEDABAD: Narendra Modi may have felt "liberated and at peace" by a court's endorsement of the 2002 clean chit, but the pogrom's actual victims say his words offer them neither solace not liberation from trauma. After the verdict was delivered, Modi posted a blog in which he said he was "shaken to the core" by the events of 2002. The victims don't believe that. Their skepticism about his anguish is shared by activists and the principal opposition party in Gujarat.
"Modi never protected people during the riots," said Imtiyaz Khan Pathan, a survivor of the Gulbarg Society massacre. "His police continued to target Muslims in 2002 for months. He now claims that he was pained, but his actions till date tell a different story." Pathan said Modi never visited the victims and his administration was hostile to survivors and unwilling to give compensation for deaths and the loss of property. "His expression of grief is not going to appeal to us," Pathan said. "Those who killed our dear ones must be punished; that's what matters."
Full report at:
http://timesofindia.indiatimes.com/india/Gujarat-riots-Narendra-Modis-anguish-an-act-victims-say/articleshow/28066876.cms
-----------
Religious leaders to campaign against homosexuality
TNN | Dec 29, 2013
NEW DELHI: Religious leaders opposed to Congress-led UPA government's move to review the Supreme Court's decision to uphold Section 377 that criminalizes homosexuality will join a convention, organized by Jamaat-e-Islami Hind, on Sunday to campaign against homosexuality.
Besides Jamaat president Maulana Syed Jalaluddin Umari, religious leaders participating in the convention at the India Islamic Cultural Centre (IIIC) include Shankaracharya Omkarananda Saraswati of Prayag Peeth, Akal Takht jathedar Singh Saheb Gurwachan Singh, Acharya Dr Lokesh Muni of the Ahimsa Vishwa Dharma, Father M D Thomas, Shahi Imam of Fatehpuri Masjid Maulana Mufti Mukarram Ahmed and Delhi minorities commission chairman Safdar H Khan.
Full report at:
http://timesofindia.indiatimes.com/india/Religious-leaders-to-campaign-against-homosexuality/articleshow/28072643.cms
-----------
Hindu married to non-Hindu can't get divorce under Hindu Marriage Act: Bombay high court
PTI | Dec 28, 2013
MUMBAI: The Bombay high court has held that a Hindu married to a non-Hindu in accordance with Hindu rituals cannot seek divorce under the Hindu Marriage Act.
Accordingly, a bench headed by Justice VK Tahilramani upheld a family court order which rejected a petition filed by Niranjani Roshan Rao, a Hindu, seeking divorce from husband Roshan Pinto on the ground that he was a Christian at the time of marriage and was professing the same religion till today.
As the family court rejected her petition, she moved the high court, which, on December 24, rejected her appeal and upheld the lower court order.
"We are of the view that an order passed by the learned judge of the family court is perfectly legal and calls for no interference in exercise of appellate jurisdiction," said the bench while dismissing the appeal.
Full report at:
http://timesofindia.indiatimes.com/india/Hindu-married-to-non-Hindu-cant-get-divorce-under-Hindu-Marriage-Act-Bombay-high-court/articleshow/28062659.cms
-----------
Muslim NRIs aim to boost education within community
TNN Dec 28, 2013
GUWAHATI: Muslim NRIs living in the US have come out in support of Muslim volunteers working for the betterment of the minority community in the northeast.
In a novel endeavour aimed at boosting education among Muslims in the northeast, Muslim NRIs wish to spread a ray of hope among the community beset by poverty, illiteracy and riots. The American Federation of Muslims of Indian Origin (AFMI) will provide financial assistance to 133 meritorious Muslim students from various parts of the country, including the northeast.
Deserving students will be honoured for their performance in Class X and XII state board exams during the organization's two-day 22nd international convention on education.
The gathering, which will also include an award ceremony, will be held here from Saturday. The event has been organized in association with the Ajmal Foundation and Markazul Ma'arif, an NGO based in Hojai in Assam's Nagaon district.
Full report at:
http://articles.timesofindia.indiatimes.com/2013-12-28/guwahati/45651731_1_indian-muslims-afmi-northeast
-----------
Debate on organ donation among Muslim bodies
TNN | Dec 29, 2013
KOZHIKODE: Muslim Service Society (MSS) has initiated a discussion among various Muslim organizations to arrive at a consensus on organ donation.
"We organised a seminar on the issue in Kozhikode last Thursday and it was attended by representatives of major Muslim organisations. Majority of participants were in favour of organ donation," said P Muhammad Koya, general secretary of MSS.
According to Koya, there has been no restriction on organ donation in Islam. "The religion does not say 'yes' or 'no' on the issue. So there is no bar on organ donation. We are planning to contact leaders of all organisations to form a unified opinion on the matter," he said.
MSS will launch a state-level eye donation drive in the coming days. "Our district committees have been asked to collect the letters of consent for eye donation," he said.
Abdul Hameed Faizi Ambalakkadavu, general secretary of Sunni Yuvajana Sangham, however, said there has not been any authoritative opinion on the issue. "There are final answers in Islam on issues that are ages old. But no definite answer can be given on new-age issues," he said.
Full report at:
http://timesofindia.indiatimes.com/city/kozhikode/Debate-on-organ-donation-among-Muslim-bodies/articleshow/28066804.cms
-----------
Stop bulldozing relief camps, warns Muslim body
Dec 29 2013
Lucknow : Azamgarh-based Rashtriya Ulama Council (RUC) Saturday warned the UP government to stop bulldozing the camps at Muzaffarnagar.
"To hide its failures, the state government is resorting to all sorts of tactics. But, the government's latest act of bulldozing camps is the limit of injustice," RUC president Maulana Aamir Rashadi Madani said.
"Stop the bulldozers, stop the stupid comments on madarsas, on the NGOs that are working in relief camps and on those living in camps. Else, we are ready to take to the streets," Madani added.
http://www.indianexpress.com/news/stop-bulldozing-relief-camps-warns-muslim-body/1212895/
-----------
North America
Benghazi US mission attack: 'No direct al-Qaeda role'
Dec 29, 2013
Al-Qaeda had no direct involvement in the September 2012 attack on the US consulate in the Libyan city of Benghazi, according to a New York Times investigation.
The US ambassador to Libya, Chris Stevens, was killed when gunmen stormed the compound and set it on fire.
Some US Republicans accuse the Obama administration of failing to admit the involvement of terrorist groups.
But the New York Times (NYT) says a local Islamist militia leader was key.
The paper bases its report on months of interviews with local residents who have extensive knowledge of the events of 11 September 2012 and American officials linked to a criminal investigation.
Full report at:
http://www.bbc.co.uk/news/world-africa-25540732
----------
US gains in Afghanistan will see significant rollbacks by 2017, report claims
Reuters | Dec 29, 2013
WASHINGTON: A new US intelligence estimate predicts that gains the United States and allies have made in the Afghanistan war in the past three years will be significantly rolled back by 2017, even if some US troops remain, the Washington Post reported on Saturday, citing officials familiar with the report.
The National Intelligence Estimate also predicts that Afghanistan will quickly fall into chaos if Washington and Kabul fail to sign a security pact to keep an international military contingent there beyond 2014, the newspaper said. The pact must be signed for the United States and its allies to provide billions more dollars in aid to the impoverished country.
Full report at:
http://timesofindia.indiatimes.com/world/us/US-gains-in-Afghanistan-will-see-significant-rollbacks-by-2017-report-claims/articleshow/28096629.cms
----------
Kerry heads to Middle East next week for peace talks: US official
Reuters | Dec 29, 2013
WASHINGTON: Secretary of state John Kerry will return to Israel and the Palestinian territories for peace talks next week, the state department said on Saturday, in a visit that will come days after Israel is due to free another group of Palestinian prisoners.
Kerry will travel to Jerusalem and Ramallah on Wednesday for more talks with Israeli Prime Minister Benjamin Netanyahu and Palestinian President Mahmoud Abbas, resuming his intensive shuttle diplomacy after a Christmas break.
"In these meetings, he will discuss the ongoing final status negotiations between the Israelis and Palestinians, among other issues," State Department spokeswoman Jen Psaki said in a statement.
Full report at:
http://timesofindia.indiatimes.com/world/us/Kerry-heads-to-Middle-East-next-week-for-peace-talks-US-official/articleshow/28075832.cms
---------
Mideast
Tehran ready to consider EU opening embassy in Iran
Dec 29, 2013
Iran is ready to consider opening the European Union (EU) embassy in the Iranian capital Tehran if the EU submits a formal request, Iranian Foreign Ministry spokeswoman said here on Saturday.
"Given the importance and capacities of the Islamic Republic of Iran in the region, some members of the EU have expressed willingness to open a (diplomatic) mission in Tehran," the spokeswoman Marzieh Afkham told Tasnim News Agency.
"In case Tehran receives a formal request (from the EU) in this regard, it is prepared to study the issue within the framework of the current relations," she was quoted as saying.
Western media reported that the EU member states have shown willingness to open an embassy in Iran.
Full report at:
http://voiceofrussia.com/news/2013_12_29/Tehran-ready-to-consider-EU-opening-embassy-in-Iran-0620/
--------
Israel plans to free another group of 26 Palestine inmates on Monday
Dec 29, 2013
The 26 Palestinian prisoners Israel has agreed to free as part of ongoing peace talks will be released on Monday, a source in Israeli Prime Minister Benjamin Netanyahu's office said.
Netanyahu had agreed to the release of 104 Palestinian prisoners in line with commitments to the US-backed peace talks, which resumed in July, and groups have been freed on August 13 and October 30.
"Their release should come on Monday night after the 48-hour delay given for appeals from victims' families to the supreme court," the official in Netanyahu's office told AFP on condition of anonymity.
Full report at:
http://voiceofrussia.com/news/2013_12_29/Israel-plans-to-free-Monday-another-batch-of-26-Palestine-inmates-9058/
-----------
Yemeni court jails 9 for plotting to assassinate president
Dec 29, 2013
A Yemeni court Sunday handed prison sentences ranging between two and ten years to nine Yemenis in connection with an alleged plot to assassinate President Abd Rabbuh Mansour Hadi.
The authorities had arrested the nine people believed to be members of al-Qaeda a few months ago and accused them of planning to assassinate the Yemeni president.
A judicial source said Sunday's verdicts are not final and that they can be appealed.
Yemen has been in a state of relative chaos since the ouster of long-serving president Ali Abdullah Saleh in 2012.
In recent months, scores of Yemeni security personnel and tribesmen have been killed in attacks by suspected Al-Qaeda-linked people.
http://www.worldbulletin.net/?aType=haber&ArticleID=125881
-----------
URL: https://www.newageislam.com/islamic-world-news/new-age-islam-news-bureau/female-suicide-bomber-kills-at-least-18-at-russian-train-station/d/35046