New Age Islam News Bureau
13 March 2020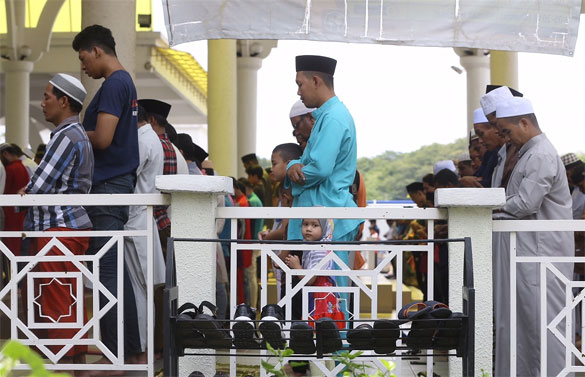 According to the Office of the Federal Territory Mufti the use of alcohol-based hand sanitiser is permissible when performing prayers as it is considered a necessity and forgivable. — Picture by Zuraneeza Zulkifli
---------
• ISIS 'Trying To Exploit' Growing Hindu-Muslim Tensions in India
• NPR Not to Mark Any Citizen 'Doubtful'; No Documents Need To Be Furnished: Amit Shah
• 76 Muslim, 25 Hindu Couples Marry At Belagavi Madrasa, Al Arabia Anwarul Ulooma
• Racism Challenges Pakistan Media's Reporting Of Minorities
• In Afghanistan, a New 'Great Game' With ISIS, ISK And Pakistan Is On With A Vengeance
• King Salman Cites Arab Parliament for Continuing Defence of Arab Issues and Confronting Extremism
• Flowers and Messages of Support Adorn NZ Mosque for Shooting Anniversary
• Iran Sends Letter to UN Chief on Need to Remove US Sanctions to Fight against Coronavirus
• UAE Pouring Arms, Military Supplies Into Libya despite UN Arms Embargo: Report
Southeast Asia
• Federal Territory Mufti: Alcohol-Based Sanitiser Can Be Used When Performing Prayers
• ISIS 'Trying To Exploit' Growing Hindu-Muslim Tensions in India
• Minister Says Communal Friday Prayers to Continue For Now, Will Revise Policy If Covid-19 Worsens
• 2 Singaporeans who attended religious event in Malaysia confirmed to have COVID-19; MUIS closes mosques, suspends Friday prayers
• Dr M calls PAS un-Islamic for breaking promise to support him as PM
• Muslims must bear in mind consequences of spreading untruths
--------
India
• NPR Not to Mark Any Citizen 'Doubtful'; No Documents Need To Be Furnished: Amit Shah
• 76 Muslim, 25 Hindu Couples Marry At Belagavi Madrasa, Al Arabia Anwarul Ulooma
• Deoband Anti-CAA Protest On Despite Rain, COVID-19 Scare
• 'Scared for Our Brothers': Aali Village's Hindus and Muslims Stand Shoulder to Shoulder
• Indian Police Deliberately Targeted Muslims during Delhi Riots: NYT Report
• India-Iran relations face test following Delhi riots
• Over Rs 5-crore relief given to riot victims: Delhi government
• Iran evacuees set to be isolated in Jaisalmer
• Indonesia-Based NGO Linked To Hafiz Saeed Funded Delhi Riots: Report
--------
Pakistan
• Racism Challenges Pakistan Media's Reporting Of Minorities
• Jamaat-i-Islami Emir Seeks Budgetary Allocation for Seminaries
• Pak anti-corruption watchdog arrests one of Jang Group's owners
• PML-N members say "no fissures" in party ranks in absence of Sharifs
• UMT holds 5th Global Forum on Islamic Economics, Finance and Banking
• Army deployed at Taftan to screen pilgrims returning from Iran
• IHC gives amicus curie time to submit written response in pleas against PTI ordinances
--------
South Asia
• In Afghanistan, a New 'Great Game' With ISIS, ISK And Pakistan Is On With A Vengeance
• Release of Taliban prisoners creates mixed reactions in Afghanistan
• Heavy protests in Bangladesh, Modi cancelled his trip
• Russia warns about the emerging internal political crisis in Afghanistan
• China Accuses US Military of Likely Role in Coronavirus Outbreak
--------
Arab World
• King Salman Cites Arab Parliament for Continuing Defence of Arab Issues and Confronting Extremism
• Lebanese Man Pleads Guilty to Exporting Drone Parts from US to Hezbollah
• Tension as rocket attack in Iraq kills three members of US-led coalition
• Hashd Al-Shaabi Rejects Involvement in Attacks on US Base in Iraq
• Seven new coronavirus cases confirmed in Lebanon, total 66
• Iraq stops flights to India and Lebanon over coronavirus fears
• Twenty-six Iraqi fighters killed in east Syria strike
• Iraqi leaders condemn rocket attack on base housing US troops near Baghdad
• Pentagon confirms strikes against Iran-backed militia arms depot in Iraq
--------
Europe
• Flowers and Messages of Support Adorn NZ Mosque for Shooting Anniversary
• France, Spain Honour Hundreds of Terrorism Victims, Vow Unity
• Shot 9 Times during Mosque Massacre, Survivor Overcomes Fear
• Ardern says New Zealand can do 'much more' as racist threat lingers
• UK's Raab demands action to find perpetrators of Iraq attack
• Turkish defense minister meets with British counterpart
--------
Mideast
• Iran Sends Letter to UN Chief on Need to Remove US Sanctions to Fight against Coronavirus
• Terrorist in Jerusalem ramming attack of 12 soldiers indicted
• Iran Blasts US for Blocking Swiss-Launched Channel for Medical Transfer
• Iran Asks IMF for $5bln Emergency Funding to Fight Coronavirus
• Top adviser to Iran's Khamenei infected with coronavirus
• Iran unveils Soleimani statue in city with highest coronavirus deaths
• Hamas slams US for refusing to acknowledge Palestinian residents in East al-Quds
• There can be no Palestinian State without Jordan Valley
• Saudi project clears 148,427 mines planted by Houthis in Yemen
• Yemeni government quits Hodeida redeployment committee
--------
Africa
• UAE Pouring Arms, Military Supplies Into Libya despite UN Arms Embargo: Report
• US Airstrike in Somalia Said To Have Killed 6 Civilians
• Boko Haram: NAF neutralises insurgents in Borno
• Boko Haram kidnapping doctors, ex-military men to work for them – Lawmaker reveals
• 5 Al-Shabab Members Killed in Single U.S. Airstrike in Somalia
--------
North America
• President Trump Gives Pentagon Authority For Potential Response After Iraq Attack
• Pentagon says all options on table after Iraq rocket attack
• US wages airstrikes against multiple Hashd Sha'abi positions across Iraq
• US Anti-War Groups Look To Take Trump To Court To Stop Iran War
• US hits Kata'ib Hezbollah weapon storage sites in Iraq
• Man Linked to Extremist Group Seeks Release from Jail
Compiled By New Age Islam News Bureau
URL: https://www.newageislam.com/islamic-world-news/federal-territory-mufti-alcohol-based/d/121297
--------
Federal Territory Mufti: Alcohol-Based Sanitiser Can Be Used When Performing Prayers
12 Mar 2020
KUALA LUMPUR, March 12 — The use of alcohol-based hand sanitiser is permissible when performing prayers as it is considered a necessity and forgivable, according to the Office of the Federal Territory Mufti.
The matter was clarified through the mufti's official portal yesterday, which responded to the Muslim community's concern whether alcohol-based sanitisers were considered unclean due to their alcohol content.
According to the portal, the National Fatwa Council's Committee ruled that alcohol that is not produced through the process of making liquor is not unclean but "haram" (not permissible) to be consumed, whereas alcohol from the process of making liquor is considered haram and unclean.
"It can be concluded that the hand sanitiser can be used when performing prayers and is not considered unclean.
"This is clear as the National Fatwa Council's Committee had decided that medications and fragrances containing alcohol are a necessity and therefore (using these) is forgivable," the portal added.
Meanwhile, the mufti's office said the practice of maintaining hygiene was a major factor in reducing the risk of Covid-19 infection.
This is in line with the Ministry of Health's advice to the public to maintain personal hygiene such as washing hands with soap and water or using a disinfectant. — Bernama
https://www.malaymail.com/news/malaysia/2020/03/12/ft-mufti-alcohol-based-sanitiser-can-be-used-when-performing-prayers/1845923
--------
ISIS 'trying to exploit' growing Hindu-Muslim tensions in India
Debarshi Dasgupta
March 13, 2020
The Islamic State in Iraq and Syria (ISIS) has appropriated Hindu-Muslim fault lines in India, exacerbated by ongoing protests and violence centred on a controversial amendment to the country's citizenship law, in its latest attempt to gain a greater toehold in a country with the world's second-biggest Muslim population.
A viral Reuters photo of a bloodied Muslim man cowering under blows from a Hindu mob during the recent communal riots in Delhi was adapted by an ISIS-aligned media unit into a poster last month, according to the United States-based SITE Intelligence Group that tracks online activities of global terror groups.
https://www.straitstimes.com/asia/south-asia/isis-trying-to-exploit-growing-hindu-muslim-tensions-in-india
--------
NPR not to mark any citizen 'doubtful'; no documents need to be furnished: Amit Shah
Mar 12, 2020
NEW DELHI: Allaying fears over the National Population Register (NPR), home minister Amit Shah on Thursday said no citizen will be marked 'D' or 'doubtful' during the updating exercise and no documents need to be furnished to prove citizenship.
Also, it is not compulsory to provide any information not available with an individual, he said.
Shah gave the clarification during his reply to a debate on communal riots in Delhi which he said were triggered by alleged hate speeches made after passing of the new citizenship law that gave non-Muslim illegal migrants from neighbouring nations Indian citizenship.
The updating of the NPR is to be done during six months beginning April 1 with enumerators seeking demographic and other particulars of each family and individuals.
On Delhi riots, Shah said the guilty, irrespective of political or religious affiliation, will not be spared. The guilty will be punished with the objective of instilling fear of law.
"No one from minority community should have any doubt regarding CAA and NPR," he said.
"I want to set the record straight. No document will be required to be furnished in the NPR exercise. It wasn't done in the past and it won't be now."
Also, people will be free to provide whatever information they have, he said.
"No one will be required to give information which is not there," he said on apprehensions of residence of parents being asked in the NPR and absence of it casting doubts.
"No 'D' will be marked" for anyone not providing information, he said.
He was responding to senior Congress leader Kapil Sibal expressing apprehension of enumerators marking 'D' against any an individual not answering all questions in the NPR.
Shah offered to clear any other doubts over NPR to a small delegation of opposition leaders if they wish to visit him.
He said no section of the Citizenship Amendment Act (CAA) provides for taking away of citizenship of anyone.
The NPR is a register of usual residents of the country. The data for NPR was last collected in 2010 along with the house-listing phase of Census 2011.
There are apprehensions that those not having citizenship documents could be identified in the NPR for action at a later date.
Shah also strongly defended his party BJP's record on communal riots, saying 76 per cent of those killed in riots were during Congress rule.
He listed the riots that happened post independence and said it was not in the nature of the BJP to instigate riots but to check them.
Rejecting allegations that the Delhi riots were state sponsored, he asked why would any government engineer such violence when the world's most powerful person, US President Donald Trump, was being hosted by the prime minister.
He saw a deep-rooted conspiracy behind the Delhi riots saying foreign money was circulated and thousands of social media accounts were created to fan hatred before violence began on February 24 and closed a day later.
All those responsible for peddling foreign money as well as spreading hatred will be unearthed as there is an electronic trail, he said.
Shah said over 700 FIRs have been registered and 2,647 persons arrested in connection with the Delhi riots based on evidence. Facial recognition technology, using data in driving licence and voter ID, has been used to identify 1922 people involved in rioting.
No Aadhaar data was used for the purpose and no privacy guideline of the Supreme Court was flouted, he said and asserted that none should be bothered about privacy rights of those who have killed people and damaged property.
Those who are responsible for the riots and those who conspired will be punished irrespective of their caste, religious and political affiliations, Shah said, adding the government will book the culprits after conducting investigations in a transparent and scientific manner.
He said 50 serious cases of murder, attacks on religious places, hospitals, and educational institutions have been handed over to three special investigating teams (SITs).
Those identified for the riots include some from neighbouring Uttar Pradesh, he said.
The home minister said firearms were used, 49 cases have been registered and 125 arms seized. He said peace committees, comprising community and religious leaders were activated to appeal for peace.
According to him, police have names and addresses of people involved in violence, and 40 special teams have been constituted to arrest them.
Shah also informed that five persons have been arrested in connection with hawala transactions.
Regarding social media, he said hundreds of accounts were created just before February 24, the day the riots started, and large number of them were closed during the night of February 25. According to the minister, the riots ended on February 25.
He rejected conspiracy theories behind the transfer of Delhi High Court judge S Muralidhar who had ordered registering of FIRs against BJP leaders and ministers for alleged hate speech, saying it was done on the recommendation of the collegium and after taking consent of the judge in question.
"Why do you think only one judge can give justice and not any other," he asked. "Will any other judge not do justice?"
"Why are you spreading absurd narrative," he asked the opposition.
Shah also took a jibe at some opposition leaders who were saying the Delhi violence took place at the behest of the ruling party.
"Use common sense, why will a government do any such thing when US President Donald Trump was visiting India," he said.
He also rubbished contention that the BJP instigate communal riots, saying it was being done since the time of independence.
He said 76 per cent of the riots in the country took place in the country during Congress party rule, adding only Gujarat riots of 2002 took place when the state was being ruled by BJP.
https://timesofindia.indiatimes.com/india/no-one-will-be-marked-doubtful-during-process-of-updating-national-population-register-amit-shah/articleshow/74597839.cms
--------
76 Muslim, 25 Hindu Couples Marry At Belagavi Madrasa, Al Arabia Anwarul Ulooma
Feb 22, 2020
By: Shreyas HS & Basavaraj Meeshi
BELAGAVI: Sending a strong message of communal amity, a Madrasa in Belagavi district hosted a mass marriage on its premises on Friday in which 76 Muslim and 25 Hindu couples were married.
Madarsa Al Arabia Anwarul Ulooma, an Islamic religious institute in Bailhongal, 50km from Belagavi district headquarters and 480km from Bengaluru, played host to the event that was organised by Jamia Faizan-ul-Quran and Issa Foundation, which has conducted mass marriages on a bigger scale in Gujarat.
The mass marriage comes a month after the 100-year-old Cheravally Jamaat Masjid in Kerala's Kayamkulam in Alappuzha hosted a Hindu wedding, complete with a vegetarian feast for 4,000 people. A Hindu priest led the rituals, and the couple sought the blessings of chief imam Riyasudeen Faizy of the mosque.
At Bailhongal, moulvis and pontiffs led the marriage proceedings and asked the couples to read passages from Quran and Bhagvad Gita.
Couples gifted refrigerator, almirah and sewing machine
The Hindu couples were gifted a copy of the Gita, and newly-married Muslim couples received a copy of Quran. The organisers provided each Hindu bride a mangalsutra. Bailhongal MLA Mahantesh Koujalagi blessed the couples at the event, which was attended by more than 4,000 people.
Mohammad Rafique A Naik, a member of Jamia Faizan-ul-Quran, said they have gifted each couple a refrigerator, an almirah and a tailoring machine. Ranjita Kalala, a bride who married a daily-wage labourer, said her family couldn't afford the cost of a wedding, adding, "When we learnt about the Bailhongal Madrasa's plan, we agreed to sign up because it also sends out a message of communal harmony."
https://timesofindia.indiatimes.com/city/hubballi/76-muslim-25-hindu-couples-marry-at-belagavi-Madrasa/articleshow/74251658.cms
--------
Racism challenges Pakistan media's reporting of minorities
March 11, 2020
Racism and threats from extremists are major challenges in highlighting religious minorities in Pakistan, say Muslim journalists.
"Media houses are attacked after publishing news on religious minorities. Eyewitnesses in persecution cases are always on the run. The courts fail to provide them protection. Interfaith policies have been repeatedly ignored in our constitution," said Qammar Jabbar, a reporter for Aaj News channel.
"Freedom of expression is only reserved for the majority. Muslims can openly speak about Christianity but Christians cannot discuss Islam. Our superiority complex has made us racists."
He was speaking at a recent consultative workshop on the formulation of a "Harmonious, Tolerant and Safe Punjab for Everyone" policy. Similar concerns were shared by more than 30 media persons at Lahore Press Club.
Ejaz Alam Augustine, minister of human rights and minorities affairs and interfaith harmony, launched the project in January in partnership with the Youth Development Foundation (YDF). Since then, consultations have been held with parliamentarians, religious leaders and youth representatives.
Mubasher Bukhari, YDF policy consultant, urged journalists against using derogatory terms for non-Muslims. "It is common in our newspapers to refer to Hindus as Baniya, Christians as Isai and Ahmadis as Qadianis. Balanced reporting can help in promoting the feelings of equality, harmony, peace and tolerance," he said.
The workshop ended with recommendations including diversity camps for journalists, inclusion of interfaith harmony as a school subject, establishment of interreligious committees in union councils and an early-warning response system for minorities.
Church leaders say minorities are often overlooked in Pakistan's mainstream media. According to a study by the Institute for Research, Advocacy and Development released last year, media coverage of Pakistan's non-Muslim population is stereotypically linked to sensitive themes like blasphemy.
The "Narratives of Marginalization" study, based on analysis of 12 Pakistani media outlets, claimed that minorities were reported as sanitary workers, slum dwellers, bootleggers, domestic workers and victims of discrimination or forced conversions. Non-Muslim journalists only comprised 1.3 percent of about 20,000 journalists in Pakistan's media industry, it stated.
According to the 1998 census, Christians constitute 1.59 percent, Hindus 1.60 percent, Ahmadis 0.22 percent and scheduled castes 0.25 percent of Pakistan's population.
https://www.ucanews.com/news/racism-challenges-pakistan-medias-reporting-of-minorities/87421
--------
In Afghanistan, a new 'great game' with ISIS, ISK and Pakistan is on with a vengeance
TARA KARTHA
11 March, 2020
Just days after a hugely publicised US-Taliban 'peace' deal, renewed violence ripped through Afghanistan — 76 attacks across 24 provinces — as the Taliban lifted its week-long commitment on 'reduction of violence'. The Islamic State in Afghanistan claimed responsibility for two of these attacks, while the Taliban — as has been the case earlier — denied all involvement. Amid all this violence, Kabul and Herat witnessed sporadic anti-India protests, in development that both surprising and unprecedented. Clearly, a 'great game' of local proportions seems to be back with a vengeance. The country has also witnessed protests against Pakistan.
The ISIS in Afghanistan
Some aspects of the new game is apparent in the attacks claimed by the Islamic State (IS). In Afghanistan, the ISIS is represented by the Islamic State in Khorasan (ISK), a group that declared allegiance to it in 2015. Claims of attacks on Afghan soil are sometimes made by the ISIS and at other times by the ISK. The attacks last week, identical to the one in July 2019, was carried out by a Tajik and an unidentified foreign fighter, which fits in well with the ISIS's Salafi and Takfiri beliefs. Takfir is the practice by which a Muslim may declare another as an apostate, and dates back to at least the 7th century. This was revived by Muhammad Ibn Abd al -Wahab, founder of Wahabism in Saudi Arabia, who encouraged the stringent Salafist beliefs, and the excommunication of those who did not abide by their beliefs. In later years, takfir was used to justify violence against fellow Muslims, particularly those in power.
But unlike the ISIS, the ISK is a creature of many parts, sometimes acting with the Taliban, sometimes violently against it, sometimes prioritising business operations, and at all times, opaque about who it takes orders from. Some aspects of this Janus-faced organisation have been recently detailed in a publication of the Afghan Institute of Strategic Studies (AISS).
The AISS paper paints a picture of a disparate group — largely made up of Pakistani cadres formerly of the Tehrik-e-Taliban Pakistan (TTP). The TTP relocated to Afghanistan after the Pakistan Army carried out operations in its tribal areas sometime in the middle of 2015. Other cadres include some Kashmir-specific groups like Tehreek ul-Mujahideen and various Central Asian divisions.
Deconstructing the ISK
Between then and 2018, however, the ISK was targeted in unusually precise US operations, indicating the availability of solid ground intelligence. The result was the destruction of its top leadership and some 548 of its commanders.
The original group then evolved into its present amoeba-like formation. One division is active around Kabul and colludes actively with the Taliban. Another is based around the Pak-Afghan border, funding itself by trafficking gems, talc, and timber even as it is violently pitched against the Taliban for control of this lucrative trade. A third group operates in the north, and is largely made up of Central Asian and foreign cadres, who while being ideologically stronger, cooperate in keeping the Pakistan-Central Asia route open. A fourth operates along the Iranian border in Herat, clearly with support from Tehran.
ISK's Indian ambitions
As the AISS report notes, nearly 90 per cent of the group is made up of Pakistanis. It is armed with Pakistani weapons and, barring one incident against the Hazaras in 2019, no longer attacks Pakistan. It has also managed to get a batch of Indian cadres. Intelligence assessments indicate that it had planned a large-scale attack in India, but failed to carry it out.
Both Delhi and the US began to take the ISK very seriously, especially after it announced a Wilayat of Hind, a "province" in India. It's a different matter that the ISK rather belatedly announced a "province" in Pakistan as well, to which there was no response from Islamabad at all. By the end of 2019, India had negotiated with Kabul for the extradition of Indians serving in the ISK back to their home country.
In a fresh development, a new ISIS digital publication called Sawt ul Hind has emerged. Notably, it carried pictures and stories on the Delhi riots, with the clear aim of inciting Indian Muslims. Earlier, similar publications had largely targeted Kashmiris, using mostly fake videos used to drum up support against India.
There is, however, a curious anomaly between the AISS report and other sources. While the AISS report shows a very poor, almost non-existent link between the ISK and the ISIS, a UN-appointed group reports that the ISK's leadership was changed as recently as July 2019, after a visit by the ISIS' core leadership. But one would go with the ground assessment of a fractured group whose loyalties depend on who's paying it.
India's headache
The anti-India protests in Herat were led by a prayer leader at a local mosque and come close on the heels of statements made by Iranian leaders, including Ayatollah Khamenei, who have condemned violence against Muslims under the Narendra Modi government's rule. Given the size of the crowds, some outside encouragement is entirely likely. A smaller protest was reported in Kabul, primarily by Turkish and Pakistani media sources. Added to this heady brew is the ISIS attack that could have killed Afghanistan's presidential candidate Abdullah Abdullah, a leader known to be sympathetic to India. While New Delhi has only itself to blame for providing prime ammunition to anti-India elements everywhere, Afghans themselves need to take note that Pakistan is again moving to strengthen its hold on Afghanistan, as the US moves out lock, stock, and barrel.
It appears the US intel reports are right. The Taliban have no intention of honouring the peace deal signed with the Americans. Neither does their sponsor Pakistan. As a very wise diplomat recently noted, unlike all the other actors involved in the Afghan drama, which includes Russia, the US, India, Saudi Arabia among others, Pakistan alone has never wavered in its Afghan policy, which is to exert complete domination using multiple groups as balancing levers. To understand its undoubtedly brilliant strategy, Western diplomats only need to study Kashmir without the usual self-limiting blinkers.
https://theprint.in/opinion/in-afghanistan-a-new-great-game-with-isis-isk-and-pakistan-is-on-with-a-vengeance/378365/
--------
King Salman Cites Arab Parliament for Continuing Defence of Arab Issues and Confronting Extremism
March 13, 2020
RIYADH: King Salman received the speaker of the Arab Parliament, Dr. Mishaal bin Fahm Al-Salami, on the occasion of his election as speaker for a second term.
During their meeting in Riyadh on Thursday, the king congratulated Al-Salami, wishing him further success in his work.
The king expressed his appreciation for the Arab Parliament and its continuing defense of Arab issues, stressing the importance of confronting extremism and terrorism, and anything that threatens the security and stability of Arab countries.
Al-Salami expressed his thanks and appreciation to the king and the crown prince for the Kingdom's efforts to support the causes of Arab countries.
The meeting was attended by Foreign Minister Prince Faisal bin Farhan and State Minister Dr. Musaed bin Mohammed Al-Aiban.
Al-Salami has been a member of the Arab Parliament since 2013, and a member of the Saudi Shoura Council since 2009.
https://www.arabnews.com/node/1640726/saudi-arabia
--------
Flowers and messages of support adorn NZ mosque for shooting anniversary
March 13, 2020
CHRISTCHURCH: Aya Al-Umari looks at the bunches of flowers and reads messages of support outside the Al Noor mosque, tributes left for the victims of the Christchurch shootings a year on from the attacks.
Al-Umari's brother Hussein, 35, was was one of 51 Muslim worshippers killed when a gunman opened fire at the city's Al Noor and Linwood mosques.
"We live it day in and day out," she told Reuters, holding back tears as she explained she could not bring herself to enter the mosque.
"A year on anniversary is a great way for us to come together as a community and reflect on the incident that took the lives of many people and ultimately my brother too."
Among the tributes outside the Al Noor mosque were signs reading "We may be small, but we are strong" and "We love you!"
Brenton Tarrant, an Australian national, faces 92 charges in relation to the attacks. He has pleaded not guilty and faces trial in June.
Police were at the mosque on Friday after a new threat was reported last week.
Adele Carroll and her husband Des came to the Al Noor mosque to donate a prayer mat and an Islamic clock.
"We felt we should do this. Having lived abroad with several Muslim and Arab friends, we were hurt by what had happened here," Carroll said. "We are all one ... it doesn't matter what religion or race you are. We just could not believe this could happen in our country."
Across the city, hundreds of people attended a private prayer service at a civic center. The turnout was lower than expected as many stayed away due to concerns over the coronavirus outbreak, a factor that may also impact a memorial service planned for Sunday.
"One year has passed, but for us, it just feels like yesterday," Abdul Aziz, who was hailed by local media for trying to stop the shooter, said outside the prayer service.
Taj Mohammad Kamran, who was shot in the leg and lost his friend, said it has been a very tough year: "But today, I feel more strong."
https://www.arabnews.com/node/1640891/world
--------
Iran Sends Letter to UN Chief on Need to Remove US Sanctions to Fight against Coronavirus
Mar 12, 2020
Zarif in his letter, copies of which were sent to the heads of international organizations and his counterparts in different countries, underlined the need for the removal of all unilateral and illegal US sanctions on Iran.
He said that the US sanctions on legal trade and recent preconditions set by US officials on prohibition of selling medicine, medical equipment and humanitarian goods to Iran, have negatively impacted Iran's fight against coronavirus.
Zarif also explained that secondary sanctions on Iran's oil sales and exports of its other products have reduced the Iranian government's capability to meet the demands of the Iranian nation for basic goods.
He named the imposed financial sanctions and the US embargo on Iran's transportation, insurance and banking sectors as other anti-Iranian measures, which are rooted in the indifference of the international society about the Americans' measures towards Iran.
Zarif had earlier on Thursday announced that his country had asked the International Monetary Fund (IMF) for emergency funding to help it in battle against the coronavirus outbreak.
Zarif wrote on his twitter page that IMF Managing Director Kristalina Georgieva "has stated that countries affected by #COVID19 will be supported via Rapid Financial Instrument. Our Central Bank requested access to this facility immediately".
He called on the IMF/IMF Board to adhere to Fund's mandate, stand on right side of history and act responsibly.
Earlier on Thursday, Governor of the Central Bank of Iran (CBI) Abdolnaser Hemmati had announced that in a letter to the IMF he has required permission for access to the fund's available $5bln emergency financing facilities, aimed at addressing COVID-19.
In his letter, he underlined that no human body must be deprived of medicine or medical facilities due to the dearth of financial resources.
The Iranian health ministry announced on Thursday that the number of coronavirus infection cases in the country has increased to 10,075, adding that 1,075 new cases have been diagnosed in the past 24 hours.
"1,075 new cases have been added to the people infected with coronavirus in the country," Health Ministry Spokesman Kianoush Jahanpour said in his daily report.
He added that 75 people passed away due to the new disease in the past 24 hours, noting that the death toll has increased to 429 so far.
The number of infected patients has reached 10,075, while recoveries have increased to 3,276 people, Jahanpour said.
https://en.farsnews.ir/newstext.aspx?nn=13981222000721
--------
UAE pouring arms, military supplies into Libya despite UN arms embargo: Report
12 March 2020
The United Arab Emirates (UAE) is pouring arms and military supplies into Libya despite a United Nations arms embargo against the war-ravaged country, a report says.
The UAE has sent more than 100 arms deliveries to Libya by air since mid-January, said a flight-tracking data provider on Wednesday, as the shattered North African country is thought to brace for yet another round of fighting.
Gerjon | חריון
@Gerjon_
My list of 100 flights from the 🇦🇪#UAE to 🇱🇾#Libya and/or 🇪🇬Sidi Barrani, #Egypt, is quoted in this article in The @guardian by @burke_jason 👇🏻 https://twitter.com/burke_jason/status/1237625384465772544 …
Jason Burke
✔
@burke_jason
Suspected military supplies pour into Libya as UN flounders. Our latest: https://www.theguardian.com/world/2020/mar/11/suspected-military-supplies-libya-un-cargo?CMP=Share_iOSApp_Other …
15
12:16 PM - Mar 11, 2020
Twitter Ads info and privacy
See Gerjon | חריון's other Tweets
Since 2014, two rival seats of power have emerged in the North African country: the internationally-recognized government of Prime Minister Fayez al-Sarraj, known as the Government of National Accord (GNA), and another group based in the eastern city of Tobruk, supported militarily by rebel forces, collectively known as the so-called Libyan National Army (LNA), under the command of renegade General Khalifa Haftar.
The rebel leader, who is primarily supported by the UAE, Egypt, and Jordan, launched a deadly offensive to capture the capital Tripoli, the seat of the GNA, in April last year. Despite intense fighting, he has so far failed to achieve his objective of ousting the GNA, and the offensive has stalled outside the city.
Gerjon | חריון
@Gerjon_
Updated list of flights from the 🇦🇪UAE (Sweihan Air Base) to (Western 🇪🇬Egypt or) 🇱🇾Libya: over a period of almost a month, the total now equals 64 flights.
Only 2 flights over the past 3 days, way below the average - is the airlift coming to an end?
View image on Twitter
35
1:25 AM - Feb 11, 2020
Twitter Ads info and privacy
26 people are talking about this
According to a report by the Guardian on Wednesday, most of the suspect Emirati flights leave military bases in the UAE, while some others depart from a UAE-run base in Eritrea, where a dictatorial regime is in charge and there is almost no international monitoring.
"In all, the flights are thought to have carried about 5,000 metric tons of cargo into Libya in very large chartered transport planes that land at an airport close to Benghazi, Haftar's coastal stronghold, or in western Egypt, from where their loads are thought to be trucked into Libya," the report added.
The Guardian further noted that these shipments might contain heavier artillery plus other arms and ammunition. The LNA has recently pounded the center of Tripoli with shelling from long-range artillery.
The shipments "may also include communications technology, spare parts, basic equipment and other non-lethal items necessary for fighting a war," the report cited unnamed experts as saying.
Furthermore, many of the flights stop at Aqaba, the Jordanian port city, it added.
In a report on Monday, the Stockholm International Peace Research Institute (SIPRI) described the UAE as a huge importer of arms, making it "the eighth-largest arms importer in the world in 2015–19."
Since 2011, the UN Security Council has placed an arms embargo on Libya, banning the supply of arms and military equipment to and from the North African country.
However, the embargo has been frequently violated by a number of countries. Last month, UN Deputy Special Representative to Libya Stephanie Williams condemned the ongoing breaches of the UN weapons embargo, saying it "has become a joke, we all really need to step up here."
She regretted at the time that the embargo had been violated by land, sea, and air., but added that "it needs to be monitored and there needs to be accountability." She also warned that the North African country was now awash with illegally-imported advanced weapons.
Numerous attempts to bring about peace between the two sides of the conflict have failed, except for a shaky ceasefire brokered by Russia and Turkey in January, which has been violated dozens of times but continues to stand in one way or another.
Back in January and in an attempt to help establish a permanent ceasefire in Libya, Germany hosted a multinational summit involving concerned parties. Leaders and high-ranking officials from Turkey, Russia, Egypt, France, Italy, Britain, and the United States, as well as Haftar and Sarraj, attended the summit.
The final communiqué of the summit called on all the parties, among other things, to "fully respect" the arms embargo.
The situation in Libya has also been compounded as a result of a move by Turkey, an ally of Sarraj's government, to deploy troops and transfer allied militants from Syria to the North African country.
Libya plunged into chaos in 2011 when a popular uprising and a NATO intervention led to the ouster of long-time dictator Muammar Gaddafi.
https://www.presstv.com/Detail/2020/03/12/620710/Libya-UAE-arms-embargo-Haftar-GNA-Egypt-Jordan-UNSC
--------
Southeast Asia
Minister says communal Friday prayers to continue for now, will revise policy if Covid-19 worsens
12 Mar 2020
BY RADZI RAZAK
PUTRAJAYA, March 12 — Putrajaya said today that there is currently no need yet to restrict Friday prayers at mosques for Muslims, even as it lists several suggestions to prevent the spread of the Covid-19 outbreak that has been declared a pandemic.
Despite that, minister in charge of religious affairs Datuk Seri Zukifli Mohamad this policy may be reviewed if health authorities decide that the coronavirus situation in the country can no longer be contained.
"So for now, the original ruling [for Friday prayers] is compulsory, just a few of our suggestions for situations like this are can we shorten the sermons if possible, and for the congregation to take their ablutions at home, and if possible for the mosques to provide hand sanitisers at the entrance.
"Any congregation [including Friday prayers] should not be done in affected places. If the mosque is affected and in need of quarantine, people should go elsewhere," he said in his first press conference after being sworn in as a minister in the Prime Minister's Department.
He was referring to a mosque in the outskirts of Kuala Lumpur, where authorities are tracking around 5,000 citizens across the country believed to have been potentially exposed to the coronavirus at a religious event there.
The contact tracing was initiated after neighbouring Brunei reported its first case of coronavirus infection yesterday, a 53-year-old man who had attended the same event at a mosque between February 28 and March 1.
Noor Hisham Abdullah
✔
@DGHisham
JPM sedang menyiapkan kertas kerja berkaitan #COVID19 bagi solat Jumaat & aktiviti keagamaan. Perbincangan bersama telah diadakan pd minggu lepas untuk kesiapsiagaan menbendung penularan COVID-19. Kertas kerja itu termasuk panduan bersalaman, kenduri kahwin dan pengurusan jenazah
View image on TwitterView image on Twitter
360
9:21 AM - Mar 12, 2020
Twitter Ads info and privacy
267 people are talking about this
Zulkifli also advised adherents who are ill to skip the Friday prayers, echoing a similar call by the Islamic Religious Council of Singapore in January.
Under Islamic laws, attending Friday prayers is compulsory for Muslim men, with some exceptions.
The former Federal Territory mufti also said his ministry is currently finalising five items to be taken to the national fatwa council in regards to Covid-19, which also include the conduct of Muslims in Friday prayers, greetings, weddings, funerals, and other suggestions regarding the pandemic.
"We have even discussed the matter with the Ministry of Health when the director-general came to visit me a couple of days ago," he said, referring to Datuk Dr Noor Hisham Abdullah.
"I hope you will give us two days for us to finalise and have specific discussion on it before we announce it publicly."
If the outbreak is no longer contained in Malaysia, he said restrictions will be announced, but only following a decision by the Ministry of Health on other public gatherings and events.
Today, Zulkifli led the hajat prayers after meeting with Islamic religious agencies leaders and members at the Tuanku Mizan Mosque in Putrajaya, before walking to clock in at his office in Putrajaya Islamic Complex some 200 metres away.
He was joined by his deputy, Ahmad Marzuk Shaari and Malaysia Islamic Development Department (Jakim) Deputy Director-General (Policy) Hakimah Yusof.
https://www.malaymail.com/news/malaysia/2020/03/12/minister-says-communal-friday-prayers-to-continue-for-now-will-revise-polic/1845713
--------
2 Singaporeans who attended religious event in Malaysia confirmed to have COVID-19; MUIS closes mosques, suspends Friday prayers
12 Mar 2020
SINGAPORE: Two Singaporeans have contracted COVID-19 after attending a mass religious event near Kuala Lumpur, Minister-in-Charge of Muslim Affairs Masagos Zulkifli confirmed on Thursday (Mar 12).
Mr Masagos also announced that the Islamic Religious Council of Singapore (MUIS) will close all mosques for at least five days from Friday for cleaning, to prevent community spread through mosque activities.
This is the first time that all mosques in Singapore will be closed and comes after one of the confirmed cases was found to have visited four mosques in Singapore recently.
Brunei and Malaysia authorities have also confirmed that some of their nationals who attended the Feb 27 to Mar 1 event, which reportedly attracted 10,000 people, have contracted the disease.
Mr Masagos said 82 Singaporeans are confirmed to have attended the Jhor Qudamak Malaysia 2020 event at the Seri Petaling Mosque in Selangor, although this number could rise as more information comes in.
The minister had earlier written in a Facebook post on Thursday that Ministry of Health (MOH) was working to identify the Singaporeans who attended the religious event in Malaysia.
Mr Masagos later told reporters that MOH is conducting detailed contact tracing on the 82, adding that they were not affiliated to a particular mosque or group and probably knew each other socially.
Those of the 82 found to be sick will be sent to the National Centre for Infectious Diseases (NCID), Mr Masagos said. The rest will be "advised appropriately".
TWO CONFIRMED CASES
One person in the group became sick "a few days" after returning to Singapore and sought medical attention on Monday, Mr Masagos said. It is not known when he returned to Singapore.
"In between arriving in Singapore and getting medical attention, he also performed duties of an officer of a mosque and in that process visited four mosques," he said, without elaborating on the duties or his personal details.
Mr Masagos identified the four mosques as Jamae Chulia, Muttaqin, Hajjah Fatimah and Kassim.
Mosques COVID-19 cleaning closed
Mr Masagos said NCID contacted the man on Wednesday for testing and he was confirmed positive on Thursday.
A second man from the group has also tested positive, Mr Masagos said, although he offered fewer details on this case. "We are still tracing his movements for the last few days," he said. "We do not know whether he went to a mosque or otherwise."
The four mosques visited by the confirmed case have been closed since 1pm on Thursday for thorough disinfection by professional cleaning agencies.
While Mr Masagos acknowledged there could have been people who had visited these mosques before they were cleaned, he said they would be "all right" if they had followed MUIS' earlier advice on COVID-19, including bringing their own prayer items.
"But I do not know whether they did or not," he added. "Therefore, between the time of cleaning and (the time the case visited), this could be infectious."
Whether sick or well, everyone should practise good hygiene, Mr Masagos said, including adopting measures like not sharing plates or using a serving spoon if they have to.
With such measures, there would be no need to panic or stop visiting mosques indefinitely, regardless of which mosque one attends, he added.
CLEANING IN PROGRESS
"MUIS has decided that while this person might have still been asymptomatic when he went to the four mosques, they need to be sanitised quickly," Mr Masagos stated, adding that authorities have deemed it "important" to extend the closure to all 70 mosques in Singapore and clean all of them.
MUIS chief executive Esa Masood said this was necessary to prevent a "sizeable" COVID-19 cluster as the 82 are regular congregants at various mosques. He added that it is common practice for Muslims in Singapore to worship at different mosques.
The task of cleaning the other mosques could be done by volunteers, with Mr Esa acknowledging that the mosques would otherwise have to bear the "significant" cost of engaging professional cleaners.
"Our mosques are modest institutions," he said. "They are well-run and well organised, so we believe that they will have the means to sustain. But more important is if you don't do this set of measures, the overall cost to the community will be much larger."
CANCELLATION OF ALL ACTIVITIES
The closure of mosques means that the obligatory Friday prayers for Muslim men will be suspended, with Mufti Nazirudin Mohd Nasir explaining that the circumstances mean it is religiously allowed for them to conduct the usual daily prayers at home instead.
Mosques will also cancel all activities, lectures, religious classes and mosque-based kindergartens for two weeks, from Friday to Mar 27. Madrasahs will not be affected as the measures are targeted at mosques, which the 82 might have visited.
"This two-week period will allow more time for us to really break the cycle of transmission," Mr Esa said. "We will continue to watch the situation and monitor the numbers from these cases that MOH is doing contact tracing.
"If the need arises to extend the period of closure, we will then adjust accordingly and we will monitor closely over the next few days."
Mr Esa said MUIS will assess over the next few days whether mosques need to take additional measures before re-opening. It will be aided by a Malay-Muslim working group on COVID-19, comprising doctors and religious teachers, that officially convenes on Friday.
According to Mr Esa, whether the mosques re-open after five days will depend on the confirmed cases that come out of the 82 who attended the event in Malaysia and developments in other countries that also had citizens who attended the event.
"Should the numbers go up, or beyond the two (confirmed cases) there is a sizeable cluster, those are good justifications to then consider an extension," he said.
As for individuals who still choose to hold smaller Friday prayer congregations in private spaces, Mr Masagos said authorities are able to take "legal action".
"If anyone were to know about this, please alert us and we will take the appropriate action because we do not want such irresponsible action to then cause the spread of this virus," he said.
Dr Nazirudin said MUIS will still issue Friday religious messages through social media as guidance, adding that it is also encouraging religious teachers who hold regular classes to shift their lessons online.
"We will support their efforts to record (these lessons) as much as we can, and house all this recordings online so that these classes can continue," he said.
Since the outbreak started, MUIS has also advised congregants who feel unwell to stay home instead of attending the Friday prayers at mosques.
Malaysia, however, has said there was no need to suspend the Friday prayers as the COVID-19 situation in the country is under control. Authorities have allowed it to proceed with measures like shortening of the sermon.
When asked to comment on this, Mr Masagos said: "Why must we follow people who may not be doing the right (thing)?
"We should follow what we need for Singapore and Singaporeans. We are not just protecting Muslims. We are protecting the nation and to make sure that our practice of preventing the spread of the virus is the standard that Singapore will be reputed for."
WHAT WE KNOW ABOUT THE MALAYSIA EVENT
The mass religious gathering in Malaysia is related to a practice called tabligh, where Muslims from around the world gather at a mosque, then visit the people who live near it to encourage them to come to the mosque, Mr Masagos said.
"Once in a while, they have big gatherings for sort of best-practice sharing, sharing stories to inspire each other," he said, explaining that this could be why it was a multi-day event.
Full report at:
https://www.channelnewsasia.com/news/singapore/covid19-muis-mosques-close-friday-prayers-suspended-12531086
--------
Dr M calls PAS un-Islamic for breaking promise to support him as PM
12 Mar 2020
BY ZURAIRI AR
KUALA LUMPUR, March 12 — Tun Dr Mahathir Mohamad has lashed out against PAS for breaking its promise to support him as prime minister until the end of his term.
The former prime minister said the Islamist party has not held to Islamic principles for doing so, and later supporting Tan Sri Muhyiddin Yassin instead.
He said the abuse of Islam as a political tool is a despicable thing that would divide the Muslim community.
"That is why I didn't agree with PAS, although they supported me, I did not like them because up until now they do not take back their views that anyone who is not a PAS member is not a Muslim.
"This is my frustration with the PAS leadership," he told Sinar Harian in an interview.
In 1981, now party president Datuk Seri Abdul Hadi Awang had penned the "Amanat Hadi", where he called Umno and Barisan Nasional supporters infidels and called for a "jihad" or holy war against them.
Dr Mahathir said this was compounded by PAS breaking its promise by supporting someone else during the interview with Yang di-Pertuan Agong to determine who commands the majority support of Dewan Rakyat.
"So what does this mean with what they said and what they did? This was very disappointing.
"They themselves do not hold to Islamic teachings. When we make a promise, we must keep it," he said.
Full report at:
https://www.malaymail.com/news/malaysia/2020/03/12/dr-m-calls-pas-un-islamic-for-breaking-promise-to-support-him-as-pm/1845866
--------
Muslims must bear in mind consequences of spreading untruths
March 13, 2020
LETTERS: NOT only has the coronavirus spread like wildfire, so too has misinformation about it, especially online.
Numerous conspiracy theories dubious health advice abound as well as unofficial figures of death and infected people.
One unproven tip allegedly from the Health Department in the Philippines, which it later confirmed to be untrue, claimed to be able to prevent the disease. It was shared over 16,000 times on Facebook.
Covid-19
In ascertaining and verifying information, Islam, being the complete way of life, is very
particular — if not the most stringent — in demanding that every information received must first be checked and verified for its authenticity as stipulated in the Quran, Surah Al-Hujurat, verse 6.
In spreading fake news, lies, false information, gossip or rumour-mongering, our netizens are ahead of many nations.
Shaykh Hamza Yusuf, a scholar from Zaytuna College in the US, once said: "…during those days, you need to look for a partner to gossip or slander, but now with the advent of the Internet and social media platforms, you can easily do it alone from your own room."
Indeed, Islam prohibits gossiping, praising those who talk less and only do so out of necessity.
A Prophetic tradition from Abu Hurayrah states: "God's Messenger, may the Mercy and Blessings of God be upon him, said:  "Whoever believes in God and the Last Day should speak a good word or remain silent. 
And whoever believes in God and the Last Day should show hospitality to his neighbour. And whoever believes in God and the Last Day should show hospitality to his guest." (Sahih Al-Bukhari and Sahih Muslim).
In another narration, also from Abu Hurayrah, the Prophet warned not to simply narrate (or in the current social media context is equivalent to "forward" or "share") whatever one hears without first verifying its truth and validity.
He said: "It is enough for a man to prove himself a liar when he goes on narrating whatever he hears" (Sahih Muslim).
The repercussions of forwarding fake news may not be necessarily felt in this world alone — though one risks being caught by the relevant authorities and subsequently charged — but also in the Hereafter, be put in the Hellfire.
Full report at:
https://www.nst.com.my/opinion/letters/2020/03/574141/muslims-must-bear-mind-consequences-spreading-untruths
--------
India
Deoband anti-CAA protest on despite rain, COVID-19 scare
Anuj Kumar
MARCH 13, 2020
'We have come out of our own accord and will go back at our own will'
Heavy rain on Wednesday night did not dampen the spirit of women protesting against the Citizenship (Amendment) Act and the National Register of Citizens in Deoband. The protest is on at the Idgah ground of the town in Saharanpur district for the last 46 days.
"This is the sixth time that we have faced a downpour in the last 46 days. It has become part of the routine now. Around 2,000 to 3,000 women were on the ground last night. We have female volunteers and male supporters who help us out. Yesterday, somebody brought a tractor motor to take out the water," said Iram Usmani, one of the faces of the protest.
Amna Roshi, president of the Murtahida Khawatin Committee (Women's Unity Committee), said besides the ill-effects of the CAA she was also making the protesters aware of the dangers of COVID-19. "Though every Muslim is expected to perform ablution five times a day, we are still insisting that women be extra careful with children," she said.
Ms. Roshi said the administration was applying pressure on the male members of the protesters to weaken the agitation. "My brother, who is a journalist with a reputed Hindi daily, has been booked along with two other journalists. The administration very well knows that we don't allow any male members to take the stage at the protest site. Hum apni marzi se aaye hain aur apni marzi se jayenge (We have come out of our own accord and will go back at our own will)," said Ms. Roshi.
A post-graduate, Ms Roshi said those who were leading the protest were educated women and see spreading information about the ill-effects of the CAA and the NRC as their responsibility. "Otherwise, the future generations will question us. Many of those sitting here don't even have ration cards," she said.
On the protests against CAA being held responsible for the Delhi riots by the BJP leaders, Ms Roshi said their protest was through Gandhian means. "Our Facebook page is called Satyagraha and we have put a charkha at the protest site."
Irked by a section of the media, she said every fatwa from Deoband makes national news but a 46-day protest is yet to make national news.
Appeal to PM
Ms. Usmani appealed to the Prime Minister to look at the plight of his sisters. "There has been no clear response from the government on CAA-NRC. Meanwhile, the Rashtriya Swayamsevak Sangh says that it sees 130 crores Indians as Hindu society. Our forefathers chose this country because it believed in unity in diversity."
She alleged that meat shops were being shut, e-rickshaws were being challaned and people were being asked to show maps of their houses to put pressure on the protesters.
https://www.thehindu.com/news/national/other-states/deoband-anti-caa-protest-on-despite-rain-covid-19-scare/article31054273.ece
--------
'Scared for Our Brothers': Aali Village's Hindus and Muslims Stand Shoulder to Shoulder
06/MAR/2020
Tarushi Aswani
New Delhi: Burnt houses, shops and brotherhood lay smouldering on March 1. But at Aali Village in Mohan Estate of Badarpur, March 1 dawned differently.
Aali Village was among the many areas that were panic-struck by rumours that came in from neighbouring areas such as Madanpur Khadar and Som Bazar. The village lies 20-30 kilometres away from riot struck areas.
When Police and BSF presence suddenly heightened in the area, Muslims, who make up 30% of the village's population, locked themselves up in their houses fearing carnage similar to those witnessed in other neighbourhoods in north east Delhi.
However, for Bahadur Khan the sight of the entire village coming out to the streets hearing the rumours was one to remember.
Khan said that many Hindus came in groups to the Bagh Wali Masjid to assure the Muslims that no rioter would be getting any leeway here in Aali. "Afwaa sunn kar sab chaurahe per aagaye, Hindu Musalman sab saath, humaray Hindu bhaiyon nay humsay kaha, 'koi dangai aa kar dikhaaye yahan'!" Khan said with a proud smile on his face.
Khan added, "Hum alag nahi hain, jaisay woh hain, waisay hum hain."
He also said that he believes that the carnage that unfolded in portions of north east Delhi was not inbred and that rioters were brought in from outside to create chaos and fear.
Zainulabideen, the Imam of Bagh Wali Masjid expressed sorrow over how mosques were burnt during the riots, he said, "Yahan ke logon ne aisa kuch na kia, na honay dia." As his three daughters sat quietly beside him, he said, "Humara to sab yahin hai, aur hum bhi yahin kay hain, humein nikal kay kya milega kisi ko."
Bhule Ram Pradhan, 84, former Sarpanch of Aali Village, was furiously reading the newspaper when I entered his verandah.
When I asked him about the current happenings he said, "This is all wrong, very wrong, we are meeting today, the whole village will together pledge to be together is this time of uncertainty".
He further added how the news about a Muslim man losing all his savings in the carnage affected him a lot. He said, "Yeh konsay Hindu hain jo aisa karengay? Humaray gaon mein sab saath rehtay hain, yahan hum kabhi danga nahi honay dengay!
Pradhan also added that though they faced panic in the face of rumours, even if rioters came here, their unity wouldn't let the rioters succeed.
"Jo Shiv Vihar mein hua, Karawal Nagar mein hua, humein humaray Musalman bhaiyon kay liye darr lagta hai, isliye aaj hum sab gaon waalay baithak karengay".
Gyashi Ram, a shopkeeper, narrated his part in ensuring the safety of Muslims. He said that on Sunday, there was utter panic but he, in an effort to ensure normalcy, kept his grocery store open to debunk rumours of rioters approaching the village.
Gyashi Ram added how his Muslim neighbour couldn't sleep that night and repeatedly said that rioters were bypassing many hurdles to enter Delhi and didn't belong here.
A village that has a 70% Hindu population, Aali does not have clearly defined Muslim localities.
Roshan Ara, 42, a Muslim woman who lives here in a rented house told me that when on Sunday everybody started panicking, her family, fearing that the situation would turn into what transpired in north east Delhi, locked the house from inside and turned off the lights to make it seem that no one was home.
She said, "Humein darr lag raha tha par yeh mohalla utna kharab nahi hai".
As I made to leave, Roshan Ara asked, "Aap Muslim ho na?" In this question, she wrapped her anxiety, insecurity and uncertainty of her religious identity and handed it over to me.
On March 4, as the entirety of Aali Village met to ensure the safety of all villagers. They met, not as Hindus and Muslims, but as concerned residents.
After Pradhan asked everyone to be united and not believe in rumours, the gathering expressed concern on the situation. With the DCP and SHO present at the meeting, they encouraged people to report matters to police before engaging in any action on
hearing rumours.
Full report at:
https://thewire.in/communalism/delhi-riots-aali-village-hindus-muslims
--------
Indian police deliberately targeted Muslims during Delhi riots: NYT report
March 12, 2020
A report published by the The New York Times on Thursday said that recent evidence suggests that New Delhi police "concertedly moved against Muslims" and "actively helped Hindu mobs" that targeted Muslims and their homes during the deadly riots that gripped the Indian capital last month.
At least 50 people were killed in Delhi's worst communcal violence in decades, over two-thirds of them from India's Muslim minority, according to hospital lists. Mosques were burnt and vandalised along with Hindu-owned shops and at least 15 Hindus were killed.
Ground report: How the riots unfolded in Delhi's Chand Bagh
According to the publication, several videos have surfaced of Delhi police assaulting Muslims protesters, and urging Hindu mobs to join.
The report also quoted a police commander as saying that as the violence erupted — attributed to mostly Hindu mobs — officials were told to deposit their guns at the police station; NYT journalists later heard officials yelling to one another that they needed guns, not sticks, to confront the growing mobs.
It also highlighted that majority of those that were killed in the violent clashes were Muslims.
The report also accuses India's police force of being "politicised" by Modi's ruling Hindu-nationalist Bharatiya Janata Party, citing the example of a school principal who was jailed on sedition charges for staging a play about the country's new citizenship law.
Read: Inside Delhi: beaten, lynched and burnt alive
"There's a method to this madness," the report quoted Umar Khalid, a Muslim activist, as saying. "The government wants to bring the entire Muslim community to their knees, to beg for their lives, and beg for their livelihoods."
"You can read it in their books," he said. "They believe India's Muslims should live in perpetual fear."
Full report at:
https://www.dawn.com/news/1540346
--------
India-Iran relations face test following Delhi riots
Nirmala Ganapathy
Mar 13, 2020
India and Iran have often called each other friends and continued to have high level exchanges over the years, despite unrelenting pressure by Washington on Delhi to cut back its exposure to the Islamic country.
But could ties between the two countries now see a marked decline following Teheran's strong comments asking India to protect its Muslim population after 53 people were killed in communal riots in Delhi?
https://www.straitstimes.com/asia/south-asia/india-iran-relations-face-test-following-delhi-riots
--------
Over Rs 5-crore relief given to riot victims: Delhi government
Mar 13, 2020
NEW DELHI: Over 5 crore rupees as compensation has been disbursed till March 9 to riot victims and their families, city government told Delhi high court on Thursday.
In a status report filed in response to an earlier court directive, the government gave a break-up of the compensation claims received till now in connection with riots that ravaged northeast Delhi, with 721 alone from owners whose shops were gutted. It said 53 of these have been given the relief in full.
Around 240 households suffered substantial damages and 155 of those have been given interim compensation while 7 have received the full amount.
The kin of 40 dead victims have also sought compensation, as per the report and government has settled all these either through interim grant or full relief. In its report through standing counsel Sanjoy Ghosh, the AAP government also told the court that it has set up eight night shelters in Shahdara and Seelampur area to ensure speedy relief and rehabilitation of riot survivors who have been left stranded. The report came in response to a batch of petitions being heard by HC on the incidents of violence in north-east Delhi
Meanwhile, solicitor general Tushar Mehta told a division bench of Chief Justice DN Patel and Justice C Hari Shankar that Centre needs more time to file a detailed reply indicating its stand. The bench then listed the matter for further hearing on March 20, asking Centre to file a response by Monday.
https://timesofindia.indiatimes.com/city/delhi/over-rs-5-crore-relief-given-to-victims-govt/articleshow/74602594.cms
--------
Iran evacuees set to be isolated in Jaisalmer
Mar 13, 2020
MUMBAI: Around 200 passengers from Iran, scheduled to fly into Mumbai by an Iran Air flight on Friday afternoon, won't be able to leave the airport. They will continue their journey to Jaisalmer by an Air India flight, and will be moved into isolation centres there by the army, said sources.
The Iran Air flight, which is scheduled to land in Mumbai around 12.30pm, will be first taken to an isolation bay. "The Airport Health Organisation (APHO) in Mumbai has set up screening facilities for these passengers in the isolation bay. They will clear immigration, customs in the isolation bay area before boarding an AI aircraft parked there itself," said a source. Iranians waiting to take the returning flight to Tehran will board from the same isolation bay.
On landing at Jaisalmer, the Indian Army will take the passengers from an isolation bay at the airport to isolation camps in the city. "The Air India aircraft will then undergo a thorough disinfection," said an airline source.
A similar procedure will be carried out on March 15 for about 250 passengers who are to fly into the capital by Mahan Air. "Air India will place two aircraft near the isolation bay of New Delhi airport for taking these passengers to Jaisalmer," the source added.
Full report at:
https://timesofindia.indiatimes.com/india/iran-evacuees-set-to-be-isolated-in-jaisalmer/articleshow/74604204.cms
--------
Indonesia-based NGO linked to Hafiz Saeed funded Delhi riots: Report
March 12, 2020
An Indonesian-based NGO linked to Hafiz Saeed funded for Delhi violence, according to media reports. It is said that the Indonesian NGO A.C.T tried to send Rs. 25 lakh to fund the rioters through a Delhi based organisation. The reports also revealed that A.C.T is highly radicalised, it is a Muslim organisation, it provides money in the name of assistance to many Muslim countries.
This NGO is also said to be involved in riots in Bangladesh. They have also set up Rohingya's camp in Cox's Bazar in Bangladesh.
On February 23 and the next two days, several parts of northeast Delhi had witnessed large scale violence for following clashes between pro- and anti-CAA groups.
The Delhi Police has filed over 700 cases and nabbed nearly 2,400 people in connection with the recent communal violence in northeast Delhi. In total, 2,387 people have been either detained or arrested in relation to the violence that broke out last month in northeast Delhi.
Full report at:
https://www.indiatvnews.com/news/india/breaking-indonesia-based-ngo-funded-delhi-riots-hafiz-saeed-link-report-597438
--------
Pakistan
Jamaat-i-Islami Emir Seeks Budgetary Allocation for Seminaries
March 13, 2020
LAHORE: Regretting 'unfair' treatment of religious schools by the government, Jamaat-i-Islami Emir Senator Sirajul Haq has demanded allocation of educational funds for them in the annual budget.
Speaking to students of Darul Uloom Mansoora here on Thursday, he said the rulers were bent upon taking full control of religious schools on the alleged dictation of the IMF and western powers. To achieve the purpose, he added, the ministers were daily issuing 'irresponsible' statements against the institutions providing free of cost education, food and shelter to over 3.5 million students and acting as the biggest NGO in the country.
He demanded that the government fulfill its promise of uniform curriculum across the country and generously allocate funds for seminaries.
The JI chief alleged that the prime minister was only making emotional statements and hollow claims but practically handing over control of the government to 'mafias' and international lending agencies.
The ground situation about inflation, he said, was also contrary to the prime minister's claim that prices of essential commodities witnessed a sharp decline in the past few weeks. Meanwhile, Deputy Emir Liaquat Baloch has demanded that the Election Commission hold free and fair local government elections in Punjab.
The demand was made during a meeting with Punjab Election Commissioner Ghulam Israr Khan at the latter's office here on Thursday.
Baloch said it was responsibility of the ECP to conduct elections according to the schedule and not to partner with the governments in its 'unconstitutional' act.
He alleged that the provincial governments were using delaying tactics in conducting the local bodies' polls, depriving the masses of their right to franchise.
https://www.dawn.com/news/1540469/siraj-seeks-budgetary-allocation-for-seminaries
--------
Pak anti-corruption watchdog arrests one of Jang Group's owners
Mar 12, 2020
ISLAMABAD: The National Accountability Bureau, Pakistan's anti-corruption watchdog, on Thursday arrested Mir Shakilur Rahman, the editor-in-chief and chief executive of the Jang Group, the country's largest media group which also runs Geo TV, in a case related to the purchase of property in Lahore 34 years ago.
Rahman was taken into custody after appearing before the NAB at its Lahore office.
The Jang Group was founded by Rahman's father, Mir Khalilur Rahman. Shakilur Rahman and his brothers are the major shareholders.
According to the NAB, when former prime minister Nawaz Sharif was chief minister of Punjab he had illegally leased a 54-kanal plot of land to Rahman in 1986 in Lahore's Johar Town. The anti-graft body will produce Rahman before an accountability court on Friday for physical remand.
An official statement issued by the Jang Group said that the property was bought from a "private party 34 years ago and all evidence of this was given to NAB".
It also accused the watchdog of harbouring a vendetta against the publication. "In the past 18 months, the NAB has sent our reporters, producers, and editors — directly and indirectly — over a dozen notices, threatening a shutdown of our channels via PEMRA (Pakistan Electronic Media Regulatory Authority) due to our reporting and our programmes on NAB," Jang's statement read.
Full report at:
https://timesofindia.indiatimes.com/world/pakistan/pak-anti-corruption-watchdog-arrests-one-of-jang-groups-owners/articleshow/74600763.cms
--------
PML-N members say "no fissures" in party ranks in absence of Sharifs
SAIMA SHABBIR
March 12, 2020
ISLAMABAD: Despite their leadership's denial of fissures, members of the main opposition party, Pakistan Muslim League-Nawaz (PML-N), demand an immediate return to the country of its chief leaders, as they say, political support is declining.
"We are losing our voter support, as neither Shahbaz Sharif nor Maryam Nawaz is leading and everyone is looking here and there at such a crucial time," Nishat Ahmad Khan Daha, member of the Punjab Assembly's PLM-N faction, told Arab News over the phone from Lahore on Wednesday, referring to Nawaz's brother and daughter.
PML-N president Shehbaz Sharif has been in London since November, accompanying his brother, the party's founder and former prime minister Nawaz Sharif, who was granted medical bail for treatment in the UK in October in the course of his corruption sentence.
"Shahbaz Sharif should return to lead the party otherwise many members will join different parties like the Pakistan Muslim League (Q), Pakistan Tehreek-e-Insaf (PTI) and Pakistan People's Party (PPP) for their political survival," he said.
According to senior PML-N member Raja Zafar ul Haq, Shahbaz will return to Pakistan by the end of March to lead the party." He added that reports of a major rift in the PML-N were untrue.
Another senior PML-N member, Senator Mushahid Ullah Khan, also denied any cracks in the party's ranks.
"A few members talked about the immediate return of party president Shahbaz Sharif and the issue was discussed in a parliamentary meeting of the party. But there is no rift in the party, differences of opinion are part of a democratic setup," he told Arab News.
"Nawaz Sharif is seriously ill, so how a younger brother can leave the elder brother in such situation. As a leader, Shahbaz Sharif only has to give instructions, which he's been doing from London," he said.
According to the Pakistan Institute of Legislative Development and Transparency (PILDAT) president Ahmed Bilal Mehboob, PML-N remains under the Sharifs control, but it will not last if the leadership remains abroad.
"If Shahbaz Sharif will not come to Pakistan and lead the party with a clear line, the situation in the party will get worse. If the (leadership) void is prolonged, then many members will search for other places for their political future," he said, adding that arguments within the party should be a wakeup call for its leadership, otherwise the cleavage will widen, and the party will lose its supporter base.
Meanwhile, not only the party's members, but also the government wants Sharifs back, as it requested the United Kingdom to deport Nawaz for violating the medical bail conditions.
Full report at:
https://www.arabnews.com/node/1640466/pakistan
--------
UMT holds 5th Global Forum on Islamic Economics, Finance and Banking
MARCH 13, 2020
University of Management and Technology's Institute of Islamic Banking held two days 5th International Conference on Islamic Economics, Finance and Banking here at UMT. Renowned National and International scholars, religious economists, intellectuals, researchers and experts with their latest research, trends and fresh ideas participated and presented more than 50 research papers on Islamic economics banking system in the Global Forum.
President UMT Ibrahim Hassan Murad, Rector UMT professor Dr. Muhammad Aslam, Director General UMT Abid HK Sherwani, Director Institute of Islamic Banking UMT, Dr. Talat Hussain, Dr Rukhsana Kaleem, Dr. Hassan Shakil, Dr. Sheila Yussuf (Malaysia), Mr. Ahmad Ali Siddiqui (SEVP, Mezan Bank), Mufti Ehsan Waqar (Chairman Shria Board NBP), Dr. Ateeq uzzafar Khan (DG, IIIE IIUI), Fareed Pracha (Jmat e Islami), Mulana Mufti Hafiz ur Rahim (Head Jamia Asharfia), people from industry, Banking sector, government officials and large number of students, staff, faculty members also participated in this conference.
Director Institute of Islamic Banking UMT, Dr. Talat Hussain warmly welcomed and appreciated the joint efforts of all scholars, practitioner, experts who put their time struggle and gave time to make to make this conference successful. Dr. Talat said that there is need to promote Islamic finance system around the globe for Muslim and non-Muslim countries as well. He also told that we will make PM Imran Khan's mission successful to make Pakistan Riyasat e Madina.
Rector UMT professor Dr. Muhammad Aslam addressed to the Global forum and said UMT is connecting renowned practitioners, financial institutions, professional experts and religious scholars to the civil society with their latest teachings and research trends to find the solutions faced by Islamic banking system. Dr. Aslam also said that the joint efforts of youth and religious scholars with research & resources will play vital role to impose riba free Islamic banking system in our society. He told the attendees that UMT is producing best future leaders, scholars and researchers of Islamic Economics and Banking as well.
Director General UMT Abid HK Shirwani appreciated the Institute of Islamic Banking team for organizing successful conference on such an important issue. He also thanked to the to the National and International participants while saying that next year this Global Forum will be organized in more better way. Abid Sherwani said that the outcome of this conference will be effective and positive. By the efforts of experts and under the leadership of PM Imran Khan dream to make Pakistan Riyasat e Madina will come true, he added. He told that there are many Blessings of Ribah free Islamic economic and banking system. He expressed that there is need to find best solution for Islamic economics, finance and baking to replacing with current banking system on the fundamentals of Islam.
Mulana Mufti Hafiz ur Rahim ,Mr. Ahmad Ali Siddiqui ,Mufti Ehsan Waqar (Chairman Shria Board NBP), Fareed Pracha (Jmat e Islami), Dr. Sheila Yussuf and all other experts & speakers of Global Forum congradulated UMT management for holding such successful conference and highlighted the growing importance of Islamic Banking System and its impact in contemporary world while presenting more than 50 research papers. The experts and scholars agreed that to Make Pakistan Riyasat e Madina Islamic Banking should be highly promoted. They also emphasized that with the support of Government we should promote Ribah free Islamic banking system for the removal of injustice, poverty and financial problems from our society because Interest-free economic system is the secret of prosperity. The speakers seemed in agreement that conventional banking system could not be ignored rather it could be converted into the interest-free system.
Full report at:
https://dailytimes.com.pk/575108/umt-holds-5th-global-forum-on-islamic-economics-finance-and-banking/
--------
Army deployed at Taftan to screen pilgrims returning from Iran
March 13, 2020
QUETTA: A top-level meeting of the provincial government was informed on Thursday that a Pakistan Army medical battalion comprising doctors and other staff had been deployed at Pakistan-Iran border town of Taftan and Hazarganji area to perform medical check-up of all pilgrims and businessmen returning from the neighbouring country to detect symptoms of coronavirus.
The Director General of Provincial Disaster Management Authority, Mr Imran Zarkoon, informed the meeting that the PDMA had established a tent village comprising 2,500 tents in Taftan in which around 2,376 pilgrims, out of 3,300 who recently returned from Iran, had been accommodated.
He said that fabricated rooms were being prepared on an emergency basis which would be used as isolation wards whenever needed.
The health secretary informed the meeting that 10 rooms and 50 beds wards were being set up in Sheikh Zayed Hospital's hostel in Phase One and isolation wards were being set up in Fatima Jinnah Chest and General Hospital.
Full report at:
https://www.dawn.com/news/1540510/army-deployed-at-taftan-to-screen-pilgrims-returning-from-iran
--------
IHC gives amicus curie time to submit written response in pleas against PTI ordinances
March 13, 2020
ISLAMABAD: The Islamabad High Court (IHC) on Thursday gave amicus curie more time to submit a response in a petition challenging promulgation of eight ordinances by the Pakistan Tehreek-e-Insaf (PTI) government.
A single-bench presided over by IHC Chief Justice Athar Minallah resumed hearing a plea filed by the Pakistan Muslim League-Nawaz (PML-N).
Previously the bench had appointed lawyers Raza Rabbani, Abid Hassan Manto, Makhdoom Ali Khan, and Babar Awan as amicus curiae and directed them to submit a written response in the matter. While Awan and Manto submitted a written response, the high court awaits Khan and Rabbani's reply.
In the last hearing, Justice Minallah questioned the circumstances that made Imran Khan's government to bypass the Parliament by promulgating the ordinance.
The hearing was adjourned till March 24.
Separately, Justice Minallah also heard the federation's intra-court appeal against IHC order restoring the Pakistan Medical and Dental Council (PMDC).
One of the ordinances promulgated by President Dr Arif Alvi led to the formation of a new body – Pakistan Medical Commission (PMC) – thereby eliminating PMDC.
The PMC Ordinance was among those 11 presidential ordinances, which the government got passed in the form of bills from the National Assembly in a controversial manner amid ruckus by opposition members on November 7. The new body was declared illegal by the IHC in a set of petitions challenging the PTI government's decision.
In Thursday's hearing, Advocate Zainab Janjua lamented that the future of PMDC staff remained in limbo. To which, Additional Attorney General Mahmood Khokhar said his wife, who is also a member of the council, was facing delays as well.
Full report at:
https://www.pakistantoday.com.pk/2020/03/12/ihc-gives-amicus-curie-time-submit-written-response-pleas-pti-ordinances/
--------
South Asia
Release of Taliban prisoners creates mixed reactions in Afghanistan
12 March 2020
Amin Alemi
Afghan President Ashraf Ghani has approved the release of hundreds of Taliban prisoners as part of efforts to pave the way for the start of talks with the militant group.
According to a decree signed by Ghani, 500 prisoners would be released within 15 days starting on Saturday, with 100 prisoners walking out of Afghan jails every day.
Afghan officials say once direct talks between the Taliban and Kabul began, the Afghan government would free 500 prisoners every two weeks until a total of 3,500 were released.
Dissatisfied with the move, the Taliban said the plan to stagger the release of Taliban prisoners violated an accord they struck with the United States and they would not talk with the Afghan government until all 5,000 prisoners were freed.
The move has also sparked mixed reactions inside Afghanistan. Rights bodies such as the Afghan Independent Human Rights Commission (AIHRC) expressed concerns over the plan, saying the major achievements of the Afghan people must not be sacrificed under peace negotiations.
In the meantime, some here describe the move as a critical attempt by the Afghan government, arguing that such a move will create further political instability in the country in case Kabul fails to properly manage and control it.
A February 29 pact between the Taliban and the US has cleared with way for the withdrawal of foreign forces after more than 18 years of war, but peace has to be negotiated between the militants and Afghanistan government. The Taliban have promised to open talks with the government as part of the accord but say the release of their 5,000 comrades held by the government was also part of the deal, and they won't talk until all are freed.
The approval of the release of 5,000 Taliban prisoners comes as Afghan President Ashraf Ghani had earlier named it a red line for the Afghan government .Now the significant change in Ghani's stance has created doubts among rural Afghans about the future of their country.
https://www.presstv.com/Detail/2020/03/12/620692/Afghanistan-Taliban-prisoners-Ghani
--------
Heavy protests in Bangladesh, Modi cancelled his trip
March 11, 2020
By Prof. Engr. Zamir Ahmed Awan
Narendra Modi, who was expected to visit Dhaka next week, has canceled his trip amid anti-Modi protests in Bangladesh. While Government of Bangladesh has completed all arrangements for his safety and arranged a grand ceremony of Bangabandhu Sheikh Mujibur Rahman's birth centenary which Modi was scheduled to attend on March 17.
But after India passed the new Citizenship Act 2019, baring Muslims migrants from Indian Citizenship. Around 2 Million Muslims of Bangladesh origin were the victim of new legislation. After the establishment of Bangladesh in 1971, due to civil war, and deteriorated economic situation, around 2 million Muslims migrated to the neighboring Indian state of Bihar, and Assam, etc.
Amended Citizenship Act, has faced a huge resistance within India, as well as abroad. There are estimated around 250 Million Muslims in India, while official reports declare on the lower side as only 14% by population. India is scared of its Muslim population and deliberately announced less population with its evil-designs. Not only the Muslims but other minorities like 150 Million Sikhs, Christians, Dalits, and other small minorities are also protesting against the Amended Citizenship Act. The neutral Hindus and low-caste Hindus, oppose the amended act. The extremists Hindus constitute 6~8% of population only, but rule the country.
Bangladesh is a country with around 200 million Muslims and one of the most affected countries from the Amended Act, has launched severe protests all over the country. They are agitating and burning Photos of Modi. Students, intellectuals, traders, human rights activists, and youth of the country, who conceived the Indian extremist approach, are demonstrating throughout the country. On 6 March 2020, after Friday prayers, few hundred thousand were agitating against the Indian amended Citizenship Act. They were chanting anti-Modi slogans like "Butcher" and threatened to cordon-off the airport if Modi wanted to visit India. In spite of the Bangladesh Government's efforts, the protests gained momentum and seems getting out of control.
Indian Intelligence resources were assessing the ground situation in Bangladesh and reached the conclusion that Modi's security may not be ensured. Finally, on the recommendation of Indian sources based in Bangladesh, Modi has canceled his long-awaited official visit to Bangladesh.
By nature, Modi is cowardice and cannot face the anger of Bangladeshi youth. He was scared of the backlash of his domestic policies, which have a huge impact on Bangladesh. He opted for the lame excuse of the Coronavirus outbreak and canceled his visit. India is more vulnerable to Coronavirus outbreak as compared to Bangladesh.
Although, Bangladesh has been maintaining good relations with India since its establishment in 1971. But the Modi's policies on Kashmir and Muslims were not welcomed in Bangladesh. Especially, the amended Citizenship, having a direct impact on Bangladesh, was resisted openly. The Government of Bangladesh may respect the diplomacy and may not openly criticize Modi's policies, but the public at large was very much critical on his anti-Muslim approach.
India is facing criticism and isolation internationally. The western world is also criticizing his human rights violations and biased policies. Senior officials, especially Army officers involved in war-crimes in Kashmir, are refused visas by Western countries. UN organizations, Human Rights Institutions, and the public at large, is condemning Modi's policies. The world's reaction is very much visible and India is facing isolation world-wide. However, few governments, based on their economic interests, may stand with Modi, but the general public condemns strongly.
Full report at:
https://moderndiplomacy.eu/2020/03/11/heavy-protests-in-bangladesh-modi-canceled-his-trip/
--------
Russia warns about the emerging internal political crisis in Afghanistan
12 Mar 2020
Russia has warned that the emerging internal political crisis, exacerbated by two parallel inauguration ceresmonies of Ashraf Ghani and Abdullah, could undermine the intra-Afghan talks.
Commenting on parallel oath taking ceremonies, the Foreign Ministry of Russia said "We call on all responsible political actors of Afghanistan to adhere solely to common national interests, to focus their efforts on national reconciliation process, which should lead to end of the civil war and to rebuilding of peaceful, united and independent state, free of terrorism and drug-related crime."
The ministry also added that it believes that emerging internal political crisis, exacerbated by two parallel inauguration ceremonies of Ashraf Ghani and his rival Abdullah Abdullah, can undermine the intra-Afghan talks, according to TASS.
It also added "The emerging crisis situation sparks concerns of further destabilization of the already complex internal political situation in the country and of negative consequences for the beginning of the intra-Afghan talks, the perspective of which appeared in the wake of the US-Taliban peace treaty signed in Doha on February 29."
Russian Foreign Ministry reiterated Moscow's readiness to continue to "fully support the friendly Afghan people" in its pursuit of stable peace in the country.
Tensions remain high on political level following the controversial announcement of final election by Independent Election Commission last month.
The Independent Election Commission announced incumbent Ashraf Ghani as the winner of the controversial presidential elections. However, Abdullah rejected the results emphasizing that he had won the presidential race and that he would form a parallel government.
Abdullah announced the formation of an inclusive government after holding a parallel oath taking ceremony in Kabul on Monday and on Wednesday issued a statement which stated that Ghani is no more the President of Afghanistan and his decrees will no more have credibility.
The statement further added that the term of the Government of National Unity formally ended with the formation of the inclusive government and that the new Chief Executive would be formally introduced in the near future.
Full report at:
https://www.khaama.com/russia-warns-about-the-emerging-internal-political-crisis-in-afghanistan-04507/
--------
China Accuses US Military of Likely Role in Coronavirus Outbreak
Mar 12, 2020
"When did patient zero begin in US? How many people are infected? What are the names of the hospitals? It might be the US army who brought the epidemic to Wuhan. Be transparent! Make public your data! The US owes us an explanation!" Chinese Foreign Ministry Spokesman Zhao Lijian wrote on his Twitter account.
Meantime, reports coming from the US said the coronavirus has already infected over 1,250 people and been found in about 45 US states. At least 38 people have died from the illness, as top health official Dr. Anthony Fauci warned that the sickness situation in the United States is "going to get worse".
Lijian had stated the origin of the coronavirus is yet to be determined.
"It is yet undetermined where the virus originated. Wherever its origin may be, China and all the other affected countries are victims faced with the challenge in containing its spread," Zhao noted days ago.
Rejecting Washington accusations of a cover-up of the outbreak in Wuhan in December, Chinese Foreign Minister Wang Yi also stated on Thursday US officials should focus on their own response to the pandemic rather than denigrating Beijing's efforts.
"This irresponsible and immoral behavior will not help to alleviate the situation with Covid-19 in the United States," the top diplomat emphasized.
The foreign minister noted that the Covid-19 pandemic is a common challenge for the world, adding, "We hope that at this special time, some US officials will focus on how to respond to the spread of the disease in their country, rather than trying to blame China."
His comments responded to US National Security Advisor Robert O'Brien, who'd claimed on Wednesday that China had "cost the world community two months" and that it had exacerbated the global outbreak, allegedly by covering up the epidemic in its early stages.
On Monday, China condemned US Secretary of State Mike Pompeo for branding the COVID-19 as the "Wuhan virus", terming his remarks as "despicable behavior" and an attempt to stigmatize the country.
The World Health Organization (WHO) has officially named coronavirus as COVID-19, another Chinese Foreign Ministry Spokesman Geng Shuang told a media briefing responding to Pompeo's comments.
"Certain US politicians turning a blind eye to science and the decision of WHO have rushed to stigmatize China and Wuhan under the pretext of COVID-19. We condemn such despicable behavior," Geng said.
Pompeo last Friday repeatedly referred to the coronavirus as "Wuhan virus", pointing to the Chinese city where the virus first emerged in December last year and also blamed Beijing for not sharing enough information about the disease which put the US "behind the curve".
The US had made strenuous efforts to name the new coronavirus after China's Wuhan at the WHO before the world body branded it as COVID-19.
The US has been the origin of some worst types of flu that have wreaked havoc on the health of global citizens, but none has been branded after the country.
The WHO has declared the outbreak a pandemic. Globally, more than 4,600 people have died so far, and over 126,000 infected in more than 120 countries.
Full report at:
https://en.farsnews.ir/newstext.aspx?nn=13981222000950
--------
Arab World
Lebanese Man Pleads Guilty to Exporting Drone Parts from US to Hezbollah
12 March, 2020
Issam Hamade, a Lebanese national charged with conspiring to export drone parts and technology from the US to Hezbollah in Lebanon, has pleaded guilty to one count of conspiracy to violate US export laws.
Hamade pleaded guilty Monday in federal court in Minnesota. His brother, Usama, faces similar counts and is also charged with smuggling.
Prosecutors said the brothers acquired sophisticated technology for drones from 2009 to 2013 and illegally exported them to Hezbollah, which the US considers a terrorist organization.
Issam Hamade faces up to five years in prison when sentenced next month, but prosecutors plan to ask for 30 months, according to a plea agreement.
Hamade's defense attorneys plan to ask for time served. He's expected to be deported after he serves his time.
The Hamades were arrested in February 2018 in South Africa and were extradited to the US last fall.
According to an indictment, the parts included inertial measurement units, which can be used to track an aircraft's position, and digital compasses, which can be paired with the inertial measurement units for drone guidance systems. The parts also included a jet engine and 20 piston engines.
In the plea agreement publicly filed Tuesday, Issam Hamade admitted that his brother arranged to purchase parts and technology from various countries, including the US, from 2009 to 2011. He also admitted that he transferred money from Lebanon to accounts in South Africa at his brother's request, knowing the money was being used to buy these parts.
The plea agreement says Hamade had reason to believe the parts and technology were going to Syria, in violation of US export laws.
https://aawsat.com/english/home/article/2176176/lebanese-man-pleads-guilty-exporting-drone-parts-us-hezbollah
--------
Tension as rocket attack in Iraq kills three members of US-led coalition
March 13, 2020
BAGHDAD: Iraqi and United Nations officials scrambled on Thursday to contain the fallout from an unprecedented rocket attack that killed three US-led coalition members and threatened yet another escalation of Iran-US tensions.
Within hours of the attack on Taji airbase, north of Baghdad — the deadliest in years on a base used by US forces in Iraq — an air strike killed more than two dozen Iran-aligned fighters in neighbouring Syria.
It marked a dramatic uptick in violence less than three months after rockets killed a US contractor in northern Iraq, unleashing a round of tit-for-tat attacks between Washington and Tehran on Iraqi soil.
Fearing an even bloodier flare-up this time, Iraqi officials and the United Nations were quick to condemn the coalition deaths.
Iraq's military command said it was "a serious security challenge" and pledged to open an investigation.
President Barham Saleh and parliament speaker Mohammed al-Halbussi condemned a "terrorist attack" which targeted "Iraq and its security".
The UN mission in Iraq called for "maximum restraint on all sides". "These ongoing attacks are a clear and substantial threat to the country, and the risk of rogue action by armed groups remains a constant concern," it said. "The last thing Iraq needs is to serve as an arena for vendettas and external battles."
Full report at:
https://www.dawn.com/news/1540495/tension-as-rocket-attack-in-iraq-kills-three-members-of-us-led-coalition
--------
Hashd Al-Shaabi Rejects Involvement in Attacks on US Base in Iraq
Mar 12, 2020
"Raising allegations against Hashd al-Shaabi for the attacks are not true," Adel al-Kar'awi said in an interview with the Arabic-language Baghdad al-Youm news website on Wednesday.
He described the US allegations as "provocative".
Also, Mohammed al-Basari, another commander of Hashd al-Shaabi forces, also said that Hashd al-Shaabi is an official entity under the supervision of the Iraqi Armed Forces and is not involved in offensives against the US forces.
He said the mobilized forces have not conducted the attacks, and stressed, "Hashd al-Shaabi forces are not afraid of claiming the responsibility for attacks on the US bases, but only if they are involved."
The US-led coalition confirmed three of its personnel - two Americans and one Briton - had been killed in a rocket attack on the Taji military camp in Iraq.
No group has claimed responsibility for the attacks.
In a statement, the US-led coalition said the Taji base North of Baghdad was targeted with about 18 Katyusha rockets. It added that about a dozen coalition personnel were also wounded in the raid.
"The attack is under investigation by the coalition and Iraqi security forces," the military coalition said.
Earlier, the Iraqi Interior Ministry's Security Media Cell announced in a statement that the incident took place in the evening when 10 rockets landed on Camp Taji, located some 30 kilometers (18.6 miles) North of Baghdad.
Full report at:
https://en.farsnews.ir/newstext.aspx?nn=13981222000653
--------
Seven new coronavirus cases confirmed in Lebanon, total 66
13 March 2020
Lebanon reported seven new confirmed cases of the deadly coronavirus, raising the total number of recorded cases in the country to 66 on Thursday, according to the Ministry of Public Health which also reported the country's third death due to the virus.
The Lebanese Minister of Public Health Hamad Hassan said that eight government hospitals have been equipped to increase the capacity to deal with additional cases.
The National News Agency (NNA) citing a daily report issued by Rafik Hariri University Hospital in Beirut said the hospital alone has at its isolation unit 38 confirmed cases.
"during the past 24 hours, 158 cases in the emergency unit designated to receive cases suspected of being infected with the disease, whereby 17 of them had to be admitted to the quarantine section while the rest adhered to home quarantine," read the hospital's statement carried by the news agency.
It added "Laboratory tests were conducted over 206 cases, 199 of which were negative and 7 positive." the Hospital report indicated.
It also disclosed that 19 cases that were held in quarantine were released today," after their test results came out negative. Fourteen cases are currently present in the quarantine section.
The Hospital added that the health condition of coronavirus cases is stable, except for 2 in critical condition, all of whom receiving the necessary care in the isolation unit.
In a related development Restaurants, cafes, shopping malls and shops across the country shut their doors to customers on Thursday.
Meanwhile, former PM Saad Hariri said that the situation cannot tolerate any outbidding, and that fighting coronavirus requires the utmost seriousness.
He stressed that the mistakes that have occurred are now behind us, and what is in front of us is only the mobilization of all efforts within the State, health institutions and civil society to fight the epidemic.
He said on Twitter: "The danger of the virus does not depend on the sectarian and political identity, and if the health requirements necessitate strict measures to control land crossings and to place a neighborhood or region where the virus is found in quarantine, we should not hesitate. The world has declared a state of emergency, from America to China and Italy. What is needed is to isolate government decisions from politics."
He added: "This is an opportunity to praise the medical staff and all the employees of the Rafic Hariri University Hospital, the Lebanese Red Cross and all the health institutions that established spaces dedicated to fight the epidemic," according to a statement issued by Hariri press office and was carried by NNA.
Full report at:
https://english.alarabiya.net/en/News/middle-east/2020/03/13/Seven-new-coronavirus-cases-confirmed-in-Lebanon-total-66.html
--------
Iraq stops flights to India and Lebanon over coronavirus fears
13 March 2020
Iraqi Airlines announced on Thursday it would stop all flights to India and Lebanon over the coronavirus outbreak, the state news agency reported.
The statement from the company added that evacuation flights from India will be excluded from this decision, and March 15 will be the last day for Iraqis in Lebanon to return.
On Thursday, Lebanon reported seven new confirmed cases of the deadly coronavirus, raising the total number of recorded cases in the country to 66, according to the Ministry of Public Health which also reported the country's third death due to the virus.
Coronavirus continues spread across Middle East and North Africa with over 1,600 infected across the region.
Full report at:
https://english.alarabiya.net/en/News/middle-east/2020/03/13/Iraq-stops-flights-to-India-and-Lebanon-over-coronavirus-fears.html
--------
Twenty-six Iraqi fighters killed in east Syria strike
12 March 2020
An air strike killed 26 fighters of Iraqi paramilitary group Hashed al-Shaabi in eastern Syria after a deadly attack on US-led coalition troops in Iraq, a war monitor said Thursday.
Updating its toll for the Wednesday strike, the Britain-based Syrian Observatory for Human Rights said it was probably carried out by the coalition.
The coalition did not immediately provide comment.
Before the strike near the border town of Albu Kamal, rockets were fired at a military base north of Baghdad hosting coalition troops, killing two Americans and one Briton.
It was the deadliest such attack in years on an Iraqi military base hosting foreign troops.
There was no immediate claim of responsibility, but the United States has blamed Iran-backed factions from the Hashed al-Shaabi for similar violence in recent months.
Within hours, the air strikes were launched against Hashed forces just across the border in Syria.
Hardline Hashed factions have fought alongside Syrian government forces for several years and have been targeted by both coalition and Israeli air strikes.
The coalition has been carrying out air strikes in Syria since 2014, when IS overran a large swathe of the country and neighbouring Iraq.
Full report at:
https://english.alarabiya.net/en/News/middle-east/2020/03/12/Twenty-six-Iraqi-fighters-killed-in-east-Syria-strike.html
--------
Iraqi leaders condemn rocket attack on base housing US troops near Baghdad
12 March 2020
Iraqi leaders have condemned a Wednesday rocket attack that hit a military base housing American troop near the capital Baghdad.
Iraqi President Barham Salih and caretaker Prime Minister Adel Abdul Mahdi on Thursday decried the attack against Taji military camp, which killed three members of the US-led coalition, including two Americans and one Briton.
No group has claimed responsibility for the attack.
In a statement, the Iraqi president described the strikes as an attack on Iraq and its security, stressing the need for thorough investigations to identify the perpetrators.
Abdul Mahdi also denounced the attack as "hostile and unacceptable," according to a statement issued by the Iraqi Armed Forces.
He said the attack is a security challenge and a very serious hostile approach.
The prime minister, as commander-in-chief of the armed forces, ordered the identification of the perpetrators of this dangerous and hostile act, the statement said.
It said that the Iraqi military would take serious measures against such attacks and would respond firmly.
Anti-American sentiment has been running high in Iraq following the assassination on January 3 of Iran's top anti-terror commander Lieutenant General Qassem Soleimani along with Abu Mahdi al-Muhandis, the deputy head of Iraq's Popular Mobilization Units (PMU), along with their companions.
The crime promoted the Iraqi parliament to vote for the expulsion of US forces from the country. The government has not yet acted on the decision as it is grappling with a political deadlock.
Iran and Iraq's PMU — better known as Hashd al-Sha'abi — vowed revenge, with Tehran targeting two US bases with missiles days later.
The PMU also said the reaction will be "no less than in size" than Tehran's missile strikes on two American bases in Iraq.
It has, however, denied repeated US claims that it has been behind rocket attacks targeting US and other foreign missions and bases in Iraq.
Reacting to the Wednesday raid, Hashd al-Sha'abi commanders once again dismissed US claims that the Iraqi force was behind the raid, describing the allegations as wrong and provocative.
Full report at:
https://www.presstv.com/Detail/2020/03/12/620682/Iraq-President-Salih-PM-Abdul-Mahdi-Taji-military-camp-US
--------
Pentagon confirms strikes against Iran-backed militia arms depot in Iraq
March 13, 2020
WASHINGTON: The Pentagon on Thursday confirmed that the United States had carried out strikes against five Iran-backed militia weapons storage facilities in Iraq, a day after a deadly rocket attack killed two American and one British service member.
"The United States conducted defensive precision strikes against Kataib Hezbollah facilities across Iraq," a Pentagon statement said.
"These weapons storage facilities include facilities that housed weapons used to target US and coalition troops," it said.
The strikes were "defensive, proportional and in direct response to the threat posed by Iranian-backed Shia militia groups," the statement added.
https://www.arabnews.com/node/1640761/middle-east
--------
Europe
France, Spain Honour Hundreds of Terrorism Victims, Vow Unity
March 11, 2020
PARIS — The president of France and the king of Spain paid homage Wednesday to victims of terrorism in a special ceremony prompted by attacks that hit both their countries and changed Europe's security posture.
France's Emmanuel Macron and Spain's King Felipe and Queen Letizia led a ceremony on Trocadero plaza overlooking the Eiffel Tower with survivors of terrorist attacks and families of victims.
The European Union chose March 11 as a day of continent-wide commemoration of terrorism victims after the Madrid train bombing on March 11, 2004 that killed nearly 200 people and woke Europe up to 21st century threats of Islamic extremism.
Macron paid tribute to the victims of a string of attacks in France, starting with shootings in 2012 that killed children at a Jewish school, a rabbi and paratroopers in the Toulouse region.
Extremists claiming links to the Islamic State group or Al-Qaida hit France repeatedly in 2015 and 2016. Among their victims: cartoonists at satirical newspaper Charlie Hebdo, shoppers at a kosher market, concert-goers at the Bataclan, diners in Paris cafes, an elderly priest at the altar, holiday revelers on the seaside of Nice, and several police officers.
https://www.nytimes.com/aponline/2020/03/11/world/europe/ap-eu-europe-terrorism-victims.html
--------
Shot 9 Times During Mosque Massacre, Survivor Overcomes Fear
March 11, 2020
CHRISTCHURCH, New Zealand — When the gunman walked into the Al Noor mosque, Temel Atacocugu was kneeling for Friday prayers. He looked up into the man's face, thinking he was a police officer because of his paramilitary outfit. Time slowed. Atacocugu saw a puff of smoke come from the raised gun, felt a bullet smash into his teeth, and thought, "Oh, my God, I'm dying."
But despite being shot nine times, Atacocugu survived the attack at Al Noor, one of two mosques in the city of Christchurch that were attacked on March 15 last year, in New Zealand's deadliest modern-day mass shooting.
On Sunday, New Zealand will commemorate the 51 people who were killed in the attacks. Atacocugu, 45, is slowly overcoming his own physical and psychological injuries from that day. And he's even found himself ready to face a childhood fear: sharks.
On the day of the attacks, Atacocugu was in a buoyant mood when he walked into the mosque. An active man who loves soccer, fishing and running, he'd just finished his last acupuncture session for a sports injury and was feeling in great shape.
Growing up in Turkey, he'd been through compulsory military training, so he quickly realized what was happening. Medical staff would later tell him he was incredibly fortunate that the bullet, which struck his upper jaw, deflected downward rather than continuing into his brain or an artery.
Atacocugu says that after that first shot to his mouth, he leapt up in shock and was shot four more times in both legs. People were screaming. Another worshipper rushed at the gunman and was killed, but it gave Atacocugu a couple of seconds to react, and to run as best he could.
There was no obvious way out, so he laid down motionless on the floor. He was later shot four more times in his left arm and leg as the gunman fired indiscriminately into the piles of bodies.
Atacocugu spent a month in a hospital and underwent four operations that included bone and skin grafts. He'll need at least three more surgeries in the months to come.
"The biggest change after the attack was that I can't be free the same as before," Atacocugu says. "Because very limited moving around. And I was feeling like a little baby, because somebody has to look after me all the time."
Yet his physical recovery a year later is remarkable. The wheelchair and cane are gone. His left arm remains weakened, but when he walks down the street or plays with his Labradoodle dog, Max, Atacocugu's limp is barely noticeable.
A few weeks ago, he started playing soccer again with a group of his friends, joking that these days he's being outrun by fit men in their 70s. In one game, he showed off his skills by tackling, spot kicking and back-heeling a pass.
Atacocugu's mental recovery is taking longer. He's been seeing a psychologist who's helping him work through the images and flashbacks that still haunt him.
"He's trying to pull out the dark spot from my brain," he says.
Atacocugu has experienced bouts of depression and has been taking antidepressants since the shooting. He figures he'll need to keep taking the medication for at least another year. He's found that his memory and ability to concentrate have also been affected.
He says he doesn't want to keep working at the kebab shop he ran with a business partner at the time of the attack and is now trying to sell his stake. He's helped out at the shop a couple of times since the shooting but has found himself nervous around strangers, not wanting to explain.
"It's just too crowded and too big," he says. "People keep asking, 'Oh, what's happened to your arm?'"
Atacocugu says he's thinking instead of turning back to his skills as a painter and decorator. It's more peaceful, he says, working alongside a trusted crew with only a single customer to deal with at any one time. He's also recently put in an offer to buy a new home in Christchurch, which he hopes will help him make a fresh start.
Atacocugu moved to the South Pacific country after meeting a New Zealand woman in Turkey and marrying her in 2001. They thought Christchurch would be a good place to raise their children, in an environment that seemed friendly and safe. The couple separated in 2016 and Atacocugu stayed in Christchurch to be near his two teenage sons.
He plans to attend the trial of the 29-year-old Australian white supremacist who is accused of carrying out last year's massacre. Brenton Tarrant has pleaded not guilty to charges of terrorism, murder and attempted murder, and his trial is scheduled to start in June. If found guilty, he faces life imprisonment.
Atacocugu says the way that New Zealand Prime Minister Jacinda Ardern and people throughout the country came together in unity after the shooting shows the gunman has already failed in his quest to sow division. Hate, he says, has lost and love has won.
"As a human, yes, I'm so angry," Atacocugu says. "But also, deep of my heart, my religion makes me calm down and be patient. So I know the New Zealand law system is going to punish this man, this terrorist, as much, as high as can be possible, under the law."
Over the past year, Atacocugu has found moments of peace during two overseas trips. One was to Turkey, where he spent time with his mother and other family members and friends. The other was a trip to Saudi Arabia for the hajj, the annual pilgrimage that most Muslims are required to perform during their lifetime. Atacocugu was among 200 survivors and relatives from the Christchurch attacks who traveled to Saudi Arabia as guests of King Salman.
"Pretty much my whole life is upside down and changed," Atacocugu says. "But spiritually, in a religious way, I'm much stronger than I used to be."
That newfound strength has filtered through into other aspects of his life. Atacocugu recalls watching the "Jaws" movies when he was a boy, an experience that for months left him terrified of swimming.
Years later, he drew up a list of new things to experience during his life, including diving with sharks. Still, he could never quite get over that childhood fear.
But he says that after he was shot, he began to think about it a lot.
Full report at:
https://www.nytimes.com/aponline/2020/03/11/world/asia/ap-as-new-zealand-shooting-anniversary-survivor.html
--------
Ardern says New Zealand can do 'much more' as racist threat lingers
March 13, 2020
CHRISTCHURCH: New Zealand's leader Jacinda Ardern admitted Friday there was "much more" her country could do to tackle white supremacists a year after the Christchurch mosque massacres.
Ardern was widely praised for her compassion towards the Muslim community after a lone gunman attacked two mosques on March 15 last year, killing 51 in New Zealand's worst modern mass shooting.
But she said some in the South Pacific nation continued to espouse the views of the Australian attacker, a self-avowed white supremacist who targeted Muslims at Friday prayers.
"New Zealand is not free of those groups who define themselves as extremist white supremacists, those groups exist here," she told reporters.
"The responsibility we have is to combat not only that existence, but the precursors to that existence. There is much more that we can do," she said.
Ardern, who was speaking ahead of a national memorial service on Sunday, said the best way to honour victims was to call out racism, bullying and discrimination.
"People will feel safe when they feel supported," she said.
"When they feel the community is looking after them and when they feel they are not facing discrimination or jibes in the street or comments that make them feel unsafe."
Ardern said the March 15 attacks "fundamentally changed" New Zealand, she hoped for the better.
"I would like to think there is a growing resolve amongst New Zealanders that we wish to be defined by what we are not as much as what we are," she said.
Her remarks come after police arrested a 19-year-old man this month over a threat against one of the mosques attacked last year.
"It is unfathomable to me that, after everything the Muslim community has experienced, we have people who are … (making) threats against our Muslim community," she said.
'The peaceful way'
Ardern later joined more than 1,000 Muslims for their Friday prayers as the Al Noor and Linwood mosques held a combined service and were joined by fellow Muslims from around New Zealand.
Nasir Ali, who flew in from Auckland with his family, said it was important to share the "sorrow and hardship" and keep the memory alive.
"We need to keep it on the radar that this sort of tragedy and this sort of extremist ideology does exist and we need to continue to be vigilant about it," he said.
Farid Ahmed, whose wife was killed by the gunman, said 12 months on he was still at a loss to understand why the killing occurred.
Ahmed has publicly forgiven the gunman and said he refuses to be cowed.
"I feel I could die anytime and I should not be afraid because I have got my freedom not to be afraid. No one or nothing can take that away," he said.
"The lesson is that hate does not solve any problem. If there are differences there is another way and that is the peaceful way."
"We should talk, we should dialogue, we should ask one another questions and we should not be afraid of one another."
Taj Mohammed Kamran, who was shot three times while his friend beside him was killed by the gunman, said he felt safe at the Friday prayers because of the large police presence.
"But I was sad because my friend was not there," he added.
Full report at:
https://www.freemalaysiatoday.com/category/world/2020/03/13/ardern-says-new-zealand-can-do-much-more-as-racist-threat-lingers/
--------
UK's Raab demands action to find perpetrators of Iraq attack
12 March 2020
Britain on Thursday demanded Iraqi authorities take action to hold to account those responsible for a rocket attack in Iraq which killed one British and two American personnel.
"We must find those responsible. I welcome the Iraqi President's call for an immediate investigation to hold perpetrators to account - but we must see action," British Foreign Secretary Dominic Raab said in a statement.
Raab also said he had spoken with US Secretary of State Mike Pompeo on Wednesday night, and the two had agreed that "it is essential to defend against these deplorable acts."
https://english.alarabiya.net/en/News/middle-east/2020/03/12/UK-s-Raab-demands-action-to-find-perpetrators-of-Iraq-attack.html
--------
Turkish defense minister meets with British counterpart
Orhan Onur Gemici
13.03.2020
Turkey's defense minister met with his British counterpart Thursday.
Hulusi Akar received Ben Wallace, who was in Ankara as an official guest, with a military ceremony, according to a statement from Turkey's Defense Ministry.
After the ceremony, Akar and Wallace held a meeting with their delegations.
The main topics of discussion were regional defense and security issues, especially in Syria's Idlib province, and the defense industry.
The two ministers emphasized their determination to stop the bloodshed in Idlib, preserving stability on Turkey's borders and preventing a humanitarian crisis in war-torn Syria.
Regarding these issues, the importance of mutual dialogue and collaboration was stressed.
The ceasefire in Idlib, which came into effect last week, was agreed by Turkey and Russia after bilateral talks and meetings in Moscow that lasted over six hours.
Under the deal, all military activities were to end there, along with the establishment of a security corridor 6 kilometers (3.7 miles) to the north and south of the key M4 highway.
On Wednesday, Turkish President Recep Tayyip Erdogan warned that Turkey will respond heavily if its observation posts in Idlib are targeted.
Full report at:
https://www.aa.com.tr/en/europe/turkish-defense-minister-meets-with-british-counterpart/1764363
--------
Mideast
Terrorist in Jerusalem ramming attack of 12 soldiers indicted
MARCH 11, 2020
An east Jerusalem terrorist who carried out a vehicular ramming attack on February 6 that wounded 12 off-duty soldiers in Jerusalem was indicted on Wednesday.
The Jerusalem District Attorney's Office filed an indictment against Sanad al-Tourman, 24, from the At-Tur neighborhood with the Jerusalem District Court on multiple charges of attempted murder with nationalistic ideological motivations.
The 12 soldiers were wounded at 1:44 a.m. as they were passing by the First Station, a popular entertainment spot on David Remez Street, during a heritage tour ahead of their swearing-in ceremony at the Western Wall.
Before attacking the group of soldiers, Tourman had considered ramming another group at 1:38 a.m., the indictment said. However, when he saw the sidewalk the first group of soldiers were on had bollards that could have stopped his car, he looked for another group, it said.
A group of 38 soldiers was walking on the sidewalk when Tourman used his Kia vehicle to ram them from behind and at high speed, the indictment said.
Some soldiers were able to dive out of the way, but many were hit and were carried on the car's windshield, while others were dragged by the car, the indictment said.
The soldiers did not have sufficient warning to shoot at the driver before he fled the scene of the attack, the IDF said at the time.
"This happened in seconds," IDF Spokesperson Brig.-Gen Hildai Zilberman said.
One of the soldiers, aged 20, was evacuated in critical condition to Shaare Zedek Medical Center. He was improving by late February. The others were lightly wounded and taken to hospitals.
Tourman fled the scene and drove toward the Tunnel Road checkpoint in the direction of Gush Etzion.
When he arrived at the Tunnel Road checkpoint, soldier M.S. signaled to him to stop, but Tourman accelerated and drove through the checkpoint.
His abandoned his car was found near Beit Jala, leading to an extensive manhunt in the area.
At the time, the attack drew wide national attention, with Prime Minister Benjamin Netanyahu, Blue and White leader Benny Gantz and President Reuven Rivlin commenting.
It was believed to be part of a spike in terrorism that occurred after the Trump administration's "Deal of the Century" for resolving the Israeli-Palestinian conflict was rolled out.
https://www.jpost.com/Israel-News/Terrorist-in-Jerusalem-ramming-attack-of-12-soldiers-indicted-620587
--------
Iran Blasts US for Blocking Swiss-Launched Channel for Medical Transfer
Mar 12, 2020
Although US claims that medicines and medical equipment are not under sanctions, they have practically blocked the transfer of Iran's financial resources in other countries into the Swiss Humanitarian Trade Arrangement (SHTA), Iranian Foreign Ministry Spokesman Seyed Abbas Mousavi said on Wednesday.
"It has been three weeks since we started negotiating with one of the countries in which we have financial resources and they say that Americans are creating obstacle for the transfer of Iran's financial resources into the channel," he said.
Therefore we consider their claims as lies until they take a practical measure and remove the obstacles, Mousavi noted.
"We asked them to allow our other financial resources in various countries enter this chancel in order to provide medicines and medical equipment but they [US] did not allow it," he added.
A channel to bring food and medicine to Iran allegedly started trial operations, the Swiss and US governments said last month.
The channel called Swiss Humanitarian Trade Arrangement (SHTA) seeks to ensure that Swiss-based exporters and trading companies in the food, pharmaceutical and medical sectors have a secure payment channel with a Swiss bank through which payments for their exports to Iran are guaranteed, a government statement said.
Three shipments of cancer and transplant drugs have been sent to Iran through this channel and the transaction has been processed, US Special Representative Brian Hook told a press briefing.
US sanctions targeting everything from oil sales to shipping and financial activities have deterred several foreign banks from doing business with the Islamic Republic - including humanitarian deals.
Full report at:
https://en.farsnews.ir/newstext.aspx?nn=13981222000342
--------
Iran Asks IMF for $5bln Emergency Funding to Fight Coronavirus
Mar 12, 2020
Zarif wrote on his twitter page that IMF Managing Director Kristalina Georgieva "has stated that countries affected by #COVID19 will be supported via Rapid Financial Instrument. Our Central Bank requested access to this facility immediately".
He called on the IMF/IMF Board to adhere to Fund's mandate, stand on right side of history and act responsibly.
Earlier on Thursday, Governor of the Central Bank of Iran (CBI) Abdolnaser Hemmati had announced that in a letter to the IMF he has required permission for access to the fund's available $5bln emergency financing facilities, aimed at addressing COVID-19.
In his letter, he underlined that no human body must be deprived of medicine or medical facilities due to the dearth of financial resources.
The Iranian health ministry announced on Wednesday that the number of people infected with COVID-19 virus has grown to 9,000, while deaths have increased to 354.
"Based on laboratory results, 958 new patients infected with COVID-19 have been identified in the country since Tuesday noon and the number of infected people has increased to 9,000 cases," Health Ministry Spokesman Kianoush Jahanpour said in his daily report on Wednesday.
He expressed regret that 63 corona-virus patients have passed away in the past 24 hours, and raised the number of deaths to 354.
Jahanpour, meantime, said that 2,959 patients infected with COVID-19 virus have also recovered so far.
More than 126,000 people have been diagnosed with COVID-19 in the world with over 4,600 deaths so far, the vast majority of them in China where the virus originated late last year.
The coronavirus is spreading in the Middle East, Europe, US and other parts of the world, while parts of China begin to lower their emergency response level as the number of new cases reported there continues to slow.
Authorities across the United States reported over 1,329 cases of coronavirus and 38 deaths as of Wednesday.
More than 60 million people in Italy have been placed under lockdown after the government extended emergency measures across the entire country in an attempt to stop the spread of the coronavirus.
Italy is struggling to contain Europe's worst outbreak of Covid-19, which has claimed 827 lives and infected over 12,000 people so far.
As the death toll from the virus surges, Iran intensifies its preventive safety measures. Closures of schools and universities have been extended for the next two weeks.
The government also imposed travel restrictions, specially on Iran's north, which is among the red zones. The country has also adopted strict digital health control procedures at airports to spot possible infections.
Iranian Health Minister Saeed Namaki announced last week that a new national mobilization plan would be implemented across the country to fight against the coronavirus epidemic and more effectively treat patients.
Namaki said that the plan will include all the 17,000 health centers and the 9,000 medical and clinical centers in all cities, suburban areas and villages.
He added that the plan will include home quarantine, noting that infected people will receive the necessary medicines and advice, but they are asked to stay at home.
Namaki said that people with a more serious condition will stay at the hospitals, adding that the public places will be disinfected, the entries of infected towns and cities will be controlled to diagnose and quarantine the infected cases.
He added that the necessary equipment and facilities have been provided, expressing the hope that the epidemic would be curbed.
Namaki said that the number of medical laboratories to test coronavirus infection has reached 22, and will increase to 40 soon.
The World Health Organization (WHO) says Iran's response to the virus has so far been up to the mark. Still, it says the US sanctions are a big challenge, and Washington would be complicit in the rising death toll in Iran if it would not remove its sanctions.
Full report at:
https://en.farsnews.ir/newstext.aspx?nn=13981222000448
--------
Top adviser to Iran's Khamenei infected with coronavirus
12 March 2020
A top adviser to Iran's utmost authority Supreme Leader Ali Khamenei has been infected with the new coronavirus, the semi-official Tasnim news agency reported on Thursday.
"Ali Akbar Velayati, who also is the head of Tehran's Masih Daneshvari hospital, had contacts with many coronavirus patients in past few weeks. He has been infected and is under quarantine now," Tasnim reported.
A top US general said on Thursday that Iran is significantly underreporting the number of its coronavirus victims and he believed that the global pandemic is making Tehran more dangerous, a day after an attack in Iraq that killed US and British troops.
"I think it is having an effect on how they make decisions, I think it slows them down...I believe the numbers are probably significantly underreported," US Marine General Kenneth McKenzie, the head of Central Command, said.
Earlier on Thursday, Iran confirmed 1,075 new cases of the deadly coronavirus in the past 24 hours in the country, a health official said.
The Ministry of Health also reported 75 new deaths from the virus in the past 24 hours, bringing the death toll there to 429.
In a related development, Bahrain accused Iran on Thursday of "biological aggression" by covering up the spread of the coronavirus and failing to stamp the passports of Bahraini travelers.
On March 3, Khamenei said that the coronavirus outbreak in Iran is "not that big of a deal," urging citizens to pray against the virus.
"This calamity is not that big of a deal, and that there have been bigger ones in the past," Khamenei was quoted as saying by the semi-official Mehr news agency.
Khamenei called on Iranians to pray against the virus "as prayer can solve many problems."
Full report at:
https://english.alarabiya.net/en/News/middle-east/2020/03/12/Top-adviser-to-Iran-s-Khamenei-infected-with-coronaviru.html
--------
Iran unveils Soleimani statue in city with highest coronavirus deaths
12 March 2020
Iran unveiled a statue of slain commander Qassem Soleimani in the Iranian city of Bandar Anzali in the Gilan province, where the death toll from the novel coronavirus has reportedly reached its peak.
For more coronavirus news, visit our dedicated page.
Social media users shared images of the statue on Twitter, expressing anger of the regime's willingness to spend resources on building the statue to commemorate the general, who was killed in US airstrikes in Iraq on January 3, rather than on medical resources to combat the outbreak.
Masih Alinejad 🏳️
✔
@AlinejadMasih
New Qassem Soleimani statue in Bandar Anzali, norther Iran the same province that we keep receiving heartbreaking footages of people who are suffering coronavirus being refused medical aid and lying helpless in the streets of Iran.
View image on Twitter
497
5:56 PM - Mar 10, 2020
Twitter Ads info and privacy
170 people are talking about this
Farhad Rezaei
@Farhadrezaeii
While #CronaVirus taking a massive toll in Iran, the regime unveils a giant statue of Qassem Suleimani in northern province of Gilan, Bandar Anzali , a city which has recorded highest #COVID2019 death toll in Iran.
View image on Twitter
41
10:47 PM - Mar 10, 2020
Twitter Ads info and privacy
33 people are talking about this
The Iranian government has reported 9,000 infections and 354 deaths from the virus so far. However, experts and some public officials have consistently cast doubt on the official numbers. An analysis by The Atlantic magazine put the estimated number of people infected in Iran at 2 million.
It is likely Iranian officials don't know the actual number of infected people, according to Dr. Kaveh Khoshnood, a professor of epidemiology at Yale University's School of Public Health.
Iran's coronavirus "numbers have changed drastically and there is not much transparency" he told Al Arabiya English in an interview.
Earlier this week, Mohammad Hossein Ghorbani, the health minister's representative in Gilan, said that more than 200 have died in the province alone.
Video footage circulating on social media on Sunday showed a man, who was suspected of having coronavirus, in the northern city of Rasht collapsed on the ground outside of a hospital that denied him entry due to a shortage of space.
According to Ghorbani, Gilan does not have the appropriate infrastructure to counter the coronavirus outbreak.
Some hospitals in Iran have reached capacity and new patients have been told to wait or simply denied entrance.
Full report at:
https://english.alarabiya.net/en/News/middle-east/2020/03/12/Iran-unveils-Soleimani-statue-in-city-with-highest-coronavirus-deaths.html
--------
Hamas slams US for refusing to acknowledge Palestinian residents in East al-Quds
Friday, 13 March 2020
The Palestinian Islamic resistance movement of Hamas has lambasted the US State Department's annual human rights report for referring to Palestinians living in the occupied East Jerusalem al-Quds as "Arab" and "non-Israeli residents," describing the labeling as yet "another crime committed by the US against Palestinian people."
"Such a hostile attitude by the US State Department is part of the major crime called the deal of the century, which represents the vision and interests of the extremist Zionist right wing," Hamas spokesman Hazem Qasem stated in a press release on Thursday.
Qasem further noted that all Israeli-US bids to change the identity of Jerusalem al-Quds city and its demographic population, and chip away at local residents' respect for holy sites there are doomed to failure.
"No force on earth can change the historical facts and realities. Despite such a joint Zionist-American act of aggression, our people will continue their struggle until their rights are restored," the Hamas spokesman pointed out.
Separately, Palestinian Foreign Minister Riyad Maliki strongly criticized the US labeling of Palestinians in occupied Jerusalem al-Quds as "Arab residents," stating that Washington has adopted terminology used by the extremist right-wing government in Israel.
Maliki said on Thursday that adoption of such a term "disregards all international and United Nations reports issued by independent investigation and fact-finding committees – namely the findings of the Prosecutor of the International Criminal Court, Fatou Bensouda, that Israel plus its occupation army and officials violate international law, commit war crimes, and target and kill Palestinian civilians deliberately."
The top Palestinian diplomat then strongly rejected the US labeling, stressing that "Palestinian people are the owners of this land for tens of thousands of years, and that they are rooted in it and continue to remain in their land in historical Palestine, and therefore any attempt to label them as residents when they are the indigenous people of Palestine and Jerusalem is unacceptable."
"The Israeli Occupation has no right to claim sovereignty over the land it occupies, and that it cannot change the legal status of occupied Palestinian lands, including al-Quds (Jerusalem), even with the US encouragement. Therefore, the US report and the so-called deal of the century should be placed in the dustbin of history," Maliki said.
The change in US terminology comes amid increased tensions over US President Donald Trump's announcement of the so-called deal of the century on the decades-old Israeli-Palestinian conflict on January 28. The proposal was negotiated with Israel but without the Palestinians.
Palestinian leaders, who severed all ties with Washington in late 2017 after Trump controversially recognized Jerusalem al-Quds as the capital of the Israeli regime, immediately rejected the plan, with President Abbas saying it "belongs to the dustbin of history."
Thousands of Palestinians in the occupied West Bank and besieged Gaza Strip poured onto the street in immediate condemnation of the plan.
Palestinian President Mahmoud Abbas has said "a thousand no's" to the plan.
He said the Palestinians remain committed to ending the Israeli occupation and establishing a state with its capital in east Jerusalem.
Full report at:
https://www.presstv.com/Detail/2020/03/13/620746/Hamas-slams-US-for-refusing-to-acknowledge-Palestinian-residents-in-East-al-Quds
--------
There can be no Palestinian State without Jordan Valley
12 March 2020
By Robert Inlakesh
Robert Inlakesh is a journalist, writer and political analyst, who has lived in and reported from the occupied Palestinian West Bank. He has written for publications such as Mint Press, Mondoweiss, MEMO, and various other outlets. He specializes in analysis of the Middle East, in particular Palestine-Israel. He also works for Press TV as a European correspondent.
Following the official launch of US President Donald Trump's self-described 'deal of the century', Israel began making strides towards annexing the Jordan Valley, which constitutes 30% of the West Bank, with the move to take the land likely to come in the next few months. But what will this mean for the Palestinians living there and any potential "two-state solution"?
Israeli Prime Minister Benjamin Netanyahu, immediately following the official launch of Trump's so-called peace plan, began talking about the intention of the Israeli regime to declare its sovereignty over the Jordan Valley, Northern Dead Sea and illegal West Bank settlements. However, this initiative has been temporarily stalled as the United States wishes Israel to see out its current electoral process before this step is taken.
But despite the US seemingly having jurisdiction over Israel's actions on this annexation process, the idea in and of itself has been an Israeli and hard-line christian Zionist vision for quite some time. Notably, this annexation announcement is far from the first, in fact Netanyahu had been using this promise of land annexation throughout his election campaigns last year, this coming prior to the US approval of the idea in of itself. The reason for adopting the Jordan Valley annexation issue as part of a campaign promise, is beneficial for any Israeli political party and has hence been the position of both major Israeli political Parties, Kahol Lavan and Likud.
Israeli politicians, especially Netanyahu, have been pandering to extremists Jewish settlers as a means of winning votes and showing Israel their sense of ultra-nationalism. Benjamin Netanyahu even visited the city of al-Khalil (or Hebron) in order to meet with religious extremists on the 25th of February, earlier this year, the day which marks the Ibrahimi mosque massacre of almost 30 Palestinians by Baruch Goldstein, a Jewish extremist settler from New York.
But aside from the Israeli far-right vote won by political parties out of their pledge to extremist policies and to support for settlements, what would the annexation of the Northern Dead Sea, Jordan Valley and settlements mean for the future of a potential Palestinian State?
The land which Israel seeks to annex will roughly constitute around half of the West Bank, the illegal apartheid wall - or what Israel's calls its security barrier - already cuts into and has essentially annexed 10% of the West Bank, disconnecting over 150 Palestinian communities and eating into essential land needed for any two-State solution.
The Jordan Valley and Northern Dead Sea then make up a further 30% of the West Bank and annexing them would mean stealing the most fertile land mass needed for any real State to exist. Because of the Jordan Valley's undeveloped nature, due to Israel locking around 85% of the area down for closed military zones, it could be used in the future for water extraction, agricultural development programs and social centers. The land in the Jordan Valley is also home to over 70,000 Palestinians, almost all of whom are currently denied permits to build real homes and are confined to living in tents, which are still demolished by the Israeli occupation forces. This population of Palestinians would likely be ethnically cleansed if the land is annexed, despite the fact that Trump has repeatedly claimed that no one will be forced from their homes. In fact, the loophole in language is an interesting one, Israel doesn't consider tents to be homes and doesn't recognize the structures and neither will the US. So according to US-Israeli logic, it won't be removing people from their homes, it will be "re-location" of populations that will occur.
Remaining inside of Palestinian land in the Jordan Valley would also be the communities of illegal Israeli settlers, of which there are roughly 11,000 currently. The settlers now have the permission to farm the lands and sell their products, produced on stolen Palestinians land, to the world. This is all done whilst Palestinian communities in the Jordan Valley are prohibited from even having access to water pipelines and are constantly under threat of being displaced.
The largely untouched issue, to do with the annexation proposed, is the permanent confiscation of water resources in the West Bank. Israel has already long ago diverted the Jordan River, in order to steal the water for themselves and away from the Palestinians, leading to environmental destruction in the Jordan Valley and also the drying up of the Northern Dead Sea. On top of this Israel has complete control over the West Bank's water supplies, with the median amount allowed to Palestinians overall, in the West Bank, falling well below World Health Organization (W.H.O) standards. The illegal Israeli settlers on the other hand enjoy 6 times the amount of water that is granted to Palestinians. The Israelis now steal the water from the primary aquifers and basins, sourcing the water from underneath the Palestinians and then sell a percentage of that water back to the Palestinians whom they steal it from.
If the proposed annexation of land is accepted and there is no significant uprising to prevent the land grab in the West Bank, the Palestinians will not only have to live in isolated bantustans, but also without any ownership of water.
This is currently the case we see in the Gaza Strip, where the Gaza aquifer has been deliberately dried out by the Israelis, due to their drilling of thousands of wells to disrupt the natural flow of water. The Israelis have even damaged the aquifer to such an extent that they have allowed for deliberate seawater intrusion into the aquifer, having an irreversible effect, on top of this Israel also pumps sewage water into that very aquifer. In Gaza, the water is currently 97% unfit for human consumption.
Without fertile land for agricultural projects, without contiguous territories and without water resources, the conclusion could only be that a Palestinians State is impossible. Such is the status of any possible two-state solution if the land annexation proposed will go ahead.
Full report at:
https://www.presstv.com/Detail/2020/03/12/620731/Palestinian-State-Jordan-Valley
--------
Saudi project clears 148,427 mines planted by Houthis in Yemen
March 13, 2020
RIYADH: The Saudi Project for Landmine Clearance (MASAM) in Yemen dismantled 14 anti-personnel mines, 310 anti-tank mines, two explosive devices and 2,637 unexploded ordnance — totaling 2,963 mines — during the first week of March.
A total of 148,427 mines have been extracted since the beginning of the project. More than 1.1 million mines have been planted by Iranian-backed Houthi militias in Yemen over the past three years, claiming hundreds of civilian lives.
MASAM aims to dismantle mines in Yemen to protect civilians and ensure that urgent humanitarian supplies are delivered safely. Houthis are developing anti-vehicle mines and turning them into anti-personnel explosives to intimidate and terrorize civilians.
Full report at:
https://www.arabnews.com/node/1640861/saudi-arabia
--------
Yemeni government quits Hodeida redeployment committee
March 12, 2020
AL-MUKALLA: The internationally recognized government of Yemen has suspended participation in the Redeployment Coordination Committee (RCC) in the western province of Hodeida after a Houthi sniper gunned down a government soldier, the government said in a statement carried on the official Saba news agency on Wednesday.
The government said it had decided to boycott the committee's meetings in protest against an escalation in Houthi attacks against government observers, the Houthis' exploitation of the truce in Hodeida to mobilize forces on other battlefields, and restriction of the movements of the UN monitoring team.
The RCC was established under the Stockholm Agreement and assigned to monitor the redeployment of forces in Hodeida and to supervise the clearance of land mines from Hodeida's seaports.
On Wednesday, a Houthi gunman shot a member of the government team that monitors the truce, despite having been notified about his movement.
"The Houthi militia gunned down a soldier at the fifth observation post in spite of having information that the soldier was moving to the post," Baha Khalefa, one of 10 government soldiers deployed at the joint observation posts, told Arab News.
Khalefa said that he and his fellow soldiers had pulled out of the posts to the last government-controlled areas in Hodeida. Government forces were subsequently placed on high alert in anticipation of an escalation of attacks by the Houthis in Hodeida.
"We will respond appropriately to any attack by the militia," Khalefa said.
Under the Stockholm Agreement, the Iran-backed Houthis are obliged to defuse land mines and to withdraw from Hodeida's seaports and open roads from and to the city in exchange for the Yemeni government halting a major military offensive that had reached Hodeida city.
Local rights groups say that more than 500 civilians have been killed in Hodeida by Houthi fire since December 2018.
On Wednesday, Brig. Gen. Mohammed Musleh Aydha, the head of the government's RCC team, said that the death of the Yemeni soldier threatens to end the Stockholm Agreement and see Hodeida descend into further violence.
State media outlets quoted Gen. Aydha as saying that government observers have been repeatedly targeted by Houthi fire for months and threatening a military response to Houthi attacks.
Yemen's Minister of Information Moammer Al-Eryani urged the UN to reassess its mission in Hodeida as the mission as the Houthis have failed to put into place the security arrangements laid out in the Stockholm Agreement.
"The UN mission has failed to force the Houthis to implement its obligations (under the Stockholm Agreement) — withdrawal from Hodeida ports and city and stop cease-fire breaches," the minister wrote on Twitter on Tuesday.
Elsewhere in Yemen, fighting continued on Thursday in the northern province of Jawf, Marib's Serwah and near Sana'a. In Jawf, Yemen's army pushed deeper into Khab and Sha'af, the largest district in the province, after expelling Houthis from areas near the Saudi border, and reopened a strategic road between Jawf and Marib.
Full report at:
https://www.arabnews.com/node/1640711/middle-east
--------
Africa
US Airstrike in Somalia Said To Have Killed 6 Civilians
Mohammed Dhaysane
12.03.2020
MOGADISHU, Somalia
A U.S. drone airstrike in Somalia this Tuesday killed at least six civilians, including a 13-year-old boy, according to a Somali lawmaker.
The U.S. African Command airstrike in the town of Janale in the lower Shabelle region killed at least six unarmed civilians who were traveling to the capital Mogadishu, Mahad Dhoore, a lawmaker from the Southwest state, told local media on Thursday.
"The U.S. African Command (Africom) airstrike hit a minibus carrying unarmed innocent civilians in Janale," Dhoore was quoted as saying.
The six civilians killed by the U.S. airstrike include a 13-year-old who was traveling with his family, he added.
Africom released a statement saying that the airstrike killed five al-Shabaab terrorists, adding that it had taken measures to avoid civilian casualties.
"While we currently assess that this airstrike injured no civilians, we are aware of social media reports alleging civilian casualties resulting from this strike. U.S. Africa Command complies with the law of armed conflict and takes all feasible precautions during the targeting process to minimize civilian casualties and other collateral damage," said Africom in a statement.
It was the 26th airstrike by the U.S. in the Horn of Africa nation in only 69 days.
https://www.aa.com.tr/en/africa/us-airstrike-in-somalia-said-to-have-killed-6-civilians-/1763283
--------
Boko Haram: NAF neutralises insurgents in Borno
March 11, 2020
By Nsikak Nseyen
The Nigerian Air Force (NAF) has neutralised dozens of Boko Haram Terrorists (BHTs) at Bula Korege on the fringes of the Sambisa forest in Borno State.
The NAF Director of Public Relations and Information, Air Commodore Ibikunle Daramola, who disclosed this in a statement to NAN on Wednesday in Abuja. said it also destroyed the insurgents' infrastructures.
Daramola maintained that the operation was conducted through the Air Task Force (ATF) of Operation LAFIYA DOLE under the auspices of "Operation DECISIVE EDGE adding that sequel to credible intelligence reports, massive airstrikes were conducted in two waves of attack on March 6.
He said the reports indicated that the BHTs had relocated some of their fighters to the settlement to reinforce the location preparatory to attacks on troops' locations and surrounding civilian settlements.
"Consequently, the ATF dispatched an enhanced force package of several attack aircraft and a surveillance platform to engage the location.
"Overhead the target area, significant activity of the fighters was observed in different parts of the settlements.
"The NAF fighter jets took turns in attacking the target area, neutralising many BHTs and destroying their structures in successive passes.
"After the first wave of strikes, the terrorists reassembled at another part of the settlement where they were tracked and mopped-up," he said
Full report at:
https://dailypost.ng/2020/03/11/boko-haram-naf-neutralises-insurgents-in-borno/
--------
Boko Haram kidnapping doctors, ex-military men to work for them – Lawmaker reveals
March 11, 2020
By Abdul Seye
A member of the House of Representatives, representing Dambao/Gwoza/Chibok federal constituency of Borno State has revealed that Boko Haram group are kidnapping Doctors, ex-military, and bright students, not for ransom but forcing them to work for the insurgents.
The lawmaker on Wednesday during the debate on a bill to prohibit discrimination against victims of insurgents and militants revealed that four doctors are currently with Boko Haram who are perhaps compelled to work for the group.
He revealed that Boko Haram have started kidnapping ex-military men who can operate guns and young sharia scholars for interpretation work.
"I have four medical doctors that were kidnapped by Boko Haram, and they are in the bush, they have not killed them. Maybe, they are compelled to work for these Boko Haram guys.
"I have a child who read sharia law, they kidnapped him, they refused to kill him, and he is still working for them, making interpretation. If tomorrow he regains his freedom, are you telling him to not be a part of the society again? Another thing is that you have experts, who are ex-military men, they know how to operate gun, and they were kidnapped by Boko Haram."
He stated that the victims who are forced to work for Boko Haram or militants in the Niger Delta should not be subjected to discrimination.
Jaha said: "If we reject this bill, we are saying that people like that should not be integrated back into the society, and they should be discriminated and stigmatized against."
Meanwhile, the bill passed through seconding reading amid opposition from several members of the House that Section 42 of the 1999 constitution already prohibited discrimination against anyone.
The bill sponsored by Rolland Igbakpa seeks to make provision for the prohibition of stigmatization of persons who are victims of insurgency or militancy from re-integration with the community and to provide for the prosecution and punishment of any person or group of persons who stigmatize such victims.
Full report at:
https://dailypost.ng/2020/03/11/boko-haram-kidnapping-doctors-ex-military-men-to-work-for-them-lawmaker-reveals/
--------
5 Al-Shabab Members Killed in Single U.S. Airstrike in Somalia
March 11, 2020
A March 10 U.S. airstrike killed five al-Shabab targets in Somalia without harming any civilians, U.S. Africa Command said.
The strike was carried out near Janaale, which is located about 75 kilometers (or approximately 47 miles) southwest of Mogadishu in Somalia's Lower Shabelle region, and was coordinated with Somalia's federal government, the command said.
The attack was the sixth U.S. strike in Somalia this month. A U.S. strike carried out near Janaale a day earlier brought the number of al-Shabab militants killed by American airstrikes in Somalia in March into the double digits.
"Our strikes are a key effort to combatting terror and helping to bring stability to Somalia," said U.S. Army Brig. Gen. Miguel Castellanos, the command's deputy director of operations, in a March 10 release. "Not only do they degrade al-Shabab's ability to conduct violent activities in the region, but they illuminate the fighter network and impede the al-Qaida affiliated terrorist organization's ability to recruit and export terrorism."
Full report at:
https://www.airforcemag.com/5-al-shabab-members-killed-in-single-u-s-airstrike-in-somalia/
--------
North America
President Trump Gives Pentagon Authority For Potential Response After Iraq Attack
12 March 2020
US President Donald Trump has given the Pentagon the authority to potentially respond to Wednesday's rocket attack by Iran-backed militia in Iraq that killed two American troops and a British servicemember, Defense Secretary Mark Esper said on Thursday.
"I have spoken with the president. He's given me the authority to do what we need to do, consistent with his guidance. And, you know -- if that becomes the case," Esper told reporters at the Pentagon, adding he and Trump had a "good conversation" on Wednesday.
Asked what he meant his caveat, Esper suggested he was not going to telegraph any US response. Asked if a US response could include strikes inside Iran, Esper said: "I'm not going to take any option off the table right now, but we are focused on the group -- groups -- that we believe perpetrated this in Iraq, as the immediate (focus)."
https://english.alarabiya.net/en/News/world/2020/03/12/President-Trump-gives-Pentagon-authority-for-potential-response-after-Iraq-attack.html
--------
Pentagon says all options on table after Iraq rocket attack
12 March 2020
US Defense Secretary Mark Esper said on Thursday that all options were on the table after a rocket attack in Iraq killed one British and two American troops, an attack he said was by Iranian-backed Shia militia groups.
"Yesterday's attack by Iranian backed Shia militia groups, consisted of multiple indirect fires that originated from a stationary platform and was clearly targeting coalition and partnered forces on Camp Taji," Esper told reporters.
"Let me be clear, the United States will not tolerate attacks against our people, our interests, or our allies," Esper said.
"All options are on the table as we work with our partners to bring the perpetrators to justice and maintain deterrence," he added.
https://english.alarabiya.net/en/News/world/2020/03/12/Pentagon-says-all-options-on-table-after-Iraq-rocket-attack.html
--------
US wages airstrikes against multiple Hashd Sha'abi positions across Iraq
Friday, 13 March 2020
The United States has carried out a string of airstrikes against multiple locations of the Iraqi Popular Mobilization Units (PMU), better known by the Arabic name Hashd al-Sha'abi, only a day after more than a dozen of the Iraqi fighters were killed by airstrikes targeting an area in Syria's eastern province of Deir al-Zour.
The Iraqi Interior Ministry's Security Media Cell announced in a statement that "at 01:15 local time on Thursday (2215 Wednesday) an American aerial bombardment struck headquarters of Hashd al-Sha'abi, emergency regiments as well as commandos from the 19th Division of the army."
خلية الإعلام الأمني🇮🇶
@SecMedCell
في تمام الساعة الواحدة والربع فجر هذا اليوم حصل اعتداء امريكي من خلال قصف جوي على مناطق (جرف النصر، المسيب، النجف، الاسكندرية) على مقرات تابعة للحشد الشعبي وأفواج الطوارئ ومغاوير الفرقة التاسعة عشر جيش.
وسنوافيكم بالتفاصيل من خلال بيان يصدر من قيادة العمليات المشتركة لاحقًا.
794
4:58 AM - Mar 13, 2020
Twitter Ads info and privacy
276 people are talking about this
The statement added that the airstrikes targeted positions in Jurf al-Nasr town, located about 60 kilometers southwest of the capital Baghdad, Musayyib town in the central province of Babil, the holy shrine city of Najaf as well as the ancient central city of Alexandria.
The US military did not estimate how many people in Iraq may have been killed in the strikes, which officials said were carried out by piloted aircraft.
US Defense Secretary Mark Esper, in a Pentagon statement detailing the strikes, cautioned that the United States was prepared to respond again, if needed.
"We will take any action necessary to protect our forces in Iraq and the region," Esper said.
Separately, an Iraqi official said an airstrike had hit an airport under construction in the holy city of Karbala, located about 100 kilometers (62 miles) southwest of Baghdad.
This picture taken on March 13, 2020 shows the aftermath of a US airstrike against an airport under construction in the holy Iraqi shrine city of Karbala, located about 100 kilometers (62 miles) southwest of the capital Baghdad. (Photo by Iraq's Arabic-language al-Sumaria television network)
The official, speaking said on condition of anonymity, told Arabic-language al-Sumaria television network on Friday that US military aircraft fired three missiles at the airport building, which is located in near al-Haidariya district and near the border with neighboring Najaf province.
This picture taken on March 13, 2020 shows the aftermath of a US airstrike against an airport under construction in the holy Iraqi shrine city of Karbala, located about 100 kilometers (62 miles) southwest of the capital Baghdad. (Photo by Iraq's Arabic-language al-Sumaria television network)
He added that the air raid killed a worker, and left great material damage at the site.
Meanwhile, CNN, quoting a US military official, reported that the airstrikes were carried out against five weapons storage facilities.
The early Friday US airstrikes were carried out about 24 hours after at least 18 PMU fighters were killed in air raids targeting an area southeast of the city of al-Bukamal in eastern Syria and near the border with Iraq.
That deadly attack was conducted hours after the US-led military coalition purportedly fighting the Daesh terrorist group announced that three of its personnel - two Americans and one Briton - had been killed in a rocket attack on Iraq's Taji military camp, located some 30 kilometers (18.6 miles) north of Baghdad.
Anti-American sentiment has been running high in Iraq following the assassination of Lieutenant General Qassem Soleimani, the commander of the IRGC's Quds Force, along with the deputy head of the Iraqi Popular Mobilization Units (PMU), Abu Mahdi al-Muhandis, and their companions in US airstrike authorized by President Donald Trump near Baghdad International Airport on January 3.
On January 8, Iran's Islamic Revolution Guards Corps (IRGC) fired a number of ballistic missiles at Ain al-Asad air base, which houses US troops in Iraq's western province of Anbar, in retaliation.
Two days after the US attack, Iraqi lawmakers unanimously approved a bill demanding the withdrawal.
Later on January 9, former Iraqi prime minister Adel Abdul-Mahdi called on the United States to dispatch a delegation to Baghdad tasked with formulating a mechanism for the move.
According to a statement released by his office at the time, Abdul-Mahdi "requested that delegates be sent to Iraq to set the mechanisms to implement the parliament's decision for the secure withdrawal of (foreign) forces from Iraq" in a phone call with US Secretary of State Mike Pompeo.
Full report at:
https://www.presstv.com/Detail/2020/03/13/620748/US-wages-airstrikes-against-multiple-Hashd-Sha%E2%80%99abi-positions-across-Iraq
--------
US anti-war groups look to take Trump to court to stop Iran war
12 March 2020
US president Donald Trump's administration has threatened to veto a resolution, which limits presidential authority to use military action against Iran without congressional approval.
Despite Trump's vocal opposition to the measure introduced by Virginia Democratic Senator Tim Kaine, lawmakers from both sides of the House of Representatives backed the effort in a vote Wednesday. The motion was passed by the Senate last month.
Some anti-war groups, including US Democratic lawmakers, are now seeking to take Trump to court over unauthorized military action against Iran.
"I definitely think that we need to look into that," said Rep. Ro Khanna, D-Calif., who revived congressional interest in war powers resolutions when he first began pushing legislation to force Trump to end US support for the Saudi war on Yemen in 2017. "It's got to be a conversation by many people in the caucus, but I'd certainly be supportive of it."
The bill was introduced last month following Trump's order to assassinate top Iranian General Qassem Soleimani at Baghdad airport in January.
The White House claimed that the strike was legal as a self-defense measure under the 2002 military authorization to invade Iraq.
After the Senate passed the Iran resolution last month, Kaine told Al-Monitor that a potential lawsuit could be "down the road."
"Courts have traditionally been reluctant to referee between Congress and the executive [branch] over the war powers question," said Kaine. "We just need to keep building on what we have gained here, which is more and more of a bipartisan consensus."
Khanna and anti-war groups say they believe that the Iran vote — alongside a series of Iran and Yemen votes last year — gives Congress significant ammunition to pursue a war powers case against Trump in the judicial system.
If Trump follows through on his threat to overrule the Kaine resolution, it would mark the seventh veto of his presidency, Al-Monitor says.
There are indicators that there's significant bipartisan interest in taking back Congress' authority over national security, Al-Monitor added.
Full report at:
https://www.presstv.com/Detail/2020/03/12/620694/US-anti-war-groups-Trump-court-Iran-war-House-of-Representatives-vote-
--------
US hits Kata'ib Hezbollah weapon storage sites in Iraq
Servet Günerigök
13.03.2020
WASHINGTON
The U.S. conducted strikes against pro-Iranian militia Kata'ib Hezbollah's facilities in Iraq, the Pentagon said Thursday.
"These strikes targeted five weapon storage facilities to significantly degrade their ability to conduct future attacks against Operation Inherent Resolve (OIR) coalition forces," the Department of Defense said in a statement.
It said the targets included facilities that housed weapons used to target U.S. and coalition troops on Wednesday which left two American troops and one British serviceman dead.
At least 14 others were injured when some 30 rockets were fired at Camp Taji, an Iraqi base north of Baghdad.
"The United States will not tolerate attacks against our people, our interests, or our allies," Defense Secretary Mark Esper said in the same statement. "As we have demonstrated in recent months, we will take any action necessary to protect our forces in Iraq and the region."
Several local Iraqi media outlets reported that the U.S. targeted Iraq's Hashd al-Shaabi (Popular Mobilization) forces and Hezbollah group in Babil, Karbala, Saladin, Anbar and other provinces.
Iraqi authorities have yet to issue a statement on the strikes.
Full report at:
https://www.aa.com.tr/en/americas/us-hits-kata-ib-hezbollah-weapon-storage-sites-in-iraq/1764355
--------
Man Linked to Extremist Group Seeks Release from Jail
March 11, 2020
COLLEGE PARK, MD. - A Maryland man accused of joining a white supremacist group and discussing violence at a gun rights rally in Virginia is seeking his pretrial release from federal custody.
In a court filing Wednesday, defense attorney Ned Smock asked a federal magistrate judge in Greenbelt, Maryland, to schedule a detention hearing for Brian Mark Lemley, who was indicted on gun-related charges.
"The defense has a proposed release plan to present to the Court that we submit addresses any concern about risk of flight or danger to the community,'' wrote Smock, an assistant federal public defender. Smock did not disclose any details of that plan.
U.S. Magistrate Judge Timothy Sullivan and federal prosecutors didn't immediately respond to Lemley's request for a hearing. Sullivan already has refused to set bond for two other men who were arrested in January on related charges.
Lemley, 33, of Elkton, Maryland, had waived his right to an immediate detention hearing after making his initial court appearance Jan. 16. He and former Canadian Armed Forces reservist Patrik Mathews, 27, separately pleaded not guilty to charges including transporting a firearm and ammunition with the intent to commit a felony.
William Garfield Bilbrough IV, 19, of Denton, Maryland, pleaded not guilty to charges that he helped transport and harbor Mathews, who is accused of illegally entering the U.S. from Canada.
Federal authorities said the three men were members of a white supremacist organization called The Base. During a hearing last week, a prosecutor said the group's goal was to accelerate the overthrow of the U.S. government and replace it with a white supremacist regime.
Lemley and Mathews discussed "the planning of violence'' at a gun rights rally in Richmond, Virginia, in January, prosecutors said in a court filing. A closed-circuit television camera and microphone installed by investigators in a Delaware home captured Lemley talking about using a thermal imaging scope affixed to his rifle to ambush unsuspecting civilians and police officers, prosecutors said.
"I need to claim my first victim,'' Lemley said on Dec. 23, according to prosecutors. Lemley was a member of a different white nationalist, neo-Confederate organization before he joined The Base last year, prosecutors' filing says. In encrypted online chats, Base members discussed what would happen if law enforcement tried to disrupt their activities, the filing says.
"For example, in September 2019, in a discussion with other Base members, Lemley wrote, `Hey mr fed' and `I spent about 35% of my day daydreaming about killing you today.' Lemley went on to write, 'I day dream about killing so much that I frequently walk in the wront (sic) directions for extended periods of time at work,''' prosecutors wrote.
Full report at:
https://www.voanews.com/usa/man-linked-extremist-group-seeks-release-jail
--------
URL: https://www.newageislam.com/islamic-world-news/federal-territory-mufti-alcohol-based/d/121297
New Age Islam, Islam Online, Islamic Website, African Muslim News, Arab World News, South Asia News, Indian Muslim News, World Muslim News, Women in Islam, Islamic Feminism, Arab Women, Women In Arab, Islamophobia in America, Muslim Women in West, Islam Women and Feminism