New Age Islam News Bureau
10 May 2019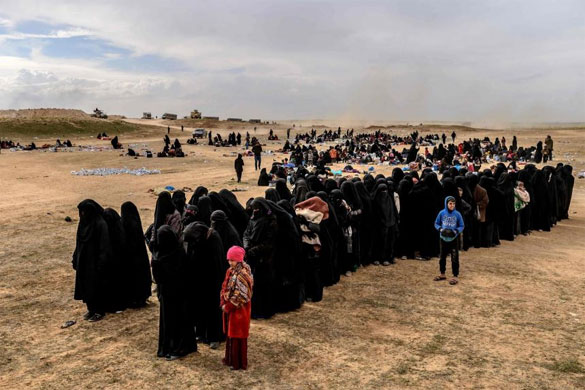 Civilians evacuated from the Islamic State group's holdout of Baghouz wait at a screening area held by the Syrian Democratic Forces, in Deir Ezzor, Syria, on March 5, 2019.PHOTO: AFP
--------
• Fears of New Islamist 'Academies' As Iraqi Jails Fill Up With Extremist Militants
• Muslims Launch Signature Campaign for Resolution of Ayodhya Dispute
• Ready to Return If SC Assures I Will Not Be Arrested Till Conviction: Zakir Naik
• Pakistan Islamic School Reforms Aim to Curb Extremism
• Taliban Attack Aid Group Office in Kabul, in Setback to U.S. Peace Talks
• Selangor State Islamic Religious Department Can Probe Ahmadis As Their ICs State They Are Muslims, Court Told
• More Evidence Emerges Of Iran-Al Qaeda Ties
• Facebook Auto-Generates Videos Celebrating Extremist Images
Arab World
• Fears of New Islamist 'Academies' As Iraqi Jails Fill Up With Extremist Militants
• Thousands of ISIS Children Suffer in Camps as Countries Grapple With Their Fate
• Kurdish-led SDF Transfers IS Relatives to Home Countries
• More than 500 Foreign ISIS Members Convicted in Iraq
• Syrian Army Liberates Key Town in Hama
• Government forces capture strategic town northwest Syria
• US-backed SDF militants kill six civilians during raid in Syria's Dayr al-Zawr
• Saudi medical volunteers welcome in Ramadan at camp for Syrian refugees
• Suicide bomber kills at least 8 in Baghdad
--------
India
• Muslims Launch Signature Campaign for Resolution of Ayodhya Dispute
• Ready to Return If SC Assures I Will Not Be Arrested Till Conviction: Zakir Naik
• Amid Reports of Shortage, Pakistan Govt Offers To Supply Rooh Afza to India
• 26 Islamic Preachers in Tamil Nadu, Kerala under Watch
• Terror Trail-IV: How India Buried The Domestic Terror Time Capsule
• Terrorist killed in encounter in Shopian in Kashmir
• US-Taliban talks wrap up in Doha with 'some progress': Taliban
• Controversial Muslim cleric Zakir Naik ready to return to India
--------
Pakistan
• Pakistan Islamic School Reforms Aim to Curb Extremism
• Officials See TTP Offshoots behind Data Darbar Blast
• Armed religious activists force closure of five heatstroke centres in Sukkur
• 36 social welfare projects launched, PM informs meeting
• Opposition wants governor fired for remarks on Sindh's division
• Govt failure to get Pakistani fishermen released from Indian jails slammed
• Three FC officials among five killed in Harnai attack
• Petition asking for halt on US drone strikes in Pakistan dismissed by SC
--------
South Asia
• Taliban Attack Aid Group Office in Kabul, in Setback to U.S. Peace Talks
• Taliban Misinterpret Our Goodwill As Weakness: Abdullah
• Bangladeshi IS fighter arrested after returning from Syria
• 'Current Pace Of Talks Is Not Sufficient', Khalilzad Says After Concluding Talks With Taliban
• Deadly car bomb explosion foiled in Lashkargah city of Helmand province
• 13 Taliban militants killed in Special Forces operations in Farah city, Kandahar province
--------
Southeast Asia
• Selangor State Islamic Religious Department Can Probe Ahmadis As Their ICs State They Are Muslims, Court Told
• New Bumi party welcomes non-Bumi Muslims as 'associate members'
• 'Only for non-Muslims': Padang Satpol PP raid restaurants open during Ramadan
• Police Declare Prabowo Supporter Eggi Sudjana a Treason Suspect
• Police Arrest Leader of Terrorist Cell in Bekasi
• KPK Grills Religious Affairs Minister in Ongoing Bribery Case
--------
Mideast
• More Evidence Emerges Of Iran-Al Qaeda Ties
• US, EU complicit in 'whitewash' of Israel's war crimes against Palestinians: NGO
• Deal of century, US recognition of Israeli apartheid: Palestine
• US and Palestinians clash over US plan for peace with Israel
• Dozens of Houthi fighters killed in blast at Hodeidah arms depot
• Gaza terror groups say fighting could soon resume if ceasefire not honoured
• Trump envoy slams UN over 'tired talking points' on Israel
• US threatens 'swift and decisive' response to any Iran attack
• HRW report: Sanaa blast that killed children was not caused by coalition strike
• Increase in range of Palestinian rockets forced Israel to offer Gaza truce: Hamas
--------
North America
• Facebook Auto-Generates Videos Celebrating Extremist Images
• US Beating Drums Of War with Iran with Fake Intel: Muslim Congresswoman, Ilhan Omar
• U.S. officials: Iran official OK'd attacks on American military
• Texas man pleads guilty to recruiting for terror group
• The Flash Point Between America and Iran Could Be Iraq's Militias
• 'What I'd like to see with Iran, I'd like to see them call me': Trump
--------
Africa
• Tripoli Government Threatens To Suspend Foreign Firms To Pressure Europe
• UN Security Council to meet on Libya amid offensive on Tripoli
• Boko Haram kills nine in Nigeria attacks, torches village
• Cameroon: Hundreds of Militants, Terrorists Surrender
• US air strike kills 13 ISIS terrorists in Somalia
• Three killed as Daesh storms town in southern Libya
• US air strike kills 13 Daesh fighters in Somalia
--------
Europe
• 'We Reject Any Ultimatums': Europe Responds Firmly To Iran's Nuclear Deal Threat
• Amnesty Slams French Weapons Sales To Saudi, Says Paris No Longer Trusted
• Three convicted of terrorism over Australian mosque arson attack
• UK police arrest 4 over 'terrorism' in Northern Ireland
• Three convicted of terrorism over Australian mosque arson attack
• Germany urges diplomatic solution with Iran
• UK shares 'grave' concerns on Libya
• Turkey works insistently for full EU membership: Erdogan
Compiled by New Age Islam News Bureau
URL: https://www.newageislam.com/islamic-world-news/fears-new-islamist-academies-iraqi/d/118558
--------
Fears of new Islamist 'academies' as Iraqi jails fill up with extremist militants
MAY 9, 2019
BAGHDAD (AFP) - As Iraq tries thousands of locals and foreigners accused of joining the Islamic State in Iraq and Syria (ISIS) group, experts warn that its jails could once again become "academies" for Islamist militants.
Prison was a pivotal moment for many prominent Islamist militants - not least of them Abu Bakr al-Baghdadi, ISIS' Iraqi supremo who remains at large despite the collapse of his "caliphate" in March.
Baghdadi was held in Camp Bucca, a sprawling United States-run complex in the southern Iraqi desert, where he is thought to have essentially "come of age" as an Islamist leader.
For many members of such groups, prison was one of multiple stages of extremism, said Mr Hisham al-Hashemi, an expert in Iraqi Islamist movements.
They ran their own religious studies courses and even planned attacks on civilians or ordered assassinations of security forces from within the prison walls.
"The cells become the equivalent of academies - even if there's just one prisoner with extremist thoughts, he can recruit the rest," Mr Hashemi said.
Iraq has already condemned hundreds of its own nationals as well as scores of foreigners to life in prison for joining ISIS.
It has begun trial proceedings for another 900 Iraqis recently repatriated from neighbouring Syria and has offered to try foreigners stuck in legal limbo there, too.
But its prison system is the subject of fierce criticism.
Advocacy groups accuse security forces of using circumstantial evidence to detain people on terrorism charges, extracting confessions under torture and keeping suspects in overcrowded cells with no access to lawyers.
Cells built to hold around 20 detainees are often packed with 50, a source working in the jails told AFP, and prisoners are often caught smuggling phones or passing on information during family visits, especially to their wives.
Those arrested for petty crimes are often held with hardened extremists, which has facilitated recruitment in the past, said security analyst Fadel Abu Raghif.
"Most of those detained were Islamic jurists and thinkers. They're able to argue, provide evidence, brainwash and persuade people," he said.
Those recruited in jail are typically not religiously orthodox to begin with, but have instead been drawn by "rhetoric playing on a narrative of oppression", Mr Abu Raghif added.
In the aftermath of Saddam Hussein's toppling by US-led forces in 2003, insurgent groups seized on the feeling of marginalisation among the country's Sunnis as fodder for recruitment.
More than 15 years later, observers fear that same perception of persecution is back.
The Soufan Centre, a New York-based think tank, said Iraq "suppressed, but never actually addressed" the grievances of its Sunni communities.
The deployment of the mostly-Shi'ite Hashed al-Shaabi paramilitary units in Sunni-majority areas recaptured from ISIS "has fuelled sectarian resentment among local populations", the Centre wrote this month.
That anger could pave the way for a repeat of the mid-2000s.
"As happened before with Camp Bucca, these detention centres are becoming breeding grounds for radicalisation," the Centre wrote.
Iraq's government has declined to provide figures on detention centres or prisoners, including how many are facing terrorism-related charges, although some studies estimate that 20,000 are being held for purported ISIS links.
Some facilities have shut down in recent years, including the Abu Ghraib complex that became infamous for prisoner abuse during the US-led occupation.
Others were rocked by riots and prison breaks that allowed detainees accused of terrorism to escape.
Now, with more repatriated fighters expected to arrive in the coming months, observers fear an already-strained system will be flooded.
"The prisons that are being used definitely are insufficient in capacity to hold potentially, thousands of extra people that will be transferred," warned Ms Belkis Wille of Human Rights Watch (HRW).
HRW has called on the international community to help Iraq improve its judicial processes and revamp its jails - but Iraq may have something else in mind, Ms Wille said.
"The authorities are very conscious, and do not want something like Abu Ghraib or Bucca to happen again," she said.
"It is a part of the reason why so many of the suspects are getting the death penalty or life (in) prison. I think the intention is that these people would not come out of prison, so you would not have the same dynamic."
https://www.straitstimes.com/world/middle-east/fears-of-new-islamist-academies-as-iraqi-jails-fill-up-with-extremist-militants
--------
Muslims launch signature campaign for resolution of Ayodhya dispute
May 09, 2019
M Tariq Khan
Undeterred by the failure of past such attempts, a group of Muslim professionals and intellectuals have embarked on a signature campaign for a negotiated settlement of the Babri Masjid-Ram Janmbhoomi land dispute.
One of the groupmembers Aftab Ahmed Khan, the man who has undertaken the initiative, is no stranger to the task he has cut out for himself. As DIG CRPF – the force entrusted with the security of the disputed site in Ayodhya – from 1990 to 1992, he has been in the thick of action and seen the events related to the row, up close and personal.
Now settled in Lucknow, Khan, who retired from the services recently, is not alone in his endeavour. The All India Muslim Forum for Ayodhya Dispute Settlement, which he has floated to convince Muslims to give up their claim on the disputed land as a 'goodwill' gesture, has former Allahabad High Court judge justice BD Naqvi, ex-commissioner, customs and central excise, Tariq Ghauri, former UP minister Moid Ahmed, businessmen and other distinguish Muslim professionals.
"I have been holding discussions with not only my friends and colleagues but with Muslim litigants in the case also, whose names I would not like to reveal at the moment. I can say for sure that Muslims are willing to give up their claim. It is only a handful of leaders with vested interest and a section of the clergy, which is an obstacle in finding an amicable settlement to the problem," he said.
Khan, who claims to have obtained the signature of more than 1,000 Muslims, has now started an online petition to take his campaign to other states to create consensus and for an amicable solution acceptable to all parties.
"It is an attempt to bring minority and majority communities together and reach a final settlement as soon as possible, without interference of the vested interests, whose only interest is to prolong the dispute to harvest political gains. We will handover this signed petition to the Supreme Court appointed mediation panel on Ayodhya once the campaign gets over," he said.
The Forum has shortlisted four main points after discussions with a cross-section of the community members.
THE PROPOSAL
(i) Muslims of this country, as a goodwill gesture, may voluntarily offer to give disputed land at Ayodhya for construction of a Ram temple at that site.
(ii) In exchange, sufficient land (say approx. 10 acres) be allotted to Muslims at a suitable place at Ayodhya for construction of a beautiful mosque (and other suitable structure) there as per wishes of Muslims of this country.
(iii) Further and most importantly, an assurance from Hindu brothers, backed by the Supreme Court or approved by the President of India may be given to the effect that no further dispute shall be raised for and about any other Muslim religious place in the country, i.e. status quo as on the eve of independence is to be maintained for all time to come.
(iv) At the same time, it may also be prescribed and responsibility for enforcing fixed on certain persons, like local MP, MLA, DM and SP, to strictly enforce the provisions of the law passed in 1991, namely The Places of Worship (Special Provisions) Act, 1991. Any infringement of the provision of this Act may attract both administrative and legal action against the erring party.
https://www.hindustantimes.com/lucknow/muslims-launch-signature-campaign-for-resolution-of-ayodhya-dispute/story-ZbNAdsqiSaIgoAqKProKZL.html
--------
Ready to return if SC assures I will not be arrested till conviction: Zakir Naik
May 9, 2019
Controversial Islamic preacher Zaik Naik has said he is ready to return to India if the Supreme Court gives an assurance that he would not be arrested till his conviction.
Naik is living in Malaysia after fleeing from India in 2016. He has been given permanent resident status by the Malaysian government.
In an interview to 'The Week' magazine, the preacher said he has faith in the judicial system, but it was better before than it is now, he added.
"Before the BJP government came, you could speak against the government, and at least 80 per cent of the times you would get justice. Today, the chances are 10-20 per cent.
"Moreover, if we see the history, more than 90 per cent Muslims who faced terror charges have been let free after 10-15 years. So if I look at an average, I will be behind bars for about 10 years, and my entire mission would get disrupted. Why should I be a fool," he said.
The preacher said the NIA can question him in Malaysia if they want. When asked whether he will return to India if he has an assurance of justice, Naik said, "If there is an assurance from the Supreme Court of India, that if Dr Zakir Naik comes, they will not arrest me till I am convicted, I will come."
The preacher was booked by the NIA after his name cropped up during the probe of a terror attack on Gulshan's Holey Artisan Bakery (cafe) in Dhaka's posh diplomatic area, claimed by the Islamic State terror group.
Twenty people, mostly foreigners, were killed in the brutal late-night attack on July 1, 2016 after the attackers took diners and restaurant staff hostage. The NIA had registered a case against him and his organisation Islamic Research Foundation (IRF) under anti-terror laws and for allegedly promoting enmity between groups on the basis of religion and race.
Naik said he has never told anyone to resort to terrorism.
"Have they [the arrested persons] said that I told them to do the bombing? The answer is no. I challenge anyone to say that he was inspired [by me] to kill innocent people. If he is saying that then he is lying," he said when asked about the attackers in Dhaka, Sri Lanka and now a Kerala youth, arrested for planning terror attack, taking his name.
On the allegations of money laundering by the Enforcement Directorate, Naik said he has one bank account. "I have several companies and I am actually doing business. Is there a restriction in Indian law that a person cannot own companies? People have 50 companies and sometimes there are no transactions in some," he said.
Naik said they are also alleging that he sent money into his personal account. "Now all that money I sent into my account was Rs 49 crore in seven years. I told you my earning is more than a crore a month and I have got a lot of businesses in real estate and other ventures.
"It will be a crime if I use some of the money for drugs or terrorism. They said Harmony Media is a factory of terrorism. If it is promoting terrorism then how come the US allowed my channel for so many years," he asked.
https://indianexpress.com/article/india/ready-to-return-if-sc-assures-i-will-not-be-arrested-till-conviction-zakir-naik/
--------
Pakistan Islamic School Reforms Aim to Curb Extremism
May 09, 2019
ISLAMABAD —
Officials in Pakistan say Islamic organizations have agreed to put some 30,000 madrassas, or seminaries, under the supervision of the Ministry of Education as part of the government's efforts to curb violent extremism in the country.
Critics blame madrassas for the rising radicalization of Pakistan's youth and for serving as breeding grounds for transnational terrorist networks. The Pakistani military also has long been accused of covertly supporting some of these madrassas to train and send fighters to fuel conflicts in Afghanistan and a Muslim insurgency in the India-ruled portion of the disputed Kashmir region.
"The agreement has outlined rules and regulations for all madrassas in Pakistan to be registered with the education ministry and those who oppose the process will not be allowed to work," Education Minister Shafqat Mehmood told the local Geo News channel. Under the deal, the government will assist madrassa operators in opening their bank accounts and processing visas for foreign students seeking admission in Pakistani seminaries, the minister explained.
Officials say the measure will enable the government to audit finances being provided to the seminaries in the name of donations and charities to deter terrorism-related transactions, and monitor activities of foreign students attending the institutions.
The rare understanding comes days after the chief military spokesman Major General Asif Ghafoor, in an unusual move, unveiled government plans to bring much-sought reforms to madrassas to put them under state control.
Analysts say the military's lead to announce the plan was apparently aimed at deterring any possible backlash from Islamic organizations and at sending a strong message to these entities that the state is determined to press ahead with its plans.
The seminaries are largely ill-equipped. Children spend most of the time memorizing the Holy Quran, with almost no access to modern subjects. They can only get the job of a prayer leader at a mosque after finishing the madrassa education.
Supporters of the madrassa system say they are offering free education to around 2.5 million children of poverty-stricken families in Pakistan, where an estimated 25-million children are unable to receive any education.
Ghafoor says government scrutiny of all the seminaries has determined "less than 100" are suspected of involvement in promoting "violent extremism and terrorism."
"An Islamic education will continue to be provided, but there will be no hate speech," the army spokesman said while announcing the reform program about two weeks ago. "We want to end violent extremism in Pakistan and that will only happen when our children have the same education and opportunities," he stressed.
Attempts by past Pakistani governments to mainstream the madrassa education system have faced strong resistance and threats of street agitation from religious groups for what they denounced as anti-Islam Western plot.
Mohammad Amir Rana of the Islamabad-based Pakistan Institute for Peace Studies (PIPS) explained the reason for the military to take the lead and announce the madrassa reform program.
"This is quite a sensitive and critical issue and there is this thinking among the security institutions that no civilian government can handle it all alone and they need some harder perusal approach to implement the madrassa reforms," Rana said.
Prime Minister Imran Khan, who took office last August, has vowed his government would not tolerate extremist or militant outfits operating on its territory.
Rana noted that there has been no retaliation, so far, from Islamic groups to madrassa reforms because the announcement has come from the military, the institution long suspected of creating and patronizing some of the seminaries.
"I think this may be one of the factors behind this new approach by the security institutions that they always have been blamed for supporting these kind of extremist elements in the country whatever the purpose was, whatever the complicated history we have. But now they have decided to deal with it by themselves," Rana noted.
A senior Pakistani official told VOA that Islamic leaders and clerics from all schools of thought will be barred from delivering sermons or speeches in their respective seminaries that fuel sectarianism among various Sunni sects and the rival minority Shi'ite Muslim community. The official requested anonymity because he was not authorized to speak to media on the subject.
He noted the government has allocated an initial amount of $3.8 million (2.7 billion rupees) for the reform program. The process of hiring 100,000 new teachers to teach contemporary subjects at madrassas has started. Regional government officials will be appointed to support and coordinate with madrassa operators in mainstreaming the schools.
"If any madrassa are found involved in activities beyond their stated mandate the responsibility will rest with the religious leader running them," the official emphasized.
Pakistani authorities in recent weeks have also taken control of hundreds of hospitals, seminaries and other facilities linked to banned organizations, including those designated as global terrorists by the United Nations.
Anti-India Jaish-e-Mohammed (JeM) and Jamaatud Dawa (JuD) militant groups were also among them. Indian officials blamed JeM for orchestrating a deadly suicide car bombing in February that killed 40 paramilitary forces in India-ruled portion of the disputed Kashmir region.
The move comes at a time of increased pressure on the country to act against Islamist groups that continue to operate religious seminaries and other facilities despite being designated as global terrorists by the United Nations.
It is widely believed that Pakistan's steps against Islamist groups and entities stem from pressure the Paris-based Financial Action Task Force (FATF) is putting on Islamabad to take effective steps against money laundering and terrorism financing.
The FATF identifies jurisdictions with weak measure to combat money laundering and terrorist financing. Countries with inadequate controls for curbing money laundering and terrorism financing appear on the watchdog's "grey list." The group's "blacklist" is reserved for countries that fail to meet international standards in stopping financial crimes.
The watchdog is due to meet next month to review Pakistani measures before a critical meeting in September where a final decision will be taken to either remove the country from FATF's grey list or to place it in its blacklist. In the event of being blacklisted, analysts say, Pakistan's economic woes will worsen because international financial dealings and trade will face restrictions.
https://www.voanews.com/a/pakistan-islamic-school-reforms-aim-to-curb-extremism/4910257.html
--------
Taliban Attack Aid Group Office in Kabul, in Setback to U.S. Peace Talks
By David Zucchino and Fatima Faizi
May 8, 2019
KABUL, Afghanistan — Taliban militants attacked the compound of an American-run contractor in the Afghan capital on Wednesday, killing at least five people and sending a stinging message to the United States as it engages in peace talks with the group.
The attack in Kabul, the capital, which the Interior Ministry said also wounded 24, was a clear signal about the state of the peace process even after the Taliban leadership met with American negotiators last week in the sixth round of peace talks in Doha, Qatar.
The American charity CARE said three employees in its Afghanistan office were killed. CARE maintains a compound near the site of the contractor that was targeted, Counterpart International, which said all of its employees were safe and accounted for.
"Today's attack showed that the Taliban don't believe in peace — it was a direct message to the Americans that the Taliban will be the winner of the Afghan war," said Atiqullah Amarkhel, a retired Afghan Army general and military analyst.
Mr. Amarkhel said the Taliban were declaring that "they are the leader of the peace talks and the Americans should listen to them and accept their demands." Central to those demands is the United States' agreement on a timeline for the withdrawal of American troops.
The five-and-a-half-hour siege on Wednesday began with a car bomb and ended when security forces killed all four armed infiltrators, said Nasrat Rahimi, a spokesman for the Interior Ministry. Among those killed during the attack were an officer from an elite police response unit and an Afghan woman, and one of the wounded was a foreign national, he said.
Three employees of the humanitarian nonprofit CARE were also killed in the attack, the organization said in a statement.
The attackers targeted a compound operated by Counterpart International, which is primarily funded by the United States Agency for International Development. The group has operated in Afghanistan since 2005, focusing on civic engagement projects, according to its website.
In a Twitter post claiming responsibility for the attack, a Taliban spokesman, Zabihullah Mujahid, described Counterpart as "a U.S. network," indicating that it was singled out because it is an American-led organization.
Mr. Mujahid accused Counterpart International of conducting "harmful Western activities inside Afghanistan." He said it employed "foreign advisers" who had engaged in "various aspects of brutality, oppression, terror, anti-Islamic ideology and promotion of Western culture."
The Taliban also said Counterpart International promoted "open intermixing" of Afghan men and women. Before the Taliban regime was toppled in 2001, women were prohibited from meeting with men and could not leave home unless accompanied by a close male relative.
Counterpart International has recently promoted participation in the Afghan election process. The Taliban bitterly oppose elections, depicting them as a Western concept imposed on the Afghan people. The militants have refused to include the Afghan government in the peace talks, calling it illegitimate.
The attack underscored the importance of contractors to the American-led international effort in Afghanistan. Thousands of contractors support the military and provide crucial manpower for relief and civil society programs, easily outnumbering the 14,000 American troops deployed in the country.
Mr. Mujahid, the Taliban spokesman, accused President Ashraf Ghani of Afghanistan of working directly with Counterpart International. In a statement, Mr. Ghani condemned the attack, calling it "an unforgivable crime" that violated Afghan and Islamic values.
Mr. Ghani held a five-day peace assembly last week that drew 3,200 Afghans but angered the Taliban, who rejected his call for a cease-fire for the Muslim holy month of Ramadan. Mr. Ghani is seeking a second term as president in elections scheduled for September, but his political rivals have suggested installing an interim government.
"The Taliban sent a direct message that they don't believe in peace and they will keep fighting," said Nazifah Zaki, a former member of Parliament who served as a general in the Afghan security forces.
She said the attack was intended to pressure American negotiators into agreeing to a timeline for withdrawing troops.
The bombing came on the third day of Ramadan, a monthlong observance of fasting and charitable giving. The Taliban warned last week that they would continue attacks during Ramadan but said they would take care to avoid harming civilians.
But the Counterpart International compound, in the Shahr-e-Naw neighborhood of Kabul, was filled with dozens of civilian employees when the car bomb exploded shortly before noon. Four gunmen made their way on foot to the fourth floor of a building used by Counterpart and engaged in gun battles with security forces, said Mr. Rahimi, the Interior Ministry spokesman.
Mr. Rahimi said security forces rescued people from the compound as they battled the attackers. Counterpart International staff members took cover in two fortified safe rooms, according to security officials who spoke on the condition of anonymity because they were not authorized to speak with reporters.
A number of adjacent shops and cars were badly damaged during the attack.
"We are incredibly saddened by this attack and are working as quickly as possible to account for our staff," Counterpart International said in a statement.
Zalmay Khalilzad, the American peace envoy at the Doha talks, has said that one of his goals is a permanent, comprehensive cease-fire. But the Taliban delegation has refused to discuss a cease-fire and other issues until the United States agrees to a timetable for the withdrawal of American troops.
The United States and the Taliban have agreed on a framework for the withdrawal of troops in exchange for a Taliban guarantee that terrorist groups will not mount attacks from Afghan soil. The United States invaded Afghanistan following the attacks of Sept. 11, 2001, which were planned by Al Qaeda in Afghanistan when the Taliban ruled the country.
Mr. Khalilzad has not yet commented on the Kabul attack. No Americans were reported among the dead.
The State Department said last month that the Taliban had committed to cut ties with Al Qaeda and to fight Islamic State loyalists in Afghanistan.
But analysts said the attack in Kabul showed that the Taliban do not want a cease-fire because they are convinced they have the upper hand in the war. The militants control or contest more territory in Afghanistan than at any time since the 2001 invasion. John R. Bass, the American ambassador, condemned the attack as an act of "senseless violence."
"The targeted organization helps local communities, trains journalists and supports the Afghan people," Mr. Bass wrote on Twitter.
The United Nations Assistance Mission in Afghanistan called the attack "particularly deplorable, hitting civilians helping Afghans & taking place during Ramadan."
https://www.nytimes.com/2019/05/08/world/asia/kabul-afghanistan-bombing.html
--------
Selangor State Islamic Religious Department Can Probe Ahmadis As Their ICs State They Are Muslims, Court Told
10 May 2019
by Azril Annuar
PUTRAJAYA, May 10 — The Selangor State Islamic Religious Department (Jais) had the right to investigate the Ahmadiyya community and call them to the state's Syariah Court as some of them are identified as Muslims in their national registration identification card (IC).
At the Court of Appeal today, Selangor state Legal Adviser Datuk Masri Mohd Daud argued that there were reasonable grounds for the arrest of 39 Ahmadis including eight Pakistani asylum seekers, two Indian nationals, one Indonesian and three minors in 2014.
"Issue now is this; there is reasonable ground for the raiding officer in our case here to arrest them because according to their IC it is stated there the word 'Islam'. We are saying Islam here, they (Jais) have the power or jurisdiction over you to investigate.
"Whether you are Ahmadiyya or not yet, it needs to be investigated first. You don't stop the investigation. Our contention is that we have no idea whether you are Ahmadiyya on that very day. We have no idea, no knowledge about it.
"They should allow the investigation first, because based on your IC, you are a Muslim," Masri told reporters after the hearing by Justices Datuk Badariah Sahamid, Datuk Zabariah Mohd Yusof and Datuk Nor Bee Ariffin.
On April 11, 2014 Jais had raided a shoplot in Dolomite Park in Batu Caves, Selangor and accused the group of performing Friday prayers in a place that was not a mosque, contrary to Section 97 of the Administration of the Religion of Islam (State of Selangor) Enactment 2003.
The Ahmadis, who are derogatorily called Qadianis here, adhere to the same beliefs as the Sunni branch of Islam, but also believe that their founder Mirza Ghulam Ahmad was the Imam Mahdi, Islam's prophesied redeemer.
In a judicial review in July last year, Justice Datuk Vazeer Alam Mydin Meera declared at the High Court in Shah Alam that Jais has no rights to stop the community from worship, nor to charge them with Shariah offences.
He also ruled that the Syariah Court has no jurisdiction over members of the Ahmadiyya community, as the Selangor Islamic Religious Department (Jais) has refused to recognise the Muslim sect as adherents.
However, Jais had filed an appeal against the decision.
Masri also argued that the High Court judge had no power to declare anyone as apostates as the Selangor Enactment has a specific law to deal with the issue.
"The High Court Judge has no power to declare them as apostate because we have a specific law under Selangor's enactment which is Section 61 of the Selangor Enactment Act — Administration of the Religion Islam.
"In Selangor, only the Shariah High Court can decide if someone is an apostate. If there is any loophole here, a judicial review may be invited to look into it," he explained.
During the hearing, the Ahmadis' legal counsel Aston Phillip Paiva had argued that even though the community consider themselves Muslims, the Selangor state through a fatwa had already excommunicated them and considered them to be non-Muslims.
Therefore, Jais and the Selangor Shariah Court have no jurisdiction over the community and they should not be charged.
Masri pointed out to the court that officially, no charges have been made against any of the 39 who were arrested. They were merely accused and were asked to present themselves at the Syariah Court, which they did not comply.
The three-man panel said they will make a decision in about one month's time but did not specify the date.
https://www.malaymail.com/news/malaysia/2019/05/10/jais-can-probe-ahmadis-as-their-ics-state-they-are-muslims-court-told/1751591
--------
More evidence emerges of Iran-Al Qaeda ties
May 10, 2019
As the Trump administration doubles down on the contention that Tehran is cooperating with Al Qaeda, another former Iranian commander has reportedly come forward with allegations about an Iran-Al Qaeda link.
Said Qasemi, a now-retired spokesperson for Iran's Islamic Revolutionary Guard Corps (IRGC), told Al Arabiya that IRGC deployed undercover soldiers to Bosnia-Herzegovina during its conflict in the 1990s under the pretense that they were members of Tehran's state-endorsed Red Crescent.
This is alleged to have been in cooperation with an Al Qaeda unit operating in the region, as confirmed by another IRGC official, whereby the two groups were able to engage in joint weapons training.
IRGC has long and persistently denied long-running claims by the international community, however, of any associations between the two factions -- who view the U.S. as a staunch enemy – even as more claims and documents to the contrary have piled up over the years.
The annual Country Reports on Terrorism issued by the State Department last year reinforced global assessments that not only does Iran enable Al Qaeda to conduct international operations from within its borders, it also remains "unwilling to bring to justice senior Al Qaeda members residing in Iran and has refused to publicly identify the members in its custody."
A United Nations report released last July noted that "Al Qaeda leaders in Iran have grown more prominent" and were specifically working to erode the Al Qaeda-connected Sunni rebel group Hayat Tahir al-Sham, which continues to dominate in the last remaining opposition bastion in the Syrian province of Idlib.
In 2017, documents obtained during the 2011 raid of Usama bin Laden's Pakistan compound – which also killed the Sept. 11 financier and Al Qaeda leader – were finally declassified and revealed various instances of cooperation between the terrorist outfit and Tehran.
A year earlier, the U.S. Treasury Department slapped sanctions on several Al Qaeda operatives who had alliances with Iran, with the department having stated earlier that Iran had served as a "core pipeline" to maneuver resources and personnel between the Middle East and its South Asia hub of Afghanistan and Pakistan.
"For almost 30 years now, Iran and Al Qaeda have collaborated in their war against the Great Satan, America," John Wood, longtime Iranian weapons and intelligence analyst, told Fox News. "Centered on and from the safety of Lavizan, a suburb of Tehran, the leadership of Al Qaeda and its key lieutenants have been payrolled, trained, planned and executed, attacks on the United States, including heir apparent, Hamza Bin Laden, military mastermind, Saif al-Adel, and Al Qaeda's nuclear chief, Abdel al-Aziz al-Masri."
He also pointed to the notion that within "walking distance of a training camp supervised by trainers from Hezbollah and Al-Quds Force, and frequented by members of Al Qaeda, Taliban, Hamas and Islamic Jihad, as well as the Los Zetas drug cartel, Venezuelan and Cuban intelligence, who learn their murderous terrorist tradecraft, including the making of IEDs and decapitating people, as well as money laundering."
"Around the corner is the headquarters of Iran's nuclear weapons program, FEDAT, as well as its principal R&D complex, Physics Research Center (PHRC) based at Malek Ashtar University, and last, but by no means least, underground nuclear weapons production facilities," Wood continued.
The nuclear weapons program is allegedly run by Mohsen Fakhrizadeh-Mahabadi, a senior officer in the IRGC. Mohsen is also said to teach classes on physics at Imam Hossein University, "which is just down the street, off Shahid Babaei Highway. In short, if Iran is the state sponsor of terrorism, then Lavizan represents its epicenter, and Al Qaeda is at its heart," he said.
On the surface, such an alliance seems nonsensical, given that the Iranian government is a staunch follower of the Shi'a branch of Islam while Al Qaeda espouses an extremist interpretation of Sunni Islam and views Shi'a as ultimate betrayers of the faith. Analysts contend, however, that it's a relationship of convenience that has benefits for both sides.
"It allows Al Qaeda to move personnel, funds and communications to and from South Asia. This 'core pipeline' connects Al Qaeda's senior leadership in Afghanistan and Pakistan with the organization's arms throughout the Middle East," said Tom Joscelyn, senior fellow at the Foundation for Defense of Democracies (FDD), and senior editor of its Long War Journal. "From Iran's perspective, it provides insurance against a possible Al Qaeda attack inside Iran, as any attempt to attack would lead the Iranians to shut down the network."
Since withdrawing the United States from the controversial 2015 JCPOA, commonly referred to as "the Iran Deal," a year ago, President Trump has maintained that Iran is "supporting proxies and militias such as Al Qaeda."
Yet other experts have argued that such ties have been exaggerated and are largely unfounded.
A study released last August by the Washington-based think tank New America, which also examined the 2011 documents seized from the Bin Laden abode, concluded that there was next to no evidence that Tehran and the terror organization have worked together to carry out attacks. The report instead contended that Iran had grown "increasingly uncomfortable" with Al Qaeda's presence in its country and, after the U.S invaded neighboring Iraq in 2003, took action to detain its members and deny them permission to exit is borders.
https://www.foxnews.com/world/more-ties-between-iran-and-al-qaeda-emerge
--------
Facebook auto-generates videos celebrating extremist images
By Desmond Butler and Barbara Ortutay 
May 9, 2019
WASHINGTON — The animated video begins with a photo of the black flags of jihad. Seconds later, it flashes highlights of a year of social media posts: plaques of anti-Semitic verses, talk of retribution and a photo of two men carrying more jihadi flags while they burn the stars and stripes.
It wasn't produced by extremists; it was created by Facebook. In a clever bit of self-promotion, the social media giant takes a year of a user's content and auto-generates a celebratory video. In this case, the user called himself "Abdel-Rahim Moussa, the Caliphate."
"Thanks for being here, from Facebook," the video concludes in a cartoon bubble before flashing the company's famous "thumbs up."
Facebook likes to give the impression it's staying ahead of extremists by taking down their posts, often before users even see them. But a confidential whistleblower's complaint to the Securities and Exchange Commission obtained by The Associated Press alleges the social media company has exaggerated its success. Even worse, it shows that the company is inadvertently making use of propaganda by militant groups to auto-generate videos and pages that could be used for networking by extremists.
According to the complaint, over a five-month period last year, researchers monitored pages by users who affiliated themselves with groups the U.S. State Department has designated as terrorist organizations. In that period, 38% of the posts with prominent symbols of extremist groups were removed. In its own review, the AP found that as of this month, much of the banned content cited in the study — an execution video, images of severed heads, propaganda honoring martyred militants — slipped through the algorithmic web and remained easy to find on Facebook.
The complaint is landing as Facebook tries to stay ahead of a growing array of criticism over its privacy practices and its ability to keep hate speech, live-streamed murders and suicides off its service. In the face of criticism, CEO Mark Zuckerberg has spoken of his pride in the company's ability to weed out violent posts automatically through artificial intelligence. During an earnings call last month, for instance, he repeated a carefully worded formulation that Facebook has been employing.
"In areas like terrorism, for al-Qaida and ISIS-related content, now 99 percent of the content that we take down in the category our systems flag proactively before anyone sees it," he said. Then he added: "That's what really good looks like."
Zuckerberg did not offer an estimate of how much of total prohibited material is being removed.
The research behind the SEC complaint is aimed at spotlighting glaring flaws in the company's approach. Last year, researchers began monitoring users who explicitly identified themselves as members of extremist groups. It wasn't hard to document. Some of these people even list the extremist groups as their employers. One profile heralded by the black flag of an al-Qaida affiliated group listed his employer, perhaps facetiously, as Facebook. The profile that included the auto-generated video with the flag burning also had a video of al-Qaida leader Ayman al-Zawahiri urging jihadi groups not to fight among themselves.
While the study is far from comprehensive — in part because Facebook rarely makes much of its data publicly available — researchers involved in the project say the ease of identifying these profiles using a basic keyword search and the fact that so few of them have been removed suggest that Facebook's claims that its systems catch most extremist content are not accurate.
"I mean, that's just stretching the imagination to beyond incredulity," says Amr Al Azm, one of the researchers involved in the project. "If a small group of researchers can find hundreds of pages of content by simple searches, why can't a giant company with all its resources do it?"
Al Azm, a professor of history and anthropology at Shawnee State University in Ohio, has also directed a group in Syria documenting the looting and smuggling of antiquities.
Facebook concedes that its systems are not perfect, but says it's making improvements.
"After making heavy investments, we are detecting and removing terrorism content at a far higher success rate than even two years ago," the company said in a statement. "We don't claim to find everything and we remain vigilant in our efforts against terrorist groups around the world."
Reacting to the AP's reporting, Rep. Bennie Thompson, D-Miss., the chairman of the House Homeland Security Committee expressed frustration that Facebook has made so little progress on blocking content despite reassurances he received from the company.
"This is yet another deeply worrisome example of Facebook's inability to manage its own platforms — and the extent to which it needs to clean up its act," he said. "Facebook must not only rid its platforms of terrorist and extremist content, but it also needs to be able to prevent it from being amplified."
But as a stark indication of how easily users can evade Facebook, one page from a user called "Nawan al-Farancsa" has a header whose white lettering against a black background says in English "The Islamic State." The banner is punctuated with a photo of an explosive mushroom cloud rising from a city.
The profile should have caught the attention of Facebook — as well as counter-intelligence agencies. It was created in June 2018, lists the user as coming from Chechnya, once a militant hotspot. It says he lived in Heidelberg, Germany, and studied at a university in Indonesia. Some of the user's friends also posted militant content.
The page, still up in recent days, apparently escaped Facebook's systems, because of an obvious and long-running evasion of moderation that Facebook should be adept at recognizing: The letters were not searchable text but embedded in a graphic block. But the company says its technology scans audio, video and text — including when it is embedded — for images that reflect violence, weapons or logos of prohibited groups.
The social networking giant has endured a rough two years beginning in 2016, when Russia's use of social media to meddle with the U.S. presidential elections came into focus. Zuckerberg initially downplayed the role Facebook played in the influence operation by Russian intelligence, but the company later apologized.
Facebook says it now employs 30,000 people who work on its safety and security practices, reviewing potentially harmful material and anything else that might not belong on the site. Still, the company is putting a lot of its faith in artificial intelligence and its systems' ability to eventually weed out bad stuff without the help of humans. The new research suggests that goal is a long way away and some critics allege that the company is not making a sincere effort.
When the material isn't removed, it's treated the same as anything else posted by Facebook's 2.4 billion users — celebrated in animated videos, linked and categorized and recommended by algorithms.
But it's not just the algorithms that are to blame. The researchers found that some extremists are using Facebook's "Frame Studio" to post militant propaganda. The tool lets people decorate their profile photos within graphic frames — to support causes or celebrate birthdays, for instance. Facebook says that those framed images must be approved by the company before they are posted.
Hany Farid, a digital forensics expert at the University of California, Berkeley, who advises the Counter-Extremism Project, a New York and London-based group focused on combatting extremist messaging, says that Facebook's artificial intelligence system is failing. He says the company is not motivated to tackle the problem because it would be expensive.
"The whole infrastructure is fundamentally flawed," he said. "And there's very little appetite to fix it because what Facebook and the other social media companies know is that once they start being responsible for material on their platforms it opens up a whole can of worms."
Another Facebook auto-generation function gone awry scrapes employment information from user's pages to create business pages. The function is supposed to produce pages meant to help companies network, but in many cases they are serving as a branded landing space for extremist groups. The function allows Facebook users to like pages for extremist organizations, including al-Qaida, the Islamic State group and the Somali-based al-Shabab, effectively providing a list of sympathizers for recruiters.
At the top of an auto-generated page for al-Qaida in the Arabian Peninsula, the AP found a photo of the damaged hull of the USS Cole, which was bombed by al-Qaida in a 2000 attack off the coast of Yemen that killed 17 U.S. Navy sailors. It's the defining image in AQAP's own propaganda. The page includes the Wikipedia entry for the group and had been liked by 277 people when last viewed this week.
As part of the investigation for the complaint, Al Azm's researchers in Syria looked closely at the profiles of 63 accounts that liked the auto-generated page for Hay'at Tahrir al-Sham, a group that merged from militant groups in Syria, including the al-Qaida affiliated al-Nusra Front. The researchers were able to confirm that 31 of the profiles matched real people in Syria. Some of them turned out to be the same individuals Al Azm's team was monitoring in a separate project to document the financing of militant groups through antiquities smuggling.
Facebook also faces a challenge with U.S. hate groups. In March, the company announced that it was expanding its prohibited content to also include white nationalist and white separatist content— previously it only took action with white supremacist content. It says that it has banned more than 200 white supremacist groups. But it's still easy to find symbols of supremacy and racial hatred.
The researchers in the SEC complaint identified over 30 auto-generated pages for white supremacist groups, whose content Facebook prohibits. They include "The American Nazi Party" and the "New Aryan Empire." A page created for the "Aryan Brotherhood Headquarters" marks the office on a map and asks whether users recommend it. One endorser posted a question: "How can a brother get in the house."
Even supremacists flagged by law enforcement are slipping through the net. Following a sweep of arrests beginning in October, federal prosecutors in Arkansas indicted dozens of members of a drug trafficking ring linked to the New Aryan Empire. A legal document from February paints a brutal picture of the group, alleging murder, kidnapping and intimidation of witnesses that in one instance involved using a searing-hot knife to scar someone's face. It also alleges the group used Facebook to discuss New Aryan Empire business.
But many of the individuals named in the indictment have Facebook pages that were still up in recent days. They leave no doubt of the users' white supremacist affiliation, posting images of Hitler, swastikas and a numerical symbol of the New Aryan Empire slogan, "To The Dirt" — the members' pledge to remain loyal to the end. One of the group's indicted leaders, Jeffrey Knox, listed his job as "stomp down Honky." Facebook then auto-generated a "stomp down Honky" business page.
Social media companies have broad protection in U.S. law from liability stemming from the content that users post on their sites. But Facebook's role in generating videos and pages from extremist content raises questions about exposure. Legal analysts contacted by the AP differed on whether the discovery could open the company up to lawsuits.
At a minimum, the research behind the SEC complaint illustrates the company's limited approach to combatting online extremism. The U.S. State Department lists dozens of groups as "designated foreign terrorist organizations" but Facebook in its public statements says it focuses its efforts on two, the Islamic State group and al-Qaida. But even with those two targets, Facebook's algorithms often miss the names of affiliated groups. Al Azm says Facebook's method seems to be less effective with Arabic script.
For instance, a search in Arabic for "Al-Qaida in the Arabian Peninsula" turns up not only posts, but an auto-generated business page. One user listed his occupation as "Former Sniper" at "Al-Qaida in the Arabian Peninsula" written in Arabic. Another user evaded Facebook's cull by reversing the order of the countries in the Arabic for ISIS or "Islamic State of Iraq and Syria."
John Kostyack, a lawyer with the National Whistleblower Center in Washington who represents the anonymous plaintiff behind the complaint, said the goal is to make Facebook take a more robust approach to counteracting extremist propaganda.
"Right now we're hearing stories of what happened in New Zealand and Sri Lanka — just heartbreaking massacres where the groups that came forward were clearly openly recruiting and networking on Facebook and other social media," he said. "That's not going to stop unless we develop a public policy to deal with it, unless we create some kind of sense of corporate social responsibility."
Farid, the digital forensics expert, says that Facebook built its infrastructure without thinking through the dangers stemming from content and is now trying to retrofit solutions.
"The policy of this platform has been: 'Move fast and break things.' I actually think that for once their motto was actually accurate," he says. "The strategy was grow, grow, grow, profit, profit, profit and then go back and try to deal with whatever problems there are."
https://www.washingtonpost.com/business/technology/facebook-auto-generates-videos-celebrating-extremist-images/2019/05/09/527c0604-7229-11e9-9331-30bc5836f48e_story.html?utm_term=.abedeb3a30c7
--------
Arab World
Thousands of ISIS Children Suffer in Camps as Countries Grapple With Their Fate
By Vivian Yee
May 8, 2019
BEIRUT, Lebanon — Many of them were barely school age when their parents took them to the Islamic State's so-called caliphate in Iraq and Syria. Thousands of others were born there.
The children are the most vulnerable of the Islamic State's captured followers — the remainders of the more than 40,000 foreign fighters and their families who came from 80 countries to help build the caliphate. Many are now detained in camps and prisons across eastern Syria, Iraq and Libya.
"What have these kids done?" said Fabrizio Carboni, a Red Cross official, after witnessing the misery surrounding him on a recent visit to Al Hol camp in Syria. "Nothing."
Yet even when it comes to the children, the foreign governments whose citizens are marooned in the camps and prisons have struggled with what to do with them.
The Islamic State, researchers say, employed children as scouts, spies, cooks and bomb-planters, and sometimes as fighters and suicide bombers. Propaganda videos showed young children beheading and shooting prisoners.
Some have had years of ISIS indoctrination and, in the case of older boys, military training.
"They're victims of the situation because they went against their will," said Peter Neumann, director of the International Center for the Study of Radicalization at King's College London, "but that doesn't mean that they're not, in some cases at least, a risk."
If figuring out what to do with the children is that complicated, deciding what to do with the women and men is even more difficult.
There are at least 13,000 foreign ISIS followers being held in Syria, including 12,000 women and children. That number does not include the estimated 31,000 Iraqi women and children detained there. Another 1,400 are detained in Iraq.
But only a handful of countries — including Russia, Kosovo, Kazakhstan, Indonesia and France — have intervened to bring back some of their citizens.
The debate is more pressing than ever.
In overflowing camps in eastern Syria, the wives and children of ISIS fighters who fled the last shreds of ISIS territory are dying of exposure, malnutrition and sickness. Children are too spent to speak. Women who have renounced the group live in dread of attacks from those who have not.
The local militias running the camps say they cannot detain other countries' citizens forever.
Across the border in Iraq, government authorities are administering hasty justice to people accused of being Islamic State members, sentencing hundreds to death in trials that often last no longer than five minutes.
But most foreign governments are reluctant to take them back, leaving them international pariahs wanted by no one — not their home countries, not their jailers.
"Who wants to be the politician who decides to repatriate Individual A who, two years down the road, blows himself up?" said Lorenzo Vidino, the director of the George Washington University Program on Extremism.
The fact is, Mr. Vidino said, few extremists return to stage attacks in their home countries. But the exceptional cases — including the 2015 Paris attacks that killed 130 people and two of Tunisia's deadliest terrorist attacks — have made the idea of repatriation politically toxic in many countries. At least one of the bombers who carried out the attack in Sri Lanka on Easter was a Sri Lankan who had trained with the Islamic State in Syria.
Some countries, like Britain and Australia, have revoked the citizenships of their nationals suspected of joining the Islamic State abroad, effectively abandoning them and their children to indefinite detention without charge and potential statelessness. Britain alone has canceled the passports of more than 150 people, the home secretary, Sajid Javid, has said.
While bringing them home could pose an obvious danger, so could leaving them in the camps, desperate and disenfranchised.
Historically, fighters who gained experience with one extremist group have been the ones who seed new ones, said Seamus Hughes, the deputy director of the George Washington program.
"Do we ignore the problem because it's easier in the short term?" he said. "If so, it's going to become a problem in the long term."
But bringing them home requires foreign governments to answer virtually impossible questions, like how to separate those who committed crimes from those who did not, and those who still pose a threat from those who do not.
The puzzle has been hardest to solve when it comes to the tens of thousands of women and children affiliated with the Islamic State.
The once common view that ISIS women were passive prey, "jihadi brides" seduced into joining the caliphate and marrying its fighters, crumbled as evidence emerged that women had served as enforcers for the caliphate's morality brigade or, in some cases, taken up arms in battle.
"The rhetoric from the media and politicians is they're brainwashed, they're deceived, they're lovestruck, they don't know what they're doing," said Meredith Loken, an assistant professor at the University of Massachusetts at Amherst who has studied women who join violent extremist groups. "But even if they didn't pick up guns," she said, many were "actively contributing to this group."
Some were reluctant accessories while others were violent zealots. Some were both victims and perpetrators, experts say.
Women like Shamima Begum, a British teenager, and Hoda Muthana, a young American-born woman, have drawn headlines in recent weeks partly because it is so difficult to size up their roles and the risk they pose.
Ms. Begum was unrepentant when a journalist found her in a Syrian camp in February, asking to return to Britain for her unborn child's sake while insisting that the 2017 Manchester Arena bombing, in which 22 were killed, was justified. Ms. Muthana later said she regretted joining the Islamic State, insisting that she had been "brainwashed."
Experts contend that bringing ISIS members home to be prosecuted or monitored is smarter, safer and, in most countries, more humane than leaving them stranded in the desert or outsourcing their prosecution to the Iraqi justice system.
The Trump administration has called for foreign governments to repatriate their citizens, though officials have suggested that some detainees who cannot be repatriated could be sent to the military prison at Guantánamo Bay.
"They are your citizens, and, for better or for worse, you're responsible for the mess they're creating," said Tanya Mehra, a researcher at the International Center for Counter-Terrorism at The Hague.
Some countries say that Iraq should be able to prosecute foreign ISIS members for crimes against Iraqis committed on Iraqi soil. The American-backed forces in Syria have handed over at least 150 Iraqis and foreigners to be tried in Iraq.
Yet Iraqi due process standards fall glaringly short of Western ones. Many defendants have been convicted on the basis of confessions extracted through torture, including, according to Human Rights Watch, teenagers who said that they were beaten until they confessed.
Iraq's Supreme Judicial Council has said that at least 185 foreign children had been convicted on terrorism charges and sentenced to prison by the end of 2018. Iraq is also negotiating with the Kurdish-led militias who oversee the camps in Syria for the return of the 31,000 Iraqi women and children but Iraq's government has been unable to decide what to do with them.
Abandoning ISIS followers to the camps or to Iraqi justice, experts argue, may only postpone a reckoning later on.
"If you leave them there and you lose track of them, sooner or later they'll try to come back and you have no clue what's happened with them," Ms. Mehra said. "At least it's a controlled risk if you bring them back."
Several countries have proposed an international tribunal to try ISIS suspects. While the idea has gained some traction among countries eager to avoid handling the problem themselves, other international tribunals — which have generally tried only top officials — have proved unwieldy, expensive and of limited effectiveness. Experts view the prospect as unrealistic.
Prosecution at home is also complicated.
Many countries were so unprepared to deal with returnees that they did not have laws to prosecute them until a few years ago; even now, those laws generally carry sentences of only a few years.
Successful prosecution often requires resources that are hard to scrape up and evidence that has long since disappeared on the battlefield.
Countries have also struggled with imprisoning former ISIS fighters in a way that prevents them from radicalizing other prisoners, and then reintegrating them into society once they are released.
While no nation has yet developed a large-scale, tried-and-true model for detention — to say nothing of deradicalization, which remains an elusive goal — Mr. Neumann, the radicalization expert, said that those that have developed a more sophisticated approach have found that it often requires labor-intensive, case-by-case tailoring.
Some governments have appeared more willing to repatriate children than their parents, though few seem ready to send people to Syria and Iraq to collect them. Several countries require children born in the caliphate to undergo DNA testing to prove their parentage, and therefore their citizenship, before repatriation.
Kosovo, Russia and Kazakhstan are among the few countries that have retrieved children on a large scale, with the Chechen ruler, Ramzan Kadyrov, organizing the return of dozens of Russian-speaking children and, in some cases, their mothers. In the largest one-time repatriation to Europe so far, Kosovo flew 110 of its citizens back from Syria last month, including 32 women and 74 children.
To help reintegrate them into society, some countries have favored separating children from radicalized parents and placing them with relatives or in foster or adoptive homes. While this approach may be the fastest way to rescue innocent children, it also means tearing them away from their mothers, many of whom refuse to part with them.
Tunisia, which had one of the largest contingents of foreigners to join ISIS, has balked at repatriating its citizens, leaving at least 200 Tunisian children and 100 women marooned in Syria and Libya, according to Human Rights Watch.
It has taken months of urging by activists and families for Tunisia to repatriate three children, including a 4-year-old who was orphaned when his parents were killed in airstrikes and two children whose mother remains detained in a camp, the rights group said.
"Every day they spend in the camp is one more day outside of school and their fundamental rights," said Khawla Ben Aicha, a member of Tunisia's Parliament who has pushed the government to retrieve the rest of the children. "They didn't choose where they were born, or to have a jihadist parent."
But the fragile Tunisian government has stalled, despite calls from Ms. Ben Aicha and others for it to take responsibility.
"We're in an election year," Ms. Ben Aicha said. "It's not something people want to deal with."
Lilia Blaise contributed reporting from Tunis, and Oleg Matsnev from Moscow.
https://www.nytimes.com/2019/05/08/world/middleeast/isis-prisoners-children-women.html
--------
Kurdish-led SDF Transfers IS Relatives to Home Countries
May 08, 2019
Sirwan Kajjo
U.S.-backed Syrian forces have handed over more than 100 women and children of Islamic State (IS) fighters to their home countries, local officials told VOA.
The Syrian Democratic Forces (SDF), a Kurdish-led military alliance, said Wednesday that Kazakhstan and Sweden were the latest countries that had agreed to take some of their citizens held in northeast Syria.
"We handed over 70 children and 32 women to representatives of the Kazakhstan government yesterday," Kamal Akif, a spokesman for the Kurdish-led administration in northeast Syria, told VOA. "Sweden took seven children on the same day."
Officials in Sweden confirmed the transfer of the children.
Thousands of IS relatives
SDF is holding more than 1,200 IS militants from nearly 50 countries, local officials said. There are also about 8,000 IS family members who have been settled in an overcrowded camp in northeast Syria, the same sources said.
The SDF declared victory over the so-called IS caliphate on March 23 after defeating the terror group in its last stronghold in eastern Syria.
But SDF officials said they could not bear the responsibility of dealing with IS captives alone and that other countries should step in by taking back their citizens, particularly those who have fought with IS.
"Our region is still unstable, so any major turmoil could offer an opportunity for these dangerous individuals to escape prison and pose yet another threat to the entire world," Abdulkarim Omar, co-chair of foreign relations in the Kurdish-led region in Syria, told VOA in a previous interview.
European citizens
U.S. President Donald Trump also has urged European countries to take back their citizens who had joined IS in Syria.
Countries such as France so far have been reluctant to respond. But French officials said they're considering taking in more parentless children who are now in the custody of Kurdish forces in Syria.
"We are trying our best to bring back these orphans," French Armed Forces Minister Florence Parly told a Monte Carlo radio station Wednesday. "We must first make sure they are indeed orphans."
She added that the French "Foreign Ministry had sent representatives [to Syria] to clearly determine these cases so that we can conduct more repatriation operations."
In March, France took back five children who had been either orphaned or separated from their parents during the war on IS in Syria, according to the AFP news organization.
Local Kurdish officials said that in April, Kosovo took back 100 Kosovar citizens who were children and wives of IS fighters.
Pressure at home
Analysts believe that many European governments have been under pressure at home to address the issue of children and women left behind by IS militants after the defeat of the terror group.
"It is something that they have to deal with sooner or later," said Sadradeen Kinno, a Syrian researcher who follows Islamist groups in the region.
Full report at:
https://www.voanews.com/a/kurdish-led-sdf-transfers-islamic-state-group-relatives-to-home-countries/4909519.html
--------
More than 500 Foreign ISIS Members Convicted in Iraq
8 May, 2019
The Iraqi judiciary has tried and sentenced more than 500 foreigners since the start of 2018 for joining ISIS, the country's Supreme Court announced on Wednesday.
It said "514 verdicts were issued, for both men and women, while another 202 accused are still being interrogated and 44 are still being tried."
Another 11 were acquitted and released, it said.
The statement referred to "different nationalities" but did not list any specific countries.
It said interrogations were taking about six months for those simply accused of ISIS membership, but anyone accused of actively taking part in the extremist group's operations could be questioned for up to a year.
Iraq declared victory over ISIS in late 2017 and began trying foreigners accused of joining the militant group the following year.
It has condemned many to life in prison, including 58-year-old Frenchman Lahcen Ammar Gueboudj and two other French nationals.
It has also issued death sentences for other foreign ISIS members, although they have not yet been carried out.
Among those awaiting trial in Baghdad are 12 accused French ISIS members, who were caught in Syria and transferred to Iraqi custody in February.
Government sources have told AFP that Baghdad would be willing to try all foreigners currently held in Kurdish detention in northeast Syria for a price.
Around 1,000 suspected foreign ISIS militants are in detention in northeast Syria, in addition to around 9,000 foreign women and children in camps there.
Wednesday's statement by the court "urged all trials of foreign terrorists to be moved to Baghdad, as most of the embassies are in the capital and so embassy representatives from the terrorists' countries can attend the sessions."
Iraq has also already tried thousands of its own nationals arrested on home soil for joining ISIS, including women.
Full report at:
https://aawsat.com/english/home/article/1713351/more-500-foreign-isis-members-convicted-iraq
--------
Syrian Army Liberates Key Town in Hama
May 09, 2019
The Arabic-language service of the London-based Syrian Observatory for Human Rights (SOHR) reported that the Syrian army troops and their allies continued operations in Northern Hama on Thursday and could liberate Qal'at al-Maziq in Sahl al-Qab region.
It added that Tahrir al-Sham militants started leaving Qal'at al-Maziq on Wednesday night after their defense lines in the town collapsed in the Syrian army operations.
In a relevant development on Wednesday, a large number of Chinese terrorists of the Turkistani Party were killed in the Syrian Army's ambush operations in Northwestern Hama, the Arabic-language media outlets said.
"Turkistani Party's Chinese terrorists launched an attack on the Syrian Army's military positions in Taleh Bakir in Sahl al-Ghab region in Northwestern Hama, the Arabic-language version of the Russian Sputnik news agency quoted a military source as saying.
The source noted that the Syrian Army troops ambushed the terrorists in Taleh Bakir and brought their movements under heavy artillery and missile attacks, killing a number of them and foiling their offensives.
Full report at:
http://en.farsnews.com/newstext.aspx?nn=13980219000469
--------
Government forces capture strategic town northwest Syria
9 May 2019
Syrian government forces have captured the town of Qalaat al-Madiq in northwest Syria, some of its residents and the Syrian Observatory for Human Rights war monitor said on Thursday.
The government is pressing an offensive against the biggest remaining militants' territory in Syria.
Full report at:
https://english.alarabiya.net/en/News/middle-east/2019/05/09/Government-forces-capture-strategic-town-northwest-Syria.html
--------
US-backed SDF militants kill six civilians during raid in Syria's Dayr al-Zawr
May 9, 2019
Kurdish-led militants from the so-called Syrian Democratic Forces (SDF), backed by helicopters from the US-led coalition, have reportedly stormed a town in Syria's eastern province of Dayr al-Zawr, killing and injuring a number of locals.
Local sources, requesting not to be named, told Syria's official news agency SANA that the US-sponsored militants laid siege to the al-Katef neighborhood of al-Shuhayl town for more than two hours on Thursday, before raiding the area and firing at people indiscriminately.
The sources added that six civilians lost their lives and four others sustained injuries as a result. SDF militants rounded up a number of local residents as well.
Back in late April, hundreds of people took to the streets in the northeastern Syrian towns of al-Busayrah, Masheikh, al-Tayyana as well as the villages of Tal al-Dhaman, al-Namliyah and Tayyeb Al Faall to protest the presence of SDF militants, rising cases of abduction and assassination in their areas and plunder of Syria's oil wealth by the US-sponsored forces.
The protesters closed the main roads to their areas, burning tires and demanding the expulsion of SDF militants from their hometowns.
Local sources said the Kurdish-led militants fired indiscriminately at demonstrators in al-Tayyana to disperse the protest. There were no reports about possible casualties.
The development came only a day after dozens of people staged demonstrations in the towns of al-Shuhayl, al-Sur and al-Hissan as well as Mweileh village against the presence of SDF militants in their areas.
Local residents, speaking on condition of anonymity, said the Kurdish-led forces opened fire on protesters in Hissan, injuring a number of them.
SDF militants illegally transport Dayr al-Zawr's crude oil to neighboring Hasakah province in Syria's northeast, a move that has angered local people.
The United States has long been providing the SDF, a Kurdish alliance, with arms and militants, calling them a key partner in the purported fight against the Daesh terrorist group.
Many observers, however, see the support in the context of Washington's plans to carve out a foothold in the Arab country.
Full report at:
https://www.presstv.com/Detail/2019/05/09/595520/USbacked-SDF-militants-kill-six-civilians-in-Syrias-Dayr-alZawr
--------
Saudi medical volunteers welcome in Ramadan at camp for Syrian refugees
May 09, 2019
AMMAN: Selfless Saudi medical experts have given up Ramadan time with their families to volunteer their specialist help at the world's largest camp for Syrian refugees.
A group of 15 young doctors from the King Salman Humanitarian Aid and Relief Center (KSRelief) traveled to Jordan to offer their time, knowledge, and expertise at the sprawling Zaatari settlement.
As part of the "Our Brothers" aid initiative, the team members opted to spend this important time of the Islamic year dedicated to the service of people in need.
Instead of joining their families at home for the run-up to Ramadan, the specialists have been busy working in KSRelief's hospital clinics at the giant camp, located near the city of Al-Mafraq, which is about 80 km north of Jordan's capital Amman.
It was the fourth medical trip run by KSRelief to the Zaatari camp, with the latest group of volunteers covering dentistry, dermatology, psychiatry, physical therapy, and occupational therapy.
Other specialist services offered at the hospital include general medicine, pediatrics, internal medicine, obstetrics and gynecology.
A fully equipped test laboratory is also situated on the site.
Free access
Each day, the Saudi doctors have examined hundreds of patients living at the camp, which houses around 80,000 people. All the residents of Zaatari are allowed free access to the camp hospital's medical services, visits, consultations, medication, and surgical facilities.
Amna Whaishi, a nutritionist on her third trip to Zataari, said: "Volunteering gives me joy when I see people smiling. Once I get that pure feeling, I feel like I want to give more and more and more."
Dermatology specialist, Dr. Mushari Al-Khalidi, said: "This has been a trip unlike any other I've participated in. It truly reflects the high level of detailed logistics, organization, and supervision done by the Saudi government to support the Syrian people.
This trip is a great addition to my medical experience, and I've dealt with rare and special cases that I have only seen here at the camp."
The medics have been overwhelmed by the outpouring of gratitude from the refugee patients. "This is our duty, it's the least we can do for our brothers and sisters from Syria, and we would all do more if we could," added Al-Khalidi.
Injuries of war
As well as treating many conditions not only rare to the region but the world too, Al-Khalidi also witnessed some of the terrible injuries of war, including one young man who lost most of the skin off his back as a result of an explosion.
He is now receiving daily treatment for his wounds at the KSRelief hospital.
Physical therapist Dr. Mohammed Al-Qahtani told Arab News about a case he dealt with. A mother had waited for hours outside the psychiatric clinic hoping for her three disabled children to be seen.
But when Al-Qahtani saw her, he realized she was suffering from stress and needed medical care herself.
He said sometimes stress made people forget about themselves when they were busy caring for others, and as the woman spoke it emerged that she was a mother of 11.
The dentistry team which traveled from the Kingdom was made up of a group of friends. Doctors Eyad Alduwayghiri, Omar Alkasir, Yasir Alyahya, Abdul Aziz Al-Rebdi, Abdullah Al-Jabr, Ahmad Al-Bahoth, and Turki Al-Mutairi, all volunteered for the opportunity to join up with KSRelief.
In a joint statement, the team said: "We all studied together, we work together, and our friendship literally brings us here together to help others."
The dentists ran three clinics and screened more than 700 patients during the week of their visit. They also put on workshops for students from KSRelief's school and training center, teaching them how to maintain oral hygiene.
The team of physical therapists included Abdulrahman Al-Qahtani and Dr. Ahmed Al-Ghamdi, both in Zaatari for their third time, and Shahad Hamdan. Reflecting on his visits to the camp, Al-Qahtani said: "We rise by lifting others."
Hamdan, the youngest member of the team, was just grateful for the experience, and said: "I feel blessed to have such an opportunity to serve the Syrian beneficiaries along with the center and the rest of the medical team."
Heading the latest medical mission was KSRelief volunteer programs specialist Shams Ibrahim Al-Saby.
As well as providing encouragement to members of the delegation, she also engages with patients at the hospital.
Al-Saby can be seen helping in clinics, sitting down to chat with patients as they wait for consultations, and playing with children, while all the time still working to manage the team logistically and professionally.
KSRelief is the Kingdom's official platform for Saudis to volunteer internationally. Through its portal, anyone interested in volunteering can register online based on their fields of work, study, and/or interest.
Full report at:
http://www.arabnews.com/node/1494936/saudi-arabia
--------
Suicide bomber kills at least 8 in Baghdad
May 09, 2019
BAGHDAD: At least eight people were killed and 15 wounded in a suicide bombing at a market in eastern Baghdad on Thursday, a security official said.
"A suicide bomber wearing an explosive belt blew himself up close to stalls at the crowded Jamila market," said the senior police officer, who asked not to be named.
There was no immediate claim of responsibility.
A medical source confirmed that the nearby Al-Kindi hospital had received eight bodies.
The attack took place at around 9 P.M., at a time when many Iraqis have broken their Ramadan fast and take to the streets.
Devastated by years of conflict, Iraq in 2017 declared victory over Daesh after a gruelling months-long campaign to dismantle their self-declared "caliphate".
But sleeper cells have remained active, attacking civilians and security forces across the country.
Explosions in several Shiite-majority districts in Iraq's capital in November killed six people, most of them civilians.
Full report at:
http://www.arabnews.com/node/1494891/middle-east
--------
India
Amid reports of shortage, Pakistan govt offers to supply Rooh Afza to India
May 9, 2019
The Pakistan government on Thursday offered to send Rooh Afza, the staple Iftar drink, to India, following reports of short supply of the popular rose-flavoured beverage in the Indian market.
"If the supply of Rooh-Afza from Pakistan quenches their (Indians) thirst, then we will certainly want to do so," Foreign Office spokesman Mohammad Faisal told reporters during his weekly media briefing here.
Earlier in the day, RoohAfza-maker Hamdard Laboratories India said in New Delhi that its popular drink is now available in the market after a temporary shortage due to short supply of certain herbal ingredients.
On Tuesday, Hamdard Laboratories Pakistan also offered to supply Rooh Afza to India via Wagah border in Amritsar in view of its shortage for the ongoing Ramzan period.
"We can supply RoohAfza and RoohAfzaGO to India during this Ramdan. We can easily send trucks through Wahga border if permitted by Indian Government," Usama Qureshi, MD and CEO of Pakistani Hamdard, tweeted.
The Hamdards in India and Pakistan have common ancestry. In 1906, Hakeem Hafiz Abdul Majeed had laid the foundation of Hamdard Dawakhana in one of the by lanes of Old Delhi and in 1907 launched RoohAfza.
Following partition of the Indian subcontinent in 1947, his elder son stayed in India, while the younger one migrated to Pakistan and started Hamdard in Karachi and launched RoohAfza there.
Meanwhile, Hamdard Laboratories India in a statement said, "RoohAfza is now available in the market and can be bought from major retail stores and grocery outlets across the country."
"The organisation urges discerning consumers and the trade not to be misled by incorrect information being circulated online and in print about non-availability of RoohAfza," it added.
Rooh Afza, a popular beverage in Pakistan as well as India, has been reportedly in short supply in the Indian market. According to reports published in Indian publication, The Print, the staple Iftar drink Rooh Afza is not available for purchase in India for over four months now. And this has prompted the beverage producer in Pakistan to offer help.
https://indianexpress.com/article/india/pakistan-govt-offers-to-supply-rooh-afza-to-india-5719936/
--------
26 Islamic preachers in Tamil Nadu, Kerala under watch
May 10, 2019
Neeraj Chauhan
Central intelligence and security agencies which have been tasked to look for possible Islamic State modules in Kerala and Tamil Nadu in the wake of the April 21 suicide bombings in Sri Lanka have identified over two dozen radical Islamic preachers in these two states who are spreading venom in the name of religion and their speeches and motivating young people to join the jihad or holy war, two top counterterrorism officials said.
The officials, both of whom asked not to be named, clarified that there is no case or terror charge against any of these preachers as of now but that "they are being watched".
An Intelligence Bureau officer, one of the two, said there are 25-26 Islamic preachers who regularly give provocative lectures on religious fundamentalism, hand out jihadi literature, belittle other religions in their speeches and encourage young Muslims to propagate the Sharia law.
Some, this person added, go far enough to support the activities of global terror outfits like Al-Qaeda and Islamic State of Iraq and Syria (ISIS).
These preachers, the IB officer added, operate from different mosques, Islamic centres and offices of different Muslim organizations based across both states.
In some cases, the agencies zeroed in on the preachers because some terror suspects arrested spoke of them. In others, it was on the basis of videos and audio speeches analyses in the past few weeks.
The two officials declined to divulge the names of the preachers but admitted that there is a list and that a crackdown in the near-future cannot be ruled out.
It is suspected that the man suspected of being the mastermind behind the Sri Lanka attacks, Maulvi Zahran Bin Hashim, was in touch with some radicals in Kerala and Tamil Nadu and these people planned to have a separate Islamic confederation in the region, as first reported by HT.
Indian agencies have previously come across instances where Islamic State draftees in India were self radicalized after listening to speeches of different radical preachers within the country and abroad.
The most controversial name, already charged by the National Investigation Agency (NIA), is that of Zakir Naik, who fled the country following a crackdown and is currently residing in Malaysia on a permanent residency status even as New Delhi works on his extradition.
In a charge sheet filed on July 25, 2016 in a case against ISIS suspects — Sheikh Azhar ul Islam (from J&K), Adnan Hassan (Karnataka) and Mohammad Farhan Sheikh (Maharashtra) — NIA referred to 14 globally recognized preachers, based in the US, the UK, Canada, Australia and Zimbabwe, whose lectures/sermons directly or indirectly influenced the terror suspects.
Some of the well-known names mentioned in the NIA chargesheet (not as accused) who inspired the terror suspects were the UK based Anjem Choudhary, Hamza Andreas Tzortzis, Imran Mansoor, Mizanur Rahman and Abu Waleed, US-based Yasir Qadhi, Yusuf Estes, Hamza Yusuf and Ahmad Musa Jibril, Australia-based Musa Cerantonio, Shaikh Feiz Mohammad and Omar El Banna, Zimbabwe-based Mufti Menk and Canada-based Majid Mahmood.
To be sure, many of these preachers openly condemn the terror activities of outfits like IS and Al Qaida while some others openly support and justify it.
Full report at:
https://www.hindustantimes.com/india-news/26-islamic-preachers-in-tn-kerala-under-watch/story-Tey7ohs28XKfiMEB2F5RdM.html
--------
Terror Trail-IV: How India buried the domestic terror time capsule
May 10, 2019
When there is only one bullet in the chamber, you don't want to expend it needlessly, you want to ensure that you claim a victim with it. Indian deep state has been behind the eight ball for a long time in quelling terror, but 26/11 metamorphosed it and since then it has strong-armed the terror modules in a stone cold manner, enjoying win after win as documented by the earlier three parts of this series. Barring Kashmir Valley, where it continues to grapple with local and proxy fidayeen and mujhaidheen, it has pretty much bottled up the terror genie in the rest of the country and impressively enough made gains across the immediate neighbourhood.
Intelligence bloodhounds have busted linkages between Pakistan and Sri Lanka, Pakistan and southern India and Pakistan and Bangladesh. All the zealots have been buried in time capsules, hopefully never to return. The challenge, however, remains because the danger is clear and present.
Attempts at mainstreaming Kashmiri militancy and thought process to the national consciousness have been made sporadically and sometimes successfully, but agencies have been alive to them. The one thing that Indian deep state is fully aware of is that Pakistan will remain Janus faced and duplicitous and never ever to be trusted.
So while they display a sense of victimhood over domestic terror, the reality the world has come to realise that this narrative is a chimera. As a haven for alleged non-state actors fully backed by the military-ISI-jihadi establishment, Pakistan simply is a toxic and rogue state. Elements nurtured and supported by the ISI C Wing-jihad complex now have a free run within and outside Pakistan.
In many ways the Frankenstein that they created has come back to haunt them like Banquo's ghost did to Macbeth in the Bard's much acclaimed theatrical gargantuan. By creating Lashkar-e-Jhangvi (LeJ) and Tehrik e Taliban Pakistan (TTP) and unleashing them to foment terror in FATA since 2007, what started out was as a B Team for the Afghan Taliban has pushed pure political Islam theology and ideology across Pakistan.
The LeJ has claimed responsibility for various mass-casualty attacks against the Shias in Pakistan, including multiple bombings that killed over 200 Hazara Shias in Quetta in 2013. It has also been linked to the Mominpura graveyard attack in 1998, the dramatic abduction and slaying of Daniel Pearl in 2002, and the spectacular attack on the Sri Lanka cricket team in Lahore in 2009 using the now signature buddy-pairs attack teams.
Playing victim, Pakistan's polity has portrayed the LeJ as one of the country's most virulent terror outfits. Tehrik-i-Taliban, alternatively referred to as the Taliban, is a radical extremist armed group which is an umbrella organisation of various militant groups based on Afghan side of the Durand line. Most Taliban groups in Pakistan coalesce under the TTP.
In December 2007 about 13 groups united under the leadership of Baitullah Mehsud to form the Tehrik-i-Taliban. Among the Tehrik-i-Taliban's stated objectives are resistance against the Pakistani state. The TTP aim is overthrow government of Pakistan by waging a terrorist campaign against the Pakistan armed forces and the state. The TTP depends on tribal belt along the Afghanistan-Pakistan border to draw its recruits. The TTP drew ideological guidance from Al Qaeeda.
'Foreign Affairs' explained the phenomenon: The Federally Administered Tribal Areas (FATA) - South Waziristan and North Waziristan -- a 10,500-square-mile strip of land wedged between Afghanistan and the Pakistani province of Khyber Pakhtunkhwa is governed not by Pakistani law but a century-old set of regulations that leave the enforcement of law and order to locals...What has enabled Pakhtunwali to flourish is a 1901 law called the Frontiers Crimes Regulations (FCR) that governs FATA. Its original title, when enacted by British colonial officers, was the "Frontier Murderous Outrages Regulations."
It is the equivalent of the lawless Wild West or western UP's badlands and during Raeel Sharif's time as Pakistan Army Chief, a brutal push-back was planned with Operation Khyber 1 and 2 to neutralise the menace of Pakistani Islamists. In July 2015, 'Dawn' reported: The military has successfully brought to a close a massive offensive in Khyber tribal region, effectively flushing out militants and blocking their crossing points on borders with Afghanistan.
But, the officials said questions remained whether the military gains in the plains of Bara and upper reaches of Tirah valley could be sustained over a long period in the absence of administrative and auxiliary support systems. The military formally brought Operation Khyber-2 (after Khyber 1) to a close on June 15, 2015, significantly enough, on the first anniversary of Operation Zarb-i-Azb in North Waziristan.
Four days later, Army Chief Gen Raheel Sharif visited the troops in Tirah to take stock of the military offensive and the gains made in the nearly three-and-a-half month long operation. Knowledgeable sources told 'Dawn' that the military had gained control of strategically important areas, depriving Tehreek-i-Taliban Pakistan and Lashkar-i-Islam of space in one of their toughest strongholds in the tribal regions.
The military, the sources said, had also taken physical control of the three passes from Afghanistan into Tirah - Mzatal, Kandao Gharibi and Dramudrad situated at 7,300 to 9,300 feet altitude above the sea level. Two of the passes have been physically taken over by the military, while the third is under direct fire power, thus putting an end to any movement through that pass.
But the success did not come easily. The military lost more than 50 men, including officers, in the second phase of Operation Khyber, while another 100 or so were wounded. While the Pakistan Army has been raining hell on the TTK and LeJ to rein them with successive operations, it is impossible to have a cogent counter-insurgency doctrine in a nation where jihad has become a way of life.
India has to remain vigilant at all times. Zarb-e-Azb was followed by Operation Radd-ul-Fassad which began in February 2017, following a resurgence in terrorist incidents. The operation entailed the conduct of Broad Spectrum Security (Counter Terrorism) operations by Rangers in Punjab, continuation of ongoing operations across the country and focus on more effective border security management.
Countrywide disarmament and explosive control were also given as additional objectives of the operation. The National Action Plan was pursued as the hallmark of this operation. Further, given the nature of the beast unleashed against India and the brutalised psyche of Pakistan which wants revenge for the vivisection of Pakistan in 1971, the Kashmir pot will continue to be stirred. India cannot sit on its haunches, it has to be watchful at all times.
Indian deep state is now priding itself for its human intelligence across the country and immediate neighbourhood. In fact such is its efficacy that in 2014, a group of Sikh extremists who were undergoing training in Thailand under the aegis of LeT at a Rohingyas camp were shut down by a Thai counter-terrorism team with inputs from New Delhi.
Close cooperation and information sharing with several countries is resulting in these wins. The swoopdown by the Thais at the Rohingya camp led to arrest of Jagtar Singh Tara and Harminder Singh Mintoo. Last year, Tara, who is undergoing life imprisonment till death for the assassination of former Punjab chief minister Beant Singh, expressed threat for his life in Burail jail, Chandigarh. Tara said this while expressing doubt over the death of Khalistan Liberation Force chief Harminder Singh Mintoo who died of cardiac arrest in Patiala Central Jail. Three others had been sent back by the Thais, including Bathinda resident Ramandeep Singh, alias Sunny, who was arrested in November 2014 with a handmade bomb and explosives.
Ramandeep was allegedly provided training by Pakistan's Inter Services Intelligence in Bangkok and Malaysia as he was in touch with Tara who was absconding at that time and was arrested later. Authorities in Thailand arrested Babbar Khalsa International (BKI) militant, Gurmeet Singh alias Jagtar Singh Tara, convicted for his involvement in the 1995 assassination of former Punjab Chief Minister Beant Singh.
Tara, who escaped from Chandigarh's Burail Jail, entered Thailand in October 2014 and was arrested in the eastern province of Chonburi at a Rohingya camp. The tip-off came from Punjab intelligence which reported ISI-trained Khalistani terrorists in Thailand (2014) were planning to launch strikes in India.
One of the things that PM Modi doesn't get adequate credit for the Indian diplomatic encirclement of Pakistan by cutting off the intellectual and monetary feed stock from Saudi Arabia, Abu Dhabi, Dubai and even Qatar.
Full report at:
https://www.business-standard.com/article/news-ians/terror-trail-iv-how-india-buried-the-domestic-terror-time-capsule-ians-exclusive-119051000128_1.html
--------
Terrorist killed in encounter in Shopian in Kashmir
May 10, 2019
SRINAGAR: An unidentified terrorist was killed Friday in an encounter with security forces in Shopian district of Jammu and Kashmir, police said.
Arms and ammunition were recovered from the scene of the encounter, a police spokesman said.
"The identity and group affiliation of the slain terrorist is being ascertained," he added.
Jammu & Kashmir: One terrorist killed in exchange of fire with security forces in Shopian today; arms & ammunition…
https://t.co/1nVR281Spe https://timesofindia.indiatimes.com/india/terrorist-killed-in-encounter-in-shopian-in-kashmir/articleshow/69261668.cms
--------
US-Taliban talks wrap up in Doha with 'some progress': Taliban
May 9, 2019
KABUL: The latest round of US-Taliban talks ended in Qatar on Thursday, an insurgent spokesman said, after "positive and constructive" negotiations that continued even as the Taliban bombed a US-funded aid group in Kabul.
Suhail Shaheen, the Taliban's political spokesman in Doha, tweeted that "some progress" had been made at the sixth round of peace talks and that the foes would meet again for another round of discussions.
"In general, this round was positive and constructive. Both sides listened to each other with care and patience," Shaheen wrote on Twitter.
The US embassy in Kabul did not immediately comment, nor did US peace envoy Zalmay Khalilzad, the Afghan-born former US ambassador to Afghanistan who is leading negotiations for the Americans.
Shaheen told AFP on Sunday that peace negotiations were stumbling over the fundamental question of when foreign forces would depart Afghanistan.
Before the US agrees to any withdrawal as part of an eventual deal, it is demanding the Taliban put in place security guarantees, a ceasefire and other commitments including an "intra-Afghan" dialogue with the Kabul government and other Afghan representatives.
The Taliban, however, insist they won't do any of these things until the US announces a withdrawal timeline.
At the end of a large peace summit in Kabul last week, President Ashraf Ghani offered the Taliban a ceasefire to begin on the first day of Ramadan, but the insurgents refused.
On Wednesday, a Taliban suicide bomber and four gunmen attacked Counterpart International, a non-profit group working with marginalised people in Afghanistan, killing nine people.
Full report at:
https://timesofindia.indiatimes.com/world/south-asia/us-taliban-talks-wrap-up-in-doha-with-some-progress-taliban/articleshow/69256076.cms
--------
Controversial Muslim cleric Zakir Naik ready to return to India
May 9, 2019
Islamic preacher Zakir Naik has said he is ready to return to India if the Supreme Court gives an assurance that he would not be arrested till his conviction.
Naik is living in Malaysia after fleeing from India in 2016. He has been given permanent resident status by the Malaysian government.
In an interview to THE WEEK, the preacher said he has faith in the judicial system, but it was better before than it is now, he added.
"Before the BJP government came, you could speak against the government, and at least 80 per cent of the times you would get justice. Today, the chances are 10-20 per cent.
"Moreover, if we see the history, more than 90 per cent Muslims who faced terror charges have been let free after 10-15 years. So if I look at an average, I will be behind bars for about 10 years, and my entire mission would get disrupted. Why should I be a fool," he said.
The preacher said the NIA can question him in Malaysia, if they want.
When asked whether he will return to India if he has an assurance of justice, Naik said,"If there is an assurance from the Supreme Court of India, that if Dr Zakir Naik comes, they will not arrest me till I am convicted, I will come."
The preacher was booked by the NIA after his name cropped up during the probe of a terror attack on Gulshan's Holey Artisan Bakery (cafe) in Dhaka's posh diplomatic area, claimed by the Islamic State terror group.
Twenty people, mostly foreigners, were killed in the brutal late-night attack on July 1, 2016 after the attackers took diners and restaurant staff hostage.
The NIA had registered a case against him and his organisation Islamic Research Foundation (IRF) under anti-terror laws and for allegedly promoting enmity between groups on the basis of religion and race.
Naik said he has never told anyone to resort to terrorism.
"Have they (the arrested persons) said that I told them to do the bombing? The answer is no. I challenge anyone to say that he was inspired (by me) to kill innocent people. If he is saying that then he is lying," he said when asked about the attackers in Dhaka, Sri Lanka and now a Kerala youth, arrested for planning terror attack, taking his name.
On the allegations of money laundering by the Enforcement Directorate, Naik said he has one bank account.
"I have several companies and I am actually doing business. Is there a restriction in Indian law that a person cannot own companies? People have 50 companies and sometimes there are no transactions in some," he said.
Naik said they are also alleging that he sent money into his personal account.
"Now all that money I sent into my account was Rs 49 crore in seven years. I told you my earning is more than a crore a month and I have got a lot of businesses in real estate and other ventures.
Full report at:
https://www.easterneye.biz/controversial-muslim-cleric-zakir-naik-ready-to-return-to-india/
--------
Pakistan
Officials see TTP offshoots behind Data Darbar blast
Asif Chaudhry
May 10, 2019
LAHORE: With the death toll in Wednesday's Data Darbar shrine blast rising to 11 on Thursday, law enforcement agencies shifted focus to three major terrorist networks of the outlawed Tehreek-i-Taliban Pakistan (TTP) in Punjab to lay their hands on handlers/facilitators.
Among the four critically wounded, Elite Force man Saddam Hussain succumbed to his injuries at the Mayo Hospital, though he underwent complicated surgeries.
Saddam, a resident of Kasur, had sustained multiple head and chest injuries in the suicide blast carried out on Wednesday morning at the gate of Hazrat Ali Hajveri shrine.
Other three critically injured at the Intensive Care Unit of the teaching hospital were not yet out of danger.
Talking about investigation into the suicide blast, a senior police officer told Dawn that two high-profile teams of the law enforcement agencies had been assigned the task to go after three offshoots of the TTP and their facilitators.
Particularly, he said, the major focus was on Hizbul Ahrar which claimed responsibility of sending the teenage suicide bomber to hit the target at Data Darbar on Wednesday.
He said the law enforcement agencies were using available resources to track down handlers who dropped the boy (suicide bomber) at the shrine.
The official said the Counter Terrorism Department (CTD), Punjab, had examined the record of the three terror groups, including the Ghaiz Force and Jamatul Ahrar.
He said the Hizbul Ahrar, which claimed responsibility for the attack, was the splinter group of Jamaatul Ahrar headed by militant Muqarram Shah from Afghanistan.
Hizbul Ahrar had separated from Jamaatul Ahrar due to some internal rifts. It started operating separately to target primarily the law enforcement agencies in various parts of Pakistan.
In addition to that, the CTD, which was leading the entire investigation process, was also following other leads like the possibility of involvement of Daesh as well, he said.
The official further said the probe was being conducted on the pattern of the 2017 Mall Road blast investigation in which the LEAs had arrested the facilitator who had dropped the suicide bomber near the target site a few minutes before the blast.
As many as 14 people, including two DIGs and other personnel of the police, had embraced martyrdom when the suicide bomber blew himself up on The Mall in February 2017 when the officials were holding a dialogue with protesting traders.
The official said some 93 privately installed CCTV cameras in addition to those of the Safe City Authority had led the investigators to the handler, Anwarul Haq, who had dropped the suicide bomber on The Mall. He was arrested from a rented house in R.A. Bazaar of Lahore within 72 hours of the Mall Road blast.
The LEAs later arrested 13 more facilitators of Jamatul Ahrar and dismantled the group's network after it claimed responsibility for The Mall attack. He further said the notorious group Hizbul Ahrar, which claimed responsibility for the Data Darbar blast, had last carried out a gun-and- bomb attack on a bus carrying personnel of a security agency in Attock in May 2018.
As many as six of them, including the facilitators, were arrested later in a marathon intelligence-based operation by the LEAs, he said.
The CTD officials would also grill the militants of Hizbul Ahrar arrested in the Attock case in connection with the Data Darbar blast.
Sources said the Punjab government was also discussing a proposal to form a joint investigation team.
https://www.dawn.com/news/1481359/officials-see-ttp-offshoots-behind-data-darbar-blast
--------
Armed religious activists force closure of five heatstroke centres in Sukkur
Waseem Shamsi
May 10, 2019
SUKKUR: Armed men, believed to be activists of some radical religious group, on Thursday stormed a heatstroke centre in the city and resorted to firing into the air, forcing its operators to take to their toes.
The water outlet, set up at Ayub Gate, is one of the many centres set up by the Sukkur Municipal Corporation (SMC) to provide immediate relief to victims of heatstroke as the maximum temperatures in certain upper Sindh areas in recent days remained between 40 and 47 degrees Celsius. Such centres normally function at peak hours ie from 10am to 5pm.
Some radical religious activists, taking it as a violation of the Ehteram-i-Ramazan Ordinance, objected to the operation of such centres during the fasting hours. They told operators of several centres to shut them "or face the consequences", according to Mr Taufiq Bandhani, SMC's contractor of the centres.
However, the operators under threat appeared not convinced by their argument that people not suffering from heatstroke were largely being served water.
After repeatedly issuing such threats and getting annoyed by the operators' defiance, a group of armed radicals stormed the Ayub Goth centre and forced its operators to shut it down. They fired into the air making the operators flee.
Full report at:
https://www.dawn.com/news/1481263/armed-religious-activists-force-closure-of-five-heatstroke-centres-in-sukkur
--------
36 social welfare projects launched, PM informs meeting
Syed Irfan Raza
May 10, 2019
ISLAMABAD: Prime Minister Imran Khan chaired a high-level meeting on Thursday and announced that the government had initiated 36 social welfare projects in the country.
He said Ehsas, the government's flagship programme, would not only help fulfill the state's responsibility to address issues like poverty, joblessness and health, but it would also ensure effective utilisation of government resources on welfare of the people.
According to the Prime Minister's Office (PMO), heads of different departments briefed Imran Khan about the progress made on targets given to them regarding corporate social responsibility.
The prime minister stressed the need for highlighting the country's tourism potential, introduction of comprehensive local government system for complete empowerment of the people, taking measures for economic improvement and provision of better facilities to businessmen. Talking about the government's efforts to provide better facilities to the poor, the prime minister said: "Setting up Panahgahs (shelters homes) all over the country demonstrates that the government realises its responsibilities towards the poor and downtrodden."
Imran Khan directed the authorities concerned to keep people apprised about welfare projects launched by the government.
The meeting was attended, among others, by the PM's Special Assistant on Media Fairdous Ashiq Awan, Benazir Income Support Prgramme (BISP) chief Sania Nishtar, Finance Secretary Younus Dhaga, and the heads of National Database Registration Authority, National Bank, Zarai Taraqiati Bank Limited (ZTBL), Bank of Punjab (BoP) and Bank of Khyber (BoK).
The ZTBL president informed Imran Khan that the bank had launched a project of e-credit to provide interest-free loans to farmers, especially small growers. The bank had so far disbursed Rs11 billion in loans to farmers, he added.
The bank's president further said the scheme had recently been extended to Azad Kashmir and talks were under way with the governments of Sindh, Khyber Pakhtunkhwa and Balochistan so that it could be extended to these regions as well.
"Work is being done on digitalisation of the bank and provision of ATM card service to farmers," he added.
The head of Bank of Khyber informed the prime minister that his organisation was making efforts for creation of jobs in erstwhile Federally Administered Tribal Areas (Fata). Attention was also being paid to provision of scholarships to students and for launch of projects that economically empowered women, he added.
Full report at:
https://www.dawn.com/news/1481322/36-social-welfare-projects-launched-pm-informs-meeting
--------
Opposition wants governor fired for remarks on Sindh's division
Iftikhar A. Khan
May 10, 2019
ISLAMABAD: The opposition in the Senate on Thursday demanded resignation of Sindh Governor Imran Ismail for his remarks about division of the province while Pakistan Tehreek-i-Insaf (PTI) lawmakers defended the view, saying there was room in the Constitution for creating more administrative units in a province.
The issue was raised by the Pakistan Peoples Party's Sassui Palijo who, speaking on a point of public importance, said the Sindh governor had rendered his constitutional position controversial by making such irresponsible remarks. "We will not let him even dream of it [Sindh's division]," she added.
Former chairman of the Senate Mian Raza Rabbani said under the Constitution the governor was a representative of the federation, but since taking the oath of this office Mr Ismail was behaving like a chief minister.
Mr Rabbani said President Arif Alvi, who had appointed Mr Ismail governor of Sindh, himself was making irresponsible statements. He quoted President Alvi as saying in an interview on March 12 there was no harm in replacing the present system with a presidential form of government. "This is nothing short of an attack on the parliamentary system", he remarked.
He said the governor of Khyber Pakhtunkhwa also had said a presidential system was better because compromises had to be made in the parliamentary system.
Mr Rabbani said nobody would tolerate division of Sindh and advised the Sindh governor to step down before making such remarks.
PPP parliamentary leader in the Senate Sherry Rehman also said sensitive and dangerous remarks were being made to divert attention from the crisis prevailing in the country. She also called for resignation of Governor Ismail.
She pointed out that an IMF official had been appointed the governor of the central bank and said there were indications of further devaluation of the rupee.
Ms Rehman lamented that the parliamentary form of government was being made controversial.
Maula Bux Chandio of the PPP termed the PTI another face of the Muttahida Qaumi Movement as the latter too wanted to divide Sindh.
PML-N parliamentary leader in the Senate Mushahidullah Khan alleged that President Alvi and the then federal minister for national health services Amir Kiyani had met pharma tycoons at Sindh Governor House before an unprecedented increase in prices of drugs.
He said the Sindh governor should be removed from office for his remarks about division of Sindh.
In response, Faisal Javed of the PTI said there was no harm in a debate about creating more administrative units. "Your past tells us that you divided the country on ethnic lines," he said without naming anybody.
Mohsin Aziz of the same party said the PPP and the PML-N were two sides of the same coin. He defended appointment of Reza Baqir as governor of the State Bank of Pakistan, saying he was a son of the soil. "Why do we forget where Mohammad Yaqoob, Dr Ishrat Hussain and Yaseen Anwar came from", he remarked.
Full report at:
https://www.dawn.com/news/1481324/opposition-wants-governor-fired-for-remarks-on-sindhs-division
--------
Govt failure to get Pakistani fishermen released from Indian jails slammed
May 10, 2019
KARACHI: Fishermen's Cooperative Society (FCS) chairman Abdul Bar on Thursday said the federal government had failed to get Pakistani fishermen released from Indian prisons despite the fact that it had freed 360 Indian fishermen who were detained for violating Pakistan's territorial waters.
"The federal government sends off 360 Indian fishermen to their country as a goodwill gesture, yet it has failed to get a single Pakistani fisherman from the Indian jails," said Mr Bar while speaking at a press conference at his office. He said it was nothing but "our government's bad diplomacy and utter failure".
"The Indian government's hands are stained with the blood of our fishermen. The jail authorities there are doing everything inhuman directed towards our innocent people incarcerated in cells. They are killing them," claimed the FCS chief.
"They are sending us gifts in the shape of the bodies of our innocent people."
He said Pakistani fishermen were not fed well and there was no medical facility in the Indian jails.
He said Mohammad Sohail, a young fisherman, had been detained by the Indian authorities three months after his marriage, who was subjected to brutal torture until he died.
"He has left a baby who was born weeks after he was arrested by the Indians."
He said Noorul Amin, a resident of Korangi, was another fisherman who succumbed to the worst torture before Sohail's murder.
He said that instead of getting 108 Pakistani fishermen languishing in Indian jails released in return of 360 Indian fishermen, the Pakistani government had not yet taken up the issue of the killing of its citizens by Indian jailers.
Full report at:
https://www.dawn.com/news/1481357/govt-failure-to-get-pakistani-fishermen-released-from-indian-jails-slammed
--------
Three FC officials among five killed in Harnai attack
May 10, 2019
QUETTA: At least five people, including three Frontier Constabulary (FC) officials, were killed in two separate terrorism-related incidents here on Thursday.
As per details, at least two labourers were killed when unknown armed assailants opened fire on a coal mine on Harnai's Khosat area.
After the incident, FC officials rushed to the spot and a vehicle carrying FC officials collided with mine. As a result, three FC officials embraced martyrdom.
According to sources, the deceased labourers were identified as Syed Shah and Habib Ullah.
Full report at:
https://www.pakistantoday.com.pk/2019/05/09/three-fc-officials-among-five-killed-in-harnai-attack/
--------
Petition asking for halt on US drone strikes in Pakistan dismissed by SC
May 10, 2019
ISLAMABAD: The Supreme Court (SC) on Thursday upheld an earlier verdict of the Peshawar High Court (PHC) and dismissed a petition filed to halt US drone strikes in Pakistani territory.
The petition was dismissed by a three-member bench, led by Chief Justice Asif Saeed Khosa, which stated that such issues are overseen by the government.
"Innocent people are killed in the drone strikes," said the petitioner's lawyer to which the chief justice said that the drone strikes have now stopped.
The last suspected US drone strike in Pakistan occurred in December 2017 along the Pakistan-Afghanistan border.
The apex court further added that the Ministry of Defence and the government can approach the US on the issue as the court can not ask the US to halt such attacks.
The PHC had earlier forwarded the issue to the Defence Ministry.
A petition had been filed in the SC by Raja Saad Sultan challenging the decision of the PHC for stopping of US-led drone strikes.
A diplomatic row broke out between Islamabad and Washington last year in January, over the a US drone strike in Kurram Agency with both sides publicly rejecting each other's claims on the actual target.
Reports claimed that the drone targeted a commander from the Haqqani network and his two accomplices in the Kurram Agency. But Pakistan was quick to challenge the reports, insisting that the predator strike actually hit the Afghan refugee camp.
In an unusual move, the US embassy issued a statement, calling Pakistan's assertion as 'false'.
Full report at:
https://www.pakistantoday.com.pk/2019/05/09/petition-asking-for-halt-on-us-drone-strikes-in-pakistan-dismissed-by-sc/
--------
South Asia
Taliban misinterpret our goodwill as weakness: Abdullah
09 May 2019
The Chief Executive of the Government of National Unity Abdullah Abdullah reacted to Taliban attack on aid international aid group's office in Kabul, saying 'Taliban misuse our goodwill as weakness.'
"The 'Taliban' embody crime, which is not amenable to peaceful conflict resolution initiatives. They misinterpret our goodwill as weakness and misuse peace negotiations to seek legitimacy for heinous crimes of the sort they committed yesterday in #Kabul," Abdullah said in a Twitter post.
The attack on Counterpart International was launched at around 11:40 am on Wednesday in the 10th police district of the city when a group of militants armed with suicide bombing vests and weapons detonated a car packed with explosives near the office of Counterpart International.
The Ministry of Interior has confirmed that the casualties toll from yesterday's attack in Kabul city has climbed to 29 dead or wounded.
Interior ministry spokesman Nasrat Rahimi said Thursday that 9 people including a special forces soldier, 4 public protection forces personnel, 1 security guard of Counterpart International and 3 civilians lost their lives in the attack.
Rahimi further added that 20 civilians have also sustained injuries.
The Taliban militants group claimed responsibility for the attack.
https://www.khaama.com/taliban-misinterpret-our-goodwill-as-weakness-abdullah-03928/
--------
Bangladeshi IS fighter arrested after returning from Syria
May 9, 2019
A Saudi Arabia-born Bangladeshi, who returned to the country after fighting for the Islamic State (IS) in Syria, has been arrested by the counter-terrorism police for alleged plans to establish a caliphate in the Muslim-majority country.
Born in Saudi Arabia to a Bangladeshi father and a Pakistani mother, 33-year-old Motaj Abdul Majid Kafiluddin Bepari was arrested by Dhaka Metropolitan Police's (DMP) Counter-Terrorism and Transnational Crime (CTTC) unit near a mosque in Dhaka's Uttara neighbourhood on May 5, the Dhaka Tribune reported.
According to the first information report (FIR) of the case recorded under Anti-Terrorism Act with Uttara (West) police station, Motaj and five or six unnamed people were accused for planning sabotage with different militant organisations to establish caliphate by displacing the government.
Dhaka launched a major crackdown against extremists following an attack by local outfit New Jamaat-ul Mujahideen Bangladesh (JMB) on a cafe in the capital in 2016 that killed 22 people, including an Indian and 17 other foreigners.
Confirming the arrest on Wednesday, CTTC Deputy Commissioner Mohibul Islam Khan said interrogation is underway to know his motive.
Police also seized a passport, a Saudi Arabian ID card, Saudi driving licence, an iPhone, and Bangla translations of several essays on caliphate in Bangladesh from Motaj's possession, the daily reported.
Motaj took a Bangladeshi passport in 2014 from the Bangladesh embassy in Saudi Arabia and then went to Turkey in 2016 using it, the FIR stated.
He was influenced by the IS ideology and was trying to get in touch with the terror group, after which he attempted to enter into Syria several times, but failed. Later in 2017, he tried to enter Syria via Egypt and Turkey from Saudi Arabia, but failed again.
Finally in 2018, Motaj succeeded, but it was too late, as the IS regime had been ousted from Syria by then.
After this, he fled to Turkey where his plan was to flee to any European country via Greece. But as Turkish police began a drive against terrorists, Motaj decided to return to Bangladesh and arrived in Dhaka.
According to the case files, police was aware of his entry and was tracking his movements to arrest him.
Citing findings from the primary inquiry, the FIR said Motaj believed in the ideology of banned militant outfit New JMB.
No police official agreed to publicly comment on Motaj's matter. However, CTTC chief and Additional Commissioner Monirul Islam recently said Bangladeshis returning home after joining IS would face legal action.
He also said a section of youths have been going to join IS since late 2014. They suspect some aspiring militants were arrested and some were killed. But he acknowledged the lack of statistics regarding the matter.
Full report at:
https://www.business-standard.com/article/pti-stories/bangladeshi-is-fighter-arrested-after-returning-from-syria-119050900673_1.html
--------
'Current pace of talks is not sufficient', Khalilzad says after concluding talks with Taliban
10 May 2019
The U.S. envoy for Afghanistan for Afghanistan Reconciliation Ambassador Zalmay Khalilzad has said the current pace of talks is not is sufficient as he informed of steady but slow progress during the sixth round of negotiations with the Taliban group representatives in Qatar.
"Just concluded a round of talks in #Doha. We made steady but slow progress on aspects of the framework for ending the #Afghan war. We are getting into the 'nitty gritty.' The devil is always in the details," Khalilzad said in a Twitter post.
He also added "However, the current pace of talks isn't sufficient when so much conflict rages and innocent people die. We need more and faster progress. Our proposal for all sides to reduce violence also remains on the table."
The Taliban group has also confirmed that negotiations were made on foreign troops withdrawal schedule and prevention of barring terrorist groups to use Afghan.
Full report at:
https://www.khaama.com/current-pace-of-talks-is-not-sufficient-khalilzad-says-after-concluding-talks-with-taliban-03933/
--------
Deadly car bomb explosion foiled in Lashkargah city of Helmand province
10 May 2019
A deadly car bomb explosion was foiled in Lashkargah city, the provincial capital of southern Helmand province, the Ministry of Interior (MoI) said Thursday.
According to a statement released by MoI, the car bomb was destroyed in an airstrike which was carried out in the vicinity of Nad-e-Ali district.
The statement further added that the militants were looking to detonate the car bomb in Lashkargah city.
The anti-government armed militants including Taliban have not commented regarding the airstrike and destruction of the car bomb so far.
Full report at:
https://www.khaama.com/deadly-car-bomb-explosion-foiled-in-lashkargah-city-of-helmand-province-03932/
--------
13 Taliban militants killed in Special Forces operations in Farah city, Kandahar province
09 May 2019
At least 13 Taliban militants were killed in separate operations of the Afghan Special Forces which were conducted in Farah city in the West and Shahwali Kot district of Kandahar in the South.
"Afghan special forces conducted an operation in Kanahgan and Raj villages of Farah city in Farah province killing 7 Taliban fighters, including a commander, and wounded 8," informed military sources said Thursday.
The sources further added that the Afghan Special Forces conducted a similar raid on Taliban leadership in Shah Wali Kot district of Kandahar province killing 6 Taliban fighters and detaining 2 others.
Full report at:
https://www.khaama.com/13-taliban-militants-killed-in-special-forces-operations-in-farah-city-kandahar-province-03931/
--------
Southeast Asia
New Bumi party welcomes non-Bumi Muslims as 'associate members'
09 May 2019
By Yiswaree Palansamy
KUALA LUMPUR, May 9 — Parti Bumiputera Perkasa Malaysia (Putra), founded by Perkasa leader Datuk Ibrahim Ali, today welcomed non-Bumiputera Muslims to join the party.
The Muslim members, however, will not be allowed to hold positions in the party or given voting rights, similar to the practice in Islamist party PAS for members of its PAS Supporters Wing (DHPP) made up of non-Muslim and non-Malay members, and Parti Pribumi Bersatu Malaysia (PPBM).
"The party's membership is open to all Malay, Bumiputera Malaysians aged 18 years and above. Party members can be elected to any positions in the party in the party election.
"So Clause 512 says membership is open to all non-Malay, non-Bumiputera Malaysians who are Muslims, aged 18 years and above as associate members.
"But they won't have voting rights," Ibrahim said in a press conference today.
Ibrahim had, in August last year, announced the formation of Putra and subsequently, applied for it to be recognised as a political party.
He received the green light from the Registrar of Societies (RoS) yesterday.
https://www.malaymail.com/news/malaysia/2019/05/09/join-putra-and-get-limited-rights-ibrahim-ali-tells-non-bumi-muslims/1751307
--------
'Only for non-Muslims': Padang Satpol PP raid restaurants open during Ramadan
May 8, 2019
Padang Public Order Agency officers (Satpol PP) on Tuesday conducted raids on restaurants that were open during the day in the fasting month of Ramadan, media reports say.
Satpol PP found 10 restaurants that were open, but that failed to announce they only served non-Muslims. The raid was conducted in the Pondok area, from Jl. Hayam Wuruk, Jl. Nipah and Jl. Niaga to Jl. Klenteng.
Indonesian Muslims are observing Ramadan, when they do not eat or drink from dawn until dusk.
"Our officers immediately put banners on these restaurants," the head of Padang Satpol PP Al Amin told Kompas.com on Tuesday. Writing on the banner reads: "Only for the non-Muslims."
Located in West Sumatra, Padang is a Muslim-majority city.
Al Amin argued that the raid was justified by a circular issued by Padang's mayor.
Last week, Padang Mayor Mahyeldi Ansharullah ordered that restaurants should only open close to the hour when people would break their fasts, according to tribunnews.com. In daytime, he ordered, restaurants should close or only serve non-Muslims.
Places of entertainment, including karaoke centers, are also required to close during Ramadan.
"Those who are not fasting should respect those who do," he wrote.
Full report at:
https://www.thejakartapost.com/news/2019/05/08/only-for-non-muslims-padang-satpol-pp-raid-restaurants-open-during-ramadan.html
--------
Police Declare Prabowo Supporter Eggi Sudjana a Treason Suspect
MAY 09, 2019
Jakarta. Political activist Eggi Sudjana has been declared a treason suspect, a police spokesman said on Thursday.
Investigators interrogated Eggi for several hours as a witness in April after a member of the public filed a police report against him over a statement he allegedly made on April 17, encouraging supporters of presidential candidate Prabowo Subianto and his running mate Sandiaga Uno to embark on "people power" to overturn the result of last month's presidential election.
Eggi allegedly made the statement while addressing a crowd outside Prabowo's residence in South Jakarta. He stated that if the election result was not in favor of Prabowo-Sandiaga, it would be an indication of fraud.
"[Therefore,] as our guru, Mr. Amien Rais, has said, we must embark on people power. Do you agree? Are you brave [to do it]? When people power is implemented, we don't need to follow [legal] steps, because it will be the people's sovereignty," Eggi allegedly said at the time.
"This is maybe the way of Allah for Mr. Prabowo to be inaugurated [as president]. We don't need to wait until Oct. 20," he added, amid chants of "Allahu akbar!" ("God is greatest") from the crowd.
While addressing the crowd, Eggi introduced himself as an advisor to the so-called 212 alumni, in reference to participants in a rally by hardline Muslims on Dec. 2, 2016, which led to the defeat in the 2017 Jakarta gubernatorial election of the then-incumbent, Basuki "Ahok" Tjahaja Purnama, an ethnic Chinese Christian.
Police investigators decided to name Eggi a suspect after examining all evidence in the case and considering expert opinions, Chief Comr. Argo Yuwono told Metro TV on Thursday.
"Eggi Sudjana's legal status was upgraded to a suspect and he was called for further questioning on Monday next week," Argo said.
Eggi faces multiple charges, including under articles 107 and 110 of the Criminal Code on treason, which carry a maximum penalty of 20 years' imprisonment.
He accused law enforcers of unfair treatment while participating in the television talk show Mata Nadjwa, following his initial questioning.
On Thursday, Eggi attended a rally in Central Jakarta to urge the Election Supervisory Agency (Bawaslu) and General Elections Commission (KPU) to disqualify candidate pair Joko "Jokowi" Widodo and Ma'ruf Amin from the presidential election.
Eggi is one of the initiators of the rally, along with Kivlan Zein, who was also reported for treason in a separate case.
Coordinating Political, Legal and Security Affairs Minister Wiranto reiterated on Thursday that law enforcers would act firmly against anyone working against the national interest.
"The public must understand that we will take strong action, without discrimination, against any rally that is clearly violating the law," Wiranto said in Jakarta.
He said there was no political, but legal nuance in the decision, which aims to ensure the security of the state and public order.
Indonesia held its first simultaneous presidential and legislative elections on April 17, with the KPU scheduled to announce the official result on May 22.
However, Prabowo has declared victory at least three times, claiming to have won 62 percent of the vote, based on his camp's internal count, which has yet to be made public.
The Jokowi-Ma'ruf camp meanwhile expressed confidence on Wednesday that their nominee had won the presidential election after an internal count showed the pair having received more than 80 million votes, or more than 50 percent of the total.
Full report at:
https://jakartaglobe.id/context/police-declare-prabowo-supporter-eggi-sudjana-a-treason-suspect
--------
Police Arrest Leader of Terrorist Cell in Bekasi
MAY 10, 2019
Jakarta. Police anti-terror unit Densus 88 has arrested the leader of Islamic State-affiliated organization Jamaah Ansharut Daulah, or JAD, in Bekasi, West Java, on Wednesday. The terror suspect, named by police as E.Y. a.k.a. Rafli or Eky, is reportedly a bomb maker and financier for the organization, a police spokesman said on Thursday.
Wednesday's arrest was linked to last weekend's raids in Bekasi and Tegal, Central Java, during which Densus 88 captured six suspected terrorists including Solihin, who founded JAD cells in Bekasi and Poso, Central Sulawesi, after the 2016 Thamrin bombing in Jakarta.
Densus 88 arrested Rafli in Kalimalang, East Jakarta, and 18-yer-old Y.N., a.k.a. Kautsar, in Bekasi on Wednesday, National Police spokesman Brig. Gen. Dedi Prasetyo said.
In the last week, Densus 88 has arrested eight terror suspects. Another one killed himself when he detonated a home-made bomb while police tried to capture him.
"Rafli is the amir [leader] of JAD's Bekasi cell. His predecessor was arrested a few years ago after the Thamrin bombing. He is also the financier for S.L. [Solihin]. He provided the money for Solihin and his group to buy explosives," Dedi said.
Densus 88 raided Rafli's cellphone and computer accessories shop Wanky Cell in North Bekasi on Wednesday. At least two small home-made bombs containing the highly explosive ingredient triaceton triperoxide, also known as the "Mother of Satan," were found at the shop.
"We found two high-explosive pipe bombs. They were small but as powerful as the bombs used in Sibolga," Dedi said,
Dedi was referring to an incident in Sibolga, North Sumatra, in March when a female JAD member blew herself up and her two children during a police raid.
Rafli's Background
Rafli is a bombmaking expert who taught Solihin and two other terror suspects, S and T, how to assemble a bomb. Solihin and S were arrested last weekend in Bekasi and T was the terrorist who blew himself up trying to evade capture.
Rafli also recruited new members for the terrorist cell. Kautsar, who just graduated from high school last year, was recruited by him. According to Dedi, Kautsar was a champion karate athlete at his school. He was brainwashed by Rafli to join JAD.
"[Rafli] streamed his bai'at [taking the oath ceremony] as the amir of JAD Bekasi on social media. He is very powerful among JAD members in Bekasi because he has money and he can recruit new members," Dedi said.
The police spokesman did not say which social media platform Rafli used to stream the bai'at ceremony.
Rafli also taught Kautsar how to make a bomb. Police found a bombmaking manual and a guide on how to use a remote control to detonate a bomb on Kautsar's laptop, Dedi said.
Full report at:
https://jakartaglobe.id/context/police-arrest-leader-of-terrorist-cell-in-bekasi
--------
KPK Grills Religious Affairs Minister in Ongoing Bribery Case
MAY 09, 2019
Jakarta. The national antigraft agency questioned Religious Affairs Minister Lukman Hakim Saifuddin as a witness in the bribery case involving Romahurmuziy, the former chairman of the United Development Party, or PPP, on Wednesday.
This follows the arrest of Romahurmuziy and religious affairs ministry officials Haris Hasanuddin and Muhammad Muafaq Wirahadi in a sting operation on March 15.
Investigators of the Corruption Eradication Commission (KPK) grilled Lukman about his authority, the employment selection process in his ministry, money found inside his office desk drawer, and whether he had communicated or met with Romahurmuziy regarding the selection process.
Reporters approached Lukman as he was leaving the KPK headquarters in South Jakarta, and asked him about the Rp 180 million ($12,500) and $30,000 in cash KPK investigators seized during a raid on his office on March 18.
However, he dodged the question and instead tried to justify the Rp 10 million in cash he received from Haris, who has been named a suspect in the case.
Details about the money emerged during a pretrial motion Romahurmuziy filed in the South Jakarta District Court on Tuesday. The KPK said during the proceeding that Haris handed Lukman Rp 10 million in cash while visiting an Islamic boarding school in Jombang, East Java, on March 9.
Haris allegedly gave the money to Lukman as a token of appreciation for the minister's role in helping him pass the selection process, which had led to his appointment as head of the religious affairs ministry's East Java office four days earlier.
Lukman admitted that he received the money but said he later reported it to the KPK.
"Regarding the Rp 10 million, I have told KPK investigators that it has already been more than a month. I reported receipt of the money to the KPK. I showed proof that I reported the money to the KPK, because I felt I had no right to receive the money," Lukman said at the KPK headquarters on Wednesday.
In the gratification report his aide delivered to the KPK, Lukman claims that the money was an additional reward from Haris. The problem, however, is that Lukman only delivered the gratification report to the KPK a week after the arrests of Romahurmuziy, Haris and Muafaq.
Based on the rules, an official must report gratuities within 30 working days after receiving it. However, this does not apply if the report is made after a case related to the gratification is already under investigation.
"I beg all journalists to ask the KPK directly [about the Rp 10 million], because they know best what the public should know about," Lukman said.
The minister said he respected the ongoing legal process by the KPK and therefore could not disclose matters related to the case.
"I have to respect the ongoing process, so I feel it is wrong and unethical for me to disclose matters related to the case under investigation [by the KPK]," he said.
KPK spokesman Febri Diansyah said investigators are still looking into the motive behind the gratification payment.
Full report at:
https://jakartaglobe.id/context/kpk-grills-religious-affairs-minister-in-ongoing-bribery-case
--------
Mideast
US, EU complicit in 'whitewash' of Israel's war crimes against Palestinians: NGO
May 9, 2019
The United States and the European Union are complicit in the "whitewash" of the Israeli regime's "war crimes" against the Palestinian people, an international NGO says.
ActionAid International, whose declared primary aim is to work against poverty and injustice worldwide, made the statement less than a week after Israeli airstrikes killed more than two dozen Palestinians in the besieged Gaza Strip.
"Both the US and EU have publicly supported Israel's right to 'defend itself' this week, demonstrating dangerous bias and deliberate obfuscation in their positions on the war," the statement stressed.
As Israel celebrates the 71th anniversary of its creation on Thursday, the latest figures show Israeli warplanes killed 27 Palestinians in two days and injured 154 more, including three women, two of them pregnant, and two babies, earlier this week.
ActionAid International hit out at Israel for "deliberately" targeting reporters, medics, women, children and infants, calling it a war crime.
The Israeli airstrikes, which commenced on Friday and continued into Sunday, left 130 houses completely destroyed and 700 more partially damaged, the NGO said.
It said 780 Palestinians are now displaced as a result of the recent escalation of targeted attacks against civilians, 44% of whom are children.
The airstrikes also either destroyed or damaged a mosque, four medical facilities, five media houses and ten civil institutions in the Gaza Strip, whose "catastrophic living conditions … are unbearable."
The Gaza Strip has been under an Israeli siege since June 2007, causing a decline in living standards as well as unprecedented unemployment and poverty.
Israel has also launched several wars on the Palestinian coastal strip, the last of which began in early July 2014. The military aggression, which ended on August 26, 2014, killed nearly 2,200 Palestinians. Over 11,100 others were also wounded in the war. https://www.presstv.com/Detail/2019/05/09/595519/Palestine-Israel-ActionAid-International-Gaza-Strip-airstrikes-US-EU-war-crimes
--------
Deal of century, US recognition of Israeli apartheid: Palestine
May 9, 2019
The Palestinian Ministry of Foreign Affairs and Expatriates has strongly condemned US President Donald Trump's controversial proposal for peace between the Israelis and Palestinians, dubbed "the deal of the century," saying it translates into Washington's recognition of the Israeli regime's apartheid in the occupied Palestinian territories.
"The climate and atmosphere, which Americans have created with their statements and positions vis-à-vis the so-called deal of the century will encourage Israel's ruling right-wing coalition and the majority of extremists and settlers to swallow up the rest of the Palestinian land," the ministry announced in a statement on Thursday.
It further noted that the decisions made by Trump's administration and Israeli authorities are nothing but an attempt to legitimatize and deepen apartheid in the occupied Palestinian territories.
The statement said such remarks and positions fall within an American-Israeli scheme to dash Palestinians' hopes and aspirations for freedom, independence and establishment of a Palestinian state.
On Tuesday, Israeli Hebrew-language daily newspaper Israel Hayom, which is close to Netanyahu, published a leaked document circulated by the Israeli Foreign Ministry, detailing the elements of the US back-channel peace plan. The plan is made up of the following main points:
- A tripartite agreement will be signed between the Tel Aviv regime, the Ramallah-based Palestinian Authority (PA) as well as the Hamas resistance movement, which controls the besieged and impoverished Gaza Strip, and subsequently a Palestinian state will be established that will be called "New Palestine."
- "New Palestine" will be established in the occupied West Bank and Gaza, with the exception of Israeli settlements built on Palestinian land in the West Bank.
The settlement blocs in the occupied West Bank, which are illegal under international law and UN Security Council Resolution 2334, will remain under the Israeli regime's control and will expand to reach out to other isolated settlements.
Moreover, the Israeli-occupied city of Jerusalem al-Quds will not be divided but is to be shared by Israel and "New Palestine," with the Israeli regime maintaining general control.
The Arab population living in Jerusalem al-Quds will be citizens of New Palestine, but the Tel Aviv regime would remain in charge of the municipality and therefore the land.
The newly formed Palestinian state would pay taxes and water costs to the Jerusalem al-Quds municipality.
Trump's so-called "peace plan" has been dismissed by Palestinian authorities ahead of its unveiling at the end of the holy fasting month of Ramadan and the formation of the new Israeli cabinet, most likely in June.
Speaking in the occupied West Bank city of Ramallah on April 16, Palestinian Prime Minister Mohammad Shtayyeh lashed out at Trump's initiative, asserting that it was "born dead."
Full report at:
https://www.presstv.com/Detail/2019/05/09/595508/Deal-of-century-means-US-recognition-of-apartheid-in-occupied-Palestinian-lands-Palestine
--------
US and Palestinians clash over US plan for peace with Israel
May 10, 2019
UNITED NATIONS: A key architect of the long-awaited US plan for Israeli-Palestinian peace lashed out at the UN's "anti-Israel bias" Thursday while urging support for the Trump administration's "vision" — but the Palestinian foreign minister dismissed the US peace effort, saying all indications are it will be "conditions for surrender."
The speeches by US envoy for international negotiations Jason Greenblatt and top Palestinian diplomat Riad Malki at an informal Security Council meeting ended up focusing on much broader issues than the chosen topic — Israeli settlements at the "core" of the "obstruction of peace."
Greenblatt said it was "surprising and unfair" that Indonesia, Kuwait and South Africa organized the council meeting and condemned Israel's behavior when it "was not even invited to speak at this session." He added that it was "inspiring" to see Israel celebrate the 71st anniversary of its independence on Thursday, calling it "a small brave country" that grew to a "thriving, diverse economically vibrant democracy," the only one in the Mideast.
He called the council's "obsessive" focus on Israeli settlements a "farce," saying settlements aren't keeping Israel and the Palestinians from negotiating peace, and said the council should instead condemn Hamas and Palestinian Islamic Jihad for recently firing hundreds of rockets into Israel from Gaza.
The council should also focus on the Palestinian practice of paying the families of "terrorists" rather than on how the United States could support the Palestinian Authority's budget, Greenblatt said. The Trump administration has drastically cut its support for the Palestinians to try to spur their return to negotiations.
The Palestinians pre-emptively rejected any peace proposal floated by the Trump administration amid concerns it would fall far below their hopes for an independent state in the West Bank, east Jerusalem — which they want as their capital — and Gaza, lands captured by Israel in the 1967 war. Their demand for a two-state solution is supported by the UN and almost all of its 193 member-states.
Malki told the council that after President Donald Trump recognized Jerusalem as the capital of Israel "in blatant violation of international law, it is not possible to have faith" in the peace plan, which was crafted over two years by a team led by Greenblatt and the president's senior adviser and son-in-law Jared Kushner.
"Every decision the US administration has taken since has simply confirmed its disregard for Palestinian lives, for Palestinian rights" and for the two-state solution, he said.
"We cannot afford not to engage with any peace efforts but the US efforts cannot be characterized nor can qualify as peace efforts, unfortunately," Malki said. "All indicates this far that this is not a peace plan, but rather conditions for surrender — and there is no amount of money can make it acceptable."
Greenblatt and Kushner have been tight-lipped about the peace plan's contents.
Last week, Kushner said the blueprint attempts to ensure security for Israel and provide economic opportunity to improve the lives of Palestinians. The plan won't be released before the Muslim holy month of Ramadan ends during the first week of June, and perhaps not even then.
Greenblatt told the Security Council "the vision for peace that we will soon put forward will be realistic and implementable" and "lay out the core issues of the conflict in enough detail that everyone will be able to imagine what peace could look like."
"This is the right package of compromises for both sides to take in order to leave the past behind and start a new chapter, where there could be tremendous hope and opportunity in the region," he added.
Greenblatt called on council members "to support the parties to get together to get behind this opportunity."
In the meantime, he said, "we will continue to speak the truth even when it is not welcome," starting with the UN's failure to condemn the "vicious, cynical, unprovoked attack" from Gaza a few days ago "that was intended to terrify, kill and maim Israelis."
Malki, who spoke before Greenblatt, told reporters afterward that the US envoy's remarks gave him no hope for the US peace plan.
"I thought I was listening to an Israeli speaker ... rather than an American official," he said. "It seems that the American position has been totally taken by the Israeli position and right now the US administration has no independent position."
Malki said Greenblatt "attacked the Palestinians and nothing else" and called Israel the only Mideast democracy while forgetting that Israel is the "only occupying power ... in the world."
Full report at:
http://www.arabnews.com/node/1495021/middle-east
--------
Dozens of Houthi fighters killed in blast at Hodeidah arms depot
Ali Mahmood Mohamed
May 9, 2019
Dozens of Houthi fighters were killed and others injured in a large explosion at a weapons and ammunition depot on Wednesday.
The rebel fighters were at the centre of Al Duraihimi city, south-east of Hodeidah, said Col Wathah Al Dubaish, spokesman for the pro-government forces.
"The operations room of the joint forces received a call reporting a huge explosion at a weaponry and ammunition cache affiliated with the Houthis, who have held the centre of Al Duraihimi city since August 2018," Col Al Dubaish told the National.
He said the depot was placed among the homes of citizens.
A soldier from Al Amalikah Brigades told The National that he had heard the explosion and saw huge flames rise amid more blasts.
"Later on, we saw many motorcycles taking casualties out of the neighbourhood," he said.
The neighbourhood is thought to be the last Houthi pocket in the city.
"Our forces couldn't launch a last push to take over this neighbourhood because the Houthis have taken about 50 of the residents as human shields," Col Al Dubaish said.
"We have been surrounding the city centre trying to put pressure on the Houthis to surrender, to save the lives of the civilians."
Meanwhile, the Southern Resistance and Security Belt forces have recaptured key sites in the northern Qatabah district in Al Dhalea province, southern Yemen, during intense battles with the Houthis on Tuesday and Wednesday.
"Our forces were able to recapture Kardah area along with Humar in north-west Qatabah, and secured Al Sheim highway in northern Al Dhalea province," a military source said.
Al Sheim is the main route that links the southern provinces with the Houthi-held capital, Sanaa.
Rebels have launched a major campaign to take control of southern Yemen after the ceasefire in Hodeidah.
Full report at:
https://www.thenational.ae/world/mena/dozens-of-houthi-fighters-killed-in-blast-at-hodeidah-arms-depot-1.859174
--------
Gaza terror groups say fighting could soon resume if ceasefire not honored
8 May 2019
Palestinian terror groups in the Gaza Strip warned Wednesday that violence could soon resume and Tel Aviv could be targeted if Israel does not honor a ceasefire that ended a major round of fighting over the weekend.
In Jerusalem, Prime Minister Benjamin Netanyahu also warned that Israel was preparing for more fighting with Gazan-based groups.
Beginning early Saturday, some 690 rockets were fired from Gaza at Israel, killing three Israelis. A fourth Israeli man was killed by an anti-tank missile fired at his car near the border.
In response, the Israeli military struck over 300 targets in Gaza, including a rare assassination of a terrorist operative whom the IDF said funneled money from Iran to terror groups in the Strip. The skirmish ended early Sunday when a Palestinian-announced ceasefire took effect that is thought to include measures to ease the Israeli blockade on the Strip.
The fighting, which was some of the heaviest in Gaza since a 50-day war in 2014, came after a number of other flareups over the past year between Israel and the Strip's Hamas rulers, leaving many analysts to speculate that renewed violence in the Palestinian territory was only a matter of time.
Al-Akhbar, a Lebanese daily close to Hezbollah, quoted sources in the so-called joint command center of Gaza-based terror groups saying they gave Israel a week to honor parts of the agreement as they were aware of "the existence of information that the occupation does not wish to implement what was agreed upon."
A source in the joint command center said terror factions in Gaza were continuing to prepare for fresh fighting in light of Prime Minister Benjamin Netanyahu's comments that the campaign in the Strip was "not over." The source said preparations were taking place to protect against future killings of terror leaders despite the command center's assessment that Netanyahu is not looking for a large-scale conflict.
"The leadership of the resistance has undertaken many security measures out of concern that major leaders will be targeted with the goal of the enemy improving its image in the eyes of its society following the painful blows it took in the last confrontation," the source said.
The source also said "the next round [of fighting] will be more intense and harsh" and could include the targeting of major population centers such as Tel Aviv if Israel carries out targeted killings.
Details of the ceasefire, which Israel has not officially acknowledged, have not been published, though reports have indicated it includes the reopening of border crossings and the expansion of the permitted fishing area off Gaza's coast.
Speaking at a Memorial Day event Wednesday, Netanyahu mourned the four Israelis killed over the weekend and suggested renewed fighting in Gaza was only a matter of time.
"The IDF acted with resoluteness against the terrorist elements in Gaza. I have said and am saying again — the campaign is not over," Netanyahu said at a state ceremony for terror victims at Jerusalem's Mount Herzl military cemetery.
Full report at:
https://www.timesofisrael.com/gaza-terror-groups-say-fighting-could-soon-resume-if-ceasefire-not-honored/
--------
Trump envoy slams UN over 'tired talking points' on Israel
10 May 2019
President Donald Trump's Middle East envoy berated the UN Security Council on Thursday for "rehashing tired talking points" criticizing Israeli settlements and said an upcoming US peace plan would provide a fresh approach.
Jason Greenblatt told a council meeting that the United Nations was biased against Israel, choosing "the comfort of 700 paper resolutions" condemning Israel instead of confronting the "700 rockets" fired by Palestinian militants.
"It is time for a new approach," said Greenblatt, who is working with Trump's son-in-law Jared Kushner on an Israeli-Palestinian peace plan that is expected to be unveiled soon.
The council met for an informal meeting organized by Indonesia, a strong Palestinian supporter, about the expansion of Israeli settlements on occupied Palestinian land, which the United Nations considers illegal.
The Trump administration is expected to roll out the long-awaited plan, possibly as early as next month, but the Palestinians have already rejected it as heavily biased in favor of Israel.
Addressing the council, Palestinian Foreign Minister Riyad al-Maliki again voiced opposition to the US plan, which is expected to include economic development as a key component.
"This is not a peace plan but rather conditions for surrender and there is no amount of money that can make it acceptable," said Maliki.
Indonesian Foreign Minister Retno Marsudi described settlement construction as "unacceptable" and urged the council to take a firmer stance against Israel. "Inaction is not an option", she said.
But Greenblatt dismissed the view that the expansion of Jewish settlements was an impediment to Israeli-Palestinian peace and illegal under international law.
"Let's stop pretending that settlements are what is keeping the sides from a negotiated peaceful solution," said Greenblatt. "This farce and obsessive focus on one aspect of this complicated conflict helps no one."
He criticized the council for taking aim at Israel over the expansion of settlements but failing to condemn the Hamas movement and Islamic Jihad for firing rockets into Israel.
"Instead of seeking accountability for Hamas and Islamic Jihad... we are rehashing tired talking points, some 20 years old," he argued.
The soon-to-be-released peace plan "will be realistic and implementable", said Greenblatt, describing it as "the right package of compromises for both sides".
Full report at:
https://english.alarabiya.net/en/News/middle-east/2019/05/10/Trump-envoy-slams-UN-over-tired-talking-points-on-Israel.html
--------
US threatens 'swift and decisive' response to any Iran attack
10 May 2019
Secretary of State Mike Pompeo on Thursday threatened a "swift and decisive" US response to any attack by Iran, in the latest of a series of escalating statements and actions.
"The regime in Tehran should understand that any attacks by them or their proxies of any identity against US interests or citizens will be answered with a swift and decisive US response," Pompeo said in a statement.
"Our restraint to this point should not be mistaken by Iran for a lack of resolve," he said.
The United States has already announced the deployment of an aircraft carrier strike group and nuclear-capable bombers to the region, saying it had information of plans for Iranian-backed attacks.
The moves have frightened some European allies as well as President Donald Trump's Democratic rivals, who fear the administration is pushing for war based on hyped-up intelligence.
Pompeo, however, said: "We do not seek war."
"But Iran's 40 years of killing American soldiers, attacking American facilities, and taking American hostages is a constant reminder that we must defend ourselves," said Pompeo, referencing the 1979 Islamic revolution that transformed Iran from close US ally to sworn foe.
Full report at:
https://english.alarabiya.net/en/News/middle-east/2019/05/10/US-threatens-swift-and-decisive-response-to-any-Iran-attack.html
--------
HRW report: Sanaa blast that killed children was not caused by coalition strike
9 May 2019
A massive blast that killed 15 children and injured more than 100 people in the residential Sawan neighborhood in Yemen's capital, Sanaa, on April 7, was the result of an explosion in a Houthi controlled warehouse and not a coalition strike, revealed human rights organizations.
Human Rights Watch and Mwatana for Human Rights carried on Thursday a detailed report which pointed out that a Houthi-controlled warehouse that stored volatile material near homes and schools caught fire and detonated midday resulting in the devastation and human toll.
The groups could not determine the initial cause of the fire at the warehouse. Witnesses did not see or hear aircraft, the report said. The report provides details of what followed: "Scores of Houthi security forces arrived at the site, fired warning shots, and beat and detained several people who tried to photograph the warehouse, witnesses said. For several days, Houthi forces removed large quantities of undisclosed materials from the site on flatbed trucks, and prevented human rights researchers from accessing the area until April 11."
"The Houthi authorities need to provide credible information and stop storing large concentrations of volatile materials in densely populated areas," said Radhya al-Mutawakel, the chairperson of Mwatana for Human Rights. "The Houthis played a role in the tragedy and should hold responsible officials to account and provide compensation to victims."
Mwatana and Human Rights Watch determined, based on in-person interviews with witnesses, videos, and satellite imagery, that the contents of the warehouse had caught fire and exploded. The groups were unable to identify the warehouse contents, but available information shows that they were flammable and explosive, posing a foreseeable danger to civilians living and going to school in the area.
The report said there was no evidence at the site to suggest that it was airstrike or incoming munition. Four videos of the blast that bystanders recorded and uploaded to the internet within hours also do not indicate the cause of the fire.
Researchers too did not observe craters that might have indicated an aerial bomb when they were first able to access the site days after the explosion.
On the evening of April 7, Al Arabiya had reported that the coalition spokesperson, Col. Turki al-Malki, stated that the coalition had not targeted residential areas in Sanaa. The Houthis and some news reports had at that time attributed the deadly explosion to a coalition airstrike.
"The Houthis' decision to store volatile material near homes and schools despite the foreseeable risk to civilians led to the death and injury of dozens of schoolchildren and adults," said Bill Van Esveld, senior children's rights researcher at Human Rights Watch. "The Houthis should stop covering up what happened in Sawan and start doing more to protect civilians under their control."
On the basis of field interviews with witnesses, video clips and satellite images, the two organizations found that the contents of the depot were set on fire and exploded.
Full report at:
https://english.alarabiya.net/en/News/gulf/2019/05/09/Blast-in-Houthi-warehouse-in-residential-area-killed-schoolchildren-says-HRW.html
--------
Increase in range of Palestinian rockets forced Israel to offer Gaza truce: Hamas
May 9, 2019
Hamas says Israel scrambled to seek a ceasefire in its recent military aggression against Gaza through mediators after the Palestinian resistance increased the range of their retaliatory rockets.
In an interview with the Palestinian al-Aqsa TV channel on Wednesday, Khalil al-Hayya, a senior member of the Hamas political bureau, hailed the Gaza Joint Chamber of Military Operations — which comprises various resistance factions —for standing firmly against the enemy in the recent confrontation with the Tel Aviv regime.
He added that the regime sent representatives for talks with senior members of the Palestinian resistance front after the range of the rockets fired from Gaza towards the Israeli-occupied territories surpassed 40 kilometers.
The Gaza escalation erupted last Friday following the deaths of four Palestinians in an Israeli air raid on the coastal sliver and the regime's live fire targeting Gaza protesters.
Israeli warplanes struck some 350 sites in Gaza, claiming the lives of 27 Palestinian people.
In response, the Palestinians fired some 700 rockets at the occupied lands between Saturday morning and early Monday morning, killing four Israelis and injuring 200 others.
Israel's "Iron Dome" only intercepted 240 of the 690 projectiles fired from Gaza, raising serious questions about the effectiveness of the missile system.
After three days of deadly Israeli airstrikes and retaliatory Palestinian rocket attacks, the two sides reached a ceasefire agreement on Monday with the help of Egyptian and Qatari mediators.
The Hamas military wing, the Ezzedine al-Qassam Brigades, said on Monday that it had succeeded in overcoming Israel's so-called Iron Dome missile system during the latest confrontation with the regime thanks to its new rocket-launching tactic.
The new tactic saw the Gaza-based resistance fighters overwhelm Israel's "Iron Dome" by "firing dozens of missiles in one single burst" towards the occupied territories, it added.
However, the truce angered the Israelis living south of the occupied territories, who were most affected by the flare-up. They censured the Tel Aviv regime for failing to ensure their security.
'Hamas won't bargain over Return rallies'
Hayya further said, during the fresh flare-up of Gaza tensions, things went out of control due to Israel's procrastination in implementing the ceasefire understandings and the regime's firing at Palestinians in the anti-occupation Great March of Return protests, he added.
Hayya also stressed that Hamas would not bargain over the March of Return demonstrations, which began on March 30, 2018, with the participants demanding the right to return for the Palestinians driven out of their homeland by Israeli aggression.
Full report at:
https://www.presstv.com/Detail/2019/05/09/595486/Israel-Palestine-Gaza-rockets
--------
North America
US Beating Drums Of War with Iran with Fake Intel: Muslim Congresswoman, Ilhan Omar
May 9, 2019
American Muslim Representative Ilhan Omar has accused the administration of US President Donald Trump of preparing the ground for direct confrontation with Iran using inflated intelligence data.
The controversial lawmaker, who has come under fire in the past for criticizing American foreign policy with regards to Israel and Saudi Arabia, said Wednesday that the US intelligence community was making up excuses to justify hostile anti-Iran policies just as it did before the invasion of Iraq in 2003.
"The same people who falsified intelligence before the Iraq War are now beating the drums for war with Iran. All of us have a responsibility to view their claims with skepticism," she wrote.
Ilhan Omar
✔
@IlhanMN
The same people who falsified intelligence before the Iraq War are now beating the drums for war with Iran.
All of us have a responsibility to view their claims with skepticism.
Noah Shachtman
✔
@NoahShachtman
EXCLUSIVE: Trump admin is hyping the intelligence on Iran, multiple US officials say https://www.thedailybeast.com/trump-administration-inflated-iran-intelligence-us-officials-say …
26.4K
5:33 AM - May 9, 2019
Twitter Ads info and privacy
10.5K people are talking about this
The tweet came in response to a DailyBeast article, which cited US officials as saying that anti-Iran elements within the administration of President Donald Trump were inflating intelligence on Iran to pave the way for more aggressive policies towards Tehran.
According to the report, the recent decision by Washington to send a carrier strike group and a bomber task force to the Persian Gulf in response to "troubling and escalatory" warnings from Iran was a direct result of this policy.
National Security Adviser John Bolton, a hawk best known for his penchant for conflict with Iran, announced the decision last Sunday, reportedly based on false evidence that Iran was preparing to attack US forces in Iraq and Yemen.
"It's not that the administration is mischaracterizing the intelligence, so much as overreacting to it," said one US government official briefed on it.
Another US official said some administration officials were trying "to tilt the field in preparation for a possible coming conflict,"
"The risk is a low-level proxy unit miscalculating and escalating things. We're sending a message with this reaction to the intelligence, even though the threat might not be as imminent as portrayed."
The United States, under Trump, has set out on an aggressive campaign to curb Iran's pressure in the Middle East region.
To reach that goal, the White House has been trying to zero out Tehran's oil exports and cripple the country's economy using sanctions.
However, the hostility doesn't stop there as some officials have openly threatened to starve Iranian people.
In an interview with BBC Persian, US Secretary of State Mike Pompeo said last November that Iranian officials must listen to Washington "if they want their people to eat."
Iranian Foreign Minister Mohammad Javad Zarif said in response to Pompeo that "Iran will not just survive but advance w/out sacrificing its sovereignty."
Tehran has dismissed Washington's threats and has pledged to continue pushing back against the Trump administration's hostile policies.
https://www.presstv.com/Detail/2019/05/09/595492/US-Iran-war-ilhan-omar
--------
U.S. officials: Iran official OK'd attacks on American military
May 9, 2019
By Courtney Kube
WASHINGTON — The U.S. decision to surge additional military forces into the Middle East was based in part on intelligence that the Iranian regime has told some of its proxy forces and surrogates that they can now go after American military personnel and assets in the region, according to three U.S. officials familiar with the intelligence.
The intelligence shows that an Iranian official discussed activating Iranian-backed groups to target Americans, but did not mention targeting the militaries of other nations, the officials said.
Among the specific threats the U.S. military is now tracking, officials say, are possible missile attacks by Iranian dhows, or small ships, in the Persian Gulf; attacks in Iraq by Iranian-trained Shiite militia groups; and attacks against U.S. ships by the Houthi rebels in Yemen.
The U.S. has accused Iran of moving missiles and missile components through the region's waterways for years, shipping missiles to the Houthis in Yemen and others. And Shiite militia groups like Baghdad Katib Hezbollah (BKH) have been in Iraq for years, acting essentially as sleeper cells. What is new and what has alarmed U.S. military officials, sources say, is the call to awaken and activate these existing threats.
One U.S. official said Iran usually conceals the missiles and components when delivering them to the Houthis. These missiles are visible to overhead surveillance, leading to concerns Iran could attempt to launch missiles from the dhows. There are some indications they have mobile launchers on board, as well, one of the officials said.
The three officials say that in addition to learning that an Iranian official had discussed attacks on Americans, the U.S. began seeing the movement of Iranian and Iranian-backed forces in various places across the region, prompting the commander of U.S. Central Command, Marine Corps Gen. Frank McKenzie, to request additional forces move to the region.
On Sunday, Acting Secretary of Defense Patrick Shanahan approved the request to accelerate the deployment of the USS Abraham Lincoln Carrier Strike Group and a bomber task force to the region. National Security Adviser John Bolton announced the movement in a statement Sunday night.
A spokesperson for U.S. Central Command declined to provide detailed information on the threats.
"U.S. Central Command has seen recent and clear indications that Iranian and Iranian proxy forces were making preparations to possibly attack U.S. forces in the region," said the spokesperson, Capt. Bill Urban. "This include threats on land and in the maritime. We are not going to be able to provide detailed information on specific threats at this time."
"Make no mistake, we are not seeking a fight with the Iranian regime," Gen. McKenzie said Wednesday during a speech at the Foundation for Defense of Democracies, a think tank that favors a tough U.S. posture toward Iran. "Any attack on U.S. interests will be met with unrelenting force."
Despite the increase in U.S. military heft to the region, Iran has not slowed its movement of forces or changed its posture, according to the three U.S. officials.
Congressional Democrats say they are concerned the Trump administration is trying to provoke a wider conflict.
"The intelligence is real," said a senior Democratic congressional official briefed on the intelligence, "but the response seems wildly out of proportion."
Full report at:
https://www.nbcnews.com/news/military/u-s-officials-iran-official-ok-d-attacks-american-military-n1003421
--------
Texas man pleads guilty to recruiting for terror group
May 10, 2019
FORT WORTH, Texas – Federal authorities say an 18-year-old Texas man has pleaded guilty to recruiting fighters on behalf of a Pakistan-based terrorist group.
Prosecutors say Michael Kyle Sewell entered a guilty plea in federal court Wednesday to conspiracy to provide material support to a foreign terrorist organization.
Sewell admitted to trying to recruit another person to join Lashkar-e-Taiba, the militant group behind a 2008 attack in India's financial capital of Mumbai that killed 166 people.
Prosecutors say Sewell put the person in contact with someone he thought would facilitate joining Lashkar-e-Taiba in Pakistan but was, in fact, an undercover FBI agent.
Sewell is scheduled to be sentenced on Aug. 12. He could face up to 20 years in prison.
https://www.foxnews.com/us/texas-man-pleads-guilty-to-recruiting-for-terror-group
--------
The Flash Point Between America and Iran Could Be Iraq's Militias
MIKE GIGLIO
MAY 8, 2019
All the Americans could do was shake their heads as a Shiite militia flag waved above their base.
The troops from the U.S. Army's 101st Airborne Division were still getting used to living alongside an old enemy. It was the fall of 2016, the start of a U.S.-backed offensive to retake the Islamic State stronghold of Mosul. Some Americans who'd come to aid the effort had also fought in the Iraq War, when the U.S. military suffered hundreds of deaths in battles with Shiite militia groups. Five years after that war ended, they found themselves at an airfield south of Mosul, where the Airborne was stationed in one section, and a militia outpost sat in another. Concrete blast walls separated the two sides. But someone had climbed a radio tower overlooking the U.S. barracks and tied a militia flag to its peak.
An American soldier pointed out the flag one morning with a wry look that suggested he appreciated the troll.
The global fight against ISIS created strange alliances—and the de facto one between the U.S. military and Iraq's Shiite militias, some of whom are backed by Iran, was among the most striking.
While the two sides had a shared interest in defeating the Sunni extremist group, the alliance was never going to be enduring, and there was always the risk that if tensions between America and Iran ever ignited, the militias could be a flash point.
Those tensions have now spiked.
On Sunday, National Security Adviser John Bolton announced that U.S. warships had been dispatched to the Arabian Peninsula in response to unspecified threats from Iran. Later, U.S. officials reportedly cited the risk to American forces and allies from Iran-backed militia or proxy forces. Secretary of State Mike Pompeo canceled a planned visit to Berlin in order to visit Baghdad, where he said he discussed "the increased threat stream" with Iraqi leaders and stressed the need to protect U.S. forces there. At the same time, Iran announced that it will stop complying with some parts of the 2015 nuclear deal, continuing the pattern of escalation set in motion by the Trump administration's decision to walk away from the agreement. (The White House on Wednesday introduced a new set of sanctions against Iran's metals sector.)
Though U.S. officials have so far been vague about the nature of the threat, Phillip Smyth, an expert on Shiite militia groups, told me he takes the risk they pose to U.S. forces seriously. The militia groups that act as Iranian proxies in Iraq, he said, would be an effective tool for further escalation—and for reviving an old narrative that casts U.S. troops as an occupying force in the country.
"Now that [ISIS] is more dislodged and not anywhere near its 2015 state, the narrative of 'opposing a resisting force' makes more sense from the Iranians' ideological and political perspectives," said Smyth, who is a fellow at the Washington Institute for Near East Policy.
Some Iran-backed militias have made open threats against U.S. forces in recent years, Smyth said. Because of the Trump administration's aggressive sanctions against Iran, he added, "the threats take on a new and possibly more dangerous trend."
United under the umbrella of the Popular Mobilization Forces and an official part of the Iraqi security forces, a constellation of Shiite militia groups emerged in 2014 in response to the Iraqi military's capitulation to ISIS, recruiting thousands of new fighters. Some militia groups are seen as Iranian proxies and have been trained by Iran's Islamic Revolutionary Guard Corps, while others oppose Iranian influence and bill themselves as Iraqi nationalists. Kata'ib Hezbollah, Asa'ib Ahl al-Haq, and Kata'ib Sayyid al-Shuhada, Smyth noted, are among those in the former category that U.S. officials may be watching closely.
In a 2017 speech, Qais al-Khazali, the leader of Asa'ib Ahl al-Haq, claimed that the United States, Israel, and Saudi Arabia are enemies of Iraq. Documents recently declassified by the Pentagon state that during a stint as a U.S. prisoner during the Iraq War, Khazali admitted to authorizing attacks that killed American soldiers. In January, Khazali predicted that the Iraqi parliament would eventually vote to expel U.S. troops from the country — and said that if they didn't leave, they could be driven out "by force."
The Shiite militias played a key role in the fight against ISIS, such as when they helped recapture the city of Tikrit in 2015, and suffered heavy losses. But they also claimed credit for victories largely won by government troops, and were accused of massacres, torture, and other abuses against Sunni civilians at a rate that far outpaced similar accusations against other forces. During the Mosul offensive, civilians regularly listed the militias among their foremost concerns in Sunni-majority areas freed from ISIS.
During the anti-ISIS campaign, U.S. military planners were wary of inadvertently providing air cover for the militias when they advanced in concert with the Iraqi army, worried about aiding forces that worked so closely with Iran. Islamic Revolutionary Guard Corps advisers were often on the front lines with the militia groups they supported, and Qassem Soleimani, the commander of the IRGC's elite Quds Force, was occasionally photographed on the battlefield. (This wasn't the first time the U.S. military found itself in an unlikely alliance in Iraq: During the Iraq War, it teamed up with some hard-line Sunni groups as part of its campaign to defeat al-Qaeda in Iraq, ISIS's predecessor.)
Even before the warship move, the Trump administration had designated the IRGC a terrorist group, prompting the Iranians to respond by declaring U.S. forces in the region a terrorist group too. Yet 5,000 U.S. troops remain in Iraq, in close proximity to Iran-backed forces.
After Bolton's announcement, I spoke with U.S. military officers who served in the country during the fight against ISIS, and they made two points. The first is that the risk the militias pose to U.S. troops in Iraq has been there since the anti-ISIS campaign began in 2014—and so, in a sense, the threats U.S. officials are discussing are nothing new. The second is that while they considered the threats to be manageable, they were real causes for concern.
"The Shiite militias definitely kept some of us up at night," one officer, who has since retired from the military, told me, recalling the feeling of living and working around the groups even as some continued with "very clear anti-U.S. rhetoric."
"They were a wild card that we always had to keep an eye on."
Another recently retired officer noted an instance in which he suspected that U.S. troops already had been targeted by militias: A roadside bomb killed a U.S. service member in October 2017, an incident for which the U.S. military has not assigned blame. Last year, the State Department evacuated the U.S. consulate in the Iraqi city of Basra, citing attacks by Iran-backed militias. "That's always been there," he said. "When I hear [U.S. claims of new threats], I'm like, 'Really, there's a new threat from Iran-backed militia?' I remember back in 2004 when we were fighting Iran-backed militias in Iraq. It's an existing threat that's been there for years, but it's up to Iran to dial it up or dial it down depending on the political end state they want to achieve."
Both of these sources requested anonymity to avoid jeopardizing continued work with the U.S. government, as did a third officer, who remains with the military.
This officer, who also served during the Iraq War, said returning to the country for the anti-ISIS fight and finding himself posted beside Shiite militias was alarming at first—"but as we got to live together, not as much."
With the ISIS war winding down, though, the two sides no longer have a common enemy. "That dynamic of a co-enemy has changed, and the power of the Shia militia groups has changed as well," he told me, as militia-allied candidates made surprising gains in last year's Iraqi elections.
Colonel Scott Rawlinson, a U.S. military spokesman, declined to comment on whether Shiite militias pose a risk to U.S. troops in Iraq, but he stressed that the threat from ISIS remains. The group "has lost its territorial caliphate but has transitioned into a disaggregated network of sleeper cells with the goal of resurging through intimidation and attacks on civilians, community leaders, and security forces," he said.
The fact that U.S. troops in Iraq and Syria remain heavily engaged in the fight against ISIS underscores the risks of a U.S. strategy in the region that seeks to pivot to a new enemy, in Iran, even as the battle with the old one remains a work in progress.
And as the past few days have shown, both the United States and Iran have levers with which they can escalate tensions.
Read: Trump leaves Israel in the lurch
"Just like the U.S. maintains and refreshes planning for a variety of contingencies, so does Iran. This dynamic—of increasing U.S. pressure and Iranian countermoves amidst mistrust and imperfect information—increases the risk of miscalculation," Eric Brewer, a former senior official on the Trump administration's National Security Council who is now a fellow at the Center for a New American Security, told me.
Full report at:
https://www.theatlantic.com/politics/archive/2019/05/iraq-militias-flash-point-between-united-states-and-iran/589003/
--------
'What I'd like to see with Iran, I'd like to see them call me': Trump
May 9, 2019
US President Donald Trump has said that he wants Iranians to call him, amid escalating tensions between the United States and Iran over the Trump administration's hegemonic policy towards the Islamic Republic.
"What I'd like to see with Iran, I'd like to see them call me," Trump told reporters at the White House on Thursday.
But then he said he would not rule out the possibility of military action in Iran amid escalating tensions before slamming former Secretary of State John Kerry for his involvement in the issue.
He said Kerry should be prosecuted under the Logan Act for speaking with Iranian officials and denouncing Trump's policy on the Islamic Republic.
"John Kerry speaks to them a lot, and John Kerry tells them not to call. That's a violation of the Logan Act, and frankly he should be prosecuted on that," Trump said.
Trump added that his "people don't want to do anything," and that "only the Democrats do that kind of stuff."
"Everything President Trump said today is simply wrong, end of story," a spokesman for Kerry told CNN. "He's wrong about the facts, wrong about the law, and sadly he's been wrong about how to use diplomacy to keep America safe."
Kerry said last year that he had met with Iranian Foreign Minister Mohammad Javad Zarif "three or four" times since leaving office for discussions on the nuclear deal and other issues.
The Logan Act, a US law enacted in 1799, criminalizes negotiations by unauthorized persons with foreign governments having a dispute with the United States without permission from the US government. Only two people have been indicted for violating the act in 1802 and 1852.
Last month, Trump suggested that Kerry, who served as Secretary of State under former President Barack Obama, helped negotiate the Iran nuclear deal, had provided Tehran with "very bad advice" and may have violated US law by advising the Islamic Republic. "Iran is being given VERY BAD advice by John Kerry and people who helped him lead the US into the very bad Iran Nuclear Deal," Trump wrote on Twitter on April 22.
"Big violation of Logan Act?" Trump asked then.
In May last year, Trump pulled the US out of the Iran nuclear deal, known as the Joint Comprehensive Plan of Action (JCPOA), claiming that it was a bad deal.
Kerry, who served during the administration of former US President Barack Obama, has criticized the Trump administration for pulling out of the accord.
Kerry, who played a main role in the nuclear talks, has described it as the "single strongest, single most accountable, single most transparent nuclear agreement anywhere in the world."
Since leaving his post, Kerry has had several talks with the Iranian side, advising them to wait out until Trump leaves office.
Trump made a similar attack against Kerry last year, saying he made "illegal meetings" with Iranian officials.
Trump brought up Kerry's potential violation after the White House announced that all importers of Iranian oil will have to end their imports shortly or face US sanctions.
Last November, the US enforced sanctions targeting the Islamic Republic's banking and energy sector, however, it granted waivers from the bans to eight major importers of the Iranian oil, fearing market instability including China, India, Japan, South Korea, Taiwan, Turkey, Italy and Greece.
On Sunday, US National Security Adviser John Bolton announced the deployment of an American carrier strike group to the Middle East, citing a "credible threat" from Iran.
Trump was asked about the deployment decision on Thursday. He said Iran had been "very threatening."
Full report at:
https://www.presstv.com/Detail/2019/05/09/595537/Trumpsays-he-wants-Iranians-to-call-him
--------
Africa
Tripoli government threatens to suspend foreign firms to pressure Europe
MAY 9, 2019
TRIPOLI/BENGHAZI, Libya (Reuters) - Libya's internationally recognized government asked 40 foreign firms including French oil major Total to renew their licenses or have their operations suspended, pressuring Europe to stop an eastern military offensive against Tripoli.
The firms have three months to renew their licenses, the economy and industry ministry said in a decree, after an official earlier said their operations had been suspended.
The ministry cited legal procedures, but the action comes as the Tripoli-based government seeks to drum up support to fend off an assault by Khalifa Haftar's Libya National Army (LNA) force, which has been trying for one month to take the capital.
Tripoli is home to the recognized administration but some European countries such as France have also supported eastern military commander Haftar as a way to fight militants in a country in chaos since the toppling of Muammar Gaddafi in 2011.
The general also enjoys the backing of Egypt and the United Arab Emirates.
The decree was published a day after Tripoli prime minister Fayez al-Serraj met French President Emmanuel Macron in Paris, coming from Berlin and Rome, to bolster his case.
Macron had called for a ceasefire but with the condition attached that all armed groups — including those helping Serraj defend the capital — be monitored.
Haftar also would not have to withdraw his troops east, allowing him to book a huge territorial gain, which upset the Serraj government, said Jalel Harchaoui, research fellow at the Clingendael Institute in The Hague.
"Officially, those 40 licenses were scheduled to be expiring now," he said. "In reality, the decree is motivated by a desire to show European states that their leniency towards the eastern-Libyan faction has immediate consequences on their economic interests."
Total, with large-scale oil and gas interests in Libya, is the only company on the list known to have extensive dealings there. Others include French aerospace firm Thales, German engineering firm Siemens and telecoms equipment firm Alcatel-Lucent, now owned by Finland's Nokia.
Last month, the Tripoli-based interior ministry suspended security cooperation with France, accusing Paris of backing Haftar, a commander from the east of the country where a rival government holds sway.
Highlighting France's apparently complex position, the foreign minister of Haftar's eastern parallel government visited France, though it was not immediately clear whether any French officials had received him.
ROCKETS
In the capital Tripoli, three rockets hit a western suburb overnight close to the heavily fortified U.N. compound but otherwise there was less fighting than last week as life slowed down with the start of the Muslim holy month of Ramadan.
The United Nations has failed to broker a ceasefire after the offensive took it by surprise. Its special envoy Ghassan Salame has mostly stayed on the ground but his mission has reduced staffing levels, U.N. officials say.
One senior health worker was severely wounded as he traveled in an ambulance car in a southern Tripoli district that was reportedly attacked by Haftar-affiliated fighters, the U.N. humanitarian agency OCHA said in a statement.
European countries including Italy and France have taken a strong interest in Libya, both because of its natural resources and because of its status as the main departure point for migrants attempting to enter Europe across the Mediterranean. European countries have backed Libyan efforts that have succeeded in reducing the numbers attempting the journey.
Two boats carrying 214 migrants were intercepted by the Libyan coast guard late on Wednesday and taken back to the shore, the U.N. migration agency said.
"As clashes continue in the capital, we are concerned about the return and arbitrary detention of migrants in #Libya," the International Organization for Migration said in a tweet.
IOM spokesman Joel Millman said the 107 people on the first boat included 12 women and seven children, while the 107 people on the second boat were all men, 92 of them Sudanese, and there had been no reports of missing people or bodies retrieved.
In the south, three people were killed on Thursday in a suspected hit-and-run attack by Islamic State militants on the town of Ghadwa, residents and a military official said, the second such attack within days.
https://www.reuters.com/article/us-libya-security/three-killed-in-suspected-islamic-state-attack-on-southern-libya-official-idUSKCN1SF0R5
--------
UN Security Council to meet on Libya amid offensive on Tripoli
10 May 2019
The UN Security Council will meet behind closed doors to discuss the humanitarian crisis in Libya as a month-long offensive on the capital grinds on, diplomats said on Thursday.
Britain requested the Friday meeting so a UN aid official could brief representatives on the assault that has displaced 55,000 people and left more than 430 dead, the diplomats said on condition of anonymity.
The council has been divided over how to respond to the crisis in Libya, forcing Britain to put on hold a draft resolution demanding a ceasefire.
https://english.alarabiya.net/en/News/north-africa/2019/05/10/UN-Security-Council-to-meet-on-Libya-amid-offensive-on-Tripoli-.html
--------
Boko Haram kills nine in Nigeria attacks, torches village
MAY 8 2019
Boko Haram fighters have killed nine people in two separate attacks in northeastern Nigeria, looting and torching a village and ambushing three farmers, officials and local militia forces said Wednesday.
Fighters packed in trucks stormed into the village of Molai just before sunset on Tuesday, when villagers were preparing to pray and break their fast for the Muslim holy month of Ramadhan.
The jihadist gunmen, loyal to Boko Haram chief Abubakar Shekau, killed six people and burned dozens of homes.
Usman Kyari, who heads the state Emergency Management Agency, said six bodies were collected after the attack. All had been shot dead.
"The insurgents burnt around 40 homes and looted goods," Kyari said.
Molai, which is five kilometres (three miles) from Borno state capital Maiduguri, has been repeatedly attacked by the jihadists.
A member of a militia force, which fights alongside regular government soldiers, said the Boko Haram fighters were too many and they were overpowered.
"We all withdrew from the village," the militia soldier said.
Later, Nigerian aircraft bombed the area, and the jihadists retreated, he added.
SECOND ATTACK
In a separate attack, Boko Haram fighters killed three farmers near the town of Konduga, 38 kilometres (24 miles) outside Maiduguri, militia leader Ibrahim Liman said.
"The gunmen slit the throats of the farmers and dumped their bodies," Liman told AFP.
The militants often kill farmers, loggers and herders, accusing them of passing information to the army.
Boko Haram's decade-long uprising to establish a hardline Islamic state in Nigeria's northeast has spilled into neighbouring Niger, Chad and Cameroon.
A regional military coalition is battling the Islamist group.
Full report at:
https://www.nation.co.ke/news/africa/Boko-Haram-kills-9-Nigeria-attacks/1066-5105890-256q0nz/
--------
Cameroon: Hundreds of Militants, Terrorists Surrender
May 08, 2019
Moki Edwin Kindzeka
YAOUNDE —
Authorities in Cameroon say 165 Anglophone separatists and Boko Haram terrorists have voluntarily surrendered in the past two months, while hundreds of other separatists have stopped fighting.
Cameroon's military and groups loyal to the government have been been circulating a video for the past week of an alleged former separatist fighter named Yannick Kawa.
The video, divided into two parts, first shows Kawa saying he would never stop commanding his fighters to crush the military. However, the second part shows Kawa telling a crowd that a stranger online convinced him to surrender to the military's Rapid Intervention Battalion, the BIR.
"I was in touch with one man online, he started encouraging me," Kawa said in the video. "Then I decided to surrender myself to the BIR. From that day up 'til today, I am free."
Cameroon's National Committee on Disarmament, Demobilization, and Reintegration (NCDDR) said 56 of the militants who surrendered were from Cameroon's two English-speaking regions, while 109 were from Mora on the border with Nigeria.
"The numbers may seem small, but I think we are doing a lot because in addition to these numbers we have, we have hundreds of them who have laid down their arms," NCDDR coordinator Francis Fai Yengo said.
Yengo said many who surrendered were in a location he could not disclose for security reasons.
Some skeptical
Skeptics are raising doubts about the government's evidence.
Josue Medoung of rights group Cameroon Watch says it is difficult to believe that those who surrendered are separatists and terrorists.
He says the rebels and terrorists are equipped with weapons of war, while the arms authorities presented as allegedly turned over by militants were locally made and used by common criminals.
Armed gangs and highway robbers are also stealing, killing, abducting and extorting money from civilians, Medoung said, adding that those who are handing over their weapons may be armed gang members who fear being killed by the military, or even separatist fighters.
Medoung says the intensity of the conflict reported in the English-speaking regions within the past two months shows that fighting is still raging.
'Olive branch of peace'
NCDDR coordinator for Cameroon's Northwest, Sixtus Gabsa, says many militants are still not convinced that the committee wants to help.
"The major problem we have is the problem of confidence building," Gabsa said. "Most of the children in the bushes, even the stake holders, are saying that we are playing tricks to bring the children out and kill them. No. The head of state [president] has given an olive branch of peace. Nothing is going to happen to them."
Cameroon's president, Paul Biya, created the committee last year to manage the disarming and reintegration of militants who surrendered.
Authorities have promised that Anglophone rebels and Boko Haram terrorists who disarm will get professional job training in rehabilitation centers across Cameroon. However, the rehabilitation centers have been slow to take off, as the rebels don't trust authorities and some centers have yet to be built.
Full report at:
https://www.voanews.com/a/cameroon-hundreds-of-militants-terrorists-surrender/4908889.html
--------
US air strike kills 13 ISIS terrorists in Somalia
10 May 2019
A US air strike killed 13 ISIS terrorists in Somalia's semi-autonomous Puntland region on Wednesday, the US military said, days after another strike killed three.
The US military has stepped up its campaign of air strikes in Somalia since President Donald Trump took office, saying it has killed more than 800 militants in two years.
ISIS has gathered recruits in Puntland although experts say the scale of its force is unclear and it remains a small player compared to Qaeda-linked al-Shabaab group that once controlled much of Somalia.
US Africa Command (AFRICOM) said late on Thursday the latest strike targeted an ISIS-Somalia camp in the Golis Mountains. "At this time, it is assessed the air strike on May 8 killed 13 terrorists," it said.
AFRICOM said in April it had killed Abdulhakim Dhuqubz identifying him as ISIS deputy leader in Somalia.
Somalia has been mired in a civil war and an Islamist insurgency since 1991 when clan warlords overthrew a dictator and then turned on each other.
Full report at:
https://english.alarabiya.net/en/News/north-africa/2019/05/10/US-air-strike-kills-13-ISIS-fighters-in-Somalia.html
--------
Three killed as Daesh storms town in southern Libya
May 9, 2019
At least three people have been killed in a suspected hit-and-run attack by the Daesh terrorist group on a town in southern Libya, residents and a military official say.
They said the casualties were caused after heavily-armed militants stormed the town of Ghadwa and then retreated back into the desert.
The attack came after nine troops were killed in the city of Sebha on Saturday in an attack claimed by Daesh on a training camp belonging to the eastern Libyan forces of Khalifa Haftar.
Sebha is controlled by Haftar's so-called Libyan National Army (LNA), and is 650 km south of the capital Tripoli, which the renegade general's forces are currently fighting to seize.
Following the attack, the Tripoli-based Government of National Accord (GNA) said Haftar shouldered direct responsibility for the reemergence of Daesh.
The terrorist outfit is active in the south to where it retreated after losing its stronghold in the central city of Sirte in December 2016.
The LNA, whose power base is in eastern Libya, has been unable to break the southern defenses of Tripoli forces.
The UN humanitarian agency OCHA said in a statement that one senior health worker was severely wounded as he traveled in an ambulance car in a southern Tripoli district that was reportedly attacked by LNA-affiliated fighters.
The United Nations has characterized Haftar's push on Tripoli as an attempted coup and warned of a serious upshot.
Since April 4, fighting has killed at least 432 people, wounded 2,069 and displaced more than 50,000, according to the UN.
Separately, the UN migration agency said two boats carrying 214 migrants were intercepted by the Libyan coast guard late on Wednesday and taken back to the shore.
"As clashes continue in the capital, we are concerned about the return and arbitrary detention of migrants in #Libya," the International Organization for Migration said in a tweet.
The western Libyan coast is a major departure point for mainly African migrants fleeing conflict and poverty and trying to reach Italy across the Mediterranean Sea with the help of human traffickers.
Libya has been the scene of increasing violence since 2011, when former dictator Muammar Gaddafi was toppled from power after an uprising and a NATO military intervention.
Full report at:
https://www.presstv.com/Detail/2019/05/09/595535/Libya-Daesh-Ghadwa-Sebha-Khalifa-Haftar-LNA-GNA
--------
US air strike kills 13 Daesh fighters in Somalia
May 10, 2019
NAIROBI: A US air strike killed 13 Daesh fighters in Somalia's semi-autonomous Puntland region on Wednesday, the US military said, days after another strike killed three.
The US military has stepped up its campaign of air strikes in Somalia since President Donald Trump took office, saying it has killed more than 800 militants in two years.
Daesh has gathered recruits in Puntland, although experts say the scale of its force is unclear and it remains a small player compared Al-Qaeda-linked Al-Shabab group that once controlled much of Somalia.
US Africa Command (AFRICOM) said late on Thursday the latest strike targeted an Daesh-Somalia camp in Golis Mountains.
"At this time, it is assessed the air strike on May 8 killed 13 terrorists," it said.
AFRICOM said in April it had killed Abdulhakim Dhuqub, identifying him as Daesh's deputy leader in Somalia.
Somalia has been mired in civil war and an extremist insurgency since 1991 when clan warlords overthrew a dictator and then turned on each other.
Full report at:
http://www.arabnews.com/node/1495071/world
--------
Europe
'We reject any ultimatums': Europe responds firmly to Iran's nuclear deal threat
May 10, 2019
The EU has responded firmly to Iran's threat to roll back its 2015 nuclear deal commitments, saying in a statement Thursday that it rejects any ultimatums but remained committed to the multilateral pact.
"We reject any ultimatums and will assess Iran's compliance on the basis of Iran's performance regarding its nuclear-related commitments under the JCPOA and the NPT," the joint statement from the EU high representative and the foreign ministers of France, Germany and the U.K. read, referring to the deal itself — the Joint Comprehensive Plan of Action — and the Treaty on the Nonproliferation of Weapons, respectively.
In essence, the EU is saying that inspectors, not declarations, will determine how it approaches Iran going forward. And that may take some time: Data on Iran's nuclear activities will be unclear until the International Atomic Energy Agency publishes its quarterly report in August.
Iran's nuclear deal ultimatum
Iranian President Hassan Rouhani announced Wednesday his country would end its compliance with two particular conditions of the nuclear deal if Europe did not step in to protect the country from U.S. sanctions, re-imposed after the President Donald Trump administration withdrew from the agreement one year ago.
Rouhani essentially gave Europe an ultimatum: Choose Iran over the U.S. by resuming Iranian trade in violation of sanctions, or see Iran return to higher levels of uranium enrichment. Tehran said it would restart construction on its Arak nuclear reactor, which was capable of producing weapons-grade plutonium and had been shut down as part of the 2015 deal.
"We remain fully committed to the preservation and full implementation of the JCPOA, a key achievement of the global nuclear non-proliferation architecture, which is in the security interest of all," the EU statement read.
"We strongly urge Iran to continue to implement its commitments under the JCPOA in full as it has done until now and to refrain from any escalatory steps."
The JCPOA, signed under the Obama administration, saw financial sanctions on Iran lifted in exchange for curbs to its nuclear program. It has since last year been on life support as European, Russian and Chinese signatories endeavor to save it and get around U.S. sanctions.
Iran's economy has severely contracted, and Wednesday's announcement was a signal of Tehran's waning patience for Europe finding a solution.
European signatories to the deal in January launched INSTEX, a special purpose vehicle designed to enable trade with Iran by using currencies other than dollars, sidestepping U.S. sanctions. The mechanism has so far had limited success, but is a sign of Europe's determination to defy the Trump administration's efforts. If Iran breaks its obligations under the deal, however, the EU ministers' statements suggest that those efforts will end and multilateral sanctions may be re-imposed.
"We also look to Iran to continue to adhere to established JCPOA formats and mechanisms including the JCPOA Joint Commission," the statement read.
EU foreign policy chief Federica Mogherini expressed her personal concerns on the announcements. "We remain fully committed to the full implementation of the JCPOA nuclear deal, it is a matter of security for us and for the entire world," she told CNBC's Willem Marx in Sibiu, Romania.
"So far we have seen Iran fully compliant with all its nuclear-related commitments under the nuclear deal ... We will continue to see the compliance of Iran to its commitments to the JCPOA through the lenses of the EEAS (European External Action Service)," she added.
https://www.cnbc.com/2019/05/09/europe-responds-to-irans-nuclear-deal-threat.html
--------
Amnesty slams French weapons sales to Saudi, says Paris no longer trusted
May 10, 2019
Amnesty International has condemned France's weapons sales to Saudi Arabia despite the kingdom's deadly war on Yemen, saying Paris cannot be trusted on claims that the weapons are not being used against civilians.
On Thursday, French human rights protesters sought to block the loading of weapons onto a Saudi vessel that was due to dock in northern France later in the day.
Weeks ago investigative website Disclose had published leaked documents that showed Saudi Arabia was using French weapons including tanks and laser-guided missile systems, against civilians in Yemen's war.
Faced with Growing criticism, French President Emmanuel Macron admitted that the weapons were indeed being used in the war but only within Saudi Arabia's border.
"I would like to say here that what we reiterated was the guarantee for them (the arms) not be used against civilian populations," he said.
Aymeric Elluin, Amnesty's advocacy officer for weapons and international justice, said Macron's words were no longer trustworthy because France was constantly changing its discourse.
"We were told the arms were only used for defensives purposes, and all of a sudden we're being told 'we never said there weren't any French weapons being used in Yemen, we said we didn't have proof that French weapons were used to kill civilians'," she said, "So, France's word is a vast gibberish, we cannot trust what they say."
"The world now knows that the weapons are used in violation of humanitarian law with civilian targets that are deliberately targeted," she added.
One of the main arms suppliers of Saudi Arabia, Paris has faced increasing pressure to review its sales to the oil rich kingdom.
French Armed Forces Minister Florence Parly said Wednesday that the vessel would load French arms ordered years ago.
The website Disclose said this week that the shipment included as many as eight howitzer Caesar cannons, manufactured by Nexter.
"So today, when faced with information showing that France is delivering Caesar cannons, one can only contest this because it would be illegal, because it means France knows its weapons could be used to commit atrocities," Elluin said.
This is while France has yet to even offer public guarantees and has never offered to say "'French weapons will never be used to kill civilians.'"
Paris is a signatory of the UN Arms Trade Treaty, which oversees the international trade of conventional weapons.
Ship tracking data showed Saudi vessel the Bahri-Yanbu had been waiting off French coast since Wednesday evening and had yet to dock at Le Havre. The ship will leave with its cargo on Friday night.
Full report at:
https://www.presstv.com/Detail/2019/05/10/595545/Amnesty-France-Saudi-Arabia-weapons-sales-Iran-Macron-Yemen
--------
Three convicted of terrorism over Australian mosque arson attack
9 May 2019
An Australian jury on Thursday found three men guilty of terrorism after they set fire to a mosque in the southern state of Victoria in December 2016.
Sunni Muslims Ahmed Mohamed, Abdullah Chaarani and Hatim Moukhaiber set fire to a Shiite mosque in a suburb of Melbourne.
Two had plotted an attack in central Melbourne just weeks later and were convicted of conspiring to plan a terrorist attack last year.
They had bought machetes and explosives and tried to get a gun license before they were arrested, according to media reports.
The three have yet to be sentenced.
Australia, a staunch US ally that sent troops to Afghanistan and Iraq, has been on heightened alert for attacks by home-grown militants returning from fighting in the Middle East or their supporters.
Last year, a Somali-born man set fire to a pickup truck laden with gas cylinders in the center of Melbourne and stabbed three people, killing one, before he was shot by police.
Full report at:
https://english.alarabiya.net/en/News/world/2019/05/09/Three-convicted-of-terrorism-over-Australian-mosque-arson-attack.html
--------
UK police arrest 4 over 'terrorism' in Northern Ireland
May 9, 2019
The British police have arrested four men for their suspected involvement in separatist activities in the province of Northern Ireland.
The arrests early on Thursday came less than a month after riots in the Northern Irish city of Londonderry which left a 29-year-old journalist Lyra McKee dead.
"As part of this morning's operation detectives carried out searches at four houses in the city and arrested four people in connection with the violence which was orchestrated on the streets of Creggan on the evening of Lyra McKee's murder," said senior police official.
The Police Service of Northern Ireland said in a statement that those arrested were four males aged 15, 18, 38 and 51.
The arrests, which came under terrorist legislation, the term used by British government to describe separatist activities in Northern Ireland, marks a new escalation in a crackdown in the region where separatists have intensified their struggle for a merger with the Republic of Ireland.
The riots last month came following a major bomb attack in Londonderry in January and two shootings a month later.
All of those attacks have been claimed by The New IRA, an offshoot of the Irish Republican Army which has been viewed as defunct following a 1998 peace treaty in Northern Ireland.
The new surge in separatist activities comes amid a political vacuum in Northern Ireland, where political parties have failed to agree on the establishment of a devolved government.
Full report at:
https://www.presstv.com/Detail/2019/05/09/595534/UK-Irish-separatism-arrests-Londonderry
--------
Three convicted of terrorism over Australian mosque arson attack
May 09, 2019
MELBOURNE: An Australian jury on Thursday found three men guilty of terrorism after they set fire to a mosque in the southern state of Victoria in December 2016.
Sunni Muslims Ahmed Mohamed, Abdullah Chaarani and Hatim Moukhaiber set fire to a Shiite mosque in a suburb of Melbourne.
Two had plotted an attack in central Melbourne just weeks later and were convicted of conspiring to plan a terrorist attack last year. They had bought machetes and explosives and tried to get a gun license before they were arrested, according to media reports.
The three have yet to be sentenced.
Australia, a staunch US ally that sent troops to Afghanistan and Iraq, has been on heightened alert for attacks by home-grown militants returning from fighting in the Middle East or their supporters.
Last year, a Somali-born man set fire to a pickup truck laden with gas cylinders in the center of Melbourne and stabbed three people, killing one, before he was shot by police.
Full report at:
http://www.arabnews.com/node/1494726/world
--------
Germany urges diplomatic solution with Iran
Ayhan Şimşek
09.05.2019
BERLIN
Germany's chancellor on Thursday urged Iran to fully implement the nuclear deal it signed with world powers, despite growing tensions with the U.S.
Following a summit of European leaders in the Romanian city of Sibiu, Angela Merkel underlined the EU's continued commitment to the nuclear deal with Iran during a news conference.
"As European Union, we do not wish for an escalation, we work for using diplomatic means. We are also aware of our limitations," she said.
Her remarks came a day after Iran threatened to abandon parts of the deal because of unfulfilled promises of world powers and new U.S. sanctions on Tehran.
She expressed hope to find a solution to current problems.
"With its commitment to this diplomatic solution, Iran has an opportunity to show very clearly that it has an interest in the peaceful solution. It is a value added for Iran too, to continue to be committed to this agreement," she said.
Merkel said the deal, also known as Joint Comprehensive Plan of Action (JCPOA), was still the best way to resolve disagreements with Iran on its nuclear program.
"We think that a negotiated solution is the best possible option. This agreement is good for both sides. And Iran should also reflect very much as to what it intends to do in future. Our hand remains stretched out and we want to continue working for the diplomatic solution," she said.
World powers agreed in 2015 to lift economic sanctions imposed on Iran in return for Tehran agreeing to limit its nuclear activity to peaceful and civilian purposes.
The agreement was signed between Iran and Russia, China, France, the U.K., and the U.S., plus Germany.
U.S. President Donald Trump unilaterally withdrew from the deal last year, accusing Iran of cheating on the agreement.
Full report at:
https://www.aa.com.tr/en/europe/germany-urges-diplomatic-solution-with-iran/1474635
--------
UK shares 'grave' concerns on Libya
Ahmet Gurhan Kartal
09.05.2019
LONDON
The British government shares Libyan Prime Minister Fayez Al-Serraj's concerns over the latest situation in Libya, Foreign Secretary Jeremy Hunt said Thursday.
Hunt's comments came following his and Prime Minister Theresa May's meetings in London with the visiting prime minister of Libya.
May and Hunt discussed with Serraj "the UK's commitment to building international support for a cease-fire and the need for all sides to make compromises in the pursuit of peace," according to a government statement.
"The UK government shares Prime Minister Serraj's grave concern at the situation across Libya, where the security and humanitarian situation continues to deteriorate," Hunt said.
"Recent violence has caused the displacement of thousands of people and blocked emergency aid to casualties, including civilians. It is imperative that all parties respect international humanitarian law," he said.
"In our discussions today, we called on Prime Minister Serraj to encourage all sides to commit to a cease-fire, secure humanitarian access for those desperately in need and return to UN-led political negotiations," Hunt added.
"We've been clear that there can be no military solution in Libya -- diplomacy is the only way to bring this bloodshed and uncertainty to a close," he said.
In early April, a renegade military commander, Khalifa Haftar, who commands forces loyal to a rival government based in eastern Libya, launched a wide-ranging campaign to take the capital Tripoli.
After more than a month of sporadic fighting on Tripoli's outskirts, however, Haftar's campaign has failed to achieve its primary objective.
Haftar's forces have managed to surround the city of Zuwara, located some 100 kilometers west of Tripoli, from the east and south. Zuwara is of considerable strategic importance as it controls the Ras Ajdir border crossing with Tunisia.
Haftar has also succeeded in taking the city of Garyan, located roughly 100 kilometers south of Tripoli, allowing his forces to cut the desert road linking Tripoli to the Dehiba Wazin crossing.
Libya has remained beset by turmoil since 2011, when long-serving leader Muammar Gaddafi was ousted and killed in a bloody NATO-backed uprising after four decades in power.
Full report at:
https://www.aa.com.tr/en/africa/uk-shares-grave-concerns-on-libya/1474633
--------
Turkey works insistently for full EU membership:Erdogan
Beyza Binnur Dönmez
09.05.2019
The Turkish president on Thursday reiterated his vow to gain full membership in the European Union despite counter-efforts.
"Turkey proceeds on its way persistently despite those trying to exclude it from the European family," Recep Tayyip Erdogan told the Reform Action Group meeting in the capital Ankara held to discuss the country's stalled EU accession process.
Erdogan stressed that Turkey has been struggling to become a full member of the EU for the last 60 years.
"Despite all the double standards we have been facing in our accession negotiations, Turkey is determined to become a full member of the European Union as a strategic objective," said Erdogan in a statement on Europe Day.
The EU needs Turkey more than Turkey needs the EU, Erdogan stressed.
Without Turkey, it is not possible for the EU to successfully fight the threats to its core values, he added.
"EU membership is meaningful in the equation in which both sides gain. Nobody can force Turkey to accept an equation that is harmful," Erdogan said.
Turkey applied for the EU membership in 1987 and accession talks began in 2005.
But negotiations stalled in 2007 due to objections of the Greek Cypriot administration on the divided island of Cyprus as well as opposition from Germany and France.
Erdogan emphasized that Turkey is continuing to protect its eastern and western borders, not only for national security, but also for Europe's security, referring to more than 4 million refugees hosted by the country.
Turkey has yet to see how sincere the EU is about visa liberalization when Turkey fulfills the remaining six criteria out of a total of 72, he said.
In 2016, Turkey and the EU signed a deal aiming to stem the irregular migration flow through the Aegean Sea by taking stricter measures against human traffickers and improving conditions for nearly 3 million Syrian refugees in Turkey.
The deal also allows for the acceleration of Turkey's EU membership bid and visa-free travel for Turkish nationals within the Schengen area, on the condition that Ankara meets all 72 requirements set by the EU.
Full report at:
https://www.aa.com.tr/en/economy/turkey-works-insistently-for-full-eu-membershiperdogan/1474460
--------
URL: https://www.newageislam.com/islamic-world-news/fears-new-islamist-academies-iraqi/d/118558
New Age Islam, Islam Online, Islamic Website, African Muslim News, Arab World News, South Asia News, Indian Muslim News, World Muslim News, Women in Islam, Islamic Feminism, Arab Women, Women In Arab, Islamophobia in America, Muslim Women in West, Islam Women and Feminism