New Age Islam News Bureau
4 Jan 2014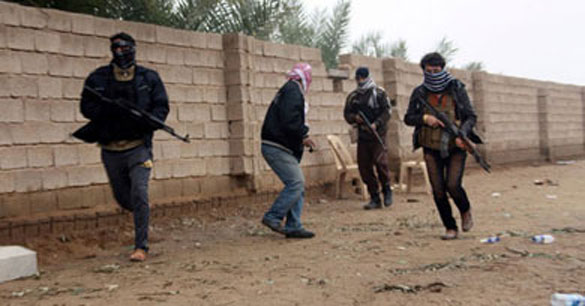 Gunmen walk in the streets of the city of Falluja, 50 km (31 miles) west of Baghdad January 3, 2014— Photo by Reuters
--------
India
• Fearing Jamaat-e-Islami Crossover from Bangladesh, India Seals Border
• Polio vaccination mandatory for Pakistanis traveling to India
• India not keen on closing mission in South Sudan
• Mirwaiz-led Hurriyat expels prominent leaders
Arab World
• Over 100 die as Iraq forces battle Al Qaeda
• Anbar violence goes beyond sectarian conflict in Iraq
• Qatar Criticizes Egypt's Crackdown on Islamist Protesters
• Qaeda-Linked Insurgents Clash with Other Rebels in Syria, as Schism Grows
• Syrian opposition turns on al-Qaida-affiliated Isis jihadists near Aleppo
• Death toll in latest Egypt clashes rises to 17
• Bahrain accuses Iran of training opposition militants
Pakistan
• Altaf threatens separate province for Urdu speaking Sindhis
• Majlis Wahdat-e-Muslimeen stages demos in Pakistan, London
• Musharraf being targeted because he is 'Muhajir': MQM chief
• Jamaat-i-Islami chief asks Mush not to leave country
• At least 11 people killed in Karachi violence
• Jamiat Ulema-e-Islam sets peace talks process into motion
• Back channel talks are on with India: Pak PM's adviser
• Ahl-i-Sunnat Wal Jamaat's Islamabad general secretary shot dead in capital
• Bomb blast in Sibi kills 2, injures several others
• Govt not seems serious by giving task to Sami ul Haq for talks with TTP: Fazl
North America
• Muslim scholar discovered America 500 years before Columbus
• US delegation aims to learn about religious tolerance
• Oklahoma media delegation tours Bangladesh
• HBO Documentary on Islamophobia to Feature CAIR-MI Reps
• Taliban fighters' release delayed after US protest: official
Africa
• Ex-Tanzania president meets Kibuli Muslim clerics
• Children are new targets in CAR's conflict
• South Sudan warring parties set for direct peace talks
• Tunisia papers downbeat on constitution vote
• Libya beach killings have added to the unease for expats in Tripoli
Europe
• EU, US decline to send election observers to Bangladesh
• 935,000 people displaced in Central African Republic, says UN
• No tolerance to Turkish names in Bulgaria
South Asia
• Amid US pressure, Afghanistan seeks Muslim states' help
• Khaleda killing democracy, PM to Times
• Bangladesh Bishop Calls for Peace amid Pre-Election Violence
• Afghan panel finds 88 Bagram prisoners innocent
• Blast kills 4 Afghan intelligence operatives in Khost
• Blast kills 3 policemen in Nangarhar province
Mideast
• Turkey to urge for cease-fire in Syria ahead of Geneva talks
• No parallel organization within state can be tolerated: President Gül
• Turkey charges 36 Gezi protesters with terrorism
• Israel denies accusations of killing perpetrators of AMIA, embassy bombings
• Blast killing Palestinian envoy 'not an accident': Daughter
Southeast Asia
• Use peaceful means, not protest, to resolve issues, say Malaysian non-Muslim groups
• Authorities must respect Malaysians' right to religious freedom, says Suhakam
• Jais has no power over non-Muslims, Christian group reminds churches
• No law to charge priest with treason in 'Allah' row, say lawyers
For Details and More Headlines from All Regions, Please click, 'More'
URL: https://www.newageislam.com/islamic-world-news/new-age-islam-news-bureau/fearing-jamaat-e-islami-crossover-from-bangladesh,-india-seals-border/d/35141
------------
India
Fearing Jamaat-e-Islami Crossover from Bangladesh, India Seals Border
Jan 4, 2014
Underscoring a strong apprehension that elements belonging to the fundamentalist Jamaat-e-Islami in Bangladesh may infiltrate into India during the national polls on Sunday, India has ordered sealing of the international border for three days from Saturday.
"We have asked our soldiers to keep an intense watch on the border situation. Our men, with available gadgets, remain vigilant round-the-clock along the borders, especially where a substantial number of people reside across the border," said BSF chief public relations officer Bhaskar Rawat.
A large stretch of the 4,096-km border with Bangladesh is unfenced, unguarded and therefore porous.
Intelligence reports have issued several warnings of the strong possibility of Jamaat elements trying to cross over into India due to a clampdown by the Bangladesh government.
Sealing the border, which would involve bolstering of border-patrolling and increased vigil, is however easier said than done.
"Sealing the Indo-Bangla border is next to impossible because of the terrain and lack of infrastructure. There is hundreds of villages' right on the border," said EN Rammohan, former DG, BSF, and who has served extensively in the area.
"The fear of infiltration by such elements is however very real as it is far easier for them to slip into India and take shelter than doing something similar in Bangladesh."
The opposition Bangladesh Nationalist Party (BNP) which leads a clutch of 18 parties along with the Jamaat-e-Islami has been on a violent campaign demanding postponement of the polls and holding them under a neutral caretaker government. The Prime Minister Sheikh Hasina-led Awami League party-led coalition government has rejected this demand.
According to media reports, several hundred people have already died in widespread violence in the past several weeks.
http://www.hindustantimes.com/india-news/fearing-jamaat-crossover-from-bangladesh-india-seals-border/article1-1169156.aspx
------------
Polio vaccination mandatory for Pakistanis traveling to India
Omer Farooq Khan,TNN | Jan 4, 2014
ISLAMABAD: The Indian high commission in Islamabad on Friday extended the deadline from January 30 to February 14 for all travelers from Pakistan to India to obtain oral polio vaccination and its certificate.
Last month India had announced that Pakistani travelers will not be allowed to enter India after January 30, 2014 if they have not been administered Oral Polio Vaccination (OPV) at least six weeks prior to their departure for India.
"Travelers from Pakistan to India after January 30 will require carrying their vaccination record as evidence of polio vaccination. They will be requested to show their record of vaccination for entry into India," said the statement.
In earlier statement the High Commission had said, "The step was being taken to safeguard India's polio-free status, attained after sustained efforts and investment."
"It is applicable to all travelers from all countries where polio disease is endemic or where cases of polio are reported," the statement said. "It is also applicable to Indian nationals traveling to and from these countries."
India was removed from the World Health Organization's list of countries where polio remains endemic in 2012. Pakistan, Nigeria and Afghanistan are now the only countries in the world where the highly infectious disease remains a problem.
The Pakistani polio virus has reportedly affected at least five countries in the past 23 months, and has become a threat to other countries as well.
Even the European health journal, The Lancet Medical Journal, has warned that the Pakistani polio virus could become a threat to Europe.
In January 2012, 21 children in a Chinese province were affected by polio and it was confirmed that the virus strain had been transmitted from Pakistan after its DNA was analysed.
In December 2012, the same virus was detected in Al Azhar University, Egypt. In March 2013, the virus was then recorded in Palestine, and three months later, the same strain was detected in Israel.
In October 2013, Unicef confirmed that the virus had also been transmitted to Syria from Pakistan.
http://timesofindia.indiatimes.com/world/pakistan/Polio-vaccination-mandatory-for-Pakistanis-traveling-to-India/articleshow/28363297.cms
----------
India not keen on closing mission in South Sudan
SANDEEP DIKSHIT
Jan 4, 2014
While many countries are closing their missions due to the civil war hit South Sudan, Indian has no such intentions. On Friday, the U.S. became the latest country to announce the evacuation of most of the personnel from the Juba mission which would now run with bare minimum staff.
A team of senior Indian official that left for Juba on Saturday for an on-ground assessment, may in fact examine if the Indian Embassy needs to be further strengthened in light of key Indian interests, said official sources in the Ministry of External Affairs (MEA).
The team, led by Joint Secretary (West Asia & North Africa) in MEA Sandeep Kumar, will also visit Adis Ababa which is becoming the focus of peace talks between the Government and an ethnic group led by former South Sudan Vice President Riek Machar.
All eyes are set on Addis Ababa because the South Sudan delegation led by former foreign minister Nhial Deng Nhial and representatives of Mr. Machar have reached the Ethiopian capital to meet mediators from the Inter-Governmental Authority on Development (IGAD, an eight nation regional grouping, with a host of special envoys and diplomats from western countries, who had actively encouraged the secession of South Sudan, on the sidelines.
The Indian team will also meet IGAD mediators who are supporting this political dialogue between the warring South Sudanese factions.
But one of the prime short-term purposes of the Indian team will be to examine the operational conditions of 2,000 Indian army personnel who have lost soldiers including a Lt. Colonel in South Sudan last year. The Army lost three men after its camp was overrun last month by members of a tribe hunting down those who had taken refuge. In a deadlier incident in April last year, five Indian Army personnel including an officer were shot dead in an ambush.
In last month's incident, the threat to the remaining army men was rated so severe that they had to be evacuated by air. In view of the tough situation, the army eschewed usual rotational procedures and decided to send back Brig. Asit Mistry to serve a second term as the deputy chief of the United Nations Mission in South Sudan (UNMISS).
India has been vocal about its displeasure over being kept out of consultations on the current tendency to mix assault and peacekeeping troops. It has also spoken at the United Nations to go after the killers of peacekeeping troops.
India also has burgeoning economic stakes in South Sudan. Indian companies have 25 per cent stake in a South Sudan oil company whose crude is sent across Sudan by an India-built pipeline. The two Sudans are estimated to have the third largest crude reserves in Africa after Nigeria and Angola. Many Indian corporates are also active in both countries.
In view of its interests in the country, India had named a Special Envoy well before South Sudan became independent in 2011 and was among the first to open a consulate in Juba, four years before it formally became the national capital.
http://www.thehindu.com/news/national/india-not-keen-on-closing-mission-in-south-sudan/article5538152.ece
------------
Mirwaiz-led Hurriyat expels prominent leaders
Jan 4, 2014
Fissures have surfaced in the 'moderate' faction of Kashmir's separatist conglomerate All-Party Hurriyat Conference (APHC) with its chairman Mirwaiz Umar Farooq terminating the membership of some key constituents represented by some senior leaders.
"The APHC has terminated the representation of Shabir Ahmad Shah [Democratic Freedom Party], Nayeem Ahmad Khan [National Front] and Mohammad Azam Inquilabi [Mahaz-e-Azadi] for their indiscipline, anti-Hurriyat activities and continued absence from meetings for the last over 18 months. Following their differences with some of the APHC leaders, we constituted enquiries, called them for cooperating with the investigation and maintain the organisational disciple. As they chose to be not amenable and ignored all invites and opportunities, we were constrained to fulfil the constitutional requirements. They are no more members of the APHC," the Mirwaiz told The Hindu on Friday.
The Mirwaiz confirmed having mailed a letter, a copy of which is with The Hindu, to the APHC's PoK convener Yousuf Naseem on December 27, following the APHC executive council's decision, with the direction that the representatives of some constituents may no longer be invited to the group's meeting in Muzaffarabad.
http://www.thehindu.com/news/national/other-states/mirwaizled-hurriyat-expels-prominent-leaders/article5536403.ece
------------
Arab World
Over 100 die as Iraq forces battle Al Qaeda
Jan 4, 2014
RAMADI (Iraq): More than 100 people were killed on Friday as Iraqi police and tribesmen battled Al Qaeda-linked militants who took over parts of two Anbar provincial cities, announcing one an Islamic state.
Parts of Ramadi and Fallujah, west of Baghdad, have been held by militants for days, harkening back to the years after the 2003 US-led invasion when both cities were insurgent strongholds.
Fighting began in the Ramadi area on Monday, when security forces removed the main anti-government protest camp set up after demonstrations broke out in late 2012 against what Sunni Arabs say is the targeting of their community.
Anger at the government among the Sunni minority is seen as one of the main drivers of the worst violence to hit Iraq in five years.
Police and tribesmen fought in Ramadi and Fallujah on Friday against militants from Al Qaeda-linked group the Islamic State of Iraq and the Levant (ISIL), which operates in Iraq and Syria, security officials said.
At least 32 civilians and 71 ISIL fighters died in the clashes, the officials said, adding that they did not know how many police and tribesmen were killed.
Fallujah was the target of two assaults after the 2003 US-led invasion, in which American forces saw some of their heaviest fighting since the Vietnam War.
http://www.dawn.com/news/1078255/over-100-die-as-iraq-forces-battle-al-qaeda
-----------
Anbar violence goes beyond sectarian conflict in Iraq
Jan 4, 2014
The attacks on the main police station in Fallujah on Wednesday, followed by the takeover of other police stations there and Ramadi on the following day, are part of the escalation in the Sunni-Shia sectarian conflict that has long plagued Iraq and reached its worst point in 2006-2007.
But the violence is also part of the broader malaise affecting all Iraqi provinces, including some of the major Shia ones, as Prime Minister Nouri Maliki seeks to tighten his own political control and power, and in the process to impose a highly centralised system of control, which most provinces are beginning to resent.
Full report at:
http://www.bbc.co.uk/news/world-middle-east-25598698
---------
Qatar Criticizes Egypt's Crackdown on Islamist Protesters
By REUTERS
Jan 4, 2014
DUBAI — Qatar said on Saturday a decision by Egypt to designate the Muslim Brotherhood a terrorist group was "a prelude to a shoot-to-kill policy" against demonstrators.
Qatar was a firm supporter of Egypt's former Islamist President Mohamed Mursi and ties with Cairo have deteriorated since the army deposed him in July following mass protests against his year-long rule.
Egypt accuses Qatar and its Doha-based Al Jazeera television channel of backing the Muslim Brotherhood, which it declared a terrorist organization on December 25. Thousands of its members have been arrested.
Qatar's ambassador to Cairo, Saif Moqadam Al-Boenain, has been summoned to the Foreign Ministry, spokesman to Egypt's Foreign Ministry Badr Abdelatty said without giving details.
A Qatari Foreign Ministry statement said: "The decision to designate popular political movements as terrorist organizations, and labeling peaceful demonstrations as terrorism, did not succeed in stopping the peaceful protests.
Full report at:
http://www.nytimes.com/reuters/2014/01/04/world/middleeast/04reuters-egypt-brotherhood-qatar.html?partner=rss&emc=rss&_r=0
-----------
Qaeda-Linked Insurgents Clash With Other Rebels in Syria, as Schism Grows
By HWAIDA SAAD and RICK GLADSTONE
Jan 4, 2014
BEIRUT, Lebanon — Deadly clashes were reported Friday in northern Syria between Sunni Islamist jihadists linked to Al Qaeda and insurgents in other alliances, punctuating a growing schism within the armed Syrian opposition over the power exerted by its religiously radicalized members, many of them from other countries.
Antigovernment activists in the Aleppo area said that fighting had broken out near the Idlib Province town of Atareb, west of Aleppo, pitting members of the Islamic State of Iraq and Syria, or ISIS, a powerful Qaeda affiliate that includes foreign fighters, against an array of seven homegrown Syrian rebel groups. The rebels call themselves the Mujahedeen Army, and they resent what they see as the affiliate's hijacking of their struggle, now nearly three years old, to depose President Bashar al-Assad.
Full report at:
http://www.nytimes.com/2014/01/04/world/middleeast/qaeda-insurgents-in-syria.html
-----------
Syrian opposition turns on al-Qaida-affiliated Isis jihadists near Aleppo
Jan 4, 2014
Syrian rebel alliance surrounds forces of hardline Islamic State of Iraq in Syria as fighting against same group continues in Iraq
The most serious clashes yet between the Syrian opposition and a prominent al-Qaida group erupted in the north of the country on Friday as a tribal revolt against the same organisation continued to rage in Iraq's Anbar province.
Opposition groups near Aleppo attacked militants from the Islamic State of Iraq in Syria (Isis) in two areas, al-Atareb and Andana, which are both strongholds of the fundamentalist Sunni organisation.
Full report at:
http://www.theguardian.com/world/2014/jan/03/syrian-opposition-attack-alqaida-affiliate-isis
-----------
Death toll in latest Egypt clashes rises to 17
AP | Jan 4, 2014
CAIRO: The death toll from the latest violent clashes in Egypt between Islamist protesters and security forces has risen to 17, a security official said on Saturday.
Friday's protests were the deadliest in months, coming less than two weeks ahead of a key referendum on an amended constitution.
Raging street battled gripped Cairo and other heavily populated residential areas in several cities and provinces such as Alexandria, Ismailia, Fayoum and Minya. Hundreds of Muslim Brotherhood members and their supporters threw fire bombs and rocks at security forces who responded with water cannons and tear gas.
Full report at:
http://timesofindia.indiatimes.com/world/middle-east/Death-toll-in-latest-Egypt-clashes-rises-to-17/articleshow/28399028.cms
------------
Bahrain accuses Iran of training opposition militants
Jan 4, 2014
Bahrain accused Iran's Revolutionary Guards Friday of providing opposition militants with explosives training in order to carry out attacks in the Gulf kingdom, announcing that it had arrested five suspects.
Bahrain is ruled by a Sunni Muslim dynasty but has a population that is majority Shiite. The government crushed a mostly Shiite-led uprising in 2011 and has long accused predominantly Shiite Iran of meddling in its affairs.
Chief prosecutor Osama al-Oufi said the intelligence service reported last month that "Bahraini Ahmed Mahfuz Mussawi, currently living in Iran, had planned terrorist bombing operations targeting institutions and places vital to the sovereignty and security of the kingdom."
Full report at:
http://english.ahram.org.eg/NewsContent/2/8/90733/World/Region/Bahrain-accuses-Iran-of-training-opposition-milita.aspx
------------
Pakistan
Altaf threatens separate province for Urdu speaking Sindhis
2014-01-04
KARACHI: In a no holds barred attack on his party's former coalition partners, Muttahida Qaumi Movement (MQM) chief Altaf Hussain on Friday evening said if their demands are unacceptable to the ruling Pakistan People's Party (PPP) then Urdu speaking Sindhis should be given a separate province.
Speaking to the party workers in Hyderabad in the wake of upcoming local government polls, he demanded equal rights for Urdu and Sindhi speaking population of Sindh.
He also threatened that the demand of a separate province can quickly turn into a demand of a separate country for Urdu speakers of Sindh.
Severally criticizing the provincial government regarding new delimitations before the LG elections, the MQM chief alleged that the PPP wants to keep away from the polls.
"Torch bearers of democracy had never been able to hold local government elections," Hussain said sarcastically in an obvious reference to the PPP.
Awarding a legal victory to the MQM, the Sindh High Court (SHC) on Dec 30 ruled all amendments made to the Local Government Ordinance unconstitutional, paving way for the polls to be conducted under previous delimitations.
Full report at:
http://www.dawn.com/news/1078153/altaf-threatens-separate-province-for-urdu-speaking-sindhis
------------
Majlis Wahdat-e-Muslimeen stages demos in Pakistan, London
Jan 4, 2014
LAHORE - Majlis Wahdat-e-Muslimeen (MWM) on Friday staged protest demonstrations across the country as well as in London against the government's failure to stop the growing target killings of members of the Shiite community.
A good number of MWM activists and members of Shiite community participated in protest demonstrations staged in Lahore, Rawalpindi, Faisalabad, Gujranwala, Sheikhupura, Jehlum, Multan, Rahimyar Khan, Khanewal, Kot Addu, Sahiwal, Muzaffargarh, Pakpattan and Bahawalpur.
A protest demonstration was staged in front of Lahore Press Club (LPC) which was led by MWM Lahore chapter Secretary General Allama Imtiaz Kazmi.
MWM leaders Allama Abuzar Mehdi, Allama Hamd Iqbal Rizvi, Allama Syed Jaffer Mousavi and other leaders also participated in the demonstration.
Full report at:
http://www.nation.com.pk/lahore/04-Jan-2014/mwm-stages-demos-in-pakistan-london
------------
Musharraf being targeted because he is 'Muhajir': MQM chief
Jan 4, 2014
Coming to the defence of Pervez Musharraf, Mutthaida Qaumi Movement chief Altaf Hussain has said the embattled former Pakistani military ruler was being targeted because he is 'Muhajir' (a refugee from India).
"What are you doing to Musharraf, a Muhajir?...Punish Musharraf if you want, but also imprison those who acted upon the martial law orders on ground...Why are others being excused?", he asked while addressing a gathering of his followers in Hyderabad in Sindh province on Friday.
"(Former army chief Ashfaq Parvez) Kayani, ex-Chief Justice Iftikhar Chaudhry and other judges are also part and parcel of extra-judicial acts," he claimed.
Mr. Hussain, who stays in London but regularly addresses MQM workers on phone, is himself a Muhajir. The family of 70-year-old Mr. Musharraf, who is facing trial for treason for imposing emergency in 2007, migrated to Pakistan from Delhi.
Full report at:
http://www.thehindu.com/news/international/south-asia/musharraf-being-targeted-because-he-is-muhajir-mqm-chief/article5538283.ece
------------
Jamaat-i-Islami chief asks Mush not to leave country
January 04, 2014
LAHORE - Jamaat-i-Islami chief Syed Munawar Hasan has advised former President Pervez Musharraf to refuse to go abroad for treatment so that he can be able to defend himself in the charges against him.
Addressing a Press conference at Mansoora at the start of the JI shura meeting on Friday, he said that some political and non-political forces wanted to save the military dictator from punishment.
He said that instead of the Defence Minister Khawaja Muhammad Asif, the ISPR should have issued a statement to explain the Armed Forces position on the issue.
Munawar said if Pervez Musharraf was sent abroad, the common man would believe that the ex- General had been allowed to flee from the country.
Full report at:
http://www.nation.com.pk/lahore/04-Jan-2014/ji-asks-mush-not-to-leave-country
------------
At least 11 people killed in Karachi violence
2014-01-04
KARACHI: At least 11 people were killed in different incidents of violence in Karachi on Saturday, DawnNews reported.
Unknown gunmen opened indiscriminate fire at a juice shop near Maskan Chowrangi in Gulshan-e-Iqbal, killing the shop owner and two other people whereas four others sustained severe injuries in the attack and were shifted to a private hospital for treatment.
According to the police, Maskan Chowrangi and adjacent areas were being targeted by the group which perpetrated the attack. Shopkeepers have been instructed to close their shops at midnight.
Full report at:
http://www.dawn.com/news/1078333/at-least-11-people-killed-in-karachi-violence/print
------------
Jamiat Ulema-e-Islam sets peace talks process into motion
January 04, 2014
ISLAMABAD - The religio-political faction Jamiat Ulema-e-Islam (JUI-S) has informally initiated the process of peace talks with Tehreek-e-Taliban (TTP) by conveying a message to some of its sections.
JUI-S chief Maualana Samiul Haq, who was reportedly given the task by Prime Minister Nawaz Sharif to initiate peace talks with TTP, has given an initial message to Taliban for this purpose.
"Maulana has given a message to TTP about initiation of peace talks, naturally it will take some time to formally bring them on table," said JUI-S chief spokesperson Yusuf Shah, while talking to The Nation here on Friday.
Maulana's message has yet not been given to all of TTP groups as it could take some time in Full report at:
http://www.nation.com.pk/national/04-Jan-2014/jui-s-sets-peace-talks-process-into-motion
------------
Back channel talks are on with India: Pak PM's adviser
PTI | Jan 4, 2014
ISLAMABAD: Back channel talks are on with India on Kashmir' Sir Creek and Siachen issues, Pakistan Prime Minister's adviser on national security and foreign affairs Sartaj Aziz said.
However' he said that any breakthrough or forward movement on these issues could only be expected after the elections in India.
He said it is Pakistan's "utmost endeavour" to improve relations with India.
Though the composite dialogue is facing delay due to the elections in India but certain groups on trade' energy and visa are in negotiations with each other, Aziz told state-run Radio Pakistan.
Full report at:
http://timesofindia.indiatimes.com/world/pakistan/Back-channel-talks-are-on-with-India-Pak-PMs-adviser/articleshow/28389336.cms
------------
Ahl-i-Sunnat Wal Jamaat's Islamabad general secretary shot dead in capital
2014-01-03
ISLAMABAD: General Secretary of Ahl-i-Sunnat Wal Jamaat's (ASWJ) Islamabad chapter, Mufti Muneer Muawiya, and an office-bearer of the Sunni Muslim group, Qari Asad Mahmood, were shot dead in Islamabad's I-8 sector in a rare attack on Friday, officials said after weeks of sectarian tensions in the country.
The two were in a car when unknown gunmen started shooting at their vehicle in a residential area bordering the twin city of Rawalpindi.
"Two unknown gunmen sprayed bullets on their car and escaped from the scene on a motorcycle," Ghazanfar Niaz Ahmed, an official on duty in the local police station, told AFP.
Another police official Muhammed Nawaz, who was at the crime scene, confirmed that the victims were from the ASWJ.
Full report at:
http://www.dawn.com/news/1078147/aswjs-islamabad-general-secretary-shot-dead-in-capital
------------
Bomb blast in Sibi kills 2, injures several others
January 4, 2014
SIBI: Two people were killed and several others injured in a bomb blast in Bakthiarabad in Sibi, Express News reported on Saturday.
The injured were taken to the Civil Hospital for medical assistance.
According to Levies personnel, the bomb was planted in a motorcycle.
Previous blast
On September 22, at least 21 people including a local journalist were injured in a remote-controlled bomb blast that tore through the Nishtar Road near Sibi town.
"The bomb contained about a kilogramme of explosive material," District Police Officer Sibi Ghulam Abbas had said.
http://tribune.com.pk/story/654778/bomb-blast-in-sibi-kills-2-injures-several-others/
------------
Govt not seems serious by giving task to Samiul Haq for talks with TTP: Fazl
Jan 4, 2014
Ameer Jamiat Ulema-e-Islam (JUI-F) Maulana Fazlur Rehman has said that the Pakistan Muslim League (PML-N) led federal government doesn't seem to be serious in handing peace dialogues task to the JUI-S chief, Maulana Sami-ul-Haq.
Talking to a private TV channel here on Friday, Maulana Fazlur Rehman said that a section of media was unnecessarily rousing the issue that Mulana Sami-ul-Haq has been tasked for peace talks with the Tehreek-e-Taliban Pakistan (TTP) and he was in contact with some groups of the Taliban.
Full report at:
http://www.nation.com.pk/islamabad/03-Jan-2014/govt-not-seems-serious-by-giving-task-to-samiul-haq-for-talks-with-ttp-fazl
------------
North America
Muslim scholar discovered America 500 years before Columbus
World Bulletin / News Desk
04 January 2014
Amid the growing wave of pessimism regarding the so called 'official story' that has for centuries attempted to convince the world that Spanish explorer Christopher Columbus was the first person to discover the Americas, an article which claims that central Asian Muslim scholar Abu Raihan al-Biruni discovered the continent centuries before Columbus has come to light.
Writing in History Today, S. Frederick Starr explained that the Muslim scholar had indeed discovered the Americas long before Columbus set sail in 1498. According to the article, Abu Raihan al-Biruni, who was born in the year 973 in what is today known as Uzbekistan, was the first person to officially suggest that an undiscovered landmass in the ocean between the Europe and Asia actually existed.
Although al-Biruni, who made the claim in the early eleventh century, never himself laid eyes on the Americas, his unmatched expertise on geography and mapping led him to the conclusion that the known world – which spanned from the west coasts of Europe and Africa to the east coasts of Asia – only accounted for two-fifths of the world.
Full report at:
http://www.worldbulletin.net/?aType=haber&ArticleID=126242
-----------
US delegation aims to learn about religious tolerance
Jan 4, 2014
MUSCAT The Ministry of Awqaf and Religious Affairs received a delegation representing American universities on a visit to the Sultanate.
The delegation aims to learn about the Sultanate and its experience in the area of religious tolerance and coexistence within the activities and programmes of the Message of Islam Exhibition organised and supervised by the ministry.
The delegation was briefed on the prerogatives of the Ministry of Awqaf and Religious Affairs and the efforts of the government and its institutions in this regard.
Mohammed Bin Said Al Ma'amari, Scientific Adviser at the Office of the Minister of Awqaf and Religious Affairs, said that the visit is an extension of the activities and programmes of the Message of Islam Exhibition.
Full report at:
http://www.omantribune.com/index.php?page=news&id=158787&heading=Oman
------------
Oklahoma media delegation tours Bangladesh
Jan 4, 2014
A media delegation from Oklahoma, USA is touring Bangladesh as part of an exchange programme with the support of US Department of State.
The exchange is being implemented in Bangladesh jointly by Brac University's Centre for Entrepreneurship Development and University of Oklahoma's Gaylord College of Journalism and Mass Communication.
The programme was inaugurated in the capital's Brac Centre on Thursday. Participants from US and Bangladeshi media alumni, who had been to Oklahoma on previous programmes, were present at the inaugural ceremony to mark the occasion.
Full report at:
http://www.dhakatribune.com/foreign-affairs/2014/jan/04/oklahoma-media-delegation-tours-bangladesh#sthash.SnJJwupx.dpuf
------------
HBO Documentary on Islamophobia to Feature CAIR-MI Reps
Jan 4, 2014
The Michigan chapter of the Council on American-Islamic Relations (CAIR-MI) today encouraged community members to watch an upcoming premiere of an HBO documentary on Islamophobia, which was filmed in Detroit and features representatives of the Washington, D.C., based Muslim civil rights organization.
"The Education of Mohammad Hussein," which airs Monday, January 6 at 9 p.m. (ET), is a documentary tracking the impact Islamophobia has on both a Detroit student who attends an Islamic school and on his peers and the broader Detroit Muslim community. It also highlights the interfaith community's response to Pastor Terry Jones coming to Dearborn to burn the Quran.
Full report at:
http://www.cair.com/press-center/press-releases/12304-hbo-documentary-on-islamophobia-to-feature-cair-mi-reps.html
------------
Taliban fighters' release delayed after US protest: official
2014-01-04
KABUL: Afghan President Hamid Karzai has delayed the release from jail of 88 suspected Taliban fighters following complaints from the United States that they could return to the battlefield, officials said Saturday.
The planned release had angered US military commanders and senators as Washington and Kabul edge closer to signing a long-delayed security pact allowing some American soldiers to stay in Afghanistan after 2014.
Full report at:
http://www.dawn.com/news/1078352/taliban-fighters-release-delayed-after-us-protest-official
------------
Africa
Ex-Tanzania president meets Kibuli Muslim clerics
04 January 2014
KAMPALA - Former President of Tanzania Hassan Mwinyi visited the Muslim clerics in Kibuli and called for unity among the two factions on Thursday.
Mwinyi was hosted by the founder of Islam in Uganda, Prince Kassim Kakungulu Nakibinge at his residence in Kibuli.
Supreme Mufti Zubir Kayongo and other Muslim clerics were also present.
During their meeting, the former leader called for unity among the Muslims in Uganda and the entire East African region following the integration.
He said the regional integration can easily help the Muslims tap economic opportunities and strengthen their faith in the region once they are united.
Prince Nakibinge said the former President Mwinyi's visit was particularly aimed at harmonizing the Muslims in the two countries – Uganda and Tanzania.
Full report at:
http://www.newvision.co.ug/news/651109-ex-tanzania-president-meets-kibuli-muslim-clerics.html
-----------
Children are new targets in CAR's conflict
04 January 2014
BANGUI - In the latest violence to rock the crisis-prone and poor Central African Republic, children have become deliberate targets of armed gangs, mainly because of their family's faith, aid workers say.
"Before now, children were collateral victims, but today some of them are targeted directly," said Ombretta Pasotti, who coordinates work by the Italian NGO Emergency at the paediatric hospital in Bangui, which took in the first child casualties.
"Attacks against children have sunk to a vicious new low, with at least two children beheaded, and one of them mutilated, in the violence that has gripped the capital...," the UN Children's Fund (UNICEF) said in a December 30 statement.
In all, UNICEF said it had verified 16 killings of children since December 5, while 60 more youths were wounded in clashes that have broken out between Muslim former rebels and militias from the Christian majority.
Full report at:
http://www.newvision.co.ug/news/651114-children-are-new-targets-in-car-s-conflict.html
-----------
South Sudan warring parties set for direct peace talks
PTI | Jan 4, 2014
ADDID ABABA: South Sudan's warring parties were set to begin direct talks on Saturday in a bid to end the conflict pushing the world's youngest nation towards civil war as fighting intensified for control of a key oil town.
The army yesterday moved on rebel-held Bor as government and rebel negotiating teams gathered at a luxury hotel in neighbouring Ethiopia's capital Addis Ababa.
"We have enough forces who will defeat the rebels within 24 hours," army spokesman Philip Aguer said in South Sudan, with reports of intense battles involving tanks and artillery on the outskirts of Bor, a dusty oil town that has already exchanged hands three times since fighting began.
Full report at:
http://timesofindia.indiatimes.com/world/rest-of-world/South-Sudan-warring-parties-set-for-direct-peace-talks/articleshow/28372854.cms
------------
Tunisia papers downbeat on constitution vote
Jan 4, 2014
Tunisian newspapers were decidedly downbeat Saturday in their assessment of the first full day of voting by the National Constituent Assembly on a new constitution.
The assembly began going through the charter on Friday in a process expected to end on January 14, the third anniversary of the ouster of Zine El Abidine Ben Ali in the revolution that sparked the Arab Spring.
Leading Francophone daily La Presse said disputes among MPs, interruptions and procedural problems made for "distressing scenes," suggesting the deadline may not be met.
"Tunisians who expected to see scenes of solemnity as the constitution was being discussed" were disappointed, it said, comparing scenes in the assembly to "a wild arena in which every cheap shot is permitted."
Full report at:
http://english.ahram.org.eg/NewsContent/2/8/90777/World/Region/Tunisia-papers-downbeat-on-constitution-vote.aspx
------------
Libya beach killings have added to the unease for expats in Tripoli
Jan 4, 2014
When the Arab spring swept into Libya in 2011 and swept out Muammar Gaddafi, there was a sudden surge of interest in the country on the part of foreigners wanting to invest. Home to Africa's biggest oil reserves, Libya was seen as a commercial goldmine, and was home to a people generally eager to open up to the outside world and break out of 40 years of isolation.
But two years later, many foreigners have been scared off. Violence, stagnation, militia battles, attacks on diplomats, carjackings – life in the capital, Tripoli, is certainly not for the fainthearted. In October, the prime minister, even, was briefly kidnapped.
Most of those who remain are diplomats and oil executives, living a life cocooned by security guards. They are shuttled between walled compounds and guarded offices in armed convoys, seeing little of the real life of the country they live in. The Regatta beachfront villa complex in the west of the city used to teem with western employees and their families. Now it is half empty. One foreign executive living there said that overseas companies now send staff to Libya only for short periods, and without their families.
Full report at:
http://www.theguardian.com/world/2014/jan/03/libya-beach-killings-unease-expats
-----------
Europe
EU, US decline to send election observers to Bangladesh
Jan 4, 2014
DHAKA: The European Union has refused to send election observers to Bangladesh, as have the United States and the Commonwealth, a grouping of 53 mainly former British colonies.
"We're disappointed that the major political parties have not yet reached a consensus on a way to hold free, fair, and credible elections," Marie Harf, a US State Department spokeswoman told a briefing in Washington.
Meanwhile, sources said that the two candidates vying to represent the Lalbagh constituency, among the minority of seats to be contested by more than one candidate in polls, are both in the ruling Awami League, which is poised to steamroll to victory as the main opposition party sits out the vote.
Full report at:
http://www.arabnews.com/news/503216
------------
935,000 people displaced in Central African Republic, says UN
IANS | Jan 4, 2014
GENEVA: The deteriorating situation in Central African Republic (CAR) has displaced over 935,000 civilians and the humanitarian situation remains dire in the country, the UN High Commissioner for Refugees (UNHCR) said in a statement on Friday.
Based on the worsened situation and renewed violence, UNHCR expressed its concern over the situations in the country, Xinhua reported.
"Targeted attacks against civilians, looting and the presence of armed elements at some displacement sites have severely limited humanitarian agencies' access to those in need of urgent assistance," said UNHCR spokesperson Babar Baloch.
Full report at:
http://timesofindia.indiatimes.com/world/europe/935000-people-displaced-in-Central-African-Republic-says-UN/articleshow/28361276.cms
-----------
No tolerance to Turkish names in Bulgaria
Jan 4, 2014
The policy of 'Bulgarization', which was launched by the country's communist leader Todor Jivkov, is still ongoing today by changing the names of places originally in Turkish to Bulgarian. T
he municipality of Varna is planning to change the names of 215 places, like the municipality of Burgaz, which contemplates doing the same to 350 places with Turkish names.
Most of the changes will be carried out on Ottoman sites, which has ignited friction among Bulgaria's Muslim population towards the government. The common thing between Varna and Burgaz is that these two cities have their councils dominated by nationalist deputies.
The leader of ATAKA, an ultra-nationalist political party, Volen Siderov, supports the idea of giving Bulgarian names to historically Turkish places. In March, he demanded from President Rosen Plevneliev to change the name of country's highest hill, Musala Hill.
Full report at:
http://www.worldbulletin.net/?aType=haber&ArticleID=126188
----------
South Asia
Amid US pressure, Afghanistan seeks Muslim states' help
anuary 4, 2014
ISLAMABAD: With the start of 2014, the countdown to the withdrawal of foreign forces from Afghanistan has started while President Hamid Karzai, with a few more months in power, is yet to receive US support for peace talks with the Taliban.
As the situation becomes tense with the impending withdrawal, Karzai has attached the condition of peace talks with signing the controversial Bilateral Security Agreement (BSA). The agreement will allow US to maintain its presence in the country post-Isaf 'withdrawal'. The US, however, wants the agreement signed without any conditions and the same was conveyed to Karzai by a group of influential US senators this week.
Republican senators John McCain and Lindsey Graham, speaking to reporters after a meeting with the Afghan president on Friday, stressed signing the agreement without mentioning any conditions.
Full report at:
http://tribune.com.pk/story/654465/amid-us-pressure-afghanistan-seeks-muslim-states-help/
------------
Khaleda killing democracy, PM to Times
Jan 4, 2014
The Opposition Leader in Parliament and BNP Chairperson Khaleda Zia is trying to kill the democracy, alleged Prime Minister and Awami League President Sheikh Hasina.
The premier made the allegation in an interview with The Times published on Saturday.
Hasina said: "She [Khaleda] is trying to kill democracy."
"She is trying to create obstacles that stop people exercising their democratic right. A military dictator's wife acts like a military dictator's wife," she added.
Robin Pagnamenta, South Asia Correspondent for The Times, interviewed the Prime Minister at her official residence Ganabhaban in Dhaka.
Hasina blamed her arch-rival's supporters for fomenting terrorism and refusing to negotiate a way out of the country's deepening political crisis, reads the Times interview.
She insisted that elections would go ahead as planned on Sunday.
"We completed our five-year term and it is a constitutional obligation to hold an election," Sheikh Hasina said. She blamed Khaleda Zia for the deadlock that has led to months of strikes and rioting.
Full report at:
http://www.dhakatribune.com/politics/2014/jan/04/khaleda-killing-democracy-pm-times#sthash.bx67o1qV.dpuf
------------
Bangladesh Bishop Calls for Peace Amid Pre-Election Violence
Jan 4, 2014
DHAKA, Bangladesh — As Bangladesh experiences widespread strikes and violent protests in the run-up to its parliamentary elections, the bishop of the nation's capital is encouraging a peaceful contribution from local Christians.
"The situation is very tense. For months, we have been experiencing strikes, blockades, violent conflict, terrorist attacks, arson and hatred here in Bangladesh. There have been deaths, and hundreds of people have been injured," Archbishop Patrick D'Rozario of Dhaka told the charity Aid to the Church in Need in a Dec. 26 interview.
"I am asking all Christians in the country and elsewhere to pray for peace and reconciliation in Bangladesh. … Our prayers are not in vain," he added. "The country needs dialogue, and I hope that it will succeed."
Full report at:
http://www.ncregister.com/daily-news/bangladesh-bishop-calls-for-peace-amid-pre-election-violence/
------------
Afghan panel finds 88 Bagram prisoners innocent
Jan 4, 2014
The Afghan review panel which inspects the cases of Bagram prisoners, announced Saturday that 88 prisoners branded as dangerous by United States, are innocent.
Abdul Shakoor Dadras, a member of the review panel quoted by Radio Free Europe/Radio Liberty (RFE/RFL) said, they have not receieved any document or evidence which shows the connection of the 88 prisoners in attacks against the Afghan and coalition forces.
This comes as Afghan president Hamid Karzai following his meeting with the US senators on Thursday, ordered to review the cases of 88 prisoners, who are believed to be involved in major attacks against the Afghan and US forces.
Full report at:
http://www.khaama.com/afghan-panel-finds-88-bagram-prisoners-innocent-3251
------------
Blast kill 4 Afghan intelligence operatives in Khost
Jan 4, 2014
At least four Afghan intelligence – National Directorate of Security (NDS) operatives were killed following a roadside improvised explosive device (IED) explosion in eastern Khost province of Afghanistan.
Provincial governor spokesman, Baryalai Rawan said, the incident took place late Friday evening in Sabari district.
Mr. Rawan further added that a district intelligence administrator was also among those killed following the explosion.
Full report at:
http://www.khaama.com/blast-kill-4-afghan-intelligence-operatives-in-khost-3249
------------
Blast kill 3 policemen in Nangarhar province
Jan 4, 2014
At least three service members of the Afghan national police forces were killed following a roadside bomb explosion in eastern Nangarhar province of Afghanistan.
Local government officials in Nangarhar said, the incident took place early Saturday morning in Batikut district.
Nematullah Noorzai, district chief for Batikut, confirming the report said the police officers were killed around 7am local time, while they were patrolling in area which was under the control of the Taliban militants.
Full report at:
http://www.khaama.com/blast-kill-3-policemen-in-nangarhar-province-3250
-----------
Mideast
Turkey to urge for cease-fire in Syria ahead of Geneva talks
Jan 4, 2014
Turkey will appeal for a cease-fire in Syria ahead of Geneva peace talks as the Syrian opposition expresses that they are hesitant to attend the gathering because the al-Assad regime has increased its attacks against civilians, particularly in Aleppo.
Turkish Foreign Minister Ahmet Davutoğlu is set to discuss whether a truce can be achieved in Syria for the sake of Geneva II with his Iranian counterpart Javad Zarif during the latter's visit to Turkey on Jan. 4.
Turkey would also raise the issue if the core group of Friends of Syria gathered before Geneva II, a Turkish diplomat told the Hürriyet Daily News, adding this was so the Syrian opposition could attend the peace talks "in a positive atmosphere." After months of delays, a Jan. 22 date for the meeting has been set, but doubts remain about whether the conference will go ahead.
Full report at:
http://www.hurriyetdailynews.com/turkey-to-urge-for-cease-fire-in-syria-ahead-of-geneva-talks.aspx?pageID=238&nID=60547&NewsCatID=338
------------
No parallel organization within state can be tolerated: President Gül
Jan 4, 2014
President Abdullah Gül has expressed his concerns over claims relayed by several high-level officials of a "gang within the state" aiming to topple the government, stressing that such network could not be "tolerable."
"There cannot be another state or other organizations within the state. There cannot be such thing as [receiving] instructions from outside an institution," Gül said Jan. 3 during a live interview with private broadcaster Habertürk in his first extensive comments on the Dec. 17 graft probe with has shaken the government.
Full report at:
http://www.hurriyetdailynews.com/no-parallel-organization-within-state-can-be-tolerated-particularly-inside-judiciary-president-gul.aspx?pageID=238&nID=60553&NewsCatID=338
------------
Turkey charges 36 Gezi protesters with terrorism
Jan 4, 2014
Turkish prosecutors said Friday they have charged 36 protesters with terrorism over mass anti-government demonstrations that swept the country last year.
They face a range of charges including being a member of a terrorist organisation, illegal possession of hazardous material and terrorist propaganda, Hurriyet newspaper reported, quoting the indictment.
The suspects face between three and 58 years in prison if convicted.
The June demonstrations began as a protest against the planned destruction of an Istanbul park known as Gezi but snowballed into a nationwide outpouring of anger against Prime Minister Recep Tayyip Erdogan's rule.
Full report at:
http://english.ahram.org.eg/NewsContent/2/8/90725/World/Region/Turkey-charges--Gezi-protesters-with-terrorism.aspx
-----------
Israel denies accusations of killing perpetrators of AMIA, embassy bombings
Jan 4, 2014
An Israeli official denied accusations that Israel killed most of the perpetrators responsible for the terrorist attacks in Buenos Aires 20 years ago, Israel Radio reported on Friday.
He said that ex-Israeli envoy to Argentina Itzhak Aviran was "completely disconnected from the reality in Israel." He added that "there is no truth in the accusation and no need to give it any importance."
Aviran alleged on Thursday that Israel was responsible for killing terrorists who carried out the deadly attacks on the Israeli embassy and on the Argentine Jewish Charities Federation (AMIA) building in Buenos Aires.
Full report at:
http://www.jpost.com/Diplomacy-and-Politics/Israel-denies-accusations-of-killing-perpetrators-of-AMIA-embassy-bombings-337045
-----------
Blast killing Palestinian envoy 'not an accident': Daughter
Jan 4, 2014
A blast that killed the Palestinian ambassador to the Czech Republic this week "was not an accident," despite an official theory to the contrary, the envoy's daughter said Saturday.
"What is certain is that it was not an accident," Rana al-Jamal, who lives in the Palestinian city of Ramallah, told the Czech newspaper Dnes in an interview.
Her father, Jamal al-Jamal, the 56-year-old ambassador to Prague since October, was fatally wounded on New Year's day by an explosion in the Palestinian diplomatic mission's premises.
Czech police have excluded an assassination, instead advancing the theory that the blast was caused by an anti-theft device inside a safe Jamal was manipulating. They also said unregistered weapons were found inside the mission in violation of diplomatic treaties.
Full report at:
http://english.ahram.org.eg/NewsContent/2/8/90792/World/Region/Blast-killing-Palestinian-envoy-not-an-accident-Da.aspx
-------------
Southeast Asia
Use peaceful means, not protest, to resolve issues, say Malaysian non-Muslim groups
Jan 4, 2014
Non-Muslim religious groups have welcomed the eleventh hour decision by Selangor Umno to drop a planned protest outside churches in the state tomorrow.
They said as a matter of principle, religious groups should never demonstrate at another's place of worship.
Differences over religion should always be resolved through peaceful means, said Jagir Singh, president of the Malaysian Consultative Council of Buddhism, Christianity, Hinduism, Sikhism and Taoism.
"Any protest that is aggressive and intends to intimidate others will only aggravate the situation in a multiracial and multi-religious country like Malaysia," said Jagir, who is also member of the newly established National Unity Consultative Council.
Full report at:
http://www.themalaysianinsider.com/malaysia/article/use-peaceful-means-not-protest-to-resolve-issues-say-non-muslim-groups
------------
Authorities must respect Malaysians' right to religious freedom, says Suhakam
Jan 4, 2014
The authorities must ensure and respect the people's right to freedom of religion, Malaysia's Human Rights Commission (Suhakam) said today, expressing concern over an Islamic agency seizing Bibles containing the word "Allah" in Selangor.
Suhakam vice-chairman Datuk Dr Khaw Lake Tee said the commission took a serious view of the Selangor Islamic Religious Department (Jais) and police raid at the Bible Society of Malaysia (BSM) as well as the arrest of BSM president Lee Min Choon (pic) and manager Sinclair Wong on Thursday.
"The commission deems it of utmost importance that the authorities in carrying out their duties, exercise their powers and discretion in accordance with the law as well as in line with the principles of the rights to a fair trial and equal protection of the law as enshrined in the Federal Constitution and the Universal Declaration of Human Rights (UDHR).
Full report at:
http://www.themalaysianinsider.com/malaysia/article/authorities-must-respect-malaysians-right-to-religious-freedom-says-suhakam
------------
No law to charge priest with treason in 'Allah' row, say lawyers
Jan 4, 2014
Malaysia does not have a law to prosecute a Catholic priest for treason against the Selangor ruler by ignoring a royal decree not to use the word "Allah", say criminal and human rights lawyers.
They said that treason did not apply in Malaysia where the Federal Constitution reigns supreme despite calls by several conservative Muslim groups that Father Lawrence Andrew should be charged with treason.
Human rights lawyer Andrew Khoo Chin Hock said Malaysians were living in a constitutional monarchy and the days of absolute monarch were over.
"So the question of being treasonous against a ruler does not arise and it is the constitutional right of a subject to express freely his views but in a responsible manner.
Full report at:
http://www.themalaysianinsider.com/malaysia/article/no-law-to-charge-priest-with-treason-in-allah-row-say-lawyers
------------
Jais has no power over non-Muslims, Christian group reminds churches
Jan 4, 2014
Malaysia's Islamic authorities have no jurisdiction over non-Muslims, a Christian group told churches preparing for 2014's first Sunday worship ahead of possible protests by some Muslims against Christians using the word "Allah".
The National Evangelical Christian Fellowship Malaysia (NECF) sent an advisory to church leaders last night, telling Christians to deny entry to any religious officer who wanted to enter any premises used for Christian worship and activities.
"Jais has no jurisdiction with respect to non-Muslims," the NECF said, referring to the Selangor Islamic Religious Department (Jais) that said last week it planned to send reminders of a state law forbidding them from using the word "Allah".
Full report at:
http://www.themalaysianinsider.com/malaysia/article/jais-has-no-power-over-non-muslims-christian-group-reminds-churches
------------
URL: https://www.newageislam.com/islamic-world-news/new-age-islam-news-bureau/fearing-jamaat-e-islami-crossover-from-bangladesh,-india-seals-border/d/35141