New Age Islam News Bureau
6 Jun 2013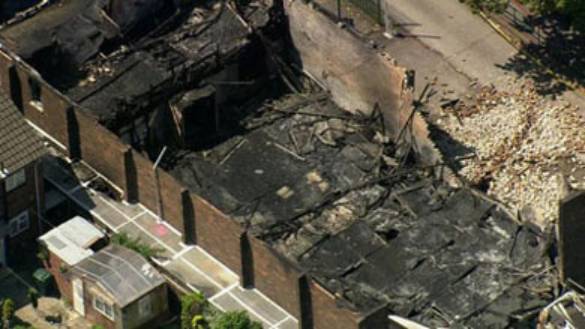 Photo: Al-Rahma Islamic Centre Destroyed In Hate Crime Fire
-------
Africa
• Ten rebels killed, two soldiers wounded in Mali fighting: Army
• In Nigeria, 'Killing People without Asking Who They Are'
• Bulgaria Pulls Back on Blame for Hezbollah
• Somali al-Shabab leader Abdikafi Mohamed Ali 'captured'
• Nigeria: Jail terms to tackle Islamist militancy
• Tunisia Islamists try to join topless protest case
• Nigeria 'arrests' 49 more insurgents
• 20-year jail term for Boko Haram support
Arab World
• Civil war destroying Syria's world heritage sites: UN Investigators
• Car bombings kill 7 people in Baghdad
• Qaeda chief urges Syria jihadists to fight for anti-US govt
• Hezbollah's Syria victory risks wider Sunni-Shi'ite conflict
• Syria conflict: Army 'retakes Golan Heights crossing'
• Two UN troops killed as fighting along Syrian-Israeli border rages
• In Besieged Area of Syria, Bitterness of Sunnis Points to Rending of Sects
Pakistan
• Three militants, two women killed in Quetta: Officials
• PTI reluctant to give education ministry to Jamaat-i-Islami
• Saudi Arabia executes Pakistani for drug smuggling
• Dozens of militants attack two houses near Peshawar
• KP govt submits resolution against drones
• Immunisation ban: Clerics for talks with Taliban to fight polio
• Pakistan PM Nawaz Sharif changes name of his office
• Shahbaz Sharif elected Punjab chief minister
• Zardari may address parliament for sixth time
India
• To ease Pak energy crisis, India sends officials with pipeline offer
• BJP interfering in Ishrat encounter probe, says PC
• As Nawaz Sharif becomes PM, Kashmir gets voice in Pakistan power circuit
• Jaish 'district commander' killed
• Lift lid on Mohammad Ali Jinnah's speeches, says CIC
• Bapu's autobiography to be translated into Kashmiri
• India warns citizens against travelling to 3 Nigerian states
• Pulwama encounter enters second day in J&K
Europe
• Russia foils Islamist terror attack, arrests culprit
• Al-Rahma Islamic Centre destroyed in 'hate crime' fire
• Fighting between Sudanese army and rebels displaces 60,000: U.N.
• Russia says reports of chemical arms in Syria must not bring intervention
• Russia's Syria diplomacy, a game of smoke and mirrors
Southeast Asia
• Miss World axes bikinis for this year's contest in Indonesia
• Election shows DAP's 'Chinese racism' in bid to rule Malaysian politics
• Malaysians deserve a police force they can trust — Christian Federation
• Joint investigations to counter terrorism in Southeast Asia
• Rohingya violence effect: 900 Myanmar nationals detained in Malaysia
South Asia
• President Waheed honoured during Palestine visit, speaks on two-state solution
• Afghan governor: Airstrike kills 3; NATO denies
• Bangladesh lifts ban on YouTube, blocked after blasphemous film
• Karzai felicitates PM Sharif on assuming office, hopes for strengthened ties
• Three Rohingya Muslims Killed in Clash with Myanmar Police
• Bangladesh: 5 get death sentence for murdering Hindu leader
• Police discover over 14,000 cans of beer in water near Male'
• Kamaruzzaman challenges war crimes verdict
North America
• FBI To Start Tracking Hate Crimes against Sikhs, Hindus and Arabs
• Muslims Focus on Online Extremism, Radicalization after Boston Bombings
• Soldier who killed 16 Afghan civilians pleads guilty
Mideast
• The story behind Muslim celebration of Prophet Mohammad's ascension
• Atypical day of protest at Gezi Park with religious ceremony, Quran reading in Turkey
• Four killed in Yemen anti-Al-Qaeda offensive
• A glance at the Taksim Square protesters in Turkey
Compiled by New Age Islam News Bureau
URL: https://newageislam.com/islamic-world-news/fbi-start-tracking-hate-crimes/d/11930
------------
FBI To Start Tracking Hate Crimes against Sikhs, Hindus and Arabs
06/05/2013
Jaweed Kaleem
After years of pressure from civil rights groups and lawmakers who say attacks against religious and ethnic minorities are not adequately monitored by law enforcement, the FBI will begin formally tracking hate crimes against Sikhs, Hindus and Arabs.
Meeting in Portsmouth, Va., on Wednesday, an FBI advisory board voted to expand standard hate-crime incident reports used by thousands of police departments across the country to include crimes motivated by bias against the two religious groups, as well as Arabs.
The changes, which go into effect by 2015, are being praised by Sikh, Hindu and Arab advocates hoping to avoid underreporting of hate crimes and increase awareness among law enforcement of their religions and cultures. In particular, members of the Sikh religion, in which men typically grow beards and wear turbans, have said crimes against them are often misreported as anti-Muslim.
"We can't go to policy makers or law enforcement to make the case about crimes against our communities unless we have the official data," said Rajdeep Singh, director of law and policy for the Sikh Coalition, a civil rights group that has pushed law enforcement for two years to take action. Specific hate-crime statistics, Singh hopes, will help law enforcement prevent crimes against Sikhs, Hindus and Arabs.
The FBI has not responded to a request for comment.
Statistics on the population of each group in the United States vary. Singh's organization estimates 500,000 Sikh-Americans; the Hindu American Foundation says there are 2.3 million Hindus in the United States. According to the Arab American Institute, there are about 3.5 million Arab-Americans.
In recent years, there have been violent anti-Sikh attacks in California, Florida, New York, Washington, and most prominently in Oak Creek, Wisc., where a white supremacist shot and killed six worshipers at a temple in August. In another high-profile attack in December, a woman pushed a Hindu man to his death on a New York City subway track, and then told police, "I hate Hindus and Muslims ever since 2001." Criminals also have targeted Arab-Americans, who they often assume are Muslim.
"After 9/11 in the Arab-American community, the fact that hate crimes increased is no secret. But we were running into underreporting by community members. They wouldn't come forward because they felt nobody would listen or count them," said Abed A. Ayoub, legal director for the American-Arab Anti-Discrimination Committee, which supported the reporting changes.
The changes follow a letter 26 senators sent earlier this year to the FBI asking it to include the religious groups and Arabs in hate-crime tracking. In March, more than 100 members of Congress requested the same of the FBI, and Attorney General Eric Holder recently spoke in favor of the changes in front of the House Judiciary Committee.
The FBI currently tracks reports of hate crimes against Jews, Catholics, Protestants, Muslims and atheists/agnostics. The bureau also tracks hate crimes motivated by race, ethnicity, sexual orientation, gender identity and gender. Tracking formally began in 1990, when Congress passed the Hate Crimes Statistics Act.
In 2011, the most recent year for FBI hate-crime statistics, there were 1,318 anti-religious crimes reported, which accounted for less than 20 percent of total hate crimes. Most of the reported religious hate crimes -- 62.2 percent -- were against Jews, while 13.3 percent were against Muslims. Anti-Catholic, anti-Protestant, anti-atheist/agnostic and attacks against multiple religious groups altogether accounted for 14 percent of the reports, while 10.5 percent of them were about crimes against other unspecified religions.
UPDATE: 9:58 p.m. -- FBI spokesman Stephen Fischer said the bureau also has decided to begin tracking hate crimes against additional religious groups.
The hate crime tracking will include "all self-identified religions in the United States as listed in the Pew Research Center's Pew Forum on Religion and Public Life (2008) and the Statistical Abstract (2012) approved by the U.S. Census Bureau," Fischer wrote in an email. "The recommended list includes Catholic, Protestant, Mormon, Jehovah's Witness, Orthodox, Other Christian, Jewish, Islamic (Muslim), Buddhist, Hindu, Sikh, Other Religions, Multiple Religions-Group, and Atheism/Agnosticism."
Upon approval by FBI Director Robert Mueller of the new groups, "the FBI will make the necessary Uniform Crime Reporting Program technical enhancements, procedural changes, and manual revision to begin collecting this data," Fischer said.
http://www.huffingtonpost.com/2013/06/05/hate-crimes-sikhs-hindus-arabs-fbi_n_3392760.html
------------
Africa
Ten rebels killed, two soldiers wounded in Mali fighting: Army
5 Jun 2013
Ten militants were killed and two soldiers wounded as fighting broke out on Wednesday with the Malian army advancing on the rebel-held northern city of Kidal, military officials told AFP.
"We counted 10 dead and have captured 28 prisoners," said Malian army spokesman Souleymane Maiga after troops engaged the National Movement for the Liberation of Azawad, which has occupied Kidal since January.
He said no Malian troops had been killed in the clashes in Anefis, a small town 200 kilometres (125 miles) south of Kidal but two had been wounded.
http://english.ahram.org.eg/NewsContent/2/9/73270/World/International/Ten-rebels-killed,-two-soldiers-wounded-in-Mali-fi.aspx
-------------
In Nigeria, 'Killing People without Asking Who They Are'
By ADAM NOSSITER
2013/06/06
BOSSO, Niger — For the soldiers, the young men's long, flowing robes — the traditional garb of Muslim West Africa — were enough to establish guilt, the refugees said.
"As soon as they see you with clothing like this, they shoot," said Abukar Ari, a Quranic teacher in a long robe who said he had fled across the border from Nigeria two weeks before. "They don't ask any questions. I've seen them shoot people. Yes, I've seen them shoot."
Other refugees in the registration lines of thousands who had fled Nigeria's combat zone echoed these assertions, saying civilians were being killed there by soldiers unconcerned with the distinction between militants and innocents. Friends and neighbours were being shot, they said; young men were being rounded up at night; and citizens with the vertical ethnic scarring of the Kanuri, a group dominant in the Islamist militant group Boko Haram, were being taken away.
"They are killing people without asking who they are," said Laminou Lawan, a student who said he had fled here 10 days before. "When they see young men in traditional robes, they shoot them on the spot. They catch many of the others and take them away, and we don't hear from them again."
Nearly three weeks ago, Nigeria launched what it depicted as an all-out land and air campaign to crush the Boko Haram insurgency, using thousands of troops, vehicles and even fighter jets and helicopter gunships just over the border from here, where Nigerian officials say the insurgents have their stronghold.
The Nigerian president, Goodluck Jonathan, suggesting that he was fed up with the four-year uprising by Boko Haram, announced "extraordinary measures" in his country's north and placed a large part of it under a state of emergency, ordering troops to "take all necessary action" to end an insurgency that he said was now threatening the country's foundations.
Nigeria's foreign partners, including the United States, which considers the country an important ally in the fight against Islamist militancy, have watched warily, with Secretary of State John Kerry pointedly warning the Nigerian military about what he called "credible allegations" that Nigerian forces had committed "gross human rights violations" in the period before the offensive began.
Last month, more than 200 people were killed in what local officials, residents and human rights groups say was a sweeping massacre by Nigerian forces in the nearby village of Baga, in northern Nigeria. Analysts have long questioned whether Nigeria's heavy-handed counterinsurgency strategy, which has resulted in numerous civilian deaths since 2009, may be having the opposite effect of the one intended, increasing anger at the Nigerian state and driving new recruits to the militants.
But Mr. Kerry has not specifically raised the question of human rights abuses during the latest offensive, and for a good reason: it is difficult to get a clear idea of what is happening. Since its start, much of northern Nigeria has been under a communications blackout, as cellphone service has been cut, physical access has been limited and information restricted to a series of military communiqués. They have announced the "capture and destruction" of Boko Haram camps, the deaths of "high-profile" Boko Haram members and other "terrorists," the "disarray" of militants, the discovery and destruction of weapons caches, and the "securing" of various towns and settlements in the north from Boko Haram.
Nigerian military spokesmen have been at pains to deny any misconduct against civilians during the campaign, trying to reassure the country's allies by announcing that they were pleased soldiers were sticking to what they called "the rules of engagement." A spokesman did not respond Friday to a request for comment on the refugees' accounts.
But some of the refugees who have massed here in this remote border village at the far eastern edge of Niger — there are at least 5,000 of them, and possibly as many as 10,000 in the area, officials say — described the fighting in terms that varied widely from the military communiqués.
Their testimony is among the first independent accounts of the Nigerian military's offensive, and they spoke of indiscriminate bombing and shooting, unexplained civilian deaths, nighttime roundups of young men by security forces. All spoke of a climate of terror that had pushed them, in the thousands, to flee for miles through the harsh and baking semidesert, sometimes on foot, to Niger. A few blamed Boko Haram — a shadowy, rarely glimpsed presence for most residents — for the violence. But the overwhelming majority blamed the military, saying they had fled their country because of it.
They had come from multiple villages in Nigeria to one of the poorest nations on earth, overwhelming local officials. But at least here, they said, the soldiers of the Republic of Niger are drowsing under a giant tree at the border, not pointing their guns at the civilians who continue to cross it.
"The military just opens fire and kills people, and throws bombs and kills people, for no reason," said Abubakar Ali, a shoe salesman waiting in one of the registration lines. "That is why you see these people here," he said, pointing out at the crowd. "That is what is happening now in Nigeria."
Others in the crowd said that friends and neighbors had been shot during the offensive. They could not always identify the source of the shooting, but they could easily identify the victims.
"I've seen the wounded; these are people I know," said Muhammad Yacoubu, a farmer.
"The military are looking for Boko Haram, but if they don't find them, they take revenge," said Moustapha Ali, a shopkeeper.
Ousmane Boukari, a herdsman, said, "They bombed on Saturday, and they missed their targets; they're just firing at random, they don't even know where the Boko Haram are."
Modu Goni, another refugee, said: "At night you hear the shooting, and in the morning you find the bodies, people from the village. When you see your friends dead, it's scary."
Others spoke of seizures of young men by security forces, a pattern already established in the insurgents' stronghold city of Maiduguri, according to residents there.
"The soldiers took the young men away, at least 10 of them, at night; it's at night that they make their raids," said Sherrif Alhadji Abdu, another refugee. "They band their eyes, and take them away. They took away my friends."
At the edge of this village, some of the refugees have erected crude reed shelters in the sand, or simply posted sticks in the ground and placed rags over them. Abou Boukar, a farmer, had just finished building a reed hut. Anything was better than staying in Nigeria, he said. Boko Haram had built a camp near his village. The next day, he saw a Nigerian air force plane flying overhead.
"This doesn't look good," he recalled saying to himself. And then he fled to Niger.
http://www.nytimes.com/2013/06/06/world/africa/nigerian-refugees-accuse-army-of-excess-force.html?_r=0&pagewanted=print
-----------
Bulgaria Pulls Back on Blame for Hezbollah
By MATTHEW BRUNWASSER
2013/06/06
Nearly a year after a bomb in a tour bus at the Burgas airport in Bulgaria killed five Israeli tourists and their Bulgarian driver, the country's new government is trying to shift blame for the attack from Hezbollah, the militant Lebanese Shiite movement.
"The evidence is not categorical" that Hezbollah planned the attack, Bulgaria's foreign minister, Kristian Vigenin, said Wednesday in an interview with Bulgarian National Radio.
The comment came amid a European Commission debate about whether to designate Hezbollah as a terrorist organization, and after Hezbollah admitted its extensive support for President Bashar al-Assad of Syria.
In the last few weeks, France and Germany have joined Britain in calling for the designation by the European Commission, the European Union's administrative arm, which could severely limit Hezbollah's fund-raising on the Continent.
Britain formally requested the designation on the basis of evidence of Hezbollah's involvement in the Bulgaria bombing and the conviction of a Hezbollah operative in Cyprus in March for plotting a similar attack.
While there are indications that Hezbollah's involvement was possible, Mr. Vigenin said in the interview, "we can't take such a heavy decision with serious implications for the policy of the entire European Union on the basis of circumstantial evidence."
The new Bulgarian government, which took power last week, is led by the Bulgarian Socialist Party, the former Communists. The former governing party, Citizens for European Development of Bulgaria, was seen as more pro-United States.
The bombing investigation has placed Bulgaria in a tight geopolitical squeeze between the larger European countries, which favor the terrorist designation for Hezbollah, and those that oppose the designation. Bulgaria has also expressed concern about jeopardizing its historically close relations with Middle Eastern countries.
Bulgaria's previous interior minister, Tsvetan Tsvetanov, said at a news conference in February that evidence gathered to that point supported a "reasonable assumption" that Hezbollah had organized the bombing.
In an interview the next day, he said that two conspirators had been identified — a Canadian and an Australian, both Hezbollah members of Lebanese descent — and that a third man had died while placing the bomb in the baggage compartment of the bus in the airport. He remains unidentified, and investigators believe he was killed accidentally.
Mr. Tsvetanov also described an elaborate operation involving a remote detonator for the bomb and travel by the conspirators from Lebanon to Warsaw, Berlin and finally Bulgaria.
http://www.nytimes.com/2013/06/06/world/europe/bulgaria-tempers-blame-for-hezbollah-in-bombing.html?pagewanted=print&_r=0
-----------
Somali al-Shabab leader Abdikafi Mohamed Ali 'captured'
Jun 06 2013
The head of the Islamist militant group al-Shabab in Somalia's north-eastern region of Puntland has been captured, an official has told the BBC.
Puntland's Security Minister, Khalif Isse, said Abdikafi Mohamed Ali was wounded in a raid at a militant safe house in the port city of Bossaso.
A soldier was killed in the operation and the city is in lockdown as the hunt continues for other militants, he said.
Al-Shabab, an al-Qaeda affiliate, has strong links with pirates in the area.
Analysts say piracy is a valuable source of funding for the Islamist group, which still controls smaller towns and rural areas of much of southern and central Somalia.
Full report at:
http://www.bbc.co.uk/news/world-africa-22783882
------------
Nigeria: Jail terms to tackle Islamist militancy
Jun 06 2013
Nigeria has officially banned two militant Islamist groups, warning that anyone who helps them will face a minimum jail sentence of 20 years.
President Goodluck Jonathan declared Boko Haram and Ansaru to be terrorist groups, his office said.
The army has been waging an offensive against the militants in their northern strongholds since a state of emergency was declared last month.
The insurgency has killed about 2,000 people since 2009.
The activities of both Boko Haram and Ansaru would now fall under the Terrorism Prevention Act, Mr Jonathan's office said, in a statement.
Full report at:
http://www.bbc.co.uk/news/world-africa-22779919
------------
Tunisia Islamists try to join topless protest case
AP | Jun 5, 2013
TUNIS: The trial for three European feminists charged with public indecency after demonstrating topless in front of Tunisia's Palace of Justice began on Wednesday with lawyers representing several Islamist groups petitioning to delay the trial so they could join as plaintiffs.
The activists, two French women and one German, are members of the Ukrainian feminist group Femen. They appeared topless May 29 demanding the release of a Tunisian member of the group. They have been charged with public indecency and being a threat to public order.
Full report at:
http://timesofindia.indiatimes.com/world/rest-of-world/Tunisia-Islamists-try-to-join-topless-protest-case/articleshow/20446623.cms
------------
Nigeria 'arrests' 49 more insurgents
6 June 2013
ABUJA: Nigeria's military said yesterday it had arrested 49 Boko Haram militants across a northeastern state where insurgents are abandoning their camps and fleeing north towards Niger.
Yobe is one of three states placed under emergency rule during a three-week-old military offensive aimed at crushing Boko Haram, which has waged a deadly insurgency since 2009.
"A total of 49 suspected Boko Haram terrorists were apprehended in various locations in Yobe state," a Defense Ministry statement said.
Full report at: Arab news
------------
20-year jail term for Boko Haram support
Jun 06 2013
Nigerian President Goodluck Jonathan has declared Boko Haram and splinter group Ansaru to be terrorist organizations, meaning anyone who supports them could face a 20-year-jail sentence.
The designation also means militants no longer must be prosecuted for specific crimes such as murder.
Jonathan's government had previously seemed reluctant to apply the label for fear of inflaming the situation but diplomats had raised concerns that Nigerian criminal laws were not suited to deal with the conflict.
Full report at:
http://www.arabnews.com/news/454117
------------
Arab World
Civil war destroying Syria's world heritage sites: UN Investigators
Kounteya Sinha, TNN | Jun 6, 2013
LONDON: Five of Syria's six world heritage sites have been severely damaged in the country's civil war.
This has been confirmed by UN investigators who just recently returned from Syria. Looting has ravaged historic sites, according to the investigations.
Byzantine mosaics in the "dead cities" of northern Syria and the Roman city of Apamea were removed. Interpol has now listed an 8th century BC Aramaic bronze statue, stolen from the Hama museum.
Both government forces and rebels are not respecting the country's cultural heritage with historic monuments being damaged and destroyed, said the report. The investigation report says the Syrian army has established bases in the ancient citadels of Aleppo, Homs and Hama. Anti-Government armed groups are based near the edges of Aleppo's citadel, placing it at risk of further damage.
Full report at:
http://timesofindia.indiatimes.com/world/uk/Civil-war-destroying-Syrias-world-heritage-sites/articleshow/20453559.cms
------------
Car bombings kill 7 people in Baghdad
By SINAN SALAHEDDIN Associated Press
06/06/2013
BAGHDAD—Iraqi officials say two car bomb explosions in Baghdad have killed at least six people and wounded more than two dozen.
A police officer says a parked car bomb ripped through a livestock market on Thursday afternoon in the southeastern suburb of Nahrawan, killing four civilians and wounding 22 there.
Full report at:
http://www.dailybulletin.com/news/ci_23401927/officials-car-bombings-kill-7-people-baghdad#ixzz2VRnHGaRB
-----------
Qaeda chief urges Syria jihadists to fight for anti-US govt
June 06, 2013
Al Qaeda chief Ayman al-Zawahiri has called on jihadists fighting in Syria's civil war to unite and fight for the establishment of an anti-US government in Damascus, in a newly released audio message.
Syria's President Bashar al-Assad belongs to the Alawite sect of Shiite Islam, while
the divided rebels fighting to oust his regime are mainly Sunni Muslims, including the jihadist Al-Nusra Front.
"Unite, listen and agree that you shall not lay down your arms and leave your trenches until the establishment in the Levant of an Islamic state that will restore the caliphate," said Zawahiri.
Full report at:
http://www.hindustantimes.com/world-news/restofasia/Qaeda-chief-urges-Syria-jihadists-to-fight-for-anti-US-govt/Article1-1071853.aspx
------------
Hezbollah's Syria victory risks wider Sunni-Shi'ite conflict
Jun 6, 2013
By Samia Nakhoul
BEIRUT, June 6 (Reuters) - The capture of Qusair by Syrian troops spearheaded by Hezbollah, the Lebanese Shi'ite Islamist militia, risks turning the war in Syria into a wider sectarian battle between Sunni and Shi'ite forces that will sweep through the country's neighbours.
The fall of the town after weeks of fighting has emboldened the Syrian government and left the rebels contemplating their biggest defeat in a two-year-old war that has killed 80,000.
In Damascus, the victory lifted the morale of a government under siege. Demonstrations in support of President Bashar al-Assad are back, and posters of his family can be seen once more on cars circulating on inner city streets.
Full report at:
http://www.reuters.com/article/2013/06/06/syria-crisis-region-idUSL5N0EI15020130606
-----------
Syria conflict: Army 'retakes Golan Heights crossing'
Jun 06 2013
The Syrian army has taken control of a UN-monitored crossing in the Golan Heights which had been overrun by rebel forces, Israeli military sources say.
Tanks and armoured vehicles were used in the raid at Quneitra, near Israeli-held territory, the BBC was told.
The fighting came a day after Syrian troops - backed by Lebanon's Hezbollah militants - retook the key town of Qusair after a three-week siege.
The battle for Qusair has highlighted Hezbollah's growing role in the crisis.
Amid heightened sectarian tensions in the wider region, the US has called on Iran and its Lebanese ally Hezbollah to withdraw fighters from Syria.
Full report at:
http://www.bbc.co.uk/news/world-middle-east-22795655
------------
Two UN troops killed as fighting along Syrian-Israeli border rages
6 June 2013
Two UN troops were injured in shelling in the Golan Heights between Israel and Syria, a UN spokesperson said on Thursday, as fighting raged between Syrian regime forces and rebels along the Jewish state border.
"The two suffered minor injuries from the fallout of heavy weapons fire in the area," Kieran Dwyer told AFP. However, the report added that it was still not clear whether the shelling was a Syrian regime move to try and regain control of a Golan crossing point from the armed opposition.
Forces loyal to Syrian President Bashar al-Assad and rebels battled to control the strategic crossing of Al-Quneitra.
Full report at:
http://english.alarabiya.net/en/News/middle-east/2013/06/06/Activists-Syrian-rebels-seize-crossing-near-Israeli-border.html
------------
In Besieged Area of Syria, Bitterness of Sunnis Points to Rending of Sects
By an EMPLOYEE of THE NEW YORK TIMES in SYRIA and ANNE BARNARD
06/06/2013
NEAR QUSAYR, Syria — In the final days of their stubborn but increasingly hopeless stand against an overwhelming assault, Syrian rebels hid among the concrete shells of destroyed houses in the village of Hamediyeh, subsisting on olives and canned beans. They tried to sleep, without much success, in tunnels dug for shelter from government shelling.
Explosions echoed from the nearby town of Qusayr, a besieged rebel stronghold where a humanitarian crisis was growing as trapped fighters and civilians died of treatable wounds and surgeons operated without anaesthetics. In the surrounding villages, ripening yellow wheat went unharvested. Apricot orchards stood neglected. Fields were burned, trees chopped for firewood.
Full report at:
http://www.nytimes.com/2013/06/06/world/middleeast/in-besieged-sunni-town-of-qusayr-sunnis-are-bitter.html?pagewanted=print
-----------
Pakistan
Three militants, two women killed in Quetta: Officials
June 6, 2013
QUETTA: At least three Taliban militants and two women were killed during a pre-dawn raid on a house by security forces in Quetta on Thursday, officials aid.
Security forces surrounded a house on a tip-off that members of Tehreek-e-Taliban Pakistan (TTP) were living in a neighbourhood of Quetta, they said.
"Militants hurled eight hand grenades and fired at security forces wounding at least 15 security personnel," Abdul Wasay, spokesman for paramilitary Frontier Corps told AFP.
"The siege continued for about four hours and ended when three militants blew themselves up."
Full report at:
http://tribune.com.pk/story/559696/three-militants-two-women-killed-in-quetta-officials/
------------
PTI reluctant to give education ministry to Jamaat-i-Islami
ASHFAQ YUSUFZAI
Jun 06 2013
PESHAWAR: The opposition of donor agencies to give the education department in the Khyber Pakhtunkhwa coalition government to Jamaat-i-Islami (JI) is delaying the formation of the provincial cabinet, it is learned.
"Pakistan Tehreek-i-Insaf (PTI) had agreed to give education department to JI in its meetings after elections but is now requesting it to give up claim to it after the objection of donor agencies, including DFID, which pumps millions for development of the province's education," an insider told Dawn on Wednesday.
However, the donors' fears were allayed when informed that the JI nominee to get the education portfolios was a former KP health minister with whom they had good relations.
Full report at:
http://beta.dawn.com/news/1016407/pti-reluctant-to-give-jamaat-its-choice-department
------------
Saudi Arabia executes Pakistani for drug smuggling
Jun 06 2013
RIYADH: Saudi authorities beheaded by the sword on Wednesday a Pakistani convicted of smuggling heroin, the Saudi interior ministry said.
Wajid Ali Zarnoosh was found guilty of trafficking heroin into Saudi Arabia, the ministry said in a statement carried by SPA state news agency.
His beheading in Qatif, Eastern Province, brings to 50 the number of people executed in the ultra-conservative kingdom this year.
Full report at:
http://beta.dawn.com/news/1016276/saudi-arabia-executes-pakistani-for-drug-smuggling
------------
Dozens of militants attack two houses near Peshawar
June 6, 2013
PESHAWAR: Taliban militants attacked two houses belonging to suspected criminals in the Jaba area, on the outskirts of Peshawar and set them on fire last night.
Dozens of armed militants attacked the houses around midnight. The attackers were armed with RPG-7 rockets and heavy machine guns. After an hour of intense gun battle, the people inside the houses were forced to flee. Once vacant, the militants burned them down.
Full report at:
http://tribune.com.pk/story/559703/dozens-of-militants-attack-two-houses-near-peshawar/
------------
KP govt submits resolution against drones
Jun 06 2013
PESHAWAR: Coalition partners in Khyber Pakhtunkhwa government submitted a resolution against drone strikes in the country's Tribal Areas on Wednesday, assembly sources said. The Pakistan Tehreek-e-Insaf, the Qaumi Watan Party and the Jamaat-e-Islami jointly drafted the resolution, which is likely to be taken up during the budget session of the House later this month, the sources confided to Daily Times. Ruling PTI is leading the anti-drone campaign and it said the party would submit a resolution against the unmanned planes being used by the United States to target "militants" in the Tribal Areas of Pakistan. The drone strikes are in violation of the UN charter, and threaten country's sovereignty, the resolution read. "These strikes result in the killing of innocent people," it added.
http://www.dailytimes.com.pk/default.asp?page=2013\06\06\story_6-6-2013_pg7_13
------------
Immunisation ban: Clerics for talks with Taliban to fight polio
June 6, 2013
ISLAMABAD: Islamic scholars from across the globe termed drone attacks coupled with misinformation regarding polio vaccination and security risks as major challenges for the government in its efforts to fight polio.
They suggested that talks with Taliban and grass-roots level advocacy by religious scholars as the best possible options for the government to win the fight against the crippling disease. They were speaking at the inaugural session of a two-day international conference which kicked off on Wednesday at the International Islamic University.
The conference is a follow-up on the action points recommended by Muslim scholars at a regional consultation which took place in March in Cairo. The main aim of the conference was to draw strategies to effectively overcome current social and political challenges to polio eradication in Pakistan.
Full report at:
http://tribune.com.pk/story/559480/immunisation-ban-clerics-for-talks-with-taliban-to-fight-polio/
------------
Pakistan PM Nawaz Sharif changes name of his office
June 06, 2013
In one of his first decisions after assuming charge, Pakistan's new Prime Minister Nawaz Sharif has changed the name of his office.
"Prime Minister Mr Muhammad Nawaz Sharif has decided to rename the Prime Minister's secretariat as Prime Minister's office with immediate effect," said a brief statement issued by the premier's media office.
Full report at:
http://www.hindustantimes.com/world-news/pakistan/Pakistan-PM-Nawaz-Sharif-changes-name-of-his-office/Article1-1071782.aspx
----------
Shahbaz Sharif elected Punjab chief minister
June 6, 2013
LAHORE: Pakistan Muslim League – Nawaz (PML-N) leader Shahbaz Sharif was elected as Punjab chief minister after securing 300 votes on Thursday, Express News reported.
Shahbaz and Pakistan Tehreek-e-Insaf's Mian Mahmoodur Rasheed were the only two contenders for the post.
Full report at:
http://tribune.com.pk/story/559678/shahbaz-sharif-elected-punjab-chief-minister/
------------
Zardari may address parliament for sixth time
SYED IRFAN RAZA
Jun 06 2013
ISLAMABAD: President Asif Ali Zardari may set a record by addressing the parliament for the sixth time in the current session.
The president, sources said, was waiting for an invitation from the Pakistan Muslim League-Nawaz (PML-N) government in this regard.
As per the constitution, the invitation to address the parliament or any of its houses is sent to the Presidency on the advice of the prime minister through parliamentary affairs division, sources said.
Full report at:
http://beta.dawn.com/news/1016328/zardari-may-address-parliament-for-sixth-time
------------
India
To ease Pak energy crisis, India sends officials with pipeline offer
Amitav Ranjan
Jun 06 2013
New Delhi : Responding to the friendly overtures from Pakistan's new ruling party, a delegation of Indian officials is headed to Lahore on June 9 to offer natural gas supply through a pipeline to help ease the neighbour's energy crisis.
The decision, sources said, was taken at the top level on Monday, two days before Nawaz Sharif was sworn in as prime minister. India will offer to extend its gas pipeline to the Wagah border, after which Pakistan can take it to its users. The gas, amounting to 1.5 million tonnes per annum, would be sourced by India from Qatar and offered without charging a marketing premium.
Full report at:
http://www.indianexpress.com/story-print/1125775/
------------
BJP interfering in Ishrat encounter probe, says PC
Jun 06 2013
New Delhi: A day after BJP leader Arun Jaitley questioned the CBI move to quiz a senior Intelligence Bureau officer in the Ishrat Jahan encounter case, Finance Minister P Chidambaram on Wednesday said that such statements from the main opposition party amounted to "gross interference" in the CBI investigations.
"Gujarat Chief Minister and other BJP leaders are interfering in the CBI investigation. The CBI, under the direction of the Supreme Court, is questioning certain people. One of the persons being questioned by the CBI happens to be a former police officer of Gujarat who is a serving officer of the Intelligence Bureau. That (questioning) is CBI's decision and this is a court monitored investigation. Why accuse the Government of India or the Congress?" Chidambaram asked, without naming Jaitley.
Full report at:
http://www.indianexpress.com/news/bjp-interfering-in-ishrat-encounter-probe-says-pc/1125666/
---------
As Nawaz Sharif becomes PM, Kashmir gets voice in Pakistan power circuit
Muzamil Jaleel
Jun 06 2013
New Delhi : Kashmir may have been missing from the agenda of the elections in Pakistan, but the country's new government will have Kashmiris in vital positions — beginning with Prime Minister Nawaz Sharif himself.
Sharif, 63, who was sworn in for a historic third term on Wednesday, belongs to a family that migrated to Amritsar from South Kashmir's Anantnag district in the beginning of the last century. Sharif's close confidant Ishaq Dar, and influential PML (N) leader Khawaja Asif — both of whom are likely to get important positions in the new government — too have roots in Kashmir.
Full report at:
http://www.indianexpress.com/story-print/1125778/
------------
Jaish 'district commander' killed
AHMED ALI FAYYAZ
Jun 06 2013
Close on the heels of the death of four soldiers and three militants in two gunfights in Pulwama district, the Jammu and Kashmir Police and security forces have killed the Jaish-e-Mohammad's "district commander," Altaf Baba, in yet another encounter on Wednesday.
Sources said the police, the Army and the CRPF launched a search operation on a tip-off at Ichhgooza. One of the holed-up militants died and one more was trapped in a house. A soldier was injured.
Deputy Inspector-General of Police in South Kashmir Vijay Kumar confirmed the death of Altaf Baba of Aglar, claiming that he was Jaish-e-Mohammad's "district commander."
He was killed in an orchard while trying to escape from the cordoned area.
http://www.thehindu.com/news/national/jaish-district-commander-killed/article4785382.ece
------------
Lift lid on Mohammad Ali Jinnah's speeches, says CIC
TNN | Jun 6, 2013
NEW DELHI: The Central Information Commission (CIC) has asked the government to evaluate two speeches made by Pakistan founder Mohammad Ali Jinnah during pre-Independence era that are stored in the All India Radio archives and explain the reasons for withholding them if it intends to do so. Prasar Bharati had declined to give the information saying it would adversely affect security and strategic interests of the country and impact its relations with Pakistan.
Chief Information Commissioner Satyananda Mishra said keeping everything related to Pakistan secret was a "regressive stand'.' He said that more than 60 years after the country's Independence, time had come to decide if information relating to pre-Independence period should be made available to public since it would no longer be as sensitive as it was once.
Full report at:
http://timesofindia.indiatimes.com/india/Lift-lid-on-Mohammad-Ali-Jinnahs-speeches-says-CIC/articleshow/20452537.cms
------------
Bapu's autobiography to be translated into Kashmiri
Prashant Dayal, TNN | Jun 6, 2013
AHMEDABAD: 'The Story of My Experiments with Truth' — life story of Mahatma Gandhi, the man who waged wars with non-violence — will soon be available in Jammu and Kashmir.
After growing demand from Kashmiris to print Gandhi's autobiography in their regional language, the book is being translated by three scholars. The best translation, which retains the heart of Gandhi's teachings, will be selected and printed.
Managing trustee of Navjivan Trust Vivek Desai says that the Kashmiri translation of Mahatma Gandhi's autobiography aims to take the message of peace and non-violence to a state which has reeled under active terrorism for the past many years now.
Full report at:
http://timesofindia.indiatimes.com/india/Bapus-autobiography-to-be-translated-into-Kashmiri/articleshow/20451551.cms
------------
India warns citizens against travelling to 3 Nigerian states
PTI | Jun 6, 2013, 01.27 AM IST
ABUJA: India has issued a travel warning to its nationals in Nigeria urging them to be cautious while visiting the oil-rich nation's troubled northeastern region, where a state of emergency had been declared last month.
The High Commission of India in Nigeria, on its website, urged its nationals living in Borno, Yobe and Adamawa states "to weigh their options and consider relocation until the security situation settles down."
The emergency rule had been declared by President Goodluck Jonathan in the three states on May 14 after the radical Islamic sect Boko Haram continued their campaign of terror by killing security, government officials, traditional rulers and civilians.
Full report at:
http://timesofindia.indiatimes.com/india/India-warns-citizens-against-travelling-to-3-Nigerian-states/articleshow/20451112.cms
------------
Pulwama encounter enters second day in J&K
PTI | Jun 6, 2013
SRINAGAR: The encounter in Pulwama district of south Kashmir entered the second day on Thursday as security forces exchanged fresh fire with holed-up militants in the wee hours.
"Fresh firing between the security forces and the holed- up militants took place at around 4.00am. Intermittent firing continued for several hours since then," police sources said.
The security forces have maintained a tight cordon around the militants to prevent them from escaping.
Full report at:
http://timesofindia.indiatimes.com/india/Pulwama-encounter-enters-second-day-in-JK/articleshow/20456129.cms
------------
Europe
Russia foils Islamist terror attack, arrests culprit
Jun 06 2013
Moscow: Russia's counter-terrorism agency says Special Forces arrested a man Thursday who is accused of planning a terrorist attack on Moscow that the agency foiled last month.
The National Anti-Terrorism Committee said in a statement that troops from the Federal Security Service, or FSB, arrested Yulai Davletbayev in suburban Moscow Thursday morning.
Russian TV showed images of Special Forces arresting a man identified as Davletbayev. It was not clear when or where the operation took place.
Two suspected militants from the group Davletbayev is accused of leading were killed and a third, Robert Amerkhanov was arrested in an FSB operation in May, the committee said. Amerkhanov told the FSB that Davletbayev had directed the planned attacks, the committee said. The men were Russian citizens trained in terrorist camps on the Afghanistan-Pakistan border, the committee added.
Full report at:
http://www.indianexpress.com/story-print/1125917/
---------
Al-Rahma Islamic Centre destroyed in 'hate crime' fire
Jun 06 2013
An Islamic centre in north London has been destroyed by a fire in an apparent hate crime attack.
The Met Police said the fire, which happened at the Al-Rahma Islamic Centre in Muswell Hill in the early hours, is being treated as suspicious.
A spokesman said the letters EDL (English Defence League) were sprayed on to the building, used by the Somali Bravanese Welfare Association.
MP Theresa Villiers said: "This kind of hate crime is absolutely despicable."
The Conservative MP for Chipping Barnet said: "This is not just an attack on the Muslim community it is an attack on all of us and our values.
Community 'shocked'
"We are a highly diverse multi-ethnic borough with excellent community cohesion in Barnet. We should under no circumstances allow violent extremists to divide us with this kind of outrage."
Full report at:
http://www.bbc.co.uk/news/uk-england-london-22785074
------------
Fighting between Sudanese army and rebels displaces 60,000: U.N.
Jun 6, 2013
(Reuters) - More than 60,000 people have fled a town in Sudan's main oil region since it was attacked by insurgents in April, the United Nations said on Thursday.
Government forces retook the town of Abu Kershola two weeks ago from fighters belonging to the Sudanese Revolutionary Front (SRF), a rebel alliance seeking to topple President Omar Hassan al-Bashir.
Abu Kershola lies in the north-eastern tip of the oil-producing South Kordofan state.
But the SRF struck back, attacking a convoy of Sudan's army chief of staff during a visit last week.
Full report at:
http://www.reuters.com/article/2013/06/06/us-sudan-fighting-idUSBRE9550PN20130606?feedType=RSS&
-----------
Russia says reports of chemical arms in Syria must not bring intervention
6 June 2013
Russian Foreign Minister Sergei Lavrov said on Thursday that reports chemical weapons have being used in Syria should not be used to justify foreign military intervention in the more than two-year-old conflict, reported Reuters.
"The issue of chemical weapons has become the subject of speculation and provocation," Lavrov said after meeting with counterparts from Baltic nations. "I do not rule out that somebody wants to use it to state that a red line has been crossed and a foreign intervention is necessary," Reuters quoted Lavrov as saying.
Full report at:
http://english.alarabiya.net/en/News/middle-east/2013/06/06/Russia-says-reports-of-chemical-arms-in-Syria-must-not-bring-intervention.html
----------
Russia's Syria diplomacy, a game of smoke and mirrors
6 June 2013
Sitting at a long table in Russia's Foreign Ministry, Syrian opposition leaders outlined a plan to protect Moscow's interests if the Kremlin agreed to the removal of its longstanding ally, President Bashar al-Assad.
Throughout the meeting last July, one of many since the start of Syria's civil war, Russian officials sat stony-faced. When the Syrians had finished, there was a long silence.
"The Russians listened but never spoke, and when we were done speaking, we were told that Moscow is dedicated to human rights and we were told to get on our way," said Mahmoud al-Hamza, a Moscow-based member of the Syria National Council, who was present at several such sessions.
Full report at:
http://english.alarabiya.net/en/perspective/analysis/2013/06/06/Russia-s-Syria-diplomacy-a-game-of-smoke-and-mirrors.html
----------
Southeast Asia
Miss World axes bikinis for this year's contest in Indonesia
AFP | Jun 6, 2013
JAKARTA: Contestants at this year's Miss World beauty pageant will not wear bikinis in the parade in a bid to avoid causing offence in Muslim-majority Indonesia, organisers confirmed on Wednesday.
The 137 women taking part in the September contest will swap bikinis for more conservative attire, such as traditional sarongs, for the beach fashion section.
The contest is being held on the resort island of Bali, where foreign tourists flock in their millions and the beaches are packed with women sunbathing in skimpy swimwear.
But Miss World Organisation chairwoman Julia Morley insisted that none of the pageant's contestants would wear a bikini.
"I don't want to upset or get anyone in a situation where we are being disrespectful," she told AFP from London.
"We treasure respect for all the countries that take part in the pageant," she said, adding the final outfits had not yet been finalised.
Full report at:
http://timesofindia.indiatimes.com/world/rest-of-world/Miss-World-axes-bikinis-for-this-years-contest-in-Indonesia/articleshow/20455584.cms
------------
Election shows DAP's 'Chinese racism' in bid to rule Malaysian politics
Jun 06 2013
KUALA LUMPUR, June 6 — Tun Dr Mahathir Mohamad said today that the results of Election 2013 demonstrate "Chinese racism", which he alleged was fanned by the DAP to ensure the community's domination of Malaysian politics.
The influential former prime minister's accusation against the DAP reflects the strident tone of the right-wing elements in Umno, as several politicians from the ruling party and the party's mouthpiece Utusan Malaysia continue to frame the May 5 polls as a Chinese-vs-Malay vote.
Full report at:
http://www.themalaysianinsider.com/malaysia/article/ge13-shows-daps-chinese-racism-in-bid-to-rule-malaysian-politics-says-dr-m/
------------
Malaysians deserve a police force they can trust — Christian Federation
JUNE 06, 2013
JUNE 6 — The Christian Federation of Malaysia (CFM) views with great alarm the reported three deaths in police custody over the past 11 days from May 21 to June 1. These three men were remanded for police investigations but met untimely deaths in the police lock-ups in Kuala Lumpur, Penang and Tampin.
The names of N. Dharmendran, R. Jamesh Ramesh and P. Karuna Nithi are now etched in our minds as among many other Malaysians who have died while in police custody in recent times. The government owes their grieving families and all Malaysians a full and proper explanation. Our prayers are with the grieving families.
Full report at:
http://www.themalaysianinsider.com/sideviews/article/malaysians-deserve-a-police-force-they-can-trust-eu-hong-seng/
------------
Joint investigations to counter terrorism in Southeast Asia
Mike Smith, New York
June 06 2013
Terrorism continues to pose a grave threat to the political stability, economic progress and security, not just of individual States, but of entire regions. It is therefore essential that States work to strengthen their cooperation and afford one another the greatest measure of assistance in connection with criminal investigations and proceedings to bring to justice those who support, finance, plan, prepare or perpetrate acts of terror.
It is in this context that the Southeast Asia Regional Centre for Counter-Terrorism (SEARCCT), in association with the United Nations Counter-Terrorism Committee Executive Directorate (CTED), this week hosts a workshop in Langkawi aimed at promoting enhanced cooperation in conducting international joint investigations.
Full report at:
http://www.thejakartapost.com/news/2013/06/03/joint-investigations-counter-terrorism-southeast-asia.html
------------
Rohingya violence effect: 900 Myanmar nationals detained in Malaysia
Jun 06 2013
Kuala Lumpur : Malaysian police said today they had detained more than 900 Myanmar nationals in a security sweep after at least two were killed last week in clashes believed to be linked to sectarian violence back home.
The two dead were likely Myanmar Buddhists killed during a spate of violent incidents in Kuala Lumpur since May 30, said Amar Singh Ishar Singh, the Malaysian capital's deputy police chief.
He added that two other people were in critical condition and the attacks were "believed to be the result of violence in Myanmar."
"The operation is to send a clear message to stop this nonsense and not bring the violence over to Malaysia," he told AFP.
Full report at:
http://www.indianexpress.com/story-print/1125855/
------------
South Asia
President Waheed honoured during Palestine visit, speaks on two-state solution
By Minivan News | June 5th, 2013
President Dr Mohamed Waheed been presented with Palestine's highest honour during an official visit to the country, where he is acting as chair of the 4th International Islamic Conference of Bait Al Maqdis.
Dr Waheed was presented with the 'Star of Palestine' by President Mahmoud Abbas yesterday (June 4) in recognition of his efforts to strengthen relations between the two countries, according to the President's Office website.
President Abbas was himself presented during their meeting with the "Nishan Izzuddeen" – one of the Maldives highest honours.
Full report at:
http://minivannews.com/category/news-in-brief
------------
Afghan governor: Airstrike kills 3; NATO denies
By RAHIM FAIEZ Associated Press
Jun 6, 2013
KABUL, Afghanistan—The governor of an eastern province in Afghanistan alleged on Thursday that an overnight NATO airstrike killed three civilians and wounded seven there, a claim the US-led coalition flatly denied.
Sayed Fazelullah Wahidi claimed the three civilians—two women and a child—died in the airstrike allegedly carried out by a drone in the Noorgaram area of the Dara-i Peach district.
"This claim is not true," the U.S.-led International Assistance Force said. "ISAF takes allegations of civilian causalities very seriously. We do not have any operational reporting that supports the ... allegations within the Kunar province."
Full report at:
http://www.dailybulletin.com/news/ci_23401706/afghan-governor-airstrike-kills-3-nato-denies#ixzz2VRnBzXUv
-----------
Bangladesh lifts ban on YouTube, blocked after blasphemous film
June 5, 2013
DHAKA: Bangladesh on Wednesday lifted a ban on video-sharing site YouTube which has been blocked since September after an online anti-Islam movie spawned violent protests across the Muslim world.
The sacrilegious video that denigrated the Prophet Mohammad (PBUH), billed as a film trailer and made in California with private funding, provoked a wave of anti-American unrest in dozens of Muslim countries in September.
"The ban has been lifted as it was hurting thousands of people who use YouTube for good purposes such as educational or research," said Sunil Kanti Bose, head of Bangladesh Telecom Regulatory body.
Bangladesh, Afghanistan, Sudan and Pakistan banned YouTube simultaneously.
http://tribune.com.pk/story/559333/bangladesh-lifts-ban-on-youtube-blocked-after-blasphemous-film/
------------
Karzai felicitates PM Sharif on assuming office, hopes for strengthened ties
Jun 06 2013
ISLAMABAD: Afghan President Hamid Karzai on Thursday telephoned Prime Minister Nawaz Sharif and felicitated him on assuming the office of the country's premier.
Speaking to Prime Minister Sharif, Karzai extended his best wishes and expressed the hope that both countries would continue to work to improve bilateral relations.
The Afghan president said strong ties would augur well for peace and stability in the region.
Karzai also extended an invitation to Prime Minister Sharif to visit Afghanistan, a press statement said.
The prime minister accepted the invitation and thanked the Afghan president.
http://dawn.com/2013/06/06/karzai-felicitates-pm-sharif-on-assuming-office-hopes-for-strengthened-ties/
------------
Three Rohingya Muslims Killed in Clash with Myanmar Police
By Agence France-Presse
June 6, 2013
Yangon. Three Muslim Rohingya women have been shot dead in a confrontation with security forces in a violence–torn region of western Myanmar, police said Wednesday.
The incident happened on Tuesday in a camp for victims of communal violence in Parein in Rakhine State, local police officer Maung Maung Mya told AFP by telephone.
"The three died as warning shots were fired," he said, adding that four others were injured.
He said tensions had erupted because some Rohingya at the camp were refusing to move to new shelters provided by the authorities.
"They think they will lose their own land if they are moved to the new shelters. So they don't move."
Full report at:
http://www.thejakartaglobe.com/international/three-rohingya-muslims-killed-in-clash-with-myanmar-police/
------------
Bangladesh: 5 get death sentence for murdering Hindu leader
June 06, 2013
Five people have been sentenced to death and three others handed down life term by a Bangladesh court for murdering a Hindu leader 13 years ago. District and sessions Judge of Bagerhat S M Solaiman handed down the sentences in absentia on Wednesday as seven of the convicts were still on the run, court officials said.
Full report at:
http://www.hindustantimes.com/world-news/bangladesh/Bangladesh-5-get-death-sentence-for-murdering-Hindu-leader/Article1-1071861.aspx
------------
Police discover over 14,000 cans of beer in water near Male'
By Ahmed Nazeer | June 6th, 2013
Marine Police and Maldives National Defence Force (MNDF) officers were today collecting thousands of cans of beer found floating in the sea on the west side of Male'.
According to the statement issued by police, so far 14,548 cans of beer have been taken from the sea, with more continuing to be found.
Full report at:
http://minivannews.com/society/police-discover-over-14000-cans-of-beer-in-water-near-male%E2%80%99-59119
------------
Kamaruzzaman challenges war crimes verdict
Jun 06 2013
Jamaat-e-Islami leader Muhammad Kamaruzzaman on Thursday challenged the death penalty awarded him by a war crimes tribunal for his crimes against humanity during the 1971 Liberation War.
Claiming himself innocent, the assistant secretary general of Jamaat termed the verdict a "wrong judgement" and appealed with Appellate Division of the Supreme Court for his acquittal from all the five charges which were proved before International Crimes Tribunal-2.
The tribunal on May 9 sentenced him to death as it found him guilty of committing crimes against humanity in 1971.
Full report at:
http://www.thedailystar.net/beta2/news/kamaruzzaman-challenges-war-crimes-verdict/
-----------
North America
Muslims Focus On Online Extremism, Radicalization After Boston Bombings
06/04/2013
WASHINGTON -- Muslims in the United States have grappled with the consequences of extremism since Sept. 11, 2001, when the actions of 19 men affiliated with al Qaeda ushered in a new era, when fingers are invariably pointed at followers of Islam whenever a terrorist attack takes place.
Since then, Muslim activists have spearheaded efforts to eradicate the perception that Islam is a violent or extreme religion -- often laboring to disseminate the simple message that the vast majority of Islam's 1.6 billion followers worldwide denounce terrorism.
Full report at:
http://www.huffingtonpost.com/2013/06/04/muslims-online-extremism-radicalization-boston_n_3380159.html?utm_hp_ref=religion
------------
Soldier who killed 16 Afghan civilians pleads guilty
6 June 2013
A US army sergeant who killed 16 Afghan civilians in cold blood last year has pleaded guilty to premeditated murder and other charges under a deal with military prosecutors that spares him from the death penalty.
Staff Sergeant Robert Bales, a decorated veteran of four combat tours in Iraq and Afghanistan, admitted to leaving his post in the Afghan province of Kandahar last March to gun down and set fire to unarmed villagers, mostly women and children, in attacks on their family compounds.
"As far as why, I've asked that question a million times since then," Bales said, in a calm, steady voice, when the judge pressed him for an explanation. "There is not a good reason in this world for why I did the horrible things that I did."
It was the worst case of civilian slaughter blamed on a single US soldier since the Vietnam war.
Full report at:
http://www.guardian.co.uk/world/2013/jun/06/soldier-killed-afghans-pleads-guilty
-----------
Mideast
The story behind Muslim celebration of Prophet Mohammad's ascension
6 June 2013
Thursday marks al-Israa wa al-Mi'raj, a Muslim holiday that celebrates the Prophet Mohammad's overnight journey from Mecca to Jerusalem, from where he ascended to heaven, according to Islamic tradition.
The story of this journey is derived from the Quran, the holy book of Islam, and hadiths, or sayings of the prophet recorded by his contemporaries.
The journey of al-Israa
Chapter 17 of the Quran, or Surat al-Israa, refers to his journey to Jerusalem.
It took place with the appearance of Angel Jibril (Gabriel) in Mecca, who gave the prophet a winged "white animal bigger than a donkey and smaller than a mule," according to the Hadiths recited by Dr Mohammad Alkobaisi, grand mufti in Dubai's Ministry of Islamic Affairs, and presenter of the TV show "Understanding Islam."
Full report at:
http://english.alarabiya.net/en/perspective/features/2013/06/06/The-story-behind-Muslim-celebration-of-Prophet-Mohammad-s-ascension-.html
------------
Atypical day of protest at Gezi Park with religious ceremony, Quran reading in Turkey
June 6th, 2013
As the 9th day of demonstrations against plans to redesign Istanbul's iconic Taksim square coincided with the Lailat al–Mi'raj - known as Miraç Kandili in Turkish - protestors decided to mark this religious event with several activities.
The day in Taksim Square started with the distribution by volunteers of "kandil simidi", a simit that is baked for this specific religious day.
Social media campaigns also declared the park a no-alcohol zone for the night, to further deepen solidarity with all sections of society. Concerns that ignoring the religious event and consuming alcohol could be used as a counter propaganda to demonize the demonstrations by conservative and pious supporters of the ruling Justice and Development Party (AKP) also played a role in the decision.
Full report at:
http://www.hurriyetdailynews.com/atypical-day-of-protest-at-gezi-park-with-religious-ceremony-quran-reading-in-turkey.aspx?pageID=238&nID=48301&NewsCatID=341
------------
Four killed in Yemen anti-Al-Qaeda offensive
6 June 2013
ADEN: Two civilians and two officers have been killed in an all-out offensive by Yemeni forces yesterday against Al-Qaeda groups that recently seized villages in the southeastern province of Hadramawt, officials said.
Troops backed by tanks and helicopters launched a dawn operation in Ghayl Bawazir, about 30 kilometers (20 miles) east of the port city of Mukalla, a security official said.
Witnesses said they saw military convoys heading in the direction of the area, which officials said had been seized by Al-Qaeda gunmen last month.
Medics at a hospital in Mukalla said two civilians were killed and five others were wounded, while seven soldiers were also injured.
Full report at:
http://www.arabnews.com/news/454125
------------
A glance at the Taksim Square protesters in Turkey
AP | Jun 6, 2013
ISTANBUL: The central square and its leafy park in Turkey's largest city has been occupied by protesters from all walks of life and all ages for the past six days - the strongest show of defiance to date against the country's popular prime minister, who many accuse of displaying increasing arrogance and attempting to meddle in his citizens' private lives.
What started as a mostly environmental movement to protect the park in Taksim Square quickly spiraled into demonstrations across the country. But the central focus remains Istanbul's small Gezi Park.
Full report at:
http://timesofindia.indiatimes.com/world/middle-east/A-glance-at-the-Taksim-Square-protesters-in-Turkey/articleshow/20453689.cms
------------
URL: https://newageislam.com/islamic-world-news/fbi-start-tracking-hate-crimes/d/11930