New Age Islam News Bureau
05 July 2022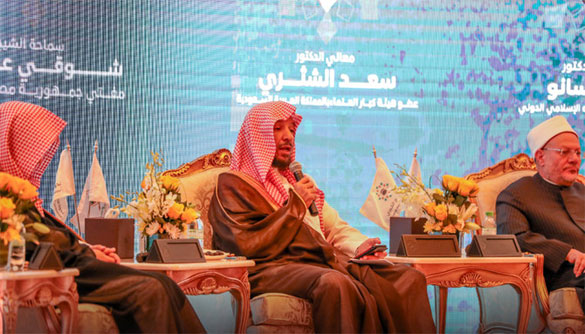 Islam-based fatwas played a significant role in facilitating religious matters and raising awareness about the Hajj. (Supplied)
-----
• Judge Puts Pressure on Biden over Saudi Crown Prince's Immunity in Lawsuit Filed by the Fiancee of Jamal Khashoggi
• West, Turkey Transferring Daesh, Hay'at Tahrir Al-Sham Takfiri Terrorists from Syria to Ukraine: Syrian Envoy
• Muslim Eatery Owner Arrested In UP For Packing Meat Dishes in Newspaper with Images of Hindu Deities, On a Complaint by Hindu Jagran Manch President
• After Pakistan Army Chief, ISI Head Issues Strict Orders to His Commanders to Stay Away From Politics
Arab World
• Head of Sadr Political Bloc Invites Iraqi Sunni, Shia Muslims to Attend Joint Congregational Friday Prayer
• Saudi forces arrest activists, critics in Shia-populated Eastern Province: Report
• Hajj pilgrimage set to begin with one million vaccinated Muslims from around world
• Saudi Arabia arrests 300 pilgrims without permits
• Chlorine gas leak in Iraq's south injures at least 300
• Lebanon plans to repatriate 15,000 refugees monthly to Syria
• American troops kill two civilians during airdrop operation in Syria's Dayr al-Zawr
--------
North America
• US Says Shireen Abu Akleh Likely Shot from Israeli Side but Not Intentionally
• US forensic experts examine bullet that killed Al Jazeera journalist in Jerusalem
--------
Europe
• Israel, Poland agree to restore ties after Holocaust row
• British Council workers stranded in Afghanistan at 'high risk'
• France repatriates 51 women, children with family links to extremists from Syria camp
--------
India
• Saharanpur Violence: 8 Muslims, Tortured By UP Cops, Acquitted
• Jamiat Ulema of India's Assam Urges Muslims Not To Sacrifice Cow on 'Eid Al-Adha' Festival
• Lucknow Administration Urges People Not To Post 'Qurbani' Images on Social Media
• Karnataka: Bajrang Dal protests Udaipur murder, demolish Muslim shop
• Gyanvapi mosque case: Next hearing on July 12
• RSS Plans Major Outreach among UP's 'Pasmanda' Muslims
• NIA chief briefs Shah on Udaipur, Amravati probes
• Nupur Sharma Hearing Judge Slams Social Media Opinions, Says Parliament Should Regulate
--------
Pakistan
• State Bank of Pakistan Adopts More Sharia-Compliant Standards for Islamic Banking
• Imran Khan Aides Say Bushra Bibi 'Treason' Clip A Storm In Teacup
• Pakistan Army Chief undertook a 'low profile' visit to Paris: Report
• MQM leader Babar Ghauri arrested at Karachi airport
• Suspect linked to KU bombing held, Sindh IGP tells Chinese delegation
--------
South Asia
• Taliban Grand Meeting Did Not Lead to Breakthrough: Human Rights Watch
• Attack on a Convoy Carrying Taliban Forces in Western Afghanistan Wounds 20 People
• 4,559 Afghan refugees expelled from Iran, Pakistan: Taliban
• Will request India to speed up return of Af students: Taliban
• Afghanistan, Pakistan narrate conflicting accounts of same story
--------
Mideast
• Israeli Arab Muslim Party Aspires To Be Part of the Next New Coalition
• Iran: Saddam's Chemical Bombing of Sardasht Highest Degree of Insolence
• Israeli PM Lapid to press France's Macron and warn Hezbollah 'playing with fire'
• Palestine rejects 'manipulation' of investigations into journalists' death
--------
Africa
• 2023: Islamic Cleric Warns Against Same-Faith Presidential Ticket
• 34 killed in two jihadist attacks in Burkina Faso
• Sudan's army won't take part in political talks, leader says
• UN appeals for urgent funding to provide humanitarian aid to people in South Sudan
• Egyptian, Libyan leaders say elections 'only way-out' of Libya's crisis
• Over 15,000 Nigerian Muslim pilgrims 'stranded' as Saudi Arabia extends airlifting
--------
Southeast Asia
• Selangor Ruler Concerned Over Malay Disunity, Tells Politicians To Unite
• Indonesia School Helps Students Recite Quran in Sign Language
• First Malaysian death recorded in Mecca, says religious minister
• I agreed to testify against Syed Saddiq to avoid prosecution, says witness
Compiled by New Age Islam News Bureau
URL: https://newageislam.com/islamic-world-news/fatwas-islamic-principles-hajj/d/127410
--------
Fatwas Based on Genuine Islamic Principles Reconfirm Islam's Flexibility, Scholars Tell Grand Hajj Symposium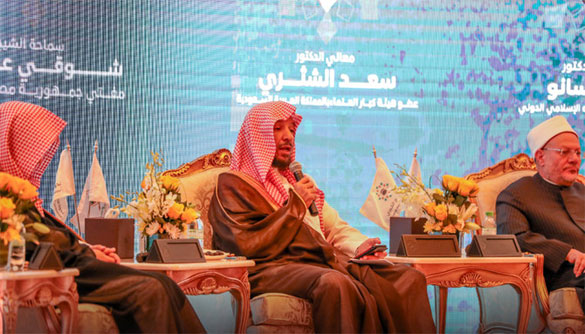 Islam-based fatwas played a significant role in facilitating religious matters and raising awareness about the Hajj. (Supplied)
-----
Mohammed Al-Kinani
July 04, 2022
JEDDAH: Fatwas based on genuine Islamic principles reconfirm the religion's flexibility, scholars told delegates on the second day of the 46th Grand Hajj Symposium.
The event was inaugurated on Sunday by Hajj and Umrah Minister Dr. Tawfiq Al-Rabiah and features ministers and eminent Muslim scholars from different countries.
Participants underscored the role of the religious fatwa in achieving the Islamic objectives of the Hajj when it came to contemporary issues. They also praised the Kingdom's efforts in facilitating the Hajj.
During a session titled "Islamic Jurisprudence System and Contemporary Calamities," the speakers said that Islam-based fatwas played a significant role in facilitating religious matters and raising awareness about the Hajj.
Egypt's Grand Mufti Shawki Allam touched on the importance of the Islamic jurisprudence system in adapting legal fatwas in facilitating Hajj rituals for Muslims, saying that flexibility in such situations confirmed that Islam was valid for every time and place.
Dr. Saad bin Nasser Al-Shithri, an adviser at the Royal Court and a member of the Saudi Council of Senior Scholars, said the Islamic jurisprudence system was capable of dealing with emerging challenges.
The secretary-general of the International Islamic Fiqh Academy, Dr. Koutoub Sano, referred to the factual nature of Islamic Sharia and its ability to deal with new problems to help people understand it.
He highlighted the role of institutes and academies devoted to fatwas in qualifying specialists and investing in Sharia studies to extract rulings from the appropriate texts. He also praised Saudi efforts to deploy all its capabilities to provide security and safety for pilgrims.
In Monday's second session, "Caring for the Pilgrim's Journey," Malaysia's Minister of Religious Affairs Dr. Datuk Idris Ahmad reviewed his country's efforts in providing services and promoting awareness among pilgrims, including medicines, vaccines, and personal health follow-up programs.
Ahmed said the services provided in cooperation with the Ministry of Health were meant to ensure their pilgrims were free from infectious diseases. He also praised the care and attention paid by the Saudi government to pilgrims over the decades and the remarkable development achieved by the Hajj and Umrah system.
Deputy Minister of Hajj and Umrah Dr. Abdulfattah Mashat highlighted the Saudi ministries' digital initiatives that contributed to the issue of more than 2 million e-visas through a portal that included all relevant authorities.
He also spoke about a luggage transport service that allowed pilgrims to focus on the duties of their rituals. He said pilgrims had received multilingual Hajj awareness guidelines before and after their arrival in the Kingdom.
Mashat added that the success of the Hajj and Umrah system was linked to a clear strategy derived from the Guests of God Service Program, one of the Saudi Vision 2030 programs, to enrich pilgrims' Hajj experience and facilitate their spiritual journey.
"A pilgrim can electronically book all appointments and services, limiting negative practices such as stampeding. It can also ensure the flow of movement, smooth traffic, and easy grouping of pilgrims from one place to another."
Dr. Ali Arbash, head of Turkish religious affairs, expressed his thanks to the Saudi government for its efforts in providing the appropriate pilgrimage environment in terms of hygiene and health to protect people.
Arbash also reviewed his country's participation in the Green Hajj Initiative to raise awareness among pilgrims about reducing waste at the holy sites.
Saudi Assistant Minister of Health Dr. Mohammed Al-Abd Al-Aly underscored the efforts to provide the best health services to pilgrims.
He said these services, provided through the latest technology, were closely followed up by the Saudi leadership.
These services included 23 hospitals, 147 health centers, and 16 emergency centers on Jamarat Bridge. He added that more than 25,000 medical personnel were ready to provide all health services.
Dr. Hanan Balkhi, assistant director-general at the World Health Organization, described Saudi Arabia as an important strategic partner for the organization.
She praised the "bold decisions" taken by the Kingdom during the COVID-19 pandemic to protect pilgrims and limit the spread of coronavirus.
She said Saudi Arabia stood head and shoulders above all other countries due to its cumulative experience in crowd management.
Source: Arab News
Please click the following URL to read the text of the original story:
https://www.arabnews.com/node/2116531/saudi-arabia
--------
Judge Puts Pressure on Biden over Saudi Crown Prince's Immunity in Lawsuit Filed by the Fiancee of Jamal Khashoggi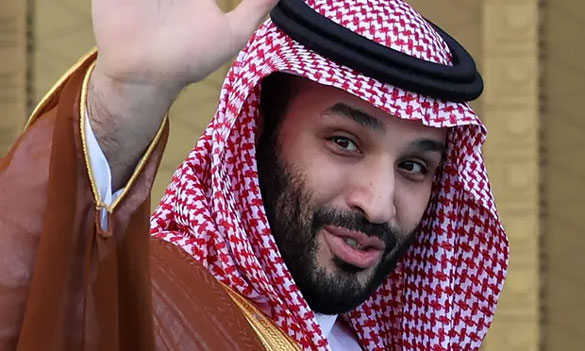 Mohammed bin Salman at an official ceremony in Ankara, Turkey, in June. Photograph: AFP/Getty Images
----
04 July 2022
A US judge has ordered the Biden administration to decide whether Saudi Crown Prince Mohammed bin Salman should be granted immunity in a civil lawsuit filed against him in the United States by Hatice Cengiz, the fiancee of slain dissident journalist Jamal Khashoggi.
US District Judge John Bates has given the administration of President Joe Biden until August 1 to declare whether bin Salman, whom US intelligence has held responsible for Khashoggi's murder, should be immune from the civil case or give the court notice that it has no view on the matter.
The lawsuit was filed in 2020 by Cengiz and Democracy for the Arab World Now (DAWN), a human rights organization Khashoggi founded before his death, in the federal district court of Washington DC.
It alleges that Khashoggi, a US resident and Washington Post columnist, was tortured, murdered and dismembered on the orders of bin Salman, known for his initials MBS.
The crown prince and two of the co-defendants have filed motions to dismiss Cengiz's lawsuit, contending that the court lacks jurisdiction in the case.
Bin Salman's lawyers have argued that he enjoys sovereign immunity in civil claims in the United States. "[MBS] has immunity not only from his immediate familial relationship to the King, but also from his own 'high-ranking office,'" they said in their motion to dismiss the lawsuit.
The federal judge's order comes just before President Biden is scheduled to make his first trip to Riyadh as president later this month, where he is expected to meet the crown prince. Biden is facing criticism for abandoning a campaign promise to turn Saudi Arabia into a "pariah" state over Khashoggi's murder.
After two years of inaction by Donald Trump, who was president when Khashoggi was murdered, the Biden administration released an unclassified US intelligence report last year that concluded the order to kill Khashoggi likely came directly from the crown prince himself.
"We assess that Saudi Arabia's Crown Prince Mohammed bin Salman approved an operation in Istanbul, Turkey to capture or kill Saudi journalist Jamal Khashoggi," the report said.
"We base this assessment on the crown prince's control of decision-making in the kingdom since 2017, the direct involvement of a key adviser and members of Mohammed bin Salman's protective detail in the operation, and the crown prince's support for using violent measures to silence dissidents abroad, including Khashoggi," it added.
The US intelligence assessment pointed out that bin Salman's aides could not have murdered Khashoggi without the crown prince's blessings.
The CIA concluded in 2018 that MBS had ordered the killing of Khashoggi, contradicting Saudi Arabia's insistence that the crown prince had no prior knowledge of the plot.
Saudi officials have blamed "rogue agents" for the journalist's death.
Khashoggi was lured into the Saudi consulate in Istanbul in October 2018 to obtain documents he needed to marry Cengiz. He was killed and dismembered in the consulate and his remains were never found.
In the months before his death, Khashoggi had turned into a vocal critic of MBS, the de-facto leader of Saudi Arabia who has overseen a harsh crackdown on rivals and dissidents.
Source: Press TV
Please click the following URL to read the text of the original story:
https://www.presstv.ir/Detail/2022/07/04/685024/Biden-bin-Salman-immunity-in-US-lawsuit-
--------
West, Turkey Transferring Daesh, Hay'at Tahrir Al-Sham Takfiri Terrorists from Syria to Ukraine: Syrian Envoy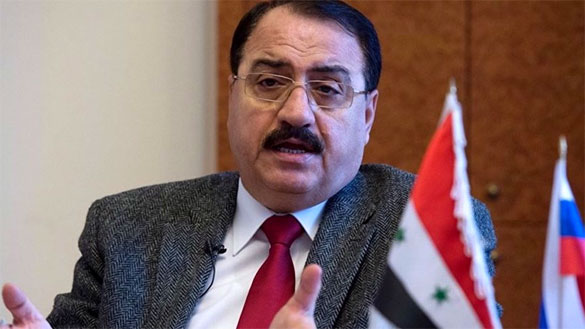 Syrian Ambassador to Russia Riad Haddad (Photo by SANA)
-----
04 July 2022
Syrian Ambassador to Moscow Riad Haddad says Western countries and Turkey are transferring remnants of Daesh and Hay'at Tahrir al-Sham (HTS) Takfiri terrorist groups from Syria's northern province of Idlib to Ukraine to fight against Russian military forces.
"It is no surprise that the United States, Western countries and Turkey have transferred members of Daesh and HTS terrorist groups from Idlib to Ukraine," Haddad told Russia's TASS news agency in an exclusive interview published on Monday.
He added that such Takfiri groups, irrespective of their different names, are being exploited by the West to ruthlessly suppress peaceful peoples.
The Syrian ambassador further noted that Damascus fully supports Russia's special military operation in Ukraine.
"I would like to stress that Syria completely supports Russia's military operation in Ukraine, which is aimed at protecting its national security, sovereignty and territorial integrity against mercenaries and neo-Nazis, who have been pouring into the Eastern European country from all corners of the world," Haddad pointed out.
The Syrian diplomat added that Moscow is facing a slew of threats emanating from the West.
"One of those challenges is the deceptive and misleading media campaign, which seeks to falsify the truth and tarnish the country's image," he said.
"Secondly, there are mercenaries, who are fighting against Russia with the support of the United States and Western countries. These are the same mercenaries, who fought in Syria with the aim of demolishing its infrastructure and state institutions, and are now pushing other countries and their nations to capitulate to Western hegemony," the Syrian ambassador said.
Haddad went on to point to the economic blockade and unjust sanctions, which Western countries have unilaterally slapped against Syria.
"Today, we see that Western countries have imposed the very same sanctions against Russia and its nation. Syria and Russia have joined forces to stand up against such insolence and the Western hegemony, led by the United States," the Syrian ambassador said.
Russia launched its "special military operation" in Ukraine on February 24, with the aim to "de-militarize" and to "de-Nazify" the neighboring country. The Russia-Ukraine conflict has been exacerbated as the United States and its European allies have been sending a flood of advanced weapons to Kiev.
By obtaining more advanced weapons from the West, the Ukrainian government aims to overpower the Russians and regain the Donbas. Donbas is composed of the two breakaway regions, Donetsk and Luhansk, where pro-Russian forces declared independence.
Source: Press TV
Please click the following URL to read the text of the original story:
https://www.presstv.ir/Detail/2022/07/04/685044/West,-Turkey-transferring-Daesh,-HTS-terrorists-from-Syria-to-Ukraine--Syrian-envoy
--------
Muslim Eatery Owner Arrested In UP For Packing Meat Dishes in Newspaper with Images Of Hindu Deities, On A Complaint By Hindu Jagran Manch President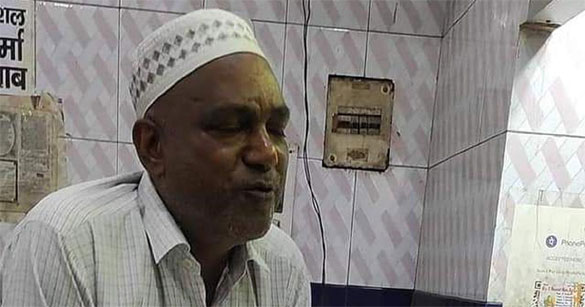 Eatery owner Mohammad Talib. | Dr Vishal Chauhan/ Twitter
-----
July 5, 2022
A Muslim eatery owner was arrested in Uttar Pradesh's Sambhal on Sunday for selling meat dishes wrapped in newspaper that had images of Hindu deities printed on them.
Mohammad Talib was arrested on a complaint by Hindutva group Hindu Jagran Manch district president Kailash Gupta, reported The Times of India. A first information report alleged that Talib also tried to attack police officers with a knife when they came to arrest him, reported PTI.
He has been booked under Sections 153A (promoting enmity between different groups on grounds of religion, race, place of birth, residence), 295A (deliberate act intended to outrage religious feelings of any community) and 307 (attempt to murder) of the Indian Penal Code.
A family member of Talib told The Times of India that newspapers have been used to pack food items at eateries for years.
"Does anyone look at the headlines of a newspaper or the photos carefully before using it as a wrapper?" he asked. "Can anyone be sent to jail for this? He has never hurt anyone's sentiments."
A worker at Mehak Restaurant, the eatery owned by Talib, said that his employer had bought newspapers from a scrap shop and was using them to pack food items for customers just as other establishments do.
"It is a normal practice, but we did not realise that the newspapers had pictures of Hindu gods," he told The Times of India. "We didn't want to hurt anyone's feelings."
A police officer said that a newspaper with pictures of Hindu deities published during the festival of Navratri was found at the eatery.
"After receiving a complaint on Sunday evening, police rushed to the hotel and seized the offensive material," said Circle Officer Jitendra Kumar. "Since the matter is sensitive, we immediately registered an FIR and arrested the eatery owner for hurting the religious sentiments of a particular community."
Source: Scroll
Please click the following URL to read the text of the original story:
https://scroll.in/latest/1027611/muslim-man-arrested-in-up-for-selling-meat-items-packed-in-newspapers-with-pictures-of-hindu-deities
--------
After Pakistan Army Chief, ISI Head Issues Strict Orders To His Commanders To Stay Away From Politics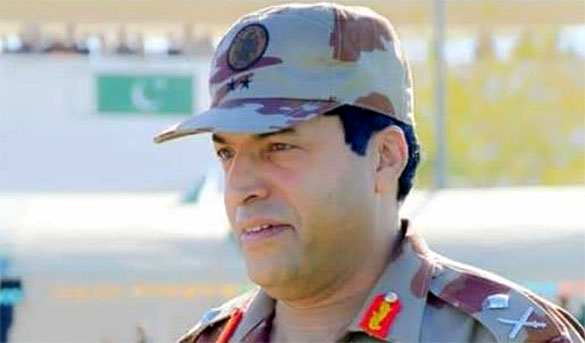 Lieutenant General Nadeem Anjum, Director General (DG) of Pakistan's Inter-Services Intelligence. Photo: Creative Commons
-----
Jul 5, 2022
ISLAMABAD: The chief of Pakistan's spy agency ISI has issued strict orders to all commanders to stay away from politics following directives from army chief Gen Qamar Javed Bajwa to offset a smear campaign against the military by ousted prime minister Imran Khan's party, according to a media report on Tuesday.
Lieutenant General Nadeem Anjum, director general (DG) of Pakistan's Inter-Services Intelligence (ISI), personally issued the instructions to his subordinates, The Express Tribune newspaper reported.
"They have been told in the strictest terms to stay away from politics and avoid any such activity," the report quoted a source as saying.
The spymaster further said that there would be zero-tolerance for violations and any intelligence official found violating the directives would have no place in the premier agency.
The development came a day after army chief Bajwa directed his top commanders and key officers – including those from the Inter-Services Intelligence – to stay away from politics after leaders of ousted prime minister Khan-led party alleged that some officials of the country's intelligence agency were trying to "manipulate" the upcoming by-elections in Punjab.
Pakistan army, which has ruled the coup-prone country for more than half of its 73-plus years of existence, has hitherto wielded considerable power in the matters of security and foreign policy.
Khan's Pakistan Tehreek-e-Insaf (PTI) party has been leading a vicious campaign against the security establishment since the toppling of its government in April this year through a no-confidence motion, according to the paper.
Khan, the 69-year-old cricketer-turned-politician, claims his ouster was a conspiracy orchestrated and bankrolled by the US with the help of local players over his pursuance of an independent foreign policy.
Khan is the only Pakistani prime minister to be ousted in a no-confidence motion in Parliament. He was replaced by Shehbaz Sharif of the Pakistan Muslim League-Nawaz (PML-N)
Khan and his party blamed the military and have mounted a vociferous campaign – especially on social media – to directly point the finger at some senior officials.
The party has now started peddling the narrative that the security establishment has been engaged in "political engineering" to manipulate the upcoming by-elections in favour of the PML-N and its coalition partners, the report said.
The bypolls on the 20 vacant seats of the Punjab assembly will be held on July 17.
Senior PTI leader Yasmin Rashid alleged at a recent press conference, without providing any evidence, that the ISI sector commander, Lahore, Brigadier Rashid was involved in political manipulation against the PTI. Former foreign minister and Deputy Chairman of PTI Shah Mehmood Qureshi also alleged that he was defeated in Punjab Assembly elections through a conspiracy.
The upcoming by-elections in Punjab are crucial because whichever party wins more seats will form the government in the province.
The Supreme Court has already ordered that the provincial assembly elect a new chief minister on July 22 after the bypolls because the PTI claims the incumbent chief minister Hamza Shehbaz doesn't command the majority, according to The Express Tribune.
Source: Times Of India
Please click the following URL to read the text of the original story:
https://timesofindia.indiatimes.com/world/pakistan/after-pakistan-army-chief-isi-head-issues-strict-orders-to-his-commanders-to-stay-away-from-politics/articleshow/92669762.cms
--------
Arab World
Head Of Sadr Political Bloc Invites Iraqi Sunni, Shia Muslims To Attend Joint Congregational Friday Prayer
July 5, 2022
Sayed Muqtada al-Sadr, the head of Sadr political bloc, invited Iraqis to take part in a joint congregational Friday prayer this week.
Sayed al-Sadr said the prayer will be held in Sadr City east of Baghdad with the aim of strengthening unity among Shia and Sunni Muslims of the country, Mawazin News reported.
It will mark the anniversary of the first such joint congregation prayer of Shias and Sunnis led by his father Ayatollah Sayed Mohammad Sadeq al-Sadr, he noted in a statement.
Do not worry about hot weather and other difficulties and attend the Friday prayer and know that God will protect you, al-Sadr stated.
Last October, thousands of Iraqis attended a joint congregational prayer in the city of Miqdadiya in Diyala Governorate to boost Islamic unity and denounce sectarian violence.
Source: ABNA24
Please click the following URL to read the full text of the original story:
https://en.abna24.com/news//muqtada-al-sadr-invites-iraqi-sunni-shia-muslims-to-attend-joint-congregational-friday-prayer_1272647.html
--------
Saudi forces arrest activists, critics in Shia-populated Eastern Province: Report
July 5, 2022
Saudi forces have reportedly arrested a number of people in Saudi Arabia's oil-rich and Shia-populated Eastern Province, as the kingdom intensifies a heavy-handed crackdown against critics of Crown Prince Mohammed bin Salman and his policies.
Opposition sources said Saudi forces have lately launched a frantic campaign in Qatif, al-Ahsa, and Dammam regions, detaining local residents without a warrant and prior notice, Lebanon's al-Ahed news website reported on Monday.
The sources, who asked not to be named, added that Saudi forces have arrested Sareh al-Ali, a resident of Dammam, in al-Ahsa, after having detained religious scholar Sheikh Abdul Majeed bin Haji al-Ahmad, two young Shia men identified as Hussein Rajab and Hussein al-Mutawa, and social media activist Musa Ali al-Khunaizi.
According to the opposition sources, the common criterion in the arrests is that those detained used to publish posts critical of bin Salman's policies and those of the House of Saud on social media platforms.
The sources noted that the detainees are being held incommunicado and are deprived of communication with their families.
Ever since bin Salman became Saudi Arabia's de facto leader in 2017, the kingdom has ramped up arrests of activists, bloggers, intellectuals, and others perceived as political opponents, showing almost zero tolerance for dissent even in the face of international condemnations.
Muslim scholars have been executed and women's rights campaigners have been put behind bars and tortured as freedoms of expression, association, and belief continue to be denied.
The kingdom's crackdown on peaceful dissent has particularly targeted writers and human rights campaigners in Eastern Province.
The province has been the scene of peaceful demonstrations since February 2011. Protesters have been demanding reforms, freedom of expression, the release of political prisoners, and an end to economic and religious discrimination against the region.
Over the past years, Riyadh has also redefined its anti-terrorism laws to target activism.
Source: ABNA24
Please click the following URL to read the full text of the original story:
https://en.abna24.com/news//saudi-forces-arrest-activists-critics-in-shia-populated-eastern-province-report_1272669.html
--------
Hajj pilgrimage set to begin with one million vaccinated Muslims from around world
04 July, 2022
The annual Hajj pilgrimage, one of the five pillars of Islam, will start on Wednesday with one million vaccinated Muslims from around the world allowed to take part this year.
In 2019, some 2.5 million pilgrims from around the world participated.
But then the COVID-19 outbreak forced Saudi authorities to dramatically downsize the Hajj, and just 60,000 fully vaccinated citizens and residents of the Kingdom took part in 2021 up from a few thousands in 2020.
All Muslims are expected to complete the Hajj to Mecca at least once in their lives if they have the means to do so.
Believers converge on the holy city for several days of rituals in which they retrace the Prophet Mohammed's last pilgrimage.
Here is a rundown of the ceremonies at what would usually be one of the largest religious gatherings in the world.
White garments
Pilgrims must first enter a state of purity, called Ihram, which requires special dress and behavior.
Men wear a seamless white garment that emphasises unity, regardless of social status or nationality.
Women must wear loose dresses, also white, exposing only their faces and hands.
Pilgrims are not allowed to argue or bicker and are prohibited from wearing perfume, cutting their nails, or trimming their hair or beards.
Rituals begin
The first ritual requires walking seven times around the Kaaba, the large black cubic structure at the center of Mecca's Grand Mosque.
Made from granite and draped in a heavily-embroidered cloth featuring verses of the Quran, the Kaaba stands nearly 15 meters (50 feet) tall.
Muslims turn towards the Kaaba to pray, no matter where they are in the world.
Pilgrims next walk seven times between two stone spots in the mosque.
They then move on to Mina, around five kilometers (three miles) away, ahead of the main rite of the pilgrimage at Mount Arafat.
Mount Arafat
The climax of the Hajj is the gathering on Mount Arafat, about 10 kilometers (six miles) from Mina, where it is believed that the Prophet Mohammed delivered his final sermon.
Pilgrims assemble on the 70-meter-high (230-foot) hill and its surrounding plain for hours of prayers and Quran recitals, staying there until the evening.
After sunset they head to Muzdalifah, halfway between Arafat and Mina, where they gather several dozen pebbles so they can perform the symbolic "stoning of the devil."
'Stoning the devil'
The last major ritual of the Hajj is back at Mina, where pilgrims throw seven stones at each of three huge concrete walls representing Satan.
Source: Al Arabiya
Please click the following URL to read the full text of the original story:
https://english.alarabiya.net/News/gulf/2022/07/04/Hajj-pilgrimage-set-to-begin-with-one-million-vaccinated-Muslims-from-around-world
--------
Saudi Arabia arrests 300 pilgrims without permits
July 5, 2022
MAKKAH: Saudi authorities have arrested and fined nearly 300 people caught trying to perform Haj without permits, an official said on Monday, as the kingdom prepares to receive one million people for the annual pilgrimage.
Some 288 "citizens and residents were arrested for violating Haj regulations," Lieutenant General Mohammed al-Basami, head of Haj security, told a press conference broadcast on state-run media, adding that they were each fined 10,000 Saudi riyals (around $2,600).
Officials have also imposed a security cordon around Makkah, Islam's holiest city where the Grand Mosque is located, and barred nearly 100,000 people in more than 69,000 vehicles from entering, Basami said.
One million people, including 850,000 from abroad, are allowed to participate in this year's Haj after two years of drastically curtailed numbers due to the coronavirus pandemic. That is below the 2.5m people who performed Haj in 2019, before the pandemic hit, but significantly higher than the 60,000 people, all of them fully vaccinated Saudi citizens, who took part last year.
Source: Dawn
Please click the following URL to read the full text of the original story:
https://www.dawn.com/news/1698207/saudi-arabia-arrests-300-pilgrims-without-permits
--------
Chlorine gas leak in Iraq's south injures at least 300
05 July, 2022
A chlorine gas leak at a water purification plant in southern Iraq injured at least 300 people, officials said Monday.
The incident happened Sunday night when the potentially fatal gas leaked from a container in the plant in the district of Qal'at Sukkar north of the southern city of Nasiriyah.
Hundreds of people suffering severe respiratory distress from exposure to the chlorine were taken to a nearby hospital, said Abbas Jaber, Dhi Qar province's deputy governor.
He said a committee was formed by the governor Monday to investigate the circumstances surrounding the leak. "The negligent (officials) will be held accountable," he said.
Dhi Qar is among Iraq's poorest and and historically most underdeveloped provinces. Residents complain of a lack of electricity and access to drinking water. It has been a hotbed of anti-government protest and many youths from the province participated in the mass 2019 protest movement, the largest in Iraq's modern history.
Source: Al Arabiya
Please click the following URL to read the full text of the original story:
https://english.alarabiya.net/News/middle-east/2022/07/05/Chlorine-gas-leak-in-Iraq-s-south-injures-at-least-300
--------
Lebanon plans to repatriate 15,000 refugees monthly to Syria
Wassim Samih Seifeddine
04.07.2022
BEIRUT, Lebanon
Lebanon plans to return 15,000 Syrian refugees every month to Syria, Minister of the Displaced Issam Sharafeddine said on Monday.
"It's unacceptable that Syrian refugees don't return to their country after the end of the war there," Sharafeddine told a press conference following his meeting with President Michel Aoun in the capital Beirut.
"The Syrian state extends its hand for cooperation on this file," he added.
The minister said he made proposals to the regional director of the United Nations High Commissioner for Refugees (UNHCR), Ayaki Ito, on the return of refugees, including the formation of a three-way committee with Syria and UNHCR.
He also spoke of a four-way plan with Türkiye, Iraq, and Jordan on the return of the Syrian refugees, without giving further details.
The number of Syrian refugees residing in Lebanon is approximately 1.5 million, about 900,000 of whom are registered at the United Nations High Commissioner for Refugees.
Source: Anadolu Agency
Please click the following URL to read the full text of the original story:
https://www.aa.com.tr/en/middle-east/lebanon-plans-to-repatriate-15-000-refugees-monthly-to-syria/2630053
--------
American troops kill two civilians during airdrop operation in Syria's Dayr al-Zawr
04 July 2022
At least two people have been killed when American occupation forces, in coordination with Kurdish-led militants from the so-called Syrian Democratic Forces (SDF), carried out a surprise attack in Syria's eastern province of Dayr al-Zawr.
Syria's official news agency SANA, citing local sources who asked not to be named, reported that the civilians lost their lives during an airdrop operation conducted jointly by American attack helicopters and SDF members in the village of al-Zar early on Monday.
The assault was accompanied by intense and indiscriminate shooting.
According to the sources, the surprise attack falls within the framework of US military forces' arbitrary and repressive measures in the occupied Jazira Region of northeastern Syria.
US military keeps smuggling crude oil from Syria's Hasakah into Iraq: Report
Meanwhile, the US military has used dozens of tanker trucks to smuggle crude oil from Syria's northeastern province of Hasakah into the semi-autonomous Kurdistan region in northern Iraq.
Local sources, speaking on condition of anonymity, told SANA on Monday that a convoy of 55 US military trucks loaded with stolen Syrian crude oil left Syria through al-Mahmoudiya border crossing in the town of al-Ya'rubiyah and headed toward the Iraqi territory.
The US military has stationed forces and equipment in northeastern Syria, with the Pentagon claiming that the deployment is aimed at preventing the oilfields in the area from falling into the hands of Daesh terrorists.
Damascus, however, maintains the deployment is meant to plunder the country's rich mineral resources.
Former US President Donald Trump admitted on more than one occasion that American forces were in the Arab country for its oil.
After failing to oust the Syrian government through militant proxies and direct involvement in the conflict, the US government has stepped up its economic war on the Arab country.
In June 2020, the US enacted the so-called Caesar Act that imposed the toughest sanctions ever on Syria intending to choke off revenue sources for the government.
Source: Press TV
Please click the following URL to read the full text of the original story:
https://www.presstv.ir/Detail/2022/07/04/685029/American-troops-kill-two-civilians-during-airdrop-operation-in-Syria-s-Dayr-al-Zawr
--------
North America
US says Shireen Abu Akleh likely shot from Israeli side but not intentionally
04 July, 2022
The United States said on Monday that the Al Jazeera journalist Shireen Abu Akleh was likely killed by gunfire from Israeli positions but that there was no reason to believe her death was intentional.
The State Department also said that the United States could not make a "definitive conclusion" on the origin of the bullet that killed her on May 11, which was handed over by the Palestinian Authority.
But Israeli experts, not American ones, conducted a ballistic examination of the bullet that killed Shireen Abu Akleh, the Israeli army said, after Washington released findings of its probe into her death.
Source: Al Arabiya
Please click the following URL to read the full text of the original story:
https://english.alarabiya.net/News/middle-east/2022/07/04/US-says-Shireen-Abu-Akleh-likely-shot-from-Israeli-side-but-not-intentionally
--------
US forensic experts examine bullet that killed Al Jazeera journalist in Jerusalem
Mahmut Geldi
04.07.2022
RAMALLAH, Palestine
US forensic experts returned the bullet that killed Al Jazeera journalist Shireen Abu Akleh to Palestinian authorities after examining it, the Palestinian justice minister said Sunday.
Upon Washington's request, the bullet that killed the journalist in the occupied West Bank in May was handed over to the experts for investigation, Mohammed al-Shalaldeh told Anadolu Agency.
"After the bullet was returned, it was also examined by us," he said, adding no new conclusions were reached over it.
Noting that there was no information regarding the allegations that Israelis also participated in the investigations, he said they adhered to official procedures with the US and delivered the bullet based on ethical and legal grounds.
"The important thing is to catch and bring to account the person who committed this murder," he said, adding the US is expected not only to care about the investigation but also to pursue whoever committed the killing as Abu Akleh was a US citizen.
Noting that the results of the US investigation did not reach them, he said they were determined about the investigation.
An Israeli military spokesman told Army Radio earlier Sunday that Israeli experts would examine the bullet with the Americans.
On Saturday, the Palestinian Authority said it had handed the bullet that killed Abu Akleh to US officials to conduct a forensic examination.
On May 11, Abu Akleh, 51, was covering an Israeli military raid near the Jenin refugee camp in the occupied West Bank when she was shot dead.
While Palestinian officials and her employer Al Jazeera accused Israel of killing the reporter, Tel Aviv denied any responsibility.
Palestinian officials have rejected an Israeli request for conducting a joint investigation into the journalist's death.
On May 26, Palestinian Attorney-General Akram al-Khatib announced that an examination of Abu Akleh's body confirmed that she was killed by an armor-piercing projectile fired directly at her head by an Israeli sniper.
Source: Anadolu Agency
Please click the following URL to read the full text of the original story:
https://www.aa.com.tr/en/americas/us-forensic-experts-examine-bullet-that-killed-al-jazeera-journalist-in-jerusalem/2629462
--------
Europe
Israel, Poland agree to restore ties after Holocaust row
Burak Dağ
04.07.2022
Israel and Poland agreed on Monday to restore their relations that had strained following a Polish law making it difficult for Jews to claim World War II properties.
Israeli President Isaac Herzog and his Polish counterpart Andrzej Duda had a phone call during which they discussed ways of improving bilateral ties that had deteriorated by last year's legislation that limited the ability of Jews, including Holocaust survivors, to regain property seized during World War II.
"Both presidents expressed their hope that any future issues between Poland and Israel will be solved through sincere and open dialogue and in a spirit of mutual respect," Herzog's office said in a statement.
The two sides also agreed to restore ambassadors to both countries.
"President Herzog, in a joint initiative with the Prime Minister and Minister of Foreign Affairs of the State of Israel, requested the return of the ambassador of Poland," the statement said.
According to the statement, the Israeli ambassador-designate to Poland will present his credentials within days.
Duda, for his part, said the Polish ambassador, recalled during the row, should return to Israel soon, it added.
Source: Anadolu Agency
Please click the following URL to read the full text of the original story:
https://www.aa.com.tr/en/europe/israel-poland-agree-to-restore-ties-after-holocaust-row/2630039
--------
British Council workers stranded in Afghanistan at 'high risk'
July 04, 2022
LONDON: Over 180 teachers at the British Council risk being stranded in Afghanistan after being given permission by the UK government to apply to come to Britain but still lacking a clear route for traveling to the country, The Guardian reported.
Former colleagues and MPs campaigned for the recovery of the contractors, horrified that they had been left behind as full-time British Council staff were extracted amid fears that they would face punishment from the Taliban for teaching values that do not align with the new Kabul administration.
Of the teachers stuck in Afghanistan, 85 have been classified as being at "very high risk," while another 90 workers have been listed at "high risk." Many have reportedly gone into hiding fearing the Taliban's crackdown.
Joe Seaton, a former British Council employee who worked alongside many of the teachers in Afghanistan, told the Guardian that no evacuation plan has been drawn up for the contractors despite 11 months passing since the fall of the city to the Taliban.
Having originally not been afforded the right to be recovered to Britain, the UK government suddenly announced last month that British Council contractors will now be allowed to apply to come to the UK with their families. A decision was expected in August.
Seaton said: "We are finally making some progress, but there does not yet seem to be any clear arrangements on how to get them out. This is a key question. How long will it take to get them out? Every day is another day in grave danger, and so far, all government efforts at processing former British Council staff have been very slow and clunky. The government needs to massively speed up on processing the individual cases."
He added that the British Council did not have a full list of contractors who worked with them, which he had provided to the organization: "I have given the British Council lists of the contractors on several occasions as they did not have the information."
Seaton, who speaks to the contractors stuck in Afghanistan on a near-daily basis via WhatsApp, told The Guardian that, following the government's decision, they were "optimistic, but worried this might be another false dawn."
The Home Office decision in June ruled that British Council contractors, staff at GardaWorld and former Chevening Scholars could come to Britain with their families so long as the total number of refugees applying in this category to the Foreign Office did not exceed 1,500. Problems with housing have mired the government's attempts to process Afghan refugees, with the average Afghan family significantly larger than the space afforded by a typical British house.
They have been told to make applications online, but the Home Office Minister for Afghan Resettlement conceded that this would be difficult in many parts of the country.
The British Council said: "We have a full and comprehensive list of our former colleagues and have shared that list with relevant government departments.
We know our former colleagues are living in increasingly desperate circumstances, as the situation in the country continues to deteriorate.
Source: Arab News
Please click the following URL to read the full text of the original story:
https://www.arabnews.com/node/2116376/world
--------
France repatriates 51 women, children with family links to extremists from Syria camp
05 July, 2022
France has repatriated 35 children and 16 mothers from camps in Syria holding family members of suspected extremists since the ISIS group was ousted in 2019, the foreign ministry said.
"France has today undertaken the return to the country of 35 French minors who were in camps in northeast Syria. This operation also includes the return of 16 mothers from these same camps," a statement from the foreign ministry said.
It added that the minors were handed over to child protection services while the mothers would face judicial proceedings.
Rights groups have long urged the French government to bring home some 200 children in detention who were either brought to ISIS territory by their parents or born there during the years of fighting.
They are being held in Kurdish-run camps in northeast Syria where malnutrition and disease is rife.
One of the biggest and most overcrowded is Al-Hol where two children die every week on average, according to a report by the Save the Children campaign group last September.
France has argued that its security concerns are paramount, having suffered a series of attacks from ISIS extremists, including the November 2015 assaults on the Bataclan concert hall and other targets around Paris that left 130 people dead.
Source: Al Arabiya
Please click the following URL to read the full text of the original story:
https://english.alarabiya.net/News/world/2022/07/05/France-repatriates-51-women-children-with-family-links-to-extremists-from-Syria-camp
--------
India
Saharanpur violence: 8 Muslims, tortured by UP cops, acquitted
4th July 2022
Eight Muslim men who were allegedly abused by police in the violence on June 10 in Saharanpur, Uttar Pradesh, following Friday prayers, last month have been acquitted of all charges.
Only seven out of these eight have been released as of yet. The eighth accused's name was mistakenly recorded as Maharaj on the application for his release, hence the release was unable to take place.
They were released from jail on Sunday after the police declared that there was no evidence against them and the local court cleared them. Their names are no longer listed in the original FIR that was filed against 85 individuals accusing them of a violent demonstration.
The demonstration was held in response to statements made by suspended BJP spokeswoman Nupur Sharma, against the Prophet Muhammad and Islam.
The accused Ali, Asif, Mohammi, Gulfam, Mehraj, Furqan, Subhan, and Abdus Samad have been ordered by the court to be freed on a bond of Rs 50,000 and to appear before the court as and when necessary, BBC reported.
According to Superintendent of Police, Rajesh Kumar, the investigation is still ongoing. Chief minister Yogi Aditynath's BJP administration has faced harsh criticism for its "extra-judicial" actions against demonstrators.
Source: Siasat Daily
Please click the following URL to read the full text of the original story:
https://www.siasat.com/saharanpur-violence-8-muslims-tortured-by-up-cops-acquitted-2363379/
--------
Jamiat Ulema of India's Assam urges Muslims not to sacrifice cow on 'Eid al-Adha' festival
July 4, 2022
The Assam unit of Jamiat Ulema, a key Islamic organisation, has appealed to the Muslims not to sacrifice cows on the occasion of Id-uz-Zuha or 'Bakrid' festival so that the religious feelings of the Hindus are not hurt.
As 'Qurbani' is an important part of the festival, animals other than cows can be sacrificed, said Badruddin Ajmal, the organisation's state unit chief.
"Sanatan dharma of Hindu religion reveres the cow as their mother and worships them. We should not hurt their religious feelings," Ajmal, also the president of political party AIUDF, said in a statement.
According to him, the Islamic seminary Darul Uloom Deoband had issued a public appeal in 2008 not to sacrifice the cow as a part of the 'Qurbani' (sacrifice) on the occasion of the festival and it was pointed out that there is no mention or compulsion that a cow has to be sacrificed.
"I am reiterating the same appeal again and urging my fellow believers to sacrifice an alternative animal and not the cow so that the religious sentiment of the majority population in the country is not hurt," the Dhubri MP said.
During the Id-uz-Zuha, animals such as camels, goats, cows, buffalo, sheep and other animals can be sacrificed, Ajmal said.
Source: ABNA24
Please click the following URL to read the full text of the original story:
https://en.abna24.com/news//jamiat-ulema-of-indias-assam-urges-muslims-not-to-sacrifice-cow-on-eid-al-adha-festival_1272321.html
--------
Lucknow Administration Urges People Not To Post 'Qurbani' Images on Social Media
Jul 04, 2022
LUCKNOW District administration and Police Commissionerate officials here on Monday urged people to refrain from taking pictures or videos of 'qurbani' and posting them on social media. The appeal was made during a meeting to review security and other arrangements in view of Bakrid on Sunday.
Maulana Khalid Rasheed Farangi Mahali and other clerics were present in the meeting held at Islamic Centre, Eidgah.
"We appeal to people not to post any images of 'qurbani' on social media and refrain from indulging in any controversy," said Suryapal Gangwar, district magistrate, Lucknow. The DM assured complete cleanliness in the areas, especially in and around mosques and also directed LMC to make all possible arrangements to ensure that the area remains garbage free during Eid-ul-Zuha.
The Islamic Centre of India, Aishbagh, too issued an advisory to Muslims, defining the dos and don'ts on the occasion of Bakrid. "Muslim brethren should observe the occasion in a way that they do not hurt others' religious sentiments. They should also not pay any heed towards any controversies and rumours," urged Maulana Khalid Rasheed Farangi Mahali, chairman of the Islamic Centre of India.
Source: Hindustan Times
Please click the following URL to read the full text of the original story:
https://www.hindustantimes.com/cities/lucknow-news/lucknow-admn-urges-people-not-to-post-qurbani-images-on-social-media-101656958735576.html
--------
Karnataka: Bajrang Dal protests Udaipur murder, demolish Muslim shop
4th July 2022
By Syed Mueen
Shivamogga: A Muslim textile shop in Bhadravthi Taluk of Shivamogga district was destroyed by Bajrang Dal members on Sunday, July 3 while protesting against Kanhaiya Lal's murder in Udaipur.
Bajrang dal members were protesting in the Rangappa circle expressing their anger towards the murder of Kanhaiya Lal burning the effigy of Tabrez in a circle. Some protestors barged into the Muslim textile shop and broke glasses and threw clothes out.
Speaking to Siasat.com, the owner of the shop said, "I went to my house during lunch hours and my 2 labourers were in the shop. One was cleaning the mat outside. Suddenly some of the Bajrang Dal goons barged into our shop and pushed my fellow helper inside and assaulted him".
"They broke our shop glass and created a ruckus. The police did nothing. Moreover, they dragged my fellow workers and beat them up," Saddam Shafi owner of Swag Men's Fashion store told to Siasat.com.
He further alleged that when he complained to the police station they just booked the accused under Section 257 A rather than booking them for Section 307 (murder) on Bajrang dal goons. "I have all CCTV footage in which Bajrang Dal goons demolished my shop purposely when they got to know it was a Muslim shop," Saddam said.
"We are maintaining peace, Don't test our patience in Bhadravati, this is an open warning to SDPI & PFI that you have to pay a huge price in future," a Bajrangdal leader had said during a protest related to Udaipur incident.
Source: Siasat Daily
Please click the following URL to read the full text of the original story:
https://www.siasat.com/karnataka-bajrang-dal-protests-udaipur-murder-demolish-muslim-shop-2363518/
--------
Gyanvapi mosque case: Next hearing on July 12
04th July 2022
By Namita Bajpai
LUCKNOW: After hearing the Anjuman Intezamiya Masajid (AIM), the Gyanvapi management committee, which concluded its arguments on each of 51 points of the petition filed by a bunch of five Hindu women seeking daily darshan and worship of Shringar Gauri and other deities on Gyanvapi mosque premises, the Varanasi district court, on Monday, posted the matter for next hearing on July 12.
The AIM had challenged the maintainability of the petition filed by the Hindu women. The AIM advocates will appear before the court of district Judge Dr Ajay Krishna Vishwesha for legal submission on challenging the maintainability of this case on July 12.
AIM advocate Abhay Nath Yadav said that he had completed the arguments on behalf of AIM under Order VII rule 11 of the Civil Procedure Code. "On the next hearing, we will appear before the court for legal submissions to challenge the maintainability of the petition seeking daily worship of Hindu deities on mosque premises. On July 12, we will table law and rulings to prove how this case is not maintainable," Yadav said.
Two local plaintiffs including Laxmi Devi and Sita Sahu with their veteran advocate Harishankar Jain, Vishwa Vedic Sanatan Sangh chief Jitendra Singh Visen, who is looking after the case on behalf of Delhi-based plaintiff Rakhi Singh, and a team of his lawyers remained present in the court during the hearing.
The district court had commenced the hearing in the case on May 24 in compliance with the Supreme Court order of May 20. The apex court had ordered to decide the maintainability of the petition filed by the Hindu side first. The apex court had issued the order while transferring the case from the court of civil judge (senior division) Ravi Kumar Diwakar to the district judge court of Varanasi.
Source: New Indian Express
Please click the following URL to read the full text of the original story:
https://www.newindianexpress.com/nation/2022/jul/04/gyanvapi-mosque-case-next-hearing-on-july-12-2472871.html
--------
RSS Plans Major Outreach among UP's 'Pasmanda' Muslims
Jul 4, 2022
LUCKNOW: The Rashtriya Swayamsevak Sangh is learnt to have taken feedback from the UP BJP unit about the contribution of 'Pasmanda' community (backward classes among Muslims) in the saffron party's electoral performance since the 2014 Lok Sabha elections when BJP formed the government at the Centre under the leadership of PM Narendra Modi.
Pasmanda, which means, "left behind" in Farsi, account for around 75% of the total Muslim population in UP. During the recently concluded national executive in Telangana, PM Modi had asked the UP BJP cadre to ramp up the outreach among the Pasmanda community for their social uplift. Modi's observation had come in the aftermath of BJP's recent Lok Sabha bypoll win in SP bastions Azamgarh and Rampur.
Sources said that a top RSS functionary recently summoned a senior UP BJP office-bearer and asked him as to what extent Muslims, who got benefited by various government schemes, aligned with the party. Sources said that the UP BJP leader told the RSS leader that only 1% of the total 4 crore Muslim beneficiaries of various government schemes, have shown signs of allegiance towards the BJP. "Most of the beneficiaries are essentially from the Pasmanda Samaj. But ironically, they have shown little support for the BJP," said the leader.
President of UP BJP minority wing, Basit Ali, said that the party plans to expedite its outreach among the Pasmanda community in the run-up to 2024 LS elections. "All we can do is to provide them the benefits of the government schemes and convince them about BJP's ideology. We expect the best to happen," he told TOI.
The BJP has been appointing Pasmanda Muslims on key government and organisational positions. For instance, Jamal Siddiqui, who hails from the backward Manihar community, is the national president of BJP's minority wing. Likewise, Danish Azad Ansari is a minister in Yogi Adityanath cabinet, while Iftikar Javed Ansari is the chairman of UP Board of Madrassa Education. Similarly, Choudhary Kaif-ul-Wara, from the weaver (bunkar) community, is the chairman of Uttar Pradesh Urdu Akademi.
The Sangh, sources said, has reportedly also stressed on consolidation of Jat, Gujjar and Rajput sections among the Muslims. Basit Ali, himself, happens to be from the Rajput community. The Jats and Gujjars are essentially concentrated in the politically significant west UP. Experts said that these three communities account for 15% of the state's total Muslim population. Experts said that the BJP's focus on Jat and Gujjar Muslim could presumably nudge the opposition, particularly the Samajwadi Party (SP) and Rashtriya Lok Dal, which have been relying heavily on consolidation of Muslims, especially in the west UP.
Source: Times Of India
Please click the following URL to read the full text of the original story:
https://timesofindia.indiatimes.com/city/lucknow/rss-plans-major-outreach-among-ups-pasmanda-muslims/articleshow/92659628.cms
--------
NIA chief briefs Shah on Udaipur, Amravati probes
Jul 5, 2022
NEW DELHI: The chief of the anti-terror probe agency NIA on Monday met Union home minister Amit Shah and is understood to have briefed him about the progress in the ongoing investigations in the killings of two persons in Rajasthan's Udaipur and Maharashtra's Amravati, officials said.
Both the cases were handed over to the NIA by the home ministry.
Director general of the National Investigation Agency Dinkar Gupta had a 40-minute meeting with the home minister Amit Shah at his North Block office, where the former is said to have apprised him about the probe into the two cases.
Source: Times Of India
Please click the following URL to read the full text of the original story:
https://timesofindia.indiatimes.com/india/nia-chief-briefs-shah-on-udaipur-amravati-probes/articleshow/92662858.cms
--------
Nupur Sharma Hearing Judge Slams Social Media Opinions, Says Parliament Should Regulate
By Ananthakrishnan G
July 4, 2022
Amid criticism on social media of the Supreme Court's oral remarks in the case of suspended BJP spokesperson Nupur Sharma this week, one of the judges who was part of the Bench has expressed concern over the use of digital and social media for "expressing personalised opinions" against judges, and called for mandatory regulation of such media to "preserve the rule of law" in the country.
"Social and digital media is nowadays primarily resorted to expressing personalised opinions more against the judges per se rather than a constructive critical appraisal of their judgments.
This is what is harming the judicial institution and lowering its dignity," Justice J B Pardiwala said on Saturday.
"Constitutional courts have always graciously accepted informed dissents and constructive criticisms", Justice Pardiwala said, "but their thresholds have always debarred the personalised, agenda-driven attacks on the judges".
"This is where digital and social media needs to be mandatorily regulated in the country to preserve the rule of law under our Constitution," he said.
The vacation Bench of Justice Surya Kant and Justice Pardiwala had lashed out against Sharma on Friday for her remarks on the Prophet, saying she had a "loose tongue", and was "single-handedly responsible for what is happening in the country", including in Udaipur.
Justice Pardiwala was speaking on the topic 'Vox Populi vs Rule of Law: Supreme Court of India' at the second Justice H R Khanna Memorial National Symposium organised by Dr Ram Manohar Lohia National Law University, Lucknow, and National Law University, Odisha, along with the Confederation of Alumni for National Law Universities (CAN Foundation).
"A trial is essentially a process to be carried out by the courts," Justice Pardiwala said. "However, in the modern day context, trials by digital media are an undue interference in the process of justice dispensation, crossing that Lakshman Rekha many a times."
This was "especially worrisome when that section of people starts scrutinising the judicial process, it presents only the half truth", he said. "Those for whom the concepts of judicial discipline, binding precedents and inherent limitations of judicial discretion are elusive, this section of people, the half-truth knowledgeable, are a real challenge to the dispensation of justice through the rule of law."
The "attacks attempted at judges for their judgments lead to a dangerous scenario wherein judges will have to pay greater attention to what the media thinks rather than what the law actually mandates," Justice Pardiwala said. "This puts the rule of law on the burner ignoring the sanctity of the respect for the courts".
He said that "a judicial verdict, right or wrong, is always by a court vested with powers under the Constitution of India as a court of record…", and "the remedy of any judicial order or a judgment is clearly not available on digital or social media but before the superior court of law in the judicial hierarchy".
The judge said that "in India, which still cannot be classified as a completely mature and informed democracy, social and digital media is employed frequently to politicise purely legal and constitutional issues".
The Ayodhya dispute is a case in point, Justice Pardiwala said. It was "essentially a land and a title dispute, bordering upon the title of a deity. However by the time the final verdict came to be delivered, the issue attained political overtones", he said.
"All those imputing intentions and motives to the Supreme Court for the Ayodhya verdict conveniently forgot that some day or the other, some judge had to decide the contentious civil dispute which was undisputedly one of the oldest litigations pending in the court of the country running into more that 38,000-odd pages. This is where the heart of any judicial proceedings before the constitutional court may disappear and the judges deciding the dispute may get a bit shaken which is antithetical to the rule of law. This is not healthy for the rule of law," he said.
Another issue that has "always been a hot cake for the social and digital media is the punishments in cases of serious offences", Justice Pardiwala said.
"The immense power of these platforms is persistently resorted to for precipitating a perception of guilt or innocence of the accused even before the trial is over. This also sacrileges the rule, especially in high-profile matters where either the incident is hyped or the accused is a big man. Even before the trial is over, the society starts believing that the outcome of judicial proceedings ought to be nothing but conviction with extreme penalty for the accused."
Justice Pardiwala called upon Parliament to consider making laws to regulate social and digital media.
"…Regulation of digital and social media especially in the context of sensitive trials, which are sub judice, must be dwelled upon by the Parliament by introducing appropriate legislative and regulatory provisions in this regard," he said.
He pointed out that "a number of legislations, namely amendments to the Information Technology Act 2000, Contempt of Courts Act, 1971, are in place to tackle the problems of interference with the judicial processes, especially in sensitive sub-judice matters".
There are also studies, reports, recommendations, both nationally and internationally, "suggesting ways and measures for handling the perpetual problem of media trial, especially through the social and digital media", he said.
On the rule of law, the judge said the "judiciary cannot exist independent of the society and the interaction is inevitable but the rule of law is insurmountable".
"Balancing the intent of the majority populace on one hand and meeting the demands of affirming the rule of law on the other is an arduous exercise". It "requires extreme judicial craftsmanship to walk the tightrope between the two", he said.
"What would people say, 'log kya kahenge, kya sochenge' (What will people say, what will people think) is an enigma which haunts each and every judge, every moment, whenever he is to pen down a judgment having social ramifications".
However, "it is where the conviction, awareness of the constitutional values and conceptual understanding of rule of law of the concerned judge comes to the fore", he said.
"Judicial verdicts", Justice Pardiwala said, "cannot be the reflection of influence of public opinion". He recalled that during the Constituent Assembly debates, Professor K T Shah "was of the view that the sentiments of the people must be given respect when it comes to judicial decision making".
However, there is another school of thought, he said. "I belong to this school of thought", and "it emphasises the need to disassociate oneself from the belief of the majority and go by the rule of law."
Source: Indian Express
Please click the following URL to read the full text of the original story:
https://indianexpress.com/article/india/nupur-hearing-judge-slams-social-media-opinions-says-parliament-should-regulate-8007139/
--------
Pakistan

State Bank of Pakistan Adopts More Sharia-Compliant Standards for Islamic Banking
Shahid Iqbal
July 5, 2022
KARACHI: The State Bank of Pakistan (SBP) said on Monday it had adopted more Sharia standards to promote Islamic banking.
However, the SBP has recently approached the Supreme Court of Pakistan to find a solution for the implementation of riba-free banking. The Federal Shariat Court (FSC) came up with a final verdict on interest-free banking and gave a timeline to implement the decision.
The FSC on April 28 announced a verdict in a long-pending case on riba, declaring the prevailing interest-based banking system as against Sharia and directed the government to facilitate all loans under an interest-free system. The court ruled that the federal government and provincial governments must amend relevant laws and issue directives that the country's banking system should be free of interest by December 2027.
On June 26, commercial banks and their regulator – the SBP – filed an appeal before the SC challenging the FSC direction to the government for a complete transformation of the banking system into Sharia-compliant banking by December 2027 and seeking guidance from the appellate bench on the matter.
The SBP's decision to approach the SC was shocking for many in the financial sector since the central bank is playing a key role in the promotion of Islamic banking.
The SBP on Monday said it had been adopting Sharia standards of the Accounting and Auditing Organis­ation for Islamic Financial Institutions (AAOIFI).
"The standardisation and harmonisation in Sharia practices and procedures are helping in elevating the local Islamic banking industry at par with the international best practices," said the SBP.
The SBP said it adopts more AAOIFI Sharia Standards for the Islamic Banking Industry Strengthe­ning Sharia compliance of the Islamic banking industry in line with best international practices is one of the key pillars of SBP's 3rd Strategic Plan for the Islamic Banking Industry 2021-25.
"After a comprehensive process of evaluation and deliberations with the internal and external stakeholders, keeping in view our local environment, today the State Bank has adopted four more AAOIFI Sharia standards on Salam and Parallel Salam; Istisna and Parallel Istisna; and Combination of Contracts and Irrigation Partnership (Musaqat), with certain clarifications and amendments," said the SBP.
Salam is a mode of financing frequently used in agriculture, while Istisna'a is a mode generally used by Islamic banking institutions to provide financing where manufacturing, assembling, and processing are involved.
The irrigation partnership (Musaqat) standard can be used in the agriculture sector, especially for orchard financing, while the standard on the combination of contracts provides guidance to Islamic banking institutions when making use of multiple contracts in their various arrangements to meet the needs of the customers.
"The SBP has already issued detailed general guidelines on Islamic financing for the agriculture sector."
Source: Dawn
Please click the following URL to read the full text of the original story:
https://www.dawn.com/news/1698238/sbp-adopts-more-sharia-compliant-standards-for-islamic-banking
--------
Imran Khan Aides Say Bushra Bibi 'Treason' Clip A Storm In Teacup
Dishha Bagchi
4 July, 2022
New Delhi: Imran Khan is out of power but not out of Pakistan's news cycle. And this time, it's his wife Bushra Bibi and a leaked audio tape that has put the former prime minister in the dock, giving his detractors and the political opposition another opportunity to attack.
In the alleged audio clip that was leaked on social media, the former first lady can be heard asking Dr Arsalan Khalid, Focal Person to PTI Chairman on Digital Media, to spread a "narrative of treason". The two-minute-long audio clip shows Bushra expressing her disappointment at Khalid for the PTI's inactivity on social media. She then asks him to run the hashtag 'traitor' on social media and link people criticising her and the former PM to 'treason'.
Now, the Federal Minister for Defence Affairs of Pakistan, Khawaja Asif has proposed that the Pakistan Tehreek-e-Insaf (PTI) can file a petition in the court and send the audio clip for forensic testing to verify its legitimacy.
Bushra can be heard saying, "Aleem Khan (PTI) and co. will be speaking as per their plan. You should link them with treason. You have to raise [threat] letter [issue] on social media and say that we know the letter is authentic."
She can also be heard instructing Khalid to create a narrative surrounding all PTI dissidents, saying that they joined foreign conspirators.
The PTI chairman on Digital Media has rejected the audio clip, calling it "fictitious" and saying that the public did not care for such "fabricated videos". "Recording thousands of calls, editing voices to turn them into custom phone calls and then disseminating them through lifafas — a term used by PTI for journalists critical of its policies — is this the only thing left [to do] now?" Dr Khalid added.
Defence minister Khawaja Asif has accused Imran Khan of attacking the country's institutions as he has been deprived of power. Speaking on the Geo News programme Naya Pakistan, he said Khan should be ashamed of blaming the institutions. He also said the former PM is fulfilling India's agenda to weaken Pakistan's nuclear programme. "He [Khan] can neither be loyal to the soil nor anybody else as he isn't loyal to his own blood," Asif said to The Daily Times.
Action should be taken against Imran Khan under Article 6 if the requirements are met, said Khawaja Asif.
Several of Imran Khan's supporters have come out in support of the couple.
Shahbaz Gill, Imran Khan's Chief of Staff, called the audio fake and ensured that it would be exposed during a press conference in Islamabad on Sunday. He alleged that an "organised campaign" was being run against the former premier and his wife. The PTI leader also warned members of the ruling Pakistan Muslim League-Nawaz (PML-N) that if their video and audio clips were made public, they would not be able to "show their faces" and criticised the party for its "derogatory remarks" against Army Chief Gen Qamar Javed Bajwa in the past.
Source: The Print
Please click the following URL to read the full text of the original story:
https://theprint.in/go-to-pakistan/imran-khan-aides-say-bushra-bibi-treason-clip-a-storm-in-teacup-shehbaz-govt-wants-probe/1024302/
--------
Pakistan Army Chief undertook a 'low profile' visit to Paris: Report
30 June, 2022
Islamabad [Pakistan], June 30 (ANI): Pakistan Army Chief General Qamar Bajwa attended a security exhibition this month in Paris while deliberately keeping a low profile to avoid any possible public backlash, owing to the diplomatic rift between the two countries.
For this particular trip, there was no mention in the Pakistani media and no press release was issued by the military media wing. According to South Asian Press, Bajwa kept a very low profile and did not even attend official dinners by the French organizers of the exhibition.
Moreover, Pakistan's mission, which lacks an ambassador due to poor Pak-French relations, was apparently not even involved in the visit.
"General Bajwa probably kept a low profile in France so as not to upset the Islamist extremist groups back home, which consider France a blasphemous country," South Asain Press reported citing a reporter working in Paris for Pakistani media.
At the forefront of such anti-French Islamist extremist groups that General Bajwa does not want to upset is TLP.
TTP, known to have close links to the Pakistani military, is now a political party, in recent years has gained popularity in Pakistan after failed efforts by Pakistan's civilian leadership to ban the party on terror charges.
TLP emerged as an Islamist pressure group opposing the 2016 hanging of Mumtaz Qadri for murdering former Punjab governor Salman Taseer who had criticized Pakistan's blasphemy laws. Blasphemy is a legal offence in the country.
Following Qadri's execution, the TLP and affiliated groups organized nationwide protests, often resorting to destruction of property and street intimidation, an approach it has persisted with.
In November 2017, the TLP held the capital hostage for weeks after amendments in the Electoral Reforms Bill, which had overlooked the mandatory anti-Ahmadi clause requiring the members of the constitutionally excommunicated community to declare themselves non-Muslims to participate in any election process.
A month after the incumbent Pakistan Tehreek-e-Insaf government came to power in September 2018, the TLP launched protests against an anti-Islam cartoon competition organized by far-right Dutch lawmaker Geert Wilders in the Netherlands.
In October 2018, the TLP protested against the Supreme Court releasing Christian woman Asia Bibi establishing that she was falsely accused of blasphemy against Islam.
Again, the TLP's pushback came in September 2020 after "Charlie Hebdo" decided to republish caricatures of Prophet Muhammad, coinciding with the trial of abettors of the 2015 jihadist attack on the publication.
That same year, French President Emmanuel Macron came to the defence of free speech on religion after a schoolteacher, Samuel Paty, was decapitated by a radical Islamist for showing the French satirical publication's cartoons in class also irked the group.
Source: The Print
Please click the following URL to read the full text of the original story:
https://theprint.in/world/pakistan-army-chief-undertook-a-low-profile-visit-to-paris-report/1019338/
--------
MQM leader Babar Ghauri arrested at Karachi airport
Imran Ayub
July 5, 2022
KARACHI: Former federal minister and leader of the Muttahida Qaumi Move­ment (MQM) Babar Khan Ghauri was arrested by police on Monday night minutes after he landed at Karachi airport while returning from the United States ending his seven-year self-exile, officials said.
It was only last month when the Sindh High Court granted him a two-week protective bail in a corruption reference and a money laundering and terror financing case. After the SHC orders, the former minister announced his return without giving details of his future plans in the country.
A senior official, while confirming the arrest, however, didn't share the reason behind the move of law enforcement agency, stating that the "situation would be clear by tomorrow [Tues­day]", when the former key man of the MQM would be produced before the court.
The former ports and shipping minister, who returned to Pakistan after almost seven years, had through his attorney moved the SHC last month and submitted that he was presently abroad and willing to come back and surr­ender before trial courts.
Mr Ghauri, along with the MQM founder and other party leaders, had been booked by the Federal Investigation Agency in 2017 in a money laundering and terror financing case.
The National Accounta­bility Bureau had also filed a reference in an accountability court in 2018 against him and others for alleged illegal regularisation of 940 employees of the Karachi Port Trust, causing a loss of Rs2.8 billion to the national exchequer.
Source: Dawn
Please click the following URL to read the full text of the original story:
https://www.dawn.com/news/1698208/mqm-leader-babar-ghauri-arrested-at-karachi-airport
--------
Suspect linked to KU bombing held, Sindh IGP tells Chinese delegation
Imtiaz Ali
July 5, 2022
KARACHI: While sharing the details of investigations into the Karachi University suicide bombing with a visiting Chinese delegation, the Sindh police chief on Monday disclosed that an "important suspect" had been taken into custody.
In April, a suicide bomber blew herself up outside KU's Confucius Institute killing three Chinese teachers and their local driver.
On Monday, a 13-member Chinese delegation, led by a Chinese counterterrorism official, called on Sindh Chief Minister Syed Murad Ali Shah and discussed with him security measures for Chinese nationals working in Sindh and the progress on the probe into the KU attack.
The Chinese delegation members included Consul General of China in Karachi Li Bijian, police counsellor in Chinese Embassy Li Qingchun, cyber security technical expert Ma Jingchao, Shanghai police authority expert Pei Lianxi and others.
Briefing on the progress of the case, Inspector General of Police (IGP) Ghulam Nabi Memon said that technical and ground sources had been utilised for an in-depth investigation into the case.
He added that with the efforts of the intelligence team of the Counter-Terrorism Department (CTD), an "important accused" had been arrested.
The delegation informed the CM that they were technically strengthening the CTD and Special Branch of the Sindh police.
The CM said that the data collected by the police showed that 3,637 Chinese nationals were working on eight projects relating to the China-Pakistan Economic Corridor (CPEC) in Sindh.
He added that 3,361 personnel, including 1,500 policemen, 517 army personnel, 173 Rangers, 28 FC personnel and 1,143 private security guards had been deployed on their security.
According to the CM, there are 21 government sponsored non-CPEC projects, including in NED University and KU, and 194 private sponsored projects, where 2,879 Chinese were working.
Mr Shah said that his government was also providing them security.
The meeting was attended by Chief Secretary Sohail Rajput, Home Secretary Saeed Mangnijo, CTD head Imran Yaqoob Minhas and Special Secretary to CM Rahim Shaikh.
Security enhanced at cattle market
IGP-Sindh Memon on Monday chaired a meeting and directed his subordinates to enhance security on main routes and adjoining roads of Sohrab Goth cattle market off Superhighway.
He said that the Eidul Azha contingency plan should be implemented strictly.
He said the code of conduct for collection of hides of sacrificial animals should be implemented in letter and spirit.
The IGP said registered welfare institutions and other stakeholders should be taken into confidence about the code of conduct.
He said security of passengers on all highways should be ensured, and checking on exit-entry routes of the province should be made extraordinary, while video recording should be ensured with coordination of the motorway/highways police.
He said police picketing should be established on roads, adjoining roads and other selected spots, while patrolling should be increased through mutual collaboration.
Meanwhile, sources said that the police received reports that terrorists were planning a high-profile action in Karachi against foreigners or important installations.
Source: Dawn
Please click the following URL to read the full text of the original story:
https://www.dawn.com/news/1698193/suspect-linked-to-ku-bombing-held-sindh-igp-tells-chinese-delegation
--------
South Asia
Taliban Grand Meeting Did Not Lead to Breakthrough: Human Rights Watch
By Arif Ahmadi
04 Jul 2022
KABUL, Afghanistan – The Human Rights Watch (HRW), including a number of students and teachers, said their expectations from the recent national assembly of Afghan clerics were not met, according to sources, as there was no specific mention of girls' education and their rights in the country.
High schools for girls remain closed for over nine months now, even after the cleric gathering where they issued a resolution on several hot topics in the country – except women's right and their right to schooling.
Recent gathering of clerics was expected to determine the reopening of the girl's schools but the resolution did not refer to the topic, leaving majority of the women in disappointment.
"Our wish from the Loya Jirga was to reopen the school but this didn't happen," said a local teacher Shogofa, as TOLOnews quoted. "We wanted them to talk about the schools."
"For how long will we be deprived of our education," she questioned in disappointment? Will they respond to our questions about whether we have the right to study or not? We have been in an uncertain fate for a long time."
Expressing frustration and an uncertain future for girls in Afghanistan, another Kabul teacher Momina said "Afghan girls become hopeless as the fate of their schools was not discussed and this is bad news for Afghan girls."
Meanwhile, the Human Rights Watch said it is not surprising the gathering did not bear any fruit, concerning girls' education in Afghanistan, which in fact was to be the "real thing" during the grand national assembly.
This is not "surprising that the Taliban's grand meeting didn't lead to any kind of breakthrough on a real thing — girls' secondary school," said Heather Barr, Associate director of the Women's Rights Division at Human Rights Watch, as local media reported.
But the Islamic Emirate officials in their defend said based on the final resolution, the decision was made about religious and modern educational system for girls in the country.
"The Islamic Emirate respects the wishes and views of the Islamic clerics. The Islamic Emirate will take serious steps in this regard," said Bilal Karimi, deputy spokesman for the Islamic Emirate.
According to sources, only two participant reflected on reopening of girls' school, which apparently was not loud enough to bear fruit during the national grand assembly.
At least 3,000 people across Afghanistan were reportedly invited to the gathering of Islamic clerics, which was held at the Loya Jirga Hall on Thursday through the weekend in Kabul.
Source: Khaama Press
Please click the following URL to read the full text of the original story:
https://www.khaama.com/taliban-grand-meeting-did-not-lead-to-breakthrough-hrw/
--------
Attack on a Convoy Carrying Taliban Forces in Western Afghanistan Wounds 20 People
By Saqalain Eqbal
04 Jul 2022
According to local sources, a convoy transporting the Taliban 207 Al-Farooq Corps forces was attacked on Monday morning in Herat, a province in the west of Afghanistan.
Mohammad Shah Rasool, the Taliban's spokesperson for the Heart police chief, confirmed that the attack targeted Taliban forces in the 4th district of Herat province, when unidentified gunmen assaulted a vehicle carrying Taliban forces.
In contrast to claims from eyewitnesses who claim that two Taliban security personnel were killed and more than 20 soldiers and civilians were injured in the armed attack, the spokesperson said that the armed attack did not result in casualties to the Taliban.
He further added that one of the attackers was killed during the attack on the Taliban security personnel.
According to the local sources, the wounded were taken to the Herat Central Hospital to receive treatment.
No organization or group, so far, has claimed responsibility for the attack on 207 Al-Farooq Corps forces.
Source: Khaama Press
Please click the following URL to read the full text of the original story:
https://www.khaama.com/attack-on-a-convoy-carrying-taliban-forces-in-western-afghanistan-wounds-20-people-74843/
--------
4,559 Afghan refugees expelled from Iran, Pakistan: Taliban
Jul 05 2022
Kabul, Jul 5 (IANS): The Taliban-led government in Kabul has claimed that 4,559 Afghan refugees were expelled from Iran and Pakistan in the last three days.
In a statement on Monday, the Ministry of Refugees and Repatriation (MoRR) said on Monday that majority of the expelled refugees returned from Iran after a census conducted by the Tehran government, reports TOLO News.
The Iranian government urged Afghan authorities to stop illegal travel.
"With the start of the census process of Afghans, the deporting of Afghans without legal documents has increased. The government of Iran counts people who do not take part in the census as illegal refugees," said Asefa Stanekzai, a representative for Afghan refugees in Iran.
The development comes as the UN and Amnesty International have urged the host countries to stop eviction and migration of Afghan refugees and as well as violating of their rights.
According to the UNHCR, Afghan refugees are the third-largest displaced population in the world, followed by Syrian refugees and displaced Venezuelans.
There are 2.6 million registered Afghan refugees in the world, of whom 2.2 million are registered in Iran and Pakistan alone.
Source: Daiji World
Please click the following URL to read the full text of the original story:
https://www.daijiworld.com/news/newsDisplay?newsID=975793
--------
Will request India to speed up return of Af students: Taliban
Jul 5, 2022
NEW DELHI: The Taliban have said they will ask the Indian government to expedite return to India of Afghan students who want to resume their studies here.
This followed a meeting that the students had on Monday with Afghanistan foreign minister Amir Khan Muttaqi in which they sought early return to India and resumption of their classes. The classes were suspended because of the pandemic.
"Calling Afghan students the country's assets, Muttaqi assured them that he would exert utmost efforts for return of Afghan students to complete their studies," tweeted an Afghanistan foreign ministry spokesperson. Muttaqi also assured the students that the issue will be taken up with the Indian embassy in Kabul.
Source: Times Of India
Please click the following URL to read the full text of the original story:
https://timesofindia.indiatimes.com/world/south-asia/will-request-india-to-speed-up-return-of-af-students-taliban/articleshow/92664878.cms
--------
Afghanistan, Pakistan narrate conflicting accounts of same story
4 July, 2022
Kabul [Afghanistan], July 4 (ANI): Afghanistan and Pakistan are quibbling again but this time over the identity of an elderly man who was seen in a video throwing himself under a car after being allegedly denied permission to cross the border.
A man who was barred from crossing the Torkham border by Pakistani authorities on July 2 was an Afghan national, the Taliban administration's embassy in Pakistan has said.
On the other hand, the Embassy of Pakistan in Kabul had stated that the man in question was a Pakistani national who also happened to be the father of Pakistani journalist.
"An Afghan, who was standing among hundreds of other Afghans and wanted to show his ID card, out of necessity and despair, threw himself under a car and was martyred," Sardar Ahmad Khan Shekib, charge d'affaires of the Taliban administration's embassy in Islamabad said, as per Khaama Press.
Torkham border connects Khyber Pakhtunkhwa (KP) with Afghanistan's Nangarhar province.
In March, Pakistan had allowed Afghan nationals to cross the Torkham border to return to Afghanistan on the basis of their national identity cards.
The Taliban embassy shared Sardar Ahmed Shakib's statements on its Twitter page, in which the embassy condemned the situation of Afghans in the Torkham border and urged Pakistani authorities to address the situation.
On the other hand, the Embassy of Pakistan in Kabul had stated that the man in question was a Pakistani national who also happened to be the father of Pakistani journalist.
Reports and videos from earlier that day that were widely circulated showed a man hurling himself under a car, Khaama Press reported.
Citing reports the media outlet said that the Pakistani police had demanded payment in cash in order to let him passage; however, the individual was reportedly unable to pay and killed himself as a result.
Source: The Print
Please click the following URL to read the full text of the original story:
https://theprint.in/world/afghanistan-pakistan-narrate-conflicting-accounts-of-same-story/1024026/
--------
Mideast
Israeli Arab Muslim party aspires to be part of the next new coalition
Afif Abu Much
July 4, 2022
The June 30 decision by the Knesset to dissolve itself forces all parties anew to take sides ahead of the Nov. 1 elections. This is particularly true for the Arab Muslim Ra'am party, which is currently part of the coalition.
As a reminder, two years ago when then-Prime Minister Benjamin Netanyahu was with his back against the wall, he started establishing ties with Ra'am and its leader, Mansour Abbas. Paradoxically, these new ties opened the way for Ra'am to enter the Bennett-Lapid coalition. Still, the way things look now, the political willingness of opposition leader Netanyahu to re-engage with Ra'am is long gone.
In fact, Netanyahu used his June 29 Knesset speech to announce that "unlike [Prime Minister] Yair Lapid, we will not form a government that relies on the Muslim Brotherhood and supporters of terrorism." The response from Ra'am to that speech was quick in coming. Abbas shouted out, "You negotiated with us last time!" This resulted in a raucous barrage of calls from the Likud benches: "Sit down, you liar!"
But that was not the end of the heated discussion prior to the decision to dissolve Israel's parliament. An angry clash broke out between Abbas and Knesset member Ahmad Tibi of the Arab Joint List. Tibi accused his rival from Ra'am of fawning over Netanyahu and the Likud, and he did it using very "unparliamentary" language. Tibi shouted, "You kissed [Netanyahu's] ass to be in a coalition with him, and you're willing to kiss his feet too." Abbas responded, "Oh, the shame. I sent [Netanyahu] home. You are bringing him back!"
At some point, Arab Joint List leader Ayman Odeh also entered the fray, telling Netanyahu that the Arab members of the Knesset who had cooperated with him have "no values." As he said this, he pointed at Abbas. Later on, Odeh denounced Tibi's remarks in an interview with Arabic-language Nas Radio. "It would have been if he said it differently. There's no need to use that kind of language." Still, he did not walk back the spirit of the accusation.
Clearly, these verbal clashes at the Knesset were just the opening salvo of the election campaigns of both Ra'am and the Joint List. The animosity between Abbas and his former colleagues in the Joint List is expected to resonate within Arab society throughout the upcoming months and all the way to Nov. 1. That is because the original reason for the divide between Ra'am and the Joint List has increased and been reinforced during the current government. Both parties espouse different views on cooperating with a coalition. Ra'am advocates for a strategy of joining the coalition in every future Knesset, as written here in an earlier article. The Joint List is against cooperating with any coalition that does not advance negotiations with the Palestinians.
All this raises important questions concerning Ra'am's strategy. Will the party endorse Lapid as prime minister in its upcoming election campaign? Or will it repeat the strategy of its previous campaign and play the field, with the intention of joining whatever coalition is formed? Should the party stick with Lapid now in order to give him a boost and ensure that he remains prime minister?
Evidently, it would be easier for Ra'am to continue cooperating with most members of the current coalition led by Lapid and Yesh Atid. Alternately, the party could announce that it refuses to commit to either side so that they could take advantage of the situation in which Netanyahu needs their votes in the future to form a new coalition. That's almost exactly what would have happened last year if the leader of the Religious Zionist party, Bezalel Smotrich, hadn't prevented it and attacked the Likud for even negotiating openly and behind the scenes with Ra'am.
Some indication of the approach that Ra'am is planning to take can be seen in remarks by a senior member of Ra'am and its Shura religious council, who asked not to be named. He told Al-Monitor, "We are continuing along the same path, which highlights a commitment to Arab society first and foremost. Obviously, we would prefer that the current coalition last into the next Knesset so that we can continue to advance the programs we began to benefit the Arab public."
The Ra'am senior continued, "If, however, that turns out to be impossible after the election, we do not reject anyone who does not reject us. We are prepared and ready for any political partner in a coalition that would benefit Arab society."
Based on what he said, it looks like Ra'am would prefer the current coalition headed by Lapid, but at the same time they are in no hurry to slam the door on any other future political partnership. In other words, they will continue with their strategy of playing the entire field rather than be limited to a partner with Lapid and the center left. Abbas himself said last May that a coalition with the Likud would be considered a genuine success for the new approach he took.
Source: Al Monitor
Please click the following URL to read the full text of the original story:
https://www.al-monitor.com/originals/2022/07/israeli-arab-muslim-party-aspires-be-part-next-new-coalition
--------
Iran: Saddam's Chemical Bombing of Sardasht Highest Degree of Insolence
2022-July-4
"The Sardasht chemical bombing (June of 1987) showed the highest degree of Saddam regime's insolence in the war imposed against Iran," Amir Abdollahian said in a tweet on Monday.
He pointed out that the great nation of Iran will never forget the silence and complicity of human rights claimants in the brutal crime and contrary to international law.
The Iranian foreign minister commemorated the National Day of Combating Chemical and Biological Weapons.
The Iranian city of Sardasht in West Azerbaijan Province is the third city after Japan's Hiroshima and Nagasaki which became the target of Weapons of Mass Destruction in the world.
Source: Fars News Agency
Please click the following URL to read the full text of the original story:
https://www.farsnews.ir/en/news/14010413000747/Iran-Saddam's-Chemical-Bmbing-f-Sardash-Highes-Degree-f-Inslence
--------
Israeli PM Lapid to press France's Macron and warn Hezbollah 'playing with fire'
05 July, 2022
Israeli Prime Minister Yair Lapid will press French President Emmanuel Macron on Tuesday for a tougher and time-limited tack on the Iranian nuclear negotiations, and warn that the Tehran-backed Hezbollah group is "playing with fire," an official said.
Lapid's visit to France, his first abroad since becoming caretaker premier last week, is also a chance to flex diplomatic muscles as Israelis gear up for a snap election in November.
France is among world powers trying to revive a 2015 nuclear deal with Iran that the previous US administration quit and which Israel opposed, deeming its caps insufficient.
As Lebanon's former colonial administrator, France has additional clout in Beirut - whose economic crisis-hit leaders were jarred on Saturday when Israel shot down three Hezbollah drones launched toward one of its Mediterranean gas rigs.
"The French are very, very active on the Iranian issue," a senior Israeli official told reporters.
"It is important for us to make our case ... Israel opposes a return to the JCPOA (2015 nuclear deal). In the same breath, we do not oppose a deal. We seek a very strong deal."
Israel is not a party to the nuclear negotiations. But Western capitals have been attentive to its worries about its arch-enemy and worried it might take preemptive military action if it deems diplomacy a dead end.
Since the US walkout, Iran has itself been in breach of the deal, ramping up projects with bomb-making potential - though it denies having such designs. Its technical advancements have set a ticking clock on the so-far fruitless negotiations.
"We want an end to the unending talks," said the senior Israeli official, calling for "coordinated pressure" on Iran and offering help on "drafting an appropriate framework" for that.
Israel has de facto front with Iran in Lebanon, home to Hezbollah. The senior Israeli official, alluding to Saturday's shoot-downs, accused the group of "playing with fire."
The official declined to elaborate on that warning, but said Lapid would share with Macron "new material explaining how Hezbollah is endangering Lebanon."
Hezbollah and Israel fought a war across Lebanon's border in 2006 but have been in a largely stable standoff since.
Source: Al Arabiya
Please click the following URL to read the full text of the original story:
https://english.alarabiya.net/News/middle-east/2022/07/05/Israeli-PM-Lapid-to-press-France-s-Macron-and-warn-Hezbollah-playing-with-fire-
--------
Palestine rejects 'manipulation' of investigations into journalists' death
Awad Rajoub
04.07.2022
RAMALLAH, Palestine
The Palestinian Authority (PA) on Monday rejected "manipulation" of investigations into the killing of Al Jazeera journalist Shireen Abu Akleh.
Abu Akleh, 51, was shot dead on May 11 while covering an Israeli military raid near the Jenin refugee camp in the occupied West Bank.
While Palestinian officials and her employer Al Jazeera accused Israel of killing the reporter, Tel Aviv denied any responsibility.
On Saturday, the PA said it had handed the bullet that killed Abu Akleh to a US team to conduct a forensic examination.
The US, however, said Monday that there was no "definitive conclusion" on the origin of the bullet. It, however, concluded that the gunfire from the Israeli position was "likely responsible" for the reporter's death.
"We will not accept under any circumstances the manipulation of the outcomes of Palestinian investigations, and will continue the procedures on her assassination in international courts, particularly the International Criminal Court, since Israel is responsible for her killing and must bear the consequences," PA spokesman Nabil Abu Rudeineh said statements cited by the state news agency Wafa.
Abu Rudeineh "deeply regretted" the Israeli government's disavowal of its responsibilities for the journalist's death, calling on the US administration to maintain its credibility and hold Israel fully responsible for Abu Akleh's murder.
On May 26, Palestinian Attorney-General Akram al-Khatib announced that an examination of Abu Akleh's body confirmed that she was killed by an armor-piercing projectile fired directly at her head by an Israeli sniper.
Source: Anadolu Agency
Please click the following URL to read the full text of the original story:
https://www.aa.com.tr/en/middle-east/palestine-rejects-manipulation-of-investigations-into-journalist-s-death/2630134
--------
Africa
2023: Islamic cleric warns against same-faith presidential ticket
July 4, 2022
By Amos Tauna
A former Special Adviser on Islamic Matters to late governor Patrick Ibrahim Yakowa of Kaduna State, Sheikh Haliru Abdullahi Maraya, has opined that those promoting the idea of a Muslim-Muslim or Christian-Christian presidential ticket, in today's Nigeria, do not wish the country well now that it is divided along religious fault lines.
Speaking on "Islamic view on same-faith presidential ticket in today's Nigeria", the former Special Adviser stated, "Those promoting the idea of a Muslim-Muslim or Christian-Christian presidential ticket, in today's Nigeria, do not wish the country well especially now that it is divided along religious fault lines."
He explained that it's wrong for a Muslim to support a Muslim-Muslim presidential ticket as it is at variance with the spirit of justice which the religion of Islam promotes and defends at all times.
"I don't think there is a Muslim who will support a Christian-Christian presidential ticket. Undoubtedly, the Muslims would cry out for the perpetration of injustice against them," he said.
Sheikh Maraya further explained, "The combination of a Muslim and non-Muslim, in a presidential ticket, in Nigeria of today, also gives vent to the spirit of justice, fairness and equity as enshrined in the religion of Islam. Remember, the country is for the Muslims and non-Muslims alike. The religion of Islam orders the sincere administration of justice, on all, regardless of any distinction, be it religious, ethnic, geographical, tribal, inter alia.
"The religion enjoins its adherents to always stand for justice as a matter of principle, whether for Muslims or non-Muslims, even if justice should side against them. The Quran says: "and do not let the hatred of a people prevent you from being just" (Q5:8). As a Muslim, one is enjoined by the religion to only love for mankind, regardless of any social difference, what they love for themselves."
He said that Nigeria is a multi-religious country of more than 200million people who are Muslims and non-Muslims, saying that the country is owned by more than 200million citizens who are of diverse religious background.
Sheikh further Maraya advised, "In order to be just to all the citizens of the country, and also to balance the apparent religious sentiments prevalent in the country, Nigeria's politicians and its major political parties have avoided fielding same-faith presidential candidates since the present political dispensation from 1999.
"In any event, the combination of people of different religious background, on a presidential ticket, appears to give vent to the constitutional requirement that the composition of the federal government and its agencies should reflect the federal character of the country, and the need to promote national unity, thereby ensuring that there is no predominance of sectional groups in the government, as enshrined in Section 14(3) of the 1999 Constitution of Nigeria as amended."
He stated that he wondered what the country would be should the various agitations in the land assume a religious dimension, stressing that no religion has the monopoly of qualified people who have the capacity to serve as running mates to presidential candidates if merit should be the parameter for the nomination of running mates.
"Undoubtedly, both Muslims and non-Muslims, in Nigeria of today, are endowed with capable and qualified persons for the offices of the President and Vice-President alike. Consequently, justice, fairness and equity, as enjoined by the religion of Islam, demand that a Muslim presidential candidate should nominate a non-Muslim as their running mate, and a non-Muslim presidential candidate should nominate a Muslim as their running mate, in Nigeria of today, for the sake of the promotion of national unity and cohesion," he stressed.
To balance the geographical and ethnic sentiments in the country, he opined that the politicians and major political parties have never contemplated fielding candidates of the same geographical and ethnic leanings, saying that they have never fielded a north-north or a south-south presidential ticket.
He added that it is common sense and the appreciation of Nigeria's religious diversity to abhor and discourage a same-faith presidential ticket, stressing, "The unity of our beloved country, Nigeria, should be the priority of all Nigerians, not winning elections at all costs. It is a very disheartening commentary on our politics that some of our politicians are thinking of strategy and strategy to win elections, even if they lose the country in the end."
He opined that there should be no desperation to use sophistry to win an election and lose the only country Nigerians have, observing that presently, the level of distrust and suspicion between the Muslims and non-Muslims, in Nigeria, has become very high as to make it implausible, unrealistic and unwise for any political party and presidential candidate to field a same-faith presidential joint ticket.
Source: Daily Post Nigeria
Please click the following URL to read the full text of the original story:
https://dailypost.ng/2022/07/04/2023-islamic-cleric-warns-against-same-faith-presidential-ticket/
--------
34 killed in two jihadist attacks in Burkina Faso
Jul 5, 2022
OUAGADOUGOU: Suspected jihadists killed at least 34 people in attacks on villages in northern Burkina Faso at the weekend, officials and sources said Monday.
In the northwest of the country, 22 people, reportedly including children, were killed late Sunday at Bourasso in Kossi province, said Boucle du Mouhoun regional governor Babo Pierre Bassinga.
"Armed men moved around the village at around 5:00 pm, firing in the air. They came back at night and blindly opened fire on people," a security source said.
In northern Burkina Faso, 12 people died on Saturday in an attack at Namissiguima in Yatenga province, another security source said, also speaking on condition of anonymity.
Three of the dead were members of a civilian militia, the Volunteers for the Defence of the Fatherland (VDP) -- an auxiliary force set up in December 2019 to support the army.
Burkina Faso, one of the poorest countries in the world, has been grappling with a jihadist insurgency that swept in from neighbouring Mali in 2015.
The campaign, led mainly by groups linked to Al-Qaeda and the Islamic State group, has claimed thousands of lives and forced some 1.9 million people to flee their homes.
More than 40 percent of the country lies outside the control of the government, according to official figures.
Burkina Faso underwent a coup in January, when disgruntled colonels ousted elected president Roch Marc Christian Kabore.
Source: Times Of India
Please click the following URL to read the full text of the original story:
https://timesofindia.indiatimes.com/world/rest-of-world/34-killed-in-two-jihadist-attacks-in-burkina-faso/articleshow/92668062.cms
--------
Sudan's army won't take part in political talks, leader says
05 July, 2022
Sudan's military leader General Abdel Fattah al-Burhan said on Monday the army would not participate in internationally led dialog efforts to break its stalemate with the civilian opposition, and urged political and revolutionary groups to start talks to form a transitional government.
Last October, Sudan's military staged a coup, dissolving a transitional government formed after President Omar al-Bashir was toppled in a 2019 popular uprising.
The military takeover triggered frequent mass rallies demanding the army quit politics. The United Nations and the African Union have led mediation efforts to break the deadlock as the economic crisis has worsened, but there has been little sign of progress.
Burhan spoke on television as protesters in the capital Khartoum increased pressure on military rulers by holding days of sit-ins against the death of nine civilians on Thursday during anti-military rallies.
About 2,000 people were participating in one sit-in near the city center on Monday afternoon, a Reuters witness said.
On Monday, Burhan said the army's decision not to participate in talks was to allow political and revolutionary groups to form a government. Since the coup, most civilian groups have refused to negotiate with the military, which has led to the current stalemate.
He called on civilian groups to start a serious dialog to bring the country back to a democratic transition. The military will be committed to implementing the outcomes of the dialog, he said.
Burhan said the ruling sovereign council that he leads, and which includes military and civilian members, would be dissolved after a new government forms.
A new Supreme Council of the Armed Forces would then be created and be responsible for security and defense tasks as well as related responsibilities in agreement with the government, Burhan said.
Source: Al Arabiya
Please click the following URL to read the full text of the original story:
https://english.alarabiya.net/News/north-africa/2022/07/05/Sudan-s-army-won-t-take-part-in-political-talks-leader-says
--------
UN appeals for urgent funding to provide humanitarian aid to people in South Sudan
Benjamin Takpiny
05.07.2022
JUBA, South Sudan
The UN's humanitarian coordinator for South Sudan appealed Monday for urgent funding to meet the needs of the South Sudanese people, who are suffering from multiple interconnected shocks.
According to a statement released by Sara Beysolow Nyanti, current estimates indicate that $400 million is urgently required to provide minimum humanitarian services.
Nyanti said that if these funding gaps are not addressed, it will leave millions of the most vulnerable people at risk of losing access to vital humanitarian assistance and protection.
"The humanitarian context in South Sudan is daunting and is the worst that it has ever been. Everything including protection of women and girls, food, nutrition and shelter is needed," she said.
Nyanti noted that there are over 2 million people displaced in South Sudan, and the absence of funding means those in camps risk being left in critical need of water, sanitation and hygiene and health services, and the lack of safety and security will further deepen these risks.
"The resources have dwindled, but lives should not," she added.
For over a decade, the people of South Sudan have faced multiple crises. People's lives have been shattered by years of conflict, social and political instability, unprecedented climate shocks, ongoing violence, frequent displacements, the impact of the COVID-19 pandemic, food insecurity and multiple disease outbreaks.
In South Sudan, some 8.9 million people -- more than two-thirds of the population -- are estimated to need significant humanitarian assistance and protection in 2022.
The Humanitarian Response Plan requests $1.7 billion to target 6.8 million people with life-saving assistance and protection services. Currently, the plan is funded only at 27%, almost 14% of which was funded by the OCHA-managed Pooled Funds Central Emergency Response Fund and South Sudan Humanitarian Fund. OCHA refers to the United Nations Office for the Coordination of Humanitarian Affairs.
"With such funding gaps, the vulnerable suffer more and humanitarian partners are forced to prioritize, making heart-wrenching choices between severe needs. We cannot give up because the cost of inaction is too high, and people in need cannot afford to pay this price. We need urgent funds and are appealing to the world to remember the most vulnerable in South Sudan," Nyanti added.
An estimated 1.9 million people will not have access to clean water, sanitation and hygiene services without more funds.
Source: Anadolu Agency
Please click the following URL to read the full text of the original story:
https://www.aa.com.tr/en/africa/un-appeals-for-urgent-funding-to-provide-humanitarian-aid-to-people-in-south-sudan/2630210
--------
Egyptian, Libyan leaders say elections 'only way-out' of Libya's crisis
Ibrahim al-Khazen
05.07.2022
Egyptian President Abdel Fattah al-Sisi and head of Libya's Presidency Council, Mohamed al-Menfi, said elections are the only way-out of the Libyan crisis.
This came in a phone call al-Sisi received Monday evening from al-Menfi during which they discussed developments in the crisis-hit country.
Al-Sisi said that Egypt will not spare any effort to achieve national reconciliation in Libya, his office said in a statement.
The two sides also underlined the importance of the departure of all foreign troops and mercenaries from Libya.
Al-Menfi's office, meanwhile, said the Egyptian leader underlined his country's keenness to maintain Libya's unity and encourage dialogue between all Libyan rivals.
Last week, protesters stormed the premises of the Tobruk-based House of Representatives (parliament) and set it on fire amid protests in several Libyan cities calling for the abolition of legislative and executive bodies and holding elections as soon as possible.
Libya has been plagued by turmoil and divisions since the 2011 ouster of late ruler Muammar Gaddafi.
UN-sponsored talks between Libyan rivals to agree on a constitutional framework for holding the long-awaited elections have been deadlocked.
Source: Anadolu Agency
Please click the following URL to read the full text of the original story:
https://www.aa.com.tr/en/africa/egyptian-libyan-leaders-say-elections-only-way-out-of-libya-s-crisis/2630403
--------
Over 15,000 Nigerian Muslim pilgrims 'stranded' as Saudi Arabia extends airlifting
05 July 2022
There was anxiety yesterday, as over 15,000 intending Nigerian pilgrims wait to be airlifted to Saudi Arabia.
Of the 43,008 worshippers billed for the trip, 27,359, inclusive of 527 staff, as well as committee and board members, had been conveyed.
In Kano, Executive Secretary of the state's Pilgrims Welfare Board, Alhaji Mohammad Abba Danbatta, accused Azman Air of "lacking the capacity to manage the conveyance of pilgrims to Saudi Arabia."
Addressing reporters, Danbatta said the state had lodged a formal complaint with NAHCON.
He said: "Despite the formal request to allow Kano to operate Max Air, National Hajj Commission of Nigeria (NAHCON)-assigned Azman Air to airlift Kano pilgrims which are over 2000, and since the operation started, this airline can only airlift 900 pilgrims.
" Just yesterday, Azman directed us to call our pilgrims for airlift to Saudi Arabia. We summoned over 400 pilgrims for screening at the camp, and they were left stranded for over 24 hours. We intimated NAHCON about the development, only (for them) to inform us that Azman would no longer airlift Kano passengers. This is so unfortunate. Now we are told that Saudi air, FlyNas, has been assigned to Kano."
"NAHCON said Henceforth two air carriers from Saudi Arabia would arrive Aminu Kano international anytime from now. They said the remaining pilgrims would be airlifted before the closing date."
Reacting to the development, Assistant General Manager, Azman Air, Nuruddeen Aliyu, told journalists that for reasons beyond their control, NAHCON directed the airline to rather concentrate on the airlifting Kaduna Pilgrims.
Meanwhile, in a statement released on Monday, NAHCON disclosed the General Authority for Civil Aviation, GACA, of the Kingdom of Saudi Arabia has granted an extension of landing permit to intending pilgrims from Nigeria to enable them to perform the 2022 hajj exercise.
The permission, sequel to the request tendered by NAHCON, ceded waiver to carriers' continued operations.
Besides GACA has approved the extension of landing permits for Nigerian pilgrims under the aegis of NAHCON.
Source: Guardian Nigeria
Please click the following URL to read the full text of the original story:
https://guardian.ng/news/over-15000-nigerian-muslim-pilgrims-stranded-as-saudi-arabia-extends-airlifting/
--------
Southeast Asia
Selangor ruler concerned over Malay disunity, tells politicians to unite
July 4, 2022
PETALING JAYA: Selangor's Sultan Sharafuddin Idris Shah has expressed concern over the disunity among the Malay community and urged Malay politicians, in particular, to unite for the sake of national development.
Sultan Sharafuddin said this disunity was detrimental to national unity, multiracial harmony and political stability.
In a statement posted on the Selangor royal office's Facebook page, he said Malay politicians needed to be aware of the fact that Malaysia's development and progress depended on having stable leadership.
"Should the Malay leaders fail to show good and responsible leadership, the other races would lose respect for these Malay leaders and will not support the Malay-led government," he said.
Sultan Sharafuddin also advised Malay politicians to work with non-Malay political leaders to ensure that the nation's development received the highest priority.
He said prioritising national development would help ensure that Malaysians, regardless of race, would be able to live comfortably.
While he maintained that he had no intention to interfere in national politics, he said he felt compelled to give his advice and opinion to call for an end to Malay disunity.
"This is to ensure that the interest of the Malay community can be preserved without neglecting the rights and interests of non-Malays in this country," he said.
Source: Free Malaysia Today
Please click the following URL to read the full text of the original story:
https://www.freemalaysiatoday.com/category/nation/2022/07/04/selangor-ruler-concerned-over-malay-disunity-tells-politicians-to-unite/
--------
Indonesia school helps students recite Quran in sign language
By Budi Satriawan
July 5, 2022
YOGYAKARTA, Indonesia, July 5 (Reuters) - Concerned about how Indonesian students with hearing impairments often miss out on religious education, cleric Abdul Kahfi founded an Islamic boarding school to help them study and recite scripture from the Quran using sign language.
Opened in 2019 in the city of Yogyakarta in central Java, the Darul A'shom school now has 12 staff and teaches 115 students aged between seven and 28 years from across the world's biggest Muslim-majority country.
Abdul hopes the school will make it easier for future generations to learn about Islam.
"Nowadays hearing-impaired adults barely know religion in depth because from school age they have never learned about it," said the cleric, noting how interest in his school had spread quickly.
In Indonesia, the curriculum in public schools provides limited religious teaching to children with special needs, starting at the age of eight or nine rather than at kindergarten as is the case for many other students.
Only three out of 10 children with disabilities in Indonesia are able to go to school, according to a survey by the United Nations children's agency (UNICEF).
Hearing-impaired students typically take about five years to learn to recite and memorise the Quran at the school.
"Now I am able to read and memorise 30 juz (parts) of the Quran," said Muhammad Farhad, a 10-year-old student, who said he wanted to become a cleric one day so he can pass on his knowledge to others.
Source: Reuters
Please click the following URL to read the full text of the original story:
https://www.reuters.com/world/asia-pacific/indonesia-school-helps-students-recite-Quran-sign-language-2022-07-05/?rpc=401&
--------
First Malaysian death recorded in Mecca, says religious minister
04 Jul 2022
MECCA, July 4 — A 62-year-old man from Kuala Nerang, Kedah, became the first Malaysian pilgrim who died in the holy city during this year's Haj season.
The matter was announced by Minister in the Prime Minister's Department (Religious Affairs) Datuk Idris Ahmad.
He said the man had suffered serious bacterial infections and breathed his last at the King Faisal Hospital on June 25.
As of last Saturday (July 2), Idris said 13 Malaysian pilgrims were receiving treatment at the Tabung Haji (TH) treatment centres in Makkah, while three others were in Saudi hospitals.
"Tabung Haji is always concerned with the welfare of every pilgrim, hence trying its best in providing them with the best medical services," he told a press conference here.
In another development, the minister reminded all pilgrims to always comply with the rules and regulations set by the Saudi government and to adhere to all instructions given by TH staff.
"I also hoped that all Malaysian pilgrims will avoid getting involved in unlawful activities.
"The Government of Malaysia and TH are closely monitoring all issues relating to their safety and security in the Holy Land," he said.
Source: Mala Ymail
Please click the following URL to read the full text of the original story:
https://www.malaymail.com/news/malaysia/2022/07/04/first-malaysian-death-recorded-in-mecca-says-religious-minister/15660
--------
I agreed to testify against Syed Saddiq to avoid prosecution, says witness
Faisal Asyraf and 'Ainin Wan Salleh
July 4, 2022
KUALA LUMPUR: A prosecution witness in Syed Saddiq Syed Abdul Rahman's corruption trial has admitted to the High Court that he was testifying against the Muar MP to avoid being "charged for other cases".
Abdul Hannaan Khairy was asked by Syed Saddiq's defence lawyer, Gobind Singh Deo, if he agreed to testify against Syed Saddiq in court for fear of being charged by the Malaysian Anti-Corruption Commission (MACC) with other cases.
Hannaan first responded by asking judge Azhar Abdul Hamid for permission to use the restroom, but answered affirmatively when he was told to respond to the question first.
The prosecution witness also admitted to being called in by MACC many times, but could not recall the exact number.
He admitted to feeling "scared" whenever he was called in by MACC to provide statements regarding Syed Saddiq's case as he would also be questioned about other cases, as he feared he would also be charged.
Hannann used to be a member of Bersatu Youth and contested for the Kayang state seat in Perlis in the 14th general election under Pakatan Harapan.
He was sacked by the party in August 2020.
Syed Saddiq, a former youth and sports minister who used to lead Bersatu Youth, is on trial on four charges of criminal breach of trust, misappropriation of funds and money laundering of more than RM1 million belonging to the youth wing.
Earlier, Hannaan said Syed Saddiq had told him to ask Bersatu Youth's apparel and merchandise supplier, Muhammad Naqib Ab Rahman, to prepare a backdated quotation and receipt amounting to RM50,000 and RM200,000, respectively.
Regarding his other cases, he admitted that MACC had grilled him over possession of a car in 2020 and said he was worried that action would be taken against him.
He also said he was upset with the way MACC officers had intimidated his wife when she was questioned, claiming that she was even asked to take off her clothes at one point.
During cross-examination, Gobind read excerpts from the police report that Hannaan's wife, identified as Siti Nurul Hidayah, had lodged on June 5, 2020.
In the report, she claimed that she was brought to a room for questioning and was surrounded by six male officers, who "hurled explicit words" at her.
Gobind: (The report stated that) one of them threatened to slap her and that his hand was an inch away from her cheek. The officer also kicked her chair, and then they asked her to stand on the chair while lifting up one leg and both hands for half an hour. How do you feel about this?
Hannaan: I'm sad and disappointed
Gobind: Are you afraid to give your statement today?
Hannaan: Yes.
Gobind: Are you afraid of the MACC officers escorting you?
Hannaan: Can I not answer that?
Gobind: Okay, let's leave it at that.
Source: Free Malaysia Today
Please click the following URL to read the full text of the original story:
https://www.freemalaysiatoday.com/category/nation/2022/07/04/i-agreed-to-testify-against-syed-saddiq-to-avoid-prosecution-says-witness/
--------
URL: https://newageislam.com/islamic-world-news/fatwas-islamic-principles-hajj/d/127410
New Age Islam Islam Online, Islamic Website, African Muslim News, Arab World News, South Asia News, Indian Muslim News, World Muslim News, Women in Islam, Islamic Feminism, Arab Women, Women In Arab, Islamophobia in America, Muslim Women in West, Islam Women and Feminism