New Age Islam News Bureau
25 Feb 2014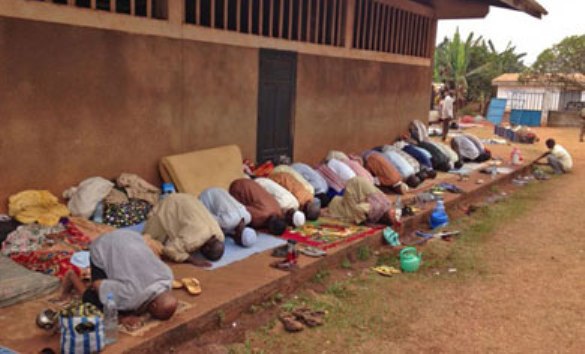 Christian militiamen learned that hundreds of Muslims were hiding at the Catholic Church and came with their ultimatum: Evict the families to face certain death or else the entire place would be burned to the ground. (AP Photo/Krista Larson)
----------
India
• Fatwas Are Political-Religious Views, Can't Interfere, Says Supreme Court
• IM planned to break ISI shackles, ally with al-Qaeda, Pak Taliban: chargesheet
• India to put Makkah-Medina high speed railway on track
• Aligarh Movement — Past, Present and Its Future Prospects for Muslims
• How Indian Mujahideen got its name
South Asia
• Shibir, Student Wing Of Jamaat-e-Islami A Top Non-State Armed Group: IHS Jane's
• Bangladesh PM: Find out militant financers, take action
• Myanmar govt targeting Rohingya Muslim community: report
• Blast kills 3 Afghan students in front of school
• Hasina's life was at risk
• Dhaka and Pentagon discuss security issues
Africa
• Christian Militiamen Kill 70 Muslims in Central African Republic Town
• Militants attack Nigerian school and 'shoot students', Dozens Killed
• Return of jihadist fighters from Syria sparks fear in Tunisia
• Elections in Algeria show the steady decline of Islamist parties
• Tunisia fights terrorist finance networks
• Nigeria leader defends army's role against Boko Haram
Pakistan
• Pakistan air strikes kill 30 terrorists in Waziristan
• Federal cabinet calls for unconditional ceasefire from Taliban
• The Taliban are not humans but beasts: Information Minister
• Pindi's 4 Imambargahs call for similar generosity
• Peshawar on hit list of terrorists: IG Khyber Pakhtunkhwa
• Policy matters: 'Anti-Taliban operation needed to help army's morale'
• PTI stopping NATO trucks from entering Afghanistan is illegal, declares PHC
• At least six killed in Karachi violence
• Balochistan govt to set up 2,000 girl's school with UNICEF help
Arab World
• Air raids in central Syria kill 26: Activists
• Egyptian military offensive kills 14 suspected Sinai militants
• Governor survives blasts as Iraq violence kills 19
• Israeli air raid hits Hezbollah 'missile site,' kills militants
• Egypt orders 504 Islamists to face mass tribunal
• Syrian militants say they recruited Uzbek boy
• Madinah governor inaugurates campus for women's colleges in Al-Ula
• Iraq signs deal to buy arms, ammunition from Iran
• Islamists say Jordan must freeze peace deal with Israel
• Egypt's Salafist Nour Party may participate in new government
• Military Intelligence expanding to cope with Jihadi threat from Syria
Europe
• Norway in danger from Syria jihadists, says intelligence agency
• Britain arrests four on Syria-related terror charges
• International conventions: 'Pakistan could face trade restrictions if it fails to outlaw torture'
• Greek Cypriot archbishop warns Turks over peace talks
• U.N. rights envoy likens Israeli actions to apartheid
Mideast
• Senior Hamas Official Campaigns against 'Honour Killings'
• Clashes break out as Israelis raid Al-Aqusa Mosque
• Israel arrests Palestinian rights group staff
• Israeli PM Netanyahu tells Merkel Iran is greatest threat to world security
• 20 years on, Hebron massacre haunts survivors
North America
• US Planning for Cyber Attacks on Syria
• Muslim Hijab and Sikh Kirpan help boost business for Montreal tour operator
• Muslim groups concerned over tossed NYPD suit, plan appeal
• CIA chief made secret trip to Pakistan
• Washington surprised by resignation of Egypt cabinet
• US warns Iraq to respect UN embargo on arms trade with Iran
Southeast Asia
• Stern Action If Proven Kassim Ahmad Deviates From True Islamic Teachings
• Catholic Church debunks Putrajaya's explanation on Allah ban
• Brunei presents 'youth vision' on 30th National Day
Compiled by New Age Islam News Bureau
URL: https://newageislam.com/islamic-world-news/new-age-islam-news-bureau/fatwas-are-political-religious-views,-can-t-interfere,-says-supreme-court/d/35927
-----------
India
Fatwas Are Political-Religious Views, Can't Interfere, Says Supreme Court
All India | Reported by A Vaidyanathan, Edited by Abhinav Bhatt
February 25, 2014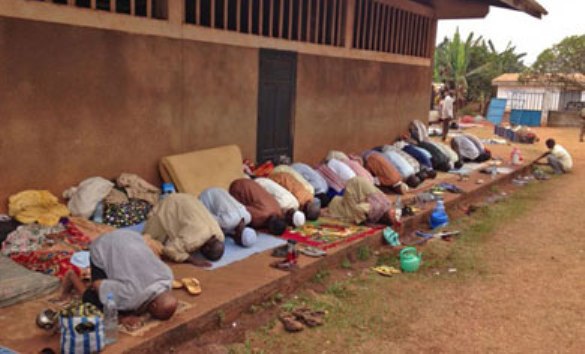 Christian militiamen learned that hundreds of Muslims were hiding at the Catholic Church and came with their ultimatum: Evict the families to face certain death or else the entire place would be burned to the ground. (AP Photo/Krista Larson)
-----------
New Delhi: The Supreme Court has said that it cannot interfere with Fatwas or religious decrees issued by Muslim clerics.
"These are political-religious issues. We can't decide them. In this country some people believe Gangajal can cure all ailments. It is a matter of belief," the top court said while reserving verdict on a petition against Shariat courts and their Fatwas.
The Public Interest Litigation or PIL has been filed by a Delhi-based advocate Vishwa Lochan Madan, challenging parallel courts run by institutions like the Darul Quaza and Darul-Iftaa.
Mr Madan has argued that a Muslim girl had to desert her husband because a fatwa directed her to live with her father-in-law who had allegedly raped her.
The petitioner also told the court that the Darul Quaza and Darul-Iftaa function in 52 to 60 districts which have a sizeable Muslim population. He said Muslims cannot contest these decrees or Fatwas, and alleged that these interfere with the life and liberty of citizens.
"Don't be over dramatic," the court told the petitioner, adding, "We will come to her rescue. You are assuming all Fatwas are irrational. Some fatwa may be wise and may be for general good also. People in this country are wise enough. If two Muslims agree for mediation, who can stay it? It is a blend of arbitration and mediation."
The Muslim Personal Law Board argued that if Fatwas affect fundamental rights, one can approach the court.
"We could make a national policy that, issues of personal matters in family courts should be decided by people of the same religion. But it might divide the country again," the top court observed.
The Centre has told the Supreme Court that it is being very cautious ahead of the general elections, due by May, and that it will not interfere in Muslim personal law unless it affects the fundamental rights of citizens.
http://www.ndtv.com/article/india/fatwas-are-political-religious-views-can-t-interfere-says-supreme-court-488147
------------
IM planned to break ISI shackles, ally with al-Qaeda, Pak Taliban: chargesheet
February 25, 2014
The Indian Mujahideen (IM) planned to cut ties with the ISI and align itself directly with al-Qaeda and the Pakistani Taliban, according to the supplementary chargesheet filed by the National Investigation Agency (NIA).
According to the chargesheet, Riyaz Bhatkal, alleged founder of IM, referred to the Pakistani intelligence agency as "kutta" (dog) in Internet chats, and spoke of the need to break free of its clutches to be able to operate freely.
A special court in Delhi took cognizance of the NIA's 277-page supplementary chargesheet against alleged IM co-founder Yasin Bhatkal, his aide Asadullah Akhtar and two other members of the IM, Manzar Imam and Uzair Ahmed, on Monday.
The NIA is learnt to have accused them of criminal conspiracy, being members of a terrorist organisation, waging war against the government, recruiting youth and collecting funds for the IM. The NIA had filed its first chargesheet against five alleged IM members in July last year. Court proceedings are scheduled to begin on March 7.
Also on Monday, the Delhi Police's Special Cell filed its supplementary chargesheet against Yasin and Akhtar in a sessions court. The police are learnt to have charged the two men with setting up an arms manufacturing unit in the suburbs of Delhi with the intention of carrying out terror attacks across India.
The sessions court of Additional Sessions Judge Daya Prakash will consider this chargesheet on March 3.
According to the NIA chargesheet, senior ISI officials had reprimanded the IM leadership in Pakistan after finding out about the group's attempts to establish links with the al-Qaida and Tehreek-e-Taliban Pakistan (TTP).
Based on information contained in Internet chats among half a dozen alleged IM operatives, the NIA has said that the ISI, after discovering the IM's outreach towards the al-Qaida and TTP, withdrew a Mitsubishi Pajero SUV and some funds that it had given to the Bhatkals.
The chargesheet quotes Riyaz Bhatkal as saying the IM should begin to ally with al-Qaida through "taawun" or assistance, and subsequently consider a merger. The IM leadership, according to the chargesheet, believed the TTP leadership was brave but foolish, and therefore preferred to ally with Arab fighters.
The NIA has claimed to have accessed secure email accounts that show the IM tried unsuccessfully to contact Ayman al-Zawahiri, the al-Qaida chief himself.
The chargesheet describes an instance when Riyaz was allegedly contacted by an al-Qaida operative in Pakistan who wanted help to send weapons through India to Myanmar, where Riyaz apparently planned to recruit Rohingya Muslims. According to the chargesheet, Riyaz was also considering procuring weapons in Thailand, where the IM had located a private weapons manufacturing unit.
In statements made in court, Yasin has allegedly accepted his role in the blasts at Hyderabad (2007 and 2013), Jaipur (2008), Delhi (2008 and 2010), Ahmedabad and Surat (2008), Bangalore (2010), Pune (2010) and Mumbai (2011).
Akhtar has allegedly confessed his involvement in the bomb blasts in Delhi (2008 and 2010), Mumbai (2011), Pune (2010) and Hyderabad (2013).
Both men are learnt to have confessed to have been trained by the ISI. Yasin has allegedly said he was trained in Karachi in 2005, while Akhtar has said he received formal training in September 2009. Both are said to have claimed that the Batla House encounter of September 19, 2008 was the provocation behind many of the attacks.
According to the chargesheet, Yasin has confessed to have recruited youths into the IM, built and planted IEDs, and sheltered other IM operatives. He has allegedly said he joined the IM "to protect the rights of Muslim people".
The chargesheet, filed on the basis of searches at alleged IM hideouts, the alleged recovery of incriminating material, alleged records of money transfers, analysis of alleged Internet-based communication and statements of witnesses, says Delhi's Akshardham temple and Pune's Army cantonment were at the top of the IM's hit list.
http://indianexpress.com/article/india/india-others/im-planned-to-break-isi-shackles-ally-with-al-qaeda-pak-taliban-chargesheet/2/
-----------
India to put Makkah-Medina high speed railway on track
SANDEEP DIKSHIT
February 25, 2014
Two of Islam's holiest cities, Makkah and Medina will now have an Indian connection.
According to government sources, the Indian labour force will be roped in for the Haramain High Speed Railway project — Saudi Arabia's plan to connect the two cities by high speed trains. The rails for the tracks will also be supplied by Indian companies.
Government sources pointed out the evolution in India-Saudi ties at a time when Saudi Deputy Prime Minister and Crown Prince Salman bin Abdulaziz Al Saud arrives here on Wednesday for a three-day visit, his second visit to the country in four years.
Till recently, Saudi Arabia was India's biggest crude supplier while receiving labour for its construction projects. These two factors have remained constant although there are operational hiccups. Saudi petro giant Aramco turned down India's request for more extra light crude and withdrew credit facilities for an Indian public sector oil company.
Officials consider Saudi-India cooperation in defence a major development, especially because they have stopped viewing their security and defence ties in binary terms — choosing between India and Pakistan.
The two sides had agreed on a defence MoU when A.K. Antony became the first Indian Defence Minister to visit Riyadh in 2012. New Delhi expects to discuss this further with the Crown Prince who is also the Saudi Defence Minister and is known as a consensus builder in Riyadh's corridors of power. Officials do not discount the possibility of the MoU being signed during his visit.
For now, India is setting its sights on railways. Apart from the mega contract for L&T for part of work on the Riyadh Metro project, there are other opportunities worth about $100 billion opening up as Saudi Arabia sets in motion a network extension plan for the next 30 years.
Government sources admitted that the Chinese had a headstart in most of the works opening up for international tendering such as heavy haul trains and tracks or high speed trains. But work of this nature is labour intensive and the expectation is Indian companies will be preferred .This is because having worked for decades in the Gulf, workers from the subcontinent are considered socially compatible with the ethos of the region than the Chinese.
There are also signs of Saudi Arabia's second most influential royal's visit becoming a catalyst for Riyadh's participation in LNG or oil refining projects being planned at Dahej, Ennore, Mangalore, Paradip and Kochi.
The investment could come from the flush-with-funds Kingdom Holding Company which has already made investments in Four Seasons Hotel and Citi Bank.
http://www.thehindu.com/news/international/world/india-to-put-makkahmedina-high-speed-railway-on-track/article5723324.ece
----------
Aligarh Movement — Past, Present and Its Future Prospects for Muslims
February 25, 2014
The revolt of 1857 against British proved to be disastrous for Indian Muslims at that time.The British chose to believe that the Muslims were responsible for the uprising against them, therefore they made them the subject of ruthless punishments and merciless vengeance. The British had always considered Muslim as their number one enemy because they had taken power from them. With the rebellion of 1857, this feeling was intensified and every attempt was made to ruin and suppress the Muslims.
After dislodging the Muslim rulers from the throne, the new rulers, the Britishers, implemented a new educational policy with drastic changes. The policy banned Arabic, Persian and religious education in schools and made English not only the medium of instruction but also the official language in 1858. This spawned a negative attitude amongst the Muslims towards everything modern and western, and a disinclination to make use of the opportunities available under the new regime.
Seeing this atmosphere of despair and despondency, Sir Syed Ahmed Khan (1817–98)launched his attempts to revive the spirit of progress within the Muslim community of India. He was convinced that the Muslims in their attempt to regenerate themselves, had failed to realize the fact that mankind had entered a very important phase of its existence, i.e., an era of science and learning. He realized that progress and prosperity for the British was based on modern learning. Therefore, modern education became the pivot of his movement for regeneration of the Indian Muslims. He tried to transform the Muslim outlook from a medieval one to a modern one.
After deep analysis Sir Syed started Aligarh Movement in 1864 and later on established Muhammadan Anglo-Oriental School (M. A. O.), Aligarh in 1875. Setup on the pattern of English public schools, MAO was later raised to the level of college in 1877 and university in 1920.
Sir Syed's vision is so true in present context as well and an eye opener for future for Muslims. So little has been done and so much more to do, considering the vast populationof community and its backwardness in terms of education and social structure. We need a number of visionaries who can put in their hard effort to bring Muslim community at par withother sections of the society.India will only become a developed nation if all the sections of the society progress equally.
Sachar committee has put forward a lot of analysis about the Indian Muslim with "statistical reports" based on information from government agencies, banks, Indian Minority Commission, different state governments and its agencies.
The major finding of Sachar is that the rate of literacy among Muslims is very much below than the national average. Considering the findings government is taking up several steps too late too little though. The establishment of Aligarh Muslim University'scenters is a major step. First Minority Affairs Minister MrA R Antulay in UPA 1 had demanded 5 minority universities across the country, we got AMU centres in lieu of that demand. A number of scholars and the present Vice Chancellor of AMU Lt. Gen. Zameer Uddin Shah believe that government should move a step further to establish these centres as full-fledged Minority Universities . AMU Alumni and like minded people from both Hindu and Muslim communitieshave a major role to play to take Sir Syed's vision forward. There is need to reorganize Aligarh Movement in present context so that future of our generation and our beloved country is secure.
By Asif Jah
The author is Member, Aligarh Muslim University Court. Email: asifjah2000@gmail.com
http://muslimmirror.com/eng/aligarh-movement-past-present-and-its-future-prospects-for-muslims/
-----------
How Indian Mujahideen got its name
February 25, 2014
The banned terror outfit which we know as 'Indian Mujahideen' today had initially started as a small group called "Usaba" in Bhatkal, the port town of Karnataka, and got its present name from media reports after its 2007 terror strike in Uttar Pradesh.
Meaning a group of congregation of men more than 11 but less than 40, Usaba sent out an e-mail claiming responsibility for the 2007 court blasts in Uttar Pradesh while still looking for a suitable name for the group.
The term 'Indian Mujahideen' mentioned in the e-mail was picked up instantly by the media which so named the outfit in its reports.
"The nomenclature of 'Indian Mujahideen' was liked by the operatives and was thus used in the subsequent e-mails along with a designed logo," the NIA has said in its charge sheet filed against IM co-founder Yasin Bhatkal and three others.
The IM uses interesting codes for countries, probe agencies, weapons, etc. as was borne out from the e-mails in possession of the NIA.
Pakistan's ISI was code named 'Taagut' or 'Voda', NIA was Neye, Al-Qaeda was termed 'Waagu' or 'Micro' while Taliban became 'Tech'.
Even places got new names. India became 'Innd', Delhi 'Shaam', Mumbai 'Gaww', Pune 'Metro', while Bhatkal, the home town of IM men Riyaz, Iqbal and Yasin Bhatkal, was code named 'Dehat'.
There was also an element of Bollywood to this naming and Iqbal Bhatkal was codenamed 'Bebo'.
Even weapons were given interesting names: 'pistol' became 'chaloo ticket' and AK-47 'reservation'; with explosives becoming 'Chrnnn' and suicide bombers 'deposits'.
http://www.thehindu.com/news/national/how-indian-mujahideen-got-its-name/article5723406.ece
-----------
South Asia
Shibir, Student Wing Of Jamaat-e-Islami A Top Non-State Armed Group: IHS Jane's
Sheikh Shahariar Zaman
February 25, 2014
A total of 492 attacks were reported in Bangladesh in 2013, while it was only 28 in the previous year
The US-based defence think-tank IHS Jane's has termed Islami Chhatra Shibir, the student wing of Jamaat-e-Islami, as one of the most active non-state armed groups in 2013. In its latest Global Terrorism and Insurgency Attack Index in February, it revealed the top 10 non-state armed groups in 2013.
"In 2009, a worldwide total of 7,217 attacks were recorded from open sources. In 2013, that number increased by more than 150% to 18,524," said Matthew Henman, manager of IHS Jane's Terrorism and Insurgency Centre (JTIC), which carried out the study.
A total of 492 attacks were reported in Bangladesh in 2013, while it was only 28 in the previous year.
Full report at:
http://www.dhakatribune.com/bangladesh/2014/feb/25/shibir-top-non-state-armed-group-ihs-janes#sthash.7VSI0um8.dpuf
-----------
Bangladesh PM: Find out militant financers, take action
Mohosinul Karim
February 25, 2014
Prime Minister Sheikh Hasina yesterday asked the ministers and officials concerned to take tough actions to prevent the rise of militant groups and to stop terrorism financing from inside or outside the country.
The cabinet meeting yesterday discussed the issues of rising militancy, terror financing in the country and the ruling party's dismal performance in the first phase of upazila polls.
A minister seeking anonymity said some of the ministers informed the premier that a section of police officials who were involved with the security of the Jama'atul Mujahidin Bangladesh (JMB) convicts were involved in the JMB snatching incident.
The minister also said the miscreants talked to the police officials over mobile phone to be confirmed about the location. The convicted criminals also talked to the snatchers during the incident from the prison van, he added.
Full report at:
http://www.dhakatribune.com/politics/2014/feb/25/pm-find-out-militant-financers-take-action#sthash.zlBDe6Dm.dpuf
-----------
Myanmar govt targeting Rohingya Muslim community: report
Press Trust of India | Yangon | February 25, 2014
An independent human rights group says it has obtained documents directly implicating the Myanmar government in abusive and discriminatory policies targeting the country's minority Rohingya Muslim community.
Matthew Smith, executive director of Fortify Rights, said on Tuesday that his 79-page report detailing restrictions on family life, the right to travel freely and practice religion was based largely on leaked official documents and an analysis of public records. He said while most of the policies have long been known, seeing them spelled out in writing was chilling: "It represents a level of planning and knowledge among Myanmar authorities that raises the abuses to the threshold of crimes against humanity."
Full report at:
http://indianexpress.com/article/world/asia/rohingya-muslim-rohingya-myanmar-rohingya-community-rohingya-muslims-human-rights-myanmar/
-----------
Blast kills 3 Afghan students in front of school
February 25, 2014
Three students were killed on Tuesday by a bomb hidden in a motorcycle in front of their school in southern Afghanistan, an official said.
"The incident took place in Marjah district, three other students were wounded," said Omar Zwak, spokesman for the governor of Helmand province.
He said all the victims were young men 20 to 21 years old.
No group claimed immediate responsibility.
http://www.thehindu.com/news/international/south-asia/blast-kills-3-afghan-students-in-front-of-school/article5725896.ece
-----------
Hasina's life was at risk
February 25, 2014
The rebels were in the final stage to implement their plans – they held a series of secret meetings, even on the day Prime Minister Sheikh Hasina's visit
The prime minister's life was at risk and the erstwhile BDR authority was liable for this as the premier had visited Pilkhana a day before the mutiny to attend the annual parade, and the rebellion had already been planned by that time.
The rebels were in the final stage to implement their plans – they held a series of secret meetings, even on the day of Prime Minister Sheikh Hasina's visit.
A court observed that analysing the Pilkhana tragedy and its brutality, it could not be claimed that the prime minister's security had been tight and she had been safe there.
It questioned the necessity of holding the extravagant annual parade for a paramilitary force like the BDR (now BGB) as it also takes part in the Victory Day parade.
Full report at:
http://www.dhakatribune.com/politics/2014/feb/25/hasinas-life-was-risk#sthash.MxitvxFG.dpuf
-----------
Dhaka and Pentagon discuss security issues
February 25, 2014
Foreign Secretary Md Shahidul Haque held a meeting with official from the Pentagon of the United States last week to discuss security-related issues.
"The foreign secretary of Bangladesh visited Washington last week, where we had a very robust set of engagement for him across all of the various agencies, including our ministry of defence, the Pentagon, and the state department," US Deputy Assistant Secretary for South Asia Atul Keshap said at a press briefing yesterday.
When contacted, the foreign secretary said overarching security issues were discussed with the US officials.
Full report at:
http://www.dhakatribune.com/foreign-affairs/2014/feb/25/dhaka-and-pentagon-discuss-security-issues#sthash.uyTVPs4K.dpuf
-----------
Africa
Christian Militiamen Kill 70 Muslims in Central African Republic Town
February 25, 2014
CARNOT, Central African Republic: Christian militiamen killed at least 70 people in the remote southwest of Central African Republic, at one point ordering a group of Muslims to lie on the ground and shooting them one by one, witnesses said Monday. The militiamen, known as the anti-Balaka, slaughtered the Muslims in the village of Guen earlier this month, a Catholic priest, the Rev. Rigobert Dolongo, who helped bury the bodies, told the Associated Press. At least 27 people were slain in the first day of the attack, while 43 others were killed on the second day, he said.
Ibrahim Aboubakar, 22, said the anti-Balaka stormed Guen and killed his two older brothers after they were heard speaking in Arabic.
"Later that day they rounded up dozens of people and forced them all to lie down on their stomachs. Then they shot them one by one," he said from the refuge of a Catholic church in Carnot, about 100 kilometers away, where he is among 800 seeking shelter from attack.
At least two other families who survived the attack are here now, including Gisma Ahmad, who is now a widow at 18 with two young children. Sitting in the shade breastfeeding a 4-month-old while her 3-year-old daughter played nearby, she could only weep when asked about the killings. Relatives said that her husband was shot while trying to flee.
Hundreds of Muslims remain in Guen, hiding in the town's Catholic church and also at the imam's home.
Full report at:
http://www.dailystar.com.lb/News/International/2014/Feb-25/248404-seventy-muslims-killed-in-car-town.ashx#ixzz2uMtMEpHL
-----------
Militants attack Nigerian school and 'shoot students', Dozens Killed
Feb 25, 2014
Islamic militants from the Boko Haram group in north-eastern Nigeria have attacked a school and shot some students, the military has said.
Dozens of pupils are reported to have been killed. Police told Reuters that all the dead were boys and that some of the bodies "were burned to ashes".
The attack took place in troubled Yobe state, the military said.
Residents of the town of Buni Yadi said the attackers struck at night, slitting the throats of some students.
They said that others were shot.
The military has confirmed that an attack took place on "student hostels" but says it cannot yet give further details.
"Details are still sketchy due to lack of telephone access, and it is still not clear how many students were affected in the attack", Yobe military spokesman Lazarus Eli told the AFP news agency.
Full report at:
http://www.bbc.co.uk/news/world-africa-26338041
-----------
Return of jihadist fighters from Syria sparks fear in Tunisia
Feb 25, 2014
Around 400 Tunisian jihadists have returned from fighting in the Syrian war, the interior minister said, sparking fears that the battle-hardened militants could fuel Islamist violence back home.
Since the 2011 revolution, Tunisia has been rocked by sporadic violence linked to Muslim extremists who were suppressed under the regime of ousted strongman Zine El Abidine Ben Ali.
Numerous Tunisians have joined the ranks of jihadist rebels battling to overthrow the government of Syrian President Bashar al-Assad, raising fears in the North African country of further violence on their return.
"We have managed to prevent nearly 8,000 people from going to Syria," Lotfi Ben Jeddou said late Monday, speaking after a security and counter-terrorism meeting.
"We don't have exact figures for those who have returned, but they are estimated to number around 400," he added.
Full report at:
http://voiceofrussia.com/news/2014_02_25/Return-of-jihadist-fighters-from-Syria-sparks-fear-in-Tunisia-5175/
------------
Elections in Algeria show the steady decline of Islamist parties
February 25, 2014
At a Jan. 27 news conference for the Movement of Society for Peace (MSP), Algeria's main Islamist political party, the party's leader, Abderrezak Makri, announced that his party would be boycotting the upcoming Algerian presidential elections scheduled for April of this year.
Makri explained that although the party was capable of putting forward a strong candidate, its electoral base didn't wish to see the party engaged in what they felt would be a predetermined election – a charade that would only serve to legitimize the candidate of "le pouvoir," or Algeria's centers of power. Other Algerian Islamist parties, such as Ennahda or Al-Islah, will probably follow the MSP's lead given their disinterest and lack of strategy. A few months ahead of the presidential elections – and despite their pronouncements – the Islamists have not only proven unprepared but also unable to rally behind a consensus candidate. This is a strong indication that they lack a real electoral future.
Full report at:
http://www.dailystar.com.lb/Opinion/Commentary/2014/Feb-24/248253-elections-in-algeria-show-the-steady-decline-of-islamist-parties.ashx#ixzz2uMt37NXL
-----------
Tunisia fights terrorist finance networks
February 25, 2014
Tunisia is going through a national tragedy, including assassinations, attacks against security forces, ambushes, etc. Our compatriots are frustrated with these macabre scenes, and all signs indicate that a planned terrorist war will be long and costly. This situation raises two questions regarding the financing of Islamist terrorism and the solutions to cut off its resources.
This phenomenon is not new in Tunisia. The first terrorist activity in the country dates back to August 1987, when four attacks were perpetrated by an Islamist movement, which later became Ennahdha.
Full report at:
http://www.al-monitor.com/pulse/security/2014/02/tunisia-works-confront-terrorism-funding.html#ixzz2uMtzei9x
----------
Nigeria leader defends army's role against Boko Haram
February 24, 2014
The Nigerian president has defended the army's efforts against Islamist militants in the north, after over 200 civilians died in attacks last week.
Addressing recent criticism, President Goodluck Jonathan said the fight against Boko Haram "will improve".
It comes after the governor of the worst affected state, Borno, called for more troops to be deployed to the area.
Boko Haram has been conducting a four-year campaign of violence to push for Islamic rule in northern Nigeria.
Full report at:
http://www.bbc.co.uk/news/world-africa-26332968
------------
Pakistan
Pakistan air strikes kill 30 terrorists in Waziristan
Press Trust of India | Peshawar | February 25, 2014
Pakistan military on Tuesday carried out air strikes targeting militant hideouts in the country's tribal region of North and South Waziristan. At least 30 terrorists were killed on Tuesday when Pakistani fighter jets carried out air strikes on militant hideouts in Shawal valley, a mountainous area in North Waziristan sharing boundary with South Waziristan, and other areas of the restive northwest tribal region. The security sources said a number of terrorists' hideouts have been completely destroyed.
"Some 30 terrorists were killed in early morning air strikes on terrorists' hideouts in Pray ghar and Razan Nala areas of Pasht Ziarat in Shawal valley on the boundary of North and South Wazirastan agencies," a security source said. He added that simultaneous strikes were also carried out in Ghariom village in North Waziristan. The air strikes mainly took place in Datta Khel and Shawal areas of North Waziristan where militant training facilities and compounds are said to be located.
Full report at:
http://indianexpress.com/article/world/asia/pakistan-air-strike-waziristan-air-strike-militants-killed-terrorist-killed-pakistan/
-----------
Federal cabinet calls for unconditional ceasefire from Taliban
February 25, 2014
ISLAMABAD: The federal cabinet on Tuesday approved the Internal Security Policy and will announce details regarding the policy tomorrow, Express News reported.
Members of the cabinet also stated that if the Taliban want to continue talks, they should announce and implement an unconditional ceasefire.
The cabinet meeting was headed by Prime Minister Nawaz Sharif.
Interior Minister Chaudhry Nisar will be disclosing more details about the policy in the National Assembly on February 25.
Full report at:
http://tribune.com.pk/story/675920/federal-cabinet-approves-policy-which-asks-for-unconditional-ceasefire-from-taliban/
-----------
The Taliban are not humans but beasts: Information Minister
February 25, 2014
KARACHI- Sindh Assembly adopted a resolution expressing solidarity with the armed forces today.
MQM's member of the provincial assembly Faisal Sabzwari had presented the resolution in the Sindh Assembly.
The resolution stated that the provincial assembly demanded immediate action in dealing the Taliban with iron hands.
It condemned the attacks at Mosques, Imambargahs and worship places of non-Muslims.
On the occasion, Information Minister Sharjeel Memon said that the Taliban were not humans but beasts. "These beasts would vanish soon" he added.
http://www.nation.com.pk/national/25-Feb-2014/the-taliban-are-not-humans-but-beasts-sharjeel-memon
------------
Pindi's 4 Imam bargahs call for similar generosity
February 25, 2014
Rawalpindi—In the last year's Youm-e-Ashur clashes, not only Madrassa Taleem-ul-Quran was attacked and burnt down by terrorists but four Imam Bargahs of the city also bore the brunt of the sectarian frenzy. Punjab government' allocation of Rs 340 million funds for Madrassa Taleem-ul-Quran reconstruction has been appreciated by people at large. The reconstruction work has started and one can see labourers busy in day and night work there. However, the city's Shia community and custodians of the affected Imam Bargahs have called for a similar gesture of generosity as their imam bargahs were also set afire and ransacked by the angry mob on the eve of the Youm-e-Ashur.
Full report at:
http://pakobserver.net/detailnews.asp?id=234652
------------
Peshawar on hit list of terrorists: IG Khyber Pakhtonkhwa
February 25, 2014
PESHAWAR- Inspector General Police, Khyber Pakhtonkhwa, Nasir Durrani has said that Peshawar will be the most sensitive city in the coming days.
He disclosed that nine groups were involved in terrorism activities in the province.
IG KPK said 144 terrorists were apprehended and 25 other were killed in raids and operations by the law enforcement agencies in the province. He told that Mardan, Swabi, Hangu and Kohat areas were the most sensitive districts.
http://www.nation.com.pk/national/25-Feb-2014/peshawar-on-hit-list-of-terrorists-ig-khyber-pakhtonkhwa
------------
Policy matters: 'Anti-Taliban operation needed to help army's morale'
February 25, 2014
FAISALABAD: Law Minister Rana Sanaullah said on Monday a targeted operation against the Taliban was necessary to maintain the morale of the army.
Talking to the media, he said the government had wanted to resolve the conflict without bloodshed. "The army had to respond after the Taliban brutally killed Frontier Corps officials and carried out a suicide attack against policemen," he said. Talking about development projects in Faisalabad, he said the provincial government had approved a metro bus service for Faisalabad. "A signal free route will be established from Samundri Road to Motorway (M-3)… only three flyovers will be constructed on the route."
Full report at:
http://tribune.com.pk/story/675736/policy-matters-anti-taliban-operation-needed-to-help-armys-morale/
-----------
PTI stopping NATO trucks from entering Afghanistan is illegal, declares PHC
February 25, 2014
PESHAWAR: The Peshawar High Court (PHC) declared the stopping of trucks from entering Afghanistan by Pakistan Tehreek-e-Insaf (PTI) workers to be illegal, Express News reported on Tuesday.
The court said that the government should safeguard the right of freedom of movement along with other human rights.
On December 17, a trader had filed a writ petition at PHC challenging the blocking of Nato supply lines by members of PTI, the major coalition party.
The petition was filed by Haji Lal Muhammad through his lawyer Shah Nawaz Khan. Muhammad is a businessman who exports various items, including rice, to Afghanistan.
He had filed the petition under Article 199 of the Constitution of Pakistan.
PTI protests
Full report at:
http://tribune.com.pk/story/675913/pti-stopping-nato-trucks-from-entering-afghanistan-is-illegal-declares-phc/
-----------
At least six killed in Karachi violence
February 25, 2014
KARACHI: At least six people were killed in separate incidents of violence in Karachi, DawnNews reported on Tuesday.
A body of a 22-year-old male bearing torture marks was discovered from Alam pride area of North Karachi.
Moreover, one person was killed in a firing incident near Lyari's Ath Chowk.
In another firing incident, a person was killed at a motorcycle workshop near Gulbahar area.
Another two persons were gunned down in Mominabad area in Iqbal Market in the city's Orangi Town area.
Full report at:
https://www.dawn.com/news/1089376/at-least-six-killed-in-karachi-violence
-----------
Balochistan govt to set up 2,000 girls school with Unicef help
2014-02-25
QUETTA: Balochistan government has decided to establish 2,000 girls schools across the province with the technical and financial support of the United Nations International Children's Emergency Fund (Unicef) and Global Partnership.
Girls schools would be established in Balochistan's backward and far-flung areas.
"Global Partnership has already decided to provide 34 million dollars in this regard", Sanaullah Panezai, Unicef's Balochistan chief on education told Dawn.com on Tuesday.
Moreover, adviser to the Chief Minister Balochistan on Education, Sardar Raza Muhammad Bareech stated that the education department has evolved a strategy with the financial and technical support of Unicef other organisations to make sure provision of education to children of the province.
Full report at:
https://www.dawn.com/news/1089381/balochistan-govt-to-set-up-2000-girls-school-with-unicef-help
-----------
Arab World
Air raids in central Syria kill 26: Activists
February 25, 2014
Air raids on rebel-held towns across Syria killed 26 people, activists said, two days after the UNSecurity Council passed a resolution demanding an end to indiscriminate shelling and aerial attacks.
Syria's almost three-year-old conflict has raged on despite peace talks that began in Geneva last month and the passage of the UNresolution, a rare moment of unity between the West and Russia, President Bashar al-Assad's strongest backer.
Two women and 10 children were among the dead in government air raids on the town of al-Neshabieh, in the eastern outskirts of Damascus, near a railway marking the frontline between Islamist fighters and Assad's forces backed by Lebanese Hezbollah militants, and in the province of Homs to the north.
Full report at:
http://english.ahram.org.eg/NewsContent/2/8/95161/World/Region/Air-raids-in-central-Syria-kill--Activists-.aspx
-----------
Egyptian military offensive kills 14 suspected Sinai militants
February 25, 2014
Egyptian troops have killed 14 suspected militants and arrested others in the northern Sinai Peninsula since Friday.
Twenty three other suspects were arrested in the raid, army spokesman colonel Ahmed Ali said in a statement on Monday.
The operations are part of a broad air and ground campaign against Islamist militants in Sinai.
The three-day offensive destroyed 24 suspected insurgent hideouts, including shacks and houses used for attacks, as well as 11 arms depots housing "goods set to be smuggled to Gaza," the statement said.
Full report at:
http://english.ahram.org.eg/NewsContent/1/64/95100/Egypt/Politics-/Egyptian-military-offensive-kills-suspected-Sinai-.aspx
-----------
Governor survives blasts as Iraq violence kills 19
February 25, 2014
Atheel al-Nujaifi, governor of Iraq's Nineveh province and the parliament speaker's brother, survived the third attempt on his life this month, as violence killed 19 people, officials said.
Iraq is suffering its worst unrest in years and authorities have so far failed to check daily violence targeting both civilians and security forces.
There have now been at least six attempts to kill Nujaifi in less than a year, showing that even the most senior official in the northern province -- one of the most dangerous in Iraq -- is vulnerable to attack.
Full report at:
http://english.ahram.org.eg/NewsContent/2/8/95131/World/Region/Governor-survives-blasts-as-Iraq-violence-kills-.aspx
-----------
Israeli air raid hits Hezbollah 'missile site,' kills militants
February 25, 2014
Israeli warplanes have struck Hezbollah targets near the Lebanese-Syria border, the Lebanese press reported late Monday evening.
"A number" of Hezbollah militants were killed in the airstrike, according to pan-Arab news channel Al Arabiya.
The target was a "missile base," Al Arabiya quoted the Syrian Observatory for Human Rights as saying.
The hits were reportedly near the Lebanese towns of Janta and Yahfoufa, and were carried out by multiple planes on multiple targets.
Full report at:
http://www.jpost.com/Defense/Lebanese-media-Israeli-air-raid-hits-Hezbollah-targets-342439
----------
Egypt orders 504 Islamists to face mass tribunal
February 25, 2014
CAIRO — Egyptian authorities have ordered more than 500 supporters of Islamist President Mohamed Morsi to face a mass tribunal on violence charges.
Thousands of Morsi supporters have been arrested, killed and injured in a heavy crackdown on his Muslim Brotherhood since the Islamist leader was toppled on July 3. The Muslim Brotherhood has been labeled a terrorist organization and its assets have been confiscated.
On Monday, Egypt's main prosecutor Hisham Barakat referred 504 of Muslim Brotherhood members and supporters to the Cairo Criminal Court on charges ranging from murder and using violence during deadly clashes that broke out during Aug. 16 demonstrations.
Full report at:
http://www.saudigazette.com.sa/index.cfm?method=home.regcon&contentid=20140225196797
-----------
Syrian militants say they recruited Uzbek boy
February 25, 2014
Uzbek society is expressing outrage over a recent video posted online by Syrian jihadists.
The video shows a small boy no older than five years old learning to shoot. While authorities have not yet confirmed his nationality, Uzbek citizens have been expressing indignation.
"The war in Syria, just as any other war, is horrific, but the worst thing about it is that it breeds hundreds of homeless orphans, because a bomb hits indiscriminately," said Shakhzoda Maksudova, a women's committee member in Tashkent's Navbakhor mahalla (community association).
Full report at:
http://al-shorfa.com/en_GB/articles/meii/features/2014/02/24/feature-02
-----------
Madinah governor inaugurates campus for women's colleges in Al-Ula
February 25, 2014
Madinah Gov. Prince Faisal bin Salman laid the foundation stone for a campus of women's colleges in Al-Ula on Monday and announced government plans to establish a similar campus for men's colleges.
The new campus for women, which will accommodate 7,000 students, will cost SR208 million.
The launching ceremony also witnessed the signing of agreements to establish a complex for women colleges in Yanbu at a cost of SR226 million.
Addressing the event, Taibah University President Adnan Al-Mazroue commended the remarkable progress achieved by the Kingdom in the education domain under the leadership of Custodian of the Two Holy Mosques King Abdullah.
Full report at:
http://www.arabnews.com/news/530991
-----------
Iraq signs deal to buy arms, ammunition from Iran
World Bulletin/News Desk
February 25, 2014
Iran has signed a deal to sell Iraq arms and ammunition worth $195 million, according to documents seen by Reuters - a move that would break a U.N. embargo on weapons sales by Tehran.
The agreement was reached at the end of November, the documents showed, just weeks after Iraq's Prime Minister Nouri al-Maliki returned from Washington, where he lobbied the Obama administration for extra weapons to fight militants.
Some in Washington are nervous about providing sensitive U.S. military equipment to a country they worry is becoming too close to Iran. Several Iraqi lawmakers said Maliki had made the deal because he was fed up with delays to U.S. arms deliveries.
A spokesman for the Iraqi prime minister would not confirm or deny the sale, but said such a deal would be understandable given Iraq's current security troubles.
Full report at:
http://www.worldbulletin.net/headlines/129557/iraq-signs-deal-to-buy-arms-ammunition-from-iran
-----------
Islamists say Jordan must freeze peace deal with Israel
February 25, 2014
Jordan's opposition Islamists called on the government to freeze a 1994 peace treaty with Israel as the Knesset was Tuesday to debate Israeli sovereignty over Jerusalem's Al-Aqsa mosque compound.
"We urge the government to meet the demands of people who have repeatedly called for freezing and eventually cancelling the peace treaty," the Islamic Action Front (IAF) said on its website.
The Israeli Knesset, or parliament, is due to debate in the evening a bill introduced by MP Moshe Feiglin, a hardline member of Prime Minister Benjamin Netanyahu's Likud party, which envisages the "application of Israeli sovereignty" over Al-Aqsa mosque compound.
No vote is envisaged at the end of debate. Netanyahu is opposed to the bill and commentators say it is unlikely to attract much support.
Full report at:
http://english.ahram.org.eg/NewsContent/2/8/95193/World/Region/Islamists-say-Jordan-must-freeze-peace-deal-with-I.aspx
-----------
Egypt's Salafist Nour Party may participate in new government
February 25, 2014
The ultra-conservative Salafist Nour Party has announced intentions to take part in Egypt's next cabinet, although it refused to the outgoing government months.
Salah Abdel-Maqsoud, member of the Nour Party's high commission, said that while no final decision had been made, the matter was still being considered, according to Al-Ahram's Arabic news website.
Meanwhile, Nour Party head Younes Makhion went on private TV channel MBC Masr on Monday and told host Sherif Amer that the party hadn't been offered any positions in a future cabinet but would look into it if they were offered.
Full report at:
http://english.ahram.org.eg/NewsContent/1/64/95165/Egypt/Politics-/Egypts-Salafist-Nour-Party-may-participate-in-new-.aspx
-----------
Military Intelligence expanding to cope with jihadi threat from Syria
February 25, 2014
The IDF prevents Israel's enemies, such as Hezbollah, from growing stronger "almost every night," a senior security source said this week.
Despite the efforts of IDF Military Intelligence, Hezbollah is believed to be armed with some 100,000 rockets and missiles, including a small but deadly collection of satellite-guided projectiles that can be used to target key Israeli installations and national infrastructure sites in a future war.
Military Intelligence has created a fully formed list of Hezbollah targets.
Military Intelligence is also growing in size, to cope with the mushrooming of global jihadi operatives in next-door Syria. The IDF remains concerned that al-Qaida affiliated organizations will seek to turn their guns, bombs, and rockets against Israel in the future.
Full report at:
http://www.jpost.com/Defense/Military-Intelligence-expanding-to-cope-with-jihadi-threat-from-Syria-342388
-----------
Europe
Norway in danger from Syria jihadists, says intelligence agency
February 25, 2014
Norway's intelligence agency said Monday that it fears an increased "terrorist threat" to its country due to dozens of Norwegian nationals fighting in the Syrian conflict.
At least 40 or 50 people with links to Norway have fought, or are currently fighting, with forces opposed to the Bashar al-Assad regime and run the risk of returning as seasoned radical fighters, the Norwegian Intelligence Service (NIS) wrote in its annual threat assessment report.
"We conclude that the threat has already increased and will continue to increase throughout 2014," the head of NIS General Kjell Grandhagen said, adding that these "jihadists" are often in the most radical Islamic groups such as the Islamic State of Iraq (ISIL) and al-Nusra Front.
Nothing revealed
Full report at:
http://english.alarabiya.net/en/News/middle-east/2014/02/24/Norway-in-danger-from-Syria-Jihadists-says-intelligence-agency-.html
-----------
Britain arrests four on Syria-related terror charges
February 25, 2014
Three men and a woman were arrested in Britain on Tuesday "on suspicion of Syria-related terrorism offences", police said.
The four were arrested at their homes in the southwest of Birmingham, Britain's second city, in central England, West Midlands Police said.
A 45-year-old man was arrested on suspicion of attending a terror training camp and facilitating terror abroad.
A 44-year-old woman and her son aged 20 were held on suspicion of facilitating terror abroad, as was a 36-year-old man at a separate address.
Full report at:
http://english.ahram.org.eg/NewsContent/2/9/95194/World/International/Britain-arrests-four-on-Syriarelated-terror-charge.aspx
----------
International conventions: 'Pakistan could face trade restrictions if it fails to outlaw torture'
February 25, 2014
ABBOTABAD: If Pakistan does not adopt legislation against custodial abuse as per the provisions of the United Nations Convention Against Torture (UNCAT), the country will soon be subjected to trade restrictions from European markets.
This was said at a dialogue session held in Abbottabad on Monday to discuss the rehabilitation of victims of torture and the role of human rights defenders.
The session was arranged by a non-governmental organisation, Human Development Organization (HDO), for members of the Integrated Human Rights Network (IHRN).
HDO Programme In charge Adeel Ahmed briefed participants on the difference between torture and violence as well the key provisions of UNCAT that guarantee torture-free detention and socio-physical rehabilitation of victims of custodial abuse. "Law enforcement agencies use torture with impunity to extract confessions from detainees. This is in contravention of the UN's human rights treaties as well as Articles 10A and 14(2) of the Constitution," said Ahmed. The HDO member also highlighted the physical, mental and social impact of torture on victims while stressing the need for efforts, both by the government and society, for the rehabilitation of victims of custodial mistreatment.
Full report at:
http://tribune.com.pk/story/675590/international-conventions-pakistan-could-face-trade-restrictions-if-it-fails-to-outlaw-torture/
-----------
Greek Cypriot archbishop warns Turks over peace talks
World Bulletin / News Desk
February 25, 2014
Greek Cypriot archbishop Chrysostomos II has warned Turkey about referring to Cyprus as two separate states.
The archbishop, who as the head of the Orthodox church in the Greek Cypriot-controlled southern Cyprus carries significant political influence, warned that such talk could veer the ongoing peace talks off-track.
Speaking to the Greek Cypriot Alithia newspaper, Chrysostomos said that a federation does not mean two separate states.
Expressing the stance of the Orthodox church on the negotiations, Chrysostomos said that Greek Cypriots were giving Turkish Cypriots another chance to live together, but this would only be possible under certain conditions.
Full report at:
http://www.worldbulletin.net/headlines/129617/greek-cypriot-archbishop-warns-turks-over-peace-talks
-----------
U.N. rights envoy likens Israeli actions to apartheid
World Bulletin/News Desk
February 25, 2014
Israel's policies in the West Bank and Gaza Strip appear to amount to apartheid due to its systematic oppression of the Palestinian people and de facto expropriation of their land, a United Nations investigator said in a report.
Richard Falk, U.N. special rapporteur on human rights in the Palestinian territories, said that Palestinian rights are being violated by Israel's prolonged occupation of Palestinian territory and "ethnic cleansing" of East Jerusalem.
Gaza, despite the disengagement of Israel in 2005, remains "occupied" under an unlawful Israeli blockade that controls borders, airspace and coastal waters, and especially hurts farmers and fishermen, he said. The humanitarian situation in the Hamas-ruled enclave is dire amid fuel shortages, he added.
Full report at:
http://www.worldbulletin.net/headlines/129573/un-rights-envoy-likens-israeli-actions-to-apartheid
-----------
Mideast
Senior Hamas Official Campaigns Against 'Honor Killings'
February 25, 2014
Dr. Yunis Al-Astal , a member of the Council of Scholars of Palestine and an MP in the Hamas "parliament," sharply criticized Sunday the phenomenon of honor killings in Palestinian Arab society.
In his statement, Astal argued that honor killings is a more serious crime than the reason behind the honor killings itself, as punishment for premarital sex - which is the most common reason for the murders, according to Astal - is only one hundred lashes, not execution.
Astal also clarified that while adultery is punishable by stoning according to Sharia Law, the sentence needs to be handed down by the court, not by family members. He slammed the fact that, often, honor killings are carried out in secret - with only close family members knowing her fate.
Full report at:
http://www.israelnationalnews.com/News/News.aspx/177814#.Uw0FaeNdUqN
-----------
Clashes break out as Israelis raid Al-Aqsa Mosque
World Bulletin / News Desk
February 25, 2014
Israeli forces stormed Al-Aqsa Mosque compound on Tuesday morning and fired teargas and rubber bullets at Palestinians inside, eyewitnesses said.
"The Israeli forces stormed Al-Aqsa Mosque compound through Al-Magharbeh Gate and Selsela Gate, and surrounded the worshipers in Al-Qibali Mosque inside the complex," an eyewitnesses told Anadolu Agency.
Clashes erupted when the Israeli forces fired sound bombs and rubber bullets at the worshippers who responded by throwing stones, he added.
At least 30 Palestinians suffered temporary asphyxiation due to the excessive use of teargas by Israeli soldiers. Three Palestinians were also arrested during the clashes, the eyewitnesses said.
Full report at:
http://www.worldbulletin.net/headlines/129590/clashes-break-out-as-israelis-raid-al-aqsa-mosque
-----------
Israel arrests Palestinian rights group staff
World Bulletin / News Desk
February 25, 2014
A Palestinian rights group said Tuesday that Israeli security forces had stormed its office in Nablus in the West Bank and arrested four staff members from their homes.
The Israeli army arrested two lawyers, a media researcher and a female administrative worker from their homes in Nablus, the Nablus-based Solidarity Foundation for Human Rights said in a statement.
Quoting the son of detained lawyer Fares Abu al-Hassan, the statement said dozens of Israeli soldiers had stormed and ransacked their home before taking Abu al-Hassan and confiscating several documents.
Full report at:
http://www.worldbulletin.net/todays-news/129616/israel-arrests-palestinian-rights-group-staff
-----------
Israeli PM Netanyahu tells Merkel Iran is greatest threat to world security
Reuters | Feb 25, 2014
JERUSALEM: Israeli Prime Minister Benjamin Netanyahu told visiting German Chancellor Angela Merkel on Monday that Iran's nuclear programme was the biggest threat to global security.
"I would like to discuss the ways to prevent Iran from getting nuclear weapons capability," Netanyahu said in brief public remarks with Merkel at his side at the start of her two-day trip. "I believe that this is the greatest challenge to the security of the world."
Speaking to his cabinet a day earlier, Netanyahu said Germany and other world powers negotiating with Iran needed to take a hard line with the Islamic republic to ensure it cannot "produce or launch nuclear weapons".
Full report at:
http://timesofindia.indiatimes.com/world/middle-east/Israeli-PM-Netanyahu-tells-Merkel-Iran-is-greatest-threat-to-world-security/articleshow/30961008.cms
-----------
20 years on, Hebron massacre haunts survivors
February 25, 2014
HEBRON, Palestinian Territories: Twenty years on, the massacre of 29 Muslims by a Jewish extremist as they prayed in a West Bank mosque still haunts Mohammed Abu Al-Halawa, a survivor who was left a paraplegic.
On February 25, 1994, Israeli settler Baruch Goldstein used an assault rifle to gun down worshippers in the Ibrahimi Mosque — revered by Jews as the Cave of the Patriarchs — in the heart of the southern West Bank city of Hebron, before he was beaten to death by those who escaped his hail of bullets.
Full report at:
http://www.arabnews.com/news/531056
-----------
North America
US Planning for Cyber Attacks on Syria
February 25, 2014
The United States is developing a battle plan against Syria that featured a sophisticated cyber attack on the Syrian military and President Bashar al-Assad's command structure, a report revealed.
The National Security Council met Thursday to explore what one US official called "old and new options", The New York Times reports, referring to a US plan in 2011, when the Pentagon and the National Security Agency first examined the use of cyber arms against Syria, press tv reported.
According to the report, Caitlin Hayden, the Spokeswoman for the National Security Council, declined to discuss "the details of our interagency deliberations" about Syria.
"But we have been clear that there are a range of tools we have at our disposal to protect our national security, including cyber," she said, as cited by the Time.
Full report at:
http://english.farsnews.com/newstext.aspx?nn=13921206000465
-----------
Muslim Hijab and Sikh Kirpan help boost business for Montreal tour operator
February 25, 2014
MONTREAL - Controversies involving religious symbols like the Muslim Hijab and the Sikh Kirpan have been good for business for Ivan Drouin, who runs a company that conducts guided tours of Montreal.
When he first started "Tours Kaleidoscope" in 1996, Drouin organized visits to ethnic communities in Montreal for people who were planning to travel abroad to places like China and Italy.
"We used ethnic neighbourhoods to allow people to better understand the places where they would be going," he said in an interview.
But then Drouin noticed a huge interest among locals who wanted to discover the city's different ethnic neighbourhoods.
Full report at:
http://www.mysask.com/portal/site/main/template.MAXIMIZE/?javax.portlet.tpst=
-----------
Muslim groups concerned over tossed NYPD suit, plan appeal
February 25, 2014
HACKENSACK, N.J. — Civil rights advocates said they were troubled by the dismissal of a federal lawsuit that challenged broad surveillance of Muslims by the New York Police Department and feared it would give law enforcement a "green light" to spy on people based on their religion.
Muslim Advocates, a civil rights organization, filed the lawsuit in June 2012 on behalf of 11 Muslim individuals, businesses and organizations in New Jersey, alleging that the surveillance program violated their constitutional rights by targeting them on the basis of religion. U.S. District Judge William Martini dismissed the lawsuit Thursday, saying the plaintiffs did not show discrimination or injury.
Full report at:
http://www.policeone.com/legal/articles/6900176-Muslim-groups-concerned-over-tossed-NYPD-suit-plan-appeal/
-----------
CIA chief made secret trip to Pakistan
February 25, 2014
ISLAMABAD: The head of the US Central Intelligence Agency (CIA) paid a secret visit to Pakistan last week to discuss key issues concerning the regional security particularly the Afghan endgame.
A senior security official confirmed to The Express Tribune that CIA Director John Brennan traveled to Islamabad last Friday and held meetings with Army Chief General Raheel Sharif and his Pakistani counterpart Lt General Zaheerul Islam.
However, the official, who requested anonymity as he was not authorised to speak to the media, insisted that he only 'paid a courtesy call' on the Army Chief. "It was a routine visit," the official added.
This was the first visit by the US spymaster to Pakistan since he was appointed CIA chief in March 2013.
Full report at:
http://tribune.com.pk/story/675792/cia-chief-made-secret-trip-to-pakistan/
-----------
Washington surprised by resignation of Egypt cabinet
February 25, 2014
The US administration said Monday it was not expecting the resignation of the Egyptian cabinet.
In a surprise move, the interim government resigned on Monday afternoon almost two months before presidential elections are expected to take place.
The cabinet had been in office since July 2013 when the military - led by El-Sisi and promoted by mass protests - ousted Islamist president Mohamed Morsi after a turbulent year in power.
"Of course, this step was unexpected, so we're looking to obtain information on it," State Department spokeswoman Jen Psaki told a daily press briefing.
Full report at:
http://english.ahram.org.eg/NewsContent/1/64/95182/Egypt/Politics-/Washington-surprised-by-resignation-of-Egypt-cabin.aspx
-----------
US warns Iraq to respect UN embargo on arms trade with Iran
February 25, 2014
The United States has pressed Iraq to explain media reports that it had signed a contract to buy arms from Iran, a move forbidden under a United Nations embargo. "We've certainly seen those reports. If true, this would raise serious concerns," State Department spokeswoman Jen Psaki said on Monday.
A deal signed in November, in which Iraq would buy USD 195 million in arms from Iran, was reported by Reuters in Baghdad on Monday. Psaki said that "any transfer of arms from Iran to a third country is in direct violation" of the UN embargo. "We are seeking clarification on this matter from the government of Iraq and to ensure that Iraqi officials understand the limits that international law places on arms trade with Iran," she added.
Full report at:
http://indianexpress.com/article/world/middle-east-africa/us-warns-iraq-to-respect-un-embargo-on-arms-trade-with-iran/
-----------
Southeast Asia
Stern Action If Proven Kassim Ahmad Deviates From True Islamic Teachings
February 25, 2014
KUALA LUMPUR, Feb 24 (Bernama) -- Stern action will be taken against author and former political activist Kassim Ahmad if proven that his expressed views contradicted Islamic principles and sources of Islamic jurisprudence based on the Sunnah Wal Jamaah school of thought, practised by Muslims in Malaysia.
Minister in the Prime Minister's Department, Datuk Seri Jamil Khir Baharom said at the moment, the Federal Territory Islamic Religious Department (Jawi) was still collecting information and evidence with regard to Kassim's speech at the seminar titled, "The Thoughts of Kassim Ahmad: A Review", in Putrajaya recently.
Full report at:
http://www.bernama.com.my/bernama/v7/ge/newsgeneral.php?id=1017133
-----------
Catholic church debunks Putrajaya's explanation on Allah ban
February 25, 2014
The Catholic Church has once again reiterated that its weekly newspaper, Herald, is a "controlled" publication, meant only for distribution in Catholic churches, dismissing Putrajaya's allegation that it is widely circulated.
Herald editor Reverend Father Lawrence Andrew brushed aside Minister in the Prime Minister's Department Datuk Seri Idris Jala's claims that the newspaper's "potentially wide circulation" could make it a tool of Christian propagation.
"This is not true at all. Our circulation is controlled. It is sent only to Catholic churches for distribution among our members.
"If anyone wants to challenge this, they can and should provide evidence if they claim otherwise," he added.
Full report at:
http://www.themalaysianinsider.com/malaysia/article/catholic-church-debunks-putrajayas-explanation-on-allah-ban
-----------
Brunei presents 'youth vision' on 30th National Day
February 25, 2014
The Consulate of Brunei celebrated its National day in Jeddah on Sunday.
Consul General Sulaini Said cut the cake in the presence of Jamal Balkheyour, head of diplomatic affairs from the Saudi Foreign Ministry, and the Brunei Ambassador, Abdul Mokti Hj Mohd Daud.
Minister of Religious Affairs of the Sultanate of Brunei, Dr. Haji Muhammad Haji Abdulrahman who is in Jeddah to sign a Haj agreement, was also present on the occasion besides a host of other foreign diplomats.
Commenting on this year's National Day theme, "Generation with a Vision," Sulaini said the theme portrays how "today's generation achieves a vision of excellence and possesses confidence to realizing the Nation's Vision 2035."
Full report at:
http://www.arabnews.com/news/530946
-----------
URL: https://newageislam.com/islamic-world-news/new-age-islam-news-bureau/fatwas-are-political-religious-views,-can-t-interfere,-says-supreme-court/d/35927