New Age Islam News Bureau
9 Nov 2014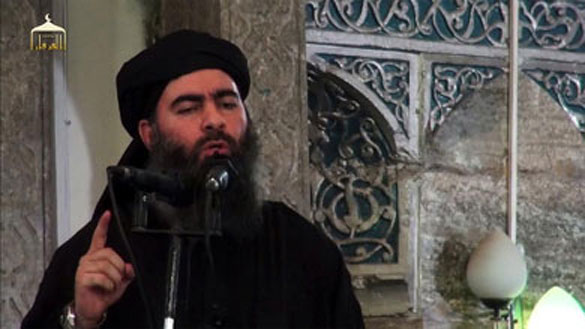 Abu Bakr al-Baghdadi, pictured here in a mosque in July 2014 in Mosul, has reportedly been critically injured. (Screengrab)
--------
Arab World
• Fate of 'Critically Wounded' ISIS Chief, Abu Bakr Al-Baghdadi, Unclear
• Saudi Authorities Arrest 33 Suspects over Terror Attack
• Car Bombs Kill 20 in Baghdad, Ramadi
• Saudi Youngster Blows Himself Up In Syria
• Iraqi Forces Advance to Try to Break Insurgent Siege of Baiji Refinery
• Iraqi Kurdish forces have yet to end the siege of Kobani
• Sectarian unity in Saudi Kingdom seen at funeral of terror victims
• Two die in Egypt as Mursi backers clash with police
• Bahrain Meeting Focuses on Terrorist Financing
• Iraq's Vice President Maliki due in Iran for talks
-----------
Mideast
• Qaeda Kills 'Dozens' Of Shiite Rebels after Yemen Gets Government
• IPHRC Condemns Ongoing Israeli Campaign against Al-Aqsa Mosque
• EU Top Official Visits Gaza, Calls for Palestinian State
• Palestine to File Demarcation Bid at Security Council
• Hamas Forces Cancellation of Arafat Rally
• CIA was aware of 2007 terror attack in Iran, didn't stop it: Report
• Iran, US, EU start nuclear talks in Oman capital
• Iran helped Iraq in ISIL fight: Larijani
• Yemen swears in new government despite protests
• Anti-Iran stance not to benefit PG Arabs: Oman FM
• Palestine activists dig hole in Israel apartheid barrier
• Ten years after death, Arafat still Palestinian icon
• Iranian artworks displayed at French festival
-----------
Pakistan
• Pakistan Air Strikes Kill 13 Militants
• Operation in Khyber Triggers Mass Displacement
• TTP appoints new chief for Mohmand Agency
• Army chief inaugurates 'largest bridge in South Waziristan'
• Sikh pilgrims' devotion unhurt by Wagah attack
• Returned from China, Nawaz heads to Berlin
• PTI agreed to resume talks with govt: Siraj
• Model Town probe report: Govt 'in no hurry' to take action
• Imran criticises Sharif family's foreign trips with PM
----------
South Asia
• A Taliban Suicide Bomber Jolts the Police HQ in Kabul
• Economists advise super ministry to boost Bangladesh economy
• Kamaruzzaman won't seek mercy before review plea disposal
-----------
India
• Indian Muslims Lose Hope in National Secular Party
• Waqf Board Plans Case against Delhi's Shahi Imam, Bukhari
• 'We Are In Touch With Indian Terror Groups': Jamaat-ul-Ahrar
• India's Security forces arrest top Pakistani JeM commander
• Darul Uloom Backs 'Swachh Bharat' After Minister's Letter
----------
Southeast Asia
• Islamic State's new face in Indonesia works freely out of Jakarta office
• Iran to construct oil refineries in Indonesia: Official
-----------
Africa
• Sudan palace attack kills 4
• Boko Haram seizes town in Nigeria's northeast: Reports
• Eroding Algeria's political status quo
• South Sudan rebels accuse government of breaching truce
-----------
North America
• US created ISIL when Syria war began: Analyst
• Raphel brought home classified information: report
• UN sanctions Yemen's former president Saleh, two rebel leaders
• Romney 'stunned' by Obama's Iran letter
------------
Europe
• Britain to send forces to Iraq to help anti-ISIL fight
• US encirclement of Russia setting stage for nuclear war: Analyst
• US and Russia find common ground on Ukraine
• Shelling rocks Ukraine's east despite truce
Compiled by New Age Islam News Bureau
URL: https://www.newageislam.com/islamic-world-news/new-age-islam-news-bureau/fate-of-'critically-wounded'-isis-chief,-abu-bakr-al-baghdadi,-unclear/d/99928
------------
Arab World
Fate of 'Critically Wounded' ISIS Chief, Abu Bakr Al-Baghdadi, Unclear
8 November 2014
The leader of the Islamic State of Iraq and Syria (ISIS), Abu Bakr al-Baghdadi, was "critically wounded" when a U.S.-led air strike targeted the western Iraqi border town of al-Qaim, tribal sources told Al Arabiya News Channel on Saturday.
U.S. Central Command confirmed in a statement that U.S.-led air strikes targeted ISIS leaders near their northern Iraqi hub of Mosul late Friday, without confirming whether Baghdadi was killed, AFP reported.
"This strike demonstrates the pressure we continue to place on the ISIL [ISIS] terrorist network and the group's increasingly limited freedom to manoeuvre, communicate and command," U.S. Central Command said.
Anbar province MP Mohammad al-Karbuli told Al Arabiya News Channel that coalition aircraft had targeted a gathering of ISIS leaders in al-Qaim that led to the killing of tens of people and wounded many more.
Karbuli said chaos ensued the air raid with ISIS members scrambling to transport their wounded to al-Qaim hospital which was overwhelmed with the number of patients.
Reuters news agency quoted two witnesses as saying an air strike targeted a house where senior ISIS officers were meeting, near al-Qaim.
The witnesses said ISIS fighters had cleared a hospital so that their wounded could be treated. ISIS fighters used loudspeakers to urge residents to donate blood, the witnesses said.
The agency also quoted residents as saying there were unconfirmed reports that ISIS' local leader in the western Iraqi province of Anbar and his deputy were killed.
http://english.alarabiya.net/en/News/middle-east/2014/11/08/Reports-ISIS-leader-critically-wounded-in-air-strike.html
----------
Saudi authorities arrest 33 suspects over terror attack
9 November 2014
Security forces have arrested 33 Saudi terror suspects related to the terrorist operation in Al-Ahsa governorate in which five people were killed and nine others were injured, security spokesman of the Ministry of Interior Maj. Gen. Mansour Al-Turki said. In a statement to Saudi Gazette, Maj. Gen. Al-Turki said the security efforts during the past five days after Al-Dalwah attack have resulted in the arrest of 33 people.
He said the security authorities are continuing investigations.
Maj. Gen. Al-Turki said security operations covered 10 cities including Al-Ahsa, Al-Khobar, Dammam, Riyadh, Shaqra, Buraidah, Al-Badayea, Hail, Ar'ar and Al-Jouf.
Officers rounded up 15 suspects in several cities after the initial shooting.
Three suspected militants and two security officers were killed in Buraidah on Tuesday in a gunbattle linked to an investigation into the earlier shooting in the east of the Kingdom.
A total of 15 militants were arrested from six cities after three gunmen killed five people and injured nine others in an attack in Al-Dalwah village in Al-Ahsa governorate in the Eastern Province last week.
The leader of the cell whose members were involved in the Al-Ahsa killings is a Saudi citizen who was fighting in Iraq and Syria and sneaked through the Saudi borders, according to security sources. He formed a terrorist cell and targeted citizens in Al-Ahsa.
http://english.alarabiya.net/en/News/middle-east/2014/11/09/Saudi-authorities-arrest-33-suspects-over-terror-attack.html
----------
Car bombs kill 20 in Baghdad, Ramadi
Nov 9, 2014
BAGHDAD: Car bombs killed 20 people, including five soldiers, in the Iraqi capital and the city of Ramadi to the west on Saturday, police and medical sources said, in attacks that resembled operations carried out by Islamic State (IS) militants.
Hours after the violence Al-Hadath television station reported that US-led air strikes targeted a gathering of Islamic State leaders in Iraq's western province of Anbar, possibly including the group's leader Abu Bakr al-Baghdadi.
Iraqi security officials were not immediately available for comment on the report from the station, part of Saudi-owned al-Arabiya television, and there was no immediate word from the US military.
Two bombs exploded in separate attacks in Baghdad's mainly Shia Amil district, said a police source.
"A driver parked his car and went to a cigarette stall then he disappeared. Then his car blew up, killing passersby," said the police source, describing one of the two attacks in Amil.
In the mostly Shia al-Amin area of Baghdad, another car bomb killed eight people, medical sources said.
The attack by a suicide bomber on a checkpoint in Ramadi in western Anbar province killed five soldiers.
"Before the explosion, the checkpoint was targeted with several mortar rounds. Then the suicide humvee bomber attacked it," said a police official.
"Some troops came to the scene. They were attacked by mortars. A confrontation took place for one hour."
There was no immediate claim of responsibility for the bombings.
Western and Iraqi officials say US-led air strikes are not enough to defeat the Al Qaeda offshoot that holds parts of Iraq and Syria and is fighting to expand what it calls a caliphate.
Iraq must improve the performance of its army and security forces in order to eliminate the threat from the group, which wants to redraw the map of the Middle East, the officials say.
President Barack Obama has approved sending up to 1,500 more troops to Iraq, roughly doubling the number of US forces on the ground, to advise and retrain Iraqis in their battle against Islamic State.
The United States spent $25 billion on the Iraqi military during the US occupation that toppled Saddam Hussein in 2003, and triggered an insurgency that included Al Qaeda.
Washington wants Iraq's Shia-led government to revive an alliance with Sunni tribesmen in Anbar province which helped US Marines defeat al Qaeda. Such an alliance would face a more formidable enemy in Islamic State, which has more firepower and funding.
Police Colonel Shaaban Barazan al-Ubaidi, commander of a rapid reaction force in Anbar, said security forces retook eight villages. His account could not be immediately confirmed.
http://www.dawn.com/news/1143147/car-bombs-kill-20-in-baghdad-ramadi
----------
Saudi youngster blows himself up in Syria
9 November 2014
Fahad Al-Hajiri, a Saudi high school student, was involved in a suicide attack at the beginning of this month after IS chose him and three others to carry out an operation inside an oilfield in Homs.
Al-Hajiri, nicknamed Abu Azzam Al-Sharqi, lived in Dammam, where he went to school, but he left his studies to fly to Syria and join IS.
Prior to his departure, Al-Hajiri tried to communicate with members of IS in Syria via Internet, to arrange his stay there. He participated in a number of battles after he finished his intensive training, or what IS calls Shariah training.
Abu Abdulrahman Al-Mutairi, a man who fought with him for IS and has since returned, said they were told that they would "carry out the operation in Al-Shaer oilfield in rural Homs."
http://www.arabnews.com/saudi-arabia/news/657221
----------
Iraqi Forces Advance to Try to Break Insurgent Siege of Baiji Refinery
By REUTERS NOV. 9, 2014
BAGHDAD — Iraqi military forces reached the center of the northern city of Baiji on Sunday to try to break an Islamic State siege of the country's biggest refinery nearby, triggering fierce clashes with the militants, according to an army colonel and a witness.
Islamic State Sunni insurgents seized Baiji city in June during a lightning advance through northern Iraq. Since then, they have surrounded the refinery and halted its production while a detachment of government troops has held out for months under siege inside it.
The colonel said Iraqi troops entered Baiji, a city of about 200,000 people, from the south and west and took over the al-Tamim neighborhood and city center.
Islamic State had placed bombs along roads in Baiji and deployed snipers to keep government forces from advancing, tactics used in other cities held by the ultra-hardline Sunni group, which controls swathes of both Iraq and Syria.
"There are IEDs (improvised explosive devices) and snipers that are slowing down the advance, but the presence of the air force has facilitated the process of dismantling the IEDs in order to push forward," said the colonel.
"The areas taken so far are 6 km (3 miles) away from Baiji's refinery," he added. He said 12 militants had been killed.
Baiji resident Sultan al-Janabi told Reuters by telephone from his house that clashes had been raging since the advance, the first time security forces reached the city center since launching a new encirclement strategy at the end of last month.
"Violent confrontations are taking place in Baiji right now. I've been hearing continuous fire and loud bangs," said Janabi.
Islamic State has also dispatched suicide bombers to keep security forces on the defensive.
(Writing by Michael Georgy; Editing by Mark Heinrich)
http://www.nytimes.com/reuters/2014/11/09/world/middleeast/09reuters-mideast-crisis-iraq-baiji.html?ref=world
-----
Iraqi Kurdish forces have yet to end the siege of Kobani
November 09, 2014
Iraqi Kurdish forces have blunted but not broken the siege of the Syrian border town of Kobani, a week after arriving to great fanfare with heavy weapons and fighters in a bid to save it from Islamic State.
Kobani has become a test of the US-led coalition's ability to halt the advance of the Sunni Muslim insurgents. The town is one of few areas in Syriawhere it can co-ordinate air strikes with operations by an effective ground force.
The arrival of the Iraqi Kurd Peshmerga, or "those who face death," with armored vehicles and artillery, has enabled them to shell Islamic State positions around Kobani and take back some villages.
But the front lines in the town itself are little changed, its eastern part still controlled by the insurgents, and the west still largely held by the main Syrian Kurdish armed group, the YPG, and allied fighters.
"There is no change at all in Kobani as a result of the Peshmerga. Maybe one or two streets are gained then lost, back and forth," said Rami Abdulrahman of the Britain-based Syrian Observatory for Human Rights, which monitors the war.
"ISIS (Islamic State) posts are well entrenched in Kobani city, and the Kurds say they need more heavy weaponry to make a dent ... There also needs to be better co-ordination between the Kurdish units and coalition air forces," he said, adding that Islamic State suicide attacks were also proving effective.
The Peshmerga entered Kobani in more than a dozen trucks and jeeps last Friday from Turkey, cheering and making victory signs.
They were given a heroes' welcome by Turkish Kurds and Syrian Kurdish refugees, angry at Turkey's refusal to send in its own troops and optimistic, as they lined the streets cloaked in Kurdish flags, that the peshmerga would turn the tide.
The Kurdistan Regional Government, which runs a semi-autonomous region in northernIraq, has made clear from the outset that its peshmerga fighters, numbering around 150, would not engage in direct combat in Kobani but rather provide artillery support to Syrian Kurds.
"Of course the presence of the peshmerga has been helpful because they're shelling ISIS positions, destroying their fighters and weapons," Idris Nassan, a local official in Kobani, said by telephone.
Full report at:
http://nation.com.pk/international/09-Nov-2014/iraqi-kurdish-forces-have-yet-end-the-siege-of-kobani
----------
Sectarian unity in Saudi Kingdom seen at funeral of terror victims
9 November 2014
Hundreds of mourners, Sunni and Shiite, marched from all around the Kingdom toward Al-Dalwa on Friday afternoon to participate in laying eight martyrs to their final rest. The eight men were killed Monday evening in a terrorist attack.
Abdul Rahim Bou Khamsin, one of the funeral organizers, said he had received numerous phone calls from people wanting to show solidarity with the victims' families. "People including dignitaries and politicians called from Riyadh, Qassim, Hail, and Jeddah wanting to attend the funeral," he said. "All confirmed that they are coming to pay their condolences and respect to these victims." Maj. Gen. Mansour Al-Turki, spokesman of the Ministry of Interior, said on Saturday that the total number of suspects arrested in the case so far is 33.
The security campaign is still in progress, he said, adding that the police will announce the results of the investigation soon.
People attending the last rites were told to abide by the orders of the organizers and security officials.
Full report at:
http://www.arabnews.com/featured/news/657231
----------
Two die in Egypt as Mursi backers clash with police
8 November 2014
CAIRO: Two people were killed Friday when supporters of Egypt's ousted President Muhammad Mursi clashed with police and residents outside Cairo, security officials said.
In the province of Fayoum, south of the capital, violence erupted after Mursi supporters staged a protest following Friday prayers, leading to the death of a 19-year-old student.
Security officials said police used tear gas after protesters fired birdshot at them.
The exact cause of the student's death was not immediately clear, said Health Ministry official Medhat Shukri. He added that three policemen were also wounded in the clashes.
Another person was killed when pro-Mursi protesters clashed in the Ain Shams district northeast of Cairo with residents opposed to Mursi's presidency, which was toppled by the army last year.
Full report at:
http://www.arabnews.com/middle-east/news/656521
----------
Bahrain Meeting Focuses on Terrorist Financing
By THE ASSOCIATED PRESS NOV. 9, 2014
MANAMA, Bahrain — Bahrain's foreign minister says world leaders must do more to cut off funding for terrorist groups and prevent them from profiting from illegal businesses.
Sheik Khalid bin Ahmed Al Khalifa told a gathering of international delegates in the Bahraini capital Manama on Sunday that combatting the financing of militants such as the Islamic State group "is half the battle to defeating them."
Full report at:
http://www.nytimes.com/aponline/2014/11/09/world/middleeast/ap-ml-bahrain-terrorist-financing.html?rref=world&module=Ribbon&version=origin&region=Header&action=click&contentCollection=World&pgtype=article
------
Iraq's Vice President Maliki due in Iran for talks
Nov 9, 2014
Iraq's former prime minister, Nouri al-Maliki, is set to visit Iran for talks with senior Iranian officials.
Iran's Deputy Foreign Minister for Arab and African Affairs Hossein Amir-Abdollahian said on Saturday that Maliki, who currently serves as Iraq's vice president, will meet with high-ranking Iranian officials during the trip on Sunday.
Maliki served as prime minister from 2006 until 2014. He is also the secretary general of the Islamic Dawa Party.
Maliki stepped down as premier on August 14, voicing support for his successor, Haider al-Abadi.
Full report at:
http://www.presstv.ir/detail/2014/11/09/385330/iraqs-maliki-due-in-iran-for-talks/
-----------
Qaeda kills 'dozens' of Shiite rebels after Yemen gets government
November 09, 2014
SANAA - Al-Qaeda claimed its militants killed 'dozens' of Shiite rebels in Yemen on Saturday, hours after the formation of a new government intended to take the strife-torn country out of crisis.
The cabinet was formed shortly before the UN Security Council slapped sanctions against influential former president Ali Abdullah Saleh and two rebel commanders for threatening peace. And in apparent retaliation on Saturday, Saleh's General People's Congress party sacked from its leadership Yemeni President Abdrabuh Mansur Hadi, following accusations he solicited the sanctions.
Yemen has been dogged by instability since an Arab Spring-inspired uprising forced Saleh from power in February 2012, and the Shiite Huthi rebels and Al-Qaeda have sought to step into the power vacuum. In the latest violence, Al-Qaeda claimed twin attacks that it said killed 'dozens' of Huthis in the central region of Rada, where the Sunni Muslim jihadists have halted a rapid territorial advance by their Shiite rivals.
The new government was formed as part of a UN-brokered peace deal under which the Huthis are supposed to withdraw from the capital Sanaa, which they seized control of in September. Though the Huthis, who are also known as Ansarullah, are not directly represented in the new government, six of their members are considered close to the insurgents. Washington, which sees Hadi as a key ally in the fight against Al-Qaeda, welcomed the new cabinet and encouraged the impoverished Arab nation to overcome partisan politics after the weeks of turmoil.
The US National Security Council called on all political actors 'to continue to cooperate in the new government,' according to spokeswoman Bernadette Meehan. 'This multi-party cabinet must represent the strength of Yemeni unity over individual and partisan interests that may seek to derail the goals of a nation.' On November 1, the main parties signed an agreement brokered by UN envoy to Yemen Jamal Benomar for the formation of a government of technocrats.
Full report at:
http://nation.com.pk/international/09-Nov-2014/qaeda-kills-dozens-after-yemen-gets-government
----------
Mideast
IPHRC condemns ongoing Israeli campaign against Al-Aqsa Mosque
9 November 2014
The OIC Independent Permanent Human Rights Commission (IPHRC) has expressed deep concern over the recent developments in Al-Aqsa Mosque, which have come about as a result of the absence of international intervention, according to an official statement issued by the commission during its sixth regular session.
IPHRC said these developments have come in the aftermath of excessive attacks on Al-Aqsa by extremist Israeli settlers and groups that have gained momentum in recent months, under Israeli police surveillance and protection.
The complacency of the Israeli government regarding such acts is a clear indication that it condones the attempts aimed at altering the Islamic nature of the holy site, a matter that merely serves to incite more extremism, tension and violence.
"The British Commission of Inquiry, founded in 1929 under the British mandate of Historic Palestine, establishes that there is no evidence that Solomon's Temple existed in this area, and that Al-Aqsa Mosque solely belongs to those of the Muslim faith. Further excavations could not prove otherwise.
Full report at:
http://www.arabnews.com/saudi-arabia/news/657186
----------
EU top official visits Gaza, calls for Palestinian state
9 November 2014
GAZA CITY: The European Union's new foreign affairs chief Federica Mogherini on Saturday appealed for the establishment of a Palestinian state, saying the world "cannot afford" another war in Gaza.
"We need a Palestinian state — that is the ultimate goal and this is the position of all the European Union," Mogherini said during a trip to Gaza, devastated by its third conflict in six years.
Full report at:
http://www.arabnews.com/middle-east/news/657041
----------
Palestine to file demarcation bid at Security Council
Nov 9, 2014
The Palestinian president says he is set to ask the UN Security Council to issue a resolution that determines the borders of the future Palestinian state based on the pre-1967 boundaries.
In a recent interview with Palestinian television, Mahmoud Abbas said the resolution, which will be submitted to the Security Council later this month, would define the entire occupied West Bank and East al-Quds (Jerusalem) as Palestinian territory.
"We'll demand a timetable for ending the occupation, and the process of applying to UN institutions, including the International Criminal Court, will continue. We demand recognition of our rights," he noted, adding, "This is a long battle, and God willing, we'll obtain our rights."
Full report at:
http://www.presstv.ir/detail/2014/11/09/385334/palestine-seeks-demarcation-at-unsc/
----------
Hamas Forces Cancellation of Arafat Rally
By THE ASSOCIATED PRESS NOV. 9, 2014
GAZA CITY, Gaza Strip — The Hamas militant group has forced the cancellation of a memorial ceremony in the Gaza Strip that was to have marked the 10th anniversary of the death of Palestinian leader Yasser Arafat.
Sunday's decision illustrated continuing tensions between Hamas and Arafat's Fatah movement — despite the formation of a unity government that was meant to end years of hostilities between the rival factions.
Full report at:
http://www.nytimes.com/aponline/2014/11/09/world/middleeast/ap-ml-palestinians-arafat.html?ref=world&_r=0
-----
CIA was aware of 2007 terror attack in Iran, didn't stop it: Report
Nov 9, 2014
The US Central Intelligence Agency (CIA) was notified that a notorious terrorist group was planning a big operation in Iran before it happened in 2007, according to a new report.
The Jundallah terrorist group has carried out numerous bombings, assassination attempts, and terrorist attacks against Iranian government officials and civilians, including women and children.
Among the most notorious attacks by the group was a 2007 car bombing in southeastern Iran which killed 11 members of the Islamic Revolution Guards Corps (IRGC).
The New York Times reports that a CIA officer roaming through the spy agency's files came across an intelligence report, filed ahead of the bombing, that had warned "something big" was about to happen in Iran.
Full report at:
http://www.presstv.ir/detail/2014/11/09/385318/cia-aware-of-terror-attack-in-iran/
------------
Iran, US, EU start nuclear talks in Oman capital
Nov 9, 2014
Representatives of Iran, the US and the EU have kicked off a trilateral meeting in the Omani capital, Muscat, to exchange views on the outstanding issues hindering a final deal on Tehran's civilian nuclear work.
Iran's Foreign Minister Mohammad Javad Zarif, US Secretary of State John Kerry and the EU representative, Catherine Ashton, met at Muscat's Al Bustan Palace on Sunday morning to discuss the progress of the nuclear negotiations.
The senior diplomats are set to continue their discussions in an afternoon session.
Meanwhile, an informed Iranian official dismissed some media reports about the presence of Ali Akbar Velayati, a senior advisor to Leader of the Islamic Revolution Ayatollah Seyyed Ali Khamenei, in the talks.
In an exclusive interview with Press TV on his way to Muscat, Zarif said the illegal sanctions slapped on the country over its nuclear energy program have failed to meet the goals of those countries that imposed them.
Full report at:
http://www.presstv.ir/detail/2014/11/09/385347/iran-us-eu-start-ntalks-in-oman/
----------
Iran helped Iraq in ISIL fight: Larijani
Nov 9, 2014
Iran's Majlis Speaker Ali Larijani says Tehran has helped the Iraqi government in its fight against ISIL militants.
"In Iraq, we assisted the government in a number of areas to enable it to defend itself against ISIL militants," said the top parliamentarian during the opening of the 20th International Exhibition of Press and News Agencies in Tehran.
"None of the countries that have formed the coalition in a propaganda campaign now were present in Iraq at that time and none of them would help it. We had a responsibility to help the Iraqi government stand up against this terrorist movement. We helped Kurds, Sunnis, and Shias alike."
Full report at:
http://www.presstv.ir/detail/2014/11/09/385311/iran-helped-iraq-in-isil-fight-larijani/
----------
Yemen swears in new government despite protests
Nov 9, 2014
Yemeni President Abd Rabbuh Mansur Hadi has sworn in the country's new government despite opposition from Ansarullah revolutionaries and the ruling General People's Congress (GPC).
According to Yemeni local media, the unity government took the oath of office at the presidential palace in the capital, Sana'a, on Sunday amid the absence of some of its members.
On Saturday, Ansarullah revolutionaries, also known as the Houthis, rejected the newly-formed government as "disappointing," saying the cabinet line-up "did not adhere to the agreed criteria of the peace and national partnership agreement."
The Shia movement also called for the replacement of a number of newly-appointed ministers on the grounds of corruption and lacking qualification.
The 36-member government, which was unveiled on Friday, included members of the Ansarullah movement and the GPC.
Full report at:
http://www.presstv.ir/detail/2014/11/09/385357/new-yemen-cabinet-sworn-in-amid-protests/
----------
Anti-Iran stance not to benefit PG Arabs: Oman FM
Nov 9, 2014
Omani Foreign Minister Youssef Bin Alawi Bin Abdullah has criticized the hostile policies of some Persian Gulf Arab states vis-à-vis neighboring Iran, saying this behavior will not serve their interests.
The top Omani diplomat told the Asharq Al-Awsat newspaper that relations between Iran and certain members the [Persian] Gulf Cooperation Council ([P]GCC) "contain some tension because of the disparity in views on regional issues."
It is not in the interest of the Persian Gulf Arab states to adopt a hostile stance in their relations with the Islamic Republic, said Bin Abdullah, warning that such behavior will have "huge negative repercussions."
Bin Abdullah also called on the Persian Gulf littoral states to settle their differences with Iran through negotiations.
Full report at:
http://www.presstv.ir/detail/2014/11/09/385345/antiiran-policies-not-to-benefit-arabs/
----------
Palestine activists dig hole in Israel apartheid barrier
Nov 9, 2014
Palestinian activists have blasted a hole in the Israeli apartheid barrier in the occupied West Bank to mark the 25th anniversary of the fall of the Berlin Wall.
"No matter how high walls are built, they will fall. Just as the Berlin Wall fell, the wall in Palestine will fall, along with the occupation," the activists said in a Saturday statement.
The activists dug in the hole in a part of the separation wall near the Palestinian village of Bir Nabala, north of al-Quds (Jerusalem). They also called on Palestinians to take part in the "last Intifada (uprising) and the fateful release of Palestine."
The Berlin Wall, which was built in August 1961 and fell on November 9, 1989, completely separated West Berlin from surrounding East Germany.
Full report at:
http://www.presstv.ir/detail/2014/11/09/385327/palestinians-dig-hole-in-israel-barrier/
------------
Ten years after death, Arafat still Palestinian icon
Sarah Benhaida
Nov 9, 2014
RAMALLAH: For decades, Yasser Arafat was the incarnation of the Palestinian fight for independence. Ten years after his death, he remains a national hero for a still stateless people.
When he died on Nov 11, 2004, he was the president of a moribund Palestinian Authority, an interim body set up in 1994 which was to have handed power to a permanent government by 1999.
His successor Mahmud Abbas has managed to obtain the UN rank of observer state, but on the ground the Palestinians still await their own state some 66 years after Israel was established.
"It was Arafat who was the first to take the painful decision to recognise the 1967 lines and abandon 78 per cent of historic Palestine and open the way to coexistence," said Xavier Abu Eid, spokesman for the Palestine Liberation Organisation (PLO) which signed the 1993 Oslo peace accords with Israel.
But when the interim period ended without a permanent agreement in 1999 and the US-led Camp David peace talks collapsed a year later, things went from bad to worse with the outbreak of the second intifada, or Palestinian uprising (2000-2005).
As the situation deteriorated, Israel depicted Arafat himself as the main obstacle to peace, suggesting a new era was at hand when he died. "In 2004, Israel said the main obstacle to peace was gone, and said it would work with the new elected president," Abu Eid said.
"But a few months later, they withdrew from Gaza, a unilateral decision taken without any coordination with Mahmud Abbas," he said of Israel's withdrawal of all troops and settlers from the Gaza Strip in August 2005.
Largely ignored by Israel, Abbas has struggled to assert his authority among Palestinians, he said.
Full report at:
http://www.dawn.com/news/1143190/ten-years-after-death-arafat-still-palestinian-icon
----------
Iranian artworks displayed at French festival
Nov 9, 2014
A number of Iranian artworks created by four artists have been presented at the 27th Instants Vidéo Festival in Marseille, France.
The works have been displayed at different sections of the festival kicked off on November 7, 2014.
Agony, Never Ending by Negar Behbahani has been showcased in "The Body as the Last Space of Freedom" section of the art gala.
Thunder by Azadeh Nilchiani and Wind and Death by Mahmoud Nouraei, have been put on display in "Can You Hear What Is in Front of Your Eyes?" section of the event.
Neda Firouzeh's creation titled Toy has been displayed in the "Clichés about Women" section of the festival which will run until November 11.
Full report at:
http://www.presstv.ir/detail/2014/11/09/385361/french-festival-shows-iran-artworks/
----------
Pakistan
Pakistan air strikes kill 13 militants
November 09, 2014
ISLAMABAD: Pakistan's military said on Sunday it killed 13 militants including an important rebel commander in air attacks in a troubled tribal district near the Afghan border.
The strikes were mounted in Khyber district where the Taliban and another banned militant group the Lashkar-e-Islam have taken refuge, the military said in a statement.
It said 10 militant hideouts and an ammunition depot were also destroyed.
The military said the commander who was killed was known for his training of suicide bombers.
Full report at:
http://www.thenews.com.pk/article-165190-Pakistan-air-strikes-kill-13-militants
-----
Operation in Khyber triggers mass displacement
Ibrahim Shinwari
With the Khyber One military operation against the outlawed militant group, Lashkar-i-Islam, in Khyber Agency completing its three weeks, the number of displaced families from both Tirah and Bara has reached 34,054.
According to the Fata Disaster Management Authority data released on Friday, 245,482 people, including 136,713 children and 55,229 women, moved out of Akkakhel, Sipah, Akkakhel and Kamarkhel areas of Tirah and Bara during the last three weeks.
The FDMA had established four registration points for the dislocated Bara and Tirah families soon after the start of the Khyber One operation.
These points were located in Kata Panrha in Orakzai, Lala Kandaw in Jamrud and Batta Thal and Peshtakhara in Peshawar.
The Orakzai point was closed after one week of registration of families displaced from Tirah while the FDMA staff was still busy in registering dislocated families from Bara. Figures released by FDMA said so far, 2,784 families were registered in Kata Panrha, Orakzai, 17146 families at Peshtakhara, 10807 at Batta Thal and 3317 at Lala Kandaw in Jamrud.
Officials of the FDMA said with most of the new displaced families already registered with them since 2009 and 2010, they were providing one time cooked food and free transport to the news families.
They said registration of the new families would be started and all possible assistance provided to them once the registration of all displaced families from Bara and Tirah was completed.
Full report at:
http://www.dawn.com/news/1143303/operation-in-khyber-triggers-mass-displacement
-----
TTP appoints new chief for Mohmand Agency
Zahir Shah Sherazi
Nov 9, 2014
PESHAWAR: After the split between the Tehreek-i-Taliban Pakistan (TTP) and the Emir of its Mohmand Agency chapter Umar Khalid Khurrasani Wali Mohammad, the militant outfit on Sunday appointed a new Emir for the agency.
"On behalf of TTP's Supreme Council (Rehbari Shura), we announce a new in-charge of Mohmand Agency, Commander Mansoor Mohmand," newly appointed TTP spokesman Mohammad Khurrasani said.
He said all mujahideen (fighters) in association with TTP were obliged to wage jihad under the command of Commander Mansoor Mohmand in the region.
Wali Mohammad alias Umar Khalid Khurrasani had parted ways with the TTP after developing differences with the leadership over holding peace talks with the government.
He had also announced his new group, Jamatul Ihrar, which claimed to have support of key former TTP commanders on its list of shura.
Full report at:
http://www.dawn.com/news/1143349/ttp-appoints-new-chief-for-mohmand-agency
----------
Army chief inaugurates 'largest bridge in South Waziristan'
Nov 9, 2014
RAWALPINDI: A 76km long road and the largest bridge in South Waziristan agency were inaugurated Sundayby Chief of Army Staff, General Raheel Sharif to facilitate trade between Pakistan and Afghanistan, the military said in a statement.
The statement released by the Inter Services Public Relations (ISPR) says the Shakai-Makeen road, funded by USAID, is an important section of the upcoming Central Trade Corridor (CTC). This road connects the two main axes of Trade Corridor which are road Bannu – Miranshah – Ghulam Khan and road Wana – Aangor Ada.
The statement describes the CTC as a strategic road link to improve trade between Pakistan – Afghanistan and will directly and indirectly contribute in reviving the economy of Federally Administered Tribal Area and Kyber Pakhtunkhwa.
Full report at:
http://www.dawn.com/news/1143350/army-chief-inaugurates-largest-bridge-in-south-waziristan
----------
Sikh pilgrims' devotion unhurt by Wagah attack
Amjad Iqbal
Nov 9, 2014
TAXILA: Mohinder Kaur, now 72 years old, was only five when her family migrated from a village near Nankana Sahib in Pakistan to India.
Today she has returned to the country of her birth for pilgrimage to the temple at Panja Sahib in Hassanabdal to celebrate the birth anniversary of Guru Nanak, the founder of Sikh religion. She said the attack at Wagah did make her fellow pilgrims and her fearful, but the spiritual significance of their visit was too much for them to even consider cancelling it.
Similar feelings were expressed by Jaktar Singh who was also born in Pakistan but migrated with his family from Samundri during the partition of India.
"I had to wait for decades for chance to visit Pakistan; how could I cancel my trip out of fear," he said.
"Besides one feels safe in the Guru's land anyway," he adds.
Around 1,800 followers of the Sikh faith arrived from India on Friday evening on special trains from Nankana Sahib, shouting the Sikh slogan of 'Wahe guruji ka khalsa, wahe guruji ki fateh' (Wonderful Lord's initiated Sikhs, Victory is to the Wonderful Lord). They were joined by a number of Pakistani Hindus and Sikhs from various parts of the country to perform religious rites in connection with the 546th birth anniversary of Guru Nanak.
They were received by the officials of the Evacuee Trust Property Board (ETPB), Pakistan Sikh Gurdwara Parbandhak Committee and district administration and taken to Panja Sahib amid strict security arrangements.
Full report at:
http://www.dawn.com/news/1143313/sikh-pilgrims-devotion-unhurt-by-wagah-attack
----------
Returned from China, Nawaz heads to Berlin
Mateen Haider
ISLAMABAD, 09 11 14: Only a day after returning from the four-day official visit to China, Prime Minister Nawaz Sharif is now leaving for Berlin on Monday (tomorrow) for another official visit.
"Prime Minister Mohammad Nawaz Sharif is going to visit the Federal Republic of Germany from 10-11 November at the invitation of German Chancellor Angela Merkel," said Tasneem Aslam spokesperson of Foreign Office in a statement.
Aslam said that during the visit, the Prime Minister would hold talks with Chancellor Merkel which will be followed by an official lunch.
Full report at:
http://www.dawn.com/news/1143351/returned-from-china-nawaz-heads-to-berlin
-----
PTI agreed to resume talks with govt: Siraj
November 09, 2014
PESHAWAR/DIR - Jamaat-e-Islami Amir Sirajul Haq on Saturday said that Pakistan Tehreek-e-Insaf (PTI) has finally agreed to resume talks that had remained stalled for many weeks and that the government should now announce its team of negotiators for the purpose.
Sirajul Haq said the efforts undertaken by the political jirga had averted 'threats of martial law' in the country. He said attempts were being made under pre-conceived conspiracies to convert Pakistan into another Iraq and Syria but these will not be allowed to meet success.
Siraj said that his party will announce its national agenda on the eve of three-day congregation scheduled on November 21 at Minar-e-Pakistan Lahore.
Addressing a conference in Lower Dir, Chikdara, the JI chief said the United States and its allies want to destabilise Pakistan like Syria and Iraq but they would not be succeeded in their ugly mission as JI is well aware of these conspiracies.
He regretted the detention of Dr Aafia Saddiqi by the United States and said that Pakistan law was flexible for Raymond Davis who killed two innocent Pakistanis in broad daylight but Washington did not demonstrate any flexibility to release Aafia who is languishing in the US jails.
Full report at:
http://nation.com.pk/national/09-Nov-2014/pti-agreed-to-resume-talks-with-govt-siraj-says-ji-to-announce-national-agenda-at
----------
Model Town probe report: Govt 'in no hurry' to take action
Intikhab Hanif
Nov 9, 2014
LAHORE: The judicial commission report on the June 17 Model Town incident is still on the back burner and the government seems to be in no hurry to take any action in the light of its recommendations, or to make it public.
The inquiry conducted by Justice Ali Baqar Najfi of the Lahore High Court had reportedly held the government responsible for the incident, saying police acted on its orders that led to bloodshed.
At least 11 activists of the Pakistan Awami Tehreek were killed and many others injured during a clash with police on June 17 last. The commission constituted on the request of the Punjab government had handed over its report to the provincial government on Aug 9.
The government kept the report secret but its contents were leaked to the media afterwards.
The government declared the report inconclusive and constituted a committee to carry out its detailed analysis, and make recommendations.
Full report at:
http://www.dawn.com/news/1143286/model-town-probe-report-govt-in-no-hurry-to-take-action
----------
Imran criticises Sharif family's foreign trips with PM
Irfan Haider
Nov 9, 2014
ISLAMABAD: Pakistan Tehreek-i-Insaf (PTI) chief Imran Khan on Saturday censured the policies of the ruling PML-N, particularly foreign tours of the Sharif family members with the prime minister.
"Prime Minister Nawaz Sharif is on an official visit to China and his younger brother Punjab Chief Minister Shahbaz Sharif is accompanying him. But why Pervez Khattak, who is also a chief minister, is never invited to accompany the prime minister in his foreign visits," Khan said, addressing the sit-in participants.
"The nation knows the motives of PM Sharif's visit to China," he said without elaborating.
Mr Khan added that the ruling elite was busy building its business empire.
The PTI chief felicitated his supporters on the completion of 87th day of the sit-in and reiterated his commitment not to end the struggle till the prime minister's resignation.
He said the PTI had launched its struggle against the government in the wake of allegations of rigging in the 2013 elections.
Full report at:
http://www.dawn.com/news/1143321/imran-criticises-sharif-familys-foreign-trips-with-pm
----------
South Asia
A Taliban suicide bomber jolts the police HQ in Kabul
November 09, 2014
An Islamist Taliban suicide bomber attacked police headquarters in the Afghan capital on Sunday, killing at least one person and wounding six, police and the insurgents said.
A second explosion in the centre of Kabul did not kill or injure anyone, the government said. The insurgents, who were ousted from power by an American-led coalition in 2001, are seeking to destabilise Afghanistan as most foreign troops leave the country this year. The Taliban claimed responsibility for the police HQ attack on Twitter and said it was carried out by a suicide bomber. Police said they were investigating.
Full report at:
http://nation.com.pk/international/09-Nov-2014/a-taliban-suicide-bomber-jolts-the-police-hq-in-kabul
----------
Economists advise super ministry to boost Bangladesh economy
2014-11-09
Prominent economists have agreed that the government should have a single coordinating body for improving Bangladesh's economy.
They also advised Prime Minister Sheikh Hasina to create a super ministry for effective coordination of bodies in charge of formulating economic policies.
The existing Planning Commission is failing to carry out any effective coordination, economist Nurul Islam said at an event in Dhaka on Saturday.
Policy Research Institute and Bangladesh Economist Forum organised the talk titled 'Policymaking in Bangladesh and the institutions' on the occasion of Islam's visit to the country. Economists, bankers and researchers participated in the discussion.
Islam, the deputy chairman of the country's first Planning Commission, currently lives in the United States.
The senior economist said Malaysia and Indonesia were examples for Bangladesh in the coordination of development planning.
"It is crucial for Bangladesh to effectively coordinate the different policies introduced by bodies entrusted with taking the economy forward. The government should create a super ministry led by the Prime Minister in order to do this," he said.
If not, the government should at least form a coordinating unit under the prime minister, he added.
Islam emphasised on taking into account everyone's views and perspectives in planning.
"In Indonesia under Suharto, there was a separate minister for planning and economic policy. His plans would be presented to public and debated over by citizens."
Malaysia under Mahathir Muhammad also had an independent planning body.
"Policymakers should also be allowed to express their views openly," he said.
Islam stressed the importance of keeping the Bureau of Statistics free of political influence, as well as the central bank.
Full report at:
http://bdnews24.com/economy/2014/11/09/economists-advise-super-ministry-to-boost-economy
----------
Kamaruzzaman won't seek mercy before review plea disposal
Muhammad Kamaruzzaman
Nov 9, 2014
Condemned war criminal Muhammad Kamaruzzaman will not seek presidential mercy until the Supreme Court disposes of his review petition to be filed with the apex court, a defence lawyer said today.
"Kamaruzzaman will decide about the presidential mercy after the Supreme Court disposed of his review petition," Mohammad Shishir Manir, one of the counsels of the death row convict, said at a press conference at Supreme Court Bar Association this afternoon.
The Jamaat-e-Islami leader will file the review within 30 days after receiving the certified copy of the Appellate Division judgment that upheld his death penalty for wartime offences, Manir told reporters.
Full report at:
http://www.thedailystar.net/kamaruzzaman-won-t-seek-mercy-before-review-plea-disposal-49449
-----------
India
Indian Muslims Lose Hope in National Secular Party
NOV. 8, 2014
MUMBAI, India — When he set out on a muggy morning in mid-October to vote in the Maharashtra State legislative elections, Zubair Azmi intended to cast his ballot, as usual, for the Indian National Congress, the party that has promised for years to protect Muslims like him.
But as he walked the streets of Byculla, a once-affluent South Mumbai neighbourhood fallen on tougher times, Mr. Azmi sensed a shift in the tide. At every street corner, young Muslim men were beseeching passers-by to back a new political force in the state: the All India Majlis-e-Ittehad ul Muslimeen, known as the M.I.M. And kites, the party's symbol, seemed to be everywhere.
"Young men in Byculla were speaking in one voice," said Mr. Azmi, who heads a group promoting Urdu language and culture.
He was already disenchanted with Congress, whose local leaders paid little attention to the neighbourhood or its people. By the time he got to his polling place, he said, he had changed his mind, and voted for the M.I.M.
With a stridently right-wing Hindu nationalist group, the Bharatiya Janata Party, sweeping to victory after winning elections across India, the delicate balance between the country's religious and ethnic minorities, and especially its Muslims, and the majority Hindu population is shifting. Their faith in the avowedly secular Congress party, which ruled India for decades, is dwindling, and the emergence of a strong Muslim party in Maharashtra suggests a possible consequence.
Full report at:
http://www.nytimes.com/2014/11/09/world/asia/indian-muslims-lose-hope-in-national-secular-party.html?_r=0
----------
Waqf Board Plans Case against Delhi's Shahi Imam, Bukhari
MOHAMMED ANAS
8th Nov 2014
Officials of the Delhi Waqf Board, the statutory body solely responsible for the maintenance and running of the historic Jama Masjid, may go to court against its Imam (prayer leader), Syed Ahmad Bukhari, for appointing his son the Naib Imam, that is the deputy Imam, without seeking permission from the board, let alone informing it. Some Muslim activists also plan to drag the Imam to court for misusing the mosque for his personal and political gains. Some are also questioning the clerical credentials of Bukhari's son, who is known for his flamboyant lifestyle in social circles.
The Delhi Waqf Board had contested a legal battle against Bukhari in the Delhi High Court in 2005 as well. In its verdict, the court had not only stated that the Jama Masjid was the property of the board, but also had ruled that Bukhari was an employee of the board. The Court had also directed Bukhari not to interfere in Jama Masjid's historical shape, affairs, building structure, etc., without the board's approval. About the board's question regarding Jama Masjid's income, the court had also directed Bukhari to submit a statement of his income and expenditure of the past 30 years to the board. Bukhari, according to board officers, hasn't complied with the verdict to this day.
A DWB officer told The Sunday Guardian that the board, which is the owner of the mosque as per the Waqf Property Act, has not been informed by Bukhari that he plans to transfer his Imamat to his son. "It's a strange case of an employee ignoring his employer and claiming the job is his ancestral property. We will challenge him in court," he said.
Seelampur MLA and Delhi Waqf Board chairman, Chaudhary Mateen Ahmed did not rule out legal action against Bukhari and reiterated that he was nothing more than an employee of the board.
Full report at:
http://www.sunday-guardian.com/news/Waqf-board-plans-case-against-bukhari
----------
'We Are In Touch With Indian Terror Groups': Jamaat-Ul-Ahrar
ABHINANDAN MISHRA
8th Nov 2014
The terrorist group that carried out the suicide attack on the Pakistan side of the Wagah border on 2 November, killing over 60 people, is in touch with like-minded groups in India, with whose help it plans to carry out similar attacks in India. Talking to an Indian newspaper for the first time, Ehsanullah Ehsan of the Jamaat-Ul-Ahrar, a faction of the terrorist group Tehreek-i-Taliban Pakistan told The Sunday Guardian, "I cannot reveal their identities, but we are already in touch with India based organisations that are trying to establish Khilafat and Sharia in the country. We are also trying to establish contacts with other similar organisations in India."
Talking to this newspaper over phone from an undisclosed location on the Pakistan-Afghanistan border, Ehsanullah Ehsan, a "well-known" leader of the Jamaat-Ul-Ahrar, said, "We intend to eliminate all national, regional and sectarian borders which divide the Muslim Ummah and unify these into one Islamic State."
According to him, their jihadi outfit cannot ignore the "cruelty being perpetrated by India in Kashmir and Gujarat". "We cannot sit silent on the cruelty being done to Muslims by India," he stated.
Full report at:
http://www.sunday-guardian.com/news/we-are-in-touch-with-indian-terror-groups
----------
India's Security forces arrest top Pakistani JeM commander
M Saleem Pandit
Nov 9, 2014
SRINAGAR: The security forces on Saturday arrested militant outfit Jaish-e-Mohammad's Pakistani divisional commander in Sopore, a police spokesman said.
Acting on specific information regarding the presence of the JeM commander in Yumberzalwari forests in Sopore, a joint operation was launched by Srinagar Police, Sopore Police, 27 RR and CRPF 179 BN in the area, the spokesman said.
Full report at:
http://timesofindia.indiatimes.com/india/Security-forces-arrest-top-Pakistani-JeM-commander/articleshow/45084937.cms
----------
Darul Uloom Backs 'Swachh Bharat' After Minister's Letter
Pankul Sharma
Nov 9, 2014
MEERUT: In response to a letter from the Union minister of urban development seeking the support of the DarulUloom, India's largest centre of Muslim education, in the "SwachchhBharatAbhiyan" (Clean India Campaign) of Prime Minister Narendra Modi, the vice-chancellor of the institute, Mufti Abul Qasim Nomani, has vowed all support.
In his letter, Union minister Venkaiah Naidu said that given the significance of the Darul Uloom, and its spiritual and philosophical role in society, the government expected it to get Muslims involved in the campaign.
The vice chancellor told TOI, "Lack of cleanliness has been a major issue in the country. It is a social curse, it affects negatively both human and environmental health. It is a pity that even after 67 years of freedom, we have been unable to free ourselves of filth."
Appreciating the efforts of the Modi government, Nomani said, "This is a step worth appreciating, though it comes a tad too late."
Full report at:
http://timesofindia.indiatimes.com/india/Darul-Uloom-backs-Swachh-Bharat-after-Venkaiah-letter/articleshow/45084705.cms
----------
Southeast Asia
Islamic State's new face in Indonesia works freely out of Jakarta office
NOVEMBER 09, 2014
HE is an old terror hand who is the new public face of the Islamic State in Indonesia, arisen from the remnants of the outlawed Jemaah Islamiah.
Mochammad Achwan, listed in 2012 by the United Nations as a terrorist and al-Qaeda associate who prepares jihadists for action, operates freely out of an office in eastern Jakarta, where he heads Jamaah Ansharusy Syariah, or JAS.
INSIDE THE SCHOOL WHERE THEY ARE TAUGHT TO HATE
Achwan, 66, is welcoming and polite, and unlike some hardliners, is not reluctant to shake hands with a Kafir journalist, or infidel. Yet Achwan is dead to the feelings of those who reject his uncompromising views.
JAS was formed in August with aims to create a Sharia law caliphate, which Achwan says is "the dream of all Muslims". He declines to condemn terrorist actions in the name of jihad, including the Bali 2002 attacks, which were carried out by Jemaah Islamiah members.
"If we see the background of bombers like Amrozi, we know they were in Afghanistan," says Achwan. "They saw so many children killed by America.
"So when they see so many foreigners in Bali, tourists in Bali, they want to take revenge. We never agree with the action. But we cannot blame the bombers because this is their expression, this is their way."
Full report at:
http://www.news.com.au/world/islamic-states-new-face-in-indonesia-mochammad-achwan-works-freely-out-of-jakarta-office/story-fndir2ev-1227117446364
-----------
Iran to construct oil refineries in Indonesia: Official
Nov 8, 2014
A high-ranking Indonesian energy official says Iran is planning to supply crude oil to the Southeast Asian country and construct a number of oil refineries there.
Acting director general for oil and gas at Indonesian Energy and Mines Ministry, Naryanto Wagimin, told reporters in Jakarta on Thursday that the refineries, which are estimated to cost USD 3 billion, are planned to be built in Indonesia's western provinces of Banten and West Java.
"It's still at the initial stage. We will need a further meeting to discuss the realization of their plan. We welcome them. We will have a working group meeting to follow this up," he said.
Naryanto further noted that Indonesia has found Iran's crude oil suitable for processing at Cilacap refinery in the southwestern part of Central Java Province.
Full report at:
http://www.presstv.ir/detail/2014/11/08/385275/iran-to-build-oil-refineries-in-indonesia/
----------
Africa
Sudan palace attack kills 4
9 November 2014
KHARTOUM: An attacker with a knife killed two soldiers guarding a gate at Sudan's presidential palace before other troops shot him dead on Saturday, the president's press secretary said.
President Omar Bashir was not in Khartoum's Republican Palace at the time, press secretary Emad Ahmed told Reuters.
"A little while ago someone attacked soldiers who guarded one of the gates of the palace," Full report at:
http://www.arabnews.com/middle-east/news/657031
----------
Boko Haram seizes town in Nigeria's northeast: Reports
Nov 8, 2014
Takfiri Boko Haram militants have reportedly taken control of another town in the volatile northeastern region of Nigeria near the African country's border with Niger, forcing many soldiers to flee.
The terrorists captured the town of Malam Fatori in Borno state on Saturday following intense clashes with military forces, a senior official in the neighboring Nigerien town of Diffa said on condition of anonymity.
"Malam Fatori was taken by Boko Haram after violent fighting with the Nigerian army," said the official in Diffa, where thousands of Malam Fatori residents have taken refuge from the raid.
Full report at:
http://www.presstv.ir/detail/2014/11/08/385287/boko-haram-captures-town-in-ne-nigeria/
-----------
Eroding Algeria's political status quo
08 Nov 2014
Algiers - In his first public appearance since being re-elected to a fourth term in April, a wheelchair-bound President Abdelaziz Bouteflika, 77, visited the al-Alia cemetery in Algiers last week to mark the 60 th anniversary of the start of the Algerian revolution.
A veteran of the Algerian war of independence, Bouteflika has been widely viewed as one of the pillars of stability in Algeria, the other being the country's oil-rich economy.
But there are growing signs that these two pillars are beginning to crumble, as global oil prices plummet and popular dissent reaches unprecedented levels.
Late last month, after hundreds of police officers demonstrated outside the Algerian presidency, the country's civil protection department issued a statement threatening to protest again this month if their working conditions were not improved. This was the first time in Algeria's history that security forces have taken to the streets. The officers were reportedly demanding better pay and working conditions, along with public housing for their families.
"There is a widespread perception in Algeria nowadays that the only way to be heard is to bypass the president's 'court' and to go straight to him [Bouteflika]," Riccardo Fabiani, a senior North Africa analyst at Eurasia Group, told Al Jazeera. " Ultimately he is supposedly the strongman who can resolve this kind of issue."
According to Amel Boubekeur, a non-resident fellow at the German Institute for International and Security Affairs, " while the older generations used to wash their dirty linen in private," people now tend to make their grievances public in order to put pressure on the government.
"There is a deep social malaise in Algeria, even among those who benefit from the Algerian clientelist political system, such as the policemen, whose salaries have been significantly increased since 2011," Boubekeur told Al Jazeera.
Full report at:
http://www.aljazeera.com/news/middleeast/2014/11/eroding-algerias-political-status-quo-201411391034544485.html
----------
South Sudan rebels accuse government of breaching truce
Nov 9, 2014
South Sudan's rebels have accused the government in Juba of violating the recent ceasefire deal aimed at ending hostilities in the country.
The chief rebel negotiator, Taban Deng, said on Sunday that forces loyal to President Salva Kiir attacked rebel positions around the northern oil hub of Bentiu only hours after the two sides agreed in Ethiopia to end the war unconditionally.
The rebels "condemn in the strongest terms possible the continuous aggression and violation" of the ceasefire, Deng stated.
Full report at:
http://www.presstv.ir/detail/2014/11/09/385353/juba-accused-of-breaching-s-sudan-truce/
----------
North America
US created ISIL when Syria war began: Analyst
Nov 9, 2014
An American political commentator says the United States and its allies in the Middle East created the ISIL terrorist group at the beginning of the Syria war.
"They spent quite a bit of money creating ISIS (ISIL) and its counterparts at the beginning of the Syria war," Charles Glass, author of Tribes with Flags, told Press TV on Saturday.
"ISIS (ISIL) wouldn't be there, if it hadn't been for Western and Turkish, and Saudi, and Qatari support from the beginning," he added.
"So all they're now doing is spending money to counteract the effect of the money that they spent at the beginning of the war," he continued.
Full report at:
http://www.presstv.ir/detail/2014/11/09/385321/us-created-isil-when-syria-war-began/
----------
Raphel brought home classified information: report
Anwar Iqbal
Nov 9, 2014
WASHINGTON: The US Federal Bureau of Investigation is trying to determine why Robin Raphel brought home classified information and whether she passed it to a foreign government, the US media reported on Saturday.
The US media reported on Friday that the FBI was probing counter-intelligence charges against Ms Raphel, a former US ambassador and a long-time US expert on Pakistan.
The FBI searched Ms Raphel's Washington home on Oct 21 and later also searched and sealed her office at the State Department.
Ms Raphel is admired in Pakistan as an old friend of the country but she is disliked in India for advocating Pakistan's case in Washington.
A spokesperson for the US State Department told journalists on Friday that Ms Raphel was "under investigation" and that she no longer worked for the department. She was working as an economic and development adviser on Pakistan and her contract expired on Nov 2. She was not offered another contract.
"The nature of the investigation is unclear, but officials said the FBI was trying to determine why Ms Raphel apparently brought classified information home, and whether she had passed, or was planning to pass, the information to a foreign government," The New York Times reported.
Full report at:
http://www.dawn.com/news/1143283/raphel-brought-home-classified-information-report
----------
UN sanctions Yemen's former president Saleh, two rebel leaders
November 09, 2014
UNITED NATIONS - The United Nations Security Council imposed targeted sanctions on Friday on Yemen's former president Ali Abdullah Saleh and two senior Houthi rebel leaders for threatening the peace and stability of the country and obstructing the political process.
Lithuanian U.N. Ambassador Raimonda Murmokaite, chair of the council's Yemen sanctions committee, said all 15 members had agreed to blacklist Saleh and Houthi rebel military leaders Abd al-Khaliq al-Huthi and Abdullah Yahya al Hakim. The three men are now subject to a global travel ban and asset freeze. Moreover, Yemeni President Abd-Rabbu Mansour Hadi was ousted as leader of his own political party, the group said on Saturday, weakening his authority at a time of turmoil in the impoverished Arab nation.
The General People's Congress (GPC) has accused Hadi of backing U.N. sanctions against its influential former chief, Ali Abdullah Saleh, who ruled Yemen for 33 years before resigning in 2012 following mass street protests. Hadi's dismissal as party chief came the day after he moved to end Yemen's latest political crisis by naming a new power-sharing government in the country, which is racked by religious and tribal violence.
'Losing this position leaves him without a power base outside the presidency. Previously he was speaking as both president and leader of one of the largest parties. Now he has lost this,' said Mustafa Alani, a Gulf-based security analyst. The country's long-running crisis worsened in late September, when the Shi'ite Muslim Houthi movement seized the capital Sanaa and expanded its control further south and west, leading to clashes with al Qaeda and allied Sunni tribes.
Full report at:
http://nation.com.pk/international/09-Nov-2014/un-sanctions-yemen-s-former-president-saleh-two-rebel-leaders
----------
Romney 'stunned' by Obama's Iran letter
Nov 9, 2014
Former US presidential candidate Mitt Romney has lashed out at President Barack Obama for sending a secret letter to Iran, saying he was stunned by the letter.
The Wall Street Journal reported Thursday that Obama sent a letter to Leader of the Islamic Revolution Ayatollah Seyyed Ali Khamenei last month about possible cooperation in the fight against the ISIL terrorist group.
Full report at:
http://www.presstv.ir/detail/2014/11/09/385351/romney-stunned-by-obamas-iran-letter/
----------
Europe
Britain to send forces to Iraq to help anti-ISIL fight
Nov 5, 2014
Britain is preparing to deploy forces to Iraq to help the Iraqi security forces in their fight against the ISIL Takfiri militants, a British newspaper says.
Several British officers are set to join a US base in Baghdad to train and advise the Iraqi army forces, The Times reported on Wednesday.
The paper added that more training teams could also be dispatched to the semi-autonomous Kurdistan region in northern Iraq.
The British defense ministry has yet to comment on the report.
The move will be the first British mission to Iraq after it pulled its forces out of the war-hit country in 2011 following the 2003 US-led invasion.
Britain's Ministry of Defense said the first set of British warplanes have taken off to carry out airstrikes over Iraq following a move by the UK parliament to approve airstrikes targeting ISIL terrorists in the Arab country.
Full report at:
http://www.presstv.ir/detail/2014/11/05/384862/uk-to-send-troops-to-iraq-to-fight-isil/
----------
US encirclement of Russia setting stage for nuclear war: Analyst
Nov 9, 2014
Political activist Don DeBar believes "the stakes are extremely" high for a nuclear war between Washington and Moscow due to US policy of military encirclement of Russia.
"The United States has been advancing towards Russia physically in terms of placement of military resources, they are now parked at the borders of Russia from the Baltics up in the Baltic Sea in the very northwest corner of Russia down to the middle of Ukraine at this point in the southwest part of Russia," he told Press TV on Saturday.
"The United States has been committing some very hostile acts towards Russia, attempting to tank its currency, attempting to isolate it economically in general, and Russia has, in turn, been looking elsewhere to find partners for the development that it seeks for its own population," the activist added.
These hostile moves, DeBar said, have come at the same time that the Obama administration is pursuing its "pivot" to Asia which is aimed at containing China and giving rise to Japan as a military power.
Full report at:
http://www.presstv.ir/detail/2014/11/09/385326/us-moves-make-nuclear-war-possible/
------------
US and Russia find common ground on Ukraine
08 Nov 2014
Russia's foreign minister Sergey Lavrov has welcomed US involvement in resolving the Ukraine crisis, saying it would be a "step in the right direction," in comments that appear to reflect a toning down in bilateral tension that has been at its worst since the end of the Cold War.
Lavrov's remarks came after a meeting in Beijing with John Kerry, his US counterpart, and precede high-level meetings scheduled to take place between President Vladimir Putin and world leaders at an Asia-Pacific Economic Co-operation (APEC) summit in China, and a Group of 20 summit in Australia, next week.
"Our positions on what is happening in Ukraine do not correspond with the United States, but if Washington is interested in contributing to the reconciliation of the situation and creating dialogue between Kiev and the rebel leadership... I think that would be a step in the right direction," the Russian foreign minister said in comments shown on state television.
Kerry said his country had agreed with Moscow on exchanging information about the situation on the Russia-Ukraine border.
Ukraine's military accused Russia on Friday of sending a column of 32 tanks and truckloads of troops into the country's east to support pro-Russian separatists fighting government forces.
Moscow rejects claims by Ukraine and the West that it is arming the pro-Kremlin separatists, who are seeking secession from the former Soviet country.
Full report at:
http://www.aljazeera.com/news/europe/2014/11/us-russia-find-common-ground-ukraine-201411816486962861.html
----------
Shelling rocks Ukraine's east despite truce
09 Nov 2014
Intense artillery fire has broken out in the pro-Russia separatist bastion of Donetsk in eastern Ukraine, the worst since a barely-observed ceasefire was signed in September.
Shelling by heavy artillery continued throughout the night and into the early hours of Sunday, and then picked up again later in the morning.
The bombardment appeared to come from areas held by the separatists as well as from positions controlled by the government forces, and could be heard in the centre of the city, which had a pre-conflict population of more than 1 million.
The truce, agreed on September 5, has looked particularly fragile over the past week, with each side accusing the other of violations after separatist elections on November 2 that were condemned as illegitimate by the West.
Residents said there appeared to be fighting near Donetsk airport, around which battles have repeatedly violated the ceasefire in a conflict in which around 4,000 people have been killed since mid-April.
Full report at:
http://www.aljazeera.com/news/europe/2014/11/fighting-erupts-ukraine-rebel-bastion-20141193212550904.html
----------
URL: https://www.newageislam.com/islamic-world-news/new-age-islam-news-bureau/fate-of-'critically-wounded'-isis-chief,-abu-bakr-al-baghdadi,-unclear/d/99928