New Age Islam News Bureau
16 May 2018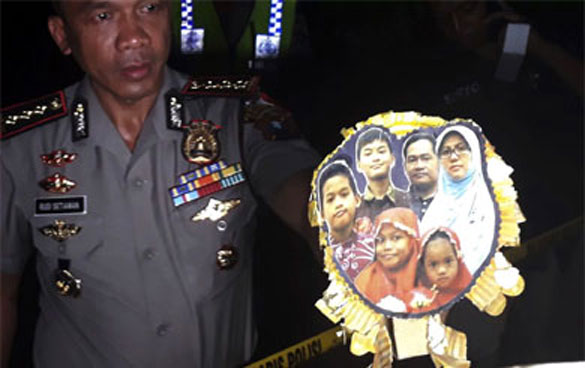 In this Sunday, May 13, 2018 file photo, Surabaya Police Chief Col. Rudi Setiawan shows a picture of the family of Dita Oepriarto who carried out the church attacks on Sunday, May 13, in Surabaya, East Java, Indonesia. The family fanned out on Sunday with suicide bombs attached to themselves and their children, attacking three churches. The entire family was killed in the attacks that killed a number of people and injured dozens of others. (Nanda Andrianta/Associated Press)
-----
• Family Photo Becomes New Picture of Militancy in Indonesia
• Sharif Dares Pakistan Army over Mumbai Terror Attacks
• Green Berets Brace for Islamic State Offensive in Afghanistan
• Bahrain Strips 115 of Nationality over 'Terrorism'
• German Catholic Bishops Call For Respect of Islam Ahead Of Ramadan
• Activist Blasts Trump Administration's 'Outrageous' Statement on Gaza Massacre
Southeast Asia
• Family Photo Becomes New Picture of Militancy In Indonesia
• More Parents Will Sacrifice Their Own Kids in Suicide Bombings, Analysts Warn
• Banned From Speaking In Malaysia, Akyol Welcomes Pakatan Harapan Victory
• Ulema Condemns Farah Clash and Briefs on Indonesia Conference
• Malaysia: Anwar Ibrahim released after getting full pardon
• Indonesians Pay Respect to the Victims and Heroes of Surabaya Bombings
--------
Pakistan
• Sharif Dares Pakistan Army over Mumbai Terror Attacks
• Human Rights Defenders In Pakistan Face Digital Threats, Attacks: Amnesty
• Pak Govt Urged To Amend Constitution to Create More Federating Units
• Protest against targeted killings continues in tribal areas
• Three 'terrorists' held in DG Khan
• UK seen as 'paradise' for money laundering from Pakistan: report
• Pakistan calls for addressing internal, external extremist factors across world
--------
South Asia
• Green Berets Brace for Islamic State Offensive in Afghanistan
• Afghan Ulema optimistic regarding Pak Ulema engagement in Indonesia conference
• Bangladesh Must End Injustice and Suppression against Senior Journalist Choudhury
• US, Afghanistan Launch Air Strikes As Taliban Attack Farah
• Gen. Dostum shares recommendations regarding reconciliation with Taliban
• Bangladesh court orders release of opposition leader Zia
--------
Arab World
• Bahrain Strips 115 of Nationality over 'Terrorism'
• Syrian Army Liberates over 80 Percent of ISIL's Main Base in Southern Damascus
• Tens of Terrorists Killed, Wounded in Syrian Army Operation in Hama Province
• Saudi Arabia: US embassy in Jerusalem represents prejudice against Palestinian rights
• Syria warring sides, mediators close 9th round of peace talks in Astana
• Iraqi security forces kill five Daesh commanders in oil-rich Kirkuk province
• Saudi Arabia air defence intercepts Houthi missile targeting Jazan
--------
Europe
• German Catholic Bishops Call For Respect of Islam Ahead Of Ramadan
• How the Small Italian Town of Brescia Found Itself Connected to a Global Jihadist Network
• O2 Apologises After Islamophobic Hate Mail Sent With SIM Cards To British-Iraqi Family
• Around the world: Anti-Israel protests held against Israel's massacre in Gaza
• Macron phones leaders of Palestine, Jordan over Gaza
--------
North America
• Activist Blasts Trump Administration's 'Outrageous' Statement on Gaza Massacre
• Muslims Add Richness to Tapestry of America, Says Trump
• Weapons Meant For US-Backed Militants Handed Over To Al-Qaeda: Report
• U.S. Imposes New Sanctions on Iran, Designating Head of Central Bank a Terrorist
• Trump has a chance to open up one of the world's most repressive countries
• US secretary of state conveys message to Muslims for Ramadhan
--------
Mideast
• Turkey Plays Secret Role in Assassination Operations in Idlib
• Turkey and Israel Exchange Barbs, Recall Envoys as Israeli Brutality Continues To Oppress Palestinians
• Turkey to host OIC emergency summit over Gaza violence
• Thousands attend funeral of 60 Palestinians massacred by Israel in Gaza
• Israeli forces kill two Palestinians near border as Gaza buries dead
• UN Security Council holds emergency meeting on Israeli violence against Palestinians
• Palestine withdraws high-ranking official in US over embassy move
• Turkey, Israel expel envoys as ties sour over Gaza bloodshed
--------
India
• One of India's Most Wanted Terrorists, Devdiwala, Nabbed In Dubai, Was Working For ISI
• Ram Mandir Case: Temple Proponents Trying To Pre-Judge Dispute, Says Lawyer Rajeev Dhavan
• Terrorists Open Fire upon 42 Rashtriya Rifles Patrolling Party in J&K's Tral
• All Sides to Ayodhya Dispute Must Observe Restraint: SC Told
• Bombay HC Allows Khoja Shia Muslims to Pray At Silvassa Burial Ground during Ramazan
• Wife seeks Sushma Swaraj's help to bring back cancer-striken husband lodged in Pakistan jail
--------
Africa
• Army to End Boko Haram Insurgency with Operation 'Last Hold'
• African Union slams Israel for Gaza killings
• Uganda: Government Slaps New Tax on Bibles and Qurans
• South Africa: MJC Visits Shia Mosque, Calls for Calm after KZN Attack
• Father of burnt-alive Jordanian pilot wishes ISIS murderers a crueler fate
• Kenya: 2 Suspected Al-Shabaab Returnees Killed in Kwale
Compiled by New Age Islam News Bureau
URL: https://www.newageislam.com/islamic-world-news/family-photo-becomes-new-picture/d/115266
--------
Family photo becomes new picture of militancy in Indonesia
May 15, 2018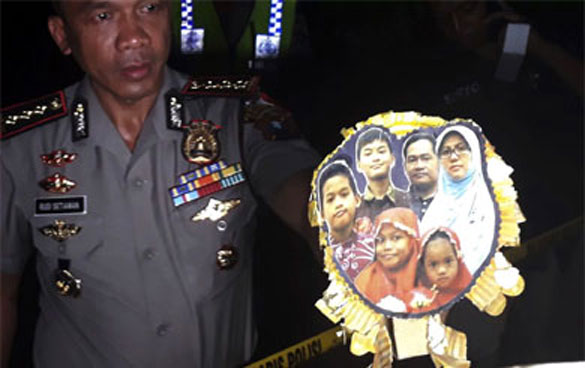 In this Sunday, May 13, 2018 file photo, Surabaya Police Chief Col. Rudi Setiawan shows a picture of the family of Dita Oepriarto who carried out the church attacks on Sunday, May 13, in Surabaya, East Java, Indonesia. The family fanned out on Sunday with suicide bombs attached to themselves and their children, attacking three churches. The entire family was killed in the attacks that killed a number of people and injured dozens of others. (Nanda Andrianta/Associated Press)
----------
JAKARTA, Indonesia — In the photo, the mother rests one hand on her youngest son's arm. Two little sisters in the front hold flowers against matching red head scarves. Dad stands in the back next to the oldest son who has already outgrown him. The six are dressed in happy prints and colors — a purple batik shirt, a pink flowered dress — and Mom's flowing headscarf is the color of sky.
It appears to be a picture of a happy middle-class Indonesian family. But it has shocked the world's most populous Muslim nation this week by becoming its new face of militant violence.
Friends and neighbors describe the Muslim parents as normal and nice, associating regularly with Christians who lived nearby and letting their home-schooled children play with others in the neighborhood.
But on Sunday, they fanned out with suicide bombs attached to themselves and their children, attacking three churches. The entire family was killed in Indonesia's second-largest city of Surabaya. At least 13 people died in the churches and more than 40 others were injured. The youngest human bomb, the little girl staring directly at the camera with big brown eyes, was just 8 years old. Her big sister was 12.
Before people had time to fully process that children had been used for the first time to carry out a suicide attack in Indonesia, it happened again. Another family — including a 7-year-old child who survived — participated in a similar suicide mission at police headquarters in the same city on Monday.
Three members of a third family also died when homemade bombs exploded in their apartment Sunday night, and three children survived.
Police said their investigation found the three families knew each other and came together on Sundays to study and recite the Quran. They indoctrinated their children in various ways at the meetings, including showing violent jihadist videos, East Java police chief Machfud Arifin said.
The father who carried out the church bombings, Dita Oepriarto, headed the Surabaya cell of Jemaah Anshorut Daulah, an Indonesian network of extremist groups affiliated with the Islamic State group, police said.
In all, 26 people — including 13 militants and their children — died since Sunday. Authorities say the surviving children are being treated for physical and mental issues and will eventually be placed with safe family members.
"For the kids, I think this is craziness," said Taufik Andrie, who runs an Indonesian institute that helps rehabilitate former militants ready to rejoin society. "It's the first time in Indonesia. I'm afraid this will be a new trend."
Indonesia suffered its worst terrorist attack in 2002 on the resort island of Bali when 202 people, mostly foreign tourists, were killed in nightclub bombings. Jemaah Islamiyah, an al-Qaida-affiliated network, was responsible. The country has been relatively quiet in recent years after major cells connected to larger organized groups were stamped out.
The new spate of bombings comes just ahead of the holy Islamic month of Ramadan, and follows a melee at a detention center near Jakarta last week in which jailed Muslim extremists killed six officers. Andrie said much information leaked out after the incident, likely inciting others to act. IS has claimed responsibility for the recent violence in both cities.
"I think the message is simply that they can create momentum," he said. "And they don't want to lose it."
Using women and children in militant attacks has long been a tactic deployed in other countries — Nigerian terror group Boko Haram often uses children as suicide bombers.
Experts say more than 1,000 Indonesians have gone abroad to help IS, and their return raises new worries.
"We've got hundreds of fighters coming back. Probably the Indonesians don't even know how many are coming back," said Bilveer Singh, a political science professor at the National University of Singapore. "If you don't get this thing right, then you are going to get more and more terrorist attacks in the coming months and years."
He said the buildup to Indonesia's presidential election next year coupled with growing religious intolerance could spark new violence, especially if Islam is used as a politicizing weapon. President Joko "Jokowi " Widodo has struggled to push through anti-terror legislation proposed since 2016 which would make it easier for law enforcement officers to go after extremists. In condemning the recent attacks, he vowed to issue an emergency presidential decree if parliament continues to drag its feet.
"I'm not afraid of the bombing. I think it's the rising radicalization and growing intolerance of Indonesia," Singh said. "It has been moving in a very dangerous way, and it has not been stopped. And I think the danger of Indonesia is not tomorrow. The danger of Indonesia is in the next five to 10 years."
https://www.washingtonpost.com/world/asia_pacific/family-photo-becomes-new-picture-of-terrorism-in-indonesia/2018/05/15/f99ca9ba-5836-11e8-9889-07bcc1327f4b_story.html?utm_term=.91de18bc0e73
--------
Sharif dares Pakistan army over Mumbai terror attacks
Omer Farooq Khan
May 15, 2018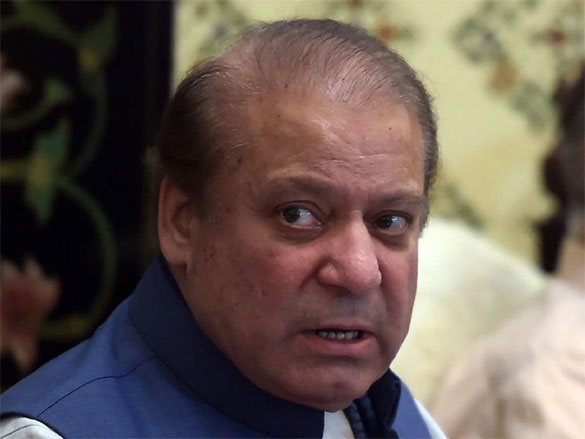 Ousted Pakistani Prime Minister Nawaz Sharif(AFP Photo)
----------
ISLAMABAD: The ousted Prime Minister Nawaz Sharif on Tuesday exacerbated the war of words that recently broke out between him and Pakistan's ruling establishment over the 2008 Mumbai terror attacks.
The National Security Committee (NSC), Pakistan's top civil-military body tasked to take crucial national security and foreign policy decisions, had called Sharif's public admission that Pakistani terrorists carried out the 26/11 Mumbai attacks, baseless. On Tuesday, after his appearance at the accountability court where he is being tried for corruption, the former three-time Prime Minister broke his silence over his altercation with the Pakistani army in the 2016 NSC huddle. Sharif, as per an exclusive Dawn news report, in that meeting had raised the issue of Pakistan's growing international isolation because of behind-the-scenes support by military to banned terror groups, including Jaish-e-Muhammad, Jamaat-ud-Dawa and the Haqqani Network.
But it turned into a controversy and was dubbed as "Dawn leaks", Sharif recalled on Tuesday. "The time has come that the country should know who was responsible for terrorism and the current state of affairs. What have we turned this country into? Who introduced terrorism to this beautiful country? The time has come to decide who is a patriot and who is a traitor. Who led Pakistan towards isolation and has brought the country to a stage where the international community is not ready to accept Pakistan's narrative?" he asked demanding the national commission be tasked to find the causes.
"I am not just an ordinary citizen but a three-time prime minister elected by the people of Pakistan. I am privy to many realities and would reveal truth if a commission is formed," he said.
Addressing a rally in northwestern Buner district on Monday night, Sharif said the guilty party, whether him or those levelling allegations against him, should be publicly hanged once the commission's verdict comes.
Later on Tuesday, Prime Minister Shahid Khaqan Abbasi during his address at the National Assembly said it was unacceptable that Sharif was being called a "traitor," by political opponents following his admission of Pakistan's involvement in the Mumbai attacks.
Abbasi reiterated that Sharif was not the only one who had raised the issue of support for terrorism in Pakistan. Former president Gen Pervez Musharraf, former DG ISI Lt Gen Ahmed Shuja Pasha, Pakistan Tehreek-i-Insaf (PTI) Chairman Imran Khan, former National security Adviser (NSA) Maj Gen Mahmud Ali Durrani and former interior minister Rehman Malik have also spoken about it, the PM said.
"We will never let our land be used against any other country," he said. Following his remarks, the opposition parties staged a walkout in protest.
Incidentally, military spokesman Major General Athar Abbas, in 2011, had hinted at the involvement of retired ISI officials in the 2008 Mumbai attacks.
https://timesofindia.indiatimes.com/world/pakistan/sharif-dares-pakistan-army-over-mumbai-terror-attacks/articleshow/64178771.cms
--------
Green Berets Brace for Islamic State Offensive in Afghanistan
By Michael M. Phillips
May 15, 2018
MOHMAND VALLEY, Afghanistan—U.S. forces are preparing for a battle with Islamic State over a valley that was once the Afghan hub of the group's campaign to create a world-wide caliphate.
The militants have been probing American and Afghan positions and hiding weapons caches in the ridges overlooking Mohmand Valley, which was controlled by ISIS fighters until allied troops chased them into the Spingar mountains at the end of last year.
That operation allowed civilians who had fled Islamic State to return to their stone-terraced farms. Now many families are reversing course in anticipation of an attempt by insurgents to retake the ground.
"The civilians are leaving the valley," a U.S. Green Beret told troops who arrived this month to help defend an American outpost in the valley. "So those guys are going to be coming out of the mountains anytime now."
The Americans aren't waiting for Islamic State to take the initiative: U.S. troops patrol the mountains, looking to take out fighters and caches to weaken the enemy and mute their expected offensive.
"We know their goal is to make a caliphate," said Lt. Col. Joshua Thiel, commander of 3rd Battalion, 1st Special Forces Group. "There's no question what they're trying to do in Mohmand Valley—carve out a space."
Mohmand Valley is valuable ground for Islamic State, which in 2014 set up an Afghan branch of the caliphate it had declared in Syria and Iraq. A year later, the group controlled half-a-dozen districts in eastern Afghanistan.
Retaking the valley would expand Islamic State's Afghan foothold and constitute a symbolic victory for a would-be caliphate that has lost most of the territory it held in the Middle East.
The valley is also rich in farmland, gemstones and talc deposits, and guards access to Highway 7 and the eastern city of Jalalabad. For nine days this month, the military granted The Wall Street Journal exclusive access to U.S. commandos operating in the valley. The military doesn't allow the reporting of allied troop numbers and battle plans.
The Taliban remain the largest insurgent group in Afghanistan, but Islamic State—known locally as Islamic State-Khorasan—has been especially brutal. Many U.S. commando operations and airstrikes are aimed at Islamic State leaders.
When they controlled Mohmand and adjacent valleys, Islamic State fighters imposed their harsh brand of Islam on the population and, according to locals, hunted down those suspected of ties to the Kabul government or military. In one incident, militants forced villagers to watch them decapitate seven people in a bazaar, locals reported.
Over the past 18 months, Afghan troops, backed by U.S. Special Forces and air power, have fought compound to compound, cleared hundreds of explosive booby traps and set up checkpoints in areas they wouldn't have dared enter previously.
Hundreds of Islamic State fighters died in the fighting, according to the U.S. military. Others took shelter in the Spingar mountains that straddle the Pakistan border, or fled east or west into other valleys, including Deh Bala district.
With warm weather returning and snow melting in mountain passes, Islamic State is replenishing its ranks and supplies. U.S. commanders estimate they have cut Islamic State's strength in Afghanistan in half, to 1,500 to 2,000 fighters. Most of those militants are on the Pakistan border, with a smaller contingent of former Taliban and Uzbek extremists fighting under the Islamic State flag in Jowzjan Province in the north.
The group has also carried out—or claimed responsibility for—high-profile attacks in urban areas, including a double suicide-bombing in Kabul last month that killed at least 25 people, nine of them journalists, and an hourslong assault Sunday on a government building in Jalalabad that left at least 10 dead.
The group has proven resilient despite battlefield defeats, replacing losses with new fighters from the ranks of the radical Pakistani Taliban, according to U.S. officers. The Pakistani Taliban, or TTP, operates independently of the Afghan Taliban.
In Mohmand Valley, Islamic State fighters are establishing positions in caves and stone redoubts along the ridges that provide a view into U.S. and Afghan posts. "They're looking for vulnerabilities," said a Special Forces team captain in the valley.
The Green Berets sometimes hear Islamic State talking on open radio frequencies about planned attacks. The fighters often use code words to talk about explosives or heavy weapons.
"Be ready to throw your [gear] on and kill people," the captain warned his men at dark one night this month, when an Islamic State assault seemed imminent.
The militants know the Americans are listening, and some messages are bluffs apparently intended to lull the Americans and their Afghan allies into boy-who-cried-wolf complacency.
Islamic State militants hide weapons in caves and houses and conceal them in blankets on the backs of donkeys, knowing they are safer from American strikes if they appear to be unarmed in the open. They often move during cloudy weather and rainstorms, when U.S. aircraft are less likely to be overhead.
"There are lots of birds in the sky," an Islamic State fighter radioed to another while the Special Forces team patrolled the ridgeline this month. "So don't get spotted."
In one incident in neighboring Takhto Valley, Islamic State fighters lured Afghan commandos into an ambush on the narrow valley floor, then loosed a barrage of machine-gun fire and rocket-propelled grenades.
U.S. helicopters strafed the attackers, allowing the Afghans to withdraw to safety. One Afghan commando was killed, and the platoon was rendered "combat ineffective," according to a U.S. Green Beret.
Last month, an Islamic State sniper, holed up behind sandbags in a cave high on a cliff face, opened fire on Special Forces returning from a patrol. The Americans responded with artillery and ended the firefight but wondered how the sniper could have surreptitiously reached a spot just above an Afghan army post.
Militants take shots at checkpoints to see how troops react and how fast they do so. The captain described it as akin to watching film of an opposing football team before the big game.
Early this month, American Special Forces soldiers spotted several men near a cave entrance on the high ground. U.S. jets dropped five bombs on the position. The initial explosions set off a series of 10 more blasts from inside the cave, indicating that the bombs had struck a substantial weapons stash.
"We hit something really good up there," said the U.S. Air Force controller who directed the strike.
Word has spread through the valley that Islamic State militants appeared in one of the villages in recent weeks and beheaded a civilian. Afghan officials are still trying to sort out the facts. One senior Afghan commando took photos of his men standing at the scene, blood soaking into the dirt at their feet.
The incident appears to have sparked an exodus of civilians, who could be seen leaving the valley in cars overloaded with furniture, clothes and children. A few stopped at the Special Forces outpost, asking for rifles to protect themselves when Islamic State returns; the Americans declined.
"They're leaving because they're scared," said Ismael Shinwari, the senior Afghan government representative in Achin District. "Islamic State just chopped a man's head off."
Islamic State fighters sometimes conceal bombs on likely paths, set to explode when stepped on. The Special Forces team leader came within inches of stepping on one while patrolling in the mountains recently, but an Afghan mine sweeper stopped him in time.
American aircraft frequently scan for enemy movements and built-up fighting positions. On most days, mortar crews at the outpost lob dozens of rounds of high explosives and white-phosphorous smoke into the mountains, either to kill Islamic State fighters or just to discourage them from settling in.
Afghan military and police checkpoints along the valley floor are supposed to protect against Islamic State incursions. But Afghan and U.S. troops agree that they likely aren't sufficient to hold the ground.
For the most part, Afghan troops remain bunkered in their checkpoints, rather than patrolling to keep Islamic State off balance.
At one point, the Afghans and Americans started to set up a checkpoint 4 miles up the valley, the farthest they have reached into Islamic State territory. But the Afghans didn't guard the position full-time, and at night Islamic State fighters descended from the ridges and seeded it with mines. One Afghan mine sweeper was killed by such a booby trap last month, and an Afghan special forces soldier lost three limbs in another blast.
"Mohmand Valley is definitely a piece of key terrain in eastern Afghanistan," the Green Beret captain said. "We know it. ISIS knows it."
https://www.wsj.com/articles/green-berets-brace-for-islamic-state-offensive-in-afghanistan-1526412307
--------
Bahrain Strips 115 of Nationality over 'Terrorism'
May 16, 2018
DUBAI:- A Bahrain court Tuesday sentenced 115 Bahrainis to jail terms ranging from three years to life and stripped them of their nationality for forming an Iran-linked "terrorist" group, the public prosecutor said. A judicial source told AFP the group were all members of Bahrain's Shiite majority. The defendants were found guilty of forming the "Zulfiqar Battalions", which the court said had received training in Iran and Iraq from Iran's Revolutionary Guard with "the intent to commit hostile acts" against Bahrain. –AFP
https://nation.com.pk/16-May-2018/bahrain-strips-115-of-nationality-over-terrorism
--------
German Catholic bishops call for respect of Islam ahead of Ramadan
May 15, 2018
Catholic Bishops' Conference on Tuesday called for mutual respect for Muslims in Germany ahead of the start of Ramadan.
"There should be nowhere at all where human dignity is not respected. In this regard, it is irrelevant whether someone belongs to the same religious community," conference chairman, Cardinal Reinhard Marx, wrote in a letter of greeting to Germany's large Muslim community.
While not all religions were the same, God accorded the same dignity to all people, Marx said.
"As the faithful, we should work for humanity to see itself as a family of God's creation and that we show mutual respect and honour."
The fasting during Ramadan, which starts Wednesday, also offered the opportunity to sharpen the senses in a time of fast living, Marx said in conveying blessings in the name of Germany's Catholics.
http://punchng.com/german-catholic-bishops-call-for-respect-of-islam-ahead-of-ramadan/
--------
Activist blasts Trump administration's 'outrageous' statement on Gaza massacre
May 15, 2018
American political commentator and antiwar activist Richard Becker lasts the Donald Trump administration's "outrageous" statement blaming the Palestinians for the massacre which took place yesterday.
Becker, western regional coordinator of the ANSWER Coalition, a protest umbrella group consisting of many antiwar and civil rights organizations, made the remarks in a phone interview with Press TV on Tuesday.
Israeli troops fired indiscriminately on peaceful Palestinian protesters on Monday, killing at least 60 people, including several children, and wounding over 2,700 others.
The Monday protests in Gaza were part of the "March of Return," which first began on March 30 with the aim of condemning Israel's occupation and demanding their right to return.
The White House on Monday defended Israel's deadly crackdown on the protesters in the Gaza Strip, laying the blame on Palestinians for partaking in demonstrations "organized" by the Islamic resistance movement Hamas.
Haley blames Hamas for violence in Gaza
On Tuesday, US Ambassador to the United Nations Nikki Haley also casted blame on Hamas and its supporters. Addressing the UN Security Council, Haley said Hamas was behind the violence.
"Let's remember that the Hamas terrorist organization has been inciting violence for years, long before the United States decided to move our embassy," she said. "This is what is endangering the people of Gaza. Make no mistake, Hamas is pleased with the results from yesterday."
Amid the Israeli crackdown on the protests, the US officially announced the opening of its new embassy in Jerusalem al-Quds on Monday.
Becker told Press TV on Tuesday that "it's a truly outrageous and incredible statement coming from the White House and Nikki Haley, of the United Nations, blaming the Palestinians for the massacre that took place yesterday"
"What did Hamas or the Palestinian leadership have to do with making those kinds of decisions to fire into the crowd of people, to trap in huge amounts of tear gas and people who are fenced in – and I think we have to emphasize – that they are fenced in inside Gaza, the biggest open air prison in the world. Two million people are living there under terrible conditions, and resisting, are trying to find some ways to resist, and to bring to the attention of the world to their condition," he stated.
"And when they do that and carry out protests in this largest prison, Washington, the Trump administration, and the Trump regime, if you could call it that, say that they are responsible, blame them entirely [for bloodshed], and express support for Israel and the massacres that are carried out," the analyst noted.
http://www.presstv.com/Detail/2018/05/15/561846/Activist-blasts-Trump-administrations-outrageous-statement-on-Gaza-massacre
--------
Southeast Asia
More Parents Will Sacrifice Their Own Kids in Suicide Bombings, Analysts Warn
May 16, 2018
If there is one thing that stands out about the attacks in Indonesia on Sunday and Monday it is that they were carried out by two families — two sets of parents, who together with their own children undertook suicide attacks on four targets.
The head of the International Centre for Political Violence and Terrorism Research in Singapore, Rohan Gunaratna, said parents co-opting their own children to carry out attacks is a worrying new trend.
"This is not a one-off. We are likely to see more of these attacks," he said.
Just hours after news broke that the people who had bombed three churches were all from the same family, Indonesia's Surabaya province suffered a second attack, also carried out by a couple and their children.
In the first co-ordinated attacks, 28 people were killed and 57 injured.
The family's father detonated a car bomb at a Pentecostal church, his two sons — aged 17 and 15 — rode explosive-laden motorcycles into a Catholic church, and their mother and two sisters — aged eight and 12 — blew themselves up at an Indonesian Presbyterian Church.
On the following day, a family of five rode two motorbikes into a checkpoint near a police station and detonated explosives, injuring four police officers and six civilians.
An eight-year-old girl, who was wedged between her mother and father during the attack, survived the explosion.
"It's the first time we've seen a family and the first time we've seen young children involved," said Sidney Jones, terrorism expert at the Institute for Policy Analysis of Conflict in Jakarta.
Indonesian authorities have said they suspect that an Islamic State-inspired group Jemaah Ansharut Daulah (JAD) was involved in the attacks.
According to Ms Jones, security officials have said the father of the family that carried out the first attack was an active member of JAD.
It is not clear whether both attacks were carried out by the same group.
"There's a lot more information we need before we can come to that conclusion," she said.
Professor Gunaratna agreed that attacks by families are a new phenomenon in the Asia Pacific region, but said that families and couples have tried to use children in bombings in other parts of the world before.
What he thinks is significant about this development is that it shows that terrorists are able to radicalise whole families.
"This requires a family and community-oriented response to fight the threat," he said.
Why would attackers involve their children?
One reason suggested for why attackers chose to involve children is that adults with kids generally arouse less suspicion.
Radical groups initially only recruited men for suicide missions, but then involved women because they were less likely to get stopped.
Now children are being used, because parents with kids are less likely to be checked by security officials.
That explains why extremist groups would be interested in drawing children into deadly attacks but doesn't explain why two parents would willingly involve their own children.
Damian Kingsbury, Professor of International Politics at Deakin University, said it is common for Islamist jihadists to sacrifice themselves, but they do not usually sacrifice their own family members.
What he thinks might have happened in these instances is that the family, or at least the parents, had a very firm belief that they were going to heaven and wanted to take their children with them.
"This probably shows a degree of zealotry to a particular cause," he said.
Professor Gunaratna also thinks it was ideology that motivated the parents to include their children.
He believes the father would have become radicalised first, and as the head of the family radicalised his wife and his children with extremist propaganda.
"Then everyone participates in the attack with the hope they will all enter heaven," he said.
"This is a very dangerous trend."
Professor Kingsbury was also concerned that these are not the last attacks of this nature we will see.
He thinks it is unlikely the families acted alone and were almost certainly associated with a larger group.
"So it's quite possible that there will be further attacks," he said.
http://www.abc.net.au/news/2018-05-15/parents-using-children-in-surabaya-attacks-a-worrying-trend/9764530
--------
Banned From Speaking In Malaysia, Akyol Welcomes Pakatan Harapan Victory
Abdar Rahman Koya
May 16, 2018
KUALA LUMPUR: Turkish author Mustafa Akyol has welcomed the historic win of Pakatan Harapan (PH), nine months after his lecture tour in Malaysia was abruptly ended after authorities detained him and his organiser for speaking without "religious credentials".
The New York Times columnist expressed hope that the new government would ensure freedom of expression, a theme close to his work, including "Islam Without Extremes: A Muslim Case For Liberty", which was among the books banned by the previous government.
"One thing I certainly expect is more freedom of expression in Malaysia, because I personally suffered the lack of it," Akyol told FMT, referring to his arrest by the Federal Territories Islamic Affairs Department (Jawi) on Sept 25 last year, and a ban on his book days later.
But Akyol is still cautious about returning to Malaysia after his experience.
"If there is a risk that I may go through the same experience, no. But if things are going to change for better, sure, Insha Allah," he said.
He said with the victory of the alliance led by Dr Mahathir Mohamad, there was hope for Malaysia to restore its image as a modern and progressive Muslim nation.
"Malaysia certainly had a better image a decade ago, both in my own mind and in the global scene. It lost some of that, unfortunately, due to the unholy alliance of corrupt politics and religious narrow-mindedness.
"Mr Mahathir has now the chance to reverse this toxic trend, and I am wishing him success," said Akyol.
He said the task of restoring freedom for Malaysians also fell on Anwar Ibrahim, set to be freed today after being jailed four years ago.
"I believe Anwar Ibrahim, a politician unjustly persecuted merely for his views, would be sensitive to this need for liberalisation," he said.
Akyol, a strong advocate of free speech in Muslim countries, has frequently criticised both the Islamists and secularists in his home country.
His trip to Malaysia last year, his fifth, drew protests from conservative Muslim groups and Islamic authorities.
The US-based academic was arrested at the Kuala Lumpur International Airport (KLIA) as he was preparing to board a flight to Rome, hours after Jawi officers forced a lecture programme at Nottingham University's Kuala Lumpur campus to be called off.
Jawi, which had also summoned IRF director Dr Ahmad Farouk Musa for hosting Akyol, said the move was based on a "complaint from the public" over a speech titled "Does freedom of conscience open the floodgate to apostasy?" which Akyol had delivered at the Royal Selangor Golf Club in Kuala Lumpur.
PAS and shariah
Akyol said one of the priorities of the Mahathir administration should be the restoration of rule of law and freedom.
"And make sure that laws are about protecting human rights. Indeed, stop seeing 'human rights' as an erroneous doctrine that has to be rejected," he said.
But Akyol is concerned about the electoral gains by PAS in two states, despite the party campaigning on the back of its promise to implement shariah which he described as "nothing other than an authoritarian attempt to impose a certain interpretation of Islam on society".
"It is based on the gross mistake of trying to bring shariah to the modern age without any reinterpretation, and also combining it with the modern nation state which did not exist in classical Islam.
"If PAS had a setback with its Shariah call, I would see this as good news. And I would urge them to focus on strengthening the Islamic faith through intellectual effort and presenting Islam to the world through admirable ethics, rather than trying to scare people away from Islam with a narrow agenda of more bans and punishments," he said.
Akyol said there was a tendency to regard human rights as against Islamic principles due to misinterpretation of the Shariah.
"We have self-righteous guardians of religion who fanatically go against individuals or minorities with merely different views. But they can't say even a word to the powerful criminals on Earth.
Full report at:
http://www.freemalaysiatoday.com/category/nation/2018/05/16/banned-from-speaking-in-malaysia-akyol-welcomes-ph-victory/
--------
Ulema Condemns Farah Clash And Briefs On Indonesia Conference
May 16, 2018
Afghan Ulema council on Tuesday condemned the attack on Farah at a press briefing on the Indonesia trilateral conference (Afghanistan, Indonesia and Pakistan religious scholars meeting on peace) and called the war brutal.
"A brutal war is going on in Farah province, we strictly condemn all attacks in Nangarhar and other parts of the country and terrorists do not belong to any tribe, language, country or religion," said Mawlavi Mohammad Qasim Halimi Ulema council member and spokesman.
This comes after heavy clashes broke out on Tuesday and are ongoing between government forces and Taliban insurgents in the capital city of western Farah province.
The clashes started at about 2am early Tuesday after Taliban insurgents launched an attack on the city, a member of the provincial council Dadullah Qane said, adding that "clashes are ongoing in several parts of the city and close to the National Directorate of Security (NDS) department."
In the meantime, the residents of the city said that "if the government does not send more troops to the province, Farah city will fall into the hands of the Taliban."
The Ulema council members who were at the Indonesia conference last week are meanwhile optimistic about the outcome of the meeting.
They said that during the conference war and bloodshed in Afghanistan was deemed illegitimate and that Islamic countries supported the Afghan peace process.
Ulema Council also said that participants at the Indonesia conference supported President Ashraf Ghani's peace offer.
"The conditions for Afghan peace are in place, and the participants at this conference have called on all parties involved to enter into direct talks with the Afghan government," said Halimi.
In February, Afghanistan held an international conference on peace in a bid to map the way forward to get the Taliban to denounce violence, endorse the Afghan constitution and enter into purposeful peace negotiations with government.
Ghani said the peace process, and a ceasefire must be agreed upon with the Taliban.
He also called on Pakistan to hold government to government talks and said: "We will be ready to starts talks with Pakistan and forget the past and start a new chapter."
Ghani sent a strong message to the Taliban when he made the offer and said peace is now in their hands. He called on the group to accept the offer and to join the peace process and together with Afghanistan "save the country".
He also announced the Afghan government will provide passports to Taliban members and their families and will issue visas, open an office for them - even in Kabul - and will work to remove sanctions against Taliban leaders.
According to Ulema council spokesman Halimi it is expected that in July a meeting with Islamic countries' representatives will be held on Afghanistan in Jeddah in Saudi Arabia.
Furthermore, the Ulema Council said that all three countries (Afghanistan, Pakistan, Indonesia) Ulema's condemned suicide attacks and called the attacks illegitimate.
In addition, the presidential palace said in a statement on Tuesday that in a meeting with the Ulema Council delegation who attended the Indonesia conference, Ghani said that the government's responsibility is to maintain peace.
Afghanistan is on a positive path with the Afghan, Indonesian, and Pakistani scholars' conference, the statement added.
According to HPC officials, clerics from the three nations declared the war against the Afghan government as illegitimate and said all sides agreed to work together with Islamic scholars in the region and in the world to bring about peace and stability in Afghanistan.
Full report at:
https://www.tolonews.com/afghanistan/ulema-condemns-farah-clash-and-briefs-indonesia-conference
--------
Malaysia: Anwar Ibrahim released after getting full pardon
May 16, 2018
Malaysia's former Deputy Prime Minister Anwar Ibrahim has been released from prison after receiving a full pardon from the king on Wednesday.
Anwar, who was initially scheduled to be released on Tuesday, walked out of the Cheras Rehabilitation Hospital, where he was temporary confined after a surgery, and has arrived at the residence of the king, Yang di-Pertuan Agong Sultan Muhammad V, according to the Malaysian news website, The Star.
An image published by the Malaysian news agency Bernama showed Anwar greeting newly elected Prime Minister Mahathir Mohamad. Another image showed the king welcoming Anwar and his wife, Wan Azizah Wan Ismail, the deputy prime minister-designate.
Earlier, Mahathir arrived at the royal palace for the royal pardons board meeting to discuss Anwar's release.
Anwar's party PKR holds 48 seats of the 113 seats won by the Pakatan Harapan alliance on Wednesday, and he is widely tipped to succeed Mahathir once he steps down from office.
In 2015, Anwar, 70, was jailed for five years after being accused of sodomy, a charge he described as a politically motivated attempt by then Prime Minister Najib Razak to end his career.
Sodomy is illegal in Muslim-majority Malaysia, where the offence carries a jail term of up to 20 years.
Uder Malaysian law, unless he is pardoned by the king, Anwar would be disqualified for five years from running for office after his release.
Anwar was also imprisoned for six years after being overthrown as Mahathir's deputy prime minister in 1998 on earlier charges of sodomising his former family driver and abusing his power.
He was freed in 2004 after Malaysia's top court quashed that sodomy conviction.
Anwar previously had a falling out with Mahathir after he criticised some of his policies. But his party eventually formed an alliance with Mahathir to take on Najib's United Malays National Organisation (UMNO) for the election on Wednesday.
In recent weeks, Mahathir acknowledged the suffering of Anwar and his family.
"I know how Anwar feels. It was during my administration that he was sent to [prison]. It is not easy for him to accept me and shake my hand," The Malaysia Insight quoted Mahathir as saying.
Full report at:
https://www.aljazeera.com/news/2018/05/malaysia-anwar-ibrahim-released-full-pardon-180516050149731.html
--------
Indonesians Pay Respect to the Victims and Heroes of Surabaya Bombings
May 15, 2018
Jakarta. In the aftermath of the horrific attacks in East Java in recent days, which claimed 25 lives and wounded more than 40 others, people across the archipelago have overwhelmingly responded in defiance against terrorism and have expressed solidarity with the victims and heroes of the attacks.
On Sunday (13/05) evening, hundreds of residents gathered for a vigil at Tugu Pahlawan in Surabaya, East Java, to pay respects to the victims of the attacks that took place earlier that day.
"Residents of Surabaya will fight against terrorist groups … This is our city's character, without courage you are not a resident of Surabaya," chairman of Surabaya's branch of the Ansor Youth Movement, Faridz Afif, said during the vigil, as quoted by Antara.
A group of college students belonging to the Indonesian Christian Youth Movement (Gamki) also held a similar vigil in Central Jakarta on Sunday evening, where they called for unity in the country and to support the fight against terrorism.
In Manado, North Sulawesi, hundreds of people gathered at the local Sentrum church to pay respects to the victims of Sunday's attacks. They also expressed deep sorrow and condemned the act, while demanding that the National Police capture any remaining assailants responsible for the carnage.
Hundreds of residents also gathered at Tugu Malioboro in Yogyakarta as an act of solidarity through joint prayers and speeches about peace. Representatives from several religions joined the act to express unity, including those who practice Islam, Christianity, Confucianism, Buddhism and Catholicism.
Social activist Alissa Wahid founder of Gusdurian Network Indonesia — set up a donation page on local crowdfunding service Kitabisa.com to pool funds for helping the bombings victims and their families.
"I invite all of us to show sympathy and support to the families of the victims. Our help can not end the grief but this is the evidence of unity and affection among people," Alissa wrote on the crowdfunding page.
Heroes
The heroic act of Aloysius Bayu Rendra Wardhana, who stopped motorcycle-riding attackers from entering the Santa Maria Tak Bercela Catholic Church and sacrificed his own life in the process, has been widely praised.
He saved the lives of 500 members of the church's congregation, who were attending morning Mass during time of attack.
Within the church's community, Bayu served as a choir conductor and as a member of the church's security personnel.
"We are very thankful to Bayu, but we are also grieving for his death," said Suhadi, a member of the church.
A series of suicide bombings, which targeted three churches on Sunday and the city's police headquarters on Monday, shook the city of Surabaya, Indonesia's second most populous city. Another bomb exploded on Sunday evening in Sidoarjo, East Java, which killed three suspected terrorists.
The attacks killed 25 people, 13 of whom were the suicide bombers, and injured dozens more.
The bombings were carried out by three different families, which involved children as young as nine years old. According to the police, the attacks were based on instruction from the Islamic State.
Roni Faisal, a police officer, is also being praised for his heroic act after saving a wounded girl from the family who detonated a suicide bomb in front of the Surabaya Police headquarters.
Based on a CCTV recording, the suicide bombers, identified as one family consisting of five people on two motorcycles, tried to get into the station, but the bomb exploded as the police officers guarding the gate stopped them.
After the blast, a girl was seen to be getting up between her dead family members. Roni, who was near, immediately ran to take her away from the scene, fearing there would be another explosion.
"My goal is only one, humanity and compassion for seeing the condition of a child covered in blood," Roni told reporters, Antara reported. The girl, 8, is now being treated in intensive care in Port Health Center (PHC) Hospital Surabaya.
Empty Streets, Tight Security in Surabaya
Rininta Fisca Wardhani, a postgraduate student at Surabaya's Airlangga University, said she is concerned about the possibility of another bombing incident, as her house is located in front of a big church.
"So I'm really scared that there will be another bomb, especially in that church nearby my house," Rininta told the Globe.
A number of city residents who spoke to the Jakarta Globe said roads and public places are emptier than usual since the incident, as people prefer to stay inside.
"Following the attack, people are more cautious. The streets are less crowded compared to normal, and a lot of malls are deserted," said Michelle S, a Surabaya resident.
Annisa Noorvitasari, who lives just two kilometers away from Santa Maria Tak Bercela Catholic Church, one of the three targeted churches on Sunday, said she is trying to avoid broadcast messages cautioning people to stay away from public places.
"I am trying to ignore broadcast messages on Whatsapp or other social media outlets ordering people to stay away from certain places in the city, because they are spreading fear. I prefer finding trusted news sources," said Annisa, who is also a postgraduate student at Airlangga University.
According to Michelle, security has grown tighter since the incident, which has helped her feel at ease in the wake of terror.
Full report at:
http://jakartaglobe.id/news/indonesians-pay-respect-victims-heroes-surabaya-bombings/
--------
Pakistan
Human rights defenders in Pakistan face digital threats, attacks: Amnesty
Ramsha Jahangir
May 16, 2018
KARACHI: Human rights defenders in Pakistan are under threat from a targeted campaign of digital attacks, which has seen social media accounts hacked and computers and mobile phones infected with spyware, a four-month investigation by Amnesty International revealed.
In a new report released on Tuesday titled 'Human Rights Under Surveillance: Digital Threats Against Human Rights Defenders in Pakistan', the human rights watchdog revealed how attackers were using fake online identities and social media profiles to ensnare Pakistani human rights defenders online and mark them out for surveillance and cybercrime.
Take a look: Every second woman rights activist faces serious threats: study
"We uncovered an elaborate network of attackers who are using sophisticated and sinister methods to target human rights activists. Attackers use cleverly designed fake profiles to lure activists and then attack their electronic devices with spyware, exposing them to surveillance and fraud and even compromising their physical safety," said Sherif Elsayed-Ali, Director of Global Issues at Amnesty International.
The investigation showed how attackers used fake Facebook and Google login pages to trick their victims into revealing their passwords. "It is already extremely dangerous to be a human rights defender in Pakistan and it is alarming to see how attacks on their work are moving online," he said.
The report highlighted the case of Diep Saeeda, a prominent civil society activist from Lahore. On December 2, 2017, one of her friends, Raza Mehmood Khan, a peace activist who tried to bring people from India and Pakistan together through activities like letter-writing, was subjected to an enforced disappearance.
Ms Saeeda began publicly calling for Mr Raza's release, including petitioning the Lahore High Court. Soon after, she began to receive suspicious messages from people claiming to be concerned about Mr Raza's well-being, the report found.
As per Amnesty International's investigation, a Facebook user who claimed to be an Afghan woman named Sana Halimi — living in Dubai and working for the UN — repeatedly contacted Ms Saeeda via Facebook Messenger, saying that she had information about Mr Raza. The operator of the profile sent her links to files containing malware called StealthAgent which, if opened, would have infected her mobile devices.
The profile — which the human rights watchdog believed was fake — was also used to trick Ms Saeeda into divulging her email address, to which she started receiving emails infected with a Windows spyware commonly known as Crimson.
Amnesty found that several human rights activists in Pakistan have been targeted in this way, sometimes by people claiming to be human rights activists themselves.
Ms Saeeda also received emails claiming to be from staff of the Punjab chief minister. The emails included false details of a supposed upcoming meeting between the provincial ministry of education and her organisation, the Institute for Peace and Secular Studies. In other cases, the attackers pretended to be students looking for guidance and tuition from Ms Saeeda.
"Every time I open an email I am now scared. It's getting so bad I am actually not able to carry out my work — my social work is suffering," she told Amnesty.
Amnesty International's Technology and Human Rights team was able to trace these attacks to a group of individuals based in Pakistan. The report revealed the network of individuals and companies behind the creation of some of the tools seen in surveillance operations used to target individuals in the country.
Over the past few months, it added, Amnesty had noted with alarm that activists were being subjected to threats, intimidation, violent attacks and enforced disappearances. They included journalists, bloggers, peaceful protesters and other mainstays of civil society.
"As an elected member of the UN Human Rights Council, Pakistan has a responsibility to uphold the highest international standards. It has repeatedly vowed to protect human rights activists and criminalise enforced disappearances, but what we are seeing shows they have done nothing on this front while the situation is getting worse," said Sherif Elsayed-Ali.
"The Pakistani authorities must immediately order an independent and effective investigation into these attacks, and ensure that human rights defenders are protected both online and off," he added.
https://www.dawn.com/news/1407955/human-rights-defenders-in-pakistan-face-digital-threats-attacks-amnesty
--------
Pak Govt Urged To Amend Constitution to Create More Federating Units
May 16, 2018
MANSEHRA: The speakers at a seminar on Tuesday asked the government to amend the Constitution to pave the way for creation of more federating units in the country on the basis of administration.
"We want the federal government first to adopt a resolution seeking creation of Hazara province and then bring an amendment to the Constitution for creation of more federating units in the country," PML-N MNA Saleh Mohammad Khan told the seminar. The seminar was organised by the Tehreek-i-Suba Hazara (TSH) at the Mansehra Press Club.
The speakers from various political parties, including Pakistan Tehreek-i-Insaf, Pakistan Muslim League-Nawaz, Qaumi Watan Party, Jamiat Ulema-i-Islam-Fazl, Jamaat-i-Islami and Pakistan People's Party stressed upon the government to realise the situation and create more provinces in the country.
Full report at:
https://www.thenews.com.pk/print/317254-govt-urged-to-amend-constitution-to-create-more-federating-units
--------
Protest against targeted killings continues in tribal areas
May 15, 2018
MIRAMSHAH: Residents of Mirali, the second biggest town in North Waziristan, continued their protest for the second day on Monday against surge in the incidents of targeted killings in the region.
Protesters on Sunday blocked the intersection in the centre of the town after three people, including the son of former MNA Maulana Muhammad Dindar, were killed in Mirali and Miramshah over the weekend.
Frequent attacks sparked unrest in the region where at least 10 people have been killed over the last one month. Not a single suspect has so far been arrested.
Witnesses said that announcements were made in Mirali and its surrounding villages through loudspeakers, asking people to take part in the protest. Residents said that around 3,000 people had blocked the intersection.
Full report at:
https://www.dawn.com/news/1407729/protest-against-targeted-killings-continues-in-tribal-areas
--------
Three 'terrorists' held in DG Khan
MAY 16, 2018
At least three suspected terrorists were arrested on Tuesday during an intelligence-based operation (IBO) in Punjab, according to army's media wing.
Punjab Rangers carried out the operation in Dera Ghazi Khan as part of the ongoing operation Radd ul Fasaad, the Inter-Services Public Relations (ISPR) said in a statement. A large number of weapons and ammunition were seized from them, the statement added.
The IBOs were also conducted on suspected terrorist hideouts in Toba Nokhani, Dera Murad Jamali, Uch, Sanjsila and Chabdar areas of Balochistan. Weapons and ammunition including explosives, improvised explosive devices (IEDs), communication equipment and detonators were seized.
https://dailytimes.com.pk/240602/three-terrorists-held-in-dg-khan/
--------
UK seen as 'paradise' for money laundering from Pakistan: report
MAY 16, 2018
LONDON: The National Crime Agency (NCA) has said that the United Kingdom remains a "prime destination" for money laundering from Russia, Nigeria and Pakistan.
In its fifth analysis of serious and organised crime threats in the UK, the NCA said that it had prepared a report drawing intelligence from UK law enforcement, government departments, the intelligence community and the private and voluntary sectors.
"Money laundering potentially running to hundreds of billions of pounds impacts the UK annually, with a significant threat being posed by the criminal exploitation of accounting and legal professionals involved with trust and company provision," the report said.
"The UK is a prime destination for corrupt foreign Politically Exposed Persons to launder the proceeds of corruption, particularly those from Russia, Nigeria and Pakistan," it added.
"UK cyber crime continues to rise in scale and complexity but under-reporting of data breaches continues to erode our ability to make robust assessments of the scale and cost of network intrusions," the UK authorities admitted.
"There is evidence that the scale and complexity of organised crime continues to grow despite notable operational successes in the UK," the NCA said.
The report said that the scale of modern slavery and human trafficking in the UK was continually and gradually increasing, while a growing proportion of potential victims were claiming they had been exploited before arriving in the UK.
NCA Director General Lynne Owens said: "The NCA leads the response to serious and organised crime in the UK, protecting the public and targeting the criminals who have the biggest impact."
"This year's assessment shows that organised crime groups (OCGs) are exploiting digital technology, for instance using encryption to communicate, and dark web market places to aid their activities," he said.
"Criminals are continuing to develop international connections to increase the reach of their activity, and to maximise profits. We are also seeing ever-increasing crossover between crime threats, with finance at the heart of this," it report said.
"Organised criminals involved in smuggling of people or firearms also supply drugs, and the relationship between organised immigration crime and modern slavery is becoming more apparent."
The NCA report said that criminal groups were seeking to make as much money as possible from the suffering and exploitation of others, and continue to put the public at risk.
"The increasing sophistication of crime groups, coupled with the changing nature of their geographical reach, demonstrates more than ever the requirement for an increasingly co-ordinated response.
"Working alongside our law enforcement, intelligence and other partners, we are changing the way we operate to ensure the biggest possible impact. We will use this intelligence assessment to build on our operational successes and evidence why further investment in capabilities and capacity is necessary."
When a new law called the Unexplained Wealth Orders (UWO) was introduced earlier this year, reports in Pakistan said that it would apply to former prime minister Nawaz Sharif and his sons Hasan and Hussain Nawaz but UK authorities had confirmed that the UWO would apply only to PEPs who were not British nationals and not from the European Economic Area (EEA). Hasan Nawaz Sharif, his family and Hussain Nawaz Sharif carry British nationalities.
The UWO allows the UK authorities to freeze and recover property if individuals cannot explain why they own assets worth more than their income and show they have acquired them legally is designed as a 'forward looking' law, which will primarily deal with cases that arise in the future, rather than going back beyond six years, leading law experts have confirmed.
Full report at:
https://dailytimes.com.pk/240600/uk-seen-as-paradise-for-money-laundering-from-pakistan-report/
--------
Pakistan calls for addressing internal, external extremist factors across world
May 16, 2018
Pakistan has called for addressing internal and external factors of extremist ideologies in different countries and regions, reported by Radio Pakistan.
In her address at UN General Assembly sixth review of the Global Counter-Terrorism Strategy in New York Pakistan permanent envoy at UN Dr. Maleeha Lodhi said , we believe that there is need for the strategy to address the question of drivers of violent extremism as well.
She said evolving a comprehensive preventive approach is not possible without assessing the root causes responsible for violent extremism.
The strategy is based on four pillars: tackling the conditions conducive to the spread of terrorism; preventing and combating terrorism; building States' capacity to prevent and combat terrorism and to strengthen the role of the UN system in this context. It will ensure respect for human rights for all and the rule of law as the fundamental basis for the fight against terrorism.
Ahead of the review, the Pakistani envoy brought together representatives of 15 countries from all regions of the world for an exchange of view on the strategy.
Full report at:
https://nation.com.pk/16-May-2018/pakistan-calls-for-addressing-internal-external-extremist-factors-across-world
--------
South Asia
Afghan Ulemas optimistic regarding Pak Ulemas engagement in Indonesia conference
May 15 2018
The members of the Afghan Ulema Council are saying that their interaction with the Pakistani Ulemas was positive during the Ulemas Conference in Indonesia.
A number of the Afghan Ulemas who had attended the conference appeared in a press conference after their return to the country.
In regards to the stance of the Pakistani Ulemas regarding the ongoing conflict in Afghanistan, the Afghan Uelmas said that the Pakistani Ulemas support a peace initiative to end the ongoing violence and war.
They also added that the participants of the conference rejected the suicide attacks and condemned the act in strongest terms.
The conference of the Ulemas regarding Afghanistan was organized on Friday in Indonesia where Ulemas from Afghanistan, Pakistan, and Indonesia participated for the debate regarding the situation of Afghanistan.
In a joint declaration issued at the conclusion of the conference, the Ulemas declared their support to Afghan government's peace offer as they called the war and violence against the principles of Islam.
The Office of the President, ARG Palace, in a statement said the Afghan government welcomes the stance, clarification, and decision of the religious scholars declared by the Ulemas and urges the Ulemas of the other Islamic countries to play their roles to end terrorism, extremism, and help in maintaining peace and stability.
The Taliban group has not commented regarding the declaration of the Ulemas so far.
https://www.khaama.com/afghan-ulemas-optimistic-regarding-pak-ulemas-engagement-in-indonesia-conference-05152/
--------
Bangladesh Must End Injustice And Suppression Against Senior Journalist Choudhury
May 16, 2018
It is indeed very sad to see Journalists go through the highest level of unimaginable impetuosity when as a matter of fact, Journalists exist to make positive impact on people and the society at large.
Journalists all over the world have had the trouble to deal with all kinds of human rights abuses and it appears what Bangladeshi Journalist and Publisher of the Weekly Blitz, Salah Choudhury, is going through is no different and very scary.
Multi-award winning anti militancy journalist and newspaper editor, Salah Uddin Shoaib Choudhury was arrested on 29th November, 2003, from the Dhaka International Airport in Bangladesh on his way to Tel Aviv for attending an international peace conference organized by the Hebrew Writers' Association. Mr. Choudhury was amongst the list of key speakers in the conference.
As Bangladesh does not recognize Israel and considers it as an enemy, authorities in Bangladesh brought sedition, treason and blasphemy charges against Shoaib Choudhury by accusing him as an agent of Mossad.
Since 2002, Mr. Choudhury has been confronting religious extremism and radical Islam; denouncing antisemitism and holocaust denials; promoting interfaith harmony; and defending the Jewish State.
In 2005, at the intervention of US Congressman Mark Steven Kirk and rights activist Dr. Richard L Benkin, Shoaib Choudhury was released from the prison on bail.
In 2007, the United States Congress passed a bipartisan House Resolution HR-64/2007 by 406 votes in defence of Mr. Choudhury and called upon Bangladesh authorities to immediately drop the false charges brought against him. But, Bangladesh didn't pay any heed to it.
In 2012 (November 8th), Shoaib Choudhury was rearrested and sent to prison at the influence of Maj Gen (Retired) Tarique Ahmed Siddique, Security Advisor to Bangladeshi Prime Minister, for Mr. Choudhury's 'crime' of exposing corruption of a Bangladeshi company named Prochchaya Limited and UK company named Zumana Investment & Holdings, owned by the wife and daughter of Gen Siddique. It may be mentioned here that Maj Gen (Retired) Tarique Ahmed Siddique is the paternal uncle of British Labour Party's lawmaker Ms. Tulip Siddiq.
As the Security Advisor exerted his influence on the court, the Metropolitan Session Judge in Dhaka convicted Shoaib Choudhury in treason and blasphemy charges (in the case brought in 2003) and handed down seven year's rigorous imprisonment. Later in 2015, the Security Advisor also got Mr. Choudhury convicted in a false case lodged by Prochchaya Limited.
Although Mr. Choudhury's appeal against both the conviction are still pending, his conviction period ended on November 2, 2017. But, the Security Advisor, by exerting influence, has been keeping this journalist in prison this creating undue obstructions.
There is no freedom of speech, freedom of press, rule of law in today's Bangladesh. Situation in the country are no different than those of Fidel Castro's Cuba, Gaddafi's Libya or the rowdy clergymen in Iran. Participatory election in today's Bangladesh is a mission impossible.
In today's world, we find decent and concious people talking about freedom of press. Many of them also denounce antisemitism. Virtuous individuals like the US President Donald Trump, Secretary of State Mike Pompeo, National Security Advisor John Bolton as well as esteemed organizations like Committee to Protect Journalists, Reporters Sans Frontiers, Pen, American Jewish Committee, Gatestone Institute etc should look into the crucial case of Salah Uddin Shoaib Choudury and give a strong signal to Bangladesh - stop intimidating the anti Islamist pro West and pro Israel journalist Salah Uddin Shoaib Choudury!
He is owner of the most influential anti-Jihadist newspaper in Bangladesh, and editor-in-chief of vernacular weekly Jamjamat. He also is the editor of Daily Frontline.
Choudhury's articles appear in various international press on a regular basis. He also is considered to be an expert on topics such as Islamist militancy and extensively works on finding root cause of Jihad . He is also invited by many reputed institutions around the world as a Speaker to give lecture on such topics as Islamist militancy, jihad, and Hate Speech and Political Islam.
In 1989, Choudhury started his journalistic career as a correspondent for the Soviet Union's TASS news agency. In 1991, he was promoted to the rank of chief correspondent in Bangladesh. He left TASS in 1996; as, after the fall of the Soviet Union, the agency had to close down many of its world offices.
In 1996, he established the first private television channel in Bangladesh, named A-21 TV.
Choudhury has written a number of books in Bengali and English. His latest book, Injustice & Jihad, was published in October 2007. In May 2008, Italian publication house Neftasia published Choudhury's book titled Non Sono Colpevole in Italian. This was the first book by any contemporary Bangladeshi journalist translated into Italian.
Inside Madrassa was published in October 2009 in Bangladesh. In this book, Choudhury gave extensive information on madrassa education, including unknown facts, Jihadist orientation inside madrassa, hate speech and many other important thus interesting topics, mostly related to radical Islam.
Choudhury opened a branch of the Israel-based International Forum for Literature and Culture of Peace. He wrote about the rise of al-Qaeda in Bangladesh and has written articles critical of anti-Israeli and antisemitic attitudes in Muslim-majority countries.
Salah Uddin Shoaib Choudhury is the advisor of Bangladesh Minority Lawyer's Association since 2005.
In July 2006, a mob stormed the premises of Choudhury's tabloid and beat him, fracturing his ankle. In September, a judge ordered the case continued, in spite of the government's reluctance to prosecute, as Choudhury had "spoiled" the "image of Bangladesh" and "hurt the sentiments of Muslims" by lauding Jews, Hindus and Christians.
After the police detail that had been posted to Weekly Blitz's offices since the July bombing had vanished, the offices were ransacked and Choudhury was badly beaten by a mob. When he lodged a formal complaint with the police, an arrest warrant was issued for him. The US Embassy in Dhaka sent an observer to his trial.[9]
Full report at:
https://www.modernghana.com/news/854032/bangladesh-must-end-injustice-and-suppression-against-senior.html
--------
US, Afghanistan launch air strikes as Taliban attack Farah
May 16, 2018
HERAT - US and Afghan aircraft Tuesday bombed Taliban positions in the western city of Farah after the insurgents launched a major attempt to capture the provincial capital, with fearful residents seeking shelter from explosions and gunfire.
Special forces from Kandahar and Herat were rushed to the city to take part in the fighting, which residents said began around midnight. Sporadic clashes were still ongoing late Tuesday, provincial council member Dadullah Qani told AFP.
It was the latest in a series of attempts by the Taliban over the past three years to capture urban centres. Afghan forces have been struggling to hold back the resurgent militant group since the withdrawal of NATO combat forces at the end of 2014.
Afghan officials and NATO's Resolute Support mission said that the government remained in control, but the Taliban also appeared confident, posting a flurry of social media updates throughout the day that purported to show their fighters in the city.
Farah province, which borders Iran, has been the scene of intense fighting in recent years, and there have long been fears that the city is vulnerable.
"The situation is very bad," Satar Hussaini, a tribal elder in Farah, told AFP earlier. "Heavy fighting is going on and Taliban are in the city but the police headquarters and NDS (the Afghan intelligence agency) have not fallen to them," he said. "NDS forces in their HQ are engaged in heavy clashes with the Taliban."
Qani confirmed Hussaini's comments. Gunfire and explosions could be heard as he spoke to an AFP reporter by telephone.
The noise has "filled the city", said one resident who gave his name as Bilal, adding that he could see smoke rising from the direction of a building housing the NDS.
NATO's Resolute Support mission in Kabul said the government remained in control of the city.
"Afghans remain in lead," spokesman Lt Col Martin O'Donnell told AFP.
"Both Afghan A-29s and Mi-17s have conducted multiple strikes. US forces have conducted one drone strike (MQ-9) and a show-of-force with A-10s. Dozens of Taliban killed."
Defence ministry spokesman Mohammad Radmanish said pockets of resistance remained, but "our forces are battling the enemy with high morale".
With internet and mobile networks patchy, casualty figures were difficult to verify. Radmanish said four soldiers and "dozens" of insurgents had been killed.
At least some militants have been hiding in private houses, making it difficult for Afghan forces to use heavy weapons, Farah governor Abdul Basir Salangi told Ariana News, adding: "But still we are taking back positions one by one."
Many radio and television channels in the province have stopped broadcasting, fearing for their employees' lives, according to media watchdog Nai.
The insurgents in a statement warned residents to remain in their homes and "stay calm".
The Taliban are stepping up their spring offensive, in an apparent rejection of a peace talks overture from the government.
Farah is a poppy-growing province in an isolated region of Afghanistan.
There are plans for a section of the multi-billion-dollar TAPI (Turkmenistan, Afghanistan, Pakistan and India) gas pipeline to traverse it, a project with which the Taliban have pledged to cooperate.
But it has been the scene of intense fighting in recent years. In 2017, insurgents tried three times to overrun the capital, according to the Afghanistan Analysts Network.
As such, Tuesday's offensive "should not have taken government forces off guard", said military analyst and retired general Atiqullah Amarkhail.
Amarkhail added that "even ordinary citizens were aware of the Taliban gradually taking over more areas and becoming a formidable force in the province".
He accused the government and military leadership of "turning a blind eye" until the insurgents actually entered the city.
Afghan troops and police nationwide have struggled to cope with unrelenting militant attacks in recent years, their numbers sapped by killings and desertions.
When asked about the issue, US Defense Secretary Jim Mattis said that Afghan forces are actually being bolstered in the most important area — special operations forces.
Speaking earlier this month, he said this expansion was why the Taliban had not taken any district centres or provincial centres.
The insurgents have tried several times to take provincial capitals in recent years, including Kunduz and Lashkar Gah, with the Afghan army deploying significant numbers of troops to hold those cities and push the militants out.
Kunduz, Afghanistan's fifth largest city and capital of the northern province of the same name, fell briefly to the Taliban in 2015.
Full report at:
https://nation.com.pk/16-May-2018/us-afghanistan-launch-air-strikes-as-taliban-attack-farah
--------
Gen. Dostum shares recommendations regarding reconciliation with Taliban
May 15 2018
The First Vice President of Afghanistan and the leader of Junbish Milli Abdul Rashid Dostum has shared his recommendations regarding the reconciliation process with the Taliban group, recommending that the peace efforts with the Taliban should be taken forward from a position of strength.
"Reconciliation with the Taliban should be handled from the position of strength, and not from the position of appeasement and weakness," he told the Fox News during an exclusive interview.
Gen. Dostum further added "We can reach a peaceful settlement with Taliban, if we are determined to win the war."
"So by softening the tone asking Taliban for reconciliation, we failed. And neither will it work in the future. The reconciliation policy must be from the position of strength and not weakness," he added.
In regards to the ongoing US campaign against the terror groups as part of the new US strategy, Gen. Dostum said "We warmly welcome President Trump's strategy, which shows U.S. sustainable commitment for a stable Afghanistan."
Full report at:
https://www.khaama.com/gen-dostum-shares-recommendations-regarding-reconciliation-with-taliban-05153/
--------
Bangladesh court orders release of opposition leader Zia
May 16, 2018
DHAKA: Bangladesh's Supreme Court on Wednesday ordered the release from detention of 72-year-old opposition leader Khaleda Zia after her lawyers argued she was unwell.
In a unanimous decision, the Supreme Court upheld a lower court's decision to grant Zia bail while she appeals against a five-year jail term imposed in February for corruption, her lawyer Joynal Abedin said.
Zia's lawyers said they told the court that the three-time former prime minister, the arch-rival of current leader Sheikh Hasina, faced serious health risks if kept in prison.
Zia underwent a hospital check-up last month.
The Supreme Court had earlier suspended the lower court's decision to grant Zia bail, prompting her Bangladesh Nationalist Party (BNP) to condemn the move as part of a campaign by Hasina to silence the opposition ahead of a looming national election.
It was not immediately clear, however, when Zia would be released from the special prison in Dhaka where she is the only inmate.
Abedin said Zia was officially considered under arrest in five other cases and she needs to get bail for each one, which may take days or weeks.
"We hope she will be released shortly," Abedin said.
Zia also faces dozens of separate charges related to violence and corruption.
The BNP leader was jailed for five years in February on charges of embezzling money intended for an orphanage.
Zia, who entered politics in the 1980s after her military dictator husband was assassinated in a failed coup, has consistently dismissed the charges as politically motivated.
Full report at:
http://www.arabnews.com/node/1303571/world
--------
Arab World
Syrian Army Liberates over 80 Percent of ISIL's Main Base in Southern Damascus
May 15, 2018
The army men continued to strike ISIL near Yarmouk Camp, al-Tazamon neighborhood and Hajar al-Aswad region, and imposed control over more areas.
Also, other units of the army manage to take control of several more buildings in the Western and Eastern wings of Yarmouk Camp.
The army men tightened noose on ISIL after cutting off their supply lines and taking control of vast areas in Hajar al-Aswad, West of Yarmouk Camp and East of al-Qadam neighborhood.
In the meantime, the London-based pro-opposition Syrian Observatory for Human Rights said that over 80 percent of Hajar al-Aswad is now under the army's control and only a small part of the region is held by the ISIL.
On Monday, the army men continued to storm ISIL's positions Northwest of Hajar al-Aswad region and managed to capture al-Rus square in al-Jazeera and several buildings near the square.
Also, the army's artillery and missile units and aircraft pounded the remaining positions of ISIL in Hajar al-Aswad and Yarmouk Camp, destroying a base and several arms depots of the terrorists.
In the meantime, field sources reported that other units of the army managed to advance against ISIL from the North of Hajar al-Aswad towards Yarmouk Camp and imposed full control over several buildings.
The sources said that the army is heading on to end ISIL's presence in Southern Damascus.
http://en.farsnews.com/newstext.aspx?nn=13970225000369
--------
Tens of Terrorists Killed, Wounded in Syrian Army Operation in Hama Province
May 15, 2018
The army's missile and artillery units shelled terrorists' positions and movements in the village of al-Latamina in Northern Hama after militants launched missile attacks on Mahrada Power Plant.
The artillery and missile units further pounded terrorists' positions and movements in the villages of al-Qahirah and al-Huweija in Western Hama.
Field sources reported that tens of terrorists were killed or wounded and their positions, vehicles and military equipment were destroyed in the attacks.
In a relevant development on Sunday, the Syrian and Russian fighter jets pounded terrorists' positions in Northern Hama and Southern Idlib, destroying a main base of the Free Syrian Army (FSA).
The warplanes carried out heavy raids against terrorists in Northern Hama and Southern Idlib, destroying a main base of the FSA-affiliated Jeish al-Izzah in the town of al-Latamina in Northern Hama.
Full report at:
http://en.farsnews.com/newstext.aspx?nn=13970225000820
--------
Saudi Arabia: US embassy in Jerusalem represents prejudice against Palestinian rights
16 May 2018
Saudi Arabia on Tuesday said it opposed the US decision to relocate its Israel embassy from Tel Aviv to Jerusalem.
"The Kingdom rejects the American administration's decision to transfer its embassy to Jerusalem," the Council of Ministers said in its session chaired by King Salman.
"This step represents a significant prejudice against the rights of the Palestinian people which have been guaranteed by international resolutions," it said.
"The government of Saudi Arabia has already warned of the grave consequences of such an unjustified move as a provocation to the feelings of Muslims around the world," the Cabinet added.
The Council of Ministers reiterated the Kingdom's condemnation of Israeli gunfire that killed scores of unarmed Palestinian civilians along the Gaza Strip border on Monday.
It stressed the need for the international community to shoulder its responsibility to stop violence and protect the Palestinian people.
The Cabinet reaffirmed the Kingdom's firm positions toward the Palestinian cause and its support for the Palestinian people in restoring their rights in accordance with the resolutions of international legitimacy and the Arab peace initiative.
The Cabinet also renewed the Kingdom's support and welcomed US President Donald Trump's withdrawal from the nuclear agreement with Iran and the re-imposition of economic sanctions.
Iran has been exploiting the gains from the lifting of sanctions to continue its destabilizing activities in the region, especially through the development of ballistic missiles and support for terrorist groups.
The Cabinet also stressed the Kingdom's hope that the international community will adopt a firm and unified stance toward Iran and its hostile actions to destabilize the region and its support for terrorist groups, especially Hezbollah and Houthi militia as well as its support for Assad's regime which has committed the most heinous crimes against its own people.
Minister of Culture and Information Dr. Awwad Al-Awwad said in a statement to Saudi Press Agency following the session that the Cabinet commended the announcement of the Public Investment Fund on holding the Future Investment Initiative for 2018 on Oct. 23-25 in Riyadh under the patronage of Custodian of the Two Holy Mosques and under the chairmanship of Crown Prince Muhammad Bin Salman, deputy premier and minister of defense, and chairman of the Board of Directors of the Public Investment Fund.
The initiative held last year was a huge success in which more than 3,800 experts and leaders from 90 countries participated.
The Cabinet valued the Council of Economic and Development Affair's adoption of the Financial Sector Development Program 2020, one of the programs to achieve the Kingdom's Vision 2030, which seeks to develop the financial sector, increase its efficiency and promote savings, financing and investment.
Full report at:
https://english.alarabiya.net/en/News/gulf/2018/05/16/Saudi-Arabia-US-embassy-in-Jerusalem-represents-prejudice-against-Palestinian-rights.html
--------
Syria warring sides, mediators close 9th round of peace talks in Astana
May 16, 2018
The ninth round of crisis resolution talks between the Syrian government and armed opposition, mediated by Iran, Russia and Turkey, has come to an end in Astana, building a positive outlook for momentous follow-up negotiations.
At the end of the two-day talks in the Kazakh capital, the participants issued a joint statement, emphasizing the need to respect "the sovereignty, independence, unity and territorial integrity" of the crisis-torn Arab country.
The trio has been mediating the negotiations in the Kazakh capital since January 2017, a month after they joined efforts and brought about an all-Syria ceasefire. The three states act as the guarantors of the truce.
The Astana peace process has helped significantly reduce the violence in Syria through the formation of four de-escalation zones in the country, setting the stage for Syria's warring sides to focus on negotiations on the political future of their homeland.
The final statement underlined the "key role" the four safe zones are playing in preserving the ceasefire regime, saying their demarcations, which were outlined in Astana last May, need to be respected.
It, meanwhile, reminded that the zones were "temporary," and that their establishment was not to be misused towards undermining Syria's territorial integrity.
They also reaffirmed their resolve to keep fighting the Takfiri terror groups operating in Syria, especially Daesh and al-Qaeda-affiliated militants.
Eyes on Sochi, Geneva
The ceasefire's guarantors "decided to hold the next high-level International Meeting on Syria in Sochi in July 2018," it added.
The Russian resort city hosted the Congress of the Syrian National Dialogue in January, with 1,500 people representing the Syrian government and foreign-backed opposition in attendance.
The three mediators also committed themselves to continued consultations with the Syrian representatives and the United Nations Special Envoy for Syria Staffan de Mistura to pave the way for "the beginning of the Constitutional Committee's work in Geneva as soon as possible."
The committee is tasked with working to draft a revised constitution for Syria.
The talks in Astana have been going on in tandem with another series of talks held in Geneva and brokered by the UN. Previous rounds of negotiations under the auspices of the UN over the past five years have failed to achieve tangible results.
Full report at:
http://www.presstv.com/Detail/2018/05/16/561872/Syria-talks-Astana-Iran-Russia-Turkey-Sochi-Geneva
--------
Iraqi security forces kill five Daesh commanders in oil-rich Kirkuk province
May 15, 2018
Members of the Iraqi federal police have carried out a counter-terrorism operation in the oil-rich northern province of Kirkuk, killing four high-profile commanders of the Daesh Takfiri terrorist group in the process.
The security forces, following a tip-off from pro-government fighters from Popular Mobilization Units – better known by the Arabic word Hashd al-Sha'abi, staged an ambush on a militant hideout in the village of Karhakazan late on Monday, and killed the terrorists.
The slain Takfiris were later identified as Adnan Ahmed Hassan al-Sour, better known by the nom de guerre Abu Rizwan, who was a senior militant commander in the Riyadh district, southwest of Kirkuk, Shaker Shallal Ousebi, commonly known as Abu Haifa, who was responsible for Daesh medical affairs, Abu Talha, Abu Haitham and Hassan Ali Thalaj, better known by the alias Abu Dhar.
Abu Rizwan was apparently one of the main organizers of Daesh surprise attack on Hashd al-Sha'abi forces in Saadounia village, western Hawija, on February 18, when 21 voluntary fighters were killed.
Separately, security forces have uncovered a huge cache of munitions belonging to Daesh extremists in the oil-rich city of Baiji, located some 130 miles north of Baghdad.
On December 9, 2017, Iraq's Prime Minister Haider al-Abadi declared the end of military operations against the Daesh terrorist group in the Arab country.
"Our forces are in complete control of the Iraqi-Syrian border and I therefore announce the end of the war against Daesh," Abadi told a conference in Baghdad then.
On July 10, Abadi formally declared victory over Daesh extremists in Mosul, which served as the terrorists' main urban stronghold in the conflict-ridden Arab country.
In the run-up to Mosul's liberation, Iraqi army soldiers and volunteer Hashd al-Sha'abi fighters had made sweeping gains against Daesh.
The Iraqi forces took control of eastern Mosul in January 2017 after 100 days of fighting, and launched the battle in the west on February 19 last year.
Full report at:
http://www.presstv.com/Detail/2018/05/15/561838/Iraqi-security-forces-kill-five-Daesh-commanders-in-oilrich-Kirkuk-province
--------
Saudi Arabia air defence intercepts Houthi missile targeting Jazan
May 15, 2018
RIYADH: Royal Saudi Air Defense Forces (RSADF) intercepted a ballistic missile fired by Iran-backed Houthi militia over the southern city of Jazan, said the spokesman for the Saudi-led coalition.
Col. Turki Al-Maliki announced that at 12:40 p.m. on Tuesday, Saudi air defense intercepted a ballistic missile launched within Yemeni territories toward the Kingdom's territories. The missile was directed toward populated areas in Jazan province.
"Such hostile and random acts carried out by the Houthi militia prove the continued involvement of the Iranian regime in the Yemeni war," Al-Maliki said.
Full report at:
http://www.arabnews.com/node/1303131/saudi-arabia
--------
Europe
How the Small Italian Town of Brescia Found Itself Connected to a Global Jihadist Network
May 15th, 2018
By Eleanor Beevor
On 9th May, two alleged jihadist cells were caught in a joint operation by the Counter-Terrorism and Financial Crime divisions of the Italian police. Twenty homes were raided and 14 people were arrested - four on the island of Sardinia, and 10 in the northern town of Brescia.
The two groups are believed to be operating separately, though one individual had connections to both. Their crime is fundraising for the Al-Nusra Front, Al Qaeda's one time affiliate in Syria, and still a likely partner of the global jihadist network.
The transactions those arrested were making were shockingly high. Most were in the hundreds of thousands of euros, and one payment totaled over two million euros. The question is whether there was always a distant funding base for the terrorist group, or if this is a sign of new support far from home.
Al-Nusra Origins
Originally called Jabhat al-Nusra, the group was formed by a small group of jihadists from the Islamic State in Iraq (ISI) in 2011. Six ISI members, led by Abu Mohammed al-Jolani embedded themselves within Syrian jihadist networks, and soon had a basis for what would become one of the most dangerous non-state armed groups in the Syrian conflict - Jabhat al-Nusra, or the Al-Nusra Front.
When ISI renounced Al Qaeda and set itself up as an independent, would-be Islamic State, that which would go on to become ISIS, it tried to claim that Jabhat al-Nusra was a part of it. Jolani rebuffed the claim by pledging bayah (allegiance) to Al Qaeda leader Ayman al-Zawahiri. From here developed the acrimonious split between the Islamic State and its parent movement Al Qaeda.
Jabhat al-Nusra proved dangerously successful, not only on the battlefield, but also in leveraging political developments in Syria to their advantage. Whilst being an Al Qaeda affiliate was at first an obstacle to political support, Jabhat al-Nusra pushed a Syrian nationalist message.
They also joined military forces with the more mainstream opposition groups, which emerged against President Bashar Al Assad as the would-be revolution deteriorated into civil war. By moving in and out from under the umbrella of the Free Syrian Army, they were able to embed jihadist ideology, and an eventual commitment to Sharia governance in Syria, within broader opposition discourse.
Rebranding Al-Nusra
Thanks to their political strategizing, and to their success on the battlefield, they have proven a far more durable jihadist entity than ISIS, whose time seems to have come.
Jabhat al-Nusra has now officially rebranded itself as Hayat Tahrir al-Sham, the result of a merger with several smaller groups. Whilst it has also had some recent public divergences with Al Qaeda leadership, it is unlikely to ever truly divorce itself from its founding fathers.
However, one of the Al-Nusra group's persistent challenges has been funding, particularly after its bitter split from ISI. Prior to the split over 50% of its funding came from Iraq, and unlike the future ISIS, it was left unable to access the lucrative oilfields of Iraq. Since then, its income has been ad-hoc, although not unsubstantial.
Jabhat al-Nusra earned itself quite a reputation for kidnap and ransom. It kidnapped a number of foreigners working in Syria and the Golan Heights, from countries including Lebanon, America, Fiji, Italy and Qatar, as well as numerous Syrians. The group may have received up to $300 million in ransom payments between 2014 and 2016.
Lower budget
In many ways, the Al-Nusra front has been able to operate on a lower budget than its rival ISIS by keeping its governance ambitions more modest.
It has endeavoured to provide some relief services to the civilians living under its control – such as subsidizing bread baking and water provision to citizens of Aleppo while the city was under its control in 2013. Sharia courts are provided, although given that Sharia law is an existential matter for Al Qaeda, that is no surprise. However, Al-Nusra takes as well as gives. Nicholas Heras, a Middle East Fellow at the Center for a New American Security told Al Bawaba:
"The group extracts significant financial resources from taxes and other fees that it places on people that live in the communities where it has power. It also has control over the routes from border crossings, which allows it to extract further rents."
And despite its more limited governance infrastructure, and the diverse sources of funding it can draw on in-country, Al-Nusra still has a lot of expenses.
In 2016, the salary of a Nusra fighter was between $300 and $400 per month. With somewhere between five and 10,000 fighters at the time, the group required between $18 million and $48 million per year for salaries alone.
Given the unpredictability of the situation on the ground in Syria, Al-Nusra has been fortunate to have accumulated a number of foreign donors. But until recently, the vast majority of their known donors were in the Middle East, particularly in the Gulf states. The US Treasury's list of known individuals financing Al Nusra had 10 individuals on it, seven of whom were from Kuwait.
The other three were a Qatari, Jordanian and a Turk. And even for those in nearby countries, getting the money to the group isn't easy. Whether Al Nusra has banking access is unknown, although the evidence suggests any access is intermittent. At one point, Kuwaiti financiers were smuggling cash to them over the Turkish border.
Italian connection
But this Italian mass arrest suggests that the group's international donors go much further beyond Syria's borders than was previously thought.
Those arrested in Italy – most of whom were Syrian, though there were also two Moroccan nationals – are being charged with financing terrorists through the illegal distribution of money – more commonly known as money laundering. In the digital age, these sorts of transfers can be done in numerous ways. Nicholas Ryder, Professor of Financial Crime at the University of the West of England, told Al Bawaba:
"It is likely that they could rely on financial intermediaries, cash couriers or money mules, wire transfers or via non-remittance systems. It is also possible that terrorists could be exploiting social media platforms and the internet to launder the proceeds of crime.
Terrorists financiers have acted as cash couriers for terrorist groups and several have been detained at airports, arrested and subsequently convicted. Nonetheless, any person with access to the internet is able to act as an international terrorist financier, making it impossible to prevent all forms of funding."
Money mules
But in the Islamic world, there is also an established process of transferring money without involving banks. It is known as a hawala system, and it is a network based on trust. If Person A wishes to send a hundred dollars to Person B, they would approach a hawala dealer.
The dealer then sends the money to another trusted hawala dealer living near Person B. Person B is given a password and visits the hawala dealer near them to collect the money. Meanwhile the hawala dealers must repay each other if they are to continue operating in the field, so the system depends on trust and reputation. And whilst hawala is used for many things, terrorists have found it to be an advantageous tool in their financial arsenal.
Nicholas Heras continued: "There is a hawala system of funding that comes from private donors outside of Syria, where money can be sent to associations linked with Jabhat al-Nusra. Law enforcement officials need to consider Europe as a chink in the armor in countering the transfer of finances to terrorist groups.
Europe is the gathering place where this money can be transferred, redirected, and sent on to other regions, especially Africa and the Gulf, where associations that work in the hawala system are active.
Jabhat al-Nusra's foreign funding relies on a network that is able move money around in the less obvious places, without a jihadist face, and this terrorist group is several steps ahead of law enforcement."
How the arrested parties raised the money remains to be seen. But those influencing the conflict are clearly not always close to home.
https://www.albawaba.com/news/how-small-italian-town-brescia-found-itself-connected-global-jihadist-network-1131062
--------
O2 Apologises After Islamophobic Hate Mail Sent With SIM Cards to British-Iraqi Family
May 16, 2018
Mobile phone provider O2 has apologised after racist leaflets and sim cards were sent to a British-Iraqi family, addressed to "Mr Isis Terroriste" and "Mr Getout Ofengland".
"We were really saddened to come across these letters, especially having a younger child in the house who we don't want to grow up witnessing such hateful language," the family from Wembley in North London, said in a statement.
"It's even sadder to think that such hate speech has become normalised despite living in such a uniquely multicultural and diverse city like London."
After news of the leaflet emerged, a representative of the Muslim Council of Britain told The Independent that the organisation was concerned Islamophobic bigots are finding more and more ways to spread hatred.
"These Islamophobic bigots are finding more and more ways to spread their hatred," said Miqdaad Versi, its assistant secretary general. "In recent times, we have seen hate mail, a rise in physical violence against Muslims and even the UN special rapporteur on racism saying these 'extreme views' have gained ground. The reality is that hate has become normalised within sections of British society.
"And whilst it is imperative that corporates upgrade safeguards to prevent such incidents recurring, these are indicative of broader concerns and we continue to hope Government will finally start taking Islamophobia seriously."
Sura Jawad, a lawyer and friend of the family, also expressed her deep concern.
"I was completely horrified by it," she told the BBC's Victoria Derbyshire show. "I was talking to the gentleman that received it and he mentioned, in passing almost, what he had been sent in the mail."
His reaction to receiving the letters demonstrated how a hateful discourse has been "normalised" in the UK, she added.
"He was almost quite defeatist [in his] mentality," she said, adding that it was "very 'what can you do, these things happen'.
"It's horrible to think that there are people who have so much hatred in them that they set out to deliberately make others feel isolated and unwelcome or who take comments like these light-heartedly. This shouldn't be something that just happens."
An O2 spokesperson told The Independent that the company had "a rigorous data cleansing process in place to prevent any of our free products being sent to addresses with obscenities or offensive names and so this is a rare occurrence."
They added: "We are shocked by the letters that have been received and apologise to the family involved. If they decide to report this case, we will work closely with the police as part of their investigation. "It is understood that these Pay As You Go SIM cards were ordered online via the O2 website on 13 August 2017. To order a free SIM card online, a form must be completed identifying the name and address that the SIM is to be sent to.
"The family involved has been assured that O2 will work closely with them and the police to assist any future investigation if they choose to report the letters."
This was the latest in a number of recent hate mail incidents, which have seen mosques, politicians and individuals targetted.
Earlier this year, MPs received "Punish a Muslim" letters, some of which offered rewards for throwing acid, burning or bombing a mosque and pulling the head scarf off a Muslim woman.
The United Nations last week warned that the UK has experienced a growth in racism since the Brexit, which has contributed to the increased prominence of extreme views.
"Some people might experience [Islamophobic abuse] when they're walking down the street and just brush it off," said Jawad.
"But when it comes from a company like O2 or any sort of big organisation then to ignore it almost gives it a platform and legitimises it further. So it shouldn't be ignored and it should be reported.
Full report at:
https://www.independent.co.uk/news/uk/home-news/o2-apologises-islamophobic-hate-mail-sent-british-iraqi-family-sim-cards-a8352381.html
--------
Around the world: Anti-Israel protests held against Israel's massacre in Gaza
May 15, 2018
Pro-Palestine protesters around the World react with anger at Israel's killing of at least 60 Palestinians in the Gaza Strip.
Greece: Israel flag burned at pro-Palestine protest in Athens
Scores of protesters gathered in front of the US and Israeli embassies in Athens on Tuesday, to show their solidarity with the Palestinian people on 'Nakba Day.'
Protesters climbed atop riot police vans and waved Palestinian flags while chanting slogans such as 'Free Palestine'. A group of protesters were seen burning the Israeli flag at the demo.
Protesters gathered in front of the US embassy and marched towards the Israeli embassy where the demonstration concluded.
Sixty Palestinians were killed during Monday protests over the opening of the new US embassy in Jerusalem, one day ahead of 'Nakba Day,' according to the Gaza Health Ministry.
Nakba, means the 'Catastrophe' in Arabic and refers to the 1948 Palestinian exodus, where an estimated 700,000 Palestinians were expelled to make way for the newly created state of Israel.
Belgium: 'Stop the Gaza massacre' protest tense in Brussels
Pro-Palestine protesters condemned the Israeli military's use of deadly force during the 'Great March of Return', in a demonstration outside Brussels' Central railway station on Tuesday.
The point of greatest tension came when a presumed supporter of Israel made his way through the crowd. Police were deployed to prevent protesters from entering the station. The protest was organised by Belgian peace organisations in association with the Palestinian community.
Belgium summoned its Israeli envoy to meetings on Tuesday, a day after Israeli troops fired across a border fence killing 59 Palestinians, according to the Gaza health ministry.
Turkey: Palestinian supporters beat Trump effigy to a pulp
An effigy of US President Donald Trump was ripped to shreds at a pro-Palestine demonstration in Diyarbakir, south-eastern Turkey, on Tuesday.
The protest was called to denounce the relocation of the US embassy to Israel. International condemnation followed recent bloodshed at the border fence, when Israeli fire killed 60 Palestinians, according to the Gaza health ministry.
Full report at:
http://www.presstv.com/Detail/2018/05/15/561851/AntiIsrael-protests-held-worldwide-against-Israel-massacre
--------
Macron phones leaders of Palestine, Jordan over Gaza
15 May 2018
French President Emanuel Macron spoke with Palestinian leader Mahmoud Abbas and King Abdullah of Jordan over the phone late Monday, according to the Elysee Palace.
The three leaders discussed the Israeli attacks against Palestinians in Gaza and the relocation of the U.S. embassy to Jerusalem. Macron reiterated his opposition to the relocation and condemned the violence by Israeli armed forces against Palestinian demonstrators, calling on all parties to ease tensions in the region.
Macron is planning to talk with Israeli Prime Minister Benjamin Netanyahu on Tuesday, the statement said.
More than 50 Palestinians were martyred by Israeli army gunfire Monday and thousands more injured during anti-occupation rallies along the Gaza Strip's eastern border, according to the Palestinian Health Ministry.
Thousands of Palestinians demonstrated along the Gaza Strip's eastern border Monday, which coincided with the 70th anniversary of Israel's establishment in 1948 -- an event Palestinians refer to as the "Nakba" or "the Catastrophe".
Since the border rallies began on March 30, more than 90 Palestinian demonstrators have been killed by cross-border Israeli gunfire, according to the Health Ministry.
Full report at:
http://www.worldbulletin.net/europe/202067/catalonia-elects-separatist-leader-as-president
--------
North America
Muslims add richness to tapestry of America, says Trump
Anwar Iqbal
May 16, 2018
WASHINGTON: In a rare peace message for Muslims, US President Donald Trump reminded them on Tuesday that in the United States they were free to observe Ramazan, unimpeded by the government. Ramazan begins in the United States on Wednesday.
In his first Ramazan message in May 2017, Mr Trump had sparked anger among American Muslims by raising the issue of terrorism but he did not include any controversial issue in his second statement.
But he did remind Muslims how the US constitution protects their religious rights.
"In the United States, we are all blessed to live under a Constitution that fosters religious liberty and respects religious practice," he said. "Our Constitution ensures Muslims can observe Ramazan in accordance with the dictates of conscience and unimpeded by government."
The guarantees given in the Constitution "also furnishes varied opportunities for all Americans to deepen their understanding of the human soul," he added.
Mr Trump noted that many Muslim observe this holy month by fasting, performing acts of charity, reciting prayers, and reading the Holy Quran.
"Ramazan reminds us of the richness Muslims add to the religious tapestry of American life," said the US president while wishing "Ramazan Mubarak" to the global Muslim community.
Donald Trump has sparked anger among American Muslims by using his Ramazan message to raise the issue of terrorism and remind the world of a shared obligation to reject violence.
Mr Trump had peppered his 2017 statement with references to acts of terror.
"This year, the holiday begins as the world mourns the innocent victims of barbaric terrorist attacks in the United Kingdom and Egypt, acts of depravity that are directly contrary to the spirit of Ramazan," he said in his 2017 message. "Such acts only steel our resolve to defeat the terrorists and their perverted ideology."
Mr Trump's relations with Muslims is marked with controversy and bitterness. Less than a month after taking oath, he signed an executive order halting all refugee admissions and temporarily barring people from seven Muslim-majority countries. The move sparked numerous protests and legal challenges.
https://www.dawn.com/news/1407989/muslims-add-richness-to-tapestry-of-america-says-trump
--------
Weapons Meant For US-Backed Militants Handed Over To Al-Qaeda: Report
May 16, 2018
US military equipment and ammunition, sent to Syria as part of a failed effort to arm "moderate" forces to battle Daesh, were instead handed over to an al-Qaeda group in the country, according to a report.
"I communicated with al-Qaeda's branch, Al Nusra, to protect and safely escort me and my soldiers for two hours from North Aleppo to West Aleppo," Maj. Anas Ibrahim Obaid, who said he brokered the deal, told Fox News from his home in the western Aleppo area.
"In exchange, I gave them five pickup trucks and ammunition," said the man, who is better known on the battlefield as Abu Zayd.
The US issued those trucks and ammo to him in 2015 under the administration of former President Barack Obama, as part of a $500 million program to "train and equip" a new "ideologically moderate" force to fight Daesh terrorists.
Zayd said the program, one of at least two designed to funnel arms to rebel groups in Syria, was rigged with inconsistencies and incompetency.
Zayd, who said he defected from the Syrian Army to the opposition in 2012, said that in order to be included in the program, he had to show proof of association with a group that had fought Daesh.
After receiving training in Turkey, the first group of 54 trained militants crossed back to Syria in July 2015 where they were almost instantly ambushed by al-Nusra terrorists, who kidnapped several of them and stole their US-issued weapons.
Zayd said he was part of a second batch to be dispatched into Syria, but this time without proper firepower.
The US trainers "wanted us to go into Syria without weapons because of the ambush, and said we could get the weapons inside instead. This was crazy," Zayd recalled. "We refused."
After the weapons issue was worked out, the militants began their journey to Syria on September 19, but were stopped by Turkish border guards, who found something else in their bags: Syrian government flags, rather than the flags of militants.
Zayd said militants charged back to their base in Turkey, demanding answers and US trainers took the blame for the "flag mistake." He added that the following day the militants continued back to Syria.
Zayd said his group of 72 shrank to just 25, adding, like other militants, he became quickly fed up with the program and decided to go back to his hometown in western Aleppo but that meant he would have to move through al-Nusra territory. That is when he called the al-Qaeda-affiliated leaders and made the arrangement to give them the five US-issued trucks and scores of ammunition, in exchange for free passage and an armed escort home.
"The Americans were so angry when they found out, they cut my salary," Zayd said nonchalantly. "But this was our only option through their territory to get home without getting killed."
Syria has been gripped by foreign-backed militancy since March 2011. The Syrian government says the US, Israeli regime and their regional allies are aiding terrorist groups that are wreaking havoc in the country.
Full report at:
http://www.presstv.com/Detail/2018/05/16/561866/US-Syria-alQaeda-militants
--------
U.S. Imposes New Sanctions on Iran, Designating Head of Central Bank a Terrorist
By Eileen Sullivan
May 15, 2018
WASHINGTON — The Trump administration accused the head of Iran's central bank of funneling money to Hezbollah and designated him as a global terrorist on Tuesday, placing further financial constraints on Tehran a week after President Trump called for reimposing sanctions that were lifted as part of an Obama-era nuclear deal.
The new designation is separate from the nuclear sanctions that were reinstated last week against Iran. But after Mr. Trump announced his decision to back out of the nuclear deal, he promised to sanction any firms — including banks — that do business with Iran.
Last week, the United States Treasury Department, in coordination with the United Arab Emirates, sought to disrupt an Iranian currency exchange network that transferred money to the Islamic Revolutionary Guards Corps to help fund the terrorist group Hezbollah. The exchange system worked with Iran's central bank, and the Treasury Department said Tuesday's actions were a continuation of attempts to disrupt it.
It is rare to place a governor of a central bank on the global terrorist list. The Treasury Department said the governor of Iran's central bank, Valiollah Seif, "covertly funneled millions of dollars" to support Hezbollah from the Islamic Revolutionary Guards Corps through Iraq's al-Bilad Islamic Bank.
Also newly included on the United States' global terror list was Ali Tarzali, another senior official at Iran's central bank, as well as the al-Bilad Islamic Bank in Iraq and its chairman, Aras Habib. Mr. Habib recently won a seat in the Iraqi parliament under the coalition headed by the prime minister, Haider al-Abadi.
"The United States will not permit Iran's increasingly brazen abuse of the international financial system," the Treasury secretary, Steven Mnuchin, said in a statement on Tuesday. "The global community must remain vigilant against Iran's deceptive efforts to provide financial support to its terrorist proxies."
The designations are part of the Trump administration's efforts to disrupt Hezbollah's financial network. In February, the Treasury Department targeted six people and seven businesses in Africa and the Middle East for acting as front companies for the terrorist group.
Tuesday's actions are expected to make it harder for Iran to do business with other foreign banks as well, said Farhad Alavi, a partner at Akrivis Law Group in Washington and an expert in American sanctions.
"This will make it near impossible," Mr. Alavi said. "I would question whether any foreign banks would want to engage directly with the Central Bank of Iran at this point."
Cliff Kupchan, chairman of Eurasia Group, said Tuesday's actions come at a time when Europe and other nations are scrambling to address the fallout from America's reinstatement of its sanctions on Iran.
Full report at:
https://www.nytimes.com/2018/05/15/world/middleeast/iran-sanctions-central-bank-terrorist.html
--------
Trump has a chance to open up one of the world's most repressive countries
May 16, 2018
President Trump loves a good win, and he has a chance to get one as he welcomes Uzbek President Shavkat Mirziyoyev to the White House on Wednesday.
Mirziyoyev comes to Washington after embarking on a tentative agenda to reform one of the world's most repressive countries since taking power after the 2016 death of dictator Islam Karimov, who had ruled Uzbekistan since it was part of the Soviet Union. The United States has been losing influence in Central Asia after decades of contradictory policies, but an opening in Uzbekistan presents an opportunity to push the country in a new direction and build a more stable and independent region in the process.
Uzbekistan is unlikely to become a democracy anytime soon. But by focusing on improving the social and economic conditions in Uzbekistan, rather than directly promoting democratic politics or narrowly cooperating on counterterrorism, the White House has its best chance since the collapse of the Soviet Union to push for a more liberal Central Asia.
A major focus of Mirziyoyev's visit is courting U.S. investment in hopes of boosting Uzbekistan's flagging economy. American business activity in the country is minimal, with most companies turned off by the lackluster investment climate and the legacy of forced and child labor in the cotton industry. The prospect of U.S. investment is a major incentive for the Uzbek leader to stay the course, and the White House should make it clear that upholding the rights of its citizens is the best way to access more economic opportunities. Already, the incentive of closer economic ties with Washington has reaped some rewards. Shortly after Mirziyoyev's visit was announced last week, Uzbekistan freed an imprisoned opposition activist.
But as a rapprochement with Uzbekistan begins, Trump should be cautious to avoid the mistakes of past administrations. The last time an Uzbek leader came to the White House was when President George W. Bush welcomed Karimov in 2002 in the wake of 9/11. He quickly became an ally in the war on terror, allowing the United States to open an air base and making the country function as a key supply route for the war in Afghanistan. Karimov was one of the most brutal dictators of the 21st century and oversaw a corrupt police state that carried out widespread human rights abuses, allegedly even boiling dissidents alive. Uzbekistan has long grappled with Islamist extremism, but Karimov used counterterrorism as camouflage for a brutal crackdown on dissent.
Eager to maintain its air base and supply routes, the Bush administration turned a blind eye to these abuses until the Andijan massacre in 2005, where Uzbek security forces shot and killed unarmed protesters. Washington criticized the regime's actions and Tashkent responded by kicking out the United States and closing the air base. Karimov, ever the wily diplomat, used his country's strategic location to repair ties with the Obama administration, but cooperation was limited to security issues and Uzbekistan remained a pariah in the West.
Uzbekistan's geography and willingness to work with the U.S. military mean that the war in Afghanistan will always be a part of its relationship with Washington. But as Central Asia's most populous state and its largest market, a more prosperous Uzbekistan can lessen Moscow and Beijing's hold of the strategic region. Central Asia will always mean more to powers like Russia and China than it ever will to America: The Kremlin sees the region as part of its sphere of influence and Beijing is using the region as a launching pad for its Belt and Road Initiative. But Central Asian countries like Uzbekistan are still keen to balance China and Russia with the United States. This means that while American influence has subsided, Washington can still play a role in keeping Central Asia from simply being Russia or China's back yard.
There are plenty of reasons to be skeptical of Mirziyoyev. The jury is still out on whether the Uzbek leader is sincere in his reform efforts or if he's merely trying to attract foreign investment and consolidate his own power at home. As a former prime minister, he's a product of Karimov's system and is undoubtedly complicit in some of its abuses. As the two countries shape a new relationship, the United States should call out Uzbekistan for any backsliding on human rights and push for reconciliation measures on the former regime's injustices.
Full report at:
https://www.washingtonpost.com/news/democracy-post/wp/2018/05/15/trump-has-a-chance-to-open-up-one-of-the-worlds-most-repressive-countries/?utm_term=.8a00309ee910
--------
US secretary of state conveys message to Muslims for Ramadhan
May 16, 2018
As a new moon marks the start of the holy month of Ramadhan, United States Secretary of State Mike Pompeo conveyed a message to Muslims in the US and around the world.
"On behalf of the US Department of State, I offer best wishes to Muslims around the world for a peaceful and blessed Ramadhan," Pompeo said in a statement released by the US Embassy in Jakarta on Wednesday.
For those observing this month, Pompeo said, Ramadhan was a time of reverence, generosity and spiritual introspection.
"Ramadhan is also a cherished time of community, often spent reconnecting with family and friends. It calls Muslims to come together to give charitably to the less fortunate," he said.
Muslims in the US and around the world made valuable contributions to their societies every day, and millions would honor this month in a special way with acts of service and giving back to their neighbors, Pompeo said.
In recognition of this, every year, US embassies and consulates around the world hosted Ramadhan activities that brought together Muslims and people of other faiths who were committed to the shared goal of fostering peace, stability and prosperity, he said.
These conversations and collaborations were the core strengths of US diplomacy, paving the way for stronger communities through partnerships and respect for diversity, said Pompeo.
Full report at:
http://www.thejakartapost.com/news/2018/05/16/us-secretary-of-state-conveys-message-to-muslims-for-ramadhan.html
--------
Mideast
Turkey Plays Secret Role in Assassination Operations in Idlib
May 15, 2018
As a rising wave of assassinations of militant commanders has started in Northwestern Syria, sources close to the terrorist groups in Idlib reported on Tuesday that the Turkish army is settling accounts with Tahrir al-Sham commanders who oppose Ankara's policies in Idlib.
They added that bomb attacks in the past few days were conducted by the Turkish intelligence agency, noting that Ankara has started assassinating Tahrir al-Sham commanders who oppose the new coalition of militants, mainly by Faylaq al-Sham and Free Syrian Army (FSA) militants.
Meantime, the FSA terrorist group in Idlib, Jeish al-Izza, Jeish al-Nasr and the Coastal Brigade 1, have declared plans to form a new coalition in Idlib with Turkey's financial support and under the command of Faylaq al-Sham.
Also, reports said that the Turkish army wants to dissolve Tahrir al-Sham by forming the new coalition to prevent the Syrian army's military operations in Idlib.
The Turkish army dispatched a new military delegation, accompanied by terrorist groups, to Western Idlib in Northwestern Syria on Saturday.
The Turkish convoy, including a military delegation, that was accompanied by terrorists entered Jisr al-Shughour region in Western Idlib.
There were several vehicles and a large volume of military equipment in the Turkish convoy.
Also, field sources reported that the Turkish delegation embarked on visiting Bedama and al-Najiyeh settlements in Western Idlib, adding that the army plans to set up a new truce monitoring point in the region.
In the meantime, local sources reported that the Russian and Syrian fighter jets pounded the positions of al-Turkistani terrorist group in Jisr al-Shughour region, inflicting major losses on the militants.
Also, a military analyst said that the Turkish troops plan to occupy Idlib and arrival of Ankara forces in Western Idlib is aimed at preventing the Syrian Army troops from carrying out anti-terrorism operation against Tahrir al-Sham Hay'at (the Levant Liberation Board or the Al-Nusra Front) and other units of al-Turkistani group.
http://en.farsnews.com/newstext.aspx?nn=13970225000409
--------
Turkey and Israel exchange barbs, recall envoys as Israeli brutality continues to oppress Palestinians
MAY 16, 2018
Turkey and Israel on Tuesday ordered envoys to leave in tit-for-tat moves and exchanged bitter accusations as a row over the Israeli army's killing of dozens of Palestinians threatened a 2016 reconciliation deal.
Turkish President Recep Tayyip Erdogan hit back at Prime Minister Benjamin Netanyahu on Twitter by calling Israel an "apartheid state" as Ankara ordered the Israeli ambassador to leave.
Eitan Naeh was summoned to the Turkish foreign ministry and told to "return to his country for a period of time", said a foreign ministry official who asked not to be named.
Israel responded by ordering the Turkish consul in Jerusalem to leave for an unspecified period of time, its foreign ministry said.
Naeh had only been in his post since December 2016 after a reconciliation deal earlier that year ended a dispute over the May 2010 deadly storming of a Turkish ship by Israeli commandos that saw relations downgraded for more than half a decade.
That deal was strongly backed by the United States, which was keen to see Israel make up with one of its very few key Muslim partners.
Turkey had already called back its ambassador to Tel Aviv — as well as its envoy to Washington — for consultations over the killing of 60 Palestinians by Israeli forces along the Gaza border on Monday.
Ankara has reacted with fury to the killings, which came on the same day as the US formally moved its embassy in Israel to Jerusalem from Tel Aviv.
– 'Blood of Palestinians' –
Erdogan, currently on a visit to Britain, had on Monday stepped up his rhetoric, accusing Israel of "state terror" and "genocide" over the killings.
Prime Minister Benjamin Netanyahu hit back at Erdogan, with a tweeted jibe in Hebrew that as a leading supporter of Palestinian Islamist group Hamas "there's no doubt he's an expert on terror and slaughter".
Responding on Twitter in English, Erdogan said: "Netanyahu is the PM of an apartheid state that has occupied a defenceless people's lands for 60+ yrs in violation of UN resolutions."
"He has the blood of Palestinians on his hands and can't cover up crimes by attacking Turkey," he added.
In a later tweet titled "Reminder to Netanyahu", Erdogan denied that Hamas is a terror group, saying it is a "resistance movement that defends the Palestinian homeland against an occupying power".
After talks with British Prime Minister Theresa May, Erdogan warned that history "will not forgive" Israel or the US for moving the American embassy to Jerusalem in defiance of outrage in the Islamic world.
"America says 'I am strong and so I am right'. No, you are not right," Erdogan said.
– 'Strong message' –
While Turkey under Erdogan has never completely severed ties with Israel, the Turkish strongman has also never shied away from the strongest criticism.
He famously walked out of a January 2009 debate in Davos with then Israeli president Shimon Peres, complaining he was not given enough time to respond and repeatedly saying "one minute".
Turkey began observing three days of national mourning on Tuesday declared by Erdogan for the Palestinian dead, with flags flying at half-mast and cultural events cancelled.
Prime Minister Binali Yildirim has urged Islamic countries to review their ties with Israel and said Ankara was calling an extraordinary summit of the world's main pan-Islamic body, the Organisation of Islamic Cooperation (OIC), in Istanbul on Friday.
Erdogan said in London that the meeting "will give a very strong message to the world" on the cause of the Palestinians.
Who might come is unclear, but in a possible bid to rally support for the summit, Erdogan spoke by telephone to Jordan's King Abdullah and Malaysia's 92-year-old new leader Mahathir Mohamad.
Erdogan regards himself as a champion of the Palestinian cause and last year hosted an OIC summit in Istanbul to denounce US President Donald Trump's decision to recognise Jerusalem as Israel's capital.
Yildirim said after Friday's summit a giant rally would be held at the vast Yenikapi meeting area in Istanbul under the slogan of "Stop the Oppression" to express solidarity with the Palestinians.
Full report at:
https://dailytimes.com.pk/240839/turkey-and-israel-exchange-barbs-recall-envoys-as-israeli-brutality-continues-to-oppress-palestinians/
--------
Turkey to host OIC emergency summit over Gaza violence
2018-05-16
ANKARA, May 15 (Xinhua) -- Turkey will host an emergency summit of the Organization of Islamic Cooperation (OIC) in Istanbul on Friday over Israeli violence on the Gaza border, Prime Minister Binali Yildirim announced Tuesday.
Yildirim has invited his counterparts from five countries, Bangladesh, Morocco, Pakistan, Qatar and Algeria, to join the emergency summit by phone, state-run Anadolu Agency reported citing the Turkish Prime Ministry.
Speaking during the parliamentary group meeting of his ruling Justice and Development Party (AKP) on Tuesday, Yildirim condemned Israel for the killing of scores of Palestinian protesters in the Gaza Strip, urging Islamic countries to review their ties with Israel.
"The Islamic world should display humanity, unity and solidarity against these cruelties. No one should remain silent over this persecution," he stressed.
More than 60 Palestinians have been killed and over 2,000 others wounded in clashes with Israeli security troops since Monday on the border between Israel and Gaza, amid mass demonstrations to protest over the U.S. embassy opening in Jerusalem.
Serving as the rotating chairman of the OIC, Turkey had initiated an extraordinary summit in Istanbul in December 2017 to protest the U.S. decision to move its embassy from Tel Aviv to Jerusalem in violation of United Nations Security Council resolutions. http://www.xinhuanet.com/english/2018-05/16/c_137181646.htm
--------
Thousands attend funeral of 60 Palestinians massacred by Israel in Gaza
May 16, 2018
GAZA BORDER: Israeli forces shot dead a Palestinian near the Gaza-Israel border on Tuesday after thousands of Palestinians turned out for the funerals of dozens of protesters killed by Israeli troops on Monday, local health officials said.
The number of protesters that gathered at the frontier on Tuesday was significantly lower than on Monday as many had gone to mourning tents rather than back to the scene of the bloodiest day for Palestinians since a 2014 Gaza war.
Sixty Palestinians were killed on Monday, according to the Palestinian Health Ministry, including an eight-month-old baby that died from tear gas that her family said she inhaled at a protest camp near the border. More than 2,200 Palestinians were also injured by gunfire or tear gas, local medics said.
Monday's bloodshed took place as the United States opened its new embassy in contested Jerusalem. For the past six weeks, Palestinians have been holding Gaza border demonstrations for the return of Palestinian refugees to areas that are now part of Israel.
Israel rejects any right of return, fearing that it would deprive the state of its Jewish majority.
Palestinian medical officials say 106 Gazans have now been killed since the start of the protests and nearly 11,000 people wounded, about 3,500 of them hit by live fire. Israeli officials dispute those numbers. No Israeli casualties have been reported.
Palestinian leaders have called Monday's events a massacre, and the Israeli tactic of using live fire against the protesters has drawn worldwide concern and condemnation.
The United Nations Security Coun­cil was due to meet to discuss the situation.
Israel has claimed it is acting in self-defence to defend its borders and communities. Its main ally the United States has backed that stance, with both saying that Hamas, which rules Gaza, instigated the violence, an allegation denied by the Islamic group.
The Israeli military said at least 24 of those killed on Monday were "terrorists with documented terror background" and most of them were active operatives of Hamas.
Turkey expels Israeli envoy
Turkey, a critic of Israel's actions in Gaza, told the Israeli ambassador to Ankara on Tuesday to leave, a Turkish foreign ministry source said. On Monday, Turkey said it was recalling its ambassadors to Tel Aviv and Washington.
On Tuesday morning, mourners mar­­ched through Gaza, waving Palestinian flags and calling for revenge.
"With souls and blood we redeem you martyrs," they shouted.
May 15 is traditionally the day Palestinians mark the "Nakba", or Catastrophe, when hundreds of thousands fled or were driven from their homes in violence culminating in war between the newly created Jewish state and its Arab neighbours in 1948.
More than two million people are crammed into the narrow Gaza Strip, more than two thirds of them refugees. Citing security concerns, Israel and Egypt maintain tight restrictions on the enclave, raising humanitarian concerns.
On the Israeli side of the border, Israeli sharpshooters took up positions to stop any attempted breach of the fence should demonstrations break out again. Tanks were also deployed.
A senior Israeli commander claimed that of the 60 Gazans killed on Monday, 14 were carrying out attacks and 14 others were militants.
Many casualties were caused by Palestinians carrying out devices that went off prematurely," he said.
"We approve every round fired before it is fired. Every target is spotted in advance. We know where the bullet lands and where it is aimed," claimed the commander, who spoke on condition that he not be named, in accordance with Israeli regulations.
"However reality on the ground is such that unintended damage is caused," he said.
In Geneva, the UN human rights office condemned "appalling deadly violence" by Israeli forces.
UN human rights spokesman Rupert Colville said Israel had a right to defend its borders according to international law, but lethal force must only be used a last resort, and was not justified by Palestinians approaching the Gaza fence.
The UN rapporteur on human rights in the Palestinian territories, Michael Lynk, said Israel's use of force may amount to a war crime.
In Gaza City, hundreds marched in the funeral of eight-month-old Leila al-Ghandour, whose body was wrapped in a Palestinian flag.
Many shops in East Jerusalem were shut throughout the day following a call by Palestinian President Mahmoud Abbas for a general strike across the Palestinian Territories. A 70-second siren was sounded in the occupied West Bank in commemoration of the Nakba.
Most Gaza protesters stay around tent camps but groups have ventured closer to the border fence, rolling burning tyres and throwing stones. Some have flown kites carrying containers of petrol that spread fires on the Israeli side.
Monday's protests were fuelled by the opening ceremony for the new US Embassy in Jerusalem following its relocation from Tel Aviv. The move fulfilled a pledge by US President Donald Trump, who in December recognised the city as Israel's capital.
Full report at:
https://www.dawn.com/news/1407995/thousands-attend-funeral-of-60-palestinians-massacred-by-israel-in-gaza
--------
Israeli forces kill two Palestinians near border as Gaza buries dead
16 May 2018
Palestinians buried the dead on Tuesday from the bloodiest day in Gaza in years, after Israeli forces killed 60 Palestinians near the Gaza-Israel border during demonstrations against the opening of the US embassy in Jerusalem.
Israeli forces shot dead two more Palestinians on Tuesday, although protests were quieter than the previous day. It appeared that many protesters had gone to mourning tents rather than back to the scene of Monday's bloodshed. Mourners marched through the strip, waving Palestinian flags and calling for revenge.
"With souls and blood we redeem you martyrs," they shouted.
Hundreds marched in the funeral of eight-month-old Leila al-Ghandour, whose body was wrapped in a Palestinian flag.
"Let her stay with me, it is too early for her to go," her mother cried, pressing the baby's body to her chest. The family said she died of inhaling tear gas.
At Gaza's hospitals, families crowded the halls and spilled out of rooms as patients awaited treatment. Bassem Ibrahim, who said he was shot in the leg by Israeli troops, said at one stage he had feared losing the limb because of the delays.
"There are not many doctors. They are unable to see everyone, with all the injuries," said Ibrahim, 23. "The number was unbelievable and they did not have time."
On the Israeli side of the border, Israeli sharpshooters took up positions to stop any attempted breach of the fence should demonstrations break out again. Tanks were also deployed.
International response
But if the violence tapered off, it still had a forceful impact internationally, with countries criticizing both the
Israeli use of deadly force and the US decision to open its new embassy at a ceremony attended by President Donald Trump's daughter Ivanka and son-in-law Jared Kushner.
Turkey expelled Israel's ambassador, and Israel expelled the Turkish consul-general in Jerusalem. President Tayyip Erdogan exchanged heated words on Twitter with Prime Minister Benjamin Netanyahu. The Palestinians summoned home their representative in Washington, citing the embassy decision.
Netanyahu blamed Hamas for provoking the violence. "They're pushing civilians - women, children - into the line of fire with a view of getting casualties. We try to minimize casualties.They're trying to incur casualties in order to put pressure on Israel, which is horrible," Netanyahu told CBS News
For the past six weeks, Palestinians have been holding Gaza border demonstrations demanding access to family land or homes lost to Israel when it was founded in the 1948 Middle East war. Israel rejects that demand, fearing it would deprive the state of its Jewish majority.
Palestinian medical officials say 107 Gazans have now been killed since the start of the protests and nearly 11,000 people wounded, about 3,500 of them by live fire. Israeli officials dispute those numbers. No Israeli casualties have been reported.
Full report at:
https://english.alarabiya.net/en/News/middle-east/2018/05/16/Israeli-forces-kill-two-Palestinians-near-border-as-Gaza-buries-dead.html
--------
UN Security Council holds emergency meeting on Israeli violence against Palestinians
May 15, 2018
The United Nations Security Council has held an emergency meeting to discuss the situation along the border between the besieged Gaza Strip and the occupied territories, a day after Israeli troops unleashed a brutal crackdown on Palestinian protesters, killing dozens of people and wounding over 2,700 others.
The meeting began with a moment of silence for dozens of Palestinians killed by Israeli forces on Monday, the bloodiest day there since a 2014 Israeli war on the Palestinian enclave.
Joanna Wronecka, Poland's ambassador, called for the gesture of remembrance in her role as current council president.
Kuwait had called for the session after Monday's killings.
From US friends to foes, most ambassadors announced their opposition to the US embassy move. But the main focus of the debate was the violence at the Gaza border.
Almost all ambassadors said Israel bears a responsibility to keep its response proportionate, and not use live ammunition on civilians.
Olof Skoog, Sweden's representative said that lethal force should be exercised with restraint.
Francois Delattre, the French ambassador, said the violence threatens to engulf the Mideast region. "The situation in the Middle East is close to a perfect storm,"
Karen Pierce, the British ambassador, voiced support for a probe into Monday's killing, then stated London's position to the US embassy opening in Jerusalem al-Quds.
"Our position on the status of Jerusalem and moving the American embassy is well known," she said. "The status of Jerusalem [al-Quds] should be determined in a negotiated settlement between Israel and Palestinians, and Jerusalem should ultimately be the shared capital of the Israeli and Palestinian states."
Sasha Llorenty, Bolivia's envoy said, "The unilateral decision by the United States to move its embassy to Jerusalem does nothing but inflame spirits."
"The United States, which supports the occupying power, has become an obstacle to peace. It has become part of the problem, not part of the solution."
The envoys from China, Sweden and the Netherlands also went out of their way to reiterate their government's position that Jerusalem [al-Quds]'s status should be left to negotiations, and their intention to keep their embassies in Tel Aviv.
Speaking at the beginning of the session, Nikki Haley, the US ambassador to the United Nations, defended the Israeli use of force against peaceful Palestinian protesters, saying that the Tel Aviv regime had reacted with restraint in its military response to protesters at the Gaza border. She also dismissed suggestions that the violence was caused by the opening of the US embassy in Jerusalem al-Quds.
"No country in this chamber would act with more restraint than Israel has," Haley told the Council. "In fact the records of several countries here today suggest they would be much less restrained," she said.
The United States has already blocked the adoption of a UN Security Council statement that called for an "independent and transparent investigation" into Israel's killing of Palestinian protesters on the Gaza border.
The statement, drafted by Kuwait ahead of a meeting on Tuesday, expressed "outrage and sorrow" at the deaths of at least 58 people during demonstrations over the opening of the American embassy in Jerusalem al-Quds.
It also demanded that all countries comply with a decades-old Security Council resolution calling on them not to station diplomatic missions in the occupied holy city.
The UN Middle East peace envoy Nikolay Mladenov said Tuesday there was "no justification" for the violence in Gaza as he briefed the 15-member council.
Mladenov called Monday a "day of tragedy" and urged the international community to put their efforts toward "preventing an explosion that can drag the whole region into deadly confrontation."
Several Muslims and Western countries have denounced the violence against Palestinians.
Belgium on Tuesday demanded a UN inquiry into the violence in Gaza and summoned Israel's ambassador to the foreign ministry after she described all the Palestinian victims as "terrorists."
Belgium's Foreign Ministry said it summoned ambassador Simona Frankel over her remarks while Prime Minister Charles Michel said, "We call for an international inquiry led by the United Nations."
Germany says it supports calls for an independent investigation into the killing of dozens of Palestinians by Israeli forces during protests in Gaza.
Government spokesman Steffen Seibert told reporters in Berlin on Tuesday that the violence "concerns us greatly and it's terrible that so many people lost their lives, including minors."
Turkey has asked Israel's ambassador to temporarily leave Turkey.
Anadolu, Turkey's official news agency news agency said Tuesday that the Turkish foreign ministry notified Eitan Na'eh, the Israeli ambassador that "it would be appropriate for him to return to his country for some time."
The ministry summoned the ambassador to protest Israel's use of deadly force on Palestinians and the U.S. decision to relocate its embassy there to Jerusalem al-Quds.
Turkey has also called home its ambassadors to Washington and Tel Aviv for consultations.
Israeli gunfire killed 59 Palestinians and wounded over 2,700 in the Monday clashes, the highest toll in a single day since a series of protests demanding the right to return to ancestral homes began on March 30.
The embassy inauguration also coincides with the climax of a six-week demonstration on the 70th anniversary of Nakba Day (Day of Catastrophe), May 15, when Israel was created.
The occupied territories have witnessed new tensions ever since US President Donald Trump on December 6, 2017 announced US recognition of Jerusalem al-Quds as Israel's "capital" and said Washington would move US embassy to the city.
Full report at:
http://www.presstv.com/Detail/2018/05/15/561836/Israel-Gaza-UN
--------
Palestine withdraws high-ranking official in US over embassy move
May 16, 2018
Palestine has withdrawn its top representative to the United States, one day after Washington moves its embassy to Jerusalem al-Quds.
According to a statement released by the Palestinian Foreign Ministry on Tuesday, the head of the Palestine Liberation Organization's office in Washington, Husam Zomlot, would be leaving the US on Wednesday.
Over sixty Palestinians were killed during Monday protests over the opening of the new US embassy in Jerusalem, one day ahead of 'Nakba Day,' according to the Gaza Health Ministry.
The ongoing protests in Gaza are part of the "March of Return," which first began on March 30 with the aim of condemning Israel's occupation and demanding their right to return.
Monday, which marked the bloodiest day for Palestinians since the 2014 Gaza war, also saw the official relocation of the American embassy from Tel Aviv to the occupied Jerusalem al-Quds.
Meanwhile, the Palestinian ambassador to the United Nations has slammed the killing of Palestinians in the Gaza Strip as war crimes.
"Of course, this massacre is taking place at the same time when the United States of America illegally and unilaterally and in a provocative way is opening its embassy," he said.
"It is very, very tragic that they are celebrating an illegal action while Israel is killing and injuring thousands of Palestinian civilians. This is the life of the Palestinian people, and those who think that opening the embassy opens doors to peace, let them look at what is really happening in the Gaza Strip," he added.
While addressing a UNSC meeting Riyad Mansour said that the US was responsible for the Palestinian deaths.
"If this happened in any nation what do you expect anything less than a complete outrage by the nation against such an atrocity committed by an occupying power?," he added.
He added that by relocating its embassy to Jerusalem the US had amplified the people's resentment and an atmosphere of hatred had been produced.
Full report at:
http://www.presstv.com/Detail/2018/05/16/561857/palestine-embassy-us-envoy-withdraw
--------
Turkey, Israel expel envoys as ties sour over Gaza bloodshed
May 16, 2018
Turkey and Israel have expelled their envoys amid growing tensions between the two sides over the killing of dozens of Palestinians in the Gaza Strip at the hands of the Tel Aviv regime's forces.
A Turkish Foreign Ministry source said on Tuesday that Israeli Ambassador to Ankara Eitan Naeh had been told that it would be "appropriate" if he returned to the occupied territories "for some time."
Hours later, Israel's ministry for foreign affairs said that Turkish Consul General in Jerusalem al-Quds Husnu Gurcan Turkoglu had been summoned and told to return to Turkey "for consultations for a period of time."
In response, the Turkish government summoned Israel's Consul General in Istanbul Yossi Levi Safri and asked him to leave the country.
Turkey had already recalled its ambassadors to Tel Aviv and Washington in the wake of the inauguration of the US embassy in Jerusalem al-Quds on Monday.
Additionally on Tuesday, Turkish President Recep Tayyip Erdogan and Israeli Prime Minister Benjamin Netanyahu traded barbs over the recent carnage in Gaza.
Israeli forces killed at least 62 Palestinians during protests near the Gaza fence on the eve of the 70th anniversary of the Nakba Day (the Day of Catastrophe), which coincided this year with Washington's embassy relocation.
More than 2,700 Palestinians were also wounded as the Israeli forces used snipers, airstrikes, tank fire and tear gas to target the demonstrators.
The Israeli military blamed Hamas for the Gaza violence, claiming that the Palestinian resistance movement "is coercing Gazans to risk their lives."
Erdogan took to Twitter to defend Hamas and slam Israel's decades-long crimes against the Palestinian people.
"Reminder to Netanyahu: Hamas is not a terrorist organization and Palestinians are not terrorists. It is a resistance movement that defends the Palestinian homeland against an occupying power. The world stands in solidarity with the people of Palestine against their oppressors," he tweeted.
The Turkish leader further said that Netanyahu had the blood of Palestinians on his hands.
"Netanyahu is the PM of an apartheid state that has occupied a defenseless people's lands for 60+ yrs in violation of UN resolutions. He has the blood of Palestinians on his hands and can't cover up crimes by attacking Turkey," he added.
Netanyahu hit back, saying, "A man whose hands are stained with the blood of countless Kurdish citizens in Turkey and Syria is the last person to preach to us about combat ethics."
Meanwhile, Turkish government spokesman Bekir Bozdag said that Ankara held the US equally accountable for Israel's massacre of Palestinians in Gaza.
"The blood of innocent Palestinians is on the hands of the United States," Bozdag said. "The United States is part of the problem, not the solution."
Full report at:
http://www.presstv.com/Detail/2018/05/16/561871/Turkey-Israel-Gaza-Erdogan-Netanyahu
--------
India
One of India's Most Wanted Terrorists, Devdiwala, Nabbed In Dubai, Was Working For ISI
Divyesh Singh
Mumbai
May 15, 2018
One of India's most wanted terrorists and underworld aide Chhota Shakeel's close aide Farookh Devdiwala has been detained by the Dubai Police.
Devdiwala was working for Pakistan's ISI and had been on the run for the last two decades.
Farookh Devdiwala alias Farookh Ahmed Gani alias Hazrat, active in the late 1990s was wanted in several terror-related activities in Gujarat and Maharashtra.
The Gujarat Police had booked him under POTA but he escaped out of the country with the help of ISI. Devdiwala's was arrested as he was on the Interpol's most wanted list of India.
According to sources, Devdiwala was based in Shariah from where he was running operations against India for the ISI. He would get in touch with Muslim youth, radicalise them and sent them to PoK for terror training.
It is also being speculated that Devdiwala was close to Indian Mujahideen founder Yasin Bhatkal and Amir Raza.
The recent arrest of 32-year-old Mumbai-based Faisal Mirza for planning to launch terror attacks in Mumbai revealed Devdiwala's active involvement in militancy against India.
Sources told India Today that Devdiwala was close to Chhota Shakeel who helped him flee India and reach Pakistan.
Mirza is the cousin of Devdiwala and was called to Sharjah a few months ago. Devdiwala even booked him a flight to some other country via Pakistan. However, Mirza deboarded in Pakistan. From there he joined militant training to launch IEDs, bombs and fidayeen attacks.
"ATS Maharashtra was helped by Kolkata STF and Mumbai Police in the operation to nab Mirza," said DCP Dhananjay Kulkarni.
He added, "Mirza's arrest could help bust the module run by Devdiwala and further nab terror suspects".
The procedure to bring Devdiwala back to the country has been initiated and CBI along with MEA officials will soon bring him to the country.
https://www.indiatoday.in/india/story/one-of-india-s-most-wanted-terrorist-nabbed-in-dubai-was-working-for-isi-1234165-2018-05-15
--------
Ram Mandir case: Temple proponents trying to pre-judge dispute, says lawyer Rajeev Dhavan
Dhananjay Mahapatra
May 16, 2018
NEW DELHI: The Muslim parties to the Ayodhya land dispute on Tuesday accused Hindu outfits of pre-judging the outcome of the litigation in the Supreme Court and said it amounted to contempt of court.
Appearing before a bench of Chief Justice Dipak Misra and Justices Ashok Bhushan and S Abdul Nazeer, their lawyer Rajeev Dhavan said, "When this case is being argued in the SC, all sides must exercise self-restraint. While the Muslim side has exercised total restraint, some Hindu parties are trying to vitiate the atmosphere by pre-judging the outcome. It is impermissible and amounts to contempt of court. I will caution all of us not to muddy the waters."
Sticking to his demand for reference of the dispute to a five-judge constitution bench, the constitutional expert said the 24-year-old Ismail Faruqui judgment, upholding the Centre's decision to acquire the 2.77 acres of disputed land and 67 acres around it after Babri Masjid was demolished in 1992, had done the damage by ruling that "a mosque is not an essential part of the practice of the religion of Islam and namaz by Muslims can be offered anywhere, even in the open".
He said this remarkof the constitution bench was aggravated by another unnecessary observation in the judgment which said, "While offer of prayer or worship is a religious practice, its offering at every location where such prayers can be offered would not be an essential or integral part of such religious practice unless the place has a particular significance for that religion so as to form an essential or integral part thereof."
Dhavan said this comparative analysis of what was important for Muslims and Hindus was not in sync with 'secularism'. He said the right to offer prayer was protected under the fundamental rights and even the SC could not have said that one community's right was more integral to the religion while the other's was not.
"Those who demolished Babri Masjid were pure and simple criminals. No religion can be attached to them as their act cannot be taken as one sanctioned by their religion to attach stigma to it," Dhavan said.
He said the unnecessary remarks on mosque and namaz in Ismail Faruqui judgment required review by a larger bench as the Allahabad High Court relied strongly on this controversial observations in the fivejudge bench judgment to deliver a verdict dividing the 2.77 acre Ram Janmabhoomi-Babri Masjid land into three equal parts - one part to deity Ram Lalla, second to Nirmohi Akhara and third to Sunni Waqf Board.
Dhavan referred to the recent controversy where Muslims were stopped from offering prayers on roads and open spaces in Gurgaon.
Full report at:
https://timesofindia.indiatimes.com/india/ram-mandir-case-temple-proponents-trying-to-pre-judge-dispute-says-lawyer-rajeev-dhavan/articleshow/64182965.cms
--------
Terrorists Open Fire upon 42 Rashtriya Rifles Patrolling Party in J&K's Tral
May 16, 2018
Srinagar, May 16: Terrorists opened fire upon 42 Rashtriya Rifles patrolling party in Tral sub-division of Pulwama district of Jammu and Kashmir. The attack was reported from Shikargah area. The security forces have laid a cordon in the region. More details are awaited.
Earlier on Tuesday, terrorists hurled a grenade towards a police station in Pulwama's Rajpora. However, the grenade missed the target and exploded outside the station. Police retaliated with aerial firing.
In another incident, suspected terrorists fired upon a police vehicle, killing Bilal Ahmad, a Special Police Officer (SPO) at Pazalpora Arwani area of Bijbehara town in Anantnag district of Jammu and Kashmir.
Full report at:
http://www.india.com/news/india/jammu-and-kashmir-terrorists-open-fire-upon-42-rashtriya-rifles-patrolling-party-in-trals-shikargah-3056945/
--------
All sides to Ayodhya dispute must observe restraint: SC told
May 15, 2018
NEW DELHI: All sides must observe restraint in expressing their views in the sub-judice Babri Masjid-Ram Temple land dispute and the Hindu side was not observing this, the Supreme Court was told today.
A special bench headed by Justice Dipak Misra, which is seized of a total of 14 appeals filed against the high court judgement delivered in four civil suits pertaining to Ayodhya title dispute, was told by senior advocate Rajeev Dhavan that Hindu side has not been observing restraint and also not refraining from inciting the public on the sensitive issue.
"It is extremely important that people should restrain themselves, especially the Hindu side. So far as the Hindu side is concerned, it has not observed restraint," Dhavan, appearing for M Siddiq who has died but is being represented through his legal heir, said.
Some leaders said they would go to Parliament to ensure construction of a Ram Temple, which was "contemptous and amounted to pre-judging and pressurising the court", Dhavan told the bench,which also included Justices Ashok Bhushan and S A Nazeer.
He then assailed certain findings of the 1994 verdict in the case of M Ismail Faruqui, holding that a mosque was not integral to the prayers offered by the followers of Islam, and said these have been referred to and relied upon by the Allahabad high court in its judgement in the Ayodhya title dispute.
Referring to a seven-judge bench judgement of 1954 on the integral and essential practices of a religion, the senior lawyer said the 1994 verdict was "founded on a confusion regarding the application of the essential and/or integral test which needs to be resolved as a matter of constitutional significance.
"These concepts here permeated the judgment in the suits and the appeals (of Ayodhya case). It is submitted that these issues need to go to a larger bench of 5 or 7 Judges."
Former Attorney General and senior advocate K Parasaran, appearing for the deity — Ram Lalla Virajman, opposed Dhavan's plea and said his client (M Siddiq) was a party to the litigation in the courts below and hence, cannot seek reference of the case to a larger bench.
"His (Dhavan's) client was party to the litigation and now, he is precluded from raising this issue," Parasaran said, adding that the question of law only can be referred to the larger bench.
At the outset, Dhavan said there were issues which were to be decided by the larger bench. "Is a mosque and prayer in it a part of the essential practice of the Muslim faith," he asked.
"Is it consistent with Indian secularism to evaluate the comparative significance of religious practices of different faiths to the detriment of another," Dhavan said, adding it was a key question needed to be answered.
"Once the Babri Masjid suit existing at the time of the Ismail Faruqui judgement stood fully revived, could it be said that the issues in it stood limited by observations in the Ismail Faruqui case," he asked.
Referring to the status quo at the site, he also asked "could it be said that the issue of Muslim ownership of the graveyard and other claims was rendered not adjudicatable".
He said on one hand, it has been observed that mosques are not integral to practice of Islam, while on the other, the present Haryana chief minister says that Muslims should offer 'namaz' in mosques and not on roads.
The lawyer then referred to the concept of secularism and said it was based on equality. India has the third largest Muslim population in the world and we are telling them that the mosques are not integral to Islam, he pondered.
The court posted the matter for further hearing on May 17 when Parasaran would advance arguments on the issue whether the Ayodhya case be referred to a larger bench.
Earlier, the Hindu bodies, fighting a legal battle to stake claim over the disputed site in Ayodhya, had told the Supreme Court that it was purely a property dispute which should not be referred to a larger bench.
The top court was told that the issue of "political or religious sensitivity" cannot be a ground to refer the matter to a larger bench and India has moved forward since the 1992 demolition of the Babri Masjid.
Earlier, the court had dashed the hopes of activists like Shyam Benegal and Teesta Setalvad to intervene in the sensitive Babri Masjid-Ram Temple land dispute case, making it clear that only the parties to the original lawsuits would be allowed to put forth their arguments.
The special bench of the apex court is seized of a total of 14 appeals filed against the high court judgement delivered in four civil suits.
Full report at:
https://timesofindia.indiatimes.com/india/all-sides-to-ayodhya-dispute-must-observe-restraint-sc-told/articleshow/64180557.cms
--------
Bombay HC allows Khoja Shia Muslims to pray at Silvassa burial ground during Ramazan
May 16, 2018
The Bombay High Court recently directed authorities to open a burial ground in Silvassa, which was acquired and sealed for the construction of the proposed Ring Road. The direction aims at allowing the followers of the Khoja Shia Muslim Sect to offer prayers during Ramazan there.
The HC observed that: "Though infrastructure projects are essential, public interest has to be tempered by taking into account human sentiments involved while executing them."
The direction was given during the hearing of a petition filed by Khoja Shia Insha Ahri Jammat of Dadra and Nagar Haveli, challenging the decision of sealing the burial ground. It stated that sealing the place will hurt the sentiments of those who visit the site during the holy month of Ramazan to offer prayers.
A division bench of Justice MS Sanklecha and Justice SS Shinde, said, "One cannot ignore the fact that the said land is of religious significance to the members of the petitioning society. Till the fate of the previous petition is decided in June, the authorities are directed to allow the community to offer their prayers for their departed loved ones."
The HC further said: "Considering that the land was awarded back in 2014, and that the possession continues to be with the petitioners, and that possession has not been taken for the other properties acquired for the construction of Ring Road, too, intervention at this stage is called for."
Full report at:
http://www.dnaindia.com/mumbai/report-bombay-high-court-allows-khoja-shia-muslims-to-pray-at-silvassa-burial-ground-during-ramzaan-2615463
--------
Wife seeks Sushma Swaraj's help to bring back cancer-striken husband lodged in Pakistan jail
May 15, 2018
An Indian fisherman lodged in a Pakistani jail is suffering from cancer, his family said in Vadodara on Tuesday while requesting the government to ensure his return home so that he does not die in the neighbouring country.
Rudiben Chauhan, a resident of Paldi area of Gir Somnath district of Gujarat, told PTI that her 35-year-old husband Danabhai Chauhan has been languishing in the Pakistani jail for over a year.
Chauhan and five other fishermen from Gujarat were apprehended by the Pakistan Maritime Security Agency near the Jakhau port in Kutch district on May 3, 2017 for allegedly entering the Pakistani waters. Their boat, "Sagar Sonu", was also seized.
Rudiben said her husband called his nephew from a hospital in Pakistan three days ago, and said he was suffering from cancer and he must return to India for better treatment.
"My husband said he does not want to die in the Pakistani jail," the 32-year-old woman said.
The couple has four daughters and a son.
Rudiben on Tuesday wrote a letter to external affairs minister Sushma Swaraj, saying it was the responsibility of the jail authorities in Pakistan to inform the family about her husband's ailment but they failed to do so.
Nor did she receive any communication from the ministry of external affairs or the Indian High Commission in Pakistan about her husband's condition, she wrote.
"I seek your help for doing the needful," Chauhan said in her letter to Swaraj.
Ever since her husband was captured by the Pakistani authorities, she has been working as a labourer to feed her children, the eldest of whom is 12 years old and the youngest is one and a half years old, she said.
"I earn Rs 100 a day which is not enough to feed my children," she wrote.
Rajya Sabha member Parimal Nathwani, who hails from Gir Somnath district, and Veljibhai Masani, vice president of the Gujarat Fishermen's Association (GFA), told PTI that they too have written separate letters to the External Affairs Minister, requesting her to bring back Chauhan in view of his health.
Full report at:
https://www.hindustantimes.com/india-news/wife-seeks-suhsma-swaraj-s-help-to-bring-back-cancer-striken-husband-lodged-in-pakistan-jail/story-QBfJCmoKJIp3Dj2jAaCRtN.html
--------
Africa
Army to end Boko Haram insurgency with operation 'Last Hold'
May 15, 2018
By Maina Maina
The Chief of Army Staff, Lt. General T.Y. Buratai has said, the complex and adaptive nature of the Boko Haram insurgency has resulted in the dissident group still being engaged in abductions, attack on soft targets, Improvised Explosive Device attacks and suicide bombings.
Buratai, who was represented by Major General AM Dikko during a briefing on Tuesday, at the Theatre Command of Operation Lafiya Dole also recalled that,
Nigerian Army is engaged in the conduct of several counter insurgency and other operations, most prominent of which is Operation LAFIYA DOLE in the North East region for some years with considerable successes.
He said despite the challenges, the Nigerian military is undeterred by the mutating posture of the Boko Haram, as the Nigerian Army is determined to consolidate on its recent gains in the ongoing push especially in the Northern part of Borno.
" Accordingly, this year's Nigerian Army Day Celebration (NADCEL) 2018 will be commemorated with the conduct of an operation tagged Operation LAST HOLD in Northern Borno within the North East Theatre.
"The design is to deploy personnel and equipment to showcase the combat efficiency of the NA and thereafter conduct operations to totally destroy Boko Haram locations in the Lake Chad Basin general area, " he added.
Buratai said, the Operation LAST HOLD to totally clear Boko Haram in the northern part of Borno was expected to last for 4 months and it will entail deployment of additional manoeuvre brigades and other critical assets in Borno State.
"The operation is intended to facilitate the clearance of the Lake Chad waterways of sea weeds and other obstacles obstructing the movement of boats and people across the water channels.
" It will also ensure the destruction of Boko Haram Terrorist camps and strong points in the Lake Chad Basin general area. The operation will also facilitate the rescue of hostages. " he said.
According to the Army Chief, "The aim of Operation LAST HOLD is the total defeat of the Boko Haram Terrorist sect in northern Borno. This will pave way for the return of local administration and people to their responsibilities and communities.
"Strategically, the conduct of Operation LAST HOLD will facilitate the restoration of fishing, farming and other economic activities in the Lake Chad Basin.
"Additionally, it will facilitate the relocation of Internally Displaced Persons from IDP camps back to their communities. " he explained.
Adding, "Operation LAST HOLD is conceptualized to involve the conduct of population influence activities targeted to improve Civil-Military relations in the North East region.
"In this regard, law abiding members of the public in Northern Borno State are enjoined not to panic as their safety and well-being have been deliberately factored in the operation.
"The general public is requested to remain vigilant and be security conscious, as suspected insurgents may be fleeing from military operations in the North East and finding safe haven amidst our communities.
DON'T MISS: Download DailyPost Android app and earn unlimited free Airtime
"The public is also reminded to report any suspicious activity or movement to the nearest military formation or other security agencies for prompt action." The Chief said.
http://dailypost.ng/2018/05/15/army-end-boko-haram-insurgency-operation-last-hope/
--------
African Union slams Israel for Gaza killings
15 May 2018
The African Union on Tuesday strongly condemned Israel for killing dozens of Palestinians in the besieged Gaza Strip Monday.
In a statement, African Union Chairperson Moussa Faki Mahamat said the "disproportionate use of force by the Israeli army" resulted in the killing of over 50 Palestinian demonstrators, while many more were wounded.
"The relocation of the United States Embassy to Jerusalem can only further heighten tensions in the region and complicate the search for a lasting solution to the Israeli-Palestinian conflict," Mahamat said.
The pan African body reiterated its solidarity with the Palestinian people in "their legitimate quest for an independent and sovereign state with East Jerusalem as its capital".
Mahamat called on the international community to search for a lasting two-state solution.
Meanwhile, Australia urged Israel to be "proportionate in its response and refrain from excessive use of force"; it also expressed its deep regret and sadness over the loss of life and injury during the protests in Gaza.
"We recognize that Israel has legitimate security concerns and needs to protect its population, and we call on Israel to be proportionate in its response and refrain from excessive use of force," Australian Foreign Minister Julie Bishop said in a written statement.
Bishop also urged Palestinian protesters to "refrain from violence and attempting to enter into Israeli territory during the March of Return".
Full report at:
http://www.worldbulletin.net/africa/202071/african-union-slams-israel-for-gaza-killings
--------
Uganda: Government Slaps New Tax On Bibles and Qurans
15 MAY 2018
By Emmanuel Ainebyoona
Kampala — The Uganda Revenue Authority (URA) has reversed a long-standing tradition and ordered religious groups to start paying taxes on Bibles, Qurans, prayer and hymn books.
Clerics across faith groups yesterday reacted to the proposal with consternation and disbelief, insisting the religious materials should be tax-exempt since they use them for "spiritual nourishment" of Ugandans.
However, the URA commissioner general, Ms Doris Akol, disagreed, saying the practice of not taxing the entities and materials was in the first place "an anomaly".
"We understand that Value-Added Tax (VAT) has in the past not been paid on the said Bibles, prayer books and hymn books. This was an anomaly," she wrote in an April 19 letter.
Ms Akol was responding to a petition a month earlier by the Church of Uganda Archbishop Stanley Ntagali.
The prelate had asked the tax man to release a consignment of 9,120 prayer and hymn books imported from Nairobi, Kenya, without the church having to pay VAT.
In his March 18 letter, Archbishop Ntagali noted that items had been shipped in by Centenary Publishing House Limited, Church of Uganda's (CoU) publishing arm, which in his view should be tax-exempt.
Church's appeal
"It is from this point of view that we write to you, appealing that the VAT be waived... since they (books) are used to educate the masses and Christians by spreading the word of God as our nation's motto affirms, 'For God and my country," he stated.
Ms Akol said she had no power to waive a tax not excluded under the law and, as such, URA released the consignment only after CoU paid Shs8.9m.
In a country where nine out of every 1O citizens are either Christians or Muslims, the proposed tax that a church official said would result in increase of, for instance, a hymn books' cost by Shs3,000.
If enforced, it also means the government could raise substantial revenues from taxes on religious materials.
The religious institutions were unable to immediately provide the number of Bibles, Qurans and other worship materials sold in a year.
Mr Joshua Kitakule, the secretary general of the Inter-Religious Council of Uganda, an umbrella body of different faiths, yesterday said whereas religions should not entirely be tax-exempt, imposing 18 per cent VAT on Bibles, Qurans and prayer books would be "erroneous".
"These items are not meant for profit; so, it is erroneous to tax them. Prayer books are supposed to strengthen the spiritual nourishment of individuals," he said.
The tax body's break from tradition followed months of engagement with religious leaders who remained opposed to the proposal.
For instance, Mr Ramathan Mugalu, the secretary general of the Uganda Muslim Supreme Council, said President Museveni had said all imported prayer materials that are not for sale should not be taxed.
"This government has gone too far in its collection of taxes. How can you tax the word of God? It should instead come in to assist in publishing these materials," Mr Mugalu said.
Parliament issue
Canon Joram Kahenano, a CoU commissioner, said URA should have referred its proposal for consideration by Parliament before proceeding to implement it.
He said they would now sell a prayer book at Shs18,000, up from Shs15,000. The price of a Bible ranges from Shs23,000 to Shs32,000, according to Uganda Bible Society records.
"We are at the end of the Financial Year; URA should have taken a tax proposal to Parliament," Canon Kahenano said.
Mr Jim Mugunga, the Finance ministry spokesperson, said URA was widening the tax base.
"It is not uncommon for URA to bring to the fold persons, items and entities within tax base. It is its mandate to implement tax collection," Mr Mugunga said.
"URA is not a monster; it is their mandate to engage with the affected entities," he added.
Full report at:
http://allafrica.com/stories/201805160145.html
--------
South Africa: MJC Visits Shia Mosque, Calls for Calm After KZN Attack
15 MAY 2018
A high-level delegation from the Muslim Judicial Council (MJC) visited the Imam Hussain Mosque in Verulam on Monday night to call for calm after last week's fatal attack there, the MJC said on Tuesday.
"The leaders expressed the absolute necessity for tolerance and peace in all our communities, and that incitement to violence, hate and intolerance, due to our different ideological and religious viewpoints, [is] unacceptable in Islam," said MJC secretary general Shaykh Isgaak Taliep.
The majority of Muslims in South Africa are Sunni but there is a growing Shia community.
MJC president Shaykh Irafaan Abrahams, and his deputy, Maulana Abdul Khaliq Ebrahim Allie, led the delegation and condemned the attack "in the strongest possible terms".
The Hawks are investigating the attack.
Last Thursday, Abbas Essop was stabbed to death, and Imam Ali Nchiyane, was stabbed three times, but survived.
The attackers also burnt the Qur'an and Islamic literature when the mosque was set alight on Thursday.
Caretaker Mohamed Ali was also injured in the attack, which was followed by the discovery of a bomb in the mosque a few days later.
The incident happened days before Muslims worldwide begin fasting during the holy month of Ramadaan.
The mosque is aligned with the Shia branch of Islam and the Cape Town community has already indicated that it is planning to bring in extra security for its recently-opened centre in Ottery.
In its statement, the MJC said: "It is common fact that historic differences between Shia and Sunni do exist within the community, and in a very matured and conciliatory discussion, the leaders acknowledged that this should not lead to hatred and violence used by elements who seek to divide our communities along sectarian lines."
The MJC delegation also visited Essop's family to express condolences after the "productive" meeting at the mosque.
The ANC caucus in the Johannesburg council also condemned the attack on the mosque, in a joint statement with its alliance partner in council, the Al Jama-ah party.
Full report at:
http://allafrica.com/stories/201805150942.html
--------
Father of burnt-alive Jordanian pilot wishes ISIS murderers a crueler fate
15 May 2018
Abu Jawad al-Kasasbeh, the father of Jordanian pilot Muath al-Kasasbeh who was burnt alive by ISIS in Syria, said Saddam Omar al-Jamal, one of those involved in killing Muath and who was recently captured in Iraq, should suffer a fate worse than that of his son.
In his first interview to Al Arabiya English after the Iraqi authorities announced the arrest of five ISIS chiefs, including Jamal, Abu Jawad said he cannot imagine what would happen if he ever comes face to face with his son's murderers.
"What do you expect from a father who is grieving his son and whose murder shook the entire world?" Abu Jawad asked. Asked how he felt when he heard the news that Jamal was among those arrested, he said a fire raged inside him, adding that Jamal's punishment must be worse than how Muath was executed.
"I see Muath in my prayers, when I put my head on the pillow. I see Muath every second, and I mourn him every day," Abu Jawad said. Muath's older brother Jawad said: "We hear our father cry all the time when he's alone in his room."
Abu Jawad called on the Jordanian government to bring Jamal from Iraq to Jordan to try him, adding that he was expecting the interrogation of ISIS officials to reveal more about the secrets of capturing Muath and executing him. He also said that he has not asked to meet with Jamal if the Iraqi authorities hand him over to Jordan, adding that he will consider this if Jamal was handed over.
Full report at:
https://english.alarabiya.net/en/News/middle-east/2018/05/15/Father-of-burnt-alive-Jordanian-pilot-wishes-ISIS-murderers-a-crueler-fate.html
--------
Kenya: 2 Suspected Al-Shabaab Returnees Killed in Kwale
15 MAY 2018
Nairobi — Two suspected Al-Shabaab returnees were shot dead on Tuesday in Kwale County.
The two, according to police were killed by unknown assailants, who were riding on a motorbike.
One of the returnees had just attended a hearing at the Kwale Law Courts and was heading home when they were attacked.
This comes as the country remains on high alert, ahead of the holy month of Ramadhan, a period which police say terrorists plan to launch attacks in various parts of the country.
Full report at:
http://allafrica.com/stories/201805160076.html
--------
URL: https://www.newageislam.com/islamic-world-news/family-photo-becomes-new-picture/d/115266
New Age Islam, Islam Online, Islamic Website, African Muslim News, Arab World News, South Asia News, Indian Muslim News, World Muslim News, Women in Islam, Islamic Feminism, Arab Women, Women In Arab, Islamophobia in America, Muslim Women in West, Islam Women and Feminism