New Age Islam News Bureau
20 Jun 2020
• Muslims, Jews, Hindus And Sikh Have Higher Covid Death Rate Than Christians, UK Figures Indicate
• Russian Experts: US MQ-4C Triton Drone Downed by Iran's 'Mythical Missile'
• Indonesia's Islamic Charities: Plugging Gaps in Economic Relief
• Four JuD Leaders Convicted in Terror Finance Case
• No Threat to West as US Troops Leave Afghanistan: Taliban
• Arab League Plans Urgent Virtual Meeting on Escalating Conflict In Libya
• Mosques in Saudi Arabia's Mecca Set to Reopen On June 21
• Charge Sheets Filed Against 46 Foreigners in Connection With The Congregation At Markaz Tablighi Jamaat In Nizamuddin
North America
• Facebook Removes Trump Campaign Ads Featuring Symbol Used by Nazis
• US To Release Lebanese Businessman Accused of Ties to Hezbollah
• US economic embargo​​​​​​​ on Syria is 'crime against humanity': Analyst
• US counter-terror analyst sentenced to 30 months for leaks
--------
Europe
• Muslims, Jews, Hindus And Sikh Have Higher Covid Death Rate Than Christians, UK Figures Indicate
• Islamic Charity Which Described Qassim Soleimani As 'Great Martyr' Given Official Warning By Watchdog
• SETA To Publish Report to Point Out Growing Anti-Islam Sentiment
• France will renew calls to preserve nuclear deal with Iran, says French FM
• Terror groups 'exploiting coronavirus pandemic to radicalise new recruits', QC warns
• Europe wants to extend Iran arms embargo
• EU must pay full $6.5B to Turkey: Top Hungary diplomat
• UK fails to inspect factory supplying Saudi's Yemen war
--------
Mideast
• Russian Experts: US MQ-4C Triton Drone Downed by Iran's 'Mythical Missile'
• Iran Unveils Naval Version of 3rd of Khordad Air Defense Shield
• Iran's Navy Commander: Supersonic Missiles Production atop Agenda
• Envoy: Iran to Take Appropriate Action in Reaction to IAEA BoG Resolution
• UN's nuclear watchdog passes resolution calling for Iran's cooperation
• Iranian judge accused of corruption in Iran found dead in Romanian capital
• Israeli anti-racism chief sheds light on police profiling of Ethiopian Jews
• UK, France, Germany accessories to Trump, Netanyahu: Iran FM
• Kurdish terrorist attack kills four in southeast Turkey
--------
Southeast Asia
• Indonesia's Islamic Charities: Plugging Gaps in Economic Relief
• Saudi limits on Hajj over COVID-19 spark ill feelings and resignation in Indonesia and Malaysia
• New Normal in an Islamic Boarding School in Tangerang
• Anticorruption fight at risk as Supreme Court acquits another high-profile graft defendant
--------
Pakistan
• Four JuD Leaders Convicted in Terror Finance Case
• Covid-19 Cases Witnessed Drop for Fifth Consecutive Day: NCOC Pakistan Records 136 Deaths In 24 Hours
• 2 Pakistani paramilitary soldiers among 4 killed in bomb blasts in Sindh province
• Gilgit-Baltistan Agriculture Minister among 118 new COVID-19 deaths in Pakistan
• $1.5bn loan agreements signed to fight virus
• Two Rangers personnel among three killed, five injured in Ghotki blast
--------
South Asia
• No Threat to West as US Troops Leave Afghanistan: Taliban
• The Rohingyas and the Elephants: How Humans and Nature Collide in Refugee Camps
• West reluctant for 'dangerous' Taliban prisoners to be freed: sources
• US Investigates Alleged IS Plot to Kill American Peace Envoy to Afghanistan
• Top General Says U.S. Troop Cut In Afghanistan Hits 8,600 Target In Line With Taliban Deal
--------
Africa
• Arab League Plans Urgent Virtual Meeting on Escalating Conflict In Libya
• Al-Qaeda North Africa confirms chief is dead: SITE
• Troops killed 41 Boko Haram fighters in Borno –DHQ
• Nigeria Attacks Spark Fears of Bloodier Jihadist Strategy
• Nigerian military destroys Boko Haram's tactical command centre, kills militants: official
--------
Arab World
• Mosques in Saudi Arabia's Mecca Set to Reopen On June 21
• After US Elections, There Will Be Little Change In Middle East Policy: Experts
• Coronavirus: Abu Dhabi Crown Prince sends jet to reunite Syrian parents with children
• Saudi Arabia welcomes IAEA's resolution pressing Iran for access to nuclear sites
• Kuwaitis denounce Tunisia's Ghannouchi's state visit invite, recall pro-Saddam stance
• Top court orders release of Kurdish opposition leader in blow to Erdogan
• Egypt to repatriate nationals stranded in Sudan due to coronavirus crisis
--------
India
• Charge Sheets Filed Against 46 Foreigners in Connection With The Congregation At Markaz Tablighi Jamaat In Nizamuddin
• Indians stranded in Pakistan will arrive back home in three batches
• Northeast Delhi riots: Two more chargesheets filed against AAP ex-councillor Tahir Hussain
• Pakistani drone shot down by BSF along IB in J&K
• Sharjeel's hate speech led to looting of temple donation boxes and arson: UP
• Farooq demands restoration of J&K's special status
• 26/11 plotter Tahawwur Rana arrested in Los Angeles, faces extradition to India
• J&K: At least 8 militants killed in 24 hours in separate encounters
URL: https://www.newageislam.com/islamic-world-news/facebook-removes-trump-campaign-ads/d/122172
--------
Facebook Removes Trump Campaign Ads Featuring Symbol Used By Nazis
JUNE 18, 2020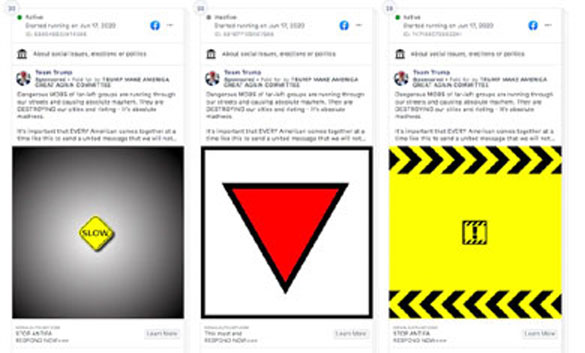 The red inverted triangle was used by the Nazis to designate political enemies in concentration camps. (Image from Facebook)
-------
Facebook removed a series of ads from the Trump campaign on Thursday for prominently featuring an upside-down red triangle in its posts about antifascist activists, a symbol once applied by Nazi Germany to political prisoners.
"We removed these posts and ads for violating our policy against organized hate," Facebook said in a statement. "Our policy prohibits using a banned hate group's symbol to identify political prisoners without the context that condemns or discusses the symbol."
The ads, first reported by the Washington Post, declared that "Dangerous MOBS of far-left groups are running through our streets and causing absolute mayhem" and "are DESTROYING our cities and rioting."
The posts also asked the president's supporters to demand that "ANTIFA" be designated a terrorist organization, though "antifa" does not comprise formal organizations and instead is an umbrella term for leftists who actively oppose far-right figures and groups such as neo-Nazis and white nationalists.
"Whether aware of the history or meaning, for the Trump campaign to use a symbol — one which is practically identical to that used by the Nazi regime to classify political prisoners in concentration camps — to attack his opponents is offensive and deeply troubling," Jonathan Greenblatt, chief executive of the Anti-Defamation League, the anti-extremist organization, said in a statement.
"It is not difficult for one to criticize their political opponent without using Nazi-era imagery," Greenblatt said. "We implore the Trump campaign to take greater caution and familiarize themselves with the historical context before doing so. Ignorance is not an excuse for appropriating hateful symbols."
A Trump campaign spokesman did not respond to a request for comment, but on Twitter, the campaign's rapid response team tweeted that the red triangle is "widely used by Antifa. It was used in an ad about Antifa. It is not in the ADL's Hate Symbols Database."
Though some antifascist activists have used the red triangle symbol before, "it is not a particularly common antifa symbol," Anti-Defamation League spokesman Jake Hyman wrote in an email.
"Their use is similar to the use of the pink triangle by some LGBTQ+ groups," Hyman said. "Usage of a concentration camp symbol by the heirs of persecuted categories, such as antifascists and those in the LGBTQ+ community, is however very different from someone using a Nazi concentration camp image to label one's enemies."
The ADL spokesman added: "As for the Trump team defense about the particular symbol not being in our database, it should be noted that the database is not a database of historical Nazi symbols; it is a database of symbols commonly used by modern extremists and white supremacists in the United States."
Trump has blamed antifascist activists for the violence that erupted during some of the recent protests after the death of George Floyd in Minneapolis, but federal law enforcement officials have offered little evidence of this. In California and Nevada, there have been arrests of people linked to far-right fringe groups believed to be aiming to capitalize on protests.
The Trump campaign has previously been criticized for sharing content linked to right-wing extremists or featuring anti-Semitic imagery.
In November 2015, Trump retweeted an image with fake African American crime statistics that first appeared on a neo-Nazi Twitter account. In January 2016, he retweeted a user named @WhiteGenocideTM. He thanked an apparent white nationalist for support in February 2016 and retweeted another apparent white nationalist in April 2016 who was praising him for his policies. In July 2016, Trump tweeted a photo of Hillary Clinton next to a Star of David, which Trump claimed was a sheriff's badge.
https://www.latimes.com/politics/story/2020-06-18/facebook-trump-campaign-posts-symbol-used-by-nazis?utm_source=iterable&utm_medium=email&utm_campaign=1300563_
--------
Muslims, Jews, Hindus And Sikh Have Higher Covid Death Rate Than Christians, UK Figures Indicate
Jun 19, 2020
The Royal Free NHS hospital is pictured in London. (File/AFP)
------
LONDON: The death rate from Covid-19 in England and Wales is higher among people who identify as Muslims, Jews, Hindus or Sikh than Christians or those with no stated religion, Britain's statistics office said on Friday.
The latest figures from the Office for National Statistics also reflected previous studies which showed that black and other ethnic minority groups had a far higher risk of death from the disease than those with white ethnicity.
According to the ONS, which examined data from the start of March until May 15, the mortality rate among Muslims was higher than any other group, with those who were Jewish, Hindu or Sikh also showing higher death rates.
"With ethnicity included, (this) demonstrates that a substantial part of the difference in mortality...between religious groups is explained by the different circumstances in which members of these groups are known to live; for example, living in areas with higher levels of socio-economic deprivation and differences in ethnic makeup," the ONS report said.
"However, after adjusting for the above, Jewish males are at twice the risk of Christian males, and Jewish women are also at higher risk," said Nick Stripe, Head of Life Events at the ONS, adding that more research was needed to explain this.
The mortality rate among Muslim men was 98.9 deaths per 100,000 and 98.2 deaths per 100,000 for women. For those who said they had no religion in Britain's 2011 census, the figure was 80.7 deaths per 100,000 males and 47.9 deaths per 100,000 females.
The findings coincide with more statistics which show that black and Asian people in England and Wales were at higher risk from the novel coronavirus.
Figures showed that the highest mortality rate was among black men at 255.7 per 100,000 compared to a rate of 87 deaths per 100,000 white males. The death rate was 119.8 per 100,000 for black women and 52 per 100,000 for white women.
That echoes an official study earlier this month which found black and Asian people in England were up to 50% more likely to die after becoming infected with Covid-19.
"Significant differences also remain for Bangladeshi, Pakistani and Indian men," Stripe said.
https://timesofindia.indiatimes.com/india/muslims-jews-have-higher-covid-death-rate-uk-figures-indicate/articleshow/76463772.cms
--------
Russian Experts: US MQ-4C Triton Drone Downed by Iran's 'Mythical Missile'
Jun 19, 2020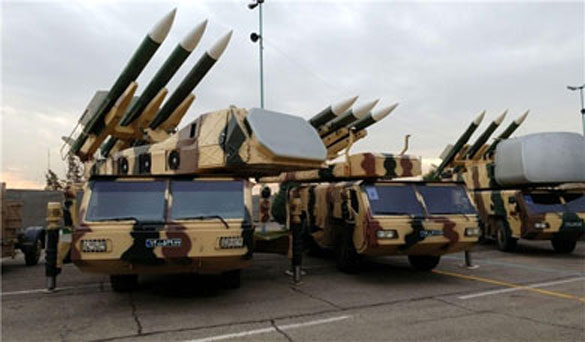 US MQ-4C Triton Drone Downed by Iran's 'Mythical Missile'
------
According to the IRGC Aerospace, concurrent with the flight of a US Navy MQ-4C Triton high-altitude drone from al-Dhafrah air base of the UAE, an American maritime patrolling P-8 aircraft and an MQ-9 drone were also flying in the region while the P-8 was 16 kilometers distant from the drone.
The American drone flew toward the Strait of Hormuz and violating the Iranian First Information Report (FIR) continued its way toward Chabahar. Then after its turn, it was detected by the Iranian radar at a distance of 490 kilometers.
The radar, a product of the Iranian specialists and engineers of the Ministry of Defense, is capable of detecting three-dimensional pictures of more than 200 targets in a 500-kilometer range simultaneously.
Once the drone violated Iran's FIR, the two sites near Jask and Kouh-e Mobarak were assigned to shoot it down. Then the two systems locked on the drone.
The detecting radar detected the target at an altitude of 12 kilometers, with a speed of 700 k/h and distance of 169 kilometers.
The 3rd of Khordad missile system locked on the drone at a distance of 120 kilometers and, after preparations, the missile was launched at a distance of 90 kilometers and the drone was shot 75 kilometers away over Iran's territorial waters.
The drone was flying at an altitude of 14 kilometers and was increasing altitude when it was targeted.
The manned P-8 aircraft was 17 kilometers away from the drone and MQ-9, too, was nearly 17 kilometers away from MQ-4C Triton.
After downing the drone, despite ranting by the Americans, especially by the US President, there was no aggressive reaction on their side after three days. Only a number of F-22 fighters and bombers came to the region while no special military move was reported by them.
Russian military experts, after bringing down the drone, said that the drone was targeted by a "mythical missile".
On June 20, last year,the Islamic Revolution Guards Corps (IRGC) Aerospace Force announced that it used the Iran-made short-range and mid-altitude 'Third of Khordad' missile defense shield to bring down a US Navy MQ-4C Triton high-altitude drone over the country's Southern coasts, releasing videos that show the flight path of the plane as well as the moment it was brought down.
The incident marked the first direct Iranian attack on US assets and came amid heightened tensions between Washington and Tehran. The downing of the $220mln drone was also the latest in an escalating series of incidents in the Persian Gulf since mid-May, including suspected attacks on six tankers that the US blamed on Iran. Tehran has denied any involvement in the incidents.
https://en.farsnews.ir/newstext.aspx?nn=13990330000257
--------
Indonesia's Islamic Charities: Plugging Gaps In Economic Relief
June 20, 2020
Although the Indonesian government has increased its budget deficit to accommodate a larger stimulus package, it is seen as insufficient to address the economic damage from the COVID-19 pandemic. Philanthropic organisations, in particular, Islamic charities, have stepped in to fill the gaps.
By Alexander R Arifianto and Jonathan Chen*
As an emerging economy, Indonesia has made significant progress alleviating poverty within the past four decades. The ongoing COVID-19 pandemic, however, has not only engendered a massive public health crisis in the country but also dealt a heavy blow to the economic well-being of millions of Indonesians who have lost their jobs and income. Surveys conducted showed that half of Indonesian workers had stopped working as a result of the pandemic.
The SMERU Research Institute, a Jakarta-based public policy think-tank, has estimated in a working paper that if the Indonesian economy contracted by 3.2 percent by the end of 2020, it would have resulted in a 9.7 percent increase in the poverty rate. In the worst-case scenario, the poverty rate would increase by 12.4 percent. In real numbers, this translates into 8.5 million more Indonesians becoming poor, virtually wiping out Indonesia's progress in reducing poverty achieved within the past decade.
Limitations of Government Aid
The Indonesian government has recently announced a new stimulus package worth 677 trillion Indonesian rupiahs (IDR) (US$47.6 billion). Of this, IDR204 trillion (US$14.3 billion) has been allocated to provide a social safety net for poor citizens affected by the ongoing pandemic.
However, observers were concerned that the data of poor Indonesian households who are eligible to receive the stimulus package was based on the last national survey on poverty, conducted in 2014. This means that many affected households would have been bypassed in such an exercise as they are not categorised as poor.
The problem is especially chronic among the informal sector workers, who often do not possess a national identity card issued by the city in which they live and work, thus not properly recorded by the census. Bureaucratic red tape has also delayed distribution of the government's social assistance schemes, particularly in the outer island regions.
Filling the Gaps: Islamic Charities
Islamic charitable organisations have provided assistance to millions of poor Indonesians since the pandemic was declared as a national emergency in March 2020. These faith-based charities have lately benefitted from significant middle-class support. It is estimated that up to IDR286 trillion (US$20 billion) is collected annually from zakat (obligatory religious alms) and other related contributions.
During the pandemic, several organisations have distinguished themselves by providing food, protective health equipment, and other forms of assistance to families in need. Fundraising efforts for COVID-19 and zakat were combined during the Ramadan month of fasting as the number of COVID-19 cases peaked during April and May.
Most charities reported a massive increase in donations ─ mostly collected online ─ as compared to 2019. Foremost amongst them are Lazismu (affiliated with Muhammadiyah, Indonesia's second largest Islamic organisation) and NU Care-Lazisnu (affiliated with Nahdlatul Ulama, Indonesia's largest Islamic organisation) with a 90 percent increase in donations.
COVID-19 disaster relief donations are classified as social funds for humanity (dana sosial kemanusiaan) according to Islamic principles, thus donations in-cash and kind can be distributed to all Indonesian citizens regardless of sectarian preferences.
Muhammadiyah and NU Charities
For Lazismu, Muhammadiyah's charity arm, philanthropic efforts are centralised under the newly established Muhammadiyah COVID-19 Command Centre (MCCC). By the first week of June 2020, Lazismu had raised a total of IDR154.8 billion (US$10.9 million) in donations for its pandemic relief, and distributed aid to approximately 3.2 million Indonesians.
Muhammadiyah also relies on its 77 hospitals and approximately 300 health clinics located throughout Indonesia – now designated as referral centres for COVID-19 cases.
Due to the decentralised nature of NU, its charity wing Lazisnu (NU Care), depends largely upon its nearly 29,000 pesantrens (Islamic boarding schools) throughout Indonesia to raise charitable funds. A major source of proceeds for Lazisnu came from donations from the Javanese folk singer Didi Kempot's live-streamed charity concert in April, before his untimely death in May.
Lazisnu also raises funds from third-party donations – mainly funds donated by private companies and state-owned enterprises.
However, not all Islamic charities have achieved an uptick in donations due to the COVID-19 pandemic. With large-scale social restrictions (Pembatasan Sosial Berskala Besar or PSBB) in place, charities that do not have a significant online presence and still rely heavily on cash donations suffered a significant decline in donations, especially during the month of Ramadan when mosques were shut down due to the nation-wide restrictions.
Towards a "New Normal"
It remains to be seen whether the "New Normal" protocols announced by the Jokowi administration with effect 1 June, represent a boon or bane for Islamic charities in general. Both Lazismu and Lazisnu representatives state that the funds they raised so far only meet a small portion of the total needed by poor Indonesians and the state has a major role to play in alleviating poverty caused by the pandemic.
Faith-based philanthrophic bodies have often been seen as a band aid solution to the economic problems faced by the Indonesian state. Realistically, however, Islamic charities also largely depend on the health of the economy and the financial capacity of their donors.
While they have contributed significantly to aid poor Indonesians during the ongoing crisis, they need to work together with the state to ensure their poverty alleviation efforts effectively reached those who need it the most.
Nonetheless, it is clear that the experience of the COVID-19 pandemic thus far has shown that charities perform a crucial role in plugging the gaps where the authorities may have overlooked or discounted. More importantly, it has forced charities to rethink how they can better source for donations and deliver services under lock-down conditions, either through greater digitalisation for the former and stronger synchronisation for the latter.
https://www.eurasiareview.com/20062020-indonesias-islamic-charities-plugging-gaps-in-economic-relief-analysis/
--------
Four JuD leaders convicted in terror finance case
Wajih Ahmad Sheikh
June 19, 2020
LAHORE: An anti-terrorism court on Thursday convicted four leaders of Jamatud Dawa (JuD) in one of the terror financing cases registered against the organisation by the Counter Terrorism Department (CTD) in different cities of Punjab.
ATC-III Presiding Judge Ijaz Ahmad Buttar convicted Malik Zafar Iqbal and Muhammad Yahya Aziz under section 11-N, read with 11-I(2) (b) of Anti-Terrorism Act 1997 and handed them down five-year rigorous imprisonment each with a fine of Rs50,000.
The judge also sentenced Abdul Rehman Makki and Abdul Salam to one-year imprisonment each under section 11-F (6) of the ATA with Rs20,000 fine.
The CTD had in 2019 registered the FIR against the convicts and others under sections 11-F (2)(5)(6), 11-H(2), H-I, 11-I, 11-N, and J-2 of the ATA 1997.
Initially the trial was held before Sahiwal ATC, however, it was later shifted to Lahore following an order passed by the Lahore High Court on the request of the convicts. The CTD had registered total 23 FIRs against the JuD.
The prosecution alleged that the convicts, being office-bearers of proscribed Al-Anfaal Trust, had possessed property measuring one kanal and three marlas in Okara for the purpose of terrorism and to support terrorist activities. A seminary namely "Madressah Jamia Sataria" was constructed on the said land.
To the extent of section 11-H of the ATA, the judge observed in the decision that the provision dealt with fundraising and the investigating officer categorically maintained that he had not collected any evidence to substantiate the fact of fundraising. "So prosecution has failed to prove charge u/s 11-H of ATA 1997," the judge said.
He also observed that the convicts admitted that they were members of the proscribed organisation prior to its proscription, however, denied the hostile activities. He noted that the property in question remained in control and possession of the convicts for the purpose that has reasonable cause to suspect that it was used for the purpose of terrorism.
"There was a strong suspicion that the said property was used or suspected to have been used for the purpose of terror financing," ruled the judge.
The convicts, through their counsel, had denied the charges, alleging that they had been implicated in the case due to malice and ulterior motives. They said the authorities in the country had turned hostile towards them since long.
They said they were not the office-bearers when the organisation was proscribed by the government.
The judge said in the order that the sentence of the convicts would run concurrently with their previous sentence, if any. He also ordered the government to confiscate the property in question.
CTD spokesman said three of the convicts were also 'UN Designated Persons' involved in terrorism financing. He said their conviction would play a major role in checking terrorism financing in Pakistan.Earlier, on Feb 12, 2020, ATC-I had handed down five-and-a-half-year rigorous imprisonment to JuD chief Hafiz Muhammad Saeed and Malik Zafar Iqbal each in two of the cases.
https://www.dawn.com/news/1564431/four-jud-leaders-convicted-in-terror-finance-case
--------
No threat to West as US troops leave Afghanistan: Taliban
Jun 19, 2020
KABUL: The Taliban on Friday played down concerns that Afghanistan could be used as a launching ground for future attacks on the West, after the US said it had so far upheld its pledge to reduce its military presence in the country.
The top US commander for the region said it cut the number of troops to around 8,600 in line with a deal agreed with the insurgents in February, but warned conditions must be met for a full withdrawal by next year.
General Kenneth McKenzie, the head of US Central Command, said "conditions would have to be met that satisfy us -- that attacks against our homeland are not going to be generated from Afghanistan".
McKenzie said the Taliban were "no friends" of the Islamic State group, but that it needs to see "deeds and not words" about what they would do against al-Qaeda -- the group responsible for the September 11 attacks on New York and Washington.
"And so we're very focused on what the Taliban is doing, how they're participating in these negotiations as we go forward," he told a panel discussion hosted by the Aspen Institute on Thursday. "The jury is still very much out."
The Taliban on Friday said it was committed to the February deal, "especially the US and the West's concern about a threat to them from Afghanistan".
"Our country will not be used against anyone. They should not be concerned," Taliban spokesman Zabihullah Mujahid told AFP.
The February deal calls for all US and foreign troops to withdraw from Afghanistan by mid-2021, nearly 20 years after Washington invaded the country following the September 11 attacks.
Under the agreement, the United States said it would pull out all troops in return for security guarantees from the insurgents and a pledge to hold peace negotiations with the Afghan government in Kabul.
However, a recent expert report to the UN Security Council said that Al-Qaeda and the Taliban "remain close" and were in regular consultations over the negotiations with the United States.
The Afghan government which has moved closer to talks with the Taliban in recent weeks, has long accused the insurgents of providing a platform to groups such as IS and Al-Qaeda to carry out attacks in the country.
President Donald Trump, who is running for re-election in November, has said repeatedly that he wants US troops out of Afghanistan as soon as possible.
https://timesofindia.indiatimes.com/world/south-asia/no-threat-to-west-as-us-troops-leave-afghanistan-taliban/articleshow/76463418.cms
--------
Arab League plans urgent virtual meeting on escalating conflict in Libya
19 June 2020
The Arab League on Friday announced plans to hold an urgent virtual foreign ministers' meeting to discuss the escalating conflict in Libya.
The meeting, to be held at Egypt's request via video conference, comes as fighting continues between rival administrations based in Libya's capital and the east.
For more coronavirus news, visit our dedicated page.
"Coordination is currently underway with the current session's head (the Sultanate of Oman) to determine the meeting's date, which is expected to be next week," said Arab League deputy head Hossam Zaki.
Egypt, which backs forces of eastern-based commander Khalifa Haftar, is pushing for a peace deal in Libya.
Earlier this month, it proposed an initiative calling for a ceasefire and peace talks following a series of military victories for Tripoli's UN-recognized government.
Haftar has since last year sought to regain control over the west, fighting the Government of National Accord (GNA) in an abortive attempt to seize Tripoli.
Libya has been mired in chaos since the 2011 uprising that toppled and later killed longtime dictator Moamer Gaddafi.
Besides Egypt, the United Arab Emirates and Russia back Haftar's forces, while the GNA is supported by Turkey and Qatar.
https://english.alarabiya.net/en/News/middle-east/2020/06/19/Arab-League-plans-urgent-virtual-meeting-on-escalating-conflict-in-Libya.html
--------
Mosques in Saudi Arabia's Mecca set to reopen on June 21
19 June 2020
Mosques in Saudi Arabia's Mecca are preparing to reopen their doors on June 21 after the coronavirus pandemic forced them to halt prayers for three months, state television channel al-Ekhbariya reported on Friday.
For more coronavirus news, visit our dedicated page.
More than 1,500 mosques will be allowed to reopen in the city if they follow preventative health measures against COVID-19, according to state television.
Individuals will have to bring their own prayer mats and maintain social distancing during prayers.
Ahead of the reopening, the Ministry of Islamic Affairs hired agencies to sterilize the inside of the buildings completely and accepted dozens of volunteers who will work to implement precautionary measures inside the city's mosques.
Mosques across the Kingdom, except in Mecca, have been allowed to welcome believers since the end of May.
The interior ministry had later issued a statement saying that it would be suspending all prayers in all mosques in the city of Jeddah from June 6 until June 20 as part of efforts to curb the coronavirus pandemic in the country.
The Kingdom has so far reported 150,292 confirmed cases of COVID-19.
https://english.alarabiya.net/en/coronavirus/2020/06/19/Coronavirus-Mosques-in-Saudi-Arabia-s-Mecca-set-to-reopen-on-June-21.html
--------
Charge Sheets Filed Against 46 Foreigners in Connection With The Congregation At Markaz Tablighi Jamaat In Nizamuddin
June 19, 2020
New Delhi: The Crime Branch of Delhi Police on Friday filed a fresh charge sheet and 11 supplementary charge sheets against 46 foreign nationals in connection with the congregation at Markaz Tablighi Jamaat in Nizamuddin area of the national capital.
The charge sheet, filed before Chief Metropolitan Magistrate Gurmohina Kaur in a Saket court, will come up for consideration in the last week of June and in July.
The foreign nationals had attended the Nizamuddin congregation, which had reportedly become an epicentre for the spread of coronavirus across the country.
According to the police, the foreign nationals belonging to 12 different countries are being charged for violation of visa rules, violation of government guidelines and regulations regarding the Epidemic Diseases Act, violation of the provisions of the Disaster Management Act, and violation of prohibitory orders.
So far, a total of 47 charge sheets against 915 foreign nationals have already been filed before Delhi courts, which have slated them for consideration on June 25, July 9 and 16.
The police have said that the accused foreign nationals belonging to 35 different countries and are presently staying at various places approved by Delhi High Court in view of the coronavirus pandemic.
No one has been arrested in the case so far, the police said.
A case has also been registered against the Tablighi Jamaat chief and others over the event.
https://www.ndtv.com/delhi-news/coronavirus-india-charge-sheets-filed-against-46-foreigners-in-delhi-mosque-event-case-2249015
--------
North America
US to release Lebanese businessman accused of ties to Hezbollah
19 June 2020
A Lebanese businessman imprisoned in the US for evading sanctions and accused of ties to Hezbollah will be released soon, his family and another source with knowledge of the matter said Friday.
Kassim Tajideen's family said they were looking forward to his return to Lebanon "in the near future."
The statement added: "We are grateful to the Lebanese and US authorities for facilitating his return home."
Tajideen was arrested in 2017, in Morocco, following an international arrest warrant and then extradited to the US.
Although he was accused of financing Hezbollah, Tajideen only pleaded guilty to charges of evading sanctions imposed on him, not for financing the Iran-backed militia.
An authoritative source with knowledge of the matter told Al Arabiya English that the move was a "swap of good gestures between Washington and Beirut to ease tensions."
Tajideen's release comes after the March release of a Lebanese-American man who was arrested upon arrival in Lebanon last year.
Amer Fakhoury had worked with an Israeli-backed militia in southern Lebanon until 2000, before fleeing.
"This has to do with the Fakhoury release. You did something nice for us, and we will do something nice for you," the source said, referring to the Lebanese government's decision to allow Fakhoury to be airlifted out of the country.
Asked about ramifications of the release on US-Iran tensions, the source said it had nothing to do with this.
"Iranians will not exchange any prisoner for someone that is not Iranian. Tajideen's release has nothing to do with Iran."
Tajideen is expected to be released before the end of June. Following the US judge's decision on May 27, prosecutors were given one month to appeal. This one-month period will expire on June 27 and the source said, prosecutors will not appeal the decision.
The statement from Tajideen's family said the US judge agreed to release the Lebanese businessman "because of the risks of [coronavirus] on his life should he remain in prison."
https://english.alarabiya.net/en/News/middle-east/2020/06/19/US-to-release-Lebanese-businessman-accused-of-ties-to-Hezbollah.html
--------
US economic embargo on Syria is 'crime against humanity': Analyst
19 June 2020
The US economic embargo against Syria which doesn't have the approval of the UN Security Council is a "crime against humanity," a Canadian political commentator has said.
Mark Taliano added that the United States and its allies are supporting the harsh sanctions against the Arab country which are "cancer to the world."
The new sanctions came into effect under the so-called Caesar Syria Civilian Protection Act on June 17, targeting almost all Syrian economic and trade activities as well as the country's government and business officials loyal to Damascus.
The restrictive measures, signed by US President Donald Trump last December, penalized 39 companies and individuals, including Syrian President Bashar al-Assad and his wife Asma — the first time she has been hit by US sanctions.
The US and European Union had already imposed sanctions on Syria, freezing the assets of the state and hundreds of firms and individuals.
But the new measures can freeze the assets of anyone dealing with the Syrian government, regardless of nationality, and target many more sectors.
"I don't even call them sanctions because they're entirely criminal. It's an economic embargo. It doesn't have the Security Council approval. These are high crimes. It's collective punishment, crimes against humanity," Taliano told Press TV in a phone interview on Friday.
"The US and its allies, including Canada, are rogue states. They are collectively punishing countries that insist on the rule of international law and nation-state sovereignty and self-determination. They are cancer to the world," he added.
"They're targeting everyday civilians and they are not targeting, in fact, they're supporting al-Qaeda and ISIS as they have been doing for the last 10 years in Syria. It's entirely diabolical."
Taliano went on to say that the US and its allies are "guilty" of international war crimes and that their acts of invasion under the guise of humanitarian purposes enjoy support from the US intelligence agencies.
"What the mainstream doesn't say is that the West is entirely guilty of supreme international war crimes, daily really. The entire regime-change wars have no basis in international law. They claim that it's about humanitarianism but of course there's nothing humanitarian about it," the Canadian analyst said.
"The West does not now and never did wage wars for humanitarian purposes. The West is criminally occupying, looting petroleum resources… There's nothing humanitarian about this," Taliano added.
"The West supports all the terrorists and so I mean those of us who are aware of what's going on are just totally disgusted at the criminality of our government, and the duplicity of our politicians, who do not represent us, and we denounce the censorship of the truth, and the negation of any and all forms of International Justice," he underlined.
US Ambassador to the UN Kelly Craft said at a Security Council meeting on Tuesday that the sanctions are aimed to prevent Damascus from achieving victory in the fight against foreign-backed militants.
Syria has been gripped by foreign-backed militancy since March 2011. The Syrian government says the Israeli regime and its Western and regional allies are aiding the Takfiri terrorist groups that are wreaking havoc in the country.
The government forces have already managed to undo militant gains across the country and bring back almost all of Syrian soil under government control.
Full report at:
https://www.presstv.com/Detail/2020/06/19/627819/US-economic-embargo%E2%80%8B%E2%80%8B%E2%80%8B%E2%80%8B%E2%80%8B%E2%80%8B%E2%80%8B-on-Syria-is-'crime-against-humanity'
--------
US counter-terror analyst sentenced to 30 months for leaks
June 18, 2020
Washington (AFP) - A former counter-terrorism analyst at the US Defense Intelligence Agency was sentenced to 30 months in prison on Thursday for leaking classified information to journalists, including details about foreign countries' weapons systems.
Henry Kyle Frese, 31, of Alexandria, Virginia, pleaded guilty in February to transmitting top secret defense information to two journalists, one of whom he lived with.
"When this information was published, it was shared with all of our nation's adversaries, creating a risk of exceptionally grave harm to the security of this country," Assistant Attorney General John Demers said in a statement.
The Justice Department said Frese leaked information to two unnamed journalists in 2018 and 2019.
One news outlet, which was also not named, published eight articles containing classified information.
Frese searched restricted government computer systems at least 30 times in 2018 for information to pass on verbally to the two journalists, according to the Justice Department.
He also sent some secret information via private messages on social media.
The journalists involved appeared to work for CNBC and NBC News, according to US media.
CNBC, citing "sources with direct knowledge of US intelligence reports," reported in May 2018 that China had installed anti-ship cruise missiles and surface-to-air missile systems on the contested Spratly Islands.
Frese, who was arrested in October, faced a maximum of 10 years in prison.
Full report at:
https://news.yahoo.com/us-counter-terror-analyst-sentenced-30-months-leaks-162427505.html?utm_source=iterable&utm_medium=email&utm_campaign=1300563_
--------
Europe
Islamic Charity Which Described Qassim Soleimani As 'Great Martyr' Given Official Warning By Watchdog
19 June 2020
A UK-registered Islamic charity which described an Iranian general assassinated by the US military as a "great martyr" has been dealt an official warning by the sector watchdog.
The Islamic Centre of England (ICE) praised Qassim Soleimani, who was killed in a drone strike, on its website and hosted a vigil for him at its headquarters in north London earlier this year.
Soleimani was the head of the Iranian Revolutionary Guard and is credited with masterminding the spread of Iranian influence across the Middle East, giving military and financial support to Hezbollah in Lebanon and to President Assad's forces in Syria. The US accused him of plotting global terrorism.
The ICE has now been issued a warning by the Charity Commission, who have ordered it to review the content on its website and "ensure appropriate consideration is given and risk...
https://www.telegraph.co.uk/news/2020/06/19/islamic-charity-described-qassim-soleimani-great-martyr-given/
--------
SETA to publish report to point out growing anti-Islam sentiment
JUN 19, 2020
The Foundation for Political, Economic and Social Research (SETA) will publish its yearly European Islamophobia Report (EIR) on June 20, which sets light to growing racism and anti-Islam sentiment on different fields such as media and politics in various regions.
The report, edited by Enes Bayraklı and Farid Hafez, has been published annually since 2015. This year's 2019 report will include a general assessment of islamophobia in 32 countries across Europe and additional countries such as Russia, Albania, Bosnia-Herzegovina, Serbia, Kosovo, North Macedonia and Montenegro.
More than 32 scholars, experts and civil society activists from various European countries participated in drafting the report. All of the experts are specialized on racism and islamophobia studies and have covered various issues linked to islamophobia through various media outlets and within politics.
The year 2019 distinguished itself greatly by cold and ruthless islamophobic terror attacks in places such as New Zealand's Christchurch, Germany, the U.K., France and Norway.
Mosques have been targeted all across Europe, resulting in dozens of deaths.
Some European governments work hard to track and neutralize far-right terrorist groups. On the other hand, they participate in the normalization of islamophobic conversations in Europe through discriminative declarations, bills and security policies targeting Muslims.
Full report at:
https://www.dailysabah.com/world/islamophobia/seta-to-publish-report-to-point-out-growing-anti-islam-sentiment?gallery_image=undefined#big
--------
France will renew calls to preserve nuclear deal with Iran, says French FM
19 June 2020
Britain, France and Germany will on Friday define their Iran strategy for the coming months amid talks at the United Nations and violations by Tehran of a 2015 nuclear deal, France's foreign ministry said.
Under Iran's deal with world powers to accept limits to its nuclear program in return for the lifting of sanctions, a UN weapons embargo is due to expire in October. The United States, which exited the deal in 2018, says it wants to extend the embargo.
If the UN Security Council does not extend the embargo, Washington has threatened to trigger a so-called snapback of all UN sanctions on Iran, using a process outlined in the nuclear deal.
For all the latest headlines follow our Google News channel online or via the app.
Such a move would be likely to kill the nuclear accord.
"The (foreign) ministers are meeting to see what Europe can do to end these violations by the Iranians, while keeping the deal, but also to discuss how to avoid a snapback in New York," said a European diplomat.
Foreign ministry spokeswoman Agnes von der Muhll said in a in a statement that the ministers, who meet in Berlin, would also discuss Iran's cooperation with the UN watchdog.
Full report at:
https://english.alarabiya.net/en/News/middle-east/2020/06/19/France-will-renew-calls-to-preserve-nuclear-with-Iran-says-French-FM.html
--------
Terror groups 'exploiting coronavirus pandemic to radicalise new recruits', QC warns
June 20, 2020
Terrorist groups are using the pandemic lockdown to gather and radicalise new recruits by blaming coronavirus on the "wrath of God", a top QC has warned.
Lord Carlile of Berriew said extremists groups are trying to "use the Covid-19 global crisis to their advantage", particularly targeting vulnerable people who have been isolated by the lockdown and social distancing rules.
He said ISIS and Al Qaeda propaganda is claiming the virus is a "divine punishment" from God, while far right groups are latching on to conspiracy theories around the pandemic to boost followers.
Lord Carlile, who spent a decade as the UK's independent reviewer of terrorist legislation, warned governments would be "negligent to lower their guard against terrorism" during the current crisis.
"Terrorist groups are making efforts to use the Covid-19 global crisis to their advantage", he said, delivering the annual Barnard's Inn Reading Lecture.
"They are determined to try and capitalise on the new geopolitical realities.
"They believe that key national and international institutions will be distracted by the crisis at home, that counter-terrorism, security, and military budgets will be reduced as a result of the economic consequences of the pandemic, that instability in conflict zones will continue with increasing numbers of refugees, and that unemployment and economic hardships will impact increasing numbers of potentially vulnerable people across the world.
"In addition, the lockdowns imposed in many countries may have helped terrorist groups to recruit and radicalise new individuals."
Lord Carlile said terrorist attacks around the world have increased in the last few months, and studies suggest there has been a surge in interest in far-right propaganda which targets minority groups.
"Far right is using the pandemic to advance its movement and ideology", he said.
The experienced barrister said Islamic extremist groups "define Covid-19 as a result of God's wrath, calling for Western countries to turn to Islam in response", while ISIS recently put a call for attacks while countries are "weakened" and their public services stretched.
Lord Carlile made his comments as he warned of the weaknesses of the UK's Prevent programme when trying to tackle extremism behind bars, and called for the re-introduction of terrorism control orders.
Full report at:
https://www.standard.co.uk/news/crime/coronavirus-terrorism-lord-carlile-warning-a4473436.html
--------
Europe wants to extend Iran arms embargo
Ayhan Şimşek
20.06.2020
BERLIN
Europe's three major powers announced Friday they oppose lifting an arms embargo on Iran that expires later this year.
Foreign ministers from Germany, France and the UK said Iran's nuclear program, ballistic missile tests and "destabilizing regional activities" remained a serious concern for Europe.
"We believe that the planned lifting of the UN conventional arms embargo established by Resolution 2231 next October would have major implications for regional security and stability," the ministers said in a joint statement following a meeting in Berlin.
"We recall that the EU embargoes on conventional arms exports and missile technology will remain in force until 2023," according to the statement.
The ministers said they would continue talks with UN Security Council members, particularly Russia and China, but also with other key stakeholders.
UN Security Council Resolution 2231, which enshrined the 2015 nuclear deal between world powers and Tehran, envisages easing the arms embargo beginning in October.
Earlier this month, the US proposed a draft UN Security resolution to "indefinitely" extend the embargo, but Russia and China signaled opposition.
In 2015, world powers including the US, China, Russia, France, Germany and the UK agreed to lift economic sanctions on Iran in return for Tehran agreeing to limit its nuclear activity to civilian purposes.
But US President Donald Trump unilaterally withdrew from the deal in 2018 and intensified pressure on Tehran by re-imposing broader sanctions.
Full report at:
https://www.aa.com.tr/en/europe/europe-wants-to-extend-iran-arms-embargo/1883535
--------
EU must pay full $6.5B to Turkey: Top Hungary diplomat
Agnes Szucs
19.06.2020
BRUSSELS
The EU should respect its commitment to Turkey and pay the entire sum of €6 billion ($6.5 billion) promised under a 2016 deal to stem irregular migration, Hungary's foreign minister said Friday.
"Turkey has a crucial role in stopping illegal migration," which is why "the EU should pay the €6 billion it previously promised to Turkey," Szijjarto said in streaming video on Facebook, speaking after a high-level videoconference with his counterparts from Slovakia, the Czech Republic, and Poland, and Turkish Foreign Minister Mevlut Cavusoglu.
Szijjarto was referring to the 2016 Turkey-EU deal, meant to stop irregular refugee flows and improve the conditions of Syrian refugees in Turkey. Some €3.4 billion ($3.8 billion) has been disbursed from the total agreed amount of €6 billion ($6.5 billion), though the EU has said the remainder is in the pipeline.
In his video, Szijjarto also stressed that "EU and Turkey need strong strategic cooperation."
"Turkey has one of the most dynamically developing economies," he said, adding that Turkey will soon belong to the "world's top 10 largest economies."
Szijjarto said he was convinced the Visegrad countries whose foreign ministers met today – Hungary, Slovakia, the Czech Republic and Poland –and Turkey have an interest in working together on nuclear energy as well.
He also praised the cooperation between Turkey and Hungary during the COVID-19 crisis, when Turkey made medical equipment available for Hungary to purchase.
- Turkey-EU deal
Under the March 2016 deal, the EU had pledged €6 billion ($6.5 billion) aid for the refugees.
According to recent EU data, all operational funds have been committed, €4.7 billion ($5.3 billion) contracted, and €3.4 billion ($3.8 billion) disbursed.
In previous communications, the EU promised to pay €4 billion ($4.5 billion) by 2020, and the European Commission recently promised to accelerate the payments of a further €485 million ($545 million) by the end of the year to help mitigate the effects of the coronavirus crisis.
The full €6 billion is expected to be paid by 2025.
Full report at:
https://www.aa.com.tr/en/europe/eu-must-pay-full-65b-to-turkey-top-hungary-diplomat/1883164
--------
UK fails to inspect factory supplying Saudi's Yemen war
Karim El-Bar
19.06.2020
LONDON
An exclusive report by Declassified UK, an investigative news site, reported on Thursday that the British government broke its own inspection rules at a Scottish missile factory which supplies the Saudi Arabian Air Force in its war in Yemen.
Britain is supposed to carry out "regular and thorough inspections" every three years, but the Scottish factory, which manufactures parts for the Saudi air force, has not been checked in three years -- breaching the UK government's own guidelines.
The factory is owned by the US arms manufacturer Raytheon, and located in Glenrothes, east Scotland. It has not been inspected since November 2016 -- almost the entire duration of the war in Yemen. The factory makes parts for the Paveway IV missiles used by Saudi Arabia.
The UK government in its statements has consistently said it has "one of the most robust export control processes in the world."
Declassified UK quoted Andrew Smith, the spokesman for the Campaign Against Arms Trade as saying: "These sites have been crucial in terms of producing arms for the Saudi-led bombing campaign. The fact that the government appears to be failing in its own obligations raises serious questions about the scrutiny being applied and the cosy and compromising relationship between arms companies and government."
"This does not look like a case of one mistake, it looks like a systematic failure," he added.
A coalition of human rights groups referred Raytheon, as well as BAE, to the International Criminal Court in December 2019 for being accomplices to alleged war crimes in Yemen.
A Scottish government spokesperson was quoted as saying that Scotland "expects inspection regimes to be adhered to and has consistently called on the UK government to end its flawed foreign policy approach.
"The Scottish government has repeatedly made very clear that, whilst this is a reserved matter, the UK government must properly police the export of arms and investigate whenever concerns are raised."
Scottish National Party MP Douglas Chapman, also a member of the All Party Parliamentary Group on Yemen, said the lack of inspections "highlights the reckless, irresponsible attitude of the UK government towards the conflict in Yemen."
"Despite repeated calls to cease trade of deadly weapons to Saudi Arabia, this practice continues and the UK government has the blood of innocent children on its hands. The UK Government needs to start taking responsibility for its actions, because so far it has turned a blind eye to the pain and suffering its weapons are causing," he added.
Yemen has been beset by violence and chaos since 2014, when Houthi rebels overran much of the country, including the capital Sanaa.
The crisis escalated in 2015 when a Saudi-led military coalition launched a devastating air campaign aimed at rolling back Houthi territorial gains.
Full report at:
https://www.aa.com.tr/en/europe/uk-fails-to-inspect-factory-supplying-saudis-yemen-war/1883028
--------
Mideast
Iran Unveils Naval Version of 3rd of Khordad Air Defense Shield
Jun 19, 2020
The system has been stationed on the IRGC Shahid Siavoshi frigate and is capable of target lock and missile fire with the frigate on the move.
Third of Khordad missile system, that has been 100% mass produced by the experts of the IRGC Aerospace Force, is the same system which shot down on June 20, 2019 the highly advanced MQ-4C Triton drone of the American terrorists in Iran's territorial waters South of the country near Kouh-e Mobarak region at an altitude of 50 thousand feet.
This system was unveiled for the first time during the visit of Supreme Leader of the Islamic Revolution Ayatollah Seyed Ali Khamenei. It is capable of engaging and intercepting 4 active targets at each round and has been assigned for countering tactical and strategic aircraft, helicopters, cruise missiles and drones and can also shoot down its targets under electronic warfare conditions.
Last year, IRGC Aerospace Force Commander Brigadier General Amir Ali Hajizadeh had informed of designing and making a missile system that, unlike the existing systems in the world, can trace, lock, engage and intercept targets on a moving platform.
The Third of Khordad Air Defense Shield fires Taer-2 Missiles which have also been developed and mass produced at the IRGC Aerospace Force. Third of Khordad defense shield is also capable of launching Sayyad-2 missiles with a range of 75 kilometers.
These images have for the first time shown the production phases and production line of the system at the industrial sections of the IRGC Aerospace in which there are young men and women working to this end.
Shahid Siavoshi frigate of the IRGC Naval Force, which carries the Third of Khordad missile system, has been domestically made and it is the same frigate which had an encounter with the USS Vella Gulf warship of the US Fifth Fleet on March 7, 2020 while patrolling the Persian Gulf and forced it to move away.
On June 20 last year, the Islamic Revolution Guards Corps (IRGC) Aerospace Force announced that it used the Iran-made short-range and mid-altitude 'Third of Khordad' missile defense shield to bring down the US spy drone over the country's Southern coasts, releasing videos that showed the flight path of the plane as well as the moment it was brought down.
The incident marked the first direct Iranian attack on US assets and came amid heightened tensions between Washington and Tehran. The downing of the $220mln drone was also the latest in an escalating series of incidents in the Persian Gulf since mid-May, including suspected attacks on six tankers that the US blamed on Iran. Tehran has denied any involvement in the incidents.
https://en.farsnews.ir/newstext.aspx?nn=13990330000312
--------
Iran's Navy Commander: Supersonic Missiles Production atop Agenda
Jun 19, 2020
There will be changes in the engines of the Navy's missiles that will enable them to tolerate higher temperature for longer time, Khanzadi said.
He added that the fueling and navigation systems of the Navy will also undergo changes.
Rear Admiral Khanzadi noted, "Today we have reached the range of 300 kilometers and we will achieve a bedazzling range in near future."
He said that the Navy is also pursuing production of the generation of Talaeey-e missiles, adding, "The missiles that have been used as cruise today, are of the infrasonic generation and they will fly with supersonic speed soon."
In sum, we are trying to make the missiles capable of vertical flight as this will enable us to station more missiles on the deck of the ships to shoot at a variety of targets, Khanzadi further said.
In June, the Admiral had stressed his forces' full determination and preparedness to defend the country against enemies' threats.
Iranian Navy forces are standing firmly against all enemies' plots and are afraid of no threat, Rear Admiral Khanzadi said on June 10.
Full report at:
https://en.farsnews.ir/newstext.aspx?nn=13990330000343
--------
Envoy: Iran to Take Appropriate Action in Reaction to IAEA BoG Resolution
Jun 19, 2020
"The adoption of this resolution in the Board of Governors with the aim of requesting Iran's cooperation with the IAEA and ignoring the existing cooperation, is deeply disappointing and unfortunate," Qaribabadi said on Friday addressing the last day of the quarterly meeting of the IAEA's Board of Governors in Vienna.
"I would like to put on record the position of the Islamic Republic of Iran on the resolution just adopted," he added.
Qaribabadi reiterated that at the outset, "I would like to sincerely appreciate Russia, China, Azerbaijan, India, Mongolia, Niger, Pakistan, South Africa and Thailand for not supporting the Resolution, specially Russia and China for all their efforts in objecting this unconstructive path".
He further said that considering the extensive level of constructive cooperation between Iran and the Agency and simply overlooking this level of cooperation, adoption of this resolution aimed at requesting Iran to cooperate with the Agency is deeply disappointing.
The Iranian envoy said that it is also a deep regret that this resolution was presented by the three European States which have not taken any concrete practical step in the implementation of their obligations under the JCPOA, adding, "These lacks of willingness or inability to take practical actions in this regard, along with the unilateral, illegal and destructive measures by the US caused the future of the JCPOA to remain gloomy."
"Our advice to the E2+1 States is that if they cannot do something to save the deal, they can at least avoid making the situation more complicated and difficult! Paradoxically, your lack of action was needed here, which it seems that you couldn't even do this," he added.
Qaribabadi further said that it is noteworthy that "we consider the current state of affairs as a trap set by the US and Israeli regimes, who in the past two years, not only spared no efforts to destroy the JCPOA, but also used all tools of pressure on the Agency, including through presentation of such baseless allegations, to deflect the ongoing appropriate course of cooperation and divert the attention from their non-compliance with their relevant international obligations, or being stayed out of the most important international instruments on disarmament and arms control."
He pointed out that saying that this resolution is required for strengthening of the Agency's safeguards system proves how inconsistent are the behavior and actions of the Secretariat and the main sponsors of the resolution, and said, "If one really wants to maintain and strengthen the safeguards and verification regime, it is advised to take a professional and impartial approach."
He underlined that the fact that on the one hand the Safeguards Implementation Report for 2019 and the DG's report on the status of implementation of safeguards during COVID-19 indicate that there are a number of safeguards related difficulties in several States, and on the other hand, the Secretariat and the PMOs, specially the Board, opted to keep their eyes closed over these difficulties, specially "the nuclear activities of Saudi Arabia and the regime of Israel, who are not even allowing the Agency to do the required inspection, should be considered as a concern".
"I would also like to put on record that the Islamic Republic of Iran is applying the Additional Protocol voluntarily and provisionally due to its political commitment under the JCPOA, and since it is not yet adopted officially through its national legislative procedures, Iran does not consider it as a legal obligation," Qaribabadi said.
The Iranian ambassador further underlined that adoption of this resolution will neither encourage Iran to grant access to the Agency based on fabricated and unfounded allegations, nor will it force Iran to come down from its principal positions.
"Iran categorically deplores this resolution and will take appropriate action in response, the repercussions of which would be upon the sponsors of this resolution," he added.
Qaribabadi said that finally, Iran does also have a solemn advice to the Secretariat of the Agency to: adhere to the limits of your authorities; acknowledge the cooperation between Iran and Agency; carry out your mandate in a professional, independent and impartial manner; do not pave the way for manipulation of issues for those with political agendas through taking positions and reporting hastily; behave in a way not to be blamed for the obliteration of the last bastion of multilateralism in Vienna and the destruction of the JCPOA.
The E3 drafted, US supported the resolution on Iran at IAEA the board passed 25 in favor, 2 against and with 7 abstentions, wall street journal reported.
The resolution calls out Iran over non-cooperation with the IAEA probe. First resolution since 2012 calling out Iran.
A Wall Street Journal correspondent noted in a tweet, "Just as vote result comes in, UK says E3 foreign mins to meet Friday to discuss Iran, China."Talks will focus on the importance of finding a diplomatic solution to de-escalate tensions, holding Iran to account for its destabilizing regional activity, & keeping the door open..."
In relevant remarks on Thursday, Iranian Foreign Minister Mohammad Javad Zarif urged the IAEA Board of Governors not to let the enemies of the Joint Comprehensive Plan of Action (JCPOA) endanger Iran's interests, and said the three European countries (the UK, France and Germany) should not become their accessory.
"BoG should not allow JCPOA enemies to jeopardize Iran's supreme interests," Zarif wrote on his Twitter account.
The Iranian foreign minister said that "E3 should not be an accessory, after failing own JCPOA duties."
"We've nothing to hide. More inspections in Iran over last 5 yrs than in IAEA history," he noted.
"An agreeable solution is possible, but Res will ruin it," Zarif reiterated.
In relevant remarks on Tuesday addressing a joint press conference with his Russian counterpart Sergei Lavrov, Zarif said we will not let the IAEA to become a tool for ending Iran nuclear deal known as the JCPOA.
Iran has always behaved with full transparency with the IAEA, he said arguing that 15 reports of the IAEA have indicated that Iran has always been committed.
"We will not let Iran be subject to investigation the documents of which are based on spying claims," he noted.
Iran will give a suitable response if the IAEA wants to take advantage of illogical ways, Zarif reiterated.
Top Iranian diplomat said it will be regretful for the UN Secretariat and the IAEA if they tend to move in line with killing the JCPOA.
In relevant remarks on Thursday, Iranian President's Chief of Staff Mahmoud Vaezi censured Britain, France and Germany for collaboration with the US in its attempts against Iran at the IAEA.
Instead of expressing unfounded concern and encouraging the IAEA to surrender to the US pressures and continue its political and discriminatory approach towards Iran, the European Troika should uphold JCPOA commitments which are remaining on paper, Vaezi wrote on his twitter page on Wednesday.
Full report at:
https://en.farsnews.ir/newstext.aspx?nn=13990330000320
--------
UN's nuclear watchdog passes resolution calling for Iran's cooperation
19 June 2020
The board of governors at the UN's nuclear watchdog has passed a resolution critical of Iran, diplomatic sources said Friday, the first of its kind since 2012.
The resolution calls on Tehran to provide inspectors from the International Atomic Energy Agency (IAEA) with access to two sites in Iran in order to clarify whether undeclared nuclear activity took place there in the early 2000s.
Earlier this week Iran warned that such a resolution would be "counterproductive" and that it would take "appropriate measures" in response.
Even though the sites in question are not thought to be directly relevant to Iran's current nuclear program, the agency says it needs to know if activities going back almost two decades have been properly declared and all materials accounted for.
Despite the row over the two sites, the IAEA says it still has the access it needs to inspect Iran's declared nuclear facilities, as the agency is mandated to do under the landmark deal between Iran and world powers reached in 2015.
Full report at:
https://english.alarabiya.net/en/News/middle-east/2020/06/19/UN-s-nuclear-watchdog-passes-resolution-calling-for-Iran-s-cooperation.html
--------
Iranian judge accused of corruption in Iran found dead in Romanian capital
19 June 2020
Gholamreza Mansouri, an Iranian judge accused of corruption in Iran and of human rights violations by activists, has been found dead outside a hotel he was staying at in the Romanian capital Bucharest on Friday, according to media reports.
Mansouri died after falling out of a window in the hotel, RFE/RL's Romanian service reported.
It is unclear if the incident was the cause of an accident, whether he committed suicide, or if a crime was committed.
Mansouri had fled Iran after being accused of taking 500,000 euros in bribes.
He had previously denied he is on the run in a video shared on social media, saying he is abroad to receive medical treatment, and that he will be returning to Iran soon. He did not say what country he was in.
"We are waiting for the official report on the cause of this incident and we ask the Romanian authorities to officially inform us of the exact cause of the incident," the official IRNA news agency reported foreign ministry spokesman Abbas Mousavi as saying.
Last week, Iran said Mansouri was arrested in Romania by the Interpol.
Judiciary spokesman Gholamhossein Esmaili said Mansouri could not yet be extradited back to Iran due to coronavirus restrictions.
Mansouri's promise to return was not "serious," which is why Iran took legal action to have him arrested, said Esmaili.
The editor-in-chief of Mashreg News, a news website close to the Islamic Revolutionary Guard Corps (IRGC), hinted at a possible Iranian involvement in the death of Mansouri.
"As of today, Romania is a point of strategic depth [for Iran]," he said in a now-deleted tweet.
Iran uses the term "strategic depth" to refer to its military influence beyond Iranian borders.
Mansouri is also accused of having been involved in the arrest and torture of dozens of journalists in Iran. This prompted a number of Iranian journalists and human rights activists to demand his arrest in Europe.
A judge in Bucharest had temporarily released Mansouri under "certain conditions," giving Iran until July 10 to present a formal extradition request, Radio Farda reported last week.
Full report at:
https://english.alarabiya.net/en/News/middle-east/2020/06/19/Iranian-judge-accused-of-corruption-in-Iran-found-dead-in-Romanian-capital.html
--------
Israeli anti-racism chief sheds light on police profiling of Ethiopian Jews
19 June 2020
The head of Israel's top anti-racism body has taken the wraps off discrimination in the Occupied Territories, stating that security forces have not actually taken any concrete measures in order to combat systemic racism.
Speaking in an exclusive interview with English-language the Times of Israel online newspaper published on Thursday, Aweke Kobi Zena said he hoped the regime's law enforcement officials would improve their cooperation with him and his team as he described his relationship with police as "very complicated."
"Yehuda Biadga is dead and Solomon Tekah is dead and this year we saw a lot of, I don't want to say racist, but interactions with police and citizens [involving] violating rights, so I think we have a lot of things to do and I hope that someday the police will be ready to understand there is a problem in policing practices."
The official highlighted that he wanted Israeli police to treat all people in the occupied lands equally, and "to understand that their job is to serve the citizens, to defend their rights" and to end racial profiling.
"They are saying that they are not doing profiling," yet Ethiopian citizens are still arrested at a disproportionate rate, he said.
Israeli immigrant absorption minister Pnina Tamano-Shata, the first woman from the Ethiopian community to serve in the Israeli cabinet, also echoed Zena's concerns and called on acting police chief Motti Cohen and public security minister Amir Ohana to "wake up" and start sacking racist officers.
She said she planned to ensure the matter stays on the agenda of relevant authorities.
Deputy minister of public security Gadi Yevarkan, himself the child of Ethiopian immigrants, has reinforced his battle against Israeli police brutality.
He has proposed a legislation to dismantle Israel's internal affairs and replace it with a new agency under the auspices of the so-called justice ministry.
"This is one of the most racist, cruel and deadly events ever recorded. The case proves again that racism is a lethal weapon. … Police violence against blacks is a plague, with many countries around the world fighting against it.
"One thing people must know is that white citizens of Israel feel safe when there is a police car in the neighborhood, while black citizens of Israel do not feel safe at all," Yevarkan wrote on his Facebook page after the May 25 killing of George Floyd, an African-American man who died in police custody after a police officer in Minneapolis kneeled on his neck for several minutes. His death sparked worldwide protests.
According to a recent report by Israel's national anti-racism unit, the number of complaints of racial discrimination it received doubled last year. A total of 37 percent of such charges came from the Ethiopian community.
Full report at:
https://www.presstv.com/Detail/2020/06/19/627797/Israeli-anti-racism-chief-sheds-light-on-police-profiling-of-Ethiopians
--------
UK, France, Germany accessories to Trump, Netanyahu: Iran FM
19 June 2020
Iranian Foreign Minister Mohammad Javad Zarif says the European countries that sponsored a resolution at the International Atomic Energy Agency (IAEA) against the Islamic Republic serve the interests of the United States and the Israeli regime.
On Friday, the UN nuclear agency's Board of Governors passed a resolution -- put forward by Britain, France and Germany -- to push for intrusive inspections of two Iranian nuclear sites that the trio claims may have been used for undeclared nuclear activities in the early 2000s.
Succumbing to Washington's pressure, the three European countries -- parties to Iran's 2015 nuclear deal with world powers known as the Joint Comprehensive Plan of Action (JCPOA) -- have so far failed to honor their commitments under a landmark agreement and offset the impacts of US sanctions, which were re-imposed on Iran following the US' unilateral withdrawal from the deal in May 2018.
"E3 must stop public face-saving & muster the courage to state publicly what they admit privately: their failure to fulfill even own JCPOA duties due to total impotence in resisting US bullying," Zarif tweeted on Friday.
"Behind facade, E3 are accessories to Trump & Netanyahu—& in no position to counsel Iran," he added.
The Islamic Republic rejects any allegations of non-cooperation with the IAEA, insisting that it is prepared to resolve potentially outstanding differences with the IAEA.
Full report at:
https://www.presstv.com/Detail/2020/06/19/627825/iran-trump-netanyahu-iaea-resolution-inspection-jcpoa
--------
Kurdish terrorist attack kills four in southeast Turkey
JUNE 18, 2020
Four workers were killed when Kurdish soldiers detonated a roadside bomb that struck a laborers' pick-up truck as it passed by in southeast Turkey on Wednesday, the local governor's office said.
The blast occurred in the Silopi district, near the borders with Iraq and Syria, while the vehicle was carrying fuel to be used by workers involved in road construction, the Sirnak governor's office said in a statement.
It said the explosives were planted and detonated by members of the Kurdistan Workers Party (PKK).
The PKK, designated a terrorist group by Turkey, the United States and European Union, took up arms against the Turkish state in 1984. More than 40,000 people have been killed in the conflict, focused in southeast Turkey.
Full report at:
https://www.jpost.com/middle-east/kurdish-terrorist-attack-kills-four-in-southeast-turkey-631897?utm_source=iterable&utm_medium=email&utm_campaign=1300563_
--------
Southeast Asia
Saudi limits on Hajj over COVID-19 spark ill feelings and resignation in Indonesia and Malaysia
06/17/2020
Jakarta (AsiaNews/Agencies) – In the Muslim-majority countries of Southeast Asia, Saudi Arabia's decision to scale back the Hajj due to the novel coronavirus pandemic is generating ill feelings.
Saudi authorities are still looking at procedures and timing to ensure maximum safety for the limited number of pilgrims who might be allowed. Some sources are even suggesting that the annual pilgrimage might be cancelled.
A South Asian official in contact with Saudi hajj authorities said that Riyadh is "buying time" before making its decision. "It's a toss-up between holding a nominal haj and scrapping it entirely," he said.
In the event of a go-ahead at the last minute, most countries would not be able to organise travel and assistance to pilgrims. This is why the most probable scenario appears to be a reduced pilgrimage limited to Saudis and a symbolic number.
Normally, Hajj attracts around 2.5 million people a year. With such numbers, physical distance is nearly impossible and even basic sanitation would be guaranteed with extreme difficulty.
This has led the governments of Indonesia and Malaysia to withdraw from the pilgrimage, a decision met with a mixture of ill feelings (in Indonesia) and resignation (in Malaysia).
For Malaysia's Religious Affairs Minister Zulkifli Mohamad Al-Bakri, the decision to cancel participation was dictated by the need to protect public health. Pilgrims are at risk contracting the coronavirus and causing new outbreaks upon their return.
He said he hoped that his fellow coreligionists would continue "to be patient and accept the decision" however painful it might be.
Most Malaysian Muslims appear to be heeding the minister's appeal and fully grasp the need for protection of public health since the pandemic is still raging.
The situation is different in Indonesia. The decision to cancel the hajj has triggered a series of rumours and fake news on social media which are fuelling anti-government sentiments.
According to some hoaxes, the authorities are said to have pocketed the funds earmarked for Hajj, diverted part of them to prop up the local currency or used them in certain projects and infrastructures.
Indonesia's Religious Affairs Minister Fachrul Razi said that the pandemic and as well as Saudi Arabia's indefinite suspension of the umrah (big hajj) did not leave enough time for the government to prepare people's visas and protection measures.
"There is no hajj departure this year," Fachrul said. "Those who have paid and registered will be placed for next year's departure."
Indonesia, the most populous Muslim country in the world, usually has the largest quota of Hajj pilgrims. This year it planned to send an estimated 221,000 pilgrims, and 180,000 had already paid for travel and accommodation, the Religious Affairs Ministry said.
In an attempt to dispel rumours, Indonesia's Haj Fund Management Agency (BPKH) issued a statement saying that the funds are safe in the pilgrims' accounts and will only be used for the pilgrimage.
The country faces many hoaxes on a daily basis but Indonesia's Muslims could see what is good and true, noted Zuhairi Misrawi from Nahdlatul Ulama.
http://www.asianews.it/news-en/Saudi-limits-on-Hajj-over-COVID-19-spark-ill-feelings-and-resignation-in-Indonesia-and-Malaysia-50372.html
--------
New Normal in an Islamic Boarding School in Tangerang
BY YUDHA BASKORO
JUNE 19, 2020
The An Nuqthah pesantren, or Islamic boarding school, in Tangerang, Banten, welcomed back its students on Thursday after an absence of four months.
The pesantren was forced to close its doors because of the coronavirus pandemic and many of its students, called santri, were sent home.
Education and Culture Minister Nadiem Makarim announced on Monday that boarding schools should stay closed during the July and August school holiday.
Since there are no normal classes at An Nuqthah, the students spend their day exercising, making art and cleaning up their dorms and classes.
The pesantren had to apply for a permit from the Education and Culture Ministry and the local government to reopen the school.
The permit was granted since the school is located in a "green zone" with a low number of Covid-19 cases and because it has enough facilities to stick to the government's public health guidelines.
Full report at:
https://jakartaglobe.id/vision/new-normal-in-an-islamic-boarding-school-in-tangerang
--------
Anticorruption fight at risk as Supreme Court acquits another high-profile graft defendant
Galih Gumelar
June 19, 2020
The Corruption Eradication Commission (KPK) has once again hit a wall in its fight against corruption after the Supreme Court upheld the acquittal of the former head of state-run electricity company PLN, Sofyan Basir, the latest graft suspect to evade conviction.
His acquittal was formalized in a court ruling dated June 16, in which the Supreme Court rejected the KPK's appeal against a not-guilty verdict handed down by the Jakarta Corruption Court last year.
Previously, KPK investigators detained the former PLN president director for allegedly receiving bribes in relation to a coal-fired power plant (PLTU) project in Riau province.
While the KPK claimed that the supporting evidence gathered was sufficient to prove Sofyan's involvement, the court insisted that the Jakarta Corruption Court's prior decision was the correct one.
Activists have lambasted the court ruling, saying it poses a new threat to anticorruption efforts, given that it was not the first time that a major graft suspect had been cleared of wrongdoing by the courts.
Last year, the Supreme Court acquitted former Indonesian Bank Restructuring Agency (IBRA) chairman Syafruddin Arsyad Temenggung, the man at the center of the Bank Indonesia Liquidity Support (BLBI) scandal, of corruption charges.
At the time, the court granted an appeal filed by Syafruddin to overturn a lower court's decision to sentence him to 15 years in prison with a fine of Rp 1 billion (US$70,736) for his role in the multimillion-dollar graft case.
"The court's action [of granting acquittals to graft suspects] has rendered antigraft efforts by law enforcement agencies futile," said Kurnia Ramadhana of Indonesia Corruption Watch (ICW).
Supreme Court spokesperson Andi Samsan Nganro declined to comment, saying only that the court's decision to reject the KPK's appeal against Sofyan's acquittal was based on evidence presented in the trial. "Everything was based on the facts," Andi said.
Kurnia claimed on Thursday that the decision to clear Sofyan of the charges only served to exacerbate the lack of commitment to the fight against corruption, confirming an ICW report finding.
The April report on court ruling trends recorded that Indonesia's lower and higher courts handed down not-guilty verdicts on 41 graft suspects in 2019, almost double the 2018 figure.
The antigraft watchdog also found that the courts had "let off" 13 defendants, meaning that they were guilty of wrongdoing but the act that they were accused of could not be considered criminal.
"Expect fewer successful corruption cases in the future if the court keeps granting acquittals, because graft offenders will find it easy to dodge charges laid against them," he told The Jakarta Post.
Indonesia had been gradually improving its standing in the fight against corruption, but the tables have turned since efforts to defang the antigraft body began last year.
Indonesia scored 40 out of 100 in Transparency International's 2019 Corruption Perception Index, its highest since 2012, but a score below 50 is still an indicator of serious corruption.
Zaenur Rohman, a researcher at Gadjah Mada University's Center for Anticorruption Studies (Pukat UGM), said that while the public must respect every decision the courts make, the growing number of acquittals had begun to form a trend, leading him to question the integrity of court judges.
For Transparency International Indonesia researcher Wawan Suyatmiko, the increase in acquittals has already crushed public faith in the court system as a partner of the KPK in the war against corruption.
Wawan said there was a need for more court justices like Artidjo Alkostar to restore the public's faith in the courts.
Artidjo, now a member of the KPK's oversight body, was a former Supreme Court justice known for his no-nonsense demeanor and clean track record.
He made graft convicts think twice before lodging an appeal, as he would often give them harsher sentences than their initial verdicts.
Previously, activists have suggested that the court arrange a set of guidelines for judges to follow when handling corruption cases, so as to restore trust in the court system.
KPK spokesman Ali Fikri said the antigraft body would respect all rulings issued by a court, even though they appeared to undermine its anticorruption efforts.
Full report at:
https://www.thejakartapost.com/news/2020/06/19/anticorruption-fight-at-risk-as-supreme-court-acquits-another-high-profile-graft-defendant.html
--------
Pakistan
Covid-19 cases witnessed drop for fifth consecutive day: NCOC Pakistan records 136 deaths in 24 hours
June 20, 2020
The National Command and Operation Centre noted on Friday that coronavirus cases saw a drop over the past five days after witnessing a continuous increase since the outbreak of the infection.
The meeting of the NCOC, chaired by Federal Minister for Planning and Development Asad Umar, was informed that around 103 more ventilators have been earmarked for serious Covid-19 patients, taking the total number of ventilators available for such patients across the country to 1,503.
It was informed that more ventilators are being procured on a fast-track basis to meet the further requirement of hospitals. More than 1,500 additional ventilators would be available by the end of July.
In order to ease the burden on major hospitals across the country, 2,150 additional oxygenated beds are being operationalised on a war footing.
Sixty beds would be added to hospitals in Azad Jammu and Kashmir, 200 to Balochistan hospitals, 40 to hospitals in Gilgit Baltistan, 450 to the Islamabad Capital Territory hospitals, 400 to Khyber Pakhtunkhwa hospitals, 500 to Punjab hospitals and 500 to hospitals in Sindh.
The National Command and Operation Centre was told that testing capacity has increased by 65 times and is being further ramped up to more than 100,000 tests per day by mid July.
A total of 168,564 cases have been detected so far, including 769 in AJK, 8,998 in Balochistan, 1,225 in Gilgit Baltistan, 9,941 in Islamabad, 20,790 in Khyber Pakhtunkhwa, 61,678 in Punjab and 65,163 in Sindh.
Punjab has recorded 1,540 new cases and 63 deaths over the past 24 hours, the government's Covid-19 portal said.
Full report at:
https://pakobserver.net/covid-19-cases-witnessed-drop-for-fifth-consecutive-day-ncoc-pakistan-records-136-deaths-in-24-hours/
--------
2 Pakistani paramilitary soldiers among 4 killed in bomb blasts in Sindh province
Jun 19, 2020
KARACHI: Two Pakistani paramilitary soldiers were among four persons killed in separate incidents of a roadside bomb explosion targeting a security vehicle and a hand grenade attack on a government office in Sindh province on Friday, police said.
Two Pakistan Rangers personnel and a civilian were killed when a roadside bomb targeting the vehicle of the security troops exploded near a railway station in Ghotki town in Sindh province.
Three other persons, including a paramilitary official, were also injured in the blast.
The remote-controlled blast took place near the vehicle of the paramilitary Pakistan Rangers which was parked at the main railway station in Ghotki, police said.
Two Pakistan Rangers troops and a civilian who were at a meat shop in a market near the railway station were killed in the explosion, they said.
Hours later, a man was killed and eight others injured when unidentified assailants hurled a hand grenade at a government office in the congested Liaquatabad area of Karachi, police said.
According to police, a large number of people had lined up outside the Ehsaas programme office to collect cash being distributed by the government under the initiative to help poor people hit by the coronavirus pandemic.
"Two persons riding on a motorcycle came to the Ehsaas programme office. One of them hurled a hand grenade at the office which led to an explosion," a police official said.
Nine persons were injured in the explosion. They were shifted to the nearby Abbasi Shaheed hospital where one of them succumbed to his injuries, the official said.
No group has claimed responsibility for either attacks, which occurred at a time when the country is battling the coronavirus pandemic.
Pakistan has been witnessing scores of militant attacks in recent times.
Full report at:
https://timesofindia.indiatimes.com/world/pakistan/2-pakistani-paramilitary-soldiers-among-4-killed-in-bomb-blasts-in-sindh-province/articleshow/76465155.cms
--------
Gilgit-Baltistan Agriculture Minister among 118 new COVID-19 deaths in Pakistan
19th June 2020
ISLAMABAD: A total of 118 new COVID-19 deaths have been reported in Pakistan in the last 24 hours, including Agriculture Minister of Gilgit-Baltistan Janbaz Khan, a Pakistan Muslim League-Nawaz (PML-N) leader.
As many as 5,358 new cases of coronavirus were reported in Pakistan, taking the tally of COVID-19 cases in the country to 162,973, the News International reported.
Khan, 64, was on ventilator for four days according to local media.
The coronavirus-related death toll in the country has reached 3,228, while the number of recoveries reached 59,215.
The Sindh province, with 62,269 cases, is the most affected and is followed by the Punjab province, which registered over 60,138 cases. 20,182 from Khyber Pakhtunkhwa, 9,637 from Islamabad, 1,213 from Gilgit Baltistan, 8,794 from Balochistan and 740 from Pakistan occupied Kashmir (PoK).
https://www.newindianexpress.com/world/2020/jun/19/gilgit-baltistan-agriculture-minister-among-118-new-covid-19-deaths-in-pakistan-2158674.html
--------
$1.5bn loan agreements signed to fight virus
Syed Irfan Raza
June 20, 2020
ISLAMABAD: Prime Minister Imran Khan on Friday witnessed the signing ceremony of $1.5 billion loan agreements with three international financial institutions for combating the Covid-19 crisis.
According to the Prime Minister Office, the agreements were signed with the World Bank (WB), Asian Development Bank (ABB) and Asian Infrastructure Development Bank (AIIB).
An agreement is related to Covid-19 Active Response and Expenditure Support Programme (CARES) amounting to $500 million:
The ADB is extending $500m under the Covid-19 Active Response and Expenditure Support Programme aimed at supporting the Pakistan government's efforts to strengthen the health system and mitigate socioeconomic impacts of the pandemic.
The AIIB is extending co-financing of $500m under the same programme to augment the government's efforts to mitigate direct and indirect impacts of the Covid-19 pandemic.
Sindh leads other provinces in number of coronavirus cases; 5,551 cases, 130 deaths reported across country in single day; complaint management system for healthcare workers launched
Another agreement relates to the Securing Human Investments to Foster Transformation worth $500m. It aims to strengthen the civil registration and vital statistics, health and education systems essential for human capital accumulation, recognise and support the contribution of women to economic productivity and improve efficiency of the national safety nets.
Economic Affairs Secretary Noor Ahmed signed the three loan agreements on behalf of the government of Pakistan and WB Country Director Patchamuthu Illangovan and ADB Country Director Xiaohong Yang on behalf of the World Bank, ADB and AIIB.
The $1,500m loan amount will be disbursed to Pakistan in the next few days.
Sindh leads in Covid-19 cases
Sindh is leading other provinces in terms of number of coronavirus cases as it surpassed the 65,000 mark on Friday.
The country reported 5,387 Covid-19 cases and 129 deaths over the past 24 hours, taking the national tally of cases to 167,956 and casualties to 3,278.
According to Sindh Chief Minister Murad Ali Shah, 13,642 tests were conducted during the last 24 hours, of which 2,894 were positive, taking the provincial tally to 65,163 cases. The province also reported its highest single-day death toll at 49, taking the total fatalities to 1,013. About 673 patients are said to be in critical condition, while 113 are on ventilators. A total of 1,691 people recovered from the virus during the last 24 hours, taking the tally to 32,725.
Punjab has so far reported 61,678 cases, Khyber Pakhtunkhwa 20,182, Balochistan 8,998, Islamabad 9,941, Gilgit-Baltistan 1,225 and Azad Kashmir 769 cases.
Complaint management system
Special Assistant to the Prime Minister on Health Dr Zafar Mirza said the government had launched a complaint management system to address the grievances of healthcare workers.
Addressing the media after a meeting of the National Command and Operation Centre, he said the healthcare workers could call on 1166 or message through WhatsApp on +923001111166 to register their complaints.
"When a complaint is received, the staff will determine which province the complaint is from and its category and then it will be forwarded to the government's focal point in that province," he said, adding that the staff would also call back the healthcare workers to inform them about the status of their complaint and how it has been resolved.
Full report at:
https://www.dawn.com/news/1564684/15bn-loan-agreements-signed-to-fight-virus
--------
Two Rangers personnel among three killed, five injured in Ghotki blast
June 20, 2020
GHOTKI: Three people, including two Rangers personnel, were killed while five others were injured in a blast in Ghotki on Friday.
The police said that Rangers personnel were buying meat in the market when the blast took place. Heavy contingents of police and Rangers rushed to scene soon after the blast and cordoned off the area for collecting evidence.
Those who died in the blast were identified as two Rangers personnel, Zahoor Ahmed and Fayyaz Ahmed, and a civilian Ghulam Mustafa.
The dead bodies of the victims and injured were shifted to District Headquarters Hospital Ghotki for medico-legal formalities and treatment, respectively. The police said that the bomb was planted near a meat shop in the market where Rangers vehicle was parked.
Full report at:
https://www.pakistantoday.com.pk/2020/06/19/two-rangers-personnel-among-three-killed-five-injured-in-ghotki-blast/
--------
South Asia
The Rohingyas and the Elephants: How Humans and Nature Collide in Refugee Camps
By Shah Tazrian Ashrafi
June 19, 2020
On August 19, 2017, at around 1 a.m. when everyone was asleep, an elephant ventured into camp 6 of Kutapalong Refugee Camp, damaging shelters and wreaking havoc. Everyone was able to escape except 75-year-old Amin Shorif, who was trampled to death by the elephant. This is not an isolated incident. Up until 2019, 14 people from the Rohingya refugee camps in Bangladesh have been killed by sporadic elephant incursions.
Recently, however, there have been no deaths caused by the elephants and that is attributable to the fact that an Elephant Response Team, set up by the UN refugee agency, UNHCR, has been operating in the camps. The volunteers of the team get hands-on training from professionals so that they are well equipped to handle an emergency.
There is an elephant watch tower in each camp. The volunteers keep in touch with the watchmen stationed at the towers. When the team members spot an elephant, they gather in one place and try to drive it away by surrounding it. They use torches, microphones, loudspeakers, and whistles so that the elephant doesn't charge at them. They keep one way open for the elephant to go out. At the same time, they alert the people using loudspeakers and whistles, so others know not to come out of their shelters.
Abdurozok, a 52-year-old Elephant Response Team volunteer and a team leader, says that the elephants mostly come at night, so the volunteers are required to be more active then. He finds staying awake challenging.
"We have to spend our nights at the watch tower, and if we fall asleep then, it will jeopardize the people's lives. We are accomplishing our duty, but we are not paid well," he says.
Another volunteer, 20-year-old Kurban Ali, says, "People were not safe here when there was no elephant response team but now the situation has changed because we, alongside organizations like IUCN [the International Union for Conservation of Nature] and UNHCR, are working here to save both the people's and animals' lives."
When they first came here in 2017, Abdurozok saw a considerable number of elephants. But now, elephant sightings have reduced in and around the camps.
"This place belongs to elephants. There were many elephants before. Last year we saw elephants every month but this year their visits have lessened. We only saw them twice during the winter season," he says, "When we first came here, there were forests around us but now they're gone."
According to a 2019 estimate by IUCN, there are about 268 elephants in Bangladesh, and 35-45 of them live around the Rohingya refugee camps. Food and Agriculture Organization (FAO) Bangladesh officials told me that approximately 40-42 elephants are confined in the forests of Ukhiya and Teknaf of Cox's Bazar. The existing elephant population is critically endangered, facing an acute scarcity of food and water with the threat of further habitat loss and a shrunken foraging area due to human encroachment and indiscriminate resource collection. Rajib Mahamud, Senior Forestry Specialist at FAO Bangladesh, said, "The location of the refugee camp blocked the elephants' corridor. Several attempts by the elephants to cross through the camp caused conflict. These amazing creatures face a battle of survival because of a number of threats, including habitat loss, food scarcity, and conflict with humans. We are doing what we can to help the elephants. We are giving some of their forest back to them. It's their home as well."
Raquibul Amin, Bangladesh representative for the IUCN, tells me that due to the shrinking forest area and a blocked migration path, the elephants are in veritable danger, since being confined to a small area could cause a shortage of food as well as conflicts. Elephant-human conflicts arise because of the blocked migration path, which the elephants have been using for centuries. The migration pattern is embedded into their psyche, and so, they are battered by confusion when they find overpowering hurdles like sprawling camp areas on their route.
The elephants have been using the route — it traverses where the Kutapalong Refugee camp now stands — to travel between Bangladesh and Myanmar in search of food and shelter for centuries. In a statement, Ehsanul Haque, Assistant Environment Officer from UNHCR Bangladesh, says, "Before the refugee influx, two out of three migratory corridors of the elephants were blocked, as found by an IUCN study in 2016. Later, many refugee camps were established in 2017 over the only corridor left open. So far, IUCN-UNHCR intervention in partnership with the refugees and host community has handled 106 incidents of 'Human-Elephant Contacts' since 22 February 2018."
Aside from blocked migratory routes, the loss of vegetation has also brought a cloud of tension over Cox's Bazar. The latest finding reveals that 8,000 acres of forest area have been razed to make way for the settlements accommodating a large number of refugees since the mass exodus in August 2017. A team of forest ministry estimated the environmental loss to the tune of 24.20 billion Bangaldeshi takas ($285 million). A 2018 UN report finds that the refugee population has had to rely on fuelwood from surrounding forests for cooking and on trees for building their shelters, which caused an intense depletion of vegetation cover from the hills.
Ramzan Ali, a 46-year-old man who used to work as a woodcutter to sell logs to other refugees to support his family, says, "When I first came in this camp, there were forests around me; so I had to cut trees to build shelter and to use them as fuelwood. My neighbors also had to cut trees for the same reasons. We always used them to cook because we were not provided any gas cylinder at that time."
A Small Ray of Hope
The situation has now changed, however. There are new policies on the table that encourage using LPG (liquified petroleum gas) as an alternative to fuelwood, since production of fuelwood gives rise to deforestation. Ehsanul Haque of UNHCR says that the demand for fuelwood within the refugee community has been reduced 80 percent. If that trend continues, he says, the natural habitat of tropical forest ecosystem will regenerate soon, and the refugees' need to go to the forest to collect fuelwood — and the subsequent exposure to wildlife — will also be reduced.
Since 2018, a total of 1,135,735 LPG refills have been distributed among the refugee population. A recent study confirmed that after the LPG distribution, the rate of deforestation has come within sustainable forestry rates and the rate of firewood demand has also plummeted to "pre-influx levels."
In a statement, officials from FAO Bangladesh told me that they have launched SAFE Plus — a joint effort among FAO, the International Organization for Migration (IOM), and the World Food Program (WFP) that addresses environmental degradation through distribution of liquefied petroleum gas (LPG) and stoves, reforestation, and improved livelihood opportunities. FAO leads the reforestation segment and is currently working with the Forest Department to restore 2,000 hectares of forest. So far, 672 hectares have been restored. The provision of LPG cooking facilities and fuel to almost every household in the camp, along with 35,000 people from the host community, has greatly reduced the pressure on forests, they said.
Meanwhile, FAO has developed technical guidelines to restore wildlife habitats, with a focus on elephants, and will pilot the restoration work on 20 hectares of forest in Cox's Bazar later this year. As part of a conservation strategy, FAO – in collaboration with the IUCN and the Forest Department – is assessing the area's floral diversity (the diversity of naturally occurring indigenous or native plants). The work will identify "indicator species" to monitor the long-term health of the forests, as well as potential "mother trees" that can be harvested for high-quality seeds to reforest the areas.
Robert D. Simpson, the FAO representative in Bangladesh, says, "We are deploying FAO's global expertise and working with our partners so that these elephants do not disappear altogether from the forests of Cox's Bazar. Our reforestation work in the area will be crucial to the elephants' long-term survival. By taking these measures, we will not only be protecting humans from elephants but also elephants from humans."
The Troubled History of the Rohingya People
Muslim settlers came to Arakan as early as the 1430s. In 1784, the state was conquered by the Burmese Empire, and subsequently, from 1824 until 1948, the British ruled Burma as part of British India. In that period, many Muslims from the Indian subcontinent (especially Bengal) entered Burma as migrant workers. At the time, it was considered internal movement since Burma did not have the status of a separate country. Thus Muslims' roots in Burma can be traced back centuries, but after Myanmar gained independence from Britain in 1948, it refused to accept the Muslim population as its citizens. In 1982, Myanmar officially stripped the Rohingya people of citizenship, which led to rising discrimination in jobs, healthcare, and education and to restrictions on their movement outside Rakhine state. Because of the citizenship law, the Rohingyas are considered stateless; Myanmar officially refuses to even use te name "Rohingya," preferring to call them "Bangladeshi immigrants." Myanmar recognizes 135 ethnic groups within the country, but the Rohingyas are excluded from the recognition.
In 1962, Myanmar launched Operation King Dragon, and unleashed its military forces upon the Rohingya people. Accusations of human rights abuses like rape, destruction of property, and mass incarcerations rose, and the Rohingya people started pouring across the border into Bangladesh. A similar campaign followed in 1991, named Operation Clean and Beautiful Nation, which drove more Rohingya people out of the country. In 2017, theArakan Rohingya Salvation Army (ARSA), a Rohingya militant group, launched attacks on more than 30 police posts, and the state retaliated by propelling retributive measure that spurred a mass flight on Rohingyas in August 2017. Persecuted, they desperately fled across the border and most of them settled in the closest safe spot — Bangladesh's Cox's Bazar. They brought with them stories of horror and genocide. On May 24 this year, Myanmar submitted a required report to the International Court of Justice on the persecution of the Rohingya people. Although the report has been deemed "an important milestone," the discussion around safe repatriation of the Rohingya people and easing the burden on Bangladesh seems lukewarm, as the refugees remain in constant and justified fear of persecution after going back.
The amputated hills and forests of Cox's Bazar stand as testaments to the fact that it is not only humans who bear the brunt of such violence. The environment does, too. Even though the future of the elephants in Cox's Bazar hangs in the balance due to the disruption of their migratory movements, it is worth noticing that concerted efforts by the government and international bodies have facilitated an atmosphere of coexistence. For the Rohingya refugees and the elephants, this rocky life of coexistence treads forward as it has since the exodus.
With reforestation and other significant conservation plans — like radio collaring to understand elephant behavior in the wild and their response to the new situation — underway, a ray of hope flickers on the horizon, although more breakthroughs in settling the environmental tension are yet to emerge.
"Across the world, the socioeconomic needs of human populations must be balanced with the sound management of wildlife species and their habitats. It is incredibly important to do all that we can to protect the remaining elephants in Cox's Bazar, which sadly are very few," says Robert Simpson of the FAO.
https://thediplomat.com/2020/06/the-rohingyas-and-the-elephants-how-humans-and-nature-collide-in-refugee-camps/
--------
West reluctant for 'dangerous' Taliban prisoners to be freed: sources
Hamid Shalizi, Abdul Qadir Sediqi
JUNE 18, 2020
KABUL (Reuters) - Western powers are backing the Afghan government's refusal to free hundreds of prisoners accused of some of Afghanistan's most violent attacks, a release demanded by the Taliban as a condition to start peace talks, five sources told Reuters.
The issue is a final major sticking point which, if resolved, is expected to lead quickly to intra-Afghan peace negotiations in Qatar aimed at ending more than 18 years of war in a U.S.-brokered peace process.
"The contentious part right now is the prisoners issue," a senior government source told Reuters. Two European diplomats, an Asian diplomat and another Afghan official confirmed his account.
"There are some dangerous Taliban fighters named in the list, and releasing them is literally crossing a red line," said a senior European diplomat.
"Some NATO members find it extremely uncomfortable to support the release of Taliban prisoners who were behind large-scale suicide attacks on minority groups and on expats."
The Taliban struck a troop withdrawal agreement with the United States in February to pave the way for talks with the Afghan government. But the insurgent group insisted a list of 5,000 prisoners be released, leading to months of delay as the Afghan government initially refused to set free that many prisoners before talks.
One Afghan security source and one diplomatic source told Reuters the United States had also expressed reservations about releasing some of the group that NATO and the Afghan government were objecting to setting free.
A U.S. State Department spokesperson said it wanted peace talks to be launched as soon as possible.
"The United States continues to be encouraged by the great progress on prisoners release by both sides. We support additional releases by both sides to get the issue off the table," the spokesperson said in an emailed statement.
The sources said that if all prisoners walked free, including those accused of killing many civilians in some of Afghanistan's bloodiest attacks, it would give the impression the insurgent group had the upper hand over the government while negotiations got under way.
The sources spoke on condition of anonymity given the sensitivity of the matter.
Taliban spokesman Zabihullah Mujahid said on Thursday the group still insisted that all 5,000 be released so talks could begin.
The Afghan government in recent weeks released around 3,000 of the prisoners and is prepared to set free all but a few hundred, government sources said. The Taliban has also released hundreds of prisoners.
Included in the contentious group were prisoners involved in large-scale attacks, such as the 2017 truck bombing near Germany's embassy in Kabul, which killed more than 150, according to two sources.
The Taliban denied high-profile attackers were on their list.
Full report at:
https://www.reuters.com/article/us-usa-afghanistan-taliban-prisoners/reluctance-to-free-most-dangerous-taliban-prisoners-slows-afghan-peace-talks-sources-idUSKBN23P3A9?utm_source=iterable&utm_medium=email&utm_campaign=1300563_
--------
US Investigates Alleged IS Plot to Kill American Peace Envoy to Afghanistan
By Jeff Seldin, Ayaz Gul
June 18, 2020
WASHINGTON/ISLAMABAD - U.S. officials say they are seriously investigating Taliban claims that Islamic State in Afghanistan was plotting to assassinate Zalmay Khalilzad, the American peace envoy for the country.
The Taliban have recently shared with journalists a video of two blindfolded men in their custody, saying they were recruited by Islamic State for the would-be suicide mission aimed at killing Khalilzad.
"The U.S. government takes any potential threat against U.S. personnel seriously," a State Department spokesperson told VOA when contacted for a reaction.
"U.S. officials are investigating the video, in addition to Afghan government authorities," the spokesperson added.
Khalilzad led the U.S. team that negotiated and sealed a landmark pact with the Taliban in February that aims to end the nearly 19-year Afghan war, America's longest.
The two captives, speaking in Pashto, said in their purported confession that the plot to kill the U.S. envoy was facilitated by former and current officers within the Afghan intelligence agency, the National Directorate of Security (NDS).
They also named Rahmatullah Nabil, a former NDS chief, as being one of their key contacts. Nabil swiftly denied the charges and denounced the video as fake two days after the Taliban released the nearly seven minutes of footage via its social media outlets.
"Very soon I will provide verified information in this regard in order for my fellow Afghans to reach an informed conclusion. Being honest with my people is always the main principles and values of my life," the former Afghan spymaster Sunday.
The would-be assassins in their video confession claimed that their team was to carry out the suicide car bombing outside the Kabul residence of a prominent Afghan jihadist leader, Hamid Gailani, where Khalilzad was scheduled to be during one of his trips to the country last month.
But the American envoy did not show up that day, and the hit team was ordered to report back to a contact in Logar province 10 days later, the men said. They added that Taliban insurgents stopped them at one of the posts on the road and took them into custody after recovering NDS credentials from their possessions.
The U.S. Department of Defense (DoD), which is training, advising and assisting Afghan National Defense and Security Forces (ANDSF), also questioned the militant assertions.
"The department is not currently aware of credible intelligence that suggests that the government of Afghanistan is working with ISIS to undermine the U.S.-Taliban agreement," said a Pentagon statement, using an acronym for the Middle Eastern terrorist outfit.
A U.S. defense official instead praised the role of the Afghan government and its security forces in fighting Islamic State militants throughout the country.
"Let us not allow this to overlook the extraordinary effort that continues to be undertaken by the ANDSF, and the many successes they have achieved against ISIS," said the official, who spoke on condition of anonymity.
Peace talks
The Taliban, in a statement, claimed the failed alleged assassination plot was solely meant to sabotage the insurgent group's historic agreement with the U.S. to end years of war in Afghanistan and to find a political settlement to four decades of turmoil in the country through intra-Afghan talks.
It is not yet known whether Taliban leaders in their frequent meetings with Khalilzad in Qatar, where the two adversaries signed the peace pact, have officially conveyed details of the alleged plot to kill him.
"Mechanisms remain in place for DoD and other [U.S. government] departments to raise and address issues of concern with the Taliban," noted a U.S. defense official.
The U.S.-Taliban agreement requires all American and coalition troops to leave Afghanistan by July 2021 in return for insurgent assurances not to allow terrorist groups to use Afghan soil for international attacks.
The Taliban have promised to engage in intra-Afghan negotiations to agree on a permanent cease-fire and power-sharing arrangement in postwar Afghanistan.
Full report at:
https://www.voanews.com/usa/us-investigates-alleged-plot-kill-american-peace-envoy-afghanistan?utm_source=iterable&utm_medium=email&utm_campaign=1300563_
--------
Top General Says U.S. Troop Cut In Afghanistan Hits 8,600 Target In Line With Taliban Deal
June 18, 2020
The United States has reduced its troop presence in Afghanistan to levels agreed to as part of a February deal with the Taliban, the general who oversees the region says.
"We agreed to go to the mid-8,000 range within 135 days," General Kenneth McKenzie, the head of U.S. Central Command, said at an event hosted by the Aspen Institute think tank on June 18. "We're at that number now."
The February deal provides for the withdrawal of U.S. troops and is intended to pave the way for peace talks between the Taliban and the U.S.-backed government in Kabul.
Under the deal, the United States agreed to reduce its forces in Afghanistan from 12,000 troops to 8,600 by mid-July. If the rest of the deal goes through, all U.S. and other foreign troops will exit Afghanistan by mid-2021.
McKenzie said a full U.S. troop withdrawal was "conditions-based" on the Taliban meeting their commitments.
A key plank of the agreement requires the Taliban to sever all ties with extremist groups such as Al-Qaeda and the Islamic State (IS) that could launch attacks on the United States and its allies.
McKenzie said the Taliban was already at odds with the IS group.
"What we need to see is what they're going to do against Al-Qaeda," he said, referring to the group responsible for the September 11, 2001 terrorist attacks on the United States. "And we need to see that in deeds and not words."
The Taliban has "not yet completely made that case," he said. "There remains an opportunity for them to do it, but time is now beginning to grow short."
A UN report released on June 1 said the Taliban still maintained close ties with the Al-Qaeda terrorist network.
"Relations between the Taliban, especially the Haqqani network, and [Al-Qaeda] remain close, based on friendship, a history of shared struggle, ideological sympathy, and intermarriage," said the report sent by independent UN sanctions monitors to the UN Security Council.
The report added that the Taliban "regularly consulted" with Al-Qaeda during negotiations with the United States and "offered guarantees that it would honor their historical ties."
U.S. special envoy to Afghanistan Zalmay Khalilzad downplayed the UN report, saying it largely covered a period before the February agreement.
Taliban militants control about half of Afghanistan's territory and have continued to carry out attacks since the U.S.-Taliban deal was signed.
The government has said that in recent weeks some 422 Afghan personnel have been killed or wounded across the country in at least 220 Taliban attacks.
IS militants have also carried a number of high-profile attacks, killing dozens of people.
An attack on May 24 on a maternity hospital in Kabul on May 24 killed was described as "horrific" by Doctors Without Borders, which last week announced it would cease activities at the hospital.
Full report at:
https://www.rferl.org/a/afghanistan-us-troops-taliban/30678552.html?utm_source=iterable&utm_medium=email&utm_campaign=1300563_
--------
Africa
Al-Qaeda North Africa confirms chief is dead: SITE
19/06/2020
Al-Qaeda's North Africa wing has confirmed that its Algerian chief Abdelmalek Droukdel is dead, according to SITE, the US watchdog for extremist groups.
France said early this month that its forces killed Droukdel in northern Mali near the Algerian border, where it says the group has bases it uses to carry out bombings and abductions of Westerners.
"After nearly two weeks, AQIM (Al-Qaeda in the Islamic Maghreb) has officially acknowledged the death of its long time leader Droukdel (Wadud), with a video eulogy narrated by AQIM's head of media, pledging continued battles against occupying French forces and others in N. Africa and the Sahel," SITE director Rita Katz said Thursday on her Twitter account.
French Defence Minister Florence Parly said June 6 that many close associates of the Algerian -- who commanded several groups under the AQIM banner -- were also "neutralised."
AQIM emerged from a group started in the late 1990s by radical Algerian Islamists, who in 2007 pledged allegiance to Osama Bin Laden's Al-Qaeda network.
The group has said it has carried out numerous attacks on troops and civilians across the Sahel, including a 2016 attack on an upmarket hotel and restaurant in Burkina Faso that killed 30 people, mainly Westerners.
The death of Droukdel -- once regarded as Algeria's enemy number one -- could leave AQIM in disarray, French military sources have said.
France has deployed more than 5,000 troops to combat jihadist groups in the region -- a largely lawless expanse stretching over Burkina Faso, Chad, Mali, Mauritania and Niger, where drugs and arms flow through porous borders.
https://www.france24.com/en/20200618-al-qaeda-north-africa-confirms-chief-is-dead-site?utm_source=iterable&utm_medium=email&utm_campaign=1300563_
--------
Troops killed 41 Boko Haram fighters in Borno –DHQ
June 19, 2020
The Defence Headquarters has said troops killed 41 insurgents during an attempt by the hoodlums to overrun Monguno, Borno State, on June 12.
It explained that soldiers of Operation Lafiya Dole in the counter-attack also rescued 33 captives and recovered a large cache of arms, ammunition and equipment.
The troops also reportedly eliminated high-value Boko Haram leaders and some of their fighters at Garin Maloma, on the fringes of the Sambisa Forest.
The Coordinator, Defence Media Operations, Maj. Gen. John Enenche, disclosed to journalists in Abuja on Thursday that the armed forces have equally continued to build on recent successes against bandits operating in the North-West.
He stated, "The counter-attack by our troops at Monguno resulted in the neutralization of 41 terrorists. Within the period under review, the land and air components of Operations Hadarin Daji, Katsina and Accord, carried out aggressive clearance operations at several identified bandits' enclaves.
"Most importantly was the attack on three camps operated by one Adamu Aleiro in a forest along Katsina-Zamfara boundary area."
Meanwhile, the Air Task Force of Operation Lafiya Dole has destroyed a compound housing some high-value Boko Haram leaders and their fighters.
Full report at:
https://punchng.com/troops-killed-41-boko-haram-fighters-in-borno-dhq/
--------
Nigeria Attacks Spark Fears of Bloodier Jihadist Strategy
JUNE 19, 2020
The attacks were swift and brutal: fleeing villagers were gunned down or crushed under the wheels of trucks. When the Islamist fighters left, dozens of mangled bodies lay scattered around.
People in northeast Nigeria are no strangers to horror after a decade-long jihadist insurgency that has seen thousands massacred and schoolgirls kidnapped. But a flurry of bloody assaults last week has ramped up fears that a powerful jihadist faction may be opening a grim new chapter by extending its murderous attention from military to civilian targets.
Fighters of the Islamic State West Africa Province (ISWAP) splintered from the main Boko Haram group in 2016. The rupture was in part over claims veteran leader Abubakar Shekau's campaign of suicide bombings against local Muslim residents was too cruel.
After pledging allegiance to the Islamic State group, the new faction sought to win support from communities by offering them rudimentary services. The insurgents focused their attacks on the Nigerian military and other outside players — killing hundreds of troops and abducting employees from international aid groups.
'Wounded Lion'
Now the recent surge in killings — which saw around 120 men, women, and children butchered over just a few days — has pushed some to see a turning point.
The bloodiest of the assaults came last Tuesday on the remote cattle-herding village of Felo. Residents and officials said 81 people were either shot dead or run over by vehicles as they tried to escape.
Survivors said the attack was a targeted reprisal after locals, tired of the jihadists stealing their cattle, formed a local defense group and began killing ISWAP members. "This was what led to the carnage on the herders," Babakura Kolo, head of another government-backed militia, told AFP.
Security sources and experts say the ferocity may be down to Nigerian army offensives that have piled pressure on the insurgents since April.
A regional security official said the operations — which the military claims have killed 1,400 jihadists — have no doubt "incensed the group."
"The Nigerian army often exaggerates the successes in its favor, but it is true that it has inflicted heavy casualties on ISWAP in recent months," said Bulama Bukarti, an analyst for sub-Saharan Africa at the Tony Blair Institute. "And like a wounded old lion, ISWAP is reacting violently."
Leadership Change
Feeding into the potential hardening of tactics is believed to be a change of ISWAP's leadership in a bloody internal purge last year.
Former head Idriss al-Barnawi was ousted and killed for being too "moderate" and replaced by a new shadowy figure known as Ba Lawan.
"This could be a fundamental turning point in the evolution of ISWAP," Bukarti said.
A source with deep knowledge of ISWAP's internal workings said the leadership was now "in the hands of more radical elements who see the local population as an enemy that should not be spared." "They accuse villagers of passing information on them to the military and (anti-jihadist) militia," the source said. "Ba Lawan and his lieutenants pursue the same extremely violent path that makes them no different from the same Boko Haram."
In fact, the new commanders have even begun reaching out to the rival faction.
A meeting was held with Boko Haram emissaries in March where the foes "agreed to bury the hatchet and work together against their common enemy," the source said.
Vincent Foucher, an analyst at the International Crisis Group think tank, said recent attacks "seemed to pursue specific objectives: to drive out the traitors, to multiply the tax receipts." But it remained too early to tell if the group's strategy had changed definitively.
Full report at:
https://www.thedefensepost.com/2020/06/19/nigeria-jihadist-strategy/?utm_source=iterable&utm_medium=email&utm_campaign=1300563_
--------
Nigerian military destroys Boko Haram's tactical command centre, kills militants: official
2020-06-20
ABUJA, June 19 (Xinhua) -- A tactical command center of terror group Boko Haram was completely destroyed and a number of militants killed by the Nigerian military following a series of airstrikes in the northeastern part of the country, an official said on Friday.
John Enenche, spokesman for the Nigerian military, who confirmed this in a statement made available to Xinhua, said the airstrikes were conducted on Wednesday at Yuwe, a part of the Sambisa Forest in the northern state of Borno.
The Sambisa Forest is known as the largest training camp of the Boko Haram group in Nigeria, Africa's most populous country.
Enenche said the operation on Wednesday was in continuation of the air interdiction missions being conducted to unhinge the leadership of the terror group.
"Nigerian Air Force fighter jets dispatched by the Air Task Force to take out the command center took turns in attacking the location, scoring accurate hits," he said.
This accurately led to the destruction of the Boko Haram powerhouse and surroundings, as well as the "neutralization of several fighters," he added.
Full report at:
http://www.xinhuanet.com/english/2020-06/20/c_139152637.htm
--------
Arab World
After US elections, there will be little change in Middle East policy: Experts
19 June 2020
Washington's Middle East policy is unlikely to see major change regardless of the outcome of the US presidential elections in November, analysts and former US government officials say.
While Democratic presidential candidate Joe Biden and incumbent President Donald Trump have already set out contrasting visions for the country ahead of the November 3 election date, US foreign policy in the Middle East has not been the campaign focus so far.
According to experts, Middle East policy is likely to see little change whether under a Trump or Biden administration – although there are some policy differences between two candidates.
For all the latest headlines follow our Google News channel online or via the app.
A range of policy analysts and experts told Al Arabiya English that Washington's policy toward Iran might be the most significant difference.
Biden has said that he would return to the Joint Comprehensive Plan of Action (JCPOA) nuclear deal, reached during the Obama administration but later abandoned by the Trump administration, which accuses Iran of failing to halt its destabilizing regional activities.
But Biden's approach is not guaranteed to change Iran's behavior or policies vis-à-vis the use of its proxies and militias in foreign countries.
His approach will depend on Iran's reaction, according to Robert Danin, a former senior State Department and National Security Council official.
"It will have to be played out," said Danin, a Senior Fellow at the Harvard Kennedy School's Belfer Center, in an interview with Al Arabiya English.
In contrast, a second Trump term would mean maintaining the current maximum pressure sanctions campaign against Iran.
According to Paul Salem, president of the DC-based Middle East Institute, this approach could force Iran to negotiate "because they can't survive" under the current circumstances.
Saudi Arabia, United Arab Emirates
The difference between the Democratic and Republican approach to Saudi Arabia and the UAE is "not profound," said Salem.
"[The US and Gulf countries] need each other and there are common interests between the sides," he said, adding that there will be no significant change.
"There are enduring US interests that are facts of life, which no US president can reinvent or fully ignore," Salem said.
He cites the continued importance of trade and energy flows through the Gulf, Red Sea, and Suez Canal "regardless of how much shale the US produces."
But Karen Young, resident scholar at the American Enterprise Institute (AEI), said that a Biden presidency and Democrat-majority Senate might have different policy priorities in the region.
Former US Ambassador to Morocco Ed Gabriel echoed Young that there would be a different emphasis and "balance of interests" for US policy in the Arabian Gulf if Biden were elected.
Danin, like Salem, said that US interests endure in Gulf security and Saudi Arabia's stability.
Iraq, Syria, Lebanon
The officials and analysts do not see a major shift in counterterrorism tactics and expect the war on terrorism to remain a challenge.
Both Trump and Biden see the best thing for the US – in agreement with Iraq – is to maintain a limited but significant presence in Iraq to counterbalance Iran, Salem says.
Young believes that both Trump and Biden are weary of US military engagement in the region and "both are hesitant to commit more military or economic resources to Iraq."
As for Syria and Lebanon, Young says neither Trump nor Biden have indicated much interest.
The recent announcement of the US Caesar Act, which looks to cut off revenues from reaching the Assad regime and his allies, went into effect on June 17.
And with the bipartisan support for the sanctions legislation, there appears to be little variation between Trump and Biden's approach. There is currently no pathway for any future US administration to undo the legislation.
Last July, Biden pledged to end "forever wars" that the US was involved in. However, Obama, Trump, and their predecessors all vowed to do the same. Therefore, it appears likely that there will be some continuity despite this rhetoric.
"There has been some shared reluctance to want to continue US involvement in open-ended conflicts in the region," Danin said.
In Lebanon, sanctions will continue under either president. Republicans have tended to argue for a more aggressive sanctions policy, although the Trump administration has held back on sanctions beyond Hezbollah.
The threat of this changing remains.
Gabriel pointed to the current administration's activeness, "putting forth strong proposals for Lebanon and its sovereignty."
Arab-Israeli conflict
Israeli Prime Minister Benjamin Netanyahu's widely criticized plans to annex the West Bank are set to begin July 1. If they go ahead, little will remain to be discussed on the US mediating role.
Biden has hinted that he would be less tolerant of Israeli land-grabs, but while he may change the "way he talks … there will be no real movement there," Salem said.
Resuming talks with the Palestinian Authority and reversing Trump's decision to stop funding the UN refugee agency for Palestinians might be all that Biden could salvage if elected.
"This is a strange, unprecedented and unusual period in American diplomacy," said Danin, adding that under Biden, there would be a return to "a more traditional US position somewhere between both sides."
Post COVID-19 America and more focus on domestic issues
The US that entered the COVID-19 pandemic will be different and more inward looking, noted the analysts.
According to Salem, economic recovery and jobs will be the focus with no appetite in Congress or among the public for international aid adventures. "Policy will be limited," he said.
Danin – who served under every administration from Ronald Reagan to Barack Obama – has seen transitions from campaigning to governing, which is "very sobering."
"You campaign against your predecessor's policies, come into power and realize it's much murkier and you realize you have to govern, not get elected," he said. "I saw it under Obama and every other president."
https://english.alarabiya.net/en/News/world/2020/06/19/After-US-elections-there-will-be-little-change-in-Middle-East-policy-Experts.html
--------
Coronavirus: Abu Dhabi Crown Prince sends jet to reunite Syrian parents with children
19 June 2020
A Syrian father shared a heartfelt thank you message to Abu Dhabi Crown Prince Sheikh Mohammed bin Zayed after the leader sent a private jet to reunite the man and his wife with their daughters in the UAE, following months of separation due to the coronavirus pandemic.
For more coronavirus news, visit our dedicated page.
"Today, June 16, airports are closed, and people are upset because of the coronavirus, because they left their children and families. The UAE's stance, and I especially want to thank Sheikh Mohammed bin Zayed, who has a big heart, for sending us a private airplane to take us, my wife and I, from a European country back to our children," the man said in a video that has been circulating on social media.
The father of two and his wife, who are residents of the UAE, were reportedly left stranded in Bosnia and Herzegovina after airports worldwide suspended flights in an effort to contain the spread of COVID-19.
When Sheikh Mohammed heard about how the two young girls were being looked after by their elderly grandmother, he ordered a private plane to bring back the parents.
Full report at:
https://english.alarabiya.net/en/coronavirus/2020/06/19/Coronavirus-Abu-Dhabi-Crown-Prince-sends-jet-to-reunite-Syrian-parents-with-children.html
--------
Saudi Arabia welcomes IAEA's resolution pressing Iran for access to nuclear sites
19 June 2020
Saudi Arabia has welcomed a resolution by the UN nuclear watchdog IAEA calling on Iran to stop denying the agency access to two suspected former sites and to cooperate fully with it, according to a statement from the Kingdom's ambassador to Austria.
The International Atomic Energy Agency 's 35-nation Board of Governors passed a resolution on Friday, adopted in a vote called after China expressed opposition to it, in which it raised pressure on Iran to let inspectors into the sites mentioned in two of its reports because they could still host undeclared nuclear material or traces of it.
For all the latest headlines follow our Google News channel online or via the app.
"The Kingdom of Saudi Arabia welcomes the adoption of the Board of Governors of the International Atomic Energy Agency (IAEA) for the draft resolution submitted by the three European countries (France, Germany, Britain) calling for Iran to fully and immediately cooperate with the agency, including allowing the agency access to the specified sites," read the statement from Prince Abdullah bin Khalid bin Sultan al-Saud, Saudi Arabia's Ambassador to Austria.
"The Kingdom supports this decision because it represents an important and serious step in efforts to address Iran's violations and breaches of international agreements and treaties related to its nuclear program, which comes in line with the Kingdom's repeated requests to the international community to assume its responsibilities towards not enabling Iran to develop nuclear technology for non-peaceful purposes in order to maintain international security and peace," the statement added.
Full report at:
https://english.alarabiya.net/en/News/gulf/2020/06/19/Saudi-Arabia-welcomes-IAEA-s-resolution-pressing-Iran-for-access-to-nuclear-sites.html
--------
Kuwaitis denounce Tunisia's Ghannouchi's state visit invite, recall pro-Saddam stance
20 June 2020
Many Kuwaitis have voiced their anger at a recent state visit invite sent to Tunisian parliament speaker and Islamist Ennhadha party leader Rached Ghannouchi, recalling his pro-Iraqi invasion of Kuwait stance and saying he was a persona non grata.
Ghannouchi was afforded an invite by Kuwait's parliament to visit the country as part of protocol given his position as the Tunisian parliament speaker, according to Marzouq al-Ghanim, the current speaker of the Kuwaiti National Assembly.
For all the latest headlines follow our Google News channel online or via the app.
Kuwaiti writers and former ministers said Ghannouchi would not be welcomed in the country by citizens given the former's support of the Iraqi invasion of their country in 1990 by late Iraqi leader Saddam Hussein.
"Ghannouchi was one of the strongest supporters of the 1990 invasion and was threatening the countries that contributed to the liberation of Kuwait and threatening others. Given the historical background, how can he be afforded a state visit invite? He has never apologized for his stance but has rather continued on the same path and narrative," said Hajjaj Bukhdhur, a Kuwaiti political analyst.
Following the uproar in Kuwait, al-Ghanim clarified in a statement late on Friday that the invite to Ghannouchi to visit Kuwait was preliminary and part of protocols and that there was no order to formally activated or confirm a visit.
According to al-Ghanim, the invitation on was sent last February 9 and its delivery was delayed due to the coronavirus pandemic.
Full report at:
https://english.alarabiya.net/en/News/gulf/2020/06/20/Kuwaitis-denounce-Tunisia-s-Ghannouchi-s-state-visit-invite-recall-pro-Saddam-stance.html
--------
Top court orders release of Kurdish opposition leader in blow to Erdogan
June 20, 2020
ANKARA: The Constitutional Court of Turkey announced on Thursday night that it had ordered the release of former presidential candidate and co-leader of the pro-Kurdish Peoples' Democratic Party (HDP) Selahattin Demirtas.
The court ruled that Demirtas' right to liberty had been violated because his detention had exceeded "a reasonable time," and ordered that compensation of TL50,000 ($7,289) be paid to Demirtas.
The surprise ruling followed several calls from the European Court of Human Rights (ECHR) for the release of Demirtas, who is accused by the ruling Justice and Development Party (AKP) of having links to the outlawed Kurdistan Workers' Party (PKK) — an accusation denied by both Demirtas and the HDP.
The Kurdish leader — who has been in prison since 2016 on terror charges carrying a sentence of up to 142 years — will not be set free immediately though, as he is now being held in relation to a case pertaining to Kurdish protests in October 2014, despite not being named as a suspect in that investigation.
Human rights activists say the court's Thursday ruling is a tactical move to alleviate mounting pressure from the Council of Europe — a human rights organization of which Turkey is a founding member — over the high-profile case, which is still pending before the ECHR's Grand Chamber. While the ECHR stated in November 2018 that Demirtas' detention was not justified, it will not usually issue an official verdict on a case until all avenues of the relevant domestic judicial system have been exhausted.
Demirtas — who has been called 'the Kurdish Obama' — was a robust challenger to Turkish President Recep Tayyip Erdogan during Turkey's June 2015 elections, managing to extend the HDP's traditionally limited Kurdish constituency by reaching out to liberal and left-wing Turkish voters, which resulted in the pro-Kurdish party gaining parliamentary representation for the first time.
However, the charismatic leader's rapid ascent stopped in November 2016 when he was jailed.
"This ruling of the Turkish top court confirmed once again the need to release Demirtas immediately. However, it is unlikely that it will happen soon under today's circumstances in the judiciary," Erdal Dogan, a human rights lawyer, told Arab News.
"This case is politically motivated. However, if the ruling government opts for a democratic approach to the Kurdish conflict, it will have to release Demirtas and hundreds of HDP officials. It is a matter of making choices," he continued, adding that the situation is further complicated for Ankara by the cross-border situations in Syria and Libya and its ongoing standoff with Russia.
"Demirtas should not spend one single minute behind bars but unfortunately his case is related to so many national and international dynamics (that have) to be negotiated," Dogan said.
Demirtas has been suffering from health issues related to his heart in prison, but Turkey's recent ruling allowing the release of 90,000 prisoners to ease overcrowding in jails and protect prisoners from the COVID-19 pandemic excluded those jailed over terrorism charges, so he remained incarcerated.
Amnesty International recently launched a campaign for the release of political prisoners in Turkey amid the pandemic, warning that their lives might be at risk highlighting its concerns about the health precautions the Ministry of Justice has put in place during the pandemic.
Andrew Gardner, senior Turkey researcher for Amnesty, told Arab News that the organization is monitoring the situation. A new report by the Human Rights Association has echoed Amnesty's concerns, saying that conditions in the prisons during the pandemic are worrying.
The Amnesty researcher also noted that it has long been clear that the cases against Demirtas — which Gardner described as "baseless" — are politically motivated and that the government has used them to try and silence him and intimidate his followers.
"The Turkish government is facing increased pressure over its policy of locking up critics — not only Demirtas, but also activist-philanthropist Osman Kavala and many others. After this ruling, the Council of Europe can further question Turkish authorities about why Demirtas is still in prison," Gardner said.
Full report at:
https://www.arabnews.com/node/1692496/middle-east
--------
Egypt to repatriate nationals stranded in Sudan due to coronavirus crisis
June 20, 2020
DUBAI: Egypt said it will facilitate the repatriation of 800 stranded citizens in Sudan early next week, local daily Al-Ahram Online reported citing the Emigration and Expatriate Affairs Minister Nabila Makram.
The citizens will return back to their home country through the Egyptian-Sudanese border, with buses offered to transport them to Egypt.
Stranded Egyptians should send their return requests to their embassy in Khartoum, Makram said.
The border between Egypt and Sudan was reopened after both countries earlier agreed to close it to prevent the spread of coronavirus.
https://www.arabnews.com/node/1692596/middle-east
--------
India
Indians stranded in Pakistan will arrive back home in three batches
Jun 19, 2020
AMRITSAR: Pakistan government has agreed to repatriate the Indian nationals who are stranded in Pakistan post coronavirus induced lockdown in three batches.
According to highly placed sources Pakistan's ministry of Interior has directed the Director General (DG) of Pakistan Rangers to repatriate the the stranded Indians on June 25th, 26th and 27th via Attari international border.
Earlier, the Indian high commission in Islamabad had asked the Pakistan government to repatriate nearly 700 Indians on June 23rd via Attari international border.
While quoting a letter of ministry of Interior written to Pakistan Rangers DG , the intelligence sources here informed that a total of 748 Indians would be sent back by Pakistan.
According to sources the standard Indians in batches of 250 each would be repatriated in three days.
Majority of the Indians who are stranded in Pakistan are those who had either gone to meet their relatives in Pakistan or visit religious places besides students from Jammu and Kashmir.
Many standard Indians had uploaded their videos on social media urging Pakistan government to send them back home since they had not only run out of their money but many of them required urgent medical assistance.
Pakistan government has also released a list of 748 standard Indians who would be sent home in 3 days beginning from June 25th.
https://timesofindia.indiatimes.com/india/indians-stranded-in-pakistan-will-arrive-back-home-in-three-batches/articleshow/76472252.cms
--------
Northeast Delhi riots: Two more chargesheets filed against AAP ex-councillor Tahir Hussain
Jun 20, 2020
NEW DELHI: Trouble seems to be mounting for suspended AAP councillor Tahir Hussain as Crime Branch of Delhi Police has filed two more chargesheets against him in the northeast Delhi riots.
In the first chargesheet, Tahir was allegedly found instigating arsonists to throw Molotov cocktails at a crowd in a parking lot near his house on main Karawal Nagar Road. He had also incited 10 others to shoot at the crowd from his terrace.
Hussain has also been accused of leading a mob to loot and ransack houses in the second chargesheet. A godown was set on fire leading to a loss of Rs 25-30 lakh to the owner. Several eyewitnesses told police that Hussain had led 40-50 youths who went on the rampage.
Police said a mob had gathered outside Pradeep's parking lot adjacent to Hussain's residence near Chand Bagh pulia on February 24. The rioters broke open the gate of Pradeep's house and robbed his belongings. His family was preparing for a wedding. The rioters destroyed the hall and items for the ceremony.
The ex-councillor instigated the crowd outside his house after which someone started firing shots. Another group dropped petrol bombs on the parked vehicles due to which several of them were gutted.
Ten people, including Hussain and his younger brother Shah Alam, have been named in the chargesheet. Both have been arrested and named as accused in the murder of IB sleuth Ankit Sharma too. The sequence of events and eyewitness accounts have been mentioned in the document.
Full report at:
https://timesofindia.indiatimes.com/city/delhi/northeast-delhi-riots-two-more-chargesheets-filed-against-aap-ex-councillor-tahir-hussain/articleshow/76475932.cms
--------
Pakistani drone shot down by BSF along IB in J&K
Jun 20, 2020
JAMMU: A Pakistani drone was shot down by the Border Security Force along the International Border in Kathua district of Jammu and Kashmir on Saturday, officials said.
The drone was spotted hovering in the skies by a BSF party on patrol duty in the vicinity of Border Out Post Pansar around 5.10 am, the officials said.
They said the BSF personnel fired about nine rounds and shot down the flying object 250 metres inside Indian territory.
Senior BSF and police officers have rushed to the spot and further investigation is on.
Jammu & Kashmir: Weapons recovered from the Pakistani drone shot down by Border Security Force (BSF) personnel in K… https://t.co/YN1dUP3reu
— ANI (@ANI) 1592625916000
Meanwhile, the officials said Pakistani rangers fired a few rounds on Babiya post in Hiranagar sector around 8.50 am. There was no retaliation by the BSF guarding the IB, they said, adding the situation is being monitored closely.
https://timesofindia.indiatimes.com/india/bsf-shoots-down-drone-that-entered-jks-kathua-from-pakistan/articleshow/76476385.cms
--------
Sharjeel's hate speech led to looting of temple donation boxes and arson: UP
Jun 20, 2020
NEW DELHI: Uttar Pradesh government on Friday told the Supreme Court that the FIR lodged by UP police against Sharjeel Imam should not be clubbed with the FIRs lodged by police in Delhi, Manipur, Assam or Arunachal Pradesh as his January 16 speech at Aligarh led to vitiate communal harmony for next two months and large scale arson, stone pelting and firing at police.
Though the SC adjourned hearing on Sahrjeel's petition seeking consolidation of all FIRs, which made his alleged speech to cutoff Assam from India with five lakh persons, in all five states as states of Assam, Manipur and Arunchal were granted time to put in their responses, the Yogi Adityanath government said the accused person's speech at Aligarh Muslim University on january 16 during an anti-CAA protest had distinct local effect and hence different from the offences that could have been committed in other states as those FIRs showed.
The state government said "subsequent to the January 16 hate speech at AMU and it becoming viral on social media platforms, there have been large scale incidents of stone pelting, arson and firing in the Aligarh district."
"On January 23, around 150-200 protesters, including AMU students, blocked the road and raised slogans of hatred. On January 31, more than 500 persons congregated, including AMU students, for an anti-CAA demonstration creating a tense situation. On February 23, more than 500-600 unknown persons pelted stones, looted donation boxes at temples, scuffled with temple priests, leading to conflict and tension," the state said in its affidavit.
"Again on February 23, more than one thousand persons in a pre-planned manner forcibly entered Kotwali Upkot and created a riotous situation by firing from illegal firearms. On February 24, a congregation raised hatred slogans and pelted stones at police and fired upon them with illegal weapons injuring several policemen and damaging public property," it said.
Full report at:
https://timesofindia.indiatimes.com/india/sharjeels-hate-speech-led-to-looting-of-temple-donation-boxes-and-arson-up/articleshow/76475364.cms
--------
Farooq demands restoration of J&K's special status
Jun 19, 2020
SRINAGAR: First time since the annulment of J&K's special status in August last year, Farooq Abdullah and his party colleagues have demanded restoration of the special Constitutional privileges enjoyed by the erstwhile state.
Senior National Conference functionaries, headed by former J&K chief minister and Srinagar MP Farooq Abdullah, in a statement released on Friday underscored the need to restore J&K's special status and the constitutional guarantees extended under binding covenants, "that were unconstitutionally, arbitrarily and unilaterally taken away on August 5, 2019".
The NC demanded immediate annulment of all decisions made on August 5, 2019 and restoration of J&K's constitutional position that existed till the previous day (August 4, 2019).
The statement also called for opening of all traditional routes including Kargil-Skardu, Jammu-Sialkot, Poonch-Rawalakot, allow free movement of people across LoC and LAC and promote people-to-people contact and strengthen inter-regional trade and cultural links.
The MPs also expressed "deep anguish" over skirmishes on LoC and LAC and the consequent loss of life and property.
"The civilian population in the border areas, it is pointed out, is under huge economic stress and the border skirmishes are to further compound its problems. It is stated that revocation of August 5, 2019 decisions and unconditional dialogue with all the stakeholders is pivotal to the lasting peace and prosperity in the region," the statement said.
The statement further said, the apparent shift in BJP's stand from "belligerence to amity and peace", discernible from the recent statements of Rajnath Singh and Nitin Gadkari, two senior Ministers in the Union Cabinet are welcome steps.
The NC statement also welcomed the "bold admission" made by Gadkari that while he and his colleagues want to make India strong, "the strength does not come from expansion" and they want "peace not violence" and to "work together".
Full report at:
https://timesofindia.indiatimes.com/india/farooq-demands-restoration-of-jks-special-status/articleshow/76472781.cms
--------
26/11 plotter Tahawwur Rana arrested in Los Angeles, faces extradition to India
June 20, 2020
A Chicago businessman, who spent more than 10 years in prison for aiding terrorist groups, has been arrested in Los Angeles to face murder charges in India for attacks in Mumbai in 2008 that killed more than 160 people US prosecutors said Friday.
Tahawwur Rana, a Pakistani-born Canadian, was convicted of a terrorist charge connected to the group behind the Mumbai killings, sometimes called India's 911 though US prosecutors failed to prove he directly supported the threeday rampage.
Rana, 59, was serving a 14-year sentence when he was granted early release from a Los Angeles federal prison last week because of poor health and a bout of coronavirus but he never got out before being arrested to face extradition to India prosecutors said.
He has been charged with murder and murder conspiracy in India, according to court documents. A request for comment to Rana's public defender was not immediately returned.
Rana was convicted in Chicago in 2011 of providing material support to the Pakistani terror group Lashkar-e-Taiba which planned the India attack and for supporting a never-carried-out plot to attack a Danish newspaper that printed cartoons of the Prophet Muhammad in 2005. The cartoons angered many Muslims because pictures of the prophet are prohibited in Islam.
Jurors cleared Rana of a more serious charge of providing support for the attacks in Mumbai, India's largest city, that killed 166 injured nearly 240 and caused 15 billion in damage.
Ranas lawyer said he had been duped by his high school buddy David Coleman Headley, an admitted terrorist who plotted the Mumbai attacks. The defense called Headley the government's chief witness who testified to avoid the death penalty a habitual liar and manipulator.
Rana was accused of allowing Headley to open a branch of his Chicagobased immigration law business in Mumbai as a cover story and travel as a representative of the company in Denmark.
Prosecutors said Rana knew Headley had trained as a terrorist Headley shared information of the scouting missions he conducted in Mumbai and of the Taj Mahal Palace hotel where gunmen later slaughtered dozens of people.
Headley, who was born in the US to a Pakistani father and American mother, said his hatred of India dated to his childhood when his school in Pakistan was bombed by Indian military planes during a war between the countries in 1971.
Months after the Mumbai attacks, Headley who did not take part in the attacks told Rana he was even with the Indians now according to a court document Rana said they deserved it.
Headley who pleaded guilty to conspiracy to murder was sentenced to 35 years in prison As part of his plea deal he cant be extradited to India.
Full report at:
https://indianexpress.com/article/cities/mumbai/mumbai-terror-attacks-26-11-plotter-tahawwur-rana-arrested-6467622/
--------
J&K: At least 8 militants killed in 24 hours in separate encounters
June 19, 2020
At least eight militants have been killed in two separate encounters in Jammu and Kashmir over the last 24 hours. Security forces launched two operations on Thursday, in which five militants have been killed in Shopian and three in Awantipora.
Defense spokesperson Col Rajesh Kalia said three militants have been killed in an operation in Pampore area of South Kashmir's Awantipora district, including two who took refuge in a mosque.
"Maintaining the sanctity of the mosque, two terrorists hiding inside were eliminated. Precise operation with no collateral damage ensured. Joint operation in progress," he said.
In Shopian district, at least five militants have been killed in an ongoing operation.
Full report at:
https://indianexpress.com/article/india/jammu-and-kashmir-encounter-with-militant-shopian-awantipora-6466116/
--------
URL: https://www.newageislam.com/islamic-world-news/facebook-removes-trump-campaign-ads/d/122172
New Age Islam, Islam Online, Islamic Website, African Muslim News, Arab World News, South Asia News, Indian Muslim News, World Muslim News, Women in Islam, Islamic Feminism, Arab Women, Women In Arab, Islamophobia in America, Muslim Women in West, Islam Women and Feminism