New Age Islam News Bureau
23 Aug 2013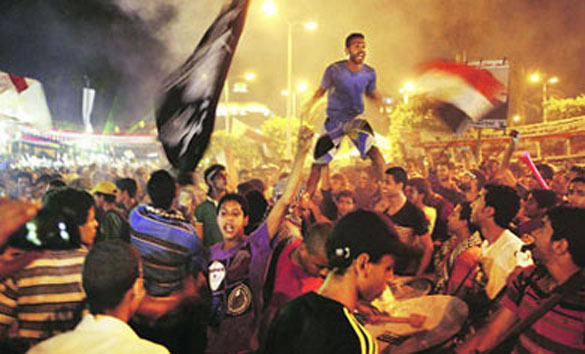 Experts suggest Egypt will be the scene for a new generation of Al Qaeda (IE photo)
------
Europe
• Experts Say Next Generation of Al-Qaeda Being Created In Egypt
• France says use of force an option in Syria
• UN chief: Syria chemical attack would be 'crime against humanity'
• Britain has secret Middle East web surveillance base: Report
• UK Foreign Secy believes Assad behind chemical attack
Arab World
• Twin bombs kill 27 at north Lebanon mosques
• 25 killed, 47 injured in Iraq attacks
• Suicide bomber kills six in Syria restaurant: Reports
• Fear of new showdown on Egypt streets in 'Friday of martyrs'
• American photographer escapes Syrian Islamist torturers - paper
• Egypt Salafists warn against uprooting Islamism
• Lebanon Caught in Middle of Iranian-Saudi 'Cold War'
• Let UN access site: West to Assad
• 67% of Egyptians are satisfied with dispersal of Brotherhood sit-ins: Baseera
Mideast
• Turkish PM Erdogan suggests alternative United Nations
• Hamas, Islamic Jihad Gunmen Clash Over Mosque
• Yemen asks US for drones to fight Al-Qaeda militants
• Gaza Salafist Leader Calls For Jihad against Egyptian General
• Turkish PM Erdogan sheds tears on TV over Egyptian father's letter to slain young girl
• Turkey's religious head refuses UN fund for violence against women project
• Abbas: Peace deal will mean end of Palestinian demands of Israel
• Palestinian arrested for selling 'Morsi perfume': Family
• Iranian FM: possession of nuclear bomb would threaten Iran
South Asia
• Violence against minorities seldom tied to religion in Bangladesh: US Ambassador
• Leading MDP politicians to be charged with drug and alcohol offences
• Bangladesh lacks rule of law, democratic values Says Former Adviser
• 48 Afghan nationals held under Foreign Act in Pakistan
Southeast Asia
• Indonesian clerics lash out at Miss World competition
• Jakarta Deputy Governor Opposes Protest Based on Gender, Faith
• Between fake tolerance and pseudo-freedom of religion
Africa
• Nigerian state at center of Islamic uprising plans to train angry youths to halt extremism
• Opposition in Tunisia rejects ruling Islamists' concession
• Nigeria rescues 25 children from alleged child trafficker
• Libya PM defends payment to military brigades
• I'm an authentic Libyan — Zidan
North America
• US soldier sorry for Afghan massacre, 'cowardice'
• From Muslims in America, a novel protest against Quran burning
• US sanctions four Hezbollah militants across Mideast
• Obama: Chemical weapons allegation in Syria 'of grave concern'
• U.S. divided over how to respond to Mideast violence
• US arrests man from Sierra Leone in Iran uranium sting
• US to maintain a passive stand on crisis in Egypt
Pakistan
• Rights of minorities: 'Ahmadis not allowed to do business in Muslim areas'
• Pakistan poll victory a mandate for peace with India, feels Nawaz Sharif
• Experts at seminar offer strategy to deal with radicalism in Pakistan
• Peace volunteers step up patrol in Peshawar suburbs
• School blown up in 2009 yet to be rebuilt in Lower Dir
• PHC withholds results of women-barred KP polling stations
• Explosion near Rangers headquarters in Karachi kills two, injures 9
• PML-N makes gains in Pakistan by-elections
India
• SSC book shows parts of Gujarat in Pakistan
• 'No foreign power be allowed to set up military base on Indian soil'
• Forces conduct flag march in Ayodhya, arrest warrants issued against 70 VHP leaders
• India and Iraq consider local currencies as medium of exchange after rupee decline
Compiled by New Age Islam News Bureau
URL: https://newageislam.com/islamic-world-news/experts-say-next-generation-al/d/13172
----------
Europe
Experts Say Next Generation of Al-Qaeda Being Created In Egypt
Aug 22 2013
Paris: Experts predict that Egypt's bloody crackdown on the Muslim Brotherhood has been a gift to Al-Qaeda that will help it attract fresh followers and open a new front in the Middle East.
The repression of the Muslim Brotherhood and the ouster of Islamist president Mohamed Morsi could see a new generation of radicals joining the movement founded by Osama bin Laden.
"There are fears that the bloody crushing of peaceful demonstrations will encourage an Islamist minority, convinced of the futility of the political process, to turn to violence," said Jean-Pierre Filiu, a Middle East expert at Sciences Po University in Paris, in whose words, "The Egyptian military will then have nourished the very terrorism it is claiming to fight."
Egypt, the most populous Arab country, has already proven fertile ground for radicalism.
Al-Qaeda chief Ayman al-Zawahiri is Egyptian, as was Mohammed Atta, the top hijacker in the September 11, 2001 attacks.
Egyptian authorities have arrested Zawahiri's brother Mohamed for supporting Morsi, and the Al-Qaeda chief has repeatedly called on supporters to take up arms against the country's army-installed interim government.
"In Zawahiri's view, Egyptians should follow the path of Mohammed Atta and resort to terror against the near enemy, the Egyptian army, and the far enemy, America, which has armed and trained Egypt's military," Bruce Riedel, a former CIA analyst now at the Brookings Institute, wrote recently.
"The future of global jihad is being defined in Egypt this summer. The next generation of Al-Qaeda is being born," he said.
Even before the Egyptian security forces broke up two pro-Morsi protest camps in Cairo, unleashing violence that has killed more than 1,000 people in the past week, radical groups were taking to the Internet to call for an armed struggle in Egypt.
On July 5 a new group calling itself "Ansar al-Sharia in Egypt" announced its formation, saying "a war against Islam has been declared in Egypt" and calling on supporters "to prepare by obtaining arms and training."
Somalia's Shebab Islamist group has also called on Muslims in Egypt to take up arms.
"O' Muslim Brotherhood fear Allah!" Shebab wore on its Twitter page this week. "Forget the calls of democracy, pick up arms and defend yourselves against the butchers who are intent on killing you en masse".
Alain Chouet, a former chief at France's DGSE foreign intelligence service, said the outlook in Egypt seems grim.
http://www.indianexpress.com/news/experts-say-next-generation-of-alqaeda-being-created-in-egypt/1158815/
----------
France says use of force an option in Syria
AP | Aug 22, 2013
PARIS: France's foreign minister on Thursday raised the possibility of the international community using force if it is proven that Bashir Assad's regime used chemical weapons in an attack the Syrian opposition says killed over 100 people.
Laurent Fabius spoke a day after the UN Security Council called for "a thorough, impartial and prompt investigation" of the latest allegations against the regime, in a statement that diplomats say was watered down by objections from Syria allies Russia and China.
Opposition forces and activists have said that at least 136 people, including many children, were killed in the Wednesday attack in which most bodies bore no sign of wounds. The United States, Britain, France and others have demanded that a team of UN experts already in Syria be granted immediate access to investigate the site.
Speaking on RMC radio, Fabius did not make clear how the use of chemical weapons by the Syrian regime might be proven. But if there is proof of a chemical weapons attack by the regime, "we need a reaction by the international community .... a reaction of force," he said.
Fabius excluded boots on the ground as an option, "but a reaction that can take a form, I don't want to be more precise, of force."
France has been at the forefront of efforts to rid Syria of Assad. It was the first to back the opposition Syrian National Coalition and appoint a coalition ambassador in Paris. With Britain, it pressed for the lifting of European arms sanctions, though once they were lifted pulled back and said it is supplying non-lethal military equipment plus humanitarian aid.
Fabius said he spoke at length with the head of the coalition chief, Ahmad al-Jarba, who "confirmed absolutely" that the regime was behind the chemical attack. The Syrian government has adamantly denied using chemical weapons in an artillery barrage targeting suburbs east of Damascus.
The attack coincided with the visit to Syria by a 20-member UN chemical weapons team which only has a mandate to investigate three previous allegations of chemical weapons use. Without a mandate, which needs Syria's approval, the investigators would not be able to visit the site of the attack.
Russian foreign ministry spokesman Alexander Lukashevich reiterated his claims that the accusations against Assad could be a bid to get the Security Council to stand by the opposition, and to undermine efforts to resolve the conflict by convening a peace conference in Geneva.
"This all smacks of an attempt, at any cost, to establish grounds for forwarding the demands of the enemies of the regime" to the Security Council, he said, pointing to the timing of "this crime near Damascus" and the arrival of the UN team as evidence of "premeditated provocation"
He said on Wednesday that Russia's information indicated that the rocket that could have carried the toxic chemical had been launched from positions in a Damascus suburb occupied by opposition forces.
The Turkish and German foreign ministers, while underlining demands for the regime to allow U.N. inspectors to investigate, were vague about the consequences if it doesn't - beyond renewing calls for sanctions.
"Several red lines have been crossed - if sanctions are not imposed immediately, then we will lose our power to deter," Turkish Foreign Minister Ahmet Davutoglu said, speaking at a press conference in Berlin.
His German counterpart was more hesitant about an eventual response.
"I am not speculating about what should happen if these reports turn out to be true," Guido Westerwelle said. "These accusations are so serious, so monstrous that it is necessary to enable a real examination before talking or speculating about consequences."
Davutoglu, speaking through an interpreter, said the allegations "must be cleared up in the most objective way." He said he'd spoken to U.N. Secretary General Ban Ki-moon and told him that "the UN must not behave hesitantly anymore; sanctions must now be imposed."
Turkish Deputy Prime Minister Bekir Bozdag insisted it was clear that the Assad regime had used chemical weapons.
"It is clear that chemical weapons were used. It is clear that in Syria, only the Assad administration is in possession of this weapon," Bozdag said. "The whole world knows who has what amount of weapons, where these weapons are and where they go to. This is clear as day. Everyone knows who used the chemical weapons."
http://timesofindia.indiatimes.com/world/middle-east/France-says-use-of-force-an-option-in-Syria/articleshow/21982101.cms
----------
UN chief: Syria chemical attack would be 'crime against humanity'
August 23, 2013
The use of chemical weapons in Syria would constitute a "crime against humanity", UN chief Ban Ki-moon said on Friday, adding there was "no time to lose" in probing alleged attacks which the opposition says killed hundreds.
Ban described reports of the incidents near Damascus on Wednesday as "very alarming and shocking" and urged the regime to allow a United Nations inspection team, already on the ground in Syria, to begin an investigation without delay.
Footage distributed by activists, showing unconscious children, people foaming around the mouth and doctors apparently administering oxygen to help them breathe, has triggered revulsion around the world.
Ban's comments, at a United Nations event in Seoul, piled more pressure on Syrian President Bashar al-Assad after French President Francois Hollande denounced the "likely" use of chemical weapons.
"Any use of chemical weapons anywhere, by anybody, under any circumstances, would violate international law," Ban said. "Such a crime against humanity should result in serious consequences for the perpetrator.
"There is no time to waste," Ban said, adding that he had instructed his envoy for disarmament affairs, Angela Kane, to travel to Damascus immediately.
"I can think of no good reason why any party -- either government or opposition forces -- would decline this opportunity to get to the truth of the matter."
The United States said it has yet to "conclusively determine" chemical weapons were used. President Barack Obama has ordered US spy agencies to urgently probe the claims, aides said.
Damascus denied it unleashed chemical weapons, particularly at a time when the UN was in Syria to inspect three sites where other such attacks allegedly took place.
It would be "political suicide" to go ahead with such an attack, a senior security source said.
The opposition National Coalition says more than 1,300 people were killed in gas attacks southwest and east of the capital.
Syrian activist Abu Ahmad, speaking to AFP over the Internet from Moadamiyet al-Sham, the rebel-held town southwest of Damascus where the deadliest attack allegedly took place, said he helped bury dozens of civilians whose bodies were "pale blue", and who died of "suffocation".
Videos posted online by activists have provoked shock and condemnation around the globe.
None of the videos could be verified but AFP analysed one of the most striking pictures showing the bodies of children using specialised software.
The analysis showed the picture was not manipulated and was taken, as presented, on August 21.
Former US Army Chemical Corps officer Dan Kaszeta said "it would be relatively hard to fake" the amount of video footage that has surfaced.
"There's a lot of stuff that goes on in that video and a lot of the victims sadly are children, and it's hard to get small children to consistently fake things," said Kaszeta, an independent consultant.
Experts said convulsions, pinpoint pupils and laboured breathing seen in footage of alleged victims could be symptoms of nerve gas.
But they also insisted only blood and urine samples gathered from the victims could provide definitive proof.
"I was sceptical about the claims of nerve agent neurotoxicants (but) I have revised my position on that a bit on the basis of footage I have seen... where a number of symptoms consistent with organophosphorus poisoning" were apparent, said chemical weapons specialist Jean Pascal Zanders.
Organophosphorus is a chemical compound used in nerve agents like sarin and kills by asphyxiation.
The US State Department said Obama had instructed intelligence services to gather information about the claims.
"Right now, we are unable to conclusively determine CW (chemical weapons) use," said State Department spokesperson Jen Psaki.
But she said the administration had been focused since reports of the attack broke on efforts to "nail down the facts."
One year ago, Obama warned the use of chemical weapons in Syria would cross a "red line" and have "enormous consequences".
US Secretary of State John Kerry spoke with his British counterpart William Hague late on Thursday about the developments, the Foreign Office said.
More than 100,000 people have been killed in Syria's 29-month war, the UN says. Millions more have been forced to flee their homes.
One million Syrian children now live as refugees abroad, UN children's agency UNICEF said on Friday. Two million more have been displaced within their homeland's borders.
"This one millionth child refugee is not just another number. This is a real child ripped from home, maybe even from a family, facing horrors we can only begin to comprehend," agency chief Anthony Lake said.
The UN refugee agency has registered all one million children by name.
http://www.hindustantimes.com/world-news/Americas/Syria-footage-shows--unmistakable-symptoms-of-nerve-gas-usage-world-outraged/Article1-1111778.aspx
----------
Britain has secret Middle East web surveillance base: Report
AFP | Aug 23, 2013
LONDON: Britain is running a secret internet surveillance station in the Middle East, a report said on Thursday citing the latest leaked documents obtained by fugitive US security contractor Edward Snowden.
The Independent newspaper said it was not disclosing the country where the base is located, but said the facility can intercept emails, telephone calls and web traffic for the United States and other intelligence agencies.
The British base taps into underwater fibre-optic cables in the region, the newspaper said.
It passes the information back to the British electronic eavesdropping agency GCHQ (Government Communications Headquarters), in Cheltenham, southwest England, which then shares it with the US National Security Agency.
Britain's foreign office said when contacted by AFP about the report that "we do not comment on intelligence matters".
The Independent did not say how it obtained the details from the Snowden files.
Snowden, a former NSA contractor, first released details of US and British surveillance activities through the Guardian newspaper earlier this year. Russia has granted him temporary asylum as he bids to avoid prosecution in the United States.
British counter-terror police on Thursday launched a criminal investigation into documents seized from the boyfriend of Guardian journalist Glenn Greenwald, the reporter who broke the Snowden story.
The Guardian said this week that GCHQ experts had on July 20 supervised the destruction of the hard drives and memory chips on which its Snowden material had been saved.
The government has confirmed that Prime Minister David Cameron's most senior policy advisor, Cabinet Secretary Jeremy Heywood, was sent to tell the Guardian they had to either destroy or return the material, or face legal action.
http://timesofindia.indiatimes.com/world/uk/Britain-has-secret-Middle-East-web-surveillance-base-Report/articleshow/21990020.cms
----------
UK Foreign Secy believes Assad behind chemical attack
23 August 2013
William Hague says he believes forces loyal to President Assad were behind a chemical weapons attack in Damascus.
"I know that some people in the world would like to say that this is some kind of conspiracy brought about by the opposition in Syria," said Mr Hague.
"I think the chances of that are vanishingly small and so we do believe that this is a chemical attack by the Assad regime."
It was "not something that a humane or civilised world can ignore".
Pressing for UN weapons inspectors to be given access to the site, the UK foreign secretary said: "It seems the Assad regime has something to hide.
"Why else have they not allowed the UN team to go there?"
The UK had not ruled out any options for the future, added Mr Hague.
"Any option that complies with international law and could save innocent lives, we have to be open to those options," he said, but added any decisions would come later and he would not speculate about them.
'Terrible atrocity'
Speaking at the Foreign Office, Mr Hague warned that the UK would be ready to go back to the United Nations Security Council to secure a stronger mandate "for the world to speak together more forcefully about this" if there was no movement over the next few days.
He said he had spoken to UN Secretary-General Ban Ki Moon this morning and hoped to speak to the Russian foreign minister later. He spoke on Thursday evening to US Secretary of State John Kerry.
Mr Hague said: "We need to make sure the world knows the facts of what has happened and that means the UN team that is in Damascus - only 20 minutes travel away - being able to get there and to investigate."
He added: "This is what we are focused on and we are working with countries all over the world to try to bring this about and to try to establish the truth to the satisfaction of the world about what is clearly a terrible atrocity.
"The only possible explanation of what we have been able to see is that it was a chemical attack and clearly many, many hundreds of people have been killed, some of the estimates are well over 1,000.
"There is no other plausible explanation for casualties so intense in such a small area on this scale."
Shadow foreign secretary Douglas Alexander called for a fresh UN resolution on Syria, saying its response so far was "clearly insufficient".
"The British Government should now initiate steps with our allies on the UN Security Council to secure the agreement of a fresh resolution which not only condemns the use of chemical weapons but specifies the mandate of the UN inspection team already in Syria to include East Ghouta.
"Analysis and verification will rely on a swift and thorough inspection on the ground, so there is a real urgency to the UN team being granted full access by the Syrian authorities to the sites of the alleged attacks."
http://www.bbc.co.uk/news/uk-politics-23812398
----------
Arab World
Twin bombs kill 27 at north Lebanon mosques
23 August 2013
At least 27 people have been killed and more than 350 injured by two blasts in Lebanon's northern city of Tripoli, officials say.
As Friday prayers ended, a blast hit the al-Taqwa mosque, usually attended by prominent Sunni cleric Sheikh Salem Rafii. His fate is not clear.
A second blast five minutes later hit the al-Salam mosque.
War in neighbouring Syria has raised sectarian tensions between the city's Sunni Muslim and Alawite communities.
Sheikh Salem Rafii is one of the most prominent Sunni leaders in Lebanon, BBC Arabic reports from Beirut. He is opposed to Lebanon's militant Shia Hezbollah group and has previously urged the country's young men to join opposition fighters in Syria.
Full report at:
http://www.bbc.co.uk/news/world-middle-east-23811328
----------
25 killed, 47 injured in Iraq attacks
IANS | Aug 23, 2013
BAGHDAD: At least 25 people were killed and 47 injured in a wave of attacks in different parts of Iraq on Thursday, most of them targeting the security forces, the police said.
Ten soldiers and four civilians were killed and as many people injured when a suicide bomber attacked an army checkpoint with a booby-trapped tank near Ramadi, 100 km from Baghdad, reported Xinhua citing a police source.
Full report at:
http://timesofindia.indiatimes.com/world/middle-east/25-killed-47-injured-in-Iraq-attacks/articleshow/21994638.cms
----------
Suicide bomber kills six in Syria restaurant: Reports
23 August 2013
A suicide bombing in a restaurant in Syria's second city Aleppo killed six people, including a journalist from pro-government television, state media and a monitoring group said Friday.
The blast struck as a group of youths celebrated the graduation of a student, who was one of those killed in the attack in the dining area of Mogambo on Thursday, said the Syrian Observatory for Human Rights.
Full report at:
http://english.ahram.org.eg/NewsContent/2/8/79728/World/Region/Suicide-bomber-kills-six-in-Syria-restaurant-Repor.aspx
----------
Fear of new showdown on Egypt streets in 'Friday of martyrs'
Reuters | Aug 23, 2013
CAIRO: Supporters of Egypt's deposed president will stage a "Friday of martyrs" of mass protests, risking more potential bloodshed to show they can still claim the streets after a week in which hundreds were gunned down and their leaders jailed.
Egyptians are enduring the bloodiest civil unrest of their modern history after the military overthrew Mohamed Morsi on July 3 following demonstrations against his rule.
In a symbolic victory for the army-dominated old order, former autocrat Hosni Mubarak - toppled in a 2011 pro-democracy uprising - was freed from jail on Thursday, while his freely elected successor Morsi remains imprisoned.
Full report at:
http://timesofindia.indiatimes.com/world/middle-east/Fear-of-new-showdown-on-Egypt-streets-in-Friday-of-martyrs/articleshow/21996233.cms
----------
American photographer escapes Syrian Islamist torturers - paper
August 23, 2013
BEIRUT: An American photographer has escaped from Syrian Islamists who seized him in December, tortured him and were still holding an American cellmate near Aleppo, the freelancer told the New York Times.
Matthew Schrier, 35, told the paper on Friday that he was accused by captors from Jabhat al-Nusra, a militant group aligned with al Qaeda, of being a CIA spy. On his first trip to a war zone and travelling without a commission from a media organisation, he was taken as he left Aleppo by car on Dec. 31.
Full report at:
http://www.dailystar.com.lb/News/Middle-East/2013/Aug-23/228401-american-photographer-escapes-syrian-islamist-torturers-paper.ashx#ixzz2cnajYicJ
----------
Egypt Salafists warn against uprooting Islamism
August 23, 2013
By Tom Perry
CAIRO: While security forces round up the Muslim Brotherhood, Egypt's second largest religious party has warned the state against trying to wipe out political Islam entirely during its toughest crackdown in decades.
The Nour Party, a Salafist group that backed the military's removal of President Mohammad Morsi last month, is now also feeling the heat, its leader Younes Makhyoun told Reuters.
Members of his pacifist party – which follows an austere interpretation of Islam – have been beaten, harassed and turned over to the police in recent days, simply because they wear beards as a sign of their religious observance, he said.
Full report at:
http://www.dailystar.com.lb/News/Middle-East/2013/Aug-23/228347-egypt-salafists-warn-against-uprooting-islamism.ashx#ixzz2cnauBsOy
----------
Lebanon Caught in Middle Of Iranian-Saudi 'Cold War'
By: An Al-Monitor
Aug 23 2013
Lebanese officials are holding their breath in worried anticipation of what might befall their country in the near future. The security and political situations already suggest that this small country may not be able to safely skirt the repercussions of events engulfing the region. It is now believed that Lebanon is not only being buffeted by the Syrian crisis, but also by the sectarian fighting in Iraq, which itself is now connected to events in Syria. The country is also being affected by the sometimes discreet, oftentimes open, and always wide-ranging tug-of-war between Saudi Arabia and Iran.
Full report at:
http://www.al-monitor.com/pulse/originals/2013/08/lebanon-center-iran-saudi-cold-war-levant.html#ixzz2cmg0XQhC
----------
Let UN access site: West to Assad
August 23, 2013
Western powers demanded Syria give UN chemical weapons experts immediate access on Thursday to rebel-held Damascus suburbs where poison gas appears to have killed hundreds just a few miles from the UN team's hotel. There was no sign, however, that they would soon be taking take samples at
the scene of horrors that have drawn comparison with the gassing of thousands of Iraqi Kurds at Halabja in 1988.
President Bashar al-Assad's opponents gave death tolls from 500 to well over 1,000 and said more bodies were being found in the wake of Wednesday's mysterious pre-dawn killer fumes, which the Syrian government insists were not of its making.
Full report at:
http://www.hindustantimes.com/world-news/restofasia/Let-UN-access-site-West-to-Assad/Article1-1111657.aspx
--------
67% of Egyptians are satisfied with dispersal of Brotherhood sit-ins: Baseera
23 August 2013
Latest opinion poll by the Egyptian Centre for Public Opinion Research (Baseera) indicated that 67 percent of Egyptians are "content" with the police's dispersal operation of two pro-Morsi sit-ins on 14 August.
The same poll showed that 24 percent of respondents aren't content and 9 percent are undecided.
According to Magued Osman, head of the Centre, the poll also showed that only 17 percent of the respondents believe the sit-in was unarmed. Sixty-seven percent believe it contained weapons, and only 16 percent say they don't know.
Full report at:
http://english.ahram.org.eg/NewsContent/1/64/79701/Egypt/Politics-/-of-Egyptians-are-satisfied-with-dispersal-of-Brot.aspx
-----------
Mideast
Turkish PM Erdogan Suggests Alternative United Nations
Aug 23 2013
Turkish Prime Minister Recep Tayyip Erdogan has suggested the formation of an alternative United Nations criticizing inaction of the body against recent atrocities in the world.
"If we really say that the world is bigger than five [permanent members of the Security Council], then the other countries could establish their own United Nations. Such a move could be made. Such a move would prompt them [the United Nations] to reform. What will the U.N do when they would pull," Erdogan said at a televised interview on Aug. 22, criticizing the U.N. Security Council for its failure to act on Syria and Egypt.
In May, the prime minister issued a call for reform in the United Nations Security Council. He pointed out that the five permanent members of the council did not actually represent the whole world.
http://www.hurriyetdailynews.com/turkish-pm-erdogan-suggests-alternative-united-nations.aspx?pageID=238&nID=53086&NewsCatID=338
----------
Hamas, Islamic Jihad Gunmen Clash Over Mosque
By: Asmaa al-Ghoul
Aug 23 2013
Tensions were renewed between Hamas and Islamic Jihad in Gaza on Aug. 20, after an armed clash between the two groups at a disputed mosque.
The armed clash was between the Hamas government's security services and gunmen from Islamic Jihad's Al-Quds Brigades, three of whom were injured. The clash was a result of a dispute inside the Islamic Jihad-affiliated al-Tawhid mosque in Beit Hanoun in the northern Gaza Strip.
This latest confrontation comes less than two months after a fighter with the rank of major in the Al-Quds Brigades, the military wing of Islamic Jihad, was shot dead in Gaza by a police officer who stormed his house.
Full report at:
http://www.al-monitor.com/pulse/originals/2013/08/hamas-islamic-jihad-mosque-clash-shiite.html#ixzz2cmfSh2lo
----------
Yemen asks US for drones to fight Al-Qaeda militants
Mohammed Ghobari
Aug 23 2013
SANA'A — Yemen has asked the United States to supply it with drones, President Abd-Rabbu Mansour Hadi said on Thursday, to help it fight an Al-Qaeda threat that recently forced Western countries to temporarily close diplomatic missions in Sana'a.
State news agency Saba also quoted Hadi as telling police cadets that 40 suspected Al-Qaeda militants had been killed in recent counter-terrorism operations and vowed to keep fighting them until they laid down their weapons.
Full report at:
http://www.saudigazette.com.sa/index.cfm?method=home.regcon&contentid=20130823177859
----------
Gaza Salafist Leader Calls For Jihad Against Egyptian General
By: Asmaa al-Ghoul
Aug 23 2013
The emir of the Salafist group Jaysh al-Umma, or Army of the Islamic Nation, in Gaza, Abu Hafs al-Maqdisi, called for jihad in Egypt to save it from the rule of the so-called "New Pharaoh" — in reference to Egyptian Defense Minister Abdel Fattah al-Sisi.
In an exclusive interview with Al-Monitor, Maqdisi said, "We direct our message to our people in Egypt. You have to go out for jihad and lift the injustice and tyranny, and stop the bloodshed by the tyrant Sisi and his supporters. So get out and stay in the fields and public squares until Sisi — along with all his political, religious and military pillars — falls."
Maqdisi denied any relationship between his Salafist group and the execution of 25 Egyptian soldiers who were shot dead in Sinai, saying, "There is no presence for us on the ground in Egypt or in the Sinai, and there is no coordination between us and the Salafist groups there. Full report at:
http://www.al-monitor.com/pulse/originals/2013/08/salafist-gaza-hamas-egypt-sinai.html#ixzz2cmfu1ei3
----------
Turkish PM Erdogan sheds tears on TV over Egyptian father's letter to slain young girl
Aug 23 2013
Prime Minister Recep Tayyip Erdogan shed tears live TV on Aug. 22 over an Egyptian father's letter to his daughter, who was killed by the security forces in Cairo.
After listening to a prerecorded video of the letter being read out, Erdogan sat speechless for a few moments with tears in his eyes. He then explained why the letter - written by senior Muslim Brotherhood politician Mohammad al-Beltagy for his daughter Asma - had touched him so much.
Full report at:
http://www.hurriyetdailynews.com/turkish-pm-erdogan-sheds-tears-on-tv-over-egyptian-fathers-letter-to-slain-young-girl.aspx?pageID=238&nID=53078&NewsCatID=338
----------
Turkey's religious head refuses UN fund for violence against women project
Aug 23 2013
President of the Directorate General for Religious Affairs (Diyanet) Mehmet Görmez declared that the department would refuse to continue receiving loans for an ongoing United Nations-led project in Turkey. The gesture is in line with Turkey's blunt criticism of the U.N. for its perceived lack of action regarding the turmoil in Syria.
"I will not spend a single lira of the U.N.'s money," Görmez said on Aug. 22 during a signing ceremony for the "Cooperation Protocol for Providing Contribution of Religious Officials in Protection of Family and Preventing Violence against Women," which was also attended by Deputy Prime Minister Bekir Bozdag and Family, Social Policies Minister Fatma Sahin.
Full report at:
http://www.hurriyetdailynews.com/turkeys-religious-head-refuses-un-fund-for-violence-against-women-project.aspx?pageID=238&nID=53062&NewsCatID=341
----------
Abbas: Peace deal will mean end of Palestinian demands of Israel
Aug 23 2013
RAMALLAH - Palestinian President Mahmoud Abbas wants a negotiated peace agreement to include a clause stating that the conflict with Israel is over, he told a delegation from the Israeli left-wing party Meretz, headed by MK Zahava Gal-On, on Thursday.
"People say that after signing a peace agreement we will still demand Haifa, Acre and Safed," he said. "That is not true. Signing the agreement will signal the end of the conflict."
Abbas further clarified that in any peace settlement the Palestinian state would agree to be demilitarized. He noted that during earlier negotiations with former Prime Minister Ehud Olmert there was an agreement to post American soldiers in the West Bank to help maintain security.
Full report at:
http://www.haaretz.com/news/diplomacy-defense/1.543125
----------
Palestinian arrested for selling 'Morsi perfume': Family
AFP | Aug 23, 2013
TULKAREM (Palestine): Palestinian security services have arrested an Islamist sympathiser in the West Bank for selling perfume named in honour of Egypt's ousted president Mohamed Morsi, family members said.
Islambuli Badir, a 36-year-old member of Islamist movement Hamas, was arrested during a raid on his perfume shop in the town of Tulkarem, his brother Abdel Fattah Badir told AFP.
"Men from the security services on Tuesday raided my brother's shop and confiscated all the perfume bottles that were labelled 'Morsi,' then arrested Islambuli and also seized his laptop," said Abdel Fattah.
Full report at:
http://timesofindia.indiatimes.com/world/middle-east/Palestinian-arrested-for-selling-Morsi-perfume-Family/articleshow/21988474.cms
------
Iranian FM: possession of nuclear bomb would threaten Iran
23 August 2013
AFP, Tehran
The possession of a nuclear bomb would threaten Iran's security, the country's foreign minister, Mohammad Javad Zarif, said in comments reported on Friday.
"We consider the possession of nuclear arms doesn't conform with the interests of the country and threatens the security of Iran," Zarif said, adding however that Iranians "will not give up their rights."
"But we will show the world that there is no threat from Iran. The only threat... is from the Zionist regime," he said, quoted by the Fars news agency, in reference to Israel.
Full report at:
http://english.alarabiya.net/en/News/middle-east/2013/08/23/Zarif-Possession-of-nuclear-bomb-would-threaten-Iran-.html
----------
South Asia
Violence against minorities seldom tied to religion in Bangladesh: US Ambassador
Aug 23 2013
The violence against religious minorities in Bangladesh is seldom about religion, US Ambassador Dan Mozena said yesterday.
Rather, it is about the pursuit of power and financial gain of the cheap politicians and greedy land grabbers, he told a seminar on "Religious Tolerance and Peace" organised by Inter-Faith Dialogue Forum (IFDF) at the capital's Brac Centre.
"These cheap politicians and greedy land grabbers are a threat to the nation," he said.
Citing examples, Mozena said most recently, "we saw how the greedy owner of Rana Plaza grabbed land from a Hindu family and built on it the building complex that is now known around the world as the symbol of greed, corruption and land grabbing from minorities."
Full report at:
http://www.thedailystar.net/beta2/news/violence-against-minorities-seldom-tied-to-religion/
----------
Leading MDP politicians to be charged with drug and alcohol offences
By Ahmed Nazeer | August 22nd, 2013
The Prosecutor General (PG) has filed drug related charges against Maldivian Democratic Party (MDP) senior figures arrested on Hondaidhoo Island in November last year in alleged possession – and under the influence – of illegal substances.
Criminal Court Media Official Ahmed Mohamed Manik today told Minivan News that the PG had charged MPs Abdulla Jabir and Hamed Abdul Ghafoor, and a person identified as Jadhulla Jameel, with smuggling alcohol into the country and consuming alcohol.
According to Manik, the PG has also forwarded additional charges against other individuals arrested from Hondaidhoo.
Full report at:
http://minivannews.com/society/leading-mdp-politicians-to-be-charged-with-drug-and-alcohol-offences-63124
----------
Bangladesh lacks rule of law, democratic values Says Former Adviser
Aug 23 2013
Former adviser to a caretaker government Dr Akbar Ali Khan yesterday said the country was not enjoying the benefits of democracy due to a lack of the rule of law and democratic values.
"There is a shell of democracy in Bangladesh, it has no life," he told Dhaka YES Conference 2013 at the Dhaka University senate building. "Due to a lack of the scope of people's participation, the democratisation of democracy hasn't happened here." Pointing out some barriers to the flourishing of democracy, Akbar said although the lawmakers elected the president, he/she did not have any power to give any right decision on anything, while the lawmakers did what they were asked to do by their superiors.
Full report at:
http://www.thedailystar.net/beta2/news/country-lacks-rule-of-law-democratic-values/
----------
48 Afghan nationals held under Foreign Act in Pakistan
Aug 23 2013
QUETTA: Law enforcement personnel arrested 48 Afghan nationals under the Foreign Act. The arrests took place in Gahi Khan Chowk near Sariab. The police said that law enforcement personnel had arrested the Afghan nationals during checking on Thursday. They had entered the country without valid travelling documents, the police added. Later, they were handed over to the police for further interrogation.
http://www.dailytimes.com.pk/default.asp?page=2013\08\23\story_23-8-2013_pg7_9
----------
Southeast Asia
Indonesian clerics lash out at Miss World competition
23 August 2013
AFP, Jakarta
Indonesia's top Islamic authority lashed out Friday at the country's decision to host the Miss World beauty pageant next month, saying that women exposing their bodies went against Muslim teaching.
The pageant is already facing opposition in Muslim-majority Indonesia, with radicals vowing to stage protests against the contest even after organizers agreed to drop the bikini round in a bid to avoid causing offence.
The Indonesian Ulema Council (MUI) added its voice to the protests Friday, saying a top-level meeting of clerics earlier this month decided it did not want the pageant in the country.
"Exposing women's bodies in public is 'Haram,' forbidden by Islamic teaching, "senior MUI official Muhyiddin Junaidi told reporters in the capital Jakarta.
Full report at:
http://english.alarabiya.net/en/life-style/fashion-and-beauty/2013/08/23/No-world-peace-Indonesian-Muslim-clerics-lash-out-at-Miss-World-competition.html
----------
Jakarta Deputy Governor Opposes Protest Based on Gender, Faith
Aug 23 2013
The Jakarta administration says it will not bow to pressure from a group of South Jakarta residents requesting the dismissal of their local ward chief for being a woman and a Christian.
A petition — signed by 2,300 Lenteng Agung residents, 1,500 of whom had submitted their identity cards — was delivered to the city administration to demand the removal of Susan Jasmine Zulkifli as ward chief, a position appointed by the provincial government.
Jakarta Deputy Governor Basuki Tjahaja Purnama said the protest was illogical and irrelevant to her role as leader of a ward, the fourth tier of public administration down from the province.
Full report at:
http://www.thejakartaglobe.com/news/jakarta/basuki-opposes-protest-based-on-gender-faith/
----------
Between fake tolerance and pseudo-freedom of religion
Achmad Munjid, Yogyakarta
August 22 2013
President Susilo Bambang Yudhoyono underlined in his recent state of the union address the state's protection of minority groups. But as the slow development of reconciliation between the Shiite and the mainstream Muslim groups in Madura have shown, tolerance and freedom of religion in post-independence Indonesia have been frequently interpreted mostly from the perspective of the majority and many of the actual practices finally lead to fake tolerance and pseudo-freedom of religion.
Full report at:
http://www.thejakartapost.com/news/2013/08/22/between-fake-tolerance-and-pseudo-freedom-religion.html
----------
Africa
Nigerian state at center of Islamic uprising plans to train angry youths to halt extremism
By MICHELLE FAUL | ASSOCIATED PRESS | Aug 22, 2013
Using every resource from psychologists to agriculture experts and security forces, the Nigerian state at the heart of an Islamic uprising hopes to reach a reservoir of angry and rootless young men easily recruited by Islamic extremists and transform them into productive members of society.
"We are trying to look inward at what is the immediate cause and who are these people" in the Islamic sect, Boko Haram, that has morphed into a terrorist network, Zanna Mustapha, deputy governor of Borno state, told The Associated Press.
Mustapha heads a high-ranking committee that is seeking to stem the root causes of extremism in Borno, one of three northeastern states under a 3-month-old state of emergency.
Full report at:
http://www.newser.com/article/da8b4d9o2/nigerian-state-at-center-of-islamic-uprising-plans-to-train-angry-youths-to-halt-extremism.html
---------
Opposition in Tunisia rejects ruling Islamists' concession
23 August 2013
AFP, Tunis
Tunisia's opposition coalition on Friday rejected proposals by the ruling Islamists for ending a month-long political crisis, saying its offer to enter talks on a government of technocrats was insufficient.
"All negotiations without the dissolution of the government are a waste of time," said Taieb Baccouche, a representative of the National Salvation Front.
Full report at:
http://english.alarabiya.net/en/News/middle-east/2013/08/23/Opposition-in-Tunisia-rejects-ruling-Islamists-concession-.html
--------
Nigeria rescues 25 children from alleged child trafficker
August 23, 2013
LAGOS: Nigerian authorities have rescued 25 children from an illegal orphanage where they were being kept inside a single room and being offered for sale, officials said Friday, the country's latest case of child trafficking.
The children rescued in Lagos, Nigeria's largest city, were aged between three months and 12 years old. The home had been operating for some 18 years, though it was unclear if it had been engaged in the same alleged activity throughout that time.
"The children were rescued last week in Egbeda. The owner of the illegal orphanage is in custody and she is assisting police in their investigation," said Hakeem Bello, spokesman for the state governor.
Full report at:
http://www.dailystar.com.lb/News/International/2013/Aug-23/228404-nigeria-rescues-25-children-from-alleged-child-trafficker.ashx#ixzz2cnb2XCu4
-----------
Libya PM defends payment to military brigades
Sami Zaptia
Aug 23 2013
TRIPOLI — Speaking before the General National Congress (GNC) this week, Prime Minister Ali Zidan defended his decision earlier in the year to continue paying military brigades. With regards to the controversial decision to pay the LD900 million to the Dera (Shield) brigades in delayed salaries, the prime minister said that he had followed the right protocol. Congress had agreed to this payment which he had referred to the Ministry of Finance, which in turn had transferred payment to the accounts of the military, he said.
It was the chief of staff at the time who had decided to pay the Dera (Shield) brigades, Zidan said.
Full report at:
http://www.saudigazette.com.sa/index.cfm?method=home.regcon&contentid=20130823177862
----------
I'm an authentic Libyan — Zidan
Sami Zaptia
Aug 23 2013
TRIPOLI — Prime Minister Ali Zidan reacted robustly on Tuesday when a GNC member questioned his Libyan-ness.
Zidan was summoned by the GNC, together with a number of his ministers, to defend the performance of his government and in particular to reply to allegations that he was dictatorial in his running of his government.
Zidan was also answering questions about security and Sheikh's accusation that he was delaying the building of the army and police.
Full report at:
http://www.saudigazette.com.sa/index.cfm?method=home.regcon&contentid=20130823177863
----------
North America
US soldier sorry for Afghan massacre, 'cowardice'
AP | Aug 23, 2013
JOINT BASE LEWIS-MCCHORD, Washington: The US soldier who massacred 16 Afghan civilians apologized Thursday for his "act of cowardice" as he made his case at his sentencing hearing for why he should someday have a chance at freedom.
Staff Sgt. Robert Bales he said he was angry and afraid when he went on a solo nighttime mission and slaughtered villagers, mostly women and children, on March 11, 2012 in their huts. The massacre prompted such angry protests that the US temporarily halted combat operations, and it was three weeks before Army investigators could reach the crime scene.
Bales did not recount specifics but described the attack as "an act of cowardice, behind a mask of fear, bullshit and bravado."
Full report at:
http://timesofindia.indiatimes.com/world/us/US-soldier-sorry-for-Afghan-massacre-cowardice/articleshow/21992409.cms
----------
From Muslims in America, a novel protest against Quran burning
TNN | Aug 22, 2013
WASHINGTON: In an effort to overturn the image of Muslims as fire-breathing, sword-slashing conquerors and avengers, a Muslim group in America will resort to a pacific response to the provocative burning of the Quran by a fundamentalist Christian evangelist.
Pastor Terry Jones, the notorious Christian extremist who riled Muslims across the world with his inflammatory burning of the quran in 2011, has upped the ante by threatening to burn 3000 copies of the Quran on September 11, the anniversary of the terrorist attack on America that killed nearly 3,000 people. But instead of getting provoked, the so-called " World Muslim Congress" in the US said it will "reclaim the standard of behavior practiced by the prophet concerning scurrilous and hostile criticism of the Quran."
Full report at:
http://timesofindia.indiatimes.com/world/us/From-Muslims-in-America-a-novel-protest-against-Quran-burning/articleshow/21982162.cms
----------
US sanctions four Hezbollah militants across Mideast
AP | Aug 23, 2013
WASHINGTON: The US slapped sanctions on Thursday on four members of the Shiite-based militancy Hezbollah, whose operations throughout the Mideast and beyond show how far the Lebanon-based group's reach has spread.
The treasury department order bars any Americans from dealing with the militants and freezes any money they may have in the US treasury undersecretary David Cohen predicted other financial institutions across the world, including in Lebanon, could follow suit.
Cohen, who oversees terrorism and financial intelligence issues, described the four as either high-ranking Hezbollah operatives or those directly tasked with carrying out operations. Full report at:
http://timesofindia.indiatimes.com/world/us/US-sanctions-four-Hezbollah-militants-across-Mideast/articleshow/21989626.cms
----------
Obama: Chemical weapons allegation in Syria 'of grave concern'
23 August 2013
New allegations of chemical weapons used by Syrian forces were of "grave concern," U.S. President Barack Obama said in an interview broadcast Friday, Agence France-Presse reported.
In an interview with CNN he said this week's allegations by Syrian opposition forces were more serious than previous charges against the regime of President Bashar al-Assad.
"We are right now gathering information about this particular event, but I can say that unlike some of the evidence we were trying to get earlier that led to a U.N. investigator going into Syria, what we've seen indicates clearly this is a big event, of grave concern," AFP quoted the president as saying.
Full report at:
http://english.alarabiya.net/en/News/middle-east/2013/08/23/Russia-urges-Syria-to-cooperate-with-U-N-chemical-experts-.html
---------
U.S. divided over how to respond to Mideast violence
23 August 2013
The Associated Press, Washington
Persistent violence in Syria and Egypt has sharply divided senior advisers in the Obama administration over a moral dilemma: How far should the U.S. go to stop the killing when its actions could lead to war with Syria or damage relations with Egypt?
Hundreds have died in Egypt during protests brought on by the military overthrow of President Mohammed Mursi. In Syria, allegations of chemical weapons attacks on civilians by the government of President Bashar Assad come amid reports of hundreds more victims in a 2-year-old civil war that, by U.N. estimates, has already killed more than 100,000.
Full report at:
http://english.alarabiya.net/en/perspective/2013/08/23/U-S-divided-over-how-to-respond-to-Mideast-violence.html
---------
US arrests man from Sierra Leone in Iran uranium sting
Reuters | Aug 23, 2013
MIAMI: US prosecutors charged a man from Sierra Leone with trying to sell undercover agents 1,000 tons of yellowcake uranium he thought would be shipped to Iran, after he was arrested in New York with a sample of the toxic material hidden in his luggage.
Patrick Campbell, 33, of Freetown, was arrested at John F. Kennedy International Airport on Wednesday after he arrived from Sierra Leone with the sample of uranium concealed in the soles of shoes in his luggage, according to a criminal complaint filed in a Florida federal court on Thursday.
Full report at:
http://timesofindia.indiatimes.com/world/us/US-arrests-man-from-Sierra-Leone-in-Iran-uranium-sting/articleshow/21993574.cms
----------
US to maintain a passive stand on crisis in Egypt
Jal Taraporevala, TNN | Aug 23, 2013
As the political impasse in Egypt continues unabated, the US is paying mere lipservice to its call for a return to civilian rule. This is partly a reflection of the close ties it has enjoyed for decades with the Egyptian army, which is using its recent assumption of power to clamp down on the Muslim Brotherhood, with whom Washington has sharp differences.
Besides, the US has opted to play a relatively passive role since the situation in Egypt is so fluid that it is wanting to keep its political options open at this stage.
Full report at:
http://timesofindia.indiatimes.com/world/us/US-to-maintain-a-passive-stand-on-crisis-in-Egypt/articleshow/21993207.cms
----------
Pakistan
Rights of minorities: 'Ahmadis not allowed to do business in Muslim areas'
August 23, 2013
LAHORE: A man was forced to abandon his woodworking business and flee Gujranwala with his family after his erstwhile friends and neighbours discovered that he was an Ahmadi, The Express Tribune has learnt.
Imran Ahmed, 35, started out as a daily wager at a woodwork shop in Gujranwala. He saved up money for three years, then invested Rs100,000 in machinery and setting up his own workshop. As his business grew, he hired two carpenters to work for him. "Things were going really well, but nobody knew I was an Ahmadi," he said.
Ahmed said that his was the only Ahmadi family in Rana Colony in Gujranwala and he kept this a secret as he feared being victimised. He got along well with his neighbours and one day, when he was injured in a motorcycle accident, they came to ask after him. Inside his house, they saw pictures of Ahmadi personalities. "Their mood totally changed and they left without even having tea," he said.
Full report at:
http://tribune.com.pk/story/593922/rights-of-minorities-ahmadis-not-allowed-to-do-business-in-muslim-areas/
----------
Pakistan poll victory a mandate for peace with India, feels Nawaz Sharif
Aug 23 2013
Islamabad : Prime Minister Nawaz Sharif sees his victory in Pakistan's election as a mandate for peace with India, saying an arms race between the two countries must end and they should settle their dispute over Kashmir.
"We have been in a very unfortunate arms race with India ever since partition and I think we are a very unfortunate country from that point of view," he said.
"I think this must come to an end. The money wasted in defence should have gone into social sectors - it should have gone into education, it should have gone into health care," Sharif said in his first interview with The Telegraph after becoming premier in June.
Full report at:
http://www.indianexpress.com/news/pakistan-poll-victory-a-mandate-for-peace-with-india-feels-nawaz-sharif/1159164/
--------
Experts at seminar offer strategy to deal with radicalism in Pakistan
Aug 23 2013
Pakistan is not alone in facing the menace of radicalism and extremism, as several other countries too face similar problems, and are having their own respective measures to contain the scourge, said experts at the conclusion of a two-day seminar on 'Innovating means to resolve radical extremism in Pakistan.' They advised Pakistan to study and follow these role models while tackling the problem in the country.
Organized by a nascent think tank, Center for Pakistan and Gulf Studies (CPGS), in Islamabad, the seminar on Wednesday urged the Pakistan government to establish a Counter Terrorism Strategy (CTS), which will be based on the intensive studies and analyses of the role models that other countries have successful implemented.
Full report at:
http://www.arabnews.com/news/462179
----------
Peace volunteers step up patrol in Peshawar suburbs
ALI HAZRAT BACHA
Aug 23 2013
PESHAWAR: The volunteers of peace committees in the suburban areas of Peshawar have tightened security in their respective localities after receiving threatening telephone calls from militants.
The peace volunteers have started regular patrolling of the entry points in their areas to check movement of suspected persons.
A police official told Dawn that situation was under control mainly owing to the two recent operations in parts semi-tribal regions. However, he said that police still believed that militants were present in the areas and kept an eye on their movement but overall situation was under control.
Full report at:
http://dawn.com/news/1037721/peace-volunteers-step-up-patrol-in-peshawar-suburbs
----------
School blown up in 2009 yet to be rebuilt in Lower Dir
Aug 23 2013
TIMERGARA: Residents of Dapoor village in Maidan on Wednesday demanded of the government to rebuild the high school which was blown up by militants in 2009.
Talking to journalists here, the elders, including Malik Fateh Rahman, Malik Ayub Khan, Malik Gul Zaman, Ghulam Rahim and Mohammad Azam, said over 300 students, including 80 girls, had been suffering as the government had failed to rebuild the lone high school of the village.
They said the students were sent back to homes during rains and sizzling heat.
"Since there is no high school for girls in the nearby area so they have to be enrolled at this school, which is against the local norms," they said.
Full report at:
http://dawn.com/news/1037719/school-blown-up-in-2009-yet-to-be-rebuilt-in-lower-dir
----------
PHC withholds results of women-barred KP polling stations
ZAHIR SHAH SHERAZI
Aug 23 2013
PESHAWAR: Chief Justice of Peshawar High Court, Justice Dost Muhammad Khan, by taking suo motu notice of ban on women voting in some constituencies of Khyber Pakhtunkhwa province, has ordered to withhold results and arrest those behind the act on Thursday.
The chief election commissioner, on the directive of the chief justice Peshawar High Court, has withheld the by-polls results in NA-5 Nowshera, NA-27 Lakki Marwat and PK-27 Mardan.
The PHC chief justice has ordered to arrest Tribal Jirga members or individuals involved in barring women form voting in the said constituencies.
Full report at:
http://dawn.com/news/1037611/phc-withholds-results-of-women-barred-kp-polling-stations
----------
Explosion near Rangers headquarters in Karachi kills two, injures 9
August 22, 2013
KARACHI: An explosion outside the Rangers Headquarters in Korangi number 5 on Thursday evening killed two people and injured at least nine others including army officials, Express News reported.
Army and Rangers officials were returning to the area after by-elections in the NA-254 constituency had ended when a planted explosive device went off. Army and Rangers personnel were among those injured.
Security forces surrounded the area immediately after the blast.
Express News correspondent Nadeem Ahmed reported that the injured are now being shifted to the Indus Hospital located near the area. Officials with serious injuries are being taken to Jinnah Hospital in Karachi.
Full report at:
http://tribune.com.pk/story/593793/explosion-near-rangers-headquarters-in-karachi/
----------
PML-N makes gains in Pakistan by-elections
Aug 23 2013
The ruling PML-N grabbed the lion's share of seats in Pakistan by-elections held in 41 constituencies consolidating its grip on power.
Cricketer-turned-politician Imran Khan's Pakistan Tehreek-e-Insaf lost two of its key seats of National Assembly (NA) that were vacated by none other than the party chief himself.
The spree of upsets did not spare the PML-N either that lost three seats in the Punjab Assembly, considered as the ruling party's bastion.
Full report at:
http://www.thehindu.com/news/international/south-asia/pmln-makes-gains-in-pakistan-byelections/article5051920.ece
----------
India
SSC book shows parts of Gujarat in Pakistan
Puja Pednekar
August 23, 2013
After excluding Arunachal Pradesh from the map of India in a Class 10 geography textbook, the Maharashtra board's effort to rectify the error has resulted in another major faux pas.
The stickers pasted on the revised textbooks show some parts of Gujarat in Pakistan. To make matters worse, the islands of Lakshadweep and Andaman and Nicobar have not been marked at all.
On August 21, the International Boundary Directorate under the Survey of India wrote to the Union home, defence and HRD ministries stating that the latest blunder is "likely to compromise national security" and is against the National Map Policy (2005) and Map Restriction Policy issued by the ministry of defence.
Full report at:
http://www.hindustantimes.com/India-news/mumbai/SSC-book-shows-parts-of-Gujarat-in-Pakistan/Article1-1111655.aspx
----------
'No foreign power be allowed to set up military base on Indian soil'
TNN | Aug 23, 2013
NEW DELHI: Holding that India "will not allow any foreign country to establish a military base on Indian soil", the defence ministry on Thursday rubbished reports that New Delhi and Washington had ever discussed such a proposal.
This comes after a top American Air Force officer, General Herbert 'Hawk' Carlisle, was quoted as saying that the US would station its fighter jets in India and other countries in the future, as part of its larger pivot or re-balancing of forces towards the crucial Asia-Pacific region.
The Indian MoD, however, said no such proposal had ever been on the Indo-US bilateral agenda. "India has carefully nurtured strategic relations with many countries. There is a great deal of clarity in our policy. We are not part of any military bloc, nor will ever be," said an official.
Full report at:
http://timesofindia.indiatimes.com/india/No-foreign-power-be-allowed-to-set-up-military-base-on-Indian-soil/articleshow/21989574.cms
----------
Forces conduct flag march in Ayodhya, arrest warrants issued against 70 VHP leaders
Aug 23 2013
LUCKNOW/FAIZABAD: Even as security forces on Friday conducted flag march in Ayodhya in view of VHP's 84-kosi yatra, the Faizabad district administration issued arrest warrants against 70 VHP leaders. The proposed yatra, due to start from August 25, has already been banned by the state government.
The national, state and local level leaders of the VHP against whom arrest warrants have been issued include its chief Ashok Singhal, Ram Vilas Vedanti and Pravin Togadia. While leaders who have already arrived in Ayodhya are being arrested, entry of others has been banned in the temple town.
Full report at:
http://timesofindia.indiatimes.com/india/84-kosi-yatra-Forces-conduct-flag-march-in-Ayodhya-arrest-warrants-issued-against-70-VHP-leaders/articleshow/22000808.cms
----------
India and Iraq consider local currencies as medium of exchange after rupee decline
Aug 23 2013
New Delhi : Faced with declining value of rupee and a volatile exchange rate, India is exploring the possibility of bilateral trade with Iraq in domestic currencies, Commerce and Industry Minister Anand Sharma said on Friday.
The issue of payment for trade in local currencies will be discussed during the bilateral meetings between visiting Iraqi Prime Minister Nouri Kamil Al-Maliki and Indian Ministers.
"We are exploring possibilities (of payment in local currencies, dinar and rupee) as we have substantial import. We will definitely be discussing this issue," Sharma told reporters at New Delhi.
Full report at:
http://www.indianexpress.com/news/india-and-iraq-consider-local-currencies-as-medium-of-exchange-after-rupee-decline/1159149/
--------
URL: https://newageislam.com/islamic-world-news/experts-say-next-generation-al/d/13172