New Age Islam News Bureau
31 March 2015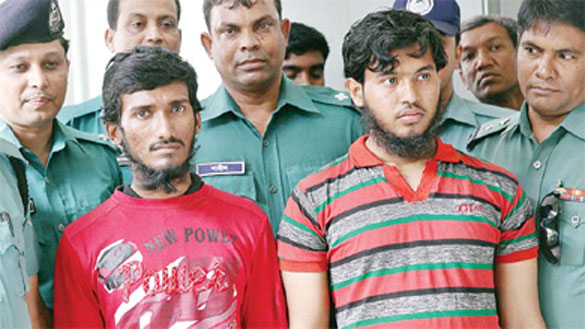 Police produce two Madrasa students before the media after they were arrested from Tejgaon in the capital in connection with the murder of blogger Oyasiqur Rahman yesterday. The photo was taken at Tejgaon Industrial Area police station
-----------
Arab World
• Evil Designs of Iranian Regime Should Be Exposed, Say Saudi Intellectuals
• IS Executes At Least 30 Civilians in Syria
• Saudi FM: 'We Are Not Advocates of War, but We Are Ready For It'
• Several Rebels Killed in Army's Operations in Syria's Homs Province
• The Islamic State Punished Four Children Accused of Stealing in a Truly Horrific Way
• 4-year-old Syrian boy thinks camera is weapon, 'surrenders' to photographer
• Top Kurdish ISIS leader killed in Mosul
• Egypt army kills and arrests more suspects in Sinai
• Iraqi forces struggle to take back Tikrit
• ISIS destroys Mosul police academy, moves journalists
Mideast
• 45 Killed In Air Raid on Refugee Camp in Yemen
• Iran Reporter Sent To Nuclear Talks Seeks Political Asylum
• Atomic deal would reward Iran for Yemen 'aggression': Israel
• Yemenis convinced Iran, Hezbollah fighters 'conducting operations'
Southeast Asia
• One in 14 High-School Students in Indonesia Support Islamic State
• Zahid Explains Why Some Malaysians Join Isis
• Sarawak DAP tells state PKR to leave Pakatan over hudud
• Malaysia arrests three news editors for sedition
• Communications Minister in Hot Seat for Blocking 'Radical' Websites
• Indonesia Launches Military Exercises to Guard against Security Threats
Europe
• Uzbek Militants in Afghanistan Pledge Allegiance to ISIS in Beheading Video
• HRW: Saudi Arabia Using Globally-Banned Arms in Yemeni Strikes
• Parents Demand Investigation into East London School as Four More Girls Attempt To Become Jihadi Brides
• Swedish PM Signals improved ties with Saudi Arabia
• UNSC members 'stand behind' GCC resolution on Yemen
Africa
• Arab States Must Intervene In Libya Exactly As In Yemen: Libya PM
• Nigeria: Troops "Free" Women Held By Boko Haram in Gwoza
• Uganda Prosecutor in 2010 Al-Shabab Bombings Case Shot Dead
• Fears of Delays, Sectarian Violence As Tanzania Prepares Referendum
India
• Babri Masjid Case: SC Issues Notices to L K Advani, Others over Conspiracy Charges
• Music Director Yuvan Converted to Islam Just to Marry a Muslim Girl?
• Over 20,000 Muslim men & women attend Tablighi Ijtema in Manipur
• Punjab panel books Muslims, Christians with 'fake' SC papers
• Gujarat Assembly passes Anti-Terror Bill that allows police to intercept calls
• 'Beef ban meant to target poor Muslims, Dalits': Akbaruddin Owaisi
• Indian warships sent to Yemen to provide anti-piracy services
South Asia
• Radical Islamists Strike Again In Bangladesh
• Family of 7, Including 3 Children, Killed In Afghan Blast
• Two Soldiers Martyred, Five Injured In Bomb Explosion in Nangarhar
• Government bars Nasheed from MDP
• Imran: Government's indifference behind murder of secular writers
Pakistan
• Pakistan, Turkey Should Seek Solutions to Yemen Crises: Jamaat-e-Islami
• IHC Moved To Ban Haram Food Items Import
• Man gunned down over free-will marriage
• Pakistani delegation departs for S. Arabia for talks over Yemen crisis
• Peace committee leader killed in Tank
• Four condemned prisoners hanged in Punjab jails
North America
• Local Bill on Muslim Tribunal in Texas Stirs Sentiments
• Canada approves extension and expansion of ISIS mission
• U.S. 'supports' unified Arab military force
• Barry University faculty accused of supporting Islamic State terrorists
Compiled by New Age Islam News Bureau
URL: https://newageislam.com/islamic-world-news/new-age-islam-news-bureau/evil-designs-of-iranian-regime-should-be-exposed,-say-saudi-intellectuals/d/102202
---------
Arab World
Evil Designs of Iranian Regime Should Be Exposed, Say Saudi Intellectuals
Mar 31 2015
A number of Saudi intellectuals said Operation Decisive Storm is further proof that Saudi Arabia remains supportive of the Yemeni people.
The intellectuals, speaking to the local media, said the operation aims to support the legitimacy of Yemen which the Houthis tried to "kidnap," and destabilize its security using arms and weapons.
Dr. Mahmoud Zaini, former member of the Makkah Literary Club, said the Yemeni campaign came to ward off dangers not only to Yemen but to the Gulf region as a whole, and whose leaders felt posed a direct threat to their security and stability.
The operation has stopped the situation in Yemen from deteriorating further and will accelerate the political process in the country as demonstrated by deposed President Ali Abdullah Saleh who called for a political solution to the Yemeni crisis promising that he would not run for presidential elections, Zaini said.
For his part, Awadh Al-Jimaie, professor of literature at Umm Al-Qura University, said the operation has shown the preparedness of the Saudi armed forces and their ability to repulse any danger to the Kingdom.
This courageous decision has confirmed that the Kingdom will not stand idly by on seeing that the region is being threatened by entities with their own agendas who are looking to recreate their past in the Arab region, he said.
Adnan Al-Harthi, professor of library sciences at Umm Al-Qura University, said Yemen has been torn by wars and corruption, and with the advances of the armed Houthis, their refusal to negotiate and their seizure of 70 percent of the Yemeni Army with the help and guidance from Tehran, it was necessary to counter these forces of darkness.
He stressed that intellectuals should play their role in exposing plots and dangers arising from Iranian expansionist actions in the region.
Atallah Al-Jiaid, head of the Taif Literary Club, said Operation Decisive Storm was a wise decision originating from a wise man who thoroughly read the situation and ordered the launch of the campaign after all efforts were exhausted for a peaceful end.
On the role of think-tanks and intellectuals, he said they represent the voice that should think and explain facts to the community, particularly since certain media are trying to spread discord between citizens, or between Yemen and Saudi Arabia.
For his part, Zahir Asiri, a poet, said the decision (of launching the operation) pleased all Saudis and Arabs because the Kingdom represents an enormous Arab and Islamic influence as its leadership practices in-depth thinking and deals with all situations with due care and consideration.
Aisha Al-Hakami, professor of literature at Tabuk University and member of the Baha Literary Club, said the success of the operation was represented by the quick response from the international community and desire of many countries to join the campaign.
http://www.arabnews.com/saudi-arabia/news/725741
---------
IS executes at least 30 civilians in Syria
Mar 31 2015
Beirut: The extremist Islamic State group Tuesday executed at least 30 civilians, including two children, in a raid on a regime-held village the central Syrian province of Hama, a monitor said.
IS "executed at least 30 people, including women and children, by burning, beheading, and firing on them" in the village of Mabujeh, said Rami Abdel Rahman, director of the Syrian Observatory for Human Rights. (AFP)
http://www.thenews.com.pk/article-179898-IS-executes-at-least-30-civilians-in-Syria
---------
Saudi FM: 'We are not advocates of war, but we are ready for it'
31 March 2015
Iranian-backed Houthi militias and forces allied to former Yemeni President Ali Abdullah Saleh are ruining Yemen, said Saudi Arabia's foreign minister Prince Saud al-Faisal on Tuesday.
"We are not advocating war, but we are ready for it," said al-Faisal during his speech at the weekly meeting of the Shura Council in the capital Riyadh, reported Al Arabiya News Channel.
"Operation Decisive Storm will continue to defend legitimacy in Yemen," he said, adding that the Saudi-led military intervention in Yemen will persist until the country is stable and unified again.
Saudi Arabia and a coalition of nine other regional countries have launched a military campaign against the Houthi coup and in response to Yemeni President Abdrabbu Mansou Hadi's request for immediate help.
Tuesday marks the fifth nigh of air strikes against the Shiite rebels in the Yemeni capital, and other locations in the country.
Speaking about the conflict in Syria, the Saudi FM said that Saudi Arabia will stand behind any effort to "revive the Arab and international conscious to put an end to the humanitarian crisis in Syria," adding that what is happening in Syria is shameful.
"The solution to the Syrian crisis is based on the principles of Geneva II [Conference]," said the foreign minister, adding that a "military balance" should be achieved in Syria to force "Damascus' butcher" to respond to peaceful resolutions.
Coinciding with the Saudi minister's speech, Kuwaiti emir Sheikh Sabah al-Ahmad al-Sabah on Tuesday pledged $500 million at a U.N. donors conference for Syria hosted in his country.
The devastation from the fighting in Syria had left around 7.6 million people internally displaced. Another 3.9 million have sought refuge in neighboring countries.
http://english.alarabiya.net/en/News/middle-east/2015/03/31/Saudi-FM-We-are-not-advocates-of-war-but-we-are-ready-for-it-.html
---------
Several Rebels Killed in Army's Operations in Syria's Homs Province
Mar 31 2015
Militants' strongholds in the Central province of Homs were raided by the Syrian troops, said a military source, adding the army is determined to continue mop-up operations in the region to root out insurgency.
The strongholds of the so-called "al-Hajer Brigade" in al-Rastan town in Central Homs were stormed by the army whose soldiers killed, injured and arrested so many rebels in the battlefields.
A convoy of rebels' vehicles loaded with ammunitions and weapons on Kisin-Burj Qa'ai road in the Northern countryside of the province was exploded in the army's accurate attack, killing and wounding scores of militants.
Full report at:
http://english.farsnews.com/newstext.aspx?nn=13940110000405
---------
The Islamic State Punished Four Children Accused of Stealing in a Truly Horrific Way
31 March, 2014
As stories about the horrific violence perpetuated at the hands of the Islamic State continue to make headlines, a new report alleges that radical militants in Mosul recently cut off the hands of four children who were accused of stealing.
The story comes from the Al-Saraj family, whose members fled from Mosul to the Kurdistan region last summer, though they still have contact with friends and family who remain inside the areas controlled by the Islamic State.
A friend recently text messaged a woman identified as "SA," one of the Al-Saraj daughters, explaining what purportedly happened to these kids, according to Rudaw.
"Yesterday they cut off the hands of four kids, ages 12, 11, 13 and 16," the contact said. "One of the kids stole a toy bird, another stole an electric cable."
The Al-Saraj family remains in Dohuk, a city in the Kurdistan region, where they are safe from the horrors perpetuated by the Islamic State.
http://www.theblaze.com/stories/2015/03/30/report-the-islamic-state-punished-four-children-accused-of-stealing-in-a-truly-horrific-way/
---------
4-year-old Syrian boy thinks camera is weapon, 'surrenders' to photographer
Mar 31 2015
After years of civil war, it's not surprising that a four-year-old Syrian child assumed a photojournalist's camera was a weapon and surrendered.
The image, believed to have been taken in 2012 by photojournalist Osman Sağırlı, was recently tweeted by Palestinian Nadia Abu Shaban and has earned more than 12,000 retweets over the last week.
The original publication identifies the child as four-year-old Syrian boy Adi Hudea.
"His name is Hudea… He is only 4 years old. He lost his dad in the bombing of Hama. He took refuge at the Atme camp at the Turkish border with his mom and three siblings, the caption reads.
Full report at:
http://tribune.com.pk/story/861460/heartwrenching-4-year-old-syrian-boy-thinks-camera-is-weapon-surrenders-to-photographer/
---------
Top Kurdish ISIS leader killed in Mosul
31 March, 2014
ERBIL, Kurdistan Region – The top Kurdish ISIS leader, reportedly responsible for the death of dozens of Kurdish civilians, was killed in coalition air strikes in Mosul, the Kurdistan Regional Government (KRG) said Sunday.
"Ziad Salim Mohammad Ali al-Kurdi, the top ethnically Kurdish ISIS leader, has been killed by US-led coalition airstrikes last night in Mosul," the KRG's National Security Council said in a statement.
It said that al-Kurdi, who was "also known as Mansur, had joined the al-Qaida terrorist group in 2004," and was arrested by coalition forces in 2006.
It added that al-Kurdi was later affiliated with ISIS and "had been in charge of several military operations," including assaults on the Kurdish towns of Gwer and Makhmur, some 80 kilometers south of Erbil.
Full report at:
http://rudaw.net/english/kurdistan/290320153
---------
Egypt army kills and arrests more suspects in Sinai
Mar 31 2015
Egypt's army said it continues to combat terrorism in the restive North Sinai area, announcing it has killed a man who allegedly failed to stop at a security checkpoint.
A military spokesman said in a statement on Monday that security forces killed Soliman Ayyad Ateyya, who was driving a pickup truck near Nakhl area in central Sinai, as he "refused to stop at a security checkpoint and attempted to break through it."
The statement says authorities later discovered the man had fled prison during the January 2011 uprising. He had been accused in several robbery cases.
The spokesman also said forces arrested a man near Al-Qasima town in central Sinai for allegedly "surveilling a security checkpoint." It has also ceased weapons and ammunition in different areas in Sinai, in addition to drugs and unlicensed motorcycles.
Meanwhile, on Sunday the army said it had "discovered and destroyed 22 smuggling tunnel openings" near the North Sinai border.
Full report at:
http://english.ahram.org.eg/NewsContent/1/64/126532/Egypt/Politics-/Egypt-army-kills-and-arrests-more-suspects-in-Sina.aspx
---------
Iraqi forces struggle to take back Tikrit
31 March, 2014
TIKRIT - The Iraqi offensive aimed at driving the Islamic State group out of the northern city of Tikrit has been slowed by booby traps, snipers and suicide bombers, but received a powerful boost last week when a US-led coalition began launching airstrikes in support of the operation.
Until now Iraq's beleaguered military -- which crumbled in the face of the ISIS group's lightning advance last summer -- has relied on Iranian-backed Shiite militias. Several militias announced they would sit out the Tikrit battle once the US strikes began, but fighters wearing mismatched uniforms and waving the groups' flags can still be seen on the front lines.
Iraqi security forces advance slowly, keeping an eye out for roadside bombs and listening for the telltale crackle of sniper fire. They hole up in abandoned houses shredded by bullet holes, taking shelter from mortar and rocket attacks, sometimes for several hours.
At least four suicide bombers tried to ambush one of their positions in southern Tikrit on Monday, but the attack was repelled.
The battle for Tikrit, Saddam Hussein's hometown, is seen as a key step toward eventually recapturing Mosul, the country's second largest city, which lies further north.
http://rudaw.net/english/middleeast/iraq/31032015
---------
ISIS destroys Mosul police academy, moves journalists
31 March, 2014
MOSUL province – Fighters aligned with the Islamic State destroyed Mosul's police academy on Monday, abducting five personnel and taking them to an unknown location, a Kurdish official said.
In a separate incident, the extremists relocated a number of captured journalists from Mosul to neighboring Syria, Saeed Mamozini, head of the Kurdistan Democratic Party branch 14 in Mosul, told Rudaw.
"ISIS militants blew up the Mosul province police academy near the traffic police building. They took at least five people working there to an unknown location," he said.
In recent months, ISIS has beheaded local and foreign journalists, including Ala Mazn Abdullah, James Foley, Steven Sotlof and Kenjo Goto.
Full report at:
http://rudaw.net/english/middleeast/iraq/300320153
---------
Mideast
45 killed in air raid on refugee camp in Yemen
Mar 31 2015
SANAA: An air strike killed 45 people at a camp for displaced people in northwest Yemen on Monday as Arab warplanes bombard rebels around the country.
According to the International Organisation for Migration, 45 displaced people were killed and 65 wounded at Al Mazrak camp in Hajja province. IOM spokesman Joel Millman told AFP that the organisation had 75 staff assisting the victims.
Earlier, the Doctors Without Borders (MSF) said bodies and injured people had been taken to a hospital where it operates near the camp.
"It was an air strike," MSF's Middle East programme manager Pablo Marco said.
The camp has since 2009 been housing Yemenis displaced by the conflict between northern Houthi rebels and the government.
Marco said 500 new families had arrived at the camp over the past two days.
A Saudi-led Arab coalition has been pounding rebel positions in Yemen since Thursday.
It has vowed to keep up the raids until the Iran-backed rebels abandon their insurrection against President Abedrabbo Mansour Hadi, who has fled to Riyadh.
Full report at:
http://www.dawn.com/news/1172871/45-killed-in-air-raid-on-refugee-camp-in-yemen
---------
Iran reporter sent to nuclear talks seeks political asylum
Mar 31 2015
An Iranian journalist for a reformist news outlet who travelled to Lausanne to report on nuclear talks has applied for political asylum in Switzerland, the foreign ministry in Tehran said.
Amir Hossein Motaghi, who worked for the Iran Student Correspondents Association (ISCA), was sacked on March 24 after his bosses learned of his defection, a ministry statement said.
After his defection Motaghi, reportedly a media aide for President Hassan Rouhani during his successful 2013 election campaign, spoke to foreign media about sensitive political issues, an act deemed unacceptable for reporters working in Iranian media.
Iranian news websites reported Motaghi's dissatisfaction with the conditions facing journalists in Iran. Media outlets meanwhile wrote articles blaming ISCA management for sending him to Lausanne.
Full report at:
http://www.hurriyetdailynews.com/iran-reporter-sent-to-nuclear-talks-seeks-political-asylum-.aspx?pageID=238&nID=80395&NewsCatID=352
---------
Atomic deal would reward Iran for Yemen 'aggression': Israel
Mar 31 2015
Israeli Prime Minister Benjamin Netanyahu warned world powers on March 30 that any nuclear deal they strike with Iran would be seen as a reward for Tehran's alleged "aggression" in Yemen.
"The agreement being formulated in Lausanne sends a message that there is no price for aggression and on the contrary -- that Iran's aggression is to be rewarded," he said, referring to Iranian support for Shiite Huthi rebels in Yemen.
"The moderate and responsible countries in the region, especially Israel and also many other countries, will be the first to be hurt by this agreement," said Netanyahu, who has waged a campaign against a nuclear deal with Tehran.
His intervention came as foreign ministers of major powers raced in the Swiss city of Lausanne to beat a midnight Tuesday deadline to nail down a framework deal they hope will put any Iranian atomic bomb out of reach.
Full report at:
http://rudaw.net/english/middleeast/iran/31032015
---------
Yemenis convinced Iran, Hezbollah fighters 'conducting operations'
Mar 31 2015
There are Iranian military officers and Hezbollah fighters on the ground aiding the Houthis in Yemen, according to a senior official in the Yemeni president's office.
The Houthis are also deliberately striking certain areas in the city and blaming it on the coalition forces to gain support and sympathy, said Mukhtar Al-Rihbi, press secretary for the Yemeni president.
Al-Rihbi said that ousted Yemeni President Ali Abdullah Saleh is not in the Beihan region in southern Yemen. "All our sources in Shabwa does not confirm that news. We have information that points to Saleh being in the northern Sanhan region, the place where he was born in."
Mohammad Al-Awadi, head of the preparatory committee of the South Congress, has praised the initiative of Custodian of the Two Holy Mosques King Salman to restore order in Yemen. Space has now been created for Yemeni groups to reconsider their positions before joining the expected peace talks in Riyadh.
Full report at:
http://www.arabnews.com/saudi-arabia/news/725716
----------
Southeast Asia
One in 14 High-School Students in Indonesia Support Islamic State
Mar 31 2015
Jakarta. The military has vowed to wage war on followers of the extremist Islamic State group in Indonesia, amid a new survey that shows that one in every 14 high-school students in Jakarta and Bandung, West Java, sympathizes with the movement.
"The TNI [Indonesian Military] believes ISIS should not be given any opportunity to develop in Indonesia. ISIS should not be given room anywhere," TNI commander Gen. Moeldoko said at the armed forces' headquarters in Cilangkap, East Jakarta, on Monday, referring to the extremist group by its old acronym.
Moeldoko said Indonesians currently in Syria and Iraq to join IS would likely try to spread at home what they have learned in the war-torn nations.
The Central Sulawesi district of Poso, long known as a hotbed for homegrown terrorism, will probably be used by the IS alumni to train other local militants, he added.
"We cannot let this happen. That is why the TNI is conducting training there [in Poso]. We're conducting large-scale quick-response strike force training there. It is to send [the militants] a message: 'don't even try to enter Poso,' " Moeldoko said.
He added that the training was also in preparation of the military's planned anti-radicalism operations.
Full report at:
http://thejakartaglobe.beritasatu.com/news/one-14-high-school-students-support-islamic-state/
---------
Zahid explains why some Malaysians join Isis
Mar 31 2015
A cult-like worship towards the Islamic State of Iraq and Syria (Isis) and its leaders, coupled with problems with family and financial difficulties are among the reasons why some Malaysians join the militant group, the home minister said today.
Revealing that the police have arrested 75 people suspected of having links to Isis, Datuk Seri Ahmad Zahid Hamidi said those who were attracted to the group were obsessed with the organisation and its leaders.
"Research from our police and Interpol found that they joined the group not because of ideology but because of obsession," he told Datuk Wan Mohammad Khair-il Anuar Wan Ahmad (BN-Kuala Kangsar) during Question Time in Parliament today.
Zahid also said those who joined the terrorist organisation were mostly from broken families and had financial problems.
Full report at:
http://www.themalaysianinsider.com/malaysia/article/putrajaya-on-why-malaysians-join-isis#sthash.2F8b6NNw.dpuf
---------
Sarawak DAP tells state PKR to leave Pakatan over hudud
Mar 31 2015
DAP Sarawak chairman Chong Chieng Jen today called on his counterpart in PKR Sarawak, Baru Bian to join the DAP in cutting ties with the local PAS chapter and not be adamant about "clinging on" to Pakatan Rakyat (PR) in the east Malaysian state.
Chong said cutting ties with PAS could pave the way for the state PKR and DAP to work together, since PAS's hudud agenda did not fit into Sarawak's aspirations.
"Knowing the true agenda of PAS, is PKR going to help PAS win seats in the coming state elections so that the Sarawak legislative assembly will have some PAS elected representatives?" Chong asked.
"If the answer is 'yes', then PKR will be doing a disservice to Sarawak by contributing to the growth of PAS in Sarawak, thereby helping indirectly the hudud agenda in Sarawak.
"If the answer is 'No', then there is no point in putting up the pretence of a coalition when one does not help each other," Chong said today.
Full report at:
http://www.themalaysianinsider.com/malaysia/article/sarawak-dap-tells-state-pkr-to-leave-pakatan-over-hudud#sthash.seeUN9jf.dpuf
---------
Malaysia arrests three news editors for sedition
March 31, 2015
Police have arrested three editors from a Malaysian news portal and charged them with sedition, their lawyers and authorities said on Tuesday, over a news report on discussions about punishments meted out under Islamic law.
The offices of The Malaysian Insider portal were raided by police and officials from the Malaysian Communications and Multimedia Commission (MCMC) late on Monday.
Managing editor Lionel Morais, features editor Zulkifli Sulong and Malay news editor Amin Iskandar were taken into custody and several computers and other items were confiscated.
The arrests were over an article that said the Confederation of Rulers - Malaysia's monarchy - had rejected a proposal to amend a federal law that could allow the use of the Islamic punishment, hudud, in Malaysia.
Full report at:
http://www.thehindu.com/news/international/world/malaysia-arrests-three-news-editors-for-sedition/article7052317.ece
---------
Communications Minister in Hot Seat for Blocking 'Radical' Websites
Mar 31 2015
Jakarta. Commission I in House of Representatives, or DPR, says it will summon Communication and Information Technology Minister Rudiantara to explain the government's decision to block access to 19 websites believed to have spread radical Islamic ideology.
"We will invite the Minister of Communication and Informatics immediately to give an explanation," Hanafi Rais, deputy chairman of Commission I, said on Tuesday. Commission I oversees defense, intelligence, foreign affairs, communication and information.
The government's decision to block access to the websites — including hidayatullah.com, arrahmah.com and voa-islam.com — has sparked uproar and netizens have taken to their Twitter and Facebook accounts to vent their grievances.
Hashtags such as #KembalikanMediaIslam, or #HandBackIslamicMedia in English, have been tweeted and retweeted nearly 100,000 times and topped Twitter's worldwide trending topic list on Monday.
Full report at:
http://thejakartaglobe.beritasatu.com/news/communication-and-informatics-minister-in-hot-seat-over-blocking-of-19-ostensibly-radical-websites/
---------
Indonesia Launches Military Exercises to Guard Against Security Threats
Mar 31 2015
Jakarta. Indonesia has launched military exercises in the eastern island of Sulawesi, a haven for radical Islamists, as part of broader efforts to crack down on militants with suspected links to the Islamic State, or IS, group, officials said on Tuesday.
Television footage showed the military firing rockets in remote, mountainous central Sulawesi as part of the exercises. The drills come amid heightened government concerns over a rising number of Indonesians pledging loyalty to IS and trying to join the group fighting in Iraq and Syria.
"IS is a potential security threat … so we're preparing our forces to respond to that," said military spokesman Major General Mochamad Fuad Basya.
He described the exercises as routine and said similar drills would be held elsewhere in Indonesia.
Full report at:
http://thejakartaglobe.beritasatu.com/news/indonesia-launches-military-exercises-guard-security-threats/
---------
Europe
Uzbek militants in Afghanistan pledge allegiance to ISIS in beheading video
Mar 31 2015
The Islamic Movement of Uzbekistan (IMU) militant group has released a new video which purportedly shows the beheading of an Afghan soldier while the group pledges allegiance to the Islamic State of Iraq and Syria (ISIS) terrorist group.
The group is actively operating in northern provinces of Afghanistan and was previously operating under the shadow of the Taliban group.
However, a militant identified as Sadullah Urgenji appears in the video and distances the group from the Taliban group insisting that the Taliban supreme leader Mullah Omar is no longer viewed as their leader, Radio Free Europe (RFE) reported.
Urgenji says Mullah Omar has not been seen for some 13 years and, "according to Shari'a," can no longer be leader.
Full report at:
http://www.khaama.com/uzbek-militants-in-afghanistan-pledge-allegiance-to-isis-in-beheading-video-9962
---------
HRW: Saudi Arabia Using Globally-Banned Arms in Yemeni Strikes
Mar 31 2015
Saudi Arabia has used internationally-prohibited weapons in its air offensives against Yemen, a report by Human Rights Watch (HRW) said.
New evidence shows that Saudi Arabia has used internationally-forbidden arms in its airstrikes on Yemeni people in different areas, New York-based HRW said in a statement on Tuesday.
Citing an example, it added that Yemeni officials have provided the rights body with sufficient evidence which indicate that the Saudi-led warplanes on March 26 claimed the lives of 23 civilians, including 6 children and 5 women, in Bani Hawat village in West central Yemen, using banned cluster bombs.
Full report at:
http://english.farsnews.com/newstext.aspx?nn=13940111000342
--------
Parents Demand Investigation into East London School as Four More Girls Attempt To Become Jihadi Brides
31 March, 2014
An East London academy rated 'Outstanding' by Ofsted is to be inspected by counter-terrorism officers. The move comes after four of its pupils travelled to Syria to become Jihadi brides while a further four had their passports confiscated before they could make the same journey.
One of the girls, a 15-year-old who cannot be named for legal reasons, was apprehended as her British Airlines flight to Istanbul taxied down the runway, the Daily Mail has reported.
The girls' actions have sparked fears of fanaticism at the Bethnal Green Academy, prompting the Department of Education to send in experts from its "due diligence and counter-extremism division" to investigate potential extremist links. The school is also putting on weekly talks for parents, giving advice on radicalism and what to watch out for.
Concerned parents have also begun holding their own meetings to discuss Islamic fundamentalism at the school, with some printing and distributing leaflets on how to spot the signs of radicalisation amongst their children.
Full report at:
http://www.breitbart.com/london/2015/03/30/parents-demand-investigation-into-east-london-school-as-four-more-girls-attempt-to-become-jihadi-brides/
---------
Swedish PM signals improved ties with Saudi Arabia
31 March 2015
Sweden's prime minister signaled improved ties with Saudi Arabia on Monday, saying the European country's ambassador would be back in the Arab kingdom "soon."
"We are getting back to a normal good relation, that was our intention all the time, so we see good progress," Prime Minister Stefan Lofven said in a press conference in New York.
"I have not been informed if the ambassador is back. I don't think so but the ambassador will be back soon and we have good relation with Saudi Arabia and intend to keep that," Lofven also said.
Ties appeared to have thawed between the two countries after Saudi Arabia decided last week to send its envoy back to Sweden.
Saudi Arabia withdrew its envoy earlier this month over Swedish criticism of the monarchy's treatment of women and dissidents.
http://english.alarabiya.net/en/News/middle-east/2015/03/31/Swedish-PM-signals-improved-ties-with-Saudi-Arabia.html
---------
UNSC members 'stand behind' GCC resolution on Yemen
31 March 2015
The permanent member states of the U.N. Security Council stand behind the Gulf Cooperation Council's proposed resolution backing an arms embargo on Houthi rebels in Yemen, and discussions between the GCC and the Security Council are underway, reported Al Arabiya News Channel on Tuesday.
The proposed resolution backs the legitimate Yemeni President Abdrabbu Mansour Hadi and condemns the Houthis takeover as illegitimate.
The resolution also demands the Houthis to act on Resolution 2201 which demanded the rebels to "immediately and unconditionally" withdraw from the capital and government institutions, lay down arms, and return to U.N.-brokered negotiations within three days from its adoption.
Full report at:
http://english.alarabiya.net/en/News/middle-east/2015/03/31/UNSC-members-stand-behind-GCC-resolution-on-Yemen-.html
---------
Africa
Arab states must intervene in Libya exactly as in Yemen: Libya PM
March 31, 2015
The Prime Minister of Libya Abdullah Thinni, appointed by the elected House of Representatives, the only internationally recognized parliament in Libya, said that the Arab leaders took a bold decision in intervening for legitimacy and against terrorism in Yemen.
Thinni said that the Arab world could not intervene with operation ''Decisive Storm'' in Yemen and not intervene in Libya where the exact situation of a coup against legitimacy has taken place.
Speaking in an interview from Tunis Sunday with the Saudi based Al-Hadath satellite TV channel, the Prime Minister said that the decisions taken at the recent Arab summit in Egypt's Sharm el-Sheikh in support of the legitimate Libyan authorities were decisions in the interest of the Libyan people.
He thanked the Arab leaders for their supportive resolutions and explained that a number of Arab countries have stood by Libya in its legitimacy issue from the beginning, such as Egypt, Saudi Arabia, the UAE and Jordan.
Full report at:
https://www.libyaherald.com/2015/03/30/arab-states-must-intervene-in-exact-libya-situation-as-in-yemen-thinni/
----------
Nigeria: Troops "Free" Women Held By Boko Haram in Gwoza
March 31, 2015
A number of women, the elderly and children who were locked up by fleeing terrorists in Gwoza have been freed by troops as cordon and search along with mopping up operations continue in the town, the Nigerian military has said.
A statement by the spokesperson, Chris Olukolade, said the freed hostages, some of whom are weak, are being given medical attention while others are also receiving necessary care pending the arrival and activities of aid agencies.
Some of them are also providing useful information for the intelligence in aid of troops operations in the area, the statement said.
In another development, the military said a building which have been converted to a bomb making factory have been unearthed by troops in the course of ongoing mopping up operations in Gwoza.
Full report at:
http://allafrica.com/stories/201503310098.html
---------
Uganda Prosecutor in 2010 Al-Shabab Bombings Case Shot Dead
March 31, 2015
A police spokesman in Kampala said the lawyer, Joan Kagezi, appeared to have been attacked by two men who had followed her car on a motorcycle as she drove home in Kiwatule, a suburb about 13 kilometers from the center of Kampala. She was pronounced dead at the hospital.
"They were trailing her on a motorcycle," police spokesman Patrick Onyango said. "They shot her dead." Onyango said the police were looking into the possibility that the killing was connected to Kagezi's work as a prosecutor.
Full report at:
http://allafrica.com/stories/201503310063.html
---------
Fears of Delays, Sectarian Violence As Tanzania Prepares Referendum
March 31, 2015
Tanzania's referendum on a new constitution could be delayed due to debate over Islamic courts and practical difficulties, analysts warn, with fears of sectarian violence as President Jakaya Kikwete fears that peace is threatened.
Tanzania's draft constitution has long been mired in controversy.
The government has been pushing for a swift adoption of a new charter that would notably establish an independent electoral commission and allow Tanzanians to challenge presidential election results in court.
But the Union for a People's Constitution (Ukawa), a coalition of opposition parties, have called on voters to boycott the 30 April referendum, arguing that the constituent assembly committed gross irregularities when it adopted the draft legislation last year.
The referendum campaign has recently generated fears of sectarian violence between Christians and Muslims.
Full report at:
http://allafrica.com/stories/201503310244.html
---------
India
Babri Masjid case: SC issues notices to L K Advani, others over conspiracy charges
March 31, 2015
THE Supreme Court on Tuesday issued notices on a petition, which claims that with the BJP in power, CBI may not make adequate efforts to get conspiracy charges restored against party leader L K Advani and others in the Babri Masjid demolition case. The plea has been filed by Haji Mehboob, a petitioner in the title suit representing the Muslim community in Babri Masjid-Ramjanmabhoomi case.
The notices have been issued to Advani and 18 other leaders who had got the respite after the conspiracy charges were dropped.
Meanwhile, the CBI also got four weeks to explain the delay in moving the top court in appeal against the order of the Allahabad High Court, which had allowed dropping the charges.
Mehboob, 77, has said in the petition that his fears stem from the fact that Rajnath Singh, an accused in the case, was now Home Minister and his ministry had administrative control over CBI. Further, another accused, Kalyan Singh, was now Governor of Rajasthan.
Mehboob, who said his house was among the many burnt in the violence that followed the demolition, has requested the court to let him intervene and argue as a party in the case irrespective of CBI's appeal since the agency's intentions were doubtful. He said his petition ought to be heard on merits to ensure the matter is not botched up.
Full report at:
http://indianexpress.com/article/india/india-others/babri-demolition-case-sc-issues-notices-to-advani-other-bjp-leaders-on-plea-asking-why-conspiracy-charges-should-not-be-restored/99/
---------
Music Director Yuvan Converted to Islam Just to Marry a Muslim Girl?
31 March, 2014
Yuvan Shankar Raja's third marriage has been a mystery for his fans across the globe as the music director married a Muslim girl in a hush-hush manner, leaving a lot of questions unanswered.
Now, he has broken his silence and responded to all the questions via The Times of India. Below, we bring you the highlights of his response:
1) Even as Yuvan Shankar Raja says that the marriage did not happen all of a sudden, it was fixed after news of the third wedding was out in the media. It was too much for the girl's family to handle. Hence, the wedding was conducted in short notice.
Full report at:
http://www.ibtimes.co.in/yuvan-shankar-raja-converted-islam-just-marry-muslim-girl-ilaiyaraajas-son-speaks-out-627683
---------
Over 20,000 Muslim men & women attend Tablighi Ijtema in Manipur
31 March, 2014
Imphal, Mar 30: The three-day state-level Tablighi Ijtema in Manipur which commenced on March 28 concluded on March 30 with a supplication (dua) for peace and prosperity in the state.
The Ijtema was organized at the Kiyamgei Laphupat paddy field in Imphal East district.
The last day of the religious congregation was attended by around 20,000 Muslims, including women, from different parts of Manipur making it the largest congregation of Muslims in the state. The organisers of the Ijtema had made separate arrangements for the women, who came to take part in the supplication.
The Ijtema was graced by the presence of many distinguished Islamic scholars and Tablighis from the state and outside, including Delhi.
Some of the distinguished Muslim political figures of the state were also seen participating in the last day's supplication. Haji Abdul Salam, Member of Parliament (Rajya Sabha), Mohammad Abdul Nasir, Minister (Agriculture), Mohammad Amin Shah, Parliamentary Secretary (Minorities & Other Backward Classes) and MLA Fajur Rahim took part in the supplication.
Full report at:
http://onlykashmir.in/over-20000-muslim-men-women-attend-tablighi-ijtema-in-manipur/
---------
Punjab panel books Muslims, Christians with 'fake' SC papers
March 31, 2015
The Punjab State Scheduled Castes and Backward Classes Commission, headed by an old RSS hand, has given a new push to its exercise to determine Christians and Muslims holding "illegal" Scheduled Caste certificates in the state, which enables them to avail benefits meant for SCs.
"We are holding awareness drives in colleges, panchayats and municipal councils where we encourage people from SC communities to complain about ineligible people cornering benefits meant for them," Rajesh Bagga, the chairman of the commission, told The Indian Express. He claimed that 14-15 FIRs have been registered against "Christians carrying fraudulent certificates".
Full report at:
http://indianexpress.com/article/india/india-others/punjab-panel-books-muslims-christians-with-fake-sc-papers/
---------
Gujarat Assembly passes Anti-Terror Bill that allows police to intercept calls
March 31, 2015
Gujarat Assembly on Tuesday passed by a majority vote the controversial Control of Terrorism and Organised Crime (GCTOC) Bill which allows police to intercept and record telephonic conversations and submit them in court as evidence.
The Bill, which was earlier returned by the President thrice to the state government for reconsideration, was passed by a majority vote amid stiff resistance from Opposition Congress, which walked out of the House over its controversial provisions.
Full report at:
http://indianexpress.com/article/india/india-others/gujarat-passes-anti-terror-bill-that-allows-police-to-intercept-calls/
---------
'Beef ban meant to target poor Muslims, Dalits': Akbaruddin Owaisi
March 31, 2015
All India Majlis-e-Ittehadul Muslimeen leader Akbaruddin Owaisi has accused the BJP-led government in Maharashtra of targeting poor Muslims and Dalits through its ban on beef.
Speaking on Sunday at a rally in the Vandre East Assembly constituency, where a by-election is scheduled for April 11, he said that India had been exporting more beef since Narendra Modi assumed office at the Centre. "They have banned beef in Maharashtra. But since Mr. Modi took over as Prime Minister, the quantity of beef exported from India has gone up. And if my sources are right, beef export has gone up by 17 per cent. What is Mr. Modi doing about it," he asked.
http://www.thehindu.com/news/national/other-states/beef-ban-meant-to-target-poor-muslims-dalits/article7050399.ece
---------
Indian warships sent to Yemen to provide anti-piracy services
March 31, 2015
The two Indian warships sent to strife-torn Yemen to evacuate Indians will also provide anti-piracy escort services to the two passenger ships sent to Djibouti Port to bring back stranded nationals, Vice Chief of the Navy P. Murugesan said.
Giving details of the evacuation plan, Vice Admiral Murugesan, who today took over as the Vice Chief, said the evacuation is being worked out through the sea and air routes. "Several agencies like Indian Navy, Indian Air Force, Air India are going to participate in this operation," he said speaking to reporters here.
Full report at:
http://www.thehindu.com/news/international/indian-warships-sent-to-yemen-to-provide-antipiracy-services/article7052623.ece
---------
South Asia
Radical Islamists strike again in Bangladesh
Mar 31 2015
Radical Islamists hacked to death secular blogger Md Oyasiqur Rahman Babu yesterday morning in Tejgaon, Dhaka allegedly for his atheist views.
A travel agency executive, Oyasiqur's murder was premeditated. Three assailants swooped on Oyasiqur, 27, armed with machetes around 9am on Dipika Mosque Lane of South Begunbari, close to Tejgaon Textile Engineering University, when he was going to office in Motijheel.
While fleeing, two of the killers – Zikrullah, a student of Hefazat-e-Islam's Hathazari Madrasa in Chittagong, and Ariful, student of Mirpur Darul Uloom Madrasa – were held by two hermaphrodites as locals remained reluctant to chase the killers. The other member of the team, Abu Taher of Mirpur Darul Uloom, escaped.
The duo was handed over to police, who later recovered the machetes from the crime scene, Tejgaon industrial police OC Salauddin said.
The incident took place only a month after secular blogger and former Buet teacher Avijit Roy and his wife Rafida Ahmed Bonya came under attack by extremists. Avijit succumbed to his injuries at a hospital. Police are yet to solve the case but claim that the killers might be linked to the banned Islamist group Hizb ut-Tahrir and Ansarullah Bangla Team.
Deputy Commissioner of Tejgaon zone Biplab Kumar Sarker told reporters that in preliminary interrogation the arrestees said they had killed Oyasiqur for writing on religious issues. "We are investigating whether they are involved with any organisation."
Full report at:
http://www.dhakatribune.com/bangladesh/2015/mar/31/radical-islamists-strike-again#sthash.okGmwhKE.dpuf
---------
Family of 7, Including 3 Children, Killed In Afghan Blast
March 31, 2015
A roadside bombing in a remote province in eastern Afghanistan has killed seven people, all members of the same family, an official said.
The deputy police chief in Ghazni province said the bombing took place on Monday afternoon in Andar district. Asadullha Ensafi said the mini bus the family was riding in struck the bomb and all seven people from the family- three women, three children and a man died.
No one immediately claimed responsibility for the attack but Mr. Ensafi blamed the Taliban. It was the third such roadside bombing this month in Ghazni province.
http://www.thehindu.com/news/international/south-asia/family-of-7-including-3-children-killed-in-afghan-blast/article7052459.ece
---------
Two soldiers martyred, five injured in bomb explosion in Nangarhar
Mar 31 2015
Two soldiers embraced martyrdom and five others wounded in a bomb explosion in eastern Afghanistan.
Niamatullah Noorzai, governor of Khogyani district in eastern Nangarhar province says that the incident took place in Khogyani district last night.
He said that the bomb was placed closed to a security check post by insurgents, adding that the explosion martyred two soldiers from Afghan Local Police and wounded five others.
No group has claimed responsibility for the explosion but in the past Taliban insurgents have claimed responsibility for most of the attacks on security forces.
http://www.khaama.com/two-police-martyred-five-injured-in-bomb-explosion-in-nangarhar-3091
---------
Government bars Nasheed from MDP
Mar 31 2015
The government has barred ex-president Mohamed Nasheed from the Maldivian Democratic Party he co-founded by using its parliamentary majority to pass a law banning prisoners from political party membership.
Nasheed will lose his leadership and membership of the MDP because of a terrorism conviction this month relating to the detention of a judge during his period in power.
He was jailed for 13 years after being found guilty of terrorism in a case that his party says represented a politically-led campaign against him by the government of President Abdulla Yameen.
Full report at:
http://minivannews.com/politics/government-bars-nasheed-from-mdp-95252#sthash.Ee2IAAGY.dpuf
---------
Imran: Government's indifference behind murder of secular writers
Mar 31 2015
Gonojagoron Moncho spokesperson Imran H Sarker yesterday alleged that sheer indifference and negligence of the government and law enforcers was the reason why free-thinkers were being murdered.
He said: "The apathy of the government and law enforcers in addressing such attacks has been encouraging religious extremists to kill secular bloggers and writers."
Imran made the statement while addressing journalists following a procession organised by the Moncho on Dhaka University campus around 5:30pm, protesting the murder of secular blogger Oyasiqur Rahman.
Full report at:
http://www.dhakatribune.com/bangladesh/2015/mar/31/imran-governments-indifference-behind-murder-secular-writers#sthash.hLbIWi8J.dpuf
---------
Pakistan
Pakistan, Turkey should seek solutions to Yemen crises: Jamaat-e-Islami
Mar 31 2015
Peshawar- Ameer Jamaat-e-Islami (JI) Siraj-ul-Haq says, Pakistan and Turkey can play a leading role in seeking solution to crisis in Yemen.
Addressing a function in Peshawar, he said anti-Islamic forces can have benefit from situation in the Middle East. He said relations between Pakistan and Saudi Arabia are deep rooted. The holy land is close to the hearts of every Pakistani.
http://nation.com.pk/national/31-Mar-2015/pakistan-turkey-should-seek-solutions-to-yemen-crises-siraj
---------
IHC moved to ban Haram food items import
Mar 31 2015
Islamabad - A writ petition seeking ban on the import of Haram (prohibited by faith) food items from western countries was moved in the Islamabad High Court (IHC) here on Monday.
M Kokab Iqbal Advocate, President Human Rights & Welfare Trust, filed the petition before the court in person and nominated federation of Pakistan through secretary cabinet division, secretary federal ministry of interior, secretary ministry of science of technology, and secretary ministry of commerce as respondents.
Referring to the news items published in newspapers, the petitioner maintained that imported edible items of food are being openly sold in the markets that contains Haram elements.
Full report at:
http://nation.com.pk/national/31-Mar-2015/ihc-moved-to-ban-haram-food-items-import
---------
Man gunned down over free-will marriage
Mar 31 2015
GUJRANWALA : A man was shot dead by his brothers-in-law over love marriage dispute here on Monday.
Later, the bereaved family members held a protest against the incident.
According to details, the man identified as Shahid, a resident of Rana Colony contracted a free-will marriage with a local girl Raheela against the consent of her family.
Angry at the decision, brothers of the girl including Altaf and Naeem barged into the house of Shahid and opened indiscriminate firing, killing him on the spot.
Later, family of the deceased along with dead body held a protest against the incident by blocking road, demanding arrest the culprits.
On information, the police officials reached the scene and assured the protesters of bringing the culprits to book.
http://nation.com.pk/national/31-Mar-2015/man-gunned-down-over-free-will-marriage
--------
Pakistani delegation departs for S. Arabia for talks over Yemen crisis
Mar 31 2015
ISLAMABAD: A high-level Pakistani delegation led by Defence Minister Khawaja Asif and adviser to the prime minister on foreign affairs and national security Sartaj Aziz left for Saudi Arabia to hold talks over the ongoing crisis in Yemen on Tuesday.
Senior officials from the foreign office (FO) and three armed forces personnel were also part of the delegation which departed Islamabad for Riyadh through a special aircraft of the Pakistan Air Force.
Defence Minister Khawaja Asif sought guidance from Prime Minister Nawaz Sharif before departure to the Saudi capital and held a brief meeting with members of his delegation at Chaklala Airbase.
Full report at:
http://www.dawn.com/news/1173031/pakistani-delegation-departs-for-s-arabia-for-talks-over-yemen-crisis
---------
Peace committee leader killed in Tank
Mar 31 2015
PESHAWAR: A peace committee leader was shot dead and two others were injured Tuesday when unknown gunmen opened fire at the commander's vehicle in Khyber Pakhtunkhwa's Tank district.
According to Gomal police Station House Officer (SHO) Alamgir, peace committee leader Sherpao Mehsud was on his way from Kot Azam to Tank when assailants targeted his vehicle.
As a result, Mehsud was killed and two of his associates, who were travelling with him, sustained injuries.
The casualties were shifted to District Hospital Tank immediately.
Peace committee members in the country's northwestern region have been targeted by militants numerous times in the past.
http://www.dawn.com/news/1173022/peace-committee-leader-killed-in-tank
---------
Four condemned prisoners hanged in Punjab jails
Mar 31 2015
RAWALPINDI/SARGODHA: Three condemned prisoners were hanged in jails of Attock, Mianwali, Sargodha and Rawalpindi on Tuesday.
Sargodha Central Jail — established in 1910 — saw its first execution in 105 years when prisoner Mohammad Riaz, a resident of Khushab District, was hanged.
Riaz was convicted of killing a man in 2000 during a robbery. He was charged with death penalty by a Rawalpindi's anti-terrorism court.
He had been sentenced under the section 7 of the Anti-Terrorism Act (ATA).
Two death row prisoners hanged in Attock, Rawalpindi
Prisoner Akram-ul-Haq, convicted for kidnapping a three-year-old girl, was hanged in Attock Jail, DawnNews reported.
Full report at:
http://www.dawn.com/news/1172996/four-condemned-prisoners-hanged-in-punjab-jails
---------
North America
Local Bill On Muslim Tribunal In Texas Stirs Sentiments
31 March, 2014
According to Reuters, Muslims were unhappy when the city of Irving, Texas, codified their support of a bill in the Texas legislature that proposes to bar the implementation or application of any foreign laws on citizens in the state of Texas.
Some Muslins interviewed by reporters argued that 'Muslims are not seeking to implement or change U.S. laws in favor of Sharia-Islamic law.' However, if those statements by Muslims are true, then why are Muslims so unhappy about this bill, which is in agreement with these 'statements'? It seems that Muslims are simply following the instructions in the Quran, where it instructs followers that it's OK to lie to the infidels (unbelievers) in order to further the Islamic religion (a form of soft Jihad).
One Muslim attorney asserts that Muslims have instituted the Islamic Tribunal in order to prevent needless expense in divorce actions and family law. I think that any such tribunal (notice there are no women on the Tribunal) that seeks to skirt the legal protections for women under State family law is outrageous–and typifies the foundational thinking that forms the underpinnings of the Islamic Theocracy.
Full report at:
http://www.westernjournalism.com/reuters-local-bill-muslim-tribunal-texas-stirs-sentiments/#C85aRqgIEfXekec3.99
---------
Canada approves extension and expansion of ISIS mission
31 March, 2014
TORONTO — Canada's Parliament has approved a one-year extension of military mission against the Islamic State group that includes airstrikes on targets in Syria.
Prime Minister Stephen Harper announced the extension and expansion earlier this month and Parliament voted 142 to 129 on Monday night.
Passage was all but assured as Harper's Conservative government has the majority of seats.
Canada will be the first NATO country, other than the United States, to conduct airstrikes in Syria. Bahrain, Saudi Arabia, Jordan and the United Arab Emirates have also done so.
Canadian airstrikes have been limited to IS targets in Iraq thus far. Canada also has 69 special forces soldiers training Kurdish peshmerga fighters in northern Iraq. The IS group controls a wide swath of territory across the Syrian and Iraqi border.
http://rudaw.net/english/middleeast/syria/31032015
---------
U.S. 'supports' unified Arab military force
31 March 2015
Arab plans to create a unified military force to counter growing security threats in the Middle East are being supported by the United States, Defense Secretary Ash Carter said on Monday.
Carter said the Pentagon would cooperate with the force where U.S. and Arab interests coincide.
Carter told reporters during a visit to Fort Drum in New York that U.S. military leaders who met with him in Kuwait several weeks ago thought that regional members of the coalition fighting ISIS militants should be encouraged to do more if they were able.
"So I think if they are willing to do more, in this case with respect to Yemen, then that is a good thing because ultimately it is their region. ... The willingness of the parties there to step up and do more for stability in the Middle East is a good thing," Carter said.
The Arab League on Sunday called for the establishment of a voluntary, unified military force that member states can turn to when facing security challenges.
Full report at:
http://english.alarabiya.net/en/News/middle-east/2015/03/31/U-S-supports-unified-Arab-military-force-.html
---------
Barry University faculty accused of supporting Islamic State terrorists
31 March, 2014
MIAMI SHORES, Fla. - Barry University in Miami Shores is considering legal options after a video released by a conservative activist organization, Project Veritas, claimed faculty at the school supports Islamic State terrorists.
"I'm incensed. It's an insult to who we are," Barry University President Sister Linda Bevilacqua said Monday afternoon after news outlets worldwide reported on the video.
Watching and listening to the nine-minute recording reveals an edited, out-of-context pitch by a student looking for help starting a campus club, as she recorded undercover video and audio of her conversations with various faculty members.
The student, senior Laura Loomer, described the club as a humanitarian effort, with a goal of helping women and children with support and educational supplies.
The video released claims the faculty members' answers and advice translate into apparent support of Islamic State terrorists.
Full report at:
http://www.local10.com/news/barry-university-faculty-accused-of-supporting-islamic-state-terrorists/32096200
---------
URL: https://newageislam.com/islamic-world-news/new-age-islam-news-bureau/evil-designs-of-iranian-regime-should-be-exposed,-say-saudi-intellectuals/d/102202