New Age Islam News Bureau
21 August 2020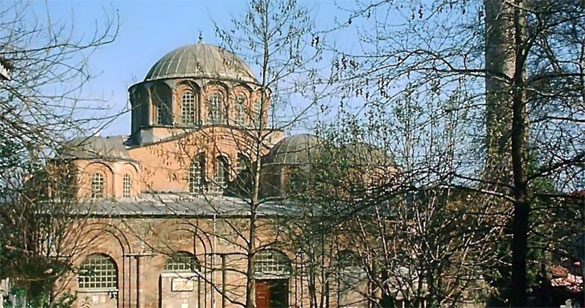 The decision to transform the Kariye Museum came a month after a similarly controversial conversion for Hagia Sophia.PHOTO: WIKIMEDIA COMMONS
-----
• Al-Azhar Shuns Palestinian Fatwa Banning Emiratis From Praying at Al-Aqsa Mosque
• Arrest Me On 'Illegal Muharram Order' But Majlis Will Be Held on Covid Norms, Shia Cleric Kalbe Jawad Tells Lucknow Commissioner
• Hindus, Muslims of Pakistan Protest Against 'Efforts' to Dent Inter-Faith Harmony in Thar
• ISIS Bride Ran Out of Money, Forced to Sell Wedding Present: An AK47 Assault Rifle
• What Does the Israel-UAE Agreement Mean for Indonesia?
• Vaccine Diplomacy: India Says Bangladesh To Be Priority Recipient
Mideast
• Erdogan Converts into Mosque Another Former Istanbul Church That Became A Mosque and Then A Popular Istanbul Museum
• Israel Principal Threat to Security In Middle East: Hezbollah Secretary General
• Supreme Leader: Muharram Greatest Epic in History
• Iran unveils ballistic missile named after Qasem Soleimani
• Several Israeli-Bedouin see their citizenship revoked
• Israel kills Palestinian amid tensions in West Bank, Gaza over UAE peace deal
• Hundreds of Houthis killed in fighting in central Yemen, officials say
• Turkey's military reinforcement signals changes in Idlib's fragile calm
--------
Arab world
• Al-Azhar Shuns Palestinian Fatwa Banning Emiratis From Praying at Al-Aqsa Mosque
• Amnesty Intl. Says Saudi Arabia Holding Palestinian Academics on Unfounded Charges
• Dubai's Emirates Waiting for Approval to Start Israel Flights After Peace Deal: COO
• US imposes sanctions on six Syrian government officials, military leaders
• Tribes vow to fight US-backed militants in northeastern Syria
• Unidentified gunmen shoot dead US-backed SDF militant in Syria's Dayr al-Zawr
• Beirut firefighters leave a legacy of courage and commitment
--------
India
• Arrest Me On 'Illegal Muharram Order' But Majlis Will Be Held on Covid Norms, Shia Cleric Kalbe Jawad Tells Lucknow Commissioner
• 26 top terrorist commanders killed in 7 months: J&K top cop
• Geelani too ill to 'comprehend' Pakistan honour, says kin
• Stranded in Pakistan, Hindus on long-term visas desperate to return to India
• Pak Wanted Davinder Singh To Find Contact Inside MEA: NIA Chargesheet
• India urges world community to isolate Pak for sponsoring terror
• Farooq Abdullah holds 1st meeting of leaders after Article 370 move
• Will discuss JK's political agenda after all leaders including Mufti freed from detention: Farooq Abdullah
--------
Pakistan
• Hindus, Muslims of Pakistan Protest Against 'Efforts' to Dent Inter-Faith Harmony in Thar
• As Saudi Arabia Snubs Pakistan Army Chief, Its Foreign Minister Rushes to China
• Man Slits Throats Of 11 Family Members In Pakistan
• Jamiat Ulema-e-Islam staged a sit-in protest in Larkana against the federal government's proposal to take control of Karachi
• 'Muslims will be saved, will only target regions': Pakistan minister warns of nuclear war if attacked by India
• China, Pakistan agree to preserve, protect, promote CPEC
• Parties vow to ensure CPEC progress, guard it against threats
• FO hails OIC contributions to Kashmir cause
• 11pc Pakistanis have developed protective immunity: study
• Rao Anwar ordered Naqeeb's murder in fake encounter, witness tells ATC
--------
Europe
• ISIS Bride Ran Out of Money, Forced to Sell Wedding Present: An AK47 Assault Rifle
• Barr Disavows Death Penalty for Two ISIS 'Beatles' If Britain Shares Evidence
• Brother of Manchester suicide bomber sentenced for role in 2017 concert attack
--------
Southeast Asia
• What Does the Israel-UAE Agreement Mean for Indonesia?
• Muhyiddin, Anwar, Najib cannot strengthen our sovereignty, says Dr M
• PAS playing it safe by straddling both PN and MN, say analysts
• Mosque, surau activities in 7 Kedah districts suspended
• Malaysian State of Kelantan Seeks to Make Folk Drama Shariah Compliant
• Aug. 21 declared collective leave day for Islamic New Year, more to come
--------
South Asia
• Vaccine Diplomacy: India Says Bangladesh To Be Priority Recipient
• Three killed in Kabul rocket attack: Afghan government
--------
Africa
• Mali Coup Opens Power Vacuum As Islamist Insurgency Expands In West Africa
• African Union suspends Mali following coup
• El-Sisi calls on army to be prepared amid Libya crisis
• Boko Haram Terrorists Attack Borno Community, Raze Hospital, Telecoms Mast, Others
• Two soldiers, Boko Haram terrorists killed as troops repel attack on Magumeri
--------
North America
• Pompeo 'Confident' As US Demands Reimposing Of All UN Sanctions On Iran
• US To Restore All Sanctions on Iran, Accuses European Allies Of 'Siding With Ayatollahs'
• US police say Muslim man wasn't mocked during fatal arrest
Compiled by New Age Islam News Bureau
URL: https://www.newageislam.com/islamic-world-news/erdogan-converts-mosque-another-former/d/122683
--------
Erdogan Converts into Mosque Another Former Istanbul Church That Became A Mosque and Then A Popular Istanbul Museum
August 21, 2020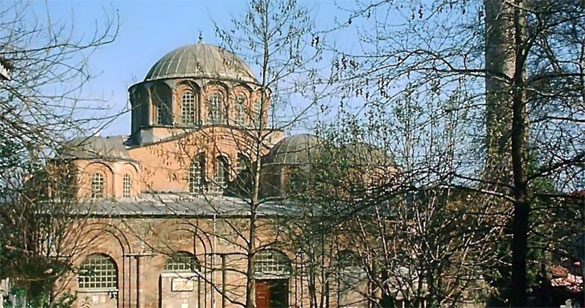 The decision to transform the Kariye Museum came a month after a similarly controversial conversion for Hagia Sophia.PHOTO: WIKIMEDIA COMMONS
-----
ISTANBUL: Turkish President Recep Tayyip Erdogan on Friday ordered another ancient Orthodox church that became a mosque and then a popular Istanbul museum to be turned back into a place of Muslim worship.
The decision to transform the Kariye Museum into a mosque came just a month after a similarly controversial conversion for the UNESCO World Heritage-recognized Hagia Sophia.
The 1,000-year-old building's history closely mirrors that of the Hagia Sophia — its bigger neighbor on the historic western bank of the Golden Horn on the European side of Istanbul.
The Holy Savior in Chora was a medieval Byzantine church decorated with 14th-century frescoes of the Last Judgment that remain treasured in the Christian world.
It was originally converted into the Kariye Mosque half a century after the 1453 conquest of Constantinople by the Ottoman Turks.
It became the Kariye Museum after World War II as Turkey pushed ahead with the creation of a more secular new republic out of the ashes of the Ottoman Empire.
A group of American art historians then helped restore the original church's mosaics and opened them up for public display in 1958.
But Erdogan has in the past few years placed a greater emphasis on the battles that resulted in the defeat of Byzantium by the Ottomans.
Turkey's top administrative court approved the museum's conversion into a mosque in November.
An AFP reporter who visited the site shortly after Erdogan's decree was published said the museum remained open to visitors — unlike the Hagia Sophia which was shut for conversion right away.
https://www.arabnews.com/node/1722501/middle-east
--------
Al-Azhar Shuns Palestinian Fatwa Banning Emiratis From Praying At Al-Aqsa Mosque
August 19, 2020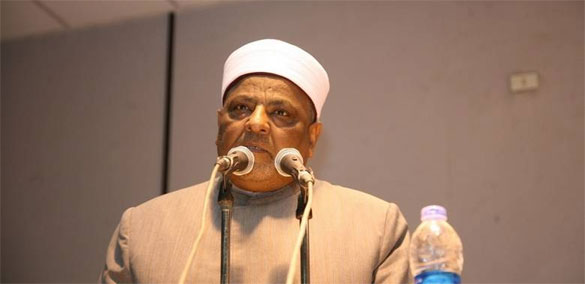 A grand scholar at Al Azhar Al Sharif, Egypt's renowned Islamic institution, Dr Abbas Shuman, has rejected a fatwa by Al Quds Mufti where he forbids the Emirati people from praying in Al Aqsa Mosque following the UAE-Israeli peace treaty.
(Wam)
------
CAIRO — A grand scholar at Al-Azhar Al-Sharif, Egypt's renowned Islamic institution, has rejected a fatwa by Al Quds Mufti where he forbids the Emirati people from praying in Al-Aqsa Mosque following the UAE-Israeli peace accord. "As a specialist in Islamic Fiqh (Islamic jurisprudence) I can't find any religious justification for declaring as haram (forbidden) the worship of any Muslim people in any mosque all over the world based on a political stance taken by these people's leadership. I reject any religious fatwa that is not based on Shariah-compliant rules," Dr. Abbas Shuman, a member of Al-Azhar's Committee of Senior Scholars. "I'm not here defending the UAE's decision, nor interfering in its political stand which is solely determined by its leaders. I'm only dismissing that fatwa as biased as it has no legal sanction and cannot be enforced. Turkey has been maintaining normal relations with Israel since 1949 and was the first Islamic nation to recognize Israel. Turkey and Israel enjoy even economic and defense cooperation which far exceeds normalization of relations; and nonetheless, we have not heard — and we don't want to hear — any Palestinian fatwa banning Turks from praying in Al-Aqsa. Neither have we heard any Palestinian fatwa banning Qataris, from praying in Al-Aqsa, and likewise, we don't want to hear, though Qatar enjoys commercial relations with Israel," Shuman explained. "This fatwa, in addition, contradicts with a call by Palestinian leaders for issuing a religious fatwa, urging Muslims all over the world to visit Al-Aqsa and pray there." "To the best of my knowledge, our Islamic history has not witnessed any fatwa by the righteous forefathers and their descendants banning any Muslim from praying in any mosque around the world," he concluded. — WAM
https://saudigazette.com.sa/ampArticle/596798
--------
Arrest Me On 'Illegal Muharram Order' But Majlis Will Be Held On Covid Norms, Shia Cleric Kalbe Jawad Tells Lucknow Commissioner
Aug 20, 2020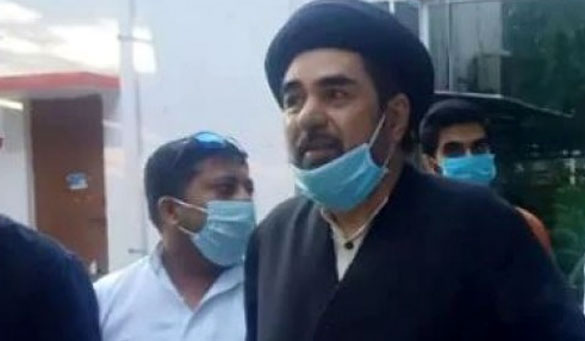 Shia cleric Maulana Kalbe Javad
-----
LUCKNOW: Shia cleric Maulana Kalbe Jawad Naqvi on Thursday attacked the police Commissionerate for putting a blanket ban on all Muharram rituals despite strict Covid protocols already in place for religious events. The cleric who is mutawwali of Imambara Ghufranmaab in the old city has called the guidelines issued specifically for Muharram unconstitutional and illegal. Jawad has also warned the administration that he will be holding majlis (sermons) at the Imambara following Covid-19 protocols and if they deem fit to arrest him based on an "unconstitutional order", they are free to do so.
The cleric submitted a written statement with the police commissioner accusing that the order was not just misleading and one that is creating turmoil in the community, but is also against the guidelines issued by WHO, Central and state governments on Covid-19.
"This new guideline should be repealed immediately since covid-19 protocols are already in place. And I will be taking the sermon from Friday at Imambara Ghufranmaab as has been for decades. The number of people will be limited to 50 along with thermal scanning, sanitisations, social distancing and masks," Jawad said.
"If then the administration takes into account their unconstitutional order, it is free to arrest me. But I will request my community to not protest my arrest but adhere to Covid-19 protocols strictly," he added.
Jawad also said that permission to hold majlis inside imambaras with Covid norms has been given in Maharashtra, Andhra Pradesh, Karnataka and in Kashmir.
Amidst rising tension in the Shia community on how Muharram will be commemorated this year amid the pandemic, small time taziya makers and vendors have set shop in the city.
However several clerics including Jawad and All India Shia Personal Law Board general secretary Maulana Yasoob Abbas have also claimed that the police is threatening taziya makers to neither make nor sell them.
"A number of taziya makers have complained to me that they are not being allowed to sell taziyas, which is absolutely against people's rights and the law. These people have told me that they are being threatened by the police and problems are being created in their sale and purchase," Jawad wrote in his memorandum to the police commissioner.
These paper taziyas are traditionally kept at homes during Muharram as a replica of Imam Husain's mausoleum. Sermons and matam at homes are done in the taziya's presence involving members of the family.
https://timesofindia.indiatimes.com/city/lucknow/arrest-me-on-illegal-muharram-order-but-majlis-will-be-held-on-covid-norms-shia-cleric-kalbe-jawad-tells-lucknow-commissioner/articleshow/77660242.cms
--------
Hindus, Muslims of Pakistan Protest Against 'Efforts' to Dent Inter-Faith Harmony in Thar
August 21, 2020
BADIN - A large number of people, including leaders of political parties, rights activists, members of the civil society, traders and notables took out a rally in Mithi on Thursday to protest against what they said efforts to create rift between Hindus and Muslims living in Tharparkar.
Later, talking to the journalists, Sajan Charo, Akbar Dars, Abdul Subhan Samejo, Kishwar Jagani and other protestors said they were alarmed at the activities of some elements who were trying to pit Muslims against Hindus. They said that the local administration should take notice of the situation, and discourage such elements who were bent upon creating a wedge between the people of two different faiths, thus putting law and order situation in the desert district in jeopardy.
They were of the view that Tharparkar could only prosper when there was no threat to its inter-faith harmony.
https://nation.com.pk/21-Aug-2020/hindus-muslims-protest-against-efforts-to-dent-inter-faith-harmony-in-thar
--------
ISIS bride ran out of money, forced to sell wedding present: An AK47 assault rifle
20 August 2020
A German woman who joined ISIS fell on such hard times that she had to sell her wedding present, an AK47 rifle, according to prosecutors in Germany.
In a statement Thursday, German federal prosecutors said they have indicted Zeynep G. on three counts of participating in the activities of a "foreign terrorist organization," breaching arms control laws and committing a war crime.
G., a German citizen whose last name wasn't released due to privacy reasons, is alleged to have traveled to Syria in September or October of 2014 to join the extremist group. After marrying a Chechen fighter she ran his household and used social media to urge a friend in Germany to join ISIS.
For all the latest headlines follow our Google News channel online or via the app.
Following the first husband's death she married a fellow German ISIS member in October or November of 2015 and moved to the group's stronghold of Raqqa. German prosecutors say the couple occupied the home of someone who had fled from ISIS, which would amount to looting or pillaging under international law and is considered a war crime.
Prosecutors said the woman requested a Kalashnikov rifle as a wedding present and training in how to use it, but after several weeks "it had to be sold due to a shortage of money."
Her second husband died in 2017 and G. was detained by Kurdish fighters two years later, but managed to flee. She was detained in Turkey in February and arrested on her return to Germany in May, where she now faces trial.
https://english.alarabiya.net/en/News/world/2020/08/20/ISIS-bride-ran-out-of-money-forced-to-sell-wedding-present-An-AK47-assault-rifle.html
--------
What Does the Israel-UAE Agreement Mean for Indonesia?
By Muhammad Zulfikar Rakhmat and Mohamad Rezky Utama
August 20, 2020
On August 13, Israel and the United Arab Emirates reached a historic peace deal that will lead to a full normalization of diplomatic relations.
The agreement was the outcome of lengthy discussions between Israel, the UAE, and the United States that accelerated recently. The deal was sealed in a phone call between U.S. President Donald Trump, Israeli Prime Minister Benjamin Netanyahu, and Sheikh Mohammed Bin Zayed, crown prince of Abu Dhabi.
The agreement, known as the Abraham Accords, is the first of its kind since Israel and Jordan signed a peace treaty in 1994.
Israeli and Emirati representatives will meet in the coming weeks to sign bilateral agreements regarding investment, tourism, direct flights, security, telecommunications, and other issues, the statement said. The two countries are also expected later to exchange ambassadors and embassies.
While Indonesia is not directly associated with the deal, the country is a staunch defender of the Palestinian cause, the UAE's close ally, as well as Israel's quiet partner. In Indonesia, several questions have been raised concerning the agreement, including its impacts on Palestine. Such questions were particularly pertinent due to the fact that, a few days after the Israel agreement was signed, the UAE congratulated Indonesia on the 70th anniversary of its independence and reaffirmed their strong ties.
It seems that the Israel-UAE agreement will not change Indonesia's position, although it may have an impact of Jakarta-Abu Dhabi relations.
For the past several years, Indonesia has maintained quiet ties with Israel. Although political ties are nonexistent, there have been flows of trade and investments, mainly done via Singapore, and some people-to-people exchanges have been taking place between Jakarta and Tel Aviv.
At the same time, the government in Jakarta has also sustained strong cooperation with the UAE. In fact, the UAE is one of Indonesia's closest partners in the Middle East. Even during the COVID-19 pandemic, ties have been strengthened through aid and assistance provided by the government in Abu Dhabi.
Nonetheless, despite the quiet growth in Indonesia-Israel relations, and the close partnership between Indonesia and the UAE, it does not mean that Jakarta will follow the path taken by its close partner in normalizing its ties with its secret partner, Israel.
The most important reason for this is simple: Indonesia has not seen its relations with either Israel or the UAE as significant. While the Gulf countries have been trying to penetrate Indonesia with a "Looking East" policy, Jakarta has not been on the same page. Although Jakarta has gradually been strengthening ties with Middle Eastern countries, to this date, Indonesia remains unable to lessen its dependence on traditional partners such as China and the United States. Even if Jakarta saw the benefits of pursuing stronger cooperation with the UAE, it would not be because of Abu Dhabi per se, but the Middle East as a whole.
Moreover, since its independence, Indonesia has been opposing colonization and illegal settlement in occupied territories, including the West Bank, de jure Palestine. As seen in Indonesia's previous policy toward South Africa, any unjust forms of colonization will be the main factor behind Indonesia's refusal of diplomatic normalization with Israel.
The situation in the West Bank fits the criteria of colonialism. Israeli settlements politically resemble the European settlements in the New World; this settler colonialism scheme allows the settler to claim and use land while keeping direct ties with Israel proper.
And Indonesia's position toward any kind of colonialism is clearly constituted in the Preamble to the Indonesian Constitution. The sentence "Whereas independence is the inalienable right of all nations, therefore, all colonialism must be abolished in this world as it is not in conformity with humanity and justice" unquestionably manifests the national stance against colonialism.
The settlement and annexation issues in the West Bank may recall Indonesia's fierce criticism to apartheid South Africa. Indonesia only normalized its relation with South Africa in 1997 after the end of apartheid in the country.
Jakarta has been supportive of the Palestinian struggle since 1989, when Indonesia became the first country to recognize Palestine after its declaration of independence. Being vocal in Israel-Palestinian issues in the U.N., holding an Organization of Islamic Cooperation meeting on the subject in Jakarta, and giving 106.2 billion rupiahs in donations in 2018 are only three of the many forms of support Indonesia has given to the Palestinians.
In May 2020, Indonesian Foreign Minister Retno Marsudi reaffirmed that "Indonesia is one of the strongest supporters of Palestine" in response to Israel's West Bank annexation plan.
Indonesia's solidarity with Palestine is not only shown by the government but also by Indonesian citizens. Various types of private scholarships and other donations – including building a hospital — have been generously given to Palestine by Indonesia's private organizations or individual donors.
Moreover, Indonesians are also frequently involved in solidarity protests such as protests against Israel's annexation plan in 2020. This solidarity comes from emotional ties between Indonesian Muslims and Jerusalem, the third holiest city in Islam after Mecca and Medina.
Therefore, as stated by Marsudi, the recent agreement between the UAE and Israel will not change the status quo much. Ties between Indonesia and Israel will likely remain quiet in the years to come given Indonesia's strong opposition toward colonialism and public support for the Palestinian cause.
What may change, however, is Indonesia's relationship with the UAE. Jakarta may no longer see the UAE as a partner with shared stances on issues in the Middle East. Moreover, it may take more careful steps when dealing with the government in Abu Dhabi, especially because if the relationship continues as usual Indonesia is likely to face pressure from domestic Islamic groups and even the general public. There could also be repercussions for Indonesia's standing in the Muslim world and for its growing ties with Arab countries who oppose the UAE's move.
Muhammad Zulfikar Rakhmat and Mohamad Rezky Utama are lecturers at Universitas Islam Indonesia.
https://thediplomat.com/2020/08/what-does-the-israel-uae-agreement-mean-for-indonesia/
--------
Vaccine diplomacy: India says Bangladesh to be priority recipient
Aug 20, 2020
NEW DELHI: India will supply Covid vaccine to Bangladesh on a priority basis as and when it gets the nod and mass production starts, foreign secretary Harsh Shringla said in Dhaka on Wednesday.
"For us, Bangladesh is always a priority country," Shringla told journalists during a visit to Bangladesh, his first to the neighbouring during the pandemic, signalling the importance of the bilateral relationship.
Bangladesh was recently persuaded to refuse an offer by China to conduct human trials of their Covid vaccine among Bangladeshi citizens. Chinese pharmaceutical company, SinoPharm, has promised that its vaccine would be available by the year-end.
Click here to catch all the latest updates on Coronavirus
The Covid pandemic — its therapeutics and accessibility to a possible vaccine — have been woven into the foreign policy as well. India earlier earned much needed brownie points by lifting a ban on export of hydroxychloroquine (HCQ) for supply to many countries needing the antimalarial drug. In recent weeks, with ramped up domestic production of PPEs, India has supplied the critical kit to a number of countries, the latest being Lebanon.
Vaccine diplomacy is the new game. While many western countries have declared that the vaccines they produce or procure would be given to their citizens, both India and China have been looking to increase their spheres of influence by promising vaccine doses to different countries. India has already promised vaccine doses to Bhutan and the Maldives.
Shringla met his Bangladeshi counterpart Masud bin Momen on Wednesday, a day after meeting PM Sheikh Hasina.
"We are going to produce vaccines on a massive scale. India produces 60% of the world's vaccines," Shringla said. "When the vaccine is produced, it goes without saying that our closest neighbours, friends, partners and other countries will be part of that," he added.
https://timesofindia.indiatimes.com/world/south-asia/vaccine-diplomacy-india-says-bdesh-to-be-priority-recipient/articleshow/77639632.cms
--------
Mideast
Israel Principal Threat to Security In Middle East: Hezbollah Secretary General
21 August 2020
The secretary general of the Lebanese Hezbollah resistance movement has called Israel the greatest threat to peace and security in the Middle East region, warning against mischievous plots being hatched by the Tel Aviv regime.
"The principal threat nowadays in our region is the existence of the occupying Zionist regime," Sayyed Hassan Nasrallah said in a televised speech broadcast live on the local Arabic-language al-Manar television network from the Lebanese capital Beirut late on Thursday.
"If one wants to confront the Israeli enemy, they must know the history of Palestine. We must know who these invaders are, where they came from, and what their goals, strengths and weaknesses are," he added.
The Hezbollah chief further noted that the United States was established through mass murder of Native Americans, dismissing reliance on the US administration to reclaim rights from the Israeli regime as "pointless" because they both have the same terrorist nature.
"Today, the United States represents the toughest challenge to world nations and the greatest threat to international peace and security. The US is a racist and savage state, which has been established on unjust foundations and racial discrimination. It hides behind fake news as well as fraudulent and misleading policies," Nasrallah highlighted.
Nasrallah denounced attempts by a number of Arab states to normalize full diplomatic relations with the Israeli regime, stating that authorities in such countries have accepted subservient roles in the face of their US counterparts.
"The normalization agreements and the blockade are all means of pressures to force the Palestinian nation into surrendering all their rights," he said.
Hours after Nasrallah's speech, Israeli war planes struck the positions of Palestinian Islamic Resistance Movement Hamas in the Gaza Strip early on Friday morning.
The Israeli military claimed in a statement that the attack was carried out in response to incendiary balloons launched from the besieged coastal enclave into the occupied territories. There were no immediate reports of casualties on both sides.
Israel has carried out airstrikes and used artillery against sites inside the Gaza Strip for the past few days.
Israel also slashed Gaza's permitted fishing zone last week in response to the alleged balloon attacks, halving the area from 15 nautical miles to eight.
The Gaza Strip has been under Israeli land, air and sea blockade since June 2007, after Hamas, which has vowed to resist the Israeli occupation, rose to power in the enclave, where two million people live.
Since imposing the siege, it has also brought Gaza under three wholesale wars, killing thousands of Palestinians in each.
The crippling Gaza blockade has caused a sharp decline in the standard of living as well as unprecedented levels of unemployment and unrelenting poverty in the besieged strip.
https://www.presstv.com/Detail/2020/08/21/632268/Israel-is-principal-threat-to-security-in-Middle-East-region--Nasrallah
--------
Supreme Leader: Muharram Greatest Epic in History
Aug 20, 2020
"Commemoration of a unique memory of history is one of the aspects of Month of Muharram which should be taken into serious consideration," Ayatollah Khamenei said.
According to the Foundation for Preservation and Publication of Works of Ayatollah Khamenei, the sublime remarks of Leader of the Islamic Revolution at the threshold of Month of Muharram in 2001 were published for the first time on Wednesday.
Commemoration of a unique memory of history is one of the salient aspects of Month of Muharram that should be taken into consideration. The unique aspect in Month of Muharram is referred to the epic and emergence of human prominences and salient characteristics of People of Truth, he said.
A glance at the situation of Imam Hussein (PBUH), you can grasp out that the move taken by Imam Hussein and his uprising is unique with these characteristics, added Ayatollah Khamenei.
We have witnessed many uprisings but this uprising, that was inspired by Imam Hussein (PBUH), is unique of its kind, noted the Leader.
He then pointed to the salient aspect of Month of Muharram which is the greatest epic in the history of Islam and added, "This greatest epic must be preserved and kept alive."
Not only Muharram is the greatest epic in the history of Islam but also it is the greatest epic in all-time history that should be kept alive forever, the Leader emphasized.
This historical epic must be used as a troubleshooter in eternal and perpetual activities of Muslim history, the Leader of the Islamic Revolution highlighted.
Muharram is the month of the martyrdom of Imam Hossein (PBUH) – the third Shia Imam – and his loyal companions at the Battle of Karbala in the year 61 AH (680 CE).
During the Muharram rituals, millions of Muslims commemorate the martyrdom anniversary of Imam Hussein, by gathering in mosques and different religious venues.
Last month Ayatollah Khamenei urged people to observe health protocols during the Muharram mourning ceremonies.
"All the mourners, mourning gatherings and eulogists must follow what is announced by the National Task Force for Fighting Coronavirus, because it is a very important issue," the Supreme Leader said.
Ayatollah Khamenei pointed out that what is announced by the National Task Force for Fighting Coronavirus must be followed during mourning.
"I will respect what they announce as necessary. I advise all the mourners, mourning gatherings and eulogists to respect guidelines of the National Task Force for Fighting Coronavirus, otherwise, there will be a big disaster," the Supreme leader added.
https://en.farsnews.ir/newstext.aspx?nn=13990530000202
--------
Iran unveils ballistic missile named after Qasem Soleimani
Aug 20, 2020
Iran has unveiled two new missiles, state media reported Thursday, the same day Secretary of State Mike Pompeo traveled to the United Nations to start the process of restoring international sanctions on Iran.
The missiles, which were revealed on state television on Iran's National Defense Industry Day, included one named after the country's slain commander, Qasem Soleimani. Soleimani, who was the head of Iran's elite Quds Force, was killed in a US drone strike near Baghdad International Airport last January in an event that further escalated tensions between Washington and Tehran.
A surface-to-surface ballistic missile dubbed the "Martyr Hajj Qasem Soleimani" has an 870-mile range, state news reported. A naval cruise missile named for Abu Mahdi al-Muhandis, the Iraqi militia leader also killed in the strike, has a reported 620-mile range.
State-run IRNA news reported that Iranian President Hassan Rouhani and Defense Minister Brig. Gen. Amir Hatami participated via video conference in the unveiling, which also included the display of a fourth-generation light turbo-fan engine for the military's advanced drones.
"Cruise missiles are of particular importance to us … the country is on the path of production and self-sufficiency in this field," Rouhani said.
The display of military prowess came as the United States prepares to invoke the so-called snapback provision of the Iran nuclear deal, which would return the United Nations sanctions lifted on Iran in January 2016.
"The process to reimpose sanctions on Iran begins," Pompeo said in a tweet Thursday afternoon, adding that he notified the Security Council "of something we all know too well — Iran's failure to meet its commitments under the terrible nuclear deal."
https://www.al-monitor.com/pulse/originals/2020/08/iran-ballistic-missile-qassem-soleimani-pompeo-sanctions.html
--------
Several Israeli-Bedouin see their citizenship revoked
Danny Zaken
Aug 21, 2020
Are Israel's Ministry of Interior and the Population and Immigration Authority trying to deny citizenship to Bedouin residents of the Negev Desert? Both the ministry and the attorney general's office claim that the problems are the result of registration errors, which are currently being fixed. Nevertheless, the number of complaints is still large. Bedouin who have lost their citizenship have appealed to the office of Knesset member Aida Touma-Suleiman of the Arab Joint List, asking her to investigate the situation. Meanwhile, Attorney Sawsan Zaher from the Adalah Legal Center appealed to Interior Minister Aryeh Deri and Attorney General Avichai Mandelblit, demanding that the policy be overturned. Her appeal claims that this has been happening since at least 2010.
According to Adalah, when Bedouin in the Negev go to the Interior Ministry to take care of their mundane affairs — a change of address, obtaining a birth certificate, registering a name, and so on — their status, and that of their parents and grandparents, is checked against the population registry, reaching as far back as the 1948 founding of the state. In certain cases, the ministry informs them right then and there that they received their citizenship by mistake, and then changes their status on the population registry from citizen to permanent resident.
Adalah says that those people whose citizenship is revoked are given no explanation as to why, nor are they granted the option to appeal. Instead, the ministry staff suggests that they submit a request to begin the normal naturalization process to obtain citizenship.
Upon appealing these cases with the minister of interior, Adalah has found that some of these Bedouin have been citizens for 20, 30 and even 40 years. They paid taxes, voted in the elections and in, some cases, even served in the Israel Defense Forces (IDF). Then, a bureaucrat at the Ministry of Interior came along and revoked their citizenship, turning them into permanent residents. They can still vote in local elections, but they cannot run for office, and they cannot vote or run for office in national elections. They receive social benefits — health insurance and social security — but they cannot obtain a passport, and if they leave the country for an extended period, their status as resident could be revoked. Nor is their status transferred automatically to their children, as it would be with citizens.
Surprised by this, and in the absence of anywhere to appeal the decision, they do not know what to do. Some submit a naturalization and citizenship request, while others simply give up. Zaher said that many of the requests to obtain citizenship are rejected because documents are missing, the applicant has a criminal record — which is not grounds for the denial of citizenship — or even for being unable to speak Hebrew. Among those denied citizenship are people born in Israel to Israeli citizens. They have seen their status changed to permanent resident, even if their parents are still citizens. There are even families in which one child is a citizen, while the other child is a permanent resident. Some lost their citizenship when they went to renew their passports so that they could make the pilgrimage to Mecca, as required by their religion. Only then did they find that their citizenship had been revoked.
Salim al-Dantiri, 50, of Bir Hadaj, whose father served in the IDF, was denied citizenship. He said that he cannot understand why he is being denied. "In some cases — like mine — they say that there was some mistake when our parents were registered, but that was decades ago. Is that our fault?" Dantiri told Al-Monitor.
Atalla Sagaira of the unrecognized village of Rahma fought for 13 years before he received citizenship, even though his late father served in the IDF. He began his struggle in 2002, when he tried to obtain a passport. The Interior Ministry originally denied his request. He told Al-Monitor, "They said that my parents were naturalized, and that they were not originally citizens." He then began the process to register as a citizen, and finally received his citizenship in 2015. "I insisted on obtaining my rights and fought the whole bureaucratic process on my own, until I obtained my citizenship. Still, I know that there are people who just give up," Sagaira said. His father was a tracker for the IDF and received his discharge as an injured veteran. At the time, he had seven children. Three of them have yet to receive citizenship.
During a debate last year in the Knesset's Interior Committee, head of Citizenship at the Population and Immigration Authority Ronen Yerushalmi explained that there are about 2,600 people who now have Israeli citizenship but for whom it could be revoked, because of erroneous registration by the ministry in the past. Later in the debate it became apparent that the main problem lies with the lack of registration for the parents' generation from the early years of statehood, when the Bedouin of the Negev lived under a military government.
Adalah considers this entire situation to be yet another example of discrimination against the Bedouin for nationalist reasons. "There is no case of a Jewish citizen who had his citizenship revoked because of some mistake in the registration of his parents or grandparents," Zaher noted.
Touma-Suleiman added, "I fear that what this incident has revealed so far is just the tip of the iceberg, and that what has yet to be revealed is even more serious." She said that if she does not receive answers from the Interior Ministry, and if the situation is not corrected, she will appeal to the Supreme Court.
A senior official dealing with the situation told Al-Monitor that the Bedouin are confronted with investigations over the status of their parents and family members, because of some problematic cases in the past. He refers to cases involving West Bank Palestinians related to the Bedouin living in the Negev. These Palestinians have tried — so he claims — to obtain Israeli citizenship by exploiting the mistaken registration by the Interior Ministry.
So are we talking about mistakes or about a deliberate policy? The spokesperson for the Population and Immigration Authority told Al-Monitor that an investigation has found that this is not a case of revoking citizenship, but rather of mistaken registration, and that most cases have been dealt with already. He said, "There have been discussions recently about finding a solution that will resolve the problem within the context of the law, without detracting from these people's status in Israel." The spokesperson also noted that in response to Adalah's appeal in the matter, the attorney general is now involved in dealing with it.
Deri's office said that the minister has instructed staff at the Population and Immigration Authority to do everything they can to shorten the bureaucratic process facing these citizens, in order to spare them any frustration. The attorney general's office also stated that it has instructed the authority to allow for a rapid naturalization process for anyone who is not a citizen, on condition that there are no grounds — criminal or other — to prevent the applicant from obtaining citizenship.
https://www.al-monitor.com/pulse/originals/2020/08/israel-west-bank-bedouin-negev-interior-ministry-aryeh-deri.html
--------
Israel kills Palestinian amid tensions in West Bank, Gaza over UAE peace deal
20 August 2020
Israeli soldiers have shot dead a Palestinian man near the West Bank city of Ramallah as tensions mount in the Palestinian territories over a recent normalization deal between the United Arab Emirates (UAE) and the Tel Aviv regime.
Israeli media reported on Thursday that the regime forces fired at three Palestinians, who were burning tires in the village Deir Abu Masha'al, west of Ramallah.
One of the Palestinians was hit in his arm and died at the scene, but the two others fled the scene, the reports said.
The Israeli military claimed that the Palestinians were preparing to hurl Molotov cocktails at cars.
Tensions has been running high in the occupied West Bank and the blockaded Gaza since last Thursday, when Israel and the UAE announced in a joint statement, issued by the White House, that they had "agreed to the full normalization of relations."
All Palestinian factions have unanimously condemned the UAE-Israel deal. President Mahmoud Abbas has warned other Arab countries not to follow in Abu Dhabi's footsteps.
Protests against 'betrayal to Palestine'
On Wednesday, hundreds of Palestinian people held a protest at the West Bank village of Turmus Ayya to vent their anger at the normalization agreement.
Members of the Gaza-based Hamas resistance group and the Fatah faction of Abbas' Palestinian Authority, headquartered in the West Bank, took part in the demonstration.
"Today we tell the world that we are united against 'the deal of the century,' annexation and normalization," Palestinian Prime Minister Mohammad Shtayyeh told the rally.
"Any normalization legitimizes the occupation of Palestinian territories," he added. "It's a stab in the back."
Clashes erupted after the protesters threw stones at Israeli forces, who responded with tear gas and stun grenades.
A similar protest was also held in Gaza City against the US-brokered deal between Abu Dhabi and Tel Aviv, with the Participants chanting "normalization is betrayal to Jerusalem and Palestine."
The protesters burned Israeli and US flags and trampled on posters of Israeli Prime Minister Benjamin Netanyahu and US President Donald Trump.
The demonstrators further voiced their support for Abbas' rejection of Trump's self -proclaimed "deal of the century".
Denouncing the UAE-Israel deal, senior Hamas official Khalil al-Hayya said, "Normalization with the occupation harms us and doesn't serve us. Instead, it serves and promotes the occupation in its projects that target Palestine and the region."
Israeli army strikes Gaza
Early on Thursday, Israeli army tanks struck Gaza, responding to incendiary balloon launched from the coastal sliver the previous day that caused fires in the occupied territories.
At least 28 fires broke out in the Gaza border communities on Wednesday, according to the Israeli Walla news website.
The Israeli Army Spokesperson's Unit said tanks struck Hamas "military posts," adding, "The strike was executed in response to the launch of explosive and incendiary balloons from the territory of the Gaza Strip."
Gaza security officials said the fire hit Hamas observation posts near al-Maghazi and Al-Bureij refugee camps in the center of the strip, and the town of Khan Yunis, further south.
They, however, noted that the Israeli attack caused no casualties.
It was the ninth night the Israeli military targeted Gaza amid growing tensions with Hamas.
https://www.presstv.com/Detail/2020/08/20/632205/Israel-Palestinian-killed-Ramallah
--------
Hundreds of Houthis killed in fighting in central Yemen, officials say
August 20, 2020
AL-MUKALLA: Almost 1,000 Houthi fighters have been killed over the past four days in fierce clashes with government forces, which include allied tribesmen, in various contested areas of the central province of Marib, with hundreds more wounded or captured, local media and government officials said on Thursday.
The Iran-backed Houthis have stepped up their attacks on Marib's Serwah and Helan areas in an attempt to capture the oil- and gas-rich city of Marib.
"We have counted 966 Houthis, including senior officers, killed in the fighting in Marib over the last four days. Their bodies are still scattered on the battlefields," an army officer in Marib, who asked to remain anonymous, told Arab News by telephone. Dozens of government troops and their tribal allies have also reportedly died in the fighting.
On Wednesday, at least 35 Houthi fighters surrendered when government forces attacked their location in Marib's Serwah, local army commanders said. On the same day, senior army commanders in Marib attended the funeral of Brig. Mohammed Ali Alroken, the commander of 122 Infantry Brigade, who was killed in action in the northern province of Jawf.
Local army commanders say that warplanes belonging to the Arab coalition have been targeting Houthi military locations and reinforcements. On Thursday, state television showed footage of thick smoke billowing from Houthi locations in mountainous areas of Serwah.
Despite the heavy losses incurred during the Houthi offensive, Houthi official media outlets and Houthi supporters on social media claim the Iran-backed militia has made territorial gains in the province and is close to seizing control of Marib city.
The escalation in fighting comes as the United Nations Security Council and the UN Special Envoy for Yemen Martin Griffiths called upon warring factions to halt all military operations in Marib in order not to jeopardize peace in a city that is currently home to hundreds of thousands of internally displaced people who have taken shelter their over the last 5 years after fleeing their homes in the north.
Many local and international aid organizations have warned that Houthi attacks on the city have created panic among residents.
In neighboring Al-Bayda, Brig. Abdulrab Al-Asbahi, the commander of Al-Bayda Axis, said on Wednesday that at least 60 Houthis had been killed in heavy fighting with government forces in the district of Qania.
The Yemeni commander said air support and logistical support from the Saudi-led coalition and local tribesmen had enabled his troops to push back Houthi offensives in the area.
Lt. Gen. Sagheer bin Aziz, the army's chief of staff, has renewed his pledge to defeat the Houthis on the battlefield and drive them out of areas under their control, including the capital, Sanaa.
Speaking to a gathering of army soldiers in Marib on Wednesday, Bin Aziz thanked the Saudi-led coalition for its support and stressed that the army and allied tribesmen are "determined to expel the Houthis from all Yemeni areas."
https://www.arabnews.com/node/1722271/middle-east
--------
Turkey's military reinforcement signals changes in Idlib's fragile calm
August 20, 2020
ANKARA: The arrival of hundreds of Turkish military vehicles in Syria's rebel-held Idlib province has sparked fears that the recent lull in fighting in the area may soon end.
Turkish convoys have reportedly been seen heading toward Turkish observation points in the Idlib countryside days after Russian airstrikes on the area. A Turkish military vehicle on patrol in Idlib was hit by an explosion on Monday, but no casualties were reported.
Russia last week suspended its participation in joint patrols with Turkey along the cross-country M4 highway in Idlib, citing ongoing drone attacks by militants on Russia's Khmeimim base in the Latakia countryside.
According to Ruwan Al-Rejoleh, an independent analyst in Washington, DC, Turkey is sending reinforcements to Idlib in the hope of deterring a military campaign led by Russia and the Syrian National Army targeting jihadi terrorist groups in Idlib, including Hayat Tahrir Al-Sham (HTS) and Hurras Al-Din.
"Turkey is mobilizing Syrian armed factions like Faylaq al-Sham and others to be on the frontlines facing this potential offensive by Russia and the regime forces," she told Arab News.
Al-Rejoleh thinks it is likely that Turkey-backed armed factions will be fighting side-by-side with jihadi groups against any such Russian-led offensive, rather than against each other.
Al-Rejoleh added that a recent meeting between Turkish intelligence officers and various opposition factions in the region, including the commander of the military wing of the Al-Nusra Front and Ahrar Al-Sham, had resulted in the formation of a military council whose leaders are based in Idlib city and its surrounding countryside.
"It is likely that Russia aims to control the south of the M4 highway from Jisr Al-Shughoor, in order to secure Latakia," she said.
However, Al-Rejoleh stressed that Russian President Vladimir Putin and his Turkish counterpart Recep Tayyip Erdogan are more strategic partners than tactical enemies, and suggested that the main aim of Turkey's military mobilization was to ensure the security of Turkish forces already in Idlib. Turkey has control of around 66 military locations in the de-escalation zone in Idlib.
Navvar Saban, a military analyst at the Omran Center for Strategic Studies in Istanbul, does not believe either Russia or Turkey is attempting to initiate a major confrontation at the moment.
"But still there is a communication gap that is being used by local forces," he told Arab News. "That's why we saw regime forces launching attacks. And this gap (adds further) fragility to the situation."
Saban suggested that the renewed local tensions which have led parties to the latest military maneuvers can be used to hasten political events, such as another round of Astana talks between the leaders of Turkey, Russia and Iran, aimed at launching a political process involving all parties involved in the Syrian conflict. The last round of talks was held online on July 1.
https://www.arabnews.com/node/1722261/middle-east
--------
Arab world
Amnesty Intl. says Saudi Arabia holding Palestinian academics on unfounded charges
20 August 2020
Amnesty International has lambasted Saudi Arabia for holding a Palestinian academic and his son in detention on unfounded charges for more than a year.
In a statement, the UK-based rights group said that the Saudi regime had held 81-year-old Dr. Mohammed al-Khudari and his son, Dr. Hani, in detention for more than a year now over baseless charges, the Palestinian Information Center reported.
"The two Palestinians have been subjected to gross human rights violations, including enforced disappearance, arbitrary arrest and detention," Amnesty further noted, stressing that the pair were being held incommunicado and in solitary confinement.
"This concern has been heightened by the COVID-19 pandemic and the particular threat it poses to older prisoners and those with underlying medical conditions," Amnesty added.
Khudari, who has been living in Saudi Arabia for over 30 years, represented the Palestinian Islamic resistance movement Hamas between mid-1990s and 2003 in the Arab kingdom.
He has held other important positions in the Palestinian resistance movement as well, but he has been inactive for the past 10 years due to his illness.
The academic is currently behind bars in al-Ha'ir Prison, some 40 kilometers south of capital Riyadh, while his son is detained in Dhahban Central Prison near Jeddah. They were arbitrarily arrested on April 4, 2019.
Shortly after their detention, Amnesty called on Saudi Arabia's King Salman to order the immediate release of the academic and his son, citing his poor health condition amid the coronavirus pandemic, but all to no avail.
On Wednesday, the rights group once again called on the Saudi king to order the immediate release of the Palestinian academic and his son.
"Given the current COVID-19 pandemic and Dr. Mohamed al-Khudari's poor health, we urge your Majesty to secure his release without delay. We further call on your Majesty to ensure these unfounded charges against Dr. Mohamed al-Khudari and Dr. Hani al-Khudari are dropped and that they are released. In the interim, ensure that both men are protected from torture and other ill-treatment and that Dr. Mohamed al-Khudari is immediately granted adequate medical attention," Amnesty said.
According to the Palestinian Information Center, Khudari's son, Hani, has no political affiliation. He completed his Ph.D. in computer science and is currently a professor at Um al-Qura University in Mecca, where he was arrested.
Back in March, Amnesty said Khudari and his son were brought before the Specialized Criminal Court (SCC) in the capital Riyadh as part of a mass trial of 68 individuals on trumped-up charges under the so-called counter-terror law.
Also in March, Hamas condemned the continued detention and prosecution of Palestinian figures in Saudi Arabia over their support for the movement, urging Riyadh to immediately release them.
Saudi Arabia's repressive measures against the Palestinian resistance movement as well as those seeking to collect donations for people living in the Israeli-blockaded Gaza Strip come as the kingdom and Israel are believed to have clandestine ties.
https://www.presstv.com/Detail/2020/08/20/632233/Saudi-Arabia-Khudari-Palestine-prison-Hamas-Israel
--------
Dubai's Emirates waiting for approval to start Israel flights after peace deal: COO
20 August 2020
Dubai's Emirates airline is waiting for an aviation agreement before flights to Israel can begin following the historic peace deal announced last week between the UAE and Israel, the airline's COO said.
"It's an agreement between the two governments and definitely there will be many other sectors within business that will be benefiting from such an agreement, obviously aviation will be one of the main sectors. But before we plan any flights to between here Israel or Tel Aviv an agreement needs to be put in place between the two cities," Adel al-Redha, chief operating officer of Emirates told CNBC Thursday.
Israel and the UAE reached a historic peace deal last week that will lead to a full normalization of diplomatic relations between the two Middle Eastern nations in an agreement that US President Donald Trump helped broker. Some business and communication agreements have already passed, including collaboration on a coronavirus vaccine and restoration of phone lines between the two nations.
For all the latest headlines follow our Google News channel online or via the app.
Direct flights have yet to be announced, but are part of the overall deal. Israel's foreign ministry has also told Al Arabiya English that the country will likely not stamp passports of tourists traveling to Israel from the UAE – an important move as Israel stamping a UAE passport would be significant as certain Arab countries, such as Lebanon, place entry restrictions on people with Israeli stamps in their passports.
"I think demand will come from both sides of the region, and there will be quite a lot of opportunity for trading and business between the two cities and two countries," al-Redha added.
When reached for comment, an Emirates spokesperson told Al Arabiya English that the opening of any new route requires air traffic rights and government approvals.
"Once those are in place, Emirates will review market demand and a range of operational factors before making any decision to start flight services. With regards to new destinations, we have nothing further to announce at this time," the spokesperson said.
https://english.alarabiya.net/en/News/middle-east/2020/08/20/Dubai-s-Emirates-waiting-for-approval-to-start-Israel-flights-after-peace-deal-COO.html
--------
US imposes sanctions on six Syrian government officials, military leaders
20 August 2020
The US on Thursday blacklisted senior Syrian government officials and leaders of several Syrian military units as Washington continues to impose sanctions aimed at cutting off funds for Syrian President Bashar al-Assad's government.
The Treasury said in a statement it imposed sanctions on Luna Al Shibl, Assad's top press officer, and Mohamad Ammar Saati bin Mohamad Nawzad, a prominent member of the Syrian Baath Party.
The US State Department on Thursday also imposed sanctions on the leadership of several Syrian military units, including National Defense Forces commander Fadi Saqr, over their efforts to prevent a ceasefire, Secretary of State Mike Pompeo said in a statement.
"The US and its allies are united in continuing to apply pressure on Assad and his enablers until there is peaceful, political solution to the conflict. Assad and his foreign patrons know the clock is ticking for action," Pompeo said.
"The US will continue to impose costs on anyone, anywhere who obstructs a peaceful political solution to the Syrian conflict," he added.
Thursday's move freezes any US assets of those blacklisted and generally bars Americans from dealing with them.
A crackdown by Assad on protesters in 2011 led to civil war, with Iran and Russia backing the government and the US supporting the opposition.
Millions of people have fled Syria and millions more have been internally displaced.
https://english.alarabiya.net/en/News/middle-east/2020/08/20/US-imposes-sanctions-on-six-Syrian-government-officials-military-leaders.html
--------
Tribes vow to fight US-backed militants in northeastern Syria
20 August 2020
A number of Arab clans, tribes and national elites have voiced their support for popular resistance forces against US troops and their allies, accusing the so-called Syrian Democratic Forces (SDF) and other militant groups of stealing the country's resources.
In a statement issued on Thursday, the elders and notable members of various tribes in the northwestern Syrian city of Aleppo pledged after a meeting to take action against the "American occupiers" and the US-backed mercenaries and Turkish-backed militants, and to liberate Syrian territories.
The participants stressed their resolve to extend moral and material assistance to the popular resistance until the full expulsion of foreign-backed militants and liberation of the Syrian soil.
They also hailed consecutive victories achieved by the Syrian government forces in Aleppo, Idlb and other areas over the past few months "under the courageous leadership" of President Bashar al-Assad.
Security conditions are reportedly deteriorating in the areas controlled by the SDF in Hasakah and Dayr al-Zawr provinces amid ongoing raids and kidnapping of civilians by the US-sponsored militants.
Locals argue that the SDF's constant raids and arrest campaigns have generated a state of frustration and instability, severely affecting their businesses and livelihoods.
Residents accuse the US-backed militants of stealing crude oil and failing to spend money on service sectors.
Local councils affiliated with the SDF have also been accused of financial corruption. They are said to be embezzling funds provided by donors, neglecting services and not meeting the people's basic needs.
In recent months, the US has dispatched fresh military convoys to Syria's northeastern province of Hasakah. The presence of US forces in northern and eastern Syria has particularly irked civilians, and local residents have on several occasions stopped American military convoys trying to enter the regions.
Syria, which has not authorized the presence of the US military in its territory, says Washington is "plundering" the country's oil.
In their Thursday statement, the Syrian tribes also called for resistance against Turkish-backed militants which are wreaking havoc across some parts of northeastern Syria.
The US support for the SDF has also infuriated Washington's NATO ally, Turkey, which views militants from the Kurdish People's Protection Units (YPG) – the backbone of the SDF – as a terrorist organization tied to the homegrown Kurdistan Workers' Party (PKK) that has been engaged in a destructive war inside Turkey for decades.
The presence of US-supported YPG militants in northern and northeastern parts of Syria has prompted Turkey, for its part, to conduct a cross-border incursion into the Arab country to purportedly eliminate the Kurdish militants and occupy a long narrow border area in Syria's north.
In recent months, several incidents of fierce clashes have broken out among Turkish-backed Takfiri militants in Hasakah province following dispute over the distribution of stolen objects and occupation of local people's houses.
The Arab country has been gripped by foreign-backed militancy since March 2011. The Syrian government says the Israeli regime and its Western and regional allies are aiding Takfiri terrorist groups that are wreaking havoc in the country.
https://www.presstv.com/Detail/2020/08/20/632252/US-Syria-SDF-Turkey-Hasakah-Dayr-al-Zawr-
--------
Unidentified gunmen shoot dead US-backed SDF militant in Syria's Dayr al-Zawr
20 August 2020
Unidentified armed men have shot and killed a militant affiliated with the so-called Syrian Democratic Forces (SDF) in Syria's eastern province of Dayr al-Zawr as security situation is deteriorating in areas controlled by the US-sponsored and Kurdish-led militants.
Local sources, requesting anonymity, told Syria's official news agency SANA that the gunmen opened fire on the militant in al-Busayrah town, which lies southeast of the provincial capital city of Dayr al-Zawr and more than 450 kilometers (280 miles) northeast of the capital Damascus, on Thursday, killing him on the spot.
The development took place only a day after unknown gunmen fatally shot another SDF militant at the al-Hawl refugee camp in the neighboring province of Hasakah.
Security conditions are reportedly getting worse in SDF-controlled areas in Hasakah and Dayr al-Zawr provinces amid ongoing raids and arrests of civilians by the militants.
Locals complain that the SDF's constant raids and arrest campaigns have generated a state of frustration and instability, severely affecting their businesses and livelihood.
Residents accuse the US-sponsored militants of stealing crude oil and refusing to spend money on services sectors.
Local councils affiliated with the SDF have also been accused of financial corruption.
Syrians protest against SDF militants, US forces in Hasakah
Also on Thursday, dozens of people staged a rally in Hasakah province to demand the withdrawal of US military forces and their allied SDF militants from their area.
Local sources told SANA that residents of al-Jisr village demonstrated to express their opposition to the presence of American soldiers, arbitrary practices of SDF militants and their plunder of Syria's natural resources. There were no reports of clashes.
https://www.presstv.com/Detail/2020/08/20/632232/Unidentified-gunmen-shoot-dead-US-backed-SDF-militant-in-Syria-Dayr-al-Zawr
--------
Beirut firefighters leave a legacy of courage and commitment
NAJIA HOUSSARI
August 20, 2020
BEIRUT: Family, friends and colleagues bade a tearful farewell on Aug. 15 to Ralph Mallahi, the sixth identified firefighter out of the 10 who perished in the explosion that destroyed or damaged nearly half of Beirut and led to the Lebanese government's resignation.
Mallahi's remains, encased in a white coffin, were carried by his colleagues — firefighters, officers and rescuers — all dressed in white, while his grieving family and relatives walked behind.
Wedding music played in the background as the funeral procession passed his workplace at the Beirut Fire Brigade headquarters in Karantina before touring the areas of Ain Al-Remmaneh and Forn El-Chebbak where Mallahi grew up. Rice and flowers were scattered, adding to the poignant scenes.
A dashing, tall and blue-eyed 24-year-old, Mallahi was among a group of firefighters who died while trying to contain the fire in warehouse No. 12 at the Port of Beirut, before two explosions destroyed the waterfront and its neighborhoods on Aug. 4.
Neither the firefighters nor the rescuers knew that the warehouse contained 2,750 tons of ammonium nitrate, stored next to fireworks.
The explosion claimed the lives of 180 civilians, while 30 people are still missing. More than 6,000 people were injured, and thousands more were displaced in the tragedy that caused huge losses to private and public property, infrastructure, hospitals, educational establishments, churches and mosques.
The body of Staff Sergeant Charbel Karam was found on Saturday, days after the remains of Mallahi, Staff Sergeant Rami Kaaki, Sergeant Elie Khouzami, firefighter Joe Noon and rescuer Sahar Fares were discovered. Other bodies are yet to be identified.
The remains of firefighters Charbel Hitti, 22, his cousin Najib Hitti, Michel Hawwa and Joe Bou Saab have also been found.
"Rescuers told us they pulled out remains and did a DNA test," Charbel's father George told Arab News.
Najib's driving license was found next to human remains, indicating that he drove the fire truck.
On Monday, at a funeral for the three young men in their town, neighbors bid them a tearful last farewell.
An outwardly resilient George described the impact of the tragedy on his family: "My son wasn't the only one killed in the crime committed against the Lebanese. Najib, 25, was working with him."
They both joined the fire brigade three years ago, having previously served in the Civil Defense brigade in Qartaba. "My cousin Charbel Karam, who is also my brother-in-law, was also killed with them," said George.
As the villagers raised the pictures of their three lost sons with the caption "Heroes," the grieving mother said: "I don't know who to cry for, whether for my son Charbel Hitti, my brother Charbel Karam or my brother-in-law's son Najib."
George said the three young men served the people and helped the needy. They worked in Beirut and returned to their homes in Qartaba 55 km away, he said, adding: "Thank God they never joined any (political) party."
On the day of the explosion, George was in Beirut and wanted to visit them at their workplace for the first time.
"I went to the headquarters where they were sleeping after a long night shift. I woke up my son Charbel and his cousin Najib, and told them I'd see them in Qartaba after their shift. 'Go back to sleep'," he said.
George stayed in Beirut a little longer then returned home. "It didn't occur to me that it would be the last time I'd see them — a farewell call," he said. Karam, 37, leaves behind a wife and two baby daughters.
Beirut Mayor Marwan Abboud was the first to mourn the 10 firefighters on TV as he headed to the port, saying: "We lost 10 young people."
The victims had headed from the Beirut Fire Brigade headquarters in Karantina to the port aboard a fire truck and an ambulance.
The body of young rescuer Fares was the first to be found in the explosion site. She was identified through her nails and pants.
The fire brigade to which the victims belonged carries the slogan "Chivalry — Sacrifice — Loyalty."
It includes an organized and militarily trained technical group consisting of technicians specialized in firefighting, rescue and relief, in addition to military personnel to supervise abiding by order and command.
Colleagues who were with the victims when the fire alarm went off on the afternoon of Aug. 4 said Mallahi was the first to get on the fire truck bound for the warehouse.
Fares was the most enthusiastic and took pictures of the group smiling before sending it to the man she was to marry in June 2021.
Her body was found under the rubble the day after the explosion, and the group's picture went viral on social media.
Her family is still in shock, and her mother cannot believe that a daughter getting ready to wear a wedding gown is dead.
Her colleagues described her as "passionate in doing her work, the first to run whenever she heard the fire alarm, and a dynamic rescuer."
The team headed to the port, two minutes away, to assist the fire unit stationed there. "There are preliminary pictures taken by the team while our firefighters were trying to open the warehouse accompanied by a civilian," said Lt. Ali Najm, PR officer for the Beirut Firefighter Brigade.
"It turned out they needed help and we sounded the fire alarm one more time. So all the firefighters were headed to the scene when a huge explosion occurred, the headquarters' walls crumbled and great damage ensued," he added.
"Had our firefighters been at the headquarters at the time, we would've endured even greater human loss."
Kaaki's mother said her son was doing his duty although he was not on that day's shift. "I'm trying to calm myself saying God had given him to me and God took him away, yet I can't bear the tragedy," she said at her home in Burj Abi Haidar in Beirut. "My daughter-in-law is pregnant and already has a 4-year-old daughter. Is this acceptable?"
The grieving mother added: "Everyone should be hanged … especially the one who says his party has no access to the port or the airport. If you know what's stored in Haifa, how come you don't know what's stored in the Port of Beirut or the rest of the country?"
After Kaaki's body was identified through a DNA test, his colleagues and friends wrote on his pictures raised in Beirut: "Farewell O'Hero."
"Rami had been in service in the fire brigade for 12 years now," his brother Khairuddin said. "He was the one who called the headquarters asking for support, and had other firefighters not headed to the fire trucks on their way to the port, they would've definitely got hit. Rami saved his colleagues."
Noon, 27, came from Mishmish village in Jbeil district. After the explosion, his brother William, a volunteer in the Civil Defense brigade, returned to the port every day for information.
The body of strong and sturdy Noon, known for once singlehandedly dragging a truck, was found under the rubble. The last picture taken of him showed him trying to open the warehouse door.
Firefighters who survived the explosion blamed port officials. "They reported a fire but didn't report what was stored in the warehouse," one said.
"They took our teammates to certain death. Had they known what was in warehouse No. 12, they'd never have gone in to become mangled corpses."
https://www.arabnews.com/node/1722246/middle-east
--------
India
26 top terrorist commanders killed in 7 months: J&K top cop
Aug 20, 2020
SRINAGAR: Director general of J&K Police Dilbagh Singh on Thursday said 26-odd top commanders of various terror outfits were killed in Kashmir in the past seven months. Those killed included four top commanders of Lashkar-e-Taiba, who were eliminated in the past few weeks. The DGP said this while addressing a joint press conference with army officials at the District Police Office in Handwara in north Kashmir's Kupwara district.
"In anti-terror operations since January this year, 26 top commanders of Hizbul Mujahideen, Lashkar-e-Taiba, Jaish-e-Muhammad and other outfits have been killed," the UT police chief said.
Inspector general of police, Kashmir range, Vijay Kumar, who was present at the presser, said as of now 195-198 terrorists were active in the Valley.
Kumar termed the killings of top Lashkar commanders Sajad Ahmad alias Haider and Naseer-u-Din Lone as a major success for the security forces. While Sajad was killed in an encounter at Kreeri in Baramulla on Tuesday, Naseer was gunned down in a brief shootout at Handwara area of Kupwara a day later.
"With the killings of Sajad and Naseer, the overall structure of militancy, including that of Lashkar, stands collapsed, which is a good sign," the DGP said.
About local youths joining terrorist ranks, the police chief said at least "16 active militants" have shunned the path of violence and resumed normal life, and the overall local recruitment has been less compared to previous years.
https://timesofindia.indiatimes.com/india/26-top-terrorist-commanders-killed-in-7-months-jk-top-cop/articleshow/77661432.cms
--------
Geelani too ill to 'comprehend' Pakistan honour, says kin
Aug 20, 2020
SRINAGAR: Kashmiri separatist and former Hurriyat chief Syed Ali Geelani is so unwell that he can no longer "comprehend things" such as what it means to be conferred Pakistan's highest civilian honour, his Turkey-based granddaughter has said.
The statement by Ruwa Shah, a former Saudi Airlines flight attendant, coincided with a press release purportedly issued by Geelani's office last Monday, saying he had "rejected" the award.
The release was immediately disputed, with many of Geelani's supporters terming it "fake" and part of a conspiracy to discredit the Valley's most prominent pro-Pakistan hardliner for decades. While there was no response to the allegation from either Geelani's office or the Hurriyat, his granddaughter took to Twitter the same day to convey the message that he was not in a condition to express his own feelings.
"Many of you have wanted to extend your congratulatory messages to Geelani Sb for being honoured with the award. I wish Geelani Sb was in good health and could understand your wishes and gestures. He is not in the health to comprehend things. We are aware this award is a recognition for his contribution to the Kashmiri Tehreek," Ruwa, whose mother is Geelani's eldest daughter, tweeted.
Several separatists on either side of the LoC have criticised Pakistan for conferring the "Nishan-e-Pakistan" on Geelani, who is being officially referred to in that country as the "second Indian recipient of the award" after former PM Morarji Desai in 1990.
A social media user identifying himself as Shabir Dar posted, "He (Geelani) didn't reject the award, he is rejecting the rejected people who shamelessly received his award."
According to Hurriyat insiders, Geelani's son had authorised Pakistan-based Abdullah Geelani to receive the award on behalf of his father on August 14. As it turned out, Abdullah, whom Geelani had nominated as his successor in POK while quitting as Hurriyat chief in June, wasn't invited to the prize distribution ceremony. Abdullah is the younger brother of the late SAR Geelani, the former DU professor who was first convicted and then acquitted in the 2001 Parliament attack case.
https://timesofindia.indiatimes.com/india/geelani-too-ill-to-comprehend-things-says-kin-after-report-of-him-rejecting-pak-award/articleshow/77661384.cms
--------
Stranded in Pakistan, Hindus on long-term visas desperate to return to India
Dinesh Bothra
Aug 21, 2020
Thirty-three-year-old Janta Mali has been stuck in Pakistan since February after she went there with her husband and three children to see her ailing mother in Mirpur Khas before the Covid-19 lockdown was clamped.
In the last week of June, India and Pakistan operated a shuttle service for people stuck on both sides of the border due to the pandemic. Being Indian citizens, the husband and the children returned to Jodhpur but Janta Mali, a Pakistani living in Jodhpur on long-term visa since 2007, was denied permission to travel.
Like her, several Pakistani immigrants, who visited Pakistan to meet relatives or renew passports and other identity cards, are stranded. The immigrants visited Pakistan on No Objection Return to India (NORI) visa valid for 60 days. That period is long over.
In 2017, Rajasthan High Court had taken suo motu cognisance of the deportation of Pakistani nationals from minority communities. During hearing on it on Wednesday, amicus curiae Sajjan Singh Rathore raised this issue in the division bench of justices Sangeet Lodha and Rameshwar Vyas.
"Due to the expiry of the (NORI) visa and closure of international routes, many people are stranded in Pakistan," he told the court.
The court has sought response from the Central and state governments on this.
Rathore said the NORI visa of Janta Mali and others who went to Pakistan was not extended by the MEA. Many Hindus in Pakistan immigrate to India to escape religious persecution and stay here on LTV until they become eligible for Indian citizenship.
The extended stay in Pakistan may jeopardise that, said Hindu Singh Sodha, president of Seemant Lok Sangthan, an organisation working for Indian citizenship to Hindus from Pakistan.
"The period of NORI is 60 days. If they do not return in these 60 days, their NORI gets expired and they have to apply fresh for the visas. When this happens, their previous stay in India will not be counted for grant of citizenship," he said. "Their NORI visas should be extended and they should be allowed to return to India," Sodha said.
The Seemant Lok Sangthan also wrote to the Central government on July 11, requesting intervention in the matter. It also wrote to Subodh Agarwal, the Rajasthan official in charge of coordination cell overseeing return of Indian nationals.
The state government had written to the Ministry of Home Affairs and Ministry of External Affairs last month to intervene in the matter of stranded people.
Meanwhile, the responsibility of raising the three children – Kuldeep (9), Mohit (8) and Chanchal (6) – has now fallen on Leelaram, Janta Mali's husband.
"The children talk to their mother through WhatsApp video call but she starts crying on seeing them," Leelaram said.
https://www.hindustantimes.com/india-news/stranded-in-pakistan-hindus-on-long-term-visas-desperate-to-return-to-india/story-07D16Wp09h1qrenq48vGeL.html
--------
Pak wanted Davinder Singh to find contact inside MEA: NIA chargesheet
Neeraj Chauhan
Aug 21, 2020
Davinder Singh, the dismissed Jammu and Kashmir Police deputy superintendent of police (DSP), not only played a key role in providing safe passage to the terrorists and leaking information about the deployment of Indian security forces, but also hid Hizbul Mujahideen (HM) terrorists in the J&K police's guest house a day before his arrest, according to the charge sheet filed by the National Investigation Agency (NIA) last month.
The charge sheet, exclusively reviewed by HT, states that apart from the Hizbul Mujahideen, Singh, 59, was in touch with the Pakistani establishment through Shafkat Jatoi alias Hussain , an officer of Pakistan high commission in New Delhi through secure messaging platforms.
Revealing Singh's closeness to the Pakistani official, NIA's charge sheet says that Singh saved the mobile number of Shafkat Jatoi as "Bhai Pak" .
Shafkat was using Singh to gain some access to other arms of the government and tasked him (Singh) to find a contact in the ministry of external affairs (MEA), NIA adds.
Singh was arrested on January 11 this year when he was ferrying HM Commander Syed Naveed Mushtaq alias Naveed Babu, an advocate, Irfan Shafi Mir, and another terrorist, Rafi Ahmad Rather, from Shopian to Jammu -- in his car.
He had done this before, NIA adds, commenting that people like Singh have played a "crucial" role in making HM one of the region's most active terror groups.
The charge sheet, filed on July 6 in a special court in Jammu, claims that Singh transported Naveed Babu with another HM militant in February 2019 from Shopian to Jammu and later back to Shopian in April same year.
"His ( Singh's) level of commitment in the execution of conspiracy is established by way of the fact that he harboured the HM militants – Babu and Rather on January 10 (a day before they were arrested this year) in a guest house meant for stay of J&K police personnel -- by making forged entries in the records of the guest house," the charge sheet says. The location of guest house is not mentioned in the charge sheet but Singh, Mir, Babu and Rather left Shopian for Jammu on January 11.
It adds that Naveed Babu once asked Mir to confirm from Singh as which social media and messaging platforms they should use to avoid surveillance by Indian agencies.
Mir, who enjoyed clout with the HM leadership and Pak's spy agency ISI, was using the official position of Singh for collection of information about the deployment of security forces, and engaged in getting arms and ammunition for further supplying to the active militants in the valley, the NIA charge sheet says.
"The evidence on record reveals that Singh was in constant touch with Irfan Mir for providing all kind of support including supply of arms and ammunition for which he was receiving funds at different point of time," it adds. For supplying arms, Singh used to receive money from Mir and another HM operative Syed Irfan Ahmad.
It was Mir who had introduced Singh to Naveed Babu and Pakistan high commission officials.
The NIA has stated that Mir became part of conspiracy to help Naveed Babu further the agenda of HM sometime in June-July 2018 in the valley.
During his four trips to Pakistan since 2016, Mir met HM chief Syed Salahuddin, the terror group's operation head Khurshid Alam and several ISI officers according to the charge sheet.
https://www.hindustantimes.com/india-news/davinder-hid-hizbul-terrorists-nia-charge-sheet/story-SKjT5YUNwCRV8HYv8sj7LO.html
--------
India urges world community to isolate Pak for sponsoring terror
Aug 20, 2020
New Delhi:
Indian Parliament, led by Lok Sabha Speaker Om Birla, on Thursday urged the international community to isolate Pakistan for sponsoring terrorism.
Exercising its Right of Reply at the 5th World Conference of Speakers of Parliament, India said, "Pakistan PM admitted there are nearly 40,000 militants on its soil. Pakistan's aggressions against J&K in 1965, 1971, 1999 (Kargil), attack on Mumbai and Parliament, Uri, Pulwama etc. show Pakistan's State-sponsored policy of terrorism as evident in the inaction against likes of Hafiz Saeed, Masood Azhar and Ehsanullah Ehsan."
"Jammu & Kashmir has been and will remain an integral part of India. We call upon Pakistan to end cross-border Terrorism. Our overtures should not be taken as sign for weakness," it said.
At the conference, organized jointly by the Inter-Parliamentary Union (IPU), Geneva, and the Parliament of Austria, with the support of the United Nations (UN), India's reply came during the special event on 'Countering Terrorism and violent Extremism: The perspective of victims' today.
The reply read: "India exercises its Right of Reply to statement by Pakistan, a country whose PM glorified dreaded terrorist "Osama Bin Laden" a "martyr" from its Parliament."
Indian Parliament also highlighted that UN Analytical Support Sanctions Monitoring Team has described Pakistan as the leading exporter of terror with more than 6,000 nationals currently engaged in terrorism.
The reply has come in the backdrop of Pakistan Prime Minister Imran Khan's continued attempts to call an OIC meeting on Kashmir. Khan has also been aligning with Turkish President Recep Tayyip Erdoğan to form a new Islamic axis.
https://www.hindustantimes.com/india-news/india-urges-world-community-to-isolate-pak-for-sponsoring-terror/story-k35FjpVPElx7s7FalgcGzH.html
--------
Farooq Abdullah holds 1st meeting of leaders after Article 370 move
Mir Ehsan
Aug 21, 2020
National Conference (NC) president Farooq Abdullah met senior party leaders at his residence at Gupkar Road in Srinagar on Thursday. The move came in the backdrop of the Jammu and Kashmir administration denying in court the NC's contention that several party leaders were in illegal confinement at their homes.
Abdullah said the meeting — the first at his Gupkar residence since the nullification of Article 370 on August 5, 2019 — was called to find out whether his party colleagues could come out of their homes.
NC general secretary Ali Mohammad Sagar and former ministers Mohammad Shafi Uri, Abdul Rahim Rather and Nasir Aslam Wani attended the meeting.
Baramulla MP Mohammad Akbar Lone, Anantnag MP Hasnain Masoodi and NC treasurer Shammi Oberoi, too, were seen entering the residence of Abdullah, the Srinagar parliamentarian.
"Today, they came out from their homes and came here. I am hopeful this is not for just one meeting. They should now be free people," Abdullah said, briefing the media.
Abdullah also said all detained leaders should be set free. "...when all the leaders are set free, we will sit and discuss all the things, and then media will be briefed on future plans about J&K."
On July 13, Abdullah and his son, Omar Abdullah, filed a habeas corpus petition in the high court, contending that several NC leaders were being held in "brazen violation" of constitutional guarantees of the right to liberty.
The party decided to convene Thursday's meeting after the administration told the court that none of the 16 leaders, who the party said were in illegal confinement, were detained.
"How sad that we have normalised this illegal detention! That we have to be "allowed" to meet freely in spite of the government claiming in court that none of these leaders are detained is a blot on Indian democracy & rule of law," Omar Abdullah tweeted.
An NC spokesperson said the party president chose to call "all the incarcerated leaders in batches of four to meet him at his residence" keeping in mind Covid-19 protocols and government advisories.
As part of the programme, five other party leaders — Mubarak Gul, Choudhary Mohammad Ramzaan, Shameema Firdous, Aga Syed Ruhullah Mehdi and Basharat Bukhari —will call on the party president at his residence on Friday, the spokesperson said.
The government nullified Article 370, which accorded special status to Jammu and Kashmir, last August and bifurcated the erstwhile state into two Union territories – Jammu and Kashmir with a legislative assembly and Ladakh without one.
As protests erupted in the wake of the announcement, several political leaders and activists including former chief ministers were detained as a preventive measure. While prominent politicians such as ex-CMs Farooq and Omar Abdullah have been released, about 20 leaders, including Peoples Democratic Party's Mehbooba Mufti, are still in detention.
https://www.hindustantimes.com/india-news/farooq-holds-1st-meeting-of-leaders-after-art-370-move/story-8vLLn5Nc7EYULwCoyUOvOO.html
--------
Will discuss JK's political agenda after all leaders including Mufti freed from detention: Farooq Abdullah
August 20, 2020
National Conference president Farooq Abdullah on Thursday said the party would discuss and review the political agenda with regard to Jammu and Kashmir only after all leaders including former chief minister Mehbooba Mufti have been set free. "The aim of today's meeting was to ensure that the four leaders were free. We will discuss and review the political agenda once all political leaders are set free," Abdullah said.
The Lok Sabha member was talking to reporters at his residence here after meeting NC general secretary Ali Mohammad Sagar and former ministers Mohammad Shafi Uri, Abdul Rahim Rather and Nasir Aslam Wani.
Abdullah said he will also call other party leaders for similar meetings in the coming days. "I hope that those who came for the meeting today are free now, not just for today, after one year and 15 days of detention. I will be meeting other leaders as well," he said.
Abdullah said he wanted all the leaders of the union territory including PDP president Mehbooba Mufti to be set free. He said he was in constant touch with her and she was very much part of the Gupkar declaration of all political parties last year. "We have not given up. The all-party meeting (convened by Abdullah on August 5 this year but disallowed by authorities) will take place when all leaders are set free," he said.
Asked about some leaders like Shah Faesal, who were part of the Gupkar declaration on August 4 last year but have switched sides now, Abdullah said he was not answerable for the actions of others. "If his belief was weak, he is answerable for that. He is acceptable to his conscience and God. I had started alone on the journey towards my destination, people joined me and caravan was formed," Abdullah said reciting a famous Urdu couplet.
Regional parties in Jammu and Kashmir had on August 4 last year unanimously resolved to fight any attempt to abrogate the constitutional provisions that guaranteed it special status or any move to trifurcate the state. The resolution was described as 'Gupkar Declaration' as the meeting was held at Abdullah's residence in the Gupkar area of Srinagar.
On August 5 this year, Abdullah had called a meeting of some political parties to discuss the situation arising out of the abrogation of Article 370 a year ago and to chalk out a joint political strategy for restoration of the special status through democratic means, but the meeting could not be held due to strict restrictions imposed by the authorities, his National Conference had said.
The NC had onWednesday decided to convene a meeting of its senior leaders on Thursday after the local administration informed the Jammu and Kashmir High Court that none of the 16 leaders, that the party claimed were in illegal confinement, were detained and that they were free to move around. In a statement issued Wednesday, the National Conference said it had taken note of the government's stand in the High Court on the petition filed by party president Faqrooq Abdullah and his son Omar to secure the liberty of its various leaders who have been under "illegal house detention".
"On a perusal of the reply the party has noticed that the government has unequivocally submitted before the High Court that no leader is under detention and that they are free to move subject to necessary security arrangements," the statement said.
"Now relying fully on the stand of the government before the HC that the members are free to move and expecting no hogwash on part of the government, the party president Farooq Abdullah has invited senior party members including Ali Mohammad Sagar, Abdul Rahim Rather, Mohammad Shafi Uri and Nasir Aslam Wani for a meeting at his residence on 20.8.2020 at 5 pm," it said.
The party also made it clear that it is mindful of the present pandemic and accordingly the meeting with various leaders that have been under detention will be done in batches of four members per meeting. "Needless to add that all standard operating procedures shall be strictly followed by all concerned," the party statement said.
The Abdullah father-son duo had filed a bunch of habeas corpus petitions on July 13 seeking the release of the party leaders from home confinement.
A habeas corpus is a writ requiring a person under arrest to be brought before a judge or into court, especially to secure the person's release unless lawful grounds are shown for their detention. Filing the replies before the High Court earlier this month, senior additional advocate general Bashir Ahmad Dar said the contention of the pleas was "not only surprising but shocking as well" as there were neither any legal proceedings underway nor was it being contemplated.
The similarly worded replies, vetted by Inspector General of Police (Kashmir range), however, said in the wake of Constitutional amendments carried out in the Article 370, "it was apprehended that inimical elements may disturb the peace" and the leaders "may provoke them to cause aggravation in the disturbance".
However, no order of detention either under the preventive detention law or substantive law was issued against the party leaders, it said, adding, the leaders were free to move with certain precautions "as deemed fit" for their security. The reply said the petitioner being a categorised person has been advised not to visit any vulnerable areas without informing the concerned authorities" and reasoned that it was to ensure proper security.
https://indianexpress.com/article/india/farooq-abdullah-mehbooba-mufti-kashmir-detention-6563248/
--------
Pakistan
As Saudi Arabia snubs Pakistan army chief, its foreign minister rushes to China
Aug 21, 2020
NEW DELHI: Pakistan is caught in the shifting sands of the Islamic world's politics, which may have consequences for its Kashmir policy and its relations with its biggest benefactor, Saudi Arabia.
Pakistani army chief Gen Qamar Javed Bajwa and ISI DG Lt Gen Faiz Hameed, who hot-footed it to Riyadh to make amends for foreign minister Shah Mehmood Qureshi's comments about seeking alternatives to the OIC, were refused an audience with Crown Prince Mohammed bin Salman.
The two top functionaries of Pakistan's military-intelligence establishment were left to explain their position to deputy minister for defence Khalid bin Salman bin Abdulaziz. Riyadh didn't fail to notice that Qureshi held a meeting with Qatar's ambassador at the same time the army chief was in Saudi Arabia. On Thursday, Qureshi dashed off to Beijing on a mission, where he hoped to get the support that Saudi Arabia denied Pakistan.
"I am leaving on a very important visit to China. My delegation will represent the stance of the political and military leadership of the country. I hope that my meeting with foreign minister Wang Yi will prove to be beneficial for both countries," Qureshi said. Sources in Riyadh said the Saudis had denied any meeting on Kashmir.
The crux of the problem appears to be Pakistan seeking to make Turkey the alternative Islamic power to Saudi Arabia, as well as trying to build a new Islamic group, including Turkey, Iran, Qatar, Pakistan and Malaysia.
Saudi Arabia and Turkey are locked in a battle for the Islamic world. Turkey's support of the Muslim Brotherhood, and covert ties with Iran are at the core of it. Iran and Saudi Arabia are locked in a battle for supremacy. Saudi Arabia and the UAE are at loggerheads with Qatar. Qatar is now the only outlier among the Gulf Arab monarchies, having teamed up with Iran, which makes Pakistan's hobnobbing with them so difficult for Saudi Arabia.
International community must isolate Pakistan, says India
India on Thursday said the international community should isolate Pakistan to increase the cost of engaging in terror activities, especially after its PM's admission that nearly 40,000 militants are on its soil. India's reaction came after the speaker of Pakistan's National Assembly raised the Kashmir issue at the Fifth World Conference of Speakers of Parliament.
https://timesofindia.indiatimes.com/india/as-saudi-snubs-pak-army-chief-its-foreign-minister-rushes-to-china/articleshow/77665936.cms
--------
Man Slits Throats Of 11 Family Members In Pakistan
Aug 20, 2020
ISLAMABAD: In one of the most horrific crimes, a man along with his four sons slaughtered 11 members of his own family in Pano Aqil tehsil of Sukkur district in the southern Sindh province of Pakistan.
The incident took place in the wee hours of Wednesday in Muhammad Hassan Indhar village of Panu Aqil, police said, adding that the suspects — Wahabullah Indhar and his four sons Kaleem, Habibullah, Dur Muhammad and Hizbullah — were arrested. On Thursday, all the suspects were sent on a 14-day judicial remand.
The victims were identified as Indhar's wife Rukaiya (42), daughters Iqra (18), Isra (8), Suraiya (6) and Hajani (5), his daughter-in-law Naseema (19), sons Mehmood Asad (4), Mehmoodul Hassan (3) and Muhammad Shayan (1), and grandchildren Nazia (3), and Ali Sher (1). Both Rukaiya and Naseema were pregnant.
"The throats of all the slain persons were slit with a sharp knife, which was recovered from the house where they were killed. The knife is of a type normally used for slaughtering livestock," Irfan Sammo, senior police official in Sukkar, told the media. According to preliminary police investigation, the victims, in all likelihood, were drugged before the gruesome killings.
Sammo said Indhar and Kaleem had killed the victims with the assistance of the three other sons.
Meanwhile, one of his younger sons, Majid, told police that his father had attempted to kill him as well but he told him that he would act according to his wishes and thus survived.
The police official further stated that according to Majid, Indhar claimed that he had received orders from the Almighty God that they must kill the victims or face wrath.
In his recorded statement, Indhar said he had killed his family members as a result of the trauma he suffered after a fight with his brothers.
Locals claimed that one of the victims had recently called police, reporting that they were scared as Indhar might kill them. Some policemen, according to locals, had visited the house but Indhar's sons forced them to leave.
According to police, Indhar has a criminal history. He had allegedly killed his brother some time ago. He has a long history of mental illness too and even remained in Sir Cowasjee Jehangir Institute of Psychiatry in Hyderabad for treatment. He was released from the hospital some months ago.
https://timesofindia.indiatimes.com/world/pakistan/man-slits-throats-of-11-family-members-in-pakistan/articleshow/77661408.cms
--------
Jamiat Ulema-e-Islam staged a sit-in protest in Larkana against the federal government's proposal to take control of Karachi
Babar Ali Memon
AUGUST 21, 2020
LARKANA: Jamiat Ulema-e-Islam staged a sit-in protest in Larkana against the federal government's proposal to take control of Karachi.A large number of workers participated in the rally led by Maulana Rashid Mahmood Soomro, General Secretary of Sindh Province.
Addressing the protest sit-in, Rashid Mehmood Soomro said that he would fully support every step taken for the development of Karachi but the attack on the unity of Sindh would not be tolerated under any circumstances. Yesterday we will talk about handing over to the federation and then creating a separate province.
Various forces want to make Karachi their colony as Karachi generates 70% of the country's revenue. He further said that incompetent federal government has drowned the country's fleet in two years, foreign and domestic policy has been ruined and Sold out.
On the other hand, the Chief Minister of Sindh, on the one hand, participates in consultative meetings on the Karachi Committee and comes here and raises slogans of nationalism.
Sindh's money will be taken back from those who made Sindh Moenjodaro Jamiat Ulema-e-Islam believes in democratic struggle.
https://dailytimes.com.pk/656955/jamiat-ulema-e-islam-staged-a-sit-in-protest-in-larkana-against-the-federal-governments-proposal-to-take-control-of-karachi/
--------
'Muslims will be saved, will only target regions': Pakistan minister warns of nuclear war if attacked by India
Aug 20, 2020
Pakistan Minister Sheikh Rashid on Wednesday claimed there is no scope for conventional war if the country is attacked by India and will reply with nuclear weapons which "will save Muslim lives and will only target regions."
In an interview to Pakistan-based Samaa TV on Wednesday, Federal Minister for Railways Sheikh Rashid Ahmad said Pakistan has "small" and "perfect" weapons.
"If Pakistan gets attacked by India, there is no scope for a conventional war. This will be a bloody, final and nuclear war," Rashid said.
"We have very calculated weapons which are small and perfect. Our weapons will save Muslim lives and will only target regions. Pakistan range now even includes Assam. Pakistan has no option in convention war, therefore India knows if something will happen it will be the end," he added.
The minister predicted that there will be an upcoming block of countries like China, Russia, Nepal, Sri Lanka and Pakistan should be a part of this grouping.
This is not the first time that Pakistan has threatened India of nuclear war. Pakistan has maintained that it has a first use policy on nuclear weapons as its small army will be no match against India's powerful military in a conventional war.
In 2019, Pakistan Prime Minister Imran Khan spoke about nuclear war with India as tensions reached an all-time high following the abrogation of Article 370.
"I want to tell (Narendra) Modi that our Army is ready for anything they do in Kashmir (PoK). The world should know that when two nuclear countries face-off, the whole world will be harmed. I tell this to everyone I speak with," Khan had said in August 2019.
Later in September 2019, Sheikh Rashid had claimed that his country possessed "125-250 gram atom bombs" that may hit a targeted area in India.
"Pakistan has small 125-250 gram atom bombs which may hit a targeted area in India," Rashid was quoted as saying by Geo News at the time.
https://www.dnaindia.com/world/report-muslims-will-be-saved-will-only-target-regions-pakistan-minister-warns-of-nuclear-war-if-attacked-by-india-2838541
--------
China, Pakistan agree to preserve, protect, promote CPEC
Mehtab Haider
August 21, 2020
ISLAMABAD: The Communist Party of China (CPC) and Pakistan's mainstream political parties agreed to preserve, protect and promote China Pakistan Economic Corridor (CPEC).
It was pointed out that three issues in Pakistan enjoy a broad national consensus across the board above party lines including Kashmir, nuclear programme and CPEC and today's Joint Consultation Mechanism (JCM) further cemented this consensus on CPEC.
It was the crux of discussions held among the International Department of Communist Party of China, in collaboration with Pakistan-China Institute, organised the second conference of the CPEC Political Parties Joint Consultation Mechanism (JCM) on the theme of "Working Together to Promote Economic Development and Improve People's Lives Through High-Quality CPEC Cooperation" here on Thursday.
Both sides political parties viewed CPEC as a "game changer and a guarantor of a better tomorrow for Pakistan's 220 million people". It was attended by nine political parties including Pakistan Tehreek-e-Insaf, the Pakistan Muslim League (Nawaz), the Pakistan People's Party, the Balochistan Awami Party, the National Party, the Jamiat Ulema-e-Islam, the Awami National Party, the Jamaat-e-Islami, and Pakhtunkhwa Milli Awami Party, as well as leading officials from relevant government departments and representatives from business community of the two countries.
The first JCM was held in Beijing in March 2019 and this JCM has now emerged as the institutional mechanism between the CPC and Pakistani political parties for CPEC coordination and communication.
This online conference of nine political parties representing both the government and the opposition was the first of its kind in Pakistan that agreed to preserve, protect and promote CPEC, above party lines, since they all view CPEC as a "game changer and a guarantor of a better tomorrow for Pakistan's 220 million people".
President Arif Alvi, in a congratulatory message to the conference, termed CPEC as 'an iconic project of the Belt & Road Initiative which will change the destiny of the region and promote regional connectivity'. He reaffirmed Pakistan's strong support to One China policy and strongly opposed any foreign intervention in internal affairs of China with regard to Hong Kong and Taiwan. He also thanked China for supporting Pakistan on Kashmir issue.
The conference was co-chaired from the Pakistani side by the Chairman Senate, Sadiq Sanjrani and from the Chinese side by Song Tao, Minister of the International Department of CPC who is a member of the Chinese Central leadership. The 3-hour long conference also had experts speaking on various issues.
Song Tao, Minister of IDCPC in his keynote speech thanked the president of Pakistan Dr Arif Alvi for sending the congratulatory letter. While appreciating the consensus to take it forward. Party to party cooperation between China and Pakistan is increasing and CPEC is entering into a new era.
Senator Sadiq Sanjrani, in his keynote address, credited China for promoting regional connectivity with its landmark Belt and Road Initiative and extended Pakistan's support to President Xi Jinping's vision of "shared prosperity" and "win-win" cooperation of which CPEC is the practical manifestation. Liu Qi, Leader of CPC Jiangxi Provincial Committee congratulated all the participants for the successful organization of the second JCM of political parties on CPEC. He said that the economic cooperation between Pakistan and China is important in high quality construction of CPEC. Moreover, he announced donation of 500,000 masked and 2000 Protective Personal Equipment (PPE) to Pakistani political parties.
Saifullah Khan Nyazee, Chief Organizer of the Pakistan Tehreek-e-Insaf, said that this conference is a great moment that shows that all political parties are on one platform when it comes to CPEC. He also appreciated the exemplary measures taken by China during the fight against pandemic. Moreover, he reaffirmed the commitment and confidence of PTI in taking CPEC forward.
Senator Mushahid Hussain Sayed, from the Pakistan Muslim League (Nawaz) and Chairman of Senate Committee on Foreign Affairs, who also is founding Chairman of PCI, congratulated China on successfully combating COVID-19 through timely measures, decisive leadership and a governance system based on excellent health care facilities as well as a people centered approach and thanked China for its support to Pakistan during the COVID-19 crisis. He said that there are three issues in Pakistan which enjoy a broad national consensus across the board above party lines and these are Kashmir, nuclear programme and CPEC and today's JCM cemented this consensus on CPEC amongst political parties of Pakistan.
Amanullah Khan Yasinzai, Governor of Balochistan, said that the year 2020 is rough and tough and China has emerged as a key player in world politics and economy. Yao Jing, Chinese Ambassador to Pakistan, said that he is happy to see the COVID cases in Pakistan getting lower day by day. The resilient nature of Pakistan-China friendship and CPEC can be gauged from the fact that it survived even the COVID pandemic and has become stronger. Moreover, he said that China will always stand side by side with Pakistan in all areas of cooperation and both countries will fight the challenges like COVID together.
https://www.thenews.com.pk/print/703766-china-pakistan-agree-to-preserve-protect-promote-cpec
--------
Parties vow to ensure CPEC progress, guard it against threats
21 Aug 2020
ISLAMABAD: Leading political parties on Thurs­day vowed to ensure a conducive political environment and favourable public opinion for the progress and development of the China-Pakistan Economic Corri­dor (CPEC), besides shielding it from threats.
The political parties at the conclusion of the Second Conference of the China-Pakistan Economic Corri­dor (CPEC) Political Parties Joint Consultation Mechan­ism (JCM), through a joint statement, denounced the "slander on and disturbance in CPEC development by external forces" and pledged to "shape and safeguard the enabling political environment and favourable public opinion for CPEC development".
The JCM was organised by the International Depart­ment of Communist Party of China (CPC) in collaboration with the Pakistan-China Ins­ti­tute (PCI) on the theme of 'Working Together to Pro­mote Economic Develop­ment and Improve People's Lives Through High-Qua­lity CPEC Cooperation'.
Senate Chairman Sadiq Sanjrani and Chinese Min­is­ter of the International Department of CPC Song Tao co-chaired the online session.
The virtual consultations were participated in by nine Pakistani political parties: Pakistan Tehreek-i-Insaf, Pakistan Muslim League-Nawaz, Pakistan Peoples Party, Balochistan Awami Party, National Party, Jam­iat Ulema-i-Islam, Awami National Party, Jamaat-i-Islami, and Pakhtunkhwa Milli Awami Party. Senior government officials and representatives of the business community of the two countries also participated in the conference.
President Arif Alvi, in a message to the conference, reaffirmed Pakistan's strong support to One China policy and said Islamabad opposed any foreign intervention in the internal affairs of China with regard to Hong Kong and Taiwan.
Mr Song appreciated the political consensus and noted that party-to-party cooperation bet-ween China and Pakistan was increasing as CPEC moved into a new phase.
Senator Sanjrani said that Senate would play a greater role in taking forward the consensus of political parties and delivering political support for more cooperation between the two countries under CPEC.
Chairman of the Senate Committee on Foreign Aff­airs Senator Mushahid Hus­s­ain Sayed, who is also the fou­nding chairman of the Pakistan-China Institute (PCI), said: "Pakistan fully supports China in the defe­nce of its territorial integrity and sovereignty, rejects politicising of the pandemic, appreciates China's positive role, and rejects the notion of a new cold war. Both countries support each other's core interests."
He referred to the presence in China of a high-level civil-military delegation led by Foreign Minister Shah Mehmood Qureshi.
Chinese Ambassador to Pakistan Yao Jing said that the resilient nature of Pakistan-China friendship and CPEC could be gauged from the fact that it survived even the Covid-19 pandemic and became stronger.
Executive Director of PCI Mustafa Hyder Sayed called for a 'Health Silk Road' in the light of the Covid-19 pandemic and criticised West's double standards on issues relating to China.
Speaking on the occasion, PPP's Parliamentary Leader in Senate Senator Sherry Rehman said that national unity in the country was need of the hour for CPEC to thrive and prosper.
She said that all provinces must be on the same page when it came to the greater good of the country and all of them must be included by the planning ministry in their roadmap project every day.
"The CPEC goes beyond partisan politics for us, and we are all united aro­und one fundamental truth: In a world defined by unexpected conflicts and challe­nges, the CPEC is the econo­mic stabiliser that can steer Pakistan into the 21st century and become a connec­ted highway to the future," the PPP leader said.
Lauding President Xi Jinping's vision, she said: "We at the PPP pay particular tribute to President Xi's vision of the Belt and Road Initiative, under which China is stepping up to take global resp­on­sibility for global goals based on a dream of mutual growth and shared prosperity. China, under President Xi, has entered a new phase of taking up a global role. In this awakening of the dra­gon through a transformational vision, we appreciate that the CPEC is the poster-child of the Belt and Road Initiative, holding in its vision a potential new fut­ure for Pakistan in multiple possibilities that deepen both economic and political ties between China and Pakistan."
"Pakistan and PPP support One China policy and the sovereignty and continual growth of China. As we see China's investments power their way through the jugular vein of CPEC, it is a matter of both responsibility and pride that makes me say that the PPP is fully committed to realising the dream of this great platform connecting the two countries. This vision is now shared and will be carried forward by PPP under Chairman Bilawal Bhutto-Zardari's leadership," Ms Rehman said while highlighting PPP's commitment towards CPEC.
"Close interactions bet­ween our two parties are a str­ong testimony to the dyn­amism of inter-party cooperation in driving CPEC forward. Over the years, the PPP government in Sindh has worked closely with Chinese officials and investors in facilitating projects, people-to-people relationships, cultural exchanges, and most importantly in ensuring the security of all those involved in CPEC projects. As part of our history of joint cooperation, PPP looks forward to continuing to work closely with local and Chinese stakeholders, including from Jiangxi province, in achieving our common goals and interests for the betterment of our people and the region.
"With employment opportunities an integral part of the CPEC dream, almost 1.1 million people can come out of the poverty trap in Pakistan. Better transport infrastructure will help Pakistan increase trade. It has been forecast that Pakistan's trade can increase by 9.8 per cent if it implements reforms well in addition to transport infrastructure under CPEC.
"The project will create nearly 700,000 new jobs and add up to 2.5pc to Pakistan's annual growth rate. Not to forget, the implementation of SEZs can also revolutionise the job sector and create new opportunities for entrepreneurship, which can be the key sector to accommodate the youth bulge as more than 60pc of Pakistan's population is under the age of 30," the PPP senator said while highlighting the benefits of CPEC for Pakistan.
Discussing changes bro­ught about by global warming, she said: "We hope that the Chinese government can bring the clean energy initiatives they have enforced at home, to Pakis­tan. It is our responsibility to ensure that we are doing the best we can to protect the environment. Together, we must move towards eco-friendly, sustainable and renewable energy sources."
https://www.dawn.com/news/1575572/parties-vow-to-ensure-cpec-progress-guard-it-against-threats
--------
FO hails OIC contributions to Kashmir cause
Baqir Sajjad Syed
21 Aug 2020
ISLAMABAD: Foreign Office Spokes­man Zahid Chaudhri on Thursday reaffirmed Pakistan's commitment to the Organisation of Islamic Cooperation (OIC) and recalled its contributions to the Kashmir cause.
"Pakistan remains committed to the unity of Muslim Ummah and has always worked towards that end. Pakistan will continue its efforts to keep the Muslim Ummah united," Mr Chaudhri said in his maiden briefing as the FO spokesman.
It should be recalled that what appeared to be a crisis in Pakistan-Saudi Arabia ties began with Foreign Minister Shah Mehmood Qureshi's criticism of the OIC for its dilly-dallying on convening of a Council of Foreign Ministers' meeting on occupied Kashmir.
Mr Qureshi had threatened to convene a meeting of the Muslim countries even outside the OIC setting, if the 57-member bloc continued with its reluctance on calling the Kashmir meeting.
Says Islamabad committed to sovereignty and territorial integrity of Saudi Arabia
The outgoing FO spokesperson, Aisha Farooqui, had at the last media briefing on Aug 6 defended Mr Qureshi's statement on OIC, saying it was a reflection of people's aspirations and expectations from the OIC to raise the Kashmir issue internationally.
Mr Chaudhri praised OIC's contributions on the issue of Kashmir, saying it had indeed played "an important role" by establishing a contact group, appointing a special envoy of the secretary general on the dispute, and passing a number of resolutions condemning Indian actions and continuing human rights violations in occupied Kashmir.
The rare bitterness in tone on the OIC's role seems to have gone away after Army Chief Gen Qamar Bajwa's recent visit to Saudi Arabia, where he met his military counterpart and the deputy defence minister.
Mr Chaudhri said Gen Bajwa's trip "testifies to the unchanged fraternal relations and close contact between the two brotherly countries". He also referred to Prime Minister Imran Khan's comments stressing the importance of ties.
He said Pakistan valued Saudi Arabia's important role in the OIC Contact Group on Jammu & Kashmir. "Pakistan has an abiding commitment to defending the sanctity of Harmain Sharifain. Pakistan remains firmly committed to the sovereignty and the territorial integrity of Saudi Arabia," he maintained and praised the Saudi leadership.
"The people of Pakistan have special reverence and affection for the Custodian of the Two Holy Mosques (Khadim-ul-Harmain Sharifain)," he further said.
On Palestine, the spokesman reiterated there was "no change in Pakistan's principled position" and repeated Pakistan's longstanding position on the dispute to dispel the impression created by an earlier vaguely worded statement on the UAE-US-Israel agreement on normalisation of ties.
"We have an abiding commitment to the full realisation of the legitimate rights of the Palestinian people, including the right to self-determination. For a just, comprehensive and lasting peace, Pakistan has consistently supported a two-state solution in accordance with the relevant United Nations and OIC resolutions as well as international law, with pre-1967 borders and Al-Quds Al-Sharif as the capital of Palestine," he added.
https://www.dawn.com/news/1575575/fo-hails-oic-contributions-to-kashmir-cause
--------
11pc Pakistanis have developed protective immunity: study
Ikram Junaidi
21 Aug 2020
ISLAMABAD: A study conducted in 25 cities shows that almost 11 per cent of Pakistanis have developed protective immunity across the country against coronavirus.
The "National Seroprevalence Study" was initiated in July this year by the Health Services Academy in collaboration with multiple partners, including Aga Khan University, and with technical support from the World Health Organisation (WHO).
It is part of the WHO Unity Study being conducted simultaneously in 25 other countries, the Ministry of National Health Services said in a statement on Thursday.
Seroprevalence studies are carried out with an objective to assess as to what percentage of population has developed protective immunity (antibodies) to the virus.
"The seropositivity was more in urban areas compared to rural areas; similarly those who had contact with Covid-19 positive person were more likely to have antibodies in their blood," the study stated.
Ministry says process for Covid vaccine fast-tracked
It reveals that the population of urban areas and people up to middle age are more protected against the disease. However, population in rural areas and senior citizens are at highest risk from a possible second wave of the deadly virus.
The virus was more common in young adults and significantly less in children and older people. It was also found out in the study that the use of mask and frequent hand-washing in July was up to approximately 60pc and 70pc of population, respectively. This finding underscores the importance and success of the awareness campaigns carried out in earlier months.
The study suggests that areas with lower immunity rates may be at higher risk for future outbreaks. "Hence there is a need for enhanced sentinel site surveillance and ramping up of health facilities for Covid-19 treatment particularly in rural districts."
Talking to Dawn, microbiologist Prof Dr Javed Usman said detection of antibodies in 11pc population was much less than his expectations as it meant that Pakistan was still far away from the concept of herd immunity.
"The concept of herd immunity arises if antibodies are developed in over 50pc population. Although 22 million people have been infected with the virus, it does not mean that all of them needed medical treatment as it is called 'Sub-Clinical Infection' in which patients may have minor symptoms or no symptoms. We know that in Pakistan a large number of people are asymptomatic. However, study shows that 89pc of population have no exposure to virus and they can be infected in second wave of virus," he said.
Prof Usman said that the ratio of antibodies also depended on the sensitivity of testing, but 89pc people were still vulnerable to the deadly virus.
A health expert, who played a role in the study, said on condition of anonymity that the health ministry had shared preliminary findings and a number of findings would be shared within three to four weeks.
"There were around 80 variables of the study as primary target was to find the percentage of antibodies in the masses. Other targets were to identify that which age group was vulnerable, identify the ratio of cases in rural and urban areas and small and big cities, people of which profession were more vulnerable, what kind of symptoms were in them and if people were following the precautionary measures and wearing masks," he said.
He said that one of the findings was that the initially people were strictly following the standard operating procedures (SOPs), but later they stopped doing that.
"It was also a finding that the media campaign was very successful and there is a need to launch another media campaign so that people again start following the SOPs. It is also suggested that such study will be conducted after every two months," he said.
In reply to a question, the health expert said that the sample size should not be considered as the confidence interval of study was 95pc due to so many variables. He said the vaccines will be given to the most vulnerable segments of society and in most vulnerable areas, identified through the study.
Meanwhile, the federal government has fast-tracked the process for provision of Covid-19 vaccine as soon as it is available.
"An expert committee had been tasked under the auspices of National Covid-19 Vaccine Committee with working on finalising recommendations for provision of the vaccine and its deployment in the country. The committee's recommendations shall be submitted to the prime minister this month," the Ministry of National Health Services said.
"Six out of 10 vaccines currently being developed by leading global manufacturers are undergoing phase-3 trials. The committee has recommended engagement with Global Alliance for Vaccines and Immunisation for support in procurement through co-financing. It has also been recommended to the government to arrange finances for the purpose. Also among the recommendations is enhanced collaboration with China including in clinical trials of the vaccine and efforts towards indigenous manufacturing of the vaccine," the ministry said.
https://www.dawn.com/news/1575607/11pc-pakistanis-have-developed-protective-immunity-study
--------
Rao Anwar ordered Naqeeb's murder in fake encounter, witness tells ATC
Naeem Sahoutara
21 Aug 2020
KARACHI: A prosecution witness deposed before an antiterrorism court on Thursday that aspiring Waziristan model Naqeebullah Mehsud was picked up by police, made to 'disappear' and killed in a 'staged' encounter allegedly on the orders of then SSP-Malir Rao Anwar in Jan 2018.
The former SSP with his around two dozen subordinates has been charged with killing Naseemullah Mehsud, better known as Naqeeb, with three others — Sabir, Nazar Jan and Ishaq — after dubbing them 'Taliban militants' in a 'fake' shoot-out on Jan 13, 2018.
Anwar, Qamar Ahmed, Mohammad Yaseen, Supurd Hussain and Khizar Hayat are on bail. Thirteen others — Allah Yar Kaka, Mohammad Iqbal, Arshad Ali, Ghulam Nazuk, Abdul Ali, Shafiq Ahmed, Shakeel, Mohammad Anar, Khair Mohammad, Faisal Mehmood, Ali Akbar, Raees Abbas Zaidi and Syed Imran Kazmi — are in custody.
On Thursday, the matter came up before the ATC-III judge, who is conducting trial in the judicial complex inside the central prison.
The state prosecutor produced a private witness to record his testimony in the case.
Five more witnesses to testify on Sept 10
The witness deposed that he hailed from the village of the deceased, adding that after receiving information of the arrest of Naqeebullah, he along with a local Pakistan Tehreek-i-Insaf leader and others went to the police chowki in Abbas Town.
The witness further deposed that at the police chowki they came to know that Naqeebullah had been moved elsewhere on Mr Anwar's orders. Later, on Jan 13, 2018, the witness said they were informed that Naqeeb was killed in an "encounter".
He further deposed that a cousin of Naqeebullah had received his body and his funeral prayers were offered at Sohrab Goth.
On the other hand, Advocate Amir Mansoob Qureshi, the defence counsel for the former SSP, cross examined the witness. He argued that complainant Mohammad Khan did not have any son named Naqeebullah since his son's name was Naseemullah.
Secondly, the counsel contended that the victim was allegedly abducted at the police chowki for around 50 days according to the complainant. He questioned as to why the witness did not lodge a complaint with the police against the alleged abduction despite having knowledge of it.
After recording the testimony, the judge directed the investigation officer to produce five other witnesses to record their testimonies and fixed the matter on Sept 10.
The judge also expressed displeasure over non-compliance with the court's previous order, where the IO was told to present two witnesses before the court for recording their statements.
Amanullah Marwat, Shaikh Mohammad Shoaib, Gada Hussain, Mohsin Abbas, Sadaqat Hussain Shah, Rana Shamim and Riaz have been declared proclaimed offenders and warrants have been out for their arrests.
According to the prosecution, the undertrial police officials kidnapped Mehsud and three others for ransom and killed them in a fake encounter and later dubbed them as Taliban militants.
The killing of 27-year-old Mehsud had sparked widespread protests by civil society and then chief justice Saqib Nisar took suo motu notice of the killings.
Against Rao Anwar's repeated claim that the victims were militants, the trial court declared Naqeebullah and three other victims as innocent and quashed the cases filed against them.
Young Mehsud's social media profile portrayed him as a liberal youth interested in modelling.
In March 2019, an ATC had indicted Anwar and others for the four victims in the fake encounter and labelling them as militants and foisting fake recoveries of weapons and explosives on the victims.
Initially, the father of the victim, Mohammad Khan, lodged the complaint against the police officials, but after his death his son became complainant in the case.
https://www.dawn.com/news/1575495/rao-anwar-ordered-naqeebs-murder-in-fake-encounter-witness-tells-atc
--------
Europe
Barr Disavows Death Penalty for Two ISIS 'Beatles' if Britain Shares Evidence
By Charlie Savage
Aug. 19, 2020
WASHINGTON — Attorney General William P. Barr has said that the United States will not seek the death penalty against two notorious British Islamic State detainees accused of playing a role in the torture and beheadings of Western hostages, potentially clearing the way for Britain to share evidence against them that prosecutors see as crucial to putting them on trial.
The statement, which Mr. Barr made in a letter to the British home secretary that the Justice Department released on Wednesday, represented a major shift in the Trump administration's policy. It could open the door to a long-delayed prosecution for the two men, El Shafee Elsheikh and Alexanda Kotey, who were captured by a Kurdish militia in early 2018 and are being held by the American military in Iraq.
"I am writing to provide an assurance that, if the United Kingdom grants our mutual legal assistance request, the United States will not seek the death penalty in any prosecutions it might bring" against the two men, Mr. Barr wrote, adding that if they were somehow nevertheless sentenced to execution, "the death penalty will not be carried out."
At the same time, however, Mr. Barr imposed a deadline of Oct. 15 for the British government to resolve litigation that has tied up its ability to transfer the evidence. If it fails to do so by then, he threatened, the United States will instead transfer the two men to the custody of the Iraqi government.
"Time is of the essence," he wrote, adding: "Kotey and Elsheikh are currently held by United States military authorities in an overseas theater of military operations, and it is not tenable to continue holding them there for an extended period. Final decisions must be made about this matter."
Mr. Elsheikh and Mr. Kotey were half of a cell of four ISIS Britons who handled hostages — some of whom were eventually beheaded on propaganda videos — and whose victims nicknamed them the "Beatles" because of their accents.
An early victim was James Foley, an American journalist who was beheaded in 2014. Diane Foley, his mother, said in an email to The New York Times that the development gave the victims' families hope that the long limbo surrounding whether the two men will ever come to trial may be resolved — although they are also wary about the short deadline.
"We are so hopeful that this assurance will allow the Home Secretary to fully engage with our DOJ and pool all our evidence implicating Kotey and ElSheikh … just concerned about the tight time frame and legalities around the UK Supreme Court," she wrote. "But very hopeful and grateful to AG Barr for agreeing to waive the death penalty to allow the UK to share their substantial evidence."
As the Islamic State's so-called caliphate collapsed, the Kurdish-led Syrian Democratic Forces, an American ally, took a large number of its members from around the world into wartime custody. Many of their home governments have proved reluctant to take them back because of both domestic political reasons and security fears that their own legal systems could result in many of the group's members being released or serving sentences of only a few years.
Mr. Kotey and Mr. Elsheikh were among them. The British government sought to strip their citizenship and made clear that it did not want to take them back. The Trump administration has been willing to prosecute them instead, but the attorney general at the time, Jeff Sessions, opted not to make assurances that the United States would forgo the death penalty — over the objections of four American families whose children were killed by the Islamic State.
Because Britain has abolished the death penalty, such assurances are usually routine when the United States is working with the British criminal justice system. The British government pressed the Trump administration to provide them again. But it eventually relented and agreed to hand over the evidence in its possession — and to send officials to testify about it at trial so it would be admissible — if the United States agreed to give the detainees a trial in civilian court rather than sending them to the wartime prison at Guantánamo Bay.
But Mr. Elsheikh's mother filed a lawsuit in British court arguing that such sharing of evidence would be illegal, which has indefinitely delayed the transfer, and the issue has been mired in that litigation. In March, the British Supreme Court preliminarily sided with her and blocked the government from sharing the evidence and providing assistance in the case, although the litigation continues.
The court order means that the British government for now is prevented from transferring the evidence to the United States, notwithstanding its changed stance on the death penalty. But in a statement, a representative for the home secretary, Priti Patel, suggested a cautious embrace of the development.
The British government's "priority has always been to protect national security and to deliver justice for the victims and their families," the statement said. "We continue to work closely with international partners to ensure that those who have committed crimes in the name of Daesh" — another name for the Islamic State — "are brought to justice."
Mr. Barr's two-month deadline and threat to send the men to the Iraqi judicial system will now pose a test for not just the British government, but also its independent judiciary. The Iraqi option carries several risks that have previously made American officials see it as unacceptable.
Iraqi courts frequently impose death sentences on Islamic State suspects after trials that last only a few minutes, raising objections about both human rights and failure to take advantage of an opportunity to develop and bring out evidence about what really happened in atrocities. In addition, an Iraqi judge could rule that he has no jurisdiction over the men since it is not clear they ever voluntarily set foot on Iraqi soil, in which case they could be released.
The renewed push to resolve the fate of the two men, according to American officials, stems from growing impatience by the Pentagon, which does not like the headache of holding them in long-term indefinite detention at a base in Iraq. The United States took custody of them in October after President Trump gave Turkey a green light to attack America's Kurdish allies along the Turkish-Syrian border, raising concerns about the stability of their detention.
Last month, the National Security Council convened an interagency meeting at the White House to revisit options that had previously been rejected, including transferring the men to Iraqi custody, taking them to Guantánamo, trying to prosecute them without the British-held evidence and taking the death penalty off the table to gain that evidence.
The meeting was scheduled shortly after the four families published a column in The Washington Post reiterating their call for the Justice Department to find a way to move forward with prosecuting the men. They expressed worries that the detainees could escape justice while restating their opposition to continuing to hold them in long-term detention without trial.
"We implore the Trump administration: Please, for the sake of truth, for the sake of justice, order these Islamic State suspects transferred to the United States to face trial," they wrote.
Stephen Castle contributed reporting from London.
https://www.nytimes.com/2020/08/19/us/politics/barr-death-penalty-isis-beatles.html?utm_source=iterable&utm_medium=email&utm_campaign=1455707_
--------
Brother of Manchester suicide bomber sentenced for role in 2017 concert attack
20 August 2020
The brother of the suicide bomber who set off an explosion at a 2017 Ariana Grande concert in Manchester, England, killing 22 people and injuring hundreds, has been sentenced to a minimum of 55 years.
Hashem Abedi had denied helping plan the attack at the end of the Manchester Arena concert on May 22, 2017, but was found guilty of murder, attempted murder, and conspiring to cause explosions.
His sentencing had been postponed due to travel restrictions put in place because of the coronavirus pandemic.
His elder brother Salman Abedi, who set off the bomb, died in the explosion.
Sentencing Hashem on Thursday, judge Jeremy Baker said the two brothers were "equally culpable for the deaths and injuries caused by the explosion."
https://english.alarabiya.net/en/News/world/2020/08/20/Brother-of-Manchester-suicide-bomber-sentenced-for-role-in-2017-concert-attack.html
--------
Southeast Asia
Muhyiddin, Anwar, Najib cannot strengthen our sovereignty, says Dr M
August 21, 2020
PETALING JAYA: Dr Mahathir Mohamad says neither Prime Minister Muhyiddin Yassin, opposition leader Anwar Ibrahim nor former premier Najib Razak is able to strengthen Malaysia's sovereignty.
In a video interview with student Farid Aziz, Mahathir was asked who among the three he believed could strengthen the country's sovereignty.
"None of them," he said, in a quick-fire question-and-answer session.
He was also asked which ruling coalition was the strongest and fairest, between Barisan Nasional (BN), Pakatan Harapan and Perikatan Nasional.
To this, he replied: "BN in the early days."
When asked to describe a good attribute of Anwar, Mahathir said he was ambitious, adding that his former deputy chose to join Umno as he knew he could not become prime minister if he was in PAS.
"That's why he chose to join Umno, and I received him and promoted him to deputy prime minister. He was supposed to replace me when I resigned," he said.
"But before that, incidents happened that led to him being brought to court, and that hindered him from becoming prime minister."
Mahathir described Najib as a talented and capable leader but said the former prime minister's way of gaining popularity among the people by giving out money was an "unsuitable idea" for a leader.
Mahathir also called on Malaysian youth to be more involved and aware of local developments, telling them that ignoring such matters would be irresponsible on their part.
"What happens in the country will have an effect on them later on. That's why they have to care about what's happening around them," he said.
"Or else, they will be controlled by people who have their own agendas, which may not be good for the country."
https://www.freemalaysiatoday.com/category/nation/2020/08/21/muhyiddin-anwar-najib-cannot-strengthen-our-sovereignty-says-dr-m/
--------
PAS playing it safe by straddling both PN and MN, say analysts
Nicholas Chung
August 21, 2020
PETALING JAYA: Analysts have played down PAS' ability to become kingmakers in the next general election, with one of them saying the party is buttering both sides of the bread by joining a pro tem committee to register Perikatan Nasional (PN) with Prime Minister Muhyiddin Yassin's bloc.
Universiti Malaya's Awang Azman Pawi said PAS had always played it safe by wearing various masks, citing how it publicly stated its support for former prime minister Dr Mahathir Mohamad to serve out his full term in the post.
"In the end, they abandoned Mahathir," he said.
He saw similarities in the current situation, telling FMT that PAS will probably remain steadfast in its support of PN only until Parliament is dissolved.
"Politics is ever-changing. What's happening in Muafakat Nasional (MN) is only to be expected. PAS wants to play it safe in their politics.
"PAS joined the pro tem committee with PPBM to register PN simply to maintain its position in PN but at the same time remain with MN.
"But when Parliament is dissolved, PAS will lean towards the more dominant party. Then, PAS might choose to be with Umno because they might see a bigger chance to win and be in power with Umno," he said.
Azman said PAS does not have the capabilities to lead a political bloc and was always a follower, "something that Umno knows well".
He also said it would be difficult for PAS to function as a kingmaker as its influence was largely limited to the East Coast.
"There's no way for it to have a fight with Umno, because should it happen, Umno would win. PAS will follow any party that allows them to remain in power, after so many years of not being in government."
Two party insiders yesterday told FMT that PAS was aiming to become the kingmaker in the next elections as it sets up a pro tem committee with PPBM to register PN.
One of them said PAS was hoping to balance the "power" that Umno had over PAS in MN, noting that while PPBM was not a threat to the Islamist party, Umno could be as it had more MPs.
James Chin of the University of Tasmania's Asia Institute said it was unlikely for PAS to become a kingmaker in the next elections, adding that the numerous choices available to Malay voters – with Dr Mahathir Mohamad's Pejuang now in the mix – made things even more interesting.
He also agreed with Azman that PAS' failure to break out of the East Coast had suppressed its influence, adding that Umno stood in the party's way of growing into a nationwide organisation.
Chin told FMT it was not surprising that PAS joined the pro tem committee with PPBM in registering PN, as both parties would want to diminish Umno's role in any ruling government coalition.
"PAS has always seen Umno as a threat because Umno has never agreed to PAS' version of an Islamic state. Umno has always had their own version of what an Islamic state should look like so, ideologically, they've always been different," he said.
However, Chin said PAS was not ideology-driven in forming a coalition, pointing out that it had worked with DAP in the opposition before this.
"They just want to get into government so that they can promote their version of an Islamic state, and when the time is right, they would want to change Malaysia into their version of an Islamic state," he said.
https://www.freemalaysiatoday.com/category/nation/2020/08/21/pas-playing-it-safe-by-straddling-both-pn-and-mn-say-analysts/
--------
Mosque, surau activities in 7 Kedah districts suspended
August 20, 2020
ALOR SETAR: All religious activities at mosques and suraus in Covid-19 risk areas in the state were suspended as of yesterday.
Kedah Islamic Religious Affairs Department director Mohd Yusri Md Daud said the mosques and suraus involved were from seven districts: Kota Setar, Kuala Muda, Kulim, Baling, Yan, Kubang Pasu and Padang Terap.
The directive involved one mosque in Kota Setar, 30 in Kuala Muda, six in Kulim, six in Baling, three in Yan, six in Kubang Pasu and three in Padang Terap, as well as several suraus which were ordered to be shut down.
"Friday prayers at the mosques involved have been suspended and replaced with Zuhr obligatory prayers at home while religious activities such as lectures, study classes, Yasin reciting ceremonies and so on are not allowed. Marriage ceremonies are also not allowed," Yusri said in a statement here last night.
However, he said obligatory congregational prayers at the mosques are allowed with a maximum number of three people including the imam, mosque officer or committee member in accordance with SOPs.
"Regulars at the mosques involved should replace Friday prayers with performing Zuhr prayers at home, and performing other obligatory prayers in their respective homes," he said.
Funeral prayers and funeral arrangements at the mosques and suraus involved are also not allowed and should be performed at home with only the presence of mosque officials and immediate family members.
Yusri said any mosque or surau whose congregation members are found positive for Covid-19 should be disinfected with operations completely stopped until 14 days after the disinfectant process.
"The directive will be effective until the latest official directive is issued," he said.
https://www.freemalaysiatoday.com/category/nation/2020/08/20/mosque-surau-activities-in-7-kedah-districts-suspended/
--------
Malaysian State of Kelantan Seeks to Make Folk Drama Shariah Compliant
By Asif Ullah Khan
August 19, 2020
A new controversy has erupted in the Malaysian state of Kelantan. The state government has declared that after a careful study it will decide how to make Main Puteri, an indigenous Kelantanese dance form, Shariah compliant by "correcting" parts that it considers "un-Islamic." Only then will it be allowed for public entertainment.
Main Puteri, a century old traditional and folk ceremony, has been used as a healing therapy for physical and mental illnesses.
The debate about Shariah and performing arts has been going in Malaysia for a long time. Many traditional dances and dramas remain banned because of "un-Islamic" elements.
Since 1990, Kelantan, considered to be a part of the conservative Malay heartland, has been ruled by the Islamic Party of Malaysia (PAS), which advocates the supremacy of Shariah and has implemented a strict interpretation of Islamic Law in Kelantan and two other states it rules.
PAS's most controversial decision has been banning the performance of syncretic Malay theatrical and dance forms such as Wayang Kulit, Mak Yong, Dikir Barat, and Main Puteri.
However, in 2019, the party lifted a more than two-decade-old ban on Mak Yong, a traditional dance-drama form, with the caveat that it must adhere to Shariah-compliant requirements and guidelines. Mak Yong was banned because of its animist and Hindu-Buddhist roots despite UNESCO declaring in 2005 it a "Masterpiece of the Oral and Intangible Heritage of Humanity."
Under the new guidelines, all performers in Mak Yong need to be fully clothed and there must be no element of worship in the performances.
Recently, State Community Unity, Culture, Heritage, and Tourism Committee chairman Maj. (R) Datuk Md Anizam Abdul Rahman said a detailed study of Main Puteri was needed as some aspects of the art form seem to have elements that are unsuitable and run contrary to Islam.
"The elements which are not Shariah-compliant need to be corrected. God willing once we have this cleared, Main Puteri will be back for public viewing," he said.
However, the announcement has triggered a raging debate on social media at the PAS-led government's attempt to "Arabize" Malays, whose culture and language is deeply rooted in elements of Hinduism and Buddhism, which are very much prevalent in Malay customs and traditions.
A user named shawnwork on Reddit wrote: "You are killing off your culture for an Arabian one. I won't be surprised if one day Malays don't have their own culture." Another Redditor said: "Islamic governments like in Kelantan seeks to gradually eliminate traces and remnants of Hindu/Buddhist influence in favor of Arabization." He even said that attempts are being made to remove Sanskrit words and Hindu religious terms from the Malay language. He cited some examples: "guru" is a Hindu term for spiritual and religious teacher but "cikgu" is being increasingly preferred. "Neraka/naraka" is a Sanskrit term for hell but "Jahannam" is becoming more prevalent. He said even the traditional Malay Eid greeting is changing, with people favoring the usage of "Eid Mubarak" over "Hari Raya."
Eddin Khoo, founder of the cultural organization Pusaka, dismissed as "irrelevant" the Kelantan government's attempt to make Main Puteri acceptable for the general public.
"It is a community ritual and a traditional and therapeutic form. It belongs to the community, inspired by the community and performed by and for the community… All these government interventions into the practice of culture in the state or communities are very disruptive and governments shouldn't be involved in the first place," Khoo said.
Some did defend the government move, however. Twitter user @yuyu said: "These dances contain chants and animism, which contradict Islamic belief."
Asif Ullah Khan is a long-time journalist who has worked for The Times of India, Khaleej Times, and The Brunei Times.
https://thediplomat.com/2020/08/malaysian-state-of-kelantan-seeks-to-make-folk-drama-shariah-compliant/
--------
Aug. 21 declared collective leave day for Islamic New Year, more to come
August 19, 2020
The government has declared Friday a collective leave day in addition to Islamic New Year on Thursday to create a four-day weekend.
In Presidential Decree (Keppres) No. 17/2020 on collective leave for state civil servants (ASN) signed by President Joko "Jokowi" Widodo on Tuesday, civil servants are allowed to take the day off on Friday.
"Aug. 21 is officially a collective leave day for the Islamic New Year celebration," the decree says.
It also declared Oct. 28 and 30 as collective leave days for Prophet Muhammad's birthday, Dec. 24 for Christmas and Dec. 28 to 31 as replacement collective leave days for Idul Fitri. (dpk)
https://www.thejakartapost.com/news/2020/08/19/aug-21-declared-collective-leave-day-for-islamic-new-year-more-to-come.html
--------
South Asia
Three killed in Kabul rocket attack: Afghan government
19 Aug 2020
Afghan officials say a rocket attack that struck Kabul as the city marked Afghanistan's independence day killed at least three people, including two members of President Ashraf Ghani's honour guard.
Fourteen rockets were fired into central Kabul on Tuesday as the country marked the 101st anniversary of its independence, one of the missiles slamming into the compound of Arg presidential palace.
Interior ministry spokesman Tariq Arian on Wednesday said three people, including two government employees, had been killed in the attack.
He did not specify who the employees were, but two palace officials told AFP, on condition of anonymity, that they had been members of Ghani's honour guard.
Another six honour guard members were wounded when the rocket hit the palace compound shortly after Ghani had wrapped up his ceremonial duties.
Arg Palace is located in a highly fortified area of the capital that also houses several embassies.
Arian said 16 other people were wounded in the rocket salvo, including four children and a woman.
No group has so far claimed the attack, which came as the Afghan government and the Taliban are poised to begin peace talks.
Ghani's swearing-in ceremony on March 9 was also interrupted by rocket fire near the palace. No serious injuries were reported at the time.
In August 2018, multiple rockets were fired in Kabul, including at the presidential palace, where Ghani was making a speech. The ISIL group claimed responsibility.
https://www.aljazeera.com/news/2020/08/killed-kabul-rocket-attack-afghan-government-200819071323908.html?utm_source=iterable&utm_medium=email&utm_campaign=1455707_
--------
Africa
Mali coup opens power vacuum as Islamist insurgency expands in West Africa
By Danielle Paquette
August 19, 2020
DAKAR, Senegal — Tuesday's stunning coup in Mali — in which mutinous soldiers stormed the capital and arrested the country's president — has opened a power vacuum that West African leaders sought to avoid, injecting instability into the heart of the fight against the world's fastest-growing Islamist insurgency.
Ibrahim Boubacar Keïta's sudden ouster this week thrust the nation into chaos as it struggles to repel fighters loyal to al-Qaeda and the Islamic State. The militants have expanded their territory in the countryside during the pandemic, analysts say, despite military intervention from France and the United States.
The coup leaders revealed the first steps of their takeover on Wednesday on state television, pledging to build a civilian-led transition team, maintain ties with international partners and hold a new election.
"We can restore this country to its former greatness," said Col. Maj. Ismael Wagué, a spokesman for the mutineers, without specifying candidates or a date for the election.
It was a dramatic cap to a turbulent two days in the country of about 20 million, after soldiers swarmed the capital on Tuesday morning and, by the evening, arrested Keïta and other top officials.
The embattled leader's removal followed weeks of protests in Bamako led by the influential imam Mahmoud Dicko, who said again on Wednesday that he would not be seeking office.
Keïta's opponents called him corrupt and blamed him for Mali's biggest problems. People cheered as infantrymen rolled through town, flashing their guns from pickup trucks.
The nation's global allies condemned the rebellion, which resulted in four deaths and 15 injuries, according to Amnesty International.
The African Union suspended Mali, and the Economic Community of West African States closed their borders with the country.
Five heads of state — the presidents of Nigeria, Ghana, the Ivory Coast, Niger and Senegal — had flown to Bamako this summer to negotiate with the leaders of the protest group aiming to eject Keïta.
This was the situation they wanted to prevent: more unrest in a region where deaths linked to terrorism have jumped fivefold since 2016, surpassing 4,000 last year, according to a U.N. tally.
Fatalities in the first six months of 2020 have nearly surpassed last year's total, the Armed Conflict Location and Event Data Project reported Tuesday.
"The fight against terrorist groups and the defense of democracy and the rule of law are inseparable," French President Emmanuel Macron tweeted Wednesday. "To get out of it is to provoke instability and weaken our fight."
Attacks have surged during the pandemic, said Klaus Spreyermann, head of delegation for the International Committee of the Red Cross in Mali. Nearly a fifth of the country's health-care facilities have been destroyed in the conflict — mostly centers serving people in remote areas.
"It remains the responsibility of authorities to assist them, no matter the changes of leadership in Bamako," Spreyermann said in an email.
The violence has spilled into neighboring Burkina Faso, where 435,000 people have fled their homes since January, according to the U.N. refugee agency.
"Five percent of the country's entire population — an astonishing 1 in 20 people — is now displaced," UNHCR representative Babar Baloch said Tuesday during a news conference in Geneva.
France, which has more than 5,000 troops in the region, plans to hold its position, Macron said Wednesday. The United States provides military training and intelligence to Mali.
"The freedom and safety of detained government officials and their families must be ensured," Secretary of State Mike Pompeo said in a statement Wednesday. "The United States calls on all political and military actors to work towards a restoration of constitutional government."
Speaking through a surgical mask, Keïta announced his exit in an overnight broadcast, agreeing to dissolve the government, he said, to avoid more bloodshed.
It was a far cry from when the 75-year-old took power in 2013, promising to soothe tensions.
He enjoyed popularity at the start — sailing into the presidential palace after his predecessor, Amadou Toumani Touré, was sacked in a similar mutiny. The army had rejected Touré's handling of the Tuareg rebellion in the north.
Both coups began at the same military base, Kati, about eight miles north of Bamako.
"Kati will no longer scare Bamako," Keïta said at the time.
But Mali's security crisis only worsened, and jobs shrank. People grew impatient for solutions.
"They are fed up with years and years of bad government," said Flore Berger, a Mali analyst at the International Institute for Strategic Studies in London. "Keïta illustrates that. He's taking the hit for that."
Mali's army — about 12,000 soldiers — said last year that it lacked the equipment and funding to strike back against the militants, who rooted in the nation after the 2011 collapse of the Libyan government sent mercenaries and weapons over the border.
The extremists have complicated the battle by sparking conflict between ethnic groups in the countryside. Old neighbors accused each other of harboring the militants. And soldiers killed villagers during searches for the enemy, according to Human Rights Watch.
The fight has moved closer this year to coastal nations, including the Ivory Coast.
"There's a risk of the armed groups taking advantage of this chaos to expand their operations in the region," said Nadia Adam, a research officer at the Institute for Security Studies in Bamako. "A coup is instability."
On Wednesday, the new army rulers closed Mali to the outside world, sealing air and land borders — and effectively cutting off trade — only weeks after the former government had lifted international travel restrictions related to the novel coronavirus.
Calm had returned to the streets, however.
Only a few dozen people showed up at the Independence Monument in Bamako by afternoon.
Abdou Gana, a 46-year-old travel agent in the capital, said he wasn't concerned about the lack of planes in the sky or when they might return.
"Everyone is worried, and I know the burden of this responsibility is enormous," Gana said, adding that he trusted the soldiers who have taken the reins. "But the whole world sees them in Mali, and I think they will live up to it."
Mamadou Tapily in Bamako contributed to this report.
Terror in the countryside, coronavirus in the city: In Burkina Faso, there's no safe haven
A tiny army is fighting for 20 million lives. Can Mali's military grow fast enough?
Al-Qaeda and Islamic State groups are working together in West Africa to grab large swaths of territory
https://www.washingtonpost.com/world/africa/mutinous-soldiers-who-ousted-malis-president-say-new-election-is-coming-soon/2020/08/19/05eb7c10-e213-11ea-ade1-28daf1a5e919_story.html?utm_source=iterable&utm_medium=email&utm_campaign=1455707_
--------
African Union suspends Mali following coup
20 August 2020
The African Union (AU) has suspended Mali's membership a day after mutinous soldiers staged a coup in the West African country and forced President Ibrahim Boubacar Keita to step down.
The AU's Peace and Security Council announced Mali's suspension in a twitter post late on Wednesday, saying that the suspension would remain in effect "until [the] restoration of constitutional order" in the country.
It further demanded the release of President Keita, Prime Minister Boubou Cisse, and other government officials who were "forcibly detained by the army."
A number of African countries, including Algeria, Morocco, and Nigeria, have already denounced the coup in Mali.
Soldiers staged a mutiny at a military base in Kati, a town 15 kilometers from the capital of Bamako, on Tuesday, detaining an unspecified number of high-ranking military and political figures.
Late on Tuesday, a tired-looking Keita appeared on state television, reading a brief statement from the military base and saying he had no choice but to resign to avoid "bloodshed."
Bamako was the scene of a mutiny in 2012 that led to a coup d'etat and the ouster of the then-President Amadou Toumani Toure. The coup later contributed to the fall of northern Mali into the hands of Takfiri militants.
The African country, which is already fighting widespread militancy, has been beset by nationwide demonstrations against Keita since June, with protesters calling for his resignation over what they see as the government's failure to restore security and deal with corruption.
The United Nations and human rights activists say at least 14 people lost their lives in the recent anti-government protests.
The mutinous soldiers, who have closed Mali's borders and announced a curfew, call themselves the so-called National Committee for the Salvation of the People, and have promised a transition to what they have called civil political rule.
They have said snap elections will be held after a "reasonable amount of time."
EU, UNSC reject coup
Separately on Wednesday, the European Union (EU) condemned the coup and rejected "all unconstitutional change" in Mali while the UN Security Council (UNSC) "underlined the urgent need to restore rule of law and to move towards the return to constitutional order" in the African country.
Also on Wednesday, the Economic Community of West African States (ECOWAS) slammed the coup, saying it would close its member states' land and air borders with the West African country and push for sanctions against "all the putschists and their partners and collaborators."
https://www.presstv.com/Detail/2020/08/20/632194/Mali-coup-African-Union-suspend
--------
El-Sisi calls on army to be prepared amid Libya crisis
MOHAMMED ABU ZAID
August 20, 2020
CAIRO: Egyptian President Abdel Fattah El-Sisi has directed the army to maintain the highest levels of preparedness and combat readiness to protect Egypt's national security.
During a meeting with various senior military personnel, the president directed them to continue to maintain combat readiness to carry out any tasks entrusted to them, in light of the current challenges in the region.
The meeting came a day after El-Sisi sent an important message to the commander of the Libyan National Army (LNA), Field Marshal Khalifa Haftar. The message was delivered by the director of the Egyptian Military Intelligence, Maj. Gen. Khaled Megawer, at the LNA headquarters in Ar Rajma outside the eastern city of Benghazi. The content of the message was not revealed.
The message and El-Sisi's statements come after the Turkish and Qatari defense ministers visited Tripoli to meet with the Head of Turkish-backed Al-Wefaq Government, Fayez Al-Sarraj.
Libyan media reported that the two ministers held talks about military support with officials in the unconstitutional Al-Sarraj government that currently controls Tripoli. They also held meetings with some senior militia figures.
July 2020, the Egyptian president chaired a meeting of the National Defense Council to discuss the Libyan situation, as well as the Renaissance Dam crisis.
The spokesman for the Egyptian president stated that the council had addressed the country's current political, security and military situations, within the framework of various regional and international developments.
The council discussed the situation in Libya in the western theater, in light of Egypt's efforts to stabilize the current situation and to bring peace to all the various parties.
The council affirmed the strong ties between the two countries, and that Egypt would spare no effort to support its neighbor to help its people overcome the current crisis.
https://www.arabnews.com/node/1722281/middle-east
--------
Boko Haram Terrorists Attack Borno Community, Raze Hospital, Telecoms Mast, Others
AUG 19, 2020
Residents of Magumeri in Borno State have fled their homes following the invasion of the town by heavily-armed Boko Haram terrorists.
SaharaReporters gathered that the insurgents razed down the only functional telecommunications mast, a hospital recently equipped by the Borno State Government and other facilities in the town.
One of the fleeing residents told SaharaReporters that the insurgents invaded the community at about 4pm on Monday while the military airstrike engaged them, but to no avail.
It was learnt that a woman died during the exchange of gunfire between the insurgents and the military, while others were seriously injured.
Magumeri is about 40km drive from Maiduguri, the state capital, which has witnessed series of Boko Haram attacks.
http://saharareporters.com/2020/08/19/boko-haram-terrorists-attack-borno-community-raze-hospital-telecoms-mast-others?utm_source=iterable&utm_medium=email&utm_campaign=1455707_
--------
Two soldiers, Boko Haram terrorists killed as troops repel attack on Magumeri
August 19, 2020
Abdulkareem Haruna
Security sources have confirmed the death of two soldiers, a nursing mother and many Boko Haram insurgents after troops fought fiercely to repel a major attack on Magumeri, a local government headquarters in Borno State.
Sources familiar with the incident said Magumeri came under attack on Tuesday evening when a group of armed insurgents stormed the outskirts of the community in many trucks.
Soldiers of the Special Task Force in Magumeri, led by their Commander, Major Manga, were said to have saved the residents from yet another massacre.
"It would have been deadly, but for the swift arrival of Oga Manga and his troops," said Bunu Bukar, an official of the state vigilante group, called Rapid Response Squad.
"The troops engaged them in a fierce fight that led to the death of many Boko Haram. A gun truck was recovered from the Boko Haram amongst many other arms and ammunition."
The source said two soldiers paid the supreme price.
"We lost two soldiers in the fight, while one sustained an injury," he said.
Other sources familiar with the incident confirmed that the insurgents had, before the arrival of the soldiers, burnt down a general hospital that was recently rebuilt and equipped by the Borno State Government.
The insurgents were said to have escaped with a tractor recently provided to the local government council by the Borno State government.
The source also said a nursing mother was killed after a stray bullet hit her during the shootout.
Attack on Kukawa
The source confirmed that the attack on Magumeri coincided with another strike in Kukawa town of Borno state.
Kukawa is the local government area where Baga, a commercial fishing community, is located.
Borno State governor's convoy was reportedly attacked in Baga about three weeks ago when unknown gunmen opened fire on his motorcade. The governor, Babagana Zulum, blamed soldiers of the Nigeria military for the assault. The military has since dismissed the allegation as false.
A security source, who spoke to PREMIUM TIMES, confirmed "a serious attack" but could not immediately give details.
"We know many people were killed, but we cannot provide detailed figures until we get authentic information from our boys out there in Kukawa. Whatever you hear now, especially on alleged hoisting of flags by Boko Haram, is equal to rumours," he said.
Dangote adbanner 728x90_2 (1)
Meanwhile, an online medium, Sahara Reporters had reported earlier that the Boko Haram terrorist had hoisted its flag in Kukawa, after seizing the territory. The military has not confirmed this.
A message sent to Sagir Musa, by our reporter seeking a confirmation of the incident in Magumeri, was not responded to at the time of filing this report.
https://www.premiumtimesng.com/news/headlines/409696-two-soldiers-boko-haram-terrorists-killed-as-troops-repel-attack-on-magumeri.html?utm_source=iterable&utm_medium=email&utm_campaign=1455707_
--------
North America
Pompeo 'confident' as US demands reimposing of all UN sanctions on Iran
20 August 2020
The United States Thursday officially demanded a reimposition of all UN sanctions on Iran as US Secretary of State Mike Pompeo formally submitted a complaint to the UN secretary-general, despite opposition from Europe, China and Russia.
"Our message is very, very simple: the United States will never allow the world's largest state sponsor of terrorism to freely buy and sell planes, tanks, missiles, and other kinds of conventional weapons. These UN sanctions will continue the arms embargo," Pompeo told reporters at the UN headquarters in New York.
For all the latest headlines, follow our Google News channel online or via the app.
Pompeo said he was confident that the "sanctions would come back into effect in 30 days."
The so-called snapback mechanism aims to restore all international sanctions against Iran that were lifted as part of the 2015 nuclear agreement with Tehran in exchange for it agreeing not to develop nuclear weapons.
Iran and Russia criticized the US move, with Tehran's foreign minister threatening consequences if it goes through and Russia considering Washington's move "non-existent."
Pompeo added that the US reserved the right to move ahead legally because the JCPOA was "never ratified" by the Senate or the legislatures of other nations. He said it was a political commitment that Iran did not live up to.
The US diplomat said that the JCPOA was "far ... and separate" from the UN Security Council Resolution 2231, which he said allowed for the snapback mechanism.
Majid Takht Ravanchi, Iran's UN ambassador, said Thursday's move by the US was "null and void."
Speaking after Pompeo, Ravanchi accused the US of "legal and political bullying."
China has also expressed stiff opposition to any extension of the Iran arms embargo. A vote at the Security Council last week on a US resolution to extend the embargo was rejected by a strong majority, with only the Dominican Republic voted for the extension alongside the US.
"We will not take it as snapback," Russian UN Ambassador Vassily Nebenzia told reporters on Thursday before Pompeo's visit.
"He's not triggering a snapback. Snapback can be triggered by a country that is a participant of the JCPOA, which the US is not," he said, ahead of Pompeo's announcement and the Iran nuclear deal by its formal name, the Joint Comprehensive Plan of Action (JCPOA).
The US pulled out of the deal in 2018 under President Donald Trump was elected.
Pompeo singled out and praised the Gulf Cooperation Council (GCC) nations for urging a renewal of the Iran arms embargo. The six-member GCC had asked the UN to extend an international arms embargo on Iran in a letter sent earlier this month.
"In stark contrast [to European allies], the Gulf Cooperation Council nations deserve praise for showing courage and unity in warning about the danger from Iran," Pompeo said.
European allies sided with the 'ayatollahs'
Meanwhile, Britain, France and Germany were accused by Pompeo of choosing to "side with the ayatollahs."
The three European nations released a statement Thursday saying the US did not have a right to snapback sanctions.
A Security Council resolution ratifying the accord, which was negotiated by former president Barack Obama, says participating states can unilaterally reinstall sanctions if Iran has failed to significantly comply with the accord.
The snapback procedure is supposed to lead to the re-establishment of sanctions after 30 days, without the possibility of any members, namely Russia and China, wielding their vetoes.
https://english.alarabiya.net/en/2020/08/20/All-eyes-on-UN-ahead-of-Pompeo-s-visit-to-reimpose-Iran-sanctions.html
--------
US to restore all sanctions on Iran, accuses European allies of 'siding with ayatollahs'
RAY HANANIA
August 20, 2020
CHICAGO: US Secretary of State Michael Pompeo informed the United Nations Thursday that the US was restoring all UN sanctions on Iran that were lifted as a result of the Joint Comprehensive Plan of Action (JCPoA) approved under UN Security Council Resolution 2231 in 2015.
The resolution, which Pompeo called "one-sided" in favor of Iran, includes provisions that allow for the sanctions to be immediately re-imposed by the UN if Iran fails to live up to the agreement.
In letters to both UN Secretary-General Guterres and to the president of the UN Security Council, Pompeo said he is initiating the "snapback" process in the Resolution that would reimpose sanctions within 30 days.
"Our message is very, very simple. The United States will never allow the world's largest state sponsor of terrorism to freely buy and sell planes, tanks, missiles, and other kinds of conventional weapons. These UN sanctions will continue the arms embargo," Pompeo said at a press conference at the UN Thursday.
"These restored sanctions will also reimpose accountability for other forms of Iranian malign activity that the authors of the nuclear deal foolishly downplayed. Iran will be again prohibited from ballistic missile testing. Iran will be back under sanctions for ongoing nuclear activities — such as the enrichment of nuclear material — that could be applied to a nuclear weapons program."
Pompeo accused Iran of refusing to allow the IAEA to insect Iranian sites formerly part of Iran's nuclear program that are now suspected of re-engaging in undeclared nuclear activity.
Pompeo acknowledged that American allies including Germany, France and Britain privately support renewing the arms embargo, but declined to publicly support the "snapback" option. Pompeo accused them with "choosing to side with the ayatollahs," calling it a "failure of leadership" and "appeasement."
"Our friends in Germany, France, and the United Kingdom — the E3 — all told me privately that they don't want the arms embargo lifted either'" Pompeo alleged.
"And yet today, in the end, they provided no alternatives, no options. No country but the United States had the courage and conviction to put forward a resolution. Instead, they chose to side with ayatollahs. Their actions endanger the people of Iraq, of Yemen, of Lebanon, of Syria — and indeed, their own citizens as well."
Pompeo instead praised the members of the Gulf Cooperation Council (GCC) nations for "showing courage and unity" in confronting Iran's terrorist policies.
"Two weeks ago, Bahrain, Kuwait, Oman, Qatar, Saudi Arabia, and the United Arab Emirates sent a letter to the Security Council urging a renewal of the arms embargo before it expired in October," Pompeo said.
"As Iran's neighbors, they know better than anyone else the havoc that Iran could create with these weapons. Look, the world — and especially our European friends on the Security Council — should have heeded their words."
Pompeo urged the international community to join the US effort in re-imposing sanctions and "crafting a stronger deal that addresses the full range of Iran's maligned behavior."
He said a resolution requesting re-imposition of the sanctions will be introduced to the United Nations Security Council through the "snapback" provision of the original UN Security Council Resolution 2231.
Pompeo acknowledged that some UN members might oppose the move but said, "As for decisions that other nations make, they're sovereign countries. They get to make their own choices. But make no mistake about it: It is an enormous mistake not to extend this arms embargo. It's nuts, right? And I haven't heard privately from any country that thinks it's wise, except for perhaps from Iran."
Pompeo said that since 1985 in Europe alone Iran has conducted "terrorist operations across Europe," hijacked commercial jets, bombed and murdered "innocent Europeans," assassinated dissidents in Europe, plotted to "blow up Jewish synagogues."
"This is not a nation that is capable of or trustworthy to be able to buy and sell weapon systems. And so I just urge the whole world to unite. We have every capacity under 2231 to do this, and we'll continue this effort. We're going to make sure that this arms embargo doesn't come back in place.
President Trump announced in May of 2018 that the United States would no longer comply with political commitments that were a part of the 2015 JCPoA agreement.
Pompeo said the US would back down if Iran were to "behave like a normal nation," but said it was "unlikely" that Iran would.
"If we could get to a place where we got a full-on agreement with the Islamic Republic of Iran to behave like a normal nation and live up to the commitments we've asked for, we have been prepared to have that conversation for a long time," Pompeo said.
"Were we able to achieve that, we would consider withdrawing this. I think it's unlikely in the 31 days between here and there, but, as a diplomat, I always live in hope."
https://www.arabnews.com/node/1722256/middle-east
--------
US police say Muslim man wasn't mocked during fatal arrest
August 21, 2020
PHOENIX: An advocacy group released what they say is previously unseen body camera footage Thursday showing Phoenix police mocking the religion of a Black Muslim man who later died in their custody.
Muslim Advocates, a national civil rights organization, released video from the 2017 death of Muhammad Abdul Muhaymin Jr. in which he can be heard crying out in pain and calling for Allah, the Arabic word for God.
An officer appears to say "Allah? He's not going to help you right now ... Relax dude. Stop moving. Stop resisting. You understand?"
The Phoenix Police Department is disputing that interpretation, Sgt. Mercedes Fortune said. He said the police were trying to defuse the situation as per their training.
"In fact, the officers did not mock or target Mr. Muhaymin based on his religion, race, or any other factor," Fortune said in an email. "When Mr. Muhaymin is heard to say 'Please Allah,' the officer responded, 'Allah? We're trying to help you right now dude so relax.'"
Previous body camera footage from the police included Muhaymin's plea that he couldn't breathe, but left out the statements related to his faith.
David Chami, the attorney representing the Muhaymin family in a lawsuit against the city, said he's certain that police deliberately left out this portion of the video when it was initially given to the media.
"We think this type of information will help maybe get somebody to take a second look whether these officers should still be patrolling this neighborhood," Chami said. "There's no doubt that the city manipulated the narrative."
Any records related to the incident were released to media and other parties the first time they requested them, Fortune said.
Muhaymin's sister was left angered by the footage.
"The city of Phoenix and the Phoenix police targeted my brother for his race, they mocked him for his religion and disability, and then brutally killed him," Muhaymin's sister, Mussallina Muhaymin, said in a statement. "Muhammad Muhaymin Jr. was a man— a man with a family who loved him."
She has said her brother was homeless and suffered from post-traumatic stress disorder and schizophrenia.
None of the officers have been criminally charged or faced internal discipline for their actions.
Daniel O'Connor, a lawyer defending the officers in the suit, said in an email Thursday that he is prohibited from discussing ongoing litigation. Fortune also said she could not comment on other specifics of the case citing the same reason.
Muhaymin's family, who have filed a $10 million wrongful death suit against the city, see echoes of his killing in George Floyd's death at the hands of Minneapolis police officers in May. It will likely not go to trial until early next year, Chami said. Attorneys are also looking into opening a federal investigation to see if Muhaymin's civil rights were violated.
The incident began when police were called to the community center in the city's Maryvale neighborhood in January 2017 after a dispute arose over whether Muhaymin could bring his service dog into a public bathroom.
Muhaymin was eventually allowed to go into the bathroom. But officers ran a records check and discovered he had an outstanding warrant for failing to appear in court for a misdemeanor drug-paraphernalia possession charge.
Once outside the community center, tensions rose as an officer told Muhaymin to put down his dog because he was under arrest. An officer knocked the dog out of Muhaymin's hands after he said he didn't have anyone to care for the animal, according to the lawsuit.
Muhaymin was forced to the ground after police asked him to cooperate, and he screamed in pain as officers handcuffed him. An officer made a profane, belittling comment to Muhaymin that he was now facing a felony.
After officers brought Muhaymin to a police SUV in the parking lot, officers again urged Muhaymin to stop moving. Still, the struggle continued, with officers again forcing him to the ground. "I can't breathe," Muhaymin said. "I can't breathe."
Minutes later, the 43-year-old Muhaymin went into cardiac arrest, began vomiting and died, the lawsuit said.
After a review, the Maricopa County Attorney's Office declined in February 2018 to criminally charge the officers involved, saying it didn't believe the officers committed acts that warranted prosecution.
Transcripts and video from depositions in the case became available after a federal judge in June denied a request made by the city of Phoenix to bar their release.
The request was made after attorneys for the city accused a lawyer representing Muhaymin's sister of using social media to garner news coverage and incite violence against officers.
https://www.arabnews.com/node/1722401/world
--------
URL: https://www.newageislam.com/islamic-world-news/erdogan-converts-mosque-another-former/d/122683
New Age Islam, Islam Online, Islamic Website, African Muslim News, Arab World News, South Asia News, Indian Muslim News, World Muslim News, Women in Islam, Islamic Feminism, Arab Women, Women In Arab, Islamophobia in America, Muslim Women in West, Islam Women and Feminism