New Age Islam News Bureau
8 Apr 2015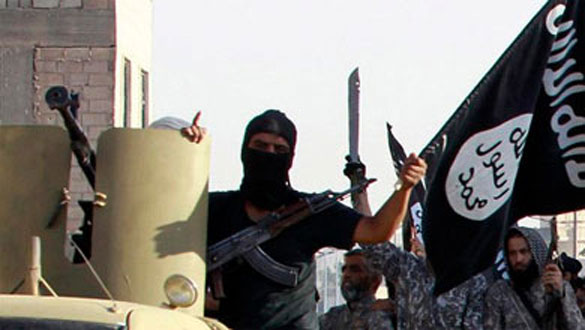 Two car bombs and heavy clashes rocked a strategic city in northern Syria on Tuesday night as militants from the Islamic State of Iraq and Syria (ISIS) sought to expand their reach. (File photo: AFP)
-----------
India
• End Radical Wahhabi Influence on Waqf Boards, Indian PM Told
• Separate Zones for Pandits in J&K
• Muslims Not Entitled To SC Status, Says HC
• 30 Terrorists Spotted In PoK Adjoining Poonch Waiting to Infiltrate
• Evacuating Indians from Yemen less exciting than going to Pak embassy: Minister
Arab World
• Iraqi Army Kills 34 ISIL Terrorists in Tikrit
• Source: Saudi Arabia Sending Al-Qaeda Inmates to Yemen
• Deadly Attacks In North Syria As ISIS Seeks Expansion
• ISIS launches English language radio bulletins on its Iraqi broadcast service • discussing suicide bombings and assassinations
• Terrorists 'targeting hospitals, civilians in Yemen': Brig. Gen. Ahmad Al-Assiri
• Iran supporting Houthis 'with arms and money': Saudi Ambassador
• Arab hackers storm enemy portals
• Arab states want U.N. blacklisting of Saleh's son
Southeast Asia
• Rights Activists Slam 'Radical' Islam Website Ban in Indonesia as a Threat to Freedoms
• TNI: Transfer Ba'asyir to Halt Spread of Radical Ideology
• Echoes of Middle East Strife Rattle Indonesia
• Umno lawmaker wants amendments to Sedition Act withdrawn
• Malaysia's i-VCAP launches first regional Islamic trade fund
Pakistan
• Pakistani charity targeted for supporting Afghan Taliban and terror groups
• Five Suspected Terrorists Killed In Karachi 'Encounter'
• Gang of 'would-be militants' unearthed
• Border guard killings are under investigation, Pakistan assures Iran
• Iran should be involved in Yemen debate: Pakistan
• Two prisoners hanged in Machh, Bahawalpur
Mideast
• 11 Dead In Clashes in Yemen's Aden: Military
• Israeli Politician 'Has A Dream' Of Equality between Jews and Arabs
• ran, Turkey agree on the need to stop Yemen war: Rouhani
• Jerusalem tourism gets lifeline from unlikely source: Muslim visitors
• Erdogan in Tehran: Turkey wants to dance at every Mideast wedding
Africa
• Heartbreaking Drawings by Child Victims of Boko Haram Massacre Give Harrowing Glimpse of Slaughter
• Four Tunisian Soldiers Killed In Militant Attack
• How A Young Tunisian Man Went From Rapper To ISIS Fighter: A Jihadi's Path
• Libya's rival forces warn Thinni govt against independent oil sales
• Libya says 'new elements' in killing of U.S. ambassador
South Asia
• Abducted Soldier Freed, 26 Insurgents Killed In Operations
• Afghan President Stresses on Reform in Judicial System
• Afghanistan: US watchdog criticises aid scheme for women's rights
• Hasina: Khaleda got back home with agony of defeat
Europe
• British Muslim Prosecutor: Teenagers View ISIS as Pop Idols
• Georgia's Kists Demand Action to Stop Pankisi Youth Joining IS
• 8 Muslim schools in top 50 exam league in England
• Syrian Imam Sheikh Abdul Hadi Arwani 'shot dead in London'
• Relative of Britain's youngest convicted terrorist feared to have fled to Syria
• Spain arrests nine in operation against Islamists in Catalonia
North America
• Pentagon chief: Al-Qaeda making gains in Yemen turmoil
• U.S. Online Ban of 'Militant Muslim Preacher' Ends
• CIA chief says criticism of Iran nuclear deal 'disingenuous'
• Panel, discussion night encourages interfaith dialogue and acceptance
• Yemen operation not to affect Pakistan's capabilities, says US
• US speeding weapons deliveries to Saudi-led Yemen coalition
Compiled by New Age Islam News Bureau
URL: https://www.newageislam.com/islamic-world-news/new-age-islam-news-bureau/end-radical-wahhabi-influence-on-waqf-boards,-indian-pm-told/d/102348
---------
India
End Radical Wahhabi Influence on Waqf Boards, Indian PM Told
Mahendra Singh, TNN | Apr 8, 2015
NEW DELHI: Religious leaders and representatives of Muslim community urged Prime Minister Narendra Modi to liberate all Waqf boards from "radical" Wahhabi influences. At the Monday meeting, the PM was told by leaders of Sunni sect from across the country that if the growing influence of Wahhabi ideology was not checked immediately, the country may see situations like that in Iraq, Syria or Nigeria.
"We reminded the Prime Minister about his commitment to fight terrorism. The religious leaders sought his help to check spread of Wahhabi terror in the country," general secretary of Imam Tanzeem Mohammed Hamid told TOI. Hamid said,
The Wahhabi faction within the Sunni Muslim sect is considered orthodox who do not believe in shrines and Dargahs.
Hamid said, "We urged the PM to set up a separate Waqf board for Wahhabi sect so that this faction stops getting into our shrines and Dargahs and is not able to spread extremist ideology."
The Sunni Waqf Board fears that the Wahhabis could take over a majority of shrines and 'Dargahs' of Sunnis allowing terror groups like ISIS inroads into the country. "Radical Wahhabi ideology has captured our shrines and Dargahs. The Wahhabi faction does not believe in shrines or Dargahs as they treat it as idol-worship. So how can a non-believer take control," asked Hamid?
The leaders maintained that Modi heard them patiently and gave assurance to look into the matter. The PMO statement also said, "He (PM) specifically assured the leaders that he will look into their grievances on shrines, Masjid and Madrasas."
A community leader said that most moderate Muslims are deeply uncomfortable with the growing influence of Wahhabis and are of the view that the spread of the Wahhabi ideal of radicalism needs to be checked — for the good of the community and the country.
While expressing apprehensions about the trend of increased radicalization and emerging threat of terrorism, the leaders also underlined the need for greater unity and collective efforts to meet the challenge. The leaders also sought the government's support in providing better facilities to Muslim youth particularly in the field of education. "We demanded scholarship for Muslim youths. The issues related to employment and jobs for the community were also discussed," said Hamid, adding that the PM assured full support in meeting grievances of all sections of the Muslim society and emphasized the need of empowerment of Muslim youth to enable them to play a larger role in nation building.
According to Hamid, PM Modi also expressed his displeasure over the recent controversial remarks made by leaders from saffron outfits. The Muslim leaders reiterated full support of the community to the PM in meeting his objectives of ensuring speedy economic growth, promoting communal harmony and peace and strengthening national security.
http://timesofindia.indiatimes.com/india/End-Wahabi-influence-on-Wakf-boards-PM-told/articleshow/46843607.cms
---------
Separate zones for Pandits in J&K
ZAHID RAFIQ
8 April 2015
Jammu and Kashmir Chief Minister Mufti Mohammad Sayeed has accepted the demand for creating separate zones for Kashmiri Pandits, a move that is seen by the vast majority in the Valley as the creation of "a State within a State."
Mr. Sayeed assured Home Minister Rajnath Singh on Tuesday that his government would immediately start the process for creating the zones, which the Peoples Democratic Party describes as "composite townships."
"The Chief Minister assured Mr. Singh that the State government would acquire and provide land at the earliest for composite townships in the Valley," an official statement said.
They will not be exclusive Pandit zones, says PDP
With Chief Minister Mufti Mohammad Sayeed accepting the demand for creating separate zones for Kashmiri Pandits, Peoples Democratic Party chief spokesperson Naeem Akhtar said here on Tuesday that the "composite townships" planned would not be an exclusive area for Kashmiri Pandits and would be open to all other communities. He said the percentage or other structural details of these townships had not yet been decided.
"We will build flats across rural Kashmir and around the city which anyone can buy, including Kashmiri Pandits. While the move is to bring back Kashmiri Pandits into the Valley, we will not create Pandit exclusive townships," Mr. Akhtar told The Hindu.
Union Home Minister Rajnath Singh had actively pursued the return of Kashmiri Pandits to the Valley and the creation of separate zones for them. He had written to the previous Omar Abdullah government and J&K Governor N. N. Vohra asking for identification of land for rehabilitation of Kashmiri Pandits.
Both the National Conference and the Congress, coalition partners in the last erstwhile government, said they disapproved of the move. During their time in the government, they had urged the Pandits to live with everyone else.
"We wanted Kashmiri Pandits to come back and live with everyone and not in separate zones. It is not a wise decision to create a State within a State," J&K Congress president Ghulam Ahmad Mir said. "Such an exclusive township or satellite city will neither serve the purpose of reintegration of Kashmiri Pandits into society nor will it set a good precedent toward reconciliation."
National Conference leader Ali Mohammad Sagar said the creation of such townships would "create further rift between Muslims and Pandits rather than bring them closer." "It is a dangerous idea which defeats the very purpose of the return of Kashmiri Pandits. They should come back and live with everyone else, so that we have a Kashmir as we had then," Mr. Sagar said.
Hurriyat leader Syed Ali Shah Geelani said that while he always welcomed the return of Kashmiri Pandits to the Valley, the creation of separate cities for them was unacceptable.
"The Pandits should come back to their own villages, towns and neighbourhoods and live where they want to like Sikhs and the Muslims do here. They are a part of Kashmir. But once the government is pushing for separate homelands and townships for them, it is a devious plan to create Israel-type settlements in Kashmir," Mr. Geelani said.
http://www.thehindu.com/news/national/other-states/separate-zones-for-pandits-in-jammu-and-kashmir/article7078576.ece
--------
Muslims Not Entitled To SC Status, Says Punjab and Haryana HC
TNN | Apr 8, 2015
CHANDIGARH: The Punjab and Haryana high court on Tuesday ruled Muslims were not entitled to benefits reserved for the Scheduled Castes (SC) while cancelling the 2012 election of Congress MLA Mohammad Sadiq from Punjab's reserved Bhadaur constituency.
Justice N K Sanghi said Sadiq was not qualified to contest from the SC reserved seat as he is a Muslim and had failed to prove he had converted to Sikhism.
Sadiq had claimed before the court he was an SC Muslim before he had converted to Sikhism. He had pleaded he should be considered SC Sikh after his conversion.
The high court order came on the petition of ex-IAS officer and ruling Shiromani Akali Dal's Darbara Singh Guru, who had lost the election to Sadiq by nearly 7,000 votes.
"...the court has found that since he is a Muslim, he cannot get benefits of SCs. The reverse has also been clarified thorough this case," said Guru's lawyer, Satya Pal Jain.
Jain said this is the first judicial pronouncement on who can be considered an SC. "The Constitution (Scheduled Castes) Order, 1950, states that only Hindus, Sikhs and Buddhists can avail benefits as SCs. This is because the caste system is prevalent only in these religions."
Sadiq had told the court his mother, Prasanni Devi, was a Muslim who never followed Islam and that he had "always professed Sikhism and was an SC".
He claimed he belonged to the Doom community, which the Punjab government had notified as SC.
Sadiq, a well-known Punjabi folk singer, claimed he had converted to Sikhism in 2007, but Jain contested this stating he had not follow the prescribed procedure, including notifying the Shiromani Gurdwara Prabandhak Committee.
Guru, a former principal secretary to chief minister Parkash Singh Badal, had accused Sadiq of misleading the Election Commission. He contended Sadiq was still a Muslim.
Guru had filed his petition on March 30, 2012 and the high court had reserved its judgment in January.
Barnala-resident Badal Singh had earlier moved the Punjab Scheduled Caste Commission before the assembly polls demanding cancellation of Sadiq's SC certificate that Ludhiana administration had issued in 2006.
http://timesofindia.indiatimes.com/india/Muslims-not-entitled-to-SC-status-says-HC/articleshow/46843423.cms
---------
30 terrorists spotted in PoK adjoining Poonch waiting to infiltrate
TNN | Apr 8, 2015
NEW DELHI: Over 30 terrorists have been spotted at launch pads in Pakistan-occupied Kashmir (PoK) adjoining Poonch district in Jammu & Kashmir, waiting for an opportunity to infiltrate and stage a fidayeen attack in the country. This comes even as there is heightened concern in security agencies over fresh recruitment of locals in south Kashmir into militancy.
According to an intelligence report forwarded to the Union home ministry, terrorist movement has been spotted in PoK posts across Poonch, with a group of 12-15 Lashkar terrorists ready to infiltrate and another group comprising 10 terrorists camping at Nangi post. The latter is guided by one Ismail Langda, the intelligence agencies have reported.
Another six terrorists are camping in a village nearby, the report adds. All the terrorists are being controlled by Pakistan's ISI and army, apparently to launch a fidayeen Lashkar attack in Poonch.
The stepped up infiltration attempts in Poonch sector comes amid the Union home ministry's concerns over attempts at fresh terror recruitment from areas like Tral, Shopian, Bijbhera and Kulgam in Kashmir. The local police estimate that around three dozen youth may have joined various tanzeems so far this year, as compared to the nearly 65 recruitments reported through 2014.
The terror outfits are exploiting the disenchantment among locals over "inadequate flood relief" to lure them into militancy.
Only last week, the personal security officer of a J&K minister had decamped with his weapon and allegedly joined Hizbul Mujahideen along with three others. Hizbul supreme commander Syed Salahuddin is said to have confirmed the recruitment and reportedly exhorted more J&K policemen to join its ranks. Incidentally, most of the Kashmiri boys getting attracted to terrorism are educated.
Fresh recruits are welcomed by the terror tanzeems as they do not figure in police records and cannot be easily detected. With infiltration on the decline, terror outfits are increasingly depending on local recruits to sustain militancy.
http://timesofindia.indiatimes.com/india/30-terrorists-spotted-in-PoK-adjoining-Poonch-waiting-to-infiltrate/articleshow/46844483.cms
---------
Evacuating Indians from Yemen less exciting than going to Pak embassy: Minister
8 April 2015
NEW DELHI: Union minister of state for external affairs Gen V K Singh on Tuesday said his task of overseeing evacuation efforts of those stranded in Yemen was "less exciting than going to the Pakistan embassy".
Speaking to reporters on Tuesday, the Union minister quipped, "It is a difficult task, but if you talk of excitement I think it's looking less exciting than going to the Pakistan embassy".
V K Singh was in Djibouti to oversee evacuation of around 4,000 Indians from strife-torn Yemen as India launched a major operation to rescue its citizens by deploying five ships and four aircraft.
Last month, Gen VK Singh was in the news for his tweets with the hashtags 'disgust' and then 'duty' after he attended Pakistan Day celebrations at the country's high commission. Expressing his displeasure at being made to attend the event, he was later forced to clarify his tweets.
Singh, a former Army chief, attended the event where several Kashmiri separatist leaders including Mirwaiz Umer Farooq, Syed Ali Shah Geelani and Yaseen Malik were also present.
http://timesofindia.indiatimes.com/india/Evacuating-Indians-from-Yemen-less-exciting-than-going-to-Pak-embassy-VK-Singh/articleshow/46840612.cms
---------
Arab World
Iraqi Army Kills 34 ISIL Terrorists in Tikrit
8 April 2015
Iraqi troops continued their mop-up operations in the recently liberated strategic city of Tikrit on Wednesday, and managed to kill at least 34 more ISIL terrorists.
The Iraqi army made more gains in its fight against the ISIL terrorists in Qadesiyah neighborhood, North of Tikrit, and claimed the lives of more terrorists.
Also on Tuesday, the Iraqi soldiers killed more than 43 ISIL terrorists in the same area.
The Iraqi army, backed by Shiite and Sunni volunteer forces, made a final push against the ISIL terrorists in Tikrit, and managed to fully liberate the Northern city from the control of the Takfiri group on March 31.
Full report at:
http://english.farsnews.com/newstext.aspx?nn=13940119000611
---------
Source: Saudi Arabia Sending Al-Qaeda Inmates to Yemen
8 April 2015
Saudi Arabia has released large numbers of Al-Qaeda prisoners from its jails and sent them to the Yemeni border province of Hazar al-Mout to fight against the army and popular forces of the neighboring country, an informed source disclosed on Wednesday.
"The Al Saud regime has freed the Al-Qaeda prisoners held in its prison and also in Yemeni prisons and dispatched them to Hazar al-Mout province to open a new front against the Ansarullah fighters and Yemeni army," Ali Esmayeel Al-Katbi told FNA on Wednesday.
He noted that the relocation of Al-Qaeda terrorists to Yemen comes after the US and Arab countries' military analysts warned the Riyadh government about an imminent defeat in the war against Yemen.
Full report at:
http://english.farsnews.com/newstext.aspx?nn=13940119000623
---------
Deadly attacks in north Syria as ISIS seeks expansion
8 April 2015
Two car bombs and heavy clashes rocked a strategic city in northern Syria on Tuesday night as militants from the Islamic State of Iraq and Syria (ISIS) sought to expand their reach, a monitor said, according to Agence France-Presse.
"There were two car bombs on positions in and near Marea, which is controlled by Islamist militants and (Al-Qaeda affiliate) Al-Nusra Front," Rami Abdel Rahman, head of the Britain-based Observatory, said.
The Syrian Observatory for Human Rights said the militants attacked the city of Marea, which lies along a key rebel supply route in Aleppo province leading north to the Turkish border.
Seven people were killed in the first explosion, which struck within Marea, and another eight died in the second, which detonated near the city, Abdel Rahman said.
He said ISIS fighters then clashed with Islamist groups, as well as their rival Al-Nusra Front, in Marea in a bid to "expand their reach" and edge closer towards the provincial capital of Aleppo.
Full report at:
http://english.alarabiya.net/en/News/middle-east/2015/04/08/Deadly-attacks-in-north-Syria-as-ISIS-seeks-expansion-.html
---------
ISIS launches English language radio bulletins on its Iraqi broadcast service discussing suicide bombings and assassinations
8 April 2015
ISIS has launched English-language radio news bulletins on its Iraqi broadcast service - complete with information on the latest suicide bombings and 'martyrdom operations'.
The extremist group's first English bulletin aired on Tuesday on its al-Bayan radio network, which already boasts updates in both Arabic and Russian.
The nine-and-a-half minute broadcast, which begins and ends with traditional sounding Arabic music, is hosted by a man with an American accent, who takes the listener through the main events of the day.
It provided an overview of the militants activities in Iraq, Syria and Libya, discussing a range of topics - including the alleged death of an ISIS commander in the Yarmouk refugee camp in the Syrian capital, Damascus, a suicide bombing in the Iraqi city of Kirkuk and mortar attacks on militias in Sirte, Libya.
Full report at:
http://www.dailymail.co.uk/news/article-3028887/Islamic-State-launches-English-language-radio-bulletins.html#ixzz3WiRlSRIZ
----------
Terrorists 'targeting hospitals, civilians in Yemen': Brig. Gen. Ahmad Al-Assiri
8 April 2015
Fighting for the restoration of peace and the legitimate government in Yemen, coalition forces have reason to believe that the Houthis were trained by Hezbollah and Iran to harm people in order to dismantle the legitimate government of President Abed Rabbo Mansour Hadi.
Addressing the daily briefing on Operation Decisive Storm at Riyadh Air Base on Tuesday, Brig. Gen. Ahmad Al-Assiri, a consultant at the defense minister's office, said: "The asymmetric warfare of the Houthis and Iranian-trained fighter jets being used by the militia only prove that Hezbollah and Iran trained the Houthis."
Moreover, the history of their alliance in the past further confirms their vested goals of grabbing power, he said.
The coalition spokesman pointed out that the Houthis targeted hospitals and civilians, and attempted to cut water and power supplies, but coalition forces, the Popular Committees, tribesmen and resistance fighters prevented them from causing chaos.
Full report at:
http://www.arabnews.com/featured/news/729506
---------
Iran supporting Houthis 'with arms and money': Saudi Ambassador
8 April 2015
Iran is supporting the Houthis with weapons and money in Yemen, including helping them on the ground to build arms factories, according to Saudi Ambassador in the United States Adel Al-Jubeir.
Speaking at a press conference with American and Arab journalists in Washington on Monday, Al-Jubeir said this is also the view of the American administration.
"Iran provides financial support for the Houthis, helps them build weapon factories, and gives them weapons. In addition, that there are Iranians working alongside the Houthis," Al-Jubeir told journalists.
The envoy cited reports that the US has already intercepted an Iranian cargo ship loaded with weapons and missiles destined for the Houthis, saying: "When I talk with US officials, they know that this is what the Iranians are doing with the Houthis. There is no difference between us and the United States of America relating to Iran's support for the Houthis."
The Saudi diplomat reportedly warned foreign governments not to underplay the role of Iran and its Revolutionary Guards in backing the Houthis and other insurgent forces in the Middle East.
Full report at:
http://www.arabnews.com/saudi-arabia/news/729476
---------
Arab hackers storm enemy portals
8 April 2015
The Union of Arab Programmers is providing online cover for Operation Decisive Storm by hacking websites belonging to supporters of the Houthis and deposed President Ali Abdullah Saleh, in addition to Iranian and Hezbollah sites that circulate lies and slander which aim to mislead world public opinion.
The websites hacked by the "e-Decisive Storm" group included the official website of the London-based Houthi March channel by posting national flags of the countries of the alliance participating in Decisive Storm.
Full report at:
http://www.arabnews.com/science-technology/news/729491
---------
Arab states want U.N. blacklisting of Saleh's son
8 April 2015
Experts from the 15-council members met on Tuesday for the first time to discuss a draft resolution that would impose a global asset freeze and travel ban on Ahmed Saleh, the former head of Yemen's elite Republican Guard, and Abdulmalik al-Houthi, a top leader of the Iran-allied Shiite Houthi group.
Saleh's father, former Yemen President Ali Abdullah Saleh, and two other senior Houthi leaders, Abd al-Khaliq al-Huthi and Abdullah Yahya al Hakim, were blacklisted by the Security Council in November.
Yemeni soldiers loyal to the former president are fighting alongside the Houthis.
In the resolution, which was drafted by Jordan and the six members of the GCC, the Arab countries also called on the U.N. to impose an arms embargo on the rebels that rule most of the poor Arabian Peninsula country.
Full report at:
http://english.alarabiya.net/en/News/middle-east/2015/04/08/Arab-states-want-U-N-to-blacklist-former-Yemen-president-s-son.html
---------
Southeast Asia
Rights Activists Slam 'Radical' Islam Website Ban in Indonesia as a Threat to Freedoms
8 April 2015
Jakarta. Rights activists representing several nongovernmental organizations slammed the government's recent move to block dozens of Islamic websites allegedly containing radical content, saying it threatened freedom of expression.
Last week, on the request of the National Counterterrorism Agency (BNPT), the Ministry of Communications and Informatics blocked at least 19 Islamic websites considered to be spreading radical ideologies. Hidayatullah.com is among these blocked websites.
"We support the Indonesian government's effort in banning hate speech in the name of religion or belief … [But] the web blocking has the potential to threaten the freedom of expression, which has long been the character of Indonesia as a democratic state," rights monitors said in a joint statement issued during a press conference held on Monday afternoon in Jakarta.
According to the activists from, among others, Wahid Institute and the Institute for Policy Research and Advocacy (Elsam), any such ban should have strong checks and balances.
"The government should file a report to the police if they find any violation committed by the websites, such as publishing hate speech against a certain religion. This should be taken to the court, and the web blocking should be based on the verdict," said Wahyudi Djafar, a human rights lawyer and researcher at Elsam.
Full report at:
http://thejakartaglobe.beritasatu.com/news/rights-activists-slam-radical-islam-website-ban-threat-freedoms/
---------
TNI: Transfer Ba'asyir to Halt Spread of Radical Ideology
8 April 2015
Jakarta. The Indonesian military has asked Nusakambangan prison authorities to limit the number of people who can visit terror convict Abu Bakar Ba'asyir, the founder of militant group Jemaah Anshorut Tauhid, to curb the spread of radical thought, and that he be transferred to another facility.
The military suspects Ba'asyir of teaching radical Islamic beliefs to the hundreds of people who are said to be visiting him every year.
"There are around 15 to 20 people visiting him every week," Indonesian Military (TNI) spokesman Col. Edison told news portal Tempo.co on Tuesday. "This is dangerous because the doctrine he spreads teaches people to change Indonesia into an Islamic state."
Ba'asyir is said to have pledged allegiance to the Islamic State movement.
Edison said authorities running the prison island off the coast of Central Java should transfer Ba'asyir to a facility that is more difficult to reach and to only allow family members to visit him.
http://thejakartaglobe.beritasatu.com/news/tni-transfer-baasyir-halt-spread-radical-ideology/
---------
Echoes of Middle East Strife Rattle Indonesia
8 April 2015
Jakarta. It wasn't until a few years ago that the word "Shiite" suddenly began to inspire a negative, if not hateful, tone among some members of the Indonesian Sunni community.
In the country with the world's biggest Muslim population, where the overwhelming majority who practice the faith identify as Sunni, the word "Shiite" probably struck as something foreign and strange — but never had it triggered so hateful a tone in sermons at mosques or daily conversations among Indonesian Sunni Muslims.
And then the Syrian war broke out in early 2011, with President Bashar al-Assad of the minority Shiite sect, the Alawites, fighting against Sunni-dominated rebels.
A year later, a conflict erupted between local Sunni and Shiite residents in a village in Sampang, in Indonesia's Madura Island. Houses belonging to Shiite members were torched, and two Shiites were killed.
Full report at:
http://thejakartaglobe.beritasatu.com/news/echoes-middle-east-strife-rattle-indonesia/
---------
Umno lawmaker wants amendments to Sedition Act withdrawn
8 April 2015
Following criticsm from lawyers and civil rights group, an Umno lawmaker wants Putrajaya to withdraw the amendments to the Sedition Act so that more discussion on the controversial changes could be held.
Kinbatangan MP Bung Mokhtar Radin said lack of awareness on the changes among the public had triggered some confusion.
"That is not good. That is why we must see the content of the amendments carefully and people should be allowed to voice their opinion," he told the media in parliament today.
Bung Mokhtar said that the amendments proposed by Putrajaya must be good for the people, adding that if they were detrimental, they should be withdrawn.
"The amendments must be for the good of the people. If it is good, we will support. If not, we ask the government to pull back the amendments and discuss the content instead," the flamboyant Bung Mokhtar added.
Full report at:
http://www.themalaysianinsider.com/malaysia/article/umno-lawmaker-wants-sedition-act-withdrawn#sthash.0GoPL2rN.dpuf
---------
Malaysia's i-VCAP launches first regional Islamic trade fund
8 April 2015
Malaysia's i-VCAP Management Sdn Bhd today launched its first regional Islamic exchange-traded fund (ETF) to include stocks from the Southeast Asia region.
The fund, MyETF MSCI SEA Islamic Dividend, is open to investors and will be listed on May 7, the company said in a statement.
It will include Sharia-compliant stocks from Malaysia, Singapore, Indonesia, Thailand and the Philippines.
i-VCAP Management, partly owned by sovereign wealth fund Khazanah Nasional, has two ETFs, taking Malaysia's total to six.
ETFs are funds which track indexes of shares, bonds or commodities and are traded on stock exchanges. Their sharia-compliant versions follow religious principles such as bans on interest and gambling.
I-VCAP is a subsidiary of Valuecap Sdn Bhd, owned equally by Malaysian state investor Khazanah, asset manager Permodalan Nasional Bhd and civil service pension fund Kumpulan Wang Persaraan.
http://www.themalaysianinsider.com/business/article/malaysias-i-vcap-launches-first-regional-islamic-trade-fund#sthash.J5FNIgWX.dpuf
--------
Pakistan
Pakistani charity targeted for supporting Afghan Taliban and terror groups
8 April 2015
A Pakistan-based charity organization – Al Furqan Foundation Welfare Trust, was added to the list of terrorist entities for financially supporting the Taliban militants in Afghanistan and other terrorist groups.
According to the US Treasury Department, Al Furqan funds al Qaeda, Lashkar-e-Taiba, and the Taliban.
A statement by the Treasury Department said the charity organization has been directly linked to a notorious jihadist who is a leader in both al Qaeda and the Taliban.
The statement further added that Al Furqan was added to the US list of Specially Designated Global Terrorist with the Saudi government, which listed the group "under its Law of Terrorism Crimes and Financing and the Royal Decree A/44."
Full report at:
http://www.khaama.com/pakistani-charity-targeted-for-supporting-afghan-taliban-and-terror-groups-9980
---------
Five suspected terrorists killed in Karachi 'encounter'
8 April 2015
KARACHI: At least five suspected terrorists belonging to the banned Tehreek-i-Taliban (TTP), including its Karachi chief, were killed in an alleged encounter with Sindh Rangers in Karachi's Kaemari Town on Wednesday morning, the paramilitary force said.
Acting on a tip-off, the Rangers carried out an operation on a location in Kaemari's Tapo area in which two paramilitary personnel were also injured.
According to a Rangers spokesperson, a resident had informed the paramilitary force about the presence of suspected terrorists in the area, at about 6 am via their 1101 helpline.
The spokesman added that following the tip-off, the force took immediate action and reached the location and cordoned off the area.
Full report at:
http://www.dawn.com/news/1174672/five-suspected-terrorists-killed-in-karachi-encounter
---------
Gang of 'would-be militants' unearthed
8 April 2015
LAHORE: Police took into custody eight seminary students, who were to be transported to Afghanistan purportedly for military training, from Sherkot, police claimed on Tuesday.
Nawankot Circle DSP Farhat Abbas and Sherakot SHO Raza Hasan raided a house in Sherakot and found the children, including a girl, aged between eight and 15 years, there.
He said the children were identified as Rafiullh, Ghulam Sakhi, Muhammad Muslim, Sibghatullah, Abdul Majid, Muaz, Abdul Nazir and Fauzia, who had been residing in the area for a month or so.
The spokesman said Muhammad Amin, who was to shift the children to Afghanistan, was also arrested. The facilitator during interrogation said he was taking the children to Afghanistan for military training.
http://www.dawn.com/news/1174592/gang-of-would-be-militants-unearthed
---------
Border guard killings are under investigation, Pakistan assures Iran
8 April 2015
ISLAMABAD: Pakistan assured Iran on Wednesday that security agencies are actively investigating yesterday's incident in which rebels from Pakistan killed eight Iranian border guards.
Pakistan has also asked Iranian authorities to share any evidence they might have regarding this incident.
Foreign Office spokesperson Tasneem Aslam said that in the case the culprits have crossed over to Pakistan after committing the crime on Iran's soil, they will be apprehended and brought to justice.
Full report at:
http://www.dawn.com/news/1174678/border-guard-killings-are-under-investigation-pakistan-assures-iran
---------
Iran should be involved in Yemen debate: Pakistan
8 April 2015
ISLAMABAD: Prime Minister Nawaz Sharif on Tuesday called for Iran to get involved in a debate on security in Yemen as parliament resumed discussion on whether Pakistan should join a Saudi-led campaign against Iran-allied Yemeni forces.
"Iran should also join the discussion and evaluate whether their policy is correct or not," the prime minister told joint session of parliament called to discuss Yemen crisis.
Iranian Foreign Minister Mohammad Javad Zarif begins a two-day visit to Pakistan today (Wednesday) and discussions on Yemen are expected to dominate the meetings.
The prime minister said Pakistan was not in a hurry to decide on joining the Saudi-led coalition. He said the government was seeking guidelines from House and whatever decision is taken, the government will act accordingly. "Take your time. We are not in a hurry. We will take all your good points and I want parliament also to say something about demands of our friends," he said.
Full report at:
http://www.dailytimes.com.pk/national/08-Apr-2015/iran-should-be-involved-in-yemen-debate-pakistan
---------
Two prisoners hanged in Machh, Bahawalpur
8 April 2015
QUETTA/BAHAWALPUR: Two convicted murderers were hanged to death in Balochistan's Machh jail and Punjab's Bahawalpur Central Jail on Wednesday morning.
Death row prisoner Ameer Hamza, who was executed in Machh jail, was awarded death sentence by an Anti-Terrorism Court (ATC) in Sibi in 2004.
Hamza was found guilty of killing a man over a minor dispute in 1995. His mercy appeal was turned down by President Mamnoon Hussain on March 30.
Hamza is reportedly the first prisoner to be hanged in Balochistan in the last seven years.
Another convicted murderer Sikander was hanged in Bahawalpur's Central Jail today.
A military court had awarded death sentence to Sikander through a court martial. Sikander, who hailed from Shaheed Benazirabad District in Sindh, had killed a colleague in Rawalpindi in 2002.
Full report at:
http://www.dawn.com/news/1174675/two-prisoners-hanged-in-machh-bahawalpur
---------
Mideast
11 dead in clashes in Yemen's Aden: Military
8 April 2015
Eleven people were killed in Yemen's main southern city Aden overnight in clashes between rebels and forces loyal to fugitive President Abedrabbo Mansour Hadi, a military source said on Wednesday.
Saudi-led warplanes also struck the port city's rebel-held international airport as the air war in support of Hadi's beleaguered forces entered its third week, another military source said.
Eight rebels and three loyalist militiamen died in the fighting in the northern Dar Saad neighbourhood, the first source said.
The rebel-held Al-Anad air base north of the city, which was a key monitoring post in the US war on Al-Qaeda until last month, also came under renewed coalition air attack.
http://english.ahram.org.eg/NewsContent/2/8/127168/World/Region/-dead-in-clashes-in-Yemens-Aden-Military.aspx
---------
Israeli politician 'has a dream' of equality between Jews and Arabs
8 April 2015
After Israel's 120 new MPs were sworn into the country's new parliament, the Knesset, last week, and the national anthem was played, a familiar scene unfolded.
Most members of the Joint List, an alliance of Arab parties that became parliament's third-largest grouping during the recent election, headed out of the hall, demonstratively boycotting the hatikva, a ballad that is resented by many Arabs for stressing ancient Jewish ties to the homeland while writing the Arabs' history and existence out of the script.
But there was a notable exception as the party's leader, Ayman Odeh, declined to join his protesting colleagues. Like his inspiration, Martin Luther King Jnr, Mr Odeh believes that only by alliance with those from the majority group – in this case, Israel's Jews – can he hope to redress the marginalisation of Israeli Arabs, who make up a fifth of the population, and end the discrimination they suffer.
Full report at:
http://www.independent.co.uk/news/world/middle-east/israeli-politician-has-a-dream-of-equality-between-jews-and-arabs-10160854.html
---------
Iran, Turkey agree on the need to stop Yemen war: Rouhani
8 April 2015
TEHRAN: Turkey and Iran agreed on the need for a political solution to Yemen's war, which has raised tensions between them, Iran's president said Tuesday after talks with his visiting Turkish counterpart.
The two countries are at odds over Yemen. Ankara has accused Tehran of backing Huthi rebels there and, in turn, being charged with fuelling tensions in the region.
"We talked about Iraq, Syria, Palestine... We had a long discussion about Yemen. We both think war and bloodshed must stop in this area immediately and a complete ceasefire must be established and the strikes must stop" in Yemen, Iran's Hassan Rouhani said during a joint press conference broadcast by state television.
Turkey's Recep Tayyip Erdogan made no remarks about Yemen, but talked at length about bilateral relations with Iran.
Full report at:
http://www.dawn.com/news/1174505/iran-turkey-agree-on-the-need-to-stop-yemen-war-rouhani
---------
Jerusalem tourism gets lifeline from unlikely source: Muslim visitors
8 April 2015
Tens of thousands of tourists from Muslim and Arab countries visited the capital last year, with Indonesia and Turkey topping the list.
With Passover and Easter arriving simultaneously this year, the streets of Jerusalem's Old City have been packed with tourists. But this sight can be deceiving. The capital's tourism crisis, which began last summer, has yet to really pass. On the interim days of Passover, Jerusalem hotels were only about 60-percent full, and for the seder night and the last days of the holiday, capacity ranges from 80-85 percent.
Aryeh Zumer, director of the Jerusalem Hotels Association, says these figures are about 20 percent lower than last year.
Full report at:
http://www.haaretz.com/news/national/.premium-1.650845
---------
Erdogan in Tehran: Turkey wants to dance at every Mideast wedding
8 April 2015
Turkish President Recep Tayyip Erdogan and his Iranian counterpart Hassan Rohani looked on Tuesday like two hedgehogs trying to mate. Their statements during a press conference, at which no questions were allowed, sounded as if every comma in them had been very carefully programmed.
"We need to undertake this mediation to stop the bloodshed in Iraq and Syria," declared Erdogan, who refrained from mentioning Turkey's involvement with the anti-Iran coalition that's operating against the Houthis in Yemen. "I don't care if they are Sunnis or Shi'ites being killed, they are all Muslims," said the Turkish president, who, unlike Iran, is demanding that Syrian President Bashar Assad be removed from power as a condition for his joining the western coalition against the Islamic State group, also known as ISIS.
Full report at:
http://www.haaretz.com/news/middle-east/1.650923
---------
Africa
Heartbreaking Drawings by Child Victims of Boko Haram Massacre Give Harrowing Glimpse of Slaughter
8 April 2015
Heartbreaking drawings by the child victims of a Boko Haram massacre have given a glimpse into the horrors inflicted by the extremist group as yet another attack kills at least 24.
The crude crayon illustrations show militants firing automatic weapons and burning buildings to the ground - a poignant depiction of the atrocities witnessed by the young victims.
The children are encouraged to draw the emotive pictures depicting their accounts of the slaughter as part of UNICEF-led therapy sessions in the country of Chad.
They have been published at the same time as the Islam extremists committed yet another deadly attack on innocent civilians in neighbouring Nigeria.
In the latest killings, a group of Boko Haram soldiers disguised as preachers drove cars to a mosque in the remote village of Kwajafa, in Borno state.
They announced they had arrived to teach Islam but, once a crowd had gathered around them, they opened fire indiscriminately with handguns and assault rifles before setting fire to nearby houses.
Full report at:
http://www.mirror.co.uk/news/world-news/heartbreaking-drawings-child-victims-boko-5472217
---------
Four Tunisian soldiers killed in militant attack
8 April 2015
TUNIS: Armed militants ambushed a Tunisian military patrol in the mountainous region near the border with Algeria on Tuesday, killing four soldiers, military officials said.
The soldiers were patrolling the area near the city of Kasserine when they were ambushed, said Col Fouad Ahmed, the commander for the region.
He said the number of wounded was not yet clear. Earlier, army spokesman Brig Gen Belhassen Oueslati told the state news agency that the attack took place near the Mghilla mountain in the rugged border region of western Tunisia.
Full report at:
http://www.dawn.com/news/1174631/four-soldiers-killed-in-tunisia
---------
How A Young Tunisian Man Went From Rapper To ISIS Fighter: A Jihadi's Path
8 April 2015
Marwan al-Dwiri wasn't your usual terrorism suspect. At 22, the young Tunisian was a promising rapper who had nothing to do with violent radical Islam; he wasn't even very religious. He was beginning to make headlines with his music, rhyming in Arabic about freedom of expression and police brutality. He may have been political, but he was no Islamist. Yet today he goes by the jihadist name Abu Ameen al-Tunisi, and has traded the trappings of hip-hop culture for the Islamic State group's virulent strain of Sunni Islam. His social media presence shows him not with girls and fast cars, but in what may be Iraq as a fighter for ISIS. He turned into a radical jihadist, like many other young Muslim men in North Africa and Europe, after a stint in prison.
Full report at:
http://www.ibtimes.com/how-young-tunisian-man-went-rapper-isis-fighter-jihadis-path-1871348
---------
Libya's rival forces warn Thinni govt against independent oil sales
8 April 2015
Libyan forces opposed to the country's internationally recognized government have warned it that any attempts to export oil independently would force them to take military action to seize oil ports and facilities.
The conflict over oil is intensifying in Libya, where two rival governments, each backed by loose coalitions of ex-rebels who once fought together to oust Muammar Qaddafi, are battling for control of the North African OPEC producer.
Forces with Prime Minister Abdullah al-Thinni's official government hold two key oil ports, Ras Lanuf and Es Sider, and he said over the weekend he would seek independent oil sales and open a bank account overseas to hold revenues.
Full report at:
http://english.alarabiya.net/en/News/middle-east/2015/04/08/Libya-s-rival-forces-warn-Thinni-govt-against-independent-oil-sales.html
---------
Libya says 'new elements' in killing of U.S. ambassador
8 April 2015
Libya's internationally recognized parliament said Tuesday it has uncovered "new elements" behind the 2012 assassination of the U.S. ambassador when the American consulate was stormed in eastern city Benghazi.
"I have been tasked today with leading a team of inquiry," Tareq Saqar al-Jeruchi, deputy head of the parliament's security and defense committee, told AFP.
He said the team had "new elements on the real perpetrators of the attack" and would work closely with the FBI and Congressional commissions of inquiry, although he did not elaborate on the identities of the assailants.
A Libyan parliamentary delegation is to travel to the United States for consultations with members of Congress, Jeruchi said.
Full report at:
http://english.alarabiya.net/en/News/africa/2015/04/08/Libya-says-new-elements-in-killing-of-U-S-ambassador-.html
-----------
South Asia
Abducted soldier freed, 26 insurgents killed in operations
8 April 2015
Afghan National Security forces has freed an abducted soldier from insurgents in Maidan Wardak province while 26 insurgents were killed during separate military operations across the country in past 24 hours, officials said Wednesday.
A statement issued by Maidan Wardak media office Wednesday states that security forces conducted two separate operations in Jaghato and Chak districts where three insurgents were killed and another wounded last night.
The statement adds that during the operation in Jaghato security forces freed a soldier who was abducted from eastern Nangarhar province a while back.
Full report at:
http://www.khaama.com/abducted-soldier-freed-26-insurgents-killed-in-operations-3126
---------
Afghan President Stresses on Reform in Judicial System
8 April 2015
After a recent report published by Amnesty International that showed women rights activists are not supported in case of threats, Chief Executive Officer (CEO) Abdullah Abdullah has stressed on the reform in the current judicial system.
Abdullah while talking to a conference regarding the future of human rights situation in Afghanistan said that without abiding by the human rights, peace and stability cannot come to the country.
Salil Shetty, Amnesty International's secretary general, says they have conducted interviews with more than 50 women rights activists or their relatives across Afghanistan which shows that in only one case an arrest was made and in the rest of the cases these activists were consistently ignored.
Full report at:
http://www.khaama.com/abdullah-stresses-on-reform-in-judicial-system-3127
---------
Afghanistan: US watchdog criticises aid scheme for women's rights
8 April 2015
A high-profile US aid scheme in Afghanistan, hailed as the largest ever women's empowerment programme, has come under criticism for lack of transparency and for failing to consult the women it is supposed to benefit. In another reproach of international aid efforts, an Amnesty International report released on Tuesday details how women's rights defenders, despite achieving significant gains over the past decade, are being abandoned by the international community.
The US aid scheme Promote, launched in October last year, aims to funnel $416m into programmes to strengthen women's rights groups and boost women's role in the economy and national decision-making. However, it is uncertain whether the 75,000 women expected to engage in the programme will actually receive any tangible benefit, says a US watchdog.
In a recent inquiry letter, the Special Inspector General for Afghanistan Reconstruction (Sigar), which reports to the US Congress, raises concerns that USAid may not be able to "effectively implement, monitor, and assess the impact of Promote".
Full report at:
http://www.theguardian.com/global-development/2015/apr/07/afghanistan-us-watchdog-criticises-aid-womens-rights
---------
Hasina: Khaleda got back home with agony of defeat
8 April 2015
Prime Minister Sheikh Hasina yesterday said BNP leader Khaleda Zia has gone back to her home with the agony of failure and defeat after staying in her office for long 92 days aiming to topple the government.
"She (Khaleda) has suffered a heavy defeat, she got back home embracing the failure and defeat," she said.
The prime minister was speaking at a programme of leaders of Dhaka city Awami League from North and South units arranged to congratulate them on their success to resist the BNP-Jamaat evil forces from destroying the country.
Sheikh Hasina, also the president of the ruling Awami League, said Khaleda Zia returned to her home after 92 days though she had earlier said she would not return until the Awami League government is dislodged.
Full report at:
http://www.dhakatribune.com/politics/2015/apr/08/hasina-khaleda-got-back-home-agony-defeat#sthash.8UqnThES.dpuf
---------
Europe
British Muslim Prosecutor: Teenagers View ISIS as Pop Idols
8 April 2015
Top British Muslim prosecutor Nafir Afzad has stated that British teenagers view ISIS as "pop idols" like One Direction and Justin Bieber.
Afzad stressed that if Britain does not change its approach to combating terrorism, teenagers "would be at risk for Jihad mania and another 7/7 could take place," in reference to the attacks that rocked London in 2005.
During his recent interview with The Guardian's Nigel Bunyan, he said "the boys want to be like them and the girls want to be with them. That's what they used to say about the Beatles and more recently One Direction and Justin Bieber.
"The propaganda the terrorists put out is akin to marketing, and too many of our teenagers are falling for the image. They see their own lives as poor by comparison, and don't realize they are being used. The extremists treat them in a similar way to sexual groomers – they manipulate them, distance them from their friends and families, and then take them."
Full report at:
http://english.alarabiya.net/en/perspective/features/2015/04/07/British-Muslim-prosecutor-Teenagers-view-ISIS-as-pop-idols.html
---------
Georgia's Kists Demand Action to Stop Pankisi Youth Joining IS
8 April 2015
Kists, ethnic Chechens from Georgia's Pankisi Gorge, have called on the authorities in Tbilisi to put measures in place to stop local youth being recruited to fight alongside the Islamic State (IS) group in Syria.
The Council of Elders made their appeal after two local teenagers, 16-year-old Muslim Kushtanashvili and 18-year-old Ramzan Bagakashvili, reportedly travelled to Turkey in order to cross the border into Syria to join IS militants. The pair were last seen in Pankisi on April 2, according to the Civil.ge website.
Bagakashvili's mother told reporters that police said her son had taken a flight from the airport in Tbilisi to Turkey. The family later received a text message from Bagakashvili, who said he was in Turkey.
Full report at:
http://www.rferl.org/content/georgia-chechens-demand-action-to-stop-youth-joining-islamic-state/26943399.html
---------
8 Muslim schools in top 50 exam league in England
8 April 2015
Eight Muslim schools in England have been featured in the top 50 schools of the examination league tables for 2014.
The schools that featured in the league table are: Al-Furqan Community College (Birmingham) at number 26, Al-Burhan Grammar School, (Birmingham) at number 34, Al-Khair School, (Croydon) at number 35, Islamia Girls' High School, (Brent) at number 37, Tayyibah Girls' School, (Hackney) at number 38, Lantern of Knowledge Secondary School, (Waltham Forest) at number 44, Al-Ashraf Secondary School for Girls, (Gloucestershire) at number 46 and Jamiatul Ummah School, (Tower Hamlets) at number 47.
Further, for the second consecutive year over half of Muslim schools featured in the Department of Education league table, published in January 2015, have surpassed the national average of students achieving five or more GCSEs or equivalent A*-C grades, including English and Math GCSEs.
Full report at:
http://tribune.com.pk/story/865920/8-muslim-schools-in-the-top-50-exam-league-in-england/
---------
Syrian Imam Sheihk Abdul Hadi Arwani 'shot dead in London'
8 April 2015
Police have launched a murder investigation after a man believed to have been a Syrian preacher was found with gunshot wounds in a car in north-West London today.
The Metropolitan Police have not yet formally identified the man who is in his 40s, but he has been named by local press as Imam Abdul Hadi Arwani. The man's family have been alerted, according to police.
Mr Arwani was formerly an imam at the An-noor Masjid mosque in Acton, west London, and was a vocal critic of the Syrian president Bashar al-Assad.
Ambulance crews called the police at around 11:15am today, after a man was found with gun shot wounds in a dark-coloured Volkswagen Passat, in Greenhill, junction with The Paddocks, Wembley.
Full report at:
http://www.independent.co.uk/news/uk/crime/syrian-imam-sheihk-abdul-hadi-arwani-shot-dead-in-london-10161058.html
---------
Relative of Britain's youngest convicted terrorist feared to have fled to Syria
8 April 2015
A relative of Britain's youngest convicted terrorist is feared to have fled to Syria to join Islamic State militants, it has been reported.
The teenager and a friend are thought to have vanished from the West Yorkshire town of Dewsbury last week, the Times reported. Their whereabouts remain unknown but come amid fears that they could join the exodus of impressionable young Muslims leaving behind their homes and families to join Isis militants.
Scotland Yard last night could not confirm the reports. But the Times says that the teenager the younger relative of Hammad Munshi, who was 15 when he was arrested in 2006 and convicted over his role in a plot to murder non-Muslims.
Full report at:
http://www.independent.co.uk/news/world/middle-east/relative-of-britains-youngest-convicted-terrorist-feared-to-have-fled-to-syria-10158932.html
---------
Spain arrests nine in operation against Islamists in Catalonia
8 April 2015
MADRID: Spain arrested nine people in the northeastern region of Catalonia early on Wednesday as part of an operation against Islamist militants, local police said.
"The arrested are accused, amongst other crimes, of belonging to a terrorist organisation," a spokeswoman for the Catalan police said.
Spain has arrested around 30 people in relation to suspected militant activity this year as part of efforts to stop the radicalization of young Muslims and prevent them joining jihadists in Syria or Iraq or attacking targets at home.
https://www.dailystar.com.lb/News/World/2015/Apr-08/293713-spain-arrests-nine-in-operation-against-islamists-in-catalonia.ashx
---------
North America
Pentagon chief: Al-Qaeda making gains in Yemen turmoil
8 April 2015
Al-Qaeda militants have seized the opportunity of the disorder in Yemen to make gains on the ground there, U.S. Defense Secretary Ash Carter said on Wednesday.
"The situation (in Yemen) is still obviously very unsettled and there are a number of different warring parties  the Houthis are one and AQAP is another, that have seized the opportunity of the disorder there and the collapse of the central government," Carter said during a visit to Tokyo.
Speaking at a news conference, Carter said the United States was particularly concerned about al Qaeda in the Arabian Peninsula (AQAP), the powerful regional wing of the jihadist movement, as in addition to its regional ambitions it had the ambition to strike Western targets, including the United States.
Referring to AQAP activity in Yemen, he said, "we see them making direct gains on the ground there as they try to take territory, seize territory in these battle lines ...we are observing that - AQAP participating in that kind of fighting."
Full report at:
http://english.alarabiya.net/en/News/middle-east/2015/04/08/Pentagon-chief-Al-Qaeda-making-gains-in-Yemen-turmoil-.html
---------
U.S. online ban of 'militant Muslim preacher' ends
8 April 2015
A Michigan-based Islamist preacher whose online sermons have allegedly been a leading source of inspiration for foreign fighters in Syria is free to return to social media after restrictions on his Internet use lapsed.
Officials at the U.S. Attorney's office and federal district court in Detroit told Reuters that probation constraints that a federal judge ordered last summer on imam Ahmad Musa Jebril expired last week.
Those restrictions had included tight controls on his online access and a requirement that the fiery preacher report periodically to probation authorities.
Jebril, a U.S. citizen of Palestinian descent, is now free to preach online again but there has been no sign in recent days that he has posted any videos on Twitter, YouTube or his website. Jebril's lawyer, Rita Chastang, did not respond to multiple messages requesting comment.
U.S. officials in different agencies have been divided over whether rhetoric used by preachers like Jebril, often couched in religious imagery or symbolism, violates U.S. law or is protected under free speech provisions of the First Amendment to the U.S. Constitution.
Full report at:
http://english.alarabiya.net/en/media/digital/2015/04/08/U-S-online-ban-of-militant-Muslim-preacher-ends.html
---------
CIA chief says criticism of Iran nuclear deal 'disingenuous'
8 April 2015
REUTERS - Opponents of Iran's initial agreement to curb its nuclear program are being "disingenuous" when they say the deal could still allow the Middle Eastern state to build nuclear weapons, the head of the Central Intelligence Agency said on Tuesday.
The initial accord reached last week between Iran and major world powers - which would lift crippling economic sanctions in exchange for Iran's agreement to step back from developing nuclear weapons - is likely the most realistic deal that could be reached, CIA Director John Brennan told an audience of students and faculty at Harvard University in Cambridge, Massachusetts, just outside Boston.
Full report at:
http://www.haaretz.com/news/middle-east/1.650941
---------
Panel, discussion night encourages interfaith dialogue and acceptance
8 April 2015
As snow fell over Sharon Lutheran Church Tuesday evening, a diverse crowd of more than 300 people wearing everything from hijabs to clergy collars walked through the front doors for a night of interfaith dialogue.
As attendees walked into the church's Celebration Hall, they could peruse various books and pamphlets about Islam before filling out a name tag with both a name and religious identification.
"Meet Your Muslim Neighbor," organized by North Dakotans for Interfaith Acceptance, was organized to help the people from different faiths and cultures learn about Islam.
There was at least one Muslim at every table in the hall so that people of other faiths could meet and speak with at least one person from the faith.
Full report at:
http://www.grandforksherald.com/news/local/3717103-panel-discussion-night-encourages-interfaith-dialogue-and-acceptance
---------
Yemen operation not to affect Pakistan's capabilities, says US
8 April 2015
WASHINGTON: The United States has said it does not believe joining the Saudi-led alliance in Yemen would adversely affect Pakistan's ability to fight extremists at home.
At a recent briefing in Washington, US State Department spokeswoman Marie Harf also said that Al Qaeda's decision to dissolve the central organisation would not complicate the fight against terrorism.
Asked if she believed that joining Saudi Arabia in the fight in Yemen would affect Pakistan's capabilities to deal with terrorists at home, she said: "I don't."
But she did not elaborate her response and said that she would prefer to keep her answer short.
Full report at:
http://www.dawn.com/news/1174441/yemen-operation-not-to-affect-pakistans-capabilities-says-us
---------
US speeding weapons deliveries to Saudi-led Yemen coalition
8 April 2015
A senior American diplomat says the U.S. is committed to defending Saudi Arabia and has sped up the delivery of weapons to the Saudi-led coalition launching airstrikes in Yemen.
Deputy Secretary of State Antony Blinken told reporters in the Saudi capital of Riyadh that Washington also has increased its intelligence sharing and has set up a joint coordination and planning cell in the Saudi operations center overseeing the campaign.
He made the comments Tuesday after meeting with senior Saudi royals and Yemen's President Abd Rabbo Mansour Hadi, who fled his country due to Houthi rebel advances and is seeking refuge in Saudi Arabia for the time-being.
Blinken says the U.S. and the six-nation Gulf Cooperation Council must coordinate closely and press all parties to seek a consensus political solution.
http://english.ahram.org.eg/NewsContent/2/8/127170/World/Region/US-speeding-weapons-deliveries-to-Saudiled-Yemen-c.aspx
---------
URL: https://www.newageislam.com/islamic-world-news/new-age-islam-news-bureau/end-radical-wahhabi-influence-on-waqf-boards,-indian-pm-told/d/102348