New Age Islam News Bureau
4 Dec 2017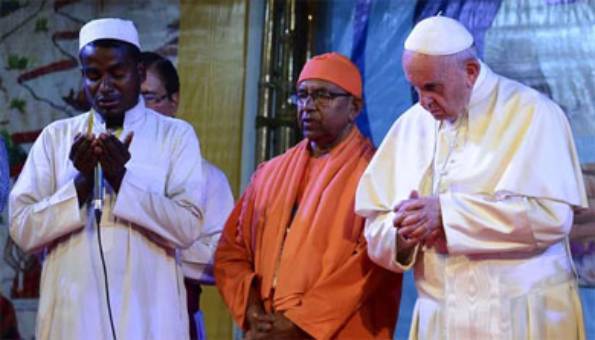 Pope Francis (right) prays next to Rohingya refugee Hafez Mohammad Nurullah (left), who leads prayer during an interreligious meeting in Dhaka, Bangladesh, on December 1, 2017. PHOTO | MUNIR UZ ZAMAN | AFP
----
• Emulate Prophet in Preserving Unity with Non-Muslims: Sabah Chief Minister
• Babri Mosque Demolition: There Was Never Any Hindu-Muslim Hatred in Ayodhya
• Myanmar Social Media Anger After Pope Uses 'Rohingya' Word
• West-Educated Terrorists Beheading Syrian, Iraqi Children: Iran FM
• Muslim School Receives 'Inadequate' Ofsted Rating After Loos Did Not Have Toilet Paper for 'Cultural Reasons'
Southeast Asia
• Sabah Chief Minister: Emulate Prophet in Preserving Unity with Non-Muslims
• Jakim: Non-Muslim Flood Victims Welcome At Mosques
• Tabung Haji aims to expand shariah-compliant hospitals nationwide
• Muslim rhetoric drives wedge between US-Indonesia
• 'Catch-All' Approach To Counter Terrorism
--------
India
• Babri Mosque Demolition: There Was Never Any Hindu-Muslim Hatred In Ayodhya
• Before Marriage, Hadiya's Husband Shafin Jahan Was In Touch With ISIS Suspects, Claims NIA
• Chabahar phase one launched; India, Afghanistan can now skip Pakistan
• Two Pakistani intruders roaming on a bike nabbed by BSF in Ferozepur sector
• US says India a player in Afghan, support transit options
• IS operative Musa tries to slit Kolkata jail guard's throat
--------
South Asia
• Myanmar Social Media Anger After Pope Uses 'Rohingya' Word
• Rohingya Crisis: 73 Countries Respond To Bangladesh's Call at UNHRC
• Explosion in Jalalabad city leaves nearly 20 dead, wounded
• Separate US airstrikes leave 8 ISIS militants dead in East of Afghanistan
• Bangladesh epitome of religious harmony
• Ulema role in society should increase: Ghani
• Ghani denounces terrorism in name of Islam
• Six dead as bomber hits Afghan political rally
• Mullah Shah Wali killed by Afghan forces: Officials
--------
Mideast
• West-Educated Terrorists Beheading Syrian, Iraqi Children: Iran FM
• Hamas: Palestinian Authority Refusing To Lift Gaza Sanctions
• Saleh officially dissolves partnership with Houthi militias
• Arab coalition bombs Houthi military sites near Sanaa airport
• Iran's Rouhani calls for Middle East 'dialogue'
• Moving assets abroad is act of treason: Erdogan
• Yemen rebel alliance crumbles as 'street war' rocks capital
• Jordan begins diplomatic offensive ahead of Trump move on Jerusalem
• Report: Yemeni Missile Hits UAE's Nuclear Plant in Abu Dhabi
--------
Europe
• Muslim School Receives 'Inadequate' Ofsted Rating After Loos Did Not Have Toilet Paper for 'Cultural Reasons'
• Teacher Reports Minor Muslim Boy with Down's syndrome To Police for Terrorism in Houston
• UK reaffirms support for Bangladesh, Rohingyas
• Iran gives Muslim scientist prize to Turkish-French, Iranian
• Minister tells principals to throw One Nation senator's anti-Islam letters in the bin
• Macron calls for 'dialogue' in Iraq and dismantling of militias
• German police say Potsdam explosive package was 'blackmail', not 'terrorism'
• Thousands rally in Hanover against anti-Islam AfD party
--------
Pakistan
• Pakistan, KSA Conduct Joint Counter-Terrorism Exercise: ISPR
• Security Forces Arrest 11 Suspected Terrorists in Balochistan Operation
• Three terrorists killed during encounter
• Terrorists will be defeated no matter what the cost: COAS
• Shehbaz convinces Sialvi to postpone demand for Sana's resignation
--------
Africa
• Buhari Blames Clerics for Attraction to Terrorism
• 13 Killed In Suspected Boko Haram Bombings in Northeast Nigeria
• Numan killings: Deliberate move to eliminate Muslims, Fulani – Magaji
• Militia chief arrest 'dangerous moment' for Sudan's Darfur
• Niger permits US military to fly armed drones: Official
• Shehu Sani reveals those who must lead battle against Boko Haram
--------
Arab World
• Two Mass Graves 'With Bodies of 40 Children' Found In Yazidi District Of Iraq
• UK Suspends Syria Aid Program after Funds 'Paid To Extremists'
• Air raids in Syria kill 25 civilians
• FSA, Israel Coordinating to Hit ISIL in Southern Syria
• Tens of Militants Surrender to Syrian Army in Dara'a Province
• Militants in another Region End Battle with Syrian Army
• Terrorists' Western Weapons Displayed by Syrian Army in Deir Ezzur Province
• Kurdish YPG forces recapture eastern Dayr al-Zawr countryside from Daesh: Report
• Saudi Border Guards seize 700kg of cannabis smuggled from Yemen
• Oxford University plans to organize Saudi-funded Scientific Chairs Forum
--------
North America
• US Will Act If Pakistan Does Not Destroy Safe Havens: CIA
• Leader's Letters to Western Youth Aimed at Defining Islam
• US working with allies, including Muslim-majority nations, to defeat Islamic State, says NSA HR McMaster
Compiled by New Age Islam News Bureau
URL: https://www.newageislam.com/islamic-world-news/emulate-prophet-preserving-unity-with/d/113449
--------
Emulate Prophet in Preserving Unity with Non-Muslims: Sabah Chief Minister
December 3, 2017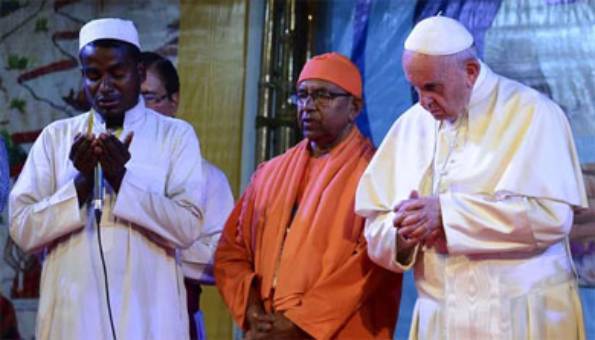 Pope Francis (right) prays next to Rohingya refugee Hafez Mohammad Nurullah (left), who leads prayer during an interreligious meeting in Dhaka, Bangladesh, on December 1, 2017. PHOTO | MUNIR UZ ZAMAN | AFP
-----------
PETALING JAYA: Sabah Chief Minister Musa Aman has called on Muslims in the state to emulate the principles and character of Prophet Muhammad in fostering unity with non-Muslims.
He said the Prophet forbade his followers from doing negative things which may lead to disunity among people.
"You must also remember that the Prophet is also a fine example in preserving ties with non-Muslims and he had warned Muslims against persecuting non-Muslims," Musa was quoted as saying by Daily Express yesterday.
"Prophet Muhammad is an example of a leader who did more work with less talk, a leader who taught the value of loyalty, and put much emphasis on mutual understanding."
Speaking during the launch of the state-level Maulidur Rasul celebration in Tawau, he said Sabah did not face religious problems even though its people were of various ethnicities and faiths.
Musa said the harmonious ties among the communities should thus be preserved.
"I am confident that the nation's transformation can be achieved with the existence of tolerance and mutual respect," he added.
The celebrations saw senior police superintendent Douglas Nyeying Taong, a non-Muslim, being presented with the Maulidur Rasul Special Award for his spirit and relationship with local communities.
According to the Daily Express, the native of Kapit in Sarawak had also received the Darjah Kepahlawanan Pasukan Polis (Most Gallant Police Order) award from the Yang di-Pertuan Agong in 2015.
Douglas expressed gratitude to the Sabah government and the state Islamic affairs department for recognising his contribution in delivering the message of security and unity since he was posted to Sabah five years ago.
"I hope my efforts will be an example to individuals of various races and religions, hence strengthening unity in Sabah," he was quoted as saying.
http://www.freemalaysiatoday.com/category/nation/2017/12/03/musa-emulate-prophet-in-preserving-unity-with-non-muslims/
--------
Babri Mosque Demolition: There Was Never Any Hindu-Muslim Hatred In Ayodhya
December 3, 2017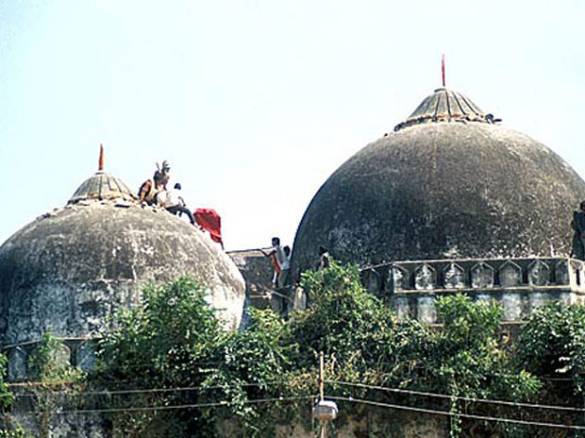 Representative image
-------
This is a town held sacred for its association with Hindu religious lore, which in later days acquired the unflattering reputation of being a hotbed of Hindu-Muslim antagonism and religion-political conflict whose reverberations are felt both nationally and internationally. But what is little known, and maybe even difficult to believe, is that Ayodhya has traditionally been known for its inter-faith harmony where it is not out of the ordinary for a Muslim tailor to stitch clothes for the idol of Ram or for a Hindu priest to help renovate an old mosque.
As India approaches 25 years of the apocalyptic demolition of the 16th century Babri Masjid on December 6, citizens of Ayodhya take pains to talk about their age-old heritage of cultural collaboration and free participation in inter-religious activities which has kept the secular fabric of the twin intact — despite the dragging temple-mosque politico-legal dispute over 2.7 acres of prime land whose ownership is contested by both Hindus and Muslims.
Locals, both Hindus and Muslims, say they were "outsiders" who came to Ayodhya in 1992 and stirred trouble while locals were busy saving each other — irrespective of their religious faiths — from the brunt of the riots that ensued. Out of the town's total population of around 60,000, Muslims account for only six per cent. But they never felt any discrimination from Hindus, says Mohammed Chand Qaziana, priest at the Dargah of Sayyed Mohammad Ibrahim.
Qaziana said that the dargah was protected by local Hindus when the kar sevaks, or Hindu religious activists who came from outside the town, demolished the Babri mosque on December 6, 1992, on the ground that it was erected there by invading Mughal emperor Babar after razing a temple dedicated to Ram, the revered warrior-god of Hindus.
"This 900-year-old dargah has followers from the Hindu community as well, many of whom regularly pay a visit here. It is a symbol of our centuries-old harmonious existence. When it was attacked, our Hindu brothers formed a human shield around it and saved it," Qaziana recalled to IANS.
Faizabad district, in which Ayodhya falls, has about 30 per cent Muslim population. Qaziana said there is an unannounced understanding among the people here not to fall prey to hate speeches of politicians and outsiders.
What makes communal harmony special here is the participation in interfaith events and rituals -- Muslims stitching clothes for Hindu deities, participating in Ramleela (religious theatre based on the life of Ram) or doing namaz (prayers) in Hindu religious places; and Hindus similarly contributing to mosque renovation or helping Muslim fellow townspeople in times of need.
Echoing Qaziana's views, Barfi Maharaj, who identifies himself as a Hindu social worker, said the Masjid was razed on December 6 by Vishwa Hindu Parishad (VHP) hotheads and locals had no role in it.
"We were neither influenced by hate speeches nor did we participate in the demolition drive. It was VHP that brought outsiders to demolish the Masjid. How can people from the birthplace of Ram, who is known for his secular teachings, commit such a sinful act?" asked Barfi Maharaj.
Giving examples of inter-faith harmony in the town, he said that a mosque near Hanumangadhi in Ayodhya was being renovated by a Hindu mahant (priest) while a Muslim tailor had been stitching clothes for the idol of Ram that is installed in the makeshift temple at the disputed site of Babri Masjid.
Sadik Ali, alias Babu Khan, said he had stitched seven to eight sets of clothes for the Hindu gods so far. Sadik, who is said to be a stakeholder in the negotiations in the issue, called Babri Masjid demolition "unfortunate" but said he had no problem in the construction of Ram Mandir on the disputed land.
"We do have faith in Ram. We had offered namaz at Hanuman Gadhi. If Hindus want big temples for their beloved god, we do not have a problem. We just want a piece of land nearby for a mosque," Ali said.
Mohammed Salim has been making 'khadav' (wooden sandal), which were traditionally used by sadhus and priests but are now largely used in temples.
Salim said his family had been selling khadavs since generations which are usually bought by temple priests. "I have never witnessed any tension between the two communities here. We depend on each other for our needs and we respect each other," he said.
The mutual understanding and respect for Hindus and Muslims here -- revealing to an outsider -- figure prominently in the region as one talks to the locals who, irrespective of their religion, slammed political leaders for vitiating the issue in an attempt to get electoral mileage.
A local contractor, Shailendra Pandey, said the people of Ayodhya were hardly consulted on what has come to be known as the Mandir-Masjid issue and politicians used Ram and the temple issue for their personal gains.
"You go anywhere in the city and talk to anyone. You will not find an iota of communal hatred among them. The unholy politics by outsiders has given our city a negative image," Pandey said.
Mohammed Naeem, who is the president of Naugaja Dargah, said politicians were now creating hurdles in the way of the temple construction.
"This town is a perfect example of religious harmony and secularism, thanks to its rich culture and history. Everyone would be happy if the contentious issue is resolved amicably. However, we feel the politicians have kept this issue pending for their selfish motives," Naeem said.
Whatever be the difficulties and complexities in the Mandir-Masjid issue, there will not be any negative impact in the socio-religious fabric of the city, feel the people of Ayodhya, once the kingdom of Ram, known for being a model of good governance in that era.
http://www.business-standard.com/article/current-affairs/babri-mosque-demolition-there-was-never-any-hindu-muslim-hatred-in-ayodhya-117120300126_1.html
--------
Myanmar Social Media Anger After Pope Uses 'Rohingya' Word
December 03, 2017
Pope Francis's embrace of the Rohingya during a trip to Bangladesh has sparked some angry comment on social media in Myanmar, where just days earlier he chose not to publicly air their plight.
On Friday the head of the Catholic Church met a group of refugees from Myanmar's stateless Muslim minority in the Bangladeshi capital Dhaka.
He referred to them as "Rohingya" ─ a term unacceptable to many in Myanmar where they are reviled as alleged "Bengali" illegal immigrants rather than as a distinct ethnic group.
During his public addresses on the previous leg of his trip in mainly Buddhist Myanmar, Francis did not refer to the group by name or directly allude to the crisis in Rakhine state, from where over 620,000 Rohingya have fled since August.
His caution initially won applause from Myanmar's tiny Catholic minority ─ who feared a nationalist blowback ─ as well as from Buddhist hardliners, who are on the defensive after a global outcry about the treatment of the group.
A deadly attack by Rohingya militants on police posts in late August sparked a ferocious crackdown in Rakhine by the Myanmar military, which the US and UN describe as ethnic cleansing.
As he arrived back at the Vatican, the pontiff said he had taken up the Rohingya cause in private in Myanmar, also describing how he wept after meeting the group of refugees.
"I wept: I tried to do it in a way that it couldn't be seen," he told reporters. "They wept too."
The comments sparked a flurry of online anger in Myanmar, a country locked off from modern communications for five decades but which now has an active social media.
"He is like a lizard whose colour has changed because of weather," said one Facebook user of the pope 's strikingly different stances on the crisis.
"He should be a salesman or broker for using different words even though he is a religious leader," said another Facebook user.
Myanmar's Catholic church had advised Francis not to stray into the incendiary issue of the status of the Rohingya in Myanmar , in case he worsened tensions and endangered Christians.
In his public addresses, he treaded softly on the topic, urging unity, compassion and respect for all ethnic groups ─ but not naming the Rohingya.
"The Pope is a holy person... but he said something here (in Myanmar) and he said [a] different [thing] in another country," another Facebook user posted.
"He should say the same things if he loves the truth." Others were more sanguine about Francis' choice of language once he had left Myanmar soil.
Maung Thway Chun, chairman of an unofficial party of nationalists called the 135 Patriots Party, applauded the pope 's decision not to name them in Myanmar despite pressure from rights groups.
"It means he respects Myanmar people," he said. "He even did not use the word many times in Bangladesh... I think he said it once, just to comfort human rights organisations. "
http://nation.com.pk/03-Dec-2017/myanmar-social-media-anger-after-pope-uses-rohingya-word
--------
West-educated terrorists beheading Syrian, Iraqi children: Iran FM
Dec 3, 2017
Iran has challenged the West to provide an explanation as to why people born and educated there are fighting in the ranks of Takfiri terrorist groups and executing Syrian and Iraqi children.
Foreign Minister Mohammad Javad Zarif made the remarks at a conference in Tehran Sunday to commemorate Leader of the Islamic Revolution Ayatollah Seyyed Ali Khamenei's letters addressed to Western youth in January and November 2015.
"Why are those who were born and educated in the West beheading children in Syria and Iraq?" he asked. "Why are these people showing so much brutality and barbarism? What is the West's explanation for this kind of upbringing?"
Zarif also noted that the West began the project of portraying Islam and the Islamic Republic as Iranopobia, Shiaphobia and Islamophobia in the 1990s much before the emergence of the Daesh terror outfit.
Today the so-called "Islamic terrorism" is used as one of the key words of US President Donald Trump's speeches, the top Iranian diplomat said, adding that those who had created Daesh have now hid behind their own product.
Enemies trying to create new Blackwater: Velayati
Additionally, Ali Akbar Velayati, senior adviser to Ayatollah Khamenei, addressed Sunday's summit, accusing the West of seeking to sow discord among Muslims and revive the pre-Islam ignorance.
The US and Zionists want to continue their presence in the region and create a new Blackwater in the east, he said, referring to the notorious American military company that is now called Academi.
"The enemies want to portray Islam as a violent religion," Velayati pointed out.
The official also said the US has set up 12 military bases in Syria and is attempting to increase the number of its forces to 10,000.
http://www.presstv.com/Detail/2017/12/03/544329/Iran-Syria-Iraq-Leader-Zarif--Velayati
--------
Muslim School Receives 'Inadequate' Ofsted Rating After Loos Did Not Have Toilet Paper For 'Cultural Reasons'
Martin Evans
3 DECEMBER 2017
A Muslim girls' school has received the lowest Ofsted rating available after inspectors discovered that pupils were not provided with lavatory paper for "cultural reasons".
Staff at the fee-paying Park Avenue Girls' High School, in Stoke-on-Trent, said paper was available from the school office, but because most of the students were Asian, they preferred to wash rather than wipe.
But some of the girls told inspectors they were so unhappy about the situation that they avoided using the lavatory all day.
The school, which was visited by inspectors October, was rated "inadequate", with the report identifying a range of concerns, including safeguarding problems and the discovery of sectarian material on the premises.
The Ofsted report stated: "At the time of the inspection, it was not the school's common practice to provide soap for pupils' hand-washing, toilet roll in the toilets or suitable drinking water.
"Toilet paper is available from the school office when pupils request it. Pupils told inspectors that they sometimes avoided using toilets for the whole school day because of this."
But headteacher Abdul Ghafoor Salloo defended the policy, insisting the school catered for the cultural needs of the pupils.
"The children they do use the toilets and traditionally, because we are Asian, we wash, not only wipe. There are facilities for pupils to clean themselves," he said.
"Some pupils, they avoid using toilets because they don't like going in there.
"There are facilities for cleaning yourself in the toilet - it might be hard for someone who doesn't traditionally wash to understand and washing is better than wiping clean.
"The Ofsted inspector said there has to be toilet rolls, we said there are always toilet rolls but they are not always out - so what?"
Inspectors also criticised the fact there were no shower facilities available at the school, which has 34 pupils aged between 11 and 16.
In addition the report stated: "Safeguarding is ineffective. Leaders have not ensured that the school premises are a safe place for pupils, and some checks on staff's suitability to work with children are incomplete
"Leaders' checks on attendance and safeguarding issues are not robust. Their checks lack detail and do not contribute strongly to keeping pupils safe. Therefore, pupils' welfare is not assured."
The report went on: "Inspectors found published sectarian material in a storeroom behind the school office. They made the headteacher aware of this.
"The headteacher explained that he was not aware of how the materials came to be in school.
"At the end of the inspection the headteacher confirmed that he planned to destroy the material and suitably vet all remaining published material in the school.
"Inspectors did not find any evidence that this sectarian material had influenced teaching or learning in school.
"However, material of this kind has no place in schools and leaders have not ensured that systems are in place to prevent such literature from entering the school and being accessible in a storeroom."
The inspectors said the playground was also not appropriate because it presented too many dangers to pupils.
"Currently, pupils are not safe in this school. Leaders have not identified the range of risks present on the school site.
"For example, inspectors found windows, both single- and double-glazed, that were broken, sharp and accessible to pupils."
But despite the various problems inspectors noted that the relationships between staff and pupils were strong and this had a positive impact on pupils' behaviour.
They added: "Pupils' behaviour is good. They follow instructions willingly and are well behaved at all times while on the school premises."
http://www.telegraph.co.uk/news/2017/12/03/muslim-girls-school-receives-inadequate-ofsted-rating-loos-did/
--------
Southeast Asia
Jakim: Non-Muslim Flood Victims Welcome At Mosques
December 3, 2017
KEPALA BATAS: The Department of Islamic Development Malaysia (Jakim) said yesterday it does not see any issue with non-Muslims being among the evacuees at mosques, surau and Islamic religious schools used as flood relief centres.
Its deputy director-general (human development), Zainal Abidin Jaffar, said there was no problem in using Islamic houses of worship to provide shelter for non-Muslims in accordance with the rules of Fiqh (a section of Islamic law).
Jakim had come up with rules of Fiqh on floods that explain to non-Muslims the regulations to be adhered to in mosques and surau that were used as flood relief centres, he said to reporters here.
"Please do use (mosques and surau as relief centres). Alhamdulillah (Praise be to God), the (mosque and surau) committees do not have any objection," he said, adding that this was happening now in places in Kelantan where the nearest alternative accommodation for flood evacuees were mosques, surau or Islamic religious schools.
Zainal Abidin spoke to reporters after Minister in the Prime Minister's Department Jamil Khir Baharom handed over flood relief aid to mosques and surau in Kedah and Penang, at a hotel here.
10 mosques and three surau affected by floods in the two states on Nov 4 received RM10,000 and RM5,000 each, respectively, well as 4,000 copies of the Quran.
Zainal Abidin said the rules of Fiqh on floods were first applied in Penang on Nov 4 and later in Kelantan and Terengganu.
He also said that Jakim had set up teams to provide spiritual counselling to flood victims who had lost their property in the disaster.
http://www.freemalaysiatoday.com/category/nation/2017/12/03/jakim-non-muslim-flood-victims-welcome-at-mosques/
--------
Tabung Haji aims to expand shariah-compliant hospitals nationwide
December 4, 2017
KUALA LUMPUR, Dec 4 — Lembaga Tabung Haji (LTH) aims to expand its shariah-compliant hospital segment nationwide in stages, as part of its real estate investments.
Chairman Datuk Seri Abdul Azeez Abdul Rahim said as such, Muslim Bumiputera doctors now have an opportunity to collaborate with it in expanding the business segment.
"The shariah-compliant hospital segment has been identified as an area which would benefit LTH depositors and provide sustainable returns.
"We will carefully review each application to open shariah-compliant hospitals, and give approvals, if it can be shown to be competitive and there is a need for one in the area concerned," he said.
Full report at:
http://www.themalaymailonline.com/malaysia/article/tabung-haji-aims-to-expand-shariah-compliant-hospitals-nationwide#JTvyvMM43TYRHceh.97
--------
Muslim rhetoric drives wedge between US-Indonesia
December 3, 2017
JAKARTA, Indonesia (AP) – A top Indonesian Cabinet minister said that the Trump administration's hostile rhetoric towards Islam has left many in the world's most populous Muslim nation feeling that a wedge has been driven between the US and Indonesia.
Luhut Pandjaitan said in a column written for Singapore's Straits Times newspaper that the negative sentiment felt in Indonesia will only disappear when it's clear the US has not abandoned its openness to all faiths.
"Many Indonesians were dismayed by the Trump administration's hostile rhetoric and intemperate policy stance towards the Muslims of the world," he said. "Given that Indonesia is home to the largest number of them, there was a feeling that a wedge was being driven between America and Indonesia."
President Donald Trump's travel ban directed at several majority Muslim nations did not include Indonesia but nevertheless drew criticism from Indonesians.
This week, Trump retweeted anti-Muslim videos from a far-right British group in only the latest of statements to inflame sentiment against the US in the Muslim world.
Luhut said Indonesia is the biggest country in Southeast Asia and it's 'unimaginable' the US can have sound security ties with the region without reaching out to Indonesia in particular.
Full report at:
https://borneobulletin.com.bn/muslim-rhetoric-drives-wedge-between-us-indonesia/
--------
'Catch-all' approach to counter terrorism
By Mushtak Parker
December 4, 2017
THIS past week has demonstrated how challenging the fight against Islamist extremism and terrorism is going to be going forward. It is because of the lack of understanding of the phenomenon, the competing and often diametrically opposed interests of both the Muslim countries and the major powers.
Perhaps, United States President Donald Trump's latest faux pas in re-tweeting the Islamophobic posts purportedly by Jayda Fransen, leader of the British far right party, Britain First, to his 40 million followers, was intentional.
The president had tweeted a Theresa May (in reality a namesake in Bognor Regis, whom he thought was the prime minister), telling her to focus on tackling "Radical Islamic Terrorism in the UK".
Those of us who oppose violent extremism of whatever colour and creed should be careful to distinguish between the legitimate fight against violent extremism per se and those feigning to fight terrorism, but who also have a socio-political agenda against Islam and Muslims.
Sometimes, the most vociferous campaigners against violent Islamist extremism are also the most Islamophobic transcending normal discourse and entrenched in a base hatred of what Islam stands for.
As such, the inaugural meeting of the Islamic Military Counter Terrorism Coalition (IMCTC) in Riyadh on Nov 26, which was attended by defence ministers of the 41 member countries, including Malaysia's Datuk Seri Hishammuddin Hussein, assumes a much wider importance, because it is the first pan-Islamic attempt to recapture the moral compass in the fight against Islamist terrorism.
The IMCTC is "a willing coalition of 41 countries that forms a pan-Islamic unified front in the global fight against terrorism and violent extremism".
It is the brainchild of Crown Prince Mohammed Salman, the heir apparent to the Saudi throne, currently held by his father, King Salman, under whose aegis it was established in December 2015.
The coalition says it will fight terrorism through four domains: ideology, communications, counter-terrorist financing and the military. In Riyadh, the clarion call was that "terrorism is a critical issue that receives considerable attention worldwide and causes all to suffer alike. Our Islamic world is regarded as the first and highly affected victim of terrorism as many Muslim nations languish in this global epidemic, suffering from its scourges and tragedies".
This harsh reality indeed requires Muslim states to play a more effective role to combat it.
The recommendations of the Riyadh meeting and the IMCTC vision and strategic objectives are well-meaning, but they are nascent and well short of operational capacity and institutional governance. This will take hard work, cross-border cooperation, political will, resources, leadership, and above all, a sense of urgency to develop.
IMCTC's four domains may not adequately cover a phenomenon that is characterised by complexities. Given human nature with its strengths and shortcomings, who becomes a violent extremist can be difficult to predict.
What is needed is a "catch-all" approach, which takes into account also the various strands of societal needs and individual aspirations. Would-be terrorists were once card-carrying members of their communities.
IMCTC should embrace a multi-pronged minimum of 11 areas of action. Political consensus is essential. There are 57 members of the Organisation of Islamic Cooperation, but IMCTC's membership comprises 41 members.
Notable absentees in Riyadh were Qatar (a member) and Indonesia, the most populous Muslim nation (not a member) and a victim of several brutal terrorist attacks. Excluding the majority Shia countries, Iraq and Iran, would be self-defeating because it would pit Muslim against Muslim and perpetuate the modus operandi of the terrorists and detractors of Islam.
The coalition has to find the political will to engage Teheran, Baghdad and eventually Damascus.
Ideological convergence implies that mainstream theological thinking has to recapture and reaffirm the moderate and middle-of-the-road values of Islam and its principles of peace, tolerance and compassion.
In Surah Al Baqara (Verse 43), the Quran mentions the ummatan wasata (the middlemost) community, based on a just and balanced society away from two extremes. One of the failures of mainstream ulama has been to not robustly counter the warped ideology of extremists, whether on the concept of jihad, suicide bombings and the slaughter of the innocents. The tendency has been to sit on the fence and shy away from engagement.
IMCTC also promotes countering radical ideology through communication campaigns to refute radical and extremist narratives and propaganda. The media, especially social media, are expected to play a vital role. My research shows that media, including the western majors, often are not fit for purpose in the use of their terminology. Islamic State has been described by the BBC alternatingly as rebels, militants and insurgents, when, in fact they are violent terrorists.
Concomitant with the communications function is the need for education enlightenment in Muslim societies. Education in some Muslim societies is political and gender-biased, and sometimes slanted towards religious education, much to the detriment of the sciences and liberal arts.
Full report at:
https://www.nst.com.my/opinion/columnists/2017/12/310420/catch-all-approach-counter-terrorism
--------
India
Before marriage, Hadiya's husband Shafin Jahan was in touch with ISIS suspects, claims NIA
Dec 04, 2017
New Delhi: Husband of Hadiya was allegedly in touch with two key accused in ISIS Omar-al-Hindi case before his marriage, as per NIA probe.
According to the The Times of India, Shafin Jahan was in touch with Manseed and P Safvan, via a closed Facebook group comprising activists of Popular Front of India (PFI)'s political arm SDPI.
They were arrested in October last year and have been chargesheeted by NIA in the case which pertains to a criminal conspiracy by members of an Islamic State-inspired group to target high profile people like high court judges, police officers and political leaders.
The NIA believes it was Manseed and his SDPI associates that brought Hadiya and Shafin together. They two got married in December 2016.
TOI report further says that NIA probe has reportedly found that both Manseed and Safvan were in contact with Shafin on a social media app as well as closed Facebook group of SDPI activists called 'Thanal'.
Meanwhile, Hadiya had said in the apex court on November 27 that she wanted to go with her husband, Shafin Jahan.
The 24-year-old Kerala woman had converted to Islam, changing her name from Akhila to Hadiya, and married Jahan. The marriage was challenged by her parents in court.
Jahan moved court after their marriage was annulled by the Kerala High Court and against HC's order directing the NIA to probe the case.
The Supreme Court allowed Hadiya, till now in the custody of her parents, to resume her studies.
The bench headed by Chief Justice of India Dipak Misra had directed the Salem college to allow her to complete her house surgeon internship. She studies in Salem's Sivaraj Homoeopathic Medical Colleges and Research Institute.
Her father, Asokan, has alleged that she was a pawn in the larger scheme of indoctrinating and recruiting of ISIS recruits. Earlier, the Kerala High Court had nullified her marriage to Jahan and she was given in the custody of her father.
Shafin Jahan had challenged the Kerala High Court order of May nullifying his marriage with Hadiya and sought a recall of the court order asking NIA to investigate the conversion of Hadiya to Islam and her marriage.
http://zeenews.india.com/india/before-marriage-hadiyas-husband-shafin-jahan-was-in-touch-with-isis-suspects-claims-nia-2062816.html
--------
Chabahar phase one launched; India, Afghanistan can now skip Pakistan
Dec 4, 2017
NEW DELHI: The first phase of the strategically located Chabahar port + was inaugurated on Sunday by Iranian President Hassan Rouhani. India, Iran and Afghanistan reiterated their commitment to the early operationalization of the port that will contribute to bilateral and regional trade and economic development, apart from providing land-locked Afghanistan an alternative access to regional and global markets.
Minister of state (shipping) Pon Radhakrishnan represented India at the inauguration of phase one+ of what is known as the Shahid Beheshti port at Chabahar. He also represented India in the second edition of the India-Iran-Afghanistan ministerial-level meeting on Chabahar port development.
The Chabahar project, located on the Gulf of Oman, only 85km from China's Gwadar port in Pakistan, is important for India as it will allow it to bypass Pakistan in accessing Afghanistan and Central Asia.
The MEA said the three countries agreed to further intensify efforts on issues concerning regional connectivity and Chabahar port development under the trilateral transit and trade agreement at the meeting. The agreement is yet to be ratified by Iran but India expressed "positive appreciation" to the Iranian side on recent steps taken towards ratification by Iran's Majlis, its parliament.
"The completion of the internal procedures on the ratification process by Iran is expected to lead to full and early operationalisation of the transit and trade arrangement between the three countries through the Chabahar port," a government statement said.
The three sides also commended the recent joint efforts that led to the transit of the first tranche of 110,000 tonnes of wheat from India to Afghanistan through Chabahar. In a joint statement, the three countries reiterated their commitment to organising a connectivity event involving all stakeholders at Chabahar at the earliest so as to increase awareness about the new opportunities offered by the port.
Full report at:
https://timesofindia.indiatimes.com/india/chabahar-phase-one-launched-india-afghanistan-can-now-skip-pakistan/articleshow/61908675.cms
--------
Two Pakistani intruders roaming on a bike nabbed by BSF in Ferozepur sector
December 3, 2017
Two Pakistani intruders, who were roaming inside the Indian territory on a motorcycle, were nabbed by BSF jawans from an area close to a border out post in the Ferozepur Sector today, officials said. Nawaz Ahmed (28) and Suhail Ahmed (19), residents of village Khudia Khas in district Kasur, were nabbed by the BSF jawans belonging to 105 Battalion from an area close to the border out post (BOP) Dona Telu Mal.
A BSF official said the two intruders were found roaming on a motorbike inside the Indian territory when they were apprehended. The BSF recovered Pakistani currency worth Rs 10,102 from them. Besides, one mobile phone, three Pakistani SIM cards, one memory card and a motorbike was recovered from them, said BSF officials.
Full report at:
http://indianexpress.com/article/india/two-pakistani-intruders-roaming-on-a-bike-nabbed-by-bsf-in-ferozepur-sector-4966172/
--------
US says India a player in Afghan, support transit options
Dec 4, 2017
WASHINGTON: Hundred days after President Donald Trump announced his South Asia Strategy, the US has said that India "is a player" in Afghanistan and it supports New Delhi's move with regard to transit options to enhance its economic connectivity with the war-torn country.
"India has really shown that it is a player in Afghanistan and that it is interested in supporting Afghanistan in a very constructive way," a senior administration official told PTI.
The official speaking on condition of anonymity was reviewing India's role in the first 100 days of the South Asia Strategy that was announced by Trump in a speech on August 21.
"As you know President Trump in his August 21st speech called on India to play a bigger role in supporting Afghanistan and its economic development. I think India has been answering the call," the official said.
Referring to a very successful trade conference on Afghanistan in New Delhi in September, the official said it resulted in pledging of hundreds of millions in new deals.
India has established air corridor and now the airport door and now has sent its first wheat shipment through Chabahar port in Iran.
"So, the US is supportive of this. We totally support India building up its economic relationship and increasing the transit options so that they can be more economically engaged with Afghanistan. The US has noticed that India has been stepping up its economic engagement with the country," the senior administration official said.
Responding to a specific question on the Chabahar port given Trump Administration's policies with Iran, the official said the US does not want IRGC or Islamic Revolutionary Guard Corp of Iran to benefit out of any economic activities.
"But again, we understand that India has challenges in getting goods for Afghanistan," and its inability to have economic linkages because of the inability to
trade through Pakistan, the official said.
"So, I think that there is an understanding (in the Trump Administration) that if India is to be more economically engaged in Afghanistan there has to be transit options for India," the senior administration official said.
In his South Asia Strategy speech, Trump had envisioned a major role for India in the economic development of Afghanistan.
"Develop its strategic partnership with India — the world's largest democracy and a key security and economic partner of the United States - is a critical part of the new strategy," Trump had said in his speech on August 21.
Full report at:
https://timesofindia.indiatimes.com/india/us-says-india-a-player-in-afghan-support-transit-options/articleshow/61910030.cms
--------
IS operative Musa tries to slit Kolkata jail guard's throat
Rohit Khanna
Dec 4, 2017
KOLKATA: Md Mosiuddin alias Abu Musa, the ISIS operative undergoing trial at an NIA court, tried to slit the throat of a guard with a knife inside Alipore central jail on Sunday. Musa, 27, trained to slash throat in ISIS style, was arrested last year along with two others for trying to execute a plan of killing people in Birbhum.
Cells are unlocked and inmates are taken out to the jail ground every morning. Musa was in cell number 13 - a solitary one. "It was around 7am when warden Gobinda Chandra Dey (45) opened the lock of his cell. Musa hit him on the head with a stone.
As Dey fell on the ground he jumped on him and took out a sharp weapon and tried to slit his throat," said a prison official. While other guards and prison inmates were startled, one inmate managed to hold Musa's hands from behind. By the time he was pinned down on the floor, Dey was bleeding from the throat. He was taken to SSKM hospital and then, to a nursing home.
"The attack was sudden. There was no past record of violent behaviour of Musa in the jail," said Ujjwal Biswas, minister of correctional home of the state.
"He will be put in solitary confinement and we have initiated a probe to find out how he got hold of the piece of metal," said Arun Kumar Gupta, DG & IG Correctional Services.
Musa was arrested in July last year at Burdwan station. Cops seized a firearm and a knife from him. After CID took over the case, investigators found out that Musa was planning to kill people in Birbhum. He had confessed that he was in touch with some IS handlers since 2014 through various chat platforms and networking sites and apps. Gradually, he had recruited a few members in India and became their handler.
Full report at:
https://timesofindia.indiatimes.com/india/is-operative-musa-tries-to-slit-kolkata-jail-guards-throat/articleshow/61908708.cms
--------
South Asia
Rohingya crisis: 73 countries respond to Bangladesh's call at UNHRC
December 04, 2017
China and India have refrained from taking a side, but Bangladesh is continuing diplomatic effort to get its powerful neighbours on board
Bangladesh is yet to sidestep from mounting international pressure on Myanmar even after signing a bilateral agreement on Rohingya repatriation. And as a part of the process, the government has invoked the United Nations Human Rights Council (UNHRC) to call a special session to discuss the human rights condition of the Muslims and the other minorities in Myanmar's Rakhine State.
Bangladesh and Saudi Arabia recently sent a notice to the UNHRC in this regard, and received support of 33 of the 47 member states. Also, 40 other states, which are not UNHRC members, have given their support to the move.
Although, China and India refrained from taking a side, Bangladesh is continuing diplomatic efforts to get its powerful neighbours on board.
A Bangladesh government official said they were trying to adopt a unanimous resolution regarding the special UNHRC session.
All the subjects mentioned at UN's Third Committee Resolution are also in the latest resolution of UNHRC. Some new issues have also been appended with it, another official added.
In the Third Committee Resolution, Myanmar was asked to reconsider its 1982 Citizenship Act to provide the Rohingyas with full-fledged citizenship. The resolution had also asked the Myanmar government to bring those involved in the Rohingya persecution to book.
Asked which elements were added to this resolution, the second official said: "We want the UNHRC to be more involved with the issue and that is why we have made the special recommendation."
For and against Bangladesh's call
Among the 47 UNHRC member states, China has always been on the side of Myanmar. They had asked Bangladesh to be more ductile and resolved the issue bilaterally.
Referring to this, the government official said: "Our effort to have China change their position is still on."
Regarding India's stance, the official said: "We are also maintaining contact with India. We want the resolution to be unanimously adopted. Even if any nation chooses to go against it, we still believe the resolution will be accepted nevertheless receiving majority vote."
More than 620,000 Rohingyas have fled to Bangladesh in the face of an ethnic cleansing carried out by Myanmar military forces in Rakhine state since August 25.
Since then, the Bangladesh government has been making extensive diplomatic efforts to stop the atrocity and send back the Rohingya refugees to their homeland.
http://www.dhakatribune.com/bangladesh/nation/2017/12/04/rohingya-crisis-rights-council/
--------
Explosion in Jalalabad city leaves nearly 20 dead, wounded
Dec 03 2017
An explosion ripped through the center of Jalalabad city in provincial capital of eastern Nangarhar province this afternoon.
According to reports, the incident took place as a large gathering was underway in support of President Mohammad Ashraf Ghani.
Provincial government spokesman Ataullah Khogyani confirmed the incident took place in the vicinity of the 1st police district of the city.
He said at least six people were killed and thirteen others were wounded in the explosion.
Earlier, preliminary reports indicate at least five people have been killed and around ten others have sustained injuries.
No individual or group has so far claimed responsibility behind the incident although both ISIS and Taliban insurgents are active in some remote parts of the province.
Nangarhar is among the relatively calm provinces in eastern parts of the country but the anti-government armed militant groups have been attempting to expand their insurgency in this province during the recent months.
Full report at:
http://www.khaama.com/explosion-rocks-jalababad-city-in-east-of-afghanistan-casualties-feared-03969
--------
Separate US airstrikes leave 8 ISIS militants dead in East of Afghanistan
Dec 03 2017
At least eight militants affiliated with the Islamic State of Iraq and Syria (ISIS) terrorist group were killed in separate airstrikes conducted in eastern Nangarhar province of Afghanistan.
According to the local officials, the airstrikes were carried out in the vicinity of Achin districts, targeting the militant in two separate locations.
The provincial government media office issued a statement on Saturday confirming that eight militants were killed in the airstrikes carried out by the unmanned aerial vehicles of the foreign forces.
The statement further added that the airstrikes were carried out in Peshogan and Abdul Khel areas, leaving eight of them dead.
According to the provincial government, several weapons and ammunition belonging to the terror group were also destroyed.
The anti-government armed militant groups including the ISIS militants have not commented regarding the report so far.
This comes as an airstrike was carried out in eastern Nangarhar province of Afghanistan on Thursday targetig a compound belonging to the Islamic State of Iraq and Syria (ISIS) terrorist group loyalists, the local officials said Friday.
The airstrike was carried out in the vicinity of the restive Khogyani district, leaving at least twelve fighters of the group dead or wounded.
Full report at:
http://www.khaama.com/separate-us-airstrikes-leave-8-isis-militants-dead-in-east-of-afghanistan-03971
--------
Bangladesh epitome of religious harmony
December 04, 2017
Bangladesh is one of the best examples of inter-religious harmony, said Pope Francis as he concluded a three-day visit to Bangladesh on Saturday.
He prayed for the country by uttering the following words in Bangla: "Isshór Bangladeshké ashirbád korún!" [May God bless Bangladesh].
"Through dialogue, we can live a real community life that is full of harmony and peace," he told a meeting of the Catholic bishops, priests, nuns and brothers at Holy Rosary Church in the capital's Tejgaon in the morning.
Pope Francis left for the Vatican in the afternoon, leaving behind an eventful visit to Bangladesh on the second leg of Asia tour after Myanmar where the Rohingya crisis got a special focus.
GOSSIP DESTROYS HARMONY
Addressing the meeting at Holy Rosary Church, Pope Francis said gossip is a kind of terrorism.
"It is just like the terrorists who don't say I am a terrorist, but leave bombs behind. The other person then again spread the gossip," said Pope Francis, head of the Catholic Church as well as the Vatican State.
Gossiping creates distrust and division, which eventually destroys harmony, said the 80-year-old pontiff.
The spiritual leader of the world's 1.29 billion Catholics also advised all to engage in dialogue among the communities for a harmonious living.
YOUTHS INSPIRED TO WORK IN UNISON FOR PEACE
At the youth gathering that drew some 8,000 students at Notre Dame College, Pope Francis inspired youths of various religions to work in unison for peace in the communities across the globe where violence and hatred are very widespread.
Pope began his speech, appreciating the spirit of the youths and recalling the words of Bangladesh's National Poet Kazi Nazrul Islam, who referred the youth as "fearless".
Pope Francis inspired the youths to keep moving forward as they are the sources of immense strength.
"But as you move forward, make sure that you choose the right path. What does this mean? It means 'journeying' through life, and not 'wandering aimlessly'."
The pope has asked the youths to know how to welcome and accept those who act and think differently than them.
"When a people, a religion or a society turns into a 'little world', they lose the best that they have and plunge into a self-righteous mentality of 'I am good and you are bad'," Pope Francis added.
He also advised young students to have more interaction with their parents, not spending the entire day playing with phone.
"The elderly help us to appreciate the continuity of the generations. They bring with them memory and the wisdom of experience, which help us to avoid the repetition of past mistakes," the pope said.
Addressing Pope Francis, Holy Cross College student Upasana Ruth Gomes said his compassion for the poor, refugees and migrants makes them proud.
However, she said, there are many youths who are frustrated and think their life has become meaningless. "Your [pope's] presence makes us optimistic," she said.
Expressing his joy to see the pope, Sajid Shahriar of Notre Dame College said he was inspired by pope's words to work for peace in the country.
"There is so much violence in various corners of the world. We can forget our communal thoughts and work together for our country, for peace," he told The Daily Star.
Irina Sharmin of Holy Cross College said she was particularly encouraged by the words that the youths should keep moving forward, despite challenges, to work towards humanity.
Full report at:
http://www.thedailystar.net/city/bangladesh-epitome-religious-harmony-1499845
--------
Ulema role in society should increase: Ghani
ByAzizullah Hamdard
Dec 03, 2017
KABUL (Pajhwok): President Ashraf Ghani on Sunday said the ulema of Afghanistan and other Islamic countries were united in stance against rebellions and creating anarchy in Islamic countries.
Addressing a gathering celebrating Milad-un-Nabi or the birthday of Prophet Mohammad (PBUH) at the Presidential Palace, Ghani said, "Celebrating this day is renewing the agreement of life method we inherited from the leader of humanity."
He said following the way of Prophet Mohammad (PBUH) was following higher goals of Islam that were welcomed by nations.
"One of the goals of the holy Quran sent us from God through Prophet Mohammad (SAW) is leaving enmity and ensuring peace and brotherhood. Prophet Mohammad (PBUH) came in order to put an end to hatred, enmity, killing each other, oppression, cruelty and bloodshed and replace them with love, solidarity, cooperation, sacrifice, forgiveness and other good things and morals," he said.
However, he said the Islamic world was celebrating Milad-un-Nabi at a time when the Muslims were suffering from great challenges.
Prominent Afghanistan Ulema, the Haramain Al Sharifain, Egypt, Malaysia, Indonesia and other Islamic countries were united in their stances against rebellions, anarchy and Takfiris.
"The acts of insurgents only lead to the killing of Muslims and destruction of Islamic counties," he said.
In other part of his speech, the president while talking about women, said that Hazrat BiBi Khudaija, the wife of Prophet Mohammad (PBUH), had played a basic role in supporting his husband to convey the message of God to people.
The developments and changes made by Afghan Muslim women today could not be denied, he said.
He said the Afghan women needed further support and those preventing them from making progress were against the development of Islamic civilization and their country.
Ghani also urged ulema role in different areas particularly in education. The increased number of mosques, madaris and ulema in urban and rural areas of Afghanista, he said, "This process would continue, those who say Islam is at risk should know that Islam is not at risk, but their rebellion and crimes against Muslims are at risk."
Second vice-president Mohammad Sarwar Danish, who attended the ceremony, congratulated the meeting on celebrating Milad-un-Nabi and provided information about moral and specific characteristics of Prophet Mohammad (SAW) to the meeting.
He presented information about Prophet Mohammad (PBUH) from the point of view of non-Muslim scholars and said Afghanistan Muslims including Sunni and Shia and other groups of the community were brothers and they respected the rights of each other.
He said all the Afghans were united against terrorism, particularly against the Taliban, Al Qaeda and Daesh.
Full report at:
https://www.pajhwok.com/en/2017/12/03/ulema-role-society-should-increase-ghani
--------
Ghani denounces terrorism in name of Islam
03 DECEMBER 2017
Kabul [Afghanistan], Dec 3 : Afghanistan President Ashraf Ghani on Sunday denounced terrorism in the name of Islam saying "Islam is not being threatened, it is your rebellion which is hurting the Muslims."
"Any kind of discrimination against the residents of the country is unacceptable and the government will take stringent action over the issue," the Tolo News quoted the Afghan President, as saying, at a ceremony at the Presidential Place on Milad-un-Nabi - the birth anniversary of Prophet Mohammad.
"Our society doesn't need discrimination; it doesn't allow it," Ghani added.
He further said, "Those who have anti-female sentiments and want to place obstacles on the way of the success of the Muslim women of Afghanistan, are in a real sense, undermining the development of the country and the progress of Islamic civilisation."
The Afghan President further said those who killed under the name of Islam were murderers.
"Killing of innocent civilians does not have any place in Islam and those who are killing the people under name of Islam are murderers," he said.
Ghani added, "Those bloodthirsty criminals who say that Islam is in danger, I want to tell them that Islam is not in danger, but it is the killings, crimes and treason which have devastated the Muslims."
Meanwhile, Ghani extended his apology to the Afghan women in the backdrop of his controversial remarks regarding the headscarf.
"President Ghani made the remarks with a cultural interpretation as he pointed towards the headscarf and in no way he had any intentions to insult the women," Khaama Press reported, citing President's Office ARG Palace as saying in a statement.
The statement further read, "President Ghani extends his apology to the Afghan women in case his remarks have affected their emotions,"
The Afghan leader made the remarks during the transfer of the border police forces to the Ministry of Defence in a bid to defend the government officials against the accusations of the critics who had purported that certain government officials are having ties with the Islamic State (IS) terror outfit.
Those who have made such claims should prove it and those who are unable to prove it must wear a headscarf, he said.
Full report at:
https://www.outlookindia.com/newsscroll/ghani-denounces-terrorism-in-name-of-islam/1201777
--------
Six dead as bomber hits Afghan political rally
December 04, 2017
JALALABAD - At least six people were killed when a suicide bomber drove a motorcycle into a crowd at a political rally in the eastern Afghan city of Jalalabad on Sunday, police said.
The crowd had gathered in a sports stadium for a demonstration in support for President Ashraf Ghani, said Nangarhar province's police spokesman Hazrat Hussain Mashriqiwal. "Six people including a woman and a child have been killed and 13 more injured, all of them civilians," he told AFP by phone.
The toll was confirmed by the provincial governor's spokesman as well as a local health director, who said some of the wounded were in a serious condition.
There was no immediate claim of responsibility for the attack, but Nangarhar province is considered a hotbed for the Islamic State (IS) group, which emerged in Afghanistan in late 2015.
The Taliban also have an active presence in parts of the province. Afghan and US officials have stepped up their attacks on IS, saying the group was steadily losing territory with fighters largely confined to two or three districts in Nangarhar compared to around nine in January.
But the group has also intensified attacks across the country, particularly in the east and in the capital Kabul, recruiting followers and in some places challenging the Taliban on their own turf.
Last month a suicide attack claimed by IS militants hit a political gathering in Kabul, killing 14 people.
Full report at:
http://nation.com.pk/04-Dec-2017/six-dead-as-bomber-hits-afghan-political-rally
--------
Mullah Shah Wali killed by Afghan forces: Officials
December 03, 2017
The commander of the Taliban's "special forces" branch, known as the "Red Unit," was killed last week in Helmand province by Afghan forces , according to Afghanistan's main intelligence agency.
The National Directorate of Security (NDS) said Mullah Shah Wali , also known as Mullah Naser, was killed in an air operation in Helmand.
The province is a Taliban stronghold in the heartland of Afghanistan's lucrative drug trade.
Wali became the commander of the Taliban's "Red Unit" as well as deputy shadow governor of Helmand province three years ago and was directly involved in Taliban offensives, the statement said.
The "Red Unit" is thought to be equipped with advanced weapons, including night vision scopes, 82mm rockets, heavy machine guns and U.S.-made assault rifles, according to the Afghan military.
Wali was killed alongside a suicide bomber and two other Taliban commanders in Helmand's Musa Qala district, according to the NDS.
Full report at:
http://nation.com.pk/03-Dec-2017/mullah-shah-wali-killed-by-afghan-forces-officials
--------
Mideast
Hamas: Palestinian Authority refusing to lift Gaza sanctions
Dec 3, 2017
Hamas says the Palestinian Authority (PA) is preventing a landmark reconciliation deal between the resistance movement and its rival Fatah party which governs the PA from bearing fruit.
Hamas made the statement on Saturday, addressing the Palestinian Authority Prime Minister Rami Hamdallah.
Fatah and Hamas have been at odds ever since the latter scored a landslide victory in Palestinian parliamentary elections in 2006. Ever since, Hamas has been governing the Gaza Strip, while Fatah is headquartered in the Israeli-occupied West Bank.
Repeated attempts at rapprochement failed between the two sides until October, when they inked the historic deal in the Egyptian capital Cairo.
Under the deal, the PA is to take control of Gaza, and end a string of punitive measures against the coastal enclave, including its refusal to pay Israel to provide the besieged territory with electricity.
The Palestinian Authority, however, has missed a deadline for the takeover of the Gaza Strip, which had been set for December 1, and continues to implement sanctions against the enclave.
"We demand that the government of Rami Hamdallah assume its responsibilities in full and lift the unjust sanctions imposed on our people in Gaza," the statement said.
The resistance movement said the Palestinian Authority had "made no effort to lift the sanctions and ease the sufferings of the people of Gaza."
The PA dismissed the charges as "irresponsible" in a statement of its own.
Sources close to both factions were also quoted as saying that the Authority was expected to take over Gaza's control on December 10 following talks between representatives of the two sides in Cairo later Saturday.
http://www.presstv.com/Detail/2017/12/03/544305/Hamas-Fatah-Palestinian-Authority
--------
Saleh officially dissolves partnership with Houthi militias
4 December 2017
Yemen's former President Ali Abdullah Saleh has officially announced the dissolution of his partnership with former Houthi militia allies.
"Zero hour is coming to the battlefield in Sanaa… The country had to be saved from the madness of the Houthi group," Saleh said in statements on Monday morning.
Saleh urged an end to "militia rule on Yemeni land," adding that Houthis had continued their "provocative acts against Yemeni citizens."
Full report at:
https://english.alarabiya.net/en/News/gulf/2017/12/04/Saleh-officially-announces-dissolution-of-partnership-with-Houthis.html
--------
Arab coalition bombs Houthi military sites near Sanaa airport
4 December 2017
The Arab coalition fighting in Yemen launched several air raids on Houthi military sites on Sunday evening near Sanaa airport and Dulaimi base, sources confirmed to Al Arabiya.
The sources also said that the coalition raided Houthi militia positions west of the capital Sanaa earlier in the day.
On Sunday morning, the Arab coalition aircrafts launched raids on Houthi positions in a number of highlands south of Sanaa, including the hills of al-Rayyan overlooking Hadda city.
The air raids on Sunday come a day after the Arab coalition made a statement announcing its support for Yemeni uprising against Houthis.
The coalition said it is determined that it has maintained its position on all Yemeni ground.
Full report at:
https://english.alarabiya.net/en/News/gulf/2017/12/04/Arab-coalition-bomb-Houthi-military-sites-near-Sanaa-airport.html
--------
Iran's Rouhani calls for Middle East 'dialogue'
December 04, 2017
TEHRAN - Iranian President Hassan Rouhani said Sunday that Middle Eastern countries should solve their problems together without relying on external powers. "We believe that if there is a problem in the region, it can be solved through dialogue ," Rouhani said in a speech at the opening of a port in the southeastern city of Chabahar, broadcast by state television. "We do not need arms nor the intervention of foreign powers. We can solve our problems ourselves through unity and dialogue ."
Rouhani's comments follow an escalation in the bitter rivalry between Shiite-ruled Iran and Saudi Arabia's Sunni monarchy.
The two powers back opposing groups throughout the region — notably in Syria and Yemen — and Saudi leaders have lately stepped up efforts to counter Iran's growing influence, raising fears of further conflict.
But Rouhani said recent victories against the Islamic State group opened the way for the Middle East to move past its reputation for "war and conflict between Shiite and Sunni... and the presence and interventions of foreign powers".
Full report at:
http://nation.com.pk/04-Dec-2017/iran-s-rouhani-calls-for-middle-east-dialogue
--------
Moving assets abroad is act of treason: Erdogan
December 04, 2017
ANKARA - Turkish President Recep Tayyip Erdogan declared Sunday that businessmen who move assets abroad are committing "treason", adding that his government should put an end to the practice. "I am aware that some businessmen are attempting to place their assets overseas. I call on the government not to authorise any such moves, because these are acts of treason ," Erdogan said in televised comments to party members in the eastern town on Mus.
The Turkish president did not name names, but his comments came two days after Turkish prosecutors ordered the seizure of assets of a gold trader testifying in a New York trial against a Turkish banker accused of violating US sanctions against Iran. The Istanbul public prosecutor said the assets of Reza Zarrab and his family would be confiscated as part of a probe, the state Anadolu news agency said.
The Hurriyet daily said the order affected Zarrab and 22 others, including his daughter with Turkish pop star Ebru Gundes. The trader on Thursday implied in testimony that Erdogan knew how he and defendant Mehmet Hakan Atilla, deputy chief executive of Turkish lender Halkbank, had dodged sanctions.
He told the court he was informed that in 2012, then prime minister Erdogan and then treasury minister Ali Babacan had given "instructions" for two other Turkish public banks, Vakif and Ziraat, to take part in the scheme.
There are fears in Turkey that a guilty verdict in the Zarrab case could lead to possible sanctions on one or more Turkish banks, spelling bad news for the country's fragile economy. Ankara has accused the trial of being a "conspiracy" and suggested the American judiciary is seeking to corner Turkey politically and economically.
Full report at:
http://nation.com.pk/04-Dec-2017/moving-assets-abroad-is-act-of-treason-erdogan
--------
Yemen rebel alliance crumbles as 'street war' rocks capital
December 04, 2017
SANAA - Gun battles forced shops and schools to close in Yemen 's capital Sanaa on Sunday as residents warned a three-year rebel alliance was collapsing into a "street war".
The Iran-backed Huthi rebels' partnership with powerful ex-president Ali Abdullah Saleh appeared to have fallen apart after he reached out to a Saudi-led coalition fighting the insurgents. The Huthis' political office on Saturday accused Saleh of staging a "coup" against "an alliance he never believed in".
On Sunday, Saleh loyalists cut off a number of streets in central Sanaa and deployed heavily in anticipation of Huthi attacks, as security sources said clashes this week had left some 60 dead across the capital and at its international airport.
Saleh loyalists renewed a bid to seize control of Al-Jarraf district, a stronghold of the Iran-backed Huthis, who fortified their positions with dozens of vehicles mounted with machineguns, witnesses said.
They said the Huthis had brought reinforcements from their northern strongholds and deployed them in the south of the capital. The Huthis seized the home of rebel interior minister Mohammed Abdullah al-Waqsi, who is close to Saleh, killing three of his bodyguards and detaining others, Saleh sources said.
And Huthi rebels killed Mohammed al-Zarka, a tribal leader close to Saleh, in Omran just north of the capital and members of his family, the same sources said.
Sanaa residents said they had barricaded themselves in their homes to avoid snipers and shelling as clashes flared up around key ministries where the two sides had been working together just days before.
The education ministry cancelled classes Sunday, normally the start of the school week, and witnesses said some bodies of those killed in previous clashes this week were still lying in the streets. Iyad al-Othmani, 33, said he had not left his house for three days because of the clashes.
Mohammed Abdullah, a private sector employee, said his street had been cut off by militiamen and he was staying home to avoid checkpoints.
"Sanaa is becoming like a ghost town. There is a street war and people are holed up in their houses," said an activist who works with the International Organisation for Migration in Sanaa. "If the confrontation continues, many families will be cut off" and stranded in their homes, he warned.
Three years after they joined forces to drive the government of President Abedrabbo Mansour Hadi from Sanaa, the collapse of the Huthi-Saleh alliance is a key shift in Yemen 's complex war. Saleh ruled Yemen as president for 33 years after the 1990 unification of north and south Yemen .
A longtime ally of Saudi Arabia, he waged six separate wars against the Huthis, Zaidi Shiites who hail from northern Yemen . Saleh resigned under popular and political pressure in 2012, ceding power to his then-vice president Hadi, who now lives in exile in Saudi Arabia.
In 2014, Saleh announced he had joined forces with the Iran-backed Huthis, seizing the capital and setting up a parallel government as Hadi's administration fled Sanaa. That triggered a Saudi-led Arab force to intervene to prop up Hadi's government, an escalation in a war that has since killed more than 8,750 people and dragged the country towards what the United Nations calls the world's worst humanitarian crisis.
On Saturday, Saleh reached out to the Saudi-led coalition, offering to "turn the page" if it lifts a crippling blockade on the country. The Huthis accused him of treason.
Yemen 's conflict has been a key focus of tensions between Sunni-ruled Saudi Arabia and Iran, the predominant Shiite power.
The Saudi-led coalition carried out dawn air raids Sunday against Huthi positions in the hills south of Sanaa but it was unclear if the strikes were meant to benefit Saleh's forces.
A coalition spokesman could not immediately be reached for comment. The United Arab Emirates, which is a key member of the coalition, on Sunday denied a Huthi claim that a missile fired from Yemen reached its air space or threatened a nuclear power plant set to open in 2018.
The Huthis had earlier claimed on their Al-Masirah news channel that they had hit the Barakah plant with a cruise missile fired from Yemen . A missile fired by the Huthis which was intercepted by near Riyadh's international airport last month prompted the coalition to tighten a blockade against Sanaa airport and rebel-held sea ports.
Full report at:
http://nation.com.pk/04-Dec-2017/yemen-rebel-alliance-crumbles-as-street-war-rocks-capital
--------
Jordan begins diplomatic offensive ahead of Trump move on Jerusalem
December 4, 2017
AMMAN: Jordan has begun consultations on convening an emergency meeting of the Arab League and the Organization of Islamic Cooperation before an expected move this week by US President Donald Trump to recognize Jerusalem as Israel's capital, a senior Jordanian source said.
A senior US administration official said on Friday that Trump was likely to make the controversial declaration in a speech on Wednesday. Recognizing Jerusalem would upend decades of American policy and possibly inflame tensions in the Middle East.
Jordan, the current president of the Arab summit, would invite members of the two bodies to convene if the recognition is extended, to "discuss ways of dealing with the consequences of such a decision that raised alarm and concern", the senior Jordanian diplomatic source told Reuters.
"It could ultimately hamper all efforts to get the peace process moving and would certainly be provocative to Arab and Muslim countries and Muslim communities across the West," said the source, asking not to be named.
"No issue can move Arabs and Muslims in the same potent way as Jerusalem does."
King Abdullah's Hashemite dynasty is the custodian of the Muslim holy sites in Jerusalem, making Amman sensitive to any changes of status of the disputed city.
Officials are worried the move could trigger violence in the Palestinian territories and a spillover into Jordan, a country where many people are descendants of Palestinian refugees whose families left after the creation of Israel in 1948.
"A tremendous wave of anger will spread across the Arab and Muslim world," said another regional diplomatic source in touch with U.S. officials on the issue.
Tensions in Jerusalem's Al-Aqsa compound, the third-holiest site in Islam, earlier this year provoked days of unrest.
Word of Trump's planned announcement, which would deviate from the line taken by previous US presidents who insisted Jerusalem's status must be decided in negotiations, drew criticism from the Palestinian Authority.
The Palestinians want East Jerusalem as the capital of their future state, and the international community does not recognize Israel's claim on all of the city, home to sites holy to the Jewish, Muslim, and Christian religions.
Jordan lost East Jerusalem and the West Bank to Israel during the 1967 Arab-Israeli war and says the city's fate should only be decided only at the end of a final settlement.
King Abdullah warned of the repercussions of Trump's expected move in talks this week in Washington with top administration officials.
Trump suggested earlier this year he was open to new ways to achieve Middle East peace that did not necessarily entail the creation of a Palestinian state, a hallmark of US policy for decades.
Full report at:
http://www.freemalaysiatoday.com/category/world/2017/12/04/jordan-begins-diplomatic-offensive-ahead-of-trump-move-on-jerusalem/
--------
Report: Yemeni Missile Hits UAE's Nuclear Plant in Abu Dhabi
Dec 03, 2017
The Barakah nuclear plant in the UAE capital city came under attack by Yemen's cruise missile, the Arabic-language Al-Masireh television reported.
The Yemeni popular forces had earlier said that they had fired a cruise missile towards the UAE.
The 30-billion-dollar Barakah nuclear power plant is located in Abu Dhabi and it generates electricity at a capacity of 5,600 megawatts. South Korea's KEPCO electricity company has designed the UAE's Barakah power plant and it was scheduled to start operations in 2017.
Saudi Arabia has been striking Yemen since March 2015 to restore power to fugitive president Mansour Hadi, a close ally of Riyadh. The Saudi-led aggression has so far killed at least 15,000 Yemenis, including hundreds of women and children.
Despite Riyadh's claims that it is bombing the positions of the Ansarullah fighters, Saudi bombers are flattening residential areas and civilian infrastructures.
According to several reports, the Saudi-led air campaign against Yemen has driven the impoverished country towards humanitarian disaster; however the Riyadh regime has failed to reach its goals despite suffering great expense.
Nearly 3.3 million Yemeni people, including 2.1 million children, are currently suffering from acute malnutrition. The Al-Saud aggression has also taken a heavy toll on the country's facilities and infrastructure, destroying many hospitals, schools, and factories.
The director of Yemen's national blood bank has announced that the blood bank may be forced to close due to a lack of money after an international medical charity decided to end two years of support.
The head of the UN Development Programme (UNDP) in the war-torn country has also announced early August that Yemen's ongoing conflict and a "man-made" humanitarian catastrophe has "no end in sight", warning that nearly 7 million people are at risk of starvation.
Full report at:
http://en.farsnews.com/newstext.aspx?nn=13960912000951
--------
Europe
Teacher reports minor Muslim boy with Down's Syndrome to police for terrorism in Houston
December 03, 2017
A supply teacher's call to police about a six-year-old Muslim boy with Down's Syndrome led to his family being investigated for terrorism, reported The Independent.
Officers launched the probe after six-year-old Mohammad Suleiman allegedly kept repeating the words "Allah" and "boom" class.
His parents from the Texan city of Pearland, around 20 miles south of Houston, have claimed this cannot be true because "he doesn't speak at all" and has "the mental capacity of a one-year-old."
The boy's father said the family been through hell after becoming the subjects of both a police and social services investigation.
"The last three or four weeks have been the hardest of my life," Maher Suleiman told the Fox26 news channel. "My wife and kids were crying a few days ago and I told them everything is fine.
"Mohammad was born with Down's Syndrome Chromosome 21. He needs care all the time."
He added: "They claim that he's a terrorist. This is so stupid, this is discrimination actually. It's not implied discrimination, it's a hundred per cent discrimination."
The teacher was covering for a regular member of staff at the CJ Harris Elementary School when he made the call.
A spokesperson for the district education authority said it was unable to release information on individual students due to privacy laws.
The Pearland Police Department said it has concluded its investigation and found no need for further action.
But the region's Child Protective Services department said its investigation is ongoing.
http://nation.com.pk/03-Dec-2017/teacher-reports-minor-muslim-boy-with-down-s-syndrome-to-police-for-terrorism-in-houston
--------
UK reaffirms support for Bangladesh, Rohingyas
November 27, 2017
United Kingdom's International Development Secretary Penny Mordaunt today pledged that the UK will continue to stand by Rohingya people and Bangladesh.
UK has announced 12 million pounds aid support which will help around 750,000 women and girls globally over the next three years and Mordaunt pledged to help increase protection for Rohingya women and girls against sexual violence and exploitation
This brings the UK's total support to 59 million pound since 25 August 2017, according to the British High Commission in Dhaka.
During her recent visit to Cox's Bazar, Mordaunt announced further UK aid for the Rohingya crisis, as she warns, global funding will start drying up in 100 days.
Mordaunt praised the Bangladesh government and local communities for their continued generosity in helping the Rohingya people.
She also urged other countries to follow the UK's lead by promising longer-term support to avert disaster.
"The persistent persecution of the Rohingya people must stop. It's horrifying that hundreds of thousands of innocent men, women and children have had their homes burnt to the ground, and parents have been forced to helplessly watch as their children die from hunger," she said.
Mordaunt said this looks like ethnic cleansing and the Myanmar military must end this inhumane violence and guarantee unrestricted humanitarian access so aid can reach those in need in Myanmar. "Any return of families to their homes must be safe, voluntary and dignified."
She said global funding to support the Rohingya people will only meet urgent needs for the next 100 days.
"We cannot turn our backs on those trapped in crisis. Other countries must follow our lead and do even more to help children overcome the trauma of war, reunite them with their families and give a future to the next generation," she said.
Mordaunt pledged to help increase protection for Rohingya women and girls against sexual violence and exploitation and announced a separate package of UK aid support (pound 12 million for multiple countries) that is expected to help around 750,000 women and girls globally over the next three years.
She met some of the 624,000 innocent men, women and children on November 25 who have been tragically driven from their homes in Myanmar and forced to make the treacherous journey to Bangladesh, relying on aid to survive and heard harrowing stories of brutal abuse.
She also met UK experts delivering life-saving treatment including medical, counseling and psychosocial support to female survivors.
"The countless stories of sexual violence I have heard from Rohingya women and girls are truly shocking and the high rates of this crime across the world are a global scandal," said Mordaunt.
She said the UK is absolutely determined to eliminate all forms of violence against women and girls and we are increasing protection for Rohingya women and girls against sexual violence and exploitation.
"We're stepping up our leadership - working closely with women leaders and grassroots charities - to help more survivors in some of the world's poorest countries overcome the traumas of violence," she said.
On Sunday, British Secretary Mordaunt met State Minister for Foreign Affairs Md Shahriar Alam and praised the role of Bangladesh government in dealing the Rohingya crisis and appreciated the generous approach of Bangladeshi people towards the Rohingya people.
Shahriar appreciated the active role of the UK government in mounting pressure on Myanmar Government on Rohingya issue.
Referring to her visit to the Rohingya makeshift camps in Cox's Bazar, Mordaunt mentioned that she is moved by the scale of influx and assured that the aids from the UK will certainly increase in the coming days.
Full report at:
http://www.thedailystar.net/rohingya-crisis/united-kingdom-reaffirms-support-bangladesh-myanmar-rohingyas-1497124
--------
Iran gives Muslim scientist prize to Turkish-French, Iranian
December 3, 2017
TEHRAN, Iran — Iran on Sunday awarded its biennial $500,000 Mustafa Prize to two computer science experts, an Iranian and a Turkish-French national.
The science and technology award, which was handed out only for the second time ever, is given to Muslim researchers and scientists regardless of whether they live in Muslim-majority nations or elsewhere, as well as non-Muslim scientists in Muslim countries.
According to a statement, Iran's vice president in charge of scientific affairs, Sourena Sattari, said that the Turkish-French national, Sami Erol Gelenbe, and Iran's Mohammad Amin Shokrollahi, were being honored for their achievements in systems assessment in model-making and computer coding.
Along with medals and certificates, each winner gets $500,000.
Full report at:
https://www.washingtonpost.com/world/europe/iran-gives-muslim-scientist-prize-to-turkish-french-iranian/2017/12/03/f8812512-d819-11e7-a241-0848315642d0_story.html?utm_term=.b1da628c62ed
--------
Minister tells principals to throw One Nation senator's anti-Islam letters in the bin
4 December 2017
The New South Wales education minister, Rob Stokes, has urged school principals to throw anti-Islamic letters from One Nation in the nearest recycling bin, saying "perhaps then some good may still come from it".
Stokes is the latest to denounce One Nation senator Brian Burston for letters he sent to NSW schools last week, warning principals their children risked becoming "terror-endorsing Islamists" whose religion required the killing of westerners.
The letters, obtained by Guardian Australia, drew immediate condemnation for their wild inaccuracies, divisiveness and tendency to incite hatred against Muslims.
Stokes condemned Burston's letter as "hate mail". He said it ran contrary to two hallmarks of western liberal civilisation Burston purported to protect: tolerance and inclusion.
"I strongly suggest to principals that they place all correspondence from the One Nation senator in the nearest recycling bin when it arrives," Stokes said. "Perhaps then, some good may still come from it."
Burston's letter claims Islam is incompatible with the Australian way of life, and attaches a brochure titled Islam Exposed.
The security and intelligence expert John Blaxland warned the letter would simply serve to fuel the messages of Islamic State and help the terror group's recruitment efforts.
The letter came to the attention of the NSW Greens MP Mehreen Faruqi last week. She has now written to the Australian Human Rights Commission requesting an investigation.
"The letter is divisive and offensive and has no place in our communities and schools," Faruqi wrote.
"I am referring this letter to you and would be grateful for your advice as to whether or not the letter breaches any federal human rights laws."
The letter used the Senate letterhead. No reference to One Nation was made.
Stokes said the letter was a waste of taxpayer funds, and would not help to deradicalise students.
"The best way to suppress the potential for extremism is not to divide us, but to promote the Australian values we all share," he said.
Full report at:
https://www.theguardian.com/australia-news/2017/dec/04/principals-urged-to-throw-one-nation-senators-anti-islamic-letters-in-recycling-bin
--------
Macron calls for 'dialogue' in Iraq and dismantling of militias
December 04, 2017
PARIS - French President Emmanuel Macron called Saturday for a rapid opening of dialogue between Iraq's central government and Iraqi Kurdish leaders and for "all militias" to be dismantled to ease tensions.
"France calls for a constructive national dialogue to engage in Iraq ," Macron said at a joint news conference in Paris with Iraqi Kurdish leaders, including Prime Minister Nechirvan Barzani.
Baghdad and the Kurdish regional capital Arbil have been locked in dispute ever since September's independence referendum, which resulted in a resounding "yes" vote for independence in the autonomous Kurdish region of northern Iraq .
Iraqi security forces backed by paramilitaries responded by seizing the oil-rich Kurdish-held city of Kirkuk in October and other disputed territory. Long-serving Kurdish president Masoud Barzani, whose nephew is Nechirvan, then resigned over the affair.
"Having a strong, reconciled, pluralistic Iraq which recognises each of its components is a condition for the immediate and medium-term stability," of the Middle East, said Macron .
The French president, who previously met Iraqi Prime Minister Haider al-Abadi on 29 October, said dialogue needed to be built in "full respect of the constitution of 2005".
He also called for "a gradual demilitarisation, in particular of the 'Popular Mobilisation' that has taken place in the last few years, and that all militias be gradually dismantled".
Fighters from Iraq's Hashed al-Shaabi are a controversial fighting force that formed in 2014 after the country's most revered Shiite cleric, Grand Ayatollah Ali al-Sistani, urged citizens to take up arms against Islamic State jihadists.
Bringing together a dizzying array of paramilitary groups under the command of Iraq's prime minister, the Hashed has since played a key role in battles against IS and more recently against Kurdish forces.
But the Shiite-dominated alliance remains deeply divisive; has often been described as an Iranian-backed group, and has been accused of a wave of abuses. The French president said the new generation of Kurdish leaders has a "historic responsibility" and said France would do all it can to ensure "dialogue can succeed," indicating that he will soon meet Abadi again.
Nechirvan Barzani, who has been trying to negotiate an end to the confrontation with Baghdad, said on Saturday that his government "respected" a verdict by the Iraqi Supreme Federal Court that ruled the independence referendum unconstitutional.
Full report at:
http://nation.com.pk/04-Dec-2017/macron-calls-for-dialogue-in-iraq-and-dismantling-of-militias
--------
German police say Potsdam explosive package was 'blackmail', not 'terrorism'
REUTERS
4 December 2017
BERLIN: German authorities investigating the delivery of a package containing powerful firecrackers, wires and nails to a pharmacy near a Christmas market in the city of Potsdam said on Sunday it was criminal activity rather than "terrorism."
Karl-Heinz Schroeter, interior minister of the state of Brandenburg where Potsdam is located, told a news conference criminals were behind the package which they had used to try to extort millions of euros from logistics firm DHL, which had delivered the package.
Police said it was highly likely that the package could have exploded.
Staff at the pharmacy in Potsdam, just outside Berlin, called the police on Friday after they discovered the suspicious package. The Christmas market was evacuated and the package was made safe by a police robot.
DHL warned the public not to open packages if they did not recognize the sender's address or if the sender's address was suspicious.
"As we find ourselves approaching Christmas, which is not only a time of peace, but also a time when many presents are sent, such an act of extortion is reprehensible," Schroeter told the news conference. He said all efforts were being made to catch those who sent the package.
Authorities said the people who sent the package most likely lived in Berlin or in the state of Brandenburg, which surrounds the German capital.
They did not say how much money they had demanded, but said they had told DHL they would send more packages that could kill or injure if DHL, owned by Deutsche Post, refused to pay up.
Full report at:
http://www.arabnews.com/node/1203246/world
--------
Thousands rally in Hanover against anti-Islam AfD party
3 Dec 2017
Thousands of people have rallied in the German city of Hanover against the far-right Alternative for (AfD) party, which elected its new leadership in the city.
The demonstrators on Saturday shouted slogans and carried placards reading "Hanover against Nazis" and "Stand up to racism".
Some of the protesters staged sit-ins to block access to the venue holding the congress of the anti-Islam, anti-migrant party, delaying its start by nearly an hour.
"We are ashamed that the AfD was voted [in Germany's last election], and we don't want them to be in our town and our congress hall," a female protester told Al Jazeera.
"There is a fight in Germany against racism and Nazis too," another demonstrator added.
After some minor scuffles with protesters, police deployed water cannon in frigid weather to remove some of the blockades. At least one demonstrator and several police officers were injured.
AfD won almost 100 seats in parliament in Germany's September's election, but two senior members quit in protest against what they saw as an unstoppable populist streak.
It could now become the country's official opposition party if Chancellor Angela Merkel enters into a coalition with the Social Democrats.
Al Jazeera's Aela Callan, reporting from the congress in Hanover, said there was a split in the party. A more moderate camp supports grooming the AfD for participation in more mainstream politics, while the hardline faction is resisting that, she said.
Joerg Meuthen, a hardliner, was re-elected as co-leader with an overwhelming 72 percent of the vote.
But when the relatively moderate Berlin AfD chief Georg Pazderski failed in two ballots to win the vacant seat of ex-co chair Frauke Party, both he and his rival, Doris von Sayn-Wittgenstein, withdrew.
The party's powerful parliamentary group chief Alexander Gauland was then recruited to run alone and won the co-chair post.
Saturday's leadership vote should have united the party, but its members failed to do so, according to analyst Timo Lochocki.
"The fundamentalists and moderates in the party showed today that they are incapable of uniting behind one candidate," he told Al Jazeera from the congress.
"It means that it will be a very long time until this party is capable to offer a coherent platform, until they are capable to distance themselves from radical, anti-constitutional elements, and until they are ready to pose a serious threat for the main parties."
AfD's rise
Founded in 2013 as a vehicle to promote a eurosceptic agenda, the AfD has since shifted its focus to immigration and Islam.
Bernd Lucke, the AfD's first leader, resigned in 2015, citing concerns the party had become "Islamophobic and xenophobic".
The move was fueled by the onset of Europe's refugee crisis which, having reached its peak by 2015, provided fertile ground for the AfD to sow their scepticism of multiculturalism.
At the time, the party polled at around three percent nationally.
Under Merkel's leadership, Germany opened its doors to more than one million refugees and migrants, prompting fierce criticism from the AfD leadership.
Full report at:
http://www.aljazeera.com/news/2017/12/thousands-rally-hanover-anti-islam-afd-party-171202162331260.html
--------
Pakistan
Pakistan, KSA conduct joint counter-terrorism exercise: ISPR
DECEMBER 4, 2017
ISLAMABAD: The Al-Shehab-2 joint counter-terrorism exercise between Pakistani and Saudi Arabian forces was under way at the Prince Naif Security City in Riyadh, on Sunday, according to the Inter-Services Public Relations (ISPR).
The initiative aims to help the participating troops to learn from their shared experiences in counter-terrorism, as well as to foster bilateral cooperation between the two forces, the ISPR said.
The agency said that 68 officers and soldiers belonging to the Special Services Group (SSG) from Pakistan were participating in the exercise.
The two-week long exercise started on November 25 and shall end on December 10.
Al-Shehab 1 joint counter-terrorism exercise was held last year in Pakistan.
https://dailytimes.com.pk/152164/pakistan-ksa-conduct-joint-counter-terrorism-exercise-ispr/
--------
Security forces arrest 11 suspected terrorists in Balochistan operation
Dec 04, 2017
QUETTA: Security forces on Sunday arrested 11 terrorists, suspected of being the members of the proscribed Balochistan Republican Army (BRA), and recovered huge caches of arms and ammunition in various operations in different parts of Balochistan.
The terrorists were arrested from the Sanni Shoran area in Sibi in an operation under Radd-ul-Fasaad, the Inter-Services Public Relations (ISPR) said in a statement.
Meanwhile, the Frontier Corps and intelligence agencies recovered the weapons during an intelligence-based operation (IBO) in Dera Bugti and Dukki.
Four improvised explosive devices (IEDs) were also recovered and later diffused in a separate IBO in Qila Saifullah, said ISPR.
TERROR BID FOILED AS LEVIES RECOVER ARMS' CACHE IN KOHLU:
Earlier in the day, Levies forces and intelligence agencies foiled a major terror bid in Kohlu as they recovered a huge cache of arms, ammunition and explosives during an operation here on Sunday.
Kohlu Deputy Commissioner (DC) Agha Naveed told reporters that the security forces launched an intelligence-based operation against anti-state elements in Kahan area of the district Kohlu of Balochistan.
A large number of weapons and explosives were recovered in the operation, including 181 RPG rockets and 172 RPG fuses, MMRR 75 gun and 80 rounds.
The Levies forces confiscated the recovered arms and ammunition but no arrest could be made.
A number of such operations have been conducted in the province rife with violence.
On November 5, the Frontier Corps (FC) Balochistan and intelligence agencies recovered a heavy cache of arms and ammunition in an intelligence-based operation (IBO) in Balochistan, the Inter-Services Public Relations (ISPR) department had said.
The IBO, conducted in Channah Nullah and Chatthar area near Dera Murad Jamali, was part of the ongoing Operation Radd-ul-Fasaad that was launched this year on February 22.
Full report at:
https://www.pakistantoday.com.pk/2017/12/03/security-forces-arrest-11-suspected-terrorists-in-balochistan-operation/
--------
Three terrorists killed during encounter
Dec 04, 2017
FAISALABAD: As many as three alleged terrorists of a banned outfit were killed during an encounter with Counter Terrorism Department (CTD) police in the limits of Sandal Bar police here late Saturday night.
A spokesman of CTD said that the CTD police conducted an operation at Faisalabad bypass and engaged five terrorists coming towards the city to attack the office of a law enforcement agency.
The CTD police intercepted them and ordered them to surrender. The terrorists refused and opened indiscriminate firing on the police team. The CTD team also retaliated and during the cross firing three of the outlaws received serious bullet injuries and died on the spot, whereas their two accomplices managed to escape from the scene under the cover of darkness.
The CTD police recovered weapons, explosive material, detonators, prima cord, motorcycles, and other illegal material from them.
Full report at:
https://www.pakistantoday.com.pk/2017/12/04/three-terrorists-killed-during-encounter/
--------
Terrorists will be defeated no matter what the cost: COAS
DECEMBER 3, 2017
RAWALPINDI: Chief of Army Staff (COAS) General Qamar Javed Bajwa has said that the supreme sacrifices rendered by officers and Jawans in the line of duty have strengthened the national will and determination.
According to Inter Service Public Relations (ISPR), Army Chief General Qamar Javed Bajwa on Saturday visited the family of martyred Major Muhammad Ishaq in Lahore and offered Fateha.
"We cannot be deterred by cowardly acts of terrorists who shall be defeated no matter what the cost," said the COAS.
Full report at:
https://dailytimes.com.pk/151629/terrorists-will-defeated-no-matter-cost-coas/
--------
Shehbaz convinces Sialvi to postpone demand for Sana's resignation
Dec 04, 2017
LAHORE: Punjab Chief Minister Shehbaz Sharif on Sunday contacted Pir Hameeduddin Sialvi and assured him that his reservations regarding Punjab Law Minister Rana Sanaullah will be addressed.
Assuring the Sargodha-based spiritual leader that his reservations will be addressed, Shehbaz said he needed "proper time" to address the matter; upon which, Sialvi expressed satisfaction, saying he had confidence in Shehbaz Sharif and postponed his demand for Punjab Law Minister Rana Sanaullah's resignation.
Earlier, at least 10 parliamentarians of Pakistan Muslim League-Nawaz (PML-N) had tendered their resignations to Sialvi, giving him the authority to decide their political fate if Sanaullah failed to resign over 'controversial' remarks concerning Ahmadiyya community.
Meanwhile, Pir Sialvi's nephew also confirmed the fact that his uncle agreed to postpone his demands following a telephonic conversation with Shehbaz Sharif.
MPA Nizamuddin Sialvi, the nephew of Pir Sialvi, said the chief minister told Pir Sialvi that Rana Sanaullah was ready to himself appear before him and address his reservations.
"Having spoken to the CM, Pir Sialvi withdrew the ultimatum given for the provincial law minister's resignation for the time being," he said while speaking to Geo News.
It is pertinent to mention here that Punjab Minister for Auqaf and Religious Affairs Zaeem Qadri had also called on Pir Sialvi a few days ago. In the meeting, Pir Sialvi had asked Qadri to ask Rana Sanaullah to publicly explain his position with regard to Ahmadis, recite Kalma (declaration of faith), and step down as Punjab law minister.
Full report at:
https://www.pakistantoday.com.pk/2017/12/03/shehbaz-convinces-sialvi-to-postpone-demand-for-sanas-resignation/
--------
Africa
Buhari blames clerics for attraction to terrorism
04 December 2017
President Muhammadu Buhari has blamed the seeming inability to tame the activities of insurgents to the role of clerics whose insidious preachings continue to attract members into their fold.
A statement signed yesterday by his Special Adviser on Media and Publicity, Femi Adesina, said President Buhari spoke in Jordan at a security meeting hosted by King Abdullah II where he urged Muslim leaders worldwide to speak up against the hateful violence committed by deranged people in the name of Islam.
Buhari, who reiterated the commitment of Nigeria to playing a leading role in bringing together countries of the West African sub-region in a collective security arrangement, said that with what the nation had gone through, it was ready to share the experiences with a view to fashioning out comprehensive action plans in tackling the scourge of violent extremism in the region.
He said that the joint regional collaboration under the auspices of the multinational joint task force, combined with the efforts of the Nigerian Armed Forces, had gone a long way to decimate the activities of extremists in the West African sub-region.
Participants at the end of the meeting resolved to come up with concrete action plans that would change the narrative of violent extremism in the West African sub-region at a follow-up meeting to be hosted by Nigeria.
Meanwhile, the Borno State Police Commissioner, Damian Chukwu, has confirmed the killing of 13 people and several others wounded after two suspected female bombers detonated their strapped Improvised Explosive Devices (IEDs) at the weekend at Biu Central Market in the state.
The two suicide bombers were also killed in the attack.Chukwu, in a statement, said: "Two female suicide bombers infiltrated and gained entry into Biu town. One of the bombers detonated an IED (improvised explosive device) strapped to her body within Biu's main market, while the other one detonated outside the market square."
But a member of the Civilian Joint Task Force (JTF), Madu Jasku, told The Guardian on phone yesterday that the death toll might rise to 21, as some of the injured ones were placed on danger list while being evacuated to the hospital for treatment.
However, Arewa leaders, under the aegis of Arewa Consultative Forum (ACF), have condemned the attack.They described the recent act by the remnants of Boko Haram sect using innocent children to perpetrate bombings in the state "as wicked and barbaric."
https://guardian.ng/news/buhari-blames-clerics-for-attraction-to-terrorism/
--------
13 killed in suspected Boko Haram bombings in northeast Nigeria
Dec 2, 2017
Two attacks allegedly by the recruits of the Boko Haram Takfiri terrorist group have left 13 people dead in northeastern Nigeria.
Police spokesman for Borno state, where the attacks took place on Saturday, said the bombings in the town of Biu also injured over 50 people.
It was not clear how many people were killed in the first attack, which came when a woman waiting in an aid distribution line detonated her explosives, and how many in the second one, which came nearby and caused little or almost no fatalities.
Those killed in the first attack were people affected by the eight years of Boko Haram insurgency, which has killed 20,000 people and left millions displaced in northeastern Nigeria and the neighboring countries.
Mohammed Maliya, a member of the aid team in Biu, said the woman who carried out the attack appeared relaxed and was eating a banana while waiting in line with others. She and the other woman were killed in the attacks.
Boko Haram normally uses women and girls to carry out attacks in northern Nigeria, especially now that the group has been pushed out of its old bastions in and around the provincial capital of Maiduguri. Biu, where the Saturday attacks happened, is about 185 kilometers (115 miles) from Maiduguri.
Full report at:
http://www.presstv.com/Detail/2017/12/02/544239/Nigeria-Borno-Boko-Haram
--------
Numan killings: Deliberate move to eliminate Muslims, Fulani – Magaji
December 3, 2017
The Chairman, Muslim Council, Adamawa State, Alhaji Abubakar Magaji, has given reasons the recent killings in Numan allegedly perpetrated by the Bachama militias were aimed at eliminating the Muslim-Fulani from the state.
He maintained that women and children targeted was a way of exterminating the Muslim-Fulani in the state.
Speaking with Punch, Magaji explained that there are no farmlands in the area to suggest that the clash was between herdsmen and farmers.
In his words, "I came into that conclusion after my visit to the Numan General Hospital and I discovered that there were 45 children among the 55 corpses that were deposited at the mortuary after the incident.
"Only one , out of the remaining corpses was a man, the rest were young female adults and children below the age of 10.
"So , that is why we described the unfortunate incident as genocide against the Muslim-Fulani. It is our strong belief that no one, in an attempt to carry out any form of revenge, will target innocent children for destruction. We also believe that the perpetrators were not Muslims, because no genuine Muslim will deliberately wage war against his fellow Muslim brothers and sisters.
"Even, the dreaded Boko Haram sect did not do that. So, we are convinced that certainly , a certain group, which is not happy seeing the Muslims in the state, deliberately targeted us for elimination.
"But the majority of the people in the state believe that the incident was a normal recurring clash between herdsmen and farmers, which turned bloody.
"We don't subscribe to that argument at all because there is no farmland in the area where the Muslim- Fulani are residing in Numan.
"There were also no crops where our cows are grazing since nobody cultivates farms there . Apart from this, there was no report that the Fulani encroached into the farms and destroyed crops.
"Any right -thinking person will agree with us that what happened in Numan was a premeditated killing because the perpetrators did not strike until all the male adults had left the community in search of pastures for their animals.
"We were surprised to read in the newspapers that it was a clash between herdsmen and farmers. I don't understand how there could be a clash between a group of people armed with guns and another group of innocent young women in company with their children.
Full report at:
http://dailypost.ng/2017/12/03/numan-killings-deliberate-move-eliminate-muslims-fulani-magaji/
--------
Militia chief arrest 'dangerous moment' for Sudan's Darfur
December 04, 2017
By Jay Deshmukh
KHARTOUM - By arresting Darfur's powerful militia chief Musa Hilal, Khartoum has tightened its control over Sudan's strife-torn region but analysts say it might open a new chapter of violence.
Hilal, a former aide to President Omar al-Bashir, was arrested last week by Sudan's counter-insurgency forces near his hometown of Mustariaha in North Darfur state after fierce clashes that left several dead. "This is a dangerous moment actually," Magnus Taylor, Sudan analyst with the think-tank International Crisis Group, told AFP. "By taking out Musa Hilal, they have pitched two different Darfuri Arab tribes against each other."
Hilal, a powerful leader of the Mahamid tribe, was captured by a unit of the Rapid Support Forces (RSF) led by members of another Arab tribe, Darfur's biggest, the Rezeigat.
"This is the start of intra-fighting, this is only the beginning," said Ahmed Adam, a research associate at London University. "No doubt, Hilal's arrest will impact the security and stability of Darfur."
During the initial years of the Darfur conflict that erupted in 2003, Arab militias fought alongside government forces against the region's black African rebels. Hilal then led the government-allied Arab Janjaweed militia , notorious gunmen on horseback who swept through Darfur marauding villagers and fighting rebels who had taken up arms against Khartoum's Arab-dominated government, accusing it of economic and political marginalisation.
The United Nations says hundreds of thousands of people have been killed and another 2.5 million displaced in the conflict. The RSF has also been used to crush rebels in a brutal counter-insurgency launched by Bashir.
'INTER-ARAB VIOLENCE'
A joint African Union-United Nations peacekeeping force was deployed in 2007 to bring stability to Darfur -- a vast region in western Sudan the size of France. "The previous dynamic in Darfur was militia versus Darfur rebel groups violence," Taylor said. "Now the most dangerous element is inter-Arab militia violence."
Hilal is subject to a United Nations travel ban and on a list of individuals sanctioned for "human rights atrocities" during the early years of the conflict. Bashir himself is accused by The Hague-based International Criminal Court of genocide and war crimes related to the conflict, charges he denies.
Khartoum's use of scorched-earth tactics against ethnic minority rebels had also been a key factor for Washington to maintain a trade embargo against Sudan imposed in 1997.
Washington lifted the embargo on October 12, noting an overall fall in violence in Darfur since last year. Khartoum now insists that the conflict has ended, and it has even launched a campaign to disarm militias operating there. Analysts say the disarmament campaign is primarily aimed at weakening Hilal -- who according to a UN report controls several gold mines in Darfur -- after a rift with Khartoum.
"It is mainly about containing or liquidating Musa Hilal, as well as targeting other black communities and the internally displaced persons," said Adam, adding that Khartoum had armed these militias in the first place.
"Musa Hilal was created by Bashir to carry out his counter-insurgency in Darfur... but recently he had become politically ambitious. Thus, there is no love story between the two men."
REDUCED UN FORCES
Up to 10,000 pro-government fighters led by RSF were mobilised to nab Hilal, who himself commands about 3,000 militiamen, sources said. With his arrest , Khartoum is sending a signal to the international community that it is "in control" of Darfur, said Taylor.
"Hilal was the big one they wanted to take out.. He was seen as becoming this over-mighty figure," he said. Although the overall violence has fallen in Darfur, a permanent peace deal between Khartoum and rebels has proved elusive.
With the fall in bloodshed, the UN-African Union peacekeeping mission, known as UNAMID, is now being downsized. But Hilal's arrest at a time when UN peacekeepers are scaling back has the potential to unravel much of the gains achieved in Darfur, a European diplomat said.
Full report at:
http://nation.com.pk/04-Dec-2017/militia-chief-arrest-dangerous-moment-for-sudan-s-darfur
--------
Niger permits US military to fly armed drones: Official
Dec 3, 2017
The US military has received permission from the government of Niger to begin flying armed drones in the country from the capital Niamey, according to a report.
The agreement indicates an intensifying US military campaign against militants in Africa and is based on a recently signed government-to-government memorandum of understanding, The Associated Press reported on Friday, citing a US official.
The official, who spoke on condition of anonymity, further stated that the armed drones could start flying as early as next week or at least by the end of December.
The arrangement limits the attack drones to "defensive missions," the official said without elaborating.
The drones are eventually to be moved to a desert base under construction near the central city of Agadez. The military base is expected to become operational by mid- to late-2018.
The US military maintains approximately 800 service members in the impoverished African country.
The development comes nearly two months after four US Special Forces troops were killed in Niger following an ambush by local militants.
FBI and US military investigators arrived in Niger last month to try to determine what happened in the October 4 assault on the 11-member Army Special Forces team and 30 Nigerien troops.
The case has received enormous attention in the United States because of conflicting accounts over whether the soldiers were on a low-risk patrol or had changed plans and set out in pursuit of local insurgents.
Questions also have been raised about why the team was lightly armed, given the danger in the area.
Pentagon officials have said the soldiers were on a routine reconnaissance mission. Under US military rules, American troops in Niger are not supposed to go on combat missions in the country, but they can "advise and assist" on missions with local forces where the chance of enemy contact is low.
Full report at:
http://www.presstv.com/Detail/2017/12/03/544286/US-military-Niger-armed-drones-Niamey-militant-forces
--------
Shehu Sani reveals those who must lead battle against Boko Haram
December 3, 2017
By Chijioke Jannah
The Senator representing Kaduna Central District in the National Assembly, Shehu Sani has urged Muslims to lead the war against terrorism and retrieve their faith from those who use it for selfish ends.
He made the appeal at the weekend while delivering a speech to a group of Sudanese intellectuals and students at the International University of Africa, Khartoum, capital of Sudan.
According to Senator Sani, the African continent was faced with a variety of challenges, with terrorism and irregular migration being the major ones.
Terrorism, he noted, not only represented a threat to global peace and stability but also Muslims and Islam.
The senator counseled that while there is an urgent need for humanity to unite and defeat terrorism, it is Muslims that must lead the battle.
He said: "Islam is confronted by two dangers on two fronts from the inside and from the outside.
"The inside forces are those who manipulate and misuse the religion in furtherance of their extremist or political or violent agenda. And the outside are those with a mindset set and conditioned to hate Muslims and anything associated with Islam.
"Terrorists are anarchists. Their cruel actions and atrocious violence create bad perception and impression for the faith they falsely lay claim to.
"Muslim intellectuals and scholars and students must lead the battle to retrieve their faith and cast the light of peace and tolerance in the hearts of all believers in the faith," he said.
"Muslim intellectuals must spearhead the neutralization and liquidation of knowledge and schools of thought that encourage extremism and terrorism.
"Nigeria, my country, has suffered from violence resulting in the death of tens of thousands and displacement millions.
Full report at:
http://dailypost.ng/2017/12/03/shehu-sani-reveals-must-lead-battle-boko-haram/
--------
Arab World
Two mass graves 'with bodies of 40 children' found in Yazidi district of Iraq
3 December 2017
Iraqi paramilitary forces have uncovered two more mass graves containing the bodies of 140 civilians, including women and children, in an area home to the Yazidi religious minority, they said Saturday.
In 2014, ISIS killed thousands of Yazidis in Sinjar and kidnapped thousands of women and girls from the community to abuse them as sex slaves.
The Hashed al-Shaabi paramilitary alliance said it had found "a mass grave with the bodies of 20 women and about 40 children in the village of Kabusi, south of Sinjar."
Elsewhere, "in the Jazira residential complex, also south of Sinjar, 80 other bodies, mostly Yazidis, were discovered," it said.
Kurdish fighters backed by the US-led coalition against ISIS captured Sinjar from the militants in November 2015 before Iraqi security forces took control of the region in October.
As government troops have advanced across Iraq they have uncovered dozens of mass graves holding hundreds of bodies in areas that fell under the militants' brutal rule.
Iraqi officials said on 22 November they had found a mass grave in Sinjar containing the bodies of dozens of members of the minority killed by the Islamic State group.
Sinjar mayor Mahma Khalil said that since 2015, around 40 mass graves have been discovered in the region and that "all the victims were Yazidis".
https://english.alarabiya.net/en/News/middle-east/2017/12/03/-Two-mass-graves-with-bodies-of-40-children-found-in-Yazidi-district-of-Iraq.html
--------
UK suspends Syria aid program after funds 'paid to extremists'
4 December 2017
LONDON: The British government has suspended a major aid program in Syria following an investigation by the BBC that revealed extremists had co-opted some of the funds.
The Foreign Office has been a major contributor to a $20 million project, Access to Justice and Community Security (AJACS), which supports community police work in Syria. But a BBC Panorama program set to air on Monday night shows how members of the British-funded Free Syrian Police (FSP) cooperated with unsanctioned courts accused of torture and executions.
Following the revelations, the Foreign Office halted its contribution to the AJACS initiative. "We are aware of serious allegations connected to this program and have suspended it upon further investigation," the Foreign Office said in a statement issued on Sunday.
Documents leaked to the BBC reveal that at one point 20 percent of the cash distributions made to police officers in Aleppo province were being diverted to a group associated with a known terrorist, Nour Al-Din Al-Zinki. He has been linked to a range of atrocities during the Syria conflict, including the beheading of a young prisoner in 2016.
A report leaked to the BBC shows that Adam Smith International (ASI), the British company responsible for managing the AJACS program, was aware that police officers in the program had collaborated with Al-Zinki's unsanctioned courts "by writing up warrants, delivering notices, and turning criminals over to the court."
Two police officers receiving cash payments from the British-funded program were present when two women were stoned to death near Damascus in 2014, according to the leaked documents.
The AJACS program, established in 2014, was intended to support community policing in areas outside the Syrian regime's control.
"These programs, also supported by international partners, are intended to make communities in Syria safer by providing basic civilian policing services," said the Foreign Office.
Aside from alleged complicity with extra-judicial killings and torture, the BBC program shows how the AJACS program was allegedly mired by corruption and poor management. The BBC report said that ASI documents showed it was aware that fictitious policemen were on the program payroll.
According to the BBC investigation, extremists associated with Al-Qaeda had handpicked police officers to serve at AJACS-funded stations in Idlib province.
Adam Smith International insists that the BBC's portrayal of the Syria program is "untrue or entirely misleading."
The company, which receives millions pounds from British taxpayers to execute government-backed programs abroad, has landed in hot water before.
Full report at:
http://www.arabnews.com/node/1203431/middle-east
--------
Air raids in Syria kill 25 civilians
December 04, 2017
HAMMURIYEH - A wave of Syrian airstrikes on Sunday killed at least 25 civilians and wounded dozens across the besieged rebel enclave of Eastern Ghouta near Damascus, a monitor said.
The deadliest raids hit the town of Hammuriyeh, killing 17 civilians including six children, the Britain-based Syrian Observatory for Human Rights said.
Other air strikes on the towns of Arbeen, Beit Sawa, Harasta and Misraba killed eight civilians . The Observatory said at least 75 people were wounded and the death toll was likely to rise given the critical wounds suffered by dozens of people.
In Hammuriyeh, an AFP photographer saw men carrying the body of a victim wrapped in a blue blanket across a rubble-littered street, a shoeless foot sticking out. The strikes appeared to hit a modest residential neighbourhood, smashing a small convenience store and caking a vegetable stand in a layer of dust.
Victims were taken to a nearby clinic where doctors could be seen treating a man wincing from a gash above his knee. In another room, the lifeless soot-covered body of a boy lay in a pool of blood. Eastern Ghouta, one of the last remaining rebel strongholds in Syria , has been under a heavy government siege since 2013 that has caused drastic food and medical shortages.
An estimated 400,000 people still live in the enclave, and the United Nations has warned that hundreds are at risk of death if they are not evacuated for urgent medical treatment. The area is one of four "de-escalation zones" agreed earlier this year by regime allies Russia and Iran and rebel backer Turkey aimed at curbing violence across war-ravaged Syria .
Syria 's government agreed last week to a ceasefire in the region to coincide with the resumption of UN-led peace talks in Geneva.
But heavy bombardment of the opposition enclave near the capital has resumed, with another 11 civilians killed on Saturday.
Full report at:
http://nation.com.pk/04-Dec-2017/air-raids-in-syria-kill-25-civilians
--------
FSA, Israel Coordinating to Hit ISIL in Southern Syria
Dec 03, 2017
The Arabic-language al-Watan quoted well-informed sources as saying that the representatives of Israel and FSA have had several meetings in recent days to coordinate attacks on the positions of Jeish Khalid Bin Walid affiliated to the ISIL in Hawz al-Yarmouk region in Southern Syria.
The daily went on to say that Israeli agents had assured FSA of regular intelligence and aerial back up for them in the incoming operation against ISIL.
The sources told al-Watan that the Israeli forces are due to support the FSA with their drones and mid-range ground-to-ground missiles.
The Israeli drones backed up the FSA in a battle with the ISIL codenamed Ahl al-Arz near the town of Tasil in Western Dara'a on November 28.
The FSA won the battle in Tasil.
Some of the analysts believe that recent meetings between the FSA and Tel Aviv representative testify deep relation between the terrorist group and Israel that is providing significant supports for the terrorists in the region.
An Arab media outlet reported in mid-November that members of the FSA started heavy infighting in Quneitra province in Southwestern Syria over the distribution of Israeli-supplied aid package.
The Arabic-language al-Watan daily quoted dissident-affiliated websites as saying that a number of the FSA militants started infighting over how to distribute aid as they were receiving three Israeli vehicles with a cargo of flour bags from Commander of Tajamo al-Ahrar Abu Yazan al-Jabileh and Commander of Tajamo Abu Hamza al-Na'eimi Abu Tariq al-Qadir at gates of al-Dareeyat region.
It added that the Israeli missile units shelled the road connecting the villages of al-Ma'alaqa and al-Rafid in Southern Quneitra following the escalation among the FSA terrorists.
The road was cut off due to the heavy fire of Israeli forces, al-Watan added.
Israeli forces have been providing financial, logistic, weaponry and medical supports for the terrorists in Southern Syria.
Full report at:
http://en.farsnews.com/newstext.aspx?nn=13960912001009
--------
Tens of Militants Surrender to Syrian Army in Dara'a Province
Dec 03, 2017
The sources reported that almost 100 militants affiliated to the al-Omari Brigade deployed in al-Lejah in Dara'a province that had handed over their arms to the army soldiers in the town of al-Sanmin were pardoned by the Damascus government.
The gunmen received amnesty and returned to normal life, the sources said.
Relevant reports said last month that militants in more regions laid down arms and joined peace with the army, and added, "The total number of regions, towns, settlements and villages that have thus far joined nationwide reconciliation plan stands at 2, 276."
http://en.farsnews.com/newstext.aspx?nn=13960912001032
--------
Militants in Another Region End Battle with Syrian Army
Dec 03, 2017
The Russian center based in Humeimim reported that militants in Arjoin in Homs province turned in to the army men and joined the peace agreement, adding, "The total number of regions, towns and villages that have thus far joined the nationwide reconciliation plan stands at 2,291."
The center added that talks under underway with the leader of militant groups in the provinces of Aleppo, Idlib, Damascus, Hama, Homs and Quneitra to surrender their forces to the army.
Full report at:
http://en.farsnews.com/newstext.aspx?nn=13960912000639
--------
Terrorists' Western Weapons Displayed by Syrian Army in Deir Ezzur Province
Dec 03, 2017
Syrian Army units discovered a huge stockpile of weapons made by the US and European countries inside an ISIL hideout in Deir Ezzur countryside, the source said.
They added that the Syrian military exhibited the arsenal of weapons seized by the army men in Southeastern Deir Ezzur.
The arsenal includes a thousand small arms, a stock of barrels for anti-aircraft installations and large-caliber tank machine guns.
The army units seized several trucks with artillery guns too.
Earlier, the Syrian Army reported that the weapons found in the warehouses were manufactured by US and European companies.
In the meantime, Syrian authorities on Saturday found large amounts of weapons and munitions were hidden in a hideout near Palmyra city in Eastern Homs. The weapons were left by behind by terrorists after pulling back their forces from Homs.
mortar shells, anti-tanks and tank shells were among the seized arms and ammunition close to Palmyra.
Well-informed sources said on Friday that the army units carried out mop-up operations in al-Asharah, Sabikhan and al-Salehiyeh regions in Southeastern Deir Ezzur, seizing a large volume of arms, ammunition and bomb-laden vehicles.
Full report at:
http://en.farsnews.com/newstext.aspx?nn=13960912000436
--------
Kurdish YPG forces recapture eastern Dayr al-Zawr countryside from Daesh: Report
Dec 3, 2017
The US-backed Kurdish People's Protection Units (YPG) say they have fully recaptured the eastern Dayr al-Zawr countryside from the Daesh Takfiri terrorist group with the help of airstrikes carried out by Russia's air force.
The YPG announced the news in a statement on Sunday, saying their fighters had managed to liberate the villages of Sweidan and Drenj in the eastern part of the Euphrates River earlier in the day.
The terrorist group has already lost all its urban strongholds in Syria but tries to maintain its staggering control over small pockets of rural areas.
According to the so-called Syrian Observatory for Human Rights (SOHR), the YPG forces on Friday entered into an ongoing fierce battle with the remnants of Daesh, which still held the villages of Abu Hamam and Kashkiyeh in the Shaitat Desert in Dayr al-Zawr. The battle is reportedly underway.
According to the UK-based monitoring group, the YPG forces have managed to wrest control over the rural areas of al-Sekkeh and al-Awiziye during the past two days.
The YPG said in its statement that the so-called US-led military coalition and Russian forces in Syria had provided "air and logistical support, advice and coordination on the ground" and that it hoped this support would increase.
The US-led coalition has been conducting airstrikes against what are said to be Daesh targets inside Syria since September 2014 without any authorization from the Damascus government or a UN mandate. The military alliance has repeatedly been accused of targeting and killing civilians. It has also been largely incapable of fulfilling its declared aim of destroying Daesh.
The observatory said in its report that at least three civilians were killed and a number of others sustained injuries on Saturday in airstrikes carried out by the unwelcome coalition.
The YPG is the main part of a larger coalition of fighters — the so-called Syrian Democratic Forces (SDF) — which has been engaged in operations aimed at liberating Raqqah, which served until recently as the main bastion of Daesh in the Arab country. The US considers the SDF, which also includes Arab militants, as its main proxy force fighting on the ground in Syria.
Washington's support for the YPG has infuriated Turkey, Syria's neighbor to the north, which views the Kurdish alliance as a terror organization linked to the homegrown Kurdistan Workers' Party (PKK), which has long been fighting for the establishment of an independent Kurdish state.
On Friday, Russian Foreign Minister Sergei Lavrov said all foreign forces, including those of the so-called US-led coalition that are present in Syria without the authorization from the Damascus government, have to leave the Arab country after the total defeat of Daesh, which started its campaign of terror against Syria in 2013.
Full report at:
Different foreign-backed terrorist groups have been wreaking havoc in Syria since 2011.
http://www.presstv.com/Detail/2017/12/03/544347/Syria-YPG-Dayr-alZawr-Daesh
--------
Saudi Border Guards seize 700kg of cannabis smuggled from Yemen
MOHAMMED AL-SULAMI
4 December 2017
JEDDAH: Saudi Border Guards have arrested 32 suspected drug smugglers and seized a total of 721.92 kilograms of cannabis over the past two weeks in the southern border regions of Jazan and Najran.
Border Guards spokesman Col. Saher bin Mohammed Al-Harbi said that several attempts were made to infiltrate the Kingdom's borders to smuggle drugs.
"Border Guards forces arrested 27 Ethiopians, four Yemenis and one Saudi suspect and seized 721.92 kg of cannabis in their possession," he said.
The spokesman said that this came after the seizure of more than a ton and 200 kilograms of hashish in Jazan, Najran, Asir and Makkah during the past two weeks.
Al-Harbi has reiterated that Border Guards continue to deal with all infiltration attempts and threats to border security, and that they are determined to protect the borders of the Kingdom from anything that targets its security, stability and capabilities.
Last week, the Interior Ministry announced that the number of arrested infiltrators into Saudi Arabia reached 27,264 in 2016, and 3,554 weapons were confiscated during the same period.
The ministry's security spokesman Maj. Gen. Mansour Al-Turki praised the guards for their work and said it includes many tasks and responsibilities.
During a press conference last week, the ministry reviewed a statistical report on the implementation of the guards' tasks. The number of cases of infiltration attempts intercepted reached 2,779, while the attempts intercepted outside the Kingdom reached 580.
The director of the Department of Statistics at the General Directorate of Border Guards, Brig. Gen. Mohammed Al-Qahtani, said most of the infiltrators outside the Kingdom are wanted on security or criminal charges.
Full report at:
http://www.arabnews.com/node/1203416/saudi-arabia
--------
Oxford University plans to organize Saudi-funded Scientific Chairs Forum
4 December 2017
RIYADH: The Oxford Centre for Islamic Studies, an affiliate of the University of Oxford, is planning to organize the Saudi-funded Scientific Chairs 3rd Forum.
The forum will be held in cooperation with the King Salman Center for the Arab Peninsula History and Civilizations Studies, an affiliate of the Riyadh-based King Saud University (KSU), the Saudi Press Agency (SPA) reported.
Dr. Abdullah bin Nasser Al-Sibaiee, supervisor of the King Salman Center for the Arab Peninsula History and Civilizations Studies, said his organization had received an offer from Oxford University to host the forum.
He said the offer came after the previous forum, which was successfully held at the KSU with the attendance of 22 chairs and centers from renowned US, European and Asian universities.
Oxford is interested in hosting the forum because it is convinced of the importance of such scientific events in the documentation of historical information, Al-Sibaiee added.
He added: "It's also in recognition of the KSU's scientific status, and the exchange of experience with scientific incubators in the world."
Al-Sibaiee pointed out that the request of Oxford to establish this scientific forum confirms the positive results that attracted the attention of scientists during the first and second meetings organized by the KSU.
It is also a recognition of the "prominent role played by the Kingdom in support of scientific incubators wherever they exist."
The Oxford Centre for Islamic Studies was established in 1985 to provide a meeting point between Islamic and Western learning.
Full report at:
http://www.arabnews.com/node/1203411/saudi-arabia
--------
North America
US will act if Pakistan does not destroy safe havens: CIA
Anwar Iqbal
December 04, 2017
WASHINGTON: CIA Director Mike Pompeo has warned Pakistan that if it does not eliminate the alleged safe havens inside its territory, the United States will do "everything we can" to destroy them.
As Defence Secretary Jim Mattis arrives in Islamabad on Monday to persuade Pakistan to support the new US strategy for Afghanistan, the Trump administration is sending mixed signals to its estranged ally. The new strategy seeks Pakistan's support to defeat the Taliban in the battlefield as Washington believes that only a defeat will force them to reconcile with the Afghan government.
Talking to journalists aboard his plane on Sunday, Secretary Mattis said he did not plan to "prod" Pakistan into action because he expected Islamabad to adhere to its promises to combat terrorism.
Jim Mattis hopes Islamabad will fulfil its promises to combat terrorism
He disagreed with a journalist who suggested that Mr Mattis might end up "butting heads" with Prime Minister Shahid Khaqan Abbasi and Army Chief Qamar Javed Bajwa when he meets them in Islamabad on Monday on his first visit as the Pentagon chief.
The VOA radio quoted Mr Mattis as telling the journalist that this was not his style. "That's not the way I deal with issues. I believe that we [can] work hard on finding common ground and then we work together."
But the CIA director sent a harsher message when asked at the Reagan National Defence Forum in Simi, California, on Saturday how would the Trump administration persuade Pakistan to adhere to its new Afghan strategy.
Mr Pompeo said: "You begin by seeking their assistance."
The CIA director noted that Secretary Mattis was travelling to Pakistan to "make clear the president's intent" and "will deliver the message that we would love you to do that. And that the safe haven inside of Pakistan has worked to the detriment of our capacity to do what we needed to do in Afghanistan".
He then explained how the Trump administration would deal with the situation if Pakistan turned down Washington's request to destroy safe havens. "In the absence of the Pakistanis achieving that, we are going to do everything we can to make sure that that safe haven no longer exists," he said.
Since 2004, the CIA has conducted drone strikes in Fata and recent media reports have suggested that the Trump administration may expand those strikes to cover other areas inside Pakistan.
Mr Pompeo's predecessor, Leon Panetta, also shared with the forum his experience of dealing with Pakistan as the Obama administration's CIA chief.
"Pakistan has always been a problem. It has been a safe haven for terrorists who cross the border and attack in Afghanistan and go back into Pakistan," he said.
"We have made every effort possible, during the time I was there, to convince Pakistan to stop it. But Pakistan, as Mike knows, has this kind of two-wedge approach to dealing with terrorism," he added.
"On one hand, yes, they do not like terrorism, or attacks from terrorism in their country. But at the same time, they don't mind using terrorism as leverage to deal with Afghanistan and to deal with India."
Mr Panetta claimed that Pakistan has had this policy since his days at the CIA and that's why "Pakistan has always been a question mark".
Referring to US efforts to persuade Pakistan to cooperate, he said: "I hope that Mike (Pompeo) and Jim Mattis are successful in making clear to the Pakistanis that got to be able to see a little broader and they have to go after terrorists within their own territory. Unless that happens, we are going to continue to have problems in Afghanistan."
The moderator turned to Mr Pompeo and asked if Pakistan's approach had changed. "Not yet," said the CIA chief.
But Secretary Mattis, who warned in October that the United States was willing to work "one more time" with Pakistan before taking "whatever steps are necessary" to address its alleged support for militants, did not show the bitterness displayed by the two CIA chiefs.
Instead, he said he was focused on trying to find "more common ground... by listening to one another without being combative."
https://www.dawn.com/news/1374412/us-will-act-if-pakistan-does-not-destroy-safe-havens-cia
--------
Leader's letters to Western youth aimed at defining Islam
Dec 04, 2017
Iranian Leader's senior Advisor for International Affairs, Ali Akbar Velayati, addressed the 'Dawn of Truth' Conference in Tehran today, which marks the anniversary of Ayatollah Khamenei's second letter to the Western youth in 2015, aiming to discuss the impact of the two letters on the global scene.
Ayatollah Khamenei wrote a second open letter following a terrorist attack in Paris, calling on the youth of Europe and North America not to allow the brutality of ISIL to cloud their perception of Islam.
In the first letter published on January 22 in the wake of the Charlie Hebdo terror attacks, Iran's Leader lashed out at Western countries for discriminating between the murders of Muslims and non-Muslims.
Speaking at the conference on Sunday, Velayati maintained that the seed of 'revolution' in Iraq, Afghanistan, and Syria has been planted by Ayatollah Khamenei, and which has confounded the US, Zionists, and their allies.
"While the Islamic Republic and Iran's Leader endeavor to promote unity in the Muslim world, the West tries to create division. They want to revive the pre-Islamic ignorance in the Islam today," Velayati stressed.
He went on to add, "ISIL is in fact the eastern version of Blackwater. That is, a group of mercenaries funded by the US have been sent on a mission to kill people and to create a distorted image of Islam that will be spurned by the world."
"We Muslims must understand that the US and its allies, such as Zionists, have an intention to continue the war and conflicts," Velayati said. "Otherwise, why would they wish to deploy 10,000 troops to Syria? These will be forced out of Raqqa, as they have been out of Bukamal."
Full report at:
https://en.mehrnews.com/news/129909/Leader-s-letters-to-Western-youth-aimed-at-defining-Islam
--------
US working with allies, including Muslim-majority nations, to defeat Islamic State, says NSA HR McMaster
Dec, 04 2017
Washington: The US is working with its allies including Muslim-majority countries in "unprecedented ways" to defeat the wicked ideologies of the Islamic State terror group, National Security Advisor Lieutenant General HR McMaster said on Sunday.
All those who adhere to this ideology are irreligious criminals who use a perverted, what President Donald Trump has called, a wicked interpretation of religion in an effort to recruit young, impressionable people to their cause, to foment hatred and use that hatred to perpetuate violence, he said.
"We are working with allies and partners across the world, and especially in Muslim-majority countries, to do this (defeat) in really unprecedented ways," the NSA told Fox News.
"So, what we have to do is break that cycle of ignorance, hatred, violence at all points, and we're defeating Daesh (Islamic State) in its so-called caliphate," McMaster said.
File photo of NSA HR McMaster. APFile image of NSA HR McMaster. AP
Ninety-five percent of the territory that they have controlled has been taken back and none of it has been regained by them, he said.
"But the other two things the president said we have to be able to do is cut off their financing, and to defeat their wicked ideology," McMaster said.
Asked about Trump re-tweeting videos from a fringe anti-Muslim group, the NSA said: "President Trump is the best judge of why he did that."
"It was his intention to highlight the importance of creating safe and secure environments for our citizens - to make sure that we have the right laws in place, enforcement mechanisms in place, to ensure that, at this critical time, when ISIS is being defeated in the Middle East, that there is no return of terrorists and extremists who can pose a risk to the American people, or to our allies and partners".
McMaster also said that Trump is not giving up on his middle east peace efforts.
"No, the president's not giving up on the mideast peace agreement at all," he said when asked about reports that Trump was planning to declare Jerusalem as the capital of Israel.
"I think what the president is doing is reflecting what has been, a US law — you know, a waiver that's been — that's been done, I think, you know, 46 or 47 times and he's following through on a pledge he made during his election.
Full report at:
http://www.firstpost.com/world/us-working-with-allies-including-muslim-majority-nations-to-defeat-islamic-state-says-nsa-hr-mcmaster-4240719.html
--------
URL: https://www.newageislam.com/islamic-world-news/emulate-prophet-preserving-unity-with/d/113449
New Age Islam, Islam Online, Islamic Website, African Muslim News, Arab World News, South Asia News, Indian Muslim News, World Muslim News, Women in Islam, Islamic Feminism, Arab Women, Women In Arab, Islamophobia in America, Muslim Women in West, Islam Women and Feminism