New Age Islam News Bureau
26 Jul 2020
• Muslim Man Embarks Upon 800km Journey to Attend 'Bhoomi Pujan' of Ram Temple in Ayodhya
• Pakistan: Ulema Vow to Root Out Sectarianism from Society; Promote Inter Faith Harmony
• 'Termite' ISI Agents Destroying Afghan System, Should Be Confronted: Ex-Afghan Intel Chief
• Indonesia's Muslims Switch to Online Services for Annual Sacrifice Ritual
• Israelis Protest Netanyahu's Coronavirus Response, Call for His Resignation
Somalia Ousts Prime Minister in Parliamentary Vote, President Accepts
India
• Eight Mosques and Two Dargahs Around Ramjanmabhoomi: A Message Of Harmony To Rest Of The World
• Muslim Man Embarks Upon 800km Journey to Attend 'Bhoomi Pujan' of Ram Temple in Ayodhya
• What Can Be Done to Expedite Trials Against Tablighi Jamaat Attendees In Nizamuddin, Asks SC
• Pakistan troops again violates ceasefire on J&K LoC
• Muslim man undertakes 800km journey to attend bhoomi pujan in Ram Temple
• Sikh leader abducted by terrorists; Hindu minorities stranded in Pakistan due to Covid-19 crisis arrive in Delhi
• Indian Envoy: US Unable to Dictate Delhi Concerning Iran
-------
Pakistan
• Pakistan: Ulema Vow to Root Out Sectarianism from Society; Promote Inter Faith Harmony
• Widespread criticism over rationale for new law to 'protect' Islam
• Shia Ulema Council rejects bill, warns of protests
• Tahaffuz-e-Bunyad-e-Islam Bill Will Be Signed After Consensus: Sarwar
• TikTok, books do not pose danger to Islam in Pakistan: Fawad Chaudhry
-------
South Asia
• 'Termite' ISI Agents Destroying Afghan System, Should Be Confronted: Ex-Afghan Intel Chief
• UN Says Thousands of Anti-Pakistan Militants In Afghanistan
• NATO urges Taliban for an urgent inter-Afghan dialogue
• Afghan forces kill, wound 14 Taliban militants in Logar province
• Saudis take madrassa-building spree to Afghanistan: Report
-------
Southeast Asia
• Indonesia's Muslims Switch to Online Services for Annual Sacrifice Ritual
• Rohingya Refugees Feared Dead Found Alive On Malaysian Islet
• Indonesian religious group cries foul over tomb closure
-------
Mideast
• Israelis Protest Netanyahu's Coronavirus Response, Call for His Resignation
• Israel arrests two Hamas-affiliated Palestinian legislators in West Bank
• Armed Separatist Team Destroyed in Southern Iran
• Israeli army, defense minister warn of Hezbollah attack along Lebanon border
• UAE money destroying Yemen's Ta'izz: Pro-Hadi commander
-------
Africa
• Somalia Ousts Prime Minister in Parliamentary Vote, President Accepts
• Sudan to deploy troops to conflict-stricken Darfur after string of violent killings
• Tunisia's Interior Minister Hichem Mechichi named new PM: Presidency
• Over 60 killed in fresh violence in Sudan's Darfur: UN
-------
North America
• US Calls on China to Stop Coercing Uighurs To Return After Turkey Extradition Report
• Iranian-American cleric found dead in Iran after being murdered over money: Report
-------
Arab World
• Reporters Without Borders Urges Internal Probe into Saudi Journalist's Death
• Iraqi protesters gather in Baghdad's Tahrir Square over electricity cuts
• Explosion rocks military base near Baghdad: Iraqi military
• Conflicts in Syria, elsewhere will intensify if Iran arms embargo lifted: Hook
• Saudi Arabia border guards stop 196 drug smugglers in a month
• Hezbollah says ready to confront any Israeli aggression
• Car bomb goes off in Turkish-controlled northern Syrian city, eight dead
-------
Europe
• Moscow Police Arrest More Than 30 People After Azerbaijani-Armenian Fights
• Former Home Secretary Javid pours fuel on Russia report fire
Compiled by New Age Islam News Bureau
URL: https://www.newageislam.com/islamic-world-news/eight-mosques-two-dargahs-around/d/122473
-------
Eight Mosques and Two Dargahs Around Ramjanmabhoomi: A Message Of Harmony To Rest Of The World
Jul 27, 2020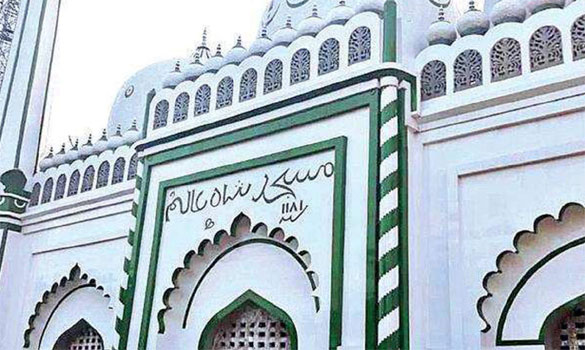 The 70-acre Ramjanmabhoomi premises is hemmed in by eight mosques and two mausoleums, including one believed to have been built by Hindu hermits
----
Ayodhya: The 70-acre Ramjanmabhoomi premises is hemmed in by eight mosques and two mausoleums, including one believed to have been built by Hindu hermits. These Muslim places of worship are located within 100-200m off the fortified area, where Azaan and Ramayana chants seamless blend to cement the syncretic culture of Ayodhya.
Unlike the Babri masjid, where Namaz stopped after December 23, 1949, five-time prayers are offered at these centuries-old Islamic structures adjacent to Ramjanmabhoomi, which also includes a Shia mosque and Imambara and the Tehribazar Jogiyon ki Masjid, which as the name suggests was built by Hindu salvation seekers (jogis) more than 200 years ago.
"Though these mosques are in close proximity to Ramjanmabhoomi, we never faced opposition from our Hindu brethren even at the peak of the temple movement and many of them visit our dargahs during the annual Urs.
Five-time Azaan and qawwali during Urs go hand in hand with chant of Ramayana verses, displaying communal harmony and peaceful coexistence for centuries," said Syed Akhlaq Ahmad Latifi, peer of the 500-year-old mausoleum, Khanqaahe Muzaffariya.
Talking to TOI, Haji Asad Ahmad, corporator of Ram Kot ward that straddles Ramjanmabhoomi, said, "It's the greatness of Ayodhya that mosques surrounding the temple of Ram Lalla gives out a message of harmony to rest of the world. Our Barawafat procession winds its way around the periphery of Ramjanmabhoomi and our Hindu brothers also join in."
The eight mosques around the 70-acre land mandated by Supreme Court for building the temple, include Masjid Dorahi Kuan, Masjid Maali Mandir ke Bagal, Masjid Kaziyana Achchan ke Bagal, Masjid Imambara, Masjid Riyaz ke Bagal, Masjid Badar Paanjitola, Masjid Madaar Shah, Masjid Tehribazar Jogiyon ki (built by Hindus).
There are two other dargahs — Khanqaahe Muzaffariya and Imambara.
Chief priest of Ramjanmabhoomi, Acharya Satyendra Das, said, "Only the mosque named after Babar was disputed. Other mosques and mausoleums symbolise harmony and peaceful coexistence. Muslims offer namaz and we offer our puja. Mosques adjacent to Ramjanmabhoomi will only strengthen the bond between the two communities. Both Hindu and Muslims in Ayodhya accepted the Supreme Court verdict and we have no dispute with each other."
What better portrait can be drawn of Ayodhya than of a magnificent Ram Mandir surrounded by mosques with all offering prayers according to their belief, said Mahant Yugal Kishore Sharan Shastri, chief priest of Saryu Kunj temple adjacent to Ramjanmabhoomi. Ayodhya represents the true India, he added. Similar sentiments were echoed by Mahant Raju Das, chief priest of Hanumangarhi temple.
Talking to TOI, Triloki Nath Pandey, decree holder of Ramjanmabhoomi, said, "Ayodhya must live in peace and harmony. Only the Babri mosque was disputed, we have no issues with mosques surrounding the birthplace of Lord Ram."
https://timesofindia.indiatimes.com/city/lucknow/8-mosques-2-dargahs-around-janmabhoomi/articleshowprint/77188217.cms
--------
Muslim Man Embarks Upon 800km Journey to Attend 'Bhoomi Pujan' of Ram Temple in Ayodhya
JULY 27, 2020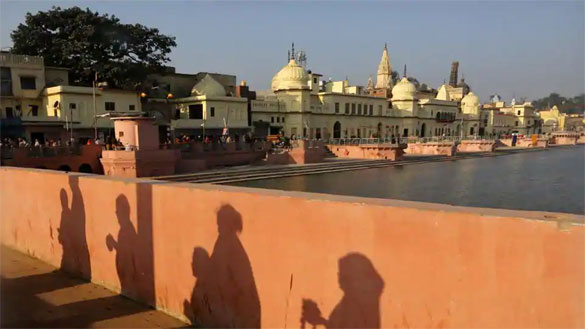 Bhoomi pujan for Ram Temple in Ayodhya will be conducted on August 5(AP)
------
A Muslim man proclaiming to be a devotee of Lord Ram has embarked on a long journey of 800kms, travelling from Chhattisgarh's Chandkhuri village all the way to Ayodhya, where Ram was born. He is doing so to attend the 'bhoomi pujan' ceremony set to take place in Ayodhya next month on August 5.
Mohammad Faiz Khan, who hails from Lord Ram's mother Kaushalya's birthplace, has reached Madhya Pradesh so far, a report in ANI stated.
"I am a Muslim from my name and religion but I am a devotee of Lord Rama. If we find out about our ancestors, they were Hindus. Their names might be Ramlal or Shyamlal. We all have Hindu origin whether we go to church or mosque," Khan told ANI.
Khan considers Lord Ram as the "main ancestor" and his journey is further fueled by Pakistan's national poet Allama Iqbal, who had tried to explain that a person with a "perfect sight" would feel that Ram is, in fact, the lord of India, he stated.
Unfazed by all the criticism coming his way, Faiz said, "Some people in Pakistan have created fake IDs with Hindu and Muslim names and are abusing each other to show that all communities are fighting in India."
Meanwhile, priests in Ayodhya have prepared an elaborate plan for the ceremony with three-day Vedic rituals at the Ram Janmabhoomi site, beginning on August 3. This will be followed by Ramacharya 'puja' on August 4 and the 'bhoomi pujan' on August 5, which will be held around 12:15pm.
Five silver bricks will also be set inside the sanctum sanctorum during the 'bhoomi pujan' ceremony. The first will be laid by PM Modi.
The five bricks are believed to symbolise the five planets as per the Hindu mythology.
The design and the architecture of the temple is the same as the one proposed by the Vishwa Hindu Parishad (VHP) — the design will follow Vishnu temple's Nagara style while the 'garbha griha' will be octagonal.
Amid the planning of this grand 'Bhoomi Pujan', some news websites claimed that Samajwadi Party MP Azam Khan has said he will take 'jal samadhi' in the Saryu river, or in other words, sacrifice his life, if not invited to the ceremony. It turned out to be fake news. The quote was from SP's Azam Khan but it was a namesake. This particular Azam Khan is the president of 'Sri Ram Mandir Nirman Muslim Kar Sewak Manch' and claims to be a Ram devotee.
https://www.news18.com/news/buzz/muslim-man-embarks-upon-800km-journey-to-attend-bhoomi-pujan-of-ram-temple-in-ayodhya-2736743.html#:~:text=A%20Muslim%20man%20proclaiming%20to,next%20month%20on%20August%205.
--------
Pakistan: Ulema vow to root out sectarianism from society; promote inter faith harmony
July 27, 2020
Renowned Ulema of different sects Sunday expressed resolve to fight out sectarianism from the society and promote inter faith harmony, tolerance and brotherhood to strengthen the country.
-----
AhlulBayt News Agency (ABNA): Renowned Ulema of different sects Sunday expressed resolve to fight out sectarianism from the society and promote inter faith harmony, tolerance and brotherhood to strengthen the country.
The participating Ulema of a conference on "Inter-faith harmony and tolerance guarantee stable Pakistan" organised by Maulana Tayyab Qureshi, Khateeb historic Mosque Mohabat Khan here at press club agreed that together they would wipe out sectarianism from the country and promote religious harmony and brotherhood.
Federal Minister for Religious Affairs Noor ul Haq Qadri speaking as chief guest on the occasion, appreciated the organiser of the conference and said such events were inevitable for creating religious harmony in the society and for giving a strong message to the world that whole nation stood united along with the security forces and the government for the sake of motherland.
He said anti- state elements had always tried their best to destabilize the country by creating linguistic and religious differences, in the name of Balochistan card, Talibanlisation and other moves, adding that now these elements were out to create unrest by fanning sectarianism through social media.
The minister said the government was fully aware of the situation and taking cognizant action against, he however called upon the Ulema (Religious Scholars) to promote unity and brotherhood to foil nefarious designs of enemies of the country.
He emphasized upon Ulema to play their imperative role in creating religious harmony and tolerance in the society and guide people that those who were fanning sectarianism wanted to destabilize the country and create chaos.
The minister said that sacrifices of people, security forces, politicians and Ulemas would not go in vain and every possible step would be taken to protect the country from the conspiracies being hatched by anti-state elements.
He said Ulema of every religion had been playing their important role in keeping the nation united on all fronts, adding that all Ulema were united for a stable Pakistan.
In a joint press release issued here after the conference, it was said that all Ulema were united and together they would curb sectarianism.
They said that internal peace and stability were inevitable for protection of motherland against nefarious designs of anti state elements.
The Ulema acknowledged the sacrifices of security and armed forces and people of the country for the sake of motherland and assured their full cooperatio to the armed forces.
They said that due to acumen and wise policies of the country's leadership, the nefarious designs of anti state elements especially India were foiled.
They condemned Indian aggression against innocent unarmed Kashmiris in Occupied Kashmir and appealed to the world community to take notice of Modi government's aggression in the held valley.
They said the conference was evident of the fact that all Ulema stood united with the government, adding that due to efforts of Ulema the brotherhood, harmony and tolerance had prevailed in the country.
The participants of the moot appreciated efforts of the Federal Minister Noor ul Haq Qadri in creating religious harmony and always keeping the Ulema on board on all important issues.
The conference was attended by Maulana Yousaf Shah, Ameer JUI-S, former provincial minister for Oquaf, Qari Rohullah, Sahibzada Junaid Amin of Astana Alia Manki Sharif, Allama Abid Hussain Shakri of Shia religion, Professor Dr Abdul Ghafoor, Maulana Ahmed Salfi of Ahle-Hadees sect and Dr Abdur Rehman Khalil of Sheikh Zaid Islamic Centre.
https://en.abna24.com/news//pakistan-ulema-vow-to-root-out-sectarianism-from-society-promote-inter-faith-harmony_1058114.html
--------
'Termite' ISI agents destroying Afghan system, should be confronted: Ex-Afghan intel chief
Jul 26, 2020
KABUL: Former Afghan intelligence chief Rahmatullah Nabil has termed agents of Pakistani spy agency Inter-Services Intelligence (ISI) "termites" who are destroying the Afghanistan system stating they pose serious threats to the country and should be confronted.
Nabil, speaking at press conference on Saturday, said that the employees of intelligence agencies of the regional countries are being employed in the government institutions, which pose serious threats to Afghanistan, Tolo News reported.
"There are termites which are destroying the system. The ISI (Pakistani military intelligence) agents in the system must be confronted," said Nabil.
The former Afghanistan intelligence chief said that people within the country and the region are exploiting the process for their political and economic agendas.
He expressed discontent that other countries are making the decision about peace in Afghanistan.
"Now we see that our peace has also become a proxy one in the sense that the Afghan people do not have any sort of involvement in the process," said Nabil.
Nabil said he fears the repeat of an old game: "The Soviets departed, they left us war and Afghan-killing. Now it's the same program. The Americans came for counter-terrorism. They are withdrawing, but leaving the war and the Afghan-killing to us."
Nabil also criticized disagreements between President Ashraf Ghani and Abdullah Abdullah, the head of High Council of National Reconciliation, stating that discrimination, corruption and injustice have reached their peak.
https://timesofindia.indiatimes.com/world/south-asia/termite-isi-agents-destroying-afghan-system-should-be-confronted-ex-afghan-intel-chief/articleshow/77179959.cms
--------
Indonesia's Muslims switch to online services for annual sacrifice ritual
July 27, 2020
JAKARTA: A few weeks before Eid Al-Adha is usually a busy time for Dudi Rustandi, an employee of a private information technology firm based in Indonesia's capital city of Jakarta.
For the past 20 years, Rustandi has volunteered at his local mosque in South Tangerang, south of Jakarta, to organize the Qurbani, or annual sacrifice ritual, held on the holiday to mark the end of the Hajj season.
With fellow members of the mosque's management board, Rustandi coordinates a Qurbani-saving program, by which a household can save between Rp200,000 ($13.7) and Rp500,000 ($34.3) per month.
Ahead of Eid, the board informs each participating household of their savings balance and confirms their choice of animal for the Qurbani. A cow or bull is sold for a price ranging between $1,000 and $15,000, depending on its weight and breed. Later, the board purchases the animals accordingly before slaughtering them at the mosque complex.
"Residents of the complex sacrifice at least five cattle in total during Eid Al-Adha every year," Rustandi told Arab News in a phone interview.
However, the outbreak of the coronavirus disease (COVID-19) this year has changed the process for Rustandi, his neighbors, and a majority of Muslims in the country.
Following a quiet celebration of Eid Al-Fitr in May and the cancellation of plans to send a Hajj contingent to Saudi Arabia in June, the Indonesian government has now called on the public to avoid mass gatherings during Eid Al-Adha to limit the spread of the deadly disease.
Rustandi said members of the management board decided to abide by the government's recommendation, and while three out of 10 members earlier insisted on performing the Qurbani as usual, eventually everyone agreed that the risk involved was far higher than the benefits.
"Anyone can be a carrier of the virus. We cannot guarantee strict physical distancing if we hold the Qurbani at the mosque," Rustandi said, adding that an insistence on doing so may also propagate fitna (defamation) over an unfounded accusation should anyone involved in the ritual become infected with the virus.
Instead of being performed at the mosque's complex, the Qurbani will now be held at the Al-Kautsar Mosque, a larger mosque in the area, Rustandi said.
There are concerns, however, that the mosque's management will be overwhelmed with a sudden increase in Qurbani animals.
Therefore, Rustandi and his colleagues devised an alternative option to hold the Qurbani online by using services provided by various zakat (charity) organizing bodies.
"Personally, I have conducted Qurbani through the online platform since 2017. It's easy; I just have to transfer a certain amount of money and let the agency do its job," he said.
Rustandi added that now was not the time to launch into a debate "over the principle of correctness or fiqh in committing the ritual," before stressing the importance of "working together to reduce the risk of a wider transmission."
Indonesia continues to see more than 1,000 new COVID-19 cases daily, while the total number of confirmed cases stood at more than 97,286 as of Sunday, the highest in East Asia. As many as 4,714 fatalities have been recorded.
Qurban poses a huge risk for infection as the ritual attracts crowds in the thousands in the country with the world's largest Muslim population.
According to the Indonesian Agriculture Ministry's 2019 data, there are 30,359 Qurban sites in 26 out of 34 provinces across the country. An average of 56 people work at each location, slaughtering up to 1.87 million cattle, sheep and goats nationwide.
To avoid a spike in infection numbers, the ministry and the government-backed National Zakat Agency (Baznas) have urged Muslims to conduct the Qurban through an online platform this year.
Most zakat organizing institutions, as well as major e-commerce players such as Tokopedia and Bukalapak, are now offering online Qurban services for Indonesian Muslims, based on the official recommendation.
Irvan Nugraha, chief marketing officer of Rumah Zakat, a Bandung, West Java-based zakat institution, told Arab News that there is an increase in demand for the agency's online Qurban services. Rumah Zakat offers two online Qurban options — SuperQurban and Desaku Berqurban — in addition to the standard Qurban services.
Last year, about 85 percent of Rumah Zakat's 13,000 clients performed Qurban online, said Nugraha. This year, he said that the agency aimed to serve 25,000 clients. Nearly 9,000 customers have been registered as of July 22. "Around 90 percent of them chose our online services," he said.
During a webinar hosted by Tokopedia on July 22, EcoQurban CEO Zaenal Arifin said that a majority of Muslims have become more confident in performing the sacrifice through online platforms. This is partially due to improved credibility of organizing agencies as they provide customers with comprehensive reports about the ritual and the meat distribution afterwards, he said.
Arifin said that online Qurban services provide ease for the Muslim community over the ongoing social restrictions amid the COVID-19 outbreak.
As usual, the meat from the slaughtered animals will be distributed to people in need this year, with the addition of those who are affected by the pandemic, Arifin added.
https://www.arabnews.com/node/1710591/world
--------
Israelis protest Netanyahu's coronavirus response, call for his resignation
26 July 2020
Thousands of Israelis protested Saturday in Jerusalem and other cities including Tel Aviv, demanding Prime Minister Benjamin Netanyahu's resignation over his government's handling of the coronavirus pandemic.
For more coronavirus news, visit our dedicated page.
In Jerusalem they rallied outside Netanyahu's residence holding up signs accusing him of corruption, a reference to the premier's indictment in January for bribery, fraud and breach of trust in three cases. He denies all the charges.
"We are fed up with the corrupt," some signs read, alongside others reading "Where are the morals? Where are the values?"
Protesters also slammed a law passed this week that gives the government special powers to fight the spread of the virus until the end of 2021.
Protests against economic fallout from the pandemic have spread across the country in recent weeks. In some cases police sprayed demonstrators with water cannons, injuring some.
Israel won praise for its initial response to the COVID-19 outbreak, but the government has come under criticism amid a resurgence in cases after restrictions were lifted starting in late April.
After experiencing more than 1,000 new coronavirus infections a day in recent weeks, the government has re-imposed some restrictions, including closing bars, nightclubs and gyms.
The country of some nine million people has so far recorded 60,496 confirmed cases, including 455 deaths.
On Saturday thousands of protesters also rallied in the coastal city of Tel Aviv.
Protesters are also frustrated with the impact virus curbs had on the economy, with the unemployed and reduced-income families saying the government is not doing enough to help them.
Israel's unemployment has jumped from 3.4 percent in February to 27 percent in April, before falling slightly in May to 23.5 percent.
https://english.alarabiya.net/en/News/middle-east/2020/07/26/Israelis-protest-Netanyahu-s-coronavirus-response-call-for-his-resignation.html
--------
Somalia ousts prime minister in parliamentary vote, president accepts
25 July 2020
Somalia's parliament has ousted Prime Minister Hassan Ali Khaire in a no-confidence vote, the speaker of the house says, due to criticism of his efforts to tighten security in the country.
The vote also followed a dispute over the timing of a national election.
Khaire, President Mohamed Abdullahi Mohamed, and the heads of regional governments have been in talks this week to try to agree if it should go ahead in February 2021.
Lawmakers voted 170-8 to remove Khaire from office, parliamentary speaker Mohamed Mursal Sheikh Abdirahman said.
Khaire, a former oil company executive, was not immediately available for a comment.
President Mohamed said in a statement carried on state radio that he had accepted the decision of lawmakers to remove Khaire, citing the need to preserve the unity of the various arms of government.
"He will soon appoint a new prime minister," said the statement posted on the state radio's website.
https://www.presstv.com/Detail/2020/07/25/630394/Somalia-vote-no-confidence-prime-minister-Khaire
--------
India
What Can Be Done To Expedite Trials Against Tablighi Jamaat Attendees In Nizamuddin, Asks SC
Jul 27, 2020
NEW DELHI: The Supreme Court on Monday asked Solicitor General Tushar Mehta what can be done to expedite the trials against the foreign nationals, who attended the Markaz Tablighi Jamaat congregation in Nizamuddin in March this year.
A bench headed by Justice AM Khanwilkar was hearing a batch of petitions challenging the blacklisting and cancellation of visas of foreign nationals who attended the congregation, which had reportedly become an epicentre for the spread of coronavirus in the country.
Mehta, senior law officer representing the Central government, submitted that 23 foreign nationals, out of the total 34 petitioners, have been let off on fine after they accepted mild charges under the plea bargaining process.
He added that nine foreign nationals, however, have opted to face trial here, which will take place in various courts, to which the bench asked the Mehta what can be done to complete the trials expeditiously of these persons?
Responding to the bench, Mehta said that he can speak to the investigation officer, seek instructions, and figure out how the trial may be expedited.
Senior lawyer CU Singh, appearing for several petitioners, requested the bench that the return of these 23 petitioners must be facilitated at the earliest.
The apex court, which had earlier stated that these foreign nationals could individually move concerned authorities, fixed the matter for further hearing to July 31.
The petitions, filed by the foreign nationals from 35 countries, have sought directions to the Ministry of Home Affairs (MHA) to remove their names from the blacklist, reinstate their visas and facilitate their return to their respective countries.
The petitions sought to declare the decision of the MHA of blacklisting the foreign nationals who attended the Tablighi Jamaat congregation as "arbitrary".
These foreign nationals were blacklisted for a period of 10 years from travelling to India for their alleged involvement in Tablighi Jamaat activities.
https://timesofindia.indiatimes.com/articleshowprint/77191633.cms
--------
Pakistan troops again violates ceasefire on J&K LoC
Jul 27, 2020
JAMMU: Pakistan troops again indulged in unprovoked ceasefire violation on the Line of Control (LoC) in Jammu and Kashmir's Poonch district on Monday, following which the Indian Army retaliated befittingly, an official said.
"Pakistan initiated unprovoked ceasefire violation around 10.30 am today by firing with small arms and shelling with mortars along the LoC in Mankote Sectorof Poonch district. The Indian Army is retaliating befittingly," Defence Ministry spokesman Colonel Devender Anand said.
On July 25, the Pakistan troops had violated the LOC ceasefire for the 4th consecutive day in Poonch district.
Pakistan has been violating the ceasefire with impunity since the beginning of this year. So far, in 2020, more than 2,700 ceasefire violations have been reported, in which 21 civilians have been killed and 94 injured.
Hundreds of border villagers are living on the edge as Pakistan shelling and firing has been endangering their lives, homes, and cattle.
https://timesofindia.indiatimes.com/india/pakistan-troops-again-violates-ceasefire-on-jk-loc/articleshow/77193207.cms
--------
Muslim man undertakes 800km journey to attend bhoomi pujan in Ram Temple
Jul 27, 2020
A Muslim man has begun 800-km long walk from Chhattisgarh's Chandkhuri, the village where Kaushalya, mother of Lord Rama was born, to Ayodhya, the venue for the ground-breaking ceremony of Ram temple that will be conducted on August 5.
Mohammad Faiz Khan, who has reached Madhya Pradesh's Anuppur, told ANI, "I am a Muslim from my name and religion but I am a devotee of Lord Rama. If we find out about our ancestors, they were Hindus. Their names might be Ramlal or Shyamlal. We all have Hindu origin whether we go to church or mosque."
"Our main ancestor is Lord Rama. Allama Iqbal (Pakistan's national poet) had tried to explain in a way in which he said that the one who has perfect sight, will consider Lord Rama as lord of India. With this reverence, I am taking soil from Kaushalya's birthplace at Chandkhuri to Ayodhya for dedicating it during the ground-breaking ceremony," he said.
Asked about people criticising his initiative, he said, "Some people in Pakistan have created fake IDs with Hindu and Muslim names and are abusing each other to show that all communities are fighting in India."
He claimed that he has walked 15,000 km to various temples and even stayed there.
"This is not the first time I am walking to the temples. I have walked 15,000 km and stayed in temples and mutts. Nobody said a word against me. This journey is only 800 km," Khan said.
"Pakistan is trying to create communal tension in India on the occasion of Ram temple construction," he added.
https://www.hindustantimes.com/india-news/muslim-man-undertakes-800km-journey-to-attend-bhoomi-pujan-in-ram-temple/story-c9EGv6BerYsWPb5pLD6i2M.html
--------
Sikh leader abducted by terrorists; Hindu minorities stranded in Pakistan due to Covid-19 crisis arrive in Delhi
Jul 26, 2020
Eleven members of the Sikh and Hindu minorities of Afghanistan, including a community leader who was recently abducted by terrorists, arrived in New Delhi on Sunday after the Indian embassy in Kabul facilitated their travel.
In a statement issued on July 18 after the release of Nidan Singh Sachdeva, the Sikh leader who was kidnapped in Paktia province last month, the external affairs ministry said the government had decided to "facilitate the return of Afghan Hindu and Sikh community members facing security threats in Afghanistan to India".
Sachdeva was among the Afghan nationals who reached New Delhi on a Kam Air flight at 2 pm on Sunday. The flight also carried Indian citizens who were stranded in Afghanistan because of the Covid-19 pandemic.
Adesh Gupta, a leader of the Delhi unit of the Bharatiya Janata Party (BJP) and others received the Afghan Sikhs and Hindus at the international airport.
"Travel of some members of the Hindu and Sikh [communities], interested in moving to India, was also facilitated," the Indian embassy in Kabul said in a tweet.
"We appreciate the efforts of the government of the Islamic Republic of Afghanistan in extending necessary support for the safe return of these families," the external affairs ministry said in a statement.
The Indian government had earlier expressed concern at the "targeting and persecution of minority community members [in Afghanistan] by terrorists at the behest of their external supporters".
Concerns among Afghanistan's dwindling Sikh minority have increased after a terror attack on a Sikh place of worship in Kabul in March that left 25 people dead and others injured. The attack was claimed by the Islamic State, though Indian and Afghan security officials believe the assault was planned and executed by Pakistan-based Haqqani Network and Lashkar-e-Taiba (LeT).
Several of the Afghan nationals who arrived in India on Sunday had lost their relatives in the attack on the Sikh place of worship. Also in the group was a teenage girl who was rescued from people who allegedly tried to forcibly convert and marry her off.
According to reports in the Afghan media, there were some 220,000 Sikhs and Hindus in Afghanistan in the 1980s. Their numbers dwindled to 15,000 when the Taliban were in power in Kabul. An estimated 1,350 Sikhs and Hindus remain in Afghanistan now, according to the reports.
https://www.hindustantimes.com/india-news/sikh-leader-abducted-by-terrorists-hindu-minorities-stranded-in-pakistan-due-to-covid-19-crisis-arrive-in-delhi/story-D3RWJD4X4fTWaLVxfBpCAL.html
-------
Indian Envoy: US Unable to Dictate Delhi Concerning Iran
Jul 26, 2020
Dharmendra said India has informed the United States that it is not entitled to tell Delhi what to do with respect to Iran's Southern port of Chabahar.
He named China as one the countries that provide Delhi with equipment for development of the port city.
Delhi has already tried to exempt Chabahar from US sanctions as the port city is of great importance for India because it set up a ground and marine link between India and Afghanistan and contravenes Pakistan's ground route.
Last week Delhi announced that, despite problems posed by US sanctions, an Indian company has quadrupled its activities in Chabahar for the past 2 years.
In a relevant event it was announced on July 19 that Afghanistan would send its first shipment to Tianjin port of China through Chabahar in Southeast of Iran.
Managing Director of Sistan and Balouchestan Ports and Maritime Organization Behrouz Aqayee said the shipment has been dispatched via Chabahar to Mundra port in India and will be then transited to China.
While, the world is gripped by coronavirus epidemic, it was another record for Chabahar port, Aqayee added.
Afghanistan used to transit its commodities through Karachi in Pakistan to other countries; but now thanks to suitable infrastructures and services in Chabahar port, traders prefer to transport their goods through Chabahar.
Chabahar, Iran's only oceanic port, is a strategic region on the Persian Gulf and Sea of Oman shores and in North-South Corridor.
https://en.farsnews.ir/newstext.aspx?nn=13990505000911
--------
Pakistan
Widespread criticism over rationale for new law to 'protect' Islam
27 Jul 2020
ISLAMABAD: Various sections of society, including a federal minister, have criticised the passage of the Punjab Tahaffuz-i-Bunyad-i-Islam (protecting the foundation of Islam) Bill 2020 by the Punjab Assembly, warning that such trends would fan extremism.
Federal Minister for Science and Technology Fawad Chaudhry in a tweet stated: "An environment has been created in the Parliament, particularly in the Punjab Assembly, where every [other] member comes up with a motion on a daily basis warning that Islam will be in danger if it is not passed. This is a dangerous trend and it will plunge us deep into sectarianism and religious extremism."
In response to another tweet criticising the act of passing the bill making publishing of objectionable and/or hate material punishable, Mr Chaudhry stated: "Islam in Pakistan is neither facing any danger from TikTok nor from books. We are facing a danger because of the division on the basis of sectarianism and extremism.
"Those living in palaces must exercise caution and do not fan the fire that burn themselves."
In a statement, National Party's Punjab president Ayub Malik said the new law would fan sectarianism besides stoking hatred against minorities in the largest and most populous province of the country that had a history of religious hatred against the marginalised sections of society.
Minister says such trends will plunge nation into extremism
Mr Malik said the country had already suffered a lot due to the retrogressive policies of military dictator General Ziaul Haq that encouraged obscurantist elements of society to badly damage the vision of Jinnah's Pakistan.
"Now with this new law, the concept of Jinnah's Pakistan has been pushed towards the verge of complete destruction, paving the way for more hatred against minorities and other sections of society," he added.
He questioned the rationale of enacting the law when Islamic injunctions of 1973 Constitution along with Section 505(2) of the PPC and Section 8 of the Anti-Terrorism Act already penalise racial and sectarian hatred.
Chief of Tehreek Nifaz Fiqh Jafaria Agha Syed Hamid Ali Shah Moosavi in a statement termed the bill contrary to Quran and Sunnah and an attack on the Constitution.
He also announced that peaceful protests would be held across Pakistan on Friday against this law. "We will not shy away from taking any big step to save the foundations of the religion and the motherland," he said, demanding that "this vicious bill be withdrawn forthwith".
Agha Moosavi said the passage of the bill just before Muharram was aimed at thwarting the efforts of the government to maintain law and order during the month.
The Women Democratic Front (WDF), a civil society organisation working for women's rights, also expressed deep concerns over, what it called, "the blatant attempt at increased state censorship through the Tahaffuz-i-Bunyad-i-Islam Bill".
It said the bill was a transparent ploy to attack the already shrinking space for intellectual independence and religious freedom by threatening to monitor and censor books, magazines, pamphlets and other reading material published and imported into Pakistan in the name of protection of religion.
Through the passage of this bill, it said, the state wished to trample even further on freedom of thought and expression in the country and stifle any dissenting discourse.
The WDF called upon the Punjab governor to not ratify the bill and condemned those political parties which claimed to fight for the rights of minorities and yet voted for the bill.
"It is no secret that religious, intellectual, academic and political freedoms are under attack in Pakistan. Efforts to silence academics, journalists and political workers through force have been increasing while rightwing forces are making it harder for non-Muslim Pakistanis to practice their religion freely," the statement said. It called upon all progressive forces in the country to join hands in calling upon the legislators to repeal this bill with immediate effect and stand with the forces of freedom rather than against them.
The law passed on July 22 makes "desecration" of any prophet, any of the four divine books, family and companions of Prophet Muhammad (peace be upon him), as well as abetting or glorification of terrorists, and promoting sectarianism in any book punishable with a maximum of five-year jail terms and up to Rs500,000 fine. It makes the use of the words "Khatam-un-Nabiyyeen" mandatory whenever the name of Prophet Muhammad (peace be upon him) is mentioned.
https://www.dawn.com/news/1571343/widespread-criticism-over-rationale-for-new-law-to-protect-islam
--------
Shia Ulema Council rejects bill, warns of protests
Asim Hussain
July 27, 2020
LAHORE : Shia organisations on Sunday continued protesting and condemning the Tahaffuz Bunyad-e-Islam Bill passed by the Punjab Assembly, terming it an encroachment upon their basic faith and conspiracy against the liberal kind of Pakistan envisioned by Quaid-i-Azam.
After a major Shia group, Majlis Wahdat Muslemin (MWM), announced withdrawing political and electoral support in future to all those parties who backed the bill in assembly, another Shia organisation, Shia Ulema Council (SUC), warned of sectarian strife and protests just ahead of Muharram if their reservations on the bill were not removed.
SUC Punjab president Allama Sibtain Haider phoned Punjab Assembly Speaker Ch Pervaiz Elahi on Sunday and, on behalf of SUC chief Allama Sajid Ali Naqvi and other central leaders, conveyed him the reservations of Shia community over the bill. He expressed wonder how Punjab Assembly members were taken in by some hardliners to make a controversial legislation which was totally unacceptable to Shias. He said both Shias and Sunnis greatly respect and honour the companions of Holy Prophet (PBUH) and had always been writing 'Alaih-e-Salam' with their names as mark of love and respect, adding both Shias and Sunnis have reservations against this bill.
He later told the media that Speaker Punjab Assembly Ch Pervaiz Elahi assured that the reservations of Shia community over the bill would be resolved. He said on the invitation of Ch Pervaiz Elahi, a delegation of SUC would meet him at his residence on Monday (today) and convey reservations of Shia community to him over the bill.
Meanwhile, the central secretary general of MWM, Allama Raja Nasir Abbas, announced totally rejecting the bill, terming it contradictory to the constitution of Pakistan and a conspiracy to make the country a sectarian state. He said in the presence of the Constitution of Pakistan, there was no need for enacting such a controversial legislation.
https://www.thenews.com.pk/print/692541-shia-ulema-council-rejects-bill-warns-of-protests
--------
Tahaffuz-e-Bunyad-e-Islam Bill will be signed after consensus: Sarwar
Faizan Bangash
July 27, 2020
LAHORE: Punjab Governor Ch Sarwar has said the Tahaffuz-e- Bunyad-e-Islam Bill 2020 will become an act after consensus. Talking to The News over Tahaffuz-e-Bunyad-e-Islam Bill that was passed by the Punjab Assembly on July 22, the governor said the bill is very sensitive and it would be signed after consensus is developed over it. Under the law, a bill after being passed by a provincial assembly is referred to the governor and after he signs the document, it becomes law.
The Tahaffuz-e-Bunyad-e-Islam Bill is very much likely to be referred back to the Punjab Assembly's Standing Committee again as the governor is not going to sign it in a hurry. Already, the bill, which was tabled in the House by the PML-Q MPA and minister, has sparked a controversy which was obvious from the press conference of Majlis-e-Wahdat Muslimeen leadership which completely rejected it while expressing serious reservations on it. The MWM leadership holds the view that this bill was passed at a time when the House wasn't even able to meet the quorum and most of the members didn't even turn up at a session when this bill was being debated.
Moreover, some politicians while expressing their reservations even said the timing of this bill has been very sensitive as just a few days later, the month of Muharram is commencing and sectarian divide could be disastrous for country at this hour.
On the other hand, the Punjab government bigwigs like Law Minister Raja Basharat have termed it a step towards the 'PM's vision of Riyast-e-Madina'. Punjab Assembly Speaker Pervaiz Elahi being the key player behind this bill also believes that this legislation would increase harmony amongst different sects. He has also contacted different religious scholars to build consensus over the bill.
Our correspondent adds from Islamabad: Central Secretary General of Majlis-e-Wahdat Muslimeen (MWM) Pakistan Allama Nasir Abbas Jaffary Sunday termed the Tahaffuz Bunyand-e-Islam Bill as against the Constitution of Pakistan and fundamental human rights.
He emphasised that the promotion of tolerance and brotherhood was cardinal and the document prepared under the tag of 'Message of Islam' would go a long way in maintenance of sectarian harmony and mutual respect. Extremism, he pointed out, had claimed more than 70,000 lives in Pakistan in the last three decades. He said that Shia Ulema and Sunni clerics were not consulted before introducing the bill in the Punjab Assembly.
Speaking here at a news conference at MWM Secretariat along with central and provincial leaders, he said that no other bill was required in the presence of the Constitution of Pakistan. "The Shia community rejects it outright. A fatwa of disbelief was imposed on Quaid-i-Azam and Allama Iqbal before the establishment of Pakistan."
Meanwhile, Patron-in-Chief of Supreme Shia Ulema Board Quaid-e-Millat Jafaria Agha Syed Hamid Ali Shah Moosavi announced that a peaceful protest day would be observed all over Pakistan on Friday (July 31) against the bill in the Punjab Assembly.
He was addressing the office-bearers of Tehreek Nafaz Fiqh-e-Jafariya Punjab who called on him. He pointed out that the Article 227 of the Constitution clearly indicates that interpretation of the Quran and Sunnah will be considered acceptable as is interpreted by any sect, accordingly.
https://www.thenews.com.pk/print/692674-tahaffuz-e-bunyad-e-islam-bill-will-be-signed-after-consensus-sarwar
--------
TikTok, books do not pose danger to Islam in Pakistan: Fawad Chaudhry
Jul 26 2020
ISLAMABAD: Islam in Pakistan was not threatened either by TikTok or books, Science and Technology Minister Fawad Chaudhry said Sunday, a few days after the Punjab Assembly passed the Tahaffuz-e-Bunyad-e-Islam Bill.
In a series of tweets, Chaudhry underlined how "at present, an atmosphere has been created in the parliament, especially in Punjab, where a member comes up with a new motion every other day, claiming Islam is in danger if that is not passed".
"This is a dangerous attitude that will throw us into a vicious circle of sectarian and religious extremism," he said. "In Pakistan, Islam is neither threatened by TikTok nor books."
The minister added that Pakistan, on the other hand, was threatened by sectarian divisions and extremism.
"Individuals in palaces should be careful not to fan the flames lest they be burned themselves," he noted further.
Pakistan with green flag
Earlier today, Majlis Wahdat-e-Muslimeen (MWM) chief Allama Nasir Abbas spoke about the Tahaffuz-e-Bunyad-e-Islam Bill passed Wednesday by the Punjab Assembly, saying: "We need Quaid-e-Azam's, Allama Iqbal's Pakistan, with a green flag and a crescent."
"Unfortunately, some elements do not want the country to remain Quaid-e-Azam's Pakistan," he added, noting that the Constitution gave every citizen in the country the right to live their lives according to their faith.
"The country is facing economic, political and diplomatic problems. In the current situation, it cannot afford any more challenges," he added.
'Islam takes precedence over everything else'
In addition, Senator Professor Sajid Mir, the chief of the central Jamiat Ahl-e-Hadees, also issued his comments about the bill while speaking Lahore, saying his group supported the passage of the Tahaffuz-e-Bunyad-e-Islam Bill in the Punjab Assembly.
"There may be political differences but Islam takes precedence over everything else," Prof Mir added, terming the bill "a historic step".
The senator further noted that Punjab Assembly Speaker Chaudhry Pervaiz Elahi and other MPAs deserved congratulations on the Bill's passage.
"The Tahaffuz-e-Bunyad-e-Islam Bill is the best attempt to eradicate sectarianism in the spirit of Islam," the cleric said.
'Permanently hampered'
Last week, the Punjab Assembly had passed the Tahaffuz-e-Bunyad-e-Islam Bill 2020, which gives the Directorate General Public Relations (DGPR) powers to visit and inspect any printing press, publishing house or bookstore and confiscate any book, before or after printing.
Also read: Chaudhry speaks up about 'moral policing and ban approach'
Earlier, Chaudhry had spoken about it was not okay to go on banning apps left, right, and centre, as it would "destroy [Pakistani] tech industry".
He had further highlighted how development in technology would "be permanently hampered" across Pakistan, a country that already lags significantly behind the world in terms of science and research.
https://www.geo.tv/latest/299841-tiktok-books-do-not-pose-danger-to-islam-in-pakistan-fawad-chaudhry
--------
South Asia
UN says thousands of anti-Pakistan militants in Afghanistan
Jul 26, 2020
ISLAMABAD: A UN report says more than 6,000 Pakistani insurgents, most belonging to the outlawed Tehreek-e-Taliban Pakistan (TTP) group attacking Pakistani military and civilian targets, are hiding in Afghanistan.
The report released this week said the organization has linked up with the Afghan-based Islamic State affiliate and some of its members have even joined the IS group, which has its headquarters in eastern Afghanistan.
The Afghan government did not respond to The Associated Press requests Sunday for comment.
The report said the IS in Afghanistan, known as IS in Khorasan province, has been hit hard by the Afghan Security Forces, as well as US and NATO forces and even on occasion by the Taliban. The report was prepared by the UN analytical and sanctions monitoring team, which tracks terrorist groups around the world.
The report estimated the membership of the Islamic State affiliate in Afghanistan at 2,200 and while its leadership has been depleted it still counts among its leaders a Syrian national Abu Said Mohammad al-Khorasani.
The report also said the monitoring team had received information that two senior Islamic State commanders, Abu Qutaibah and Abu Hajar al-Iraqi, had recently arrived in Afghanistan from the Middle East.
"Although in territorial retreat, (the Islamic State) remains capable of carrying out high-profile attacks in various parts of the country, including Kabul. It also aims to attract Taliban fighters who oppose the agreement with the United States," said the report referring to a US peace deal signed with the Taliban in February.
That deal that was struck to allow the US to end its 19 year involvement in Afghanistan also calls on the Taliban to guarantee its territory will not be used by terrorist groups. The deal is also expected to guarantee Taliban all-out participation in the fight against the Islamic State.
The second and perhaps the most critical part of that agreement calls for talks between the Taliban and Kabul's political leadership.
Late on Saturday the US State Department issued a statement saying its peace envoy Zalmay Khalilzad was again shuttling through the region seeking to jump start those negotiations which have been repeatedly postponed as both sides squabble over a prisoner release program.
The US-backed deal calls for the Afghan government to release 5,000 Taliban prisoners and the Taliban to free 1,000 government and military personnel as a so-called good will gesture ahead of talks. Until now the government is refusing to release nearly 600 Taliban prisoners it calls high-profile criminals and have offered to free alternatives. The Taliban has refused.
"The parties are closer than ever to the start of intra-Afghan negotiations, the key next step to ending Afghanistan's 40-year long war," said the US State Department statement. "Although significant progress has been made on prisoner exchanges, the issue requires additional effort to fully resolve."
The Taliban's political spokesman earlier this week said it was ready to hold talks with Kabul's political leaders after the Islamic holiday of Eid ul Adha which is at the end of the month, providing the prisoner release is completed.
A big worry for Pakistan is the presence in Afghanistan of militants, particularly linked to the TTP or Jamaat-al Ahrar or Lashkar-e-Islam, as well as those with the Baluchistan Liberation Army, which has taken responsibility for high profile attacks this month in the southern Sindh province as well as in southwestern Baluchistan Province. Several Pakistan military personnel have been killed this month in southwestern Baluchistan province in battle with insurgents.
The TTP took responsibility for one of the most horrific attacks in Pakistan in 2014 when a Pakistani army school was attacked and 140 were killed. Most were students and some were as young as 5.
"The total number of Pakistani foreign terrorist fighters in Afghanistan, posing a threat to both countries, is estimated at between 6,000 and 6,500, most of them with TTP," said the report.
https://timesofindia.indiatimes.com/world/south-asia/un-says-thousands-of-anti-pakistan-militants-in-afghanistan/articleshow/77181556.cms
--------
NATO urges Taliban for an urgent inter-Afghan dialogue
27 Jul 2020
The Taliban had agreed to enter into an inter-Afghan dialogue with the Afghan government and politicians after signing a peace pact with the United States in late February 2020.
In nearly 20 weeks, no signs of progress have been noticed in the intention of the Taliban. Taliban's violence continues on a non-stop basis, however, the Afghan government has released over 85% of the prisoners and the U.S forces have left 5 military bases as per the agreement.
Unacceptable violence levels by the Taliban cause the majority of civilian casualties, NATO office tweeted.
NATO has expressed concerns that the continuation of violence by the Taliban may harm the opportunities to reaching a peace.
Taliban must cease violence, live up to their comments and enter intra-Afghan negotiations ASAP, NATO called on the Taliban in a tweet.
This as as the UNAMA has also called on the Taliban to prioritize civilian protection and start peace talks.
The new report by UNAMA indicates that violence in Afghanistan have left 3,458 civilian casualties during first half of 2020.
According to the report, 1,282 civilians have been killed and 2,176 have been injured during the first 6 months of the year.
According to a statement published by the UNAMA along with the 2020 half-year report, UN urges all parties to end conflicts through political solutions in order to reduce civilian casualties.
UNAMA urges all parties to the conflict to strengthen their engagement with the United Nations and reminds them of their responsibility to protect civilians. Peace remains the best protection for civilians affected by armed conflict.
We call on all parties and those who can influence them to work toward political solutions to end the conflict, UNAMA added in a statement.
https://www.khaama.com/nato-urges-taliban-for-an-urgent-inter-afghan-dialogue-797976/
--------
Afghan forces kill, wound 14 Taliban militants in Logar province
27 Jul 2020
The Afghan security forces killed at least 6 Taliban militants during the clashes in central Logar province of Afghanistan.
According to a statement released by Ministry of Defense (MoD), the Taliban militants were planning to attack the security posts in Dado Khel in the provincial capital and Lashkar Khel in Mohammad Agha district.
The statement further added that the security forces launched pre-emptive operations to counter the attack.
The security forces killed 3 Taliban militants in the provincial capital of Logar and wounded at least 2 others, the Ministry of Defense said.
It also added that the security forces killed 3 Taliban militants and wounded 6 others during the operation in Mohammad Agha district.
The Taliban group has not commented regarding the incidents so far.
https://www.khaama.com/afghan-forces-kill-wound-14-taliban-militants-in-logar-province-08989/
--------
Saudis take madrassa-building spree to Afghanistan: Report
27 July 2020
Saudi Arabia is to build as many as 600 madrassas in Afghanistan following its experience in neighboring Pakistan where such schools have become synonymous with creating terrorists through extremist Takfiri teachings.
The schools would be constructed by the rural development communities instead of private sectors, English-language Afghanistan Times Daily reported Sunday, citing the Afghan embassy in Riyadh.
Earlier, chairman of the Afghan senate Fazal Hadi Muslimyar said Saudi Ambassador to Kabul Jassim bin Mohammed al-Khalidi had supported building 100 madrassas and one "college" in the Nangarhar province.
The plan has been met with widespread reaction across social media, with users asking whether the centers will be presided over by the Afghan Education Ministry instead of having their curricula and procedures dictated by Riyadh.
Afghanistan Times Daily said the schools, to be propped up across Afghanistan, would be "monitored by an independent watchdog organization," suggesting they would not be answerable to the education ministry.
'Nurseries of extremism'
The madrassas, blamed for preaching hatred against various religions and sects among their pupils, have earned notoriety for being "nurseries of extremism."
Last year, Pakistan agreed to start reforming its roughly 30,000 radical centers, mostly funded by Saudi Arabia, which are the target of global outcry for their role in training future terrorists.
Saudi Arabia is widely known for exporting its extremist ideology of Wahhabism worldwide through the so-called educational centers.
Wahhabism forms the mindset of Takfiri terrorist groups across the world, which consider subscribers of other faiths to be worthy of nothing but death.
The most violent of those groups to date that ran amok across Iraq and Syria from 2014 to late 2017 is the Daesh terrorist outfit.
The Saudi envoy's expression of support for the creation of a "college" in Nangarhar is curious because the province is hosting the largest number of Daesh terrorists who have fled Syria, Iraq and other countries.
https://www.presstv.com/Detail/2020/07/27/630497/Saudi-Arabia-building-schools-Afghanistan-madrassa-Pakistan-radicalization-Wahhabism
-------
Southeast Asia
Rohingya refugees feared dead found alive on Malaysian islet
27 July 2020
Twenty-six Rohingya refugees who had been feared drowned while trying to swim ashore on the Malaysian resort island of Langkawi were found alive hiding in the bushes on a nearby islet, a senior coastguard official said on Monday.
Malaysia does not recognize refugee status, but the Muslim-majority country is a favored destination for Rohingya Muslims seeking a better life after escaping a 2017 military crackdown in Myanmar and, more recently, refugee camps in Bangladesh.
Late on Saturday, one Rohingya swam ashore from a small boat off Langkawi's west coast. Officials had feared that the rest of the group had drowned while trying to reach the beach, but they were later discovered on an islet just off the coast.
"They were found hiding in the bushes on the island," Mohd Zubil Mat Som, director-general of the Malaysian Maritime Enforcement Agency (MMEA), said in a text message.
Authorities have detained the refugees. Two more Rohingya migrants have also been arrested for suspected trafficking in connection with the people found, Mohd Zubil said.
The refugees were believed to have transferred to a small boat to sneak into Malaysia, having traveled on a "motherboat" carrying hundreds of Rohingya from Bangladesh, the coastguard official said.
Last month, Malaysia had detained 269 Rohingya who arrived in Langkawi on a damaged boat. Mohd Zubil had said at the time that dozens of people on the boat were believed to have perished during a voyage that lasted four months.
Prime Minister Muhyiddin Yassin said last month Malaysia was unable to take in any more Rohingya, citing a struggling economy battered by the coronavirus pandemic.
https://www.presstv.com/Detail/2020/07/27/630498/Malaysia-Rohingya-refugees-feared-dead-found-alive
-------
Indonesian religious group cries foul over tomb closure
Konradus Epa
July 27, 2020
Followers of Sunda Wiwitan, an indigenous faith group in Indonesia's West Java province, have accused authorities of bowing to pressure from hardline Muslim groups who forced the closure of one of their most sacred sites.
The Kuningan district Public Order Agency last week sealed off the tomb of two Sunda Wiwitan leaders — Prince Djatikusumah and Queen Emalia Wigarningsih, who died last year and were buried at the site in the village of Cisantana.
Group members were also prohibited from praying at the tomb.
"The entire site was closed," Okky Satrio Djati, a Sunda Wiwitan spokesman, told UCA News on July 25.
Sunda Wiwitan has about 100,000 followers across West Java and Banten provinces who venerate the power of nature and the spirit of their ancestors.
Djati said it was unbelievable that authorities bowed to pressure from conservative groups who had protested and ordered the tomb to be removed.
The tomb has giant stones indicating Sunda Wiwitan's closeness to nature and was meant to be a shrine for followers to pray at.
Local authorities saw it as a monument that required a government permit. Under Indonesian law, religious sites require such a permit.
Djati said the community was in the process of getting one but intolerant groups saw this as an opportunity to pressure the government to not grant a permit and tear the shrine down.
He said they filed a request for a building permit on July 1 but were rejected on July 14.
Cecep Murad, from the Indonesian Ulema Council, said Muslims rejected the site because they were worried it would become a place of idolatry.
"The tomb is different from other [ordinary] tombs. Hence, it is a concern of Muslims," he said.
Kuningan district chief Acep Purnama denied Sunda Wiwitan followers were being discriminated against. He insisted that the tomb was a monument without a government permit.
"Sealing it is the best way [to prevent bad things happening]," Purnama said without explaining why the request for a permit was rejected.
Rights groups condemned the site's closure.
Jesuit Father Johannes Haryanto, general secretary of the Indonesian Conference on Religious and Peace, accused the district chief of seeking political backing from Muslim hardliners.
"The closure of this site is regrettable and we ask the people in Kuningan district to join hands and create harmony with one another," he said.
Bonar Tigor Naipospos, deputy chairman of the Setara Institute for Democracy and Peace, said the Sunda Wiwitan community and other religious minorities face difficulty in burying their members in public cemeteries "because they are from another faith and are considered heretics."
He also said that a lack of a political will by many local governments has had a dire effect on religious freedom.
"They have become the main barrier to religious freedom because they cave in to public pressure too easily," he told UCA News.
Usman Hamid, director of Amnesty International Indonesia, said the government must respect diversity and the rights of religious minorities.
"We urge the local government to reopen the site because it discriminates against the community and violates the law," Hamid said.
https://www.ucanews.com/news/indonesian-religious-group-cries-foul-over-tomb-closure/88921
--------
Mideast
Israel arrests two Hamas-affiliated Palestinian legislators in West Bank
26 July 2020
Israel has arrested two legislators affiliated to the Gaza-based resistance movement of Hamas along with several more Palestinians in separate operations across the occupied West Bank.
A large number of Israeli troops raided the home of Sheikh Hatem Qafisheh in the city of al-Khalil, located 30 kilometers (19 miles) south of Jerusalem al-Quds, on Sunday morning.
Local sources, speaking on condition of anonymity, said Nayef Rajoub was also detained after the troops broke into his family home in Dura, eleven kilometers southwest of al-Khalil.
Israeli forces have detained Rajoub on multiple occasions in the past. He was once arrested by his brother Jibril in 1996 during a crackdown on Hamas members by the Palestinian Preventive Security (PPS). Jibril Rajoub was the chairman of the Palestinian security apparatus at the time.
Also early on Sunday, Israeli forces broke into several homes in the city of Qalqiliya. Three young men, identified as Mohamed Yassin, Wisam Hamada and Wajdi al-Shanti, were detained.
Israeli forces also arrested two brothers, identified as Rabhi and Ahmed al-Asmar, in the Old City of Jerusalem al-Quds.
More than 7,000 Palestinian prisoners are currently held in some 17 Israeli jails, with dozens of them serving multiple life sentences.
Over 350 detainees, including women and minors, are under Israel's administrative detention.
The administrative detention, which is a form of imprisonment without trial or charge, allows authorities to incarcerate Palestinians for up to six months. The duration could be extended for an infinite number of times.
The detention takes place on orders from a military commander and on the basis of what the Israeli regime describes as 'secret' evidence.
Some prisoners have been held in administrative detention for up to 11 years.
https://www.presstv.com/Detail/2020/07/26/630460/Israel-Hamas
-------
Armed Separatist Team Destroyed in Southern Iran
Jul 26, 2020
Abbas-Zadeh said that the team had staged an armed assault on the house of a local Basij commander and a member of the volunteer force on Wednesday night.
He noted that the mother of one of the Basij members was martyred during the shooting.
Abbas-Zadeh reiterated that in less than 48 hours, three main agents of the terrorist incident were identified and arrested.
He went on to say that the separatist team have records of illegal actions in the province.
In a relevant operation on July 16, Islamic Revolution Guards Corps (IRGC) forces identified and destroyed a terrorist cell affiliated to the Mojahedin-e Khalq Organization (MKO, also known as the MEK, PMOI and NCRI) terrorists in Shiraz, Fars province.
The terrorist cell was dismantled before carrying out any operation, the report said, adding that all members of the terrorist cell have been arrested.
In another relevant operation on the same day, the IRGC announced in a statement that a number of main elements of anti-revolutionary groups, who were provoking people to embark on protest rallies in Northeastern Khorasan Razavi province, have been identified and arrested.
According to the statement released by Imam Reza Corps of Khorasan Razavi, some of the detainees have records of measures like espionage against Iran's national security.
The statement went on to say, "With full mastery and action of the intelligence organization of Imam Reza Corps of Khorasan Razavi province, a number of the main hostile groups, who were persuading their advocates and people to hold protest rallies on streets via publication of call, were identified and arrested."
The report added that some of these elements have records of measures such as spying against national security, stirring chaos, and trying to disturb public order via cyberspace.
https://en.farsnews.ir/newstext.aspx?nn=13990505000873
--------
Israeli army, defense minister warn of Hezbollah attack along Lebanon border
25 July 2020
The Israeli army's chief of staff visited soldiers along the Lebanese border on Saturday, as reports circulate of Tel Aviv anticipating an attack from Hezbollah in response to the killing of one of its fighters in Syria.
Israel's defense minister, Benny Gantz, also met with the Israeli army ahead of the military's preparations "amid concerns of a Hezbollah reprisal," The Times of Israel reported.
For all the latest headlines follow our Google News channel online or via the app.
Gantz ordered the army "to continue its heightened preparedness in the [military] sector and to use the required measures," a statement from his office said, according to the Israeli outlet.
The Israeli minister also warned Syria and Lebanon that they would "bear direct responsibility" of any action they might take.
Last week, a Hezbollah fighter was killed in an Israeli airstrike near Damascus airport, according to a death notice declaring him a martyr with the Islamic Resistance, a reference to Hezbollah, and which was confirmed by the group.
Hezbollah has deployed fighters in Syria as part of Iranian-backed efforts to support President Bashar al-Assad in a conflict that spiraled out of protests against his rule in 2011.
Following the killing of two Hezbollah members in Damascus last August, Sayyed Hassan Nasrallah, the group's leader, vowed to respond if Israel killed any more of the group's fighters in the country.
https://english.alarabiya.net/en/News/middle-east/2020/07/25/Israeli-army-defense-minister-warn-of-Hezbollah-attack-along-northern-border.html
--------
UAE money destroying Yemen's Ta'izz: Pro-Hadi commander
26 July 2020
Monday, 27 July 2020The United Arab Emirates (UAE) is destroying the Yemeni city of Ta'izz, a source says, after clashes erupted between the Emirati-sponsored Tareq Mohammed Abdullah Saleh's forces and the self-proclaimed Riyadh-backed government of former president Abd Rabbuh Mansur Hadi.
Clashes erupted last weekend in Ta'izz between the two sides after the Saudi-backed militants tried to impose restrictions on the UAE-sponsored mercenaries in the southwestern city.
The Middle East Eye said in a report on Sunday that impoverished Yemenis in Ta'izz are joining the ranks of Tareq - the nephew of the late Yemeni president Ali Abdullah Saleh who is accused of leading a deadly crackdown on 2011 protests against his uncle - "for one reason: Emirati money".
He established the National Resistance Forces (NRF), which is primarily made up of former members of the Yemeni Republican Guard, at the western coast around the port city of Mocha.
According to the report, the group has expanded to Ta'izz, recruiting new mercenaries every day due to the high salaries it offers.
The prospect of higher salaries has prompted thousands of pro-Hadi militants to join the NRF. Most of them now live in the town of al-Turbah which lies on the strategic main road between the Ta'izz and the port city of Aden.
Violent protests
In response, the so-called military police in Ta'izz, which are loyal to the Islah party that represents the Hadi's self-proclaimed government in the city, deployed reinforcements to impose restrictions on the movement of Tareq's militants in al-Turbah.
As a result, the NRF and their supporters staged protests in al-Turbah last weekend, demanding the withdrawal of the new military camps, most of which are linked to Islah forces, in the area.
Clashes between NRF supporters and the Islah-backed forces stopped on Sunday, but sporadic fighting broke out again.
Ahmed, a military police member, told MEE that not only Tareq's supporters, but all the UAE-backed sides, took part in the recent protest and clashes in al-Turbah.
"It is the UAE's money that is destroying Ta'izz and the whole country. The UAE succeeded in dividing Ta'izz's army by its money. Nowadays, we can see new brigades supporting the UAE."
He noted that the UAE-backed armed groups "exploited the poverty of Yemenis, and some needy people join UAE-backed forces for the sake of money".
Ahmed further said that many residents of Ta'izz oppose the presence of NRF fighters in their villages, but are afraid to speak out.
Both the UAE-sponsored mercenaries and the Saudi-backed militants loyal to Hadi serve the Riyadh-led military coalition and have been engaged, since March 2015, in a bloody war on Yemeni people, with the aim of bringing the government of Hadi back to power and crushing Ansarullah movement.
The UAE has been accused of attempting to occupy Yemen's strategic Socotra Island to secure what it perceives to be its geopolitical interests in the Red Sea and Gulf of Aden.
According to a new report by the Armed Conflict Location and Event Data Project (ACLED), a nonprofit conflict-research organization, the Saudi-led war has so far claimed the lives of around 56,000 Yemenis.
The Saudi-led war has also taken a heavy toll on the country's infrastructure, destroying hospitals, schools, and factories. The UN has already said that a record 22.2 million Yemenis are in dire need of food, including 8.4 million threatened by severe hunger. According to the world body, Yemen is suffering from the most severe famine in more than 100 years.
A number of Western countries, the US and Britain in particular, are also accused of being complicit in the ongoing aggression as they supply the Riyadh regime with advanced weapons and military equipment as well as logistical and intelligence assistance.
https://www.presstv.com/Detail/2020/07/27/630509/UAE-money-destroying-Yemen-Ta%E2%80%99izz
--------
Africa
Sudan to deploy troops to conflict-stricken Darfur after string of violent killings
26 July 2020
Sudan's prime minister said Sunday the country would send security forces to conflict-stricken Darfur to "protect citizens and the farming season."
Abdalla Hamdok's announcement came two days after gunmen in the region killed at least 20 civilians, including children, as they returned to their fields for the first time in years, the latest in a string of violent incidents.
For all the latest headlines follow our Google News channel online or via the app.
The impoverished western region has seen years of conflict since an ethnic minority uprising prompted the government to launch a scorched-earth campaign that left 300,000 people dead and displaced 2.5 million.
"A joint security force will be deployed in the five states of the Darfur region to protect citizens during the farming season," Hamdok's office said in a statement after he met a delegation of women from the region.
The force will include army and police forces, it said.
Violence in Darfur has eased since Bashir's ouster by the army amid mass protests against his rule last year, with a preliminary peace deal signed in January between the government and a coalition of nine rebel groups, including factions from the region.
Farmers displaced in the conflict have since started to return to their land under a government-sponsored deal reached two months ago, in time for the July-November planting season.
But the bloodshed has continued, particularly over land rights, according to expert Adam Mohammad.
"The question of land is one cause of the conflict," he said.
"During the war, peasants fled their lands and villages to camps, and nomads replaced them and settled there."
On Friday, armed men drove into a village and killed 20 civilians returning to their fields for the first time in years, an eyewitness, and a tribal chief told AFP.
In late June and early July, hundreds of protesters camped for days outside a government building in the Central Darfur town of Nertiti to demand that the government beef up security after multiple killings and looting incidents on farmland and properties.
Bashir is wanted by the International Criminal Court over charges of genocide and crimes against humanity in the conflict.
https://english.alarabiya.net/en/News/world/2020/07/27/Sudan-to-deploy-troops-to-conflict-stricken-Darfur-after-string-of-violent-killings.html
--------
Tunisia's Interior Minister Hichem Mechichi named new PM: Presidency
26 July 2020
Hichem Mechichi, who until now has served as Tunisia's interior minister, has been appointed to form the next government, the president's office said Saturday.
The 46-year-old lawyer succeeds Elyes Fakhfakh, who resigned earlier this month – but Mechichi was not one of the names proposed by the ruling political parties to President Kais Saied.
For all the latest headlines follow our Google News channel online or via the app.
As well as being interior minister in the outgoing government, Mechichi has been a counsellor to President Saied, handling legal matters. He has previously been chief of staff at the transport ministry and also served in the social affairs ministry.
Mechichi now has a month to form a government against a background of political tensions among the major parties.
At that point his choice will be put to a parliamentary vote of confidence and will need an absolute majority to succeed. Failing that, parliament will be dissolved and new elections organised within three months.
In the last elections held in October the Islamist-inspired Ennahdha came top but fell far short of a majority – holding 54 of 217 seats in parliament – and eventually agreed to join a coalition government.
https://english.alarabiya.net/en/News/north-africa/2020/07/26/Tunisia-s-Interior-Minister-Hichem-Mechichi-named-new-PM-Presidency-.html
--------
Over 60 killed in fresh violence in Sudan's Darfur: UN
27 July 2020
More than 60 people have been killed and another 60 wounded in fresh violence in the West Darfur region of Sudan, UN officials announced Sunday.
Around 500 armed men attacked Masteri Town, north of Beida, in Darfur on Saturday afternoon, said the statement from the UN Office for the Coordination of Humanitarian Affairs (OCHA).
The attackers targeted members of the local Masalit community, looting and burning houses and part of the local market, the statement added.
"This was one of the latest of a series of security incidents reported over the last week that left several villages and houses burned, markets and shops looted, and infrastructure damaged," said the statement, from the OCHA's Khartoum office.
Following Saturday's attack on Masteri, around 500 local people staged a protest demanding more protection from the authorities.
Members of the Masalit community said they would not bury their dead until the authorities took action, said the OCHA.
On Sunday, Sudan's Prime Minister Abdalla Hamdok said the government would send security forces to the conflict-stricken region to "protect citizens and the farming season".
His announcement came two days after gunmen in the region killed at least 20 civilians, including children, as they returned to their fields for the first time in years, the latest in a string of violent incidents.
The recent killings have targeted the African farming tribes in conflict with the nomadic Arab tribes over the land.
"The escalation of violence in different parts of Darfur region is leading to increased displacement, compromising the agricultural season, causing loss of lives and livelihoods and driving growing humanitarian needs," said the OCHA statement.
https://www.presstv.com/Detail/2020/07/27/630485/Sudan-darfur-violence-un
--------
North America
US calls on China to stop coercing Uighurs to return after Turkey extradition report
26 July 2020
Beijing must "cease efforts to coerce" Uighur Muslims who fled the country to return, a US State Department spokesperson told Al Arabiya English on Monday, following reports that Turkey is sending Uighur refugees back to China.
"The United States will continue to call on the People's Republic of China to immediately end its campaign of repression in Xinjiang, release all those arbitrarily detained, and cease efforts to coerce members of Muslim minority groups residing abroad to return to China to face an uncertain fate," a State Department spokesperson told Al Arabiya English on Monday.
Turkey is sending Uighur refugees back home to China, where they face imprisonment and persecution, through third countries like Tajikistan, the Telegraph revealed on Sunday.
Turkish President Recep Tayyip Erdogan "is helping China repatriate Muslim dissidents by sending them to third countries before they return [to China]," the Telegraph reported.
For decades Uighur Muslims have sought refuge in Turkey from repression in China, which has detained one million Uighurs in "reeducation camps" that reportedly force them to renounce their religious identity.
Beijing considers many Uighurs to be extremists and claims they are dangerous to China's national security.
In the past, Erdogan, who styles himself as a global Islamic leader, has called Chinese actions against Uighur Muslims in China "genocide."
But recently his government has stopped speaking out against China's treatment of the Uighurs, a move the Telegraph says is likely economically motivated and stems from Ankara's desire for Chinese investment in Turkey.
From Turkey to Tajikistan to China
The Telegraph recounts the story of 59-year-old Aimuzi Kuwanhan, a Uighur who fled China and sought sanctuary in Turkey, residing in state housing.
After disappearing last summer, she was traced to a detention center in the Turkish city of Izmir, before being extradited to Tajikistan, according to the Telegraph citing a lawyer hired by her family.
"Sources who knew Kuwahan say from there she was sent to China," the newspaper said.
In the past, Erdogan, who styles himself as a global Islamic leader, has called Chinese actions against Uighur Muslims in China "genocide."
But recently his government has stopped speaking out against China's treatment of the Uighurs, a move the Telegraph says is likely economically motivated and stems from Ankara's desire for Chinese investment in Turkey.
From Turkey to Tajikistan to China
The Telegraph recounts the story of 59-year-old Aimuzi Kuwanhan, a Uighur who fled China and sought sanctuary in Turkey, residing in state housing.
After disappearing last summer, she was traced to a detention center in the Turkish city of Izmir, before being extradited to Tajikistan, according to the Telegraph citing a lawyer hired by her family.
"Sources who knew Kuwahan say from there she was sent to China," the newspaper said.
"I'm not sure if China is putting pressure directly on the Turkish government to control Uighurs here," Parach said in an interview with NPR, "or if Chinese agents have infiltrated Turkish society to frame us as terrorists."
Uighur persecution in China
The Uighur population, an ethnic minority in China, are overwhelmingly Muslim and reside in the northwestern Xinjiang region, which borders many countries including Tajikistan.
Since 2017, the Chinese government has systematically cracked down on the community by detaining more than a million Uighur Muslims in "reeducation camps," according to US and UN estimates.
Claiming that these Uighurs in custody hold extremist views, Beijing detains them and forces them to renounce Islam and live in prison-like conditions at the camps, former detainees told The Globe and Mail in 2018.
Uighurs have been detained for attending services at mosques and texting about the Quran, according to the Council on Foreign Relations.
https://english.alarabiya.net/en/features/2020/07/26/Turkey-sends-Uighur-refugees-back-to-China-through-third-countries-Report.html
-------
Iranian-American cleric found dead in Iran after being murdered over money: Report
26 July 2020
An Iranian-American Zoroastrian cleric was found dead in southeast Iran alongside two others, state media reported on Sunday.
The dead bodies of California-based Zoroastrian cleric Arash Kasravi and two of his acquaintances were found at a villa in the city of Mahan in Kerman province, the semi-official Tasnim news agency reported citing the province's prosecutor Dadkhoda Salari.
Salari confirmed the three were murdered, saying: "Investigations indicate the murders were financially motivated."
The police discovered $10,000 in one of the victim's cars, he said.
Kasravi had received death threats in the past, according to IranWire.
"The source of these threats was unknown, but the subject was mostly financial," IranWire quoted a source close to Kasravi's family as saying.
Kasravi had returned to his hometown in Kerman from the US to attend the anniversary of his father's death and to handle legal matters related to his inheritance.
Kasravi and his acquaintances had gone missing for several days before their dead bodies were discovered.
Kasravi, 53, immigrated to the US with his family ten years ago. He worked at a Zoroastrian temple in California.
https://english.alarabiya.net/en/News/middle-east/2020/07/26/Iranian-American-cleric-found-dead-in-Iran-after-being-murdered-over-money-Report.html
--------
Arab World
Reporters Without Borders urges internal probe into Saudi journalist's death
26 July 2020
The Paris-based media rights group Reporters Without Borders (RSF) has called for an international investigation into the case of Saudi journalist Saleh al-Shehi, who died two months after his release from prison.
"We demand an independent international inquiry under the UN's aegis to shed all possible light on a possible link between Saleh al-Shehi's death and the conditions in which he was held," said Sabrina Bennoui, the head of RSF's Middle East desk.
"His sudden release two months before he died raises doubts and requires explanations and transparency on the part of the Saudi authorities. If he fell ill in prison, they must assume full responsibility."
Shehi, a well-known columnist for the reformist daily al-Watan, often wrote about poverty in Saudi Arabia as well as nepotism within the ruling elite and called for a debate about alleged reforms in the kingdom.
In December 2017, he was arrested for talking about corruption within the royal court on the Saudi TV channel Rotana's program "Ya Hala".
In February 2018, the journalist was sentenced to five years of imprisonment followed by a five-year ban on leaving the country for "insulting the royal court."
Shehi, however, was released on May 19. His health condition deteriorated quickly thereafter and led to his death on July 19.
His illness has not been formally named, but the Saudi newspaper al-Riyadh spoke of three weeks of complications resulting from the COVID-19 infection.
The Prisoners of Conscience, an independent nongovernmental organization advocating human rights in Saudi Arabia, announced the journalist's death in a post on its Twitter page.
Shehi was described as "the proletariat's writer" by his friend Jamal Khashoggi, a dissident Saudi journalist, who was brutally murdered inside the kingdom's consulate in Istanbul in October 2018.
"Saleh al-Shehi is courageous," Khashoggi said a few months before his killing. "Those who want to be independent and raise awareness go abroad where they can speak freely, but Saleh al-Shehi committed a suicide by staying and writing articles" in Saudi Arabia.
Earlier this month, UN Special Rapporteur on Extrajudicial, Summary or Arbitrary Execution Agnes Callamard said Saudi Crown Prince Mohammed bin Salman is the prime suspect in ordering and inciting Khashoggi's murder.
Abdullah al-Odeh, son of imprisoned Saudi cleric Salman al-Odeh, said Shehi's death was the latest tragedy in a line of deaths of prominent anti-regime journalists.
"May God have mercy on Saleh al-Shehi who died today... after being released from prison," he tweeted. "May God have mercy on Abdullah Hamid, who died on the floor of his cell due to medical negligence. May God have mercy on Jamal Khashoggi, who they killed in the consulate."
Writer and activist Abdullah Hamid died in April in prison, where he was serving an 11-year sentence on charges including "undermining national unity, disobeying the ruler, and questioning the integrity of officials".
Saudi Arabia is ranked 170th out of 180 countries and territories in RSF's 2020 World Press Freedom Index.
Ever since bin Salman became Saudi Arabia's de facto leader in 2017, the kingdom has arrested dozens of activists, bloggers, intellectuals and others perceived as political opponents, showing almost zero tolerance for dissent even in the face of international condemnations of the crackdown.
https://www.presstv.com/Detail/2020/07/26/630437/Saudi-Arabia-journalist-Saleh-Shehi
-------
Iraqi protesters gather in Baghdad's Tahrir Square over electricity cuts
27 July 2020
Dozens of Iraqi protesters gathered in Baghdad's Tahrir Square on Sunday night to protest over electricity cuts and lack of public services, according to videos being shared by activists.
There were reports of several injuries and at least one protester dying during the clashes with Iraqi security forces near Tahrir square.
For all the latest headlines follow our Google News channel online or via the app.
Other reports by local media suggested that Iraqi security forces fired tear gas canisters in a bid to crackdown on the nighttime protests.
Iraqi security forces reportedly raided tents in Tahrir Square and dispersed protesters.
Nationwide protests began late last year after Iraqis took to the streets to demand the resignation of the government and renewed rejection of Iranian influence in the country.
https://english.alarabiya.net/en/News/middle-east/2020/07/27/Iraqi-protesters-gather-in-Baghdad-s-Tahrir-Square-over-electricity-cuts.html
--------
Explosion rocks military base near Baghdad: Iraqi military
26 July 2020
Explosions rocked a military compound in Baghdad Sunday, but the cause remains unclear, an Iraqi military statement said.
The initial explosions were reported at al-Saqr military base.
A statement from the Iraqi Media Security Cell said that an ammunition warehouse belonging to the police exploded due to the high temperatures and "poor storage."
Civil Defense arrived on the scene, the statement added.
Multiple explosions could be heard in Baghdad on Sunday evening. Security sources said the depot, which is part of a military base used by both the police and paramilitary forces, was one that had caught fire in August last year.
That fire also set off explosions heard across Baghdad, killing one person and injuring 29 others. There were no casualties reported immediately on Sunday.
https://english.alarabiya.net/en/News/middle-east/2020/07/26/Explosion-rocks-military-base-near-Baghdad-Iraqi-military.html
--------
Conflicts in Syria, elsewhere will intensify if Iran arms embargo lifted: Hook
26 July 2020
The US special representative for Iran on Sunday sought to rally Gulf allies as Washington tried to extend an arms embargo on Tehran, warning failure would "intensify" regional conflicts.
"I've spoken with leaders here in the Gulf and around the world -- no one believes that Iran should be able to freely buy and sell conventional weapons such as fighter jets... and various kinds of missiles," Brian Hook told journalists in an online briefing while on a visit to Qatar.
For all the latest headlines follow our Google News channel online or via the app.
The United States has urged the UN Security Council to extend an arms embargo on Iran that expires in October.
The extension is opposed by veto-wielding Russia and China, which stand to gain major arms contracts from Iran.
"If the Security Council fails to extend the arms embargo by October 18, Iran will be able to freely buy and sell these weapons," Hook said.
"Imagine what the region will look like if this happens, conflicts in places like Syria and Yemen will certainly intensify."
US arch-foe Iran is a key player on the side of the Syrian government in the country's conflict and is aligned with Houthi militia in Yemen fighting the government, supported by the Arab coalition.
Washington has warned it could employ a disputed legal move to restore wide UN sanctions on Iran if the Security Council does not prolong a ban on conventional arms sales to the Islamic republic.
The US envoy will visit Kuwait on the next leg of his trip, having already visited Tunisia, a current member of the Security Council.
https://english.alarabiya.net/en/News/middle-east/2020/07/26/Conflicts-in-Syria-elsewhere-will-intensify-if-Iran-arms-embargo-lifted-Hook.html
--------
Saudi Arabia border guards stop 196 drug smugglers in a month
27 July 2020
Saudi Arabia's Border Guard prevented approximately 196 smugglers from bringing in drugs, including hashish and opium, into the Kingdom last month, the agency's official spokesman Lieutenant General Misfer al-Quraini said.
The smugglers collectively tried to illegally import 937 kilograms of hashish,18,893 kilograms of the stimulant khat, 640,295 Amphetamine pills, and 6,809 grams of opium, the Saudi Press Agency (SPA) cited al-Quraini as saying.
The smugglers were arrested and have been referred to the competent authorities, SPA reported.
The General Directorate of Border Guard is a Saudi Arabian agency responsible for policing the Kingdom's land and sea borders.
https://english.alarabiya.net/en/News/gulf/2020/07/27/Saudi-Arabia-border-guards-stop-196-drug-smugglers-in-a-month.html
--------
Hezbollah says ready to confront any Israeli aggression
27 July 2020
Hezbollah Deputy Secretary General Sheikh Naim Qassem has reiterated the Lebanese resistance movement's readiness to confront any Israeli aggression.
Speaking in an interview with al-Mayadeen TV channel on Sunday, Sheikh Qassem declined to clarify the movement's response to an Israeli attack that killed one of Hezbollah fighters in Syria last week.
"Let the Israelis have their own estimations and calculations in this regard," he said.
Hezbollah announced the death of Ali Kamel Mohsen, one of its members, in an Israeli airstrike in Damascus on July 20 and promised retaliation.
Sheikh Qassem also played down recent Israeli threats, saying there were "mere chest-beating."
His remarks came after Israel's minister of military affairs Benny Gantz warned Syria and Lebanon that they would be held responsible for any attacks against Israel coming from their territory.
"We don't want any unnecessary escalations, but anyone who tests us will be met by a very high capability to take action, and I hope we won't need to use it," Gantz said.
Sheikh Qassem dismissed the prospect of an all-out war with Israel in the next few months.
"Israel's political confusion and low expectation from war outcomes as well as US President Donald Trump's quagmire eliminate the possibility of an imminent eruption of the war," he said.
But he promised Tel Aviv will be delivered yet another defeat if it launched an aggression.
"If Israel decides to go to war with us, then we will confront them, and the 2006 [Second Lebanon] War will be the model for our response," Sheikh Qassem said.
The Israeli military went into high alert near the Lebanese border, amid concerns that Hezbollah would conduct a retaliation attack.
Gantz made his threats during a visit to the border between the occupied territories and Lebanon on Sunday, where he said the Israeli regime was "prepared for all possibilities".
Shortly later, an Israeli spy drone crashed inside Lebanon, according to an Israeli military spokeswoman.
In his interview, Sheikh Qassem also touched on the US harassment of an Iranian passenger plane over Syria, saying Washington wants to wreck a strategic pact between Iran and Syria.
The move by the US warplanes was similar to Israeli tactics in the past, when Israel's aircraft used civilian planes as a shield to draw fire from Syrian air-defense systems.
Iran and Syria signed a "comprehensive" agreement to boost military and defense cooperation on July 8.
On Thursday night, US warplanes operating illegally in Syria conducted aggressive maneuvers dangerously close to an Iranian Mahan Air flight over Syria's al-Tanf region.
Mahan Air's Flight 1152 had taken off from Tehran and was en route to the Lebanese capital, Beirut, when the incident happened.
https://www.presstv.com/Detail/2020/07/27/630494/Hezbollah-ready-Israel-war
--------
Car bomb goes off in Turkish-controlled northern Syrian city, eight dead
26 July 2020
Eight people, including women and children, have been killed in a car bomb attack in the strategic border city of Ra's al-Ayn in Syria's northeastern province of Hasakah which Turkish forces and allied militants captured in an offensive against the Kurdish People's Protection Units (YPG) in October.
Syria's official news agency SANA reported that the attack was carried out near a marketplace on Sunday. Some of the injured are in a critical condition.
The Turkish Defense Ministry blamed the YPG in a post on its official Twitter page.
The new bombing attack came after on June 5, two children were killed in a similar attack at the same place.
On October 9, 2019, Turkish forces and Ankara-backed militants launched a long-threatened cross-border invasion of northeastern Syria in a declared attempt to push the YPG away from border areas.
Ankara views the YPG, which is supported by the White House, as a terrorist organization tied to the homegrown Kurdistan Workers' Party (PKK), which has been seeking an autonomous Kurdish region in Turkey since 1984.
Two week after the invasion began, Russian President Vladimir Putin and Turkey's Recep Tayyip Erdogan signed a memorandum of understanding that asserted the YPG had to withdraw from the Turkish-controlled "safe zone" in northeastern Syria within 150 hours, after which Ankara and Moscow would run joint patrols around the area. The patrols have come under attacks by militants ever since.
That announcement was made hours before a US-brokered five-day truce between Turkish and Kurdish-led forces was due to expire.
Meanwhile, the so-called Syrian Observatory for Human Rights reported that US forces and allied Kurdish-led militants from the Syrian Democratic Forces (SDF) had arrested a number of local residents and internally displaced persons near a US base in the Jazira region of Hasakah.
Elsewhere in the northwestern province of Aleppo, Turkish-backed militants looted privately-owned property.
SANA reported that members of the Hamza Division terrorist group broke into several houses on Saturday, stealing money, furniture and home appliances.
https://www.presstv.com/Detail/2020/07/26/630451/Syria-car-bomb
--------
Europe
Moscow police arrest more than 30 people after Azerbaijani-Armenian fights
25 July 2020
Azerbaijanis and Armenians have engaged in a series of fights and violent rampages in Moscow, venting their anger over recent cross-border clashes between the two ex-Soviet nations.
Moscow police said Saturday they have detained over 30 people on charges of involvement in fights and disturbances. In St. Petersburg, police detained dozens Saturday in a bid to prevent another big fight between Azerbaijanis and Armenians.
For all the latest headlines follow our Google News channel online or via the app.
The clashes between Armenian and Azerbaijani communities in the Russian capital follow an outbreak of hostilities on the border between the two South Caucasus neighbors earlier this month. Several days of cross-border shelling left about 20 people dead.
Russian news reports said the spate of violent incidents began when groups of Azerbaijanis beat up Armenians in Moscow early Friday and later assailed Armenian-owned stores.
In a series of clashes across Moscow that followed, Armenians and Azerbaijanis engaged in fights and attacked each other's shops and restaurants.
Calls for restraint from Armenian and Azerbaijani diplomats and other officials didn't seem to have any effect and the brawls have continued.
Armenians' Union in Russia said that officials from Russia's Federal Security Service, the top KGB successor agency, held a meeting Friday with representatives of the Armenian community to discuss the violent clashes and promised that the instigators of violence would be punished.
The two Caucasus neighbors have been locked for decades in conflict over Nagorno-Karabakh, a region of Azerbaijan that has been under the control of ethnic Armenian forces backed by Armenia since a war there ended in 1994. International efforts to settle the conflict have stalled, and clashes have been frequent.
Russia has maintained close ties with both Armenia and Azerbaijan and has been part of the so-called Minsk group of the Organization for Security and Cooperation in Europe alongside the US and France, which has tried to mediate a settlement of the Nagorno-Karabakh conflict.
https://english.alarabiya.net/en/News/world/2020/07/25/Moscow-police-arrest-more-than-30-people-after-Azerbaijani-Armenian-fights.html
--------
Former Home Secretary Javid pours fuel on Russia report fire
26 July 2020
Former Home Secretary, Sajid Javid, has waded into the Russia report controversy by arguing for tougher espionage laws.
Writing in the Daily Mail (July 25), Javid argues that threats to national security emanating from "hostile states" must be treated as seriously as domestic terrorism.
Whilst the initial thrust of his article is focused on Russia, Javid expands his vitriol to include China as well.
"I believe we need to take it [espionage] as seriously as terrorism … That means more resources, more powers, and more international cooperation", Javid writes.
Despite his emphasis on espionage threats, Javid, who was Home Secretary from April 2018 to July 2019, ends up conflating the issue with terrorism by taking a swipe at Shamima Begum.
Begum, who was only 15-years-old when she traveled to join the conflict in Syria, was stripped of her British citizenship by Javid (on the advice of the Security Service MI5) in February 2019.
Javid sharply criticizes the decision earlier this month by the Court of Appeal to call for Begum's return to the UK so that she can fight the citizenship deprivation decision.
"Too often, it feels as if our laws work against a common sense of justice and security", Javid writes referring to the Court of Appeal's decision.
But Javid neglected to explain that the Court of Appeal had made its decision on the grounds that Begum had been denied a fair hearing.
More broadly, Javid argues for a new "Espionage Bill" in conjunction with the updating of the Official Secrets Act to treat "economic espionage" as seriously as "state secrets".
Furthermore, Javid calls for greater international cooperation with Britain's traditional allies in the security and intelligence spheres.
Javid, who also briefly served as Chancellor between July 2019 and February 2020, calls for a "strategy of solidarity" with the UK's "Five Eyes" intelligence partners, notably Australia, Canada, New Zealand and the US.
"A fist is stronger than five fingers … If we unite together, domestically and internationally, I wouldn't bet against us", Javid boasted.
During his tenure as Home Secretary, Javid significantly stepped up citizenship deprivation measures, an arbitrary power that is proving to be deeply controversial with the more traditional components of the British judiciary.
https://www.presstv.com/Detail/2020/07/26/630475/UK-Russia-Report-Sajid-Javid-Espionage-Bill
-------
URL: https://www.newageislam.com/islamic-world-news/eight-mosques-two-dargahs-around/d/122473
New Age Islam, Islam Online, Islamic Website, African Muslim News, Arab World News, South Asia News, Indian Muslim News, World Muslim News, Women in Islam, Islamic Feminism, Arab Women, Women In Arab, Islamophobia in America, Muslim Women in West, Islam Women and Feminism