New Age Islam News Bureau
18 Aug 2013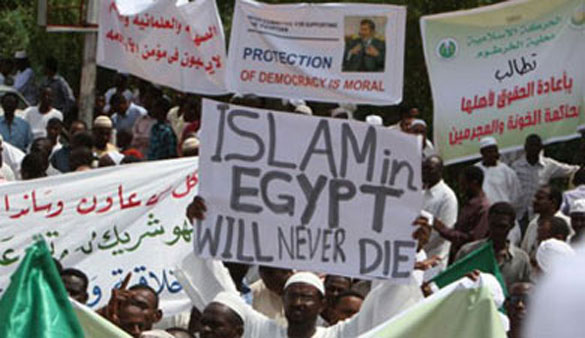 Sudanese supporters of the Muslim Brotherhood and Egypt's ousted president Mohamed Morsi protest on August 16 Photo by AFP
-------------
Arab World
• Egypt's Muslim Brotherhood Faces Political Elimination
• Egypt considers disbanding Muslim Brotherhood
• Six killed in Iraq violence
• Carrying arms at protests 'religiously prohibited': Egypt's grand mufti
• Hezbollah dragging Lebanon into 'Syrian fire,' says former PM
• Islamist attacks on Egypt churches a 'warning' to Christians
• Egypt Islamists vow new demonstrations after police end mosque stand-off
• Saudi prince fires director of Islamic TV channel
• Al-Azhar urges Brotherhood to reach peaceful solutions with govt
Pakistan
• Woman among three shot dead in 'honour killing' in Pakistan
• Pakhtun's sufferings narrated in verses
• Education solution to militancy and poverty: Punjab CM
• Former JUI Senator Ismail Buledi escapes assassination attempt in Balochistan
• FC kills two more militants in Bolan
• Political activists among 4 killed in Karachi
• Pakistan temporarily halts executions
• Remain calm if I'm arrested, Altaf advises MQM workers
South Asia
• Afghan refugees can open accounts, get driving permits in Pakistan
• Jamaat-Shibir men go on rampage in Chittagong; 6 injured
Mideast
• Egypt committing state terrorism, al-Sisi and al-Assad are same: Turkish PM
• Ex-nuke chief says Iran has 18,000 centrifuges
• Syrian mortars land in Israeli-occupied Golan Heights, Israel retaliates
• Israeli settlers defy stereotype amid peace talks
India
• Pakistani, Bangladeshi origin people won't be given overseas Indian card
• Army foils another infiltration bid in J&K's Kupwara district
• Tunda: Pak Diaspora funds LeT
• Man behind video calling for jihad in Myanmar
North America
• American al-Qaida militant urges attacks on US diplomats
• Obama balances goals in Egypt
Europe
• EU to review relationship with Egypt in coming days
• UN still feels impact of deadly Iraq blast 10 years on
Southeast Asia
• Malaysian Muslims in Perlis reminded of fatwa against marrying Shia followers
• Stop debate on surau used for Buddhist prayers, says Jamil Khir Baharom
• Tangerang 'Terrorists' Remain on the Run: Police
Africa
• Tunisian labour leader rejects parallels with Egypt
• Libya agrees third border crossing with Tunisia
Compiled by New Age Islam News Bureau
URL: https://www.newageislam.com/islamic-world-news/new-age-islam-news-bureau/egypt's-muslim-brotherhood-faces-political-elimination/d/13079
-----------
Arab World
Egypt's Muslim Brotherhood Faces Political Elimination
18 August 2013
Egypt's Muslim Brotherhood risks political elimination, with the new army-backed government threatening to ban the Islamist organization after launching a fierce crackdown on its supporters that has killed hundreds.
Struggling to stamp its authority on Egypt following the ousting last month of President Mohamed Mursi, the country's new rulers have upped the rhetoric, saying the Arab world's most populous nation is at war with terrorism.
More than 700 people have died, most of them backers of Mursi, in four days of violence. That has earned Egypt stiff condemnation from Western nations, uncomfortable with Islamist rule but also with the overthrow of an elected government.
The crackdown has, however, drawn messages of support from key Arab allies like Saudi Arabia, which have long feared the spread of Brotherhood ideology to the Gulf monarchies.
Blaming a defiant Brotherhood for the bloodshed, Egyptian Prime Minister Hazem el-Beblawi proposed dissolving the group in a move that would force it underground and could usher in mass arrests of its members countrywide.
The government said it was studying the possibility.
"There will be no reconciliation with those whose hands have been stained with blood and who turned weapons against the state and its institutions," Beblawi told reporters.
A statement from the United Nations said Secretary-General Ban Ki-moon condemned attacks on churches, hospitals and other public facilities and called for both sides to resolve the violence.
"The secretary-general believes that preventing further loss of life should be the Egyptians' highest priority at this dangerous moment," the statement said. "With such sharp polarization in Egyptian society, both the authorities and the political leaders share the responsibility for ending the current violence."
Violence flared briefly on Saturday as backers of Mursi exchanged fire with security forces in a central Cairo mosque, where scores of Muslim Brotherhood protesters had sought refuge from clashes the day before that killed 95 in the capital.
Police finally cleared the building and made a string of arrests, with crowds on the street cheering them on and harassing foreign reporters trying to cover the scene.
"We as Egyptians feel deep bitterness towards coverage of the events in Egypt," presidential political adviser Mostafa Hegazy said, accusing Western media of ignoring attacks on police and the destruction of churches blamed on Islamists.
Founded in 1928, the Muslim Brotherhood has deep roots in the provinces and won all five elections that followed the overthrow in 2011 of the autocratic Hosni Mubarak, appearing to cement themselves in the heart of Egyptian power for years to come.
But accusations that they were incompetent rulers intent only on monopolizing government tarnished their reputation.
Hundreds of thousands of Egyptians took to the streets in June to denounce Mursi and the army says it removed him from office on July 3 to avoid a civil war.
Since then, the state media has turned ferociously against the group and there appeared to be little sympathy for the Brotherhood faithful amongst many ordinary Egyptians.
"Democracy did not work for Egypt, I am afraid," said Hussein Ahmed, a 30-year-old banker in Cairo, who had protested against Mubarak in the 2011 uprising.
"Yes, the Brotherhood were elected, but they never cared about rights or freedoms of anyone but their own group. Why should we feel sorry for them now?"
Brotherhood leaders accuse the military of deliberately sabotaging their time in office and plotting their demise.
After two pro-Mursi protest camps were crushed by police on Wednesday, the Brotherhood launched a "Day of Rage" on Friday, and clashes left at least 173 dead. They have urged their supporters to take to the streets daily in the week ahead.
There were no reports of major rallies on Saturday.
The Interior Ministry said police had arrested more than 1,000 Muslim Brotherhood "elements" following Friday's riots. The group said daughters and sons of the leadership had been targeted in an effort to gain leverage over the organization.
The state news agency said 250 Brotherhood followers faced possible charges of murder, attempted murder and terrorism.
The government has ordered a curfew that looks set to last until the middle of September, leaving the normally crowded streets of major cities eerily deserted at sundown.
Looking to regain some semblance of normality, banks were due to re-open on Sunday for the first time since Wednesday's carnage, and the stock exchange will also resume business, with trading cut to three hours from four because of the instability.
http://www.thejakartaglobe.com/international/egypts-muslim-brotherhood-faces-political-elimination/
-----------
Egypt considers disbanding Muslim Brotherhood
18 August 2013
Egyptian authorities are considering disbanding the Muslim Brotherhood group, spokesman for the Egyptian Cabinet said.
Spokesman Sherif Shawki said on Saturday that Prime Minister Hazem el-Beblawi has asked the Ministry of Social Solidarity to study the legal possibilities of dissolving the group. He didn't elaborate.
The Muslim Brotherhood group, founded in 1928, came to power a year ago when its leader Mohamed Morsy was elected in the country's first free Presidential elections. The election came after the overthrow of long-time autocratic President Hosni Mubarak.
Mr. Morsy was overthrown in a popularly backed military coup on July 3.
The Brotherhood rocketed to power after decades of being a banned group in Egypt. While sometimes tolerated, its leaders often faced long bouts of imprisonment.
http://www.thehindu.com/news/international/world/egypt-considers-disbanding-muslim-brotherhood/article5032472.ece
-----------
Six killed in Iraq violence
Aug 18 2013
Attacks in Iraq killed at least six people including a local council member on Sunday, officials said, the latest in a surge of violence plaguing the country.
Security forces have in recent weeks carried out some of their biggest operations since the 2011 withdrawal of US forces, but analysts and diplomats have said authorities have not addressed the root causes of the unrest.
Prime Minister Nuri al-Maliki has nevertheless vowed to press on with the campaign in a bid to combat Iraq's worst violence since 2008.
Two roadside bombs targeted a bus stop and a supermarket in two separate areas of Baghdad, killing at least four people and wounding 13, most of them government employees.
And the body of a local council member who was kidnapped the day before was found south of Kirkuk, a disputed northern city.
He was shot in the head and his body bore signs of torture.
And in Muqdadiyah, north of Baghdad, a roadside bomb killed a teacher while he was driving.
The teacher, a Sunni Arab, had fled a Shiite-majority area of Muqdadiyah in 2006 and returned just two months ago.
Iraq was racked by a bloody Sunni-Shiite sectarian conflict that peaked in 2006-2007, when tens of thousands of people were killed and many more forced to abandon their homes under threat of death.
Lingering tensions between Sunnis and Shiites have been inflamed by persistent violence in Iraq and the civil war in neighbouring Syria, and there are growing fears that the country is slipping back towards all-out sectarian conflict.
Violence has markedly increased this year, attributed by analysts and diplomats to anger in the Sunni Arab community over its alleged targeting and ill treatment at the hands of Shiite-led authorities.
Attacks have killed more than 3,490 people since the beginning of 2013, according to figures compiled by AFP.
http://english.ahram.org.eg/NewsContent/2/8/79340/World/Region/Six-killed-in-Iraq-violence.aspx
----------
Carrying arms at protests 'religiously prohibited': Egypt's grand mufti
Aug 18 2013
A senior Egyptian religious official said on Saturday that bearing arms during demonstrations and marches is religiously prohibited.
Egypt's Grand Mufti, Shawqi Allam, said that in such cases the perpetrator commits a "great sin" as the action carries the intention of killing, an act "that receives the greatest punishment by God."
The mufti, a state legal expert responsible with issuing Islamic rulings, condemned the violence that has erupted recently across the country. He called upon the authorities to respond with "an iron fist to those who attempt to terrorise citizens or attack public or private property."
Chaos erupted in Egypt after the security forces violently dispersed two major protest camps of supporters of deposed president Mohamed Morsi in Cairo, killing at least 200 people. Nationwide violent clashes followed, leaving a total official death toll of over 600.
Further clashes on Friday left over 50 people dead. An exact estimate of deaths and injuries has yet to be announced.
Allam further stated that he "strongly condemns" attacks on churches, warning against inciting sectarian strife.
Government buildings, police stations and dozens of churches have been attacked nationwide since the eruption of violence on Wednesday.
Several people amongst the protesters were reported to have been carrying arms over the past days. On Friday, Egyptian state television showed footage of two men armed with automatic weapons at a march on Cairo's 15 May Bridge near downtown Cairo.
Supporters of Mohamed Morsi have vowed to continue demonstrating every day in what they dubbed the "week of the coup's end" referring to the military-led ouster of Mohamed Morsi on 3 July.
Allam called for a "peaceful political" solution to the current crisis despite the difficulties, saying that the lives of Egyptians should be protected.
http://english.ahram.org.eg/NewsContent/1/64/79295/Egypt/Politics-/Carrying-arms-at-protests-religiously-prohibited-E.aspx
----------
Hezbollah dragging Lebanon into 'Syrian fire,' says former PM
18 August 2013
Former Lebanese Prime Minister Saad Hariri on Saturday condemned Hezbollah leader Sayyed Hasan Nasrallah, saying his recent speech threatened to further involve Lebanon in the Syria war.
"I listened to speech by Hezbollah secretary general. It was rather balanced at first, and catastrophic toward the end," Hariri said, according to the Daily Star Lebanon.
"How can a responsible man contradict himself so, calling for self-restraint and announcing his readiness to personally go to Syria?" the leader of the Future Movement asked.
In a speech Friday, Nasrallah blamed Sunni extremists for a deadly car bombing that struck a Hezbollah neighborhood south of Beirut on Thursday.
Full report at:
http://english.alarabiya.net/en/News/middle-east/2013/08/18/Lebanon-s-Saad-Hairiri-Hezbollah-is-dragging-us-into-Syrian-fire-.html
-----------
Islamist attacks on Egypt churches a 'warning' to Christians
18 August 2013
After torching a Franciscan school, Islamists paraded three nuns on the streets like "prisoners of war" before a Muslim woman offered them refuge.
Two other women working at the school were sexually harassed and abused as they fought their way through a mob.
In the four days since security forces cleared two sit-in camps by supporters of Egypt's ousted president, Islamists have attacked dozens of Coptic churches along with homes and businesses owned by the Christian minority.
The campaign of intimidation appears to be a warning to Christians outside Cairo to stand down from political activism.
Full report at:
http://english.alarabiya.net/en/perspective/features/2013/08/18/Islamist-attacks-on-Egypt-churches-a-warning-to-Christians-1720.html
--------
Egypt Islamists vow new demonstrations after police end mosque stand-off
AFP | Aug 18, 2013
CAIRO: Egyptian Islamists announced fresh demonstrations for Sunday after police ended a tense stand-off with protesters in a Cairo mosque, as the death toll from four days of violence surpassed 750.
Security forces on Saturday dragged Islamist supporters of deposed president Mohamed Morsi from the Al-Fath mosque, passing through angry crowds who called them "terrorists" and tried to beat them.
Full report at:
http://timesofindia.indiatimes.com/world/middle-east/Egypt-Islamists-vow-new-demonstrations-after-police-end-mosque-stand-off/articleshow/21891096.cms
-----------
Saudi prince fires director of Islamic TV channel
August 18, 2013
RIYADH, Saudi Arabia — Saudi billionaire Prince Alwaleed Bin Talal has fired the director of an Islamic TV channel for his role as the leader of the Muslim Brotherhood in Kuwait.
He wrote Sunday on his Twitter account that he sacked Tarek Al-Suwaidan "for admitting he belongs to the Brotherhood terrorist movement."
Al-Suwaidan, a Kuwaiti, was the director general of Al-Resalah channel, which belongs to Alwaleed's Rotana Group — a large pan-Arab media conglomerate based in Riyadh.
Full report at:
http://www.saudigazette.com.sa/index.cfm?method=home.regcon&contentid=20130818177320
-----------
Al-Azhar urges Brotherhood to reach peaceful solutions with govt
Aug 18 2013
Egypt's Al-Azhar Grand Imam Ahmed El-Tayyeb urged the Muslim Brotherhood to accept "peaceful solution" talks as a way out of the deadly chaos that erupted following last week's crackdown on their anti-government sit-ins that killed hundreds.
"Violence does not bring rights to anyone. Legitimacy is not won by bloodshed or spreading chaos," El-Tayyeb said in a televised statement late on Saturday.
"We are confident that there is still a chance, hope and a place for many of you of who were not proven to have incited violence to seek peace and start talks for a peaceful solution," he added.
Full report at:
http://english.ahram.org.eg/NewsContent/1/64/79325/Egypt/Politics-/AlAzhar-urges-Brotherhood-to-reach-peaceful-soluti.aspx
----------
Pakistan
Woman among three shot dead in 'honour killing' in Pakistan
PTI | Aug 18, 2013
ISLAMABAD: A woman and two men have been shot dead in Pakistan in two different incidents of "honour killing", police said today.
The woman and her father-in-law were killed by the woman's brother Javed Khan with the help of his uncle on Friday, when the victims were sleeping in their home in Nowshera district of troubled Khyber Pakhtunkhwa province.
The woman had married Amjad Khan in a local court about two years ago and had been living in Umer Abad, Dawn reported.
Full report at:
http://timesofindia.indiatimes.com/world/pakistan/Woman-among-three-shot-dead-in-honour-killing-in-Pakistan/articleshow/21895788.cms
-----------
Pakhtun's sufferings narrated in verses
18 August 2013
PESHAWAR: The sufferings of the Pakhtun nation in the wake of ongoing wave of militancy and extremism were translated in English poetry for the first time, depicting life after the country sank deeper into chaos and crises.
The poetic collection titled 'Paris Hilton Vs the Poor Poet and Other Poems' is authored by Farid Gul, the young poet coming from Mohmand tribal district where the Taliban-linked militancy has paralysed life and displaced thousands of families. Farid said his maiden poetic collection came during his study in England.
Full report at:
http://www.dailytimes.com.pk/default.asp?page=2013\08\18\story_18-8-2013_pg7_10
-----------
Education solution to militancy and poverty: Punjab CM
18 August 2013
LAHORE: Punjab Chief Minister (CM) Shahbaz Sharif has said that illiteracy, poverty and extremism could be eradicated with the help of education.
"A culture of research and development, intelligence and honesty could enable us to face all challenges", he said while addressing a prize distribution ceremony to honour position holders of this years' matriculation examination at the Chief Minister's Secretariat on Saturday.
About 123 position holders from nine education boards of Punjab and 14 overall position holders from other provinces were awarded merit certificates and cash prizes.
Full report at:
http://www.dailytimes.com.pk/default.asp?page=2013\08\18\story_18-8-2013_pg13_2
-------
Former JUI Senator Ismail Buledi escapes assasination attempt in Balochistan
August 17, 2013
TURBAT: Former Senator Ismail Buledi escaped an assassination attempt in Turbat on Saturday evening, Express News reported.
Express News Correspondent Arif Mahmood said that according to Turbat local administration, the former senator was going home from the local market when armed assailants fired upon his car.
Full report at:
http://tribune.com.pk/story/591571/former-jui-senator-ismail-buledi-escapes-assasination-attempt/
-----------
FC kills two more militants in Bolan
August 18, 2013
QUETTA: Frontier Corps (FC) personnel on Saturday claimed killing two more militants involved in an attack on Jaffar Express.
"Today we killed two more militants in the Dozan area of Bolan district. We recovered a huge quantity of explosives and arms loaded onto the backs of three donkeys," FC spokesman said.
Militants had attacked the Rawalpindi-bound Jaffar Express coming from Quetta in Dozan on Friday with rockets and automatic weapons, killing two passengers and injuring 32.
The FC had started the search operation in the area on Friday and claimed to have killed six militants using helicopters in action.
Full report at:
http://tribune.com.pk/story/591722/fc-kills-two-more-militants-in-bolan/
-----------
Political activists among 4 killed in Karachi
18 August 2013
KARACHI: Four people including two political activists were shot dead in separate incidents of violence across the city here on Saturday.
A former unit in charge of Muttahida Quami Movement (MQM) was gunned down in Ali market. Kalakot police said that victim Sadiq Rafiq was targeted by unidentified armed riders, who shot him dead. Body of Rafiq was taken to Civil Hospital Karachi (CHK) for autopsy and later handed over to his heirs. Police suspects that Lyari gangster group has involved in this murder.
Full report at:
http://www.dailytimes.com.pk/default.asp?page=2013\08\18\story_18-8-2013_pg7_16
-----------
Pakistan temporarily halts executions
18 August 2013
ISLAMABAD: Pakistan on Sunday ordered a temporary stay of executions following objections from the president and rights groups, days before they were due to resume after a five-year moratorium.
The new government of Prime Minister Nawaz Sharif in June scrapped the moratorium on the death penalty in a bid to crack down on criminals and Islamist militants in the violence-torn country.
Full report at:
http://dawn.com/news/1036710/pakistan-orders-temporary-stay-of-executions
-----------
Remain calm if I'm arrested, Altaf advises MQM workers
18 August 2013
KARACHI: Muttahida Qaumi Movement (MQM) chief Altaf Hussain has asked his supporters to remain calm and 'committed' to their cause in case he is arrested by the Scotland Yard.
"I'm innocent. I'm not afraid of confinement or any other action," the MQM chief told his party workers in Hyderabad and Mirpurkhas by phone on Saturday.
Altaf Hussain is being investigated by the London Metropolitan Police over the murder of former MQM senior leader Dr Imran Farooq and suspicions of money laundering.
The MQM chief said he had faced 'testing times, fabricated cases and imprisonments' before, but had never compromised on his 'beliefs and principles'.
Full report at:
http://tribune.com.pk/story/591747/telephonic-address-remain-calm-if-im-arrested-altaf-advises-mqm-workers/
-----------
South Asia
Afghan refugees can open accounts, get driving permits in Pakistan
August 18, 2013
ISLAMABAD: Afghan refugees can open bank accounts and obtain driving licences and mobile phone SIM cards in Pakistan now that Islamabad has agreed to extend their stay until the end of 2015.
Both sides formalised the agreement to extend the stay of registered refugees during talks between the Afghan Minister for Refugees, Jamaheer Anwari, and Pakistani officials in Islamabad, the Afghan Embassy Refugee Affairs Attaché, Misri Khan Momand, told The Express Tribune on Saturday.
The decision came a day after the National Assembly was informed that there are 1.62 million registered Afghan refugees in the country – which incidentally matches the figure of unregistered refugees.
Federal Minister for States and Frontier Regions Lt General (Retd) Abdul Qadir Baloch told the house during the question hour on Friday that the registration of unaccounted for refugees is under way.
Full report at:
http://tribune.com.pk/story/591718/just-like-home-afghan-refugees-can-open-accounts-get-driving-permits/
-----------
Jamaat-Shibir men go on rampage in Chittagong; 6 injured
18 August 2013
Six people, including two policemen, were injured as Jamaat-Shibir activists went on a rampage in Badurtala under Panchlaish police station in the port city on Sunday, reports UNB.
Additional Deputy Commissioner Shahiddullah said some activists from Jamaat-e-Islami and its student wing, Islami Chhatra Shibir, had brought out a sudden procession in the area around 10:30am.
The activists vandalised eight vehicles, including a police pick-up van, during the incident.
Police fired gunshots to disperse the Jamaat-Shibir men, who fled the scene exploding two or three crude bombs.
Police arrested three people from the spot for their suspected involvement in the incident.
http://www.dhakatribune.com/jamaat/2013/aug/18/jamaat-shibir-men-go-rampage-ctg-6-injured
-----------
Mideast
Egypt committing state terrorism, al-Sisi and al-Assad are same: Turkish PM
18 August 2013
Turkish Prime Minister Recep Tayyip Erdoğan has accused Egypt's interim rulers of committing state terrorism and compared army chief Abdel Fattah al-Sisi to Syrian leader Bashar al-Assad as scores more were killed in a crackdown and hundreds were besieged in Cairo's al-Fath Mosque by security forces.
"The Al-Fath Mosque is under siege. People's place of worship is innocent. They have burned, destroyed our mosques in Syria and in Egypt. Either Bashar or Sisi, there is no difference between them. There is no salvation with oppression," Erdoğan said during a defiant speech in the northwestern province of Bursa Aug. 17 where he attended the launching ceremony of an urban renovation project.
Erdoğan also slammed Egyptian officials for describing supporters of toppled President Mohamed Morsi as "terrorists."
"People are saying 'we ask for our vote to be honored.' But there are those calling them terrorists. But I am saying that state terrorism is currently underway in Egypt," Erdoğan said.
"There are currently two paths in Egypt: Those who follow the Pharaoh, and those who follow Moses," he added.
Full report at:
http://www.hurriyetdailynews.com/egypt-committing-state-terrorism-al-sisi-and-al-assad-are-same-turkish-pm.aspx?pageID=238&nID=52723&NewsCatID=338
-----------
Ex-nuke chief says Iran has 18,000 centrifuges
August 18, 2013
Iran's outgoing nuclear chief says Tehran has a total of 18,000 centrifuges for uranium enrichment - a process that can be a pathway to making nuclear weapons. The number is higher by a third than publicly known.
Fereidoun Abbasi's announcement came as he handed over his post
Saturday to Ali Akbar Salehi, appointed by new President Hasan Rouhani.
Abbasi sys 10,000 centrifuges currently operating are of an older model, IR-1, while about 7,000 more of the same model are ready to be installed along with just over 1,000 centrifuges of an advanced new model.
Full report at:
http://www.hindustantimes.com/world-news/restofasia/Ex-nuke-chief-says-Iran-has-18-000-centrifuges/Article1-1109226.aspx
-----------
Syrian mortars land in Israeli-occupied Golan Heights, Israel retaliates
AP | Aug 18, 2013
JERUSALEM: An Israeli military official has aid that Israeli forces have hit a target inside Syria that was the source of mortar fire into the Israeli-occupied Golan Heights.
The official said on Sunday that at least three shells landed near the Syrian frontier the previous evening, causing no injuries.
The official said Israel complained to the United Nations and then carried out a "pinpointed strike" on the source of the fire. He spoke anonymously because he wasn't authorized to speak publicly about the incident.
Full report at:
http://timesofindia.indiatimes.com/world/middle-east/Syrian-mortars-land-in-Israeli-occupied-Golan-Heights-Israel-retaliates/articleshow/21895722.cms
-----------
Israeli settlers defy stereotype amid peace talks
18 August 2013
BARKAN, West Bank — Micha Drori is living the Israeli dream: a house, a yard, a wife and three kids. The 42-year-old businessman has found an affordable alternative to Israel's booming real estate market in a quiet community he loves, with a commute of less than half an hour to his job near Tel Aviv.
What's the catch? He's a West Bank settler.
The fate of Jewish settlements took center stage this week with the resumption of Israeli-Palestinian peace talks aimed at establishing a Palestinian state. In contrast to the prevailing image of settlers as gun-toting religious zealots, the majority are in fact middle-of-the-road pragmatists seeking quality of life. Many shun the settler ideology and say they will uproot quietly, if needed, for the sake of peace.
Full report at:
http://www.saudigazette.com.sa/index.cfm?method=home.regcon&contentid=20130818177291
---------
India
Pakistani, Bangladeshi origin people won't be given overseas Indian card
PTI | Aug 18, 2013
NEW DELHI: Bringing major changes in the Citizenship Act, the government has decided that any person who is or had been a citizen of Pakistan and Bangladesh would not be eligible for registration as an overseas Indian cardholder.
Besides, overseas Indian cardholders will not be entitled to the rights conferred on Indian nationals regarding equality of opportunity in employment, for election as President, vice-president and appointment of judges of the Supreme Court and high courts.
The cardholders will also not be entitled to be registered as voters and cannot become members of the legislature anywhere in India.
The Citizenship (Amendment) Bill, 2011, which was passed by the Parliament last week, provides for registration as an overseas Indian cardholder if the person is a citizen of another country but was a citizen of India at the time or at anytime after the commencement of the Constitution.
Full report at:
http://timesofindia.indiatimes.com/india/Pakistani-Bangladeshi-origin-people-wont-be-given-overseas-Indian-card/articleshow/21891487.cms
-----------
Army foils another infiltration bid in J&K's Kupwara district
TNN | Aug 18, 2013,
NEW DELHI/JAMMU: The Army has foiled yet another infiltration bid along the line of control in J&K.
According to Army officials, an infiltration bid was foiled in the Keran sector in Kupwara district of Kashmir late on Sunday.
According to TV reports, the Indian troops retaliated to firing after spotting some movement along the LoC last night.
This was the 19th ceasefire violation by Pakistan in the last ten days.
There has been a series of ceasefire violations by Pakistan since August 6 when five Indian soldiers were killed in cross-LoC firing.
Full report at:
http://timesofindia.indiatimes.com/india/Army-foils-another-infiltration-bid-in-JKs-Kupwara-district/articleshow/21891807.cms?
-----------
Tunda: Pak diaspora funds LeT
18 August 2013
Wanted terrorist Abdul Karim Tunda — who had met Hafiz Saeed and his then motely band of only five men way back in 1991 — has told his interrogators that the Lashkar-e-Taiba (LeT) is flush with cash from the Pakistani diaspora and Gulf and enjoys the patronage of the Islamabad regime.
Karachi-based Tunda was picked up by counter-terror agencies from north Nepal around August 15 and was brought to India via the Uttarakhand border on Friday evening.
Top government sources said the 72-year-old veteran of Pakistan-supported jehad against India was picked up after he had come to Nepal to get funds for his madarasa in Bin Qasim town in Karachi.
Full report at:
http://www.hindustantimes.com/India-news/newdelhi/Tunda-Pak-diaspora-funds-LeT/Article1-1109263.aspx
-----------
Man behind video calling for jehad in Myanmar
Jatin Anand
August 18, 2013
An adept bomb-maker in his heyday before advancing age turned him into a quasi-religious leader-cum-motivator, Syed Abdul Karim alias Tunda is suspected to be behind the mass circulation of a controversial, jehadi video clip in Pakistan.
The video intends to exhort the Pakistani youth to join a 'holy war for the rights of their Muslim Rohingya brothers'. It was circulated among central intelligence agencies after being found on the mobile phones of three, young Pakistani men at the Indo-Nepal border in early June.
"They were aged between 21 and 25 years and were crossing over on valid travel documents. We just questioned them as per routine," said an IB official.
Full report at:
http://www.hindustantimes.com/India-news/newdelhi/Man-behind-video-calling-for-jehad-in-Myanmar/Article1-1109274.aspx
-----------
North America
American al-Qaida militant urges attacks on US diplomats
Reuters | Aug 18, 2013
DUBAI: An American al-Qaida militant has called for more attacks on Western diplomats in the Arab world, praising the killers of the US ambassador to Libya on September 11 last year, a US-based monitoring group said on Sunday.
Western nations shut embassies across the Middle East and North Africa early this month, after a warning of a possible militant attack. Many have reopened, and Britain said its Yemen embassy would open on Sunday after being closed for 12 days.
Adam Gadahn, a California-born convert to Islam with a $1 million US price on his head, appealed to wealthy Muslims to offer militants rewards to kill ambassadors in the region, citing bounty set for killing the US ambassador to Yemen, Washington-based SITE monitoring group said.
Full report at:
http://timesofindia.indiatimes.com/world/us/American-al-Qaida-militant-urges-attacks-on-US-diplomats/articleshow/21895474.cms
-----------
Obama balances goals in Egypt
18 August 2013
Pro-coup demonstrators in Cairo's Tahrir Square were given a tangible reminder of America's long-standing support for Egypt's military last month, when a missile-equipped, U.S.-made Apache helicopter flew low overhead and dropped tiny Egyptian flags to the cheering crowd.
Helicopters may soon become another kind of symbol, this time of decreasing U.S. support, as the Obama administration debates whether to stop next month's scheduled delivery of new Apache AH-64D aircraft, according to a senior U.S. official.
Full report at:
http://www.washingtonpost.com/world/national-security/with-egypt-obama-balances-short-term-wants-against-long-term-goals/2013/08/17/025cfe36-0695-11e3-9259-e2aafe5a5f84_story_1.html
-------------
Europe
EU to review relationship with Egypt in coming days
Reuters | Aug 18, 2013
BRUSSELS: The European Union will review its relationship with Egypt in the coming days, the 28-member bloc said on Sunday.
In a statement, the President of the European Council Herman Van Rompuy and the President of the European Commission Jose Manuel Barroso called on all sides in Egypt to show restraint and prevent further escalation of the violence.
"To this effect, together with its member states, the EU will urgently review in the coming days its relations with Egypt and adopt measures aimed at pursuing these goals," the statement said.
http://timesofindia.indiatimes.com/world/middle-east/EU-to-review-relationship-with-Egypt-in-coming-days/articleshow/21894258.cms
-------
UN still feels impact of deadly Iraq blast 10 years on
August 18, 2013
BAGHDAD – A massive Baghdad bombing a decade ago, termed "the 9/11 of the UN," killed 22 people and drove heightened security measures that ultimately limited interactions with ordinary Iraqis.
On August 19, 2003, a suicide bomber detonated an explosives-rigged truck next to the Canal Hotel, which housed United Nations offices, killing Brazilian UN envoy Sergio Vieira de Mello and 21 others.
At the scene of the attack — which made headlines around the world as one of the first such bombings in Iraq — little has changed over 10 years.
Full report at:
http://www.saudigazette.com.sa/index.cfm?method=home.regcon&contentid=20130818177250
-----------
Southeast Asia
Malaysian Muslims in Perlis reminded of fatwa against marrying Shia followers
18 August 2013
Perlis Mufti Datuk Dr Juanda Jaya yesterday advised Muslims in the country against marrying Shia followers to protect the harmony of Muslims in the country who are followers of the Sunah Wal Jamaah.
He said the advice was made to avoid conflict in a marriage should the couple want to get a divorce.
The Perlis Fatwa (Edict) Committee, he said, had issued a prohibition on Muslims marrying a Shia and the decision had been endorsed by the Perlis Islamic Religion and Malay Customs Council in November last year.
Full report at:
http://www.themalaysianinsider.com/malaysia/article/muslims-in-perlis-reminded-on-fatwa-against-marrying-shia-followers-bernama
-----------
Stop debate on surau used for Buddhist prayers, says Jamil Khir Baharom
18 August 2013
YAN: There should not be any more debate on the surau (pix) that was used for a Buddhist prayer session in Kota Tinggi now that the Johor Islamic Religious Department (JAIJ) has decided on the matter, said Minister in the Prime Minister's Department Datuk Seri Jamil Khir Baharom.
He urged all parties to respect the decision made by the JAIJ to demolish the surau.
"It is their sole prerogative on what to do next," he added.
Jamil Khir said JAIJ had a clear understanding of the situation and the type of action to be taken. He added that the issue was not about demolishing the surau but protecting Islam.
"I do not see any need to debate on whether or not to demolish the surau," he told journalists after attending the Jerai Umno division's Hari Raya open house in Guar Chempedak.
Full report at:
http://www.thestar.com.my/News/Nation/2013/08/18/surau-jamil-khir.aspx
-----------
Tangerang 'Terrorists' Remain on the Run: Police
18 August 2013
Two men who fatally shot two police officers in Tangerang on Friday night had received some training and were likely terrorists, police said on Sunday.
"Based on investigation at the crime scene, and from testimonies of witnesses and facts on the field, we suspect that the shooters had been trained in using guns," Jakarta Police spokesman Sr. Comr. Rikwanto said.
Friday night's attack was similar to that of two previous attacks on policemen, also in Tangerang, on July 27 and Aug. 7. The attackers targeted patrolling policemen and shot them from close range on motorcycles.
Full report at:
http://www.thejakartaglobe.com/news/tangerang-terrorists-remain-on-the-run-police/
-----------
Africa
Tunisian labor leader rejects parallels with Egypt
18 August 2013
TUNIS – Hussein Abassi doesn't like it when his Tunisian trade union federation is compared to the Egyptian army and he is likened to a general who can make or break a government.
The Tunisian General Labour Union (UGTT) has neither tanks nor military ambitions, but it does boast an "army" of a million members that dwarfs the political parties now at loggerheads in Tunis.
With the secular opposition trying to force the ruling Islamist party Ennahda to resign, Tunis has been abuzz with talk of an "Egyptian scenario," with the UGTT the only group strong enough to force the Islamists out.
Full report at:
http://www.saudigazette.com.sa/index.cfm?method=home.regcon&contentid=20130818177251
-----------
Libya agrees third border crossing with Tunisia
18 August 2013
TRIPOLI – Libya is to build a third border crossing into Tunisia, easing the intense pressure on congested Ras Jedir, which caused despairing shippers to open a maritime link between Tunis and Khoms.
Trade between Libya and Tunisia is worth some $6 billion a year, with the balance strongly in favour of the Tunisians.
Full report at:
http://www.saudigazette.com.sa/index.cfm?method=home.regcon&contentid=20130818177252
-----------
URL: https://www.newageislam.com/islamic-world-news/new-age-islam-news-bureau/egypt's-muslim-brotherhood-faces-political-elimination/d/13079