New Age Islam News Bureau
30 Oct 2012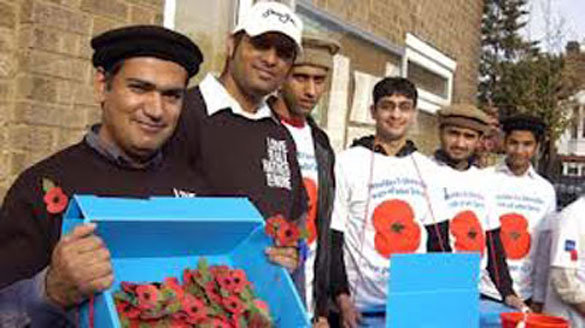 Arab World
• Egyptians who vote for draft constitution will go to 'hell:' Salafi leader
• Over 400 people die during Eid-ul-Azha holidays in Syria
• Syrian rebels 'buying arms from the regime'
• Egyptians in hajj divided over Islam in politics
• Syrian Air Raid on Strategic Town Kills 6 Civilians: Activists
• Syrian jihadist spill over haunts Jordan
• Bahrain bans protest all gatherings amid growing violence
• Nobel Peace laureate Warns of 'Somatisation' of Syria
• 'War of extermination' in Syria: Qatar PM
• Cairo court to examine case for Mubarak pardon
Europe
• In heart of France, Islamic school trains imams
• Ahmadiyya Muslim Youth Association starts poppy appeal
• EU parliament slams Pakistan for 'grave' human rights abuses
• Two Muslim candidates win seats in Belgium local elections
• Sarkozy aide charged in 'Karachi' corruption scandal
Southeast Asia
• Indonesian anger over 'maids on sale' ad in Malaysia
• Filipino preacher in Riyadh helps over 1,000 Asians embrace Islam
• 3 Philippine Marines, 2 Militants Killed In Clash
• Mosque vandal suspect faces triple charges
• New Mosque to Rival Istiqlal Coming Soon
India
• Clean chit to Vastanvi former Vice-Chancellor of Darul Uloom Deoband over poll speech
• We will not take any steps affecting Dhaka, Indian PM tells his Bangladesh Counterpart
• Lack of education infra for minorities tops Minister's agenda
• Khaleda Zia urges PM to fast track Teesta pact
• Security tightened at Bodh Gaya's Mahabodhi temple following I M terror threat
• Ceasefire violation: Pak troops targets Indian post
• Mumbai attack: India to get access to David Headley's wife, girlfriends, Rana
• Don't succumb to political pressure, Azmi tells officers
South Asia
• 11 Rohingya organizations appeal to Save the Arakan Muslim Population from Genocide
• Saudi Arabia to build $100-million Islamic centre in Kabul
• Apparent Insider Attack Kills 2 NATO Troops
• Government cannot pay state salaries without Indian cash: Finance Minister
• Foreign incitement behind Ramu attack: Bangladesh HM MK Alamgi
Africa
• Somali comedian who poked fun at Islamists shot dead
• Somalia's General Farah killed in al-Shabab ambush
• Libya Army Has 'No Control' in Bani Walid: Defence Minister
• Libya's New Prime Minister Proposes New Cabinet
• Libya Warnings Were Plentiful, but Unspecific
Pakistan
• Ten terrorists killed in Khyber operations
• Hundreds protest against Nowshera shrine attack
• In Pakistan's Taliban territory, education is a casualty of conflict
• Hizbut Tahrir made three attempts to penetrate army
• British expert to brief PCNS on anti-terror laws
• 26/11: Pak to allow Indian investigators access evidence
• Hindu trader killed by unidentified men in Pak's Sindh
• First dedicated auction of Pakistani art in India goes online on November 7
• Pak Parliament may be dissolved in January; elections to be held by April
• Non-resident Pakistanis should be given right to vote: CJ
North America
• Dehumanising defendants in Guantanamo
• New film reveals CIA's 1979 'mad' mission in Iran
• CAIR-MN Welcomes DOJ Probe Into Rejection of Planned Islamic Centre
• CAIR-WA Seeks FBI Probe of Anti-Muslim Attack on Sikh Cabbie
Mideast Asia
• Israel arrests West Bank Hamas militants
• In Turkey, a Break from the Past Plays Out in the Streets
Compiled by New Age Islam News Bureau
Photo: Ahmadiyya Muslim Youth Association starts poppy appeal
URL: https://www.newageislam.com/islamic-world-news/new-age-islam-news-bureau/egyptians-who-vote-for-draft-constitution-will-go-to-'hell-'-salafi-leader/d/9138
-------------
Arab World
Egyptians who vote for draft constitution will go to 'hell:' Salafi leader
30 October 2012
Egyptians who vote for a draft constitution that does not establish "shariah rulings" as the country's main jurisprudence will go "to hell," a Salafi political leader has said.
Adel Afifi, the founder and president of Al-Asala political party, wrote on his Facebook account: "Support God and reject the constitution." He added that those who will accept the draft constitution will be "apostates," "committing a sin" and "casting themselves into hell."
The approval of a constitution that "rebuffs God's law is prohibited and is a clear sin," Afifi added, according to Egypt's news website Masrawy.com.
The draft constitution leaves unchanged Article 2 of the 1971 constitution stating, "Islam is the religion of the State, Arabic is its official language and the principles of Islamic Shariah form the main source of legislation."
Salafis and Islamic hardliners demand that the expression "the principles of Islamic shariah" be replaced by "rulings of shariah."
Salafis in Egypt are planning a protest in Tahrir Square on Friday to "support Sharia" and to call for a constitution in which its "articles do not violate God's law." The Muslim Brotherhood movement said it will not take part in the protest.
The phrasing of Article 2 ignited debates over the role of religion in the country's affairs and those in charge of interpreting it.
The current draft seems unsatisfying not only to ultra conservatives Salafis, but for secularists and human rights activists too, as it is accused of seeking to place limits on religious freedoms and women's rights.
The constitution panel members have said they are expected to finish writing the draft charter as early as next month. The new constitution then will have to be put to a public referendum within 30 days.
http://english.alarabiya.net/articles/2012/10/30/246592.html
-------------
Over 400 people die during Eid-ul-Azha holidays in Syria
October 30, 2012
DAMASCUS: Explosions shook Damascus as warplanes launched their heaviest air raids yet and two car bombs struck on Monday, with the UN-Arab League peace envoy saying Syria's conflict was going from bad to worse.
The air raid blasts, heard coming from several outlying districts, rattled windows in the city centre and were among the most intense in Damascus since the beginning of Syria's 19-month conflict, an AFP correspondent said. They were followed by two car bombings in and around the capital.
The first struck the predominantly Christian and Druze area of Jaramana, just outside Damascus, killing 11 people, according to state news agency SANA.
The second hit several hours later in the southern Al-Hajar Al-Aswad district, which has seen heavy fighting, causing an unknown number of casualties, state television reported. The violence came as world powers looked to pick up the pieces of a failed effort for a Muslim holiday ceasefire, with international envoy Lakhdar Brahimi in Moscow and due in China this week as he prepares to present new ideas to the UN Security Council. "I have said and it bears repeating again and again that the Syrian crisis is very very dangerous, the situation is bad and getting worse," Brahimi, who will travel to China on Tuesday and Wednesday, said after talks with Russian Foreign Minister Sergei Lavrov. On Monday, the final day of the four-day Eid al-Azha holiday, the Syrian military launched more than 60 air strikes around the country, said the Syrian Observatory for Human Rights.
"These are the heaviest air strikes since warplanes were first deployed over the summer," the watchdog's director, Rami Abdel Rahman, told AFP. '"The regime is looking to make real gains. There are battles in all of these areas being hit," said Abdel Rahman.
Warplanes struck targets around Damascus, the Observatory said, with attacks focused on rebel positions in a north-eastern belt where President Bashar al-Assad's regime has been battling to take over opposition strongholds. Dozens of soldiers were wounded and 11 killed in fighting in the area, it said. The Observatory reported other air raids on villages and towns across the north-western province of Idlib, where regime forces and rebels have been locked in fierce fighting over the Wadi Deif military base.
The truce proposed by Brahimi for Eid, which started on Friday, fell apart amid clashes, shelling and car bombings only hours after it had been due to take effect. More than 400 people have died since the start of Eid, according to the Observatory, including at least 76 on Monday.
The Britain-based group relies on a countrywide network of activists, lawyers and medics in civilian and military hospitals, and says its tolls take into account civilian, military and rebel casualties.
UN Secretary General Ban Ki-moon said on Monday he was "deeply disappointed" by the collapse of the truce and urged all sides "to live up to their obligations and promote a ceasefire."
UN diplomats say Brahimi was realistic about the ceasefire's chances and is now looking ahead to new efforts to tackle the crisis.
Diplomats told AFP that he will go back to the Security Council with fresh proposals in November after the visits to Russia and China—which have repeatedly vetoed resolutions threatening action against Assad's regime.
Lavrov said Moscow was "disappointed" the ceasefire did not hold and stressed Russia's position that the crisis would only be resolved once Western powers and regional players start negotiating with Assad.
http://www.thenews.com.pk/Todays-News-1-139941-Over-400-people-die-during-Eid-ual-Azha-holidays
-------------
Syrian rebels 'buying arms from the regime'
October 30, 2012
The Syrian regime may be their sworn enemy, but rebels fighting to bring down President Bashar al-Assad say they pay hard cash to government agents for guns and bullets. For Syria's plethora of armed opposition groups, obtaining weapons is a constant struggle. Furious with the West for
failing to provide heavy weaponry, they say they have little choice but to line Assad's coffers.
In a country where national service is compulsory, and a conflict where brothers fight on opposing sides and rebels defect from the armed forces, they say it is not difficult to find a "middleman" or an "old friend" to help.
"We buy from Assad spies and on the market," said Major Abu Mahar, puffing on a French cigarette over coffee at a gym requisitioned by his network of fighters as a base in the northern city of Aleppo.
He claims to lead 200 men who conduct "special missions" against Assad's forces. But like other units, they are poorly armed with machineguns, rocket-propelled grenades, sniper rifles and home-made rockets and bombs.
Seven Kalashnikovs hang upside down from hooks and a bucket of bullets sits in the corner of Abu Mahar's office, which overlooks the mirror-lined workout room where bodybuilders used to flex their pecs.
Quietly spoken and hunched over in a leather jacket, he defected this summer from the air force. And like other rebels, he still has associates in various branches of the government military and security.
Abu Mahar says a bullet costs 110 Syrian pounds ($1.60) to buy from the regime, compared with $2 on the market, declining to specify where that market might be.
He claims that most of his group's ammunition supplies come from the shabiha, the term used to refer to state-sponsored militia hired by the government.
"We buy them from double agents, they need the money. The shabiha's God is money. They don't care about anything else. If you give them money they'll even sell you their own mother," he said.
"They have open access to army, police and intelligence bullet stores. They're saving up for when the regime falls," he smiled into his salt-and-pepper beard.
But Abu Mahar is evasive about where and how often the exchanges take place. He says his network uses a "pointman" or an "old friend," and they do not meet face to face.
Rebels seem unperturbed about bankrolling their enemy, particularly when the West has declined to provide heavy weaponry and there is no prospect of a NATO-enforced no-fly zone that was so vital in toppling Libya's Moamer Kadhafi.
"They've already taken our money for the last 40 years, our gold, our minds, what difference does it make?" shrugged one member of the main rebel group, the Free Syrian Army (FSA), in northern Syria near the Turkish border.
For Yussef Abud, a commander in the FSA's Tawhid Brigade, it's a matter of survival although he claims to have bought regime bullets only "once or twice."
"What can I do? Sometimes I don't have enough weapons or bullets. I don't like it, but without these bullets and weapons, many FSA will be killed," he told AFP.
Rebels also take guns from soldiers they kill on the battlefield, while others who defect from the regime often manage to smuggle their weapons out with them.
Sitting guard in an old sports complex on the Aleppo front line, Mohammed Abu Issam al-Halabi, 49, claims to have bought his Kalashnikov "from bad guys in the regime" for $1,000 when he decided to become a "mujahid" eight months ago.
"You can't buy these on the market and I need a weapon. What can I do?"
The former factory boss, with a bushy beard and black Islamic bandana round his head, told AFP that before the uprising the gun would have cost only $200-$300.
Across the road, Lieutenant Ahmed Saadeen, 24, agrees that buying armaments from the regime is right.
Like many rebels, he angrily criticises the apparent refusal of the West and the Gulf to provide Syria's rebels with anti-tank and anti-aircraft weapons.
"Where else can we buy them?" he snapped, before sprinting away to dodge sniper fire.
http://www.hindustantimes.com/world-news/RestOfAsia/Syrian-rebels-buying-arms-from-the-regime/Article1-952024.aspx
----------
Egyptians in hajj divided over Islam in politics
By AYA BATRAWY
October 30, 2012
MECCA, Saudi Arabia (AP) — Now that she has finished the hajj and is returning home to Egypt, Magda Bagnied says her family will no doubt try to convince her to put on the headscarf to demonstrate her religiosity after a pilgrimage meant to cleanse her of sin and bring her closer to God.
She fully expects that from her parents. But she doesn't want that kind of pressure from her government or leaders.
"Leave religion to the people," said Bagnied, a media professor at Ahram Canadian University, in Cairo's suburbs.
The annual pilgrimage to Islam's holiest sites offers Muslims a chance to reaffirm their faith and root themselves more firmly in their beliefs. It comes at a time when several Arab nations are facing a similar issue on a political level after uprisings that toppled longtime leaders and brought Islamists to greater power: The question of how much a government should be rooted in Islam.
Egypt in particular is struggling with that question. Elections since the fall last year of Hosni Mubarak elevated Mohammed Morsi, who hails from the Muslim Brotherhood, to president. The Brotherhood was vaulted to become the country's strongest political force, along with even more conservative Islamists known as Salafis, who follow a strict Saudi-style interpretation of Islam.
As pilgrims were making their way around the Kaaba, the cube-shaped structure in Mecca that observant Muslims pray toward five times a day, and performing an elaborate set of rituals in Saudi Arabia over the past week, Egypt was in a bitter struggle over the writing of the new constitution.
Salafis are pressing for the document to explicitly root Egypt's laws in Shariah. That has raised liberals' fears that it will bring stricter implementation of Islamic law and empower Muslim clerics in a political role, limiting women's rights and freedoms of worship and expression. The assembly writing the constitution is dominated by the Brotherhood and Salafis.
The Egyptians who performed the pilgrimage this year may be united in the importance they give to their faith in their lives. But it doesn't mean they all agree on the mix of religion and politics. More than 90,000 Egyptians were on the pilgrimage, which largely wrapped up on Monday. They hailed from all segments of Egyptian society, the rich and the poor, and from all corners of the Arab world's most populous nation.
Wearing the seamless terrycloth garments worn by male pilgrims to symbolize equality and unity during hajj, Sayid Zeid said Egypt's constitution should represent all Egyptians — and, he added, it must be based on the Quran.
How can it be both, given the large Christian minority and the sector of liberal Muslims?
"Shariah will be applied by God ... It should be applied as it came down from God," said Zeid, who is a reporter with Egypt's state TV, though he was performing the hajj, not covering it.
For some, it seemed only natural that Islamic law would benefit a Muslim-majority nation, putting aside questions of who would interpret it or implement it.
Making his way to midday prayers at Mecca's Grand Mosque, which houses the Kaaba, Abdel-Muntalib el-Fikky said there is no reason to fear Shariah or the Islamists.
"Why are we all here? We are all here for God," he said of the pilgrims. "Our constitution, God willing, will be good. It will move us forward."
Anwar Saad, a 32 year-old teacher from Egypt's Beheira province, stood on Jabal al-Rahma in Mount Arafat, in the desert outside Mecca during a rite of prayer on Thursday that many feel is the pinnacle moment of hajj.
"The Brotherhood have moderate views. They are not conservative like the Salafis. We hope they will apply a moderate form of Shariah for Egypt," he said. "We want God to help Morsi succeed ... There were 30 years of corruption and this will not be fixed in 100 days. Be patient with the president."
Notably, hajj itself shows the variety in interpretations of Islamic rules. For example, in most of the Muslim world, men and women are segregated during prayers. But in the Grand Mosque, the two sexes pray side by side. For most of the hajj rites, women are not allowed to wear the veil that covers the entire face, even though ultraconservative Muslims insist a woman's face should be hidden from males not related to her.
Bagnied, the media professor, said she does not fear Shariah but those who would try to interpret and apply it.
"What kind of Islam do they want to apply? Afghanistan, Iran or Saudi Arabia?" she said. Bagnied, who does not wear the headscarf that many Egyptian Muslim women don to cover their hair, said she can resist her family's urging her to start wearing it. But she worries that an Islamist government will start to apply political pressure as well on such personal choices.
She said many people voted for Morsi hoping that because he is a pious Muslim and will apply "God's law" that their lives will improve.
"I think many Egyptians don't know the content of the constitution," she said. "Egypt is full of people talking about politics, but there is a large amount of ignorance in the country and you can convince people (by using Islam) that they have to obey their leaders, who are sheiks and politicians."
Ihab Abdel-Aal, 47, is among those who voted for the former Mubarak regime-era official who ran against Morsi in the past summer's presidential race. Morsi won by just over half the vote. Abdel-Aal has performed the hajj more than 25 times, since he's a tour operator bringing other Egyptians on the pilgrimage.
He fears Egypt is turning to a theocracy.
"Democracy and freedom are new to Egypt," he said. "There should be no religion in politics and no politics in religion."
Abdel-Aal, like many who work in Egypt's vital tourism industry that was hard-hit due to political turmoil over the past year, said he believes Shariah cannot be applied in all aspects of life.
"This will tank the economy and other sectors and just won't work."
Mohamed Abdel-Aziz, who runs a Cairo tourism company, says he has performed hajj more than 30 times. He said the number of Egyptians wanting to perform hajj and umrah, the smaller pilgrimage to Mecca, increased this year.
"In any crisis, the first thing a person does is pray to God," he said. "We are in a crisis."
Copyright © 2012 The Associated Press
-------------
Syrian Air Raid on Strategic Town Kills 6 Civilians: Activists
30 October 2012
AMMAN (Reuters) - A Syrian airforce raid on a rebel-held town, strategically situated on the Damascus-Aleppo highway, killed at least six civilians on Tuesday, including children, opposition campaigners in the area said.
Video footage showed men pulling out the body of a toddler from a flattened building in a northern neighborhood of Maarat al-Numaan, 300 kilometers (188 miles) north of Damascus, which has been under aerial and ground bombardment since rebels seized control last month.
http://www.nytimes.com/reuters/2012/10/30/world/middleeast/30reuters-syria-crisis-raid.html?ref=middleeast
----------
Syrian jihadist spill over haunts Jordan
Oct 29, 2012
By Suleiman Al-Khalidi
AMMAN, Oct 28 (Reuters) - Jordan's announcement that it has foiled an al Qaeda plot to bomb the capital highlights the threat to Washington's ally from Islamist fighters hardened by conflict in neighbouring Syria, and the danger of Damascus trying to export its crisis.
The kingdom is no stranger to turmoil. For decades it has navigated the Israeli-Palestinian conflict on its western border and more recently bloodshed in Iraq to the east, which spilled over to Jordan with hotel bombings in Amman seven years ago.
But the Syrian civil war could pose the gravest threat yet to Jordan's pro-Western King Abdullah, whether or not rebel fighters succeed in toppling President Bashar al-Assad after 42 years of Assad family rule.
Full report at:
http://www.reuters.com/article/2012/10/29/syria-crisis-jordan-idUSL5E8LTA9Y20121029
-------------
Bahrain bans protest all gatherings amid growing violence
October 30, 2012
MANAMA, Bahrain — Bahrain says it is banning all protest gatherings amid escalating clashes in the strategic Gulf kingdom that hosts the U.S. Navy's 5th Fleet.
The decision re-imposes state of emergency-style rules in the Sunni-ruled nation, whose Shiite majority launched an uprising over 20 months ago, aiming to win a greater political voice.
Tuesday's announcement by the Interior Ministry did not specify what actions could be taken against fresh protests, but suggests Shiite political groups could be held responsible with possible arrests or formal closures of their offices.
Full report at:
http://www.washingtonpost.com/world/middle_east/bahrain-bans-protest-all-gatherings-
-------------
Nobel Peace laureate Warns of 'Somatisation' of Syria
October 30, 2012
Washington, DC. Nobel Peace laureate Jose Ramos-Horta warned Monday that Syria risked becoming a new Somalia as he voiced pessimism at any quick solution to the bloodshed that has left tens of thousands dead.
The man who helped bring independence to East Timor saw a dangerous mix in Syria, saying the rebels lacked democratic credentials and President Bashar al-Assad was determined to fight for the survival of himself and his community.
"It is becoming a vicious civil war involving many — too many — outside interests, governments and non-state interests," Ramos-Horta told AFP on a visit to the United States.
"We are going to see a prolonged civil war, almost a Somalization of Syria, but in a much more dangerous region of the world. Unfortunately I cannot see a better scenario," he said.
Full report at:
http://www.thejakartaglobe.com/seasia/ramos-horta-warns-of-somalization-of-syria/553183
-------------
'War of extermination' in Syria: Qatar PM
In Al-Jazeera interview, Prime Minister Sheikh Hamad bin Jassem Al-Thani argues situation in Syria is 'war of extermination,' accuses regime and international community of complicity
AFP , Tuesday 30 Oct 2012
Qatari Prime Minister Sheikh Hamad bin Jassem Al-Thani has accused the Syrian regime, with the complicity of the international community, of waging a "war of extermination" against its people.
Sheikh Hamad in an interview with Al-Jazeera satellite channel late on Monday took issue with UN-Arab League peace envoy Lakhdar Brahimi, who earlier in the day had characterised the deadly conflict ravaging Syria as a "civil war."
"What is happening in Syria is not a civil war but a war of extermination against the Syrian people," Sheikh Hamad said.
Full report at:
http://english.ahram.org.eg/NewsContent/2/8/56742/World/Region/War-of-extermination-in-Syria-Qatar-PM.aspx
-------------
Cairo court to examine case for Mubarak pardon
30 Oct 2012
Cairo's Administrative Court will hold a session on Tuesday to look into a case arguing that ousted president Hosni Mubarak be pardoned on health grounds.
Mubarak's lawyer, Mohamed Abdel-Razek, asserts that the former strongman's health is deteriorating and that services offered by the prison hospital are not sufficient to deal with his case, citing Mubarak's physician at the military hospital.
Mubarak has been sentenced to life imprisonment for his failure, as president, to prevent the deaths of protesters during last year's 18-day uprising.
The former dictator handed over his authorities to the Supreme Council of the Armed Forces on 11 February 2011 after 18 days of popular revolt.
http://english.ahram.org.eg/NewsContent/1/64/56741/Egypt/Politics-/Cairo-court-to-examine-case-for-Mubarak-pardon.aspx
-------------
Europe
In heart of France, Islamic school trains imams
By by Pauline Talagrand
October 30, 2012
SAINT-LEGER-DE-FOUGERET — Deep in the wooded hills of Burgundy in central France, an unusual institute is training unusual students: aspiring French imams who hope to minister to the country's large Muslim population.
Early in the morning, some 200 students from across the country stream into the European Institute of Human Sciences de Saint-Leger-de-Fougeret, where they learn to chant the Koran and study Islamic theology and Arabic literature.
After seven intensive years of study, only 10 or so graduates each year to lead prayers or preach at mosques. There is no doubting the need for new imams.
Estimates of France's Muslim population vary widely, from between 3.5 million and 6.0 million, though there is little hard evidence as to how many are practising. In any event, France's Muslim community is the largest in Western Europe.
Relations between the authorities and Muslims, many of them second- or third-generation immigrants, chiefly from North Africa, have often been tense.
Full report at: Copyright © 2012 AFP. All rights reserved
--------
Ahmadiyya Muslim Youth Association starts poppy appeal
By Catrin Nye and Sarah Levene
29 October 2012
A group of Muslims have started their own poppy appeal at a London mosque that acted as a bomb shelter during World War II.
Working alongside the Royal British Legion, the London-based Ahmadiyya Muslim Youth Association has sold poppies in the capital before, but this year its campaign is being rolled out nationwide.
Members are posting more than 100 volunteers at Tube stations and rail stations across the UK to try to surpass the £20,000 they raised in their 2011 appeal.
It is a marked contrast to the coverage of Islamic extremists burning poppies on Armistice Day in 2010.
Full report at:
http://www.bbc.co.uk/news/uk-england-london-20109337
-------------
EU parliament slams Pakistan for 'grave' human rights abuses
Oct 30, 2012
STRASBOURG: The European Parliament has slammed Pakistan for its "grave human rights abuses" and raised concern over the "pathetic condition" of the girl child in that country as it condemned the Taliban attack on teenage activist Malala Yosufzai.
It also called for a determined effort by the international community to use its moral, financial and military power to stem the rot that "afflicts certain societies where children have become targets of terrorist organizations like the Taliban which continue to have support and sanctuaries in Pakistan".
Full report at:
http://timesofindia.indiatimes.com/world/europe/EU-parliament-slams-Pakistan-for-grave-human-rights-abuses/articleshow/17013767.cms
-------------
Two Muslim candidates win seats in Belgium local elections
October 30, 2012
Two candidates from Islam Party have won their way to the local councils in two major districts of the Belgian capital Brussels.
The local elections were held in Anderlecht and Molenbeek on Sunday.
The party reportedly plans to field candidates for the regional and parliamentary elections and also intends to fight for seats in the European Parliament.
Full report at:
http://www.presstv.com/detail/2012/10/29/269422/2-muslim-candidates-win-belgium-vote/
-------------
Sarkozy aide charged in 'Karachi' corruption scandal
October 30, 2012
PARIS: An aide of French former president Nicolas Sarkozy was on Monday charged in an illegal political funding scandal known as the "Karachi Affair," a complex probe into alleged kickbacks on arms deals.
Nicolas Bazire, the current number two of luxury group LVMH, was heard by judges for four hours and accused of handling illicit funds used for political campaigns.
A former campaign manager for ex-prime minister Edouard Balladur, Bazire had been under investigation since September.
Full report at:
http://dawn.com/2012/10/29/sarkozy-aide-charged-in-karachi-corruption-scandal/
------------
Southeast Asia
Indonesian anger over 'maids on sale' ad in Malaysia
Ezra Sihite & Jonathan Vit | October 29, 2012
An advertisement reading "Indonesian maids now on SALE!!!" seen tacked to trees in Kuala Lumpur has incensed Indonesian lawmakers in the latest row between the neighbouring countries.
"The Indonesian government should sue the ones who made that ad," Golkar Party lawmaker Poempida Hidayatullah said. "[The government] should ask Malaysia about their seriousness in handling Indonesian migrant workers."
A photo of the flyer, which listed a 40 percent discount on placement fees for Indonesian maids, was tweeted by Anis Hidayah, the executive director of Migrant Care on Sunday.
Less than 24 hours later, the tweet had grabbed the attention of lawmakers and news media in Indonesia, where incidents like this routinely ignite flare ups of anti-Malaysian sentiment.
Full report at:
http://www.thejakartaglobe.com/seasia/lawmakers-fired-up-over-malaysian-ad-offering-discount-for-indonesian-maids/552948
-------------
Filipino preacher in Riyadh helps over 1,000 Asians embrace Islam
30 October 2012
JEDDAH: Ronaldo, a Filipino worker in Riyadh, has convinced more than 1,000 Asians, including his own family members, to embrace Islam during the past few years, Al-Sharq Arabic daily reported yesterday.
Ronaldo, who works at a broast restaurant in Riyadh, said he accepted Islam as his religion several years ago after understanding the meaning of a Qur'anic verse.
He still remembers the question asked him by one of his Muslim colleagues at the restaurant: "Why don't you pray with us. Don't you want to enter Paradise if you die tonight?"
Ronaldo said that question had inspired him to learn more about Islam. He later heard about a Qur'anic verse which means: "And whoever seeks other than Islam as religion it will not be accepted from him; and in the Hereafter, he will be among the losers."
Full report at:
http://www.arabnews.com/filipino-preacher-helps-over-1000-asians-embrace-islam
------
3 Philippine Marines, 2 Militants Killed In Clash
October 29, 2012
Manila. Philippine marines who were searching for long-held hostages battled Al Qaeda-linked militants in a fierce clash on Sunday that killed three marines and two insurgents in the south, officials said.
The fighting erupted after dawn Sunday and continued sporadically through the day in the mountainous hinterlands of Patikul town in Sulu province, where the Abu Sayyaf movement has survived in jungle encampments despite years of US-backed Philippine military offensives.
At least 10 other marines were wounded in Sunday's clash, regional military spokesman Lt. Col. Randolph Cabangbang said.
Full report at:
http://www.thejakartaglobe.com/international/3-philippine-marines-2-militants-killed-in-clash/552967
-------------
Mosque vandal suspect faces triple charges
October 30 2012
Islamic Defenders Front (FPI) member, Muhammad Asep "Utep" Abdurahman, the main suspect in the destruction of the Ahmadiyah An-Nasir mosque in Bandung, West Java, last Thursday, faces triple charges.
Utep was charged under Article 170 of the Criminal Code on assault with the maximum penalty of five years' imprisonment, as well as Article 406 on the destruction of private property and Article 335 on offensive behavior, Bandung Police chief of detectives Adj. Sr. Comr. Widjonarko said on Monday.
Full report at:
http://www.thejakartapost.com/news/2012/10/30/mosque-vandal-faces-triple-charges.html
-------------
New Mosque to Rival Istiqlal Coming Soon
Ronna Nirmala | October 29, 2012
Less than a week after stating its intention to build Jakarta's first grand mosque in more than 30 years, the administration of Governor Joko Widodo revealed on Saturday that it was already looking for the land and could begin construction next year.
Deputy Governor Basuki Tjahaja Purnama said the mosque needed to be at least as big as Istiqlal Grand Mosque in Central Jakarta, which was completed in 1978 and covers 95,000 square meters.
Full report at:
http://www.thejakartaglobe.com/jakarta/new-mosque-to-rival-istiqlal-coming-soon/552845
-------------
India
Clean chit to Vastanvi former Vice-Chancellor of Darul Uloom Deoband over poll speech
Oct 30 2012
Ahmedabad: The Election Commission has given a clean chit to Maulana Ghulam Mohammad Vastanvi, former Vice-Chancellor of Darul Uloom Deoband, over a speech that BJP claimed was "provocative" and violated poll code.
Vastanvi was sacked from the post of Vice-Chancellor of the leading Islamic seminary last year allegedly for praising Gujarat Chief Minister Narendra Modi.
Speaking at an election rally organised by the Congress at Mandvi in Surat district on October 22, he had reportedly said it was a crime to praise a 'Zalim' (tyrant) and that he never praised Modi. Vastanvi had also reportedly appealed to minority community members to vote for Congress.
Full report at:
http://www.indianexpress.com/news/ec-gives-clean-chit-to-vastanvi-over-poll-speech/1024016/
-------------
We will not take any steps affecting Dhaka, Indian PM tells his Bangladesh Counterpart
SANDEEP DIKSHIT
30 October 2012
BNP leader calls for cooperation to curb terror, check insurgent groups
Prime Minister Manmohan Singh on Monday assured the former Bangladesh Prime Minister, Begum Khaleda Zia that New Delhi was committed to taking Dhaka along as it pursued the economic growth path and would not take any steps detrimental to her country's interests.
Ms. Zia, leader of the Bangladesh Nationalist Party (BNP), is here on a week-long visit as part of India's broader outreach with Bangladeshi polity. Prominent political figures who have visited the country recently to minimise the India factor in Bangladesh's politics before elections late next year include the former President, Lt. Gen. (retd.) H.M. Ershad; general secretary of the ruling Awami League Sayed Ashraful Islam and representatives of the media and the civil society.
Full report at:
http://www.thehindu.com/news/national/we-will-not-take-any-steps-affecting-dhaka-pm-tells-khaleda/article4044711.ece
----------
Lack of education infra for minorities tops Minister's agenda
Zia Haq
October 30, 2012
On his first day in office, K Rahman Khan, who took charge of the minority affairs ministry from Salman Khurshid, made no bones about his first task at hand: getting to bottom of where funds were flowing. Rahman Khan told HT he would order a review of the ministry's programmes to see if they were adequately benefiting minorities, an issue he had raised even before he had become minister.
Khan, who often made key interventions on minority welfare, said evaluation was necessary because of a perception that progress levels were not anything like they should be. "From what I understand, states are ultimately responsible for implementing the schemes. Now, we have to see what is the best method for speeding up development," he said.
Full report at:
http://www.hindustantimes.com/India-news/NewDelhi/Lack-of-education-infra-for-minorities-tops-Khan-s-agenda/Article1-951960.aspx
-------------
Khaleda Zia urges PM to fast track Teesta pact
Oct 30, 2012
NEW DELHI: BNP chief and Bangladesh's main opposition leader Khaleda Zia on Monday asked PM Manmohan Singh in a meeting here to expedite the signing of Teesta water-sharing agreement, saying that the pact was imperative for better ties between the neighbours. Government sources said that Singh responded by saying that while the Indian government was committed to the agreement, it was still trying to build a political consensus for it.
With West Bengal CM Mamata Banerjee expressing fresh concerns, the agreement has been hanging fire even though iot was finalized last year. Singh, however, assured Zia that the accord was sealed after taking the consent of all Indian states involved and it was only a matter of time before it is brought into action.
Full report at:
http://timesofindia.indiatimes.com/india/Khaleda-Zia-urges-PM-to-fast-track-Teesta-pact/articleshow/17012547.cms
-------------
Security tightened at Bodh Gaya's Mahabodhi temple following I M terror threat
Oct 30, 2012
GAYA: Tight security measures have been put in place at the world-famous Mahabodhi temple at Bodh Gaya in Bihar's Gaya district and the Special Task Force (STF) deployed there in view of threat of militant attack.
As part of measures, a platoon of the STF was deployed at the Mahabodhi temple on permanent basis, DIG (Magadh range) N Hasnain Khan told PTI.
The Bodh Gaya temple management committee (BTMC) and the district police have also arranged security measures in and around the Mahabodhi temple.
The measures were taken following threat by Indian Mujahideen militants to attack the Buddhist shrine, he said.
Full report at:
http://timesofindia.indiatimes.com/india/Security-tightened-at-Bodh-Gayas-Mahabodhi-temple-following-terror-threat/articleshow/17018712.cms
-------------
Ceasefire violation: Pak troops targets Indian post
Amit Khajuria
October 30, 2012
In another ceasefire violation, Pakistani troops again resorted to unprovoked firing upon the Indian posts in Arnia sector of the International Border of Jammu district on Tuesday. Official sources said that Pakistan rangers started unprovoked firing from their Charwa Post at Indian
forward Pindi Post late this morning, when BSF troops were busy in their routine maintenance work at Pindi Post.
Full report at:
http://www.hindustantimes.com/India-news/JAndK/Ceasefire-violation-Pak-troops-targets-Indian-post/Article1-952289.aspx
-------------
Mumbai attack: India to get access to David Headley's wife, girlfriends, Tahawuur Hussain Rana
Oct 29 2012
New Delhi : India is likely to get access to Lashkar-e-Taiba terrorist David Headley's US-based wife Shazia, his two girlfriends and accomplice in Mumbai terror attack, Tahawuur Hussain Rana soon.
The impression was given by American officials to a team of Indian investigators who has visited the US early this month.
"There is progress in the discussion with the US officials. Hopefully we will get access to them soon," a Home Ministry official said.
Full report at:
http://www.indianexpress.com/news/mumbai-attack-india-to-get-access-to-david-headleys-wife-girlfriends-tahawuur-hussain-rana/1023586/
-------------
Don't succumb to political pressure, Azmi tells officers
Faisal Fareed
Oct 30 2012
Lucknow : Samajwadi Party leader Abu Asim Azmi on Monday warned the district administration of Pratapgarh, where houses of Muslims were burnt after the rape and murder of a Dalit girl in June, to desist from working under pressure of any senior leader.
Azmi also said he had received complaints that the administration implicated innocent people in fake cases at the behest of a "powerful" minister.
Azmi, speaking as the chief guest at a function organised by Jauhar Educational and Welfare Trust, did not name any minister, but said, "There are two ministers and I know them. They may not have direct involvement but fingers are pointed towards them in every case of harassment of Muslims."
Full report at:
http://www.indianexpress.com/news/don-t-succumb-to-political-pressure-azmi-tells-officers/1023959/
-------------
South Asia
11 Rohingya organizations appeal to Save the Arakan Muslim Population from Genocide in Arakan-Burma
2012-10-30
Kula Lumpur, 30 October, (Asiantribune.com):A total of 11 national and international Rohingya organization members, Rohingya Diaspora in a joint press release have strongly denounce and condemn and expressed serious concern over the current news information that Buddhist Rakhine extremists led by Rakhine ruling political party - Rakhine Nationalities Development Party-(RNDP) had restarted mass killing of Muslim population of Arakan, as well as burning and destruction of Muslims villages and houses, in Minbya, Mrauk Oo, Kyaukpru, Pauktaw, Ratheydaung, Myebone, and Kyauktaw Townships since October 21, 2012.
According to the joint press release this was the second time of genocide and persecutions of Muslims in Arakan in 2012 by the RNDP led Buddhist Rakhine people including Buddhist Monks with the direct help and strong involvement of the Burmese Government security forces of President Thein Sein from both central and Rakhine State Government.
Full report at:
http://www.asiantribune.com/news/2012/10/29/11-rohingya-organizations-appeal-save-
-------------
Saudi Arabia to build $100-million Islamic centre in Kabul
Oct 29, 2012
KABUL: Saudi Arabia will build a massive Islamic centre complete with a university and a mosque in Afghanistan, an Afghan minister said Monday, describing the project as "grand and unique".
Estimated to cost up to $100 million, the centre on a hilltop in central Kabul will house up to 5,000 students, Dayi-Ul Haq Abed, the acting Hajj and religious affairs minister told AFP.
It will be named after Saudi King Abdullah bin Abdulaziz, the minister added.
"The agreement was signed last week in Jeddah. The construction will start next year, in couple of months or so," Abed said.
Full report at:
http://dawn.com/2012/10/29/saudi-arabia-to-build-100-million-islamic-centre-in-kabul/
-------------
Apparent Insider Attack Kills 2 NATO Troops
30 October 2012
KABUL, Afghanistan (AP) — A man wearing an Afghan police uniform killed two NATO troops in southern Afghanistan on Tuesday, the international military alliance said.
The assault appeared to the be the latest in a string of insider attacks that have threatened to sever the partnership between international troops and the Afghan forces they are trying to train to take over responsibility for the country's security. There have also been cases of insurgents donning Afghan uniforms in assaults.
A statement from NATO gave no further details, saying the shooting is still under investigation.
Full report at:
http://www.nytimes.com/aponline/2012/10/30/world/asia/ap-as-afghanistan.html?ref=asia
-------------
Government cannot pay state salaries without Indian cash: Finance Minister
By Daniel Bosley | October 29th, 2012
Minister of Finance Abdulla Jihad has said the government is unprepared to meet its recurrent expenditure – including salaries – for the final three months of 2012 without the US$25million loan promised by the Indian government.
Jihad, who was not responding to calls at the time of press, told local media outlet Sun Online that he believed the loan is being delayed due to the ongoing controversy over Indian infrastructure company GMR's development of Ibrahim Nasir International Airport (INIA).
The Ministry's Financial Controller Mohamed 'Kuday' Ahmed was also not responding to calls at time of press.
Full report at:
http://minivannews.com/politics/government-cannot-pay-state-salaries-without-indian-cash-finance-minister-46305
-------------
Foreign incitement behind Ramu attack: Bangladesh HM MK Alamgi
30 October 2012
Home Minister MK Alamgir on Tuesday claimed that foreign instigation was to blame for the September 29 attacks on Buddhists in Ramu upazila of Cox's Bazar.
People doing communal politics were involved in the attack, the minister told journalists at his office in the afternoon after a meeting with UN Resident Coordinator and UNDP representative Neal Walker.
Full report at:
http://www.thedailystar.net/newDesign/latest_news.php?nid=42046
----------
Africa
Somali comedian who poked fun at Islamists shot dead
30 October 2012
MOGADISHU: Gunmen assassinated a well-known comedian and musician who poked fun at Al-Qaeda linked Al-Shabab insurgents in the Somali capital Mogadishu, police and colleagues said Tuesday.
Warsame Shire Awale, a famous composer who had worked with Somalia's national army band before joining Radio Kulmiye as a drama producer and comedian, was attacked by two gunmen late on Monday.
Full report at:
http://www.arabnews.com/somali-comedian-who-poked-fun-islamists-shot-dead
-------------
Somalia's General Farah killed in al-Shabab ambush
29 October 2012
A top Somali military commander has been killed in an ambush - the first general to be killed by the Islamists.
Mohamed Ibrahim Farah, nicknamed "Gordon", was killed near Merca, a strategic town captured from the al-Shabab militants in August.
The Somali government army and African Union troops have been battling the al-Qaeda-aligned group for several years.
Al-Shabab has withdrawn from several key towns in recent months, but still controls much of the countryside.
Full report at:
http://www.bbc.co.uk/news/world-africa-20120897
--------
Libya Army Has 'No Control' in Bani Walid: Defense Minister
October 30, 2012
Tripoli. Libya's defense minister said Monday that the army has no control over Bani Walid, one of the last bastions of Moamer Kadhafi's regime, and that armed groups there prevent families from returning home.
"The chief of staff has no control over the town and therefore armed men are able to prevent families from coming back," Osama al-Jueili told journalists in Tripoli, adding that "gunmen" hold a checkpoint leading to the town.
Fighting in Bani Walid this month displaced tens of thousands of people, Jueili noted, including 30,000 who fled to the nearby town of Tarhuna and 10,000 who went to the capital.
"The town is completely empty except for a small number of people who are living in tragic conditions; there is no activity; the impact of shelling is visible everywhere," the minister said.
Full report at:
http://www.thejakartaglobe.com/world/libya-army-has-no-control-in-bani-walid-defense-minister/553172
-------------
Libya's New Prime Minister Proposes New Cabinet
30 October 2012
TRIPOLI, Libya (AP) — Libya's new prime minister on Tuesday put forward a Cabinet for parliamentary approval he said represents the breadth of the country's political spectrum and includes members of the main liberal and Islamist parties.
Ali Zidan told the National General Congress in a morning session that he tried to strike a geographic balance between different regions and cities. The proposed government faces a vote of confidence later in the day.
Full report at:
http://www.nytimes.com/aponline/2012/10/30/world/middleeast/ap-ml-libya.html?ref=middleeast
-------------
Libya Warnings Were Plentiful, but Unspecific
By MICHAEL R. GORDON, ERIC SCHMITT and MICHAEL S. SCHMIDT
30 October 2012
WASHINGTON — In the months leading up to the Sept. 11 attacks on the American diplomatic mission in Benghazi, the Obama administration received intelligence reports that Islamic extremist groups were operating training camps in the mountains near the Libyan city and that some of the fighters were "Al Qaeda-leaning," according to American and European officials.
The warning about the camps was part of a stream of diplomatic and intelligence reports that indicated that the security situation throughout the country, and particularly in eastern Libya, had deteriorated sharply since the United States reopened its embassy in Tripoli after the fall of Col. Muammar el-Qaddafi's government in September 2011.
Full report at:
http://www.nytimes.com/2012/10/30/world/middleeast/no-specific-warnings-in-benghazi-
-------------
Pakistan
Ten terrorists killed in Khyber operations
ANITA JOSHUA
30 October 2012
At least 10 terrorists were killed in aerial firing by the Pakistani Army in the Bara sub-division of the Khyber tribal agency on Monday morning. Two soldiers were also killed in the clashes that preceded return of the helicopter gunships to Bara area.
According to reports coming from the tribal area, military operations resumed in the agency after terrorists continued to attack settled areas. As part of these frequent attacks, terrorists and security personnel clashed in the Akakhel area, resulting in the helicopter gunships being pressed into action.
Radio Pakistan reported that search operations are being undertaken in the area to flush out the terrorists holed up there. Four terrorist bases are said to have been destroyed in Monday's offensive.
http://www.thehindu.com/news/international/ten-terrorists-killed-in-khyber-operations/article4044556.ece
-------------
Hundreds protest against Nowshera shrine attack
Suhail Kakakhel
October 30, 2012
NOWSHERA: A bomb attack on the shrine of Sufi saint Hazrat Kaka Saheb on the second day of Eidul Azha, leaving four people dead and 32 others wounded, drew widespread condemnation in Khyber Pakhtunkhwa.
Sources said 16 suspects had been arrested during a search operation launched after the blast. But police officials did not confirm any arrest.
Hundreds of followers of the Sufi saint demonstrated in protest against the desecration of the shrine and condemned the incident. Former amir of Jamaat-i-Islami Qazi Hussain Ahmad, PPP's Mian Yahya Shah, ANP's Shahid Khan Khattak, PTI's Mian Jamsahid Uddin and Mian Adnan Shah of JUI-F attended a procession which was brought out from Ziarat Kaka Saheb.
Full report at:
http://dawn.com/2012/10/30/hundreds-protest-against-nowshera-shrine-attack/
------------
In Pakistan's Taliban territory, education is a casualty of conflict
By Michele Langevine Leiby and Saleem Mehsud
October 29, 2012
ISLAMABAD, Pakistan — At Oxford Public Middle School, an enthusiastic group of students recite their lesson for the day, which involves learning how to count. Only here there are no desks, no chairs and even the teacher's chair doesn't have a cushion. Oxford Middle School is in North Waziristan, in the heart of Taliban country, and these fidgety youngsters — wearing baseball caps that sport their school logo — are learning to count in Urdu and Pashto.
In this wartime landscape, where hundreds of schools have been bombed, drones fly overhead and army-imposed curfews keep teachers out of the classrooms, the fact that school continues at all seems remarkable.
Full report at:
http://www.washingtonpost.com/world/asia_pacific/conflict-makes-education-difficult-in-pakistan/2012/10/29/eb6c94d6-2056-11e2-ba31-3083ca97c314_story.html
-------------
Hizbut Tahrir made three attempts to penetrate army
Malik Asad
October 30, 2012
ISLAMABAD: The conviction of Brigadier Ali Khan and four other army officers for their links with Hizbut Tahrir (HuT) was the third attempt of the banned organisation to penetrate into the military in the past 10 years.
On August 3, a military court convicted Brigadier Ali Khan, Major Sohail Akbar, Major Jawad Baseer, Major Inayat Aziz and Major Iftikhar for having links with HuT and sentenced them to rigorous imprisonment for terms ranging from 5 years to 18 months.
Back in 2003, HuT established links with about 13 commandos of the army's Special Services Group (SSG), in 2009 officers up to the ranks of lieutenant colonel faced court martial for links with HuT and in 2011 a brigadier faced the same charges.Interestingly, in two of these incidents the same HuT members approached the army officers in 2009 and 2011. Although the army authorities have started court martial proceedings against the officers, it appears no action has been taken against them.
Full report at:
http://dawn.com/2012/10/30/hizbut-tahrir-made-three-attempts-to-penetrate-army/
------------
British expert to brief PCNS on anti-terror laws
Amir Wasim
October 30, 2012
ISLAMABAD: Members of the Parliamentary Committee on National Security (PCNS) will have an 'in-camera' discussion with Lord Carlyle, a British lawyer and an expert on anti-terrorism laws, here on Wednesday.
"The meeting is being held to meet Lord Alexander Charles Carlyle, a practising barrister from the UK and a former independent reviewer of British anti-terrorism laws" and to "discuss legislation with respect to terrorism", says a notice for the meeting received by the members of the committee headed by PPP stalwart Senator Raza Rabbani and a copy of which is available with Dawn.
Full report at:
http://dawn.com/2012/10/30/british-expert-to-brief-pcns-on-anti-terror-laws/
-------------
26/11: Pak to allow Indian investigators access evidence
October 30, 2012
Islamabad has agreed in principle to allow a team of Indian investigators to access the evidence collected against arrested LeT commander Zakiur Rehman Lakhvi and six others being tried in 26/11 terror attack case there.
The investigators, however, would not be allowed to question the
suspects in line with the agreement between the two countries.
A home ministry official said New Delhi had sent a formal request through the foreign ministry for a set of dates when sleuths of the National Investigation Agency can travel to the western neighbour.
Full report at:
http://www.hindustantimes.com/India-news/NewDelhi/26-11-Pak-to-allow-Indian-investigators-access-evidence/Article1-951977.aspx
-------
Hindu trader killed by unidentified men in Pak's Sindh
Oct 30, 2012
ISLAMABAD: A Hindu trader was killed in Pakistan's southern Sindh province during the Eid holidays, triggering protests by the minority community in the Hyderabad region.
Trader Dhayan Chand Bhagri was killed early in the morning on Saturday while he was returning home after selling cattle in the livestock market at Latifabad, his father Sobho Bhagri told the media.
The unidentified killers escaped with Rs 720,000 that Dhayan Chand had earned after selling his cattle, his father said.
Full report at:
http://timesofindia.indiatimes.com/world/pakistan/Hindu-trader-killed-by-unidentified-men-in-Paks-Sindh/articleshow/17016633.cms
-------------
First dedicated auction of Pakistani art in India goes online on November 7
Archana Khare Ghose
Oct 29, 2012
NEW DELHI: The country's premier art auction house, Saffronart.com is going to host the first ever auction of Pakistani art in India on November 7 and 8. The 24-hour online auction that will begin at 9.30pm on November 7 will feature 70 works of art by masters past and present from across the border.
Nish Bhutani, COO of Saffronart says, "This is the first time that we are hosting a dedicated auction of Pakistani art though we've had representations of art from Pakistan in our other auctions on and off. India and Pakistan have so much of shared history, geography and culture that this auction is a natural progression of the collaboration we already have at various levels."
Full report at:
http://timesofindia.indiatimes.com/india/First-dedicated-auction-of-Pakistani-art-in-India-goes-online-on-November-7/articleshow/17007092.cms
-------------
Pak Parliament may be dissolved in January; elections to be held by April
Oct 30, 2012
ISLAMABAD: Pakistan's Parliament is likely to be dissolved in January next year and a caretaker government installed to oversee elections to be held by April.
Speculation has increased in political circles about the government preparing a preliminary roadmap for the next general election, which is scheduled for early next year.
The National Assembly or lower house of Parliament is likely to be dissolved on January 16 or 17, The News daily quoted its sources as saying.
Full report at:
http://timesofindia.indiatimes.com/world/pakistan/Pak-Parliament-may-be-dissolved-in-January-elections-to-be-held-by-April/articleshow/17019016.cms
-------------
Non-resident Pakistanis should be given right to vote: CJ
October 30, 2012
ISLAMABAD: During the hearing of a case pertaining to voter lists, Chief Justice Iftikhar Muhammad Chaudhry remarked that non-resident Pakistanis should be given the right to vote, adding that, they sent significant remittances to the country, DawnNews reported.
The chief justice remarked that the court had been told that the procedure to enable non-resident Pakistanis to vote in the elections was encountering difficulties.
During the proceedings, senior lawyer Rashid A. Rizvi said that a significant portion of Karachi's population had been denied the right to vote.
Full report at:
http://dawn.com/2012/10/30/non-resident-pakistanis-should-be-given-right-to-vote-cj/
------------
North America
Dehumanising defendants in Guantanamo
Waris Husain
October 30, 2012
James Connell, attorney for Ammar al-Baluchi, a Guantanamo Bay detainee, recently returned from a pre-trial hearing for his client and agreed to discuss the development of his case with Dawn. When asked whether the substantive issues of the case had been decided yet, Connell responded that the trial was still years away and that "we don't even have the procedural framework, much less a decision on what the rules are going to be and how to apply them."
However, the highest levels of the US military commissions have made some binding conclusions in the past, which Connell describes as "horrifying." He explained that the commissions determined that the Equal Protection Clause of the US Constitution does not apply to Guantanamo Bay detainees. Connell explained that the equal protection clause "means that everyone gets treated equally," and after its suspension, the US government "could make a law that only Muslims be held in Guantanamo Bay." He concludes that "if they are allowed to discriminate on the basis of race, religion or national origin, there is no limit to the damage they can do."
Full report at:
http://dawn.com/2012/10/30/dehumanising-defendants-in-guantanamo/
-----------
New film reveals CIA's 1979 'mad' mission in Iran
Oct 30, 2012
LONDON: Hollywood film " Argo", which has been directed by Ben Affleck, reveals the story of a fictional sci-fi movie created as cover for CIA agent, Tony Mendez, who underwent in 1979 one of the most dangerous missions in the history of CIA .
Ayatollah Khomeini had taken control of Iran a month earlier and the country was in violent turmoil during the period. The US embassy where staff had been taken hostage and held under appalling conditions, the movie crew casually informed stunned Revolutionary Guards they were there to scout locations for a new sci-fi epic.
Full report at:
http://timesofindia.indiatimes.com/uk/New-film-reveals-CIAs-1979-mad-mission-in-Iran/articleshow/17013798.cms
-------------
CAIR-MN Welcomes DOJ Probe Into Rejection of Planned Islamic Center
10/29/12
(MINNEAPOLIS, MN, 10/29/12) - The Minnesota chapter of the Council on American-Islamic Relations (CAIR-MN) today welcomed a decision by the U.S. Department of Justice (DOJ) to launch a civil rights investigation into the rejection of the planned Abu Huraira Islamic Center in St. Anthony, Minn. The DOJ will investigate whether the city violated the Religious Land Use and Institutionalized Persons Act (RLUIPA).
"We applaud the commitment by the U.S. Department of Justice to uphold federal laws and take a strong stance against recent anti-mosque bigotry in Minnesota and nationwide," said CAIR-MN Executive Director Lori Saroya.
She added that St. Anthony is the fourth mosque opposition incident in Minnesota in the past year. The other three mosque projects - Plymouth, Willmar and Bloomington - were eventually approved despite community opposition.
CAIR-MN asked for the federal investigation in June after the St. Anthony City Council voted 4 to 1 to deny a conditional use permit for the Islamic center, despite a recommendation by the St. Anthony Planning Commission to approve the project.
-------------
CAIR-WA Seeks FBI Probe of Anti-Muslim Attack on Sikh Cabbie
10/29/12
(SEATTLE, WA, 10/29/12) –- The Washington state chapter of the Council on American-Islamic Relations (CAIR-WA) called on the FBI to investigate an apparent anti-Muslim hate attack on a Sikh taxi driver in that state.
The driver was allegedly attacked by a man shouting anti-Muslim slurs after he commented on the cabbie's turban. [NOTE: Sikh men who wear beards and turbans as part of their faith are often targeted by bigots who mistake them for Muslims.] The perpetrator reportedly referred to the victim as Iranian and Iraqi, and used several anti-Arab slurs during the attack, which witnesses described as "savage."
According to police, the alleged assailant tore out chunks of the man's beard and loosened one of the driver's teeth.
"This vicious attack needs to be addressed by the FBI and federal prosecutors in the context of growing anti-Sikh and anti-Muslim prejudice nationwide, said CAIR-WA Executive Director Arsalan Bukhari. "We have asked the FBI to open a federal hate crime investigation into this case."
-----------
Mideast Asia
Israel arrests West Bank Hamas militants
Oct 29, 2012
JERUSALEM: Israel's intelligence service says it has arrested dozens of Hamas members in the West Bank who had been setting up infrastructure for the militant Islamic group.
The Shin Bet said Monday that 30 Hamas members were arrested near Ramallah.
Its statement said two of those arrested were involved in the murder of two Israeli soldiers by a Palestinian mob in 2000.
Full report at:
http://timesofindia.indiatimes.com/world/middle-east/Israel-arrests-West-Bank-Hamas-militants/articleshow/17008614.cms
-------------
In Turkey, a Break From the Past Plays Out in the Streets
By TIM ARANGO
30 October 2012
ISTANBUL — At a reception on Monday evening at the president's mansion to celebrate Turkey's founding 89 years ago, something previously unheard of occurred: the country's top military commander stood alongside the wives of the president and prime minister, even while the women wore Islamic headscarves.
In years past the military elite would never have stood beside women wearing a symbol long at the center of Turkey's struggle over the role of religion in public life. These men were heirs to the traditions of Turkey's secularist founder, Mustafa Kemal Ataturk, who zealously banished religion from public life. They had for years refused to attend such gatherings — in protest of the headscarf.
Full report at:
http://www.nytimes.com/2012/10/30/world/europe/in-turkey-protests-reveal-break-from-the-past.html?pagewanted=all
-------------
URL: https://www.newageislam.com/islamic-world-news/new-age-islam-news-bureau/egyptians-who-vote-for-draft-constitution-will-go-to-'hell-'-salafi-leader/d/9138