New Age Islam News Bureau
7 March 2013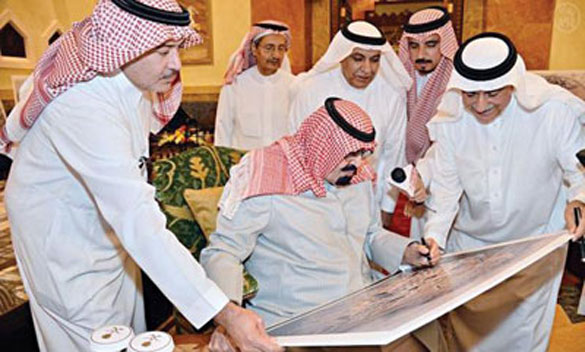 Arab World
• Egyptian Muslim Scholar Says Christian Copts Will Pay Jizya
• King OKs expansion of Prophet's Mosque with changes in the plan
• 'Slamming Syrian Reform, Backing Saudi Regime, US Unmasks Own Hypocrisy'
• Tears of King Abdullah, Atatürk and women
• MWL TV channel to spread Islamic message, defend Muslim causes
• Young Saudis explore positive use of Twitter
• UAE Global Vaccine Summit to highlight how immunisation can save lives
• Centre for autistic children opens in Abu Dhabi
• Syria rebels seize UN peacekeepers, take key city
• Chief of Syrian rebel army pleads for arms
• Syria Claims Finding Alleged Israeli Spy Devices
India
• Two Muslim students win all 3 Sanskrit medals in Gujarat University
• Now, Classes for Imams; Sermons for the Masses
• Stop targeting Muslims for blasts, Katju tells media
• Shah Rukh Khan on Delhi gang rape victim: 'I don't want to die to get an honour'
• Create conducive environment for talks, PM tells Pak
• Relief for India: Trial deferred, Nasheed freed
• Reinstate Mirza in DRDO if no proof against him: Katju
• Pak PM's Ajmer visit sparks row
• Indo-Pak trade expo starts today in Jalandhar
• Ajmer blast accused was hiding in ashrams on banks of Narmada
• Stories of tortured Indian POWs shock British MPs
• After Ajmer blast, five accused met to discuss dud bomb
• Indian writers, including Shashi Tharoor, at the forefront of Dubai literature festival
Southeast Asia
• Sixty killed in Malaysian raid on Filipino militants
• Aceh Ulema Urges Shariah Police to Pursue Women Involved in Sex Raffle
• Indonesia's New Criminal Code Outlaws Adultery, Cohabiting Couples, Dark Magic
• Indonesian among Three Kidnapped by Pirates in Offshore Nigeria Attack
• Malaysia Rejects Borneo Ceasefire Call
• Najib Visits Malaysia Battleground as Muslim Clan under Siege
• Philippines demand release of UN peacekeepers in Syria
Pakistan
• Pak court sentences Sufi shrine bombing mastermind to death
• Employees of ISI approach court against its chief
• Terror chief' Hafiz Saeed's counsel says JuD a 'welfare organisation'
• Five militants killed in Orakzai
• 7 killed in Karachi violence during Bandh
• Balochistan violence: 4 killed, 1 injured in separate attacks
• Religious scholars urged to learn psychology
• Pak's economy fragile, needs $9 bn from IMF
• Tehrik-e-Taliban operational commander arrested in Pakistan
• Peshawar professor under Taliban captivity appeals for release
• Capital punishment for 2 civilian convicts: SC overturns military appeal court sentence
• US, China take part in Pakistan naval drills
• Islamabad to complete Iran-Pakistan pipeline 'despite US pressure'
• Rangers conduct targeted operation in Lyari
South Asia
• Blacklist ISI as a terrorist entity, demands Kabul
• Taliban hand over bodies of 16 Afghan soldiers
• Protect Hindus, AI urges Bangladesh
• HC orders arrest of Jamaat men who administered 'tauba'
• It's like killing of intellectuals in 1971: Ctg khatib
• 2 jailed for life for murder, another for rape
• Bangla admin chiefs seek troops in 40 districts
• War-scarred Bangladesh torn by new tensions
• Kabul announces last Afghan prisoner transfers
• Bangladesh: Letting Shadows Fall Behind
Europe
• Former UN Weapons Inspector: Don't Repeat in Iran the 'Tragic and Terrible' Mistakes of Iraq
• 'Terrorist kingpins' killed in Mali Mountains: French President
• At the UN, Twenty Years of Backlash to 'Women's Rights Are Human Rights'
• UK to give Afghanistan £10m to fund mining programme
• UN eases decades-old Somalia arms embargo for one year
• U.N. Starts Talks to Free Peacekeepers Held by Syria Rebels
North America
• Revealed: The US 'Dirty War' Veteran Who Trained Iraqi 'Death Squads'
• CIA seizes bin Laden son-in-law after Turkey deportation: report
• Holbrooke wanted $50bn for Pakistan
• US, Pakistan work together for peace in Afghanistan: Richard Olson
• US's $60bn Iraq rebuilding effort 'achieved little'
Mideast Asia
• New Egypt must revive Islamic spirit in society: Iranian cleric
• Supreme Leader Praises Iranian, Muslim Women's Constructive Role in Society
• IAEA chief Yukiya Amano wins new term, Iran 'hopes he will change'
• Iran declares day of mourning for Chavez
Africa
• Humanitarian Crisis Looms across Somalia
• Mali crisis: French soldiers to be withdrawn in April
• Security Council Loosens Somalian Arms Embargo
Compiled by New Age Islam News Bureau
Photo: King Abdullah signs the master plan for the expansion of the Prophet's Mosque
URL: https://www.newageislam.com/islamic-world-news/new-age-islam-news-bureau/egyptian-muslim-scholar-says-christian-copts-will-pay-jizya/d/10683
-------------
Arab World
Egyptian Muslim Scholar Says Christian Copts Will Pay Jizya
3-6-2013
During a recent interview, Dr. Mahmoud Shu'ban, a professor at Al Azhar University, made clear that the Copts, Egypt's Christian minority, will pay the jizya--what is often referred to in the West as an Islamic "poll tax." According to the Al Azhar professor, "If non-Muslims were to learn the meaning of 'jizya,' they would ask for it to be applied--and we will apply it, just like Islam commands us to." His logic is that, if Christians pay the jizya, they would buy for themselves "protection," hence why they themselves should want to pay it.
Most Western apologists for Islam also claim that jizya money was historically paid to protect conquered dhimmis, though they often imply protection from outside enemies, non-Muslims. In fact, the jizya was/is protection money from surrounding Muslims themselves--precisely Shu'ban's point: pay up and maybe your churches won't be burned and your girls routinely abducted; because you are not paying, you are not protected from such things and have no right to complain.
Incidentally, this Shu'ban is the same scholar who went into hysterics on live TV, insisting that an Egyptian Muslim man who tore a Koran "deserves to be struck by the sword in a public place--and as soon as possible; as soon as possible; as soon as possible!" He is also the same sheikh who recently issued another fatwa on live TV calling for the killing of the leaders of Egypt's secular National Salvation Front party for being openly critical of Morsi and the Muslim Brotherhood, when all the latter want to do is enforce the laws of Allah. He unhesitatingly pronounced that the "Sharia of Allah" demands their killing, basing his decree on the words of prophet Muhammad--specifically, to behead those who oppose the Islamic leader--as found in the canonical collections of Sahih Muslim.
In short, Professor Shu'ban is one of Egypt's most frank scholars of Islam. Those who would learn the true, unadulterated teachings of Islam would do well to heed his words, for he never seems to miss an opportunity to expose the things of Islam (for those who have eyes and ears to see and hear with, that is).
http://www.aina.org/news/20130306132258.htm
---------
King OKs expansion of Prophet's Mosque with changes in the plan
7 March 2013
Custodian of the Two Holy Mosques King Abdullah yesterday approved the master plan for the largest expansion of the Prophet's Mosque, after experts made necessary changes onto the plan as per his instructions.
Finance Minister Ibrahim Al-Assaf said the mosque's capacity would go up to more than 1.6 million worshippers after the project's completion in two years. "The king has asked for its quick implementation," he added.
Al-Assaf said the areas to be included in the expansion project would be announced within a few days.
King Abdullah was given a presentation on the final plan by Al-Assaf, Assistant Finance Minister Muhammad Al-Mazeed and other officials, who have been working on the project.
King Abdullah signed the project's master plan and ordered its implementation within a period of two years. The king had asked for changes in the plan for the expansion of the mosque's northern, eastern and western parts.
In a brief statement on the occasion, the king thanked the Almighty for His blessings to carry out the mosque's largest expansion that would benefit pilgrims, visitors and citizens.
"May Allah help us to do more in the service of the religion and nation," he added.
Al-Assaf said the king called for changes to the plan after he was given alternative ideas that go well with the expansion project, which has been backed by the grand mufti and members of the Council of Senior Islamic Scholars.
According to informed sources, the project includes a helipad for airlifting patients to hospitals, construction of new roads separated from pedestrian pathways and building of 15,000 toilets. It will also include a tunnel for pedestrian traffic with escalators.
"It will also provide all requirements of the faithful who visit the mosque," the source said. "There will be an advanced system for the disposal of garbage in addition to modern security and monitoring systems." The project will apply modern construction systems and advanced technology, he added.
http://www.arabnews.com/saudi-arabia/king-oks-expansion-prophet%E2%80%99s-mosque
---------
'Slamming Syrian Reform, Backing Saudi Regime, US Unmasks Own Hypocrisy'
March 04, 2013
Close ties with "autocratic" Gulf States reveal the "hypocrisy" of US foreign policy, Guardian paper contributor, Neil Clark, told RT, adding that Washington raises the democracy banner only when it wants to topple an unwanted government.
After his two-day trip to Egypt where opposition leaders refused to sit to the negotiation table with him, John Kerry, received a much more hospitable reception as he met up with the foreign ministers of the Gulf Cooperation Council. The US Secretary of the State held talks with the region's leaders in Saudi Arabia, before flying to the UAE and Qatar.
Journalist Neil Clark, who's written extensively on the Middle East, believes the protest movement in Bahrain or Qatar will never receive backing from the US, like it did in Syria. Clark says true American interests lie in the field of oil and arms trade, but not promoting democracy and human rights.
RT: Some of the Gulf monarchies on Kerry's talks list have come under severe criticism for repression on their turf – most notably Bahrain and Saudi Arabia – and yet these are some of America's closest allies. How does this friendship sit with the US commitment to spreading democracy across the globe?
NC: It doesn't sit at all, does it? I think it highlights a sort of glaring hypocrisy, which underlines the whole of US policy. And it's very interesting to compare US policy towards Syria with that of Saudi Arabia. Because last February, the Syrian government announced a new democratic constitution that was going to allow a multi-party system, free elections and etc. And what was the US response? It denounced it as a sham: "President [Bashar] Assad is playing games." It was dismissed entirely. And the Saudi's haven't gone anywhere near as much as that in terms of democratic reforms and yet the US has praised the Saudi Arabia. So, I think it shows – if you compare Syria and Saudi Arabia – the glaring hypocrisy of the US.
RT: While the US has been a vocal critic of human rights violations in Syria, Libya and many other states, it hasn't raised the same level of alarm when it comes to crackdowns in Gulf nations. Why such a difference in approach?
NC: Oil contracts, arms deals.... The fact of the game is that when the US talks about spreading democracy what it really does is uses human rights violations as a pretext for an intervention and for trying to destabilize and topple regimes, which aren't amenable enough to US interests. And we've seen classic examples of that down the ages. We saw that in 1999 in Kosovo where we were told there was genocide taking place against the Kosovar Albanians by the Yugoslavian authorities. That wasn't true, but that was a pretext for the bombardment of the country, with the aim of bringing regime change, which happened in 2000. So we see that human rights democracy banner being held out by the Americans to kind of topple governments, which aren't following the US line. When there are countries with, actually, a far worse record on democracy and human rights, like Saudi Arabia, given arms, have economic relationships with the US. So, it's a completely different ball game with them.
RT: Besides such economic issues as oil and arms trade is there a wider geopolitical interest the US has in the Gulf region?
NC: Definitely, these autocratic Gulf states are the way, which the US has for decades maintained its control of this very strategically important region, having these kind of undemocratic leaders in Saudi Arabia, Bahrain, Qatar and etc. And, of course, now there's a big problem as these autocratic regimes in the Gulf are coming under increasing popular pressure. And we see now quite clearly the hypocrisy of the US. Because these great promoters of democracy, when we see Bahrain and Saudi Arabia, are not siding with the protesters and opposition like they are in Syria. On the contrary, they are sending more military hardware to these countries and they are supporting clampdowns on the opposition.
RT: Given the calls for democratic change and growing public discontent in countries like Bahrain and Kuwait could the US shift its position the way it did in Egypt, where it, eventually, backed the uprising against its former-ally Hosni Mubarak?
NC: No, I don't think so. The reason why is because Egypt was very different. Egypt is very dependent on the US economic aid and its financial assistance. So, that the US was confident if Mubarak goes, whoever would come into power would still be dependent on US money and the 'brown envelope' scenario, if you like. Whereas in Bahrain or Saudi Arabia, for instance, it's a different ball game as they've got vast oil reserves. So if the opposition or the new groups were to take power in those countries they would have their own natural resources. So would be naturally more economically independent of the US. And the US wouldn't have a big hold on them. And the other factor is that the opposition in Bahrain and the other Gulf states is the Shiite opposition and these would be likely to be friendly with Iran, which will be the ultimate nightmare for the US.
http://rt.com/op-edge/us-hypocrisy-gulf-kerry-815/
-------------
Tears of King Abdullah, Atatürk and women
MURAT YETKIN
March 7 2013
The most read story on Hürriyet Daily News website on March 6 was the story about (and a photograph of) King Abdullah II of Jordan shedding tears before the tomb of Mustafa Kemal Atatürk, the founder of the Turkish Republic as he was paying respect during his visit to Turkey.
One agency reported that it might be because of watering of his eyes due to cold air. Even so, the picture had a symbolic value regarding the political balances in the Middle East and the legacy of Atatürk which is starting to be remembered in and out of Turkey; Abdullah I, the great-grandfather of the king of Jordan, had been hosted by Atatürk himself in Turkey and the king is now carrying a crown under the treat of radical Islamists, like some other rulers of the Arab world.
Full report at:
http://www.hurriyetdailynews.com/tears-of-king-abdullah-ataturk-and-women.aspx?pageID=449&nID=42484&NewsCatID=409
-------------
MWL TV channel to spread Islamic message, defend Muslim causes
7 March 2013
The International Media Organization, an affiliate of the Makkah-based Muslim World League, has announced plans to establish a television channel and media production and training units as part of a program to spread the message of Islam and defend Muslim causes, said Dr. Hassan Al-Ahdal, the organization's secretary-general.
Full report at:
http://www.arabnews.com/saudi-arabia/mwl-tv-channel-spread-islamic-message-defend-muslim-causes
---------
Young Saudis explore positive use of Twitter
7 March 2013
Some 400 male and female young Saudis converged at a "Saudi twitters" forum last Monday, which was organized by Mohammed bin Salman bin Abdulaziz Charity Foundation (Misk).
The event was attended by a number of media and cultural leaderships and other figures concerned with the new media and social networking sites.
Full report at:
http://www.arabnews.com/saudi-arabia/young-saudis-explore-positive-use-twitter
---------
UAE Global Vaccine Summit to highlight how immunisation can save lives
Anna Zacharias
Mar 7, 2013
ABU DHABI // A Global Vaccine Summit will be held in Abu Dhabi from April 24 to 25. It will highlight how regular immunisation programmes can save lives and protect children throughout their lifetime, regardless of where they live in the world.
The summit is being held under the patronage of Sheikh Mohammed bin Zayed, the Crown Prince of Abu Dhabi and Deputy Supreme Commander of the Armed Forces, and in partnership with the UN secretary general, Ban Ki-moon, and Bill Gates, co-chair of the Bill & Melinda Gates Foundation.
Full report at:
http://www.thenational.ae/news/uae-news/health/uae-global-vaccine-summit-to-highlight-how-immunisation-can-save-lives#ixzz2MqTAmxNY
-------------
Centre for autistic children opens in Abu Dhabi
Zaineb Al Hassani
Mar 7, 2013
ABU DHABI // A centre that will eventually cater for 108 pupils with autism has opened.
The New England Centre for Children (Necc) Abu Dhabi, which is based on a US model, opened its doors in Mohammed bin Zayed City late last month, with the official launch on Tuesday.
It has 42 pupils aged between 3 and 9. Another 20 children are being taught separately in inclusion and transition programmes. Each group of six pupils is looked after by seven teachers, a mix of expatriate and local staff.
Full report at:
http://www.thenational.ae/news/uae-news/health/centre-for-autistic-children-opens-in-abu-dhabi#ixzz2MqTKiStg
-------------
Syria rebels seize UN peacekeepers, take key city
AFP | Mar 7, 2013
DAMASCUS: Syrian rebels on Wednesday said they seized some 20 UN peacekeepers in the Golan Heights between Syria and Israel as rebels took total control of the key northern city of Raqa.
UN deputy spokesman Eduardo del Buey told reporters the UN Disengagement Force (UNDOF) had "reported that earlier today approximately 30 armed fighters stopped and detained about 20 peacekeepers within the area of limitation."
Full report at:
http://timesofindia.indiatimes.com/world/middle-east/Syria-rebels-seize-UN-peacekeepers-take-key-city/articleshow/18839512.cms
-------------
Chief of Syrian rebel army pleads for arms
AP | Mar 6, 2013
BRUSSELS: The chief of staff of the rebel army pleaded with the international community Wednesday to supply arms and ammunition so the opposition can resist attacks by the regime of Syria's President Bashar Assad.
General Salim Idris, head of the rebel's Supreme Military Council, said anti-tank and anti-aircraft missiles are urgently needed to protect civilians.
Syria's uprising began in March 2011 with protests against Assad's authoritarian rule. When the government cracked down on demonstrators, the opposition took up arms and the conflict turned into a full-blown civil war. The United Nations estimates that more than 70,000 people have been killed.
Full report at:
http://timesofindia.indiatimes.com/world/middle-east/Chief-of-Syrian-rebel-army-pleads-for-arms/articleshow/18834297.cms
-------------
Syria Claims Finding Alleged Israeli Spy Devices
By THE ASSOCIATED PRESS
March 7, 2013
DAMASCUS, Syria (AP) — Syria's state-run news agency says Israeli spying devices have been found in the country's coastal region.
SANA's report on Thursday says the devices are designed to photograph, register and transfer data. There were no further details on the objects or the location of the find.
Full report at:
http://www.nytimes.com/aponline/2013/03/07/world/middleeast/ap-ml-syria-
---------
India
Two Muslim students win all 3 Sanskrit medals in Gujarat University
Syed Khalique Ahmed
Mar 07 2013
Ahmedabad : Defying stereotypes, a Muslim boy and girl have bagged all three medals instituted for the BA course in the ancient Indian language by the Gujarat University.
Two of the medals for Sanskrit were won by Taiyab Sheikh, a student of Y S Arts and Commerce college in Devgadh Baria in Panchmahals district. The third went to Yasminbanu Kothari of the Adiwasi Arts and Commerce college in Santrampur in the interior of the state's tribal belt.
Sheikh got 75.5 per cent marks and Kothari 68.5 per cent. The medals were awarded at the convocation Tuesday.
Sheikh, 23, who is now studying for a B.Ed. degree in a Godhra college, said he was inspired to learn Sanskrit after hearing stories from the Ramayana and Mahabharat told by his teachers in primary school in his village of Tokarwa.
Full report at:
http://www.indianexpress.com/news/two-muslim-students-win-all-3-sanskrit-medals-in-gujarat-university/1084170/
-------------
Now, classes for imams; sermons for the masses
By Mohammed Wajihuddin, TNN | Mar 7, 2013
MUMBAI: For ages, Friday 'khutba' (or sermons) in mosques across India have had an identical character: they have been delivered in Arabic without the imams caring about whether the 'namazis' (those offering prayers) or the imams themselves understood them. This is all slated to change.
The Zakat Foundation of India (ZFI), an NGO, through its unit Ashaab-us-Suffa Institute for Imams and Khateebs (preachers), will coach imams on demystifying the sermons by presenting their translations for better comprehension by the masses.
Full report at:
http://timesofindia.indiatimes.com/india/Now-classes-for-imams-sermons-for-the-masses/articleshow/18840676.cms
--------------
Stop targeting Muslims for blasts, Katju tells media
PRASHANT JHA
March 07, 2013
He agrees on need to avoid unfounded conjecture
In the wake of the coverage of the Hyderabad blasts, Press Council Chairman (PCI) Markandey Katju has appealed to the media to "exercise restraint in reporting cases of bomb blasts and terrorist cases," and avoid doing anything which may "fan or promote communal hatred and animosity."
Full report at:
http://www.thehindu.com/news/national/stop-targeting-muslims-for-blasts-katju-tells-media/article4482591.ece
-------------
Al-Qaeda-linked terrorist threatens India with strike spike
Mar 07 2013
Islamabad: A top Pakistani militant commander linked to al-Qaeda has praised terrorists behind attacks in India and said the country will become a major target of terrorist assaults once the US withdraws from Afghanistan.
Asmatullah Muawiya, a former Jaish-e-Mohammed leader who serves as one of al-Qaeda's 'company' commanders, released a statement praising Ajmal Kasab, the lone surviving terrorist involved in the 2008 Mumbai attacks, and Afzal Guru, who was convicted of involvement in the attack on the Indian Parliament in 2001.
Full report at:
http://www.indianexpress.com/news/alqaedalinked-terrorist-threatens-india-with-str.../1084623/
------------
Shah Rukh Khan on Delhi gang rape victim: 'I don't want to die to get an honour'
Mar 07 2013
Panchgani: Bollywood superstar Shah Rukh Khan feels that women should be rewarded at every point for their achievements, and no one should die to get an honour.
He was reacting after the United States selected the 23-year-old Delhi gang rape victim for the prestigious International Women of Courage Award, for inspiring people to fight against gender-based violence.
Full report at:
http://www.indianexpress.com/news/i-dont-want-to-die-to-get-an-honour-shah-rukh-kh.../1084524/
----------
Create conducive environment for talks, PM tells Pak
TNN | Mar 7, 2013
NEW DELHI: Ahead of Pakistani PM Raja PervezAshraf's visit to India, PM Manmohan Singh on Wednesday called upon Islamabad to create conducive environment for normalization of ties. Singh emphasized at the same time that enhancement of bilateral cooperation and economic relations with Pakistan were in the mutual interest of the two countries.
"Incidents like the barbaric killing of two Indian soldiers on the Line of Control in January 2013 vitiate the atmosphere and cast a shadow on the bilateral dialogue process," he said. As of now, no meeting is scheduled between Singh and Ashraf on Saturday when the Pakistani PM will be in India for a pilgrimage.
Full report at:
http://timesofindia.indiatimes.com/india/Create-conducive-environment-for-talks-PM-tells-Pak/articleshow/18840416.cms
-------------
Relief for India: Trial deferred, Nasheed freed
TNN | Mar 7, 2013
NEW DELHI: Former Maldivian President Mohamed Nasheed on Wednesday got a reprieve as a Maldivian court hearing charges of power abuse against him postponed trial for four weeks, allowing India to heave a sigh of relief. The development came as a shot in the arm for Indian authorities as the Prosecutor General did not seem to oppose the defence lawyers' contention that Nasheed's trial be deferred until the elections due to be held in September.
Full report at:
http://timesofindia.indiatimes.com/world/south-asia/Relief-for-India-Trial-deferred-Nasheed-freed/articleshow/18841931.cms
-------------
Reinstate Mirza in DRDO if no proof against him: Katju
PTI | Mar 7, 2013
NEW DELHI: Press Council of India chairperson Markandey Katju has demanded that the government reinstate DRDO scientist Aijaz Ahmed Mirza who was arrested on terror charges but released on bail as the National Investigation Agency ( NIA) did not file a charge sheet against him.
Full report at:
http://timesofindia.indiatimes.com/india/Reinstate-Mirza-in-DRDO-if-no-proof-against-him-Katju/articleshow/18850438.cms
----------
Pak PM's Ajmer visit sparks row
By Saurabh Shukla in New Delhi
Mar 7, 2013
A DEEP divide has opened up within the government over the Ajmer visit of Pakistan Prime Minister Raja Pervez Ashraf.
Sources say external affairs minister Salman Khurshid is keen to receive the Pakistan leader at Ajmer but senior functionaries in the government oppose the move. They say a junior officer should be sent to receive Ashraf.
Full report at: Mail Today
-------------
Indo-Pak trade expo starts today in Jalandhar
Mar 7, 2013
JALANDHAR: The next edition of Indo-Pak International Trade Expo, IPEX-13, will be held for five days in Jalandhar from March 7 to 11, at DeshBhagatYadgar Hall. Though this is the tenth trade fair being organized by PHD Chamber of Commerce and Industry, but in Jalandhar, it is being held for the first time, with around 40 participants from Pakistan.
Full report at:
http://timesofindia.indiatimes.com/india/Indo-Pak-trade-expo-starts-today-in-Jalandhar/articleshow/18842666.cms
-------------
Ajmer blast accused was hiding in ashrams on banks of Narmada
By Deeptiman Tiwary, TNN | Mar 7, 2013
NEW DELHI: Accused in the Ajmer Dargah blast Bhavesh Patel, who was arrested by the National Investigation Agency (NIA) on Tuesday from Noida, was hiding in ashrams on the banks of Narmada River in Madhya Pradesh and Gujarat as a holy man for the past two years. Sources said, he had grown his hair and beard and used to impart sermons in these ashrams.
In his holy man avatar he looked so different that despite having his photographs it took NIA officials an hour to ascertain it was the same man they were looking for when they spotted him in Noida. NIA had been on Patel's trail since 2010 and only on Tuesday learnt that he was staying in Noida.
Full report at:
http://timesofindia.indiatimes.com/india/Ajmer-blast-accused-was-hiding-in-ashrams-on-banks-of-Narmada/articleshow/18841358.cms
-------------
Stories of tortured Indian POWs shock British MPs
ByKounteya Sinha, TNN | Mar 7, 2013
LONDON: Dozens of stories of Indian prisoners of war (POWs) languishing in Pakistani jails have 'shocked' a powerful group of British parliamentarians, who have asked UK-based human rights activist Jesbir Uppal to submit evidence that can be used to put pressure on Pakistan.
Uppal made a series of powerful presentations in front of two separate committees—the all parliamentary group on Pakistan and a similar group on religion over three hours on Tuesday putting forward cases of Indian POWs like Kargil martyr Captain Saurabh Kalia, Sarabjit Singh, Chamel Singh, who died in a Pakistani prison but his body is yet to be returned to India, and Sepoy Jaspal Singh.
Full report at:
http://timesofindia.indiatimes.com/india/Stories-of-tortured-Indian-POWs-shock-British-MPs/articleshow/18842207.cms
-------------
Ajmer blast accused arrested; remanded in 15-day NIA custody
March 06, 2013
One of the alleged conspirators of the 2007 Ajmer blast has been arrested by National Investigation Agency (NIA) and remanded in 15 days of custody.
The agency will question Bhavesh Patel about the conspiracy behind the bombing as well as the murder of RSS member Sunil Joshi, official sources said.
Full report at:
http://www.hindustantimes.com/India-news/newdelhi/Ajmer-blast-accused-arrested-remanded-in-15-day-NIA-custody/Article1-1022196.aspx
-------------
Indian writers, including Shashi Tharoor, at the forefront of Dubai literature festival
Mar 07 2013
Dubai : Minister of State for Human Resource Development Shashi Tharoor, who is also a writer and critic, will deliver the prestigious Orwell Lecture at a literature festival that began here yesterday.
Tharoor will be leading the Indian participants at the Emirates Airline Festival of Literature. His lecture will be introduced by Ed Hobart, British Consul General in Dubai.
Full report at:
http://www.indianexpress.com/news/indian-writers-including-shashi-tharoor-at-the-forefront-of-dubai-li.../1084585/
---------
Southeast Asia
Sixty killed in Malaysian raid on Filipino militants
AFP | Mar 7, 2013
FELDA SAHABAT (MALAYSIA): Malaysia said clashes between intruding Filipino militants and its security forces had left 60 people dead as of late Thursday, as it rejected a ceasefire offer from the fighters' leader.
Police chief Ismail Omar said 32 followers of a self-proclaimed Philippine sultan had been killed in two confrontations since Wednesday near the scene of a three-week standoff in Sabah state, after a military assault to dislodge them.
That brought the total dead to 60, including 52 militants. Eight Malaysian policemen were killed in skirmishes last weekend.
Full report at:
http://timesofindia.indiatimes.com/world/rest-of-world/Sixty-killed-in-Malaysian-raid-on-Filipino-militants/articleshow/18851561.cms
------------
Aceh Ulema Urges Shariah Police to Pursue Women Involved in Sex Raffle
Nurdin Hasan | March 07, 2013
Banda Aceh. After it was revealed that a group of young married women in Aceh had met to raffle off young men to sleep with, an ulema in the conservative province urged religious law enforcement officials to immediately address the issue.
"The Shariah Police, or Wilayatul Hisbah, has to uncover this shocking phenomena because the behavior of these young women who raffled men to sleep with has marred Aceh's reputation, which is known to be a Shariah-based region," said Aceh's Nahdlatul Ulama chairman Teungku Faisal Ali.
Full report at:
http://www.thejakartaglobe.com/news/aceh-ulema-urges-shariah-police-to-pursue-women-involved-in-sex-raffle/577733
-------------
Indonesia's New Criminal Code Outlaws Adultery, Cohabiting Couples, Dark Magic
Camelia Pasandaran & Abdul Qowi Bastian | March 07, 2013
Indonesia's revision of its outdated Criminal Code includes proposed sanctions against cheating spouses, cohabiting couples and sorcerers accused of performing black magic.
The revised 500-plus page Criminal Code consists of 766 articles detailing sentences for everything from petty theft to premeditated murder. Included in the draft are harsh sanctions for seemingly benign offenses like living together outside of wedlock, a crime that carries a maximum sentence of one year in prison, the same punishment for those convicted of prostitution.
Full report at:
http://www.thejakartaglobe.com/home/indonesias-new-criminal-code-outlaws-adultery-cohabiting-couples-dark-magic/578167
--------
Indonesian Among Three Kidnapped by Pirates in Offshore Nigeria Attack
March 07, 2013
Abuja. An Indonesian sailor was among the three people kidnapped by pirates who attacked an oil industry supply vessel in Nigerian waters this week, security sources said on Thursday.
The captain, chief engineer and second engineer were abducted on Monday when gunmen boarded the Malaysia-flagged Armada Tuah 22 around 50 nautical miles (90 km) off the coast of the Brass region in the Niger Delta, three security sources said.
Full report at:
http://www.thejakartaglobe.com/home/indonesian-among-three-kidnapped-by-pirates-in-offshore-nigeria-attack/578172
--------
Malaysia Rejects Borneo Ceasefire Call
M. Jegathesan | March 07, 2013
Felda Sahabat, Malaysia. Malaysia's prime minister on Thursday rejected a ceasefire call by the self-proclaimed Philippine sultan whose Islamic fighters launched a deadly incursion into Malaysia.
Malaysian forces are currently hunting for the Islamic militants in a remote region of Borneo island where they landed last month to assert a long-dormant territorial claim in what has become Malaysia's worst security crisis in years.
Full report at:
http://www.thejakartaglobe.com/international/malaysia-rejects-borneo-ceasefire-call/578157
--------
Najib Visits Malaysia Battleground as Muslim Clan Under Siege
Daniel Ten Kate & Manirajan Ramasamy | March 07, 2013
Malaysian Prime Minister Najib Razak traveled to the eastern state of Sabah on Thursday as security forces surrounded an armed Muslim clan from the Philippines that invaded last month to bolster its ownership claim on the area.
Malaysia's police, army and navy cordoned off two villages in Sabah to prevent more than 200 loyalists of self-proclaimed Sulu Sultan Jamalul Kiram from getting food and weapons, according to Sabah Police Commissioner Hamza Taib. Najib will visit an operations center later on Thursday, Home Affairs Minister Hishammuddin Hussein told reporters.
Full report at:
http://www.thejakartaglobe.com/international/najib-visits-malaysia-battleground-as-muslim-clan-under-siege/578134
--------
Philippines demand release of UN peacekeepers in Syria
March 7, 2013
The Philippines has demanded the immediate release of 21 of its nationals working as UN observers who have been kidnapped by rebels in Syria.
The group is being held by armed fighters near the Golan Heights.
They had been monitoring the ceasefire line between Syria and Israel, which captured the Heights in 1967.
Full report at:
http://www.bbc.co.uk/news/world-middle-east-21695658
---------
Pakistan
Pak court sentences Sufi shrine bombing mastermind to death
March 07, 2013
A Pakistani court has given the death sentence to the mastermind of a 2010 terror attack on a Sufi shrine in Punjab province that killed over 50 people.
An anti-terrorism court in Dera Ghazi Khan district, 400 km from Lahore, on Wednesday gave the death sentence on 52 counts to Behram alias Sufi Baba, who was convicted of masterminding the attack on Hazrat Sakhi Sarwar shrine.
Full report at:
http://www.hindustantimes.com/world-news/pakistan/Pak-court-sentences-Sufi-shrine-bombing-mastermind-to-death/Article1-1022593.aspx
-------------
Employees of ISI approach court against its chief
Mar 07 2013
Islamabad: Four civilian employees of the spy agency ISI have approached the Islamabad High Court with complaints against its chief, Lt Gen Zahir-ul-Islam, in probably the first case of its kind in Pakistan's history.
The employees claimed in their application that Islam and other senior government officers should be charged with contempt of court for not acting on a ruling of the Islamabad High Court on regularising employees.
Full report at:
http://www.indianexpress.com/news/in-a-first-in-pak-employees-of-isi-approach-court-against-its-chief/1084579/
-------------
'Terror chief' Hafiz Saeed's counsel says JuD a 'welfare organisation'
Mar 07 2013
Lahore : Hafiz Saeed's Jamaatud Dawa (JuD) is a welfare institution which has opened 142 schools for boys and girls all over Pakistan, counsel AK Dogar has told the Lahore High Court. Dogar maintained that the schools were being run exclusively from the funds contributed by the citizens of the country and by selling hides of sacrificial animals, reports the Daily Times.
Full report at:
http://www.indianexpress.com/news/terror-chief-hafiz-saeeds-counsel-says-jud-a-welfare-organisation/1084629/
----------
Five militants killed in Orakzai
March 7, 2013
PESHAWAR: At least five suspected militants were killed during a security forces operation in the northwestern tribal region of Orakzai, DawnNews reported.
The militants were killed in the tribal region's Ghundamela area after which security forces took control of the insurgent hideout.
Full report at:
http://dawn.com/2013/03/07/five-militants-killed-in-orakzai/
-----------
7 killed in Karachi violence during Bandh
March 07, 2013
At least seven people were killed in separate incidents of violence in Pakistan's biggest city and financial hub, while businesses were forced to close down across the city at gunpoint by unidentified gunmen. Panic and fear spread across the metropolis as reports poured in of unidentified gunmen firing in many parts of the city, forcefully closing down businesses and blocking roads. Unknown individuals also torched vehicles and set tyres on fire in the worst affected areas.
Full report at:
http://www.hindustantimes.com/world-news/pakistan/7-killed-in-Karachi-violence-during-bandh/Article1-1022433.aspx
-------------
Balochistan violence: 4 killed, 1 injured in separate attacks
March 7, 2013
QUETTA: Violence continued to plague Balochistan on Wednesday when four people were killed and one was injured in separate incidents across the province, while a bomb also exploded in Chaman district.
According to details, unidentified armed men began shooting on Adalat Raod. Resultantly, a person, identified as Haji Luqman, was killed and another sustained injuries.
Police registered a case and began investigations.
Full report at:
http://tribune.com.pk/story/516977/balochistan-violence-4-killed-1-injured-in-separate-attacks/
-----------
Religious scholars urged to learn psychology
March 7, 2013
ISLAMABAD: International Islamic University Islamabad (IIUI) President Professor Dr Ahmad Yousif Al Draiweesh said on Wednesday that other than training it is also essential for religious scholars to seek knowledge of psychology.
He was addressing the concluding ceremony of a month-long training workshop on 'Peace and Education' organised by the IIUI Department of Psychology in collaboration with an organization for peace and education in the capital.
Full report at:
http://www.dailytimes.com.pk/default.asp?page=2013\03\07\story_7-3-2013_pg11_2
-----------
Pak's economy fragile, needs $9 bn from IMF
March 06, 2013
Pakistan has reached a critical balance of payments situation and will need another package from the International Monetary Fund before the end of the year to avert a crisis, one of the biggest lenders to the country said on Wednesday.
The Asian Development Bank's country director, Werner Liepach, told Reuters in an interview Pakistan will need up to $9 billion from the IMF to shield the economy.
Full report at:
http://www.hindustantimes.com/world-news/pakistan/Pak-s-economy-fragile-needs-9-bn-from-IMF/Article1-1022327.aspx
-----------
Tehrik-e-Taliban operational commander arrested in Pakistan
PTI | Mar 7, 2013
ISLAMABAD: Banned Tehrik-e-Taliban Pakistan's operational commander and an unidentified foreigner have been arrested by intelligence operatives in the restive Khyber- Pakhtunkhwa province, according to a media report today.
Taliban commander Qari Basit and the foreigner were nabbed in Kheshgi town of Nowshera district yesterday, the Dawn newspaper quoted its sources as saying.
Full report at:
http://timesofindia.indiatimes.com/world/pakistan/Tehrik-e-Taliban-operational-commander-arrested-in-Pakistan/articleshow/18845441.cms
---------
Peshawar professor under Taliban captivity appeals for release
Zahir Shah Sherazi
March 7, 2013
PESHAWAR: A professor from a university in Peshawar under captivity of the Pakistani Taliban has appealed again to the government in Khyber Pakhtunkhwa province to accept the militants' demands for his release.
In a new video received Thursday, Professor Ajmal Khan, vice-chancellor of the Islamia College University (ICU), called out to Awami National Party (ANP) chief Asfandyar Wali Khan, the Peshawar High Court, the Governor and the Chief Minister of Khyber Pakhtunkhawa province to ensure his release from captivity by the extremist militants.
Full report at:
http://dawn.com/2013/03/07/peshawar-professor-under-taliban-captivity-appeals-for-release/
-----------
Capital punishment for 2 civilian convicts: SC overturns military appeal court sentence
March 7, 2013
ISLAMABAD, March 6: The Supreme Court overturned on Wednesday a verdict handed down by a military court of appeal which had enhanced the sentence of two civilian convicts to capital punishment for their alleged involvement in the Dec 25, 2003, attempt on the life of former president Pervez Musharraf in Rawalpindi.
"Once we are convinced that the order enhancing sentence is without jurisdiction and coram non judice, it cannot be allowed to hold the field," Justice Ejaz Afzal Khan said in the judgment. "The error being patent on the face of the judgment requires correction for the ends of justice," the ruling concluded.
Full report at:
http://dawn.com/2013/03/07/capital-punishment-for-2-civilian-convicts-sc-overturns-military-appeal-court-sentence/
-----------
US, China take part in Pakistan naval drills
March 7, 2013
ISLAMABAD: The United States and China began naval drills in the Arabian Sea with Pakistan and other countries on Thursday, the Pakistani navy said, in a show of strength against terrorism and piracy.
The AMAN-13 exercise involves ships from 13 countries and observers from 20 others and comes two weeks after China took control of Gwadar, a strategic Pakistani Arabian Sea port, from Singapore's PSA International.
Full report at:
http://dawn.com/2013/03/07/us-china-take-part-in-pakistan-naval-drills/
-----------
Islamabad to complete Iran-Pakistan pipeline 'despite US pressure'
March 7, 2013
ISLAMABAD: Pakistan will complete the $7.5 billion gas pipeline from Iran to Pakistan despite pressure from the United States, a spokesman for the foreign office said Thursday.
Addressing a press conference in Islamabad, foreign ministry spokesman Moazzam Ahmad Khan announced that President Asif Ali Zardari would be visiting Iran on Monday for the groundbreaking of the much delayed project.
Full report at:
http://dawn.com/2013/03/07/islamabad-to-complete-iran-pakistan-pipeline-despite-us-pressure/
-----------
Rangers conduct targeted operation in Lyari
By Web Desk
Published: March 7, 2013
KARACHI: Rangers launched a targeted operation in Lyari and Pak Colony on Thursday, hours after bodies of two kidnapped personnel were recovered from the Mewa Shah graveyard in Karachi, reported Express News.
The two officials, Hawaldar Muneer Ahmed Bhutto and Aijaz Ahmed Baloch, belonged to the intelligence wing of Sindh Rangers and were abducted on Wednesday.
Full report at:
http://tribune.com.pk/story/517084/bodies-of-two-abducted-rangers-found-in-karachi/
-----------
South Asia
Blacklist ISI as a terrorist entity, demands Kabul
TNN | Mar 7, 2013
NEW DELHI: Should Pakistan's ISI, the country's powerful intelligence agency, be blacklisted? The Afghan national Security Council has strongly recommended that the ISI should be declared a terrorist entity. The strongly-worded official Afghan reaction will affect outside efforts to stitch an agreement between Afghanistan and Pakistan on bringing the Taliban into government.
Full report at:
http://timesofindia.indiatimes.com/world/south-asia/Blacklist-ISI-as-a-terrorist-entity-demands-Kabul/articleshow/18841399.cms
-------------
Taliban hand over bodies of 16 Afghan soldiers
March 7, 2013
The bullet-riddled bodies of 16 Afghan soldiers killed by the Taliban in the north-eastern province of Badakhshan have been handed over to officials.
Sunday's attack was one of the deadliest on Afghan National Army (ANA) forces in recent years.
The insurgents have also freed seven soldiers abducted during the clash near Faizabad, a government official said.
Full report at:
http://www.bbc.co.uk/news/world-asia-21689929
---------
Protect Hindus, AI urges Bangladesh
March 7, 2013
In the wake of a wave of violent attacks against the country's minority Hindu community, Amnesty International has made an urgent call to the government to provide them with better protection.
Over the past week, individuals taking part in strikes called for by Islamic parties have vandalised more than 40 Hindu temples across Bangladesh. Scores of shops and houses belonging to the Hindu community have also been burned down, leaving hundreds of people homeless, said a press release of the international rights watchdog.
Full report at:
http://www.thedailystar.net/beta2/news/protect-hindus-ai-urges-bangladesh/
---------
HC orders arrest of Jamaat men who administered 'tauba'
STAR ONLINE REPORT
March 7, 2013
The High Court on Thursday directed the government to arrest in seven days Jamaat men who forcibly administrated 16 Awami League "tauba" (oath of penance) in Panchbibi upazila of northern district of Joypurhat.
Acting on a Daily Star report, "Jamaat makes AL men 'Muslim'" which was published on Thursday, the court also warned that legal action would be taken against the Superintendent of Police of Joypurhat if the Jamaat leaders are not arrested.
Full report at:
http://www.thedailystar.net/beta2/news/hc-orders-arrest-of-jamaat-men-who-administered-tauba/
---------
It's like killing of intellectuals in 1971: Ctg khatib
STAFF CORRESPONDENT, CTG
March 7, 2013
The plot to kill Sunni Islamic scholars of Chittagong is similar to the one made before the murder of the country's intellectuals in 1971, said principal of Jamiah Ahmadia Sunnia Alia Madrasa in Chittagong yesterday.
The principal, Moulana Muhammad Jalaluddin Alkaderee, also khatib of Chittagong's Jamiatul Falah National Mosque, was addressing a press conference in the madrasa in the port city's Sholoshohor area.
Full report at:
http://www.thedailystar.net/beta2/news/its-like-killing-of-intellectuals-in-1971-ctg-khatib/
---------
2 jailed for life for murder, another for rape
STAR NATIONAL DESK
March 7, 2013
Two siblings were jailed for life for murder while a youth got similar punishment for rape of a physically challenged girl yesterday.
A Mymensingh court yesterday punished two brothers in 'Quiyyum murder case' in Tarakanda under Phulpur upazila yesterday.
The court also fined each of them Tk 30 thousand, in default, to suffer six months more in prison, reports our correspondent.
Full report at:
http://www.thedailystar.net/beta2/news/2-jailed-for-life-for-murder-another-for-rape/
---------
Bangla admin chiefs seek troops in 40 districts
Mar 07 2013
Bangla admin chiefs seek troops in 40 districts
DHAKA: Administrative chiefs of Bangladesh's 40 out of 64 districts have sought deployment of paramilitary and army troops in the wake of nationwide violence over 1971 war crimes trials of Islamist leaders. Abdus Sobhan Shikdar, the Secretary of the Public Administration Ministry, said required steps would be taken in view of the requests by the local administrations.
Full report at:
http://www.indianexpress.com/news/newswindow-bangla-admin-chiefs-seek-troops-in-40-dists/1084159/
---------
War-scarred Bangladesh torn by new tensions
AFP | Mar 7, 2013
DHAKA: When Bangladesh set up a war crimes court in 2010, its stated aim was to heal the wounds from the nation's traumatic birth.
Three years on, its first verdicts have plunged the country into one of its most turbulent chapters since it broke free from Pakistan four decades ago and threatens lasting damage to the world's eighth most populous country.
More than 80 people have been killed in protests, thousands of tourists have been forced to flee and a series of strikes have pummelled an economy which had enjoyed annual growth rates of around six percent over the last 10 years.
Full report at:
http://timesofindia.indiatimes.com/world/south-asia/War-scarred-Bangladesh-torn-by-new-tensions/articleshow/18844850.cms
-------------
Kabul announces last Afghan prisoner transfers
March 7, 2013
KABUL: President Hamid Karzai said on Wednesday the United States would hand over a final group of Afghan prisoners held at a controversial jail, signalling a breakthrough in a long-running dispute with Washington.
ast September, the United States passed the Afghan authorities control of more than 3,000 detainees at Bagram, a sprawling detention centre north of Kabul which has in the past been dubbed the Guantanamo Bay of Afghanistan.
Full report at:
http://www.dailytimes.com.pk/default.asp?page=2013\03\07\story_7-3-2013_pg7_15
-----------
Bangladesh: Letting Shadows Fall Behind
By Maryam Sakeenah
03 March, 2013
When a friend from Bangladesh gifted me a jute bag with the Bangladesh flag motif painted on it, I asked her to explain the symbolism. She told me it stood for the rising sun over the green fields, reddened with the blood of liberation martyrs.
After the terrible atrocities in 1971 in which many innocent Bengalis lost their lives, retributive justice to the perpetrators of brutal crime needed to be carried out by Pakistan. Full report at:
http://www.countercurrents.org/sakeenah030313.htm
----------
Europe
Former UN Weapons Inspector: Don't Repeat in Iran the 'Tragic and Terrible' Mistakes of Iraq
10 years after Iraq invasion, Hans Blix warns against those pushing false arguments for attacking Iran
Jacob Chamberlain, staff writer
March 07, 2013
As the ten year anniversary of the US-led invasion on Iraq approaches, the former UN weapons inspector from Norway Hans Blix said this week that world powers should heed history's lessons by not repeating the same mistakes with Iran.
"Memories of the failure and tragic mistakes in Iraq are not taken sufficiently seriously," the 82-year-old Blix told a group of reporters in Dubai.
Full report at:
http://www.commondreams.org/headline/2013/03/06-9
-------------
'Terrorist kingpins' killed in Mali Mountains: French President
March 06, 2013
French President Francois Hollande said Wednesday that top Islamic extremist leaders hiding out in a northern Mali mountain range where French troops are deployed, had been killed.
"The terrorist kingpins have been destroyed" in the Ifoghas mountains, Hollande told reporters in Warsaw, but he did not make it clear if key commander Mokhtar Belmokhtar was among them.
Chadian President Idriss Deby Itno on Monday reiterated his belief that Belmokhtar had been killed during fierce fighting in recent days in the Ifoghas mountains on Mali's northeastern border with Algeria.
Full report at:
http://www.hindustantimes.com/world-news/northamerica/Terrorist-kingpins-killed-in-Mali-mountains-Hollande/Article1-1022321.aspx
-------------
At the UN, Twenty Years of Backlash to 'Women's Rights Are Human Rights'
Barbara Crossette
March 5, 2013
Socially conservative American Catholics and like-minded evangelical Protestants who have led a decades-long campaign against the rights of women in the United States are now gearing up for a season of battles on the bigger global stage. This week, the Commission on the Status of Women at the UN begins a two-year series of international meetings that pave the way to the twentieth anniversary of the 1994 United Nations International Conference on Population and Development (ICPD) in Cairo, which fundamentally redefined the role of women in family and society.
Full report at:
http://www.thenation.com/article/173203/un-twenty-years-backlash-womens-rights-are-human-rights#
---------
UK to give Afghanistan £10m to fund mining programme
March 7, 2013
The UK is to fund a £10m programme to help Afghanistan exploit its huge natural resources, the prime minister has revealed.
Estimates of what lies underground in Afghanistan range from $1-3tn worth of gold, gems, iron ore, and oil and gas.
David Cameron announced the three-year funding to support the Afghan Ministry of Mines at an event at Downing Street.
Full report at:
http://www.bbc.co.uk/news/uk-21695037
---------
UN eases decades-old Somalia arms embargo for one year
March 7, 2013
The UN Security Council has unanimously voted to partially lift its ban on selling arms on Somalia for a year.
The embargo is the world's oldest, having been imposed in 1992, and will be partially eased for a year in order to help the country's new government.
The decision means the government will be able to buy light arms to help in its fight against Islamist militants.
Some countries had been reluctant to ease the ban for fear of fuelling insecurity in Somalia.
Correspondents say a compromise seems to have been reached: lifting an embargo on small arms for one year but keeping restrictions on heavy weapons.
Full report at:
http://www.bbc.co.uk/news/world-africa-21684778
---------
U.N. Starts Talks to Free Peacekeepers Held by Syria Rebels
By RICK GLADSTONE and ALAN COWELL
March 7, 2013
The United Nations was reported to be negotiating on Thursday with insurgent fighters from Syria who seized a group of United Nations troops from the Philippines on patrol in the disputed Golan Heights region between Syria and Israel and threatened to treat them as prisoners of war. Their capture signaled an abrupt escalation in the Syrian conflict that entangled international peacekeepers for the first time.
Full report at:
http://www.nytimes.com/2013/03/08/world/middleeast/syria-
---------
North America
Revealed: The US 'Dirty War' Veteran Who Trained Iraqi 'Death Squads'
Exclusive Guardian/BBC investigation shows how Gen. Petraeus and Donald Rumsfeld unleashed 'dirty war' tactics and 'torture regime' in Iraq
- Jon Queally, staff writer
March 07, 2013
A special investigation by The Guardian newspaper and BBC Arabic that took place over 15 months claims to reveal a shocking, but substantial connection between the murderous tactics of US-backed Latin American 'death squads' in the 1980's and the rise of a similar tactics—including secret detention centres, torture, disappearances, and mass killings—that helped spark a sectarian civil war between Shia and Sunni rivals in the violent days triggered by the US invasion of Iraq in 2003.
Full report at:
http://www.commondreams.org/headline/2013/03/06-7
-------------
CIA seizes bin Laden son-in-law after Turkey deportation: report
March 7, 2013
ANKARA: Osama bin Laden's son-in-law Sulaiman Abu Ghaith was seized by CIA agents and taken to the United States after Turkey deported him to Jordan this month, a Turkish newspaper reported on Thursday.
Abu Ghaith, the former spokesman of the Al Qaeda network, was seized last month at a luxury hotel in Ankara after a tip-off from CIA and was held there by the police despite a US request for his extradition.
Full report at:
http://dawn.com/2013/03/07/cia-seizes-bin-laden-son-in-law-after-turkey-deportation-report/
--------------
Holbrooke wanted $50bn for Pakistan
March 7, 2013
WASHINGTON: A former US National Security Adviser offered Pakistan an 'off script' civilian nuclear deal in exchange for its counter-terrorism cooperation, a former member of Richard Holbrooke's team wrote on Wednesday.
In an article he wrote for the Foreign Policy magazine, Vali Nasr said his time in the Obama administration "turned out to be a deeply disillusioning experience".
He recalled how former National Security Adviser James Jones travelled to Pakistan for high-level meetings without informing the State Department or Mr Holbrooke, who was the special US envoy for Afghanistan and Pakistan.
Full report at:
http://dawn.com/2013/03/07/holbrooke-wanted-50bn-for-pakistan/
--------------
US, Pakistan work together for peace in Afghanistan: Richard Olson
March 7, 2013
ISLAMABAD: United States Ambassador Richard Olson Wednesday said his country was in partnership with Pakistan for promoting peace and reconciliation in Afghanistan and both sides were cooperating in curbing terrorism.
Speaking at the a two-day international conference on "US-Nato Exit from Afghanistan: Challenges and Options Beyond 2014" at National University of Modern Languages (NUML), here he stressed the need to achieve the twin objectives in Afghanistan. The conference has been arranged by the Department of International Relations, Conflict and Peace Studies.
Full report at:
http://dawn.com/2013/03/06/us-pakistan-work-together-for-peace-in-afghanistan-richard-olson/
--------------
US's $60bn Iraq rebuilding effort 'achieved little'
March 7, 2013
The US rebuilding effort in Iraq achieved little despite $60bn (£40bn) spent since the 2003 invasion, a US auditor for reconstruction has said.
In his final report, the inspector general for Iraq reconstruction estimated the US wasted at least $8bn.
Stuart Bowen put the "limited positive effects" down to corruption, poor security and insufficient consultation with Iraqi authorities.
Full report at:
http://www.bbc.co.uk/news/world-us-canada-21692031
---------
Mideast Asia
New Egypt must revive Islamic spirit in society: Iranian cleric
March 07, 2013
An Iranian cleric says Egypt stands at the crossroads of constructing a new Islamic country which should be based upon "Allah-cantered values" rather than human-cantered values.
In the background of this a group of high ranking Iranian scholars have announced in a letter to Egyptian President Mohammad Morsi the willingness of Iranian intellectuals to transfer their experience and scientific capabilities to Egypt. Unfortunately, some news media has mis-interpreted this offering in a negative way claiming to their audiences that Iranian scholars are trying to impose a model of the Islamic Republic of Iran onto Egypt.
Full report at:
http://www.presstv.ir/detail/2013/03/05/292093/islam-will-refresh-new-egyptian-society/
-------------
Supreme Leader Praises Iranian, Muslim Women's Constructive Role in Society
March 07, 2013
TEHRAN (FNA)- Supreme Leader of the Islamic Revolution Ayatollah Seyed Ali Khamenei on Wednesday lauded the efforts made by Iranian and Muslim women throughout the history to safeguard the logical and religious values of their societies.
"Iranian women protect their families and play significant roles in political and social events," Ayatollah Khamenei said in a message to the Congress on 7,000 Women Martyrs of wartime.
The Supreme Leader said that role and status of Muslim women throughout history are very prominent.
Full report at:
http://english.farsnews.com/newstext.php?nn=9107150702
-------------
IAEA chief Yukiya Amano wins new term, Iran 'hopes he will change'
Reuters | Mar 6, 2013
VIENNA: Yukiya Amano, who led the U.N. nuclear watchdog to take a tougher approach to Iran, secured a second four-year term as head of the International Atomic Energy Agency on Wednesday.
The veteran Japanese diplomat was approved by consensus by the IAEA's 35-nation governing board as Iran came under increasing pressure from Western countries which suspect it of developing nuclear weapons technology.
Western diplomats are generally happy with Amano - who only narrowly won the job in 2009 when he succeeded Egyptian Mohamed ElBaradei whom they criticised for taking a softer line on Tehran. There were no rival candidates this time.
Full report at:
http://timesofindia.indiatimes.com/world/europe/IAEA-chief-Yukiya-Amano-wins-new-term-Iran-hopes-he-will-change/articleshow/18836194.cms
-------------
Iran declares day of mourning for Chavez
Reuters | Mar 7, 2013
IRAN: Iran declared a day of national mourning on Wednesday after the death of Venezuelan President Hugo Chavez, who shared the Islamic Republic's loathing for US "imperialism". Iranian President Mahmoud Ahmadinejad, who had forged a public friendship with Chavez characterized by mutual praise, hugs and light-hearted moments, may attend Chavez's funeral on Friday, state news agency IRNA said. The two men had sought closer ties between their geographically distant countries, although action on joint social and military projects announced in recent years has often lagged behind. "Hugo Chavez is a name known to all nations. His name is a reminder of cleanliness and kindness, bravery ... dedication and tireless efforts to serve the people, especially the poor and those scarred by colonialism and imperialism. I offer my condolences to Venezuela and his family," Ahmadinejad said. reuters
http://timesofindia.indiatimes.com/world/middle-east/Iran-declares-day-of-mourning-for-Chavez/articleshow/18841818.cms
----------
Africa
Humanitarian Crisis Looms Across Somalia
By Somali Media For Environment Science Health And Agriculture
05 March, 2013
Mogadishu, March 5, 2013-The Somali Media for Environment, Science, Health and Agriculture (SOMESHA) concerns the current Food security crisis exist across Somalia though the humanitarian situation remains fragile and gains could reverse without continued humanitarian assistance.
Full report at:
http://www.countercurrents.org/somesha050313.htm
--------------
Mali crisis: French soldiers to be withdrawn in April
March 7, 2013
French President Francois Hollande has said his country will begin withdrawing troops from Mali next month.
He said the final phase of military intervention would continue throughout March and be scaled down in April.
The campaign in the north had killed "terrorist leaders", Mr Hollande said without giving any names.
Full report at:
http://www.bbc.co.uk/news/world-africa-21691368
---------
Security Council Loosens Somalian Arms Embargo
By RICK GLADSTONE
March 7, 2013
The United Nations Security Council voted unanimously on Wednesday to temporarily rescind part of a 21-year-old arms embargo on Somalia, the East African country once considered synonymous with warlordism, piracy and anarchy, portraying the easing as part of an effort to strengthen the fragile Somalian government's authority by permitting it to purchase light weapons.
Full report at:
http://www.nytimes.com/2013/03/07/world/africa/somalia-arms-embargo-partly-lifted-by-
------------
URL: https://www.newageislam.com/islamic-world-news/new-age-islam-news-bureau/egyptian-muslim-scholar-says-christian-copts-will-pay-jizya/d/10683