New Age Islam News Bureau
31 Oct 2015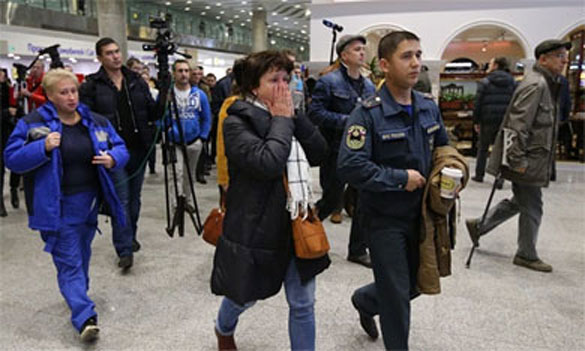 People arrive at Pulkovo airport for news of the plane crash. Photograph: Alexander Demianchuk/Itar-Tass Photo/Corbis
-------
Arab World
• Egypt Says No Survivors from Russian Plane Crash, Carrying More Than 200 Passengers
• Syrian Army Kills over 50 Terrorists near Marj Al-Sultan Airport in Damascus Countryside
• ISIS Beheads Four Iraqi Kurds in 'Revenge' Video
• Syrian Army, Hezbollah Retake Full Control over Khan Touman in Aleppo Province
• Informed Source Underlines Imminent Capture of Entire Aleppo by Syrian Forces, Allies
• ISIL Leaders Killed in Sweida
• 26 killed in attack on Iran opposition camp in Iraq: UN
• Saudi Arabia says Assad, Iran-backed foreign forces must quit Syria
• Iraqi Shi'ite militia claims attack on exiled Iranian opposition camp
• Divided over Assad, major powers meet on Syria war
• In a policy shift, US sending special forces into Syria
• Syrian Army Gearing Up to Block Terrorists' Flow from Jordan to Daraa
• Russian Jets Bomb Militants' Positions in Daraa
• Syrian Forces, Allies Winning Battle against Militants near Kuweires Airbase in Aleppo
• Iraq: Foreign ISIL Members Fleeing Al-Anbar
• Terrorists' Positions Destroyed in Syrian Operations in Daraa
• Army Inflicts Heavy Losses on Terrorists in Several Provinces
• Syrian Warplanes Pound Militant Centres in Damascus Countryside
• Russia says hit 1,623 targets in Syria in bombing campaign
----------
South Asia
• Bangladesh Pushes Back as Warnings of ISIS Expansion Gather Steam
• Drone Strike Kills Top Al-Qaeda Commander in Kunar
• Sri Lankan Muslims Will Be Included Under Reconciliation Process: Foreign Minister
• Myanmar's 'Muslim-free' election
• Daesh-fired rocket kills six worshippers in Nangarhar's Achin District
• Security forces rebuff Taliban attack on Nooristan's Barg-e-Matal District
• SCF demands withdrawal of AI statement on war crimes
• 2 'Shibir men' held with 101 crude bombs in Sylhet
---------
Mideast
• Iran Confirms Death Penalty for Sunni Preacher, Shahram Ahmadi
• Two Anti-Daesh Syrian Activists Found Beheaded In S Turkey
• Yemeni forces carry out retaliatory attacks on Saudi military positions
• Iran threatens Arabs as much as Islamic State: Bahrain FM
• Iranian Deputy FM Terms Vienna Meeting Start of Good, Constructive Talks on Syria
• Turkey has 'killed 2,000 militants' at home and abroad
• Palestinian baby dies from Israeli army tear gas
----------
India
• India to Review Personal Laws for Muslims 'To Rectify Gender Biases'
• IS Recruiter from Hyderabad Dreams Of Global Caliphate
• Under RSS, India Is Becoming Mirror Image of Pakistan, Says Irfan Habib
• Jammu & Kashmir: FIR against eight students for raising pro-Pakistan slogans
• Hindus, Muslims should stand united: Kanchi Math head
-----
Pakistan
• Threat to KSA to Evoke Strong Response From Pakistan: COAS
• SC Seeks Legal Assistance over LHC Ban on Altaf's Speech
• Tribesmen urged to work for peace, development
• No laxity allowed in CPEC projects: PM
• Pakistan won't accept pressure on N-programme: FO
• Soldier killed in roadside blast in Khyber
• Leading Islamic charities collecting donations for earthquake victims
----------
Africa
• Modern Radicalism Has 'No Boundaries,' Says Tunisian Foreign Minister
• Somalia: Is Somaliland Still a Good News Story?
• Libya U.N. envoy to be replaced by German official
----------
North America
• US, Russia, 15 Other States Propose Damascus-Rebel Talks
• 2 Muslim Drivers Win Discrimination Suit in US
• Shelter doesn't want Muslim employees, jeopardizing funding
• Obama to send ground troops to Syria
----------
Southeast Asia
• Indonesia Wants To Promote Moderation In Islam With Malaysia
• Indonesia Shia Group Accuse Extremist Sunni Leaders Of Violating Constitution
• Perkasa proposes UMNO and PAS resolve issues through Islamic brotherhood council
• Kula: Set up religious department for non-Muslims
• Indonesia, Largest Muslim Country, To Join Obama's Trade Deal
----------
Europe
• Sweden near 'Collapse' Due To Mass Influx of Asylum Seekers: Foreign Minister
• Allahshukur Pashazadeh supports Russia in its struggle against ISIS
• Rotherham Muslim group refuses to co-operate with South Yorkshire Police
• Bosnian Muslim cleric raps Viktor Orban on Islam remarks
• Australia reportedly mulls sending refugees to Kyrgyzstan
• 500 refugees stranded in cold on Russia-Norway border
Compiled by New Age Islam News Bureau
URL: https://www.newageislam.com/islamic-world-news/new-age-islam-news-bureau/egypt-says-no-survivors-from-russian-plane-crash,-carrying-more-than-200-passengers/d/105116
----------
Arab World
Egypt Says No Survivors from Russian Plane Crash, Carrying More Than 200 Passengers
31 October 2015
A Russian plane carrying more than 200 passengers from the Egyptian resort of Sharm el-Sheikh has crashed in central Sinai, killing all of those on board, Egyptian officials have said.
The jet, operated by the Russian company Kogalymavia and branded as Metrojet, had initially been reported as being "completely destroyed with all on board likely to have died", according to a security officer from the search and rescue team.
Several Egyptian military and security officials later told AP there were no survivors. A source had said earlier that voices of trapped passengers could be heard from a section of the plane, but no survivors had actually been identified.
"The plane split into two, a small part on the tail end that burned and a larger part that crashed into a rock. We have extracted at least 100 bodies and the rest are still inside," an anonymous officer told Reuters.
Egypt's health ministry had dispatched 45 ambulances to the scene to "evacuate the dead and wounded" which had indicated the possibility of survivors.
The crash site was found on Saturday morning in southern Arish, a mountainous area of central Sinai, but poor weather conditions were making it difficult for some rescue crews to reach the scene, the security officer said.
Northern Sinai is home to groups of Islamist militants, many affiliated to Islamic State, but there were no indications the plane was shot down, Egyptian security sources told Reuters.
A statement from the Egyptian prime minister's office said Sherif Ismail formed a cabinet-level crisis committee to deal with the crash, which was believed to have been caused by a mechanical failure. The prime minister has since departed for the crash site with several cabinet ministers on a private jet, the tourism ministry said.
The plane, which had a tail number of EI-ETJ, lost contact 23 minutes after takeoff while flying at more than 30,000 ft above sea level, according to the plane tracker website Flight Radar. It had begun to make a steep descent at a rate of 6,000 feet per minute shortly before communications were lost.
Russia's aviation authority, Rosaviatsiya, said flight 7K9268 had left at 03:51 GMT and was due into St Petersburg's Pulkovo airport at 12:10, it told TASS news agency. The plane had failed to make scheduled contact with Cyprus air traffic control and disappeared from the radar.
Russian President Vladimir Putin expressed his deepest condolences to the families of victims of the crash of a Russian airliner in Egypt, Russian news agencies reported. Putin also ordered government ministries to offer immediate assistance to relatives of those killed.
The Red Sea resort of Sharm el-Sheikh is a popular destination for Russian tourists and it is believed the majority of those on board were Russians. Distraught friends and family began arriving at St Petersburg airport on Saturday.
People arrive at Pulkovo airport for news of the plane crash. Facebook Twitter Pinterest
People arrive at Pulkovo airport for news of the plane crash. Photograph: Alexander Demianchuk/Itar-Tass Photo/Corbis
"I am meeting my parents," said 25-year-old Ella Smirnova. "I spoke to them last on the phone when they were already on the plane, and then I heard the news. I will keep hoping until the end that they are alive, but perhaps I will never see them again."
http://www.theguardian.com/world/2015/oct/31/russian-plane-crashes-in-sinai-egyptian-pm-says
------
Syrian Army Kills over 50 Terrorists near Marj Al-Sultan Airport in Damascus Countryside
Oct 31, 2015
The sources said that the militants of al-Nusra Front and Jeish al-Islam sustained heavy casualties in the government forces' offensive and fled the battlefield after leaving over 56 dead members behind.
The Syrian forces also retook full control over new blocks of buildings in Nawla in Eastern Ghouta from the militants after killing and wounding scores of them.
On Friday, the army announced that its forces' operations near Darayya town in Damascus countryside resulted in the killing of at least nine militants and wounding of many others.
The sources said that the strongholds of Ajnad al-Sham near Darayya came under attack of the Syrian army troops, and left over nine terrorists dead and some others wounded.
http://english.farsnews.com/newstext.aspx?nn=13940809000230
----------
ISIS beheads four Iraqi Kurds in 'revenge' video
31 October 2015
ISIS beheaded four Iraqi Kurdish fighters following a joint raid with American special forces against the militants, according to a video posted online.
The U.S.-Kurdish operation last week, which freed some 70 people from an ISIS prison, deepened American involvement in the war against the militants and led to the first U.S. combat fatality in Iraq since its 2011 withdrawal from the country.
The video sought to portray the operation as a failure, with speakers saying the attacking forces were unable to overcome numerically inferior jihadists and displaying used first aid supplies that were left behind.
It included images of areas said to have been hit by air strikes in the course of the operation, and ended with the execution of four men, said to be members of the Kurdish Peshmerga security forces.
Four black-clad masked militants used knives to behead the men, who were dressed in orange jumpsuits and had their hands bound behind their backs.
It was not clear when the beheadings took place.
ISIS has seized control of large parts of Iraq and Syria, declaring a cross-border "caliphate", imposing its brutal interpretation of Islam and committing widespread atrocities.
A U.S.-led coalition launched air strikes against the militants in August 2014, supporting Iraqi forces, including Kurdish fighters, in attempts to retake lost ground.
http://english.alarabiya.net/en/News/middle-east/2015/10/31/ISIS-beheads-four-Iraqi-Kurds-in-revenge-video.html
----------
Syrian Army, Hezbollah Retake Full Control over Khan Touman in Aleppo Province
Oct 31, 2015
Reports said on Friday that the Syrian army troops and Hezbollah forces opened their way into the strategic town of Khan Touman, and after fierce clashes with the terrorists, the town came under full control of the government forces early on Saturday.
The army and the resistance forces killed hundreds of the foreign-backed terrorists in the battle over capturing Khan Touman.
The army and the Hezbollah Friday launched a fresh round of joint operations in South of Aleppo and recaptured farms between the strategic towns of Khan Touman and Qarass.
The sources said that the Syrian Army's 4th Mechanized Division, in coordination with Hezbollah, Harakat al-Nujaba (Iraqi Hezbollah), the National Defense Forces (NDF), and Kataebat Al-Ba'ath, carried out a successful mission to capture the farms in Southern Aleppo.
The Syrian Armed Forces and Lebanese Resistance surprised the militants of Harakat Noureddine Al-Zinki, Harakat Ahrar Al-Sham, Liwaa Suqour Al-Sham and Al-Nusra Front with an assault at several locations.
With these farms under control, the Syrian Armed Forces and Lebanese Resistance had the ability to attack Khan Touman from two different flanks (East and North); previously, they only had access to the Northern perimeter of the aforementioned town.
The purpose of the Khan Touman offensive is to cutoff the Aleppo-Damascus International Highway that is used by the militants in Idlib to transport supplies to their comrades in Southern Aleppo.
http://english.farsnews.com/newstext.aspx?nn=13940809000188
----------
Informed Source Underlines Imminent Capture of Entire Aleppo by Syrian Forces, Allies
Oct 31, 2015
The source said that very good cooperation and coordination among the Syrian armed forces, Hezbollah and the Russian air force, along with widening gaps, disunity and hopelessness among the ranks of the militants, promise the imminent liberation of the Northern province of Aleppo.
In mid-October, several fighters of the Lebanese Hezbollah arrived in Aleppo to join the Syrian army to carry out a large-scale anti-militant operation in the Northern city of Aleppo in the coming days with the Russian aerial backup.
The sources said at the time that after the victories of the Syrian army and Hezbollah in Zabadani and conclusion a six-month-long ceasefire agreement with the militants in the nearby areas of Syria-Lebanon border, a 200-member group of Hezbollah fighter has been dispatched to the battlefronts in Aleppo.
Full Report at:
http://english.farsnews.com/newstext.aspx?nn=13940809000364
----------
ISIL Leaders Killed in Sweida
Oct 31, 2015
The army, backed by popular defense groups, destroyed a position of ISIL leaders in Tal Ishyhib al-Janoubi in the Northeastern countryside of Sweida on Friday, leaving all the terrorists dead.
Meanwhile, the army destroyed an ISIL vehicle in al-Qaser village in Sweida countryside.
Army officials declined to reveal any further details on how or how many leaders of the terrorist group were killed in the operation, but said the operation struck a heavy blow at the terrorists.
Full Report at:
http://english.farsnews.com/newstext.aspx?nn=13940809000303
----------
26 killed in attack on Iran opposition camp in Iraq: UN
October 31, 2015
UNITED NATIONS - At least 26 people were killed and many more wounded in a rocket attack on a camp housing members of a dissident Iranian organization near Baghdad, the United Nations said Friday.
According to Iraqi security sources, at least 15 rockets fired from an area west of Baghdad called Bakriya struck late Thursday in and around Camp Hurriya, also known as Camp Liberty. It was not clear who was behind the strike. "The Secretary-General condemns the attack yesterday on Camp Hurriya, near the Baghdad International Airport, which left at least 26 residents dead and many more wounded," Ban Ki-moon's spokesman said in a statement.
The former US military base near the international airport houses members of the People's Mujahedeen Organization of Iran (PMOI).
The PMOI sided with Saddam Hussein's Iraq during the war with Iran in the 1980s, but the 2003 US-led invasion brought to power leaders who despise the group. It successfully lobbied to be removed from the US terror list, but the more than 2,000 remaining dissidents at Camp Liberty are essentially stranded and demanding relocation.
Full Report at:
http://nation.com.pk/international/31-Oct-2015/26-killed-in-attack-on-iran-opposition-camp-in-iraq-un
----------
Saudi Arabia says Assad, Iran-backed foreign forces must quit Syria
October 31, 2015
RIYADH: Russia and Iran must agree to a date and means for Syria's President Bashar al-Assad to quit the country, and agree to withdraw all foreign forces from Syria, Saudi Arabia's Foreign Minister Adel al-Jubeir said in an interview with Sky News Arabia broadcast on Saturday.
Arch regional competitors Saudi Arabia and Iran, whose rivalry has been aggravated by their support for opposing sides in Syria, both took part in talks to find a peaceful solution for the country for the first time in Vienna on Friday.
Know more: Military campaign by Syria, allies vital to save ME: Assad
Jubeir said in the interview the Vienna talks, which will resume within two weeks, would show how serious Assad and his backers Iran and Russia were in seeking a peaceful solution to the crisis.
Full Report at:
http://dawn.com/news/1216629/saudi-arabia-says-assad-iran-backed-foreign-forces-must-quit-syria
----------
Iraqi Shi'ite militia claims attack on exiled Iranian opposition camp
30 Oct 2015
Group says 23 members killed near Baghdad airport
* United States, UN condemn attack
* PMOI once fought Iran, now seeks resettlement (Adds statements, colour, context)
BAGHDAD, Oct 30 (Reuters) - A Shi'ite Muslim militia in Iraq claimed responsibility on Friday for a deadly rocket attack on an exiled Iranian opposition group housed near Baghdad, according to Iran's Fars news agency.
At least 15 rockets crashed in and around the camp of the People's Mujahideen Organisation of Iran (PMOI) next to Baghdad International Airport on Thursday, killing 23 members, a Paris-based spokesman said.
"We warned the members of this terrorist organisation to leave Iraq as soon as possible ... If they don't do so, there will be more similar attacks," al-Mukhtar Army commander Wathiq al-Battat was quoted as saying by Fars.
Reuters could not independently verify the claim. Al-Mukhtar Army has said it receives funding from Tehran. Fars news agency is close to Iran's powerful Islamic Revolutionary Guards Corps.
Shahin Gobadi, the PMOI spokesman, accused "agents of the clerical (Iranian) regime inside the government of Iraq" of launching the attack and also placed responsibility on the Iraqi government and the United Nations.
An Iraqi government spokesman was not immediately available for comment.
Iranian-backed Shi'ite paramilitary groups, seen as a critical deterrent against Islamic State militants controlling about a third of Iraqi territory, hold wide sway in Iraq, a major OPEC producer.
The United States urged Baghdad to increase security at so-called Camp Liberty and to hold accountable those responsible for the attack. The United Nations also condemned the attack.
"This is a most deplorable act and I am greatly concerned at the harm ... inflicted on those living at Camp Liberty," U.N. High Commissioner for Refugees António Guterres said.
Rights group Amnesty International urged an investigation.
Videos posted online by PMOI's political umbrella appeared to show Thursday's attack and aftermath. In one clip, the whizzing of rockets can be heard followed by images of explosions and burning buildings.
Full Report at:
http://trust.org/item/20151030101704-zp38h/?source=search
----------
Divided over Assad, major powers meet on Syria war
October 31, 2015
VIENNA: Major world powers sought on Friday to overcome "deep divisions" over the Syrian war, with key regime backers Russia and Iran resisting Western and Saudi pressure to force President Bashar al-Assad from power.
Top diplomats from 17 countries, as well as the United Nations (UN) and the European Union (EU), gathered in a conference room of Vienna's Imperial Hotel for talks bringing together all the main outside players in the four-year-old Syrian crisis for the first time.
The meeting came as US officials said that the United States will deploy "fewer than 50" special operations forces to northern Syria in an advisory role.
The West and Gulf monarchies led by Saudi Arabia want Assad to step down, but Moscow and Tehran insist he has a right to play a role in an eventual transition towards a mooted unity government and later elections.
Russian President Vladimir Putin's spokesman Dmitry Peskov said Friday's talks were not about whether Assad should go.
"It is not the fate of Bashar al-Assad that is being discussed," he told reporters in Russia. "Any political settlement is hard to achieve before the forces of terrorism and extremism sustain a significant blow."
Iran's deputy foreign minister Hossein Amir Abdollahian also strongly denied reports that Tehran was ready to accept a scenario under which Assad would step down within six months, Iranian state television reported.
But Iran nevertheless joined the talks for the first time, in a sign of its growing diplomatic clout months after striking a landmark nuclear deal with world powers.
There were some signs of progress in Vienna, with Russia and Saudi Arabia exchanging a list of Syrian opposition groups with which they have contact, Russian deputy foreign minister Mikhail Bogdanov said, quoted by RIA Novosti state news agency.
'Very difficult'
US Secretary of State John Kerry sat at the head of the table for the meeting, which also included senior envoys from Turkey, Italy, Britain, Lebanon, Jordan, Russia, Iraq, Egypt, Germany, Qatar, France, the UAE, Oman and China.
The Syrian regime and the opposition were not represented at the discussions aimed at ending a war that has claimed a quarter of a million lives.
Just ahead of the talks, 40 people were killed Friday when rockets fired by Syrian government forces crashed into a market in a rebel-held area outside Damascus, the Syrian Observatory for Human Rights said.
Read: 40 dead as Syria government rockets hit Damascus suburb: monitor
Kerry, while warning against expectations of an immediate solution, said he was hopeful about the talks.
"I don't call it optimism. I am hopeful that we can find a way forward. It is very difficult," he said ahead of the main meeting.
Full Report at:
http://dawn.com/news/1216427/divided-over-assad-major-powers-meet-on-syria-war
----------
In a policy shift, US sending special forces into Syria
October 31, 2015
WASHINGTON - US President Obama will deploy a small number of American Special Operations forces to Kurdish-controlled territory in northern Syria to help local forces fight the Islamic State, the White House announced on Friday.
The group of fewer than 50 troops will "help coordinate local ground forces and coalition efforts" to fight Islamic State in Iraq and Syria (ISIS) forces, a senior administration official said.
The move would put US boots on the ground in Syria for the first time since that country's civil war began.
The US is also deploying A-10s and F-15s to Incirlik Air Base in Turkey, and is working with Iraq to create a special forces task force to "enhance our ability to target ISIL leaders and networks," the official said, using an alternative acronym for ISIS. The decision comes as the administration ramps up its military campaign against ISIS, which controls large parts of both the countries.
Although the US has already been advising local forces in Iraq, this would mark a new mission in Syria, where the US has been conducting airstrikes and equipping moderate Syrian rebels.
At the President's direction, the administration has been looking at ways to intensify our counter-ISIL campaign," an administration official said.
"In that effort, we have been focused on intensifying elements of our strategy that have been working, while also moving away from elements of our approach that have proven less effective.
The official said Secretary of State John Kerry is also increasing diplomatic efforts to pursue a political resolution.
"Our intensified counter-ISIL campaign will support those efforts by continuing to strengthen Opposition partners on the ground, while also coordinating the efforts of our coalition partners," he said.
House Armed Services Committee Chairman Mac Thornberry, a Republican, said that the "more serious effort" against ISIS was overdue, but questioned the effectiveness of the administration's plan.
"I do not see a strategy for success, rather it seems the administration is trying to avoid a disaster while the President runs out the clock," he said in a statement.
Senator Tim Kaine, a Democrat, struck a similar note.
"[It's] time for the administration to propose a unified strategy that addresses the intertwined challenges posed by ISIL and President (Bashar) Assad," he said.
Last week, US special operations forces participated in a raid in Iraq with Kurdish Peshmerga forces to rescue Iraqi hostages.
An Army Delta Force commando was killed in the mission.
Earlier this week, Defence Secretary Ashton Carter told members of Congress that the US expects to do more raids — either partnered or unilaterally, and defence officials indicated they would be increased in both Iraq and Syria.
A progressive groups slammed the decision as a "broken promise" by the President.
"Putting boots on the ground in Syria is both a broken promise by the President and bad policy," said Zack Malitz, campaign manager at CREDO Action.
"In 2013 President Obama stated unequivocally that he would 'not put American boots on the ground in Syria,'" Malitz continued.
Full Report at:
http://nation.com.pk/national/31-Oct-2015/in-a-policy-shift-us-sending-special-forces-into-syria
----------
Syrian Army Gearing Up to Block Terrorists' Flow from Jordan to Daraa
Oct 31, 2015
The army units destroyed the terrorists' positions in an area near the Sa'ad ibn Abi Vaqqas Grand Mosque, Yarmouk School and stone factory in Daraa al-Balad in Northern parts of Daraa city.
The Syrian troops also destroyed the terrorists' positions in the Southern parts of Kharbe Ghazaleh town.
Meantime, Syrian MP Faisal Azour said that the Syrian army's advances in the South and frequent defeats of terrorists all indicate the terrorist groups have been defeated, specially in Daraa.
Military sources said that the ongoing clashes in Daraa will continue until the terrorists are fully defeated.
On Friday, large groups of militants were reportedly killed in a Syrian army offensive in the Daraa.
Full Report at:
http://english.farsnews.com/newstext.aspx?nn=13940809000445
----------
Russian Jets Bomb Militants' Positions in Daraa
Oct 31, 2015
Russian warplanes conducted airstrikes against positions of terrorist groups in the towns of Kafr Nissaj, Tal Al-Harrah, Tal Antar, Sheikh Miskeen and Kafr Nissaj, paving the ground for the Syrian army troops to regain full control over the towns.
On Friday, the army targeted terrorists' positions in Mukhayam al-Nazihin neighborhood in Daraa city, killing all members of a terrorist group and destroying their weapons and munitions.
Full Report at:
http://english.farsnews.com/newstext.aspx?nn=13940809000451
----------
Syrian Forces, Allies Winning Battle against Militants near Kuweires Airbase in Aleppo
Oct 31, 2015
The sources said that the Syrian soldiers, the National Defense Forces (NDF) and Lebanese Hezbollah fighters have seized back dozens of buildings in the town of Sheikh Ahmad after taking full control over the Southern and Central regions of the town.
In the meantime, the ISIL positions in Sheikh Ahmad and around the Kuweires airbase have been bombed by the Russian jets, which have resulted in heavy death toll of the terrorists.
The sources further added that the government forces are not very far from the airbase and are soon to end the over two-year-long siege on Kuweires.
Full Report at:
http://english.farsnews.com/newstext.aspx?nn=13940809000438
----------
Iraq: Foreign ISIL Members Fleeing Al-Anbar
Oct 31, 2015
"Given widening differences between the local terrorists and their teammates who have come to Iraq from Arab and non-Arab countries to kill the Iraqi people, we are witnessing a serious collapse in the ranks of ISIL elements in Anbar," Spokesman of Ansar al-Najba resistance movement Hashim al-Moussavi told FNA on Saturday.
According to al-Hashemi, such disputes have facilitated the Iraqi forces' successful operations against the ISIL positions in the country.
Also, field reports said that the Iraqi army and popular forces' positive advances in Anbar have made the foreign terrorists to withdraw from the Western province.
Reports earlier this week said that Iraq's army and al-Hashid al-Shaabi popular forces regained full control over several strategic bases of ISIL terrorists in Anbar.
The Iraqi forces retook the ISIL bases in the areas of East Haseebah, al-Sajariyyah, Theela and Al Sufiyyah, East of the city of Ramadi, and killed dozens of the militants and destroyed scores of their armed vehicles, informed sources said.
Full Report at:
http://english.farsnews.com/newstext.aspx?nn=13940809000226
----------
Terrorists' Positions Destroyed in Syrian Operations in Daraa
Oct 31, 2015
On Friday, the army targeted terrorists' positions in Mukhayam al-Nazihin neighborhood in Daraa city, killing all members of a terrorist group and destroying their weapons and munitions.
The Syrian troops also destroyed militants' positions in the areas of Daraa al-Mahata area and Daraa al-Balad in Daraa city.
Full Report at:
http://english.farsnews.com/newstext.aspx?nn=13940809000225
----------
Army Inflicts Heavy Losses on Terrorists in Several Provinces
Oct 31, 2015
Tens of terrorists were killed and dozens more were wounded in the Syrian army's military operations across Syria on Friday.
Lattakia
The Syrian army killed tens of Takfiri terrorists and wounded dozens more in a counteroffensive in the Lattakia province on Friday.
The Al-Nusra Front terrorists stationed near the strategic region of Salma attacked the Syrian army's positions in Kafar Dalbeh village, but were repelled.
The army troops pushed the militants to a region located between Salma and Kafar Dalbeh and then pounded them with missiles and mortar shells, killing all of them, FNA dispatches from the battlefield said.
The Syrian army is still in full control over the farms and buildings surrounding the Salma region.
Aleppo
The Syrian army and the Lebanese Hezbollah resistance forces opened their way into the strategic town of Khan Touman in the province of Aleppo on Friday.
The army and the resistance forces killed hundreds of the foreign-backed terrorists in the battle over capturing Khan Touman.
Heavy clashes between the Syrian army and the terrorists are currently underway in Khan Touman.
Battlefield reports said the army and the resistance forces have earned the upper hand and seem to take full control of Khan Touman in the coming hours.
Fierce clashes in at least four districts in the Northern Aleppo city between the Syrian Army troops and the militants of the al-Nusra Front ended in heavy casualties of the terrorist group, field sources said.
The sources said that Assakhour, Ramouseh, Karm Houmid and Karm al-Tarab in the Aleppo city were the scenes of heavy clashes between the Nusra militants and the Syrian soldiers, in which Nusra suffered heavy death toll.
Idlib
The Syrian Army announced that its forces carried out a wide-scale operation against the strongholds of the al-Qaeda-affiliated al-Nusra Front in the Southern parts of the Northwestern province of Idlib, killing at least 11 terrorists.
The army said that al-Nusra Front sustained heavy death toll as a resulted of massive attack of the Syrian soldiers on their positions in Kfarsijneh and Maaret Hermeh villages.
The sources further confirmed death of over 11 Nusra militants in the abovementioned battlefields.
Military sources in the Northwestern province of Idlib said that at least 23 militants were killed in the Syrian Army's offensives in Kansafra village.
The gathering centers of the militant groups came under vast offensives of the Syrian army troops near Kansafra village, leaving over 23 militants dead and many others wounded.
Daraa
All members of a terrorist group were killed in the Syrian Army attack in Western parts of Mzeirib town in Southern Dara'a province, local officials declared on Friday.
The sources said that the militants' gathering centers in the Northwestern parts of Dara'a in Mzeirib town were massively raided by the army troops, leaving all members of the group dead.
Homs
Dozens of ISIL militants were killed or wounded in fierce clashes with the Syrian National Defense Forces (NDF) in the desert town of Maheen.
Full Report at:
http://english.farsnews.com/newstext.aspx?nn=13940809000382
----------
Syrian Warplanes Pound Militant Centers in Damascus Countryside
Oct 31, 2015
The hideouts of Jeish al-Islam militants were heavily bombed by the Syrian warplanes in Douma in Damascus countryside, leaving scores of them dead or wounded, sources said.
On Friday, the army announced that its forces' operations near Darayya town in Damascus countryside resulted in the killing of at least nine militants and wounding of many others.
Full Report at:
http://english.farsnews.com/newstext.aspx?nn=13940809000304
----------
Russia says hit 1,623 targets in Syria in bombing campaign
30 October 2015
Russia on Friday said its airforce had destroyed 1,623 "terrorist targets" in Syria in a month-old bombing campaign to support forces loyal to President Bashar al-Assad.
"Overall our planes made 1,391 sorties, destroying 1,623 terrorist targets," including 51 training camps and 131 storage facilities, Andrei Kartapolov, a senior defence ministry official, said in televised comments.
Kartapolov added that 249 communication and command posts, 35 car bomb workshops, 371 fortified positions and 786 field camps and bases were also destroyed.
Russia has carried out strikes since September 30, publishing nearly daily information about the campaign it says targets primarily Islamic State of Iraq and Syria (ISIS) jihadists.
The U.S. and its allies -- which are carrying out a separate bombing campaign -- says Moscow has however concentrated on other groups which oppose both IS and Assad.
The Russian military has claimed its strikes have caused panic and mass desertion among the terrorist ranks, but the Syrian army's ground offensive has seen mixed results as it lost ground after capturing several towns earlier this month.
Full Report at:
http://english.alarabiya.net/en/News/middle-east/2015/10/30/Russia-says-hit-1-623-targets-in-Syria-in-bombing-campaign-.html
----------
South Asia
Bangladesh Pushes Back as Warnings of ISIS Expansion Gather Steam
By ELLEN BARRY
OCT. 30, 2015
DHAKA, Bangladesh — Last month, United States officials told Bangladeshi authorities that they had information suggesting that terrorists linked to the Islamic State were preparing to ramp up activity within Bangladesh's borders.
In the days that followed, a series of unusual attacks and threats seemed to substantiate the warnings. An Italian aid worker was fatally shot in this city's diplomatic zone. A Japanese agriculturalist was shot in the north of the country. Last Saturday, a bomber sneaked into a huge gathering of Shiite Muslims, weaving through rings of police officers before killing a teenage boy and wounding dozens of other people.
After each attack, claims of responsibility by the Islamic State appeared on social media accounts believed to be used by radicals.
But Sheikh Hasina, Bangladesh's prime minister, has responded to the developments with suspicion and outright skepticism. Even as foreign embassies informed their citizens that they could become terrorist targets, Bangladeshi officials have insisted that the Islamic State, also known as ISIS or ISIL, does not exist in their country. They have noted, pointedly, that the United States has promulgated flawed intelligence in the past, as in the run-up to the Iraq invasion.
Instead, Ms. Hasina has described the episodes as a conspiracy by domestic opposition leaders to tarnish her government's reputation.
"Bangladesh is moving ahead and it'll do so," she said on Wednesday. "Let me say one thing: The march forward of Bangladesh can't be stopped by hurling two bombs or five eggs. Those who are thinking this are making a mistake."
The disconnect between Bangladesh and foreign intelligence agencies has confused Bangladeshis and foreigners alike, and could complicate efforts to prevent the expansion of international terrorist organizations in South Asia. Their emergence here could be devastating, derailing years of steady economic growth and potentially spilling into India and Pakistan.
Full Report at:
http://nytimes.com/2015/10/31/world/asia/bangladesh-isis-terrorism-warnings.html?partner=rssnyt&emc=rss
----------
Drone strike kills top al-Qaeda commander in Kunar
By KHAAMA PRESS - Sat Oct 31 2015
A top al-Qaeda commander, Bilal al-Taib, has been killed in a drone strike in eastern Kunar province of Afghanistan.
The province's police chief said that the al-Qaeda commander was targeted in Dareen area of Ghazi Abad District on Friday.
The al-Qaeda commander was a foreign national but two of his body guards killed with him were Afghans, Brigadier General Abdul Habib Sayedkhil said on Saturday.
Drone strikes in Afghanistan are usually carried out by U.S. forces but they had not commented on the report by the time it was filed.
U.S. drone strikes have killed several other important commanders of al-Qaeda network in Kunar province in the past.
Full Report at:
http://khaama.com/drone-strike-kills-top-al-qaeda-commander-in-kundar-4062
----------
Sri Lankan Muslims Will Be Included Under Reconciliation Process: Foreign Minister
T. RAMAKRISHNAN
October 30, 2015
Muslims of Sri Lanka will be an integral part of the proposed truth, justice, reparations and non-recurrence process [which will be set up to go into allegations of human rights violations during the last phase of the country's civil war], according to Foreign Minister Mangala Samaraweera.
"Muslims' grievances and concerns will be a part of the consultations, design and operationalisation of the domestic mechanisms including the Commission for Truth, Justice, Reconciliation and Non-recurrence, the Judicial Mechanism, the Office of Missing Persons and the Office of Reparations," Mr Samaraweera told a function held by the Sri Lanka Muslim Congress to mark 25th anniversary of Muslims' expulsion by the Liberation Tigers of Tamil Eelam (LTTE) from the Northern Province.
Full Report at:
http://thehindu.com/news/international/muslims-grievances-will-be-taken-into-account-says-sri-lanka-foreign-minister/article7823543.ece
----------
Myanmar's 'Muslim-free' election
OCTOBER 29, 2015
Myanmar's main opposition party, led by the Nobel laureate Aung San Suu Kyi, deliberately bypassed Muslim candidates ahead of the November election, a senior party member told Al Jazeera's Investigative Unit.
Speaking on the condition of anonymity, the source said Suu Kyi ordered an "Islamic purge" in the National League for Democracy (NLD) to appease growing anti-Muslim sentiment fuelled by hardline Buddhist nationalists.
Not one of the NLD's 1,151 candidates standing for regional and national elections is Muslim, despite there being around five million Muslims – or between 4 and 10 percent of the population – in the country.
There are also no Muslim candidates in the military-backed, governing Union Solidarity and Development Party (USDP) running in what has been billed as the country's first free and fair general election in 25 years.
In the run-up to the vote, local election commissions reportedly rejected dozens of Muslim candidates with authorities denying that their parents were citizens, claims which many of the shunned candidates denied.
"I think Suu Kyi is a bit concerned about the Ma Ba Tha, so it became an Islamic purge here," said the source.
The Ma Ba Tha is an increasingly effective, ultranationalist Buddhist movement, also known as 'The Association for the Protection of Race and Religion', whose outspoken members are known for their bitter speeches attacking the ethnic minority Muslim Rohingya.
"Islamic people have been persecuted," said the source. "A party should have all kinds of people and all kinds of religions."
Disenfranchised
Suu Kyi, 70, won the Nobel Peace Prize in 1991, for her non-violent struggle for democracy.
Her silence on the marginalisation of the Rohingya and general exclusion of Muslims, however, has drawn criticism.
"The anti-Muslim monks are becoming stronger and stronger," said the source, adding that authorities should crack down on what the source called extremist members of the Ma Ba Tha instead of "sponsoring them".
Win Htein, a senior NLD member who is coordinating its campaign, told Al Jazeera that the party decided that to secure the best chance of winning, Muslims would have to be left out.
"In the present climate, we believe that it is a better strategy to win by leaving out Muslims candidates in coming election," he said, claiming that potential candidates of the Islamic faith had "agreed to that".
Some 15 Rohingya candidates were barred in August from running, again on account of their parents being 'foreign-born'.
Earlier this year, the government effectively disenfranchised about 700,000 people, mostly Rohingya, when it declared holders of "white cards" ineligible to vote. The cards had been issued as temporary identification documents, and white-card holders had been permitted to vote in the 2010 elections.
"Rohingya Muslims have been removed from the elections by the USDP where they used to participate. You could say that where Islam is concerned, everyone – the monks and the government – is united.
Full Report at:
http://mareeg.com/myanmars-muslim-free-election/
----------
Daesh-fired rocket kills six worshippers in Nangarhar's Achin District
By KHAAMA PRESS - Sat Oct 31 2015,
Six worshippers have been killed and four others wounded after a Daesh-fired rocket landed on a mosque in Achin District of eastern Nangarhar province, an official said on Saturday.
Governor of Achin District said that the incident took place in Pandola area Friday afternoon.
He said dozens of people were at the mosque to offer prayers when a rocket hit the mosque.
The rocket was fired by Daesh (Islamic State), he said, adding that, the target was a security post but it hit the mosque.
Those wounded in the incident have been admitted to hospital for treatment, the governor said.
Full Report at:
http://khaama.com/daesh-fired-rocket-kills-six-worshippers-in-nangarhars-achin-district-4066
----------
Security forces rebuff Taliban attack on Nooristan's Barg-e-Matal District
By KHAAMA PRESS - Sat Oct 31 2015
Afghan security forces have rebuffed a coordinated attack of Taliban militants on Barg-e-Matal District of eastern Nooristan province, Ministry of Defense (MoD) and the province's governor said on Saturday.
A statement released by MoD states that group of militants launched a coordinated attack on security posts in Barg-e-Matal District around 05:00 am, adding that security forces responded to the assault leaving several attackers killed and wounded.
MoD statement does not contain specific number of the casualties suffered by Taliban but Hafiz Abdul Qayoum who is the governor of Nooristan says that 30 attackers were killed.
He said some of the dead bodies were left behind by the attackers.
He confirmed that three Afghan National Army soldiers embraced martyrdom and six others sustained injuries in the gun battle.
Full Report at:
http://khaama.com/security-forces-rebuff-taliban-attack-on-nooristans-barg-e-matal-district-4065
----------
SCF demands withdrawal of AI statement on war crimes
October 31, 2015
Sector Commanders Forum (SCF) today demanded that Amnesty International withdraw its October 27 statement regarding the trials of two condemned war criminals -- Ali Ahsan Mohammad Mojaheed and Salauddin Quader Chowdhury.
Otherwise, SCF will announce tough programmes against the International Human rights organisation, SCF secretary general Haroon Habib said at a human chain programme at Jatiya Press Club.
According to the AI report, "In 2013, Ali Ahsan Mohammad Mojaheed and Salauddin Quader Chowdhury were sentenced to death by the country's International Crimes Tribunal (ICT) on charges of war crimes and genocide at trials that failed to meet international standards for fair trial."
Full Report at:
http://thedailystar.net/country/scf-demands-withdrawal-ai-statement-war-crimes-165139
----------
2 'Shibir men' held with 101 crude bombs in Sylhet
October 31, 2015
-- Cops conduct drives in Fenchuganj
-- 101 crude bombs recovered
-- 2 Shibir men held
Police have detained two alleged activists of Islami Chhatra Shibir with 101 crude bombs and 2 pipe guns in Fenchuganj upazila of Sylhet.
The detainees are Mozammel Hossain and Rumman Miah, both aged between 20 and 22, Bangla daily Prothom Alo reports quoting police.
Full Report at:
http://thedailystar.net/country/2-shibir-men%E2%80%99-held-101-crude-bombs-sylhet-165115
----------
Mideast
Iran Confirms Death Penalty for Sunni Preacher, Shahram Ahmadi
30 October 2015
Iran's Supreme Court this week confirmed the death penalty of a Sunni preacher arrested in 2009, according to Al Arabiya News Channel.
The court issued the final verdict for Shahram Ahmadi, who was first charged in 2012, on Oct. 25.
Ahmadi, who was a prisoner of conscience, was held in solitary confinement for 33 months in Tehran's notorious Evin prison, before being transferred to Rajai Shahr prison in the nearby city of Karaj.
Full Report at:
http://english.alarabiya.net/en/News/middle-east/2015/10/30/Iran-confirms-death-penalty-for-Sunni-preacher.html
----------
Two anti-Daesh Syrian activists found beheaded in S Turkey
Oct 31, 2015
Two Syrian anti-Daesh activists have been found beheaded in a house in southern Turkey.
The bodies of 20-year-old activist Ibrahim Abdulqader and Fares Hamadi, also in his 20s, were found in Hamadi's apartment in the city of Sanliurfa, nearly 60 kilometers from the Turkish border with Syria, Al-Jazeera reported Friday, citing an anti-Daesh activist group called "Raqqa is Being Slaughtered Silently (RBSS)."
Raqqa is a northeastern Syrian province and also a city heavily controlled by the foreign-backed Daesh terrorist group.
The RBSS said the incident in Turkey was the first such attack on its members in Turkish territory, where Daesh reportedly maintains presence.
Several members of the activist group had been murdered inside Syria and around Raqqa in the past; but the Friday killings were the first against RBSS members outside the country.
A Raqqa native, Abdulqader fled his hometown to Turkey while studying for his high school diploma in late 2013, after he was arrested and tortured by Daesh forces.
Having been formed in April 2014, shortly after the Takfiri terror group began to consolidate control over Raqqa, the RBSS runs a network of secret correspondents that operate in and around the city and provide accounts of Daesh atrocities in the area.
Full Report at:
http://presstv.ir/Detail/2015/10/31/435703/Turkey-antiDaesh-activists-Sanliurfa-beheading-Raqqa-RBSS
----------
Yemeni forces carry out retaliatory attacks on Saudi military positions
Oct 31, 2015
Yemenis have targeted the positions of Saudi forces both inside Yemen and on Saudi soil, inflicting heavy losses on them in a new series of retaliatory attacks.
A Yemeni military source, whose name was not released in reports, said army troops and fighters from allied Popular Committees destroyed a number of bases and arms depots used by Saudi forces in an area situated between Yemen's central province of Ma'rib and al-Jawf Province in the north on Friday.
The attack left an unspecified number of Saudi military forces dead and injured, Yemen's Saba Net news agency reported.
Meanwhile, the Yemeni army foiled the advance of the Saudi military on the country's southern region of At Tabab, killing three Saudi troops and detonating two Saudi armored vehicles loaded with explosives.
In addition, several Saudi soldiers were wounded in rocket attacks on their base in Saudi Arabia's southwestern region of Jizan. Other bases in the Saudi region of Najran also came under attacks by the Yemeni forces.
Elsewhere on the battlefield, Yemeni troops also killed a number al-Qaeda militants and Takfiri Daesh terrorists, destroying their hideouts in the Az Zahir dirstrict of the central al-Bayda province.
Yemeni forces seized weapons and military equipment from the terrorists.
Saudi aggression
The Yemeni operations come as Saudi fighter jets continue to pound different areas across Yemen.
Full Report at:
http://presstv.ir/Detail/2015/10/31/435696/Yemen-Saudi-Arabia-Marib-Saada-Bayda
----------
Iran threatens Arabs as much as Islamic State: Bahrain FM
Oct 31, 2015
MANAMA: Iranian support for subversion in Arab states is as big a threat to the region as the self-styled Islamic State (IS) group, Bahrain's Foreign Minister Sheikh Khaled bin Ahmed Al Khalifa said on Saturday at a security conference in Manama.
"These actions are no less a threat to us than Daesh," he said, using the Arabic acronym for the group and accusing Iran of smuggling arms into Bahrain.
He added that the Houthi militia in Yemen, which Gulf states are fighting and accuse of being a proxy for Iran, which the group and Tehran both deny, can have a future in the country so long as it disarms and participates in a political solution.
US focused on 'objectionable' Iranian actions in wake of nuclear deal
US Deputy Secretary of State Antony Blinken said on Saturday the United States remained "laser focussed" on what he called objectionable Iranian actions including support of terrorism in the region in the wake of its nuclear deal with major powers.
Full Report at:
http://dawn.com/news/1216626/iran-threatens-arabs-as-much-as-islamic-state-bahrain-fm
----------
Iranian Deputy FM Terms Vienna Meeting Start of Good, Constructive Talks on Syria
Oct 31, 2015
"The meeting can herald the start of good and constructive multilateral talks," Amir Abdollahian told reporters in Vienna on Friday after Iranian Foreign Minister Mohammad Javad Zarif and his Russian and American counterparts, Sergey Lavrov and John Kerry, as well as European Union Foreign Policy Chief Federica Mogherini ended their meeting on Syria.
"At the end of the Vienna talks, it was decided that such meetings continue in the same form or within the framework of a contact group," he added.
Amir Abdollahian also underlined that the important points in the statement issued by the Iranian and his foreign counterparts were the emphasis laid on the Syrian people's role in deciding their own fate, the important role of the UN in the political process in Syria and the necessity for all countries' assistance to Syria to fight against the terrorist groups.
Following the talks on Friday, Zarif strongly rejected allegations that Iran has accepted a time plan for the stepping down of the Syrian President.
Zarif said he had told Kerry that Iran was opposed to specification of a timetable for Syrian President Bashar al-Assad to leave power, and added, "We don't confirm such issues and don't allow certain people to misuse this meeting to release false news."
Also, on Thursday, the Iranian top diplomat underlined that Tehran had been invited to attend the Vienna conference without accepting any conditions.
Full Report at:
http://english.farsnews.com/newstext.aspx?nn=13940809000431
----------
Turkey has 'killed 2,000 militants' at home and abroad
30 October 2015
Turkey has killed around 2,000 militants in recent operations inside and outside its borders and the operations will continue, President Tayyip Erdogan said on Friday.
"Now 2,000 terrorists have been killed inside and outside of the country," Erdogan said in comments broadcast by television station AHaber.
Full Report at:
http://english.alarabiya.net/en/News/middle-east/2015/10/30/Turkey-killed-2-000-militants-at-home-and-abroad.html
----------
Palestinian baby dies from Israeli army tear gas
30 October 2015
An eight-month-old Palestinian boy died Friday after being exposed to tear gas fired by the Israeli army near his West Bank home, a spokesman for the Palestinian health ministry told AFP.
Full Report at:
http://english.alarabiya.net/en/News/middle-east/2015/10/30/Palestinian-baby-dies-from-tear-gas-fired-by-Israeli-army.html
----------
India
India to review personal laws for Muslims 'to rectify gender biases'
Samanth Subramanian
October 30, 2015
NEW DELHI // India's supreme court has announced that it will review the country's personal law code for Muslims, in what it says is an attempt to rectify any biases against women.
A two-judge bench mentioned polygamy and the ease of divorce as particularly problematic, and potentially in conflict with the constitution's stipulation against gender discrimination. Where such conflict is found to occur, following examination by judges, the supreme court has the power to strike down personal laws.
For a Muslim woman, "there is no safeguard against arbitrary divorce and second marriage by her husband during currency of the first marriage, resulting in a denial of dignity and security to her," judges AR Dave and AK Goel wrote in a note to chief justice of India HL Dattu, the supreme court's highest ranking judge.
Mr Dave and Mr Goel have also issued notices for legal opinions to the government's attorney general and the National Legal Services Authority – which provides free legal aid to the disadvantaged – and has asked them to respond by November 23.
Laws governing most family matters, known as personal laws, have differed from religion to religion in India since the 18th century. Laws relating to adoption, domestic violence and child marriage have been amended or struck down by the courts since the country gained independence in 1947, but in other matters, Indians follow laws derived from their own religion's teachings.
But in their note to Mr Dattu last week, judges Dave and Goel said that "laws dealing with marriage and succession are not part of religion".
"Law has to change with time," they added, referring to another supreme court judgement from October 13 for support.
However, while the supreme court is able to review individual personal laws and determine them to be unconstitutional, only parliament can implement a uniform civil code.
In the October 13 judgment, which followed a petition from a Christian couple challenging the personal law that requires them to go through two years of separation before formalising their divorce, judges Vikramjit Sen and Shiva Kirti Singh pressed the government on whether it was willing to push for a uniform code of personal law.
Couples from religious groups other than Christianity are only required to go through one year of separation before being granted a divorce.
"There's total confusion," the judges said to the lawyer appearing for the government. "If you want to do it, then you should do it. Why don't you frame and implement it?"
Article 44 of the Indian constitution – which came into force in 1950 – explicitly instructed the state to "endeavour to secure for the citizens a uniform civil code throughout the territory of India".
Full Report at:
http://thenational.ae/world/south-asia/india-to-review-personal-laws-for-muslims-to-rectify-gender-biases#full
----------
IS recruiter from Hyderabad dreams of global caliphate
Neeraj Chauhan
Oct 31, 2015
NEW DELHI: Afsha Jabeen, the first woman Islamic State (IS) recruiter to be held in India, had deeply imbibed the terror outfit's religious extremism, fervently believing that a global caliphate would be established some day and that beheading of Iraqi Shia soldiers had sanction under Islamic law.
Investigators said the interrogation of Jabeen (38), known in the virtual world as 'Nicky Joseph', revealed the mind of a committed "religious fanatic" who experienced great joy when IS emir Abu Bakr al-Baghdadi declared a self-proclaimed caliphate in Iraq and Syria but who nevertheless was reluctant to travel to Iraq and Syria herself.
"I like a caliphate where Sharia law is enforced... the election of caliph will be done by Shura council rather than namesake democracy," Jabeen, who was deported from the UAE recently, is understood to have told Intelligence Bureau (IB) officials.
Interrogation reports accessed exclusively by TOI show Jabeen, who is from Hyderabad, and her partner in crime Salman Mohiuddin (33) explain in detail about how belief in a religious state led them to motivate young boys and girls from different parts of the country to join IS while using Christian names to gain "converts" from Christianity.
Their accounts bolster the apprehension of security agencies that IS is a powerful rallying point for extremism with internet-based proselytisation providing easy access to the extreme ideology that seeks a return to a version of puritan Islam of the 7th century. Indian intel agencies are increasingly concerned that some recruits may be motivated to stage attacks in India.
While Jabeen strongly believed in IS's ideology of jihad with its often literalist interpretation of Islam, she herself had no interest in going to Iraq and Syria. However, Salman, who recruited youngsters online along with Jabeen through different Facebook pages including 'Revelations and Hadith', 'Islam vs Christianity, a friendly discussion', 'Moderators vs Liberals', 'Daula News Room', 'Daula Islamiya' among others, had even suggested that they both fight alongside IS by crossing the Turkey border.
Jabeen refused saying "I am happily married and I have no plans to go to Syria". She had, in fact, hidden her identity from Salman, claiming to be British and did not share her mobile or landline numbers. Salman, who was in love with her and wanted to marry her, was caught by security forces in January from Hyderabad while Jabeen was deported by the UAE last month.
The Facebook pages had many followers — 'Daula News Room' had 188 followers, 'Islam vs Christianity' had 2,800 members and about 50,000 followers — and a large number of young boys and girls from different places like Delhi, Mumbai, Hyderabad and Kashmir were part of discussions in the groups. A 17-year-old Pakistani girl was also an active member of Jabeen's FB group apart from two students from Delhi. All these groups/pages were later removed by Facebook.
Full Report at:
http://timesofindia.indiatimes.com/india/IS-recruiter-from-Hyderabad-dreams-of-global-caliphate/articleshow/49603290.cms
----------
Under RSS, India is becoming mirror image of Pakistan, says Irfan Habib
Uday Rana
Oct 31, 2015
A day after more than 50 historians from across India, including eminent names like Romila Thapar, BD Chattopadhyaya, Upinder Singh, MGS Narayanan and DN Jha, issued a statement expressing concern about the "highly vitiated atmosphere prevailing in the country, characterized by various forms of intolerance", eminent historian Irfan Habib, who was one of the signatories to the statement, told Uday Singh Rana he was concerned that religious and caste minorities are being persecuted and India is turning into a mirror image of Pakistan under RSS rule.
Here are the edited excerpts of the interview:
The historians in their joint statement had said this government wants a "legislated history". What motive does the government has to distort history?
This is a government that is controlled by the Rashtriya Swayamsevak Sangh (RSS). It is no secret that MS Golwalkar, the ideological fountainhead of the RSS, was an admirer of Adolf Hitler and the Nazi Party. This government is now trying to realize Golwalkar's dream. Just like in Nazi Germany, they are using propaganda to spread paranoia. I fear that history is repeating itself. They have created a very strong Hindu-communal ideal. The RSS is just communal, not patriotic. The country needed their patriotism before 1947, during the national movement. They were absent then.
What are the means they are adopting to distort history? Are they too subtle for the common people to understand?
No. I think it is fairly obvious to everyone now. I think it is very disturbing when the prime minister of the country says something as unscientific as asserting that Lord Ganesha got plastic surgery done. For all his faults, Atal Bihari Vajpayee never said anything this ridiculous. Narendra Modi is much worse. They have been demanding to get the name of Aurangzeb Road changed for a long time and they finally managed to get it done. Curiously, they have never targeted other kings such as Man Singh, who should be regard as a traitor by them since he fought against Maharana Pratap. The reason they try to demonize Aurangzeb is that he was a Muslim king. They want to prove that historically, Muslims are foreigners.
But intellectuals and creative personalities have been accused of selective outrage. It is not that communal violence and tension did not exist before Narendra Modi became the prime minister.
Full Report at:
http://timesofindia.indiatimes.com/india/Under-RSS-India-is-becoming-mirror-image-of-Pakistan-says-Irfan-Habib/articleshow/49603299.cms
----------
Jammu & Kashmir: FIR against eight students for raising pro-Pakistan slogans
by Arun Sharma
October 31, 2015
The Jammu and Kashmir Police have started looking for eight Class 12 students who on Thursday raised pro-Pakistan slogans during school hours, leading to tension at Sial Sui in Kalakote area of Rajouri district. A case has been registered against the eight students following a written complaint by Anil Kumar Gujral, Principal of Government Higher Secondary School at Sial Sui. The complaint was lodged after students opposed to the sloganeering protested along with some local residents, including panchayat members led by their Sarpanch, at the school, leading to the Tehsildar and the SHO concerned visiting the school and pacifying them.
Full Report at:
http://indianexpress.com/article/india/india-news-india/j-k-police-on-lookout-for-students-who-raised-pro-pakistan-slogans/
----------
Hindus, Muslims should stand united: Kanchi Math head
Sanjib Kr Baruah
Oct 31, 2015
The head of one of India's leading Hindu monastic institutions, the Shankaracharya of the Kanchi Kamakoti Peetham, said it was time for the Hindus and Muslims to stand together.
"This is a time for both Hindus and Muslims to stand as one. Despite differences, they have to realise that their aims are the same. National unity is pertinent," Jayendra Saraswathi, the 69th pontiff of the Kanchi Math told HT when asked for his views on the level of tolerance in the country, amid incidents like the Dadri lynching and the Sena's attack on Sudheendra Kulkarni.
The 82-year-old seer's statement is considered to be significant due to his reported proximity to the leaders of the RSS and the VHP.
When asked about scientists, artists, historians, writers, and other eminent personalities returning the awards given to them by the government in the last few days to protest against a "vitiated and intolerant" atmosphere in the country, the Shankaracharya said it was not right on their part to be returning the awards.
"They should not be returning the awards. Perhaps, they are not thinking right," he said. Before driving down to Delhi, the Shankaracharya was in Haridwar for a religious congregation.
Full Report at:
http://hindustantimes.com/india/hindus-muslims-should-stand-united-kanchi-math-head/story-JSMBNnLmEZcTXGVnWIvZ9L.html
----------
'Reconciliation process will include Muslims'
T. RAMAKRISHNAN
October 31, 2015
Sri Lankan Muslims will be an integral part of the proposed truth, justice, reparations and non-recurrence process, according to the country's Foreign Minister Mangala Samaraweera.
"Muslims' grievances and concerns will be a part of the consultations, design and operationalisation of the domestic mechanisms including the Commission for Truth, Justice, Reconciliation and Non-recurrence, the Judicial Mechanism, the Office of Missing Persons and the Office of Reparations," Mr. Samaraweera said at a function held by the Sri Lanka Muslim Congress to mark 25th anniversary of Muslims' expulsion by the LTTE from the Northern Province.
http://thehindu.com/todays-paper/tp-international/reconciliation-process-will-include-muslims/article7824856.ece
----------
Pakistan
Threat to KSA to evoke strong response from Pakistan: COAS
October 31, 2015
JHELUM - Chief of Army Staff (COAS) Gen Raheel Sharif on Friday reiterated that any threat to the sovereignty and territorial integrity of Saudi Arabia will evoke a strong response from Pakistan.
"Pakistan and Saudi Arabia enjoy strong and brotherly relations which have a long history of deep rooted cooperation," the army chief was quoted as saying in a statement issued by the military's media wing Inter Services Public Relations (ISPR) on Friday. Gen Raheel's comments came during his visit to the National Counter-Terrorism Centre, Pabbi near Jhelum, where he witnessed the concluding session of "Pak-Saudi Joint Training Exercise Al-Shihab".
"Al-Shihab focused on counter-terrorism training of the special operation forces of Pakistan and Kingdom of Saudi Arabia which included cordon and search operations, airdropping and heli-lifting of special forces for operations against terrorists' activities and their hideouts," the press release said.
The army chief lauded the dedication, motivation and professionalism of the troops who participated in the joint military drills. "This exercise signifies the joint effort of our two nations against terrorism and we will defeat this menace in all its forms and manifestation," Gen Raheel reiterated.
Full Report at:
http://nation.com.pk/national/31-Oct-2015/threat-to-ksa-to-evoke-strong-response-from-pakistan-coas
----------
SC seeks legal assistance over LHC ban on Altaf's speech
October 31, 2015
ISLAMABAD: The Supreme Court sought on Friday legal assistance to decide if the Sept 7 media blackout of MQM chief Altaf Hussain ordered by the Lahore High Court still held the field when it had not been extended.
A two-judge bench headed by Justice Ejaz Afzal Khan decided to seek legal opinion because the ban under Order 39 Rule 2A of the Civil Procedure Code was only for 15 days and the subsequent high court orders are silent about the fate of the interim order since nothing was said about it afterwards.
Also read: Altaf media blackout: LHC decision challenged in SC
The LHC had ordered the authorities to ban every kind of media coverage of the MQM chief, including his images and videos. Petitioners before the high court had sought the ban on the grounds that Mr Hussain's objectionable speeches and anti-state slogans did not fall within the ambit of the freedom of speech.
In his appeal filed in the Supreme Court, the MQM chief, who lives in London, had sought the suspension of the operation of the high court order because it was without any jurisdiction and lawful authority and violated the right of freedom of speech and expression guaranteed under Article 19 of the Constitution.
"This question requires replies from the respondents, therefore issue notice to the respondents," Justice Ejaz Afzal said while dictating an order after Friday's hearing.
Mr Hussain has named as respondents Advocate Sardar Ahmed Virk, who initially went to the high court, the prime minister through his principal secretary Javed Aslam and secretaries of the cabinet, interior, defence, law and information as well as the Senate chairman and National Assembly speaker.
LHC verbal order: At the outset, the court asked rights activist Asma Jahangir, appearing on behalf of Altaf Hussain, if the high court in its succeeding orders of Sept 18 till Oct 16 had ever extended the gag order.
The counsel read out different orders and said the high court stated nothing about extending the stay when usually the life of a stay under relevant rules was only for a fortnight. However, she added, the high court had stated in a verbal order that the ban be lifted provided her client tendered an apology for his statements.
Later the high court also summoned head of MQM's Rabita Committee Farooq Sattar who cited three television interviews in which Mr Hussain had explicitly expressed regrets on the words that were misunderstood and also stated that the party believed in protecting the integrity of the country and its citizens.
Ms Jahangir regretted that the high court had issued show-cause to Pemra and sought a reply from the chairman of the Press Council of Pakistan, but did not directly restrain media houses from airing the speeches. Thus the gag order was issued in violation of Article 19 of the Constitution that guarantees the freedom of speech.
But the apex court reminded the counsel that the right under Article 19 was available to citizens with certain restrictions that they would not utter anything against the glory of Islam and integrity, security or defence of Pakistan or against friendly relations with foreign states.
Ms Jahangir said the high court had sought a reply from Pemra regarding dual nationality of the MQM chief.
Full Report at:
http://dawn.com/news/1216548/sc-seeks-legal-assistance-over-lhc-ban-on-altafs-speech
----------
Tribesmen urged to work for peace, development
BEHRAM BALOCH | ABDUL WAHID SHAHWANI
October 31, 2015
GWADAR/KHUZDAR: The Inspector General of Frontier Corps, Maj Gen Sher Afgan, has urged the tribesmen to play their role in restoring peace and order in Balochistan.
This he said while addressing a gathering during his visit to FC College in Panjgur and meeting with tribal elders of the area on Friday.
Expressing satisfaction over the law and order situation, he said the FC was prepared to monitor borders and fight terrorists and criminal elements. He, however, added that people's help and cooperation was critical for elimination of terrorism.
Gen Afgan said that FC would not hesitate to render any sacrifice to ensure protection of life and honour of people.
Full Report at:
http://dawn.com/news/1216552/tribesmen-urged-to-work-for-peace-development
----------
No laxity allowed in CPEC projects: PM
October 31, 2015
ISLAMABAD: Prime Minister Mohammad Nawaz Sharif said that no laxity on part of any department would be tolerated in the execution of infrastructure and energy projects related to the China-Pakistan Economic Corridor (CPEC). The prime minister also announced that he would personally go to the ground-breaking ceremony of the Western Corridor of the project soon but did not give any specific date in this connection. He expressed these views while chairing a high-level meeting held here yesterday to review the progress made on the projects initiated under the CPEC. Finance Minister Ishaq Dar gave a detailed briefing to PrimeMinister on the status of the China Pakistan Economic Corridor projects at a meeting on CPEC Project Monitoring Arrangements.
The prime minister reviewed all the projects under the umbrella of CPEC including infrastructure and energy projects. Lauding the Pak-China all-weather friendship, the PM said, "China is our trusted friend. CPEC is future of Pakistan and its timely completion is top priority of his government." He further said that he would personally review the pace and progress of the projects through the core team and directed the concerned authorities to update project benchmarks on monthly as well as quarterly basis that would be monitored by the Prime Minister on weekly basis.
Full Report at:
http://nation.com.pk/national/31-Oct-2015/no-laxity-to-be-tolerated-on-cpec-projects-execution-pm
----------
Pakistan won't accept pressure on N-programme: FO
October 31, 2015
ISLAMABAD - The Foreign Office yesterday said it would never accept pressure about the country's nuclear programme and reiterated its stance that Pakistan as a responsible state had developed the progarmme as deterrence based on its national defence strategy.
"Pakistan has the right to take steps whatever it deems appropriate for its defence", Feign Office Spoksman Qazi Khalilullah told the weekly press briefing.
The spokesman regretted India was increasing the conventional arms imbalance in the region by acquiring the latest weapons from across the world.
Responding to a question about the ongoing purchase of weapons by India, he said Pakistan had repeatedly stressed that conventional imbalance would aggravate situation in the region.
He asserted strategic stability in the region was vital for peace and stability.
He also urged the international community to take notice of terrorist activities of Indian Hindu extremist group, Shiv Sena.
He reiterated Pakistan's concerns over its activities.
Referring to the ongoing Zarb-e-Azb operation, the spokesman said there was a positive feedback as Pakistan was taking action against all groups of terrorists, without making any distinction between good and bad terrorists.
He said the world at large had acknowledged the success of the operation and its results.
He termed terrorism a threat to the world peace and said the international community needed to adopt a cooperative approach to counter the threat.
About Pakistan-Saudi Arabia defence ties, he said the two countries had a wide-ranging cooperation in many areas, including defence and security.
He said the joint military exercises between the two countries had focused on anti-terrorism training of their special forces.
He voiced Pakistan's deep concerns over the increasing threats to regional peace and stability in Palestine and Middle East, adding Pakistan wanted political settlement of Syrian issue in a peaceful manner through dialogue and according to the aspirations of the people of the country.
Full Report at:
http://nation.com.pk/national/31-Oct-2015/pakistan-won-t-accept-pressure-on-n-programme-fo
----------
Soldier killed in roadside blast in Khyber
October 31, 2015
PESHAWAR - One security forces personnel was killed while three others were injured in a roadside explosion in Tirah Valley of Khyber agency on Friday.
Sources said that security forces were on routine patrol in Sandana area of Tirah Valley when the road side explosion occurred. One soldier was killed while three others were injured in what is said to be an Improvised Explosive Device (IED) blast.
Full Report at:
http://nation.com.pk/national/31-Oct-2015/soldier-killed-in-roadside-blast-in-khyber
----------
Leading Islamic charities collecting donations for earthquake victims
October 30, 2015
Iftikhar Alam
LAHORE: Leading Islamic charities have voiced their concerns over increasing difficulties of the earthquake affectees in KPK, FATA and Northern areas of Pakistan.
The groups said that their volunteers were facing severe problems in shifting hundreds of injured from icy-mountains to the nearest hospitals due to the destruction of bridges and roads in Monday's earthquake.
Around 2,000 trained workers of the Falah-e-Insanyat Foundation—a charity organization working under Jamaat-ud-Dawa and Al-Khidmat Foundation of Jamaat-e-Islami are involved in relief activities in the earthquake affected areas.
The Falah-e-Insanyat Foundation dispatched a large consignment of relief goods to earthquake affected areas from Lahore yesterday.
JuD chief Hafiz Saeed, on the occasion, appealed to the people for more donations for their country-fellows currently in trouble.
"Over 50 villages have been completely destroyed in the areas. Several dead-bodies are still trapped under debris. Our volunteers walk hours in mountains to provide food and shelter to homeless villagers and medicines to the injured," he said while talking to the media.
JuD's Falah-e-Insanyat Foundation is carrying major relief operation in the earthquake affected areas despite concerns of international observes which feared the activities of JuD may promote militancy in the northern and western belt of Pakistan where army is already leading a major operation against terrorists.
The JuD chief, however, repeatedly rejected the allegation of militancy on him and his party.
"Thousands of our workers are involved in relief activities in every affected area. We are trying our best to provide relief to our brothers and sisters. We don't care for the allegations. We are working to seek God's blessing," he said.
Jamaat-e-Islami's Al-Khidmat Foundation, another largest charity organization working in the quake hit areas, also appealed to the people for extending their full cooperation to the affected residents of KPK and Fata regions.
AKF FATA chief Awal Khan Afridi said that the quake damages were even more than they were earlier estimating.
Full Report at:
http://nation.com.pk/national/30-Oct-2015/leading-islamic-charities-collecting-donations-for-earthquake-victims
----------
Africa
Modern radicalism has 'no boundaries,' says Tunisian foreign minister
30 October 2015
The foreign minister of Tunisia – which has seen thousands of its youth join extremist groups in Syria and elsewhere – said on Friday that unlike the past, modern terrorism has "no boundaries."
"We did not overcome the threat because in the past, we looked at terrorism and tackled it as if it was an isolated phenomenon. But today, it has multiple forms and no boundaries," Taieb Baccouche said at an opening session of the Manana Dialogue in Bahrain, held by the UK-based International Institute for Strategic Studies think-tank.
As of the end of 2014, some 3,000 Tunisians have flocked to Syria to fight against the regime of President Bashar al-Assad, with many joining the Islamic State of Iraq and Syria (ISIS). According to estimates, Tunisia is the largest exporter of ISIS fighters in the region.
In the same panel discussion, Gulf Cooperation Council Secretary General Abdullatif al-Zayani said that the current definitions of terrorism were in need of change.
"We need stop having these discussions about how we the definitions of terrorism are. The Houthis' coup in Yemen is terrorism. In Syria and Iraq, terrorism. And Palestine with the Israeli occupiers as well," Zayani said.
"It's high time we start talking about containment of all this violence," he added.
No positive interventions
Meanwhile, Yemeni foreign minister Riyadh Yaseen said the only way to address the chaos in the region is to convince Iran to "stop interfering in the internal affairs of others."
Since late March, a Saudi-led coalition has bombed Iranian-backed Houthi militias in Yemen, in a bid to put the internationally-recognized government back in power.
"In Yemen's history, there were no positive interventions from Iran in terms of education, infrastructure or development. The bulk of those came from the Gulf, the U.N., but not Iran. They have only ever exported to us arms and brainwashing of our youth," he said.
For her part, the U.N.'s Development Programme administrator Helen Clark said that without sustainable development focusing on the young generation, there could be no peace in the region.
Full Report at:
http://english.alarabiya.net/en/News/middle-east/2015/10/30/Modern-radicalism-has-no-boundaries-says-Tunisian-foreign-minister.html
----------
Somalia: Is Somaliland Still a Good News Story?
OCTOBER 28, 2015
By Simon Allison(Issafrica)-In Somaliland, most politicians are known by their nicknames. So President Ahmed Mohamed Mohamoud is 'Silanyo,' which translates to 'skinny lizard' – a throwback to his youth when he was tall and slim.
President Silanyo is not skinny anymore, however, and nor should he be president – his term in office was supposed to expire on 26 June 2015.
But after the scheduled elections were repeatedly postponed, Silanyo is still in charge, and no one is particularly surprised. Although Somaliland is famed for its regular, peaceful elections – an oasis of peace and democracy in a region usually associated with authoritarianism and conflict – almost every election in its history has been subject to lengthy delays.
Somaliland's last parliamentary elections, for example, were conducted in 2005, meaning that the current crop of representatives have served for five years longer than intended. The last presidential election (won by Silanyo), was originally scheduled for March 2008, but only took place more than two years after.
True to form, then, Somaliland's upper house of parliament – the Guurti, or House of Elders – unilaterally extended the term of Silanyo's internationally unrecognised government by 22 months, over the protests of opposition parties.
This habit of delaying elections illustrates the fragility of Somaliland's progress. For more than 20 years, Somaliland has been the quintessential good news story in the Horn of Africa, proof that stability, development and relatively good governance is possible in the region. Its successes contrast sharply with the repeated failures of governments in Somalia, of which Somaliland is technically a part.
However, there are signs that Somaliland's famed unity and stability are beginning to crack: small warnings that all is not right in the self-declared republic. The major shadow is Somaliland's continued failure to receive any form of recognition from the international community. Somaliland views itself as an independent, sovereign nation, but this view is not officially shared by anybody else – and now Somalilanders are getting impatient.
'The lack of recognition and development is an impediment on all issues related to development and aid. It might trigger hostilities of some kind. We have a lot of unemployment; a lot of poverty. People can't wait forever. We don't know what to expect,' said Foreign Minister Mohamed Bihi Yonis in an interview with the Institute for Security Studies. Yonis' argument is that the dream of international recognition is a powerful unifying force in the territory, and that this unity could fracture once it becomes clear that the dream is unattainable.
For now at least, recognition for Somaliland is simply not on the international agenda. The African Union (AU) is firmly behind the Somali Federal Government in Mogadishu – and weary of encouraging other secessionist movements across the continent. Other countries are following the AU's lead. 'Even if we wanted to recognise Somaliland, we couldn't as long as the AU doesn't,' commented a western diplomatic source in Addis Ababa.
Another potentially destabilising factor is the changing nature of Islam in Somaliland. Over the last two decades, the Salafist school of Islam – more radical and puritan than Somaliland's traditional Sufism – has become more popular and extremely influential. 'Salafism is a very serious threat. It's not obvious or openly organised as a political wing, as it is in most Muslim societies. Somaliland is not an immediate hotspot. But it will become one if the democratic system is not seen to work,' said Dr Hussein Bulhan, President of Hargeisa's Frantz Fanon University.
Full Report at:
http://mareeg.com/somalia-is-somaliland-still-a-good-news-story/
----------
Libya U.N. envoy to be replaced by German official
31 October 2015
The United Nations Security Council on Friday approved the appointment of German U.N. official Martin Kobler as the new U.N. special envoy to Libya, said diplomats, though it was unclear when he would take over mediating stalled peace talks.
U.N. Secretary-General Ban Ki-moon notified the 15-member council in a letter, seen by Reuters, of his intention to replace the current envoy Bernardino Leon with Kobler. But the letter did not specify when Kobler would take up the role.
A senior U.N. diplomat, speaking on condition of anonymity, said Leon was currently due to leave on Nov. 6, but that could be extended if there was a sudden breakthrough in his mediation efforts.
Kobler is no stranger to tough U.N. jobs. He most recently headed the U.N. peacekeeping mission in the Democratic Republic of the Congo. (File photo: Reuters)
Libya has fallen into turmoil with its internationally recognized government and elected parliament on one side and a self-styled administration holding Tripoli on the other, each backed by regional, tribal or Islamist armed factions.
After months of negotiations, Leon has presented Libya's rival factions with a proposed national unity government, but hardliners on both sides have resisted the power-sharing deal and talks are at a standstill.
The conflict has pushed the North African state to the brink of collapse four years after the fall of longtime leader Muammar Qaddafi. The chaos has allowed ISIS militants to gain a foothold in the country.
Full Report at:
http://english.alarabiya.net/en/News/middle-east/2015/10/31/Libya-U-N-envoy-to-be-replaced-by-German-official.html
----------
North America
US, Russia, 15 other states propose Damascus-rebel talks
Oct 31, 2015
VIENNA: The United States, Russia and more than a dozen other nations directed the UN on Friday to start a new diplomatic process between Syria's government and opposition groups with the goal of reaching a nationwide ceasefire and political transition — but without an explicit demand for President Bashar Assad to quickly leave power.
"Four-and-a-half years of war, we all believe, has been far too long," US Secretary of State John Kerry said at a joint news conference with Russia's top diplomat and the UN envoy to Syria.
Kerry said the countries, which included fierce regional rivals Iran and Saudi Arabia, all pledged to support an independent and secular Syria, to maintain the country's institutions, to protect the rights of all Syrians, to ensure humanitarian access and to strive to defeat the self-styled Islamic State.
He said the new UN-led process should lead to a new constitution for Syria and internationally supervised elections, as well as an end to violence between Assad's military and rebels so that the world community can focus on the fight against the IS.
Statement silent about Assad's future
But no agreement was reached on Assad, whose future lies at the centre of the conflict.
Kerry and Russian Foreign Minister Sergey Lavrov both acknowledged as much, repeating their long-standing positions. Washington and its partners believe Assad forfeited legitimacy after turning weapons against his own people. Russia and Iran say outside forces cannot dictate who leads Syria.
Full Report at:
http://dawn.com/news/1216613/us-russia-15-other-states-propose-damascus-rebel-talks
----------
2 Muslim drivers win discrimination suit in US
October 31, 2015
A jury in the United States on Friday awarded $240,000 to two Muslim men who claimed they were fired from an Illinois trucking company after refusing to deliver alcohol.
A judge found Morton-based Star Transport Inc violated the religious beliefs of Mahad Abass Mohamed and Abdikarim Hassan Bulshale. A trial to determine whether they were entitled to damages ended on Oct 20 with the jury's judgement.
A 2013 lawsuit filed by US Equal Employment Opportunity Commission said the men were fired in 2009 after they wouldn't deliver alcohol because it was against their religious values as practising Muslims.
Full Report at:
http://pakistantoday.com.pk/2015/10/31/foreign/2-muslim-drivers-win-discrimination-suit-in-us/
----------
Shelter doesn't want Muslim employees, jeopardizing funding
October 30, 2015
BUTLER, Pa. (AP) — A Christian homeless shelter in Pennsylvania could lose more than half its funding because it doesn't want Muslim employees and has refused to sign a government contract barring hiring discrimination.
The Grace Youth and Family Foundation tells The Pittsburgh Tribune-Review (http://bit.ly/1HgS0Or ) it only wants employees who believe in Jesus Christ and being forced to hire people of other faiths is unacceptable.
Full Report at:
http://thepublicopinion.com/news/associated_press/national/shelter-doesn-t-want-muslim-employees-jeopardizing-funding/article_4cf5f80a-2814-5661-babc-d8d41fa04319.html
----------
Obama to send ground troops to Syria
Oct 31, 2015
WASHINGTON: President Barack Obama has authorised the first sustained deployment of special forces to Syria, the White House said on Friday, relenting on a long-standing refusal to put US boots on the ground.
Obama okayed a deployment of "fewer than 50" special operations forces in the north of the war-ravaged nation in a bid to strengthen forces fighting the self-styled Islamic State, spokesman Josh Earnest said.
The White House denied the move was a reversal of Obama's pledge not to put combat troops in Syria, saying Americans would not be "leading the charge up the hill" and insisting it was not evidence of "mission creep". "Our strategy in Syria hasn't changed," said Earnest. Instead, officials indicated the mission would echo some US operations in Iraq, where military personnel coordinate local ground forces, channel weapons supplies and direct air support. But even in Iraq, the line between combat and non-combat troops has been hazy.
US forces took part in a recent raid on a jihadist-run prison in northern Iraq, resulting in the first death of a US serviceman in action in Iraq since 2011.
For over a year, the US has led a 65-member coalition that has conducted air strikes against more than 13,000 IS targets in Iraq and Syria.
But In Syria, efforts to battle jihadists have been plagued by the complexities of a civil war that has killed more than 240,000 people since March 2011 and prompted the most serious refugee crisis since World War II.
Full Report at:
http://dawn.com/news/1216610/obama-to-send-ground-troops-to-syria
----------
Southeast Asia
Indonesia wants to promote moderation in Islam with Malaysia
October 30, 2015
JAKARTA, Oct 30 — The concept of moderation in Islam, which was introduced in Malaysia is in line with the concept of 'Islam Nusantara' in Indonesia, said Indonesia's Vice-President Jusuf Kalla.
He said both concepts had proved that Muslims in both countries rejected any form of extremism and chose to live in a successful and peaceful country.
"Indonesia and Malaysia are peaceful nations...there is no radicalism in Islam and we are not failed nations. We have moderate views," he said in an exclusive interview with Bernama, here recently.
He said activities linked to terrorism launched by certain parties were not caused by religious affiliation but because the people were living in a failed state.
"There are some Muslim groups which are radical and it can happen anywhere, people are afraid, not just people in Europe, but even Muslims are afraid. They resort to bombings such as in Pakistan, Yemen, and Syria," he said.
Jusuf said all Muslims must work together to stop radicalism in Muslim countries because this was not included in the true teachings of Islam.
However, he said, Muslims became radical because their countries were destroyed by western countries and the people's uprising had created militant groups.
"For example, Al-Qaeda sprang up in Afghanistan because it is a failed nation...it was attacked by Russia and the United States and because of the destruction, the Al-Qaeda rose to provide new protection, and became radical.
"Similarly, the emergence of terrorist groups such as the ISIS in Iraq and Syria because the United States wanted to destroy Saddam Hussein. They helped the rebels in Iraq and Syria and from that destruction, new ideologies came about which became radical. The west destroyed these countries and they created their own enemies," he said.
The vice-president said the collapse of the Middle Eastern countries became worse when there were different thoughts namely Syiah and Sunni which toppled their government radically and claimed many Muslim lives.
Full Report at:
http://themalaymailonline.com/world/article/indonesia-wants-to-promote-moderation-in-islam-with-malaysia
----------
Indonesia Shia group accuse extremist Sunni leaders of violating constitution
October 31, 2015
Ahlul Bayt News Agency - Indonesian minority religion leaders have accused hard-line groups from the extremist Sunnis and a local government official of violating the constitution by disseminating hate speech targeting Shia Muslims.
The Organization of Ahlulbayt for Social Support and Education (OASE), which mediates conflicts between religious groups, announced plans to sue the Anti-Shia National Alliance and a mayor in West Java province, a lawyer for the non-profit organisation said on October 29.
At an October 25 alliance meeting attended by thousands of Sunnis, clerics issued several statements condemning the Shia religion. Among the speakers at the assembly were Muhammad Al Khaththath, secretary-general of the Islamic People's Forum, and Munarman, spokesman of the Islamic Defenders Front.
At issue were statements by speakers denouncing Shias as "heretics," and a decision by Bima Arya Sugiarto, the mayor of Bogor, to ban Shias from celebrating the Muslim holy day of Ashura. The ban did not apply to Sunnis.
Voaislam.com, an Islamic conservative website, quoted Kiai Athian, alliance chairman, as saying, "If there are people who still doubt that Shia is heresy, it means that those people do not know Islam."
At issue were statements by speakers denouncing Shias as "heretics," and a decision by Bima Arya Sugiarto, the mayor of Bogor, to ban Shias from celebrating the Muslim holy day of Ashura. The ban did not apply to Sunnis.
Voaislam, an Islamic website, quoted Kiai Athian, alliance chairman, as saying, "If there are people who still doubt that Shia is heresy, it means that those people do not know Islam."
Emilia Renita Az, an OASE coordinator, said the statements at the assembly and actions by the mayor constituted hate speech. "They can create divisions within society," she said.
Father Antonius Benny Susetyo, of the Jakarta-based Setara Institute for Democracy and Peace, said the mayor had violated constitutional protections of freedom of religion.
"He cannot just issue such an order. In fact, he knows about our constitution, which guarantees every citizen's freedom of religion," he told ucanews.com.
Regarding the assembly, Father Susetyo suggested that law enforcement agencies should take action.
Full Report at:
http://en.abna24.com/service/east-asia/archive/2015/10/31/717780/story.html
----------
Perkasa proposes UMNO and PAS resolve issues through Islamic brotherhood council
October 31, 2015
Perkasa Malaysia (Perkasa) has proposed the establishment of the National Council of Islamic Brotherhood (Muin) to enable UMNO and PAS to find solutions on issues related to Islam and the monarchy.
Its president Datuk Ibrahim Ali said Muin can be a joint UMNO-PAS body to discuss issues pertaining to the interests of the Malays and Islam without involving politics.
"Perkasa as a non-governmental organisation (NGO) that has no political interests wants Muin to be a place for UMNO and PAS to address several issues related to Islam and the monarchy," he told reporters after opening Perkasa Kuala Terengganu's Special General Meeting here, Friday.
Full Report at:
http://english.astroawani.com/politics-news/perkasa-proposes-umno-and-pas-resolve-issues-through-islamic-brotherhood-council-78824
----------
Kula: Set up religious department for non-Muslims
FMT Reporters | October 31, 2015
IPOH: Ipoh Barat MP M. Kula Segaran wants the federal government to set up a religious affairs department for non-Muslims which will be able to deal with non-Muslim issues.
He said the department was of great importance to supervise and curb issues on increasing religious matters that frequently arise of late and ensure a check and balance.
He said it was also vital to recruit equal numbers of non-Muslims in local, state and federal government departments to find solutions to promote harmony and peace in a multiracial community
He said appointment of non-Muslims ministers and the involvement of non-governmental organisations was important to allow discussions to be conducted properly, particularly on issues regarding desecration, or disrespectful behaviour or actions.
"Thus I call upon the government to set up a non-Muslims department to specifically deal with non-Muslim issues as is being done by a ministry for Muslims affairs," said Kula in a statement.
In Parliament on Thursday, Kula asked about the negligence of the federal government to enforce laws on those who run down non-Muslim faiths.
Deputy Home Minister Nur Jazlan Mohamed replied that Putrajaya was aware of them and working closely with NGOs and other stakeholders, to enforce the law on those who damage or hurt non-Muslims.
Kula said Nur Jazlan's empty promises or assurances was a mockery and showed ineptness of political leaders in handling non-Muslim issues.
"The answer given is neither here nor there, and failed to give assurances to non-Muslims, who are undergoing great onslaught against their faiths. The attack on non-Muslims' faith is unabated. It is now or never. Henceforth in solving the problems it should start from ground work," said Kula, the DAP national vice-chairman.
Full Report at:
http://freemalaysiatoday.com/category/nation/2015/10/31/kula-set-up-religious-department-for-non-muslims/
----------
Indonesia, Largest Muslim Country, To Join Obama's Trade Deal
30 Oct 2015
Indonesia, the world's largest Muslim country, plans to join 11 other countries under the Trans Pacific Partnership trade deal.
"After Obama met with Indonesian President Joko Widodo at the White House Monday, Widodo said, "Indonesia intends to join the TPP," referring to the TransPacific Partnership," WND's Curtis Ellis reported.
Ellis noted that Indonesia is the most populated Muslim country, and also where Obama went to elementary school.
"I have a very personal interest in Indonesia given the fact that I spent time there as a child and have relatives who are Indonesian," stated Obama.
The TPP was recently finalized, but has not been made public or presented to Congress for review.
"Politico reports Republican leaders in the House and Senate want to vote on the TransPacific Partnership in a lame-duck session of Congress after the November 2016 general election," Ellis noted.
"If it's such a good deal, then why do they want to keep the American people from having an influence on it?" Sen. Jeff Sessions (R-AL)79%
asked. "Why don't they bring it up during the election [campaign] so people can vote and evaluate their representatives on how they vote?"
Ellis reported:
The TPP is a sweeping global regulatory pact. It establishes an international authority that will write rules for merging the U.S. economy with other countries in the partnership.
The administration reached an agreement on the TPP with 11 countries on four continents after negotiations that lasted more than five years. Indonesia was not involved in the negotiations.
But neither Congress nor the public have been allowed to see the final agreement the administration has negotiated. The president has not released the text of the agreement or the numerous side agreements attached to the TPP.
The deal is considered a "living agreement" so other countries can join the trade agreement over time.
"China, South Korea, the Philippines and Taiwan also have expressed interest in joining the TPP economic union. But it appears the U.S. Congress will not have any say in the matter," Ellis reported.
Congress gave Obama fast-track trade authority under Trade Promotion Authority earlier this summer, meaning Congress gets only an up or down vote on the trade deal negotiated by Obama.
"An amendment to the fast track bill would have required congressional approval before China could join the TPP. But the amendment, opposed by GOP leadership and the president, was defeated," Ellis explained.
Full Report at:
http://breitbart.com/big-government/2015/10/30/indonesia-largest-muslim-country-join-obamas-trade-deal/
----------
Europe
Sweden near 'collapse' due to mass influx of asylum seekers: Foreign minister
Oct 31, 2015
Sweden claims it is on the verge of "collapse" due the mass influx of asylum seekers, saying the European Union needs to take more actions to ease the strain on Stockholm.
Swedish Foreign Minister Margot Wallström made the remarks in an interview with the Swedish newspaper Dagens Nyheter, published on Friday, while her country is currently campaigning for other EU member states to take in a greater quota of asylum seekers escaping violence in the Middle East and Africa.
"I think most people feel that we cannot maintain a system where perhaps 190,000 people will arrive every year – in the long run, our system will collapse. And that welcome is not going to receive popular support," she said, adding that her country is "approaching the limit" of its reception capacity.
Wallström, however, said that she was disappointed as the negotiations with the EU members had been fruitless so far and not produced the desired results.
"I have to admit that there have been moments recently of very great disappointment. I have heard statements from member states that have been completely astonishing and very discouraging," she further noted.
The Scandinavian country is one of the most desired destinations for asylum seekers, due to its generous benefit system.
Meanwhile, Hungarian Prime Minister Viktor Orbán criticized the quota system for distributing refugees as it was adopted without respect for public opinion, which might cause a "democracy crisis."
Full Report at:
http://presstv.ir/Detail/2015/10/31/435666/Sweden-Stockholm-Margot-Wallstrm-refugees-Hungary-IOM-EU
----------
Allahshukur Pashazadeh supports Russia in its struggle against ISIS
Oct 30, 2015
By Vestnik Kavkaza
In the framework of the 3rd International Forum 'Religion and Peace', the chairman of the Caucasian Muslims Office, co-chairman of the CIS Interreligious Council, Sheikh-ul-Islam Haji Allahshukur Pashazade, stated that "time itself requires us to use our joint efforts for the sake of purposes pleasing to the one Creator. Today the real struggle against international terrorism in all its forms is extremely important. It is a priority for all people, regardless of their nationality or religion. According to the Holy Koran: "Do not do atrocities on the Earth after your God set order here."
Allahshukur Pashazade is concerned that "attempts to introduce Muslims as extremists and fundamentalists are continuing in different regions of the world. The essence of Islam is maliciously distorted."
He strongly condemns the acts of ISIS and similar organizations with their pseudo-religious ideas, as well as all those who carefully try to turn Islam into a tool to achieve their blasphemous interests.
According to Allahshukur Pashazade, "ISIS is formed and implemented by enemies of Islam in order to split the Islamic world from the inside, destroying all the historical heritage and achievements of Muslim civilization."
He says that it raises fears and special concern about intolerance and racial prejudice based on religious grounds. In particular, aggressive Islamophobia in some countries of the West, claiming the role of arbitrators: "The sacred ideal of our great religion is incompatibile with murder and violence. In this regard, Patriarch Kirill's statement is very valuable, that it is impossible to do a more terrible turn to the leadership of Islam than the ISIS militants do. Their terrorist activities spare neither Christians, nor Muslims. It disgraces Islam in the eyes of the entire world community. Today we became witnesses of the anti-humane attitude in some European countries towards immigrants, who have been forced to leave their homelands, escaping violence and terror. We strongly condemn those who encroach on the most beautiful and divine gift of life, and those who plan and rouse inter-ethnic and inter-religious conflicts, migration demographic disasters that endanger the peace and stability of the whole of humanity. God won't forgive their inhumane acts."
Allahshukur Pashazade supports "the anti-terrorist actions of Russia to eliminate the evil under the pseudonym ISIS, which defames the name of the world religion, trying to link Islam in the eyes of the world with terror, violence and vandalism. I am sure that only the joint efforts of the state can oppose extremism and radicalism, as well as with the help of public and political figures, and religious associations."
He says that Azerbaijan is making every effort to fight international terrorism: "According to President of Azerbaijan Ilham Aliyev's recent speech, the fight against international terrorism should be a priority for all countries at this stage. Only joint efforts we can help us to achieve the goal."
Full Report at:
http://vestnikkavkaza.net/articles/Allahshukur-Pashazadeh-supports-Russia-in-its-struggle-against-ISIS.html
----------
Rotherham Muslim group refuses to co-operate with South Yorkshire Police
27 October 2015
I'm not sure who is advising British Muslim Youth in Rotherham, but last night they inflicted significant damage upon their own reputation, and now risk bringing Rotherham's entire Muslim community into disrepute.
A statement made yesterday made it clear that the group, whose slogan is: 'those of peace, harmony unity and tolerance' has pulled down the shutters on the law, refusing to co-operate with South Yorkshire Police.
The community group declared the communication black-out yesterday, closing ranks on the police force until further notice.
But in an astonishing threat to other Muslims in the beleaguered town, the group said: "Any Muslim groups or institutions in Rotherham that do not adhere to this policy of disengagement will also be boycotted by the Muslim community."
So let's get this straight; the Muslim community is fed up being demonised, ostricised, and isolated. But, if anyone of Muslim faith should need to turn to South Yorkshire Police for help, they will be cut off from their network of friends, family and associates? The naivety and hypocrisy of this is dumbfounding.
The statement goes on to throw in a veiled threat of vigilantism. At least that's how I read it. Here it is: "We will not be treated as criminals any longer, nor will we be held responsible for acts of personal self-defence. If South Yorkshire Police cannot adequately protect and serve the Muslim residents of Rotherham; then moving forward we will take all the necessary action to protect ourselves within the confines of the law, whilst maintaining a process of disengagement and non-communication with South Yorkshire Police."
That's not how law and order works in this country, I'm afraid.
Now there is absolutely no doubt in my mind that the Muslim community has come under vicious attack since Alexis Jay's explosive report which revealed a level of unprecedented child sexual exploitation in the town.
Roll forwards 13 months where we're confronted with the story of gentle 81-year-old Mushin Ahmed being kicked to death...'because he looked Muslim'. The mere thought of that level of stupid brutality makes me sick, and in that context, is there any wonder that people feel moved to take steps to protect themselves?
The Jay report unswervingly exposed a small group of organised Pakistani men as the principal exponents of that abuse. But that they were Pakistanis is now immaterial to me. Ethnicity, faith or otherwise: none of it matters. What matters is that they were child sex monsters, and that is why we all need to cooperate with the authorities until these predatory men are locked up for life.
Remember Vanessa George? Angela Allen? Colin Blanchard? No, probably not as they weren't Muslim child abusers. They were white child sex abusers whose hunting ground in 2009 was a nursery in Plymouth where one of the women worked. Did other white people in Plymouth then get kicked to death in 'revenge' attacks? Of course not. Am I beginning to get my message across, here?
I said it in the wake of Mr Ahmed's killing: We must NOT fall into the trap of believing that the child abuse issue in Rotherham is a product of Islam. Get real.
What Jay uncovered was a gang of organised criminals: monsters; paedophiles; sickos. Call them what you like. All sex abusers are equally vile.
Full Report at:
http://thestar.co.uk/news/local/editor-s-opinion-rotherham-muslim-group-refuses-to-co-operate-with-south-yorkshire-police-1-7537998
----------
Bosnian Muslim cleric raps Viktor Orban on Islam remarks
22 October 2015
Bosnia's Muslim spiritual leader on Wednesday against what he called the Hungarian premier's "arbitrary and damaging" remarks about Islam and Europe in the migrant crisis, saying they were uttered out of ignorance according to a report in The Sydney Morning Herald.
Right wing Viktor Orban had called thousands of mainly Muslim migrants a threat to Europe's prosperity, security and "Christian values".
Hungary has now sealed its southern borders with a steel fence to keep out migrants trekking north through the Balkans from Greece, and issued new laws rights groups say deny refugees their right to seek protection from war and persecution.
Bosnia's Efendi Husein Kavazovic, who leads Europe's largest community of indigenous Muslim Slavs known for their moderation and tolerance of other religions, condemend the remarks by Orban in an interview with German magazine Focus earlier this week.
Focus quoted Orban as saying that Islam "has never been part of Europe but came into Europe," and that it did not spiritually reflect Europe but rather a different way of life.
"Every (kind of) ignorance is damaging, and particularly the one advocated by senior political officials who have social power and the role to publicly influence the opinion of others," Kavazovic said in a statement.
He said that educated people know that just as Islam had come to Europe, so had Christianity and Judaism.
Full Report at:
http://worldbulletin.net/balkans/165542/bosnian-muslim-cleric-raps-viktor-orban-on-islam-remarks
----------
Australia reportedly mulls sending refugees to Kyrgyzstan
31 October 2015
Australia's government refused to comment on a report Saturday that said it was considering resettling refugees it currently houses on two Pacific islands in the Central Asian state of Kyrgyzstan.
Canberra has made no secret of the fact it is in talks with a number of countries about taking refugees now living in the tiny state of Nauru and Papua New Guinea's Manus island but did not confirm the Kyrgyzstan option.
"We are having conversations with other countries to support our offshore processing arrangements and when we're in a position to make relevant announcements, the minister for immigration will do so," Finance Minister Mathias Cormann told Sky News.
The Weekend Australian story, which named no sources, said that majority-Muslim Kyrgyzstan was seen as a potential option for resettling refugees, in particular Hazara people from Afghanistan.
It said other former Soviet bloc countries were also understood to be on the list of options, along with some African and South American states, but named no other country specifically and gave no indication of whether talks were underway.
A spokeswoman for Immigration Minister Peter Dutton made no comment on the story but referred to recent statements in which Dutton confirmed discussions with the Philippines and "other countries".
"We have had bilateral discussions with other countries, including the Philippines at an officials level, at a ministerial level over a number of months," Dutton told journalists in Canberra on October 9.
"If we can strike other arrangements with other countries, we will do that, but I won't publicly speculate on it."
Under Australia's hardline policy to stop asylum-seeker boats reaching its shores, those arriving by sea are denied resettlement in Australia even if found to be genuine refugees.
Instead they are turned back to their country of departure or sent to Nauru or PNG where more than 1,500 are now being held.
Australia has already struck an agreement with Cambodia to accept refugees in exchange for millions of dollars in aid but only a handful of people have taken up the offer and the deal has been strongly criticized by rights groups.
Full Report at:
http://english.alarabiya.net/en/News/middle-east/2015/10/31/Australia-mulls-sending-refugees-to-Kyrgyzstan.html
----------
500 refugees stranded in cold on Russia-Norway border
30 October 2015
More than 500 Syrian refugees had been stuck on Russia-Norway border in the northern Murmansk region, the FlashNord reported Thursday.
Russian border guards refused to let the refugees cross into Norway leaving them stranded there.
Temperatures in Nikel — the closest town to the checkpoint — hovered around freezing on Thursday, and some of the refugees had caught a cold.
Earlier, on Wednesday it has been reported that around 100 Syrian refugees asked Russian President Vladimir Putin for urgent help after being turned away at the crossing point in a letter.
Full Report at:
http://worldbulletin.net/europe/165813/500-refugees-stranded-in-cold-on-russia-norway-border
----------
URL: https://www.newageislam.com/islamic-world-news/new-age-islam-news-bureau/egypt-says-no-survivors-from-russian-plane-crash,-carrying-more-than-200-passengers/d/105116