New Age Islam News Bureau
12 Aug 2014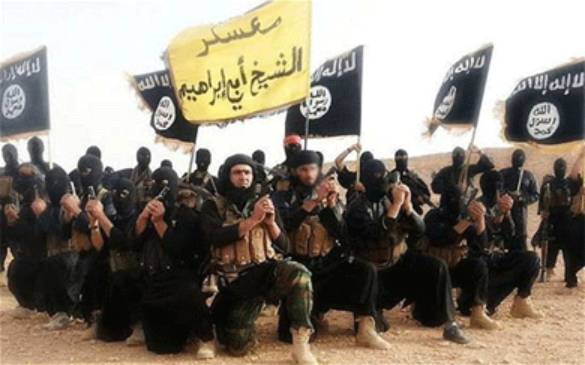 Photo: Malaysia and Indonesia in Cross Hairs of ISIS Terrorists
---------
Arab World
• Egypt, Saudi Arabia Seek United Front against Militants
• Saudi Father Smuggles Sons to Syria, Joins ISIS
• Bahrainis once again slam Saudi Arabia's crackdown on Shias
• Peshmerga fighters foil ISIL attacks in northern Iraq
• Kosovo police arrest 40 in action against Islamic militants
• US-Israel-ISIL plot in Syria has failed: Hezbollah
• Kurdish forces gain ground against ISIL
• Syrian army continues mop-up operations against militants
• Maliki Out, Abadi In As Iraq's Prime Minister
• Human Rights Watch staff denied entry to Egypt
• Kuwait revokes more citizenships citing state security
------------
North America
• EU Urged To Join US in Arming Kurds against Islamic State
• IS crisis: Hillary blames Obama policies
• Clooney's fiancee British-Lebanese lawyer rejects Gaza probe job
• Black teenager's killing leads to riots in US town
• US backing ISIL to destabilize, stir up Iraq: Analyst
------------
Pakistan
• Operation Zarb-e-Azb: Commanders Vow Not To Allow Regrouping Of Terrorists
• Dr Tahirul Qadri Has Given His Workers 'Licence To Kill': Minister
• PTI long march: Govt to avoid arresting leaders
• 'Imran being advised by ex-spymaster Pasha'
• Imran Khan's statement: Sethi, Ramday reject allegations
• CM Shahbaz offers electoral panel top slot to Imran
• Approach Imran, Qadri: LHC to Nawaz
• Pakistan summons Indian envoy over cross-border firing
------------
India
• Declare Israel a terrorist state: Darul Uloom
• PM Narendra Modi slams Pakistan for waging 'proxy war' against India
• Will aid return of Kashmiri Pandits, govt says
------------
Mideast
• US strikes against ISIL false show: Iran MP
• Turkey's Erdogan Prepares for Strongman President Role
• Turkish activists to send new Gaza flotilla to challenge Israeli blockade
• Life stirs in Gaza as new 72-hour truce takes hold
• Iran aid for Gaza awaiting Egypt permission: Official
• Rouhani stresses anti-terror cooperation with Turkey
• Larijani hails Hezbollah victory in 2006 Israeli war
• Hamas welcomes formation of UN panel on Israel crimes
------------
Southeast Asia
• Malaysia and Indonesia in Cross Hairs of ISIS Terrorists
• Malaysia Muslims Shun Pro-Israel Companies
• Islamic State militants have Putrajaya in crosshairs, Bukit Aman says
• ISMA cries foul after 'Malay power' billboards rejected by local councils
------------
Africa
• CAR president appoints first Muslim PM
• Central African Republic crisis: Rebels reject new Muslim PM Kamoun
• South Sudan warring sides fail to form unity government
------------
South Asia
• Afghans tortured, killed by US troops need justice: Amnesty
• Philippine Muslim rebels vow to win peace
• Civilian deaths hindered Afghan-US deal: Official
• Oman Air to avoid Iraq airspace
------------
Europe
• 'Britons angered by gov't stance on Israel'
• Kerry urges new inclusive Iraqi government
Compiled by New Age Islam News Bureau
URL: https://newageislam.com/islamic-world-news/egypt,-saudi-arabia-seek-united/d/98536
------------
Arab World
Egypt, Saudi Arabia Seek United Front against Militants
August 12th, 2014
RIYADH: The leaders of the Arab world's most populous state and its richest state met on Sunday to talk over joint efforts to counter Islamist militancy across the Middle East, including the turmoil now shaking Iraq.
President Abdel Fattah al-Sisi of Egypt and Saudi Arabia's King Abdullah are sworn enemies of the Muslim Brotherhood. They see the recent success of militants in Iraq as a threat to their stability and undermining security in the region.
Sisi's spokesman, Ehab Badawi, said the two leaders agreed to work together promote the "true and moderate values of Islam that reject extremism and terrorism".
Also read: Arab states support Israel against Hamas: NYT
"President Sisi and King Abdullah also reviewed the development of the situation in Iraq in light of the expanding of the circle of terrorism in the region," Badawi said, according to Egypt's Middle East news agency.
"There is no doubt that the meeting between the leadership of the two countries is important in light of the current circumstance of the Arab and Muslim nation," Saudi Foreign Minister Prince Saud al-Faisal said, according to state news agency SPA.
"(There are) external wars, intervention from foreign powers, internal sedition and disputes within the Arab nation at a time when it is in utmost need for solidarity and to stand together as one man to repel the enmities," he said.
The visit is Sisi's first since his election to the presidency this year. The pair met on King Abdullah's plane in Cairo in June, and Riyadh regards the former Egyptian army leader as one of its closest regional allies.
Saudi Arabia, along with Gulf Arab allies Kuwait and the United Arab Emirates, have provided some $20 billion in aid after Sisi ousted Islamist President Mohamed Mursi last year following mass protests against his one year in office.
King Abdullah has also called for a donor conference for Egypt expected to take place either this year or early next year to provide further support to the most populous country in the Arab World.
Egypt has suffered a string of attacks by militants angry over the army's ouster of Mursi and the crackdown on Islamists in the country.
http://www.dawn.com/news/1124784/egypt-s-arabia-seek-united-front-against-militants
------------
Saudi Father Smuggles Sons to Syria, Joins ISIS
11 August 2014
A Saudi father smuggled his two children into Syria to join the Islamic State in Iraq and Syria (ISIS) after he made his way with them to Syria via Turkey, Al Arabiya News Channel reported.
Photos showing Abed al-Shayeq, 11, and Ahmed al-Shayeq, 10, posing with their father in front of an ISIS banner have been widely shared on social media, days after their mother resorted to Twitter to voice her concerns.
The mother received a text-message Monday from the father asking her to consider her children "birds in paradise," a phrase used to describe "martyred" children.
One of the sons is shown in the picture holding an AK-47 in one hand, a grenade in the other.
Further, social media accounts affiliated with the ISIS posted that the two boys will "receive the necessary training before being sent to the battlefield."
The father initially told the mother he was taking the two boys on a trip to one of the Gulf countries, when in fact he was making his way to Syria through Turkey, Al Hayat Newspaper reported.
Since the children were in their father's company upon their arrival to Turkey, they would not have been considered kidnapped under Turkish law, Saudi Ambassador Adel Murad in Ankara told Al Arabiya News Channel on Friday.
The man kidnapped the children following a dispute with his wife, whom he is separated from, Al Watan newspaper reported.
As part of measures to stop citizens from joining terrorist groups abroad, Saudi authorities recently issued orders for the incarceration of four men suspected of aiding others in their travel to Syria to join ISIS fighters.
http://english.alarabiya.net/en/News/middle-east/2014/08/11/Saudi-father-kidnaps-children-to-join-ISIS-.html
------------
Bahrainis once again slam Saudi Arabia's crackdown on Shias
Aug 12, 2014
Bahraini protesters have once again taken to the streets in the island of Sitra to voice their anger at the crackdown on the Shia community in Saudi Arabia.
The demonstrators also expressed solidarity with Saudi Shia cleric Sheikh Nimr al-Nimr, who has been sentenced to death by the Saudi authorities.
Sheikh Nimr was attacked, wounded and arrested by Saudi security forces as he was en route to his house in the Qatif region of Saudi Arabia's Eastern Province two years ago. He has been charged with disturbing the country's security, giving anti-government speeches and defending political prisoners.
There have been numerous demonstrations in Saudi Arabia's oil-rich Eastern Province since 2011, with the protestors calling for political reform and an end to widespread discrimination.
Activists say there are over 30,000 political prisoners in Saudi Arabia.
Saudi Arabia has come under fire from international human rights organizations, which have criticized the country for failing to address the rights situation in the kingdom. They say Riyadh has persistently implemented repressive policies that stifle freedom of expression, association and assembly.
Since mid-February 2011, thousands of anti-regime protesters have also staged numerous demonstrations in Bahrain, calling for the Al Khalifa royal family to relinquish power, amid the regime heavy-handed crackdown on them.
On March 14, 2011, troops from Saudi Arabia and the United Arab Emirates were deployed to Bahrain to assist the Manama regime in its crackdown on the peaceful protesters. Bahrain has a Shia majority population while a minority of Saudi citizens are Shia Muslims.
http://www.presstv.ir/detail/2014/08/12/374974/bahrainis-rally-to-support-saudi-shias/
------------
Peshmerga fighters foil ISIL attacks in northern Iraq
Aug 12, 2014
Kurdish Peshmerga forces backed by the Iraqi air force have managed to foil attacks by ISIL Takfiri terrorists in two areas in northern Iraq.
According to Iraqi media reports, the ISIL militants carried out attacks on two villages in the Tuz Khurmatu district, which were repelled by Kurdish forces.
A number of ISIL Takfiri militants were reportedly killed in the clashes while the terrorists were forced to retreat to another village in the region.
Meanwhile, an informed Peshmerga source said that the Peshmerga fighters captured several armored vehicles belonging to ISIL terrorists.
Reports also say that the fighting is still continuing between the two sides in Tuz Khurmatu.
The ISIL has taken several towns since it intensified its attacks in Iraq in mid-June, threatening to disintegrate the country. The terrorist group has been committing unprecedented crimes in those areas, including the mass execution of civilians as well as army troops and officers.
The Iraqi army is engaged in fierce fighting with the militants to push them out of the captured areas.
On Sunday, Kurdish Peshmerga forces retook the town of Makhmour along with al-Gweir, some 28 miles (45 kilometers) from Erbil, which is in the semi-autonomous Kurdistan region.
Some Kurdish media have underscored the significant role of Iranian forces and the Iraqi army in liberating the areas from the ISIL's grip. The media reports say Iranian forces have a decisive presence on the battlefield of the fight against the Takfiri terrorists.
Tens of thousands of people have been displaced after their cities were captured by the ISIL militants.
http://www.presstv.ir/detail/2014/08/12/375001/kurdish-fighters-foil-isil-attacks/
------------
Kosovo police arrest 40 in action against Islamic militants
11 August 2014
Kosovo police said on Monday they had arrested 40 ethnic Albanians suspected of fighting alongside Islamic extremists in Iraq and Syria in the largest-ever operation against suspected radicals in the breakaway Balkan state.
The operation by special police forces was carried out early on Monday at some 60 locations throughout Kosovo, including make-shift mosques suspected of serving as recruiting sites.
Forty people "suspected of taking part in the war in Syria by supporting the terrorist organizations ISIS (Islamic State in Iraq and the Levant) and (Al-Qaeda affiliate) Al-Nusra" were arrested, police said in a statement.
"Explosive devices, weapons and ammunition were seized," it added.
The raid followed a months-long investigation and efforts by the authorities to root out suspected Islamist networks in Kosovo.
Kosovo is a Muslim-majority country, although religion plays only a minor part in public life and tends to take a very moderate form.
President Atifete Jahjaga welcomed the arrests, insisting that Kosovo "will not be a haven for extremism."
In June, three ethnic Albanians -- who make up more than 90 percent of Kosovo's 1.7 million population -- were arrested on suspicion of setting up a "terrorist organization" as media alleged they were recruited by ISIS, which has since renamed itself Islamic State, while fighting in Syria.
The three were arrested upon their return to Kosovo where intelligence agents intercepted their communications and plans to carry out suicide attacks in public places.
Local media say as many as 150 Kosovans are thought to have volunteered to fight in the Syrian civil war against the forces of President Bashar al-Assad.
Police say at least 16 have been killed in Iraq and Syria so far.
http://english.alarabiya.net/en/News/middle-east/2014/08/11/Kosovo-police-arrest-40-in-action-against-Islamic-militants-.html
------------
US-Israel-ISIL plot in Syria has failed: Hezbollah
Aug 12, 2014
Lebanon's resistance movement Hezbollah says the plot hatched by the US, Israel and the ISIL Takfiri militants in Syria has failed.
Hezbollah Deputy Secretary General Sheikh Naim Qassem said in a Monday interview with Lebanon's Al-Manar television that the ISIL Takfiri terrorists infiltrated into Syria with the help of the US and some countries in the region.
He stressed that the US-Israel-ISIL plan in Syria has come to naught.
Referring to the ties between Hezbollah and the Palestinian resistance movement Hamas, Qassem said that the 'needle of the Hezbollah compass has always pointed and will always point to Israel.'
Over the past months, the Syrian army, backed by Hezbollah resistance fighters, has managed to make major gains in its fight against foreign-backed Takfiri terrorists that have been operating to inside Syria roughly since March 2011.
Full report at:
http://www.presstv.ir/detail/2014/08/12/374985/usisraelisil-plan-in-syria-failed/
------------
Kurdish forces gain ground against ISIL
Aug 12, 2014
Kurdish Peshmerga forces in Iraq have retaken the town of Makhmour near the Kurdish city of Erbil from ISIL Takfiri militants, Press TV reports.
The town, along with al-Gweir, some 28 miles (45 kilometers) from Erbil, which is in the semi-autonomous Kurdistan region was liberated on Sunday.
"The Peshmerga have been here for several days fighting back ISIL militants' advance. We have cleansed Makhmour and its outskirts. The Peshmerga patrols are still ongoing in the region to make sure none of ISIL militants are still here," Peshtiwan Shorshi, a Peshmerga field commander, told Press TV.
"At 1 p.m. yesterday, we kicked off an all-out attack on the ISIL post here in Makhmour and have managed to regain foothold here after facing fierce confrontations from ISIL. They retreated leaving behind their vehicles," added Peshmerga lieutenant Hersh Seyan.
The development comes as some Kurdish media have underscored the significant role of Iranian forces and the Iraqi army in liberating the areas from the ISIL's grip. The media reports say Iranian forces have a decisive presence on the battlefield of the fight against Takfiri terrorists.
Full report at:
http://www.presstv.ir/detail/2014/08/12/374981/kurdish-forces-gain-ground-against-isil/
------------
Syrian army continues mop-up operations against militants
Aug 12, 2014
The Syrian army continues its operations against the foreign-backed militants across the country, inflicting heavy losses on them.
Syrian soldiers killed and injured a number of militants in several areas, including in al-Bab, al-Sahhara, Kafar Karmin, al-Shiekh Ahmad, Ain al-Jamajmieh, al-Kallasa, Jamiat al-Zahra and al-Layramoun in Aleppo, the official SANA news agency reported on Monday.
Syrian troops also targeted militants in Binnish in Idlib, killing and injuring scores of them, and destroying their weaponry and ammunition.
Army units also stormed a militant hideout in the town of al-Yacoubiye in Jisr al-Shughour area, killing nine militants and injuring many others.
The Syrian army units also conducted successful operations in Mugher al-Mir, al-Darkhabiyeh, and Khan al-Shih in the countryside of the capital Damascus, killing many of the Takfiri militants.
Full report at:
http://www.presstv.ir/detail/2014/08/12/374964/syrian-army-inflicts-losses-on-militants/
------------
Maliki out, Abadi in as Iraq's prime minister
11 August 2014
BAGHDAD: Iraq's new president has charged the deputy speaker of parliament Haider Al-Abadi with forming a new government in the next 30 days.
Fouad Massoum said on television Monday that he hoped Al-Abadi would succeed in forming a government that would "protect the Iraqi people."
The president's choice is a very public snubbing of incumbent Prime Minister Nouri el-Maliki who in an angry midnight speech all but demanded he be re-nominated for a third term.
Maliki has deployed his elite security forces in the streets of Baghdad, partially closed two main streets — popular spots for pro and anti-government rallies — as hundreds of his supporters took to the streets.
But state television showed footage of the president shaking hands with Abadi and telling him: "I hope you will be successful in forming a broader-based government."
In his first statement as prime minister, Al-Abadi called on Iraqis to unite against the "barbaric" campaign waged by Islamic State militants whose latest sweep through the north has caused alarm at home and abroad.
"We all have to cooperate to stand against this terrorist campaign launched on Iraq and to stop all terrorist groups," he said in remarks broadcast on state television just after the president asked him to form a government.
Iraq's highest court earlier issued a ruling suggesting Maliki's State of Law Shiite bloc is the biggest in parliament and therefore was entitled to nominate a candidate for prime minister.
Maliki's aides were not immediately available for comment. He has defied calls by Sunnis, Kurds, some fellow Shiites and regional power broker Iran to step aside for a less polarising figure.
Full report at:
http://www.arabnews.com/news/featured/614661
------------
Human Rights Watch staff denied entry to Egypt
Aug 11, 2014
Egyptian authorities have barred the executive director of Human Rights Watch (HRW) and another senior staff member from entering the country ahead of the release of a report by the organization on mass killings in the country last summer.
Executive Director Kenneth Roth and Middle East and North Africa Director Sarah Leah Whitson were turned back on Monday after spending nearly 12 hours at Cairo International Airport, an official, speaking on condition of anonymity, said on Monday.
Egyptian officials cited security reasons for the decision.
The senior Human Rights Watch staffers were to brief diplomats and journalists on the findings of their investigation into the bloody events in July and August last year following the ouster of Egypt's first democratically-elected president Mohamed Morsi. The report documents the deaths of hundreds of anti-government protesters killed in six different incidents, including the security raid on a sit-in of the Morsi supporters at Cairo's Rabaah el-Adawiyah Square on August 14, 2013.
Full report at:
http://www.presstv.ir/detail/2014/08/11/374909/egypt-bars-human-rights-watch-staff/
------------
Kuwait revokes more citizenships citing state security
11 August 2014
Kuwait has revoked the citizenship of 10 people, including activists, the government said Monday in the second such move in less than a month as part of a crackdown on dissent.
The decision announced after a cabinet meeting did not identify those affected by the decision, but local media said they were opposition figures.
The cabinet said the decision was based on a provision in the nationality law that allows citizenship to be revoked of those who threaten Kuwait's security, social order or economy.
Local media said among those affected were activist Nabil al-Awadhi, who is close to the Muslim Brotherhood, and Saad al-Ajami, a former journalist turned spokesman for the opposition Popular Action Movement.
On July 21, Kuwait revoked the citizenship of several people, including the owner of a pro-opposition television station and newspaper, Ahmad Jabr al-Shammari, and former Islamist opposition MP Abdullah al-Barghash along with his family members.
Human Rights Watch denounced the action in a statement on Sunday as a "crackdown on people seeking reform."
Full report at:
http://english.alarabiya.net/en/News/middle-east/2014/08/11/Kuwait-revokes-more-citizenships-citing-state-security.html
------------
North America
EU urged to join US in arming Kurds against Islamic State
11 August 2014
WASHINGTON/PARIS: As the United States confirmed on Monday that it has begun urgently shipping arms and ammunition to the Iraqi Kurdish forces battling an advance by extremist Islamic State (IS) militants, France called on the European Union to do the same.
"It is crucial that the European Union mobilizes from today to respond to this appeal (by Kurds) for help," French Foreign Minister Laurent Fabius said in a letter to EU foreign affairs supremo Catherine Ashton.
Fabius, who has just returned from a trip to Iraq where he met Iraqi Kurdish president Massud Barzani, explained that the latter had stressed "the urgent need for weapons and ammunition that would allow them to confront and beat the terrorist group Islamic State."
France and Britain have pledged support for a US-led operation helping Iraqi civilians — many of them from the Yazidi minority — who are fleeing a deadly advance by IS militants.
While all three Western countries are providing emergency aid for the besieged civilians, the United States has also been conducting air strikes on IS positions.
On Monday, a US State Department spokeswoman said Washington has also started sending weapons to Kurdish fighters.
"We're working with the government of Iraq to increasingly and very quickly get urgently needed arms to the Kurds," Marie Harf told CNN.
"This includes the Iraqis providing their own weapons from their own stocks, and we're working to do the same thing from our stocks of weapons that we have."
Harf said the effort had been underway since last week, but did not say which US agency was leading the effort or how many and what type of weapons had been sent.
The United States has a consulate and other facilities in Arbil, capital of Iraq's Kurdish autonomous region, and last week President Barack Obama announced air strikes to protect the city from the IS advance.
Full report at:
http://www.arabnews.com/news/middle-east/614656
------------
IS crisis: Hillary blames Obama policies
11 August 2014
WASHINGTON: Former US Secretary of State Hillary Clinton blamed the rise of Islamic State (IS) militants in Iraq and Syria on failures of US policy under President Barack Obama, in an interview published on Sunday.
Clinton specifically faulted the US decision to stay on the sidelines of the insurgency against Syria's President Bashar Assad as opening the way for the most extreme rebel faction, the Islamic State.
"The failure to help build up a credible fighting force of the people who were the originators of the protests against Assad — there were Islamists, there were secularists, there was everything in the middle — the failure to do that left a big vacuum, which the jihadists have now filled," Clinton told the Atlantic.
Full report at:
http://www.arabnews.com/news/featured/614576
------------
Clooney's fiancee British-Lebanese lawyer rejects Gaza probe job
August 12th, 2014
GENEVA: The British-Lebanese lawyer Amal Alamuddin, who is engaged to George Clooney, on Monday pulled out of an appointment to serve on a UN commission on possible violations of the rules of war in Gaza.
The president of the 47-nation UN Human Rights Council announced in a statement Monday that Alamuddin had been appointed on the commission, but the increasingly high-profile British-Lebanese lawyer later said she could not accept the role.
"I was contacted by the UN about this for the first time this morning," she said. "I am honoured to have received the offer, but given existing commitments -- including eight ongoing cases -- unfortunately could not accept this role."
Full report at:
http://www.dawn.com/news/1124698/clooneys-fiancee-alamuddin-rejects-gaza-probe-job
------------
Black teenager's killing leads to riots in US town
August 12th, 2014
WASHINGTON: The US Federal Bureau of Inves­tigation opened an inquiry on Monday into the weekend shooting death of an unarmed black teenager by a police officer that sparked a night of looting and vandalism in a Missouri town.
An FBI spokesperson said the agency was looking into possible civil rights violations into the weekend shooting in the St. Louis suburb of Ferguson. The 18-year old teenager, Michael Brown, had planned to begin college classes on Monday, but was shot dead by police on Saturday.
The police have said an officer, who has not been identified, was "physically assaulted" before opening fire. The authorities also said there had been a struggle "over the officer's weapon".
Full report at:
http://www.dawn.com/news/1124783/black-teenagers-killing-leads-to-riots-in-us-town
------------
US backing ISIL to destabilize, stir up Iraq: Analyst
Aug 12, 2014
The US is covertly supporting the ISIL terrorist group in Iraq to keep the country "stirred up," part of its strategy to "destabilize" and exploit the region's vast oil resources, a geo-political analyst in Missouri says.
Recent warnings from senior US officials that ISIL militants pose a threat to the West is a "big lie" and a scare tactic to influence public opinion, said Dean Henderson, a columnist at Veterans Today.
ISIL's rise and rapid gains in Syria and Iraq designed by the administration of President Barack Obama, Henderson told Press TV on Monday.
The US "backed" ISIL to "destabilize" the Iraqi government of Prime Minister Nouri al-Maliki because he "hasn't been behaving lately like we want him to, so they're sending him a message," he said.
Full report at:
http://www.presstv.ir/detail/2014/08/12/374999/us-backing-isil-to-destabilize-iraq/
------------
Pakistan
Operation Zarb-e-Azb: Commanders Vow Not To Allow Regrouping Of Terrorists
August 12, 2014
ISLAMABAD: Expressing complete satisfaction over the progress made in operation Zarb-e-Azb in North Waziristan so far, Chief of Army Staff General Raheel Sharif on Monday emphasised the need to consolidate operational gains which he hoped will also be backed up by long-term counter-terrorism and counter-extremism measures by the stakeholders concerned.
Raheel was presiding over a Corps Commander Conference at the GHQ, Rawalpindi. Participants of the conference were given a detailed briefing on the operation Zarb-e-Azb and the overall security situation, an official ISPR statement said. The participants vowed that the terrorists will not be allowed to regroup and return to these areas, neither will they be allowed any space across the country. The conference, which was held as per schedule and which is a regular event, interestingly coincided with the political impasse the country has been facing in the wake of the planned long march of PTI and "Inqilab March" of the PAT announced for August 14.
Full report at:
http://www.dailytimes.com.pk/national/12-Aug-2014/commanders-vow-not-to-allow-regrouping-of-terrorists
------------
Dr Tahirul Qadri Has Given His Workers 'Licence to Kill': Minister
August 12, 2014
LAHORE: Planning and Development Minister Ahsan Iqbal has said that Pakistan Awami Tehreek (PAT) Chief Dr Tahirul Qadri has given his workers a "licence to kill".
Ahsan Iqbal said this while addressing a joint press conference along with Information and Broadcasting Minister Pervaiz Rashid on Monday.
"Dr Qadri yesterday gave his workers a licence to kill while he also asked for the killing of his own workers who [would] step back from advancing his agenda. Even Mussolini and Hitler had not issued such open and brutal directives in their times; they had 'death squads', who were secretly issued such orders to kill."
Ahsan said that rigging would have taken place at some places but that on the basis of it, entire elections in the country could not be rejected. He said that all of the surveys regarding public opinion prior to the 2013 general elections had indicated that the Pakistan Muslim League-Nawaz (PML-N) was ahead of all other parties.
Ahsan said that PTI senior leader Asad Umer felicitated PML-N for winning the polls on May 11, 2013 and gave "good news" about forming PTI government in Khyber Pakhtunkhwa (KP) to the people. He said that Imran Khan was acting upon his second thought, after not gaining any success in KP for he tried to run the KP government via SMS from his Bannigala residence in Islamabad.
Full report at:
http://www.dailytimes.com.pk/national/12-Aug-2014/qadri-has-given-his-workers-licence-to-kill-ahsan
------------
PTI long march: Govt to avoid arresting leaders
By Amjad Mahmood
August 12th, 2014
LAHORE: The government has decided not to arrest leaders of the August 14 march but keep the situation under control with 'administrative' measures, as mediators continued their efforts to broker a truce between the PML-N and the Pakistan Tehreek-i-Insaf.
The decision was taken at a consultative meeting presided over by Prime Minister Nawaz Sharif at his Raiwind residence here on Monday. It was attended by important members of the federal and Punjab governments and senior leaders of the PML-N.
The meeting discussed the marches on Islamabad the PTI and the Pakistan Awami Tehreek (PAT) have planned from Lahore on Aug 14.
A participant of the meeting told Dawn that Mr Sharif asked the PML-N leaders and ministers not to get panicked by the protest plans and face the situation in a calm and composed manner.
According to the participant, the prime minister rejected a proposal to take the leadership of PTI and PAT into custody. "There is no question of arresting the leaders. Rather, we'll see to what extent they may go," Mr Sharif was quoted as saying.
He also rejected a proposal to bring PML-N workers on the road as a measure to counter the protests. "A clash between parties should be avoided at all cost," he said, stressing the use of only administrative measures to keep the situation under control.
Know more: Islamabad district administration says 'no' to PTI march
On Sunday, Punjab Law Minister Rana Mashhood had said the PML-N would bring hundreds of thousands of its activists on the road and lay siege to the Zaman Park residence of PTI Chairman Imran Khan for thwarting his 'Azadi march'.
Full report at:
http://www.dawn.com/news/1124805/pti-long-march-govt-to-avoid-arresting-leaders
------------
'Imran being advised by ex-spymaster Pasha'
August 12th, 2014
LAHORE: Federal Information Minister Pervaiz Rashid alleged here on Monday that PTI chairman Imran Khan was acting on the advice of former chief of Inter Services Intelligence Ahmed Shuja Pasha.
Talking to the media after a consultative meeting of the PML-N, he said some media reports suggested that the former spymaster involved in promotion of the PTI in 2011 had recently met Imran Khan and advised him on the protest plan the cricketer-turned-politician was executing to topple the government.
He said the ex-spymaster's strategy was also to be blamed for the PTI's defeat in the 2013 general election.
Quoting an internal report of the 'Fact-Finding Committee' the PTI leadership had formed to probe into the reasons behind its defeat, he said: "Selling out tickets to the people unable to contest the elections" as the main reason behind the routing of the party in the electoral contest.
Also read: Govt accuses Musharraf's friends of being behind chaos
He wondered that though Imran was finding rigging complaints only in Punjab, he was bent upon dissolution of elected houses of other provinces as well through his long march.
Mr Rashid said there was no chance of imposition of martial law in the country, insisting that all institutions were working in their respective constitutional spheres. He said the rumours of martial law were being spread to defame the armed forces engaged in the North Waziristan operation.
Full report at:
http://www.dawn.com/news/1124864/imran-being-advised-by-ex-spymaster-pasha
------------
Imran Khan's statement: Sethi, Ramday reject allegations
By Zulqernain Tahir
August 12th, 2014
LAHORE: Former caretaker chief minister of Punjab Najam Sethi has said that Pakistan Tehreek-i-Insaf Chairman Imran Khan is accusing him and others of rigging the 2013 elections at the behest of what he called the "third force".
"Imran Khan is dancing to the tune of the 'third force' and, therefore, he has started believing in the conspiracy theory that the May 2013 elections were rigged," Mr Sethi told Dawn in reaction to the allegations levelled against him by Mr Khan.
"I wonder how Mr Khan could believe in the conspiracy theory. On his recommendation I did not appoint Chaudhry Zaman as chief secretary of Punjab. I transferred at least 15 officers who were considered close to the Sharifs. The Sharifs were not happy over this.
Also read: PTI does not support martial law, says Imran
"I brought upright officers for the posts of chief secretary, additional chief secretary and home secretary and nobody could point a finger at their work," he said, adding that the education secretary had not been removed at the request of the then British ambassador because a project worth millions of British pounds was under way in the province.
"The health secretary also was in the middle of negotiations with the World Bank for a grant of Rs4 billion for a project. He was also effectively controlling measles epidemic. As far as the finance secretary was concerned he was a competent officer and funds had already been frozen after the election schedule was announced," Mr Sethi said.
He said Mr Khan should have blamed either him for being the caretaker chief minister or returning officers for the rigging. "Either the ROs or the caretaker chief minister could be involved in the rigging, and not both."
Mr Sethi, a former chairman of the Pakistan Cricket Board, said he would send a legal notice to Mr Khan for levelling baseless allegations that he did not pay taxes. "I have never got a single penny of tax waived."
Full report at:
http://www.dawn.com/news/1124795/imran-khans-statement-sethi-ramday-reject-allegations
------------
CM Shahbaz offers electoral panel top slot to Imran
August 12th, 2014
LAHORE: Chief Minister Shahbaz Sharif has said that he is ready to go to Imran Khan in the interest of progress and prosperity of the country but it is lamentable that Imran and Qadri have joined hands for such a long march and revolution which is aimed at creating anarchy and pushing the country towards darkness.
In a TV interview here on Monday, he said the PTI chairman is in favour of dialogue with the murderers of 40,000 Pakistanis, a reference to Taliban, but he is refusing to negotiate with the democratically elected government for resolving political issues. ------------
Replying to a question, Shahbaz said he had offered dialogue to Imran Khan for more than once, while the prime minister also gave mandate to Jamaat-i-Islami emir Sirajul Haq to hold talks with Imran Khan so that political issues could be resolved through negotiations.
He once again invited the PTI chief in the name of Pakistan and Pakistani people to come forward, hold dialogue seriously, saying political issues should be resolved through parliament.
Know more: Imran spurns PM's olive branch?
He offered Imran Khan to become the head of electoral reforms committee.
He said the government did not feel threatened by the long march and slogans of revolution; however it is causing economic loss to the country.
He said there is no justification for long march and sit-ins at a time when the armed forces of the country are fighting against terrorism.
Referring to PAT chief Tahirul Qadri's speech the previous day, he said what kind of revolution could be brought about by a person who was ordering his supporters to kill anyone who returned without revolution and attack the houses of police officials who were on duty.
He said thieves and dacoits, a reference to the Chaudhrys of Gujrat, were also hiding behind the so-called revolutionary. "I am ready to resign if writing off a loan or its interest is proved against me or Sharif family."
Full report at:
http://www.dawn.com/news/1124867/cm-shahbaz-offers-electoral-panel-top-slot-to-imran
------------
Approach Imran, Qadri: LHC to Nawaz
August 12, 2014
LAHORE: The Lahore High Court (LHC) on Monday directed Prime Minister Nawaz Sharif to meet Pakistan Tehreek-e-Insaf (PTI) chief Imran Khan and Pakistan Awami Tehreek head Tahirul Qadri on Tuesday (today) in a bid to defuse the current tense political situation.
According to media reports, hearing a petition seeking restraining order against PTI's planned "Azadi March", the LHC judge Khalid Mehmood remarked that if the prime minister failed to meet Imran Khan on Tuesday the court would issue an order. He said the national security is in danger and the prime minister's ego should not lead to disintegration of the country. Additional Attorney General AK Dogar told the court that the government believes in resolving all political issues through dialogues. Meanwhile, Justice Shahid Hameed Dar directed the prime minister to visit Imran Khan's residence without invitation because national security is important.
A three-member full bench of the Lahore High Court on Monday issued notices to PTI chief Imran Khan, PAT head Tahirul Qadri, PML-Q leaders Shujaat Hussain and Pervez Elahi, Sheikh Rasheed of the Awami Muslim League and home secretaries of Punjab and Khyber Pakhtunkhwa on a petition seeking issuance of an order to restrain the PTI from taking out its "Azadi March".
The bench comprising Justice Muhammad Khalid Mehmood Khan, Justice Shahid Hameed Dar and Justice Anwaarul Haq directed the respondents, including Interior Ministry, to appear in court on Tuesday (today). The bench directed the federal and Punjab law officers to come prepared with details about the steps taken by the government to end the political crisis through reconciliation. It remarked that every citizen has the right to protest against the government but no one could be permitted to brandish weapons. The bench remarked that it is easy for it to pass an order of four lines but the other party should be given the chance to argue. During the proceedings on Monday, Naseer Ahmad Bhutta, additional attorney general of Pakistan, Muhammad Hanif Khatana, advocate general Punjab and Ahmad Awais received notices on behalf of the Interior Ministry, Punjab home secretary and Imran Khan. The bench directed the LHC registrar to intimate the remaining respondents through print and electronic media, telling them to ensure their presence before the court.
Full report at:
http://www.dailytimes.com.pk/punjab/12-Aug-2014/approach-imran-qadri-lhc-to-nawaz
------------
Pakistan summons Indian envoy over cross-border firing
August 12, 2014
Islamabad: Pakistan Monday summoned a top Indian diplomat over recent cross-border firing which left one person dead, officials said.
Paramilitary force Pakistan Rangers said the Indian forces resorted to unprovoked firing in Charwah sector across the working boundary near Sialkot Monday morning, killing a woman and injuring three others, Xinhua reported.
A Rangers spokesman said a mosque was badly damaged in the firing.
"Deputy high commissioner of India was summoned to the ministry of foreign affairs today (Monday) to lodge Pakistan's protest over unprovoked Indian firing across the working boundary in Sialkot sector Aug 10-11 which resulted in one civilian casualty and injuries to three others," a Pakistan foreign ministry statement said.
The ministry claimed that it was the 54th incident of ceasefire violation by Indian troops since July this year.
Full report at:
http://muslimmirror.com/eng/pakistan-summons-indian-envoy-over-cross-border-firing/
------------
India
Declare Israel a terrorist state: Darul Uloom
July 14, 2014
By Muslim Mirror News,
Deoband: Condemning Israeli aggression on civilians, Islamic seminary Darul Uloom Deoband has strongly urged the United Nations to immediately call emergency meeting to stop the ongoing killings of innocents in Gaza and declare Israel a terrorist state.
Full report at:
http://muslimmirror.com/eng/declare-israel-a-terrorist-state-darul-uloom/
------------
PM Narendra Modi slams Pakistan for waging 'proxy war' against India
Aug 12, 201
LEH: Prime Minister Narendra Modi on Tuesday condemned the "continuing proxy war by Pakistan".
Addressing soldiers at Leh, Modi said that the "neighbouring country has lost the strength to fight a conventional war, but continues to engage in proxy war of terrorism".
He said that Indian military is suffering more casualties from terrorism than from war.
READ ALSO: Leh is at the focus of govt's solar energy initiatives, Modi says
Narendra Modi recalled the Kargil war and said the armed forces deployed in border areas are well-connected with the people who live there.
He highlighted the example of Kargil infiltration, about which first information was given to our armed forces by a shepherd named Tashi Namgyal.
India defeated Pakistani infiltrators in the 1999 Kargil war.
Modi said that the government was committed to make India self-reliant in defence manufacturing.
Full report at:
http://timesofindia.indiatimes.com/india/PM-Narendra-Modi-slams-Pakistan-for-waging-proxy-war-against-India/articleshow/40102918.cms
------------
Will aid return of Kashmiri pandits, govt says
Aug 12, 2014
NEW DELHI: The issue of rehabilitation of Kashmiri pandits took a personal turn in the Lok Sabha on Monday with BJP member Anurag Thakur taking a veiled dig at Congress vice-president Rahul Gandhi, accusing him of not even raising the issue in so many years. Thakur refrained from taking Rahul's name.
Seeking a clarification on a "calling attention motion", Thakur said, "It saddens me that some leaders call themselves Kashmiri pandits but when the issue is raised, they keep silent."
Home minister Rajnath Singh said the issue is of national importance for the NDA and a new package is being finalized for the return and rehabilitation of Kashmiri migrants.
He noted that the Centre had earmarked Rs 500 crore in this year's budget for return and rehabilitation of Kashmiri migrants but a revised proposal had been subsequently received from the state government envisaging financial implication of Rs 5,820 crore.
Home minister Rajnath Singh.
Responding to a calling attention motion, Singh asserted the government will not rest till it ensures return and rehabilitation of the Kashmiri migrants and wanted Parliament to adopt a resolution to endorse this commitment.
At present, a total of 60,452 families of Kashmiri migrants are registered in the country, of which 38,119 are in Jammu, 19,338 in Delhi and 1,995 in other states.
Raising the issue, TRS member K Kavitha said the government should not just "experiment" with the Kashmiri migrants. Describing the killing of the community as "ethnic cleansing", Kavitha said the government should ensure a retrial of cases and ensure convictions to bring confidence among the people.
Full report at:
http://timesofindia.indiatimes.com/india/Will-aid-return-of-Kashmiri-pandits-govt-says/articleshow/40083716.cms
------------
Mideast
US strikes against ISIL false show: Iran MP
Aug 11, 2014
The United States' record of support for terrorist groups in Syria, Iraq and Afghanistan belies its recent military strikes against Takfiri ISIL militants as only "posturing," a senior Iranian lawmaker says.
"The Americans, who strengthened terrorist groups in Syria, Iraq and Afghanistan, are putting on a show in dealing with the ISIL instead of [taking] serious action," Chairman of the Majlis National Security and Foreign Policy Committee Alaeddin Boroujerdi said.
He added that the US is carrying out airstrikes against the ISIL terrorists to show that "it has a role to play in the region."
Iran does not welcome such posturing by Washington, the legislator said, adding, "Such intervention will certainly bring no benefit to Iraq and the region."
US President Barack Obama authorized on Thursday the use of targeted airstrikes to prevent the advance of ISIL terrorists in Iraq and to protect American personnel and interests inside the country.
Full report at:
http://www.presstv.ir/detail/2014/08/11/374930/us-strikes-on-isil-in-iraq-stunt/
------------
Turkey's Erdogan prepares for strongman president role
August 12, 2014
ANKARA - Prime Minister Recep Tayyip Erdogan on Monday prepared for the challenge of leading Turkey into his promised "new era" as a strongman president following his election win, as his party began to set up the transfer of power.
As premier since 2003, Erdogan has sought to modernise Turkey and take a more assertive position on the global stage but is seen by opponents as an increasingly authoritarian figure with a desire to Islamise Turkish society.
He is now to become the country's first ever directly elected president after Sunday's election win, with his inauguration set for August 28. He could well serve two five-year terms, staying in power until 2024. Attention will now turn to who becomes the next prime minister to take the ruling Islamic-rooted Justice and Development Party (AKP) into 2015 legislative elections.
AKP spokesman Huseyin Celik announced that the party would hold an extraordinary congress on August 27 one day before the inauguration to agree a new prime minister to replace Erdogan.
This means that Erdogan - who clearly has no desire to take even the smallest break - will stay in his current post until the very last moment when he takes the presidency from incumbent Abdullah Gul.
"We will agree on a name based on common sense," Celik said, adding that a meeting of top AKP members on Monday had not discussed names.
Erdogan won 51.79 percent of the vote, the main opposition challenger Ekmeleddin Ihsanoglu 38.44 percent and Kurdish candidate Selahattin Demirtas 9.76 percent, according to a final total vote count.
Full report at:
http://www.nation.com.pk/international/12-Aug-2014/turkey-s-erdogan-prepares-for-strongman-president-role
------------
Turkish activists to send new Gaza flotilla to challenge Israeli blockade
11 August 2014
A Turkish aid group said on Monday it would send ships again to Gaza to challenge the Israeli blockade of the Palestinian territory, Reuters News Agency reported.
The announcement comes some four years after Israeli commandos stormed the Turkish aid group flotilla of Gaza-bound ships and killed 10 people. The incident wrecked diplomatic ties between Turkey and Israel, once close Middle East allies, but whose relationship had been tense since late 2008 over a previous Israeli operation against Gaza.
http://english.alarabiya.net/en/News/middle-east/2014/08/11/Turkish-activists-to-send-new-Gaza-flotilla-to-challenge-Israeli-blockade.html
------------
Life stirs in Gaza as new 72-hour truce takes hold
11 August 2014
GAZA CITY, Palestinian Territories: Israel and Hamas on Monday stuck to a 72-hour cease-fire in Gaza as Egyptian mediators launched fresh talks with negotiators aimed at securing a permanent cessation of hostilities.
Quiet returned to the enclave from midnight (2100 GMT on Sunday), the fruit of days of Egyptian-brokered mediation to stem violence which has killed 1,939 Palestinians and 67 on the Israeli side since July 8.
More than 12 hours into the truce, there were no reports of violations on either side and signs of life emerged on the streets of the war-torn coastal enclave which is home to 1.8 million Palestinians.
Full report at:
http://www.arabnews.com/news/middle-east/614651
------------
Iran aid for Gaza awaiting Egypt permission: Official
Aug 12, 2014
Iran has criticized Egypt for dragging its feet in granting permission for the dispatch of the Islamic Republic's medical and humanitarian supplies into the Gaza Strip.
On Tuesday, Iranian Deputy Foreign Minister for Arab and African Affairs Hossein Amir-Abdollahian said the Islamic Republic is still awaiting Egypt's permission to send relief aid into Gaza and transfer those wounded in Israeli attacks to Iran for treatment.
It has been more than two weeks that Egyptian officials are refusing to respond positively to a request by the Iranian airlines to send a plane carrying humanitarian aid to the airports in Cairo or Ismailia, he said.
On August 5, Iranian Foreign Minister Mohammad Javad Zarif said he had held two phone conversations with his Egyptian counterpart Sameh Shoukry on Israel's brutal military aggression against Gaza and the necessity to send relief aid to people in the impoverished strip.
Full report at:
http://www.presstv.ir/detail/2014/08/12/374987/iran-aid-still-awaiting-egypt-response/
------------
Rouhani stresses anti-terror cooperation with Turkey
Aug 12, 2014
Iranian President Hassan Rouhani has underlined the need for further cooperation between Iran and Turkey in the fight against terrorism in the region, particularly in Iraq.
President Rouhani made the remarks in a Monday telephone conversation with Turkish president-elect, Recep Tayyip Erdogan, to congratulate him on his victory in Turkey's presidential election.
The Iranian president described the situation in Iraq as worrisome, saying that the legal government of Iraq should be formed as soon as possible.
The Iraqi army is engaged in fierce fighting with ISIL Takfiri terrorists who have taken several towns since June 10.
President Rouhani further expressed hope that bilateral ties between Iran and Turkey as well as cooperation on regional issues would further develop during Erdogan's term in office as president.
Full report at:
http://www.presstv.ir/detail/2014/08/12/375002/iran-stresses-closer-ties-with-turkey/
------------
Larijani hails Hezbollah victory in 2006 Israeli war
Aug 12, 2014
Iran's Majlis Speaker Ali Larijani has congratulated the Lebanese nation and resistance movement Hezbollah on their victory over Israel in the regime's 33-day war on the country in 2006.
In a congratulatory message to Hezbollah Secretary-General Seyyed Hassan Nasrallah on the anniversary of Israel's defeat in its 2006 aggression, Larijani described the Lebanese nation's resistance and victory against the Zionist enemy during the 33-day war as an "unforgettable epic."
"This historical success shows that the strength of Islamic resistance guarantees Lebanon's security, peace and independence in the face of the Zionist regime," added the senior Iranian lawmaker.
In a similar message to his Lebanese counterpart Nabih Berri, Larijani said such a victory has been achieved through the sacrifices made by Lebanon's resistance fighters as well as unity among the country's leaders.
Full report at:
http://www.presstv.ir/detail/2014/08/12/374995/iran-hails-hezbollah-victory-over-israel/
------------
Hamas welcomes formation of UN panel on Israel crimes
Aug 12, 2014
The Palestinian resistance movement Hamas has welcomed an initiative by the United Nations to appoint a panel to investigate crimes committed by Israel during the Tel Aviv regime's onslaught on the besieged Gaza Strip.
"We welcome the council's decision to form an international inquiry panel into the war crimes in Gaza," Hamas spokesman Sami Abu Zuhri said in a press release on Monday.
Earlier in the day, the UN Security Council appointed Amal Alamuddin from the United Kingdom, Doudou Diène from Senegal and William Schabas from Canada to serve as members of the human rights body's independent Commission of Inquiry to probe the crimes.
Schabas will lead the independent committee, said the president of the UN Security Council, Baudelaire Ndong Ella.
Full report at:
http://www.presstv.ir/detail/2014/08/12/374969/hamas-welcomes-un-panel-on-israel-crimes/
------------
Southeast Asia
Malaysia and Indonesia in Cross Hairs of ISIS Terrorists
By Brian
August 11, 2014
ISIS, which now refers to itself as the Islamic State and has claimed the title of Caliphate, has already made it clear that it wants to claim rule over the Muslim world. Now, security officials in both Malaysia and Indonesia claim that ISIS is attracting followers in said countries. How serious is the threat? And could ISIS actually launch global strikes?
ISIS
Hundreds of years ago caliphates did rule over most of the Islamic world, though they were often more well-known for their moderation, rather than extremism. ISIS is trying to revive the wide sweeping power of the Caliphate, though they are bastardizing it with extremism and increasing attacks against non-Muslims.
Security Threat Real Even If Challenge To Power Isn't
Whatever ISIS might dream of, the organization simply isn't in the position to build a global empire. The organization is still small, and its scope is largely limited to Syria and Iraq. Its followers are radicalized and ready to die for their cause. This does allow ISIS to exert a lot of power locally, but expanding that power internationally will be difficult.
That doesn't mean, however, that ISIS won't find supporters abroad. Radical groups tend to attract alienated individuals, and every society has its alienated individuals. Authorities in Malaysia and Indonesia now fear that ISIS will be able to use these individuals to launch attacks within South East Asia.
Terrorist attacks, by their very nature, focus on creating fear, rather than high casualties. While ISIS might not be able to ever seize control of territory in Malaysia or Indonesia, that doesn't mean the organization can strike fear into the hearts of citizens. Indeed, it only takes a single radical to launch an attack.
Full report at:
http://www.valuewalk.com/2014/08/malaysia-and-indonesia-in-cross-hairs-of-isis-terrorists/
------------
Malaysia Muslims Shun Pro-Israel Companies
10 August 2014
CAIRO – Malaysian non-governmental organizations launched on Sunday, August 10, a month-long boycott campaign for three giant American and British businesses in a strong reaction to their stand on the ongoing Israeli war on Gaza strip.
"As a rule, we don't want boycotters to vandalize, hurt the feelings, or do things that will backfire," Abdullah Zaik Abd Rahman, the chief executive of Pro-Palestine group Aman Palestin which spearheaded the campaign, told The Malay Mail Online.
"Don't do things that others can use to mock our campaign," he added.
The month-long campaign called Bulan Kemarahan Ummah (The Month of Ummah's Wrath) was launched today by a number of Malaysian NGOs.
The peaceful boycott was announced against fast food franchise McDonald's, coffee chain Starbucks, and British bank HSBC.
Citing their support to Israel, the campaign has also named soft drink brand Coca-Cola and Swiss multinational firm Nestlé as other companies to be boycotted by Muslims.
According to the campaign, the brands will be boycotted because they allegedly "lend their support to Zionist Israel".
Rejecting any violence against these businesses, Abdullah said mass protests outside restaurants or outlets by holding up placards and lobbying customers were acceptable in order to raise awareness.
Full report at:
http://onislam.net/english/news/asia-pacific/476065-malaysia-muslims-shun-pro-israel-companies.html
------------
Islamic State militants have Putrajaya in crosshairs, Bukit Aman says
August 11, 2014
KUALA LUMPUR, Aug 11 — Malaysian jihadists who joined terror group Islamic State to launch strikes in Iraq and Syria are now training their sights on their home government, according to police intelligence.
Home-ground followers of the al Qaeda offshoot, which gained control of territory in the two countries through armed warfare earlier this year, are looking to topple Putrajaya and replace the government with a fully Islamic government based on Shariah law, the South China Morning Post reported today, citing Bukit Aman's counter-terrorism division senior official, Datuk Ayub Khan.
"During questioning, they [the suspects] admitted one of their main objectives was to attack the government," Ayub was quoted saying by the English-language Hong Kong daily.
"They also discussed planning attacks against a disco, pubs in Kuala Lumpur and a Carlsberg factory in Petaling Jaya," he added.
Full report at:
http://www.themalaymailonline.com/malaysia/article/islamic-state-militants-has-putrajaya-in-crosshairs-bukit-aman-says
------------
ISMA cries foul after 'Malay power' billboards rejected by local councils
BY SYED JAYMAL ZAHIID
AUGUST 12, 2014
KUALA LUMPUR, Aug 12 — Muslim group Ikatan Muslimin Malaysia (ISMA) today suggested that two local councils were against Islam and Malays for rejecting the group's attempts to install two billboards calling for "Malay power" and "Islamic supremacy".
Criticising the Shah Alam City Council (MBSA) and Selayang Municipal Council (MPS) for refusing to approve the billboards, ISMA said these should not have been rejected and denied that the message was provocative
"There is nothing wrong in calling for Islamic supremacy and Malay power because both of these are the pillars of our statehood as enshrined in the Federal Constitution," ISMA secretary-general Dr Ahmad Kamsani was quoted as saying in an interview with IsmaWeb, the group's official website.
The billboards, planned in conjunction with Merdeka Day, depict ISMA's president and deputy president in Baju Melayu with a caption reading, "Let Us All Fight for Islamic Supremacy and Malay Power on this Malay soil".
According to the website, both councils rejected the group's applications in July after deeming the contents of the billboard "sensitive".
Kamsani disputed this and insisted that the message was neither confrontational nor racist.
"We should actually celebrate the message because it reminds all Malaysians that this country was built on the foundations of Islam and Malay as its identity, which is in line with Merdeka Day.
Full report at:
http://www.themalaymailonline.com/malaysia/article/isma-cries-foul-after-malay-power-billboards-rejected-by-local-councils
------------
Africa
CAR president appoints first Muslim PM
11 Aug 2014
Catherine Samba-Panza, the interim president of the Central African Republic, has chosen Mahamat Kamoun as the country's first Muslim prime minister.
The appointment of Kamoun, 53, was announced on state radio on Sunday, days after his predecessor stepped down as part of a government reshuffle.
Kamoun is tasked with forming a consensus government and guiding the country to elections next year in a bid to end sectarian violence that has killed thousands of people and displaced around one million.
Samba-Panza took office in January when Seleka leader Michel Djotodia resigned amid an international outcry over abuses by the mostly Muslim rebels after they seized power in March 2013 in the majority Christian country.
The Christian anti-balaka militia then took up arms against them.
Kamoun, an economist, was the cabinet chief for Djotodia during his presidency, but the rebels say he is not a member of Seleka.
Kamoun has served as an adviser to Samba-Panza since Djotodia's resignation, the Reuters news agency reported.
Seleka rejection
Seleka rebels said on Monday they would not take part in a national unity government as they were not consulted about the choice of prime minister and said they may rethink last month's ceasefire deal agreed last month in the capital of neighbouring Congo Republic.
"The transitional head of state did not think to open talks with Seleka and just decided to name a prime minister," General Mohamed Mousa Dhaffane, the group's second vice-president, said in a statement.
When Seleka withdrew from the southern capital Bangui after Djotodia's resignation, tens of thousands of Muslims fled militia reprisals to a northern rebel enclave.
Persistent fighting on the edge of rebel territory has undermined the ceasefire with the anti-balaka militia.
Full report at:
http://www.aljazeera.com/news/africa/2014/08/car-president-appoints-first-muslim-pm-201481119339126423.html
-----
Central African Republic crisis: Rebels reject new Muslim PM Kamoun
11 August 2014
The appointment of the first Muslim prime minister in the Central African Republic (CAR) has been rejected by the mainly Muslim rebel group Seleka.
Mahamat Kamoun was appointed in the wake of a deal signed last month between rival militias aimed at ending more than a year of religious conflict.
He is the first Muslim prime minister in the Christian-dominated country and is to lead a transitional government.
More than half of the population is in urgent need of assistance, the UN says.
An estimated 20% of inhabitants have fled their homes in the conflict which began as Seleka rebels seized power in March 2013.
This gave rise to the creation of largely Christian anti-Balaka militias and the situation descended into ethno-religious violence.
The Seleka leader, Michel Djotodia, stood down as president in January as part of regional efforts to end the fighting.
Full report at:
http://www.bbc.co.uk/news/world-africa-28738994
-------
South Sudan warring sides fail to form unity government
Aug 11, 2014
South Sudan's warring sides have missed a deadline to form a unity government despite growing international condemnation of the conflict in the country.
Under the Cessation of Hostilities Treaty signed on May 9, President Salva Kiir and his former deputy Riek Machar had agreed to establish a unity government by August 10.
The latest round of peace talks between the two sides resumed last Monday in the Ethiopian capital Addis Ababa, but the delegates failed to meet for the rest of the week.
On Friday, the United Nations Security Council threatened to impose sanctions on both sides for their failure to resolve the ongoing conflict in the country.
The actions of the warring leaders "in continuing to pursue a military solution to this conflict are unacceptable," according to a UN Security Council statement.
Full report at:
http://www.presstv.ir/detail/2014/08/11/374836/south-sudan-fails-on-unity-government/
------------
South Asia
Afghans tortured, killed by US troops need justice: Amnesty
August 12, 2014
KABUL: US forces who have tortured or killed civilians in Afghanistan have not been brought to justice because of failures in the US military justice system, human rights group Amnesty International said on Monday.
At least 1,800 Afghan civilians have been killed by coalition troops between 2009 and 2013, Amnesty said in a report released in the Afghan capital, but only six cases against US military personnel went to trial over the period. Several families seeking justice from the US government attended a conference in Kabul to give dramatic accounts of their experiences of loss and torture, among them burqa-clad women who had survived a deadly air strike.
"The US military justice system almost always fails to hold its soldiers accountable for unlawful killings and other abuses," Richard Bennett, Asia-Pacific director for Amnesty, said in a statement urging the need for reform. "Thousands of Afghans have been killed or injured by US forces since the invasion, but the victims and their families have little chance of redress."
The US Department of Defense said troops go to extraordinary lengths to avoid civilian casualties and it took all credible reports of injuries and deaths seriously. "The United States has investigated US military personnel and civilian personnel, including contractors, for civilian casualties that are alleged to be not incident to lawful military operations," said spokeswoman Navy Commander Amy Derrick-Frost.
Victims at the conference told of how they witnessed the killing of family members in night raids and survived torture by US troops. Mohammad Saber, from the eastern province of Paktia, recalled the moment when US forces arrested him and three others in a raid on his home after a party. Saber's wife, sister and niece were shot dead on the spot, while his brother and nephew were left to die of their wounds and he was taken away for questioning with the three men.
Full report at:
http://www.dailytimes.com.pk/region/12-Aug-2014/afghans-tortured-killed-by-us-troops-need-justice-amnesty
------------
Philippine Muslim rebels vow to win peace
August 12, 2014
MANILA — Muslim rebels who have been waging a decades-long rebellion in the Philippines said Monday they would "do everything possible" to ensure a peace accord is implemented, as crucial talks made slow progress.
Mohagher Iqbal, chief negotiator for the 12,000-strong Moro Islamic Liberation Front (MILF), said it was determined to press ahead with negotiations despite the recent setbacks.
"The process is very hard and tough but that will not deter us from doing everything possible to make it happen," Iqbal told AFP after a 10-day session of talks ended on Sunday without agreement on key issues.
"Peace is at stake. No one wants to spoil it."
The MILF is the main rebel group that has been fighting since the 1970s for an independent or autonomous homeland in the southern Philippines for the nation's Muslim minority.
Tens of thousands of people have died in the conflict.
The MILF and President Benigno Aquino's government signed an accord in March that laid out a roadmap for final peace by the middle of 2016.
Under the peace accord, the MILF would have control of a new southern autonomous region, and the rebels would lay down their arms.
However the peace process has since become bogged down in finalizing the most sensitive issues in a draft law to create the autonomous region, such as who would be in control of security and budgets.
Full report at:
http://www.saudigazette.com.sa/index.cfm?method=home.regcon&contentid=20140812214429
-----
Civilian deaths hindered Afghan-US deal: Official
Aug 11, 2014
A senior Afghan official says a record number of civilian casualties caused by US-led foreign forces has been one of the reasons behind President Hamid Karzai's refusal to sign a security pact with Washington.
Karzai's spokesman Aimal Faizi said on Monday in Kabul that the issue of rising casualties among Afghan civilians has been one of the causes of tensions between Kabul and Washington in recent years.
Faizi added that President Karzai has always tried to avoid civilian deaths in the US-led war across Afghanistan.
The latest remarks came in response to a newly published report by Amnesty International that said thousands of civilians, including many children, have been killed by foreign forces since 2001.
In a report entitled "Left in the Dark" and released on Monday, the London-based non-governmental human rights organization stated that it has gathered evidence of "a deeply flawed US military justice system that cements a culture of impunity" in dealing with Afghan civilian deaths and injuries caused in US-led coalition operations since 2001.
The report added that the US has not prosecuted its troops for the killings and that justice has not been served for Afghan victims.
Full report at:
http://www.presstv.ir/detail/2014/08/11/374949/civilian-deaths-hindered-afghanus-deal/
------------
Oman Air to avoid Iraq airspace
August 12th, 2014
Oman's national carrier will no longer overfly Iraq in the wake of US strikes on jihadist positions there, it announced yesterday after several other companies had re-routed their flights.
Oman Air said the decision concerned flights heading to Europe and Beirut.
"This is a preventive measure due to the events taking place in the region," the airline said in a statement on the official Omani news agency ONA.
Oman Air recalled that it had since April re-routed flights over Ukraine and Syria due to the conflicts in both countries.
Full report at:
http://www.thedailystar.net/backpage/oman-air-to-avoid-iraq-airspace-36777
------------
Europe
'Britons angered by gov't stance on Israel'
Aug 12, 2014
The hundreds of thousands who have taken to the streets of Britain over the past month in support of and solidarity with the people of Gaza have seen their protests denounced by neocons and rightwingers because they aren't about some other group of people, somewhere else.
The "why don't they march against something else" crowd accuse us of silence on those atrocities. There are certainly many terrible humanitarian disasters in the world, most recently that of the Yazidis in Iraq, about which we must all feel anguish. Our argument is that our government and the US's past intervention have not helped the people of the Middle East, but made things worse. The point of a mass demonstration is to put pressure on our government and to alter public opinion in this country. They have had an impact. Public opinion remains strongly anti-intervention and anti-war, and last year, mobilized public opinion was instrumental in stopping David Cameron's attempt to bomb Syria.
Last Saturday's demonstration was the biggest ever pro-Palestine protest at 150,000. There have been thousands of smaller actions around the country. There is widespread outrage at Israel's brutal assault on Gaza and a determination to end the siege which is causing such misery to Gazans.
Why do people feel strongly enough to take to the streets over Gaza but not over other issues? Partly because there is a deep and longstanding movement in solidarity with the Palestinians that encompasses trade unions, community groups, faith groups and activists. But it is also partly because our government is seen as complicit in Israel's oppression of Palestinians. We provide arms, we trade with Israel and we defend the actions of the government there, just as we did in 2008-09 and 2012 when Gaza was bombed.
Our former prime minister and absurdly named envoy for peace in the Middle East, Tony Blair, supports Israel's foreign policy. David Cameron, according to Sayeeda Warsi, instructed his ministers not to say Israel's bombing might be disproportionate, and blames the conflict on Hamas although it long predates Hamas's existence. While sanctions are applied to Russia over the Malaysia Airlines flight MH17 disaster, no sanctions are imposed on Israel.
Contrast this with Cameron's support for intervention elsewhere and look at the consequences of those interventions. Libya, hailed as a huge success by Cameron three years ago, is now so riven by war that embassies have closed and British nationals evacuated by the Royal Navy. The arming of the Syrian rebels by western and Middle East powers, especially Turkey and Saudi Arabia, has produced blowback on a spectacular scale as Islamic State (Isis) sets up its bloody caliphate across hundreds of miles of Iraq and Syria, with disastrous consequences.
Full report at:
http://www.presstv.ir/detail/2014/08/12/375004/brits-angered-by-govt-stance-on-israel/
------------
Kerry urges new inclusive Iraqi government
12 August 2014
U.S. Secretary of State John Kerry on Tuesday urged Iraqi prime minister-designate Haidar al-Abadi to quickly form an inclusive government, while ruling out sending U.S. combat troops to the country, Agence France-Presse reported.
"We are urging him to form a new cabinet as swiftly as possible and the US stands ready to support a new and inclusive Iraqi government and particularly its fight against ISIS," he said.
"There will be no reintroduction of American combat forces into Iraq. This is a fight that Iraqis need to join on behalf of Iraq," he added.
Kerry's comments in Sydney follow a statement from President Barack Obama that Iraq had taken "a promising step forward" in designating Haider al-Abadi as its new prime minister.
The Secretary of State also said that the United States and Australia agreed to take concerns about the threat posed by militant foreign fighters in Syria, Iraq and elsewhere to the United Nations.
Full report at:
http://english.alarabiya.net/en/News/middle-east/2014/08/12/Kerry-urges-Iraqi-leaders-to-.html
------------
URL: https://newageislam.com/islamic-world-news/egypt,-saudi-arabia-seek-united/d/98536