New Age Islam News Bureau
11 May 2015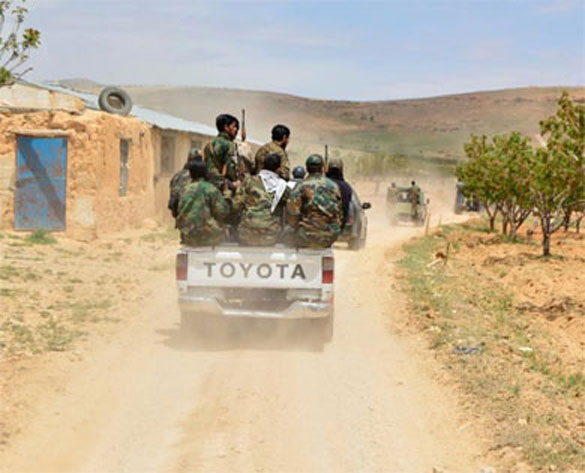 Syrian regime forces drive on May 9, 2015 near Assal al-Ward, in Qalamun region, after they seized control of parts of the area that straddles the Syria-Lebanon border (AFP Photo/)
----------
Europe
• Egypt's Islamic Scholars on European Tour to "Modify the Image of Islam"
• Record Number of Muslims Enter UK Parliament
• Accusations of Terrorism Worry Brooklyn's Uzbek Community
• Muslim Tajiks face fundamental rights abuses
• Anti-Muslim Terrorists a Problem in Germany
Arab World
• 72 Dead As Syria Army Battles to Free Loyalists: Monitor
• Lebanon's Hezbollah says it killed 20 Syrian al Qaeda militants
• Syrian Army Kills Tens of Militants in Raid on ISIL Positions in Homs
• ISIL Beheads Scores of Kurdish Members
• A New Baghdadi? ISIS to 'Elect' Stand-In Leader
• War launched to foil Houthi 'terror plot' in region: King
• Iraq puts new national anthem and flag 'on hold'
Mideast
• Saudi Air Strikes Target Historic Castle in Yemen
• 11 Dead in Fresh Saudi Attacks in Southern Yemen
• Heavy bombing on Yemen border area by Saudi forces and Houthis
• Israeli soldier: 'We bombed civilians for entertainment'
• Moroccan F-16 jet from Saudi-led coalition in Yemen goes missing
• Yemen's Saleh declares support for Houthi militias
South Asia
• Afghan Clerics Warns To Turn Kabul Upside Down While Condemning Civil Rights Protests
• 11 Customers Detained For Vandalising Halal Food Shop in China
• Military operation launched to retake Jawand District back from Taliban
• Maldives: Anti-government campaign takes religious turn
• Khaleda concerned about rule of law in country
• Blogger's widow: Avijit's killing a global act of terror
Pakistan
• Religious Groups Changing PR Tactics to Keep Up With The Times
• Peace Committee Head among Six Killed In Bajaur Bomb Attack
• Afghan govt has assured help in recovery of Haider, Taseer: Gilani
• Newspaper ad about culpability of terrorists' relatives raises eyebrows
India
• Govt. Set To Grant Citizenship to Hindus from Bangladesh
• 'Muslims Alienated Us, Hindus Didn't Accept Us'
• 2 CRPF personnel killed in militant attack in J&K
• Pakistan rules out possibility of India emerging as "most favoured nation"
• LeT operative Irfan arrested by Delhi Police
Southeast Asia
• Beware Of Leaders Who Prioritise Politics Over Islam, PAS Told
• About 1,000 Myanmar migrants rescued off Malaysia, say police
• Malaysian troops join Arab coalition
North America
• US Spokesman Shrugs Off Responsibility for Riyadh's Cluster Bombs Use in Yemen
• Canada springs a confessed jihadist killer
Africa
• Central African Republic Groups Agree On Peace Accord
• Libya 'Cruelty' Drives Migrants to Risk Lives
• Gaddafi's son Saadi appears in Libyan court on murder charges
• After surviving Boko Haram, returnees face hunger in Nigerian towns
• Libya - Wave of Abductions, Torture and Gang Rape Is Driving Mediterranean Migrant Exodus
• Kenya: 16 Muslim Preachers Detained in Kenya
Compiled by New Age Islam News Bureau
URL: https://www.newageislam.com/islamic-world-news/new-age-islam-news-bureau/egypt-s-islamic-scholars-on-european-tour-to--modify-the-image-of-islam-/d/102903
----------
Europe
Egypt's Islamic scholars on European tour to "modify the image of Islam"
11 May, 2015
Religious institutions are engaged in war of ideologies to counter Islamic State threat
With the aim of countering radical ideologies, "terrorism" and "Islamic State" (IS) propaganda, Egypt's Islamic scholars have set out on several tours around Europe to "modify the image of Islam".
Renewing the religious discourse has become the greatest concern of the Grand Imam of Al-Azhar, the Grand Mufti and Minister of Religious Endowments.
The surge in Islamic radicalism practiced by extremists has created a panic and growing Islamophobia, expressed in the increase of anti-Islamist movements and campaigns in the West. It has been joined by the inability of Muslims living outside the Middle East to integrate within their communities as a result of their religious affiliations.
Last April, anti-Islam posters were plastered on public transportations in the US city of Philadelphia. The posters equated Islam with Nazism as "Jews hating". The German anti-Islam movement PEGIDA (Patriotic Europeans Against the Islamisation of the West), established in late 2014, has enjoyed a minor spread to neighbouring countries, and holds marches against Islam and Islamists.
In February, three American Muslims were shot dead in North Carolina, causing a wave of anger on social media networks. In a separate incident later in February, a Swedish security guard attacked a nine-year-old Swedish Muslim. Both acts were linked to the religious affiliations of the victims.
The "Islamic State" attacks include, notably, the latest one in Garland, Texas, targeting a competition for caricature pictures featuring Prophet Mohammed, the numerous beheading and decapitation videos that have gone viral on social media networks and the burning of the Jordanian pilot are among many other crimes committed in name of Islam.
Egypt's restive Sinai Peninsula has witnessed in the past two years many of these attacks, where "Islamic State" affiliates, currently known as "State of Sinai", are implementing operations targeting security personnel and civilians for their cooperation with the Egyptian State.
Accordingly, as security forces are "fighting terrorism", Egypt's religious institutions have been engaged in a war of ideologies with Islamists internally and externally. This has fallen within the framework of "eliminating terrorism", "clarifying Islamic teachings", and to counter the rising Islamophobia in the West.
Former Undersecretary of the Ministry of Religious Endowments, Shawki Abdellatif, told Daily News Egypt that "renewing the religious discourse is a matter of great importance" internally and externally to counter "Daesh" (Islamic State) or IS' false teachings of Islam delivered to the West through "Daesh" propaganda.
"Islam adapts in all times and places", but there are certain fundamentals that cannot be changed. Other things are variable including the religious discourse, added Abdellatif.
In order to renew the religious discourse, certain tools should be used including qualified preachers, their approach, their connections, the language they use, communication methods to address the western public, he further noted.
Dr HA Hellyer, non-resident fellow at the Brookings Centre for Middle East Policy in Washington DC, and the Royal United Services Institute in London, argued the renewal of the religious discourse is only one element - and it is also very unclear as to whether or not these calls are entirely serious. "Tajdid, or 'renewal' in Islamic history has meant a deep intellectual revival, rooted in the classical tradition - many of these calls seem to be far more superficial than that," Dr Hellyer said.
Dr Hellyer, however, agreed that: "The renewal of religious discourse in Muslim communities is important and vital for stemming one element of what allows ISIS to exist."
Abdellatif, on the other hand, noted that countering the IS "threat" through the religious discourse is meant to address people regarding the true Islam. This would be based on true Islamic ethics, such as tolerance, which will definitely find its way to people's natural instincts.
He further noted that IS is falsely trying to be a part of Islam of which they know nothing. Through promoting the right Islam through choosing reliable preachers, resembling the true teachings of Islam which mainly call for tolerance in the first place, the threat will be "effectively countered", Shawki added.
Religious institutions in Egypt are simultaneously addressing the matter to counter the Islamic Caliphate threat which IS is trying to push through the unification of the religious discourse, he added.
https://www.the-newshub.com/politics/renewing-religious-discourse-becomes-great-concern
http://www.dailynewsegypt.com/2015/05/10/renewing-religious-discourse-becomes-great-concern/
---------
Record number of Muslims enter UK parliament
World Bulletin / News Desk
11 May, 2015
Muslim representation in the U.K. parliament rose from eight to 13 lawmakers after last week's general election, the highest number ever to sit in the House of Commons.
Six new Muslim MPs were appointed to parliament while seven existing members were re-elected. One Labour MP, Anas Sarwar, lost his Glasgow Central seat to the Scottish National Party (SNP) candidate.
Muslims now form 2 percent of the membership of the elected lower house, compared to 4.8 percent of the total population of England and Wales, according to the Office for National Statistics.
Ahmed Versi, editor of Muslim News website, welcomed the increase. "It is great news that there are more Muslim MPs elected than ever before," he said in a statement. "However, the House of Commons still does not reflect the diversity of the population."
Eight women are among the Muslim lawmakers.
The new members are Tasmina Ahmed-Sheikh (SNP); Rupa Huq (Labour); Tulip Siddiq (Labour); Nusrat Ghani (Conservative); Naz Shah (Labour); Imran Hussain (Labour).
Those re-elected are Khalid Mahmood (Labour); Shabana Mahmood (Labour); Rushanara Ali (Labour); Yasmin Qureshi (Labour); Sadiq Khan (Labour); Sajid Javid (Conservative); Rehman Chishti (Conservative).
http://www.worldbulletin.net/news/159028/record-number-of-muslims-enter-uk-parliament
----------
Accusations of Terrorism Worry Brooklyn's Uzbek Community
11 May, 2015
To understand the Uzbek community of Brooklyn, sit down and share a cup of tea with some of them. Please, drink. They pride themselves on hospitality, and to refuse would be impolite.
The first thing they mention is that they work hard. And that Uzbeks are peaceful and respectful of their elders. This they can all agree upon.
They also say how shocked they are by the recent accusations of terrorism that have put a harsh spotlight on a small but growing population that represents the nexus of the nation's Uzbek diaspora. Three Uzbek men from Brooklyn, all recent immigrants, and a friend who had come to New York from Kazakhstan were arrested after federal authorities said they were trying to join the Islamic State and commit acts of terrorism.
But beyond surprise, the reactions among Uzbeks after the arrests are diverse, illuminating a wary post-Soviet immigrant community still divided by Old World regions and by religious observance.
There is fear of being under increased surveillance or possibly being entrapped by law enforcement. There is nagging worry about extremists among them. There is anger at the young men accused of having betrayed an opportunity — a green card, which two of the four had — given to them by a country that has opened its doors to so many from Uzbekistan. Others felt ashamed, even offended.
"We shouldn't be defined as who we are as immigrants because of this little incident," said Farhod Sulton, 35, who goes by Frank at his job selling insurance for New York Life.
Mr. Sulton recalled how his assistant contacted a potential client soon after the arrests. The woman shouted that she had heard the news and that she did not want to be involved with Uzbeks. She was from Uzbekistan.
"The negative reaction affects us," said Misha, an Uzbek waiter at an Uzbek-owned beer hall, Kebeer, in Brighton Beach. He would provide only his given name because he feared attracting unwanted attention from federal authorities. "We don't want to be on a blacklist."
Mr. Sulton founded a newspaper, Vatandosh (the name means "countrymen") for Uzbek-speaking residents in Brooklyn. In an interview over kebab and plov at Lazzat restaurant in Bath Beach, he said he was warned by friends not to be too outspoken, lest he earn enemies among possible extremist sympathizers.
Such dread and censorship is one reason many immigrants came here. Uzbekistan, in Central Asia, bordered by Tajikistan, Turkmenistan, Kyrgyzstan and Kazakhstan, is predominantly Muslim. In the years after independence from the Soviet Union, in 1991, the country's persecution of Muslim clerics prompted a wave of migration, and Brooklyn became a haven.
Of the nearly 56,000 Uzbek immigrants in the United States in 2013, according to the latest American Community Survey from the census, almost half live in New York City. About 12,000 Uzbeks live in Brooklyn, more than double the number in 2000. The population has more than tripled in the neighborhoods of Borough Park, Kensington and Midwood, as well as Homecrest and Sheepshead Bay, according to demographers at
In Brooklyn, at least, post-Soviet immigrants from Central Asia may live near one another and share some customs, but tend to stick to their own. One sunny afternoon, a group of men were playing a serious game of cards on Ditmas Avenue. Asked if, by chance, they were from Uzbekistan, one man turned from his hand and said: "Azerbaijan. Uzbek, next block!" Then, "Wait, have some tea!"
Immigrants from Uzbekistan have been arriving in New York with help from a diversity visa lottery program, which the United States government created in 1990 to foster immigration from countries with previously low rates. The State Department issues 55,000 green cards every year through its diversity visa program and for the 2014-15 year, 4,368 were allotted to Uzbek lottery winners, the department said.
Abdurasul Hasinovich Juraboev, 24, the lead defendant accused of trying to join the Islamic State, arrived in Brooklyn in 2011 by himself and, according to a federal complaint, had a green card, a fact that stirred resentment.
"There are a lot of immigrants who come here and want to stay," said Shoir Akramov, the manager of Emir Palace, an Uzbek restaurant in Borough Park. "The man who has a green card, it is a green light to a good life."
Mr. Akramov, who prefers to be called Shawn, added: "I love America. I love the people who live here. I am against people who live here and don't appreciate it. We don't understand people who go against the law."
Uzbek culture was in full flourish on a recent Saturday night at Emir Palace, which opened a year and a half ago and features a banquet hall on the first floor and a restaurant with a dance club on the second. About 200 people of all ages in the banquet hall were celebrating a 1-year-old's birthday with traditional music and dancing. Upstairs, another band played European pop music, a disco ball spinning and the vodka flowing.
"We make a little Uzbekistan here," Mr. Akramov said next to a wall adorned by pictures of Uzbek landmarks. "We help each other so we don't forget our roots."
But those roots are often split, linguistically and culturally, along regional lines — between Tashkent, the modern capital in the north, and Samarkand, the historical capital in the south. Those from Samarkand, like the owners of Emir Palace, primarily speak Tajik and tend to live on and around Ditmas Avenue in central Brooklyn; those from Tashkent speak Uzbek and Russian, many living in or closer to Brighton Beach.
Jews from Uzbekistan are known as Bukharan Jews, not for the city of Bukhara, but for the former emirate of Bukhara in Central Asia, a region where Jewish life is thought to have originated more than 2,500 years ago. A sizable Jewish population came to New York after fleeing Soviet oppression in the 1980s, and then even more arrived after the dissolution of the Soviet Union.
Although the largest enclave of Bukharan Jews is in Rego Park, Queens, the B'nai Israel synagogue in Starrett City, Brooklyn, has about 500 Bukharan Jews in its congregation of 700, Rabbi Mordechai German said.
http://www.nytimes.com/2015/05/11/nyregion/accusations-of-terrorism-worry-brooklyns-uzbek-community.html
----------
Muslim Tajiks face fundamental rights abuses
11 May, 2015
Tajikistan, located in Central Asia, has been ruled by numerous empires and dynasties throughout history including the Mongols, Timurids and the Russian Empire. But no rule was as destructive as the Soviet era as its communism doctrine suppressed the country's cultural and religious heritage. Between 1864 and 1885 Russian imperialism gradually took control of the entirety of Turkestan, including Tajikistan. After the 1917 Russian Revolution, Soviet authorities started a campaign of secularization and suppression of Islam, Judaism and Christianity and many mosques, churches and synagogues were closed. Tajikistan became an independent country in 1991 as a result of the collapse of the Soviet Union.
A civil war broke out immediately after independence between 1992 and 1997. In the five years of the war, about 100,000 people died and approximately 1.2 million people became refugees because of persecution, increased poverty and better economic opportunities in the West or in other former Soviet republics. Tajikistan was the poorest republic of the Soviet Union and is the poorest country in Central Asia as well as in the poorest former Soviet republic.
Tajik President Emomali Rahmon, who has ruled the country since 1994, was criticized by opposition parties and foreign observers for unfair presidential elections in 1999 and 2006. Nontransparent elections were criticized by the Organization for Security and Cooperation in Europe (OSCE) and mainline opposition parties, so the Islamic Renaissance Party boycotted the elections. Rahmon's administration came under further criticism from the OSCE in October 2010 for its censorship and repression of the media. The OSCE claimed that the Tajik government censored local and foreign websites and newspapers.
Tajikistan is a secular state with a constitution providing for freedom of religion. The government declared two Islamic holidays, Eid al-Fitr and Eid el-Adha, state holidays. According to the Pew Research Center, the population of Tajikistan is 98 percent Muslim. However, Muslim Tajiks face fundamental rights abuses. Constitutional guarantees for fair trials are not always observed by Tajik courts, torture is often used on individuals accused of crimes in Tajikistan, detentions are often lengthy and prisoners are kept in inhuman conditions. According to an Amnesty International report, detainees are routinely interrogated without a lawyer and some lawyers are unable to see their clients for several days despite legal provisions ensuring the right of detainees to see a lawyer from the time the detention is registered. People accused of involvement in banned Islamic movements and Islamic groups or parties were usually detained by the Ministry of Interior Affairs. They are at particular risk of torture and other ill-treatment and access to defense lawyers is limited or denied. Defense lawyers also have inadequate access to the case materials on their clients.
The 2005 parliamentary elections saw increased closures of independent and opposition newspapers and attacks on journalists. In 2003 the government blocked Internet websites run by the political opposition. YouTube was also partially blocked by the government in June 2014
According to Human Rights Watch (HRW), Tajik authorities maintain tight restrictions on religious freedoms including religious education and worship. Regulations restrict religious dress. Under the pretext of combating extremism, Tajikistan continues to ban several peaceful minority Muslim groups. Headscarves are banned in educational institutions and beards are prohibited in public buildings.
In November 2014, the Tajik National Assembly rejected a proposed law to allow prayer in public and work places. Furthermore, some activities of religious groups have been restricted by the requirement for registration with the State Committee on Religious Affairs (SCRA). Religious groups that do not have a physical structure are not allowed to gather publicly for prayer. Failure to register can result in large fines and closure of places of worship. "At least 50,000 signatures must be collected to build mosque across Tajik provinces. Women and those under 18 years old are banned from mosques," Muhiddin Kabiri, the leader of the Islamic Renaissance Party of Tajikistan, said in 2014.
Wearing black was banned for women in the northern Khujan province by Mayor Ahmadzade in April 2015. Also, importing black dresses is banned to diminish the "Shiite effect." "Everyone must honor national and traditional Tajik clothes. We should not allow the belittlement of our culture. Other nations' cultures are so far from us," Ahmadzade had said. Tajikistan's supreme court sentenced five members of Tablighi Jamaat (Society for Spreading Faith) to between three and six years' imprisonment in August 2008 for "public appeals to overthrow the constitutional order" and defined them as an "extremist and terrorist organization." Three members of the organization were also imprisoned with the same charges in January 2015. Tajiks under the age of 35 were banned from the hajj in 2015 by SCRA.
On the other hand, the construction of a mosque with capacity for 150,000, the largest in Central Asia, continues in the capital Dushanbe and is to be opened at the end of 2016. Qatar is one of the financiers for the mosque. According to some experts, the mosque is being built to avoid criticism on the lack of freedom of religion in Tajikistan. The government is now debating to ban Arabic names as part of an ongoing campaign against Islam and Arabic words in Tajik. Some members of parliament are reportedly demanding that existing names that are Arabic-sounding should be changed to Tajik-sounding ones. The Ministry of Justice is preparing a list of recommended names if parents cannot think of one.
http://www.dailysabah.com/asia/2015/05/10/muslim-tajiks-face-fundamental-rights-abuses
----------
Anti-Muslim Terrorists a Problem in Germany
11 May, 2015
While U.S. agencies continue to focus on anti-Western Islamist terrorists, their German counterparts have recently been forced to investigate the opposite: anti-Muslim terrorism.
On Wednesday, authorities raided homes across Germany and took four anti-Muslim terrorism suspects into custody. They are accused of having planned attacks on mosques and asylum seekers.
The suspects — who had recently founded a group called "Oldschool Society" — are believed to be right-wing extremists. "The four arrested procured explosives for possible terror attacks by the group," a statement by German police authorities specified. According to Germany's Der Spiegel magazine, a first terror plot on a refugee housing center might have been imminent.
This would not have been the first anti-Muslim terror attack in Germany
Germany is still dealing with the fallout of anti-Muslim terror group National Socialist Underground which killed 10 people — most of them Turks — between 2000 and 2007. Back then, investigators had blamed Germany's immigrant community for most of the deaths and portrayed them as the result of infighting and organized gang crime.
Two of the suspected terrorists later killed themselves; a third, Beate Zschape, is currently on trial in Munich. Their attacks have led to deep mistrust between Germany's large immigrant community and state officials: The country's intelligence services stand accused of having deliberately ignored hints that the attacks had been committed by right-wing extremists.
Full report at:
http://www.vnews.com/news/nation/world/16851313-95/anti-muslim-terrorists-a-problem-in-germany
----------
Arab World
72 dead as Syria army battles to free loyalists: monitor
11 May 2015
At least 72 fighters were killed in a single day as the Syrian army battled to relieve some 250 besieged regime loyalists under rebel assault, a monitoring group said Monday.
President Bashar al-Assad had personally pledged to rescue the trapped troops and civilians, who are said to include senior figures and have been holed up in a hospital complex since rebels captured the northwestern town of Jisr al-Shughur two weeks ago.
As the relief column fought its way to within two kilometres (just over a mile) of the complex on Sunday morning, the rebels launched an all-out assault, the Syrian Observatory for Human Rights said.
At least 40 rebels and 32 government troops were killed in the heavy fighting that erupted inside the complex and with the advancing column, Observatory director Rami Abdel Rahman told AFP.
Full report at:
http://english.alarabiya.net/en/News/middle-east/2015/05/11/72-dead-as-Syria-army-battles-to-free-loyalists-monitor-.html
----------
Lebanon's Hezbollah says it killed 20 Syrian al Qaeda militants
11 May, 2015
The Lebanese Shi'ite group Hezbollah said on Sunday it had killed over 20 fighters from Syria's al Qaeda wing and destroyed several hideouts and training camps the fighters had set up to launch attacks in Lebanon across the rugged border with Syria.
Hezbollah's television station, Manar, said the Syrian army and the resistance, a reference to Hezbollah, had made "important progress" in their latest assault against Syrian militants opposed to Syrian President Bashar al Assad's rule.
Hezbollah's leader, Sayyed Hassan Nasrallah, vowed on Tuesday that his forces and their Syrian allies would clear the rebels out of the region, which insurgents use as a supply route for arms and fighters.
Full report at:
http://english.ahram.org.eg/NewsContent/2/8/129905/World/Region/Lebanons-Hezbollah-says-it-killed--Syrian-al-Qaeda.aspx
----------
Syrian Army Kills Tens of Militants in Raid on ISIL Positions in Homs
11 May, 2015
Tens of the ISIL terrorists were killed and wounded in the Syrian Army's offensives in the countryside of the Central province of Homs, informed sources said.
The sources in the province said that the ISIL's gathering centers were raided by the Syrian army troops in Jibab Hamad, Jabal al-Dahek and Wadi al-Sukkar in Homs countryside, which resulted in the killing of a number of the fighters and destroying of a number of their vehicles.
On Saturday, he army destroyed the terrorists' positions in the two towns of al-Mazbal and al-Msheirfeh al-Shamalyeh in the Eastern countryside of Homs province.
Full report at:
http://english.farsnews.com/newstext.aspx?nn=13940221000687
----------
ISIL Beheads Scores of Kurdish Members
11 May, 2015
The ISIL terrorist group executed 13 Kurdish fighters in Nineveh Province because they had asked for military promotions, local official said.
"The ISIL terrorists killed 13 members of their own group in an area between Sinjar and Tal Afar, Northern Iraq on May 9th." Saeed Mamuzini, a senior official at the Kurdistan Democratic Party (KDP) in Mosul told BasNews.
"The Kurdish fighters had previously asked the ISIL to give them a higher rank. Tensions were raised when the ISIL refused to grant them greater responsibilities," Mamuzini added.
"A Kurdish ISIL leader (Emir) and 12 other fighters were sentenced to death as they insisted on their demands," he went on to say.
Local agencies have recently claimed that the ISIL is attempting to dismiss Kurdish and Iraqi Arab members from leadership positions because they cannot be fully trusted in their positions; allegedly they are being replaced by the foreign jihadists.
http://english.farsnews.com/newstext.aspx?nn=13940221000772
----------
A New Baghdadi? ISIS to 'Elect' Stand-In Leader
11 May 2015
The chief of the Islamic State of Iraq and Syria (ISIS) militant group has reportedly been moved from Iraq to Syria amid tight security, militant defectors told U.S.-based news site The Daily Beast in a report on Sunday.
The transfer of Abu Bakr al-Baghdadi to the northern city of Raqqa, which is the capital of the group's self-declared caliphate, comes two months after serious injuries that left his spine damaged and his left leg immobile.
In March, British media had reported that Baghdadi was wounded in an airstrike launched by the U.S.-led coalition.
Full report at:
http://english.alarabiya.net/en/News/middle-east/2015/05/11/ISIS-to-elect-stand-in-leader-after-Baghdadi-s-serious-injuries-.html
----------
War launched to foil Houthi 'terror plot' in region: King
11 May, 2015
Saudi Arabia said on Sunday that the purpose of launching Operation Decisive Storm was to prevent foreign forces from using Yemen as a base for regional conspiracies and transforming it into a stage for terrorism.
"By launching Decisive Storm, Saudi Arabia's only intention was to support the Yemeni people," said Custodian of the Two Holy Mosques King Salman while addressing the 22nd session of the Islamic Fiqh Council in Makkah.
King Salman said the Houthis are backed by foreign forces who intend to establish dominance and create chaos in the region. "They attacked the legitimate government in Yemen and threatened neighboring countries, most importantly Saudi Arabia," he said.
Full report at:
http://www.arabnews.com/news/745276
----------
Iraq puts new national anthem and flag 'on hold'
11 May 2015
Iraqi President Fouad Massoum recently revived a hotly debated issue with a statement indicating he seeks to introduce a new Iraqi flag and national anthem placatory to all of the country's people, from its southern point to its mountainous north.
After receiving the Iraqi cultural and media committee and its head Maysoon al-Damulji on Monday, Massoum stressed on the "importance of achieving a new national anthem and flag."
However, Damulji told Al Arabiya News that set "there is no time frame" and that the issue at hand has now been placed on hold.
"When we proposed it to the leaders of various political blocs in another meeting in the parliament, we agreed to put the issue on hold as the current timing is not appropriate," Damuljii said in reference to the ongoing battle against the Islamic State of Iraq and Syria (ISIS) group, which recently re-captured the country's largest oil refinery in Baiji, some 155 miles north of Baghdad.
Full report at:
http://english.alarabiya.net/en/perspective/features/2015/05/11/Iraq-puts-new-national-anthem-flag-on-hold-says-official-.html
----------
Mideast
Saudi Air Strikes Target Historic Castle in Yemen
11 May, 2015
Saudi warplanes conducted air strikes on Al-Qahera castle in the Yemeni province of Taiz on Monday.
The Saudi fighter jets conducted five air strikes on Al-Qahera castle on Monday.
Saudi Arabia launched its bombing campaign against Yemen on March 26 in an attempt to restore power to fugitive President Mansour Hadi, a staunch ally of Riyadh.
Hadi stepped down in January and refused to reconsider the decision despite calls by Ansarullah revolutionaries of the Houthi movement.
Despite Riyadh's claims that it is bombing the positions of the Ansarullah fighters, Saudi warplanes are flattening residential areas and civilian infrastructures.
The Monarchy's attacks have so far claimed the lives of at least 3,612 civilians, mostly women and children.
http://english.farsnews.com/newstext.aspx?nn=13940221000827
----------
11 Dead in Fresh Saudi Attacks in Southern Yemen
11 May, 2015
Saudi fighter jets targeted the Southern Yemeni city of Ta'izz on Monday, killing at least 11 people.
The Saudi bombers launched several strikes against residential areas in Ta'izz and claimed the lives of more than 11 civilians.
In a bid to facilitate aid deliveries to the improvised country, Yemen's Ansarullah and army accepted on Sunday a five-day humanitarian ceasefire proposed by Saudi Arabia.
"Following mediation from friendly countries to establish a humanitarian truce... we announce our agreement," said Colonel Sharaf Luqman, a spokesman for the Yemeni Armed Forces.
Saudi Arabia has been striking Yemen for 47 days now to restore power to fugitive president Mansour Hadi, a close ally of Riyadh. The Saudi-led aggression has so far killed at least 3,623 Yemenis, including hundreds of women and children.
Hadi stepped down in January and refused to reconsider the decision despite calls by Ansarullah revolutionaries of the Houthi movement.
Despite Riyadh's claims that it is bombing the positions of the Ansarullah fighters, Saudi warplanes are flattening residential areas and civilian infrastructures.
On April 21, Saudi Arabia declared end to Yemen airstrikes after weeks of bombings, but airstrikes are still underway.
http://english.farsnews.com/newstext.aspx?nn=13940221000708
----------
Heavy bombing on Yemen border area by Saudi forces and Houthis
11 May, 2015
Yemen's Houthi militia and Saudi forces traded heavy artillery and rocket fire in border areas on Monday, residents said, a day before a five-day humanitarian truce was due to take effect.
The Houthis said they fired Katyusha rockets and mortars on the Saudi cities of Jizan and Najran on Monday, after the Saudis hit Saada and Hajjah provinces with more than 150 rockets.
Saudi planes also struck positions of the Iranian-allied Houthi group in the central city of Taiz and in the oil-producing Marib province east of the capital Sanaa.
There were no immediate details on any casualties.
More than six weeks of air strikes by Sunni Muslim Gulf monarchies' jets have failed to push back the Shia Houthis and militia and army units loyal to the Houthis' ally, ex-president Ali Abdullah Saleh.
Full report at:
http://english.ahram.org.eg/NewsContent/2/8/129948/World/Region/Heavy-bombing-on-Yemen-border-area-by-Saudi-forces.aspx
----------
Israeli soldier: 'We bombed civilians for entertainment'
World Bulletin / News Desk
11 May, 2015
According to an article written in Days of Palestine, an Israeli soldier has given his account of the events that occurred during the attacks on Gaza in July 2014.
Known as Operation Protective Edge, the soldier described how they were ordered by their unit commander and were free to shoot, in order to take revenge for the killing of a soldier in their unit.
Israeli soldier Arieh, 20, said: "I was called to service early on July 2014 and was deployed to the Gaza Strip but until that time the operation [Operation Protective Edge] was not announced yet.
Full report at:
http://www.worldbulletin.net/headlines/158970/israeli-soldier-we-bombed-civilians-for-entertainment
--------
Moroccan F-16 jet from Saudi-led coalition in Yemen goes missing
11 May, 2015
A Moroccan F-16 warplane taking part in the Saudi Arabian-led coalition fighting in Yemen went missing on Sunday, the Moroccan Royal Armed Forces said in a statement.
Backed by the United States, a Saudi-led coalition has been conducting air strikes against the Houthis and army units loyal to ex-president Ali Abdullah Saleh since March 26 with the aim of restoring the government of President Abd-Rabbu Mansour Hadi.
Morocco announced its backing of Saudi Arabia since the beginning of the action and has had F-16 warplanes stationed in the United Arab Emirates (UAE).
"One of the F-16s of the Royal Armed Force (FAR) made at the disposal of the coalition led by Saudi Arabia to restore the legitimacy in Yemen went missing on Sunday at 6 pm local time," FAR's statement carried by the Moroccan state news agency MAP said.
The pilot of a second jet in the same squadron could not see if the pilot had ejected, it said. An investigation is under way, it added.
Full report at:
http://english.ahram.org.eg/NewsContent/2/8/129930/World/Region/Moroccan-F-jet-from-Saudiled-coalition-in-Yemen-go.aspx
----------
Yemen's Saleh declares support for Houthi militias
11 May 2015
Yemen's deposed President Ali Abdullah Saleh claimed his support for Houthi militias after aids from the Saudi-led coalition on his house in Sanaa.
"I was not an ally of Ansar Allah [the Houthis ] but today I am announcing from this place that Yemenis will be supportive of anyone who defends the nation's resources," the deposed leader said.
The comments were aired by a pro-Saled television channel.
On Sunday, Saudi-led forces conducted air strikes in Sanaa targeting Saleh's house.
Three loud explosions were heard and plumes of smoke were seen rising from the area where Saleh's residence is located in the capital.
Full report at:
http://english.alarabiya.net/en/News/middle-east/2015/05/11/Yemen-s-Saleh-declares-support-for-Houthi-militias-.html
----------
South Asia
Afghan clerics warns to turn Kabul upside down while condemning civil rights protests
May 11 2015
Outraged with growing civil rights movements and demonstrations, the Afghan religious clerics have threatened to turn Kabul city upside down if the government did not intervene to stop such movements.
The remarks by Enayatullah Baligh comes as Kabul witnessed rare civil rights protests and widespread anger over the lynching of a young woman who was falsely accused of burning a Quran.
Another demonstration by a young female activist also sparked furore after she performed an 'iron underwear' stunt in Kabul city a metal suit featuring exaggerated breasts and buttocks.
It is believed that such movements are posing challenge to the authorities of the religious scholars (Ulemas) who exeert considerable influence in a country that remains deeply conservative.
Full report at:
http://www.khaama.com/afghan-clerics-warns-to-turn-kabul-upside-down-while-condeming-civil-rights-protests-9417
----------
11 customers detained for vandalising Halal food shop in China
11 May, 2015
BEIJING — Police in western China detained 11 people after a crowd of angry customers in early May smashed a halal shop suspected of mishandling food prepared according to Islamic custom, state media said.
A group of angry Muslim customers in Xining, the capital of Qinghai province in western China, broke into a store on May 1 and vandalised it after discovering that non-halal foods had been transported along with halal products, a violation of regulations.
An investigation by the authorities revealed that suspicions that sausages, a pork product, had been sold at the store were not true, state-run Xining Television reported on Friday.
According to further investigations, no pork-related products were sold in the halal shop, and a package of pork fillings allegedly found in the store was placed there by a transport worker.
The owner made "sincere apologies" to the store's Muslim customers, the report by Xining Television said. The report added that the store was ordered to stop selling, transporting and producing halal products, on top of receiving a fine. It said the owner, surnamed Li, belonged to the Hui Muslim minority and that most of the store's staff were Muslim.
Full report at:
http://www.todayonline.com/chinaindia/china/11-customers-detained-vandalising-halal-food-shop-china
----------
Military operation launched to retake Jawand District back from Taliban
May 11 201
Afghan National Security Forces have launched a military operation to retake Jawand District in northwestern Badghis province back from Taliban.
Military commander of 207th Zafar corps says that the operation will continue until Taliban face defeat.
Jawand District fell into the hands of Taliban on Saturday night. Its governor, police chief and other officials took shelter in a nearby village.
Bahauddin Qudosi, head of the provincial council of Badghis province said that Taliban stormed the governor's office, police headquarters and a number of security check points.
However, there is no report if any clash has taken place between Taliban and security forces or if there are any casualties.
Jawand is one of the most populated districts in Badghis province.
http://www.khaama.com/military-operation-launched-to-retake-jawand-district-back-from-taliban-3320
----------
Maldives: Anti-government campaign takes religious turn
11 May, 2015
The opposition's campaign against President Abdulla Yameen's "authoritarianism" has taken a religious turn, while Minivan News has learned the government is labeling the campaign as one that promotes Islamic radicalism.
On Friday night, the religious conservative Adhaalath Party's Sheikh Ilyas Hussein held a sermon attended by thousands, where he warned of a calamity if brutality becomes common, and appealed to the security forces to be compassionate towards citizens.
"If there's one group of people I respect in Maldivian society, it is the police officers and soldiers, because I believe they are carrying out a religious and national duty. I know the burdens they have to bear.
Full report at:
http://minivannews.com/politics/anti-government-campaign-takes-religious-turn-97912#sthash.BAcM7c3x.dpuf
----------
Khaleda concerned about rule of law in country
11 May, 2015
BNP Chairperson Khaleda Zia yesterday expressed concern over the rule of law in the country.
She wondered if any rule of law was really in place. "Nobody is accountable to anyone and nobody takes any responsibility."
"If a state and its administration can remain silent after the disappearance of an important leader like Salahuddin Ahmed then where is the security of common citizen?" she questioned.
She said this in a press release signed by party spokesperson Asaduzzzaman Ripon.
The BNP chairperson demanded immediate return of Salahuddin to his family members and to ensure security, safety, rights to justice for all the citizens.
She demanded restoration of the rule of law and institutional norms in every sphere of life.
BNP Joint Secretary General Salahuddin Ahmed has gone missing for the last two months.
His family members alleged that law enforcers picked him up from a house of capital's Uttara area.
Full report at:
http://www.dhakatribune.com/politics/2015/may/11/khaleda-concerned-about-rule-law-country#sthash.3HnLL0RV.dpuf
----------
Blogger's widow: Avijit's killing a global act of terror
11 May, 2015
On a recent evening in a Midwestern U.S. city, a middle-aged woman with bandaged arms and a missing thumb entered a crowded restaurant. Nearby, children coloured with crayons. Waiters rushed by.
The maimed woman, Rafida Ahmed, scanned the room nervously. The Atlanta financial executive has been hiding since religious extremists wielding machetes attacked her on February 26 in Bangladesh.
During the assault, her husband - the Bangladeshi-American blogger Avijit Roy - was hacked to death. Ms. Ahmed sustained four head wounds, and her left thumb was sliced off. On May 3, the Indian-born head of al-Qaeda in the Indian Subcontinent claimed responsibility for a string of attacks in Bangladesh and Pakistan, including Roy's.
Full report at:
http://www.thehindu.com/news/international/bloggers-widow-avijits-killing-a-global-act-of-terror/article7192703.ece
----------
Pakistan
Religious groups changing PR tactics to keep up with the times
11 May, 2015
ISLAMABAD: "We were never very active with regards to the media and that has taken a toll on our perception," says Asif Khursheed, a public relations man with a slightly more challenging job than most others in this profession.
Mr Khursheed works for the Jamaatud Dawa (JuD), a charity organisation that earned notoriety when it was accused of being involved in the Mumbai attacks of 2008. The Indian government and much of the international press has insisted that JuD chief Hafiz Saeed was the mastermind behind the attack, a label that refuses to go away for the party, despite the fact that the allegations have yet to be proven in a court of law.
"The propaganda war that has been waged against us since 2008 forced us to fight back," Mr Khursheed told Dawn, adding that most of the accusations against them came from the English language press. However, since the organisation lacked the capacity to respond, its point of view was often missed out by foreign and English language news outlets.
Now, though, the JuD's media presence has been revamped to suit the changing times. They have embraced social media platforms such as Facebook and Twitter and now have the ability to get their message out in Urdu and in English, for international consumption.
"We have to keep pace with media growth. Hafiz Saeed has an active twitter account," Mr Khursheed said adding, "Since his tweets are in English, they are picked up instantly by the India media."
JuD, ASWJ, JUI-F targeting English press, social media as new platforms for getting their message out
The JuD is not the only group that has had to change with the times. The Jamiat Ulema-i-Islam-Fazl (JUI-F), which is arguably one of the largest religious parties in the country, has also undergone a bit of rebranding. The party's new mouthpiece, Jan Achakzai, is the face of that change.
Shortly before the 2013 elections, the party introduced the clean-shaven Mr Achakzai – who is comfortable chatting in English and answers emails from his iPad – as its new spokesman.
Two years on, he is a known name among journalists and one of the most recognised face from the JUI-F, given his frequent appearance on news channels, after party chief Maulana Fazlur Rehman.
Full report at:
http://www.dawn.com/news/1181244/religious-groups-changing-pr-tactics-to-keep-up-with-the-times
----------
Peace Committee head among six killed in Bajaur bomb attack
11 May, 2015
BAJAUR AGENCY – At least six persons including a tribal elder and head of the peace committee were killed in remote controlled bomb attack here on Monday.
Official sources said that unknown miscreants targeted convoy of tribal elder Malik Muhammad Jan of Zagai in Kamarsar area of tehsil Loi Mohmand in Bajaur Agency through remote controlled bomb planted by roadside.
As a result of blast the vehicle was destroyed completely resulting in death of Malik Muhammad Jan and five others on the spot. Security forces and Levies personnel cordoned off the area after the blast and launched search operation but no arrest could be made.
http://www.dailytimes.com.pk/national/11-May-2015/peace-committee-head-among-six-killed-in-bajaur-bomb-attack
--------
Afghan govt has assured help in recovery of Haider, Taseer: Gilani
11 May, 2015
MULTAN: Former prime minister Yousaf Raza Gilani has said that the Afghan government has assured all possible cooperation for the recovery of his son as well as the son of former Punjab governor Salmaan Taseer.
Talking to media persons at the Multan airport on his return from a visit to Afghanistan, Gilani said he and former president Asif Ali Zardari had gone to Afghanistan to congratulate President Ashraf Ghani and the new Afghan government. He said during the meetings, recovery of the kidnapped people also came under discussion and the Afghan leaders assured their full cooperation. He said that according to intelligence reports, his son Ali Haider Gilani and Salmaan Taseer's son Shahbaz Taseer are in Afghanistan.
Full report at:
http://www.dailytimes.com.pk/national/11-May-2015/afghan-govt-has-assured-help-in-recovery-of-haider-taseer-gilani
----------
Newspaper ad about culpability of terrorists' relatives raises eyebrows
11 May, 2015
PESHAWAR: An advertisement titled public notice and stating that close relatives of missing terrorists would be liable to prosecution, including death sentence and confiscation of properties if they failed to report their disappearance, has raised many eyebrows as legal experts believe that no such provision is available in any law available in the country.
The advertisement, which appeared in some national Urdu dailies on Friday, carried a proclamation in the form of a public notice, but nothing was mentioned therein as to which department or law enforcement agency had issued it.
Full report at:
http://www.dawn.com/news/1181243/newspaper-ad-about-culpability-of-terrorists-relatives-raises-eyebrows
----------
India
Govt. set to grant citizenship to Hindus from Bangladesh
11 May, 2015
Home Minister to submit a policy document to the Supreme Court soon.
The BJP-led NDA government is set to move forward on the question of granting citizenship to Hindu immigrants from Bangladesh and is expected to submit a policy document to the Supreme Court soon.
The document, being formulated by the Home Ministry, will decide the fate of thousands of Bangladeshi Hindus living in 18 States.
The Centre is expected to submit the document in response to a case filed in 2012 by two NGOs, Swajan and Bimalangshu Roy Foundation, which pleaded that Hindus and persons of other minorities from Bangladesh migrating to India to escape religious persecution must not be bracketed with illegal migrants and sent back. According to the Assam Accord, all persons who crossed over from Bangladesh after 1971 are to be deported.
Full report at:
http://www.thehindu.com/news/national/govt-set-to-grant-citizenship-to-hindu-immigrants-from-bangladesh/article7190826.ece
----------
'Muslims Alienated Us, Hindus Didn't Accept Us'
MOHAMMAD ALI
11 May, 2015
As a child, Arif Ali dreaded the sight of children doing tricks at traffic signals or walking on ropes on fields for money. This resident of Dabli village in Agra didn't want to end up like them. But being born into the 'Nat' community, he was supposed to do exactly that. To escape that fate, he became a barber.
But poverty didn't leave him and his father Rahmat Ali, who spent all his life performing circus tricks in western Uttar Pradesh.
So when the offer of land, job and money came from Love Pandit — a Hindutva leader he had befriended at his barber shop — 35-year-old Arif couldn't resist it. All he had to do was to convert to Hinduism.
Despite severe resistance from his community, Arif convinced his family of the "generous offer."
Nat community traditionally did folk circus and tricks, a source of entertainment for rural people. But increasing urbanisation ensured other ways of entertainment which brought the community to the roads and traffic signals of metros. Hailing from an extremely backward caste like Nat, he and his ilk were born with "limited possibilities."
"So, the idea of owning a house and a piece of land felt like heaven for us," he says. His dilapidated house sits on land belonging to the village Panchayat, which has allowed the Nats to use it.
Full report at:
http://www.thehindu.com/news/national/agra-conversion-muslims-alienated-us-hindus-didnt-accept-us/article7190890.ece
-------
2 CRPF personnel killed in militant attack in J&K
PTI | May 11, 2015
SRINAGAR: Two CRPF personnel, including an officer, were killed in a militant attack in Sangam area of Anantnag district on Jammu-Srinagar National Highway on Monday, police said.
Militants attacked a CRPF picket at Hatmulla in Sangam area, around 40km from here, this afternoon, a police officer said.
"Two CRPF personnel were martyred in the militant attack," he said. The deceased has been identified as assistant sub-inspector Omkar Singh and constable Tilak Raj, he added.
Security forces have cordoned off the area and launched an operation to track down the militants, the officer said, adding, further details of the incident are awaited.
http://timesofindia.indiatimes.com/india/2-CRPF-personnel-killed-in-militant-attack-in-JK/articleshow/47233263.cms
----------
Pakistan rules out possibility of India emerging as "most favoured nation"
Pankaj Shah,TNN | May 11, 2015
LUCKNOW: Making a high note pitch for its big time economic corridor with China, Pakistan on Monday ruled out the possibility of India being given the status of 'Most Favoured Nation' in the near future. Pakistan High commissioner, Abdul Basit, who was in the state capital to attend a business meet organized by Federation of Indian Chamber of Commerce and Industry (FICCI), said that the economic corridor with China will put not only Pakistan on a new economic trajectory but the whole of south and central Asia.
Termed as China-Pakistan Economic Corridor (CPEC), the mega project envisages connecting Gwadar Port in southwestern Pakistan to China's northwestern autonomous region of Xinjiang, via a network of highways, railways and pipelines to transport oil and gas. The economic corridor, running for a length of around 3000 Kms, is considered central to China-Pakistan relations.
Full report at:
http://timesofindia.indiatimes.com/india/Pakistan-rules-out-possibility-of-India-emerging-as-most-favoured-nation/articleshow/47233032.cms
----------
LeT operative Irfan arrested by Delhi Police
11 May, 2015
Delhi Police Special Cell arrested a Lashkar-e-Taiba (LeT) operative from Uttar Pradesh, officials said on Monday.
"He has worked for Indian Mujahideen (IM) and is wanted in several terrorist cases," Special Commissioner of Police (Special Cell) S.N. Srivastava said.
The alleged terrorist, identified as Irfan, 50, was arrested last week from Bahraich district in Uttar Pradesh, officials said.
http://www.thehindu.com/news/national/let-operative-irfan-arrested-by-delhi-police/article7193167.ece
----------
Southeast Asia
Beware of leaders who prioritise politics over Islam, PAS told
11 May, 2015
KUALA LUMPUR ― PAS members must be wary of supporting leaders who prioritise politics and winning elections over Islam, a central committee member has said ahead of next month's party election.
Nasrudin Hassan said the reason behind PAS's "crisis" was not because of factionalism, but because of some leaders who are willing to compromise the party's Islamic agenda in order to garner popular support.
"There are those who are greedy to win, and to them it is okay to win first and then only think about Islam. This is wrong.
"We cannot build a nation of ignorant people on the ruins of Islam," the former PAS youth chief said when officiating the Federal Territories' PAS youth, ulama and women's wing here.
"There is still a crisis due to our definition as a party.
"What is PAS? Some misunderstand PAS as a political party, and that is why they place more importance on political goals than hudud," Nasruddin stressed.
The Temerloh MP did not name the PAS leaders he was referring to, but added that these leaders are the real reason behind the infighting within the Islamist party.
"Some of these leaders even suggested in the past that the post of deputy, vice-president be given to a non-Muslim.
Full report at:
http://www.themalaymailonline.com/malaysia/article/beware-of-leaders-who-prioritise-politics-over-islam-pas-told#sthash.gcKFvIcy.dpuf
----------
About 1,000 Myanmar migrants rescued off Malaysia, say police
11 May, 2015
Four boats carrying some 1,400 Rohingya migrants were rescued off the coasts of Indonesia and Malaysia today, officials said, a day after nearly 600 others arrived in a wooden vessel off Indonesia's Aceh.
All the boats appear to have been abandoned as Thailand, their usual destination, cracks down on the trafficking of ethnic Rohingya Muslims bound for neighbouring countries, after the discovery of dozens of remains in mass graves at "slave camps" in the Thai south.
More than 1,000 migrants from Bangladesh and Myanmar landed in Malaysia after being dumped by human traffickers in shallow waters off the resort island of Langkawi, police said.
"We think there were three boats that ferried 1,018 migrants," said Langkawi deputy police chief Jamil Ahmed, adding that the number was expected to grow as more migrants are picked up around the island.
Early this morning, Indonesian search and rescue teams discovered another boat drifting off east Aceh with 400 men, women and children from Myanmar and Bangladesh aboard, Aceh provincial search and rescue chief Budiawan told AFP.
Full report at:
http://www.themalaysianinsider.com/malaysia/article/about-1000-myanmar-migrants-rescued-off-malaysia-say-police#sthash.3M2pyWYI.dpuf
----------
Malaysian troops join Arab coalition
11 May, 2015
Malaysian troops on Sunday arrived at Saudi Royal Air Force base to participate in the Saudi-led coalition to support the legitimacy in Yemen under Operation Restoring Hope.
Malaysia has become the 12th country to join the coalition after Senegal which is sending 2,100 troops to fight the Houthis and the forces loyal to former President Ali Abdullah Saleh.
The Ministry of Defense explained that the coalition's operations center is preparing for incorporating the Malaysian and Senegalese forces into the ranks and determining the nature of tasks assigned to them.
Houthi militias in Yemen, meanwhile, accepted a five-day humanitarian cease-fire proposed by Saudi Arabia, according to Reuters.
Full report at:
http://www.arabnews.com/featured/news/744906
---------
North America
US Spokesman Shrugs Off Responsibility for Riyadh's Cluster Bombs Use in Yemen
11 May, 2015
The Persian language Spokesman for the US State Department, Alan Eyre, said Saudi Arabia had promised not to use Washington-supplied cluster munitions against civilians, escaping responsibility as to why the US is not standing against Riyadh's use of such weapons.
"The US, as part of its rule and policy, only exports cluster munitions that meet the strict requirements of the amount of unexploded ordnance, i.e. 1 percent. Additionally, the receiving country of such weapons must give commitment that cluster munitions will only be used against specific military targets and will not be used where civilians are known to be present or in areas normally inhabited by civilians," said Alan Eyre in an exclusive interview with Fars News Agency's Persian-language website.
He also didn't deny the reports that the US has supplied Riyadh with internationally-banned weapons.
Full report at:
http://english.farsnews.com/newstext.aspx?nn=13940218000194
----------
Canada springs a confessed jihadist killer
11 May, 2015
A Canadian judge ruled last week that Omar Khadr poses no public safety threat. Tell that to the children of Sgt. 1st Class Christopher J. Speer and the surviving American soldiers who valiantly fought Khadr on the battlefield.
In 2012, Khadr pleaded guilty, guilty, guilty, guilty and guilty to five charges related to the killing of SFC Speer, a 28-year-old medic with the US Special Forces. This young American hero died in Afghanistan in 2002 during an ambush by al Qaeda operatives.
Just days before he gave his life, Speer had fearlessly walked onto a minefield to rescue two wounded Afghan children. It was Khadr, born and bred an Islamic jihadist by his terrorist father, who lobbed the fatal grenade in the war zone. Another American soldier, SFC Layne Morris, survived the attack, but was blinded in one eye for life.
Full report at:
http://nypost.com/2015/05/10/canada-springs-a-confessed-jihadist-killer/
----------
Africa
Central African Republic groups agree on peace accord
World Bulletin / News Desk
11 May, 2015
Rival armed groups in Central African Republic agreed on Sunday to a peace accord requiring them to disarm and potentially face justice for war crimes committed during two years of conflict.
The agreement signed between 10 armed groups and the Defence Ministry during a peace forum in the capital,Bangui, aims to draw a line under a conflict that has killed thousands and displaced nearly a million people in the impoverished former French colony.
"On the path towards peace, the step made today is a very important one," said Babacar Gaye, the top U.N. official in the country.
Violence flared up in March 2013 when mostly Muslim Seleka rebels seized power, sparking reprisals from anti-balaka, or anti-machete, Christian militia, who then drove the bulk of the Muslim population out of the south.
Full report at:
http://www.worldbulletin.net/headlines/159003/central-african-republic-groups-agree-on-peace-accord
----------
Libya 'cruelty' drives migrants to risk lives
11 May, 2015
Migrants in Libya face "cruelty" and abuse, driving many people to risk their lives in dangerous Mediterranean crossings aimed at reaching sanctuary in Europe, Amnesty International said on Monday.
For years Libya has been a stepping stone for Africans seeking a better life in Europe. Syrian refugees fleeing the conflict at home are also making their way to Libya to try to reach the West.
"The ghastly conditions for migrants, coupled with spiraling lawlessness and armed conflicts raging within the country, make clear just how dangerous life in Libya is today," said Amnesty's Philip Luther.
The situation has worsened since the NATO-backed 2011 uprising that toppled veteran dictator Muammar Qaddafi, with powerful militias battling for Libya's oil wealth and two governments vying for power.
Full report at:
http://english.alarabiya.net/en/News/middle-east/2015/05/11/Libya-cruelty-drives-migrants-to-risk-lives.html
----------
Gaddafi's son Saadi appears in Libyan court on murder charges
11 May, 2015
Muammar Gaddafi's son Saadi who fled abroad during Libya's 2011 revolution and was extradited from Niger last year appeared in a Tripoli court on Sunday at the start of a trial on murder charges but the judge adjourned his case until July.
Saadi, who had a brief career as a soccer player in Italy and had the reputation of a playboy during his father's long rule, appeared in the Tripoli courtroom wearing a blue jumpsuit and watched the proceedings from behind bars.
"The trial of Saadi Gaddafi has been adjourned today by the court of south Tripoli until July 19," the chief of the investigation office of the attorney-general, Sadiq Al-Sour, told Reuters. "The defence lawyers had asked for more time to read the case file and prepare for a plea."
Saadi Gaddafi faces charges of killing a football player and unlawful imprisonment.
Since the 2011 fall of Gaddafi, Libya has slipped deeper into chaos with two rival governments and the armed factions that back them fighting for control. Islamist militants have gained ground during the period of lawlessness.
Gaddafi's more prominent son, Saif al-Islam, is being held captive by fighters in the western Libyan town of Zintan. They refuse to hand him over to a government they deem too weak to hold him.
Since escaping Libya in 2011, Saadi had been held under house arrest in the Niger capital Niamey. Libyan authorities believe he was active from there in fomenting unrest in southern Libya. He was extradited back to Libya in March 2014.
http://english.ahram.org.eg/NewsContent/2/8/129897/World/Region/Gaddafis-son-Saadi-appears-in-Libyan-court-on-murd.aspx
----------
After surviving Boko Haram, returnees face hunger in Nigerian towns
11 May, 2015
Since Nigeria's army began clearing large areas of the country's northeast from Boko Haram, some of the 1.5 million internally displaced people have started returning home. But thousands could now face severe food shortages as reconstruction lags behind.
Along the main roads heading north from Adamawa's state capital Yola, some trade has resumed in the towns but ghostly pockets and haunting reminders of the insurgent takeover are evident. Some three months after the fighting ended, the smell of rotting corpses still clings to the air by the headquarters of the Church of the Brethren near Mararaba.
Islamist militant group Boko Haram grabbed swathes of Nigeria's northeast last year, killing thousands in an unprecedented land grab. It took over most of Borno state, the birthplace of the group, and parts of Adamawa and Yobe while increasing incursions on neighbouring countries.
Full report at:
http://english.ahram.org.eg/NewsContent/2/9/129926/World/International/After-surviving-Boko-Haram,-returnees-face-hunger-.aspx
----------
Libya - Wave of Abductions, Torture and Gang Rape Is Driving Mediterranean Migrant Exodus
11 May, 2015
Refugees and migrants in Libya face rape, torture and abduction by traffickers and smugglers, as well as systematic exploitation by their employers, religious persecution and other abuses by armed groups and criminal gangs, said Amnesty International in a new report today (11 May).
The 30-page report, 'Libya is full of cruelty': Stories of abduction, sexual violence and abuse from migrants and refugees, exposes the full horror of the plight of refugees and migrants in Libya, many of whom are driven to risk their lives in treacherous sea crossings in a desperate attempt to reach safety in Europe.
Migrants and refugees face abuses at all stages of the smuggling routes from west and east Africa towards the Libyan coast. Many, including women and unaccompanied children, have been abducted on their journeys and tortured to coerce them and their families to pay ransoms. Those unable to pay are often held effectively as slaves - forced to work without pay, physically assaulted and robbed. Smugglers also sometimes pass the migrants and refugees on to criminal groups once they cross the border in desert areas or in major transit cities along the migration route such as Sabha in the south-west or the coastal city of Ajdabya in eastern Libya.
Full report at:
individuals are only detained when strictly necessary for the shortest possible period."
http://allafrica.com/stories/201505110848.html
----------
Kenya: 16 Muslim Preachers Detained in Kenya
11 May, 2015
Police in Kenya's Marsabit County have arrested 16 Muslim preachers which they suspected of recruiting for the Somali armed group al Shabaab.
According to Kenya's Daily Nation newspaper, the arrests took place in the Karare area after police were tipped off by locals in the area.
The preachers who arrived in the area days ago are said to be Islamic propagation famously known as Tabligh.
Majority of them are from within the country mainly the Somali dominated areas.
The suspects were handed over to the Anti-Terrorism Police Unit in Nairobi for investigation.
Last month other Islamic preachers were arrested in Lamu but later released.
http://allafrica.com/stories/201505100009.html
----------
URL: https://www.newageislam.com/islamic-world-news/new-age-islam-news-bureau/egypt-s-islamic-scholars-on-european-tour-to--modify-the-image-of-islam-/d/102903