New Age Islam News Bureau
2 Apr 2015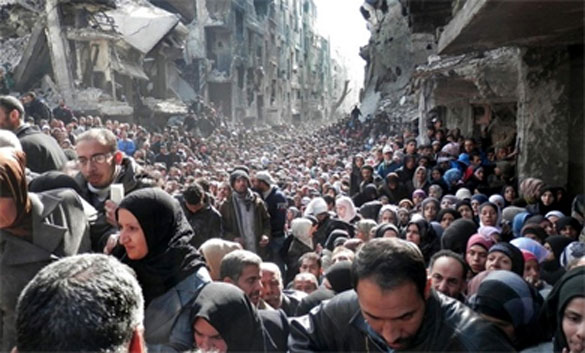 File photo released by the United Nations Relief and Works Agency for Palestine Refugees in the Near East (UNRWA) shows residents of the besieged Palestinian camp of Yarmouk, queuing to receive food supplies, in Damascus, Syria. There are reports the camp has fallen into the hands of ISIL. UNRWA/AP Photo
-------------
Arab World
• Egypt's Al-Azhar Files Complaint Accusing TV Show Of Twisting Islam
• Security Official: 150 ISIS Fighters Killed In Tikrit
• IS Storms Palestinian Refugee Camp In Damascus
• Sinai attacks kill 15 soldiers, 2 civilians
• Hope rises for release of 71 Saudi prisoners in Iraq
• Looting in Iraq's Tikrit after city retaken
• Qaeda in Syria calls for power-sharing in Idlib city
• 230 Egyptians referred to military prosecutor over 2013 violence
• Syrian rebels capture main border crossing with Jordan
South Asia
• 17 People Killed, Dozens Injured In Khost Suicide Attack
• Six Soldiers Martyred, 10 Insurgents Killed In Separate Military Operations
• Ansarullah planned blogger murder for 15 days
Africa
• Islamists Storm Kenyan University, At Least 14 Reported Killed
• Morocco dismantles ISIS recruitment cell
• Tunisia atrocity can be traced back to Western bombing of Libya
• Nigeria's Buhari vows action on Boko Haram, graft after election win
Mideast
• Houthi Forces In Aden Pull Back After Air Strikes
• Al Qaeda Free More Than 300 Prisoners In Yemen
• Turkey police raid militants after leftist attacks
• Turkey detains nine Britons crossing into Syria
• Significant progress' in nuclear talks, no 'final result yet': Iran's Zarif
• Coalition: Houthis targeting civilians to gain sympathy
• Palestinians to receive partial salaries as Israel withholds funds
• Israel says Palestinians hypocritical for joining ICC
India
• 450 Muslim Families Stuck, Vadodara, Gujarat, Doesn't Want Them In Their Midst
• Hizbul Mujahideen chief claims J&K deserter cop has joined his outfit
Europe
• EU: Stand Against Violent Extremists In Bangladesh
• Russian Muslims Call For Punishing ISIL
• Bulgaria Breaks Islamist Propaganda Network
• French Muslims wrongly portrayed, says expert
• Human Rights Commission backs action in Yemen
• All sides should ensure protection of civilians in Yemen: EU
Southeast Asia
• IS Attack On Malaysia Imminent, 'Just A Matter Of Time', CTD Warns
• Users Decry Curb on Free Speech as 'Radical' Sites Are Banned in Indonesia
• With Umno's vote, hudud war could end in Malay-only majoritarianism
• Cleric murder case: Non-bailable arrest warrant issued for Musharraf
Pakistan
• Will 'React Strongly' To Any Threat To Saudi Arabia: Pakistan
• A Pakistan Charity Worker, Abdul Sattar Edhi, Labelled An 'Infidel'
• Six bodies recovered in Karachi
• Mission back from S. Arabia with 'better understanding'
• Country will be rid of terrorism: army chief
North America
• Philadelphia Muslims Turning The Other Cheek As Anti-Islam Bus Ads Appear
• US targets overseas cyber attackers with new sanctions programme
• Pakistan 'stabilising factor' in the region: US
• Decisive Storm: US stepping up logistics support
• Ready to walk away from Iran talks if progress not made: White House
Compiled by New Age Islam News Bureau
URL: https://newageislam.com/islamic-world-news/new-age-islam-news-bureau/egypt-s-al-azhar-files-complaint-accusing-tv-show-of-twisting-islam/d/102243
---------
Arab World
Egypt's Al-Azhar Files Complaint Accusing TV Show Of Twisting Islam
April 2, 2015
Egypt's pre-eminent Sunni Islamic institute Al-Azhar took a swipe on Wednesday at TV presenter Islam El-Behery's show for what it described as a fierce and elusive campaign against the foundations of Islam and Islamic legacy.
El-Behery, an Islamic researcher, has been providing his understanding of Islamic doctrine on his TV show and has stirred controversy for questioning the credibility of the sources of Prophet Muhammed's sayings, a prime reference for Islamic teachings next to the Quran.
Al-Azhar filed a complaint to the General Body for Investment and Free Zones requesting for TV channels not to air El-Behery's show, also saying it has known that the authority planned to send a warning to Al Qahera Wal Nas, the channel which airs his show.
El-Behery's show, the Al Azhar statement says, deliberately makes people question what is certain in religion and that it threatens social peace. Al-Azhar also accused the show of stirring sectarian strife.
Egypt's President Abdel-Fattah El-Sisi has more than once called on Al-Azhar to fight what he labeled as faulty Islamic teachings and extremism, amid a crackdown against Islamists across the nation following the ouster of Islamist president Mohamed Morsi in 2013.
http://english.ahram.org.eg/NewsContent/1/64/126667/Egypt/Politics-/Egypts-AlAzhar-files-complaint-accusing-TV-show-of.aspx
---------
IS storms Palestinian refugee camp in Damascus
Apr 02 2015
DAMASCUS: The self-styled Islamic State (IS) group stormed the Yarmuk refugee camp in southern Damascus on Wednesday, capturing large parts of the Palestinian haven and demonstrating for the first time its ability to attack Syria's capital.
The IS militants entered the camp in a lightning assa­ult, said Anwar Abdel Hadi, the Palestine Liberation Organisation's political affairs director in Damascus.
"Fighters from IS launched an assault this morning on Yarmuk and they took over the majority of the camp," he said, adding that fierce clashes were continuing inside.
"They reached the Palestinian hospital and 15th Street, which are in the centre of the camp," he added.
The Syrian Observatory for Human Rights said IS took control of a "large part" of Yarmuk during fighting with Palestinian groups also opposed to President Bashar al-Assad's regime.
The militants infiltrated the camp from the rebel-held town of Hajar al-Aswad, according to the Britain-based monitoring group.
Yarmuk, located only six kilometres from downtown Damascus, was once a thriving home to 160,000 Palestinian refugees and Syrians. But it has been devastated by fighting and a blockade imposed by the army nearly two years ago that created dire humanitarian conditions.
The camp, covering an area of just two square kilometres, has seen its population dwindle to only about 18,000.
Last year, it witnessed scenes of desperation as thousands of people cram­med into devastated streets to queue for food distributed by the UN Palestinian refugee agency.
Rebel fighters had withdrawn from Yarmuk in February 2014 under a deal that left only Palestinian anti-regime groups inside.
The siege has caused significant shortages of food, water and drugs at the camp.
The IS, which declared a so-called "caliphate" last year over large parts of Syria and Iraq under its control, has fought against the Assad regime as well as other rebel groups as it seeks to gain territory.
An activist in Yarmuk said IS launched the attack after some of its members were detained following the murder there of a leader of the Palestinian Islamist movement Hamas on Monday.
Elsewhere, a coalition of rebel fighters including Islamists attacked Syria's main border crossing with Jordan, known as the Nasib post, prompting the authorities in Amman to close it.
"Fierce fighting over the control of the Nasib border crossing with Jordan erupted early this morning between Islamists and rebels and regime forces, with the rebels putting the crossing under siege," said the Observatory.
The rebels had besieged the post and were being hit by barrel bombs and rocket fire from government forces.
Jordan's government said later that it had closed the crossing, leading to Syria's Daraa province, to both travellers and goods.
The closure was a "preventive measure to safeguard the lives and security of travellers due to the fighting underway on the other side of the border," Interior Minister Hussein Majali said.
Rebels have been gaining territory in the southern province, cradle of the 2011 Arab Spring-inspired uprising against Assad that triggered the civil war.
Last week they seized full control of the ancient town of Bosra al-Sham, pushing pro-regime forces out after days of heavy fighting.
In January rebels — including fighters from the Al Qaeda affiliated Al-Nusra Front — seized an important government army base in the province.
In other developments on Wednesday, the army captured a strategic position in the rebel-held town of Zabadani, northwest of Damascus on the road to Beirut.
More than 215,000 people have been killed and more than half of the country's population has been displaced since the Syrian conflict erupted in March 2011.
http://www.dawn.com/news/1173364/is-storms-palestinian-refugee-camp-in-damascus
--------
Security Official: 150 ISIS Fighters Killed In Tikrit
April 2, 2015
ERBIL, Kurdistan Region - The Iraqi Federal Police said more than 150 Islamic State fighters have been killed in the ongoing liberation of Tikrit and all of the militants' bases and facilities in the city have been captured.
"Our forces defused an estimated 520 planted landmines inside the city, while taking control of 13 factories, which were used for making bombs and mines by ISIS fighters," Jawdat Shakir, Iraqi federal police commander, told local media.
Iraqi security forces said at least 24 hours is still needed to quell remaining pockets of ISIS resistance inside the city.
The Tikrit operation to drive out the extremists began on March 2. Last week, a stalemate in the fighting was broken by airstrikes launched by the US-led coalition after a request from Baghdad.
http://rudaw.net/english/middleeast/iraq/010420152
---------
Sinai attacks kill 15 soldiers, 2 civilians
2 April 2015
Fifteen soldiers were killed in five simultaneous attacks Thursday targeting security checkpoints in Egypt's North Sinai, where the army is battling the local branch of ISIS, police said.
Gunmen opened fire on soldiers with automatic rifles and rockets at separate checkpoints south of Sheikh Zuweid, east of the provincial capital of El-Arish, police officials told AFP.
Fifteen soldiers and two civilians were killed in the attacks, while 15 militants died in subsequent gun battles, the officials said.
There was no immediate claim of responsibility for the attack but militants who support ISIS, the ultra-hardline group that controls parts of Iraq and Syria, have carried out similar operations in Sinai.
Egypt is gradually recovering from years of political turmoil following the ouster of autocrat Hosni Mubarak in 2011 and foreign investors are starting to return. But the biggest Arab state still faces security challenges on several fronts.
Sinai-based militants have killed hundreds of soldiers and police since the army toppled Islamist President Mohammed Mursi in 2013 after mass protests against his rule.
That insurgency has spread to other parts of Egypt though bombing attacks in cities and towns are usually far less dramatic.
President Abdel Fattah al-Sisi, who has spearheaded an Arab initiative to create a joint military force to confront regional security challenges, says militants based next door in chaos-ridden Libya also pose a threat to Egypt.
http://english.alarabiya.net/en/News/middle-east/2015/04/02/Gunmen-kill-seven-Egyptian-soldiers-in-Sinai-.html
---------
Hope rises for release of 71 Saudi prisoners in Iraq
April 2, 2015
There is now increasing hope that Saudi Arabia would secure the release of 71 citizens held in Iraq for 15 years, said Abdullah Al-Saleh, the Saudi ambassador in Jordan, recently.
Relations have started to thaw with Iraq, with Saudi Arabia soon opening an embassy in that country, he said.
Al-Saleh was quoted as saying in a local publication that he was working with his Iraqi counterpart in Jordan on this matter, with a satisfactory outcome expected soon.
The Saudis are not members of the Islamic State group. However, several were affiliated to Jihad's Base in Mesopotamia, the group commonly known as Al-Qaeda in Iraq, which was founded in 1999 by Jordanian Abu Musab Al-Zarqawi, which later developed into the Islamic State group.
"The embassy here in Jordan hopes the cases will soon be closed following the announcement of the re-opening of our diplomatic mission in Baghdad and the establishment of a general consulate in Erbil in the north."
He said he met with the Iraqi ambassador several times to follow up on the conditions of the prisoners through the International Committee of the Red Cross.
Al-Saleh said he met with a representative of the Red Cross at the embassy, where the latter promised to provide reports on the prisoners. This showed that the Iraqi government was committed to improving the conditions of the prisoners, he said.
Full report at:
http://www.arabnews.com/saudi-arabia/news/726636
---------
Looting in Iraq's Tikrit after city retaken
2 April 2015
Pro-government militiamen were seen looting shops in the centre of the Iraqi city of Tikrit on Wednesday after its recapture from the Islamic State jihadist group in a month-long battle.
The militiamen took items including clothing, shampoo and shaving cream from two shops in central Tikrit before driving away.
Two trucks were also seen leaving Tikrit loaded with new tyres, a generator and a mirror that fell out and shattered on the highway.
While localised, the incidents raise concerns over how the myriad militiamen now in the city will conduct themselves.
As they have in other areas, militiamen also spray painted the names of their groups on houses and shops in the city, including on unbroken windows that had survived the fighting.
Baghdad turned to Shiite militias to bolster its flagging forces after Islamic State of Iraq and Syria group (ISIS) jihadists led a sweeping offensive that overran large areas north and west of Baghdad last year.
Full report at:
http://english.alarabiya.net/en/News/middle-east/2015/04/02/Looting-in-Iraq-s-Tikrit-after-city-retaken.html
---------
Qaeda in Syria calls for power-sharing in Idlib city
April 2, 2015
Islamists in Syria's northwestern city of Idlib should set aside their differences and rule the city together, the head of Al-Qaeda's Syrian affiliate said in an audio message published Wednesday.
Abu Mohammed al-Jolani, chief of Syria's Al-Nusra Front, said his group does not "want to monopolise rule over Idlib city," which was recently taken over by an Islamist coalition.
He also stressed the importance of "quickly establishing a religious court to judge over people and to end disputes," in a speech published by Al-Nusra's official Manara station on YouTube and Twitter.
Jolani's message came four days after Al-Nusra and other Islamist groups seized Idlib from regime forces.
It was unclear whether the city would be ruled by religious courts or if the various factions would fight among themselves for control of it.
Jolani called on the Islamist groups to set aside differences and join forces "for the victory of Full report at:
http://english.ahram.org.eg/NewsContent/2/8/126681/World/Region/Qaeda-in-Syria-calls-for-powersharing-in-Idlib-cit.aspx
---------
230 Egyptians referred to military prosecutor over 2013 violence
April 2, 2015
Prosecutor's in Upper Egypt's Beni Suef referred on Wednesday 230 Egyptians to the military prosecutor for violence-related charges in the aftermath of mass pro-Mohamed Morsi sit-ins which were broken up by security forces
In August 2013, violence erupted nationwide, including in Beni Suef, after the police's bloody dispersal of two main sit-ins supporting ousted president Morsi on 14 August. Hundreds of his supporters were killed in the events, and many police stations and churches were attacked by Morsi supporters.
Full report at:
http://english.ahram.org.eg/NewsContent/1/64/126683/Egypt/Politics-/-Egyptians-referred-to-military-prosecutor-over--v.aspx
---------
Syrian rebels capture main border crossing with Jordan
April 2, 2015
Syrian rebels and fighters from the al-Qaeda-affiliated Nusra Front have captured the only functioning border crossing with Jordan and three nearby military posts, prompting government bombing raids on the area, activists said on Thursday.
The capture of the Nasib crossing a crucial gateway for the Syrian government is the latest in a series of setbacks for President Bashar Assad's forces in the past week. Fighters led by the Nusra Front seized the government-held city of Idlib in northwestern Syria and a major town, Busra Sham, in the south.
The Jordanian government closed the Nasib crossing on Tuesday night for security reasons, as rebels clashed with Syrian forces on the other side. The rebels seized the crossing within 24 hours.
On Thursday, a plume of thick, black smoke was seen billowing from the Syrian side of the border with Jordan, as Syrian warplanes struck the area. An Associated Press cameraman said dozens of trucks were stranded on the Jordanian side and customs officials have been prevented from going to their offices.
Full report at:
http://www.thehindu.com/news/international/syrian-rebels-capture-main-border-crossing-with-jordan/article7061477.ece
---------
South Asia
17 people killed, dozens injured in Khost suicide attack
Apr 02 2015
17 people were killed and 40 others wounded in a suicide attack in Matoon, provincial capital of Khost province this morning.
The suicide attack took place during a protest against the acting governor of Khost province who is accused of corruption.
Member of Parliament Hamayoun Hamayoun is reportedly among the ones wounded.
Hamayoun Hamayoun is the Head of Defense Committee of Parliament.
No group has immediately claimed responsibility for the attack.
Taliban have denied hand in the attack.
http://www.khaama.com/breaking-news-explosion-rocks-khost-city-3041
---------
Six soldiers martyred, 10 insurgents killed in separate military operations
Apr 02 2015,
Six soldiers from Afghan National Army have embraced martyrdom in a land mine explosion while 10 insurgents were killed in separate military operations in past 24 hours, statement issued Thursday morning by the Ministry of Defense states.
The statement does not contain information about the exact location of the explosion and only states that it took place in past 24 hours.
Without naming provinces, the statement adds that the 10 insurgents were killed in four provinces during separate military operations in past 24 hours.
Seven insurgents were also wounded during confrontation with security forces, the statement states.
54 Improvised Explosive Devices (IEDs) were also discovered and defused by the security forces during the operation conducted in past 24 hours, the statement adds.
Suicide Attacker arrested
Full report at:
http://www.khaama.com/six-soldiers-martyred-10-insurgents-killed-in-separate-military-operations-3040
---------
Ansarullah planned blogger murder for 15 days
Mohammad Jamil Khan
Apr 02 2015
A buffer cell of Islamist fanatics murdered blogger Oyasiqur Rahman Babu and had been planned at least 15 days prior, detectives said yesterday.
Islamist outfit Ansarullah Bangla Team, had used similar buffers, that they call "sleeper cell", for murdering Avijit Roy, another liberal blogger with atheist views, on February 27.
"Five members of the sleeper cell were specially training in the last 15 days at a rented house in Dhaka's Jatrabari area," said Monirul Islam, DMP joint commissioner and chief of the Detective Branch.
They suspect that Ansarullah leader Redwanul Azad Rana, who coordinates a number of sleeper cells, masterminded the attack on Oyasiqur. Police recently announced Tk5 lakh bounty for the arrest of Rana.
The sleeper cells are managed by one field commander who recruits, trains and indoctrinates suitable candidates to carry out their plots. The cell members can only name that field commander and it becomes impossible to connect these plots to the larger organisation or its leadership.
Full report at:
http://www.dhakatribune.com/crime/2015/apr/02/ansarullah-planned-blogger-murder-15-days#sthash.N8lGkmdT.dpuf
----------
Africa
Islamists Storm Kenyan University, At Least 14 Reported Killed
2 April 2015
At least 14 people were reported killed on Thursday when Islamist militants stormed a university campus near Kenya's border with Somalia, taking Christian students hostage and battling security forces over several hours.
Police and soldiers surrounded and sealed off Garissa University College and were attempting to flush out the gunmen, the head of Kenya's police force, Joseph Boinet, said in a statement.
Somali militant group al Shabaab, which has links to al-Qaeda, claimed responsibility for the pre-dawn raid and said it was holding many Christian hostages inside.
"We sorted people out and released the Muslims," Sheikh Abdiasis Abu Musab, al-Shabaab's military operations spokesman, told Reuters. "Fighting still goes on inside the college."
"The attackers shot indiscriminately while inside the university compound," Boinet said, adding that police had been guarding the university's four hostels at the time.
At least 14 people had been killed, a policeman at the scene said, while the Red Cross said 50 students had been freed.
Full report at:
http://english.alarabiya.net/en/News/africa/2015/04/02/At-least-15-killed-in-Kenya-university-attack-police-source-.html
---------
Morocco dismantles ISIS recruitment cell
April 2, 2015
Moroccan authorities said Wednesday they dismantled a cell in the city of Fez that was recruiting fighters for the Islamic State of Iraq and Syria (ISIS) group in Iraq and Syria.
The interior ministry said the head of the cell maintained strong ties with ISIS leadership and sent Moroccans to training camps in the two countries, where they received intensive training in weapons handling.
"The members of this recruitment cell had received significant foreign funding for the necessary expenses to allow for travel and movement of these fighters," the ministry statement said, without elaborating.
The arrests were made by the Central Bureau of Judicial Investigations, inaugurated this year as part of the kingdom's beefed up war against terrorism.
Full report at:
http://english.alarabiya.net/en/News/africa/2015/04/01/Morocco-dismantles-ISIS-recruitment-cell-.html
---------
Tunisia atrocity can be traced back to Western bombing of Libya
2 April 2015
The aim of the NATO-led bombing raids on Libya four years ago was to "protect civilians." It was the start of the Arab Spring, and Western leaders believed that Libyans were in mortal danger from their long-term dictator Muammar Qaddafi. The multi-billion-dollar aerial war against him lasted seven months and, following his demise in Oct. 2011, the country was in utter chaos, with up to 30,000 people killed.
The deceit behind another disastrous Western intervention in the affairs of a Muslim state came into sharp focus in Tunisia this month with the murders of at least 22 men and women, mostly Western civilians.
Within a day of the atrocity at the Bardo National Museum in Tunis, it was confirmed that the two terrorists responsible had been trained at a militia camp in Libya. Tunisian Security Minister Rafik Chelly said there were now so many jihadist bases in Libya that would-be killers could choose one according to which foreign country they came from.
Full report at:
http://english.alarabiya.net/en/perspective/analysis/2015/04/02/Tunisia-atrocity-can-be-traced-back-to-Western-bombing-of-Libya.html
--------
Nigeria's Buhari vows action on Boko Haram, graft after election win
AFP | Apr 2, 2015
ABUJA: President-elect Muhammadu Buhari on Wednesday vowed to rid Nigeria of the "terror" of Boko Haram after his historic election victory marking the first democratic transfer of power in Africa's most populous nation.
The 72-year-old former military ruler also pledged reconciliation with political opponents who fear a return to his autocratic regime of the 1980s, and a government representing "all Nigerians".
"I assure you that Boko Haram will soon know the strength of our collective will and commitment to rid this nation of terror and bring back peace," Buhari said in an acceptance speech after his dramatic win.
Full report at:
http://timesofindia.indiatimes.com/world/rest-of-world/Nigerias-Buhari-vows-action-on-Boko-Haram-graft-after-election-win/articleshow/46778503.cms
----------
Mideast
Houthi forces in Aden pull back after air strikes
April 2, 2015
Houthi forces pulled back from positions in central Aden after air strikes by the Saudi-led coalition at dawn on Thursday, residents of the southern Yemeni port city said.
They said a unit of Houthi and allied fighters, who had advanced through Aden's Khor Maksar district 24 hours earlier, pulled back, although they remained in parts of the area.
http://english.ahram.org.eg/NewsContent/2/8/126690/World/Region/Houthi-forces-in-Aden-pull-back-after-air-strikes.aspx
---------
Al Qaeda free more than 300 prisoners in Yemen
Apr 02 2015
Al Qaeda militants stormed a prison in southeastern Yemen on Thursday, freeing several hundred inmates including one of their leaders, a security official said.
Khalid Batarfi, a senior Al Qaeda figure who had been held for more than four years, was among more than 300 prisoners who escaped from the jail in Hadramawt province, the official told AFP.
Two prison guards and five inmates were killed in clashes, the official said.
Batarfi is one of Al Qaeda in the Arabian Peninsula's (AQAP) top regional commanders, known for his leading role in a 2011-2012 battle with Yemeni government troops during which extremists seized large parts of the south and east.
Al Qaeda militants also clashed on Thursday with troops guarding the local administration complex in the provincial capital Mukalla, a branch of the central bank and the police headquarters, the official said.
Fighting also broke out at the harbour and around a presidential palace in Mukalla, security officials said.
The militants met no resistance as they seized the local radio headquarters, the officials said, adding that broadcasting was interrupted.
http://www.themalaysianinsider.com/world/article/al-qaeda-free-more-than-300-prisoners-in-yemen
---------
Turkey police raid militants after leftist attacks
April 2, 2015
Turkish police on Thursday launched early morning raids against suspected members of an ultra-leftist group in Istanbul, after two deadly shoot outs blamed on the militants that sent a wave of fear through the city.
At least 10 people were arrested in the raids in the Okmeydani district of Istanbul as dozens of police deployed in armoured vehicles in the area, Turkish media said.
The raids came two days after a prosecutor was killed in Istanbul in a hostage-taking blamed on the far-left Revolutionary People's Liberation Party-Front (DHKP-C).
On Wednesday, a militant tried to storm the police headquarters in Istanbul. Police opened fire in response, killing the female assailant who was armed with grenades and guns.
Turkish media named the dead woman as Elif Sultan Kalsen, 28, saying she was a known member of the DHKP-C.
Full report at:
http://english.ahram.org.eg/NewsContent/2/8/126711/World/Region/Turkey-police-raid-militants-after-leftist-attacks.aspx
---------
Turkey detains nine Britons crossing into Syria
April 2, 2015
Turkish security forces arrested nine British nationals trying to cross illegally into Syria, the Turkish military said in a statement on April 1.
The Britons were arrested near Hatay province on the Turkish side of the Syrian border. It was not clear why the nine people were trying to cross the frontier.
In London, the Foreign Office said it was aware of the reports of the arrest.
"We are in contact with the Turkish authorities and stand ready to provide consular assistance," a spokesman said.
Meanwhile, a 19-year-old British woman, one of a group of medical students that includes seven Britons, an American and a Canadian thought to have travelled to join the Islamic State of Iraq and the Levant (ISIL), has told her family she wants to go home, a Turkish lawmaker has said.
Full report at:
http://www.hurriyetdailynews.com/turkey-detains-nine-britons-crossing-into-syria.aspx?pageID=238&nID=80486&NewsCatID=352
---------
Significant progress' in nuclear talks, no 'final result yet': Iran's Zarif
April 2, 2015
All-night nuclear talks between Iran and major powers made "significant progress," but there is no "final result yet," Iranian Foreign Minister Mohammad Javad Zarif said Thursday during a break in negotiations.
"We don't have any final result yet," Zarif told reporters in Switzerland. The six powers "have to examine among themselves the results of the negotiations. We don't know yet the result of those discussions."
"This should happen this morning," he said. "If these solutions are approved, it is expected that there will be a joint declaration made by me and Mrs (Federica) Mogherini", the EU foreign policy chief, Zarif said.
Full report at:
http://www.hurriyetdailynews.com/significant-progress-in-nuclear-talks-no-final-result-yet-irans-zarif-.aspx?pageID=238&nID=80490&NewsCatID=359
---------
Coalition: Houthis targeting civilians to gain sympathy
April 2, 2015
Operation Decisive Storm strikes are based on accurate military information and all enemy targets are authentic and far removed from civilian areas.
This was disclosed by Brig. Gen. Ahmad Al-Assiri, consultant at the minister of defense's office, at a daily press briefing in Riyadh on Wednesday.
Al-Assiri said that the Houthis will target any possible venue, including ones populated by civilians, to mislead public opinion. Al-Assiri was referring to reports about civilian casualties at Al-Mazraq refugee camp and a dairy factory at Al-Hodeida.
"The Houthis are now using dirty tricks and targeting civilians to gain sympathy, especially since they are losing ground," he said.
Full report at:
http://www.arabnews.com/featured/news/726716
---------
Palestinians to receive partial salaries as Israel withholds funds
April 2, 2015
The Palestinian Authority will pay partial salaries to most of its employees for a fourth straight month in April after Israel failed to transfer revenue it collects on the Palestinians' behalf, the Palestinian Finance Ministry said.
Israel started withholding around $130 million a month in tax and customs revenues in December after the Palestinians announced that they were joining the International Criminal Court, a move finalized on Wednesday.
Under international pressure, Israel agreed last week to resume the transfers, saying it would immediately pay around $400 million - the withheld revenues less what the Palestinians owe for utilities supplied by Israel.
Full report at:
http://english.alarabiya.net/en/News/middle-east/2015/04/01/Palestinians-to-receive-partial-salaries-as-Israel-withholds-funds.html
---------
Israel says Palestinians hypocritical for joining ICC
April 2, 2015
Israel denounced as hypocritical Wednesday the Palestinian decision to join the International Criminal Court in order to seek to prosecute Israeli officials.
"The Palestinian decision to join the ICC to initiate judicial proceedings against Israel is political, cynical and hypocritical," the foreign ministry said.
Palestine formally joined the ICC Wednesday in a closed-door ceremony at the court's headquarters in The Hague.
"The government of the Palestinian Authority, which is associated with the deadly terrorist Hamas committing war crimes... is the last to be able to threaten legal action" before the court, a statement said.
Unilateral Palestinian actions such as joining the ICC are "violations of the principles established between the two parties with the support of the international community to resolve the Israeli-Palestinian conflict," it added.
http://english.ahram.org.eg/NewsContent/2/8/126673/World/Region/Israel-says-Palestinians-hypocritical-for-joining-.aspx
---------
India
450 Muslim Families Stuck, Vadodara, Gujarat, Doesn't Want Them In Their Midst
April 2, 2015
Last November, when authorities razed Vadodara's Kalyannagar and Kamatipura slums, over 450 Muslim families were to be relocated to two housing projects in the city. But they now stare at an uncertain future because residents of the neighbourhood where they were being moved are "objecting", saying they don't want "problem elements" in their midst.
The Vadodara Municipal Corporation (VMC) had planned to relocate the families to Kalali, an upscale neighbourhood being promoted as New Manjalpur by leading developers, and Sayajipura.
According to the VMC department of Basic Service to Urban Poor (BSUP) and JNNURM Housing, some 1,900 homes were demolished in Kalyannagar and another 350 in the adjoining Kamatipura settlements.
Nearly 80 per cent of the evicted families are Muslims. Of these, 730 families from Kalyannagar have relocated to a housing scheme in Tarsali-Dabhoi Road and 656 to Maneja. Some 400 families from Kalyannagar will move to Sayajipura and the rest to a housing project in Kalali.
Full report at:
http://indianexpress.com/article/india/india-others/450-muslim-families-stuck-vadodara-doesnt-want-them-next-door/99/
----------
Hizbul Mujahideen chief claims J&K deserter cop has joined his outfit
M Saleem Pandit,TNN | Apr 2, 2015
SRINAGAR: Hizbul Mujahideen chief Syed Salahuddin on Wednesday claimed minister Altaf Bukhari's guard from Jammu & Kashmir police, who went missing from Srinagar along with two rifles last week, had joined his outfit.
He said the outfit would reward Naseer Ahmed Pandit for deserting his force and called him an "inspiration for those working for Jammu & Kashmir police".
Salahuddin hoped more cops would join the militant ranks. He condemned "harassment" of Pandit's family during raids at his house and warned of dire consequences in a statement.
http://timesofindia.indiatimes.com/india/Hizbul-Mujahideen-chief-claims-JK-deserter-cop-has-joined-his-outfit/articleshow/46777864.cms
---------
Europe
EU: Stand against violent extremists in Bangladesh
Apr 02 2015
The European Union (EU) has called upon all to stand together against the actions of violent extremists in Bangladesh.
The call was made in a statement issued on Wednesday from the office of EU.
"The killings of Oyashiqur Rahman and Avijit Roy are an attack on free speech and democracy," said the statement, adding: "The murder of Oyashiqur Rahman is the second attack in a month that targeted Bangladeshi bloggers."
"Government authorities, political parties and civil society should stand together against the actions of violent extremists in Bangladesh."
The statement also demanded that the perpetrators of these murders must be swiftly brought to justice.
It reads: "Freedom of expression is recognised as a human right by the Universal Declaration of Human Rights and by the International Covenant on Civil and Political Rights, to which Bangladesh is a party."
Full report at:
http://www.dhakatribune.com/bangladesh/2015/apr/02/eu-calls-all-stand-against-violent-extremists#sthash.EsfDaeiq.dpuf
---------
Russian Muslims Call for Punishing ISIL
April 2, 2015
MOSCOW – A leading Russian Muslim group has issued a fatwa against the so-called Islamic State (ISIL) and called it "enemy of Islam", amid increasing threats to the faith that is mistakenly associated with the militant group.
"The followers of ISIS are mistakenly interpreting Islam as the religion of brutality and cruelty, of violence, torture and killings of all discontent," the Spiritual Directorate of Muslims of Russia said in a fatwa published on its website, RT reported on Tuesday, March 31.
The fatwa comes in response to the soaring anti-Muslim sentiment across the world following atrocities and terror attacks committed by the extremist ISIL in the name of Islam.
Issued on Tuesday, the religious decree dubbed ISIL followers "enemies of Islam" and called for punishing them like criminal.
"The members of the Ulama [Islamic scholars] council, on the basis of the Qur'an and Sunna and other legal sources, have shown and proved that all actions of the organization that calls itself "Islamic State" are contradicting Islam – starting from the creation of the group and calls for resettlement and finishing with their cruelty and public executions," the document reads.
Full report at:
http://www.onislam.net/english/news/europe/484517-russian-muslims-call-for-punishing-isil.html
----------
Bulgaria breaks Islamist propaganda network
April 2, 2015
Bulgaria, a transit country for the so-called foreign fighters traveling to and from Iraq and Syria, is in the process of dismantling a radical Islamist propaganda network of its own.
Police near the country's second biggest city of Plovdiv, some 130 kilometres southeast of Sofia, arrested eight men on Tuesday (31 March) on charges of belonging to a group that "spread an antidemocratic ideology and war propaganda".
The arrests were made in poor Roma neighbourhoods of Plovdiv and the near towns of Asenovgrad and Pazardzhik.
The authorities have issued a European arrest warrant for two other suspects, the State Agency on National Security said. It did not say which EU states these suspects were supposed to be staying in.
They come on top of the arrests of 27 similar suspects in the area on the same charges on last November 25 that included Ahmed Musa Ahmed, a local Muslim leader in Pazardzhik.
A court in Pazardzhik sentenced him to one year in jail last March after finding him guilty of preaching radical Islam. He appealed the verdict and didn't immediately start to serve his term.
Full report at:
https://euobserver.com/beyond-brussels/128236
----------
French Muslims wrongly portrayed, says expert
April 2, 2015
There is a distortion between the representation of Islam in France and sociological reality. We are in a crisis because of this discrepancy.
In a climate of anti-Muslim hysteria, French media is wrongly portraying young Muslims as disenfranchised extremists despite their high level of integration into French society, according to a visiting French expert.
Olivier Roy, professor at the European University Institute in Florence, Italy, said in an interview with Khaleej Times that "the typical Muslim, in the French media and in public opinion, is a young disenfranchised Muslim living in the suburbs and dealing either with drugs or with jihad.
Full report at:
https://en-maktoob.news.yahoo.com/french-muslims-wrongly-portrayed-says-expert-055812244.html
----------
Human Rights Commission backs action in Yemen
April 2, 2015
The Human Rights Commission (HRC) supports the Kingdom's military action in Yemen because it defends the country's people against an aggressor and protects Saudi Arabia and other neighboring countries, the body's chief said recently.
HRC members discussed the issue Tuesday and backed the decision by Custodian of the Two Holy Mosques King Salman because it was in line with Islamic law, Bandar Al-Aiban, HRC chairman, said.
The commission said the Kingdom's actions are supported by the charter of the Arab League, the Joint Arab Defense Pact and article 51 of the United Nations Charter.
These agreements grant individuals and groups the right to defend themselves against armed aggressors. The HRC also discussed the situation in light of the UN Human Rights Council Resolution No. 28/30 that condemns terror attacks against public establishments and private property on ethnic or religious grounds.
Full report at:
http://www.arabnews.com/saudi-arabia/news/726686
---------
All sides should ensure protection of civilians in Yemen: EU
2 April 2015
War in Yemen is having an alarming impact on civilians, the European Union said on ?Wednesday, condemning attacks on hospitals, schools and homes.
The effect, particularly on children, was "reaching alarming proportions and exacerbating an already dire humanitarian situation," EU foreign policy chief Federica Mogherini and humanitarian aid commissioner Christos Stylianides said.
"The attacks on hospitals and medical facilities by warring factions as well as the deliberate targeting and destruction of private homes, education facilities and basic infrastructure cannot be tolerated," they said in a statement.
Full report at:
http://english.alarabiya.net/en/News/middle-east/2015/04/02/All-sides-should-ensure-protection-of-Yemenis-EU-.html
----------
Southeast Asia
IS Attack on Malaysia Imminent, 'Just A Matter of Time', CTD Warns
Apr 02 2015
KUALA LUMPUR, April 2 — Evidence gathered so far of Malaysian involvement in the Islamic State (IS) has led the police to believe that attacks by the group on Malaysian soil is imminent, Bukit Aman's counter-terrorism director Datuk Ayub Khan Mydin said today.
In a special briefing on the threats of the IS and Islamic extremism in the country, SAC Ayub said police intelligence have indicated that it "was just a matter of time" before an attack is launched.
"It is not a matter of if we will be attacked but when," he told the executive briefing.
The counter-terrorism director also revealed that Malaysian IS members have made direct threats to attack Malaysia, including plans to bomb entertainment spots as part of its plan to "punish" Malaysia for being an "apostate" country.
Full report at:
http://www.themalaymailonline.com/malaysia/article/is-attack-on-malaysia-imminent-just-a-matter-of-time-special-branch-chief-w#sthash.VCFegC6k.dpuf
---------
Users Decry Curb on Free Speech as 'Radical' Sites Are Banned in Indonesia
Apr 02 2015
Jakarta. The government's move to block several websites believed to promote extremist Islamic teaching has triggered a backlash among some members of Indonesia's Muslim community, who have accused officials of being Islamophobic and demanding that the ban on some of the websites be lifted.
The Communications and Information Technology Ministry recently issued a list containing 22 sites that it has blocked, citing their allegedly radical content, based on recommendations from the National Counterterrorism Agency, or BNPT.
The move was made following the arrests of several Indonesians around the Greater Jakarta area and in East Java over the past fortnight, for their alleged connections to the extremist group Islamic State.
Full report at:
http://thejakartaglobe.beritasatu.com/news/jakarta/users-decry-curb-free-speech-radical-sites-banned/
---------
With Umno's vote, hudud war could end in Malay-only majoritarianism
Apr 02 2015
KUALA LUMPUR, April 2 — If PAS, now torn between religious obligations and its political cooperation in Pakatan Rakyat (PR), ends up splitting over hudud, the result could see a new Malay-only majoritarian government formed with Umno and the Islamist party's conservative faction, The Economist said.
Such a government, the current affairs magazine warned, would rule with a "deaf ear" to the interests of the country's minority groups, forcing Malaysia to slide deeper into religious conservatism.
"That would be a victory so far as Umno strategists are concerned," the London-based publication wrote in a lengthy article dissecting Malaysia's ongoing hudud row.
"But many Malaysians, moderate Malay-Muslims among them, would find it a harsh punishment indeed," the article added.
Full report at:
http://www.themalaymailonline.com/malaysia/article/the-economist-with-umnos-vote-hudud-war-could-end-in-malay-only-majoritaria
---------
Cleric murder case: Non-bailable arrest warrant issued for Musharraf
Apr 02 2015
ISLAMABAD: A local court in Islamabad on Thursday issued a non-bailable arrest warrant against former military ruler Gen (retd) Pervez Musharraf in a case pertaining to the murder of former Lal Masjid cleric Ghazi Abdul Rasheed.
During today's proceedings, counsel for the former president moved an application in the court requesting complete exemption for Musharraf from appearing in the court as he was not well.
An 11-member medical board constituted by the Sindh government to ascertain whether retired Gen Pervez Musha­rraf was able to travel to appear in court.
Additional Sessions Judge Wajid Ali Khan rejected the exemption plea and issued a non-bailable arrest against Musharraf over his failure to appear in the court despite repeated summons.
Full report at:
http://www.dawn.com/news/1173438/cleric-murder-case-non-bailable-arrest-warrant-issued-for-musharraf
----------
Pakistan
Will 'react strongly' to any threat to Saudi Arabia: Pakistan
April 2, 2015
Pakistan on Thursday warned of a "strong reaction" in case of any threat to the territorial integrity of its close ally Saudi Arabia which has launched air strikes in neighbouring strife-torn Yemen, though Islamabad is yet to decide whether to accede to Riyadh's request for troops.
Prime Minister Nawaz Sharif chaired a high-level meeting to review the evolving situation in Yemen, after a special delegation visited Saudi Arabia to discuss the security situation.
Defence Minister Khawaja Asif who had led the delegation on Tuesday and returned on Wednesday night briefed the meeting about the visit and discussion with the Saudi officials.
According to an official statement Pakistan would stand by the Saudi Arabia in case of any threat.
"Given the close historical cultural and religious affinities between the peoples of Pakistan and Saudi Arabia, it was reaffirmed that any isolation of Saudi Arabia's territorial integrity will evoke a strong response from Pakistan," the meeting decided.
It said that concerned authorities will stay engaged with their Saudi counterparts in this regard.
Full report at:
http://indianexpress.com/article/world/middle-east-africa/will-react-strongly-to-any-threat-to-saudi-arabia-pakistan/
---------
A Pakistan Charity Worker, Abdul Sattar Edhi, Labelled An 'Infidel'
April 2, 2015
Even in Pakistan, a cheap sofa covered with brown plastic is not most people's idea of throw-restraint-to-the-wind luxury.
But Abdul Sattar Edhi, a legendary charity worker known for his asceticism, is still getting used to the two-seater that recently replaced the hard bench he sat on for decades in the corner of his office.
"I didn't ask for it, it was given to me by my daughter," he says. "I like simplicity, but I didn't get angry with her." The dowdy piece of furniture does nothing to undermine the uncompromising frugality of the office of a man proud to own just two sets of salwar kameez, an everyday outfit in Pakistan.
Full report at:
http://www.thehindu.com/news/international/a-pakistan-charity-worker-labelled-an-infidel/article7059396.ece
---------
Six bodies recovered in Karachi
Apr 02 2015
KARACHI: At least nine people were killed on Thursday in separate incidents of violence in different areas of Karachi.
Four bullet-ridden bodies were recovered from two spots on the banks of the Lyari River near the Lyari expressway behind Old Vegetable Market area.
Rescue teams reached the site and shifted the bodies to a morgue. The identities of the deceased persons could not be ascertained.
Another two bodies were found in two different areas of Korangi locality.
One of the bodies bore marks of torture.
Police claimed to have killed two persons who attacked a police van in Pirabad area of Karachi. Police sources said that the two suspects were involved in sectarian target killings.
In another incident, a suspected robber was killed in a police encounter on Mauripur road.
Police officials say the accused had wounded a citizen for offering resistance during a mugging incident. The officials added that a handgun and bullets were also recovered from the suspect.
Full report at:
http://www.dawn.com/news/1173435/six-bodies-recovered-in-karachi
---------
Mission back from S. Arabia with 'better understanding'
Apr 02 2015
ISLAMABAD: A Pakistani delegation that visited Saudi Arabia for assessing its military requirements in conflict with Yemeni Houthi rebels returned home on Wednesday with better understanding of Riyadh's concerns.
The delegation comprising Defence Minister Khawaja Asif, Adviser on Foreign Affairs and National Security Sartaj Aziz and officers from operations directorates of the army and air force had held discussions with Saudi Defence Minister Prince Mohammed bin Salman bin Abdulaziz.
Saudi Arabia has been asking Pakistan to join the 10-nation military alliance it had assembled to fight the Yemeni rebels.
The decision to send the assessment mission to Saudi Arabia was taken after Crown Prince Muqrin bin Abdulaziz called Prime Minister Nawaz Sharif following the start of air strikes in Yemen by the Saudi-led coalition.
Full report at:
http://www.dawn.com/news/1173374/mission-back-from-s-arabia-with-better-understanding
---------
Country will be rid of terrorism: army chief
Apr 02 2015
ISLAMABAD: Chief of the Army Staff General Raheel Sharif renewed on Wednesday military's pledge to rid the country of terrorism.
"The whole nation is firmly standing alongside its armed forces to root out the menace of terrorism from the country and we will not stop short of accomplishing our mission, irrespective of the cost," the army chief said after witnessing the culmination of war games by formations of Central Command at Tilla Ranges near Jhelum.
He said the army was fully prepared to deter and defeat any form of aggression across the entire spectrum of threat – implying both external and internal threats.
The two-week long 'offensive exercises' involved the mechanised formations at the armoured division level.
Full report at:
http://www.dawn.com/news/1173394/country-will-be-rid-of-terrorism-army-chief
---------
North America
Philadelphia Muslims Turning the Other Cheek As Anti-Islam Bus Ads Appear
Apr 02 2015
PHILADELPHIA (CBS) — Controversial Anti-Islamic ads began running today on dozens of Septa buses rolling throughout Philadelphia.
Today, as the Route 33 bus rolled around City Hall, part of its normal route, a posterboard ad could be seen on its side featuring Adolf Hitler with a 1940s Islamic leader.
Alongside the photo, text says, "Islamic Jew-Hatred: It's in the Quaran."
"That kind of stuff is not true," noted Karima, who is Muslim and rides Septa every day. She says she'll turn the other cheek and ignore the ads.
"Pray for 'em — that's all you can do is pray for them," she added. "Allah is peace."
The advertisements were purchased for $30,000 by a New Hampshire-based group called the American Freedom Defense Initiative, with the goal of ruffling feathers about the US sending money to Islamic countries.
Full report at:
http://philadelphia.cbslocal.com/2015/04/01/philadelphia-muslims-turning-the-other-cheek-as-anti-islam-bus-ads-appear/
----------
US targets overseas cyber attackers with new sanctions programme
April 2, 2015
WASHINGTON - President Barack Obama launched a new sanctions programme on Wednesday to target individuals and groups outside the United States that use "malicious" cyber attacks to threaten US foreign policy, national security or economic stability.
In an executive order, Obama declared such activities a "national emergency" and allowed the US Treasury Department to freeze assets and bar other financial transactions of entities engaged in destructive cyber attacks. The executive order gave the administration the same sanctions tools it deploys to address other threats, including crises in the Middle East and Russia's aggression in Ukraine. Those tools are now available for an escalating epidemic of cyber threats aimed at US computer networks. It was the Obama administration's latest effort to get tough with hackers, following indictments of five Chinese military officers and the decision to "name and shame" North Korea for a high-profile attack on Sony.
Officials said that they hoped US allies would follow suit. US lawmakers and security and legal experts welcomed the move as an encouraging step after a steady stream of cyber attacks aimed at Target, Home Depot and other retailers, as well as military networks. But they said that the executive order was surprisingly broad, which could result in a compliance nightmare for companies, and warned that it remained difficult to definitively "attribute" hacking attacks and identify those responsible.
http://www.dailytimes.com.pk/foreign/02-Apr-2015/us-targets-overseas-cyber-attackers-with-new-sanctions-programme
---------
Pakistan 'stabilising factor' in the region: US
April 2, 2015
RAWALPINDI: While acknowledging the role of Pakistan in regional peace the US has termed the country a "stabilising factor" in the region.
US Special Representatives for Afghanistan and Pakistan (SRAP) Laurel Miller and Lt General Anthony Rock, ODRP Chief called on Defence Secretary Lt. General (Retd) Muhammad Alam Khattak here in the Ministry of Defence Wednesday and discussed Pakistan's role in the region. The meeting with US delegates here discussed the role Pakistan has played in the region.
The delegation termed Pakistan a "Stabilizing Factor" in the region. Defence Secretary Lt General (r) Muhammad Alam Khattak emphasised that Pakistan has provided multi-faceted support to International community in war on terror including shipment of US/NATO equipment through its GLOCs, and ALOCs.
Full report at:
http://www.dailytimes.com.pk/national/02-Apr-2015/pakistan-stabilising-factor-in-the-region-us
---------
Decisive Storm: US stepping up logistics support
April 2, 2015
Saudi Arabia and the US are working to broaden military cooperation as the Saudi-led Operation Decisive Storm against Houthi militants in Yemen enters a second week, said reports from Washington on Wednesday.
"The US coordinates closely with Saudi Arabia and our Gulf Cooperation Council partners on issues related to their security and our shared interests," said Stewart Wight, a spokesman for the US Embassy in Riyadh, when asked to comment on the reports.
Wight said President Barack Obama had already earlier authorized the provision of logistical and intelligence support to the GCC-led military operations.
"While US forces are not taking direct military action in Yemen in support of this effort, we are establishing a joint planning cell with Saudi Arabia to coordinate US military and intelligence support," said Wight.
Reports quoting American officials said the US military is preparing to aid Saudi Arabia in its air campaign in Yemen by providing more intelligence, bombs and aerial refueling missions for planes carrying out airstrikes.
"The US has announced that it is increasing support for the Saudi-led attack on Yemen," said a report.
http://www.arabnews.com/featured/news/726711
---------
Ready to walk away from Iran talks if progress not made: White House
Apr 02 2015
WASHINGTON: The White House said on Wednesday that the P5+1 nations were ready to walk away from the nuclear talks with Iran if they did not see progress.
The US State Department, however, said that the chief US negotiator, Secretary of State John Kerry, and his counterparts will stay in Lausanne, Switzerland, for the talks until at least Thursday morning.
"If we are in a situation where we sense that the talks have stalled, then yes, the United States and the international community is prepared to walk away," White House Press Secretary Josh Earnest told a news briefing in Washington.
But he also clarified that this was not a threat to end the talks.
"As long as we are in a position of convening serious talks that are making progress … we would not arbitrarily or abruptly end them," Mr Earnest said.
Stressing that the negotiations were not an "open-ended" process, the White House official reminded Iran that the talks had "essentially reached the end".
Full report at:
http://www.dawn.com/news/1173388/ready-to-walk-away-from-iran-talks-if-progress-not-made-white-house
---------
URL: https://newageislam.com/islamic-world-news/new-age-islam-news-bureau/egypt-s-al-azhar-files-complaint-accusing-tv-show-of-twisting-islam/d/102243