New Age Islam News Bureau
22 Nov 2014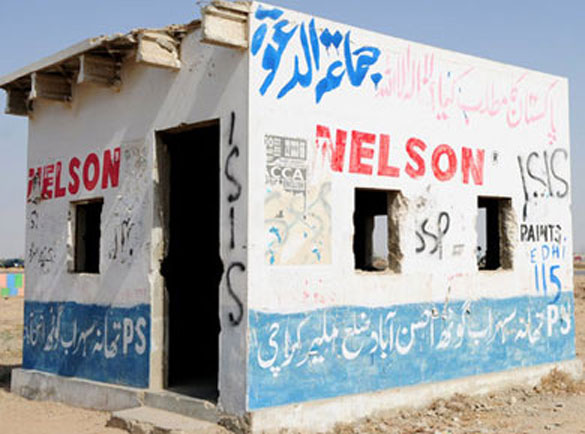 An empty police checkpoint near Karachi, Pakistan, painted with Islamic State graffiti. Credit Asif Hassan/Agence France-Presse — Getty Images
----------
Arab World
• Egypt's Al-Azhar Condemns Carrying Of the Quran in Protests
• Iraq's Attack Claims Lives of 26 ISIL Terrorists in Tikrit
• ISIS kills 25 Anbar tribesmen in Iraq
• Iraq: Six ISIL Terrorists Killed Eastern Ramadi
• Egypt closes schools in Sinai towns as area inches towards open war
• 'Militants could have drawn Lebanon into civil war'
• Prison reforms: KSA sets world standards
• Saudi signs blank cheque to build $100m Islamic University in Kabul
• IS executes two for alleged cooperation with Iraq forces
• Minister: 'UAE a model from the region to the region'
• Syria jihadists crack down on would-be deserters: activists
Mideast
• Al-Qaeda in Yemen Denounces 'Expansionist' ISIS
• Turkey, US Play down Differences on Fight against Islamic State
• Jerusalem Mayor: We cannot discriminate against Arabs
• Senior Cleric Condemns Israel's Provocative Moves, Asks for Immediate Reaction
• Abbas accuses Israel of using wild boars against Palestinians
Africa
• Up To 80 People Killed By Suspected Ugandan Rebels in Congo –Group
• Gunmen execute 28 on Kenya bus near Somalia border: police
• Libya Dawn denies the presence of Daesh in Tripoli
• Sudan asks UN mission in Darfur to prepare to leave
South Asia
• 19 Taliban Militants Killed, 4 Wounded In Counter-Terrorism Operations
• Taliban Launch Complex Attack On Army Base In Nuristan
• 5 Afghan army soldiers martyred in roadside bomb explosion
• Bangladesh Parliamentary delegates tour India to discuss terrorism and militancy
• Khaleda trying to restore militancy: Information Minister
• Myanmar says plight of Rohingya minority a media fabrication
• Book on '71 massacre wins Cundill Prize
Pakistan
• Pakistan's Jihadis Rally around ISIS Banner
• Nawaz Sharif Asks Obama to Raise Kashmir during India Visit
• Pakistan ready to welcome India in Afghanistan: Kasuri
• Twenty-two militants killed in Khyber strikes
• Reservations of coalition partners to be addressed: Balochistan CM
• Imran opposes any move to divide Sindh
India
• India Calls Islamic State a Big Threat on Cyber World
• 8 Yrs after Sachar, Muslims Still Out Of Govt Jobs and Schools: Panel
• Destroy militant camps, BSF tells Bangladeshi counterpart
• Azam's demand for Waqf control over Taj worries ASI
Europe
• UN: Myanmar Must Give Citizenship to Rohingya Muslims
• Berlin Says 550 Germans Joined Jihadist Cause in Syria And Iraq
• 'Jihad' at French summer camp: leaders mimic executions
• Merkel: Palestinian recognition not right path
• Russian FM: Countries Should Halt ISIL Funding Sources According to Int'l Resolutions
• Stop punitive home demolitions, HRW urges Israel
• Dutch-Pakistani al Qaeda suspect re-arrested for US extradition
• In Mali's desert French troops hunt al-Qaeda well by well
North America
• Former Canadian Soldiers to Join Kurds to Fight IS
• American Muslims remember Kassig as 'great hero'
• U.S. House panel debunks many Benghazi theories
• Obama extends US forces combat role in Afghanistan
Southeast Asia
• Indonesia to Stop Sending Women Workers Abroad
• Indonesia a Hive of Modern-Day Slavery
• 3 Malaysians arrested over Isis links
• Sarawak chief minister warns of rising extremism
Compiled by New Age Islam News Bureau
URL: https://www.newageislam.com/islamic-world-news/new-age-islam-news-bureau/egypt-s-al-azhar-condemns-carrying-of-the-quran-in-protests/d/100144
------------
Arab World
Egypt's Al-Azhar Condemns Carrying Of the Quran in Protests
Nov 22, 2014
Al-Azhar, Egypt's leading Islamic authority, said that calls to carry the Quran in anticipated Salafist protests are "seditious", state news agency MENA reported.
The Salafist Front is calling for nationwide demonstrations on 28 November, to demand the imposition of "Islamic identity", condemn government economic and political policies, and call for "an end to military rule."
The front has called on protesters to hold up the Quran, Islam's holy book, during the demonstrations.
"[These protests] deceive Muslims in the name of religion; they are a call for chaos and for [disrespecting] the Quran," Al-Azhar said in its statement.
The Salafist Call, another major Salafist group in Egypt, denounced on Tuesday the front's protest calls.
"It has become clear that the purpose of the protests is to exhaust the state," it said in a statement.
Since the ouster of Islamist President Mohamed Morsi in July last year, the National Alliance to Support Legitimacy – an umbrella for Morsi loyalists led by the now-banned Muslim Brotherhood – has been the main group staging major anti-government protests.
The Salafist Front and its political wing, the Nour Party, backed the ouster of Morsi and the interim authorities that replaced him.
The interior ministry has vowed to deal "firmly" with the anticipated protests and said it would use live ammunition against those who "threaten security."
A law, passed in November last year, bans unauthorised protests and puts restrictions on public assembly. Hundreds have been jailed under the law's provisions.
http://english.ahram.org.eg/NewsContent/1/64/116080/Egypt/Politics-/Egypts-AlAzhar-condemns-carrying-of-the-Quran-in-p.aspx
---------
Iraq's Attack Claims Lives of 26 ISIL Terrorists in Tikrit
Nov 22, 2014
Iraqi troops launched a major ground offensive against the ISIL Takfiri group in Tikrit, killing 26 terrorists.
The army troops, backed by the country's airborne forces, stormed the hideouts of the terrorists in Balad district, South of Tikrit, leaving dozens of them dead and a number of their vehicles destroyed.
Also, nine Improvised Explosive Devices (IED) were dismantled by the army during the operation.
The ISIL Takfiri terrorists currently control parts of Syria and Iraq. They have threatened all communities, including Shiites, Sunnis, Kurds, Christians, Ezadi Kurds and others, as they continue their atrocities in Iraq.
Senior Iraqi officials have blamed Saudi Arabia, Qatar, and some Persian Gulf Arab states for the growing terrorism in their country.
The ISIL has links with Saudi intelligence and is believed to be indirectly supported by the Israeli regime.
http://english.farsnews.com/newstext.aspx?nn=13930901000215
------------
ISIS kills 25 Anbar tribesmen in Iraq
22 November 2014
Islamist militants have shot dead 25 people from the Albunimr tribe in the Sunni-stronghold province of Anbar in Iraq, sources told Al Arabiya News Channel on Saturday.
Other security and tribal sources said militants from the Islamic State of Iraq and Syria (ISIS) radical group funneled more military backup from the eastern bank of the Euphrates to the al-Sajariya area - where the Albunimr tribesmen were killed - in east Anbar.
ISIS's military maneuvers have forced the tribal fighters to ask for more military support from the Iraqi government which they blame for an arms supply delay.
On Friday, Reuters reported that suspected ISIS gunmen fired at an Iraqi government building in Ramadi.
Mosques also broadcast appeals for reinforcements to confront the apparent attempt to take full control of the western city.
Most of Ramadi, about 90 km (55 miles) west of Baghdad, is already controlled by ISIS, which holds large swathes of northern and western Iraq.
Biden arrives in Turkey
Meanwhile, U.S. Vice President Joe Biden on Friday arrived in Turkey for a three day visit aimed at persuading Turkish leaders to play a bigger role in the coalition against ISIS militants.
Biden is expected to seek to soothe tensions that have emerged between the two NATO members, traditionally strong allies, over Turkey's reluctance to play a major role in the fight against ISIS.
So far, Turkey's sole contribution to the coalition has been allowing a contingent of Iraqi peshmerga Kurdish fighters to transit Turkish soil to fight IS militants for the Syrian border town of Kobane.
Turkey has set several conditions for playing a greater role in the coalition.
It wants a clear coordinated strategy to overthrow President Bashar al-Assad, a major training and equipping program for the anti-regime Free Syrian Army and a security zone, backed by a no-fly area, to be set up in northern Syria along the Turkish border.
However US officials indicated in the run-up to the trip that while they are prepared to discuss a security zone it was not an idea that was currently on the table.
http://english.alarabiya.net/en/News/middle-east/2014/11/22/Sources-ISIS-kills-25-Anbar-tribesmen-in-Iraq.html
------------
Iraq: Six ISIL Terrorists Killed Eastern Ramadi
Nov 22, 2014
Six ISIL terrorists were killed Eastern Ramadi after clashes with local clans, tribal sources reported.
Albu Fahd tribe announced alert in Anbar province as ISIL terrorists launched an attack against its strongholds Eastern Ramadi, Al-Manar reported Friday.
http://english.farsnews.com/newstext.aspx?nn=13930901000452
------------
Egypt closes schools in Sinai towns as area inches towards open war
Nov 22, 2014
Egypt has indefinitely shut schools in two border towns in northern Sinai as the army prepares to intensify a battle with Islamist militants that turned the daily trip to lessons into a "journey of death".
Local people say children's education has fallen victim while the military stages air strikes against jihadists, who are targetting soldiers and police, and have started beheading army informers.
"We are putting our lives at risk on a daily basis," said Mohamed, a teacher who lives in the town of Sheikh Zuweid. "Sometimes there is fire between gunmen and the armed forces and sometimes stray bullets hit some of us."
Militancy has surged in the Sinai Peninsula, which borders Israel, Gaza and the Suez Canal, since the army ousted an elected Islamist president last summer.
At least 33 security personnel were killed last month and one Sinai-based group has pledged its loyalty to Islamic State, which has overrun large areas of Syria and Iraq.
Full report at:
http://english.alarabiya.net/en/perspective/features/2014/11/21/Egypt-closes-schools-in-Sinai-towns-as-area-inches-towards-open-war.html
------------
'Militants could have drawn Lebanon into civil war'
Nov 22, 2014
BEIRUT: Militants who attacked parts of Lebanon this year could have drawn it into civil war, Army chief Gen Jean Kahwaji said in an unusually direct and political speech published on Friday.
Kahwaji paid tribute to soldiers killed and wounded in battles which prevented what he described as a militant plot to take over parts of the small Mediterranean country.
"Lebanon's physical integrity is threatened with the most dangerous terrorist plot in the whole region," he said in an address to soldiers on Thursday marking the anniversary of Lebanon's 1943 independence.
Islamic State and Al Qaeda's Nusra Front, who are fighting in the civil war in neighboring Syria — attacked the Lebanese border town of Arsal in August and took a group of soldiers captive. Militants also clashed with the army in the coastal city of Tripoli last month.
Authorities fear hard-line militant groups are trying to expand land they control into Lebanon, draw in local fighters and further exacerbate sectarian divisions in the country that was ripped apart by its own civil war from 1975-1990.
Full report at:
http://www.arabnews.com/middle-east/news/663536
---------
Prison reforms: KSA sets world standards
Nov 22, 2014
The Kingdom's prison authorities are stepping up efforts to reform and rehabilitate prison inmates lodged in various prisons in the country.
A two-day forum held in Makkah and conducted by the city's prison directorate, focused on reforms and management of Saudi Arabia's jails.
Among the topics discussed at the gathering, which concluded this week, were the issues of rehabilitation and security measures.
During the forum, it was also stressed that Saudi Arabia is a world leader in the successful rehabilitation of prisoners convicted of terrorist related offenses.
According to Brig. Musfer Abdullah Al-Swat, director of Makkah's prisons, the main focus in prison reforms in the Kingdom is vocational training and rehabilitation.
Full report at:
http://www.arabnews.com/featured/news/663736
---------
Saudi signs blank cheque to build $100m Islamic University in Kabul
Nov 22, 2014
The government of Saudi Arabia signed an agreement with a Saudi construction company to build a major university for Islamic studies in capital Kabul.
The construction of the university is estimated to be between $45 million to $100 million and the government of Saudi has signed a blank cheque to fund the project.
The university will be built on 119,000 square meter on Maranjan hill in Kabul city. A hostel for 5000 students, hospital, sports centre, mosque and a big conference hall are also part of the university which will be built by Saudi.
The Saudi officials have said the university will be built with an aim to teach the students moderate Islamic studies.
Full report at:
http://www.khaama.com/saudi-signs-blank-cheque-to-build-100m-islamic-university-in-kabul
------------
IS executes two for alleged cooperation with Iraq forces
Nov 22, 2014
Gunmen from the Islamic State jihadist group publicly executed two young men for allegedly cooperating with Iraqi security forces, officials and witnesses said.
The killings were carried out in the middle of the crowded main market in the Zab area of Kirkuk province.
The IS jihadist group spearheaded a sweeping militant offensive in June that overran large parts of the country, including territory in Kirkuk.
Iraqi security forces and pro-government fighters are battling to regain ground with backing from a US-led air campaign and have retaken some areas, but three key cities are still in the hands of the militants.
IS, which also controls swathes of neighbouring Syria, has committed widespread atrocities in both countries, including hundreds of executions.
http://english.ahram.org.eg/NewsContent/2/8/116085/World/Region/IS-executes-two-for-alleged-cooperation-with-Iraq-.aspx
------------
Minister: 'UAE a model from the region to the region'
Nov 22, 2014
On the sidelines of the Global Entrepreneurship Summit that is being held in Morocco's resort city of Marrakech, UAE Cabinet Affairs Minister Mohammad Al Gergawi told Al Arabiya News that the Gulf country could serve as a "model from the region to the region."
Al Gergawi said the UAE government was invited to the fifth edition of the GES in Morocco to "speak about its model and Dubai's model as a hub for entrepreneurship."
"We came here to share our humble experience with other governments – I think there are more than 50 governments participating here – to tell them how we did it, why we did it and the results," Gergawi said.
The UAE minister said 82 percent of fresh Arab graduates look at the UAE as a place to work.
"Eighty-two percent: this is [according to] an international study. Number one is the UAE, ahead of the United States and ahead of France. This is an experience, a model from the region to the region," Gergawi said.
Full report at:
http://english.alarabiya.net/en/business/2014/11/21/Minister-UAE-a-model-from-the-region-to-the-region-.html
------------
Syria jihadists crack down on would-be deserters: activists
Nov 22, 2014
Several foreign jihadists who joined the Islamic State in Syria but then tried to desert have faced arrest and execution at the hands of the radical group, activists said Friday.
Those who have tried to flee are usually young and mostly non-Arabs who regretted joining the IS once they saw the reality on the ground, several activists told AFP via the Internet.
The reports came a day after the IS arrested a 17-year-old jihadist in the group's self-proclaimed capital of Raqa in northern Syria, according to the Syrian Observatory for Human Rights.
"He was probably Russian or Chechen," said Observatory director Rami Abdel Rahman.
The young man was arrested at a call centre in Raqa, after contacting his family.
"His (jihadist) friends attacked him and beat him up," said the Observatory, adding that he was then taken to an unknown location.
Full report at:
http://english.ahram.org.eg/NewsContent/2/8/116091/World/Region/Syria-jihadists-crack-down-on-wouldbe-deserters-ac.aspx
------------
Mideast
Al-Qaeda in Yemen denounces 'expansionist' ISIS
22 November 2014
Yemen's al-Qaeda branch on Friday denounced the Islamic State of Iraq and Syria (ISIS) group for declaring a caliphate on territory it seized and for aggressively seeking to expand its area of influence, the Associated Press reported.
Al-Qaeda in the Arabian Peninsula (AQAP), which emerged as the group's most dangerous franchise, had its purported spiritual guide, Sheikh Harith al-Nadhari, criticizing ISIS for seizing territory in Syria and Iraq.
Nadhari said such expansionist intentions are "driving a wedge" among jihadist groups, in reference to ISIS' leader Abu Bakr al-Baghdadi's recent call for followers to "explode volcanos of jihad everywhere."
He added: ISIS "forced the nation, all the nation, to pledge allegiance" in absence of "consultation" with other Jihadist leaders.
His message was posted on one of AQAP's official Twitter pages.
"They revoked the legitimacy of all the Islamic groups across the Islamic world .... and drove a wedge among Mujahedeen ranks by collecting allegiances from within the Jihadi groups," he said. "They announced the expansion of their caliphate in a number of countries in which they have no mandate."
Full report at:
http://english.alarabiya.net/en/News/middle-east/2014/11/22/Al-Qaeda-in-Yemen-denounces-ISIS-.html
------------
Turkey, US play down differences on fight against Islamic State
Nov 22, 2014
ISTANBUL: Turkey and the United States played down differences in the fight against Islamic State on Friday, but Prime Minister Ahmet Davutoglu made clear Ankara would keep pressing for a no-fly zone in Syria and President Bashar al-Assad's removal.
Turkey has been a reluctant partner in the US-led coalition against the Islamic State (IS) insurgents. Ankara argues that the coalition's air strikes in Iraq and Syria are not enough and it has pushed for a more comprehensive strategy involving Assad's departure and the creation of a buffer zone inside Syria to protect displaced civilians.
Ankara has in turn drawn criticism for letting thousands of foreign rebels cross its borders and for doing little to end the IS siege of the Syrian border town of Kobani, a battle that has raged for months within sight of Turkish military positions.
"We've been friends for a long time and one of the great advantages of being back in Turkey with a friend and Nato ally is we're always direct with one another," US Vice President Joe Biden told a joint news conference with Davutoglu.
"We have tackled a number of very contentious issues regionally and internationally and we've always eventually come out on the same side," he said.
Full report at:
http://www.dawn.com/news/1146168/turkey-us-play-down-differences-on-fight-against-islamic-state
------------
Jerusalem Mayor: We cannot discriminate against Arabs
Nov 22, 2014
Jerusalem Mayor Nir Barkat spoke out strongly in an interview with Army Radio on Friday against the actions of Ashkelon Mayor Itamar Shimoni, who stopped the city's employment of Arab workers doing renovation to bomb shelters in local daycare centers, in response to the terror attack in Jerusalem by Arabs from East Jerusalem earlier this week.
"I cannot help but to think of where we were 70 years ago in Europe," said Barkat referring to European anti-Semitism during the time of the Holocaust. "We cannot generalize as they did to to Jews. Here in Jerusalem, we have tens of thousands of Arab workers. We must make a clear distinction."
http://www.jpost.com/Breaking-News/Jerusalem-Mayor-We-cannot-discriminate-against-Arabs-382504
------------
Senior Cleric Condemns Israel's Provocative Moves, Asks for Immediate Reaction
Nov 22, 2014
Tehran's Provisional Friday Prayers Leader Ayatollah Ahmad Jannati condemned the recent provocative actions taken by Israel in the Holy Quds and Al-Aqsa Mosque, and called for Muslim countries' collective response to Tel Aviv.
Addressing a large and fervent congregation of the people on Tehran University campus on Friday, Ayatollah Jannati said, "The Zionists do not allow Muslims into Holy Quds and in the meantime they let the radical Jews to there and construct houses for them in a bid to reduce their need on military force."
Ayatollah Jannati urged the Muslim countries to take immediate action o prevent further atrocities by Israel.
Tensions have been running high at the al-Aqsa Mosque compound in East al-Quds in the last few weeks.
Palestinians are extremely angry at Tel Aviv's raids as well as its new restrictions on the access of Palestinians to the mosque, considering the move as part of the Israeli regime's plan to Judaize and desecrate the Islamic holy site.
Full report at:
http://english.farsnews.com/newstext.aspx?nn=13930830000499
----------
Abbas accuses Israel of using wild boars against Palestinians
Nov 22, 2014
Several Palestinian media outlets on Saturday quoted Palestinian Authority President Mahmoud Abbas as accusing Israel of using wild boars against Palestinians in the West Bank.
Abbas's allegation was made during a speech he delivered at a pro-Palestinian conference in Ramallah on Friday night.
The charge about the wild boars did not appear in reports published in the official PA media.
This was not the first time that the PA accused Israel of releasing wild boars to destroy agricultural fields in the West Bank. In the past, the PA claimed that the IDF and settlers were bringing wild boars to Palestinian-owned lands in order to cause damage to their produces and intimidate farmers.
Full report at:
http://www.jpost.com/Arab-Israeli-Conflict/PA-chief-warns-against-resorting-to-religious-war-382499
------------
Africa
Up to 80 people killed by suspected Ugandan rebels in Congo -group
Nov 22, 2014
(Reuters) - Suspected Ugandan ADF-NALU rebels have killed between 50 and 80 people in attacks near the eastern Congolese town of Beni, slitting the throats of many of their victims, local sources and witnesses said.
In a statement, Civil Society of North Kivu, the province where Beni is situated, said the killings had occurred on Thursday evening about 10 km (6 miles) east of Beni airport, where U.N. peacekeepers, known as MONUSCO, are based.
"We already saw 70 bodies. The authorities are searching for other bodies," said a priest who saw the massacre site.
The attackers were dressed in Congolese army fatigues and pretended to be soldiers before the killings and they slit many of their victims' throats, said the priest, who declined to be named.
Authorities in the Democratic Republic of Congo and civil society groups have blamed a string of recent attacks in the east of the country on ADF, a secretive organisation formed in the 1990s to fight the Ugandan government, though some analysts have questioned this assessment.
Full report at:
http://www.trust.org/item/20141121170457-xpii8/?source=jtOtherNews1
-------
Gunmen execute 28 on Kenya bus near Somalia border: police
Nov 22, 2014
GARISSA: Gunmen seized a bus in northeastern Kenya near the Somali border early Saturday and executed 28 non-Muslim passengers, police said, blaming the attack on Shebab Islamic extremists.
"I can confirm... that 28 innocent travellers were brutally executed by the Shebab," said regional police chief Noah Mwavinda, referring to the Somali militant group.
He said the gunmen forced the bus to stop and drove it to the side of the road, where they proceeded to kill passengers identified as non-Muslim.
The attack came after a week that saw one person shot dead and more than 350 people arrested as Kenyan security forces carried out raids on mosques in the port city of Mombasa searching for weapons and Shebab supporters.
Kenya has suffered a series of attacks since invading Somalia in 2011 to attack the Shebab, later joining an African Union force battling the Islamists.
The Shebab carried out the September 2013 attack on Nairobi's Westgate shopping mall, killing at least 67 people as a warning to Kenya to pull its troops out of southern Somalia.
During the Westgate attack, the gunmen weeded out non-Muslims for execution by demanding they recite the Shahada, the Muslim profession of faith.
http://www.dawn.com/news/1146173/gunmen-execute-28-on-kenya-bus-near-somalia-border-police
------------
Libya Dawn denies the presence of Daesh in Tripoli
Nov 22, 2014
Libya Dawn has denied that Daesh, the terrorist group backing an Islamic Caliphate, is in Tripoli or anywhere in western Libya.
A statement issued yesterday by Libya Dawn's media office says reports to the contrary are part of a conspiracy by certain foreign governments to justify interfering in Libya and appropriating its wealth. Libya Dawn also accused the UN Secretary General's Representative in Libya, Bernardino Leon, and a number of countries – Saudi Arabia was specifically mentioned – of trying to destroy the Libyan revolution.
The statement follows the appearance of pictures on social media earlier this week purporting to show a group of Daesh supporters in Tripoli following the lead in Derna and pledging allegiance to the Caliphate.
Full report at:
http://www.libyaherald.com/2014/11/21/libya-dawn-denies-the-presence-of-daesh-in-tripoli/#ixzz3Jkvr2tYv
-----------
Sudan asks UN mission in Darfur to prepare to leave
Nov 22, 2014
(Reuters) - Sudan has asked the joint U.N.-African Union peacekeeping mission in Darfur to prepare to leave, a senior official said amid a dispute between the United Nations and Khartoum over an alleged mass rape in the region.
Sudan initially refused to let the UNAMID peacekeepers visit a village to investigate the rape allegations. They were later allowed in and found no evidence that Sudanese troops had raped about 200 women and girls there, but UNAMID complained of a heavy military presence during interviews.
"Sudan formally requested - I formally requested - that UNAMID make an exit strategy. That does not mean it will pack up its things and say goodbye," Foreign Ministry under-secretary Abdallah al-Azraq told reporters.
He suggested the mission's departure would take time.
Azraq gave no reason for the request but said it had been submitted a few weeks ago, before media reports of mass rape.
Sudan has denied any wrongdoing by its soldiers in Darfur and says the rape allegations are part of an international plot to mar its image.
Full report at:
http://www.trust.org/item/20141121152435-lpgyt/?source=jtOtherNews1
------------
South Asia
19 Taliban militants killed, 4 wounded in counter-terrorism operations
Nov 22 2014
At least 19 Taliban militants were killed and 4 others were injured during military operations by Afghan national security forces in the past 24 hours.
The operations were jointly conducted by Afghan national police, Afghan national army and Afghan intelligence – National Directorate of Security (NDS) operatives.
Interior ministry following a statement said Monday that the militants were killed or injured in Baghlan, Kandahar, Uruzgan, khost and Farah provinces.
The statement further added that 14 Taliban militants were also arrested during the operations.
Afghan security forces confiscated various types of light and heavy weapons along with explosives during the operations, interior ministry said.
The statement by interior ministry also added that Afghan national security forces discovered and seized 35 rounds of improvised explosive device (IED) during operations.
Interior ministry said the improvised explosive device (IEDs) were recently planted by Taliban militants for insurgency attacks.
Taliban militants group has not commented regarding the report so far.
http://www.khaama.com/19-taliban-militants-killed-4-wounded-in-counter-terrorism-operations-9035
------------
Taliban launch complex attack on army base in Nuristan
Nov 22 2014
Heavy clashes have been reported in eastern Nuristan province as Taliban launch coordinate attack on Afghan army base.
According to defense officials, the attack was launched around 8:45 am local time on an Afghan national army base in Kamdish district.
The officials further added that the attack is complex and heavy clashes continue between the two sides.
In the meantime, Gen. Zahir Azimi, spokesman for the Ministry of Defense (MoD) said at least eight Taliban militants have been killed during the clashes.
Gen. Azimi further added that the death toll of the Taliban militants could be more and further details will be released later.
The Taliban militants have not commented regarding the incident so far.
http://www.khaama.com/taliban-launch-complex-attack-on-army-base-in-nuristan-9038
------------
Bangladesh Parliamentary delegates tour India to discuss terrorism and militancy
Nov 22, 2014
An eight-member parliamentary delegation led by Muhammad Faruk Khan left Dhaka for India yesterday to attend meetings in Kolkata and New Delhi on an invitation by the Indian government.
The delegates will take part in discussions on various aspects of regional issues regarding terrorism, extremism and democracy in the two countries.
Other members of the team are Parliament Whip Iqbalur Rahim, Pankaj Nath, Mustafa Lutfullah, Nahim Razzak, Mahjabin Khaled, Shafiqul Islam Shimul and Kazi Nabil Ahmed, said SM Manzoor, director of public relations at the Parliament Secretariat.
During the Kolkata visit, the Bangladeshi delegates will meet the chief minister of West Bengal, Mamata Banerjee, and will exchange views on various topics, including visa process simplification and cooperation between the countries to prevent terrorist and militant activities in the border area.
Full report at:
http://www.dhakatribune.com/foreign-affairs/2014/nov/22/parliamentary-delegates-tour-india-discuss-terrorism-and-militancy#sthash.bIlIITI9.dpuf
------------
Khaleda trying to restore militancy: Information Ministe
Nov 22, 2014
Information Minister Hasanul Haque Inu yesterday said the BNP Chairperson Khaleda Zia was trying to restore militancy in the country after failing to thwart the January 5 election and constitutional process.
"I want to make it clear that Khaleda Zia is the leader of militancy and she is trying to create an anarchy in the country. We should not forget that she had supported militancy and terrorism in the past," said the minister talking to reporters before attending a discussion at Mirzanagar Government Primary School in the Mirpur upazila of Kushtia.
He said the leader of the BNP was now raising the demand for fresh parliamentary polls to cover the crimes of the militants, war criminals and her family.
Later, the minister attended a rally at Juniadah Porankhali Primary School ground under Bheramara upazila.
Full report at:
http://www.dhakatribune.com/politics/2014/nov/22/inu-khaleda-trying-restore-militancy#sthash.KwwWmZLa.dpuf
---------
5 Afghan army soldiers martyred in roadside bomb explosion
Nov 22 2014
At least five Afghan National Army (ANA) soldiers were martyred following roadside bomb explosion, defense officials said Saturday.
Gen. Zahir Azimi, spokesman for the Ministry of Defense (MoD) said the Afghan soldiers were martyred in the past 48 hours.
He did not disclose further information regarding the exact location where the incident took place.
In the meantime, Gen. Zahir Azimi said at least 26 militants were killed and 23 others were injured following military operations led by Afghan armed forces.
Gen. Azimi further added that the operations were conducted in the past 48 hours in six different provinces where numerous suspected militants were also arrested and various types of weapons, ammunition and explosives were confiscatd.
The anti-government armed militant groups have not commented regarding the reports so far.
http://www.khaama.com/5-afghan-army-soldiers-martyred-in-roadside-bomb-explosion-9039
------------
Myanmar says plight of Rohingya minority a media fabrication
Nov 22, 2014
(Reuters) - Myanmar President Thein Sein has denied that minority Muslim Rohingya are fleeing "torture" in western Rakhine state, telling the Voice of America Burmese Service such media reports were fabrication.
According to the Arakan Project, which plots migration across the Bay of Bengal, about 100,000 Rohingya have left Rakhine since 2012. Violent clashes with ethnic Rakhine Buddhists that year killed hundreds and left 140,000 homeless, most of them Rohingya.
Some Rohingya, as Reuters reported last year, are held for ransom by trafficking gangs at jungle camps in Thailand until relatives pay to secure their release.
International concern was overblown, Thein Sein told the VOA on Thursday at his presidential residence in Naypyitaw, the capital of Myanmar.
Full report at:
http://www.trust.org/item/20141121120803-b1m5h/?source=jtHeadlineStory
------------
Book on '71 massacre wins Cundill Prize
Nov 22, 2014
A book, containing the history of the "dark chapter in American geopolitics in which the US authorities ignored the genocide in Bangladesh during the 1971 Liberation War," has won the $75,000 (US) Cundill Prize.
For the second time in less than a year, Gary Bass, a professor of politics and international affairs at Princeton University, has won the major Canadian non-fiction prize for historical literature, reported several international news agencies.
The 45-year-old Bass was awarded the Cundill Prize in Historical Literature at McGill on Thursday at a gala ceremony in Toronto.
The prize is worth $75,000, making it one of the richest prizes in non-fiction in the world.
His book The Blood Telegram: Nixon, Kissinger and a Forgotten Genocide details a dark chapter in American geopolitics in which Henry Kissinger, then US national security advisor, ignored a series of cables from a diplomat named Archer Blood claiming Pakistan was committing "genocide" against Bangalis in the then Eastern Pakistan.
Full report at:
http://www.dhakatribune.com/bangladesh/2014/nov/22/book-71-massacre-wins-cundill-prize#sthash.Xp9bOkc0.dpuf
------------
Pakistan
Pakistan's jihadis rally around ISIS banner
Declan Walsh, New York Times | Nov 22, 2014
LONDON: Across Pakistan, the black standard of the Islamic State has been popping up all over.
From urban slums to Taliban strongholds, the militant group's logo and name have appeared in graffiti, posters and pamphlets. Last month, a cluster of militant commanders declared their allegiance to Abu Bakr al-Baghdadi, the self-proclaimed caliph of the Islamic State.
Such is the influence of the Islamic State's steamroller success in Iraq and Syria that, even thousands of miles away, security officials and militant networks are having to reckon with the group, also known as ISIS or ISIL.
Its victories have energized battle-weary militants in Pakistan. The ISIS brand offers them potent advantages, analysts say — an aid to fund-raising and recruiting, a possible advantage over rival factions and, most powerfully, a new template for waging jihad.
Although the Islamic State is not operational in Pakistan, just its symbolic presence is ample cause for concern. It is there, after all, that al-Qaida was founded in the 1980s, followed by other extremist ideologies that easily found the means and support to carry out international attacks.
Full report at:
http://timesofindia.indiatimes.com/world/pakistan/Pakistans-jihadis-rally-around-ISIS-banner/articleshow/45238002.cms
------------
Nawaz Sharif asks Obama to raise Kashmir during India visit
Nov 22, 2014
Pakistan Prime Minister Nawaz Sharif on Friday asked U.S. President Barack Obama to take up the Kashmir issue with the Indian leadership when he travels to India in January 2015.
Mr. Sharif made the request when Mr. Obama telephoned him, informing about his forthcoming India visit and discussing bilateral ties and the regional situation.
"The Prime Minister also urged President Obama to take up the cause of Kashmir with the Indian leadership, as its early resolution would bring enduring peace, stability and economic cooperation to Asia," said a Pakistan Prime Minister's Office statement on the discussions between the two leaders.
It said that Mr. Obama informed Mr. Sharif of his forthcoming visit to India in January to attend India's Republic Day Parade as the chief guest.
During the call, Mr. Sharif recalled an invitation he extended to Mr. Obama in 2013 in Washington and conveyed the expectation of the people of Pakistan to welcome the U.S. President to the country some time in the future.
"The President also assured the Prime Minister that he would undertake a visit to Pakistan at an early date, as soon as the situation normalises in the country," the Prime Minister's Office statement said.
Full report at:
http://www.thehindu.com/news/international/south-asia/nawaz-sharif-asks-obama-to-raise-kashmir-during-india-visit/article6624359.ece
----------
Pakistan ready to welcome India in Afghanistan: Kasuri
Nov 22, 2014
NEW DELHI: Pakistan sees no problems with India's future presence in Afghanistan if New Delhi mends its fences with Islamabad, former foreign minister Khurshid Mahmud Kasuri said here on Friday.
"I am saying as much in my forthcoming book," Mr Kasuri told Dawn.
"If there is a paradigm shift in India-Pakistan relations, and we become normal friendly neighbours, I foresee no difficulty for us to accept India having as much access to Afghanistan as it wants."
Mr Kasuri was speaking after a two-day Track II meeting of India-Pakistan delegations he headed with India's Mani Shankar Aiyar.
Pakistan's Regional Peace Institute and Hanns Seidel Foundation sponsored the meeting, the first round of which was held earlier in Islamabad.
Full report at:
http://www.dawn.com/news/1146097/pakistan-ready-to-welcome-india-in-afghanistan-kasuri
------------
Twenty-two militants killed in Khyber strikes
Nov 22, 2014
PESHAWAR: At least twenty-two militants have been killed as targeted aerial strikes struck militants hideouts in various parts of Tirah valley of Khyber Agency.
The Inter-Services Public Relations (ISPR) on Friday confirmed that the jets strikes have destroyed many of the militant's hideouts.
It says that operation Khyber-1 is going on successfully and that troops have moved into key areas.
The details, however, could not be verified as access for journalists is restricted in the area.
The Pakistan military launched a major offensive called Zarb-i-Azb in North Waziristan in June and say they have killed more than 1,200 militants so far, with over 100 soldiers losing their lives in the operation.
Later, it shifted focus to Khyber Agency after claiming to have cleared the NWA.
Apart from Zarb-i-Azb, Khyber-1 was launched in October to target Lashkar-i-Islam, a Taliban faction that has strongholds in Khyber Agency.
Khyber is among Pakistan's seven semi-autonomous tribal districts near the Afghan border, rife with homegrown insurgents and foreign militants. These are also home to religious extremist organisations including Al Qaeda.
http://www.dawn.com/news/1145990/twenty-two-militants-killed-in-khyber-strikes
------------
Reservations of coalition partners to be addressed: Balochistan CM
Nov 22, 2014
QUETTA: Balochistan Chief Minister Dr Abdul Malik Baloch has said that reservations of coalition partners will be addressed.
"I am enjoying support of provincial assembly members, and as a political worker I will not hesitate in taking a decision, if ever I felt losing their trust," he said while talking to newsmen after laptop and prize distribution ceremony at the University of Balochistan.
In reply to a question about a recent meeting of Pakhtunkhwa Milli Awami Party leader Mehmood Khan Achakzai with Khan of Kalat in London, he said: "The meeting...is a welcome move and a good omen."
He said that law and order situation in Balochistan had improved. "We are taking steps to further improve law and order in Quetta, Panjgur and Kech."
He said that requisition of a session of the provincial assembly was the right of its members and deputy speaker could preside over the sitting in the absence of speaker.
Dr Malik rejected a demand by the opposition leader that he should take fresh vote of confidence.
The chief minister assured the students that no one would be denied admission to the university because of shortage of seats.
He also inaugurated an FM Radio station at the varsity campus.
http://www.dawn.com/news/1146124/reservations-of-coalition-partners-to-be-addressed-malik
------------
Imran opposes any move to divide Sindh
Nov 22, 2014
LARKANA: Pakistan Tehreek-e-Insaf Chairman Imran Khan said on Friday that his party would not allow division of Sindh.
Imran said he foresees general elections next year and added that the youth across the country was ready to form "Naya Pakistan". Addressing PTI's large public gathering in Bakrani Taluka's Ali Abad village near Moenjodaro, he said "Go Nawaz Go" slogan had now reached Sindh, while the "Go Zardari Go" slogan will soon gain momentum in the province. The PTI chief said both Nawaz and Zardari are protecting the status quo and the current "shambolic" governance system of Pakistan for their own safety and interests.
"We won't let Sindh to be divided at any cost," The PTI chief said, adding that the Kalabagh Dam will not be constructed until people of Sindh give project the go-ahead. He promised the people he would get them their rights. "We will ensure lands and other resources to peasants of Sindh". Imran vowed support to all minorities of Sindh, including Hindus and Christians. Imran asked people whether they were ready for a "new Pakistan" and "new Sindh". He stressed upon masses to gear up for November 30 rally in Islamabad.
Full report at:
http://www.dailytimes.com.pk/national/22-Nov-2014/imran-opposes-any-move-to-divide-sindh
------------
India
Terrorism in India Is Pakistan Sponsored: Rajnath Singh
Hindustan Times New Delhi, November 22, 2014
Home minister Rajnath Singh said on Saturday India was open to dialogue with Pakistan but Islamabad should take the first step to resume talks between the nuclear-armed rivals.
The home minister's comments came ahead of next week's Saarc summit in Nepal which both Prime Minister Narendra Modi and his Pakistani counterpart, Nawaz Sharif, will attend. No bilateral talks are planned at the Saarc meeting but the two leaders are bound to run into each other at the summit.
"If not today then tomorrow, one side will have to take the first step … We have always spoken of friendship but they should take some friendly action," Singh said at the 12th Hindustan Times Leadership Summit.
Singh also hit out at Pakistan, saying terror in India wasn't homegrown but sponsored by Pakistan and rejecting Islamabad's stand that it was non-state actors – not state actors – that indulged in terrorism.
"I want to ask Pakistan: 'Is ISI (Inter-Services Intelligence) also a non-state actor'," he said, before going on to link ISI with supporting terrorists from Al Qaeda's Osama bin Laden, Lashkar-e-Taiba's Hafiz Saeed, Dawood Ibrahim and the 26/11 Mumbai attacks accused.
"Who helped Osama bin Laden? Who is helping Hafiz Saeed? ... We have requested Pakistan to act against them (Mumbai attack mastermind) but they drag their feet," he said. "So we say that terrorism is completely Pakistan-sponsored."
Full report at:
http://www.hindustantimes.com/india-news/hitting-home-why-securing-india-is-a-difficult-job/article1-1288845.aspx
------------
8 yrs after Sachar, Muslims still out of Govt jobs and schools: Panel
Nov 22, 2014
Eight years after the Sachar committee report on the condition of Muslims and creation of a Ministry of Minority Affairs, a post-Sachar evaluation committee, headed by former JNU professor Amitabh Kundu, has concluded that though a start has been made in addressing development deficits of the community, government interventions have not quite matched in scale the large numbers of the marginalised.
Poverty levels among Muslims, the committee found, remained higher than the national average between 2004-05 and 2011-12. In terms of consumption expenditure, Muslims are third from the bottom — after the Scheduled Tribes and Scheduled Castes.
Set up in August 2013 by the UPA government for an evaluation of the status of Muslims after the Sachar committee findings, the Kundu committee was given an extension by the NDA government. It submitted its report to the Ministry of Minority Affairs nearly two months ago but there has been no movement thereafter. Nor have contents of the report been made public.
Full report at:
http://indianexpress.com/article/india/india-others/8-yrs-after-sachar-muslims-still-out-of-govt-jobs-and-schools-panel/99/
------------
Destroy militant camps, BSF tells Bangladeshi counterpart
IANS | Nov 22, 2014
AGARTALA: The Border Security Force (BSF) has asked its Bangladeshi counterparts to destroy militants' camps and hideouts within the latter's territory, an officer said here on Saturday.
"Around 57 camps and hideouts of northeast India militant groups still exist in different parts of Bangladesh. We have asked the BGB (Border Guard Bangladesh) to dismantle these camps and to take action against the terrorists," a top BSF officer told IANS.
He said: "The terrorist outfits of Assam, Meghalaya, Tripura, Manipur and Nagaland have set up their camps and hideouts in different parts of Chittagong Hill Tracts (CHT) (in southeast Bangladesh) and Moulvibazar and Sylhet districts (under Sylhet division in northeastern Bangladesh)."
These outfits include National Socialist Council of Nagaland (Isak-Muivah), United Liberation Front of Asom, National Liberation Front of Tripura, Garo National Liberation Army and Hynniewtrep National Liberation Council.
Full report at:
http://timesofindia.indiatimes.com/india/Destroy-militant-camps-BSF-tells-Bangladeshi-counterpart/articleshow/45239590.cms
---------
Azam's demand for Waqf control over Taj worries ASI
SANDEEP JOSHI
Nov 22, 2014
Senior Uttar Pradesh Minister Azam Khan's statement seeking handing over of Taj Mahal to the Waqf Board has created a stir with Archaeological Survey of India officials fearing that this could open the Pandora's box with similar demands being made.
Mr. Khan, who is also the Waqf Minister in the State, has stated that since there are two mausoleums in the Taj Mahal complex – of Mughal emperor Shah Jahan and his wife Mumtaz Mahal – it should be handed over the Waqf Board. He has also demanded that all earnings from the historic monument be spent on the welfare of Muslims.
"Wherever there are tombs, they are under the (jurisdiction of the) Central Waqf Board. If it is in cheap and poor condition, it means it's under the Waqf Board…But if it's an expensive structure, then it belongs to the government of India," Mr. Khan said.
Stating that the Waqf Board has jurisdiction over Muslim tombs and graves, he said the income from Taj Mahal should be used for the education of Muslims. "The (Waqf) Board can run at least two universities from the income from this (Taj Mahal)," he added.
It is not for the first time that Mr. Khan has courted controversy over Taj Mahal. Last year, he had stated that the monument should be razed since "no ruler has a right to use public money to build grand monuments for their lover".
Full report at:
http://www.thehindu.com/news/national/azams-statement-on-taj-worries-asi/article6622623.ece
------------
Europe
UN: Myanmar Must Give Citizenship to Rohingya Muslims
Nov 22, 2014
The UN approved a resolution calling on Myanmar to grant full citizenship to its persecuted Rohingya Muslim minority, piling up pressure on the country to cancel a controversial identity plan.
The UN General Assembly's Human Rights Committee adopted the non-binding resolution by consensus on Friday to pressure the Southeast Asian country to change its approach towards the Rohingya Muslims, press tv reported.
Myanmar officials want to categorize 1.3 million of Rohingyas as Bengalis, implying they are illegal migrants from neighboring Bangladesh. Those who reject the identity will likely be detained or deported.
The language in the resolution referring to "attacks against Muslims and other religious minorities" is misleading, Myanmar's Ambassador to the UN Tim Kyaw said in reaction to the UN move on Friday.
Reports say hundreds of thousands of Rohingyas in Myanmar are suffering from a severe shortage of food and drinking water. Humanitarian aid deliveries have slowed down in Rakhine state, where many Rohingyas live, due to an escalation of violence.
The UN recognizes Myanmar's Rohingya Muslims as one of the world's most persecuted communities.
Rohingya Muslims in Myanmar have been persecuted and faced torture, neglect, and repression since the country's independence in 1948.
The Myanmar government has been repeatedly criticized by human rights groups for failing to protect the Rohingya Muslims.
http://english.farsnews.com/newstext.aspx?nn=13930901000513
------------
Berlin says 550 Germans joined jihadist cause in Syria and Iraq
22 November 2014
Hundreds of Germans have left their home country to fight alongside jihadists in Syria and Iraq, Interior Minister Thomas de Maiziere said.
"We estimate 550. Just a few days ago we had 450," the minister told German television channel Phoenix on Friday.
"These young people... were radicalised in Germany, within this society. That's why prevention must be accompanied by repression," he added.
Most of those who have joined the Islamic State of Syria and Iraq (ISIS) organization's jihadist cause are men, although some women have also travelled to the two war-torn countries.
De Maiziere said authorities are keeping a close watch on some 230 more people who are considered potential threats on German soil.
"We cannot exclude, and in certain cases it's actually quite possible, that they are preparing an attack," the minister said.
In mid-October, Germany announced new measures to prevent its citizens from travelling to join the jihadist cause in Iraq and Syria, including confiscating their identity papers.
Concerns are mounting in Europe over the growing national security threat posed by jihadists returning from war-ravaged Syria and Iraq.
http://english.alarabiya.net/en/News/middle-east/2014/11/22/Berlin-says-550-Germans-joined-jihadist-cause-in-Syria-and-Iraq.html
----------
'Jihad' at French summer camp: leaders mimic executions
Nov 22, 2014
Four group leaders at a French summer camp are under investigation after a series of photos were discovered of them mimicking hostage executions and acts of torture, local authorities said Friday.
A man on his knees, a knife to his throat, surrounded by "jailers" in balaclavas, is pictured in one of about 20 images uncovered by the municipality of Colombes, just outside Paris, which organised the camp.
"We filed a complaint on Thursday. They have also been suspended from their jobs and disciplinary action is under way," said Colombes mayor Nicole Goueta.
The photos were taken during the camp in August on an island in Brittany in northwest France.
Full report at:
http://english.alarabiya.net/en/News/world/2014/11/21/-Jihad-at-French-summer-camp-leaders-mimic-executions-.html
------------
Merkel: Palestinian recognition not right path
Nov 22, 2014
Chancellor Angela Merkel has underlined Germany's opposition to recognizing a Palestinian state after lawmakers elsewhere in Europe backed such a move.
Sweden's new government officially recognized a Palestinian state on Oct. 30. This week, Spain's Parliament approved a non-binding resolution recognizing a Palestinian state, following similar motions in Britain and Ireland.
Germany, Israel's closest European ally, has made clear it won't follow that lead.
Merkel said Friday that Berlin supports a two-state solution and "we see how difficult that is, so we also believe that unilateral recognition of the Palestinian state won't move us forward" toward that goal.
She said it's better to focus squarely on getting Israeli-Palestinian talks going although "that appears very difficult in the current conditions."
http://english.alarabiya.net/en/News/middle-east/2014/11/21/Merkel-Palestinian-recognition-not-right-path.html
------------
Russian FM: Countries Should Halt ISIL Funding Sources According to Int'l Resolutions
Nov 22, 2014
Russian Foreign Minister Sergei Lavrov demanded that all countries abide by the international resolutions, particularly those calling for shutting down the sources of funding and arming of the terrorists of the Islamic State of Iraq and the Levant (ISIL).
Addressing a press conference following a meeting with his Saudi counterpart Saud al-Faisal in Moscow, Lavrov referred to the Security Council's resolutions 2170 and 2178 of which he said Russia has been part and by which all countries agreed to halt providing funds and support to any terrorist organizations in the Middle East and North Africa, SANA reported.
He stressed the need that all operations of importing and selling oil from the areas under the control of terrorists be halted along with any related terrorist acts in compliance with the Security Council's resolutions.
http://english.farsnews.com/newstext.aspx?nn=13930901001066
------------
Stop punitive home demolitions, HRW urges Israel
Nov 22, 2014
Israel should impose an immediate moratorium on its policy of demolishing the family homes of Palestinians suspected of carrying out attacks on Israelis, suggested Human Rights Watch (HRW).
In a statement issued on Saturday, the human rights watchdog said the policy, which Israeli officials claim is a deterrent, deliberately and unlawfully punishes people not accused of any wrongdoing.
"When carried out in occupied territory, including East Jerusalem, it amounts to collective punishment, a war crime."
In at least five instances in 2014, Israeli authorities have demolished or sealed the family homes of Palestinians suspected of killing Israelis, leaving dozens of people homeless.
On November 19, 2014, Israeli forces used explosives to destroy the family home of an East Jerusalem man who ran down and killed a baby girl and fatally wounded a woman on October 22.
Full report at:
http://www.dhakatribune.com/world/2014/nov/22/stop-punitive-home-demolitions-hrw-urges-israel#sthash.QalNNf7v.dpuf
------------
Dutch-Pakistani al Qaeda suspect re-arrested for US extradition
Nov 22, 2014
THE HAGUE: Dutch authorities have re-arrested a Dutch-Pakistani al Qaeda suspect wanted by the United States, saying on Friday that all obstacles in his long-running extradition case had been cleared.
"Sabir K was detained again last (Thursday) night on the order of the public prosecutor's office for extradition to the United States," the office said in a statement.
A Dutch court last year blocked the extradition of the man identified only as Sabir K to stand trial for alleged acts of terror including planning a suicide attack on a US military base in Afghanistan's Kunar province in 2010.
The 27-year-old Sabir K said that the US played a role in what he said was his torture in Pakistan following his arrest more than four years ago.
Full report at:
http://tribune.com.pk/story/794952/dutch-pakistani-al-qaeda-suspect-re-arrested-for-us-extradition/
------------
In Mali's desert French troops hunt al-Qaeda well by well
22 November 2014
If the French army and its allies are to keep al-Qaeda at bay in the desert of northern Mali they must stop them seizing the biggest prizes in the sea of white sand - the wells.
So this month a column of soldiers from France, Burkina Faso and Mali, in armored vehicles and pick-up trucks, churned towards a village north of Timbuktu where herders water camels and goats.
They were looking for signs of infiltration by militants who need water as much as the locals do and aim to convert villages to their ideology.
France uses drones, jets and helicopters in its Operation Barkhane mission to eliminate jihadist sanctuaries across five Sahel countries, but winning local support is key and that means face-to-face contact, soldiers said.
In days of patrolling with French forces around Timbuktu, villagers told Reuters they valued the multinational security presence and detested al-Qaeda. Villagers waved at the patrols at every stop.
Full report at:
http://english.alarabiya.net/en/perspective/2014/11/22/In-Mali-s-desert-French-troops-hunt-al-Qaeda-well-by-well.html
--------
North America
Former Canadian soldiers to join Kurds to fight IS
Nov 22, 2014
At least six former Canadian soldiers are planning to join Kurdish troops in the coming weeks, in order to help the Kurds fight the Islamic State, according to a CBC report on Friday.
According to CBC, the Canadian veterans planning to go to fight with the Kurds cited what they believed was an insufficient military response by Canada against the Islamic State and Syria and Iraq.
http://www.jpost.com/Breaking-News/Former-Canadian-soldiers-to-join-Kurds-to-fight-IS-382503
------------
American Muslims remember Kassig as 'great hero'
22 November 2014
The death of a U.S. aid worker at the hands of Islamic State of Iraq and Syria (ISIS) militants is "barbaric" and is not a true reflection of Islam, a cleric told hundreds of people who gathered Friday for the first of three memorial services honoring the slain man.
Sikh Muhammad al-Yaqoubi, a top Syrian cleric who has been a strident critic of ISIS, called Peter Kassig, 26, a "great hero" during prayers at the Al Huda Foundation mosque in Fishers, a suburb of the Midwestern city of Indianapolis. He said Kassig "carried in his heart the principles of Islam even before becoming Muslim."
Kassig was captured Oct. 1, 2013, while delivering aid in Syria through a relief organization he founded. He converted to Islam during captivity and changed his first name to Abdul-Rahman.
His parents, Ed and Paula Kassig, had issued numerous appeals for his release after his life was threatened in an October ISIS video that showed the beheading of a fellow aid worker, Britain's Alan Henning.
Full report at:
http://english.alarabiya.net/en/News/2014/11/22/U-S-Muslim-community-remembering-Peter-Kassig-a-great-hero-.html
------------
U.S. House panel debunks many Benghazi theories
22 November 2014
A two-year investigation by the Republican-controlled House Intelligence Committee has found that the CIA and the military acted properly in responding to the 2012 attack on a U.S. diplomatic compound in Benghazi, Libya, and asserted no wrongdoing by Obama administration appointees.
Debunking a series of persistent allegations hinting at dark conspiracies, the investigation determined that there was no intelligence failure, no delay in sending a CIA rescue team, no missed opportunity for a military rescue, and no evidence the CIA was covertly shipping arms from Libya to Syria.
In the immediate aftermath of the attack, intelligence about who carried it out and why was contradictory, the report found. That led Susan Rice, then U.S. ambassador to the United Nations, to inaccurately assert that the attack had evolved from a protest, when in fact there had been no protest. But it was intelligence analysts, not political appointees, who made the wrong call, the committee found.
Full report at:
http://english.alarabiya.net/en/News/middle-east/2014/11/22/U-S-House-panel-debunks-many-Benghazi-theories.html
----------
Obama extends US forces combat role in Afghanistan
Nov 22 2014
The US President Barack Obama has extended the US combat mission in Afghanistan for another year by signing a classified order.
The order authorizes American troops to have a direct role to fight the Taliban and other insurgent groups posing threats to American forces and Afghan government.
US officials with the knowledge of the decision have told The New York Time that the new authorization also allows American jets, bombers and drones to support Afghan troops on combat missions.
A senior administration official insisted that American forces would not carry out regular patrols or conduct offensive missions against the Taliban next year.
In the meantime, a senior American military office said the Air Force expects to use F-16 fighters, B-1B bombers and Predator and Reaper drones to go after the Taliban in 2015, in light of Mr. Obama's decision.
Full report at:
https://www.khaama.com/obama-extends-us-forces-combat-role-in-afghanistan-9034
------------
Southeast Asia
Indonesia to Stop Sending Women Workers Abroad
Nov 22, 2014
Jakarta. Indonesia plans to end the practice of sending female workers (TKW) abroad by creating more job opportunities here, Vice President Jusuf Kalla said on Friday.
Speaking at a conference of the women's organization of Nahdlatul Ulama (Fatayat NU), Kalla said women are mostly forced to seek a better future abroad because of limited opportunities in Indonesia, and that many suffer mental and physical abuse.
"We will end all of this [bad treatment of workers]," the vice president said. "The problems with the TKW [will end], in five years we must [stop sending them] abroad."
Kalla said that the agriculture sector would be a primary source of future jobs, followed by light industrial work.
The lot of the migrant worker is a major political issue in Indonesia. While remittances sent by construction workers and domestic workers from abroad has had an important impact on raising hundreds of thousands of families out of poverty, migrant workers often fall victim to abuse and in many cases have to surrender their passports to either agents or employers.
Extreme cases such as the recent murders of two Indonesian women in Hong Kong, allegedly at the hands of a British banker, occasionally make international headlines, but the domestic press is never short on stories of abuse.
Full report at:
http://thejakartaglobe.beritasatu.com/news/jusuf-kalla-indonesia-stop-sending-women-workers-abroad/
------------
Indonesia a Hive of Modern-Day Slavery
Nov 22, 2014
Jakarta. As many as 714,000 people in Indonesia have fallen victim to modern slavery practices, a recent study suggests, making it the eighth-largest country in terms of number of people living in modern slavery.
The Walk Free Foundation, a global human rights group dedicated to ending modern slavery, released its "2014 Global Slavery Index" on Thursday, which estimates the number of people in modern slavery in 167 countries.
Indonesia ranked eighth with 0.28 percent of the country's population considered slaves, namely children denied an education by being forced to work or marry early; men unable to leave their work because of crushing debts; and women and girls exploited as unpaid and abused domestic workers.
Indonesia has more modern slaves than Bangladesh (680,000) and Thailand (475,000) making it the biggest in Southeast Asia.
Full report at:
http://thejakartaglobe.beritasatu.com/news/indonesia-hive-modern-day-slavery/
------------
3 Malaysians arrested over Isis links
Nov 22, 2014
A man and two women were picked up by police last night for allegedly being involved in terrorism, said Tan Sri Khalid Abu Bakar.
The inspector-general of police said the arrests were made in Kuala Lumpur and Selangor by the force's counter-terrorism division.
Khalid, in a statement, said the three suspects aged between 28 and 34 were believed to be linked with the Islamic State of Iraq and Syria (Isis).
"The first suspect, a woman, is the wife of an earlier suspected terrorist charged in court on November 11," Khalid said.
The second suspect was an event manager in Kuala Lumpur, while the male suspect was an executive assistant.
"All three suspects are believed to have been involved witth Isis via Facebook," he said.
Khalid said the three were also found to have been involved in gathering funds, which was used to send Malaysians to join Isis in Syria.
Full report at:
http://www.themalaysianinsider.com/malaysia/article/3-malaysians-arrested-over-isis-links#sthash.FqvrzmVY.dpuf
------------
Sarawak chief minister warns of rising extremism
Nov 22, 2014
Sarawak Chief Minister Tan Sri Adenan Satem has warned of rising extremism in the country, blaming it on people who have forgotten the social contracts the country's early political leaders had thrashed out and the "moderate route" which they took.
Speaking to young Barisan Nasional leaders at the opening of their three-day retreat in Kuching last night, Adenan called on the moderates "who are the silent majority" to speak up and be more assertive to reclaim the country from extremists.
"In a multiracial, multi-religious country like Malaysia, you can't afford to be extreme. BN could rule the country easily before because we took the moderate route," Adenan said.
Pointing out that racial and religious extremism is found on both sides of the political divide, the 70 year-old Adenan asked aspiring BN leaders how many of them knew the social contract on the position of the Malays and the Malay language when touching on the slur made by racial extremists that Malaysian Chinese are "pendatang" (immigrants).
Full report at:
http://www.themalaysianinsider.com/malaysia/article/sarawak-chief-minister-warns-of-rising-extremism-tells-moderate-majority-to#sthash.pyP6vDP1.dpuf
--------
URL: https://www.newageislam.com/islamic-world-news/new-age-islam-news-bureau/egypt-s-al-azhar-condemns-carrying-of-the-quran-in-protests/d/100144