New Age Islam News Bureau
10 Oct 2019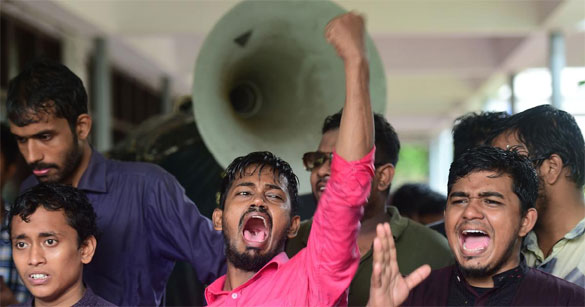 Bangladeshi students of Dhaka University take part in a protest in Dhaka on October 7. | Munir Uz Zaman/AFP
-------
• The Head Of Al-Qaida In Indian Subcontinent, Maulana Asim Umar's Ancestors Included DM, Village Head
• In Bangladesh, A Student's Murder Opens A Window On Rising Anti-India Sentiment Across The Border
• Top US Diplomat Keeps Up Pressure On China Over Muslim Uighurs
• Saudi Arabia, UAE, Bahrain, And Egypt Condemn Turkey's Aggression On Syria
• Nukes Absolutely Forbidden In Islam: Ayatollah Khamenei Emphasized That Scientific Progress Must Be Accompanied With Humanitarian Values
• Several Newly Installed Cardinals Share The Pope's Vision For Dialogue With Islam
• Muslims Across Europe Face 'New Kind Of Terror' Rooted In White Supremacist Ideology: Report
• Islamabad High Court Rejects Plea To Drop Terrorism Charges Against Musharraf
• US Says 'Does Not Endorse' Turkish Offensive, Calls War On Syria 'A Bad Idea'
India
• Durga Puja In Bengal, A Multicultural Event: Jama'at Islami Distributes Islamic Books In Puja Pandals in Bengal
• The Head Of Al-Qaida In Indian Subcontinent, Maulana Asim Umar's Ancestors Included DM, Village Head
• Wrinkle in Xi's red carpet: China and Pakistan raise Kashmir, India objects
• Members Of Muslim Community Demand A Ban On Wasim Rizvi's Movie 'Aisha- The Mother Of Believers'
• Rafale Engine Manufacturer Tells Rajnath: Don't Terrorise Us On Tax
• India calls for cooperation between FATF, UN to combat terror financing
• Congress criticises Centre over China's Kashmir remark
• Jammu & Kashmir: Candidates file nominations for BDC elections in Kathua
• Xi Jinping says he is watching Kashmir, supports Pakistan's core interests: Chinese media
• Six months after entry into mainstream politics, Shehla Rashid announces decision to quit
• Kashmir colleges open, students stay away
--------
South Asia
• In Bangladesh, A Student's Murder Opens A Window On Rising Anti-India Sentiment Across The Border
• Airstrikes Kill 42 Taliban Militants, Destroy 2 Vehicles Packed With Explosives In Ghazni
• Airstrikes, armed clash leave 12 Taliban militants dead in Balkh
• Demand Already High for Norwood's Newly Opened Islamic Center
• U.S. Military in Afghanistan reacts to latest UNAMA report regarding civilian casualties
--------
Southeast Asia
• Top US Diplomat Keeps Up Pressure On China Over Muslim Uighurs
• When a Malay Dignity Congress in Malaysia is not really one
• 'Real tensions': Malaysia's oil-rich Borneo states flex muscles
• Taking a leaf from kids in the fight against racism
• Call for Jihadis to go to West Papua following unrest
--------
Arab World
• Saudi Arabia, UAE, Bahrain, And Egypt Condemn Turkey's Aggression On Syria
• 15 Dead, Over 40 Wounded As Turkey Bombards Syria; Thousands Flee For Safety
• Syria: Trump says he hopes Turkey's Erdogan 'will act rationally'
• US moves two British ISIS members known as 'The Beatles' from Syria
• ISIS militants hit US-backed Kurdish fighters in north Syria
• Protests resume in Iraq's Sadr City as uprising enters second week
• Civilians flee Syrian border towns as Turkish offensive kicks off
• Syrian Kurds 'positive' about dialogue with Damascus
• Egypt denounces Ethiopia for moving ahead with Nile dam amid water-shortage fears
--------
Mideast
• Nukes Absolutely Forbidden In Islam: Ayatollah Khamenei Emphasized That Scientific Progress Must Be Accompanied With Humanitarian Values
• Saudi-Led Militia Rape Several Children in Southwestern Yemen
• Turkey tells UN Security Council its Syria operation to be 'proportionate'
• Iran has tech to build warships, seeks to expand regionally: IRGC head
• Rouhani: Turkey has every right to have concerns over its southern borders
• Turkey seeks to 'take over new lands for ISIS' through Syria offensive, SDF says
• Condemnations pour in as Turkey continues Syria military operation
• Israeli military court slaps heavy fine against Palestinian, gives 18 years in jail
--------
Europe
• Several Newly Installed Cardinals Share The Pope's Vision For Dialogue With Islam
• Muslims Across Europe Face 'New Kind Of Terror' Rooted In White Supremacist Ideology: Report
• Muslim World League Slams Abuse Of Jewish Students In Australia
• Healthy Muslim Minds event attempts to break down mental health stigma
• Religion faculty launch first-ever Shiism track for Islamic studies students
• UN Security Council head appeals to Turkey for restraint in Syria
• EU urges Turkey to halt Syria offensive, says won't pay for 'safe zone'
• France's Macron says 'worried' about Turkey offensive in meeting with Syrian SDF
• Russia calls for dialogue between Assad, Kurds over northeast Syria
• Russian Embassy: Detained Russian journalist freed by Iran
• Far-right extremist kills 2 people in Germany
• Germany: Police raids after bomb threats to mosques
• European nations call for UN security council meeting over Turkish offensive in Syria
--------
Pakistan
• Islamabad High Court Rejects Plea To Drop Terrorism Charges Against Musharraf
• Pakistan Prime Minister Imran Khan declared 'Muslim Man of the Year'
• Pakistan PM Imran Khan meets Chinese President Xi Jinping
• The idea of 'Naya Pakistan' seems to be imploding
• Maryam sent on 14-day judicial remand
• Compliance report ready as FATF meeting approaches
• PPP to facilitate JUI-F's anti-govt march: Bilawal
• Turkey to establish Centre of Excellence in Tourism and Hospitality in Pakistan
• Pakistan, China resolve to strengthen strategic partnership
--------
North America
• US Says 'Does Not Endorse' Turkish Offensive, Calls War On Syria 'A Bad Idea'
• US Imposes Visa Restrictions On Chinese Officials Over Muslim Treatment
• Trump: US Going Into Middle East Was The 'Worst Decision Ever'
• US Senators release outline for proposed sanctions on Turkey
• Trump defends his Syria pullout against Republican criticism
• US sanctions impeding treatment of Iranian victims of Saddam's chemical attacks: OPCW envoy
• OIC strongly condemns all terrorist acts, UN forum told
• Trump counts on Turkey to protect civilians
• Republican senator slams lawmakers on US Syria move
--------
Africa
• Ennahda Came First In Tunisian Parliamentary Election
• Two senior al-Shabab leaders surrender to Somali forces
• Boko Haram: Buhari Slams Foreign Agencies Over Million-Dollar Aids To Displaced Persons
Compiled by New Age Islam News Bureau
URL: https://www.newageislam.com/islamic-world-news/durga-puja-bengal-multicultural-event/d/119963
--------
Durga Puja In Bengal, A Multicultural Event: Jama'at Islami Distributes Islamic Books In Puja Pandals in Bengal
October 10, 2019
Durga Puja in Bengal is unique in the sense that it is not observed only as a Hindu festival but also become a multicultural event. Different Durga Puja pandals are built on various themes which cover a wide range of current issues. For example, a Durga Puja Pandal was built on the theme of National integrity and for that purpose Azan (Muslim call for prayer) was played on loudspeaker at the Pandal. That raised an eyebrow of a few Hindus while the larger community regarded the event only a part of Durga Puja's secular tradition. On the other hand, Muslim MP from Bengal, Nusrat Jahan, attended Puja Pandals with her husband Nikhil Jain and paid tribute to the deity. This also raised an eyebrow of a few Muslim clerics but it went largely ignored in Bengal.
Another aspect of the Puja Pandals is that different organisations put up their stalls there and sell their literature. This is a good time for the propagation if their ideology. During the Left Front rule the Communists would set up stalls if their magazines and books on communism and no one would object.
This year Jama'at Islami Hind put up stalls in Puja Pandals in Kolkata and other districts. The organisation's books, introductory pamphlets and translations of the holy Quran were available on these stalls. They distributed about 3000 introductoy booklets and Hindi, Bengali and English translations of the Quran to non-Muslims. They also distributed more than 5000 water bottles among visitors.This way, the Durga Puja in Bengal becomes a festival of interfaith exchange.
--------
The Head Of Al-Qaida In Indian Subcontinent, Maulana Asim Umar's Ancestors Included DM, Village Head
Oct 10, 2019
SAMBHAL (UP): Anger is palpable in Mohalla Deepa Sarai of Sambhal in UP, which is back in the news after four years.
The residents of the locality have been in the public glare ever since former resident Sanaul Haque was unmasked as Maulana Asim Umar, the head of al-Qaida in Indian Subcontinent (AQIS) and one of the most wanted men on the security forces' list, in 2015. According to local residents, Sanaul's family was once a prominent one in the area as his grandfather was a village head, another ancestor was a freedom fighter and his great grandfather was a district magistrate under the British rule. TOI spoke with Haque's brother, Rizwan, a teacher.
"We were told about his death by intelligence sleuths on Tuesday. It didn't come as a shock for us since he left us in 1998 when he was just 18 and we never heard from him since," Rizwan said. Son of Irfan-ul-Haq and Ruqaiya, who used to live in the locality until a few years ago, Haque was promoted to the top job by al-Qaida head Ayman al-Zawahiri in 2010. "For us, he died in 2009 when local intelligence sleuths told us he had joined a terrorist organisation," his mother Ruqaiya, who was then 70, had told TOI in 2015.
In 2009, intelligence agents had landed at their house in Sambhal to inform the family that their son, missing for 11 years at the time and presumed dead, was actually working for terrorist organisations Tehreek-e-Taliban Pakistan and al-Qaida.
Haq's father, Irfan-ul-Haq, who was then 75, had immediately given advertisements in local newspaper disowning his son.
The old man died in 2017 and after their other two sons were picked up by intelligence sleuths for questioning, Ruqaiya left Mohalla Deepa Sarai forever. According to neighbours, she told us that she would be living with his other son, who is an engineer in Delhi.
Sanaul Haque, who, according to his family, studied till Class VIII, is said to have graduated from Darul Uloom Deoband. However, the renowned Islamic seminary has categorically denied any alumnus of that name.
"We have thoroughly checked our records and did not find any alumnus by the name of Sanaul Haque," Darul Uloom spokesperson Ashraf Usmani told TOI. After completing his studies, he wanted to go to West Asia for further studies and sought Rs 1 lakh from his father, which he refused.
After a quarrel with them, he left his house in 1998 and never returned. The AQIS's newly appointed head in 2010 was finally linked to Sanaul Haque through two of his relatives who were arrested in 2015.
Mohammad Asif, training and recruitment chief of AQIS, was arrested by Delhi police from Seelampur and Zafar Masood was picked up by a team from Sambhal-Moradabad road in December 2015. They were both originally residents of Mohall Deepa Sarai.
According to intelligence agencies, the three had travelled to Pakistan through Iran in 2012 and had been trained at a jihadist camp in Miranshah. Back home in Sambhal's Deepa Sarai, the residents resent Haque's association with the area.
https://timesofindia.indiatimes.com/india/slain-qaida-boss-ancestors-included-dm-village-head/articleshow/71512654.cms
--------
In Bangladesh, a student's murder opens a window on rising anti-India sentiment across the border
October 10, 2019
On October 7, a student named Abrar Fahad was beaten to death in Dhaka on the campus of the Bangladesh University of Engineering and Technology, allegedly by cadres of the Chhatra League, the student wing of the ruling Awami League. They had reportedly taken offence at a Facebook post in which Fahad had voiced his concerns about the seemingly unilateral nature of the bilateral agreements Bangladesh Prime Minister Sheikh Hasina had signed with India during her trip across the border earlier this month.
Hasina's visits to Delhi have become a regular occurrence over the past decade. Media coverage on both sides of the border paints them in triumphant terms. But while details of the lavish meals prepared for the Bangladeshi premier are reported enthusiastically in the Bangladeshi media, Dhaka's meek acceptance of India's wishes is spoken of only in hushed tones. Despite this, Bangladeshis have now come to view India as an imperious power that treats their country as a subservient, lesser partner in a longstanding special friendship.
Details of the seven agreements signed between the two countries during Hasina's visit are unavailable in the public domain. After all, opacity deters scrutiny and criticism.
One of the deals related to river water. Since the Awami League first came to power in 2009, it has been promising Bangladeshis that it will strike a fair deal with India regarding the sharing of the water of the Teesta river. Now in her third term, not only does the Teesta issue remain unresolved, Hasina has also given India the right to draw water from the Feni river.
In addition, India has been granted access to and use of Bangladesh's two busiest seaports in Chittagong and Mongla, and permitted to install a coastal surveillance radar system on Bangladeshi territory. Furthermore, a joint venture between the Indian state and a Bangladeshi private enterprise that involves Salman F Rahman, a Member of Parliament and special adviser to Hasina, will result in scarce liquefied petroleum gas being exported to India.
Media coverage
While the Indian media's favourable coverage is understable in light of the unconditional gains made by their country, the coverage in the Bangladeshi media was bafflingly positive – an indication of pressures that the press faces in the country.
Where Bangladeshi press had failed in its duty, Fahad's Facebook post about the matter was objective and constructive. Unlike previous instances of dissenters who had been violently silenced, he made incisive observations, not directed any criticism at Hasina, her family or any member of her party. His killing, therefore, marks a further shrinking of the already severely restricted parameters of thought that can be expressed without grave consequences in Bangladesh.
The Bangladesh University of Engineering and Technology or BUET, where Fahad studied has historically prided itself as being free from the corruption and violence of the nation's organised student politics. However, in recent years, the Awami League's student organisations have established a presence in BUET and other universities where they had no footprint, ironically often using the pretext of fighting Islamist terrorism.
When the Chhatra League worked closely with law enforcement agencies to brutally suppress the student demonstrations in Dhaka in August 2018, BUET's chapter participated in identifying and assaulting protestors and handing them over to the police.
In the aftermath of Fahad's murder, the police meted out a beating to his younger brother and the wife of one of his cousins. Additionally, the Chhatra League was assisted by the state's Directorate General of Forces Intelligence agency in a concerted effort to present Fahad as a member of the Islamist Jamaat-e-Islami party who was part of an anti-state conspiracy in collusion with the Bangladesh NationalistParty.
To people familiar with Bangladeshi politics, this will sound familiar. The same charges were levelled against student protesters last year. Since both the Bangladesh Nationalist Party and the Jamaat-e-Islami have been reduced to shells by the government, these claims against the Awami League's favoured bogeymnn ring hollow.
Preserve of far right forces
Historically, the anti-India political ideology and accompanying bigotry directed at Bangladeshi Hindus have been the preserve of the far right in Bangladesh, and the Bangladesh Nationalist Party-Jamaat coalition has used them effectively. However, the ground has shifted significantly. The Awami League's close ties with New Delhi have prompted a resurgence of anti-India sentiment in all sections of Bangladesh's population. India is seen both as an imperial aggressor and the protector of an authoritarian regime.
Worryingly, this feeling is becoming prevalent amongst the country's youth, who have borne the brunt of Awami League's excesses. They believe that India offers no benefit to Bangladesh – even as the relationship offers plenty of advantages Sheikh Hasina and her party.
Moreover, the widespread anti-Muslim, anti-Bangladeshi rhetoric of the Indian government are matters of concern, despite the Awami League's best efforts to divert attention from these. Rather than presenting itself as a capable and conscientious regional leader, India risks confirming the far right prejudices deeply embedded in Bangladeshi politics.
Now, however, there is a greater possibility for these sentiments to acquire much greater appeal in Bangladesh, primed for fiendish opportunists.
https://scroll.in/article/939979/in-bangladesh-a-students-murder-opens-a-window-on-rising-anti-india-sentiment-across-the-border
--------
Top US diplomat keeps up pressure on China over Muslim Uighurs
October 10, 2019
US Secretary of State Mike Pompeo said on Wednesday that China's treatment of Muslims, including the Uighurs, in western China was an "enormous human rights violation" and that Washington would continue to raise the issue.
"This is not only an enormous human rights violation, but we don't think it's in the best interests of the world or of China to engage in this kind of behaviour," Pompeo said in an interview with PBS, a public broadcaster in the United States.
Asked whether Chinese President Xi Jinping was responsible for the situation, Pompeo said: "Xi Jinping leads the country just like the leader of a tank platoon, a small business or a country is responsible for the things that happen in your name."
Punishing Beijing for its treatment of Muslim minorities, the US government this week announced visa restrictions on Chinese government and Communist Party officials it believes responsible for the detention or abuse of Muslim minorities in Xinjiang province and widened its trade blacklist to include some of China's top artificial intelligence startups.
China has denied any mistreatment of Uighurs.
The Chinese Embassy in Washington in a statement on Tuesday denounced the visa action and said the US accusations on human rights violations were "made-up pretexts" for interfering in China's affairs.
On Wednesday, Beijing called on Washington to withdraw the measure.
The US is "disregarding the facts, slandering and smearing China on Xinjiang-related issues," Foreign Ministry spokesman Geng Shuang said at a news conference on Wednesday, saying US actions were guided by "sinister intentions".
China, which is engaged in a 15-month-old trade war with the US, also views US support for pro-democracy protests in Hong Kong as interference in its internal affairs.
"We're going to continue to talk about these human rights violations," Pompeo said.
"As the president has said in another context in Hong Kong, we want to make sure that these issues are handled in a way that is humane."
Asked about a growing dispute over a tweet by a National Basketball Association (NBA) team official supporting the protests in Hong Kong, Pompeo said American businesses were waking up to the risks of operating in China.
"The reputational cost to these companies I think will prove to be higher and higher as Beijing's long arm reaches out to them and destroys their capacity for them, their employees - in the NBA's case team members and general managers - to speak freely about their political opinions," Pompeo said.
https://www.aljazeera.com/news/2019/10/top-diplomat-pressure-china-muslim-uighurs-191010013239989.html
--------
Saudi Arabia, UAE, Bahrain, and Egypt condemn Turkey's aggression on Syria
9 October 2019
Saudi Arabia condemned on Wednesday the aggression launched by the Turkish army on northeast Syria, an official at the foreign ministry said.
The foreign ministry official said that the Turkish aggression is a blatant violation of the unity, independence and sovereignty of the Syrian territories.
"The Kingdom is concerned over this aggression and considers it as a threat to regional peace and security," the official said, stressing the need to ensure the safety of the brotherly Syrian people, the stability, sovereignty, and the territorial integrity of Syria, according to a statement carried by the official Saudi Press Agency (SPA).
The foreign ministry official said that regardless of the pretexts that Turkey is making, the seriousness of this aggression on northeastern Syria has negative repercussions on the security and stability of the region, especially undermining the international efforts in fighting ISIS.
UAE condemns Turkish aggression in Syria
The United Arab Emirates condemned on Wednesday the Turkish aggression in northeast Syria, according to a tweet carried by the Emirates News Agency (WAM).
The UAE Ministry of Foreign Affairs and International Cooperation said that "this aggression represents a dangerous development and a flagrant and unacceptable aggression against the sovereignty of a brotherly Arab state in contravention of the rules of international law," according to the statement.
The ministry affirmed the "UAE's firm stance and rejection of all that affects the sovereignty of Arab national security and threatens international peace and security, warning of the consequences of this aggression on the unity and territorial integrity of Syria and the political process in it."
Bahrain condemns Turkish military attack on northeastern Syria
The Ministry of Foreign Affairs of the Kingdom of Bahrain strongly condemned the military attack by Turkey on areas in northeast of Syria, "which is a violation of the rules of international law and an attack on the sovereignty and territorial integrity of Syria."
While supporting the call for an emergency meeting of the Arab League to take a unified Arab position toward this aggression.
The Foreign Ministry called on "the UN Security Council to accelerate its responsibilities in confronting this attack, in order to maintain peace and security and to provide a supportive atmosphere to continue efforts aimed at finding a peaceful solution in Syria."
Egypt condemns Turkey's military operation in Syria
Egypt has condemned Turkey's military operation into northern Syria, calling it an "aggression" against Syria's sovereignty.
Egypt's Foreign Ministry in a statement on Wednesday condemned "in the strongest words" the offensive and called for the UN Security Council to halt "any attempts to occupy Syrian territories or change the demographics in northern Syria."
The statement says Turkey's attack is a "blatant aggression" against Syria's sovereignty. It also calls for an emergency meeting of the Arab League.
https://english.alarabiya.net/en/News/middle-east/2019/10/09/Saudi-Arabia-condemns-Turkish-aggression-on-north-east-Syria.html
--------
Nukes Absolutely Forbidden In Islam: Ayatollah Khamenei Emphasized That Scientific Progress Must Be Accompanied With Humanitarian Values
October, 09, 2019
In an address to a group of Iranian academic elites and top scientific talents in Tehran on Wednesday, Ayatollah Khamenei emphasized that scientific progress must be accompanied with humanitarian values and the correct culture of humanitarianism.
"The very important and very beneficial nuclear science led to the production of nuclear bomb and turned into a big threat to the world and humanity when it was coupled with the wrong culture of power seeking," the Leader deplored.
Highlighting the Islamic Republic's "firm and courageous" stance against nuclear bombs, Ayatollah Khamenei said, "Despite having been able to take steps in this path (nuclear weapon production), we declared utilization of this weapon absolutely haram (forbidden) in religion according to dear Islam's orders."
"So there is no reason for us to spend on the production and stockpiling of a weapon which is absolutely haram," the Leader underscored.
Elsewhere in the meeting, Ayatollah Khamenei stressed the need for an acceleration in the pace of Iran's scientific progress, saying that although the Islamic Republic has gloriously gained top world positions in a number of new sciences such as nanotechnology and biotechnology in recent years, such advances are "by no means adequate" and should not satisfy Iran, and the scientific progress must be accelerated.
The Leader further called for efforts to carry out the "strategic document of the elites' affairs", saying it would remove many obstacles in the way of scientific progress and commercialization of scientific and technological products.
Ayatollah Khamenei also warned of negative and skeptical attempts to deny the scientific movement and advances in Iran, saying such a harmful trend, which sadly exists in universities, seeks to cast doubt on the scientific advances and dishearten the people and elites.
One of the other gross misconducts by the skepticism-sowing trend is to play the role of a dealer for transferring Iranian elites to other countries by making them disappointed about the situation in Iran or deceiving them with money or other bogus promises, the Leader warned.
Ayatollah Khamenei further called on the society of Iranian elites to play a role in public diplomacy, adding, "Our approach is neither socialist nor based on liberal democracy. Thanks to Islam, we offered a third way to nations, as we should further attract the hearts to this beneficial approach for humanity with our logical words and deeds, and to save nations from the increasing influence of the decadent Western culture."
The Leader also reiterated that Iran must make such progress that whoever intending to learn about the new scientific advances in the next fifty years would have to know the Persian language.
The Leader has on various occasion highlighted the role of science as a means of power and development, urging efforts to maintain the pace of scientific growth in Iran despite enemy efforts to undermine it.
In a meeting with the medal winners of national and international science Olympiads in August, Ayatollah Khamenei had called on the Iranian young elites to push the boundaries of science and technology and quicken the pace of Iran's scientific progress.
https://www.tasnimnews.com/en/news/2019/10/09/2115267/ayatollah-khamenei-nukes-absolutely-forbidden-in-islam
--------
Several Newly Installed Cardinals Share The Pope's Vision For Dialogue With Islam
by Anita Carey
October 9, 2019
Several newly installed cardinals share the Pope's vision for dialogue with Islam.
Much has been said about Pope Francis' number of appointments to the College of Cardinals — 88 of them — that all but ensures his successor will be of a similar mind. Over half of cardinals eligible to vote were appointed by Francis.
In addition to the push towards liberation theology, Francis also has been putting other religions, including Islam, on an equal footing with Catholicism. In an article on Tuesday, Jihad Watch commented, "The Pope has been a powerful promoter of Islam."
Francis' own words to the faithful in February following his trip to the United Arab Emirates show this.
"Christianity and Islam have more in common than people think … and the two religions defend common values that are necessary for the future of civilization," Francis said.
Jihad Watch took the Pope to task for his ignorance about the religion, saying, "He largely ignores the gross human rights violations against Christians, women, minorities and apostates that are justified by Islam."
The joint resolution signed with the UAE during that trip in February stated they "resolutely declare that religions must never incite war, hateful attitudes, hostility and extremism, nor must they incite violence or the shedding of blood."
It added, "These tragic realities are the consequence of a deviation from religious teachings."
Spanish then-Abp. Miguel Angel Ayuso Guixot, the president of the Pontifical Council for Interreligious Dialogue, praised the joint resolution signed with the UAE, saying: "I think the Abu Dhabi declaration is a global appeal to the 'civilization of love' that contrasts with those who want a clash of civilizations! Prayer, dialogue, respect and solidarity are the only winning weapons against terrorism, fundamentalism and all kinds of war and violence."
On Oct. 5, Guixot was among the 13 new cardinals Pope Francis appointed to help him secure the direction he is steering the Church.
Also appointed by Pope Francis was Canadian Jesuit priest Fr. Michael Czerny, a contributor to Francis' environmental encyclical Laudato Sí.
In 1979, Czerny founded the Jesuit Forum for Social Faith and Justice, a social justice research center, in Toronto.
He has worked in the Vatican since 2010, first in the justice office, then, in 2016, Francis appointed Czerny the undersecretary of the Migrants and Refugees Section of the Dicastery for Promoting Integral Human Development.
Cardinal Czerny is also serving secretarial roles for the Amazon Synod.
Pope Francis consecrated Czerny as the titular archbishop of Benevento, Italy, on Oct. 4.
A second newly appointed cardinal is Cdl. Matteo Zuppi, the archbishop of Bologna, Italy. In addition to being supportive of the homosexual agenda — actually writing the preface for the Italian edition of Fr. James Martin's Building a Bridge — in 2016, he called for a mosque to be built in Bologna.
"I really think it's time for a mosque in Bologna. Some people think otherwise but they are wrong," Zuppi said.
"I also wish Islamic celebrations to be welcomed in schools," he added, "as already requested by archbishop of Milan Angelo Scola."
Cardinal Jean-Claude Hollerich, the archbishop of Luxembourg, is supportive of open-door migration policies.
Although he is not of voting age, a retired English archbishop, Michael Fitzgerald, is considered one of the Church's leading experts on Islam and the Koran.
From 1972 to 1978 Fitzgerald directed the Pontifical Institute for Arab Studies and Islamology and, in 1987, he accepted a position at the Secretariat for non-Christians. In an interview with La Croix International, he said he will support those working in Islamic-Christian dialogue.
The report noted he and three other priests from the White Fathers, a religious order he joined at age 12, "took over an almost abandoned parish in Liverpool" that serves the double purpose of being in "the service of migrants and dialogue with Muslims."
"In Al-Azhar, Abu Dhabi or Jerusalem, Pope Francis shows us how to do it: through direct contact and without being locked in prescriptions or barriers," he said.
Two other cardinals are from majority-Muslim countries: Cardinal Cristóbal López Romero hails from Morocco, and Cdl. Ignatius Suharyo Hardjoatmodjo is the archbishop of Jakarta in Indonesia.
Cardinal Hardjoatmodjo, a member of the Vatican's Congregation for the Evangelization of Peoples, also called out his country's Catholics in January to take a stand against plastic, warning, "Our country is becoming the world's second-largest producer of plastic waste."
Since 2016, Cdl. Hardjoatmodjo has been with a social justice commission he founded to help undocumented people in Jakarta access government services.
"The commission is important, especially in a big city such as Jakarta where there is so much injustice," he said.
He was praised by both Protestant and Muslim leaders who said, "He is a passionate shepherd, not only for Catholics but also other people of different religions."
The College of Cardinals currently has 128 voting members. Four are set to reach the mandatory retirement age within the month, bringing the number to 124, and Francis has appointed 52% of those voting cardinals.
https://www.churchmilitant.com/news/article/francis-cardinals-share-in-his-support-of-islam
--------
Muslims across Europe face 'new kind of terror' rooted in white supremacist ideology: Report
Callum Paton
Oct 9, 2019
In Europe the Muslim community is facing a "new kind of terror" which is rooted in anti-Muslim racism and white supremacist ideology, a report funded in part by the EU has said.
According to the European Islamophobia Report, nationalist, populist and far-right movements have increased their influence across the European continent and, where they have achieved power, they have undermined the rights of minorities in general, singling out Muslims in particular.
The policies and rhetoric of governments, of the kinds seen in 2018 in Italy, Austria, Hungary and Poland, has eventually led to violence against Muslims, the report outlines.
"Finally, the xenophobic and anti-Islam climate fostered by far-right governments paves the way for physical and terror attacks against Muslims or people who might be taken to be Muslim," it said.
Even where they have not come into power, as is the case in the majority of European counties, far-right movements have imposed what the report describes as a "nativist ideology" coupled with an "Islamophobia agenda" on national debate. This leads to Islamophobia entering the mainstream.
"Centrist parties do not manage to counter far-right discourse and often even fall into their trap by adopting their xenophobic approaches on security, immigration, and diversity issues," the report said.
The individual country reports gathered by the initiative paint a stark picture. In Austria Islamophobic incidents rose by 74 per cent over the course of 2018, with the government policy towards politically organised Islamic groups reportedly legitimising anti-Islamist sentiment.
In France, the report described how counter terror policy had led to the militarisation of the police. The counter terror policy in general in the country, the report said, was "jeopardising the fundamental rights" of Muslims in France.
In Italy the report observed the country was becoming "increasingly intolerant towards Muslims and migrants" as instances of hate speech on social media nearly triple from 2017 to 2018.
The report, also looked at the complicated way far-right and Islamophobia had morphed online as well as the instances of Islamophobic terror attacks and extremely violent attacks targeting Muslims.
These included the attack of three Arab students by over ten men at the Katowice Central Rail Station in Poland and the attack in the UK on the Al-Majlis Al-Hussain Islamic Centre in September when three worshippers were injured by a car deliberately driven into pedestrians.
Ultimately the report said there was an "urgent need to counter anti-Muslim racism". It called on the European Parliament to adopt a resolution on combating Islamophobia recommending a similar strategy to the one that had been used to combat anti-Semitism.
It added that right wing extremism needed to be tackled with more focus from security agencies as well as better communication between authorities and Europe's Muslim communities.
https://www.thenational.ae/world/europe/muslims-across-europe-face-new-kind-of-terror-rooted-in-white-supremacist-ideology-report-1.921508
--------
Islamabad High Court Rejects Plea To Drop Terrorism Charges Against Musharraf
October 10, 2019
ISLAMABAD: The Islamabad High Court on Wednesday dismissed a petition that sought deletion of terrorism charges against former president retired Gen Pervez Musharraf and transfer of the judges' detention case from the Anti-Terrorism Court (ATC) to the sessions court.
An IHC division bench comprising Chief Justice Athar Minallah and Justice Miangul Hassan Aurangzeb had resumed the hearing of the petition filed by Gen Musharraf through his lawyer Akhtar Shah.
The bench dismissed the petition because of repeated absence of Mr Shah during the hearing of the case.
The former military ruler has been seeking deletion of terrorism charges and subsequent transfer of his case from the ATC to the sessions court on the ground that initially the first information report (FIR) was registered under the Pakistan Penal Code against him in connection with the detention of 60 judges of the superior judiciary after the imposition of emergency on Nov 3, 2007.
However, in 2013, a single-member bench of the IHC had ordered the police to invoke the anti-terror law against the military dictator since detaining judges is an act of terrorism.
The ATC has already declared Gen Musharraf a proclaimed offender in the judges' detention case as he has been abroad since March 2016.
The prosecution has laid entire evidence against the accused in this case. However, the trial is standstill as the former military leader is absconding in the case.
Gen Musharraf was indicted under Section 7 of the Anti-Terrorism Act (ATA) and Section 344 of the Pakistan Penal Code.
On Aug 11, 2009, the Secretariat police had registered the judges' detention case against Gen Musharraf on the complaint of advocate Mohammad Aslam Ghumman.
The complainant said that the former president, soon after the imposition of emergency in 2007, had kept 60 judges of the superior courts under detention for over five months at their residences.
Interestingly, despite the prosecution's repeated requests none of the detained judges or their family members testified before the ATC. Moreover, the prosecution did not mention in the FIR names of the judges detained.
Taking benefit of legal loopholes, Gen Musharraf's counsel Akhtar Shah challenged the terrorism charges. As per the petition, Section 7 of the ATA, 1997, was inserted in the case on the orders of the IHC, but the charges were not proved during the investigation. The petition added that no evidence was produced in connection with Section 7 of the ATA by the investigators and prosecution.
While referring to an order of the IHC, it said, a division bench comprising Justice Noorul Haq Qureshi and Justice Riaz Ahmed Khan had held that lawyers' allegations could not be considered as evidence.
https://www.dawn.com/news/1510019/ihc-rejects-plea-to-drop-terrorism-charges-against-musharraf
--------
US says 'does not endorse' Turkish offensive, calls war on Syria 'a bad idea'
Oct 9, 2019
The United States says it "does not endorse" Turkey's war against Kurds in northern Syria, calling the military offensive "a bad idea."
"This morning, Turkey, a NATO member, invaded Syria. The United States does not endorse this attack and has made it clear to Turkey that this operation is a bad idea," US President Donald Trump said in a statement issued by the White House Wednesday.
The statement further highlighted Trump's stance against "endless" wars in the region.
"From the first day I entered the political arena, I made it clear that I did not want to fight these endless, senseless wars—especially those that don't benefit the United States," it read. "We expect Turkey to abide by all of its commitments, and we continue to monitor the situation closely."
'Trump not ending anything'
The Trump administration has been under pressure over giving Ankara the green light to invade areas under the control of US-backed Kurdish militants.
"Pray for our Kurdish allies who have been shamelessly abandoned by the Trump Administration. This move ensures the reemergence of ISIS," Sen. Lindsey Graham (R-S.C.), a staunch Trump ally, said in a tweet.
Despite his claim to be ending US wars, Trump is "not ending anything," said Rep. Justin Amash (I-Mich.).
"Despite President Trump's bluster about ending endless war, he's not ending anything. Our troops aren't coming home; a small number were moved so Turkey could escalate the war," he said in a tweet. "And the president has expanded our role in Saudi Arabia and Yemen, and kept us in Afghanistan and Iraq."
'Kurds could be slaughtered'
Rep. Liz Cheney (Wyo.), a member of House Republican leadership, called reports of the Turkish offensive "sickening."
"Impossible to understand why @realDonaldTrump is leaving America's allies to be slaughtered and enabling the return of ISIS," she tweeted.
Sen. Susan Collins (R-Maine also asserted that, "Today, we are seeing the consequences of that terrible decision… If the reports of Turkish strikes in Syria are accurate, I fear our allies the Kurds could be slaughtered."
Trump has previously said that it is "too costly" to keep supporting the Kurdish militants in the region, whom Ankara views as terrorists linked to local autonomy-seeking militants of the Kurdistan Workers' Party (PKK).
https://www.presstv.com/Detail/2019/10/09/608290/US-says-does-not-endorse-Turkish-offensive-calls-war-on-Syria-a-bad-idea
--------
India
Wrinkle in Xi's red carpet: China and Pakistan raise Kashmir, India objects
by Shubhajit Roy, Sowmiya Ashok
October 10, 2019
Hours after New Delhi and Beijing officially announced Chinese President Xi Jinping's visit to India for the second informal summit in Mahabalipuram on October 11 and 12, India took strong exception to a reference to Kashmir in a meeting between Xi and Pakistan Prime Minister Imran Khan. India said it is "not for other countries to comment" on its internal affairs.
While government sources said Delhi will not raise Jammu and Kashmir unless Xi brings it up, the Ministry of External Affairs' official spokesperson Raveesh Kumar said: "India's position has been consistent and clear that Jammu & Kashmir is an integral part of India. China is well aware of our position. It is not for other countries to comment on the internal affairs of India."
The Kashmir reference came up in a joint statement issued by China and Pakistan. "The Pakistan side briefed the Chinese side on the situation in Jammu and Kashmir, including its concerns, position, and current urgent issues. The Chinese side responded that it was paying close attention to the current situation in Jammu & Kashmir and reiterated that the Kashmir issue is a dispute left from history, and should be properly and peacefully resolved based on the UN Charter, relevant UN Security Council resolutions and bilateral agreements," it said.
"China opposes any unilateral actions that complicate the situation… Parties need to settle disputes and issues in the region through dialogue on the basis of equality and mutual respect," it said. Incidentally, Khan was accompanied by Pakistan Army chief Qamar Javed Bajwa in Beijing.
What has irked Delhi is Chinese state media reports quoting Xi as telling Khan during their meeting in Beijing that China has been "paying close attention" to the situation in Kashmir and the "facts are clear".
China had criticised India's decision on Kashmir and its Foreign Minister Wang Yi even raised it at the UN General Assembly last month. Sources said India has a "very clear position" and it was explained to all the countries that matters related to the Constitution are "sovereign issues" and there was no question of any discussion.
While Modi will not brief Xi on Kashmir, sources said in case the Chinese President wants to understand the issue, the Prime Minister will provide an "outline".
The two leaders will meet in an informal setting, where they are expected to discuss issues pertaining to terrorism, trade and celebration of the 70th anniversary of bilateral diplomatic ties. According to sources, Xi will be accompanied by Chinese Foreign Minister Wang Yi. From the Indian side, National Security Advisor Ajit Doval and External Affairs Minister S Jaishankar will travel to Mahabalipuram, and may hold separate meetings with Wang.
On Saturday, India had lodged a "strong protest" with China through diplomatic channels over comments made by the Chinese Ambassador to Pakistan on Kashmir, and "sought clarification" on what was seen as a departure from Beijing's stated position.
On Wednesday, China referred to the "strong personal chemistry" between Modi and Xi to make the informal meeting possible. The summit will be the first overseas visit for Xi after China's 70th anniversary celebrations last week.
While formally announcing the summit in Beijing, Luo said it "is driven by the national interest of the two countries and personal relationship between the two leaders". Further, in the backdrop of globalisation and trade protectionism on the rise, Luo said the discussions will uphold free trade and advance economic globalisation.
"From the domestic perspective, both countries are growing their economies and deepening reform. China believes in pursuing the Chinese Dream and India has put forward the vision of a New India. The two leaders will exchange views on governance experience and how to better align their development strategies," he said.
The Vice Foreign Minister said talks will take place in three contexts. "Unilateralism, trade protectionism and bullyism are on the rise. World multipolarity and economic globalisation are facing many twists and turns. International community is facing common threats and challenges. As the biggest developing countries and emerging economies, China and India have greater responsibility to inject positive energy into the complicated world," he said.
"With China having just celebrated its 70th anniversary and is pursuing the two centenary goals while Prime Minister Modi has set a target of making India a US$ 5 trillion economy after elections in May this year. Both countries are at a similar development stage and have similar objectives. This will provide an impetus to bilateral ties," he said.
Luo also said that after last year's Wuhan summit, both sides have had smooth strategic communication and cooperation, and "peace and tranquillity has been maintained in the border areas".
"Bilateral trade volume is approaching US$100 billion, and investment and energy cooperation has achieved new progress… Bilateral trade last year exceeded US$ 95.5 billion and personal visits between the two countries crossed 1 million," he said.
Referring to the Belt and Road Initiative (BRI), which has been a point of contention between the two countries, he said: "It is a major public good by China to the world. We hope both countries can further explore connectivity cooperation, including BCIM cooperation. We hope that our cooperation can even extend to Africa, and in that sense this is not China-India Plus Cooperation but China-India plus plus cooperation. No cooperation is excluded under this framework."
Responding to Chinese media on whether India's largescale military exercise in Arunachal Pradesh could impact the summit, Luo said: "We have no worry at all because that is not true… As far as we know, the so-called military exercise is not a fact, it is not true." Sources in India said it is an operational issue.
https://indianexpress.com/article/india/wrinkle-in-xis-red-carpet-china-and-pakistan-raise-kashmir-india-objects-6061442/
--------
Members Of Muslim Community Demand A Ban On Wasim Rizvi's Movie 'Aisha- The Mother Of Believers'
OCTOBER 9, 2019
The agitated Muslims in Uttar Pradesh's Roorkee launched a protest against the screening of the Uttar Pradesh Shia Waqf Board Chairman Wasim Rizvi's movie 'Aisha-The Mother of Believers'. Several members of Muslim community came out on the streets to demand a ban on the screening of the movie.
A procession was carried out by them to the Joint Magistrate's office where they handed over a memorandum addressed to the President. The protestors also burnt the effigy of filmmaker Wasim Rizvi at Chandrashekhar square.
The demonstrators alleged that the movie 'Aisha- The mother of the believers' has objectionable scenes which hurt the sentiments of the Muslim community. Some of the protestors contended that the movie touches upon sensitive issues and might give a wrong message about the Muslims to the world. They strongly expressed registered their condemnation for the movie.
People of the Muslim community sent a memorandum to the President through Joint Magistrate Nitika Khandelwal about the film's protest and demanded a ban on it. On this occasion Arif, Asif Khan, Mohammad Asif Ahmed, Mohammad Sarfaraz, Aamir, Salim, Shaheed, Shahid, Rohit Singh, Saadab, Usman, Sameer, Asad Khan, Naushad, Farid, Armaan, Monu, Amit, Mustakim, Rahul, Ram Avatar etc. were present to express their disapproval of the contentious movie's release.
Full report at:
https://www.opindia.com/2019/10/members-of-muslim-community-demand-a-ban-on-shia-waqf-board-chairman-wasim-rizvis-movie-aisha-the-mother-of-believers/
--------
Rafale engine manufacturer tells Rajnath: Don't terrorise us on tax
October 9, 2019
The CEO of the French engine manufacturer behind the Rafale fighter jet told Defence Minister Rajnath Singh on Wednesday that India should provide an attractive business environment and not "terrorise us" with its tax and customs rules. He made the remarks while announcing that the company plans to invest nearly USD 150 million in the country.
French multinational Safran, the manufacturer of the M88 engines fitted in the Rafale jets acquired by India, gave a presentation of its facility to the defence minister who took a tour of the assembly line of the company, PTI reported.
Singh responded by assuring him that India was committed to providing the "right climate" for investments under the 'Make in India' initiative.
He also invited Safran to participate in the DefExpo in Lucknow in February next year, an invitation that was accepted by the company which designs and develops engines for civil and military aircraft at its assembly line at Villaroche in Reau, near Paris.
During the presentation today, CEO of the Safran Aircraft Engines Olivier Andries revealed plans for nearly USD 150 million investment in the country towards training and maintenance.
"India is set to become the third largest commercial market for aviation and we are keen to create a strong maintenance and repair base in India to serve customers," Andries said.
"But we need to make sure that the Indian tax and customs system is not terrorising us," he said.
Andries further said that the manufacturer has a long association with India and "all Indian airlines are our customers". "We are hopeful and optimistic that we will have a positive reception to our expansion plans. We are keen to share the know how and create an engine ecosystem in India," he said.
Also accompanying Rajnath, Defence secretary Ajay Kumar, assured the company of support and asked them to prepare a document highlighting any "pain points" they foresee in their expansion agenda, which will be taken into consideration.
"Visited the Engine Manufacturing Facility of Safran at Villaroche near Paris today. Safran is known for its engine making capabilities. They have also developed the engine for Rafale," Rajnath Singh said in a tweet.
Full report at:
https://indianexpress.com/article/india/rafale-engine-manufacturer-safran-ceo-olivier-andries-rajnath-dont-terrorise-us-on-tax-olivier-andries-6060988/
--------
India calls for cooperation between FATF, UN to combat terror financing
Oct 10, 2019
UNITED NATIONS: India has strongly condemned any direct or indirect financial assistance to terrorists and terror groups by nations that enables them to pursue their activities, including in defending criminal cases against them.
Speaking at a General Assembly Sixth Committee meeting on 'measures to eliminate international terrorism', First Secretary/Legal adviser in India's Permanent Mission to the UN Yedla Umasankar on Wednesday called for increased cooperation between the Financial Action Task Force (FATF) and the UN to combat terror financing.
"The flow of resources meant to produce terror are required to be stopped by States for which collective inter-State efforts are required at regional and sub-regional levels. The FATF has a significant role in setting global standards for preventing and combating terrorist financing and the UN needs to increase cooperation with such bodies," Umasankar said.
He said India "strongly" condemns "direct or indirect financial assistance given to terrorist groups or individual members thereof by States or its machineries, to pursue their activities, including in defending the criminal cases involving terrorist acts against them."
India's comments come as Pakistan had requested the UN Security Council's anti-terror committee to allow Mumbai attack mastermind Hafiz Saeed to withdraw money from his bank account for basic expenses.
Saeed, a UN designated terrorist on whom the US has placed a $10 million bounty, was arrested on July 17 this year in a terror financing case in Pakistan. He was listed under UN Security Council Resolution 1267 in December 2008.
According to UN provisions, all states are required to freeze the funds and other financial assets or economic resources of designated individuals. The resolution also provides for states to sanction basic expenses of the designated individuals if there is no-objection over it.
Umasankar said India strongly believes that terrorism can be countered by combined international efforts, stressing that the UN is best suited for developing this transnational effort. He lamented that current measures to combat terrorism are having little impact on the ground.
"…the Global Counter-Terrorism Strategy (GCTS) being discussed by the UN General Assembly over the last decade has resulted in little impact on the ground. The Sanctions Committees established by the UN Security Council have become selective tools due to opaque working methods and politicized decision making," he said.
He reiterated India's firm belief that the Comprehensive Convention against International Terrorism (CCIT) will provide a strong legal basis for the fight against terrorism and will be in the interest of all Member States to have a multilateral and collective dimension of counter terrorism effort.
"The inability to agree on a Comprehensive Convention on International Terrorism remains one of the great gaps in the international legislative framework that would strengthen efforts to destroy safe havens for terrorists, their financial flows and their support networks. We need to move forward in adopting the draft text of CCIT which is a balanced one and has emerged after long discussions," he said.
In this regard, he said India reiterates its strong support to the General Assembly Resolution of December 2018 that recommends the Sixth Committee at the 74th Session to establish the 'Working Group with a view to finalising the process on the Draft Comprehensive Convention on International Terrorism'.
The General Assembly, with the voice and the moral authority of the entire international community, must guide the efforts to develop a framework of international law within which action can be taken against terrorism, he added.
Asserting that India condemns terrorism in all its forms and manifestations and no cause whatsoever or grievance can justify terrorism, including State-sponsored cross-border terrorism, Umasankar said the international community needs to adopt and implement a policy of zero-tolerance towards terrorism.
"The menace of international terrorism with its wide roots and numerous global connections has been recognized as grave international concern by every major international gathering of recent years," Umasankar said, adding that the growing inter-linkages between terrorist groups, cross-border operations including terror financing networks, propagating ideologies of hatred through exploitation of modern technologies and funding arms and weapons have certainly left no country aloof from the impact of terrorism.
He noted that it is a "self-evident truth" that democratic, secular and multicultural societies are the prime targets of terrorism and have become the most vulnerable to its attacks. "Terrorists exploit the civil liberties, religious tolerance and cultural diversity in our countries. They seek to destroy the democratic fabric by fomenting sectarian divisions and cultural tensions and ultimately deprive us of that very freedom which they have exploited."
Full report at:
https://timesofindia.indiatimes.com/india/india-calls-for-cooperation-between-fatf-un-to-combat-terror-financing/articleshow/71515469.cms
--------
Congress criticises Centre over China's Kashmir remark
Oct 10, 2019
NEW DELHI: Senior Congress leader Manish Tewari on Thursday criticised the central government after China while issuing a joint statement with Pakistan stated that it is "paying close attention to the current situation in Jammu and Kashmir".
"Xi Jinping says he is watching Kashmir but why does @PMOIndia/MEA not say 1) We are watching Pro Democracy protests muzzled in Hong Kong. 2) We are watching human rights violations in Xinjiang. 3) We are watching continued oppression in Tibet. 4) We are watching South China Sea," Tewari tweeted.
Xi Jingping says he is watching Kashmir but why does @PMOIndia/MEA not say 1)We are watching Pro Democracy protes… https://t.co/5fedz8xruW
— Manish Tewari (@ManishTewari) 1570675874000
Following Chinese President's comments on Kashmir, India in a quick response asserted that it is not for other countries to comment on "internal affairs of India".
External affairs ministry spokesperson Raveesh Kumar said India's position has been consistent and clear that Jammu and Kashmir is an integral part of India.
A joint statement released by China and Pakistan on Wednesday following a meeting between Khan and Xi said that Beijing is "paying close attention to the current situation in Jammu & Kashmir" and that the matter should be "properly and peacefully resolved based on the UN Charter, relevant UN Security Council resolutions and bilateral agreements."
Full report at:
https://timesofindia.indiatimes.com/india/congress-criticises-centre-over-chinas-kashmir-remark/articleshow/71515298.cms
--------
Jammu & Kashmir: Candidates file nominations for BDC elections in Kathua
Oct 10, 2019
KATHUA (JAMMU AND KASHMIR): Candidates filed nomination here on Wednesday for the upcoming Block Development Council (BDC) elections scheduled to be held on October 24 in Jammu and Kashmir.
The Congress party announced on Wednesday that it would boycott the BDC elections.
"We have come to realise that these elections (Block Development Council elections) are being held to facilitate only one party - ruling party. Our leaders are under detention. We have no other option but to announce that we are boycotting the election," Congress leader Ghulam Ahmad Mir said while addressing a press conference.
Kathua: Candidates filed nomination, yesterday, for upcoming Block Development Council elections scheduled to be he… https://t.co/s3nM6LIE8z
— ANI (@ANI) 1570661751000
Union home minister Amit Shah on Tuesday had reviewed the ground situation of Jammu and Kashmir during a meeting with state BJP leaders here with party leaders, sources said.
The meeting was conducted to take stock of ground situation in Kashmir Valley and discuss preparedness ahead of BDC elections.
Several prominent leaders of Jammu and Kashmir unit of BJP were present in the meeting.
Full report at:
https://timesofindia.indiatimes.com/india/jammu-kashmir-candidates-file-nominations-for-bdc-elections-in-kathua/articleshow/71514248.cms
--------
Xi Jinping says he is watching Kashmir, supports Pakistan's core interests: Chinese media
October 9, 2019
Chinese President Xi Jinping said on Wednesday he was watching the situation in Kashmir and would support Pakistan in issues related to its core interests, the official Xinhua News Agency reported.
Xi told Pakistan Prime Minister Imran Khan during a meeting in Beijing that the right and wrong of the situation was clear, the report said. Xi added that the parties should resolve the dispute via peaceful dialogue.
Full report at:
https://indianexpress.com/article/india/xi-jinping-says-he-is-watching-kashmir-supports-pakistans-core-interests-chinese-media-6061049/
--------
Six months after entry into mainstream politics, Shehla Rashid announces decision to quit
Ashiq Hussain
Oct 10, 2019
Six months after her entry into mainstream politics, former JNU student leader Shehla Rashid on Wednesday announced her decision to quit 'electoral mainstream' in protest against Centre's "current actions" in Kashmir, saying she cannot be a "party to legitimising the brutal suppression of people".
Rashid, who became a prominent face of student activism following a controversy over a 2016 event at the Jawaharlal Nehru University during which alleged anti-national slogans were raised, had earlier this year joined the Jammu and Kashmir People's Movement floated by former IAS officer Shah Faisal.
"I'd like to make clear my dissociation with the electoral mainstream in Kashmir. Participation in the electoral process in a situation where even the election rhetoric is to be dictated by the centre will only amount to legitimising the actions of the Indian govt in #Kashmir," she said on twitter.
Rashid is the first politician to quit politics after the central government revoked the special status of Jammu and Kashmir and put the region under a security and communication lockdown on August 5. Even though restrictions have been eased, mobiles and internet services remain blocked while a spontaneous shutdown continues against the revocation of Article 370.
She said the announcement of the block development council (BDC) elections in Jammu & Kashmir amid an ongoing crisis has compelled her to take this decision.
"Even as the lockdown on millions of citizens continues for over 2 months now, even as the Indian government continues to abduct children in Kashmir, and even as people are deprived of the means to call an ambulance and other emergency services, the centre is soon going to hold elections to the Block Development Councils, in an attempt to showcase "normalcy" to the outside world!," she said.
Last month, the election authority had announced to hold the polls for chairpersons of BDCs on October 24 on party lines for which panches and sarpanches are the electorate. The announcement came even as dozens of leaders of National Conference, Peoples Democratic Party, Peoples' Conference and Peoples' Movement are under detention.
Rashid said she had joined politics as she believed it was "possible to deliver both justice as well as good governance, and also work for the resolution of the Kashmir issue as per the wishes of the people of Jammu and Kashmir".
She alleged that the Centre now wants to showcase a "sham electoral" exercise in order to convince the world that it is still a democracy.
Full report at:
https://www.hindustantimes.com/india-news/six-months-after-entry-into-mainstream-politics-shehla-rashid-announces-decision-to-quit/story-h0XYQKT1EprUTRR99bmVGJ.html
--------
Kashmir colleges open, students stay away
Ashiq Hussain
Oct 10, 2019
Higher educational institutes opened in Kashmir on Wednesday over two months after they were closed when the Centre moved to revoke Jammu and Kashmir (J&K)'s special status and split the state into two Union territories in August. Officials said that students mostly stayed away from classes amid continued uncertainty in the Valley.
In Srinagar, security forces were stationed outside the prestigious Sri Pratap College and were allowing students on the campus after checking their identity cards. "I came here to get the study material and not to attend the classes. The teachers told us that the classes can only start once the situation becomes normal," said a chemistry student, who did not wish to be named.
Restrictions imposed to prevent protests against the change in J&K's constitutional status have been eased across Kashmir. But a shutdown against the government's move continues while mobile and internet services remain largely blocked.
The gates of the Women's College on Srinagar's Maulana Azad Road remained locked from inside and only students accompanying their parents were allowed on the campus. "We got some study material in our pen drives which has been prepared by our teachers. Even though classes have been suspended for the past 66 days, we were told that exams will be held. We are going to prepare for our examinations," said a student, who too, did not wish to be named.
A professor said that the Kashmir University staff has returned to work but students have mostly stayed away. "Even though there was an increase in the deployment of security forces around the university today [Wednesday] but the students again stayed away," he said on condition of anonymity.
The government last month announced the reopening of schools. But parents have largely refrained from sending their kids to school given the shutdown.
Full report at:
https://www.hindustantimes.com/india-news/kashmir-colleges-open-students-stay-away/story-B1wnbenrfaFF0cTlHpB1wN.html
--------
South Asia
Airstrikes kill 42 Taliban militants, destroy 2 vehicles packed with explosives in Ghazni
09 Oct 2019
A series of airstrikes killed 42 Taliban militants and destroyed two vehicles packed with explosives in South-eastern Ghazni province.
The 203rd Thunder Corps said in a statement the security forces conducted the airstrikes in various parts of Aab Band district.
The statement further added that the airstrikes killed 42 Taliban militants including Mullah Zafar alias Kochi, a key commander of the group.
The 203rd Thunder Corps also added that the airstrikes also destroyed two vehicles packed with explosives.
Furthermore, the 203rd Thunder Corps said the Afghan Special Forces killed 26 Taliban militants during the operations in Andar and Waghez districts of Ghazni province.
In a separate airstrike in Deh Yak district of Ghazni, the security forces killed 8 Taliban militants and destroyed some weapons including a Dshk heavy machine gun, the 203rd Thunder Corps added.
https://www.khaama.com/airstrikes-kill-42-taliban-militants-destroy-2-vehicles-packed-with-explosives-in-ghazni-04205/
--------
Airstrikes, armed clash leave 12 Taliban militants dead in Balkh
10 Oct 2019
A series of airstrikes and armed clash left at least 12 Taliban militants dead in northern Balkh province of Afghanistan.
The 209th Shaheen Corps said in a statement the security forces conducted airstrikes targeting a Taliban gathering at around 7:00 pm local time in Kohna Chamtal district.
The statement further added that the security forces also clashed with Taliban militants in Balkh district of the province.
Full report at:
https://www.khaama.com/airstrikes-armed-clash-leave-12-taliban-militants-dead-in-balkh-04206/
--------
Demand Already High for Norwood's Newly Opened Islamic Center
October 9, 2019
By JOSÉ A. GIRALT
Twenty-five years ago, Mohammed Iqbal Hussaine, 71, moved to Norwood from Queens and was surprised by the number of Irish neighbors he met. "They treated me very well," Hussaine recalls. After spending two years traveling to Parkchester for the closest mosque, Hussaine, his friend Syed Jamin Ali and a few others founded the North Bronx Islamic Center (NBIC) inside the basement of a private house at 3150 Perry Ave.
Today, as the neighborhood continues to undergo a cultural transformation, Hussaine, now retired, volunteers as the secretary of the NBIC with a new four-story building serving as the mosque, or Masjid, located at 261 E. 206th St. at the corner of Rochambeau Avenue. The house of worship opened its doors in May after years of incremental fundraising towards construction on the property the center has owned since 2000. In 2010, the city approved construction of the center where a three-story home once stood. Together with NBIC's president, Syed Jamin Ali, they have seen their mosque and Sunni congregation grow, lining up with an increasing Middle Eastern population planting roots in Norwood. "I remember being with Ali back then and maybe we [Bangladeshi] had six to seven houses, just a few families," Hussaine said.
From those humble beginnings, Hussaine estimates Bangladeshi immigrants currently account for the ownership of 120 to 125 houses and businesses in Norwood.
The growth in Norwood's Bangladeshi population has been accompanied with an increase in the Muslim community, which hails from other countries as well.
Although the NBIC does not keep records on the worshippers' country of origin, Hussaine, who is originally from Bangladesh, describes the makeup of the congregation as being predominately Bangladeshi followed by Yemeni, Pakistani, and Albanian Muslims. "And we have from other countries, too. I don't want to leave anyone out," said Hussaine.
When religious services were still being held solely at the house on Perry Avenue, hundreds of worshippers would oftentimes pour out onto the sidewalk.
Jakaria Saha, 42, assistant secretary at NBIC, estimates that attendance at Perry Avenue peaked somewhere between 600 to 700 worshippers. "We are so happy to have a new [Masjid]. We can now have up to 1,000 [worshippers] here," Saha said.
The first service at the new location was held last May at the start of Ramadan, the holiest month of the year for Muslims, which starts a 30-day period of fasting during daylight hours.
From the outside, the mosque could be mistaken for a small residential building, though the pointed arch windows frames foreshadow what's inside. Upon entering the first interior doorway it becomes evident that it is an Islamic space for worship. A banner over the door announces that "There is no God besides Allah and Muhammad," two mosaics on the left wall depict the holy city of Mecca, and at the far end is the distinctive niche in the wall known as the mihrab, which points in the direction of Mecca. When offering prayers, Muslims are expected to face the city of Mecca no matter where in the world they are located.
There is now discussion of requesting the city to increase the occupancy limit from 1,000 to 1,200 which would include the basement level.
"We are seeing so much growth that we will need other mosques [buildings] to help us," said Hussaine.
A recent Friday prayer inside the mosque—the Islamic holy day, with Muslims expected to pray at least once inside a mosque—is a standing room only occasion, with congregants jammed into the first floor with the rest of the congregants assembling on the upper three floors for Friday prayers, also known as Jumu'ah. The Iman occasionally spoke in limited English to remind the worshippers on the importance of raising their children in Islam as a way to give them guidance in life.
Rather than create apprehension over the changing face of Norwood, Saha hopes people will remember the real meaning of Islam. "In one word, peace," said Saha.
Both Saha and Hussaine hope long-time residents of Norwood will see the transformation in a positive light as a new wave of immigrants move into the neighborhood.
Full report at:
https://www.norwoodnews.org/id=29740&story=demand-already-high-for-norwoods-newly-opened-islamic-center/
--------
U.S. Military in Afghanistan reacts to latest UNAMA report regarding civilian casualties
09 Oct 2019
The U.S. Military in Afghanistan reacted to latest report of the United Nations Assistance Mission in Afghanistan regarding civilian casualties during the U.S. airstrikes in western Farah province.
According to a statemen released by the U.S. Military "United States Forces – Afghanistan (USFOR-A) disputes the findings, legal analysis, and methodology of the United Nations Assistance Mission in Afghanistan (UNAMA) report released on October 9, 2019. USFOR-A is concerned by the way UNAMA reached its conclusions and disagrees with their mischaracterization of the Taliban in methamphetamine production facilities; their reliance on sources with conflicted motives or limited knowledge (including the Taliban propaganda website "Voice of Jihad"); and their narrow definition of legally targetable combatants.
The statement further added "By the time USFOR-A decided to conduct precision strikes, intelligence and operations professionals knew what the Taliban narcotics production facilities looked like, exactly where they were and who was allowed entry. USFOR-A and partner organizations also knew the pattern-of-life for their operations and locales. Under U.S. legal definitions and rules and policies governing the conduct of war, and after exhaustive and comprehensive review of the facilities and those running them, USFOR-A and partner entities determined personnel in the labs were members of the Taliban and lawful military targets.
Furthermore, the U.S. Military said "The precision strikes against Taliban methamphetamine labs and Taliban combatants in the early hours of May 5, 2019 accurately targeted and struck sources of Taliban revenues used to fund ongoing indiscriminate violence against innocent Afghans – such as car bombs, rockets and roadside explosives which killed schoolchildren and families."
This comes as UNAMA had earlier said a United Nations special report, which examines the impact on civilians of United States' airstrikes on alleged drug-processing facilities on 5 May 2019 in Afghanistan, determines that the operation caused a large number of civilian casualties. The report also examines the legal framework applicable to this incident.
According to UNAMA report "In June 2019, the UN Assistance Mission in Afghanistan (UNAMA), together with representatives of the Afghanistan Independent Human Rights Commission, conducted a site visit to areas impacted by the strikes in Farah province's Bakwa district, as part of its extensive fact-finding into the 5 May incident."
The report further added that the UN verified 39 civilian casualties, among them 14 children and one woman, from multiple airstrikes on more than 60 sites that the United States Forces-Afghanistan (USFOR-A) identified as drug-production facilities in Bakwa district and in parts of the neighbouring Delaram district of Nimroz province.
Full report at:
https://www.khaama.com/u-s-military-in-afghanistan-reacts-to-latest-unama-report-regarding-civilian-casualties-04204/
--------
Southeast Asia
When a Malay Dignity Congress in Malaysia is not really one
By RAMASAMY PALANISAMY
08 OCTOBER, 2019
The major thrust of the Malay Dignity Congress over the weekend that was attended by Malaysian Prime Minister Mahathir Mohamad and leaders from across the political divide was not so much about how Malays could dignify themselves in terms of development, eradication of poverty and achievements in science and technology.
It was basically no different from other Malay gatherings where the focus was on questioning the non-Malays and their challenge of the social contract, that the country belongs to the Malays and non-Malays should not exceed certain parameters.
This was the basic thrust of congress organiser Zainal Kling's opening speech at the event. Coming from a former academic, I wonder what he taught his students.
I wonder how the non-Muslim natives of Sabah, Sarawak and the Orang Asli of Peninsular Malaysia would react to this xenophobic "intellectual" remark.
He even said the natives of Sabah, Sarawak and the Orang Asli are not entitled to the same rights as the Malays.
Dr Mahathir was as usual; he defended his role in the congress as a Malay.
In his speech, he elaborated that the congress was not aimed at attacking the Chinese or Indians, but aimed at Malay unity considering the various political splits.
Dr Mahathir might have missed the point that it was dignity and not a unity congress.
Anyway, knowing Dr Mahathir, it really doesn't matter to him. For him, it was simply that Malays are now split into a number of political parties.
This is in essence disunity for him. There is only Malay unity when Malays are behind him and the political party he heads.
This is why he remarked that the opposition Barisan Nasional pact has better representation of Malays than the ruling Pakatan Harapan (PH) coalition.
Beyond the presentations of Dr Zainal and Dr Mahathir, there were presentations on clusters such as the economy, education, culture, religion and others.
The speeches on clusters were pathetically racist, calling for leading posts to be filled by Malays, the removal of vernacular schools with the introduction of a single system of education, enforcing Jawi script in schools and taking an uncompromising stand on Islam.
Actually there was no need for a dignity congress to address these concerns.
The congress as a whole hardly did justice to the question of Malay dignity. Why was it termed a dignity congress? What is the problem with the state of Malay dignity? What steps need to be taken to bring Malay dignity on par with other communities?
None of the above questions were addressed. The congress was about anything but dignity.
Even the political reconciliation gathering between the United Malays National Organisation (Umno) and Parti Islam Se-Malaysia was not as racist as this dignity congress.
This congress, by going for racial baiting, lost all semblance of balance and decorum in addressing the Malay dignity question.
I would say that the congress lost all sense of dignity by reducing concerns of the Malays to the extremes of race and religion.
I expected that the dignity congress might be different from other race-bashing gatherings. I was terribly mistaken.
In a way I am sad that after more than 60 years of political independence, successive Malay leaders in Umno and now in PH are unable to go beyond the narrow racial and religious framework.
In an age where Malays should be guided and sustained to develop a competitive spirit, the leaders are taking them on a road to the bottom.
Non-Malays, Chinese and Indians are not the enemies of Malays. It is the irresponsible and corrupt Malay leaders who have taken Malays on the path of no-return.
Extreme and irresponsible racial and religious bashing of the non-Malays is not good for the Malays or for the country.
https://www.todayonline.com/commentary/when-malay-dignity-congress-malaysia-not-really-one
--------
'Real tensions': Malaysia's oil-rich Borneo states flex muscles
by Tom Danks
October 10, 2019
Sarawak, Malaysia – As Malaysia celebrated its 56th birthday last month, Prime Minister Mahathir Mohamad addressed the Southeast Asian nation's two culturally-distinct and increasingly assertive Borneo states of Sabah and Sarawak, a two-hour flight across the South China Sea from the seat of government in Putrajaya.
The veteran politician talked of Malaysia as "one big family" and said the government was committed to reviewing the implementation of the 1963 Malaysia Agreement that established the new nation of Malaysia.
As an indication of the federal government's commitment, the islands of Sipadan and Ligitan, would be returned to Sabah's control, he added.
"We hope the people and leaders of these two states can see the determination and sincerity of the federal government to place Sabah and Sarawak as partners with the Malay peninsula," Mahathir said.
More than 50 years after Sabah and Sarawak joined Singapore and the-then country of Malaya to form Malaysia (the city state was expelled in 1965), the two Borneo states are becoming more assertive; calling for the autonomy and equal status they say they were promised when the country was founded.
Within Borneo, feelings against the federal government are "more popular than ever," said Arnold Puyok, a researcher in electoral politics at the Universiti Malaysia Sarawak.
"Both sides of the political divide are talking about it and are trying to outwit each other by showing who are more nationalist and have done more to fight for Sarawak and Sabah … Now the debates have shifted to 'independence' and 'secession'."
'Poor cousins'?
Both states - known collectively as East Malaysia - are former British colonies with histories distinct from the peninsula and have large populations of indigenous people.
They remain proud of their indigenous culture and diverse societies, which are more Christian and animist than the rest of Malaysia.
But while both have control of their own borders - politicians and activists from the peninsula have sometimes been refused entry- there is a sense of threat from the country's leadership in the Muslim-majority Malay peninsula.
"Our individuality isn't being respected," said Karen Shepherd, an activist with Sarawak for Sarawakians (S4S).
"In everything from cultural heritage, education systems, our taxation revenue and just a general feeling of respect in this nation – are we the poor cousins or the founding partners, a drain on resources or leading contributor to the economy of Malaysia?"
Shepherd, and fellow S4S activist Peter John Jaban, began staging rallies with just 30-50 people in 2012.
Three years after that the campaign morphed into Sarawak 4 Sarawakians and after 15,000 people joined a rally to mark the day Sarawak got its independence from Britain, the state authorities declared the date - July 22 - Sarawak Independence Day.
"Our goal is to continue strengthening the voice of the people, which was absent five years ago, and to have the political hierarchies that exist in Malaysia reform," Shepherd told Al Jazeera.
Within Sabah, grievances over immigration continue to affect the public perception of the federal government.
Sabah's population more than tripled between the 1960s and early 2000s after a controversial programme granting citizenship rights to undocumented, mostly Muslim, migrants. A Royal Commission that was set up in 2012 amid growing anger over the secretive policy, blamed unnamed "corrupt officials" for the surge.
The programme came to be known as Project IC or Project M amid allegations that Mahathir, who was prime minister from 1981 to 2003, used the scheme to help the then-ruling United Malays National Organisation (UMNO) expand into the Borneo state.
Immigration
Mahathir himself quit UMNO in 2016 and returned to power in May 2018 at the head of Pakatan Harapan, the opposition grouping that rode a wave of popular discontent over large-scale corruption to sweep UMNO and its coalition partners from office.
Amid the rumblings in Borneo, the previous administration set up a federal committee at the end of 2017 to look into relations across the South China Sea, but there has been little progress.
"There are real tensions," James Chin, the director of Asia Institute Tasmania at the University of Tasmania and an expert on Malaysian politics, told Al Jazeera.
Over the past year, Pakatan has tried to deliver on some of its manifesto promises including a constitutional amendment tabled to honour the Malaysia Agreement and recognise Sabah and Sarawak as founding members of Malaysia, which were then stymied by Sarawak opposition MPs. The state administration is aligned with the previous UMNO-led coalition.
But other moves have undermined trust, including an announcement earlier this month of 600,000 Sabah Temporary Passes for foreign nationals.
Jeffrey Kitingan, a Sabah state assemblyman for the opposition STAR Party and a veteran of the fight for autonomy, remains deeply suspicious.
Is the government's plan to "eventually drown the indigenous peoples of Sabah under the majority power of the new immigrants?" he asked.
Fight for resources
The differences are also economic.
The two states have vast natural resources from timber to oil and gas - Sarawak accounts for more than a quarter of Malaysia's entire reserves - but remain far poorer than most states in the peninsula.
Millions - perhaps billions - has reportedly been lost to corruption - defeated Sabah Chief Minister Musa Aman will go on trial in June next year, while former Sarawak Chief Minister-turned-octogenarian governor Taib Mahmud is under federal investigation. But the states say they should also be getting a fairer share of the money from resources that has gone to the federal government when national oil company Petronas was established in 1974.
Full report at:
https://www.aljazeera.com/news/2019/10/real-tensions-malaysias-oil-rich-borneo-states-flex-muscles-191003234214249.html
--------
Taking a leaf from kids in the fight against racism
Moaz Nair
October 8, 2019
Many societies have been divided by matters of class, gender and religion, but the greatest divider of all has been race followed by economic disparity and religion.
The racial divide is becoming pretty serious in the country, driven by impulsive politicians, pseudo-religious figures and even some ill-conceived academics. Racism has in many subtle ways infiltrated politics, the workplace, public education, the justice system and even places of worship. This precarious drift, if not reined in, will be destructive to multiracial Malaysia.
Race or ethnicity is not a biological attribute but a sociological trait. Race is only a social concept with no real biological basis. However, the social construct of race has been a powerful force throughout history, prescribing individual and community identities.
The historical consequences of the concept of race have been instances of prejudice, discrimination, oppression, even violence and ethnic cleansing. This has shattered many nations, causing investors to shun them for fear of mayhem and an economy that will collapse.
Therefore, fantasising that this will not happen and ignoring the early symptoms that could lead to vicious racial conflicts in the country seems otiose.
Education system
Race relations should start at a young age. Our education system is not creating an environment in which children of different races can mingle freely. When children are educated in schools by being isolated at the primary level, then isolated again by race at the secondary and tertiary levels, we cannot expect racial unity, tolerance and integration to flower.
The education system has impaired racial unity for the past few decades. If this is the policy of the government, or the aspiration of some politicians, there is no point in talking about better race relations and racial unity in a multiracial society.
Children of different races mingle freely in kindergartens and at primary schools as they are yet to be cognisant of their racial or religious differences. Religious differences only come into play when parents start making their children aware that they are different from others. Even this will not stop children from mixing together: rapport among children at the primary level is an unconscious process. Children are just gregarious without racial and religious stickers attached to them.
Unlike adults, the young do not have distinct attitudes about race as a function of growing up in a diverse society. This leads to good race relations: when classmates and college mates have been friends for long, their differences could become secondary. Good race relations must begin early, at school, not when the young have left school. No amount of tertiary-level courses in racial or ethnic relations will bring different races together. This would merely be an academic exercise with no real-world significance.
Schools should be made the second home for the young generation. Children are so innocent that they do not identify friends by race, religion or skin colour. It's natural to see them mixing freely with one another. If they grow up in such an environment, Malaysia will able to enjoy better race relations. There will be more tolerance. It is not necessary for them to profess a single religion to be a united lot.
Economic inequality
Economic disparity between races is another key factor that can lead to racial tension. This is quite relevant in Malaysian society. As long as there is a huge economic disparity between races, it is bound to cause racial disharmony. Only by bridging this gap can feelings of hatred towards other races be pacified.
The marginalised in society bring the racial divide into sharp focus. Poverty, inequality and injustice have roots in the history of racial discrimination, which cut off the marginalised from the opportunity of the country.
Limiting a section of the people or race to a life of poverty will make them hate people of other races who are more affluent. The government has a duty to tackle this issue, to help the people rise above the legacy of inequality. True unity is impossible if there is economic disparity or institutional inequality.
Politics of tribalism
In some instances, differences in religion may not be as bad as tribalism or race differences when it comes to polarisation. Religion is quite a subjective matter and differences can still be accepted by the people as they may consider this a personal choice or a private matter. Nonetheless, there have been incidents in many countries where people have been persecuted because of their religious affiliations.
Rarely do Malaysians encroach into these personal rights of others, except for some overzealous preachers who have gone overboard in fuelling religious thoughts in the minds of people and upsetting those of other faiths. It's only when religious supremacy rears its ugly head and when religion is forcefully imposed on others that it ends up becoming a divisive factor.
It is still the race or ethnic factor that plays a more pivotal role in disuniting the people in many societies. Even those of the same religion may still have the tendency to see others from different ethnic groups as their sworn enemies. It is thus common to see tribal wars in some countries among those practising the same religion.
The never-ending factional wars in some Middle East countries are generally attributed to ethnic tribalism and intra-religious sectarianism. Syria and Iraq were once the cradles of Islamic civilisation but civil and tribal wars have left these countries in tatters. It is frightful to think of such happenings creeping into our country.
Racism is contrary to God's plan
Of late, traces of racial bigotry appear to have marred society. The chasm of hostility divides the country but has yet to touch the consciences of the people. Some politicians are just being divisive and some others are causing disunity.
Intolerance of other people is ultimately a denial of human dignity. No one person is better than another because of the colour of their skin or the place of their birth or the religion they profess. However, the elimination of racism and religious intolerance may seem too great a mission. Race will remain a potent divisive force in most societies.
Malaysia has to overcome this crippling legacy of bigotry and injustice. The continuing state of racial tension will not augur well for the country. This divisive force, if continued to be felt across our land, will become an obstacle to the harmony to which we are called as a human family. It will also indirectly affect the economy and the livelihoods of the people.
The abscesses caused by racial prejudice will be hard to heal. The mission of reconciliation should therefore take on fresh emphasis. Racial supremacy is not the solution. It requires tolerance and acceptance of each other to strengthen our resolve and to tone down emotions.
Social attitudes often take generations to change but if our democracy is to work the way that it should, steps must be taken by everyone to put a halt to all forms of racial discrimination.
Full report at:
https://www.freemalaysiatoday.com/category/opinion/2019/10/08/taking-a-leaf-from-kids-in-the-fight-against-racism/
--------
Call for Jihadis to go to West Papua following unrest
7 October 2019
Front Jihad Islam, or FJI, issued a call to arms in the Indonesia-ruled Papuan provinces after non-Papuan settlers were among the victims of recent violence there.
Unrest has surged in Papua region since August, including a day of rioting and violence in the Highlands city of Wamena two weeks ago when about 30 people were killed.
The unrest came off the back of widespread public demonstrations by West Papuans protesting against racism and calling for a referendum on independence from Indonesia.
According to Indonesia's government, more than 11,500 people have been evacuated from Wamena since then due to safety fears. That many of these people are settlers from other parts of Indonesia has caused concern and prompted action back in Java.
FJI has been busy spreading its message online, replete with videoed torching of the Papuan Morning Star Flag and banners calling for Jihadis to be recruited for fighting in Papua against Papuans.
That's a concern to Saiful Islam Payage, the head of Papua's chapter of the Ulema Council, Indonesia's top Muslim clerical body.
"I am very worried. So, I strongly forbid the Laskar who are in the name of religion for war or jihad in Papua," he said.
He said that for now, there were only demonstrations in Java, and that no mobilisation of jihadis had yet occurred in the Papuan provinces. But he warned that if hardliners sought to bring their brand of divisiveness to Papua, he would have them expelled. Indonesian human rights researcher Andreas Harsono said that following recent violence in Wamena, a number of Islamic groups mobilised in Javanese cities.
Those organisations had been making two types of public calls - one, from a Muslim NGO network, was urging people to donate to humanitarian assistance for victims of the unrest in Wamena and other parts of Papua.
The other, from the likes of the FJI and the Islamic Defenders Front, was a call to recruit jihadis to go to Papua and protect fellow Muslims.
According to Mr Harsono, his concern stems from the way that most Indonesians have limited knowledge of the situation in Papua and the context of widespread human rights abuses there.
"Most victims are indigenous Papuans. Many Indonesians do not know the problems there," he said.
"But because of emotions, because of sentiment, Muslim sentiment, they might think that fellow Muslims are being victimised in Papua. Thus, they will provide the ingredients to support these kind of misleading calls."
While noting his concern, the researcher also said that he didn't deem the threat as major currently because as yet no cleric of significant influence had called for jihadis in Papua.
Furthermore, Mr Harsono said that Indonesian military and police personnel were on hand to provide security in Wamena and other towns in a region where the population was predominantly Christian.
While Papua has generally enjoyed harmonious inter-religious relations, Mr Harsono said groups aggressively promoting sharia law already had a foothold in the region.
"We have one in Sorong; we are also seeing Laskar Jihad, a militant Muslim group, setting up a base in Keerom; also in Wamena - not militant, but quite aggressive.
"So these kinds of organisations are starting to appear in many parts of both Papua and West Papua provinces over the last decade."
The presence of hardline Islamic campaigners in Keerom regency, which sits right on the border with Papua New Guinea, is not the only security concern along the 141st meridian east.
Land and sea access points between the two countries were closed last week after two people died in a shootout near the border on the Indonesian side where there's been a troop build-up.
The governor of PNG's West Sepik province, Tony Wouwou, said fellow Melanesians on the other side looked to flee across the border to safety in PNG.
But he said having Indonesian military in pursuit of them brought risk for his people.
Full report at:
https://www.rnz.co.nz/international/pacific-news/400470/call-for-jihadis-to-go-to-west-papua-following-unrest
--------
Arab World
15 dead, over 40 wounded as Turkey bombards Syria; thousands flee for safety
October 10, 2019
At least 15 people have died since Turkey started bombarding Syria on late Wednesday night. Reports say at least eight of the 15 dead in the Kurdish-controlled region of northeaster Syria were civilians.
News agency AFP reported that the Syrian Observatory for Human Rights (SOHR) has said at least two of the civilian victims were killed in artillery strikes on the city of Qamishli.
The Turkish bombardment comprised limited number of air strikes and mostly artillery fire. AFP said this was carried out "across most of the width of its long border with Kurdish-controlled regions of Syria".
Quoting SOHR, AFP said more than 40 people have been wounded in the bombardment so far.
Meanwhile, news agency Reuters reported that thousands of people have fled the Syrian town of Ras al Ain towards Hasaka province, held by the Kurdish-led Syrian Democratic Forces.
Reuters journalists on the Turkish side of the frontier watched as explosions struck the Syrian town of Tel Abyad. After dark, the red flare of rockets could be seen fired across the border into Tel Abyad, and flames burned near the town.
A witness reached by telephone said civilians were fleeing en masse.
Explosions also rocked Ras al Ain, just across the border from the Turkish town of Ceylanpinar, according to a reporter for CNN Turk. The sound of warplanes could be heard above and smoke rose from buildings in Ras al Ain, he said.
THE US ANGLE
The assault on the Kurds - for years Washington's main allies on the ground in Syria - is potentially one of the biggest shifts in years in an eight-year war that has drawn in global and regional powers. The Kurds played a leading role in capturing territory from Islamic State, and now hold the largest swathe of Syria outside of Bashar al-Assad's government's hands.
US President Donald Trump's decision to pull forces out of the way was denounced by some Kurds as a "stab in the back" and strongly criticised in Washington, even by loyal senior figures in his own Republican Party.
Donald Trump called the Turkish assault a "bad idea" and said he did not endorse it. He expected Turkey to protect civilians and religious minorities and prevent a humanitarian crisis, he said.
But one of Trump's closest allies, Senator Lyndsey Graham, said failing to support the Kurds would be "the biggest mistake of his presidency".
Representative Liz Cheney, a Republican hawk, said: "The U.S. is abandoning our ally the Kurds, who fought ISIS (Islamic State) on the ground and helped protect the U.S. homeland. This decision aids America's adversaries, Russia, Iran, and Turkey, and paves the way for a resurgence of ISIS."
AIM IS TO ELIMINATE TERROR CORRIDOR: TURKEY
Turkish President Tayyip Erdogan, announcing the start of the action, said the aim was to eliminate what he called a "terror corridor" on Turkey's southern border.
European countries called on Ankara to halt the operation and Egypt denounced "a blatant and unacceptable attack on a brotherly Arab state".
Turkey had been poised to enter northeast Syria since the US troops who had been fighting alongside Kurdish-led forces against Islamic State started to leave.
A Turkish security source told Reuters the military offensive, dubbed "Operation Peace Spring", opened with air strikes. Turkish howitzer fire then hit bases and ammunition depots of the Kurdish YPG militia. Turkey says the YPG, the main component of the US-backed SDF, is a terrorist group linked to Kurdish insurgents that have fought in Turkey for years.
The artillery strikes, which also targeted YPG gun and sniper positions, were aimed at sites far from residential areas, the Turkish source said.
The SDF said military positions and civilians in the city of Qamishli and the town of Ain Issa - more than 30 km (20 miles) inside Syria - had been hit.
Turkish media said mortar and rocket fire from Syria struck the Turkish border towns of Ceylanpinar and Nusaybin. There were no immediate reports of casualties there.
WORSE TURMOIL
World powers fear the Turkish action could open a new chapter in Syria's eight-year-old war and worsen regional turmoil. Ankara has said it intends to create a "safe zone" in order to return millions of refugees to Syrian soil.
In the build-up to the offensive, Syria had said it was determined to confront any Turkish aggression.
The SDF controls much of the territory that once was held by Islamic State and is holding thousands of Islamic State fighters and tens of thousands of their relatives in detention.
It halted operations against Islamic State because of the Turkish offensive, two U.S. officials and a Kurdish source said. One of the officials said U.S. training of forces in Syria had also been affected. Washington aims to train tens of thousands of SDF fighters to stabilise the former Islamic State areas.
The United Nations Security Council will meet on Thursday at the request of European countries.
The Kurdish-led authority in northern Syria declared a state of "general mobilisation" before calling on its people to head towards the border "to fulfil their moral duty and show resistance in these sensitive, historic moments".
Erdogan's communications director Fahrettin Altun said Turkey had no ambition in northeastern Syria except to neutralise the threat against Turkish citizens and to liberate the local people from what he called "the yoke of armed thugs".
Turkey was taking over leadership of the fight against Islamic State in Syria, he said.
Turkish-backed Syrian rebels had travelled from northwest Syria to Turkey in preparation for the incursion. "Strike them with an iron fist, make them taste the hell of your fires," the National Army told its fighters.
Russia, Syrian President Bashar al-Assad's strongest foreign ally, urged dialogue between Damascus and Syria's Kurds on solving issues in northeast Syria.
"We will do our best to support the start of such substantive talks," Foreign Minister Sergei Lavrov said.
https://www.indiatoday.in/world/story/turkey-syria-conflict-bombardment-civilians-killed-death-toll-1607736-2019-10-10
--------
Syria: Trump says he hopes Turkey's Erdogan 'will act rationally'
9 October 2019
US President Donald Trump said on Wednesday he hoped that his Turkish counterpart Recep Tayyip Erdogan would "act rationally" as his military launched a broad assault on Kurdish-controlled areas in northeast Syria.
The intense bombing is expected to pave the way for a ground offensive made possible by Trump's decision to pull back US troops in the area - a move roundly criticized in Washington, even by some of Trump's own Republicans.
"I hope that he will act rationally," Trump said of Erdogan at the White House. Earlier, Trump said Turkey's incursion was a "bad idea."
The US leader added that if the Turkish operation is not conducted "in as humane a way as possible... I'll wipe out his economy."
"If he does it unfairly, he is going to pay a big economic price," Trump warned.
Attack on Syria is 'a bad idea'
Earlier on Wednesday, President Trump warned Turkey against attacking Syria, saying its assault was "a bad idea" not backed by the United States, and called on Ankara to protect religious minorities.
"The United States does not endorse this attack and has made it clear to Turkey that this operation is a bad idea," Trump said in a statement released by the White House.
Full report at:
https://english.alarabiya.net/en/News/middle-east/2019/10/09/Trump-says-Turkey-s-attack-on-Syria-is-a-bad-idea-.html
--------
US moves two British ISIS members known as 'The Beatles' from Syria
10 October 2019
Two British militants believed to be part of an ISIS cell that beheaded hostages and was known as "The Beatles" have been moved out of a detention center in Syria and are in American custody, US officials said Wednesday.
President Donald Trump said earlier Wednesday that the US has moved some ISIS prisoners amid fears some could escape custody as Turkey invades northeast Syria.
The two men, El Shafee Elsheikh and Alexanda Amon Kotey, along with other British extremists, allegedly made up the ISIS cell nicknamed "The Beatles" by surviving captives because of their English accents.
In 2014 and 2015, the militants held more than 20 Western hostages in Syria and tortured many of them. It beheaded seven American, British and Japanese journalists and aid workers and a group of Syrian soldiers, boasting of the butchery in videos released to the world.
US officials said the two were taken out of Syria by US military and law enforcement personnel to ensure they did not escape if security broke down as a result of the Turkish incursion. So far they are the only two ISIS militants removed from Syria by the US, but officials say a number of others could also be moved if needed.
Another official said the two men were taken to Iraq out of an abundance of caution, adding that the United States is still fully committed to seeing them brought to justice.
The officials spoke on condition of anonymity to discuss military movements.
Turkey is attacking the formerly US-backed Syrian Defense Forces, a Kurdish force that battled ISIS alongside American troops and now is responsible for guarding thousands of detained militants.
But guarding those prisoners is now expected to be less of a priority for the Kurdish forces as they rush to defend their territory against the invading Turkish military.
Trump told reporters at the White House that some of the "most dangerous" had been moved, but he provided no details. Although just the two have been relocated so far, but thousands of other ISIS detainees remain in custody and there are no immediate concerns the Kurds will completely abandon the facilities.
"We're putting them in different locations where it's secure," Trump said.
The US officials said that some Kurds left the prisons to join the fight but did not flee in large numbers. The officials said operations against remaining members of ISIS are on hold following the invasion Wednesday by Turkey, which sees the Kurds as a threat and is trying to create a buffer zone between the territory held by the SDF and the Syrian border.
The two British men were captured in January in eastern Syria by the Kurdish forces amid the collapse of ISIS. Their detention set off a debate in the US and Europe over how to prosecute their citizens who joined ISIS.
Among the journalists they killed was American James Foley, who was first, followed by fellow Americans Steven Sotloff and Peter Kassig, British aid workers David Haines and Alan Henning and Japanese journalists Haruna Yukawa and Kenji Goto. The beheadings, often carried out on camera, horrified the world soon after ISIS took over much of Iraq and Syria in 2014.
In March, Kurdish and US forces cleared the last members of ISIS from what was left of their self-declared caliphate, which once sprawled across a large part of Iraq and Syria.
US officials said American forces are not out doing patrols looking for ISIS fighters because their Kurdish partners are more focused on the Turkish fight. But they said US operations could restart quickly if needed.
About 30 to 50 US troops were moved out of the way from two outposts in the border region.
There are a number of US forces in other bases just outside the so-called safe zone as well as in Manbij and other locations around the country. They have not been moved but are mainly staying in place to avoid attacks.
There are about 2,500 ISIS foreign fighters being detained in Syria, along with about 10,000 fighters from Syria and Iraq.
Trump and other US officials have repeatedly pressed other nations across Europe and the Middle East to take back the detainees from their countries. But international leaders have been largely reluctant and have been slow to take any back.
Full report at:
https://english.alarabiya.net/en/News/middle-east/2019/10/10/US-military-takes-custody-of-two-high-profile-ISIS-extremists.html
--------
ISIS militants hit US-backed Kurdish fighters in north Syria
9 October 2019
A US-backed force and two Syrian activist groups say ISIS militants have carried out an attack in the city of Raqqa in northern Syria.
The early Wednesday attack targeted a post of the US-backed Kurdish-led Syrian Democratic Forces in Raqqa, which was once the extremists' de facto capital.
The attack comes as Turkey is expected to launch an offensive against the Kurdish fighters in northeastern Syria.
The Kurdish fighters say ISIS launched three suicide attacks against its positions in Raqqa. There was no word on casualties.
Raqqa is being Silently Slaughtered, an activist collective, reported an exchange of fire and a blast.
Full report at:
https://english.alarabiya.net/en/News/middle-east/2019/10/09/ISIS-militants-hit-US-backed-Kurdish-fighters-in-north-Syria.html
--------
Protests resume in Iraq's Sadr City as uprising enters second week
9 October 2019
Iraq's government issued a second package of proposed social reforms on Tuesday in an attempt to appease the demands of anti-government protesters who for eight days have demonstrated nationwide, with the loss of 110 lives and 6,000 wounded.
Prime Minister Adil Abdul Mahdi issued a 13-point plan centered on subsidies and housing for the poor, as well as training and educational initiatives for unemployed youth.
Abdul Mahdi, following a cabinet meeting, posted his reforms on social media. Most Iraqis have been cut off from the internet and social media for several days now.
Protests resumed on Monday night in Baghdad's Sadr City district, with at least one member of the security forces killed, although much of Iraq appeared quieter than it has been for a week as politicians sought a way to end an uprising.
Iraqi security forces began arresting protesters after nightfall on Tuesday in eastern and northwestern parts of Baghdad, police sources told Reuters. Police were carrying photos of protesters taken in recent days to identify them and arrest them. Iraq's semi-official high commission for human rights said that 800 people had been detained last week, with about 500 already released.
Protesters, who have called for the removal of the government and a political class it views as corrupt have clashed with the security forces, mainly in Baghdad and the south.
Iraq's military said on Tuesday one member of an Interior Ministry force was killed and four wounded when they came under fire from unknown assailants in Sadr City, where 15 people died the previous night in riots.
The violence has been the worst in Iraq since it put down an insurgency by the Sunni Muslim Islamic State group nearly two years ago, and the biggest test for Abdul Mahdi, in office for a year.
The spread of the violence to Sadr City this week could heighten the security challenge posed by the protests. Unrest has historically been hard to put down in the district, where around a third of Baghdad's 8 million people live with little electricity or water and few jobs.
Protesters set fire to tires outside the municipal council building and courthouse in Mudhaffar Square, police said. The gunfire that targeted the security forces was fired from a crowd of protesters, according to the police.
Full report at:
https://english.alarabiya.net/en/News/middle-east/2019/10/09/Protests-resume-in-Iraq-s-Sadr-City-as-uprising-enters-second-week.html
--------
Civilians flee Syrian border towns as Turkish offensive kicks off
Oct 9, 2019
Syrians fled on foot and by car from border towns as Turkey launched a military operation against Kurdish fighters in northeast Syria on Wednesday (October 9), a news agency reported.
Video posted online by North Press Agency appears to show civilians leaving the Syrian towns Tel Abyad and Sari Kani, as plumes of smoke rose into the air.
Turkish President Tayyip Erdogan, announcing the start of the action, said the aim was to eliminate what he called a "terror corridor" on Turkey's southern border, but European countries immediately called on Ankara to halt the operation.
Full report at:
https://www.presstv.com/Detail/2019/10/09/608285/Syria-Turkey-Kurds-
--------
Syrian Kurds 'positive' about dialogue with Damascus
Oct 9, 2019
Kurdish communities in northern Syria have welcomed an offer of dialogue with the Syrian government made by Russia amid Turkey's operation against Kurds in the region.
"We view positively Russian Foreign Minister Sergei Lavrov's statements about the matter of dialogue between the self-administration and the Syrian government," a statement from the Kurds said on Wednesday.
"We look to Russia having a role ... as a supporter and guarantor."
The Kurds believe intra-Syrian dialogue is the best way to resolve the crisis in the Arab country.
Earlier on Wednesday, Russia called for dialogue between the government in Damascus and the Kurdish forces controlling the northern region.
A few hours after the statement was issued, Turkey began its long-threatened operation against the US-backed People's Protection Units (YPG), a Syrian Kurdish group, which it considers as a terrorist organization and an extension of the PKK, which has been fighting for an autonomous region inside Turkey since 1984.
The YPG's American patron has left them to face the Turkish forces on their own. The United States had more than 1,000 troops deployed alongside the YPG, which leads the Syrian Democratic Forces (SDF).
Full report at:
https://www.presstv.com/Detail/2019/10/09/608269/Kurds-view-dialogue-with-Syria-positively
--------
Egypt denounces Ethiopia for moving ahead with Nile dam amid water-shortage fears
October 09, 2019
CAIRO: Egypt denounced Ethiopia on Wednesday for moving forward with building and operating a hyropower dam on the Nile, which Cairo worries will threaten already scarce water supplies.
Ethiopia, the source of the Blue Nile which joins the White Nile in Khartoum and runs on to Egypt, says the dam will not disrupt the river's flow and hopes the project will transform it into a power hub for the electricity-hungry region.
A diplomatic standoff has heightened tension between the countries, which have held on-again-off-again talks over the Grand Ethiopian Renaissance Dam (GERD) for years.
They signed a "declaration of principles" with Sudan in 2015 as a basis for negotiations, but no breakthrough has been made since.
Egypt relies on the Nile for up to 90% of its fresh water, and fears the dam, which is being built in Ethiopia close to the border with Sudan, will restrict already scarce supplies.
"Ethiopia's moving forward with the operation and filling of the Renaissance Dam is unacceptable and a clear violation of the Declaration of Principles and will have negative consequences for stability in the region," Egyptian Foreign Minister Sameh Shoukry said in parliament on Wednesday.
"We call on the international community to shoulder its responsibility in finding a solution that satisfies all parties."
After talks stalled, Egypt submitted a proposal on Aug. 1, including conditions over filling the reservoir.
Earlier this month, Ethiopia rejected that proposal, calling it "an effort to maintain a self-claimed colonial era-based water allocation and veto power on any project in the Nile system."
Full report at:
https://www.arabnews.com/node/1566451/middle-east
--------
Mideast
Saudi-Led Militia Rape Several Children in Southwestern Yemen
Oct 09, 2019
The Stockholm-based International Peace Organization for Relief and Human Rights prepared a field report saying that 12 children, some of them as young as 8, were raped by members of the Saudi-led coalition which fights and has occupied some regions of Yemen, including Ta'iz city near the Strait of Bab al-Mandab.
The report includes testimonies of family members of four male victims who have disclosed the Saudi-UAE-led militia have raped their children in the past 8 months.
They said that in two cases, the children were raped by members of al-Islahi party which is a branch of Ikhwan al-Muslimoum in Yemen and an ally of Saudi Arabia.
An investigation by the Amnesty International had also revealed in March that children as young as eight years old had been raped in the Yemeni city of Ta'iz. The suspected perpetrators, including members of militias backed by the Saudi Arabia-led Coalition, are yet to be held to account.
The families of four boys told Amnesty International that their sons had been sexually assaulted in a series of incidents over the past months.
"The heartbreaking testimonies of these young survivors and their families expose how the ongoing conflict has rendered children vulnerable to being sexually exploited in a city plagued by weak security and institutions. These victims and their families have been left unprotected and alone to face the horrific ordeal of sexual abuse and its aftermath," said Heba Morayef, Regional Director for the Middle East and North Africa at Amnesty International.
Amnesty International had documented four cases of sexual violence, namely the rape of three children and the attempted sexual assault of a fourth.
These cases documented by Amnesty International did not appear to be the only incidents. Families and local activists reported at least two other cases in which families were too afraid to talk, fearing reprisal from local militias that are largely backed by members of the Saudi Arabia-led Coalition in Yemen. Two of the four affected families had had to relocate, fearing reprisals from militias.
https://en.farsnews.com/newstext.aspx?nn=13980717000532
--------
Turkey tells UN Security Council its Syria operation to be 'proportionate'
10 October 2019
Turkey told the United Nations Security Council on Wednesday that its military operation in northern Syria would be "proportionate, measured and responsible" ahead of a closed-door meeting of the 15-member body to discuss Ankara's offensive.
The operation began on Wednesday to eliminate what Turkish President Tayyip Erdogan called a "terror corridor" on Turkey's southern border with Syria, just days after an abrupt decision by US President Donald Trump to move US troops from the area who had been allies of the Kurds fighting ISIS.
Turkey says the Kurdish YPG, the main component of the US-backed Syrian Democratic Forces, is a terrorist group linked to Kurdish insurgents that have fought in Turkey for years.
The UN Security Council will meet on Thursday to discuss the situation in Syria at the request of the body's five European members, Britain, France, Germany, Belgium and Poland.
"As has been the case in its previous counter-terrorism operations, Turkey's response will be proportionate, measured and responsible," Turkey's UN Ambassador Feridun Sinirlioglu wrote in a letter to the council seen by Reuters.
"The operation will only target terrorists and their hideouts, shelters, emplacements, weapons, vehicles, and equipment," he wrote. "All precautions are taken to avoid collateral damage to the civilian population."
Turkey justified its action under Article 51 of the UN Charter, which covers an individual or collective right to self-defense against armed attack.
United Nations Secretary-General Antonio Guterres is "very concerned" by developments in northeast Syria and "any military operation must fully respect the UN Charter and international humanitarian law," UN spokesman Farhan Haq said.
Full report at:
https://english.alarabiya.net/en/News/middle-east/2019/10/10/Turkey-tells-UN-Security-Council-its-Syria-operation-to-be-proportionate-.html
--------
Iran has tech to build warships, seeks to expand regionally: IRGC head
9 October 2019
Iran has the latest defense technologies to produce warships and is looking to expand its presence in the region, claimed the commander of Iran's Islamic Revolutionary Guard Corps (IRGC) Hossein Salami on Wednesday, reported the semi-official Tasnim news agency.
"Today, Iran and the IRGC possess the latest technologies for producing and upgrading military vessels," said Salami.
Iran should move towards the production of unmanned ships, he said, adding that the country has the "knowledge" to produce such ships.
Despite sanctions, the IRGC's achievements in defense are "innumerable," Tasnim cited Salami as saying.
Iran's Supreme Leader Ali Khamenei is "pleased" but not "convinced" with the progress made in Iran's defense capability, said Salami, adding: "That is why we must strive to advance further in this area."
Salami also said that Iran is looking to expand its presence in the region.
"All of our efforts are in order to move the enemy away from the heart of Islam, and for this reason we seek to expand the strategic depth of the Islamic Republic's presence in the region," he said, adding that "As per the Supreme Leader [Khamenei]'s saying," Iran must expand the "geography of resistance."
Iran is accused of pursuing aggressive policies in the region, including attacking Saudi Arabia's oil facilities, threatening shipping in the Arabian Gulf, and continuing to support proxy organizations in Lebanon, Iraq, and Yemen.
No country has the right to interfere in the fate of the Iranian people, said Salami. "All world powers should know that if they want to play with the fate of the Iranian nation, we will play with their fate."
Salami had previously claimed that Iran is capable of attacking its enemies anywhere, and that Israel's destruction is now an "achievable goal."
Tensions in the region have been heightened after the September 14 attacks on Saudi Aramco oil facilities, which Iran is widely accused of carrying out.
Full report at:
https://english.alarabiya.net/en/News/middle-east/2019/10/09/Syrian-Democratic-Forces-We-have-evidence-that-Turkey-supports-ISIS.html
--------
Rouhani: Turkey has every right to have concerns over its southern borders
9 October 2019
Iran's President Hassan Rouhani called on Turkey to show restraint and avoid military action in Northern Syria, and said US forces should leave the region.
"Turkey is rightfully worried about its southern borders. We believe that a correct path should be adopted to remove those concerns... American troops must leave the region... Kurds in Syria... should support the Syrian army," state news agency IRNA quoted Rouhani as saying.
Full report at:
https://english.alarabiya.net/en/News/middle-east/2019/10/09/Rouhani-Turkey-has-every-right-to-have-concerns-over-its-southern-borders.html
--------
Turkey seeks to 'take over new lands for ISIS' through Syria offensive, SDF says
9 October 2019
Turkey seeks to "take over new lands for ISIS" through its planned offensive in northeastern Syria, the Syrian Democratic Forces (SDF) said in a press conference on Wednesday.
"Through these attacks, Turkey seeks to take over new lands for ISIS, and prolong the life of these organizations and we do not accept in any way the attacks of Turkey and anyone supporting it," an SDF spokesman said.
The Turkish defense ministry earlier said preparations for a military operation in northern Syria against a Kurdish militia viewed by Ankara as terrorists were "completed."
US President Donald Trump had ordered the withdrawal of US troops from Turkey's border with Syria after a phone call with his counterpart Recep Tayyip Erdogan.
The Turkish president has repeatedly threatened to attack Kurdish militants in northern Syria due to their ties with separatists in his own country.
"The whole world knows the aim of this Turkish attack on northeast Syria. We call on human rights organizations, democratic institutions, the EU and the UN to take an opposing stance toward the Turkish attack and anyone who ignores it will be considered a supporter of its acts," the SDF spokesman said.
Full report at:
https://english.alarabiya.net/en/News/middle-east/2019/10/09/Syrian-Democratic-Forces-We-have-evidence-that-Turkey-supports-ISIS.html
--------
Condemnations pour in as Turkey continues Syria military operation
Oct 10, 2019
Turkey's military operation against Kurdish militants in northeast Syria has sparked a wave of condemnations from across the world, with the UN Security Council and Arab League set to hold emergency meetings.
In a post on its Twitter account early Thursday, the Turkish Defense Ministry said the troops participating in Operation Peace Spring were advancing east of the Euphrates River following a ground offensive.
Turkey's Vice President, Fuat Oktay, also took to Twitter to stress the army's resolve to keep fighting the Kurdish militants in Syria, which Ankara views as terrorists linked to local autonomy-seeking militants of the Kurdistan Workers' Party (PKK).
"Turkey, acting within the framework of its rights arising from international law and the 'right of self-defense' set out in the UN Charter, is determined to drain the swamp of terror that threatens our borders and poses a threat to the whole world," he said.
"It is our greatest expectation that the world public opinion will have the same determination in the fight against terrorist organizations," he added.
Turkey launched the operation in northeast Syria on Wednesday; just days after the US pulled forces out and abandoned its Kurdish allies there.
Several countries raised concerns about Turkey's Syria campaign, demanding a halt to the offensive.
On Wednesday, Australian Prime Minister, Scott Morrison, voiced worries about a possible resurgence of the Daesh Takfiri terrorist group in the aftermath of Turkey's operation.
Morrison said he was "deeply concerned" about Turkey's actions and has expressed his concerns about the safety of civilians and the Kurdish people to both the Turkish and US governments.
Additionally, European Commission President, Jean-Claude Juncker, urged Turkey to halt its military operation in Syria.
"I call on Turkey as well as on the other actors to act with restraint and to stop operations already, as we are speaking, underway," he said while acknowledging Turkey's security concerns on its Syrian border.
"If the Turkish plan involves the creation of a so-called safe zone, don't expect the European Union to pay for any of it," he warned.
Moreover, Egypt's Foreign Ministry "condemned in the strongest terms the Turkish aggression on Syrian territory," saying the offensive "represents a blatant and unacceptable attack on the sovereignty of a brotherly Arab state."
Egyptian President, Abdel Fattah el-Sisi, discussed the issue with his Iraqi counterpart, Barham Salih, in a phone call on Wednesday.
"The Turkish aggression ... represents a dangerous development that threatens international peace and security and exacerbates the crisis situation in the region," Egypt's Akhbar el-Yom quoted presidential spokesperson Bassam Rady as saying.
Meanwhile, the so-called Syrian Observatory for Human Rights (SOHR) said the Turkish bombardment of northeast Syria had killed at least 15 people, eight of them civilians, and injured more than 40 others.
The Turkish Defense ministry said on Wednesday that the army had hit a total of 181 militant targets with airstrikes and howitzers since the start of the operation.
However, the so-called Syrian Democratic Forces (SDF), a US-backed anti-Damascus alliance of mainly Kurdish militants, said Turkish forces had not advanced and that their ground attack has been repelled in the Syrian town of Tell Abyad.
Full report at:
https://www.presstv.com/Detail/2019/10/10/608305/Syria-Turkey-Kurd
--------
Israeli military court slaps heavy fine against Palestinian, gives 18 years in jail
Oct 9, 2019
An Israeli military court has sentenced a Palestinian to 18 years in prison and imposed a hefty fine on him in keeping with the Tel Aviv regime's racial profiling and its policy of repression, abuse and deliberate medical negligence.
On Wednesday, the Ofer military court near the occupied West Bank city of Ramallah ordered 57-year-old Raed Mohammed Badwan to pay a fine of 500,000 Israeli shekels (over $142,000).
Badwan has been held in the Ofer prison since August 6, 2015, and has attended more than 56 trials ever since he was arrested. He suffers from several chronic diseases, such as heart disorder, high blood pressure and diabetes, and has more than ten gunshot wounds on his body.
The Palestinian was arrested for allegedly carrying out a run-over operation on the 60th Street near the town of Sinjil northeast of Ramallah. Israeli soldiers fired 12 bullets at his car, all of which lodged in his body.
Badwan was transferred to the intensive care unit at the Shaare Zedek Medical Center in Jerusalem al-Quds, where he underwent surgery. Doctors removed six bullets, but the rest remained in various parts of his body, including the neck, head, chest, hand and back.
On Tuesday, the Palestinian Center for Human Rights (PCHR) sent an urgent appeal to the United Nations (UN) Special Rapporteur on the situation of human rights in the Occupied Palestinian Territory, Michael Lynk, and the UN Special Rapporteur on torture and other cruel, inhuman or degrading treatment or punishment, Nils Melzer, concerning the situation of Palestinian detainee Samer al-Arbeed.
The PCHR argued that Israel's internal spy service, Shin Bet, employs torture to investigate Palestinian prisoners, emphasizing that extraordinary measures used by Israeli interrogators have led to the deterioration of Arbeed's medical condition.
The center expressed concern that resumption of Arbeed's interrogation can lead to further deterioration in his health and endanger his life.
The PCHR called on the UN special rapporteurs to publicly condemn Israel's use of extraordinary measures, which amount to torture, against Palestinian prisoners, and to compel the Israeli regime to stop the practice.
More than 7,000 Palestinians are reportedly held at Israeli jails. Hundreds of the inmates have apparently been incarcerated under the practice of administrative detention, a policy under which Palestinian inmates are kept in Israeli detention facilities without trial or charge.
Some Palestinian prisoners have been held in administrative detention for up to eleven years.
Palestinian inmates regularly stage hunger strikes in protest at the policy and their harsh prison conditions in Israeli jails.
Full report at:
https://www.presstv.com/Detail/2019/10/09/608268/Israeli-court-Palestinian-
--------
Europe
Muslim World League slams abuse of Jewish students in Australia
October 10, 2019
MAKKAH: The Muslim World League (MWL) denounced on Tuesday two attacks on Jewish boys committed by Muslim students in Australia, calling them "appalling and barbaric" and "contrary to the doctrine of Islam."
Last week, Australian media broadcast images showing a Jewish student pressured to kneel and kiss the shoes of his Muslim classmate. According to local reports, the Jewish student was a 12-year-old from Melbourne.
In a separate incident, a 5-year-old boy was allegedly called a "Jewish cockroach" and was repeatedly bullied, the Sydney Morning Herald reported.
In Islam, Judaism is considered a divine religion and Allah called Jews and Christians "the People of the Book," said MWL Secretary-General Dr. Mohammed bin Abdulkarim Al-Issa.
He reiterated the MWL's condemnation of any abusive behavior toward anyone based on their religion, culture, ethnicity or color.
https://www.arabnews.com/node/1566666/world
--------
Healthy Muslim Minds event attempts to break down mental health stigma
Freelance Reporter
By Hope Kahn
For The Diamondback
Seven out of 13 people responded that their day was a three — meaning simply average — on an anonymous survey at the beginning of the Healthy Muslim Minds event Tuesday.
The event, part of Mental Health Awareness Week at the University of Maryland, focused on four topics, catered to the Muslim community: depression, anxiety, stress and self care.
Hannah Shraim, the Muslim Students' Association secretary, said that counselor Nehal El Guindy, who is Muslim, approached MSA wanting to create a mental health event catered to the Muslim community. El Guindy, along with the MSA, collaborated to hold the event at the Edward St. John Learning and Teaching Center.
Shraim said mental health can be a "taboo subject" in her faith.
"We're given tools to help us understand and deal with mental health," she said. "But within our cultures, we don't really talk about if we're feeling anxious or if we have depression. If you do, people just advise you to pray it off."
El Guindy, along with Kayi Hui-Spears, another counselor, guided the presentation with a focus on creating dialogue among the audience. A hypothetical scenario was given to discuss, a brainstorm session on self care tips was held and affirmations were written on post-it notes.
The presentation highlighted the challenges facing Muslim youth, including feelings of alienation and isolation, and the difference in cultures at home and outside. Possible Muslim mental health stigmas and taboos were described with quotes, such as, "you're just not praying enough," or that "your faith isn't strong enough."
Chaplain Tarif Shraim spoke about the misunderstanding and ignorance of mental health within the culture.
"We are made of body and soul," Tarif Shraim said. "Healing is at the heart of our culture. When we discuss cancer we expect someone to seek medication or treatment, but for some reason when we speak of mental health, we don't want people to seek treatment."
Ahmad Dajani, a senior information systems and operations management and business analytics major, said that because he has been exposed to enough people who suffer, he can't ignore the importance of mental health.
"Last night, I was helping a friend who was going through a panic attack, and in some moments I knew what to say, and in others I didn't," Dajani said. "[The event] gave context to what level my peers are at and some of them were not as aware of how to deal with struggles. It gave me context as where we are as a community when dealing with mental health."
Tasnim Benalla, a public relations officer for the MSA, said that the event was not only trying to create a safe space for Muslim students to talk about their feelings, but also to bring awareness to the resources available on campus.
Full report at:
https://dbknews.com/2019/10/09/umd-college-park-healthy-muslim-minds-event/
--------
Religion faculty launch first-ever Shiism track for Islamic studies students
By Roman Bobek
Oct 9, 2019
Graduate students studying Islam can now concentrate in the faith's second-largest branch, Shia.
Religion department faculty launched a Shiite track in the Master of Arts program in Islamic studies this semester, the first graduate program in the country that directly focuses on Shia Islam, according to faculty. The department's professors said the program will raise GW's profile among scholars of the faith and give students the chance to extensively study the faith, which is followed by about 150 to 200 million people worldwide.
Robert Eisen, the department's chair, said he and Mohammad Faghfoory, the director of the Islamic studies program, created the concentration based on interest from students and inquiries from potential applicants to the Islamic studies program.
"We believe there is widespread interest in the Shiism track and that the new track will attract many students," he said in an email.
Eisen said students who want to concentrate in Shia Islam will take the same required classes as students in the regular track, which combines courses about both branches of Islam. But students will instead take four courses about Shiism in place of four electives and are expected to write their master's thesis on the branch, he said.
He said these courses will include Philosophy and Mysticism in the Shi'i World, Shi'i Political Thought and Principles of Shi'i Jurisprudence.
Eisen said the department onboarded just one new part-time lecturer to offer the track this semester, adding that all the department's current Islamic studies professors are already fully equipped to teach Shia courses based on their previous experiences. "We have provided a program about a subject for which there is great interest and curiosity for those wanting to engage in the study of Islam," he said.
Faghfoory, the Islamic studies program director, said the curriculum is "applicable" to both students interested in becoming religious leaders and those interested in learning about the compatibility of Shiism's teachings with "the realities of life" in the United States, which are often seen to be at odds with each other. He said the addition enables GW's religion department to stand out among other universities' programs.
Four of GW's 12 peer schools have graduate programs in Islamic studies, but none of them include a track focusing specifically on Shia Islam.
"I can safely say that this is the only program on Islamic studies which deals with both Shi'ite Islam and Sunni Islam," Faghfoory said.
He said one of the primary goals of Islamic studies faculty in offering the track is to prepare graduate students to apply for Islamic studies doctoral programs at other universities. But Faghfoory added that he also hopes the program will have an impact on a community level, not just an academic one, by encouraging more students to take an active role in religious life.
"The most immediate objective of the program, as far as the community's concern is to attract – I should say, re-attract – the younger generations into getting to know religion, studying religion and practicing religion," he said.
Faghfoory said that as Shiism increasingly becomes relevant in international and domestic politics in the aftermath of events like the Iranian Revolution in 1979 and the U.S. invasion of Iraq in 2003, students will benefit from specialized knowledge of the religion.
He said he also hopes the program will entice first- and second-generation Shia immigrants interested in learning more about their own tradition and becoming an active part of the American "melting pot."
"The courses are designed in such a way that they will not be abstract discussions of intellectual history or intellectual issues, philosophy, theology or the law, but in such a way that they will be applicable to contemporary life," Faghfoory said.
Rasoul Naghavi Nia, the president of the Mufid Academic Seminary – a local organization that promotes Shiite studies in Western academia – said he submitted proposals to several universities to create concentrations in Shia Islam, and GW's religion department accepted his offer.
He added that the group's leaders are collaborating with faculty to provide scholarships to students interested in studying Shiism who are seeking financial support.
Naghavi said this program is "long overdue" because studies on other minority Islamic groups like Ismailism – a sect that constitutes about 1 percent of the global Muslim population – have received more attention than those on Shiism.
He said the other schools he contacted have not yet taken any action to create Shia concentrations in their respective Islamic studies programs, but he is hopeful that they will follow GW's lead.
Full report at:
https://www.gwhatchet.com/2019/10/09/religion-faculty-launch-first-ever-shiism-track-for-islamic-studies-students/
--------
UN Security Council head appeals to Turkey for restraint in Syria
9 October 2019
The UN Security Council's president, South African ambassador Jerry Matthews Matjila, appealed to Turkey Wednesday to "protect civilians" and exercise "maximum restraint" in its military operations in Syria.
Matjila expressed hope the council could meet quickly on the situation but stressed it was up to drafters of resolutions on Syria to convene such a session.
Belgium, Germany and Kuwait are the council members designated to follow the humanitarian situation in Syria, so it would fall to them to convene a council session.
The South African diplomat, who holds the council presidency for the month of October, spoke before the start of a meeting devoted to the Democratic Republic of Congo.
Full report at:
https://english.alarabiya.net/en/News/middle-east/2019/10/09/UN-Security-Council-head-appeals-to-Turkey-for-restraint-in-Syria-.html
--------
EU urges Turkey to halt Syria offensive, says won't pay for 'safe zone'
9 October 2019
EU chief Jean-Claude Juncker on Wednesday demanded Turkey halt its military operation against Kurdish militants in northern Syria, telling Ankara the bloc would not pay for any so-called "safe zone" that might be created.
"I call on Turkey as well as the other actors to act with restraint and to stop operations already as we are speaking under way," Juncker said at the European Parliament.
https://english.alarabiya.net/en/News/middle-east/2019/10/09/EU-urges-Turkey-to-halt-Syria-offensive-says-won-t-pay-for-safe-zone-.html
--------
France's Macron says 'worried' about Turkey offensive in meeting with Syrian SDF
9 October 2019
French President Emmanuel Macron met on Tuesday with Jihane Ahmed, the spokeswoman for the Kurdish-led Syrian Democratic Forces (SDF), to express France's solidarity with them in their fight against ISIS in the region, said Macron's office.
The meeting was also an opportunity to reiterate that France remains "very worried" about the prospect of a Turkish military operation in Syria, added Macron's office on Wednesday.
Full report at:
https://english.alarabiya.net/en/News/middle-east/2019/10/09/France-s-Macron-says-worried-about-Turkey-offensive-in-meeting-with-Syrian-SDF.html
--------
Russia calls for dialogue between Assad, Kurds over northeast Syria
9 October 2019
Russian Foreign Minister Sergei Lavrov says Moscow calls for dialogue between the Syrian government and the Kurds over the situation in northeast Syria.
Syria's territorial integrity must be preserved, Lavrov said on Wednesday, as Turkish forces prepare to enter the country.
US actions in the region are contradictory and Russia is urging dialogue between Damascus and Syria's Kurds, he told reporters during a visit to Kazakhstan following a surprise withdrawal by US troops.
Turkish forces will cross into Syria "shortly", President Tayyip Erdogan's communications director had said on Wednesday.
The Kurds are "extremely alarmed" by US statements, he said, and fear that confusion could "ignite the whole region."
Full report at:
https://english.alarabiya.net/en/News/middle-east/2019/10/09/Russia-calls-for-dialogue-between-Assad-Kurds-over-northeast-Syria.html
--------
Russian Embassy: Detained Russian journalist freed by Iran
10 October 2019
Iran has freed a Russian journalist, Yulia Yuzik, who had been detained last week, the Russian embassy in Tehran said on social media on Thursday.
"As a result of joint efforts of the Russian Foreign Ministry and the Russian Embassy in Tehran, the Iranian side made a decision on the release of Russian citizen Yulia Yuzik," it said.
According to the embassy, Yuzik flew back to Moscow on Thursday morning.
Media reports had earlier said that the Islamic Revolutionary Guard Corps (IRGC) arrested the Russian journalist in Tehran on October 4 on charges of cooperating with Israeli intelligence. However, the Students News Agency ISNA quoted Iran's government spokesman on October 7 as saying that Yuzik was not charged with spying but a visa violation and her case is under a "quick review"
Russia's foreign ministry had summoned the Iranian ambassador regarding Yuzik's detention, reported the Russian news agency RIA. Russia's Embassy in Tehran had previously said that it was aware of Yuzik's arrest and that it is "dealing with the situation," according to the Moscow Times.
Yuzik's daughter had confirmed her mother's arrest on Facebook, saying that she has been arrested in "another country," and added that her trial was scheduled for October 5.
Yulia worked as a reporter in Tehran a few years ago and had returned to Tehran on invitation, journalist and ex-husband of Yuzik Boris Voytsekhovskiy wrote on Facebook.
As soon as she arrived, the Iranian authorities confiscated her passport and told her that she can have it back when leaving, he added.
Later that same day, a number of IRGC agents broke into her hotel room and arrested her, wrote Voytsekhovskiy, adding that she is facing up to 10 years on charges of cooperating with Israeli intelligence.
Full report at:
https://english.alarabiya.net/en/News/world/2019/10/10/Russian-Embassy-Detained-Russian-journalist-freed-by-Iran-.html
--------
Far-right extremist kills 2 people in Germany
Ayhan Simsek
09.10.2019
BERLIN
German police identified the gunman who opened fire on Wednesday outside a synagogue and a doner restaurant as Stephan B., a 27-year-old far-right extremist, local media reported.
The neo-Nazi suspect, who killed two people and injured two others in the eastern city of Halle, filmed the shootings with a helmet camera and uploaded this on social media, German Press Agency DPA reported.
German police has confirmed that one suspect was currently under arrest but declined to give any more detail as the investigation was ongoing.
Halle police spokesman Ralf Karlstedt told reporters earlier that unknown gunman or gunmen killed a woman on a street outside the synagogue in the Paulus quarter of the city and a man at the doner restaurant a few hundred meters away.
Eyewitnesses told n-tv television that one gunman, who was wearing a military camouflage, first threw an explosive to the door of the doner restaurant and later shot several times with an assault rifle.
Full report at:
https://www.aa.com.tr/en/europe/far-right-extremist-kills-2-people-in-germany-/1606997
--------
Germany: Police raids after bomb threats to mosques
Ayhan Simsek
09.10.2019
BERLIN
Police raided seven locations across Germany on Wednesday as part of an investigation into bomb threats sent by far-right extremists to mosques and politicians.
Bavarian Interior Minister Joachim Herrmann said in a statement that six suspects were arrested on suspicion of sending Islamophobic messages, bomb threats to mosques, political parties and media institutions.
"Such e-mail threats aim at scaring people and disturbing social peace," he said, adding that authorities will continue to fight extremism by every possible means.
Police seized several hard disk drives during the searches in the federal states of Bavaria, Baden-Wuerttemberg, Thuringia and Saxony-Anhalt.
The suspects were later released under investigation while enquiries were ongoing.
Full report at:
https://www.aa.com.tr/en/europe/germany-police-raids-after-bomb-threats-to-mosques/1606864
--------
European nations call for UN security council meeting over Turkish offensive in Syria
Oct 9, 2019
Britain, France and Germany have called for a United Nations Security Council meeting to address Turkey's military offensive on northern Syria.
French Minister of European Affairs Amelie de Montchalin told parliamentarians the three counties were to deliver a joint statement calling for the meeting and strongly condemning the Turkish manoeuvre shortly after the operation was launched on Wednesday.
While the Kurdish forces had been a crucial Western ally in the fight against ISIS, Ankara views the paramilitary groups as an extension of the Kurdistan Workers Party (PKK), against which Turkey has been waging a years' long ground war in its own country.
Tobias Ellwood MP
✔
@Tobias_Ellwood
TURKEY'S OFFENSIVE INTO SYRIA
As predicted, Trump's decision to withdraw US troops has given Turkey the green light to invade.
Did we defeat DAESH so another state could illegally expand into the very land we liberated?
And now ~20k detainee fighters are a step closer to freedom
View image on Twitter
183
7:48 PM - Oct 9, 2019
Twitter Ads info and privacy
125 people are talking about this
Julien Barnes-Dacey, the director of the Middle East & North Africa programme at the European Council on Foreign Relations, told The National European nations should have been more prepared for the US move, which had been clearly signposted.
"Europeans have been caught cold here. I don't think they can really be surprised at what happened and I do think they need to assume a bit more responsibility for how this now plays out if they do want to address some of their core interests," he said.
As Turkish troops amassed at the Syrian border ahead of the assault, officials from Britain, France and other European capitals spoke out against the offensive and is potential to engulf the area in chaos.
"We have been consistently clear with Turkey that unilateral military action must be avoided as it would destabilise the region and threaten efforts to secure the lasting defeat of Daesh," British foreign office minister Andrew Murrison told UK parliament using an Arabic acronym to refer to ISIS.
France, which like Britain has operated Special Forces inside Syria since 2016, also condemned the Turkish offensive.
"We call on Turkey to avoid any initiative that would run counter to the interests of the Global Coalition against Daesh, of which it is a member," the French foreign ministry at the Quai d'Orsay said in a statement.
The EU's high representative for foreign affairs Federica Mogherini has warned of the damage the offensive could do to the prospects for peace in Syria.
"Military action in northeast of Syria would exacerbate civilian suffering [and] undermine current work of the Global Coalition against Daesh," she wrote in a tweet.
The withdrawal of US troops and the potential for the Turkish offensive to plunge northern Syria another cycle of violence has raised questions over the 18,000 ISIS fighters and 70,000 refugees in the country.
As the US announced its withdrawal, the White House criticised European nations for their failure to take back their ISIS fighters and said Turkey would now be responsible for the former combatants.
Full report at:
https://www.thenational.ae/world/europe/european-nations-call-for-un-security-council-meeting-over-turkish-offensive-in-syria-1.921453
--------
Pakistan
Pakistan Prime Minister Imran Khan declared 'Muslim Man of the Year'
October 09, 2019
Ashfaq Ahmed,
Dubai: Pakistan Prime Minister Imran Khan has been declared as Muslim Man of the Year 2020 by Jordan's Royal Islamic Strategic Studies Centre.
Imran won the title in the recent list of the most persuasive Muslims in the world issued by the Centre.
Pakistan Prime Minister Imran has also become the sixth most popular world leader on Twitter, boasting 10.5 million followers on the social media platform.
The Royal Islamic Strategic Studies Centre (RISSC) is an autonomous research entity with the Royal Aal Al-Bayt Institute for Islamic Thought in Jordan.
Imran's name has been included in The Muslim 500 – the Most Influential Muslims In the World published by the RISSC.
"If 'The Muslim 500' was in print back in 1992 and I was the Chief Editor then, I would have nominated Imran Khan as our Muslim Man of the Year because of his brilliant performance in cricket when he won the 1992 Cricket World Cup for Pakistan," said Professor S. Abdallah Schleifer, a professor emeritus of journalism at the American University in Cairo, who chose both the winners for the titles.
PTI
✔
@PTIofficial
Jordan's Royal Islamic Strategic Studies Center named Prime Minister Imran Khan as its 'Man of the Year' in its recent list of the most persuasive Muslims in the world. @ImranKhanPTI desire for peace with neighboring India earned him the title 🇵🇰https://www.arabnews.pk/node/1565831/pakistan …
View image on Twitter
2,970
12:28 AM - Oct 9, 2019
Twitter Ads info and privacy
838 people are talking about this
But what is particularly to Imran's credit is that upon taking office as Prime Minister of Pakistan in August 2018, he made it quite clear that one of his top priorities was to work for a lasting peace with India.
"Imran wanted to normalise relations through trade, and settling the Kashmir dispute, "the foremost impediment" in the Prime Minister's own words "to the normalisation of relations between us," noted Prof S Abdallah Schleifer
Pakistani Prime Minister Imran's popularity increased manifold after what his supporters said his impressive speech at the United Nations General Assembly in September this year.
It was perhaps due to his hard-hitting speeches which he delivered on different occasions during his visit to the United States, Imran has become one of the most-searched world leaders attending the UN General Assembly session last month.
Professor Schleifer said Imran's role in cricket was not the only criteria for him being bestowed with the title.
He said he was also impressed with Imran for launching a successful fund-raising campaign to establish a hospital devoted to both the care of cancer patients and its research.
He said that it was also Imran's desire for peace with neighbouring India which earned him the title.
The RISSC has also declared Rashida Tlaib, an American Congresswoman, as Muslim Woman of the Year 2020. Rashida Tlaib (Democrat, Michigan) is this year's Muslim 500 Woman of the Year. She is the first Palestinian-American woman and joint first Muslim woman (along with Ilhan Omar (Democrat, Minnesota) to be elected to the American Congress as member of the House of Representatives.
https://gulfnews.com/uae/pakistan-prime-minister-imran-khan-declared-muslim-man-of-the-year-1.67011324
--------
Pakistan PM Imran Khan meets Chinese President Xi Jinping
Oct 9, 2019
BEIJING (CHINA): Pakistan Prime Minister Imran Khan met Chinese President Xi Jinping here on Wednesday and talked about bilateral ties and matters of mutual interest.
Khan, who is on a two-day visit to Beijing will meet Li Zhanshu, chairman of the National People's Congress and will also attend the closing ceremony of Beijing International Horticultural Exhibition 2019, Geo News reported.
Earlier, the Pakistani PM had held talks with Chinese Premier Li Keqiang at the Great Hall of the People in Beijing where they signed a number of agreements and Memoranda of Understanding (MOU).
Upon his arrival in Beijing, Khan was received by minister for culture, Luo Shugang, ambassador of China to Pakistan Yao Jing and ambassador of Pakistan to China Naghmana Hashmi.
His visit comes ahead of the Financial Action Task Force (FATF) meeting in Paris from October 13 to 18 where Pakistan's compliance with the 40-point action plan will be assessed.
With the threat of being blacklisted by the anti-money laundering watchdog looming large, Islamabad has been engaged in hectic lobbying in a last-ditch bid to influence the outcome in its favour. China holds the presidency of the FATF this year.
The visit by the Pakistani leader also comes ahead of Xi's tour of Nepal and India.
It is the third visit of Khan to China within a year.
Full report at:
https://timesofindia.indiatimes.com/world/pakistan/pakistan-pm-imran-khan-meets-chinese-president-xi-jinping/articleshow/71500580.cms
--------
The idea of 'Naya Pakistan' seems to be imploding
By Mehmal Sarfraz
October 10, 2019
There is never a dull moment in Pakistani politics. The last one year has been particularly interesting. From the formation of the Pakistan Tehreek-e-Insaf government and the 'hope' it generated to the manner in which the Imran Khan-led dispensation seems to be losing its popularity, the developments have been astounding.
Khan sold dreams — big ones — when he was in the Opposition. He used to claim that an 'honest' government is the only answer to people's problems. He used to say that if a leader is not corrupt, the system automatically changes. Well, the self-righteous bubble has burst. Economic mismanagement by the PTI's poster boy, Asad Umar, has led to a scandal that we have not witnessed in decades. Umar was eventually replaced. Pakistan also went to the International Monetary Fund for a bail-out package despite the PTI's past claims that it will break the begging bowl. Now Khan blames everything on the previous governments and their 'corruption'. Inflation is high and businessmen have gone to the army chief to complain about their difficulties. The prime minister has had to assure the business community that things will get back to normal soon. The list of the PTI government's incompetencies is quite long. Add to it the way it has dealt with the media and the Opposition parties and we get a recipe for disaster.
The media in Pakistan are under a lot of pressure. Censorship is at its peak. A number of journalists have either been laid off or are facing delays in salaries owing to a financial crunch. Some of the media groups and journalists/anchors/analysts who used to romanticize Khan are now cribbing about his government's incompetence and high-handedness. Khan doesn't like criticism. Some of his party members have resorted to personal attacks against journalists. The media are also reacting.
Important Opposition leaders are behind bars, including two former prime ministers, Nawaz Sharif and Shahid Khaqan Abbasi, as well as the former president, Asif Ali Zardari. Some of the key leaders of the Pakistan Muslim League-Nawaz and the Pakistan Peoples Party have also been arrested. Cases against many other Opposition stalwarts are pending in courts and/or the National Accountability Bureau. The Opposition is certainly not happy. Thus, the formation of a joint Opposition alliance.
The month of October may turn out to be quite exciting in Pakistan — politically. The Jamiat Ulema-e-Islam-Fazl chief, Maulana Fazlur Rehman (picture), has announced that he would lead an 'Azadi March' to Islamabad on October 27. After many years, the maulana finds himself out of parliamentary politics. He lost the elections. He is upset. He had asked the Opposition not to take oath and join Parliament after the elections as they were allegedly rigged. But the PML-N and the PPP decided to sit in the assemblies. The maulana was not thrilled.
Then began the arrests and the harassment of Opposition leaders. They decided to call an All-Parties Conference and planned for a street agitation. Maryam Nawaz and Bilawal Bhutto led many rallies across Pakistan. Maryam Nawaz was arrested. It wasn't unexpected given how vocal she was. Bilawal Bhutto had coined the term, 'Prime Minister Select', in his maiden speech in the National Assembly. This tag stuck to Khan and is now generously used by all and sundry. Khan is not happy with such tags and keeps lashing out at his opponents everywhere — from local events to international fora.
The maulana's call for the Azadi March has made the PTI government uneasy. The PPP and the PML-N have requested the JUI-F chief to delay the march until November. But the maulana has not listened to them. He has chosen to go solo. He outsmarted the Opposition parties as he thought they were taking too long to decide and he was running out of patience. The maulana wants to topple the government but the two mainstream parties believe that a lockdown or a dharna (sit-in) is not the way to do it: it may not even result in the government's fall. Then there are other reservations, especially about the maulana's use of the religious card against Khan. The PPP has condemned this in no uncertain terms and said that it cannot be part of a movement that is regressive and dangerous. The maulana couldn't care less. He can bring out people — his strong madrasa network would ensure that. Some believe that the maulana has received a partial nod from some powerful quarters. No one is sure, including the government, but the maulana's confidence is such that everybody is wary.
The PML-N and the PPP are in a quandary. They can either join him or risk being branded 'all talk, no substance parties' looking for a deal or a way out. They have now assured the maulana that they will support him but they need to work out the modalities of the march.
We don't know whether the Azadi March will take place or not, but the maulana seems adamant. The people are also upset with the government because of rising inflation and an increase in the prices of basic necessities. Recent polls have shown that the PTI's popularity graph is going down. Perhaps the threat of an anti-government march is a strategy to stay relevant and let the people know that the Opposition understands the pain of the common man. The best thing would be to keep mounting the pressure but let the government complete its five-year tenure in order to further expose the PTI. Maybe that is the plan. Or maybe, just maybe, there is a silent nod from some quarters. Only time will tell.
Full report at:
https://www.telegraphindia.com/opinion/the-idea-of-naya-pakistan-seems-to-be-imploding/cid/1710454
--------
Maryam sent on 14-day judicial remand
October 10, 2019
LAHORE: An accountability court on Wednesday extended the judicial remand of Pakistan Muslim League-Nawaz (PML-N) Vice President Maryam Nawaz and her cousin and Sharif Group's Managing Director Yousaf Abbas for 14 days in the Chaudhry Sugar Mills (CSM) case.
During the hearing presided by Accountability Judge Jawadul Hassan, the National Accountability Bureau (NAB) requested the court to extend judicial remand of the two suspects, which the court accepted.
On Aug 8, an anti-graft team had arrested Maryam outside the Kot Lakhpat Jail in Lahore for skipping appearance in Chaudhry Sugar Mills case over a meeting with former prime minister Nawaz Sharif.
NAB claims that Maryam was unable to account for the foreign investment in sugar mills where she was a "partner or majority stakeholder".
She also failed to satisfy the bureau regarding the money used to purchase the shares, said NAB. The bureau also said that three foreigner investors had transferred 11,000 shares worth millions of rupees on Maryam's name.
Following her detention, the daycare centre at NAB's Lahore headquarters was declared sub-jail while women police and anti-corruption personnel were deployed on the premises.
On Sept 25, Maryam was sent on judicial remand after the court rejected further physical remand.
As at outset of the court proceedings, NAB prosecutors Hafiz Asadullah Awan and Haris Qureshi had presented their arguments seeking an extension in the physical remand, saying that the case required further investigation.
The accountability watchdog had arrested Maryam and her cousin on Aug 8 in the said case. Since then, their physical remand has been repeatedly extended.
During the proceedings, the NAB prosecutor had said that during the investigation of two they had found out about an agreement for the division of the family's assets.
A total of 14.5 million shares of the mills were divided among former PM Nawaz Sharif, former Punjab CM Shehbaz Sharif, their brother Abbas Sharif, sister Kausar Bibi and mother Shamim Begum, it had said.
The shares of the mills were 26.2 million in 2008, as per the Securities and Exchange Commission of Pakistan's (SECP) record, they said, adding that there was a difference of 11.6 million shares and these were not included in the assets of the Sharif family, they had added.
They had argued that Maryam Nawaz's assets did not correspond to her income in 2008 and Sharif family members had to be summoned for investigations in the matter.
They said that Maryam Nawaz had received the amount sent by Sadiqa Saeed Mahmood through telegraphic transfers (TTs) in 1998 and the same amount was transferred to the mills later.
The same year, the accused received Rs160m but the relation of the accused with the sender was not clear, they said, adding that Sadiqa also paid a loan of the mills, they had added.
The prosecutors had further submitted that the mills was shifted from Gojra to Rahim Yar Khan at a cost of Rs1.5 billion in 2015, whereas the source of the amount has to be determined yet.
They had submitted that three foreigners sent shares in the name of Maryam Nawaz in 2008 and the same shares were transferred by Yousaf Abbas to Mian Nawaz Sharif.
They had submitted that $4.8 million sent to Yousaf Abbas through TTs which was transferred to the mills and the act was aimed to extend the benefit to directors and shareholders of the mills.
However, defence counsel Amjad Pervaiz had opposed the remand plea, saying that the bureau had already taken remand of the accused on the same grounds: agreement for the division of the family's assets.
He had submitted that investigations had already been conducted into the matter whereas sale and purchase of shares of mills were done under the SECP rules and Companies Act.
He had submitted that the bureau did not have any authority to investigate the matter whereas the SECP was empowered for action in this regard.
He had submitted that the sugar mill was established in 1991 and the shares were transferred in 2008, whereas the Anti-Money Laundering Act was implemented in 2010, and the same could not be implemented on past transactions.
He had said that the Lahore High Court had already passed judgement over Sadiqa Saeed TTS in Hudaibiya Papers Mills case and that the bureau was trying to mislead the court.
He had submitted that agreement of a division of properties of the Sharif family was in possession of the bureau from day first, adding that Mian Sharif died in 2004 and shares were divided in 2008.
He submitted that the bureau had levelled allegations of money laundering against the accused but it failed to give any evidence in this regard.
On July 6 last year, judge Bashir had convicted former premier Nawaz Sharif and Maryam Nawaz in Avenfield reference and sentenced them 10 years and 7 years imprisonment respectively.
Full report at:
https://www.pakistantoday.com.pk/2019/10/09/judicial-remand-of-maryam-nawaz-yousaf-sharif-extended-for-14-days-in-csm-case/
--------
Compliance report ready as FATF meeting approaches
October 10, 2019
ISLAMABAD: The next meeting of the Financial Action Task Force (FATF) is scheduled to be held in Paris from Oct 12 to 15 and Pakistan has already prepared its compliance report, which will be presented by Minister for Economic Affairs Division Hammad Azhar.
The Pakistani delegation is scheduled to leave for France on Oct 13 as Pakistan's case will be taken up on Oct 14 and 15.
Meanwhile, a report finalised by the Securities and Exchange Commission of Pakistan (SECP) on Wednesday has said that the comprehensive guideline developed by the Commission has helped financial institutions to generate 219 Suspicious Transactions Reports (STRs) in one year, as compared to 13 STRs in eight years.
To align itself with the FATF's standards and its 40 recommendations, the Commission developed a set of regulations — SECP AML/CFT Regulations — in June 2018.
The SECP has conducted 167 inspections, focusing on AML/CFT (Anti-Money Laundering / Combating Financing of Terrorism) compliance in the cases of 72 securities brokers, 27 non-banking financial companies, 13 insurance companies and 55 high risk non-profit organisations.
The SECP report has said that apart from penalties imposed for non-compliances with the said regulations, the financial institutions have also undertaken remedial measures to ensure effective compliance with the regulations.
Automated screening software has been deployed by many financial institutions to screen the proscribed persons and the regulated entities now also have access to the Go AML system of the State Bank of Pakistan's (SBP) Financial Monitoring Unit (FMU) for online filing of STRs.
According to the report, the SECP has successfully made transition from one-size-fits-all to a risk-based approach to implement a consolidated AML/CFT regulatory framework in its regulated financial sector comprising of stock and commodity brokers, NBFCs, Modarabas and insurers/Takaful operators.
Further to effectively identify assess and understand the Money Laundering / Terror Financing (ML/TF) risks that Pakistan faces, a National ML/TF Risk Assessment has been undertaken in 2019 to assess ML/TF vulnerabilities that are inherent within the financial sector including banking, NBFCs, brokers and insurance.
The SECP has said that the FMU is collaborating with stakeholders — including ministries, law enforcement agencies, SBP and SECP — to implement the control mechanism to check potential abuse by money launderers and terrorist financiers.
Full report at:
https://www.dawn.com/news/1510030/compliance-report-ready-as-fatf-meeting-approaches
--------
PPP to facilitate JUI-F's anti-govt march: Bilawal
Imran Ayub
October 10, 2019
KARACHI: After weeks of deliberations, meetings with key opposition parties and consultation with several leaders, the Pakistan Peoples Party (PPP) on Wednesday decided not to actively participate in the sit-in that Jamiat Ulema-i-Islam (JUI-F) chief Maulana Fazlur Rehman is set to hold in Islamabad on Oct 31.
However, the PPP assured the rightwing party of its support, announcing that in Sindh, where it has its government, every possible measure would be taken to facilitate the JUI-F's anti-government protest. On its part, the PPP will carry out its own campaign against the government separately through Awami Rabita Muhim or mass contact drive.
This was stated by PPP chairman Bilawal Bhutto-Zardari at Bilawal House while talking to reporters after hours-long meeting of the party's core committee. He said the party did not, in principle, support politics of sit-ins though it supported the JUI-F's call, noting that space for protests and dissent was shrinking since the Pakistan Tehreek-i-Insaf came to power last year.
"We have decided to support the JUI-F's call and we would do our best to facilitate his [Maulana Fazl's] protest in Islamabad," he said. "Our office-bearers in different cities would welcome their caravans and give them support for the march. We on the other side would keep our [mass contact] campaign on and in the first phase of our Awami Rabita Muhim we would hold a rally in Karachi on Oct 18 to mark the anniversary of 2007 Karsaz carnage. Then we would enter Punjab and pass through different cities of the province."
Mr Bhutto-Zardari said: "Principally, PPP doesn't support the idea that any elected government or the prime minister is thrown out only on the basis of protests held in the capital because it sets a negative trend."
He added: "In democracy there is always a process to elect or oust a government. But unfortunately, this puppet government has eliminated all such options one after another. When there is no way left to bring change through parliament, judiciary, election commission or accountability body, then streets and sit-ins are left as the only option for the political parties."
In reply to a question about his personal participation in the JUI-F protest in Islamabad, the PPP chairman said it would be "very difficult" to make it, though he offered support to Maulana Fazl on behalf of the PPP's government in Sindh to facilitate the JUI-F workers in their journey towards the capital.
Answering another question, Mr Bhutto-Zardari called the politics of sit-ins against the democratic norms. However, he was quick to justify the JUI-F's protest, blaming the 'incompetence' of the government for creating such opportunities.
He expressed the confidence that Maulana Fazl was leading the protest march only for better democratic culture and stability of the country.
"I firmly believe that Maulana Sahab is a true democratic man. He has history of playing an active role in pro-democracy campaigns and siding with true democratic forces. I can't even think that he would be doing all this after getting some signal from any third force," he added.
The PPP leader mentioned various protest campaigns being run across the country not only by political parties but also by other segments of society as a manifestation of "severe incompetence of the selected government which is more interested in appeasing its selectors".
Full report at:
https://www.dawn.com/news/1510022/ppp-to-facilitate-jui-fs-anti-govt-march-bilawal
--------
Turkey to establish Centre of Excellence in Tourism and Hospitality in Pakistan
October 10, 2019
ISLAMABAD: Pakistan and Turkey Wednesday agreed to establish a Centre of Excellence in Tourism and Hospitality Management in Islamabad.
The project was given final shape during a meeting between Shafqat Mahmood, Federal Minister for Education, Professional Training and National Heritage and Dr Serdar Çam, Deputy Minister for Culture and Tourism of Turkey in Ankara, a message reaching here said.
Both sides also explored further opportunities for collaboration in education, technical training, culture and tourism sector.
Briefing the Turkish dignitary about the potential of the tourism sector of Pakistan, Shafqat Mahmood said domestic tourism in Pakistan reached its peak during the current year but stressed the need for more efforts to attract more foreign tourists.
He also conveyed his gratitude to the people and leadership of Turkey for standing by Pakistan on issues of its core national interest, particularly the Kashmir issue.
He also assured Pakistan's support on issues that concerns Turkey.
Both sides expressed the hope that the upcoming Pakistan visit of Turkish President Erdogan will provide further momentum to bilateral ties.
Earlier, the Pakistan delegation led by Shafqat Mehmood visited the Turkish Cooperation and Coordination Agency (TIKA) headquarters and were briefed by its Vice President Prof Dr Birol Çetin about the organization's global as well as Pakistan operations.
He informed that since 2010 when the TIKA office was established in Pakistan, TIKA has undertaken about 148 projects in Pakistan in various sectors focusing on education, health, skills development, employment generation, and women empowerment.
Full report at:
https://www.pakistantoday.com.pk/2019/10/09/urkey-to-establish-centre-of-excellence-in-tourism-and-hospitality-in-pakistan/
--------
Pakistan, China resolve to strengthen strategic partnership
October 10, 2019
ISLAMABAD: Pakistan and China on Wednesday reaffirmed their resolve to further strengthen their bilateral strategic partnership.
A joint statement issued after the conclusion of Prime Minister Imran Khan's two-day visit to Beijing said that the two sides reaffirmed their support on issues concerning each other's core interests.
"Chinese leaders expressed solidarity with Pakistan in safeguarding its territorial sovereignty, independence and security. The Pakistan side reaffirmed its commitment to the One China Policy," the statement said.
The prime minister visited China at the invitation of Chinese Premier Li Keqiang on Tuesday. During the visit, the premier called on Chinese President Xi Jinping, Premier Li and National People's Congress Standing Committee Chairman Li Zhanshu. He also met Chinese entrepreneurs and businessmen.
The prime minister attended the closing ceremony of the Beijing Horticulture Expo 2019 as the chief guest. He congratulated the Chinese leadership and people on the 70th foundation anniversary of the People's Republic of China.
He felicitated China for its remarkable growth and underscored that the reform and opening-up process of China was a model for developing countries.
"Supporting One Country Two Systems, Pakistan reiterated that affairs of Hong Kong were China's internal matter and all countries should uphold international law and basic norms of non-interference in internal affairs of other countries," the joint press release read.
The Pakistani side briefed the Chinese side on the situation in Indian-occupied Kashmir. The Chinese side responded that it was "paying close attention" to the current situation in occupied Kashmir and reiterated that the issue is a dispute left from history, and should be peacefully resolved based on the UN Charter, relevant UN Security Council resolutions and bilateral agreements.
"China opposes any unilateral actions that complicate the situation," the statement said, adding that the two sides underlined that a peaceful, stable and prosperous South Asia was in the common interest of all parties.
CPEC:
Both sides maintained that the second phase of the China-Pakistan Economic Corridor (CPEC) will promote industrial and socio-economic development in Pakistan. The Pakistani delegation highlighted that the Gwadar Port has been granted various facilities enabling it to become a trade and logistical hub for the region.
"The two sides expressed determination to speedily execute CPEC so that its growth potential can be fully realised making it a high-quality demonstration project for the Belt and Road Initiative," according to the statement.
Both sides agreed to jointly study identified projects in power, petroleum, gas, agriculture, industrial and infrastructure sectors. Those projects were entrusted to the concerned Joint Working Groups for deliberation and subsequent consideration by the Joint Coordination Committee (JCC).
The two sides held in-depth exchange of views on deepening bilateral cooperation in the areas of trade, investment, finance, defence and security, education, agriculture, social sector, people-to-people contacts and cultural linkages.
They agreed that early implementation of the second phase of the China-Pakistan Free Trade Agreement would contribute to an increase in bilateral trade.
During the visit, Prime Minister Imran and Chinese Premier Li witnessed the signing of various agreements and MoUs.
Prime Minister Imran thanked the Chinese leadership for providing opportunities to Pakistani students to study in China.
The leaders reviewed the bilateral defence cooperation and agreed to further strengthen this in the areas of military exercises, training cooperation, personnel exchanges, and equipment and technology cooperation.
Reaffirming that there is no military solution in Afghanistan, the two sides agreed that peace and stability in Afghanistan is vital for regional security and expressed satisfaction at the outcomes of the third China-Afghanistan-Pakistan Foreign Ministers' Dialogue held in Islamabad on September 7.
The Chinese side appreciated Pakistan's efforts in promoting peace and reconciliation process in Afghanistan. "Both sides maintained that an inclusive, and Afghan-led and Afghan-owned peace process would be key to bring peace and stability in the country," the press release said.
Full report at:
https://www.pakistantoday.com.pk/2019/10/09/china-pakistan-determined-to-transform-cpec-it-into-demonstration-project-of-bri/
--------
North America
US imposes visa restrictions on Chinese officials over Muslim treatment
9 October 2019
The United States has imposed visa restrictions on Chinese government and Communist Party officials it believes responsible for the detention or abuse of Muslim minorities in Xinjiang province, the US State Department said on Tuesday.
Secretary of State Mike Pompeo cited the decision of the Commerce Department on Monday to add 28 Chinese public security bureaus and companies - including video surveillance company Hikvision - to a US trade blacklist over Beijing's treatment of Uighur Muslims and other predominantly Muslim ethnic minorities. The visa restrictions "complement" the Commerce Department actions, he said.
US officials previously said the Trump administration was considering sanctions against officials linked to China's crackdown on Muslims, including Xinjiang Party Secretary Chen Quanguo, who, as a member of the powerful politburo, is in the upper echelons of China's leadership.
The State Department announcement did not name the officials subject to the visa restrictions, but news of the action sent US stocks down. Many analysts believe US government actions make it much less likely that China and the United States will reach a deal this week to resolve a trade war.
"The United States calls on the People's Republic of China to immediately end its campaign of repression in Xinjiang, release all those arbitrarily detained, and cease efforts to coerce members of Chinese Muslim minority groups residing abroad to return to China to face an uncertain fate," Pompeo said.
The Chinese Embassy in Washington did not immediately comment. China has consistently denied any mistreatment of Uighurs.
Republican US Senator Tom Cotton praised the State Department announcement and urged U.S. allies to follow suit. Chinese "officials who place Uighurs and other minority groups in concentration camps shouldn't be allowed to visit the United States and enjoy our freedoms."
Those added by the Commerce Department to the "Entity List" include the Xinjiang Uighur Autonomous Region People's Government Public Security Bureau, 19 subordinate government agencies and eight commercial firms, according to a Commerce Department filing. The companies include some of China's leading artificial intelligence firms such as SenseTime Group Ltd, and Megvii Technology Ltd, which is backed by Alibaba, as well as Hikvision, formally known as Hangzhou Hikvision Digital Technology Co Ltd, Zhejiang Dahua Technology, IFLYTEK Co, Xiamen Meiya Pico Information Co , and Yixin Science and Technology Co.
https://english.alarabiya.net/en/News/world/2019/10/09/US-imposes-visa-restrictions-on-Chinese-officials-over-Muslim-treatment.html
--------
Trump: US going into Middle East was the 'worst decision ever'
9 October 2019
US President Donald Trump said Wednesday that the US military becoming involved in the Middle East was the "worst decision ever made" and that he was ensuring the safe return of troops.
Trump has faced a bipartisan backlash since a surprise announcement by the White House on Sunday that Washington was pulling back 50 to 100 "special operators" from Syria's northern frontier.
Donald J. Trump
✔
@realDonaldTrump
• 18h
The United States has spent EIGHT TRILLION DOLLARS fighting and policing in the Middle East. Thousands of our Great Soldiers have died or been badly wounded. Millions of people have died on the other side. GOING INTO THE MIDDLE EAST IS THE WORST DECISION EVER MADE.....
Donald J. Trump
✔
@realDonaldTrump
....IN THE HISTORY OF OUR COUNTRY! We went to war under a false & now disproven premise, WEAPONS OF MASS DESTRUCTION. There were NONE! Now we are slowly & carefully bringing our great soldiers & military home. Our focus is on the BIG PICTURE! THE USA IS GREATER THAN EVER BEFORE!
72.1K
5:44 PM - Oct 9, 2019
Twitter Ads info and privacy
26.6K people are talking about this
"GOING INTO THE MIDDLE EAST IS THE WORST DECISION EVER MADE IN THE HISTORY OF OUR COUNTRY! We went to war under a false & now disproven premise, WEAPONS OF MASS DESTRUCTION," the president tweeted in reference to the 2003 US invasion of Iraq.
"There were NONE! Now we are slowly & carefully bringing our great soldiers & military home. Our focus is on the BIG PICTURE! THE USA IS GREATER THAN EVER BEFORE!" he added.
https://english.alarabiya.net/en/News/middle-east/2019/10/09/Trump-US-going-into-Middle-East-was-the-worst-decision-ever-.html
--------
US Senators release outline for proposed sanctions on Turkey
10 October 2019
Republican US Senator Lindsey Graham and Democratic US Senator Chris Van Hollen on Wednesday unveiled an outline for proposed sanctions on Turkey, including targeting the US assets of President Recep Tayyip Erdogan and imposing visa restrictions.
The proposed legislation would also impose sanctions on any military transactions with Turkey, set sanctions on anyone who supports Turkey's domestic energy industry for use by its armed forces, prohibit the sale of US defense articles to the Turkey armed forces and define Turkey's purchase of Russia's S-400 missile defense system as "significant" and subject to sanctions.
https://english.alarabiya.net/en/News/middle-east/2019/10/10/US-Senators-release-outline-for-proposed-sanctions-on-Turkey.html
--------
Trump defends his Syria pullout against Republican criticism
10 October 2019
US President Donald Trump on Wednesday rejected criticism from fellow Republicans over his decision to pull US troops out of northern Syria, and dismissed worries that captured ISIS extremists might escape in the chaos of a Turkish attack.
Trump's abrupt move on Sunday to remove 50 US troops out of northern Syria, which has allowed Turkey to attack America's Kurdish allies unimpeded, has drawn sharp fire from many Republican lawmakers who are normally his strong supporters.
As Turkey launched an attack on Kurdish militia positions on Wednesday, Trump aligned himself with anti-war voices in the Republican Party like Senator Rand Paul, saying the United States should have never been involved in conflicts in the Middle East in the first place.
Pressed on the situation by reporters during a White House event, Trump said he was open to imposing sanctions on Turkey if the Turks do not treat the Kurds humanely.
Asked what he would do if Turkish President Tayyip Erdogan were to wipe out the Kurds, Trump said: "I will wipe out his economy if he does that."
"If he does it unfairly, he is going to pay a big economic price," Trump warned.
The Trump pullout has prompted bipartisan concerns that some of the thousands of ISIS extremists held by Kurdish-led forces might escape in the chaos surrounding the Turkish incursion.
Trump said many of these fighters are of European origin and that he had given European nations four chances to take responsibility for them.
Asked if he had any concerns that some of these ISIS fighters could escape and pose a threat elsewhere, Trump adopted a dismissive tone.
"Well, they're going to be escaping to Europe. That's where they want to go," he said.
Reaction to Trump's move has enraged many Republicans and Democrats.
US Representative Liz Cheney, a national security hawk and daughter of former Vice President Dick Cheney, said in a statement that Trump's decision would have "sickening and predictable consequences."
"The US is abandoning our ally the Kurds, who fought ISIS on the ground and helped protect the US homeland. This decision aids America's adversaries, Russia, Iran, and Turkey, and paves the way for a resurgence of ISIS. This action imperils American security and that of our allies. Congress must and will act to limit the catastrophic impact of this decision," she said.
Trump cast his decision as in line with his long-held belief that the United States cannot be the world's policeman and must bring some troops home.
But it comes as he needs as much Republican support as possible to fight an impeachment inquiry launched by Democrats who control the US House of Representatives based on his attempt to get Ukraine to investigate Democratic rival Joe Biden.
US Senator Lindsey Graham, a South Carolina Republican who is one of Trump's closest confidants in Congress and a frequent golf partner, has angrily split with Trump over Syria.
"This is the pre-9/11 mentality that paved the way for 9/11: 'What's happening in Afghanistan is no concern to us.' So if he follows through with this, it'd be the biggest mistake of his presidency," Graham told Fox News Channel's "Fox & Friends."
Graham said on Twitter that he would lead an effort in Congress "to make Erdogan pay a heavy price" for the incursion.
Full report at:
https://english.alarabiya.net/en/News/north-africa/2019/10/10/Trump-defends-his-Syria-pullout-against-Republican-criticism.html
--------
US sanctions impeding treatment of Iranian victims of Saddam's chemical attacks: OPCW envoy
Oct 9, 2019
Iran's ambassador and permanent representative to the Organization for the Prohibition of Chemical Weapons (OPCW) says unilateral US sanctions have prevented the country's access to medical and health services required to treat victims of chemical attacks carried out by former Iraqi dictator Saddam Hussein in the 1980s.
"The inhumane sanctions have negatively impacted the supply of medicines and treatment for more than 70,000 victims of chemical weapons in our country and have in fact hindered the treatment of chemical attacks victims," Alireza Kazemi-Abadi said on Wednesday.
He called on OPCW member states to make efforts to help chemical victims through the Voluntary Fund for Assistance, whose funds are to be used to provide assistance if a state party is attacked or threatened with chemical weapons.
The Iranian envoy made the remarks during the 92nd session of the Executive Council of the OPCW in The Hague, Netherlands.
Last year, President Donald Trump unilaterally pulled the US out of a 2015 nuclear deal with Iran, officially named the Joint Comprehensive Plan of Action (JCPOA), and unleashed the "toughest ever" economic sanctions against Tehran.
Officially, the measures exempt humanitarian goods, such as medicine and medicinal instruments.
But in reality, they have had negative impacts on Iran's health sector and restricted the country's access to medical and health services.
Back in March, 66 Iranian scientific medical societies wrote to the UN chief in denunciation of the "inhumane and medieval" American sanctions, which have led to "extensive shortages of life-saving medical supplies and drugs."
Last November, President of the Academy of Medical Sciences of the Islamic Republic of Iran Alireza Marandi also called on the UN to act against the incessant violation of human rights by the United States.
Marandi said the United States has endangered the lives of many Iranian patients by imposing "unjust" food and medicine sanctions against Tehran.
Earlier on Wednesday, Iranian Foreign Minister Mohammad Javad Zarif also said the US sanctions that target the Central Bank of Iran (CBI) definitely affected the body's ability to import basic food supplies and medications to meet domestic demand.
"These actions by America amount to war crimes because they are aimed at ordinary civilians as their primary and main target," he said. "Civilians are considered secondary targets in a military war but they are primary targets under such policy of economic terrorism."
Full report at:
https://www.presstv.com/Detail/2019/10/09/608287/Iran-us-sanctions-chemical-victims--OPCW-Trump--
--------
OIC strongly condemns all terrorist acts, UN forum told
October 10, 2019
NEW YORK: The head of the counterterrorism section of the Saudi permanent mission to the UN, Abdul Majeed bin Abdulrahman Al-Babtain, said that the Organization of Islamic Cooperation (OIC) strongly condemns all acts and practices of terrorism.
He added that the OIC believes that terrorist acts can never be justified, regardless of motives, objectives, forms and manifestations.
This was part of Saudi Arabia's address on behalf of the OIC at the meeting of the sixth committee of the UN General Assembly on measures to eliminate international terrorism.
Al-Babtain reiterated that terrorist acts constitute a flagrant violation of international law, including international humanitarian and human rights law.
He added that terrorism jeopardizes the territorial integrity and stability of states and threatens national, regional and international security.
Al-Babtain said that the OIC member states have pledged their continued support for the sovereignty, territorial integrity and political independence of all states in accordance with the charter of the UN and international law.
He said: "The OIC rejects associating terrorism with any religion, race, creed or society in this context. And while the organization has been informed of the statements of the presidents and world leaders who have separated Islam from terrorist organizations, we strongly condemn any attempt to link Islam to terrorism to achieve any interests. These attempts can be in the interest of terrorists or may lead to a call for religious hatred, discrimination and hostility towards Muslims.
"Accordingly, we strongly believe in the importance of promoting dialogue, understanding and cooperation among religions, cultures and civilizations to achieve global peace and harmony."
Al-Babtain said that the OIC reaffirms its commitment to strengthening international cooperation to combat terrorism, highlighting that it believes that a comprehensive approach is necessary for the fight against terrorism.
"This should be done by addressing the root causes of terrorism, including the unlawful use of force, aggression, foreign occupation, international conflicts, political marginalization and alienation," he added, underscoring that it is necessary to combat all terrorist groups and organizations wherever they are.
Full report at:
https://www.arabnews.com/node/1566641/saudi-arabia
--------
Trump counts on Turkey to protect civilians
Michael Hernandez
09.10.2019
WASHINGTON
Turkey told the U.S. it would protect civilians and religious minorities as part of its ongoing Operation Peace Spring in northern Syria, President Donald Trump said Wednesday.
"Turkey has committed to protecting civilians, protecting religious minorities, including Christians, and ensuring no humanitarian crisis takes place—and we will hold them to this commitment," Trump said in a statement shortly after the operation kicked off.
"In addition, Turkey is now responsible for ensuring all ISIS fighters being held captive remain in prison and that ISIS does not reconstitute in any way, shape, or form. We expect Turkey to abide by all of its commitments, and we continue to monitor the situation closely."
Trump announced the pullback of U.S. forces from their positions in northern Syria on Sunday, but threatened Turkey a day later with economic collapse should Ankara act, in ant way he deems "off limits" in Syria.
"The United States does not endorse this attack and has made it clear to Turkey that this operation is a bad idea," Trump said in his Wednesday statement.
Turkey on Wednesday announced launch of Operation Peace Spring east of the Euphrates River in northern Syria to secure its borders by eliminating terror elements to ensure the safe return of Syrian refugees and Syria's territorial integrity.
Turkey has said the terrorist group PKK and its extension the YPG/PYD, constitute the biggest threat to Syria's future, jeopardizing the country's territorial integrity and unitary structure.
Turkey has also stressed that supporting terrorists under the pretext of fighting Daesh is unacceptable.
Turkey has a 566-mile (911-kilometer) border with Syria and it has long decried the threat from terrorists east of the Euphrates and the formation of a "terrorist corridor" there.
Turkey plans to resettle 2 million Syrians in a 19-milie (30-kilometer) wide safe zone to be set up in Syria, stretching from the Euphrates River to the Iraqi border, including Manbij. However, the presence of terror groups such as the PKK, PYD, and YPG risk its formation.
Turkey has rid an area of 1,544 square miles (4,000 square kilometers) in Syria of terrorist groups in two separate cross-border operations. Since 2016, Turkey has conducted two major military operations in northwestern Syria -- Operation Euphrates Shield and Olive Branch -- to purge the region of the terrorist groups Daesh and the YPG, which is the Syrian branch of the terrorist group PKK.
The two operations were in line with the country's right to self-defense borne out of international law, UN Security Council resolutions, especially no. 1624 (2005), 2170 (2014) and 2178 (2014), and under the right to self-defense under Article 51 of the UN Charter, while being respectful of Syria's territorial integrity.
During Operation Euphrates Shield, Turkish forces neutralized 3,060 Daesh terrorists. Turkey has suffered greatly from Daesh attacks inside the country. More than 300 people have been killed in attacks claimed by Daesh in Turkey, where the terrorist group has targeted civilians in suicide bombings and armed attacks in recent years.
Full report at:
https://www.aa.com.tr/en/americas/trump-counts-on-turkey-to-protect-civilians/1607746
--------
Republican senator slams lawmakers on US Syria move
Servet Günerigök
09.10.2019
WASHINGTON
Republican Senator Rand Paul slammed Senator Lindsey Graham and congresswoman Liz Cheney as the "neocon War Caucus" for their criticism on U.S. troop withdrawal from northern Syria.
"The Cheney/Graham neocon War Caucus wants to come back to DC and declare a war. My question for them is - who will you declare it on?" Paul tweeted. "Will it be out NATO allies the Turks? Will it be Assad? Will it be Islamic rebels? Which ones?"
Earlier, the two Republican lawmakers raised criticism after U.S. President Donald Trump announced Washington would pull back troops where Turkey began a peace operation to clear the region of terrorists.
On Sunday, the White House said U.S. troops "will no longer be in the immediate area."
Paul alleged actors in Syria wanted to "keep starting endless wars in conflicts that go back hundreds of years."
He praised Trump as the first president in his life to "understand what is our national interest and what is not."
"He is stopping the endless wars and we will be stronger as a result. The Cheney/Graham Neocon War Caucus has cost us too much fighting endless wars," Paul wrote.
Turkey launched Operation Peace Spring east of the Euphrates River in northern Syria on Wednesday to secure its borders by eliminating terror elements to ensure the safe return of Syrian refugees and Syria's territorial integrity.
Full report at:
https://www.aa.com.tr/en/americas/republican-senator-slams-lawmakers-on-us-syria-move/1607739
--------
Africa
Ennahda came first in Tunisian parliamentary election
10 October 2019
Tunisia's moderate Islamist Ennahda came first in Sunday's parliamentary election, winning 52 seats, while media mogul Nabil Karoui's Heart of Tunisia party won 38 seats in the 217-seat chamber, the electoral commission said on Wednesday.
The official preliminary results are in line with an exit poll published on Sunday which showed Ennahda as the largest party and Heart of Tunisia in second place in a fragmented parliament.
In a related development, Tunisian presidential candidate and media mogul Nabil Karoui left prison on Wednesday days before Sunday's election runoff after weeks of detention waiting for a verdict in his corruption trial.
Karoui was the runner up in the first round of the presidential election last month despite being held since August 23 in pre-trial detention.
He will now face Kais Saied, an independent, in the second round of voting.
https://english.alarabiya.net/en/News/north-africa/2019/10/10/Ennahda-came-first-in-Tunisian-parliamentary-election.html
--------
Two senior al-Shabab leaders surrender to Somali forces
2019-10-09
MOGADISHU, Oct. 9 (Xinhua) -- Two senior members of the al-Shabab militant group on Wednesday surrendered to Somali government forces in the southern region of Gedo, a military official said.
Abdi Hakim Mohamed Omar, commander of Unit 10 of the 43rd Division of Somali National Army (SNA) said the two al-Shabab militants - Guuliye Hareed Mohamed and Abdullahi Nasiri Ali - handed themselves over to the government forces in Garbaharey town following the recent operations in the region against the militants.
"The two militants contacted our forces and informed they were going to give themselves up and they were ready to leave the militant group and the forces cooperated with them," the commander said.
He added the government is committed to welcoming those who are quitting al-Shabab militants.
The two former al-Shabab leaders who also spoke to journalists asked Somali people to forgive them for their past actions.
"I regret my previous deeds in al-Shabab as I joined the militant group when I was misguided as a child and I beg my people to pardon me," said Ali, calling on the other remaining cells in al-Shabab to follow suit.
Full report at:
http://www.xinhuanet.com/english/2019-10/09/c_138459018.htm
--------
Boko Haram: Buhari Slams Foreign Agencies Over Million-Dollar Aids To Displaced Persons
BY SAHARAREPORTERS
OCT 10, 2019
President Muhammadu Buhari has taken a swipe at foreign aid agencies saying the millions of naira they claimed to have spent on internally displaced persons have rarely had an impact.
The president who spoke when meeting with the Presidential Economic Advisory Council (PEAC) said nothing would be seen when an on-site visit to the camp is done.
President Buhari also said the World Bank, International Monetary Fund and other organizations give wrong data about Nigeria to the public as he urged the economic advisory council to focus on data collection.
He said, "As you develop your baseline study, I would like you to focus on primary data collection.
"Today, most of the statistics quoted about Nigeria are developed abroad by the World Bank, IMF and other foreign bodies. Some of the statistics we get relating to Nigeria are wild estimates and bear little relation to the facts on the ground. This is disturbing as it implies we are not fully aware of what is happening in our own country.
"We can only plan realistically when we have reliable data. As you are aware, as a government, we prioritized agriculture as a critical sector to create jobs and bring prosperity to our rural communities.
"Our programmes covered the entire agricultural value chain from seed to fertilizer to grains and ultimately, our dishes. As you travel in some rural communities, you can clearly see the impact. However, the absence of reliable data is hindering our ability to upgrade these programmes and assure their sustainability."
The president, while speaking on Social Investment Programmes (SIPs), directed the new Minister for Humanitarian Affairs to commence a comprehensive data-gathering exercise in all Internally Displaced Persons (IDP) camps in the North East.
Buhari added, "Today, we hear international organizations claiming to spend hundreds of millions of dollars on IDPs in the North East. But when you visit the camps, you rarely see the impact.
"In 2017, when the National Emergency Management Agency took over the feeding of some IDPs in Borno, Yobe and Adamawa, the amount we spent was significantly lower than the claims made by these international organizations.
Full report at:
http://saharareporters.com/2019/10/10/boko-haram-buhari-slams-foreign-agencies-over-million-dollar-aids-displaced-persons
--------
URL: https://www.newageislam.com/islamic-world-news/durga-puja-bengal-multicultural-event/d/119963
New Age Islam, Islam Online, Islamic Website, African Muslim News, Arab World News, South Asia News, Indian Muslim News, World Muslim News, Women in Islam, Islamic Feminism, Arab Women, Women In Arab, Islamophobia in America, Muslim Women in West, Islam Women and Feminism