New Age Islam News Bureau
01 March 2022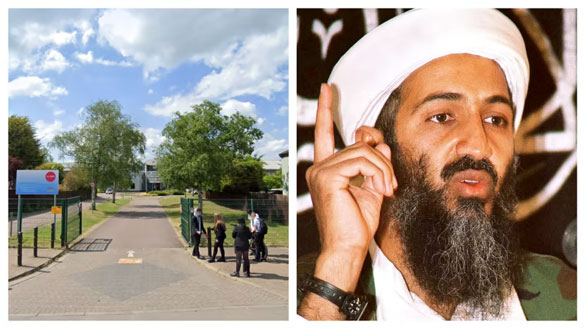 An image of Osama bin Laden was used in a religious studies lesson to depict the prophet Muhammad/ Credit: Google
-----
• Archbishop of Canterbury: Muslims too are Victims of Blasphemy Law in Pakistan, Muslims Misusing It against Muslims
• Leaked Docs Show How Sweden's Ericsson Bribed Daesh to Continue Services in Iraq
• Over 220 Latin American Scholars Demand Branding Israel as Apartheid Regime
• ASI Vaghela, Among Cops Who Rescued 2002 Gujarat Riot Victims, Offers Namaz at Mosque
Europe
• UN Security Council Calls Houthis A Terrorist Group For First Time, Expands Arms Embargo
• Facing Western Isolation over Ukraine, Russia Looks To Mideast, Islamic World
• Erdogan discusses Russia's invasion of Ukraine with Belarus counterpart Lukashenko
• Taliban restrict Afghans going abroad, draws criticism from UK envoy
--------
Pakistan
• Turkey, Pakistan Jointly Work On 'First Islamic World Fighter Jet' Project
• Five Pakistanis arrested in Spain on terrorism charges
• Archbishop Welby an 'ambassador of peace': Ashrafi
• Quran covers each and every aspect of human life: Noor-ul-Haq
• Pakistan 'won't take sides' in UN debate on Ukraine
• EU snubbed Pakistan Army chief's request to join landmark meeting with Indo-Pacific in Paris
--------
Arab World
• UAE welcomes UN resolution labelling Yemen's Houthis as terrorists for the first time
• UAE 'deplores ongoing violence in Ukraine' and calls for ceasefire: Mission to UN
• Saudi aviation authority scraps PCR test requirement for citizens returning from Ukraine
• French Senate delegation praises efforts of Saudi-based Etidal centre to combat extremism
• Russia's Syria intervention provided hints for Ukraine war
• Success of Vienna talks important for Iran, entire region: Lebanon president
--------
Mideast
• Islamic Jihad Chief Urges All Palestinian Fighters to Defend Occupied Al-Quds, Al-Aqsa Mosque
• Palestinians protest French statements on Jerusalem
• Palestinian girl, 11, wounded as worshippers and police clash at Damascus Gate
• Ringleader of Separatist Terrorist Group, Habib Farajollah Chaab, Discloses S. Arabia's Plot against Iran in Court
• Israeli forces kill Palestinian gunman in West Bank raid: Palestinian health ministry
• Iran says three key issues remain unresolved in Vienna nuclear talks
--------
India
• Kerala CPM To Undergo Generation Shift, Leaning Towards Alliance With Muslim League
• 'We Muslims Are Treated Like the Sacrificial Goat in Uttar Pradesh'
• Muslims, Pandits Bond Over 'Herath' Festivities Online
• Srinagar's Iconic Jamia Mosque to Reopen For Prayers After Long Closure
• India, Pakistan to hold Indus water meet in Islamabad
• 'Bulli Bai' app case: Mumbai court rejects bail plea
--------
Southeast Asia
• China to Host Regional Meeting on Afghanistan Next Month
• Boy dies after 'beating' by Indonesian soldiers
• Russian oil tanker hit by US sanctions heading to Malaysia
--------
South Asia
• Iran Will Recognize Inclusive Government in Afghanistan: FM
• UN Urges Taliban to Respect International Humanitarian Law
• Islamic Emirate Forces Freed Iran's Citizen from the Grip of Abductors in Herat
• Financial crisis forcing Afghans to sell their kidneys to feed families
• 240 Afghans arrested over illegal entry in Dera Ismail Khan
• Taliban halt evacuations until 'assurance' over situation for Afghans abroad
--------
Africa
• Sudanese Protesters against Military Rule Defy Tear Gas To Reach Palace Gates
• South Sudan's civil defense woefully lacking in resources
• Gov Bello swears-in Kigera as Niger's new Grand Khadi Sharia Court of Appeal
• Suspected Islamist militants kill 20 civilians in eastern Congo
--------
North America
• Muslim Community In Wisconsin Seek Their Own Voice In Government
• US would walk away from Iran talks if Iran displays intransigence: State Department
• Turkiye's UN envoy calls for 'humanitarian pause' in Ukraine
• In phone call, top US, Turkish diplomats discuss Ukraine's humanitarian plight
Compiled by New Age Islam News Bureau
URL: https://www.newageislam.com/islamic-world-news/depicting-prophet-osama-bin-laden-religious-education/d/126485
--------
Dunstable School Apologises After Depicting Prophet Muhammad as Osama Bin Laden In A Religious Education Class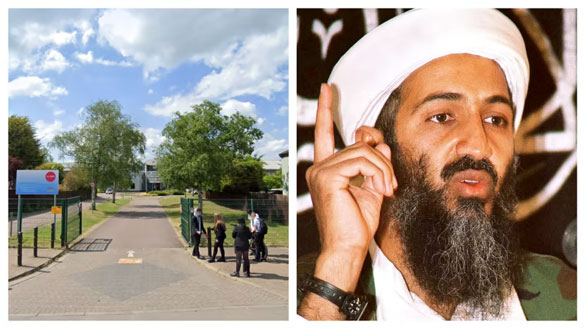 An image of Osama bin Laden was used in a religious studies lesson to depict the prophet Muhammad/ Credit: Google
-----
March 1, 2022
A school in Dunstable has apologised and suspended a member of staff after 5Pillars revealed that Osama bin Laden's photo was used to depict the Prophet Muhammad (pbuh) in a Religious Education class.
The All Saints Academy secondary school in Bedfordshire has launched an investigation into the incident after complaints from a concern student and members of the public.
5Pillars emailed the school asking a series of questions but received no direct reply.
However, in a statement on social media a school spokesperson said: "We are fully aware of a totally inappropriate resource that was used by a teacher during an RS lesson. All Saints Academy recognises the deep hurt and distress that has been caused to the Muslim community, and many other people of faith, by the totally inappropriate images that were used as part of a recent RS lesson. Not only was it offensive to attempt to portray an image of the Prophet Muhammad, but the image that was used was that of Osama Bin Laden, a terrorist leader, which further added to the deep insult.
"The academy reiterates its unreserved and sincere apology for the distress this episode has caused. In terms of actions taken, we are happy to share the following information. Upon learning about this incident from a concerned student, the member of staff was immediately suspended by the Principal pending a detailed and swift investigation which will follow the academy's disciplinary procedures. It would be against the terms of that procedure either to identify the individual concerned or to comment any further until the final outcome is determined.
"Apart from investigating the actual incident, we will also commission a wider review of the circumstances surrounding the case to determine how this individual came to act in such an inappropriate and upsetting way. For purposes of transparency, this review will be conducted by an external person who has no connection with the academy.
"Finally, having now established very useful links with members of the Muslim community in Luton, we would hope to work together to gain a better understanding of religious and cultural matters that impact on all our lives and will help us to be better educators."
After uncovering the photo on Friday, 5Pillars wrote to the school asking them to confirm/answer the following:
Was this presentation slide from All Saints Academy Dunstable? If yes:
For how long has this presentation slide been used in R.E. classes? Is it still being used?
What is the name of the teacher who put this presentation together? We'd like to contact them for comment as well.
What action have your board of governors and headteacher taken regarding this matter (if any)?
Does ASA believe this is remotely acceptable?
Is the teacher in question competent enough to teach religious education?
Source: 5pillarsuk
Please click the following URL to read the text of the original story:
https://5pillarsuk.com/2022/02/28/dunstable-school-apologises-after-depicting-prophet-as-osama-bin-laden/
--------
Archbishop of Canterbury: Muslims too are Victims of Blasphemy Law in Pakistan, Muslims Misusing It against Muslims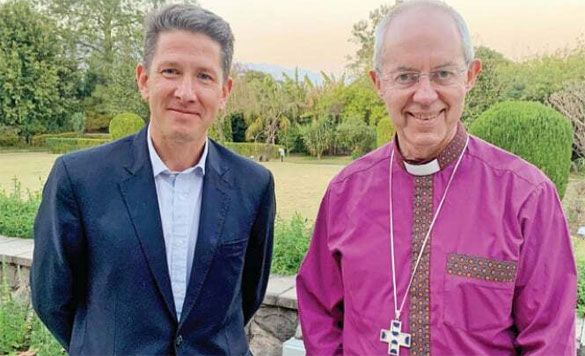 British High Commissioner Christian Turner and Archbishop of Canterbury Justin Welby.
-----
Jamal Shahid
March 1, 2022
ISLAMABAD: Archbishop of Canterbury Justin Welby on Monday said though there was a clear commitment by the Pakistani government to religious freedom and belief, minorities of all sorts, and also the Muslim majority, remained suppressed in their daily lived experience.
"There are very clear misuses, as is recognised, of the blasphemy law against minorities; however most of the misuses — well over 50pc — are Muslims misusing it against Muslims," Archbishop of Canterbury Justin Welby said during an interview with Dawn.
The archbishop is visiting Pakistan to express support to the Christian community, meet national leaders and highlight the importance of maintaining good relations between different faiths in Pakistan.
His visit also aimed to show support to the Church of Pakistan and the wider Christian community, hear their concerns, and spend time in prayers, worship and fellowship.
He also condemned the recent attack on two pastors in Peshawar.
Archbishop Welby said there were also issues on the daily experience of forced conversions, child marriage and access to education and jobs.
This was, in his view, a cultural reality in the same way as in the UK there were different cultural realities.
"The law clearly prevents racism but lived experience of many minorities in the UK is of racism. There remains a deep commitment from many religious leaders, to peace and harmony, to building good communication and making it work. There is a long way to go," he said.
In his impression of the blasphemy law, Justin Welby argued: "If you are going to have blasphemy law, it is so important that it cannot be misused. One of the things that many religious leaders, including Muslims, are saying is there needs to be a balance between the blasphemy law and its misuse. If one person accuses someone of blasphemy falsely and with malicious intent, they should have a criminal penalty, in the same way as when there has been blasphemy, and the blasphemer should have criminal penalty."
In response to a question, Justin Welby shared concerns of Prime Minister Imran Khan, who was worried about Islamophobia in the West.
"As in all communities there are religious leaders who are Islamophobic. They are not major religious leaders and not well known, but it exists. There is also racism and the two were often interlinked in a really bad way but there was genuine Islamophobia," he said, explaining how it had now gotten worse in recent years along with anti-Semitism and racism.
"One of the roles of the Church of England was to combat Islamophobia, which the Queen and I often speak about following her example, is that the church exists to protect minority faith. Our job is to speak up for the minority faith," he said.
The archbishop said he and his wife joined the Muslim community in Central London to reject the attack in Christchurch, New Zealand.
"When people express Islamophobic views in the church they are told how wrong they are in no uncertain terms," he added.
He said his conversation with Prime Minister Imran Khan at a meeting on Monday was largely around interfaith harmony.
"We talked particularly about education and its role, ensuring that education is used creatively and constructively, which is clearly what he wishes for, and not used as a tool to impose particular views," Justin Welby said.
He also met Chief of the Army Staff Gen Qamar Jawed Bajwa to congratulate him on the success of Pakistan Army against the insurgency and at the same time condoled with him on the terrible casualties suffered in Pakistan in the battles in the last eight years.
In response to another question, Archbishop Welby said his favourite story from the Bible, particularly from the Old Testament, was the Book of Ruth - beautiful, profound and on interfaith harmony.
"From the New Testament there is one of Jesus washing his disciples' feet, which is the image of the way in which God is compassionate and merciful, reaching out to the world in love," he said.
Source: Dawn
Please click the following URL to read the text of the original story:
https://www.dawn.com/news/1677593/muslims-are-victims-of-blasphemy-law-as-well-archbishop-of-canterbury-justin-welby
--------
Leaked Docs Show How Sweden's Ericsson Bribed Daesh To Continue Services In Iraq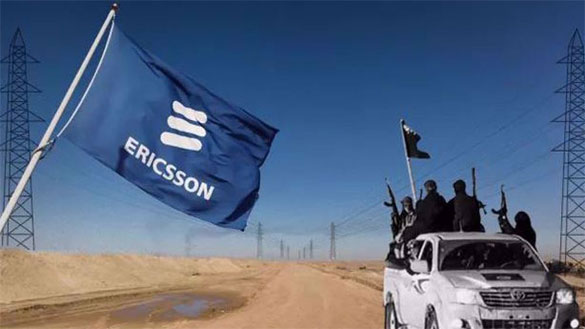 This composite photo purportedly shows Daesh forces, and the Ericsson flag. (by The Guardian)
-----
28 February 2022
Leaked documents have revealed how the Swedish telecom giant Ericsson paid bribes to the Daesh terrorist group to continue its business after the group seized control of large parts of Iraq.
The leak of internal investigations at the multinational telecom company also finds that it exposed its contractors to high security risk and allowed them to be kidnapped by the militants.
The investigations also unravel allegations that the company was involved in corruption in at least 10 countries across four continents, a report in British newspaper The Guardian said on Sunday.
The British daily said leaked papers issued by the flagship company's internal investigation bureau allegedly showed Ericsson had paid Daesh huge sums of money to maintain its services in Iraqi areas under the temporary control of the terrorist group from around 2014 to 2017.
The Stockholm-based telecom company released a public statement admitting to "serious breaches" in company rules in Iraq.
The revelations of corruption prompted Erickson to fire several employees and offer enhanced training and awareness activities, policies and procedures, and third-party management processes to its staff members.
However, the company witnessed a plunge in its stock prices following the revelations showing it had violated its own ethics code.
The Swedish firm been approached by British authorities for the development of the United Kingdom's next generation 5G mobile phone technology. This, after being forced by the United States to refuse signing deals with Chinese telecom giants to develop the new 5G technology in Britain.
The US threatened the UK to cut off security ties with Britain if the British government proceeded with plans to involve Chinese telecommunications companies in the development of its next-generation 5G network.
Source: Press TV
Please click the following URL to read the text of the original story:
https://www.presstv.ir/Detail/2022/02/28/677692/Sweden-Daesh-bribes-Guardian-Leaked--Papers-5G-Networks
--------
Over 220 Latin American Scholars Demand Branding Israel as Apartheid Regime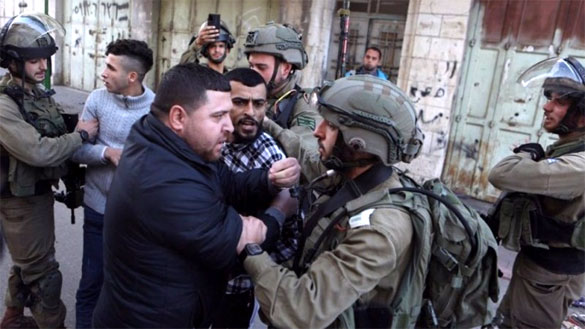 More than 220 scholars and academics from fourteen Latin American countries have denounced Israeli authorities for enforcing a system of oppression and domination against Palestinians,
-----
28 February 2022
More than 220 scholars and academics from fourteen Latin American countries have denounced Israeli authorities for enforcing a system of oppression and domination against Palestinians, stating that Israel must be branded as an apartheid regime.
The scholars pledged in a joint statement that they would not participate in any academic exchanges with Israeli institutions, and would decline funding from Israel, as reported by the Palestinian Campaign for the Academic and Cultural Boycott of Israel (PACBI).
The signatories then called on Latin American universities to suspend cooperation with Israeli educational centers, which are contributing to the regime's military occupation and the crime of apartheid against Palestinians, until the Tel Aviv regime respects the political and human rights of all Palestinian people as stipulated by the United Nations.
Among the signatories are Afro-Dominican anthropologist Ochy Curiel, Colombian anthropologist Arturo Escobar, Chilean historians Igor Alexis Goicovic Donoso and Sergio Grez Toso, Chilean artist Ingrid Wildi Merino, as well as Argentine philosopher Silvana Rabinovich.
Earlier this month, at least 277 human rights groups and civil society organizations denounced Israeli officials for imposing apartheid on Palestinians.
The organizations, which came from 16 Arab countries as well as six European and Latin American states, demanded in a joint statement the trial of Israeli authorities involved in perpetration of genocide, war crimes and racial discrimination against Palestinians.
They condemned Israel's racist practices against Palestinians and its treatment of the latter as an inferior racial group, and called for the launch of a campaign to put an ultimate end to the regime's apartheid actions.
The human rights organizations also urged punitive measures, including travel bans and asset freezing, against Israeli military officials besides arms embargoes against the Tel Aviv regime.
They called upon the International Criminal Court (ICC) to include apartheid crimes in the Occupied Palestinian Territory in its future investigations.
The organizations then voiced support for pro-Palestinian groups that document and expose Israel's atrocities and racism, above all the international Boycott, Divestment and Sanctions (BDS) movement.
The BDS movement, which is modeled after the anti-apartheid movement in South Africa, was initiated in 2005 by over 170 Palestinian organizations that were pushing for "various forms of boycott against Israel until it meets its obligations under international law."
Thousands of volunteers worldwide have since then joined the BDS movement, which calls for people and groups across the world to cut economic, cultural, and academic ties to Tel Aviv, to help promote the Palestinian cause.
Source: Press TV
Please click the following URL to read the text of the original story:
https://www.presstv.ir/Detail/2022/02/28/677708/Over-220-Latin-American-scholars-demand-branding-Israel-as-apartheid-regime
--------
ASI Vaghela, Among Cops Who Rescued 2002 Gujarat Riot Victims, Offers Namaz at Mosque
A 29-year-old Vaghela was posted at Naroda Patiya in anticipation of trouble brewing after the bandh call.
-------
By Vaibhav Jha
March 1, 2022
This would have been like any other Monday for 49-year-old Pradipsinh Vaghela, an assistant sub-inspector (ASI) of Gujarat Police, who heads a traffic police team at the busy Sardarnagar-Airport Road stretch in Ahmedabad, except that he decided to spend it with the survivors of Naroda Patiya, the place where he was posted in 2002.
Vaghela visited the Noorani mosque in Ahmedabad's Naroda Patiya — the locality that witnessed the single largest massacre during the riots, and offered Namaz to pay homage to the 97 people who were killed on this day 20 years ago.
Vaghela, a police constable who was among those who rescued victims in the Naroda Patiya massacre, says the incident deeply impacted his life. "I am a follower of Ambaji Mata and Shiva but today, a day before Shivratri, I offered Namaz with my friends to pray for peace so that no incident like this ever happens again. I have for long battled depression and medical complications after I took part in the rescue process at Naroda Patiya," Vaghela says.
His friend, auto rickshaw driver Saiyyed Abbas, says, "He asked if we could teach him how to offer Namaz. We took him to Jama Masjid and Siddi Saiyyed mosques along with the Noorani mosque."
On February 28, 2002, a mob attacked the Muslim-dominated Naroda Patiya in the morning hours during a Bandh called by right-wing organisations in the wake of the Godhra train burning incident that killed 57 people.
In 2012, a special SIT court had convicted 32 accused, including BJP's Maya Kodnani, for their role in the Naroda Patiya incident. Six years later, the Gujarat HC acquitted 18 of them, including Kodnani. Vaghela's name also features in the HC judgment among the list of cops who were deployed that day outside Naroda Patiya.
He was part of a four-member team that discovered 58 burnt bodies from various houses at a lane in Naroda Patiya in the evening hours. The team had also rescued a 10-year-old boy in the process. The Gujarat police has faced criticism for alleged inaction during the riots.
Vaghela joined the Gujarat police as an 18-year-old. He is a second generation policeman in his family; his father RK Vaghela had served as a police sub-inspector in Ahmedabad.
"I was on leave that day but my father read in the morning chhapa (newspaper) about the Bandh and said I must report for duty. Around 11 am, two groups — each of 4,000-5,000 persons — started assembling at Naroda Patiya trying to create unrest," he recounts.
Vaghela claims the police were able to take command only by evening 6 pm after houses in the Naroda Patiya locality were set on fire. "I found at least 58 burnt bodies piled upon each other in different houses… smoke still coming out of them. We used iron rods to remove the bodies and found a 10-year-old boy alive. He had suffered burns and could not tell us his name. Since I had served at Sardarnagar and Naroda police stations, the local people knew me. One woman, whom I used to call 'aapa doshi', called for help and we found over 250 people, including women stuck in one of the lanes. The State Reserve Police was then called and they were rescued. They told me the boy who was rescued was called Moeen," Vaghela says.
Vaghela had to go through severe symptoms of post-traumatic stress disorder (PTSD) and depression after his duty during the riot days. "Two days later, we returned to the same spot and found four more burnt bodies in another house. These bodies were decomposing and infected with worms. Just a week after the rescue, I started coughing up blood. I was diagnosed with a severe kidney infection due to the constant contact with decaying bodies and was bedridden for the next four months," he adds.
Soon, depression took over. "It started with insomnia and then, depression. Initially, it felt like the stench of bodies and cries for help would never leave me. I underwent therapy and was prescribed anti-depressants. I was overwhelmed with guilt for not having done enough but the police were simply outnumbered," Vaghela says, adding, the medication finally stopped in 2018.
Meanwhile, he continued to serve in the Gujarat Police, rising through the ranks to become an ASI. From 2015, he has been serving in the traffic police.
Now, Vaghela is a popular figure at the busy Airport circle. Regular commuters shake hands with him. He offers toffees to bikers wearing helmets and drivers wearing seat belts as a token of
He shows pictures of himself with former president APJ Abdul Kalam and business tycoon Ratan Tata. "When Kalam sahib met me, he told me to stay determined and never lose focus. It is the reason why I continue on the job, despite the health challenges. I overcame medication in 2018 with the help of my family and friends. Today, on the 20th anniversary of the incident that changed my life forever, I wish to start afresh by offering Namaz," he says.
Source: Indian Express
Please click the following URL to read the text of the original story:
https://indianexpress.com/article/cities/ahmedabad/asi-vaghela-among-cops-who-rescued-victims-offers-namaz-at-mosque-7795439/
--------
Europe
UN Security Council calls Houthis a terrorist group for first time, expands arms embargo
February 28, 2022
NEW YORK: The UN Security Council on Monday voted to adopt a draft resolution on Yemen that expands the scope of an existing arms embargo targeting the leaders of the Houthi militia, including Abdulmalik Al-Houthi, to encompass the entire membership of the Iran-backed group.
In addition, the resolution labels the Houthis as a terrorist group for the first time, following an ongoing series of cross-border drone and missile attacks targeting the UAE and Saudi Arabia, and a wide range of violations affecting the Yemeni people and the international community.
It also renews financial sanctions and a travel ban on senior members of the Houthi militia for an additional year
Security Council Resolution 2624, which was tabled by the UAE, condemns the continuing supply of weapons and weapon components to the Houthis from outside Yemen in violation of the arms embargo established by Resolution 2216 in 2015. It urges all UN member states to step up efforts "to combat the smuggling of weapons and components via land and sea routes, to ensure implementation of the targeted arms embargo."
Iran is accused of providing the Houthis with training and a growing arsenal of sophisticated weaponry and technology, including anti-tank guided missiles, sea mines, explosive-laden drones, ballistic and cruise missiles, unmanned maritime vehicles.
Eleven of the 15 members of the Security Council voted in favor of the resolution; Ireland, Mexico, Brazil and Norway abstained because of humanitarian concerns.
In the run-up to the vote on Monday, negotiations were especially intense around the question of whether or not the Houthis should be designated as a terrorist organization. Some members expressed concerns that this might hinder the efforts of the UN's envoy to Yemen to broker peace, and about its possible negative effect on humanitarian operations in Yemen.
Tens of thousands of civilians have been killed by the war, which has created one of the worst humanitarian crises in the world and pushed the country to the brink of famine.
The resolution stresses that the new measures are "not intended to have adverse humanitarian consequences for the civilian population of Yemen, nor civilian access to humanitarian assistance, commercial imports or remittances."
It also calls on states to fully comply with the principles of international law, including humanitarian law and human rights law, in the implementation of sanctions.
In addition to the ongoing cross-border attacks on the UAE and Saudi Arabia, the designation of the Houthis as a terrorist group also reflects its attacks on civilians and civilian infrastructure in Yemen; its "policy of sexual violence and repression against politically active and professional women;" its recruitment of children for warfare; its incitement to violence against religious groups; and its indiscriminate use of landmines.
"The Houthis have also obstructed the delivery of humanitarian assistance to Yemen, or access to or distribution of humanitarian assistance in Yemen," according to the text of the resolution, which adds that sexual violence and violence against children during armed conflict are sanctionable acts that "threaten the peace, security or stability of Yemen."
The Security Council also condemned "in the strongest terms" the growing number of attacks by the Houthis on civilian and commercial targets, and their seizure of commercial vessels in the Red Sea off the coast of Yemen. Members demanded the release of the crew of the UAE-registered merchant vessel Rwabee, who have been detained by the terrorist group since mid-January
Lana Nusseibeh, the UAE's permanent representative to the UN, welcomed the adoption of the resolution and the addition of the entire Houthi organization to the Yemen sanctions list in response to their "flagrant violations and heinous attacks."
It will, she said, reduce the group's military capabilities, and help to prevent its hostile actions toward civilian vessels that threaten shipping routes and international trade.
Nusseibeh called on the Houthis to halt their terrorist, cross-border attacks and return to the negotiation table and participate in a serious political process.
"We emphasize that there is no military solution to the crisis in Yemen," she said. "The only way to overcome the current crisis is through concerted efforts to reach a Yemen-led, Yemeni-owned political solution, under the auspices of the United Nations."
In their explanation of the vote, council members condemned the attacks on the UAE and Saudi Arabia. Trine Heimerback, Norway's deputy permanent representative, backed the implementation of targeted sanctions that can help to support "a path toward a political settlement and contribute to the protection of civilians."
She added: "Joint action by the council to limit the Houthi's capabilities to launch attacks and harm civilians is therefore welcome."
However, she noted that the resolution fails to address Norway's key concern about the possible negative effects it might have on the peace process and humanitarian operations in Yemen.
She said her country fears that the designation of the Houthis as a terrorist organization, "absent a clear definition (by the UN charter,) may have negative impact on UN efforts to facilitate a political solution in Yemen (and) unintended humanitarian consequences (that) could negatively impact UN efforts to address large-scale humanitarian needs in Yemen."
Kenya's ambassador to the UN, Martin Kimani, said his country is alarmed by "the increasing trend of transnational groups undertaking attacks outside a territory in which they are engaged in peace processes."
He added that the Houthi attacks on the UAE and Saudi Arabia "cross over an unacceptable threshold (and) contradict this council's effort to help the mediation of peace in Yemen."
"It is time for the Security Council to limit such incentives for groups that have launched cross-border attacks as a way to draw attention to themselves and leverage in their national positions," Kimani said.
"Sanctions such as these being leveled today help reinforce to those groups that they will need to cease their external attacks to have any hope of being accepted as legitimate political actors."
The Houthis' control over the Yemeni population and their manipulation of humanitarian aid must not be tolerated by the council, he added.
"Surely we are aware by now that attacks on civilians and civilian objects are some of the gravest drivers of humanitarian crises," Kimani said. "Countering terrorism and supporting humanitarian action are not in conflict with one another.
"Humanitarian organizations must be enabled to better operate in the (humanitarian) space to avoid exploitation by groups. Otherwise we will be discussing the imprisonment of entire populations (as a means) to exploit the humanitarian response to their crisis."
The Kenyan envoy also addressed the concerns among some council members about the designation of the Houthis as a terrorist organization on the grounds that such a designation is not clearly defined by the UN Charter.
Source: Arab News
Please click the following URL to read the full text of the original story:
https://www.arabnews.com/node/2033376/middle-east
--------
Facing Western isolation over Ukraine, Russia looks to Mideast, Islamic world
Kirill Semenov
March 1, 2022 —
After the start of Russia's military campaign against Ukraine and the resulting unprecedented sanctions against Moscow, the latter is focusing its attention on the leading states in the Islamic world and the greater Middle East to negate the impact of Western isolation.
The operation against Ukraine began when Pakistani Prime Minister Imran Khan was in Moscow on an official visit; he had arrived in the Russian capital on the eve of the launch of the military operation. This gave rise to speculation about whether the Pakistani leader's visit could be considered an implicit endorsement of Russia's actions.
In particular, US State Department spokesperson Ned Price was asked at a Feb. 23 briefing whether Washington considers the choice of the Pakistani prime minister to visit Moscow at this particular time the equivalent of "indirectly endorsing" Russian President Vladimir Putin.
"You would have to ask the Pakistani government. I'm just not in a position to offer an assessment on the timing of foreign counterparts' travel to another country," Price replied.
The visit was never rescheduled, despite obvious military preparations and sanctions imposed on Russia by the United States, the European Union and a number of other countries due to Moscow's recognition of the independence of the Moscow-backed Donetsk and Luhansk regions in eastern Ukraine on Feb. 21. Khan arrived in Moscow on the evening of Feb. 23, on the eve of the invasion, but held talks with Putin on Feb. 24, when Russian troops were already advancing on Ukrainian territory.
Earlier, on Jan. 17, Khan thanked the president of Russia for his support on behalf of Muslims after Putin had said disrespecting the Prophet Muhammad is not part of freedom of speech. Putin "is the first Western leader to show empathy and sensitivity to Muslim sentiment for their beloved prophet," Khan said after his call with the Russian leader.
Two days before the arrival of the Pakistani premier, on Feb. 21, Azerbaijani President Ilham Aliyev also visited Moscow. Amid the escalation between Russia and NATO and the preparation of a Russian military operation against Ukraine, Aliyev signed a declaration on allied cooperation between Azerbaijan and Russia.
Russia and Azerbaijan agreed to provide each other with military assistance.
"In order to ensure security, maintain peace and stability, the Russian Federation and the Republic of Azerbaijan may consider the possibility of providing each other with military assistance on the basis of the UN Charter, separate international treaties and taking into account the existing international legal obligations of each of the parties," the declaration stated. In addition, Putin and Aliyev agreed to refrain from any actions that, in the opinion of one of the parties, damage the strategic partnership and relations between the two states.
Thus, Yerevan has lost its status as Moscow's sole ally in the south Caucasus. This can also strengthen the depth of Moscow's strategic partnership with those states that are already allies of Baku or have privileged relations with it. In particular, the signing of the Russian-Azerbaijani allied declaration is of particular importance since Azerbaijan is already an ally of Turkey on the basis of the so-called Shusha Declaration, and a strategic partner of Pakistan, with whom it repeatedly conducts joint military maneuvers.
In turn, Moscow can still count on Ankara's special position, which differs significantly from the approach of other NATO member countries to the events in Ukraine and can be considered the most favorable for the Kremlin. First of all, we are talking about Ankara's refusal to join the toughest anti-Russian sanctions.
Turkey also abstained on Feb. 25 from voting on the suspension of Russia's rights in the Council of Europe, as "it stands for the continuation of dialogue under any circumstances."
In addition, President Recep Tayyip Erdogan, despite statements condemning the Russian invasion of Ukraine, is still set to interact with and is ready for direct face-to-face contacts with Putin.
At a meeting of the ruling party on Feb. 26, where the main issue was the situation in Ukraine, Erdogan said, "In a telephone conversation with Mr. Putin, I invited him to Turkey to normalize the situation," according to TGRT Haber TV channel.
In turn, Sheikh Ali Al-Qaradaghi, secretary-general of the International Union of Muslim Scholars, called for the speedy establishment of peace in Ukraine in a Feb. 27 Tweet. Qaradaghi also named Turkey and Pakistan as two states that could mediate the conflict.
"I urge countries that have good relations with the conflicting parties, such as Turkey and Pakistan, to make sincere and serious mediation efforts to immediately end the destructive war in which not only these peoples are losing a lot at all levels, but the whole world may be losing," wrote Qaradaghi.
One should also pay attention to the position of another Middle Eastern country — the United Arab Emirates — which is currently a nonpermanent member of the UN Security Council. The UAE joined China and India in abstaining from a UN resolution condemning the invasion, in a position seen as favorable toward Moscow.
Abu Dhabi justified the abstention by saying the vote was a "foregone conclusion."
"The result of this vote was a foregone conclusion, but the avenues for dialogue must remain open more urgently than ever before," the UAE said in a statement put out by its permanent mission to the UN. "We urge for immediate de-escalation and the cessation of hostilities."
It is important to note that the leaders of the Houthis in Yemen, following Russia, recognized the Donetsk and Luhansk republics, thereby confirming their loyalty to Russia. In this situation, Moscow has new opportunities to influence the leaders of the Houthis in terms of preventing missile attacks on the UAE, which can also be used to maintain a favorable attitude toward Russia from Abu Dhabi, which may try to take advantage of Russian opportunities to influence the Houthis. In particular, on Jan. 25, UAE Minister of Foreign Affairs Sheikh Abdullah bin Zayed Al Nahyan praised Russia's support in the wake of the recent Houthi attacks on civilian targets in the UAE. The need for cooperation between the two countries on the Yemeni settlement track was also confirmed during a Feb. 24 telephone conversation between the foreign ministers of the UAE and Russia.
Taking into account the unprecedented sanctions against Russia that many states have imposed, cooperation with the states of the Islamic world and, above all, the Middle East may turn out to be one of the few "windows" in order to receive metered economic and political support.
Source: Al Monitor
Please click the following URL to read the full text of the original story:
https://www.al-monitor.com/originals/2022/02/facing-western-isolation-over-ukraine-russia-looks-mideast-islamic-world
--------
Erdogan discusses Russia's invasion of Ukraine with Belarus counterpart Lukashenko
01 March ,2022
Turkish President Tayyip Erdogan's office said early on Tuesday that he held a phone call with his Belarusian counterpart Alexander Lukashenko to discuss developments in Russia's invasion of Ukraine.
The two premiers discussed ceasefire talks between Russia and Ukraine, according to Erdogan's office. The talks failed to reach a breakthrough on Monday, and negotiators have not said when a new round would take place.
Erdogan's office said he told Lukashenko that Turkey will continue to make efforts to stop the war and restore peace. Russia calls its actions in Ukraine a "special operation."
Turkey's leader said on Monday that his country could not abandon its ties with Russia or Ukraine, adding Ankara would implement a pact on passage via straits in Turkish waters leading to the Black Sea to prevent an escalation of the war.
NATO ally Turkey on Sunday called Russia's invasion a "war," allowing it to invoke articles under a 1936 international accord that will limit the passage of some Russian vessels from Turkish straits.
Turkey has previously offered to mediate in the crisis between Russia and Ukraine. Turkey shares maritime borders with both countries and has good relations with them.
Source: Al Arabiya
Please click the following URL to read the full text of the original story:
https://english.alarabiya.net/News/world/2022/03/01/Turkey-s-Erdogan-discusses-Russia-s-invasion-of-Ukraine-with-Lukashenko
--------
Taliban restrict Afghans going abroad, draws criticism from UK envoy
28 February ,2022
The Taliban administration's announcement that it would restrict Afghans from leaving the country under certain circumstances drew criticism from the United Kingdom's envoy on Monday amidst fears they could hamper ongoing evacuation efforts.
The Taliban administration's spokesman Zabihullah Mujahid had said at a media conference on Sunday that Afghans would not be allowed to leave the country unless they had a clear destination and that women could not travel overseas for study without a male guardian.
Hugo Shorter, the UK charge d'affaires for Afghanistan, said in a Tweet they had seen the Taliban's statements.
"These would be unacceptable restrictions on freedom of movement," he said. "I call on the Taliban to clarify their remarks urgently."
It was not immediately clear whether the plans would hamper the efforts by international governments and organizations to evacuate thousands of Afghans who had worked with foreign embassies, militaries and projects and were eligible for asylum in Western countries but still in Afghanistan.
"We will not allow Afghans to leave the country unless their destinations are known," Mujahid said.
Mujahid said the travel restrictions would apply to Afghans who worked with NATO and American forces, but did not elaborate under what, if any, circumstances they would be able to evacuate.
Source: Al Arabiya
Please click the following URL to read the full text of the original story:
https://english.alarabiya.net/News/world/2022/02/28/Taliban-restrict-Afghans-going-abroad-draws-criticism-from-UK-envoy
--------
Pakistan
Turkey, Pakistan jointly work on 'first Islamic world fighter jet' project
February 28, 2022
Turkey and Pakistan are jointly developing a 5th generation fighter jet, in an effort to replace and advance their existing fleets of fighters and combine their abilities in defence cooperation.
The TF-X [Turkish Fighter Experimental], which was first announced in 2016 and has been in development since, is envisioned by Turkey to be its first 5th generation twin-engine stealth fighter jet that is focused on air-to-air capabilities while also operating in an air-to-surface role.
In an interview with a Pakistani TV station this month, the CEO of Turkish Aerospace Industries (TUSAS), Temel Kotil, revealed that the project is being developed jointly with Pakistan.
According to an article earlier this month, Pakistani Air Vice-Marshal, Rizwan Riaz, said the project's development team – based in Turkey – distributes smaller tasks of work to students and researchers based in Pakistan, who contribute to integrating the components.
Kotil also announced that some of TUSAS' operations will move to Pakistan this year as part of activities to improve and advance cooperation between the two countries in the defence industry.
The joint project – which has been dubbed by some as the 'Islamic world's first fighter [jet]' – is predicted to benefit both Ankara and Islamabad, replacing their outdated fighter jet fleets. As for Turkey, it is reportedly unable to completely develop the fighter jet on its own due to the economic crisis it has been suffering over the past few years.
Source: Middle East Monitor
Please click the following URL to read the full text of the original story:
https://www.middleeastmonitor.com/20220228-turkey-pakistan-jointly-work-on-first-islamic-world-fighter-jet-project/
--------
Five Pakistanis arrested in Spain on terrorism charges
1 March, 2022
Madrid [Spain], March 1 (ANI): Giving body blow to the already settled radical Islam in the country, the National Police of Spain arrested five Pakistani citizens for encouraging their compatriots through social networks to assassinate those who raise their voice against them.
Police arrested the Pakistani citizens on February 21 in Barcelona, Gerona, Ubeda (Jaen) and Granada, according to a media report.
The detainees, all in their twenties, were sympathizers neither of the Islamic State (ISIS) nor of Al Qaeda, the groups to which practically all of those arrested in Spain are related, but of a radical Islamist group of Pakistan, the Tehreek-e-Labbaik Pakistan (TLP), with parliamentary representation and which advocates the implementation of Islamic law and execution of those who are branded as blasphemers, said the report.
The judge of the National High Court Manuel Garcia-Castellon has ordered the admission to preventive detention of all of the accused on charges of collaboration with a terrorist organization, glorification and incitement to commit murders.
The investigation that has led to these arrests began after the attack in September 2020 on the former Paris headquarters of Charlie Hebdo. The satirical magazine had already suffered a jihadist attack in January 2015 in which eight persons had died.
In the second attack, in which two people were seriously injured, Zaheer Hassan Mahmoud, a 25-year-old Pakistani who assured that his intention was to attack the publication again for its decision to re-disseminate the cartoons of the Prophet Muhammad, was arrested. The French police investigation found links between Zaheer Hassan Mahmood and the Tehreek-e-Labbaik Pakistan, the media report said.
According to the report, that arrest triggered the alert among Spanish anti-terrorist experts due to the fear of being faced with a new terrorist phenomenon, especially after learning that the detainee had maintained contacts with a compatriot based in Barcelona.
The investigations have revealed that those now detained used social networks, mainly profiles on Facebook and Tik-Tok, as an authentic propaganda device in Urdu (the language spoken in Pakistan) through which they disseminated audiovisual material, in part created by them, in which they praised the terrorist attacks that were being committed both in Europe and in Pakistan against those they considered blasphemous, said the report.
"They were very active and had numerous followers, and not only in Spain, but also in other European countries, such as France, Greece or Italy," sources close to the investigation pointed out, according to the report.
It was the increasing reach of their radical messages that precipitated the arrests. The alleged leader of the group was arrested in Barcelona; another two, in Girona; one more, in Ubeda (Jaen); and the last, in Granada.
In the records of their homes, the Police have not located weapons or plans to commit a specific attack, but abundant jihadist material from the Islamic State in which threats against Europe and Israel were poured, according to the report.
Source: The Print
Please click the following URL to read the full text of the original story:
https://theprint.in/world/five-pakistanis-arrested-in-spain-on-terrorism-charges/852824/
--------
Archbishop Welby an 'ambassador of peace': Ashrafi
February 28, 2022
ISLAMABAD: Tahir Ashrafi, adviser to the prime minister on interfaith harmony, termed Archbishop of Canterbury Justin Welby, who is currently on a tour to Pakistan, an "ambassador of peace".
Ashrafi was addressing a banquet he hosted in the honour of the most senior bishop in the Church of England at a local hotel in Islamabad.
Ashrafi said: "This [gathering] is small in size but in fact [is] a big one as a towering figure is among us who is an ambassador of peace. For me, he is a teacher and […] has a leading role in the global perspective for promoting peace and interfaith harmony."
"This is a blessing [to have] you here in Pakistan that is your own country," he added.
He said Welby always supported the people encouraging peace and interfaith harmony worldwide.
He observed that during times when it was difficult to speak on matters related to interfaith harmony and dialogue at global forums, the Pakistan Ulema Council (PUC) lent its voice to the cause.
Ashrafi said he was the only one who spoke openly whether it was the 2012 Rimsha Masih case or the Joseph Colony torching of 2013 or an attack on a minority place of worship because there was an element of fear among the people at the time.
But today, the situation was different, he added.
The official said there were some complaints of instances of forced marriages and conversions but his office had resolved them with his pragmatic approach.
In 2022, not a single case of abuse of blasphemy laws was registered across the country because he had personally investigated every instance.
In 113 cases, Ashrafi said he had ordered to release the accused and remove the cases against them. Now the situation was improving with the passage of time, he added.
Source: Pakistan Today
Please click the following URL to read the full text of the original story:
https://www.pakistantoday.com.pk/2022/02/28/archbishop-welby-an-ambassador-of-peace-ashrafi/
--------
Quran covers each and every aspect of human life: Noor-ul-Haq
March 1, 2022
Federal Minister for Religious Affairs and Interfaith Harmony Dr Pir Noor-ul-Haq Qadri Monday said that the Holy Quran is a complete code of life, covering each and every aspect of human life.
Addressing the 'Qiraat Competition' final round at the Lahore Chamber of Commerce and Industry (LCCI) here, he said that Holy Quran provides the basis for Muslim unity and Pakistan Tehreek-e-Insaf (PTI) government is striving to promote Quran teaching in the country.
The minister said that the government was making efforts to publish translation of the Holy Quran acceptable to all schools of thought, adding that the task was near to complete now, as all schools of thought were reaching consensus in this regard. He said that the government has included the Holy Quran and the biography of the Holy Prophet Hazrat Muhammad (Peace be upon him) in the curriculum.
Noor-ul-Haq Qadri said that the Quran bill to protect Quran from errors had been introduced which was passed by the National Assembly Standing Committee, adding that the composing and printing of the holy book would be monitored by the government authorities and religious scholars. He said that fine and penalties had been recommended in the bill for the violators. He said that publishing of the Holy Quran on newsprint was prohibited under the law. A particular quality of paper had been specified for printing of Holy Quran, he added.
He said that the government had developed a mechanism to restore the sacred papers of the Quran, adding that establishment of a recycling plant was also on the cards, which would be set up in Islamabad. He said that a memorandum of understanding (MoU) with Al-Azhar University Egypt had been signed to promote Qiraat in educational institutions under the supervision of Egyptian 'qaris'.
The minister said that an international competition would be arranged on Qiraat after Eid-ul-Fitar in the federal capital in which contestants from 12 Islamic countries would participate. He stressed the need to teach the students of Quran and Sunnah how to speak and behave to give positive image of Islam to the rest of the people.
Source: Pak Observer
Please click the following URL to read the full text of the original story:
https://pakobserver.net/quran-covers-each-and-every-aspect-of-human-life-noor-ul-haq/
--------
Pakistan 'won't take sides' in UN debate on Ukraine
Anwar Iqbal
March 1, 2022
UNITED NATIONS: Pakistan has decided not to participate in the emergency session of the UN General Assembly that began on Monday to discuss the Ukrainian crisis.
"Pakistan has decided not to take sides on this issue," a diplomatic source told Dawn. "Islamabad supports a peaceful and negotiated settlement."
Prime Minister Imran Khan, who visited Moscow on the day the invasion began, defended his decision on Monday, saying that he was there to discuss bilateral issues only.
The General Assembly is expected to wind up its debate on Tuesday and by then representatives of more than 100 countries would have addressed the emergency session. The meeting will decide whether to support a US-sponsored resolution that demands Russia's immediate withdrawal from Ukraine.
Ukraine's ambassador to the UN Sergiy Kyslytsya warned the global body that "if Ukraine does not survive, the UN will not survive."
Polish ambassador Krzysztof Szczerski told the meeting that Pakistani civilians and students were among those thousands of people who were seeking refuge in Poland and the Polish government was sheltering them.
The General Assembly has only held 10 emergency sessions since 1950, in line with a provision widely known as the 'Uniting for Peace' resolution.
The resolution gives the assembly the power to take up important matters when the Security Council is unable to act due to differences among its five permanent members.
A General Assembly debate is considered the world body's second-best option because its resolutions are non-binding, unlike those of the Security Council.
The US, which initiated the debate, first went to the Security Council on Feb. 25, seeking a binding resolution, but Russia vetoed the effort.
As the debate began, UN Secretary-General António Guterres informed the assembly that while Russian strikes were largely targeting Ukrainian military facilities, they had "credible accounts" of non-military targets sustaining heavy damage.
"Enough is enough," he said. "This escalating violence … is totally unacceptable. Soldiers need to move back to their barracks. Leaders need to move to peace."
He also emphasized the need to respect "the sovereignty, independence and territorial integrity of Ukraine, within its internationally recognized borders."
Assembly President Abdulla Shahid informed the meeting: "As we convene here in the General Assembly, negotiators from both sides are holding talks in Belarus" to end the crisis that began last week.
Although China and India had abstained from the Feb. 25 vote in the Security Council, they participated in Monday's debate.
China's Permanent Representative Zhang Jun said China supports the EU, Nato and Russia resuming dialogue including the "legitimate" security concerns of all, including Moscow's.
Source: Dawn
Please click the following URL to read the full text of the original story:
https://www.dawn.com/news/1677615/pakistan-wont-take-sides-in-un-debate-on-ukraine
--------
EU snubbed Pakistan Army chief's request to join landmark meeting with Indo-Pacific in Paris
PRAVEEN SWAMI
1 March, 2022
New Delhi: European Union diplomats stonewalled requests from Pakistan's army chief, General Qamar Javed Bajwa, to be invited to attend a high-profile multilateral conference on the Indo-Pacific region in Paris last week, as well as a one-on-one meeting with the organisation's High Representative for Foreign Affairs and Security Policy, Josep Borrell Fontelles, three diplomatic sources have confirmed to ThePrint.
General Bajwa, the sources said, also sought an invitation to the high-profile Munich Security Conference, which fell through after organisers pointed out that Pakistan's National Security Adviser, Moeed Yusuf, was already scheduled to speak on Afghanistan.
The European Union did not respond to a request for comment from ThePrint. This report will be updated if a response is received.
Leaders from more than 30 countries in the Indian Ocean Region, including External Affairs Minister S. Jaishankar, attended the EU's Indo-Pacific conference on 22 February, along with the foreign ministers of EU member states. The conference has been seen as a step towards shaping a coherent European security policy for the Indian Ocean, through which an estimated 60 per cent of its global trade transits.
Europe has faced calls to contribute more to security operations in the Indian Ocean, where only one member state, France, has a significant naval presence.
The United States has also been pushing European states to push back harder against China, with some success. Earlier this month, Germany's foreign ministry was reported to have circulated a paper to other ministries, urging them to regard China as a "systemic rival".
Islamabad was not invited to the conference, one European diplomatic source said, in a sign of ire over its failure to deliver on promises to rein in the Afghan Taliban, and anger over the country's handling of Islamist protesters demanding the expulsion of France's ambassador to protest the country's protection of purported blasphemers.
The EU's ambassador in Islamabad, Androulla Kaminara, had pushed for Borell to meet with General Bajwa, an Indian diplomatic source said, arguing that he represented a pro-West section of the country's establishment, committed to containing China's influence.
EU diplomats, however, pointed out that the meeting would be inappropriate, as Gen. Bajwa is a military officer, not a diplomatic representative of his country.
During a visit to Belgium this month, Gen. Bajwa met with the secretary-general of the European External Action Services (EEAS), Stefano Sannino, and the chairman of the European Union military committee, Claudio Graziano, the Pakistan Army's official Inter-Services Public Relations agency announced on 18 February.
The three officials, the statement said, held discussions on the regional security situation, including Afghanistan.
The EEAS is the European Union's diplomatic service, reporting to the High Representative for Foreign Affairs and Security Policy, and is tasked with executing the alliance's foreign and security policies.
General's mysterious visit to London
Following his European Union meetings, Gen. Bajwa made an undisclosed visit to London last week, the Indian diplomatic source said. The general and another senior officer, Inspector General for Communication & Information Technology, Lieutenant General Asif Ghafoor, stayed at the Grosvenor House hotel in central London for two days, the source said. A credible Pakistani media source also confirmed the meeting.
Even though there has been speculation that the move might have been related to tensions between Gen. Bajwa and Prime Minister Imran Khan, a leader of former prime minister Nawaz Sharif's Pakistan Muslim League (N) told ThePrint that there had been no meeting between the army chief and the exiled Pakistani politician.
Sharif has been living in London since 2019, in the face of multiple requests from Islamabad for him to be deported home. The United Kingdom's Home Office denied Sharif's request for a visa extension last year, saying he had completed the medical treatment for which he had been granted entry. An immigration tribunal is set to decide on an appeal by the former prime minister later this year.
Gen. Bajwa has close personal links to the United Kingdom, which is home to his sister-in-law, Asma Bajwa, and brothers Tariq Bajwa and Javaid Bajwa.
Source: The Print
Please click the following URL to read the full text of the original story:
https://theprint.in/diplomacy/eu-snubbed-pakistan-army-chiefs-request-to-join-landmark-meeting-with-indo-pacific-in-paris/851659/
--------
Arab World
UAE welcomes UN resolution labelling Yemen's Houthis as terrorists for the first time
01 March ,2022
The United Arab Emirates has welcomed the adoption of a UN Security Council resolution renewing sanctions on Yemen's Iran-backed Houthi militia, and labeling them a terrorist group for the first time.
"The purpose of this resolution is to limit the capacity of the Houthis and to limit the escalation of war in Yemen," Lana Nusseibeh, Permanent Representative of the UAE to the UN said in a statement.
"It also calls for an end to attacks on international navigational waters and vessels and to put an end to the suffering of civilians in Yemen and in the region in the face of these terrorist attacks," she added.
The UN Security Council voted Monday to extend to all of Yemen's Houthis an arms embargo that until now targeted only some leaders of the Iran-backed militia.
Yemen has been embroiled since 2014 in a civil war between the Houthis and the internationally recognized government.
An Arab Coalition including the UAE and Saudi Arabia intervened in support of the government in 2015.
The Houthis have launched regular strikes on Saudi Arabia since its intervention, and in January staged unprecedented attacks on the UAE, killing three foreign nationals.
Source: Al Arabiya
Please click the following URL to read the full text of the original story:
https://english.alarabiya.net/News/gulf/2022/03/01/UAE-welcomes-UN-resolution-labeling-Yemen-s-Houthis-as-terrorists-for-the-first-time
--------
UAE 'deplores ongoing violence in Ukraine' and calls for ceasefire: Mission to UN
01 March ,2022
The United Arab Emirates "deplore[s] the ongoing violence in Ukraine" and has called for a ceasefire in a statement from the country's mission to the UN published on Monday.
In the statement, the nation also highlighted the need to recognize the sovereignty of states, after conflict erupted on Thursday when Russia's forces invaded its neighbor.
The Gulf nation, without denouncing one side or the other, has publicly called for an end to the violence since the invasion.
This is despite the fact that the UAE abstained from voting on a draft UN Security Council resolution to end the conflict on Friday.
UAE foreign minister Sheikh Abdullah bin Zayed Al Nahyan stressed the "strength" of ties with Russia in a phone call with his Russian counterpart Sergey Lavrov on Wednesday, the day before the invasion.
Sheikh Abdullah bin Zayed then spoke to US Secretary of State Antony Blinken on Friday to discuss "the importance of building a strong international response to support Ukrainian sovereignty through the UN Security Council."
The UAE is also "looking into the Ukraine's humanitarian needs resulting from the crisis," according to Monday's statement.
Source: Al Arabiya
Please click the following URL to read the full text of the original story:
https://english.alarabiya.net/News/gulf/2022/03/01/UAE-deplores-ongoing-violence-in-Ukraine-and-calls-for-ceasefire-Mission-to-UN
--------
Saudi aviation authority scraps PCR test requirement for citizens returning from Ukraine
March 01, 2022
RIYADH: Saudi Arabia's General Authority of Civil Aviation on Monday instructed all airlines operating at airports in the Kingdom to exempt all Saudis traveling from Ukraine, and their non-Saudi dependents, from the requirement to provide the result of a PCR tests before entering the country.
Instead, the authority said a PCR test must be taken within 48 hours of arrival, the Saudi Press Agency reported. GACA said that failure to comply with the instructions would be a violation of government regulations, and legal action will be taken against anyone that violates them.
It was announced on Feb. 9 that regardless of vaccination status, Saudi citizens and foreign nationals traveling to the Kingdom must present proof of a negative result of an approved PCR or rapid antigen test taken within 48 hours of departure. Children under the age of 8 are exempt, although any regulations imposed by the country of departure related to COVID-19 testing procedures for children must be followed.
Citizens who test positive for COVID-19 but are fully vaccinated with a vaccine approved by authorities in the Kingdom can enter Saudi Arabia seven days after a positive test without needing to take another. Those who are not fully vaccinated can enter the Kingdom 10 days after a positive test.
Source: Arab News
Please click the following URL to read the full text of the original story:
https://www.arabnews.com/node/2033636/saudi-arabia
--------
French Senate delegation praises efforts of Saudi-based Etidal centre to combat extremism
March 01, 2022
JEDDAH: Mansour Al-Shammari, the secretary-general of the Global Center for Combating Extremist Ideology, also known as Etidal, welcomed a delegation led by Olivier Cadic, the French senator and president of the France-Gulf States Friendship Group, to the center's headquarters in Riyadh on Monday.
Al-Shammari began the meeting by welcoming his guests and commending the role played by France in supporting international stability. He also highlighted the continued cooperation between Etidal and the France in efforts to counter extremist ideology.
Cadic, who is on an official visit to the Kingdom, and his delegation were briefed about the center's strategies, its monitoring and analysis mechanisms, the technologies it employs, and the models it has developed to dismantle extremist discourse.
Cadic congratulated Etidal for the work it is doing, saying: "I was impressed by the vision on understanding and combating extremism using objective means such as artificial intelligence, which is a very reassuring medium.
"In this regard, my work within the France-Gulf States Friendship Group and with the Kingdom of Saudi Arabia will focus on finding a connection through which we can seek to build a bridge of cooperation, particularly in this area, given that we share the same objective, which consists of having a world where people can live, a modern world of moderation.
Source: Arab News
Please click the following URL to read the full text of the original story:
https://www.arabnews.com/node/2033601/saudi-arabia
--------
Russia's Syria intervention provided hints for Ukraine war
March 01, 2022
BEIRUT: From a tent in the rebel-held pocket of Syria, Ahmad Rakan has closely followed news of Russia's invasion of Ukraine. More than two years ago, a Russian airstrike destroyed his house in a nearby village during a months-long Syrian government offensive backed by Moscow's firepower that drove him and tens of thousands of others from their homes.
"We more than anyone else feel their pain," he said of Ukrainian civilians currently under Russian bombardment.
For the past seven years, Syrians like Rakan have experienced first-hand Russia's military might as it struck opposition strongholds, brokered mass surrender deals and deployed military police across their country, practically rendering it a Russian protectorate on the Mediterranean.
Observers say Russia's brazen military intervention in Syria and the impunity with which it was met emboldened Vladimir Putin. They say it gave him a renewed Middle East foothold from where he could assert Russian power globally, and paved the way for his attack on Ukraine.
"There is no doubt that the Russian intervention in Ukraine is an accumulation of a series of Russian military interventions in Georgia in 2008, Crimea in 2014 and Syria in 2015," said Ibrahim Hamidi, a Syrian journalist and senior diplomatic editor for Syrian affairs at the London-based Asharq Al-Awsat newspaper.
Putin "believes that America is regressing and China's role is increasing and Europe is divided and preoccupied with its internal concerns … so he decided to intervene," he said.
Moscow's 2015 decision to join the war in Syria was its first military action outside the former Soviet Union since the federation's collapse. It saved President Bashar Assad's government and turned the tide of the war in his favor, enabling the Syrian leader to brutally reassert control over much of Syria. Russian airstrikes often indiscriminately hit hospitals, schools and markets.
The war-ravaged country became a testing ground for Russian weapons and tactics that it can now bring to bear in Ukraine.
Anna Borshchevskaya, a senior fellow at The Washington Institute focusing on Russia's policy toward the Middle East, said Russia deployed a "multi-domain" approach in Syria, including long-range precision weapons and large-scale bombing campaigns, along with cyber warfare, disinformation and use of paramilitary forces.
Deploying its air power "has come to define Russia's evolving way of war and Syria was an especially important illustration of this development," she said.
Moscow also showed a canny diplomatic touch in Syria, creating arrangements with the West that forced an implicit acceptance of its intervention. It created joint patrols with NATO member Turkey which backed Syrian rebels, to enforce truces in some areas. It established understandings with Israel that allowed the latter to carry out airstrikes against Iran-linked targets in Syria. It set up a so-called deconfliction line with the US to prevent mishaps between American and Russian planes flying in Syria's skies.
At the same time, it sought to defend Assad on the international scene, dismissing as fabrications Assad's use of chemical weapons and barrel bombs against civilians. Within Syria, Russia added a soft power campaign. In some areas, festivals were put on to popularize Russian culture, Russian national songs were played on Syrian television, self-serving propaganda was churned out and hot meals were served to civilians.
Max, a dual Syrian-Ukrainian national who hails from Syria's coastal province of Latakia, recalled working for a week as a social media troll disseminating the "truth" about Russia's positive actions in Syria. He and other Russian-speaking Syrians worked from an office set up in a local university.
A member of Assad's Alawite ruling sect, he said he and others in his hometown were grateful when Russia intervened militarily in 2015, particularly as Islamic extremists had been approaching the area.
"Then Russians came and the front line was pushed way back," he told The Associated Press in a phone call from Ukraine, where he is now stuck in an Airbnb in a residential area of Kyiv.
Max, who is now working for an international organization in Lebanon, had flown to Ukraine to update his personal documents when he became trapped there by Russia's invasion. He spoke on condition his full name would not be used for his safety.
Today, Max no longer buys into the Russian narrative. Many in his hometown in Syria, though, support Russia's war in Ukraine, as Moscow continues to mount a sophisticated disinformation effort about its invasion.
Images coming out of Ukraine, including the harrowing mass flight of civilians, are stirring intense and conflicting emotions among Syrians at home and refugees across the globe.
Resentment runs deepest in the northwest province of Idlib, Syria's last opposition-held bastion, where Russian airstrikes continue to this day. In a statement issued Monday, the opposition's civil defense group known as the White Helmets group, deplored Russia's aggression against Ukraine.
"It pains us immensely to know that the weapons tested on Syrians will now be used against Ukrainian civilians," it said, lamenting what it said has been a lack of support from the international community in holding Russia to account in Syria and elsewhere.
"Instead of standing up for international norms, such as those against the use of chemical weapons, the international community has tried to find ways to cooperate with Russia and to this day considers Russia a willing and essential partner in diplomacy," it said.
Borshchevskaya said the lesson Putin took from Syria was that "the West will not oppose his military interventions" and it gave him a success to build on.
Source: Arab News
Please click the following URL to read the full text of the original story:
https://www.arabnews.com/node/2033811/middle-east
--------
Success of Vienna talks important for Iran, entire region: Lebanon president
28 February 2022
Lebanese President Michel Aoun has underlined the importance of promoting peace among all nations, expressing hope that the ongoing talks between Iran and the P4+1 group of countries in the Austrian capital of Vienna aimed at reviving the 2015 Iran deal will end in success in order to bring peace not only for Iran but for the entire region.
In a meeting with Iranian Minister of Culture and Islamic Guidance Mohammad Mehdi Esmaeili in Beirut on Monday, Aoun said the success of the Vienna talks "in a way that would guarantee comfort of people and their happy life signals peace not only for Iran, but for the entire region."
He added that Iran has managed to "deal with the difficult circumstances it has faced and succeeded in developing its industries … despite the imposition of sanctions and deprivations [against it]."
The Lebanese president also expressed his country's willingness to maintain best relations with Iran.
The US unilaterally left the 2015 agreement, officially known as the Joint Comprehensive Plan of Action (JCPOA), in 2018 and re-stored the sanctions that had been lifted under the accord. Washington's European allies in the deal—France, Germany, and the United Kingdom—have been toeing the sanctions line closely by ending their trade activities with Iran.
The Vienna talks began last April between Iran and the remaining parties to the JCPOA on the assumption that the US, under the Joe Biden administration, is willing to repeal the so-called maximum pressure policy pursued by former president, Donald Trump, against Tehran.
Iran says it won't settle for anything less than the removal of all US sanctions in a verifiable manner. It also wants guarantees that Washington would not abandon the agreement again.
Iran's chief negotiator Ali Bagheri Kani returned to Vienna on Monday to continue the eighth round of talks with senior representatives of the five remaining parties to the JCPOA on resolving the remaining issues pertaining to the agreement's revival. He flew to Tehran last week to hold consultations and receive necessary directives.
During the Monday meeting, which was also attended by Judge Mohammad Wissam Mortada, the Lebanese culture minister, Esmaeili hailed the Lebanese president's principled, pivotal and firm positions which have given the country a unique position.
He said the new Iranian administration has an open and constructive foreign policy based on establishing convergence and dialogue with regional countries in general and the friendly and brotherly countries in specific.
He added that strengthening cooperation and constructive convergence among regional countries guarantees their security and stability on one hand and empowers them and prevents interference of foreign countries on the other hand.
Esmaeili pointed to Iran's success, especially in battling the coronavirus pandemic, despite the sanctions imposed on the country and said, "The Vienna talks are proceeding positively, which could help reach a positive and constructive agreement."
The Iranian minister emphasized that Iran insists on reaching a "fair, permanent and lasting" agreement with the P4+1 group of countries in Vienna "in a way that ensures that it will not be cancelled with the change of ... administrations in the United States.
Source: Press TV
Please click the following URL to read the full text of the original story:
https://www.presstv.ir/Detail/2022/02/28/677700/Aoun-Mohammad-Mehdi-Esmaeili-Iran-Lebanon-JCPOA-Vienna-talks-relations-success
--------
Mideast
Islamic Jihad chief urges all Palestinian fighters to defend occupied al-Quds, al-Aqsa Mosque
28 February 2022
The secretary general of the Palestinian Islamic Jihad resistance movement has called upon all Palestinian fighters to defend the occupied city of al-Quds and the scared al-Aqsa Mosque against increasing attacks by extremist Jewish settlers.
Speaking at a ceremony entitled "Resistance is the path to liberation" in Gaza City on Monday, Ziyad al-Nakhalah stated that demolition of Palestinian-owned homes across the West Bank and the killing of innocent people require Palestinian resistance fighters not to hesitate for a moment to fight the Israeli enemy and resist the regime's actions through all available means.
He said it is a duty to engage Israeli military forces anywhere in the occupied West Bank, and disempower the troops.
The Islamic Jihad chief also stressed the need for mobilization of Palestinians against the Israeli occupation, stating that such a move requires participation and cooperation of all political and social forces.
Nakhalah reiterated his group's firm stance that the only path before the Palestinian nation is continued resistance.
"The illusions of a [political] settlement with the Zionist enemy must be dispelled, and a national unity plan which demands the historical rights of all Palestinians must take precedence over anything else," he pointed out.
"The resistance front in Palestine and the region is now stronger than ever, and the enemy, despite being in possession of all kinds of munitions, is weaker than ever. There is abundant evidence to support this premise," Nakhalah said.
Source: Press TV
Please click the following URL to read the full text of the original story:
https://www.presstv.ir/Detail/2022/02/28/677718/Islamic-Jihad-chief-urges-all-Palestinian-fighters-to-defend-occupied-al-Quds,-al-Aqsa-Mosque
--------
Palestinians protest French statements on Jerusalem
Hani al-Shaer
28.02.2022
GAZA CITY, Palestine
Palestinians staged a rally in the Gaza Strip on Monday to protest statements by French Prime Minister Jean Castex in which he declared Jerusalem as "the eternal capital of the Jewish people."
"Jerusalem is the eternal capital of Palestine," reads a banner waved by protesters during the rally organized by the Palestinian group Hamas in the western city of Khan Younis.
"Castex's remarks were part of the continuing bias of French and Western decision-makers to the Israeli occupation," Hamas leader Mushir al-Masri told Anadolu Agency.
"The Western policy can't give Israel legitimacy on the land of Palestine," he said.
On Friday, Castex claimed during a gala dinner hosted by the Representative Council of French Jewish Institutions (CRIF) that "Jerusalem is the eternal capital of the Jewish people."
"That does not stop anyone from recognizing and respecting the attachment of other religions to this city," he said.
Source: Anadolu Agency
Please click the following URL to read the full text of the original story:
https://www.aa.com.tr/en/middle-east/palestinians-protest-french-statements-on-jerusalem/2518317
--------
Palestinian girl, 11, wounded as worshippers and police clash at Damascus Gate
By AARON BOXERMAN
28 February 2022
An 11-year-old Palestinian girl was hospitalized after being struck in the head by a sound grenade fired by police during clashes near Damascus Gate on Monday afternoon, as Palestinians gathered in Jerusalem for an Islamic holiday.
Police dispersed groups of Palestinians with stun grenades and blasts of acrid-smelling high-pressure water from cannons. Dozens of passersby, including women, children and a man in a wheelchair, fled for cover.
One of the sound grenades smashed in the face of the 11-year-old Palestinian girl. Medics immediately rushed her to Jerusalem's Hadassah Ein Karem hospital in moderate condition, according to a Hadassah spokesperson.
According to police, Palestinians had "chanted incitement and threw stones and bottles at police on the scene." A spokesperson for Jerusalem police did not immediately respond to a request for comment on the wounded 11-year-old girl.
"Police forces have acted these past few hours to protect public order and prevent rioting," an Israel Police spokesperson said.
The girl's family identified her as Manwar Burqan, a resident of the middle-class Shuafat neighborhood in East Jerusalem. Burqan is deaf and attends a special needs school in the city.
Around 25 Palestinians were injured during the clashes, according to the Palestinian Red Crescent. Twenty Palestinians were arrested and four officers were wounded, according to Israel Police.
Thousands of Palestinians had gathered in the Old City entryway to celebrate al-Israa wa al-Miraj. The holiday celebrates the miraculous "night journey" of Islam's prophet, Mohammad, from Mecca to Jerusalem
According to Islamic tradition, Mohammad ascended heavenwards from the Al-Aqsa Mosque, which Jews also revere as the site of both Biblical temples. Palestinian Muslims often celebrate the holiday by gathering in Jerusalem for festivities and prayer at the shrine.
Cops also appeared to violently slap a Palestinian girl while subduing her on the ground, according to footage from the scene of the clashes.
In another video, a Palestinian runs after a cop and pushes him onto the ground as the officer grapples with a second Palestinian.
The stairway leading to Damascus Gate is a popular site for Palestinians to enjoy the holiday cheer before heading to the Al-Aqsa Mosque for prayers. But the gateway has also become one of Jerusalem's most charged sites.
Source: Times Of Israel
Please click the following URL to read the full text of the original story:
https://www.timesofisrael.com/10-arrested-14-injured-in-clashes-at-jerusalems-damascus-gate-on-islamic-holy-day/
--------
Ringleader of Separatist Terrorist Group, Habib Farajollah Chaab, Discloses S. Arabia's Plot against Iran in Court
2022-February-28
Habib Farajollah Chaab, also known as Habib Asyud, stood trial at Branch 26 of Tehran's Islamic Revolution Court on Sunday.
During the hearing, prosecutor's representative Amin Vaziri said that Chaab had admitted that the Saudi intelligence service pushed to unite all terrorist and separatist movements under a single umbrella organization to counter Iran following the formation of the Islamic Awakening movement.
He added that the Saudi intelligence service has also launched several satellite channels with the aim of facilitating the partitioning of Iran.
Chaab said the Saudi-sponsored satellite channels aired videos and other visual material on a round-the-clock basis in order to spread violence in Iran.
The terrorist ringleader also confessed that Saudi Arabia had funded terrorist groups with the final goal of spreading Takfiri ideology in Iran, Vaziri said.
The prosecutor's representative noted that the defendant had formed a terrorist group to carry out acts of terror in Iran and cooperated with anti-Iran terror groups, including PJAK and Jaish ul-Adl.
During the third session of the trial earlier this month, the prosecutor's representative had also presented evidence showing the Saudi and Israeli sponsorship for the separatist outfit.
At the hearing, Amin Vaziri, the prosecutor's representative, said Chaab is accused of corruption on earth through forming, managing and heading the SMLA, as well as planning and carrying out terrorist operations, and destroying public property.
"Members of this terrorist group visited Saudi Arabia annually under the guise of Hajj to carry out the plans dictated by the Saudi intelligence agency. These plans included actions against innocent citizens of the Islamic Republic of Iran," he added.
Vaziri also displayed the picture of a meeting between the Saudi culture minister and an SMLA member, who was arrested in the Netherlands for terrorist acts and sentenced to four years in prison. He further showed the photo of an invitation sent to the militant by the Saudi king.
Another picture showed a meeting between the SMLA spokesman and the Saudi king.
Additionally, the prosecutor's representative pointed to the ties between the SMLA and Israel's Mossad spy agency.
He also presented written documents that showed Chaab had dealings with former Israeli Prime Minister Benjamin Netanyahu.
The defendant, Vaziri said, has over the past years infiltrated into non-governmental organizations (NGOs) and even charities to attract and organize SMLA members.
As the trial continued, images were displayed of intelligence and military elements of the terrorist group, who freely engage in terrorist acts against innocent Iranians in Sweden, Belgium and the Netherlands.
Based on an indictment, he is charged with "leading and heading the SMLA terrorist group as well as planning and carrying out numerous bombing and terrorist operations in Khuzestan Province and destroying public property in order to counter the Islamic Republic of Iran's establishment".
He is also charged with bombing operations at the Housing and Urban Development Office, Planning and Budget Organization, and Department of Environment in Ahvaz.
Chaab's other charges include bombing operations targeting the governorates of Dezful and Abadan and oil pipelines in the cities of Abadan, Ahvaz, and Mahshahr, and also planning a bombing attack against Ahvaz's Judiciary office.
In September 2018, the SMLA claimed responsibility for an attack on a military parade in Ahvaz that killed 25 people, including members of Iran's Islamic Revolution Guards Corps (IRGC) and civilian bystanders, and injured 70 others.
During Tuesday's hearing, the prosecutor's representative said the SMLA's operations are designed with the Saudi backing in Sweden and Denmark, where the group's ringleaders are residing.
European and Arab countries have failed to extradite the terrorists to the Islamic Republic despite a red notice issued against them, he noted.
"In addition to intimidating and threatening Iranian citizens, SMLA elements call for violence in their accounts on social networks."
Chaab was arrested in November 2020 on the back of a set of "specialized and combined measures" by Iranian intelligence forces.
Source: Fars News Agency
Please click the following URL to read the full text of the original story:
https://www.farsnews.ir/en/news/14001209000347/Ringleader-f-Separais-Terrris-Grp-Disclses-S-Arabia%E2%80%99s-Pl-agains-Iran
--------
Israeli forces kill Palestinian gunman in West Bank raid: Palestinian health ministry
01 March ,2022
Israeli forces killed a Palestinian fighter on Tuesday in a raid on the Jenin refugee camp in the occupied West Bank, the Palestinian health ministry said. The Islamic Jihad group claimed the gunman as a member.
According to witnesses, undercover Israeli forces exchanged fire with Palestinian fighters after they were exposed during a pre-dawn raid of the camp. The Israeli army did not respond to a Reuters request for comment on the overnight incident.
Two other men were critically wounded in the raid, one of whom was shot in the head, the Palestinian health ministry said. It was not clear whether the men were involved in the fighting.
Source: Al Arabiya
Please click the following URL to read the full text of the original story:
https://english.alarabiya.net/News/middle-east/2022/03/01/Israeli-forces-kill-Palestinian-gunman-in-West-Bank-raid-Palestinian-health-ministry
--------
Iran says three key issues remain unresolved in Vienna nuclear talks
28 February ,2022
Iran said on Monday that reviving a 2015 nuclear deal is possible if Western powers take a political decision to resolve three remaining issues, as indirect negotiations between Tehran and Washington enter a crucial stage.
Iran's foreign ministry spokesman identified the remaining outstanding issues as: the extent to which sanctions would be rolled back, providing guarantees that the United States will not quit the pact again, and resolving questions over uranium traces found at several old but undeclared sites in Iran.
After 10 months of talks in Vienna, progress has been made toward the restoration of the pact to curb Tehran's nuclear program in exchange for sanctions relief, which the United States abandoned in 2018. Both Tehran and Washington have cautioned that still there are some significant differences to overcome.
"Reaching a good deal is possible... three key issues still remain to be resolved. The US and European powers have not taken political decisions on these major issues," Iran's Foreign Ministry spokesperson Saeed Khatibzadeh told a weekly news conference.
"We believe that we need an appropriate pathway to solve remaining issues in the areas of lifting sanctions, guarantees and political claims that have been levelled against our peaceful civilian nuclear program," Khatibzadeh said.
Iran's lead nuclear negotiator Ali Bagheri Kani, who flew to Tehran last week for consultations with Iranian officials, "has returned to Vienna to pursue the negotiations with a clear agenda," Khatibzadeh said.
"The return to the nuclear deal will not be a one-day process, it will rather be a journey of many verifications on the part of the US."
Diplomats from parties involved in the negotiations have said they have entered a crucial stage, while Tehran rejects any "fabricated deadline" for the talks.
The 2015 deal between Iran and world powers limited Tehran's enrichment of uranium to make it harder for it to develop material that could be used for nuclear weapons, in return for a lifting of international sanctions against Tehran.
Source: Al Arabiya
Please click the following URL to read the full text of the original story:
https://english.alarabiya.net/News/middle-east/2022/02/28/Iran-says-three-key-issues-remain-unresolved-in-Vienna-nuclear-talks
--------
India
Kerala CPM to undergo generation shift, leaning towards alliance with Muslim League
March 1, 2022
The CPI (M) will undergo a generational shift and party workers are now in high hopes ahead of the party state conference to be held in Kochi from Tuesday, March 1.
The party's vision document claimed to be the future of Kerala and could prove to be the front runner of this change. The 80-year age cap for party forums has now been decreased to 75. Moreover, strict tenures for ministers and legislators will continue, two for legislators and one for ministers.
EDGING CLOSER TO MUSLIM LEAGUE
The party is also thinking favourably of bringing the Indian Union Muslim League (IUML) into its fold. Coincidentally, the last time such a possibility was discussed at a state conference, it happened in Kochi.
The party's top tier is focussed on bringing the minority votes in. The main voice against this move, VS Achuthanandan, is unwell and therefore will not be attending the party conference.
"It's a period of transformation and at certain stages, there will be a few rapid spurts of growth, converting quantitative gains to qualitative changes," said CPM Politburo member M A Baby.
Meanwhile, the party membership is expected to grow by 25 percent this year.
Source: India Today
Please click the following URL to read the full text of the original story:
https://www.indiatoday.in/india/story/kerala-cpm-to-undergo-generation-shift-leaning-towards-alliance-with-muslim-league-1919149-2022-03-01
--------
'We Muslims Are Treated Like the Sacrificial Goat in Uttar Pradesh'
March 1, 2022
In mid-August last year, a Hindu vigilante group attacked a popular food stall run by three Muslim brothers in the temple town of Mathura in the northern Indian state of Uttar Pradesh.
The men accused them of profiting from the name of a Hindu god and tore up their posters and signboards, said Abid, one of the brothers who ran Shrinath Dosa Corner.
"They said Hindus eat here because they think you're Hindus," he said.
Abid's stall, located in a market that sells electronic goods, is just a few kilometres from a temple dedicated to the Hindu god Krishna. Shrinath is another name for him and the devout believe Mathura to be his birthplace.
Every food stall near the temple is named after the deity, except Abid's which is now called American Dosa Corner.
After a video of the attack went viral, Abid lodged a police complaint and one of the vandals was arrested. But six months later, he tries to downplay the incident "because he doesn't want any trouble", explains a local journalist.
Uttar Pradesh (UP) has made headlines for violent crimes against Muslims since 2014, when Prime Minister Narendra Modi's Bharatiya Janata Party (BJP) swept to power in India - three years later, it won a landslide in the state. The BJP appointed Yogi Adityanath, a saffron-robed Hindu monk-turned politician known for his anti-Muslim stance, as the chief minister.
Within days of the win, one UP village put up posters asking Muslims to leave. It was among the first states to pass a law against forced conversions that is routinely used to harass and jail Muslim men in interfaith relationships with Hindu women. Muslims who protested against the controversial citizenship law were beaten up and their properties seized, until the Supreme Court declared it illegal. And during the pandemic, BJP leaders accused Muslim men of "corona jihad" or alleged behaviour that spread the virus.
Such day-to-day discrimination, which is far more insidious, is marginalising Muslims, who number 40 million and constitute nearly 20% of UP's population. As the state votes to elect a new government, members of the community tell the BBC that under the BJP's Hindu nationalist rule, they have become "second-class citizens".
Mufti Zahid Ali Khan, retired professor of theology at Aligarh Muslim University, says Mr Adityanath "behaves like a BJP politician, not a government functionary".
"Since he came to power, Muslims have been living in fear. Whenever our children go out, our women pray for their safe return."
Legislator and BJP vice-president in the state Vijay Pathak said it was "not true that Muslims in UP are feeling marginalised".
"The government doesn't discriminate on the basis of caste or religion. Muslims will vote for us in larger numbers in these elections," he said.
But critics point to the recent anti-minority remarks made by Mr Yogi and several of his party leaders.
A BJP lawmaker said that if re-elected, he would "ensure that Muslims stop wearing skullcaps and start putting on the vermillion paste used by Hindus. And last month Hindu religious leaders called for attacks on mosques and Islamic priests.
Zamirullah Khan, a former legislator from the opposition Samajwadi party in Aligarh, says "we work with Hindus, we trade with them, we attend weddings in each other's families", but "the politics of hatred has been on the rise" - and it gets into sharper focus whenever elections are close.
"We are the sacrificial goat - we are fed and fattened and then slaughtered for the party. Politicians whip up anti-Muslim sentiments to polarise people and win votes. Once the elections are over, everyone goes home," he says.
According to official data, Muslims are the poorest religious group in India and nearly 46% of them work in the informal sector as electricians, plumbers, vendors and daily wage workers. It's no different in UP.
The pandemic, coupled with government policies, has only worsened their situation, they say.
Mr Adityanath's government has shut down slaughterhouses - an estimated 150 in the past four-and-half years - traditionally run by Muslims, saying they were operating illegally. Those that are open are forced to close for days during Hindu festivals in many districts.
This has hit butchers hard and forced many consumers to change their diet, says Zakir Hussain, a restaurateur in Mathura.
For the past eight years, Mr Hussain and his brothers have been running Majeed Restaurant, famous for its chicken biriyani and serving 500 meals a day.
But in September Mr Adityanath ordered a ban on serving meat within a radius of 10 sq km (about 4 sq miles) around the Krishna temple. The temple abuts a mosque and the area his home to many Muslim families.
Overnight, signature dishes vanished from Majeed's menu, as did most customers.
"Dozens of restaurants and about a hundred shops that sold meat and eggs shut down and thousands lost their livelihoods," Mr Hussain said.
His brother, Shakir, says "this was done to get us Muslims out of business since in the past few months, several non-vegetarian restaurants run by Hindus have come up outside the prohibited zone".
The brothers also rented a place in the safe zone to open a new restaurant, but on the third day, they were attacked, allegedly by a mob of Hindu nationalists.
"They asked us to give them free food and pay them protection money every month. When we refused, they ransacked the restaurant and assaulted us," Mr Zakir Hussain said, adding that they had lodged a police complaint.
Source: BBC News
Please click the following URL to read the full text of the original story:
https://www.bbc.com/news/world-asia-india-60544034
--------
Muslims, Pandits bond over 'Herath' festivities online
Peerzada Ashiq
MARCH 01, 2022
Otherwise separated by three decades of conflict, the displaced Kashmiri Pandits and local Muslims on Monday joined hands on social media to spread warmth on the occasion of 'Herath' or 'Shivratri', historically a major festival of local Hindus who migrated in large numbers in the 1990s when militancy broke out here. Hundreds of Muslim netizens were seen greeting Pandits, not living in Kashmir anymore, on social media and prayed for peaceful times ahead. "Herath [Shivratri] greetings to all my Kashmiri Pandit friends. May this auspicious day bring in lasting happiness, prosperity and peace in our lives," wrote former bureaucrat Ghulam Nabi Qasba on Facebook. Such posts by Muslims evoked immediate response from Pandits living outside J&K. "Same to you! Bless you with lots of happiness and see you very soon," Sanjay Kachru wrote, in response to Dr. Qasba's post. Traditionally, Muslims in Kashmir would visit Pandits the next day of 'Herat' celebrations for 'salaam'. "On the day of 'salaam', Muslim neighbours would visit the Pandit houses for greetings on the Shivratri. Pandits would keep wet walnuts for Muslims, a tradition followed by many Muslims in the old city," said Rashid Ahmad Rishi, a resident of Ganpatyaar. Hundreds of Pandits left the Valley in the 1990s. More than 3,800 Pandits have returned to Kashmir since former Prime Minister Manmohan Singh unrolled a special rehabilitation package for displaced Pandits in 2008-09. Around 610 have started reusing their properties in the last five years. A number of Pandits on Monday were seen paying obeisance at the temples at Ganpatyar and Hanuman Temple in Srinagar. "'Herath' is Kashmiri Pandits' main festival. We prayed for peace and prosperity," a Kashmiri Pandit said. Special stalls of fish and dry fruits were made available by the government on the occasion. Senior leaders of J&K's regional parties, including the National Conference, the Peoples Democratic Party and the Peoples Conference, greeted the Pandits. "Herath greetings to Kashmiri Pandits everywhere. May all your prayers on this special day be answered," former Chief Minister Omar Abdullah tweeted. Former Chief Minister and Peoples Democratic Party president Mehbooba Mufti also greeted the community. "'Herath Poshte' to our Kashmiri Pandit brethren. May this occasion bring you joy, prosperity and peace," she tweeted. People's Conference chairman Sajad Gani Lone said apart from the festivities, the occasion is "a reminder of the good old days".
Source: The Hindu
Please click the following URL to read the full text of the original story:
https://www.thehindu.com/news/national/other-states/muslims-pandits-bond-over-herath-festivities-online/article65095094.ece
--------
Srinagar's Iconic Jamia Mosque To Reopen For Prayers After Long Closure
February 28, 2022
Srinagar: In a major decision by the government, Kashmir's largest mosque - Jamia Masjid in Srinagar - may finally be reopened for Friday prayers after remaining largely shut for congregational prayers since August 2019.
Top administration and police officers today visited the mosque and held discussions with the management of the central mosque to reopen it for prayer services.
The mosque, which is the biggest cultural and religious centre in the Valley, was closed following the abrogation of Jammu and Kashmir's special status under article 370 on August 5, 2019.
The mosque was reopened briefly but was closed again citing Covid restrictions. For the last 30 weeks, the mosque hasn't been allowed to be opened for congregational prayers.
This morning, top officials including the Divisional Commissioner and the Inspector General of Police visited the mosque and took stock of arrangements for reopening the 14th-century architectural marvel in Kashmir.
Inside the mosque, there is a space for around 40,000 people. Many more used to pray on its lawns and outside the mosque premises during religious congregations.
The chief priest of the mosque is Mirwaiz Umar Farooq who is also a Hurriyat (separatist) conference leader. He says he has been placed under house arrest since August 2019.
The mosque is located at Nowhatta in downtown Srinagar, it used to be a site of stone-pelting and clashes between police and protesters. The protests and stone-pelting incidents have effectively stopped in the last three years.
This is the longest closure of the mosque in recent history.
The closure has badly hit businesses in the area. Once a bustling marketplace, the Jamia market has been a ghost town since August 2019.
Junaid Mattu, Mayor of Srinagar Municipal Corporation, welcomed the reopening of the historic mosque.
Source: ND TV
Please click the following URL to read the full text of the original story:
https://www.ndtv.com/india-news/srinagars-iconic-jamia-mosque-to-reopen-for-prayers-after-30-months-2794801
--------
India, Pakistan to hold Indus water meet in Islamabad
Mar 1, 2022
ISLAMABAD (PAKISTAN): India and Pakistan are set to hold the annual meeting of the Permanent Indus Commission (PIC) in Islamabad from Tuesday.
The Indian delegation of the Indus Water Commission reached Pakistan via the Wagah border crossing on Monday.
The three-day talks on water disputes will be held from March 1 to March 3, ARY News reported Monday. The Indian delegation is headed by Indian Water Commissioner Pradeep Kumar Saxena.
According to Pakistan media, the Indian water experts team will proceed to Islamabad for talks over water disputes between the two countries in their three-day visit to Pakistan.
The last meeting of the Permanent Indus Commission (PIC) was held on March 23-24, 2021 in New Delhi.
Under the provisions of the Indus Waters Treaty, signed between India and Pakistan in 1960, the two Commissioners are required to meet at least once every year, alternately in India and Pakistan. The meeting could not be held in 2020 due to restrictions imposed on account of the Covid-19 pandemic situation.
Last year, discussions continued on designs of two Indian projects, namely, Pakal Dul (1000 MW) and Lower Kalnai (48 MW). Indian side held that these projects are fully compliant with the provisions of the Treaty and provided technical data in support of its position.
Source: Times Of India
Please click the following URL to read the full text of the original story:
https://timesofindia.indiatimes.com/india/india-pakistan-to-hold-indus-water-meet-in-islamabad/articleshow/89913343.cms
--------
'Bulli Bai' app case: Mumbai court rejects bail plea
Mar 01, 2022
By Vinay Dalvi
MUMBAI: A Mumbai court on Friday rejected the bail plea of Vishal Kumar Jha, who was arrested for his alleged involvement in the "Bulli Bai" online mock auction of Muslim women. Photos of prominent Muslim women were uploaded on the "Bulli Bai" app for their auction virtually.
Jha, 21, who is from Bihar and was enrolled for B Tech in Bengaluru, was the first accused to be arrested in the case. He moved a Sessions Court after a Metropolitan Magistrate rejected his bail.
Jha's lawyers Shivam Deshmukh and Aarti Deshmukh argued that the main accused in the case was someone else from Delhi and the other accused were from different states. They added Jha was not connected to them.
The lawyers claimed Jha was falsely implicated in the case. They added he is neither the user nor creator of any user identities concerned.
Source: Hindustan Times
Please click the following URL to read the full text of the original story:
https://www.hindustantimes.com/india-news/bulli-bai-app-case-mumbai-court-rejects-bail-plea-101646108017669.html
--------
Southeast Asia
China to host regional meeting on Afghanistan next month
28 Feb 2022
Pakistan's Foreign Minister Shah Mahmood Qureshi in his recent remarks said that China will host a conference of Afghanistan's neighboring countries as early as next month.
The five neighboring countries, Turkmenistan, Uzbekistan, Tajikistan, China, and Pakistan will be focused on Afghanistan's economic and humanitarian crisis.
Meanwhile, some sources have also confirmed that Afghanistan has also been invited to the conference to share its thoughts.
The Islamic Emirate of Afghanistan has welcomed all conferences that are concentrated on Afghanistan but have not said anything about their participation in the conference.
In the meantime, a trilateral meeting between the representatives of the Islamic Emirate of Afghanistan, China, and Pakistan is also planned to be held. The agenda of the meeting is said to be participating in regional projects.
Source: Khaama Press
Please click the following URL to read the full text of the original story:
https://www.khaama.com/china-to-host-regional-meeting-on-afghanistan-next-month-786576476/
--------
Boy dies after 'beating' by Indonesian soldiers
Konradus Epa
February 28, 2022
Rights groups have accused Indonesian soldiers of killing one child and severely beating six others after accusing them of stealing a weapon from a soldier in Indonesia's Papua region.
Up to 12 young children were reportedly arrested on Feb. 27 in Puncak Jaya district after a soldier providing security at nearby Tapulinik airport reported his weapon missing.
While in custody seven were allegedly beaten so badly that Makilon Tabuni, 12, died, while six others were taken to hospital with various injuries.
The ages of the injured boys or the others taken into custody were not given.
The Legal Aid Foundation in Papua accused the soldiers of committing an act of barbarism against the children, who were falsely accused of stealing because three men, who were not identified, were later suspected of the theft.
"After the weapon was lost, soldiers hunted for the perpetrators and searched for the weapon in houses of local people where they arrested the children, took them to their base and beat them," Emmanuel Gobay, the rights group's director, told UCA News on Feb. 28.
"This is not the first time children have fallen victim to unlawful killing. Such behavior is unacceptable and those responsible must be brought to justice."
The Indonesian military were accused of killing three schoolchildren in Puncak in West Papua in Nov. 2020, while a child was killed and one wounded when government forces clashed with separatist insurgents in October last year.
Theo Hesegem, executive director of the Papua Justice and Human Integrity Foundation, also condemned the alleged abuse.
"Indonesia's military chief General Andika Perkasa said security forces would adopt a softer approach to dealing with problems in Papua but this incident with the children suggests otherwise," Hesegem said on Feb. 28.
Amnesty International Indonesia also condemned the incident.
"Whatever the reason they were accused, how can they be tortured and even killed? Civilians, particularly children, can't be singled out like this," Amnesty International Indonesia's deputy director Wirya Adiwena said on Feb. 27.
Source: UCA News
Please click the following URL to read the full text of the original story:
https://www.ucanews.com/news/boy-dies-after-beating-by-indonesian-soldiers/96284
--------
Russian oil tanker hit by US sanctions heading to Malaysia
01 March ,2022
A Russian-flagged ship targeted by US sanctions and suspected of carrying Iranian oil is heading to Malaysia, shipping data showed on Monday, amid growing scrutiny of businesses linked to Moscow following the invasion of Ukraine.
The Linda, a crude oil tanker identified in a US Treasury document detailing sanctions against Russia, was in the Indian Ocean and was expected to arrive at Sungai Linggi port on Malaysia's west coast on Sunday, according to data from ship tracking website MarineTraffic.com.
It was not immediately clear whether authorities in Malaysia plan to allow the ship to anchor. Its marine department and foreign ministry did not respond to requests for comment.
US advocacy group United Against a Nuclear Iran (UANI), which monitors Iran-related tanker traffic through ship and satellite tracking, said Linda was transporting Iranian oil transferred from another ship at sea on January 30.
The vessel had loaded crude oil from an Iranian port 10 days prior to conducting the transfer to Linda, UANI's chief of staff Claire Jungman told Reuters, citing satellite data.
Reuters was unable to independently verify the information.
The destination of the oil was not known but it could be transferred to another ship off Malaysian or Singapore waters, Jungman said.
According to the United States, Linda is owned by PSB Leasing, a unit of Russian lender Promsvyazbank, which has also been hit by international sanctions.
In a statement sent to Reuters, Promsvyazbank said PSB Leasing did not own Linda, adding that the vessel was redeemed by its owner in April 2021. The bank did say who the owner was.
Source: Al Arabiya
Please click the following URL to read the full text of the original story:
https://english.alarabiya.net/News/world/2022/03/01/Russian-oil-tanker-hit-by-US-sanctions-heading-to-Malaysia
--------
South Asia
Iran will recognize inclusive government in Afghanistan: FM
28 Feb 2022
Iran's Foreign Minister Amir-Abdollahian said that they will recognize if the Taliban establish an all-inclusive government.
Speaking in an interview with Iran's Press TV, Amir-Abdollahian said that an Afghan delegation has recently visited Iran that talked over different issues.
The Iranian Foreign Minister added that he reminded the Afghan delegation and the Afghan Foreign Minister Amir Khan Motaqi that the establishment of the inclusive government in Afghanistan is Key and that all factions in Afghanistan must see themselves in the government.
Abdollahian called US withdrawal from Afghanistan "embarrassing" and added that the US 20-year presence in Afghanistan was a debacle.
"The US claimed that everything from the US pullout to the resurgence of the Islamic Emirate of Afghanistan but the United States asked Iran's cooperation that was denied." Said the Foreign Minister.
Amir-Abdollahian further added that the Afghan people have been their close neighbors and that the people have resisted the US presence in the past two decades in Afghanistan as they did in the past decades against the Soviet Union.
Source: Khaama Press
Please click the following URL to read the full text of the original story:
https://www.khaama.com/iran-will-recognize-inclusive-government-in-afghanistan-fm-765876/
--------
UN urges Taliban to respect International Humanitarian Law
01 Mar 2022
United Nations Secretary-General Antonio Gutters has expressed concern about the humanitarian situation in Afghanistan and other countries and has asked the Taliban to respect humanitarian and international law.
Speaking at the Human Rights Council of the United Nations, Antonio Gutters asked Afghanistan, Myanmar, and Ethiopia to respect equal rights and safety of minorities not only during the conflict but also after.
The General Secretary further added that dictators of the world cannot take human rights hostage and that human rights are so powerful that cannot be connived.
In the meantime, United Nations, High Commissioner for Human Rights Michelle Bachelet speaking at UNSC said that those who have violated human rights in particular the rights of women and children in Afghanistan will be held accountable.
Bachelet also expressed concern about the lives of journalists, attorneys, human rights activists facing threats, particularly after the Taliban takeover.
Source: Khaama Press
Please click the following URL to read the full text of the original story:
https://www.khaama.com/un-urges-taliban-to-respect-international-humanitarian-law-76548756/
--------
Islamic Emirate Forces Freed Iran's Citizen from the Grip of Abductors in Herat
2022-02-28
HERAT (BNA) An Iranian national rescued from the grip of abductors in Herat.
The Iranian citizen, who had apparently entered Herat for commercial purposes through Bandar-e-Islam Qala, had recently been abducted by several gunmen.
Herat intelligence source told BNA that their forces were able to rescue Seyed Mostafa Mousavi from the Abductors in an operation.
He said a man had been arrested in connection with the abduction and that efforts is under way to track down and detain other abductors.
Source: Bakhtar News Agency
Please click the following URL to read the full text of the original story:
https://bakhtarnews.af/islamic-emirate-forcese-freed-irans-citizen-from-the-grip-of-abductors-in-herat/
--------
Financial crisis forcing Afghans to sell their kidneys to feed families
March 1, 2022
HERAT: Jobless, debt ridden, and struggling to feed his children, Nooruddin felt he had no choice but to sell a kidney — one of a growing number of Afghans willing to sacrifice an organ to save their families.
The practice has become so widespread in the western city of Herat that a nearby settlement is bleakly nicknamed "one kidney village".
"I had to do it for the sake of my children," Nooruddin told AFP in the city, close to the border with Iran. "I didn't have any other option."
Afghanistan has been plunged into financial crisis following the Taliban takeover six months ago, worsening an already dire humanitarian situation after decades of war.
Practice is now so widespread that a settlement in Herat is nicknamed 'one kidney village'
The foreign aid which once propped up the country has been slow to return, with the hardline regime also cut off from Afghan assets held abroad.
The trickle-down effect has particularly hurt Afghans like Nooruddin, 32, who quit his factory job when his salary was slashed to 3,000 Afghanis (about $30) soon after the Taliban's return, mistakenly believing he would find something better.
But, with hundreds of thousands unemployed across the country, nothing else was available.
In desperation, he sold a kidney as a short term fix. "I regret it now," he said outside his home, where faded clothes hang from a tree, and a plastic sheet serves as a window pane.
"I can no longer work. I'm in pain and I cannot lift anything heavy." His family now relies on their 12-year-old son for money, who polishes shoes for 70 cents a day.
A kidney for $1,500
Noorudin was among eight people AFP spoke to who had sold a kidney to feed their families or pay off debt — some for as little as $1,500.
It is illegal to sell or buy organs in most developed nations, where donors are usually related to the recipient or are people acting out of altruism.
In Afghanistan, however, the practice is unregulated.
"There is no law... to control how the organs can be donated or sold, but the consent of the donor is necessary," said Professor Mohammad Wakil Matin, a former top surgeon at a hospital in the northern city of Mazar-i-Sharif.
Mohamad Bassir Osmani, a surgeon at one of two hospitals where the majority of Herat's transplants are performed, confirmed "consent" was the key. "We take written consent and a video recording from them — especially from the donor," he said, adding that hundreds of surgeries have been performed in Herat over the past five years. "We have never investigated where the patient or donor comes from, or how. It's not our job."
The Taliban did not respond to requests by AFP for comment on the practice, but Osmani said the country's new rulers have plans to clamp down on the trade and are forming a committee to regulate it.
Afghans desperate for money are usually matched by brokers with wealthy patients, who travel to Herat from across the country — and sometimes even from India and Pakistan.
The recipient pays both the hospital fees and the donor.
Azyta's family had so little food that two of her three children have recently been treated for malnourishment. She felt she had no choice but to sell an organ, and openly met a broker who matched her with a recipient from the southern province of Nimroz.
"I sold my kidney for 250,000 Afghanis (around $2,500)," she said from her small damp room. "I had to do it. My husband isn't working, we have debts," she added.
Now her husband, a daily labourer, is planning on doing the same.
"People have become poorer," he said. "Many people are selling their kidneys out of desperation."
'One-kidney village'
On the outskirts of Herat lies Sayshanba Bazaar, a village made up of hundreds of people displaced by years of conflict. Known as "one-kidney village", dozens of residents have sold their organs after word spread among destitute families of the money to be made.
From one family, five brothers sold a kidney each in the last four years, thinking it would save them from poverty.
Source: Dawn
Please click the following URL to read the full text of the original story:
https://www.dawn.com/news/1677657/financial-crisis-forcing-afghans-to-sell-their-kidneys-to-feed-families
--------
240 Afghans arrested over illegal entry in Dera Ismail Khan
March 1, 2022
DERA ISMAIL KHAN: The police on Monday arrested 240 Afghan nationals for entering Pakistan without valid travel documents.
Officials said the Gomal Bazaar police arrested them in Tank city after they entered South Waziristan illegally. The arrested persons also included 26 women and as many children.
A police official said the Afghan families were trying to travel from Wana area of South Waziristan to different parts of the country in 37 vehicles. They were held at the Gardawi checkpost.
Source: Dawn
Please click the following URL to read the full text of the original story:
https://www.dawn.com/news/1677611/240-afghans-arrested-over-illegal-entry-in-dera-ismail-khan
--------
Taliban halt evacuations until 'assurance' over situation for Afghans abroad
Feb 27, 2022
The Taliban will not allow any more evacuations of Afghans until the situation improves abroad for those who have already left, their spokesman said Sunday.
"The government has the responsibility to protect the people so this will be stopped until we get the assurance that their lives will not be endangered," Zabihullah Mujahid told a news conference.
More than 120,000 Afghans and dual nationals were evacuated up to August 31 when the last US-led troops withdrew, two weeks after the hardline Islamists seized Kabul.
Hundreds more were allowed to leave on flights after that, but the last official evacuation by air was on December 1. Occasional evacuations have taken place by road via Pakistan until recently, however.
Source: Hindustan Times
Please click the following URL to read the full text of the original story:
https://www.hindustantimes.com/world-news/taliban-halt-evacuations-until-assurance-over-situation-for-afghans-abroad-101645970331362.html
--------
Africa
Sudanese protesters against military rule defy tear gas to reach palace gates
28 February ,2022
Huge crowds of Sudanese protesters demonstrating against military rule advanced up to the gates of the presidential palace in central Khartoum on Monday, despite facing heavy tear gas and stun grenades, a Reuters reporter said.
One protester was killed by a gunshot to the head during parallel protests in neighbouring Omdurman, and dozens were injured in Khartoum, the Central Committee of Sudanese Doctors said.
Protesters have been marching on the presidential palace frequently since an Oct. 25 coup that ended a civilian-military power-sharing arrangement that was meant to lead to democratic elections. At least 84 people have been killed in security crackdowns.
There was no immediate comment from the military or the police.
Monday represents only the second time since the coup that protesters had been able to reach the palace gates, a site that demonstrations in Sudan have historically targeted.
They began retreating before sunset and some were chased into side streets by security forces, a Reuters reporter said.
On Sunday, resistance committees organising the protests announced a political charter aimed at unifying civilian political forces. Protesters could be seen carrying banners in support of the charter and distributing copies.
Security forces had fired tear gas, some coloured red or yellow, as well as stun grenades and red-coloured liquid, as they attempted to stop protesters more than a kilometre away from the palace, a Reuters witness said. Several unconscious protesters were driven away on motorcycles.
Source: Al Arabiya
Please click the following URL to read the full text of the original story:
https://english.alarabiya.net/News/middle-east/2022/02/28/Sudanese-protesters-against-military-rule-defy-tear-gas-to-reach-palace-gates
--------
South Sudan's civil defense woefully lacking in resources
Benjamin Takpiny
28.02.2022
JUBA, South Sudan
People in South Sudan say the country's Civil Defense Service attends to emergencies without adequate resources, which leads to loss of life and property.
Speaking to Anadolu Agency on the eve of World Civil Defense Day on Tuesday, Taha Mohammed, a businessman who lost two of his shops to fires last year, claimed that the firefighters that responded the incidents did not carry water, as they are mandated to.
He said the Civil Defense Service in South Sudan is very weak and cannot rescue citizens once there is a fire.
"Fires have broken out many times here in Juba, and every time people have tried calling the fire department, they have always been late, and later they arrived when everything was over. They have really let us down as businesspeople in the country. We could have preserved a lot of things if they had arrived on time."
He called on the government to strengthen its civil defense services to rescue citizens whenever there are fires in the country.
"This is an embarrassment. Why are they coming with a fire truck without enough water? Where is water? Are they really serious about saving the lives and property of people? This is a clear failure of the leadership in the country."
Mayen Daniel, another shop owner, whose shop was burnt to ashes in December last year, said he lost all the merchandise he reserved for the Christmas season and does not know what to do.
"Our Civil Defense Service is one of the weakest in the world. They cannot manage to rescue anything once there is a fire outbreak. They come and look at you suffering from the fire and cannot do anything.
"I lost all the clothes I purchased for the Christmas last year, and now I have nothing," he said.
Daniel said he and his family have been suffering because he does not have any food to give them due to the fire, which destroyed everything he had.
"I have a wife and three kids, but I do not know what to give them and my shop is the only source of our income for us," he added.
Bith Abraham, the spokesperson of South Sudan National Civil Defense Service, admitted that they are not doing enough to respond to fires across the country.
"Actually, citizens may be right to blame us because our response is not enough due to inadequate equipment. In other states, we are not responding. We only respond in Juba, where we have only two fire trucks, and in other states, we do not have (any fire trucks) except in Western Bahr El Ghazal and Eastern Equatoria states. These are where we have fire trucks, but they are in the capitals of the states, not even at the county level," Abraham said.
"There is no excellent response on our side."
He said they had a plan to equip their fire department in order to provide a timely response whenever there is a fire.
"We presented our plans to South Sudan's President Salva Kiir Mayardit and they were approved by him and sent to the Finance Ministry for purchasing equipment for firefighting and also for disaster management equipment.
"Let our citizens be vigilant. In a short period of time, we will be able to deliver services to the maximum level they want all over the country," Abraham added.
According to the 2011 Constitution, as amended, the Fire Brigade Service is tasked with preventing fires and disasters and protecting the people of South Sudan and their property.
The revitalized peace agreement also expects the new unity government to improve the Fire Brigade.
Pascal Ladu Mathias, director of the Civil Defense Service in Central Equatoria state, decried the logistical problems that make it difficult to prevent and contain fire outbreaks.
"We have limited resources. Most of the trucks we have are broken down."
In December last year, at least 62 shops and 108 kiosks were destroyed by fire at the Custom in Juba, which caused over 100 million South Sudanese pounds ($768,000) worth of damage, according to the city council.
The busy market caught fire in the evening when most traders had closed their shops.
The traders were left shocked, as most of them did not know what to do after their shops were razed.
During the outbreak of the fire in the Gudele market last year, South Sudan's Police Inspector General Majak Akech was quoted by some media outlets as saying that the government limited resources to oversee the sector.
"You should also consider our situation. Our ability is limited and the city is big. Incidents may happen in different places at the same time," he said.
"We have limited resources, and we want our citizens to consider this. The government has a lot of obligations – peace implementation, the paying of civil servants among others. We have numerous challenges in the government."
In February, a Juba-based fuel company's truck burst into flames and was destroyed.
The incident happened in Lologo on the outskirts of Juba.
Abdulsukut Muhammad, the director of Sebbele Company Limited, said the firm lost about between $30,000 to $40,000 in the incident.
He said the fire broke out as they were pumping fuel into one of the trucks that were destined for the state.
Source: Anadolu Agency
Please click the following URL to read the full text of the original story:
https://www.aa.com.tr/en/africa/south-sudan-s-civil-defense-woefully-lacking-in-resources/2518029
--------
Gov Bello swears-in Kigera as Niger's new Grand Khadi Sharia Court of Appeal
February 28, 2022
By Priscilla Dennis
Niger State Governor, Abubakar Sani Bello, has sworn-in Abubakar Musa Kigera, as the new Grand Khadi of the state's Sharia Court of Appeal.
Bello, who presided over the swearing-in of the Grand Khadi at the Government House, Minna, expressed confidence in the capability of Kigera to carry out his duties diligently.
He stated, "I know that you have been through turbulent storms in the performance of your duties and execution of justice in the state.
"I have no doubt in my mind that we have a capable Grand Khadi.
"Allah has made it possible for you today to become the Grand Khadi of the state, we will continue to pray for Allah's guidance and protection for you,' Bello said.
He then pledged his full support to ensure the Grand Khadi succeeds in his duties.
The Grand Khadi, Kigera, in his address, assured of his preparedness to build on what his predecessors had done.
He thanked the Governor, the acting Chief Judge, Justice Halima Ibrahim Abdulmalik, Commissioner for Justice and Attorney General of the state, Nasara Dan-Mallam and the Nigerian Bar Association (NBA) for their support, adding that as the Grand Khadi of the state, he will discharge his duties justly, fairly and with equity.
Source: Daily Post
Please click the following URL to read the full text of the original story:
https://dailypost.ng/2022/02/28/gov-bello-swears-in-kigera-as-nigers-new-grand-khadi-sharia-court-of-appeal/
--------
Suspected Islamist militants kill 20 civilians in eastern Congo
By Erikas Mwisi
February 28, 2022
BENI, Democratic Republic of Congo, Feb 28 (Reuters) - Suspected Islamist militants killed at least 20 civilians in northeastern Democratic Republic of Congo overnight, according to a local resident and an activist who criticised the failure of Congolese and Ugandan forces to stop the repeated massacres.
The attack late on Sunday evening in the village of Kikura was blamed by the resident and the activist on the Allied Democratic Forces (ADF), a Ugandan militia that has killed thousands of civilians in eastern Congo since 2013.
Congolese and Ugandan troops launched joint operations against the ADF in late November but attacks by the group, which has pledged allegiance to Islamic State, have continued to kill dozens of civilians each month.
The assailants struck at around 9 p.m. with machetes and also burned down houses, said Odette Zawadi, the president of a local activist organisation. She said 20 bodies had been recovered and that the death toll could rise further.
"We already didn't seem to have confidence in these so-called joint operations. How can you explain that 20 people are killed in the presence of these two forces?," she told Reuters.
Claude Kalinde, a local resident, confirmed that 20 bodies had been recovered.
"We thought that the coalition of the Congolese and Ugandan armies would help us, but look at how sad this is," he said.
Capitaine Antony Mwalushayi, a spokesman for Congo's army, said it had taken a while for soldiers in the area to learn of the attack since it was carried out without firearms.
"We cannot be discouraged because the objective of the enemy is to discourage us, to separate us from the population," he said.
Source: Reuters
Please click the following URL to read the full text of the original story:
https://www.reuters.com/world/africa/suspected-islamist-militants-kill-20-civilians-eastern-congo-2022-02-28/?rpc=401&
--------
North America
Muslim community in Wisconsin seek their own voice in government
March 01, 2022
WISCONSIN: Leaders in the Muslim-American community in Milwaukee in the state of Wisconsin are hoping to achieve representation in the city government to reflect their growing numbers and needs.
The city of Milwaukee's diverse Muslim community is concentrated in the 13th district and is seeking to have its own representation in the city council, known as the Common Council, in which 15 districts are represented by 15 aldermen. However, differences over representation with the Hispanic-Latino community, which seeks to increase its own presence in the city government, has brought the issue to public attention.
Arab and Muslim Americans were legally counted as "white" in the last census, contributing to their under-representation. Community leaders say that the 13th district has tens of thousands of Muslim residents whose national origins lie in the Middle East and other parts of the world.
After the US national census last year, the Hispanic and Latino community, which controls two other districts, wanted to represent the 13th district as well. This reflects a desire to have more representation, as a result of its own growing population, once redistricting is approved by the city government. This situation has created a conflict about who should be representing the 13th district.
The Latino community had sought to have a Hispanic-majority or near-majority 13th district by advocating the transfer of heavy Latino areas into the 13th district and removing areas with the least number of Latinos.
Under this scheme, the Muslim community in the district would be chopped up between different districts and lose its economic and political contiguity to accommodate the objectives of the Hispanic leaders.
Janan Najeeb, a community leader and president of the Milwaukee Muslim Women's Coalition and director of the Islamic Resource Center, told Arab News that the Arab and Muslim community has no problem with the Latino community — in fact she considers them natural allies who have shared the same struggles.
Najeeb said that leaders from the Muslim and Hispanic communities have had many meetings to resolve their differences in a way that will benefit both groups. She added that all the redistricting maps submitted by the leaders of the Hispanic community proposed remapping the wards or areas that were heavily Muslim and dispersing them in different areas, causing them to lose their concentration in the 13th district. The plan would ultimately deprive the Muslim community of the opportunity to have a Muslim representation in the city government, she said.
Najeeb said that the Muslim community was still expanding and it would be unfair to let another ethnic group represent them when they could represent themselves.
"We want a Muslim representation in the city that would reflect our own interests and issues," she said.
Milwaukee's city government has not passed the Hispanic community's proposed remapping and redistricting, leaving the original district map intact. This is considered a major win for the Muslim community as it leaves its areas part of one district.
The 13th district is home to the largest concentration of Muslims in Wisconsin. The community is very mixed, reflecting the diversity of the Muslim world itself as many people have roots in the Middle East, US, Africa, Asia and Europe. It also includes a growing number of Latino Muslims.
There are more than 100 Muslim businesses and institutions in the district, with three mosques including the Islamic Society of Milwaukee, hosting the largest mosque in Wisconsin, and the Salam School with 1,000 students on two campuses, civic institutions, pharmacies and medical clinics.
Source: Arab News
Please click the following URL to read the full text of the original story:
https://www.arabnews.com/node/2033691/world
--------
US would walk away from Iran talks if Iran displays intransigence: State Department
February 28, 2022
WASHINGTON: Washington is prepared to walk away from the effort to revive the 2015 Iran nuclear deal if Iran displays intransigence, State Department spokesperson Ned Price said on Monday.
"We are prepared to walk away if Iran displays an intransigence to making progress," Price told reporters at a regular press briefing of the indirect talks taking place in Vienna.
Source: Arab News
Please click the following URL to read the full text of the original story:
https://www.arabnews.com/node/2033521/middle-east
--------
Turkiye's UN envoy calls for 'humanitarian pause' in Ukraine
Servet Günerigök
01.03.2022
WASHINGTON
Turkiye's envoy at the UN called Monday for an immediate "humanitarian pause" in Ukraine as Russia's attack on the country entered its sixth day.
"It is the only way to prevent a grave and irreversible loss of innocent civilian lives," said Feridun Sinirlioglu at a rare special emergency session of the UN General Assembly.
Earlier, Ukrainian and Russian delegations held talks in the Gomel region of Belarus, which borders both sides to the conflict. After the five-hour long talks, both sides agreed to hold a second round of negotiations to achieve a cease-fire soon.
Sinirlioglu said the talks between the parties must be results-oriented for a cease-fire.
"It should be approached with good faith and not be misused to buy time."
He said the UN is not powerless and has the power to pave the way for a peaceful solution.
"But if we fail to take action, the rising death toll will rest on the conscience of humanity for decades to come. History will not judge us kindly.
Source: Anadolu Agency
Please click the following URL to read the full text of the original story:
https://www.aa.com.tr/en/americas/turkiyes-un-envoy-calls-for-humanitarian-pause-in-ukraine/2518972
--------
In phone call, top US, Turkish diplomats discuss Ukraine's humanitarian plight
Dilara Hamit
28.02.2022
In a phone call, the top Turkish and US diplomats on Monday discussed the humanitarian plight in Ukraine.
In my phone conversation with Turkish Foreign Minister Mevlut Cavusoglu, I reaffirmed U.S. condemnation of Russia's actions and emphasized that we will continue our close coordination in support of Ukraine, its sovereignty, and territorial integrity," US Secretary of State Antony Blinken said on Twitter.
Also on Twitter, Cavusoglu said during the call they discussed recent developments in war-torn Ukraine and the humanitarian situation there, and that they both emphasized the importance of a cease-fire.
Since Russia's war on Ukraine began last Thursday, it has been met by outrage from the international community, with the EU, UK, and US implementing a range of economic sanctions on Russia.
In the war, more than 350 civilians have been killed and over 1,600 injured, according to Ukraine's Health Ministry.
Source: Anadolu Agency
Please click the following URL to read the full text of the original story:
https://www.aa.com.tr/en/americas/in-phone-call-top-us-turkish-diplomats-discuss-ukraines-humanitarian-plight/2518854
--------
URL: https://www.newageislam.com/islamic-world-news/depicting-prophet-osama-bin-laden-religious-education/d/126485
New Age Islam, Islam Online, Islamic Website, African Muslim News, Arab World News, South Asia News, Indian Muslim News, World Muslim News, Women in Islam, Islamic Feminism, Arab Women, Women In Arab, Islamophobia in America, Muslim Women in West, Islam Women and Feminism