New Age Islam News Bureau
25 March 2022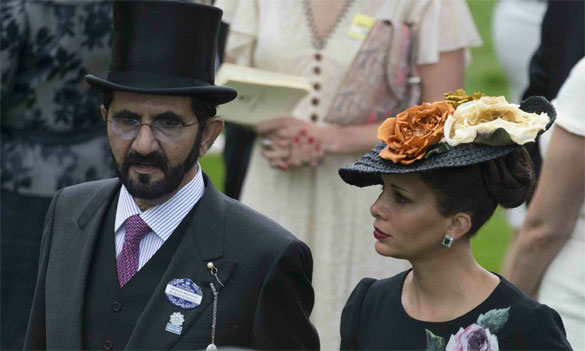 Sheikh Mohammed Bin Rashid Al Maktoum with his then wife Princess Haya walk through the parade ring after looking at their horses on the first day of the Royal Ascot horse race meeting in Ascot, England, Tuesday, June 18, 2013. — AP/ File
---------
• Ministry of External Affairs: Pakistan is a Manipulator of Organisation of Islamic Cooperation, an Irrelevant Organisation
• UN Official Uses 'Apartheid' For First Time To Describe Plight Of Palestinians
• Muslim Americans Sue US Government Over Alleged Religious Targeting At Border
• Iran Condemns 7 Years of Violation of Int'l Laws, Human Rights in Yemen by Saudi-Led Coalition
Arab World
• US announces $64 mln in emergency food aid for struggling Lebanon
• Blinken to meet Abu Dhabi Crown Prince during trip to Morocco: State Department
• Lebanese military court charges Christian politician Geagea over Beirut violence
• Saudi Arabia, US conclude series of joint Air Force exercises
--------
India
• Allow Muslim Girls To Wear Dupatta And Attend Exams, Says Karnataka Opposition Leader Siddaramaiah
• No Link Between Hijab And Exam, Don't Sensationalise The Issue: CJI
• 'All Muslims, Christians Will Be With RSS In Future,' Claims Karnataka BJP Leader, Congress Objects
• HC to resume hearing on Kashi temple-Gyanvapi Mosque issue from March 29
-----
Europe
• Chechen and Tatar Muslims take up arms to fight for Ukraine
• Chechen leader says his forces 'liberated' Mariupol city hall
• 'Turkiye-France-Italy group to become functional again'
• Allies' restrictions on Turkiye's defence industry should be lifted: Turkish president
• Bosnia marks 6th anniversary of verdict against 'Butcher of Bosnia' Karadzic
• Turkish president meets with UK premier at NATO leaders' summit
• Turkish president meets Estonian premier at NATO leaders' summit
• Turkish president meets Italian premier at NATO leaders' summit
--------
North America
• Facilities manager killed in Florida mosque attack hailed as hero, credited with saving children's lives
• US 'troubled' by presence of Iranian military officials at Doha Defence Show
• 'US only now coming to terms with Afghan situation'
--------
Mideast
• Human Rights Groups Urge UN To Keep Watch On Iran's 'Dire Situation'
• FM: Agreement in Vienna Needs US Realism
• Iranian Envoy Censures Israel for Baseless Comments against IRGC
• Iran Reiterates Need for Holding Referendum to End Zionist Regime
• Yemeni general's son died alongside father in Aden bombing
• Iran calls for intra-Yemeni dialogue 'away from foreign interference'
--------
Southeast Asia
• Organization of Islamic Cooperation Accused of Ignoring Uyghur Muslims in China
• Minister says actor Zul Ariffin under probe for posting 'steamy' love scene on social media
• A fractured opposition cannot win the next general election
• Malay unity a myth, says Gerak Independent co-founder
--------
South Asia
• Taliban Want To Replace Conventional Banking System With Islamic Banking
• Afghanistan: Taliban's schoolgirl ban condemned in the Middle East
• Afghanistan Won't Be Threat To Any Country: Home Minister Of Islamic Emirate Of Afghanistan To Russia's Special Representative For Afghanistan
• Afghan Taliban deny replacing Prime Minister Mullah Hasan Akhund
• Hamid Karzai meets Russian envoy Kabulov, discusses strengthening ties
• China says willing to extend CPEC to Afghanistan
--------
Pakistan
• Pakistan: Opposition Seals Deal With Key Imran Khan Ally Ahead Of No Trust Vote
• Islamic State militant killed in Peshawar operation: CTD
• TTP Sindh chief shot dead in Kandahar
• JUI-F allowed to hold rally in Islamabad: report
• Four soldiers lay down their lives in countering infiltration bid from Afghanistan
--------
Africa
• Ethiopia Declares Truce To Allow Aid Into Tigray
• Sudan riot police fire tear gas at protesters in Khartoum
• Investors pledge over $22B to South Africa at conference: President
Compiled by New Age Islam News Bureau
URL: https://www.newageislam.com/islamic-world-news/dubai-princess-pakistan-islamic-uk/d/126650
--------
Dubai Ruler Abused Ex-Wife, Princess Haya Bint Al Hussein, To 'Exorbitant Degree': A UK Judge Ruled
March 25, 2022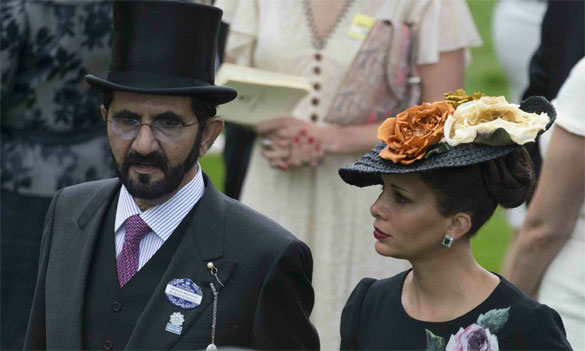 Sheikh Mohammed Bin Rashid Al Maktoum with his then wife Princess Haya walk through the parade ring after looking at their horses on the first day of the Royal Ascot horse race meeting in Ascot, England, Tuesday, June 18, 2013. — AP/ File
------------
LONDON: The ruler of Dubai abused his ex-wife on an extraordinary scale, a UK judge ruled on Thursday, ending a lengthy legal battle between the couple over their two children.
The abuse by Sheikh Mohammed bin Rashid Al-Maktoum, 72, of Princess Haya Bint Al Hussein, 47, was "conducted on a scale which is entirely outside the ordinary circumstances of cases heard in the family court in this jurisdiction", judge Andrew McFarlane said.
The sheikh "consistently displayed coercive and controlling behaviour with respect to those members of his family who he regards as behaving contrary to his will," he added in a ruling at London's High Court.
Princess Haya will now have sole responsibility for their two children, daughter Jalila, 14, and son Zayed, 10, with regards to their medical care and schooling.
Princess Haya gets custody of children
"The decision to afford the mother sole responsibility for these important matters is justified by the need to reduce the potential for continuing harm to the children," McFarlane said.
Sheikh Mohammed, who is also the vice president and prime minister of the United Arab Emirates, is allowed to contact their children indirectly, such as through phone calls.
His behaviour towards his ex-wife through "threats, poems, coordinating press reports, covertly arranging to purchase property immediately overlooking hers, phone-hacking or in the conduct of this litigation, has been abusive to a high, indeed exorbitant, degree", the judge ruled.
Princess Haya studied at the University of Oxford and represented Jordan at the 2000 Sydney Olympics as a show jumper. The couple married in 2004 in Sheikh Mohammed's second official marriage. He divorced her under Sharia law in 2019 without her knowledge. She and her children live in a London house near Kensington Palace and on an estate west of the capital that she inherited from her father, the late king Hussein of Jordan.
The high court ruled in 2020 that the sheikh had submitted her to a "campaign of fear and intimidation", forcing her to flee to London.
In December, he was ordered to pay his ex-wife and children around $725 million in what is thought to be the highest divorce settlement set by an English court. The sheikh, who operates stables in Britain and other countries, has had a close relationship with Queen Elizabeth II, sharing her love of horse racing. Princess Haya said in a statement after the ruling that the "last few years have been a frightening journey" and thanked the court.
Source: Dawn
Please click the following URL to read the text of the original story:
https://www.dawn.com/news/1681709/dubai-ruler-abused-ex-wife-to-exorbitant-degree-court
--------
Ministry of External Affairs: Pakistan is a Manipulator of Organisation of Islamic Cooperation, an Irrelevant Organisation
24th March 2022
By Yeshi Seli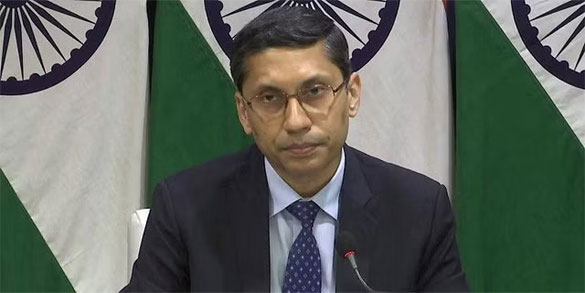 MEA spokesperson Arindam Bagchi (Photo | ANI)
-----------
NEW DELHI: India has taken a stern view of the resolutions passed in the recent meeting of the Organisation of Islamic Cooperation (OIC) in Islamabad and labelled them as irrelevant.
"The statements and resolutions adopted at the meeting demonstrate both the irrelevance of the OIC as a body and the role of Pakistan as its manipulator," said Arindam Bagchi, spokesperson of the Ministry of External Affairs (MEA).
India has objected to Pakistan's narrative on Kashmir, comparisons to Syria and Palestine and also to China's Foreign Minister saying India has been fighting an armed rebellion in Kashmir.
"References have been made to India that are based on falsehoods and misrepresentation. The absurdity of this body commenting on the treatment of minorities, that too at the instance of a serial violator of human rights like Pakistan, is so evident," Bagchi said, adding that nations and governments that associate themselves with such exercises should realise the impact it has on their reputation.
India also came down heavily on China saying that they share the same hope as OIC on Kashmir.
"We reject the uncalled reference to India by the Chinese Foreign Minister Wang Yi during his speech at the Opening Ceremony of OIC. Matters related to the Union Territory of Jammu and Kashmir are entirely the internal affairs of India. Other countries including China have no locus standi to comment. They should note that India refrains from public judgement on their internal issues," MEA has said.
Source: NewIndianExpress
Please click the following URL to read the text of the original story:
https://www.newindianexpress.com/nation/2022/mar/24/pakistan-manipulator-of-an-irrelevant-organisation-of-islamic-cooperation-says-mea-2433828.html
--------
UN official uses 'apartheid' for first time to describe plight of Palestinians
March 24, 2022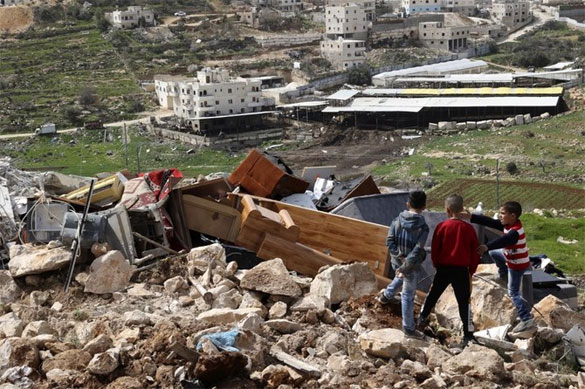 Palestinian boys look at the belongings of a Palestinian family after their home was demolished by Israeli forces, south of Hebron. (File/AFP)
----------
NEW YORK: An investigator appointed by the UN has accused Israel of the crime of apartheid in the Occupied Palestinian Territories. It is the first time an official from the organization has used the term to describe what other international watchdogs have said is a struggle for equal rights rather than a dispute over land.
Michael Lynk is a special rapporteur, an independent expert appointed by the UN Human Rights Council, tasked with investigating human rights abuses in Palestinian territories occupied since 1967.
"There are now five million stateless Palestinians living without rights, in an acute state of subjugation and with no path to self-determination or a viable independent state, which the international community has repeatedly promised as their right," Lynk said ahead of the publication of a full report on his most recent investigations.
The two-tier justice system that Israel operates in the West Bank has cemented oppression of Palestinians that can no longer be seen as an unintended consequence of temporary occupation, he added.
"The differences in living conditions and citizenship rights and benefits are stark, deeply discriminatory and maintained through systematic and institutionalized oppression," Lynk stated in his report.
It describes a situation in which Israeli Jews and Palestinians in the Occupied Territories live "under a single regime which differentiates its distribution of rights and benefits on the basis of national and ethnic identity and which ensures the supremacy of one group over, and to the detriment of, the other."
This system "endows one racial-national-ethnic group with substantial rights, benefits and privileges while intentionally subjecting another group to live behind walls, checkpoints and under a permanent military rule. (This) satisfies the prevailing evidentiary standard for the existence of apartheid."
Other international watchdogs have previously accused Israel of implementing policies of "domination and oppression" in the Occupied Territories that amount to apartheid.
Amnesty International is the latest rights advocate to accuse Israel of operating an apartheid system by embracing laws and practices that are intended to maintain a "cruel system of control over Palestinians, have left them fragmented geographically and politically, frequently impoverished, and in a constant state of fear and insecurity."
Although Palestinian and Israeli human rights organizations have described the situation in the Occupied Territories as "apartheid" for many years, in recent months the term has increasingly become part of the international discourse about the Israeli-Palestinian conflict. During a recent meeting of the UN Security Council, Palestinian UN envoy Riyad Mansour wore a black mask emblazoned with the words "end apartheid."
"This council may not be ready to use the word but apartheid is, and has been for a while now, our reality," he told the members of the council.
Israeli authorities have repeatedly accused the UN of producing biased reports. They have said that it is unfair to apportion blame to Israel without taking into account the security challenges it faces and the daily threats to its citizens from armed Palestinian groups.
Source:ArabNews
Please click the following URL to read the text of the original story:
https://www.arabnews.com/node/2049866/middle-east
--------
Muslim Americans sue US government over alleged religious targeting at border
By Umar A Farooq
24 March 2022
Three Muslim American citizens filed a lawsuit against federal immigration authorities on Thursday alleging that nearly every time they returned to the US from abroad they were stopped and questioned about their religion.
The three US citizens alleged they would be subject to secondary screenings by border officers, during which they were asked questions including whether they were Muslim, whether they were Sunni or Shia, which mosque they attend, and how often they pray.
The lawsuit, filed by the American Civil Liberties Union (ACLU) in a district court in Los Angeles, claims their treatment amounts to religious discrimination under the Constitution, as it violates the First Amendment's right to freedom of religion - because other faiths are not similarly targeted with such questioning.
It also calls on the US Customs and Border Protection (CBP) agency to expunge the records of the three individuals, which the ACLU says are to be held in a database for up to 75 years and are accessible to US law enforcement agencies.
"Just as border officers may not single out Christian Americans to ask what denomination they are, which church they attend, and how regularly they pray, singling out Muslim Americans for similar questions is unconstitutional. Plaintiffs are entitled to full and equal membership in American society," the lawsuit says.
"By targeting plaintiffs for religious questioning merely because they are Muslim, Defendants' border officers stigmatize them for adhering to a particular faith and condemn their religion as subject to suspicion and distrust."
One of the plaintiffs, Abdirahman Aden Kariye, who is an imam at a mosque in Bloomington, Minnesota, said "whenever I travel back home to the United States, I'm anxious".
"I'm constantly worried about how I will be perceived."
During the occasions where Kariye was stopped and detained, he said he was asked questions by order officers including whether he was Salafi or Sufi, where he studied Islam, and what his views were on the 13th century Islamic scholar Ibn Taymiyyah.
As a result, Kariye said that he now no longer wears his Muslim prayer cap to the airport.
"It's terrible to feel you have to hide an essential part of who you are from your own government. I shouldn't be questioned because of my religion," he said in a statement.
The lawsuit says Kariye has also been put on a US government watch list.
"Religious questioning by border officers is unconstitutional, and it's past time for the government to be held to account," said Ashley Gorski, senior staff attorney with the ACLU's National Security Project. "This invasive questioning serves no legitimate law enforcement purpose, and conveys the harmful and stigmatising message that the US government views Muslims as inherently suspicious."
A US Customs and Border Protection (CBP) spokesperson told Middle East Eye that, as a matter of policy, it did not comment on pending legislation.
The Department of Homeland Security did not respond to MEE's requests for comment on the lawsuit.
Discrimination against Muslims
Muslim Americans have accused the government of targeting their communities since the 9/11 attacks. Informants have been sent to surveil local mosques, arbitrary watchlists have been created which restricted individuals' freedom of movement, and discrimination based on faith has been enshrined into policy.
Entire neighbourhoods in New York City were subject to raids and Muslims faced being arrested in the middle of the night, and being stopped and searched at "random" in the streets.
Many policies were also put forward to target individuals based on their Islamic faith, such as the National Security Entry-Exit Registration System (NSEERS), a programme created a year after 9/11 which targeted foreign nationals from 25 Muslim-majority countries.
Nearly two decades later, Muslim Americans and civil liberties groups are working to dismantle many of these discriminatory policies.
In 2019, a federal district judge ruled the US government's terrorist watchlist, which rights groups say listed as many as one million people, was unconstitutional.
Then, in 2020, the US Supreme Court ruled that Muslim Americans who were placed on the FBI's no-fly list were allowed to sue individual FBI agents who allegedly violated their religious freedoms.
In another Supreme Court case earlier this month, the nation's highest judicial body ruled narrowly in favour of the FBI in a case where three Muslim men from the state of California accused the agency of conducting illegal surveillance of them and their community after the 9/11 attacks.
However, the court did not rule broadly on whether the government could throw out the case using its state secrets privilege, allowing the case to continue at a lower level.
The ACLU's latest lawsuit similarly aims to remove a government practice it claims is unconstitutional.
"It is and always has been wrong to force Muslims, or any person of faith, to divulge their religious beliefs and practice to border officials," said Mohammad Tajsar, senior staff attorney with the ACLU Foundation of Southern California.
"The government's longstanding, discriminatory scrutiny of Muslim travellers must end now."
Source:MiddleEastEye
Please click the following URL to read the text of the original story:
https://www.middleeasteye.net/news/muslim-americans-sue-us-government-over-alleged-religious-targeting-border
--------
Iran Condemns 7 Years of Violation of Int'l Laws, Human Rights in Yemen by Saudi-Led Coalition
2022-March-24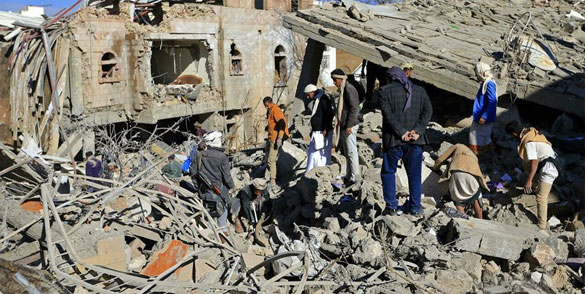 TEHRAN (FNA)- The Iranian foreign ministry in a statement on the anniversary of the start of the Saudi-led coalition war against Yemen deplored 7 years of violation of international laws and human rights in the poor Arab country
------------
The Islamic Republic of Iran supports any practical efforts to lift blockade, establish a ceasefire and start Yemeni-Yemeni talks without foreign interference, the foreign ministry said in the statement on Thursday.
The destructive war and cruel blockade of Saudi-led coalition against the Yemeni people enters its eighth year as Yemen has faced with the greatest human catastrophe of the century and civilians, women and innocent children directly and indirectly have mostly been targeted as a result of war in Yemen. This war has led to the destruction of vial infrastructures and facilities of health, economic and education sectors of this country, it added.
The Saudi aggressor coalition has not been satisfied with bombardment of Yemen in the last seven years and is imposing the worst economic war by using inhuman and illegal blockade as a leverage to gain political and military concessions, the statement said.
This inhumane crime of Saudi-led aggressor coalition continues to violate all international law and human rights under the shadow of the continued sale of weapons by Western and American supporters and the application of double standards and a biased view in the UN Security Council, it added.
The Islamic Republic of Iran supports any fair and practical efforts and initiatives to lift the blockade, establish a ceasefire and start Yemeni-Yemeni talks without foreign interference in the light of the UN Special Representative's efforts, the statement concluded.
The Yemen Petroleum Company (YPC) confirmed earlier this week that the Saudi-led war coalition has confiscated yet another emergency fuel ship bound for the Red Sea port of Hudaydah, a lifeline for millions of Yemenis which has been tightly controlled by Saudi Arabia.
The company announced that the vessel was impounded despite being inspected and holding entry permits from the United Nations, Yemen's Al-Masirah news network reported on Tuesday.
Over the past one and a half years, the Saudi-led coalition has held dozens of ships, blocking Yemen's much-needed fuel imports amid a crippling siege.
The act of maritime piracy has deteriorated the humanitarian situation in Yemen, while much of the country's vital sectors, including hospitals as well as electricity and water services, have already come to a halt.
More than 23 million Yemenis face hunger, disease, and other life-threatening risks as the country's basic services and economy are collapsing, according to the UN Office for Humanitarian Coordination (OCHA).
Saudi Arabia launched the devastating war against Yemen in March 2015 in collaboration with a number of its allies and with arms and logistics support from the US and several Western states.
The objective was to return to power the former Riyadh-backed regime and crush the popular Ansarullah resistance movement, which has been running state affairs in the absence of an effective government in Yemen.
The war has stopped well shy of all of its goals, despite killing tens of thousands of Yemenis and turning entire Yemen into the scene of the world's worst humanitarian crisis.
Yemeni forces have continued to grow stronger in the face of the Saudi-led invaders, advancing toward strategic areas held by Saudi-led mercenaries, including Ma'rib province, and conducting several rounds of counterstrikes against Saudi Arabia and the UAE in recent months.
Source: Fars News Agency
Please click the following URL to read the text of the original story:
https://www.farsnews.ir/en/news/14010104000348/Iran-Cndemns-Years-f-Vilain-f-In'l-Laws-Hman-Righs-in-Yemen-by-Sadi
--------
Arab World
US announces $64 mln in emergency food aid for struggling Lebanon
24 March ,2022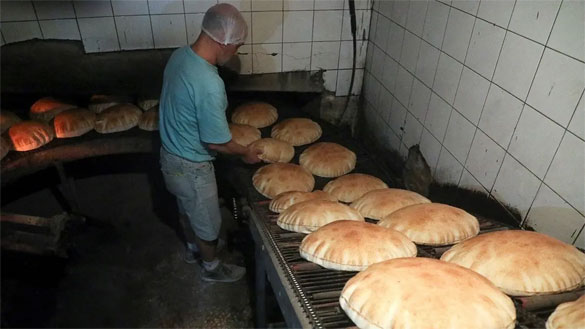 A worker stands near freshly baked bread at a bakery in Beirut, March 8, 2022. (Reuters)
-------------
The US on Thursday announced more than $60 million in emergency food assistance to Lebanon, which continues to struggle with an unprecedented economic disaster that has been exacerbated by the Russian war on Ukraine.
"In response to growing food security needs in Lebanon, the United States, through the US Agency for International Development (USAID) is providing nearly $64 million in additional humanitarian assistance to help feed vulnerable people in Lebanon," the US Embassy in Lebanon said in a statement.
The new aid will help more than 740,000 people in the country.
Rice, chickpeas, pasta, lentils, and other non-perishable items, in addition to vouchers for purchasing food staples from local markets, will be included in the latest round of US assistance.
Apart from the ongoing economic crisis due to decades of corruption, clientelism and mismanagement, Lebanon is still suffering from the impacts of the COVID-19 pandemic and the devastating port blast in 2020.
"This situation is exacerbated by Putin's war against Ukraine due to Lebanon's reliance on imported wheat, primarily from Ukraine," the US Embassy said.
The Embassy warned that the increasing prices of staple foods and fuel in Lebanon "will worsen food insecurity."
Source: Al Arabiya
Please click the following URL to read the full text of the original story:
https://english.alarabiya.net/News/middle-east/2022/03/25/US-announces-64-mln-in-emergency-food-aid-for-struggling-Lebanon
--------
Blinken to meet Abu Dhabi Crown Prince during trip to Morocco: State Department
24 March ,2022
US Secretary of State Antony Blinken will meet with Abu Dhabi Crown Prince Sheikh Mohammed bin Zayed next week as he makes stops in Israel, Palestine, Morocco and Algeria, the State Department said Thursday.
Blinken will start his trip in Israel and Palestine, where he'll meet top officials from both sides.
He will underscore Washington's commitment to Israel's security while discussing the need to preserve the possibility of a two-state solution to the Israeli-Palestinian conflict.
State Department Spokesman Ned Price said Blinken would also discuss Iran's destabilizing activities.
US President Joe Biden's campaign promise to reopen the US consulate in Jerusalem will "certainly be a topic of discussion" in his meetings in Israel and Palestine, Acting Assistant Secretary for Near Eastern Affairs Yael Lampert told reporters in a phone call Thursday.
Blinken will then fly to Morocco to meet with the country's top officials.
"While in Rabat, the Secretary will also meet Crown Prince of Abu Dhabi Sheikh Mohammed bin Zayed Al Nahyan to discuss regional security and international developments," Price said.
For her part, Lampert said that Iran, Yemen, Syria, global energy markets and Ethiopia would be among the topics Blinken would discuss with Abu Dhabi's Crown Prince.
"This is a valued and really important, strategic relationship for us. And it's an opportune moment for this meeting; there's a lot to discuss," Lampert said.
On the last leg of his trip, Blinken will head to Algeria. While in Algiers, Blinken will inaugurate the United States as the Country of Honor at the Algiers International Trade Fair, the largest trade show of its kind in Africa.
Source: Al Arabiya
Please click the following URL to read the full text of the original story:
https://english.alarabiya.net/News/middle-east/2022/03/24/Blinken-to-meet-Abu-Dhabi-Crown-Prince-during-trip-to-Morocco-State-Department
--------
Lebanese military court charges Christian politician Geagea over Beirut violence
24 March ,2022
A Lebanese military court has charged Christian politician Samir Geagea over deadly clashes in Beirut last October, a judicial source and broadcaster Al Jadeed said on Thursday, a move that could stoke political tension two months before an election.
An official in Geagea's Lebanese Forces party said the charge against him was political, and the investigation into the violence had been political from the start.
Judge Fadi Akiki told Al Jadeed he had charged Geagea two days ago based on "new information" relating to the Teyouneh events, a reference to Beirut's deadliest street violence in a decade. Reuters could not immediately reach Akiki for comment.
Seven people, all of them followers of the Iran-backed Hezbollah and its Shia ally the Amal Movement, were killed in the Oct. 14 clashes near an old frontline of the 1975-90 civil war.
Any attempt to arrest Geagea would likely be resisted by his party, creating the potential for trouble just two months before the parliamentary election, said Mohanad Hage Ali of the Carnegie Middle East Center.
Geagea was summoned to a hearing at military intelligence last October over the violence, but did not attend.
The Oct. 14 violence began as people were gathering for a protest called by Hezbollah against the judge investigating the 2020 Beirut port blast.
Hezbollah, which is heavily armed and backed by Iran, accused the LF of mounting an ambush and perpetrating the killing to try to drag the country to a civil war.
Geagea, a strong critic of Hezbollah who has good ties with Saudi Arabia, has strongly denied this, along with Hezbollah accusations that the LF - which had a powerful militia in the civil war - had established one again.
Source: Al Arabiya
Please click the following URL to read the full text of the original story:
https://english.alarabiya.net/News/middle-east/2022/03/24/Lebanese-military-court-charges-Christian-politician-Geagea-over-Beirut-violence
--------
Saudi Arabia, US conclude series of joint Air Force exercises
24 March ,2022
The Royal Saudi Air Force and its United States counterpart have concluded a series of joint exercises, the official Saudi Press Agency (SPA) reported on Wednesday.
The Saudi Air Force took part in the drill with F-15 C/SA jets while the US Air Force brought the F-16 and F-18 fighters.
The joint venture helped in "developing their capabilities" and in "raising efficiency and enhancing cooperation to face challenges," SPA reported.
Saudi Arabia, under various agreements, has been holding join military exercises, the last reported between the Kingdom and Pakistan.
Called 'al-Samsam 8,' the military exercise between the Royal Saudi Land Forces (RSLF) and Pakistan Army, reportedly kicked off in Pakistan on February 21.
In December last year, the Royal Saudi Land Forces and the Pakistani Army conducted a similar exercise titled 'Al Kaseh 3.'
Earlier 2021, Royal Saudi Air Force (RSAF) combat aircraft and crew members arrived in Pakistan's Mushaf Air Base to participate in the Air Excellence Center Exercise.
This serial sortie was conducted alongside their US counterparts.
Saudi Arabia also participated in a huge US-led naval exercise in the Middle East, which saw the country publicly join Israel as part of a 60-country maritime exercise. Saudi Arabia and Israel share no diplomatic ties.
Source: Al Arabiya
Please click the following URL to read the full text of the original story:
https://english.alarabiya.net/News/gulf/2022/03/24/Saudi-Arabia-US-conclude-series-of-joint-Air-Force-exercises
--------
India
Allow Muslim girls to wear Dupatta and attend exams, says Karnataka opposition leader Siddaramaiah
Mar 24, 2022
BENGALURU: Opposition leader Siddaramaiah on Thursday afternoon, at the legislative assembly, urged the state government to allow the Muslim girls to wear "dupattas" and attend their examinations to ensure that they do not lose an academic year.
At the assembly, while debating on the law and order situation in the state, Siddaramaiah said that on Wednesday evening several Muslim clergymen met him along with a few minority legislators to impress upon him the need for the children to attend their exams, while at the same time not compromising on their faith.
"This is a suggestion which came from the clergymen, that the girls will wear uniforms but allow them to wear dupattas. Burqa is different, Hijab is different and Dupattas are different. As far as I understand this will be within the courts rulings. I would urge the government to allow this in order to ensure that the women get their education and do not violate their fundamental right," said Siddaramaiah.
However, responding to the suggestion, primary and secondary education minister B C Nagesh sarcastically suggested that perhaps the opposition leader must personally make an appeal to the girls who refuse to attend the classes by accepting the uniform as approved by the HC.
Siddaramaiah said the suggestion came in the wake of a lot of anxiety over women studying in minority institutions being forced out of the examination centres which will be outside their educational institutions.
Source: Times Of India
Please click the following URL to read the full text of the original story:
https://timesofindia.indiatimes.com/city/bengaluru/allow-muslim-girls-to-wear-dupatta-and-attend-exams-says-karnataka-opposition-leader-siddaramaiah/articleshow/90425567.cms
--------
No link between hijab and exam, don't sensationalise the issue: CJI
Mar 25, 2022
NEW DELHI: The Supreme Court on Thursday refused to bite the "impending examination and loss of academic year" bait thrown by a Muslim girl student to seek urgent hearing on her plea challenging a Karnataka HC verdict upholding ban on wearing of hijab to schools and colleges.
Appearing for petitioner Aishat Shifa, senior advocate Devadatt Kamat informed a bench of CJI NV Ramana and Justice Krishna Murari that his client's first year pre-university final examinations are starting from March 28 necessitating an urgent hearing because she faces the prospect of losing an academic year as she is not allowed to enter the college wearing hijab along with the prescribed uniform.
CJI Ramana refused to fix a date for hearing on the appeals. "Examinations have nothing to do with the issue (hijab). Do not sensationalise (the issue)," he said.
The CJI also did not permit solicitor general Tushar Mehta, appearing for Karnataka government, to put forth his arguments. The CJI said many appeals have been filed which would be listed before an appropriate bench as soon as possible.
Seeking permission to write the exams commencing from March 28 wearing the headscarf of the same colour as the school uniform, Shifa, a student of Government PU College at Kundapura in Udupi district, said the hijab ban imposed by the state in educational institutions and the decision of the HC militate against her fundamental rights guaranteeing choice of dress, voluntary adherence religious faith and customs and the right to privacy.
Branding the BJP government in Karnataka as 'majoritarian' and accusing it of trampling on the fundamental rights of Muslim girls to wear hijab, the petitioner through advocate Javedur Rahman requested the SC "to restore the fundamental rights which the HC has failed to protect against a majoritarian government that is trampling on them with impunity for its own vested political considerations."
Shifa said she had absolutely no objection in wearing the prescribed uniform, but is seeking to wear a hijab matching in colour with the uniforms "to make it compatible with her religious beliefs". "Wearing of a head scarf does not by any stretch of imagination impinge on any other person's fundamental rights nor does it cause any disturbance," she argued.
She said the government order banning hijab and the HC verdict would aid the attempts "to create a regime of 'coerced uniformity' to further marginalise what has historically been an educationally and socially disadvantaged minority community and impede their access to education."
Source: Times Of India
Please click the following URL to read the full text of the original story:
https://timesofindia.indiatimes.com/india/no-link-between-hijab-and-exam-dont-sensationalise-the-issue-cji/articleshow/90431560.cms
--------
'All Muslims, Christians will be with RSS in future,' claims Karnataka BJP leader, Congress objects
Mar 25, 2022
Karnataka Bharatiya Janata Party leader KS Eshwarappa on Thursday claimed that Muslims and Christians will associate themselves with the Rashtriya Swayamsevak Sangh in the future, leading to strong objections by the Congress, The Indian Express reported.
Eshwarappa made the comments in the state Assembly in the context of a debate on the law and order situation in Karnataka. Earlier during the debate, Leader of Opposition Siddaramaiah made a reference to the RSS while saying that personal relationships came before political differences.
To this, Speaker Vishweshwar Hegde Kageri asked the Congress leader why he was "feeling troubled by our RSS". Congress MLA Zameer Ahmed Khan then questioned why he referred to the Hindutva organisation as "our RSS" while being the Speaker.
Kageri, however, stuck to his remarks and said that "you'll all say RSS in the coming days", ANI reported.
Later, Eshwarappa, who is the state rural development minister, criticised the Congress and said that "all Muslims and Christians will also say RSS in the future". Siddaramaiah, however, criticised the BJP and asserted that he would "never ever be a part of RSS and say its name".
State Revenue Minister R Ashoka said that all top political posts in the country were occupied by people from the Hindutva organisation, whether one liked it or not. Congress MLAs, however, said that this was the "country's misfortune".
As the acrimonious exchange of words continued, Speaker Kageri later adjourned the Assembly till the afternoon.
This is the second time in recent months that Kageri has defended the RSS in the Karnataka Assembly.
On February 22, Kageri had objected to the Congress shouting anti-RSS slogans in the House, according to Deccan Herald.
Source: Scroll
Please click the following URL to read the full text of the original story:
https://scroll.in/latest/1020304/all-muslims-christians-will-be-with-rss-in-future-claims-karnataka-bjp-leader-congress-objects
--------
HC to resume hearing on Kashi temple-Gyanvapi Mosque issue from March 29
Mar 24, 2022
PRAYAGRAJ: The Allahabad high court on Thursday adjourned till March 29 the cases relating to Varanasi's Kashi Vishwanath Temple-Gyanvapi Mosque complex, directing that the arguments shall continue thereafter on regular basis till their conclusion in all connected matters.
During the course of hearing on Thursday, the temple's counsel submitted that it is clear from the averments of the plaint that the property in question, i.e., the temple of Lord Visheshwar has been in existence since ancient times and Swayambhu Lord Visheshwar resides in the disputed structure. "Therefore, the aforesaid land in dispute is itself integral to Lord Visheshwar."
He argued that the ground-floor cellar of the temple — a structure built before 15th century — is still in His possession. It is argued that the religious character of the place of worship remained the same as on August 15, 1947, therefore, the provisions of Place of Worship Act, 1991, cannot be applied.
The section 4 of the Places of Worship (Special Provisions) Act, 1991, bars filing of suit or any other legal proceedings with respect to conversion of religious character of any place of worship, existing on August 15, 1947.
Hearing a petition filed by Anjuman Intazamia Maszid of Varanasi, Justice Prakash Padia fixed March 29 as the next date of hearing of this case.
To recall, civil judge (senior division), fast-track court (FTC) of Varanasi had directed the Archaeological Survey of India (ASI) on April 8, 2021, to conduct a survey of Kashi Vishwanath Temple-Gyanvapi Mosque complex in order to find out whether a temple was demolished to build the mosque.
Source: Times Of India
Please click the following URL to read the full text of the original story:
https://timesofindia.indiatimes.com/india/hc-to-resume-hearing-on-kashi-temple-gyanvapi-mosque-issue-from-march-29/articleshow/90426832.cms
--------
Europe
Chechen and Tatar Muslims take up arms to fight for Ukraine
Monir Ghaedi
24.03.2022
The number of these fighters deployed to Ukraine is unknown, but their reputation for brutality and ruthlessness in enforcing domestic rule is well-known, and their presence has raised memories of grisly urban combat and guerilla fighting from the Chechen wars in the 1990s and early 2000s.
Head of the Chechen Republic Ramzan Kadyrov, known as one of the most loyal allies of President Vladimir Putin, announced on his Telegram channels that his men would be fighting in the "hottest hotspots in Ukraine."
However, some military analysts have cast doubt on whether his braggadocio on social media has accurately reflected his troops' performance on the battlefield.
Across the frontlines, another group of Chechens has also joined the war — but they intend to defend Ukraine against the Russian invasion.
"Dear Ukrainians, please do not see those people as Chechens," said Adam Osmayev, an exiled Chechen leader, in a video published on social media, referring to Kadyrov's soldiers. "They are traitors … puppets of Russia."
"Real Chechens are standing with you, bleeding with you, as they have in the past eight years," he said, holding a gun and standing next to three other armed men with masked faces.
Osmayev leads the Dzhokhar Dudayev Battalion, named after the late Chechen rebel leader. The group is one of the two publicly known Chechen volunteer groups fighting against Russian-backed separatists and Russian forces in Ukraine since 2014. The other one is called the Sheikh Mansur Battalion and is headed by a commander called Muslim Cheberloevsky.
The identity and the exact number of the Chechen volunteers are unknown. But most of them are believed to be people who left Chechnya either after the end of the war there in 2003 or who have escaped Kadyrov's despotic rule over the past years.
In 2013, the Ukrainian government, then a Moscow ally, imprisoned Osmayev for plotting to assassinate Putin — an accusation he denies. When he was released a year later, he went to the Donbas region to fight the pro-Russian separatists.
Both Russian and Western media have reported alleged links between the Sheikh Mansur Battalion and the "Islamic State."
When Putin's army began marching toward Kyiv, leaders of both battalions, along with thousands of other foreign volunteer fighters, announced they would continue to defend Ukraine against "their common enemy."
Their determination to assist Ukraine amid the ongoing Russian invasion stems from similarities they see between what Ukrainians are going through and their own fate.
A long, violent history
Chechnya, now a Russian republic, is home to a majority-Muslim population and has a complicated and often violent history with Moscow.
After the collapse of the Soviet Union, Russia waged two devastating wars to keep Chechnya from becoming independent, a goal to which it had been aspiring since the collapse of the Soviet Union. The first conflict broke out in 1994 when Russia sent troops to the Chechen Republic to quash its attempt to break away. Fighting paused only two years later, in 1997, following the signing of a peace agreement in August 1996.
But in 1999, the Russian army returned after a series of deadly terror attacks organized by Chechen warlords on the territory of Russia. A new war erupted, lasting 10 years and culminating in the siege of Grozny by the Russian troops, resulting in enormous destruction and tens of thousands of civilian casualties.
The first two years of that war coincided with Putin's ascension to power. The active phase of the war was over in April 2000. Two months later, Putin appointed Akhmad Kadyrov as head of the Chechen Republic, who would rule until he was assassinated by Islamist rebels in 2004.
His son Ramzan Kadyrov became Chechen leader in 2007 and has remained in office ever since.
Under Kadyrov's rule, human rights have deteriorated as critics, activists and journalists face clampdowns. He is suspected of having been involved in the killings of several critics outside Chechnya, including Zelimkhan Khangoshvili, a former military commander gunned down in Berlin in 2019.
"It is safe to say that a great majority of the Chechen diaspora left their homeland after Kadyrov came to power, not during the war," Marat Iliyasov, a researcher at Lithuania's Vytautas Magnus University, told DW.
Bringing back Chechen memories
For many exiled Chechens, Putin is treating Ukrainians the way he treated them.
"Moscow's attempts today to impose its control over independent Ukraine resonates in the hearts and minds of many Chechens who remember their struggle for independence against the Russian colonizing machine," Albert Bininachvili, a professor of political science at Bologna University, told DW.
Putin aspires to expand Russia's domination to the Soviet borders, he explained, but without the intention of bringing back the Soviet system, "which in effect leaves us with nothing but Russian colonialism."
"Chechens consider the war in Ukraine as a continuation of the war in Chechnya," Iliyasov said. "So they want to contribute to eventual victory against this perceived evil — something not achieved on Chechen soil."
"That's alongside another motivation, which is a kind of moral obligation to help people who are in such situations, and showing solidarity with them," he added.
Cheberloevsky, the head of the Sheikh Mansur Battalion, also considers the latest fighting as part of a much longer conflict. He said in an interview with Radio Free Europe's Caucasus service, "We have been fighting in Ukraine since 2014 to beat our common enemy."
Akhmed Zakayev, the head of the Chechen separatist government in exile, encouraged all Chechens living abroad to fight alongside the Ukrainian government in a video shared on social media.
Discrediting Putin's propaganda
Chechens are not the only Muslim group assisting Ukrainians.
Said Ismagilov, one of Ukraine's top Islamic leaders, who is of Tatar origin, posted a picture of himself in a military uniform beside the members of the Territorial Defence Forces in Kyiv. In another video, he called on the Muslims in the world to stand in solidarity with Ukraine.
The Crimean Tatars, a Muslim ethnic minority indigenous to Crimea, a Ukrainian peninsula annexed by Russia in 2014, have been resisting Russian occupation since 2015, with some of them fighting in the Ukrainian armed forces.
In a video widely shared by Ukrainian media, Ayder Rustemov, the head of Crimea's Muslim community as recognized by Ukraine, urged Ukrainian Muslims to defend their country and called on Russian Muslims to denounce Russia's aggression.
Kadyrov, who adheres to Sufism, a moderate sect of Islam with deep historical roots in Chechnya, tried to brand the battles in Ukraine as jihad, the Islamic term for holy war. "We have an order, we have jihad!" He wrote on his Telegram channel on March 4.
Rights groups, including Human Rights Watch, have said Kadyrov's paramilitary forces have a long record of terrorizing, torturing and killing political dissidents claiming they were Islamic rebels.
Source: DW
Please click the following URL to read the full text of the original story:
https://www.dw.com/en/chechen-and-tatar-muslims-take-up-arms-to-fight-for-ukraine/a-61174375
--------
Chechen leader says his forces 'liberated' Mariupol city hall
24 March ,2022
Chechen leader Ramzan Kadyrov said Thursday that forces from his Russian region had taken control of the city hall in Ukraine's besieged southeastern port of Mariupol and hoisted the Russian flag.
Kadyrov posted on Telegram a video of a phone recording in Chechen, which he said was Russian parliamentary lawmaker Adam Delimkhanov speaking to "our valiant men."
"The guys are radioing to say that they liberated the building of the Mariupol authorities and put up our flag over it," the Chechen leader said on his Telegram, which has more than 1.4 million subscribers.
"Bandits who remained alive did not risk it and abandoned their positions... and fled," he wrote, adding that "other units are moving in parallel through the city and clearing it of Azov filth," referring to Ukraine's far-right Azov Battalion.
"God willing, soon Mariupol will be completely cleansed," he wrote.
In the besieged southern port, Ukrainian President Volodymyr Zelenskyy says nearly 100,000 people are trapped without food, water or power and enduring fierce shelling by Russian forces.
Ukraine's foreign ministry tweeted that Moscow had "launched a new phase of terror against Mariupol" by forcibly deporting about 6,000 residents to Russian camps.
Kadyrov said on March 1 that Chechens had been killed in Moscow's invasion of Ukraine.
"Unfortunately, there are already losses among the natives of the Chechen Republic. Two died, six more were injured to varying degrees," Kadyrov said on Telegram.
Source: Al Arabiya
Please click the following URL to read the full text of the original story:
https://english.alarabiya.net/News/world/2022/03/24/Chechen-leader-says-his-forces-liberated-Mariupol-city-hall-
--------
'Turkiye-France-Italy group to become functional again'
Barış Seçkin
24.03.2022
ROME
After Thursday's talks with the Turkish president, the Italian premier said they decided to make the cooperation platform among Turkiye, France, and Italy functional again, adding that the three countries will meet soon.
Turkiye's President Recep Tayyip Erdogan met with Italian Prime Minister Mario Draghi on Thursday on the sidelines of an extraordinary NATO leaders' summit in Brussels.
The closed-door meeting at the NATO headquarters lasted 45 minutes.
Source: Anadolu Agency
Please click the following URL to read the full text of the original story:
https://www.aa.com.tr/en/europe/-turkiye-france-italy-group-to-become-functional-again-/2545189
--------
Allies' restrictions on Turkiye's defence industry should be lifted: Turkish president
Rabia Iclal Turan and Seda Sevencan
24.03.2022
Lifting of restrictions that some of Turkiye's "allies" had placed on the country's defense industry is a "common interest," the president said after the NATO leaders' summit on Thursday.
Speaking at a news conference in Brussels after the extraordinary summit, Recep Tayyip Erdogan said: "While the success of the Turkish defense industry products are evident, there can be no reasonable justification for the obstacles we face in this field."
"It is in our mutual interest to lift the restrictions on our defense industry that have been implemented by some of our allies themselves," he added.
"Secret and open embargoes among allies" should not even be raised for discussion, let alone implemented, he stressed.
Noting that he had conveyed Turkiye's expectations on this issue with allied leaders attending the summit, Erdogan said Ankara would continue contributing to NATO's deterrence and defense measures but expects the same solidarity in return.
Regarding the leaders' summit, Erdogan said: "It is noteworthy that NATO has once again given messages of unity and solidarity after the virtual summit on Feb. 25."
On the Russia-Ukraine war, Erdogan said Turkiye's strong support for Ukraine's "territorial integrity and sovereignty" has been "known by everyone" since 2014, adding that his country "has never recognized and will never recognize Crimea's annexation."
"The destruction and humanitarian tragedy caused by the war are evident. The war-torn cities, hospitals, schools, and houses that have nearly turned into wrecks, and weeping refugees who packed all their assets in one suitcase have all reminded us once again of the bitter face of wars," he said.
"As the conflicts continue, the destruction of the war, unfortunately, increases as well for both sides," he added.
The Turkish president said he is in close contact with the leaders of both Ukraine and Russia with a "view to putting an immediate end to the war."
Erdogan noted that Ukrainian President Volodymyr Zelenskyy wants Turkiye to mediate in talks with Moscow.
He added that Russia also viewed the Turkish mediation in a positive light, stressing that Ankara continued to be in "intense contact" with both Ukraine and Russia to end the war "as soon as possible."
"If there is a demand for Turkiye's mediation role, we're ready for it," he noted.
Saying his country's main aim was to reconcile the parties, Erdogan added that "any method of approach to the Russia-Ukraine crisis that doesn't prioritize peace will result in disaster."
The trilateral meeting of Turkish, Russian, and Ukrainian foreign ministers in Antalya was a "turning point," he said, noting: "We believe that the final solution should be based on a reliable formula to be accepted by both countries and the international community."
"Ukraine's sovereignty and independence must be the main priority," he stressed.
Erdogan said he sees some progress in negotiations "with cautious optimism," while also adding that Turkiye is using its powers under the 1936 Montreux Convention to reduce tensions between the two sides.
He also said NATO must act realistically and strategically while maintaining political and practical support for Ukraine in the current war environment.
Repeating his long-time call for reform in the global security architecture, the Turkish president said the UN Security Council in particular "must inevitably be subject to serious reform."
Source: Anadolu Agency
Please click the following URL to read the full text of the original story:
https://www.aa.com.tr/en/europe/-allies-restrictions-on-turkiyes-defense-industry-should-be-lifted-turkish-president/2545055
--------
Bosnia marks 6th anniversary of verdict against 'Butcher of Bosnia' Karadzic
Ahmet Nurduhan, Almir Terzic, Kemal Zorlak
24.03.2022
BELGRADE, Serbia
Bosnia and Herzegovina on Thursday marked the sixth anniversary of the guilty verdict against ex-Bosnian Serb leader Radovan Karadzic for genocide and crimes against humanity during the 1990s Bosnia war.
Considered to have spearheaded the most severe war crimes committed in Europe since World War II, Karadzic was sentenced to 40 years in prison and has been jailed since 2008 for his deeds that left tens of thousands dead.
A UN tribunal in The Hague found Karadzic guilty on 10 counts out of a total of 11 charges.
He faced two counts of genocide, but while the court convicted him of his role in the Srebrenica massacre in 1995, he was found not guilty of genocides in the Bosnian municipalities of Bratunac, Foca, Kljuc, Prijedor, Sanski Most, Vlasenica, and Zvornik.
Ramiz Salkic, vice president of Republika Srpska, and military expert Berko Zecevic, who witnessed the Karadzic case first-hand, told Anadolu Agency about the former Serb leader and his ideology.
"Karadzic's ideology lives on in Bosnia and Herzegovina. This ideology is adopted by almost all politicians and therefore the people of Republika Srpska," Salkic said.
In 1995, the Dayton Peace Agreement ending the war in Bosnia created a new federal government system with two entities: the Republika Srpska and the Croat and Bosniak-populated Federation of Bosnia and Herzegovina.
Salkic added that Karadzic's ideology is being kept alive in school books, media, and institutions in Republika Srpska.
"We see the greatest example of this in the history books. Karadzic and similar war criminals are portrayed as heroes in history books in Republika Srpska. This shows the general situation of Bosniaks living in Republika Srpska," he said.
For his part, Zecevic said no prison sentence could be commensurate to the sorrows that the victims of Karadzic's ideology had to endure.
"The experiences of a murdered or raped woman, a murdered child, a young person, a soldier, regardless of whether they are Serb, Croat, or Bosnian, can't be measured by any prison sentence," said Zecevic.
He underlined that history would not write the number of years that Karadzic was sentenced, but rather that he was found guilty for his crimes and that genocide was committed in Srebrenica at his command.
- Bosnian war and Karadzic's role
Bosnia gained independence on March 1, 1992 months after Slovenia and Croatia broke away from the former Yugoslavia.
In 1992, a referendum on independence for Bosnia and Herzegovina was held, on which 64% of its people participated and voted 99.44% in favor.
A month later, the EU and the US announced their recognition of the state.
However, the then-political leader of Bosnian Serbs, Karadzic, launched an ethnic cleansing campaign in Bosnia and Herzegovina, triggering a war that led to a massive catastrophe for Bosniaks.
In November 1995, Bosniaks -- amid international pressure -- stopped the war with the Dayton accord.
Karadzic was the president of the self-styled Bosnian Serb Republic and supreme commander of its armed forces between 1992 and 1995, when around 100,000 Bosnians died as Yugoslavia descended into ethnic bloodshed.
Karadzic -- who has been dubbed Butcher of Bosnia -- was first indicted in July 1995 for the shooting of unarmed civilians in Sarajevo and taking UN peacekeepers hostage. Four months later, he was accused of orchestrating the slaughter of 8,000 Muslim men and boys after Serb forces seized the UN's Srebrenica "safe area" in eastern Bosnia.
Source: Anadolu Agency
Please click the following URL to read the full text of the original story:
https://www.aa.com.tr/en/europe/bosnia-marks-6th-anniversary-of-verdict-against-butcher-of-bosnia-karadzic/2544994
--------
Turkish president meets with UK premier at NATO leaders' summit
Zafer Fatih Beyaz
24.03.2022
BRUSSELS
Turkiye's President Recep Tayyip Erdogan on Thursday met with British Prime Minister Boris Johnson as part of his bilateral talks at the extraordinary NATO leaders' summit in Brussels.
The closed-door meeting at the NATO headquarters lasted 40 minutes.
Also joining the meeting were Turkish Foreign Minister Mevlut Cavusoglu, National Defense Minister Hulusi Akar, Justice and Development (AK) Party spokesperson Omer Celik, head of the Turkish delegation to the NATO Parliamentary Assembly Osman Askin Bak, Communications Director Fahrettin Altun, presidential spokesperson Ibrahim Kalin, and Turkiye's NATO Ambassador Basat Ozturk.
Source: Anadolu Agency
Please click the following URL to read the full text of the original story:
https://www.aa.com.tr/en/europe/turkish-president-meets-with-uk-premier-at-nato-leaders-summit/2544957
--------
Turkish president meets Estonian premier at NATO leaders' summit
Zafer Fatih Beyaz
24.03.2022
BRUSSELS
Turkiye's President Recep Tayyip Erdogan met Prime Minister Kaja Kallas of Estonia on Thursday on the sidelines of an extraordinary NATO leaders' summit in Brussels.
The closed-door meeting lasted 40 minutes at NATO headquarters.
Erdogan was joined in the meeting by Turkish Foreign Minister Mevlut Cavusoglu, National Defense Minister Hulusi Akar and presidential spokesperson Ibrahim Kalin.
Kallas wrote on Twitter that she met Erdogan "to discuss the need for NATO forward defense and support to Ukraine."
She said Ukraine needs "long-term help," and added: "Appreciate Turkey's efforts in this regard."
Source: Anadolu Agency
Please click the following URL to read the full text of the original story:
https://www.aa.com.tr/en/europe/turkish-president-meets-estonian-premier-at-nato-leaders-summit/2544869
--------
Turkish president meets Italian premier at NATO leaders' summit
Zafer Fatih Beyaz
24.03.2022
BRUSSELS
Turkiye's President Recep Tayyip Erdogan met with Italian Prime Minister Mario Draghi on Thursday on the sidelines of an extraordinary NATO leaders' summit in Brussels.
The closed-door meeting at the NATO headquarters lasted 45 minutes.
Also joining the meeting were Turkish Foreign Minister Mevlut Cavusoglu, National Defense Minister Hulusi Akar, Justice and Development (AK) Party spokesperson Omer Celik, head of the Turkish delegation to the NATO Parliamentary Assembly Osman Askin Bak, Communications Directorate head Fahrettin Altun, presidential spokesperson Ibrahim Kalin, and Turkiye's NATO Ambassador Basat Ozturk.
Source: Anadolu Agency
Please click the following URL to read the full text of the original story:
https://www.aa.com.tr/en/europe/turkish-president-meets-italian-premier-at-nato-leaders-summit/2544862
--------
North America
Facilities manager killed in Florida mosque attack hailed as hero, credited with saving children's lives
By Jamiel Lynch
March 25, 2022
Authorities are hailing the facilities manager at a Florida mosque as a hero who gave his life and potentially saved children at the center's school and daycare.
Seminole County deputies responded early Thursday morning to the Husseini Islamic Center in Sanford after a woman called 911 and said there was an injured, potentially deceased person on the property, Seminole County Sheriff Dennis Lemma said at a news conference.
According to the 911 caller, when she arrived for work at the center, she saw a pair of pants at the front door. Inside she found signs of an altercation: Chairs were thrown around, a table moved and a window had been smashed with a propane tank, Lemma said. The woman saw a body on the back porch and called the police, he said.
Deputies found the body of the 59-year-old facilities manager on the porch. He had been bludgeoned and beaten with a shovel, Lemma said.
Authorities believe the suspect entered the mosque after breaking the window with the propane tank. The deadly altercation happened when the victim came in for the day, Lemma said.
"You can just imagine for one moment, if it wasn't for the heroic efforts of our victim trying to confront this threat, struggle there and prevent any of those other people who may have been coming in just minutes later from experiencing similar fate," Lemma said.
The name of the victim has not been released.
The Islamic Center's president praised the employee for saving others at the center, which serves as a school and daycare during the day.
Mahmood Dhalla said, "He will be memorialized forever in our community. He saved our children's lives."
Dhalla remembered the facilities manager as the "heart and soul" of the center who wore many hats at the mosque -- from arranging furniture, to maintenance and security.
"He was an amazing person. He always said, 'I will protect this place with my life,' and I think he did just that," Dhalla said.
During their investigation, authorities discovered that the suspect was not known to anyone at the center.
The suspect indicated on social media posts that he believed he was a descendant of Julius Caesar and he needed to defend Caesar's property, the sheriff said.
"Clearly this location was targeted," Lemma said. "Not targeted based upon it being a mosque. It was targeted because the murderer believed this was Caesar's home."
The suspect allegedly left the center in the victim's vehicle. Law enforcement officers were looking for the vehicle when it was seen on a license plate reader in Indian River County, Sheriff Eric Flowers said in a news conference.
Deputies stopped the vehicle in a Sam's Club parking lot. The suspect got out of the vehicle but would not comply when asked to put his hands up. At one point, he reached into his pocket and pulled out his hands, pointing them like guns at the deputies, according to body camera video released by the department.
Source: CNN
Please click the following URL to read the full text of the original story:
https://edition.cnn.com/2022/03/24/us/sanford-florida-mosque-attack-hero/index.html
--------
US 'troubled' by presence of Iranian military officials at Doha Defence Show
Servet Günerigök
25.03.2022
WASHINGTON
The US expressed discontent Thursday over the presence of Iranian Islamic Revolutionary Guard Corps (IRGC) officers at the Doha Defense Show in Qatar.
The US is "deeply disappointed and troubled" by the presence of Iranian military officials and IRGC officers, said US State Department spokesman Ned Price in a statement.
"We utterly reject their presence at the show and its maritime defense exhibit, as it is Iran that is biggest threat to maritime stability in the Gulf region," Price said.
He said transactions related to Iranian weapons, terrorism and weapons of mass destruction are sanctionable under multiple US authorities.
Source: Anadolu Agency
Please click the following URL to read the full text of the original story:
https://www.aa.com.tr/en/americas/us-troubled-by-presence-of-iranian-military-officials-at-doha-defense-show/2545283
--------
'US only now coming to terms with Afghan situation'
March 24, 2022
There was 'surprise and frustration' in Washington when Kabul fell to the Taliban but gradually, they understood the situation, says Pakistan's US Amba­ssador Asad Majeed Khan.
"Obviously, it came as a surprise for everybody, contrary to the intelligence estimates here and earlier than anybody had expected," said the outgoing ambassador, explaining why Washington reacted so strongly to the fall.
Ambassador Khan, the longest serving Pakistani diplomat in the US, leaves for Islamabad on Thursday from where he will head to Brussels as his country's new envoy for the European Union, Belgium and Lux­embourg.
He served as Pakistan's ambassador in Washington from Jan 7, 2019, to March 24, 2022. He has also served in Washington as the deputy chief of mission for four years and spent six years in New York, including as a diplomat at Pakistan's UN Mission.
Asked to define the most difficult issue he handled in Washington, Mr Khan acknowledged that the Afghan issue was difficult but pointed out that "both sides have never shied away from addressing problems". And this (US-Pakistan) "has never been an easy relationship," he added. The United States and Pakistan, he said, have had a "clear convergence" in Afghanistan because "the US is as much interested in peace and stability in Afghanistan as we are".
Mr Khan represented Pakistan in Washington during much of the Doha talks between the United States and the Taliban that were facilitated by Pakistan. The talks ended on a peace deal that led to the US withdrawal from Afghanistan and consequently to Kabul's fall to the Taliban.
"Our job was to articulate and convey our national position to Washington and to listen to the concerns expressed here and explain how Islamabad looked at developments in Afghanistan," he said.
The embassy, however, was not involved in arranging the visits of Taliban officials to Doha as that was handled by Islamabad, he added.
Ambassador Khan said that Pakistan's key role in facilitating the evacuation of those wishing to leave Afghanistan also helped improve bilateral ties after the fall of Kabul.
"We saw appreciation for Pakistan's positive contribution during the peace process and dealing with the aftermath of the Taliban takeover," he said. "People understood that the international community must come together to stabilise Afgha­nistan as Pakistan alone cannot do this."
Ambassador Khan hoped that the Ukrainian crisis would not drive the world's attention away from the humanitarian challenges in Afghanistan.
Asked if the embassy was ever asked to arrange a telephone call between President Joe Biden and Prime Minister Imran Khan, Ambassador Khan said: "You don't make formal phone call requests. Leaders do get in touch on issues and such possibilities are explored. But it is dependent on the convenience of the leaders."
Source: Pakistan Today
Please click the following URL to read the full text of the original story:
https://www.pakistantoday.com.pk/2022/03/24/us-only-now-coming-to-terms-with-afghan-situation/
--------
Mideast
Human rights groups urge UN to keep watch on Iran's 'dire situation'
March 24, 2022
LONDON: Leading human rights advocacy groups have urged UN member states to renew the mandate of a UN special rapporteur responsible for monitoring what they describe as a "dire situation" in Iran.
The groups, including Human Rights Watch, Amnesty International and dozens more, wrote to member states: "We, the undersigned Iranian and international human rights organizations, call on your country to support the renewal of the mandate of the UN special rapporteur on the situation of human rights in Iran at the 49th session of the Human Rights Council.
"The renewal of this mandate is essential in light of the persistent pattern of serious human rights violations and international crimes committed by Iranian authorities, as extensively documented by civil society monitors and by the special rapporteur."
The special rapporteur is a voluntary position appointed by the UN, responsible for working on and highlighting a given topic, such as torture, freedom of expression, or on specific troubled locations, such as Iran.
In a recent report, the current special rapporteur said that in Iran "discrimination in law and practice remains pervasive and perpetuates violence against women and girls," as well as "persons belonging to ethnic or linguistic minorities, including Ahwazi Arabs, Azerbaijani Turks, Baluchis, Kurds and Turkmen."
The report added that repression also extends to "persons belonging to religious or belief minorities, including Baha'is, Christian converts, the Yarsan (Ahl-e Haq), Sunni Muslims, atheist beliefs and nonbelievers."
Long-standing patterns of human rights violations have been facilitated by what the special rapporteur described as "institutional impunity" due to "the absence of a system for accountability."
"Obtaining accountability for human rights violations is arbitrary at best and impossible at worst," the special rapporteur said.
The groups' letter concluded: "We urge your government to support the renewal of the mandate of the UN special rapporteur on the situation of human rights in Iran at this session and to press Iran to give the expert unfettered access to the country."
Source: Arab News
Please click the following URL to read the full text of the original story:
https://www.arabnews.com/node/2049841/middle-east
--------
FM: Agreement in Vienna Needs US Realism
2022-March-24
Amir Abdollahian made the remarks after a meeting with his Syrian counterpart Faisal Mikdad in Damascus on Wednesday.
He said the two diplomats discussed the latest developments surrounding the Vienna talks and other issues of mutual interest.
"If the American side acts realistically, we are ready to finalize an agreement in the near future in the presence of the foreign ministers of the member states of the Joint Commission of the Joint Comprehensive Plan of Action (JCPOA)," Amir Abdollahian said.
"We have explicitly stated to the American side that we will not [abandon] our red lines," he said, meantime voicing optimism about the prospects of reaching a deal.
"We believe that today, more than ever, we are closer to reaching and finalizing an agreement in Vienna," Amir Abdollahian said.
"We offered our last proposals to the US through the EU coordinator to reach a definite point on [finalizing] the agreement."
The Vienna talks began almost a year ago with the aim of bringing the US into full compliance with the JCPOA, commonly known as the Iran deal and removal of sanctions against Iran. The US left the JCPOA in 2018 under former president Donald Trump and re-imposed the sanctions that the deal had lifted.
The administration of Joe Biden has rebuked Trump's withdrawal from the accord and insisted on re-entering the deal, all while dragging the talks via its failure to provide Iran with guarantees that Washington will not exit the JCPOA again.
Throughout the talks, Iran has pressed the US for the guarantees as well as the establishment of a verification mechanism on the removal of sanctions.
Amir Abdollahian said on Monday that settlement of the few highly important issues remaining in Vienna talks on removal of sanctions needs the US good faith.
"We are close to the final stage of the agreement. For the few remaining very important issues, we have presented initiatives to the United States through the EU Coordinator. It is now up to the American side to show its good faith in action," Amir Abdollahian said in a phone conversation with his Iraqi counterpart Fuad Hussein.
Also, Secretary of Iran's Supreme National Security Council (SNSC) Ali Shamkhani said earlier this month that his country will remain in Vienna talks until it earns a strong agreement.
"All pillars of the Iranian state - in spite of all external and internal hype - work hard to preserve and advance Iran's national interests," Shamkhani wrote on his twitter page.
"We will remain in the Vienna talks until we reach a 'strong agreement' that meets all our legal and logical demands", he added.
Shamkhani warned that the Vienna talks are growing even more complicated because the US continues to avoid making the necessary political decisions.
Source: Fars News Agency
Please click the following URL to read the full text of the original story:
https://www.farsnews.ir/en/news/14010104000145/FM-Agreemen-in-Vienna-Needs-US-Realism
--------
Iranian Envoy Censures Israel for Baseless Comments against IRGC
2022-March-24
Baqayee Hamaneh made the remarks after representative of the Zionist regime to the UN Human Rights Council (UNHRC), in a speech that had nothing to do with the agenda of the summit, referred to the IRGC's recent missile attack against the Israeli centers in Iraq's Erbil, claiming that the IRGC destabilizes the region.
In reaction, Baqayee Hamaneh reiterated that Zionism essentially relies on "destabilizing" its surroundings for preservation and development, and this is what one famous scholar, Mohammad Shahid Alam, calls "logic of Zionist stabilization".
Referring to recent reports by international organizations and the Human Rights Council rapporteur on the introduction of Zionist regime as an apartheid and racist regime, Baqayee Hamaneh stated that logic and ideology of Zionism is necessarily promoter of a racist structure that sees itself as justified in massacring innocent Palestinians, seizing their lands, and destroying their homes.
He reminded the truth raised in Resolution 3379 of November 10, 1975, which considered Zionism 'racism and apartheid'.
With due observance to the said issue, it is not surprising that they, Zionists, are angry with the IRGC, as the most determined force that seeks to defeat ISIL, violent extremism and terrorism in the region, Baqayee Hamaneh said.
In a statement earlier this month, the IRGC claimed responsibility for a missile attack against Israel's strategic center for conspiracy and evil, warning Tel Aviv that any wrong move will not go unanswered.
In reaction to the event, Iranian Foreign Ministry Spokesman Saeed Khatibzadeh said that Iran will never tolerate existence of a center of plotting on its borders.
IRGC Spokesman General Ramezan Sharif announced that the IRGC will not hesitate to strike other Israeli bases in Iraqi Kurdistan Region if its officials do not dismantle them.
"If Iraqi officials do not take action to remove other bases of the Zionists in that country while our security continues to be threatened from this region, we will respond without hesitation," General Sharif said.
He reiterated that "the Zionists had admitted themselves that their drones" which flew over a military base in Iran's Kermanshah Province had taken off from their bases in Erbil (capital city of the Iraqi Kurdistan Region).
"It is our natural right to destroy any base from which any attack is carried out against the security of Iran and this is a redline for us," General Sharif said.
He pointed out that Iranian ambassador to Iraq Iraj Masjedi had on several occasions warned the Iraqi Kurdistan Region about the presence of the Mossad base, which was recently attacked by the IRGC.
Last week, Scores of ballistic missiles hit secret Mossad bases in Erbil, reportedly leaving several Israeli operatives dead.
Citing security sources, Iraq's Sabereen News reported that two Mossad training centers were targeted by ballistic missiles in the early hours of Sunday.
Al-Mayadeen said a Mossad base on the Masif-Saladin street in Erbil was "fully razed to the ground and a number of Israeli mercenaries were killed or injured".
In a relevant development last week, Iranian lawmakers in a statement voiced support for the Islamic Revolution Guards Corps' strong and eye-catching attack on the Zionist regime of Israel.
Source: Fars News Agency
Please click the following URL to read the full text of the original story:
https://www.farsnews.ir/en/news/14010104000272/Iranian-Envy-Censres-Israel-fr-Baseless-Cmmens-agains-IRGC
--------
Iran Reiterates Need for Holding Referendum to End Zionist Regime
2022-March-24
Instability in the West Asia region is deeply rooted in the issue of Palestine and the systematic occupation of Palestinian territories by the Zionists, said Foreign Ministry Spokesman Saeed Khatibzadeh who represents Iran in the 48th Session of the Council of Foreign Ministers of the Organization of Islamic Cooperation (OIC) in Pakistan, in a statement on Wednesday.
He described the Israeli regime as the only example of "apartheid" in today's world, and emphasized that the OIC was founded on the cause of Palestine, adding that the return of all Palestinian refugees to their homeland and the establishment of an independent Palestinian state with al-Quds as its capital should remain the highest priority of the organization.
He also censured the Arab countries that normalized their relations with the Israeli regime, saying the normalization of Israel's ties with Islamic countries is a "colonial policy" pursued by Israel and its main sponsor, the US.
"This is happening while the OIC has always firmly rejected any form of normalization of relations with this apartheid regime," he said.
"Therefore, the OIC should emphasize its permanent position on the firm opposition to any form of compromise against the advancement of the sinister policy of normalization and take tangible steps against this plague for unity and the welfare of the Islamic Ummah (community), and prohibit further infiltration of the Zionist regime in the Islamic world," Khatibzadeh added.
He then reiterated Iran's proposal called "Holding a National Referendum in Palestine" so that the people of Palestine would be able to decide their destiny.
"We believe that the end of the Zionist regime is achievable not through the military solution or the implementation of already failed political initiatives, but through holding a genuine referendum, involving all inhabitants of occupied Palestine and all Palestinian expatriates driven out from their homeland, with every religious or political background," the Iranian spokesman said.
By failed political initiatives, Khatibzadeh was apparently referring to the so-called two-state solution.
Elsewhere in his statement, he referred to the issue of Afghanistan, saying the country is facing political, social, economic, security, and humanitarian crises which are the immediate result of failed policies and irresponsible, miscalculated, and unilateral actions of the US during the past two decades.
"The Islamic Republic of Iran views the stability in Kabul as the stability in Tehran and has spared no efforts it could to bring peace and tranquility in Afghanistan, before and after the fall of the former government in the country," he remarked.
According to Khatibzadeh, Western countries have caused calamitous damage to Afghanistan by adopting a policy of famine and hunger through their sanctions and seizure of the Afghan nation's assets, which "led to the mass migration to the neighboring countries, especially the Islamic Republic of Iran."
"We express our concern towards the dire economic and humanitarian situation in Afghanistan and view this as a proper ground for the recruitment of terrorist combatants by terrorist groups, in particular the ISIL, in Afghanistan," he added.
Concluding his remarks, Khatibzadeh wished that the meeting would unify Muslim nations to isolate and ultimately defeat the occupying Israeli regime and also take effective steps to "alleviate the problems and sufferings of our Afghan brothers".
Source: Fars News Agency
Please click the following URL to read the full text of the original story:
https://www.farsnews.ir/en/news/14010104000182/Iran-Reieraes-Need-fr-Hlding-Referendm-End-Zinis-Regime
--------
Yemeni general's son died alongside father in Aden bombing
24 March ,2022
A car bomb that rocked Yemen's southern port city of Aden this week and killed a major general also took the life of his son, a junior military officer, and three guards, a media spokesman said Thursday.
The bombing on Wednesday targeted the convoy of Major General Thabet Jawas, a senior commander in southern Yemen, who was killed. Initial reports said at least four others also died.
No one has so far claimed responsibility for the attack in Aden. The city has been rocked by several bombings in recent years blamed on local affiliates of al-Qaeda and ISIS. Yemen's Iran-backed Houthi militia has also targeted the city with ballistic missiles and explosives-laden drones.
On Thursday, Qaed Nasr, a military spokesman for Jawas' division, said that the major general's son, Nabil Jawas, a 26-year-old military officer who was accompanying his father, also died.
The two were driving home after attending a relative's funeral when a parked car exploded as Jawas' convoy passed near a fuel supply facility, according to security officials speaking on condition of anonymity because they were not authorized to talk to reporters.
Three guards were also killed, the officials said, while five civilian passers-by who were wounded in the bombing are in hospital and getting medical treatment.
Images from the scene showed fire with charred bodies on the ground. An investigation was underway.
Source: Al Arabiya
Please click the following URL to read the full text of the original story:
https://english.alarabiya.net/News/gulf/2022/03/24/Yemeni-general-s-son-died-alongside-father-in-Aden-bombing
--------
Iran calls for intra-Yemeni dialogue 'away from foreign interference'
Ahmed Asmar
24.03.2022
SANAA, Yemen
The Iranian Foreign Ministry on Thursday called for launching an intra-Yemeni dialogue "away from foreign interference" to settle the crisis in the country.
"The destructive war and the cruel blockade of the (Saudi-led Arab) coalition against the people of Yemen is entering its eighth year as it has led to this resilient country facing the worst humanitarian catastrophe of the century," a ministry statement said on the seventh anniversary of the Saudi-led coalition.
It added that Iran "supports any sort of fair and practical effort and initiative for the removal of the blockade, establishment of truce and beginning of Yemeni-Yemeni negotiations."
On March 17, the Gulf Cooperation Council (GCC) invited Yemeni parties for talks in the Saudi capital, Riyadh, on March 29 to discuss comprehensive peace in war-torn Yemen.
While the Yemeni government welcomed the invitation, the Houthi group conditioned any dialogue to be in a neutral country.
The Saudi-led Arab coalition has been fighting Houthis since 2015, one year after rebels overran much of Yemen, including the capital, Sanaa.
Source: Anadolu Agency
Please click the following URL to read the full text of the original story:
https://www.aa.com.tr/en/middle-east/iran-calls-for-intra-yemeni-dialogue-away-from-foreign-interference/2544876
--------
Southeast Asia
Organization of Islamic Cooperation Accused of Ignoring Uyghur Muslims in China
March 25, 2022
Asim Kashgarian
A U.S. declaration that China has committed genocide and crimes against humanity against its mainly Muslim minority in western Xinjiang province appears to have had little impact on the 57-nation Organization of Islamic Cooperation, which this week honored Chinese Foreign Minister Wang Yi at a high-level forum.
Invited by host Pakistan, Wang attended the 48th session of the OIC Council of Foreign Ministers in Islamabad as a special guest and spoke at the summit opening. He followed up Thursday with a surprise visit to Afghanistan, whose Taliban-led interim government is eager for Chinese investment and support.
The confluence of events was distressing to the Campaign for Uyghurs, a Washington-based rights group, which condemned both Wang's attendance at the summit and OIC's silence on China's treatment of its Uyghur minority, including mass incarceration in so-called reeducation camps.
"It was appalling to see that Pakistan invited Wang Yi as a 'guest of honor,' while Uyghur Muslims do not have the right to identify as Muslims or practice Islam," Campaign for Uyghurs said on its website.
According to Hasan Askari, an international affairs analyst, Pakistan's invitation to the Chinese foreign minister at the OIC summit as an observer is part of an OIC tradition that allows the host country to invite high level diplomats from non-member OIC countries.
The U.S. accused China of genocide and crimes against humanity in the Muslim majority Xinjiang region in western China, including forced labor, sterilization of Muslim women and arbitrary detention of more than 1 million Uyghur Muslims in internment camps.
Beijing denies the allegations and says people of all ethnic groups live happily in Xinjiang.
The OIC summit addressed the plight of Rohingya Muslims as well as Muslims in Afghanistan, the Palestinian territories, Jammu and Kashmir and elsewhere, but mostly ignored the Uyghur genocide in China, the Campaign for Uyghurs said.
Only Turkish Foreign Minister Mevlut Cavusoglu brought it up.
"In China, Uyghurs and other Muslims have difficulties protecting their religious rights and cultural identity," Cavusoglu said at the OIC meeting. "Is it right to ignore the situation of the Uyghurs?"
Turkish politicians are usually the most outspoken defenders of Uyghur rights among Muslim politicians, said Robert Bianchi, professor of international law at the University of Chicago, because of their ethnic and cultural ties throughout Central Asia.
Turkish President Recep Tayyip Erdogan's party "is particularly sensitive to demands from right-wing nationalists who are junior partners in his governing coalition," Bianchi said. "He can't survive without their support, so he often agrees to accept more Uyghur refugees and to speak out against Chinese repression."
At the summit, Wang said that his country pledged to provide 300 million COVID-19 vaccine doses to Islamic countries.
According to Abdulhakim Idris, executive director of the Washington-based Center for Uyghur Studies, many Muslim-majority countries receive billions of dollars from China in the name of financial investment.
Source: VOA News
Please click the following URL to read the full text of the original story:
https://www.voanews.com/a/organization-of-islamic-cooperation-accused-of-ignoring-uyghur-muslims-in-china/6501070.html
--------
Minister says actor Zul Ariffin under probe for posting 'steamy' love scene on social media
22 Mar 2022
BY SHAHRIN AIZAT NOORSHAHRIZAM
KUALA LUMPUR, March 22 — The authorities are investigating popular actor Zul Ariffin who recently uploaded a "steamy" love scene from a yet-to-be aired show he starred in for alleged violation of network facilities.
Communications and Multimedia Minister Tan Sri Annuar Musa made the announcement on his official Twitter account this morning.
"The legal process is underway. Actor Zul Arifin will be investigated under Section 233 of the CMA for a YouTube post that violates the law," the minister wrote.
Section 233 under Communication and Multimedia Act concerns the improper use of network facilities, which is a vague and sweeping law that makes it an offence for anyone who shares content that is regarded as "obscene, indecent, false, menacing or offensive in character with intent to annoy, abuse, threaten or harass another person".
Those charged and found guilty can be punished with a maximum fine of RM50,000 or jailed up to one year, or both.
Annuar also said the scene — reportedly from the pilot of a local drama titled Perempuan Itu (That Girl) — will not be screened whether during the Muslim fasting month of Ramadan which starts in April, or any other month.
"Please watch our values and culture," he added.
Perempuan Itu is a 30-episide Malay drama series that was slated to be aired next month but its fate is now unknown as local broadcasting station, TV3 said it had not discussed nor approved the scene in the video clip posted by the actor and that it is not suitable for broadcast.
The 35-year-old actor had issued an apology on his Instagram stories after widespread public backlash.
Minister in charge of Islamic Affairs Datuk Idris Ahmad took to Facebook after the video clip went viral, saying he would be contacting the parties involved to resolve the matter .
Annuar had previously warned television company operators not to display any scenes that touch on religious and other sensitivities in the country.
Source:MalayMail
Please click the following URL to read the full text of the original story:
https://www.malaymail.com/news/malaysia/2022/03/22/minister-says-actor-zul-ariffin-under-probe-for-posting-steamy-love-scene-o/2048804
--------
A fractured opposition cannot win the next general election
March 25, 2022
Politically, the best option for the nation is to have a two-party or two-coalition system. Voters can make a choice between the two. This though may not happen when there are too many political parties in the country with each being ambitious about winning in elections.
The 15th general election will most likely see a few political coalitions and parties contesting in Peninsular Malaysia – BN (Barisan Nasional), PN (Perikatan Nasional), and PH (Pakatan Harapan). There will also be other parties such as Pejuang, Warisan, and Muda joining the fray.
The real contest however would be among the three coalitions – BN, PN and PH – unless the opposition parties are able to form a united front against BN. A fractured opposition will be advantageous to BN as votes for the opposition parties will be split giving little chance for PN and PH to trounce BN.
The political league
BN consists of Umno, MCA, MIC and Sabah-based PBRS. In the recent Melaka and Johor state elections, BN triumphed even though the coalition did not garner more than the combined votes obtained by PN and PH in many seats. The split votes between PN and PH gave a comfortable victory to BN.
As for grassroots support, ostensibly Umno has more advantage, as it is a long-established party claiming to have over 3 million members. BN can also bank on MCA and MIC, as Umno has pretty well dumped MN (Muafakat Nasional) – a political coalition that was formed with PAS, an Islamic party, against the then-ruling PH coalition which had come into power after the 2018 general election.
If PAS collaborates with BN, it will push non-Malay voters away from the coalition. MN's quietus is not a great loss to Umno, as this time around, the non-Malays would have no qualms voting for BN. Another forte of BN is that the Malays, Chinese and Indians are formally represented by Umno, MCA and MIC respectively in the coalition. Umno has also extended its membership to non-Malay Bumiputeras which makes the party fairly acceptable in Sabah.
PAS's electoral base is in Peninsular Malaysia's rural and conservative north and east coast. The party with its flip-flop "Islamic agenda" has found it difficult to penetrate the west coast states, Sabah and Sarawak and is generally disliked by the non-Muslim electorate.
PN is a political coalition comprising Bersatu, PAS, STAR, SAPP and Gerakan. Though PN seems to be united as a coalition it may not be able to rout BN. PN not only has to contest against BN, it also has to face PH. This is where votes will be further split to the advantage of BN.
PN, however, is a new coalition and has not really found a sturdy base at the grassroots level. Only PAS in PN has some 800,000 members, as claimed, and Bersatu plus the non-performing Gerakan have to depend on PAS to get substantial votes. But again, PAS has a relatively strong foothold in only three states – Kelantan, Terengganu and Kedah. The party is not popular in many other states including Sabah (with 25 seats) and Sarawak (31) where 56 parliamentary seats are up for grabs.
PAS, for that matter, is now perceived to be at its lowest ebb politically. Gerakan is perceived as another weak link in PN and may find it almost impossible to win significant votes in Chinese majority seats. As such, PN may not be able to bank on PAS and Gerakan to drub BN and capture Putrajaya. Bersatu has lost its clout as the party's supremo is no longer the prime minister. Voters still have the perception that PN is a beleaguered front and a newcomer that has not made much impact in the country's political landscape. This leaves PN in a limbo.
PH is a grouping of PKR, Amanah, DAP and Upko. The coalition will have an arduous task ahead in the next general election compared with its strength in the 14th general election. The recent Melaka and Johor state elections saw the poor performance of PKR, Amanah and even DAP to an extent, due to rash and inconsistent strategies. For PH to win as a coalition it has to be propped up with talented leaders and new formulas. It should even look forward to working with more political parties to form a bigger tent. Malay support is crucial for the coalition but Amanah on its own is not able to draw substantial Malay votes for the coalition. PKR and DAP on the other hand are multi-racial parties.
GPS in Sarawak comprises PBB, SUPP , PRS and PDP. The four parties are former component parties of BN. GPS is presently supportive of PN but is really more neutral in its stand. GPS would most likely support any coalition that controls Putrajaya.
A fractured Opposition
BN will most likely face a fractured opposition in the 15th general election. In politics, voter perception matters. Voters may see the fractured opposition as being unable to bring political stability to the country. The campaign mantra of BN and GPS of late has been "stability". Fed up with the political instability in the country, voters would prefer a front that is cohesive.
GPS won 76 of the 82 Sarawak state seats recently, leaving the fractured opposition with only six seats. PH suffered a crushing defeat, with DAP winning only two seats for the coalition, experiencing a decline from seven seats in 2016. Its other component parties, PKR and Amanah lost in all seats contested. It shows that voters want a stable government and rightly chose GPS to govern the state.
The Melaka and Johor state elections saw BN win big leaving the opposition in tatters. Voters could not accept PN as an alternative despite the coalition being part of the incumbent central government.
The 14th general election saw a united opposition front comprising PKR, DAP, Amanah and Bersatu, contesting under one logo against BN. Bersatu has since left the front and some other MPs have left to form Pejuang and Muda, further splitting the opposition.
The 'Big Tent'
The opposition coalition needs to go beyond PH or PN to gain the acceptance of the people in the 15th general election. Cooperation between the larger opposition parties is seen as a pragmatic strategy, as the people would support a more united team.
Only by having a single pact can the opposition make an impact in GE15. It was the one-umbrella strategy that had worked for the opposition in the 14th general election. And to strengthen the support of the Malays and Bumiputeras, there must be cooperation with those parties that represent this group of voters and the involvement of more credible figures.
The results of GE14 in 2018 saw Malay voters' support for the opposition bloc represented by PH increase to 14% compared with 8% in GE13. PH had 25-30% of the Malay votes. At that time, BN lost about 20% of the Malay votes it had obtained in GE13.
The results of the Melaka and Johor state elections show that PH failed to sustain the Malay support it received in GE14. After Bersatu left PH, the Malay votes for PH declined. It cannot be denied that from the countries' demographic point of view Malay votes are significant to win elections.
Source:Free Malaysia Today
Please click the following URL to read the full text of the original story:
https://www.freemalaysiatoday.com/category/opinion/2022/03/25/a-fractured-opposition-cannot-win-the-next-general-election/
--------
Malay unity a myth, says Gerak Independent co-founder
March 25, 2022
PETALING JAYA: Malay unity has been proclaimed as the Holy Grail of Malaysian politics, but this is a myth, says Gerak Independent co-founder Tawfik Ismail.
In a statement yesterday, he said "there is no such thing (as Malay unity) in the psyche of the Malay population".
"The Kelantan Malay has little in common with the Johor Malay, except for religion and, sadly, even that serves to divide because of the political use of religion by the Malay parties that are mass-based," he said.
Tawfik said various coalitions in the country had tried in some way to push for Malay unity, citing the "Umno-Malay, Mahathir-Bersatu, Anwar Ibrahim, Najib Razak and Tengku Razaleigh type leaderships".
"And this leads me to think that future coalitions should define and select the type of Malay that suits the coalition's philosophy," he said.
He suggested that a future coalition should consider the type of Malay portrayed by himself and co-founder of Gerak, Siti Kasim, as an alternative.
"We both bring a new approach to the otherwise stale politics promised by other Malay leaders, based on integrity and honesty, straight talk on Islam and other issues that worry the Malays," he said.
He said Gerak also wanted to propose a Commission for Future Generations to vet all legislations tabled for parliamentary approval.
Source:Free Malaysia Today
Please click the following URL to read the full text of the original story:
https://www.freemalaysiatoday.com/category/nation/2022/03/25/malay-unity-a-myth-says-gerak-independent-co-founder/
--------
South Asia
Taliban want to replace conventional banking system with Islamic banking
March 25, 2022
Law students and lawyers in Afghanistan are filing reports with JURIST on the situation there after the Taliban takeover. Here, a Staff Correspondent for JURIST in Kabul reports on recent changes to laws affecting the banking and financial sector of Afghanistan.
For privacy and security reasons, we are withholding our Correspondent's name. The text has only been lightly edited to respect the author's voice.
The Taliban-led Central Bank of Afghanistan has established a committee to review and amend the Central Bank Law and the Banking Law of Afghanistan. According to the Central Bank, a seven-member committee is set up to study and propose amendments to the Central Bank Law.
The committee has to adjust the legal framework of the Central Bank with the Islamic banking system and eliminate the conventional banking system.
The Central Bank Law is almost sixty years old and does not provide any grounds for an Islamic banking system. Instead, the Banking Law provides mechanisms through which Islamic and conventional systems can be implemented.
The commercial banks have special windows for Islamic banking which are regulated by the Central Bank-issued regulatory framework.
Source:PakObserver
Please click the following URL to read the full text of the original story:
https://pakobserver.net/taliban-want-to-replace-conventional-banking-system-with-islamic-banking/
--------
Afghanistan: Taliban's schoolgirl ban condemned in the Middle East
By Ali M Latifi
Published date: 24 March 2022
The Taliban's decision to once again delay the return of teenage girls to school has been met with condemnation and disappointment in the Middle East, with Qatar and Turkey urging the Afghan group to reconsider its decision.
On Wednesday morning, thousands of teenage girls across Afghanistan headed to school based on repeated promises by the Taliban that they would be allowed to return to the classroom at the start of the new school year.
However, that decision, which the Taliban had been touting in the media and during meetings with foreign officials for weeks, was reversed at the last minute. Local media was flooded with footage of teenage girls in tears as they headed back home with their books in hand.
The move was quickly denounced by governments around the world. In the Middle East, Qatar, where several Taliban officials have been based for more than a decade, was among the first to express its dismay.
Within hours of the news breaking, the Qatari foreign ministry said the Taliban government's decision was of "great concern and disappointment" to Doha.
"As a Muslim country where women enjoy all their rights, including the right to education, Qatar calls on the caretaker government of Afghanistan to revisit its decision in line with the teachings of Islam in relation to women rights," it added.
Doha's rebuke was similar in tone to a September statement, when Foreign Minister Sheikh Mohammed bin Abdulrahman Al Thani also criticized the Taliban's policy towards schoolgirls, stressing that as a Muslim country, Qatar has "women outnumbering men in workforces, in government and in higher education".
Qatar itself has been criticised for draconian and opaque guardianship laws that critics say place severe restrictions on Qatari women.
Middle East Eye recently reported on the case of Noof al-Maadeed, a prominent Qatari women's rights activist who disappeared for three months after returning home to the Gulf country from the UK, where she had sought asylum.
Masuda Sultan, an Afghan-American entrepreneur who has worked with organisations trying to aid Afghanistan's women, agreed with Doha's assertion that the Islamic Emirate should look towards other Muslim-majority countries as models.
"Qatar is a nation which observes Sharia and also happens to have equal access to education for females… Qatar shows what's possible for women even in a conservative Muslim society," Sultan said.
Last month, when representatives from six member-states of the Gulf Cooperation Council met with the Taliban's acting foreign minister in Doha, they too stressed the need for the full inclusion of women and girls in a Taliban-run Afghanistan.
The representatives from Qatar, Bahrain, Kuwait, the United Arab Emirates, Oman and Saudi Arabia, all countries whose laws are based on Sharia, called on the Taliban to create a reconciliation plan for Afghanistan that "respects basic freedoms and rights, including women's right to work and education".
Though there have been reports that some teenage girls have been able to return to the classroom in the western province of Herat, a female teacher in the province of Kunduz told Middle East Eye that girls' high schools in her area are still closed.
The teacher, who did not wish to be named due to security concerns, said: "In Kunduz all schools beyond the sixth grade remain closed. Girls who went to their schools on Wednesday were turned away."
Long-term impact
Turkey, which invited Taliban representatives to a security conference earlier this month, also criticised the Afghan government's failure to live up to its word and reopen secondary schools for girls.
"It is essentially the expectation of the majority of Afghan people themselves that all students, including girls, continue their education with the new school term," a statement issued by the Turkish foreign ministry read.
Ankara, which has said the Taliban's caretaker government should have an opportunity to be heard by the rest of the world, went on to say the Islamic Emirate should "allow girls of all ages to partake in education in an inclusive manner as soon as possible".
Researcher Orzala Nemat worries about the emotional toll that the continuation of the ban on the education of teenage girls will have on adolescent girls at such a key period in their development.
"Banning girls from education kills their spirit. It's un-Islamic and inhuman," Nemat told MEE.
Nemat, who spent years advocating for women's rights, said the ban, which has drawn widespread criticism in Afghanistan and among the international community, "only benefits those who want to keep Afghanistan in a dark state of ignorance".
Source:MiddleEastEye
Please click the following URL to read the full text of the original story:
https://www.middleeasteye.net/news/afghanistan-taliban-girls-banned-school-condemned-middle-east
--------
Afghanistan Won't Be Threat To Any Country: Home Minister Of Islamic Emirate Of Afghanistan To Russia's Special Representative For Afghanistan
25 Mar 2022
Acting Minister of Interior Affairs of the Islamic Emirate of Afghanistan Sarajudin Haqqani met with Russia's special representative for Afghanistan Zamir Kabulov and pledged that Afghanistan will not threaten any country.
Sarajudin Haqqani said that the Taliban are committed to their pledges in terms of not allowing the soil to threaten other countries.
Interior Ministry in a press release said, Zamir Kabulov leading a Russian delegation said that his country can fulfill the needs of the Taliban and can assist the interim government.
The press release added that Haqqani has also met China's Foreign Minister Wang Yi and pledged his country will not threaten other countries' security.
As per the statement, Wang Yi has said that they will continue the friendship with Afghanistan and that they will establish a base for political trust.
Wang Yi and Zamir Kabulov visited Kabul on Thursday, March 24, 2022, and met with the Taliban officials.
A statement of the Islamic Emirate of Afghanistan reads that Wang Yi in his meeting with Deputy PM Mullah Baradar concentrated on strengthening security cooperation while appreciating positive developments of the Taliban.
Baradar has said to be committed to real cooperation and has asked the Chinese FM to begin extracting cooper in Mis-e-Ainak of Logar province.
Source: Khaama Press
Please click the following URL to read the full text of the original story:
https://www.khaama.com/afghanistan-wont-be-threat-to-any-country-sarajudin-haqqani-to-kabulov-656587/
--------
Afghan Taliban deny replacing Prime Minister Mullah Hasan Akhund
March 24, 2022
Afghan Taliban spokesman Zabihullah Mujahid on Thursday denied rumours that the group's Prime Minister Mullah Hasan Akhund has been replaced by his deputy.
Earlier in the day, reports of the Taliban government's Deputy Prime Minister Mullah Abdul Ghani Baradar replacing Akhund started doing rounds on social media. Subsequently, Mujahid, in a tweet, clarified that media reports of any reshuffle of the prime minister and changes in the cabinet were untrue.
Zabihullah Mujahid refutes rumours in a tweet. — Twitter
"There has been no change in the cabinet of the Islamic Emirate or anywhere else," he added.
In September, the Taliban appointed Akhund as its new head of state. Prior to his ascension to the top office, Akhund was the head of the Taliban's Rehbari Shura or leadership council. He hails from Kandahar and is also said to be one of the founders of the movement.
The rumours of Akhund being replaced emerged after China's Foreign Minister Wang Yi, for the first time since the Taliban takeover, arrived in Kabul unannounced on Thursday morning.
The visit comes a week before Beijing hosts a two-day conference — on March 30-31 — comprising Afghanistan's neighbours on how to assist the Taliban government. Pakistan and Iran had earlier hosted similar meetings after the Taliban takeover.
Source: Dawn
Please click the following URL to read the full text of the original story:
https://www.dawn.com/news/1681618/afghan-taliban-deny-replacing-prime-minister-mullah-hasan-akhund
--------
Hamid Karzai meets Russian envoy Kabulov, discusses strengthening ties
Mar 25, 2022
KABUL : Former Afghan president Hamid Karzai on Tuesday met Zamir Kabulov, Russia's special envoy for Afghanistan and discussed further strengthening ties between both countries.
Karzai also met Dmitry Zhirnov, Russian Ambassador to Afghanistan.
"Former president Hamid Karzai met with Zamir Kabulov, Russia's special envoy for Afghanistan, and Russia's ambassador, Dmitry Zhirnov, and they discussed relations between the countries and further strengthening ties," TOLOnews reported.
The meeting comes amid the conflict between Russia and Ukraine. The conflict between the two countries continues to escalate as the Ukraine-Russia war enters the second month.
Russia launched its invasion last month after recognising the Ukrainian breakaway regions of Donetsk and Luhansk as "independent republics." Russia has since continued to maintain that the aim of its operations has been to "demilitarize" and "de-nazify" the country.
Meanwhile, the situation of human rights in Afghanistan has also worsened since the collapse of the Afghan government and the Taliban's return to power in August last year.
Although the fighting in the country has ended, serious human rights violations continue unabated.
Source: Times Of India
Please click the following URL to read the full text of the original story:
https://timesofindia.indiatimes.com/world/south-asia/hamid-karzai-meets-russian-envoy-kabulov-discusses-strengthening-ties/articleshow/90432118.cms
--------
China says willing to extend CPEC to Afghanistan
March 25, 2022
KABUL: Beijing welcomes Afghanistan's active participation in the Belt and Road Initiative, a global infrastructure plan proposed by China, and is willing to push for extending the China-Pakistan Economic Corri­dor (CPEC) to Afghanistan, Chinese Foreign Minister Wang Yi said on Thursday as he made a surprise visit to Kabul.
Wang met acting Afghan Foreign Minister Amir Khan Muttaqi to discuss political and economic ties, including starting work in the mining sector and Afghanistan's possible role in China's Belt and Road infrastructure initiative, according to a statement from an Afghan foreign ministry spokesman.
China was willing to promote the extension of CPEC to Afghanistan, making the latter a bridge for regional connectivity, Wang said on Thursday .
He also said China hoped Afghanistan would fulfil its commitment of not allowing any external forces to use its territory as a tool to oppose neighbours, or harm the security of other nations.
Wang visited Kabul on Thursday, a spokesman for Afghanistan's foreign ministry said, the highest-level visit by a Chinese official since the Taliban took power last year and a day after many in the global community were angered by the group's closure of girls' high schools.
China is among just a handful of countries, including Pakistan and Qatar, that has sent a minister to Afghanistan since the Taliban took over the country in August.
Foreign governments, including Beijing, have held back on formally recognising the Taliban administration, with many saying the Taliban need to prove their commitment to human rights, counter-terrorism and inclusive governance.
The visit came after widespread global condemnation of the Taliban administration a day earlier, when it unexpectedly ordered girls home from high school, an abrupt U-turn on policy after having said earlier in the week school would be open to all students.
China will host a meeting of regional foreign ministers later this month, and the statement said Muttaqi would also participate in the meeting.
Earlier in September, Pakistan also discussed Taliban-led Afghanistan joining the multibillion-dollar CPEC infrastructure project.
"Regional connectivity is an important element of our discussion with Afghan leadership and our way forward for our economic interaction with Afghanistan," said Mansoor Ahmad Khan, Pakistan's envoy to Kabul, in an interview with Reuters at the time.
"This important project — China-Pakistan Economic Corridor ... provides good opportunities, good potential for providing infrastructure and energy connectivity between Afghanistan and Pakistan ... (and) also connecting South Asia to the Central Asian region."
Mr Khan said that discussions had been held with the Taliban-led administration on this and other ways to develop the country's economy.
"I think there has been deep interest in terms of developing economic connectivity of Afghanistan with Pakistan through CPEC and with other neighbouring countries including Iran, China, Central Asian countries."
Under CPEC, Beijing has pledged over $60 billion for infrastructure projects in Pakistan, much of it in the form of loans.
Source: Dawn
Please click the following URL to read the full text of the original story:
https://www.dawn.com/news/1681738/china-says-willing-to-extend-cpec-to-afghanistan
--------
Pakistan
Pakistan: Opposition seals deal with key Imran Khan ally ahead of no trust vote
25 March, 2022
Islamabad [Pakistan], March 25 (ANI): Ahead of the National Assembly session on no-confidence motion against the ruling Pakistan Tehreek-e-Insaf (PTI) government, Bilawal Bhutto's Pakistan People's Party (PPP) on Thursday announced that matters had been settled with key government ally, Muttahida Qaumi Movement-Pakistan (MQM-P) and that the ruling coalition member will vote in favour of the motion to oust Imran Khan, local media reported.
MQM-P is the largest ally of the ruling PTI coalition with seven members in the National Assembly.
"Talks have been held with the MQM today (Thursday) and matters have been settled. It is also possible that some ministers will also be with the opposition," PPP secretary general Farhatullah Babar told reporters outside Zardari House after the party's parliamentary party meeting, The Dawn reported.
MQM-P had demanded "share in jobs" as well as the opening of their party offices in Karachi and Hyderabad, the report said, citing sources, adding that the two sides had also agreed to form a committee to jointly suggest changes to the Sindh local government law.
Talking to a TV channel, MQM leader Waseem Akhtar said their demands and issues were related to the Sindh province and it was good that both Asif Zardari and Bilawal Bhutto-Zardari had agreed to most of them. He said they also had had a good meeting with the government's teams on Wednesday.
In a rapidly developing situation ahead of the crucial National Assembly session today, Opposition leaders also began speculations on the post-Imran Khan scenario.
PPP chairman Bilawal Bhutto Zardari reached the official residence of Opposition Leader in the National Assembly Shehbaz Sharif where they were also joined by Jamiat-Ulema-e-Islam (JUI-F) chief Maulana Fazlur Rehman.
Later, in an interview, Rehman said that the joint opposition had yet to decide on several matters ahead of the no-confidence motion.
Asked about speculations that Shehbaz Sharif had been picked as the opposition's choice for the premiership after Imran Khan's ouster, Rehman said: "We will decide on all matters after the success of the no-trust move."
The Pakistani National Assembly has a total strength of 342 members, with the majority mark being 172. The PTI led coalition was formed with the support of 179 members, with Imran Khan's PTI having 155 members, and four major allies MQM-P, Pakistan Muslim League-Quaid (PML-Q), Balochistan Awami Party (BAP) and Grand Democratic Alliance (GDA) having seven, five, five and three members respectively.
Source: ThePrint
Please click the following URL to read the full text of the original story:
https://theprint.in/world/pakistan-opposition-seals-deal-with-key-imran-khan-ally-ahead-of-no-trust-vote/887696/
--------
Islamic State militant killed in Peshawar operation: CTD
March 25, 2022
PESHAWAR: The law-enforcement personnel killed a terrorist belonging to the militant Islamic State group in an intelligence-based operation in Urmar area of the provincial capital on Thursday.
In a statement, the Counter-Terrorism Department said that the operation was carried out by the police, CTD and intelligence personnel.
It said that the law-enforcement agencies raided a hideout of militants in Urmar area on the outskirts of city on an intelligence report that terrorists identified as Khalid, Daniyal, Hassn Shah and others were hiding there.
The statement said that exchange of fire between the LEAs and militants continued for about two hours. It said a terrorist identified as Daniyal was killed in exchange of fire with police while two to three others escaped.
It said the slain terrorist was a member of IS-K and involved in the Kocha Risaldar suicide attack, which resulted in the death of 67 people.
Source: Dawn
Please click the following URL to read the full text of the original story:
https://www.dawn.com/news/1681700/islamic-state-militant-killed-in-peshawar-operation-ctd
--------
TTP Sindh chief shot dead in Kandahar
Baqir Sajjad Syed
March 25, 2022
ISLAMABAD: A counter-terrorism official on Thursday confirmed that the chief of the banned Tehreek-i-Taliban Pakistan's Sindh chapter, Abdul Wahab Lark, had been killed in Afghanistan.
Wahab was killed in Kandahar city on Tuesday by unidentified gunmen. His killing was initially reported by the Afghan media on Wednesday.
The counter-terrorism official said he was shot dead around 10.30am by two unknown attackers. Wahab — who was also known by aliases Hakeem Ali Jan, Hakeem Saleh, Khushi Mohammad and Khanushi Badosh — had joined the TTP in July/August 2020 and was currently leading its Sindh chapter.
He previously belonged to Usman Saifullah Kurd's group of Lashkar-e-Jhangvi, a sectarian outfit, and had later joined the TTP along with a number of LeJ militants. He had pledged allegiance to the group's emir Noor Wali Mehsud.
The TTP had on Aug 5, 2020, announced that Wahab had merged his faction of LeJ with it. The TTP had included him in its folds for reinforcing its operational capacity. The official said his name was written in the Red Book which contains the names of high-profile terrorists.
He was reportedly involved in the Jan 30, 2015, suicide attack on Shikarpur Imambargah in which 53 people were martyred and the Aug 15, 2014, attack on PAF Samungali Base, Quetta, and Army Aviation Base Khalid.
Source: Dawn
Please click the following URL to read the full text of the original story:
https://www.dawn.com/news/1681732/ttp-sindh-chief-shot-dead-in-kandahar
--------
JUI-F allowed to hold rally in Islamabad: report
March 24, 2022
The Islamabad administration has allowed the JUI-F to hold its rally in the federal capital on March 25, a news outlet reported on Thursday.
According to the report, the district administration has asked the party to re-submit its application regarding this matter.
The administration has also directed the party to follow the relevant standard operating procedures (SOPs). "Srinagar Highway will not be closed under any circumstances," said the administration.
According to the SOPs, no public and private properties should be harmed and the traffic flow should not be affected in any way.
"No one carrying a stick will be allowed in the premises and the attendees will not be allowed to go outside."
Source: Pakistan Today
Please click the following URL to read the full text of the original story:
https://www.pakistantoday.com.pk/2022/03/24/jui-f-allowed-to-hold-rally-in-islamabad-report/
--------
Four soldiers lay down their lives in countering infiltration bid from Afghanistan
March 24, 2022
ISLAMABAD: Four soldiers Wednesday night laid down their precious lives in countering an infiltration bid from Afghanistan.
According to the ISPR, a group of terrorists on midnight 23/24 March attempted to infiltrate inside Pakistan from Afghanistan in Hassan Khel, North Waziristan District. However, due to alertness and timely response of own troops, the infiltration attempt was foiled.
Terrorists retaliated with fire which was reciprocated in a befitting manner. The terrorists having failed, fled away and as per intelligence reports, suffered heavy casualties.
However, during intense exchange of fire, four soldiers, having fought gallantly, embraced Shahadat. Shaheeds include Lance Havaldar Wajahat Alam, 34, resident of Ghizer, Gilgit Baltistan; Sepoy Sajjid lnayat, 25, resident of Sheikhupura; Sepoy Maqbool Hayat, 32, resident of Ghizer, Gilgit Baltistan; and Sepoy Sajjid Ali, 22, resident of Skardu.
Source: Pakistan Today
Please click the following URL to read the full text of the original story:
https://www.pakistantoday.com.pk/2022/03/24/four-soldiers-lay-down-their-lives-in-countering-infiltration-bid-from-afghanistan/
--------
Africa
Ethiopia Declares Truce To Allow Aid Into Tigray
Andrew Wasike and Addis Getachew
25.03.2022
NAIROBI, Kenya/ ADDIS ABABA, Ethiopia
Ethiopia on Thursday declared "an indefinite humanitarian truce effective immediately" in its northern Tigray region, halting its 16-month war with rebel forces there.
The Government Communication Service said in a statement that there is a need to expedite the provision of humanitarian aid to people in need in Tigray, which has a population of 5.5 million.
"Currently, thousands from the Tigray region are trekking into neighboring regions in search of assistance. The government believes that the situation warrants urgent measures to ensure that those in need are able to receive aid in their localities," the statement said.
With utmost priority to alleviating the plight of those affected by the conflict, the statement said the government is committed to exerting maximum effort to facilitate the free flow of emergency humanitarian aid into Tigray.
"Cognizant of the need to take extraordinary measures to save lives and reduce human suffering, the Government of Ethiopia hereby declares an indefinite humanitarian truce effective immediately," the statement said.
Ethiopia called on the donor community to redouble its generous contributions to alleviate the situation and reiterated its commitment to working in collaboration with relevant organizations to expedite the provision of humanitarian assistance to those in need.
Northern Ethiopia has been rocked by armed conflict since November 2020, with government forces fighting the Tigray People's Liberation Front (TPLF) in a war that has claimed thousands of lives, with the UN accusing both sides of targeting civilians.
The statement called on "the other side," referring to the TPLF, to reciprocate the declaration of the humanitarian truce just declared.
World Health Organization (WHO) Director-General Tedros Adhanom Ghebreyesus in a past statement said the government of Ethiopia is blocking aid to the rebellious Tigray region
- Probe Tigray war crimes by Ethiopia government
The government statement did not comment on a report by Human Rights Watch (HRW) released Thursday by its regional office in Kenya's capital Nairobi accusing Ethiopian government forces of calling for an airstrike on a school compound hosting thousands of displaced people in northwestern Tigray.
HRW said the Ethiopian government had committed a war crime with the airstrike on Jan. 7 this year, which killed at least 57 civilians and wounded more than 42 others.
It pointed out that a drone dropped three bombs on the compound in the town of Dedebit.
Laetitia Bader, Horn of Africa director at Human Rights Watch, in a statement, said that "the Ethiopian drone struck the Dedebit school compound three times, killing and maiming displaced Tigrayans, mainly older people, women, and children, as they slept in plastic-sheeted tents and a school building."
"Using guided bombs without evidence of any military target indicates that this was an apparent war crime," she added.
Citing the United Nations High Commissioner for Human Rights, HRW said that between Nov. 22 and Feb. 28, the UN Human Rights Office had documented that 304 people died and 373 were injured from aerial attacks in Tigray – including two strikes in the town of Alamata in December and a strike in January that hit the Mai-Aini refugee camp hosting Eritrean refugees – and to a lesser extent in the Afar region.
Source: Anadolu Agency
Please click the following URL to read the full text of the original story:
https://www.aa.com.tr/en/africa/ethiopia-declares-truce-to-allow-aid-into-tigray/2545399
--------
Sudan riot police fire tear gas at protesters in Khartoum
24 March ,2022
Sudanese riot police fired tear gas on Thursday at thousands of protesters who were rallying in Khartoum against the country's military rulers and demanding an immediate handover of power to civilians.
It was the latest in dozens of rallies since the October military coup upended Sudan's transition to democracy after nearly three decades of authoritarian rule under President Omar al-Bashir.
Protests erupted also elsewhere on Thursday, including in Khartoum's twin city of Omdurman and in the cities of Madani, Nyala and Atbara. Videos of protesters beating drums, waving Sudanese flags and chanting anti-military slogans circulated on social media.
There were also videos showing protesters hurling stones at police in the capital, Khartoum, as riot police fired tear gas.
There were no immediate reports of any casualties Thursday. Around 90 people, including 15 children, have been killed since the coup, according to Sudan Doctors Committee, which tracks protester casualties.
The protest was called by the Sudanese Professionals' Association and the Forces for the Declaration of Freedom and Change, an alliance of political parties and groups which spearheaded the uprising that culminated in al-Bashir's ouster in 2019.
Source: Al Arabiya
Please click the following URL to read the full text of the original story:
https://english.alarabiya.net/News/middle-east/2022/03/24/Sudan-riot-police-fire-tear-gas-at-protesters-in-Khartoum
--------
Investors pledge over $22B to South Africa at conference: President
Hassan Isilow
25.03.2022
JOHANNESBURG
South Africa received 80 new investment pledges Thursday totaling 332 billion rand ($22.83 billion) during the country's fourth investment conference, said President Cyril Ramaphosa.
"Four years ago, we set ourselves an ambitious target of raising 1.2 trillion rand (around $100 billion at the exchange rate of the time) over a five-year period," Ramaphosa said.
He said with the pledges received Thursday, the total level of investment pledged at the four Investment conferences since 2018 has now reached 1.14 trillion rand ($82.6 billion).
South Africa's investment conferences are aimed at marketing the country as a great investment destination by offering investors a glimpse of what it has to offer and discussing challenges that investors face and how these can best be resolved.
Ramaphosa said his country has reached 95% of the initial ambitious target set in 2018 with barely a year left to the target deadline.
"We are now only (around) 60 billion rand ($4.13 billion) short of our target," he said in his closing remarks.
"I expect that by next year, we will not just reach our target – we will exceed it. The investment commitments that have been made here today are impressive."
Ramaphosa revealed that some of the investment commitments were made by companies based in South Africa, Turkiye, Belgium, Canada, China and the Czech Republic.
They also came from companies based in Finland, France, Germany, Sweden, the United Arab Emirates, the US and the UK, among others.
Source: Anadolu Agency
Please click the following URL to read the full text of the original story:
https://www.aa.com.tr/en/africa/investors-pledge-over-22b-to-south-africa-at-conference-president/2545331
--------
URL: https://www.newageislam.com/islamic-world-news/dubai-princess-pakistan-islamic-uk/d/126650
New Age Islam Islam Online, Islamic Website, African Muslim News, Arab World News, South Asia News, Indian Muslim News, World Muslim News, Women in Islam, Islamic Feminism, Arab Women, Women In Arab, Islamophobia in America, Muslim Women in West, Islam Women and Feminism