New Age Islam News Bureau
30 Oct 2018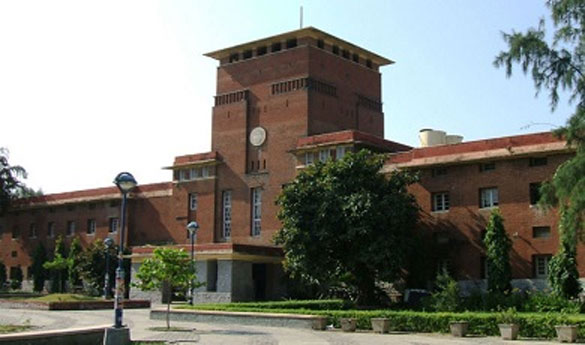 Photo: File photo of Delhi University campus (Image: du.ac.in)
---------
• European Human Rights Court Backs Sharia Blasphemy Law
• Madinah governor opens conference promoting true understanding of Islam
• Media enjoys unprecedented freedom in Pakistan: Fawad
India
• DU Proposes Course in Islam and International Relations, Critics Ask Why Not in Hinduism
• Ayodhya's Ram Janmabhoomi-Babri Masjid Title Suit: UP govt wanted speedy hearing, SC says list for January
• 'Mosque not an essential part of Islam' remarks need reconsideration: SC Judge Nazeer
• Fear of Deportation Drives Some Rohingya Refugees from India
• Sedition case: Cops seek AMU explanation on revoked suspension of two students
• Five BSF jawans injured in terrorist attack in Srinagar
--------
Europe
• European Human Rights Court Backs Sharia Blasphemy Law
• UK parliament to question FM Hunt over Saudis' war on Yemen
• Turkey condemns granting of furlough to Greek terrorist
• UK: Khashoggi fiancée asks Trump to help reveal 'truth'
--------
Arab World
• Madinah governor opens conference promoting true understanding of Islam
• Egypt: Parliament Seeks to Shut Down Political Islam Sites
• Turkey Calls Affiliated Militants to Stand on Alert for Imminent Fight against Kurds in Eastern Euphrates
• Syrian Army Discovers American, Israeli Arms, Medicines in Terrorists' Positions in Quneitra
• Terrorists Continue Targeting Syrian Army in Demilitarized Zone in North, Northwest
• Syrian Official: Thousands of Children Killed by Terrorists, US-Led Coalition Since 2011
• More Civilians Killed in US Air Raids in Eastern Syria
• Syria: ISIL Recaptures Lost Lands in Deir Ezzur with US Forces' Cooperation
• US-led coalition uses white phosphorus bombs against Syrian city: Damascus
• Syria will not allow anyone to interfere in its national affairs: FM
• Houthis fighting education in Yemen by kidnapping teachers, administrators: Arab coalition
• Syrian Kurds boost fight against Daesh in east after setback
--------
Pakistan
• Media enjoys unprecedented freedom in Pakistan: Fawad
• Imran's visit to China will open new chapter of cooperation: Beijing
• Nawaz asks Imran to identify those who asked for NRO
• UAE appreciates Pakistan's role in war on terror
• UK MPs approach PM for arrest of boy's killers
• Karbala martyrs' Chehlum being observed country-wide today
• Iran welcomes Pakistan's mediation in Saudi-Yemen conflict
• Gen Bajwa, UAE commander discuss regional security, cooperation
• Afghan envoy hails PM Imran's quest for open border, opposes citizenship for refugees
--------
Africa
• Calls for addressing root causes of extremism
• Clashes in Nigeria between security forces and Shia protesters
• Nigeria military opens fire on Shi'ite Muslim protesters: Reuters witness
• Suspected ISIS fighters attack central Libyan town
• Bomber detonates explosives in Tunisia, injures nine
--------
South Asia
• Suicide attack on Kabul election workers kills one, wounds six
• Former Bangladesh PM Khaleda Zia sentenced to seven years in jail in graft case
• Pirojpur 1 constituency: BNP-Jamaat quiet as AL leaders fight for nomination
• Jamaat-e-Islami stripped of right to contest in Bangladesh elections
• 3 ISIS Khurasan members killed in Haska Mina district of Nangarhar
• Muslimyar reacts to the alleged remarks of U.S. Senator regarding Durand Line
• Militants suffer heavy casualties in separate airstrikes of Afghan, U.S. forces
--------
Southeast Asia
• Shariah laws to be streamlined nationwide, minister says
• Reforming The Faith: Indonesia's Battle For The Soul Of Islam
• Malaysia's 310,000 homosexuals just an early estimate, Jakim officer says
--------
Mideast
• Iran backlash after top cleric meets reformists
• Palestinian killed by Israeli fire in border clashes
• Mother of Gaza teen killed in airstrike denies militant ties
• Yemeni army advances in Hodeidah, seizes significant territory in Saada
• Houthis disguise mines as palm tree trunks near Yemen's Hodeidah
• Palestinians revive calls to end security ties with Israel
--------
North America
• Quebec's Muslim community: 'Madness of men once again struck our Jewish neighbours'
• Alberta Human Rights Commission seeks to appeal Muslim school prayer spat at Supreme Court
• Trump paves way for Saudis to cover up Khashoggi's murder: Fiancée
• US Muslims launch aid campaign for synagogue victims
Compiled by New Age Islam News Bureau
URL: https://www.newageislam.com/islamic-world-news/du-proposes-course-islam-international/d/116751
--------
DU Proposes Course in Islam and International Relations, Critics Ask Why Not in Hinduism
October 30, 2018
New Delhi: For the first time in its history, the Political Science department of Delhi University has proposed "Islam and International Relations" to be taught at the post graduate level.
Awaiting a nod from the Academic Council (AC), the paper intends to introduce "students to the multi-layered and multi-faceted theoretical, conceptual and philosophical issues that act as roadmap when we attempt at understanding the linkages between the history, culture and theology of Islam and the structuration processes that are involved in the functioning of international relations".
At a recent meeting of the Standing Committee on Academic Affairs of Delhi University, a point was raised by an academic who questioned why other religions should be left out.
"Why just Islam and International Relations? Why can't we study other religions as well in the arena of International Relations," asked Dr Geeta Bhatt, an academic and a member of the AC who was present at the Standing Committee meeting.
Professor Sanjeev Kumar HM, who designed the course, told News 18 in an interview: "There was no opposition, but one suggestion was made on including other religions as well. We were asked why only Islam? Why can't we design a course on Hinduism and International Relations or Buddhism and International Relations or Christianity and International Relations?"
He is hopeful that the course will get a nod in the AC. The Standing Committee has okayed the idea, but they think there should be designing of courses on other religions as well.
Islam and other religions?
Kumar believes that this argument of including other religions was made "to water down the idea of having a course in Islam".
He told News 18, "Other religions can be taught under a different design – maybe a course on comparative religions in post secular International Relations, but that is going to be a different trajectory".
He further said: "We cannot have full course on other religions and International Relations because the space you need in terms of ideas is not same with others."
Islam and IR
Kumar said the scholarship in Islam and IR is booming and the reasons are plenty.
"Whatever has been happening, entire course of international relations has been defined in terms of one idea and that is - what is Islam and why it should be contested or protected?
"There is the whole idea of one religion and why it is so significant? "Why not Hinduism or Christianity? When there was enlightenment, there was this whole idea of reviving Christianity and Greco-Roman traditions. The entire enlightenment political philosophy and social theory centered on Greco-Roman traditions and Judaism Christian themes."
He further emphasised that international relations is not just about relations between two countries but it is about culture, identities and differences.
He says the course is important as it is going to be a departure from "what the hegemonic traditions tell about Islam".
The contemporary trends in the world, Kumar said, have also made the Islamic scholarship important to pursue.
"Why Islamic radicalism has spread more widely as compared to others – because of the way imperial forces, especially the US and the Europe, meddled with it," he said.
What the Course proposal says
The course explains as to how in recent times, the genealogy and archaeology of the religious and political thought in Islam and its connection with the systemic contours of societies and political institutions has emerged to be one of the most contested subjects in humanities and social sciences.
The course then lays out as to how such an interest has been the product of the radicalisation of political Islam and the growing unhealthy interface that has developed between Islam and violence, as a result of the globalization of Jihad that has brought in the medieval notions of a contest between abode of Islam (Dar al-Islam) and the land of unbelievers (Dar al-harb).
Owing to this, Islam has become a prominent element in the sphere of security studies.
The course expects to help students comprehend how the notion of Islamophobia has become an integral part of contemporary global affairs. Also, how the religion has been misrepresented in the sphere of international politics.
https://www.news18.com/news/india/du-proposes-course-in-islam-and-international-relations-critics-ask-why-not-in-hinduism-1923981.html
--------
European Human Rights Court Backs Sharia Blasphemy Law
by Soeren Kern
October 29, 2018
The European Court of Human Rights (ECHR) has ruled that criticism of Mohammed, the founder of Islam, constitutes incitement to hatred and therefore is not protected free speech.
With its unprecedented decision, the Strasbourg-based court — which has jurisdiction over 47 European countries, and whose rulings are legally binding on all 28 member states of the European Union — has effectively legitimized an Islamic blasphemy code in the interests of "preserving religious peace" in Europe.
The case involves Elisabeth Sabaditsch-Wolff, an Austrian woman who in 2011 was convicted of "denigrating religious beliefs" after giving a series of lectures about the dangers of fundamentalist Islam.
Sabaditsch-Wolff's legal problems began in November 2009, when she presented a three-part seminar about Islam to the Freedom Education Institute, a political academy linked to the Austrian Freedom Party — which today forms part of the Austrian government. A left-leaning weekly magazine, News, planted a journalist in the audience to secretly record the lectures. Lawyers for the publication then handed the transcripts over to the Viennese public prosecutor's office as evidence of hate speech against Islam, according to Section 283 of the Austrian Criminal Code (Strafgesetzbuch, StGB).
The offending speech was an offhand comment by Sabaditsch-Wolff that Mohammed was a pedophile because he married his wife Aisha when she was just six or seven years old. Sabaditsch-Wolff's actual words were, "A 56-year-old and a six-year-old? What do we call it, if it is not pedophilia?"
Indeed, most hadiths (collections of traditions containing the words and actions of Mohammed) confirm that Aisha was prepubescent when Mohammed married her and was only nine years old when the marriage was consummated. Mohammed's actions would today be unlawful in Austria, so Sabaditsch-Wolff's comments were factually, if not politically, correct.
Formal charges against Sabaditsch-Wolff were filed in September 2010 and her bench trial, presided over by one judge and no jury, began that November. On February 15, 2011, Sabaditsch-Wolff was convicted of "denigration of religious beliefs of a legally recognized religion," according to Section 188 of the Austrian Criminal Code.
The judge rationalized that Mohammed's sexual contact with nine-year-old Aisha could not be considered pedophilia because Mohammed continued his marriage to Aisha until his death. According to this line of thinking, Mohammed had no exclusive desire for underage girls; he was also attracted to older females because Aisha was 18 years old when Mohammed died.
The judge ordered Sabaditsch-Wolff to pay a fine of €480 ($550) or an alternative sentence of 60 days in prison. Moreover, she was required to pay the costs of the trial.
Sabaditsch-Wolff appealed the conviction to the Provincial Appellate Court in Vienna (Oberlandesgericht Wien), but that appeal was rejected on December 20, 2011. A request for a new trial was dismissed by the Austrian Supreme Court on December 11, 2013.
Sabaditsch-Wolff then took her case to the European Court of Human Rights, a supranational court established by the European Convention on Human Rights. The court hears applications alleging violations of the civil and political rights set out in the Convention.
Relying on Article 10 (Freedom of Expression) of the Convention, Sabaditsch-Wolff complained that Austrian courts failed to address the substance of her statements in the light of her right to freedom of expression. If they had done so, she argued, they would not have qualified them as mere value judgments but as value judgments based on facts. Furthermore, her criticism of Islam occurred in the framework of an objective and lively discussion which contributed to a public debate and had not been aimed at defaming Mohammed. Sabaditsch-Wolff also argued that religious groups had to tolerate even severe criticism.
The ECHR ruled that states could restrict the free speech rights enshrined in Article 10 of the Convention if such speech was "likely to incite religious intolerance" and was "likely to disturb the religious peace in their country." The court added:
"The Court noted that the domestic courts comprehensively explained why they considered that the applicant's statements had been capable of arousing justified indignation; specifically, they had not been made in an objective manner contributing to a debate of public interest (e.g. on child marriage), but could only be understood as having been aimed at demonstrating that Muhammad was not worthy of worship. It agreed with the domestic courts that Mrs S. must have been aware that her statements were partly based on untrue facts and apt to arouse indignation in others. The national courts found that Mrs S. had subjectively labelled Muhammad with pedophilia as his general sexual preference, and that she failed to neutrally inform her audience of the historical background, which consequently did not allow for a serious debate on that issue. Hence, the Court saw no reason to depart from the domestic courts' qualification of the impugned statements as value judgments which they had based on a detailed analysis of the statements made.
"The Court found in conclusion that in the instant case the domestic courts carefully balanced the applicant's right to freedom of expression with the rights of others to have their religious feelings protected, and to have religious peace preserved in Austrian society.
"The Court held further that even in a lively discussion it was not compatible with Article 10 of the Convention to pack incriminating statements into the wrapping of an otherwise acceptable expression of opinion and claim that this rendered passable those statements exceeding the permissible limits of freedom of expression.
"Lastly, since Mrs S. was ordered to pay a moderate fine and that fine was on the lower end of the statutory range of punishment, the criminal sanction could not to be considered as disproportionate.
"Under these circumstances, and given the fact that Mrs S. made several incriminating statements, the Court considered that the Austrian courts did not overstep their wide margin of appreciation in the instant case when convicting Mrs S. of disparaging religious doctrines. Overall, there had been no violation of Article 10."
The ruling effectively establishes a dangerous legal precedent, one that authorizes European states to curtail the right to free speech if such speech is deemed to be offensive to Muslims and thus pose a threat to religious peace.
The ECHR ruling will be welcomed by the Organisation of Islamic Cooperation, a bloc of 57 Muslim countries that has long pushed for the European Union to impose limits on free speech when it comes to criticism of Islam.
The OIC has pressed Western democracies to implement United Nations Human Rights Council (HRC) Resolution 16/18, which calls on all countries to combat "intolerance, negative stereotyping and stigmatization of ... religion and belief."
Resolution 16/18, which was adopted at HRC headquarters in Geneva on March 24, 2011, is widely viewed as a significant step forward in OIC efforts to advance the international legal concept of defaming Islam.
Former OIC Secretary General Ekmeleddin Ihsanoglu hailed the ECHR's decision, which he said "shows that disrespect, insults and detestable enmities have nothing to do with the freedom of expression or human rights." He added:
"The fight against Islamophobia and our opinions we have been voicing for years have been adopted and declared by the ECHR. This ruling is pleasing in all its aspects."
In a statement, Sabaditsch-Wolff criticized the ruling but held out hope that European publics are waking up to the looming threats to free speech:
"On Thursday, 25 October the ECHR ruled that my conviction by an Austrian court for discussing the marriage between Prophet Mohammed and a six-year-old girl, Aisha, did not infringe my rights of freedom of speech.
"I was not extended the courtesy of being told of this ruling. Like many others, I had to read it in the media.
"The ECHR found there had been no violation of Article 10 (freedom of expression) of the European Convention on Human Rights and that right to expression needed to be balanced with the rights of others to have their religious feelings protected, and served the legitimate aim of preserving religious peace in Austria.
"In other words, my right to speak freely is less important than protecting the religious feelings of others.
"This should ring warning bells for my fellow citizens across the continent. We should all be extremely concerned that the rights of Muslims in Europe NOT to be offended are greater than my own rights, as a native European Christian woman, to speak freely.
"I am proud to be the woman who has raised this alarm.
"I am also optimistic. Since giving my seminars in Austria in 2009, we have come a very long way.
"Ten years ago, the press labeled me a 'confused doom-monger' and I was compared to Osama Bin Laden. Now, Islam is being discussed in every sphere of life and people are waking up to the reality of a culture so opposed to our own.
"The cultural and political threat posed by Islam to Western societies is now widely recognized and discussed. It is fair to say European society, as well as the political realm, is undergoing an enlightenment, as it is more awake than ever to the need to defend our own Judeo-Christian culture.
"I believe my seminars in 2009, and subsequent work have contributed to strong push back against an Islamic culture which is so at odds with our own. And note with interest that only one sentence out of 12 hours of seminars on Islam was a prosecutable offense. I assume the remaining content is now officially sanctioned by our Establishment masters.
"It is obvious to me that public education and discourse on the subject of Islam can have a fundamental and far-reaching impact, even if our state or supra-national authorities try to stifle or silence it, in order to appease a culture so foreign to our own.
"This fight continues. My voice will not and cannot be silenced."
https://www.gatestoneinstitute.org/13204/european-court-human-rights-sharia
--------
Madinah governor opens conference promoting true understanding of Islam
October 30, 2018
JEDDAH: Madinah Gov. Prince Faisal bin Salman opened the 23rd session of the conference of International Islamic Fiqh Academy (IIFA).
The five-day event is being held in collaboration with the Islamic University in Madinah under the patronage of King Salman. It serves as a platform for religious scholars and researchers to present their research and studies based on the Qur'an and the Sunnah.
Based on the research findings, scholars will suggest ways to eradicate social and economic issues facing the Muslim world.
The aim of the event is to promote the true understanding of Islam and its tolerant nature. The conference will also highlight the role of scholars in educating the masses and in enlightening the Islamic world.
Several officials and academics told the Saudi Press Agency that the Islamic Shariah has the ability to achieve social harmony and human happiness. The Shariah, they added, has the solution to all human problems. However, they stressed the need to refer to authentic religious sources to find those solutions.
http://www.arabnews.com/node/1396066/saudi-arabia
--------
Media enjoys unprecedented freedom in Pakistan: Fawad
October 30, 2018
ISLAMABAD: Federal Minister for Information and Broadcasting Fawad Chaudhry on Monday said that Pakistan was a modern democratic state where media enjoyed unprecedented freedom and acted as a watchdog of the society.
Pakistan was also known for its great tourist resorts and offered pristine locations to the world tourists and invited them to explore the scenic beauty in the Northern Areas, he said during a meeting with a Turkish media delegation, which called on him here.
The minister said Pakistan and Turkey enjoyed close cultural, religious and historical ties as their fraternal bond was premised on brotherhood and people-to-people contacts. The relations among the people of two countries dated back to the days of World War I, when Turkey was fighting its war of independence and the Muslims of Indian sub-continent came out to support the Ottoman Empire by launching Khilafat Movement, he added.
Fawad said the rise of Pakistan Tehreek-e-Insaf (PTI) to power was, in fact, a revolution of the youth and middle class of Pakistan. "Sixty-four per cent of our population is youth which is indeed a great asset for the country."
He said the PTI government was committed to eradicating corruption in line with the party's manifesto and would undertake all possible measures to ensure fairness and transparency in the matters of governance.
Imran Khan, he said, became Prime Minister of Pakistan after a long struggle of 22 years by inspiring the youth and middle class of the country, who stood by him in his bid to end corruption and change the status quo.
He said Pakistan rendered unparalleled sacrifices in the global war against terrorism and credited the Jawans and officers of Pakistan Army, police and security forces for their great sacrifices in restoring law and order in the country.
"We are focusing on promoting a soft image and culture of Pakistan through films and dramas and would welcome collaboration and joint ventures in the realm of film and culture with Turkey." Turkish drama, he said, was very popular in Pakistan and "similarly, we will like our dramas and films to be broadcast in Turkey as these are the greatest means to project culture of any society."
The delegation appreciated the efforts of current dispensation to promote culture and tourism, and wished success and prosperity to Pakistan.
https://www.pakistantoday.com.pk/2018/10/29/media-enjoys-unprecedented-freedom-in-pakistan-fawad/
--------
India
Ayodhya's Ram Janmabhoomi-Babri Masjid Title Suit: UP govt wanted speedy hearing, SC says list for January
October 30, 2018
AFTER Uttar Pradesh government's plea for early hearing of appeals challenging the Allahabad High Court order in the Ram Janmabhoomi-Babri Masjid title suit, the Supreme Court Monday, while observing "we have our own priorities", ordered listing of appeals before an "appropriate bench" in the first week of January 2019 to fix a date for hearing.
Solicitor General Tushar Mehta, who appeared for the UP government before a bench of Chief Justice of India Ranjan Gogoi and Justices S K Kaul and K M Joseph, said it was over a hundred-year-old dispute and should be accorded priority. He requested the court to take up the matter immediately after the Diwali vacation.
When Mehta urged the court to fix the hearing date today itself, CJI Gogoi told him "we have our own priorities… whether the hearing will take place in January, February will be decided by an appropriate bench".
Senior advocate C S Vaidyanathan, representing Ramlalla Virajman (idol of the infant Ram at the Ayodhya site), also pleaded that the matter of hearing the appeals be taken up in November itself.
Appeals have been filed against the 2010 Allahabad High Court judgment that ordered a three-way division of the disputed 2.77-acre site in Ayodhya, awarding a third each to the Nirmohi Akhara, the Sunni Central Wakf Board of UP and Ramlalla Virajman.
On September 27 this year, a Supreme Court bench, comprising then CJI Dipak Misra and Justices Ashok Bhushan and S Abdul Nazeer, in a 2-1 verdict, rejected demands to send the matter to a larger bench and ordered that the title suit appeals be listed "in the week commencing 29th October" for hearing.
The plea was raised by some of the appellants who also wanted the court to reconsider its 1994 ruling in the Dr M Ismail Faruqui etc. vs Union Of India and Others. In that ruling, a Constitution Bench had observed that "a mosque is not an essential part of the practice of the religion of Islam and namaz (prayer) by Muslims can be offered anywhere, even in open".
The petitioners had claimed that earlier decisions in the Ayodhya case were influenced by this observation in the Ismail Faruqui verdict on a plea challenging the Constitutional validity of the Acquisition of Certain Area at Ayodhya Act, 1993, under which 67.703 acres were acquired in the Ram Janmabhoomi-Babri Masjid complex.
Rejecting the plea to refer the matter to a larger bench, CJI Misra and Justice Bhushan, in their majority verdict, said "we again make it clear that questionable observations made in Ismail Faruqui's case… were made in context of land acquisition" and that "those observations were neither relevant for deciding the suits nor relevant for deciding these appeals". The judges said that "the observation need not be read broadly to hold that a mosque can never be an essential part of the practice of the religion of Islam".
"The statement 'a mosque is not essential part of the practice of religion' is a statement which has been made by the Constitution Bench in specific context and reference. The context for making the above observation was claim of immunity of a mosque from acquisition. Whether every mosque is the essential part of the practice of religion of Islam, acquisition of which ipso facto may violate the rights under Articles 25 and 26, was the question which had cropped up for consideration before the Constitution Bench. Thus, the statement that a mosque is not an essential part of the practice of religion of Islam is in context of issue as to whether the mosque, which was acquired by Act, 1993 had immunity from acquisition," the judges said.
But Justice Abdul Nazeer, in a dissenting opinion, said the conclusion in the Faruqui order that "a mosque is not an essential part of the practice of the religion of Islam and namaz (prayer) by Muslims can be offered anywhere, even in open" had been "arrived at without undertaking comprehensive examination". He favoured further examination.
https://www.financialexpress.com/india-news/ayodhyas-ram-janmabhoomi-babri-masjid-title-suit-up-govt-wanted-speedy-hearing-sc-says-list-for-january/1365862/
--------
'Mosque not an essential part of Islam' remarks need reconsideration: SC Judge Nazeer
Sep 27, 2018
NEW DELHI: The observation in the 1994 Ismail Faruqui case that a mosque is not an essential part of Islam and namaz by Muslims can be offered anywhere, "even in open" was arrived without undertaking a comprehensive examination, Supreme Court judge Justice S Abdul Nazeer said on Thursday.
The majority verdict by other members of the bench, comprising Chief Justice Dipak Misra and Justice Ashok Bhushan, declined to refer to a five-judge constitution bench the issue of reconsideration of these observations made in its 1994 verdict during the hearing of the Ayodhya land dispute.
READ ALSO: RSS welcomes Ayodhya verdict; 'not a setback,' say Muslim petitioners Justice Nazeer, who dissented with the majority verdict, said that considering the constitutional importance and significance, the matter should be referred to a larger bench.
"The conclusion in paragraphs of Ismail Faruqui that 'a mosque is not an essential part of the practice of the religion of Islam and Namaz (prayer) by Muslims can be offered anywhere, even in open" has been arrived at without undertaking comprehensive examination", he said.
Ayodhya case: Read full text of Supreme Court judgment Justice Nazeer framed four questions in his reference order to be adjudicated by the larger bench, including "Whether in the light of Shirur Mutt (1954) and other cases, an essential practice can be decided without a detailed examination of the beliefs, tenets and practice of the faith in question?".
The second question he framed was "whether the test for determining the essential practice is both essentiality and integrality?"
The third question -- "Does Article 25, only protect belief and practices of particular significance of a faith or all practices regarded by the faith as essential?"
The last question Justice Nazeer asked is "Do Articles 15, 25 and 26 (read with Article 14) allow the comparative significance of faiths to be undertaken?"
The judge said it is clear from the earlier decisions of the apex court that the question whether a particular religious practice is an essential or integral part of the religion is a question which is to be considered taking into account the doctrine, tenets and beliefs of the religion.
"It is also clear that the examination of what constitutes an essential practice requires detailed examination...", he said.
Justice Nazeer said the impugned judgement of Allahabad High Court given in 2010 has been affected by the questionable observations made in Ismail Faruqui case of apex court in 1994.
"It is clear that the questionable observations in Ismail Faruqui have certainly permeated the impugned judgment. Thus, the impugned judgment can be claimed to be both expressly and inherently affected by the questionable observations made in Ismail Faruqui," Justice Nazeer said.
In his 42-page dissenting verdict, Justice Nazeer said, Ismail Faruqui prima facie leads a different approach regarding the application of essential and/or integral test which also needs to be resolved as a matter of constitutional significance.
"In my view, Ismail Faruqui needs to be brought in line with the authoritative pronouncements in Shirur Mutt and other decisions", he said.
Justice Nazeer referred to three cases which were referred to the constitition bench recently. These were the challenge to the practice of polygamy, 'Nikah Halala' prevalent among Muslims, the issue of whether religious activities can be allowed in public parks and challenge to the practice of Female Genital Mutilation (FGM).
He directed the registry to place the matter before the Chief Justice of India for appropriate orders.
The issue of referring the observation of 1994 verdict had cropped up when a three-judge bench headed by the CJI was hearing the batch of appeals filed against the Allahabad High Court's 2010 verdict by which the disputed land on the Ram Janmabhoomi-Babri Masjid area was divided into three parts.
Full report at:
https://timesofindia.indiatimes.com/india/mosque-not-an-essential-part-of-islam-remarks-need-reconsideration-sc-judge-nazeer/articleshow/65982827.cms
--------
Fear of Deportation Drives Some Rohingya Refugees from India
October 29, 2018
India's recent deportation of seven Rohingya men to Myanmar has triggered a panic among the country's Rohingya Muslim refugee community.
Since the seven men were deported in the past three weeks, many Rohingya refugees have gone underground in India and some others have crossed over to Bangladesh, fearing that they could be arrested, jailed or returned to Myanmar.
"After [some people] set fire to our camp in [the north Indian state of] Haryana, three times we fled to West Bengal. We lived peacefully in West Bengal for seven months. After Indian authorities deported seven Rohingyas to Myanmar we got scared. We began fearing that they could even deport us," said Abdul Goni, 29, who two weeks ago fled a Rohingya refugee camp in West Bengal and is hiding with his wife and three children at an unidentified location in southern India.
"From Haryana, we were around 350 Rohingyas who fled to West Bengal. After the deportation of those seven men we have all fled the West Bengal camp. Some crossed over to Bangladesh. Others have fled to Jammu, Haryana and other places [in India]. I too have moved to another part of India where I am living in hiding now."
The Indian Home Ministry, which handles the issue or refugees, declined to comment for this story.
Forced to flee
Facing discrimination and violence in Myanmar, minority Rohingya Muslims have for decades fled Myanmar to neighboring Bangladesh and other countries, including India.
Currently, approximately 40,000 Rohingya refugees live in different locations across India. About 18,000 are registered with the office of the UNHCR, the UN refugee agency.
Stateless, Rohingyas have no way to travel to any country legally and their status as refugees is not always recognized. India did not sign the 1951 U.N. Refugee Convention, and thus treats all Rohingyas entering the country as illegal immigrants.
India has jailed some Rohingyas. The UNHCR estimates more than 200 Rohingya are in Indian jails after being arrested and charged for illegal entry. Rights groups say that figure is at least 500.
The UNHCR issues identity cards to registered refugees to help prevent their arbitrary arrest, detention and deportation. But after the seven men were deported to Myanmar earlier this month, many Rohingyas in India say they fear deportation despite holding UNHCR ID cards.
Among the Rohingyas who have gone in hiding in India or fled to Bangladesh in the past few weeks, many are UNHCR card holders, said Mohammad Junaid, a Rohingya community leader in Bangladesh.
"I know of over 100 Rohingya who have fled to Bangladesh from India in the past weeks. Around 75 percent of them held refugee ID cards issued by the UNHCR Delhi. Yet, they crossed over to Bangladesh because they felt the cards could not protect them from actions by the Indian authorities," Junaid told VOA.
Cheryl D'Souza, member of a Delhi-based legal rights activist group fighting for the rights of the refugees, also said the Rohingyas are anxious about their future in India despite holding the UNHCR cards.
"While those who have been granted refugee cards and protection by UNHCR cannot be arrested, the panic among the Rohingya regarding arrest by the Indian authorities stems from the complete denial by the government of recognizing the Rohingya as a refugee community in India that is in need of protection and the deliberate terming of them as illegal immigrants to buttress their claims in court for their expulsion," D'Souza told VOA.
Anti-Rohingya sentiment
Rohingya refugees have lived in India peacefully for many years. But sentiment against the Muslim minority group has been surging in predominantly Hindu India after the Hindu nationalist Bharatiya Janata Party led by current Prime Minister Narendra Modi swept to power following a massive election victory in 2014.
Last year in the north Indian city of Jammu, local BJP leaders began a campaign demanding all Rohingya be expelled from the area. The BJP-led Indian federal government subsequently ordered all states to identify and deport all Rohingya Muslims from the country.
Two weeks ago, the government in India's northeastern state of Assam announced that it was preparing to deport another batch of 23 detained Rohingya that officials described as "illegal immigrants" to Myanmar.
Legal rights activist Prashant Bhushan, who is fighting against the deportation of the Rohingya refugees in India, insists that no Rohingya should be deported to Myanmar.
"A fact finding report by the United Nations Human Rights Council has concluded that [the] Myanmarese military have been responsible for committing crimes of genocide and crimes against humanity against the Rohingya. Various other international organizations have warned that conditions are not conducive for the safe return of Rohingya refugees who have been subjected to torture and detained on repatriation. It is in this context that we are opposing the deportation of the Rohingya refugees to Myanmar," said Bhushan.
"Refoulement of the seven men to Myanmar was in grave violation of India's international obligations. The principle of non-refoulement is [indeed] binding on India. It is enshrined in various conventions that India has ratified, such as the ICCPR [International Covenant on Civil and Political Rights] and the Convention on Rights of the Child," he said.
Myanmar's government has consistently denied allegations that its troops have committed atrocities against the Rohingya.
Altaf Hossen, a Rohingya who fled a camp in West Bengal two weeks ago and crossed over to Bangladesh, said he made a wise decision by leaving India.
Full report at:
https://www.voanews.com/a/fear-of-deportation-drives-some-rohingya-refugees-from-india/4633266.html
--------
Sedition case: Cops seek AMU explanation on revoked suspension of two students
by Manish Sahu
October 30, 2018
POLICE HAVE sought an explanation from Aligarh Muslim University (AMU) over why the suspension of two students was revoked. The two were booked in a sedition case for allegedly attempting to hold funeral prayers on campus after the death of scholar-turned-militant Mannan Wani on October 11.
They have asked for a report on the university's internal inquiry conducted by a three-member committee against Waseem Ayoub Malik and Abdul Haseeb Mir — both were reinstated on October 16.
"We want to see what evidence and facts are mentioned in the inquiry report that led to cancellation of suspension," said investigating officer and Civil Lines police SHO Vinod Kumar.
Abdul and Waseem are pursuing a PhD in history and biochemistry, respectively.
"We have requested AMU to provide footage from the CCTV installed near the spot where students had assembled… The video… has been sent to the forensic science laboratory in Agra," said Kumar.
Kashmiri students have been regularly approaching the AMU authorities, demanding that the FIR be quashed.
Full report at:
https://indianexpress.com/article/india/sedition-case-cops-seek-amu-explanation-on-revoked-suspension-of-two-students-5424470/
--------
Five BSF jawans injured in terrorist attack in Srinagar
Oct 29, 2018
NEW DELHI: Five Border Security Force (BSF) personnel were injured on Monday evening after a patrol vehicle was targetted by terrorists near Pantha Chowk on the outskirts of Srinagar.
Reports said that terrorists opened fire on the vehicle. Five troopers suffered bullet injuries in the attack.
Ravi Deep Singh Sahi, IG CRPF, said, "Things are under control. Today around 6 pm near BSF HQ, two vehicles were returning from duty when terrorists fired. 4-5 people were injured with bullet shots. Search operation is on."
The injured have been rushed to a nearby hospital.
Full report at:
https://timesofindia.indiatimes.com/india/five-bsf-jawans-injured-in-terrorist-attack-in-srinagar/articleshow/66417550.cms
--------
Europe
UK parliament to question FM Hunt over Saudis' war on Yemen
Oct 29, 2018
Britain's parliament is to officially question Foreign Minister Jeremy Hunt and his deputy Alistair Burt over the government's continued support for Saudi Arabia's war on Yemen.
Local media said the questioning in the parliament will come amid renewed pressure on the British government to take action against Saudi Arabia after the kingdom allegedly ordered a brutal killing of a dissident journalist in Turkey earlier this month.
Hunt is expected to attend a foreign affairs select committee on Wednesday to answer questions of the lawmakers about London's support for Saudi Arabia, especially with regards to the war in Yemen where the Saudis have allegedly used many British weapons against the civilian population.
Burt, the junior minister for Middle East, will also face the international development select committee on Tuesday to discuss the situation of UK-Saudi relations following the death of Jamal Khashoggi in Istanbul on October 2.
Reports said senior members of the ruling Conservative Party have lost their patience with Saudis and wanted the government in London to show a decisive response to Riyadh's continued violation of human rights.
The opposition Labour Party have also slammed the government for its continued provision of weapons to Saudi Arabia, saying it would ban the weapons sale to Riyadh if it was in power as such a sale had become untenable in the wake of Khashoggi's assassination in Saudi consulate in Istanbul.
Other parties, including the Scottish National Party, have also called on Prime Minister Theresa May to stop Britain's sale of weapons to Saudi Arabia, saying Riyadh had already crossed boundaries of violating human rights.
However, May told the parliament last week that London will continue with its export of military equipment to Saudi Arabia. The British government has solely revoked visas of the suspects involved in the killing of Khashoggi.
Khashoggi went to the Saudi consulate in Istanbul to collect documents for a forthcoming marriage. His fate was unknown until Saudis admitted two weeks ago that he had been killed during a fight in the diplomatic post.
https://www.presstv.com/Detail/2018/10/29/578465/UK-Saudi-ties-parliament-questioning-Hunt
--------
Turkey condemns granting of furlough to Greek terrorist
29.10.2018
Turkey on Monday "strongly condemned" the granting of another release on furlough to far-left terrorist Dimitris Kufodinas by Greek authorities.
Kufodinas is a convicted member of the November 17 terrorist organization and he is serving multiple life sentences in Greece for murder.
He was the perpetrator in the assassinations of Turkish Press Attache Cetin Gorgu, who was killed in 1991, as well as Omer Haluk Sipahioglu, a counselor at the Turkish Embassy in Athens, who was gunned down in front of his home in 1994.
The counsellor of Turkish Embassy in Athens, Deniz Bolukbasi, the administrative attache Nilgun Kececi and the driver Adil Yildirim were also wounded in separate attacks carried out by the same group.
"The release of a terrorist who claimed lives of our diplomats is disrespectful to their memories and to their bereaved families," Turkish Foreign Ministry said in a statement.
"We would like to underline once again that allowing a notorious terrorist to benefit from such arrangements does not comply with countering terrorism," it added.
Kufodinas was granted a four-day release on furlough on Saturday by Greek authorities, which totals six days adding two days for safe conduct.
This is the fifth furlough granted for Kufodinas in a year.
Full report at:
https://www.aa.com.tr/en/europe/turkey-condemns-granting-of-furlough-to-greek-terrorist/1296833
--------
UK: Khashoggi fiancée asks Trump to help reveal 'truth'
30.10.2018
By Ahmet Gurhan Kartal
LONDON
Murdered Saudi journalist Jamal Khashoggi's fiancée has urged U.S. President Donald Trump to help reveal the truth behind his killing and ensure that justice is served.
Speaking at a memorial event held in London, Hatice Cengiz said Trump "should not pave the way for a cover-up of my fiancée's murder."
In an emotional address, she said she was deeply grateful for the solidarity of people all over the world.
"I am, however, disappointed in the actions of the leadership in many countries, particularly in the U.S."
Cengiz joined the event -- organized by not-for-profit press monitoring organization the Middle East Monitor and the Al Sharq Forum, an independent pro-democracy, non-partisan, non-profit think-tank focusing on the greater Middle East -- to remember Khashoggi.
"I am in London now, but I call upon all the men and women of the world: please stand up for justice!" Hatice said.
"Please raise your voice for my beloved Jamal. Please demand that your governments help us hold the evil criminals and their cowardly political masters to account."
Underlining that there should be no cover-up, Cengiz said: "Jamal was my beloved fiancée, but he was also a gentle human being, a loving man, a journalist and a true believer in democracy and freedom in the Arab world."
"Let's demand justice for Jamal and stand up for his ideals."
Cengiz said Khashoggi felt that it was his duty to become the "voice of the voiceless" and this was not only an issue of intellectual integrity but a moral responsibility.
"It was part of being a responsible citizen -- an idea that he so dearly cherished and felt that his own country, Saudi Arabia, but also the wider Middle East needed to embrace," she said.
Cengiz said she would have gone herself into the Saudi consulate or done anything to stop Khashoggi from entering it if she had only known that a group of murderers was waiting inside.
The event, titled 'Remembering Jamal' also featured speeches from the Middle East Monitor's Director Daud Abdullah, Conservative MP Crispin Blunt and some prominent journalists.
Khashoggi was last seen entering the Saudi consulate in Istanbul on Oct. 2.
On the day of his disappearance, 15 other Saudis, including several officials, arrived in Istanbul on two planes and visited the consulate while he was still inside, according to Turkish police sources. All of the identified individuals have since left Turkey.
Full report at:
https://www.aa.com.tr/en/europe/uk-khashoggi-fianc%C3%A9e-asks-trump-to-help-reveal-truth/1297373
--------
Arab World
Egypt: Parliament Seeks to Shut Down Political Islam Sites
29 October, 2018
In an attempt to control political Islam groups, parliamentary sources said on Sunday that the Egyptian parliament is heading towards combating their websites through a number of bills and regulations.
The parliament is moving towards shutting down certain sites upon the request of several deputies after these platforms were found to address the youth and the public through rumors and the dissemination of extremist thoughts and ideologies.
The Head of the Supreme Council for Media Regulation, journalist Makram Mohammed Ahmed, revealed that the Council has not licensed any site belonging to Islamic movements, stressing that authorization has only been granted to professional websites.
He added that the Muslim Brotherhood, which Egypt considers a terrorist organization, said that the licenses granted by the Supreme Council "were restrictive", in a step to disrupt the process followed by the Council.
Ahmed asserted that the current situation requires extreme caution as the group seeks to disrupt all organizational processes in the country.
Deputy of the Parliamentary Social Solidarity Committee MP Mohammed Abu Hamed submitted an urgent report to the government and the Supreme Council, calling for immediate action against these sites, which represent a major threat to national security.
He described the sites as platforms used to address citizens through the promotion and dissemination of terrorist ideas.
The Secretary of Parliament's Religious Affairs committee, Omar Hamroush, said that he is preparing a list of Egypt-based sites that are pro-political Islam, stressing that he will submit it to the Supreme Council to take necessary measures.
MP Ahmed Saad told Asharq Al-Awsat that some political Islam sites publish articles, content, and news without any censorship, and create strife among young people.
Saad asserted that the Egyptian state is exerting great efforts in the face of rumors propagated by the Muslim Brotherhood and its foreign elements, especially rumors that concern the citizen and issues linked to commodities such as bread, medicine, and goods.
Since the ouster of former President Mohamed Morsi in July 2013, hundreds of Brotherhood leaders and supporters have fled the country, launching media platforms and unregulated sites that frequently attack the Egyptian government.
Secretary-General of the Supreme Council for Media Regulation Ahmed Salim stated that the Council will not be issuing any licenses for websites that disseminate extremist views and pose a threat to Egyptian national security, as well as porn sites.
https://aawsat.com/english/home/article/1441711/egypt-parliament-seeks-shut-down-political-islam-sites
--------
Turkey Calls Affiliated Militants to Stand on Alert for Imminent Fight against Kurds in Eastern Euphrates
Oct 29, 2018
The Arabic-language al-Watan newspaper quoted sources close to the National Liberation Front (NFL) terrorist group as saying on Monday that while implementation of the Sochi agreement to create a demilitarized zone in Northern Syria has come to a halt, Ankara has ordered its allied militants in Idlib and Northern and Western Aleppo to get ready for a major assault on the Kurds in Northern Syria.
It added that Turkish President Recep Tayyip Erdogan has grown disappointed at Washington's promises on the Manbij agreement, and Ankara has now decided to engage in clashes with the Kurds in Eastern Euphrates.
Meantime, local and Kurdish sources in Ein al-Arab (Kobani) in Eastern Euphrates reported that Turkey intends to gain full control over the region to later advance to other regions controlled by the Kurds in Eastern Euphrates.
Erdogan has recently said that the army would kick off a large-scale operation on the Eastern banks of the Euphrates River to purge the region of the Kurdish militias similar to the operation in Afrin.
The Turkish Army's artillery units opened heavy fire at the positions of Kurdish militias on the Eastern banks of the Euphrates River on Monday following Ankara's recent threats to purge the region of the Kurds.
The sources said that the artillery units shelled the Kurds' strongholds in Mount Zour Maqar in Ein al-Arab (Kobani) near Jarabulus region in Northeastern Aleppo and close to the border with Turkey, adding that the targeted region which is home to the Kurdish militia bases came under 15 rounds of artillery attacks.
Full report at:
http://en.farsnews.com/newstext.aspx?nn=13970807000888
--------
Syrian Army Discovers American, Israeli Arms, Medicines in Terrorists' Positions in Quneitra
Oct 29, 2018
The army's engineering units carried out clean-up operations in the villages of Bariqah, Ba'ar Ajam, Rasm Sanad in Southern and Western Quneitra province and found a large volume of arms and ammunitions and other military equipment.
Cannons, mortar launchers, anti-tank missiles, drones, the US-made missiles and Israeli arms and noise-making devices were among the discovered equipment.
A large volume of medicines, ambulances and trucks, mostly manufactured in the western states, were also found in the terrorists' positions in Quneitra province.
Last month, the army men carried out mop-up operation in the village of al-Mo'alaqa and in the small town of Jabata al-Khashab in Quneitra, finding a large volume of weapons, munitions and medicines in regions that were once under control by ISIL and Tahrir al-Sham Hay'at (the Levant Liberation Board or the Al-Nusra Front).
Full report at:
http://en.farsnews.com/newstext.aspx?nn=13970807000868
--------
Terrorists Continue Targeting Syrian Army in Demilitarized Zone in North, Northwest
Oct 29, 2018
Syria's state-run al-Watan daily reported that the terrorists, deployed in the town of al-Latamina in Northern Hama, launched missile attack on the small town of al-Safsafiyah in Northwestern Hama for the second day in a row.
It further said that the army gave crushing response to the terrorists' attacks and pounded their positions in al-Latamina, Lahaya, Morek and al-Aziziyah in Northwestern Hama and in the small tow of Skeik in Southern Idlib, inflicting several casualties on them and destroying their arms and ammunition.
The daily went on to say that other terrorists, deployed in Western Aleppo, launched missile attacks on residential areas in al-Forqan neighborhood in Aleppo city, injuring a civilian and causing material damage on people's properties.
In the meantime, the London-based Syrian Observatory for Human Rights reported that terrorists are still positioned in the demilitarized zone that stretches from Northeastern Lattakia to Northern Hama, Southern and Western Idlib and Western Aleppo, as specified in the Sochi Agreement
A source from the Syrian Army said earlier today that the jihadist rebels in Northwestern Syria have yet to withdraw their forces from the designated demilitarized zones in the Aleppo, Idlib, Hama and Lattakia provinces.
According to the military source, the Turkish-backed National Liberation Front (NLF) and jihadist-led Tahrir Al-Sham Hay'at terrorists are still active at several fronts in Northwestern Syria, despite the Sochi Agreement's attempt to defuse the chaos around Idlib province, the AMN reported.
The military source said that the Turkish-backed rebels and jihadists moved some weapons from the demilitarized zone before the October 15th withdrawal deadline; however, most of the groups maintained their positions along the vast front-lines in Northwestern Syria.
Despite claims from the Turkish regime on the progress of the Sochi Agreement, it appears that nothing has really changed in regards to the front-lines in Northwestern Syria.
The Syrian military source added that the jihadist rebels have taken advantage of the agreement by digging new trenches and establishing new posts near the army's front-lines.
Since the announcement of the Sochi Agreement on September 17th, the Syrian military and opposition forces have clashed almost everyday along the designated demilitarized zones.
Full report at:
http://en.farsnews.com/newstext.aspx?nn=13970807000841
--------
Syrian Official: Thousands of Children Killed by Terrorists, US-Led Coalition Since 2011
Oct 29, 2018
The Arabic-language website of Sputnik quoted Managing-Director of Syria's Forensics Department Dr. Zaher Hajou as saying that tens of thousands of Syrian children have been executed, beheaded, shot dead or killed in bomb and missile attacks in residential areas of different towns, specially schools, by the terrorists since 2011.
He added that when Aleppo province was occupied by the terrorists, death of 4,300 children were registered in its forensics office, noting that 1,100 children in Hama province and over 2,800 children in Damascus province have also been killed in the terrorists' suicide attacks, blasts and missile strikes during the several year long war.
Hajou also said that tens of thousands of people have been buried under rubbles in Raqqa during the US-led coalition's inconsiderate airstrikes on the province under the pretext of fighting the ISIL.
He referred to the crimes committed by the White Helmets against the children, and said they have killed tens of children to display them as victims of Syrian army attacks in videos.
A Russian media outlet reported earlier this month that more than 1,500 victims killed in the US air raids and its allied militants were buried in the largest mass grave in Raqqa city in Northeastern Syria,.
The Arabic-language website of Russia's state news agency, RT, reported that the largest mass grave of civilians is in Panorama in Raqqa city with over 1,500 bodies of victims killed in the US air raids or in the Washington-backed militants' attacks when the city was under ISIL's rule.
In the meantime, the Kurdish-language Hawar news reported that Raqqa Civil Team has thus far discovered 11 mass graves, adding that excavations have completed in 8 mass graves.
Full report at:
http://en.farsnews.com/newstext.aspx?nn=13970807000674
--------
More Civilians Killed in US Air Raids in Eastern Syria
Oct 29, 2018
SOHR reported that a sum of 14 civilians have been killed in the fighter jets' bombing raids on residential areas in Southeastern Deir Ezzur in the last 24 hours.
In the meantime, local sources reported that the warplanes targeted the small town of al-Shafa'a on the Eastern banks of the Euphrates River, killing and wounding a number of civilians.
On Sunday, the US Army pulled its forces back from their base in Eastern Deir Ezzur in a sudden move and after ISIL stormed the SDF and the US army aircraft did not provide them with aerial backup on Saturday.
The army soldiers retreated from their base near the town of Hajin in Eastern Deir Ezzur and pulled their heavy weapons back.
The army's move came after ISIL launched a heavy attack on the SDF and captured al-Sousah and al-Baqouz, local activists said, adding that the US army has retreated to al-Tunk oilfield.
Meanwhile, al-Mayadeen TV Channel reported that ISIL has captured almost 100 SDF militias.
It further said that the Iraqi popular forces of Hashd al-Shaabi have reinvigorated its military presence at the border with Syria after ISIL captured more regions in Eastern Syria.
The London-based Syrian Observatory for Human Rights (SOHR) reported on Sunday that the SDF showed extreme anger at the US military after they were left alone under a heavy ISIL offensive in Deir Ezzur.
SOHR reported that the SDF started protests at the US military after the US air force gave no support for the Kurdish militias to counter the ISIL's heavy offensive in Eastern Deir Ezzur that inflicted a large number of casualties on the SDF.
The ISIL launched a heavy attack on the SDF in al-Souseh, al-Baqouz and Hajin on the Eastern banks of the Euphrates River on Saturday.
SOHR further added that a sum of 68 SDF gunmen, including a commander, that had been dispatched from Tabaqa in Western Raqqa to Deir Ezzur were killed and more than 100 others were injured in the ISIL attack.
Full report at:
http://en.farsnews.com/newstext.aspx?nn=13970807000566
--------
Syria: ISIL Recaptures Lost Lands in Deir Ezzur with US Forces' Cooperation
Oct 29, 2018
The Arabic-language website of RT quoted the sources as disclosing that in complete absence of the US-led coalition forces to support the Washington-backed SDF to counter ISIL's heavy offensive, the terrorists managed to recapture the small but key towns of al-Sousah and al-Baqouz in Southeastern Deir Ezzur.
It pointed to ISIL's control over al-Baqouz Foqani, and said that ISIL has in the last two days recaptured all the territory it had lost to the SDF in past one and a half months.
The Arabic RT said that fierce clashes are now underway between the ISIL and the Iraqi popular forces of Hashd al-Shaabi at Syria-Iraq border after al-Baqouz fell to the terrorists.
In the meantime, Syria's state-run al-Watan daily quoted experts as stating that ISIL's victory against the SDF and their advances in Southeastern Deir Ezzur and their access to the Iraqi border came through the US cooperation as American military left the Kurdish militia alone in battles against ISIL in the last two days.
The coalition fighter jets did not provide support for the SDF after they came under attack by the ISIL. The US forces have also retreated from a base near the town of Hajin.
On Sunday, the US Army pulled its forces back from their base in Eastern Deir Ezzur in a sudden move and after ISIL stormed the SDF and the US army aircraft did not provide them with aerial backup on Saturday.
The army soldiers retreated from their base near the town of Hajin in Eastern Deir Ezzur and pulled their heavy weapons back.
The army's move came after ISIL launched a heavy attack on the SDF and captured al-Sousah and al-Baqouz, local activists said, adding that the US army has retreated to al-Tunk oilfield.
Meanwhile, al-Mayadeen TV Channel reported that ISIL has captured almost 100 SDF militias.
It further said that the Iraqi popular forces of Hashd al-Shaabi have reinvigorated its military presence at the border with Syria after ISIL captured more regions in Eastern Syria.
The London-based Syrian Observatory for Human Rights (SOHR) reported on Sunday that the SDF showed extreme anger at the US military after they were left alone under a heavy ISIL offensive in Deir Ezzur.
SOHR reported that the SDF started protests at the US military after the US air force gave no support for the Kurdish militias to counter the ISIL's heavy offensive in Eastern Deir Ezzur that inflicted a large number of casualties on the SDF.
The ISIL launched a heavy attack on the SDF in al-Souseh, al-Baqouz and Hajin on the Eastern banks of the Euphrates River on Saturday.
SOHR further added that a sum of 68 SDF gunmen, including a commander, that had been dispatched from Tabaqa in Western Raqqa to Deir Ezzur were killed and more than 100 others were injured in the ISIL attack.
Full report at:
http://en.farsnews.com/newstext.aspx?nn=13970807000439
--------
US-led coalition uses white phosphorus bombs against Syrian city: Damascus
Oct 29, 2018
Syrian Ambassador to the United Nations Bashar al-Ja'afari says the so-called international coalition led by the United States has once again used white phosphorus bombs against Hajin city in Syria's troubled eastern province of Dayr al-Zawr.
Speaking at a UN Security Council meeting on Monday, the Syrian senior diplomat further condemned the use of banned weapons by the US-led coalition against the small city.
His comments came a few hours after Syria's official news agency SANA, citing local sources, reported that earlier in the day, the so-called coalition had shelled several localities in Hajin, some 110 kilometers east of Dayr al-Zawr, with white phosphorus munitions that can maim and kill by burning to the bone.
On October 13, SANA also reported that the US-led coalition, purportedly fighting the Takfiri Daesh terrorist group, dropped internationally-banned white phosphorus bombs on Hajin.
On September 8, two F-15 warplanes of the US Air Force targeted the same Syrian city with white phosphorous bombs.
In June last year, Human Rights Watch (HRW) warned that the US-led coalition was deploying white phosphorous bombs in both Iraq and Syria.
Elsewhere in his remarks, Ja'afari added that terrorists in Idlib had fired at least 40 rockets at Aleppo city, with no immediate reports of possible casualties and the extent of damage caused.
Ja'afari also said that Syria believed in the neutral, independent, and non-politicized role of the world body in assisting the Syrians affected by terrorism and militancy, stressing that this role must respect "Syria's sovereignty, independence, and territorial integrity."
The senior Syrian diplomat further stated that Damascus had approved sending an aid convoy to al-Rukban camp by the UN, but the US forces were hindering the delivery of desperately-needed aid to the camp.
He also said that the so-called "cross-border aid," mentioned in a recent report on the "humanitarian situation" in Syria, did not reach those who need it but rather "went to terrorists."
Ja'afari also asserted that Damascus made preparations to facilitate the return of displaced Syrians to their home country, and that the Syrian army troops would keep on fighting against terrorism until Syria, in its entirety, is cleared of "terrorism and any illegal foreign presence."
Full report at:
https://www.presstv.com/Detail/2018/10/29/578481/Syria-US-phosphorus-bombs-Hajin-UN
--------
Syria will not allow anyone to interfere in its national affairs: FM
Oct 29, 2018
Syria's Foreign Minister Walid al-Muallem says his country's constitution is a purely sovereign matter and that Syrian people will not allow anyone to interfere in their national affairs.
Muallem made the remarks during a meeting with delegations participating in the meetings of the Executive Committee of the World Peace Council and the International Young Democrat Union (IYDU) in the Syrian capital Damascus on Monday.
"For more than seven years, we have been in a real war against terrorism, and today we can see the signs of victory despite all Western and American attempts to prolong the crisis for many years," he said.
Syria's top diplomat added that the Damascus government was working diligently to find a political solution to the Syrian crisis, was taking part in all meetings held in Geneva, Sochi, and Astana, and was also participating in the efforts to establish a constitutional committee.
Referring to a last week meeting with UN Special Envoy for Syria Staffan de Mistura, Muallem said he had rejected the UN's attempts to form a list of civil society representatives in the aforementioned committee on its own as the constitution was a sovereign issue in which there can be no foreign interference.
"The decision of the political solution for the crisis is intra-Syrian, and we will not allow anyone to interfere in our national affairs," Muallem stressed.
Members of the delegation, for their part, expressed support for Syria and its people, army, and leadership, lauded the country's steadfastness and saluted Syrian President Bashar al-Assad.
Earlier this year, Moscow invited representatives of Syria's government and armed opposition groups to the Russian resort town of Sochi and proposed creating a committee to revise the constitution.
The committee is expected to include 150 members: 50 chosen by Damascus, 50 by the opposition and the final 50 by de Mistura. It will also include civil society representatives, religious and tribal leaders, experts and women.
Russian President Vladimir Putin's Special Representative for Syria Alexander Lavrentyev announced last month that the three guarantor states of the Syria peace process – Iran, Russia and Turkey-- had reached a consensus with the United Nations on candidates for the country's constitutional committee.
Tehran, Moscow and Ankara have recently stepped up their diplomatic efforts to resolve the Syria crisis.
Full report at:
https://www.presstv.com/Detail/2018/10/29/578474/Syria-Walid-alMuallem-constitution-sovereign
--------
Houthis fighting education in Yemen by kidnapping teachers, administrators: Arab coalition
October 29, 2018
RIYADH: Houthi militia fights education and kidnaps teachers and administrators in Yemen, according to the Arab Coalition spokesperson.
Speaking at a weekly press conference in Riyadh, Col. Turki Al-Maliki said joint forces are continuing efforts to provide assistance to those affected by the hurricane.
Yemen's eastern Mahra province was battered by cyclone Luban earlier this month, with three days of rainfall and flooding destroying property and killing livestock.
http://www.arabnews.com/node/1395851/saudi-arabia
--------
Syrian Kurds boost fight against Daesh in east after setback
October 29, 2018
BEIRUT/BAGHDAD: Syrian Kurdish special forces have joined an offensive against Daesh militants in eastern Syria, a commander said, after the fighters recovered ground from US-backed forces in a fierce counter attack.
Daesh launched the assault against the US-backed Syrian Democratic Forces (SDF) in the Deir Ezzor region near the Iraqi border on Friday. Iraqi Shiite militias reinforced their side of the frontier in response and Iraq's military said it was ready to take on any militants who tried to cross.
The Syrian Observatory for Human Rights said around 70 SDF fighters were killed in the assault which Daesh launched under cover of a sandstorm and drew on suicide bombers and female militants. The SDF says it lost 14 fighters.
A spokesman for the US-led coalition said Daesh had been able to regain some ground but the SDF would "come back with coalition support."
An SDF commander attributed the setback partly to the relative inexperience of the Arab SDF forces which have carried out much of the fighting against hardened Daesh militants in Deir Ezzor.
While the Arab fighters of the Deir Ezzor Military Council had been able to make advances to a "certain level," Daesh is resisting even more fiercely as the offensive closes in on its last pockets.
This required the deployment of special forces from the Kurdish People's Protection Units (YPG), which spearheads the SDF, and its female affiliate the YPJ.
"We were forced to draw on experienced fighters from the YPG and YPJ," the commander said. "They will be relied on to complete the campaign," the commander said.
The fighting is the latest phase of efforts by the US-led coalition and the SDF to clear Daesh from its last footholds east of the Euphrates River following last year's defeat of the group in Raqqa, its Syrian headquarters.
"This battle is give and take sometimes like most military fights and we have been saying from the beginning, this will be a difficult struggle," Col. Sean Ryan, the coalition's spokesman, said in an email to Reuters.
"Daesh is using experienced foreign fighters with nothing to lose and the SDF will come back with coalition support and continue to degrade and destroy Daesh," he added, referring to another acronym for Daesh.
UN aid chief Mark Lowcock told the UN Security Council on Monday up to 15,000 people remain within the Daesh-controlled area and around 7,000 people have in recent weeks been displaced by fighting from Hajjin, the last major stronghold of Daesh in Syria on the eastern bank of the Euphrates River.
Iraq's Popular Mobilization Forces (PMF), an umbrella group that includes mostly Shiite militias, said it had reinforced along much of the border with Syria after the SDF was pushed back by Daesh.
"The Iraqi-Syrian border was not secure before. Our operations have fixed that completely from Rabia (in the northwest) to Tanf" in the southwest near the Jordanian-Iraqi-Syria border and close to a US military base, the PMF's website quoted a senior commander as saying.
An Iraqi military spokesman confirmed the PMF, which were formally absorbed into the security forces earlier this year, had reinforced on the border. He also said the army was prepared for any attempt by militants to cross.
"We have units behind the border, including artillery, ready to deal with any attempts by terrorist elements to infiltrate ... there is also aerial surveillance," Brig. Gen. Yehia Rasool said.
Full report at:
http://www.arabnews.com/node/1395801/middle-east
--------
Pakistan
Imran's visit to China will open new chapter of cooperation: Beijing
October 30, 2018
BEIJING: The Chinese foreign ministry on Monday said that Prime Minister Imran Khan's upcoming visit to China would provide an opportunity for leaders of the two countries to open a new chapter of development of bilateral relations under new circumstances.
Mr Khan will visit China from Nov 2 on the invitation of his Chinese counterpart Li Keqiang and President Xi Jinping.
He will also attend China International Import Expo (CIIE) being held in Shanghai, Chinese foreign ministry's spokesperson Lu Kang said during his regular briefing here.
During the visit, Mr Khan would hold talks with President Xi and Premier Li, the spokesperson said.
He said the two sides would have an in-depth exchange of views on bilateral ties and cooperation and issues of common interests.
Pakistan will participate in the CIIE as the guest of honour. Mr Khan will attend the opening ceremony of the CIIE and deliver a keynote speech.
The Chinese official expressed the confidence that relations between China and Pakistan would not be affected by a change in international and the domestic situations.
https://www.dawn.com/news/1442279/imrans-visit-to-china-will-open-new-chapter-of-cooperation-beijing
--------
Nawaz asks Imran to identify those who asked for NRO
October 30, 2018
ISLAMABAD: Former prime minister Nawaz Sharif on Monday rejected a recent statement by Prime Minister Imran Khan that opposition politicians had asked for some relief under a deal like the National Reconciliation Ordinance (NRO).
While making it clear that his party had not sought any such concession, the Pakistan Muslim League-Nawaz supremo said: "Imran Khan should have the moral courage to at least disclose the names of those seeking the NRO."
Mr Sharif said he returned to the country to face cases while his wife was on her deathbed. "Mr Khan should now stop levelling baseless allegations without having any tangible proof, as it is not a good practice."
In his last week address to the nation, Mr Khan had announced that the opposition parties wanted an NRO from the Pakistan Tehreek-i-Insaf (PTI) government. He said he wanted to tell them categorically that no one would get an NRO even if they staged street protests.
"You can come out on the streets. We will give you containers and give you food. You can do whatever you want in the assemblies. [But] no one will get an NRO," he said.
Speaking to journalists after attending legal proceedings in the Flagship reference in an accountability court on Monday, the former premier, who had not addressed the media for the past few months, said: "Imran should explain who had applied for the NRO and before whom application to get an NRO was submitted."
He regretted that the National Account­ability Bureau (NAB) had dragged Leader of the Opposition in the National Assembly and PML-N president Shahbaz Sharif into baseless cases to keep him in their custody.
"NAB summoned Shahbaz in Saaf Pani case, arrested him in Ashiyana Housing case and after realising that they did not have evidence in that case, they are preparing another case against Shahbaz this time about owning assets beyond means," said Mr Sharif.
He said it was an irony that the former chief minister, who had worked day and night for the development of Punjab, was arrested and dragged into false cases.
Mr Sharif then talked about his recent meeting with Jamiat Ulema-i-Islam-Fazl chief Maulana Fazlur Rehman, but did not divulge the detail of their discussion.
"I don't want to make public what we had discussed," he said, adding that the suggestions the PML-F chief had made would first be shared with the PML-N president and other leaders.
About his silence since his release on bail, the ex-PM said that he, his daughter Maryam Nawaz and other family members were still in grief over the demise of Begum Kulsoom Nawaz. He said that it would haunt him throughout his life that he was not with his wife while she was on her deathbed.
JIT head cross-examined
Earlier, the counsel for the former prime minister, Khawaja Haris Ahmed, cross-examined Wajid Zia, head of the six-member Joint Investigation Team (JIT) that probed the Panama Papers allegations, in the Flagship reference before the accountability court.
The defence counsel put several questions to the star prosecution witness regarding the JIT's correspondence with the UAE and the Saudi governments. He also quizzed the witness over the JIT's contacts with Qatari Prince Sheikh Hamad bin Jassim bin Jaber Al-Thani.
Full report at:
https://www.dawn.com/news/1442308/nawaz-asks-imran-to-identify-those-who-asked-for-nro
--------
UAE appreciates Pakistan's role in war on terror
OCTOBER 30, 2018
The United Arab Emirates (UAE) on Monday appreciated Pakistan Army's efforts in fight against terrorism, according to a statement issued by the Inter-Services Public Relations (ISPR).
Commander of the UAE Land Forces Major General Saleh Mohammad Saleh Megren Al-Ameri called on Chief of Army Staff (COAS) General Qamar Javed Bajwa here at the GHQ, according to the ISPR. The army chief and the Emirati commander discussed regional security situation and cooperation in the fields of defence, security and military training between both the armies.
Earlier, on arrival at the GHQ, the UAE commander laid floral wreath at the Yadgar-e-Shuhada where he was presented a guard of honour.
https://dailytimes.com.pk/316356/uae-appreciates-pakistans-role-in-war-on-terror/
--------
UK MPs approach PM for arrest of boy's killers
October 30, 2018
FAISALABAD: British parliamentarians have approached Prime Minister Imran Khan through a letter for the arrest of a gang who had abducted and killed a Pakistan origin British boy Sheheryar Ahmad.
Four-year-old Sheheryar, son of Iftikhar Ahmad, had been kidnapped on August 21, 2014, and two days later the police found his body.
The boy was kidnapped from outside the house of his grandmother in the remit of D-Type Colony police.
The letter (a copy available with Dawn) sent by Stephen Kerr, said the police found the body of Sheheryar but that was not reported to Iftikhar Ahmad and his family until Jan 8, 2015.
The letter reads that in the pursuit of justice, Iftikhar and his family faced threats from a local gang. This is the same gang that is suspected to have murdered Sheheryar.
The threats include the stalking of Iftikhar's wife, Mrs Emil Jamil, as well as their two other children. Emil and her two children are now safe in the United Kingdom.
"We ask that as the PM you give the Ahmad's family a personal apology on behalf of the Pakistan government for prolonging the terrible tragedy that they have been through," the letter reads.
The letter carries the name of 67 MPs.
A police officer said the suspects had been arrested and challan submitted to the court. Now the court will decide their fate.
Full report at:
https://www.dawn.com/news/1442242/uk-mps-approach-pm-for-arrest-of-boys-killers
--------
Karbala martyrs' Chehlum being observed country-wide today
October 30, 2018
KARACHI: Chehlum of Hazrat Imam Hussain (AS) and other Karbala martyrs is being observed across the country on Tuesday with religious fervour amid tight security, to mark 40 days after the day of Ashura when Hussain (AS) and his 70 companions were a victim of Yazidi forces in 61 AH.
Processions will be taken out and congregations will also be held in every major city of the country to remember the sacrifice of Imam Hussain (AS).
Foolproof security arrangements have been made for the processions and security personnel have been deployed at every route to avoid any kind of untoward incident.
The Sindh government has imposed a ban on pillion riding in Karachi and various districts across the province for five days from October 28 to November 2ahead of Imam Hussain (RA) Chehlum as part of its security plan.
Blockades have been placed on the central route of the procession leading up to MA Jinnah Road, with containers and barbed wires from Numaish Chowrangi to Tower.
Sindh Inspector General of Police (IGP) Dr Kaleem Imam has ordered all police deputy inspector generals (DIGs) to use resources at their disposal to make sure efficient security measures are in place for congregations marking the Chehlum in all districts of the Sindh province.
All cellular phone services will also remain suspended in the following cities to counter any threats of terrorism.
PUNJAB: Lahore, Nankana Sahab, Gujranwala, Sialkot, Gujrat,Narowal, Rawalpindi, Attock, Jhelum, Sargodha, Khushab, Bhakkar, Toba Tek Singh, Multan, Sahiwal, Okara, Pakpattan, Rahim Yar Khan
KHYBER PAKHTUNKHWA: Nowshera, Kohat, Bannu, Laki Marwat, Dera Ismail Khan, Tank, Abbottabad
SINDH: Karachi, Hyderabad, Sukkur, Khairpur, Jacobabad, Shikarpur
AZAD KASHMIR: Muzaffarabad, Baagh, Haveli, Mirpur, Kotli
BALOCHISTAN: Quetta
https://www.pakistantoday.com.pk/2018/10/30/karbala-martyrs-chehlum-being-observed-country-wide-today/
--------
Iran welcomes Pakistan's mediation in Saudi-Yemen conflict
October 30, 2018
ISLAMABAD: Iranian Ambassador Mehdi Hoonardoost here on Monday welcomed Pakistan's mediatory efforts for the peaceful resolution of conflict between Saudi Arabia and Yemen.
Talking to APP here at the National Day reception at Turkish Embassy, the Iranian Ambassador said that the mediation would prove positive to ensure peace in the region. He also welcomed the recent $6.2 billion financial assistance by Saudi Arabia to Pakistan and said that "Iran would always support Pakistan whatsoever is in its best interest".
He called for the need for tangible efforts by Pakistan government for the recovery of 12 abducted Iranian border guards. He added that a terrorist group Jaishul Adl had claimed the responsibility of abduction.
Full report at:
https://www.pakistantoday.com.pk/2018/10/29/iran-welcomes-pakistans-mediation-in-saudi-yemen-conflict/
--------
Gen Bajwa, UAE commander discuss regional security, cooperation
October 30, 2018
Chief of Army Staff (COAS) General Qamar Javed Bajwa on Monday met with commander of the United Arab Emirates (UAE) Land Forces Major General Saleh Mohammad Saleh Megren Al-Ameri, according to Inter-Services Public Relations (ISPR) Director General (DG) Major General Asif Ghafoor.
According to a statement by ISPR DG, General Bajwa and Major General Saleh Mohammad discussed regional security situation and cooperation in the fields of defence, security and military training between the two armies.
Major General Asif Ghafoor also said that Major General Al-Ameri appreciated the Pakistan Army's efforts in fight against terrorism.
The gathering of the two military leaders follows a meeting between Prime Minister Imran Khan and a high-level UAE delegation by their Minister of State Sultan Ahmed Al-Jaber.
Full report at:
https://www.pakistantoday.com.pk/2018/10/29/gen-bajwa-uae-commander-discuss-regional-security-cooperation/
--------
Afghan envoy hails PM Imran's quest for open border, opposes citizenship for refugees
Tahir Khan
OCTOBER 29, 2018
Afghan Ambassador to Pakistan Omar Zakhilwal has said that his country supports Prime Minister Imarn Khan's quest for open border with Afghanistan but at the same believes that the best thing for Afghan refugees is to return to their home.
Prime Minister Khan in his victory speech had "wished" to have open borders with Afghanistan on the pattern of European Union at a time when the Pakistan Army was busy fencing its porous border in a bid to plug traditional routes for cross-border movement of militants. "That will be the best thing between Pakistan and Afghanistan if we get that," Zakhilwal, who is Afghan President Ashraf Gahni's special envoy for Pakistan, told Daily Times in an interview when asked to respond to Imran Khan's idea he floated on July 26.
But when asked as how that could be implemented when Pakistan was fencing border with Afghanistan, he said: "We oppose the fencing as it will restrict interdependency and flow of people from both sides of the border. But we appreciate PM Khan's idea and there is no doubt about that." When his attention was invited to Pakistan's stance that the fencing was part of the border management to stop infiltration of militants, the ambassador said, "I think that preventing infiltration requires more of a policy change than restricting ordinary people's lives. That is not an effective way."
He argued that change in policies would be helpful to counter the threat of militants and said both sides should support each other's peace and stability initiatives. "There is a need to promote trade, free flow of people and culture exchange that exists between the people of the two countries as barbed wires or barriers can't address the existing grievances."
When asked about Imran Khan's suggestion to grant Pakistani citizenship to Afghans refugees, he opposed the suggestion. "Our preference for Afghan refugees is to return to Afghanistan. They want to return to their country."
When asked about Kabul's stance on Afghans refugees who want to stay in Pakistan, the envoy said that the Afghan government won't push them to return. He, however, said that
Afghan refugees who had already got Pakistani citizenship would also return to Afghanistan after restoration of peace.
To another question about Pakistan's role in bringing the Afghan Taliban to negotiating table, he said that is was a shared responsibility for lasting peace in Afghanistan.
Full report at:
https://dailytimes.com.pk/315888/afghan-envoy-hails-pm-imrans-quest-for-open-border-opposes-citizenship-for-refugees/
--------
Africa
Calls for addressing root causes of extremism
29.10.2018
The African Union Commission and the U.S. mission to the union launched Countering Violent Extremism (CVE) Week on Monday in the Ethiopian capital Addis Ababa.
The CVE Week is an event the U.S. and the African Union hold every year to enhance their partnership in fighting extremism.
In Africa, Somalia and the Sahel Region are the most vulnerable to terrorist activities.
Speaking at the African Union's headquarters, U.S. Principal Deputy Coordinator for Counter-terrorism Alina L. Romanowski said: "It is not enough to say that we are against terrorism; we have to address the issues that fuel it."
She said, although the international fight against terrorism gained successes in recent years, "terrorist landscape remains more fluid, complex and diverse than ever."
According to Romanowski, the conditions terrorists exploit for recruitment and radicalization include weak or undemocratic governments, corrupt law enforcement, human rights abuses, inept justice systems, lack of community cohesion and inadequate opportunities for the youth.
https://www.aa.com.tr/en/africa/calls-for-addressing-root-causes-of-extremism/1296757
--------
Clashes in Nigeria between security forces and Shia protesters
October 30, 2018
Clashes have erupted in Nigeria between security forces and the supporters of an imprisoned Shia cleric marching in the capital, Abuja.
The army and police confronted hundreds of members of the Islamic Movement of Nigeria (IMN), the group's spokesman Ibrahim Musa told AFP news agency on Monday, amid reports of casualties.
A witness told Reuters news agency that the military shot at the protesters who were demanding the release of Ibrahim Zakzaky, a pro-Iranian cleric.
"The security agents attacked members of the IMN when they were in the procession coming into Abuja," Musa told AFP.
"People were killed definitely," said Musa, who was not at the procession and could not give a death toll.
"We don't carry arms on our procession, we don't block roads ... the security agents have decided to shed our blood," he added.
The group says Zakzaky must be freed after a court ruled his detention without charge illegal.
On Saturday, the military shot dead three Shia followers during a similar confrontation on the outskirts of Abuja.
According to the army, soldiers transporting weapons and ammunition were "attacked" by group's members - an account the IMN "categorically refutes".
The group members had established an "illegal roadblock denying motorists free passage" and when the military tried to clear the barrier they were met with "stiff opposition", army spokesperson James Myam said in a statement on Sunday.
Soldiers opened fire on the IMN members after they "pelted the troops with stones" and attempted to "cart away the ammunition and missiles the troops were escorting", the statement added.
Zakzaky has been jailed since December 2015 when security forces killed hundreds of members of his group in a crackdown on the group.
Rights groups have accused Nigeria's military of killing more than 300 IMN supporters and burying them in mass graves during the 2015 confrontation, a charge the army strongly denies.
Full report at:
https://www.aljazeera.com/news/2018/10/clashes-nigeria-security-forces-shia-protesters-181029182030426.html
--------
Nigeria military opens fire on Shi'ite Muslim protesters: Reuters witness
OCTOBER 29, 2018
ABUJA (Reuters) - Nigeria's military shot at Shi'ite Muslim protesters marching in the capital Abuja on Monday to demand the release of their religious leader, according to a Reuters witness.
Hundreds of members of the Islamic Movement of Nigeria (IMN) took part in the march for the release of Ibrahim Zakzaky, jailed since December 2015 when security forces killed hundreds of members in a crackdown on the group, estimated to have 3 million followers.
Some victims were lying on the ground on a road in the area of Kugbo on Abuja's outskirts, the witness said, adding that some had thrown stones at the military before the shooting began. The condition of those on the ground was not immediately clear.
An army spokesman did not immediately respond to phone calls seeking comment.
In April, police fired bullets and tear gas canisters during days of protests by IMN, wounding at least four.
The violent repression of IMN and the detention of its leader have drawn accusations that President Muhammadu Buhari's government is abusing human rights. The group says Zakzaky must be freed after a court ruled his detention without charge illegal.
Full report at:
https://www.reuters.com/article/us-nigeria-security/nigeria-military-opens-fire-on-shiite-muslim-protesters-reuters-witness-idUSKCN1N321S
--------
Suspected ISIS fighters attack central Libyan town
29 October 2018
At least four people were killed and seven wounded when suspected ISIS fighters attacked a town in central Libya, a military official and lawmaker said.
The raid on the desert oasis town of al-Foqha south of Jufra late on Sunday lasted several hours, during which the fighters set local government and security offices on fire, the military official, who asked not to be named, said.
Ismail al-Sharif, a lawmaker in the eastern-based House of Representatives, said the attack had probably come as revenge because some town youths had helped catch a local ISIS leader this month.
The town lies in an area marked by poor security deep in the desert where ISIS had withdrawn to after losing in December 2016 its stronghold Sirte, a city on the central coast.
Full report at:
https://english.alarabiya.net/en/News/north-africa/2018/10/29/Suspected-ISIS-fighters-attack-central-Libyan-town.html
--------
Bomber detonates explosives in Tunisia, injures nine
Oct 29, 2018
A female bomber has blown up her explosives outside a hotel in the center of the Tunisian capital of Tunis, leaving at least nine people injured, including police officers.
Witnesses said the incident took place after a 30-year-old woman detonated her explosives near a police van in Tunis's Habib Bourguiba Avenue on Monday.
Describing the attack as a "terrorist" act, Tunisian Interior Ministry spokesman Sofiene Zaag told AFP that all but one of the casualties were police.
Reports said security forces have cordoned off the area to investigate the incident.
Since the 2011 uprising that toppled dictator Zine El-Abidine Ben Ali, terrorist attacks in Tunisia have killed dozens of members of security forces and foreign tourists.
A state of emergency has been put in place in Tunisia since November 2015, after 12 presidential guards were killed in an attack in the capital.
In that year, Daesh militants carried out a deadly terrorist attack at the famed National Bardo Museum near parliament, which left 21 foreign tourists and a policeman dead.
In June the same year, Daesh militants attacked the coastal holiday resort of Sousse, killing 38 foreign tourists, 30 of them from the UK.
The North African country has been hailed for its relatively smooth democratic transition since the revolution, but it is still experiencing economic and political turbulence.
The terrorist attacks have decimated Tunisia´s crucial tourism sector, which make up seven percent of gross domestic product.
Full report at:
https://www.presstv.com/Detail/2018/10/29/578464/Tunis-female-bomber
--------
South Asia
Suicide attack on Kabul election workers kills one, wounds six
October 29, 2018
A suicide bomber targeting the headquarters of Afghanistan´s Independent Election Commission (IEC) on Monday killed at least one person and wounded six, officials said, in the latest violence to strike the controversial poll.
There was no immediate claim of responsibility for the attack, which comes as thousands of ballot boxes from around the war-torn country are delivered to the IEC´s heavily fortified compound in Kabul following chaotic and deadly legislative elections.
One police officer was killed when the militant, who was on foot, blew up near a vehicle carrying IEC employees as it entered the base at 8:00am.
Four election workers and two other police officers were also wounded in the blast.
The attacker was "identified and gunned down by police before reaching his target", Kabul police spokesman Basir Mujahid told reporters.
"The wounded were taken to hospital and are in a stable condition."
Millions of Afghans risked their lives to vote in the long-delayed elections that were held over two weekends.
The ballot, which the Taliban had vowed to attack, was marred by lengthy delays at polling centres, allegations of fraud, and deadly violence, with hundreds killed or wounded in scores of attacks.
IEC figures show roughly 4.2 million out of the nearly nine million people registered to vote actually cast a ballot.
Many suspect a significant number of those on the voter roll were based on fake identification documents that fraudsters planned to use to stuff ballot boxes.
The parliamentary election, which was more than three years late and the third since the fall of the Taliban in 2001, is seen as a dry run for next year´s presidential vote.
It is also considered an important milestone ahead of a UN meeting in Geneva next month where Afghanistan is under pressure to show progress on "democratic processes".
Ballot complaints
More than 2,500 candidates, including mullahs, journalists and sons of warlords, are competing for 249 seats in the lower house.
The IEC is scheduled to release preliminary results on November 10.
But problems with untested biometric verification devices that were introduced at the eleventh hour and missing or incomplete voter rolls are likely to trigger debate over which votes are valid.
The IEC previously said votes not biometrically verified would be rejected.
The Electoral Complaints Commission has received thousands of complaints following three days of voting in 33 out of 34 provinces.
On Saturday voters in Kandahar — the southern birthplace of the Taliban and a province notorious for ballot stuffing — went to the polls.
While preparations had been "better" in Kandahar compared with the previous weekend, hiccups with biometric devices and voter lists persisted.
Voting in the province bordering Pakistan was postponed following the October 18 assassination of General Abdul Raziq, an anti-Taliban strongman seen as a bulwark against the insurgency in the south, amid fears of violence flaring up.
Raziq was among three people killed in a brazen insider attack on a high-level security meeting in Kandahar city that was attended by General Scott Miller, the top US and NATO commander in Afghanistan.
Miller escaped unhurt, but US Brigadier General Jeffrey Smiley was among 13 people wounded in the shooting claimed by the Taliban.
https://nation.com.pk/29-Oct-2018/suicide-attack-on-kabul-election-workers-kills-one-wounds-six
--------
Former Bangladesh PM Khaleda Zia sentenced to seven years in jail in graft case
October 29, 2018
Bangladesh's ailing former prime minister Khaleda Zia suffered a major setback on Monday when a court here jailed her to seven years in a second corruption case for embezzling millions from a charitable trust in her late husband's name, ahead of general elections. Zia, 73, is already behind bars after being handed a five-year term in February in another case related to embezzlement of funds of an orphanage named after her husband late president Ziaur Rahman. The latest sentence, which comes ahead of general elections in December, is related the Zia Charitable Trust. According to the case, Zia and three others abused their power and collected USD 375,000 for the trust from unknown sources.
Judge Mohammad Akhtaruzzaman announced the verdict from the temporary premises of the court at the old central prison at Dhaka's Nazimuddin Road. The final trial proceedings in the case went ahead in the absence of Zia, the leader of the Bangladesh Nationalist Party (BNP), after the prison authorities repeatedly failed to bring her to the court. She had recently complained to the court that she was losing feeling in her hand and in a leg. The Zia Charitable Trust graft case was filed by the Anti-Corruption Commission in 2011.
Zia's former political affairs secretary Harris Chowdhury, his former aide and former Bangladesh Inland Water Transport Authority acting director Ziaul Islam Munna and former Dhaka mayor Sadeque Hossain Khoka's personal secretary Monirul Islam Khan are the three others convicted in the case. "All the convicts were also fined Taka 10 lakh (USD 11,784)," chief prosecution lawyer Mosharraf Hossain Kajol said. "The judge simultaneously ordered confiscation of the piece of land in favour of the state," Kajol said.
BNP secretary general Mirza Fakhrul Islam Alamgir described the verdict as a "politically motivated judgment" and said the party would stage a nationwide protest against it. "BNP is rejecting this judgment," Alamgir said. Earlier in the day, Bangladesh's Supreme Court cleared the way for a lower court to deliver its verdict in the case by rejecting Zia's plea to halt the proceedings.
The apex court rejected a leave-to-appeal petition filed by Zia challenging the High Court judgement that allowed a lower court to continue trial in the graft case in her absence. The court on September 20 decided to continue the trial inside the old Dhaka central jail in Zia's absence. The former premier on September 27 filed a revision petition with the High Court (HC) challenging the court's September 20 order. On October 14, the HC rejected the revision petition of Zia and cleared the way for the trial court to continue with its proceedings.
Full report at:
https://www.financialexpress.com/world-news/former-bangladesh-pm-khaleda-zia-sentenced-to-seven-years-in-jail-in-graft-case/1365040/
--------
Pirojpur 1 constituency: BNP-Jamaat quiet as AL leaders fight for nomination
October 30th, 2018
Every nomination seeker from the Awami League and BNP are confident about winning the election
People seeking nominations from the Awami League are campaigning and making donations to draw the attention of the party's central leaders and the voters. But nomination seekers from the BNP and Jamaat-e-Islami are somewhat quiet.
The Pirojpur 1 constituency, comprised of Pirojpur Sadar, Nazirpur and Nesarabad upazilas, has 417,947 voters.
The Awami League candidates
Nomination seekers from the ruling party include Awami League's central committee Law Affairs Secretary and also a former secretary of Bangladesh Supreme Court Bar SM Rezaul Karim, incumbent Member of Parliament and the party's district unit chief AKMA Awal, and Pirojpur municipality mayor and the party's district unit Vice-President Md Habibur Rahman Malek.
Apart from them, former parliament member Shah Alam, former Chhatra League general secretary Ishaq Ali Khan Panna, Awami Swechchhasebak League's Organizing Secretary Sazzad Sakib Badshah, and Sheikh Anny Rahman, the wife of Bangabandhu Memorial Trust member secretary Hafizur Rahman Tokon, are also seeking nomination.
Malek is Awal's younger brother. He used to provide financial assistance and manpower to Awal, but a dispute over the leasing of Pirojpur ferry terminal soured their relationship two years ago. It was after this development that Malek started becoming active in politics.
Malek said he is confident about victory if he gets the nomination but will work for whomever the party picks to run in the election.
Awal became an MP by defeating Jamaat stalwart and war criminal Delwar Hossain Sayedee in the 2008 election. He retained his seat in 2014.
The MP has rejected all allegations against him, claiming that people envious of his success are conspiring against him. He, too, is optimistic about victory in the next national election.
Rezaul Karim said he has been involved with Awami League's student front Chhatra League since his student days and had been incarcerated during the regimes of HM Ershad and Ziaur Rahman.
He said he was the lawyer of Awami League General Secretary Obaidul Quader during the caretaker government, and was the counsel on the Bangabandhu killing case and the jail killing case. The lawyer said he has also provided legal aid to people tortured during the BNP-Jamaat coalition government.
"I will seek nomination from Pirojpur 1 constituency and am confident about winning the election. If I do not get picked, then I will work for the party's chosen candidate," he said.
Anny Rahman said she has been publicizing the government's development activities. "I will ask the party to nominate me because I am confident that I will be victorious if I contest the election as the Awami League representative," she said.
6 candidates in BNP, Jamaat goes with Sayedee's son
Six people are trying to get the BNP's nod to contest in the election from this constituency. They are BNP's Pirojpur unit chief Gazi Nuruzzaman Babul, the party's central executive committee member and district unit Vice-President Eliza Zaman, district unit Vice-President Fakhrul Alam, Nazirpur Upazila Chairman and the party's district unit Senior Vice-President Nazrul Islam Khan, BNP's Pirojpur unit General Secretary Alamgir Hossain, and district unit member barrister Maj (retd) M Sarowar Hossain.
All of them have separately said they were confident about winning the seat if they were picked. They also said they would work for the party candidate to ensure victory.
Jamaat, meanwhile, has picked war criminal Delwar Hossain Sayedee's son Shamim Bin Sayedee to contest in the election from Pirojpur 1 constituency. Shamim, involved with Jamaat's Dhaka South unit, is a resident of Indurkandi Upazila under the Pirojpur 2 constituency.
"It is the party's decision," he said, when asked why he was going to contest in the election from Pirojpur 1. "My father is a two-time MP. I am confident that the people will vote for me because the area has seen much development under my father."
Meanwhile, Jatiya Party (Zafar faction) Secretary General and former minister Mostofa Jamal Haider said he wants to contest from this constituency.
Full report at:
https://www.dhakatribune.com/bangladesh/election/2018/10/30/pirojpur-1-constituency-bnp-jamaat-quiet-as-al-leaders-fight-for-nomination
--------
Jamaat-e-Islami stripped of right to contest in Bangladesh elections
2018-10-29
Five years after the High Court ruled that the Jamaat-e-Islami's status as a political party be revoked, the Election Commission has executed the orders in a gazette.
The gazette got delayed because of the delay in getting the full verdict, EC Secretary Helal Uddin Ahmed told bdnews24.com on Monday.
The commission could not publish the gazette until now also because an appeal against the High Court orders was being heard, he said.
"Now everything is completed. We've published the gazette after reviewing the full verdict," he added.
The gazette dated Sunday says the party's registration has been cancelled following the Representation of the People Order as ordered by the court.
The EC started registering the political parties for the first time during the 2006-07 military-controlled caretaker government before the 2008 elections.
Jamaat, which had representation in parliament, got registered along with 37 other parties at the time.
Only the registered parties are allowed in elections following the law.
A total of 25 people, including Bangladesh Tariqat Federation's Secretary General Syed Rezaul Haque Chandpuri, Jaker Party's Secretary General Munshi Abdul Latif and Sammilita Islami Jote's President Ziaul Hasan, moved the court challenging Jamaat's registration in January, 2009.
The petition asked for orders to cancel Jamaat's registration by the EC for the party's failure to meet RPO conditions.
Before the 10th parliamentary elections, the High Court on Aug 1, 2013 declared Jamaat's registration by the EC void and illegal, barring it from contesting in the 2014 elections.
The 20-party BNP-Jamaat alliance boycotted the elections as well demanding a nonpartisan government during polls.
Though barred from contesting in general elections, several Jamaat-backed candidates took part in local government elections, but not on party tickets.
Last year, the EC dropped Jamaat's logo 'weighing scale' from the electoral symbols following Supreme Court orders.
Jamaat at a glance
Arguably the largest Islamist organisation in the sub-continent, Jamaat started its journey on Aug 26, 1941 under the leadership of Syed Abul A'la Moududi with the name Jamaat-e-Islami Hind.
It was briefly banned in Pakistan in 1964 for opposing the Muslim Family Act.
The party opposed the separation of East Pakistan as Bangladesh was known then. It sternly positioned itself against the Bangalis' struggle for freedom.
It was banned for another spell after religion-based politics was outlawed in Bangladesh after independence.
Military rules followed the assassination of the Father of the Nation Bangabandhu Sheikh Mujibur Rahman in 1975. Military ruler General Ziaur Rahman, who founded the BNP, allowed Jamaat to enter politics in Bangladesh.
Shortly afterwards, its chief Ghulam Azam returned in 1979 and took the helm.
After the fall of HM Ershad's autocratic regime, the party bagged 18 seats in the 1991 general elections and rode to power as a partner of the BNP.
It secured 17 seats in the 2001 polls and two of its leaders served as ministers in Khaleda Zia's cabinet.
Full report at:
https://bdnews24.com/politics/2018/10/29/jamaat-e-islami-stripped-of-registration-to-do-politics-in-bangladesh
--------
3 ISIS Khurasan members killed in Haska Mina district of Nangarhar
Oct 29 2018
At three members of the Islamic State of Iraq and Syria Khurasan (ISIS-K) were killed in an airstrike in Haska Mina district of Nangarhar province.
The provincial government media office in a statement said Sunday that the airstrike was carried out by the U.S. forces using unmanned aerial vehicles, drones.
The statement further added that the ISIS Khurasan group members were targeted in Shinkai and Sheikh Qala areas of the district.
A number of light and heavy weapons belonging to the terror group were also destroyed during the airstrike, the provincial government added in its statement.
The Afghan forces also discovered and defused two improvised explosive devices planted by the militants in Behsud and Kuz Kunar districts, according to the local officials.
Full report at:
https://www.khaama.com/3-isis-khurasan-members-killed-in-haska-mina-district-of-nangarhar-02648/
--------
Muslimyar reacts to the alleged remarks of U.S. Senator regarding Durand Line
Oct 29 2018
The Afghan Senate House, Meshrano Jirga, chairman Fazal Hadi Muslimayar reacted to the alleged remarks of a U.S. Senator regarding the recognition of Durand Line.
In his speech during the general session of the Senate House on Sunday, Muslimyar said condemned the alleged remarks by the U.S. Senators for conditioning their aid to Afghanistan subject to the recognition of Durand Line as formal border between Afghanistan and Pakistan.
Muslimyar further added that no one has the right to decide in this regard, emphasizing that the issue relates to the Afghan nation and only Afghans would take a decision in this regard.
This comes as a number of newspapers recently reported that a U.S. Senator Bradley Sherman has asked Afghanistan to recognize Durand Line as the formal border between Afghanistan and Pakistan.
Full report at:
https://www.khaama.com/muslimyar-reacts-to-the-alleged-remarks-of-u-s-senator-regarding-durand-line-02647/
--------
Militants suffer heavy casualties in separate airstrikes of Afghan, U.S. forces
Oct 29 2018
At least eight militants were killed or wounded during the airstrikes conducted by the Afghan forces in northern Kunduz province of Afghanistan.
The 209th Shaheen Corps of the Afghan Military in the North in a statement said the latest airstrikes were carried out in the vicinity of Dasht Archi district.
The statement further added that the hideouts of the anti-government armed militants were targeted in Bandar area of the district.
According to 209th Shaheen Corps, at least five militants were killed and three others were critically wounded during the same airstrikes.
Two hides of the militants were also destroyed during the airstrikes, the 209th Shaheen Corps added in its statement.
The anti-government armed militant groups including Taliban militants have not commented regarding the airstrikes so far.
The security situation in northern Kunduz province has deteriorated sharply during the recent years amid rampant insurgency led by the Taliban and other militant groups.
Full report at:
https://www.khaama.com/militants-suffer-heavy-casualties-in-separate-airstrikes-of-afghan-u-s-forces-02646/
--------
Southeast Asia
Shariah laws to be streamlined nationwide, minister says
29 October 2018
KUALA LUMPUR, Oct 29 — Minister in the Prime Minister's Department Datuk Seri Dr Mujahid Yusof Rawa told Parliament today that efforts were being made by the government to streamline and coordinate Shariah laws nationwide.
Towards this end, he said, a study was being conducted on the need to amend Shariah laws that were being enforced in the respective states to ensure they were still relevant without setting aside Islamic law and the principles of justice.
"Apart from that, a study on the amendment and streamlining of laws on Shariah crime is also carried out because the laws have yet to be coordinated in terms of their offences and punishment.
"The incoordination can leads to injustice," he said in response to a question from Ahmad Tarmizi Sulaiman (PAS-Sik) on efforts by the government to coordinate Shariah laws in the country.
Mujahid said a study on the punishments under Shariah criminal law was conducted to ensure they were more rehabilitative, apart from retributive, such as imposing community service.
He said the government was also formulating a law for Shariah lawyers to be enforced in the Federal Territories and as a model for the states.
In the process of coordinating the laws, he said, the government, through the Technical Committee on Shariah and Civil Laws under the Malaysian Islamic Development Department (Jakim) would discuss the matter with the state governments.
"Laws that are proposed for coordination will be tabled at the meeting of the National Council for Islamic Religious Affairs and then presented to the Conference of Rulers for consent," he added.
He said the effort would require the cooperation of the state governments. — Bernama
https://www.malaymail.com/s/1687807/shariah-laws-to-be-streamlined-nationwide-minister-says
--------
Reforming The Faith: Indonesia's Battle For The Soul Of Islam
By James M. Dorsey
October 30, 2018
Nahdlatul Ulama, with 94 million members the world's largest Sunni Muslim movement, is bent on reforming Islam.
The powerful Indonesian conservative and nationalist group that operates madrassahs or religious seminaries across the archipelago has taken on the ambitious task of reintroducing ijtihad or legal interpretation to Islam as it stands to enhance its political clout with its spiritual leader, Ma'ruf Amin, slated to become vice president as the running mate of incumbent President Joko Widodo in elections scheduled for next April.
In a 40-page document, argued in terms of Islamic law and jurisprudence and scheduled for publication in the coming days, Nahdlatul Ulama's powerful young adults wing, Gerakan Pemuda Ansor, spells out a framework for what it sees as a humanitarian interpretation of Islam that is tolerant and pluralistic in nature.
The initiative is designed to counter what many in Nahdlatul Ulama, founded in 1926 in opposition to Wahhabism, see as Islam's foremost challenge; the rise of radical Islam. The group that boasts a two million-strong private militia defines as radical not only militants and jihadists but any expression of political Islam and asserts that it is struggling against the weaponization of the faith.
While it stands a good chance of impacting Islamic discourse in Indonesia, the world's largest Muslim nation, it is likely to face an uphill battle in making substantial headway beyond Indonesia despite its links to major Muslim organizations in India, the United States and elsewhere. It also could encounter opposition from the group's more conservative factions.
Mr. Amin, the vice-presidential candidate, is widely viewed as a conservative who as issued fatwas against minorities, including one in 2005 denouncing Ahmadis, a sect widely viewed by Muslims as heretics. Violent attacks on Ahmadis by extremists have since escalated with mob killings and the razing to the ground of their homes.
Mr. Amin is also believed to have played a key role in last year's mass protests that brought down Jakarta governor Basuki Tjahaja Purnama, aka Ahok, an ethnic Chinese Christian, and led to his sentencing to two years in prison on charges of blasphemy against Islam.
The vice-presidential candidate appears to have since mellowed. In a recent speech in Singapore hosted by the S. Rajaratnam School of International Studies (RSIS), Mr. Amin projected himself as an advocate of an Islam that represents a middle way and stands for balance, tolerance, egalitarianism, non-discrimination, consultation, consensus and reform.
Mr. Amin's speech appeared to be not out of sync with the reformist thinking of Ansor.
To achieve its goal, Ansor hopes to win Middle Eastern hearts and minds in a roundabout way by targeting European governments as well as the Trump administration in a bid to generate pressure on Arab regimes to promote a tolerant, pluralistic form of Islam rather than use the faith to garner legitimacy and enhance regional influence.
To further that goal, Yahya Staquf, a diminutive, soft-spoken general secretary of the group's Supreme Council and a member of Mr. Widodo's presidential advisory council, met in June with US Vice President Mike Pence and Reverend Johnnie Moore.
Mr Moore is an evangelist who in May was appointed by President Donald J. Trump as a member of the board of the US Commission on International Religious Freedom.
Mr. Staquf also paid in June a controversial visit to Israel where he met with Prime Minister Benyamin Netanyahu against the backdrop of Mr. Trump's recognition of Jerusalem as the capital of Israel.
Mr. Netanyahu's office trumpeted the meeting as an indication that "Arab countries and many Muslim countries (are) getting closer to Israel" despite Israel's policy towards the Palestinians becoming with US backing more hard line. The meeting served to strengthen Nahdlatul Ulama's relations with Mr. Trump's evangelist, pro-Israel supporters.
While making significant inroads in the West, Nahdlatul Ulama risks being identified with autocrats like United Arab Emirates crown prince Mohammed bin Zayed who strives to depoliticize Islam as a means of ensuring the survival of his regime. It also risks being tainted by its tactical association with Islamophobes and Christian fundamentalists who would project their alliance as Muslim justification of their perception of the evils of Islam.
Nahdlatul Ulama's association could further bolster the position of evangelists locked into battle with expanding Islam along the 10th parallel, the front line between the two belief systems, with Nigeria and Boko Haram, the West African jihadist group, at its core.
If successful, Nahdlatul Ulama's strategy could have far-reaching consequences. For many Middle Eastern autocrats, adopting a more tolerant, pluralistic interpretation of Islam would mean allowing far greater social and political freedoms. That would likely lead to a weakening of their grip on power.
Nahdlatul Ulama's credibility in pushing a tolerant, pluralistic interpretation of Islam rides in part on its willingness to subdue its own demons, first and foremost among which sectarianism manifested in deep-seated prejudice against Muslim sects, including Shiites and Ahmadis. That may be too tall an order in a country in which ultra-conservative Islam remains a social and political force.
As a result, Nahdlatul Ulama's battlefields are as much at home as they are in the larger Muslim world. Proponents of the reform strategy chose to launch it under the auspices of the group's young adults wing in an admission that not all of Nahdlatul Ulama's members may embrace it.
Moreover, the group's meetings at times coincide with clashes between its militia and Hizb-ut-Tahrir, a banned non-violent organization that seeks to re-establish the caliphate.
The most recent clash occurred last week on the eve of a meeting in Yogyakarta of the Ansor-sponsored Global Unity Forum convened to stop the politicization of Islam. Attendees included Mr. Moore as well as Imam Umer Ahmed Ilyasi of the All India Imam Organization and imams from the United States.
Beyond militants in Indonesia, Nahdlatul Ulama's foremost rival is Turkey.
It is a battle that is shaped by the need to counter the fallout of a $100 billion, four decades-long Saudi public diplomacy campaign that enjoyed tacit Western support to anchor ultra-conservative Sunni Muslim Islam in communities across the globe in a bid to dampen the appeal of post-1979 Iranian revolutionary zeal. The campaign created a breeding ground for more militant and violent strands of the faith.
The battle for the soul of Islam finds it most geopolitical expression in the rivalry between Saudi Arabia and Turkey as well as Iran. The battle with Turkey has come to a head with the killing earlier this month of journalist Jamal Khashoggi while visiting the kingdom's consulate in Istanbul to certify his divorce papers.
Turkish President Recep Tayyip Erdogan drove the point home by exploiting the Khashoggi crisis to advise religious leaders that "Turkey with its cultural wealth, accretion of history and geographical location, has hosted diverse faiths in peace for centuries, and is the only country that can lead the Muslim world."
If Nahdlatul Ulama couches its position in terms of Islamic law and jurisprudence, Mr. Erdogan's framework is history and geopolitics. "The Turkish president's foreign policy strategy aims to make Muslims proud again. Under this vision, a reimagined and modernized version of the Ottoman past, the Turks are to lead Muslims to greatness," said Turkey scholar Soner Cagaptay.
Full report at:
https://www.eurasiareview.com/30102018-reforming-the-faith-indonesias-battle-for-the-soul-of-islam-analysis/
--------
Malaysia's 310,000 homosexuals just an early estimate, Jakim officer says
30 October 2018
KUALA LUMPUR, Oct 30 ― A senior officer from the Malaysian Islamic Development Department (Jakim) today sought to play down his earlier remark on the current homosexual population in the country, where the minority demographic group still faces discrimination.
Mohd Izwan Md Yusof from the Malaysian Islamic Development Department (Jakim) clarified that his reported remark that there are 310,000 homesexuals in the country was only a "preliminary" figure and "not been finalised by the Ministry of Health Malaysia as quoted".
The senior assistant director of Jakim's family, social and community development division's social unit, also gave an interpretation of "gay".
"Gay according to the definition by Blanch Consulting, is a man that has same-sex attraction from the sexual, romantic and physical aspects.
"In relation to that, someone labelled gay is not necessarily someone who has carried out same-sex relations whether it is homosexual or sodomy. This group is just considered to have same-sex attraction," he said in a statement.
Mohd Izwan said Jakim is committed to continue carrying out efforts to explain and give guidance through the "Mukhayyam" programme to provide "spiritual intervention" for those in the lesbian, gay, bisexual, and transgender (LGBT) community who wish to have guidance.
"At the same time, Jakim calls on society to strengthen the family institution together and monitor the behaviour of their children to educate and provide religious understanding as best as they can," he added.
The Mukhayyam programme is a programme by Jakim to rehabilitate those in the LGBT community, with Mohd Izwan yesterday saying that 1,450 people had received assistance via this programme with some going on to get married, while some had changed their dressing and some are controlling themselves from returning to that lifestyle.
Mohd Izwan yesterday said at a seminar that there were 173,000 homosexuals in Malaysia in 2013, reportedly revealing that the numbers have gone up to 310,000 this year.
He had also said that the transgender population in Malaysia had increased from 10,000 in 1988 to 30,000 this year.
Full report at:
https://www.malaymail.com/s/1688044/malaysias-310000-homosexuals-just-an-early-estimate-jakim-officer-says
--------
Mideast
Iran backlash after top cleric meets reformists
29 October 2018
A hardline member of Iran's powerful Guardian Council was facing a backlash on Sunday after criticizing one of the country's top religious figures for meeting with reformist politicians.
The dispute reflects the diversity of views within Iran's religious elite and the fact that, well after the 1979 Islamic revolution, some senior Shiite clerics fiercely defend their independence.
The controversy started a fortnight ago when 90-year-old Grand Ayatollah Musa Shobairi Zanjani -- considered one of the highest religious authorities and a "marja" (or "source of emulation") for huge numbers of Shiite Muslims -- met with ex-president Mohammad Khatami and other members of the reformist camp.
Khatami was president from 1997 to 2005 but has since fallen foul of the system, especially after supporting mass protests in 2009, and is banned from leaving the country or appearing in official media.
That meeting drew a shocked response from another leading ayatollah, Mohammad Yazdi, who leads an influential conservative clerical association in Qom, regarded as Iran's religious capital.
Yazdi is one of supreme leader Ayatollah Ali Khamenei's appointees to the Guardian Council, a supervisory body that has a veto over all parliamentary laws.
"Following the publication of pictures on social media of you alongside some problematic individuals who have no respect for the system of the Islamic republic and the supreme leader, I hereby state that this issue has caused concern and upset among followers and in the seminaries," Yazdi wrote in an open letter published by the Jamaran news site.
"I would like to remind you that your status and respect are tied to your respect for the ruling Islamic system, the leadership and the status of marjas... and take steps to ensure such matters are not repeated again," he added.
To criticize a grand ayatollah in this way was considered beyond the pale for many observers.
Abbas Salehi, minister of Islamic culture and guidance, tweeted late Saturday: "We must be careful not to weaken the pure marjas under the banner of preserving the system, and not spoil Shiite historical heritage."
At least one ayatollah resigned from Yazdi's religious association in protest, while another, Ayatollah Hadavi Tehrani, said the "impolite" letter to Zanjani had caused "sadness and sorrow".
Responses continued to come from many senior officials and commentators on Sunday.
"We Shiites are proud that our noble marjas have never gotten permission from any power but glorious God and have not been bound by the constraints of any political and economic bodies," tweeted Elisa Hazrati, a member of parliament and managing director of the reformist Etemad newspaper.
https://english.alarabiya.net/en/features/2018/10/29/Iran-backlash-after-top-cleric-meets-reformists.html
--------
Palestinian killed by Israeli fire in border clashes
29 October 2018
A Palestinian was killed by Israeli fire in fresh clashes on the Gaza border Monday, the health ministry in the Hamas-run enclave said.
Mohammed abu Abada, 27, was shot in the chest in protests along the border near Beit Lahia in northern Gaza, the health ministry said.
https://english.alarabiya.net/en/News/middle-east/2018/10/29/Palestinian-killed-by-Israeli-fire-in-border-clashes.html
--------
Mother of Gaza teen killed in airstrike denies militant ties
29 October 2018
The mother of a Gaza teen killed in an Israeli airstrike the previous day is denying that her son had any links to militants.
Three teens were killed in Sunday's strike. The Israeli military said they had attempted to damage the border fence and "were apparently involved in placing an improvised explosive device" near it.
But on Monday, Aisha Abu Daher said her 14-year-old son Abdel-Hamid had "nothing to do with resistance."
Palestinian paramedics say the three bodies were found 200 meters (yards) from the fence.
The Gaza-Israel border area has been volatile for months as the enclave's Hamas rulers organize weekly protests there against a decade-long Israeli blockade.
Full report at:
https://english.alarabiya.net/en/News/middle-east/2018/10/29/Mother-of-Gaza-teen-killed-in-airstrike-denies-militant-ties.html
--------
Yemeni army advances in Hodeidah, seizes significant territory in Saada
30 October 2018
Yemeni armed forces continue to advance in battles against the Houthi militias on several fronts in the west coast, where they inflicted heavy losses on the Houthis.
Sources said on Monday that the battles, which are aided by the Arab coalition fighter jets, extended to neighborhoods north of the Hodeidah Airport and the university's surrounding.
The Giants' Brigade made incursions in the area of Kilo 16 at the eastern entrance of Hodeidah and deterred Houthi attacks.
The Arab coalition fighter jets also launched airstrikes on the Houthi militias' posts in the areas of Kilo 16 and Kilo 10 east of Hodeidah killing around 30 Houthi fighters and injuring dozens others.
Meanwhile, in Saada, the Yemeni army's Orouba Brigade seized control over significant heights on Almalaheeth front, the center of Al Dhaher District, northwest of Saada.
This comes after violent battles which the army fought against the Houthis in the area.
Orouba Brigade commander Major General Abdulkarim al-Saadi said his forces, aided by the coalition, managed to cut off the militia route of supplies that links between Almalaheeth and Marran Mountains, the latter being the stronghold of Houthi leader Abdulmalik al-Houthi.
Sources added that the army also deterred Houthi's attempts to infiltrate army posts and restore posts they previously held.
Full report at:
https://english.alarabiya.net/en/News/gulf/2018/10/30/Yemeni-army-advances-in-Hodeidah-seizes-significant-territory-in-Saada.html
--------
Houthis disguise mines as palm tree trunks near Yemen's Hodeidah
29 October 2018
Houthi militiamen, who have often planted mines without distinguishing between military and civil targets, have recently planted mines that resemble the trunks of palm trees.
The media center of the Giant's Brigade of the Yemeni Army said that the Houthis planted these mines which look like tree trunks in the plantations of citizens near Kilo 16 in Al Hali district in Hodeidah, adding that engineering teams have discovered them and deactivated them.
In a statement posted on its website on Saturday, it added that these mines were planted in palm plantations after they were developed by Iranian expertise in a shape of palm trunks.
The Houthis have planted thousands of mines and explosives in the western coast killing hundreds of people.
A report by a human rights office in Al Jawf Governorate published on Sunday said the mines which the Houthis planted in Al Jawf have killed and injured more than 713 people, noting that the number of those killed is 183 and of those deformed is over 300. Al Jawf is hence the fourth area in terms of the highest number of victims by Houthi mines in Yemen.
The report also said that the Houthis intentionally planted hundreds of mines in the houses of citizens, roads and farms and turned public and private facilities into military zones.
Full report at:
https://english.alarabiya.net/en/News/gulf/2018/10/29/Houthis-disguise-mines-as-palm-tree-trunks-near-Yemen-s-Hodeidah.html
--------
Palestinians revive calls to end security ties with Israel
October 30, 2018
RAMALLAH, West Bank: The Palestine Liberation Organization's mini-parliament has called for ending security coordination with Israeli forces in the West Bank, but says implementation is up to Palestinian President Mahmoud Abbas.
Late on Monday, at the end of a two-day gathering, the Palestinian Central Council also called for suspending recognition of Israel. Abbas, who controls the council, has not implemented such decisions in the past.
Security cooperation, largely aimed at Abbas' rival, the Islamic militant Hamas, is unpopular among Palestinians, but has survived repeated crises and years of deadlock in talks with Israel on setting up a Palestinian state. Abbas' self-rule government in parts of the West Bank would likely collapse if he cuts ties with Israel.
Full report at:
http://www.arabnews.com/node/1396216/middle-east
--------
North America
Quebec's Muslim community: 'Madness of men once again struck our Jewish neighbours'
October 29, 2018
Amidst the outpouring of support for residents of Squirrel Hill, PA., Quebec's Muslim community has also extended a hand to their Jewish neighbours.
The Islamic Cultural Centre of Quebec expressed heartfelt condolences in an open letter following the murder of eleven congregants at the Tree of Life synagogue during a naming ceremony held on Saturday.
"The madness of men once again struck our Jewish neighbours of Pittsburgh and human brothers who were only praying in a sacred and untouchable place, which is the synagogue," the CCIQ wrote in the statement, issued Sunday.
"To remove the lives of 11 Jewish people in their place of prayer and injure many others by this hateful and anti-Semitic person, is reprehensible and unacceptable in the 21st century," it reads.
The suspect, Robert Gregory Bowers traded gunfire with police during Saturday's massacre and was shot multiple times. He underwent surgery and survived.
Bowers is due in federal court Monday afternoon. Authorities say he expressed hatred toward Jews during the rampage and in later comments to police.
For members of the Muslim community, the events in Pittsburgh echoed an act of terror that took place closer to home.
Centre co-founder Boufeldja Benabdallah says his first response was to contact members of the Quebec City Jewish community -- a small group that came to the aid of the local Muslim community when it was attacked.
Six worshippers were killed and 19 others were injured in the January 2017 attack at the Quebec City mosque.
"Our mosque in Quebec City experienced on January 29th, 2017, the same tragedy that took the lives of six fathers and wounded several people," the statement reads. "Today we understand very well the pain that Jewish families feel, and we are wholeheartedly with them."
During a vigil held outside the Montreal Holocaust Museum over the weekend, Samer Majzoub of the Canadian Muslim Forum said the Pittsburgh attack opens up old wounds for Quebecers.
"It revived the sorrow and misery of the Quebec shooting in the mosque," he said. "People who were shot because of their faith."
Fundraising campaigns are quickly pulling together relief after the Pittsburgh synagogue shooting, including at least one organized by Muslim Americans.
A crowdfunding campaign called Muslims Unite for Pittsburgh Synagogue has raised more than $90,000 for survivors and families.
Muslims in the Montreal area have also reached out to the Jewish community through small, compassionate gestures.
Shaare Zedek, a synagogue in NDG, received a single rose with a handwritten card, signed "your Muslim neighbours."
https://montreal.ctvnews.ca/quebec-s-muslim-community-madness-of-men-once-again-struck-our-jewish-neighbours-1.4153611
--------
Alberta Human Rights Commission seeks to appeal Muslim school prayer spat at Supreme Court
October 30, 2018
CALGARY — The Alberta Human Rights Commission is hoping the Supreme Court will hear its appeal in the case of two Calgary Muslim students who were not allowed to pray at a non-denominational private school.
Sarmad Amir and Naman Siddiqui, who were in Grade 9 and 10 at Webber Academy in 2011, told the human rights commission that praying is mandatory in their Sunni religion. They said the school told them their praying, which requires bowing and kneeling, was too obvious and went against the academy's non-denominational nature.
The human rights tribunal ruled the school's policy was too rigid and it could have accommodated the students without violating its secular status.
That decision was upheld by the Alberta Court of Queen's Bench. The school then took the matter to the Alberta Court of Appeal.
It overturned the commission's original decision ordering the school to pay a $26,000 fine for discriminatory behaviour and said another hearing was required because Webber Academy raised new issues under the Charter of Rights and Freedoms.
Webber Academy president Neil Webber said Monday the human rights commission is seeking leave to appeal the decision.
"We should know I think by Christmas whether or not they have been successful. It took them quite a while to make the decision," said Webber.
"We doubt that they will be successful. My information from our lawyer and also from a former member of the Supreme Court is that roughly 90 per cent of applications for leave … are turned down."
No one at the Alberta Human Rights Commission immediately responded to a request for comment.
Webber said he hopes to preserve the secular nature of the school, which has about 1,000 students. He said the school has always made it clear to incoming students and their parents there is no space in the school for praying. It has received only two requests for prayer space in its 22 years of operations and both were denied.
He said even if the Supreme Court refuses to hear an appeal, the matter is far from over.
Full report at:
https://montrealgazette.com/news/religion/alberta-human-rights-commission-seeks-to-appeal-muslim-school-prayer-spat-at-supreme-court/wcm/0c1e5f38-d601-4251-a19c-310a27fbc19f
--------
Trump paves way for Saudis to cover up Khashoggi's murder: Fiancée
Oct 30, 2018
Saudi dissident journalist Jamal Khashoggi's fiancée has held the Saudi authorities responsible for his recent murder in Istanbul, slamming the US president for paving the way for Riyadh to cover up the crime.
"This is an incident that took place in a diplomatic mission ... In such a situation the Saudi Arabian authorities are responsible for this... The Saudi Arabian authorities know how such a murder was carried out… They need to explain," Hatice Cengiz, the fiancée of Khashoggi, said on Monday night.
She said she was disappointed with US President Donald Trump's response to the killing, suggesting US business ties with Riyadh had influenced his approach to the case.
"President Trump should help reveal the truth and ensure justice be served. He should not pave the way for a cover-up of my fiancée's murder. Let's not let money taint our conscience and compromise our values," she told a memorial in London for the slain Washington Post columnist.
Cengiz said she and the Turkish nation want all of those responsible including those who gave the order to those who carried it out, from the bottom to the top to be tried and to receive the necessary punishments according to international law."
"I believe that the Saudi regime knows where his body is ... I want justice to be served. Not only for those who murdered my beloved Jamal, but for those who organized it and gave the order for it."
She also noted that she wanted "the role of the political leadership in this brutal killing to be brought to light" and asked the international community to assist in holding "the perpetrators and their masters to account."
"There should be no cover-up. Jamal was my beloved fiancée, but he was also a gentle human being, a loving man, a journalist and a true believer in democracy and freedom in the Arab world," she said.
"Let's demand justice for Jamal and stand up for his ideals," Cengiz concluded before receiving a standing ovation.
The death of Khashoggi – a critic of Saudi Arabia's de facto ruler Crown Prince Mohammed bin Salman – has sparked global outrage and pitched the world's top oil exporter into crisis.
There are reports that the journalist was about to disclose details of Saudi Arabia's use of banned chemical weapons in its imposed war on Yemen days before he was killed.
British Sunday Express weekly reported that a close friend of Khashoggi, speaking on condition of anonymity, had told it on Saturday night that he was about to obtain "documentary evidence" from his murdered friend proving claims that Riyadh had used banned chemical weapons in its brutal aggression against Yemen.
Full report at:
https://www.presstv.com/Detail/2018/10/30/578491/Khashoggi-Trump-Saudi-cover
--------
US Muslims launch aid campaign for synagogue victims
29.10.2018
Muslims in the U.S. launched an aid campaign for the families of those killed or wounded in Saturday's synagogue attack and have so far raised $111,000.
The campaign was launched on Muslim crowdfunding site Launchgood.com with the title of "Muslims Unite for Pittsburgh Synagogue."
"We wish to respond to evil with good, as our faith instructs us, and send a powerful message of compassion through action," the campaign website said.
Council on American-Islamic Relations (CAIR), one of the leading Muslim associations in the U.S., has also released a statement condemning the synagogue attack.
"We condemn this heinous and cowardly attack on a house of worship, offer heartfelt condolences to the loved ones of all those who were killed or injured and express our solidarity with the Jewish community during this time of shock and grief," CAIR-Pittsburgh Program Director Zohra Lasania said in the statement.
CAIR-Pittsburgh President Safdar Khwaja also said: "This barbaric attack on our neighbours, with whom we share our city and have visited and dialogued multiple times, is deeply disturbing and horrifying. Such an act of terror affects all of us."
On Saturday, at least 11 people were killed after a gunman opened fire during a ceremony at a synagogue in the state of Pennsylvania on Saturday.
The fatal incident occurred at the Tree of Life Congregation Synagogue in Pittsburgh at around 10 a.m. local time (1400GMT).
Full report at:
https://www.aa.com.tr/en/americas/us-muslims-launch-aid-campaign-for-synagogue-victims/1296736
--------
URL:https://www.newageislam.com/islamic-world-news/du-proposes-course-islam-international/d/116751
New Age Islam, Islam Online, Islamic Website, African Muslim News, Arab World News, South Asia News, Indian Muslim News, World Muslim News, Women in Islam, Islamic Feminism, Arab Women, Women In Arab, Islamophobia in America, Muslim Women in West, Islam Women and Feminism