New Age Islam News Bureau
08 February 2021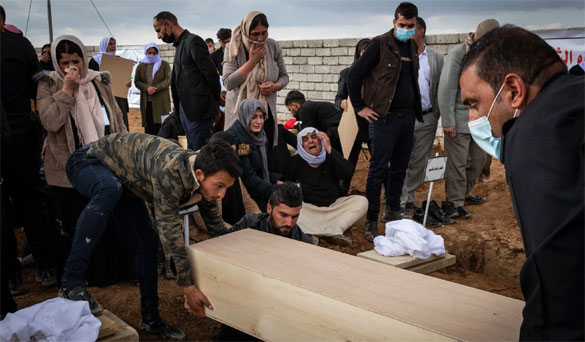 For relatives of those killed by ISIS in Kojo, Iraq, in 2014, an opportunity to mourn at a proper burial was years in coming.
-----
• Indonesian Regions Banned From Forcing Students to Wear Headscarves
• Standoff With Iran On Returning To 2015 Nuclear Deal Set To Continue As US President Biden Rules Out First Move
• AIMIM Chief Asaduddin Owaisi Pitches for Unity between Muslims and Tribals Ahead of Gujarat Polls
• Grievance Cell St Up in Pakistan to Resolve Legitimate Complaints of Non-Muslims
• 'Turkish President's Visit to Bangladesh Will Boost Ties'
• Hamas Welcomes ICC Decision on Jurisdiction Over Palestinian Territories
• Tunisians Defy Lockdown, Crowd Streets against Police Abuse
Arab World
• Draped In Iraqi Flags - With A Mass Funeral, Yazidi Survivors Honour Victims Of ISIS
• Egypt Heads Emergency Arab League Meeting On Palestine With Arab Fms
• Arab Coalition intercepts four Houthi drones in 24 hours targeting Saudi Arabia
• Gulf countries, Egypt have 'strategic' and 'historical' relationship: Al-Hajraf
• Damascus slam Turkey's 'dangerous' plan to open schools in Syria
• Terrorists launched nearly 2 dozen attacks within 24 hours in de-escalation zone in Syria's Idlib: Russia
--------
Southeast Asia
• Indonesian Regions Banned From Forcing Students to Wear Headscarves
• Over 30 Rohingya caught arriving in Malaysia by boat in January, says police
• Putrajaya says opposing US president Biden's global pro-LGBT initiative
--------
North America
• Standoff With Iran On Returning To 2015 Nuclear Deal Set To Continue As US President Biden Rules Out First Move
• US reaffirms commitment in call with Afghan leader
• UN vindicates Pakistan stand on threats from Afghanistan: FO
• GOP lawmaker presses Biden not to return US embassy in Israel to Tel Aviv
• Biden to end support for Saudi offensive in Yemen
--------
India
• AIMIM Chief Asaduddin Owaisi Pitches for Unity between Muslims and Tribals Ahead of Gujarat Polls
• Kerala: BJP promises 'love jihad' law, axing of devaswom boards
• Allahabad HC Junks Plea Alleging Ownership Of Land For Ayodhya Mosque
• Pakistani intruder killed by BSF along International Border in Jammu
• Bengal election sets off rush for Muslim votes. Should BJP be happy?
• Terrorists plan to set up hideouts in Jammu to receive arms from Pakistan: DGP
• J&K police book father of slain 'terrorist' for holding protest
• J-K police arrest wanted terrorist, seize arms and ammunition in Jammu
--------
Pakistan
• Grievance Cell St Up in Pakistan to Resolve Legitimate Complaints of Non-Muslims
• Most of the revered Hindu sites in Pakistan in state of decay: Report
• Pakistan asks Afghanistan to 'neutralise threat' emanating from war-torn nation
• 1 killed, 5 arrested in CTD operation against suspected militants in Karachi
• Murad shrugs off opposition's threat of no-trust move against him
--------
South Asia
• 'Turkish President's Visit to Bangladesh Will Boost Ties'
• Taliban Intelligence Chief Nabbed in Balkh
• 4 killed as Taliban tried to snatch a flock of sheep in Balkh
• Taliban not committed to peace, abandoned talks: Afghan NSA
--------
Mideast
• Hamas Welcomes ICC Decision on Jurisdiction Over Palestinian Territories
• Iran Calls for End of Yemeni War, Siege by Hawkish Governments
• Iran: Israel's Possible Adventurism to Expedite Own Annihilation
• Israel's Netanyahu Pleads Not Guilty to Corruption Charges as Trial Resumes
• Palestinians to launch own postcodes to assert sovereign rights
• Israeli forces shoot, wound four Palestinians in Jenin, West Bank
• MEP: Israel is apartheid state, illegally occupying Palestine, Syria's Golan
• Fatah, Hamas set to discuss elections at Cairo reconciliation talks
--------
Africa
• Tunisians Defy Lockdown, Crowd Streets against Police Abuse
• Bomb blast kills at least 12 in central Somalia
• ICC officials in Sudan seek cooperation for Darfur justice
• Sudan's PM Hamdok dissolves cabinet: State TV
• Somali opposition leaders say they no longer recognize President Farmajo
--------
Europe
• EU Keeps PKK On Terrorism List
• European envoy in Sudan to ease tension with Ethiopia
• German police beat up Turkish father, daughter
• European delegation in Yemen to advance peace efforts
Compiled by New Age Islam News Bureau
URL: https://www.newageislam.com/islamic-world-news/draped-iraqi-flags-with-mass/d/124253
--------
Draped In Iraqi Flags - With A Mass Funeral, Yazidi Survivors Honour Victims Of ISIS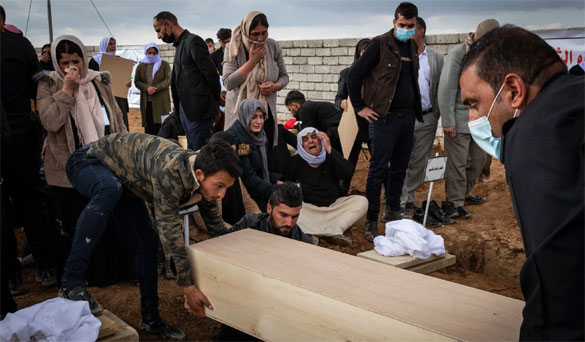 For relatives of those killed by ISIS in Kojo, Iraq, in 2014, an opportunity to mourn at a proper burial was years in coming.
-----
February 8, 2021
They had waited years to bury the remains of their husbands, sons and brothers. Cradling fresh earth draped in Iraqi flags, the Yazidi women called out as if their loved ones could still hear them.
On Saturday, the remains of 103 victims, members of the Yazidi ethnic minority group, were returned to the village where, seven years earlier, ISIS rounded up and shot them, dumping their bodies into mass graves. The massacre became synonymous with the group's campaign of genocide against the small religious minority.
Iraqi and international investigators exhumed the remains — including one more body returned elsewhere in the Sinjar district of northern Iraq — two years ago and identified them through DNA tests.
The grueling, daylong ceremony to bury the 103 victims in Kojo was a stark reminder of the damage inflicted on the Yazidis by the Islamic State group, a tragedy dating to 2014 that has been compounded by years of government neglect.
The Islamic State killed up to 10,000 Yazidis and captured more than 6,000, most of them women and children, in what the United Nations and Congress have called a genocidal campaign on the ancient group and other religious minorities in Iraq.
After the plain wooden coffins were buried in Kojo on Saturday, relatives threw themselves on the grave sites, with women tearing at their hair, screaming in anguish and calling to their loved ones in a crescendo of mingled grief that could be heard far beyond the edge of the now-abandoned village. Volunteers stood by with stretchers to take those who had fainted to a mobile clinic.
The mourning was amplified by the collective grief over the loss of an entire community, where almost all the men and older boys were killed. Saturday's ceremony is expected to be repeated as the U.N. and other organizations comb through dozens of mass graves yet to be exhumed.
"Oh my little brother, my little heart!" cried one woman. Another, doubled over with grief, recalled the new clothes her husband had bought just days before he was taken away and murdered.
"My brother is a handsome, tall guy, this grave is too short for him," sobbed another woman.
Other graves remained unattended, with the victims' entire families killed or still missing.
The massacre happened three months after the Islamic State seized the northern Iraqi city of Mosul in 2014 and declared it the capital of its self-declared caliphate. The Islamic State fighters surrounded Kojo, a farming village a few miles from Sinjar Mountain. Some of the fighters were from neighboring Arab Muslim villages the Yazidis had been friendly with for years.
On that sweltering day in August, the fighters ordered everyone in the village to gather in the local school — herding the women and children on the second floor and the men on the first. Many of the women and children heard the gunshots that killed their family members.
The fighters separated women they deemed to be too old to be desirable and shot them in an adjoining town, forcing the rest of the women and many of the girls into sexual slavery.
It took almost three years for United States-backed Iraqi forces to drive the Islamic State from Iraq and two more years for forces led by the U.S. and Syrian Kurds to take back the last Islamic State territory in Syria. More than 2,000 Yazidis are still missing.
Most of the Yazidis from Sinjar, the group's traditional homeland, now live in camps for displaced people in the Kurdistan region of Iraq, waiting in abject poverty for their homes and villages to be rebuilt. A recent wave of suicides among young Yazidis speaks to the despair faced by a community shattered by the ISIS massacre and subsequent government neglect.
Aid agencies say the area where the Yazidis live is still littered with Islamic State-era explosives, controlled by armed groups and torn by divisions among the Yazidis themselves.
The remains that were returned Saturday included two brothers of Nobel Peace Prize laureate Nadia Murad, who survived enslavement by the Islamic State.
As relatives lined up to carry the long line of coffins into Kojo, Murad took her place on the muddy road next to the coffin of one of her brothers. Another brother, Huzny, helped carry the coffin with one arm, encircling Murad with the other.
"We try to trick ourselves into thinking that this didn't really happen to be able to go on with life," Murad said.
But this was a day for remembering. Relatives of the victims, their shoes sticking in the cold mud and their faces contorted with grief, carried the coffins on the long walk into town and handed them over to an Iraqi honor guard.
"Today is a message to the whole world that the Iraqi government is not able to protect its minorities," said Sheikh Naif Jasso, who was waiting to receive the coffins of his brother, the former village head, and the rest of the victims being transported from a nearby military base.
Jasso said the same applied to the Kurdistan regional government, which had been responsible for security in Sinjar until Iraqi government forces retook control in 2017.
Though the regional government has given refuge to Yazidis who were displaced from their homes, most Yazidis nonetheless feel betrayed by the Kurdish pesh merga forces, saying they had urged villagers to stay by pledging to protect them from ISIS.
Instead, when they were faced with the looming Islamic State onslaught, the Kurdish forces withdrew without warning in what their commanders called a "tactical retreat," leaving the Yazidis to be massacred.
Murad and others fear that neglect of the Yazidi homeland is just finishing off what the Islamic State started.
"There are some clear signs that this community might disappear from their homeland and from Iraq," she said.
"More than 100,000 Yazidis have emigrated since 2014," she added. "There are entire communities, villages in Sinjar that are destroyed or abandoned."
Most Yazidis have been resettled in Germany, Canada and Australia. While the United States has helped with funding for Yazidis in Iraq — through aid for camps, construction projects and investigations of Islamic State crimes, for example — the Trump administration took in very few Yazidis.
Saturday's burial ceremony had been delayed for a year because of the pandemic.
Hours before the coffins arrived on Iraqi army vehicles, hundreds of village residents lined the road behind razor wire set up as a security barrier. Security forces patted down male visitors, and Yazidi women checked female visitors' bags and even their hair for explosives or other weapons.
On the steps of a concrete house outside the village, a group of women burned incense while temple musicians stood by to play ancient songs of mourning.
One of the religion's tenets is that when Yazidis die, they are reincarnated. But that has not lessened the pain for the survivors of the massacre.
Standing on the road with former neighbors, Elias Salih Qassim, a medical assistant, spoke of what had become of his family of six brothers.
"I am the only one who survived," he said. Along with his brothers, the Islamic State killed his wife and three sons, the youngest aged 14, one of his sisters and three nephews. Qassim had been standing next to two of his brothers when they were shot.
He crawled out from under their bodies with bullet wounds to his legs. Traumatized, like thousands of other Yazidis, he spent the next four months recovering in the Kurdistan region, with only the concrete roof of a construction site for shelter.
Qassim says that a Baghdad morgue contains more than 200 other bodies also removed from mass graves and awaiting DNA testing.
"We want them to be handed over to us quickly, at once, rather than occasionally reopening our wounds," he said.
In the abandoned village where the burial was held, Islamic State fighters had spray-painted "Islamic clinic" on the health care facility that Qassim ran. On another brick wall, the faintest outline of a painted black-and-white Islamic State flag remained. The school where villagers were rounded up has been turned into a memorial, with the names and photographs of those who were killed. It is likely no one will ever live in Kojo again.
The Kurdistan regional government had, until two years ago, provided funding to help rescue Yazidi women and children still being held captive. But that money ran out as world attention to their plight waned.
Abdullah Shrim, a Yazidi beekeeper credited with arranging the rescue of almost 400 Yazidis from the Islamic State through a network of smugglers in Syria, said money for such rescue efforts had dried up.
He says he is in contact with 11 women and children still held by families affiliated with the Islamic State.
"If there was support, there would be so much more that could be done," he said. "But because there is a lack of support, we cannot work."
https://indianexpress.com/article/world/mass-funeral-yazidi-survivors-honor-victims-of-isis-7179331/
--------
Indonesian Regions Banned From Forcing Students to Wear Headscarves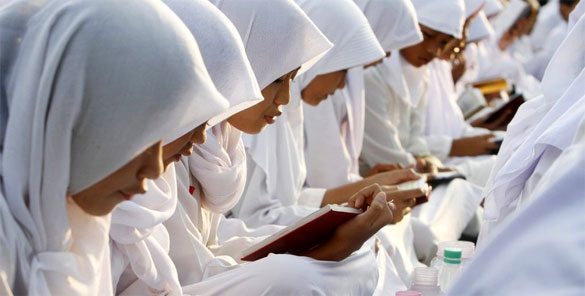 Many regional governments across Indonesia have issued local regulations requiring female students to wear Islamic dress. Photo by Regina Safri for Antara.
------
By Lies Marcoes
FEBRUARY 7, 2021
After years of inaction, the Indonesian government is finally acting to prevent state schools from forcing students or staff to wear headscarves or other religious clothing. On 3 February, the Ministry of Education and Culture, the Ministry of Home Affairs and the Ministry of Religion issued a joint ministerial decision on uniforms for students, teachers and staff in primary and middle schools.
The decision states that any local regulations enforcing (or banning) religious clothing in schools must be revoked within 30 days, or schools and local leaders will face sanctions, such as cuts in funding.
It is no coincidence that this decision came just days after widespread media coverage of a state technical school in Padang, West Sumatra that had been forcing all female students, Muslim and non-Muslim alike, to wear the headscarves. The issue came to national attention after a mother of a non-Muslim student posted a Facebook video complaining about the policy, which quickly went viral.
But the school was, in fact, simply following a regional bylaw, implemented since 2005, requiring all female students to wear headscarves.
It is not clear why the policy went viral now, more than 15 years into its implementation, when this is an issue that women's rights and religious freedom activists have been highlighting for more than a decade. But the bizarre defence of the policy by the former mayor of Padang who issued the bylaw surely did not help. He said the policy was necessary to protect female students from being bitten by mosquitoes.
The joint ministerial decision is important because headscarves have become a contested topic in Indonesia in recent years. Religious clothing is often used as the basis for discrimination and a way to control women's bodies. Critics say the choice to wear a headscarf should be a personal religious choice, not something that is forced or compulsory.
In fact, Indonesian women have chosen to wear headscarves for hundreds of years. They were known by different names among different ethnic and cultural groups, such as kudung (Javanese and Sasak), tiung (Sunda), tengkuluk (Minang), rimpu (Bima) and ija sawak (Acehnese) and considered part of Indonesian (Nusantara) identity. The country's inaugural first lady, Fatmawati, wore a loose headscarf as a representation of national identity for the newly independent Indonesia. She regularly wore the scarf with a kebaya blouse and batik sarong at formal events.
However, headscarves began being worn more often as a marker of political identity following the Iranian Revolution in 1979. Over time, efforts were made to strengthen the theological basis for the wearing of head coverings, and there was a surge in religious texts supporting a requirement for female Muslims to wear head scarves. These developments occurred alongside the growth of political Islamist movements in Muslim majority countries.
In Indonesia, debate about the wearing of headscarves in public began during Soeharto's New Order period. Under the New Order, political Islam was suppressed, and the headscarf was seen as linked to it, and so viewed with a degree of suspicion. At formal state events, the kebaya was worn without a head scarf. During this time, even women from the two largest Muslim social organisations, Nahdlatul Ulama and Muhammadiyah, did not often wear head scarves, unless they were elderly or practiced a more orthodox version of Islam (santri).
In the early 1980s, several high school students caused controversy by wearing headscarves at a time when the government outlawed wearing them in state schools, viewing them as political symbols. In fact, under the New Order, female students who wore headscarves faced considerable discrimination. They were expected to take off their scarves or move to a private school.
During this time, human rights activists defended students' choice to wear headscarves based on their right to freedom of religion. But over recent years, the situation has reversed. As Indonesian Islam has moved in a more orthodox direction, headscarves have become viewed as a binding or even compulsory religious rule. Those who do not to wear a headscarf are pressured or forced to wear the veil, sometimes even if they are non-Muslim.
Regional autonomy and direct elections for regional heads have also encouraged the development of local policies based on religious sentiment. Aceh, for example, began implementing shari'a after being granted special autonomy in 2001, and compulsory headscarves for women was one of the first rules to be implemented.
Many other regions have implemented shari'a-inspired regional regulations designed to appeal to majority Muslim populations. These include not only requirements for females to wear headscarves, but also bans on gambling, alcohol, restrictions on mobility during evenings, and other associated 'public order' and morality issues. Many of these policies, such as requirements for headscarves in schools, appear designed to control the behaviour of women and girls.
But as headscarves have become regulated, they are no longer simply an expression of cultural or religious identity. When made compulsory through regulation, headscarves actually lose some of their religious meaning. The implementation of these regulations is not solely about faith or belief, rather the rules are applied to all. As such, the religious significance of headscarves becomes lost.
Worse, policies on headscarves are not always clear. Sometimes there is no formal regulation, in other cases, it may come in the form of a decision from a district head, as in Padang. Sometimes the regulation is only applied to Muslims, in other cases, to all female students.
But even without a formal policy, it is not surprising that some non-Muslim students sometimes wear headscarves 'by choice', to avoid being viewed differently by their peers or teachers. Standing out in an environment where differences are used to divide is not a pleasant experience.
Before the joint ministerial decree was passed, schools had a choice. Were headscarves under the domain of religion or the school? If headscarves were viewed as a religious rule, then there was no need to make them compulsory; wearing a headscarf was a matter of personal religious interpretation. When headscarves are made compulsory by the school, however, they are little different to a uniform.
Rather than a step toward banning wearing of headscarves, as occurred under the New Order, this new joint ministerial decree is an attempt to return the headscarf to the religious domain. Islamic scholars differ in their views on whether headscarves are obligatory. As such, the joint ministerial decision's emphasis on choice is much more appropriate than a ban.
What is not covered by the decision is the problem of coercion. In a society that is growing more conservative, and a political culture that emphasises identity politics, headscarves are generally viewed as mandatory.
In this environment, it is important that education providers do not use their power to persuade or coerce girls to wear headscarves, even in the absence of a formal regulation making them compulsory. Likewise, Islam's proponents should be honest and acknowledge that headscarves are not an obligation.
We are fortunate to have a minister of religion who understands the difference between provisions in the Qur'an and the provisions of the Constitution. He understands what are matters of religion and what are matters of state. The interests of the nation should come before the interests of one religious group, even if it is the majority.
An earlier version of this article was published as "Merebut Tafsir: De-syariatisasi Jilbab?" on 25 January on the Rumah Kitab blog.
https://indonesiaatmelbourne.unimelb.edu.au/a-personal-religious-choice-regions-banned-from-forcing-students-to-wear-headscarves/
--------
Standoff With Iran On Returning To 2015 Nuclear Deal Set To Continue As US President Biden Rules Out First Move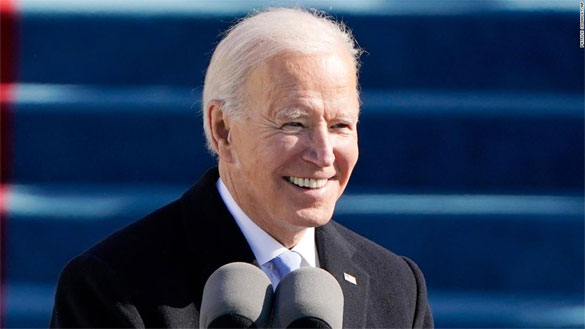 US President Joe Biden
------
ilara Hamit
07.02.2021
US President Joe Biden on Sunday ruled out prospects of lifting sanctions on Iran until the country stops enriching uranium.
In his first network news interview since taking office last month, Biden said his administration would not ease sanctions to get Tehran back to the negotiating table after his predecessor Donald Trump pulled out of a landmark 2015 nuclear accord with the country and reintroduced sanctions related to the country's nuclear program.
Biden's comments on CBS Evening News indicate that the current standoff would continue with Iranian Supreme Leader Ali Khamenei, who demanded Washington lift sanctions before his country returns to its obligations under the deal that saw it curtail uranium enrichment.
The Trump administration reinstated the economic sanctions against Iran while pulling the US out of the 2015 Joint Comprehensive Plan of Action (JCPOA), also known as the Iran nuclear deal, which the five permanent members of the UN Security Council and Germany struck with Iran.
The deal saw Tehran accept unprecedented curbs and inspections on its nuclear program in exchange for billions of dollars in sanctions relief.
https://www.aa.com.tr/en/americas/us-no-sanctions-easing-until-iran-halts-uranium-enrichment/2136931
--------
AIMIM Chief Asaduddin Owaisi Pitches for Unity between Muslims and Tribals Ahead of Gujarat Polls
FEB 07, 2021
AIMIM chief Asaduddin Owaisi on Sunday marked the maiden foray of his party on the political scene in Gujarat by making a strong pitch for the unity among Tribals, Muslims and Dalits ahead of the upcoming polls to local bodies, and also sought to project his party as the sole alternative to the BJP and the Congress.
Owaisi-led All India Majlis-e-Ittehadul Muslimeen is contesting maiden elections in Gujarat--in Ahmedabad and Bharuch cities--in alliance with the Bhartiya Tribal Party (BTP).
Campaigning in Bharuch, Owaisi accused the BJP government of maintaining double standards on the issues concerning Tribals, Muslims and OBCs.
"On the one hand, the BJP government refused to implement the Fifth Schedule of the Constitution (dealing with administration and control of scheduled areas and STs) for tribals, but on the other hand the government imposed the Disturbed Areas Act that prevents Muslims to either sell or purchase land and houses without the permission of the district collector.
"The Disturbed Areas Act is against the Constitution and rights to life and equality," he said.
Citing a study by IIT-Roorkee, Owaisi said tribals are the "most displaced community in the country, but despite that, the government is not providing them protection under the fifth schedule of the Constitution".
"You (BJP government) constructed the Statue of Unity (in tribal-dominated Narmada district of Gujarat), but will you turn the unity of tribals into disunity? What kind of unity is this to snatch their land, deprive them of water and destroy their culture?" he asked.
Owaisi said the BJP and the Congress are sort of "internally connected", which cannot be separated.
"People of Gujarat want an alternative. We want to fill a political vacuum," he said.
"The Congress took your (Muslim) votes, but their MLAs joined the BJP. They (the Congress) remained a mute spectator during the 2002 communal riots (in Gujarat). Where was secularism of those who talk about it when the BJP won all the (26) Lok Sabha seats (in Gujarat in 2019 polls)?" he asked.
He said the alliance of the AIMIM and the BTP could offer a strong "alternative political platform" to the people who are "fed up with the BJP and the Congress" in Gujarat.
Owaisi indicated that the BTP and the AIMIM will join hands in Rajasthan as well.
"If you want liberty, freedom, equality, justice etc, then you will have to decide your own fate, which you can do by becoming a political power, and you can become a politicalforce by choosing your leaders, who will be your own people who will go to the Assembly without fearing PM Narendra Modi or the Congress," he said.
He also invoked B R Ambedkar in his speech.
BTP MLA Chhotu Vasava alleged the Central government was working for select corporates and not for the people.
"The land is being soldoff in the country. Whatever promises made by the prime minister were a lie. What Modi Saheb is doing in the country is known to all. Lies are not going to work," he said.
The local body elections are scheduled to be held in two phases on February 21 and 28.
Elections to six municipal corporations will be held on February 21 and that for municipalities, district panchayats and taluka panchayats on February 28.
Results will be declared on February 23 for the first phase and on March 2 for the second phase.
https://www.hindustantimes.com/elections/owaisi-pitches-for-unity-between-muslims-and-tribals-ahead-of-gujarat-polls-101612709236891.html
--------
Grievance Cell St Up in Pakistan to Resolve Legitimate Complaints of Non-Muslims
08 Feb 2021
ISLAMABAD: A grievance cell has been set up in the office of Special Aide to Prime Minister on Religious Harmony and Middle East, Hafiz Muhammad Tahir Mehmood Ashrafi to resolve legitimate complaints of non-Muslims.
Addressing a ceremony in a Church in Islamabad here on Sunday, Ashrafi, who is also Chairman Pakistan Ulema Council (PUC), urged non Muslims to lodge their complaints against any threats being faced by them in freely practicing their religion. "Every Pakistani being threatened on religious grounds can lodge complaint in the cell," he said.
Ashrafi stated that Interfaith Harmony Councils' Conveners have been appointed all over the country, which was constituted earlier to promote religious tolerance among the people of different religions and religious sects. Ashrafi stated that minorities living in Pakistan were not second class citizens. They have all the rights and privileges as enshrined in the constitution of Pakistan. Islam is a religion of peace, security and compassion, which guarantees protection of minorities' rights in a Muslim state.
He stated that Muslims as well as non-Muslims played very effective and imperative role in Pakistan movement. A meeting of all religious schools of thought from across Pakistan would be held in the first week of March 2021 to suggest positive recommendations regarding betterment of minorities in Pakistan.
Misuse of blasphemy laws was being restrained in Pakistan and If anyone has any evidence in this regard, they should brought these incidents into the notice of Government. He said Coordination Center has also been set up in the country to contain misuse of blasphemy laws as some conspiring elements were spearheading baseless propaganda campaign to malign Pakistan on Religious grounds.
Responding to a question, he said the complaints regarding Interreligious Peace Committees were being reviewed and any illegal act will not be tolerated.
https://www.brecorder.com/news/40061156/non-muslims-complaints-grievance-cell-established-ashrafi
--------
'Turkish president's visit to Bangladesh will boost ties'
Sorvar Alam
04.02.2021
A top-level visit from Turkey to Bangladesh in the coming months is expected to unravel a wide range of opportunities in bilateral relations, boosting, trade, investment, and understanding.
In an exclusive interview with Anadolu Agency, Bangladesh Ambassador in Ankara Mosud Mannan said he has been working to materialize the visit soon.
He reminded that top diplomats of both countries have already announced that Turkish President Recep Tayyip Erdogan may travel to Dhaka in March if the COVID-19 situation remains under control.
Explaining preparations for the high-level visit as well as its significance for Ankara and Dhaka, the envoy expressed optimism to double the current bilateral trade volume worth $1 billion within the next two-three years.
He said the strong desire from top politicians and businesspeople of both countries will help to achieve this goal.
The envoy also highlighted further areas of cooperation in the defense, construction, tourism, and education sectors, while urging for more Turkish investment in Bangladesh.
Appreciating Turkey's support to the Rohingya issue, he also sought backing to convince Myanmar to take the displaced people back and rehabilitate them within its own borders.
Admitting that language is a barrier between two countries to develop more understanding at people and small business level, Mannan opined about the importance of introducing Bangla language in few Turkish universities.
Anadolu Agency: Over the past few years bilateral relations between Bangladesh and Turkey have shown a lot of progress. What is now new in the menu, as we begin the new year?
Mosud Mannan: Yes, the relation between these two very friendly countries, Bangladesh and Turkey, has improved a lot. It has become deep. As a result of the prudent decision of Father of the Nation Bangabandhu Sheikh Mujibur Rahman, the founder President of Bangladesh to take part in the OIC [Organization of Islamic Cooperation] Summit of 1974, Turkey and many Muslim countries of the world recognized Bangladesh. Over the years, we have developed more business and investment between our two countries, plus political understanding. You can easily see from the way President Erdogan stood behind the displaced Rohingyas, who came to Bangladesh from Myanmar in big numbers in August 2017.
Then, Turkish First Lady Emine Erdogan also visited Bangladesh with the foreign minister. So, this immediate response to the call of the day shows how close Turkey is with Bangladesh at present. If you consider the present total volume of trade between our two friendly countries, you will also see it has gone up. And we already have a desire to have more trade in the coming years, of course, after the substantial decrease of the pandemic. So, these are the things to take into consideration. Also, there are many issues in different international fora where Bangladesh and Turkey support each other.
Enormous significance of Erdogan's visit
Q: There was talk of a high-level visit. What are the plans being made and what could we expect as the major takeaway from such a visit? I am referring to reports of Turkish President Recep Tayyip Erdogan's official visit to Bangladesh in March. How significant will be this visit to both Bangladesh and Turkey?
Mannan: Of course, the significance of the visit will be enormous. It will open up many more opportunities to tap potentials yet untapped in the coming years and build political understanding and business. But first of all, let me tell you, our new embassy complex was inaugurated on Sept. 14, 2020, even despite pandemics in the presence of the foreign ministers of both countries -- Turkey and Bangladesh. Our foreign minister, Dr. AK Abdul Momen, despite coronavirus, flew to Ankara.
And on the other side, you can see that Bangladesh Prime Minister Sheikh Hasina took great interest to be present online to inaugurate this new complex showing due respect to the history and the people of Turkey.
So, on that day, and after that day, the discussion had already started for the visit of President Erdogan to Bangladesh. From last year we have been observing the birth centenary of our founder Bangabandhu Sheikh Mujibur Rahman, which will continue up to the end of December 2021. Moreover, this year -- 2021-- is also the golden jubilee of our independence. So, we are expecting high-level dignitaries from different countries to visit Bangladesh during the celebrations in 2021.
Bangladesh Prime Minister Sheikh Hasina has already conveyed an invitation to the president of Turkey to come and be part of the celebrations in Dhaka city in coming March. And President Erdogan already told our foreign minister last September that if the pandemic situation improves, he surely will be in Bangladesh. And when I presented my credentials on Dec. 15, 2020, President Erdogan reiterated his intention to visit Bangladesh to me and my delegation at the presidential palace.
More recently, when the Foreign Minister of Turkey went to Bangladesh to inaugurate Turkey's new chancery building in Dhaka, he also expressed confidence that inshallah the visit will take place, as discussed before, in the coming March. So, we are very hopeful that this very important visit -- which will open up more understanding, business, cultural exchange and many other opportunities still untapped between our two friendly countries which are historically very close for more than a thousand years -- will take place.
And I am very much looking forward to having the visit soon. And in preparation, I have started visiting not only ministries but also other relevant agencies, universities, organizations including the Anadolu Agency. All in preparation with the expectation of materializing the visit in March this year.
Doubling bilateral trade
Q: The bilateral trade between Bangladesh and Turkey was less than $1 billion as per figures issued last year. But there was a consensus to increase it to $3 billion. How realistic is this figure and when it will be achieved and which sectors will take lead to achieve this goal?
Mannan: First of all, let me make the correction. Because when I met President Erdogan on Dec. 15 last year, he mentioned the target as two billion not three. And two billion is not an impossible figure to reach, since even during corona [COVID-19] time if we can have almost one billion dollar worth of trade, with more effort we can inshAllah have two billion in the near future. We are expecting more investment to come to Bangladesh from Turkey as it had already started with the Koc group a few years back.
Defense cooperation between the two countries has been growing. Very recently there was another agreement. So, we expect it to grow further and add to the volume. And we will, as I just mentioned at the beginning of the interview, we will tap into unexplored potentials. We will think out of the box. And we will consider new commodities to be exported or imported between the two countries resulting in an increase in the trade volume. So, it is not impossible. Maybe it will take not one year because still pandemic is going on. But beginning from 2021 within two or three years, I am absolutely sure, a $2 billion target can be attained. If the officials as well as the business people, and politicians, the leaders of the two countries are determined, it is certainly possible for our two countries to achieve the goal.
Turkey already has a good position in world business. And Bangladesh is at present one of the first five fastest-growing economies. So, for us, if Allah Subhanahu Wataala allows and the pandemic decreases substantially to a tolerable level I am sure within the next two to three years, we will be able to attain this target.
Q: But there are complaints from some business people. Sometimes they complain about some type of difficulties while trying to do business and investment in Bangladesh. What are the obstacles to developing trade, investment, and other relations rapidly? What else can be done? Is there any progress in signing a preferential trade agreement with Turkey? And what this will mean for business and investments?
Mannan: As far I know, there are not many big obstacles because already even big Bangladesh companies like Walton, are doing business with Turkey. They are from the private sector of Bangladesh. There are many more organizations or business houses in Bangladesh, who are also interested and have already contacted the embassy, showing similar interest. On Feb. 3, 2021, between Turkey's DEIK [Foreign Economic Relations Board], and Bangladesh's FBCCI [Federation of Bangladesh Chambers of Commerce and Industries] a new agreement has been signed for further cooperation.
FBCCI is the largest body representing all the chambers of commerce and industries in Bangladesh. So, when we are getting them formally involved in Turkey-Bangladesh business cooperation, I do not think there will be any big obstacles in the coming days. Recently we also had a webinar on this issue between DEIK and FBCCI at the initiative of the Bangladesh Investment Development Agency (BIDA) where all the related agencies in Bangladesh, important agencies related to investment and business cooperation were present at the highest level. I was also there with the ambassador of Turkey to Bangladesh. I do not think we have big challenges. Small challenges depending on the need of a specific business company might be there which through discussion and negotiation we will overcome.
Talking about FTA [Free Trade Agreement] or PTA [Preferential Trade Agreement]. I think for the time being we will go for PTA and then when the situation will be more favorable between the two countries inshallah FTA will be there. To attain this target we have also started meeting. In 2019, there was a Joint Economic Commission meeting here in Turkey. And inshallah in 2021, in Dhaka, if the situation improves, we will again have a meeting in the middle of the year. We are currently discussing and finalizing the date.
Introducing Bangla language in Turkish universities
To promote business and economic cooperation, we are trying to introduce Bangla [language courses] in one or two universities [in Turkey]. So, businesses who are interested to have their executives -- junior and mid-level -- may consider knowing Bangla, which will indeed be helpful when they go to Dhaka to negotiate business and to do business. And finally, to translate our business documents and also have our marketing in each other's language.
When Turkey will try to sell something in Bangladesh in big numbers, they should also try to promote it in the languages that we understand. And we will also try to do the same when we want to sell something here in Turkey. Through advertisements in each other's languages, we can easily reach the people of the two countries. We have to also understand their psyche very well. Business is a competitive thing. It is not so easy, similar things are produced by different countries. But the way you present it, and the language you use, surely makes the difference.
Q: Around 600 Bangladeshi citizens are currently studying in Turkey? This is a very small number for a country of 165 million population. What kind of initiative should be taken to increase this?
Mannan: You have touched my favorite area. Students and the younger generation. Yes, I have already visited several universities and in the coming days, I will visit more. This week I went to the Bilkent University and Gazi University in Ankara and next I am planning to visit Hacettepe University which is famous for its medical school. It will be fantastic to have a greater number of [Bangladeshi] students in medical science because Turkey is very famous for providing quality health services.
So, I will like to have more students. Our Foreign Minister is also very much interested in this regard. He has already expressed his interest that more students should come from Bangladesh to study in Turkey, not only go to the West. When I discussed this matter with the foreign minister of Turkey after the presentation of my credential, he also told me: 'Not only that we will have more students from your country, we are eager to send some students [to Bangladesh] too.
Turkey and Bangladesh should have an exchange program in education, both for teachers and students. And my idea is also to have joint research projects. It will be a good initiative because in some fields Turkey has its expertise and, in some fields, we have our expertise. Since at the highest level both countries are interested, now through universities and relevant agencies we can have more scholarships. And at the same time encourage young people who can afford it, to study in different universities of Turkey and Bangladesh.
So, if we can have more scholarships, a greater number of scholarships with the agencies that you [Turks] have in this country, you have several agencies, not only one, who provide scholarships, then we can place more students in good universities all over Turkey, it will be great. From 600 students, maybe in two years, it will become a thousand.
So, I am very hopeful [in this regard] with the support of the media. The media of Bangladesh and Turkey should cooperate with the embassy to promote the idea of more Bangladesh students coming and studying in Turkey. And also, in response, some from Turkey should also feel attracted with the help of Anadolu Agency and other media to go and see the potentials of the universities in Bangladesh and learn the Bangla language.
We should not forget Bangla is the seventh most spoken language in the world.
Bengali is spoken by more than 270 million people. And our Prime Minister Sheikh Hasina has proposed Bangla to become the seventh official language of the UN. We also should not forget that Bengali people laid down their lives on 21 February in 1952 [during the language movement]. Several people from Dhaka University and Dhaka city died.
And in 1999 UNESCO recognized our historic day of Feb. 21 as the International Mother Language Day. This is a very special day in the history of Bangladesh for promoting the Bangla language throughout the world while also showing due respect towards every country's mother language.
Scope in defense sector
Q: What is the scope in the relations in the defense sector as Turkey's defense industries are booming faster and producing quality equipment? What kind of cooperation we can expect in this regard?
Mannan: Bangladesh appreciates Turkey's development in the field of defense. Over the years, we have been importing different items from Turkey. You [Turkey] are doing very well when you talk about the manufacturing of drones, the quality of the drone manufactured by Turkey is world-class. So, we can consider in future of having modern equipment as per need of our defense forces.
Training is very important for the armed forces. Our Army, Navy, and Air Force members also benefit from the quality training programs of Turkey. In return, we also receive officers of their [Turkish] forces, for training and seminars held in Bangladesh.
Understanding in the field of defense through the exchange of visits at the highest level by the chiefs of the three armed forces of Bangladesh and Turkey are taking place regularly.
When we talk about defense cooperation we should also consider the help you receive at the hour of need. Recently when there was a big blast in Lebanon, one of our naval ships was damaged and we got immediate help from the Turkish government to repair it and then sent it back to Bangladesh. It was indeed a great assistance extended by Turkey to Bangladesh
Moreover, Turkey and Bangladesh can collaborate in the field of capacity building.
From the Bangladesh side, we can share our rich experience as the number one country in providing UN peacekeepers all over the world. And Turkey among others may assist us in providing relevant members of the Bangladesh Armed Forces with training in medical services for which they have a great reputation.
Cooperation in aerospace
Q: Bangladesh has recently launched an aerospace university. And Turkey already has significantly developed the aerospace industry. Is there any possibility to have cooperation and joint mechanism in this particular sector?
Mannan: When I mentioned at the beginning of this interview on the VVIP visit, I hinted that there will be many untapped potentials, which will be explored as a result of the visit. This is one of the things which can also be discussed during President Erdogan's visit. Inshallah, when the visit will take place, this thing will also be on the table.
When I visited one of the universities in Turkey, they told me: 'Mr. ambassador, specialized courses on aviation science and naval science will be very useful for the students in your country.' So, we may also discuss all these subjects related to aviation, naval or marine science along with molecular biology, space science, at the appropriate time at the highest level.
Q: The Turkish construction industry is very strong worldwide just after China as said by the Turkish foreign minister during his recent tour to Dhaka. He also said that this industry is interested to invest in Bangladesh. How do you consider Turkish interest in investing in the construction sector in Bangladesh?
Mannan: This is another very pertinent question. Yes, there is ample opportunity [in Bangladesh]. And Turkey is already taking part in different tenders to join the construction industry in Bangladesh. Construction, especially building roads, highways, bridges is booming in Bangladesh, thanks to its fast-growing economy. Besides China, other countries are most welcome to engage in the building industry of Bangladesh. When I presented my credential only one and a half months ago, even from that time business people have started coming to the embassy with different business proposals, including construction. They are showing interest [in this sector]. Some of them have already participated in some tenders, and they want to participate in more. And I am not talking about one company. At the same time, they need also some collaboration with companies in Bangladesh to help each other. There are companies in Bangladesh that are interested to help their Turkish counterparts. So, I see a very good opportunity for Turkey to come and work in this particular sector, in the very near future side by side with other countries.
Collaboration in the tourism sector
Q: Bangladesh has the world's longest sea beach and the world's largest mangrove forest. So, the prospect of Bangladesh in the tourism sector is very high. Turkey has already turned into a hub of international tourists. Does Bangladesh have any plan to work in a joint venture with Turkey in the tourism sector?
Mannan: Unfortunately, the tourism sector, as well as a hotel business -- two sectors which are related to each other --, are suffering the most as a result of the coronavirus pandemic. But we can train up each other's travel agents and tour operators and during this pandemic time using online opportunities, like organizing webinars to be able to face the new normal situation after the decrease of the pandemic.
The way Turkey operates to promote their tourism business, maybe we can learn from their promotional activities how to get more tourists to visit Bangladesh. As I told you, even we can prepare brochures in different languages.
I think the main thing is good marketing. To know about what is in the offer, hotel facilities, nice places to visit, interesting food to taste very friendly people to meet in both the countries.
Rohingya issue
Q: Ankara has been supporting Dhaka on the Rohingya refugee issue from the very beginning of the crisis since August 2017. What are Bangladesh's expectations from Turkey on this issue? What is the future plan for Rohingya?
Mannan: Actually, their real number will be almost 1.4 million. Because Rohingya started coming to Bangladesh at the end of the 1970s. And then it continued. But at that time the number was not one million. All of a sudden from Aug. 25, 2017, the numbers of displaced Rohingyas from several hundred thousands jumped up drastically. Out of this million-plus Rohingya, we are in the process of sending 100,000 to one island called Bhasan Char. And we have already prepared very good shelters with the required facilities.
So, the first thing that we want from all friendly countries is regular financial assistance for these displaced Rohingyas as well as other relief materials, and of course, more political support, like Turkey has been providing from the beginning. I am talking about August 2017, Turkey was there to convince the Myanmar authority that it will be best to keep them in their own country, from where they came.
The repatriation negotiations should be done in a more forceful manner. Turkey always helped us by supporting our stand. They have been fulfilling their commitment towards raising the issue not only in OIC but at the UN and other agencies as well. Gambia at the International Court of Justice has started a case. Turkey and other friendly countries are also sometimes giving assistance to carry out the legal process.
Role of NGOs
Now in the world, besides governments of different countries, there are NGOs that can also play a significant role, positive role. In the case of Turkey, we know, some of the NGOs are also active in Bangladesh. Some relief materials have gone through your NGOs to Bangladesh. These things should also continue. Because remember 1.4 million [displaced Rohingyas], like the 4 million [Syrian] refugees here are also a big number. So, you [Turks] already have your own experience, you can already feel for human sufferings. So, this kind of activity should continue. Otherwise, it is difficult to make the Myanmar authority and the people understand how serious the issue is for the displaced Rohingya people, as well as for a country like Bangladesh, which already has its own big population, to carry the burden.
Q: There are reportedly several thousands of undocumented Bangladeshis in Turkey and Ankara has been working to reach out a solution with Dhaka to send them back to Bangladesh. Even the Turkish interior minister had planned a visit to Bangladesh earlier last year. Is there any progress on it?
Mannan: For these Bangladeshis embassy does whatever is prescribed as per government rules. If they want to go back, we provide them with travel documents. If needed, we involve IOM [International Organization for Migration]. For them, we do what is prescribed because as you said they are undocumented. At the same time, if they need some help with daily necessities we request IOM and other agencies who are involved in this kind of issue. Moreover, we encourage them to obey the law of the country [Turkey].
To ensure more favorable support from the Government of Turkey for these undocumented people, I have already sought an appointment with the honorable Interior Minister. Inshallah, I will meet him in February. Without having a first-hand discussion, I can't answer you more elaborately.
Focus to promote people-to-people relations
Q: What is your message to Turkish people, particularly business people?
Mannan: In addition to furthering the good political understanding and increasing business, I will also emphasize having regular education and cultural exchanges with Turkey. We will encourage more people to people contact at all possible levels from various professional backgrounds.
But first and foremost, our goal will be to make the business at least double if not more, in the coming years. If possible, within two to three years we wish to reach the trade volume target of $2 billion. For that, I will need the support of the people of Turkey especially the businesspeople, big business establishments, as well as the government. And also, at the same time, we will need the support of the Bangladesh side from both private and public sectors under the dynamic leadership and guidance of Hon'ble Prime Minister Sheikh Hasina.
I wish the friendly People of Turkey good health and continued success in the new year of 2021. May Almighty Allah bless us all. May Turkey Bangladesh friendship live forever.
https://www.aa.com.tr/en/asia-pacific/-turkish-president-s-visit-to-bangladesh-will-boost-ties-/2133757
--------
Hamas welcomes ICC decision on jurisdiction over Palestinian territories
06 February 2021
The Palestinian resistance movement Hamas has hailed the International Criminal Court (ICC) for a decision to extend jurisdiction to the territories occupied by Israel since the 1967 Arab–Israeli War.
"Any international decision that leads to supporting the rights of Palestinians, defends their freedom, provides them with justice and prosecutes war criminals is in conformity with human values and international human rights," said Raafat Marra, the head of the Hamas media department, in a press release on Friday, the Palestinian Information Center reported on Saturday.
The Hague-based intergovernmental organization, the ICC, has announced that Pre-Trial Chamber I of ICC decided, by the majority, that the court's territorial jurisdiction in the Situation in Palestine, a State party to the ICC Rome Statute, extends to the territories occupied by Israel since the said war.
The statement means that the ICC can now open a war crimes investigation into Israeli military actions in the occupied territories.
The court will have a hard time prosecuting Israelis for the crimes they committed against Palestinians, but it can issue arrest warrants that will make it difficult for Israeli officials to travel abroad.
"We are confident that any court that enjoys integrity, justice and professionalism will stand by the Palestinian people and their rights", Marra said, calling for the use of all means to stop terrorism and Zionist crimes against the Palestinians.
"The Zionist entity (Israel) and its leaders practiced organized terror against the Palestinians, robbed them of their rights and the international silence encourage them to continue their criminal practices against the Palestinians."
Palestinians joined the court in 2015, a year after they asked it to open a probe into Israeli crimes during its 2014 bloody war against the blockaded Gaza Strip, as well as the regime's construction of settlements in the occupied West Bank and East Jerusalem al-Quds.
Israel is not a member of the ICC. It says the court has no jurisdiction over the issue because Palestinians do not have statehood.
The ICC has so far affirmed the statehood of Palestine several times.
Arab League lauds ICC decision
Separately on Saturday, the Arab League welcomed the ICC ruling as a "crowning achievement."
"This decision is the crowning achievement of the diplomatic efforts exerted by the State of Palestine's various official and legal institutions with full Arab support and solidarity by friendly international institutions in their serious and relentless pursuit for achieving prompt justice," said Arab League Assistant Secretary-General for Palestine and the Occupied Arab Territories Affairs Saeed Abu Ali said in a press statement.
He also expressed hope that the ruling would contribute to the full restoration of the legitimate rights of the Palestinian people.
Israel occupied East Jerusalem al-Quds, the West Bank, and the Gaza Strip – territories the Palestinians want for their future state – during the six-day war in 1967.
About 700,000 Israelis now live in over 230 illegal settlements built in the West Bank and East Jerusalem al-Quds ever since. The international community views the settlements as illegal under international law but has done little – if any – so far to stop Israel.
https://www.presstv.com/Detail/2021/02/06/644689/Hamas-ICC
--------
Tunisians defy lockdown, crowd streets against police abuse
06 February 2021
Tunisians have taken to the streets of the capital, in defiance of a police lockdown, to protest against abuse and brutality exercised by the law enforcement officers.
Demonstrates gathered in central Tunis on Saturday in the biggest crowd in years.
"I lived 10 years in freedom... I am not ready to lose it."
That was one of the slogans the crowd chanted in reference to an uprising that led to the ouster of long-time ruler Zine El Abidine Ben Ali in 2011.
"No fear. The street belongs to the people."
The demonstration on Saturday was backed by the country's most powerful political organization: the UGTT union.
Samir Cheffi, a senior official with the union, said, "Today is a cry of alarm to defend the revolution, to protect freedoms under threat."
Riot police deployed cordons around the city center, stopping cars and people from entering the streets around the site of the protest.
Mohammed Ammar, a member of parliament for the Attayar party, said he had protested the closure of the streets in a phone call to Prime Minister Hichem Mechichi.
Tunisia has been the site of street protests since last month, when demonstrations to mark the tenth anniversary of the revolution led to clashes between people and police.
The working-class make up the main group of protesters who have been nursing a grievance against soaring unemployment and the government's failure in delivering its promises a decade into the revolution.
https://www.presstv.com/Detail/2021/02/06/644693/Tunisia-lockdown-police-abuse
--------
Arab World
Egypt heads emergency Arab League meeting on Palestine with Arab FMs
Tamara Abueish
08 February ,2021
Egypt on Monday will head an emergency Arab League meeting with Arab foreign ministers to discuss regional unity and protecting the rights of Palestinians.
The meeting will focus on reviving the Israeli-Palestinian peace process and discussing the United States' policies on Palestine.
For all the latest headlines, follow our Google News channel online or via the app.
The relationship between the US and Palestine strained under the Donald Trump administration after Washington approved Israel's plans to annex large parts of occupied West Bank territories.
UN experts had stated then that the move is a "21st-century apartheid" vision. The annexation would be a "serious violation" of the United Nations charter and the Geneva Conventions, and would only intensify human rights violations in the West Bank, the experts said.
The emergency meeting is being held at Egypt and Jordan's request, the Assistant Secretary-General of the Arab League Hossam Zaki said, adding that it will focus on the "fundamentals related to the Palestinian cause" and Arab unity.
Arab foreign ministers are also expected to discuss the positive results of the Gulf Cooperation Council (GCC) Summit held in Saudi Arabia's al-Ula in December and its implications for the Middle East peace process.
https://english.alarabiya.net/News/middle-east/2021/02/08/Palestinian-Israeli-conflict-Egypt-heads-emergency-Arab-League-meeting-on-Palestine-with-Arab-FMs-
--------
Arab Coalition intercepts four Houthi drones in 24 hours targeting Saudi Arabia
07 February ,2021
Ismaeel Naar
The Arab Coalition said on Sunday that it has intercepted four explosive Houthi drones launched towards Saudi Arabia.
"The Houthi militias continue to violate international humanitarian law by trying to target civilians," the Arab Coalition said in a statement.
For all the latest headlines follow our Google News channel online or via the app.
"We are taking measures to deal with the sources of the threat in accordance with international humanitarian law," they added.
The drone incident is the second in less than 24 hours after the coalition intercepted and destroyed another explosives-laden drone attack late on Saturday night.
On Friday, the United States said it will reverse a last-minute decision by the Trump administration to designate Yemen's Houthis as a terrorist organization, according to US officials. The designation was first made by former Secretary of State Mike Pompeo shortly before he left office, despite his efforts to push through the designation months before.
The United States will end its support for military operations in Yemen, but it will continue to help Saudi Arabia defend its sovereignty and land, US President Joe Biden said on Thursday.
https://english.alarabiya.net/News/gulf/2021/02/07/Terrorism-Arab-Coalition-intercepts-Houthi-drone-targeting-Saudi-Arabia
--------
Gulf countries, Egypt have 'strategic' and 'historical' relationship: Al-Hajraf
07 February ,2021
Tamara Abueish
The Gulf Cooperation Council (GCC) countries and Egypt have a "strategic" and "historical" relationship, the council's Secretary-General Nayef bin Falah al-Hajraf said on Sunday during a joint press conference with Egyptian Minister of Foreign Affairs Sameh Shoukry.
Countries in the region must respect the sovereignty of their neighboring Arab countries, al-Hajraf added.
The GCC supports Egypt in the conflict with Ethiopia about the Renaissance Dam, he said.
The secretary-general reiterated that the council supports the establishment of a Palestinian state and the return of Palestinian refugees to their home country.
He also added that Iran's intervention in Yemen through the Houthi militia must be stopped.
Yemen's stability plays a big role in the region's stability, he said.
For his part, Shoukry reiterated that Egypt and the Gulf countries have the same strategic path in the region, and said that his country rejects any interference in the affairs of Arab countries.
https://english.alarabiya.net/News/gulf/2021/02/07/Gulf-countries-Egypt-have-strategic-and-historical-relationship-Al-Hajraf-
--------
Damascus slam Turkey's 'dangerous' plan to open schools in Syria
08 February 2021
Damascus has strongly objected to Turkey's decision to open schools in northern Syria, calling the decision a "dangerous act" and a "flagrant violation of international law."
In a statement on Sunday, an official source at the Syrian Foreign Ministry said the plan indicates Ankara's intention to continue igniting and prolonging the crisis in the war-torn country, Syria's official news agency SANA reported.
Turkey, it said, aims to support terrorist groups such as Daesh and Jabhat al-Nusra to serve Turkish President Recep Tayyip Erdogan's personal agendas and to "achieve his ambitions and Ottoman illusions."
The protest came after Ankara announced that it will open a healthcare vocational school and a medical faculty in Syria's al-Rai town, located near the Turkish border.
Ankara said the medical school will be established under the auspices of Turkey's Health Sciences University in Aleppo province's northern town of al-Rai, which is under the control of Turkish-backed militants.
"Syria rejects the Turkish regime's decision to open a faculty and higher institute affiliated to Istanbul University in al-Rai town, north of Aleppo," the Syrian statement said.
It said the Turkish government's decision is a dangerous act that aims to expand Turkey's dominance on Syrian territories in a flagrant violation of international law and the UN Charter.
Ankara's move is nothing but the continuation of Turkish authorities' policies toward Syria, it aded.
"Syria affirms that the attacks of the Turkish regime on its sovereignty, including the building of the so-called (separation wall) and adopting the policy of Turkification at the schools, in addition to dealing in the Turkish Lira, and opening an authority for the Turkish Post have been pretexts behind which this regime hides to justify its terrorist practices," the source said.
The source renewed Syria's demand that the UN Security Council shoulder its responsibilities in preserving international peace and security and ending the "crimes and attacks launched by the Turkish regime" against the Syrian people and the country's sovereignty and territorial integrity.
Turkey has been involved militarily in the Syrian conflict since early 2011. It has provided the so-called Free Syrian Army (FSA) with military assistance throughout the conflict.
In 2018 and 2019, Turkey launched cross-border military operations in northern Syria with the declared aim of eliminating Syrian Kurdish militants of the People's Protection Units (YPG), which Ankara regards as a terrorist organization tied to the Kurdistan Workers' Party (PKK).
Turkey has since taken control of several areas in northern Syria in addition to other Kurdish-controlled areas.
The Turkish military presence is viewed by the Syrian government as an attack against the Arab country's sovereignty.
https://www.presstv.com/Detail/2021/02/08/644799/Damascus-slams-Turkey-move-to-open-schools-in-Syria
--------
Terrorists launched nearly 2 dozen attacks within 24 hours in de-escalation zone in Syria's Idlib: Russia
07 February 2021
Russian Defense Ministry says terrorist groups based in the de-escalation zone of Syria's northwestern province of Idlib and its environs have carried out nearly two dozen terror attacks in the past 24 hours against other areas in the province and neighboring provinces of Hama, Aleppo, and Latakia.
In a statement on Sunday, Rear Admiral Vyacheslav Sytnik, chief of the Russian military's Reconciliation Center in Hmeimim Air Base in Syria's Latakia, said that the center had monitored 23 terrorist attacks launched from the areas held by terrorists of the Jabhat al-Nusra Takfiri terrorist group, formerly known as al-Nusra Front.
He added that 13 of these attacks were in Idlib, five in Aleppo, three in Hama, and two in Latakia, Syria's official SANA news agency reported.
According to the report, Jabhat al-Nusra terrorists, who have been particularly spread in Idlib, continue their attacks with rocket shells on the safe neighboring areas, claiming the lives of many civilians and wounding others.
Such attacks also inflict material damage to both private and public properties. Last month, Jabhat al-Nusra terrorists targeted the strategic city of Saraqib in Idlib with rocket shells, causing material damage to houses and buildings.
Russia has been helping Syrian forces in the ongoing battles across the conflict-plagued Arab country.
The Russian military assistance, which began in September 2015 at the official request of the Syrian government, has proved effective as Syrians continue to recapture key areas from remnants of the Daesh Takfiri terrorist group and other foreign-backed terrorist factions across the country.
https://www.presstv.com/Detail/2021/02/07/644747/Syria-Idlib-Jabhat-al-Nusra-terrorists-Russia-Hmeimim
--------
Southeast Asia
Over 30 Rohingya caught arriving in Malaysia by boat in January, says police
FEB 07, 2021
More than 30 Rohingya people, believed to have fled a refugee camp in Indonesia, were caught arriving in Malaysia by boat last month, the Malaysian police said on Sunday.
The Rohingyas, mostly women, boarded a boat from Tanjung Balai in Indonesia and landed in Selangor, on the west coast of Malaysia on Jan. 6, police said.
Seeking refuge, Muslim Rohingya have for years boarded boats fleeing persecution in Myanmar and refugee camps in Bangladesh, some taking the dangerous option of travelling with people-smugglers to Southeast Asia.
Malaysia does not recognise refugee status, but the Muslim-majority country is a favoured destination for Rohingyas seeking a better life.
Seventeen Rohingya women, seven men and seven children, as well as five Indonesian women, were on board, police said of the arrivals, which were reported by AFP on Friday.
The Royal Malaysia Police internal security director, Abdul Rahim Jaafar, said 21 of the migrants have been charged with entering the country without valid documents, and two others charged under anti-trafficking laws.
More than a dozen of them have been handed over to the Malaysian Immigration Department, Abdul Rahim said.
Indonesian President Joko Widodo said on Friday during Malaysian Prime Minister Muhyiddin Yassin's visit that both countries discussed Rohingya issues.
https://www.hindustantimes.com/world-news/over-30-rohingya-caught-arriving-in-malaysia-by-boat-in-january-says-police-101612691601459.html
--------
Putrajaya says opposing US president Biden's global pro-LGBT initiative
08 Feb 2021
BY YISWAREE PALANSAMY
KUALA LUMPUR, Feb 8 — Putrajaya yesterday said it is opposing a call by newly-minted US President Joe Biden's for the superpower's agencies to protect the rights of sexual and gender minorities globally.
Malay daily Berita Harian reported religious affairs minister Datuk Zulkifli Mohamad as saying that the lesbian, gay, bisexual and transgender (LGBT) community is "violating the norms" of human behaviour.
"This is because it is against Islamic law and we do not support any campaign that is labelled as LGBTIQ in this country," he was quoted saying referring to the federal government, using the initials that also included intersex and queer persons.
"This matter has been accepted and acknowledged by all the cultures of Malaysian communities, overall in Malaysia."
Zulkifli however said that he is reserving his opposition for intersex persons, which he said is recognised by the Muslim faith, and therefore should not be lumped together in the LGBTIQ category.
Despite Zulkifli's remark, not all communities in Malaysia are opposed to the minority community and agree to the restrictions set by the Muslim-dominated federal government.
Last week, Biden had issued a presidential memorandum committing the United States to protect the safety and rights of LGBTIQ persons worldwide.
NBC News reported that the Memorandum on Advancing the Human Rights of Lesbian, Gay, Bisexual, Transgender, Queer, and Intersex Persons Around the World directed American agencies operating overseas "to ensure that United States diplomacy and foreign assistance to promote and protect the human rights of LGBTIQ+ persons".
The memorandum also calls for agencies to combat criminalisation of LGBTIQ identity or conduct, protect LGBTIQ refugees and asylum-seekers, address human rights abuses affecting LGBTIQ persons, and work with like-minded nations and international organisations to combat discrimination.
Malaysia has had a poor track record in treating the marginalised LGBT community, regardless of the political coalition that holds power — from Barisan Nasional, Pakatan Harapan to the now Perikatan Nasional.
Most recently, Putrajaya was slammed by human rights defenders after Zulkifli's deputy Datuk Ahmad Marzuk Shaary from Islamist party PAS proposed harsher punishments against the LGBT community under the Shariah Courts (Criminal Jurisdiction) Act 1965, also known as Act 355.
LGBT Muslims already face a number of Shariah offences directed at them under Shariah law, and remain among marginalised groups which are now even more affected by the pandemic due to public stigma.
https://www.malaymail.com/news/malaysia/2021/02/08/putrajaya-says-opposing-us-president-bidens-global-pro-lgbt-initiative/1947918
--------
North America
US reaffirms commitment in call with Afghan leader
Michael Hernandez
05.02.2021
WASHINGTON
Defense Chief Lloyd Austin reaffirmed the US's commitment to an "enduring" partnership with the Afghan government during a call Friday with President Ashraf Ghani.
Austin and Ghani "discussed the shared sacrifices of U.S. and Afghanistan forces and collective gains made over the last 19 years," the Pentagon said in a statement.
"President Ghani and Secretary Austin discussed the Afghan peace process and the imperative for a negotiated settlement to end the war. Both sides emphasized the importance of seizing this opportunity for peace," it added.
The call comes as Afghanistan faces rising attacks from the Taliban and other militant groups that have included a devastating string of targeted assassinations of government officials, and religious, political and civil society figures.
The US has roughly 2,500 troops in Afghanistan working to support and defend Afghan forces from the Taliban, down from about 14,000 in 2020.
https://www.aa.com.tr/en/americas/us-reaffirms-commitment-in-call-with-afghan-leader/2135509
--------
UN vindicates Pakistan stand on threats from Afghanistan: FO
Anwar Iqbal
February 8, 2021
WASHINGTON: Pakistan pointed out on Sunday that a United Nations monitoring report highlighting the presence of various terrorist groups in Afghanistan had vindicated Islamabad's longstanding position that such outfits posed a direct threat not only to Pakistan but to the entire region.
The 27th Report of the UN Analytical and Monitoring Team shows that the Tehreek-i-Taliban Pakistan (TTP), which is now based in Afghanistan, has carried out more than 100 cross-border attacks during the last three months.
The report to the UN Security Council acknowledges Pakistan's efforts to uproot terrorist groups involved in subversive activities in the Pak-Afghan region.
Two official US reports — sent to Congress last week — also underline the presence of TTP and other Pakistan-specific groups in Afghanistan and acknowledge that continued support from Islamabad allowed US and Afghan forces to weaken the ISKP, the regional branch of the militant Islamic State group.
Two US reports underline presence of TTP, other Pakistan-specific groups in war-ravaged country
On Sunday, Pakistan Foreign Office spokesman Zahid Hafeez Chaudhri said the reports "vindicate our longstanding position on threats posed to Pakistan and the region by groups like TTP, Jamaatul Ahrar (JuA), Hizbul Ahrar (HuA) and their affiliates, based in Afghanistan".
Pakistan has often drawn attention of the international community to the support provided to the TTP and its affiliates by the hostile intelligence agencies.
Mr Chaudhri said that such support led to the merger of JuA, HuA and other splinter groups of LeJ (Lashkar-e-Jhangvi) with the TTP in Afghanistan last year.
Pakistan has also kept the international community informed of the cross-border attacks carried out by the TTP on Pakistani security forces deployed on the border.
"Pakistan acknowledges monitoring team's efforts in exposing the hostile agencies' sponsored collusion of anti-Pakistan elements in Afghanistan," the FO spokesman said in a statement, adding that Islamabad now expected Kabul to "launch a dedicated effort to neutralise this threat" emanating from Afghanistan.
"Pakistan stands firm in its resolve to partner with international community against the menace of terrorism," he said.
The UN report, dated Feb 3, notes that Pakistan has not only arrested "individuals engaging in terrorism financing" but also has seized the assets of those "individuals and entities" who have been designated as terrorist by related US and UN agencies.
The report underlines TTP activities in Afghanistan and expresses concern over the "reunification of (TTP's) splinter groups" inside Afghanistan. "Five entities pledged allegiance to TTP in July and August (2020), including the Shehryar Mehsud group, Jamaatul Ahrar (JuA), Hizbul Ahrar, the Amjad Farooqi group and the Usman Saifullah group (formerly known as Lashkar-e- Jhangvi)," the report adds.
Another report prepared by the bipartisan Afghan Study Group for the US Congress notes: "Beyond al-Qaeda and ISKP, two groups are of particular interest in South Asia today, among the several dozen said to be operating in the theater: Tehreek-i-Taliban and Lashkar-e-Taiba. Both have demonstrated the capacity to act as major threats to the region."
The report warns that both groups can disturb regional peace and can cause a war between the area's two nuclear states, India and Pakistan.
"Afghanistan remains symbolically and geographically an attractive space for jihadi groups that aspire to attack the United States, its allies, its interests, and the international order it has done so much to create," the report warns.
The bipartisan US report also notes that the membership of the ISKP in Afghanistan largely consisted of dissident Afghan Taliban commanders, former members of the TTP and adherents of Central Asian extremist groups who had formerly been allied with al-Qaeda.
"ISKP has attracted thousands of adherents, surged, and then declined under relentless pressure from US and Afghan security forces, and occasionally the Taliban, as well as Pakistani security forces," the report adds.
Another report by the Pentagon's Inspector General for Afghanistan, known by its acronym SIGAR, cites Afghan officials' judgements that "other terrorist groups including Tehreek-i-Taliban Pakistan, Jaish-i-Mohammed, and Lashkar-e-Taiba are operating in eastern Afghanistan".
The UN report goes a step ahead and cautions that the reunification of TTP splinter groups has "enhanced the threat of terrorism" not only to Pakistan but to the entire region since it has "increased the strength of TTP and resulted in a sharp increase in attacks".
"TTP was responsible for more than 100 cross-border attacks between July and October 2020," the report states and estimates the TTP's fighting strength to range from 2,500 to 6,000 members.
'India's hand'
Last year, Pakistan handed over a dossier to UN Secretary General Antonio Guterres on the Indian sponsorship of two UN- designated terror groups – the TTP and JuA.
"We knew of India's hand in such attacks," Pakistan's envoy to the UN Munir Akram had said at a press conference after handing over the dossier to the UN secretary-general. "We now have gathered irrefutable evidence that India is engaged in a systematic campaign to destabilise Pakistan through terrorist attacks, promotion of secession and subversion in what is called Hybrid/5th generation war."
India, he said, was also seeking to utilise UNSC mechanisms to defame Pakistan by portraying itself as a victim of terrorism. "It is abusing the Financial Action Task Force (FATF) to damage Pakistan's economy."
Since 2014, Pakistan has lost 83,000 civilians and soldiers in the fight against terrorism, which has also caused a massive setback to the country's economic and social development — to the tune of $126 billion.
While Pakistan has successfully eradicated terrorist outfits from its soil, over the past few months cross-border terrorist attacks from ungoverned spaces in Afghanistan have escalated.
https://www.dawn.com/news/1606133/un-vindicates-pakistan-stand-on-threats-from-afghanistan-fo
--------
GOP lawmaker presses Biden not to return US embassy in Israel to Tel Aviv
07 February 2021
A top GOP lawmaker is pressing US President Joe Biden to let the US embassy remain in Jerusalem al-Quds after it was moved there from Israeli capital Tel Aviv.
Tennessee Republican Sen. Bill Hagerty on Saturday wrote a letter to Biden, urging him to publicly confirm that he is not planning to return the embassy to Tel Aviv.
The letter was sent a day after White House spokeswoman Jen Psaki Refused to say whether the Biden administration agrees with the move, vowing to follow up on the matter.
"This is not a difficult question and should not require any deliberation," Hagerty claimed. "In order to correct the discrepancy that unfortunately now exists between our two branches of government and send an unequivocal message to our allies in Israel, I urge you to confirm—immediately and publicly—that your Administration will continue to implement U.S. law and maintain the American Embassy's location in Jerusalem."
Other Biden administration officials have previously been pressed to take a stance on the issue.
Trump in May 2018 moved the US embassy from Tel Aviv to the Holy city, which Palestinians consider as the capital of their future state.
The former president sparked controversy by officially recognizing Jerusalem al-Quds as the Israeli 'capital' in December 2017.
Israel lays claim to the entire Jerusalem al-Quds, but the international community views the city's eastern sector as occupied territory and Palestinians consider it the capital of their future state.
United Nations Security Council Resolution 478, adopted on August 20, 1980, prohibits countries from establishing diplomatic missions in Jerusalem al-Quds.
Palestinians, who seek an independent state in the occupied West Bank and Gaza, with East Jerusalem al-Quds as its capital, have condemned the US pro-Israel agenda.
https://www.presstv.com/Detail/2021/02/07/644712/Biden-pressed-to-keep-US-embassy-in-Jerusalem-al-Quds
--------
Biden to end support for Saudi offensive in Yemen
Michael Hernandez
04.02.2021
WASHINGTON
US President Joe Biden will announce an end to American support for the Saudi-led coalition's offensive against Houthi rebels in Yemen, National Security Advisor Jake Sullivan said Thursday.
Biden is expected to formally roll out the policy change during remarks at the State Department later Thursday.
Saudi Arabia's campaign against the Houthis has prompted a widespread humanitarian outcry amid repeated atrocities, including the 2016 targeting of a funeral in Sana'a, the rebel-controlled capital, that killed more than 100 victims.
The Iran-backed rebel group overran much of Yemen beginning in 2014, deposing the government and sending it into exile before it returned to the port city of Aden in 2016. Political turmoil has been the rule rather than the exception since with a third separatist movement known as the Southern Transitional Council being declared in May 2017.
Political infighting has taken place amid what is widely-considered to be the world's worst humanitarian catastrophe with Yemen, the Arab world's poorest nation even before the conflict, facing widespread famine.
The Saudi coalition's actions aimed at rolling back Houthi gains have been widely criticized by rights groups for worsening the situation and the world's worst man-made humanitarian crisis with nearly 80%, or about 30 million, Yemenis needing humanitarian assistance.
https://www.aa.com.tr/en/americas/biden-to-end-support-for-saudi-offensive-in-yemen/2134287
--------
India
Kerala: BJP promises 'love jihad' law, axing of devaswom boards
Feb 8, 2021
KOZHIKODE: If voted to power NDA will enact a law against 'love jihad' — along the lines of the one passed in Uttar Pradesh — and disband all devaswom boards in the state, BJP state president K Surendran said, on Sunday, unveiling the issues that figure prominently in his party's manifesto for the upcoming assembly election.
"These are also concerns of the majority community, not just Sabarimala." The situation in Kerala is such that no one can ignore the issues raised by the Sangh Parivar, he said.
Surendran said UDF's promise of legislation on Sabarimala is mere eyewash. "We all know what Rahul Gandhi said after the Supreme Court verdict. There is no case against a single UDF worker for participating in the Sabarimala agitation," he said.
The BJP leader said Oommen Chandy's attitude to the agitation was cruel. "He didn't utter a single word when BJP workers were being hunted down by the LDF government. He maintained that it was an issue concerning only Hindus," he said.
Surendran said if LDF has really changed its stand on Sabarimala, the government should withdraw cases against all those who participated in the agitation. He said only by disbanding devaswom boards can temples be freed from the clutches of politicians.
Leaving temples to believers will end all issues, including protection of the faith in Sabarimala. "The first thing we do if voted to power will be the dissolution of devaswom boards," he said. He added that 'love jihad' is another serious issue. "Christian churches have raised the issue with the Prime Minister. If NDA comes to power, we will enact a law similar to the one passed in Uttar Pradesh to check 'love jihad," he said.
He also alleged discrimination in the distribution of welfare measures to minorities.
https://timesofindia.indiatimes.com/city/kozhikode/kerala-bjp-promises-love-jihad-law-axing-of-devaswom-boards/articleshow/80742734.cms
--------
Allahabad HC junks plea alleging ownership of land for Ayodhya mosque
February 08, 2021
Last week, two Delhi-based sisters moved the Allahabad High Court, claiming ownership of five acres of land in Ayodhya that were allotted for construction of a mosque in accordance with the Supreme Court verdict in the Ram Janmabhoomi-Babri Masjid case in 2019.
The petition had been filed before the Lucknow bench of the Allahabad High Court by two Delhi-based sisters, Rani Kapoor Punjabi and Rama Rani Punjabi. The duo had claimed ownership of the five-acre land, claiming that their father had bought it, but his name had been expunged from the land records.
On Monday, the Lucknow bench of the Allahabad High Court dismissed the petition filed over the land dispute in Dhannipur village as the petitioners' lawyer sought to withdraw it. The order to junk the petition came from Justices D.K. Upadhyay and Manish Kumar. The sisters had filed the petition through senior advocate H.G.P. Parihar. For the state government, additional advocate general Ramesh Kumar Singh had opposed the plea, saying that the plot numbers allotted for the mosque were different from the plots the petition referred to.
Then expressing concern with Parihar for filing the petition in a cursory manner without ascertaining correct facts, the bench dismissed it.
The sisters had claimed that their parents came from Punjab in Pakistan to Faizabad (now Ayodhya). Their father, Gyan Chandra Punjabi, became employed with the Nazul department. He had gained a land deed for 28 acres of land for Rs 1,560 in Dhannipur village (Sohawal tehsil). Though his name was part of the records, the land continued to be used by those who had held it earlier. Later, their father's name was also expunged from the local land records, following which a dispute was filed before the local land consolidation officer.
On Friday, the local land consolidation officer in Dhannipur, Rajesh Pandey, said the disputed property was land in Shekpur Jafar, a village neighbouring Dhannipur.
https://www.theweek.in/news/india/2021/02/08/allahabad-hc-junks-plea-alleging-ownership-of-land-for-ayodhya-mosque.html
--------
Pakistani intruder killed by BSF along International Border in Jammu
Feb 8, 2021
JAMMU/NEW DELHI: A Pakistani intruder was shot dead by the Border Security Force (BSF) along the India-Pakistan international border in Jammu on Monday, officials said.
The incident took place near the Chak Faquira border post (border pillar no 64) in the Samba sector around 9:45 am, they said.
"Despite repeated warnings, the intruder kept moving towards the border fence and was fired upon by BSF troops. The dead body of one Pakistani intruder has been recovered," a BSF spokesperson said.
The spot where the body was found is around 40 metres from the International Border on the Indian side, the officials said.
https://timesofindia.indiatimes.com/india/pakistani-intruder-killed-by-bsf-along-international-border-in-jammu/articleshow/80745676.cms
--------
Bengal election sets off rush for Muslim votes. Should BJP be happy?
Prabhash K Dutta
February 7, 2021
Muslims comprise around 30 per cent of voters in West Bengal, where assembly election is expected in April-May. Muslim voters are considered to be the deciding factor in a Bengal election.
In 2011, Chief Minister Mamata Banerjee's Trinamool Congress stunned the CPM-led Left Front in that year's Bengal election, which took place against the backdrop of the Sachar Commission report that said Muslims were in a worse condition in the state.
At present, apart from the ruling Trinamool Congress, the Congress and also the AIMIM of Hyderabad MP Asaduddin Owaisi, another outfit the Indian Secular Front (ISF) has entered the fray in Bengal.
While the previous Bengal elections have seen a shift of Muslim votes from one party or coalition to another, the upcoming election in Bengal is unique in the sense that it seems prime for an unprecedented rush for Muslim votes. Congress leaders in Bengal have repeatedly complained to the central leadership about the loss of support from Muslim voters.
Congress eyes piggybacking Abbas Siddiqui
The Indian Secular Front is backed by Islamic cleric Pirzada Abbas Siddiqui, an influential Muslim leader in Bengal. Siddiqui had previously supported Mamata Banerjee in 2011 and 2016 when she won the Bengal elections.
The Bengal Congress is eyeing an alliance with Siddiqui, who has appeared positive to the Congress's proposal. If a tie up happens, the Congress could be a serious contender for Muslim votes in the West Bengal Assembly election.
Leader of Opposition in Bengal Assembly Abdul Mannan recently wrote to Congress president Sonia Gandhi, strongly advocating for an alliance with Siddiqui's ISF. Mannan wrote, "... the Congress party in West Bengal stood in the state for the support of Minority votes for many years."
Mannan said, "The president of the ISF is a Hindu but the person behind the front is a Muslim religious leader named Pirzada Abbas Siddiqui, who belongs to the eminent religious family of Furfura Sharif, Hooghly. He is not only popular for his oratory skill among Muslims but among Dalits and Tribals also."
Mannan explained to Sonia Gandhi the political logic behind his proposal: "Out of 30 per cent Muslim population in Bengal, the percentage of Bengali speaking Muslim is 90 per cent, which had been the traditional vote bank of Congress Party. We have failed to hold that support for various reasons. Introduction of a new political entity in the name of Indian Secular Front (ISF) is a threat for all secular parties."
The Owaisi angle
After success in the Bihar Assembly election, Asaduddin Owaisi has become a significant factor in Bengal as well. Owaisi, according to reports, is in touch with Siddiqui. They talked about forming an alliance in January.
Owaisi has been working to create a pan-India party that speaks for Muslims, and then expand the political base among Dalits. He speaks Urdu in his public meetings and attempts to unite Muslim voters politically.
This is a problem for Mamata Banerjee, who adopted the same Urdu strategy as she weaned Muslim voters away from the CPM-led Left Front.
However, the Congress-Siddiqui proposal puts Owaisi in a dilemma. Owaisi, in January, had said his party would follow the decision that Siddiqui takes with regards to an alliance for Bengal election.
But the national political stance of Owaisi would make it difficult for him to align with the Congress, which has already struck a deal with the Left.
If Owaisi contests Bengal election alone, his AIMIM would be in direct clash with Mamata Banerjee's TMC. In this scenario, the BJP hopes for a counter-polarisation.
A test for Mamata Banerjee
There is a little history to Mamata Banerjee's pro-Muslim tilt in politics. Back when Mamata Banerjee floated her separate outfit, the BJP-led NDA was rising to power under Atal Bihari Vajpayee. She joined the NDA. But her association with the BJP distanced her from Muslim vote bank in Bengal.
Mamata Banerjee did a political course correction after 2004, when the Vajpayee government was voted out. Mamata Banerjee began wooing Muslims in a way that Bengal had not seen in recent years. Besides Nandigram and Singur, Mamata Banerjee was helped by the findings of the Sachar Commission, set up by the Manmohan Singh government to study the state of Muslims in the country.
The Sachar Commission said Muslims were more backward, and in a worse condition in the Left-ruled Bengal. The Muslims in Bengal had been traditional voters for the Left. The Sachar Commission report worked against the Left Front in Bengal election 2011.
Once in power, Mamata Banerjee rolled out several Muslim-specific policies. The Mamata government
gave an allowance or stipend to imams and muezzins,
provided free bicycles to girls studying in madrasas,
extended scholarships to Muslim students of Class I to X,
offered reservation to Muslim OBCs,
banned the telecast of a drama series by controversial author Taslima Nasrin on the demand of conservative Muslim clerics,
and made Urdu the second official language in districts where the Urdu-speaking population was more than 10 per cent.
The Mamata government gave a grant of Rs 300 crore to the Aaliah University, started during Left Front's rule, and constructed special hostels for Muslim girls in districts.
Additionally, Mamata Banerjee increased the number of tickets given to Muslims in Bengal Assembly elections, covered her head and attended prayers, mixed Arabic words with Bangla in public meetings, roped in influential urbane Urdu-speaking Muslims and also gave more weightage to Urdu-speaking Muslims in her cabinet compared to the previous Left Front government.
Still, Mamata Banerjee faces a tough challenge in keeping her Muslim vote bank intact in the 2021 Bengal election as the Congress tries to revive its support base among Muslims and Owaisi is looking to replicate his Bihar success in Bengal. There is a section of Muslims that believes Mamata Banerjee has unwittingly helped the rise of the BJP in Bengal.
Should BJP be happy?
Despite its outreach to Muslims, the BJP has negligible support base among Muslims primarily due to its emphasis on Hindutva. The BJP usually benefits from a division of Muslim votes in elections. A scramble for Muslim votes in Bengal, backed by its performance in the last Lok Sabha election, augurs well for the BJP in the upcoming assembly election.
To top it up, the BJP leaders seem to be helping polarisation of voters in Bengal both to consolidate Hindutva vote and tap counter-polarised vote due to appeasement politics of the TMC, and the Congress, and religion-based appeal of Owaisi's politics.
"The TMC is thinking they will manage this time with 30 per cent (Muslim vote share). But I would like to tell them that we have 70 per cent (Hindu votes). I would like to urge you today from this 'manch', stay united and give a befitting reply to oust the ruling government," Suvendu Adhikari recently said at a public rally.
To strengthen the TMC's claim in South Bengal — several districts dominated by Muslim voters — Mamata Banerjee has decided to shift to Nandigram constituency in East Midnapore district from Bhabanipur in Kolkata and counter Suvendu Adhikari's switch from the TMC to the BJP.
Adhikari said, "I take this responsibility today to ensure BJP's win from Nandigram. They [TMC] are relying on 62,000 votes but I have the support of 2.13 lakh people, who chant 'Jai Shri Ram'."
Responding to possible Congress-Left-Siddiqui-Owaisi alignment, BJP's Amit Malviya said, "The true nature of "secular" politics is nothing but Muslim appeasement and here Abdul Mannan can't even hide his desperation to consolidate their Muslim vote bank. Reading the letter it seems as if Hindus don't matter."
In sync, the BJP MLAs on Friday walked out of West Bengal Assembly chanting "Jai Shri Ram" as they opposed the Mamata government's decision not to invite Bengal Governor Jagdeep Dhankar to the Assembly on the first day of the Budget Session.
Muslims in Bengal
Bengal has 294 assembly constituencies out of which 46 have a Muslim concentration of over 50 per cent. There are 16 seats where Muslims comprise 40-50 per cent of population, 33 seats with 30-40 per cent Muslims and there are another 50 seats where Muslims are 20-30 per cent as voters. This makes Muslims a key factor in nearly half the constituencies in Bengal.
There are over 100 constituencies in Bengal where Muslim voters have deciding influence in elections. Districts of Malda, Murshidabad, North Dinajpur, South 24 Parganas, North 24 Parganas, Nadia and Birbhum are particularly in the focus of political parties for Muslim votes and anticipated counter-polarised votes.
Three districts in particular — Malda, Murshidabad and North Dinajpur — have higher Muslim population than that of the Hindus. These Muslim-dominated districts are likely to see intense electioneering by the TMC, the Congress and Owaisi's AIMIM. The BJP looks more for counter-polarisation.
In 2019 Lok Sabha polls, the BJP trailed the TMC by three per cent votes. Some analysts said Mamata Banerjee's TMC won more seats than the BJP in 2019 as it could garner 65 per cent of Muslim votes. Any significant division of Muslim votes due to jostling among the Congress-Left mahajot (grand alliance), the TMC and Owaisi-Siddiqui appeal, could change the tide in Bengal.
https://www.indiatoday.in/news-analysis/story/west-bengal-elections-rush-for-muslim-votes-should-bjp-be-happy-1766708-2021-02-07
--------
Terrorists plan to set up hideouts in Jammu to receive arms from Pakistan: DGP
07th February 2021
JAMMU: Asserting that Jammu has always remained a target of Pakistan and its agencies, Director General of Police Dilbag Singh on Sunday said terrorists are planning to set up their hideouts here to receive arms and ammunition from across the border and smuggle it to Kashmir.
However, the Jammu and Kashmir Police is alert to the challenge, he added.
Singh said the arrest of Lashker-e-Mustafa chief from the Kunjwani area of Jammu on Saturday reflects the determination of the force to scuttle the nefarious designs of the neighbouring country sponsoring terrorism and drugs in the union territory.
"Jammu has always remained a target of Pakistan, its sponsored terrorist outfits, ISI and the agencies running militancy in J-K. In the past, religious places were repeatedly targeted and a grenade attack had taken place on a temple in Rajouri in the recent past.
"Police have got inputs and are taking action (to foil any attempt to disturb peace and harm the communal harmony)," the police chief told reporters on the sidelines of a function here.
Singh said the recently floated Lashkar-e-Mustafa is an offshoot of the Jaish-e-Mohammad outfit and majority of its members were arrested in Kashmir or Jammu.
"The questioning of its commander (who was arrested in Jammu city on Saturday) is going on and his disclosure suggests that they wanted to spread militancy to Jammu and set up hideouts so that they can dump the arms and ammunition received from Pakistan before smuggling to Kashmir or any other place," he said.
The DGP said he was happy that the police arrested the terrorist on time and the plan was thwarted.
"The Jammu as well as Kashmir police are working in coordination and are ready to face any challenge with determination. We have a cent percent success rate in the cases where police seized arms and ammunition and drugs which were airdropped by drones or smuggled by other means," he said.
Singh said Pakistan is playing with the lives of the youth by luring them into militancy, using drugs to ruin their lives and also smuggling contraband to use the money for terrorism.
"All these three things are happening together from Pakistan. The menace of drugs is a major challenge as it is well organised with the support and sponsorship of Pakistan," he said.
The DGP said both Jammu and Kashmir and Punjab share borders with Pakistan and remain the target for drug trafficking.
"We have seen the recovery of a truck-load of 685 kgs of drugs at Attari border in Punjab in recent times. BSF also seized the biggest haul of drugs when it recovered 66 kgs of narcotic substance from the Arnia sector of J-K."
"We have successfully foiled repeated drug smuggling attempts in Kupwara and Baramulla in north Kashmir and Poonch, Rajouri and Samba in Jammu region. Police have gone all out against the menace and have managed to seize the contraband being smuggled out of J-K," he said.
However, he said, there are various modes of transportation and chances are that a few consignments might have reached their destinations after escaping the vigilant forces.
"We all have to come together to continue our fight against the menace with more vigour," he said.
https://www.newindianexpress.com/nation/2021/feb/07/terrorists-plan-to-set-up-hideouts-in-jammu-to-receive-arms-from-pakistan-dgp-2260939.html
--------
J&K police book father of slain 'terrorist' for holding protest
By Ashiq Hussain
FEB 08, 2021
Jammu and Kashmir Police has registered an FIR against the father of an alleged terrorist killed in an encounter in the Parimpora area of the city on December 30 last year for holding a protest in south Kashmir's Pulwama district earlier this week.
Athar Mushtaq was killed along with two other alleged militants Aijaz Maqbool Ganai and Zubair Ahmad Lone in the encounter last year. The families of the three deceased have been holding protests and demanding the return of their bodies. Athar's father Mushtaq Ahmad Wani and PDP president Mehbooba Mufti alleged that the FIR, which the police claimed was on grounds of unlawful assembly, was lodged because the former had held a protest demanding the body of his son who was buried by the forces in Ganderbal, some 110 km away. "There is an FIR against an unlawful assembly at Below (Pulwama) on February 05, 2021," Pulwama SP, Ashish Kumar, said in a text message.
As per local reports, Wani and others have been booked under sections 147, 341, 153 of IPC and 13 of the UAPA for "organizing illegal processions under criminal conspiracy".
https://www.hindustantimes.com/india-news
--------
J-K police arrest wanted terrorist, seize arms and ammunition in Jammu
By Ravi Krishnan Khajuria
FEB 07, 2021
A wanted terrorist and self-styled commander of Lashkar-e-Mustafa, believed to be a frontal organisation of Jaish-e-Mohammad (JeM) outfit, was arrested on Saturday on the outskirts of Jammu city, the Jammu and Kashmir police said.
A pistol and grenade were seized from the possession of Hidayatullah Malik alias Hassain, an 'A' category terrorist hailing from Shopian district.
"We have recovered some arms and ammunition from him. More searches and raids are yet to be conducted," said Jammu district police chief SSP Shridhar Patil.
Patil said the terrorist was arrested from Kunjwani area of Jammu city. "Malik was travelling in a vehicle with arms, ammunition and grenades when arrested by a police team," he said.
The SSP said that the terrorist attacked the police party but was overpowered.
Preliminary questioning has revealed that he was planning to conduct a terror attack in Jammu, the officer said.
Police are searching for another associate of Malik who allegedly travelled with him from Kashmir to Jammu, officials said. It has been learnt that the terrorist was travelling in a vehicle which had an Uttar Pradesh registration number.
Malik is the latest in a chain of arrests. The first arrest in this chain was Ayaz Bhat of Anantnag from whom one pistol was recovered on January 18, said a police spokesman.
On his disclosure, two more terror associates namely Rayees Mir of Pampore and Shakir Itoo of Shopian were arrested from whose possession two grenades were recovered, he added.
Four more terror associates hailing from Anantnag were arrested and two pistols, AK-47 rounds and hand grenades were recovered from their possession, he said.
During interrogation, they revealed that Malk was staying in Bhatindi area of Jammu and planning a major attack in Jammu city, he said.
A special team of Anantnag Police was constituted and deputed to Jammu to launch the operation. At about 3:30 pm on Saturday an operation was launched with the assistance of Jammu police at Kunjwani.
During the joint operation, Malik attacked the joint party and tried to escape from the spot but the team apprehended in Kunjwani area of Jammu which is a very crowded place.
Incriminating materials, arms and ammunition including two pistols and grenades have been recovered from his possession, said the spokesman.
Malik is one of ten accused in a case in Pulwama in May last year in the case of a car bomb which was later on destroyed by security on the spot.
https://www.hindustantimes.com/india-news/jk-police-arrest-wanted-terrorist-seize-arms-and-ammunition-in-jammu-101612673823961.html
--------
Pakistan
Most of the revered Hindu sites in Pakistan in state of decay: Report
Feb 8, 2021
ISLAMABAD: Most of the revered sites of the minority Hindu community in Pakistan are in a poor condition and the authority responsible for their upkeep has failed to maintain them, leaving the ancient worship places in a state of decay, a recent report has said.
The report, prepared by a one-man commission, was submitted to the Supreme Court on February 5 and presents a dismal picture of the community's most revered sites in the country, the Dawn reported.
The report also highlights that the Evacuee Trust Property Board (ETPB), responsible for their upkeep, has failed to maintain most of the ancient and holy sites of the minority community.
Dr Shoaib Suddle's one-man commission has been established by the Supreme Court but it has three supporting members, Dr Ramesh Vankwani, Saqib Jillani and the attorney general for Pakistan, who has nominated the deputy attorney general to participate in fact-finding activities of the commission, the newspaper report said.
The commission members visited the Katas Raj Mandir in Chakwal on January 6 and Prahlad Mandir in Multan on January 7.
The findings in the report presents a general picture of decay and obliteration of two of the four most revered evacuee sites in Pakistan.
The report said that collaborative efforts should be taken to renovate Terri Mandir (Karak), Katas Raj Temples (Chakwal), Prahlad Mandir (Multan) and Hinglaj Mandir (Lasbela).
It also suggested an amendment to the ETPB Act to establish a working group for rehabilitation of the holy sites belonging to Hindus and Sikhs.
The report has requested the Supreme Court to direct the ETPB to get involved in the reconstruction of the desecrated Terri mandir/samaadhi and cooperate with the Khyber Pakhtunkhwa government for efficient implementation of the directives given by the apex court from time to time.
In December, a temple in Terri village in Khyber Pakhtunkhwa's Karak district was torched by members of radical Jamiat Ulema-e-Islam party (Fazal ur Rehman group). The attack on the temple drew strong condemnation from human rights activists and the minority Hindu community leaders, prompting the Supreme Court to order its reconstruction.
The Supreme Court had in its order of January 5 directed the ETPB "to submit a detailed report of all temples, Gurdawaras and other religious sites all over Pakistan which come under the purview of ETPB".
According to the ETPB letter, out of 365 temples, only 13 were being managed by them, leaving responsibility of 65 with the Hindu community, and practically abandoning the rest of 287 to the land mafias, the report said.
"It is indeed strange that even in this age of technology, the ETPB has yet to get the evacuee properties geo-tagged," it said.
The commission said that the ETPB, with its staff spread across the country and boasting huge paraphernalia, was managing 31 places of worship out of a total of 470.
The commission also raised objections over the ETPB's response that non-functional temples/gurdwaras existed due to lack of population of Hindus/Sikhs.
"However, there are several examples of active mandirs, where no Hindu population resides, such as Hinglaj Mata Mandir in Balochistan and Shri Param Hans Ji Mahaaraj mandir/samaadhi at Terri in Karak district of KPK," the report said.
The commission also highlighted that the ETPB is yet to Reimburse Rs 38 million for the renovation of Terri temple.
Alleging that the ETPB was only interested in occupying valuable properties of migrated minorities, the commission said that hundreds of charitable, worship and other joint properties of these communities have been taken over by it, the newspaper reported.
Hindus form the biggest minority community in Pakistan.
According to official estimates, 75 lakh Hindus live in Pakistan. However, according to the community, over 90 lakh Hindus are living in the country.
The majority of Pakistan's Hindu population is settled in Sindh province where they share culture, traditions and language with Muslim residents. They often complain of harassment by the extremists.
https://timesofindia.indiatimes.com/world/pakistan/most-of-the-revered-hindu-sites-in-pakistan-in-state-of-decay-report/articleshow/80746102.cms
--------
Pakistan asks Afghanistan to 'neutralise threat' emanating from war-torn nation
Feb 7, 2021
ISLAMABAD: Pakistan said on Sunday that the United Nations has acknowledged the presence of terror groups like the Tehreek-i-Taliban Pakistan and its affiliates in Afghanistan as it asked the Afghan forces to "neutralise this threat" emanating from the war-torn nation.
According to the 27th report of the Analytical Support and Sanctions Monitoring Team last week, the Tehrik-e-Taliban Pakistan was reported to have "overseen a reunification of splinter groups that took place in Afghanistan and was moderated by Al-Qaeda."
The report noted that Tehrik-e-Taliban Pakistan was responsible for over 100 "cross-border" attacks within three months last year.
Commenting on the report, the Foreign Office said that Pakistan "expects that a dedicated effort will be launched by Afghan National Defence and Security Forces (ANDSF) and Resolute Support Mission (RSM) to neutralise this threat emanating from Afghanistan."
"Pakistan, in the past, has drawn attention of the international community to the support provided to TTP and its affiliates by the hostile intelligence agencies. One of the results of that support was the merger of Jamaatul Ahrar (JuA), Hizbul Ahrar (HuA) and other splinter groups of LeJ with TTP in Afghanistan last year," according to the statement.
The FO said that Pakistan stands firm in its resolve to partner with international community against the menace of terrorism
https://timesofindia.indiatimes.com/world/pakistan/pakistan-asks-afghanistan-to-neutralise-threat-emanating-from-war-torn-nation/articleshow/80738272.cms
--------
1 killed, 5 arrested in CTD operation against suspected militants in Karachi
Imtiaz Ali
February 8, 2021
Officials of the Counter-Terrorism Department of the Sindh Police on Monday killed one and arrested five suspected militants in an intelligence-based operation in Karachi and foiled a potential terror plot, according to officials.
A shootout took place between the suspects and law enforcement agencies at Shah Latif Town, said CTD Deputy Inspector General Omar Shahid Hamid, adding that a stun grenade was used in the operation as well.
The National Counter Terrorism Authority had previously issued an alert expressing fears of a major terrorist attack in the city, Hamid said.
DIG Hamid said foreigners were present among the arrested suspects and a rickshaw fitted with explosives — for purported use in a suicide attack — was found at their hideout which was defused by members of the bomb disposal squad.
Weapons, explosives and suicide jackets were recovered in the operation as well, he said.
A press conference on the events will be held at 3pm today at the CTD DIG office, police said. Sindh Information Minister Syed Nasir Hussain Shah and Sindh Inspector General of Police Mushtaq Mahar will also attend the press talk.
Last month, the CTD had arrested a student of Karachi's NED University of Engineering and Technology over charges of "international terror financing".
"He was involved in sending money to families of militants linked with the global [militant] Islamic State group in Syria," said DIG Hamid. According to the CTD, Khalid used to provide cash to an associate, named Zia, in Hyderabad, who converted it into dollars before sending it to Syria.
Speaking about the investigation, Hamid had said the CTD had received information that some people collected funds from Pakistan, which were sent to IS militants in Syria through various means. Acting on a tip-off, police detained the said suspect and seized two mobile phones from his possession on December 17, 2020.
https://www.dawn.com/news/1606190/1-killed-5-arrested-in-ctd-operation-against-suspected-militants-in-karachi
--------
Murad shrugs off opposition's threat of no-trust move against him
February 8, 2021
DADU: Sindh Chief Minister Syed Murad Ali Shah has dismissed Pakistan Tehreek-i-Insaf leader Haleem Adil Shaikh's reaction to the recent dismantling of his farmhouse and said he had obtained lease of land for agricultural purposes but was making its commercial use.
If someone wanted to play politics on encroachments he was free to do so but the Sindh government was only complying with orders of Supreme Court, Shah told journalists in Bhan Syedabad town on Sunday.
He said that encroachment drive had been launched across the province and it was being executed purely according to the letter and spirit of the apex court order.
He said that the government had granted 30-year lease for agricultural purposes but the lessees built farmhouses on the land. The lease tenure would not be extended under clearly directives of SC, he said.
He said that he enjoyed complete trust of Pakistan Peoples Party leadership and would remain chief minister. Under the leadership of PPP chairman Bilawal Bhutto-Zardari, Sindh government had provided best services to the people of the province in spite of difficulties caused by Covid pandemic, he claimed.
He said that if opposition parties wanted to bring a no-trust motion against him they could do so but he believed the move to unseat him would fail. All PPP MPAs were united and they did not care of pressure or fears of victimisation, he said.
A day before, the chief minister said at a press conference in Sehwan that he made an offer to PTI, saying if the party was incapable of running federal government it should hand over its reins to PPP, which would manage affairs of the centre as ably as it was governing Sindh.
He said that PTI lacked majority in National Assembly to amend the Constitution. It was clear the party had no trust in the loyalty of its members hence it was insisting on "show of hands" for Senate election, he said.
About National Finance Commission award, he said that he would highlight the issue of Sindh's share in the award in upcoming meeting of Council of Common (CCI) Interests. PTI should bring an amendment to the Constitution to change mode of Senate election, he said.
He said that PPP co-chairman Asif Ali Zardari had introduced 18th Amendment after having sought consent of all political parties and this one instance showed the PPP's capability to garner support of different parties for a common cause and proved how successful PPP's tenure was in centre.
He condemned PTI members' attitude towards PPP MNA Naveed Qamar in National Assembly and said that the ruling party members were acting foolishly as they did not know law nor Constitution.
He said the federal government had completely failed on Kashmir issue. The provincial government took some harsh decisions to face Covid outbreak and shut all shrines for all but the devotees who followed SOPs for coronavirus, he said.
Shah said that local bodies' election would be held under the Constitution, which required the election be held according to census and Sindh government had serious objections over census 2017.
He said that a decision on the census would be taken in upcoming CCI meeting. He had learnt the census would be held again before 2023, he said.
He said that he had raised the issue of gas shortages and reiterated PPP would always stand by people of Sindh on its right over gas.
After the press conference, PTI district president Sardar Hakim Nohani announced joining PPP.
Earlier, the chief minister offered condolence to party supporters over death of their relatives in Lutuf Ali Bhand village and Bhan Syedabad town.
He was accompanied by PPP MNA Sikandar Rahpoto, Syed Asif Ali Shah, local PPP leader Amanullah Shahani, Jamshoro deputy commissioner Fareeduddin Mustafa, Jamshoro SSP Moha­mmad Anwar Khetran, Dadu DC Samiullah Nisar Shaikh and Dadu SSP Aijaz Ahmed Shaikh.
https://www.dawn.com/news/1606110/murad-shrugs-off-oppositions-threat-of-no-trust-move-against-him
--------
South Asia
Taliban Intelligence Chief Nabbed in Balkh
08 Feb 2021
Security sources in Balkh province say that the Taliban intelligence chief responsible for two districts has been arrested by the provincial police.
The 209th Shaheen Corps on Monday stated, that in an operation conducted by reconnaissance and intelligence members.
Rozi Khan, the Taliban's intelligence chief for the Chahar Bolak district of Balkh and Faizabad districts of Jawzjan province, was arrested on the outskirts of Mazar-e-Sharif and was brought to justice for prosecution.
This comes as eight members of Afghan security forces were killed in Badghis and Ghor provinces.
At least ten members of the Afghan security forces were killed and two more wounded in clashes with Taliban militants in Badghis and Ghor provinces, sources told media on said Monday.
six policemen were killed in the AabKamari district of Badghis province when the Taliban attacked security outposts, and four others are reported missing.
In a similar incident, 4 security force members were killed in Taliban clashes in Firuzkoh of Ghor province.
Local officials told the media, that five other security force members were wounded during the skirmish.
https://www.khaama.com/taliban-intelligence-chief-nabbed-in-balkh-334433/
--------
4 killed as Taliban tried to snatch a flock of sheep in Balkh
08 Feb 2021
The 209th Shaheen Corps said the Taliban fighters killed four civilians in an attempt to snatch locals' sheep.
Mohammad Hanif Rezaee, a spokesman for the 209th Shaheen Corps, told Khaama press Monday, that at around 5 a.m. in the morning, Taliban affiliated members killed four civilians in an attempt to loot a flock of sheep in the Chaharkant district of Balkh province.
He added that the Taliban group tried to steal a flock of 400 to 450 sheep when clashes between the locals and group occurred.
According to him, during the resistance four civilians were killed and five others were injured in the clash, and two other civilians hit Taliban land mines instantly killing them.
Taliban fighters were unable to steal the sheep because locals prevented them from doing so, Rezaee added.
Rezaei noted the Taliban members fled the area following the skirmish with the locals.
The northern province of Balkh is one of the relatively safest provinces in the country, but for the past two years, the Taliban have been active in parts of the region.
https://www.khaama.com/4-killed-as-taliban-tried-to-snatch-a-flock-of-sheep-in-balkh-455444/
--------
Taliban not committed to peace, abandoned talks: Afghan NSA
07 February 2021
Afghan National Security Advisor (NSA) Hamdullah Mohib claimed that the Taliban has no intention towards being committed to the country's peace process, adding that the militant group has totally abandoned the negotiations in Doha, the media reported on Sunday.
"Taliban's intention is clear. Taliban do not want peace, their bosses won't allow them to make peace. It is a fact that they want permanent instability in Afghanistan," Khaama Press quoted Mohib as saying a press conference on Saturday.
According to Mohib, the Taliban are not prepared to reduce level of the violence in the war-torn country.
"The Taliban want to destroy Afghanistan, they just want complete power and nothing else.
"If the Taliban do not want peace, we must defend our people. President (Ashraf) Ghani is committed to peace. But the Taliban are the main obstacle to the peace process.
"We will not allow them to collapse the system and carry out their nefarious goals here," the NSA added.
Also addressing the press conference, Interior Minister Massoud Andarabi claimed that the Taliban leadership is in Doha and were not aware of the war situation in Afghanistan.
"They are killing Afghans illegitimately," he added.
Deputy Defence Mnister Shah Mahmood Miakhel added at the briefing that "if the Taliban want war we are ready", Khaama Press reported.
The peace negotiations between the Afghan Republic and the Taliban have stalled over the last 20 days and violence has also remained high in the country, TOLO News said in a report.
The Ministry of Defence on Friday reported fighting between the government forces and the Taliban in at least 20 provinces in 24 hours.
Sources said over 20 security force members were killed in Taliban attacks in Kunduz and Faryab provinces on Thursday night.
https://www.dailypioneer.com/2021/trending-news/taliban-not-committed-to-peace--abandoned-talks--afghan-nsa.html
--------
Mideast
Iran Calls for End of Yemeni War, Siege by Hawkish Governments
021-February-7
"Ending the support for the Saudi coalition and stopping the arms sale to them could be a step for correcting the past mistakes," Khatibzadeh said, adding, "The air, sea, and land siege, which has caused food and medicine poverty and claimed the lives of thousands of Yemenis, should come to an end."
He said that certain countries which are aiding and abetting the Saudis against the Yemeni people should put an end to their soft and hard support for Riyadh.
The spokesman added that Iran welcomes any efforts to support Yemen and to stop supports for the aggressors.
In relevant remarks on Friday, Iran's Ambassador to Yemen Hassan Irlou said he is not optimistic about the US new policy on the war-torn country.
"The US is a great Satan & we are not optimistic about what they say," Irlou wrote in a post to his Twitter account.
He said the new American administration may have a different approach toward Yemen, but Tehran will not trust in it.
The envoy expressed hope that, with the divine help, the people of Yemen will continue their victories against the Saudi-led aggression.
Irlou made the remarks in reaction to the US National Security Advisor Jake Sullivan who said Joe Biden is going to put an end to the US support for offensive operations in Yemen.
https://www.farsnews.ir/en/news/13991119000243/Iran-Calls-fr-End-f-Yemeni-War-Siege-by-Hawkish-Gvernmens
--------
Iran: Israel's Possible Adventurism to Expedite Own Annihilation
2021-February-7
"Iran will give a crushing response to any threat by the occupying regime," Iran's Ambassador and permanent representative to the UN Majid Takht Ravanchi wrote in a letter to the UN Secretary General Antonio Guterres in reaction to the recent comments of an Israeli official, adding that any measure by the Zionist regime will speed up its eventual destruction.
"Recently, the Israeli regime has not only intensified its provocative and hawkish remarks against the Islamic Republic of Iran but is also actively planning to carry out its hostile threats against Iran," Takht Ravanchi wrote.
Referring to a top Israeli military official's mendacious claims on Iran's peaceful nuclear program, he continued, "In addition to their current plans against Iran, the Israeli military forces are also preparing operational plans to develop them for the next year, as such plans must be 'on the table'."
"Such threats are a blatant violation of Article 2 of the UN Charter", Takht Ravanchi added.
He stressed that given the very dark and shameful record of the regime in attacking regional countries, the world countries should give an appropriate response to the usurper regime.
"We reserve our natural right to defense, and will give a decisive response to any threat or incorrect move by the Israeli regime," the envoy went on to say.
"It is perfectly clear that the Israeli regime must shoulder full responsibility for its unbridled and incorrect moves," he warned, calling on the Security Council to confront Israel's destabilizing policies and hawkish actions.
In late January, Israeli Army Chief of Staff Aviv Kochavi warned the administration of US President Joe Biden against rejoining the 2015 Iran nuclear deal, adding that he had ordered his forces to step up preparations for possible offensive against Iran.
In relevant remarks late January, Military advisor to the Iranian Supreme Leader and former Iranian Defense Minister Brigadier General Hossein Dehqan played down the Israeli officials' recent threats against Iran, saying that they do not dare to fire even a single bullet at the country.
The Israelis "do not even dare to fire a bullet at dear Iran", General Dehqan wrote on his twitter page on Wednesday January 27.
He warned the regime, however, that Iran's "doctrine is defensive but based on severe punishment for the aggressors. Do not rush for annihilation."
https://www.farsnews.ir/en/news/13991119000160/Iran-Israel%E2%80%99s-Pssible-Advenrism-Expedie-Own-Annihilain
--------
Israel's Netanyahu pleads not guilty to corruption charges as trial resumes
08 February ,2021
Prime Minister Benjamin Netanyahu pleaded not guilty on Monday to corruption charges at the resumption of his trial some six weeks before Israeli voters again pass judgment on his leadership.
"I confirm the written answer submitted in my name," Netanyahu said, standing before a three-judge panel in a heavily-guarded Jerusalem District Court.
He was referring to a document his lawyers gave the court last month in which they argued he was not guilty of charges of bribery, breach of trust and fraud.
Netanyahu was indicted in 2019 in long-running cases involving gifts from millionaire friends and for allegedly seeking regulatory favors for media tycoons in return for favorable coverage. He has denied any wrongdoing.
He last came to court in May at the start of a trial subsequently delayed by coronavirus lockdowns. At that session, he delivered a speech in the corridor, flanked by cabinet ministers from his right-wing Likud party, denouncing his prosecution as a political witch hunt.
Before Monday's session, at which Netanyahu will be asked to respond formally to the charges against him, the Israeli leader issued a public appeal to supporters not to come to the court building, citing health precautions in the coronavirus pandemic.
But dozens of protesters demanding his resignation held a demonstration near the court house against the first serving Israeli prime minister to be charged with a crime.
A politically-divided Israel will hold its fourth parliamentary election in two years on March 23, with Netanyahu's handling of the COVID-19 crisis and his alleged corruption main issues stoking weekly protests against him.
Opinion polls show the race too close to call, as right-wing rivals and centre-left opponents muster against Israel's longest-serving leader. Netanyahu, 71, has been prime minister continuously since 2009 after a first term from 1996 to 1999.
https://english.alarabiya.net/News/middle-east/2021/02/08/Netanyahu-appears-in-court-for-resumption-of-corruption-trial
--------
Palestinians to launch own postcodes to assert sovereign rights
07 February 2021
The Palestinian Authority (PA) says it has decided to start using its own postal codes in an attempt to ease the delivery of mail and parcels to and from the occupied West Bank.
The Palestinian leadership made the announcement on Sunday, saying it has asked the Universal Postal Union (UPU) to notify its member states of the decision.
Palestinian Minister of Telecommunications and Information Technology Ishaq Sider said at a press conference in the occupied West Bank city of Ramallah that "From April, postal items that do not bear a Palestinian postal code will not be processed".
"It is a question of asserting Palestinian rights", he added.
Sider further said Palestinian postal codes would also help put an end to the seizure of shipments from abroad.
He also noted that six tonnes of packages had been held up in Jordan since 2018, accusing Israel of obstructing deliveries.
Imad al-Tumayzi, head of international relations at the Palestinian Post, also said using postcodes "will prevent Israel from seizing postal items that come to Palestine, and will help make the services more efficient".
"In 2020, we recorded more than 7,000 violations of postal equipment on the Israeli side, whether by opening packages, seizing them or summoning their owners for investigation," he said.
International mail sent to or from the occupied West Bank currently has to pass through Jordan or Israel.
Palestinians have complained that they are forced to use costly private courier services to send or receive parcels.
But it was not clear if the application of postal codes would cut mailing costs.
The official Palestinian Wafa news agency also said nearly half a million buildings in the occupied West Bank had already been given postcodes, adding that the rollout would soon be extended to the besieged Gaza Strip.
However, a Palestinian postal worker who asked not to be named, described the new postcodes as "more symbolic than practical."
The latest development comes amid Israel's plan to annex parts of the occupied Palestinian territories.
After former |US president Donald Trump took office in December 2016, Israel stepped up its settlement construction activities in defiance of United Nations Security Council Resolution 2334, which pronounced settlements in the West Bank and East Jerusalem al-Quds "a flagrant violation under international law."
Palestinians want the West Bank as part of a future independent Palestinian state, with East Jerusalem, al-Quds, as its capital. But Israel's aggressive settlement expansion and annexation plans have dealt a serious blow to any prospects of peace.
More than 600,000 Israelis live in over 230 settlements built since the 1967 Israeli occupation of the Palestinian territories of the West Bank and East Jerusalem, al-Quds.
All Israeli settlements are illegal under international law as they are built on occupied land.
https://www.presstv.com/Detail/2021/02/07/644772/Palestine-postal-codes-West-Bank-PA
--------
Israeli forces shoot, wound four Palestinians in Jenin, West Bank
07 February 2021
Israeli troopers have shot and wounded at least four Palestinians in northern city of Jenin in the occupied West Bank as tensions continue to simmer in the occupied territories.
The Palestinian Information Center, quoting local sources, reported that Khaled Nasser Fraihat, a worker from Yamoun town, west of Jenin, was shot in his leg by Israeli forces while he was going to his workplace on Sunday.
The shooting occurred near the "Apartheid Wall" in the vicinity of Barta'a town, southwest of Jenin, the report said, adding that the Palestinian worker was then taken to a nearby hospital for due treatment.
Israel began building the barrier of walls and fences inside the occupied West Bank back in 2002. Tel Aviv argues that the project is aimed at preventing "infiltration" into the occupied territories, but Palestinians say the move is yet another violation of their rights and allows for further annexation of their land.
The barrier wall violates the basic rights of nearly a million Palestinians, forcing thousands of them to obtain special permits from Israeli forces to allow them to move between their homes and their lands.
According to the report, Palestinian workers are always chased by Israeli forces while trying to access their workplaces in the occupied lands.
Separately on Sunday morning, clashes occurred between Israeli soldiers, who had stormed Jenin, and young Palestinians. Local sources told the Palestinian Information Center that Israeli forces fired live bullets and tear gas canisters.
At least three young Palestinians sustained injuries – namely Hassan Turkman, a child who was shot in his leg, Diaa Yusuf, a young man who was also shot in the leg, and Thamer al-Mahr, a boy who was wounded with a rubber bullet.
According to the report, the three wounded Palestinians were taken to hospitals in Jenin for due treatment.
Locals also said that a number of other protesting Palestinians suffered breathing problems.
Additionally, Ibrahim Al-Saadi, another young Palestinian, was injured in his leg and back after an Israeli patrol intentionally ran over him, the report added.
Tensions are rising in the occupied Palestinian territories as Israel presses ahead with expansionism, illegal settlement construction and violence against the Palestinians.
More than 600,000 Israelis live in over 230 illegal settlements built since the 1967 Israeli occupation of the Palestinian territories of the West Bank and East Jerusalem al-Quds.
The UN Security Council has condemned Israel's settlement activities in the occupied territories in several resolutions.
https://www.presstv.com/Detail/2021/02/07/644767/Palestine-Jenin-Israel-West-Bank-shooting
--------
MEP: Israel is apartheid state, illegally occupying Palestine, Syria's Golan
07 February 2021
In response to Israeli Prime Minister Benjamin Netanyahu, who has billed Israel as "a democratic state," a member of the European Parliament has called the regime an "apartheid state," which has illegally occupied Palestinian and Syrian lands and is engaged in genocide against Palestinians.
"When the International Criminal Court (ICC) investigates Israel for fake war crimes, this is pure anti-Semitism," Netanyahu said on Saturday, a day after the ICC ruled that it has jurisdiction to open a war crimes investigation against Israel.
In a tweet later in the day, Mick Wallace, independent Irish member of the European Parliament (EP), said Israel is "an apartheid state" rather than a democratic one.
Wallace, an outspoken member of the EP, also slammed Israel as a "lawless state", which is illegally occupying Palestine and Golan Heights, and totally ignores international law as it bombs Syria "whenever it feels like it."
In a statement released on Friday, the ICC said it has jurisdiction in Palestine, a move that cleared its chief prosecutor to investigate alleged atrocities despite strong objections by the Israeli regime.
ICC judges made it clear that the court was not taking a stance on any border disputes, but added the court's territorial jurisdiction extended "to the territories occupied by Israel since 1967, namely Gaza and the West Bank, including East Jerusalem."
The Palestinian government welcomed the new ruling, praising it as a victory for justice, humanity and freedom, and voicing readiness to cooperate with the ICC's prosecutor if an investigation is launched.
The Palestinian resistance movement Hamas also hailed it as a move in support of the rights of Palestinians, saying the Israeli regime has continually practiced "organized terror" against Palestinians whereas the international community remained silent.
Israel occupied East Jerusalem al-Quds, the West Bank and the Gaza Strip – the territories the Palestinians want for their future state – in 1967. Currently, about 700,000 Israelis live in over 230 illegal settlements built in the West Bank and East Jerusalem al-Quds.
Citing the UN General Assembly Resolution 67/19, the ICC said that the resolution reaffirmed the right of the Palestinian people to self-determination and to independence in their State of Palestine on the Palestinian territory occupied since 1967.
Israel is not a member of the ICC, but Palestine was allowed to join in 2015 and has since called for an investigation into Israeli crimes. The regime in Tel Aviv has argued that as Palestine is not a fully-fledged state, it should not be allowed to petition the court.
In the Friday statement, the ICC rejected Israel's argument, stating that Palestine had "the right to be treated as any other state party" to its statute.
Netanyahu and former US President Donald Trump have been among the fiercest critics of the ICC in recent years. Emboldened by Trump's hostility toward the ICC, the Israeli prime minister called for sanctions against the court in 2020.
https://www.presstv.com/Detail/2021/02/07/644760/MEP-calls-Israel-apartheid-state
--------
Fatah, Hamas set to discuss elections at Cairo reconciliation talks
07 February 2021
After 15 years of rivalry between Fatah party and the Palestinian resistance movement Hamas, the key Palestinian factions plan to meet in the Egyptian capital Cairo this week to tackle issues that could threaten long-awaited elections.
Leaders of several Palestinian political factions, including Hamas and Fatah, were scheduled to start a comprehensive national dialog in the Egyptian capital Cairo on Monday, aiming to reach an agreement on the mechanism of holding the general elections in the occupied Palestinian territories.
The Fatah delegation led by Jibril Rajoub and Hamas's team headed by Saleh al-Arouri would examine ways to boost the inter-Palestinian reconciliation.
Technical, legal and security issues would also be discussed to ensure the first Palestinian votes in 15 years.
Khalil Shikaki, director of the Palestinian Center for Policy and Survey Research in Ramallah said a string of nuts-and-bolts issues must be addressed among the political factions before any vote.
Palestinian President Mahmoud Abbas announced in a decree last month that the 2021 general elections will include legislative elections being held on May 22, presidential elections on July 31 and the Palestinian National Council elections on August 31.
Hamas welcomed the decree and expressed its "strong eagerness to make this obligation successful."
The movement also called for dialogue ahead of the votes.
Earlier last month, Ismail Haniyeh, head of Hamas political bureau, wrote a letter to the Palestinian president, calling for ending division, building partnership, and accomplishing national unity, according to a statement issued by the Palestinian Authority, which is the governing body in the West Bank led by Abbas.
Major challenges still loom over the vote. Top of the list is east Jerusalem al-Quds, the majority Palestinian part of which annexed by Israel following the 1967 Six Day War in a move not recognized by most of the international community.
Abbas has previously said he would not agree to elections unless Palestinians in east Jerusalem al-Quds can vote. But such a guarantee is unlikely from Israeli regime, which has labelled the entire city its "undivided capital".
The Palestinian Authority (PA) has asked the European Union to send an election observer mission to oversee the vote in east Jerusalem al-Quds.
The Palestinian leadership has been divided between Fatah and Hamas since 2006 when the latter scored a landslide victory in parliamentary elections in the besieged Gaza Strip. Hamas has ever since been running the densely-populated coastal enclave, while Fatah has been based in the autonomous parts of the Israeli-occupied West Bank.
However, the new decree remained far from clear whether the voting would actually be held. Previous reconciliation attempts by the two sides to form a power-sharing unity government in Gaza and the West Bank have failed. The pair agreed on a unity government in April 2014, but it fell apart months later.
The relation between the Palestinian Authority and the United States soured after the administration of former president Donald Trump recognized the whole Jerusalem al-Quds as the so-called "capital" of the Israeli regime and moved the US embassy from Tel Aviv to the city, cut aid to Palestinians in the West Bank and proposed a much-condemned plan – known as the Deal of the Century – that allowed Israel to seize large parts of the West Bank and the Jordan Valley.
Abbas hopes that US President-elect Joe Biden reverses what Trump had done against Palestinians. But such elections, with the participation of Hamas, could also complicate Biden's alleged plans to restore aid to the Palestinians since Washington has since 1997 designated Hamas as a "terrorist" group.
This is while Hamas has for years defended the besieged Gaza Strip from frequent Israeli incursions, notably during three wars the regime imposed on the impoverished enclave.
Israel captured the West Bank, Gaza, and the East Jerusalem al-Quds in the 1967 war, territories the Palestinians want for their future state.
https://www.presstv.com/Detail/2021/02/07/644751/Palestine-Hamas-Fatah-Egypt-Mahmoud-Abbas-US--
--------
Africa
Bomb blast kills at least 12 in central Somalia
Mohammed Dhaysane
07.02.2021
MOGADISHU, Somalia
A bomb blast in central Somalia killed at least a dozen people on Sunday, including a local intelligence chief, according to officials.
The attack, which wounded several others, targeted the vehicle of Abdirashid Abdi Qooje as it passed through the village of Eldhere 30 kilometers (18 miles) west of Dhusamareb, the administrative capital of Galmudug State. Qooje was the head of the National Intelligence and Security Agency in Dhusamareb.
Speaking to Anadolu Agency, security officials in the region confirmed the attack and number of casualties on condition of anonymity.
"A military vehicle carrying Dhusamareb intelligence chief Abdirashid Abdi Qooje, was attacked while traveling between Eldhere and Guriel town, killing him and 11 of his bodyguards," one security official said.
Several others, including three soldiers, were also wounded and were transported to hospitals in Dhusamareb for treatment.
Local media have placed casualties at 14 people.
Al-Shabaab, an Al Qaeda-linked terrorist group based in the Horn of Africa country, claimed responsibility for the attack.
This was the third bombing in Somalia over the last 24 hours. One civilian was killed and three others wounded in a bomb blast Saturday evening in the capital Mogadishu.
On Sunday, three soldiers guarding the Mogadishu-Afgoye highway construction site were wounded in another bomb blast outside Mogadishu.
https://www.aa.com.tr/en/africa/bomb-blast-kills-at-least-12-in-central-somalia/2136833
--------
ICC officials in Sudan seek cooperation for Darfur justice
08 February ,2021
Sudan's justice minister has met with officials from the International Criminal Court in the capital of Khartoum to discuss cooperation with the tribunal in the trials related to the Darfur conflict, his office said.
Justice Minister Nasredeen Abdulbari said after Saturday's meeting that Sudanese authorities are conducting "internal deliberations" over "the best ways of cooperation" with the ICC. He did not elaborate.
The 12-member ICC delegation, headed by Deputy Prosecutor James Kirkpatrick Stewart, arrived in Khartoum early Saturday. The visit is coming around two months after the court's Chief Prosecutor Fatou Bensouda criticized Sudan's transitional authorities over the lack of progress in cooperation with the African country to bring justice to victims of Darfur conflict.
The conflict in the western Darfur region broke out when rebels from the territory's ethnic central and sub-Saharan African community launched an insurgency in 2003, complaining of oppression by the Arab-dominated government in the capital Khartoum.
Then-President Omar Al-Bashir's government responded with a scorched-earth campaign of aerial bombings and unleashed militias known as Janjaweed, who are accused of mass killings and rapes. As many as 300,000 people were killed and 2.7 million people were driven from their homes.
The ICC charged al-Bashir with war crimes and genocide for allegedly masterminding the campaign of attacks in Darfur. He has been under arrest since the Sudanese military, under pressure from protesters, ousted him in April 2019.
Two other senior figures of al-Bashir's rule accused by the ICC of war crimes and crimes against humanity also are under arrest in Khartoum. They are Abdel-Rahim Muhammad Hussein, interior and defense minister during much of the conflict, and Ahmed Haroun, a senior security chief at the time and later the leader of al-Bashir's ruling party.
The ICC is also seeking rebel leader Abdulla Banda, whose whereabouts are not known.
Janjaweed leader Ali Kushayb has been tried before the ICC in The Hague, Netherlands over multiple counts of war crimes and crimes against humanity in Darfur in 2003 and 2004. The court's pre-trial chamber has postponed the hearing on confirmation of the charges against Janjaweed leader Ali Kushayb until Feb. 22.
In a briefing to the UN Security Council in December, Bensouda called on the Sudanese government to allow unimpeded access for the tribunal's investigators to witnesses, crime scenes and other evidence in Darfur.
She also urged the government to swiftly respond to the draft memorandum of understanding on cooperation with the ICC that was sent after she made the first visit to Khartoum by a prosecutor since the Darfur conflict in October.
Abdulbari, the justice minister, said he discussed with the visiting delegation the signing of that memorandum, but he did not give further details.
Also on Saturday, Prime Minister Abdalla Hamdok fired his Cabinet, in an expected move ahead of the a reshuffle as part of a peace deal with a rebel alliance signed last year, his office said.
Hamdok planned to announce the new Cabinet on Monday, which would include ministers from Sudan Revolutionary Front, an alliance of armed groups, according to the state-run SUNA news agency.
Sudan is on a fragile path to democracy after the ouster of al-Bashir. The county is now ruled by a joint military and civilian government that seeks better ties with Washington and the West.
https://english.alarabiya.net/News/middle-east/2021/02/08/ICC-officials-in-Sudan-seek-cooperation-for-Darfur-justice
--------
Sudan's PM Hamdok dissolves cabinet: State TV
8 February ,2021
Sudan's Prime Minister Abdalla Hamdok dissolved his cabinet on Sunday, the prime minister's office said in a statement.
The new cabinet will be announced on Monday, Sudan's Transitional Sovereignty Council's media office said in a separate statement.
Sudan on Friday appointed three representatives of armed rebel groups to top posts in the country's interim government as part of a peace deal signed last year, the state news agency reported on Thursday.
Sudan is transitioning to democratic rule after a mass uprising forced the military to remove longtime dictator Omar al-Bashir in 2019 and trying to quell years of conflict in its rebellious regions.
https://english.alarabiya.net/News/middle-east/2021/02/08/Sudan-s-PM-Hamdok-dissolves-cabinet-State-TV
--------
Somali opposition leaders say they no longer recognize President Farmajo
08 February ,2021
Somalia's opposition leaders have announced that they no longer recognise President Mohamed Abdullahi Mohamed, after his term expired without a political agreement on a path toward elections to replace him.
"Starting from 8th February 2021, the council of opposition candidates does not recognise Farmajo as president. The council will not accept any form of mandate extension through pressure," the opposition leaders said in a statement issued late Sunday that referred to the president by his common nickname.
The declaration comes after Farmajo's government in Mogadishu and the leaders of Somalia's five federal states failed to break a deadlock over how to proceed with elections.
Somalia was supposed to hold indirect parliamentary and presidential elections before February 8 but the deadline was missed as Farmajo and the regional leaders squabbled over how to conduct the vote.
The United Nations had warned that Somalia, a country already battling a violent extremist insurgency and serious food shortages, risked entering uncharted territory should the government's mandate expire without a consensus on the election process.
Farmajo, who is running for a second term, blamed his regional rivals for reneging on an earlier agreement struck in September that laid out a timeline for a vote.
Jubaland, one of the semi-autonomous regions at odds with Farmajo, accused the president of refusing their offers to compromise.
The coalition of opposition presidential candidates called for the establishment of a transitional national council to steer the nation through this period, and urged Farmajo to respect the constitution.
The group is allied against Farmajo, but comprises candidates running individually for the presidency including two of Somalia's former presidents.
https://english.alarabiya.net/News/world/2021/02/08/Somali-opposition-leaders-say-they-no-longer-recognize-President-Farmaajo
--------
Europe
EU keeps PKK on terrorism list
Agnes Szucs
05.02.2021
BRUSSELS
The European Union on Friday renewed its terrorist list for a further six months.
The sanctions list features 14 persons and 21 entities or groups, including the PKK and Dalokay Sanli, a senior figure of the terrorist group.
Terrorist organizations DHKP/C, IBDA-C, and TAK -- a PKK offshoot -- are also on the list.
In its more than 30-year terror campaign against Turkey, the PKK – also listed as a terrorist organization by Turkey and the US – has been responsible for the deaths of 40,000 people, including women, children, and infants.
In order to combat terrorism, the bloc freezes the funds and financial assets in the EU of the enlisted persons and groups and also bans EU operators to make economic resources available for them.
The bloc applies a separate sanction mechanism for terror groups Al-Qaida and Daesh/ISIS.
https://www.aa.com.tr/en/europe/eu-keeps-pkk-on-terrorism-list/2135467
--------
European envoy in Sudan to ease tension with Ethiopia
Buhram Abdel-Mon'em
07.02.2021
A European special envoy is set to arrive in Sudan on Sunday for talks aimed at easing tension with Ethiopia over their border dispute.
"The High Representative for Foreign and Security Policy in the European Union, Josep Borrell, assigned the Finnish Minister of Foreign Affairs, Pekka Haavisto, to visit Sudan and Ethiopia as a special envoy of the European Union," the EU Mission in Sudan said in a statement.
The visit aims "to help ease tensions between Sudan and Ethiopia, and to find out how the international community can provide support in finding peaceful solutions to the current crises facing the region", the statement added.
Haavisto is expected to stay in Khartoum for two days where he will meet Sudan's top officials, including Abdelfattah al-Burhan, chairman of the Sudanese Sovereignty Council, Prime Minister Abdullah Hamdok and Foreign Minister Omar Qamar al-Din.
Relations between Khartoum and Addis Ababa witnessed tensions over Sudanese accusations to Ethiopia of supporting gangs that targeted Sudanese territories along with stuck talks over border demarcation.
https://www.aa.com.tr/en/europe/european-envoy-in-sudan-to-ease-tension-with-ethiopia/2136627
--------
German police beat up Turkish father, daughter
Mesut Zeyrek
06.02.2021
A Turkish father and his 17-year-old daughter were beaten by German police in the town of Ennepetal in the North Rhine-Westphalia state.
Cemil Basongen told Anadolu Agency that the police had used disproportionate force against him and his daughter, Yasemin, due to a simple incident on Feb. 3.
Basongen, who had come to Germany from Turkey in 2001 as a factory worker, said the incident occurred after his daughter had an argument with her friends, who then called the police.
"While I was waiting for her outside, the police came within five minutes. The police had told my daughter to step away and so she went downstairs [...] Because my daughter went downstairs, a female police officer angrily went after her and knocked down my 17-year-old daughter with another officer that had entered from outside [the house]," Basongen recounted.
He said he was also attacked by another male officer when he tried to separate the police from his daughter in a bid to protect her.
"That burly cop got on top of me. He punched me twice and I lost consciousness and he handcuffed me behind the back. At that time, they took my daughter in a police car. I was already unconscious and didn't see this," he said.
Once at the police station, Basongen said he saw his daughter's face and hair were covered in bloodstains.
"When they opened the handcuffs and let me see my daughter, her face and hair were covered in blood. Before getting out of the vehicle in front of the police station, they had severely beaten her up. Her cheekbone was broken. Her nose was bleeding. There was no need for this beating. They called an ambulance and took her to the hospital," Basongen said.
He added that his daughter said the police had threatened to kill her.
"I'll file a criminal complaint against the police and seek my rights through legal means to the end," Basongen said.
https://www.aa.com.tr/en/europe/german-police-beat-up-turkish-father-daughter/2136222
--------
European delegation in Yemen to advance peace efforts
Shukri Hussein
06.02.2021
A European Union mission arrived in Yemen's interim capital, Aden, on Saturday to discuss opportunities for peace with the newly formed government.
The visit is the first by a European delegation since the return of the Yemeni government to Aden on Dec. 30 from Saudi Arabia.
The mission includes the ambassadors of France, the Netherlands, Belgium, Norway, Germany, Finland, Sweden and Ireland, according to a government source.
The delegation arrived aboard a private plane "to hold talks with the government on a number of issues related to peace opportunities in Yemen," said the source, who preferred to remain unnamed because he was not authorized to speak to the media.
He said the European delegates were scheduled to meet with Prime Minister Moein Abdel-Malik and Foreign Minister Ahmed Awad bin Mubarak as part of their visit.
On Dec. 18, a power-sharing government based on the Riyadh Agreement was announced in war-torn Yemen containing 24 ministers, including representatives of the separatist Southern Transitional Council (STC), which is backed by the United Arab Emirates (UAE).
Yemen has been engulfed by violence and instability since 2014, when Houthi rebels captured much of the country, including Sanaa.
A Saudi-led coalition aimed at reinstating the Yemeni government has worsened the situation, causing one of the world's worst man-made humanitarian crises with 233,000 people killed, nearly 80% or about 30 million needing humanitarian assistance and protection, and more than 13 million in danger of starving to death, according to UN estimates.
https://www.aa.com.tr/en/europe/european-delegation-in-yemen-to-advance-peace-efforts/2136031
--------
URL: https://www.newageislam.com/islamic-world-news/draped-iraqi-flags-with-mass/d/124253
New Age Islam, Islam Online, Islamic Website, African Muslim News, Arab World News, South Asia News, Indian Muslim News, World Muslim News, Women in Islam, Islamic Feminism, Arab Women, Women In Arab, Islamophobia in America, Muslim Women in West, Islam Women and Feminism