New Age Islam News Bureau
10 Jun 2017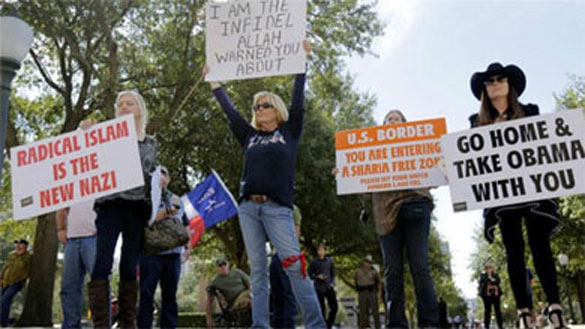 Anti-Muslim group plans marches in dozens of cities across the US [File: Eric Gay/AP]
----
• Dozens of US Cities Brace for Anti-Muslim Marches
• Islamic State Threatens Attacks in Saudi Arabia
• Eradication of Takfiri Terrorists Certainty: Iran
• Over £1000 to Be Awarded To Muslim Students in the UK for Academic Excellence for a Third Year Running
North America
• Dozens of US Cities Brace for Anti-Muslim Marches
• US Evangelical Leaders Speak Against 'Anti-Muslim' Billboard, Call for Tolerance
• Stop funding terror, teaching hate: Trump to Qatar
• White House official says Trump, Tillerson on 'same page' over Qatar crisis
• Ex-official: Obama 'disbanded' Iran terror financing probe
• UAE welcomes Trump's leadership in challenging Qatar's support for extremism
--------
Arab World
• Islamic State Threatens Attacks in Saudi Arabia
• Muslim World League Backs Qatar Isolation by Terminating Qaradawi Membership
• Who are the 26 Egyptians on the released 'terrorist list'
• Lebanon nabs 7 suspected Daesh-linked terrorists, dismantles terror network
• Iraq's Kurds say 'no turning back' on independence vote
• Syrian artist paints world leaders as vulnerable refugees
• 'Even US Soldiers cried on Saddam's hanging'
• Heavy US-led strikes as fighters battle IS in Syria's Raqa
• Rival Terrorist Groups Engage in Fierce Clashes in Northwestern Syria again
• Kurdish-Led SDF Drives ISIL out of Key Syrian Army Base near Raqqa
• Syrian Gov't Forces Kick off Large-Scale Anti-Terrorism Operation in Dara'a
• ISIL's Large-Scale Offensives on Syrian Army Positions in Deir Ezzur Repulsed
• Trump, Sisi discuss Arab unity to fight terrorism
--------
Mideast
• Eradication of Takfiri Terrorists Certainty: Iran
• Iran Captures 41 More ISIL Terrorists in 4 Provinces
• Erdogan, Ghannouchi ties with Hekmatyar show Islamists' links with warlords
• Turkey says Iraqi Kurdish independence vote a 'terrible mistake'
• Police Seize Arms Cargo with 92 Handguns in Western Iran
• Iran lashes out at US, S. Arabia as it mourns its dead
• Iran attacks expose security gaps, fuel regional tension
• Erdogan approves troop deployment to Qatar
• Pope slams 'barbaric' terrorist attacks in Tehran
• Iran says arrested 48 Daesh Wahhabi terrorists
• Turkey to continue to support Qatar: President Erdogan
• Israeli forces shoot Palestinian dead in Gaza
--------
Europe
• Over £1000 to Be Awarded To Muslim Students in the UK for Academic Excellence for a Third Year Running
• Muslim Vote 'Appears To Have Made a Difference'
• Germany urges Iran to avoid any moves to exacerbate tensions in Gulf
• Australian counter-terrorism police conduct raids after fatal siege
• Qatari FM in Germany says Doha committed to diplomacy to ease tensions
• It is about time British Muslims proved their loyalty to Britain
--------
South Asia
• 15 ISIS Militants Killed In Hamza Operations in Nangarhar Province
• Call to protect society from radical forces
• Modi, Hasina urged to protect Bangladeshi tribals
• PM Hasina congratulates Tulip, Rushanara, Rupa for re-election in UK polls
--------
Africa
• Libyan Army Provides Documentary Proof of Qatar's Crimes in Country
• Libya issues new terror blacklist with '75 individuals linked to Qatar'
• Three UN peacekeepers killed in northern Mali attack
• 14 killed as soldiers clash over food aid in Somalia
• Nigeria: Recession - Minister, Clerics Call for Prayers
--------
India
• At SCO Summit, PM Modi Takes Veiled Dig At Pakistan in Strong Anti-Terror Pitch
• J&K: Another Infiltration Bid Foiled, Army Guns Down 5 Terrorists In Uri
• India will take 'drastic' action against Pakistan, says Union Minister Kiren Rijiju
• In Assam's communally sensitive Silchar, allegations of 'love jihad' spark violent clashes
• Pakistan gives permission for Delhi-Nankana Sahib procession
• NIA questions Syed Ali Shah Geelani's son-in-law
--------
Pakistan
• Pakistan, Turkey Should Help To Resolve Alarming Issue: Siraj
• On Qatar, Pakistan walks a diplomatic tightrope
• Call to probe Musharraf-era nuclear proliferation
• Indian Sikh pilgrims arrive to mark Shaheedi Jor Mela
• Pakistan vows safe return of Afghans: NSA
--------
Southeast Asia
• TN50: PM Invites Malaysians to Share Their Religious Aspirations
• From Indonesian village to ISIS siege chief
• Malaysia on high alert for terror strikes during Ramadan
• Islamic State eyed PH after failing to gain foothold in Indonesia – security expert
Compiled by New Age Islam News Bureau
URL: https://www.newageislam.com/islamic-world-news/dozens-cities-brace-anti-muslim/d/111494
--------
Dozens of US cities brace for anti-Muslim marches
10 June 2017
Cities across the United States are gearing up for the National March Against Sharia, an anti-Muslim campaign that has been criticised by several rights groups and watchdogs.
ACT for America, described by the Southern Poverty Law Centre (SPLC) as the largest grassroots anti-Muslim group in the US, called for Saturday's marches in at least 28 cities in more than 20 states.
In a statement on ACT for America's website, the group claims that sharia - or Islamic law - runs contrary to human rights and the US Constitution.
Brigitte Gabriel, the group's founder, is a Lebanese American who has referred to Arabs as "barbarians" in the past. She has been a vocal supporter of right-wing US President Donald Trump.
In a speech to a pro-Israel lobby group in 2007, Gabriel claimed that Arabs have "no soul".
President Trump, who promised during his electoral campaign to ban Muslims from entering the country, has signed two executive orders seeking to limit travel from Muslim-majority countries since taking office less than six months ago.
After being overturned in a handful of courts, Trump's ban will be considered by the Supreme Court.
Corey Saylor, a spokesperson with the Council on American Islamic Relations, told Al Jazeera rallies like the National March Against Sharia contribute to "the creation of an environment in which violence [against Muslims] feels permissible".
The SPLC says neo-Nazi, anti-government and white supremacist organisations have thrown their weight behind the marches and plan to attend.
In Batesville, Arkansas, local neo-Nazi Billy Roper has claimed he and his allies are organising the local rally in tandem with ACT for America.
The anti-Muslim marches have also been promoted by the Proud Boys, a far-right nationalist group, and by various organisations within the alt-right, a loosely knit coalition that includes white supremacists and neo-Nazis.
The nationwide marches come just weeks after Jeremy Christian, a 35-year-old white supremacist, allegedly stabbed to death two men on a train when they tried to prevent him from harassing a teenage Muslim girl in Portland, Oregon.
Counterprotests are also slated to take place in California, New York, Pennsylvania, Minnesota, Washington and North Carolina, among others.
http://www.aljazeera.com/indepth/features/2017/06/dozens-cities-brace-anti-muslim-marches-170608135752352.html
--------
Islamic State Threatens Attacks in Saudi Arabia
Jun 10, 2017
JEDDAH - Islamic State (IS) threatened attacks in Saudi Arabia after the militant group claimed responsibility for assaults in Tehran that killed at least 17 people, Site Intelligence monitoring group reported on Friday.
Suicide bombers and gunmen attacked the Iranian parliament and Ayatollah Khomeini's mausoleum in Tehran on Wednesday. Scores of people were also wounded.
In a video that appeared to have been recorded before the attack on Tehran, five masked fighters were shown threatening Shias in Iran as well as the Saudi Arabian government saying their turn "will come".
Iranian authorities said five of the attackers were Iranian nationals recruited by IS, while Iran's powerful Revolutionary Guards Corps blamed the assault on regional rival Saudi Arabia and has threatened revenge. Saudi Arabia denied any involvement in the attacks.
Tensions have been high in the Middle East since Saudi Arabia, Egypt, the United Arab Emirates and Bahrain severed diplomatic and transport ties with Qatar, accusing it of supporting terrorism. Doha denies the accusation.
On Friday, the US embassy in Saudi Arabia issued a security notice to US citizens recommending that they "exercise caution in places frequented by foreigners due to the continuing risk of terrorist attacks... across the Kingdom."
http://nation.com.pk/international/10-Jun-2017/islamic-state-threatens-attacks-in-saudi-arabia
--------
Eradication of Takfiri terrorists certainty: Iran
Jun 9, 2017
Iran's Foreign Ministry has censured the deadly terrorist attacks in Iraq's central provinces of Babil and Karbala, expressing confidence that Takfiri terrorism would face a final defeat.
"The heavy and consecutive defeats of Takfiri terrorists in Iraq and Syria have led to their ideological and organizational breakdown," Iranian Foreign Ministry Spokesman Bahram Qassemi said.
In a desperate but futile attempt to restore the morale of their murderous mercenaries in Syria and Iraq, Takfiri terrorists are resorting to indiscriminate attacks across the region and the world, he added.
"However, their (Takfiri terrorists) collapse and destruction are a certainty," the Iranian spokesperson pointed out.
He urged regional and global officials and nations to remain vigilant in dealing with Takfiri terrorists, warning that terrorism in all its forms would remain the greatest threat to the region and the world if its ideological principles and financial resources are neglected.
"Like always, the Islamic Republic of Iran is resolved to stand by regional nations and governments in the relentless fight against violence and until the complete elimination of terrorism," Qassemi said.
He expressed his sympathy with the Iraqi government and nation as well as the bereaved families of the sad incident.
At least 31 people were killed and 35 others wounded after a woman detonated her explosives-laden belt at the entrance to a crowded market in the mainly Shia populated town of Musayyib, located 80 kilometers south of the capital Baghdad, on Friday.
The Daesh Takfiri terror group, which has been leading a campaign of death and destruction in Iraq over the past few years, claimed responsibility for the bombing.
The attack came only a few hours after nine people were killed and 16 others wounded in a bomb explosion at the entrance to a garage in the center of the holy shrine city of Karbala.
An unnamed official at Karbala health department said most of the victims were pilgrims, who had traveled to the city to pay homage to Imam Hussein (PBUH), the third Shia Imam and the grandson of Prophet Muhammad (PBUH), and his brother Abolfazl al-Abbas (PBUH).
The bomb attacks came at a time that the Iraqi government forces, backed by fighters from allied Popular Mobilization Units, are battling to expel Daesh terrorists out of their last urban bastion in the country.
According to the UN Assistance Mission for Iraq (UNAMI), a total of 354 Iraqi civilians were killed and 470 others injured as a result of acts of terrorism and violence in the conflict-ridden Arab country.
The UN mission, however, did not mention the number of Iraqi police forces, who were killed or sustained injuries in the unrest.
http://217.218.67.231/Detail/2017/06/09/524739/Iran-Iraq-Karbala-Babil-Bahram-Qassemi-Daesh
--------
Over £1000 to be awarded to Muslim students in the UK for academic excellence for a third year running
Jun 10, 2017
For the third year running, the Allamah Tabatabai Award aims to recognise students who excel academically and awards them for their achievements. By equipping them with life skills and giving them the necessary support, the award helps to nurture their academic, spiritual and personal growth in order to ensure that they are able to become successful in all aspects of their lives.
As well as the prestigious A. T. Award, a range of cash prizes and subsidised trips, each participant is also assigned a mentor that helps them with their academic journey, offering advice and guidance.
All GCSE and A-Level students with minimum requirement grades will receive a certificate, entry to mentoring scheme and a subsidised international trip (minimum requirement grades are available on www.ataward.co.uk). In addition to these prizes, top three students with the highest number of A* and A grades at both GCSE and A-Level will receive cash prizes totalling over £1000.
By being named after one of the greatest scholars in recent history, the award also teaches students of all ages the importance of seeking an education in order to get closer to God. By encouraging each student to seek knowledge and prosper in their areas of interest, it allows students to reflect on God's creation and to further develop their own personal relationship with God.
It is narrated by Ayatullah Jafar Subhani that Allamah Tabatabai was completely dedicated to his studies and research. Hence, Allama serves as an inspiration for many enthusiastic students of all ages and by naming this prestigious award after him, it pushes students to learn more about the great scholar. One participant says, "I can confidently say that my passion for seeking knowledge has been nurtured due to the support and advice I have received. The mentoring sessions allowed me to meet with inspirational individuals who can guide."
https://themuslimvibe.com/muslim-lifestyle-matters/education/over-1000-to-be-awarded-to-muslim-students-in-the-uk-for-academic-excellence-for-a-third-year-running
--------
North America
US evangelical leaders speak against 'anti-Muslim' billboard, call for tolerance
June 10, 2017
Religious leaders in the US state of Indiana have jointly denounced an "anti-Muslim" billboard and called for tolerance and understanding. At a press conference in the capital Indianapolis, the leaders on Friday expressed their commitment to a diverse faith community, reports Xinhua news agency.
"This particular instance may be against Muslims," said John Clark, an Evangelical Christian and director of development of the Centre for Interfaith Cooperation, "but if anyone is threatened or vulnerable, we all are." The billboard, which stands next to an interstate highway is titled "The Perfect Man". Underneath are six bullet points to describe that man, including "married a 6-year-old", "slave owner and dealer" and "13 wives, 11 at one time".
A businessman in Virginia told the Indianapolis Star daily he owns the billboard, but declined to say what group paid for the ad. Faryal Khatri from the Islamic Society of North America said the billboard meant to incite hate, "but the opposite has happened".
Representatives of the Sikh and Roman Catholic communities and a rabbi were also present at the press conference.
http://indianexpress.com/article/world/us-religious-leaders-speak-against-anti-muslim-billboard-call-for-tolerance-4697146/
--------
Stop funding terror, teaching hate: Trump to Qatar
Jun 10, 2017
WASHINGTON: Amid a raging diplomatic face-off between Qatar and its neighbours, US President Donald Trump has accused Doha of "historically" being a funder of terrorism and asked the Gulf emirate along with other nations to stop "teaching hate".
"Stop funding (terrorism). Stop teaching hate. Stop the killing," Trump told reporters in the Rose Garden of the White House in a joint news conference with the visiting Romanian President Klaus Johannis.
In a strong-worded opening remarks, Trump alleged that Qatar was funding terrorism at the "highest level" and asked other countries doing the same to stop with immediate effect.
"The nation of Qatar, unfortunately, has historically been a funder of terrorism at a very high level. And in the wake of that conference, nations came together and spoke to me about confronting Qatar over its behaviour," Trump told reporters at the news conference.
"So we had a decision to make: Do we take the easy road or do we finally take a hard but necessary action? We have to stop the funding of terrorism. I decided, along with Secretary of State Rex Tillerson, our great generals and military people, the time had come to call on Qatar to end its funding - they have to end that funding - and its extremist ideology in terms of funding," said the US President.
"I want to call on all of the nations to stop immediately supporting terrorism, stop teaching people to kill other people, stop filling their minds with hate and intolerance. I won't name other countries, but we are not done solving the problem. But we will solve that problem. Have no choice," Trump said.
Trump's comments came after his top diplomat Rex Tillerson appealed to Saudi Arabia and its regional allies to ease their blockade of Qatar, saying it is hindering US military actions in the region and the fight against the Islamic State.
In his remarks, Trump said he has just returned from a historic trip to Europe and the Middle East, where he worked to strengthen its alliances, forge new friendships and unite all civilised people in the fight against terrorism.
"No civilised nation can tolerate this violence or allow this wicked ideology to spread on its shores. I addressed a summit of more than 50 Arab and Muslim leaders, a unique meeting in the history of nations, where key players in the region agreed to stop supporting terrorism, whether it be financial, military or even moral support," Trump said.
Bahrain, Egypt, Saudi Arabia and the United Arab Emirates have cut ties with Qatar, accusing their former Gulf Cooperation Council ally of supporting extremist groups.
Trump said defeating ISIS and other terror organisations is something he has emphasised all during his campaign.
Full report at:
http://timesofindia.indiatimes.com/world/us/stop-funding-terror-teaching-hate-trump-to-qatar/articleshow/59080451.cms
--------
White House official says Trump, Tillerson on 'same page' over Qatar crisis
10 June 2017
A senior White House official told reporters on Friday that President Donald Trump and Secretary of State Rex Tillerson were on the "same page" on Qatar.
"The United States wants a resolution to the situation but it wants a resolution on terms consistent with the principles the president laid out in Riyadh," the official said, according to Reuters news agency.
The official added that Trump was concerned about the humanitarian impact of the crisis but also Qatar's support of "terrorist finance."
The remarks were in response to reports that Trump was potentially hindering the US Department of State's efforts to ease heightening tensions, with statements from Trump and Tillerson that were perceived as conflicting.
Trump on Friday accused Qatar of being a "high level" sponsor of terrorism following the Arab states' move to tighten their squeeze on Qatar by putting dozens of figures with links to the country on terrorism blacklists.
Tillerson, meanwhile, said he expected all parties to find a resolution, demanding that Qatar, as well as the other countries, take steps to curtail support for terrorism.
Full report at:
https://english.alarabiya.net/en/News/gulf/2017/06/10/Bahrain-calls-on-Qatar-to-engage-transparently-in-combating-terrorism.html
--------
Ex-official: Obama 'disbanded' Iran terror financing probe
9 June 2017
US official David Asher who spent decades dismantling terrorist financial networks declared that the Obama administration "systematically disbanded" law enforcement investigative units across the federal government focused on disrupting Iranian, Syrian, and Venezuelan terrorism financing networks.
According to Asher who served as an adviser to Gen. John Allen at the Defense and State Departments, this was out of concern that the work could cause friction with Iranian officials and scuttle the nuclear deal with Iran, reported The Washington Free Beacon.
Asher told the House Foreign Affairs Committee Thursday that "top officials across several key law enforcement and intelligence agencies in the Obama administration 'systematically disbanded' law enforcement activities targeting the terrorism financing operations of Iran, Hezbollah, and Venezuela in the lead-up to and during the nuclear negotiations with Tehran," posted the site.
Asher explained that Iran's "Action Network" include groups and governments involved in shaping secret elements of Iran's foreign policy. It involves acts of terrorism, illicit finance, weapons and narcotics trafficking, and nuclear procurement and proliferation.
Critics this week also are questioning why the administration never publicly disclosed an Iranian cyber-attack on the State Department in late September of 2015 that sent shockwaves through the department and private-contractor community.
Full report at:
ttps://english.alarabiya.net/en/News/world/2017/06/09/Ex-official-Obama-disbanded-Iran-terror-financing-probe.html
--------
UAE welcomes Trump's leadership in challenging Qatar's support for extremism
10 June 2017
The United Arab Emirates said Qatar must acknowledge concerns about its "troubling support for extremism" and re-examine its regional policies," the UAE's ambassador to the United States said on Friday.
"The UAE welcomes President Trump's leadership in challenging Qatar's troubling support for extremism. The next step is for Qatar to acknowledge these concerns and commit to reexamine its regional policies," Ambassador Yousef Al Otaiba said in a statement seen by Reuters. "This will provide the necessary basis for any discussions," Otaiba added.
https://english.alarabiya.net/en/News/gulf/2017/06/10/UAE-welcomes-Trump-s-leadership-in-challenging-Qatar-s-support-for-extremism.html
--------
Arab World
Muslim World League backs Qatar isolation by terminating Qaradawi membership
Jun 10, 2017
The Muslim World League announced the termination of the membership of Qatar-based Egyptian cleric Yusuf al-Qaradawi on Friday, following his inclusion on a so-called "terror list" by Saudi Arabia, the UAE, Bahrain and Egypt.
The Saudi-backed organisation tweeted the announcement, saying that "based on the classification issued, the Islamic World League has ended the membership of Yusuf al-Qaradawi in the Islamic Fiqh Academy".
It also supported the states isolating Qatar with regards to their list of proscribed "terrorists" in a statement.
"This classification confirms Saudi Arabia's commitment to fight terrorism and to block its sources of funding and support," the statement said.
"The international community must intensify its efforts to counter the activities of terrorist organisations, as well as its feeders and the incubators."
Qaradawi, 90, was named on the list of alleged terrorists, despite having been hosted and celebrated in Saudi Arabia not too long ago.
Once considered a spiritual guide of the Brotherhood, Qaradawi has in the past condemned terror and described the Islamic State group's 'caliphate' as "void under the sharia".
The list included 59 people and 12 entities who are accused of terrorist activity and posing a threat to the security of Saudi Arabia, Egypt, the UAE and Bahrain.
The Muslim World League, which is known for its loyal backing of Saudi foreign policy, called upon people connected to those on the list to reject their ideologies.
Saudi Arabia and the UAE have both banned the Muslim Brotherhood as a "terrorist organisation" along with charities, scholars and thinkers with ties to the group.
The UAE is believed to have backed the 2013 coup in Egypt which led to the overthrow of the country's first democratically-elected government headed by Muslim Brotherhood-linked Mohamed Morsi.
Egyptian-born Qaradawi is one of the world's leading Sunni scholars and has backed revolutionary movements in Syria, Libya and Egypt which spread through the Arab world in 2011.
He criticised Lebanese movement Hizballah's role in Syria backing Bashar al-Assad, describing it as the "party of Satan" for "sowing discord among Muslims".
Qaradawi also criticised Iran for its role in backing the Syrian regime.
Saudi Arabia and the UAE launched media wars against Qatar after a fake news story was publised on Doha's national news agency claiming Emir Tamim bin Hamad al-Thani spoke favourably about Iran and Hizballah.
The Gulf states launched an embargo on Qatar this week and demanded Doha cut ties with the Muslim Brotherhood and Iran.
https://www.alaraby.co.uk/english/news/2017/6/10/saudi-funded-muslim-world-league-terminates-qaradawi-membership
--------
Who are the 26 Egyptians on the released 'terrorist list'
9 June 2017
In a statement issued on Thursday by Saudi Arabia, UAE, Egypt and Bahrain, a list of terrorists was released.
The list includes charity organizations as well as 59 names out of which 24 are Egyptians.
According to the statement, most of the people mentioned in the list reside in Qatar while some are in Turkey.
However, all are financed by Qatar and serve their agenda to spread the seeds of sedition, incitement and sabotage in Egypt, the statement said.
They call for the assassination of military and police personnel and they all have a history of imprisonment in cases of violence and have been sentenced to death.
All of those on the list belong to the Muslim Brotherhood and their political party. Those allied with the Muslim Brotherhood, including Assem Abdul Majid and Tariq Al-Zomor, who were previously accused in the case of the assassination of Sadat, and Mohammed Shawki Islamboli brother of Khalid Islambouli, President Mohammed Anwar al-Sadat's assassin.
The list also includes individuals who execute instructions of the group, and communicate it to their cells in Egypt.
The list is as follows:
Yusuf Abdullah al - Qaradawi
Mohamed Ahmed Shawky Islambouli
Tariq Abdulmajood Ibrahim Al Zomor
Mohamed Abdelmaksoud Mohamed Afifi
Mohamed El Saghir Abdel Rahim Mohamed
Wajdi Abdul Hamid Mohammed Ghunaim
Ayman Ahmed Abdel Ghani Hassanein
Assem Abdel Maged Mohamed Mady
Yahya Akil Salman Aqeel
Mohamed Hamada El Sayed Ibrahim
Abdul Rahman Mohammed Shukri Abdulrahman
Hussein Mohamed Reza Ibrahim Yousef
Ahmed Abdel Hafiz Mahmoud Abdel Hadi
Muslim Fouad Tarfan
Ayman Mahmoud Sadeq Rifat
Mohamed Saad Abdel - Naim Ahmed
Mohammed Saad Abdulmutallab Abdo Al Razzaki
Ahmed Fouad Ahmed Gad Beltagy
Ahmed Ragab Ragab Soliman
Karim Mohamed Mohamed Abdel Aziz
Ali Zaki Mohammed Ali
Naji Ibrahim al - Ezouli
Shehata Fathi Hafez Mohammed Suleiman
Mohammed Moharram Fahmy Abu Zeid
Amr Abdel Nasser Abdel - Haq Abdel - Barry
Ali Hassan Ibrahim Abdel - Zaher
https://english.alarabiya.net/en/News/middle-east/2017/06/09/Who-are-the-26-Egyptians-on-the-released-terrorist-list-.html
--------
Lebanon nabs 7 suspected Daesh-linked terrorists, dismantles terror network
Jun 9, 2017
Lebanese authorities have arrested seven suspected terrorists affiliated with the Daesh Takfiri terrorist group, destroyed their terror network and foiled a number of planned mass attacks.
According to a Friday statement released by the General Security Directorate, Lebanon's intelligence agency, the arrests were made during a joint operation by the Directorate General of Internal Security Forces.
It added that the detainees included a Yemeni, a Syrian and five Palestinian nationals, who had confessed to planning a series of bombings and assassinations against armed forces and civilians. Three of the suspects had been arrested in the past on terror charges, the statement added.
"Members of the network received instructions and communicated with their handlers from Lebanon," mainly from Ain al-Hilweh and Burj al-Barajneh area in the south of the capital Beirut, the statement further revealed.
According to the security agency, the planned terrorist attacks would target various parts of Lebanon, including the Ain al-Hilweh refugee camp and the northern city of Tripoli.
A Lebanese security official, speaking on condition of anonymity, said the suspects had been detained during the course of last week.
Lebanon has often seen the infiltration of Takfiri elements from neighboring Syria into its territory, where they target the civilian population or security forces with bombings.
Daesh terrorists killed at least two Lebanese troops in the 2014 cross-border clashes and took nine other soldiers hostage. In November 2015, more than 40 people were killed and dozens of others wounded after two bombings, claimed by Daesh, targeted a security post in Bourj el-Barajneh area.
Full report at:
http://217.218.67.231/Detail/2017/06/09/524758/Lebanon-Daesh-network-bombing-attack-Syria
--------
Iraq's Kurds say 'no turning back' on independence vote
9 June 2017
Iraq's Kurds said on Friday a referendum on independence will go ahead despite warnings internationally that a vote in favor of secession could trigger conflict with Baghdad at a time when the fight against ISIS is not yet won.
The Kurds have played a major role in the eight-month-old US-backed campaign to defeat the hardline Sunni insurgents in the Nineveh province around their de-facto capital Mosul.
Baghdad's Shiite-led government has rejected any move by the mostly Sunni Muslim Kurds to press unilaterally for independence, insisting that any decision about the future of the country should involve all its other parts.
But Hoshiyar Zebari, a former Iraqi foreign and finance minister and now a senior adviser to Kurdistan Regional Government (KRG) President Massoud Barzani, said the decision to hold the vote on Sept. 25 was irreversible.
"We crossed the Rubicon with that decision, there is no going back," he told Reuters in a telephone interview.
However, the expected "yes" vote would simply strengthen the Kurds' hand in talks with Baghdad rather than leading automatically to a break from Iraq, nor would an independent Kurdistan annex the oil-rich region of Kirkuk and three other disputed regions in Kurdish-controlled territory, he said.
"You will hear people saying we are for Iraq's unity, territorial integrity, we want dialogue between Baghdad and Erbil, we understand all this," he said.
"A referendum is a democratic process, no democratic country can oppose having a referendum; we are not talking about independence, we are talking about the referendum."
The KRG's announcement on Wednesday sparked concern in the United States and Germany, two of the region's most important partners in the fight against ISIS, which still controls a small part of Iraq's northern city of Mosul as well as swathes of territory in Iraq and Syria.
Neighboring Iran, Turkey and Syria all oppose secession, fearing separatism will spread to their own Kurdish populations.
Turkey's foreign ministry called the plan a "terrible mistake" on Friday and said that Iraq's territorial integrity and political unity was a fundamental principle for Ankara.
Iraq has been led by Shiites since the overthrow of Saddam Hussein, a Sunni, by the US-led invasion of 2003. The country's majority Shiite community mainly lives in the south while the Kurds and Sunni Arabs inhabit two corners of the north. The center around Baghdad is mixed.
The Kurds have their own armed force, the Peshmerga, which in 2014 prevented ISIS from capturing Kirkuk after the Iraqi army fled in the face of the militants.
They are effectively running the region, also claimed by Turkmen and Arabs. Hardline Iran-backed Iraqi Shi'ite militias have threatened to expel the Kurds by force from this region and three other disputed areas - Sinjar, Makhmour and Khanaqin.
The Sinjar region is populated by Yazidis, the followers of an ancient religion who speak a Kurdish language and the group most persecuted by ISIS. Makhmour is south of the Kurdish capital Erbil and Khanaqin is near the border with Iran.
Full report at:
https://english.alarabiya.net/en/News/middle-east/2017/06/09/Iraq-s-Kurds-say-no-turning-back-on-independence-vote.html
--------
Syrian artist paints world leaders as vulnerable refugees
Jun 10, 2017
A Syrian refugee artist has spent 19 months creating a series of paintings in his Brussels studio showing world leaders as displaced or disenfranchised people and is showing them in a Dubai gallery.
Abdalla Al Omari's "The Vulnerability Series" includes paintings of U.S. President Donald Trump as a bedraggled refugee with a sleeping child in his arms, Russian President Vladimir Putin as a beggar, as well as former British Prime Minister David Cameron and former Iranian President Mahmoud Ahmadinejad.
"My aim somehow shifted from an expression of anger to a more vivid desire of disarming these figures, (to) picture them outside their positions of power", Omari told Al Jazeera.
Omari started painting in Damascus shortly after the start of the Syrian civil war broke out in 2011. He fled and was granted asylum in Belgium.
Gallery visitor Sami Azraq said the portraits were a unique take on the refugee crisis.
Full report at:
http://nation.com.pk/international/10-Jun-2017/syrian-artist-paints-world-leaders-as-vulnerable-refugees
--------
'Even US Soldiers cried on Saddam's hanging'
Jun 10, 2017
In his book 'The Prisoner in his palace' former American soldier, Will Bardenwerper has recalled the time, he and 11 other US special soldiers spent with former Iraqi dictator Saddam Hussain in prison, reported BBC Urdu.
Bardenwerper wrote in the book that Saddam had become a 'good company' of guards and they used to take him as 'grandpa'
While recalling the time of Iraqi dictator's hanging, he wrote that even all US soldiers were crying at that time.
"At the time of his hanging, we felt that we deceived Saddam. We felt that we killed a person who was very dear to us," he recalled.
"He used to sit and talked about his days of rule and shared many stories of his lifetime," wrote Bardenwerper.
He further wrote that Saddam liked gardening and was peculiar about his food.
The soldier also wrote about Saddam's love for cigars.
"He told us that Castro taught him about smoking cigar properly," he wrote.
Full report at:
http://nation.com.pk/international/10-Jun-2017/even-us-soldiers-were-crying-on-saddam-s-hanging
--------
Heavy US-led strikes as fighters battle IS in Syria's Raqa
Jun 10, 2017
Damascus - US-led coalition forces launched heavy raids into Friday morning in support of Syrian fighters battling to oust the Islamic State group from its bastion of Raqa, a monitor said.
The Kurdish-Arab alliance known as the Syrian Democratic Forces broke into Raqa city's east earlier this week, months after they launched an operation to capture the militant stronghold.
On Thursday night, the US-led coalition backing the SDF launched 25 air strikes on Raqa city and its outskirts, the Syrian Observatory for Human Rights monitor said.
The Britain-based group reported 23 civilians killed in the overnight strikes, including 15 who were in an internet cafe in the western suburb of Jazra, just outside the city.
Observatory director Rami Abdel Rahman said heavy strikes continued on Friday morning as the coalition tried "to undermine IS capacity and open the way for the SDF to advance further in the city's east and enter from other fronts".
SDF spokesman Talal Sello said fighters were advancing against IS on several fronts. "The SDF has control of Al-Meshleb district (inside eastern Raqa) and is clearing it of mines and explosives at the moment," he told AFP.
He said SDF forces were also advancing on the northern front outside the city, and had repelled an attack by IS fighters as they pushed towards the city limits from the west.
Al-Meshleb was the first neighbourhood in Raqa city entered by SDF fighters. They are expected to progress from the district into neighbouring Al-Senaa and the Observatory said some of the overnight strikes targeted the area between the two districts. IS fighters have been fighting back against the advancing forces with snipers as well as drones armed with explosives, according to the SDF.
They have also reportedly dug defencive trenches and tunnels to try to slow the SDF advance.
"Hundreds" of US military personnel are taking part in the Raqa offensive, according to the Pentagon, which said Thursday it believed up to 2,500 IS fighters were still holed up in Raqa.
Captured by the militants in 2014, Raqa has become synonymous with IS atrocities including beheadings and public displays of bodies, and also emerged as a hub for planning attacks abroad. An estimated 300,000 civilians were believed to have been living under IS rule in Raqa, including 80,000 displaced from other parts of Syria.
But thousands have fled in recent months, and the UN humanitarian office estimates about 160,000 people remain in the city. The UN children's agency UNICEF warned Friday that "an estimated 40,000 children remain trapped in dangerous conditions in Raqa city."
"Many are caught in the crossfire," said UNICEF regional director Geert Cappelaere.
"Children are deprived of the most basic and life-saving necessities," he added, urging safe passage for those who want to leave the city.
Tens of thousands of people have fled Raqa and the surrounding area since the SDF launched its Operation Wrath of the Euphrates to capture the IS bastion last November.
Many have described harrowing journeys as they fled Raqa city, with IS fighters targeting them as they tried to escape.
Elsewhere in Syria, a US warplane shot down a pro-regime drone on Thursday night near the Jordanian border in the latest incident in escalating tensions in the country's south.
The US-led coalition said the drone was downed after it fired at coalition forces near the Al-Tanaf garrison, where anti-IS Syrian rebels are being trained.
The shooting down came after another incident earlier Thursday in which coalition forces struck "technical vehicles" advancing towards Al-Tanaf.
Full report at:
http://nation.com.pk/international/10-Jun-2017/heavy-us-led-strikes-as-fighters-battle-is-in-syria-s-raqa
--------
Rival Terrorist Groups Engage in Fierce Clashes in Northwestern Syria again
Jun 09, 2017
The sources said that the surprise attack of Tahrir al-Sham Hay'at hit the base of the FSA Division 13 in the town of Ma'arat al-Nu'aman, killing a number of FSA members.
Tahrir al-Sham's attack came unexpected and caught the Division 13 off guard. After overrunning the latter's base, Tahrir al-Sham started executing their new captives.
Deputy Commander of the forces, called Idlib Free Police, Colonel Taiser al-Samahi from FSA Division 13 was killed before FSA reinforcements could arrive on the scene.
Another militant that was commander of Ma'arat al-Nu'aman Free Police was also killed in the clashes.
Throughout the clashes, civilian residents went out into the streets in protest against Tahrir al-Sham, demanding them to cease the fighting and leave the town.
The terrorist group unconvinced of the proposal opened fire at the protestors, killing at least 10 residents of Ma'arat al-Nu'aman as of now.
The FSA that was not only caught off guard, but also overpowered by the sheer size of the terrorists contingent swarming the town, called on Ahrar al-Sham and Faylaq al-Sham for help.
Both groups answered the call by sending a convoy of fighters to support FSA units trying to hold the town and fight off Tahrir al-Sham.
The new development comes after an assassination attempt on Sharia cleric of Tahrir al-Sham Hay'at Abdullah al-Muhaysini in Idlib countryside on Wednesday night to Thursday this week, leaving the cleric wounded by gunfire. The attack was conducted by militants of Faylaq al-Sham as the cleric passed their checkpoint.
Local sources in Northwestern Syria reported on Tuesday that rival militant groups engaged in another round of clashes in Eastern Idlib, with tribal leaders warning Tahrir al-Sham terrorists to back down or wait for all-out war.
The sources said that Tahrir al-Sham Hay'at stormed the positions of the rival terrorists of Liwa al-Soud al-Islam affiliated to Ahrar al-Sham in the village of Tal al-Toufan, leaving one of the members of Ahrar al-Sham dead.
In the meantime, Liwa al-Soud al-Islam seized vehicles of Tahrir al-Sham.
The sources went on to say that al-Mawali tribal people that lived in Idlib and Hama provinces gave a 48-hour ultimatum to Tahrir al-Sham to free the captured people.
Full report at:
http://en.farsnews.com/newstext.aspx?nn=13960319000604
--------
Kurdish-Led SDF Drives ISIL out of Key Syrian Army Base near Raqqa
Jun 09, 2017
Local sources said that the SDF finally overran the highly fortified Division 17 Army Base and Sugar Factory Northeast of Raqqa after laying siege on the facilities for several weeks.
A few dozen ISIL militants managed to escape to Raqqa city although many more were killed amid clashes over Division 17 Base which rather expectantly proved tough for both sides.
In addition, Kurdish militants killed all members of an ISIL pocket Northwest of Raqqa city, thus imposing control over the villages of al-Sakura and Mazraat Yarub.
Effectively, the Kurdish-led SDF now controls all villages, checkpoints and bases surrounding the city of Raqqa where a huge battle will unfold this summer.
According to reports, terrorists' commanders have put low priority to rural areas surrounding Raqqa while the city itself is defended by some 4,000 militants who will engage the SDF in an attritional battle for the ISIL capital itself.
Other sources reported that ISIL terrorists completely withdrew from vulnerable territory located on the Southern bank of the Euphrates River between the positions of the Syrian Army troops and the Kurdish-led Syrian Democratic Forces (SDF).
ISIL has lost control over 20 villages, the sources said, adding that much of the rural area is believed to be booby-trapped.
Relevant reports said on Tuesday that the SDF intensified attacks on ISIL's defense lines in Raqqa from three directions while the Syrian Army troops were marching on ISIL strongholds in Eastern Aleppo, inching closer to Raqqa city, the self-proclaimed capital of ISIL Caliphate.
The sources said that the SDF fighters launched a fresh round of operation within the framework of the Euphrates Rage Operation from three Northern, Eastern and Western directions to drive ISIL out of Raqqa city.
In the meantime, the army soldiers that liberated the town of Maskana, the last stronghold of ISIL in Aleppo on Sunday, were advancing rapidly toward Aleppo's border with Raqqa province.
Full report at:
http://en.farsnews.com/newstext.aspx?nn=13960319000658
--------
Syrian Gov't Forces Kick off Large-Scale Anti-Terrorism Operation in Dara'a
Jun 09, 2017
The sources reported that the army's missile and artillery units and Air Force have started targeting terrorists' defense lines in Dara'a al-Balad district in Dara'a.
The army has been mobilizing forces to initiate a full-scale military operation against militant groups in Dara'a in bid to secure the government-controlled parts of the provincial capital.
Another military source said that ground attacks on terrorists' positions will be launched parallel to the air and artillery attacks, adding that after arrival of more convoys of forces and equipment and final preparations, the army troops will kick off the operation against terrorists in Dara'a.
Local sources said on Monday that the terrorist groups in Dara'a city were accusing each other for frequent defeats in their attacks on the Syrian Army troops' positions.
The sources said that the army soldiers repelled the entire attacks of Al-Nusra Front (also known as Fatah al-Sham Front or the Levant Liberation Board), the Free Syrian Army and Ahrar al-Sham on the pro-government forces' strongholds, killing a large number of them, including several field commanders and destroying their military hardware in large scale.
The sources went on to say that the terrorist groups were disunited and on the verge of collapse after their failed attacks on the army in Dara'a.
In the meantime, several terrorist groups in Northern Dara'a set up an operation room to face possible operation of the army in the region.
Full report at:
http://en.farsnews.com/newstext.aspx?nn=13960319000335
--------
ISIL's Large-Scale Offensives on Syrian Army Positions in Deir Ezzur Repulsed
Jun 09, 2017
The army soldiers engaged in clashes with ISIL that had attacked the pro-government forces' positions over the hills of Um Aboud and Syriatel South of Deir Ezzur and fended off their attack.
The Syrian Air Force, meantime, carried out several combat flights over ISIL's gathering centers simultaneous with clashes between the army men and terrorists in Panorama base and East of Panorama School, leaving a number of terrorists dead and their military equipment destroyed.
The army aircraft, also, carried out night raids on ISIL's movements in al-Iman petrol station, Dashmah al-Qal'ah, Jisr al-Raqqa al-Mojbel near regiment 137 base, the village of Ayyash and Tal (hill) Borouk and Tal al-Rasad, inflicting major losses on the terrorists.
A field source said on Wednesday that the army soldiers engaged in heavy fighting with ISIL in the Southern outskirts of Deir Ezzur and repelled their offensives, killing more than 50 terrorists, including a senior commander.
The source reported that the army soldiers clashed fiercely with ISIL in telecommunication building, Panorama base, Tal (hill) al-Sonouf and Tal Borouk, fending off their offensives.
Full report at:
http://en.farsnews.com/newstext.aspx?nn=13960319000317
--------
Trump, Sisi discuss Arab unity to fight terrorism
9 June 2017
President Donald Trump spoke on Friday with Egyptian President Abdel Fattah el-Sisi andemphasized the importance of maintaining unity among Arab countries, the White House said in a statement.
It was the fourth call Trump has had with a regional leader since Gulf allies severed diplomatic ties with Qatar on Monday over Doha's funding of terrorism.
The two leaders also agreed on the importance of all countries implementing agreements recently reached at a meeting in Riyadh, Saudi Arabia, to fight terrorism, counter extremism, and stop the funding of terrorist groups, the statement said.
https://english.alarabiya.net/en/News/middle-east/2017/06/09/-Trump-Sisi-discuss-Arab-unity-to-fighting-terrorism-.html
--------
Mideast
Iran Captures 41 More ISIL Terrorists in 4 Provinces
Jun 09, 2017
"Following a series of sophisticated intelligence operations and with the cooperation of the families of some of the terrorists, 41 elements of the ISIL Takfiri group were identified and arrested before conducting any act of terror," the intelligence ministry said in a statement today.
It added that the terrorists were detained in the Iranian provinces of Kermanshah, Kordestan, West Azarbaijan and Tehran.
"Many documents and equipment for terrorist operations were also seized from the terrorists," the statement added.
Three unknown male assailants fired several rounds at the guards protecting the parliament building in Tehran, killing 17 and wounding 52 others in the hallway on Wednesday morning.
According to initial reports, the assailants opened their way into the parliament's administrative building while shooting at the guards, killing at least two IRGC guards and three others, and wounding 52 civilians.
A similar attack took place at the holy shrine of the late founder of the Islamic Republic, Imam Khomeini, parallel with the parliament attack.
In relevant remarks on Thursday, Iranian Intelligence Minister Seyed Mahmoud Alavi announced that a number of terrorist cells have been busted over the past two weeks.
"We have crushed several terrorist teams in the past two weeks," Alavi said while visiting a group of victims of the ISIL's terrorist attacks in Tehran on Wednesday.
He reiterated that the terrorist teams comprising two and three members were identified and arrested by the security forces.
"Investigations are underway to identify and arrest the remaining terrorists," Alavi added.
The Iranian intelligence minister also warned official organizations to take precautionary measures to prevent recurrence of such incidents.
"There is no doubt that Saudi Arabia supports terrorist groups round the globe," he said, adding, "You can find their trace in Syria and Iraq and the world has now admitted the ideological position of Saudi Arabia in all terrorist moves.
Alavi said that it is not possible to make any concrete judgment at this juncture and we require more time to be assured of Saudi Arabia's involvement in the recent attacks in Tehran.
"West and global hegemony is now misusing issues such as human rights, fight against terrorism and weapons of mass destruction to meet their interests and easily trample upon rights of others to attain their heinous goals," the intelligence minister added.
http://en.farsnews.com/newstext.aspx?nn=13960319000940
--------
Erdogan, Ghannouchi ties with Hekmatyar show Islamists' links with warlords
9 June 2017
A list designating 59 individuals and 12 organizations linked to Qatar as terrorists came to light on Friday that showed the firm way GCC countries are dealing with the seriousness of violent Islamist groups that have strong ties between them wherever they are based.
Observers of the current tensions with Qatar have taken the list as a show of force from major Arab powers in strictly dealing with the Islamist group who have spawned numerous extremist and terrorist organizations across the region over the years.
An old photo showing Turkey and Tunisia's Islamist leaders sitting at the feet of former Afghan warlord Gulbuddin Hekmatyar has resurfaced in recent days, reigniting a debate of the Muslim Brotherhood's deep ties with internationally designated extremists accused of committing war crimes.
Turkish President Recep Tayyip Erdogan and Founder of Tunisia's Islamist Ennahda Party Rached Ghannouchi, were pictured sitting by Hekmatyar in an undated photo now making the rounds on social media.
The picture has undoubtedly exposed the deep history between today's Islamists and the past's war lords, who convinced Arab and Islamic youth to join the jihadi fighting in Afghanistan in resisting the Soviets, and threw them into battles that were not there's to begin with in exchange for wealth and future influence.
"The picture shows the returning of history of the terrorist and extremist scene, which began in the late seventies and began the process of mobilizing young people to the extreme and radical fronts," Egyptian writer Mohammed Attiyah said.
The Muslim Brotherhood and its leaders have had strong relationships with the most extremist organizations, including figures like Hekmatyar. Such ties have existed for many years and still continue to play a role in the revival of the Brotherhood's presence in many parts of the world, especially in Egypt where they took sides organizing against the state.
Origins of the 'Butcher of Kabul' rooted in Sayyid Qutb's ideology
Hekmatyar is an Islamist warlord accused of numerous atrocities who lead the Hezb-e-Islami, Afghanistan's second largest militant group.
While he known as one of seven anti-Soviet faction chiefs who fought in the war against Soviet occupation in the 1980s, he is perhaps remembered mostly for his role in Afghanistan's deadly civil war during the 1990s, when his group clashed violently with other factions in their attempt to control Kabul. In the process, he gained the title of the "Butcher of Kabul".
The US state department designated him as a terrorist in 2003, accusing him of taking a deadly role in supporting attacks by al-Qaeda and the Taliban.
Under a peace deal, Hekmatyar returned to Afghanistan. "We should commit to open a new door and forget the past," he told Afghanis upon his return. But both Afghanis and human rights organizations believe Hekmatyar should be held accountable for his deadly past.
Despite his return, his was not removed from the international lists of terrorists.
Patricia Gossman, a senior researcher of Human Rights Watch in Afghanistan said Hekmatyar, like other warlords, does not feel accountable for what he has done in the past and should be held liable for war crimes.
More than just exporting the Muslim Brotherhood's ideology to Afghanistan, Hekmatyar specifically identifies a lot of his own principles from one of the founders of the Islamist group, Sayyid Qutb.
Qutb's Islamist legacy has left a devastating outcome in the region, most notably through the creation of al-Qaeda. His brother, Mohammed Qutb, later on became a follower was Ayman Zawahiri, who went on to become a member of the Egyptian Islamic Jihad. Zawahiri later mentored Osama bin Laden and is currently the leading member of al-Qaeda.
Full report at:
https://english.alarabiya.net/en/News/middle-east/2017/06/09/Erdogan-Ghannouchi-ties-with-Hekmatyar-show-Islamists-deep-ties-with-warlords.html
--------
Turkey says Iraqi Kurdish independence vote a 'terrible mistake'
Jun 10, 2017
Turkey called a plan by Iraqi Kurds to hold a referendum on independence a "terrible mistake", saying on Friday that Iraq's territorial integrity and political unity was a fundamental principle for Ankara.
Iraq's autonomous Kurdish region said this week it would hold a referendum on independence, a move that is also unlikely to be welcomed by the central government in Baghdad.
Kurdish separatism is a sensitive issue for Turkey, which has been battling a militant insurgency in its largely Kurdish southeast for three decades.
Ankara is also worried about the advances by a Syrian Kurdish militia in northern Syria, fearing that could embolden the outlawed Kurdistan Workers Party (PKK) in Turkey.
"We think this will represent a terrible mistake," the foreign ministry said in a statement. "The maintenance of Iraq's territorial integrity and political unit is one of the fundamental principles of Turkey's Iraq policy."
Full report at:
http://nation.com.pk/international/09-Jun-2017/turkey-says-iraqi-kurdish-independence-vote-a-terrible-mistake
--------
Police Seize Arms Cargo with 92 Handguns in Western Iran
Jun 09, 2017
A total number of 92 Colt Handguns have been seized from a Peugeot 405 car in Salas Babajani region in Kermanshah province, police said in a statement.
The police also said its forces have arrested two more terrorists in connection with the Wednesday terrorist attacks in Tehran.
In relevant remarks on Thursday, Iranian Intelligence Minister Seyed Mahmoud Alavi announced that a number of terrorist cells have been busted over the past two weeks.
"We have crushed several terrorist teams in the past two weeks," Alavi said while visiting a group of victims of the ISIL's terrorist attacks in Tehran on Wednesday.
He reiterated that the terrorist teams comprising two and three members were identified and arrested by the security forces.
"Investigations are underway to identify and arrest the remaining terrorists," Alavi added.
The Iranian intelligence minister also warned official organizations to take precautionary measures to prevent recurrence of such incidents.
"There is no doubt that Saudi Arabia supports terrorist groups round the globe," he said, adding, "You can find their trace in Syria and Iraq and the world has now admitted the ideological position of Saudi Arabia in all terrorist moves.
Alavi said that it is not possible to make any concrete judgment at this juncture and we require more time to be assured of Saudi Arabia's involvement in the recent attacks in Tehran.
"West and global hegemony is now misusing issues such as human rights, fight against terrorism and weapons of mass destruction to meet their interests and easily trample upon rights of others to attain their heinous goals," the intelligence minister added.
Three unknown male assailants attacked the parliament building in Iranian capital, killing and wounding scores of people in the hallway on Wednesday morning. Also, another group of terrorists raided the holy shrine of the late founder of the Islamic Republic, Imam Khomeini, South of the Tehran on Wednesday morning, killing and wounding tens of people in a bomb attack and a shooting spree.
Full report at:
http://en.farsnews.com/newstext.aspx?nn=13960319000915
--------
Iran lashes out at US, S. Arabia as it mourns its dead
Jun 10, 2017
TEHRAN: Iran hit out at the United States and Saudi Arabia as tens of thousands attended the funeral on Friday for those slain in the first attacks in Iran claimed by the militant Islamic State (IS) group.
The intelligence ministry, meanwhile, said on Friday that 41 people suspected of being "agents of Daesh (IS)" had been arrested in the aftermath of Wednesday's attacks.
"Death to America", "Death to the Saud" ruling family, and "We are not afraid", shouted the crowd behind a lorry bearing the coffins of 15 of the 17 people killed.
Burials were held in the provinces for the two others killed when gunmen and suicide bombers stormed Tehran's parliament complex and the shrine of revolutionary leader Ayatollah Ruhollah Khomeini. Fifty people were wounded in the attacks.
Supreme leader Ayatollah Ali Khamenei had initially called the attacks "firecrackers" that "will not have the slightest effect on the will of the people". But on Friday he turned his wrath over the attacks on the United States and Saudi Arabia.
"Such acts will have no other result than to reinforce hatred for the US government and its agents in the region, like the Saudi (government)," Khamenei wrote in a message of condolence.
At a ceremony held in parliament, attended by newly re-elected moderate President Hassan Rouhani, speaker Ali Larijani also attacked the United States and Saudi Arabia.
He called regional rival Saudi Arabia "a tribal state very far from anything like a democracy", and denounced US sanctions against Iran over its ballistic missile programme.
The US "knows that the Revolutionary Guard and its Quds force are the most important regional forces fighting terrorists", Larijani said. The imposition of the sanctions "demonstrates their alignment with terrorists in the region", he added.
After prayers at Tehran University, a long procession left central Tehran for Behesht-i-Zahra cemetery near the Khomeini mausoleum, 20 kilometres away.
The attacks on two of Iran's most symbolic landmarks were carried out by five armed men, including suicide bombers who blew themselves up.
The intelligence ministry said they were Iranians who had joined IS and travelled to its strongholds in Iraq and Syria before returning home.
Iran is a key fighting force against IS and other groups in Iraq and Syria.
IS released a video overnight of the five attackers before the assault, via its Amaq propaganda agency.
Full report at:
https://www.dawn.com/news/1338653/iran-lashes-out-at-us-s-arabia-as-it-mourns-its-dead
--------
Iran attacks expose security gaps, fuel regional tension
Jun 10, 2017
When Islamic State called on members of Iran's Sunni Muslim minority in March to wage a religious war on their Shi'ite rulers, few people took the threat seriously. And yet within three months, militants have breached security at the very heart of the nation, killing at least 17 people.
This week's attacks at parliament and the mausoleum of the Islamic Republic's founder Ayatollah Ruhollah Khomeini have exposed shortcomings among the Revolutionary Guards Corps (IRGC) which was supposed to be protecting these potent symbols of Iran's revolution.
They have also undermined Tehran's belief that by backing offensives against Islamic State across the Middle East, it can keep the militant Sunni group away from Iran.
Undaunted, officials say Iran will step up the strategy, which includes sending fighters to battle Islamic State in Syria and Iraq alongside allied Shi'ite militia groups.
And with Supreme Leader Ayatollah Ali Khamenei and the IRGC blaming Saudi Arabia for the attacks, tensions are only likely to deepen between the two arch rivals competing for influence in an already chaotic region. Riyadh denies the charges, describing Tehran instead as "the number one state sponsor of terrorism".
Wednesday's killings in Tehran by Iranian members of Islamic State drew a shocked response similar to that in Western countries when they too have been attacked by locally-born jihadists. Now Iranians are worrying about how many others are out there, planning similar assaults.
One senior Iranian official told Reuters that Islamic State had established a network of support in the country, and suggested that members' motivation was as much political and economic as to do with Sunni radicals' belief that Shi'ites are infidels.
"Sunni extremism is spreading in Iran like many other countries. And not all of these young people who join extremist groups are necessarily religious people," said the official, who asked not to be named. "But the establishment is well aware of the problem and is trying to tackle it."
Most Iranian Sunnis, who form up to 10 percent of the population, reject Islamic State's ideology. But some young Sunnis seem to regard policies of Shi'ite-led Iran as oppressive at home or aggressive abroad, such as in Iraq and Syria, pushing more of them into the arms of jihadist groups.
Iran has been trying to stem the spread of radicalism into Sunni majority regions, which are usually less economically developed. Authorities said 1,500 young Iranians were prevented from joining Islamic State in 2016.
Iran's Sistan and Baluchestan province, which borders Pakistan and Afghanistan, is home to the Balouch minority and has long been a hotbed of Sunni insurgents.
Two Sunni groups, Jaish al-Adl and Jundallah, have been fighting the IRGC for over a decade. This has mostly been in remote areas but some say it was almost inevitable that violence would eventually spread to Tehran, as it did this week.
"It's not the attacks that are surprising. It's that Iran has been able to avoid one for so long. The attacks were a wake-up call for Iran's security apparatus," said senior Iran analyst Ali Vaez of the International Crisis Group. "But so too will they probably serve as one for jihadists, who will be encouraged to exploit Iran's vulnerabilities."
"STRATEGIC FOLLY"
Since its creation shortly after the 1979 Islamic revolution, the IRGC has functioned as Iran's most powerful internal and external security force, with a sophisticated intelligence and surveillance network.
The IRGC has vowed revenge on Islamic State - known by its opponents under the Arab acronym of Daesh - but a top security official said this won't be easy.
"The attacks showed the vulnerability of our security system, at the borders and within Iran," the official said, asking not to be named. However, he added: "Many planned attacks by Daesh have been foiled by our security forces in the past years. Many terrorist cells were dismantled. Our Guards have been vigilant."
Syrian rebels and Iraqi forces are closing in on Islamic State in those countries, and the official said the group appeared to have tried to strike back in Tehran.
"The attacks are the result of Daesh being weakened in the region. They blame Iran for that ... But Iran will not abandon its fight against terrorism," he added.
Open discussion of security vulnerabilities is taboo in Iran. However, Behnam Ben Taleblu, a senior Iran analyst at the Washington-based Foundation for Defense of Democracies, criticized the idea that Syria and Iraq could form an effective first line of defense for Iran.
"Iranian officials have long justified their country's active military presence in Iraq and Syria as a way to keep the homeland safe," he said. "Wednesday's attacks expose the folly of that strategy."
SPIRALING TENSIONS
A senior official, who also asked not to be named, said the attacks would push Iran toward "a harsher regional policy".
Full report at:
http://nation.com.pk/international/10-Jun-2017/iran-attacks-expose-security-gaps-fuel-regional-tension
--------
Erdogan approves troop deployment to Qatar
Jun 10, 2017
President Tayyip Erdogan has approved legislation on deploying Turkish troops in Qatar, signaling support for the Gulf state as it faces isolation imposed by fellow Arab states over its alleged support for terrorism.
Turkey's parliament pushed through the bill on Wednesday and Erdogan's rapid approval of it, announced by his office late on Thursday, was followed by its publication in the Official Gazette on Friday, completing the legislative process.
Saudi Arabia, the United Arab Emirates (UAE), Bahrain and Egypt severed relations with Qatar on Monday, accusing it of supporting Islamist militants and their arch-adversary Iran - charges Qatar calls baseless. Several countries followed suit.
Qatar vowed on Thursday to ride out the isolation and said it would not compromise its sovereignty over foreign policy to resolve the region's biggest diplomatic crisis in years.
After an initial deployment of Turkish troops at a base in Doha, Turkish warplanes and ships will also be sent, the mass-circulation Hurriyet newspaper said on its website on Friday.
"The number of Turkish warplanes and Turkish warships going to the base will become clear after the preparation of a report based on an initial assessment at the base," Hurriyet said.
A Turkish delegation would go to Qatar in the coming days to assess the situation at the base, where around 90 Turkish soldiers are currently based, it said.
Turkish officials were not immediately available to comment on the report but Hurriyet said there were plans send some 200-250 soldiers within two months in the initial stage.
Erdogan also approved another accord between Turkey and Qatar on military training cooperation late on Thursday. Both bills were drawn up before the dispute erupted. Turkey has also pledged to provide food and water supplies to Qatar.
Erdogan has said isolating Qatar would not resolve any problems. Erdogan, who has long tried to play the role of a regional power broker, said Ankara would do everything in its power to help end the regional crisis.
Full report at:
http://nation.com.pk/international/09-Jun-2017/erdogan-approves-troop-deployment-to-qatar
--------
Pope slams 'barbaric' terrorist attacks in Tehran
Jun 10, 2017
Pope Francis, the head of the Roman Catholic Church, has condemned the recent deadly twin terrorist attacks in the Iranian capital, Tehran, offering condolences to those affected by the assaults.
Cardinal Pietro Parolin, the Vatican's secretary of state, said in a telegram sent to Iran on Friday that the Pope was sending "heartfelt condolences to all those affected by the barbaric attack in Tehran" and lamented the "senseless and grave act of violence."
The Pope "commends the souls of the deceased to the mercy of the Almighty" and "assures the people of Iran of his prayers for peace," the telegram read.
At least 17 people were killed and 52 others injured in Tehran on Wednesday when gunmen mounted almost simultaneous assaults on Iran's Parliament (Majlis) and the Mausoleum of the late founder of the Islamic Republic, Imam Khomeini.
The Takfiri Daesh terrorist group claimed responsibility for the attacks.
Additionally on Friday, representatives from Lebanon's Prime Minister Saad Hariri, President Michel Aoun, Parliament Speaker Nabih Berri, and Army Commander General Joseph Aoun met with the Iranian Ambassador to Beirut Mohammad Fat'h-Ali at Iran's Embassy and signed a book of condolence for the victims of the Tehran terrorist attacks.
The representatives condemned the attacks and expressed their sympathy and solidarity with the Iranian nation and government.
Dozens of other Lebanese political, religious, cultural, economic, and media figures as well as foreign ambassadors and diplomats in Beirut also signed the book of condolence.
Separately, Lebanon's Foreign Minister Gebran Bassil held a phone conversation with the Iranian ambassador to Beirut, denouncing the Tehran assaults and stressing that his country stood by Iran in fighting against terrorism. The Lebanese Foreign Ministry had earlier issued a statement condemning the attacks.
In another development, Moldovan President Igor Dodon sent a message of solace to his Iranian counterpart, Hassan Rouhani. He described the June 7 attacks as "unjustified," voicing his and his nation's empathy and solidarity with the Islamic Republic.
Dodon also expressed the Moldovan nation's all-out support for Iranians and the families of the victims of the terrorist attacks in Tehran.
Following the terrorist assaults, Iran identified and arrested dozens of Daesh elements through a series of sophisticated intelligence operations.
Full report at:
http://217.218.67.231/Detail/2017/06/10/524782/Iran-Tehran-terrorist-attacks-Daesh-Pope
--------
Iran says arrested 48 Daesh Wahhabi terrorists
Jun 9, 2017
Iran says that it has arrested nearly 50 members of the Daesh Takfiri terrorist group accross the country following recent twin terrorist attacks in Tehran.
Following a series of sophisticated intelligence operations and with the cooperation of the families of some of the terrorists, 41 elements of Daesh Wahhabi group were identified and arrested before conducting any act of terror, Iran's Intelligence Ministry said in a statement on Friday.
It added that the terrorists were detained in the Iranian provinces of Kermanshah, Kordestan, West Azarbaijan and Tehran.
Plenty of documents and equipment for terrorist operations were also seized, the statement added.
Earlier on Friday, the ministry said in another statement that Iranian security forces, in cooperation with the Islamic Revolution Guards Corps (IRGC) and the police, had managed to identify and detain several terrorist elements linked to the terrorist attacks in the Iranian Parliament and the Mausoleum of the late founder of the Islamic Republic, Imam Khomeini, before conducting any act of terror.
During the operation to arrest the terrorists, a huge amount of weapons, bomb materials, explosive belts, communication equipment and forged documents were also found, it added.
The statement further added that several houses used by Wahhabi-Takfiri terrorists were identified in northwestern parts of the country and cleared of the terrorists.
The ministry emphasized that operations are ongoing outside the Iranian borders in pursuit of the commanders of these criminals affiliated with the arrogant powers and their regional allies.
Meanwhile, the Intelligence Office of the southern Iranian province of Fars announced on Friday that seven elements with links to Takfiri terrorist groups had been arrested in the province.
It added that provincial security and police forces managed to arrest the terrorists on Thursday and Friday.
On Wednesday, gunmen stormed Iran's Parliament and the Mausoleum of Imam Khomeini, in two coordinated attacks. At least 17 people lost their lives and nearly 50 others were wounded in the assaults, which involved shootings and blasts.
The Daesh Takfiri terrorist group claimed responsibility for the near-simultaneous assaults.
Iranians from all walks of life held a massive funeral ceremony for the victims of the terrorist incidents on Friday.
Full report at:
http://217.218.67.231/Detail/2017/06/09/524722/Iran-Intelligence-Ministry-Daesh-Wahhabi-terrorists-statement
--------
Turkey to continue to support Qatar: President Erdogan
Jun 10, 2017
Turkish President Recep Tayyip Erdogan says his country will continue to support Qatar in a dispute between Doha and several other Arab countries.
"We will not abandon our Qatari brothers," Erdogan said at the Turkish parliament on Friday, state Anadolu news agency reported.
On Monday, Saudi Arabia, the United Arab Emirates (UAE), Bahrain, the Maldives, and Egypt broke off ties to Qatar, accusing Doha of supporting terrorism. They also suspended all land, air, and sea traffic with Qatar, ejected its diplomats, and ordered Qatari citizens to leave their respective countries.
The move is widely believed to have been spearheaded by Saudi Arabia, which often manages to have its vassal states fall into line. Saudi Arabia itself is known as the main sponsor of the violent Wahhabi terrorists that it has accused Qatar of supporting. Some analysts believe the Saudi anger is rather because Qatar acts more independently of Riyadh, including partially in its relations with Iran.
Saudi Arabia also claims that it is unnerved by Qatar's support for the Muslim Brotherhood movement, which Ankara also backs.
This handout photo, taken and released by Turkey's Presidential Press Service on February 15, 2017, shows the Emir of Qatar Tamim bin Hamad Al Thani (R) welcoming Turkish President Recep Tayyip Erdogan (L) in Doha. (Via AFP)
Erdogan also dismissed a "blacklist" drawn up by the Arab countries opposed to Qatar and targeting certain Qatari-backed organizations as sponsors of terrorism.
"There is no such thing. I know those foundations," Erdogan said.
Turkey "will continue to give all kinds of support to Qatar," the Turkish president stressed.
Turkey had initially stayed neutral in the dispute involving Qatar but soon became more assertive in its support for Doha.
On Wednesday, the Turkish parliament ratified a bill to allow the deployment of Turkish troops to a Turkish base in Qatar in what has been interpreted as a sign of support for Doha. Erdogan later approved the legislation, turning it into law.
Also on Friday, Stephane Dujarric, who is a spokesman for the United Nations Secretary-General Antonio Guterres, said the world body was not bound by the "terror list" affecting Qatar Charity, the country's biggest humanitarian body, and two other relief organizations.
"The Office for the Coordination of Humanitarian Affairs has over the years built strong partnerships with these organizations based on shared humanitarian principles, which are strictly non-political," he said.
Amnesty denounces bans on Qatar
Separately, Amnesty International lamented the adverse effects of the bans imposed by the group of Arab countries on Arab people in separate countries in the region who may have familial ties.
The sanctioning countries were "toying with the lives of thousands of [Persian] Gulf residents as part of their dispute with Qatar, splitting up families and destroying peoples' livelihoods and education," the UK-based rights body said in a report.
"These drastic measures are already having a brutal effect, splitting children from parents and husbands from wives," it said.
Full report at:
http://217.218.67.231/Detail/2017/06/10/524780/Turkey-Erdogan-support-Qatar-Amnesty
--------
Israeli forces shoot Palestinian dead in Gaza
Jun 9, 2017
Israeli forces have opened fire at Palestinians protesting in the northern part of the besieged Gaza Strip, killing a young man.
"Aeid Jumaa, 35, was killed and six other Palestinians were wounded during clashes along the Gaza border (with Israel) north of Jabalia," Gaza's Health Ministry spokesman Ashraf al-Qidra said on Friday.
The Palestinian resistance movement Islamic Jihad issued a statement, saying Jumaa was one of its members and was in fact aged 22.
People in the Gaza Strip have been staging protests to denounce the Israeli blockade.
Gaza has been under an Israeli siege since June 2007. The blockade has caused a decline in the standards of living as well as unprecedented unemployment and poverty.
The occupied Palestinian territories have witnessed new tensions ever since Israeli forces introduced restrictions on the entry of Palestinian worshipers into the al-Aqsa Mosque compound in East Jerusalem al-Quds in August 2015.
More than 300 Palestinians have been killed by Israeli forces in the ongoing tensions since the beginning of October 2015.
The Tel Aviv regime has tried to change the demographic makeup of Jerusalem al-Quds over the past decades by constructing settlements, destroying historical sites and expelling the local Palestinian population. Palestinians say the Israeli measures are aimed at paving the way for the Judaization of the city.
Full report at:
http://217.218.67.231/Detail/2017/06/09/524747/Israel-shoot-dead-Palestinian-Gaza
--------
Europe
Muslim vote 'appears to have made a difference'
10 June 2017
LONDON: Votes by the Muslim community appear to have made a difference in the UK election, a community group has said, noting swings toward the Labour Party in several key areas.
The Muslim Council of Britain (MCB) earlier identified 39 constituencies where votes by the Muslim community may have a high or medium impact.
While members of the council are keen to point out that UK Muslims do not constitute one single group and do not vote as one, they say the community has historically favored the opposition Labour Party.
All 16 constituencies where the influence of Muslim communities was found by the MCB to be "high" are now Labour seats. Five were gained from the Conservatives in Thursday's election, while Labour strengthened its lead in others.
There were also significant swings toward the Labour Party in many of the 23 constituencies where the MCB determined the impact of Muslim voters as being "medium."
While Theresa May's Conservative Party remains the largest party in Parliament following Thursday's national election in the UK, it lost its majority, with opposition Labour making significant gains.
Harun Khan, secretary general of the MCB, said: "There is no block Muslim vote, nor can we know how Muslims have voted. What we can see, however, is Muslim and (black and minority ethnic) communities, in particular the young, enthused and involved in the political process across the country. In the 39 constituencies where Muslim communities could have had an impact, it appears they have done so."
He continued: "I would also like to acknowledge and welcome the fact that this election has returned a record number of women. I congratulate them and the Muslims who have retained or joined the House of Commons for the first time. And I congratulate too Parliament's first Sikh woman and turban-wearing Sikh. All of these are important developments and demonstrates that the British people are ready to elect a diverse range of people who reflect our multicultural society."
Miqdaad Versi, assistant secretary general of the MCB, said before the election that he had expected a higher turnout among Muslim voters.
"This election has invigorated many Muslim communities — many want to get involved, many want to participate, many want to canvass and support one of the parties," he told Arab News.
"I would not be surprised if the turnout from the communities in this election is higher than it has been previously."
http://www.arabnews.com/node/1112761/world
--------
Germany urges Iran to avoid any moves to exacerbate tensions in Gulf
9 June 2017
A German government spokesman on Friday urged Iran to avoid any actions that could further exacerbate tensions in the Gulf after key Arab states cut off ties with Qatar, and underscored Germany's opposition to any state funding of militant groups.
Foreign Ministry spokesman Martin Schaefer said Gulf states believed that Iran was playing a role behind the scenes in the conflict, but Tehran should not do anything to increase tensions.
"At any rate, it is important that nothing is done on the other side of the Gulf ... to pour oil on the fire. That is really the last thing that this region can use," Schaefer told a regular government news conference.
Schaefer said Germany would do all it could to promote a resumption of dialogue to resolve the crisis, but had no intention of becoming a key mediator despite meetings in recent days between German Foreign Minister Sigmar Gabriel and his counterparts from Saudi Arabia and Qatar.
Full report at:
https://english.alarabiya.net/en/News/world/2017/06/09/Germany-urges-Iran-to-avoid-any-moves-to-exacerbate-tensions-in-Gulf.html
--------
Australian counter-terrorism police conduct raids after fatal siege
9 June 2017
Australian counter-terrorism police conducted pre-dawn raids in the southern city of Melbourne on Friday and were questioning three men they said were suspected of providing weapons used in a deadly siege this week claimed by ISIS.
The Australian Security and Intelligence Organization joined police in carrying out search warrants on three addresses linked to Monday's attack in Australia's second-largest city, Victoria state Deputy Police Commissioner Shane Patton said.
Police shot dead gunman Yacqub Khayre, who they said had a long criminal history, on Monday night after he killed a man in an apartment block in a beachside Melbourne suburb and held a woman hostage for several hours.
Three police officers were wounded in a shootout at the end of the siege but the woman was unhurt. Patton told reporters a 32-year-old man was arrested after Friday's raids. A second man, 31, and his father were being questioned by counter-terrorism police, he said.
The men were not suspected of militant activity but "they may be involved in the provision of firearms in this matter", Patton said. Police seized an imitation shotgun but no firearms or live ammunition were found, he said.
A Reuters witness saw five uniformed and plain-clothed police wearing gloves and breathing masks entering an apartment in a three-storey block and putting household items into plastic evidence bags.
Home-grown militants
Australia has been on heightened alert for attacks by home-grown militants returning from fighting in the Middle East, or their supporters, since 2014.
Monday's siege sparked debates about immigration and parole laws. Pauline Hanson, leader of the far-right One Nation party, has said she would support a travel ban similar to those US President Donald Trump has tried to introduce, as well as the internment of people on security watch lists.
Khayre was granted parole in November after being convicted of a violent home invasion. Prime Minister Malcolm Turnbull on Friday said state laws will be changed to stop any prisoner who has links to terror organizations being eligible for parole or bail. Australia passed laws last year allowing the indefinite detention of anyone convicted of terror-related offences if authorities believed that person posed a threat after their release.
"If you have someone who has terrorist sympathies and who has a propensity to violence, every day they are not on the street is a good day," Turnbull told reporters.
Full report at:
https://english.alarabiya.net/en/News/world/2017/06/09/Australian-counter-terrorism-police-conduct-raids-after-fatal-siege.html
--------
Qatari FM in Germany says Doha committed to diplomacy to ease tensions
9 June 2017
Qatar Foreign Minister Mohammed Abdulrahman Al-Thani said on Friday during a press conference held with his German counterpart that his country wants to seek diplomacy and dialogue to solve tensions between Doha and Arab powers.
Thani warned of negative consequences because of the tensions on the people of the region.
German Foreign Minister Sigmar Gabriel said Qatar must increase its diplomatic efforts to ease tension while urging Gulf states to lift air and sea blockade imposed this week on Doha.
The Arab world's biggest powers cut ties with Qatar on Monday, accusing it of support for Islamist militants and Iran.
Full report at:
https://english.alarabiya.net/en/News/gulf/2017/06/09/Qatari-FM-in-Germany-says-Doha-committed-to-diplomacy-to-ease-tensions-.html
--------
It is about time British Muslims proved their loyalty to Britain
By Junaid Ejaz
June 9, 2017
In the wake of the recent London attack, nearly 500 imams refused to offer funeral prayers for the terrorists responsible for the atrocity that took numerous innocent lives.
While the British public was coming to terms with the tragedy in Manchester, only a couple of weeks ago, they woke up to another inhumane attack. And sadly enough, it was done in the name of Islam once again.
The Muslim community in Britain has long been facing struggles in the name of culture and religion; they have been facing ethnic divides within the community itself, identity dilemmas and growing levels of anti-social behaviour amongst their youth. The two tragic events that occurred recently have put the Muslim community into the global spotlight yet again and perhaps through a more rigorous scrutiny.
The call from the British imams has come at a time when everyone is still in a state of shock. This announcement is in response to the mounting pressure on the Muslim community as they are often thought to not be doing enough to root out the cancer of extremism.
Security levels are on high alert, community relations have been severely affected and numerous Islamophobic hate crimes have been reported. The British public in general is completely awestruck. The blasts changed the dynamic of the election campaign, so much so that the security situation of the country dominated the election debate, amongst various other issues.
Amidst all this, the current situation poses some soul searching questions for the Muslim community. The common Muslims are questioning themselves about what they can do to avoid their religion from being attached to any such heinous crimes, because the right-wing media outlets are inadvertently blaming the Muslims en masse.
There are over three million Muslims residing in the UK with over 1,200 mosques. Issues relating to the Muslim community make headlines quite often, which is why the conduct of the community as a whole is often at the centre of criticism and attacks. From being considered as a security risk to being disloyal to the country, Muslims are seen as the boogeymen of society in the UK.
The challenges facing the Muslims in the UK are multi-faceted. For starters, the British government and the media treat them as a homogenous group, whereas in reality, they are a conglomerate of fragmented multi-ethnicities. In many cases, they hardly have any strong connections amongst each other.
A majority of Muslims living in the UK are from the subcontinent and have brought their own religion and culture along with them. Over the years, their businesses, families and personal wealth have flourished but their mosques, however, have not. Regrettably, many mosques in the UK are not a true representation of Islam. In fact, they are more of a representation of their own respective cultures. You can walk into a mosque and point out whether it is a Pakistani, Bangladeshi or an Indian Gujrati mosque. As a result, the mosque curriculum is mainly focused on the basic religious education or teachings of the local language without any emphasis on civic knowledge.
Being a Muslim in a society like the UK comes with a huge responsibility. At times like these, when Muslims are the focal point of negative attention, it is absolutely pivotal for them to acknowledge that they need to step up their game. They need to prepare themselves for the political and social challenges and must be well equipped in order to engage with a wider public discourse.
Moreover, it is about time they wholeheartedly embraced Britain as their home because unfortunately, the Muslim youth still faces identity dilemmas. The first generation has brought them up with a religious/cultural amalgamation of values which has left them in a limbo and they cannot differentiate religion from culture or vice versa. This has subsequently made them outcasts in society. Furthermore, due to the lack of proper patronship, young Muslims are often unnecessarily drawn into global issues whereby their commitment to the country and society is compromised.
Full report at:
http://blogs.tribune.com.pk/story/51030/it-is-about-time-british-muslims-proved-their-loyalty-to-britain/
--------
South Asia
15 ISIS militants killed in Hamza operations in Nangarhar province
Jun 09 2017
At least fifteen militants affiliated with the Islamic State of Iraq and Syria (ISIS) terrorist group were killed during the ongoing operations in eastern Nangarhar province of Afghanistan.
The 201st Silab Corps of the Afghan National Army (ANA) forces in the East said the militants were killed during the Hamza operations being conducted in the restive districts of Nangarhar.
The source further added that the militants were targeted in the vicinity of Nargiso area in Achin district.
The local residents and security personnel have not suffered any casualties as the being operations are being conducted with the support of the Air Force and artillery units, the 201st Silab Corps added.
Nangarhar is among the relatively calm provinces in eastern Afghanistan but the anti-government armed militant groups have recently increased their insurgency activities in some parts of the province during the recent years.
This comes as an anti-ISIS operation is underway in Nangarhar to eliminate the presence of ISIS affiliates in this province.
The operations are currently being conducted under the name of Hamza operations which was launched more than a month ago to suppress the loyalists of the terror group in this province.
The 201st Silab Corps said the operations are successfully being conducted with an aim to eliminate the loyalists of the terror group from the province during the current year.
http://www.khaama.com/15-isis-militants-killed-in-hamza-operations-in-nangarhar-province-02896
--------
Call to protect society from radical forces
June 10, 2017
Bangladesh is facing challenges from fundamentalists and religion-based groups, and the young generation will have to come forward to rebuild the society, speakers at a discussion said yesterday.
According to them, a large number of youths still believe the situation can be changed by waging a cultural and progressive movement.
They stressed the need for organising a mass upsurge like the Gonojagoron Mancha.
Sanglapsutra, a newly-floated platform of young journalists, writers and rights activists, organised the discussion titled "Kon Pothe Bangladesh?" (Where is Bangladesh heading for?) in the capital's Liberation War Museum.
The call comes at a time when some radical Islamist groups, including the Hefajat-e Islam, are spreading hateful lies against some eminent citizens, including rights activist Sultana Kamal.
Prof Ajoy Roy, father of slain writer Avijit Roy, called upon youths to get united and take to the streets to establish a secular society and prevent the rise of radical groups.
Nothing can be achieved without waging a movement, he said.
Prof Muhammed Zafar Iqbal of Shahjalal University of Science and Technology said insolvent parents send their children to Qawmi madrasas as those provide free education and residential facilities.
Iqbal, also a noted writer, underscored the need for providing people with authentic information to make them aware of militancy and radicalism.
Sarwar Ali, trustee of the Liberation War Museum, said all problems were rooted in the radical explanation of religion and its use in politics.
"Use of religion in politics is tainting both religion and politics," he added.
Prof Anwar Hossain, former vice chancellor of Jahangirnagar University, called for holding elections to student unions at universities to build a progressive nation.
Language Movement veteran Ahmad Rafique said hate attacks on the houses of religious minority people in Ramu of Cox's Bazar and Nasirnagar of Brahmanbaria as well as arson in Santal houses in Gaibandha's Gobindaganj prove that Bangladesh is "not a non-communal country".
Many people might take the murder of Tonu as a stray incident, but in fact it was not, he said.
"So many incidents, including those of violence against women, are taking place. The society has turned out to be one without protests."
Rights activist Khushi Kabir alleged that wrong interpretation of religion was being given to make communal provocations in the society.
Progressive forces should find out ways to reach out to people as many still believe that changes can be made in the society, she said.
Prof Abul Kashem Fazlul Haque of Dhaka University urged all to reach a national consensus to prevent the rise of Islamist groups like Hefajat.
Cultural personality Lubna Marium said there should be a progressive political movement to rebuild the society. She called for finding out the reasons behind choosing the path of militancy by youths.
Reading out a written statement, journalist Julfikar Ali Manik, a key organiser of Sanglapsutra, said some people in the previous years used muscle power and carried out physical attacks to counter arguments instead of taking part in creative debates.
He said religious fanaticism of Hefajat, militant attacks and threats of physical attacks by some vested groups were part of a series of efforts to curb the freedom of speech.
Full report at:
http://www.thedailystar.net/backpage/call-protect-society-radical-forces-1418155
--------
Modi, Hasina urged to protect Bangladeshi tribals
June 9, 2017
Agartala, June 9 (IANS): Various tribal groups have urged the Prime Ministers of India and Bangladesh to protect the minority tribals and non-tribals in Bangladesh, an official said on Friday.
Chakma National Council of India (CNCI) and other tribal organisations have sent separate letters to Prime Minister Narendra Modi and Bangladeshi Premier Sheikh Hasina to protect the tribals and other minorities residing in Bangladesh.
The tribal organisations have been holding protest rallies in Tripura and other north-eastern states since Wednesday to protest the recent attacks on tribals in Chittagong Hill Tracts (CHT) of southeast Bangladesh.
"At least seven aged tribal men were brutally killed by the Muslim settlers in Langadu Upazila in Rangamati Zilla on June 2. Bangladesh Army and police remained spectators when the Muslims attacked the innocent tribals," CNCI President Sobha Ranjan Chakma told reporters on Friday.
He said: "The Bengali Muslim settlers also set afire and vandalised several hundred houses and shops of the Chakma community following the death of a local Muslim youth leader."
The CNCI leader said that after the massive attacks, thousands of tribals, including women and children, fled to jungles to protect themselves from the attackers.
Chakma said, "We have urged both Indian and Bangladeshi Prime Ministers to take appropriate measures to rehabilitate the affected tribals and punish the culprits."
"We have also urged the Bangladesh Prime Minister to implement the 1997 Peace Accord signed with the Shanti Bahini. Many provisions of the peace accord are yet to be executed, leading to the sufferings of the tribals," CNCI Advisor Srota Ranjan Khisa told IANS.
Full report at:
http://morungexpress.com/modi-hasina-urged-protect-bangladeshi-tribals/
--------
PM Hasina congratulates Tulip, Rushanara, Rupa for re-election in UK polls
Jun 10, 2017
The Bangladeshi-origin female Labour candidates secured resounding victories
Prime Minister Sheikh Hasina has greeted her niece Tulip Siddiq, and British-Bangladeshi Labour candidates Rushanara Ali and Rupa Huq on their resounding victories in Thursday's UK election.
Hasina said victory of the "three daughters" made the people of Bangladesh proud.
"The victory of three daughters – Tulip Siddiq, Rushanara Ali and Rupa Huq – is a matter of pride for us," her Press Secretary Ihsanul Karim quoted her as saying.
Tulip retained her Hampstead and Kilburn seat, while Rushanara secured Bethnal Green and Bow seat in Thursday's election. Rupa was re-elected from Ealing Central and Acton.
All three were Labour candidates.
Full report at:
http://www.dhakatribune.com/bangladesh/2017/06/09/pm-hasina-congratulates-tulip-rushanara-rupa-re-election-uk-polls/
--------
Africa
Libyan army provides documentary proof of Qatar's crimes in country
9 June 2017
The Libyan army leadership presented video and audio evidence and documents confirming Qatar's official involvement in supporting terrorist groups since 2011 and financing the armed operations in the country aimed at destabilizing the country and sabotaging the democratic process.
Libyan army spokesman Colonel Ahmed al-Mesmari revealed in a press conference about the array of evidence detailing Qatar's crimes in Libya, stressing that it has played a dirty role since the revolution that toppled the Muammar Gaddafi regime.
Flooding Libya with money, weapons
The documents reveal the involvement of Qatari officials in increasing the divisions within Libya through the spread of Qatari military forces on Libyan territory and the attempt to control several areas, most notably Mu'tika and Misurata.
In addition, the country was flooded with billions of dollars to corrupt Libyan society by exploiting the economic conditions of some its citizens. The funds were also used to support former prisoners in Libya to become leaders.
Among the Qatari officials involved were Mohammed Hamad al-Hajri, acting charge of affaires at the Qatari embassy in Libya, and Qatari intelligence General Salim Ali al-Jarboui, who served as Qatar's military attache in North Africa.
Jarboui supported Al Qaeda, ISIS and the Muslims Brotherhood financially, where he transferred $8 billion from the Qatari Tunisian National Bank to the Housing Bank of Tataouine Governorate in southern Tunisia, to be sent later to Libya to support terrorist groups.
Filling Libya with terrorists
Videos revealed Qatar's support for a number of militants till they took up leadership positions, including Mahdi al-Harati, who is now the dean of the Tripoli municipality, after leading an extremist group in Syria.
Qatar also sent 8,000 fighters from Libya to Syria before getting them back to Libya. They were transported by Qatari airplanes and brought several terrorists from abroad to Libya, including Anis al-Houti, who was fighting with Mokhtar Belmokhtar in Algeria against the Algerian government.
Assassinations
Qatar was supporting a series of assassinations of senior generals, officers and policemen. by Abdel Fattah Younis, the chief of staff of the Libyan army during the revolution, was high on the list of those who were killed. In addition, an attempt was made to assassinate the current army commander, General Khalifa Hafter at the former headquarters in the Abyar area, east of Benghazi.
Qatari planning behind bombings, blasts
Documents and videos showed that Hamas leaders trained the extremist elements in Libya in techniques for bombings and triggering explosions. Qatari planning was behind all the bombings carried out in Libya. The Khan Yunis brigade provided technical assistance to the terrorists on Libyan territory.
Qatari crimes in Benghazi
Benghazi was the scene of a major crime, when Qatar's planes landed on Libyan territory at Benina International Airport to provide terrorists with advanced weapons, specifically to what is known as the The Revolutionary Council of Benghazi.
https://english.alarabiya.net/en/News/north-africa/2017/06/09/Libyan-army-provides-documentary-proof-of-Qatar-s-crimes-in-country-.html
--------
Libya issues new terror blacklist with '75 individuals linked to Qatar'
10 June 2017
Libya's National Defense and Security Committee suggested an additional blacklist to be included in a terrorism blacklist issued by Arab states earlier this week.
This new list includes 75 individuals and 9 entities linked to Qatar.
Several Libyan names were among those classified as terrorists backed by Qatar.
On Friday, Saudi Arabia, Egypt, the United Arab Emirates and Bahrain included on their terrorism lists 59 individuals and 12 entities, funded and supported by Doha through funds and arms.
Full report at:
https://english.alarabiya.net/en/News/north-africa/2017/06/10/Libya-issues-new-terrorism-blacklist-with-75-individual-and-nine-entities.html
--------
Three UN peacekeepers killed in northern Mali attack
9 June 2017
Militants on Thursday killed three United Nations peacekeepers in a attack outside their base in Kidal in northern Mali, the UN said in a statement on Friday.
UN soldiers face frequent attacks from desert fighters who have regrouped since a French-led military operation in 2013 to drive them out of Mali's northern towns.
More than 100 peacekeepers have died in recent months, making it the most deadly UN mission to date.
The soldiers were from Guinea, the Guinean government said in a statement. The identity of the attackers was not yet known.
The UN camp came under heavy mortar fire on Thursday, injuring five. Shortly afterwards, three UN soldiers were killed in an attack just outside the camp, the UN said, giving no further details.
Despite ongoing French strikes on their hideouts, fighters, including local al Qaeda affiliates, have staged a series of attacks this year, including a suicide bombing at an army base in January which killed at least 77 people.
Full report at:
https://english.alarabiya.net/en/News/north-africa/2017/06/09/Three-UN-peacekeepers-killed-in-northern-Mali-attack.html
--------
14 killed as soldiers clash over food aid in Somalia
Jun 9, 2017
At least 14 people, most of them civilians, were killed as soldiers clashed over food aid in drought-ravaged Somalia's southwestern city of Baidoa, where tens of thousands of people have streamed in seeking assistance.
The fighting broke out at a distribution site after some soldiers tried to steal food sacks meant for displaced people and other soldiers guarding the aid stopped them, said police Col. Isaq Hassan.
At least 20 people were injured. Some were in critical condition, a nurse at Baidoa's main hospital, Mohamed Ahmed, told The Associated Press.
Somalia is one of four countries singled out by the United Nations in a $4.4 billion aid appeal to avert catastrophic hunger and famine, along with Nigeria, South Sudan and Yemen. The UN has said that together they make up the world's largest humanitarian disaster in more than 70 years.
Tens of thousands of people have been fleeing to Baidoa and other Somali cities in search of food and support, overwhelming local and international aid agencies. More than half a million people across the country have been displaced.
Baidoa now hosts one of the largest populations of displaced people, with more than 142,000 recorded as of mid-May, according to the International Organization for Migration. The majority of those displaced in Baidoa are children and teens.
"Every single person we have seen is a personal story of tremendous suffering. There is no way to describe it," a visibly shocked UN Secretary General Antonio Guterres said during a visit in March to Baidoa, where he saw skeletal men, women and children in a cholera ward. The disease has been a problem with the shortage of clean water.
Full report at:
http://217.218.67.231/Detail/2017/06/09/524738/Somalia-food-famine-soldiers-clash-cholera-UN
--------
Nigeria: Recession - Minister, Clerics Call for Prayers
8 JUNE 2017
By Abbas Jimoh
Nigerians have been urged to involve prayers and trust Allah as part of measures to overcome the recession troubling the nation.
The Minister of Communications Barrister Abdurrahim Adebayo Shittu, the Ameer (President) of Ummah Mallam Abubakar Siddiq and the founder of Al-Mustoffiyya Islamic Society of Nigeria Ustaz Maisuna Yahaya gave the advice in Abuja in separate Ramadan special lectures.
While the duo of Shittu and Siddiq spoke at the 11th Obafemi Awolowo University Muslim Graduates Association (UNIFEMGA) annual Ramadan Lecture/Iftar (breaking of fast dinner), Ustaz Yahaya spoke at the society's Ramadan Tafsir (Qur'an exegesis).
Speaking on the UNIFEMGA lecture titled, "Preserving Faith in Difficult Times: Challenges and Solutions" Mallam Abubakar Siddiq urged Muslims not to lose hope in difficult times but rather have the belief that after hard time comes succour.
Quoting intermittently from the Holy Quran and the Hadith (traditions) of Prophet Muhammad he cited the cases of prophets Yusuf (Joseph), Yaqub (Jacob), Ibrahim (Abraham) and Yunus (Jonah) who despite passing through trying times during their prophethood put their faith and trust in Allah and weathered the storm.
He said, "We must always stand by our challenges, you cannot adjudge to have faith if you do not have challenges. You must be consistent in good deeds, show compassion for one another. We also need to revive our homes on the ideals of teachings of Islam because if the home is good, the society is good. We must revive the home to safe the future of our children."
The Minister of Communications, Barrister Abdurrahim Adebayo Shittu, who chair the occasion urged Muslims to move closer to Allah saying Godliness is the beginning and end of wisdom.
In his opening remarks, the chairman UNIFEMGA Abuja, Alhaji Abdulganiyy Oladokun said the association has spent over N26million on 477 indigent students of Obafemi Awolowo University who are now doing well in their chosen careers.
Full report at:
http://allafrica.com/stories/201706090561.html
--------
India
At SCO summit, PM Modi takes veiled dig at Pakistan in strong anti-terror pitch
Jun 9, 2017
ASTANA: India and Pakistan on Friday joined the SCO+ with Prime Minister Narendra Modi asserting that unless strong and coordinated efforts are made, the issues of radicalisation and financing and training of terrorists would be impossible to address, in a veiled dig at Islamabad.
"Whether it is the issue of radicalisation, recruitment of terrorists, their training and financing, unless we take coordinated and strong efforts, it is impossible to find a solution," PM Modi said in the presence of Prime Minister Nawaz Sharif at the Shanghai Cooperation Organisation (SCO) Summit.
In his address at the annual summit of the SCO in the Kazakh capital, PM Modi said India's entry into the SCO family will give a new momentum to the grouping in dealing with terrorism and other pressing challenges facing the region.
"Terrorism is a major threat to humanity," PM Modi said, adding that there was a need for concerted efforts to defeat terrorism and radicalisation.
"I have full confidence that the India-SCO cooperation will give a new direction and strength to the fight against terrorism," PM Modi said.
Terrorism is violation of human rights and basic human values. The fight against terrorism is an important part of the SCO cooperation, he said.
The Prime Minister also spoke of the need for enhancing connectivity in the region and said it was the key for boosting trade and investment.
"We have extensive cooperation with SCO nations. We want to deepen the focus on connectivity," he said.
The Prime Minister, speaking in the presence of Chinese President Xi Jinping and the Pakistan Prime Minister among others, also asserted that sovereignty and territorial integrity should be the key factors+ in such a cooperation.
"Connectivity with SCO member countries is a priority for India and we whole-heartedly support it. We want connectivity to pave way for enhancing cooperation and confidence among the societies and young people. Respect to sovereignty and regional integrity is necessary. It is also important to ensure inclusivity and sustainability," the Prime Minister said.
His remarks assume significance as they come weeks after India boycotted the high-profile Belt and Road Forum held in Beijing in which 29 world leaders took part.
India abstained from the Summit+ to highlight its concerns over the $50 billion China Pakistan Economic Corridor which is part of the Belt and Road Initiative (BRI), the pet project of Xi, and passes through Pakistan-occupied Kashmir (PoK).
Earlier in the day, PM Modi met Xi on the sidelines of the Summit+ and underscored the need to respect each other's "core concerns" and appropriately handle the disputes.
During the meeting, PM Modi said India and China should tap their potential in cooperation, strengthen communication and coordination in international affairs, respect each other's core concerns and appropriately handle their disputes.
Following Modi's address at the summit, India and Pakistan became full members of the SCO, the first-ever expansion of the China-dominated security grouping that is increasingly seen as a counterweight to NATO.
"India and Pakistan are now members of the SCO. It is a very important moment for us," Kazakhstan President Nursultan Nazarbayev, who is the current chair of the SCO, said, making the announcement of the induction of India and Pakistan, capping a two-year-long accession process.
PM Modi, in his address, also thanked the SCO countries for granting membership to India.
The Prime Minister said India's SCO membership will certainly take cooperation among member states to new heights.
"The drivers of which will be energy, education, agriculture, defence, minerals, capacity building, development partnership, trade and investment," he said.
PM Modi said today marked a historic turn in the SCO's journey and India was ready for an active and positive participation in the grouping.
He said the development of the SCO will mean development of a huge section of the world's population.
The Prime Minister also called for efforts by the SCO to tackle climate change.
He said that the SCO will help in bringing peace in war-torn Afghanistan.
India's membership was strongly pushed by Russia while Pakistan's entry into the grouping was backed by China. With the first expansion of the grouping since its inception in 2001, the SCO will now represent over 40 per cent of humanity and nearly 20 per cent of the global GDP.
The SCO was founded at a Summit in Shanghai in 2001 by the Presidents of Russia, China, Kyrgyz Republic, Kazakhstan, Tajikistan and Uzbekistan.
India, Iran and Pakistan were admitted as observers at the 2005 Astana Summit. The Tashkent SCO Summit in June 2010 had lifted the moratorium on new membership, paving the way for the expansion of the grouping that is increasingly seen as a counterweight to the North Atlantic Treaty Organisation (NATO).
India is also keen on deepening its security-related cooperation with the SCO and its Regional Anti-Terrorism Structure (RATS) which specifically deals with issues relating to security and defence.
As an SCO member, India is expected to have a bigger say in pressing for concerted action in dealing with terrorism as well as on issues relating to security and defence in the region.
http://timesofindia.indiatimes.com/india/at-sco-summit-pm-modi-takes-veiled-dig-at-pakistan-in-strong-anti-terror-pitch/articleshow/59075004.cms
--------
J&K: Another infiltration bid foiled, Army guns down 5 terrorists in Uri
Jun 9, 2017
NEW DELHI: The Army on Friday foiled another infiltration bid near the Line of Control (LoC) in Uri sector of Jammu and Kashmir's Baramulla district, killing at least five heavily armed terrorists. A high alert has also been sounded along the LoC.
"Soldiers deployed along LoC in Uri detected a movement of terrorists trying to sneak into this side (at Uri sector in Baramulla district) from across border this afternoon," Srinagar-based Army spokesperson Rajesh Kalia said, adding, "Army men fired on terrorists, who returned the fire from automatic weapons."
He also said intense combing operation is underway in the area since yesterday.
This is the third infiltration attempt by terrorists in last 24 hours and the seventh such along the LoC in less than a fortnight in north Kashmir. Three of the attempts were scuttled in Uri sector alone.
On May 26, Army killed two Pakistani Border Action Team (BAT) members+ who tried to infiltrate into Uri sector in Baramulla district to carry out an attack on the soldiers.
Full report at:
http://timesofindia.indiatimes.com/india/jk-another-infiltration-bid-foiled-army-guns-down-5-terrorists-in-uri/articleshow/59073365.cms
--------
India will take 'drastic' action against Pakistan, says Union Minister Kiren Rijiju
Jun 9, 2017
GUWAHATI: Union Minister Kiren Rijiju on Friday said that India will take 'drastic' action against Pakistan as it was crossing the Line of Control (LoC) repeatedly.
Rijiju, who was speaking to reporters at the sidelines of a rally here, however, declined to share details.
He said the security of the newly opened country's longest bridge Dr Bhupen Hazarika Setu at Dhola-Sadiya+ will be tightened.
The Union minister of state for home appealed to members of the militant outfits to return to the mainstream for development of the northeast region.
Earlier, speaking at the rally Rijiju said the NDA government at the Centre is committed to the development of the northeast and is working for implementation of schemes for the benefit and development of the people of the region.
"With the goodwill initiative of 'Sab Ka Sath, Sabka Vikas' under the leadership of Prime Minister Narendra Modi, our government has been trying for all round development of northeast," Rijiju said at a public rally here.
"Every effort has been made to deliver a transparent and corruption free governance for all," Rijiju said at the programme held to celebrate the three years of BJP in power.
Full report at:
http://timesofindia.indiatimes.com/india/india-will-take-drastic-action-against-pakistan-says-union-minister-kiren-rijiju/articleshow/59075666.cms
--------
In Assam's communally sensitive Silchar, allegations of 'love jihad' spark violent clashes
Jun 10, 2017
On Tuesday, Joydeep Biswas, a resident of Silchar, the headquarters and largest town of Cachar district in Assam's Barak valley, accompanied his son and niece to the movies to watch the recently released biopic of cricketer Sachin Tendulkar. The film started at 8.15 pm. But soon after, Biswas started getting calls from anxious relatives and friends asking him to rush home. Hindu-Muslim clashes had broken out in town, they told him.
Biswas called up a trusted autorickshaw driver to come and pick them up. On their way home, a group of agitated young men stopped the autorickshaw and asked Biswas and the others to alight. "Luckily, the auto driver was an old hand and managed to [help us] escape," Biswas recalled. "Around us, we saw burnt vehicles and other signs of vandalism."
The vandalism and communal clashes were the result of "love jihad" allegations brought against a Muslim man by right-wing groups in the town. Love jihad, Hindu groups have frequently claimed in the past, is an institutional practice among Muslims where men of the community are trained to woo Hindu women and convert them to Islam. In recent years, it has been used to break up numerous inter-religious unions and to harass and even kill those involved in such marriages.
Silchar police chief Rakesh Raushan said around 500 to 600 people were involved in the clashes in which 11 civilians and eight policemen were injured and three vehicles set on fire. Prohibitory orders under Section 144 had to be imposed in the town.
Rumours spark violence
The Muslim man had married a Hindu woman in a court ceremony on August 22 last year, Raushan said. The couple, both adults, had met while working at the Silchar district coordinator's office of the National Register of Citizenship. However, they had continued to live with their respective families till May 22, when the woman left her parents' house to move in with her husband.
"The parents of the woman lodged a case of kidnapping," said Raushan. A week later, the woman voluntarily deposed in the police station. "When produced in court, the woman affirmed that she was an adult and had voluntarily married," the officer said. "The court sent her to a judicial home and asked us to produce her on a later date for the final verdict in the matter."
On Tuesday, clashes broke out between the two communities over rumours that the couple would be produced in court. The All India United Democratic Front, a Muslim-centric political party, blamed the right-wing Bajrang Dal for the violence. "Bajrang Dal jumped into the fray and painted it as an incident of love jihad," said Ataur Rahman Mazarbhuiya, a former legislator from Katigorah in Cachar. "They instigated people and that is what made the situation so bad."
However, Gopal Bhattacharjee, president of the Cachar unit of the Vishwa Hindu Parishad, the Bajrang Dal's parent organisation, denied the group's involvement. Blaming the violence on "general public feeling against such a marriage", he added, "My boys had nothing to do with it. It was a clash involving the general public."
Aminul Haque Laskar, a leader of the ruling Bharatiya Janata Party, also came under attack while trying to pacify the agitated crowd. Lashkar's car was damaged but he managed to get away unhurt.
Till Wednesday evening, the police had rounded up nine persons from both communities for questioning. "According to the initial investigation, they were miscreants," said Raushan. "But we are trying to find out if they belonged to any particular group."
Full report at:
https://scroll.in/article/840049/in-assams-communally-sensitive-silchar-allegations-of-love-jihad-spark-violent-clashes
--------
Pakistan gives permission for Delhi-Nankana Sahib procession
June 10, 2017
The Pakistan government has given permission to carry out Nagar Kirtan (religious procession) from New Delhi to Nankana Sahib in Pakistan to celebrate the 550th birth anniversary of Guru Nank Dev, the founder of Sikhism. The 550th Parkash Gurpurab would be celebrated across the world on November 12 in 2019. The procession, however, would be taken out in November 2018 as part of the one-year-long celebrations.
Shiromani Akali Dal Delhi, led by Paramjit Singh Sarna, had approached the Pakistan government for permission. SAD Delhi president and former Delhi Sikh Gurdwara Management Committee (DSGMC) president Paramjit Singh Sarna addressed a press conference in Amritsar on Friday and took credit for that.
"We had requested Pakistan in December last year to give permission for the event. Pakistan Sikh Gurdwara Parbandhak Committee (PSGPC) and Evacuee Trust Property Board, Government of Pakistan, supported us," said Sarna.
Full report at:
http://indianexpress.com/article/india/pakistan-gives-permission-for-delhi-nankana-sahib-procession-4697015/
--------
NIA questions Syed Ali Shah Geelani's son-in-law
June 10, 2017
The NIA on Friday questioned separatist leader Syed Ali Shah Geelani's son-in-law in connection with its probe into funding of the Hurriyat by terror groups in Pakistan.
Altaf Ahmed Shah arrived at the NIA headquarters on Jain Singh Road on Friday morning and was allowed to leave in the evening.
The NIA had earlier raided his Srinagar residence and that of Shahid-ul-Islam, a close aide of Mirwaiz Umar Farooq, who heads the moderate faction of the Hurriyat Conference, and businessman Zahoor Watali.
The NIA had conducted raids last Saturday and Sunday on the residences of separatists and businessmen in the Kashmir Valley, Jammu, Delhi and Haryana's Sonepat and Gurgaon. Among the premises searched were those of separatists Ayaz Akbar, Peer Saifullah, Nayeem Khan and Farooq Ahmed Dar alias Bitta Karate.
Hafeez Saeed, the Pakistan-based chief of Jamaat-ud-Dawa, the front of the banned Lashkar-e-Toiba (LeT), has been named in the FIR as an accused, besides organisations such as the Hurriyat Conference (factions led by Geelani and the Mirwaiz), Hizbul Mujahideen and Dukhtaran-e-Milat.
The raids were part of the NIA's efforts to clamp down on separatist groups allegedly receiving funds for subversive activities in the Valley. The agency has claimed that a few thousand Pakistani rupees and currencies belonging to the UAE and Saudi Arabia and letterheads of the Lashkar and the Hizbul were found.
Full report at:
http://indianexpress.com/article/india/nia-questions-syed-ali-shah-geelanis-son-in-law-4696847/
--------
Pakistan
Pakistan, Turkey should help to resolve alarming issue: Siraj
Jun 10, 2017
Lahore
Ameer, Jamaat-e-Islami, Pakistan, Senator Sirajul Haq, has said that the conflict between Saud Arabia and Qatar had created an alarming situation in the Muslim world and the enemy alone would benefit from the game. Addressing Friday congregation at Mansoora mosque, he urged Turkey and Pakistan to try to resolve the conflict as it would be harmful for the Muslim world.
Sirajul Haq said that the US was happy over the tension between Muslim states as every Muslim state was buying US arms and ammunition to fight other Muslims.
He said that definitely there was Zionist brain behind the heinous game which actually aimed at the security of Israel. He said if the Muslim world did not show unity, it would be difficult to escape disaster.
The JI chief said that the forces hostile to Islam had been playing the game of dividing the Muslim world and to shatter the unity of the Muslim Ummah. In this situation, the US arms business was flourishing.
He said the US was pushing the Muslim states towards a destructive war in order to occupy its vast resources of oil, gold and other precious minerals.
Iraq had already been divided into three parts and conspiracies were afoot to involve other Muslim states in war with one another and divide them further.
Sirajul Haq said that in the hour of trial, the people used to look towards the heavens but the Pakistani rulers looked towards Washington. He said the US had set up military bases in Gulf states. The society in these states looked western and western culture was being promoted there under a plan. In these states, the Americans treated the locals like slaves.
Sirajul Haq said that to pull the Ummah out of this situation, it was imperative that the leaders of the Ummah sat together and devised a common strategy to foil the enemy conspiracies.
Full report at:
http://pakobserver.net/pakistan-turkey-help-resolve-alarming-issue-siraj/
--------
On Qatar, Pakistan walks a diplomatic tightrope
Asad Hashim
Jun 10, 2017
Islamabad, Pakistan - Pakistan's parliament has expressed its "deep concern" over the blockade and severing of ties with Qatar by several Arab states, calling for the government to help mediate in the crisis between the Gulf state and its neighbours.
"This House calls upon all countries to show restraint and resolve all differences through dialogue," read a resolution passed by the lower house of parliament on Thursday.
The measure came as Pakistan's foreign ministry reiterated the country's "concern" at the escalating situation - but stopped short of endorsing one side or another.
"Pakistan believes in unity among Muslim countries and has made consistent and serious efforts for its promotion," Nafees Zakaria, the Pakistani foreign office spokesperson, said on Thursday.
"We are therefore concerned at the situation."
But Zakaria refused to comment when probed on whether Pakistan had taken any steps to mediate the crisis or was also considering severing ties with Qatar.
He also had nothing to say when pressed to provide Pakistan's position on the allegations of "supporting terrorism" levelled against Qatar by Saudi Arabia, the United Arab Emirates (UAE) and their allies.
Pakistan has a close economic and strategic relationship with Saudi Arabia, which is leading the calls for the blockade and severing of ties.
Yet, in the past it has resisted pressure to wade into regional conflict in the Middle East.
In April 2015, Pakistan's parliament voted to remain neutral in the war in Yemen, despite pressure to join a Saudi-led military alliance targeting Houthi rebels in the country.
On Monday, Pakistan's foreign office indicated that it currently had no plans to sever ties with Qatar.
What's at stake for Pakistan
Pakistan's relationship with Saudi Arabia and the UAE is based on close diplomatic ties, but also deep economic relations.
Saudi Arabia is home to more than 1.9 million Pakistanis, mostly unskilled workers, while the UAE hosts a further 1.2 million, according to government data.
Qatar, a much smaller country by comparison, hosts only 115,000 Pakistani citizens.
Those expatriate Pakistanis have a significant impact on their country's economy, with foreign remittances playing an important role in bolstering Pakistan's foreign exchange reserves.
Analysts believe that any attempts to expel Pakistani workers or block remittances could have a major impact on Pakistan's economy.
Saudi Arabia tops the list of countries with the highest remittances to Pakistan, with $4.52bn in funds sent home by Pakistanis in the current fiscal year, according to Pakistan's central bank.
The UAE comes in next at $3.47bn, with Qatar appearing much further down the list with only $304m in remittances.
Saudi Arabia and the UAE are also two of Pakistan's major trading partners. The South Asian country has imported goods and services worth $5.84bn from the UAE in the current fiscal year, and a further $1.95bn from Saudi Arabia, according to the central bank.
It also sold exports worth $852m and $300m to those two countries respectively.
By comparison, Pakistan sold exports worth $42.6m to Qatar in the current fiscal year, while importing $864m worth of goods and services.
The bulk of those imports have been in the form of Liquefied Natural Gas (LNG), after Pakistan signed a landmark 15-year deal with Qatar in February 2016.'
In addition, Pakistan's Prime Minister Nawaz Sharif holds close ties with the ruling families in both Saudi Arabia and Qatar. In 2000, when he fled a military coup, Sharif resided in Jeddah, a Saudi Arabian port city on the Red Sea, for eight years while in exile.
The Saudi government also gave Sharif's government a grant of $1.5bn in March 2014 to help meet debt-service obligations and undertake large development projects. At the time, Finance Minister Ishaq Dar termed the grant "a gift".
In more recent times, Sharif has relied heavily upon the testimony of former Qatari Prime Minister Hamad Bin Jasim Bin Jaber Al Thani as a part of his defence in an ongoing corruption investigation at the Supreme Court that could unseat him as prime minister.
'If push comes to shove'
"Of all Muslim nations, Pakistan is probably in the most difficult position," James Dorsey, a senior fellow at the S. Rajaratnam School of International Studies in Singapore and specialist on Pakistan's relations with Gulf countries, told Al Jazeera.
Dorsey pointed to the appointment of Pakistan's former army chief Raheel Sharif to lead a 39-member military alliance put together by Saudi Arabia, ostensibly to combat the Islamic State of Iraq and the Levant (ISIL) armed group, as a concession the country was forced to make after refusing to join the war in Yemen.
Tehran and others have criticised the alliance as being focused more on furthering Saudi objectives against Shia-majority Iran in the region than against ISIL.
Roughly 15 percent of Pakistan's roughly 200 million people are Shia Muslims, and the opposition at home was one of the major reasons the country did not send troops to fight the war in Yemen, according to analysts.
Dorsey said the recent rift with Qatar "potentially puts Pakistan in an even tighter spot".
He added: "Obviously Pakistan has a historic relationship with Saudi Arabia, and Saudis are not only very important to them [economically], but also very influential on all kinds of levels. But they also have a very close relationship with the Qataris, economically."
But Dorsey argued that while the relationship with Qatar is strong, Saudi Arabia has more leverage to exert on Pakistan, if push comes to shove.
"There is a lot of Saudi money going into Pakistan. When Pakistan has a financial shortage, there are two places they go: Saudi and China," he said.
"There are a lot of Pakistanis working in Saudi Arabia. […] They could keep the Pakistanis and stop the remittances. And all of this would hit Pakistan quite hard."
Moreover, Saudi Arabia has also embarked on a soft power campaign in Pakistan for decades, said Dorsey, whose research has tracked donations and funding trails from the Gulf kingdom to Pakistani religious organisations.
"Saudi Arabia in the last four decades has waged the single largest public diplomacy campaign in history. […] That campaign was designed to further a Sunni Muslim ultraconservatism world view."
Political opposition at home
Hasan Askari Rizvi, an Islamabad-based political analyst, said it seems unlikely Pakistan would wade into this regional conflict, not least because of potential political opposition at home.
"I don't think they will sever ties," he told Al Jazeera.
"There will be domestic opposition, there will be political opposition that this is not an advisable strategy to get totally involved in a conflict in the Arab world."
Rizvi's view seems borne out by Thursday's parliamentary resolution, which was moved by key leaders of the country's opposition parties.
Either way, Pakistan will serve as an interesting test case for major non-Arab Muslim states around the world, both analysts said.
Turkey and Iran have already come out in support of Qatar, promising food aid and sending troops to the country this week.
Other countries with major Muslim populations such as Indonesia, Malaysia and Nigeria have remained largely neutral, so far.
Some smaller countries, such as the island nations of Mauritius and Maldives have joined the boycott of Qatar.
Full report at:
http://www.aljazeera.com/news/2017/06/qatar-pakistan-walks-diplomatic-tightrope-170609071856229.html
--------
Call to probe Musharraf-era nuclear proliferation
Iftikhar A. Khan
Jun 10, 2017
ISLAMABAD: A senator on Friday called for an investigation into nuclear proliferation from the country during the era of former military ruler retired Gen Pervez Musharraf.
The demand came after Hafiz Hamdullah of the Jamiat Ulema-i-Islam-Fazl asked during the Senate session why Dr Abdul Qadeer Khan, described as the father of the country's nuclear bomb, was not even mentioned during Yaum-i-Takbeer celebrations on May 28.
Senator Farhatullah Babar of the Pakistan Peoples Party, who sought "thorough investigations" into nuclear proliferation, said that Gen Musharraf in his book In the Line of Fire had conceded that several tonnes of nuclear material and drawings had been smuggled from Pakistan to Iran, Libya and North Korea.
But only one individual, Dr Khan, was singled out for nuclear proliferation, he said, adding that it was impossible for any single individual to smuggle out huge centrifuge machines and other nuclear material without connivance and assistance of other players.
He called for an inquiry into the matter and bringing to book all those involved in the scam. He said that the entire network should be exposed and insisted that it must include big names.
Hafiz Hamdullah said that Dr Qadeer was a national hero but he had been degraded and insulted by Gen Musharraf.
A day after Sassui Palijo of the PPP talked of mysterious disappearance of four people from villages of Badin district of Sindh, Mr Hamdullah raised the issue of disappearance of a cleric, Mufti Amir Zaman, from Attock in Punjab.
Mr Babar said that the Senate Human Rights Committee had in the recent past proposed legislation on speedy and inexpensive justice, which was subsequently endorsed by the Senate Committee of the Whole late last year.
He said that the draft legislation also provided for punishment for holding a suspect in unlawful detention and without bringing charges against them.
He said that the Senate Committee of the Whole had also decided that if the government failed to bring up the proposed legislation to rein in the agencies within 60 days then the Senate would adopt it as a private member's bill with the support of leaders of parliamentary parties.
He said that the 60-day period had expired and asked retired Col Tahir Mashhadi, who was presiding over the session, to give a ruling to lay the bill as a private member's bill.
Mr Babar proposed that the cases of disappearance of the cleric and four human rights activists from Badin be referred to the Senate Committee on Human Rights. Col Mashhadi accepted the suggestion and referred the matter to the committee.
Minister for Environment Zahid Hamid admitted that Pakistan did not have any 'reliable' system for monitoring data on air pollution. He said that seven centres set up with the help of the Japan International Cooperation Agency back in 2007 had long become non-functional. The centres would become functional again in July, he added.
Responding to a calling attention notice, he said that a research study conducted by environment experts to deal with environment issues needed $40 billion to implement its recommendations.
Sherry Rehman, the mover of the notice, said that Pakistan was among the worst countries in the world in terms of air pollution. She said that pollution-related issues had never been taken seriously.
She had an argument with the minister when he called her 'lady senator'. Ms Rehman reacted by saying that a senator was a senator and there should be no discrimination on the basis of gender. "Should I be calling you gentleman minister then?" she remarked.
Opposition members registered their protest over mistreatment of Sheikh Rasheed, a prominent opposition MNA, by a PML-N worker inside the Parliament House building.
Full report at:
https://www.dawn.com/news/1338645/call-to-probe-musharraf-era-nuclear-proliferation
--------
Indian Sikh pilgrims arrive to mark Shaheedi Jor Mela
June 10, 2017
ATTOCK - Some 16 Indian Sikh pilgrims arrived on Friday at Gurdwara Punja Sahib in Hassanabdal to mark the 411th death anniversary of Guru Arjan Dev Ji, fifth of the eleven Sikh gurus.
According to Sikhism, the event is also called Shaheedi Jor Mela or Shaheedi Purab of Guru Arjan Dev Ji. It is the first time since Kargil conflict that such low number of Indian Sikh pilgrims is visiting the area to offer their religious rituals.
Deputy Secretary Evacuee Trust Property Board (ETPB) Imran Gondal told media that as many as 96 visas to intending Sikh pilgrims were issued by the Pakistani High Commission in New Delhi. However, he said when the pilgrims reached the Attari Railway Station, the Indian authorities refused to permit them to travel.
Full report at:
http://nation.com.pk/national/10-Jun-2017/indian-sikh-pilgrims-arrive-to-mark-shaheedi-jor-mela
--------
Pakistan vows safe return of Afghans: NSA
June 10, 2017
ISLAMABAD - National Security Adviser (NSA) Lt Gen (retired) Nasser Janjua on Friday said that Pakistan remained committed to the policy of dignified and safe return of Afghan refugees to their homeland.
Janjua stated this, while talking to the country director of the United Nations High Commissioner for Refugees (UNHCR) Indrika Ratwatte who called on him here at his office.
Both discussed matters pertaining to management, regulation and repatriation of Afghan refugees in Pakistan.
The national security adviser said that Pakistan had always stood with Afghanistan and its people and had wholeheartedly shared its bread with Afghan brethren.
Ratwatte lauded Pakistan's generous role in hosting millions of Afghan refugees for nearly four decades.
They agreed to continue consultations with regard to ongoing efforts for better management and repatriation of the remaining refugees with the assistance of the international community.
Ratwatte, the UNHCR country representative for Pakistan, said some degree of fatigue had set in after 37 continuous years of hosting one of the largest refugee populations in the world.
But rights group HRW had been scathing of Pakistan's "coercive" approach towards repatriation in the past, accusing the government of arbitrary detentions and other violations.
Some 4.2 million Afghan refugees have returned to Afghanistan voluntarily under the UNHCR-funded voluntary repatriation programme since 2002.
But, the UNHCR and Pakistani officials have said some 1.34 million registered refugees still live in Pakistan.
Estimates say there are a further half million undocumented refugees in the country. Islamabad believes Afghan refugees living in Pakistan have become a serious security concern because of the Indian premier intelligence agency RAW's nexus with Afghan security agency National Directorate of Security, which have been trying directly and indirectly to destabilise Pakistan by sponsoring terrorism. The perception developed in Pakistan after the arrest of a senior RAW officer Kulbhushan Jadhav from Balochistan where he confessed to have carried out terrorist activities.
He has been also involved in destabilising the Fata and Karachi port city through his network.
According to the UNHCR, the number of Afghan refugees in Pakistan returning to their homeland is expected to decrease this year after a record number of repatriations in 2016 sparked fears of a humanitarian crisis.
Some 32,000 registered refugees have returned from Pakistan since April 3rd, when repatriations for the year began following the winter.
A record 370,000 Afghans left Pakistan last year, many of whom were second or even third generation migrants of people fleeing the Soviet invasion of Afghanistan during the 1980s, surging from 55,000 the year before.
In February, Islamabad announced a new policy for the management of Afghan refugees, which included the registration of undocumented Afghans, adopting a refugee law and a new visa regime for Afghans.
Such measures in turn have encouraged Afghans to continue living in Pakistan rather than risk leaving for Afghanistan where fighting rages between government, Taliban and Islamic State. Security in Kabul, where many returnees seek refuge, has deteriorated in the last week, as anger grows after a massive bomb in the city's diplomatic quarter killed more than 150 people.
Full report at:
http://nation.com.pk/national/10-Jun-2017/pakistan-vows-safe-return-of-afghans-nsa
--------
Southeast Asia
TN50: PM invites Malaysians to share their religious aspirations
June 10, 2017
KUALA LUMPUR, June 10 ― After a series of dialogues to gather feedback on National Transformation 2050 (TN50), Datuk Seri Najib Razak today invited Malaysians to share their religious and spiritual aspirations.
The prime minister said he had the opportunity to meet and hold dialogues with civil servants from various ministries, the students, the youths and the artistes for the same purpose.
"In this holy month of Ramadan, let us share our aspirations from the religious and spiritual aspects as it is important in the formation of character and the development of a national identity.
"Submit your proposal or aspiration through Facebook and Twitter, or write an email to najib@najibrazak.com with the title #TN50," he said in a post on Facebook today.
TN50 is an initiative to shape the future of Malaysia from 2020 to 2050.
When tabling Budget 2017 in parliament in October 2016, Najib said the government would hold a series of national dialogues towards making TN50 a reality. ― Bernama
http://www.themalaymailonline.com/malaysia/article/tn50-pm-invites-malaysians-to-share-their-religious-aspirations
--------
From Indonesian village to ISIS siege chief
June 10, 2017
Years before Omarkhayam Maute would pledge allegiance to Islamic State and launch a deadly siege of the southern Philippines city of Marawi that has killed some 200 people so far and sparked fear through Southeast Asia, he first tested his radical ideas in a quiet Indonesian village just a few hours from Jakarta.
At an Islamic boarding school run by his new father-in-law ­Madrais Hajar — a conservative Islamic cleric and alumni of Cairo's Al-Azhar University where Maute met his Indonesian wife — the young English and ­Koranic tutor caused a storm of protest among parents and teachers in 2009 for his attempts to impose strict Wahabist practices on ­students.
In the Bekasi mosque, Maute — who now describes himself on his Facebook page as a "walking time bomb" — raised eyebrows for his occasional Friday sermons in which he lectured against ­socialising with non-Muslims.
But it was his attempt to introduce the full-face niqab for female students at the Darul Amal pesantren, and then to enforce a campus ban on handshakes between females and males that caused an eventual teachers' strike, that the village chief Dayatullah recalled this week. "In this village we are mostly NU (members of the moderate Indonesian Islamic organisation Nahdlatul Ulama) with a high tolerance for others, but he was a bit radical," Dayatullah says of Maute. "There were many complaints against Omarkhayam from other teachers. I think in the end Haji Madrais had to make a tough choice between his son-in-law and the rest of the community — the teachers as well as his students' parents."
Madrais insists he did not allow his young son-in-law, then fresh out of university, to formally teach religion "because I felt his religious knowledge was way below our Indonesian staff".
"I asked him to explain some of the Islamic concepts to me and he was unable to," he says. "That's why I only allowed him to teach extra-curricular classes."
He has not heard from Maute or his daughter Minhati for months and doesn't know whether they and their five children are safe from the Philippine military's aerial bombardment and ground offensive to rout militants from their central Marawi stronghold.
"When he married my daughter he promised he would stay in Indonesia, but he only stayed a year," Madrais says. "Maybe he is reluctant to contact me because he broke his promise."
Who knows what might — or might not — have happened had Omar Maute stayed in West Java. Instead he took his radical ideas back to Mindanao, the southern Philippines Muslim-majority pro­vince that is home to a decades-long separatist Islamic insurgency, and used them as a catalyst for one of the most serious attacks in years on The Philippines state — an ongoing battle now being billed in militant circles as the region's newest jihad frontline.
The siege of Marawi by Islamic State-affiliated militants fighting under the Maute banner (led by Omar and his brother Abdullah) is nearing the end of its third week. With about 500 civilians trapped and dozens of hos­tages still in the conflict zone, chatter on jihadist websites and forums across Southeast Asia is gathering enthusiasm.
The Marawi siege has reinvigorated Indonesian jihadists, says Iqbal Hussaini, a reformed Indonesian gun runner who spent a year training in Mindanao jihad camps and has served jail time for smuggling weapons from southern Philippines to terrorists involved in the 2002 Bali bombing and 2004 Australian embassy bombing in Jakarta.
"I know a lot of Indonesians who are thinking about joining the Maute group in Marawi," he says at a Jakarta cafe. "Many are looking for the next jihad. The likelihood that Marawi will become a base for ISIS is very, very high."
On Tuesday, Indonesian police arrested a man on suspicion of helping Indonesians join the Maute and Abu Sayyaf militants in Marawi. Although traditional sea routes have long been exploited by Malaysian and Indonesian militants going to and from The Philippines, many jihadists recently have flown without detection to Mindanao on commercial flights.
Hussaini, known also as Ramli, says there are still Indonesians fighting in Mindanao with more-established groups such as the Moro Islamic Liberation Front (MILF) and Abu Sayyaf, who can act as contacts for those who want to join the fight.
"Everyone has this desire to go to The Philippines right now; Indonesians, Malaysians, people in southern Thailand," he says. "If for some reason they're unable to go to Marawi, because of the ­military operation and martial law declaration, they will establish training camps at home. Marawi will give them the inspiration."
Just such scenarios are now exercising the minds of Southeast Asian and Australian authorities, who are contemplating the possibility that Mindanao could be a perfect storm — a haven for battle-hardened foreign fighters from the Middle East to train a new generation of green, would-be jihadists from the region.
The potential for the Marawi siege to breathe new life into Islamist insurgencies and trigger fresh terror attacks across the region featured heavily in discussions at Singapore's annual Shangri-la defence dialogue this month, and also this week in bi­lateral defence talks between Australia and the US.
Singapore Defence Minister Ng Eng Hen told the Shangri-La conference: "If the situation in Marawi is allowed to escalate or entrench, it would pose decades of problems for ASEAN cities. All of us recognise that, if not addressed adequately, it can prove a pulling ground for would-be jihadists who can launch attacks from there."
Indonesian authorities blamed Islamic State-affiliated Indonesian Jamaah Ansharud Daulah (JAD), a group known to have sourced weapons from Mindanao, for last month's dual suicide bomb attack in Jakarta that killed three police officers, the latest in a series of low-level attacks by militants in the past 17 months.
Indonesia's National Counter-Terrorism Agency confirmed this week that at least seven Indonesians fighting with the Maute and Abu Sayyaf groups in Marawi were JAD members.
So far the attackers' lack of experience has limited the scale and impact of those strikes, but a battle theatre on Indonesia's doorstep would provide an opportunity for new-generation jihadists to build terror contacts and skills.
Indonesian terror analyst Taufik Andrie says that with Islamic State now cornered in Syria and Iraq, the terror group could "sooner or later withdraw resources from there and put them back into homegrown areas like South or Southeast Asia". This week Philippines authorities discovered more than $1.5 million in cash at a Maute family home in Marawi, which they suspect may have come from Islamic State sources.
"The only area available to (Islamic State) now is southern Philippines because all they need is territory," Andrie says. "If they don't have territory, they will seek it out. The important thing that people may not be paying attention to here is that local support (in Mindanao) is quite huge and that will make their movements easier", if not in urban Marawi then in rural Lanao del Sur province where the Maute family is well-known, and has strong links to political families and high-ranking figures within MILF.
"I'm not sure if they (militants) will have full authority as a wilayat (provincial Islamic State branch) but the threat is there that it could happen within two to three years through the networks they may build with Malaysia and Indo­nesia."
Among the 500 militants who spilled onto Marawi streets and seized the town centre on May 23 in response to a botched military raid on the hide-out of Abu Sayyaf leader Ipsilon Hapilan, Islamic State's proclaimed Southeast Asia emir, were about 40 foreigners from Indonesia, Malaysia, Saudi Arabia, Morocco and Chechnya.
Andrie says the involvement of foreign fighters is "proof that the network is much more global than imagined". "With Iraq and Syria closing down, they're looking for new battlefronts," he says.
Mindanao has been a training ground for some of the most recognisable names of Southeast Asian jihadism. It is where Indo­nesia's Jemaah Islamiah militants honed their battle skills, including Bali bombers Dulmatin, Umar Patek and Marwan, a Malaysian militant killed two years ago in Mindanao.
Regional terror analyst Sidney Jones says the emergence of Islamic State has "brought an ideological justification for unity" both among armed Moro (Muslim clan) groups in southern Philippines and with fellow Islamic State sympathisers regionally.
Jones has described the Maute group as the best-educated and smartest of the Philippines' Islamic State affiliates. Computer-savvy, and with links in Southeast Asia and the Middle East, it is dangerously well-positioned to capitalise on an environment in which ISIS is declining in strength in Syria and Iraq and looking for footholds elsewhere.
"There had previously been exhortations from Syria that if you can't join jihad there, go to The Philippines," Jones says.
"Now for the first time there is enthusiasm about going to The Philippines. That doesn't necessarily translate into more violence in Malaysia or Indonesia, though it will likely lead to more attacks in The Philippines."
"Nobody understood how well-planned this (Marawi) operation actually was until the video came out this week showing the Mautes with a diagram in their hands around a table.
"That brought home that this was an operation that must have been in planning for months — involving stockpiling of weapons, food and cash — enabling them to hold out for a very long time."
Julkipli Wadi, Islamic studies professor at Philippines University, says "a new type of orthodoxy has evolved" in Mindanao in recent years among foreign-educated Moro students like the Mautes, who return from the Middle East espousing a radical version of Islam. Islamic State ideology has undeniably infiltrated the Moro struggle after decades of failed peace talks, he says, although at its core it will remain a nationalist struggle for autonomy.
Indonesia's nascent democracy is under pressure from Islamic extremists whose pulling power was underestimated before the demonstrations of late last year against ethnic-Chinese Christian governor, Basuki Tjahaja "Ahok" Purnama. One Jakarta rally drew half a million people. Initially blind­sided, the government is fighting back. It recently announced it would seek court approval to ban the ultraconservative Islamist group Hizb ut-Tahrir Indonesia (HTI) for posing a threat to national unity.
The HTI, part of an inter­national organisation banned in many countries, wants an Islamic caliphate to replace the Indo­nesian government.
A poll this week of 1500 Indonesians showed 79.3 per cent did not support an HTI-style Islamic state; 9.2 per cent were in favour.
Felix Siauw, a Chinese-Indonesian Muslim convert and Hizb ut-Tahrir preacher with a combined Twitter and Instagram following of 3.2 million people, says the government is "trying to weaken Islam and Islamic groups".
Full report at:
http://www.theaustralian.com.au/in-depth/terror/from-indonesian-village-to-philippines-siege-chief/news-story/9b34addb7f4ce5a7b08f1a1ba50b9b9f
--------
Malaysia on high alert for terror strikes during Ramadan
Jun 10, 2017
KUALA LUMPUR • Malaysia has placed its security forces on high alert after militant groups declared the Muslim fasting month as an ideal time to carry out more attacks, the country's police chief said yesterday.
Malaysia has cancelled festive leave for all policemen during the upcoming Hari Raya Puasa period, and will deploy 40,000 officers around the country - several thousand more than in previous years, Inspector-General of Police Khalid Abu Bakar was quoted as saying by The Malay Mail Online (MMO) news site yesterday.
The country's armed forces are also on standby in east Sabah at the border with the Philippines, and along Malaysia's border with southern Thailand, he said.
Last year, only 10 per cent of the force - who are mostly Malay- Muslims - were allowed to go on festive leave.
Speaking of the militants, he said their extremist beliefs have driven them to declare the fasting month of Ramadan, viewed as the holiest month by Muslims, as an ideal time to carry out more attacks to maim and kill people.
"They believe they are set to receive more heavenly rewards from carrying these attacks during Ramadan," Tan Sri Khalid said, as quoted by MMO. "(ISIS) thinks that Ramadan is a good month for them to carry out their so-called jihad attacks, so we must be alert."
The Hari Raya Puasa celebration, starting at the end of this month, is the biggest festive period for the Muslim-majority country, which has a population of 32 million.
Millions of Malaysians typically return to their home towns a few days before Hari Raya Puasa, packing bus and train stations. All the highways out of the big cities, such as Kuala Lumpur, would be jam- packed with vehicles.
Hari Raya Puasa falls on June 25 this year, marking the end of the fasting month.
Mr Khalid said the police are staying vigilant against the militants. "We are on constant alert to look out for possible threats. Police now need to be more vigilant in tackling these militants, and we will not be lenient in our preparation and enforcement," he said.
South-east Asia's third-biggest economy suffered its first attack by the Islamic State in Iraq and Syria (ISIS) last year when two men on a motorcycle lobbed a grenade into a nightspot in Puchong, Selangor, injuring eight people. The police have arrested three men connected with ISIS' only successful attack in Malaysia, and the courts have jailed two of them.
Malaysia arrested more than 250 people between 2013 and 2016 for suspected militant activities linked to ISIS, and foiled several plots to carry out local attacks. The police last week busted an ISIS cell consisting of half a dozen men who have been smuggling weapons into the country from Thailand.
Full report at:
http://www.straitstimes.com/asia/se-asia/malaysia-on-high-alert-for-terror-strikes-during-ramadan
--------
Islamic State eyed PH after failing to gain foothold in Indonesia – security expert
June 10, 2017
MANILA, Philippines — The Islamic State eyed the Philippines as a base for operations after failing to gain a foothold in Indonesia, a Singaporean security affairs analyst said.
The terror group's expansion began in 2014 when it decided to go expand beyond the Middle East, setting its sights on Africa, the Caucasus and Asia, Dr. Rohan Gunaratna said in a Skype interview during PTV-4's Countering Violent Extremism Forum Friday.
"The Philippines was selected because they could not establish a caliphate in Indonesia," Gunaratna said, adding that Islamic State also found local terrorist groups willing to support its extremist cause.
Among these were Abu Sayyaf leader Isnilon Hapilon's group in Basilan, Abu Sayyaf sub-leader Hatib Hajan Sawadjaan's band in Sulu, the Ansar Khalifa Philippines in the Soccsksargen region, the Maute group in Lanao del Sur, and the Bangsamoro Islamic Freedom Fighters.
With these new alliances, Gunaratna said, the terror network saw an opportunity to create a new threat landscape in the southern Philippines.
When asked why the Maute group, now locked in battle with government forces in Marawi City, decided to follow Wahhabism, the Singaporean security analyst said this is because its founders, Omar and Abdullah, both studied in the Middle East and brought home the ideology.
Wahhabism is an ultra-conservative form of Islam that justifies punishments for those who do not follow its teachings.
To counter this, Gunaratna said the Philippines should maintain its local tradition of Islam, one that espouses tolerance and peace and has existed in the country for centuries.
http://www.interaksyon.com/islamic-state-eyed-ph-after-failing-to-gain-foothold-in-indonesia-security-expert/
Muslim man saves 64 Christians from being executed by militants in Philippines
A Muslim man in the Philippines has been hailed as a hero for giving shelter to 64 Christians in his home while terrorists were hunting them.
Noor Lucman, a Muslim who lives in Marawi, gave shelter to Christians who were working near his home as militants were attacking Marawi, the capital city of about 200,000 people on the Philippine island of Mindanao.
Nearly 240 Christians had been kidnapped and held hostage by militants since the start of the conflict more than a week ago.
After Lucman said after he had fled the city, Christians "couldn't leave the city, so I had to take responsibility in protecting them."
"The following days, other Christian workers took refuge in my house. There were about 64 of them in my hands and I was very determined that nothing happens to them," he said, emphasizing that militants would only get to them "over his dead body."
He also described the condition imposed by American-style democracy in his country via a Facebook post in 2008:
Full report at:
https://themuslimvibe.com/muslim-current-affairs-news/muslim-man-saves-64-christians-from-being-executed-by-militants-in-philippines
--------
URL: https://www.newageislam.com/islamic-world-news/dozens-cities-brace-anti-muslim/d/111494
New Age Islam, Islam Online, Islamic Website, African Muslim News, Arab World News, South Asia News, Indian Muslim News, World Muslim News, Women in Islam, Islamic Feminism, Arab Women, Women In Arab, Islamophobia in America, Muslim Women in West, Islam Women and Feminism